December 31st is just around the corner, are you excited? Well, it's time for some fun! Every fashion-forward woman knows that dressing impressively from top to toe means that you need to pay close attention to every small detail. And, your nails play a vital role in creating a chic impression when heading to casual parties or events. Do you adore orange color as a nail shade? After all, why limit your choice to a mere single shade when you can paint your nails with the coolest orange nail designs that will instantly elevate your look from basic to classic. Today, in this post we've gathered beautiful orange nail designs for women that will brighten up your mood every time you look down at your nails. It's the most flattering universal nail color which suits all skin type ladies. So, if you're style-conscious – ditch your old plain base coat style and opt for stunning orange nails with a creative twist. Please check –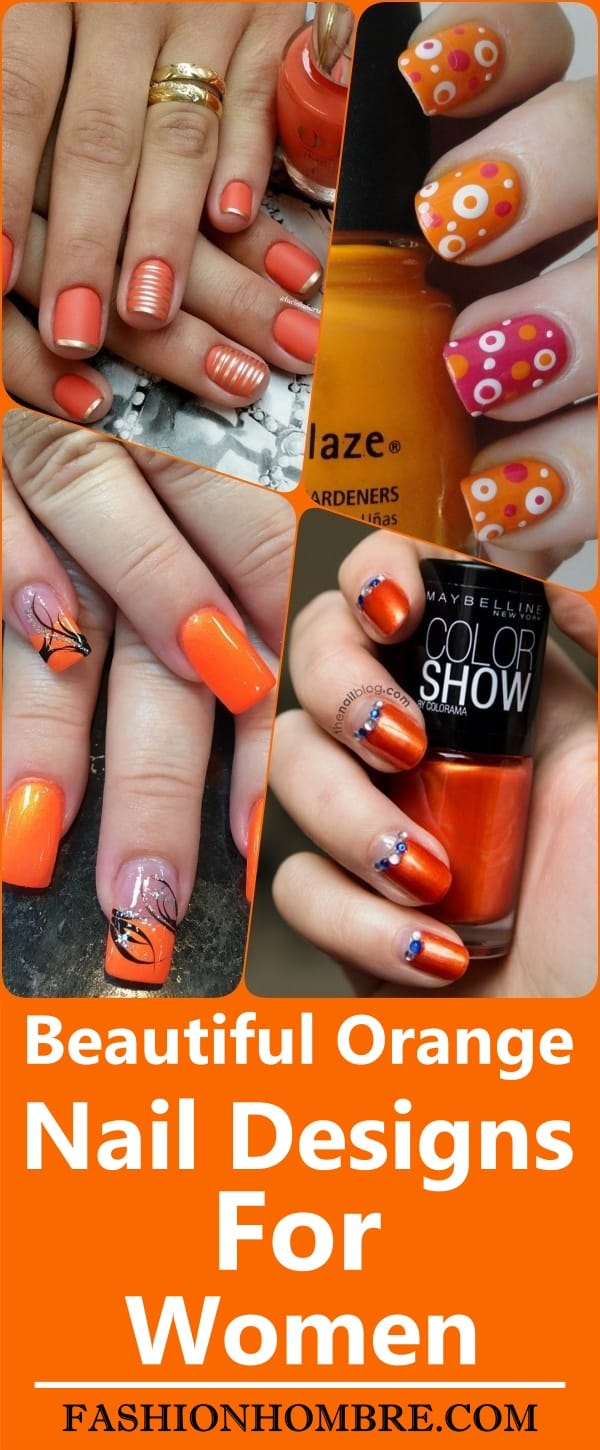 Beautiful Orange Nail Designs For Women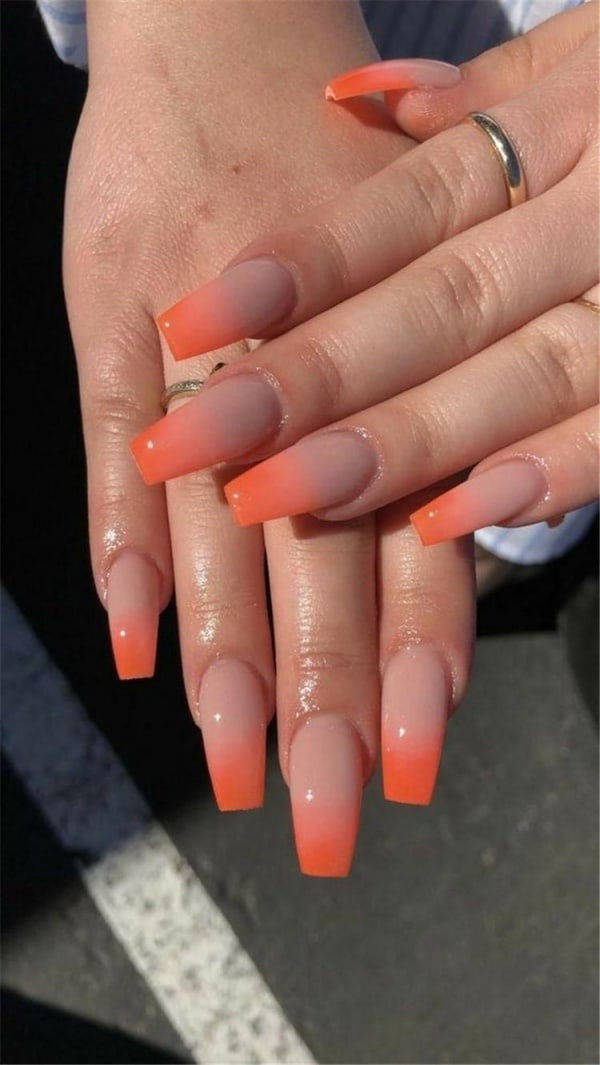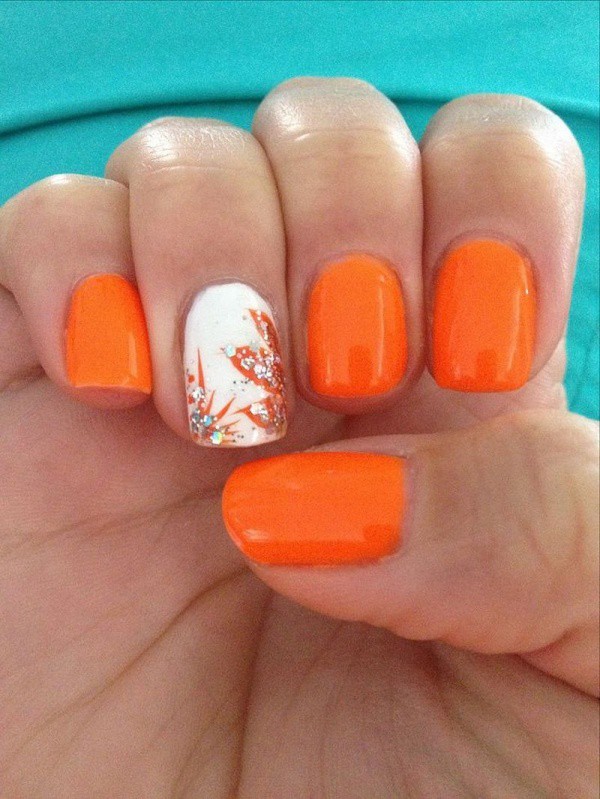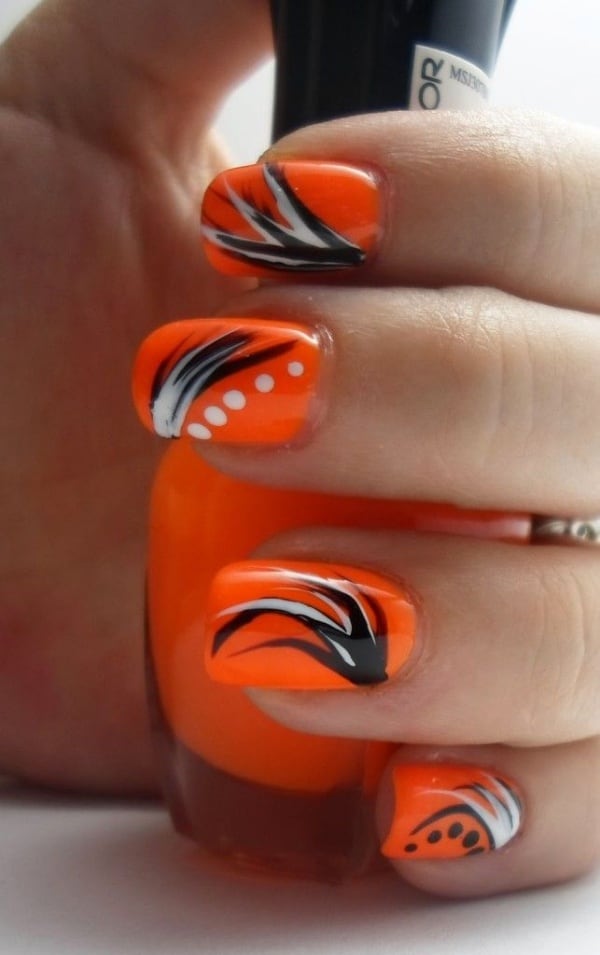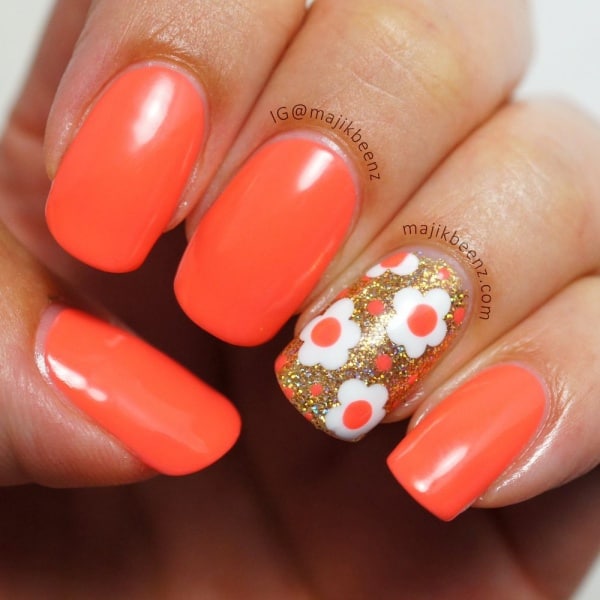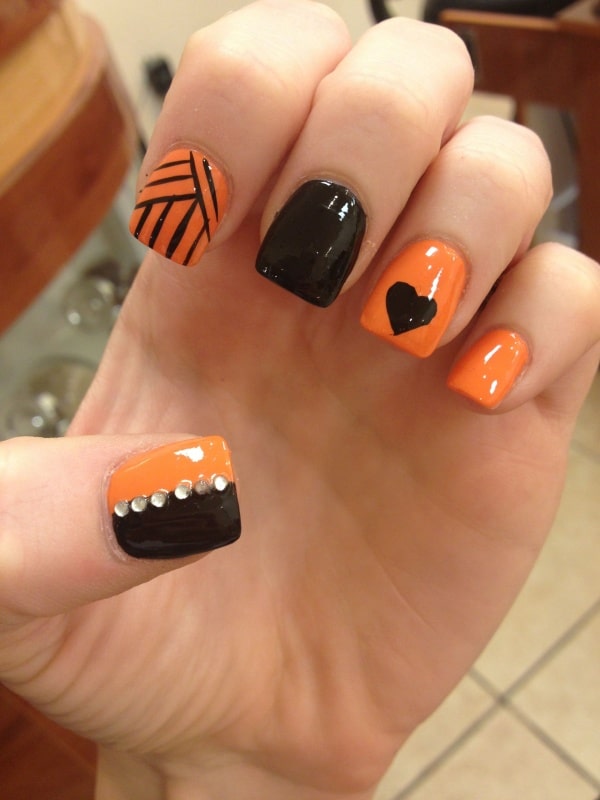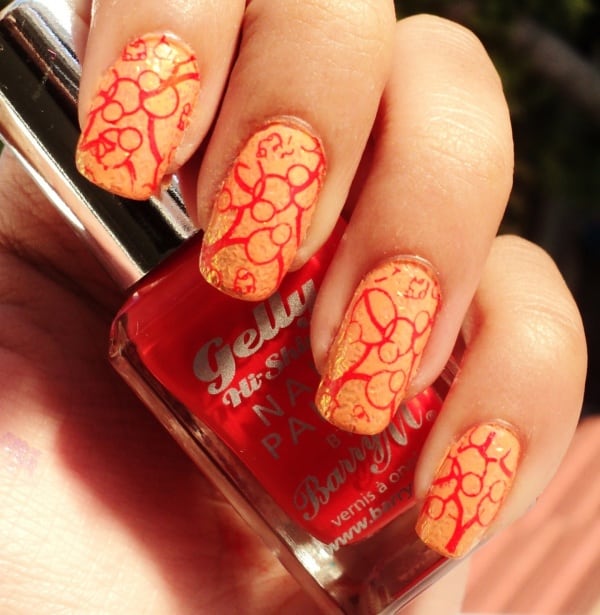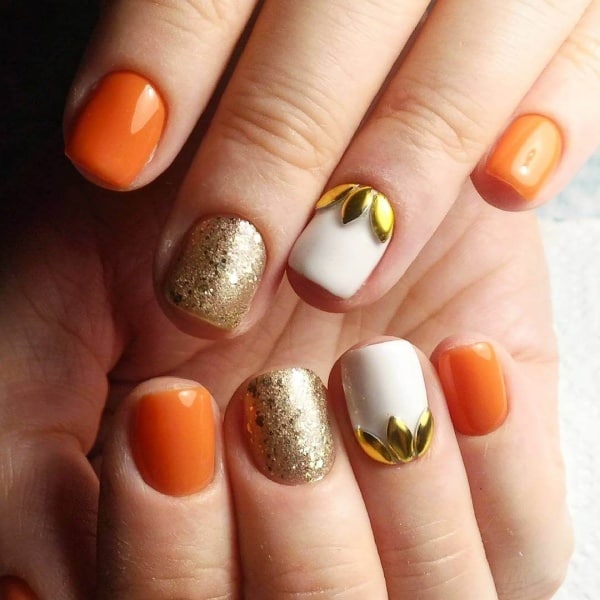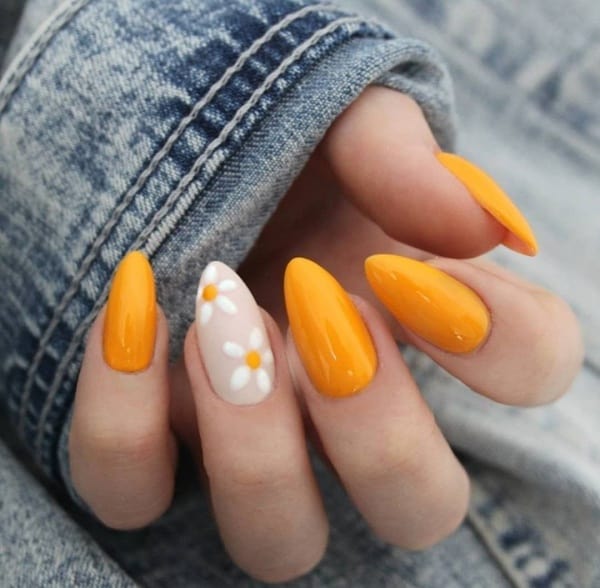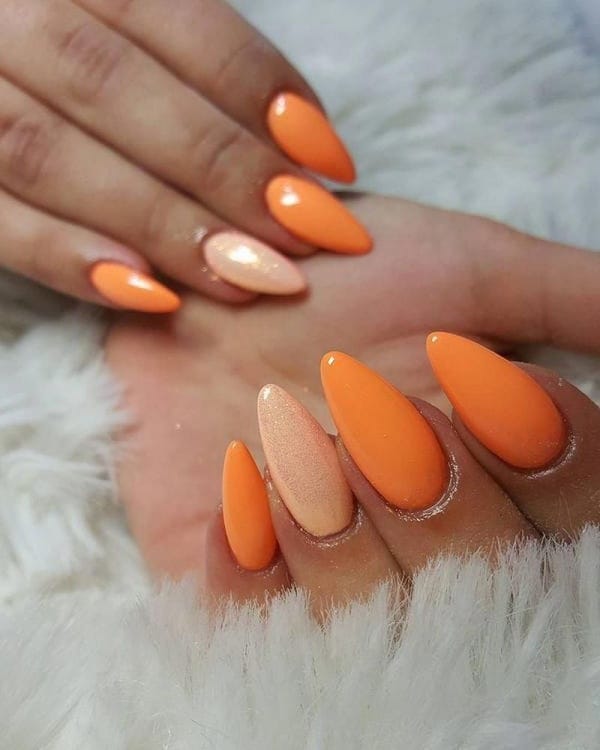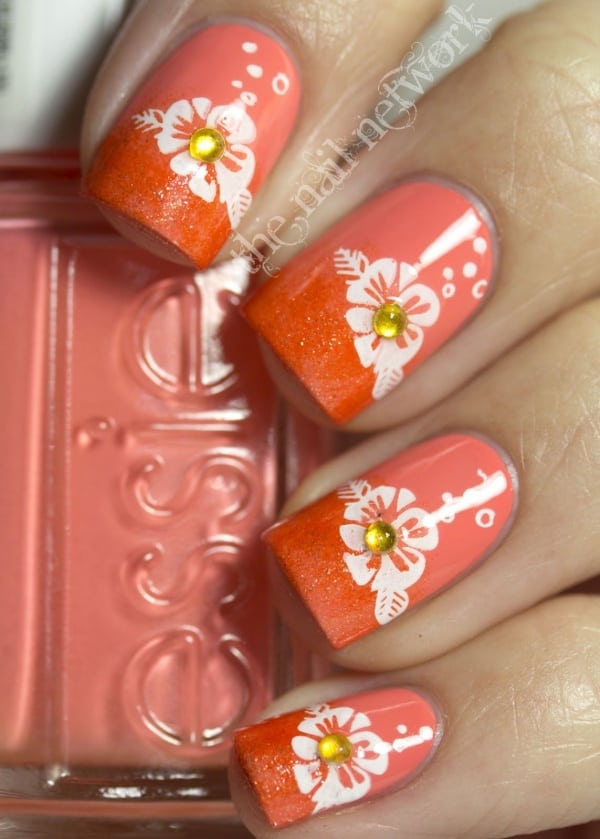 Orange with Orchid Accent Nails!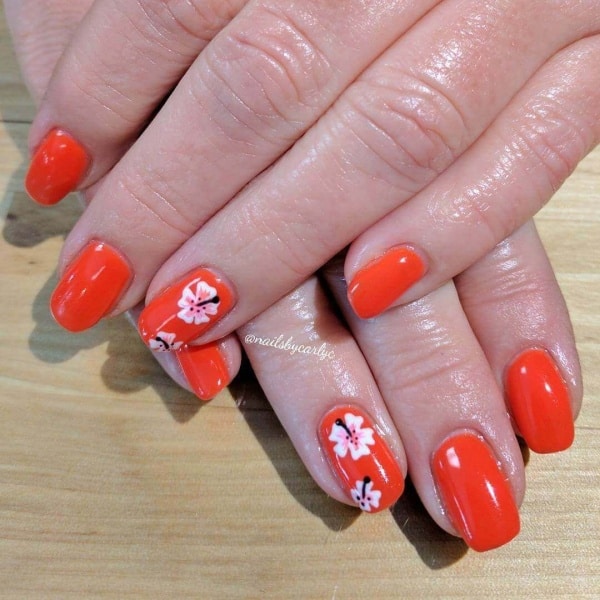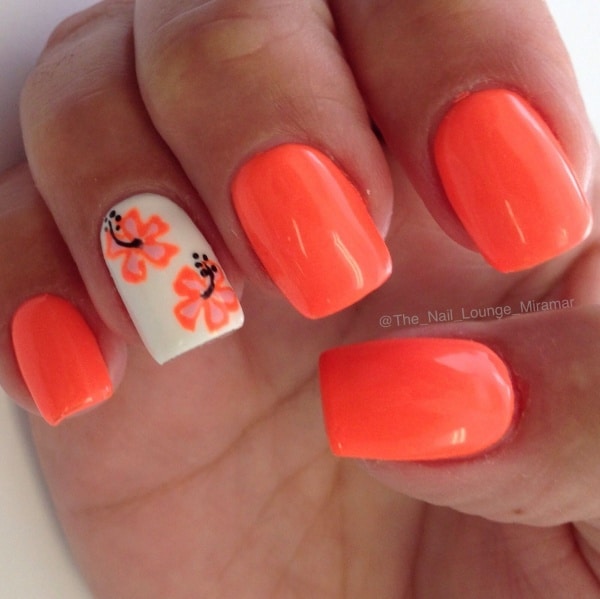 The design is simple enough for daily look – from office to weekend shopping with best friends. The little orchids placed on a pretty orange background look simply adorable and are the perfect example for women who prefer feminine touch on nails without much embellishment.
Orange and Pink Dots and Lines!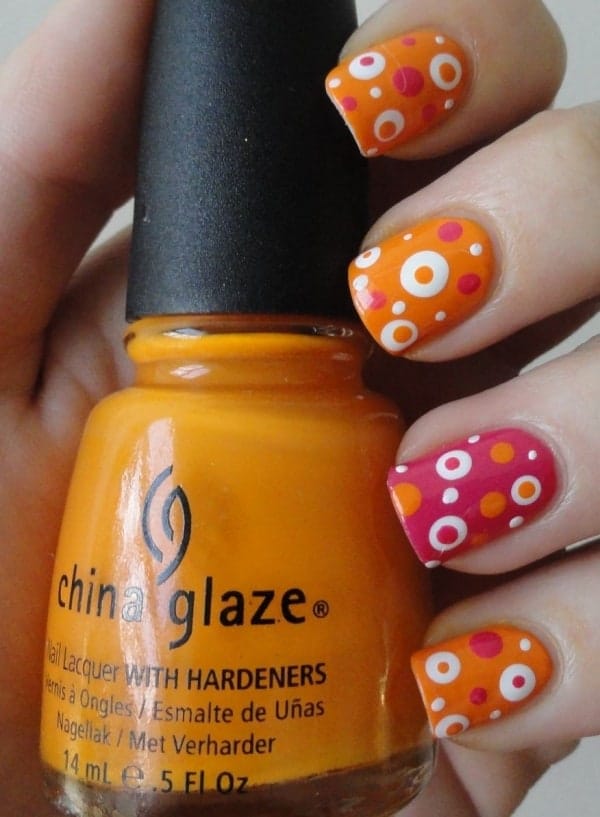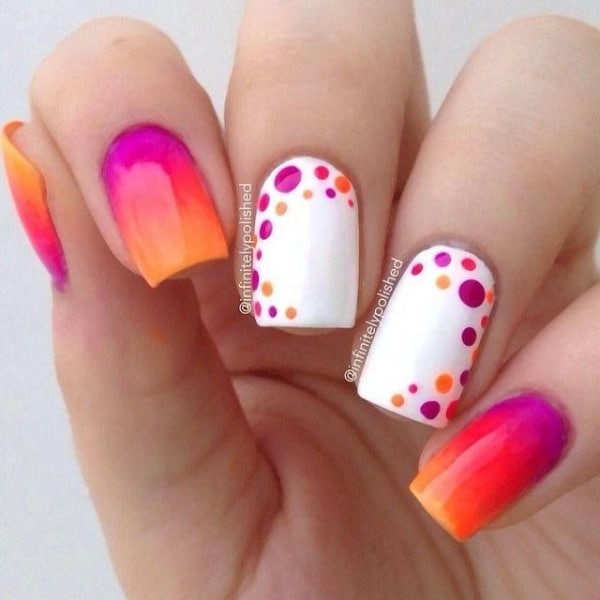 Bright colors like orange are one of the most popular choices when choosing innovative designs. Here, polka dots and angled lines are done with respective pink and white colors in a charming fun way. To master this beautiful orange nail design for women all you need to have is some nail glue and a dotting tool.
Orange Tipped French Nail Design!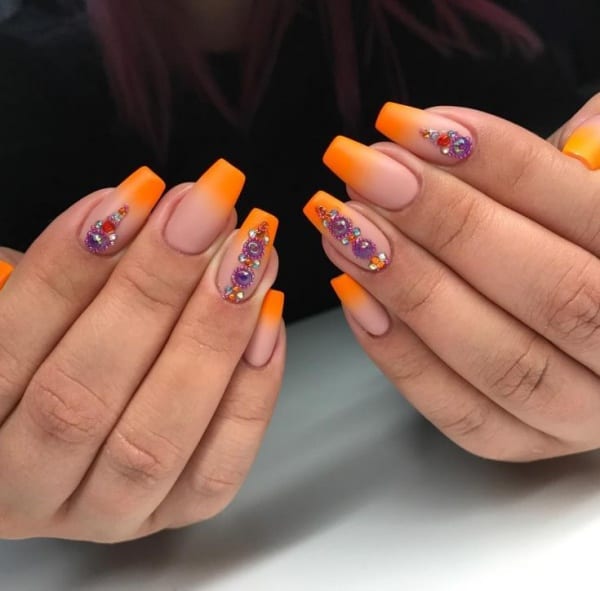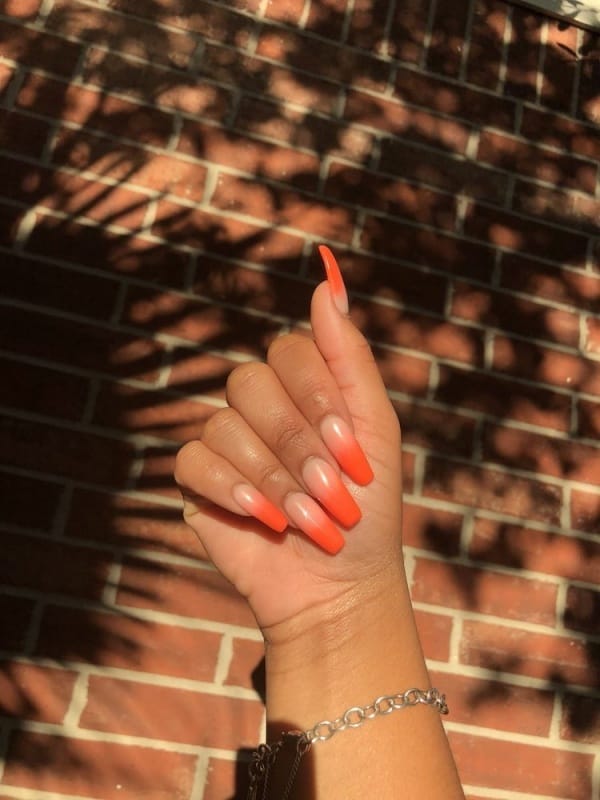 If you're among those women who really love unique nails, then you should not stop yourself from getting orange-tipped French manicure. Yes, don't be afraid to replace the tip color with orange shade, try free hand-painted flowers made of tiny dots and add glitter on the topcoat to finish it off nicely.
Orange Nails with Golden!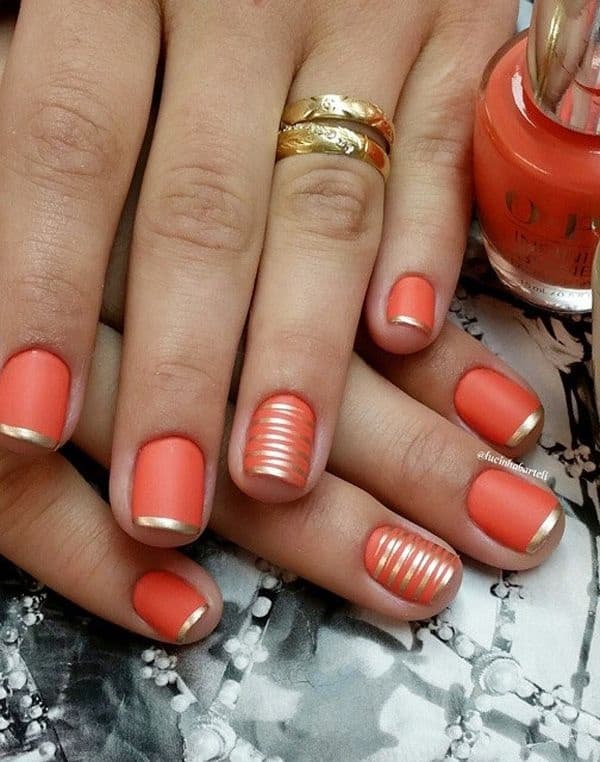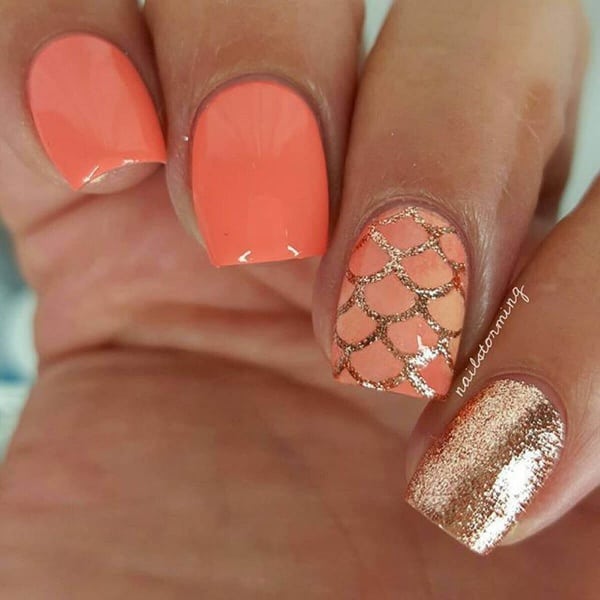 Searching for a unique nail design with a dash of spice, look no further than this awesome design! Paint orange as a base coat with a soft hint of metallic sheen. This is what makes this style so successful. Finish the look with an almond-shaped nail.
Pinky Orange Mix n' Match!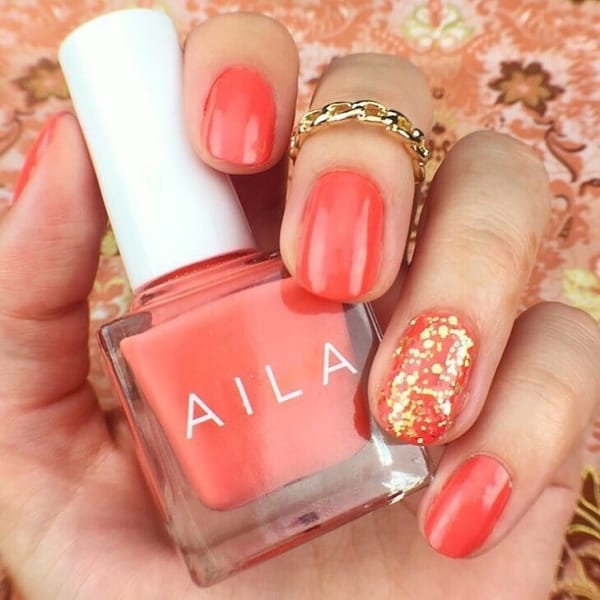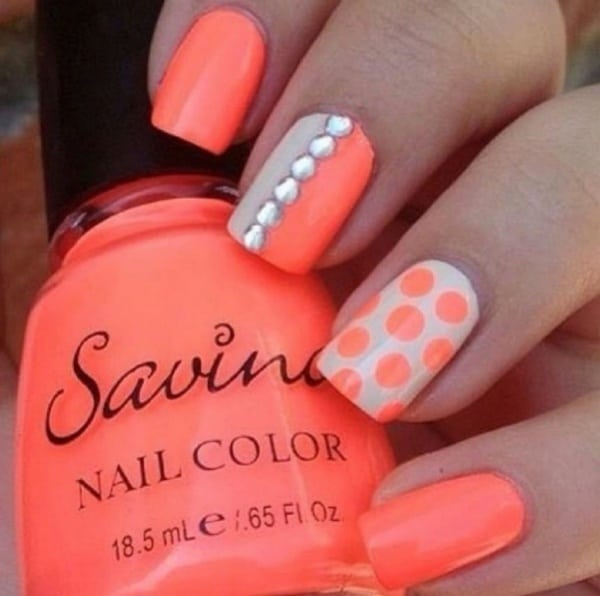 Wow, we can confidently say that – this is one of the most beautiful orange nail designs for women. This bold look involves both light and dark pinky-orange shades. All you have to do is play with different techniques and paint metallic lines, French tips anywhere you desire.
Orange with Half-moon Rhinestones!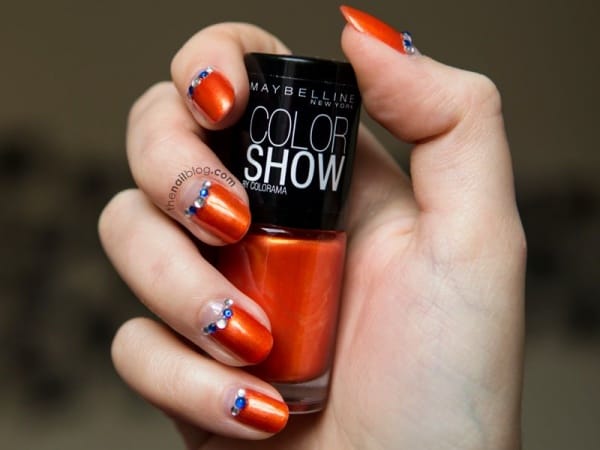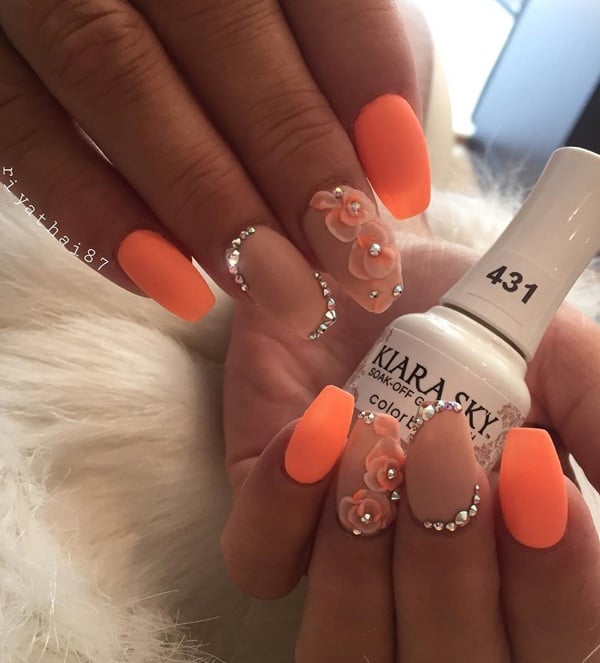 Half-moon nail designs have always been an all-time favorite, especially for fashionable women. Yes, half-moon nail designs are perfect for any occasion. Simply color your tips with orange shade and then glue some rhinestones along with the line where polish ends.
Chic Orange and Pink Watercolor Nail design!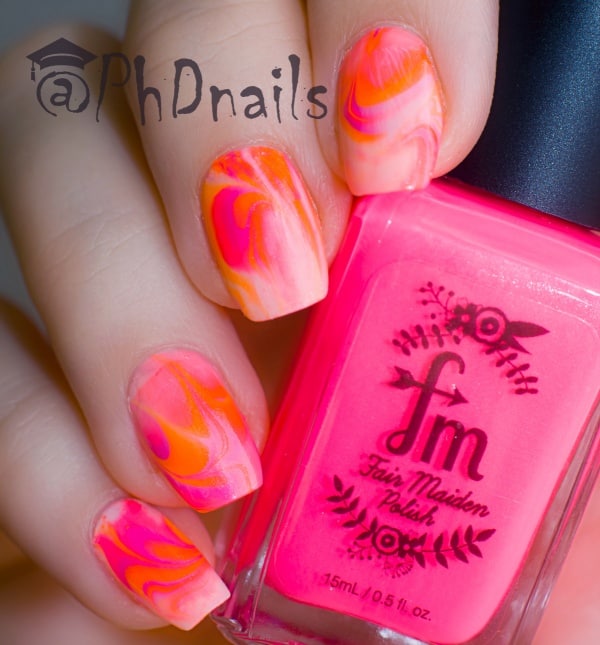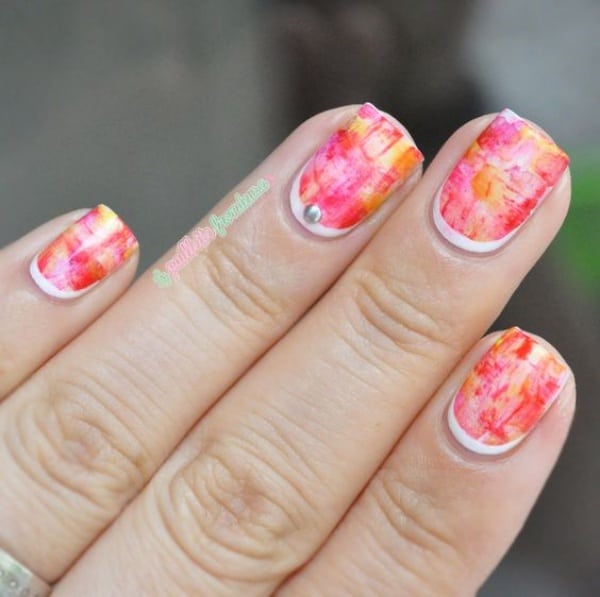 If you love the combination of orange and pink, then give this design a must-try! Create crescent moons with black nail paint along the base and pair it with crisp white shade for added impact. This design offers you a great opportunity to put your painting skills at best use.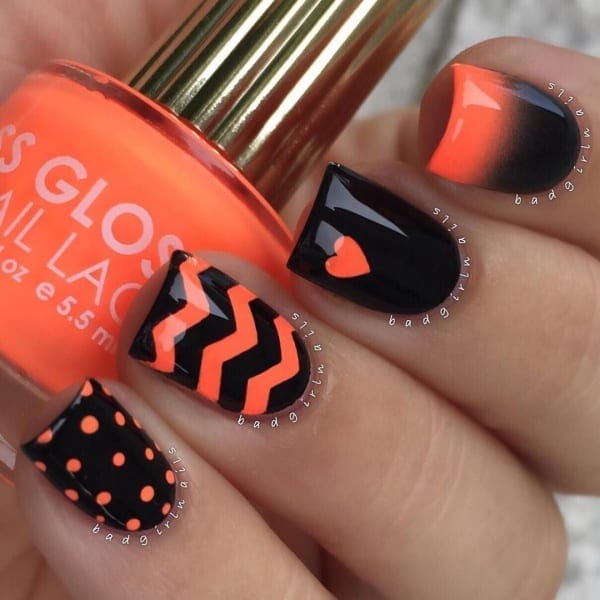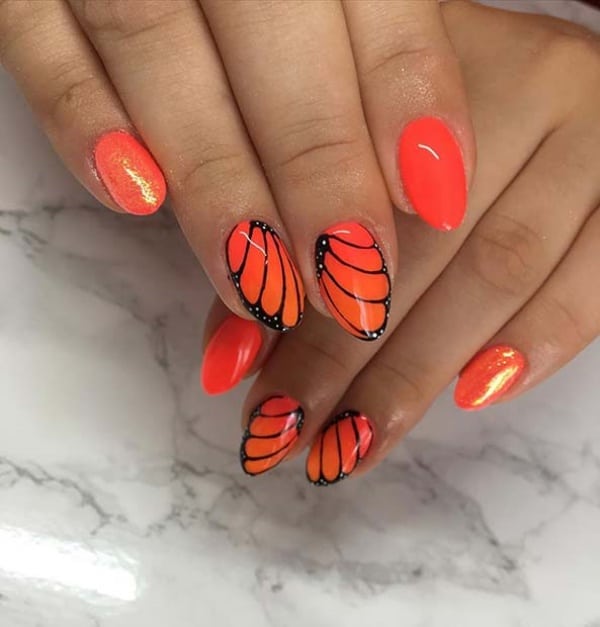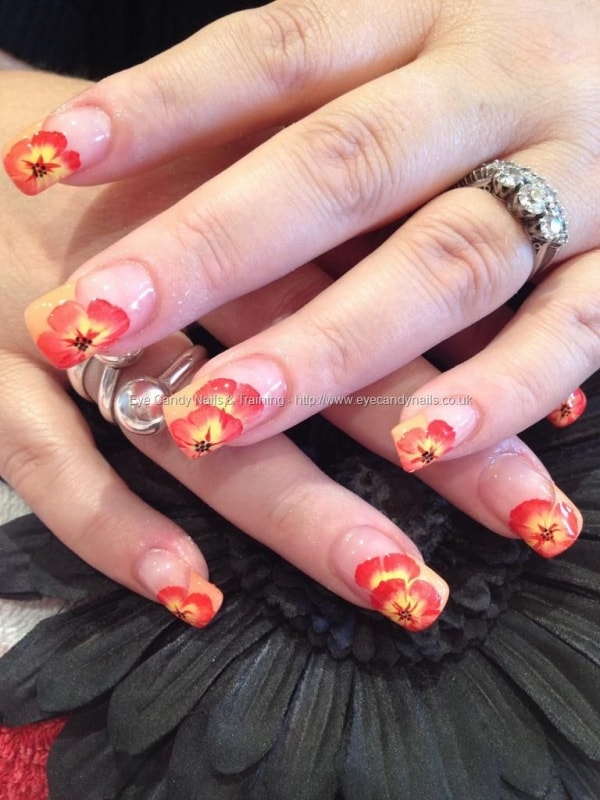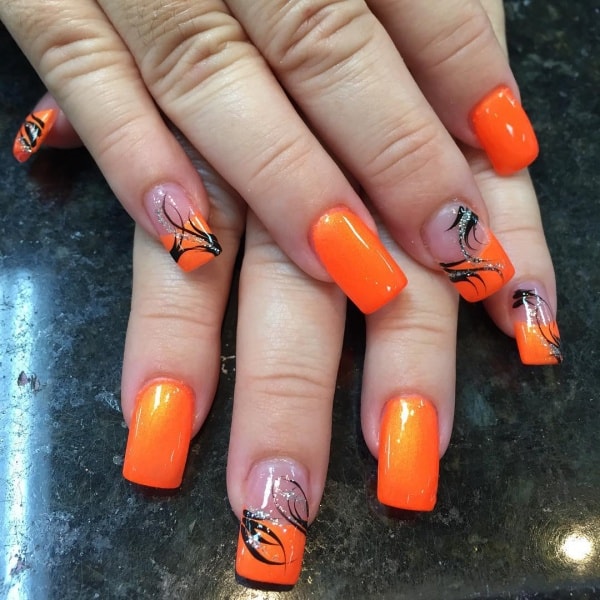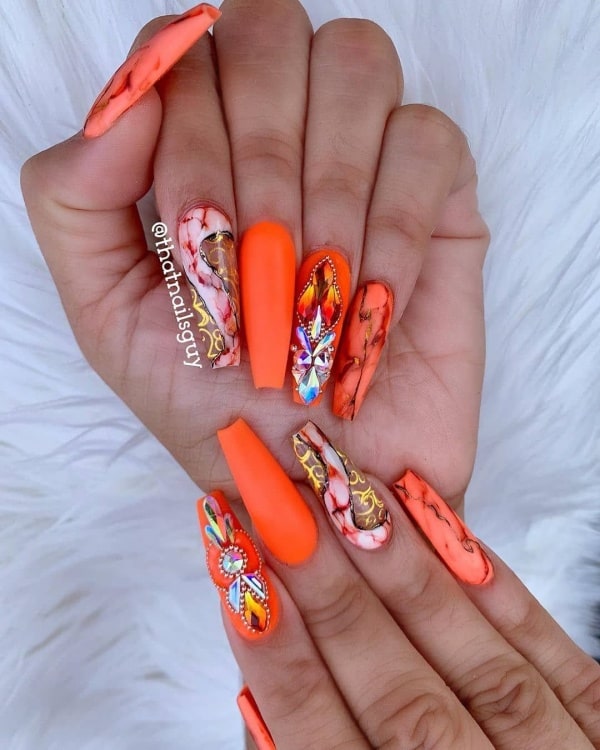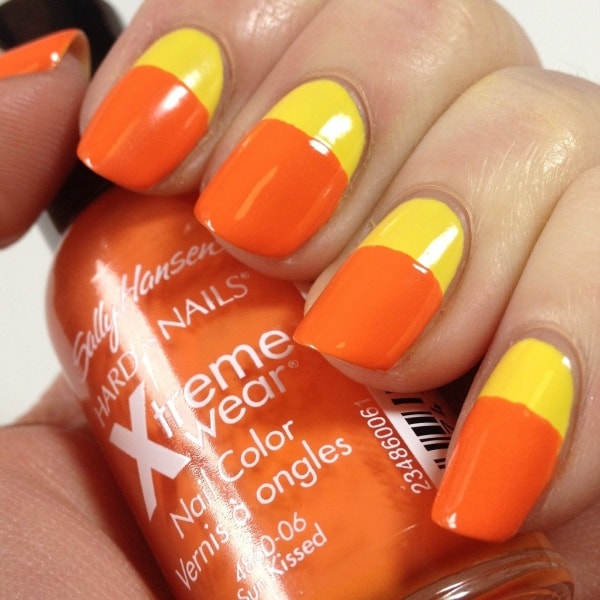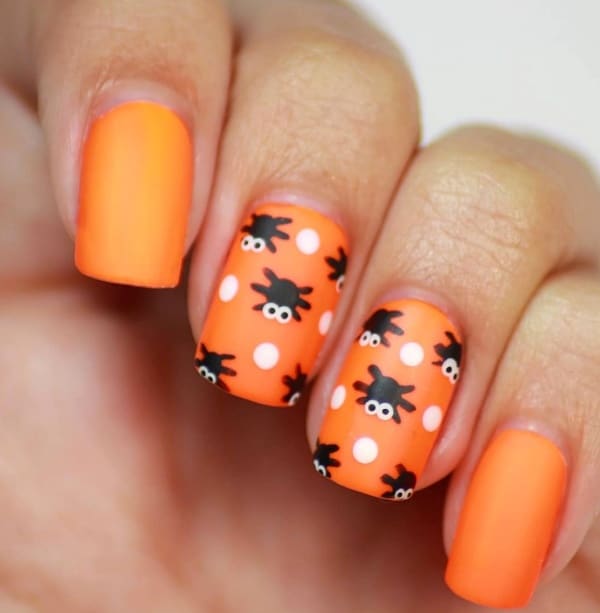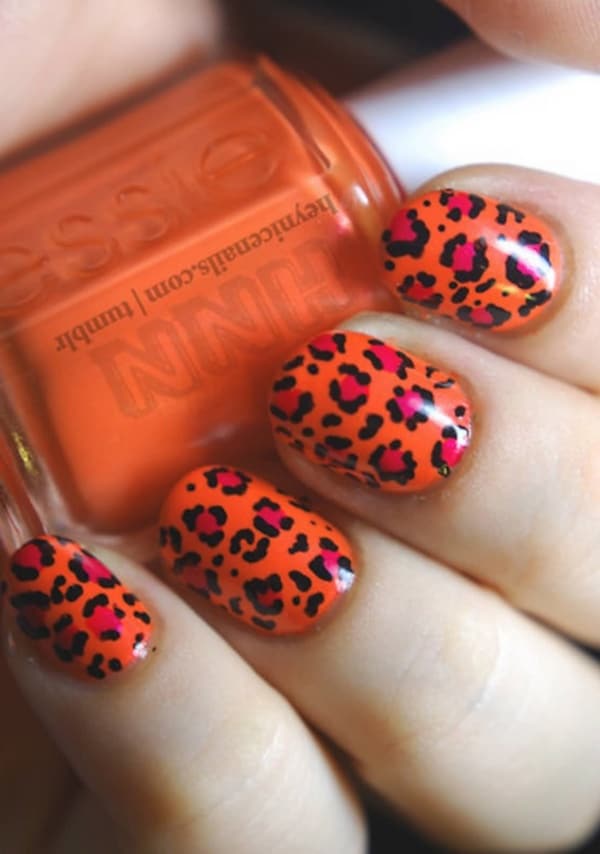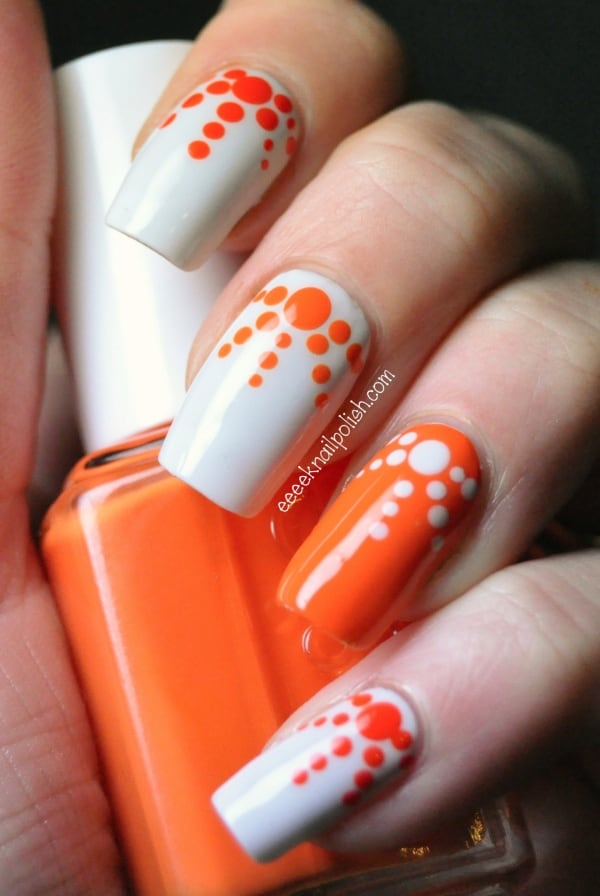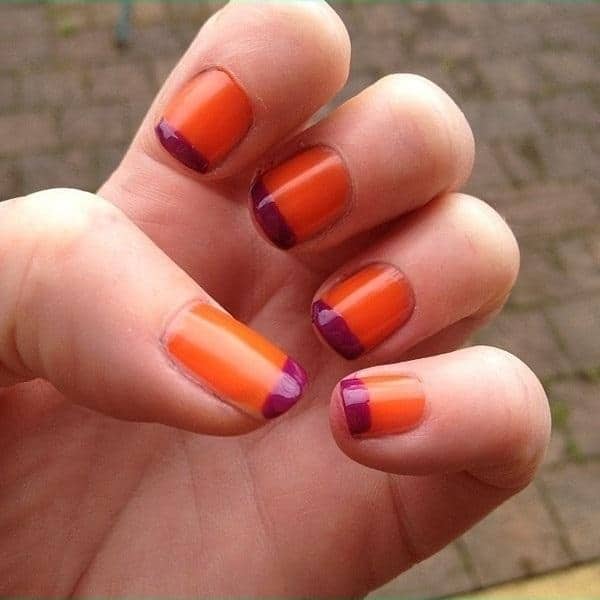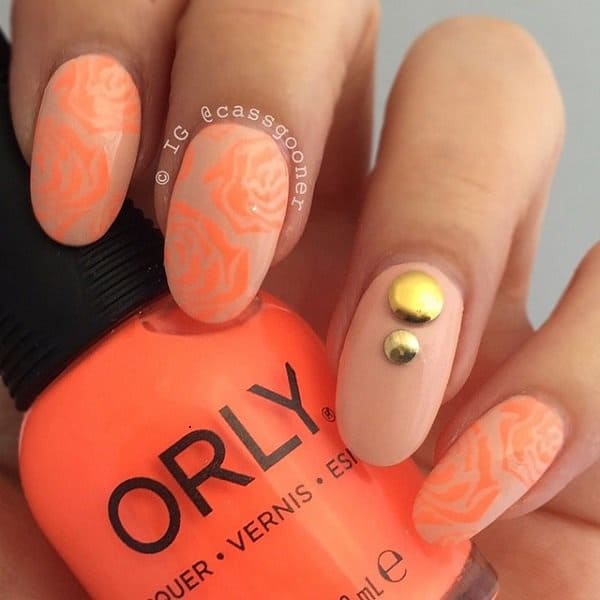 Now, we hope you won't be surprised when we say orange manicure is on the rise and looks even cooler with minimalist art designs. This winter season, there are plenty of beautiful orange nail designs for women you can actually opt to achieve the stylish look and this shade will remain your favorite. In fact, there are many gorgeous tones of orange nail paint which you can try on special occasions and can also wear orange shade into other seasons as well.