With only a couple of months left of the year, people are already looking ahead to the fresh new start that 2021 will be. Perhaps you're working on your New Year's resolutions, making career plans, holiday plans, and just basically looking ahead to what will hopefully be a fabulous year. One thing you may have decided you want to focus on in 2021, is you. If you're looking to improve your self-confidence in 2021, a great place to start is with your personal style choices. Although what you wear doesn't define you, it can help to boost your confidence, allow you to be creative, and show the world what you're all about. So, here's a look at the must-have style essentials for the sophisticated woman in 2021.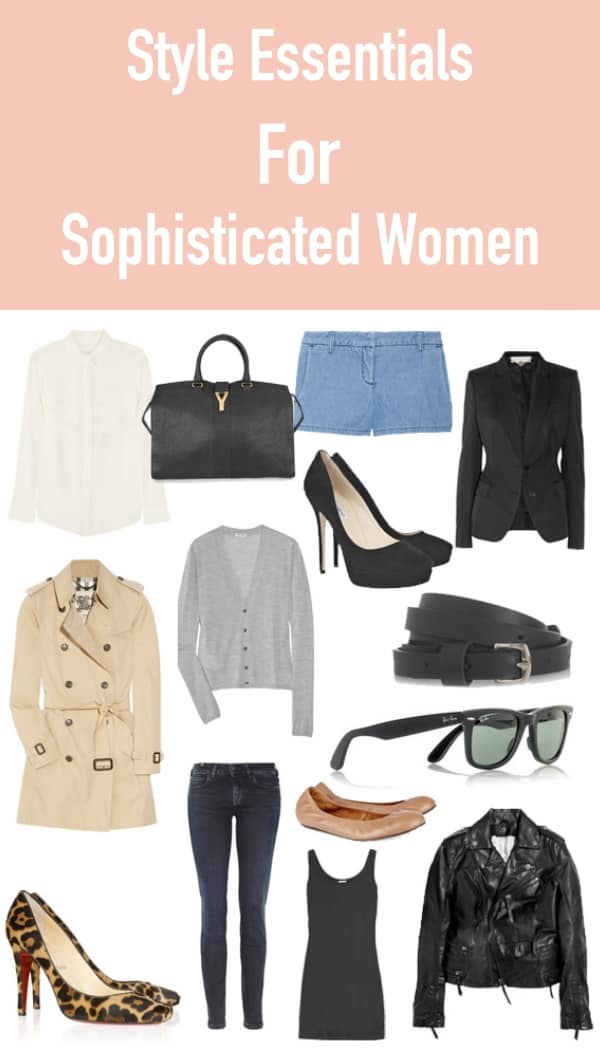 Wardrobe Style Essentials For The Sophisticated Women
Stylish and Sophisticated Sunglasses That Make a Statement
Here's an essential that is needed year-round, regardless of the temperature. If the sun is shining, then you need to be protecting your eyes when outdoors. So, rather than settling for a standard pair of sunglasses, here's a chance to choose something that oozes elegance, sophistication, and of course, style.
Designer sunglasses are not only made with higher quality materials so that your eyes get the ultimate level of protection, they also boast some of the hottest trends of the moment. You can choose frames that really pop on your face and make a statement, or you can choose something a little more understated and elegant that enhances the shape of your face.
Just be sure to also invest in a good quality case for your sunglasses so they don't end up getting scratched or broken while floating around in a purse or bag.
A Designer Purse – Cap Off Any Outfit with Style
Of course, another must-have style essential for any sophisticated woman is a designer purse or bag. This truly caps off any look, whether it's for the office, out on the town, or just running errands. A designer bag is able to make a statement, and yet serve a purpose all at the same time.
Loewe bags can be a great option for women who like more of a classic design. A bag by the designer Loewe is one that is timeless and will never be out of fashion.
Loewe bags use some of the finest materials and fabrics out there, feature high-quality construction, no-nonsense structure, and design, and are free of all the embellishments and 'loud' features that some other designers use.
A Fabulous Perfect Fitting Leather Jacket
When it comes to clothing pieces, everyone has their own preferences and styles, so it can be hard to pinpoint one must-have item – except for a leather jacket of course. Any woman's wardrobe can be elevated by investing in a perfect fitting leather jacket. The style shouldn't matter as much as fit, because as long as you pick a jacket that is tailored perfectly to your body shape, then it's going to look fabulous.
Black is of course the traditional color to go with, but don't be afraid to step outside your comfort zone and look into a soft gray, a rich brown, or even burgundy or forest green leather jacket. These colors will set an entirely different tone and can almost act as your signature piece if you will.
A Signature Scent – Find a Perfume that is Truly You
Speaking of signature pieces, why not look for your own signature scent to wear in 2021? There's no reason to only look at the new releases in the perfume world; it could be that you are more of the classics kind of gal.
If you're going to be investing in a new designer fragrance, you want to be sure that the perfume lasts as long as possible, which means there are some storage tips to use; always be sure to store your perfume in a dark, cool, and dry place in the house. This will ensure the scent stays true and doesn't end up going "off". The bottle also needs to be closed tightly after each use, as oxygen can actually dilute the potency of the perfume. Perfume experts also suggest keeping the perfume bottle in the box it came in, rather than showcasing it on your dresser, or worse yet, on the bathroom counter. Storing it in the box helps to increase its lifespan since it will be dark, cool, and dry.
Feel like the true sophisticated woman you are, by investing in these must-have style essentials, you'll be able to embrace your true sophisticated style in 2021.