Willing to transform your lifeless and dull hair? Skeptical about which hairstyle would go perfect with your face type? Short Hairstyles are a recent fad for women with fat faces and double chins.
Accentuating your facial characteristics with the right type of hairstyle is an appealing idea. How about trying out some of them?
Interesting hairstyles can be a perfect add-on to compliment women with cute and chubby faces. A dynamic and ideal haircut is all you need to give a slimming effect to your face.
There are numerous hairstyles that could jazz you up for the next event with a fresh vibe. Time to check out some of our hot favorites!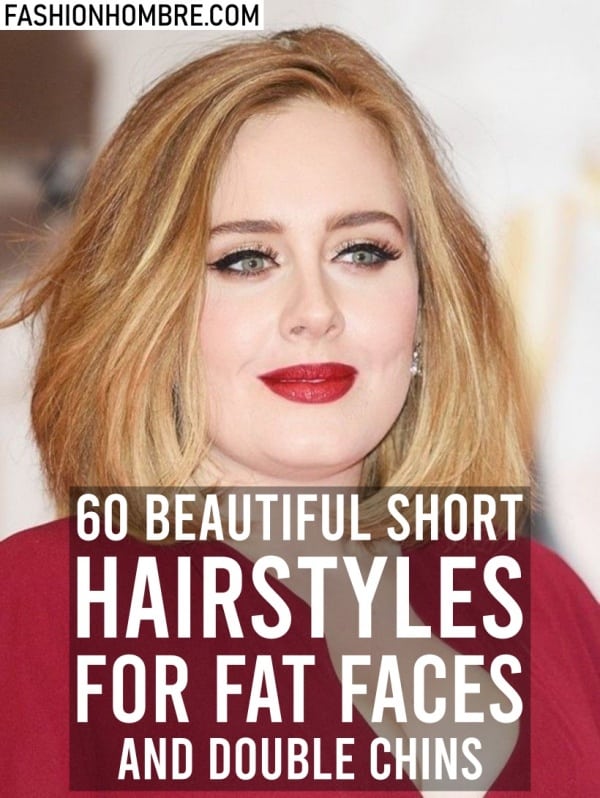 How To Choose The Best Hairstyle For Fat Faces?
Identify your face type to pick a perfect hairstyle that compliments you! Women with round faces have equal facial width and length. The chubby cheek face also has a double chin that makes your face look fatter and bulkier.
How to cope with this? Play around with the below-mentioned short hairstyles as they add a charismatic appearance to your charming round faces.
Remember that along with choosing an apt hairstyle; it is also crucial to execute it in the best possible way. Avoiding side-parted hairstyles is advisable to shift the focus from your cheeks.
The one starting from the middle or with a bump gives your face a narrow look.
Sneak through the wide range of flattering hairstyles and then settle for the one that seems apt to you!
Cute Short Hairstyles For Fat Faces And Double Chins
1. Asymmetrical Pixie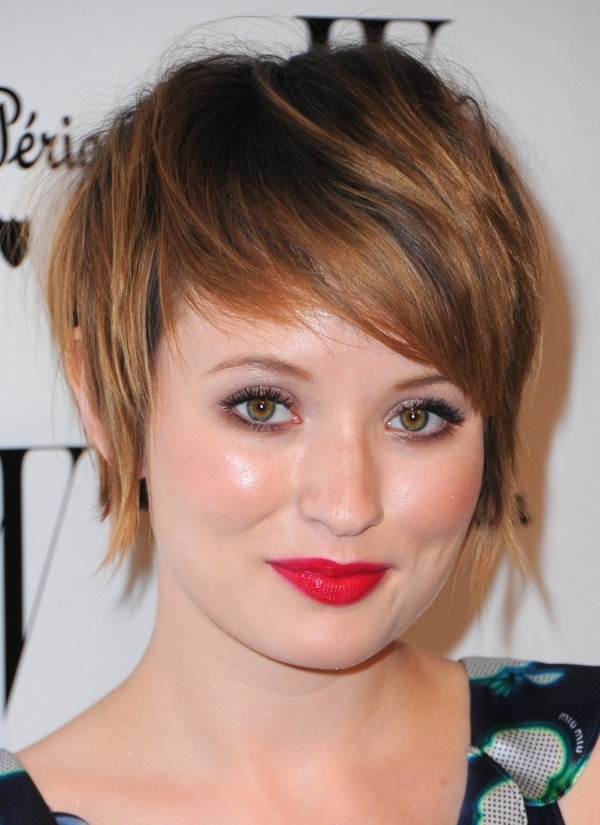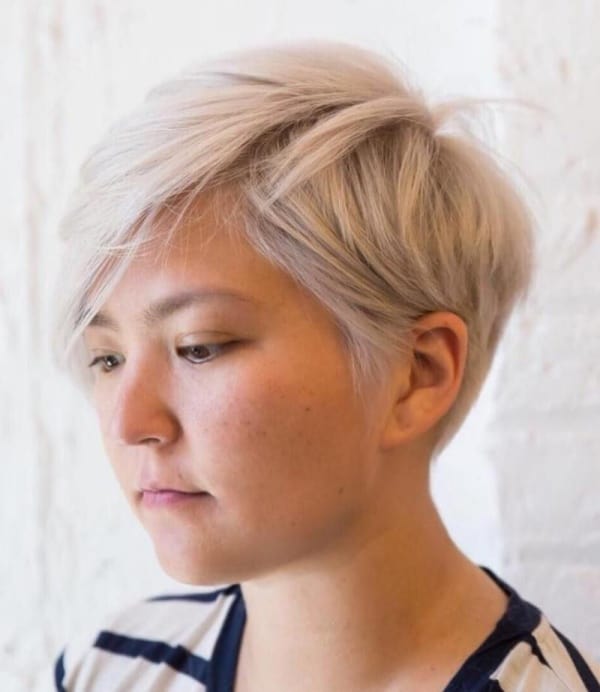 Asymmetrical pixie is an ultra-modern haircut for women who wish to don short hairstyles that blend well with fat faces and double chins. This hairdo consists of multiple layered hair lengths and is also paired with an undercut in a few cases.
It's a perfect catch for the chubby chics who wish to be the showstopper at an upcoming party. The epic pixie look seeks inspiration from popular anime characters and fashion models.
Women can experiment with distinct variations such as asymmetric bangs, pixie haircuts and many others. Girls with round faces can try out this type of short haircut. Girls aged 20-50 years can go for this appealing and eye-catchy hair makeover!
2. Long Bob With Side Bangs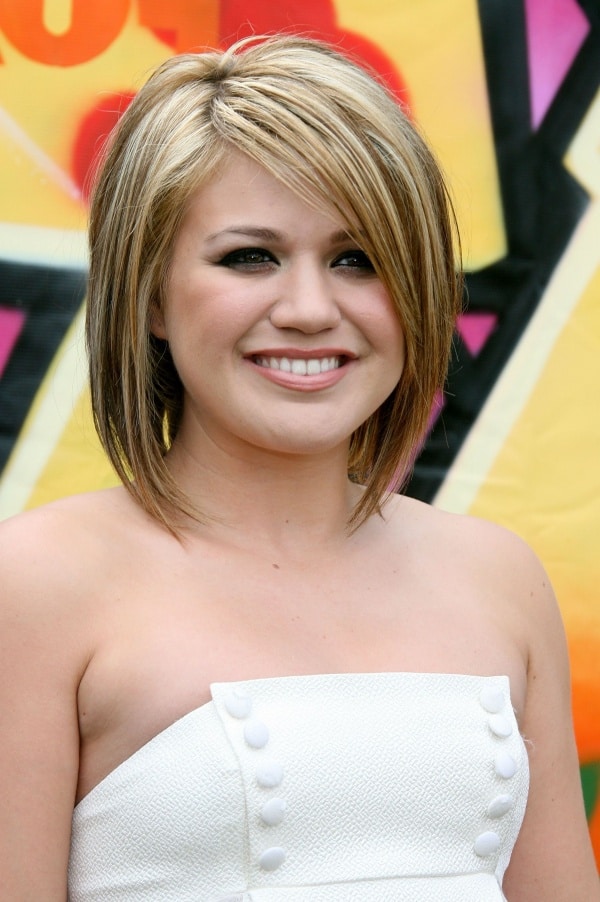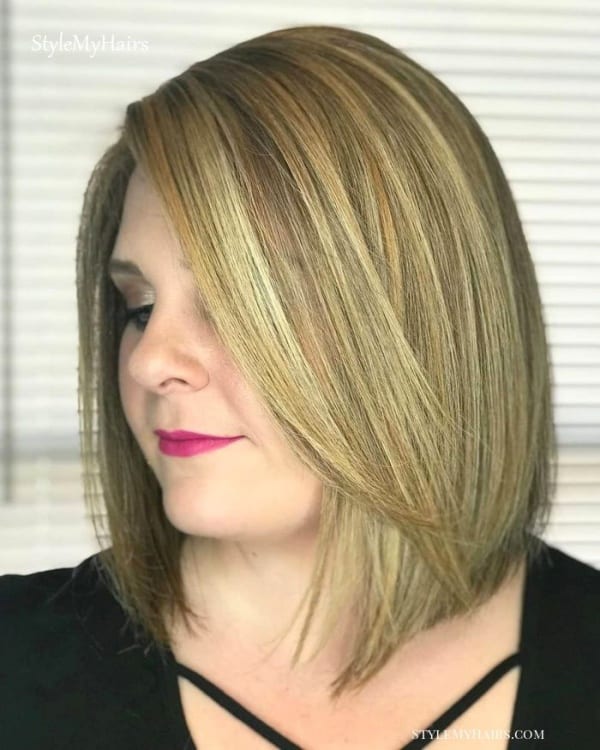 How about elevating the face length with some bump over your hair? Long bob and side bang complete chubby-faced females as it adds that oomph factor to the dull look.
This is an extremely versatile style that could create an impression when adorned for a casual meet or a formal look.
Accentuating the length with a bob and dropping side bangs over the forehead is a stealer look to narrow down the wide faces. It's a hit any-day!
3. Side Swept Pixie Cut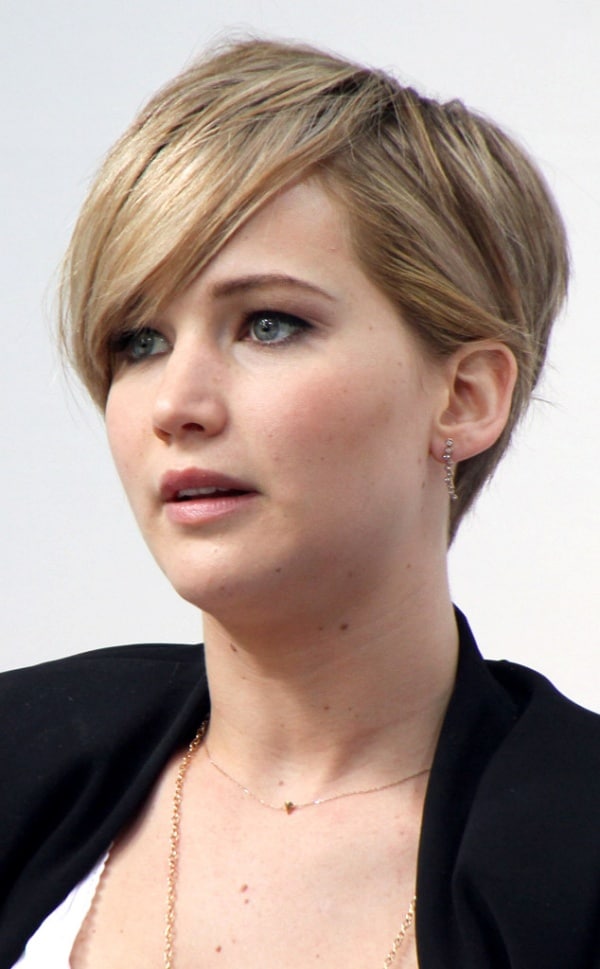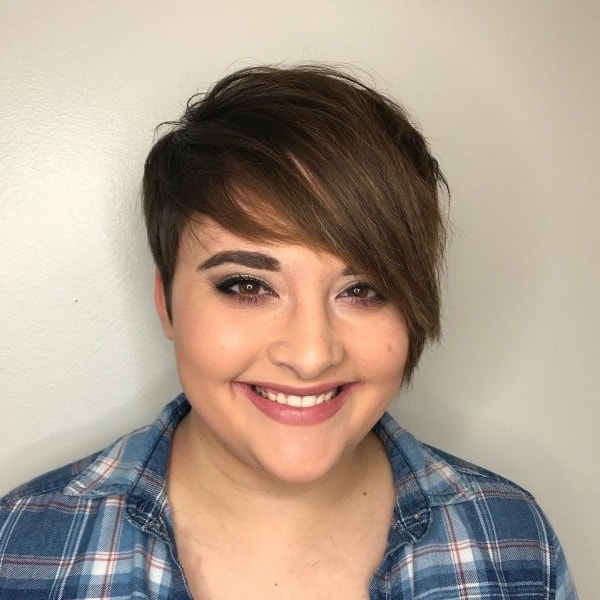 Irrespective of your gender or background, a good haircut enhances your confidence levels to a new height. A pixie haircut is a short stylish hairstyle that suits women having round faces or double chins.
Whether young or old, carrying off the side swept pixie haircut is marvelous. If you are anticipating the exact look, check the above images for relevance. The perfectly parted side bangs add a neat look to your personality and a charismatic appeal.
Side swept pixie cuts on cute chubby faces makes you look much younger and rests as the most sought-after alternative for fat-faced women.
4. Short Choppy Pixie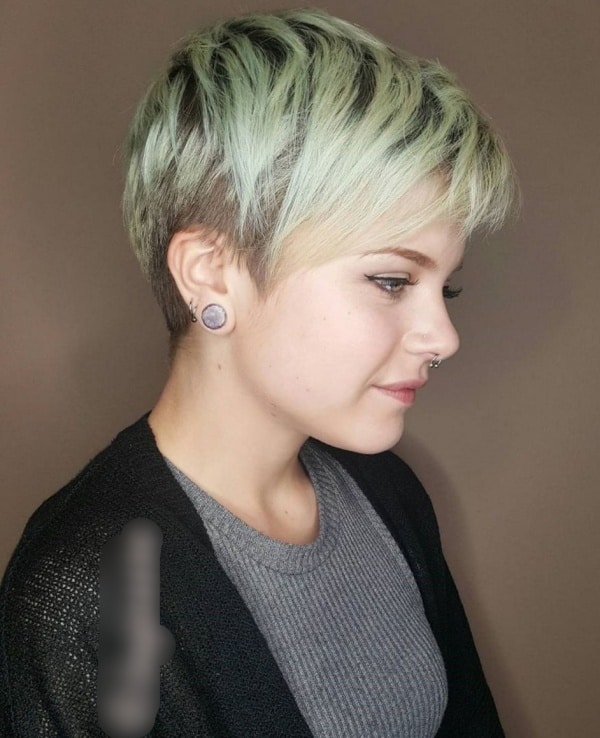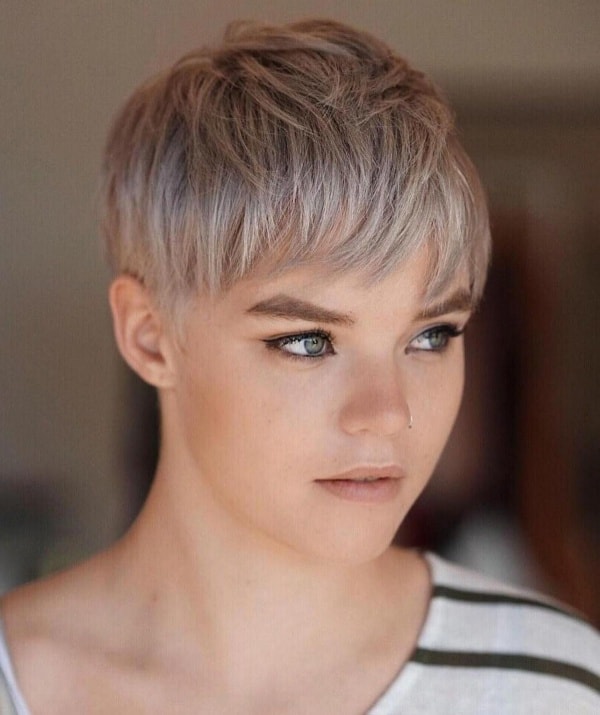 A choppy pixie cut sounds like a wonderful surprise for women bored with the old dull look. One can't deny that choppy, uneven pixie looks mind-blowing, no matter if you have skinny or chubby faces.
It is an incredible style for women having any facial structure. The main highlight of this hairstyle is it enhances your look efficiently. The choppy pixie look is a hot favorite in the list of short hairstyles for fat faces and Double chins.
It is also a great idea to keep it in a classic grey shade or add pastel or electric color highlights to it. It's going to rule the trend for quite a while, and you can find many celebrities carrying off this look pretty well.
5. Asymmetrical Bob For Fat Face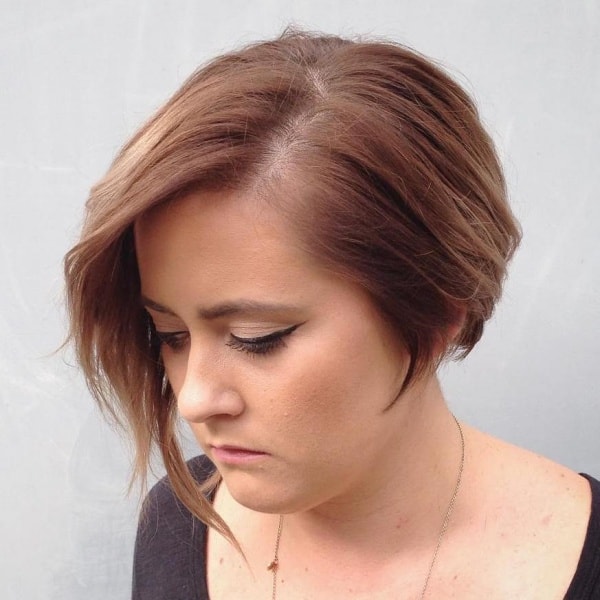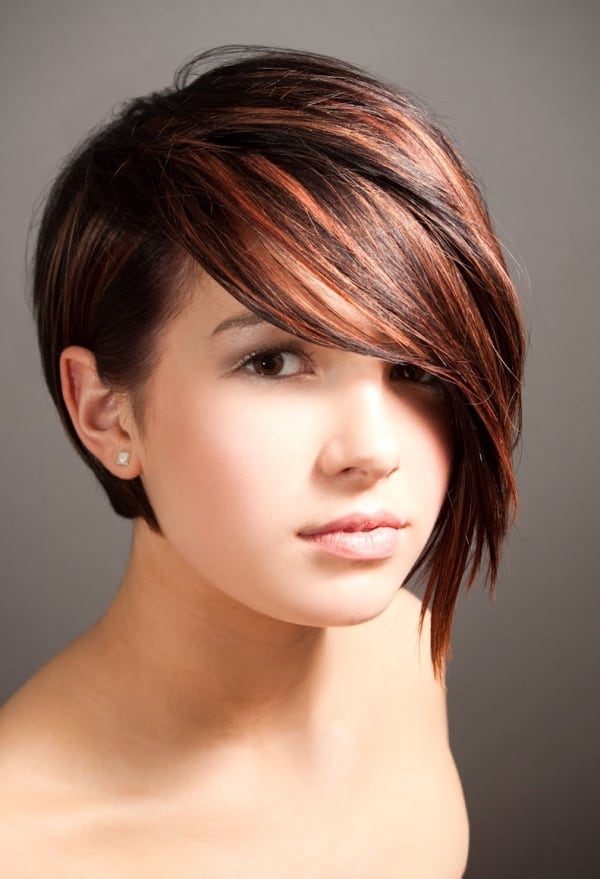 Short dynamic hairstyles like the asymmetrical bob look fantastic and appeasing on women with double chins. The asymmetrical short bangs over a bob cut visually divide the facial width and give it a sleeker look.
An expert hair stylist can give different angles to create a voluminous contrast of a bob flowing across your cheeks. Allow the longer portion of the haircut to settle down below the jawline and divide multiple layers to draw attention near your eyes and forehead.
If you are a chubby woman willing to ace that modern chic look with a twist, asymmetrical bobs are a perfect addition.
6. A-Line Bob With Layers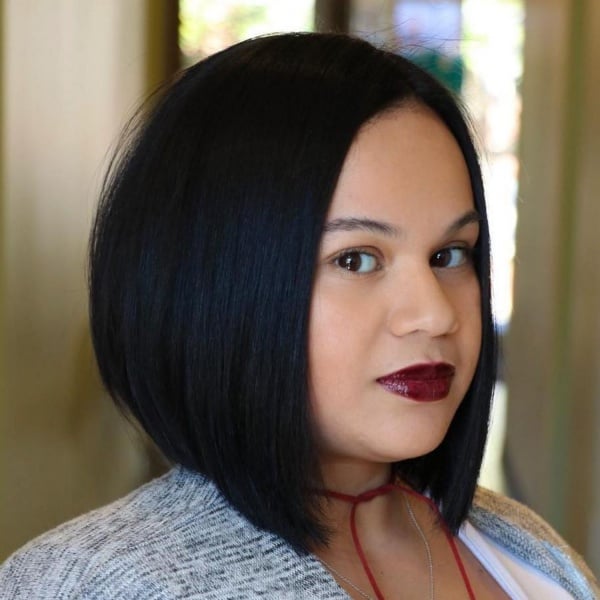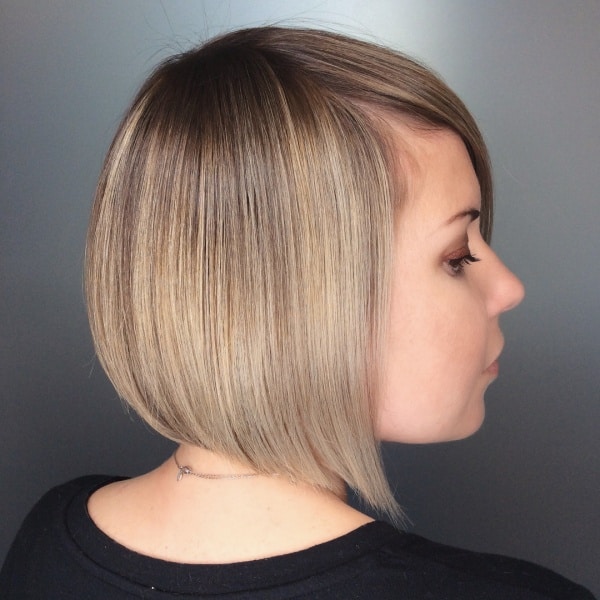 If too much funk is not your cup of tea, trying out the A-Line Bob with Layers also won't disappoint you. This hairstyle is shorter in length towards the backside of the head while falling off long towards the front of the face.
For an elite up-class formal look, an A-Line bob has always been a safe choice. The edgy bump elongates the facial length and gives an edgy finesse to your appearance. It is easy to maintain and requires fewer salon visits as well.
Having longer hair in the front and chopping them short towards the back also sounds like a great idea. As the angle gradually deviates from back to front, you can try this hairstyle for distinct face shapes and sizes.
Requesting your hairstylist to add some highlights can further accentuate the look.
7. Choppy Bob For Fat Faces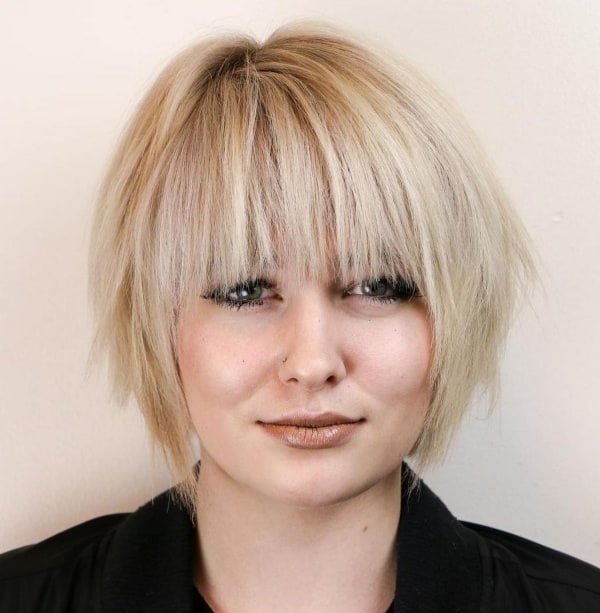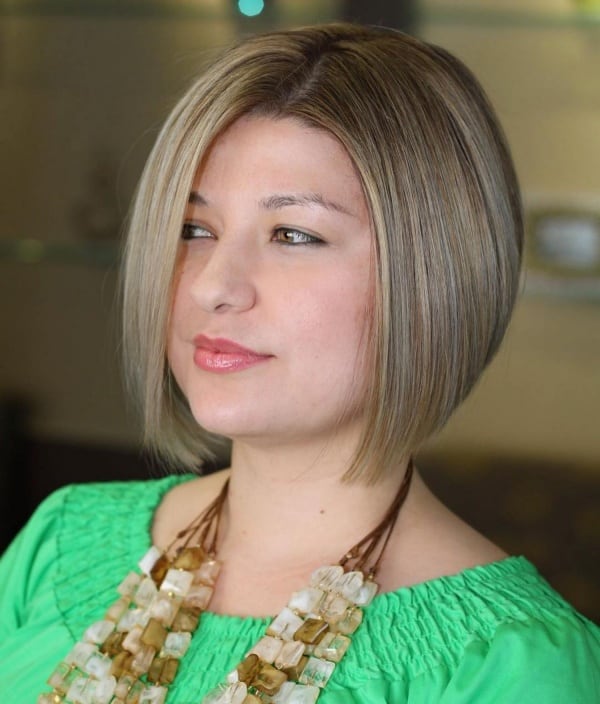 Women with fat faces generally avoid short hairstyles as they feel it further enhances the facial width and generally does not advise very short straight hair. However, choppy bobs are an exception here.
The side-parted hair look with choppy bobs can narrow down your cheek area. The bobs are shorter than lobs and fall elegantly below the chin length. This hairstyle gives a longer appearance to your face.
Professional hairstylists can create subtle layers from this style, thus ensuring that your hair doesn't appear very flat or overly structured. Style up well to enhance your look.
8. Short Bob With Highlights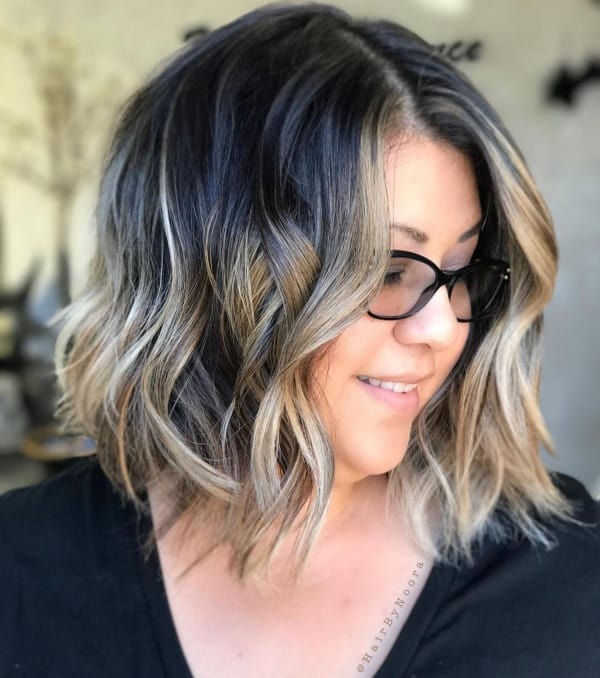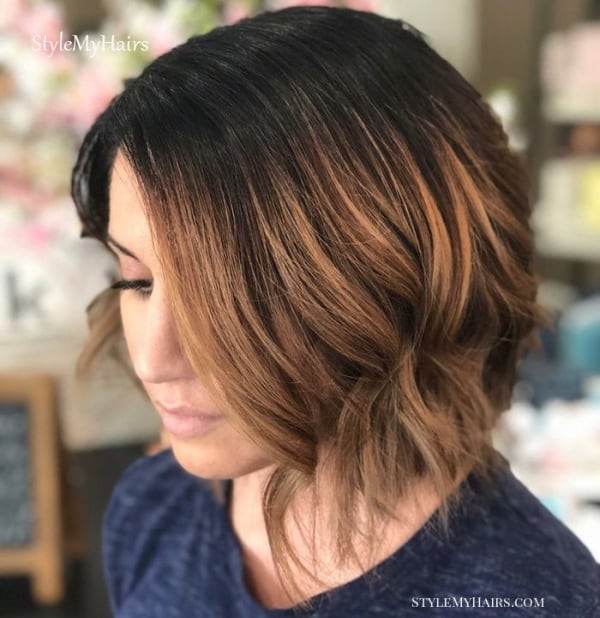 Short Bob hairstyle has been out for a decade, and many women have been happily adorning it for years now! Many hairstyling experts also classify it as a classy haircut that includes minimal fuss and low-key maintenance.
Though there are many edgier and modern alternatives in the bob category, this one holds unique popularity amongst women. A short bob and attractive highlights work as a rebellious look that blends well with round faces.
The angle cut here begins from the back of your neck, and it rests somewhere around your shoulder or chin. You can count on this hairstyle for different face shapes and styles. Adding some subtle highlights further adds a phenomenal appeal to this look
9. A-line Bob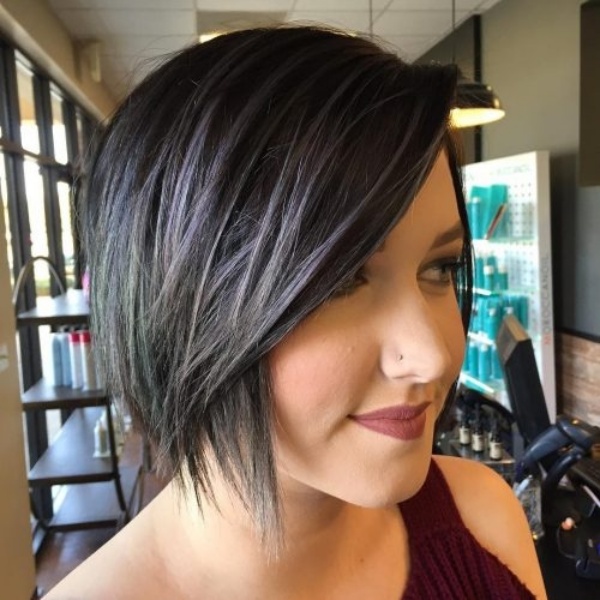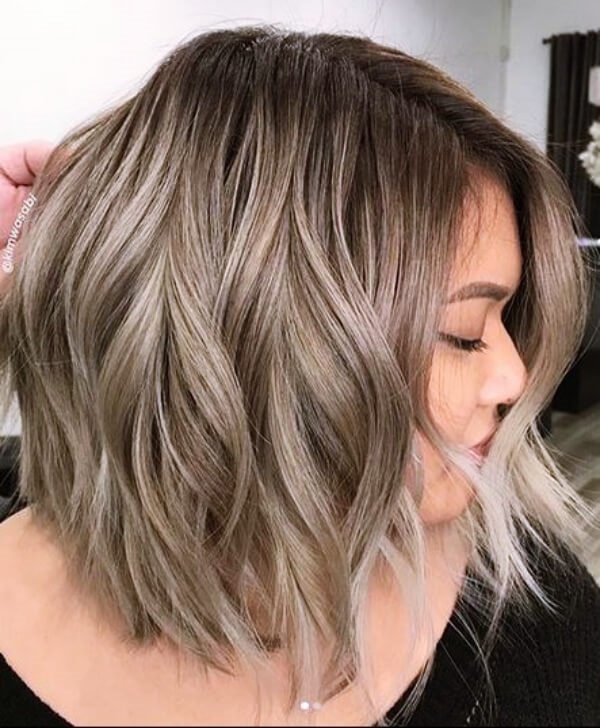 Bob is a peculiar pick from short hairstyles that generously favors women with fat faces and double chins by hiding the width of broad faces. The short angled haircut goes longer towards the front while running down short at the back.
You can find its traces from the iconic look of Katy Perry, Emma Roberts and many other ravishing celebs. For women with chubby personalities, the A-Line bob is a revolutionary savior that helps them easily style for an elongated facelift.
Perhaps, this one could increase your expenses over the salon trips furthermore. Grab this look and shine like a cool fashionista in your squad of girls.
10. Rounded Lob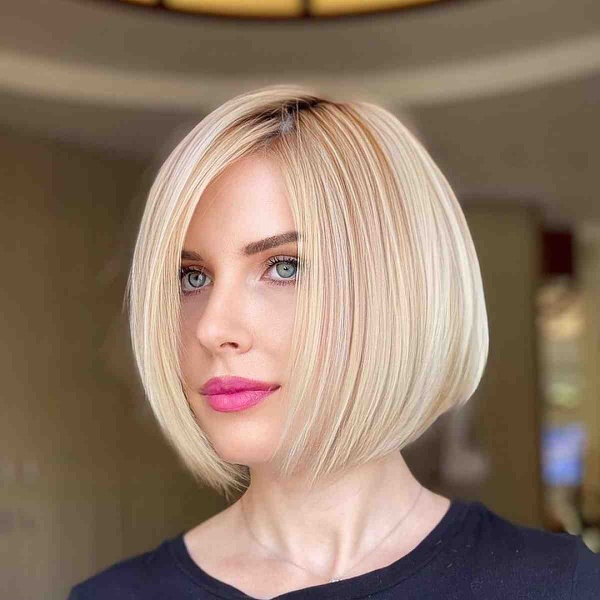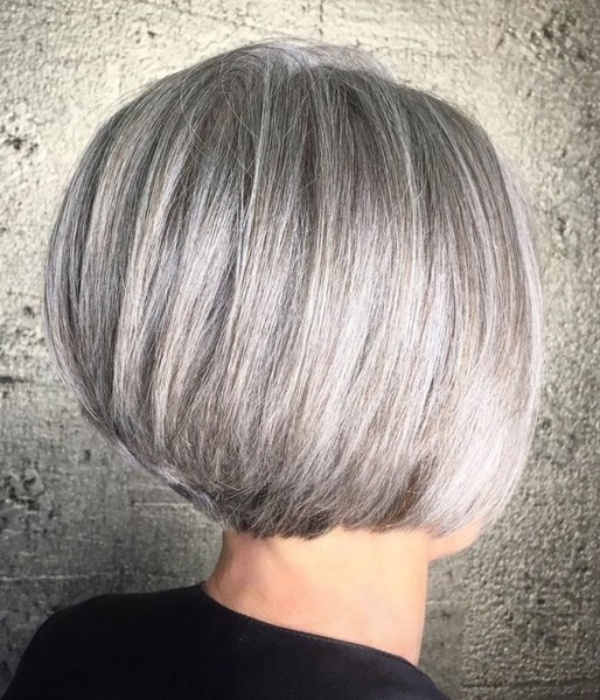 Grab the eyes of everyone with this classic short hairstyle that works wonders on fat faces and double chins of women. You might have spotted many elderly figures acing this wonderful hairstyle with complete grace and excellence.
The ones with flat or round faces must check out this phenomenal haircut that creates a fusion with bangs and blunt ends. Despite looking like a very plain and average haircut, it can surely transform you into a supergirl with a tint of subtle hair dye over it.
It heightens your face length by giving added volume to the bangs. We bet this trend is bound to stay back for at least over a decade. You can count on this one for sure!
11. Cropped Pixie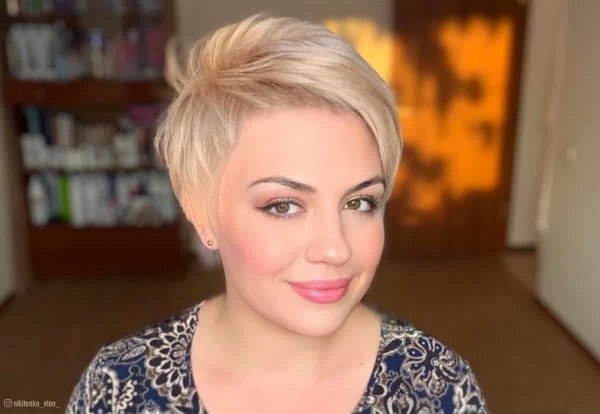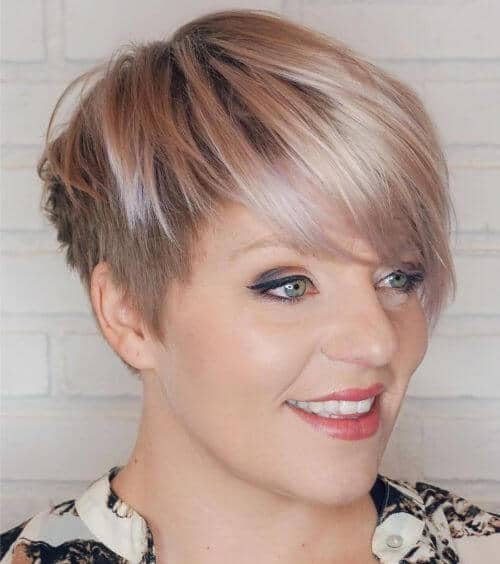 A cropped pixie haircut is a marvelous addition to women having fat or round faces. Pixie cut with diagonal bangs over it works fantastically for those having round faces. Anyone from the age group of 16 years to those of 50 years can slay this look like a pro.
We have live examples of beauties who dazzled in the pixie cut, such as Scarlett Johansson. After a while, you can have a hang of handling the piled-up volume on the head created with the fashionable pixies.
The revolutionary haircut has also been a favored choice of Kristen Stewart, the sensational style dive who aced hair fashion like no other. If you have not yet tried, go and grab that chopped pixie look now!
12. Braided Bob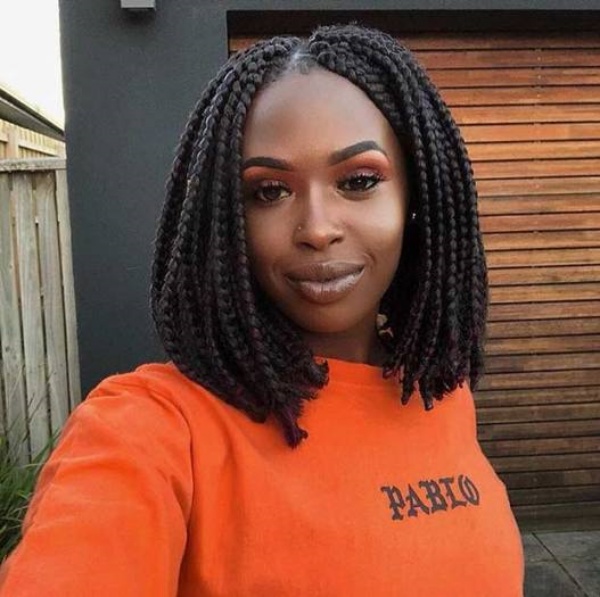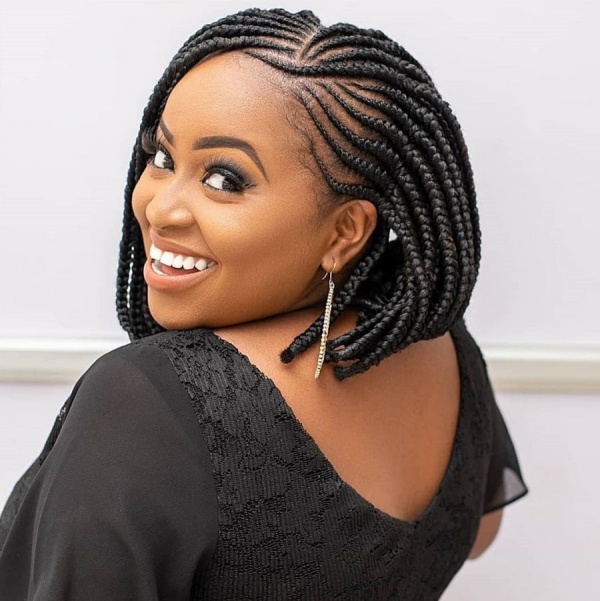 Braided bobs are next up for the short hairstyles that favor women with chubby faces. It elevates their charm, thus making them look more adorable and beautiful. Braided hairstyles symbolize strong, bold and powerful women who know their moves right!
Short braided bob retrieves the 90s nostalgic vibe and makes you look much younger. There are several tweaks and variations to flicker within this hairstyle, and it surely stands as the most dynamic pick of all time.
Women with grey or blonde hair must dye them darker to get a perfect appearance.
13. Short Shaggy Haircut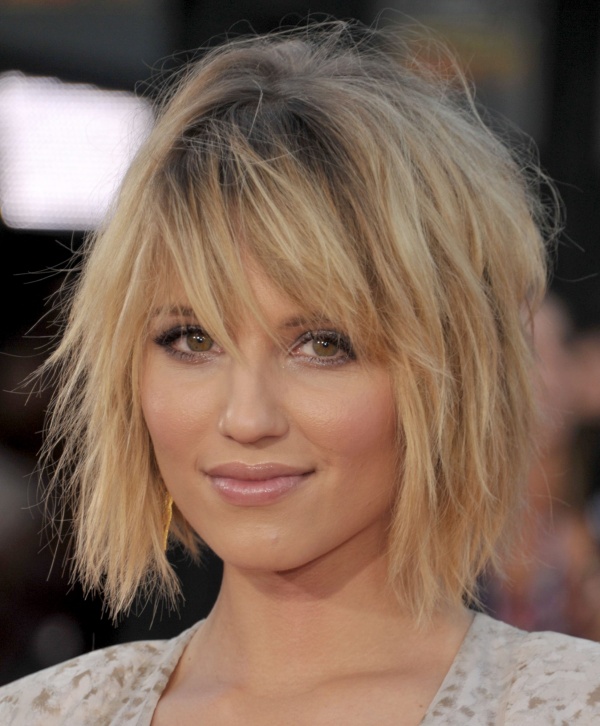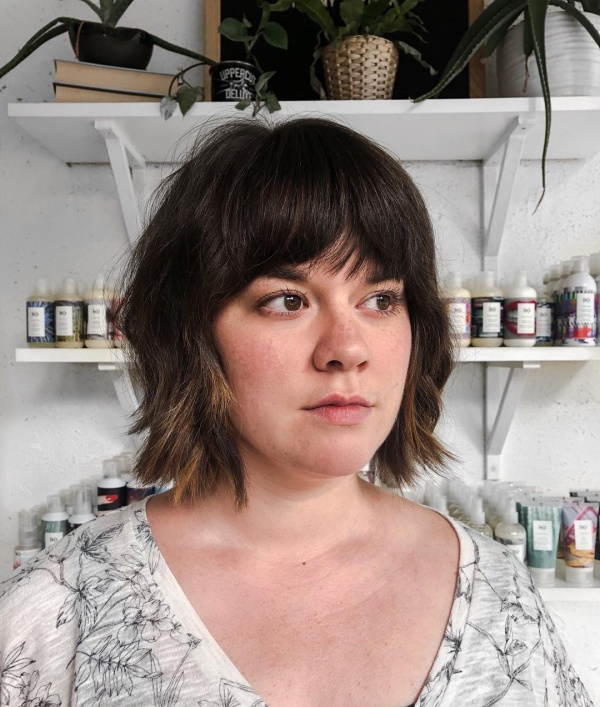 Shags can never let down women with round faces and rest as a classic short hairstyle! The dynamic hairdo is full of bounce, adding a vivacious touch to your appearance. It is a great choice for an intentional 'undone' look with a 70's vibe.
Adorning the shags with a choppy, textured look goes perfectly with round faces. Short shags help take away attention from the widest part of the face and lean down the jawline.
Women with broader foreheads can also trim down the wider attribute with this style. Ask your stylist to blend the shags properly to create that seamless look.
14. Tapered Cut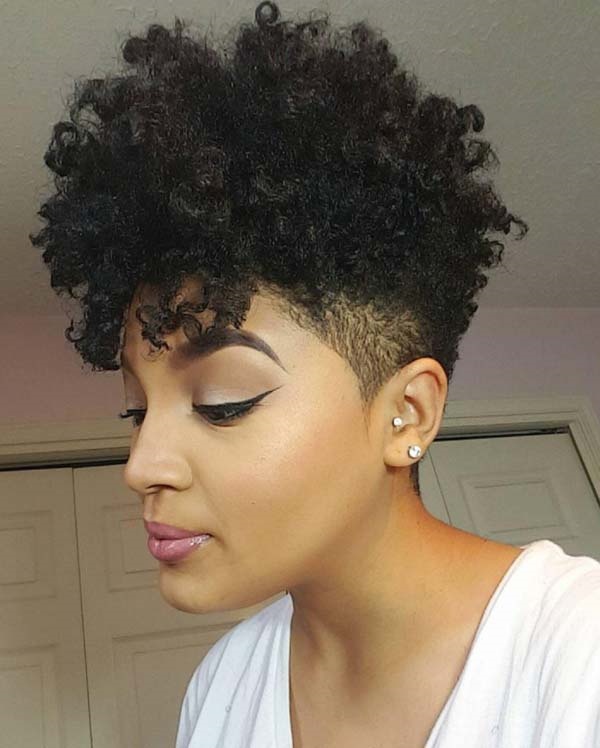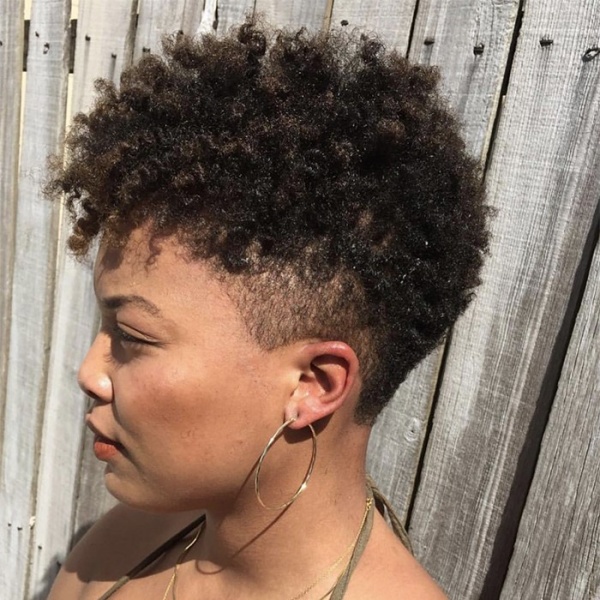 A tapered haircut will stay back in trend for a long while. It is bound to look fabulous when done by a polished hairstylist. The edgy haircut depicts extremely strong vibes, which is probably why people prefer it by adding some fades or an undercut.
Though tapered cut is a standard haircut for males, many women try it out with amazing twists and nail it like an ultimate fashion nova. The tapered haircut is exemplary for the round face-shaped chics who need good volume to overpower the face width.
Embrace your dominant side with the fabulous tapered look.
15. Textured Lob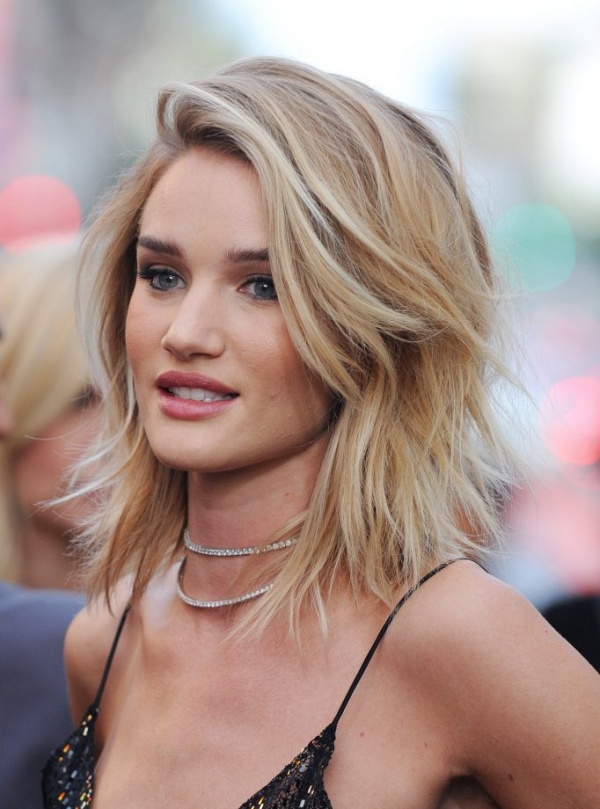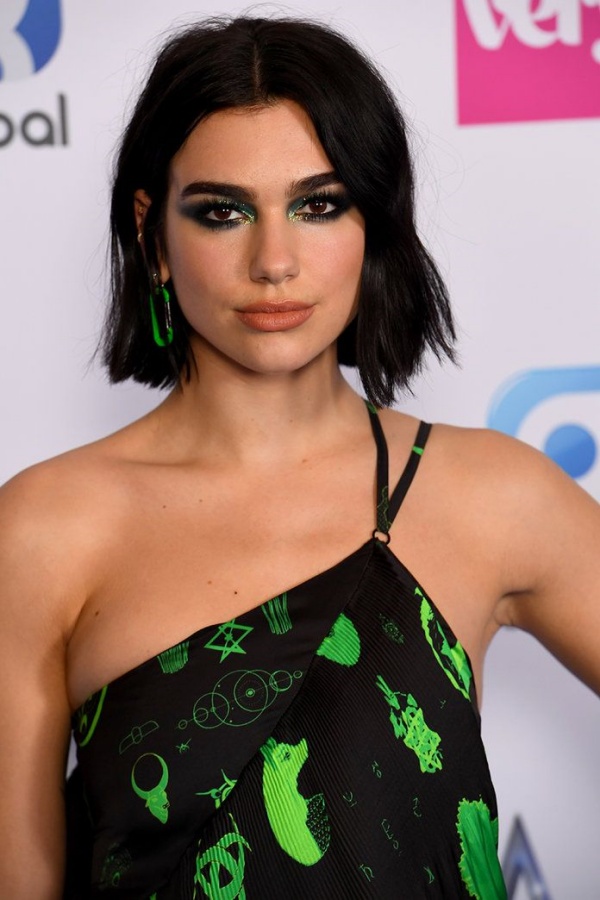 Though it might sound counterintuitive, a textured lob can cut your face into perfect proportions, giving a vibrant effect. The textured lob cut can be a perfect addition to women with fat faces and naturally thick hair.
It adds some waves and layers below your chin, creating an illusion of a narrower and sleek face. Ask your hairstylist to add a crown over your head that further elevates the overall appearance.
Women can also give it a playful touch by adding some highlights and shades to it.
16. Pixie With Side Swept Bangs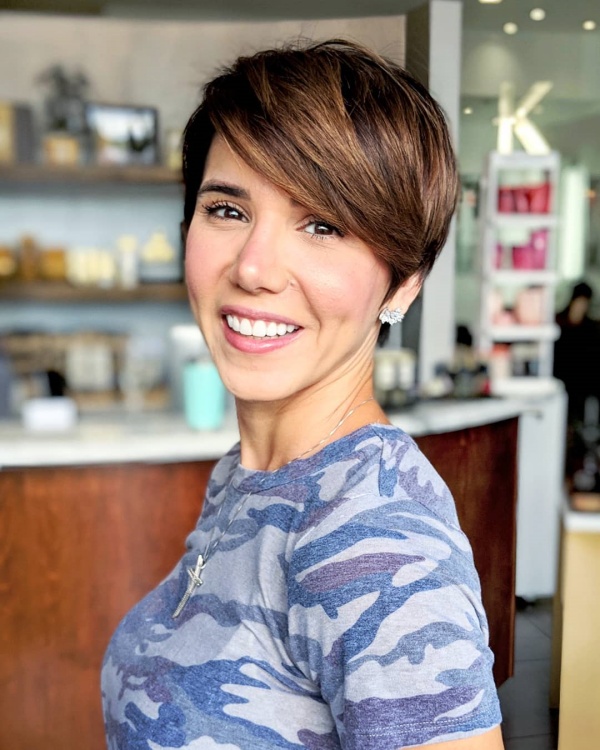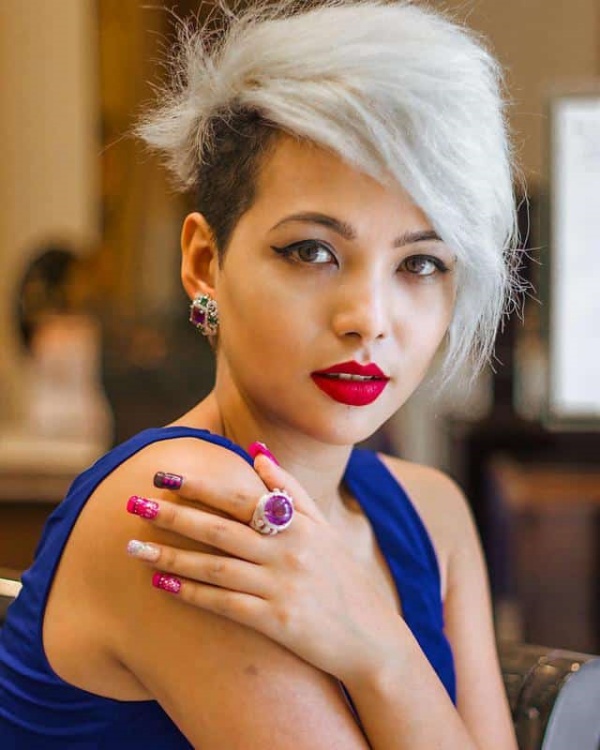 Pixie is a new fervor amongst the short hairstyles for women, and styling it with side-swept bangs changes its dynamics. Though the traces of this style is evident amongst the fashion fanatics of the music industry back in the 20s.
You can also glimpse the look of Hollywood actress Mia Farrow or even the epic pop artist Miley Cyrus to check the fad for this classic hairdo. Side-swept bangs add an elongated appeal to your hair, making the face look smaller with the side sweeps.
Go for a perfect dye that matches well with your face tone.
17. Finger Wave Pixie Cut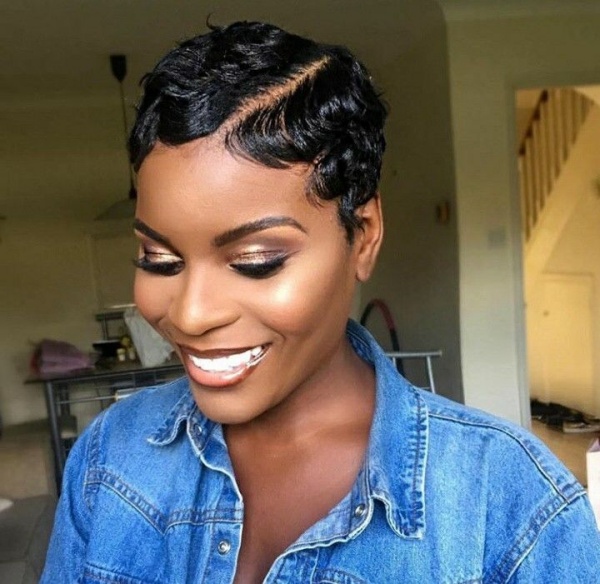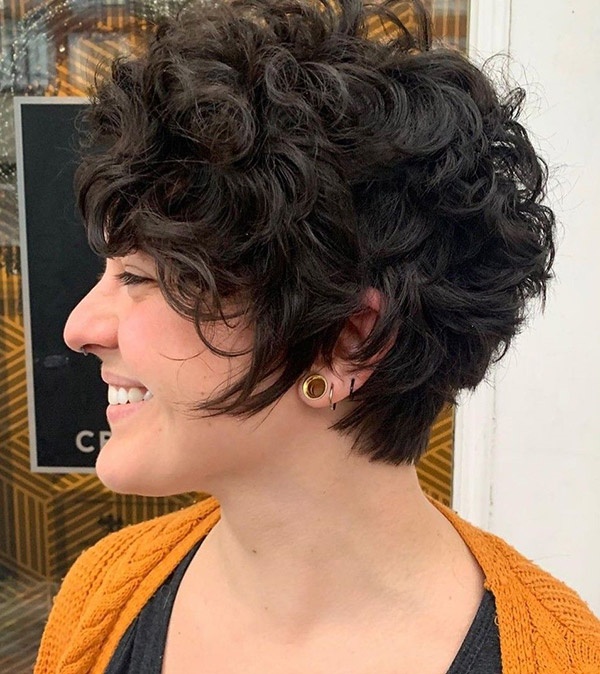 Willing to deck up for an upcoming party or any event? Try out the finger wave pixie haircut that depicts the most generous side of your personality.
It's a high-maintenance haircut, but if you are someone not ready to settle for less, go for it, girl!
Many celebs like Halle Berry and Teyana Tylor have perfectly excelled with this super stylish haircut.The trend evolved in the 1920s, and it's going voguish.
Style it right for any event or occasion, and you will surely be a head-turner for the moment!
18. Choppy Short Hair With Layers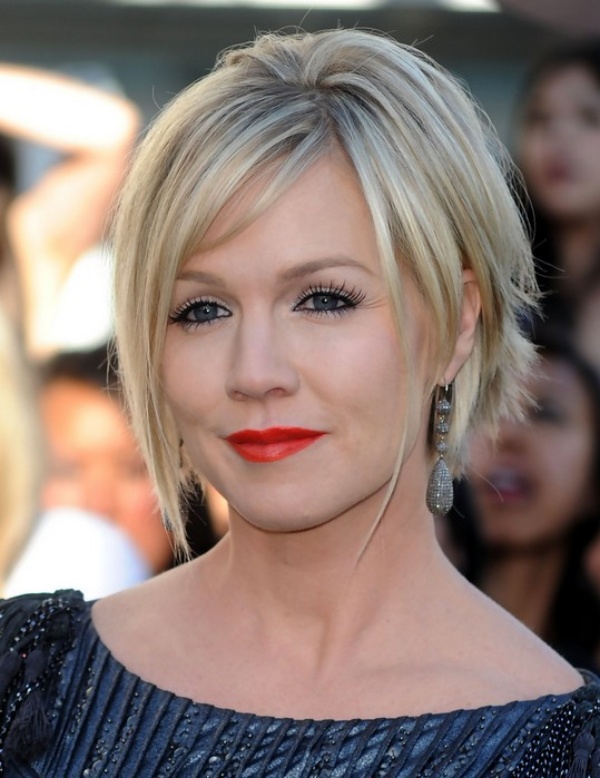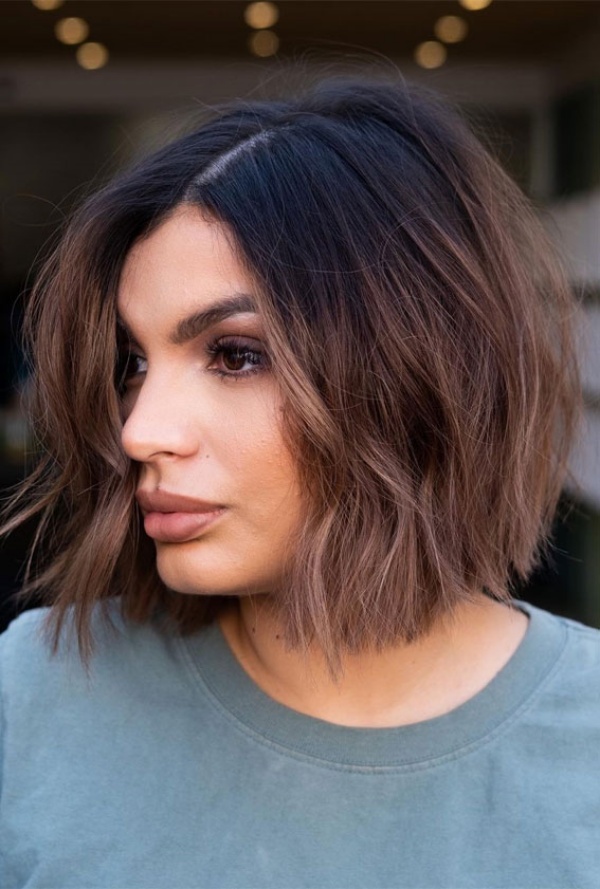 Layers work magic on women with fat faces and double chins who are counting on short hairstyles to acing up their fashion game. The choppy Short hair look is extremely low-maintenance, compatible, and syncs with the latest fashion trends.
The signature hair look adds a dense volume to your hair, and even if you have not washed up your hair for a long time, the effect is still awesome!
If you wish for a choppy look and are willing to match the latest trends with layered hair, this is definitely a great choice.
19. Middle Parted Bob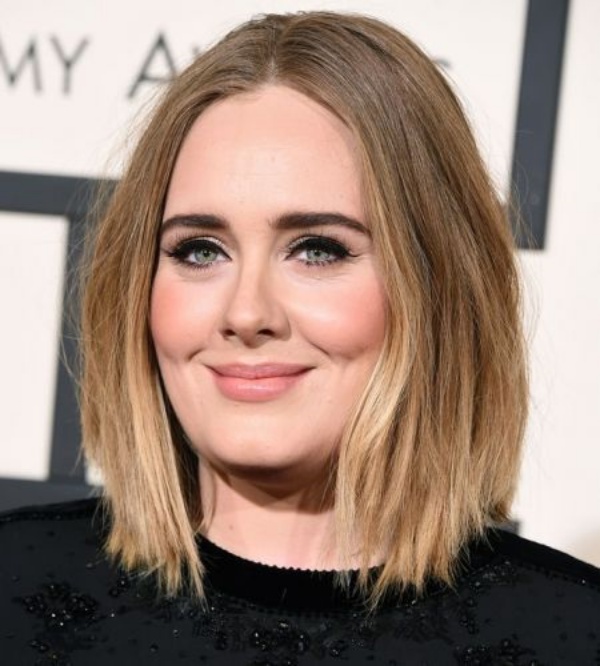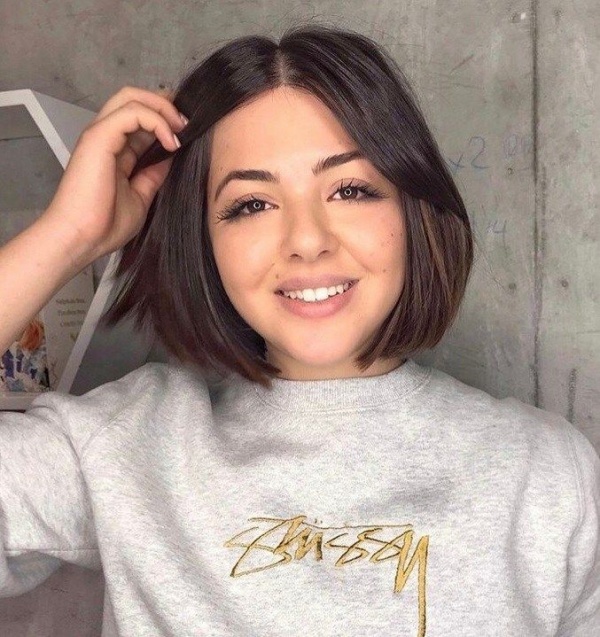 A notable hairstyle with the middle-parted bob adds symmetry to the round face and chubby chin. The middle partition gives the lengthening effect and a slimming look to your face, along with adding shaper angles.
Try out this hairstyle to transform your facial look and add face-framing prowess to it. Several supermodels like Bella Hadid, Gwyneth Paltrow and Kendall Jenner hone the middle-parted bob look with a catchy twist.
If you ought to showcase that impressive and astonishing facial change, try out a middle-parted bob, and you are unstoppable then.
20. Wavy Bob Cut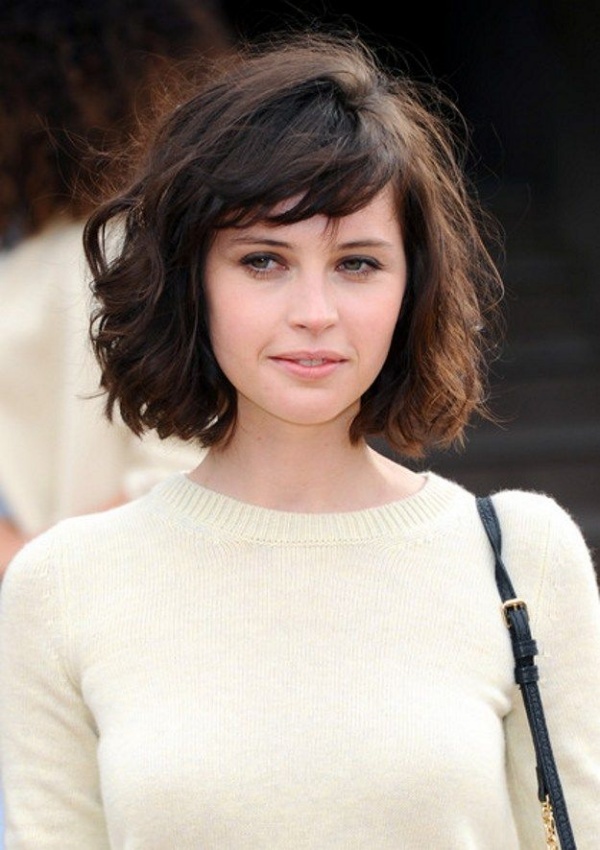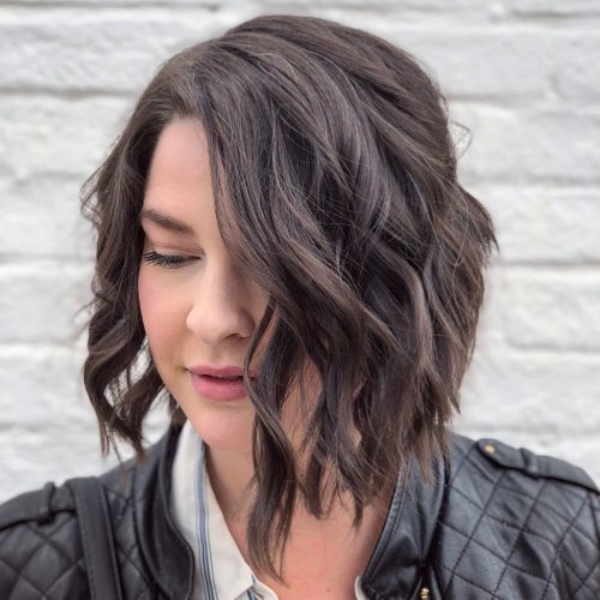 Go for this flirtatious wavy bob haircut that looks stylish and slayish for women with fat faces and double chins! Adding a few side fringes to this haircut adds more detailing to the look.
This appearance syncs well with the round-face women as multiple uneven elements roll over the face. Mingling a bit of texture to the wavy bob layers can avoid the structured 'hair helmet' effect.
A wavy bob cut with a few fringes can slice off your face into various angles and take off the attention from an exact facial structure.
21. Side Swept Lob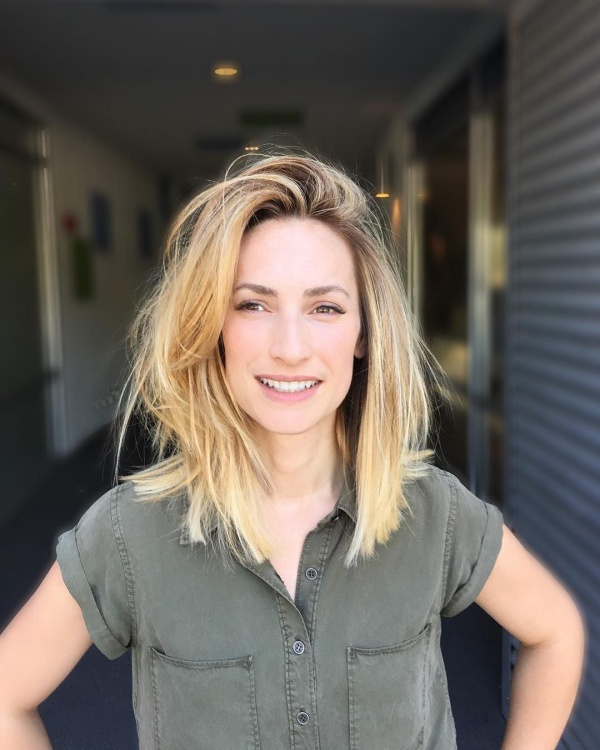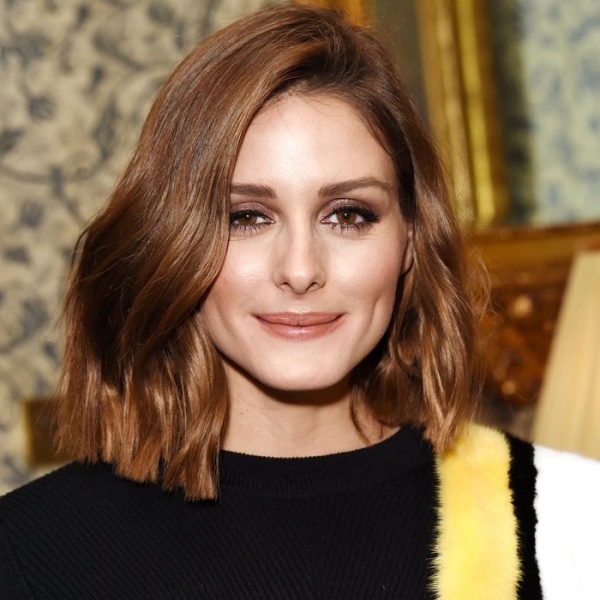 Another classy hairstyle for fat faces and double chins is a side-swept lob. It is perfect for women who do not wish to experiment with very short hair yet are eager to slim down their faces with a catchy touch.
Side-swept lob is amongst the most youthful, fun and model looks that's adorable when done right. If you are fine with taking some risks and chances with hair styling, this one deserves a chance!
22. Faux Hawk Haircut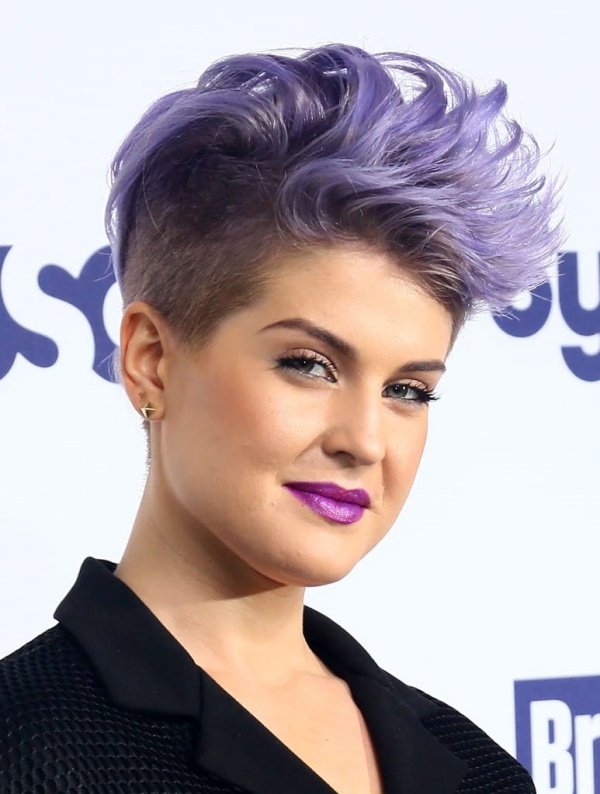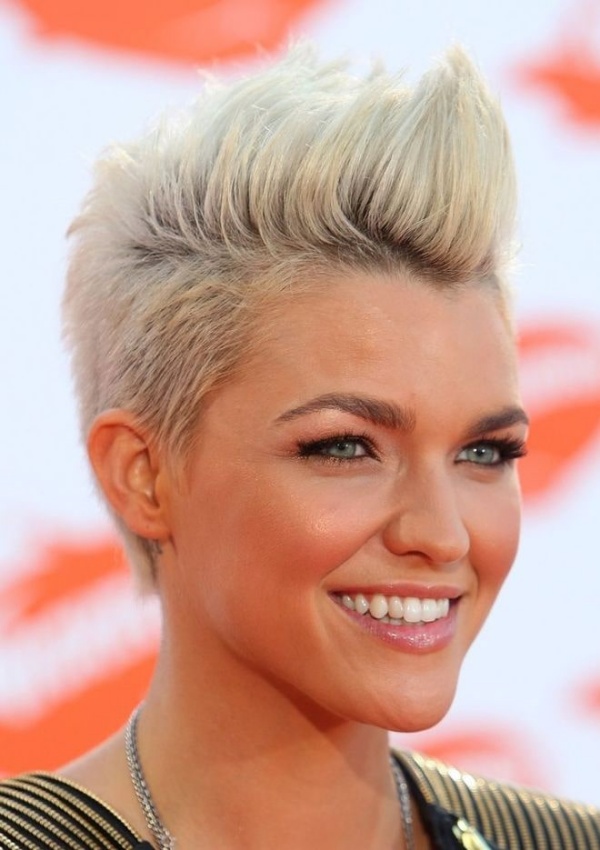 Another pioneering trendy haircut that catches our eye for its edgy appeal is the faux hawk haircut. It's been a leading trend as it allows the waves over the top and help you get the desired extensions towards the sides.
The faux hawk look needs regular trimming and styling to keep that upbeat look in place. Many leading celebs like David Beckham and Adam Levine have accelerated the craze for faux hawk looks, making it a good choice for many people.
23. Curly Pixie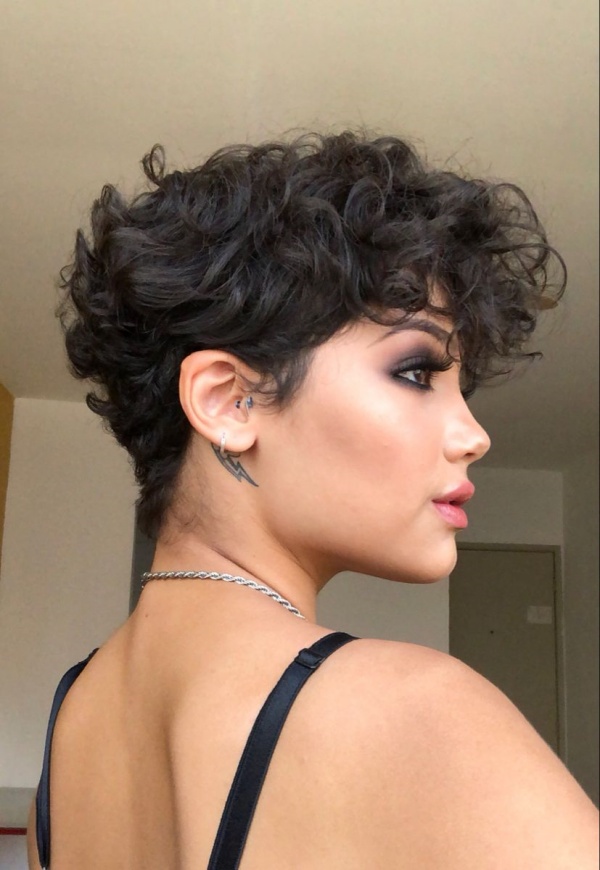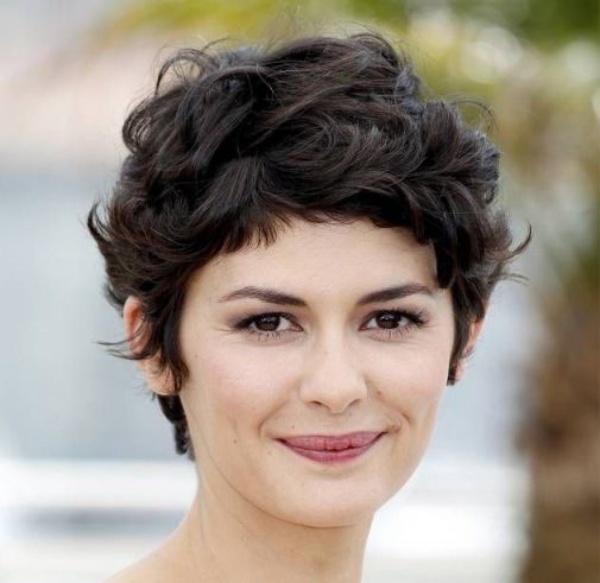 Shout out to a promising fashion appeal with the amazing curly pixie haircut. The flattering trend has been in full swing since the 60s for its impactful definition, volume and heightened fashion sense.
It is ideal for applying sprays, gel and creams to add the desired definition to your pixie curls. Many women also use sea salt sprays to get the desired texture and look.
Styling it like Blake Lively, Rihanna Ground and Ruth Negga is possible when you know exactly how to ace this trendy look. Curly pixie should top your list if fashion sense is your priority for the next haircut.
24. Flapper Bob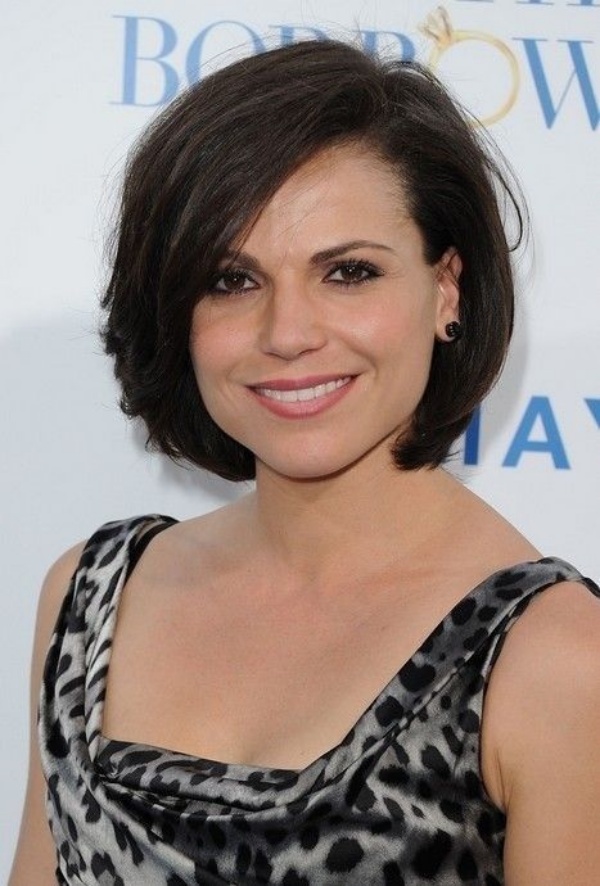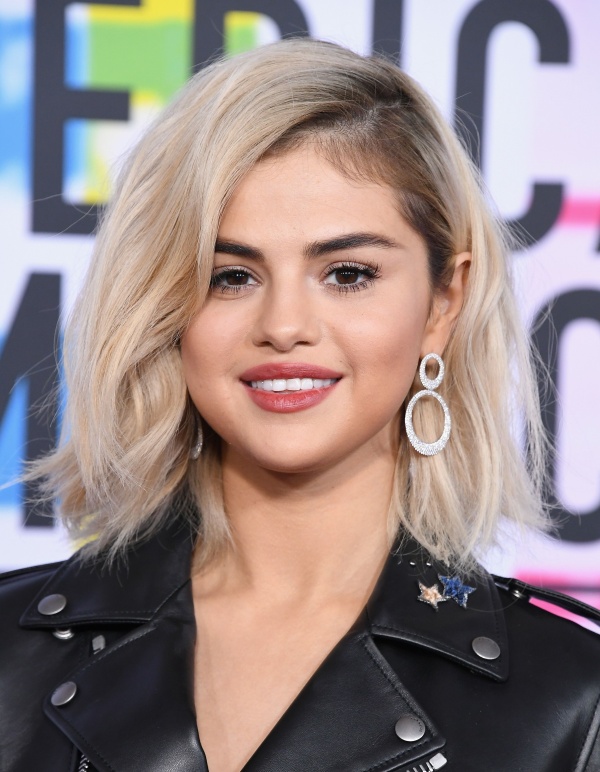 Is it a new entrant to the short hairstyles list for fat faces and double chins? Certainly No! The trend was spotted in the 1920s, and it is quite popular for its liberation and comfort.
The flapper bob is a highly rule-breaking hairstyle that dominates the fashion faces imprinted on American Magazines. You might have noticed this style quite often in Hollywood movies as well.
Celebs praise the flapper bobs, and Anna Katrina or Josephine Baker are the best examples. If you want both comfort and fashion, nothing matches this trend.
25. Messy Short Beach Waves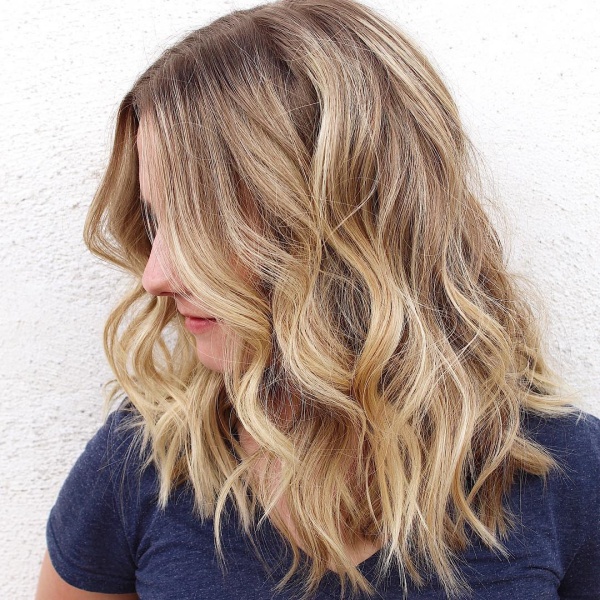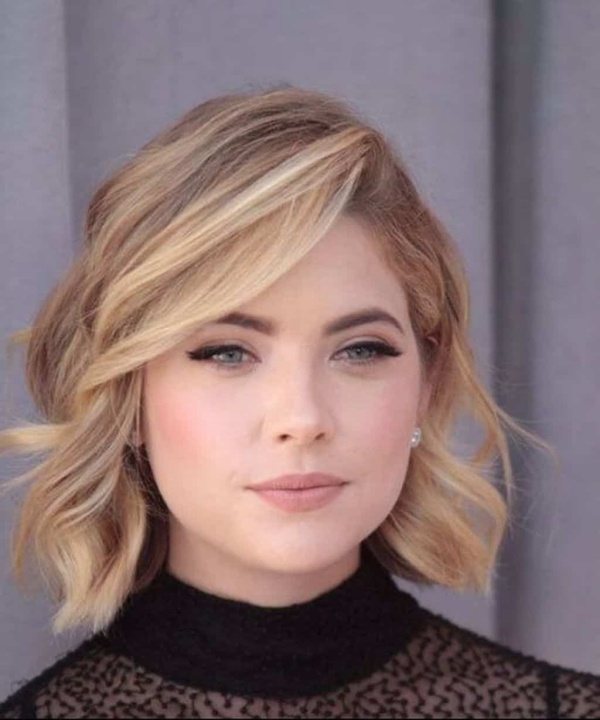 Effortless, easy and quick shags are every girl's favorite! Messy short beach waves start from midway down your hair length and achieve the center attraction of your face.
The stylists use curling tools, irons or straighteners to get this trend right. Adding salt sprays or creams can naturally bring out the best look.
You can seek inspiration from popular Hollywood film stars like Lucy Hale, Dianna Agron and Jennifer Lawrence. Try it now!
26. Flattering Short Hair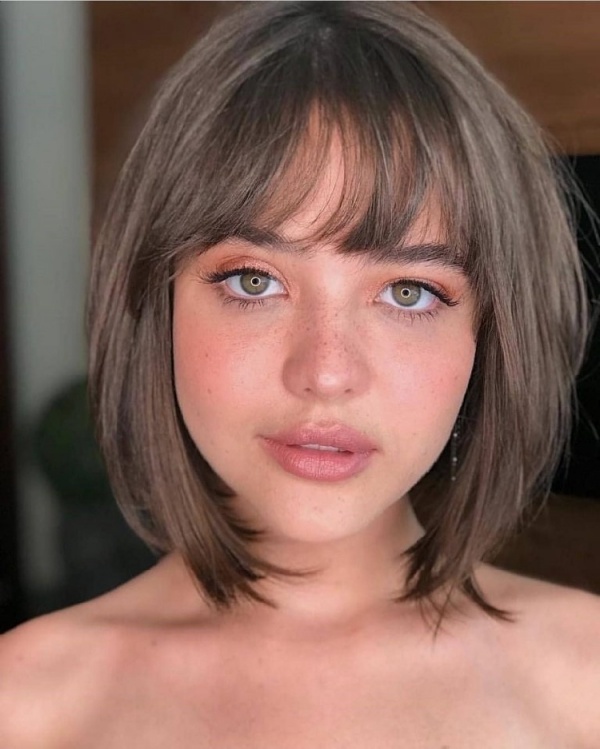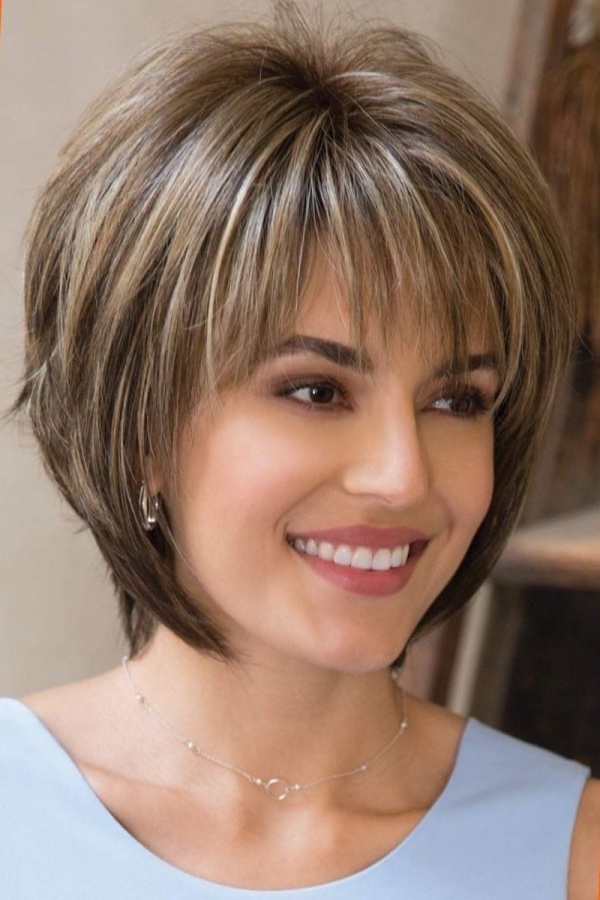 Adding more layers to the hair is fabulous for covering the wide face and double chins. A flattering short hair look is an awesome addition for women with mid-length hair as it adds soft curves to your hair. 
Many popular celebs like Kelly Osbourne, Renee Zellweger and Emma Stone have nailed this look like a real diva.
Having said that, it is a must-try-out hairdo if you want to amaze everyone around with that fabulous layered-up hair look.
27. Pixie With Shaved Sides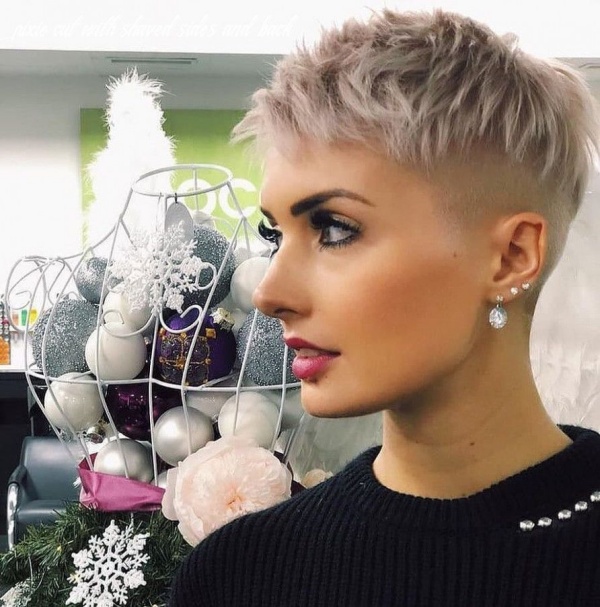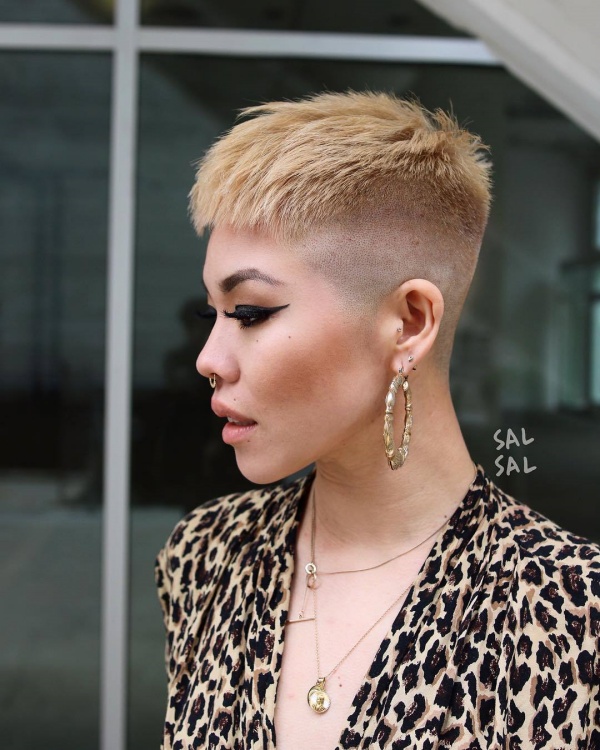 Blending out the two extremes might be experimental but can turn out amazing if done by a good professional. A pixie haircut with shaved sides is a perfect style for women with curly, thick, wavy or thin hair.
The craze for pixie hairstyles is over the top, and curvy women have been readily adopting this hairstyle since the 2000s.
Adorning the pixie look with shaved sides is already recording high popularity. Surge your confidence with edgy shaved sides for a more dynamic appeal to your personality.
28. Curly Blunt Bob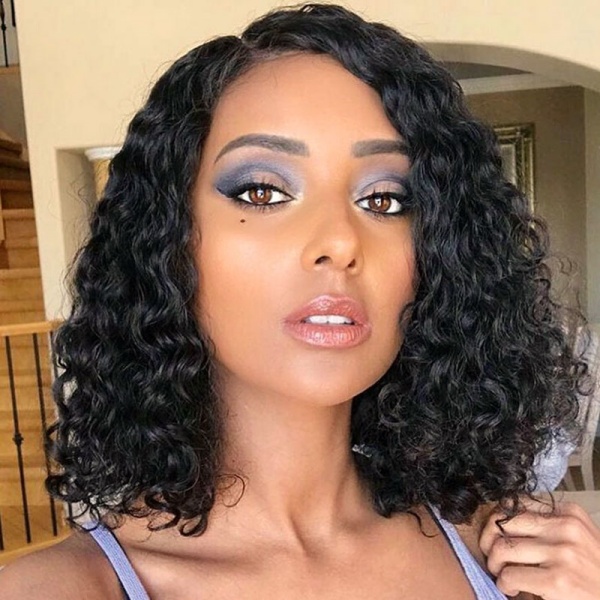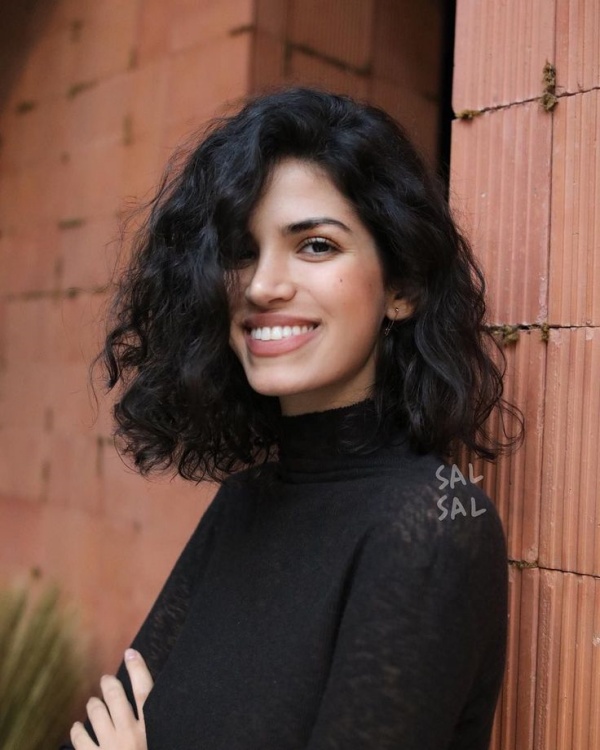 Counting on the next popular trend on short hairstyles for fat faces and double chins, we can't miss out on curly blunt bobs. Drool into this super stylish look that works marvels on every hair type.
This edgy bob with curls adds a more natural look to your hair and splurges out an ultimate fashion vibe. Added volume to your hair helps slim down your face with a wonderful drop that looks amazing.
Ask your professional stylist to assimilate the right texture, layers and undercut perfectly. Go for this progressive hairdo with blunt bangs!
29. Swept Up Haircut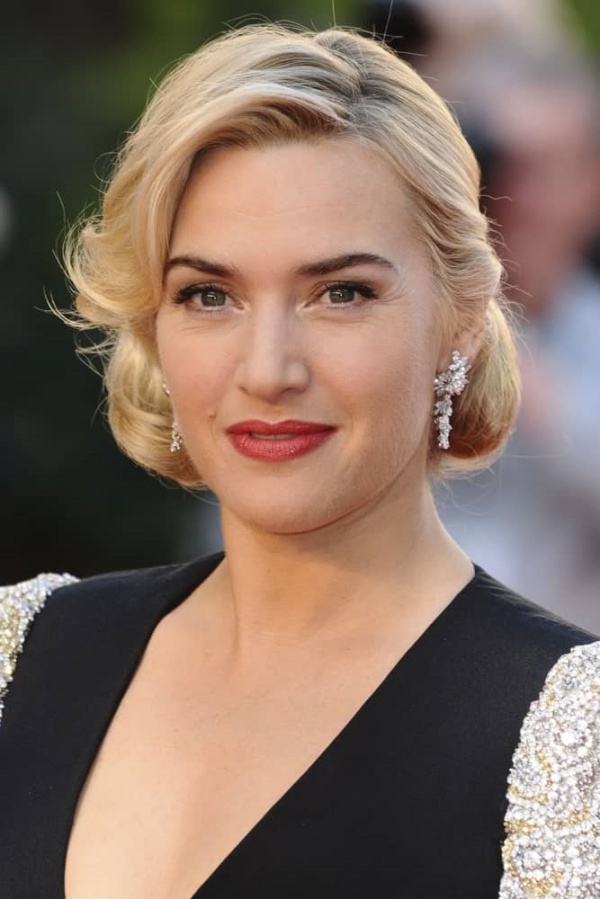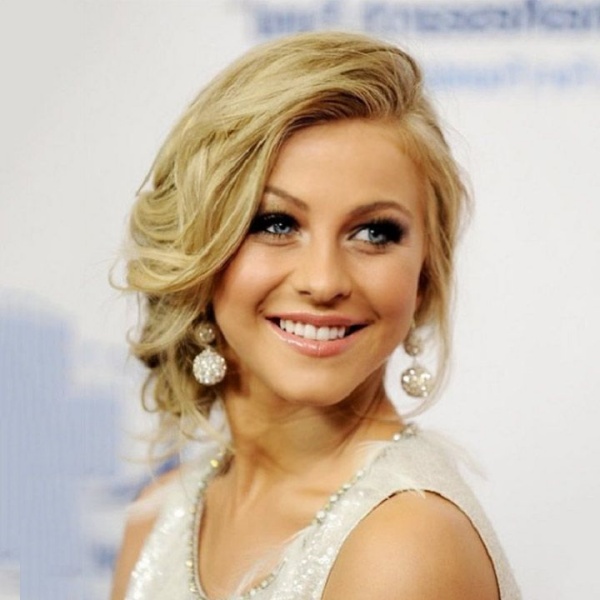 Try out this swept-up hairstyle, as it has had immense popularity for a long time. Wear this elegant hair look that makes you look fresh and full of energy all day long.
Just jazz up with some styling creams, and you are all set for the red carpet. The swept-up hair depicts an ultimate charm and elegance that gives you a great appearance.
Adding knick-knacks like barrettes, bobby pins and hairspray is a perfect solution for side-swept hair.
30. Straight And Sleek Comb-over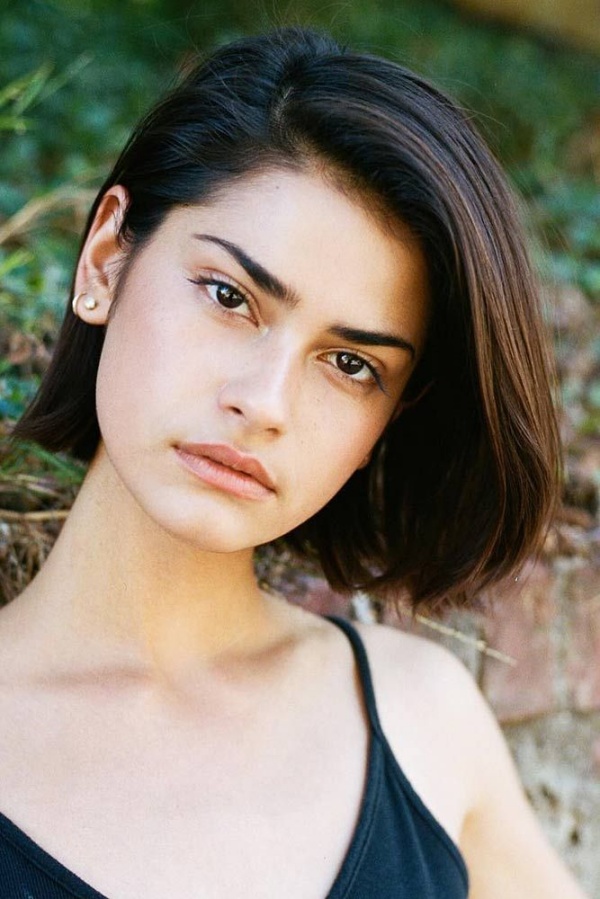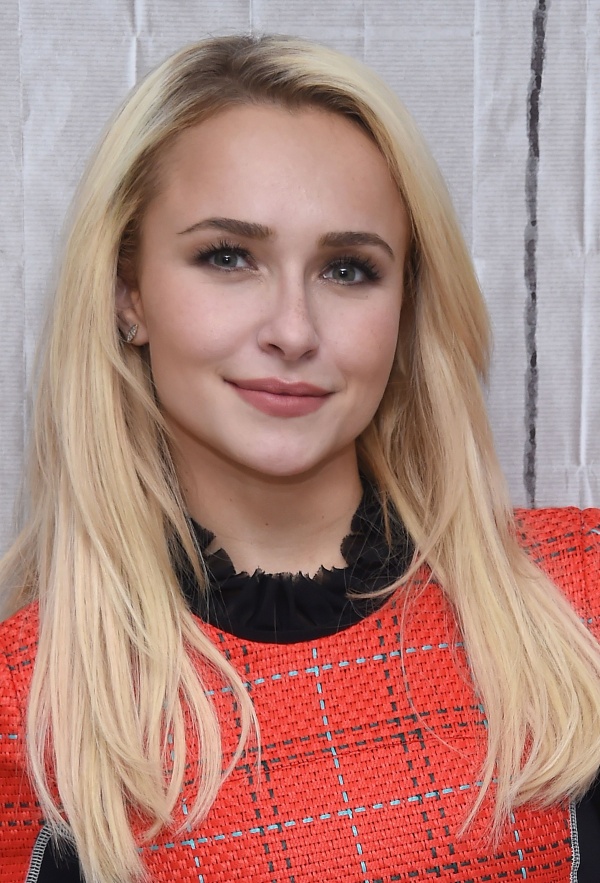 Are you not comfy with cutting down your hair excessively short? The straight and sleek comb-over haircut replicates the pompadour look apart from the hair parted in the middle and side combed.
Start by adding some clippers to a portion, and you are all set for the corporate event or any occasion. Brushing back the straight hair by adding a front fringe is a perfect thing if you need to experiment with versatile hairstyles.
31. Short Spiky Haircut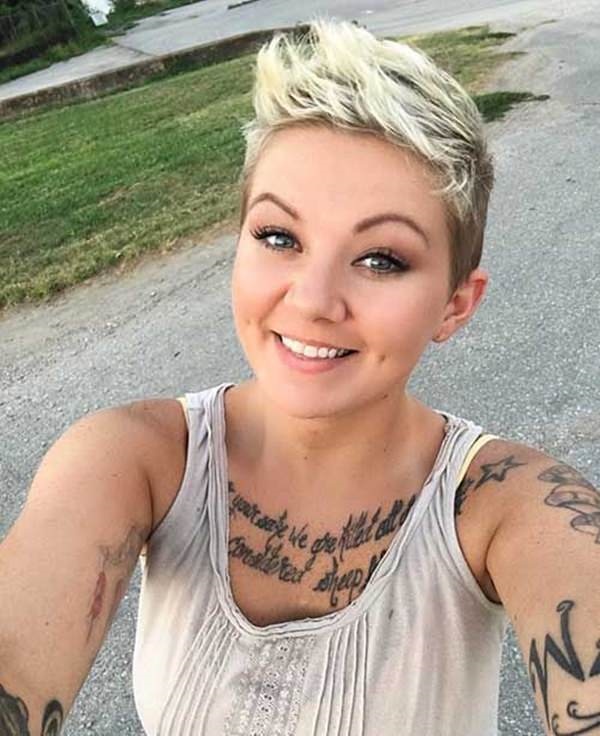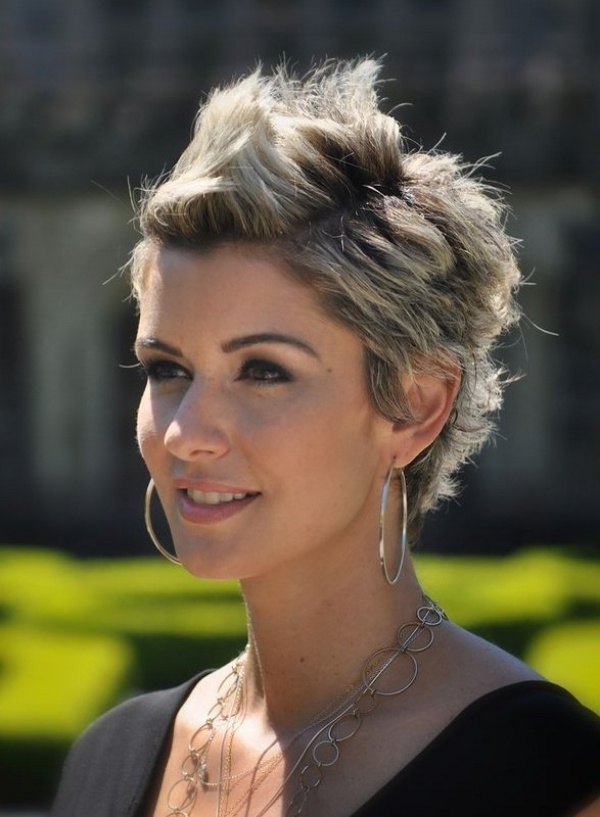 Experimenting with the short spiky haircut is perfect for women willing to ace that punk rock look. All the dashing and courageous ladies who don't fear the storms can try this short hairstyle.
Especially teen or college-going females especially can try out this odd hairstyle with the spiky look. The addition of some golden or blonde highlights can further accentuate the appearance.
32. Short Feathered Cut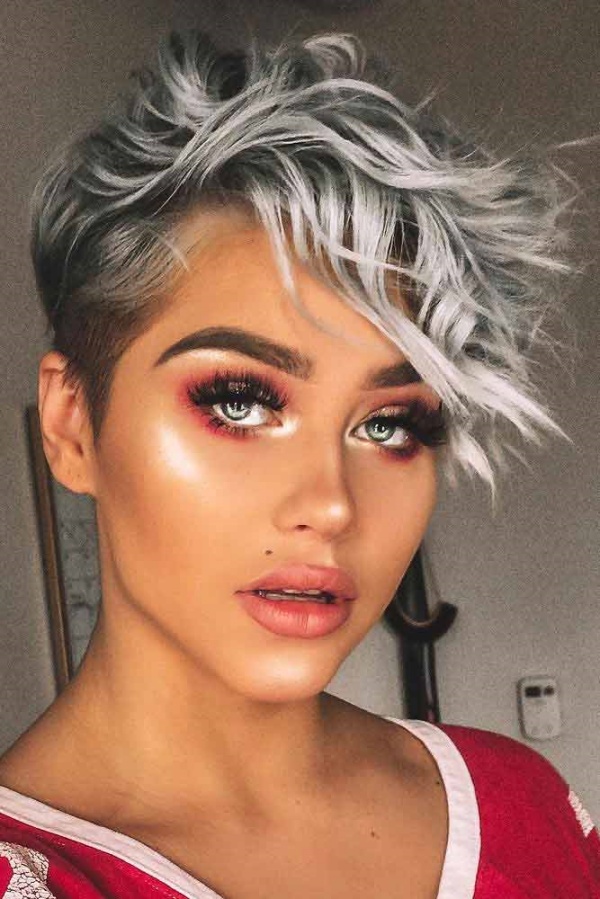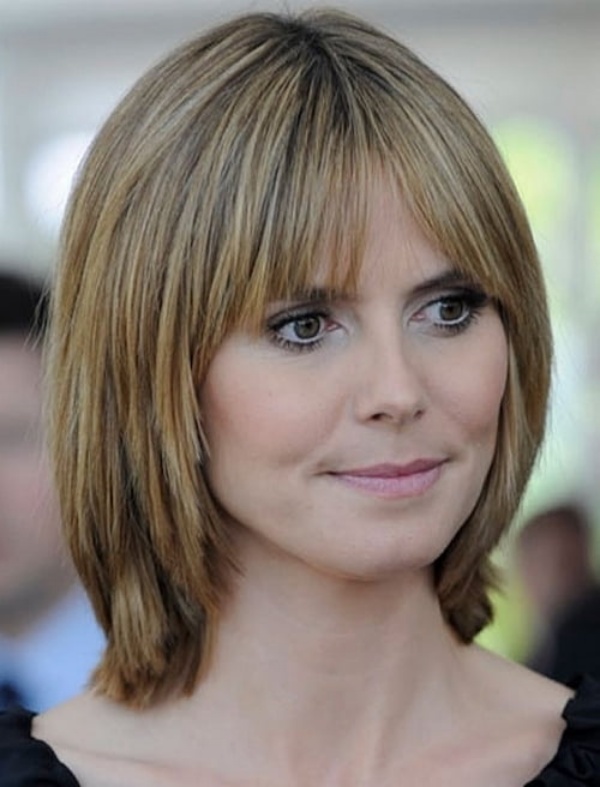 Short feather-cut hair can be a perfect addition if your hair is somewhere from the minor blunt to shoulder length. The stylist needs to layer the blunt cut properly to give it a feathered effect.
It narrows the cheek width, and uneven length elevates your facial attributes. Those in their 40s or 50s can style this type of hair perfectly.
Glam it up with western wear or party dresses, and you are set to go.
33. Boy Cut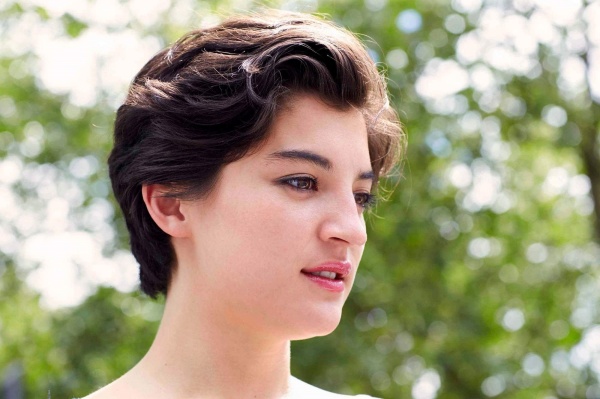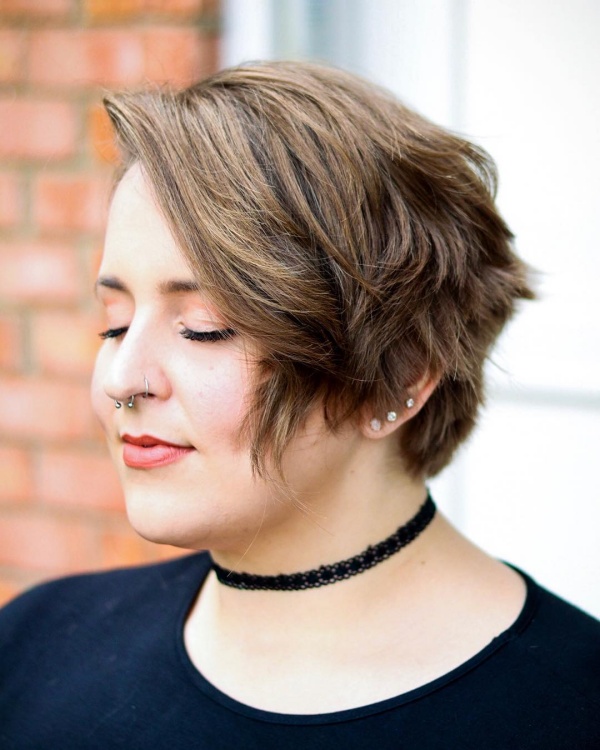 The classic boy cut is a convenient yet fabulous hairstyle that perfectly nurtures fat faces. Despite ushering hairstyle trends and styles, boy-cut hair is a perfect choice as it makes your face look thinner and prettier.
Picking up this inspirational hairdo is a perfect idea when you wish to dazzle gracefully. Serve those cowlicks at your head's back and style it up with a gel that holds the hair perfectly in place.
34. Graduated Bob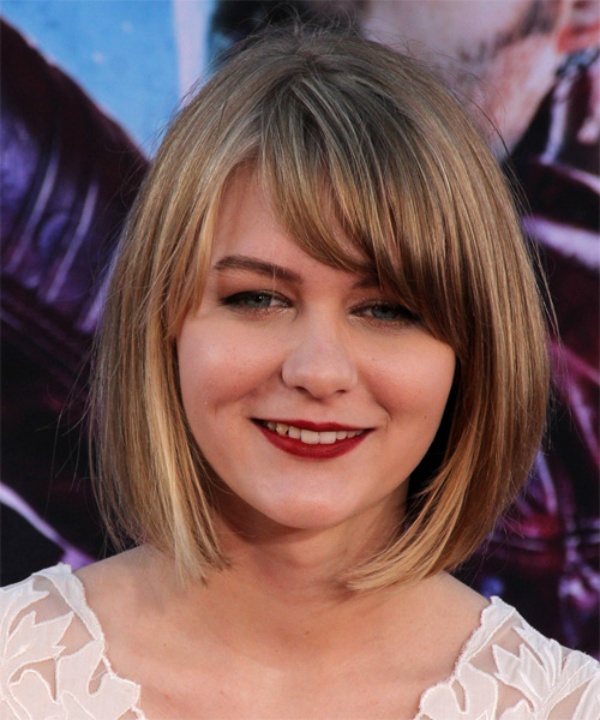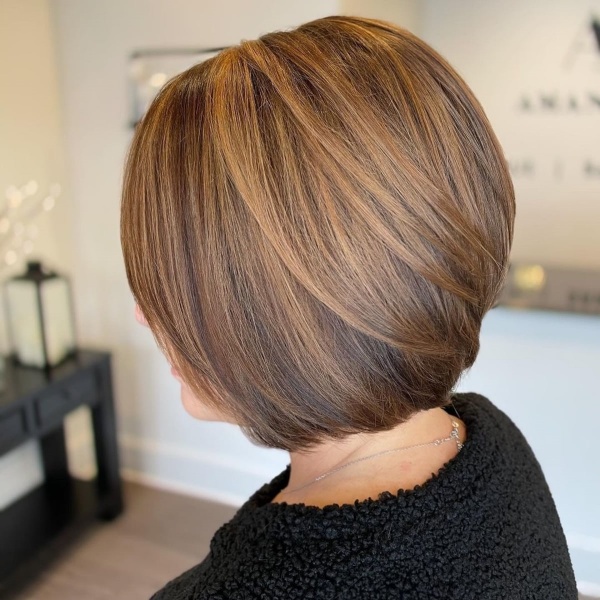 Precisely stacked layers adding a voluminous effect to your hair is a graduated bob haircut. It refers to the rightfully composed layers that get a seamless transition from one look to another.
Many females with fat faces opt for this strong haircut as it adds more definition and volume to their hair. This is perfectly suitable for different face types and renders you a youthful appearance.
35. Chin-length Blonde Hairstyle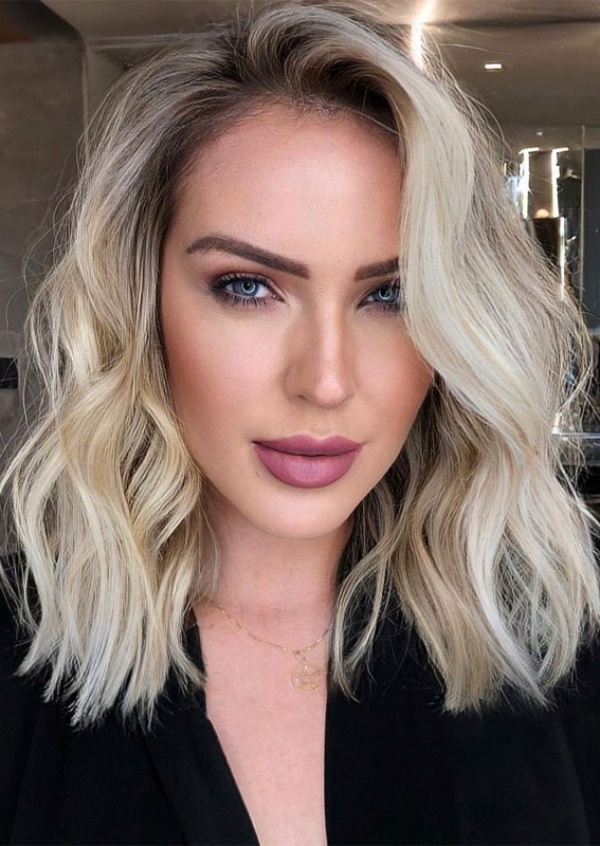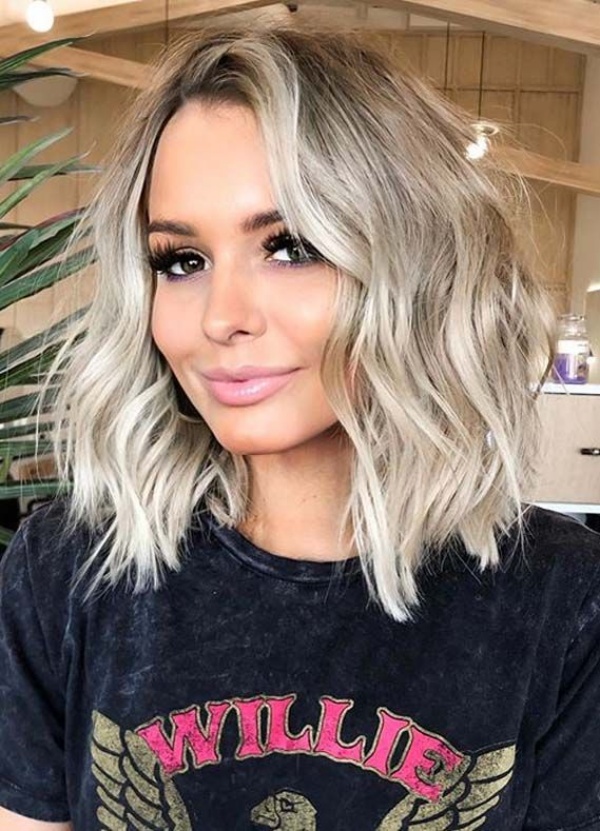 The short and tinted haircut till your chin-length adds a unique level of appeal or mystery to your hair. Adding blonde tones as a full-color dye is a perfect way to enhance your personality.
Women can opt for multiple blonde tones, an ombre effect or the highlights to surge the vibrant effect. It can be exhilarating to go for a chin-length blonde look but fusing in creative elements would be helpful.
36. Wavy Highlighted Lob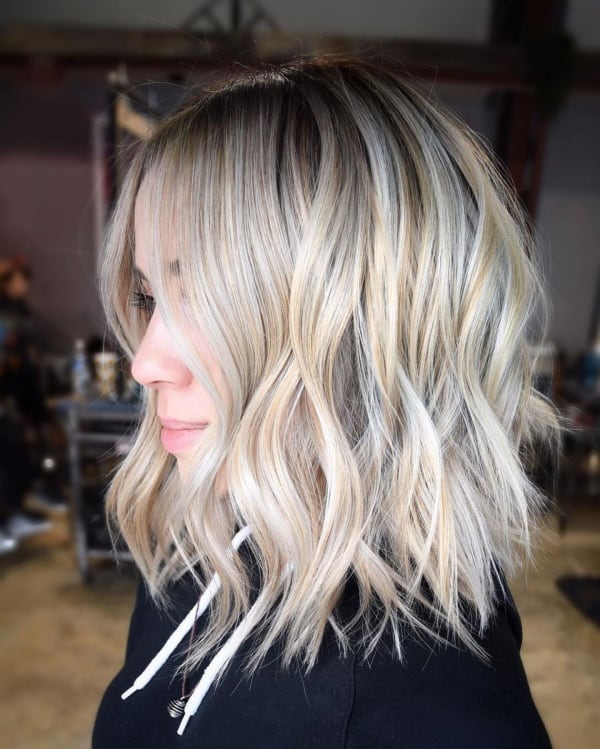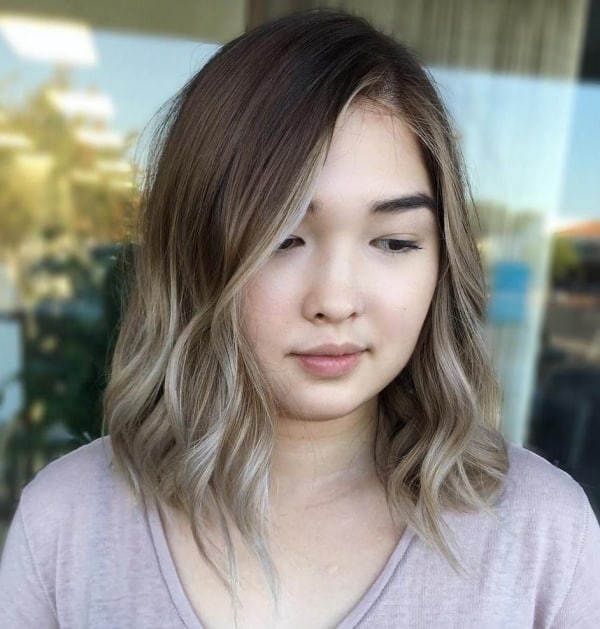 Ladies with double chins luring short hairstyles for round and fat faces can flicker around with middle-parted wavy lobs as a stylish pick! As the hair elegantly falls off through your chin, the soft jawline disguises, and you tend to get a slimmer facial look. 
Round or chubby-faced women are advised middle partition followed by wavy lobs to make it more wearable. The middle partition draws attention to your face and accentuates the features like nose, eyes and lips.
Get those wavy pieces fixed right to cover those fuller cheeks and impart an oval shape to your face!
37. Curly Coloured Short Hair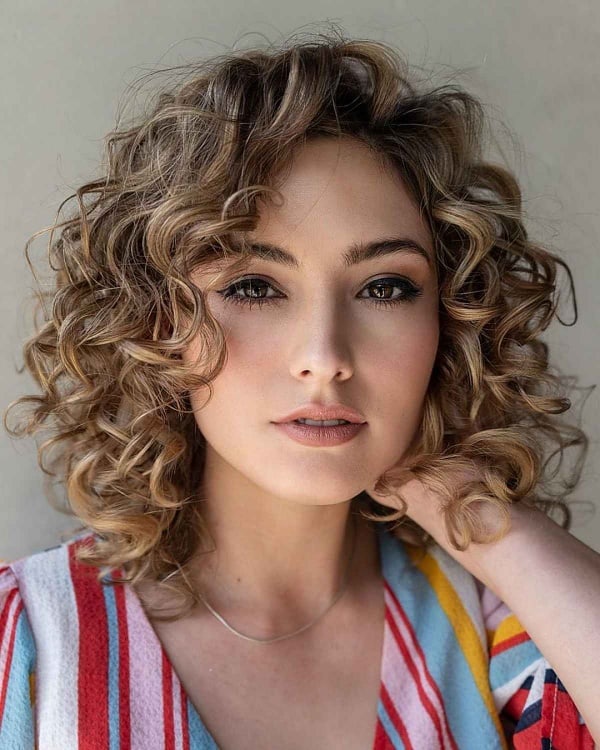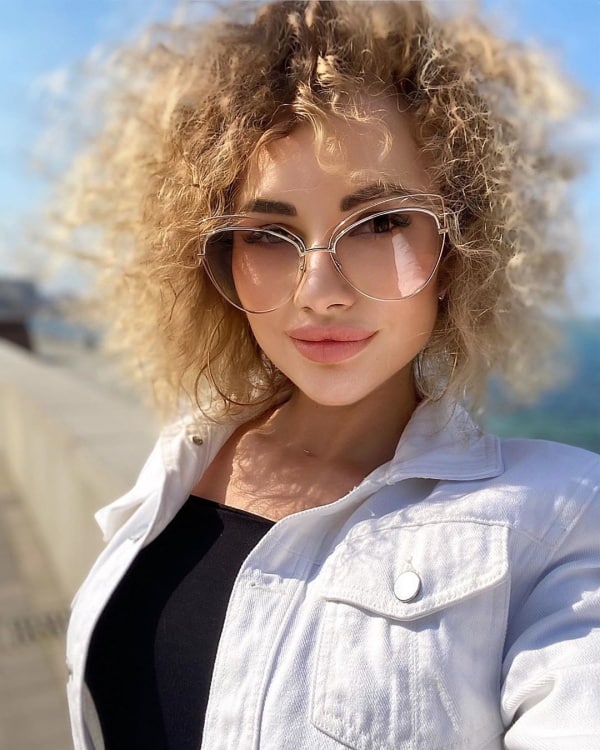 Rightly done curls always enhance and render an exquisite touch to your appearance. The curled effect shortens the hair follicle length and compliments your double chin with a vivid effect.
Go for shaded hair as it shifts the focus to your hair, thus making a face look slimmer. Your ultimate goal must be to create an illusion of a fuller look to your personality.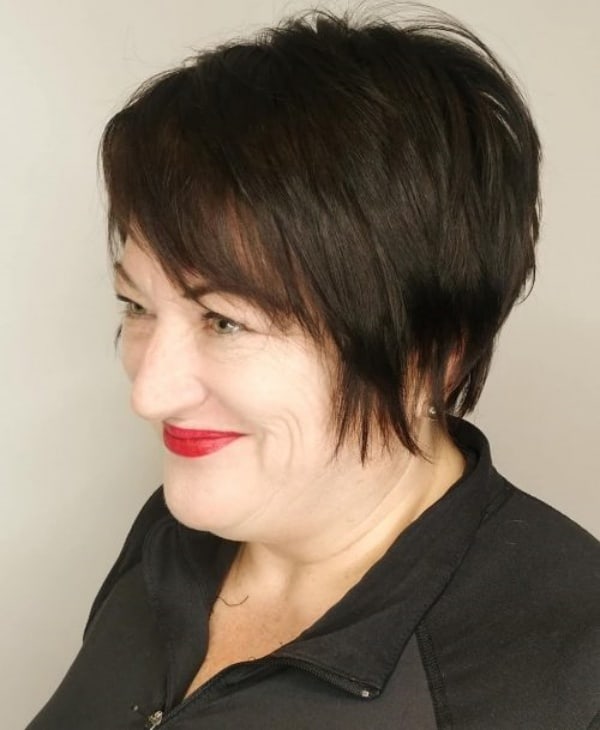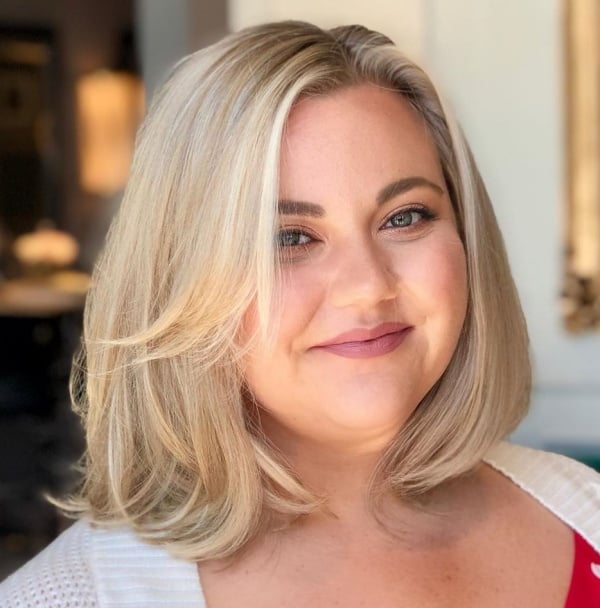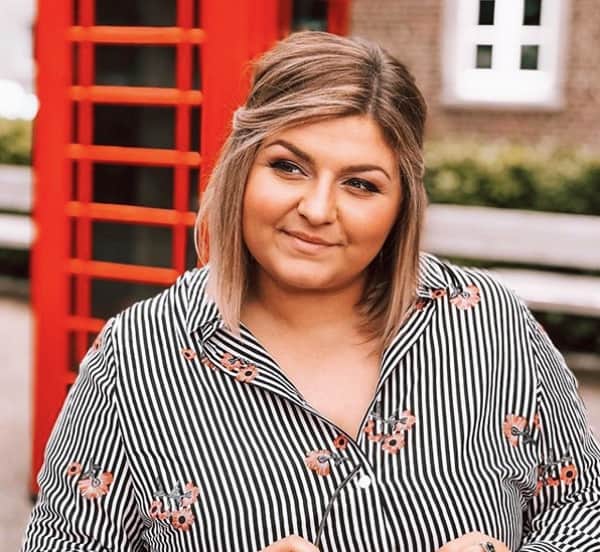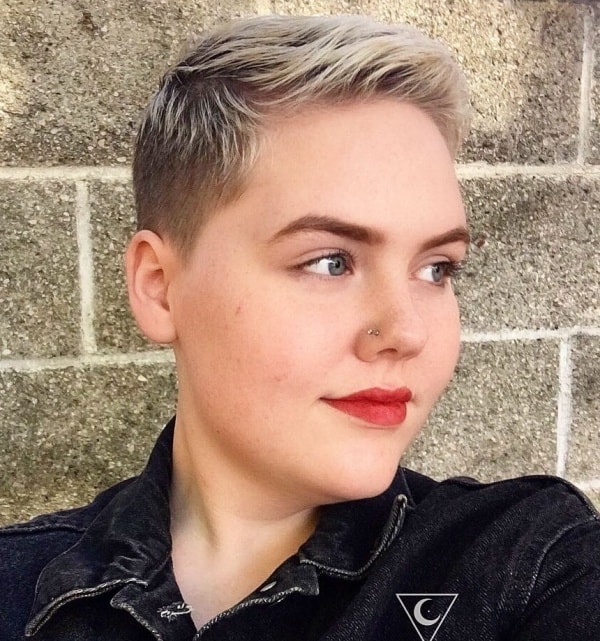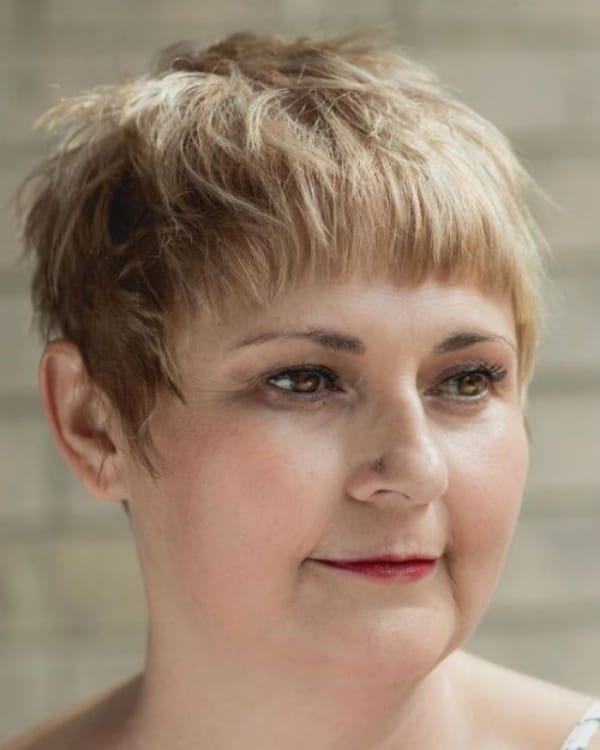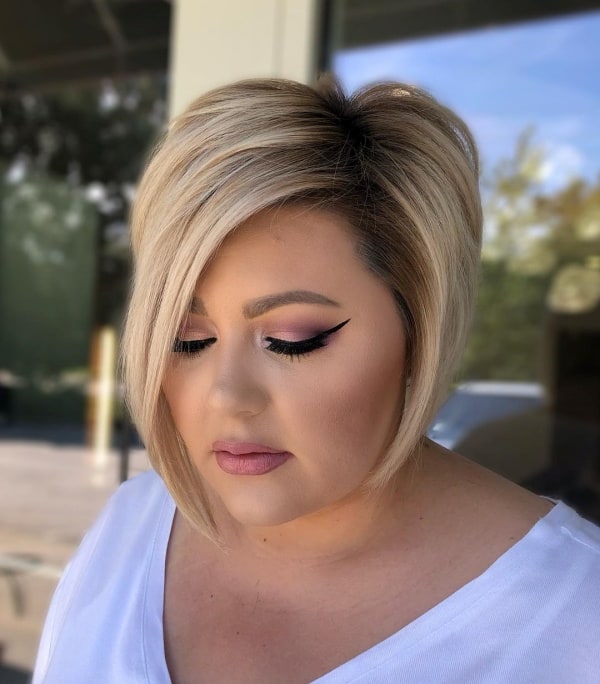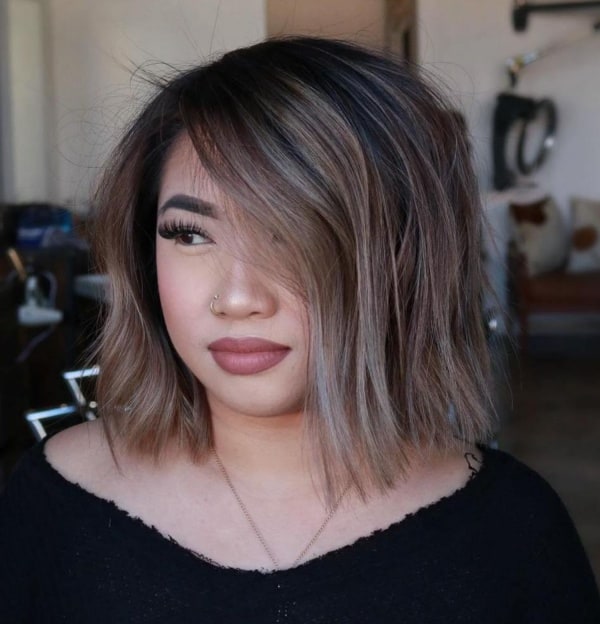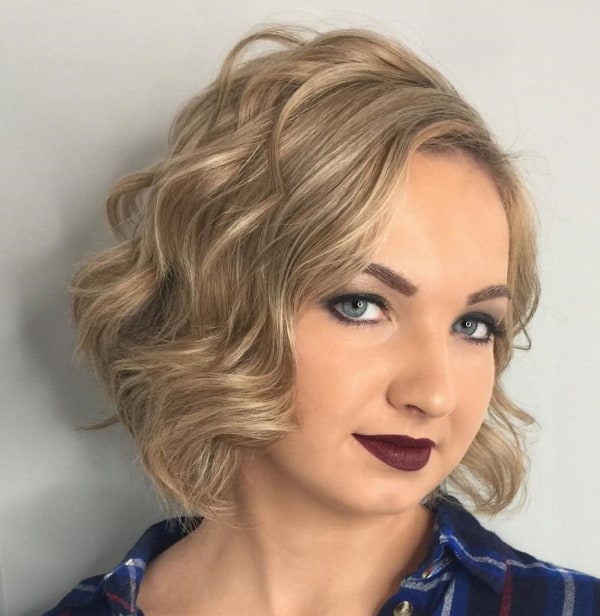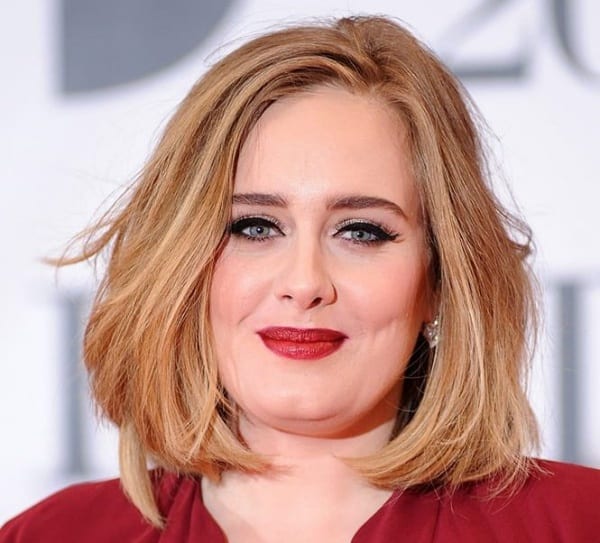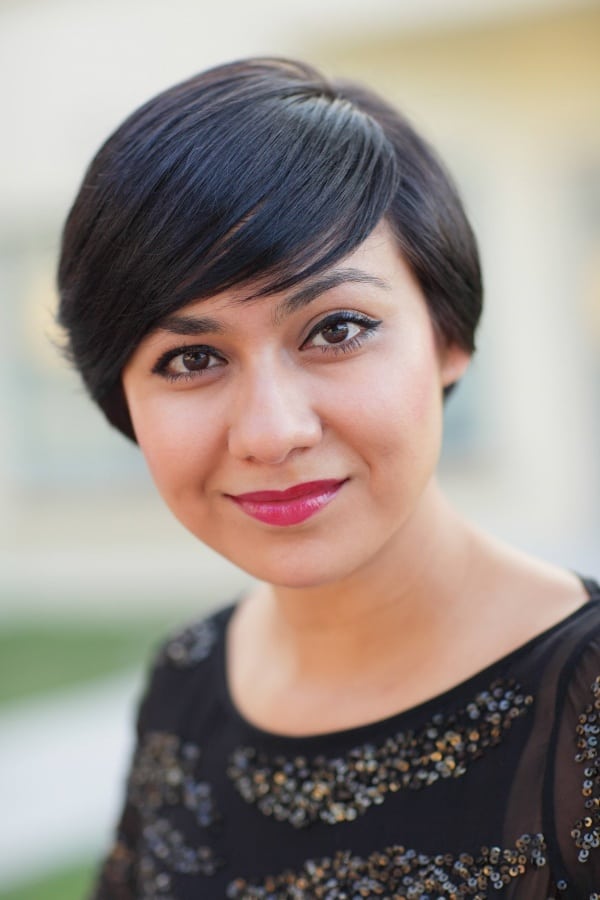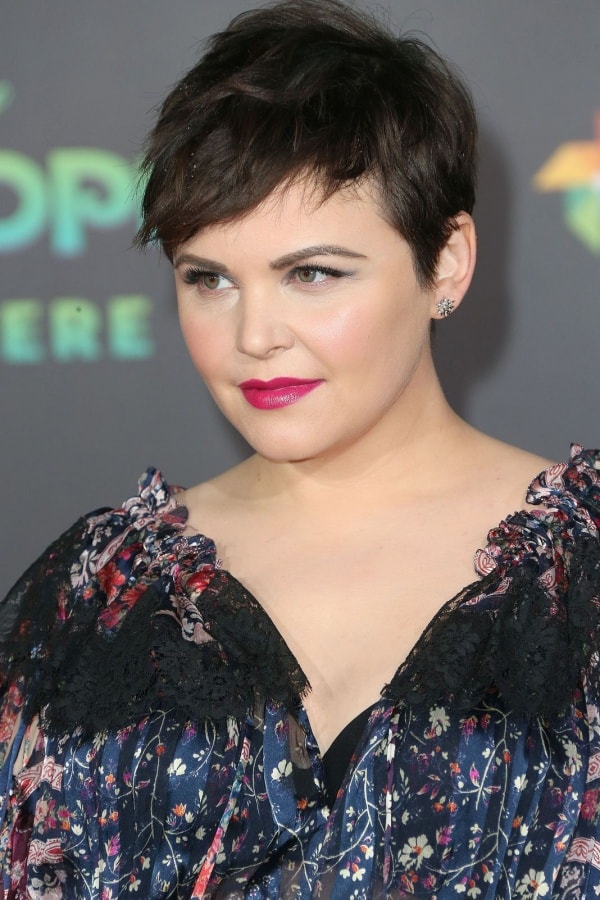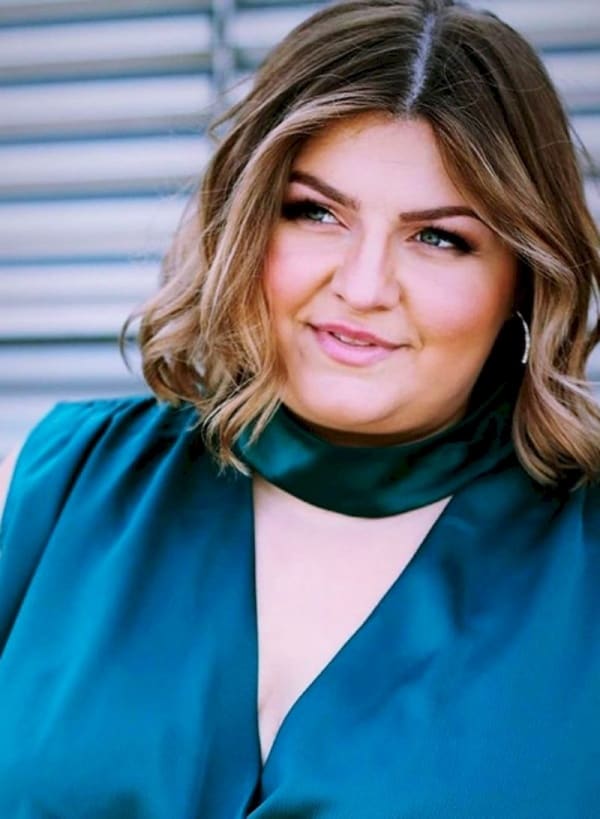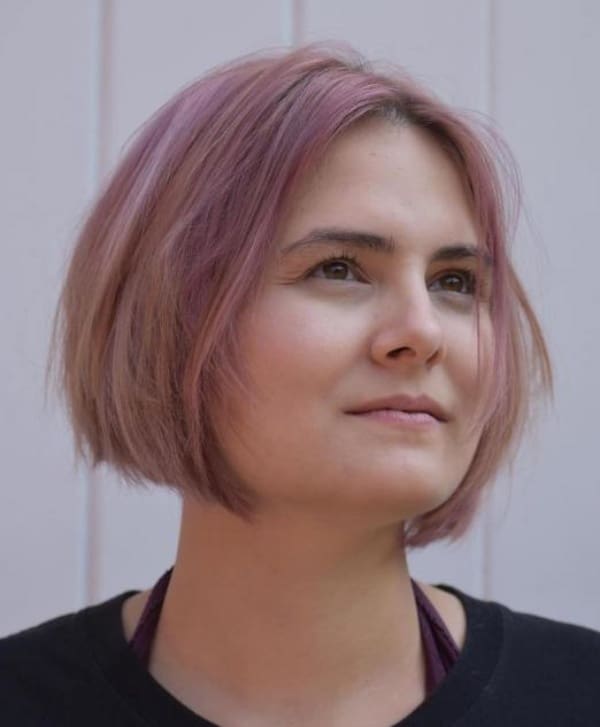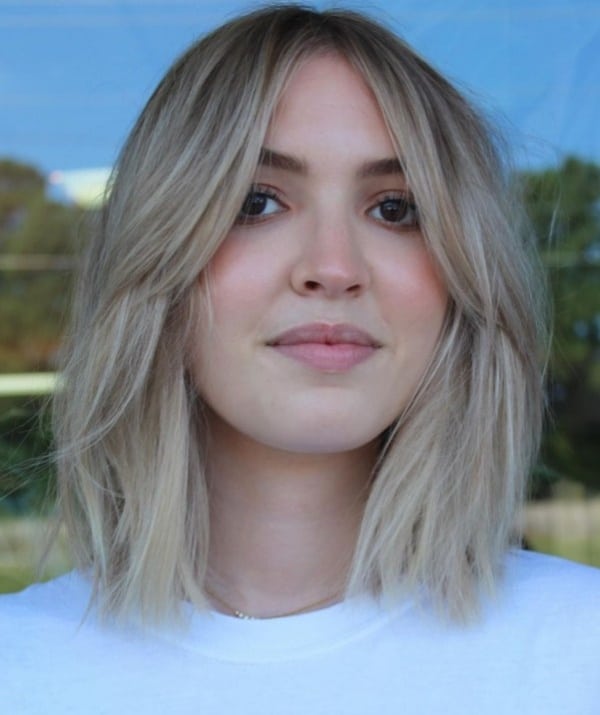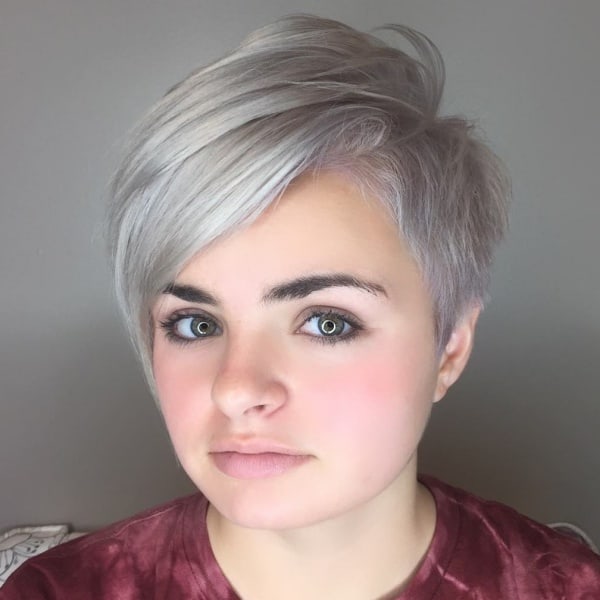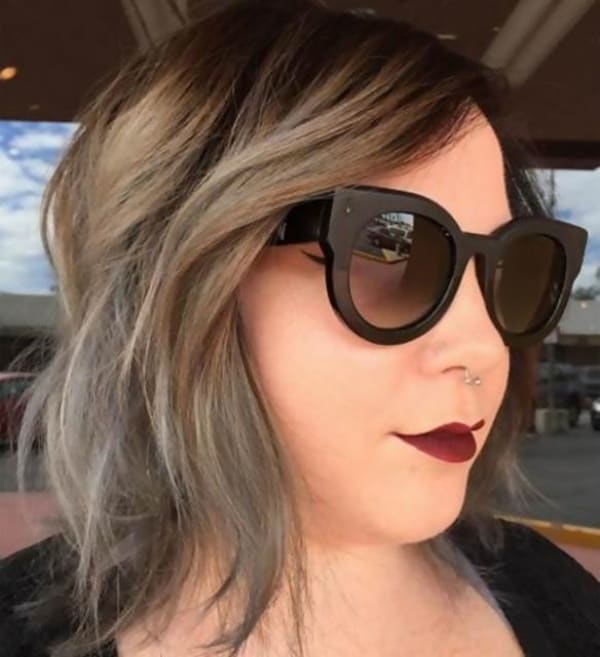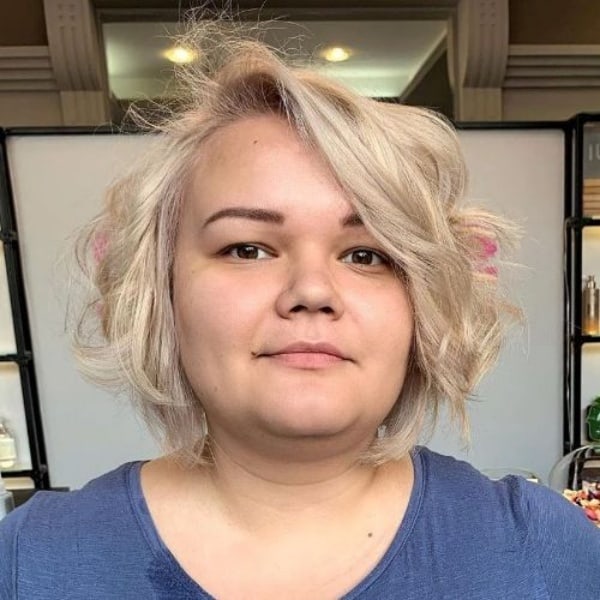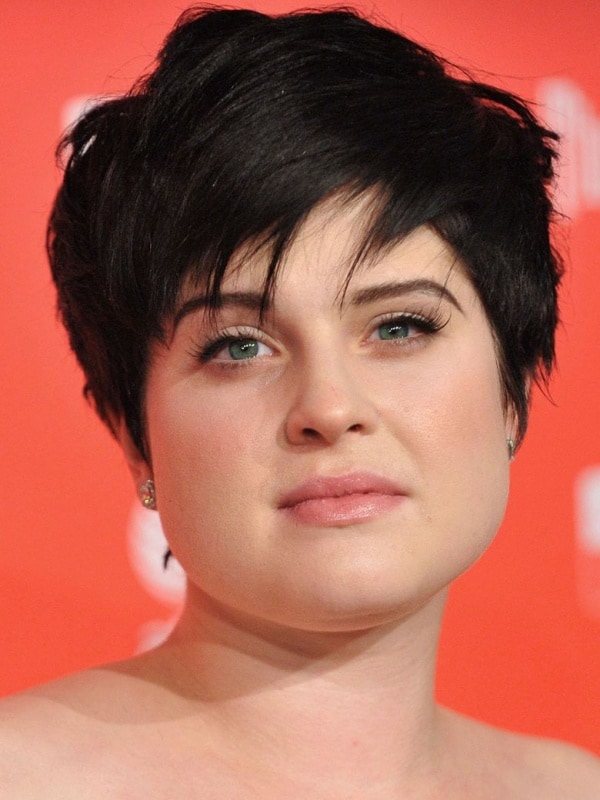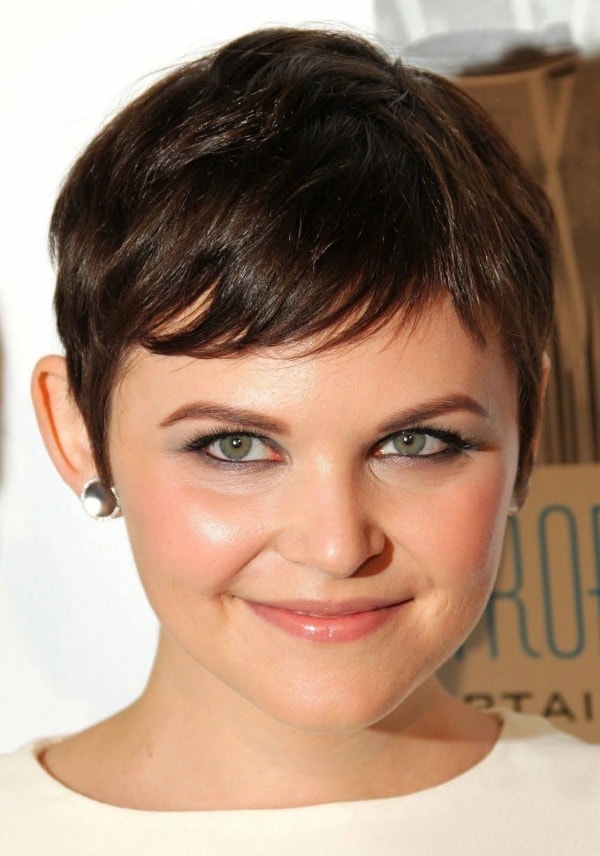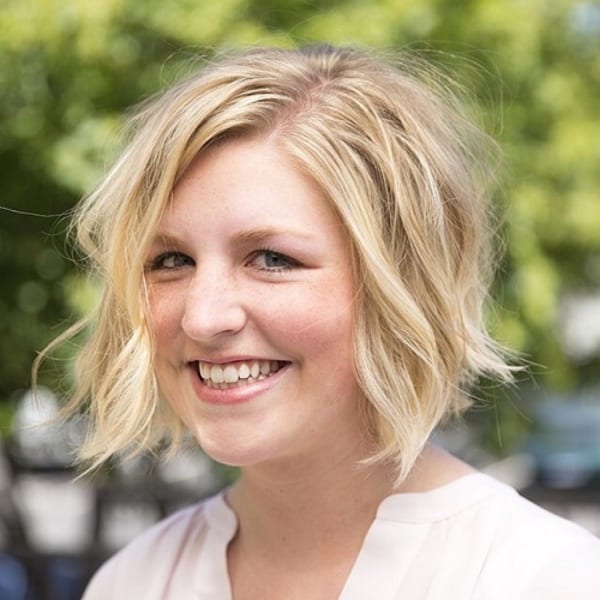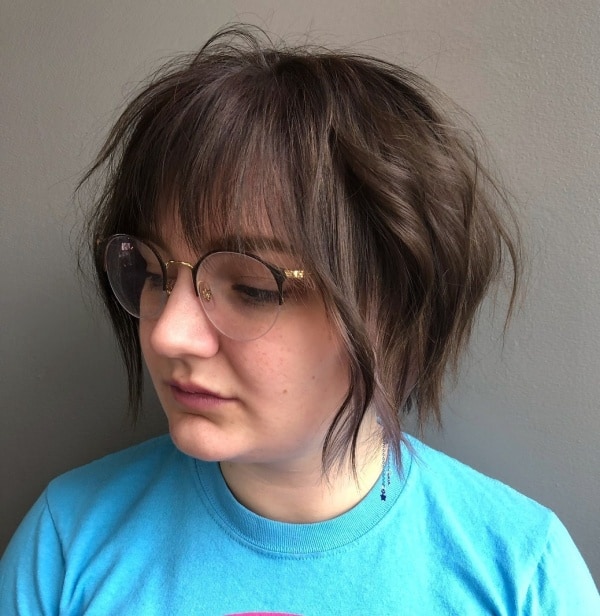 Read More:
Conclusion
The unexpected popularity of short hairstyles for fat faces and double chins has created a new trend that seems to last for a decade now!
The above-curated list of top hairstyles is simple, stylish, and something you'd love to fall for. Such styles appreciate your body type and facial structure.
Stop bothering about the additional facial fat and try to choose a safe hairstyle that gives you a charismatic and appealing touch.
With this, you are all set to flaunt your best side with an added element of versatility!
F.A.Q:
How To Identify Your Face Shape?
Carefully evaluate your facial length, width and structure to determine the face shape. A close glance at the facial dimensions can easily enable you to determine the facial shape. Choosing a perfect hairstyle is possible only when it complements your facial shape. Consult your hairstylist to suggest ideal styles that elevate your personality and overall appearance.
Does Short Hair Look Good On A Double Chin?
Yes. Short hair can create a statement look, even for chubby women, if it highlights your features well. There are plenty of styles and options to try with short hair that uplifts your looks. It has been a myth that short hair makes your face look bulkier! The right knowledge of flattering haircuts and getting them styled in the right manner could make the required impact.

Does Short Hair Make You Look Fatter?
No. Rather short hairstyles add more of an appealing and fresh touch to your appearance if executed flawlessly. Adding more layers and volume to the hair length helps cover up the fat faces. Going for voluminous bumps over the top or trying out choppy styles can give a fresh vibe to your appearance. Opt for versatile styles until you find the best ones.

What Hairstyle Makes Your Face Look Thinner?
Opt for asymmetrical short hairstyles, which can offer a distinct slimming appearance. Such simple haircuts can give you a sweet look, thus making you ready for any event in one go. Adding layers or going for side-swept shags or bangs on mid-length hair can also help in giving a slimming effect to your face. The pixie cut is also the latest trend that many women adorn with style. There are a lot of options to settle for the best ones!