Shaping is not enough when you have bushy and thick eyebrows. When you want your eyes to create the magic, you have to groom your eyebrows too. Well-maintained, clean and neat eyebrows enhance your features and make it easy to style. It's a blessing to have bushy and thick eyebrows, as it is easy to style them and give any shape you want. But it looks messy some times. For that non-messy perfect look, it is better to trim them and make thinner. You have options of waxing and tweezing for shaping your eyebrows but How To Trim Bushy Eyebrows is another deal to make your eyebrows look neat and maintained. Here is the stepwise answer to your query.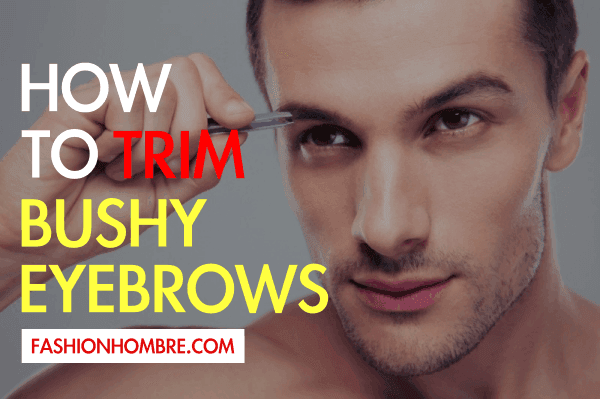 Steps To Trim Your Eyebrows:-
Brush Your Eyebrows Upward
Use a moustache comb for this step. This is the first thing you need to do to start the process of How To Trim Bushy Eyebrows. Sometimes eyebrows grow with varied length hair strands. This length difference and thickness of eyebrows make them look bushy.
To see such extended brow hairs we have to comb them upwards. You can easily find an excess length of hair strand above the top brow line. You can also use mascara applicator instead of the moustache comb. It will grab thin hairs easily.
Now you need tiny eyebrow scissor for trimming the extended hair strands. After combing your eyebrows upwards you can use its natural top line as a guide and cut down hair strands above it. You need to be slow and minute in this trimming. If you go deeper in the top line it may create a hole in the eyebrow. Eyebrow scissors give control for better trimming. Use it wisely for the best result and stop yourself from overdoing.
Bulk Needs To Be Taken Out
Get the finest comb for this step. It may be a spool brush or fine-toothed comb. Put this comb into the eyebrows as short as possible. You have to keep it close to the skin. Now tilt it to 45 degrees, you can see the bushy bulk eyebrow section through this comb. Cut down this bushy eyebrow hair with the scissors.
The comb is helpful in keeping the scissors away from the skin and make sure that you don't hurt yourself.
This step is very important while grooming your eyebrows in the process of How To Trim Bushy Eyebrows. Men grow thick and bushy eyebrows as they age. Thus this trimming process makes them look young and neat. This process is also helpful to women as they can get perfect look with their eyebrows.
Working In Sections Will Be Helpful
If you grow bushy eyebrows all over its length, you need to work in sections. Take a section and repeat the process of trimming them with comb and scissors. Go with another section until you complete the eyebrow. This is very important so that eyebrows get trimmed consistently. Working in sections help you maintain eyebrow density all across its way.
Check whether you have done it right and in a proper way. If you find any of the section with bushy eyebrows, you can repeat the trimming process for that section. Comb your eyebrows in their growth direction to confirm the removal of the bulk of bushy eyebrows.
With this step-by-step answer to the question How To Trim Bushy Eyebrows, you can keep your eyebrows safe from bushy-ness problems. You will no more look weird with scraggly eyebrows. There will be no need of waxing or tweezing any more for that styled neat eyebrows.