If people are still obsessing over the idea that fat guys cannot flaunt trendy haircuts well, they got the wrong idea. The main secret that will be a win-win is choosing the right hairstyle and cut that would ideally suit their hair type and face shape.
You should keep in mind that different fashionable hairstyles can be awful when anyone keeping the style fails to consider the specifics that make the style ideal. Fat Men who wish to check out hairstyles before applying them for real, this list turns out to be super helpful.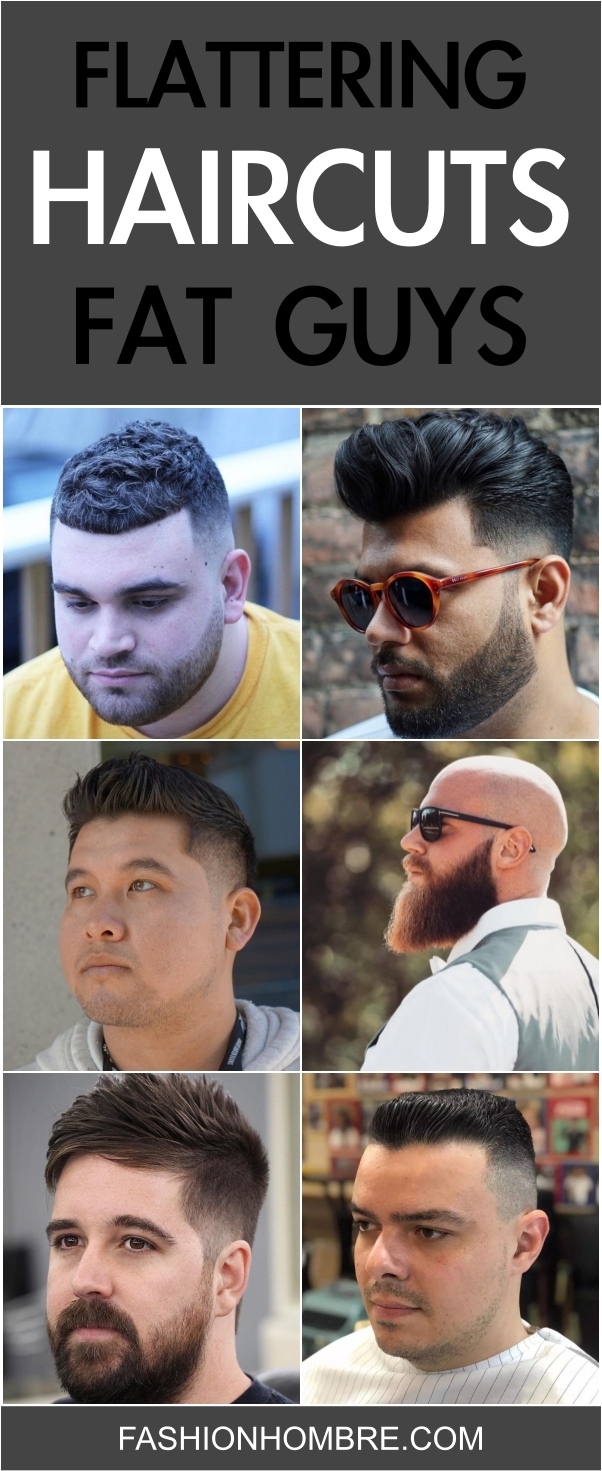 This article is stuffed with fat men's hairstyle that will guide you to choose one for yourself. If you think that your age will create a barrier while choosing hairstyles, you need to shed your worries as there are many suitable styles.
Awesome Hairstyles and Haircuts For Fat Guys
The hairstyle description focuses on fat men with hair loss, receding hairline, and thinning crowns.
So, if you want to find solutions for your different hair patterns and want to know about the styling secrets, you have landed at the right place.
It hardly matters whether your hair is thick or thinning out; here, you will witness and find the ideal hairstyles to suit your appearance and style.
1. Slick Back Hairstyle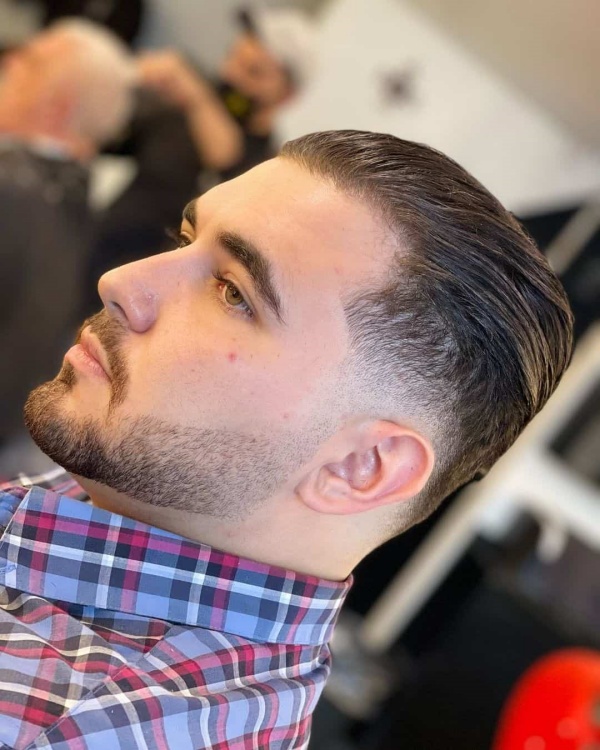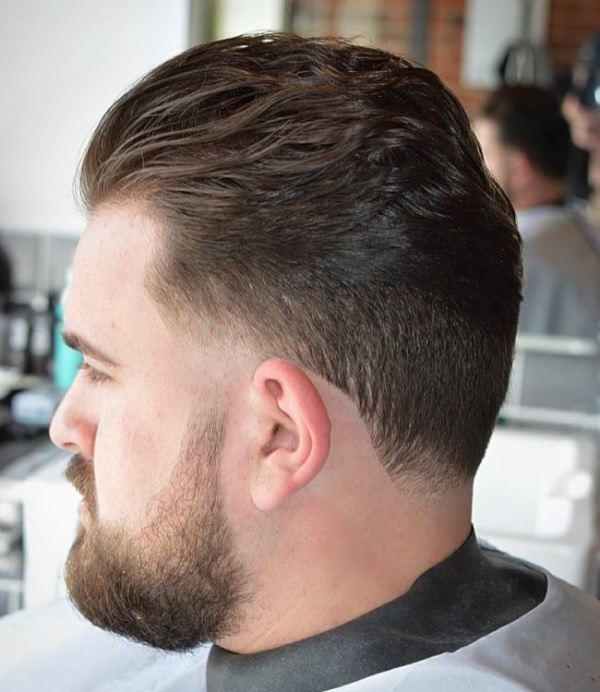 Fashion has reached its zenith in such a way that it has created different forms of hairstyles for different-different figures, appearances, looks, etc. Slick-back hairstyles have been specially designed for fat guys.
If you have wavy or straight hair, it is best to have this haircut. This haircut adds a touch of class and an authentic vibe. The slicking part should be smooth when it goes down towards the back of your head.
2. Classic Pompadour Hairstyle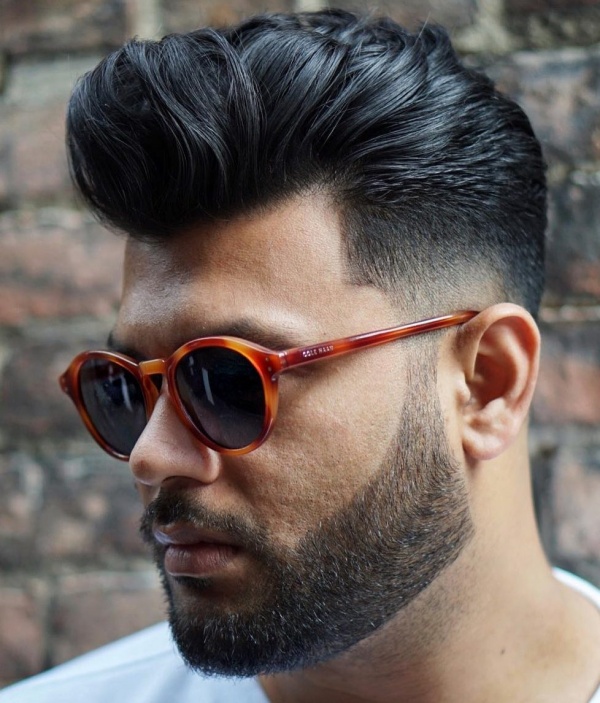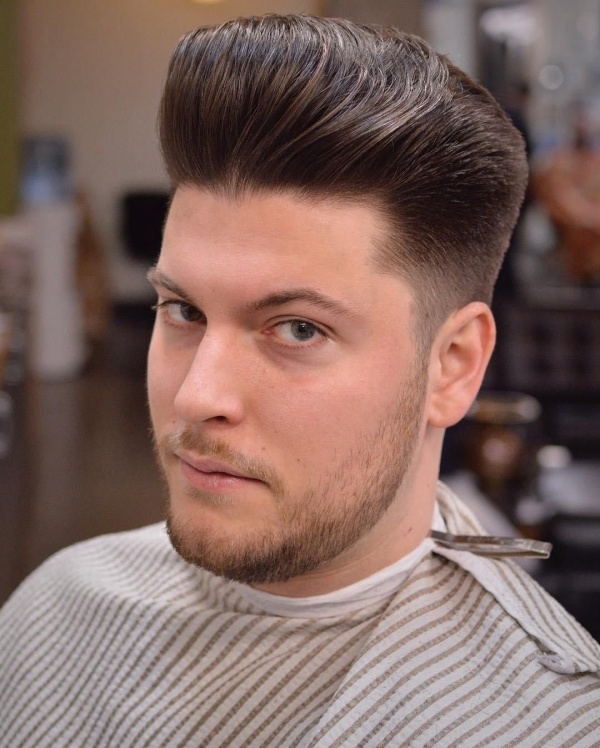 You might have seen some fat Hollywood actors in this haircut. Is not it hot the way this haircut makes them look? The name itself suggests that it gives you the ultimate classy aura.
After having this haircut, you need to afford that to take care of it like anything. There are so many classifications under this.
Those are pompadour fade haircut, messy pompadour haircut, side part pompadour haircut, curly pompadour haircut, short pompadour haircut, side-swept pomp fade haircut, etc.
All of these need enough maintenance but would give you the gentleman vibe.
3. Crew Cut With Beard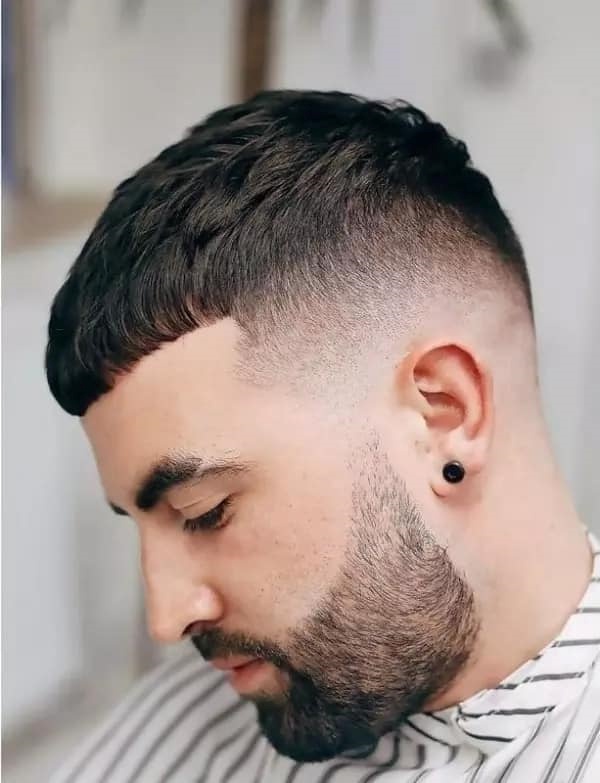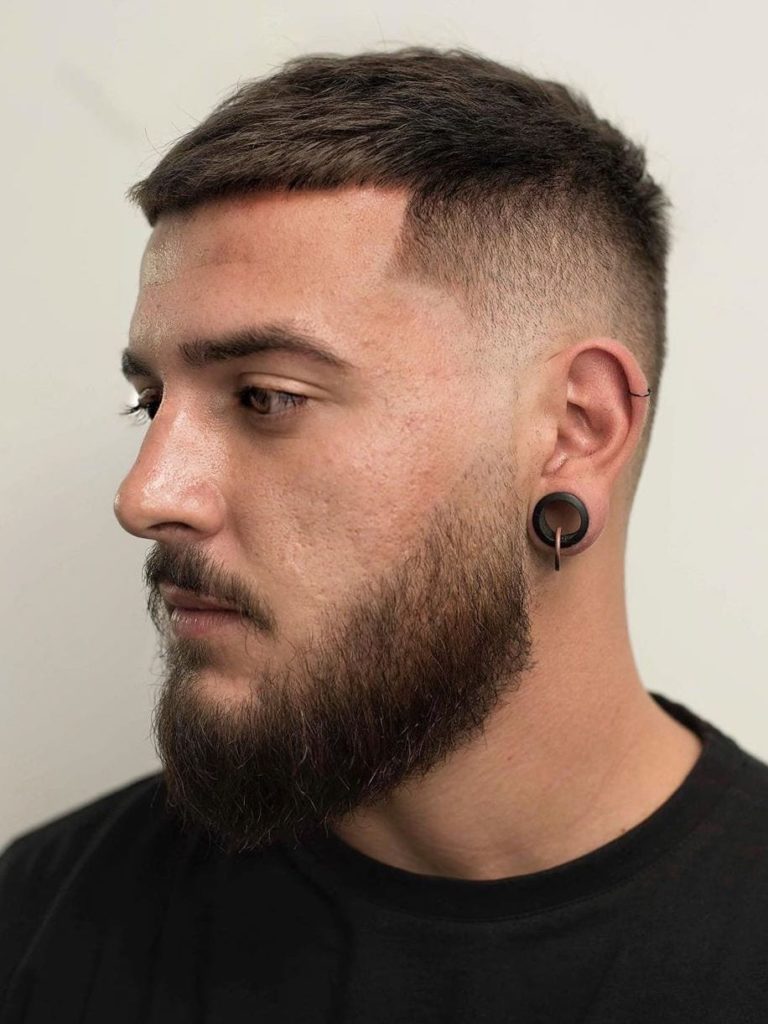 This is basically for those fat guys who run after low-maintenance haircuts for fat guys. No matter what kind of crew cut you choose, it is simple, easy to fix, and stylish. Crew cut with a beard style for fat guys is a whole new definition of hotness.
There are many versions of it with beards; classic crew cut, modern crew cut, crew cut fade, side-swept crew cut, long or short crew cut. All of these would rock with their beards.
This haircut can go amazingly and effortlessly all day and give you a sophisticated aura. Pomade, wax, and clay would help much as it offers a very low maintenance level.
4. Spiky Hair With Taper Fade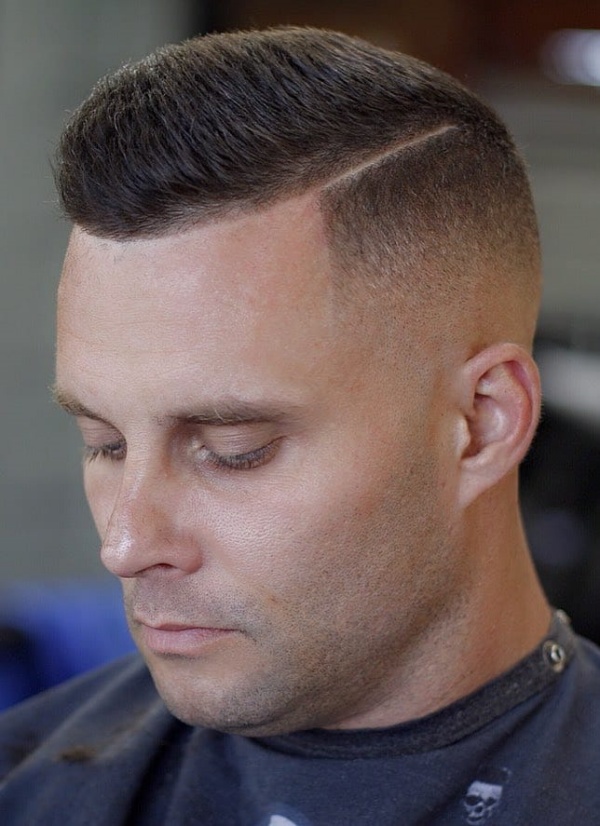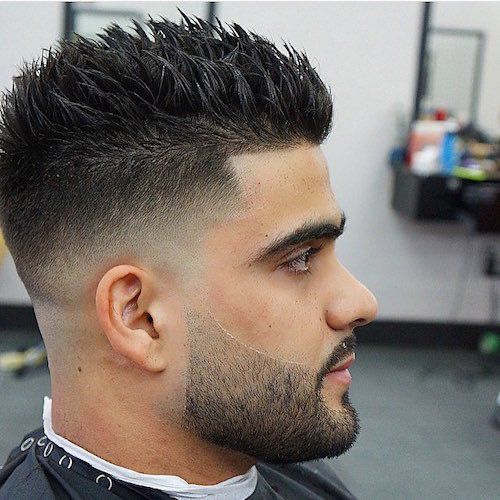 This short, eye-catching, and timeless spiky haircut radiates hot vibes. You can style it gently by using strong pomade, wax, or cream. This haircut is so popular because it witnesses cool, edgy, and effortless.
This hairstyle can go with all; short, medium, and long hair. Youngsters generally prefer this look as it provides them desired and most efficient vibes.
There are so many classifications under this. You can go according to your preference.
5. Side Swept With Undercut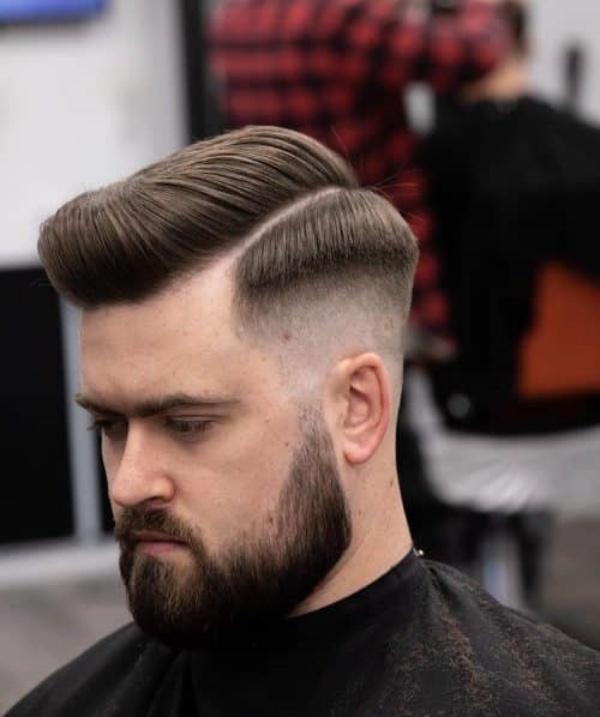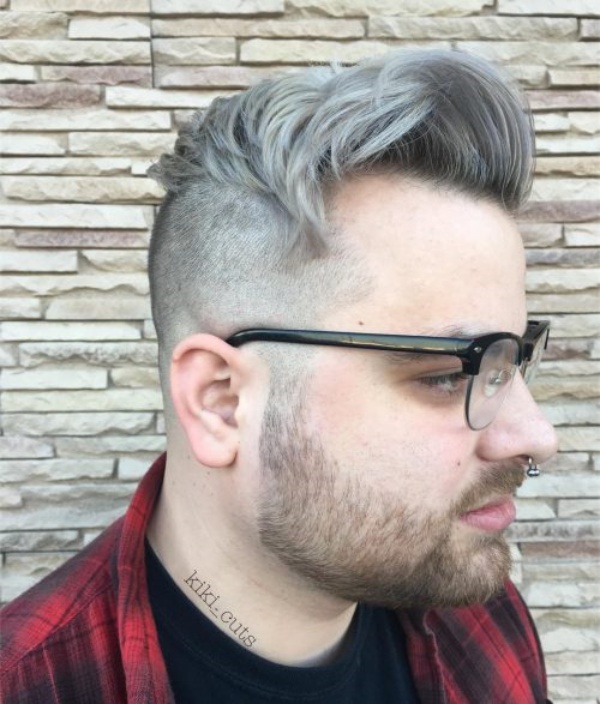 Generally, it is a short on sides long top hairstyle for fat guys. This hairdo gives you a sexy and fizzy look and leads the list of unique hairstyles. We have seen Hollywood actors rocking this side-swept top just with an undercut.
People also call it a "clean-cut look." Teens mainly love this side-swept top with an undercut because it is easy-going. It ends up hiding one part of your face but is attractive.
The variations in this are side-swept hair fringe, side-swept undercut, Mohawk, side part undercut fade, etc.
6. Medium Length Messy Hair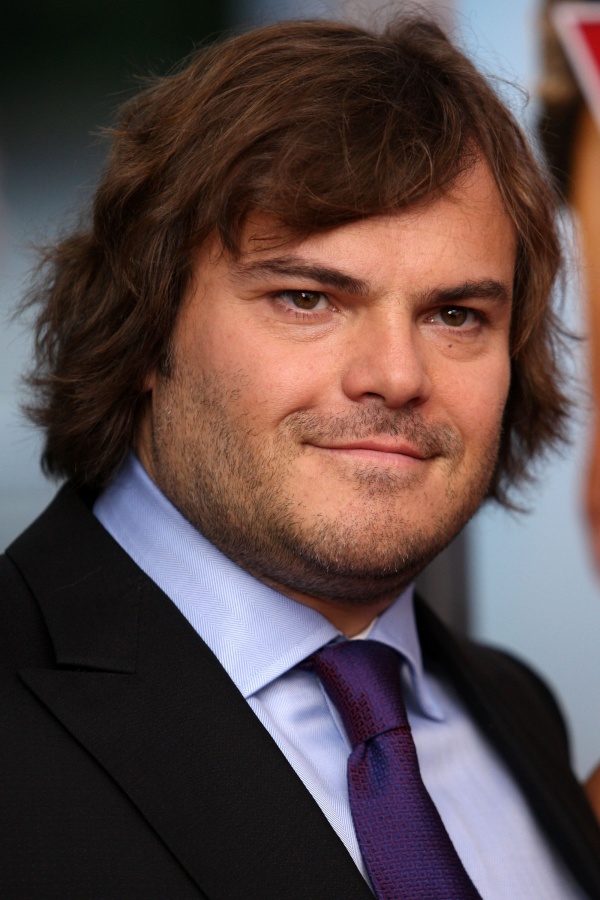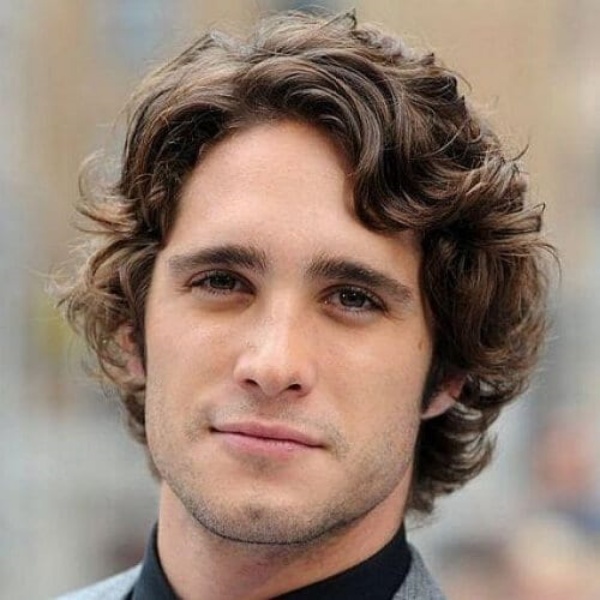 This gives you a textured style with very low maintenance. Matte styling products would help much if you choose amongst these haircuts for fat guys. Medium-length messy hair can be styled with side parts, bangs, etc.
This is a highly effortless hot look one could ask for. This hairstyle goes best with fat little boys with chubby cheeks, and for males after 20 years of age, this haircut gives a wild and bold look. It is eye-catching and does not need constant maintenance.
7. Side Part With Fade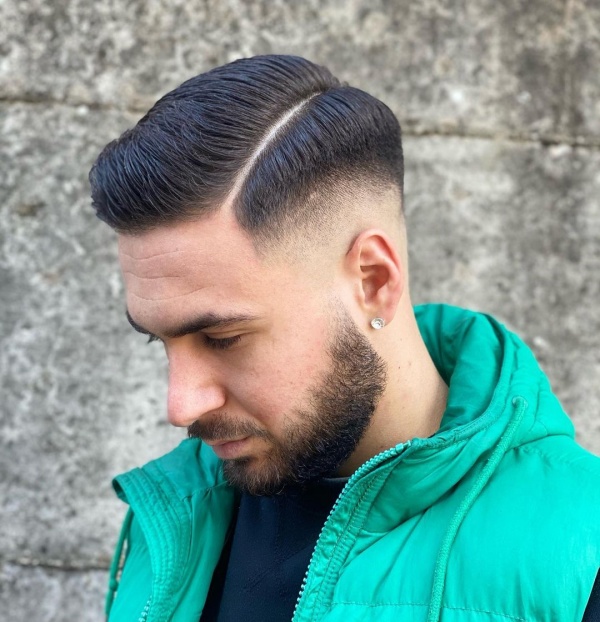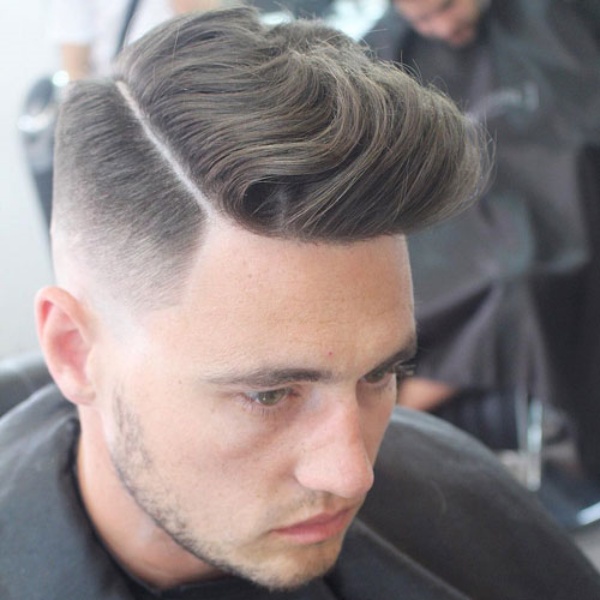 It is perfect for fat teens and boys who are going for adulting. It presents you as hot and is timeless, effortless, and offers low maintenance. If you want that gentleman vibe, you should blindly go for it.
It offers lustrous and classy vibes for anyone to love this look. Your hair should be textured with matte pomade and styling gel. Dry shampoo is preferable for soft-quality hair with this haircut.
This hairstyle witnessed an edgy, tidy and sophisticated appearance. This is eye-catchy and looks great for any occasion.
8. Long Comb Over With Fade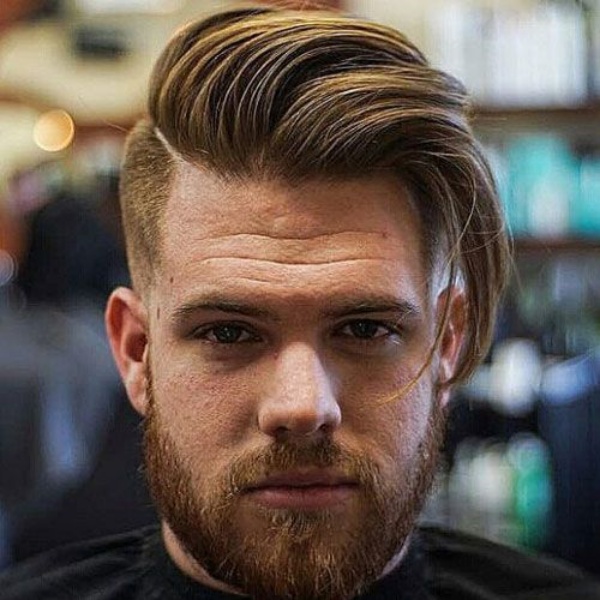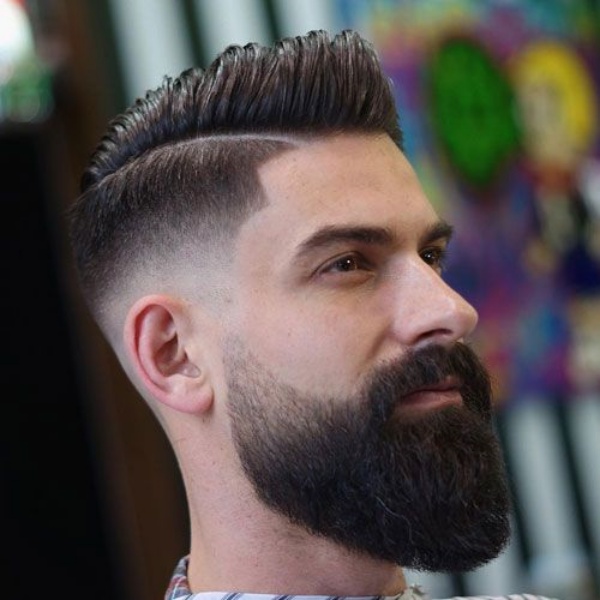 This particular haircut is so versatile that it can be set according to you. You can either leave the front portion of your hair hanging, which would look hot, or apply gel to set it back and make it look gentle.
This is an incredibly classic version of all time, and you can never go wrong with it. Apply strong pomade, and wax to fix your hair nicely or gently, and make it look sexy.
This long comb-over with drop fade is flattering and eye-catching. To thicken the texture, apply styling products that would enhance your haircut.
9. The Faux Hawk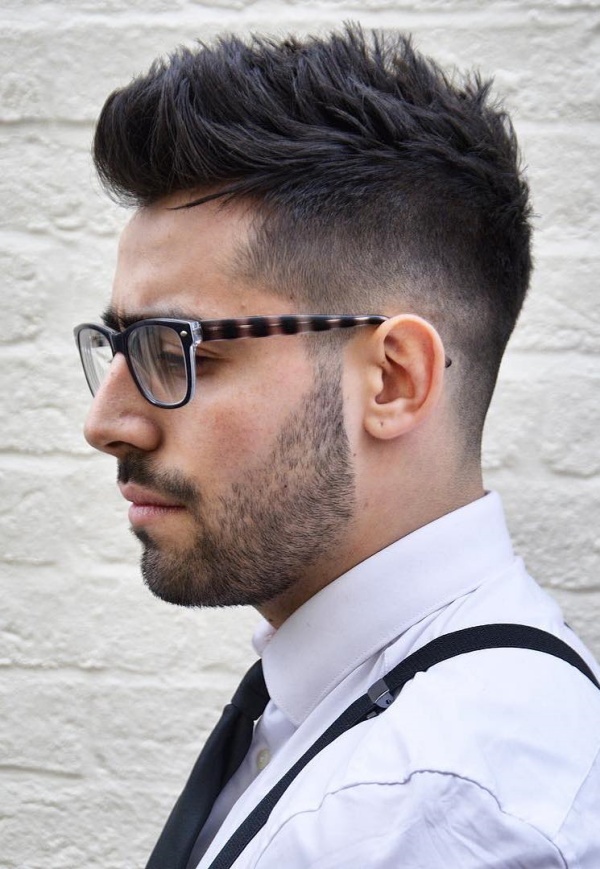 This offers varied styling options and several different looks. To lift this haircut or to give it a stronghold, apply pomade, wax, or cream. You will have opportunities to set some of the hair on top towards the middle. It prevents stiffness and provides fullness to your hairstyle.
This is one of those "short sides with long top" haircuts for fat guys. This haircut is now edgy and trendy. Faux Hawk looks like a dream haircut, doesn't it? You can ask your Barbour to style the Hawk in a particular or desired direction.
This hairstyle is undoubtedly sexy and laidback. Use both hands to push your hair together to maintain the basic 'hawk' structure.
10. Long On Top Short On Sides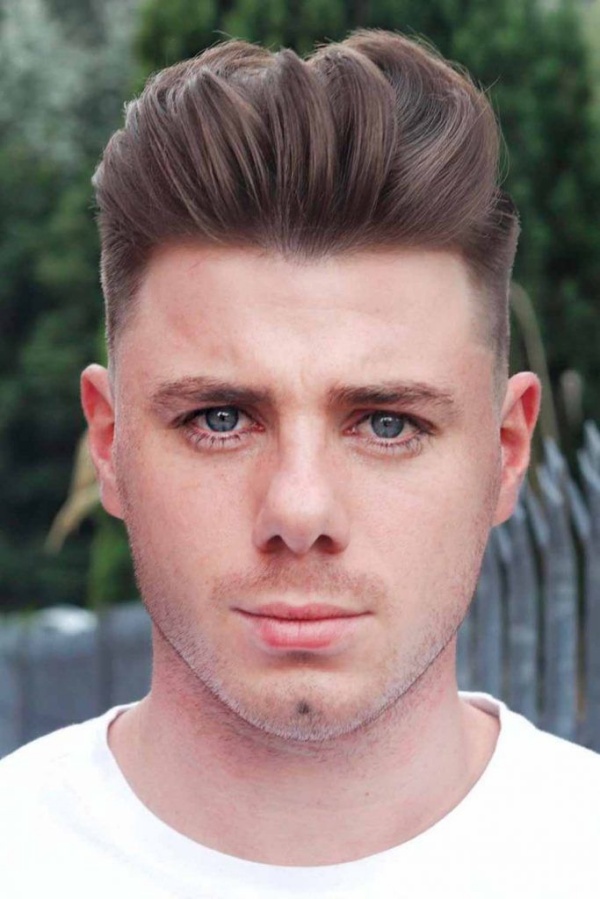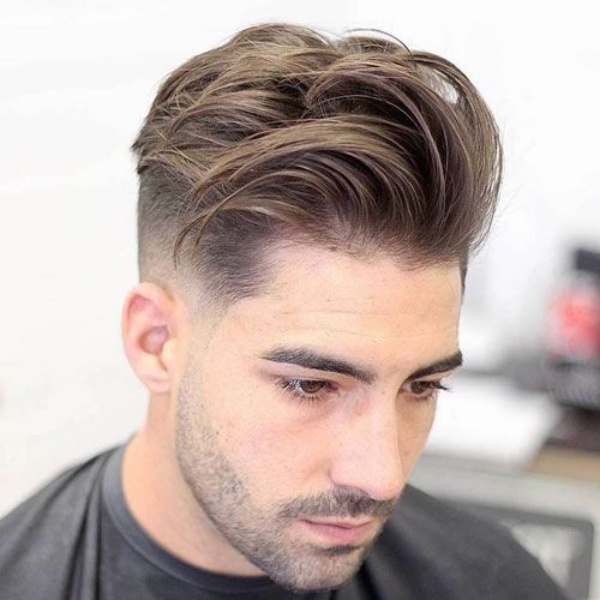 Over the years, the craze for long hair in men has undoubtedly grown. Some experiments with the long hair and short hair on the sides certainly offer a stunning impression.
In the recent past, long hair with shorts on the sides has become trendy. Pushed-back long hair allows men to style their hair in multiple styles according to their preference.
For a change, you can keep the hair on the sides cropped. This will offer a stunning look for men of all ages, especially youngsters.
This balanced hairstyle will be a good fit for men wanting a twist to their ordinary hairstyles. This hairstyle guarantees an edgy and aggressive look that is bound to look stunning.
11. Long Curly Hairstyle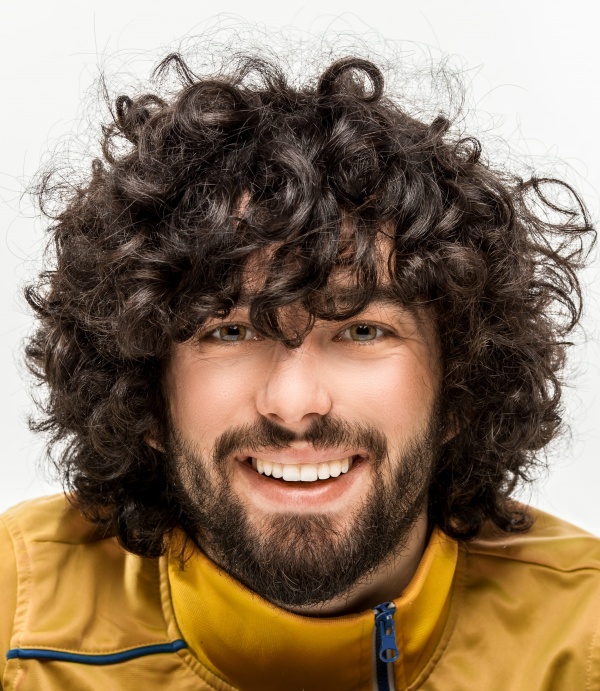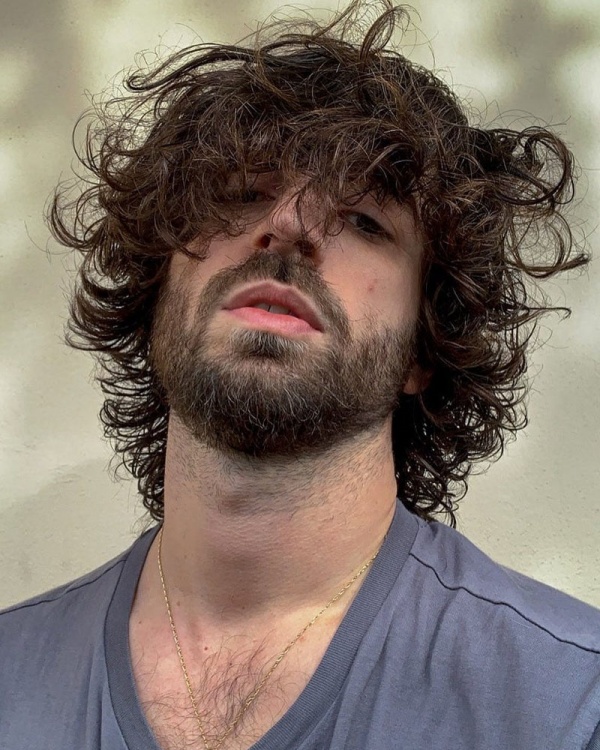 One of the most preferred short on sides long on top hairstyles is the long curly with short sides. It has been a very famous hairstyle for the last few years. Youngsters with prominent curls love this hairstyle.
The hair is short on the back, and the sides and the longer curls are swept upwards and backward in the front. This style is pretty versatile.
You can let your curls dangle in quite a few styles. For example, you can keep it messy or brush it as your choice.
The effect that this hairstyle provides is both sleek and polished. It offers a relaxed and artistic look.
12. Bald Head With Beard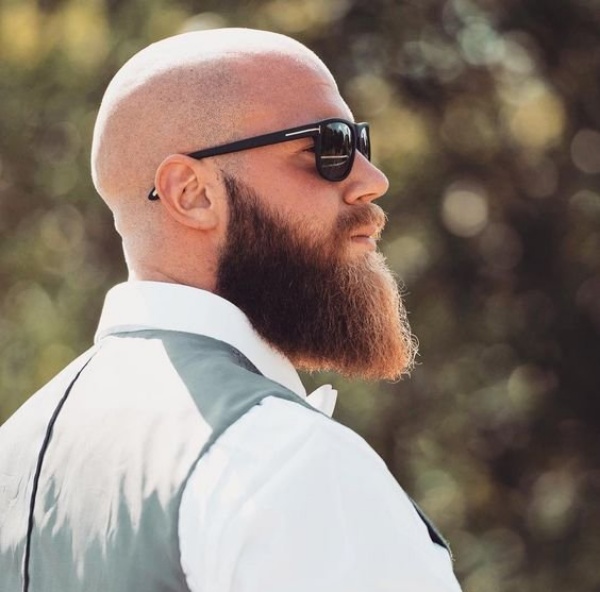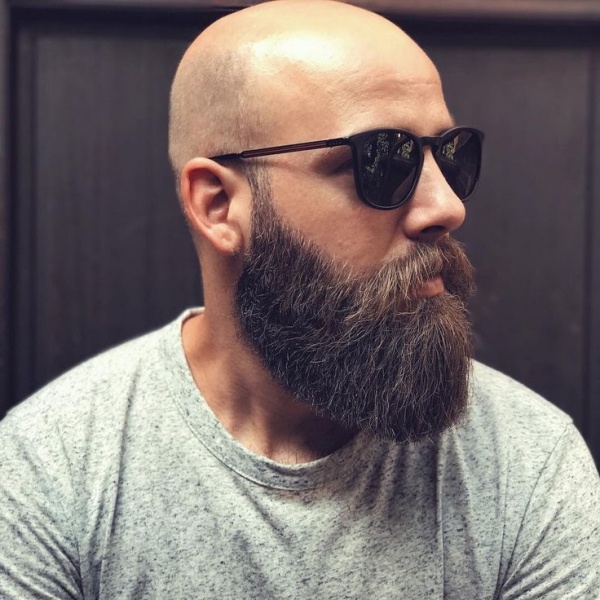 You might have seen many tattoo artists or any other artist with this bald head with a beard. There are a lot of classifications under these haircuts for fat guys.
Bald head with beard witnesses a distinguished and confident look. If you start having a grey beard, embrace it with pride. A bald head with a grey beard looks super classy and is one of the sexiest looks.
A bald head with a beard is perfectly sophisticated and gives you a more purposeful look.
13. Man Bun With Beard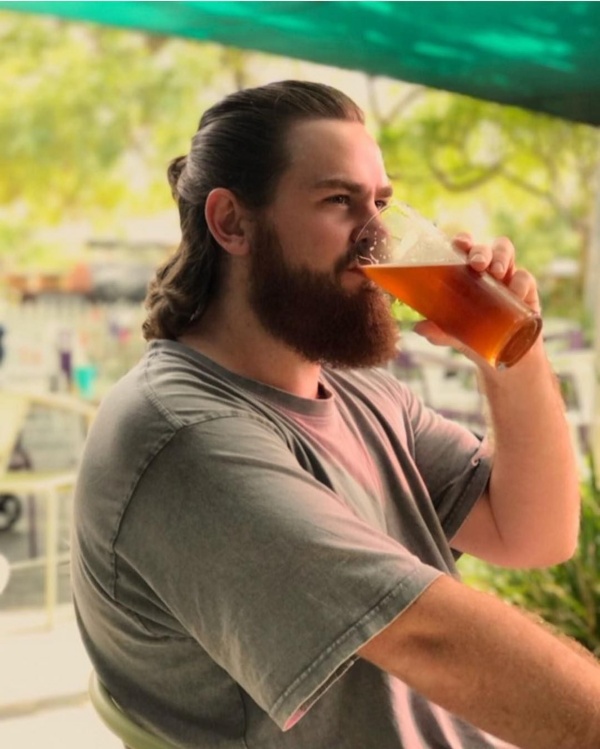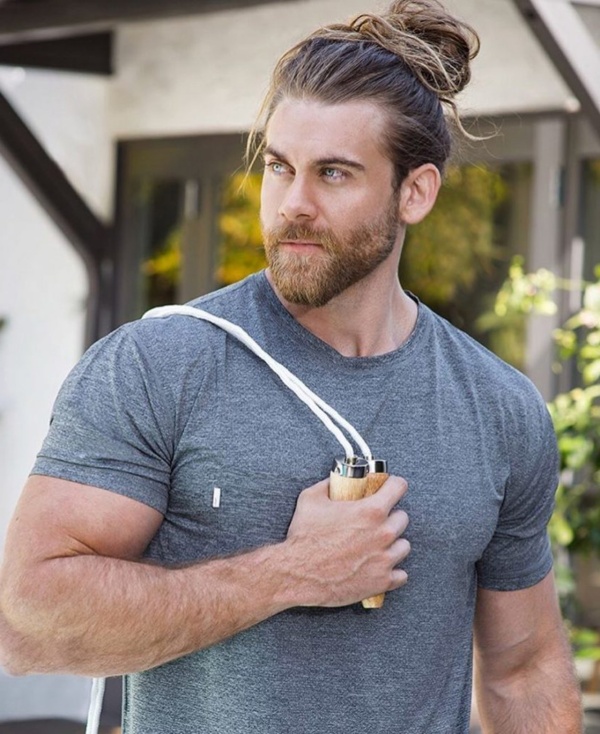 Mostly celebrities or artists go for this particular haircut. Here you get so many options; the whole bun, the low bun, the half bun, and even the undercut man bun.
The bun will go well with both long and short hair. This man bun with a beard offers unique, rare, and classy vibes.
14. Modern Textured Quiff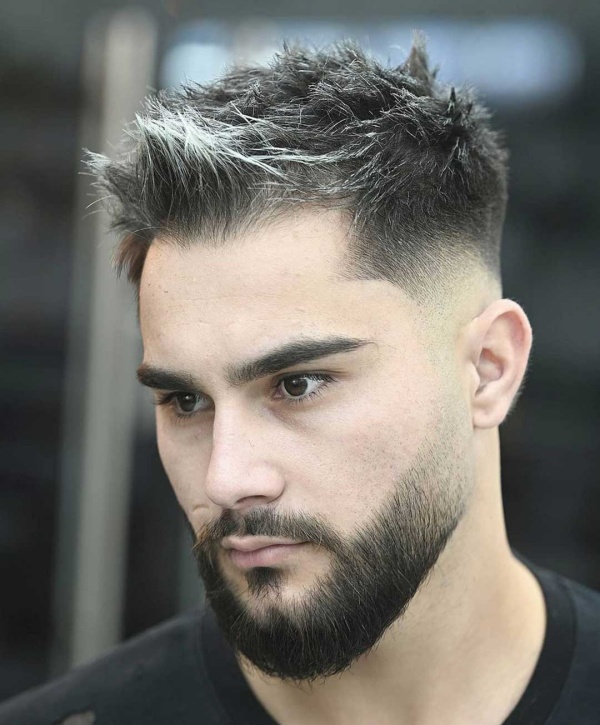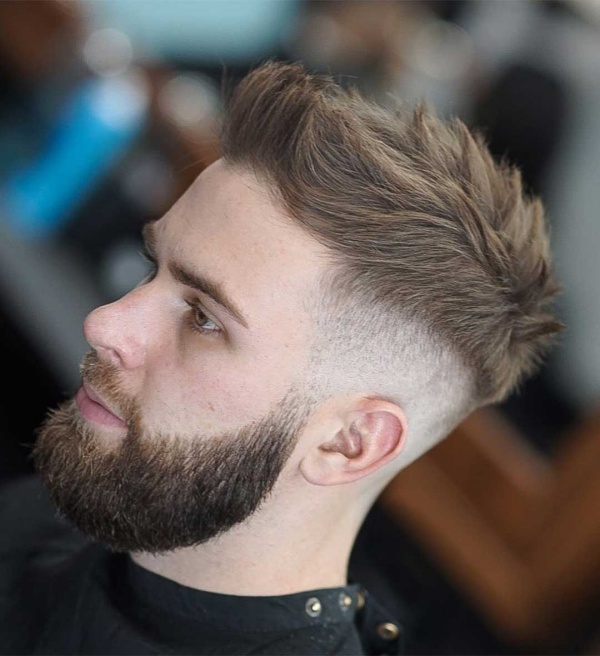 It is high-flying, famous for its height and structure, and offers a fabulous look. You can try either high, mid, or low drop fade. Quiff with neat drop fade is edgy, clean, and glossy.
It goes in all lengths and types; short, medium, and long. It even offers a classy look for both your social and professional life. Quiff with neat fade is usually trendy among youngsters.
15. Salt And Pepper Hairstyle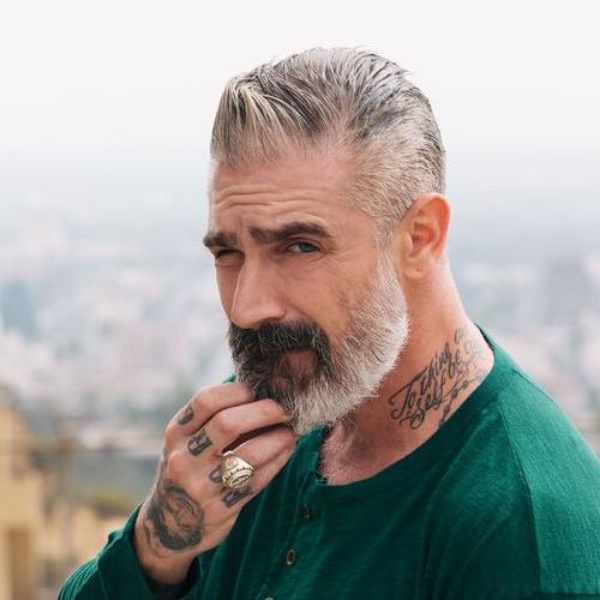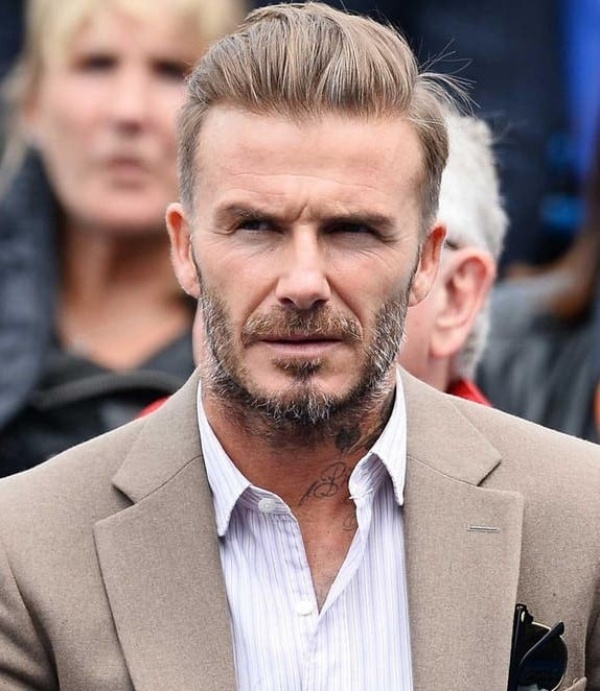 This salt and pepper hairstyle is a deadly combination of gray, black, and silver and is undoubtedly 2023's most popular and demanding hairstyle.
There are plenty of ways to have this hairstyle; wavy grey hair with a beard, silver fox hair with a quiff, swept-back hairstyles for gray hair, etc.
Any of these haircuts for fat guys would give you an eye-catching look. You can go according to your preference without any second thought.
16. Center Parting Hairstyle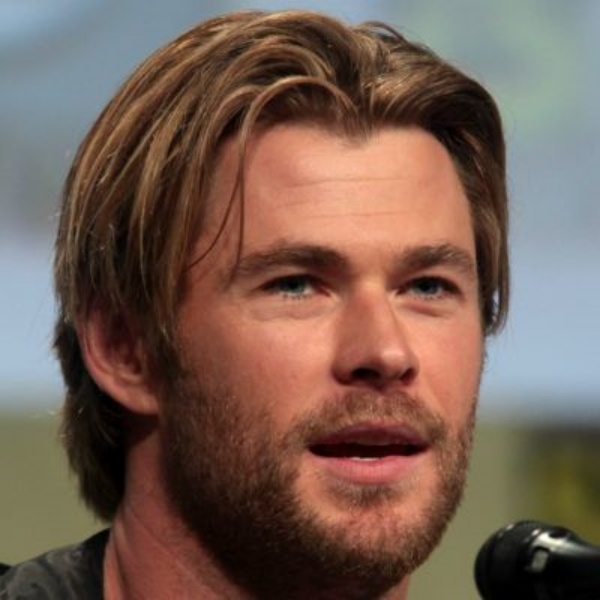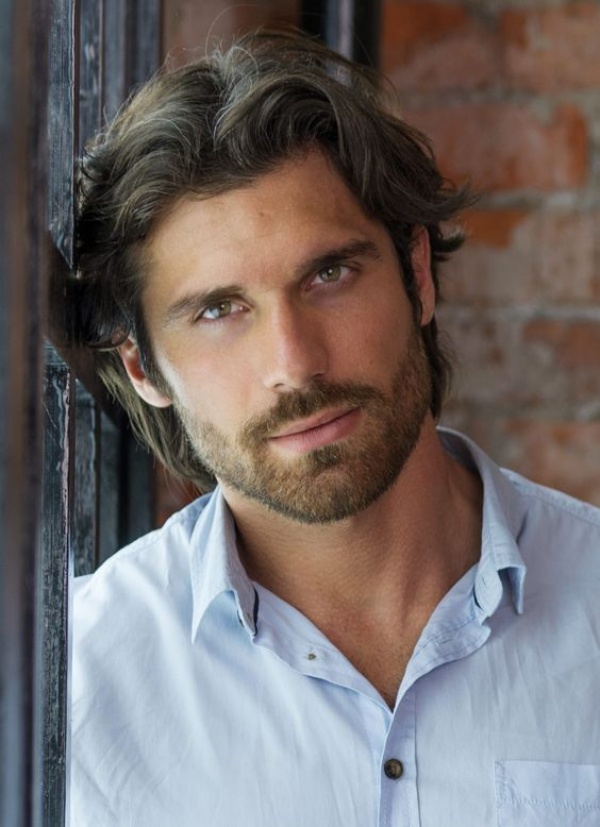 This goes with a plethora of face shapes. You might have seen many Hollywood actors in his hairstyle in archaic movies. This gives you a fresh, bold, and sharp look.
The various classifications which fall under this hairstyle are the middle part haircut, short or long hair curtains, the central part with wavy styling, the middle part with faded sides, etc.
Everyone must try this comeback of 90s fashion in 2023 and feel the vibe that people of the 90s used to feel in these hairstyles.
17. Flat Top Hairstyle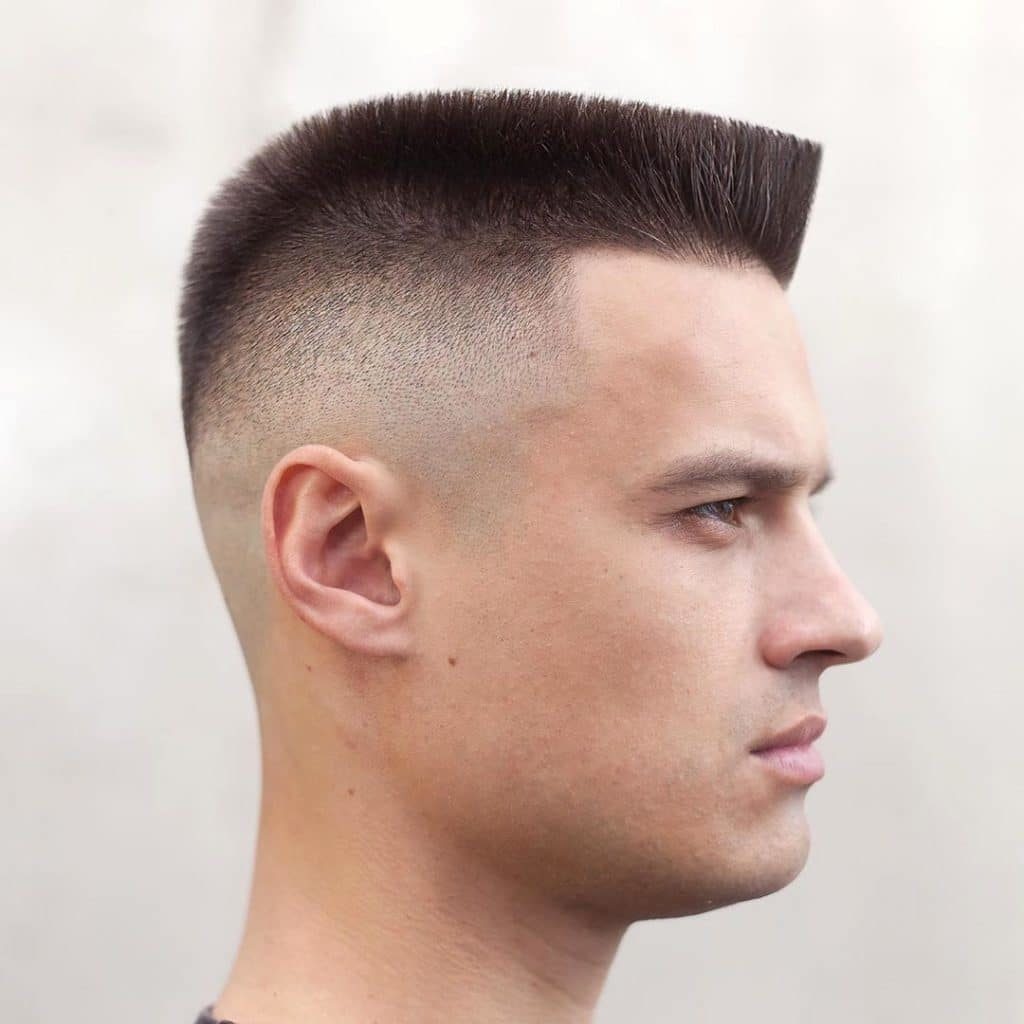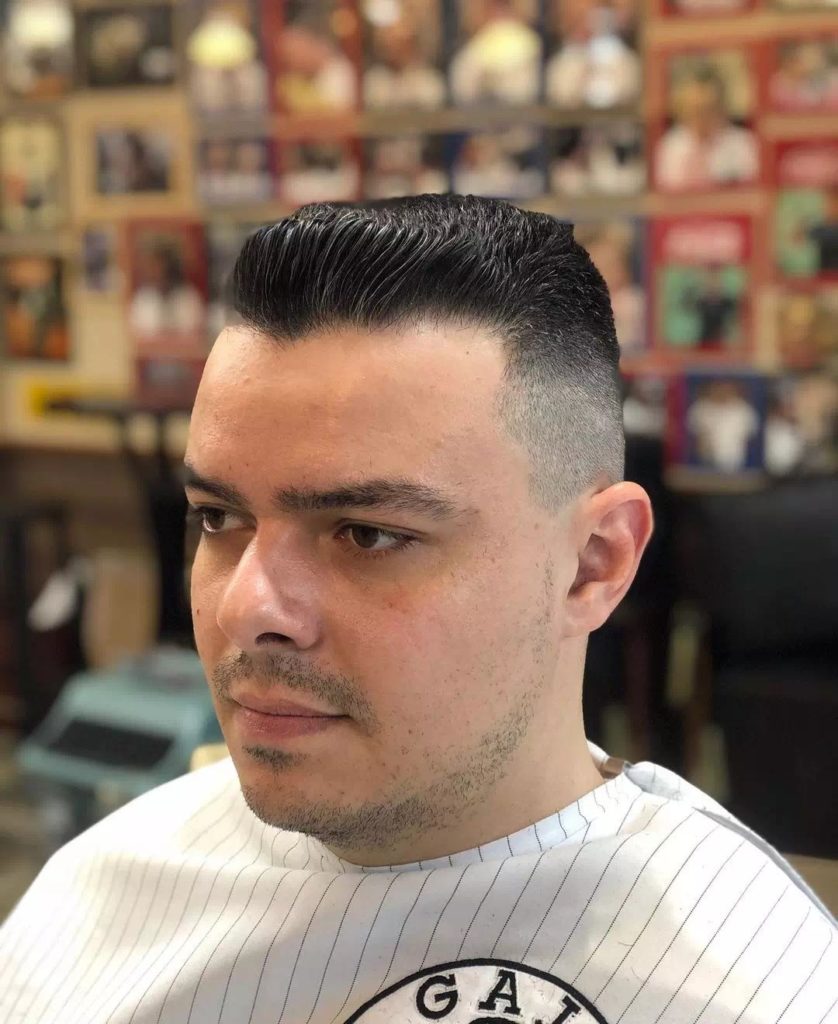 Black men have always preferred the flattop hairstyle over the others. It is also one of the traditional yet coolest hairstyles flaunted by men. The flat top with fade is a trendy hairstyle that men admire even to date.
A bald fade makes the best combination with a flat top. The cropped sides and thick hair on the top make this hairstyle earn extra points.
Also, a high skin fade and paired sides of a line or shape up to clean the hairline would look stunning with a flat top cut.
18. Asymmetrical Haircut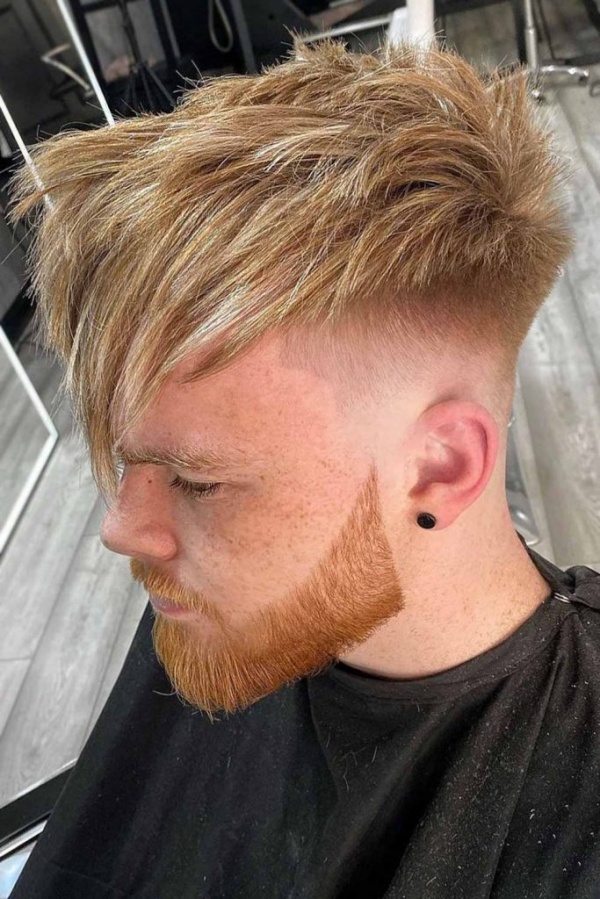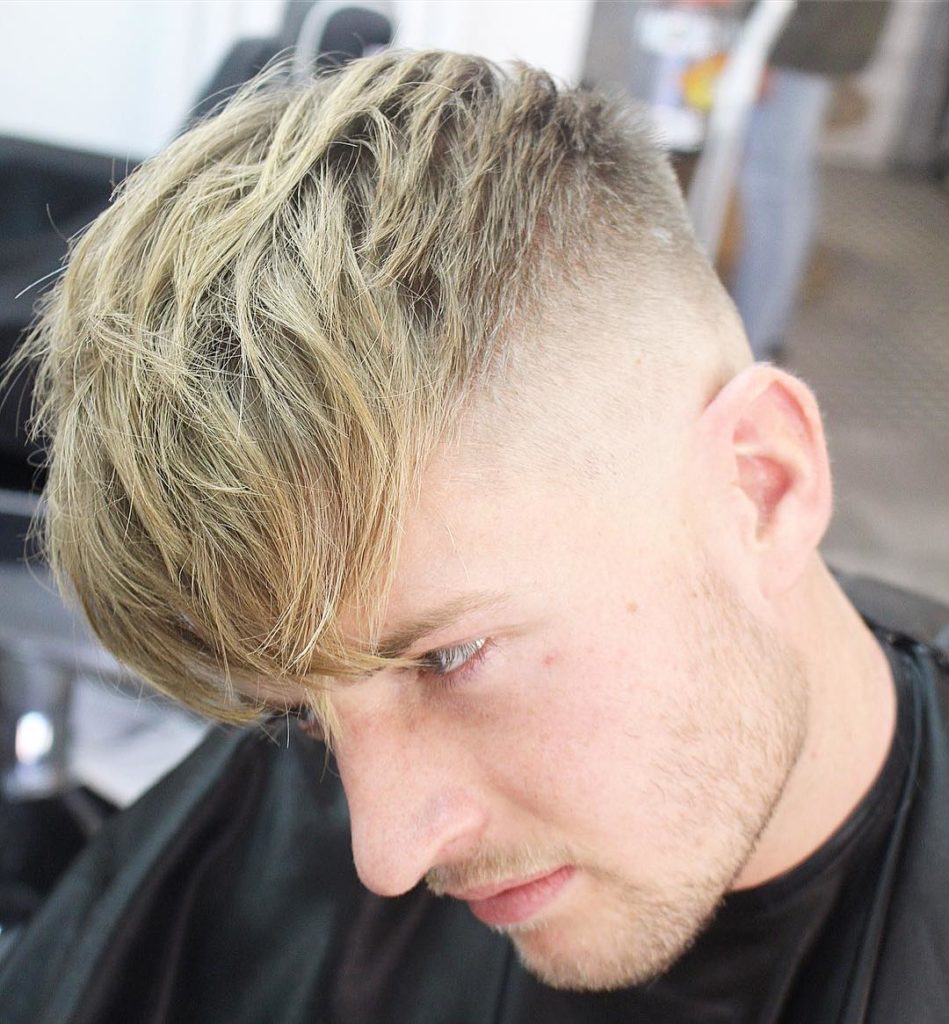 This haircut defines parting off-center; a classified brush cut goes up into the cutting. The other side of the hair should be left longer. You can also shave the hair right down over the ear.
There are so many classifications under this which people call wild. Those are futuristic neon blue do, winning dark hairstyle, messy blonde hair for brad, loads of lift, urban bedhead style, etc.
This provides you the ultimate cool vibe and costs you low maintenance. Some of these are styled to wrap down over the eye.
If you are willing to have a sophisticated look, go for any of these haircuts for fat guys.
19. Layered Haircut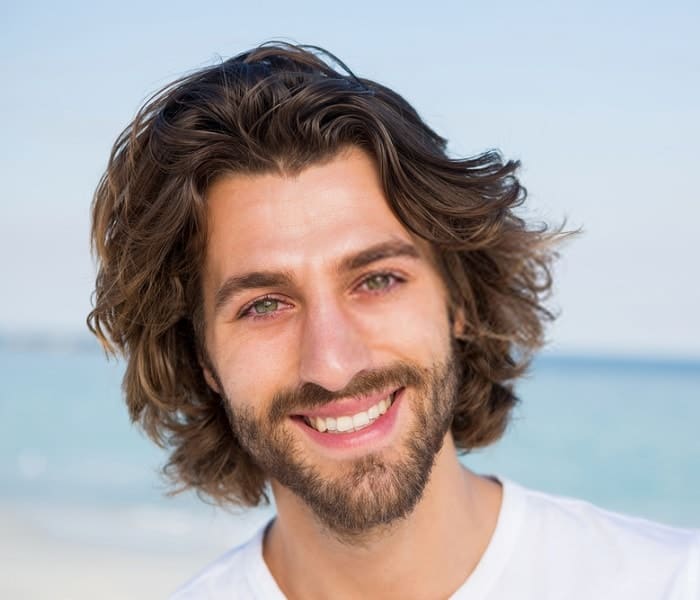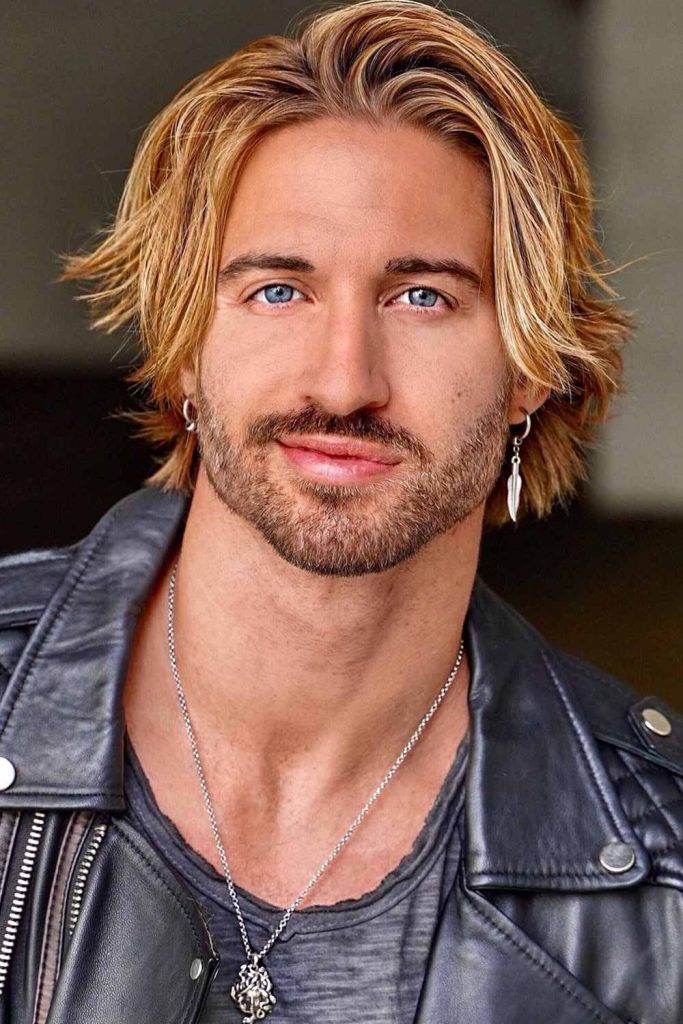 If you seek a hairstyle that will offer you a stylish look, the layered haircut will provide you with the best bet. Men find this dapper cut appealing even after decades.
This look provides a relaxed aesthetic look with a preppy touch. It would aid you with a suitable hairstyle for both the formal and the casual look.
If you want your layered haircut to appear neat and trendy simultaneously, you should go for an extended length without hesitation.
The hair surrounding your ear will be neatly cropped, while the top will be longer.
20. Crop Haircut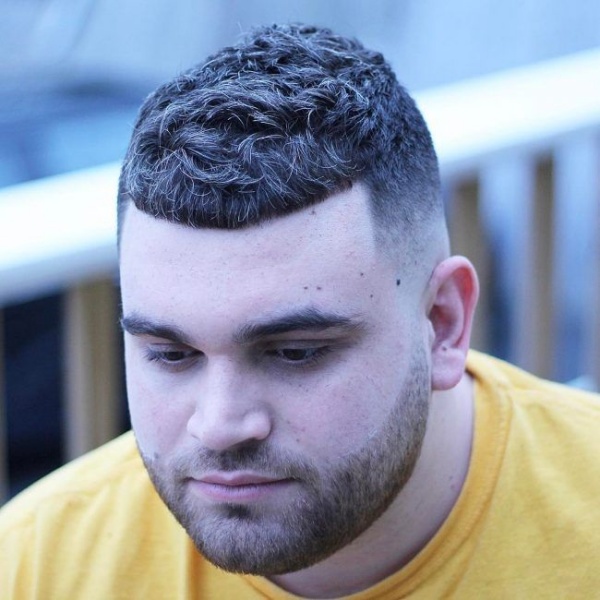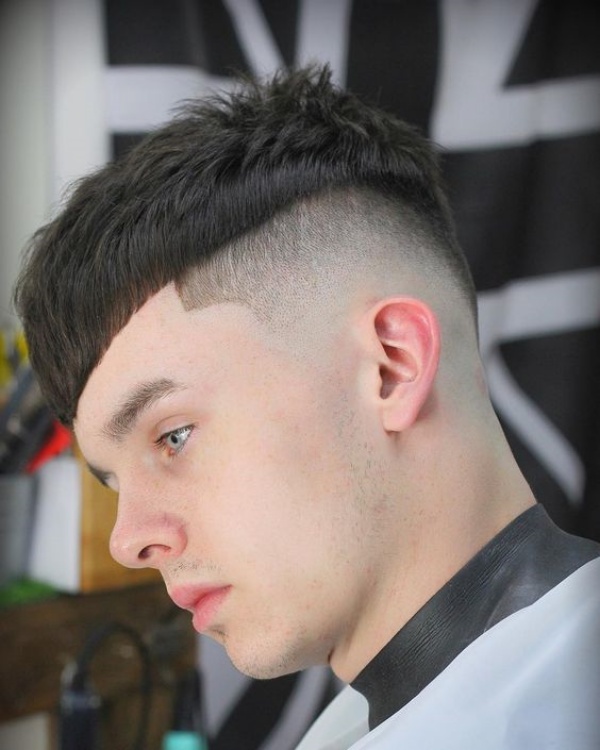 This is for folks who do not like spending much time on their hair. It is one of the most stylish haircuts and low maintenance.
The types of it are listed; classic french crop, short or long french crop, french crop fade, textured french crop, disconnected french crop, straight french crop, etc.
You may choose any of these without getting confused or having second thoughts. You do not need hours to spend on any of these.
21. Buzz Cut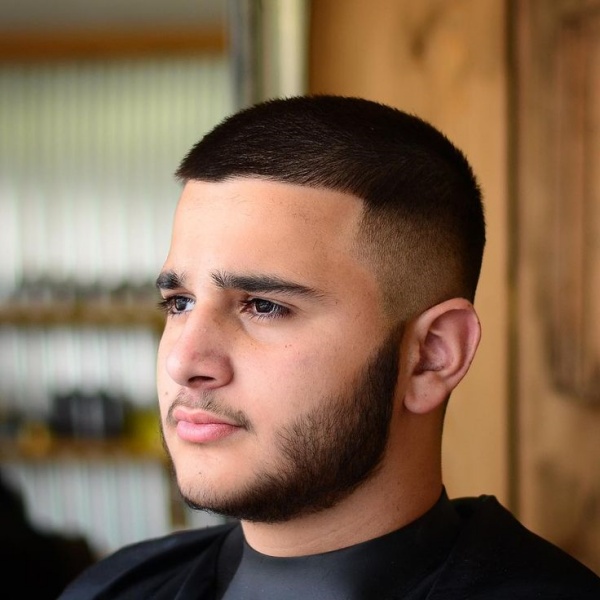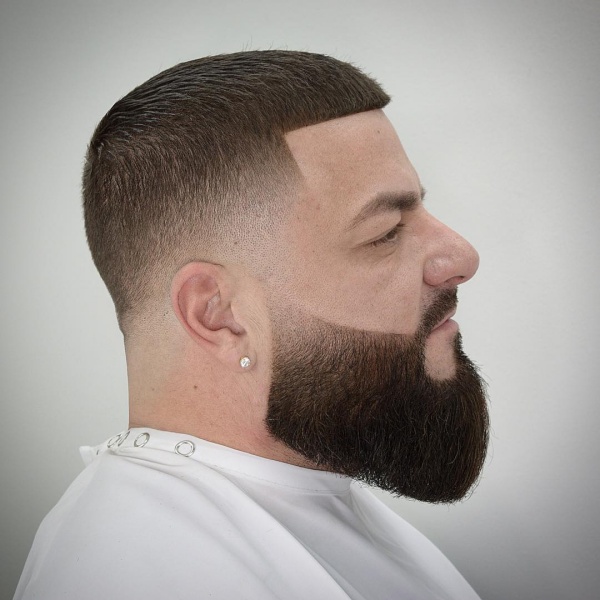 This offers you the ultimate old-school and formal look. This is one of those short sides with long top haircuts for fat guys.
Having this haircut is like styling your hair in a simple and cool way. This hairstyle will match both straight and wavy hair.
You can hardly deny that this look gives you cool vibes. Blonde highlights with a cropped haircut will provide you with the ultimate charming look.
22. Blow Out Hairstyle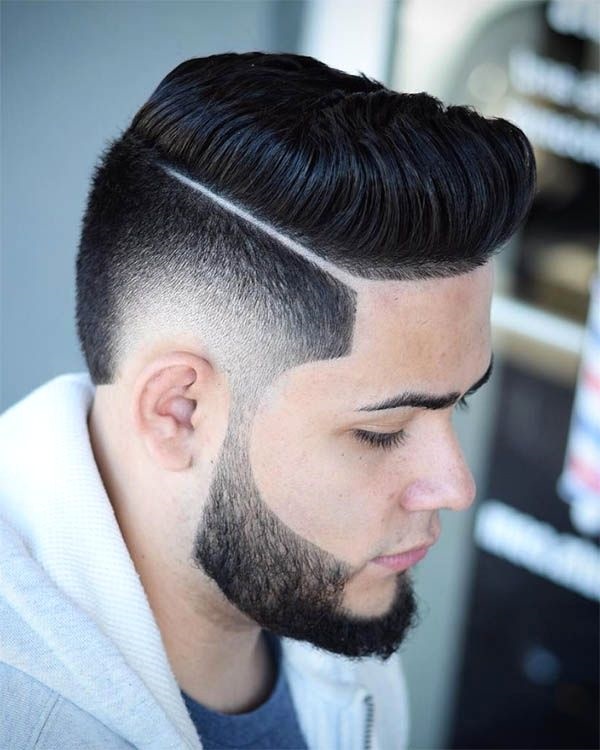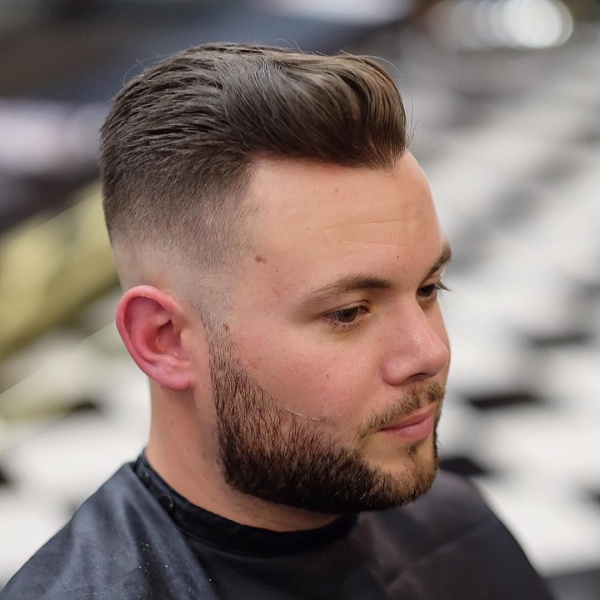 If you are a real fan of messy hairstyles, you would love the idea of a blowout hairstyle. This hairstyle has kept its place safe on the popularity list for decades.
Guys preferring hairstyles that come at low maintenance would want a blowout hair. The beauty of having a blowout hairstyle is that you can toss your hair as much as you want.
This hairstyle adds texture to your hair. The tapered sides offer a twist regarding the messy hair on top.
If you have thin-textured hair, just aiding it with a few hair products will make the hair look appealing, silky, and shiny.
23. Cornrows Hairstyle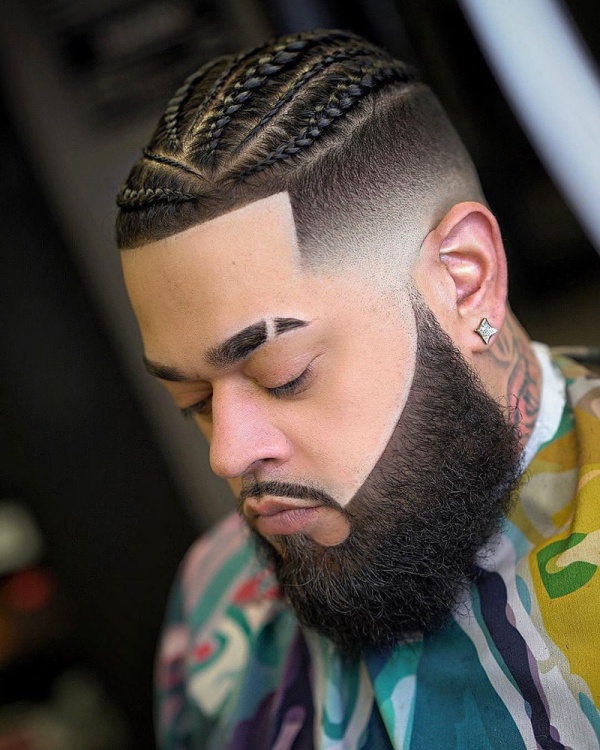 We have seen black men slaying this hairstyle. This comes in many forms, shapes, styles, designs, and ways, such as cornrows with shaved sides, side cornrows, simple cornrows, zig-zag cornrow braids, etc.
This appears fantastic and is eye-catching. This needs high maintenance and a lot of effort to keep it the way it should be.
24. Curly Hair With Drop Fade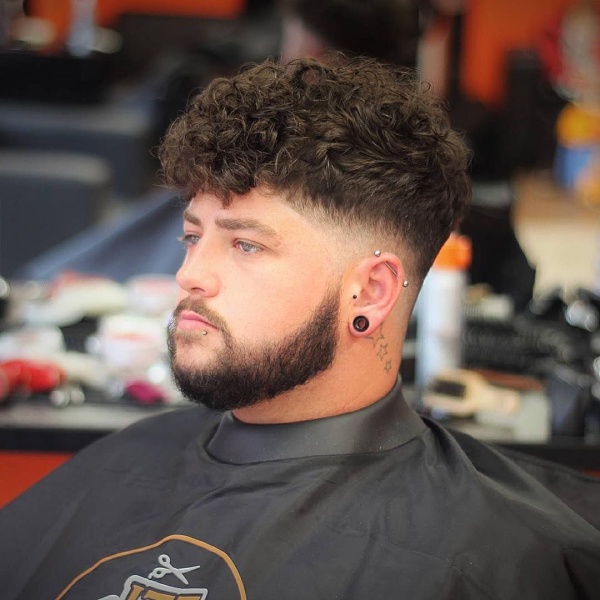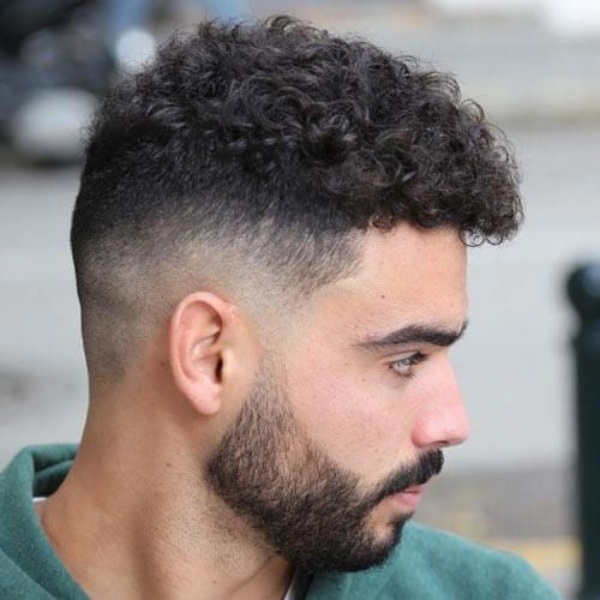 Everyone automatically imagines that fizzy, sassy, and cute look after hearing the' curly' word. Curly hair with drop fade is challenging to handle.
Your hair will develop a wavy, curly, and favored look with the desired length. Long curly haircuts for fat guys are preferable over other hairstyles to have your locks go attractive.
25. Short Waves With Beard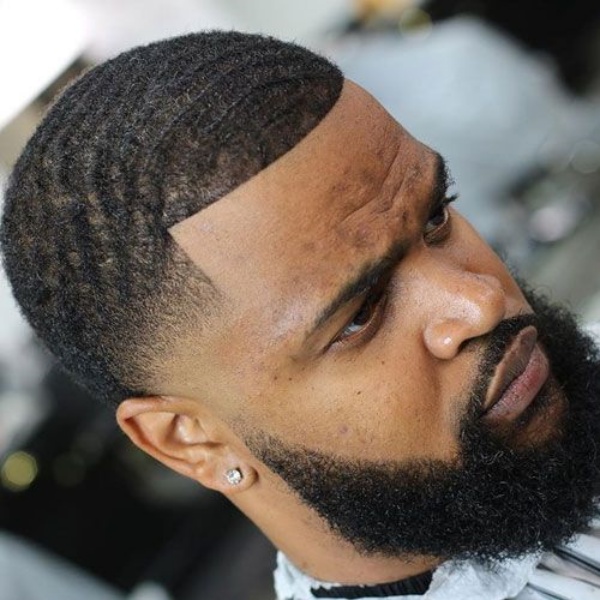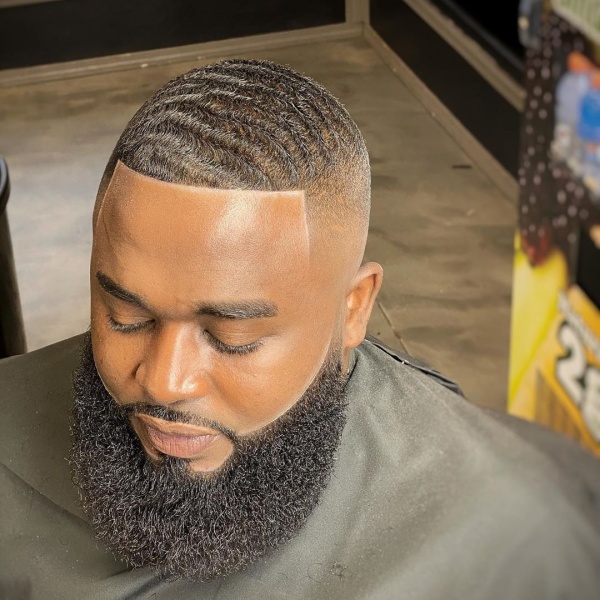 The short waves with a beard look great on fat men who naturally grow straight, thick hair.
On top of that, this hairstyle is cooler and inspires all fat men. Once you make a perfect style, your hairstyle will be appreciated.
Fat men with wavy or curly hair can shape this style to bring out a cool texture and add movement.
26. Dreadlocks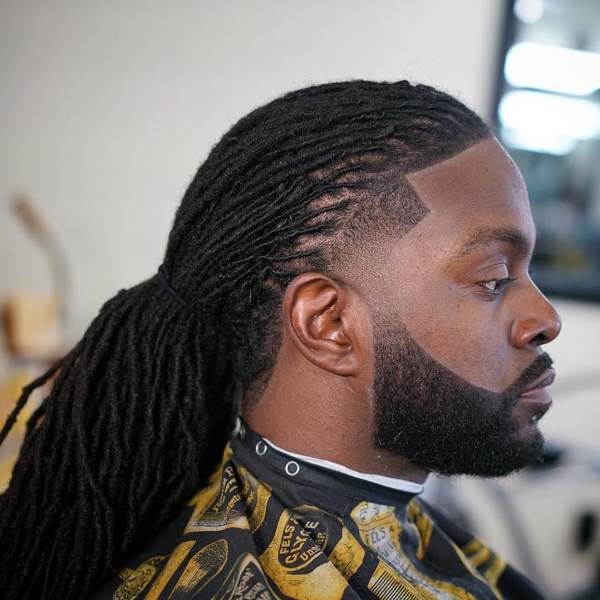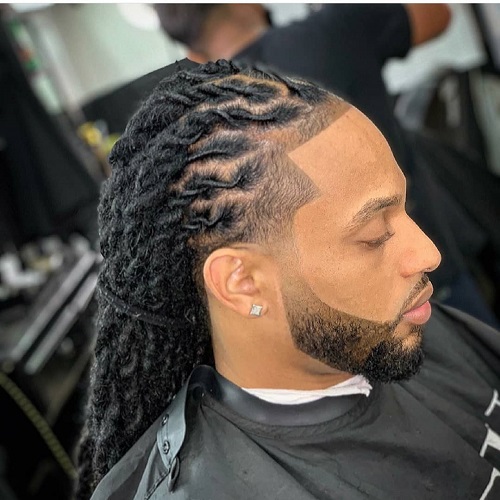 This is one of the popular hairstyles that you will see in barbershops. This hairstyle gives the appearance of a free, independent, and bohemian lifestyle.
Although black men prefer the dreadlock hairstyle, men of all races have adopted this style themselves.
The dreadlock styles are available in unique shapes, sizes, and designs: short to long, straight to braided, and black to blonde.
27. Brushed Up Hairstyle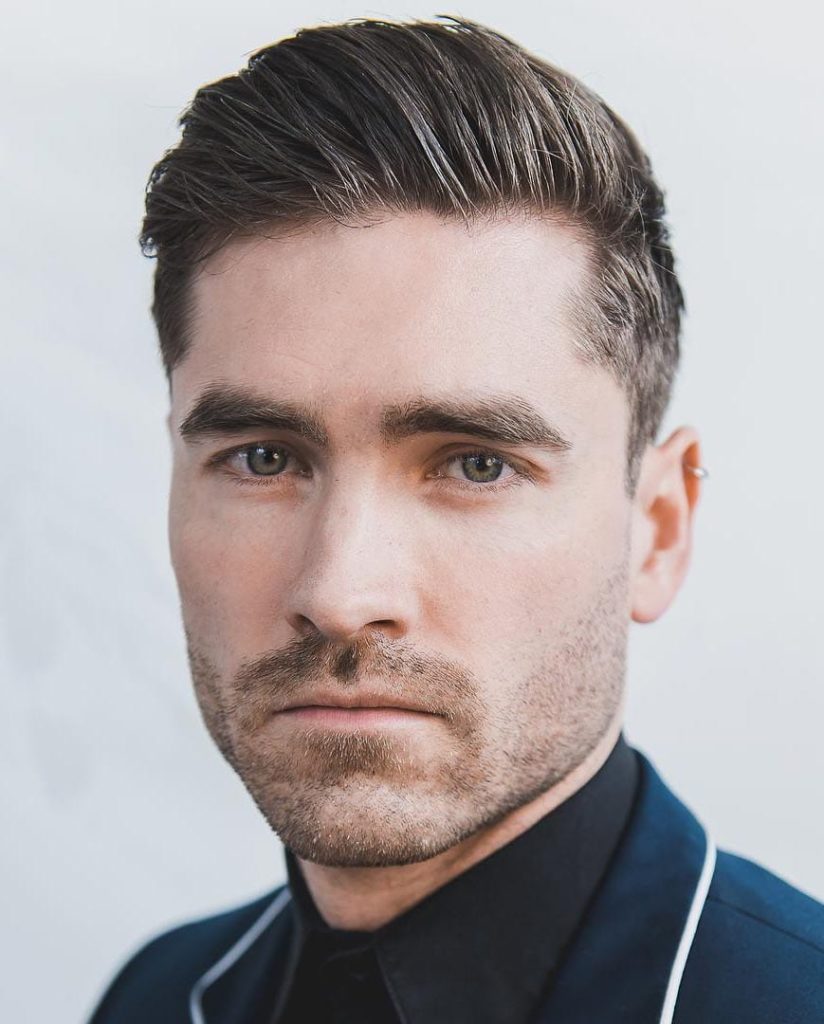 Are you looking for haircuts for fat guys? The brushed-up hairstyle is one of the everyday hairstyles on the list.
The brushed-up hairstyle increases your forehead length and makes the look more prominent and promising.
Although if you have dense hair, the forehead length looks smaller.
28. Vertical Hairstyle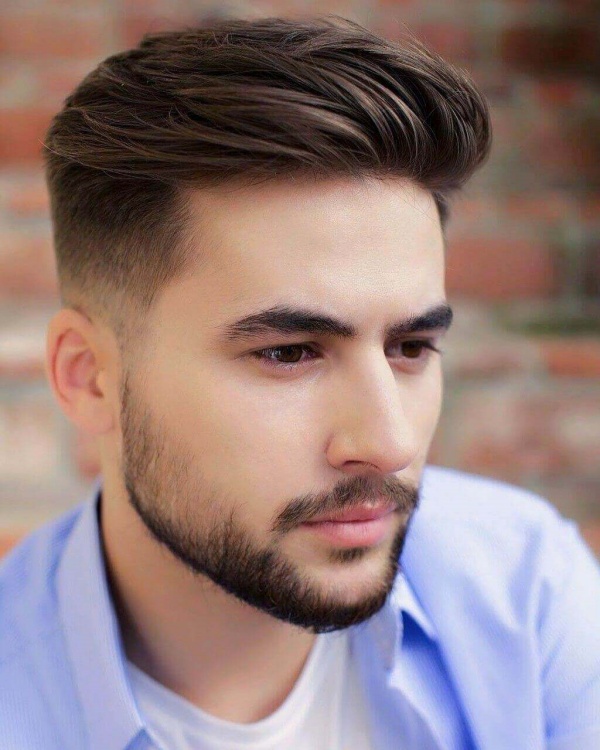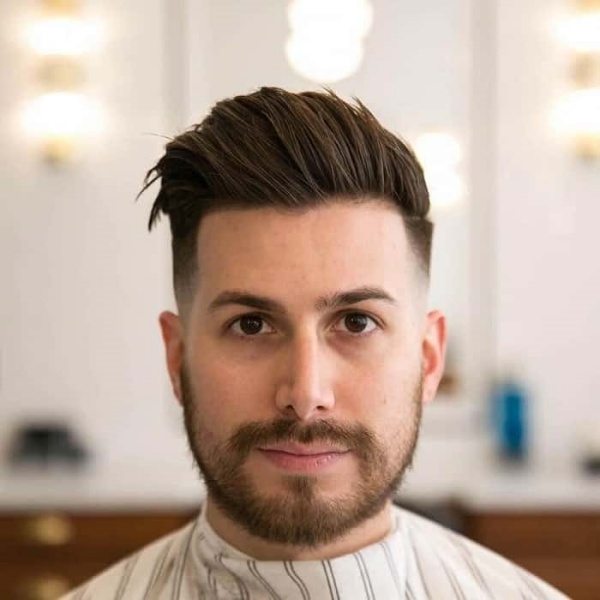 The vertical hairstyle has become the attraction of every man, either fat or thin.
This hairstyle makes a face look slimmer. With the vertical hairstyle, you can add volume to your hair and make it look dense.
To give this hairstyle a perfect shape, you need to add good quality hair gel or a pomade style.
29. Shaggy Hairstyle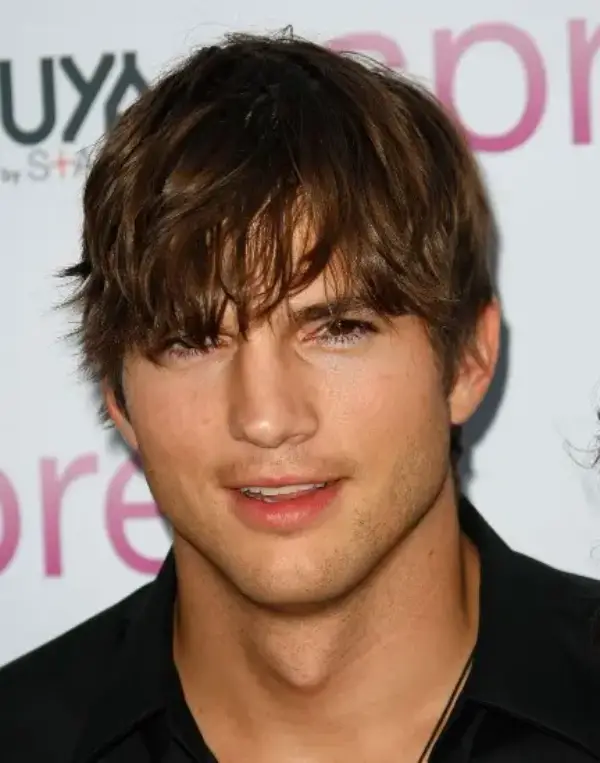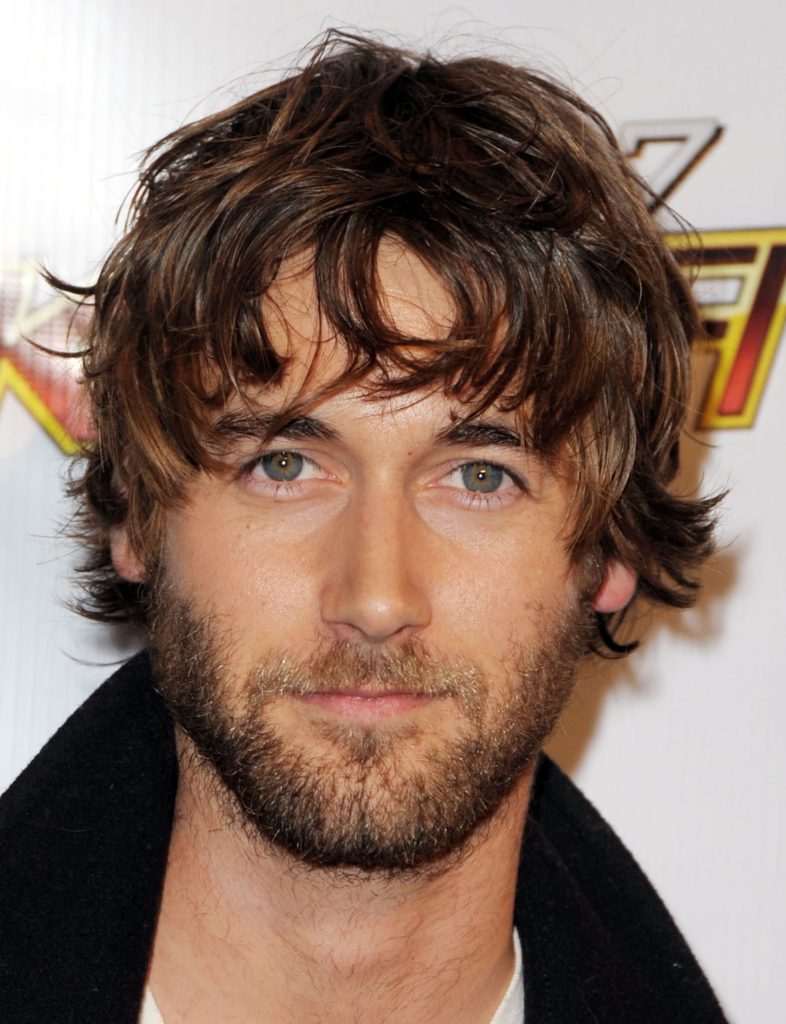 The best thing about a shaggy hairstyle is that it has a lot of layers. This hairstyle has bangs, long hair at the back of the neck, waves or curls, and long sideburns.
This hairstyle was commonly found in men of the 70s and 80s, but in recent days, this hairstyle has become trending among fat men.
Most famous rock stars to actors have adopted this style to make themselves look decent and sweet.
30. Side Swept Bangs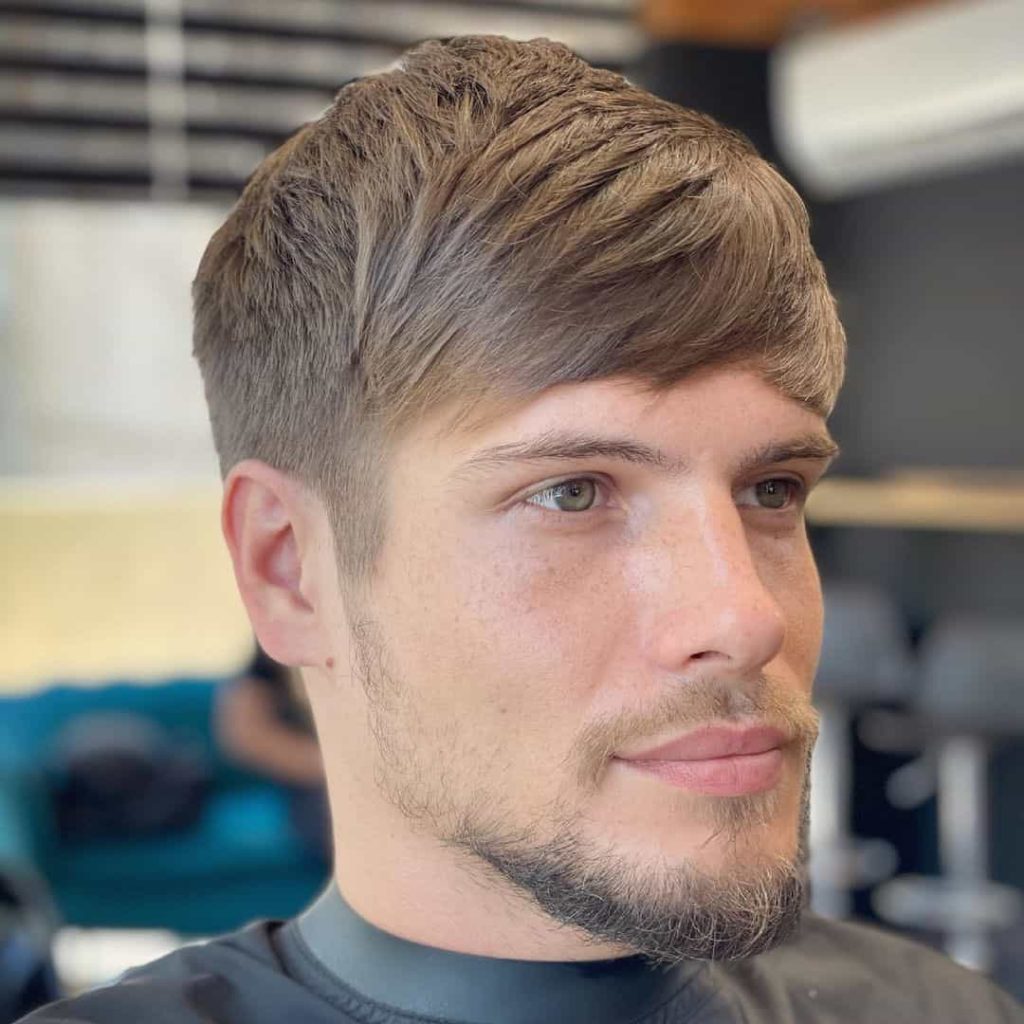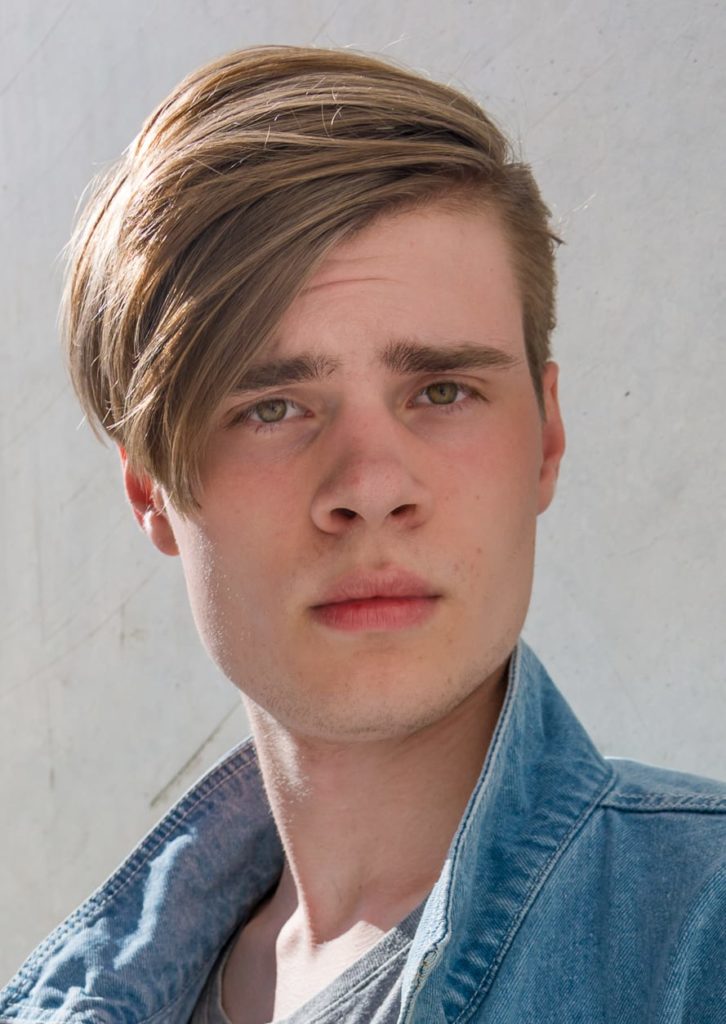 Side-swept bangs are one of the most popular haircuts for fat guys.
Over the years, this hairstyle has transitioned into different styles, providing every type of man an endless choice with varying hair textures and lengths.
On top of that, if you seek a hairstyle that needs minimal effort to keep in perfect shape, side-swept bangs are the ideal choice.
This hairstyle can be styled neatly and given a structured, loose or messy look.
31. Hard Part With Comb Over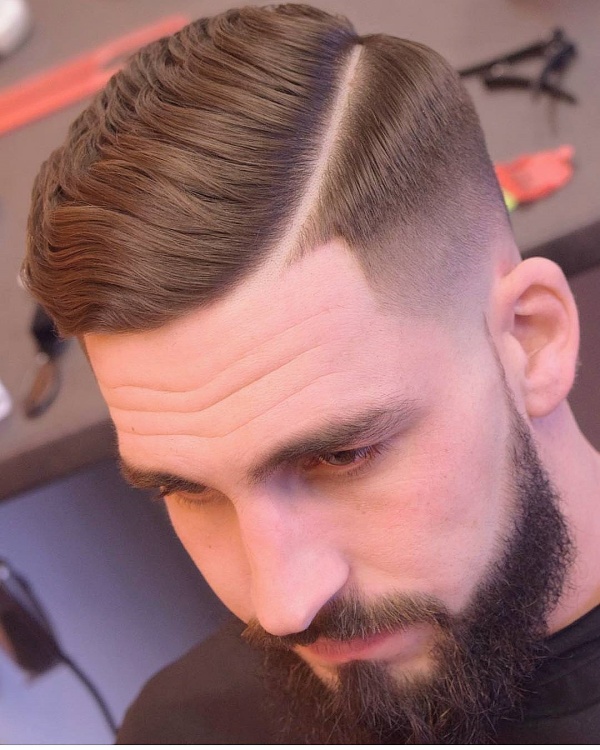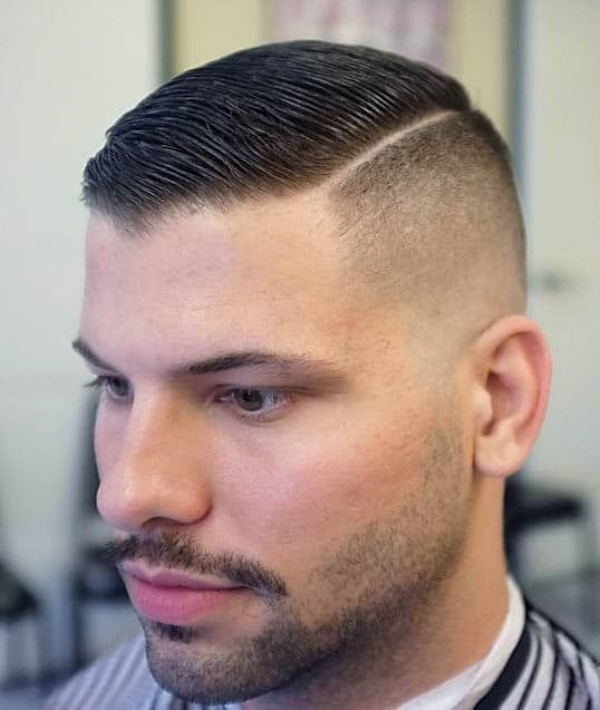 If you wish to have an enhancing look, you must look at the Hard part with a comb-over hairstyle. This hairstyle is versatile and doesn't matter if you have a round or filled face.
You must remember that the hard part with a comb-over is a style in which long hair is at the top while the side hair is shaved to provide a contrasting look.
32. Undercut With High Volume Hair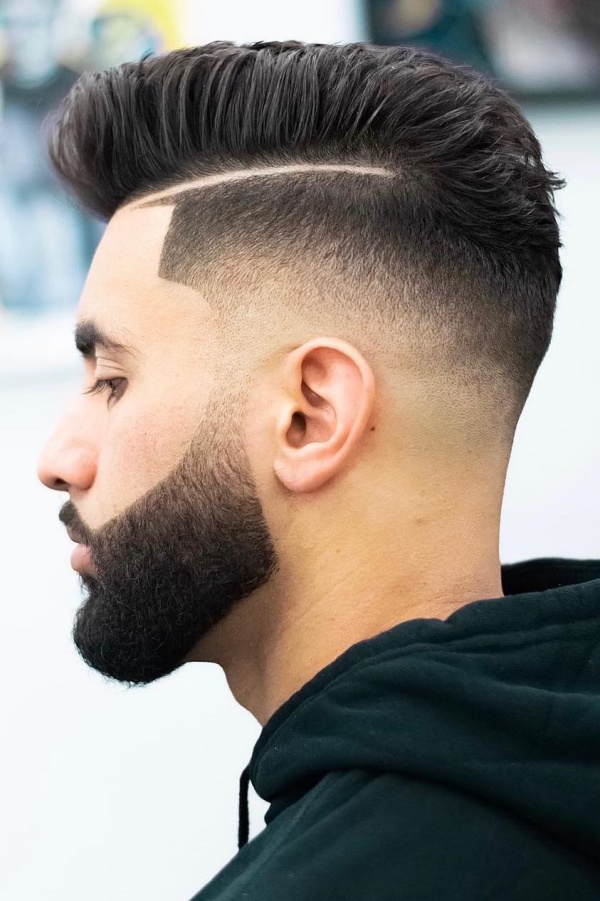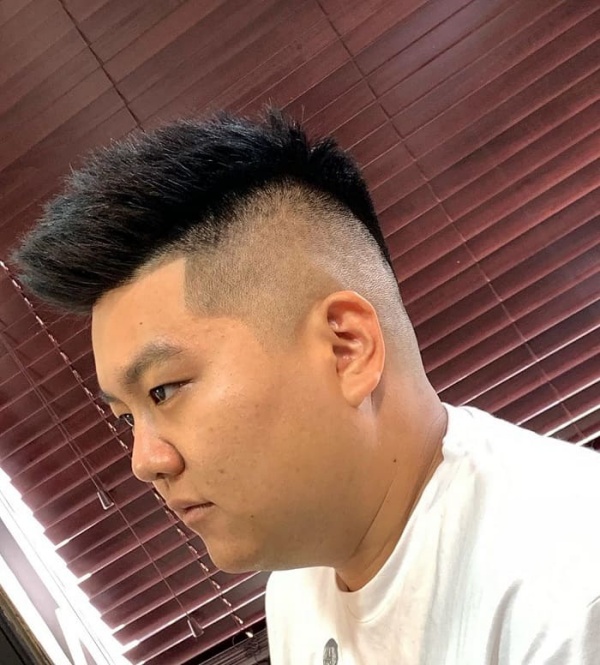 The undercut with high-volume hair is a unique variation of the undercut hairstyle. This hairstyle features trimmed hairs on the sides and back in a conventional fashion.
If you have long hair, then the undercut hairstyle turns out to be ideal, along with its variations that require true aesthetics. From pompadour to Quiff, various styles can be styled with the undercut.
A contrasting beard with the hairstyle changes the appearance to a much more manly look.
33. Mohawk With Beard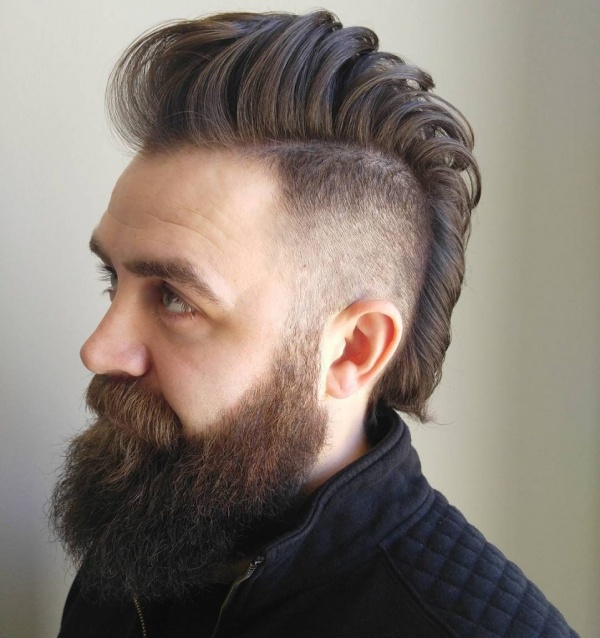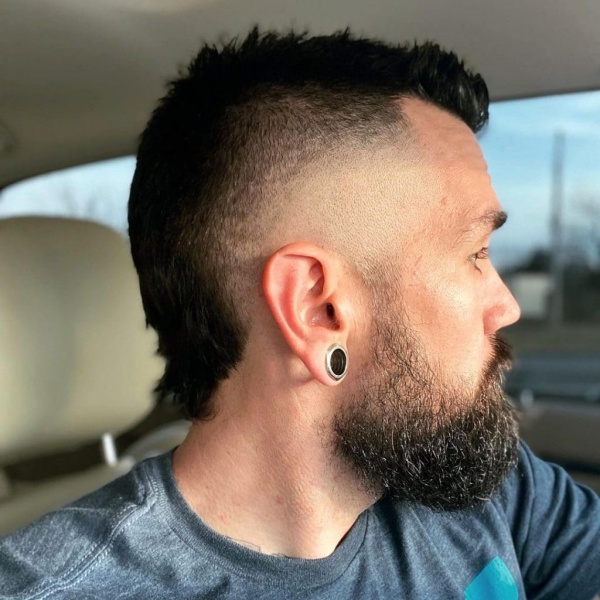 The Mohawk with beard hairstyle offers so many styling options and several different looks. To create this upright haircut and give it a stronghold, one needs to apply natural pomade, wax, or cream.
This hairstyle prevents the stiffness of the hair and provides the fullness of your hairstyle. This is one of those popular haircuts for fat guys.
This haircut is now edgy and trendy. You can ask your barber to style this Mohawk in a particular or desired direction.
34. French Crop With Highlights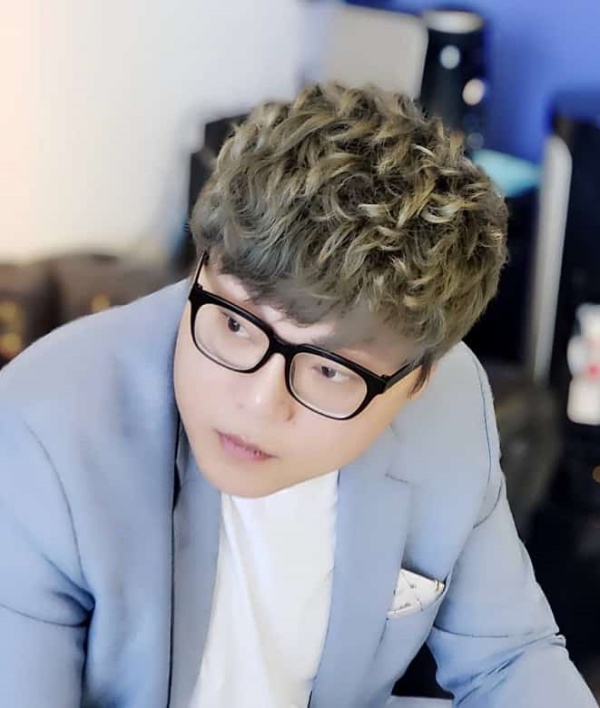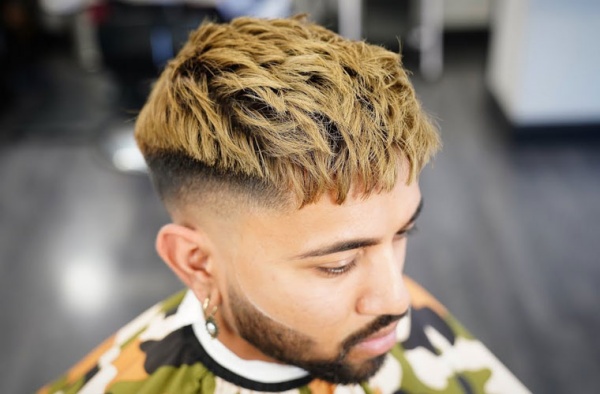 If you seek a hairstyle for which you don't have to spend enough time styling the hair, then the French crop with highlights is the perfect bet. This hairstyle comes under unique haircuts and is commonly known as a flattering hairstyle.
The French crop hairstyle is an excellent idea for fat men with receding hairlines. French crop with highlights can be styled by professionals in less time than any other hairstyle.
You can keep adding highlights for a rugged aesthetic.
35. Caesar Cut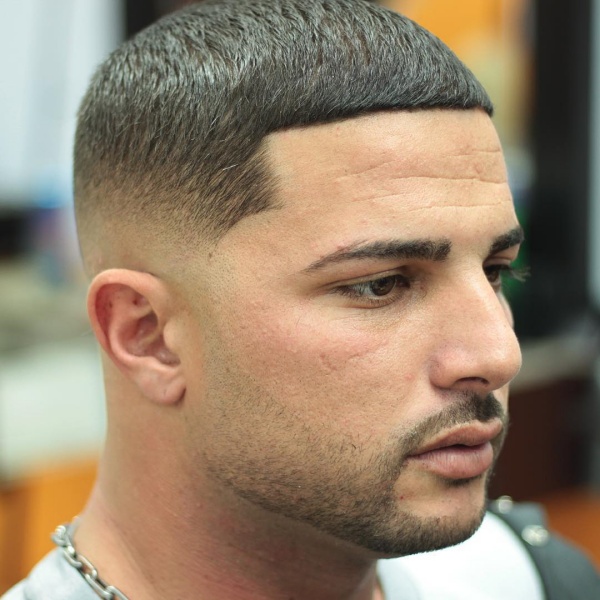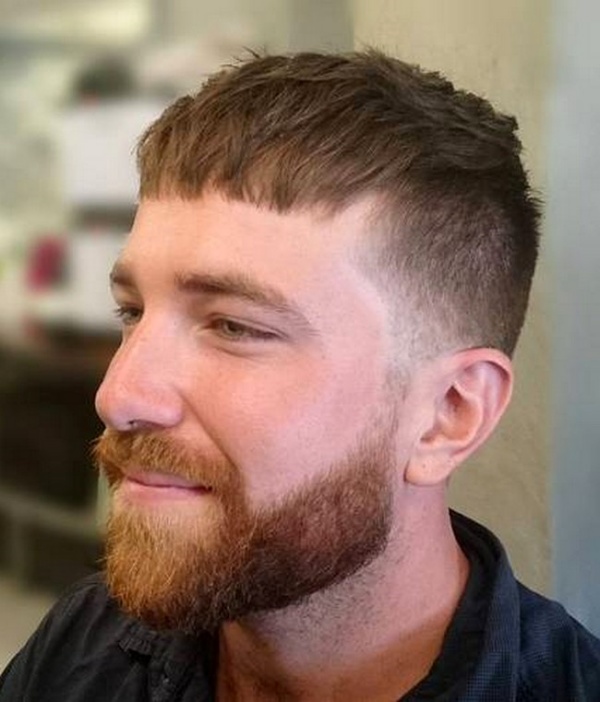 Are you looking for a sophisticated yet glossy and classy look? With the Caesar cut, you can style yourself the way your heart desires without even spending hours.
It is versatile and timeless. On top of that, the Caesar cut gives a classy look by covering the front part of your forehead.
Many artists and singers choose this smooth and blended finish haircut, and a little beard will spice up your look.
36. Bowl Cut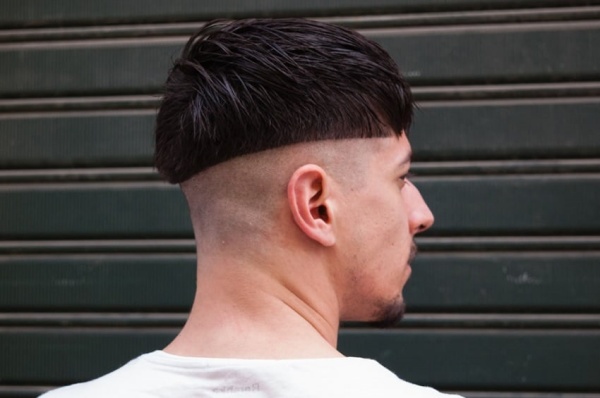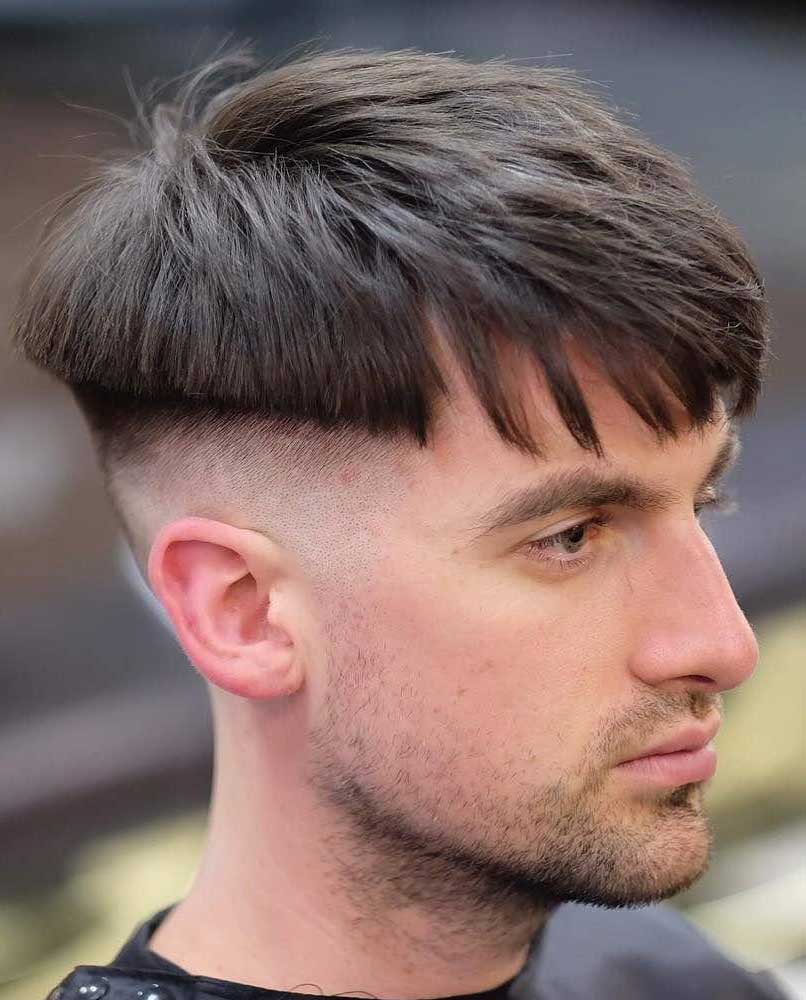 The most easily noticeable haircut for fat guys, among others, is the bowl cut. This hairstyle has been doing a lot of rounds among young fat men.
This bowl-cut hairstyle for fat men is an updated version of the Undercut hairstyle, which makes this an easily wearable hairstyle. If you wish to give yourself a thin look, then this is the ideal hairstyle.
The bowl cut comes with many different designs, shapes, and sizes. In this hairstyle, top and side hairs are usually given the shape of a bowl, making this one of the most noticeable hairstyles.
37. Textured Haircut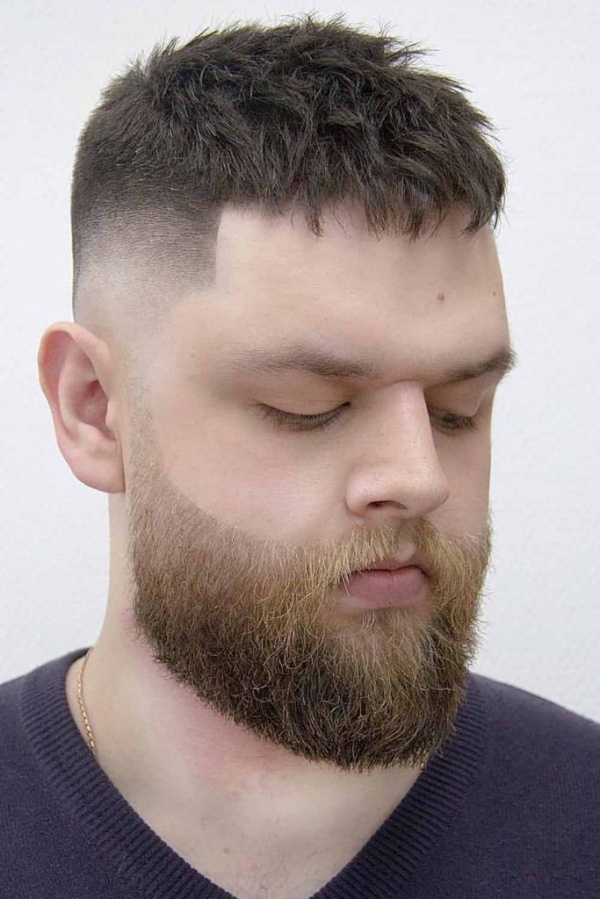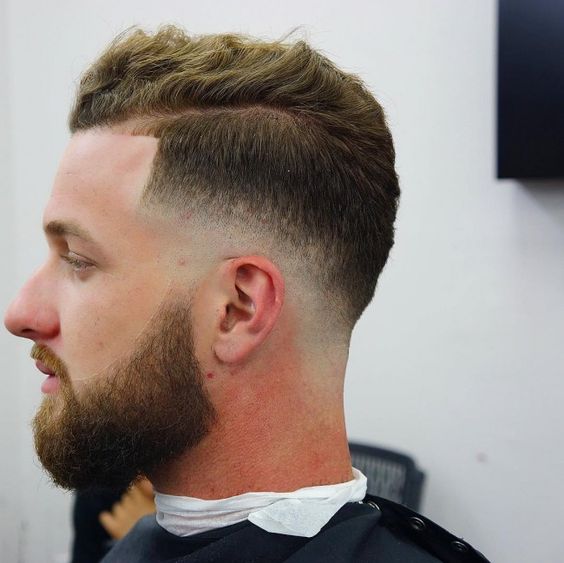 The Textured haircut is a unique, cool combination that men opt for. The side hairs are shaved and tapered, while the top hairs are kept long and brushed backward to give an appealing appearance.
Fat men who don't have a chiseled jawline look way sexier in this look, but with the versatile styles, fat men of different facial shapes can have this hairstyle.
One needs to keep in mind that one can keep different hairstyles together and create a unique hair shape.
38. Viking Haircut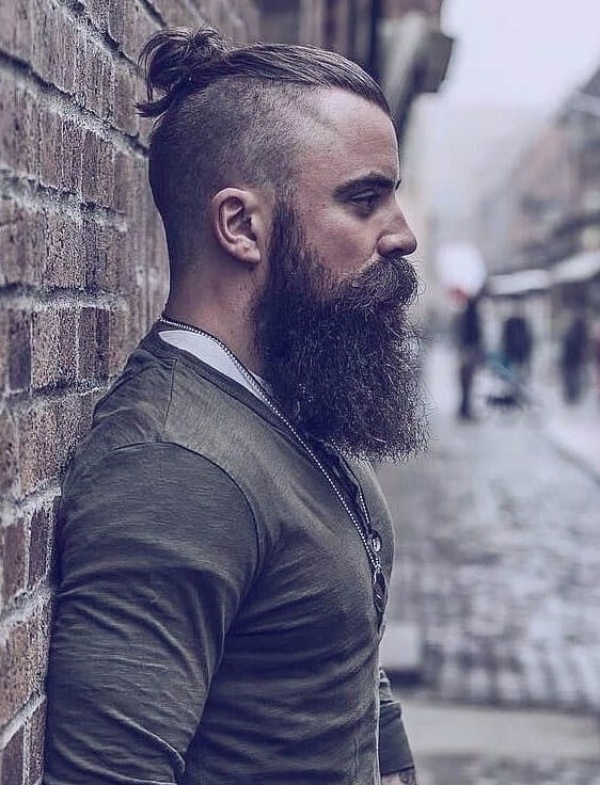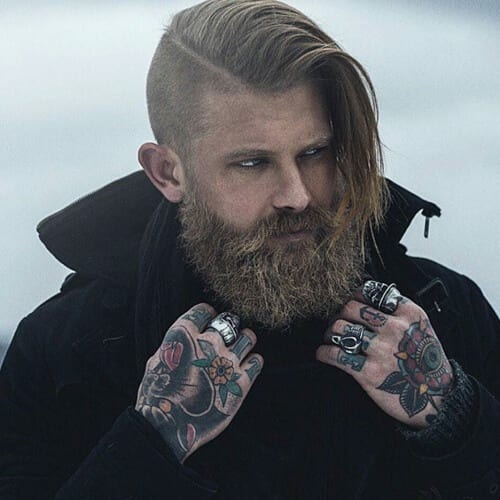 Are you in doubt about the look of the Viking haircut? There is nothing to worry about as this is one of the everyday hairstyles you have seen in fat men.
The Viking haircut comes with a clean and sexy appearance. This has been a hairstyle of the 70s and 80s, during the era of rock and pop music.
39. High Volume Quiff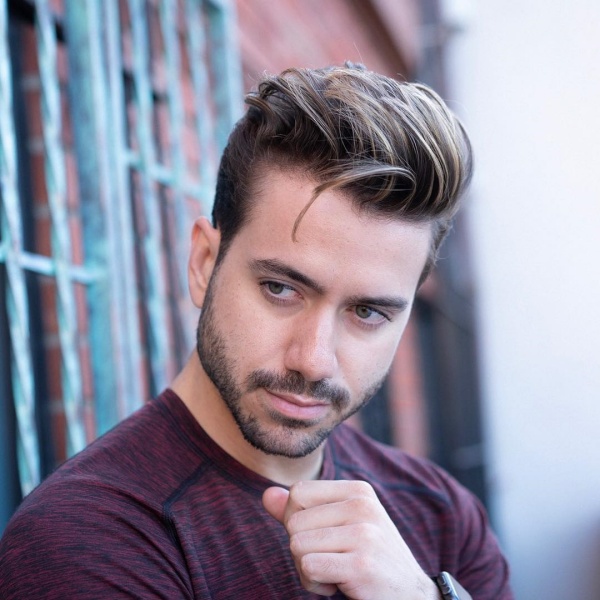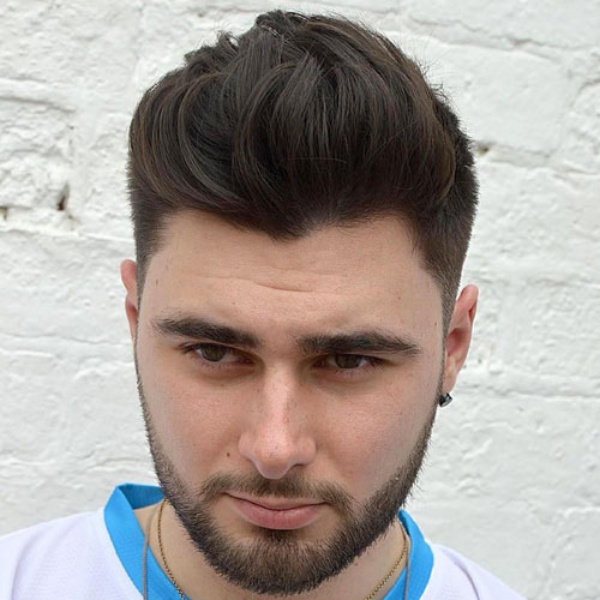 This layered hairstyle is perfect for men with both wavy and curly hair. The hair on the top is usually shorter than on the sides and the back.
It is a low-maintenance hairstyle and doesn't require regular grooming. The high-volume Quiff is a unique hairstyle that adds a fashion quotient to men.
40. Edgy Disheveled Haircut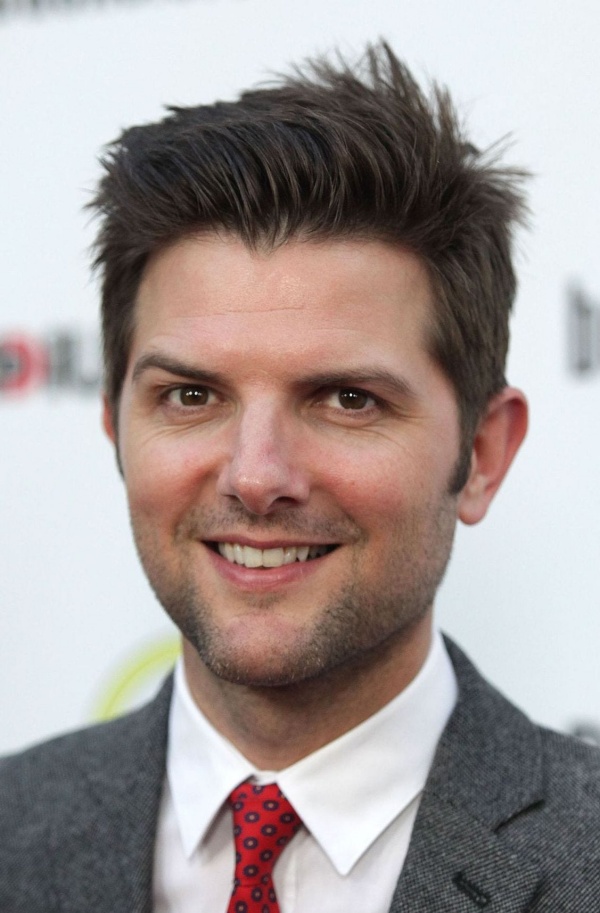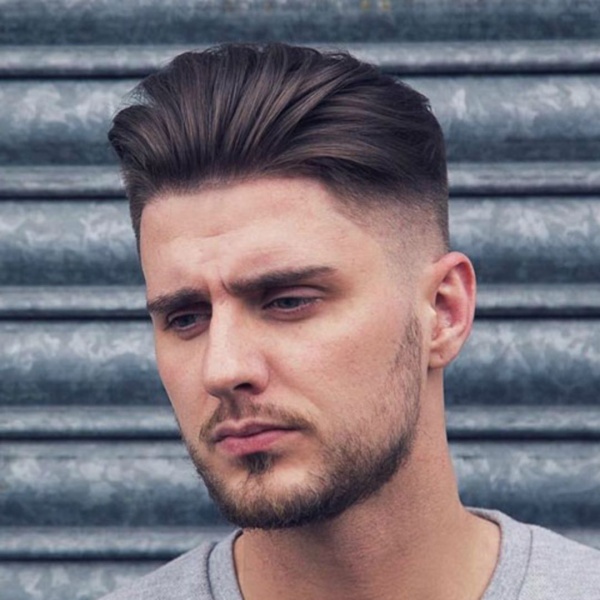 The Edgy disheveled hairstyle is predominant in men with its timeless, classy style. This is the most common hairstyle you will see on fat men with dense hair growth.
There is a disconnected appearance in which the side and back are kept short while the top hair is kept long to contrast.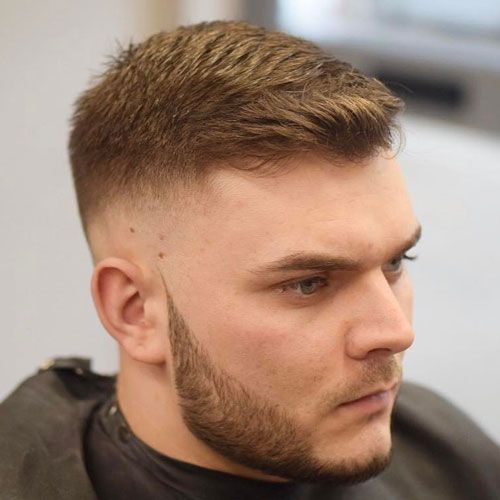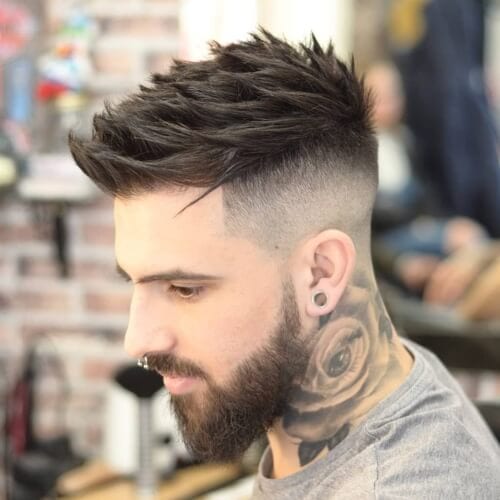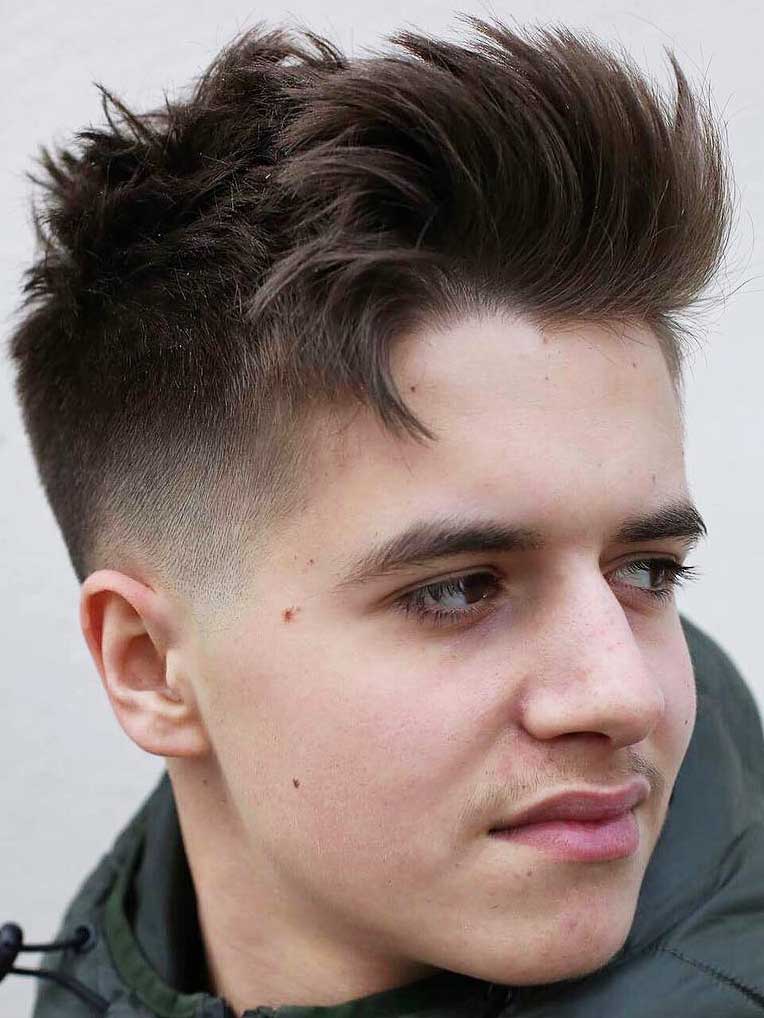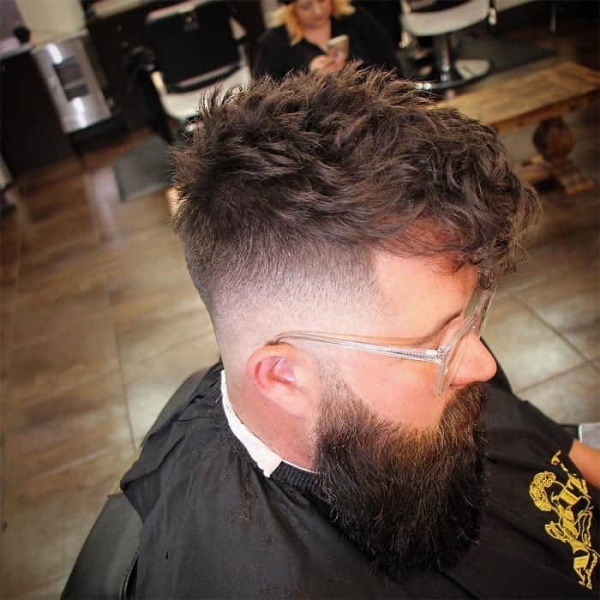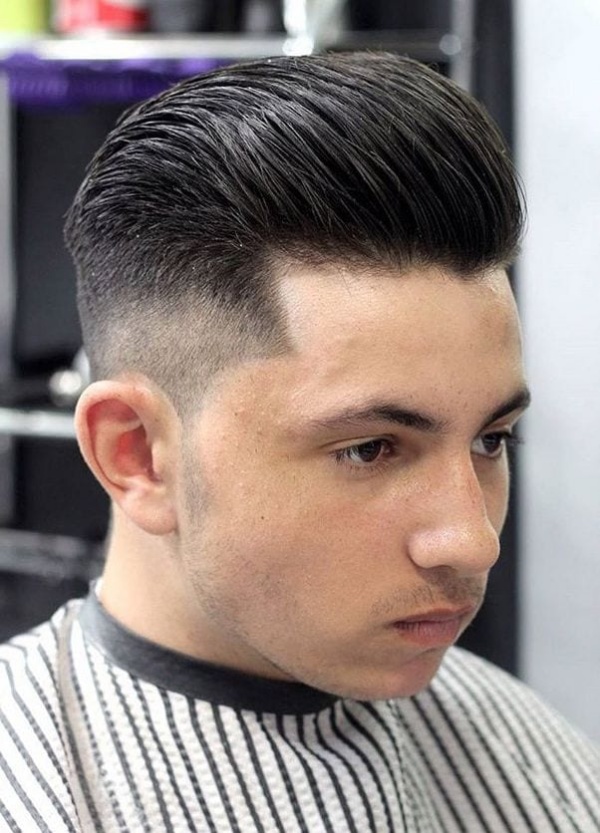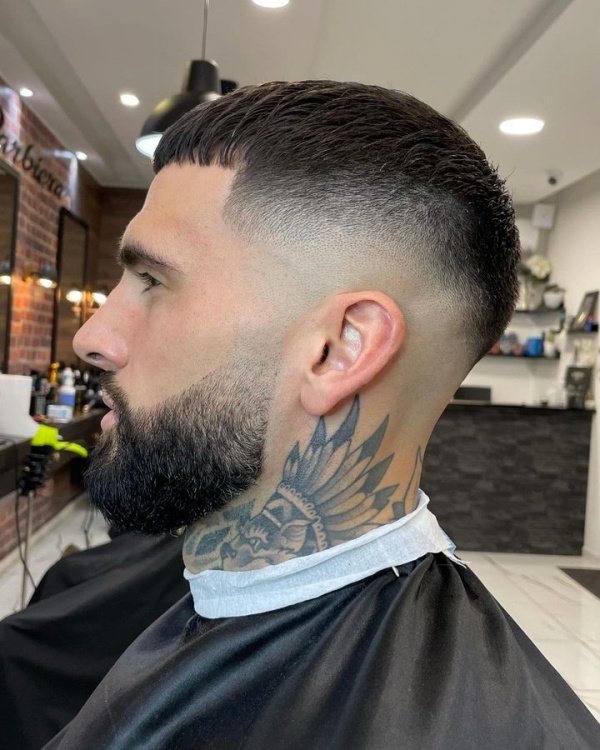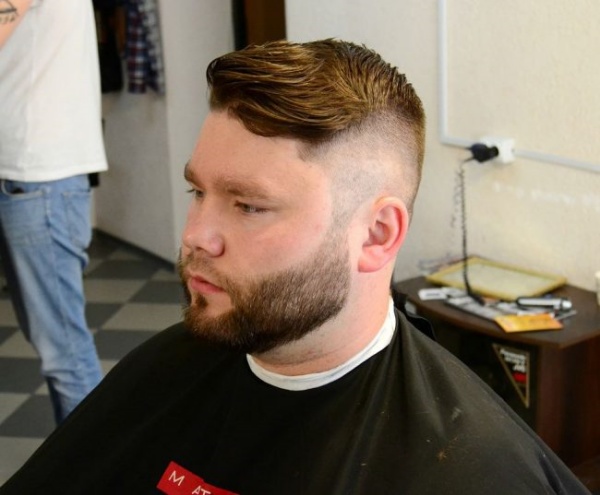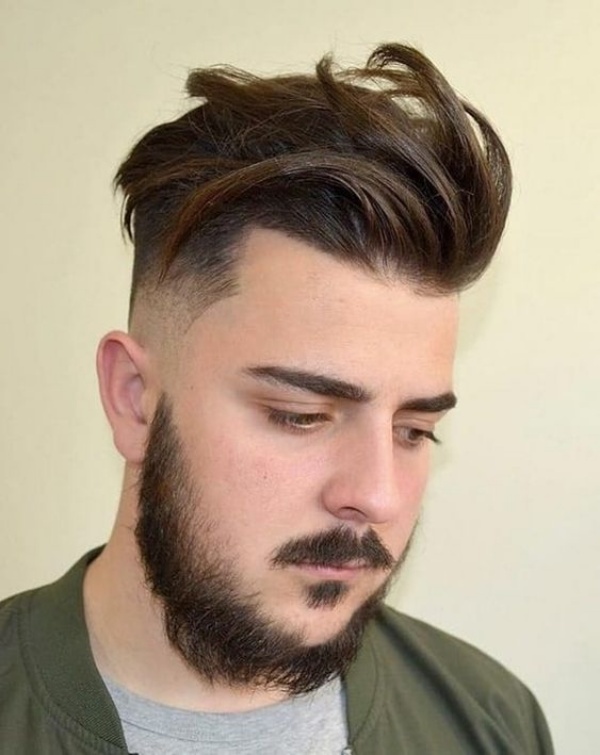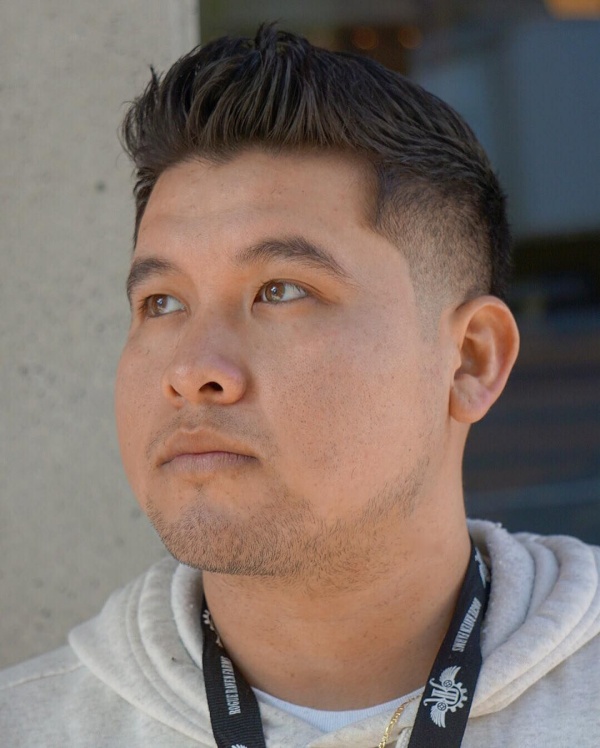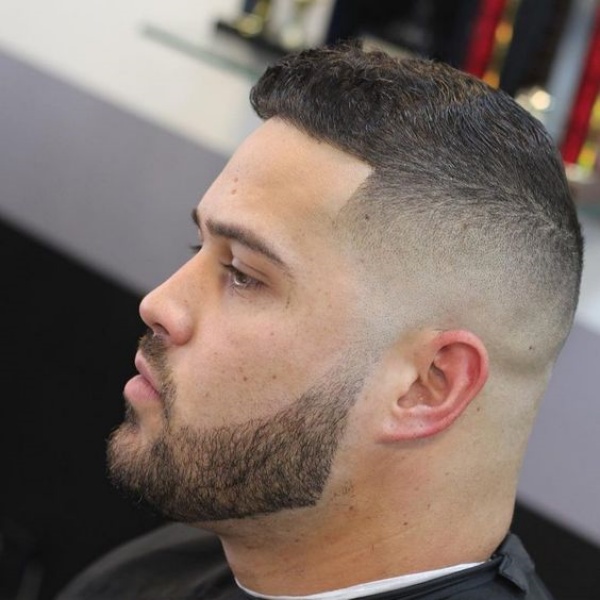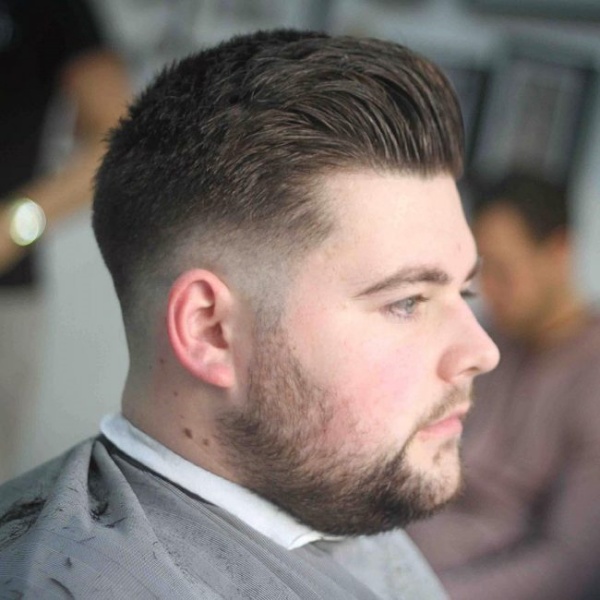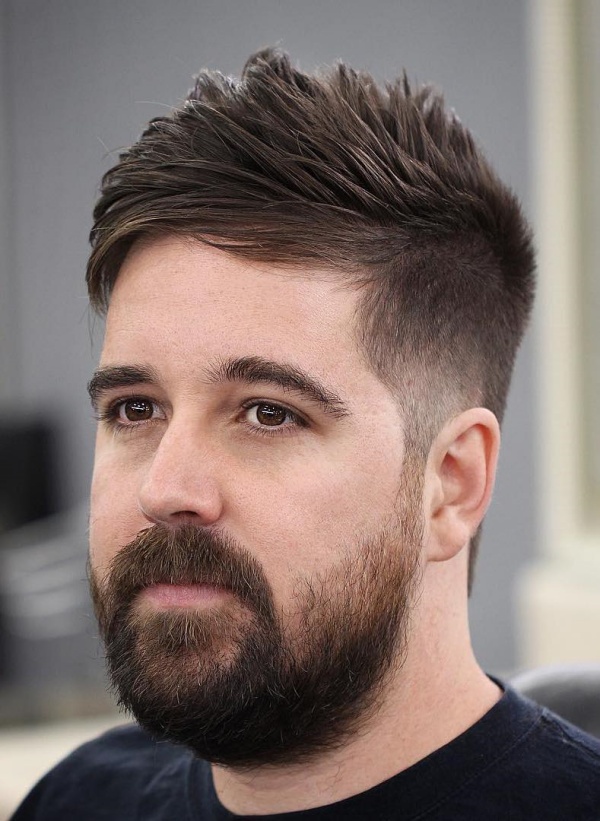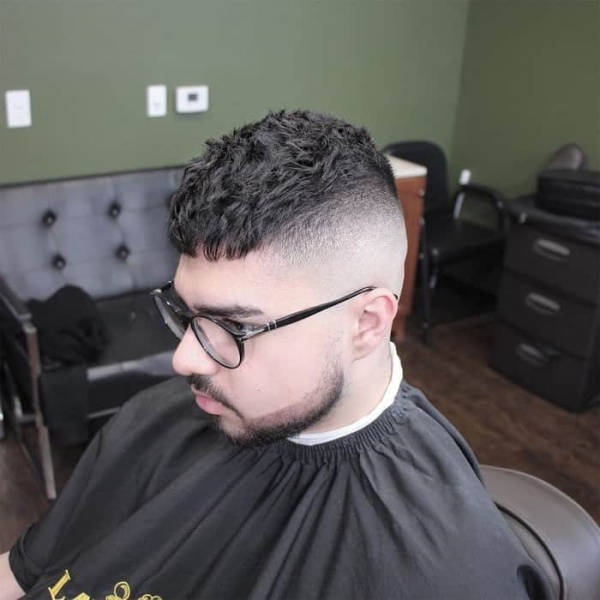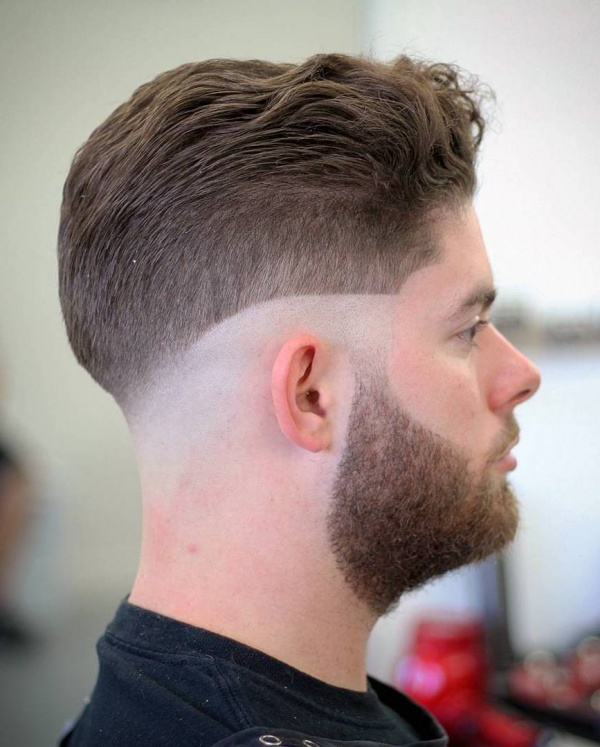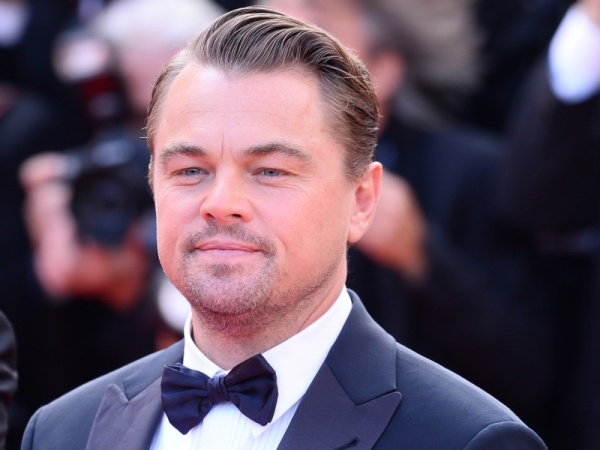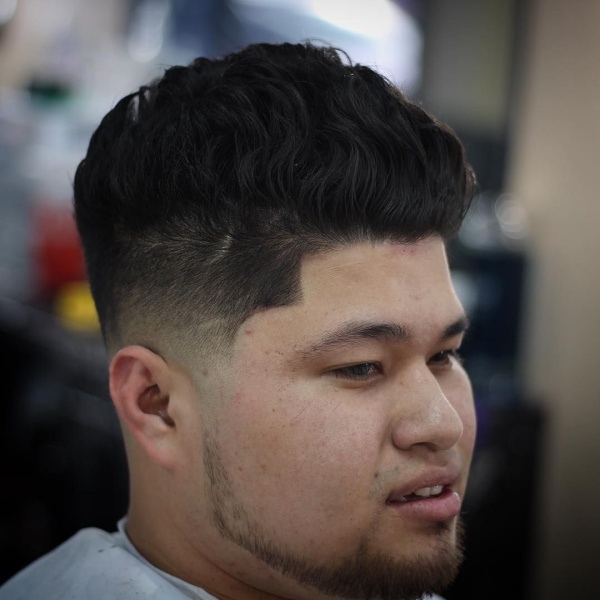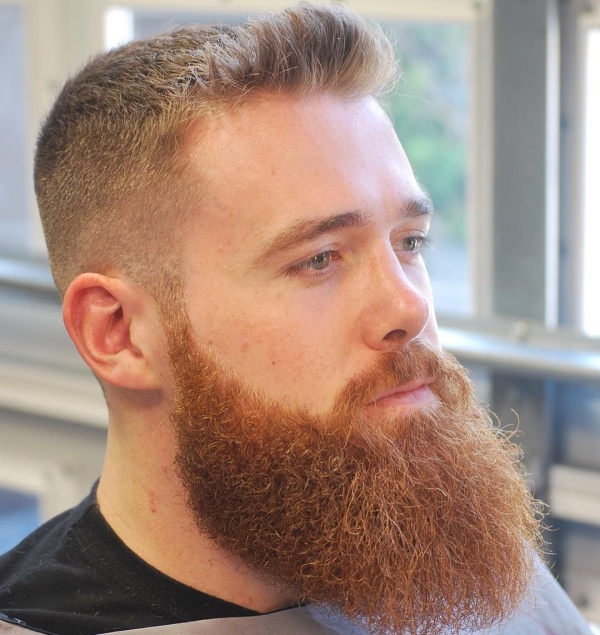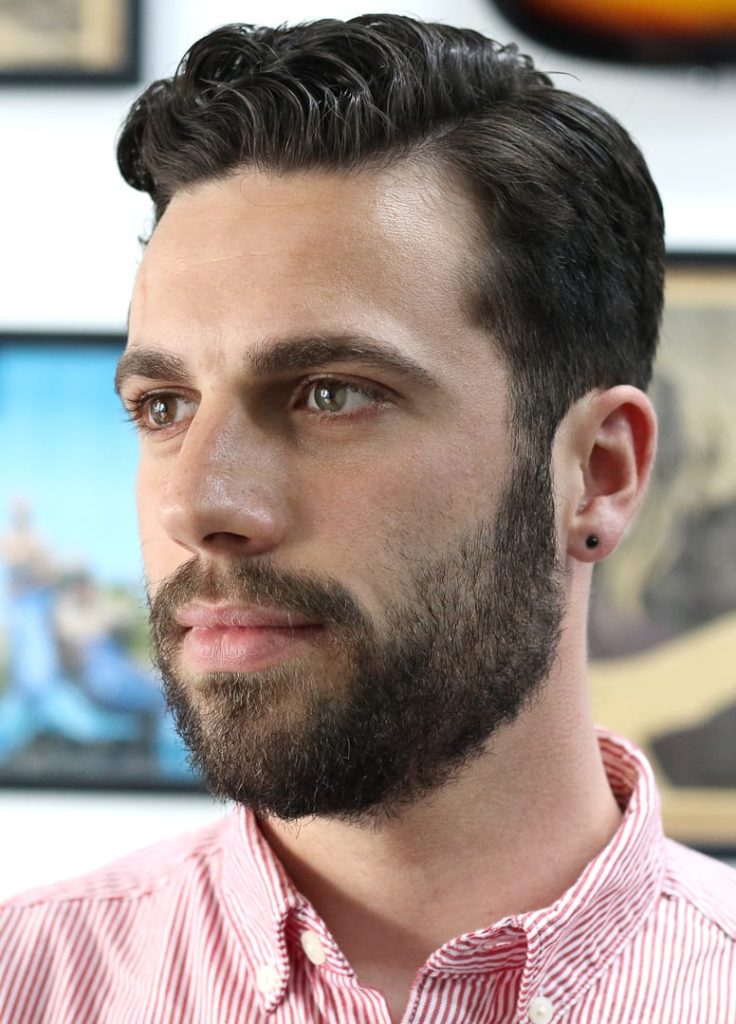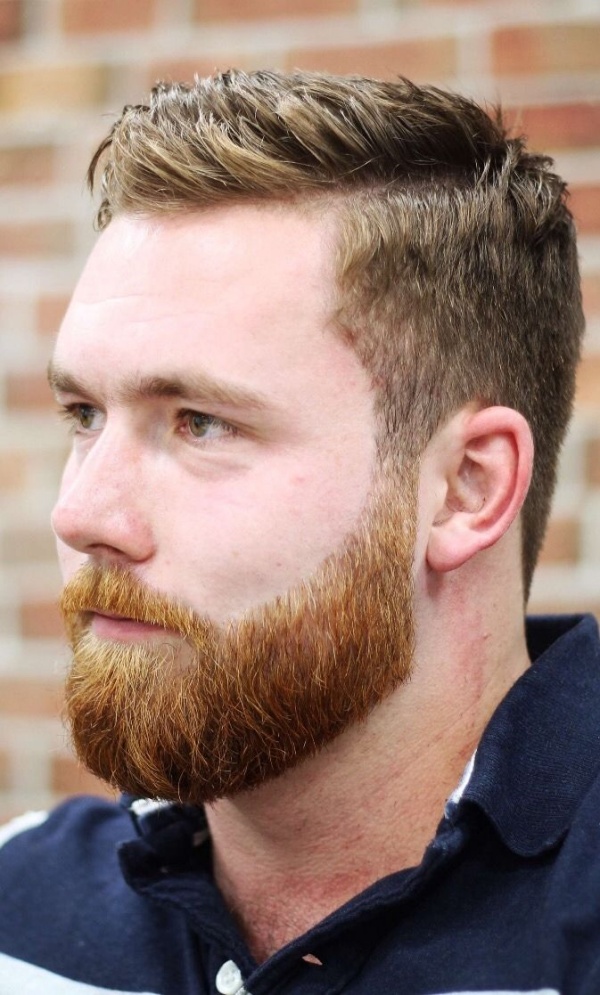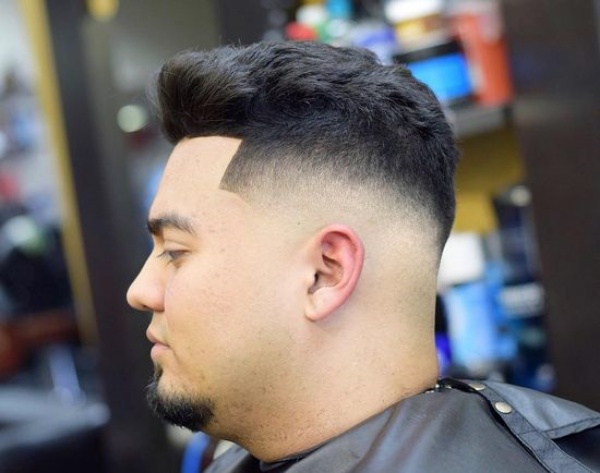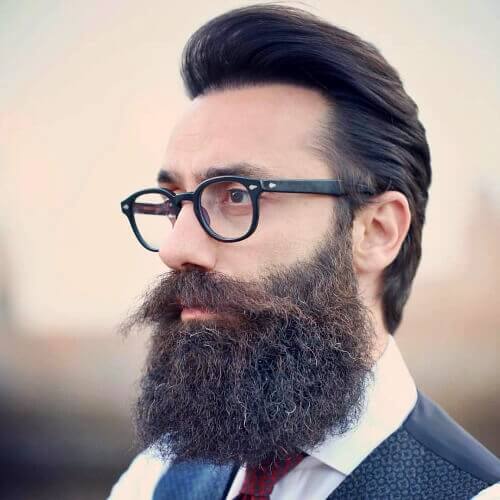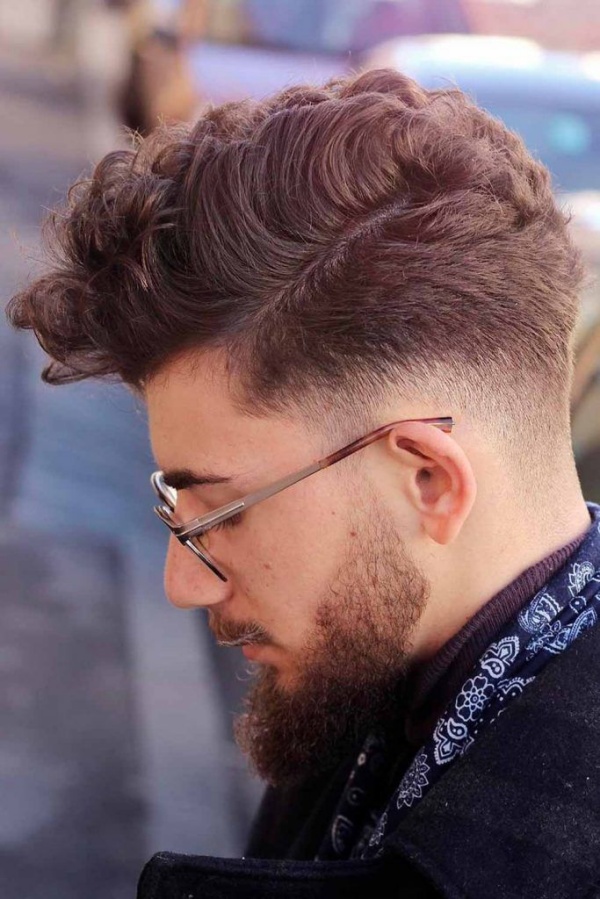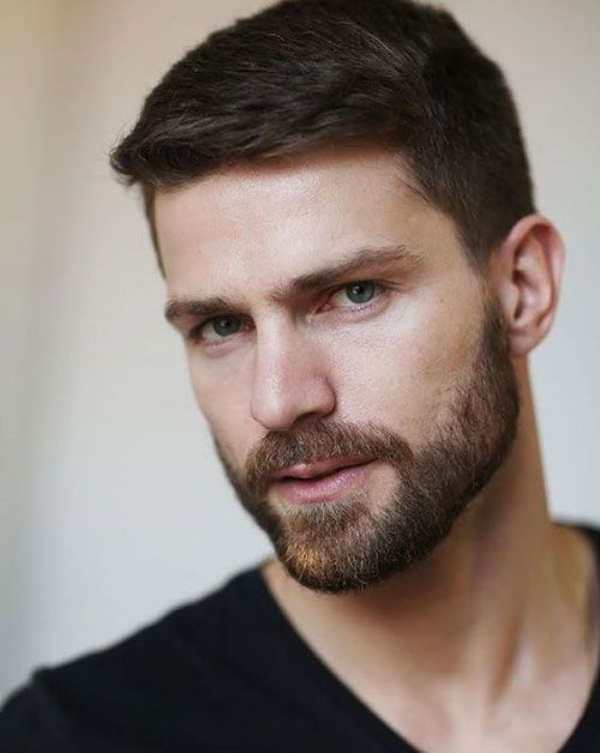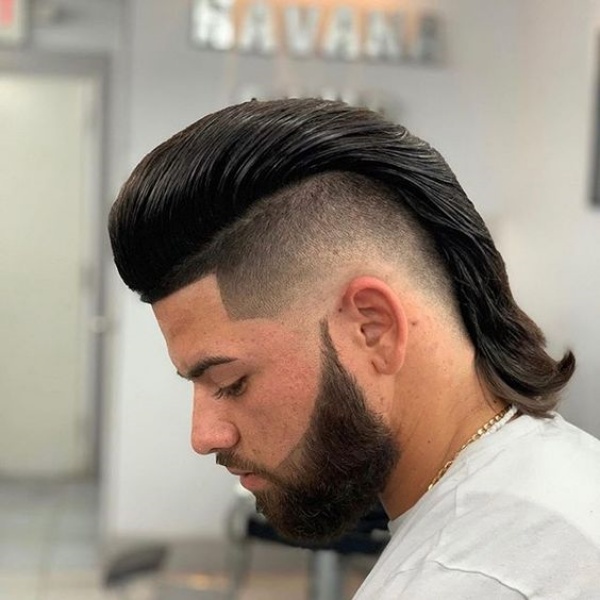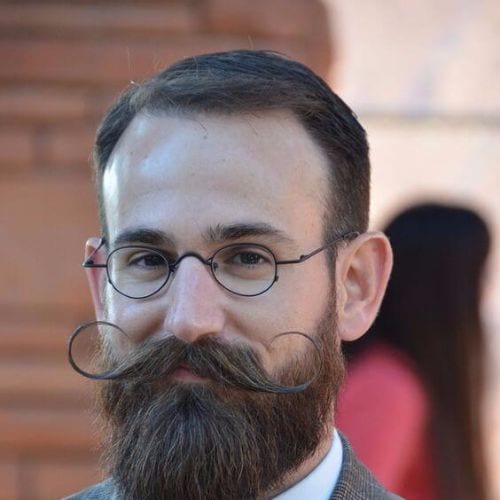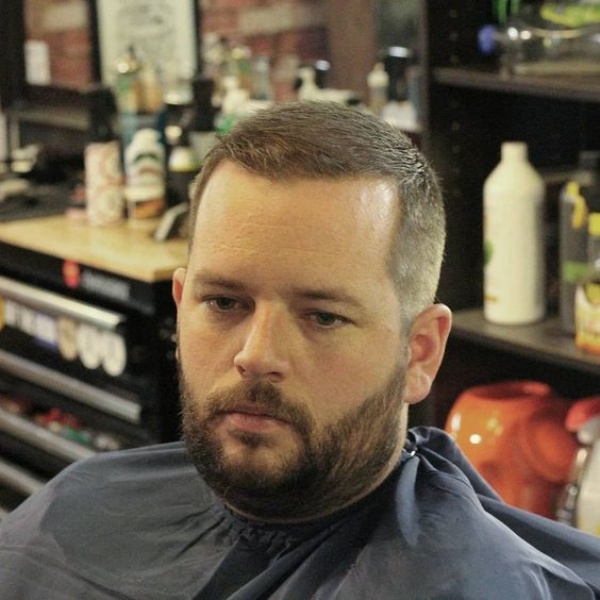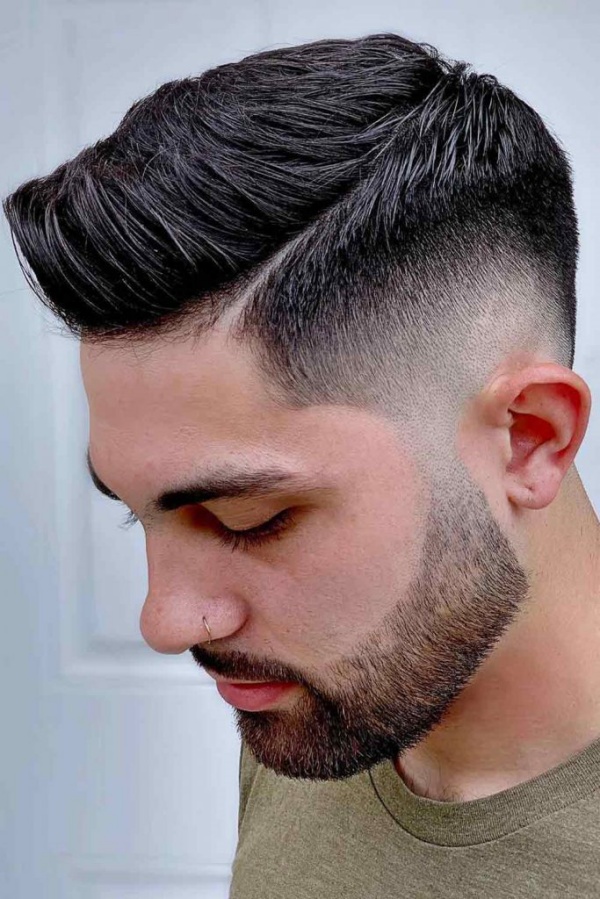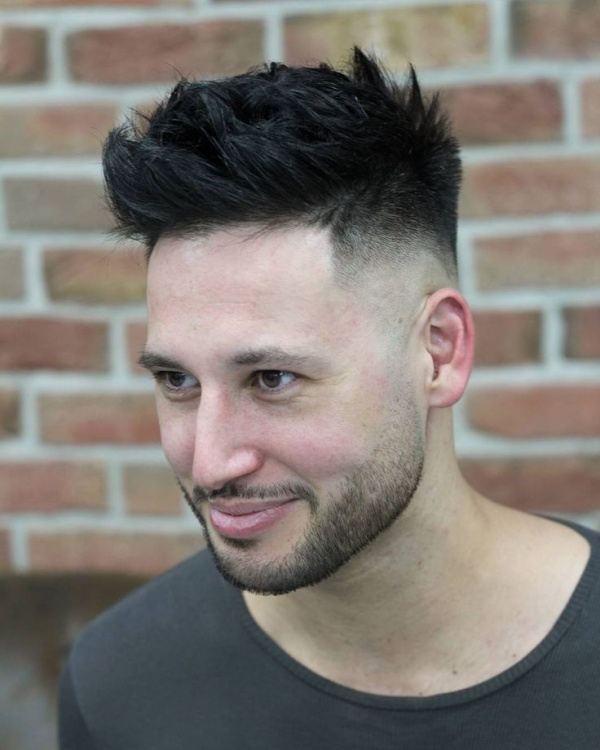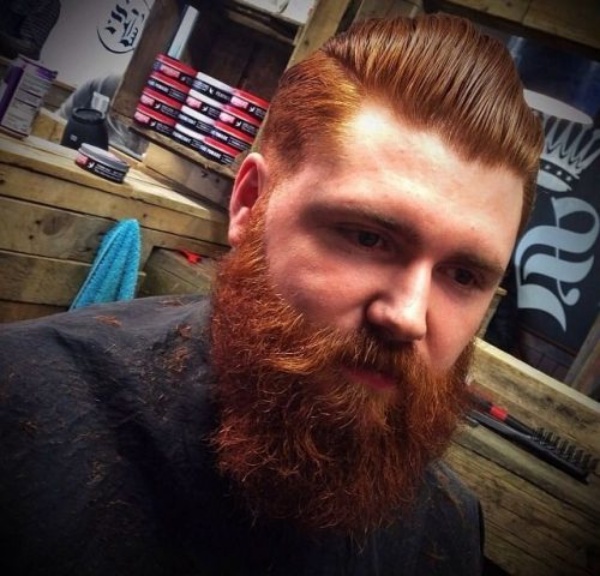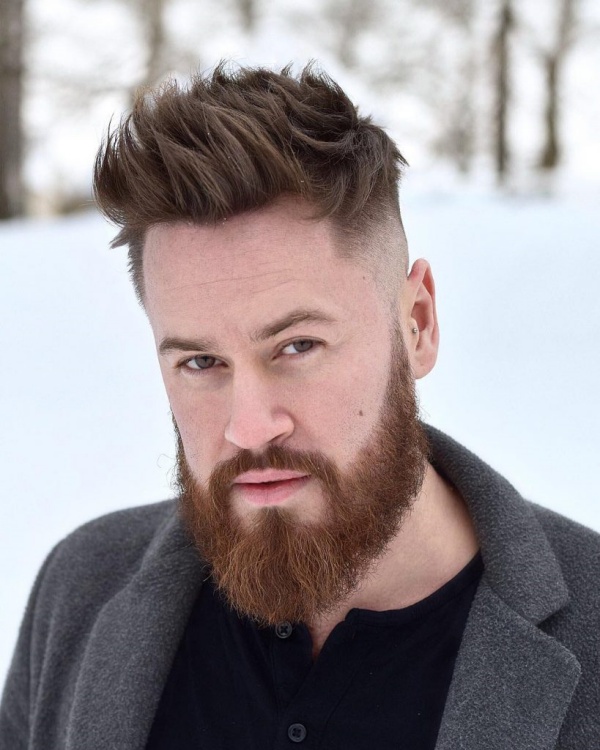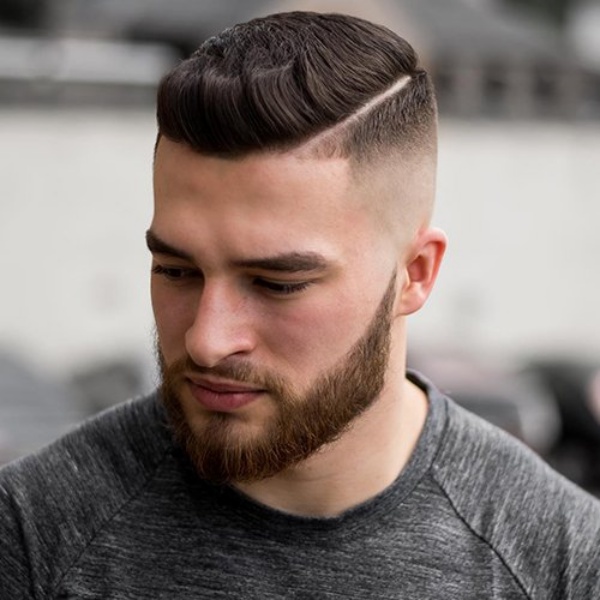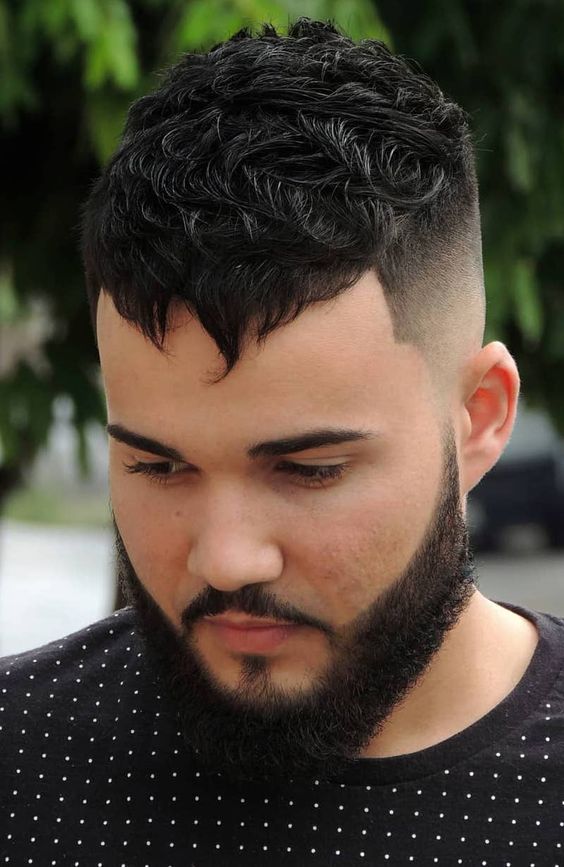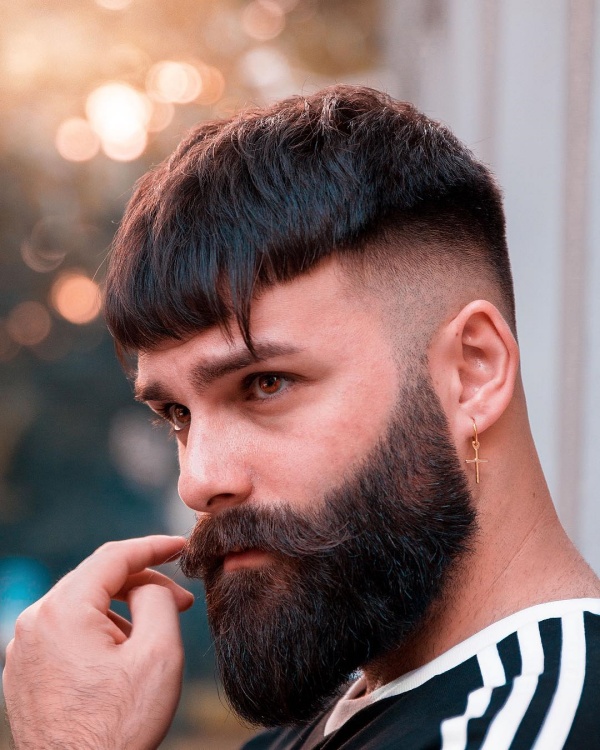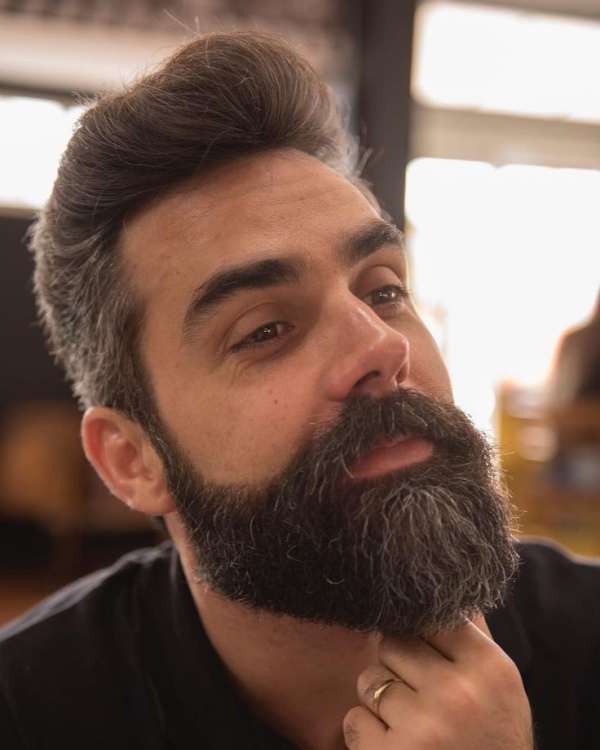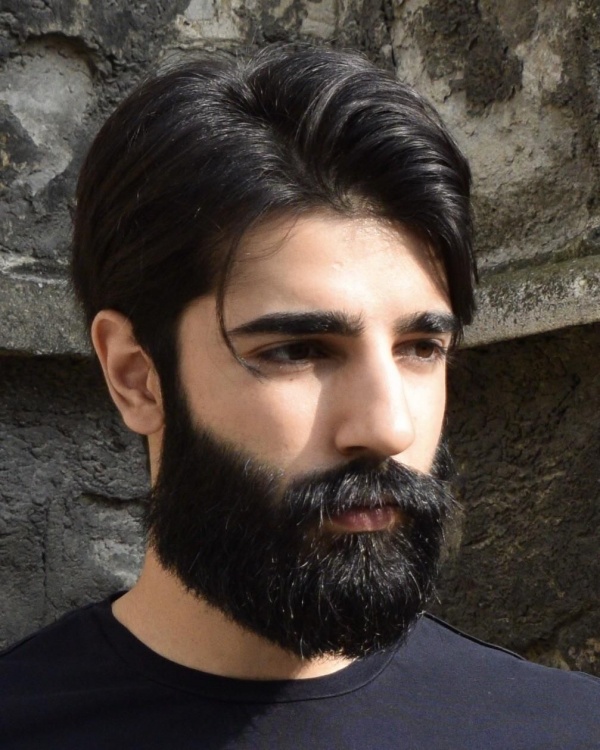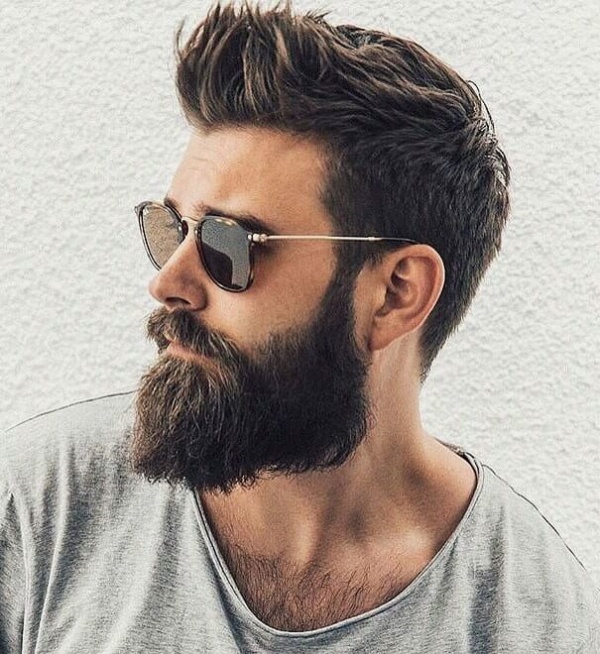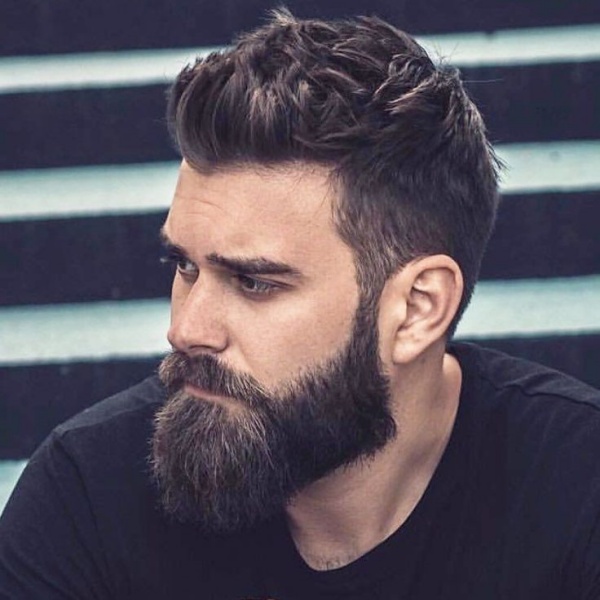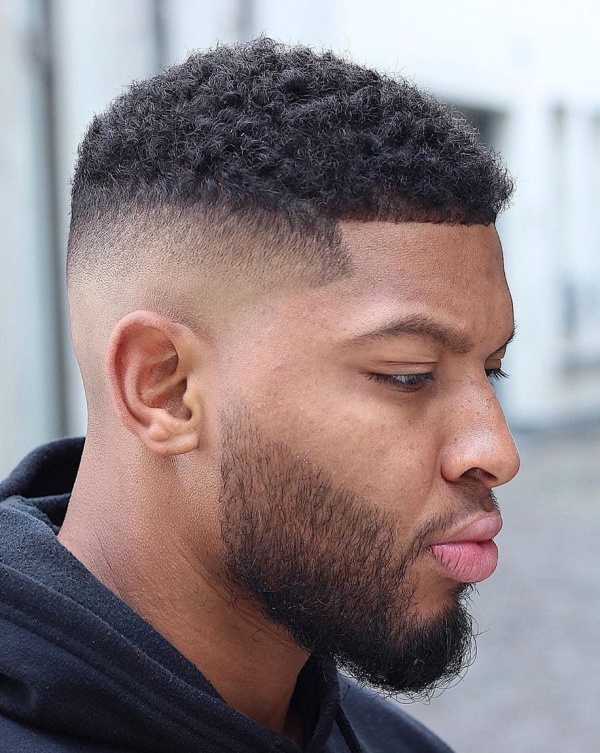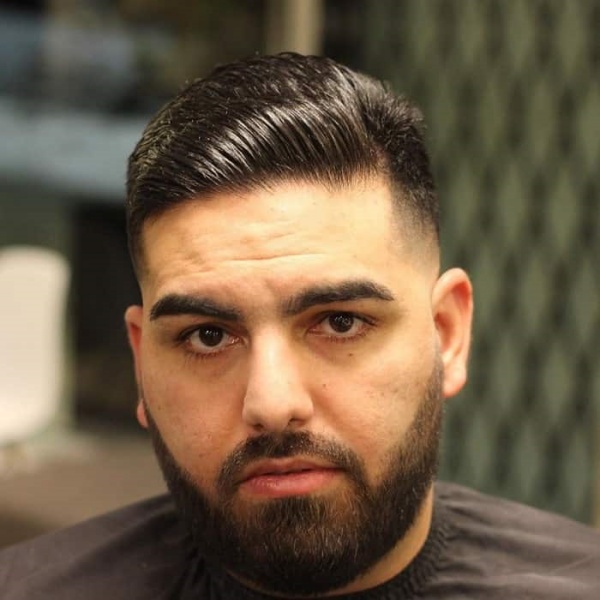 Conclusion
Having a cool hairstyle becomes a tough choice for fat men, especially when experimenting with different classic styles; it becomes much tougher.
Although there are various haircuts for fat guys, which turn out quite appealing, you need to understand the styles to look perfect.
When choosing among different hairstyles, this article makes the task completely easy.
The selectively chosen fat guys' hairstyles provide the aid of who should wear it flawlessly and how exactly the things one needs to know before deciding their hairstyle.
Thus, if you still worry about hairstyles to choose from, you need to shed all worries now and look at the styles and choose whatever your heart desires.