Feeling perplexed? Can't decide which hairstyle to get? Happens. It is quite obvious to feel like that, and be in a huge dilemma, especially when the style game is achieving new milestones every day. The perplexity takes a dominating role when you are a guy with a black complexion. Often, the thought of missing out on the trendy hairstyles and popular haircuts lingers around. We completely understand, and thus we have brought a solution to your problems. We have dug out afro hairstyles for black guys that not only come with versatile hairstyles but also suit black guys exceptionally (no competitions!). Though afro hairstyles have been there for quite a while now, it seems like everybody was living under the rock like you. But, as they say, it is never too late to begin. Why don't you head down below and take a look at the best afro hairstyles, and choose one for yourself?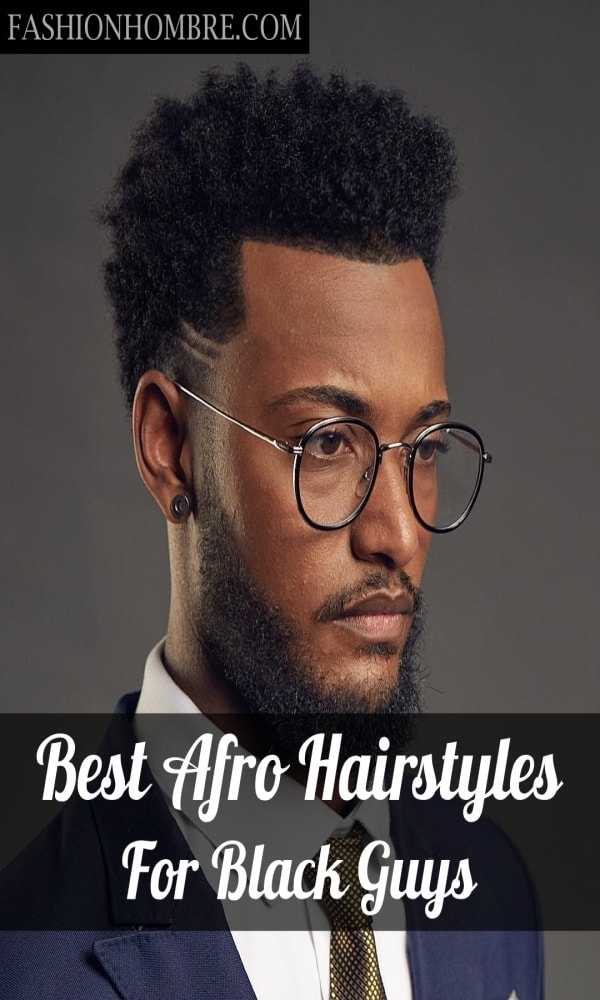 What is an Afro Haircut?
If you have thick and curly hair, then you must consider afro hairstyles for black guys because that is what lies in its roots. Afro haircuts derive their origin from the curly hair family of African-American and have thus never received quite a recognition from the men's society. First things first, an afro haircut doesn't have a singular style to it, and its variations are huge. The word 'afro', sometimes also referred to as 'fro', is a natural growth haircut, that is, you do not need to put any effort to help its growth, and leave it on the texture of your hair.
In fact, if turned the pages of history and literature, the moss-headed hairstyle was brought to existence by the woman from the Caucasian race, who had been put to the slavery of the whites during the American Civil War, and from there the concept of racism arose. Thus, these days, it is a majorly seen style on the black Africans as a protest towards racism in comparison to the individuals of other complexions.
As the major highlight of the haircut is its curly texture, you need to maintain the curls and keep them tight, even if you have to take refuge in the chemical products. By the time you trim the edges or get them shaped, it would replicate much of the shape of the cloud, or even just a round ball. The main motive behind the haircut is to express and show how beautiful natural things, or to be precise, raw physical attributes, can be.
The natural freely growing curls are an example of how relaxed haircuts should be depicted, and also speaks a lot about their casual approach in life. However, with its adaptation worldwide to various races over time, the particular hairstyle has gained ample variations.
How To Maintain Afro Hair? – 10 Pro Tips
Moisturization Is The Key- To get healthy-looking hair, nourishing, and moisturizing it thoroughly is very important. Moisturizinarewill helps the hair to look shiny and enhance the elasticity and tightness of the curls. You can either use a moisturizer made at home or can go for some herbal ones.
Don't Leave It Open While Sleeping- While sleeping, it is important to tie up your hair in a clean and neat bun and secure it at the back of your head to protect it from friction and prevent wear and tear. If you leave it free, it might result in increased hair fall, and can even ruin the edges.
Consider Your Pillow Cover- Try to use a pillow cover that is made of silk or satin. Such pillow covers cause less friction and thus do less damage to your hair, compared to the cotton pillow covers. The cotton covers also have accumulated dirt and dust, which makes your hair dirtier.
Avoid Artificial Heat- If you want to ensure the healthy growth of your hair, it is important to protect it from artificial heating devices like hairdryers, straighteners, curlers, and so on. Instead, try to air dry your hair, and keep it free.
Regular Trims Are Important- Keep the hairs trimmed from the edges of the ends so that the hair does not get too many split ends and ruin your hair in the end. So, invest some time, and trim them evenly to ensure the healthy growth of your hair. If you do not trim them regularly, your hair might just tend to deteriorate in quality and style.
Check Products Before Applying- If you depend upon artificial hair products too much, and want to use them at any cost, then it is important to use them only after knowing about the ingredients, and reading the labels stuck on it. If the first three ingredients of the hair product, consist of any harmful ingredient that can damage your hair, then it is better to keep them away.
Comb It Right- It is important to comb your hair the way it should be combed. Each hairstyle has its own type of combing, and if you do not know the one for yours, then you might end up ruining your hairstyle completely. So, do your own research and know-how to comb your hair right.
Oiling Hair Is A Must- Though this has already been told to you a thousand times, it is actually the truth. Applying hair oil develops the strength of your hair and helps it stick to your scalp, and also keeps dandruff at bay.
Use The Right Hair Bands- Using hairbands that have a rough surface, can affect your hair, and can even result in tears and massive hair fall as well. Instead, go for the hair bands that are soft in material, and have a thick and wide-body structure.
Avoid Chemical Colors- You might want to go with the trend, and color and highlight the hair, and look cool, but that will probably not be good for your hair. When those chemicals and colors are applied to your hair, the pigments of your hair get damaged, thus resulting in bad hair quality.
Best Afro Hairstyles For Black Guys
1. Afro Side Part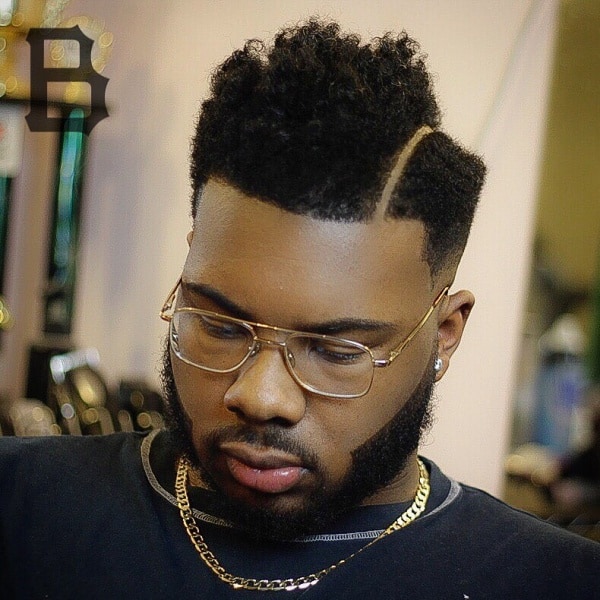 Image Source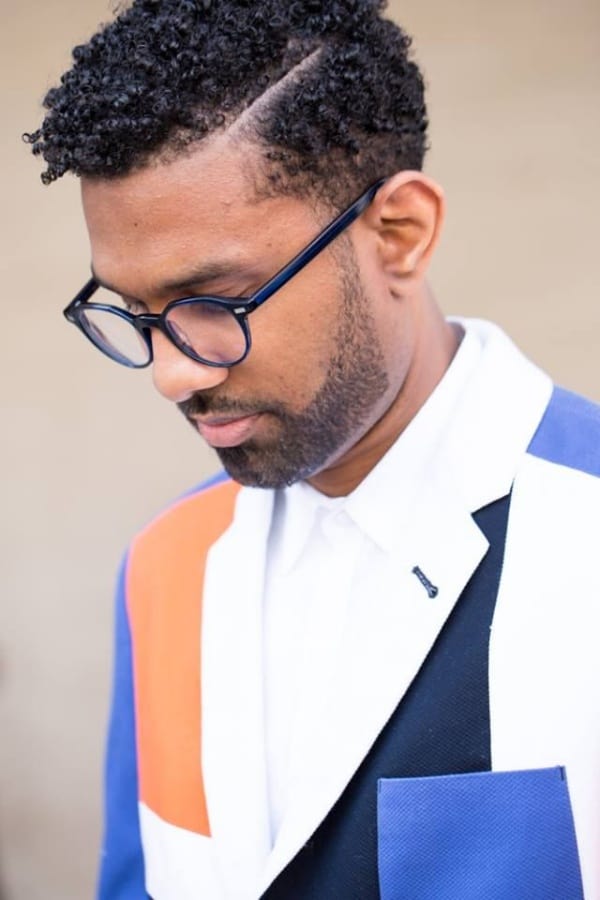 Image Source
Many might think that having a moss-head doesn't really need to do any hairstyle as it would hardly make a difference. But, when it is parted to the side, the whole shape of the head comes to a change and gives a definition to the flathead surface.
Checkout: Best Short Haircuts For Black Men
2. Coloured Afro Hair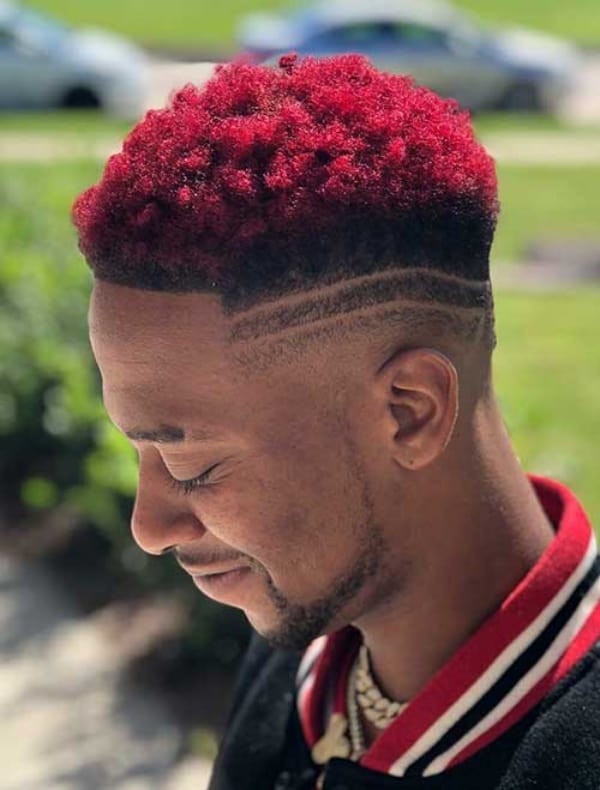 Image Source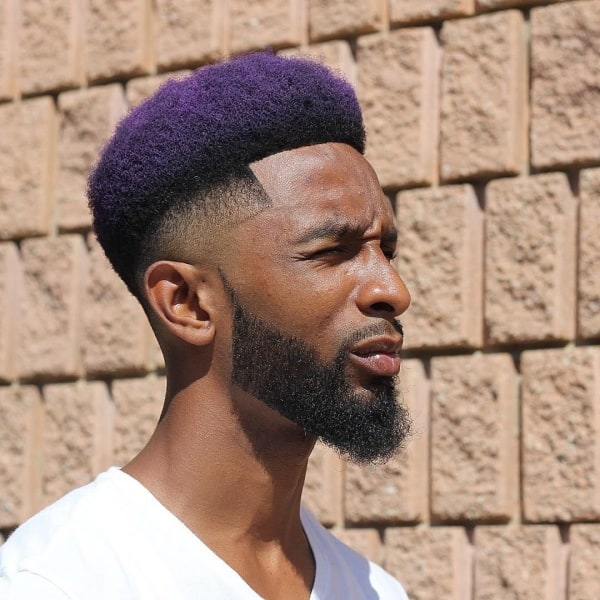 Image Source
As the afro hairstyles for black guys have evolved majorly from the curls of men, so highlighting them can give a 3D effect to hairs and can also make you look cool. However, the said look will only suit if you have got big and tight curls.
3. Long Messy Afro Hair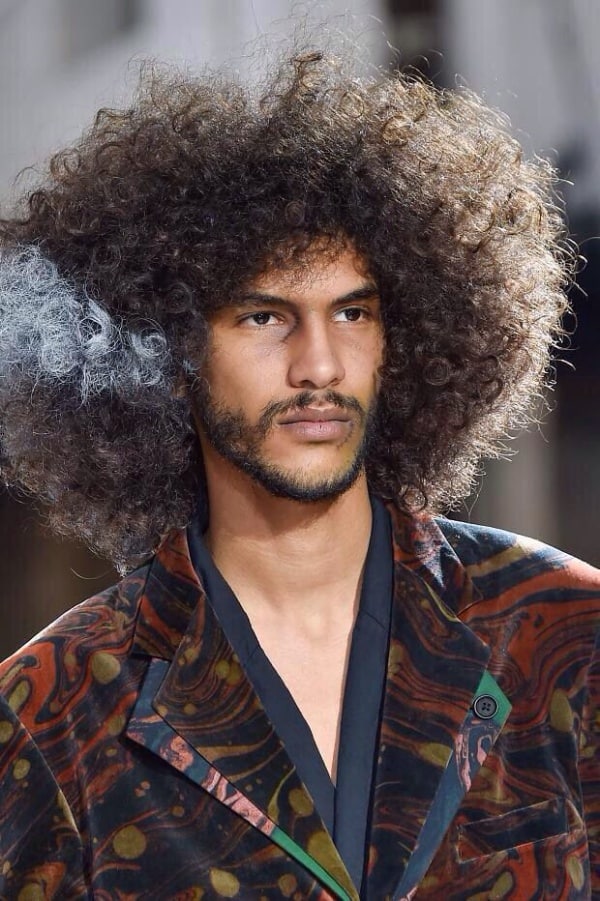 Image Source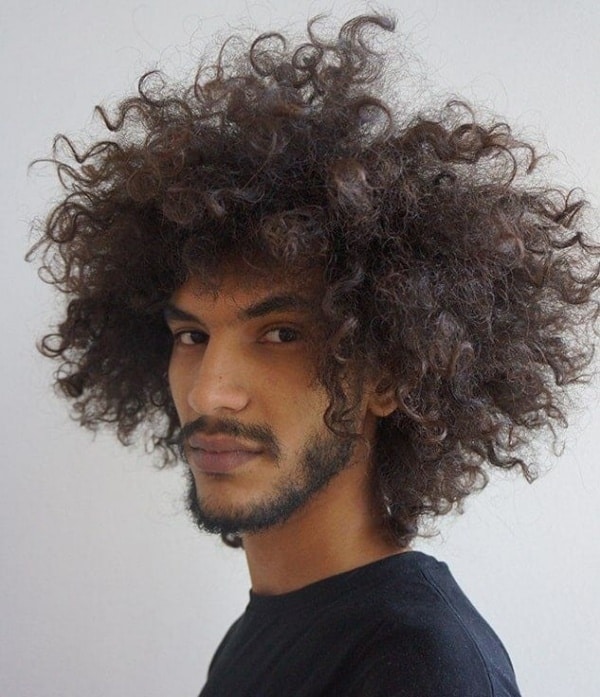 Image Source
Just as keeping long straight hair can make any man look messy, similarly, keeping Long Messy Afro Hair can make you look awestruck as well. The longer, the curlier, and the curlier, the messier. Do not comb your hair, and if possible, just shake your head from one side to the other to make it look messier.
Also, Have a Look: Long Hairstyles For Black Men
4. Afro Waves Hairstyles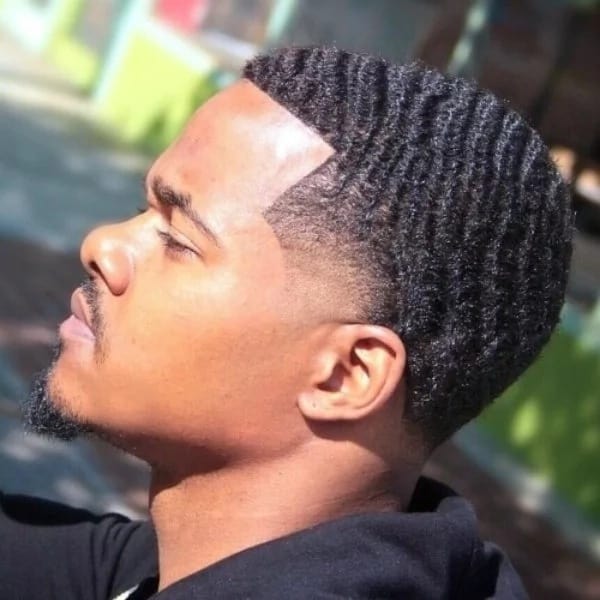 Image Source

Image Source
Yes, it's possible for your hair to get waves and be curly at the same time but it's far from those wavy long hairs. However, it highly differs from your sense of knowledge, and the previous hairstyles as well, and remains grounded to the scalp. Then, the designs of waves are made with a trimmer with whatever hair is left, and that's all.
Related: Curly Fade Haircuts For Men
5. Box Fade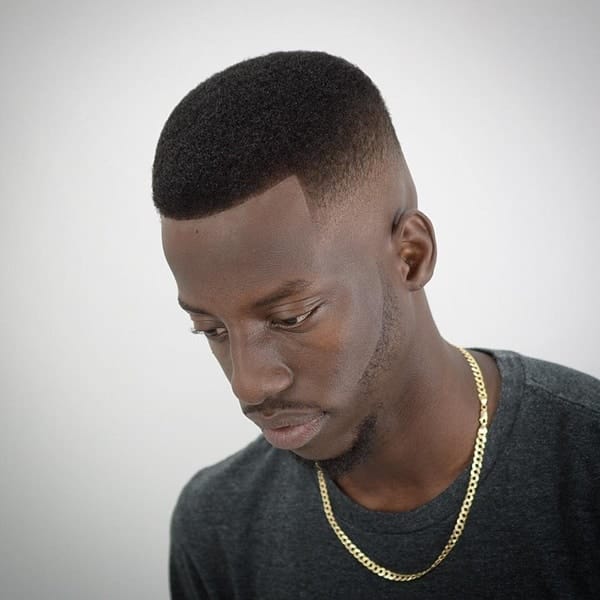 Image Source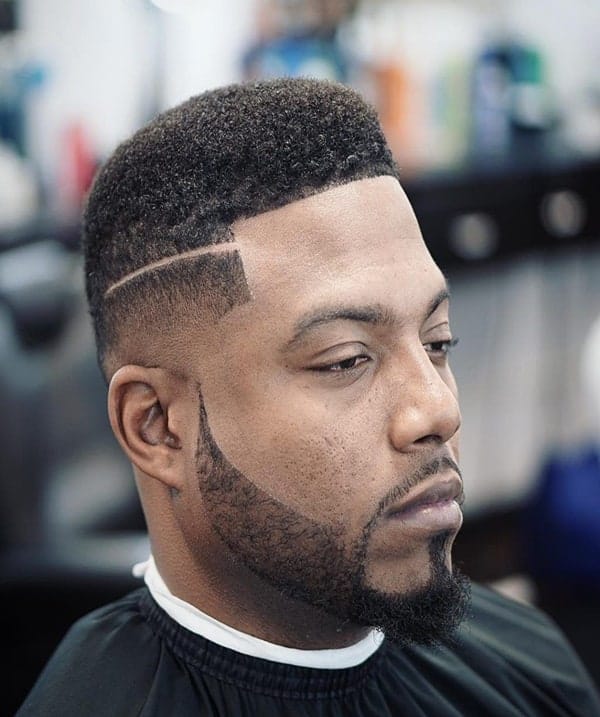 Image Source
Box fade is the iconic style that symbolized the golden era of hip-hop. The box fade has made a big comeback on NBA courts. Also, known as"the hi-top or flat top". This style combines sides that taper down to a short length with a sharply-defined rectangular top. Usually, the length of the top hair is about 3-5 cm. But you may style it the way you desire. Likely, opt for a shorter and tight top with a gradual taper at the sides.
6. Afro Fade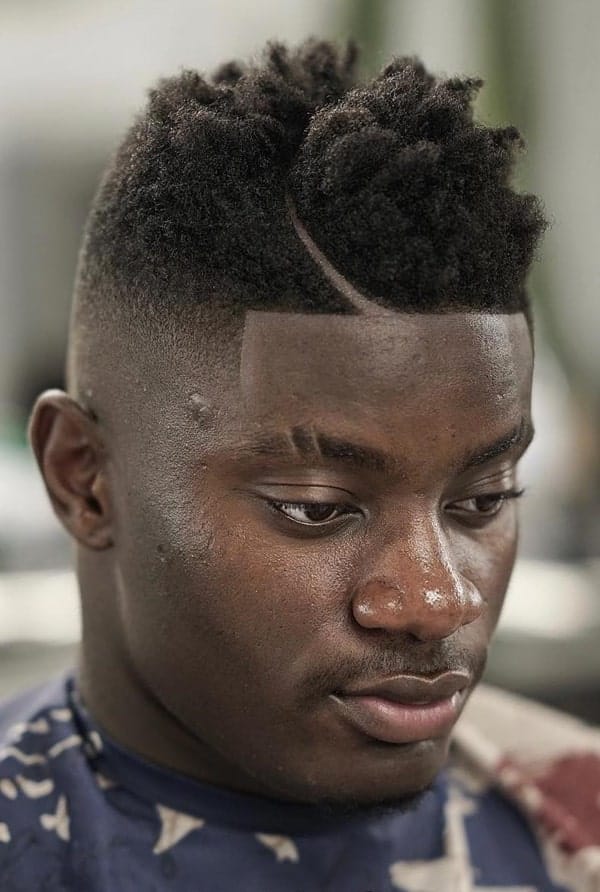 Image Source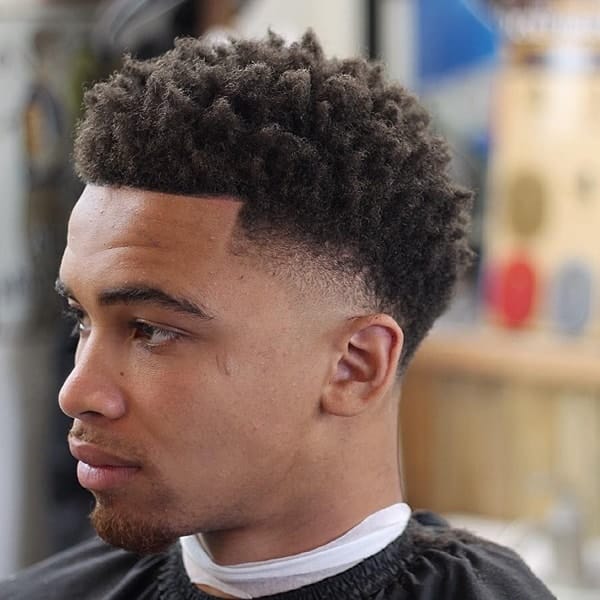 Image Source
The afro fade is a witty haircut. It incorporates the taper sides as in the box fade with the top left to natural growth. It is much popular with youngsters.
Related: Best Hairstyles For Men With Beard
7. Pompadour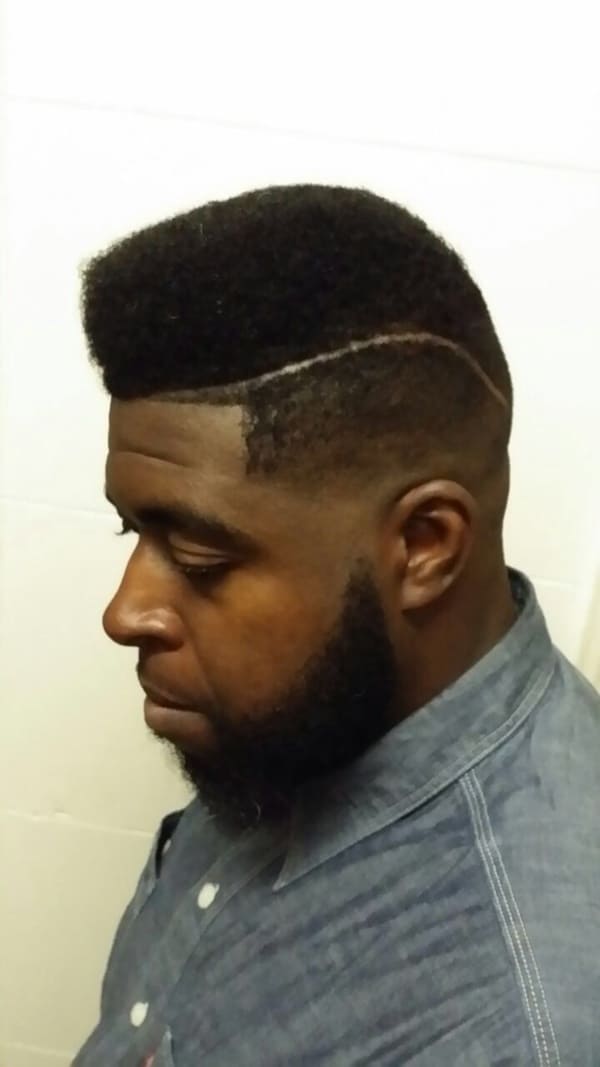 Image Source

Image Source
This hairstyle can be practiced by men with fine, straight, or tight curly hair. It gives you control over the shape your hair takes by shaping the quiff at the front of your hair.
Checkout: Best Business Haircuts For Men
8. Buzz Cut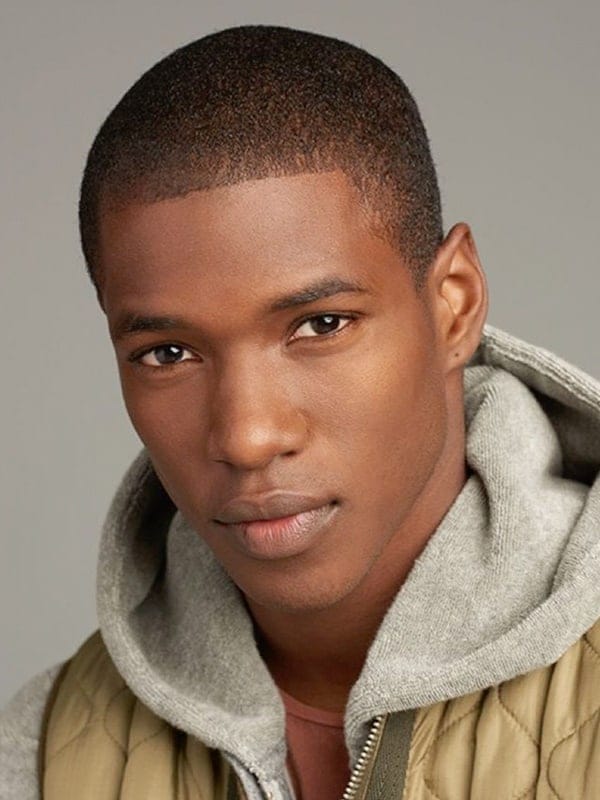 Image Source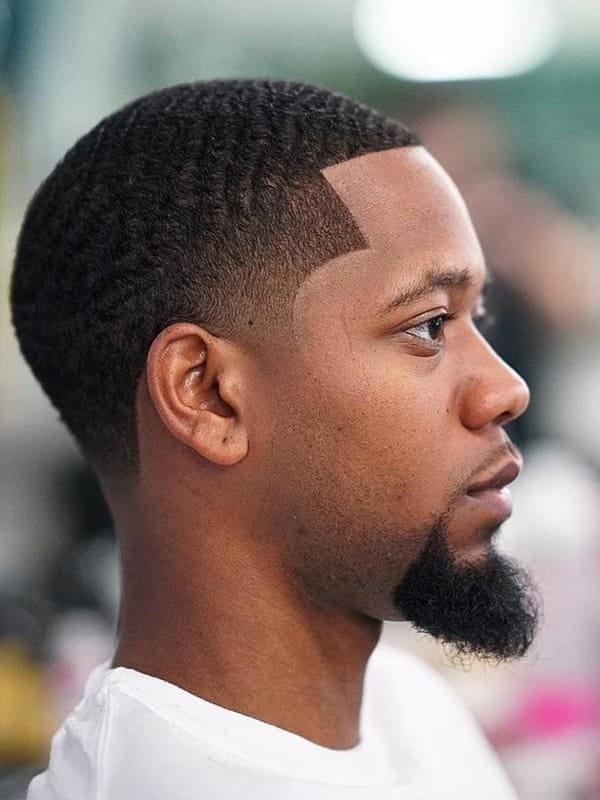 Image Source
The buzz cut is low maintenance and this is quite famous when it comes to afro hairstyles for black guys. It is the short, military-inspired hairstyle. As in case of any super-short haircut, this look will draw attention to your brow and make your face look more defined, and will highlight your jawline and beard.
Related: Awesome Old School Haircuts For Men
9. Frohawk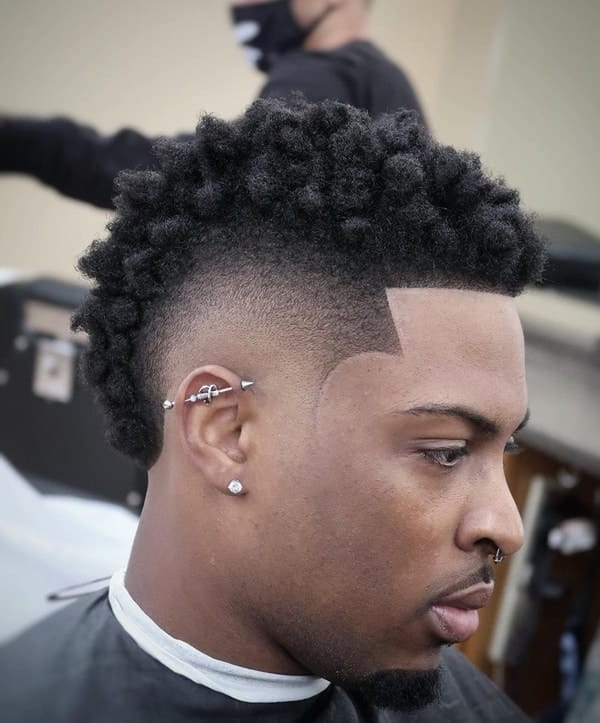 Image Source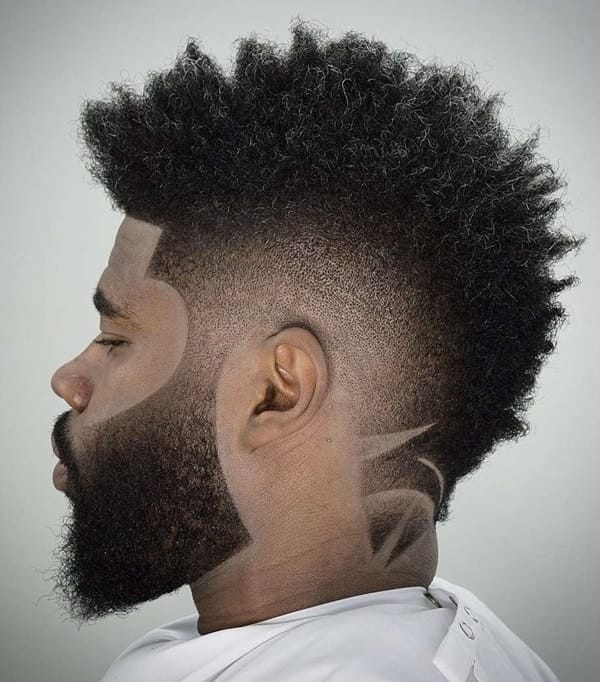 Image Source
It is a reimagined box fade, narrower in the middle and rocked with the kind of maverick air. This haircut can be either angular in style or left to grow more freely. The one blessed with tighter curls will have greater control over the shape of their frohawk and can also opt for a bolder imagining of the cut.
Here We Have: Popular Haircuts For Men
10. Geometric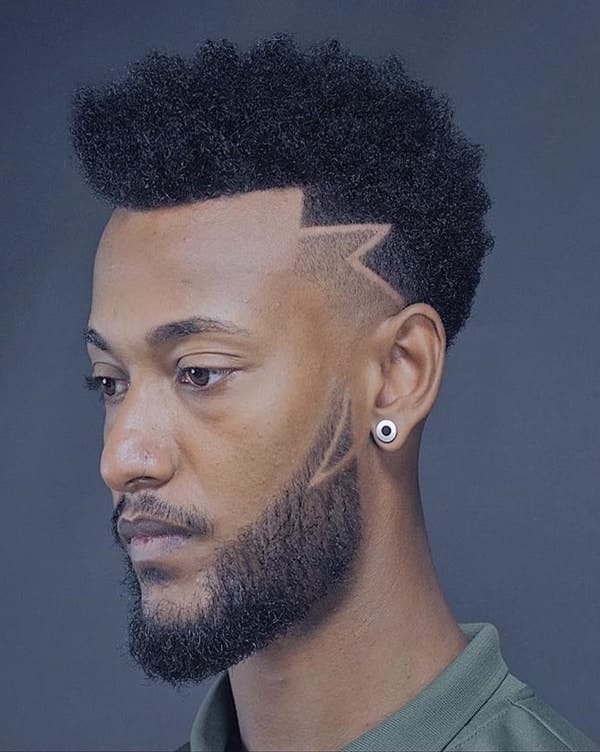 Image Source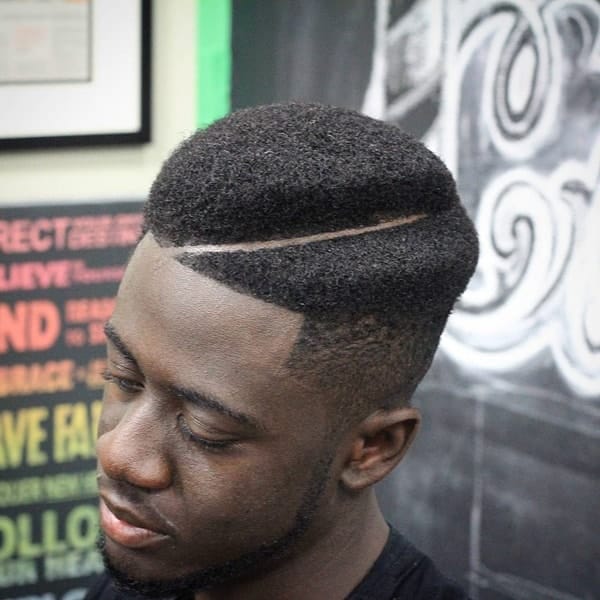 Image Source
This hairstyle takes advantage of thick hair and tight curls. A geometric cut is defined by strong angles, but there is no predefined norm on how it should look. It's a masterpiece of your imagination. You may use your part line as a guide to creating a right-angle part in your hair.
11. Twists With Fade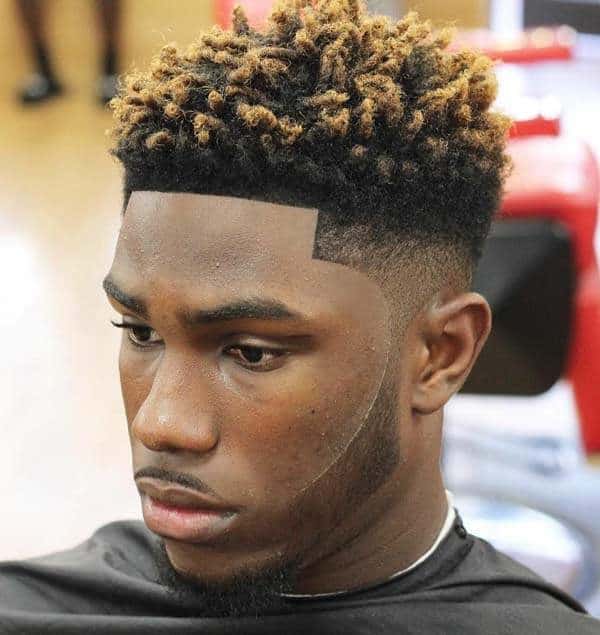 Image Source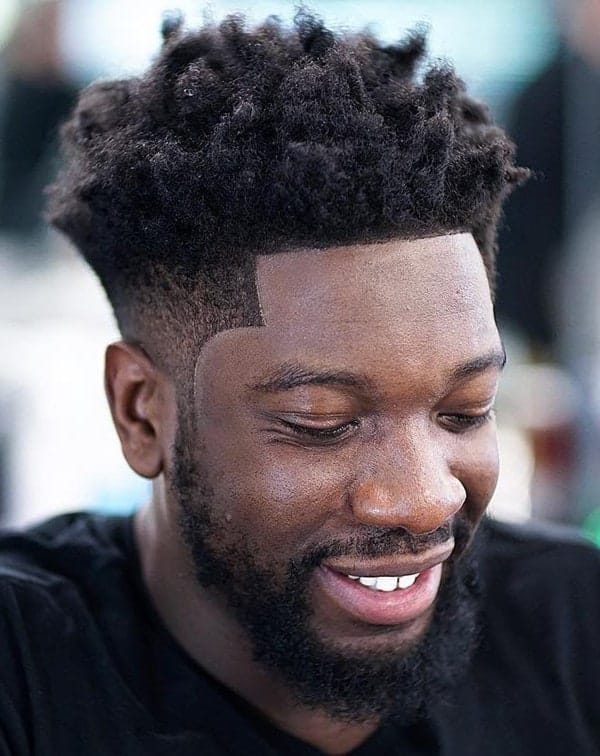 Image Source
In this hairstyle maintain some length on the top and style twists in the way outlined above. Opt for a length that tapers down, on the side. This haircut looks more profound if the hair on top is a little longer and unruly.
Related: Cool Braided Hairstyles For Men
12. Afro With Middle Part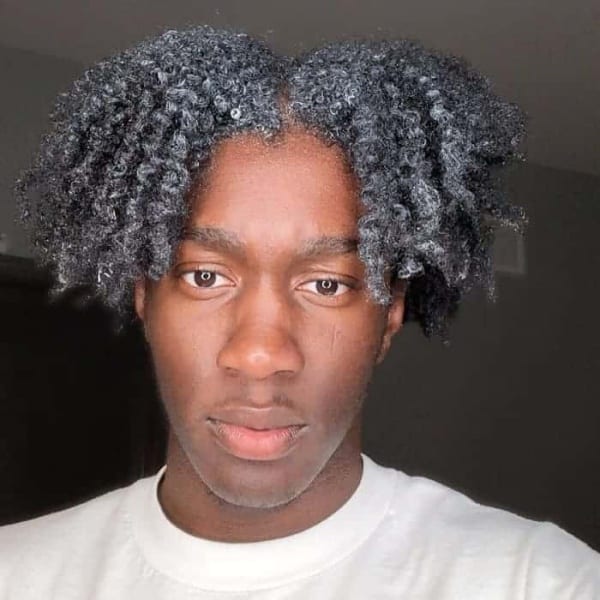 Image Source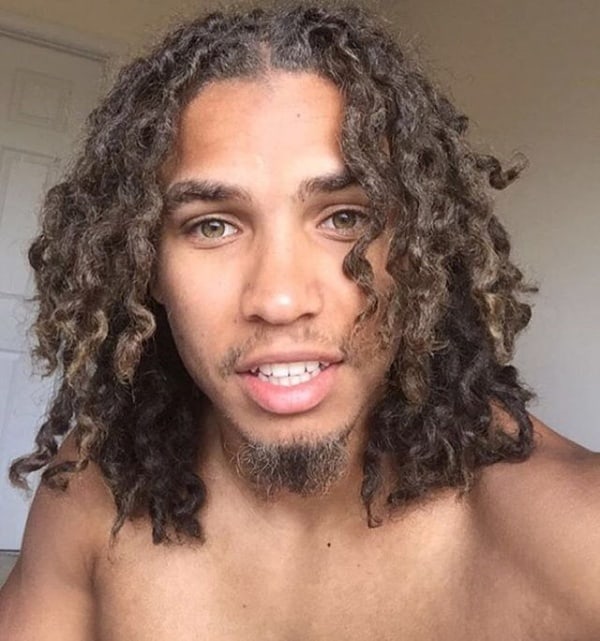 Image Source
Just like the side parting of the hair, the middle parting of the Afro hairstyle is also quite famous. As middle parting is not so much in trend, it sets out your style and adds jazz to your look. Moreover, it also adds more volume to your hair.
Related: Classic Perm Hairstyles For Men
13. Afro With Blowout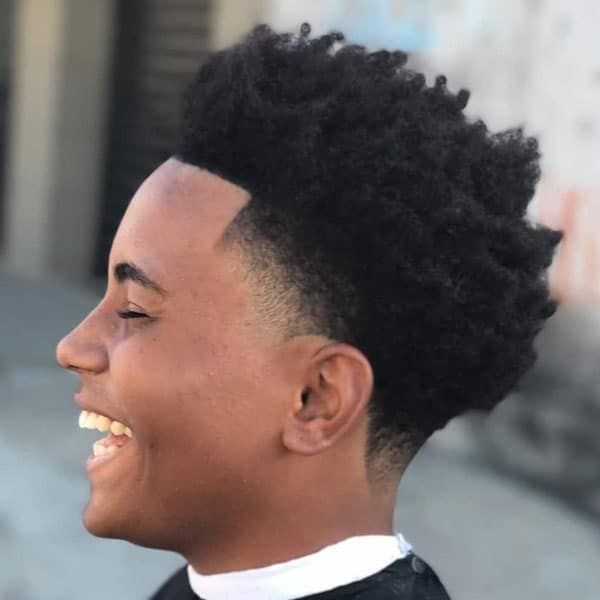 Image Source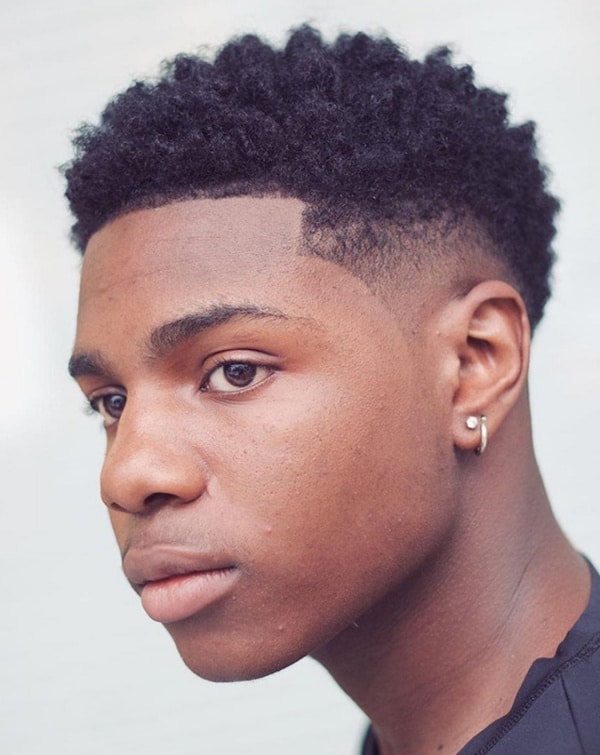 Image Source
It is nothing but trimming the edges of your hair, from the front, the sides, and the back, and looks absolutely innovative. The blowout style is absolutely a brand new concept and the main motive behind it is to add more volume and definition to your afro. In the end, it looks much like a balloon, or a piece of cloud just hanging on to your head.
Checkout: Best Anime Male Hairstyles
14. Afro Caesar Haircut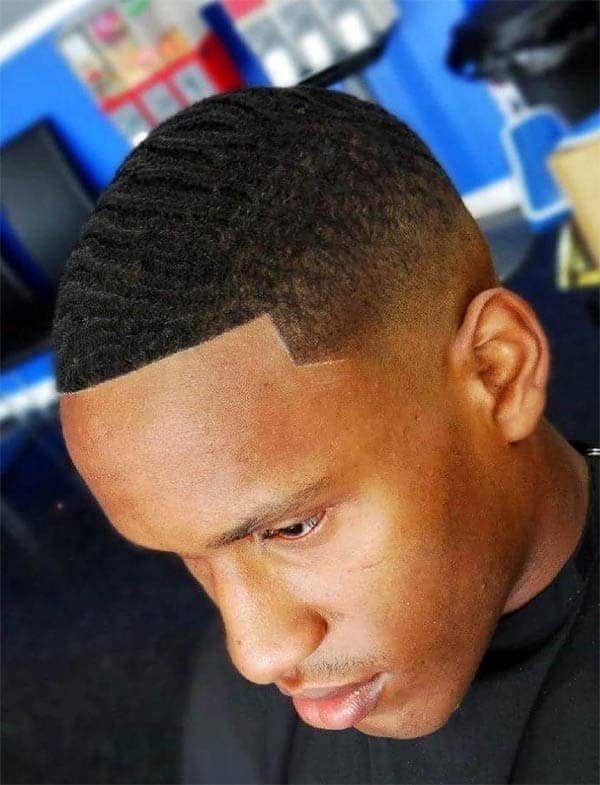 Image Source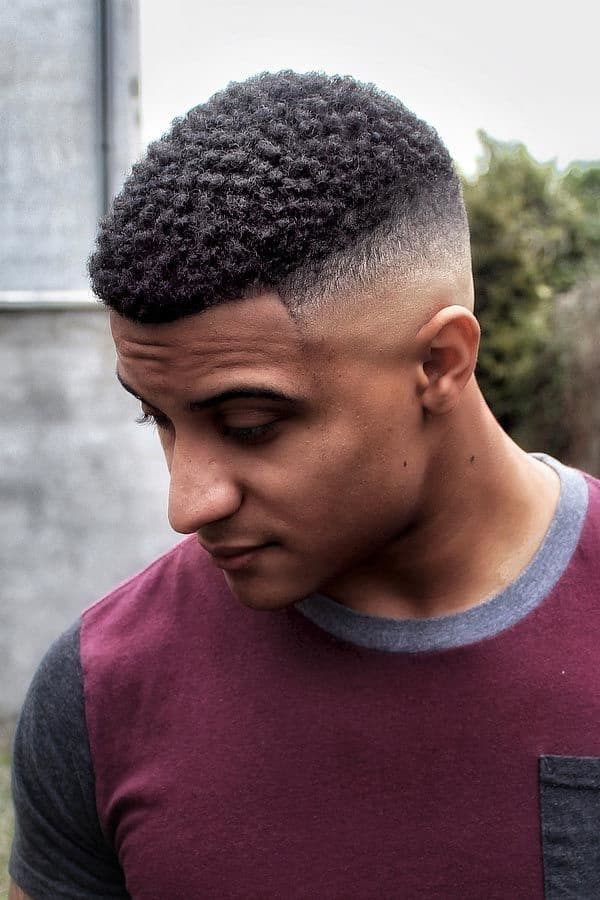 Image Source
Again, the particular afro hairstyle deviates a bit from the original afro hairstyle and thus got its name. But unlike the Afro waves, it has a bit of growth and doesn't completely fade off. The hair, however, has various steps and each step is cut to small and equal fringes. When completed, it partly takes you back to the courts of the 12th century, when men used to have such horizontal rolled fringes.
Checkout: Latest Curly Hairstyles For Men
15. Afro Fringe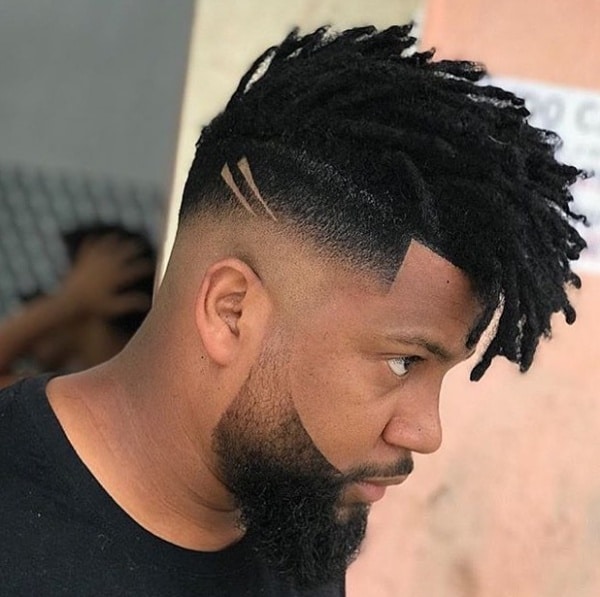 Image Source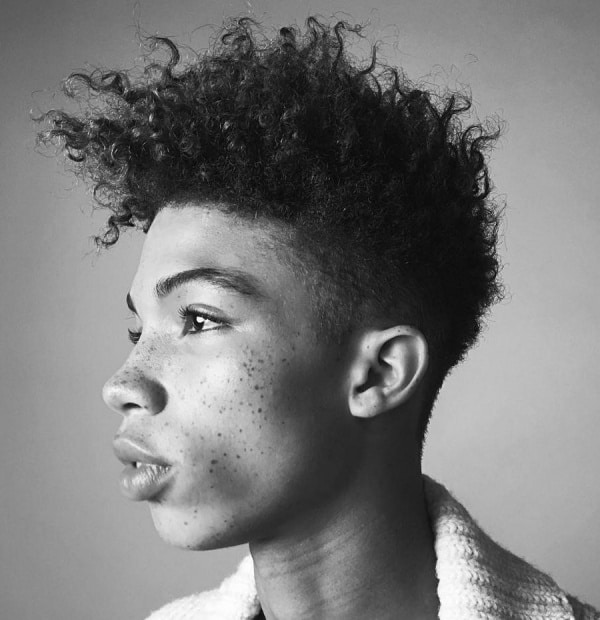 Image Source
It's like any other fringe that you have seen to date and the only difference is that these fringes are curly compared to the straight ones. But whatsoever, having fringes look really cool and at the same time, fills in for your wide forehead.
Here We Have: Cool Black Men Beard Styles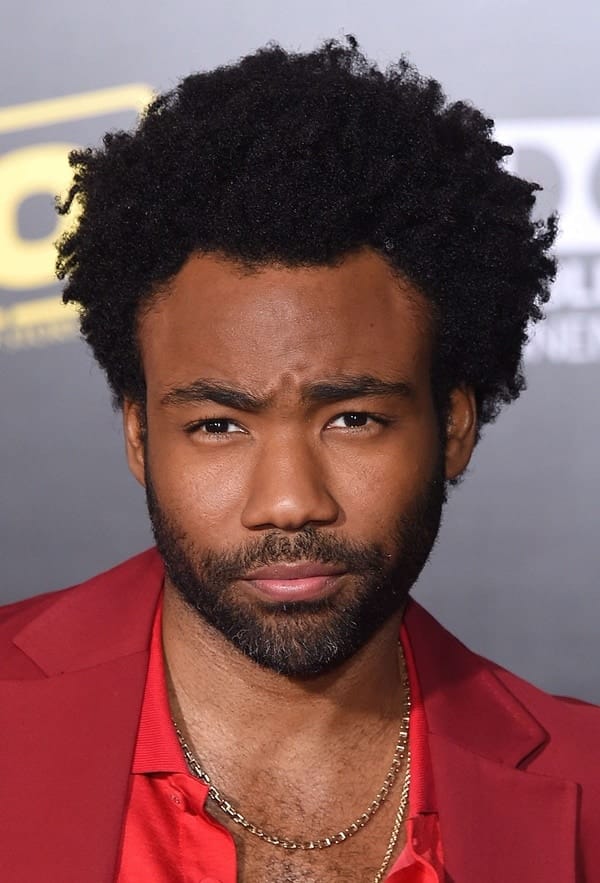 Image Source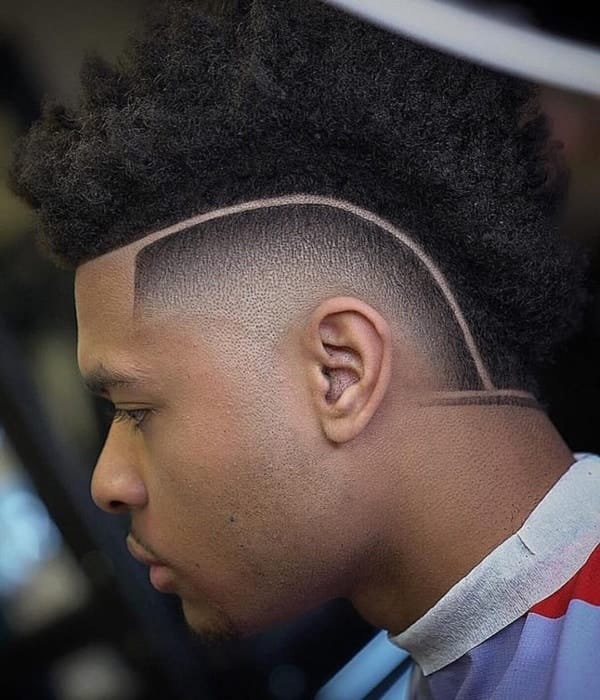 Image Source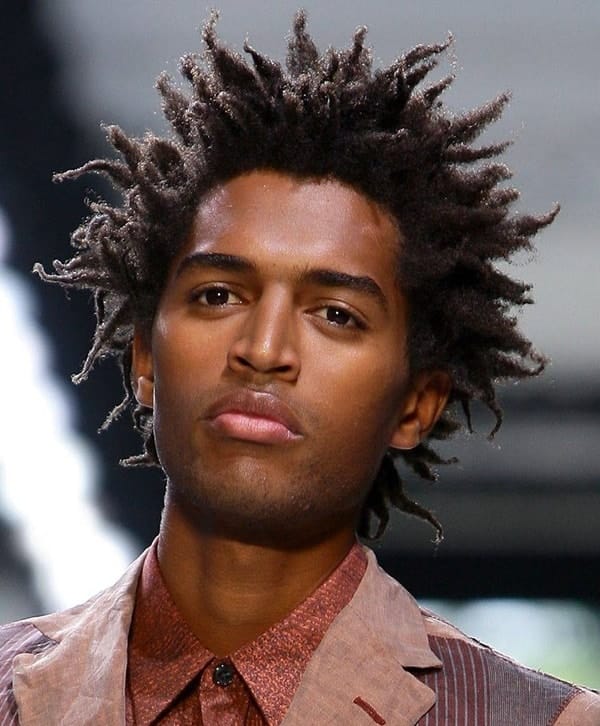 Image Source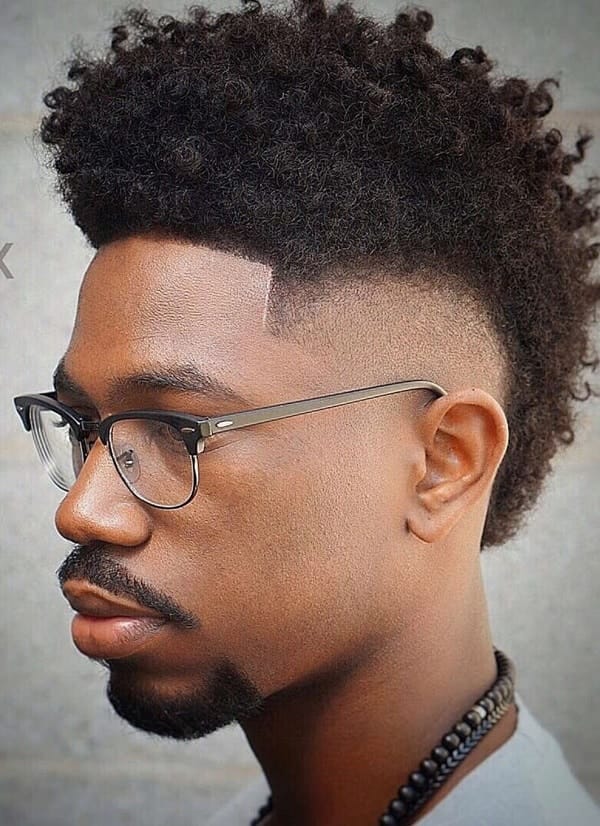 Image Source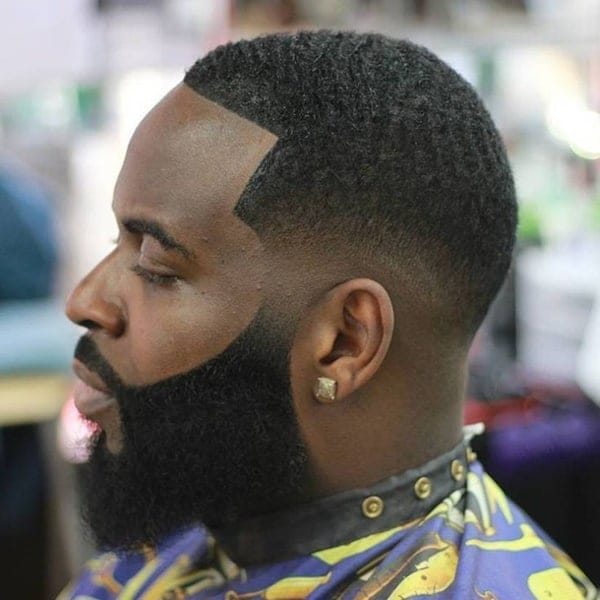 Image Source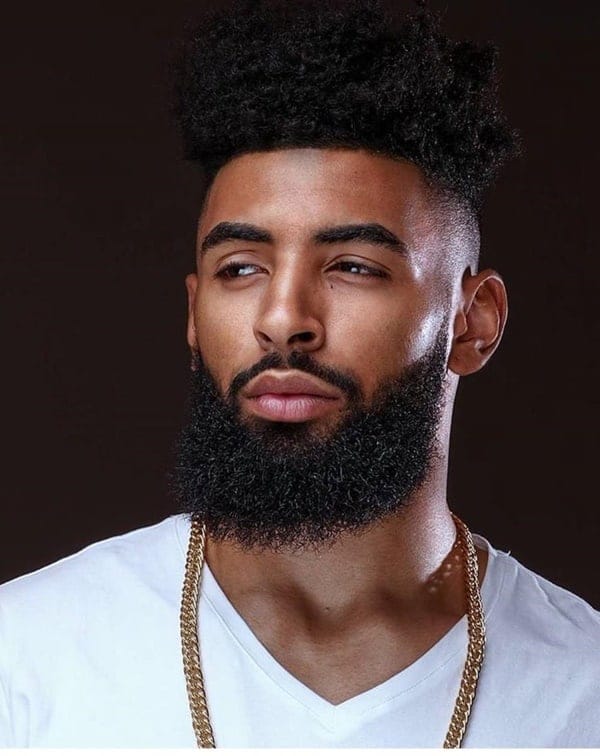 Image Source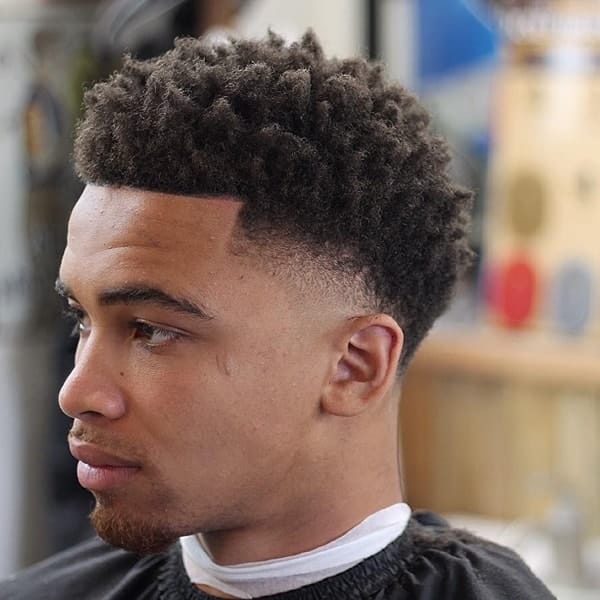 Image Source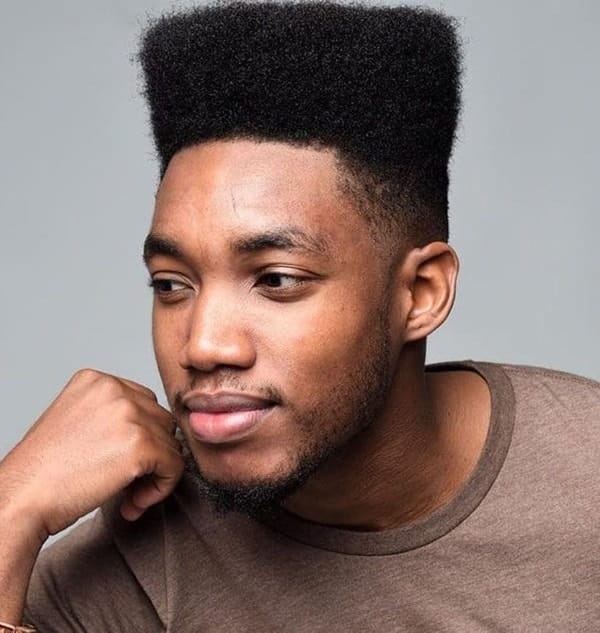 Image Source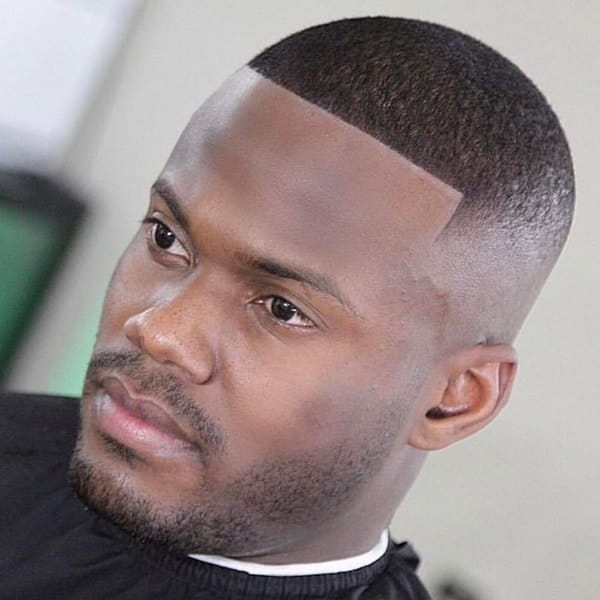 Image Source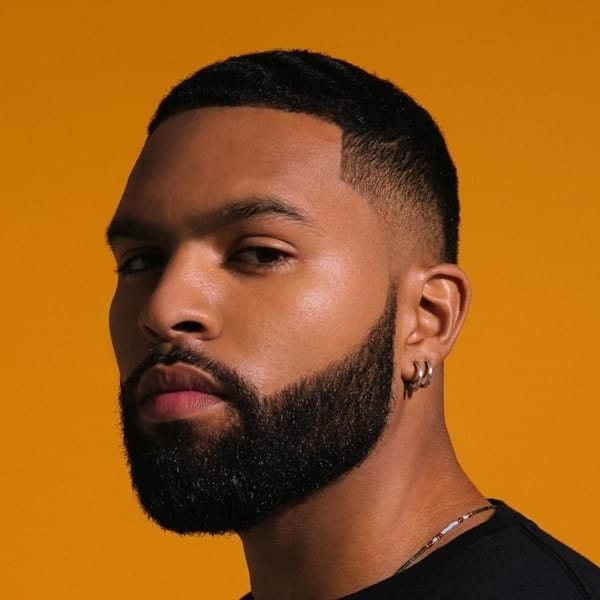 Image Source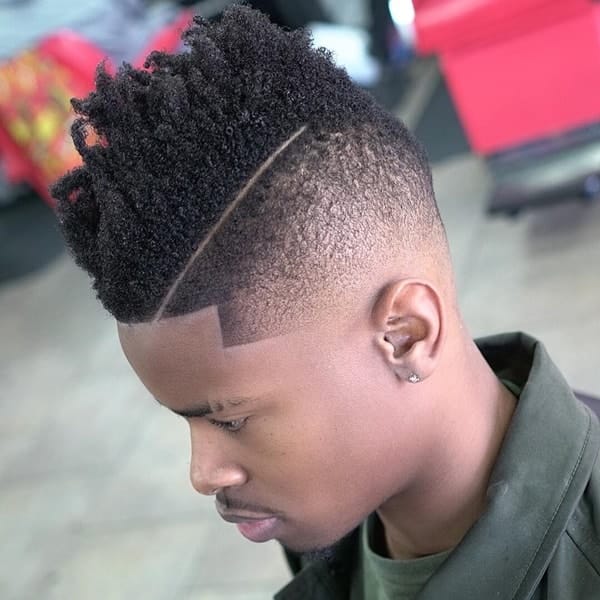 Image Source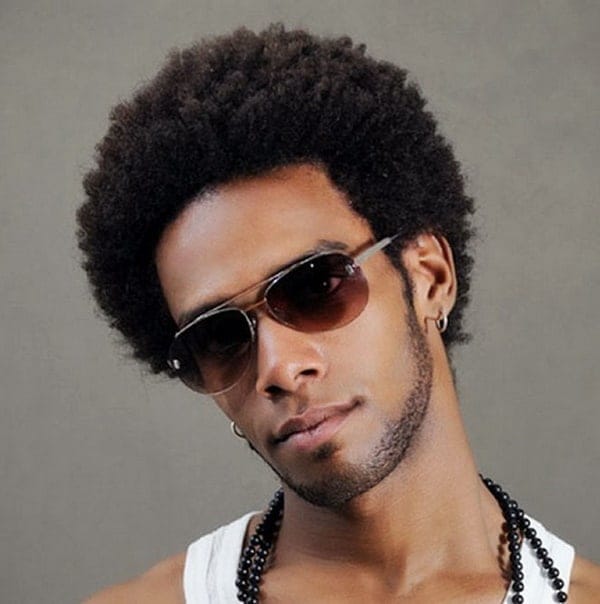 Image Source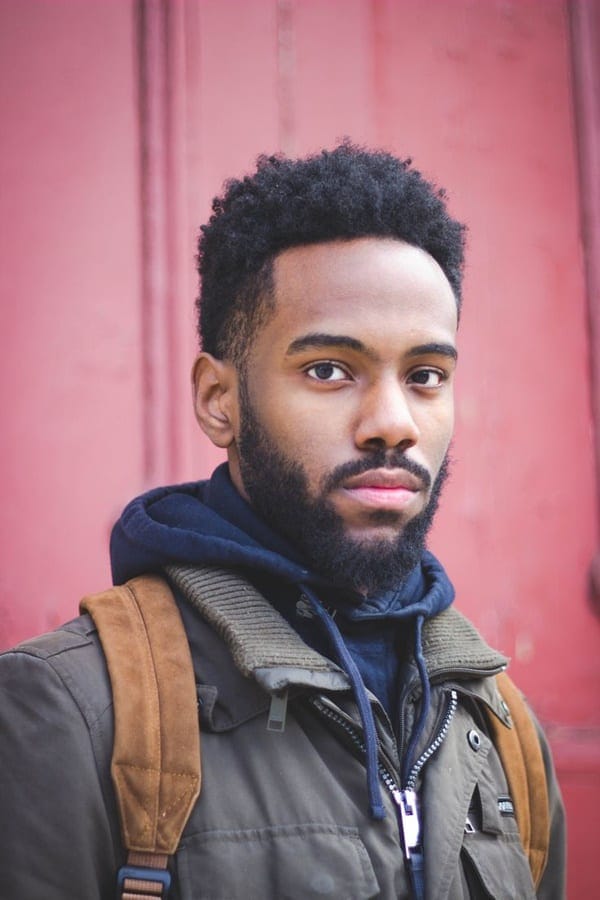 Image Source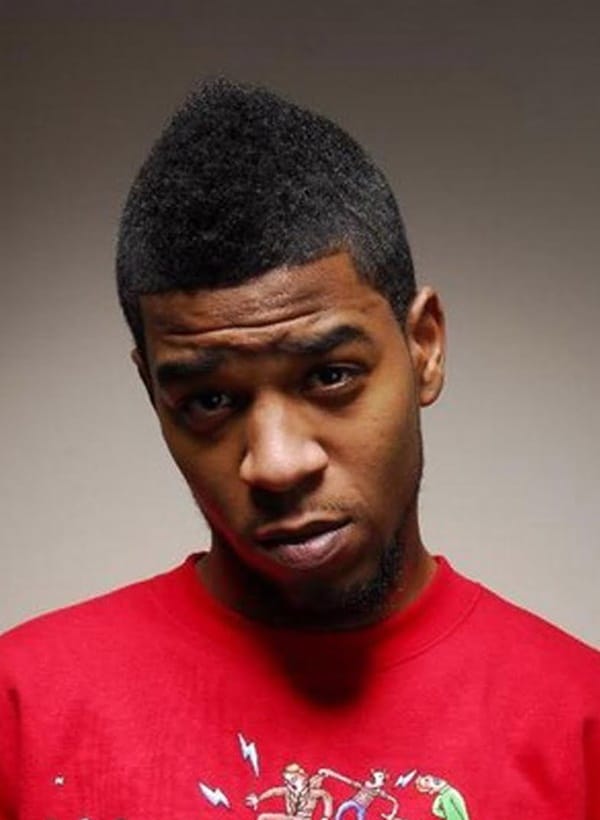 Image Source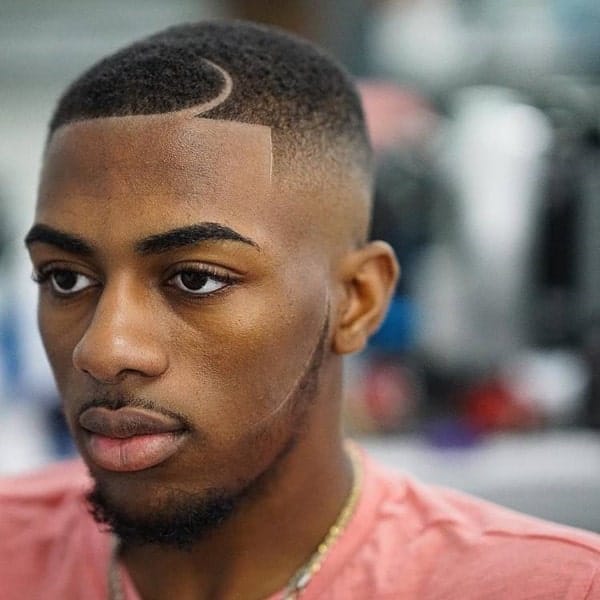 Image Source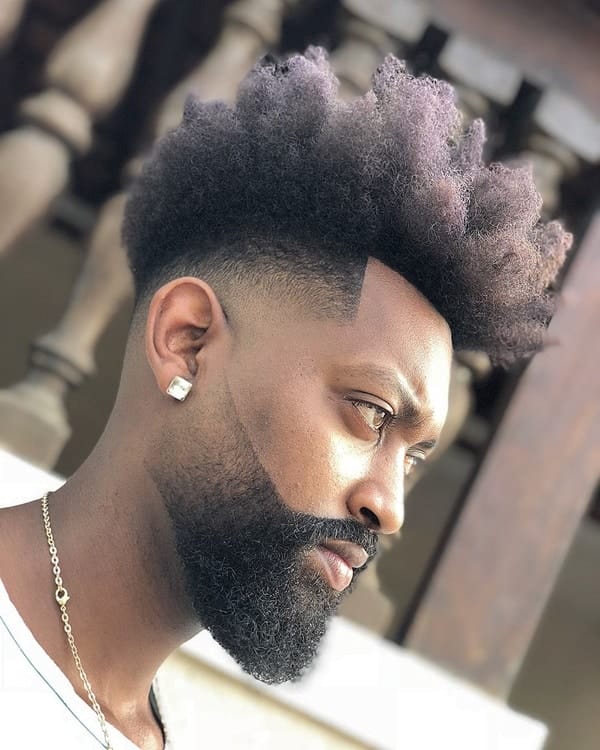 Image Source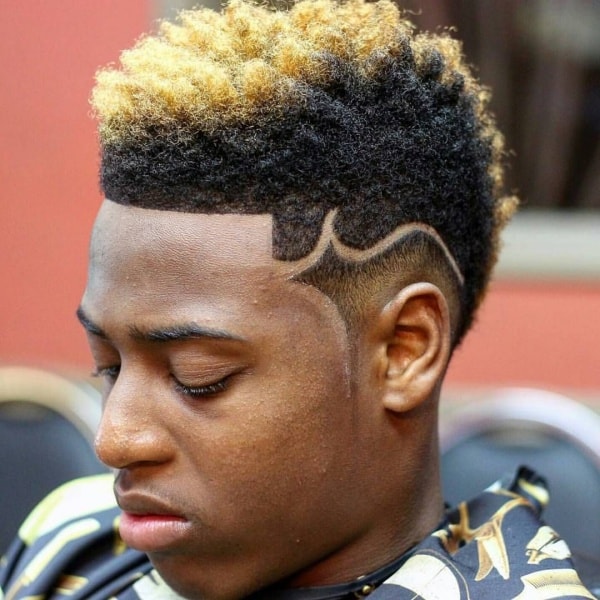 Image Source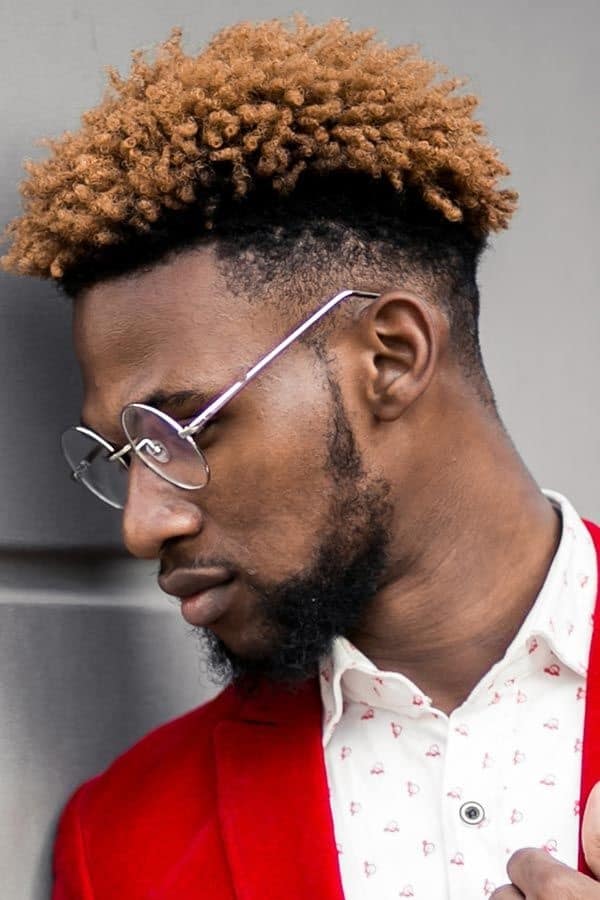 Image Source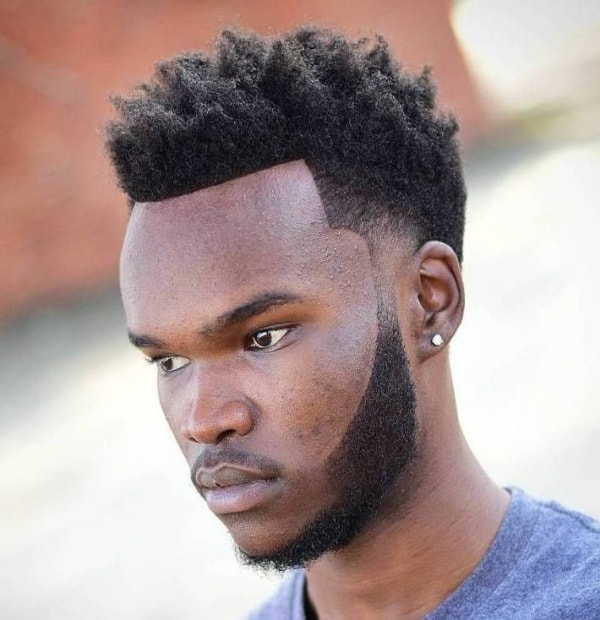 Image Source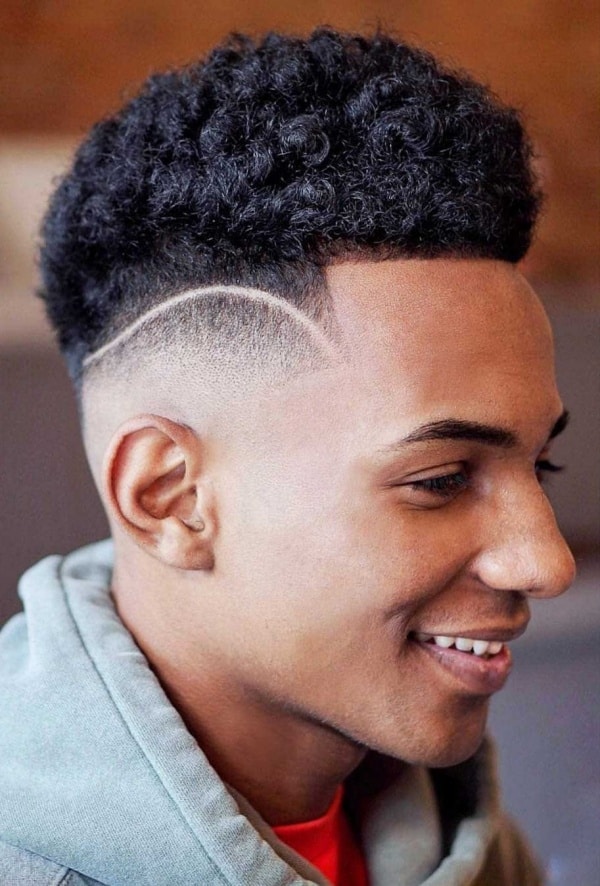 Image Source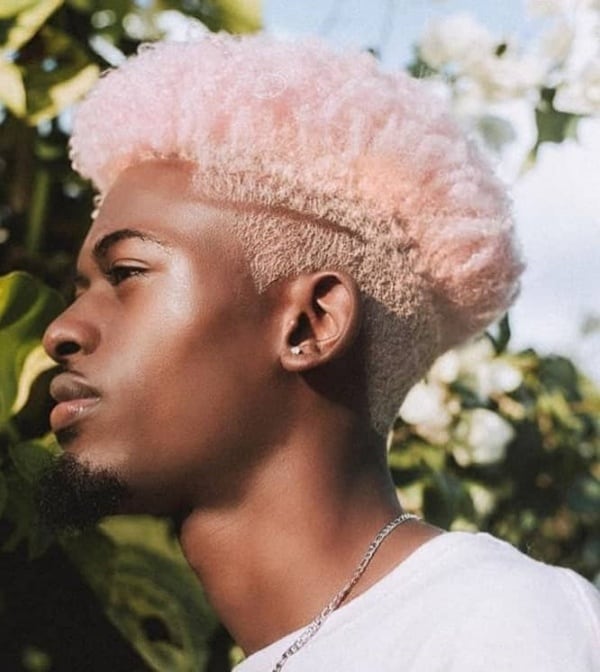 Image Source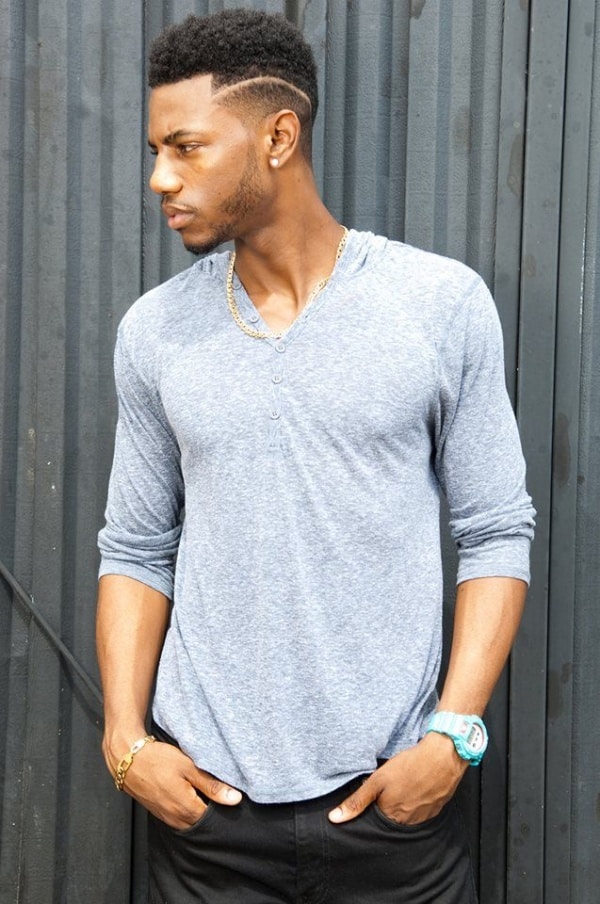 Image Source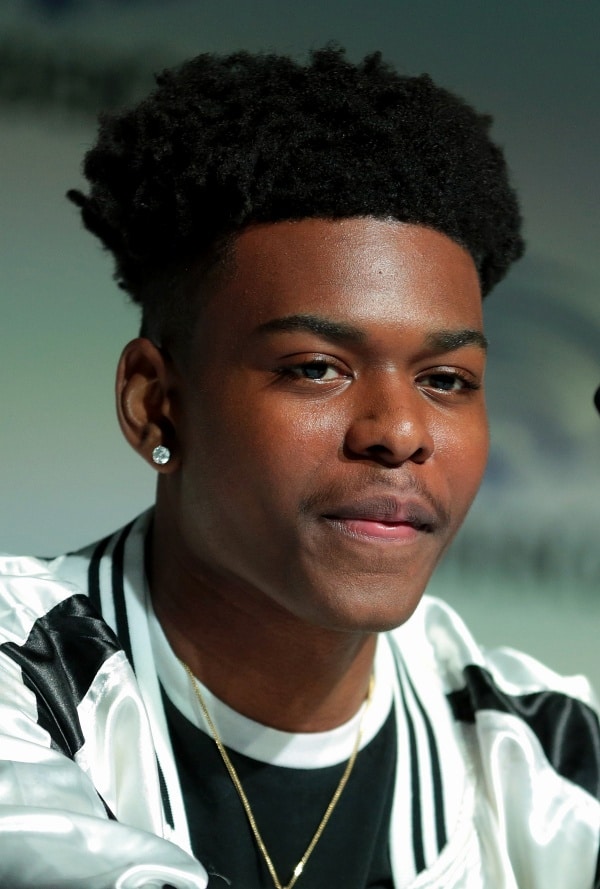 Image Source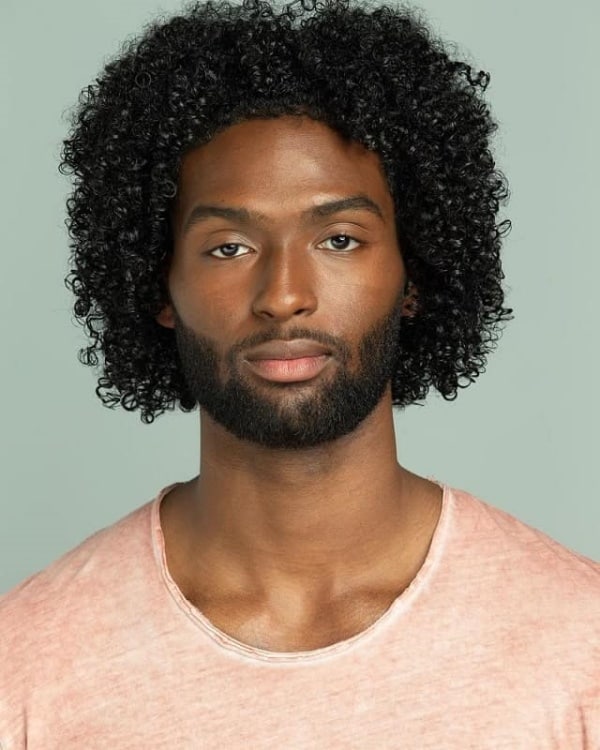 Image Source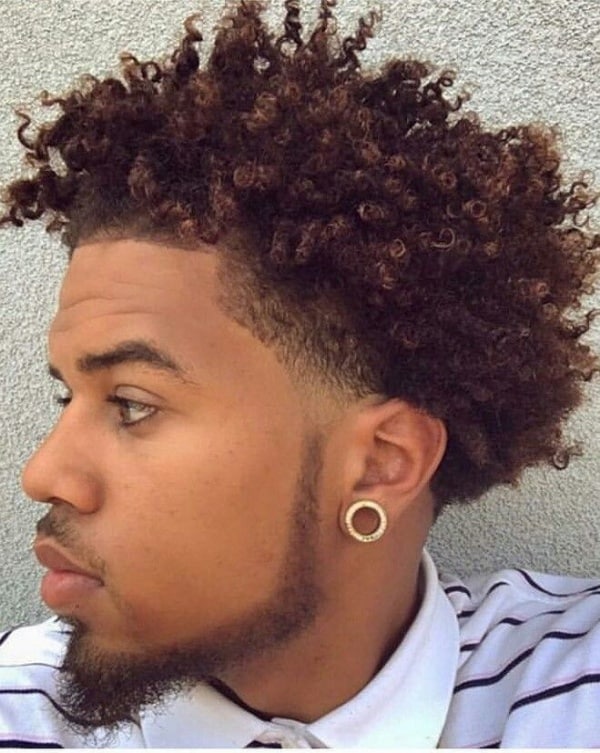 Image Source
Conclusion
It all sums up to acceptance. Accepting the hair you have, is just a part of accepting the way you are, without falling prey to social discretion. It is all about understanding that whatever we have, is probably enough, and aiming towards a sustainable style of development. Whether it's a volumizing afro or just a faded-out afro, there is no reason as to why you would go out and do changes in it just to fit in. The central goal behind suggesting you with a number of afro hairstyles for black guys above was 'accept what you have' – but obviously, slight modifications never harm!