When discussing grooming and styling, why should girls have all the fun? I mean to look dapper, feel confident, and to be in sync with the latest trend around, men would also love to resort to the styling segment where the primary step begins with hairstyling. To be honest, men love experimenting with their hair. When the younger days witness a good voluminous amount, which might be a result of genetic material, the popular hairstyles for men rope in. However, with age and time, and incentives from the alien factors like pollution, stress, unhealthy diet, and climatic changes, they prefer to stick to one style that suits them the best.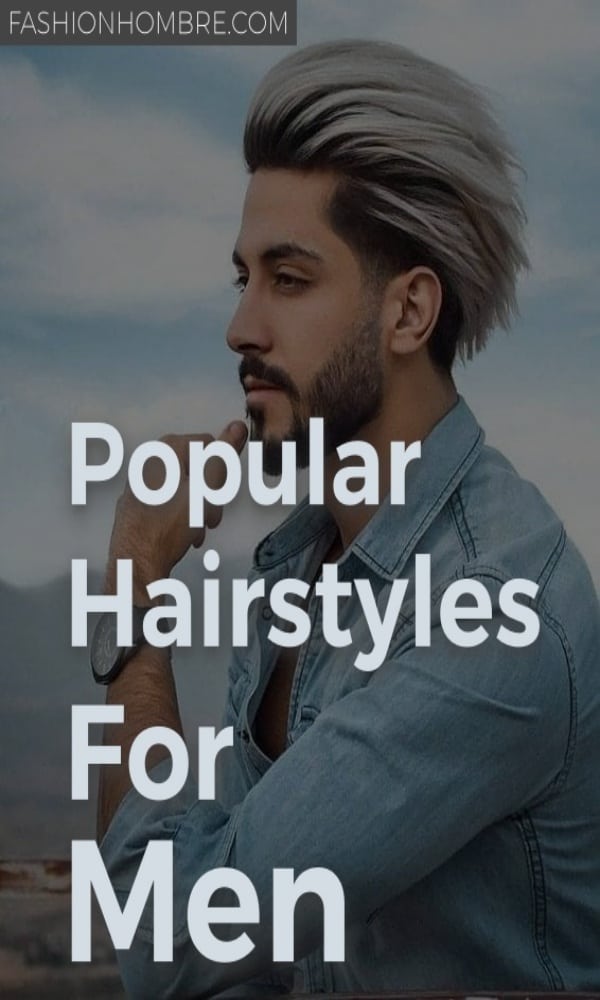 Just FYI, did you know that male hair grows faster than female hair? Well, another reason to lay stress on the hairstyles for men. Talking of hairstyles again, they have a changing spree as the New Year ushers in, while some of it has managed to etch a permanent position. For instance, names like a short undercut, fade on the sides with lengthy parts, quiffs, and hairstyles with textures continue to top the list of popular men's hairstyles.
Confused about how to revamp your hairstyle? We have it all sorted for you. Get your eyes glued to the section below and learn about the 30 most popular hairstyles adorned by men. Try them and thank me later!
Stylish & Popular Haircuts For Men To Try
1. The Classic Crew Cut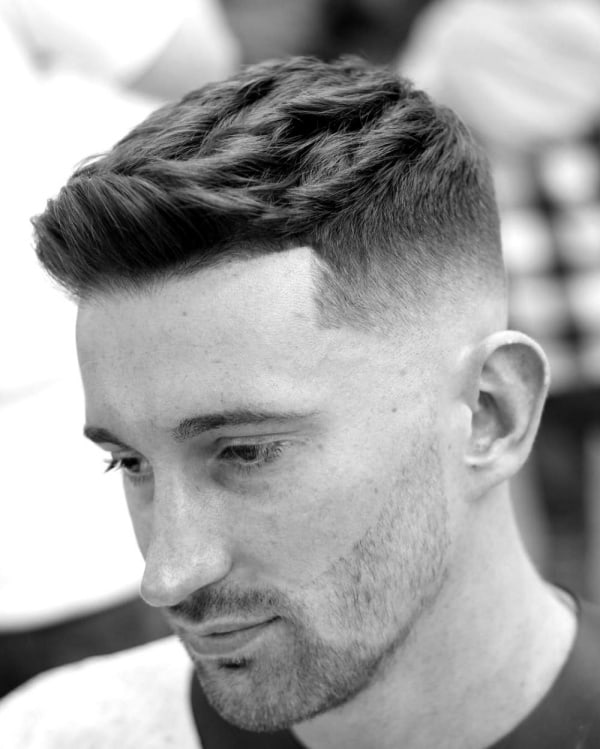 Image Source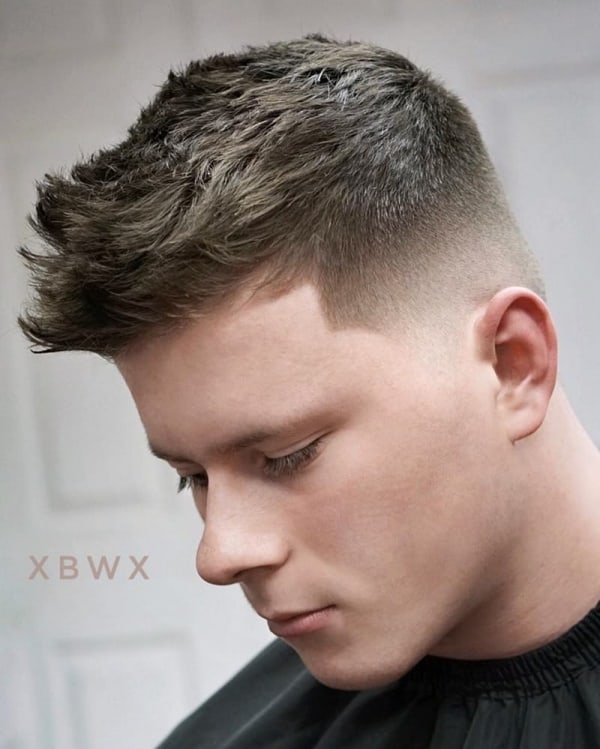 Image Source
Let's begin with a comparatively familiar name. This one is in the scenario for years now and is here to stay. Pair the crew cut with sides faded or even slightly lengthy sides, the killer look remains the same. Approved by men mainly for its low maintenance features. A tip which might prove helpful; Go for the shorter locks spread all around and carry the ultimate combination of classy with modern.
Checkout: Hairstyles For Men With Short hair
2. Undercut And Its Awesome Variations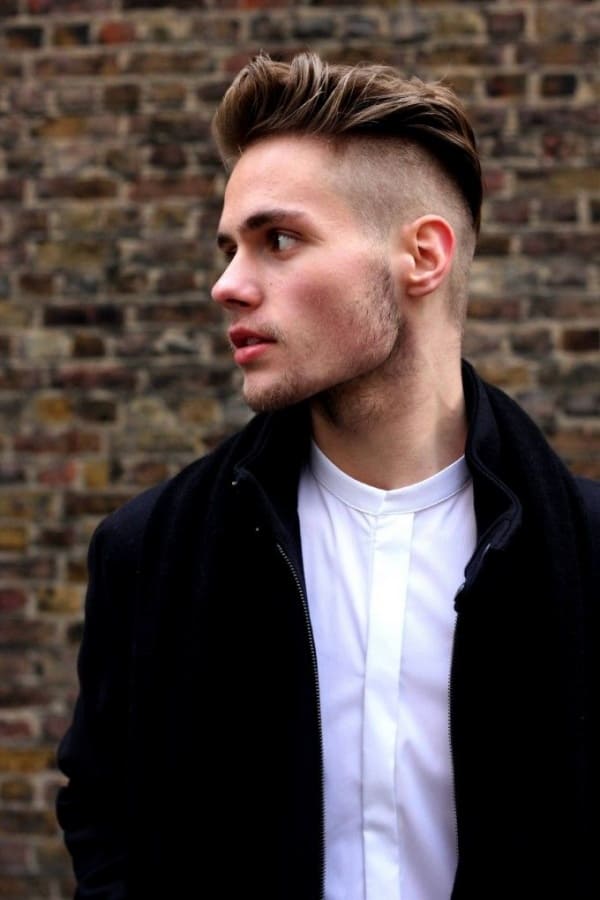 Image Source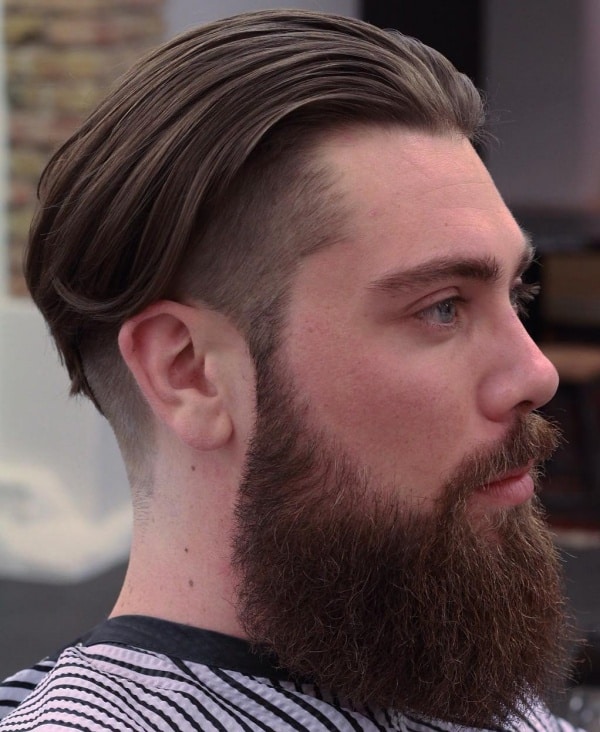 Image Source
The recent name to make it to the list of popular men's haircuts for short hair. Undercut mainly states of the men's haircut that have long hair on the top. In contrast to this, the back and the sides are closely cut or even experimented with a buzz cut sometimes. In, the recent past, undercut hairstyle has made many fans while it's being paired with a whole lot styles on the top, especially with pompadours, fringes, or a quiff.
3. The Buzz Cut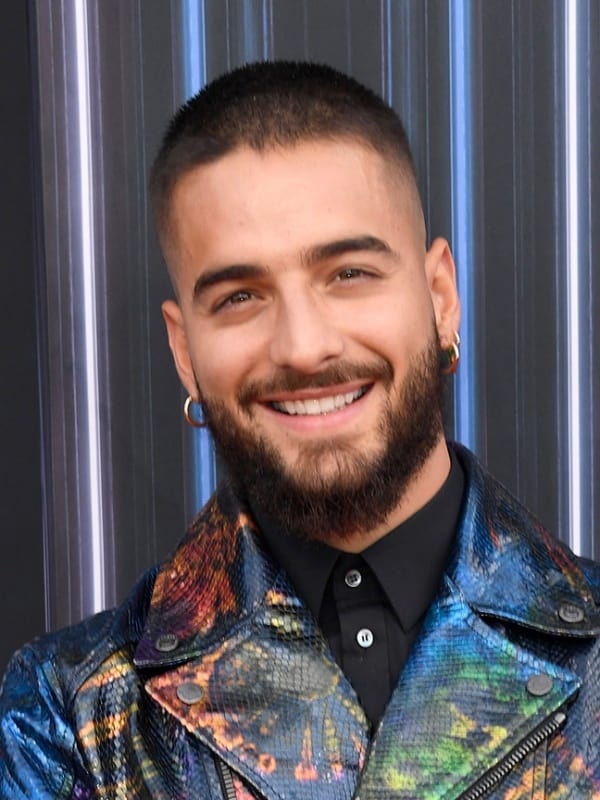 Image Source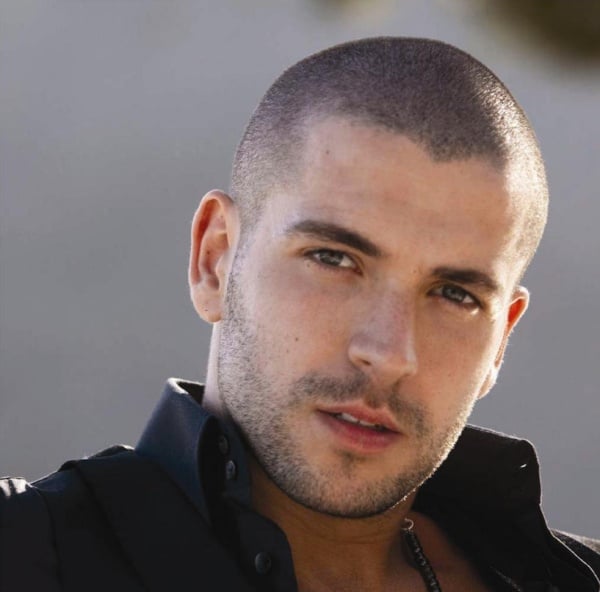 Image Source
For the ones who want to slay in style with short hair, opt for this. Perhaps the most fashionable from the list of hairstyles, all you need is a pair of ripped jeans, a leather jacket with attitude rolled up on its sleeves to pair up with the buzz cut. Well, many might consider this style to be the monopoly of men in uniforms, but trust me, even you can rock this style with equal smartness.
4. Feel Royal With Caesar Cut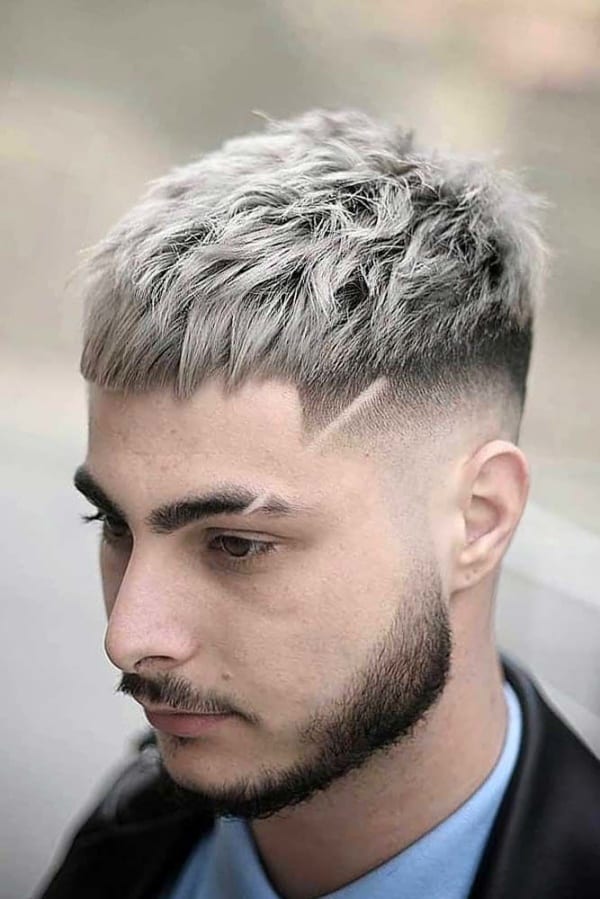 Image Source

Image Source
Friends and countrymen, if you want to feel aristocracy with a twist in the style, grab this one. Flaunted by Caesar the great, allow your hair to cut short with just a horizontal fringe. Also, for a bit more up-gradation on the look, try adding a fade, and then the reign is yours. Just a tip; Apply a smooth coating of gel and then get all eyes rolling over you.
Related: Haircuts For Big Foreheads And Thin Hair Male
5. The Classic French Cut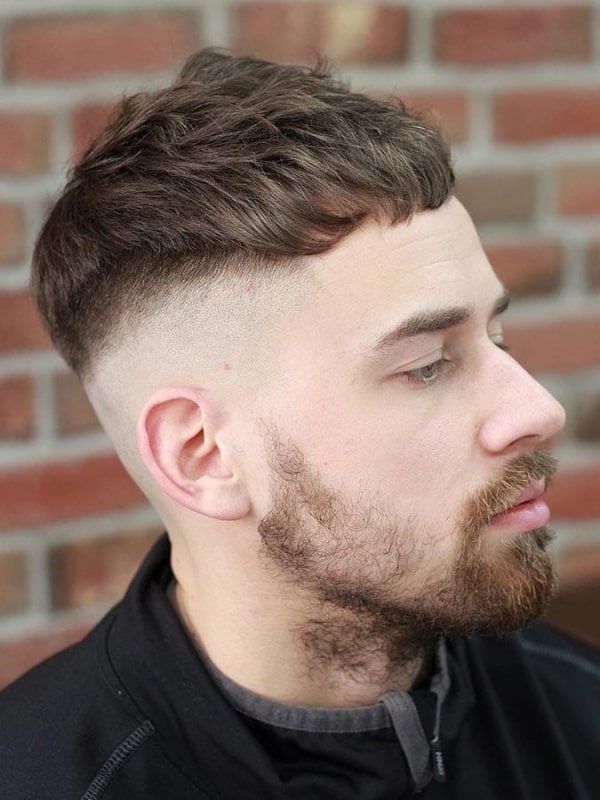 Image Source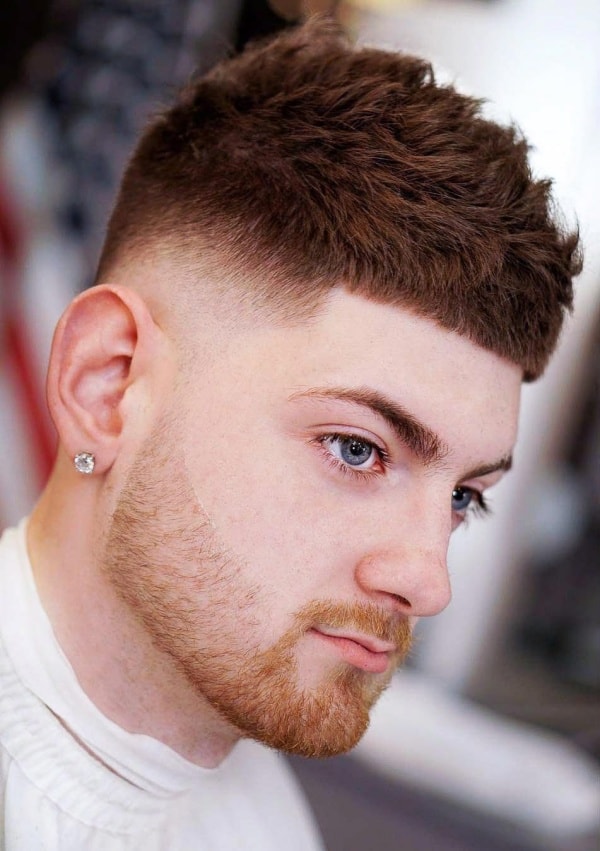 Image Source
Again, a classic hairstyle, back with much galore with significant edits and revamps. A style that perfectly suits the professional haircut look, this one features short-length hair which is styled with much perfection to move forward and then placed on the top, to create a small fringe. Texture this one with a little gel or better leave it the messy way, this style would never disappoint you.
6. Smart Bro Flow Cut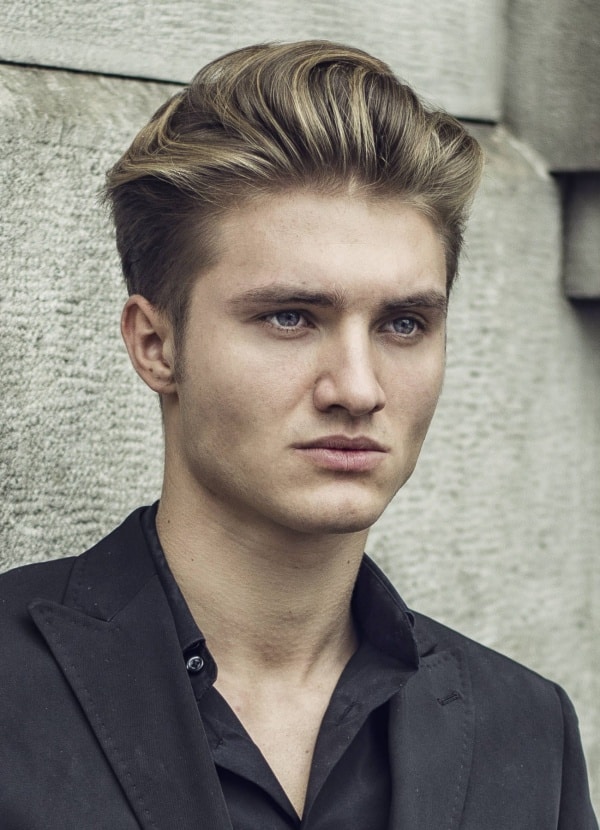 Image Source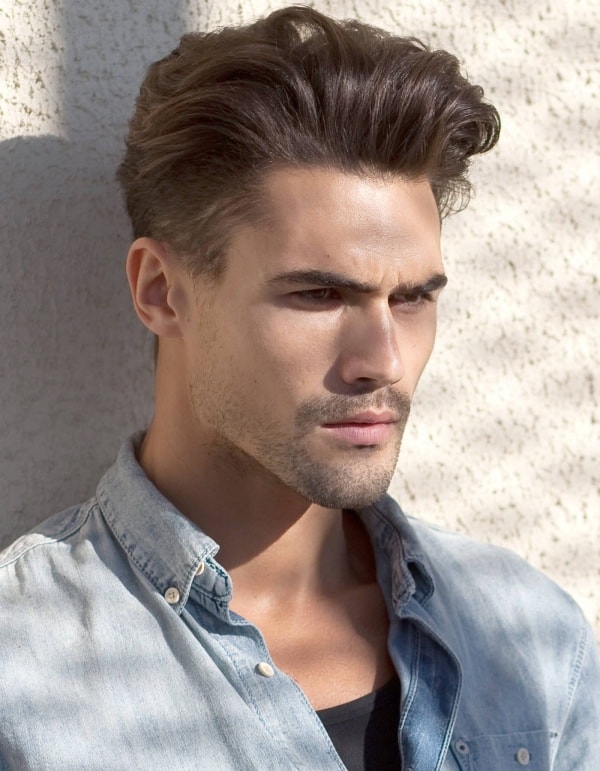 Image Source
Let's move towards the hairstyles for men with medium or long hair. In case you want long hair that's well-textured as well as supports the serious office look, then my friend this one you have been looking for. No matter how weird or funny the name might sound, bro flow represents immense style combined with sophistication which is right now quite a vogue among men, irrespective of their age.
7. Pompadour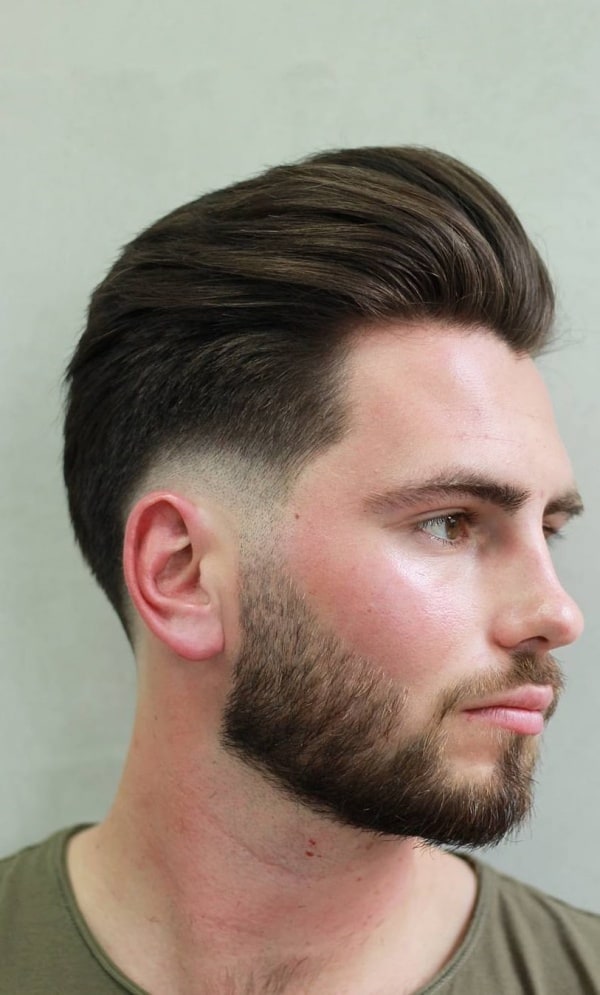 Image Source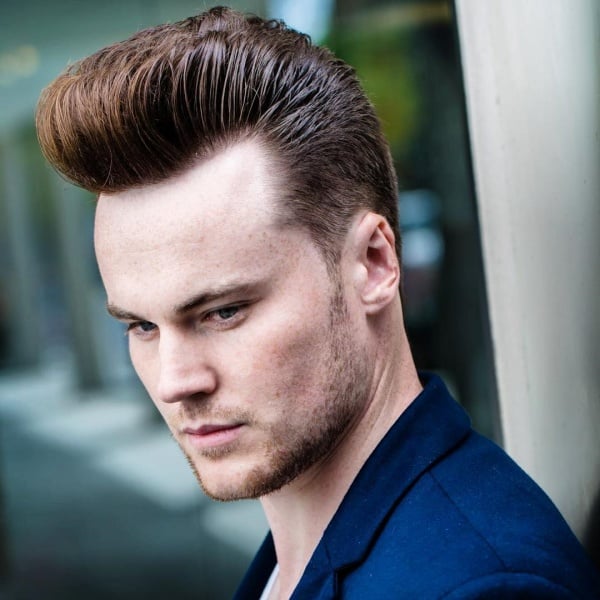 Image Source
Perhaps, this one needs no former introduction as it has already carved its niche in the list of most popular hairstyles for men. Just to indulge in the trend more, leave your long on the top. Now make usage of the pomade to create a style that would have your hair up and back. Lastly, you would be successful in creating the intended stylish bulge on top of your head.
Here We Have: Summer Hairstyles For Men in 2022
8. Style Your Hair With A Quiff Haircut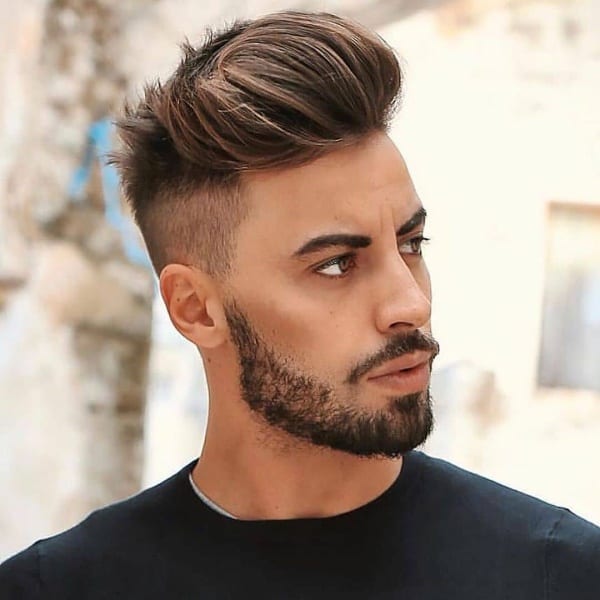 Image Source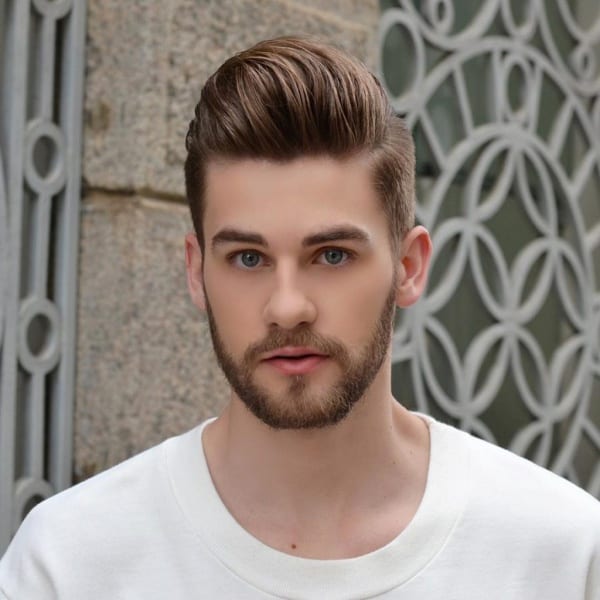 Image Source
People do tend to confuse this with the Pompadour. However, if we start comparing, just remember that a quiff involves a certain amount of the hair placed right in front of the head which then curves back into the rest part. This style is slowly gaining pace to make its name permanent in the list of most popular haircuts for men. So, men to shine in the crowd with your mesmerizing smile and killer attitude, let this hairdo join in the team.
9. Comb Over Style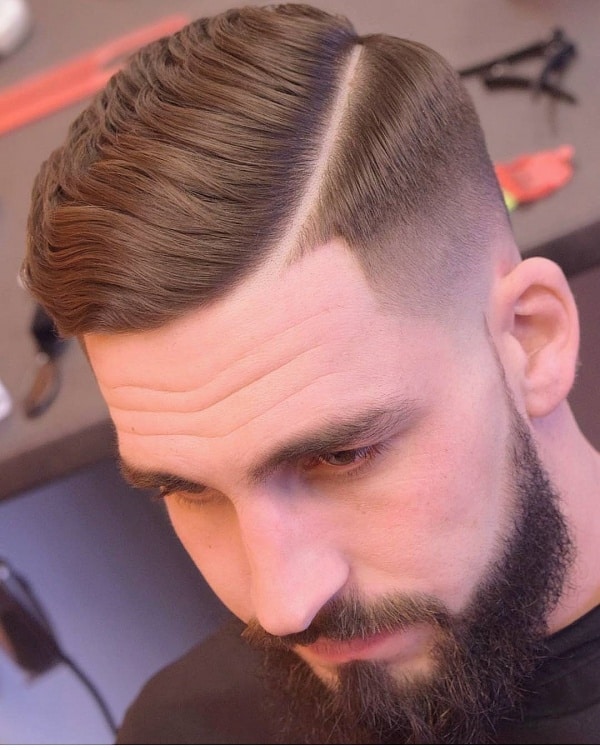 Image Source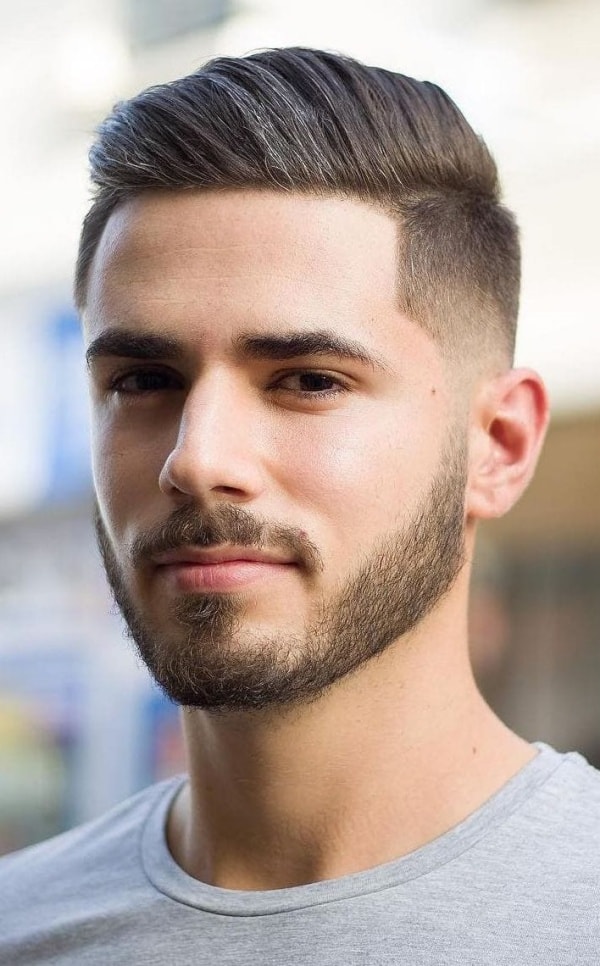 Image Source
People suffering from a thin hairline or trying desperately to hide the bald patches resort to this style. Seen as a disaster management solution, you might as well pump it up with style. One of the most desirable hairstyles now for the middle length hair, this one is asymmetrical which makes it both highly favorable and cosmopolitan. Sometimes certain imperfections might also be the key to achieve certain perfection. True with this hairstyle.
10. Faux Hawk Style

Image Source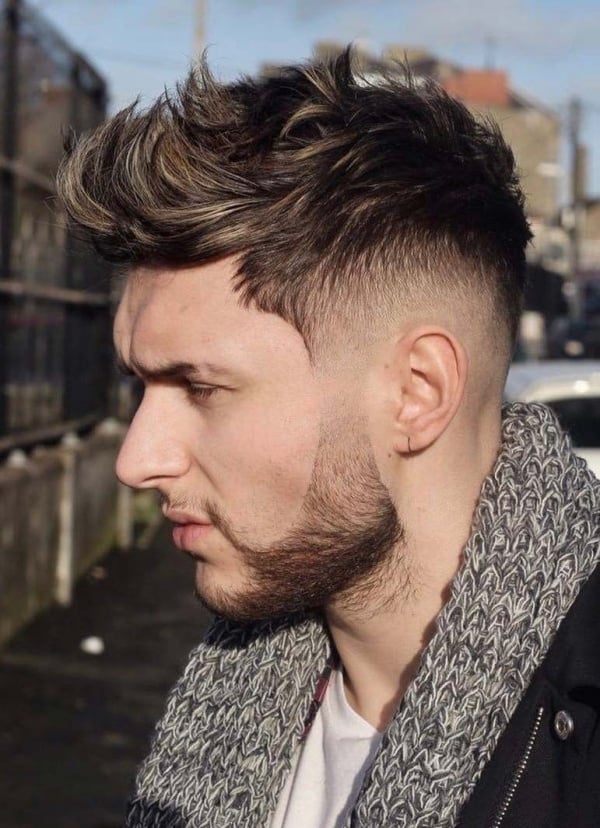 Image Source
This one is new and emerging, just the way men want it. It looks like a Mohawk but gives a feel completely different. If you are the daring one, up for something exciting, just try this one with an edgy attitude like a Mohawk minus the intensity. Looks great, and very simple to style. To follow a pro-tip, just make your faux hawk a bit deliberate messy to flaunt the 'carelessly casual' look.
11. Fringes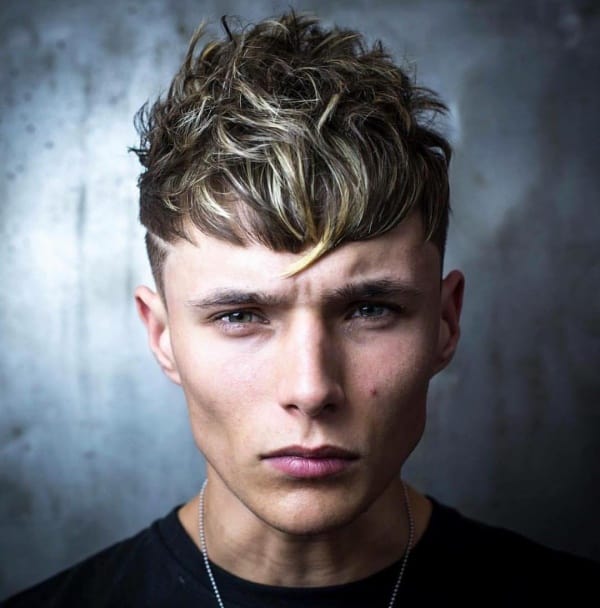 Image Source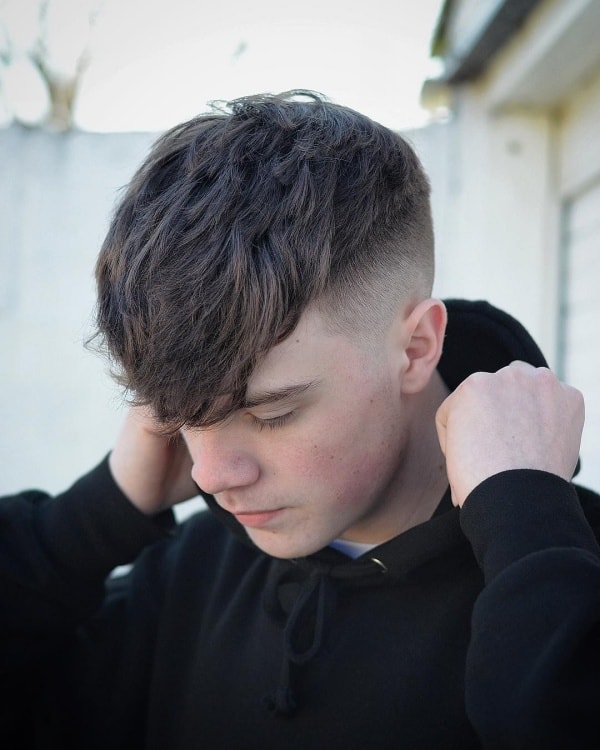 Image Source
Sounds familiar, right?! Well, seems that fringes have been present from the times the first man appeared in this world. This might be proclaimed as a very good way to flaunt the mid-length hairdo. Initially, people had a vision that bangs are only suitable for girls. But to prove them wrong, bangs are very much in trend for boys at this juncture and look great when adorned messily with the proper texture and style.
12. Messy Waves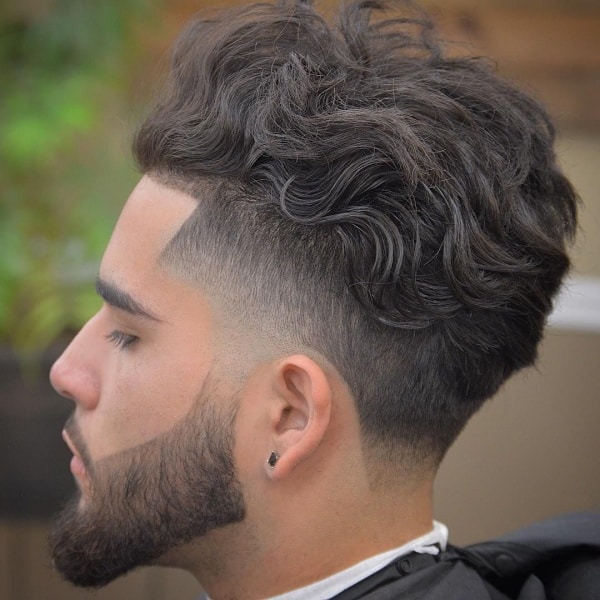 Image Source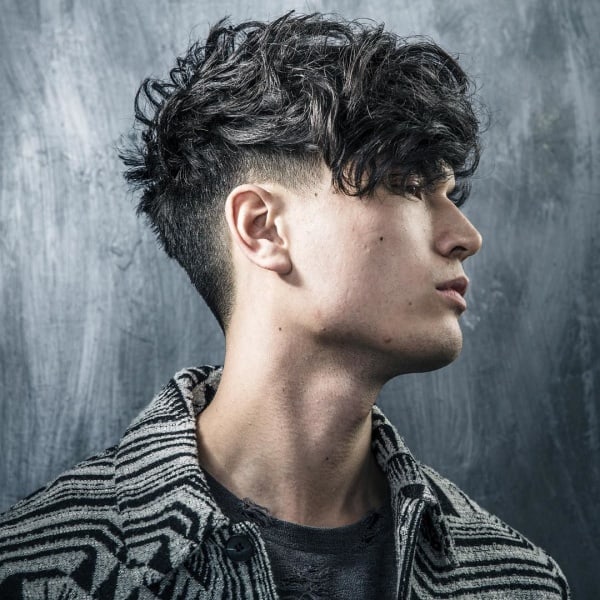 Image Source
Texture, trimming, maintenance, and styling are the primary things while dealing with popular hairstyles for guys. As the scenario prevails, straight and flat styles are now being replaced by unkempt waves and uncombed crops. Of course, you would like to flaunt them everywhere. For this, just keep the side hair short and tidy to make it look versatile even in the office. While partying, the messy and unkempt look is a hit.
Have a Look: Curly Fade Haircuts For Men
13. Loose And Long Waves/Curls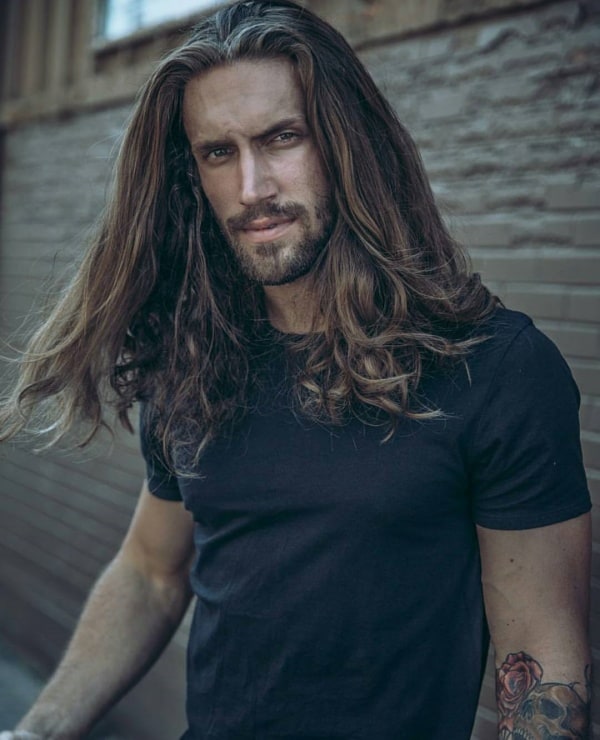 Image Source

Image Source
Yes, this one has also gained much fame in the list of popular hairstyles for men. Boys also have the urge to flaunt their long hair and this is the reason why the waves/curls remain unmatched. Of course, this one is a natural thing with extensively low-maintenance. So, try this one to opt for a style statement in an eased and rough way and of course in the most natural way.
14. Front Curly Hairstyles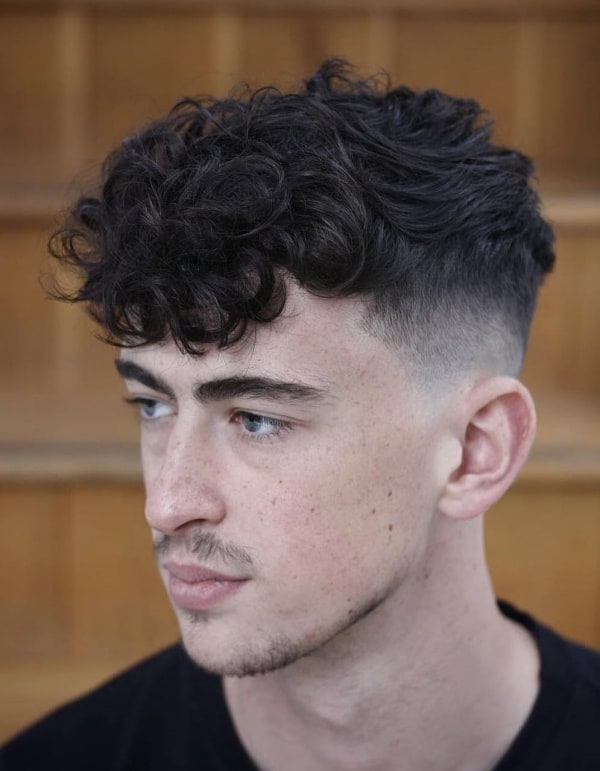 Image Source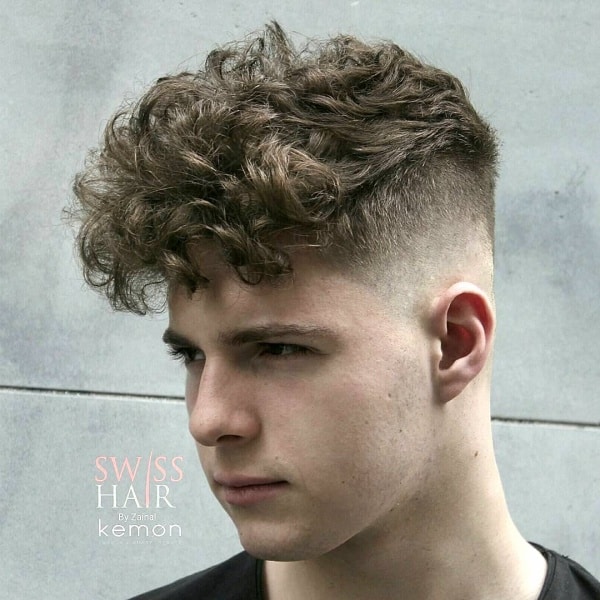 Image Source
Time for some rewind. After flaunting your waves/curls for a while in case you are bored with the natural look, try a revamp version of the much popular curly hairstyles from the 40S-50s. Trust me, if you fear being tagged as 'old-fashioned' then let me inform you that this style was never out of fashion. Rather looks more modified and smart now with its cool version of trimmed sides. 
15. Man-Bun Style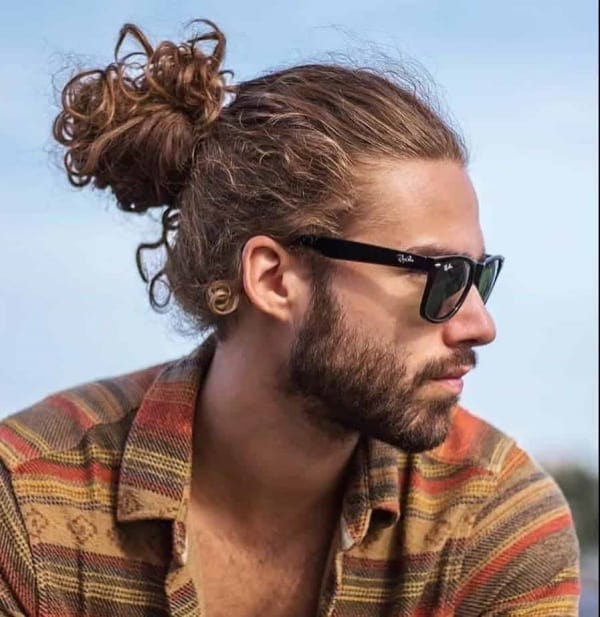 Image Source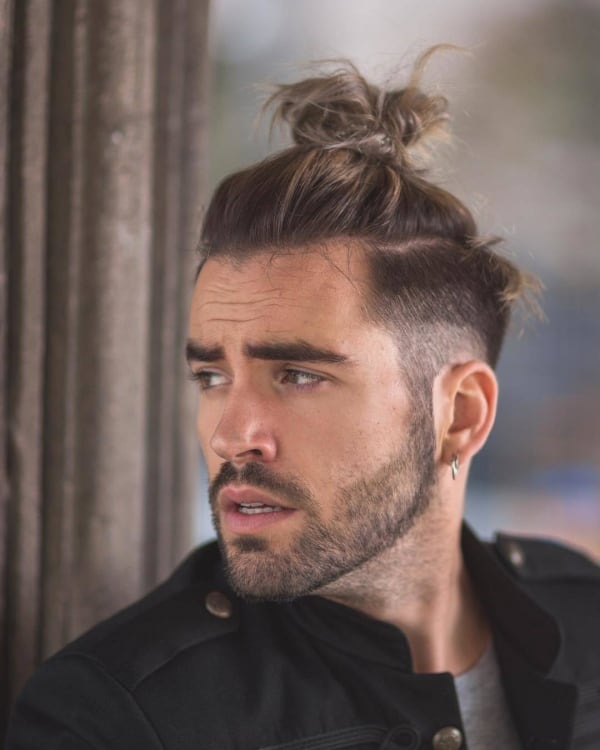 Image Source
You just need the dare to carry this one. This is just the ultimate hipster look that is for here to stay. While many have speculated about its existence being confirmed for a short span, it has proven it all false and is all geared up to maintain the popularity, throughout the year and even in the future that beholds. An elegant yet daring look, just to carry with the right attitude.
16. Man-Braids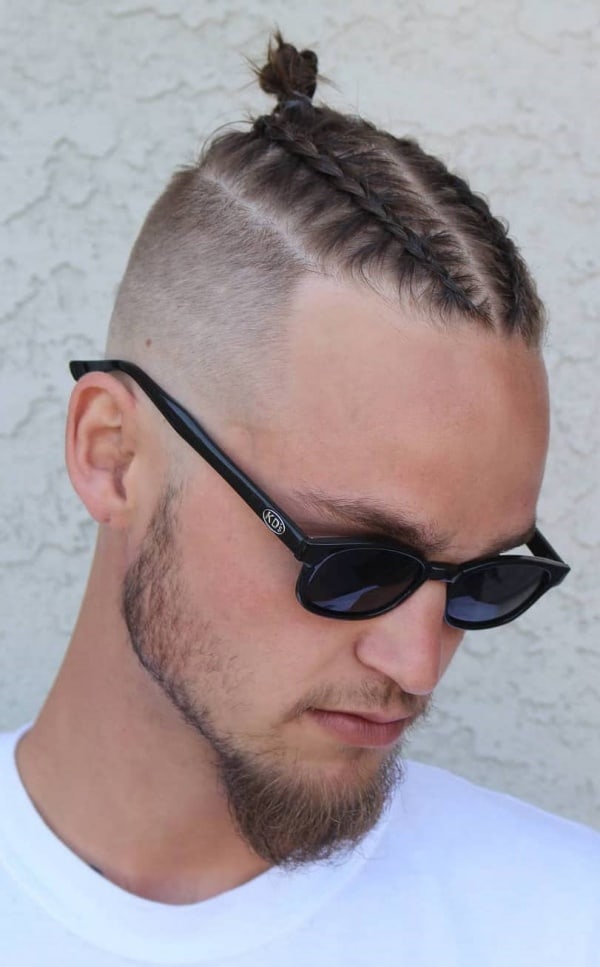 Image Source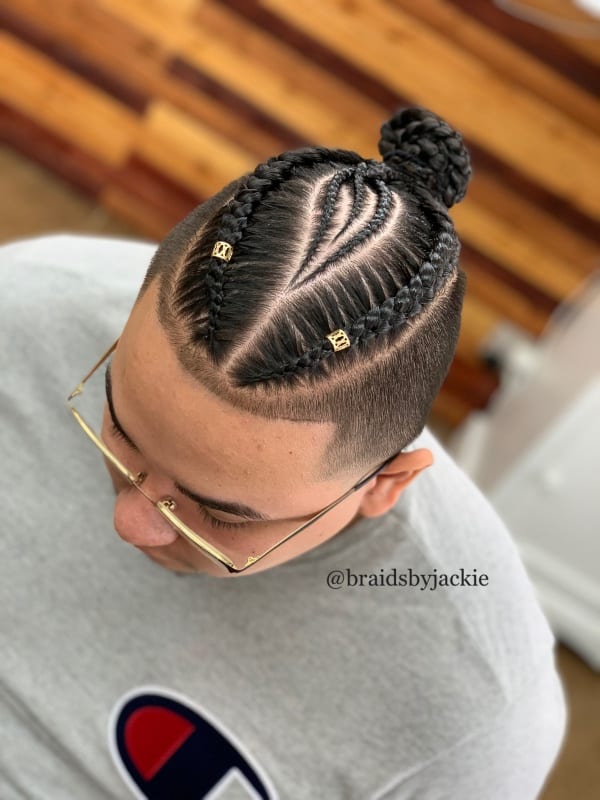 Image Source
These are the latest names to gain popularity among men. If you have long hair, want to try something different, and are all set to become the trendsetter, this is the one you have been looking for. The best part remains that, there are several ways in which you can flaunt this hairdo. The most eye-catching is the spread of all-over braids with braided ponytails. Again, a huge blow on the face of a society that signified braids only for girls.
17. The Age-Old Ponytails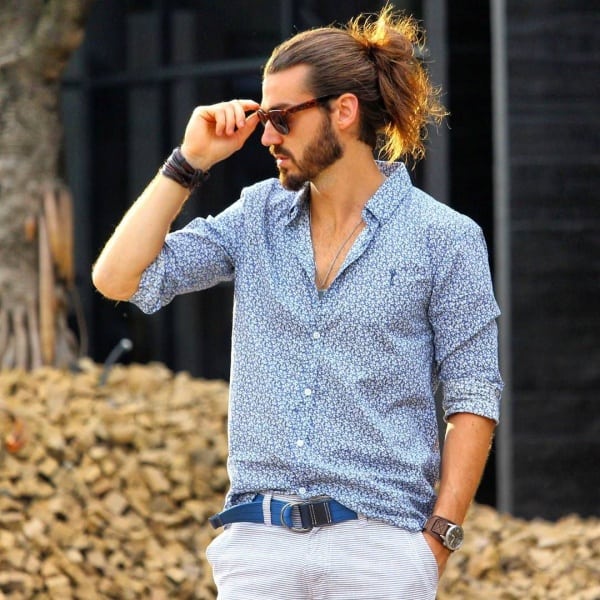 Image Source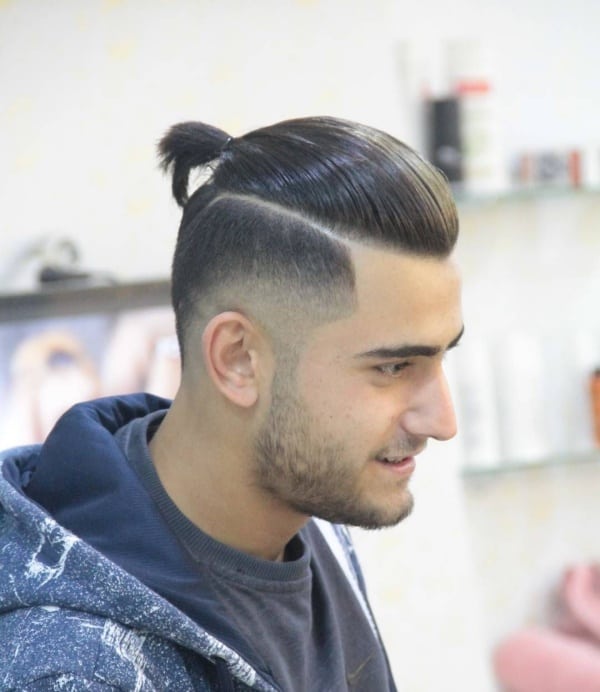 Image Source
Again, a very accustomed name in the list of hairstyles for men. Practical, easy to tie, and looks much fashionable- it seems that a ponytail is everything that your heart desires in one package. However, to flaunt this look, just let your hair grow and leave it till it touches your shoulder. After this, just glide your mane back and tie it, resting it on the nape. For better styling, gel it well.
18. Half-Up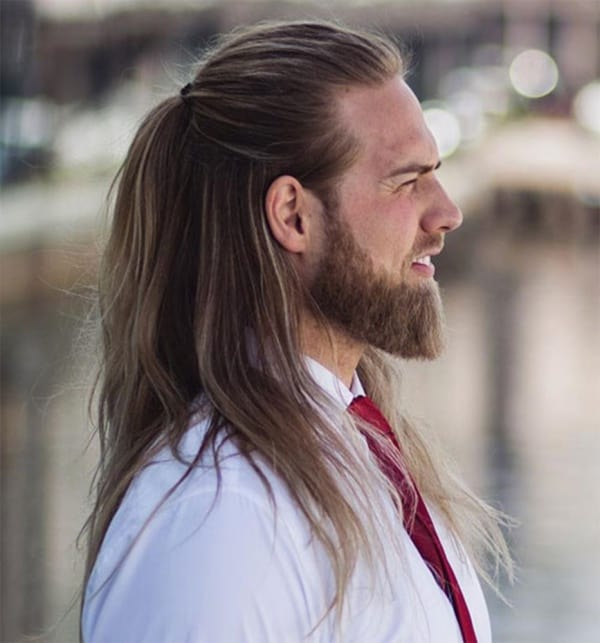 Image Source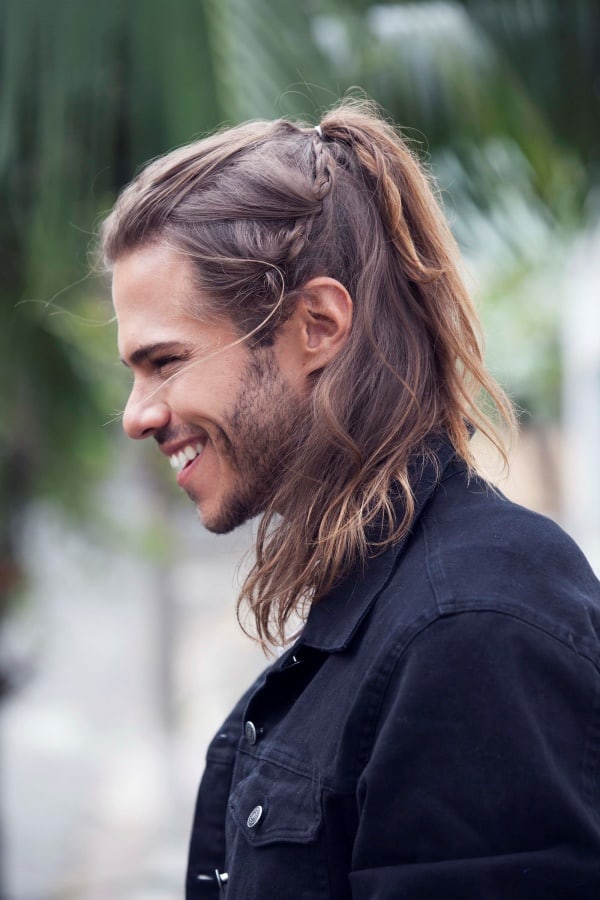 Image Source
For me, this is the most unique of all the popular hairstyles for men. Of course, the very stylish one where the top of the hair is being shaped into a ponytail or bun. This one is both stylish and effective as it supports the look which would keep off the hair from touching your face while showing its length. So, flaunt your hair while maintaining a neat and tidy part.
19. Topknot Style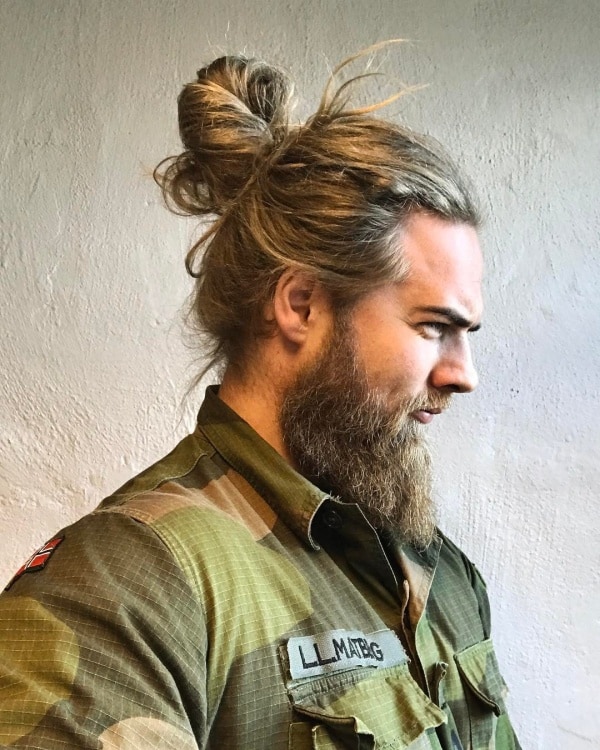 Image Source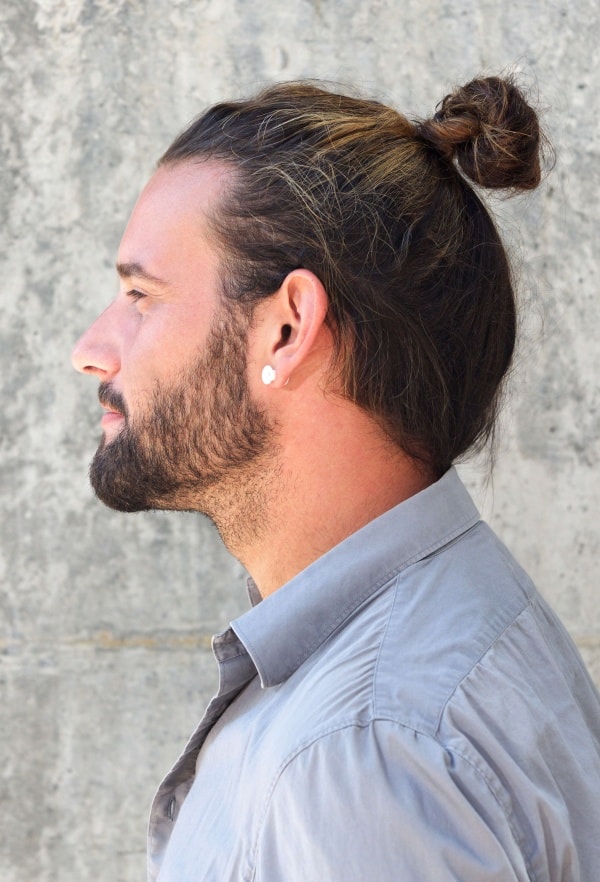 Image Source
This one has become relatively famous in the recent past and is slowly being accepted by the men. Quite a stylish counterpart of the man bun, this look promotes a messy bun placed on the top of the head. It goes best when coupled with an undercut for a daring and breath-taking appearance. The best part is that you can even carry this look to the office. Just be a bit careful of all the attention!
20. Dreadlocks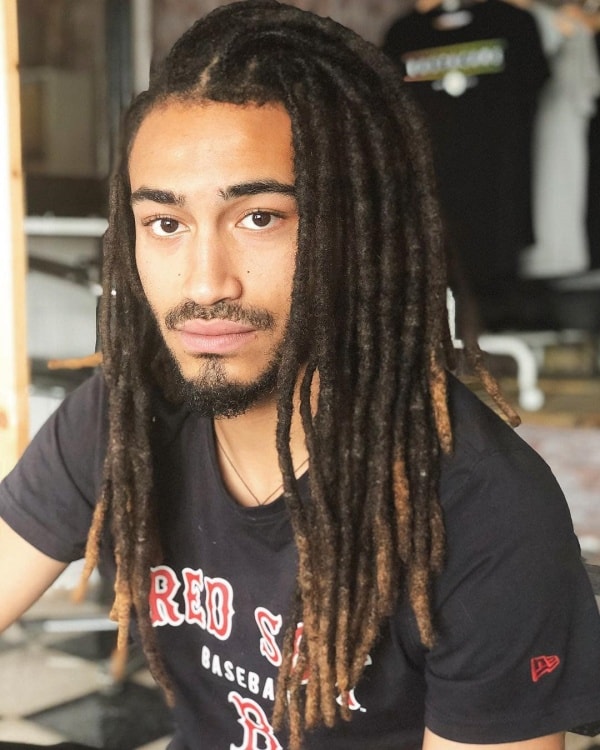 Image Source

Image Source
Dreadlocks look ravishingly awesome, however, not many men are sure of how to carry this style statement. Of course, they are awesome but think about this classy look only when you have long and thick hair. Think twice before committing to flaunt this look as the dreads need extensive care and maintenance, which is both a constraint on the time and economy. But once managed, trust me, you are the ultimate!
21. Naturally Long And Straight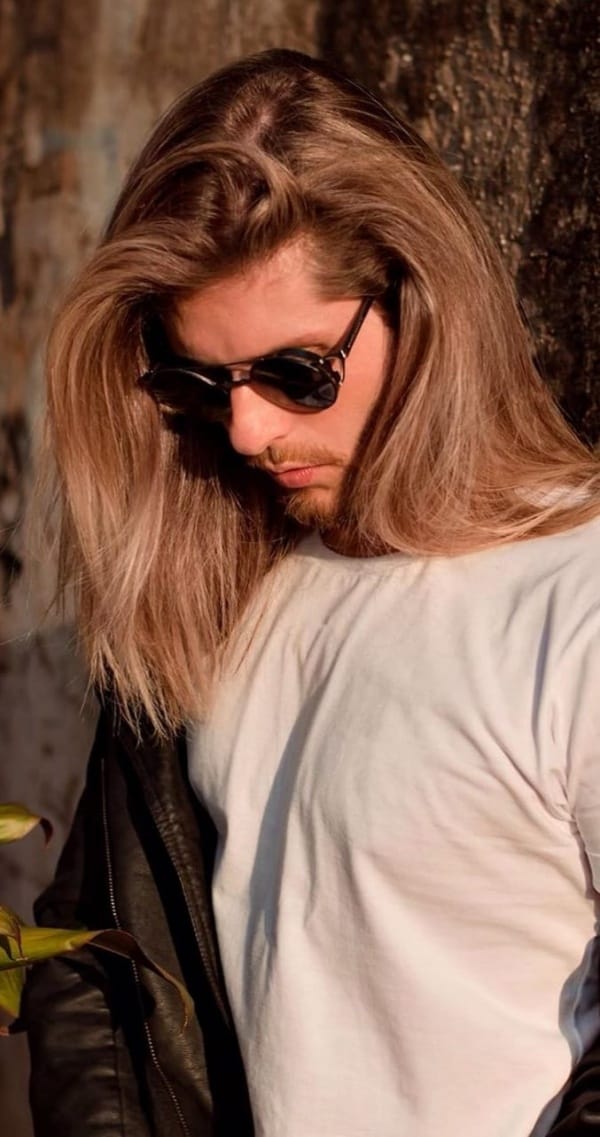 Image Source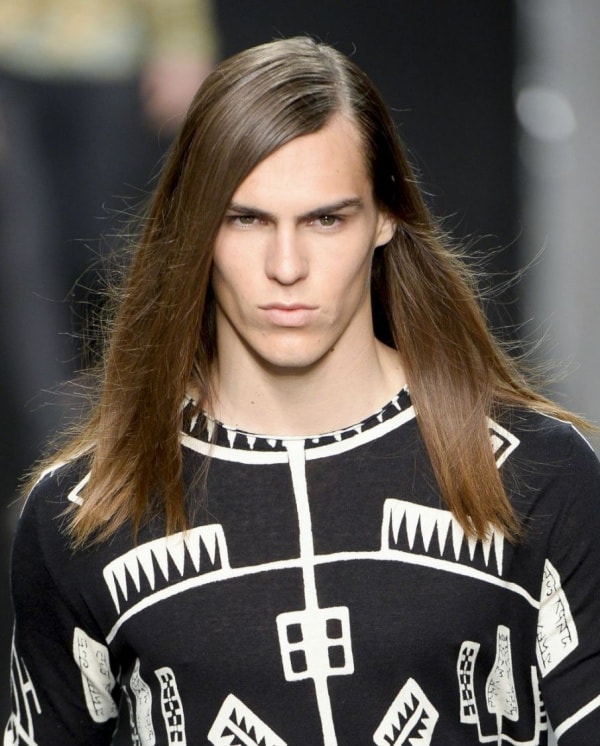 Image Source
People often don't know what to do with their mane if they are naturally long and straight. Fear not as even with your naturally straight hair you can be the fashionista. Just tame your hair well, and be careful in maintaining the texture. Also, while trimming be cautious about the side hairs and the middle parts. So, that solves it all, right?! The next party you arrive at you would be giving tips for hair maintenance, trust me!
22. Long Hair And Its Parting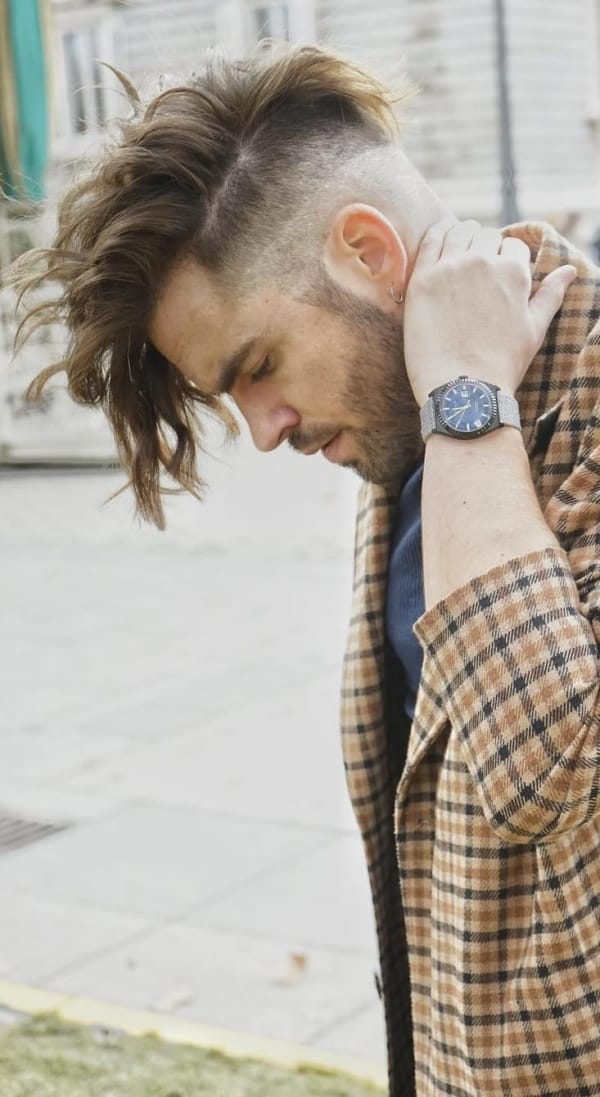 Image Source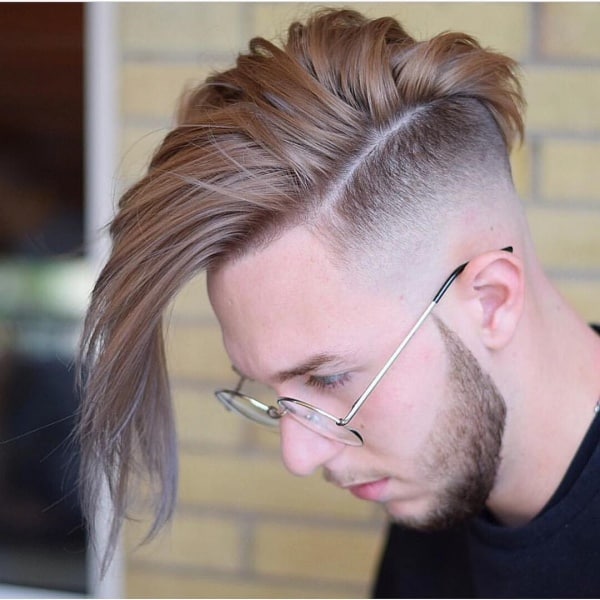 Image Source
This one is for the men struggling with their wavy or curly hair. To manage those curls and for a stunning and bolder appearance try middle parting with your hair. In the beginning, you might be a bit apprehensive about this one. Once done with proper styling and maintenance, you will look dapper. Just while styling, be a bit careful about the tangles and to avoid this moisturize well with hands.
23. Man Bun With Braids Style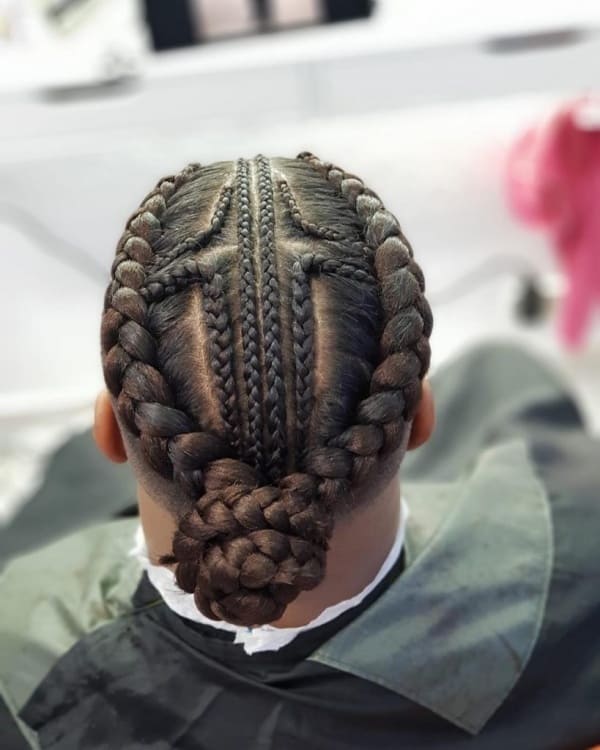 Image Source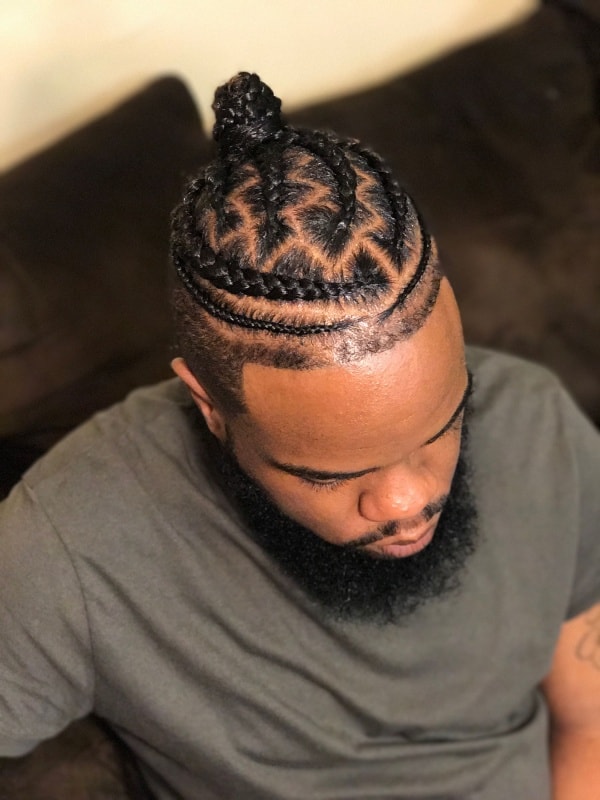 Image Source
We have read about the Man-bun and Man-braid hairstyles, but separately. How about integrating the two? Totally cool, right?! This one is supposed to be the most exciting look for men in 2022. To rock the style statement, either go for multiple braids that supports an in-depth appearance or opt for one for a mere simple style. Need not mentioning but this is again a very daring look. Slay in style and carry it with an attitude.
Checkout: Hairstyles For Black Men With Long Hair
24. Deep Wave Haircut

Image Source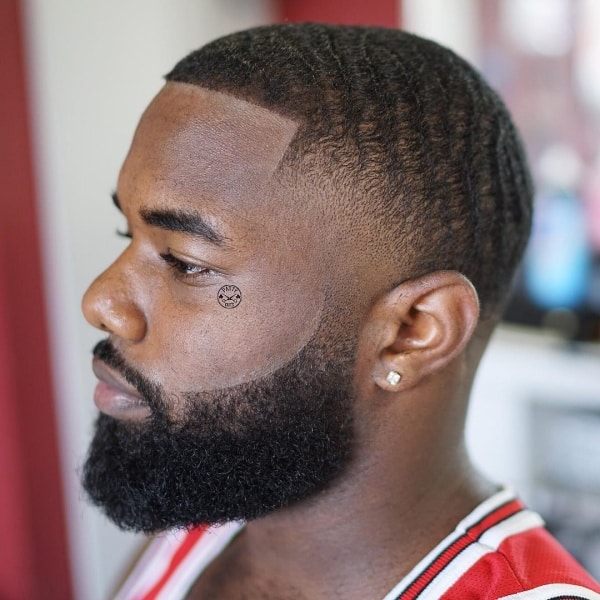 Image Source
This might be a revival name in the list of popular hairstyles for men. Prominent mostly among the Afro-American community with the name of barbershop hairstyle, this might as well be named as a deep wave or 360 waves. This hairstyle works best on men who intend to rock the bold and dashing appearance, with the perfectly textured hair. If you intend to do this, just set the hair texture right for a few days before the haircut.
25. Hard Part Hairstyle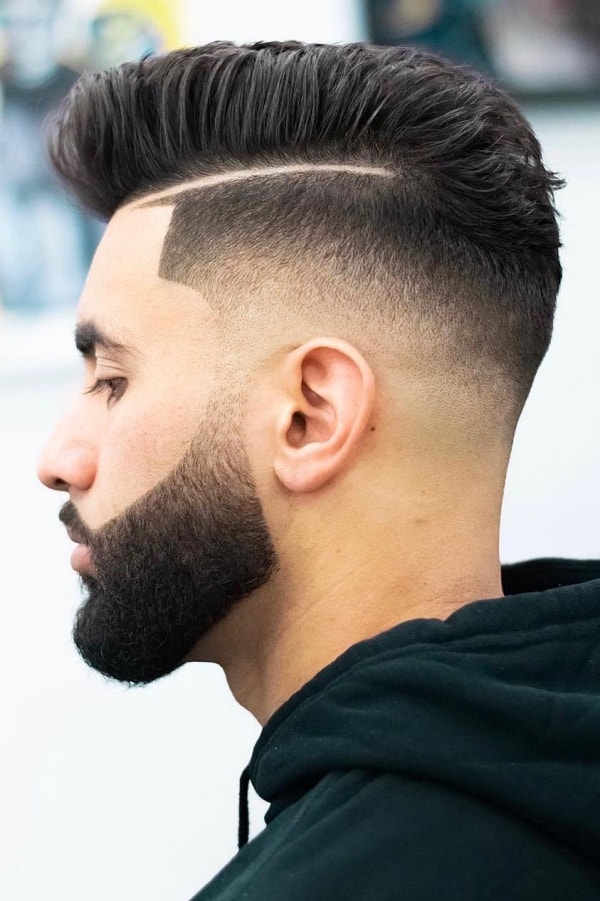 Image Source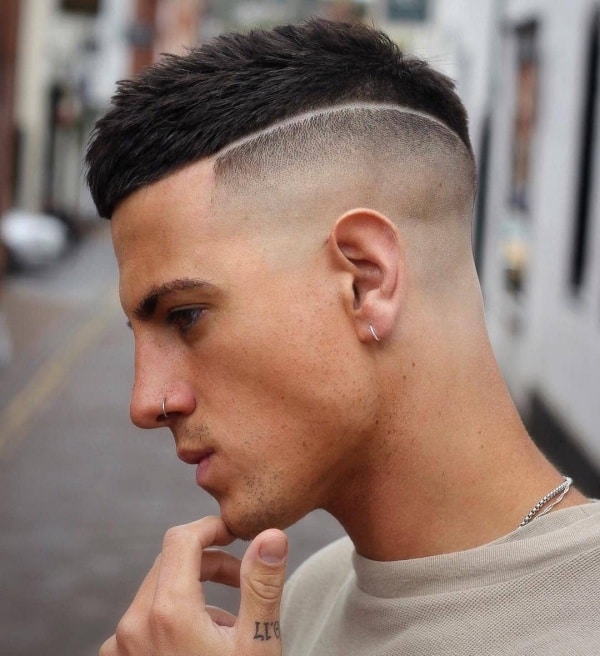 Image Source
Again, turning towards the mid-length hairstyles. To enhance it with more style and definition, opt for this hard parting. This one places a shaved line instead of a side part, promotes a smooth and smart appearance, while leaving the rest of your hair in a messy state. Precisely, this hard part makes the natural hair prominent while serving as a dramatic hairstyle. Perfectly for the middle-length hair and to serve it better.
26. French Crop Hairstyles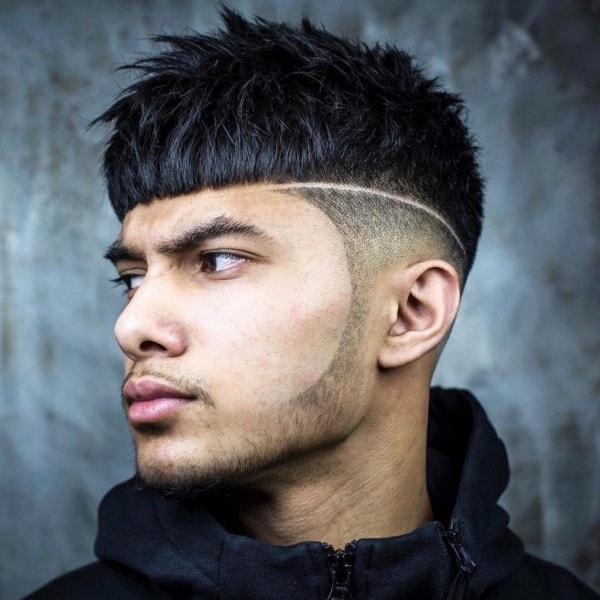 Image Source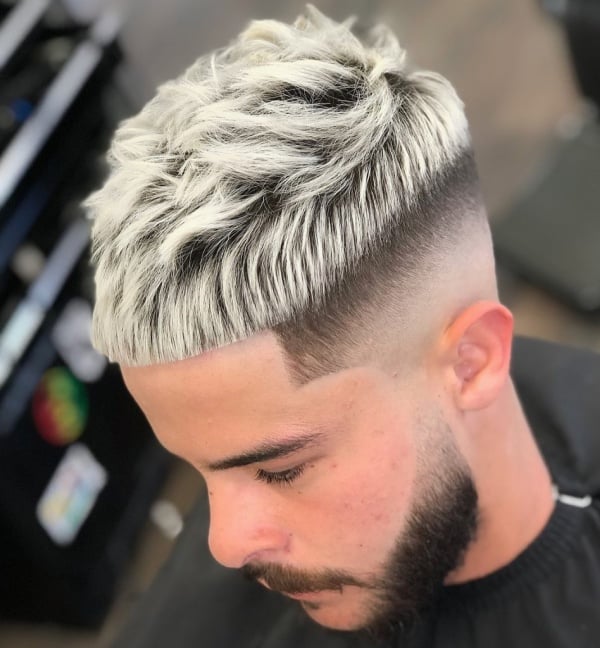 Image Source
Now, it's time to adopt a bit of a European appeal. The French crop is the perfect one for that. This one might be described as the haircut with the best of both worlds, featuring the bowl cut and Caesar cut. Also, this is one of those rare styles that look perfect when tried on both curly and straight hair alike. The only one perhaps in this list which would be suitable for all the men with various hair textures.
27. Afro Haircut For The Black Men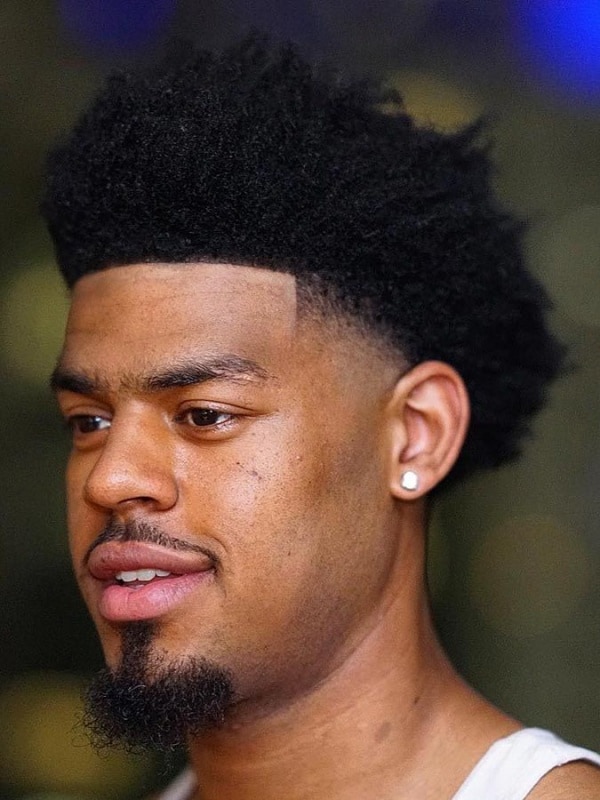 Image Source

Image Source
No matter what the title suggests, this style has made its name to the list of popular hairstyles for men for its overall appeal and complete look. Afro-American men are just lucky enough to possess an awesome texture, which allows them to flaunt a wide variety of hair-dos. This afro hairstyles for black men is an age-old one with alterations and modifications as the days evolve. All you need is to trim in shape and maintain it well to ace it to perfection. Then let the limelight find you with an incredible hairstyle.
28. Blowout Style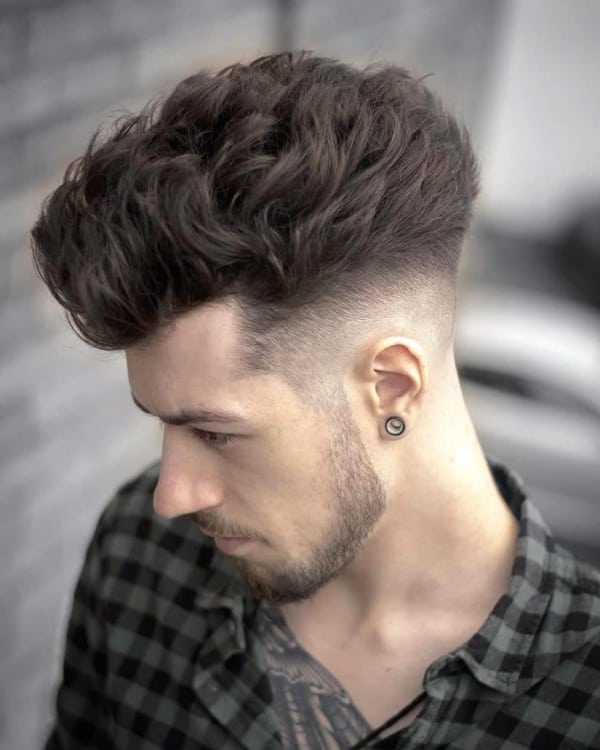 Image Source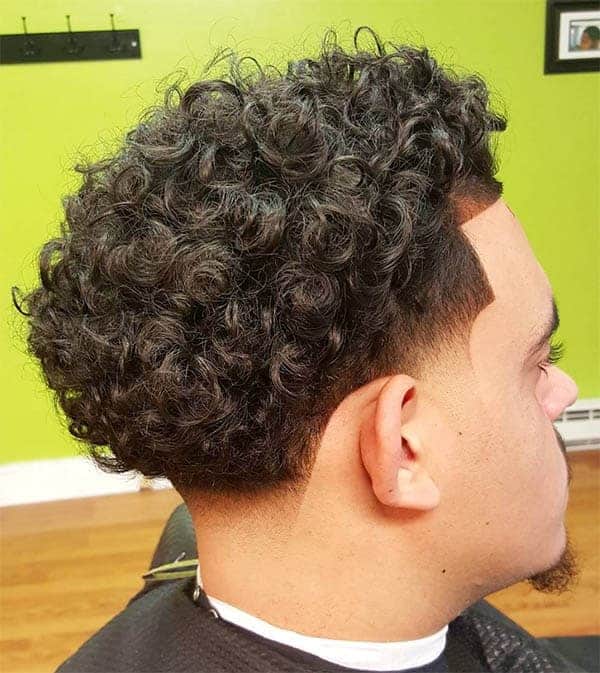 Image Source
Trust me, even I heard this name for the very first time! This one is the latest entry to the list of styles for men with voluminous hair. Also, right after its emergence, blowout became a trendsetter. This one is a cool style and requires medium-length hair on the top. This one ensures you with a look that states as if a sudden blow of wind has just struck you across the face.
Checkout: Stylish Haircuts For Men With Chubby Faces
29. A Bit Asymmetrical Hairstyle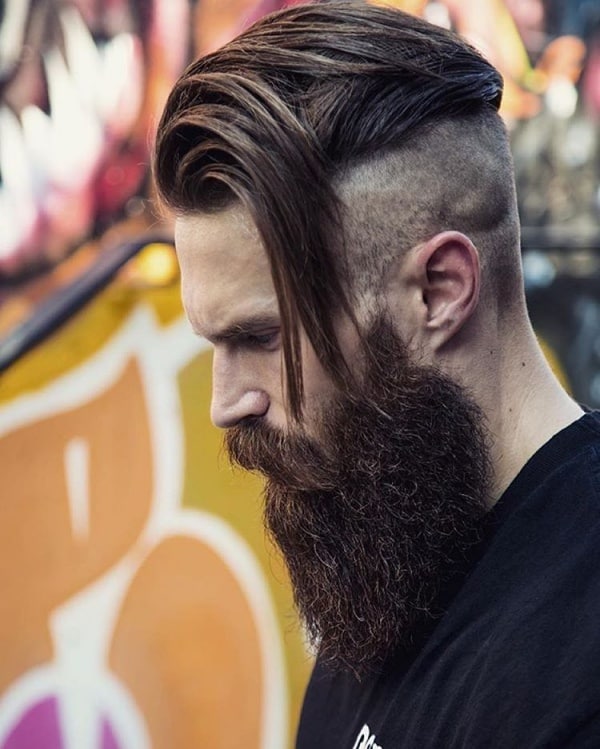 Image Source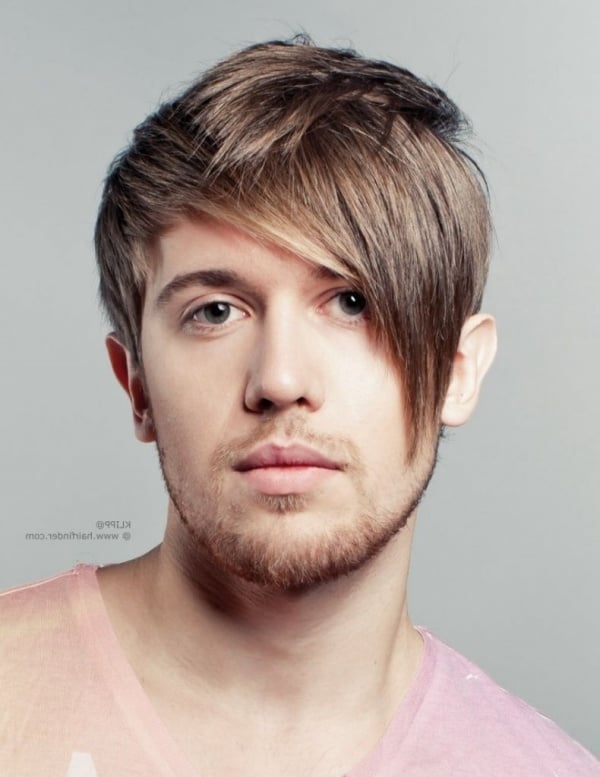 Image Source
Unleash your inner madness with this style. Adventurous men try this. It might not be a favorite name with many while discussing popular hairstyles for men. But what's the harm to try? Flaunt it in style and be ready to be the talk of the town. To add more, spike it up with a smooth amount of gel and get the ladies drooling over. Just trim, style, and maintain it with accuracy.
Related: Cool Spiky Hairstyles For Guys To Try
30. Ivy League Popular Styles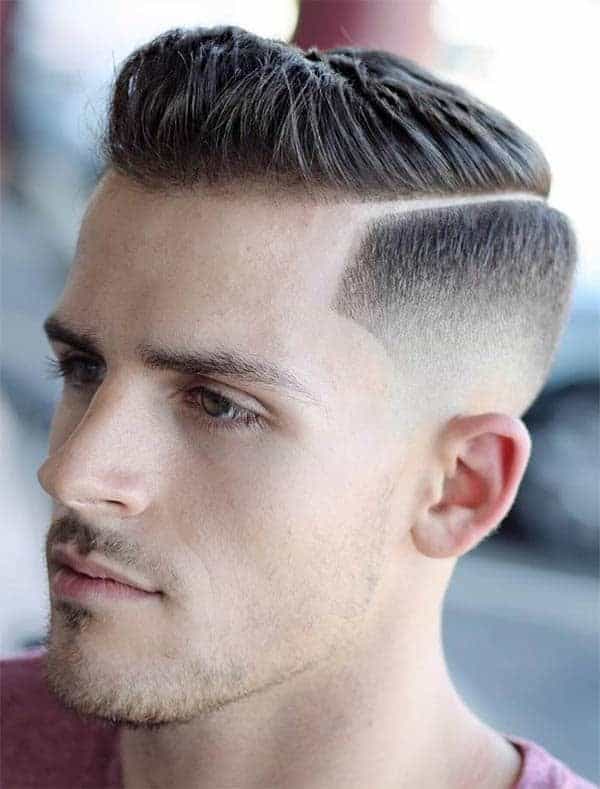 Image Source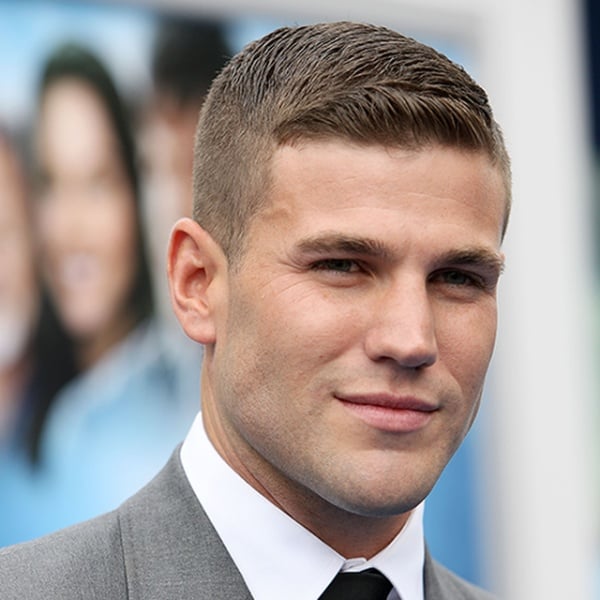 Image Source
Related: Cool Haircuts For Men Over 50
Simple, stylish, and elegant- the way to describe the Ivy league haircuts. The best part of the story remains that you need not be an Ivy League student or in the army to pull off the hairdos. Carry your smile and confidence and flaunt your hair in style. This one might be comparatively less daring than the previous names but while talking of the assemblage of style with elegance, this is the one.
Thus, we end the list here. Hair is the perfect creative space. If you feel you are immensely creative and looking for a suitable sphere, enhance it with different hairstyles. Of course, the list above states that but this time we are discussing the "hair tattoos". Some of it might be so intricately designed that you might go playing around with shading and optical illusions.
Honestly, people like following the on-going trend without even realizing the fact that this style might not suit them. Not all styles suit everyone. So, while considering factors like grooming and styling do follow the trend but before that at least devote some part of your attention to deciphering whether the look would enhance your persona or turn it into a joke.
Over the years' men have been more vocal about their hair styling, dressing, and other self-care activities. Visiting salons and spa, doing facial, skin lightening which has once been a very 'girly-job' has now broken the boundaries of gender stereotyping and welcomed by men with open arms. Let's just hope that this revolution-turned-practice continues to evolve more with time.
Regarding the list of popular hairstyles for men, of course, there are other popular styles as well which you can rely on while keeping up with the trends. Your haircut lets your personality style shine when the time before doing it is invested in some serious research.
With the list, above, we just hoped to give you the perfect head start. Once done with the selection, hit your favorite salon and pamper yourself with a revamped look.