Hair Styling is unquestionably the preferred thing for men. Most of them even strive for hours to obtain an excellent style. While many of them try and test the length of their hair, others prefer having it short. Some regard short hair as a safe option for summer, while others cherish its practicality, look, and bright appearance. If you want to display your sleek style, then a fashion-forward short hairstyle would be an excellent choice. If you experiment with short hairstyles a bit more, there is no end to the appeal they offer. This justifies why summer hairstyles for men have become extremely popular these days. These styles help men carry on their daring and trendy hairstyles in summer that supports their personalities.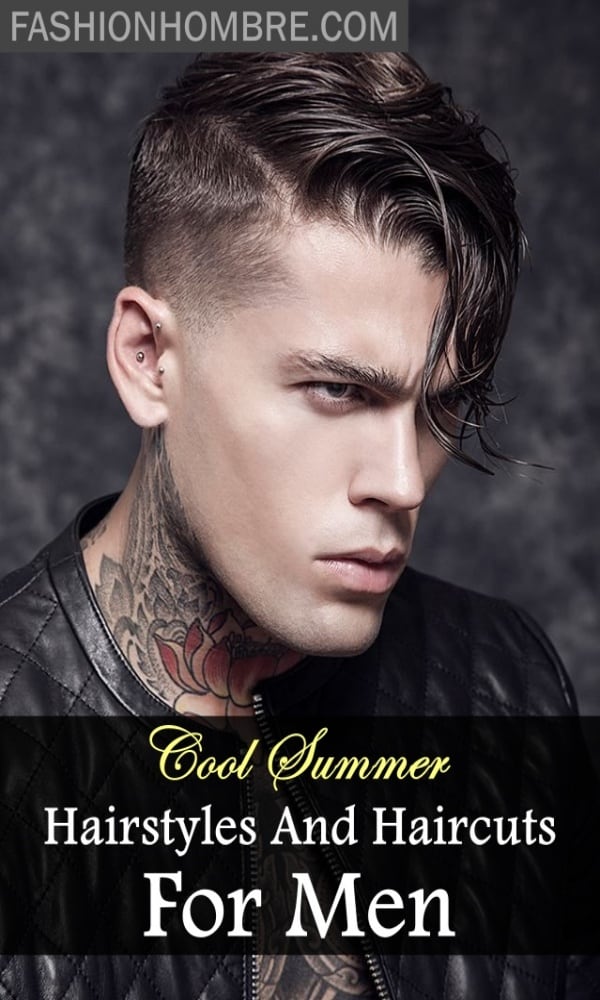 However, with the overabundance of fashion guides and trendy hairstylists, it becomes tough to conclude which style they want for their own. You need not bother, for we got your back if you are stuck with a choice among multiple hairstyles. This article will help you with the best and most creative summer hairstyles for men, which you definitely will find amusing.
Stylish Summer Hairstyles For Men
1. Cool Slick Back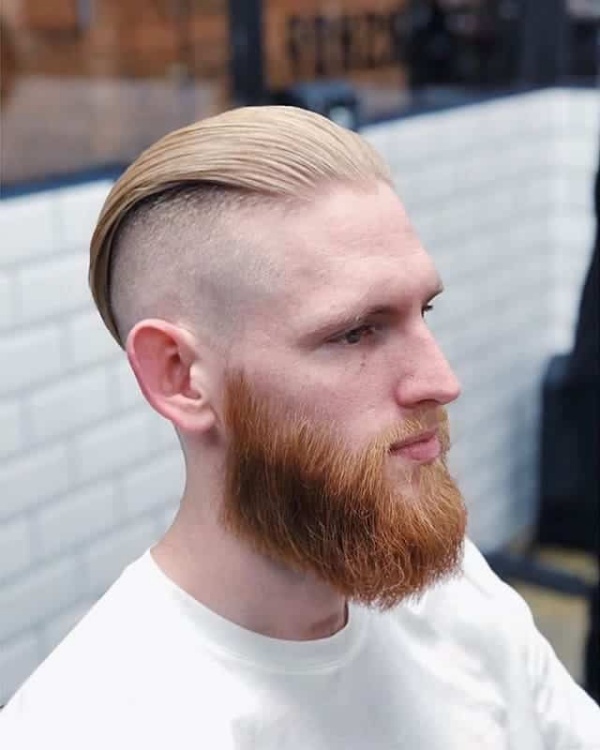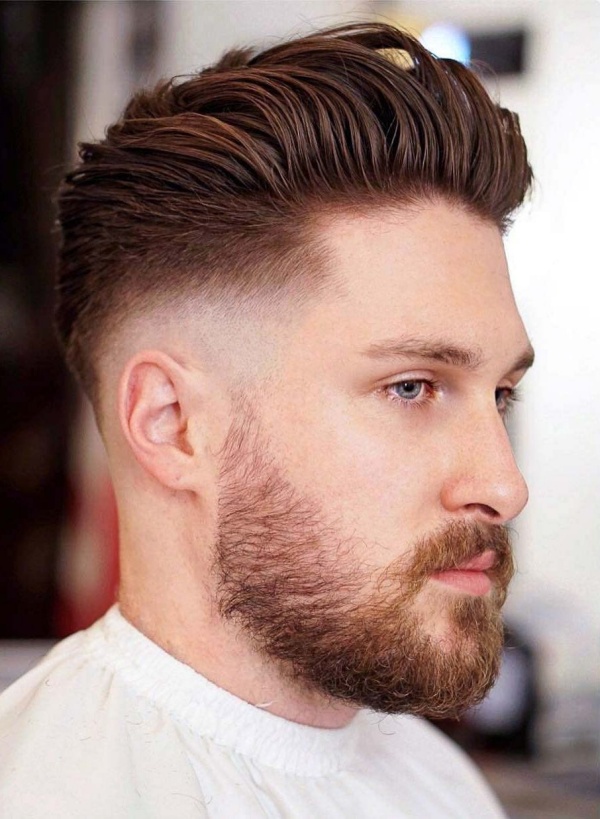 Cool slick back hair is considered to be one of the best summer hairstyles. It offers a shining, sexy, and completed look. This is trendy among boys who start adulting. This will be pretty simple for you if you already have straight hair. It is also very timeless if you are the guy who doesn't like to consume much time styling your hair. How cool that sounds, no? And low fades in this hairstyle are commonly preferable over anything else. The best part is it hardly matters in which shape your face is; it goes well.
2. Buzz Cut With Skin Fade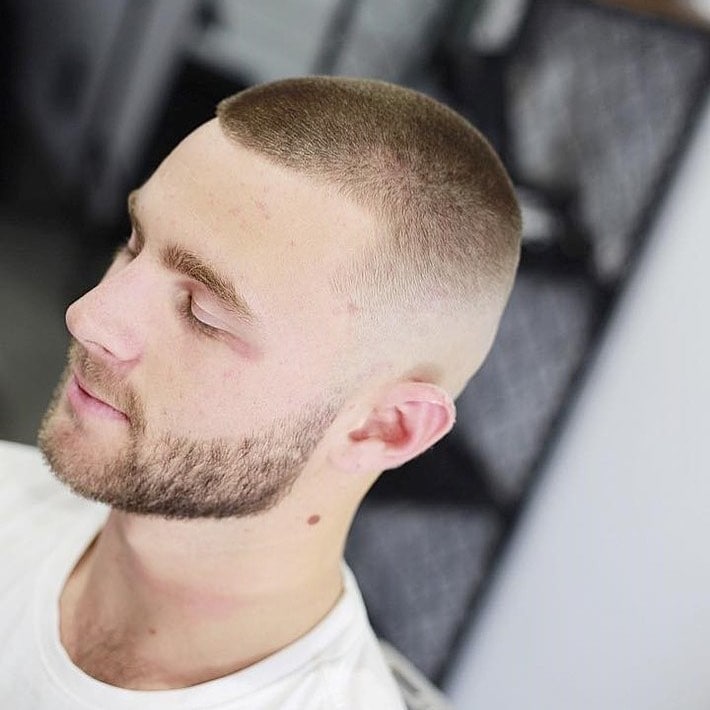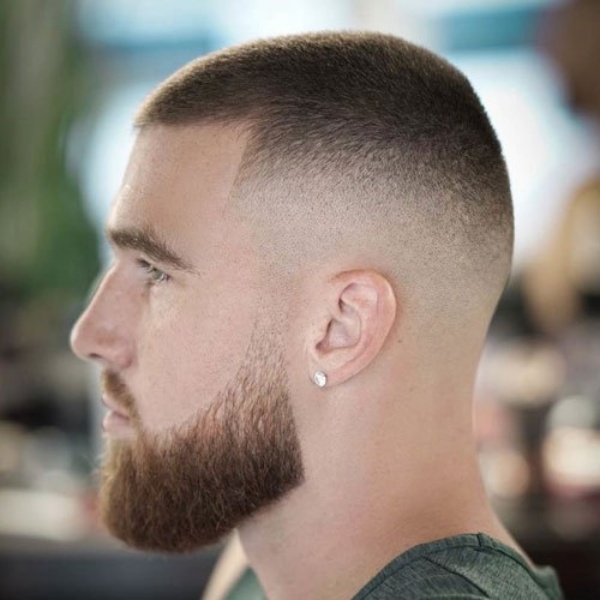 If you are looking for a hairstyle that will offer you a sleek and stylish look, a buzz cut with a skin fade haircut will provide you with the best bet. Men find this dapper cut appealing even after decades. This look offers a relaxed aesthetic look with a preppy touch. It would aid you as a suiting hairstyle for both the formal and the casual look. If you want your buzz cut to appear neat and trendy at the same try, you should try a fade without hesitation. A fade often has short hairs both on the side and the back. The hair surrounding your ear will be neatly cropped, while the hair on the top will be longer.
3. Waves On The Top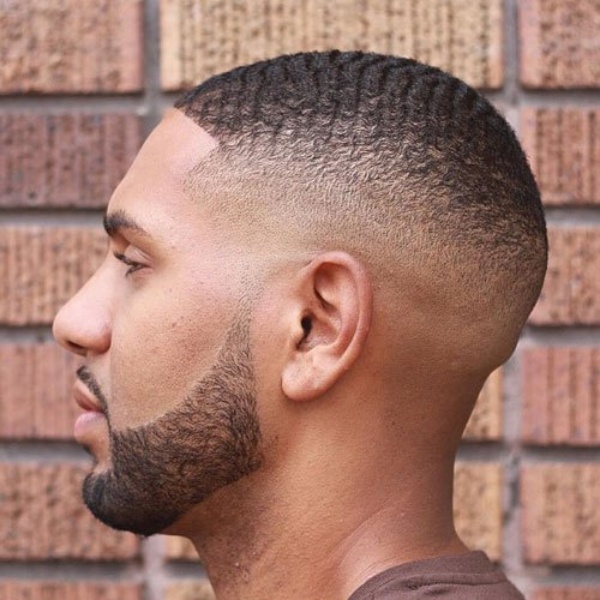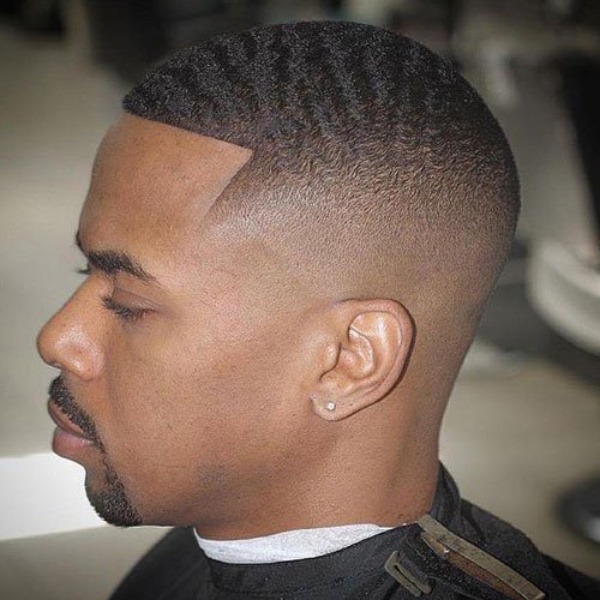 This haircut can be set according to you. Either you can leave the front portion of your hair hanging, which would look hot, or you can apply gel to set it back and make it look gentle. This is an incredibly classic version of all time, and you can never go wrong with it. Apply strong pomade, wax to fix your hair nicely or gently, and make it look sexy. This waves on the top comb-over with drop fade is flattering and eye-catching. For having a thicken the texture, apply styling products that would enhance your haircut.
4. High Skin Fade With Pompadour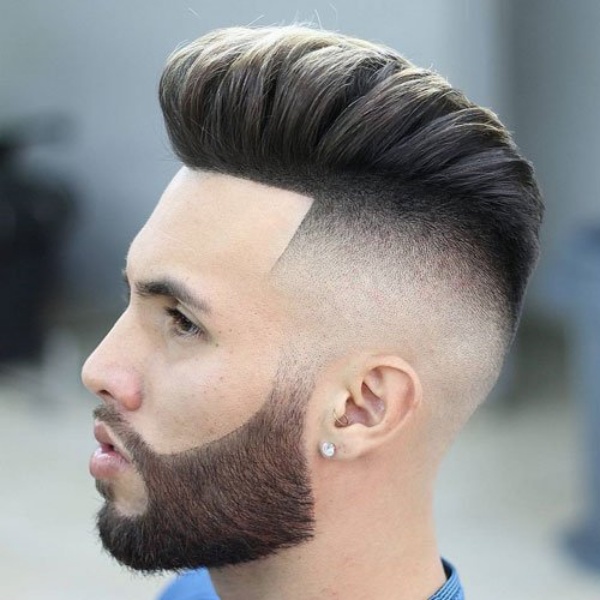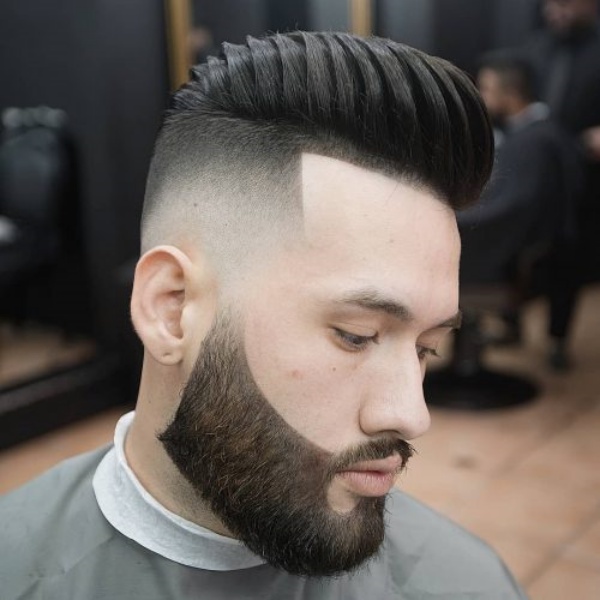 This summer hairstyle for men gives a classic, carefree and easy-going vibe. You will discover that loose, dashing quiff is styled forward, and the charming pomp is styled back. You will need a fair amount of hair to have this versatile cut. Also, you need at least 4 inches of long hair on the top of the head to have this cut the way it should be. This classy hairstyle suits every face. Pompadour with high skin fade will help you flaunt your gentleman's side in a sophisticated way. It is also referred to as the "cleaner and fashionable look."
5. Fine Line Up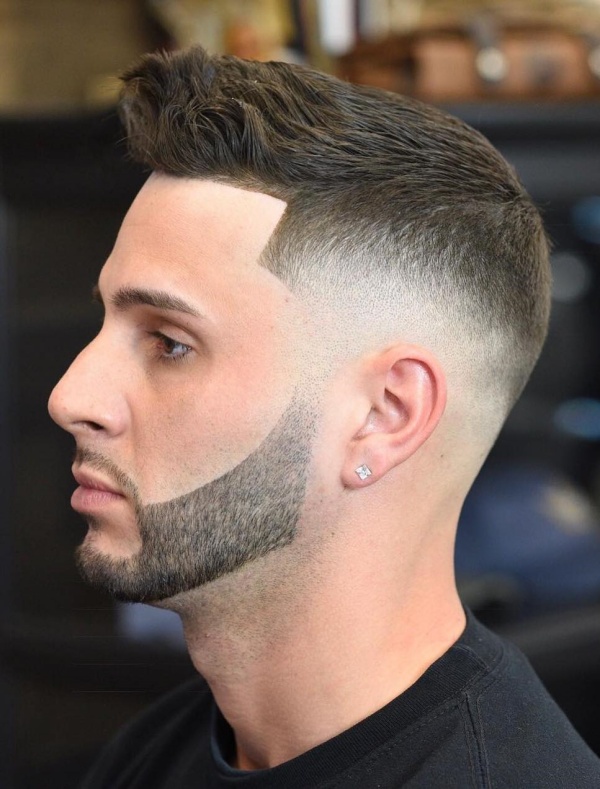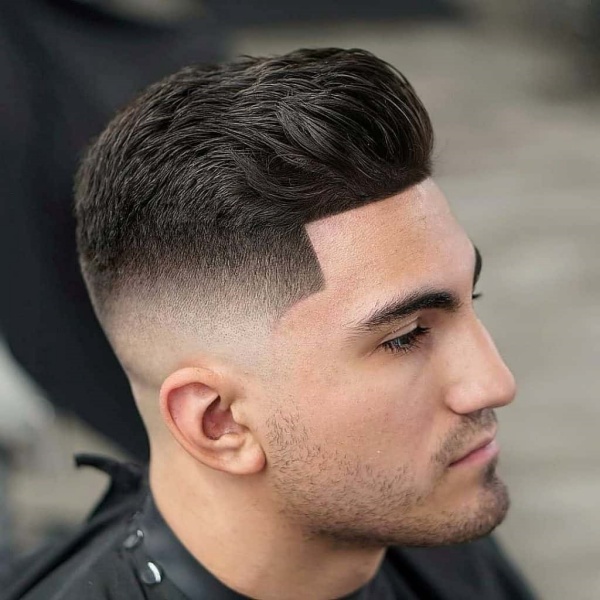 Black men have always preferred the Fine line-up hairstyle over the others. It is one among the classics yet one of the most incredible hairstyles flaunted by men. The Fine lineup with fade is a trendy hairstyle that men admire even to date. A bald fade makes the best combination with a fine lineup. The cropped sides, along with thick hair on the top, make this hairstyle earn extra points. Also, a high skin fade and paired sides of a line or shape up to clean the hairline would look stunning with a fine lineup cut.
6. Spiky Hair With Low Fade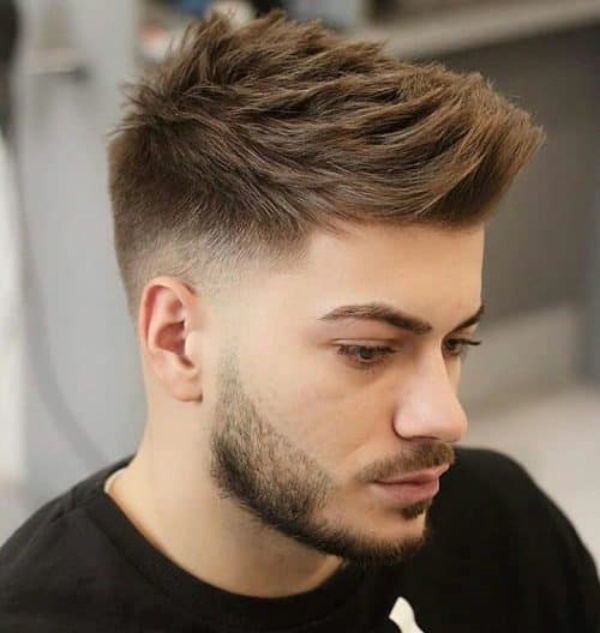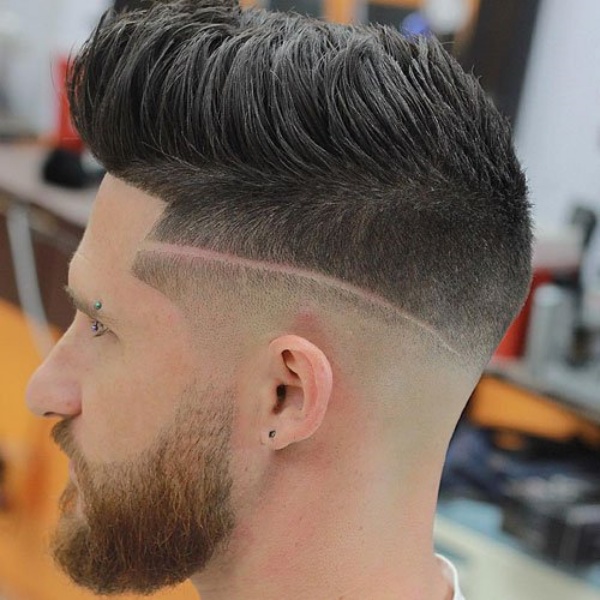 This short, eye-catchy, and timeless haircut reflects hot vibes. You can style it more lightly by using strong pomade, wax, or cream. It is so famous because it witnesses cool, edgy, and effortlessness. One would be delighted to know that there are many ways to spike your front hair. It can go with all; short, medium, and long hair. Youngsters usually love this look as it provides them desired and most efficient vibes.
7. Long hair Undercut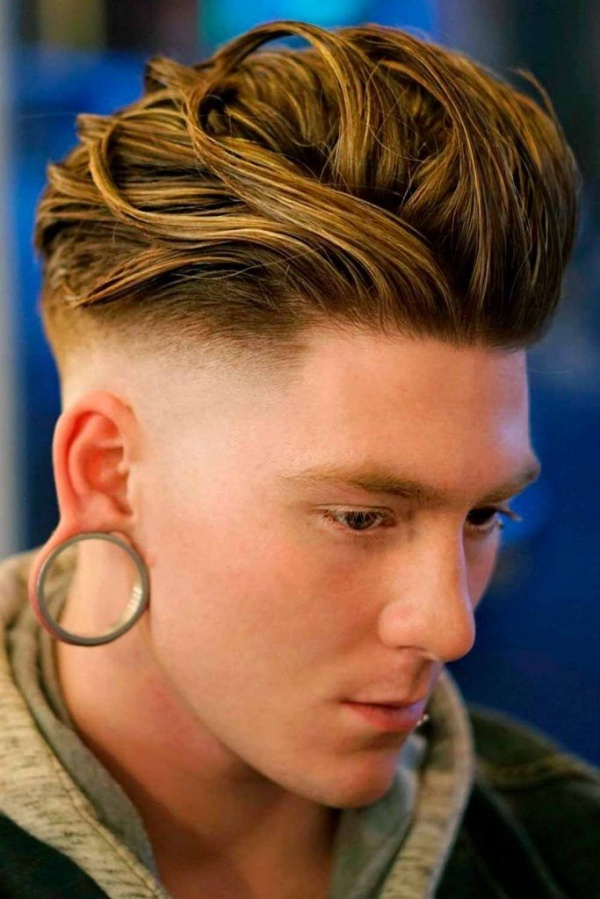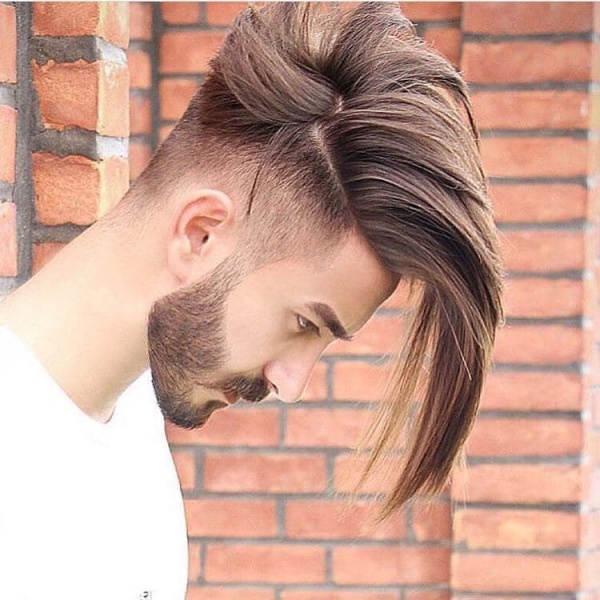 Here comes one of the sexiest hairstyles. We all have seen black people rocking this Long undercut with hairline style. It's impressive to see them like that, no? Black people prefer this haircut over anything else as it offers them the most sophisticated look. It is simple yet one of the most demanding hairstyles. This haircut provides a fresh look with classic types. A little beard on the chin will accompany it wonderfully. It is timeless and needs low maintenance.
8. Side Swept Hair With Taper Fade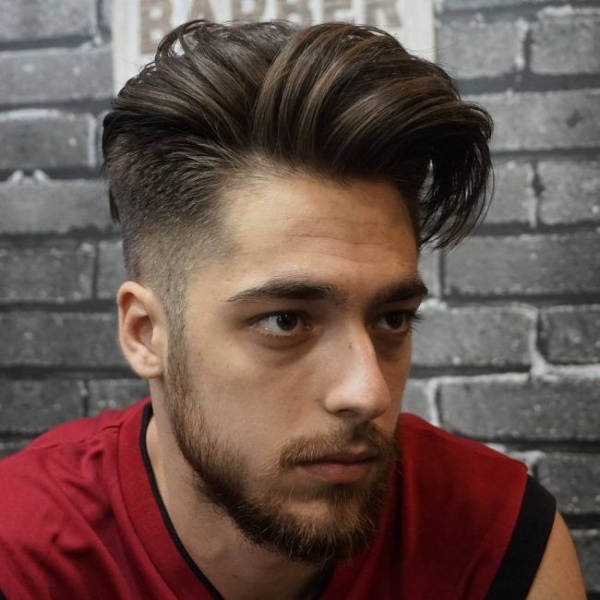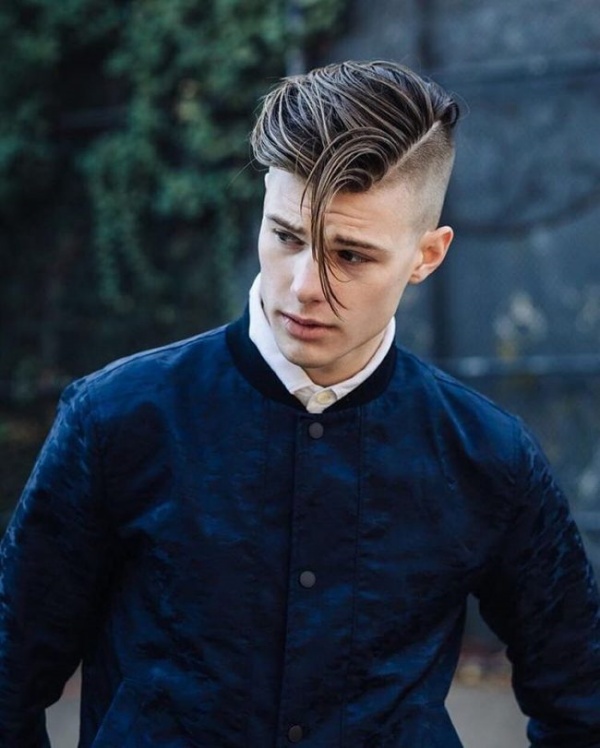 This is one of those short on sides long on top summer hairstyles for men. The side-swept part of this hairstyle gives you a sexy and fizzy look. Hollywood actors have rocked this wavy side-swept top, including an undercut. It can go with all three lengths; long, short, and medium, and has been trendy for decades. People also call it, "clean-cut look." Teens mainly prefer this taper fade top with a side-swept because it requires low maintenance. It ends up hiding one part of your face but is charming.
9. Undercut With Comb Over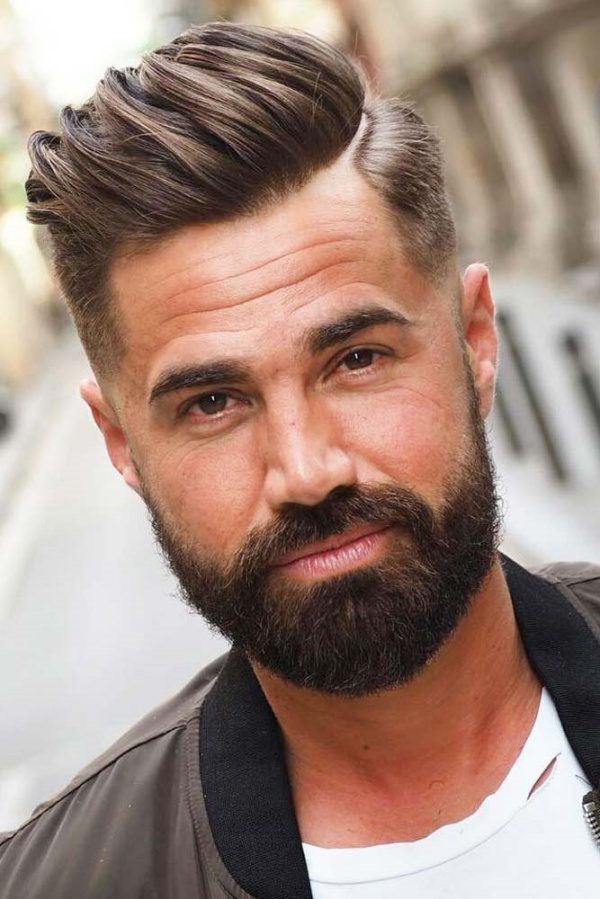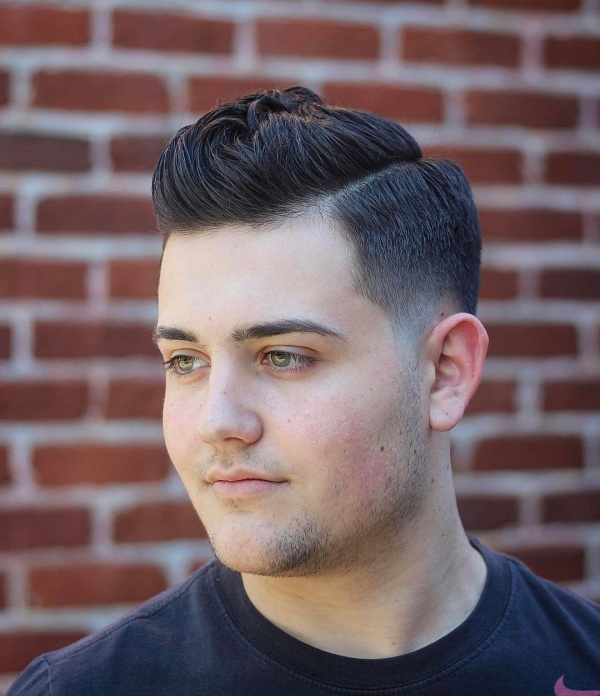 It is ideal for those who don't like spending hours styling their hair. People designate it "universally flattering" as it comes under unique haircuts. It is a classic idea for those with declining hairlines. Undercut with a comb-over with high fade is good to go for professionals with a significantly shorter time on anything else. Try applying pomade gently to the roots to maintain the texture nicely or add texture for a rugged aesthetic.
10. Side Part Combing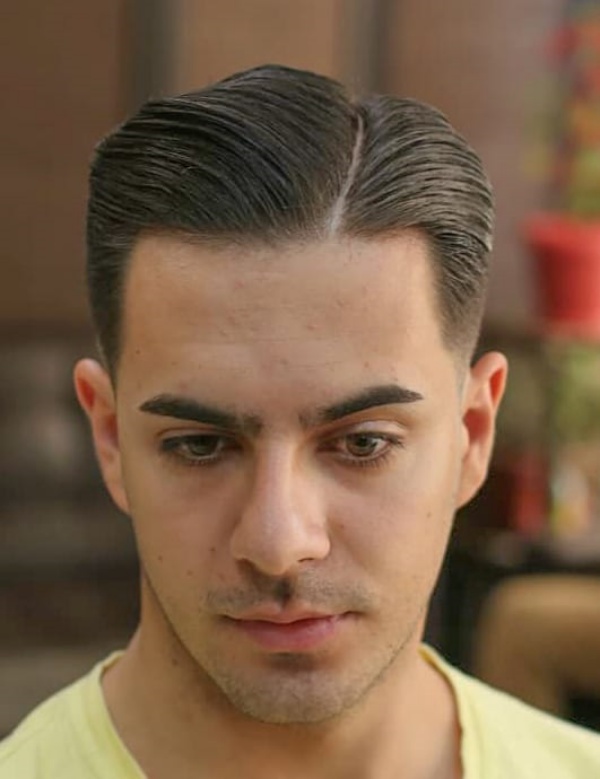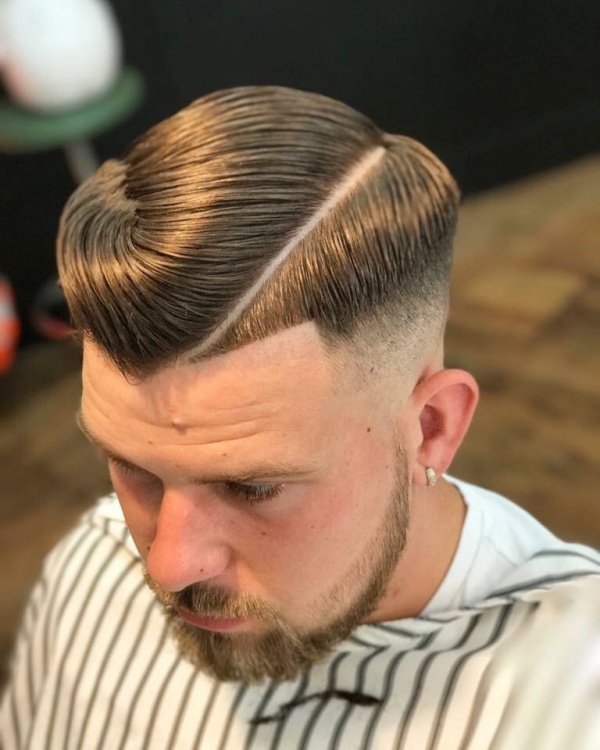 Side part combing is one of the most famous haircuts for men. It offers you a whole distinct vibe. Dry shampoo is the ideal idea to add life to this haircut. It comes in a lot of varieties and offers you the perfect sexy look. It is stylish and can be flaunted with low maintenance. You can enjoy a different charming look when the side falls naturally in front of your forehead.
11. Slicked Back Undercut With Beard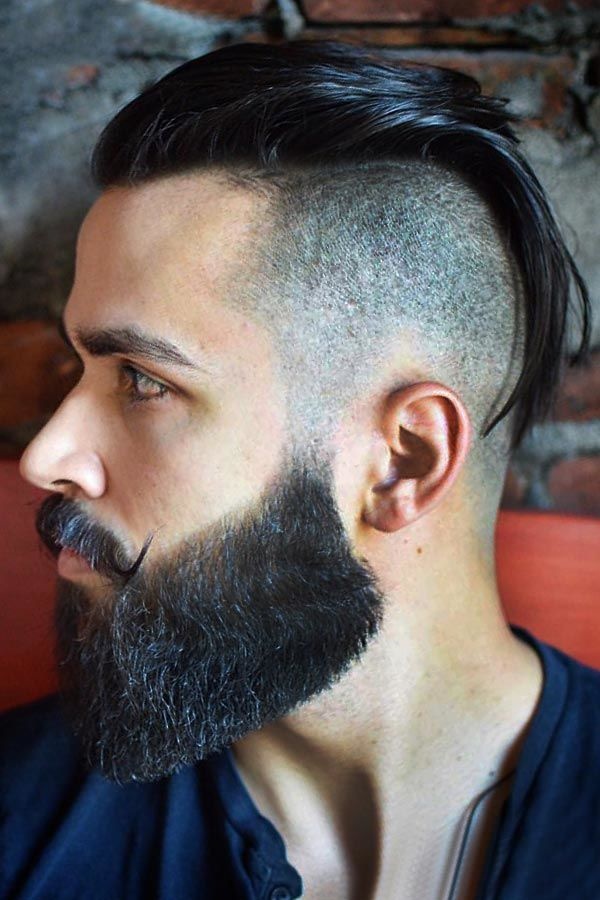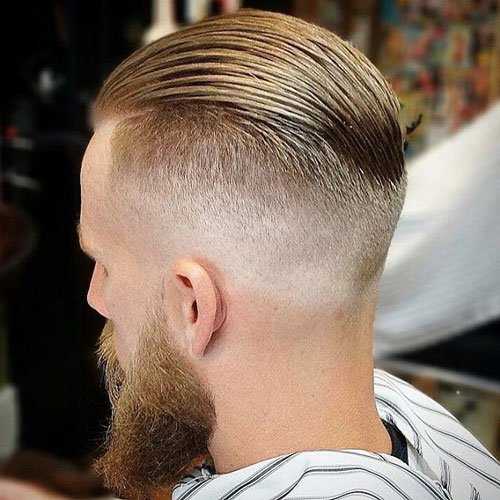 If the length of your hair is short, then this slicked back undercut with a beard. Taper looks like the top is running in one direction. This hairstyle is one of a kind. Anyone can get excited to know a lot of variations, and all of them offer a charming appearance.
12. Taper Fade With Quiff Haircut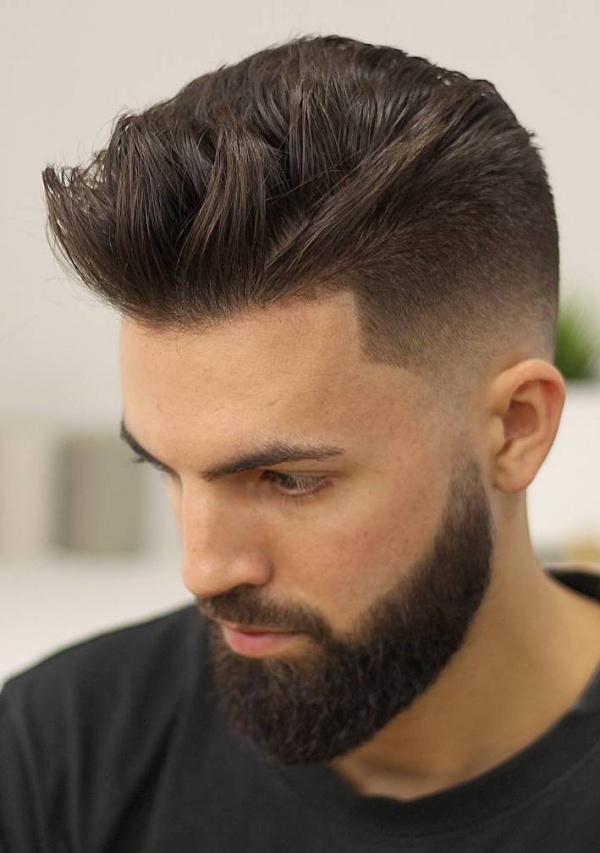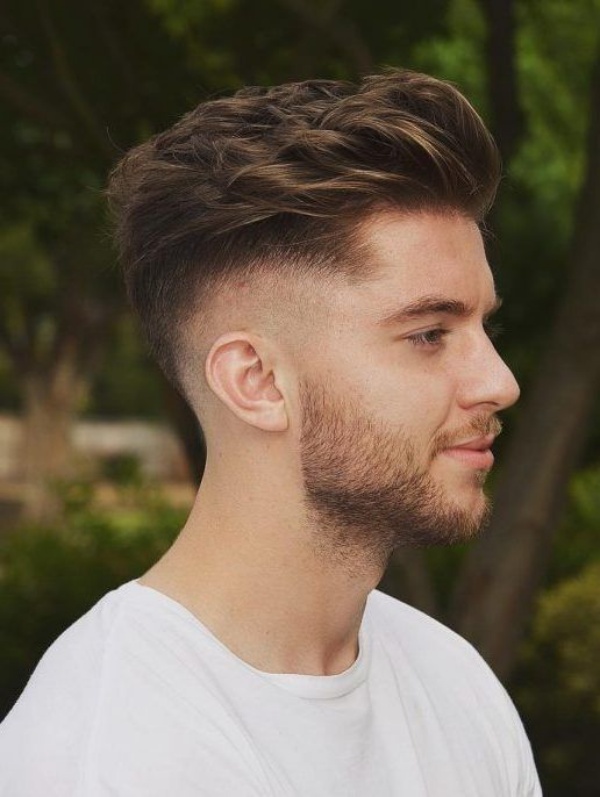 It leaves a V or an Arc shape at the back and flaunts a cool look. You can go for all, be it high, mid, or low drop fade. There are so many variations under this summer hairstyle for men. Quiff with neat drop fade offers an edgy, clean, and glossy look. Apply matte pomade to get a perfect finish to maintain this look. It goes with all lengths and types be it short, medium, or long. It flaunts a classy look for your social and professional life. Medium length haircut will keep your quiff versatile and easy-going. Quiff with neat fade is generally trendy among youngsters.
13. Textured Haircut With Fade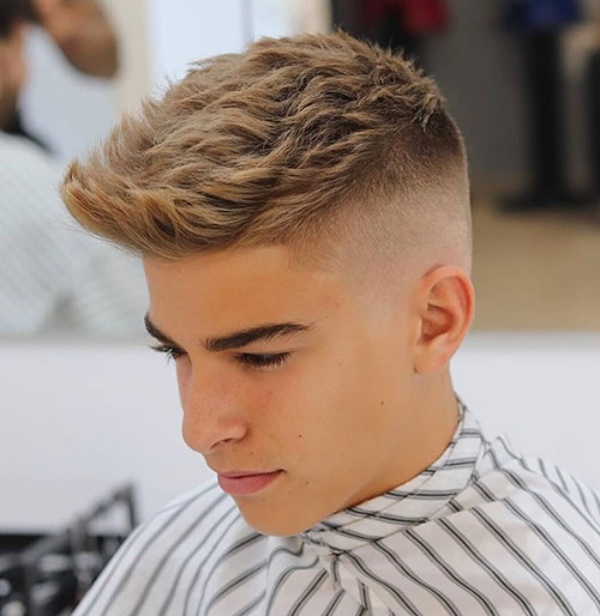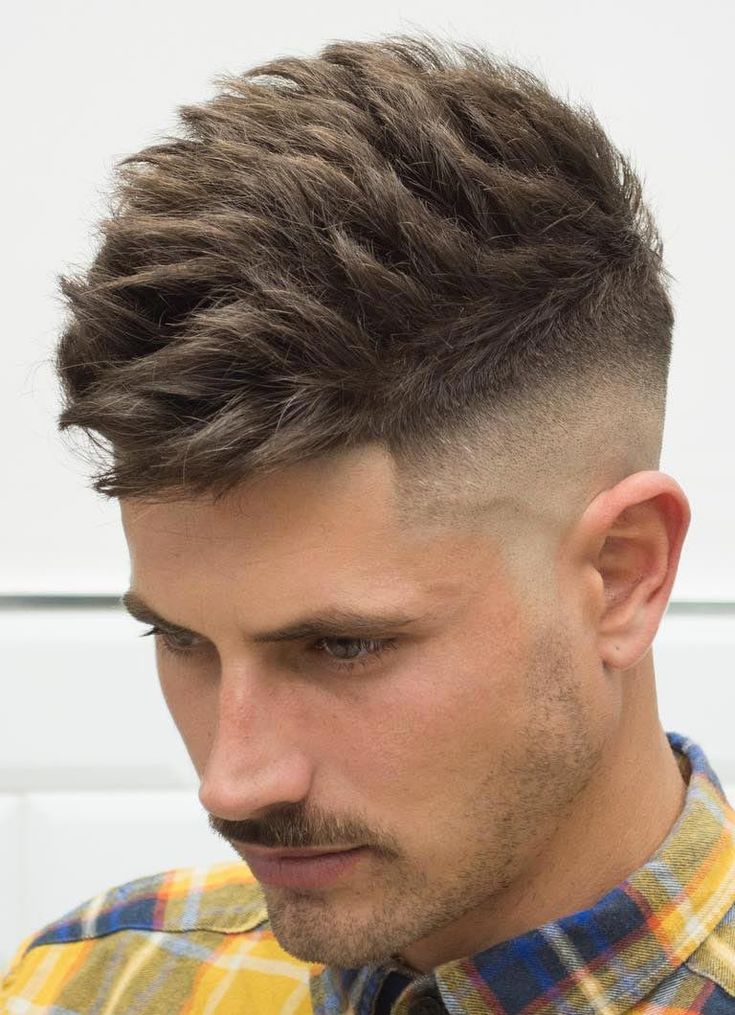 Over the years, the craze of long hair in men has undoubtedly grown. Some experiments with the textured haircut along with short hair on the sides indeed offer a stunning impression. In the recent past, long hair with shorts on the sides has become trendy. This hair allows men to style their hair in multiple styles according to their preference. For a change, you can keep the hair on the sides cropped. This will offer a stunning look for men of all ages, especially youngsters. This balanced hairstyle will be a good fit for men wanting a twist to their ordinary hairstyles. This hairstyle guarantees an edgy and aggressive look that is bound to look stunning.
14. Side Part Pompadour Haircut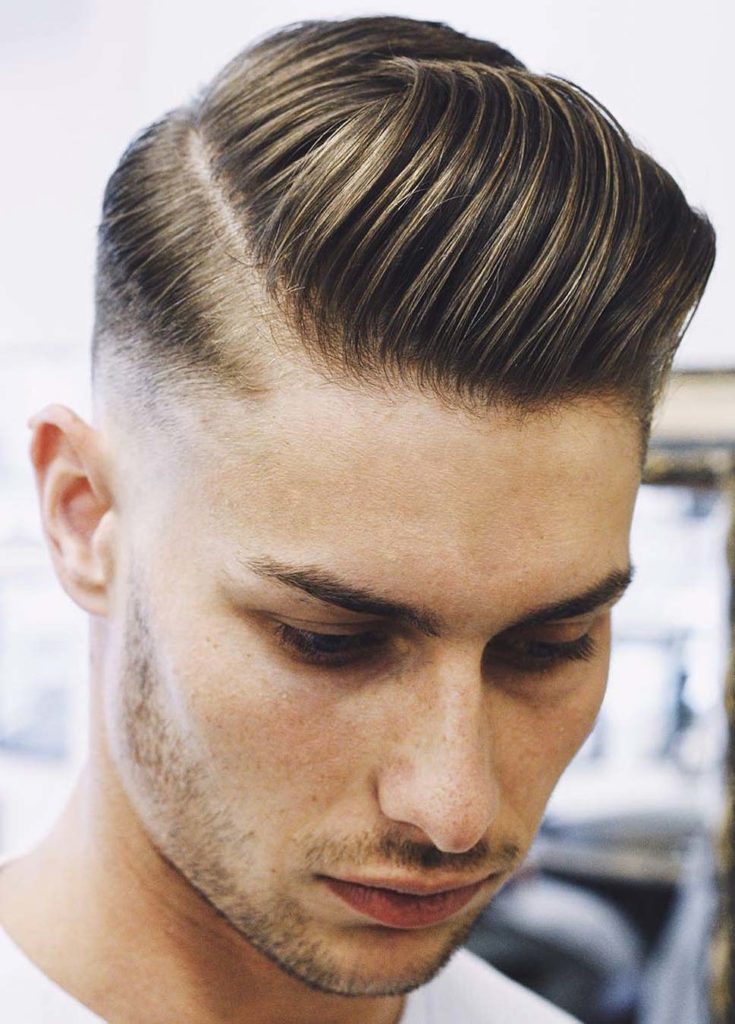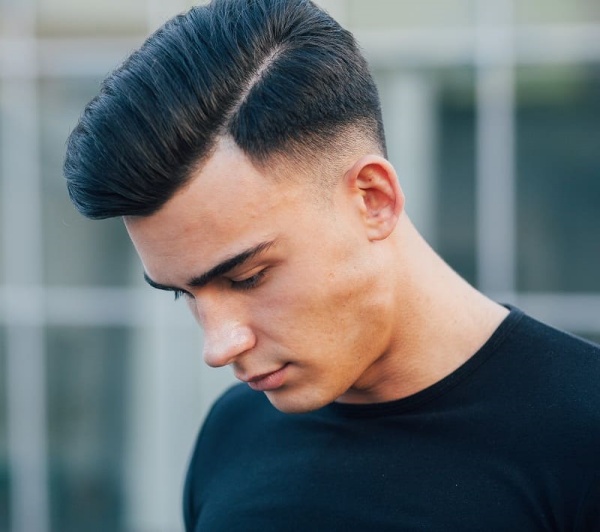 This is the most popular haircut which is preferable for all time. This haircut is desired by all kinds of people and is very demanding. It gives you classy gentleman vibes. It is structured, neat, and shiny. Matte products will do so much good for pompadours with side parts and fade. This adds extra volume and needs a lot of maintenance and time. A high bald fade or shaved sides to highlight the longer hair on top will do a lot. A well-groomed beard will complete your look.
15. Buzz Cut With Long Beard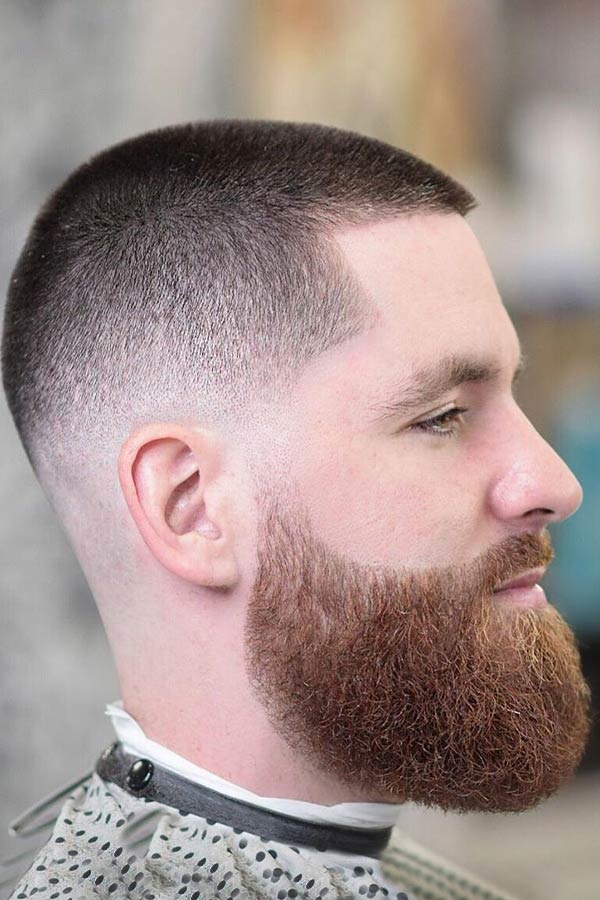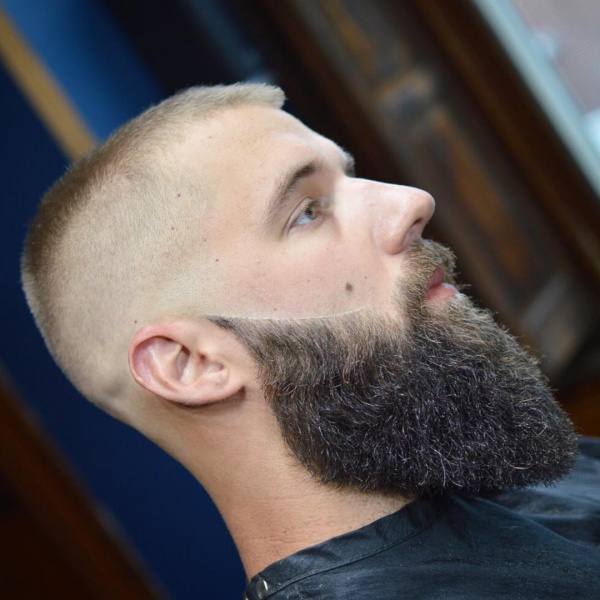 Buzzcut with a long beard with mid-skin fade help enhance the volume of your hair. It is crisp, dashing, and sophisticated. This is also amongst those "clean-cut" hairstyles and is mainly preferable by teenagers for being easy to style and maintain throughout. This transition is suitable for all hair types; wavy, curly, thick, and straight. It offers a combination of classic and modern trendy haircuts. This is one of those hotter haircuts.
16. Man Bun With Beard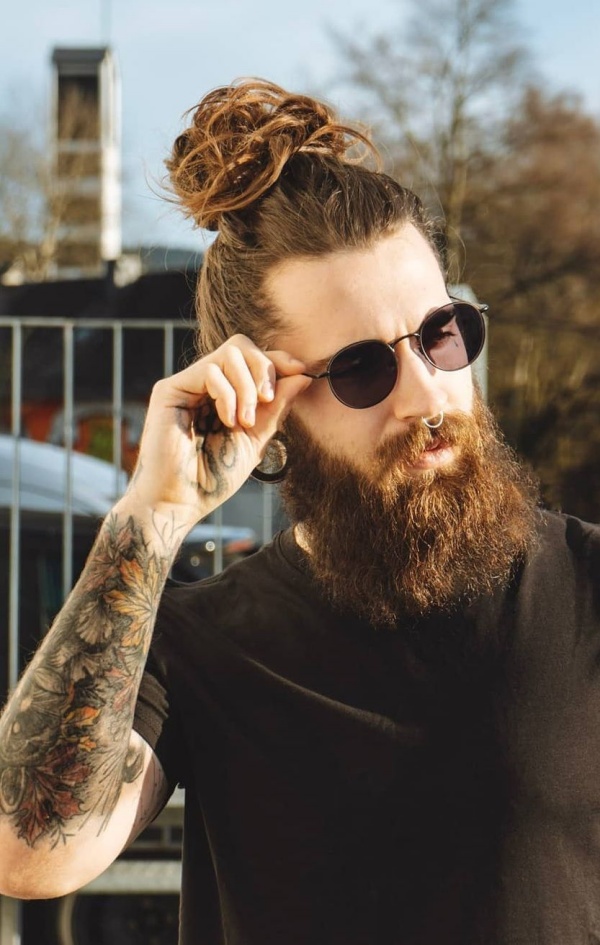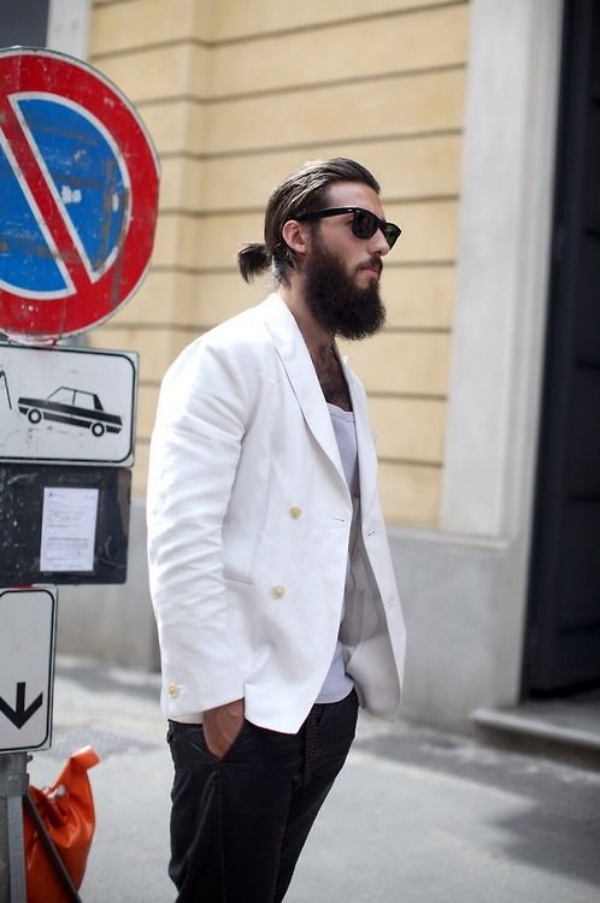 It's so exciting to know that a man bun with a beard is still stylish and trendy among summer hairstyles for men. Here you get so many options; the whole bun, the low bun, the half bun, or even the undercut man bun. This man bun with a beard flaunts unique, rare, and classy vibes.
17. Caesar Cut With Taper Fade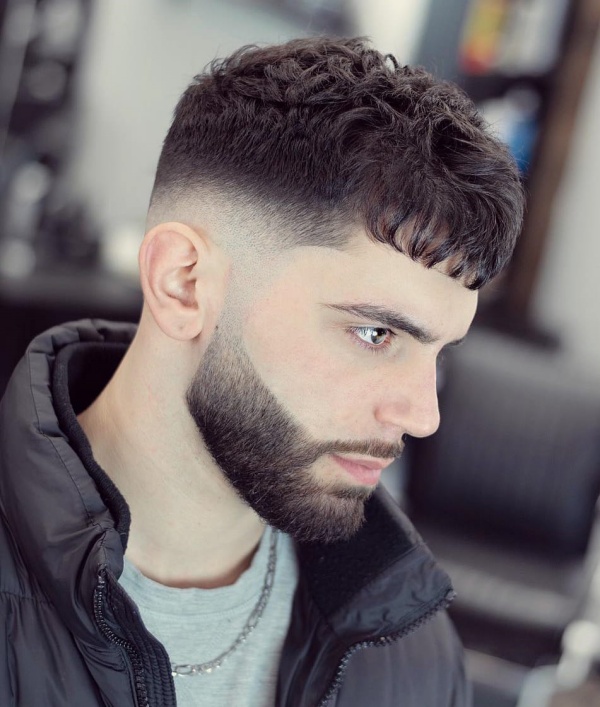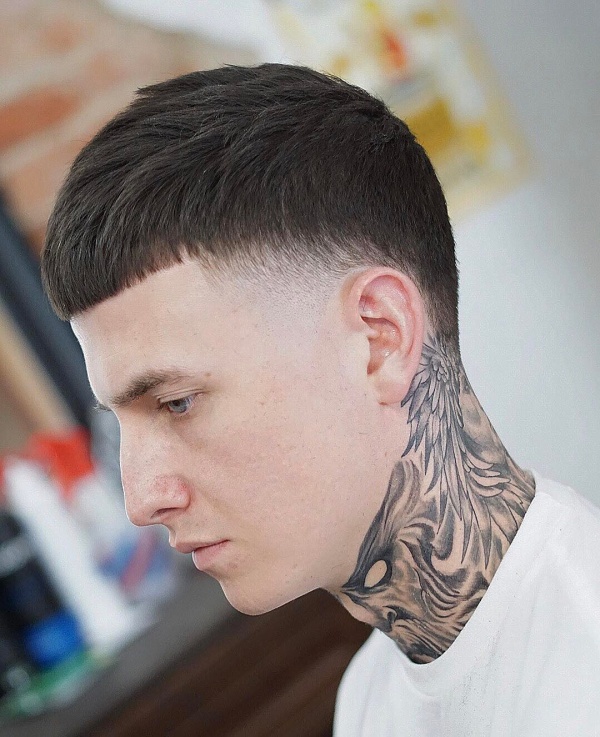 This offers a glossy, classic, and sophisticated look. You don't have to spend hours spending your time on this haircut as it is versatile and timeless. This covers most of the front part of your forehead, thus giving you a classy look. This smooth and blended finish haircut is preferable by many artists and singers. People call it "fresh and fashionable." This also comes under "short on sides long to top" hairstyles. This goes for all lengths and types of hair, and a slight beard will spice up your look.
18. Cool Crew Cut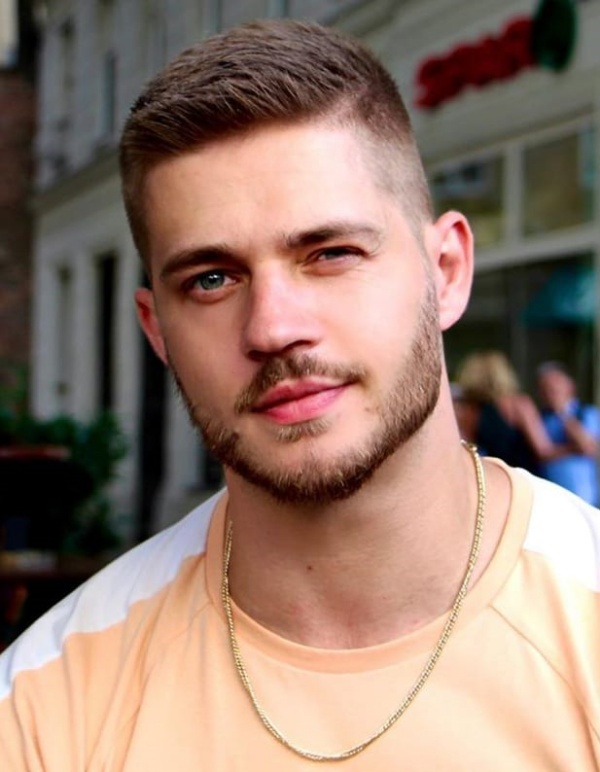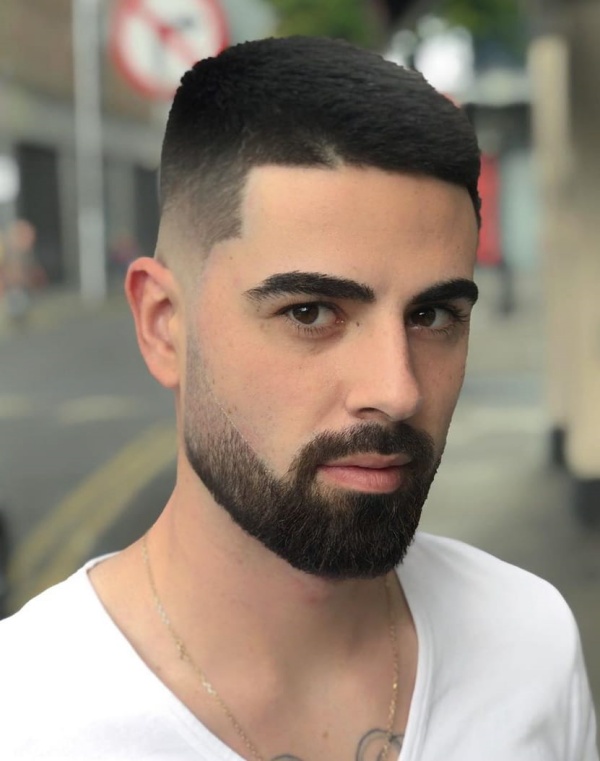 It goes well with all types of hair be it short, long, or medium. It is so famous among teens as it makes them look cool and good. This hairstyle needs layering. This crew cut is one of the trendiest haircuts. It is ideal for both; curly and wavy hair types. There are almost ten different unique cut hairstyles with such classy results. It offers an edgy and smooth texture, and also offers you a professional look. If you seek a slight change in look for different occasions, you can apply wax or gel.
19. Faux Hawk With Shorter Sides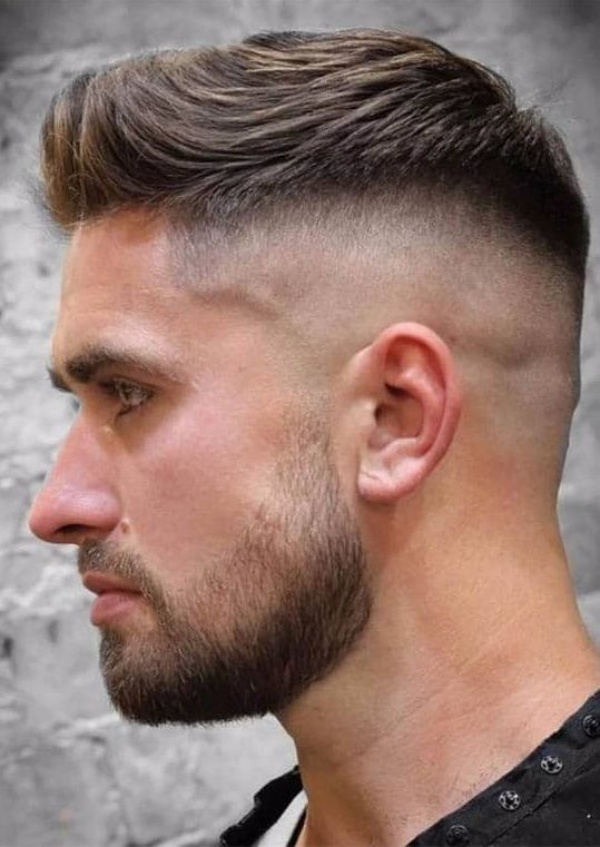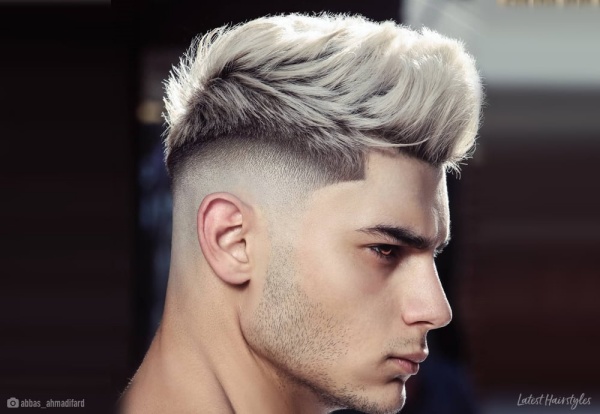 This allows plenty of styling options and several different looks. This style comes with the possibility to set some of the hair on top towards the middle. It limits stiffness and provides plenty for your hairstyle. This haircut is now edgy and trendy. Faux Hawk looks like a dream haircut. It is sexy and laidback. Ensure you use both hands to push your hair together to maintain the basic 'hawk' structure.
20. Curly Hair With High Razor Fade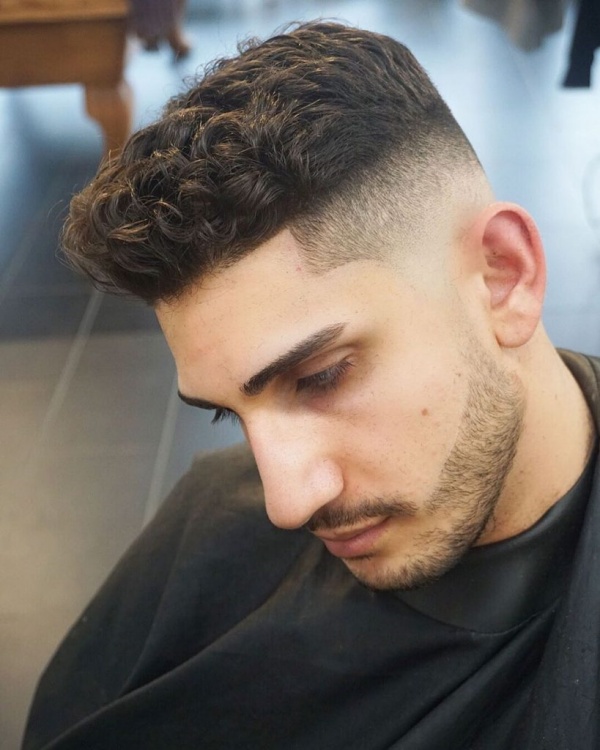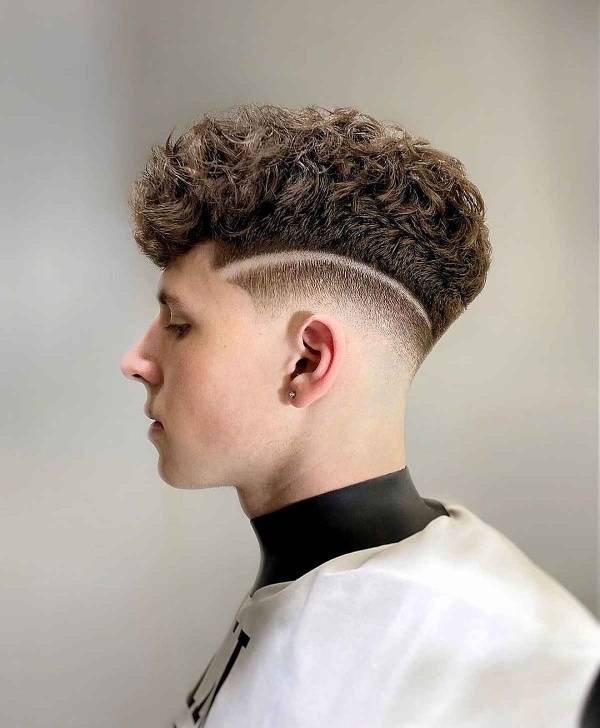 By hearing the 'curly' word, we automatically assume that fizzy, sassy, and cute look. Yes, it isn't easy to manage, but you will have a downright cool and utterly cute look once you have taken charge. With the craved length, your hair will grow a wavy, curly, and preferred look. It is not an easy or low-maintenance look, but after you look after it suitably, you will have the desired look. Long curly hairstyles are preferred over anything else to have your locks go attractive. The high razor fade gives a good hairstyle.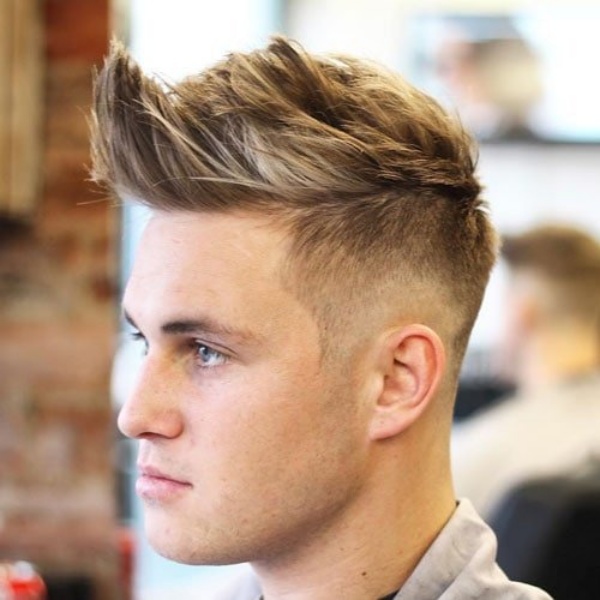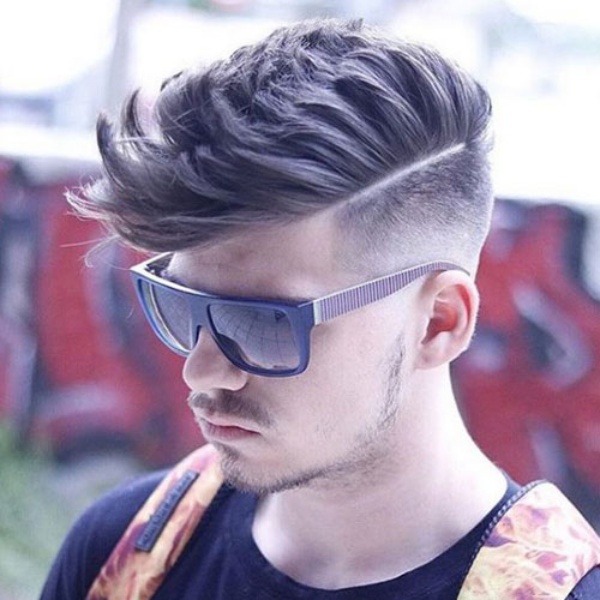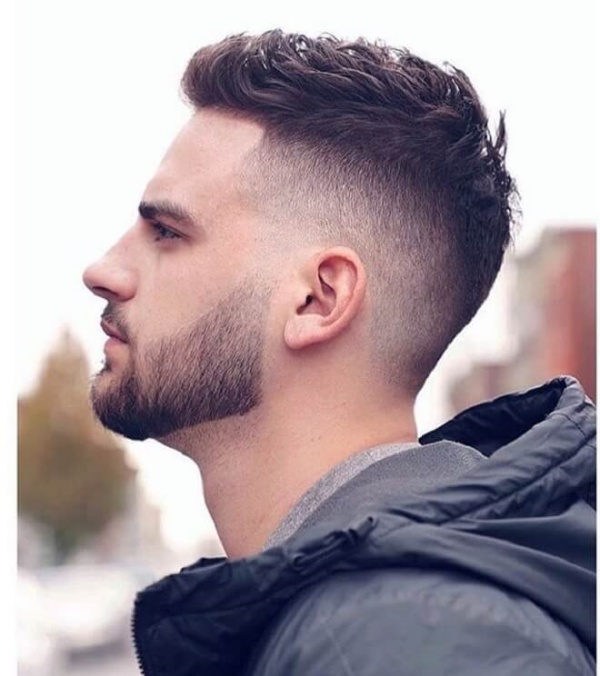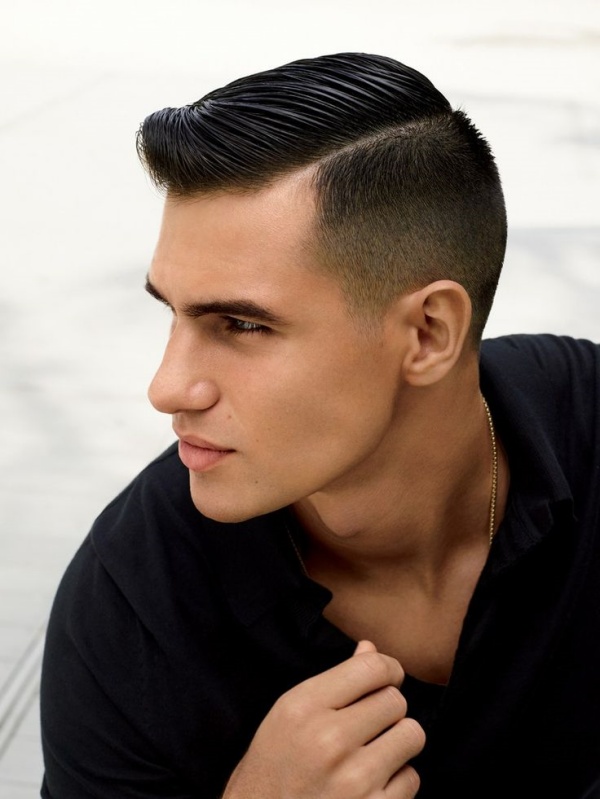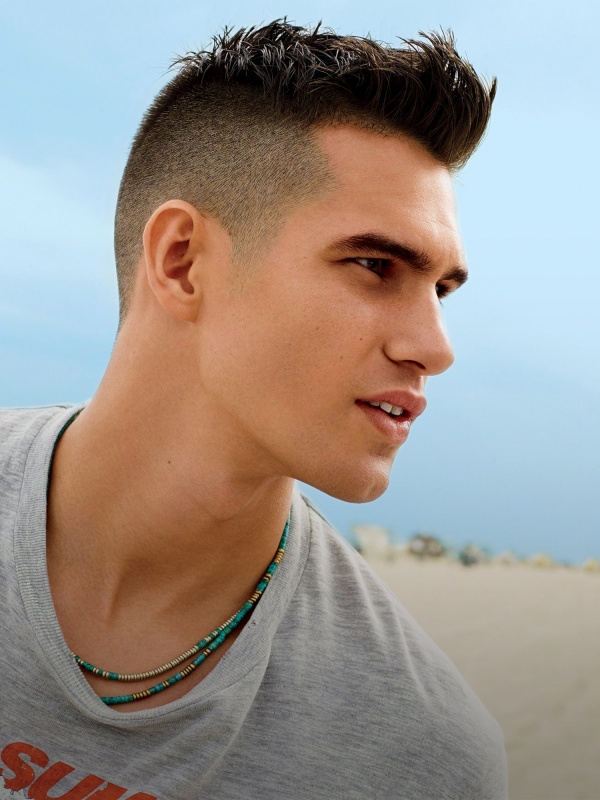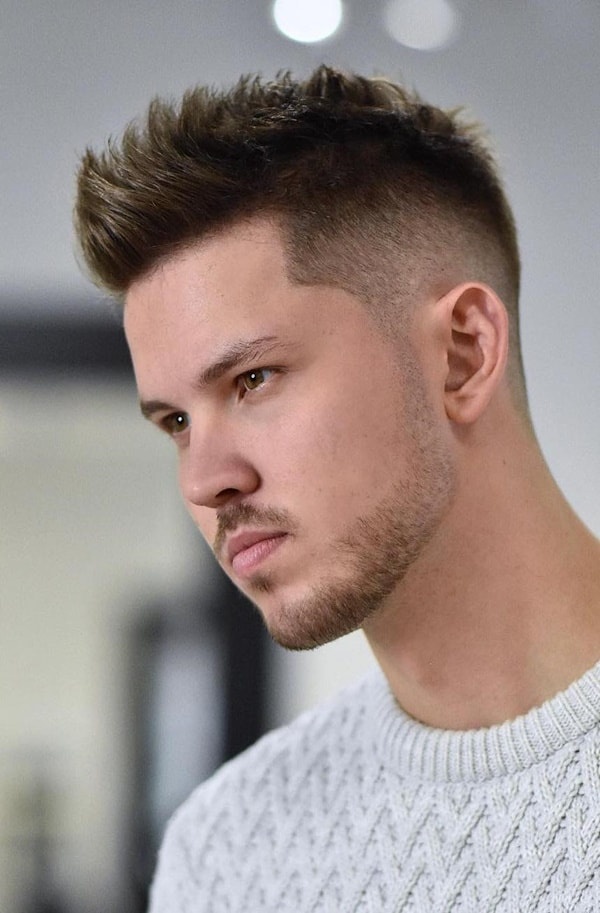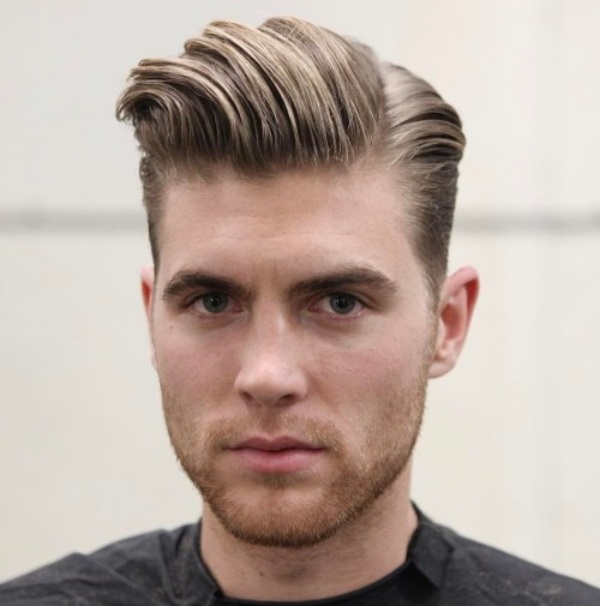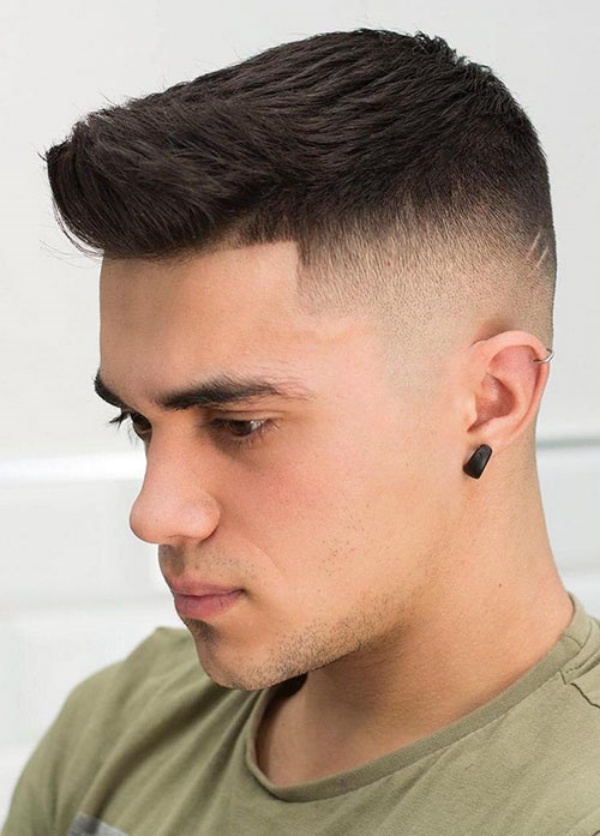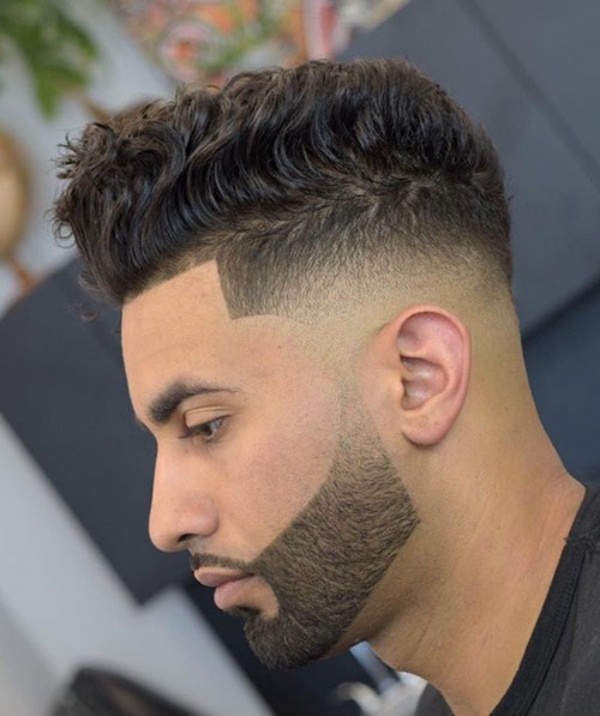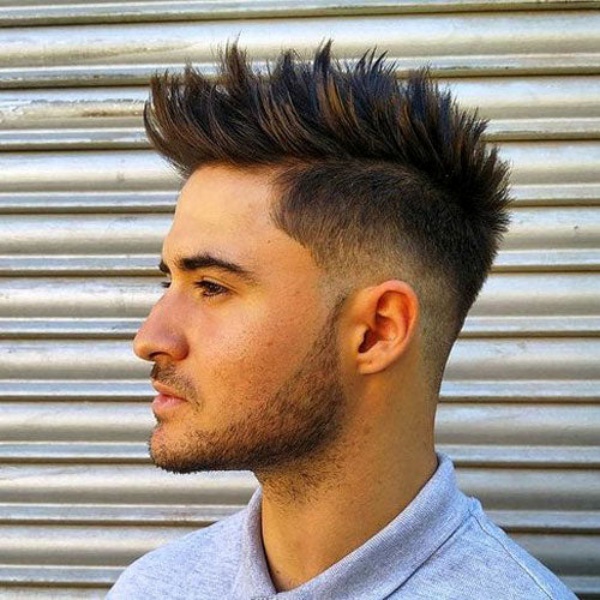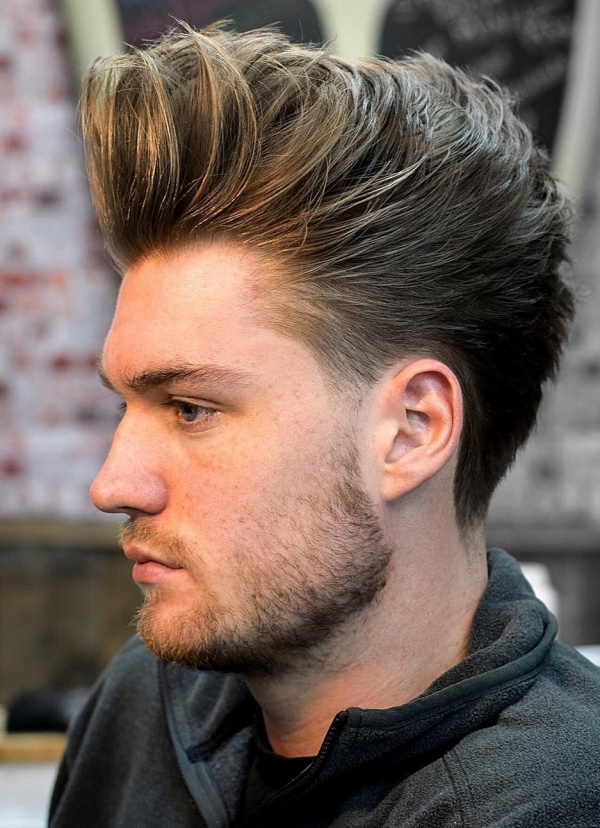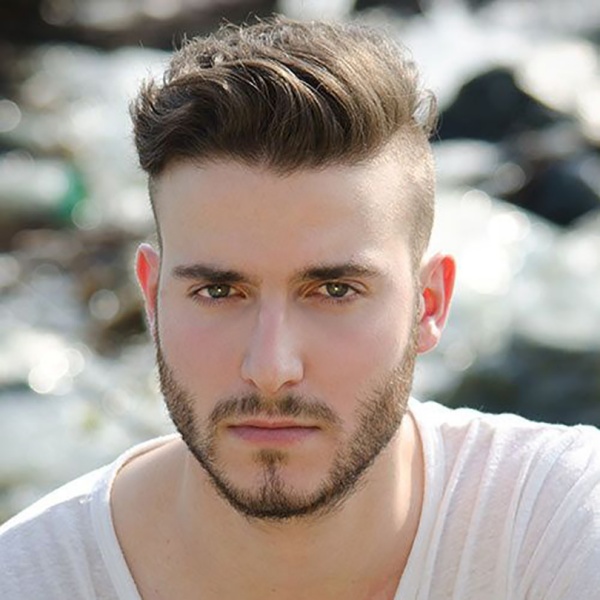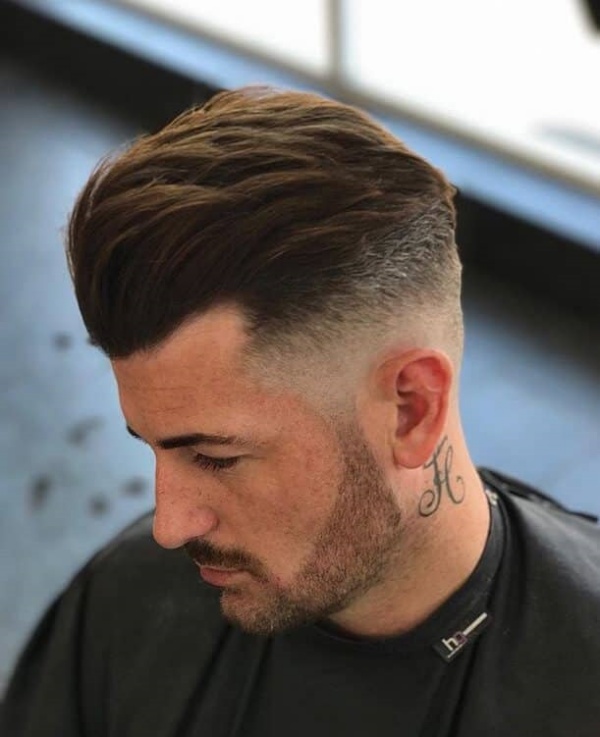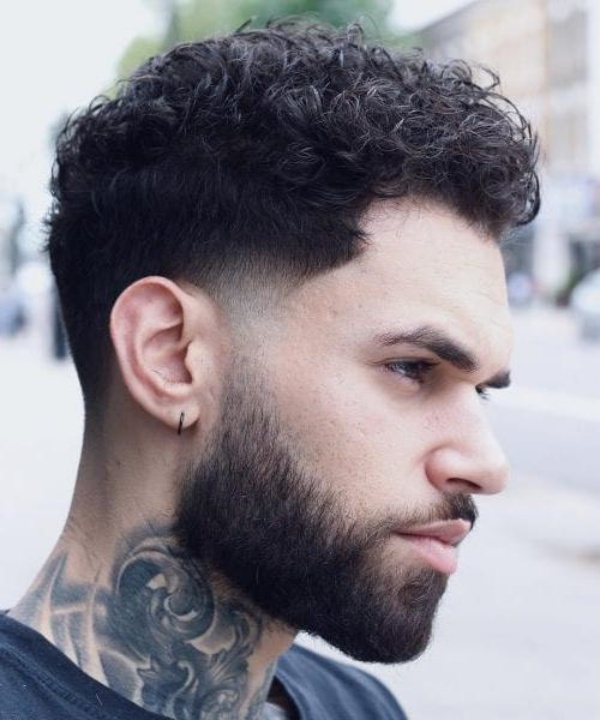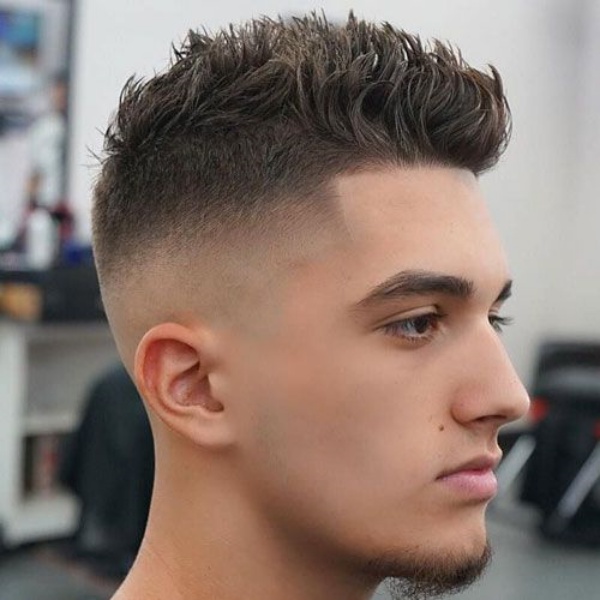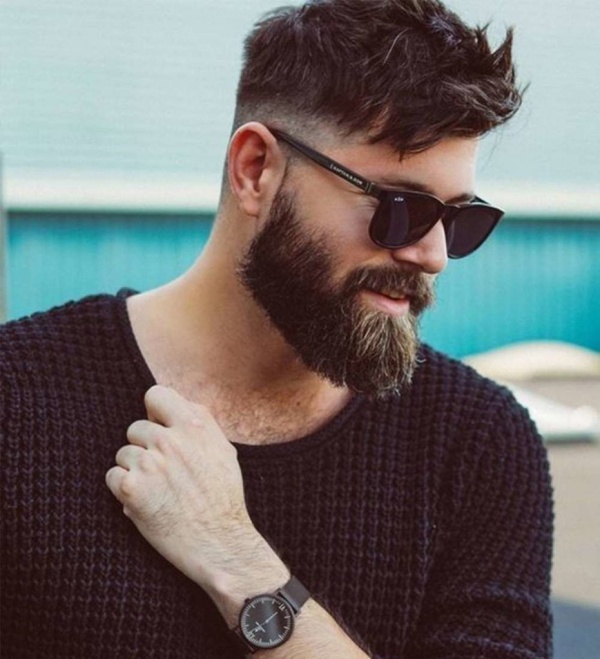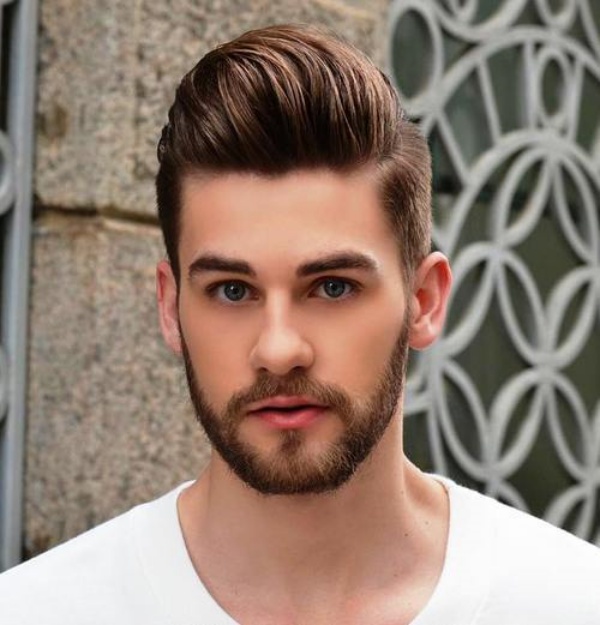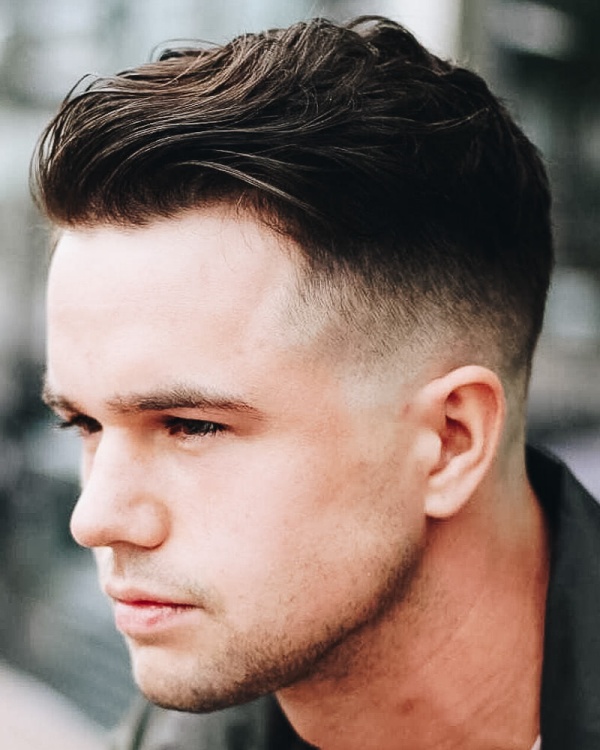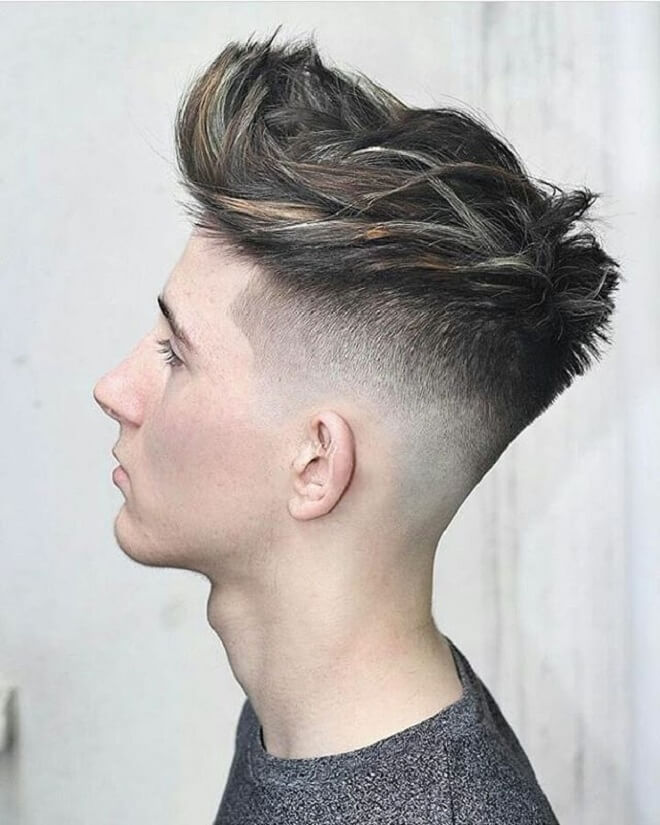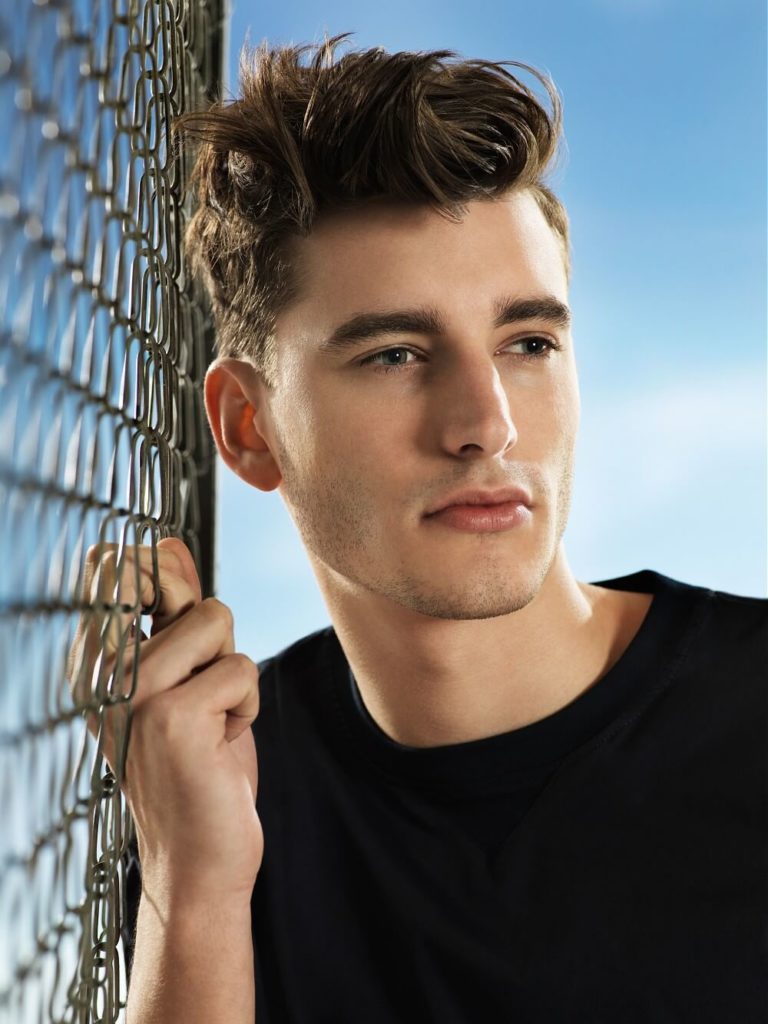 Conclusion
The love for trending hairstyles goes a long way when it comes to men. However, when it arrives at hairstyles, it grows quite a tough catch for men. Trying trending hairstyles styled with a personalized touch has grown to be quite a hobby for men. Additionally, when they try testing with the classics, it becomes more appealing and demanding. Thus, even though most of the summer hairstyles for men are pretty appealing, you would need quite a bit of idea to learn which would suit your look. This article, however, makes the task perfectly easy for you when you have to pick. The hairstyles suggested here are specifically picked for all hair types. Thus, if you query which hairstyle to choose, you can shed all concerns even now as you can wildly choose among the extensive range shared here. Have a peek at the styles listed above and try one for your own!
Check Out: