It is quite commonplace to assume that the African American race has naturally thick hair. They have rich growth and we envy them for the quality of their hair. There are so many different kinds of hairstyles that black men can try out, which normal folks such as you and I may not be able to think about. However, little do we know that it can actually get quite difficult for one to manage and style the hair, especially when it's both, thick and long. There are many different hairstyles for black men with long hair that have been trending for quite some time now. Some of the options include braids, twists, and dreads.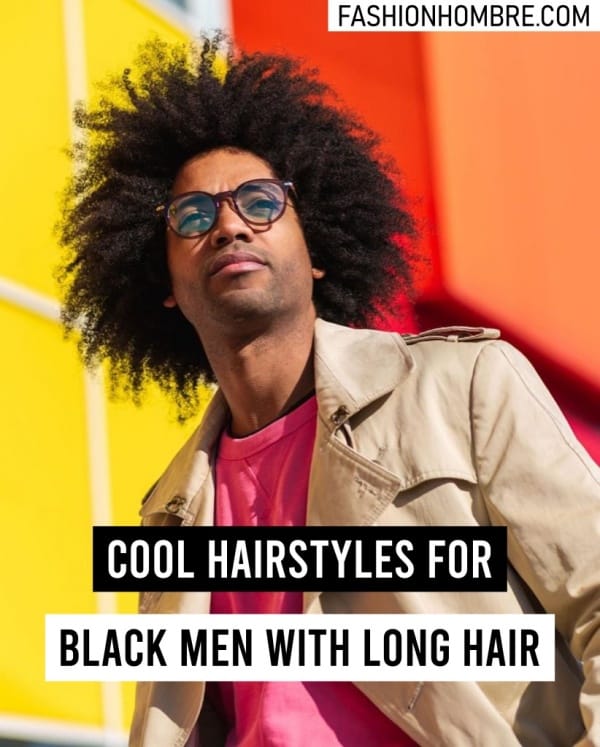 These are one of the best hairstyles to try out for black men, as not only do they look good but also, they are way easier to handle as well. These hairstyles especially protect your hair. You don't necessarily have to stick to these hairstyles. You can explore different options when it comes to long hairstyles.
Tips To Grow Long Hair
For both men and women, long and healthy hair is an attractive asset. So, if you are one who is interested in growing hair out but doesn't how to do it, then here we are giving you some tips for growing long hair. These are as follows:
You should massage your scalp with hot oil such as argan, coconut, or olive. Gently rub the oil in your scalp for about 5 to 10 minutes and after 30 minutes rinse the oil with warm water.
Always use a good quality and deep conditioner. Damaged hair does not grow so you must use a conditioner that will repair your hair follicles and increase hair growth efficiently.
Aim to brush your hair one or two times in a day as brushing your hair is good for increasing hair growth.
Drink a lot of water as drinking lots of water will provide moisture to your scalp which will lead to an increase in hair growth.
Eating a healthy as well as a balanced diet is one way to make your hair grow faster.
How To Maintain Long Hair?
A well-maintained head of long hairs can look implausible but proper maintenance of a long hairstyle can be a bit of a chore. Some tips for maintaining long hair are as follows:
Wash your hair properly using the best quality shampoo and conditioner.
Brush your hairs, if you will don't brush then hairs will be tangled which doesn't look good.
Use high-quality serum or gel for styling your hair.
In long hairs, there are split ends, so to cut them off visit your barber for trimming.
Don't use blow-dry or heating products, as they damage your hair.
Masculine Hairstyles For Black Men With Long Hair
1. Undercut Hairstyles With Dreads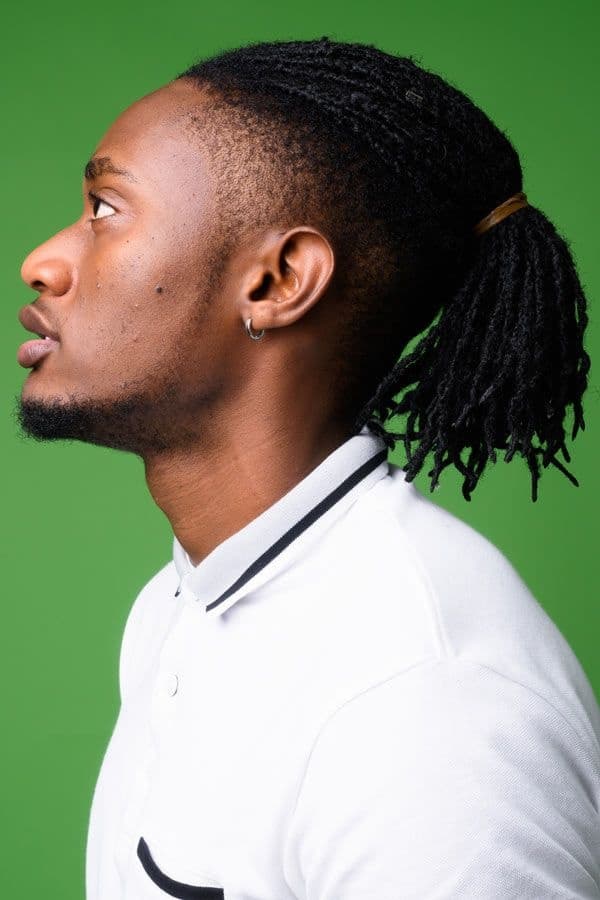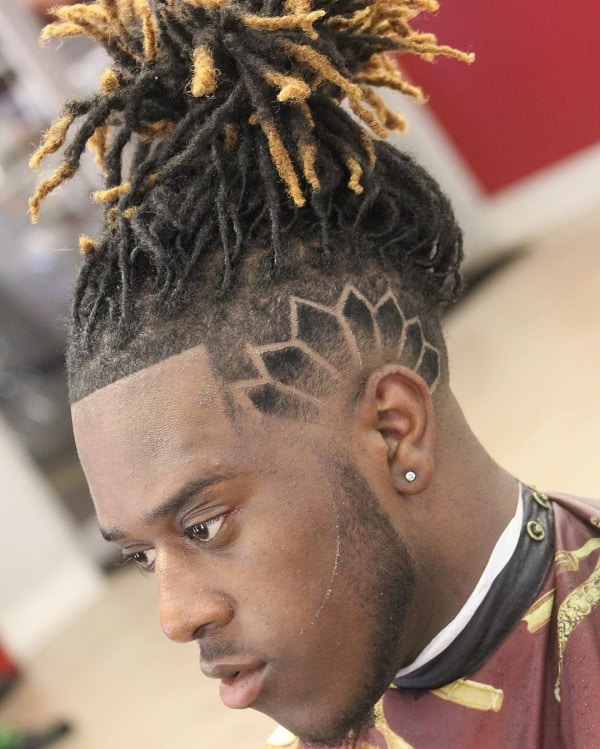 Dreadlocks have long been considered to be cool. Many youngsters often opt for dreadlocks and they are something that looks amazing on both, men as well as women. The appearance is further elevated through the slight push that black men make. Since they are naturally looking so tough, the dreadlocks make them look even tougher. This is actually one of the best things about black men with long hair. They can totally pull off a look by putting in minimum effort. Therefore, this also qualifies as one of the main reasons why this tops the list of hairstyles for black men with long hair.
2. Long Dread Mohawk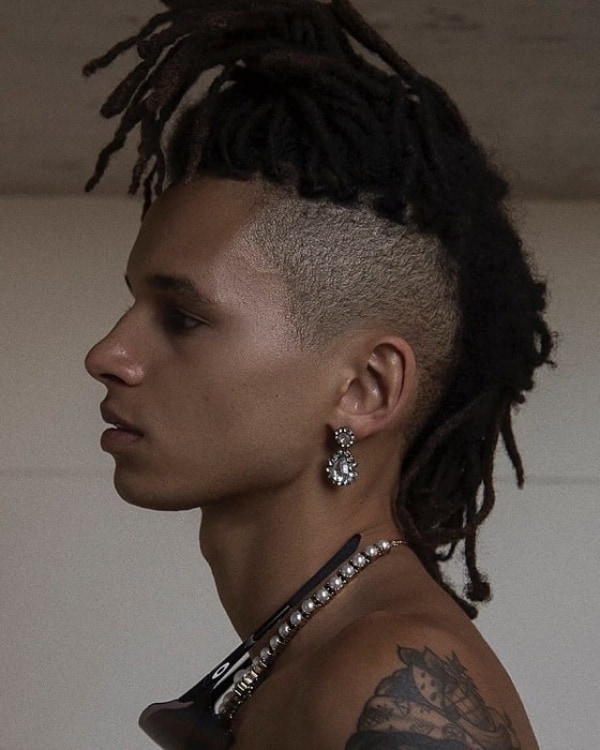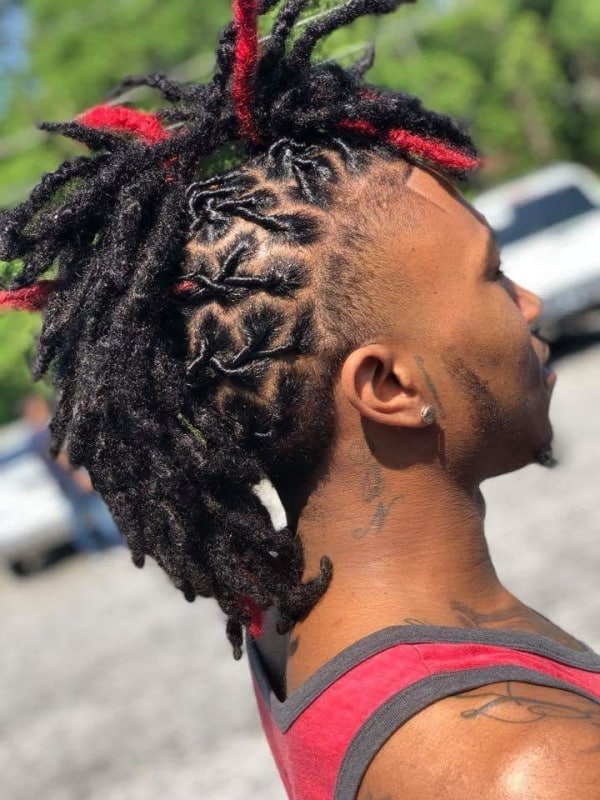 As we further ascend in this list, you will notice how we are constantly exploring different styles of options and all of them ultimately include a deadlock situation. Any kind of hairstyle that includes dreadlocks are perfect for black men with long hair. Now imagine yourself getting a mohawk with dreadlocks. For black men with long hair, they can carefully fall naturally towards the back of your head, giving you a stronger look. It also doesn't come in your way, by falling in your face constantly. Therefore, you are able to carry off long hair with minimum effort.
3. Black Dreadlocks Top Knot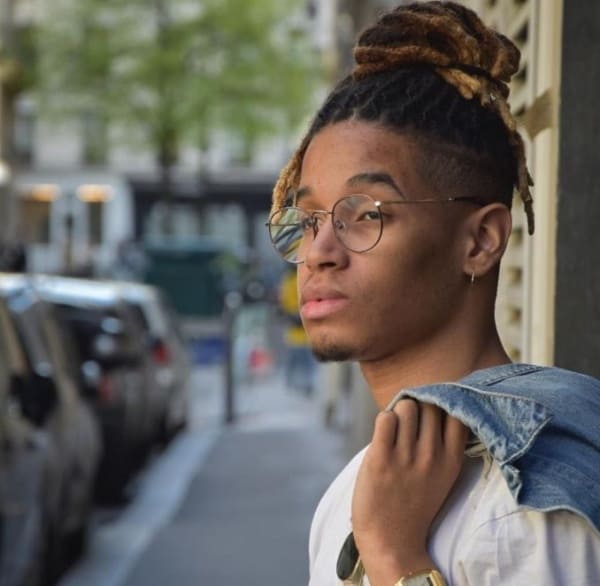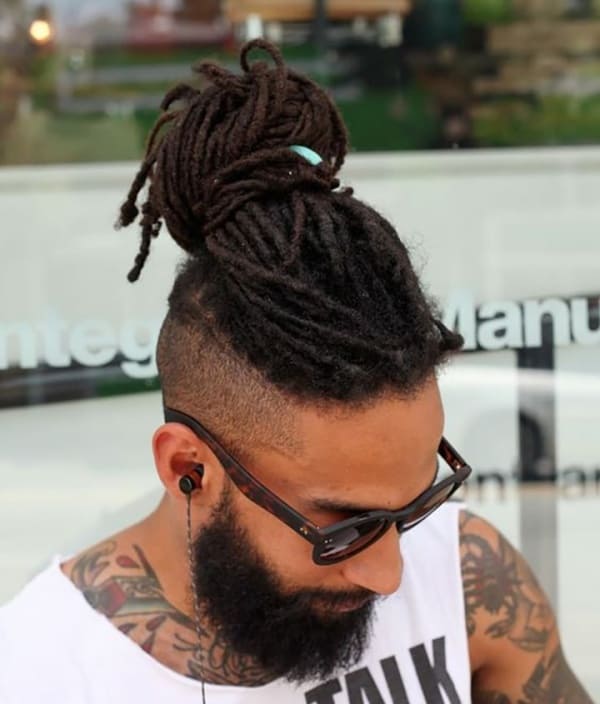 If you prefer to tie your hair up in a knot instead of letting it fall on your face, we understand. Sometimes, it's just easier to ensure that they don't fall on your face or your head feels lighter. It is during times like these that you can simply tie the dreadlocks up into a knot. These are considered to be cool summer looks that will ensure that you look relaxed as well as in your most essential vibe. These can fall under the 'summer look' category of hairstyles for black men with long hair.
4. Side-Parted Long Afro Hairstyles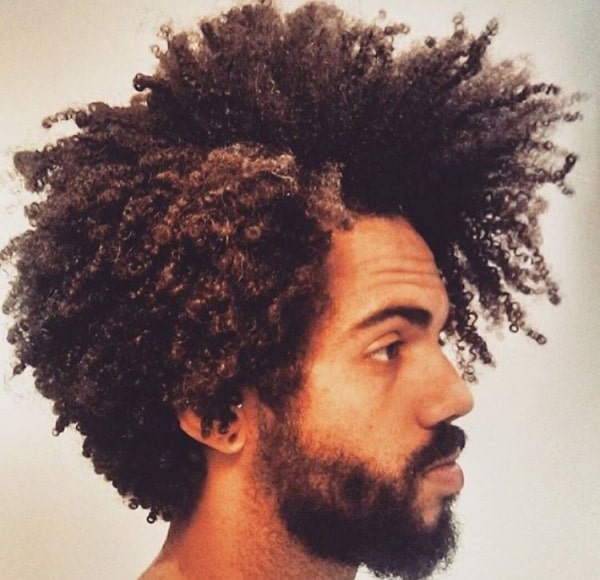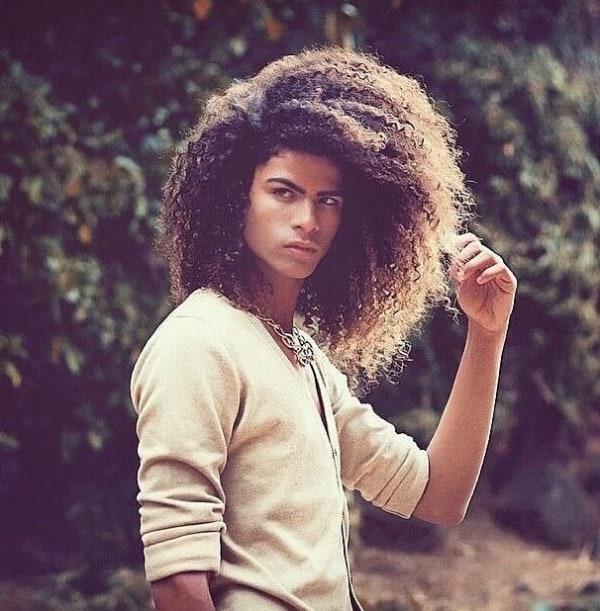 Some times, since you have a good volume of hair surrounding your beautiful face, you need not worry about going half bald or even side-parting your hair in a certain way. The main reason behind this is the fact that since you have a good volume of hair, it makes your face look round. The thing with side-parting is that you can simply go for it, as it will provide you both, style and comfort. This is among the few hairstyles in this list that does not include a dreadlock, so those who are looking for something easy may opt for this.
5. Three-Color Locks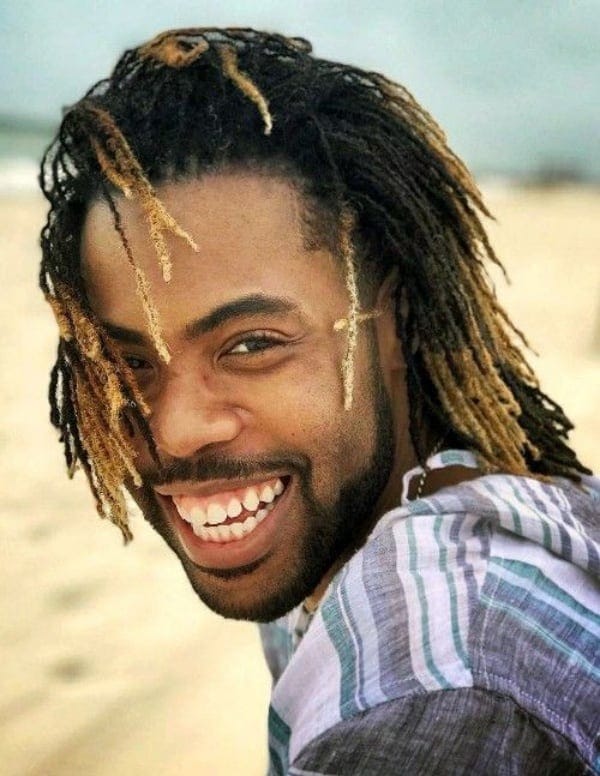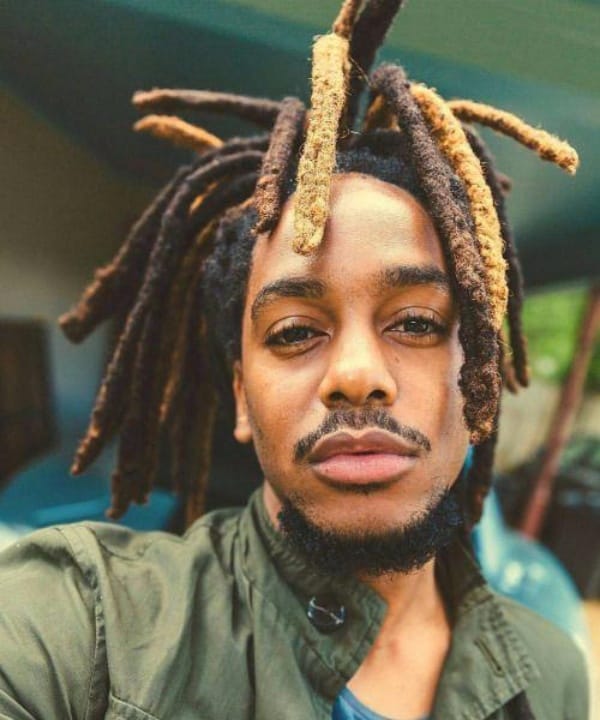 Top in the list of hairstyles for black men with long hair is Three-Color Locks. With this hairstyle, the color combination looks very amazing. The base can be natural dark hair whereas the locks themselves are blonde and brown. Moreover, the results are spectacular and are highly popular amongst black men with long hair.
6. Retro Haircuts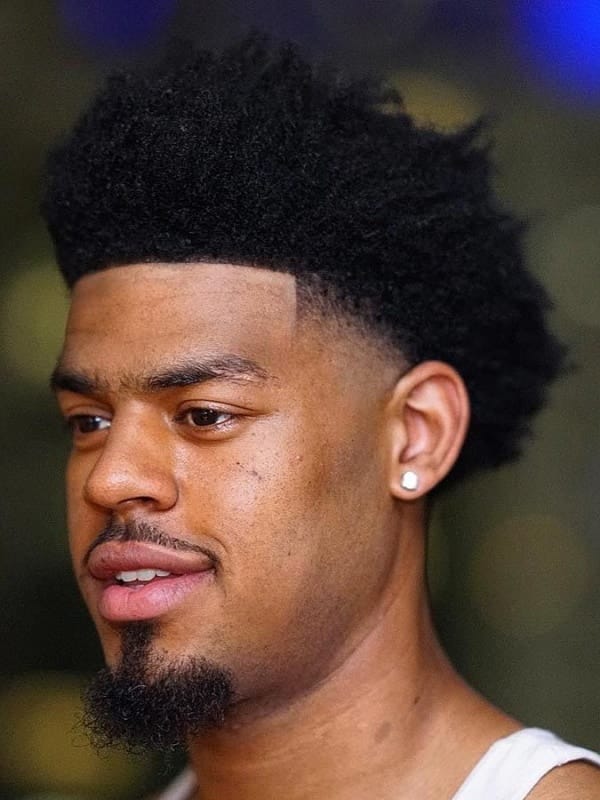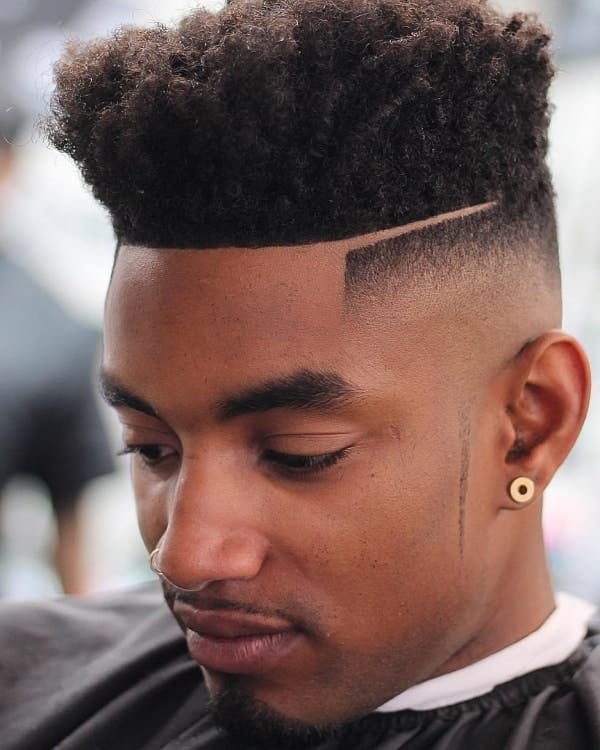 If you are the one who loves retro looks then this hairstyle is for you. This is highly preferred black male long hairstyles by those who admire the hipster subculture. Strictly ask your hairstylist not to shorten the length of hairs. Apart from this, brush them regularly so they don't get tangled.
Related: Short Hairstyles For Black Guys
7. Side Parted Braids Look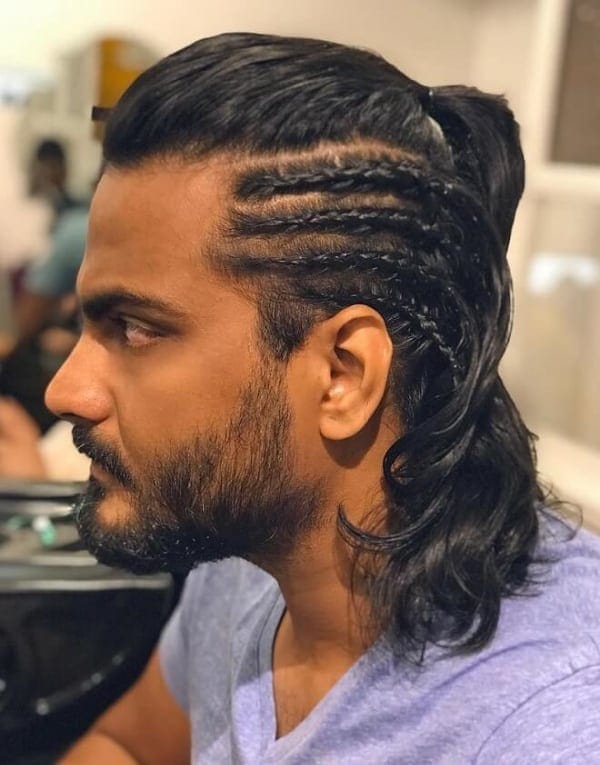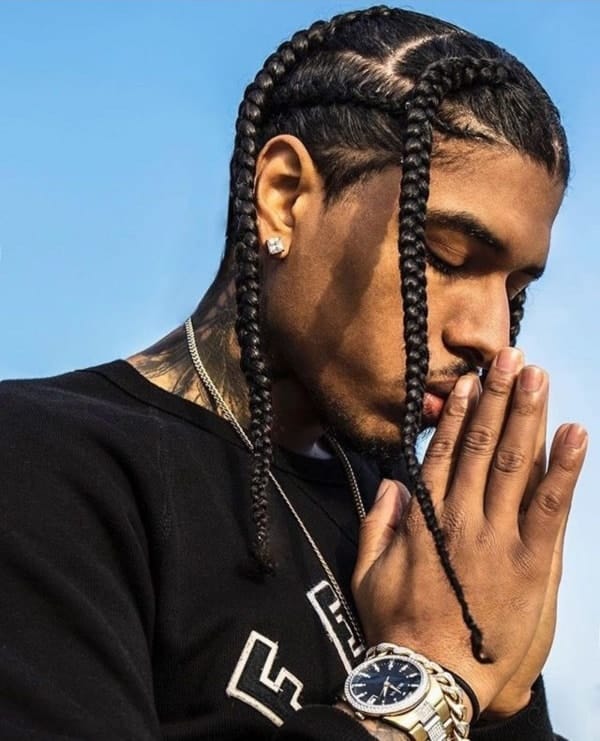 If you are looking for a hairstyle for a black man with long hair then you must go for Side Parted Braids Look. To get this hairstyle perfectly, you have to grow your hair at least three to four weeks before. This is an easy hairstyle that you can do by yourself. All you have to do is divide your hair into two portions into opposite sides. Finally, braid the portions separately and in front style them.
8. High Braided Bun Look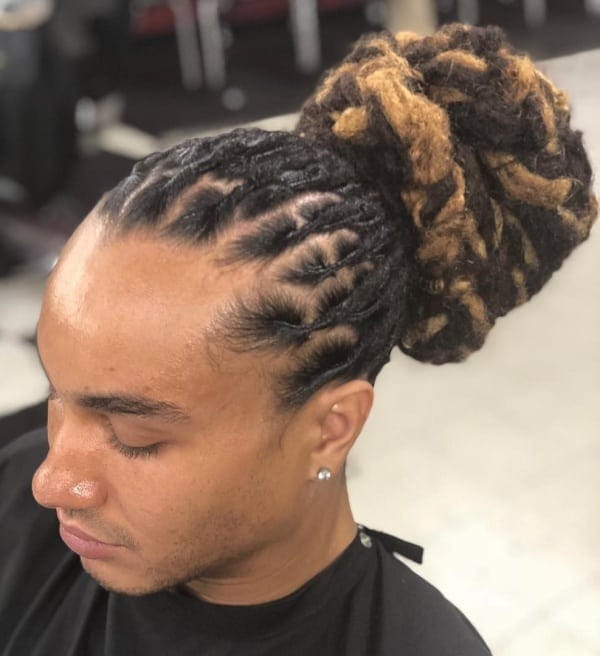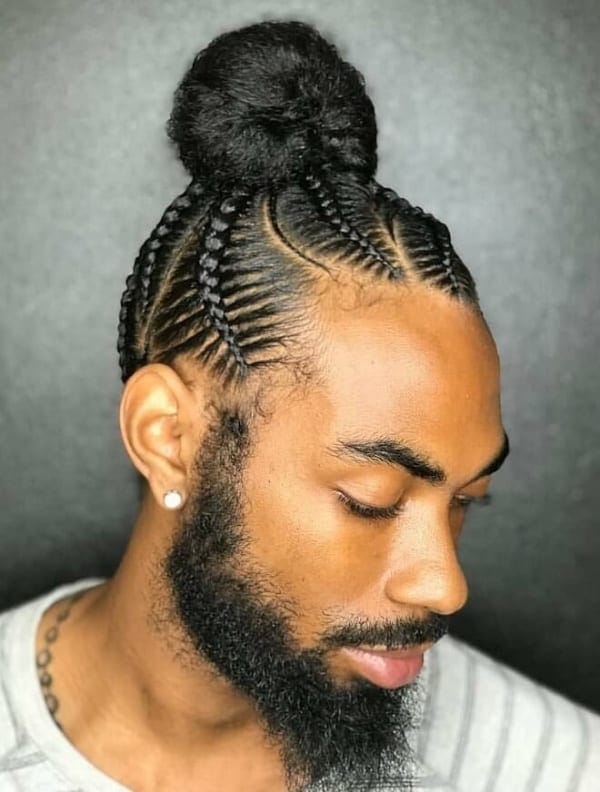 Black male long hairstyles come in various shapes and sizes. High Braided Bun Look is super trendy now and looks fantastic. To master this style you will have to grow your hair for a minimum of two months. Braid small sections of the hair and then using a rubber band tie these braids at the back of the head into buns.
Related: Hairstyles For Men With Braids
9. Natural Long Hairstyle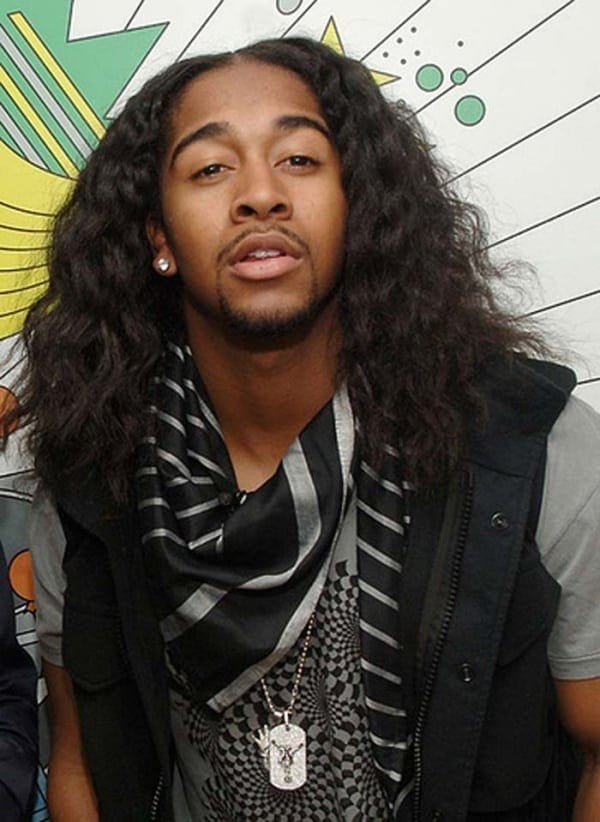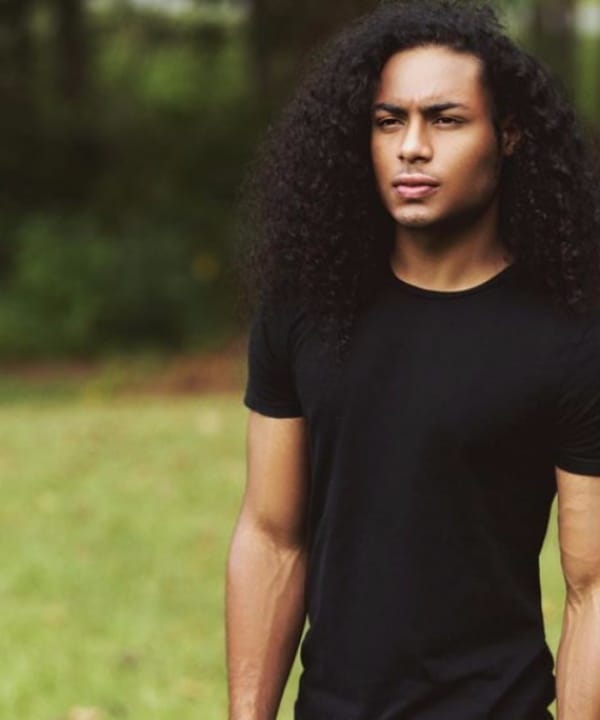 If you don't want to tie up a hairstyle for your long hairs, then you can go for Natural Long Hairstyle. Going natural is one of the most excellent things you will ever do in your life. You can ask your hairstylist to cut your hair in such a way to so it looks natural and stylish also. Apart from this, this hairstyle will require regular combing of hairs and their maintenance.
10. Layered Afro Hair Look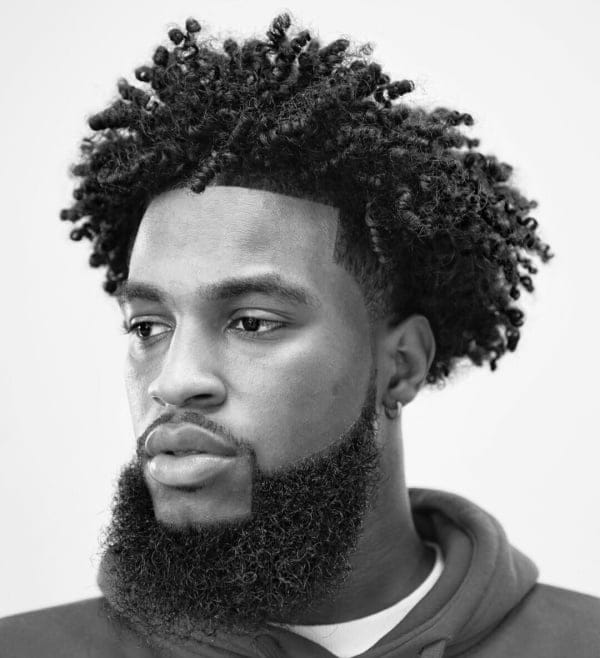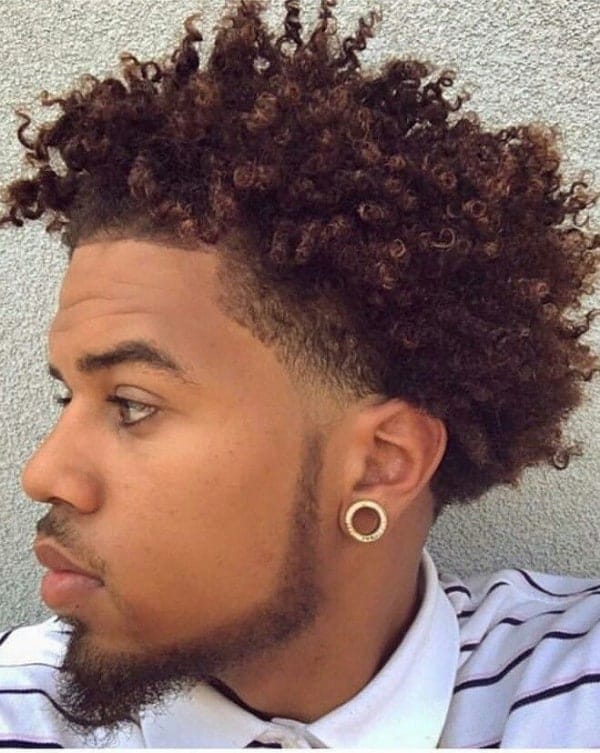 Next in the list of hairstyles for black men with long hair is Layered Afro Hair Look. This is the best for those guys who want to style their hair and want long hair. To get this style you have to ask your hairstylist to cut hairs into different sections and keep the hair on the top shorter than the hairs on the lower section of the head. Finally, cut the hair in a rising order beginning from the top of the head.
11. Jumbo Dreads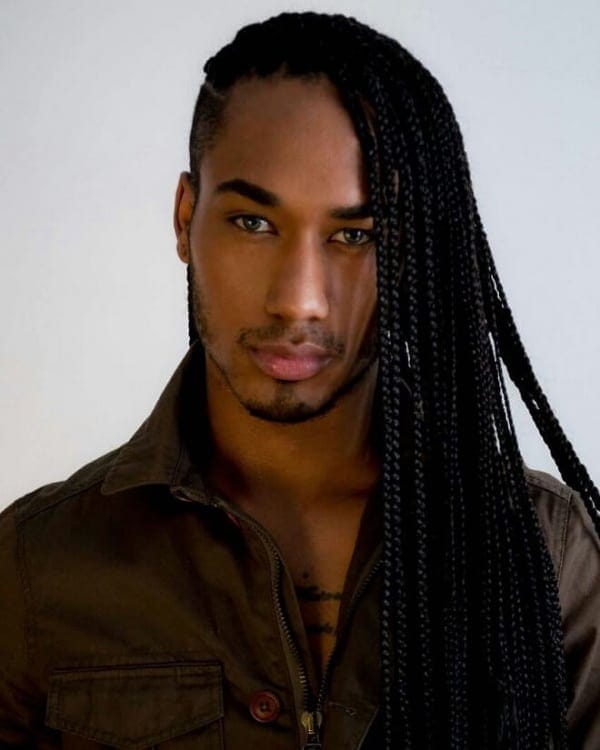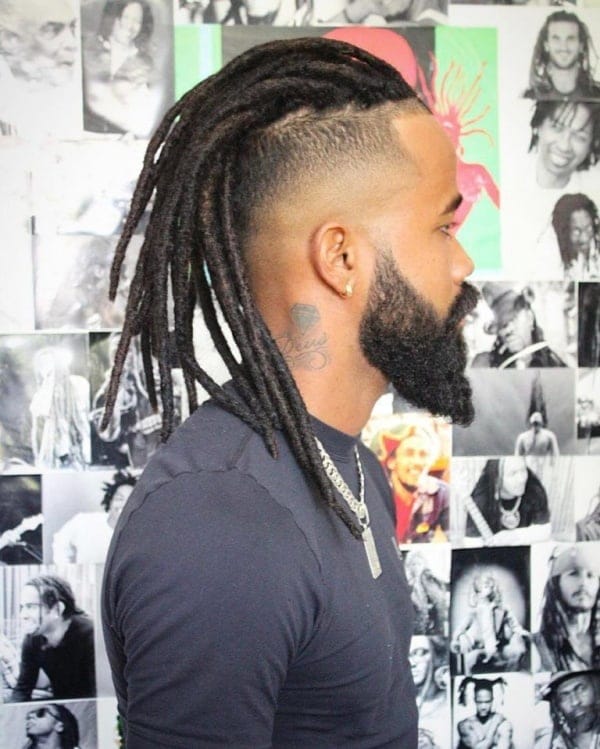 This is one of the unique hairstyles for a black man with long hair. Jumbo dreads are very stylish and with this, you will stand out of the crowd. This hairstyle just has that space of creativity and artistry around them that is hard to find in other hairstyles. Therefore, the Jumbo Dreads hairstyle will give a bold notion and overall a super stylish look. You will also need to invest in some good hair care products so that you can keep this hairstyle manageable.
12. Punk Afro Hairstyle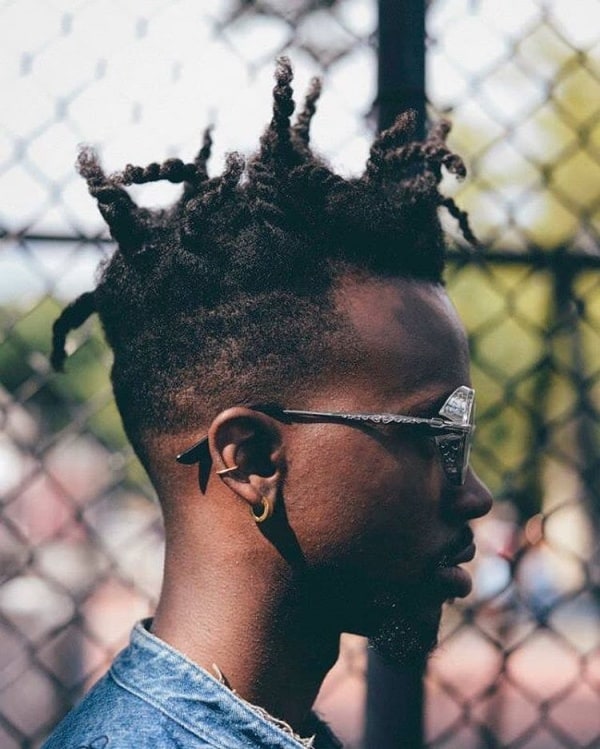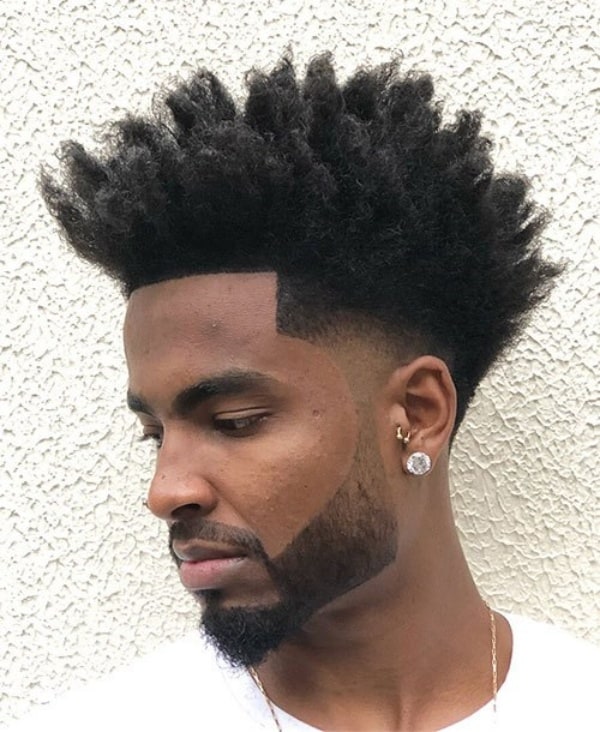 If you're looking for something that is outside of normal, you may want to consider getting a punk afro hairstyle. This is actually among the best ones that you can get if you're considering a rebellious look. It is an attention-grabbing hairstyle that will surely fulfill the style quotient in you. You need not worry about these things as they are the most effective when tried out spontaneously. Depending on your face shape and structure, you can get the punk afro hairstyle.
13. Long Finger Curls For Black Men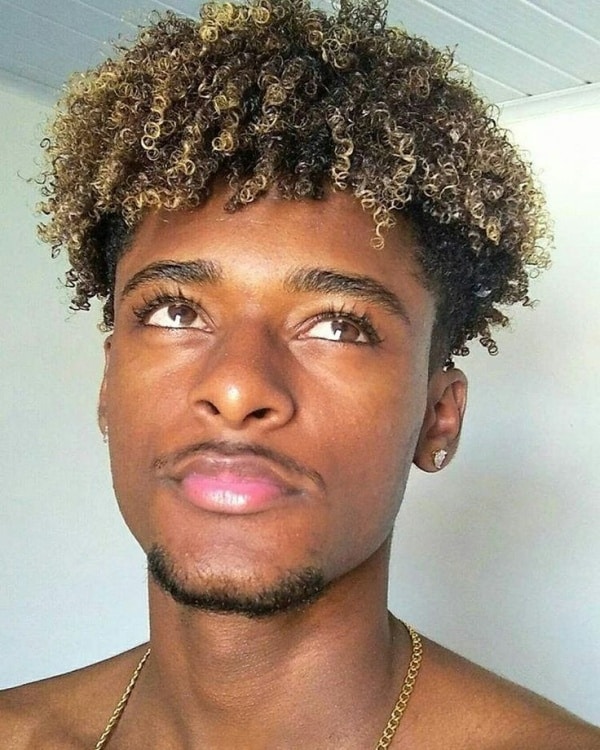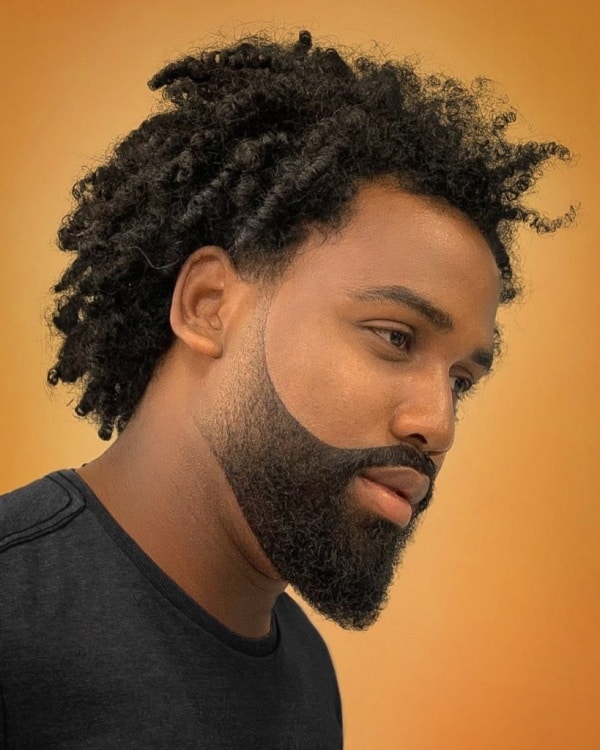 This hairstyle has been trending among the audience for quite some time. It is most popularly bought together by the celebrity culture. Many rap artists can be found casually sporting this hairstyle. This should actually not come across as a surprise because this uber cool look really brings the true gentleman out from you. You can experiment with coloring your hair if you'd like to have long finger curls. It is actually not such a bad idea after all.
14. Blonde Dreadlocks For Black Men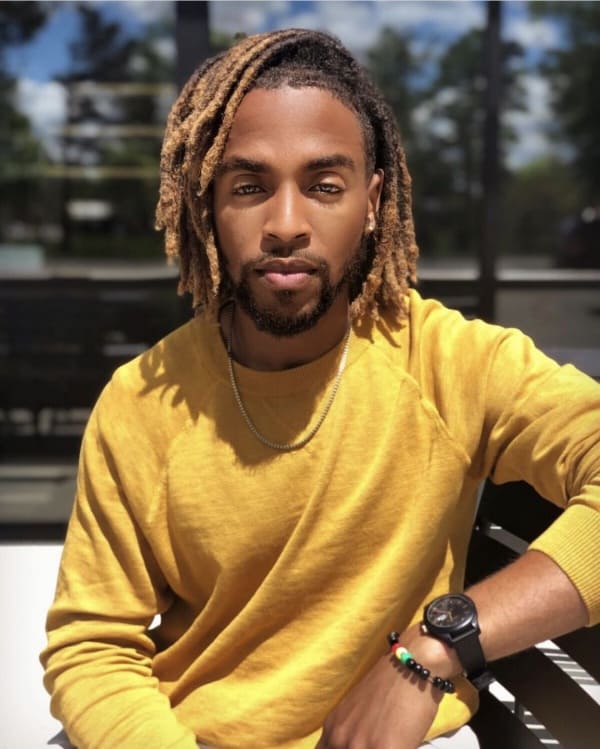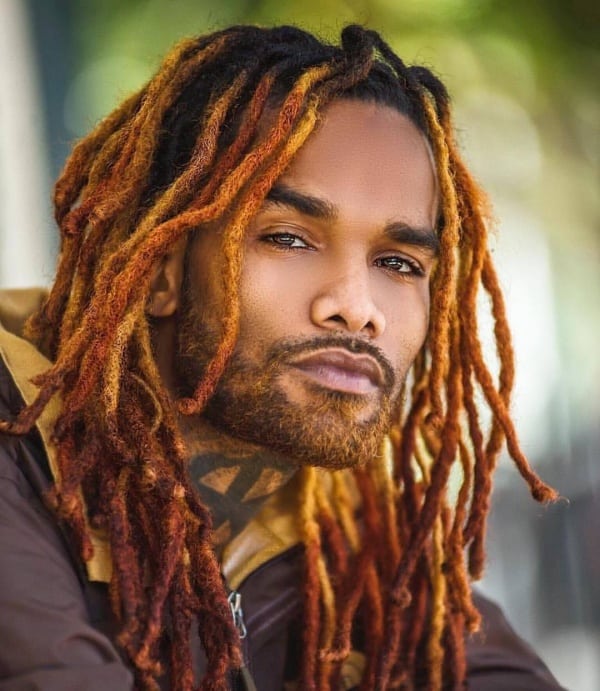 One might most commonly see blonde hairstyles on white men but can you imagine what it would look like if a black men were to sport it? There is no stopping this imagination. The blonde dreadlocks are the perfect look for black men, because of the unique skin color that they sport. It is among the few hairstyles that include coloring or highlighting your hair.
15. Spiral Locks For Dreadlocks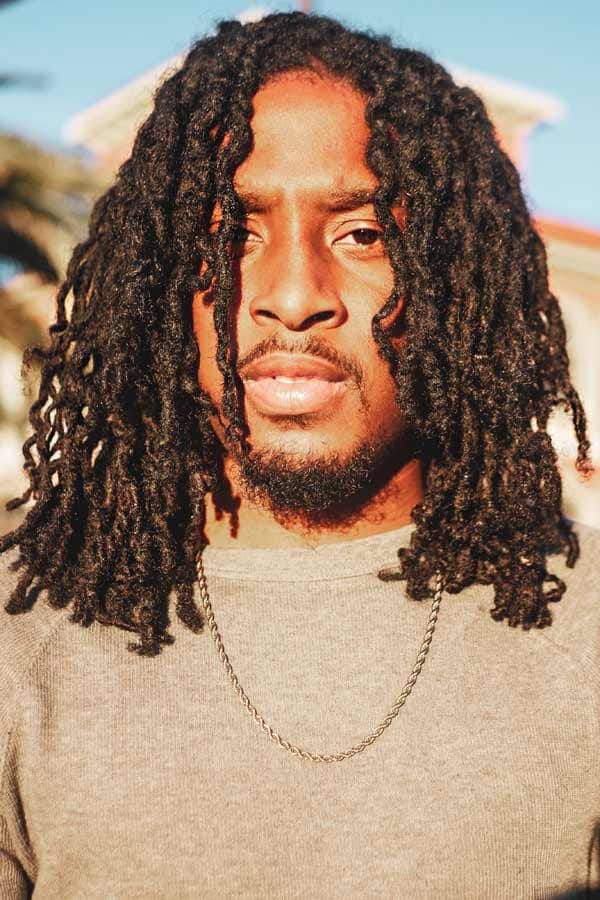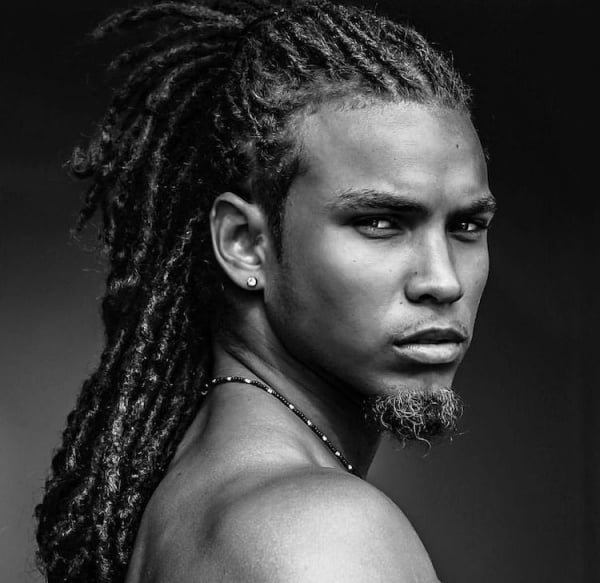 Among the black male long hairstyles, this is perhaps the least sought-after. One of the main reasons why this is is because it doesn't suit every face shape or type. There are a lot of aspects that you need to consider when it comes to pulling off such hairstyles. This also includes taking into consideration the type of hair you have. Black men with long hair clearly have a lot of options going around for them.
16. Box Braids with Fade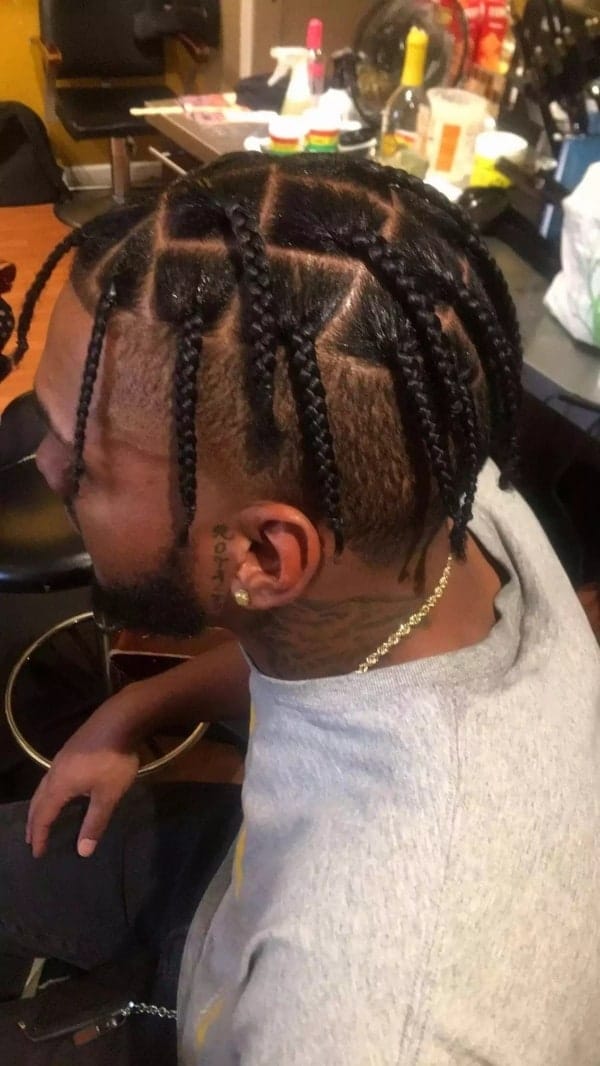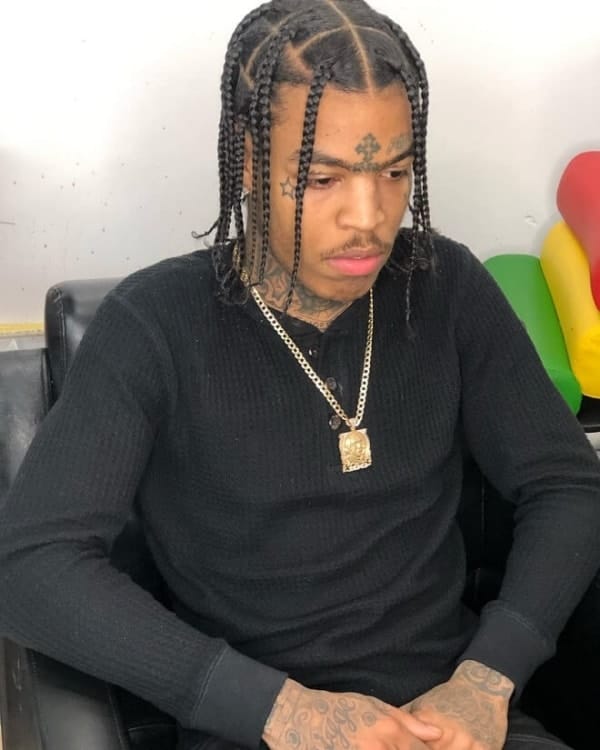 Another hairstyle for black men with long hair is Box Braids with Fade. This is one of the popular hairstyles where the hair needs to be very long, just enough to form a box style. In this, the sides are faded and the curved design of the line makes this hairstyle seems to be wonderful. Apart from this, if you want then you can use hair spray also and with a bit of training, you might even be able to do Box Braids yourself right at home.
17. Black Natural Hair Braids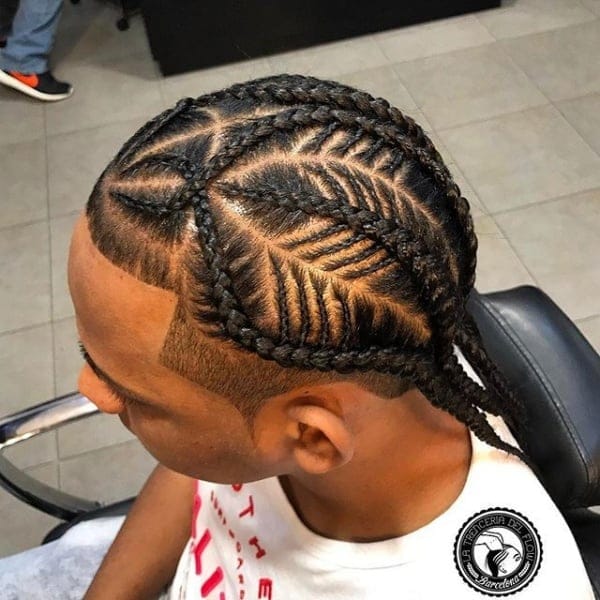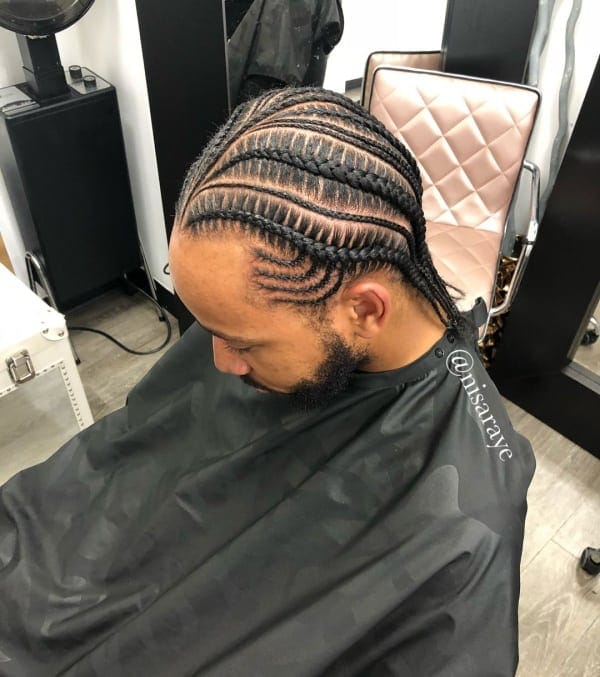 If you have black natural hairs then you can choose the Black Natural Hair Braids style. This is an urban hairstyle and helps hose flaunting this style, looks fabulous. With a bunch of bicolored funky braids, it can be easily compared to the faux hawk style. You will need an expert hairstylist to get this hairstyle and will also require quality styling products.
18. Long Front Fringe Afro Look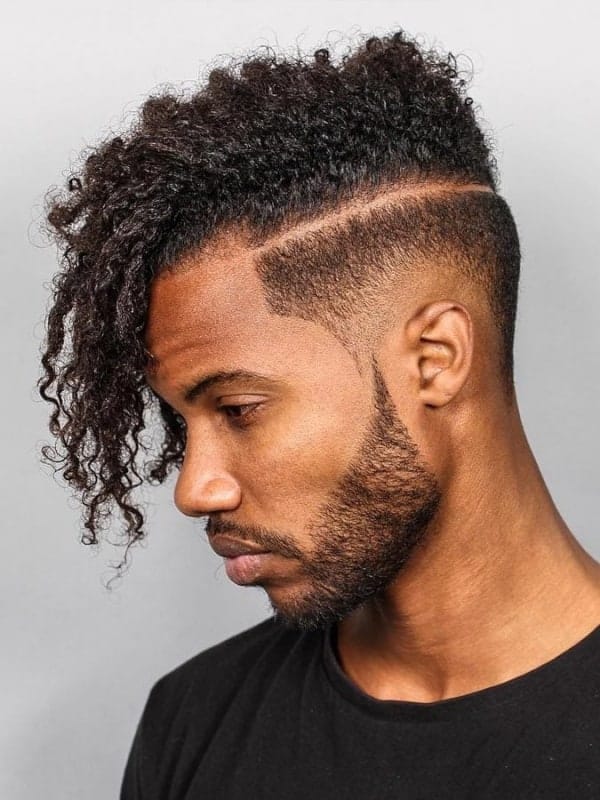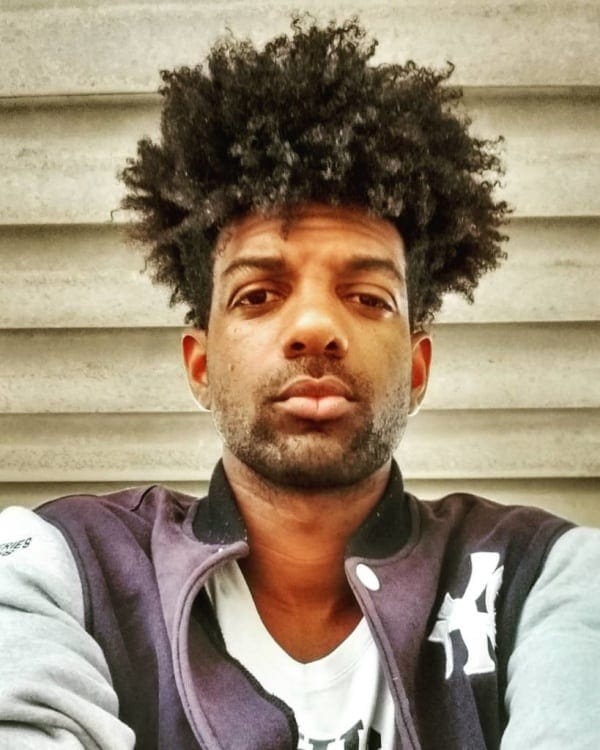 Long Front Fringe Afro Look hairstyle is highly admired by black men and is a fashionable style. In this hairstyle, the front fringe is cut equal to the length of the remaining hair. Also, trim your hair evenly regularly. Furthermore, this hairstyle is a classy yet casual style that is perfect for your social life and seems to be aesthetically stunning.
19. Micro Dreads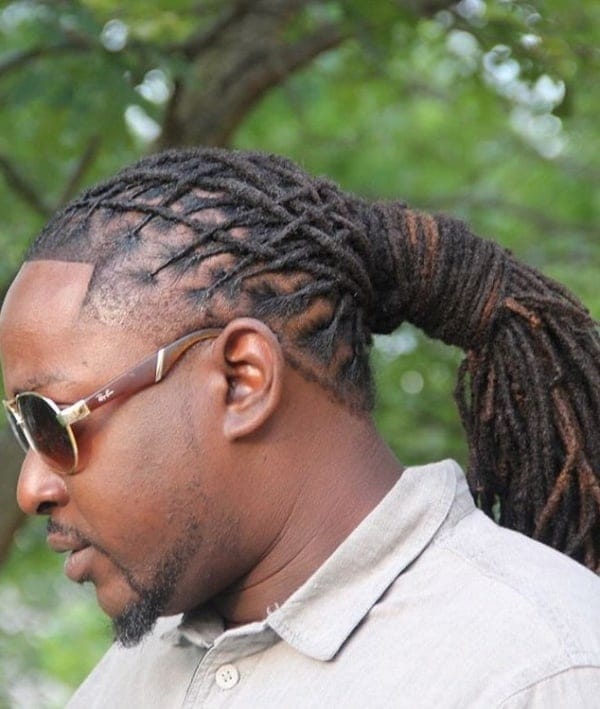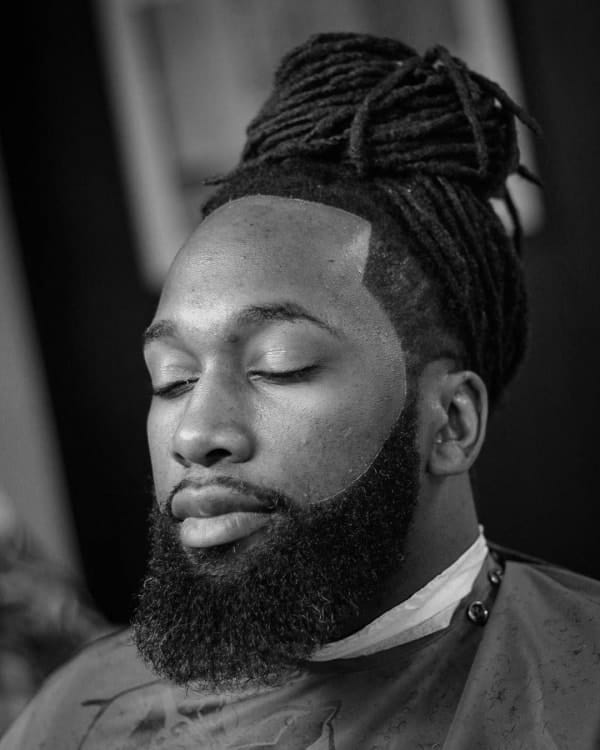 Micro Dreads hairstyle is an ideal style for black men with long hair. This is an African inspired style and gives a superb look. In this, the micro dreads are colored with a red dye and finely woven for forming a contrast with the color of the skin. So, if you are looking for a hairstyle that makes you pop out from the crowd, then Micro Dreads hairstyle is for you.
20. The Simple Bun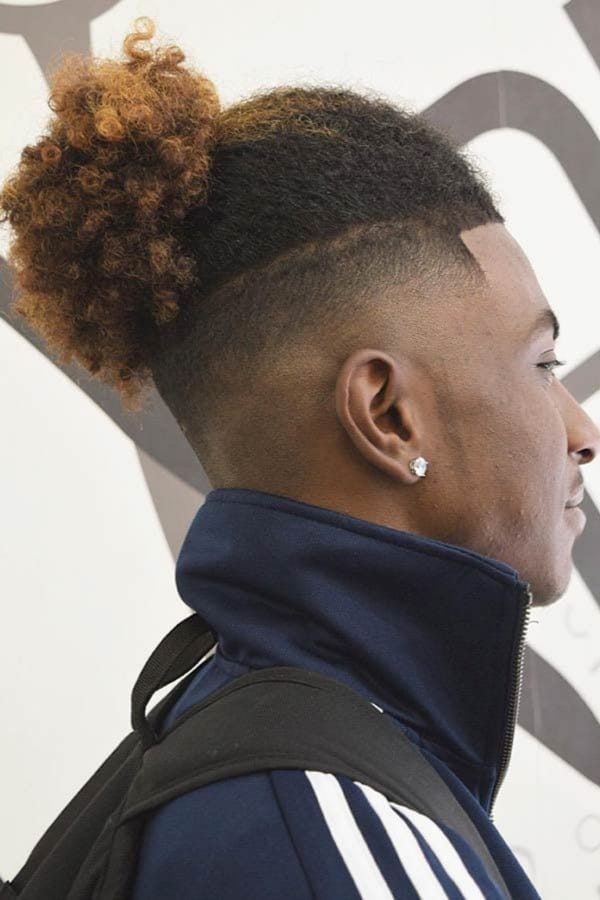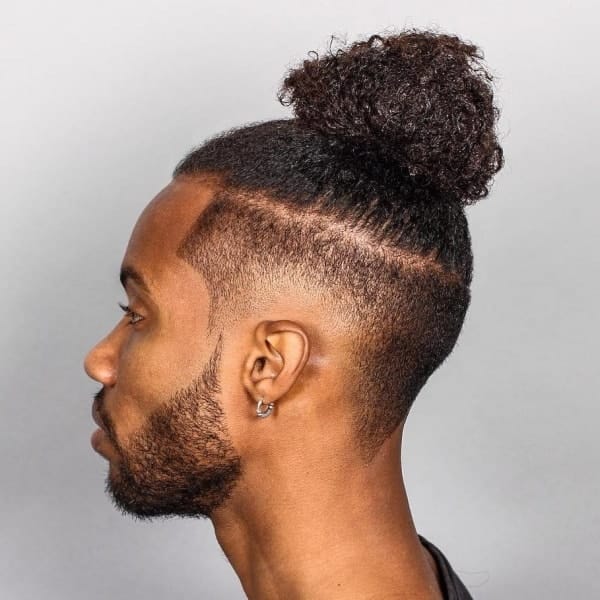 Last in the list of hairstyles for black men with long hair is The Simple Bun. Black men who have long hair can easily flaunt this hairstyle. The fades on the sides and knot on the top add a lot of style and creativity to this hairstyle. So, what are you waiting for? With no doubt, the Simple Bun hairstyle will perfectly work for you.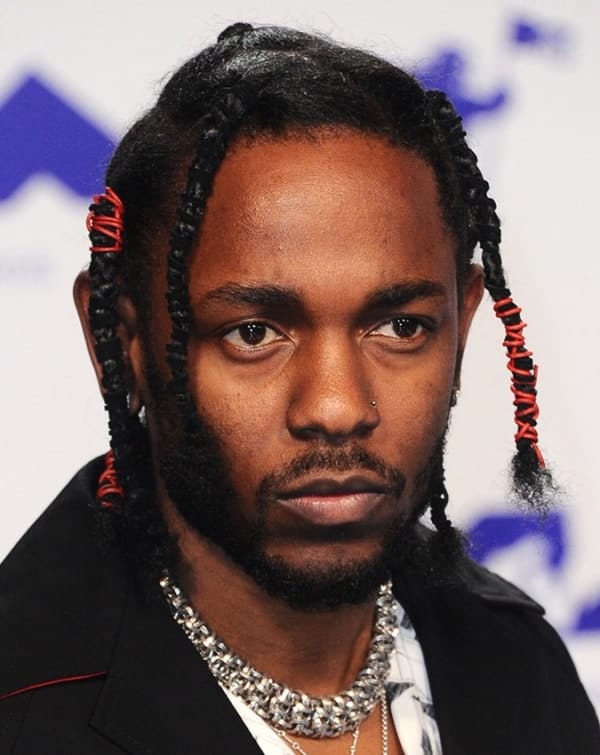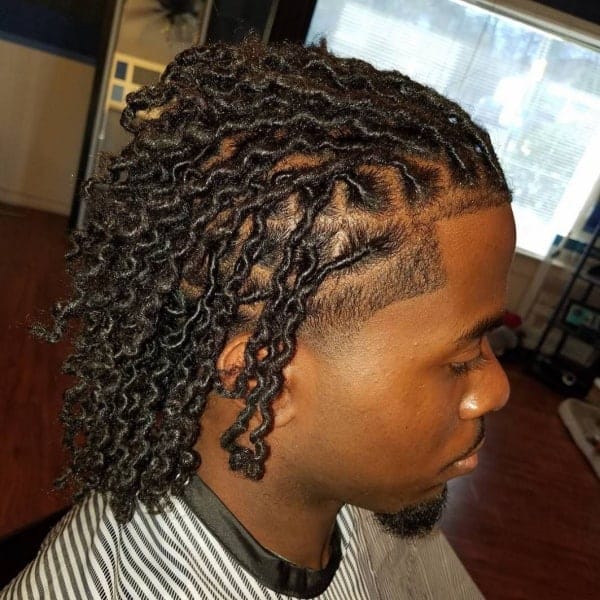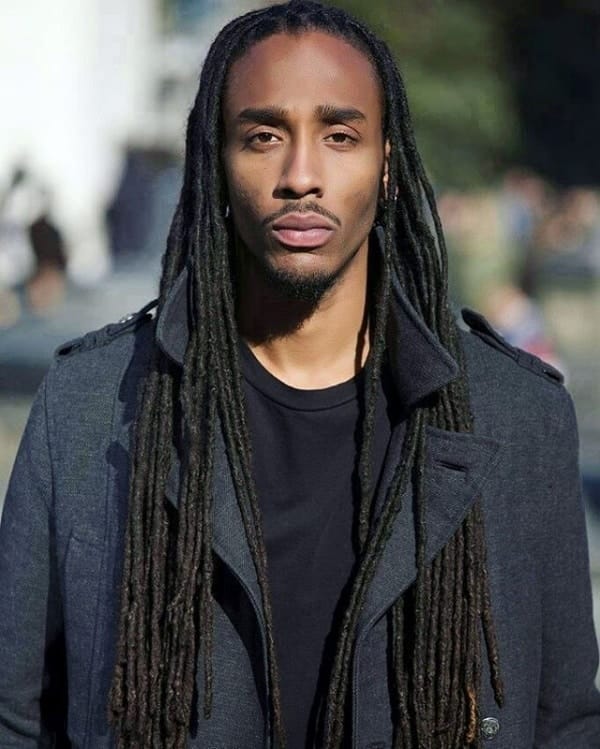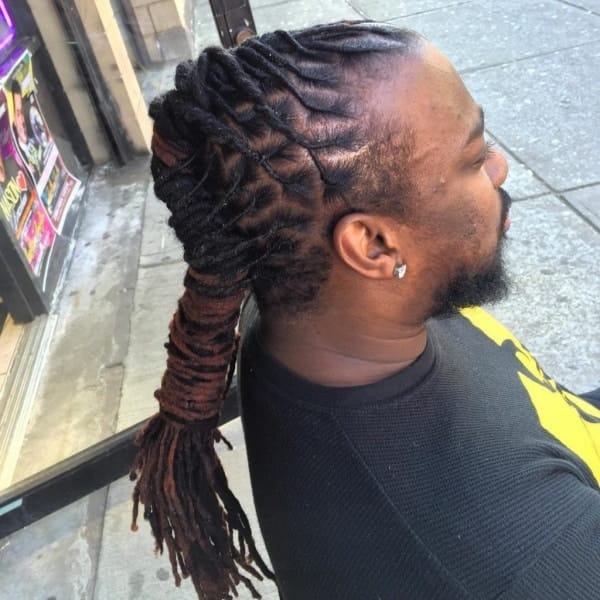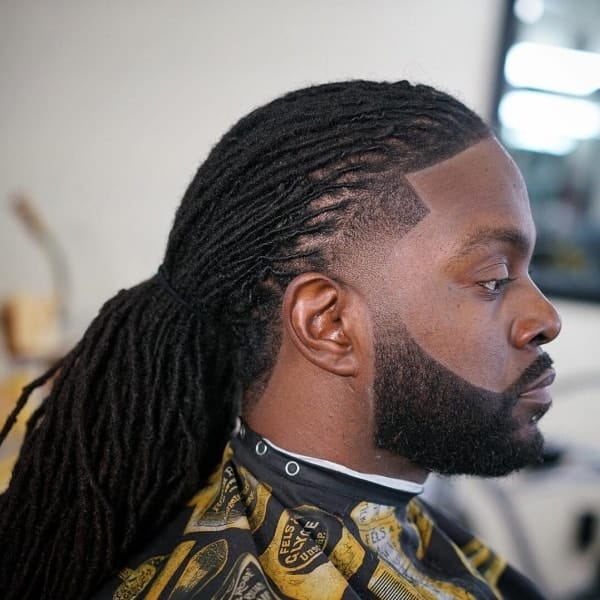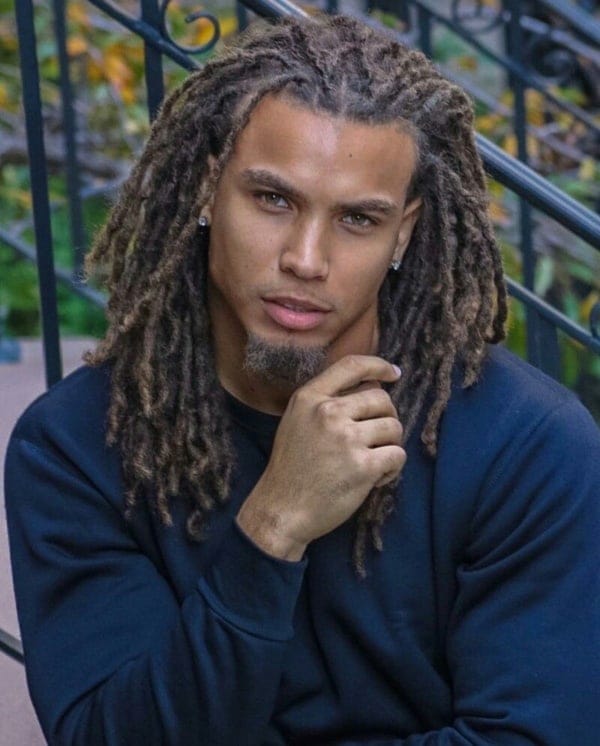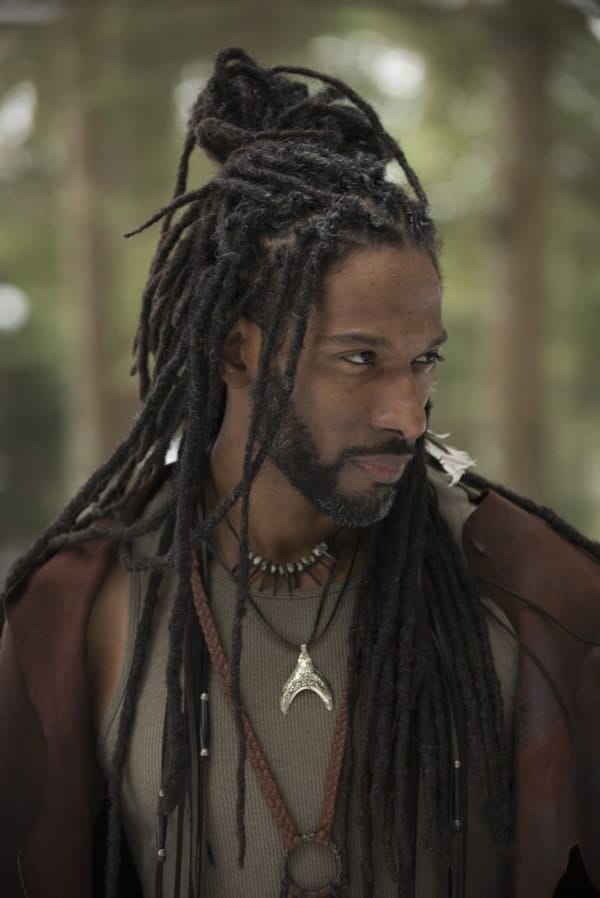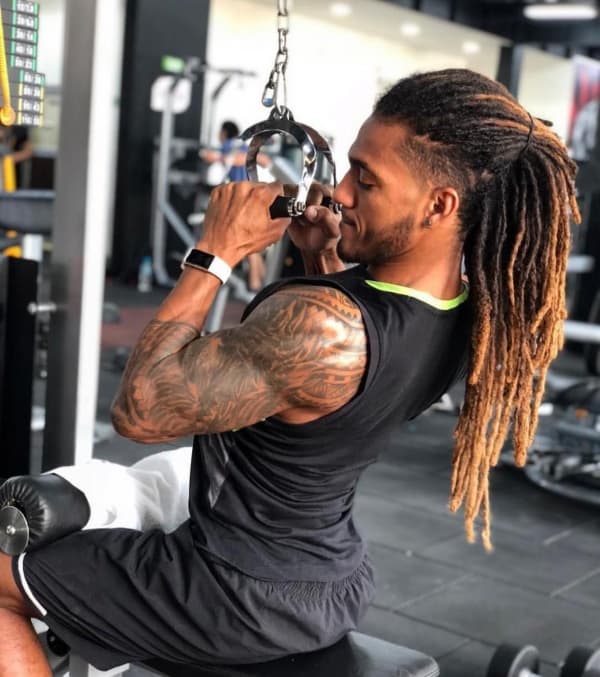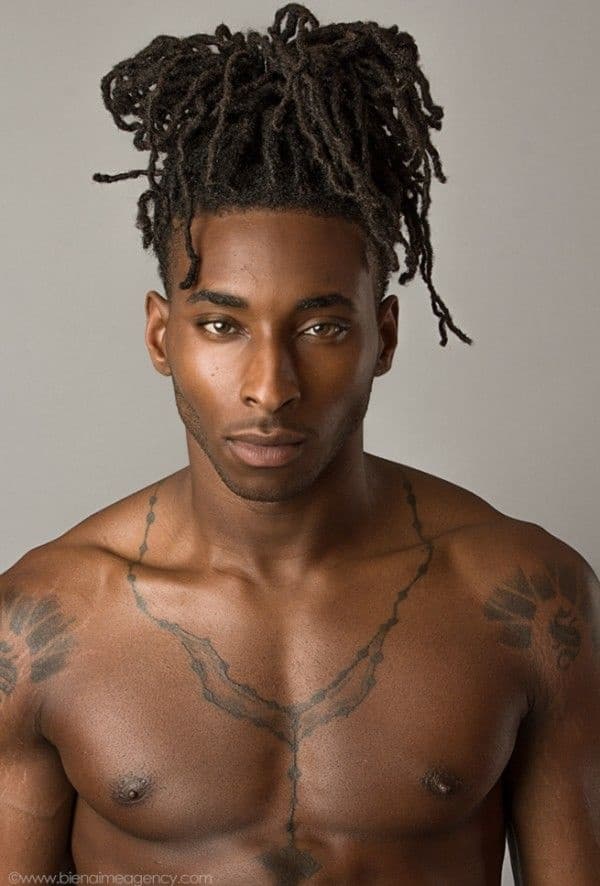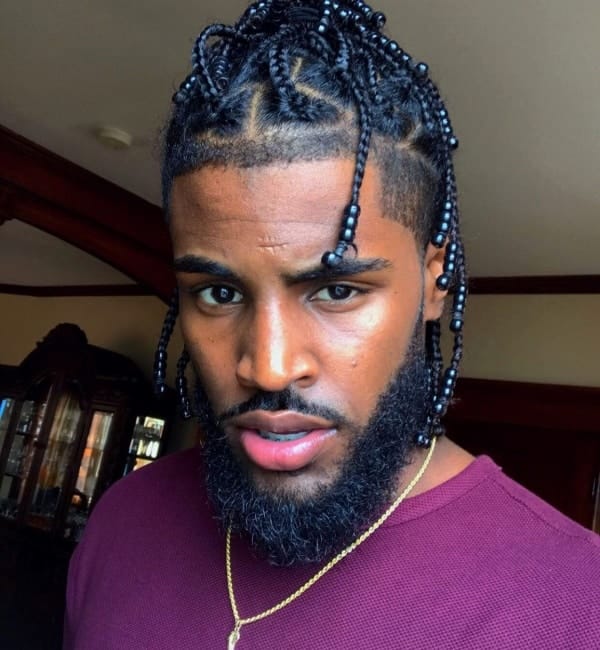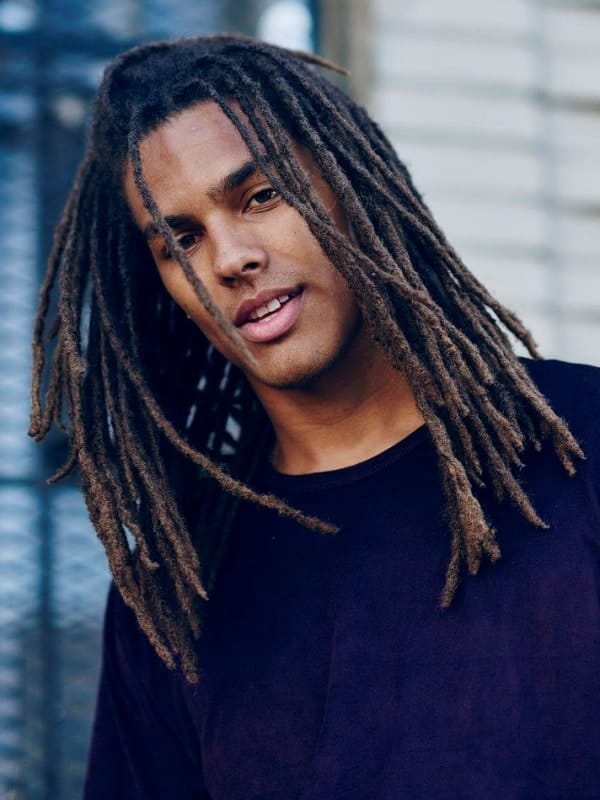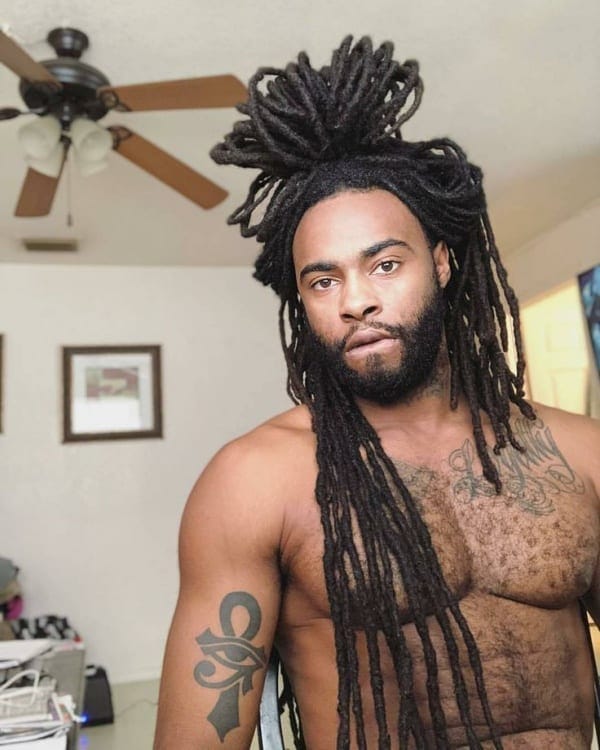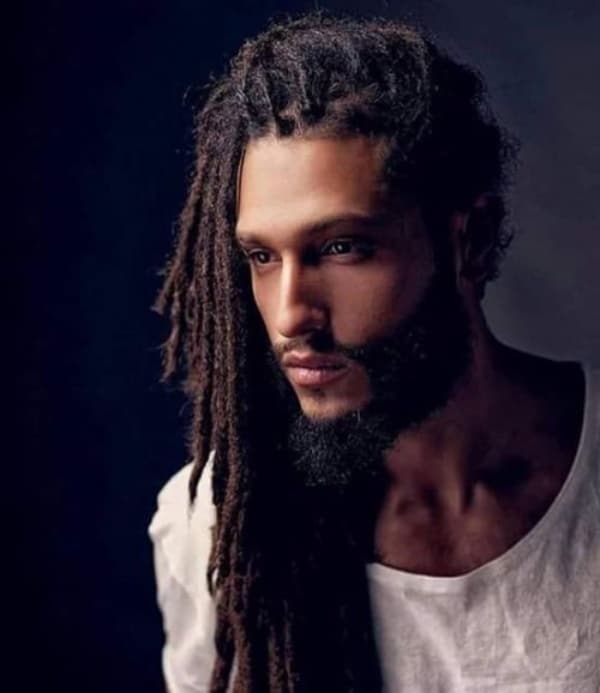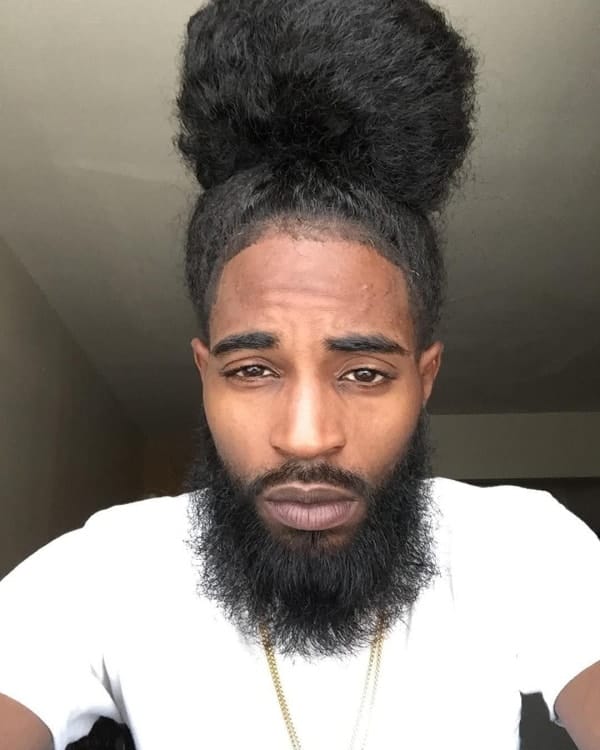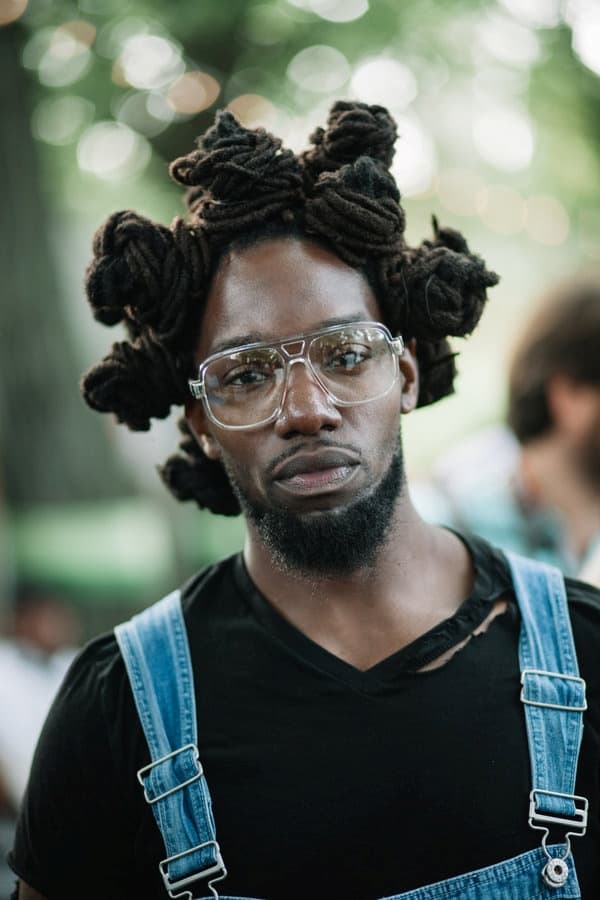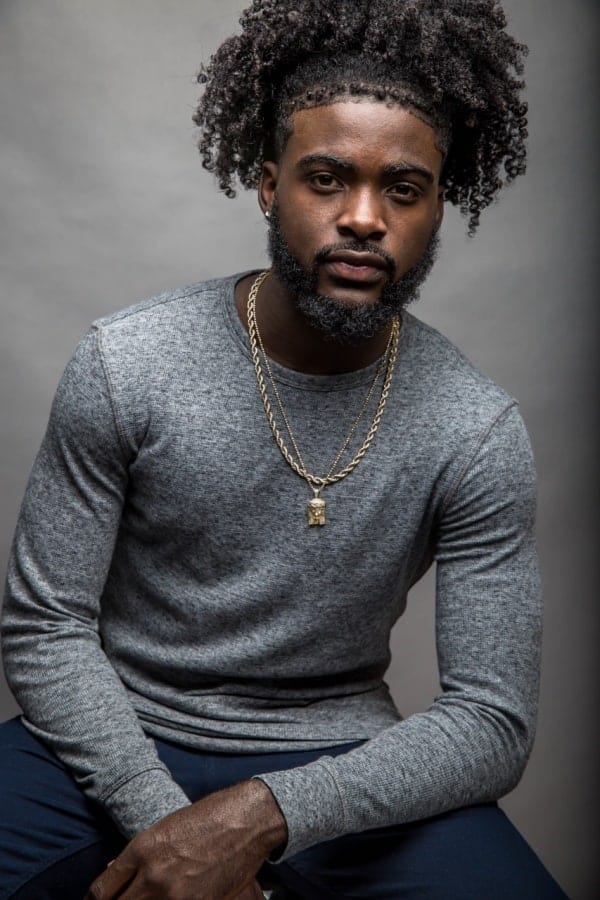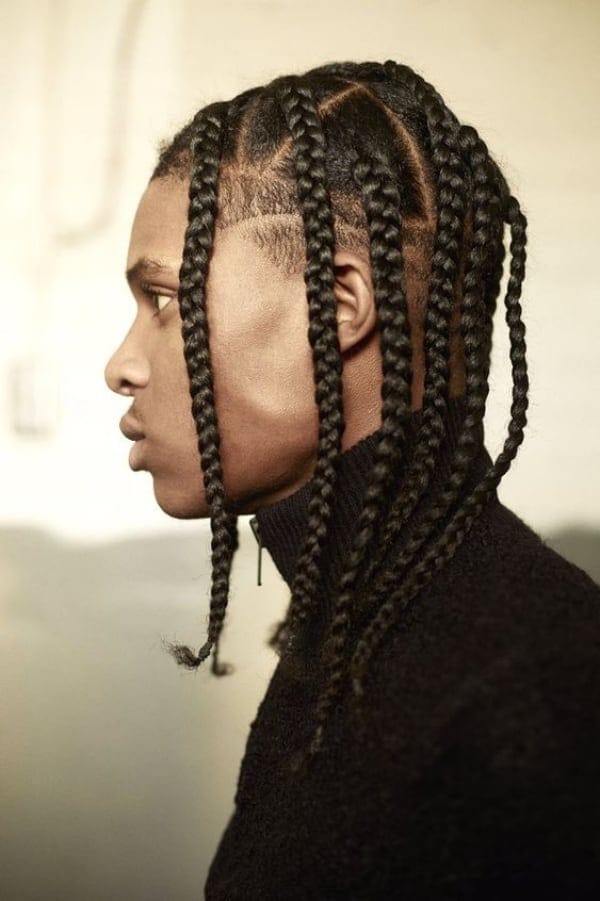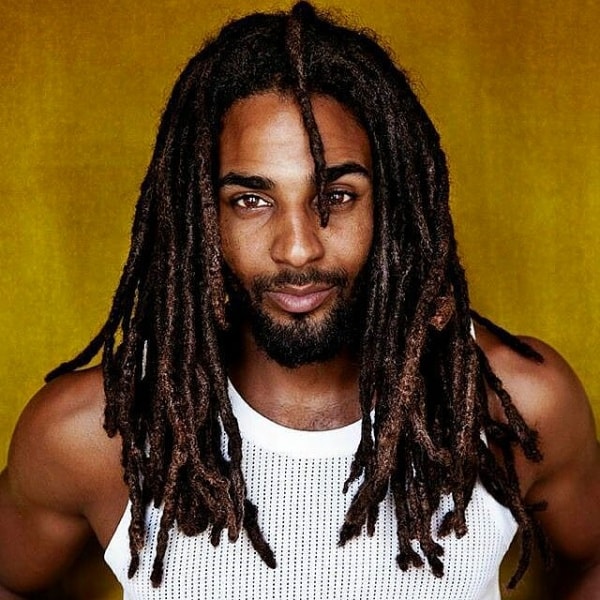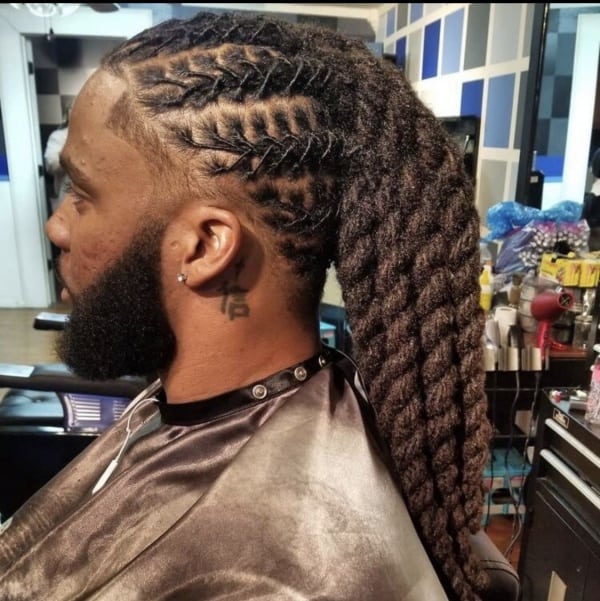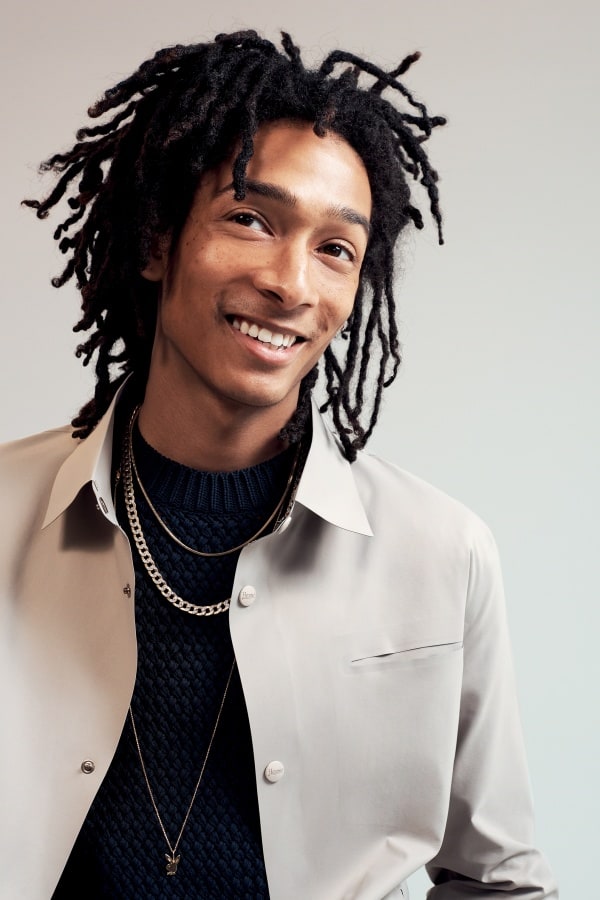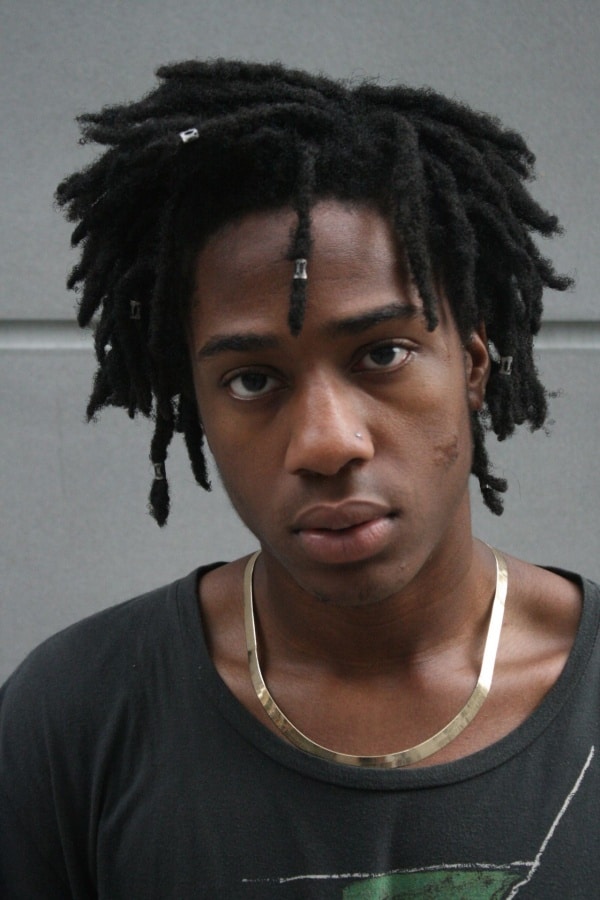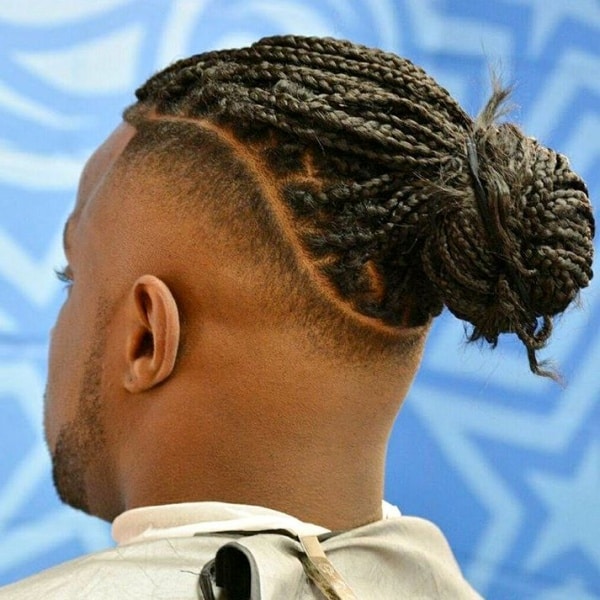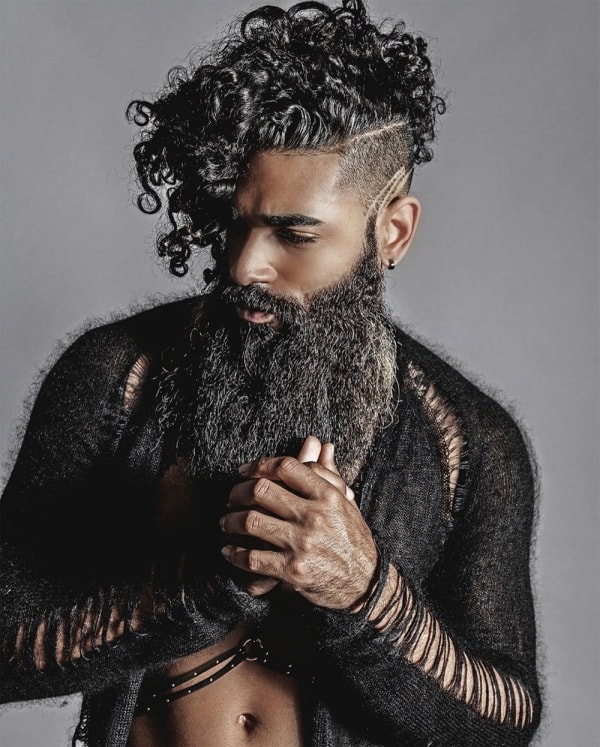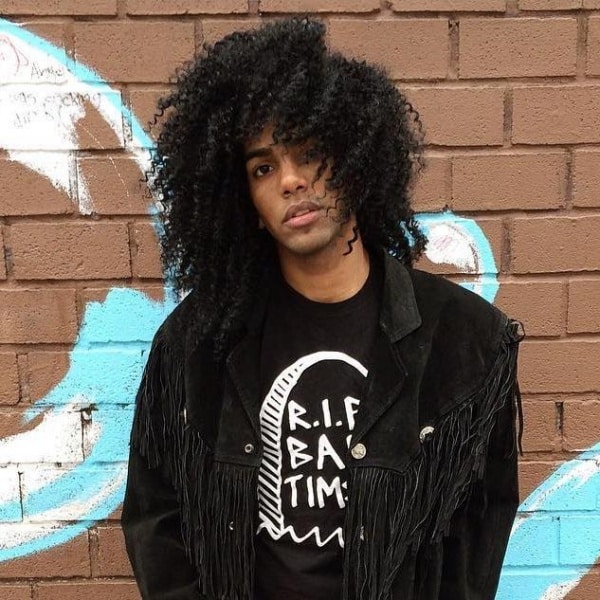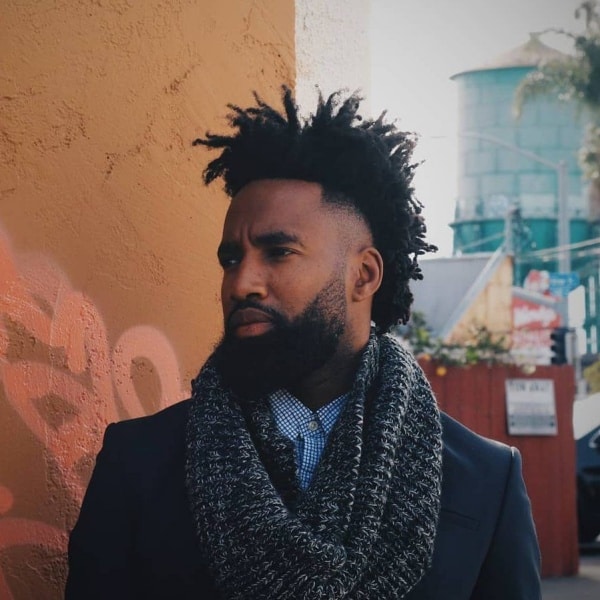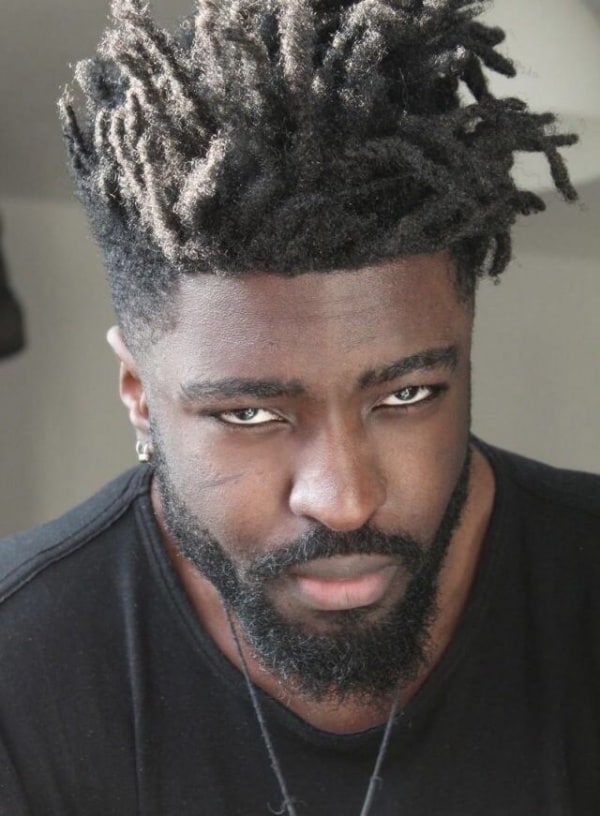 Conclusion
We have already explored that in the list of hairstyles for black men with long hair, there are multiple options to choose from. There are no limitations as such when it comes to these options. However, it is important that you consider your face shape. You may want to also think about getting highlights that suit your skin color. From the many different ways through which one can enjoy long hair while achieving maximum comfort, which one is your favorite? Let us know in the comments below.
Related: