A man's look is never completed without an eye-catching hairstyle. The hairstyle that you choose must be determined by your facial structure, personality, and individual style statement. If your face has a round shape, then some of the unique hairstyles for men with round faces will offer you an unmatched appearance. Also, while selecting a certain haircut, you should consider whether you can put enough effort into its maintenance. Suppose, your daily schedule is too busy to do regular haircare, then go for a low-maintenance hairstyle. So, take your time and understand which hairstyle suits your facial shape and makes you look impressive among women.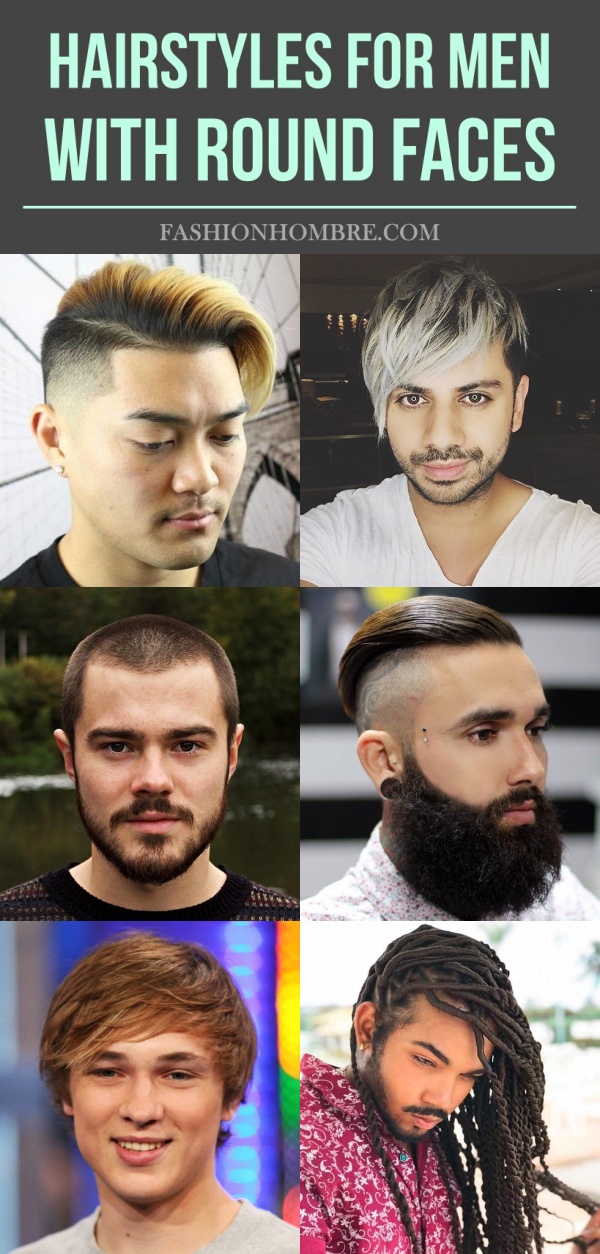 Best Haircuts For Men With Round Faces
1. High Skin Fade with Long Comb Over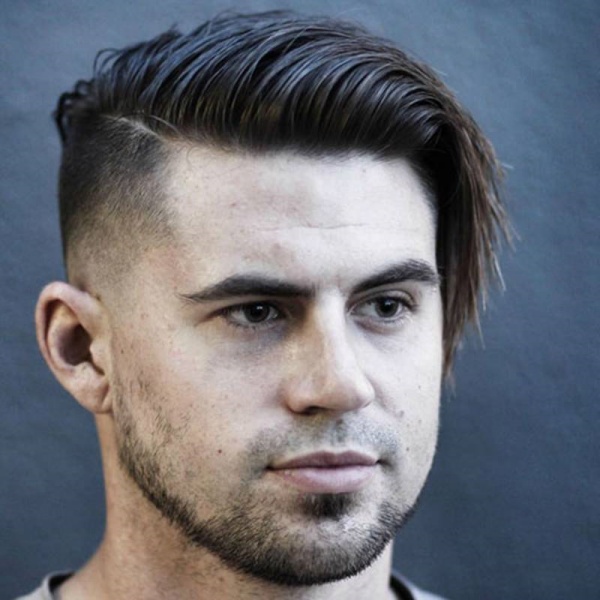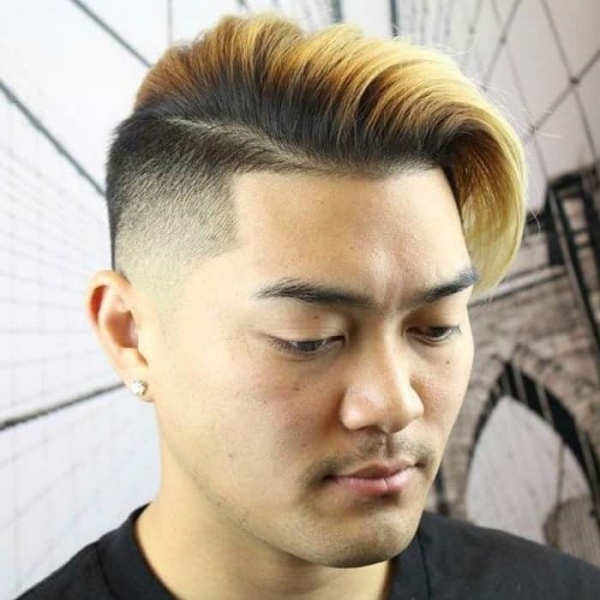 High skin fade with long comb over is one of the most amazing hairstyles for men with round faces that you can rely on to go to the office and as well as for going to a party. The hair on both sides will be kept very short with a high skin fade and it will leave a skin close finish on the back of your head all the way down to your neck. On top of your head, you should keep 2-4 inches long hair. According to your preference, you can adjust the volume of the hair in the middle portion. Comb it over to the back or on one side depending on which one suits your face more.
2. Textured Spiky Hair with Low Bald Fade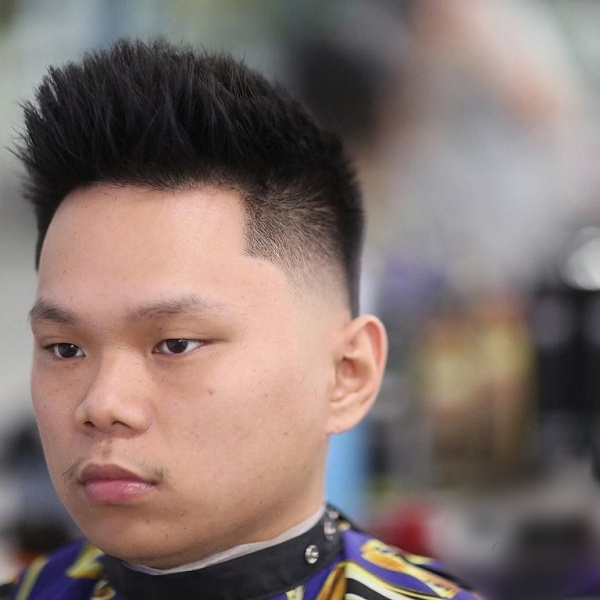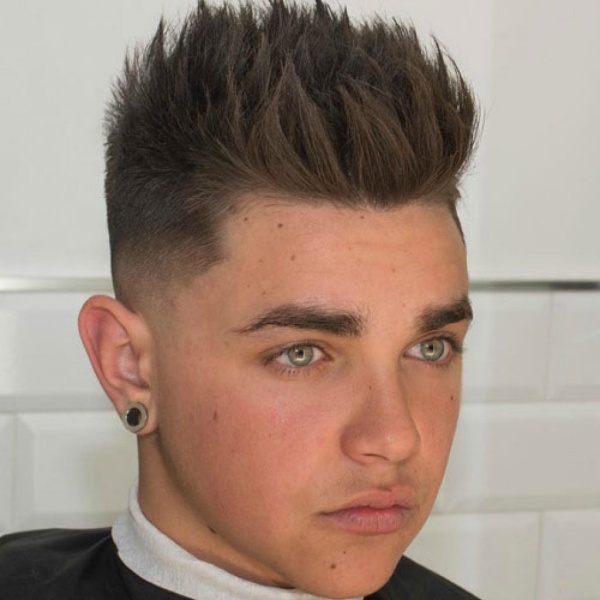 For this particular hairstyle, you need to keep both the sides of your head really tidy and clean. If you are thinking about how to achieve that; well, ask your barber for a low bald fade cut. The top section of your hair needs to be cut with precision. The hair in the middle should look really choppy and spiky. To maintain the look and the spiky hairstyle you can use hair gel and hair holding sprays. The hairstyle will even look good after growing longer just because of the length difference at the time of the cut.
3. Asymmetrical Haircut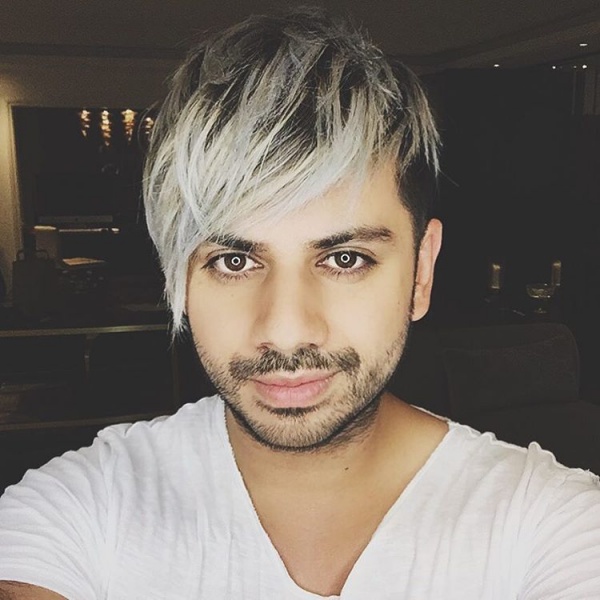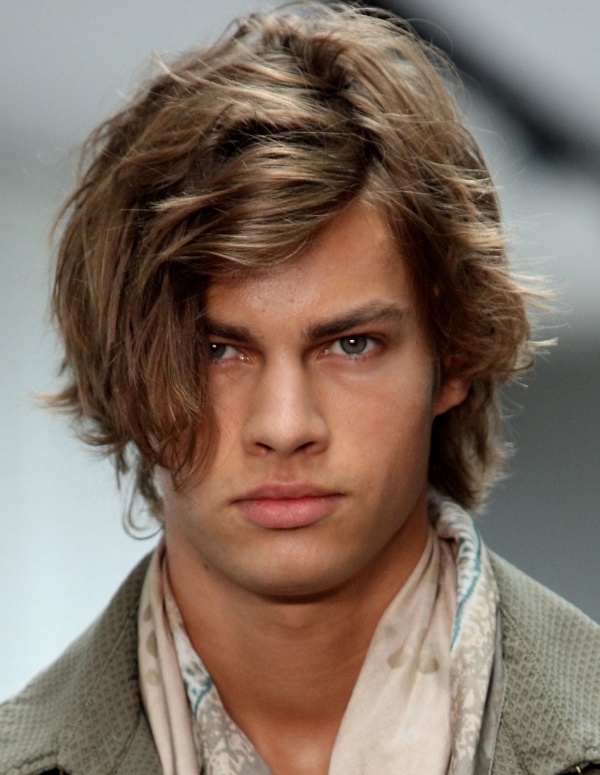 Asymmetrical hairstyles for men with round faces create a good volume and interesting height in the hair. This haircut is especially recommended for those who want to experiment with hair colors and highlights. In this hairstyle, the length of one side of the hair does not match with the other side, creating an off-balance look. If you are experiential enough, don't refrain from trying out this hairstyle.
4. Classic pompadour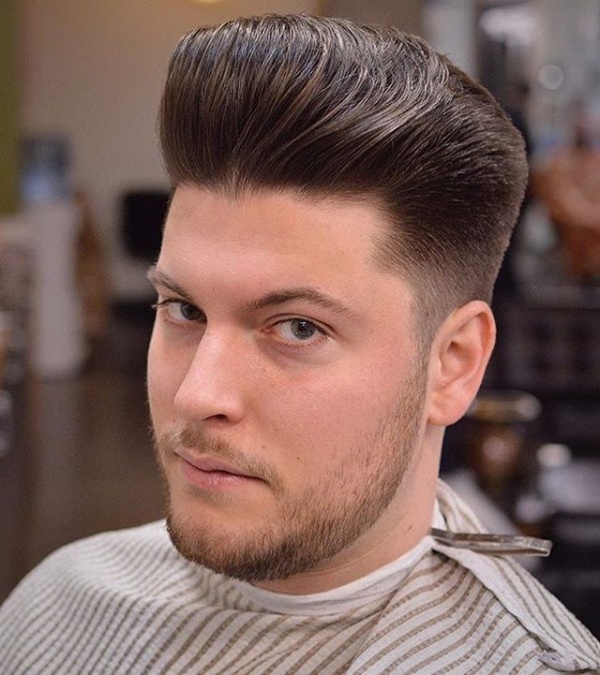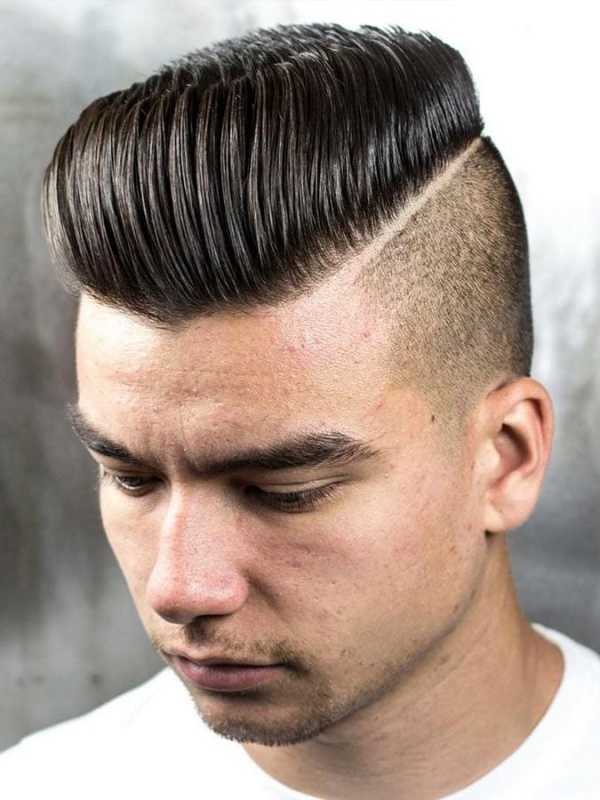 For years men with round faces have been using this classic pompadour hairstyle. Adding a certain height to your hair and making it look wavy and voluminous have never gotten out of the trends. The extra few inches of long hair will make your face look a little leaner and sharper. This is one of those hairstyles which can be maintained very easily after the haircut. This pompadour hairstyle will offer you a sleek look. All you need to do is to sweep the hair back using a comb or a hairbrush all the way to the back.
5. Classic Swept-Back Quiff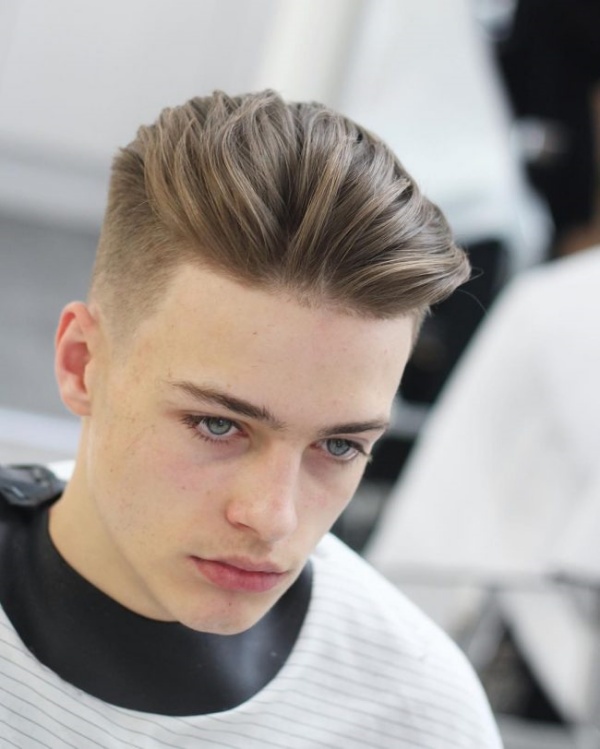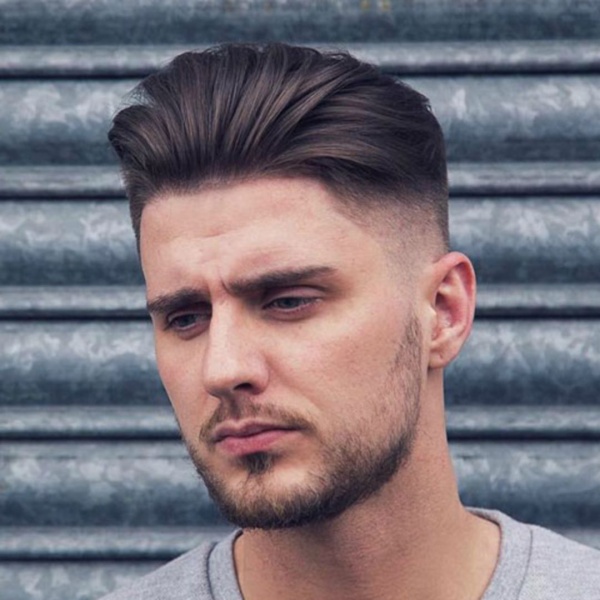 While we are talking about hairstyles for men with round faces, then we need to discuss this classic hairstyle. The hair on every portion of your head needs to be kept in equal length and volume to do a classic swept-back quiff. Then use a comb after a shower to sweep your hair back to create a wavy structure. Adjust the sides of your hair and brush it properly to maintain the look throughout the day. You can also use a hair hold spray or gel for that purpose. The hair needs to be maintained properly in order to do that you need to cut your hair to a certain length from time to time.
6. Side Part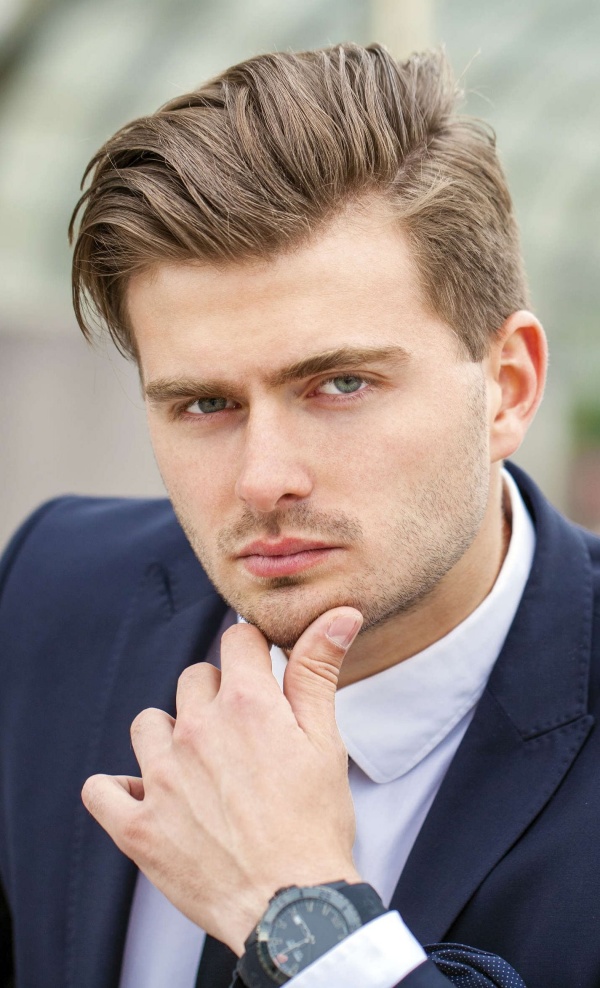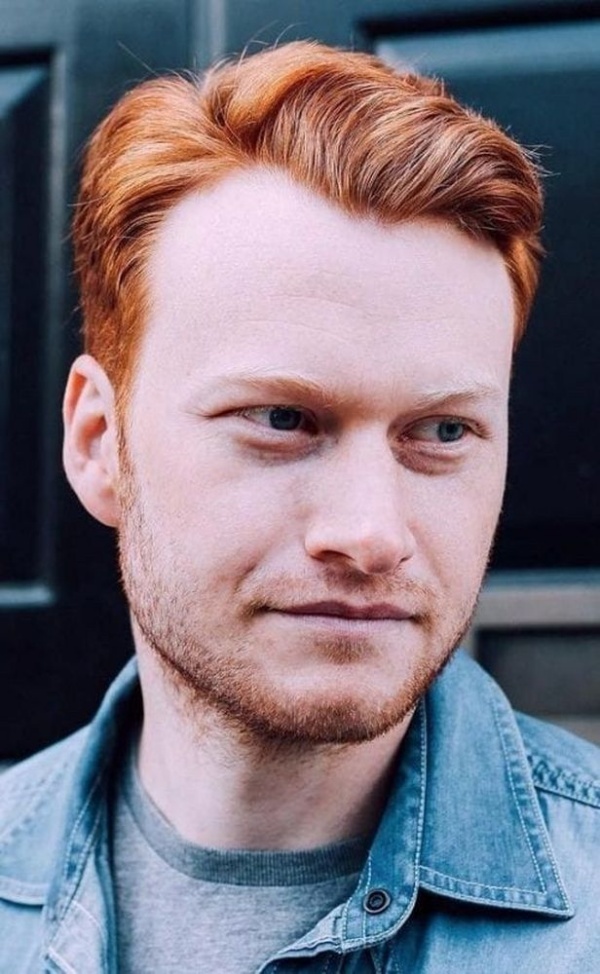 The side part will make you look more manly. A certain volume and length of hair need to be on top of your head to sport a side part hairstyle. The sides and the back of your head need to be cut shorter than the middle portion but not very short. The hair on top of your head needs to be swept on either side of your head. You can either choose to display the volume of your hair or you can also choose to have a sleek side part look. In the sleek side part you press the hair down with a comb and if that doesn't work properly use a hair gel for that purpose.
7. Angular Fringe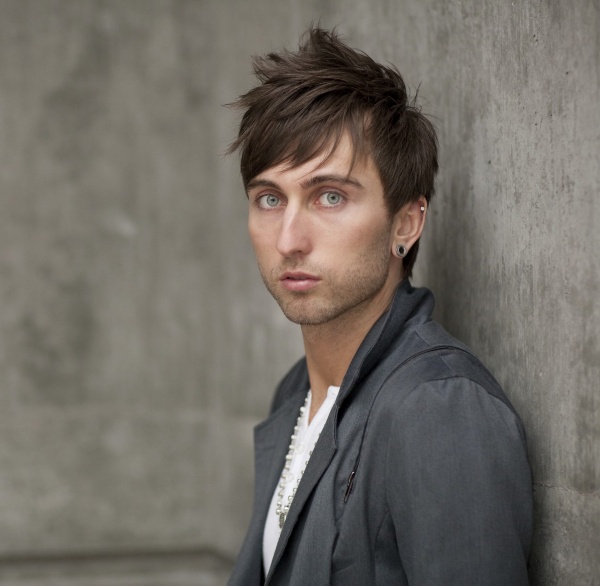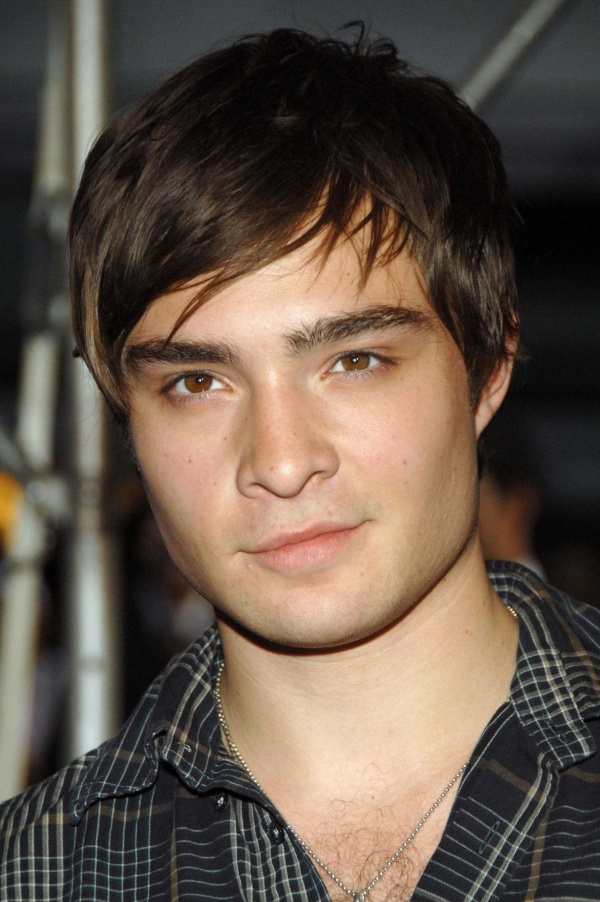 The angular fringe is capable of softening the look that you have. The sides of the hair and especially the back need to be shaved completely. You can keep only a little amount of hair on both these areas. The hair on the top of the head will be kept much longer than the rest of the hair. In front, you require a temple fade to achieve the ideal look. The hair in front needs to be kept at an angle and put on either one of the sides with the help of a hairbrush.
8. Ruffled Wavy hair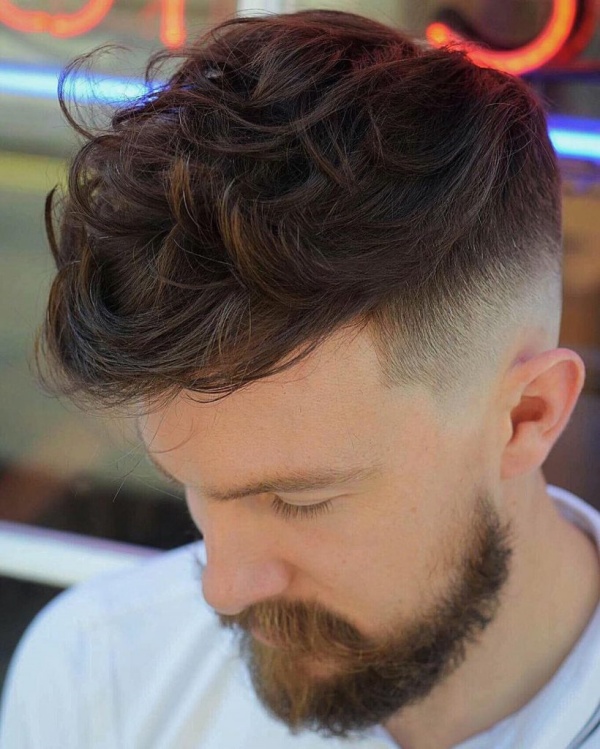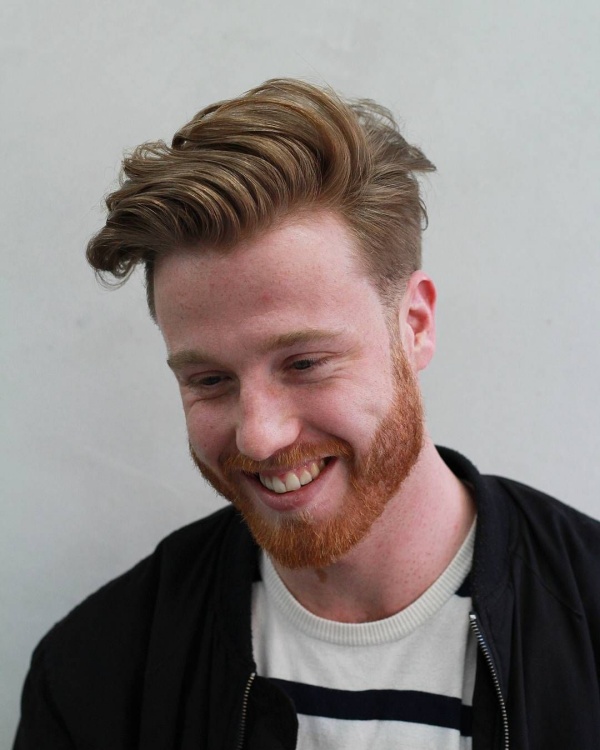 The wavy ruffled look does not require much maintenance and effort to keep up. There is no need to cut off your hair much. Just a bit of trimming on the back and side of the head will do justice to the look. In this one of the greatest hairstyles for men with round faces, you have to keep the middle hair pretty long for the perfect appearance.
9. Side Bangs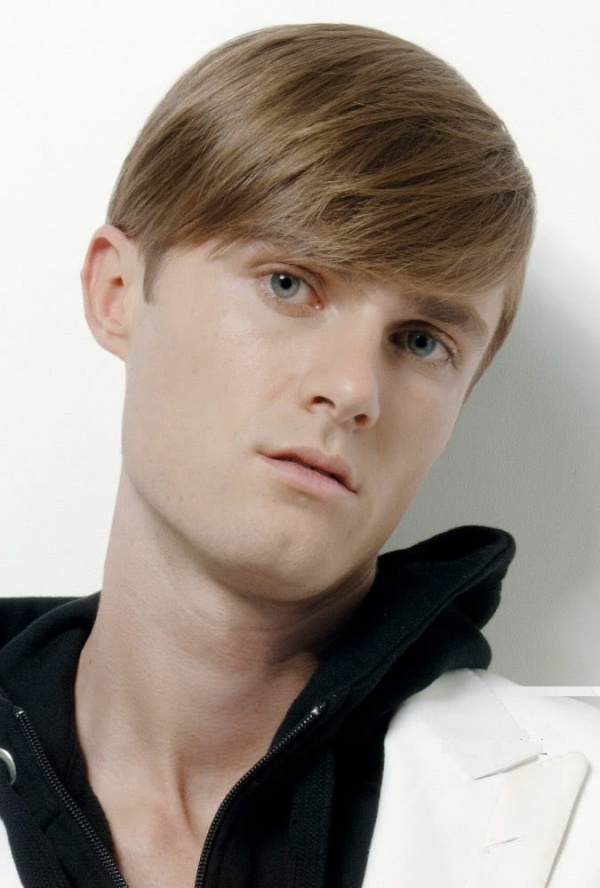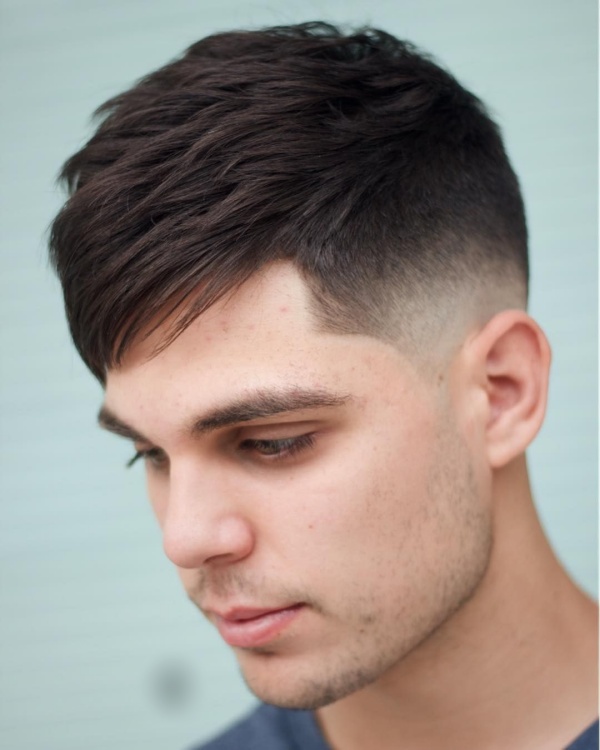 Like most of the hairstyles in this list, you need to keep the hair in the middle long and the sides will be shorter compared to the middle portion. The lengthy hair in the front needs to be swept across to one of the sides of the head. If your hair is textured or voluminous then you can use hair wax to hold it in the position. To keep this hairstyle you need to make sure that your hair doesn't grow too long as it will be difficult to maintain.
10. Layered cut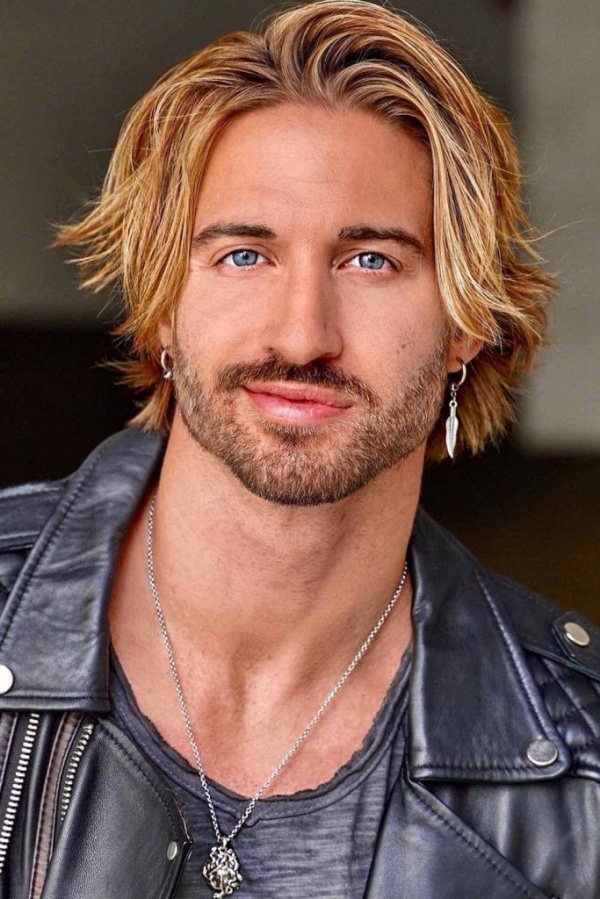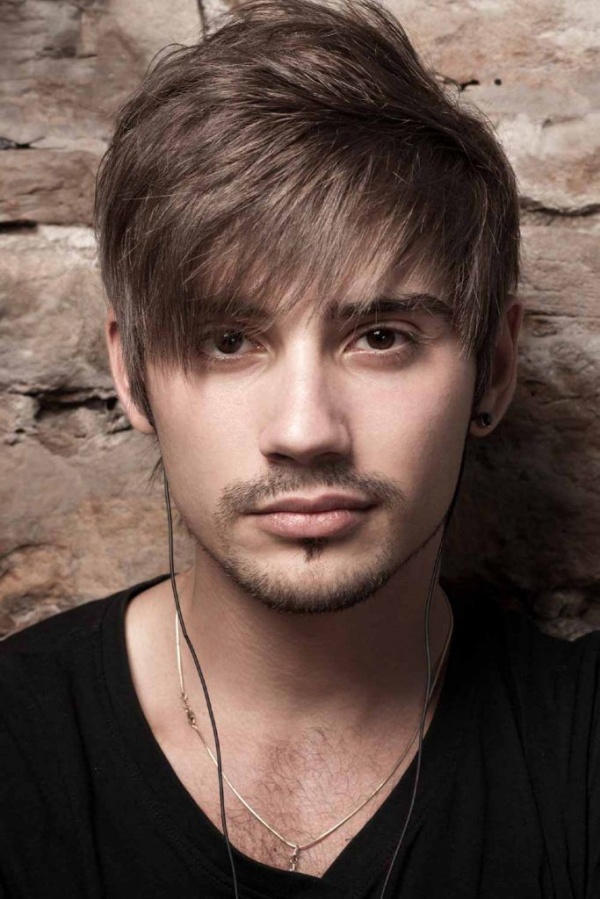 To get this layered cut which is one of the most trending hairstyles for men with round faces , you have to develop your hair to a certain length for a particular month. Divide the hair to separate sections and begin cutting your hair in different layers. You need to style your hair in such a way that the top hair will remain shorter than the bottom and side hair. This style is quite voluminous and you can apply mousse for giving your hair an appropriate style based on several requirements.
11. Tapered Sides with Long Slicked Back Hair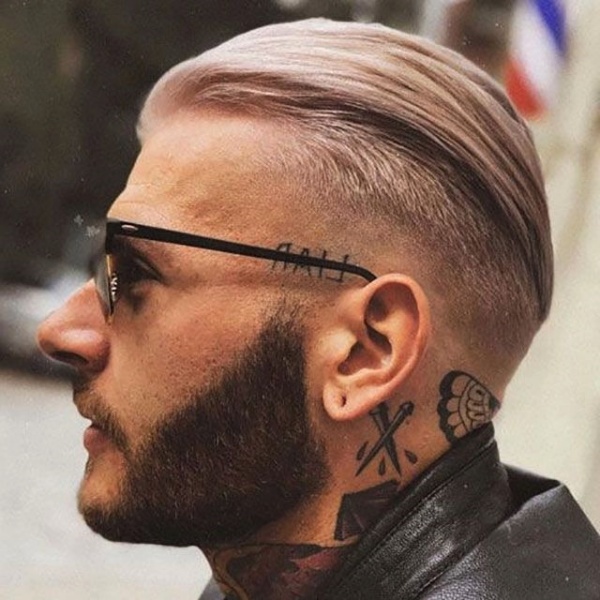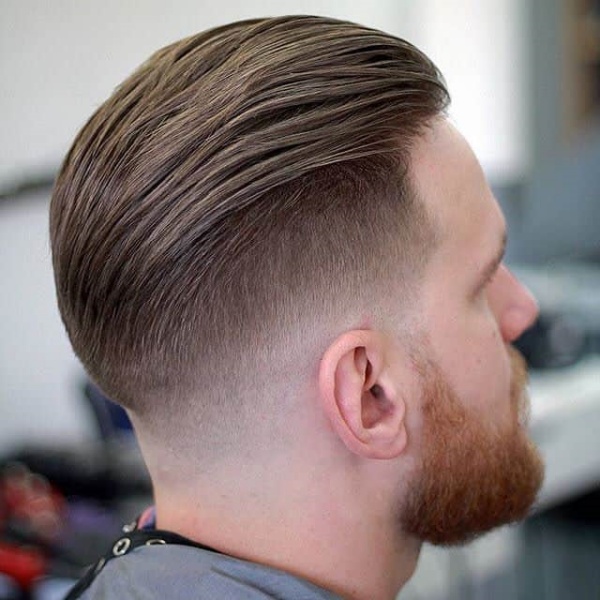 You must have heard about the classic taper fade hairstyle of men. The tapered sides with long slicked back hair is a modern version of that haircut. The tapered side will blend really well with the long hair on the top of your head. The tapering of hair can be done according to your preference. You can decide how high or low you want your hairs to be tapered on the sides. Brush the hair backwards after the cut to create the look. You can also use hair wax or hair gel to keep your hair in that position for a prolonged period of time.
12. Mid Fade with Hard Part Comb Over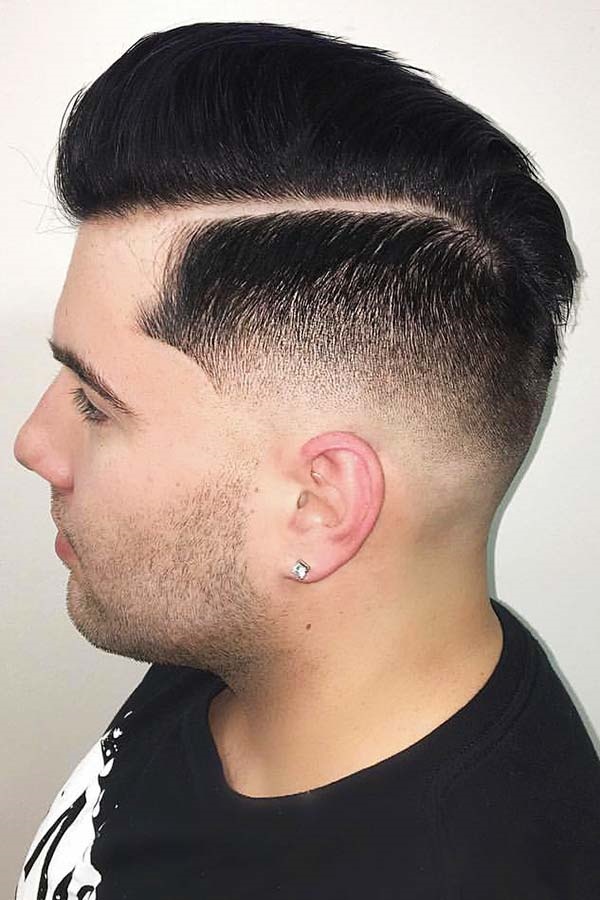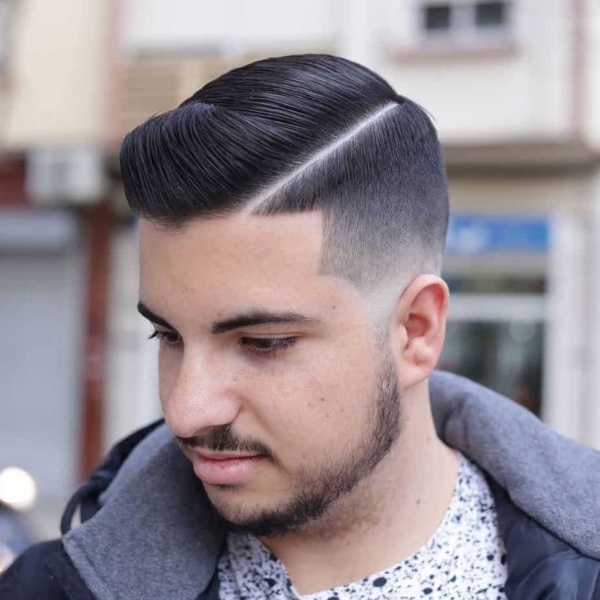 Searching for a perfect hairstyle to create a balance between high fade and low fade then mid fade is the ideal one for you. The fading of your hair will start halfway and will continue all the way up your neck. The hair on the middle portion will be left long by your barber. If you want to avoid visiting your stylist several times then you can keep the hair on top a little shorter than usual so that when the hair starts growing back it doesn't destroy the look.
13. Smooth Buzz with Beard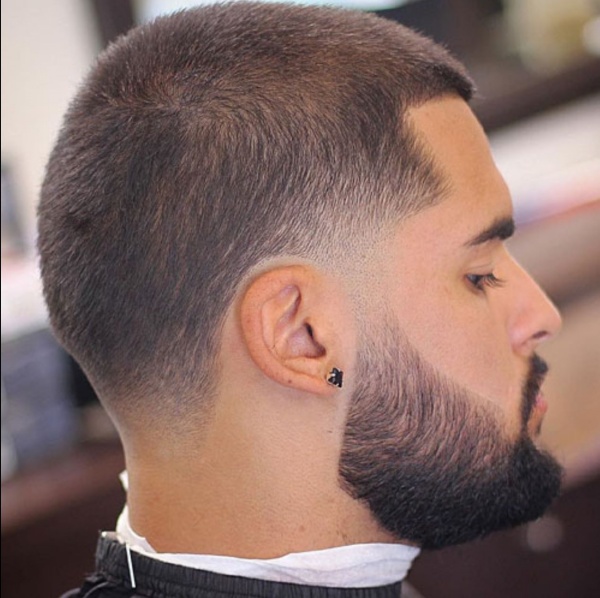 Many people will tell you that you need to avoid a buzz cut if you have a round face. Well, there is one thing that can save you if you are willing to have a buzz cut and that is a beard. The long thick beard will help you to achieve an elongated face and will make it look less round. For the haircut it is simple, you need to cut the hair of all parts of your head very short and in front, you can have a temple fade to create an edgy look.
14. Blowout Hairstyle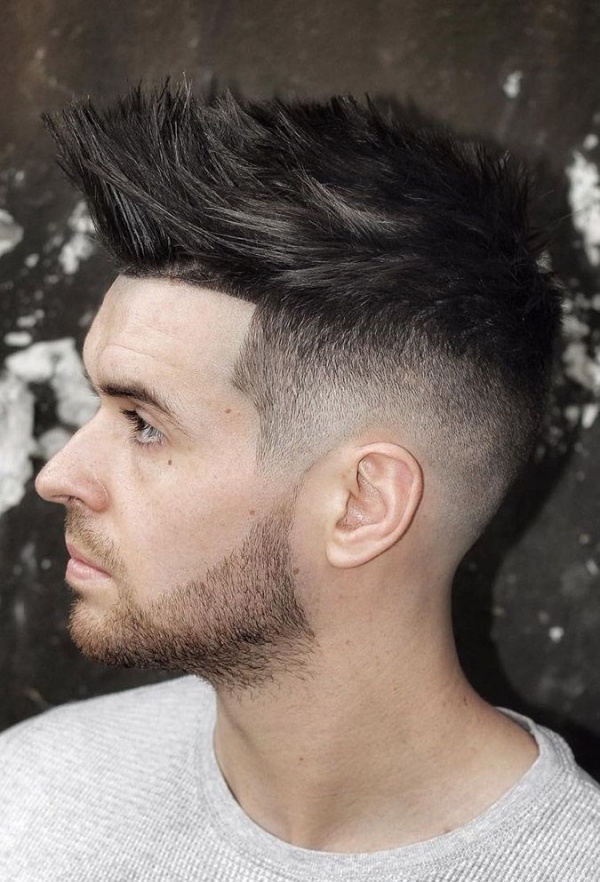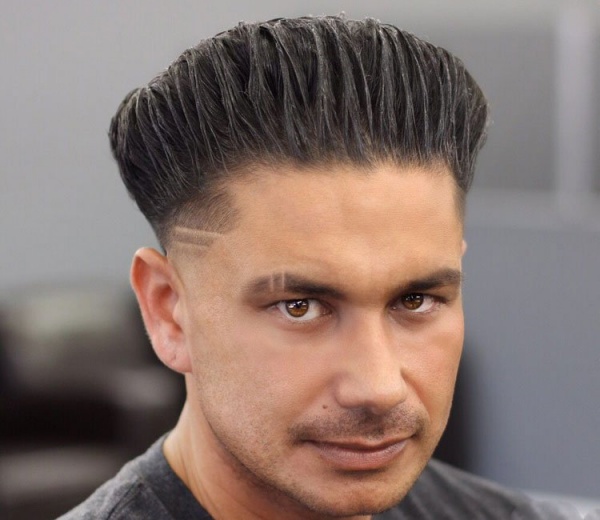 As one of the most stylish hairstyles for men with round faces, it is meant to look like that your hair gets caught in a gust of wind. People often mistaken the hairstyle as a part of pompadour or quiff, but it is very much dissimilar to both of them. The sides will be cut short and in the middle, the voluminous look will create the contrast. The hair on top will be styled straight up. To style your hair, you need to blow dry the hair properly and after that use a round brush to brush your hair backwards. You can also use hair holding spray to keep your hair in that position for a long period of time.
15. Sponge Twist High Top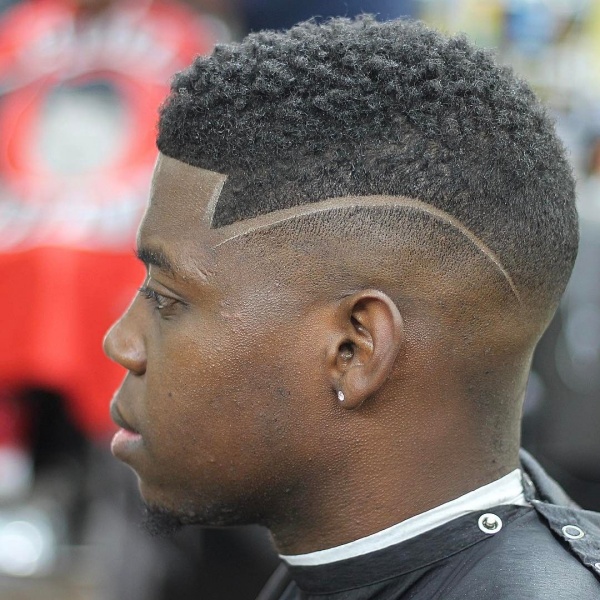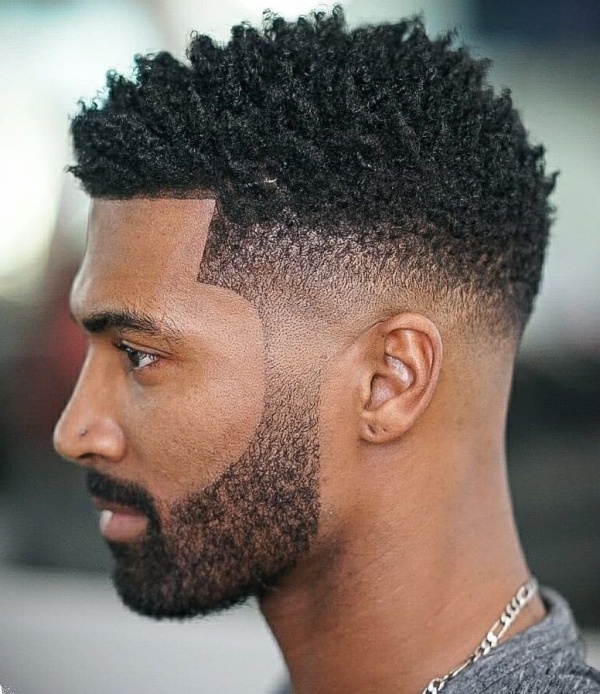 This hairstyle is mostly seen in men having dark skin color. The sides and the back is trimmed and an almost shaved look is created but on top of the head, the hair is kept longer. Men with curly hair usually opt for this hairstyle. If you do not have natural curls, you need not worry as there are curling creams by using which you can create curls. Thereafter the hair will be twisted by using a twist sponge to complete the hairstyle. You need to shave or trim the sides regularly to maintain the sponge twist high top hairstyle.
16. Afro Twists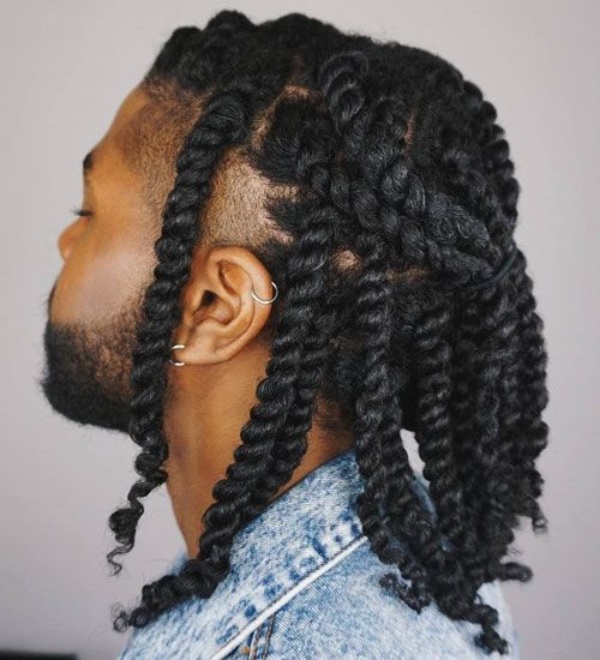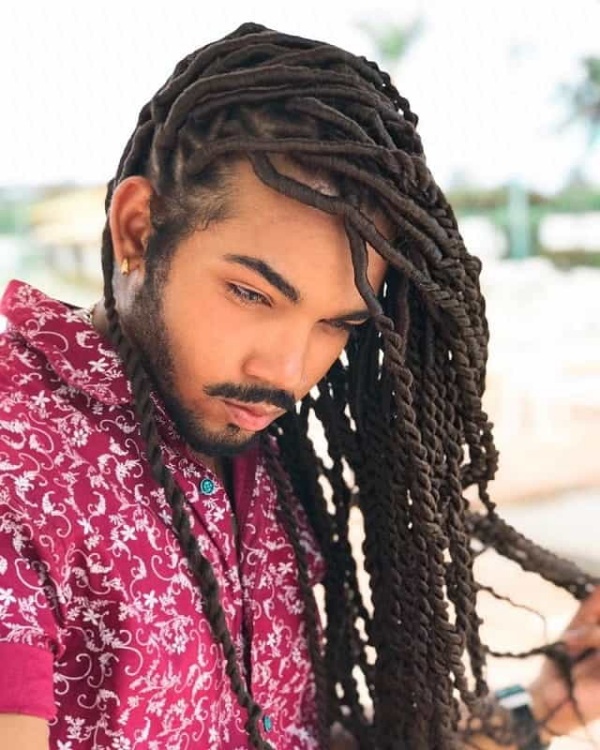 Afro twists is a very popular hairstyle among the men with darker skin colour and many people in Africa and the United States of America sport this hairstyle. The hair will be cut to a certain length, in most of the cases it has been seen that the hair is kept 3 to 4 inches long. After that the hair is twirled to create the twist. Never confuse this hairstyle with longer dreadlocks. Always dry your hair properly before creating the twirls in the hair. To maintain the hairstyle for a longer period of time you need to wash your hair less than usual.
17. The Faux Hawk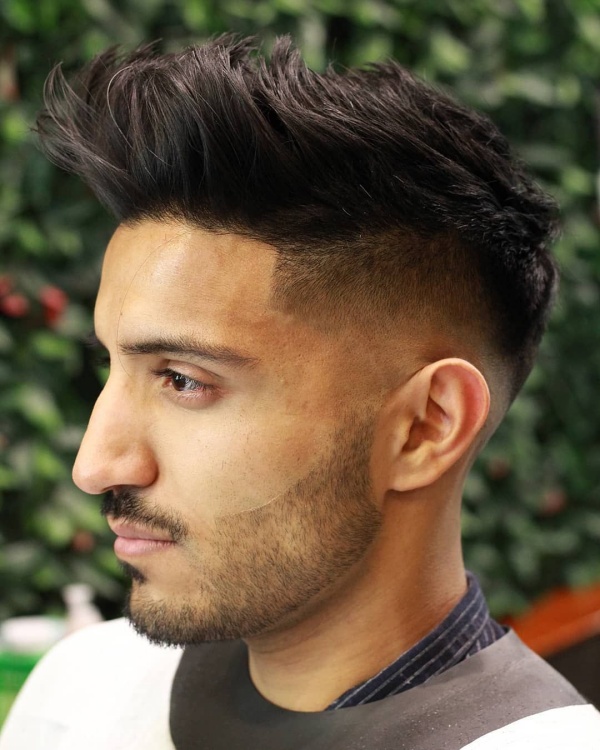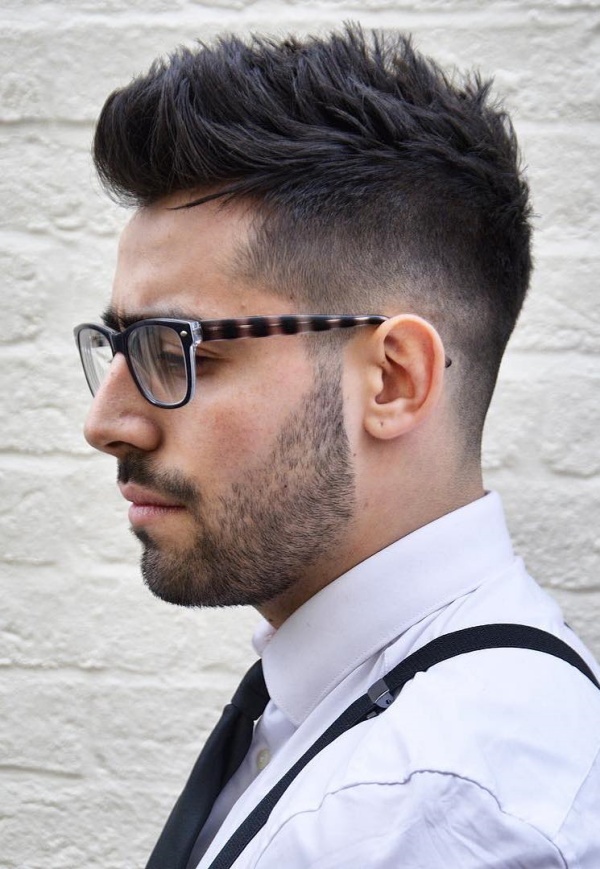 In this decade, the faux hawk has become one of the top trending hairstyles for men with round faces. They can also try this haircut and it will be ideal for them while going to a party with friends and also will create a good impression on a date. The hair all over the head can be kept in the same volume and length. If you are looking to sport a more prominent and edgy look, then you can trim the hair on the sides and on the back short. This choice completely depends on the facial angles and volume of hair that a man with a round face possesses.
18. High Volume Undercut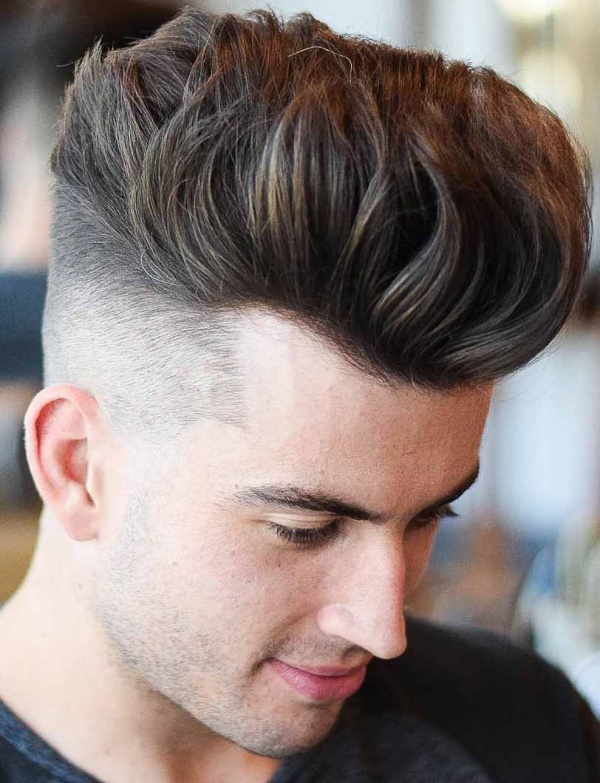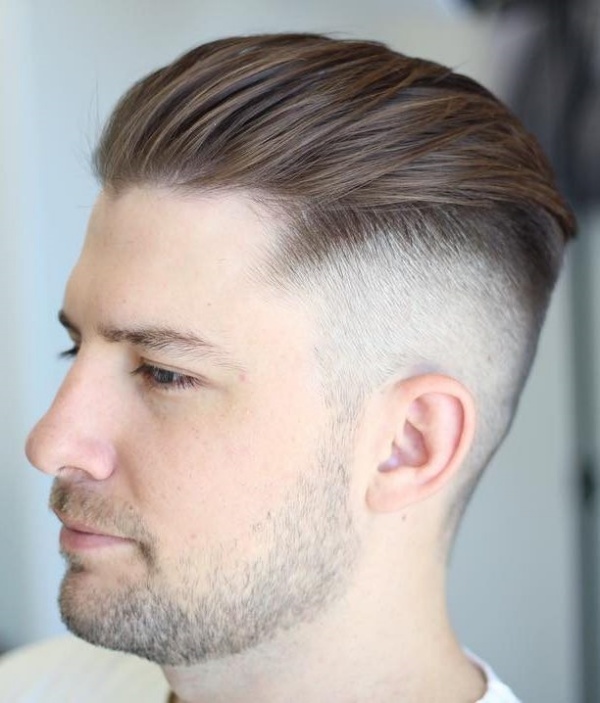 To get the high-volume haircut, the sides and the back of your head till the neck will be shaved completely or will be cut really low. Undercut will really go well if you have a high volume of hair in the middle part of your head. The undercut becomes so popular just because of the versatility it produces. Brush your hair back using a round brush and make sure that the hair remains in that position by using hair wax and hair holding spray. This will make your hair look more voluminous and will offer you a wavy structure.
19. Comb Over with Hard Part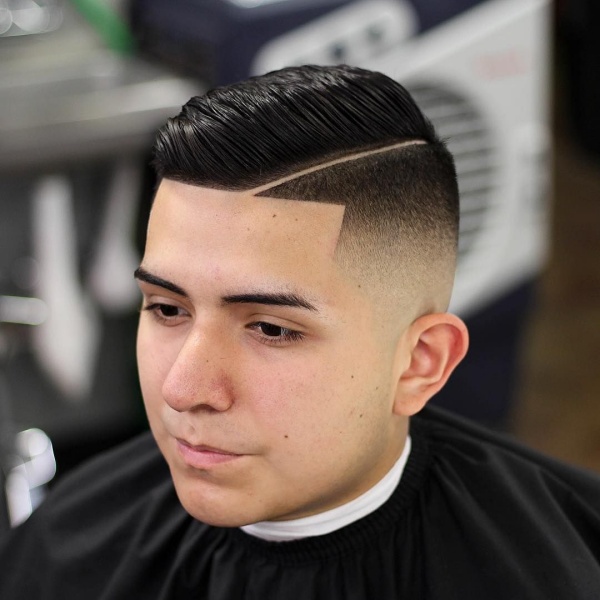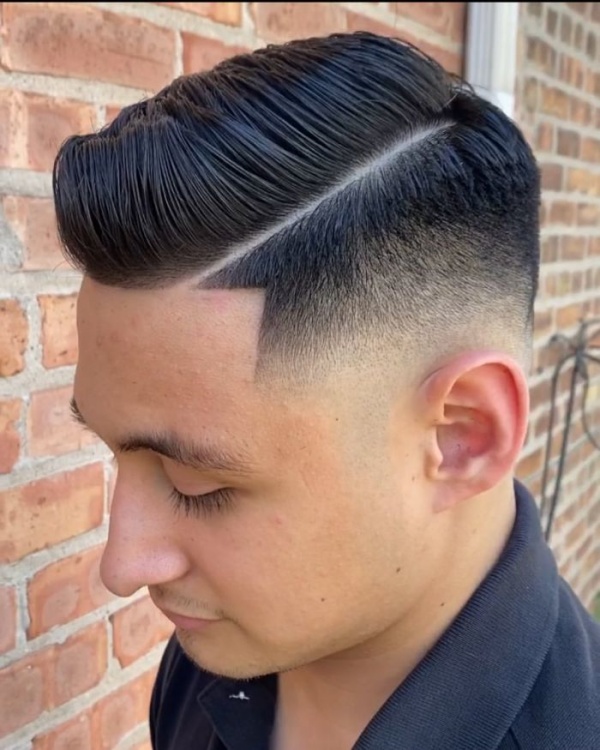 Usually, hair should not be parted in case of men having round faces but a hard part will suit really well on men with round shaped faces. The hair on the sides or on the back will be shaved completely and and then the hair on top will be part on either of the sides. The shaving will be distinguished from the remaining long hair with a gap created by the razor.
20. High Top Fade with Beard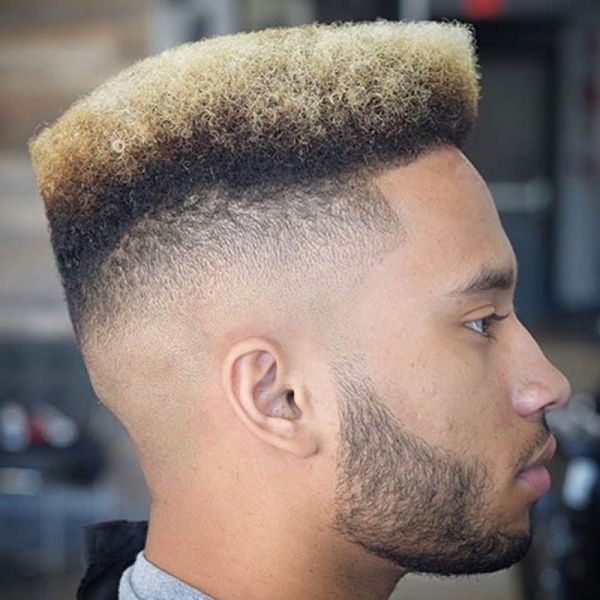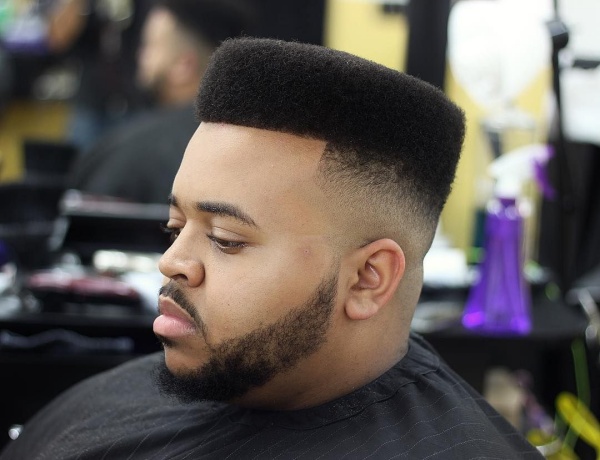 If you can grow a beard then you can definitely go for this high-top fade with beard style. To achieve this look, your hairstylist will cut the hair on both the sides and on the back really short and on the contrary will keep the hair in the middle quite long. This contrast will really look good with a well-maintained beard. Join the beard and the hair near the ear on both sides and do not forget to visit your barber from time to time to maintain the look of yours.
21. Long French Crop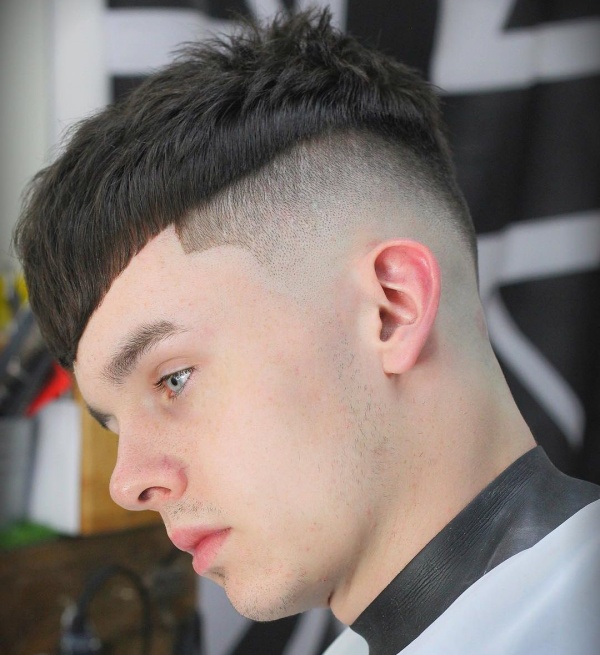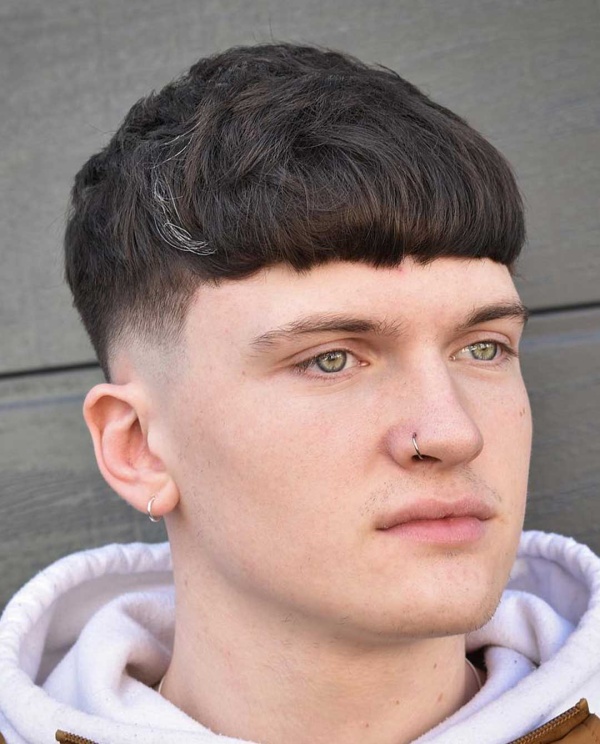 To sport a Long French crop hairstyle you need to keep the hair on top of your head medium to long. The sides and the back will be either shaved or will be trimmed very short for this. After the haircut, you need to blow-dry the hair and pull it into any one of the sides using a hairbrush. To add some texture to your hair you can use hair wax and a hair holding spray.
22. Straight Shag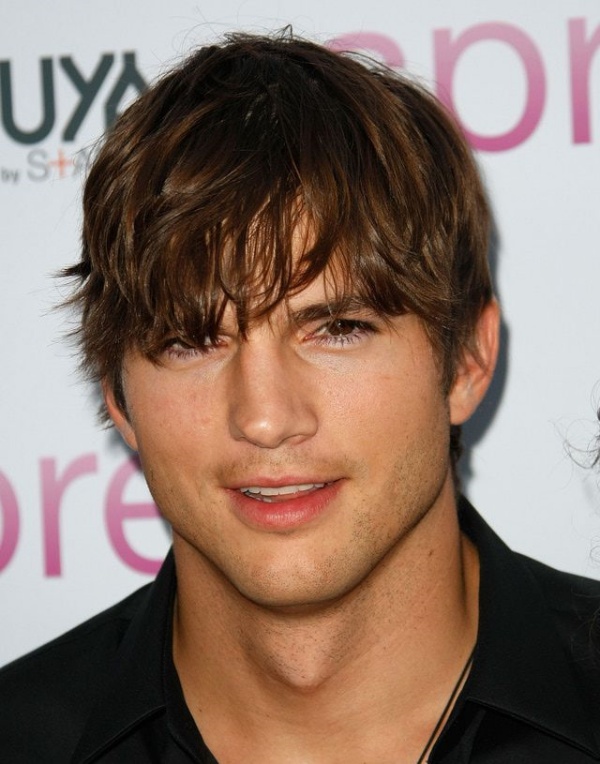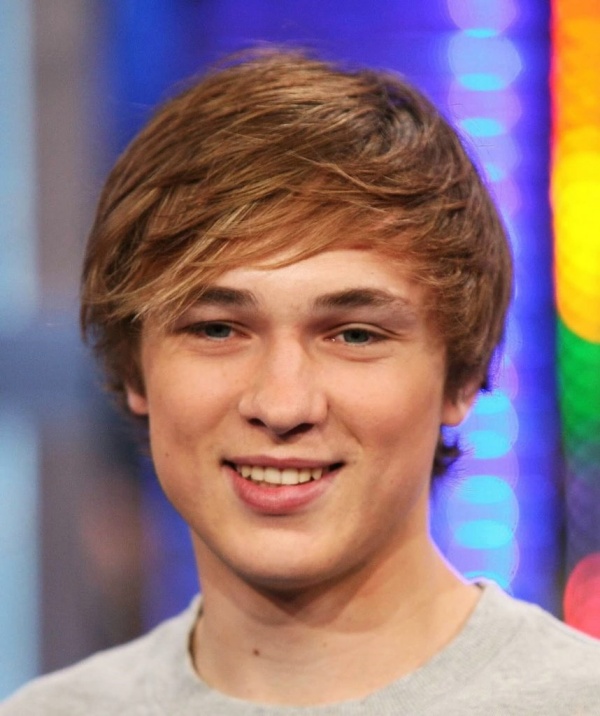 Straight shag hairstyle is a combination of both casual and messy hairstyle and this looks really good on men having round faces. You can choose the length of the hair according to your preference. You can keep it short or can let it be all the way down to the neck and shoulders. The haircut is layered and will create a feathery appearance on both the sides and also on the top. This is one of those hairstyles to keep which you need to visit your barber on a regular basis.
23. Shaved Sides Long Slick Back with Full Beard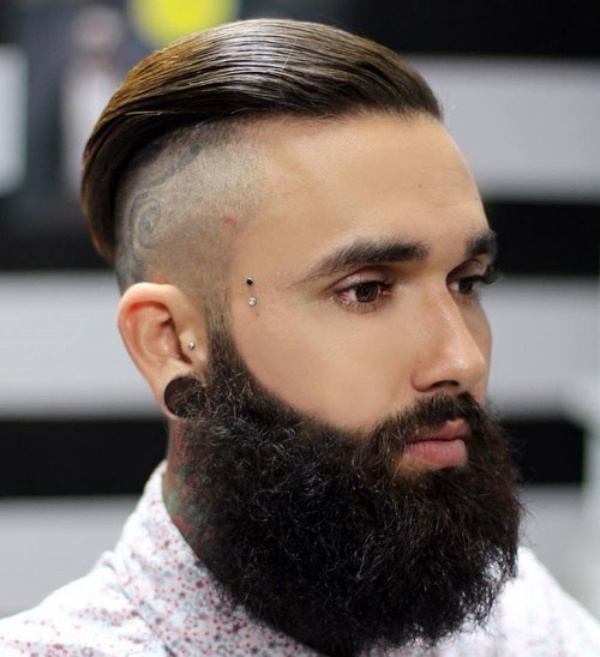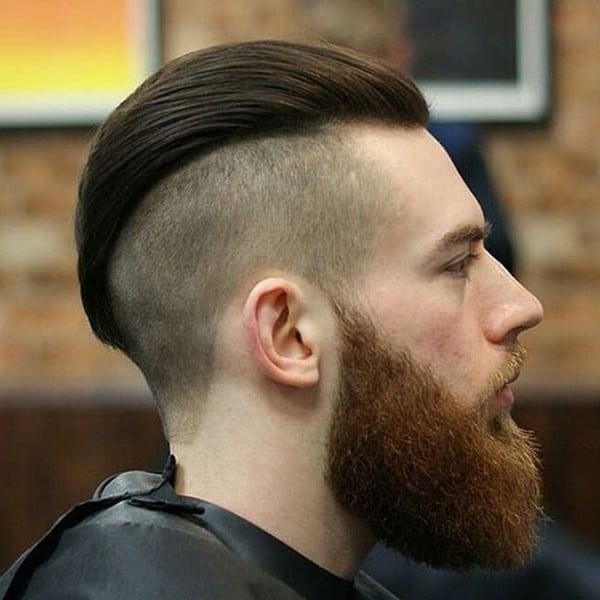 This hairstyle will create a bold look and will make you look more masculine. Both the sides of the hair will be completely shaved and the hair on top will be kept really long. After the haircut use a comb to sweep the hair back all the way back. A full beard will complement the look really well. Take good care of the beard and shave the sides from time to time to maintain the look properly.
24. Royal Side Part with Brush Up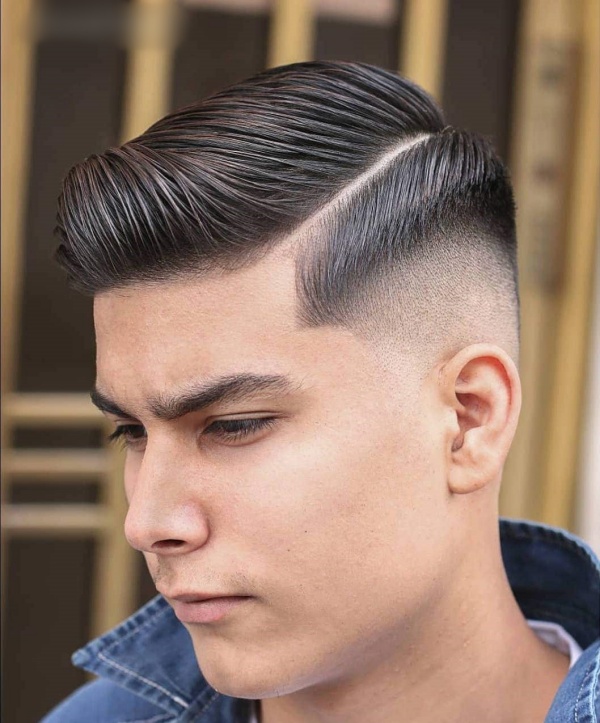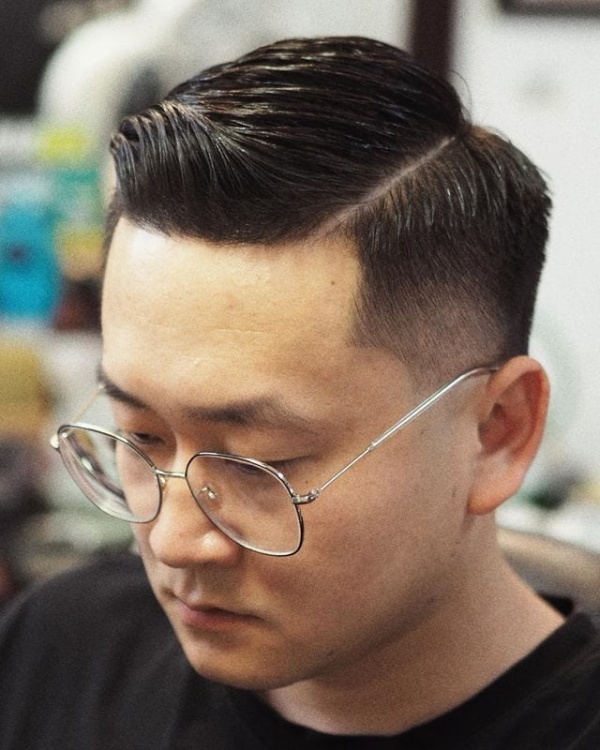 Parting the hair on the side will never go out of fashion. The length on the sides and on the top will not be much different in this hairstyle. To create the royal side part you need to brush the hair properly then sweep the hair on any of the sides of your head. The front portion will look voluminous as you will be brushing the hair up. This is an ideal hairstyle for round-faced men. If you are going to attend an occasion then this will make you look like a pure gentleman.
25. Tossed Brush Up with Temple Cut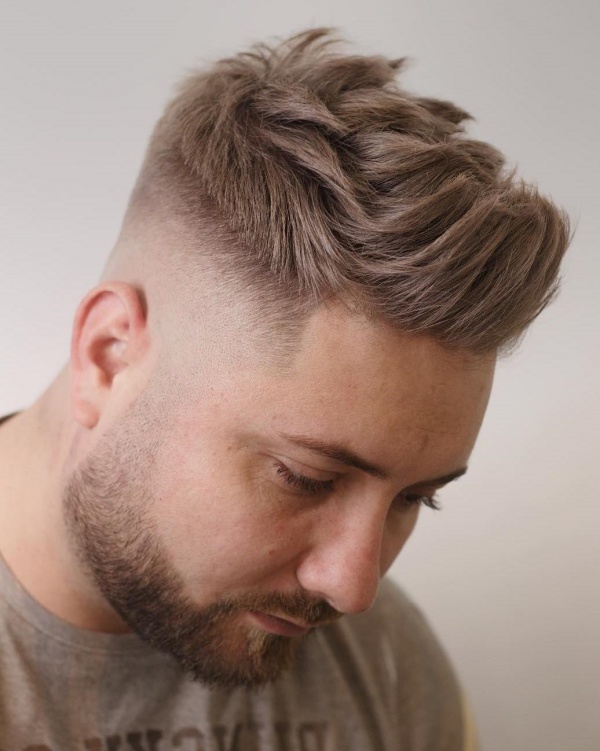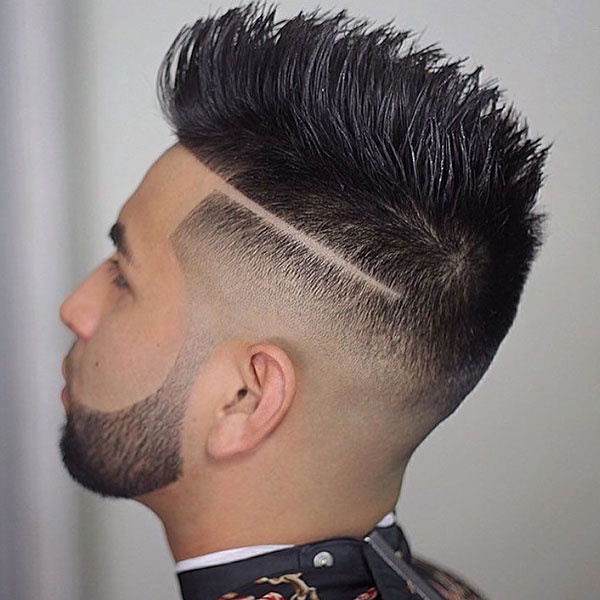 The hair on both the sides and on the back will be cut short and the hair on top will be kept longer than the slides and the back. For the sides, you can go for an undercut, fade cut, or even a taper cut but most hairstylists recommend a temple cut. The middle portion of the hair will be styled upwards and the front part will form a quiff. You can use a brush for it will create a messy hairstyle.
How Can I Make My Round Face Look Thinner?
If you have a round face and want to appear thinner, then you cannot do it overnight. You need to do certain things to achieve that. You need to reduce the overall body fat percentage and it will automatically reduce facial fat. Other than that there are some exercises specially designed to reduce facial fat. You can perform the blowing air exercise, jaw release exercise, and a few others. Eat healthy food and try to drink sufficient amounts of water to stay hydrated. Your haircut and beard styling can also make your look appear thinner as the beard will cover the cheek and chin the fat in that portion will not be exposed.
Where Should I Part My Hair For A Round Face?
Thinking about parting your hair, well to do that you need to have at least 2 to 4 inches long hair on top of your head. A study has shown that most round-faced men prefer side parting of the hair and not only that it also looks good and will help you to create an instant impression. You can part your hair on either one of the sides according to your choice. But always remember never part your hair from the middle as it does not go well with men having round faces. 
What Hair Color Makes You Look Thinner?
It has been seen that dark hair colors in comparison to light hair colors make your face look thinner than it is. There is no scientific reason behind it. So if you have a round face then you can definitely opt for dark hair color to achieve a thinner look. You can choose to dye your hair black, dark brown, and also in a few other dark shades. Try to avoid light colors as much as possible and it is an advantage for those round-faced men who have naturally dark-colored hair. 
Are Round Faces Attractive?
Men with round faces often wonder whether they attract people towards them or not. A round face may not have all the masculine features like a sharp jaw that almost every man desire to have but they are still very attractive. Many women also stated that they prefer men who are slightly chubby as the round face makes a man look cuter. If you have one of the hairstyles for men with round faces, you do not require any kind of filler to look good or attractive. Such men have a natural beauty and that's what makes them special.
What Hairstyles Should Round Faces Avoid?
The simple answer to the question is men with round faces should avoid extra short haircuts. As this makes the face look more round and that will not look good. So you should avoid any kind of buzz cut or something in which the hair of every part of the head needs to be trimmed short.
Does Short Hair Suit A Round Face?
Keeping your hair long is not everyone's cup of tea. Some might feel uncomfortable with that. But if you have a round face then a short haircut may not go well with your face shape. There are few hairstyles that you can try if you really want to sport a short hairstyle and your face is round. You can have bangs and all you need to do is to sweep them to any one of the sides to look good. Another very good way to mask the round facial shape while having short hair is to have facial hair. A well-trimmed beard will automatically enhance the short hair.
Conclusion
Round-faced men often go through phases of confidence that they are not attractive enough to receive admiration and attention. However, it is not the reality if you are aware of the right tricks of enhancing your beauty using hairstyles for men with round faces. So, believe in your natural masculinity and try out the haircuts of your choice.
You may also like: