In recent years, old-school haircuts have made a remarkable comeback. This hairstyle looks just as stylish and classy now as it did in the '50s and '60s. With a seemingly old-fashioned and retro appearance, these vintage men's hairstyles transcend time and, the best thing is that many of the retro hairstyles like the pompadour, slick back, quiff, and side part are barbershop favorites. In order to make the old school haircuts for men, make these old school hairstyles for men fit the latest hair trends; all guys have to do is ask their barber for an undercut or fade. That will feature mainly the sides and back, and then style a textured finish on top. With this natural look, you will require a matte product.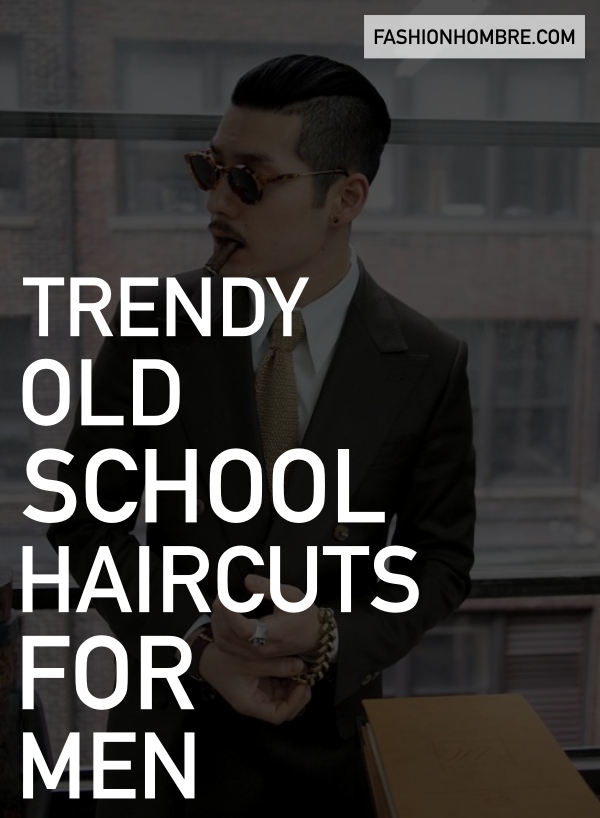 In case you wish to style the most gangster haircuts, you'll keep your hair slick yet sophisticated using a stronghold, high-shine pomade. There are a plethora of designs to look into, ranging from short to long, curly to wavy. Even men with different facial shapes can try out from the list provided here. Let's begin with the different hairstyles and choose what our heart desires!
Classic Old School Haircuts For Men
1. Old School Classic Pompadour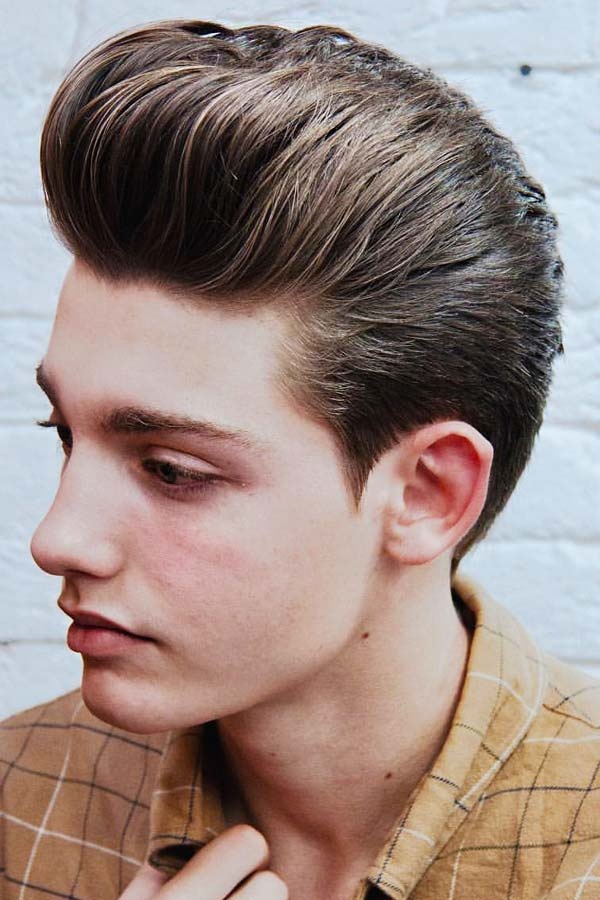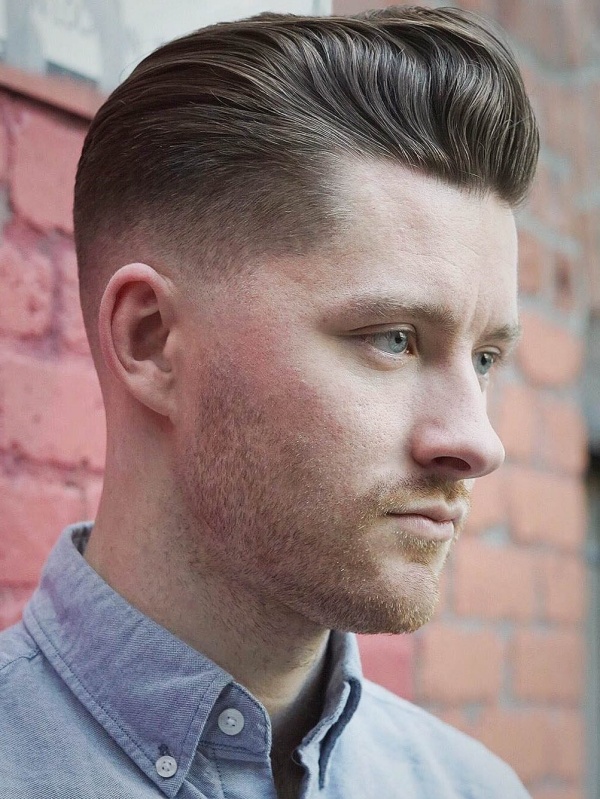 If you seek a unique, creative hairstyle, you can shape your hair with the trending old-school Pompadour design. This hairstyle has been adapted from ancient times, and the name is given after Madame de Pompadour, the mistress of King Louis XV of France. You can give yourself a touch of royalty with this unique and classic hairstyle. This is mainly a long hair design, in which the long top hair is swept backward, while the side hairs are given a faded look. On top of that, all faces can get accustomed to this design.
2. Vintage Middle Part Haircut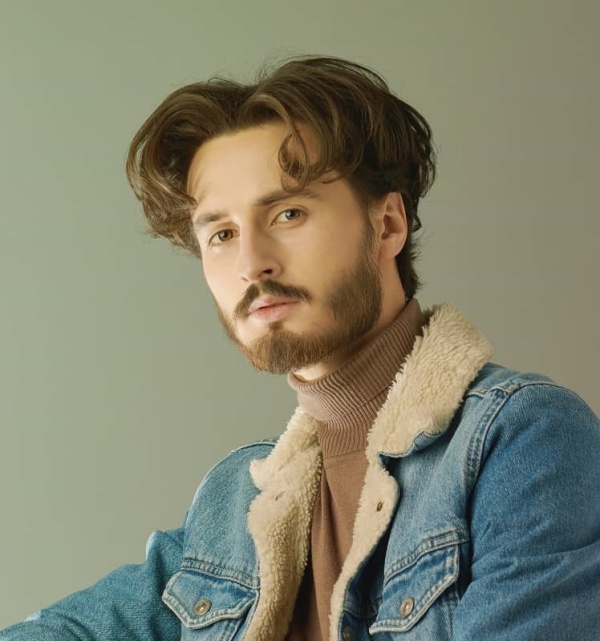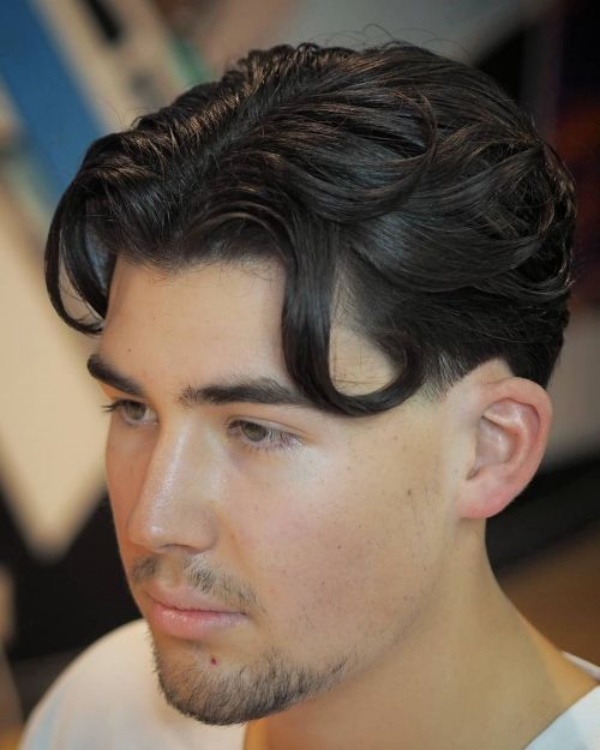 From the name itself, you can quickly determine that this hairstyle gives a classy and vintage appearance. The vintage middle part haircut is kept by the most popular actors of the 90s. Because of the charismatic effect, this hairstyle has been ranked among the top old-school hairstyles for men. Men used to keep a clean, shaved face with this hairstyle. In this hairstyle, the front hairs are kept long and are separated from the middle. The side and back hairs are kept short to medium size.
3. Finger Waves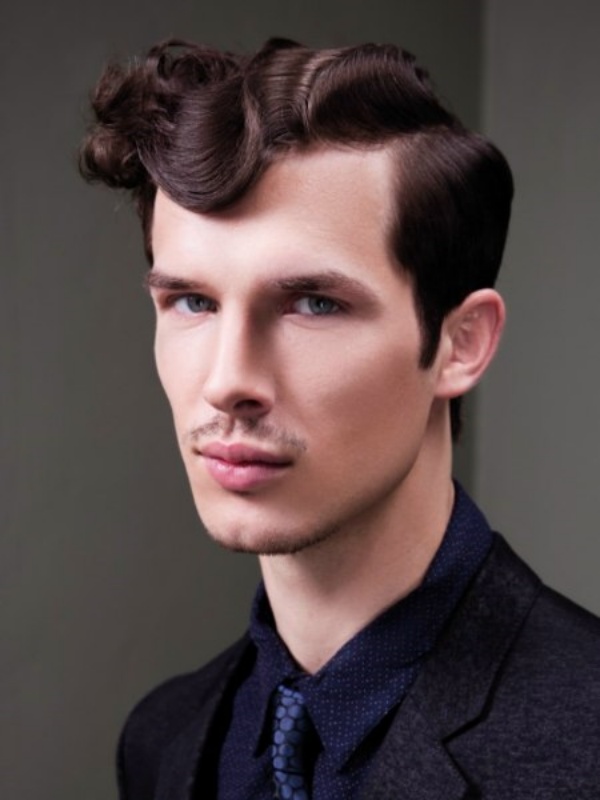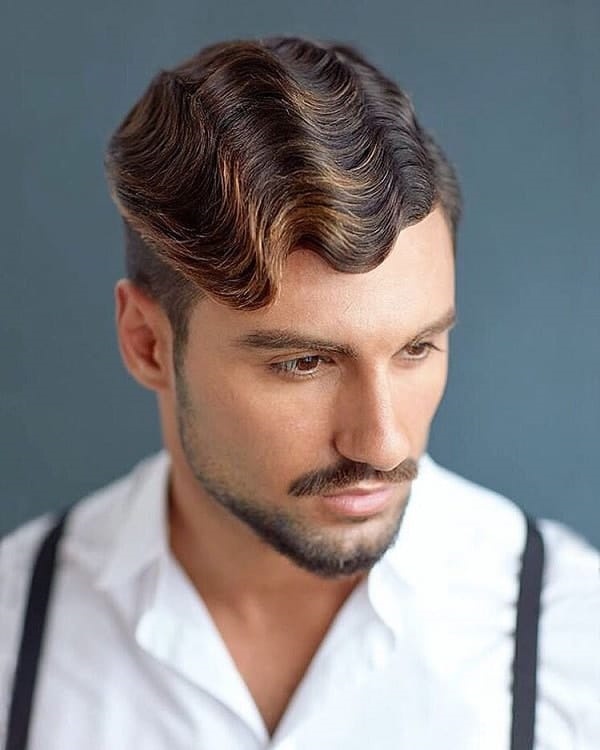 The Fringes hairstyle is the ideal one that is styled over the front of your hairline and covers partly or overall forehead. Be it curly, wavy, short, or long; this hairstyle works on every man. With this hairstyle, you can have a chocolatey boy look. This hairstyle can be kept Clean shaved, or you can have a beard with it. There are a variety of fringe hairstyles available, which make it much easier for men to choose.
4. Slicked Back Hair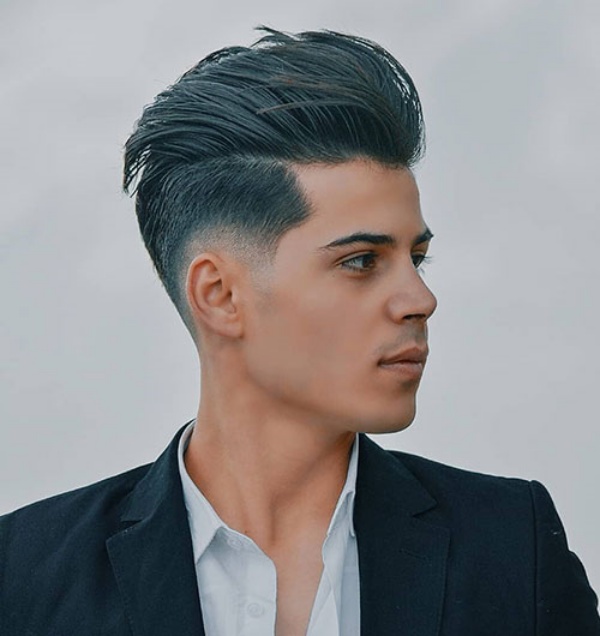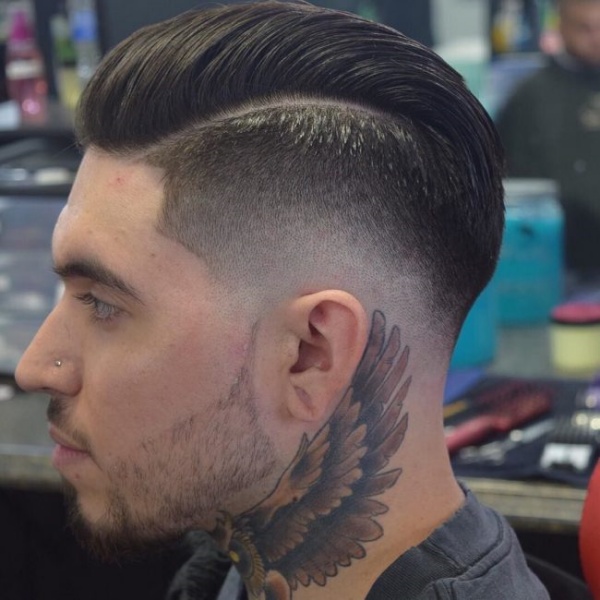 If you are wondering how to fit in the old school haircuts for men, well, the slicked-back hair is an ideal one to showcase your natural appearance. If you are a fan of Brad Pitt or Peaky Blinders, then this is the perfect hairstyle to show your love for them. Most hairstyles come and go, but this has always been in the trends because of its versatile technique. It doesn't matter your facial shape, from round to diamond shape; this perfectly suits every man. The side hairs are mostly faded, while the top hairs are brushed backward.
5. Ducktail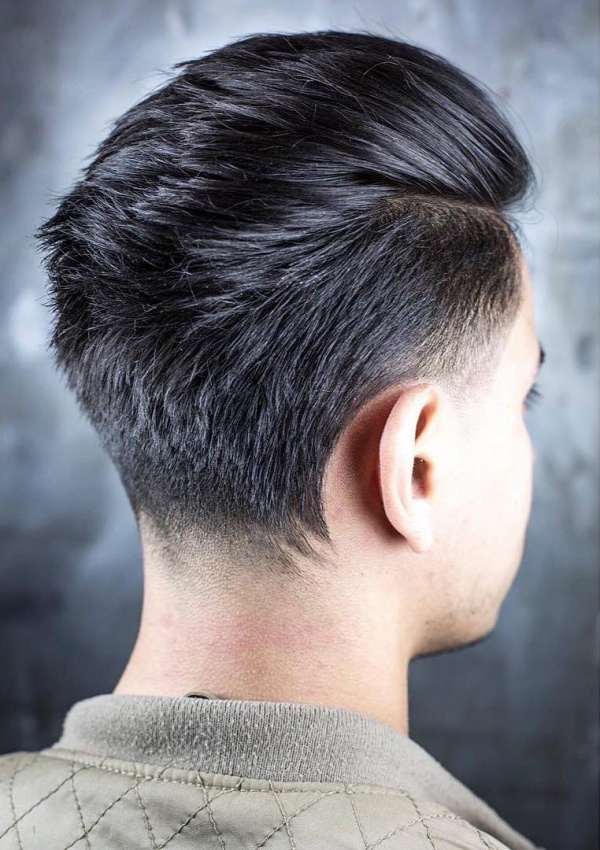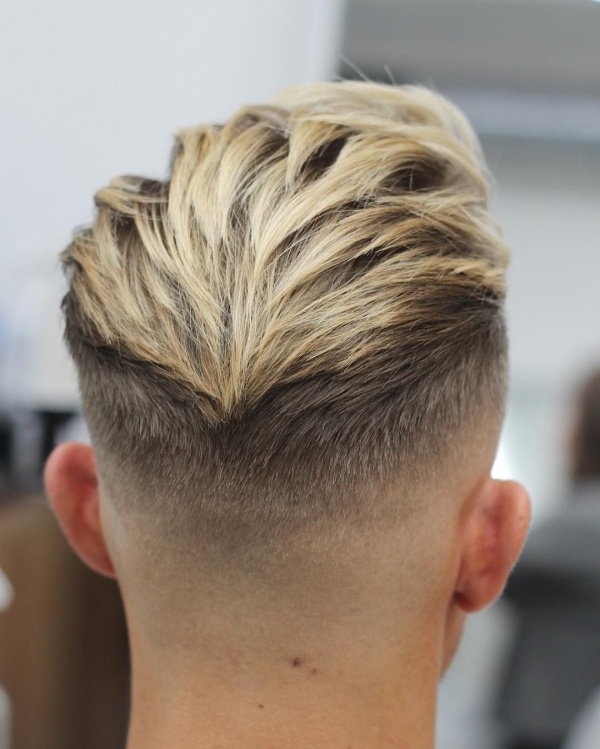 If you want a unique, creative hairstyle, then The Ducktail hairstyle is the ideal one. This hairstyle has always been on the list of old-school hairstyles. The perfect part about this hairstyle is that it has been a pretty old and classic fashion of the 1950s, which is still trendy among young men with dense hair growth. With the popularity, the hairstyle is called by a lot of names. This hairstyle features a V-shape at the back of the head, which is done by combing the side hair backward and is joined from both sides centrally in the back of the head.
6. Old School Hipster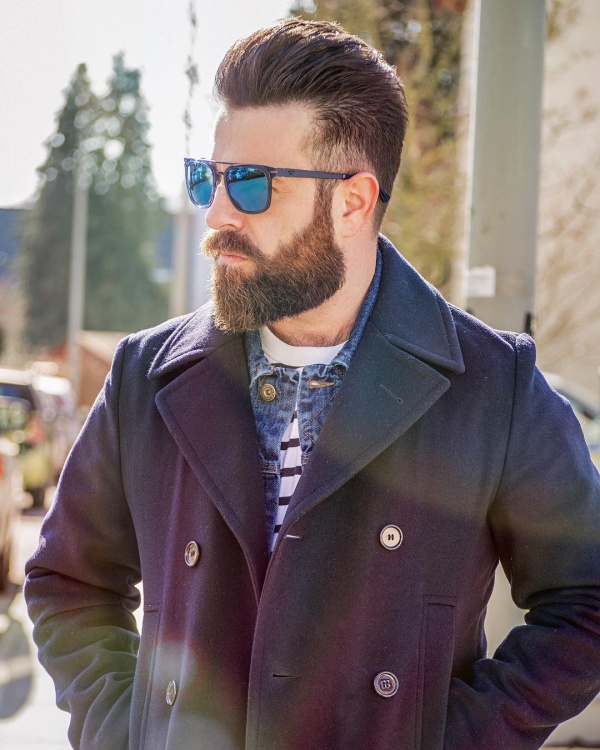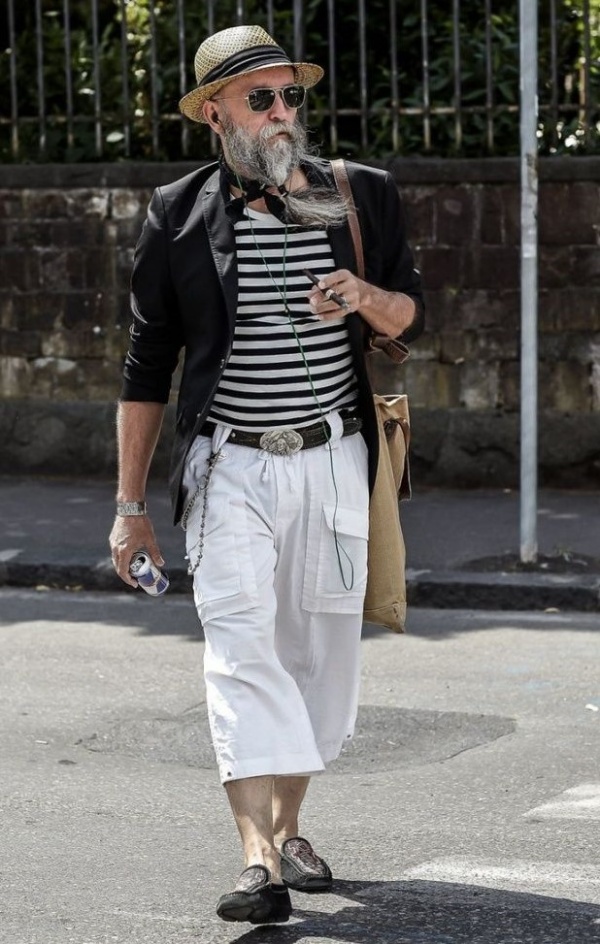 Old Hipster hair comes in many forms. Hipster haircuts are variations of older, classic hairstyles combined to give an appealing appearance with a modern twist. The best hipster haircuts give a retro feeling and draw the attention of everyone. From short to medium, hair length the patterns of hipster's hair is versatile. You can add a short beard that connects with the side hairs making a deadly combination.
7. Old School Mullet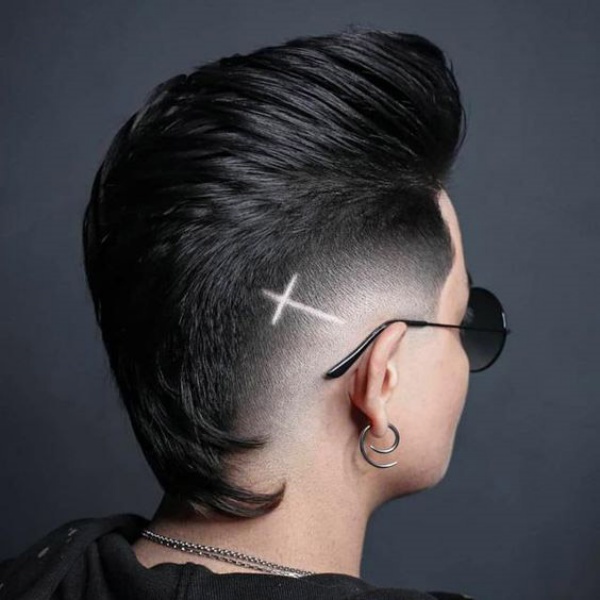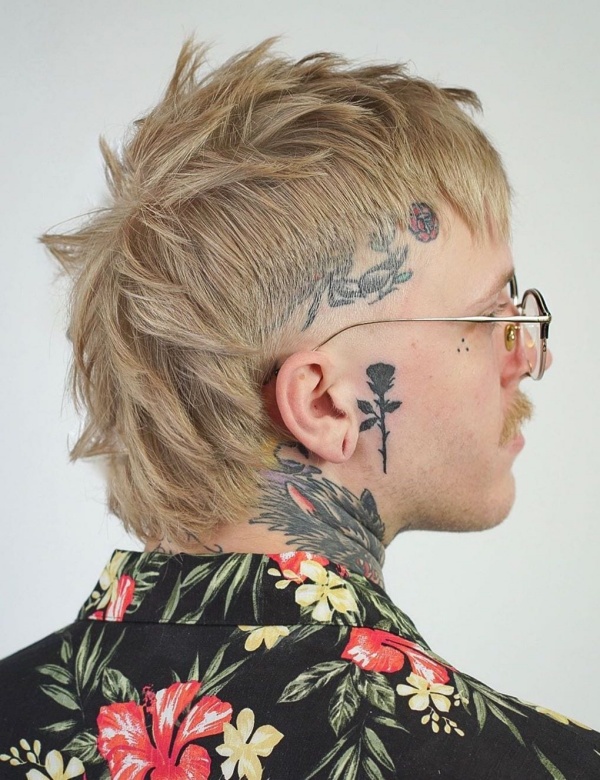 One of the recent comebacks made by old school haircuts for men is the mullet hairstyle. This hairstyle has become one of the creative hairstyles among men. The traditional mullet hairstyle is defined by keeping long hair all over the sides and back; the top hair is tied up to the back, while some part of the top hair is made to fall on the forehead. This hairstyle is the best way to show your thick hair growth. You can create a masculine solid look by keeping a thick beard. This hairstyle needs grooming and maintenance to keep style intact.
8. Crew Cut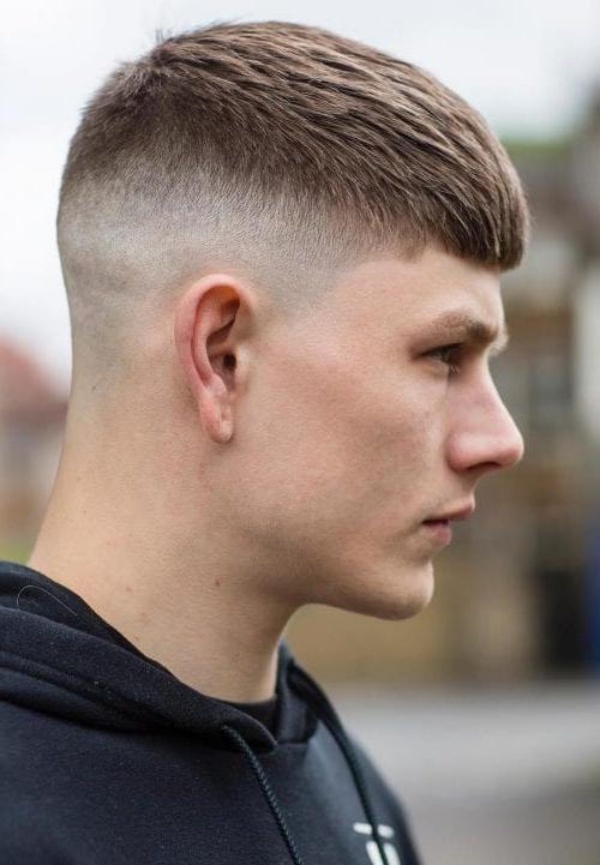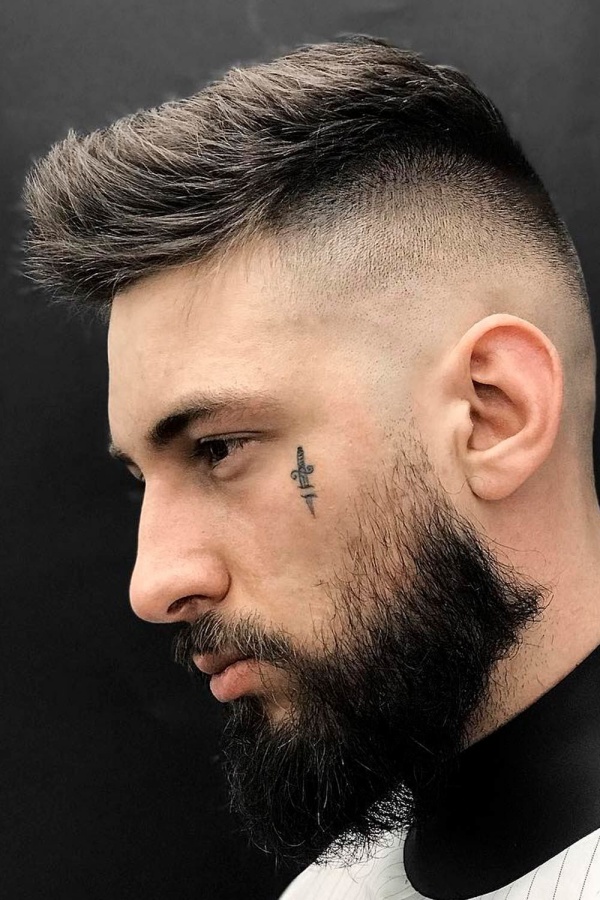 The crew cut is a classy old-school hairstyle. With this look, you can give your face a fresh appearance. To look slimmer, men with round faces mostly prefer this hairstyle. It hardly matters if you have a beard or not, as this style perfectly matches with anyone. If you wish to have a formal hairstyle with a neat and charming look, then this hairstyle is ideal. In this hairstyle, the side hairs are shaved and given a shady touch, while the top hair is kept short, making the style cheesy.
Related: Best Haircuts For Fat Guys With Beard
9. Side Part With Skin Fade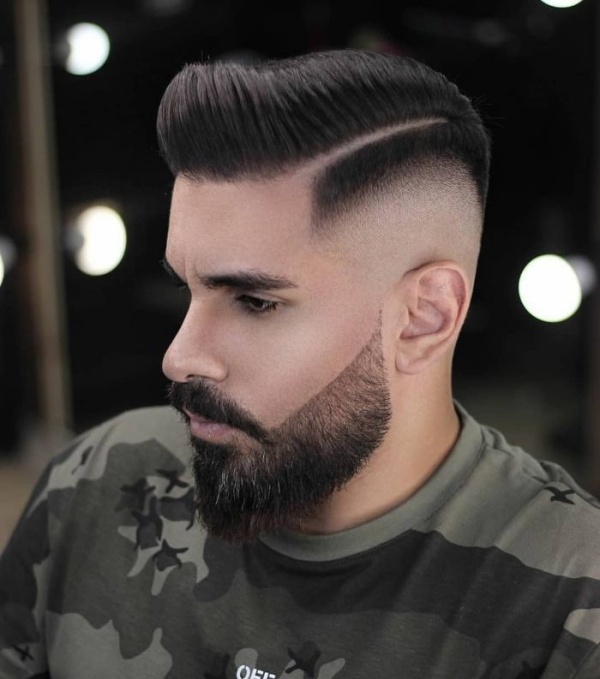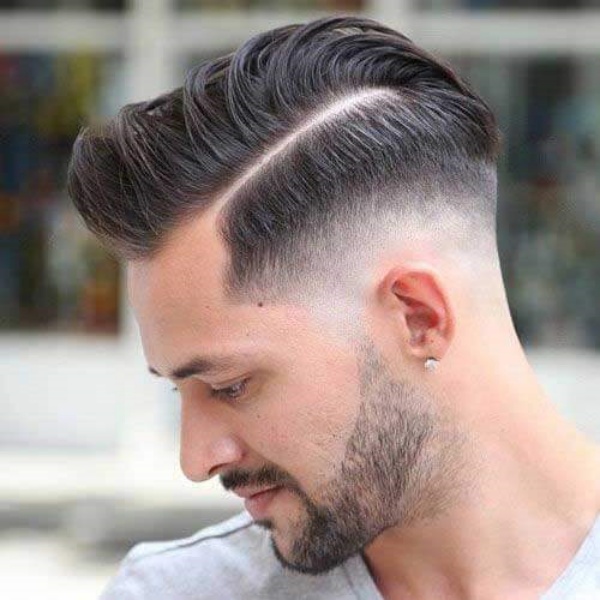 Are you looking for a fresh and clean hairstyle? Well, with the side part skin fade, you can have a decent look. With this hairstyle, you can style yourself from formal to a simple pattern. This hairstyle features faded sides that are created with a razor and trimmer, while the top hairs are kept short to medium size. If you seek a hairstyle with minimum maintenance, then this is the best you can have from the list.
10. French Crop Haircut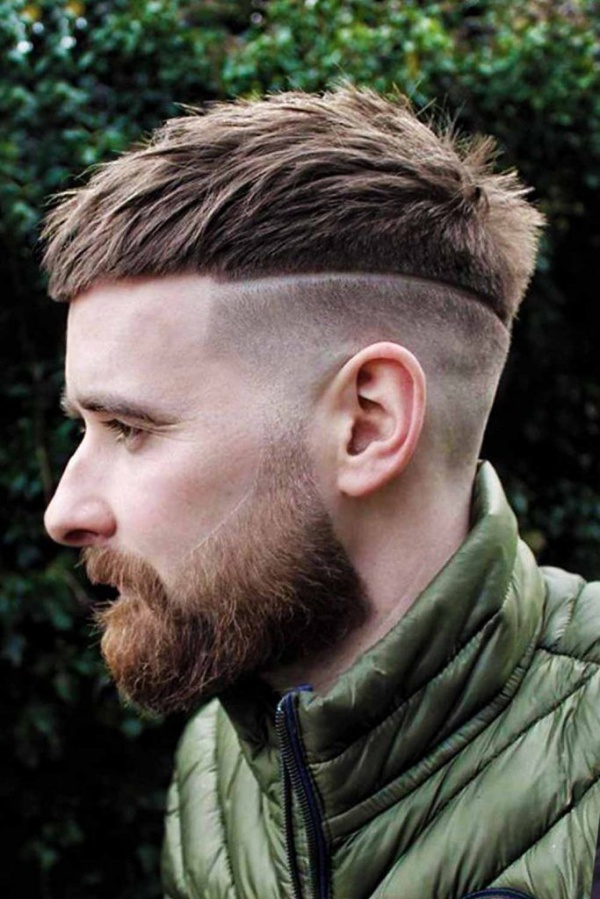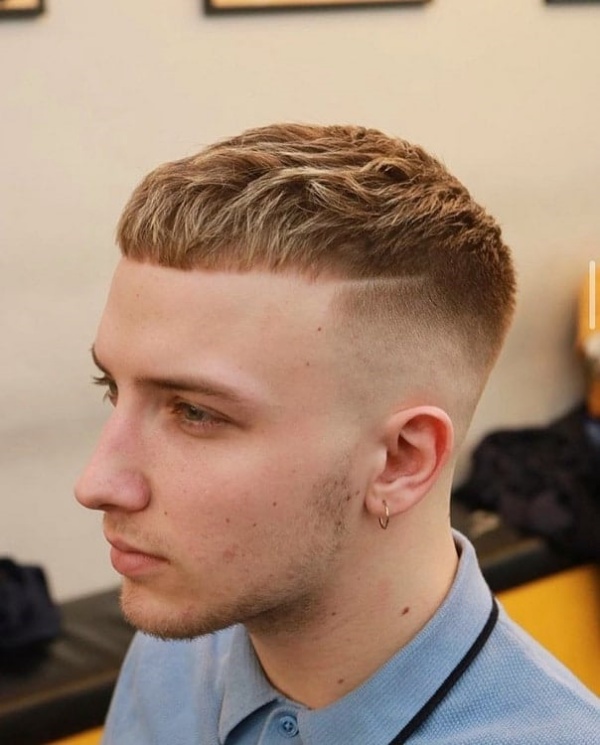 If you wish to have a classy, intelligent old-school hairstyle, the French Crop hairstyle is ideal. Men with short hair can shape their hair with this unique and versatile hairstyle. This hairstyle looks the same as Caesar cut. Some men love to involve a taper fade or undercut on the hair as well. You can have both a formal as well as a casual look with this hairstyle. Different sizes of this hairstyle are available for different facial shapes.
11. Hairstyles For Short Hair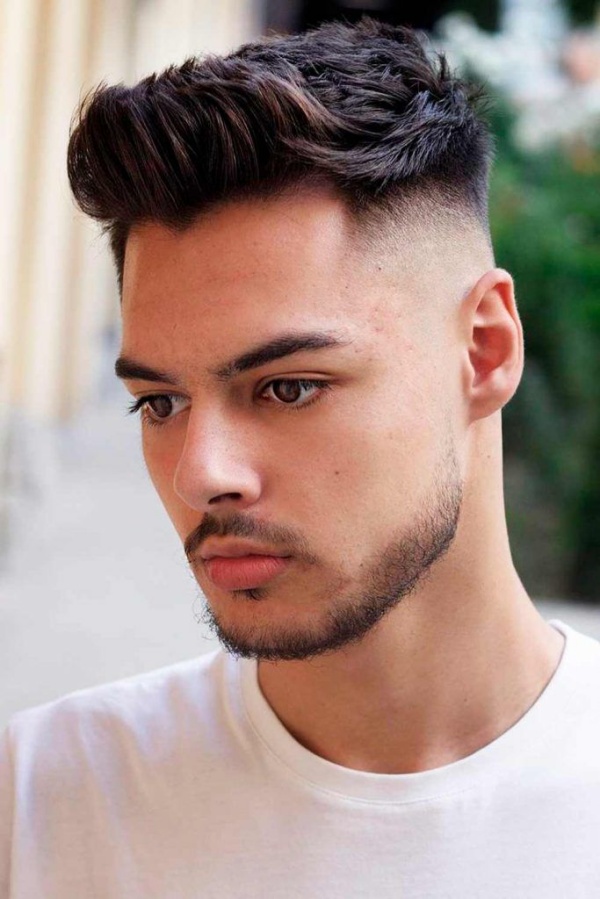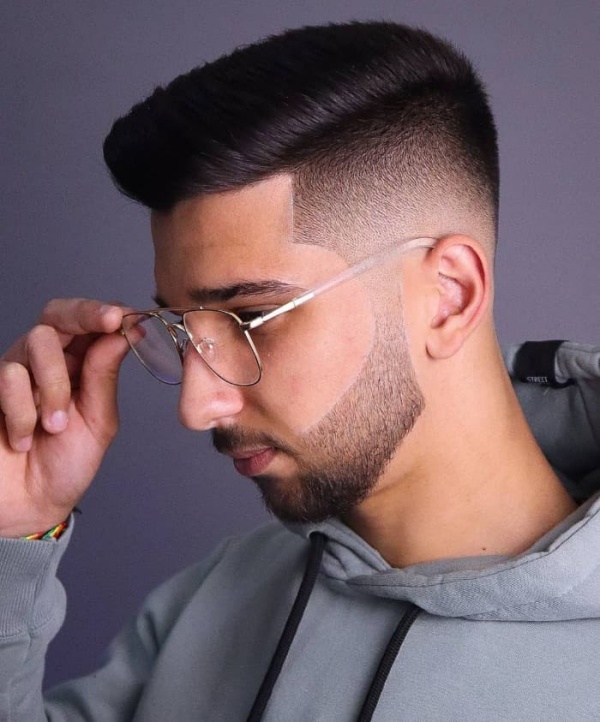 Short hair is one of the best old school haircuts for men. From small, medium to large, there are different shapes with which you can style yourself perfectly. Different versatile designs give a delicate appearance. Men love to keep a clean, shaved face with this hairstyle, but beards also give a contrasting look. The perfect thing about short hairstyles is that it comes with low maintenance and needs less grooming.
12. Old School Afro Hairstyles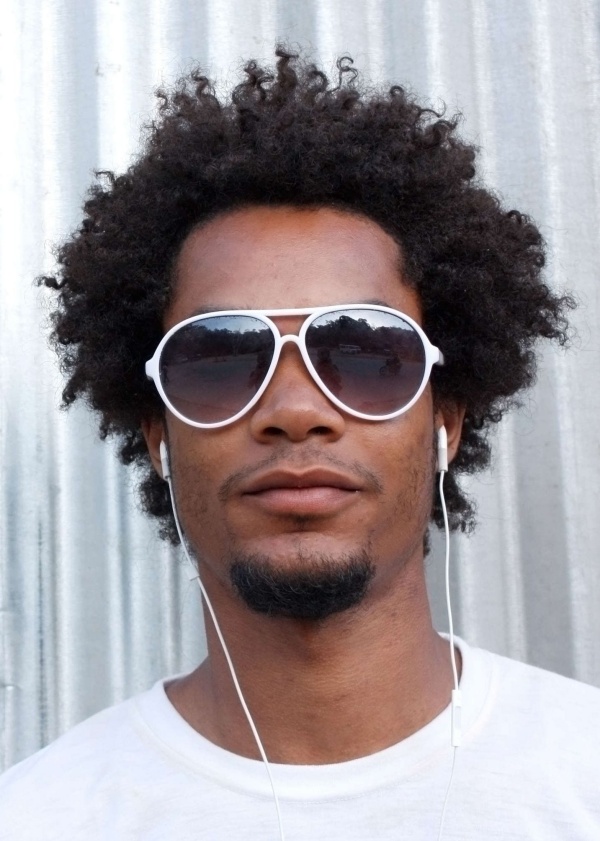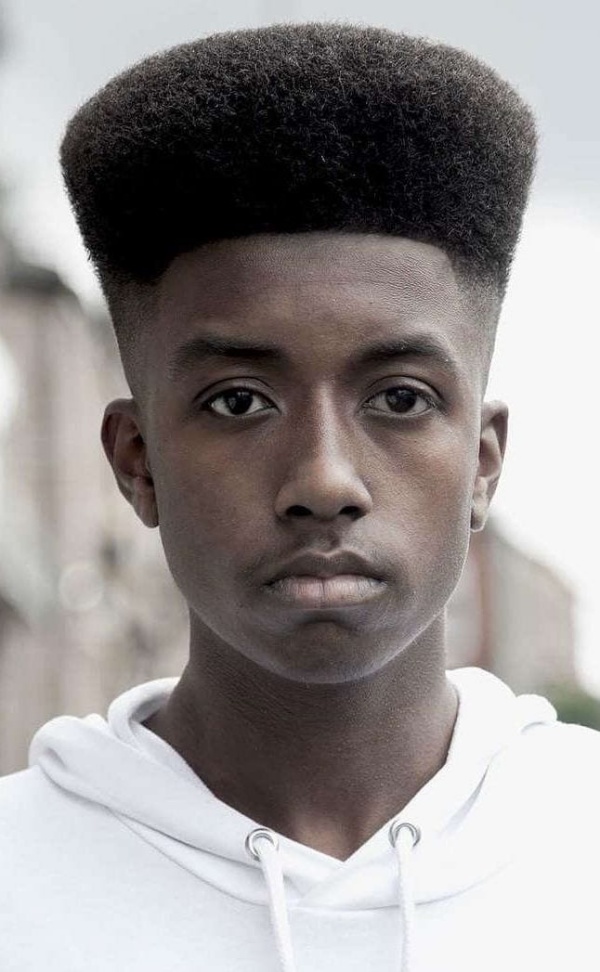 Black men love to shape their natural texture, thickness, and hair volume with the old-school Afro haircut. Most black men are lucky to have their heads full of hair. This made the evolution of the various afro hairstyles for men. You can shape yourself with the unique creative afro cuts from short hair to long, smooth fades to casual dreads. The ideal part is that this is an attractive appearance that suits any occasion or event.
13. Old School Quiff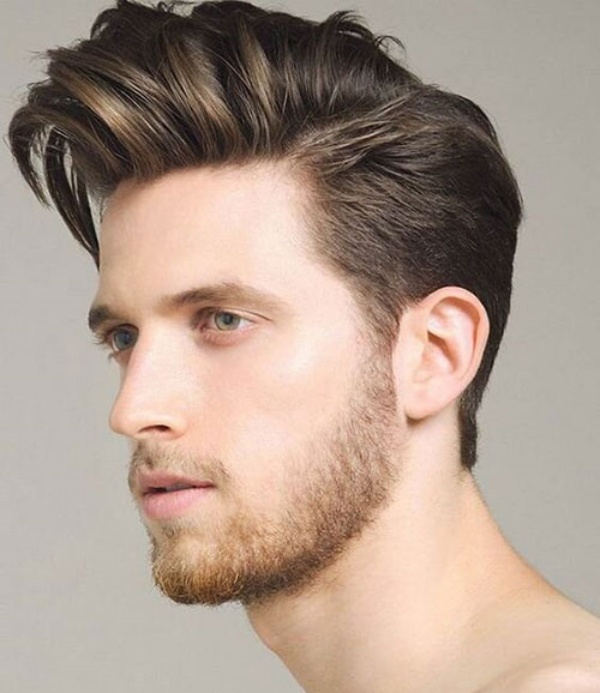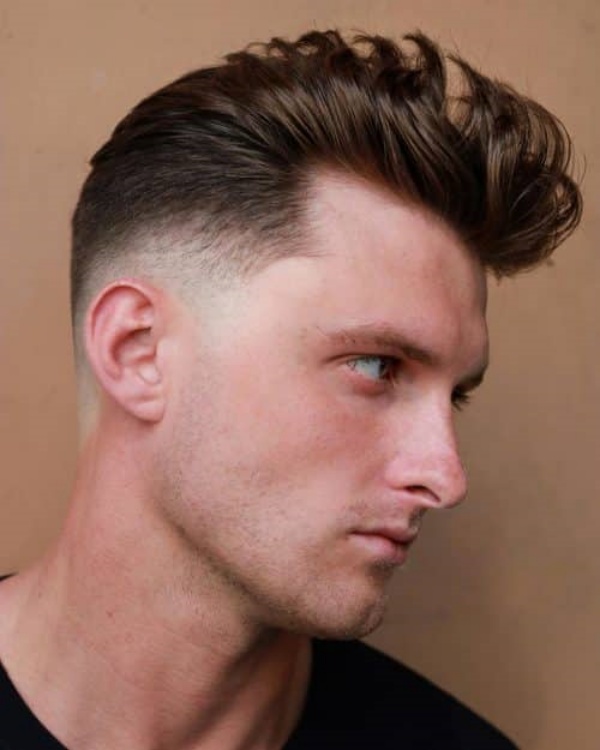 The old-school Quiff hairstyle has always been one of the most influential and enduring trendy haircuts for decades. This hairstyle can be harnessed by different age groups having the most classic timeless style. If you wish to have a hairstyle that is perfect for various events, then this is the ideal one. This hairstyle has also been a choice for movies, music, and politics. Adding a beard with this hairstyle makes a face more attractive. You can go from ancient style to current adaptation with this haircut.
14. Bob Haircut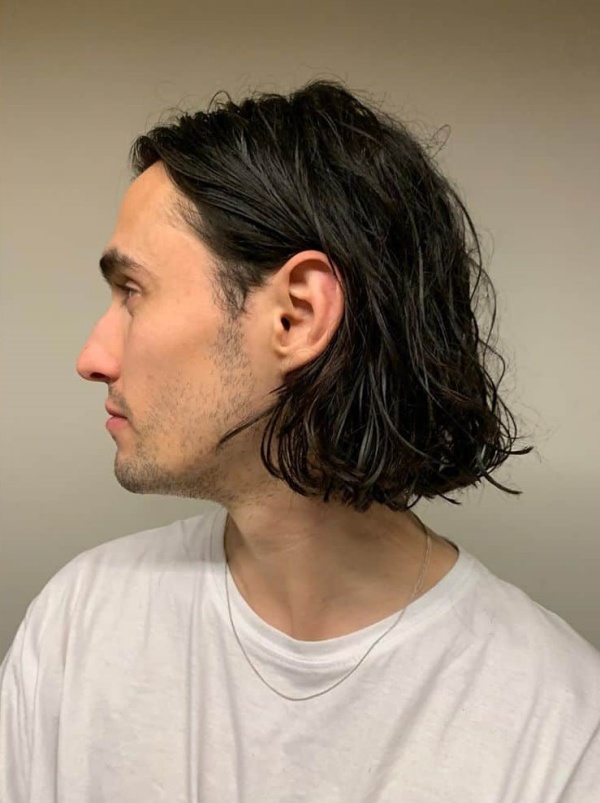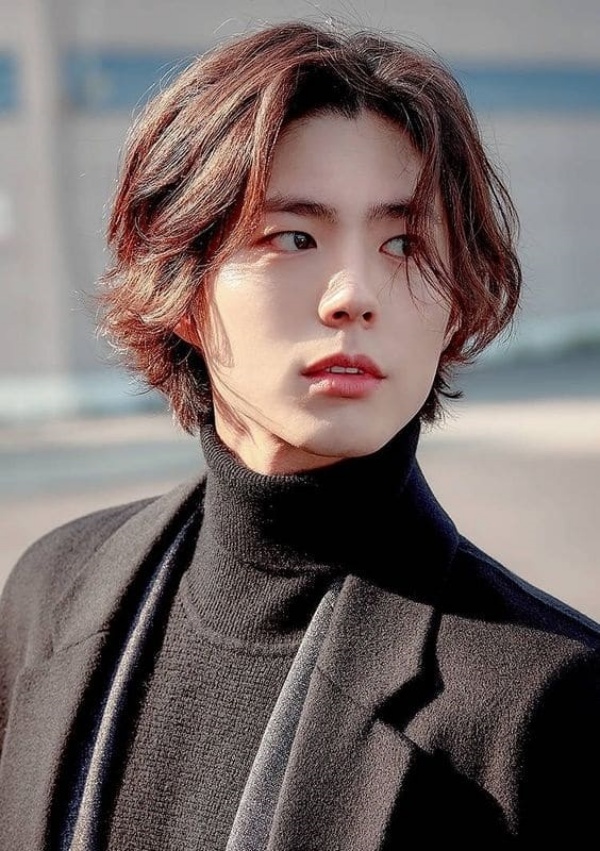 Are you looking for old school haircuts for men? Then Bob's haircut is one of the best you can have. With a Bob haircut, you can give yourself a retro look. Ranging from small, medium, and large, the Bob haircut is versatile in nature. If you wish to have a contemporary twist in the hairstyle, then you can create this on your appearance. You can have an excellent yet sophisticated appealing look with this hair design.
15. Hi-Top Fade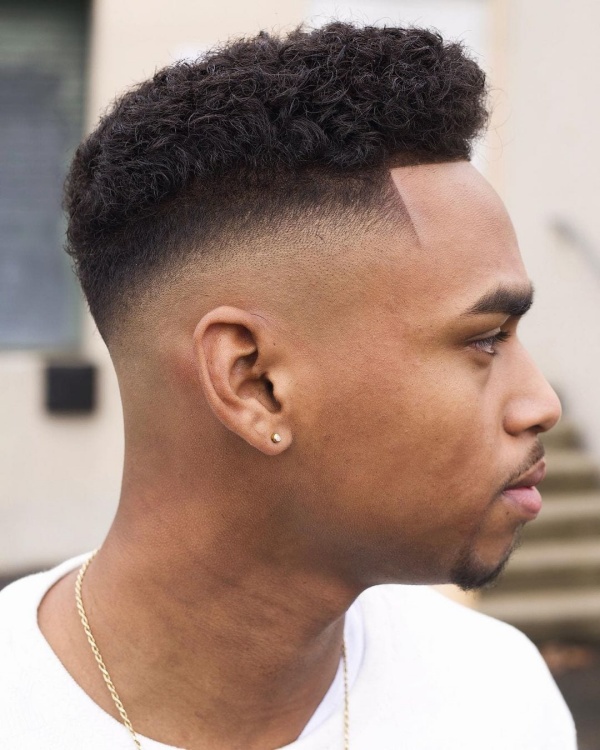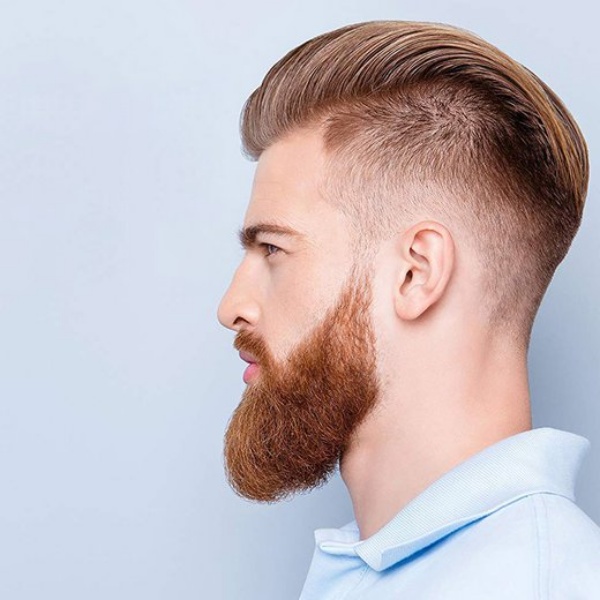 The Hi-top fade is one of the trending old-school men's hairstyles. The look of the hi-top fade is as good as it was earlier in the 80s. In this classic hairstyle, the length of the sides gradually reduces, while the top hair is kept long and upright. This is an ideal hairstyle that can be seen most commonly in black afro men, whereas everyone has adapted this style in recent days. With different variations, this style suits every man accordingly
Checkout: Awesome Perm Hairstyles For Guys
16. Medium Length Textured Hair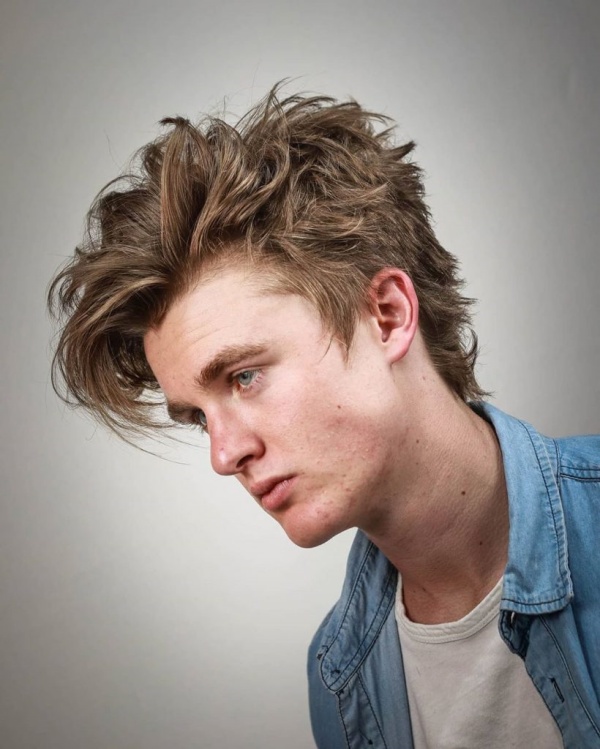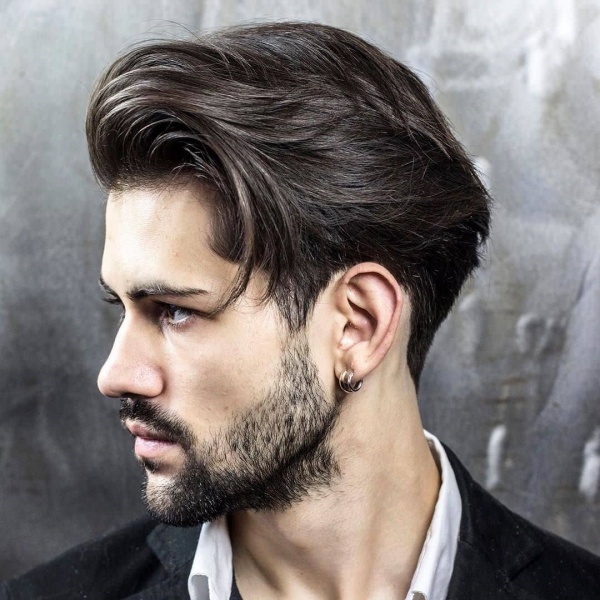 With medium-length hair, there is a vast range of styling options in order to transform your look. The textured hairstyle is the best medium-length hairstyle you can have. With each new day, you can experiment with something unique by having the hairstyle you desire. With the availability of talented barbers, you can add a fade or undercut to redefine and update your look. This hairstyle becomes more prominent when you start keeping a beard.
17. Brushed Back Hair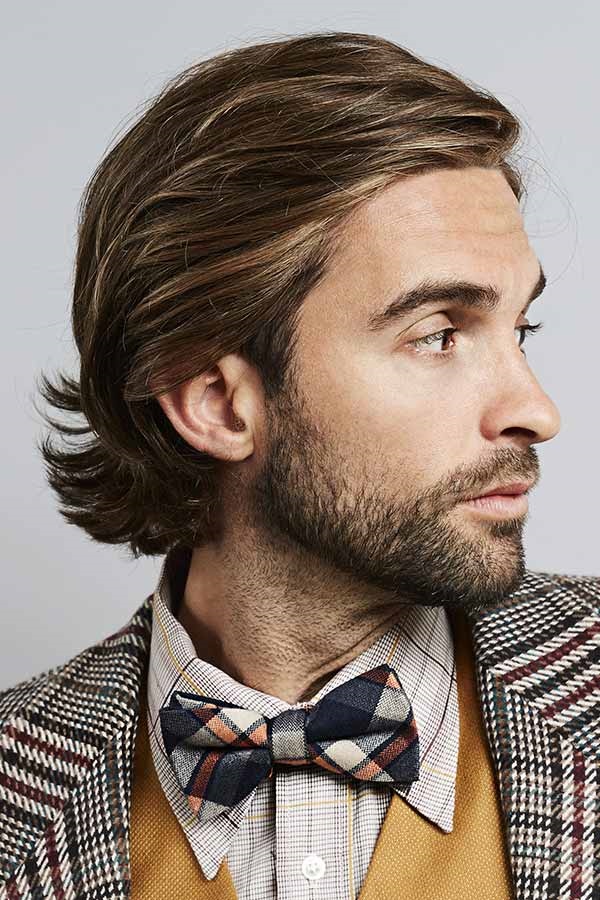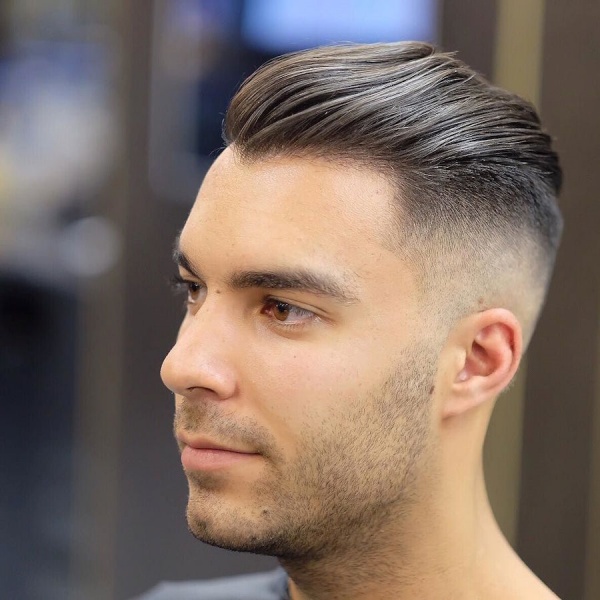 If you are looking for cool and sexy old school haircuts for men, then brushed back hair is ideal. This hairstyle has its own appealing effect with a smooth and shiny appearance. Here, the hair size and shape differ from men to men. The side and back hairs can be tapered, keeping the top hairs long, or overall hair size is of the same long length. In order to give a wet appearance to the hair and keep them intact, you need to apply different hair products.
18. Gangster Haircut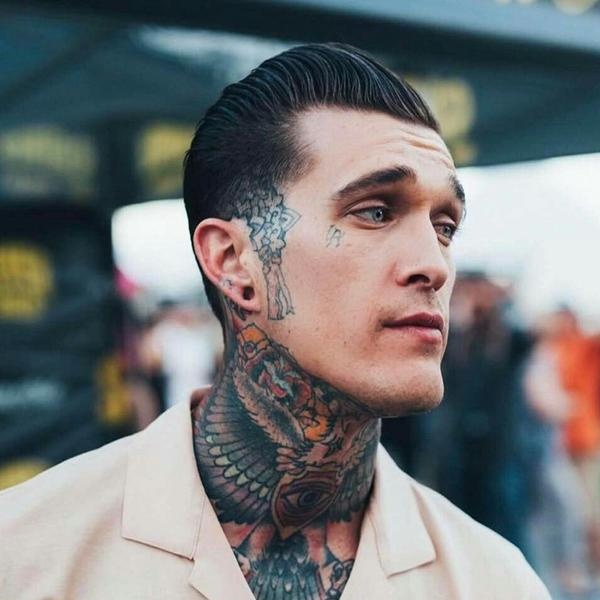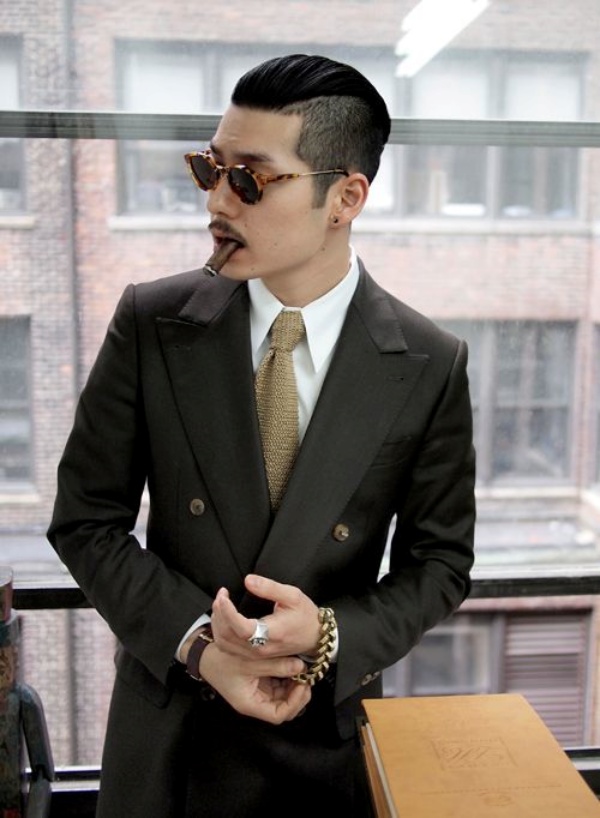 In the early 20th century, Gangsters used to bring out different trending styles. This led to the creation of the Gangster haircut. The old school gangsters preferred professional haircuts to blend themselves and tried to look like a reputable businessmen. This hairstyle has short sides and a short to medium-length top, which gives a gentle look with a clean and classy design. Slicked back and side parts are the best Gangster hairstyle you can have with a beard look.
19. Old School Greaser Hairstyle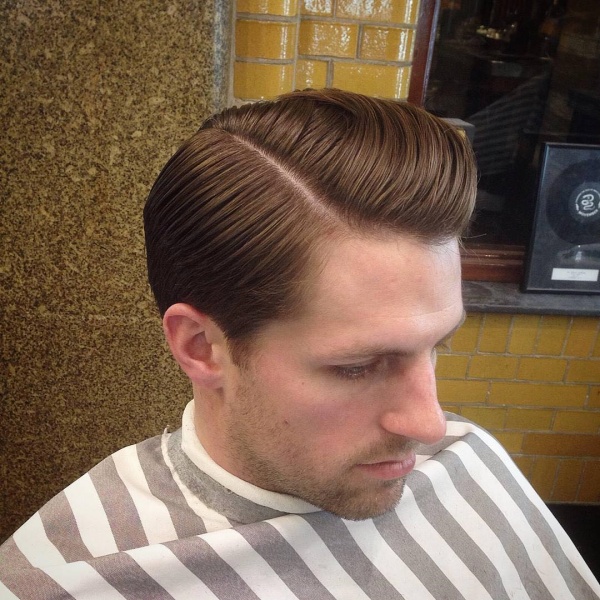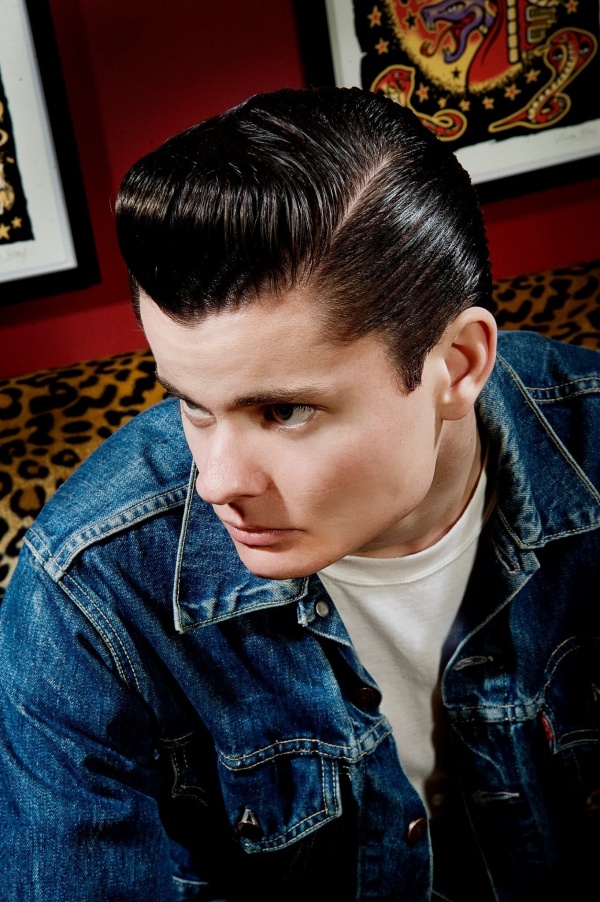 One of the symbols of fashion styles of the 50s is the old-school greaser hairstyle. This hairstyle is also known as the " Rockabilly hairstyle" and is mainly inspired by the rebellious lifestyle. With the newly invented twists in the grease hairstyles, men's fashion has got trendier. The primary thing is that you need to use hair styling products in order to create a wet and smooth effect. With the various grease hairstyles available, you can be in the spotlight in between others.
20. Incredible Rockabilly Jelly Roll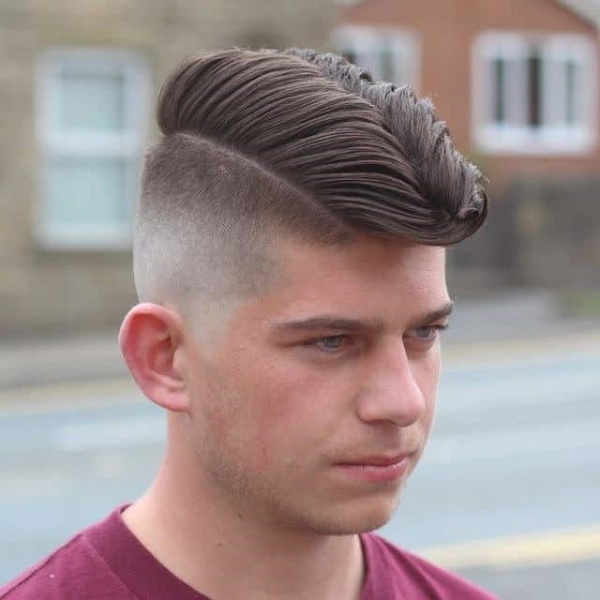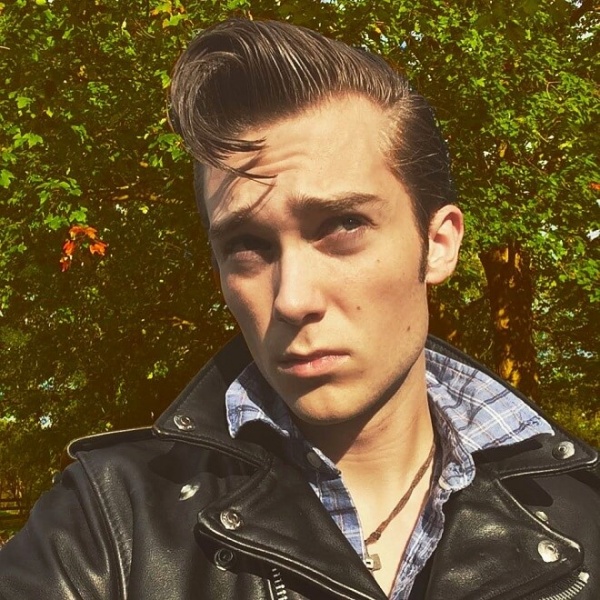 The jelly roll rockabilly hairstyle looks modern and sophisticated, which got inspired by the rock and roll of the 50's era. You can have your side hairs tapered in this hairstyle, while the top should be left long to create a pompadour style. For having a perfect crown on top, the hair should be styled by a professional. With this look, you will feel more self-confident. You need to apply pomade on hair, then curl the hair inward, leave your ends curled, and fix with hair spray.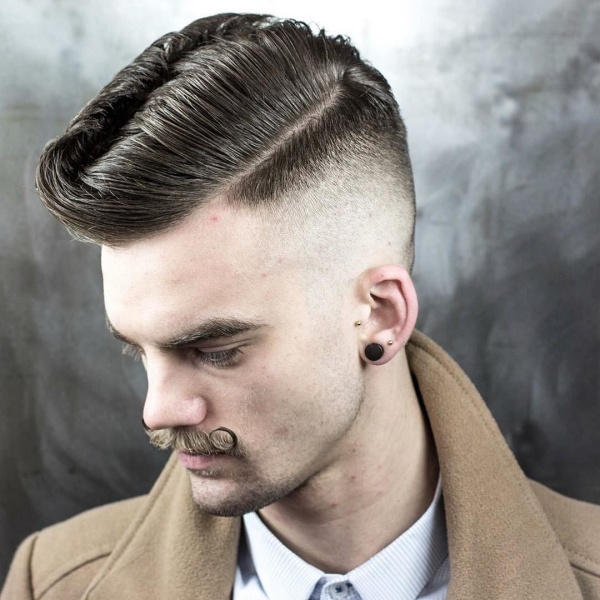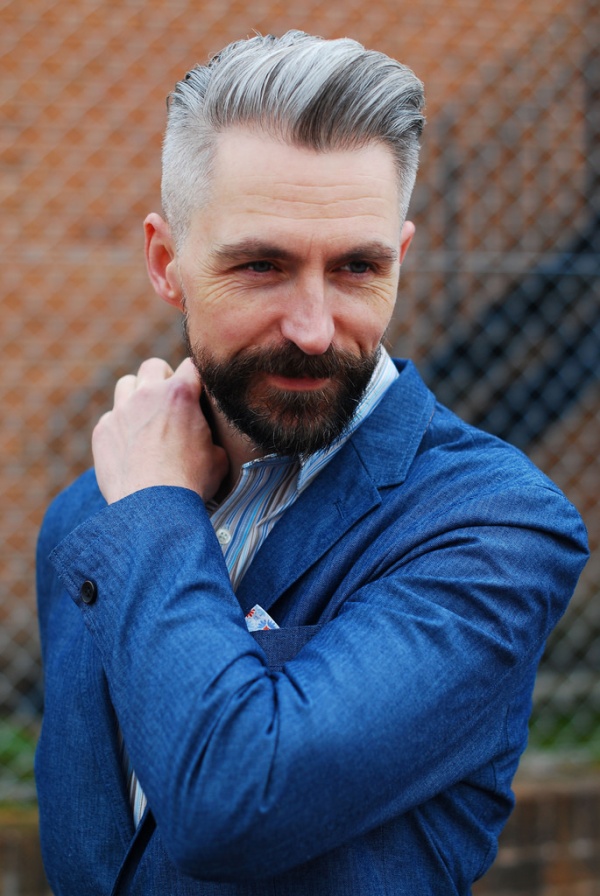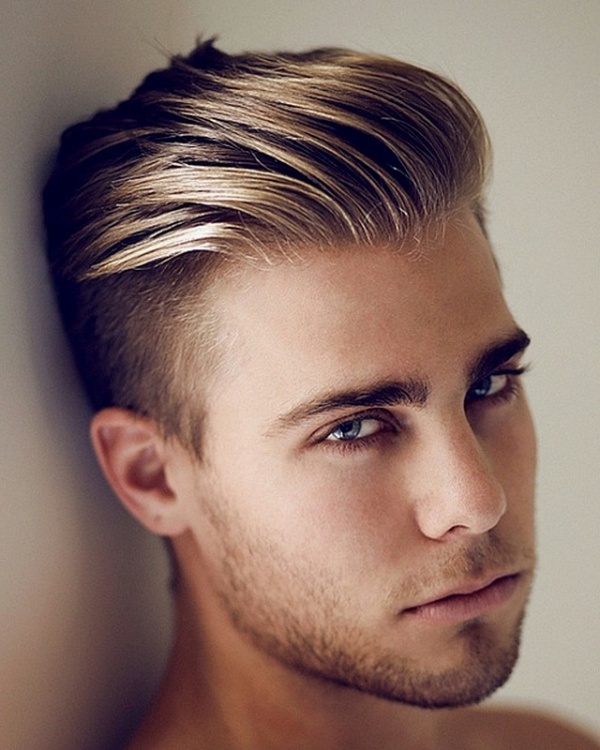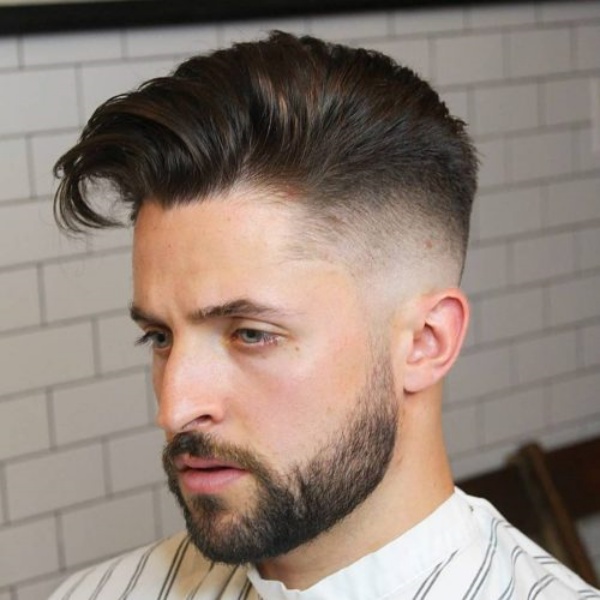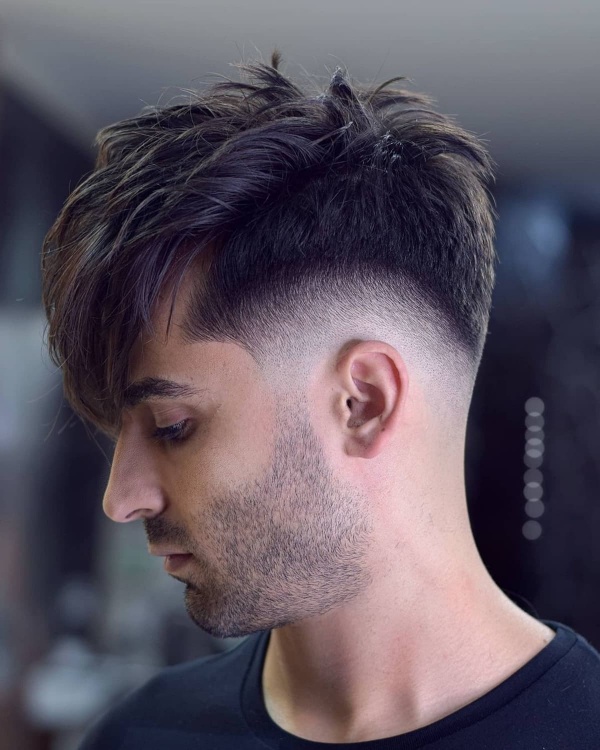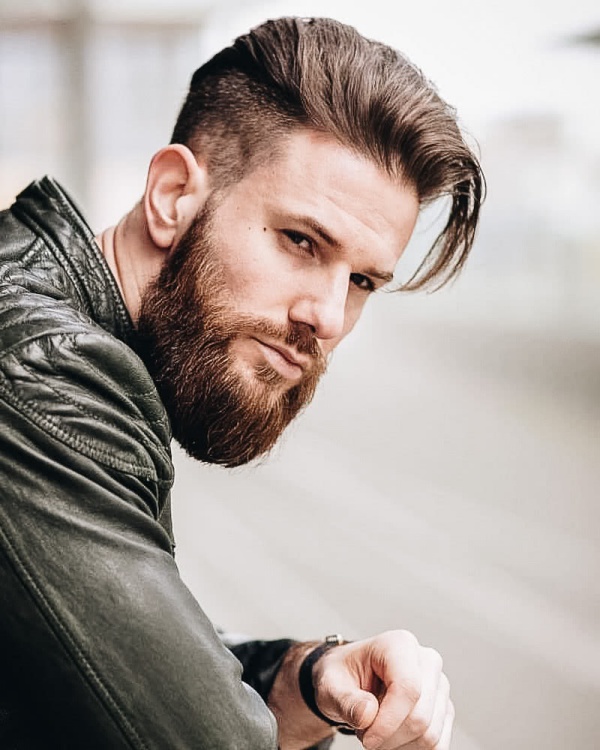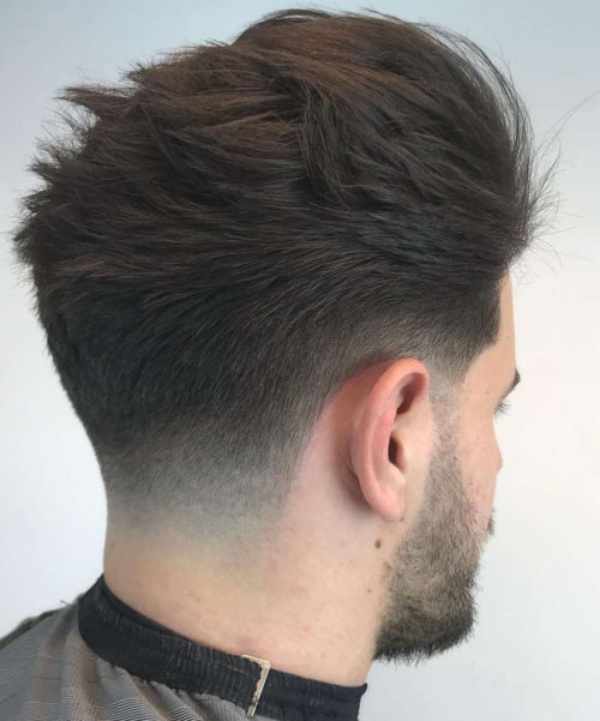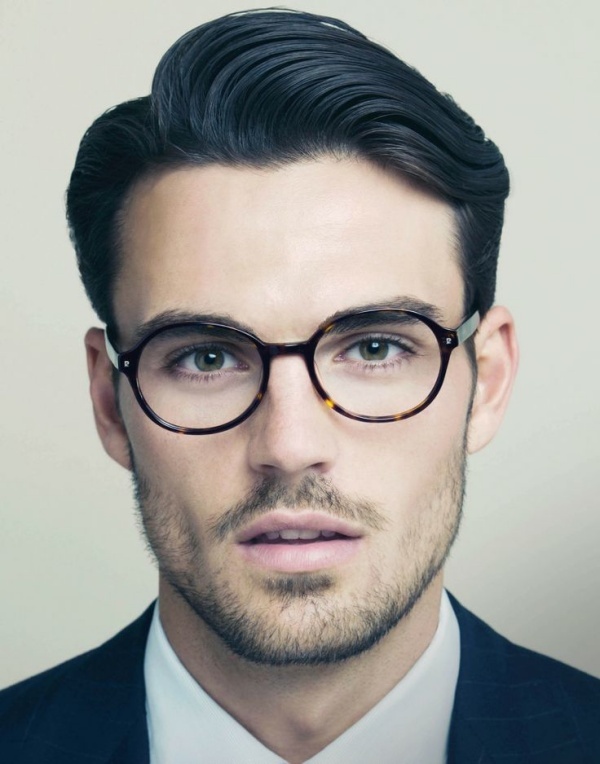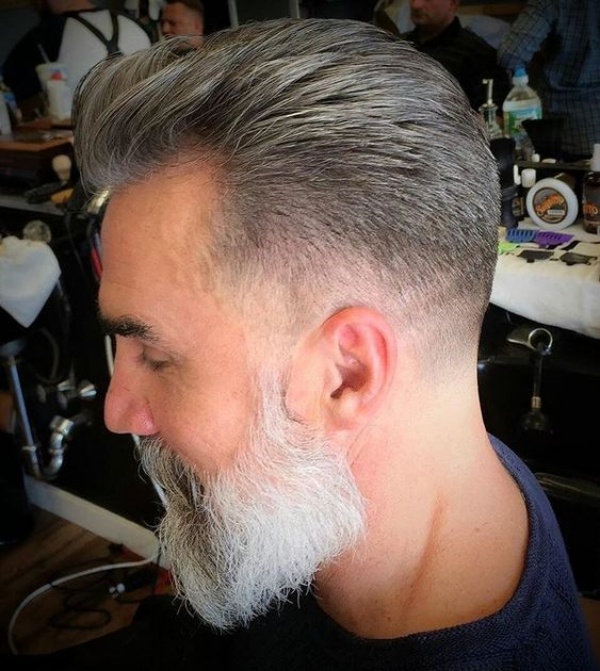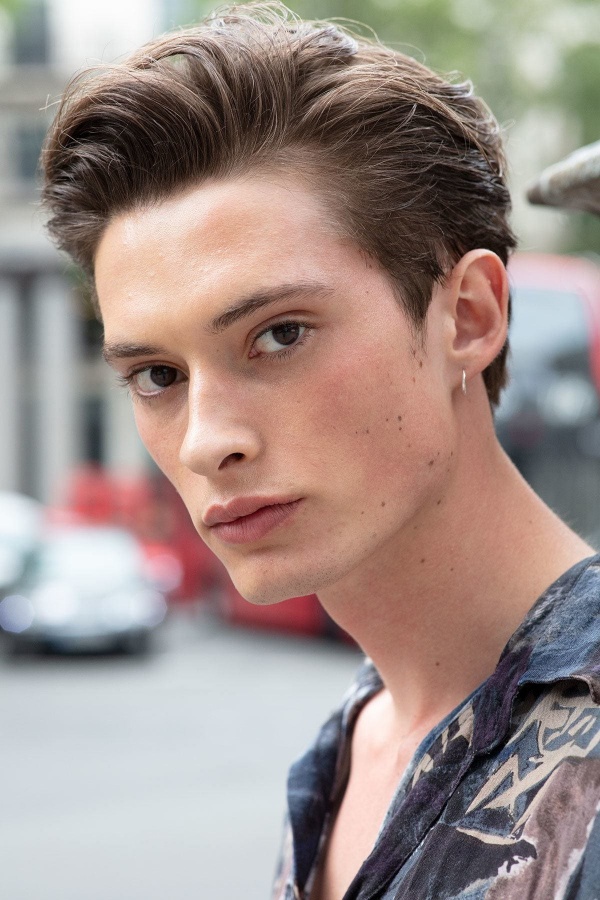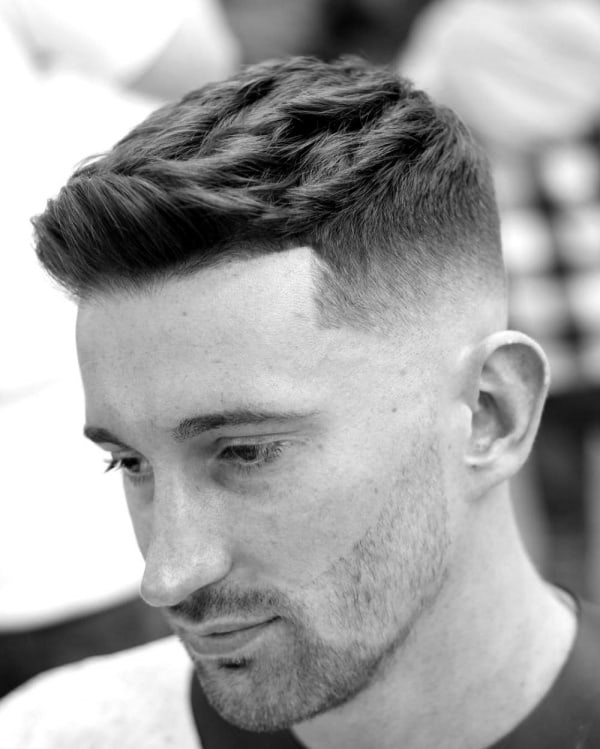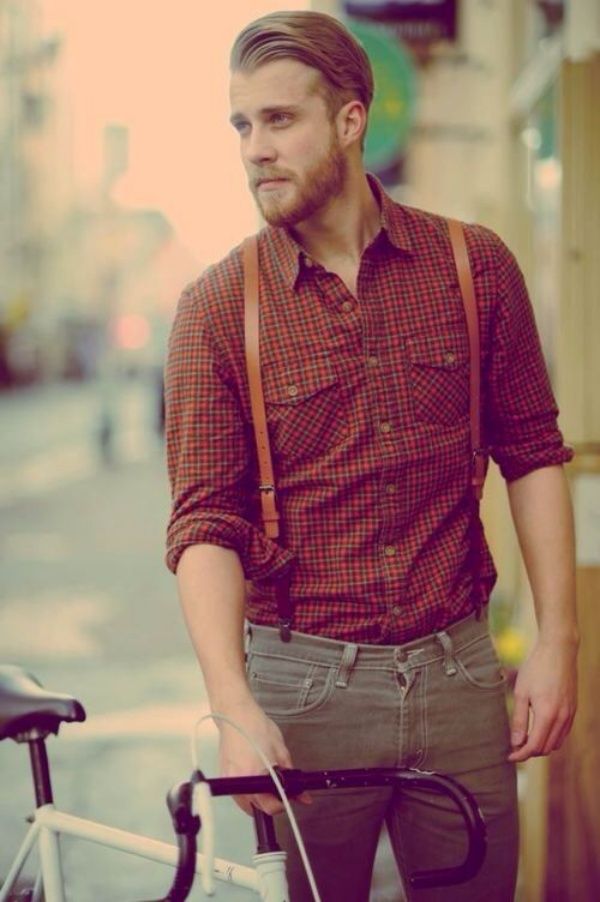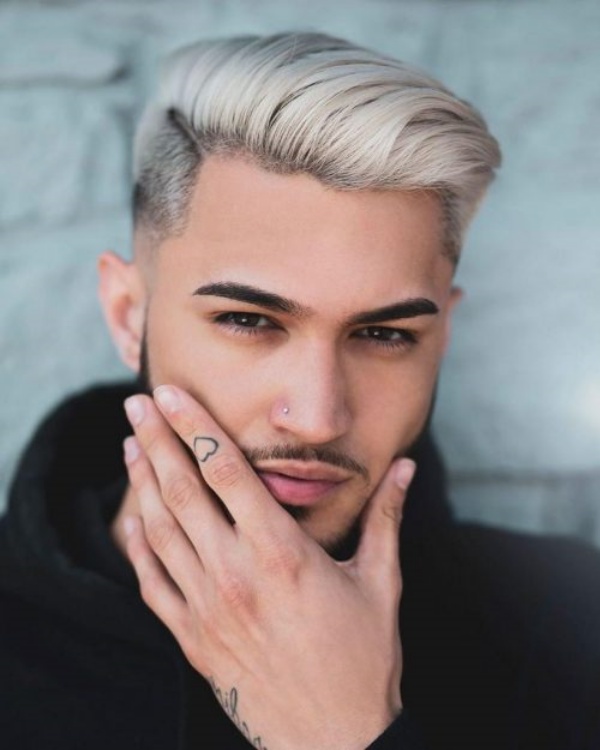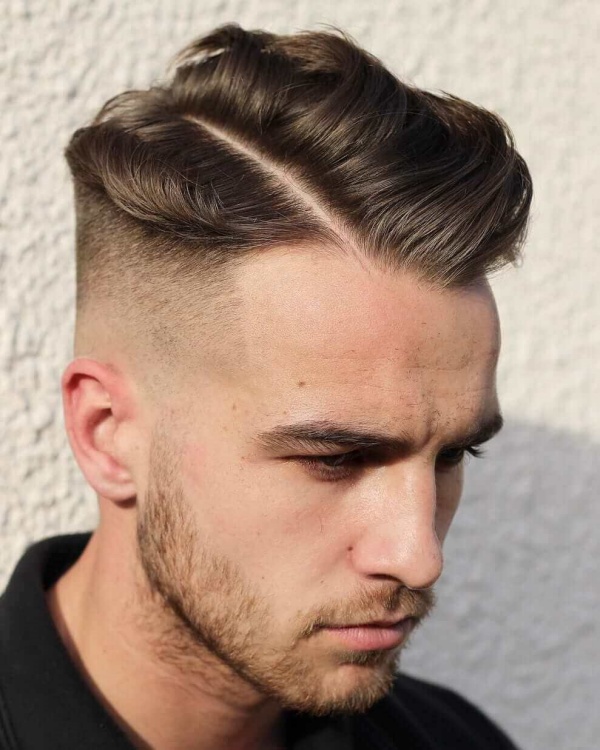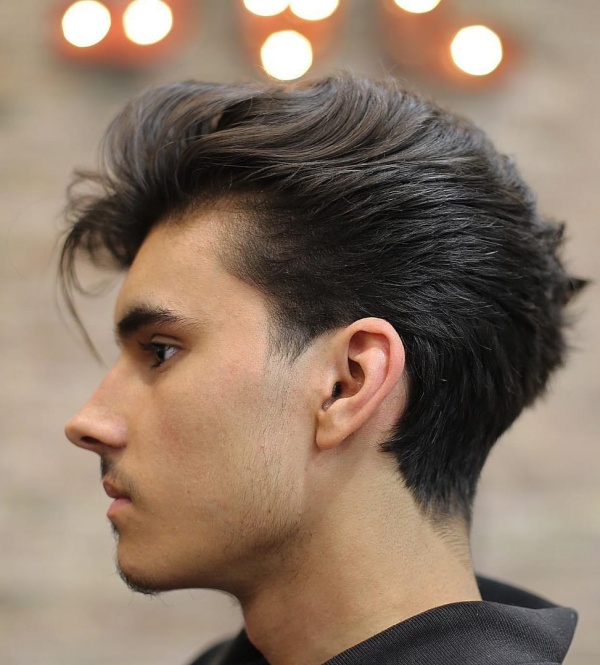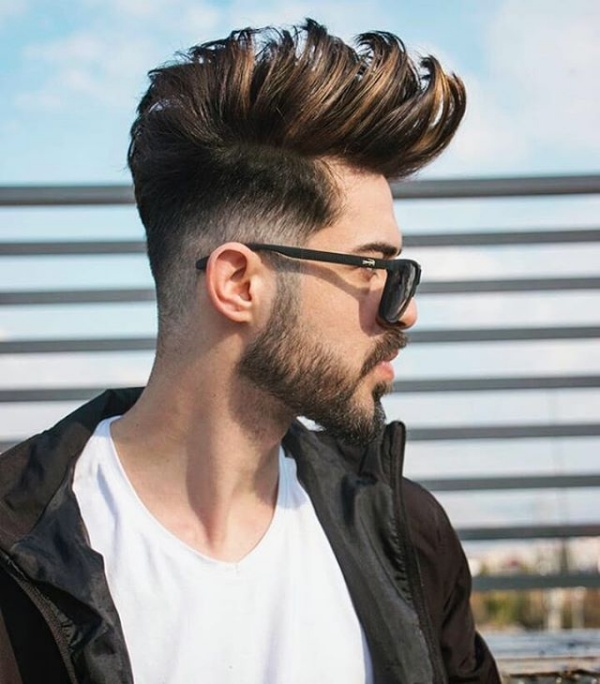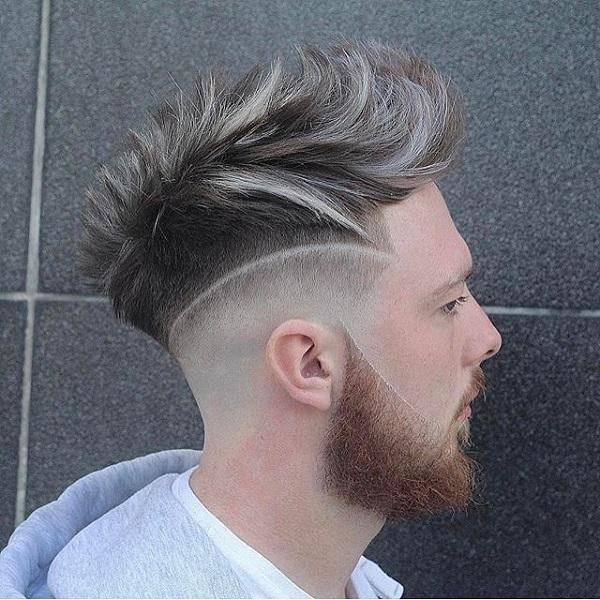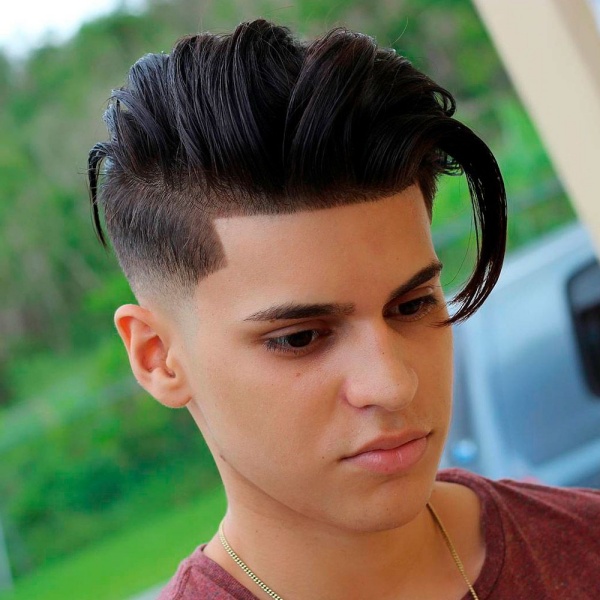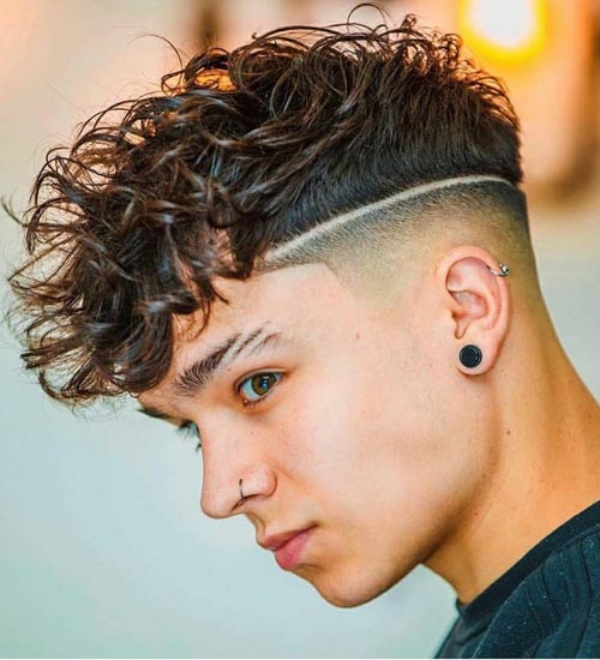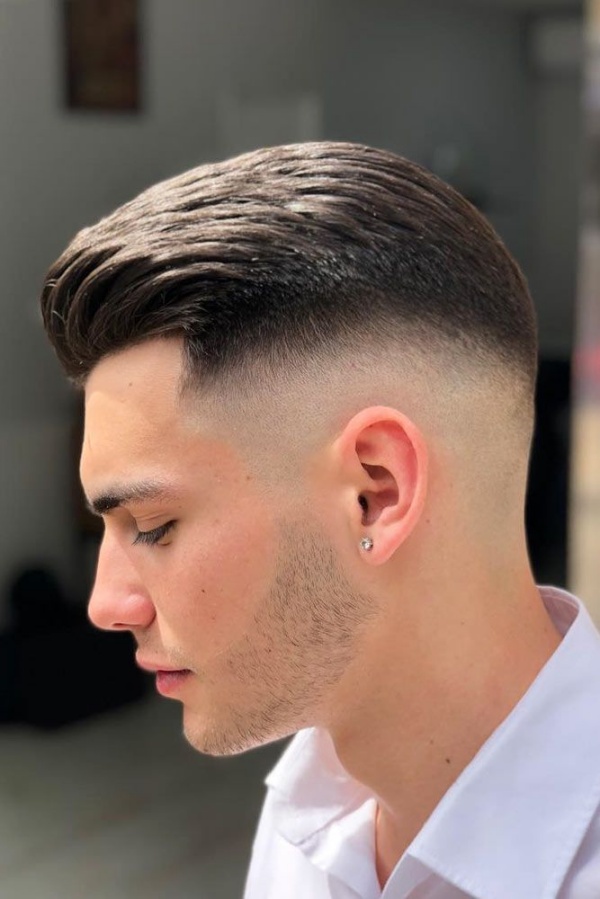 Conclusion
You can get the best vintage fashioned old school haircuts for men from this article. You need to check out the classic cuts and styles listed above. These traditional men's haircuts work well with short, medium, and long hair and combine the most fabulous past styles with today's skilled barbering. The perfect part about this hairstyle is that you can shape them anytime you wish. There are various natural products available to keep the hair and hair follicles in good condition. On top of that, with this hairstyle, you can appear at parties as well as in business meetings without any hesitation. Get your design ready and ask your barber to create the style that will give your face a perfect look.