Doing different creative hairstyles has always been one of the favorite things of men. In order to put on a perfect hairstyle, most men spend hours with their hair. With the different styles available, men can try and experiment with the different lengths of their hair. Some men prefer to keep their hair short as a safe and easy-to-maintain choice, while others love to keep their hair long to look fantastic and dashing. If you wish to express your unique, creative style, choosing a fashion-forward hairstyle will be excellent. In this article, you will learn exclusively about perm hairstyles for guys, which when experimented with, there is no end to the appeal they offer.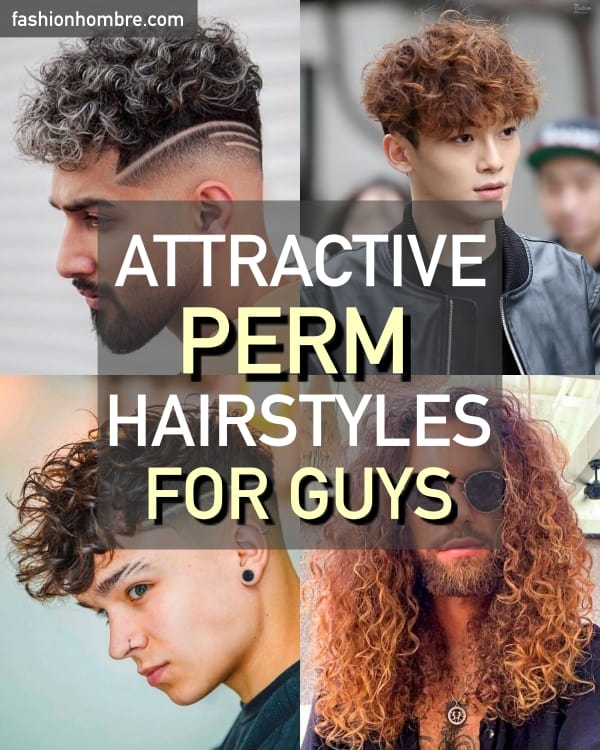 The perm hairstyle is a hairstyle that consists of waves or curls set into the hair. The list of hairstyles helps men to appear more bold and trendy and even blister their personalities. With various fashion guides and creating trendy hairstyles, it will get more difficult for men to finalize their ideal style. If you are stuck while making your choice, there is nothing to worry about as we have your back. Let's check out the list full of the best and trendy hairstyles!
How Can I Make My Perm Last Longer?
Although the Perm hairstyle looks cool and way sexier among others, it needs proper maintenance in order to keep the style intact. If you wish to make your perm hairstyle last longer, then there are a few ways to keep your perm locked for a couple of months.
You must get a regular haircut to keep the style intact.
Keep in mind to condition your hair more and wash your hairless.
Trying different natural protein treatments can keep your hairstyle healthy.
You must change your brush and use a soft paddle brush.
Get healthy sleep.
Avoid using any chemical that affects your hair.
Sexy Perm Hairstyles For Guys
1. Short Hair Perm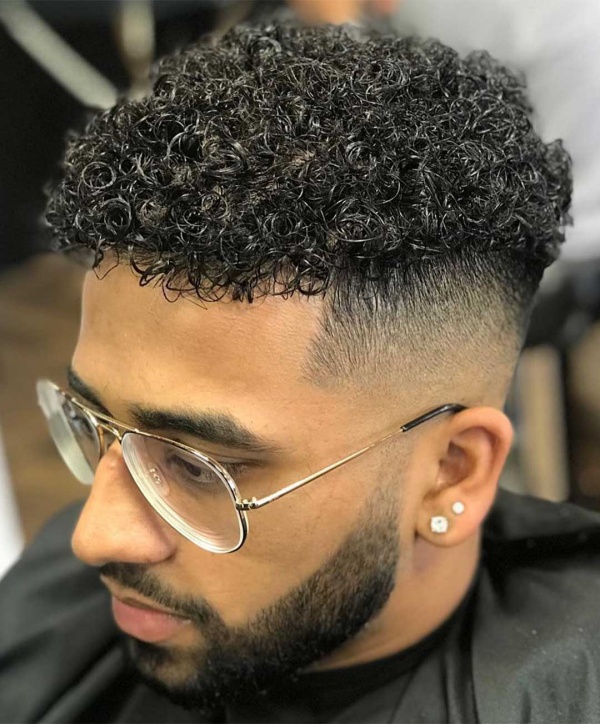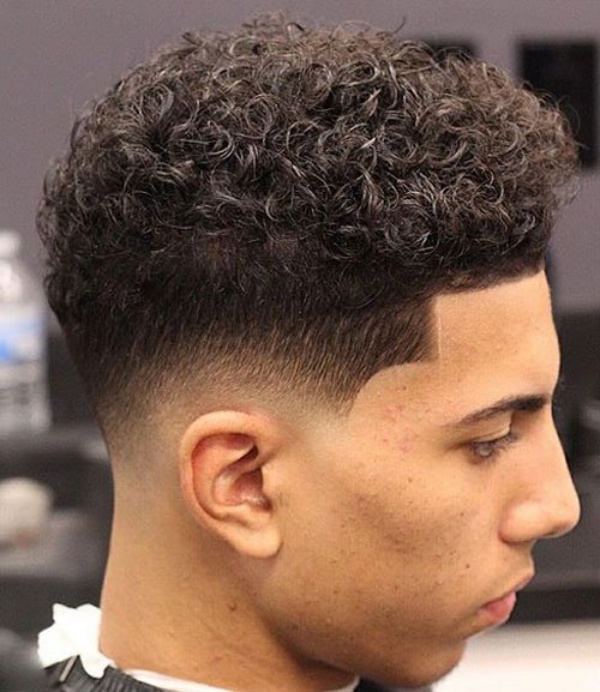 Guys preferring trendy hairstyles with low maintenance will definitely love the idea of a short hair perm. If you desire the volume of lengthy curls without its weight, this should be your go-to hairstyle. With this hairstyle, you can enjoy tighter and more defined curls. If you are seeking more of a youthful look, you are bound to love this style. Guys with curls can quickly get along with this look as it suits both formal and casual occasions. In order to look attractive and flaunt your hairstyle both in front of men and women, this is the perfect look.
2. Medium Length Perm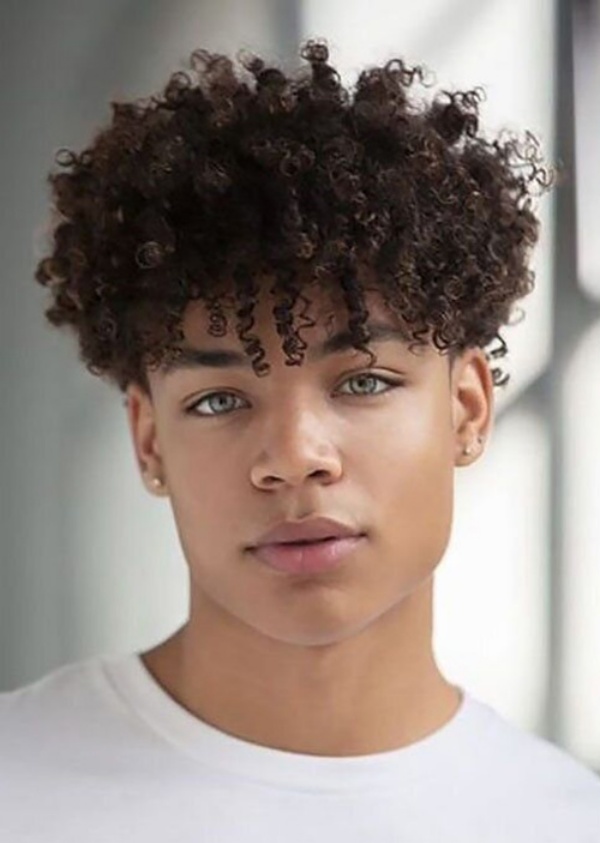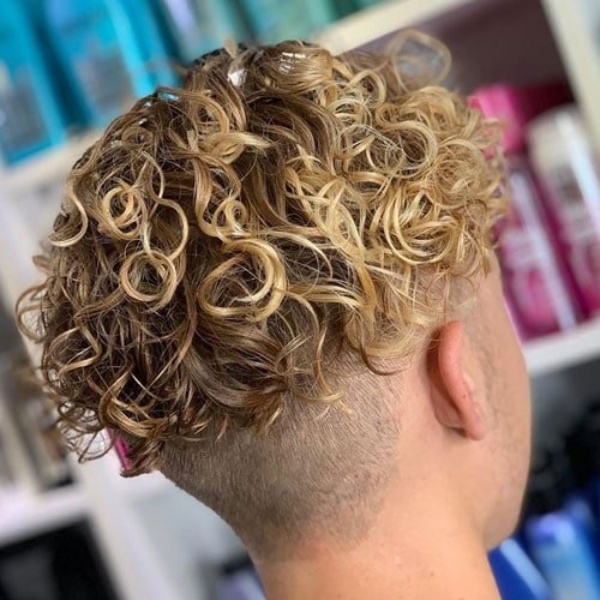 A perm designed with middle-lengthed hair is the one that offers the wearer a much more relaxed and effortless version of the classic perm. You can easily keep the curls a bit more natural if you use a curl cream. You can even go for more of a professional appearance by using a curl-defining spray. It hardly matters how you style your curls with this look; you are likely to shine. The best thing is that you can appear both formal as well as casual with the hairstyle. For events and parties, this is the easy-to-go look you can create.
3. Long Hair Perm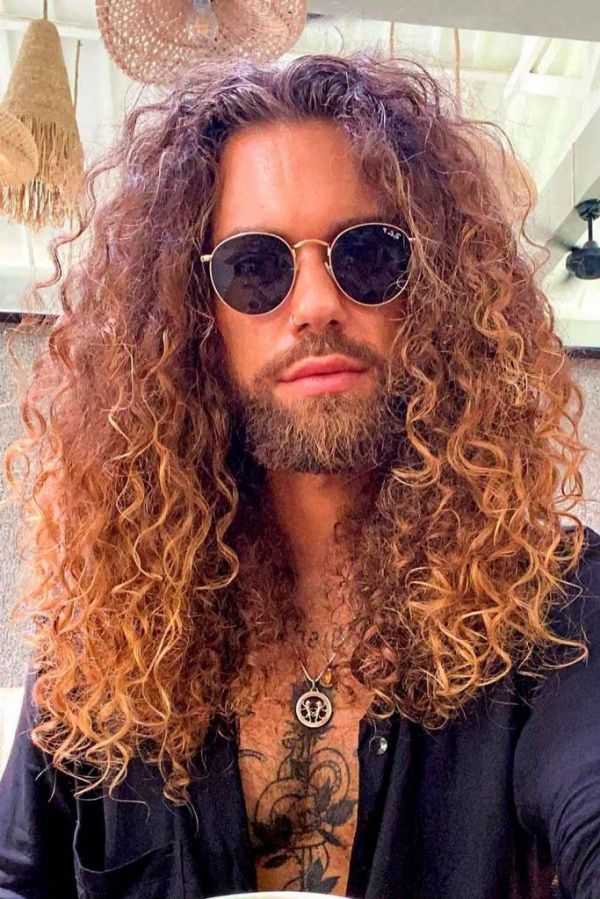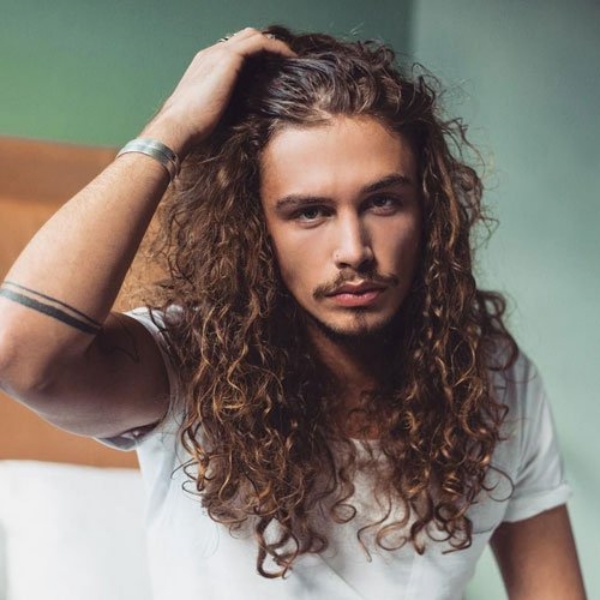 If you seek a rocker image associated with perm hairstyles for guys, a long hair perm should be your ideal choice. This style has its roots in the classic 70s style. This curly hairdo offers a modern twist on a retro classic. If you decide to go with this longer hairstyle, ensure that you have grown your hair out more than usual because it will look shorter once you curl it. Long perm hair needs grooming with natural hair products to keep the hair in good condition and shape.
4. Classic Perm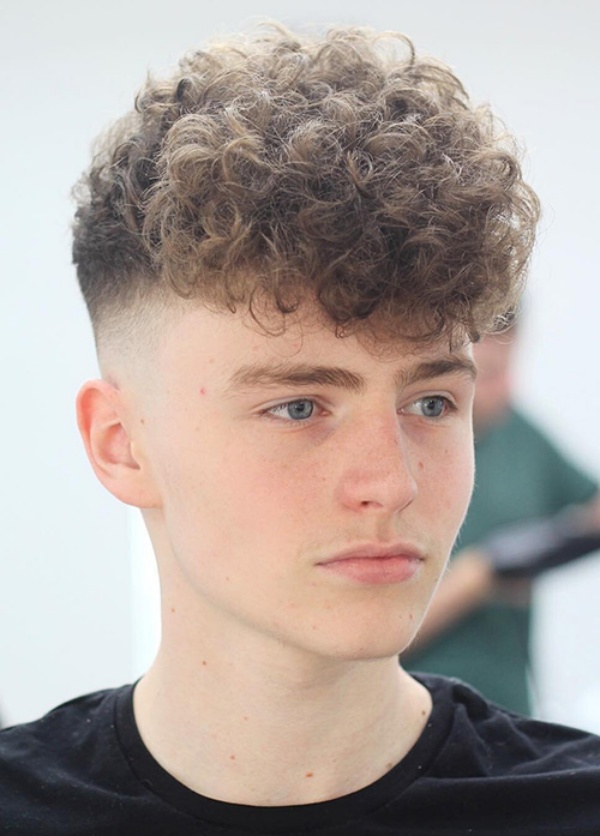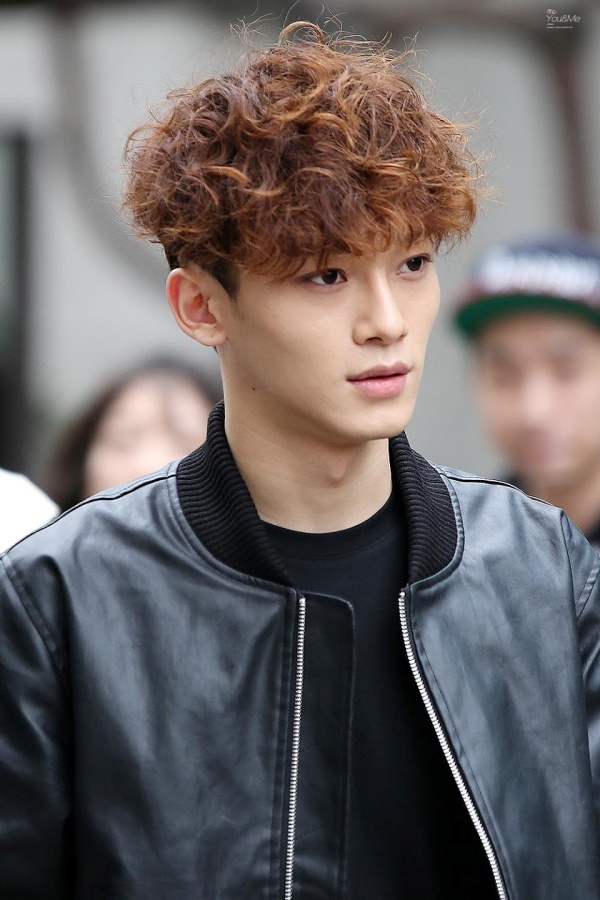 If you have always desired curly hair, then a perm would be the right fit for you. Perms for guys have been trending in current years, and although there are many options to explore this style, a classic perm would be the best bet for men who want some non-showy hairstyles. A classic perm works with almost every natural hair type. This look features extra volume and fullness. It also works well with most face shapes. However, it would help if you were sure to choose a length that will help you balance your face shapes. The best thing is that the classic perm hairstyle comes in both short and medium forms. With jeans and a shirt, you can appear more appealing and attractive.
5. Perm With Temple Fade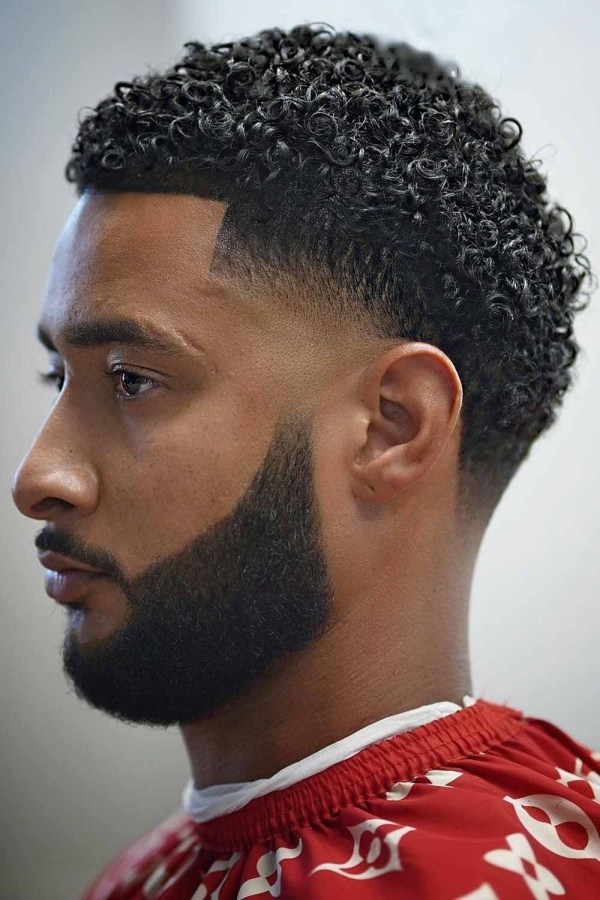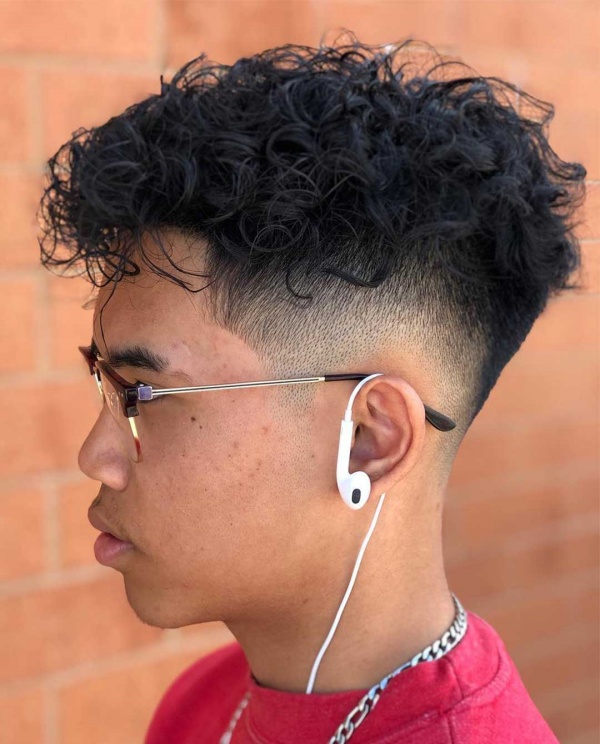 Fades can be adapted for all hair types, so a temple fade with perm would be just enough for flaunting a perfect look. To achieve the temple fade with perm look, your stylist first needs to buzz your hair to get the fade before applying the perm chemicals. However, you will have to ensure that the top section has grown out more extended, as curly hair tends to appear shorter when compared to straight hair. This hairstyle demands maintenance because although your perm stays in place for over six months, your fade would need care every three weeks or so. If you wish to become the center of attraction, this style will be the best good idea.
6. Perm With Fringe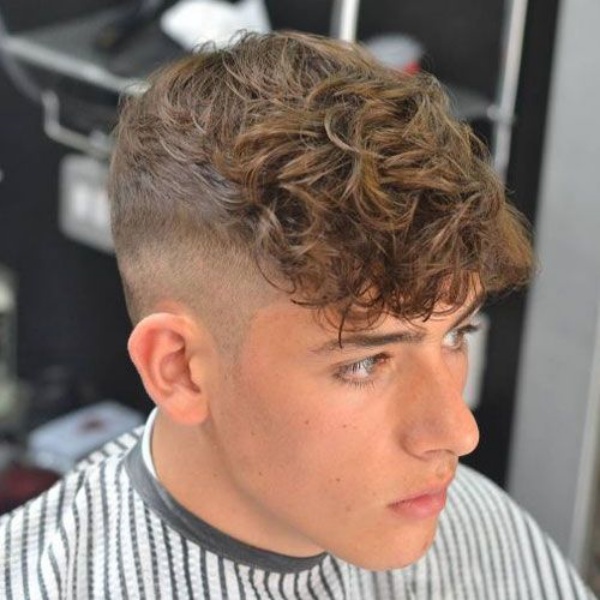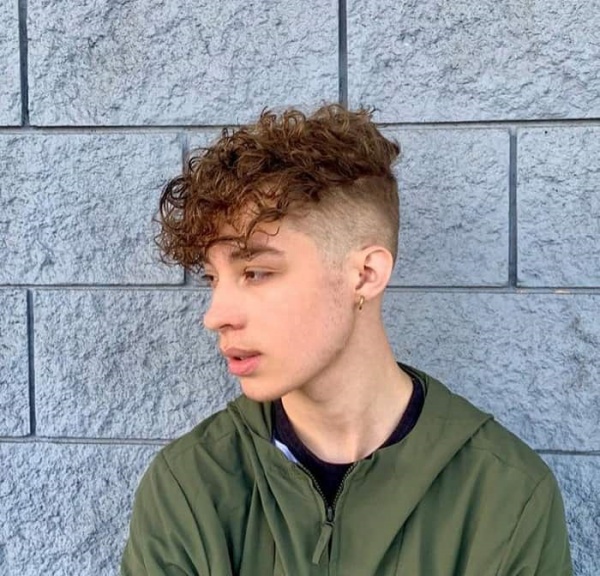 Perm with fringe is one of the trendiest perm hairstyles for guys recently. A curly hair fringe draws advantage of natural curls and thus creates bangs. You can keep the fringe long in front because that would add some effect on top, and it is a highly preferred option for men who choose to cover their foreheads. While you can keep the hair with the same length all the way around, you can even try and pair this fringe with a fade because they would draw even more attention to the permed hair in front. You can even go for a long fringer with a perm, which can help boost your natural curls. Longer fringe with curls creates much more volume and thus adds dimension to the overall look. You can make women go crazy by shaping your perm with the fringe hairstyle.
7. Caesar Cut Perm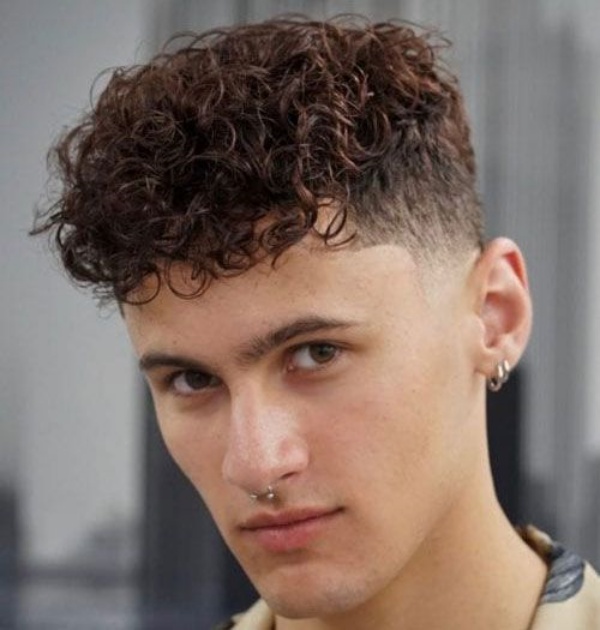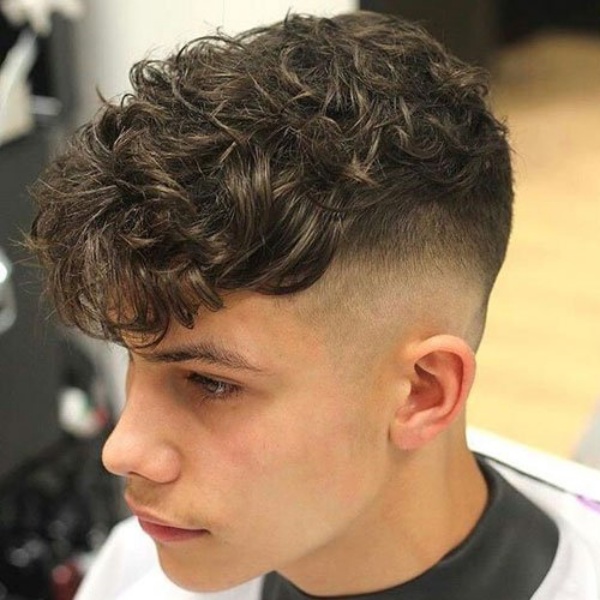 The Caesar cut has been popular for generations owing to its short and sleek look. This hairstyle has turned out to be one of the most traditional hairstyles which have become more trendy. It is pretty similar to the crew cut if compared to the length. However, this look flaunts short bangs in the front. Your curly hair needs to be cut short of achieving this look, but the extra length required for the front must be untouched. If you comb your Caesar cut with permed hair forward and loose, it is bound to create an iconic look.
8. Perm With Undercut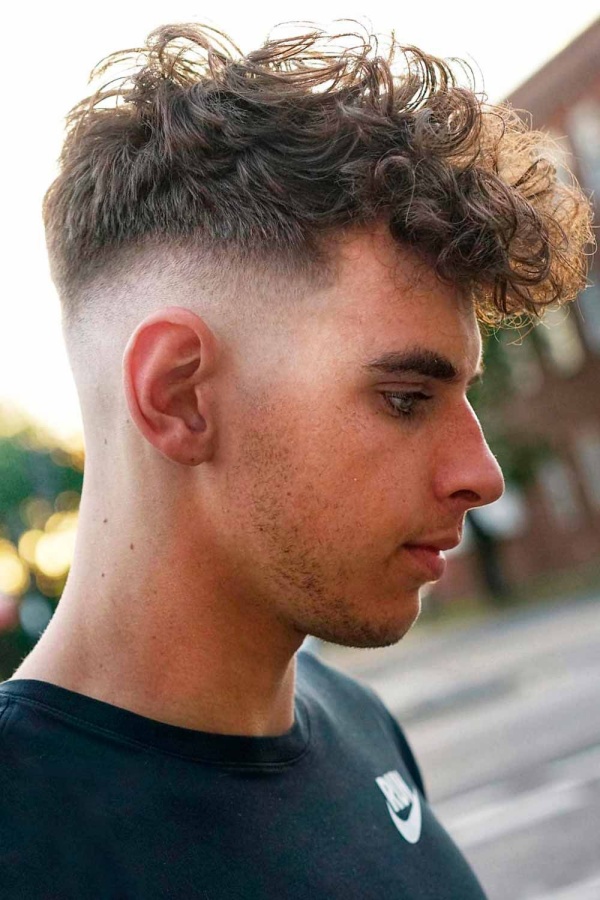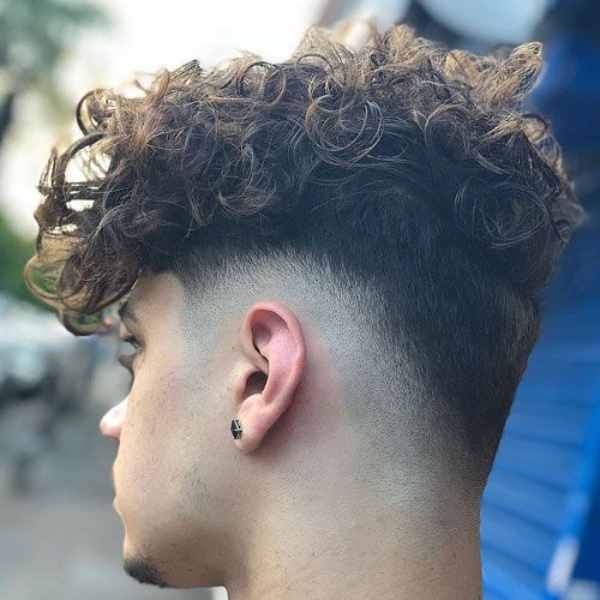 You can choose to define your curls by trying a perm with an undercut. The undercut essentially does the same thing as a fade; that is, it creates a contrast and emphasizes your curly hair on top. Although, an undercut adds a little bit of extra edge, and thus it works well with a hard part or line up. You can keep the hair long on top to create a long fringe. That will make your contrasting lengths stand out. With hoodies and jackets, you can look more attractive with the hairstyle.
9. Afro Perm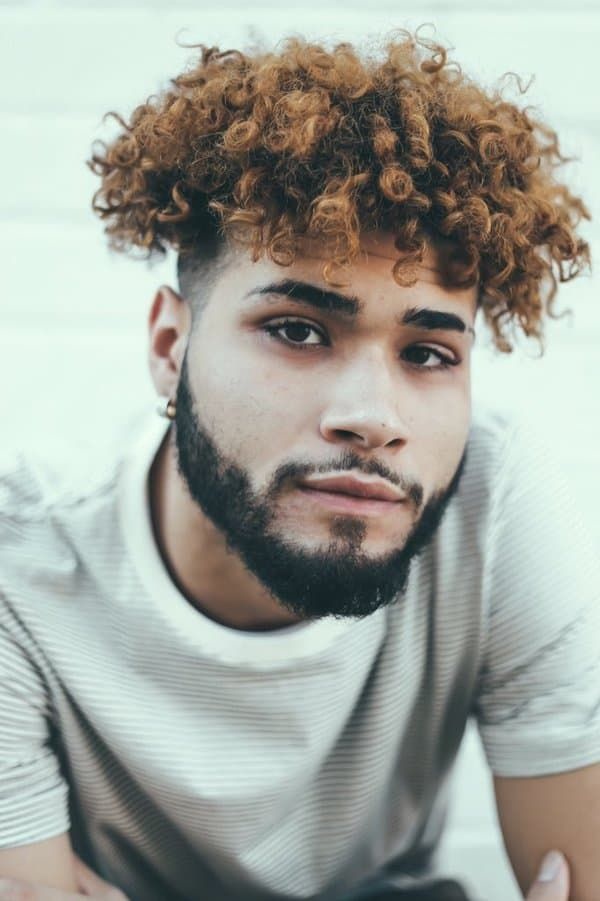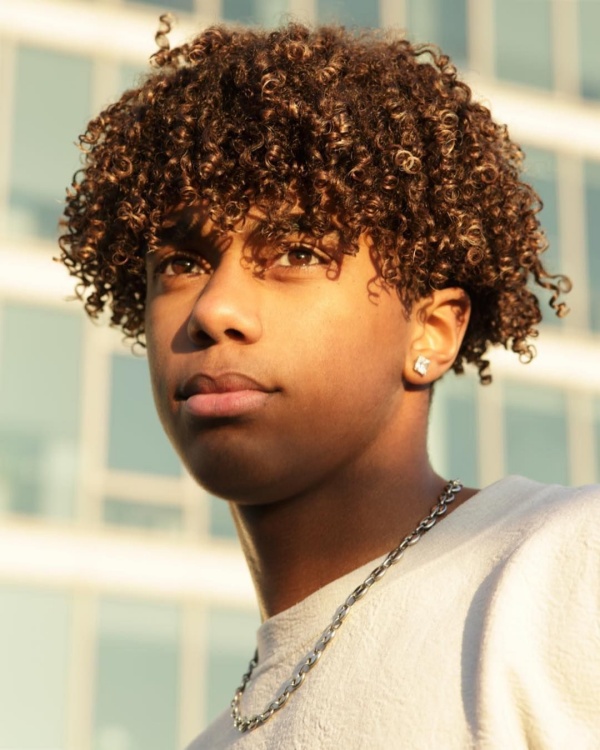 One of the most classy perm hairstyles for guys is an Afro perm. This look adds a bouncy volume to the hair, which is due to very tight curl formation. The thing about the Afro hairstyle is that both naturally curly hair can be adopted to this look. This look will last anywhere from six to eight weeks. After this time, you need to have a touch-up to avoid significant damage and breakage to your hair. Thus, it can be stated that this hairstyle needs maintenance and constant care.
10. Mushroom Perm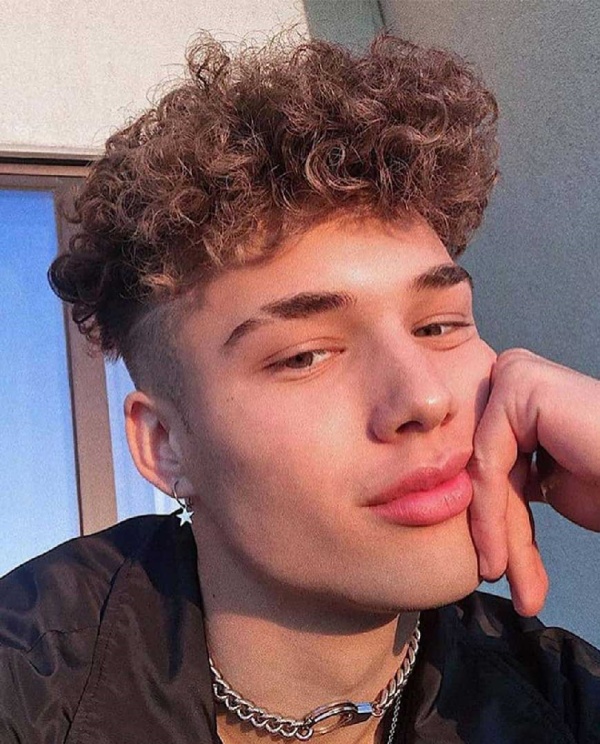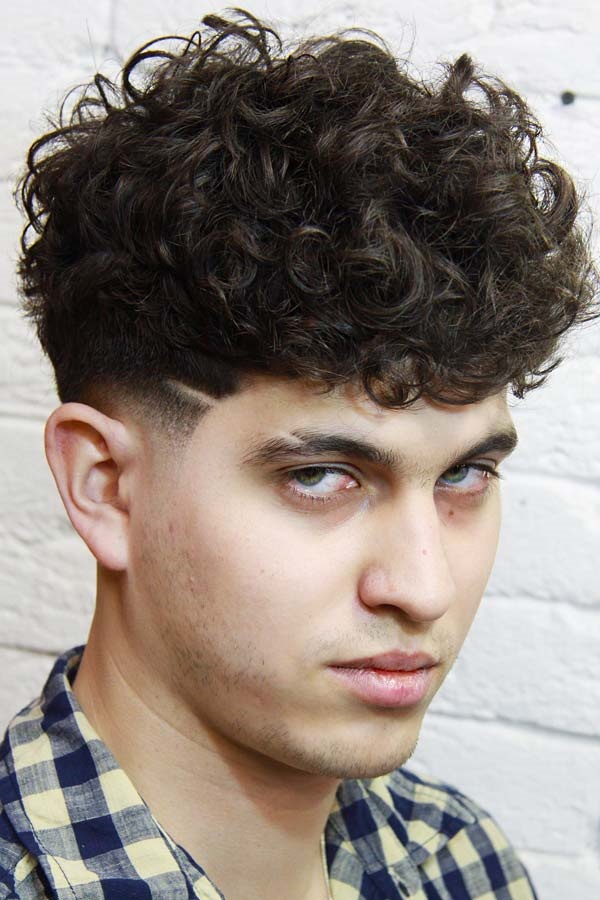 A classic mushroom cut is also known as a bowl cut. It typically features a short side haircut with a longer top, which creates a fuller look. The heave on top creates a creative look, and if you desire to own a classic look, a mushroom perm would be a great option. However, you need to ensure that your hair is almost long enough because the length appears shorter once curled. Though not a heavy maintenance looks, it needs time to time care to ensure that the look stands. Mushroom perm hairstyles are creative and a great option if you want to own a short hairstyle.
11. Modern Faux Hawk Perm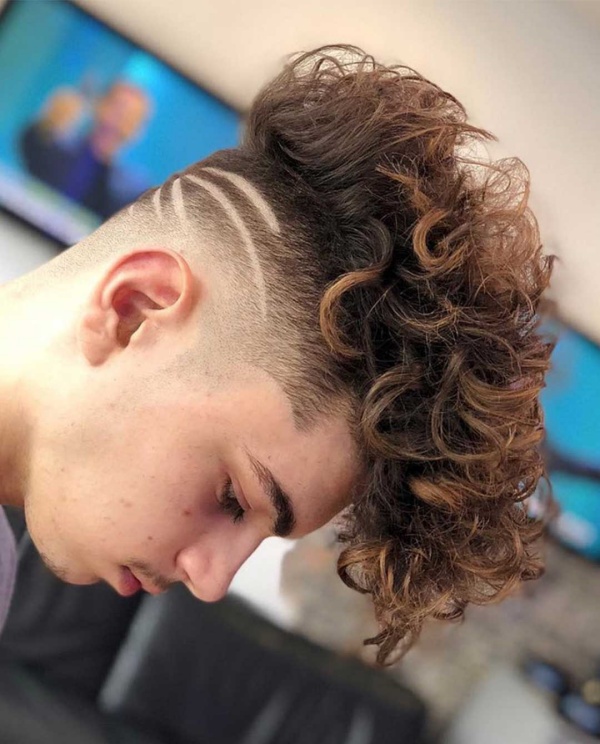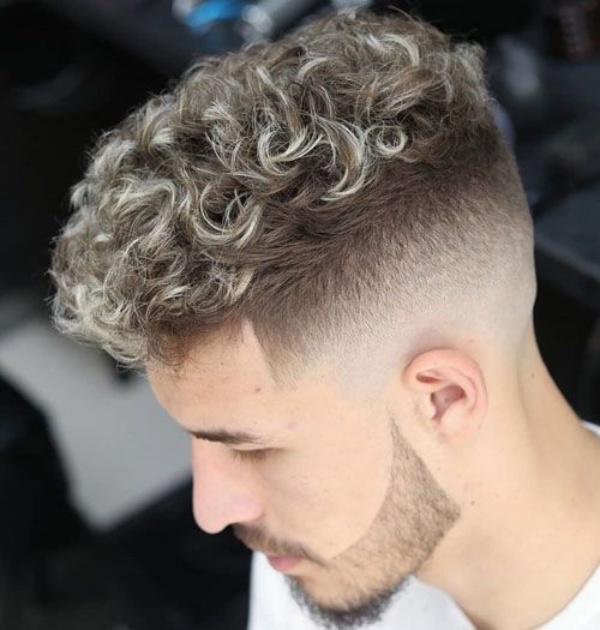 A modern Faux Hawk is the latest evolution of a classic mohawk. The fohawk works better when paired with thick, wavy, or straight hair because the wearer already has built-in volume and bounce. Your barber will keep the sides short with a fade or undercut because that would highlight the styling on top. You can add hair products to style with and to push and spike the hair in the center.
12. Perm With Hard Part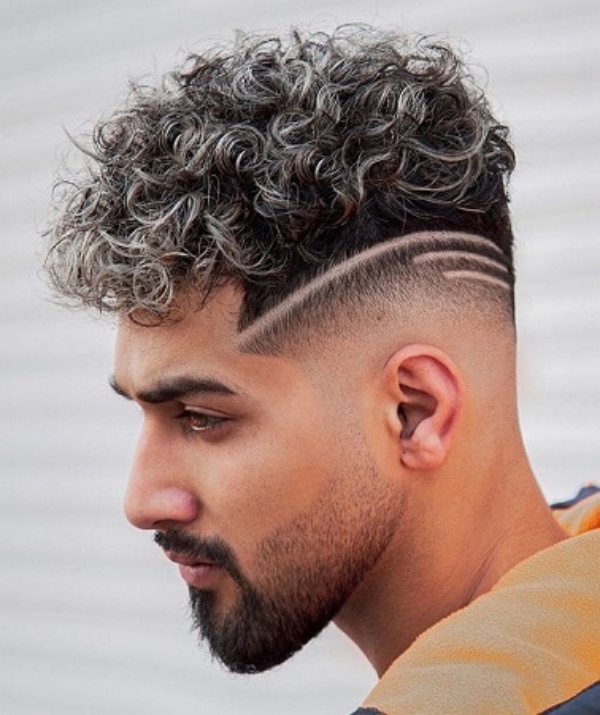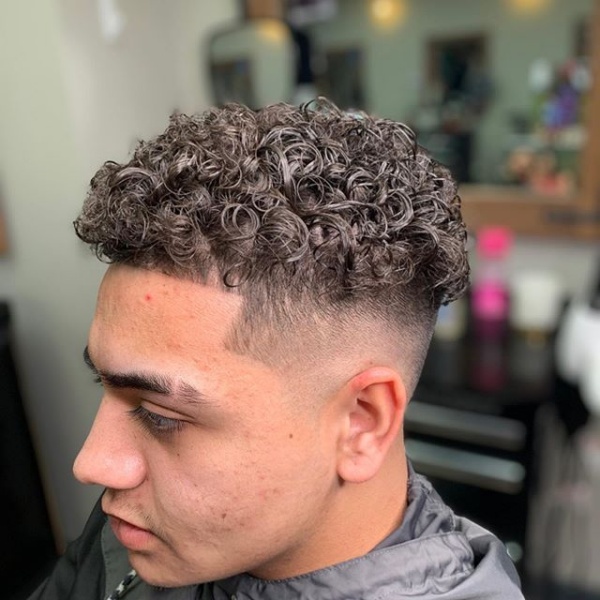 With these perm hairstyles for guys, create even more definition because you can pair your perm with a hard part. This curly hard part hairstyle is all about contrast as it looks exceptionally stylish with a skin fade on the back and sides. Your stylist will shave a thick line to create the hard part. You will definitely want to part your hair naturally to the other side of your head. Men who wish to have a super modern and eye-catching haircut should consider a hard part with a perm. The hairstyle needs regular shaping to keep the shape in position.
13. Tight Perm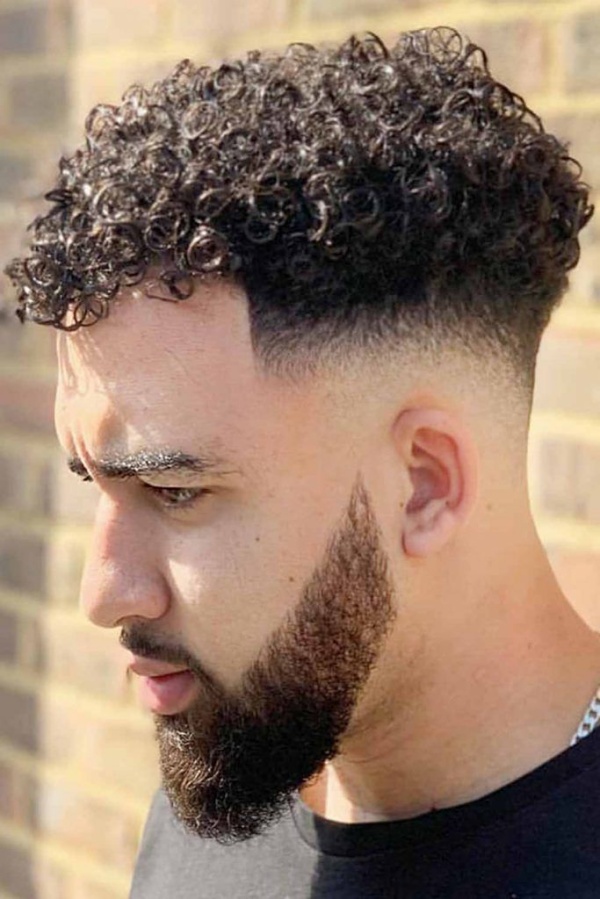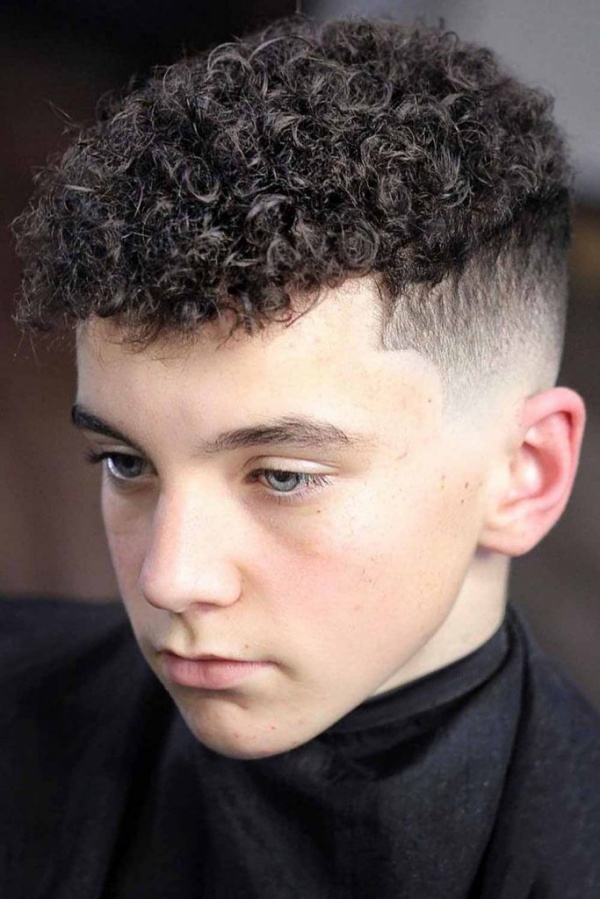 These are an excellent option for short hair and want a stylish and modern hairstyle. A tight curl perm flaunts defined coils and is generally complemented with a fade or an undercut haircut on the side. This hairstyle is easy to get, and it is pretty simple to style too. However, guys will need strong hair products to push and pull the tight curls around. For a much more textured and natural finish, try to apply mousse or a curl-enhancing smoothie. This look will offer you a chic and sleek appearance. It is the perfect hairstyle for teen boys and young men who want to flaunt textured curls.
14. Curtain Perm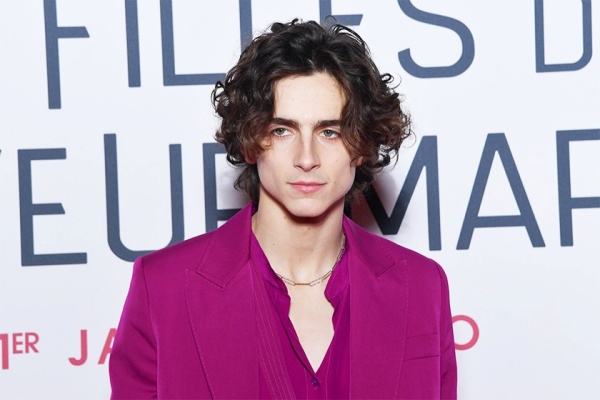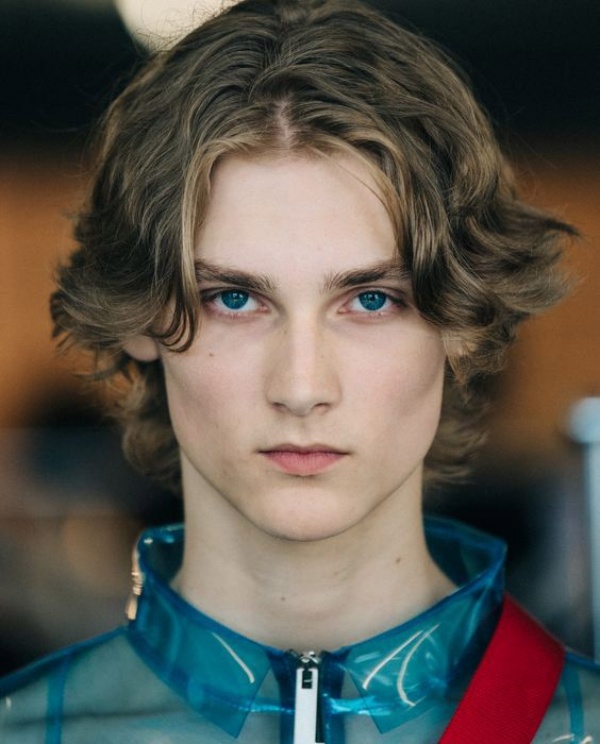 If you are intrigued with a throwback trend, trying on curtain perms would be a smart option. The ideal part about this hairstyle is that almost every face shape can pull it off. The curtains hairstyle has been rocking the trends since the '90s. In this hairstyle, the hair is usually styled into a strong middle part and thereby paired with long and messy bangs that fall like curtains past either side of the head. Famous faces such as Leonardo DiCaprio, Johnny Depp, and even River Phoenix have stamped these styles as timeless ones.
15. Voluminous Perm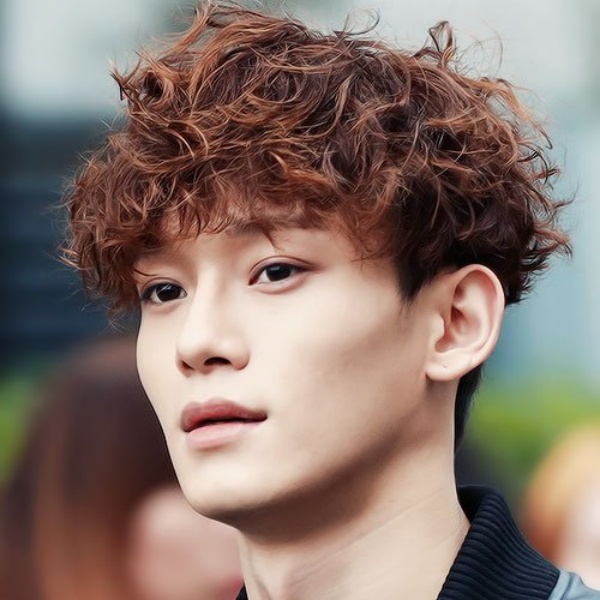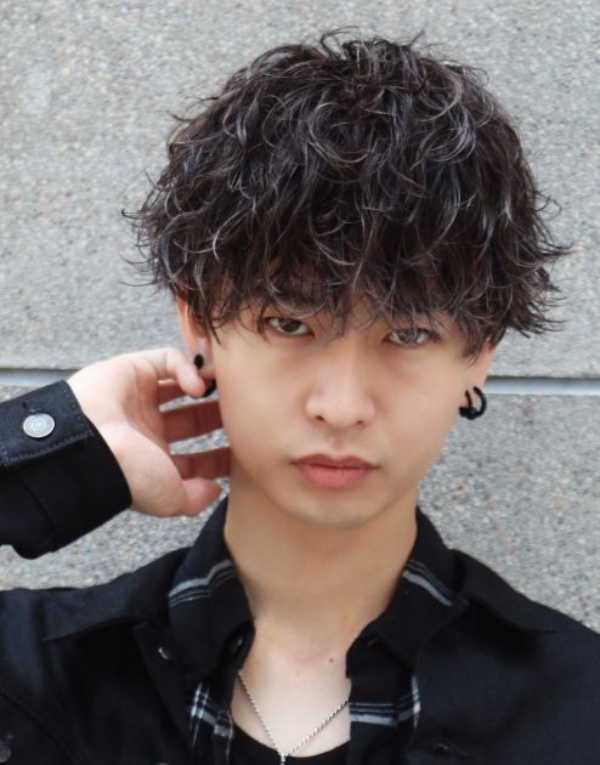 With a voluminous perm, you can boost your curls to the next level. Perming your hair not only helps you achieve ahead of luxurious curls, but it also helps your hair get volume and thickness. This is one of the most famous perm hairstyles for guys. Flaunting this look is similar to the traditional process, except that you have to remove the shaping rods before applying a neutralizer. As a result, your curls will appear looser and will fall around your face naturally.
16. Perm With Mid Fade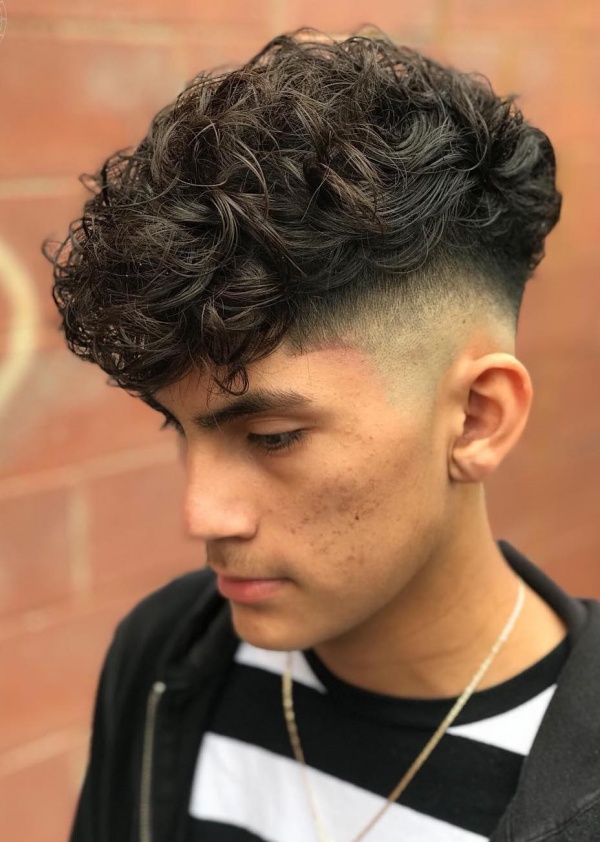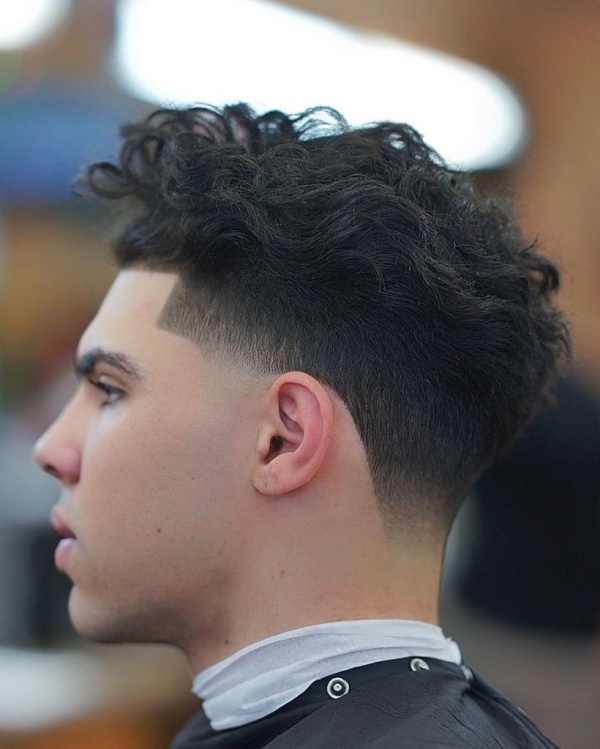 Try and upgrade your hairstyle by pairing a mid fade with a perm. This is the most unique and trending look that you will find in most men nowadays. This will substitute for an undercut for guys looking for a less severe appearance but still desire the edge that a skin fade haircut provides. The mid fade aids in highlighting the curls on top and thereby keeps the look fun and fresh. The side and back hairs are shaped using razors and trimmers.
17. Perm With Pompadour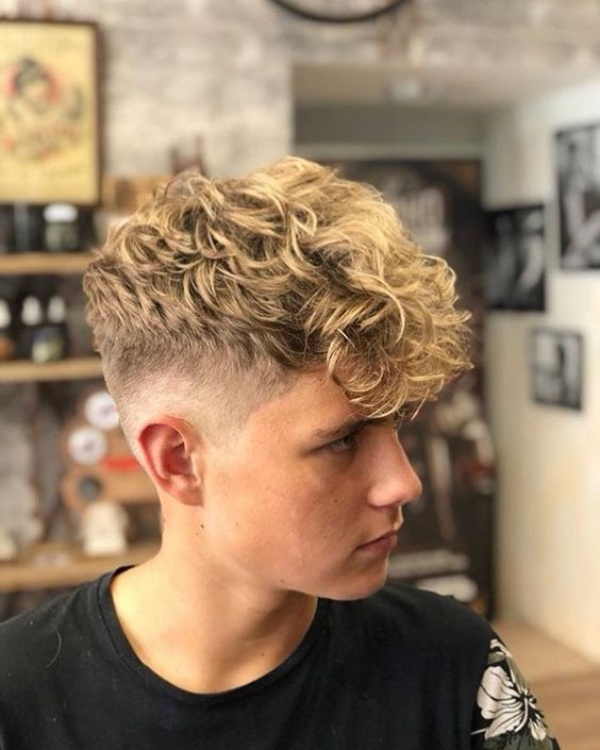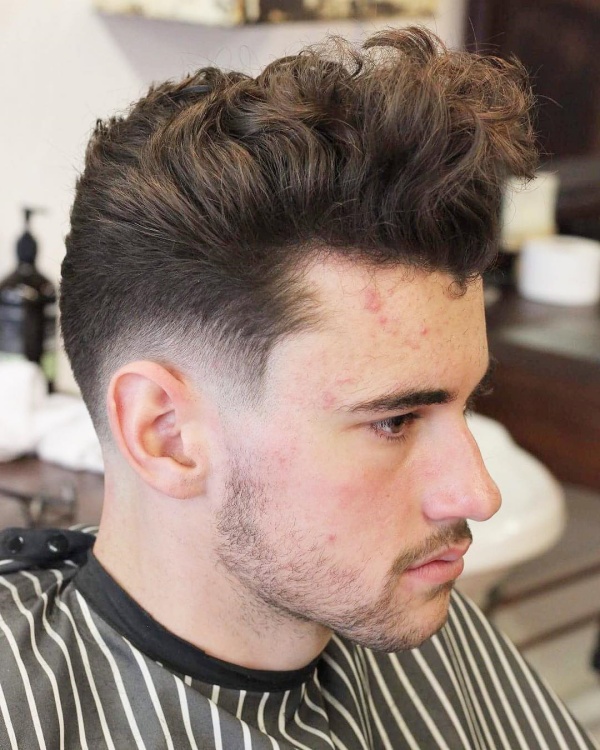 If you desire a bit more volume on top, try and pair your curls with a pompadour. This hairstyle is a timeless one, and it has been flaunted by many famous faces, such as Elvis Presley. However, modern men are updating the pompadour. A straight hair pompadour is traditional and straightforward, whereas while it is teamed with curly hair, it creates a more dramatic and tousled appearance. You can achieve this style if you have either long or short hair. It depends on your cut and looks. The hairstyle needs maintenance and grooming to keep the shape and style fresh.
18. Blonde Perm Hairstyle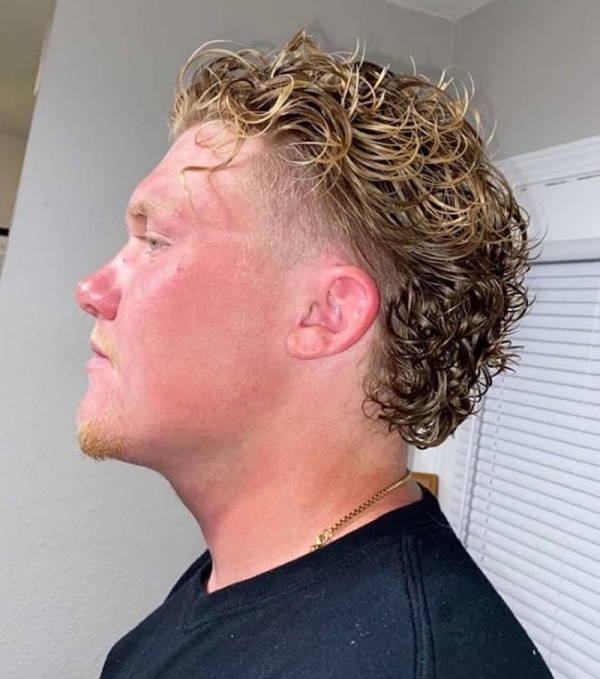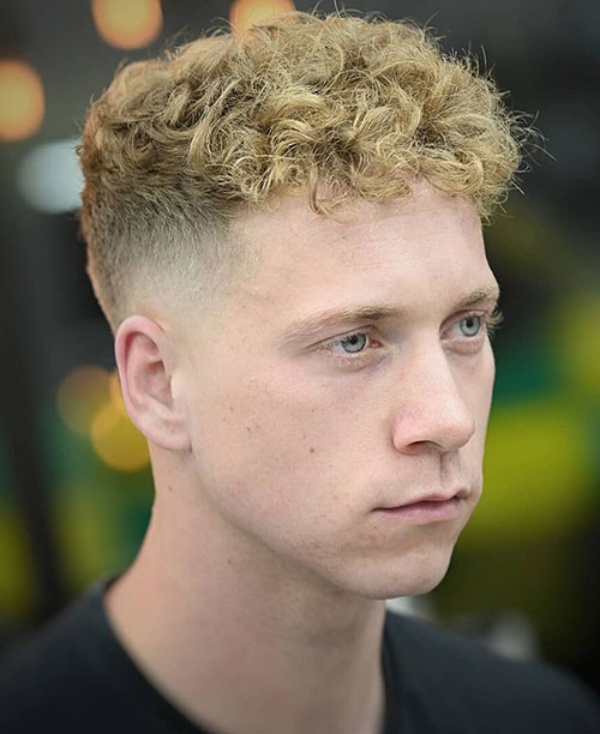 With the blonde hair perm, you can enjoy the classic sun-kissed look. The blonde hair stands out, especially during the summer season. This is one of the perm hairstyles for guys that many men can wear. If your interest is piqued with this style, make sure that you give your hair enough time between bleaching and curling as both require chemicals, and you would not want your hair to get damaged or dried out. The best way to make this hairstyle contrast and attractive is by wearing soft color dresses.
19. Mohawk Perm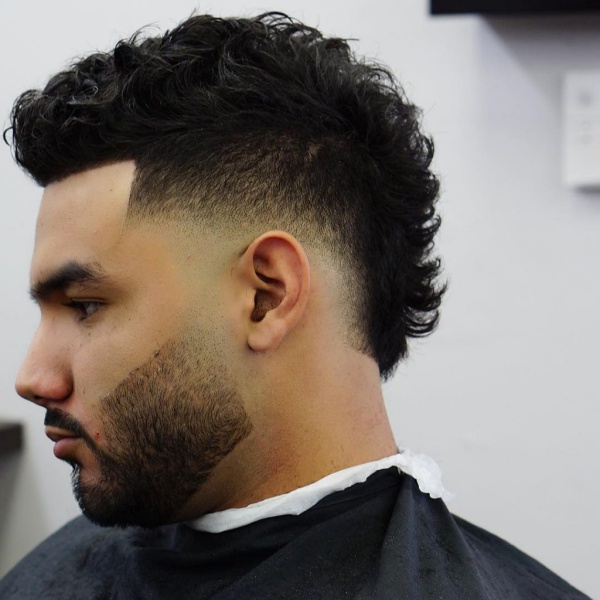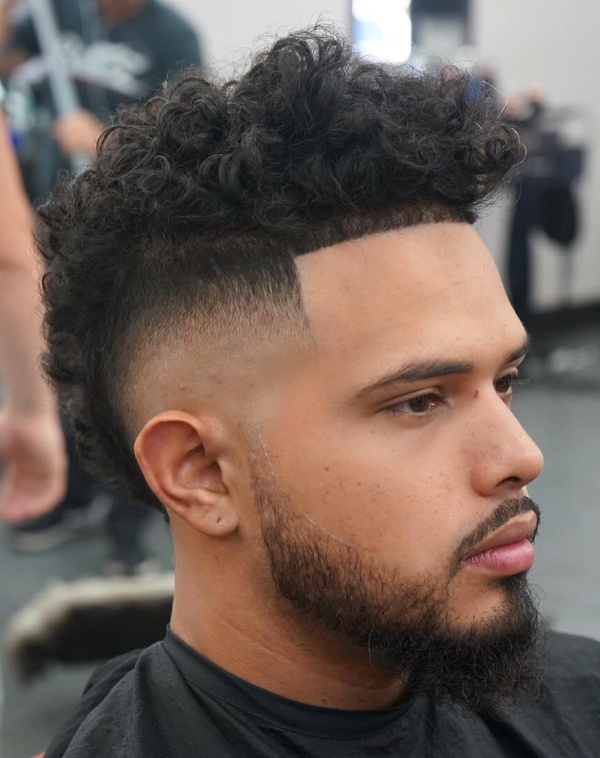 Unleash your trend by going along with a Mohawk perm. This style assures a bold and daring look that looks better than a classic faux hawk. You can even style it tastefully if necessary. If you wish to style a curly Mohawk, you would need the assistance of styling products. You might even need to blow-dry to keep the look in place. In order to create a badass style, you can save a beard with a hairstyle. The best thing is that you can become a center of attraction with various fascinating and uncommon mohawk styles.
20. Highlighted Perm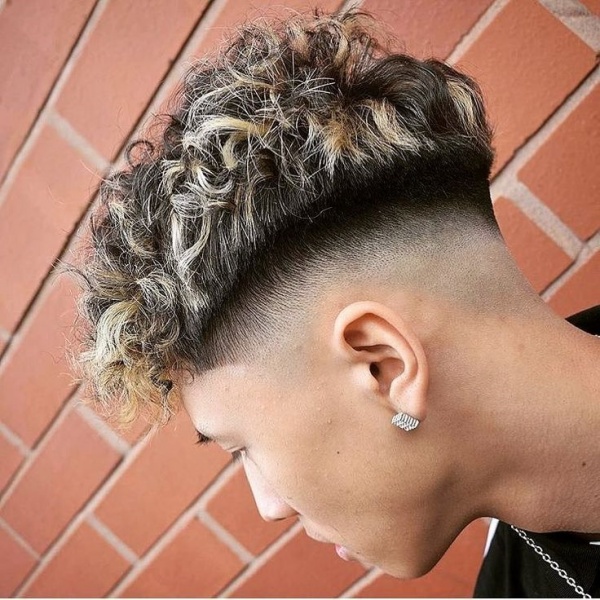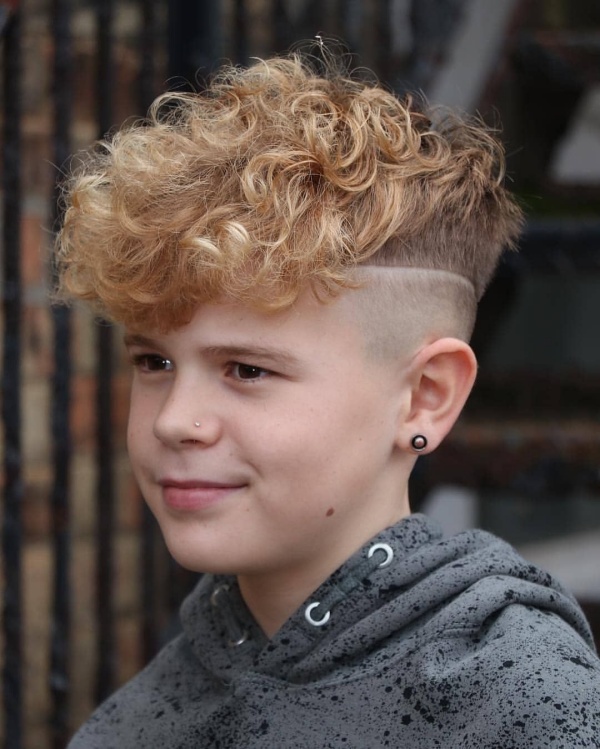 This hairstyle tops up a traditional perm solution with a bit of a chic look. If you are a fashion-forward guy, then this is undoubtedly the ideal style to shape yourself. You can get a taper, a fade, or even an undercut on the sides and back to highlight your curly hair or top. However, this hairstyle demands maintenance because highlighted perm needs good hair care to stay in position. In order to make the highlighted perm prominent and eye-catching, you need to wear solid colors to create a contrast with your hair. Keeping a clean-shaven face will definitely make you look more attractive.
21. Beach Waves Perm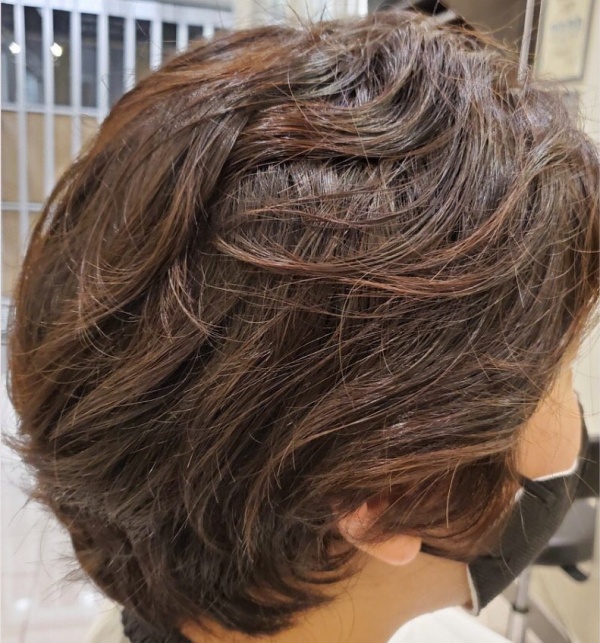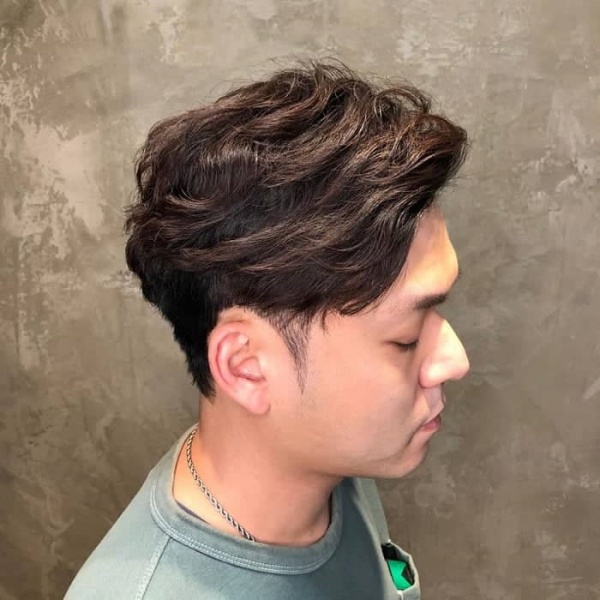 Wavy perms appear to be intelligent choices for guys who have medium-length or long hair. This hairstyle is a result of curls loosening and stretching, which creates a textured wavy hairstyle. Wavy perm hairstyles for guys are best styled with a light-hold product. If you try and style it in a messy manner or just keep it flowing or combed over to one side, it will look pretty enchanting and sexy. Try and apply a mousse, cream, or smoothie to enhance the volume of your hair and add thickness to it simultaneously. With denim and tees, you can make yourself look cool and handsome, among others.
22. Perm With Shaved Design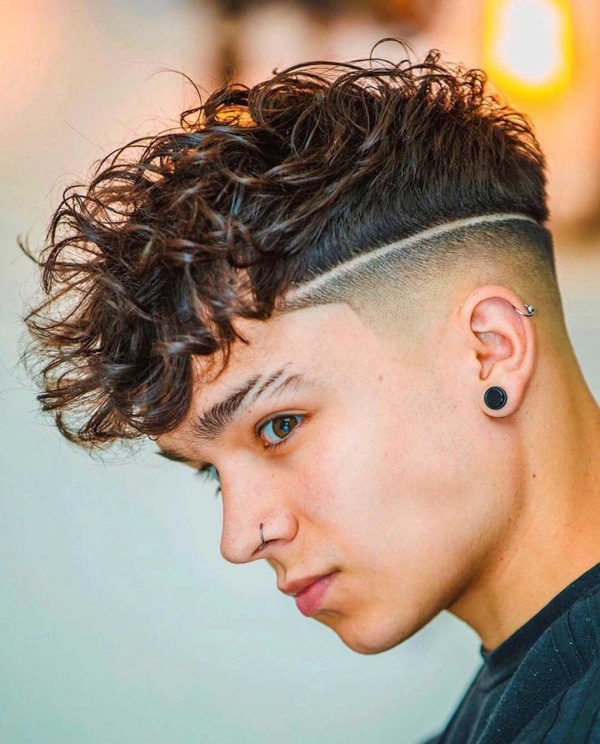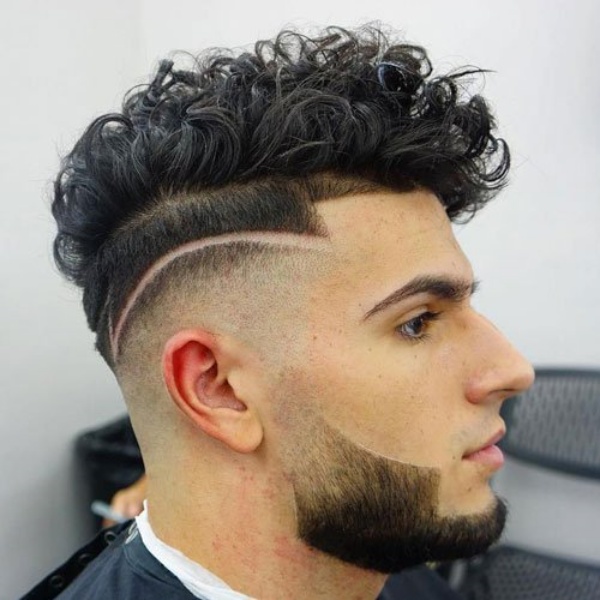 The perm with shaved design is a hairstyle that was fashionable from the 1910s to the 1940s, prominently among men. This hairstyle saw a steadily growing revival in the 1980s before becoming trending again in the 2010s. The hairstyle is created by keeping the hair on the top of the headlong and parted on either the side or center. On the other side, the back and sides are buzzed very short. You need to groom the hairstyle in order to keep the hairstyle permanent and in good condition.
23. Combed Up Perm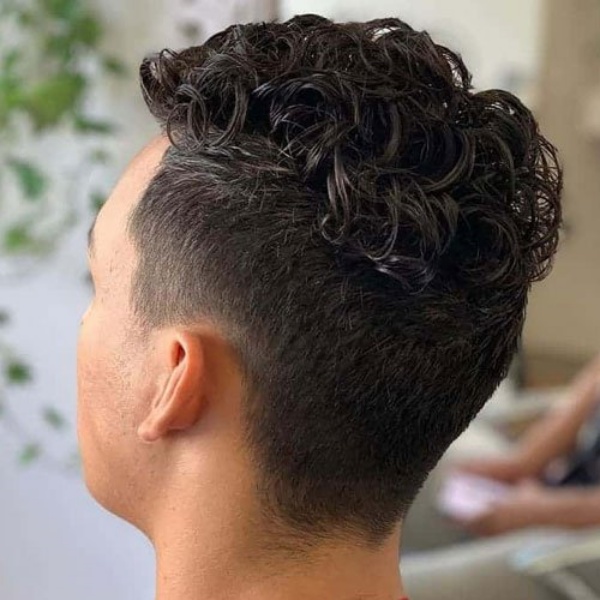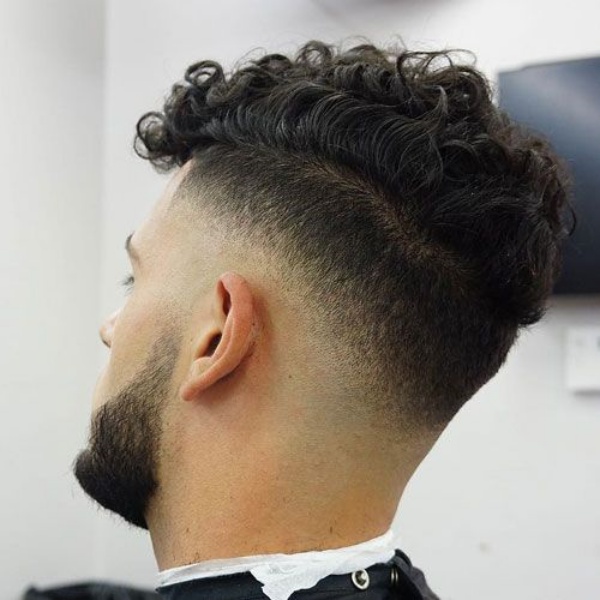 You can add a little more drama by combining your curly hair with a combed-up perm. The perfect look for men ranging from short to long hair is then combed up perm. It allows a diversion from a regular side part because guys love to get more creative with their styling. You can either sweep your curls all the way over to one side or let some of your hair hang over your forehead. This hairstyle is meant to be fashion-forward and sophisticated. If you wish to keep this style in position throughout the day, you can apply natural hair products or hair wax.
24. Perm Hair With Drop Fade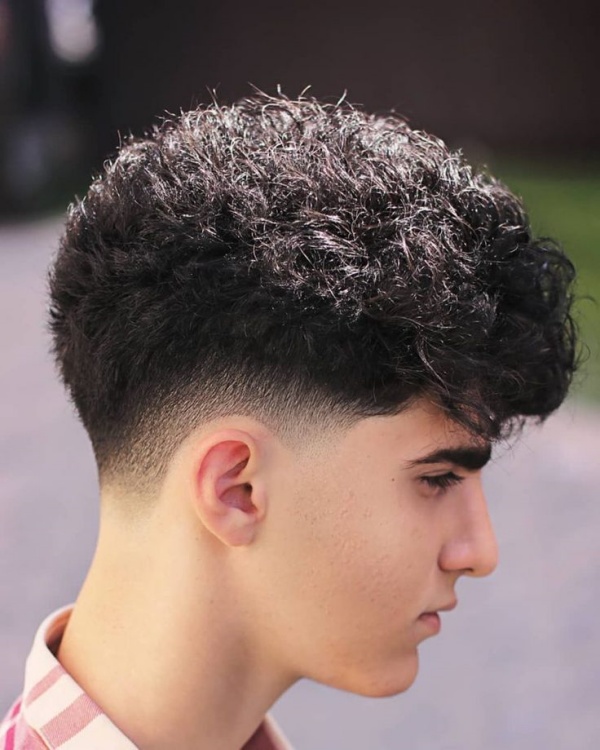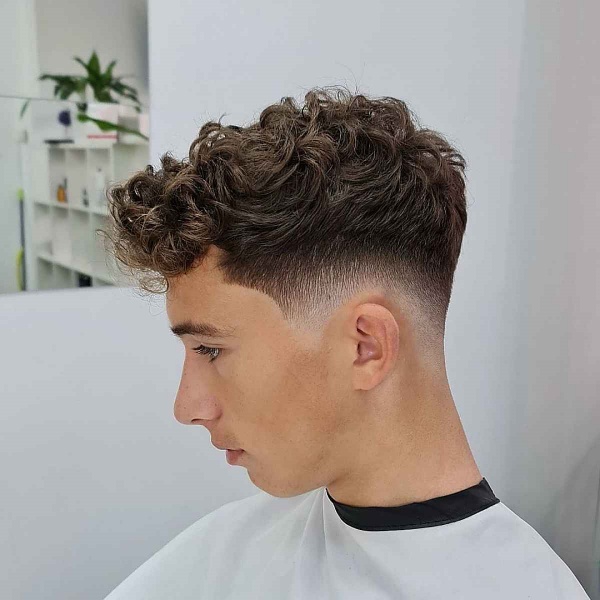 If you are interested in going for extreme perm hairstyles for guys that would give your appearance a shakeup, a perm with a drop fade must be your go-to hairstyle. In order to make this look creative, your stylist needs to curl the center and leave the side hair straight or curl it as well to achieve this hairstyle. If the sides are straight, the style will turn and blend better into the drop fade. The drop fade is typically done with a trimmer, clipper, and razor. This contrast in length will look extraordinarily modern and striking.
25. Side-Parted Perm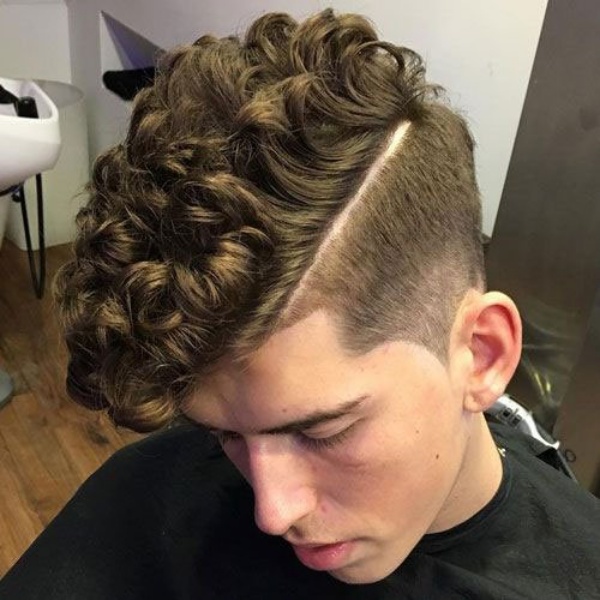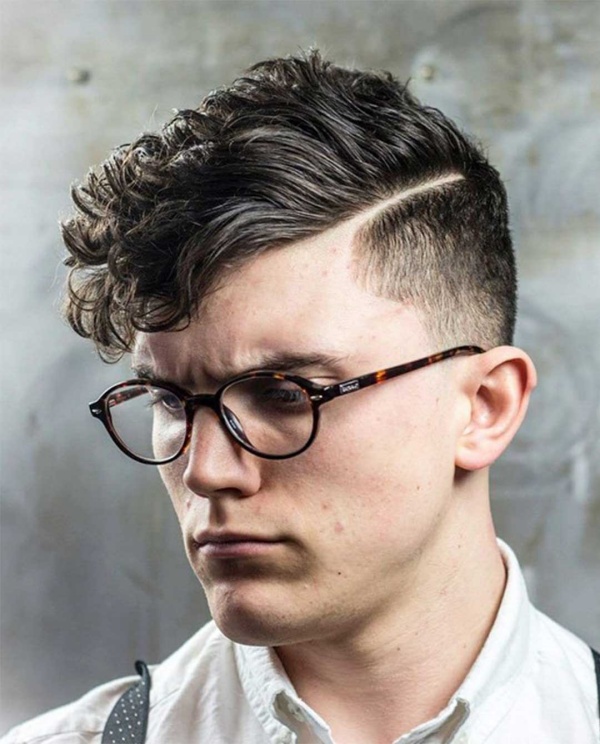 If you want to flaunt a modern hairstyle that is a top hit in the latest trends, try a side-parted perm for a stylish cut. Just like a side part haircut with a fade, this look combines the elements of texture and style with your classic and regular curls. For a genuinely bold take, ask your barber to shave in a thick line because that would create extra contrast and intrigue. If you wish to keep the hairstyle intact, then you need to maintain the shape of the hair regularly. With this hairstyle, not only do women find you attractive, but men also admire this style.
26. Loose Perm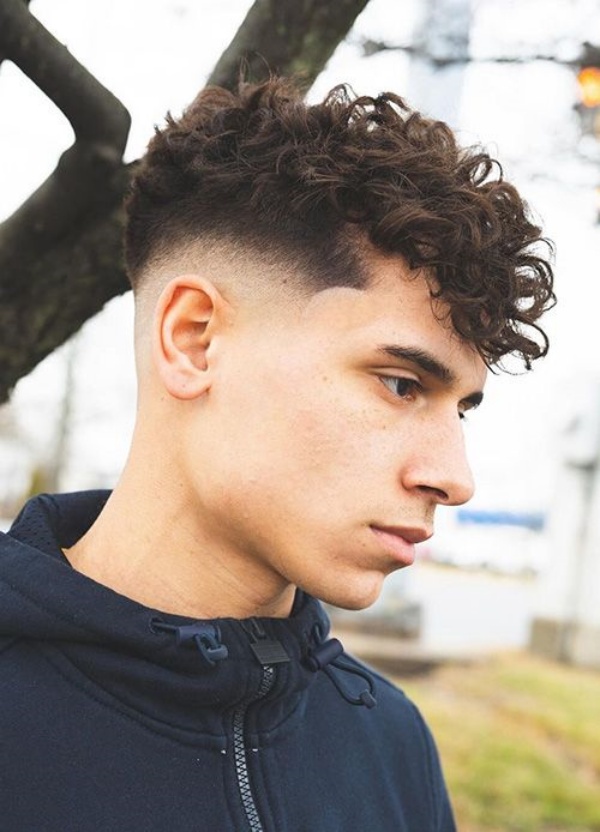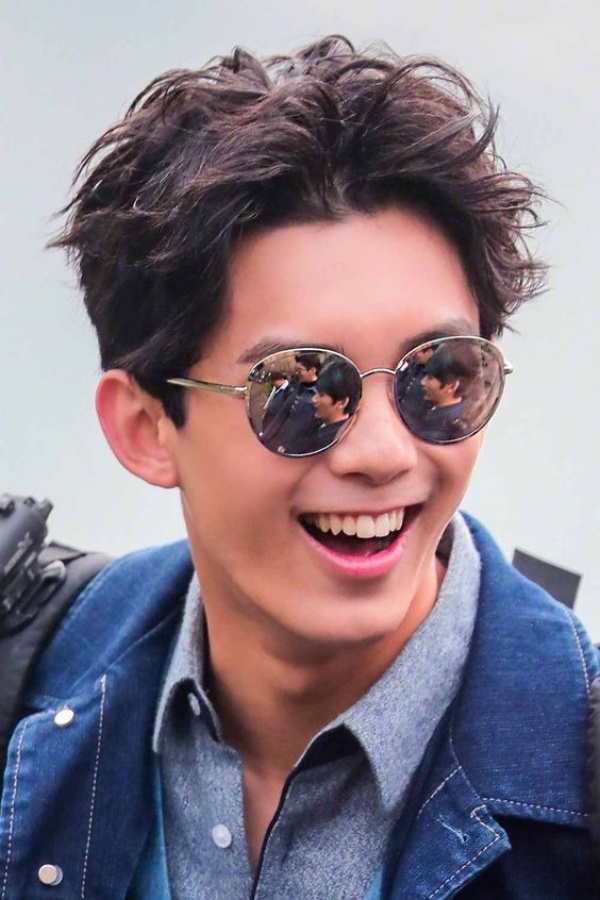 This hairstyle works the best for men who have medium-length or long hair and want a fresh hairstyle. Loose curl perms can easily be styled to look messy. You can even sweep them to the side, brush them back, or comb them forward. Guys need to use a light styling product such as mousse to achieve some control and texture in their hair so that the volume and flow can be maximized. You can go formal as well as casual with this hairstyle. If you are looking for a hairstyle in order to impress your partner on a date, this is the ideal hairstyle.
27. Close-Trimmed Perm Hair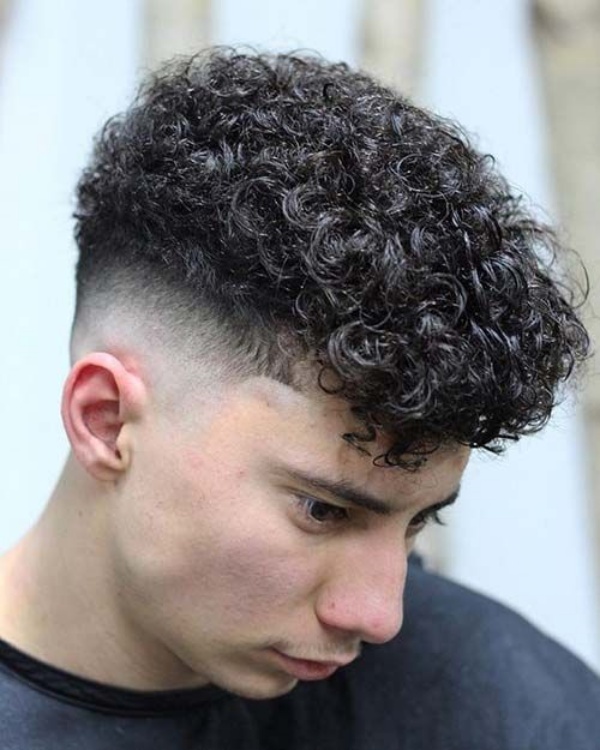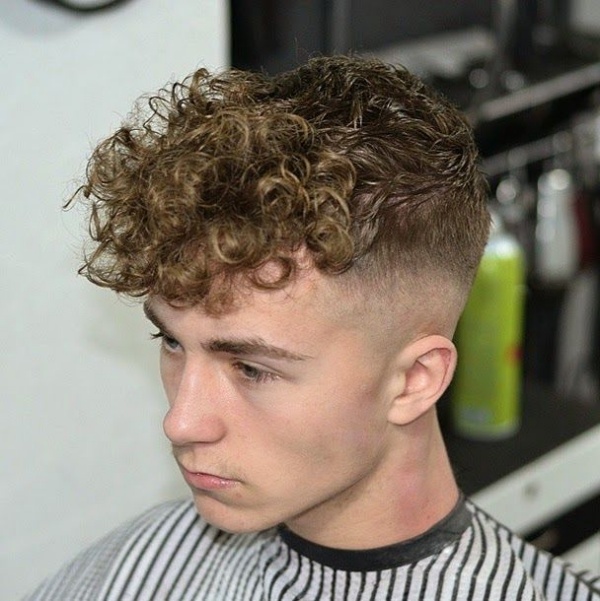 If you want to try a classy yet safe look combined with popular perm hairstyles for guys, close-trimmed perm hair would be an easy choice. The tight trimmed perms are exceptional in their own way because they make extremely short hair curls work together very well. For guys who want an exceptionally relaxed hairstyle, this can be a good option. The best thing about this hairstyle is that it can be shaped very quickly. You can dress up in denim and tees to make yourself more appealing.
28. The Man Bun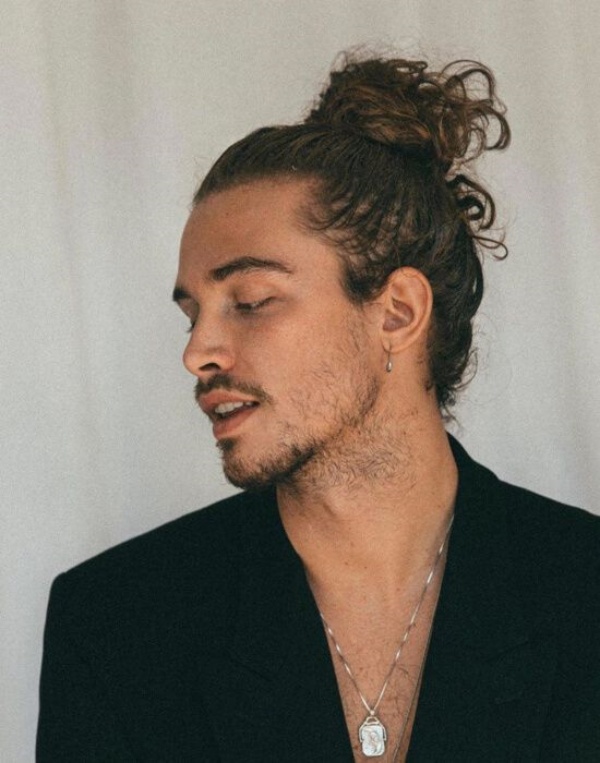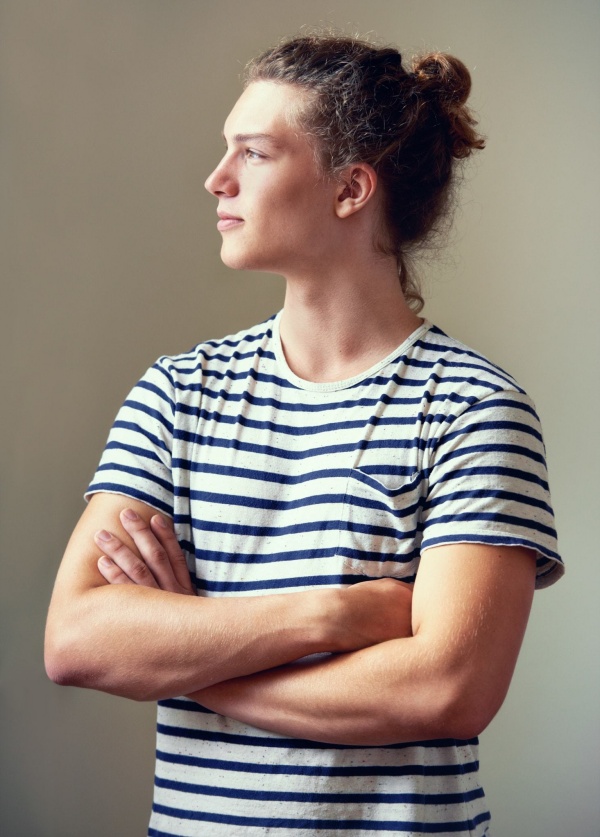 You can effortlessly wear your curls by tying them up into a man bun as an easy-to-create hairstyle. It is an on-trend style that any guy can fall back on. The versatility of the man bun designs in different shapes has made this style more popular among men. Guys who prefer their hairstyle to be a bit low on maintenance can definitely try a man bun. A man bun is undoubtedly perfect even for professional settings. It is an effortless style that anyone can pull together in minutes. Its sharp look suits all types of environments, be it work or for a date.
29. Asian Perm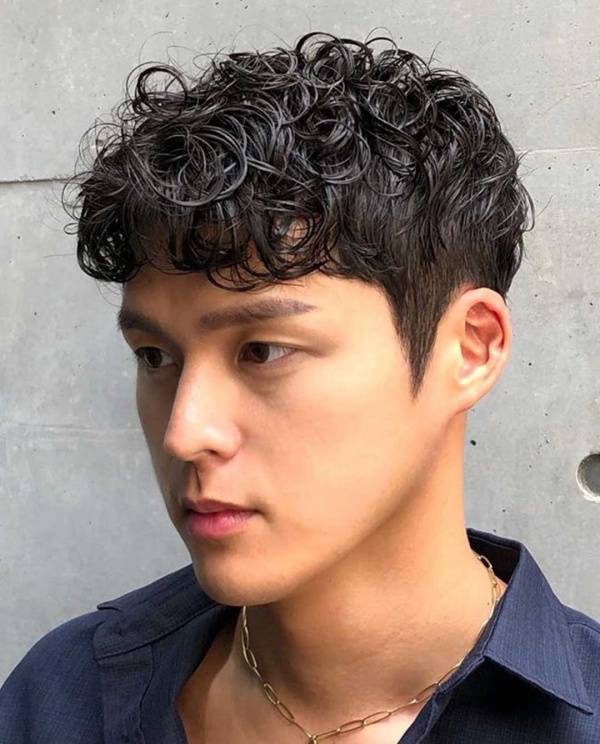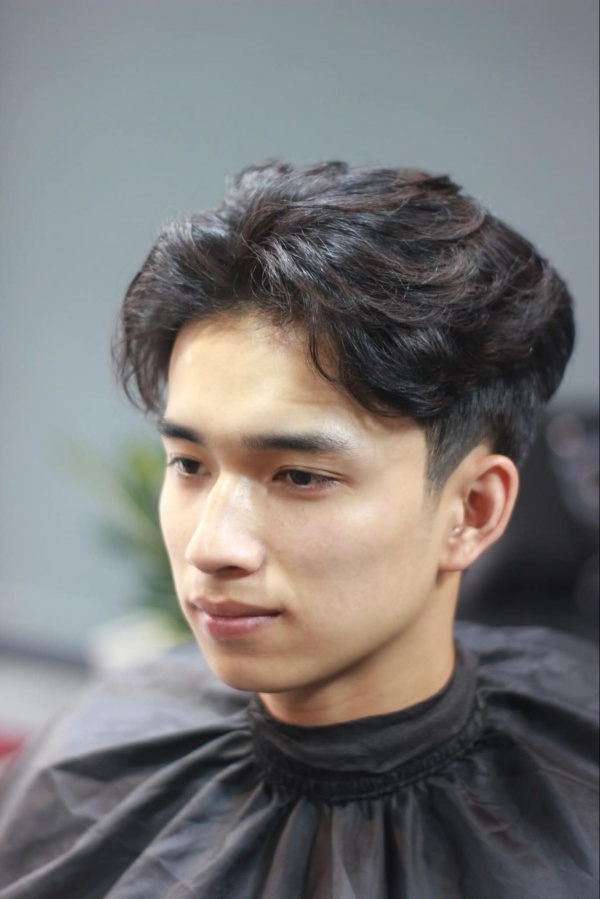 Asian men prefer being able to change up their hairstyles with a perm. Asian guys are mostly known for their thick and straight hair. This is why they can benefit from a new dimension to their style. Ranging from waves to tight curls, try and experiment with an Asian perm for volume, texture, and flair. The Asian Perm hairstyle has become trendy as with keeping a taper fade or undercut; you can create a sexy and versatile look. On top of that, the best part is Asian men with both long and short hair can make this classy style.
30. Perm Hair With Beard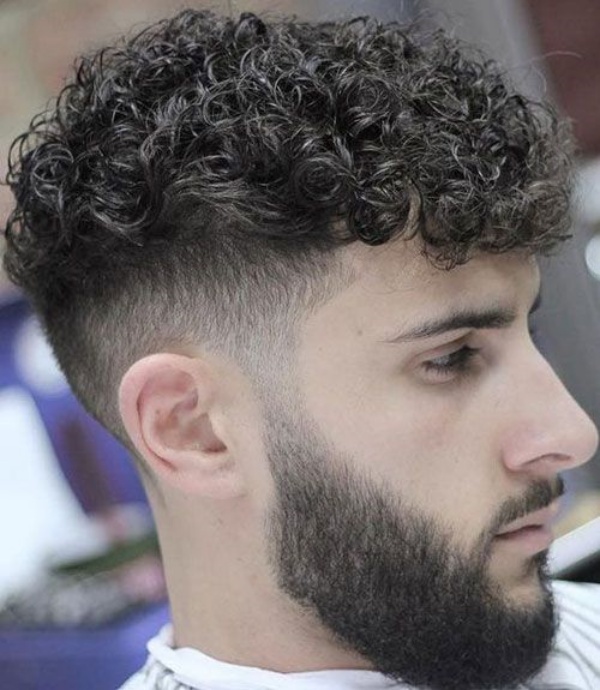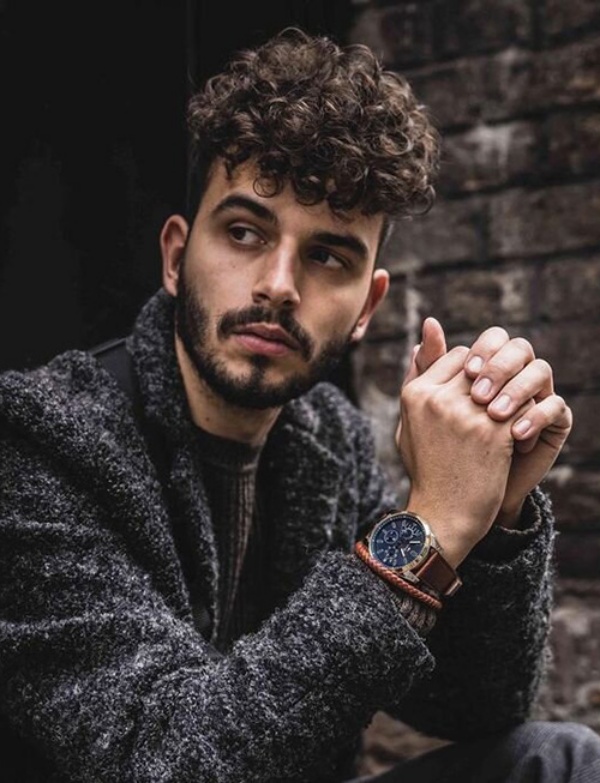 If you choose to bring back an old-school classic curly hairstyle, try pairing it with a trimmed goatee or a bushy beard. Flaunt your curls with a closely shaven beard. An adequately shaped beard will beautifully balance out your perm. You can appear both casual and formal with the perm hair and beard look. If you are a fan of great footballer Mohammed Salah, then this is the perfect style to express your love towards him. If you choose to keep the style intact, you need to groom both the beard and hairstyle from time to time.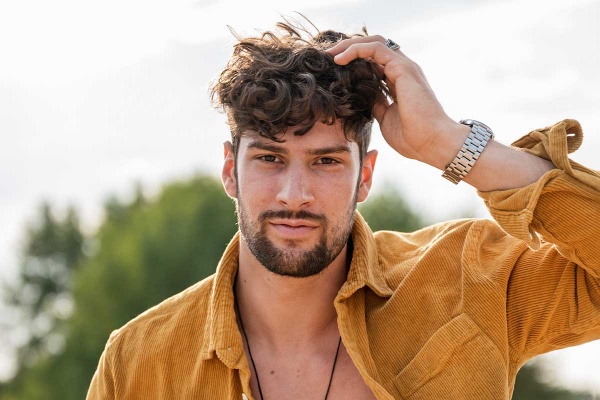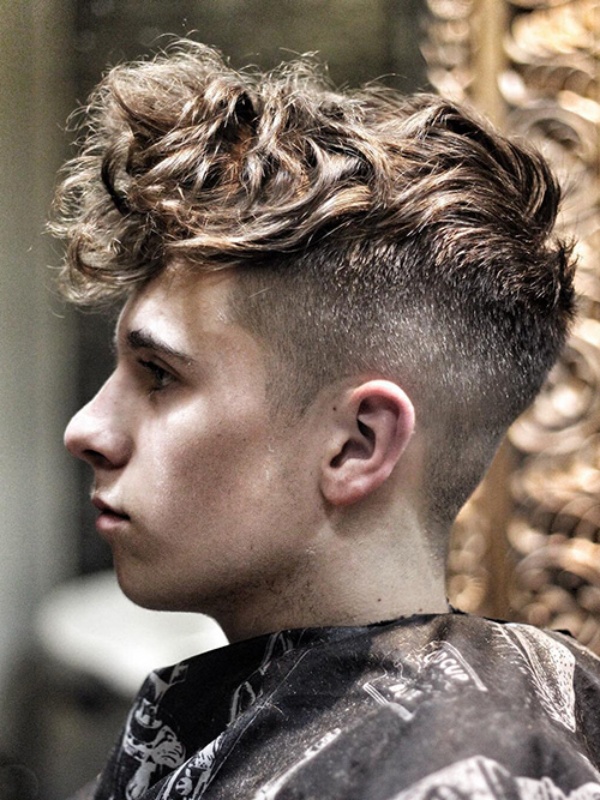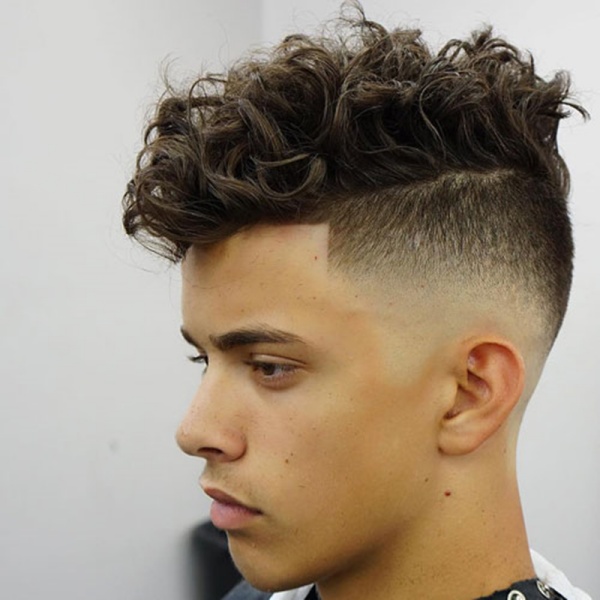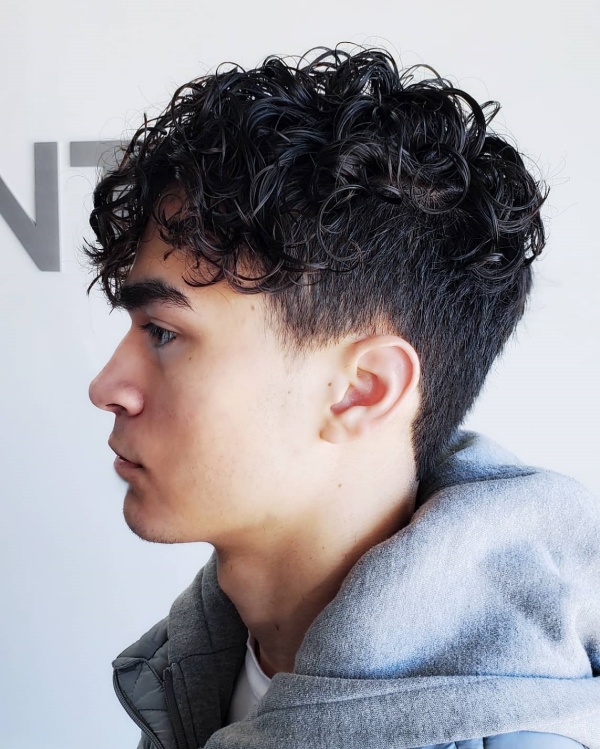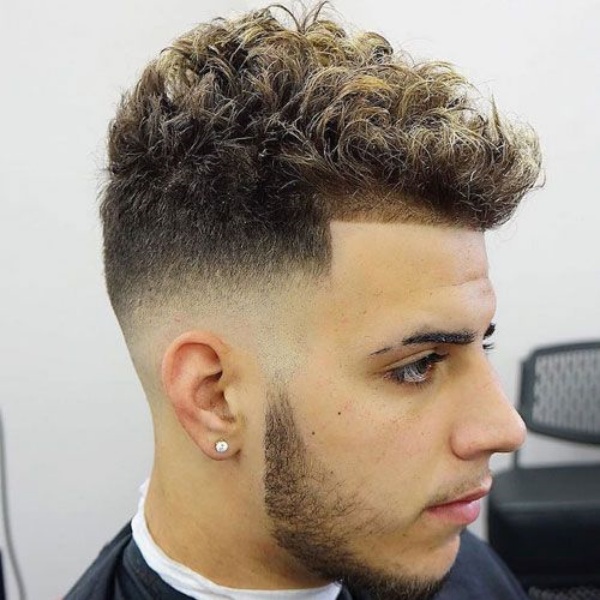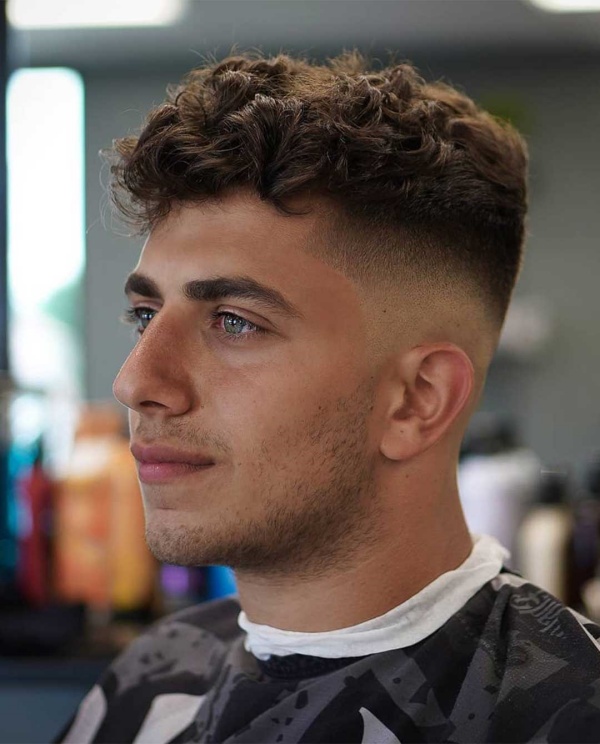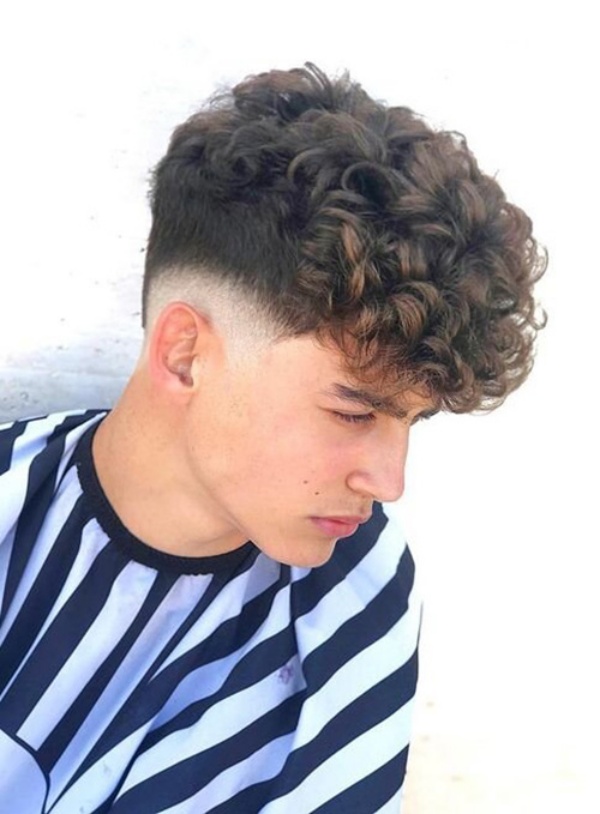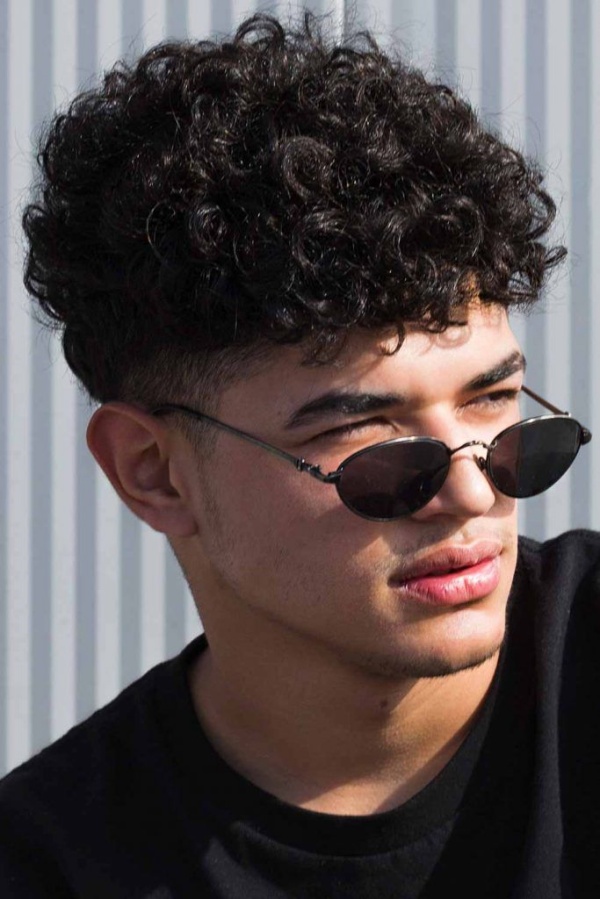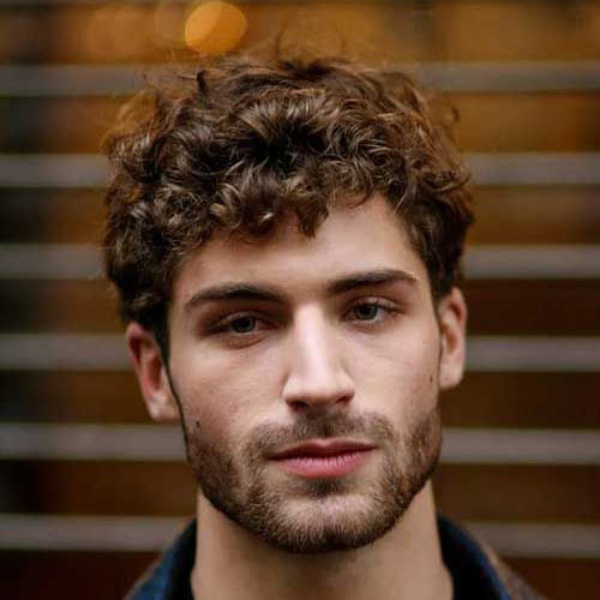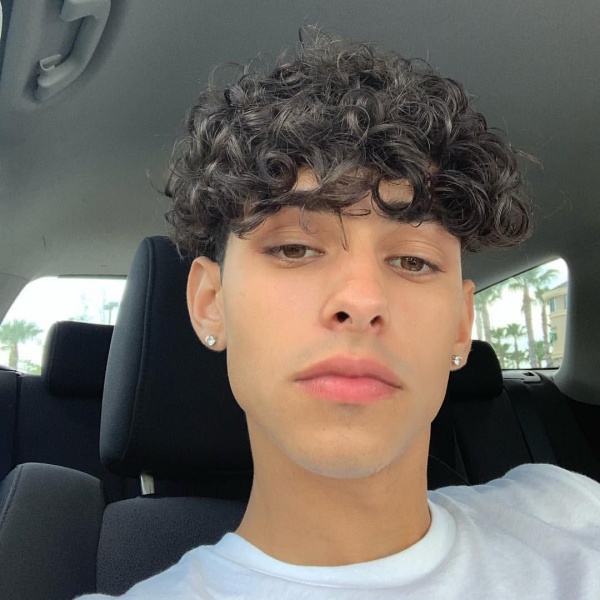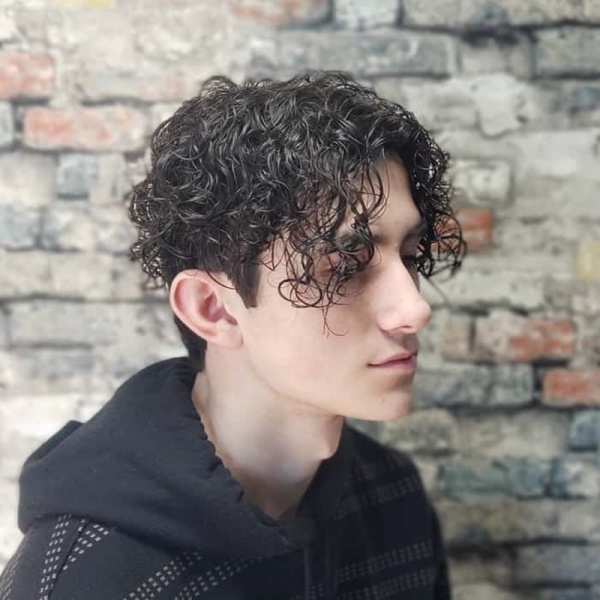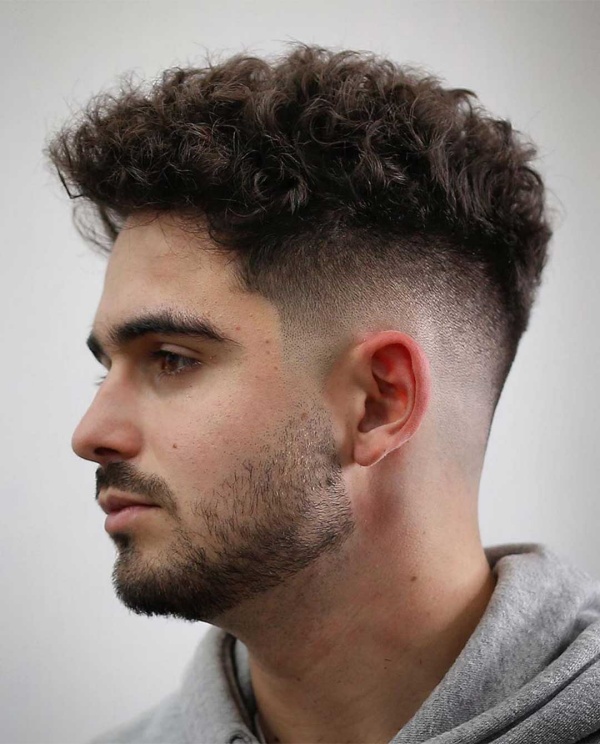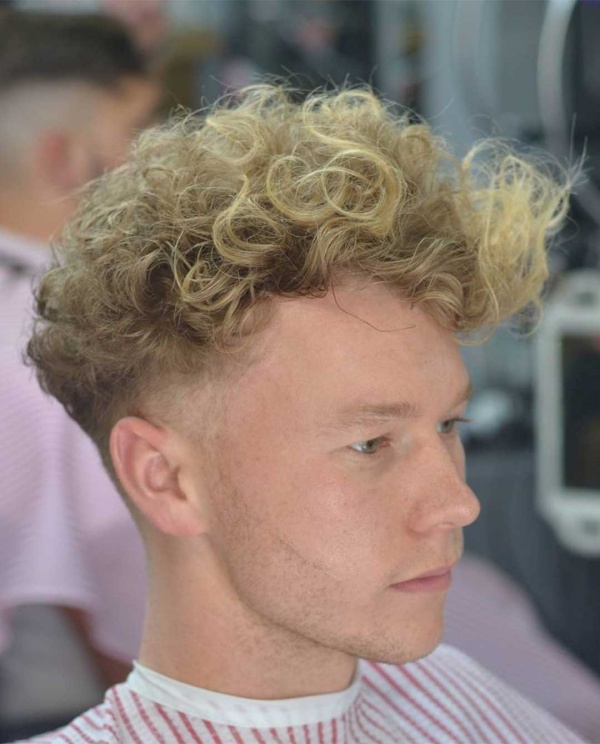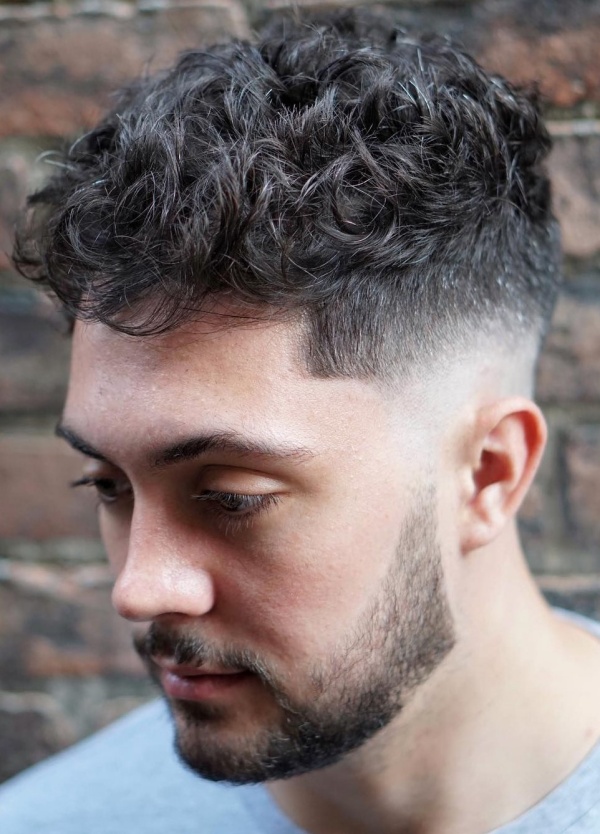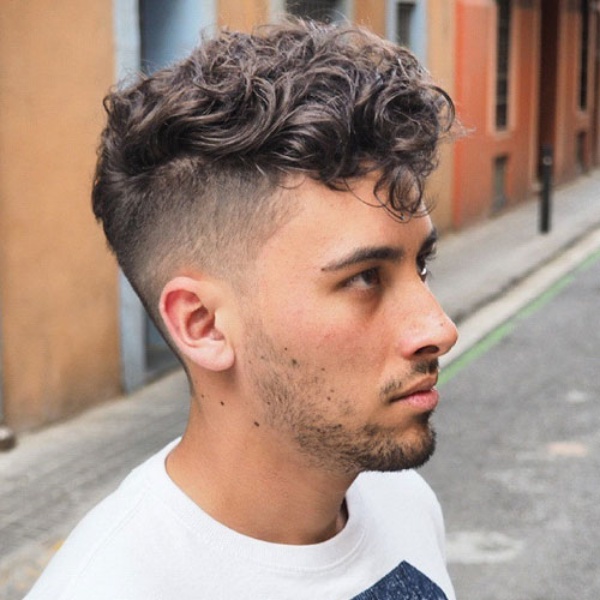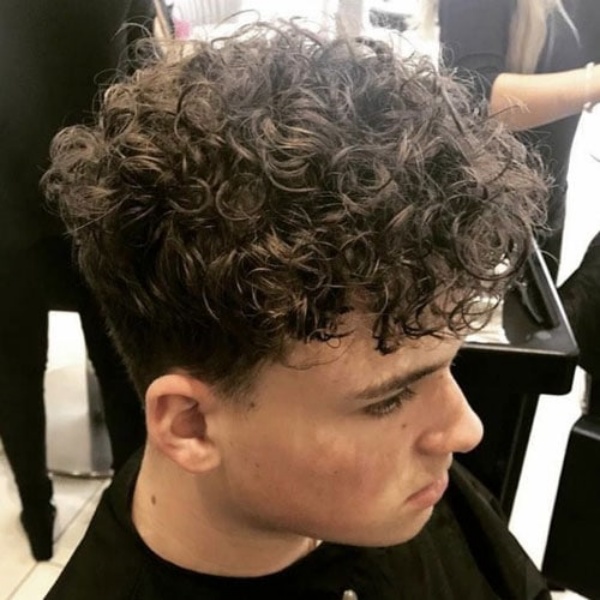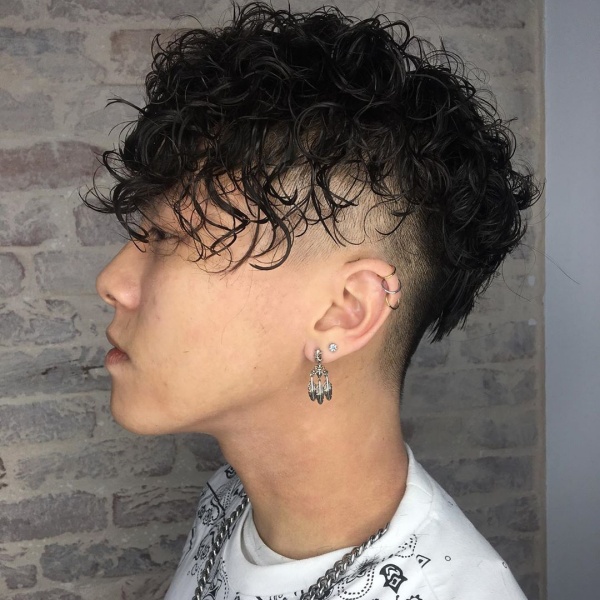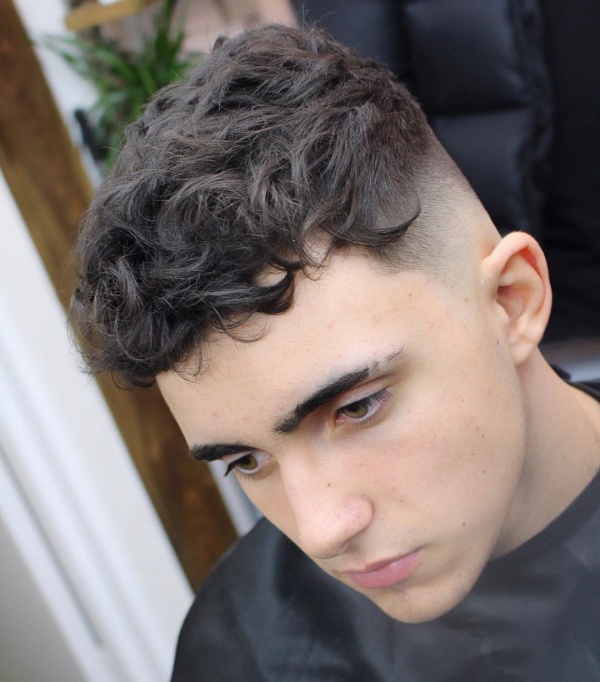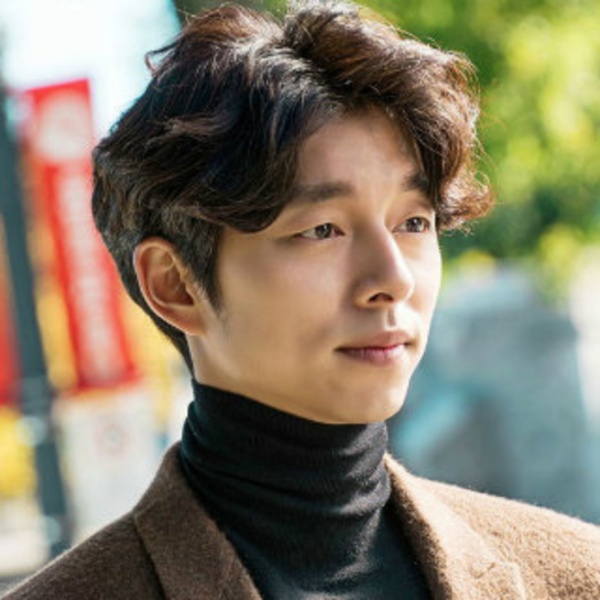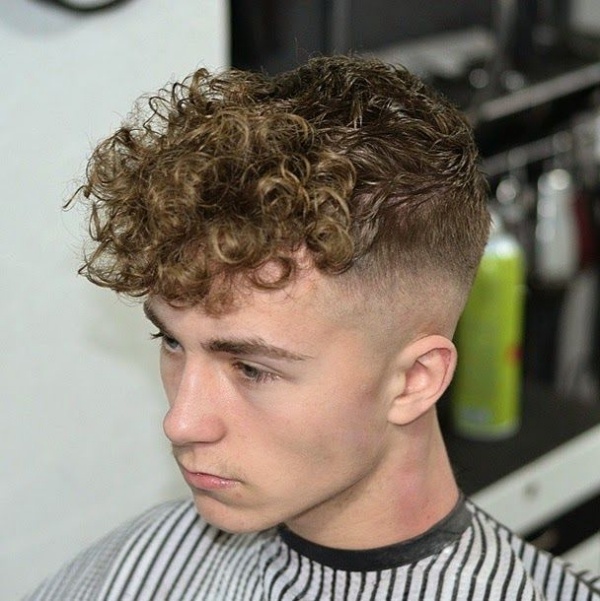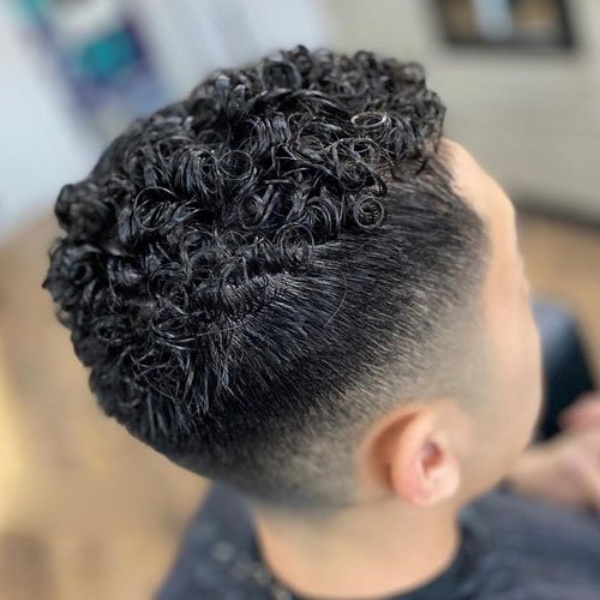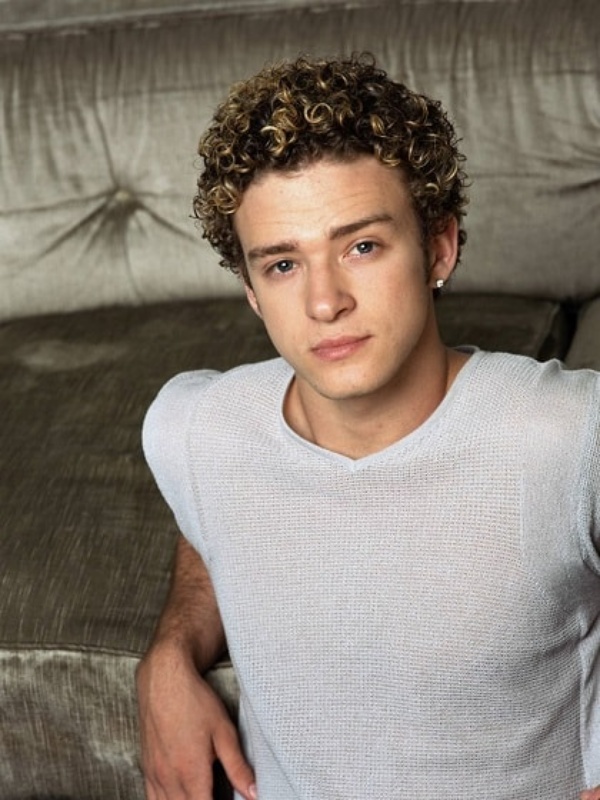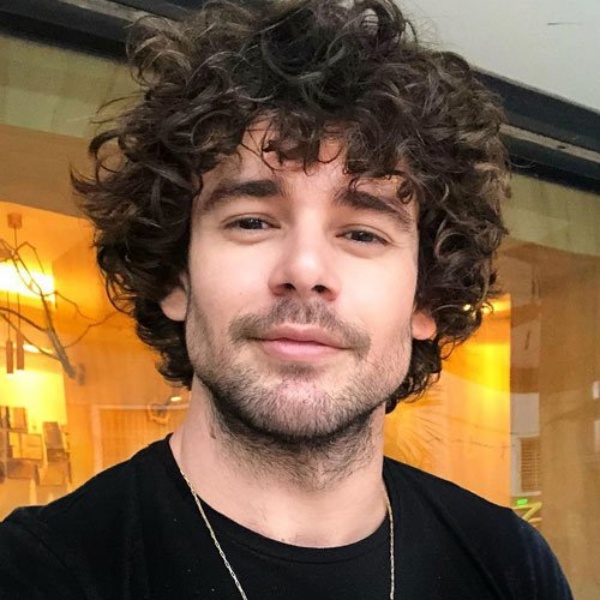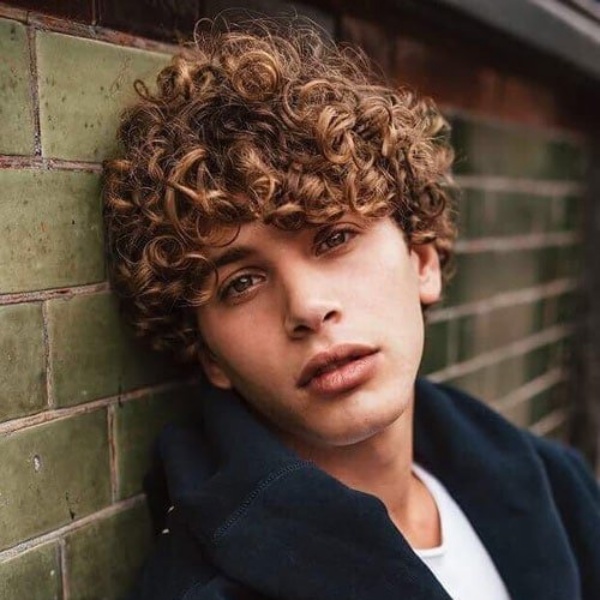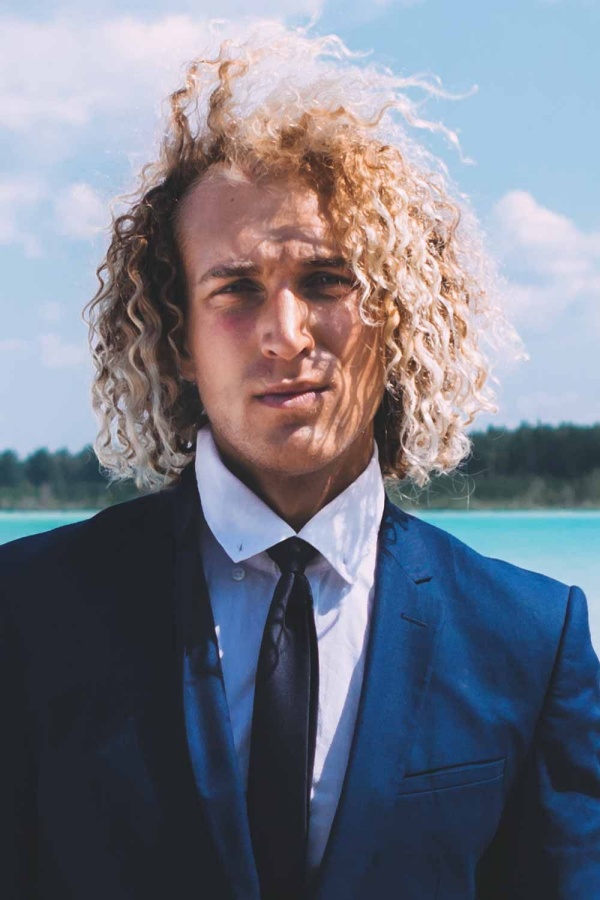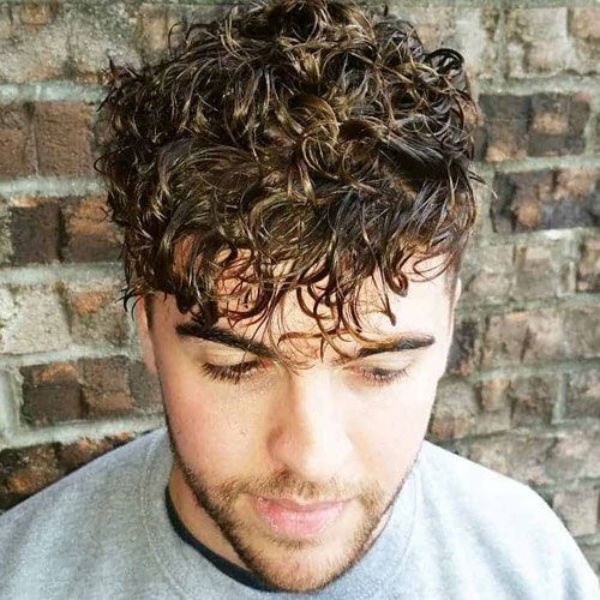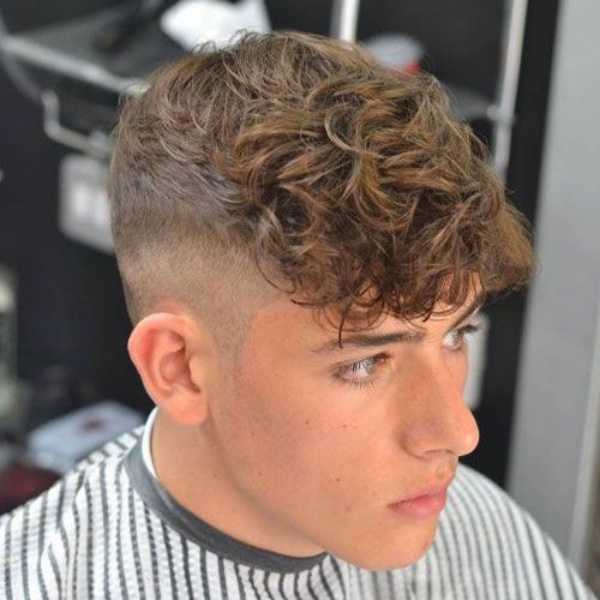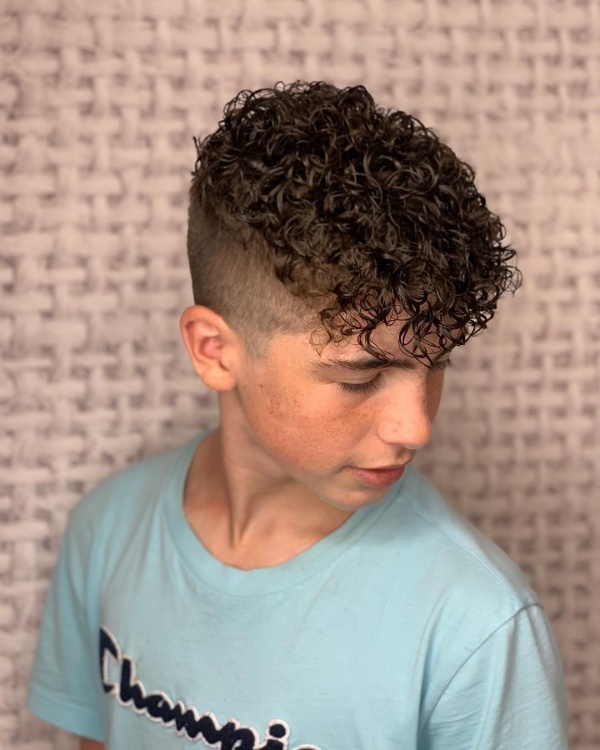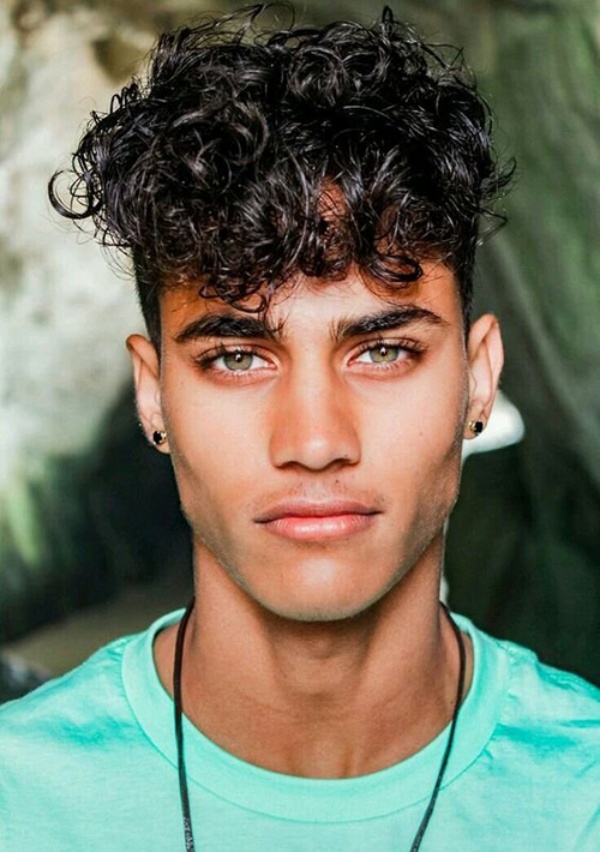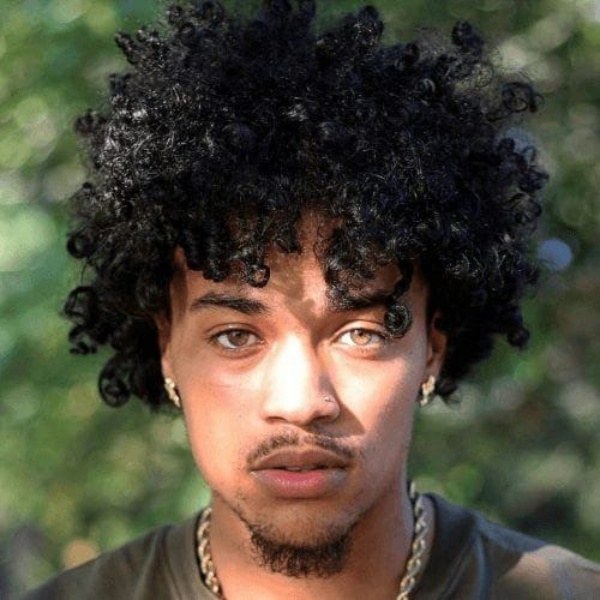 How Long Do Perms Last For Guys?
Perm hairstyle is a unique and creative hairstyle that makes men look more cool and sexy. As this is one of the most popular hairstyles among men, they wish to keep this style for a longer period of time. Although the word perm means permanent, in the case of a perm hairstyle, the longevity depends on factors such as hair length, thickness, and texture. The perm hairstyles last approximately for 3-6months which totally depends on how you maintain and nourish your hairstyle.
Can You Undo A Perm?
Most men have natural perm hair, while others style themselves with this fashionable hairstyle full of waves and curls. If you are confused about whether you can undo perm hairstyles for guys, then you can shed off your worries by following some basic steps you can undo your perm hairstyle. First of all, you require to wash your hair with color-protecting shampoo and conditioner to cleanse and hydrate your hair. This helps your curls to relax. You can also condition your hair with hot oil to loosen the tight curls.
What Kind Of Perms Are There For Guys?
The perm hairstyle has been trending recently among men because of the creative curly hairstyle. You can have a chocolate boy look with this hairstyle. As this hairstyle is popular, it has come up with cool and flattering designs. There are small, medium, or long hair perms. The trendy styles are classic perms, perm with temple fade, perm with fringe, Caesar cut perm, perm with undercut, mushroom perm. Among modern styles, faux hawk perm, curtain perm, tight perm, perm with Pompadour has been trending. Highlighted perm, beach wave perms, combed up perm is also flattering.
Can You Shower With A Perm?
In order to have a perm hairstyle, you need to have patience. The perm hairstyle is one that cannot be styled by anyone; it requires expert hair professionals to provide the perfect shape. After having a perm hairstyle, you should not immediately wash your hair. You have to keep in mind to wash your hair after more than 48 hours to keep your perm fine. In case if you wash earlier, it may ruin your perms. You must use proper hair products to wash your perms.
Do Perms Ruin Your Hair?
Every man and woman gets carried away with the perm hairstyles. The plethora of perm hairstyles for guys makes men end up doing this creative hairstyle in order to make themselves admirable, among others. You must know that having perm hair is not that detrimental to the health of your hair, as in the case of bleaching. But if you love your hair, then you need to get the thing clear that the process might weaken your hair and make the strand dry. In case if you have damaged hair, then you are more prone to cause further damage to your hair.
Will My Perm Get Curlier After I Wash It?
Perm Hairstyles for guys appear curly and wavy. You must keep in mind that you must not wash your hair immediately after styling as it might ruin your perm. The ideal time for washing your hair is after 48 hours. The best thing is to condition your hair more than wash them. This helps in getting your perms curlier.
How Long Does It Take To Get A Perm?
The perm hairstyles are attractive and appealing. Men love to flaunt themselves with this hairstyle. In order to have this hairstyle, it usually takes two hours. But mainly, it depends on your hair length, the type of perm you wish to have, and the hairstylist to get a perfect perm.
Conclusion
It becomes a pretty tough catch for men when it comes to choosing hairstyles. This becomes tougher when men try to experiment with classic hairstyles. In the article, you must have got to know about the various perm hairstyles for guys, which are quite appealing. Still, you need to get the idea about which hairstyle will look perfect on your appearance. Here you get the perfect guidance with the uniquely chosen hair experts and their flawless ideas. There are many styles that offer you a combination of both formal and casual looks, which solves many of your worries. You must keep in mind that, like other hairstyles, perm hairstyles need maintenance and grooming to keep the style fresh and in good condition. Shed off your worries and try out the styles that your heart desires from the above list!