Hair with a thick texture and strong roots is something we all intend for. Hair is the crown that not only acts as a major beauty enhancer but also the factor that boosts up self-confidence. Thus, to summarize, thick hair is loved by men and women alike. For men, the early signs of their hair-line receding are suggestive enough that it's time they start thinking something effective else baldness is not too far. Thick hair in men is something they are blessed with and the best way to secure them is by opting for medium hairstyles for men with thick hair.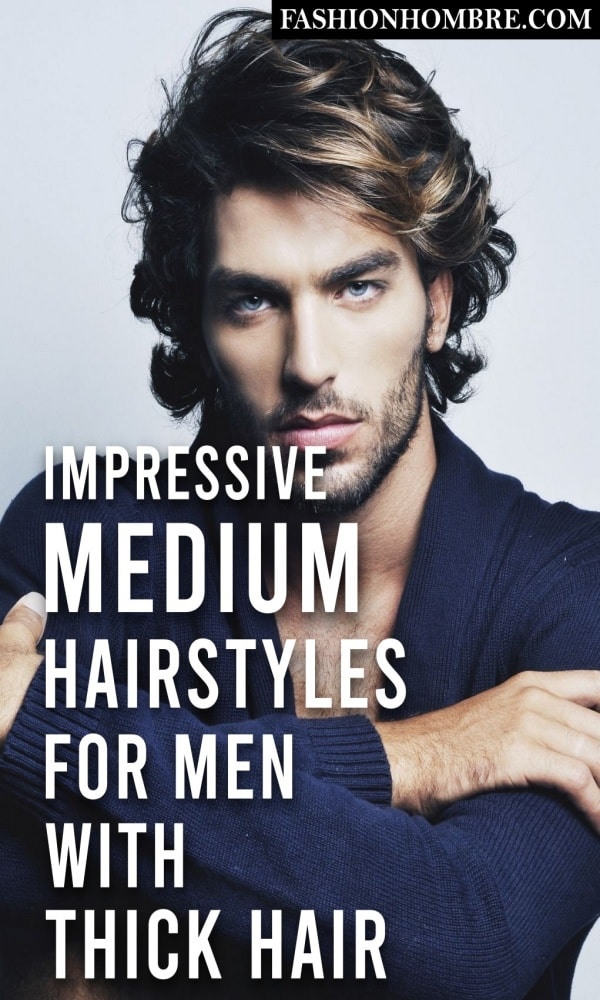 Most of the men with thick hair want to opt for hairdos that don't make it excessive voluminous, yet try to showcase the natural hair texture, with the thickness and health. While searching for various options you might browse through a classic style, cool sporty look, or something experimental while donning the lengths and styling edges.
To maintain the thick texture of hair while also pinning for styling, it is always advisable to opt for medium hairstyles, as that eases the maintenance of the thick hair for men. With that in mind, if you are seeking for some reference while hunting for the coolest medium hairstyles for men with thick hair, we have the section below for you. Read about some of the amazing styles and get yourself drooling over.
Cool Medium Length Hairstyles For Men With Thick Hair
Long Curly Top With Short Sides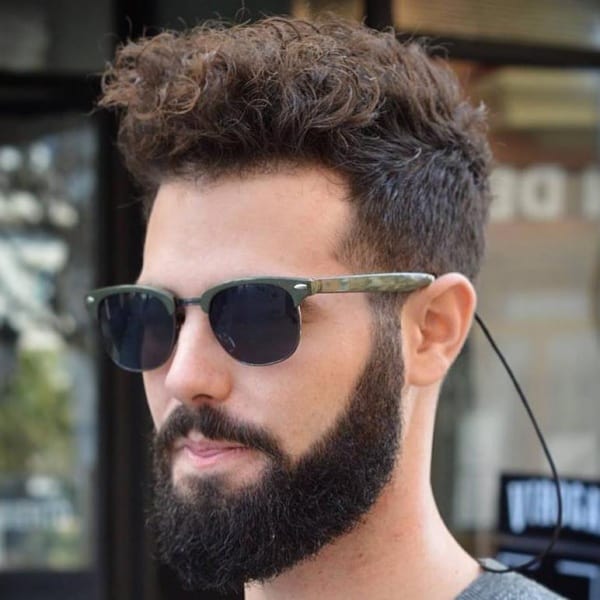 Image Source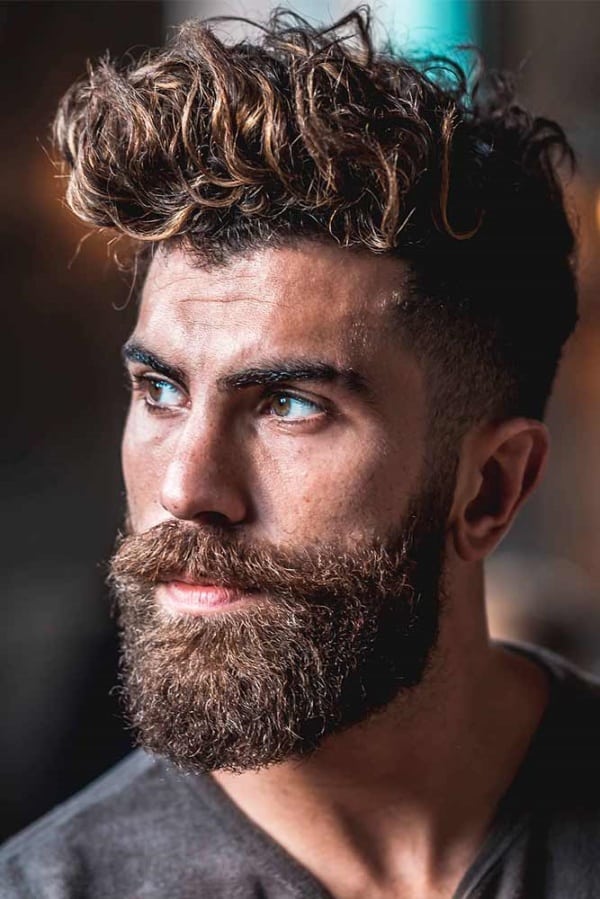 Image Source
A man with curls opens endless possibilities of styling. While searching for medium hairstyles for thick hair, men, do try this one for sure as the collective curls on the top give a voluminous presentation. The curls on top with shorter sides have gained much fan base while talking of the trending names in men's hairstyles. This hairdo also serves the basis for a whole lot of many popular hairstyles for men, listing the dishevel curly quiff, angular fringes, or simply letting the curls grow longer with the sides properly trimmed.
Wavy Side Swept Hairstyle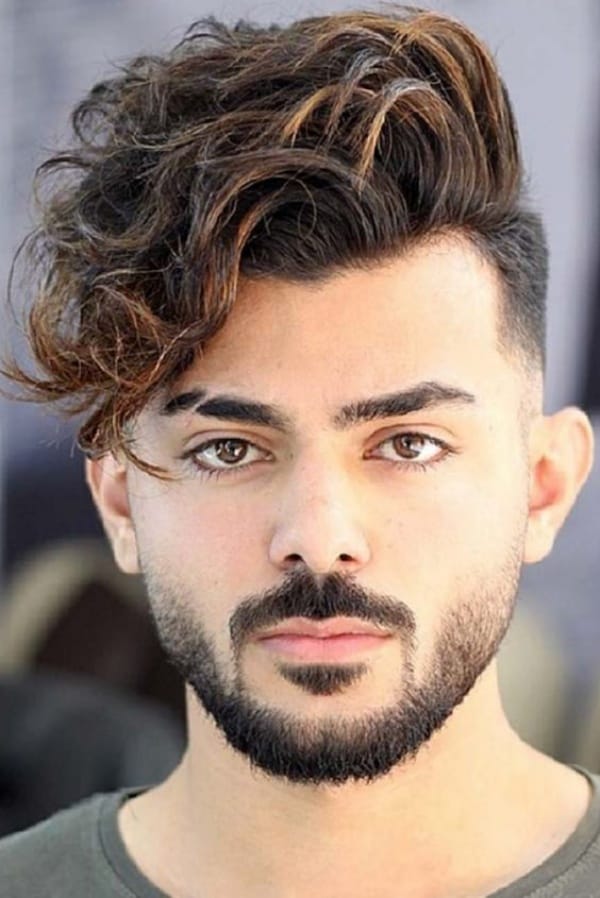 Image Source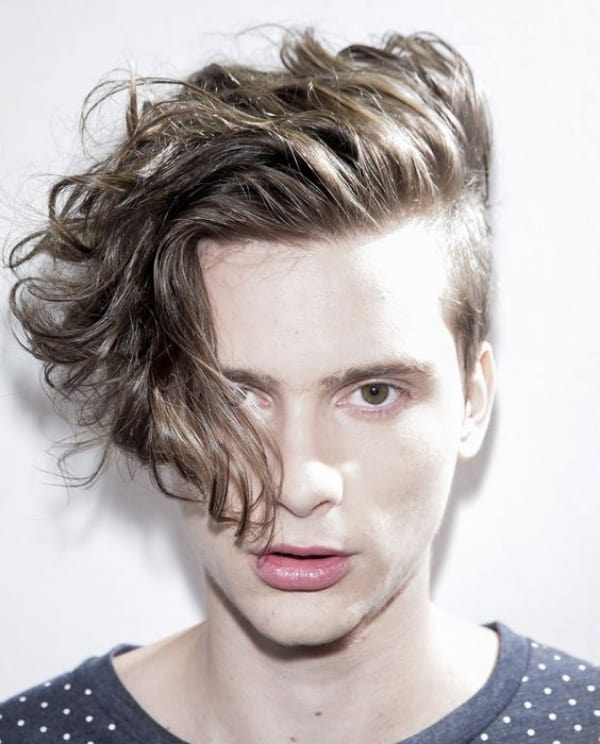 Image Source
The formal and classy hairdo that complements the fade haircuts well and suits men with both straight and wavy/curly hair. This is an outstanding variant of the undercut hairstyle promoting the combination of shorter hair placed on the sides and back while the longer hair is on the top. Also, named as the side part undercut, guys also might opt for the long fringes and bangs on the side for a competitively cool and casual look. All you need is a host of proper hair styling products with the right kind of combing, and you are all set to rock this look while soaring the temperature high.
Side Quiff Hairstyle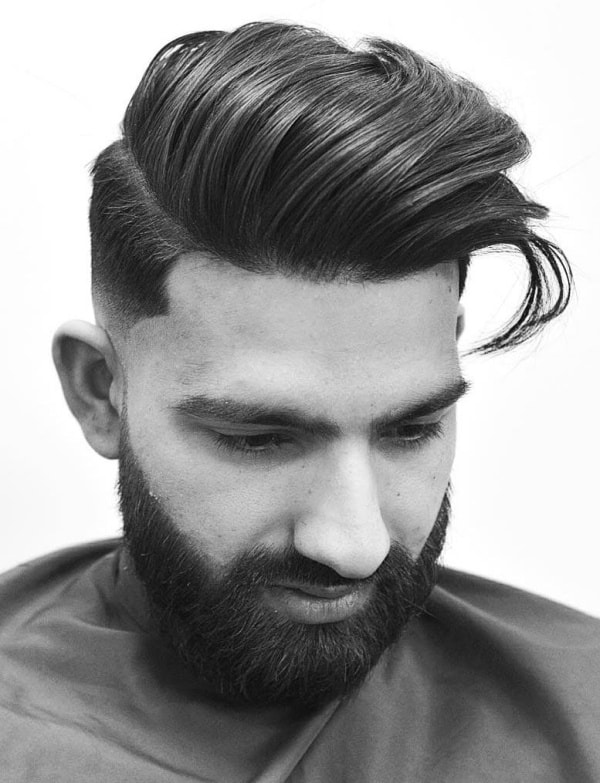 Image Source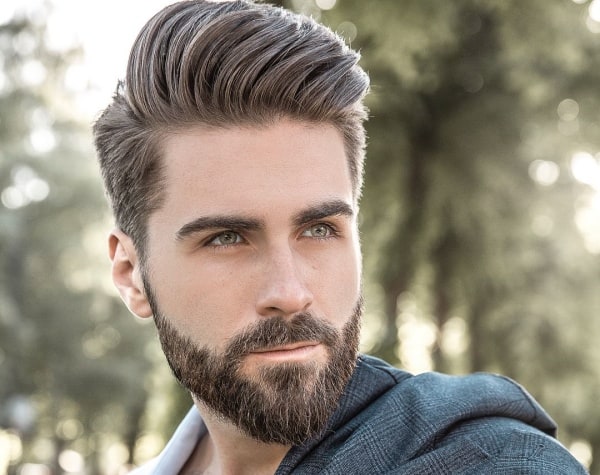 Image Source
The quiff hairstyle dates to history while combining the pompadour and flattop style from 1950. The classic name in the list of medium hairstyles for men with thick hair that also enhances a Mohawk, and is also a good option while pepping up for client meets or the party that follows. This is one suits various face cuttings, belonging to different age groups, personalities while giving the hair a voluminous presence.
Swept Back Hairstyle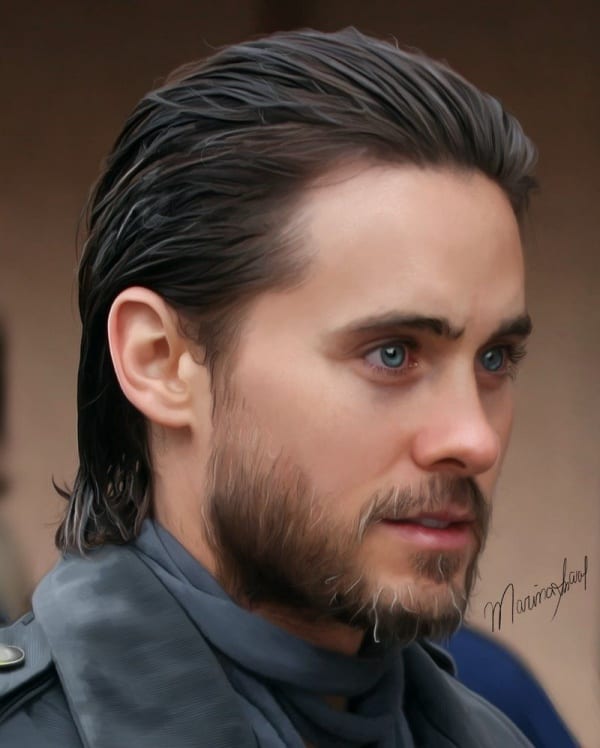 Image Source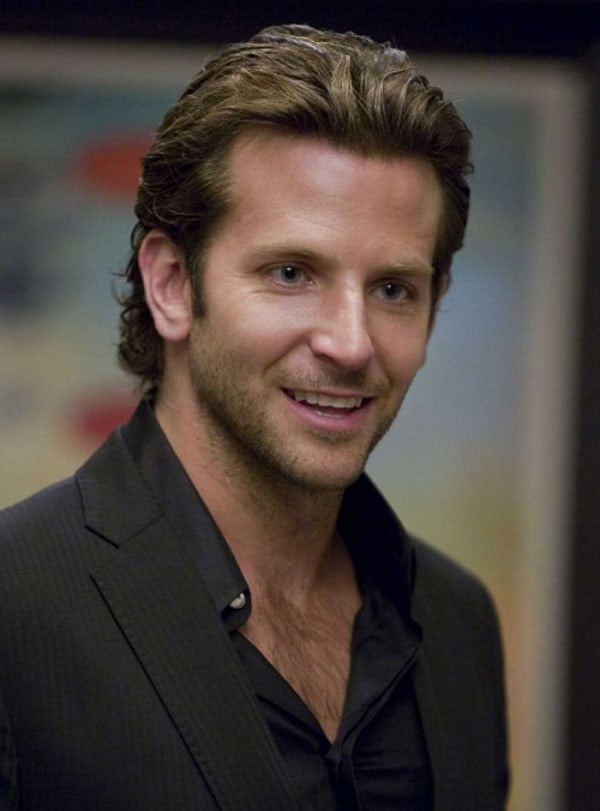 Image Source
The swept-back hairstyle works for both long and medium-length haired men. Men have found it to be very effective while it takes minimum styling hacks to maintain it. Again, a blast from the past which got revamped with modern finesse, this one speaks of modesty with elegancy at one go. The manes can be altered and adjusted as per the requirements of the wearer. For best results, go for a back-brushed laid back style or even something more refined.
Side Shaved Comb Over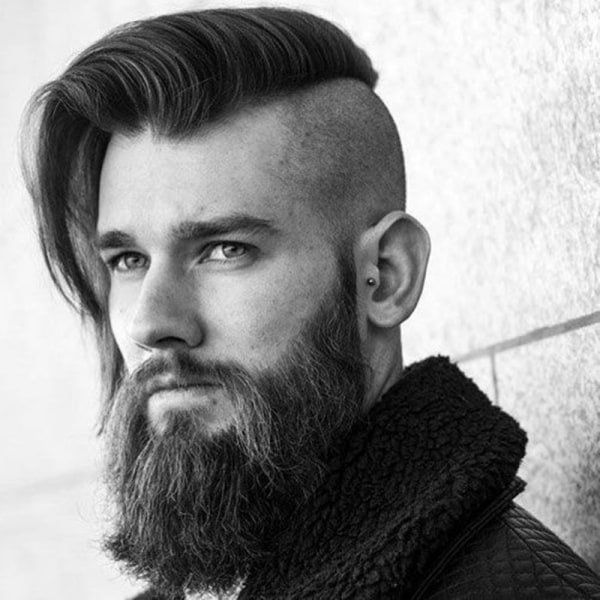 Image Source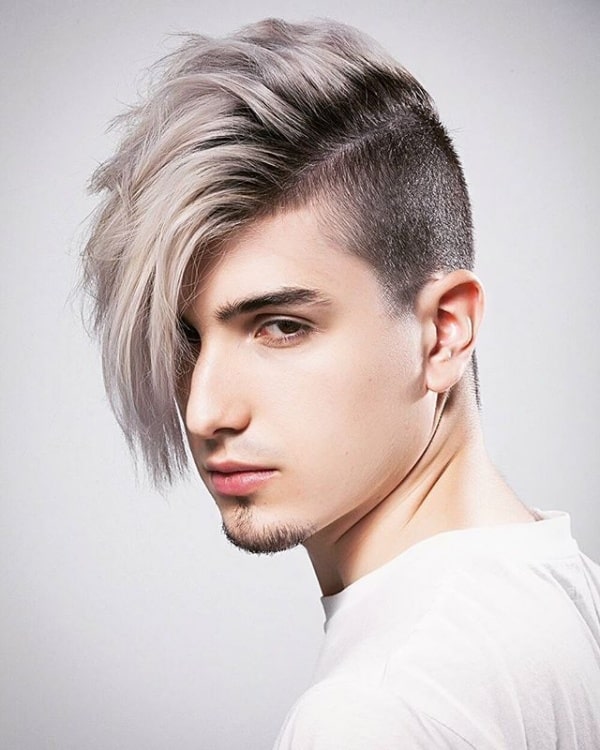 Image Source
This vintage hairstyle also suits the young lot. Here, the hair is combed and shifted to the side, which might be as side parting style. It is sophisticated, and a flexible look, which is again easy to maintain. Works best for both straight and wavy hair, with a thick texture, that suits both square and an oval face.
Don't Miss:
Wavy Smooth Hairstyle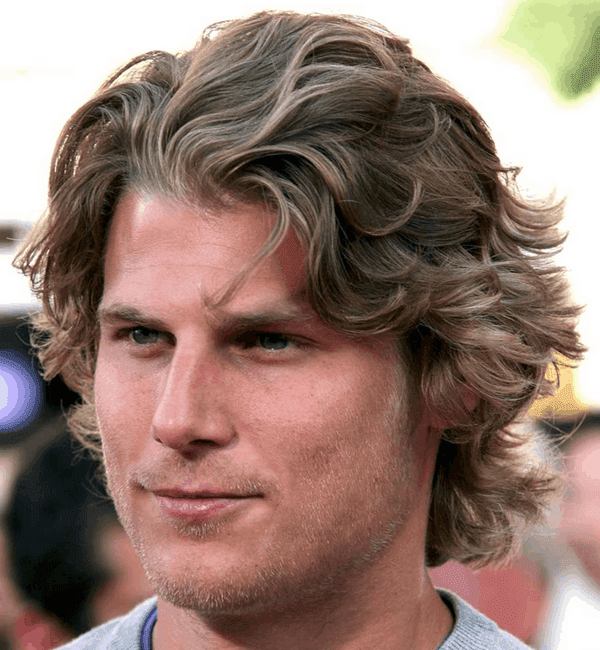 Image Source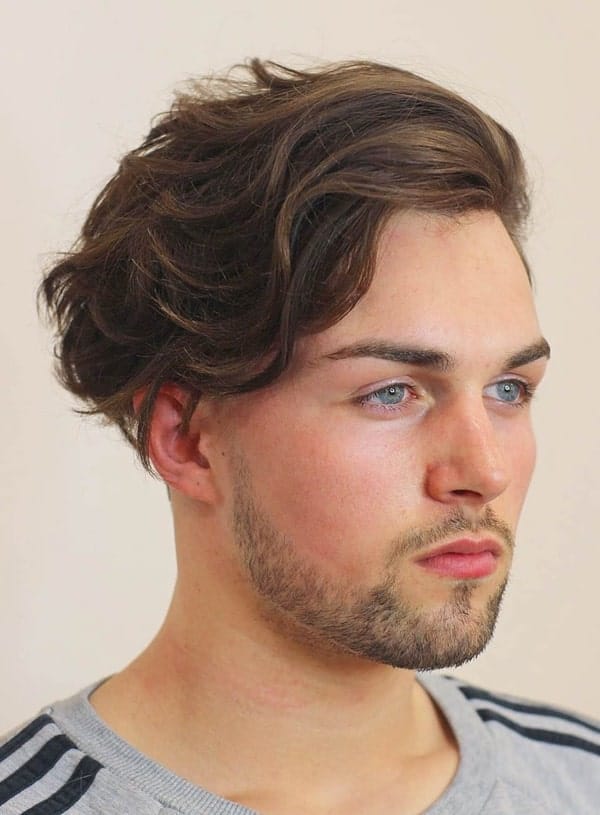 Image Source
Look at yourself and don't underestimate yourself. You can style your wavy smooth hair with a simple backcomb hairstyle. This is the perfect hairstyle idea for a formal occasion as well as office and casual events. It is a simple hairstyle option you can use anytime, anywhere to create the best impression.
Comb Over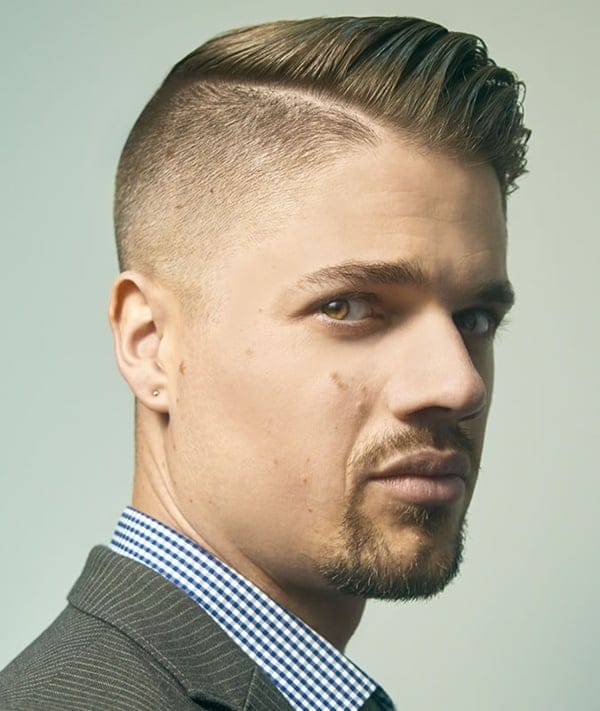 Image Source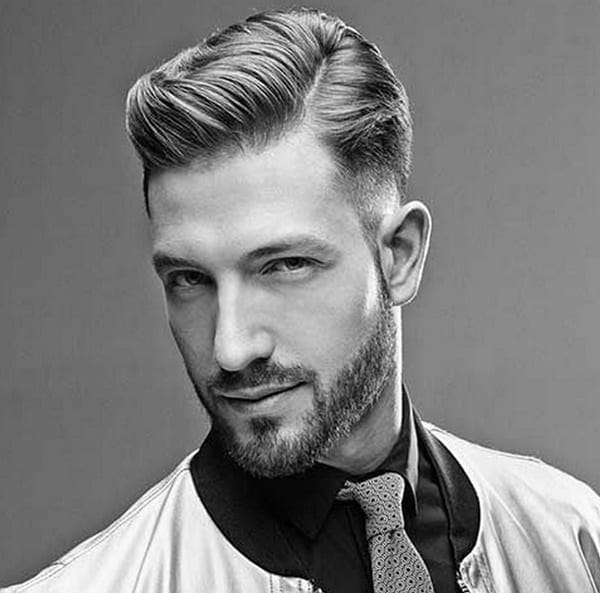 Image Source
You want to look stylish but don't want to put much effort into it? Comb over hairstyle is one of you. It lasts and most of the men are going crazy about it. Side and back hair cut on the high fade, so that medium hair left on the top. Pull some hair on the top to the side with figures or use a comb for more texture style finish.
Thick Hair Quiffs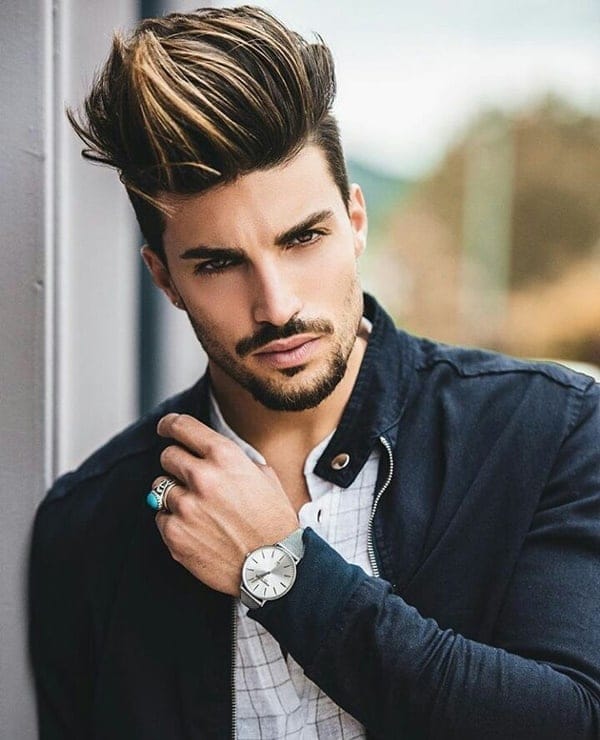 Image Source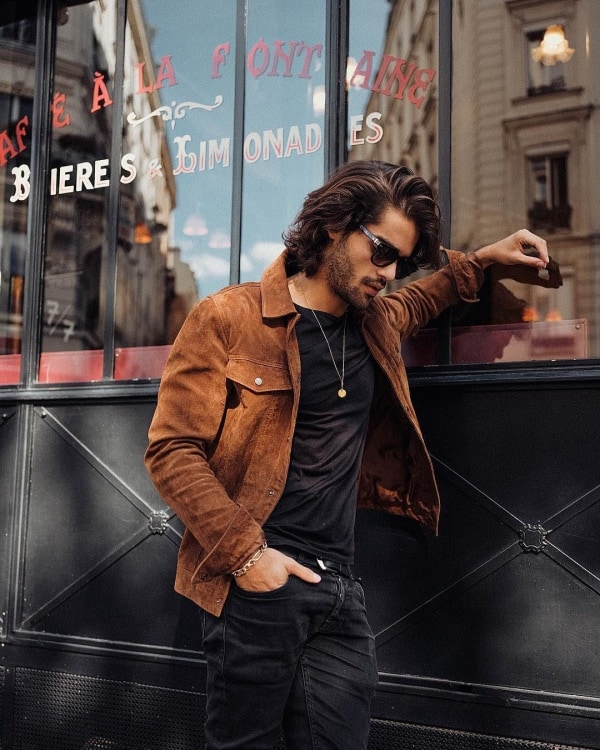 Image Source
Quiffs trend is ruling all over the world and why to think twice then? Try this awesome hairstyle having quiffs on sides. This hairstyle suits perfect to all men without the age bar. Also, this is one of the best medium hairstyles for men with thick hair. It suits best to men blessed with thick hairs. You can complement taper fades with these quiffs.
The Manly Messy Hairs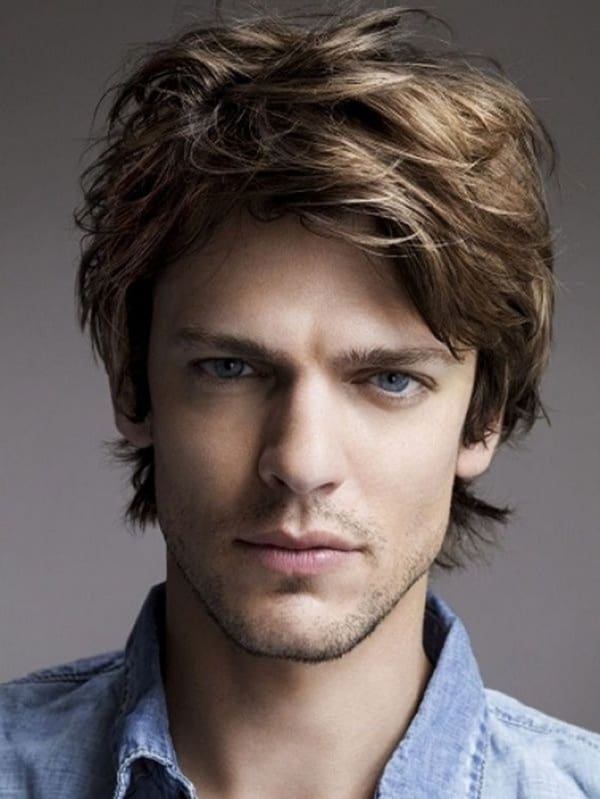 Image Source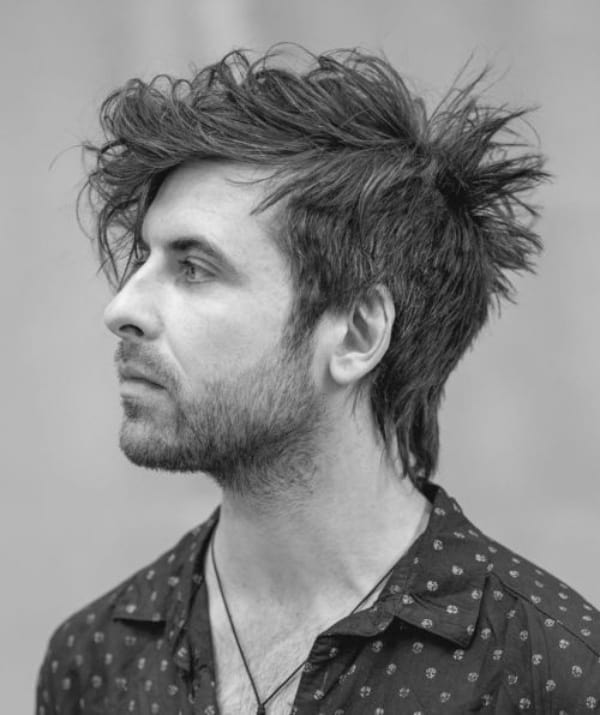 Image Source
The personality features of a man can be depicted by his hairstyle. This manly messy hairstyle shows the carefree nature of a man. This hairstyle has the attitude and style you want to flaunt. You just have to create messy strands of your medium length hair for this awesome hairstyle.
Effortless Side Bang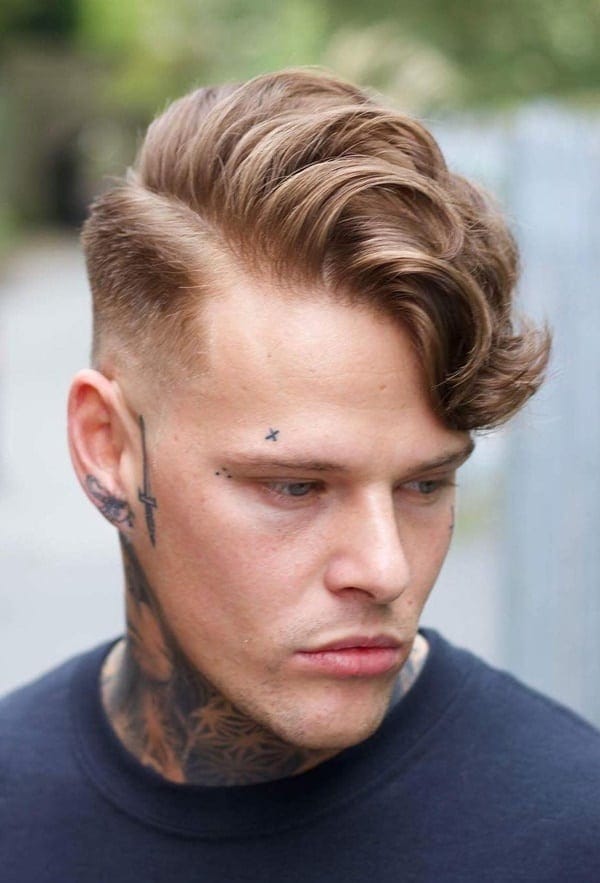 Image Source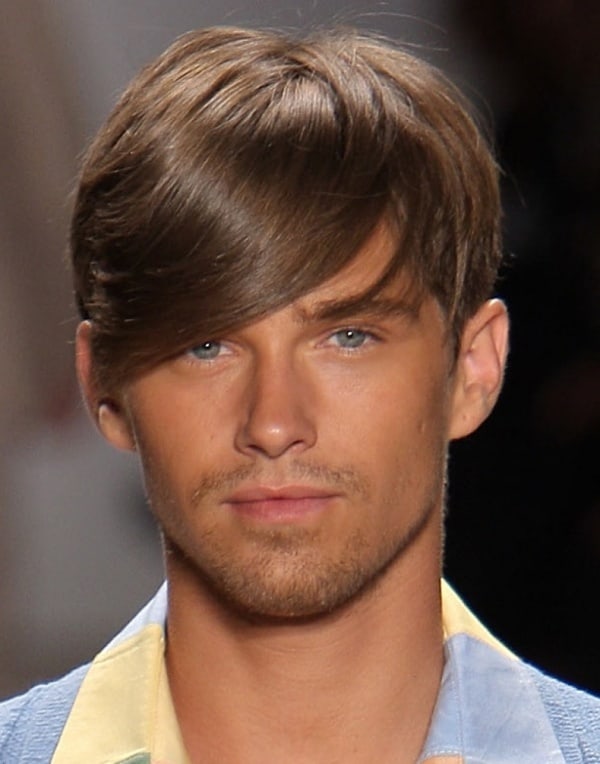 Image Source
This hairstyle is simple yet impressive. Just move your hairs across one side to other and side bangs are ready to impress. It is a casual hairstyle suitable for any occasion. You can also go formal with this hairstyle.
Shoulder Length Layers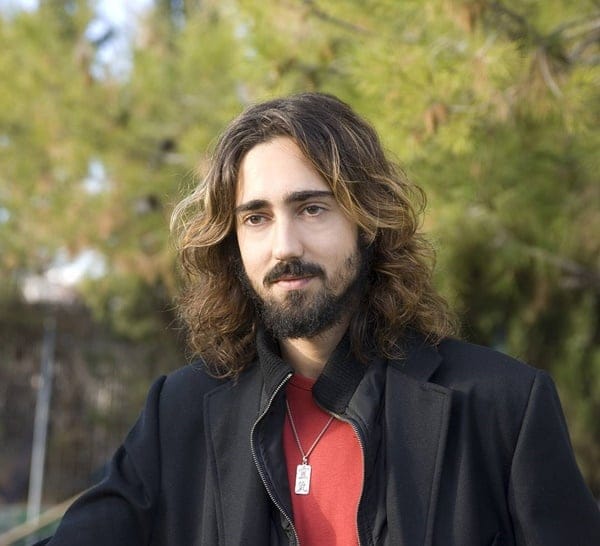 Image Source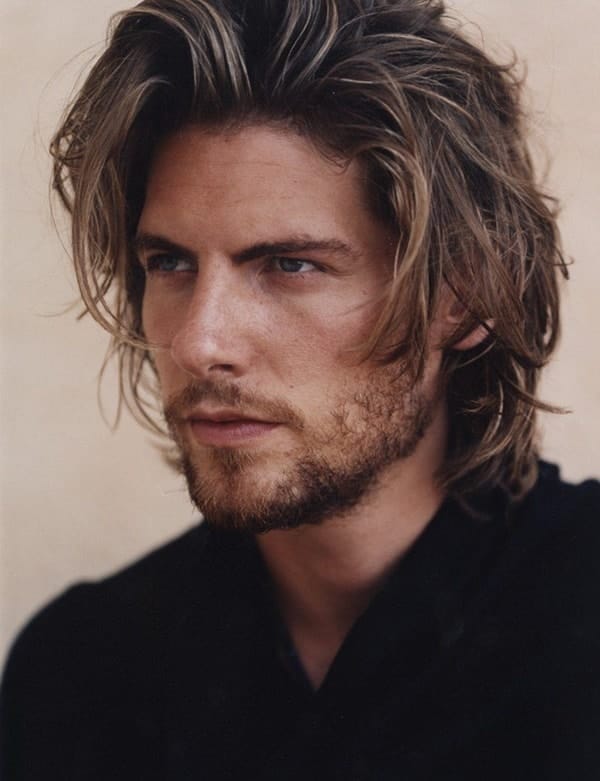 Image Source
Medium length hair gives you a unique style. You can add glamour to this unique style with layers. Get it done by the expert for the best result. You can also highlight a few strands to enhance the overall look of this hairstyle. This exclusive edgy layer hairstyle can completely change your personality. People in love with art and creativity mostly prefer this hairstyle.
Here We Have:
Bicolor Hairstyle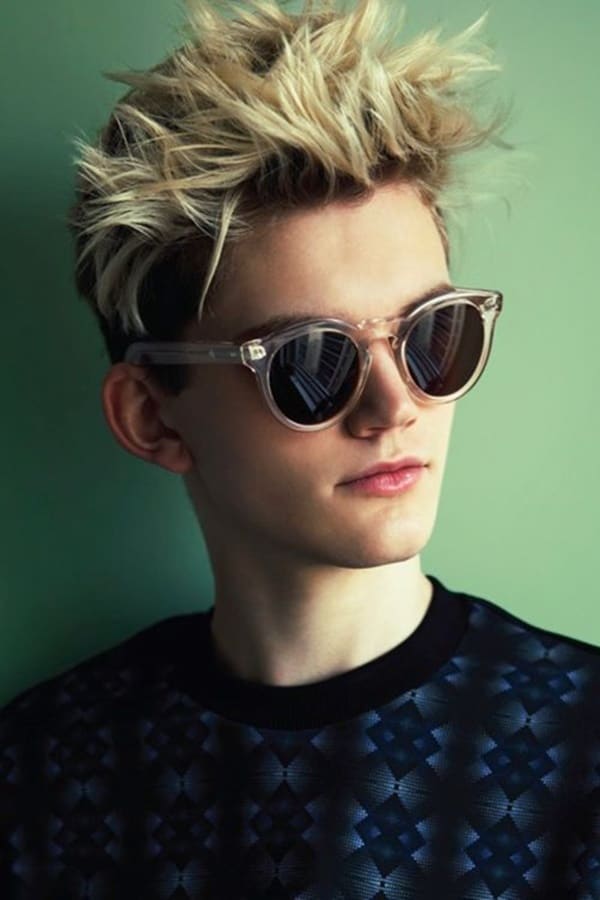 Image Source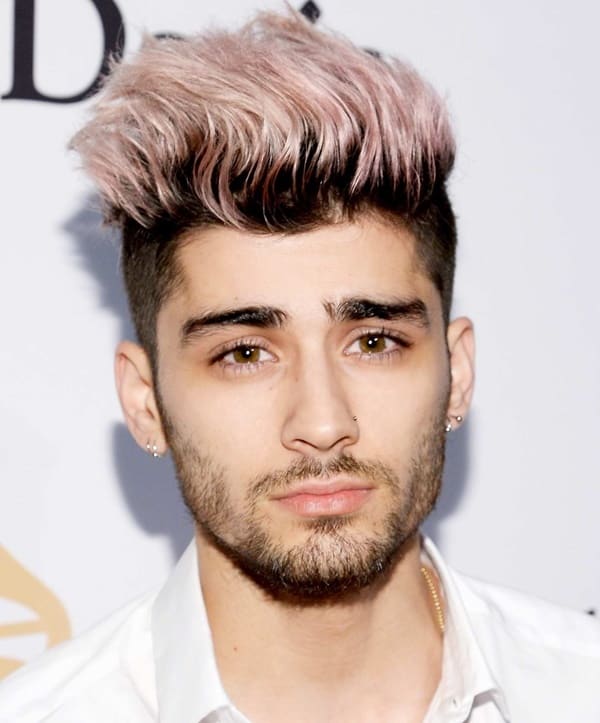 Image Source
Colors can add life to your hair. Experiment single or bicolor shades whichever suits you more. Hairstyle transforms into trendy and bold with such colors. You can try coloring top hair. Color your favorite hairstyle and see how your looks transform. Such a colorful hairstyle makes you look youthful and energetic.
Brushed Back Undercut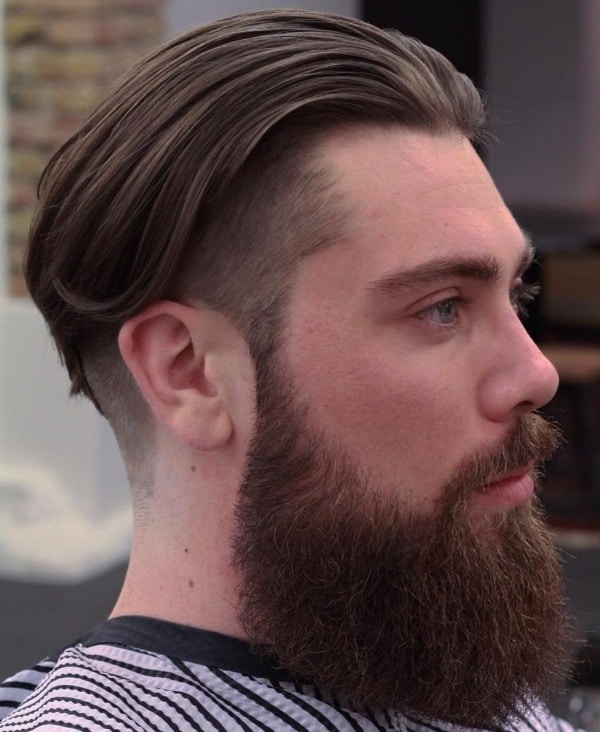 Image Source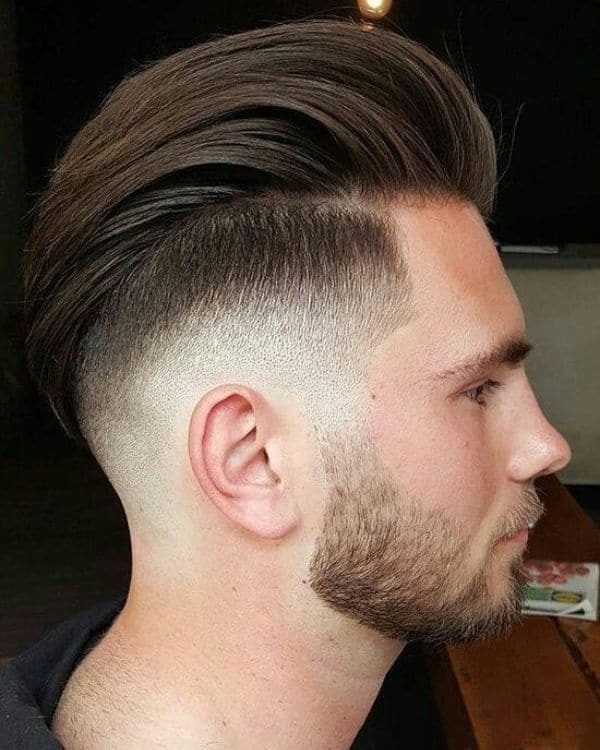 Image Source
Again, a trending name that has etched a permanent position in the list of medium length hairstyles for thick hair. It's unique and contrasting structure have quite created a niche while giving men the elegant and refreshed look they desire. While you have the liberty to style it the way you want, it generally includes leaving the long hair on the top, where the sides and back are trimmed short. This turns the attention towards the top hair, helping to create a striking distinction between the top and sideways.
Related: Best Old-School Haircuts For Men
Medium Pompadour Hairstyle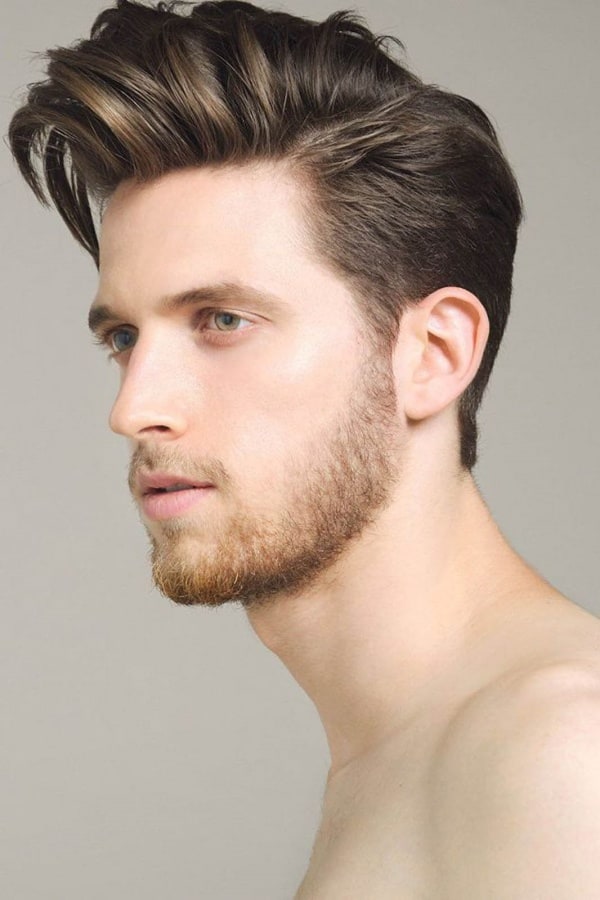 Image Source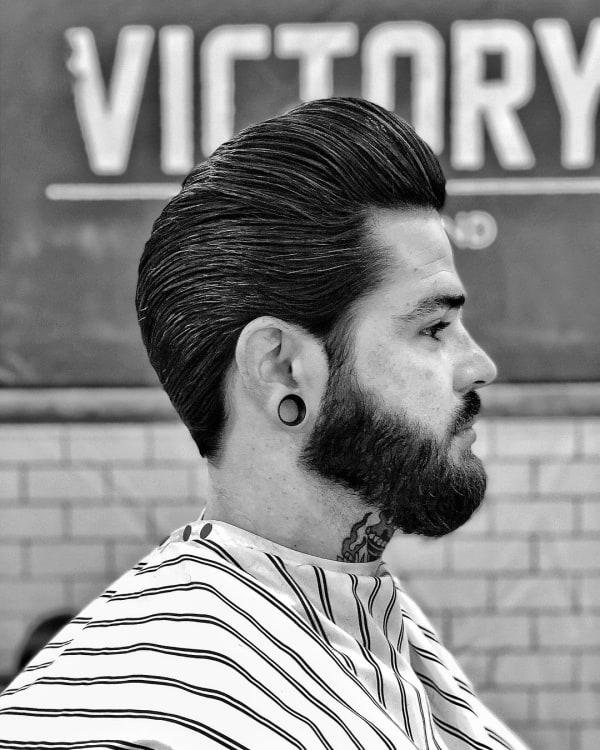 Image Source
One of the best medium hairstyles for men with thick hair, this one project shorter hair on the back and the sides with long hair on the top. The pompadour makes the hair look voluminous that gradually goes back towards the edge. However, the hair above the head should reach a length that would be enough to fall flat when placed back, and of course, placed at height because the hairstyle gets its real shape after blown dry.
Classic Medium Length Undercut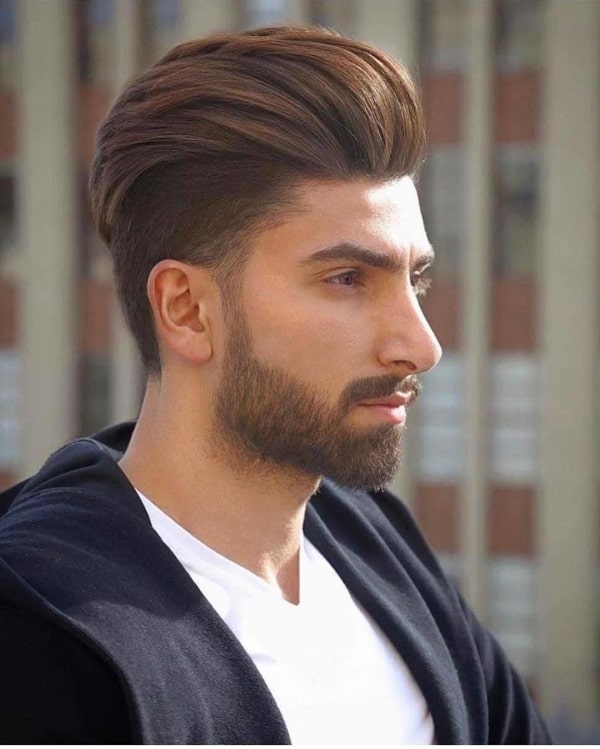 Image Source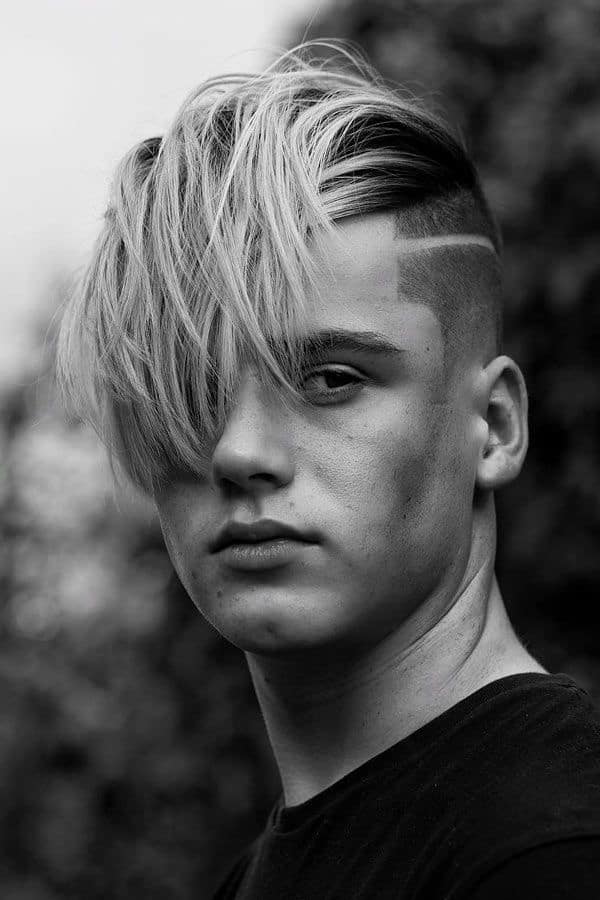 Image Source
Nothing looks cooler than a classy, tidy, and proper undercut style. The shorter sides with elongated top is a concept that enhances the curly fringes, slicked-back style, or clean side-swept undercut. While hunting for a prim and proper modern hairstyle that suits the office look or a refreshed haircut just before you step out for a night out, these undercut styles would shimmer on you.
Short Ponytail With Beard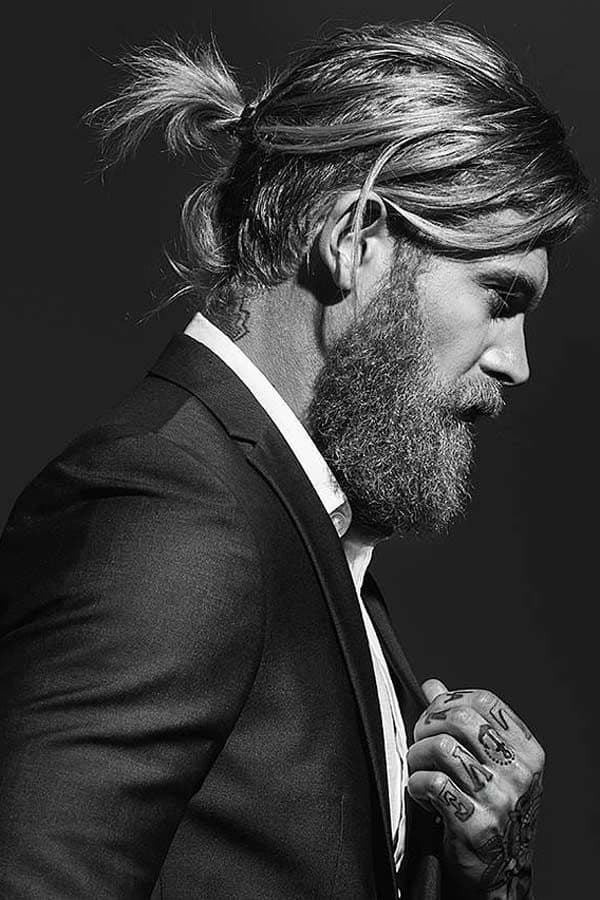 Image Source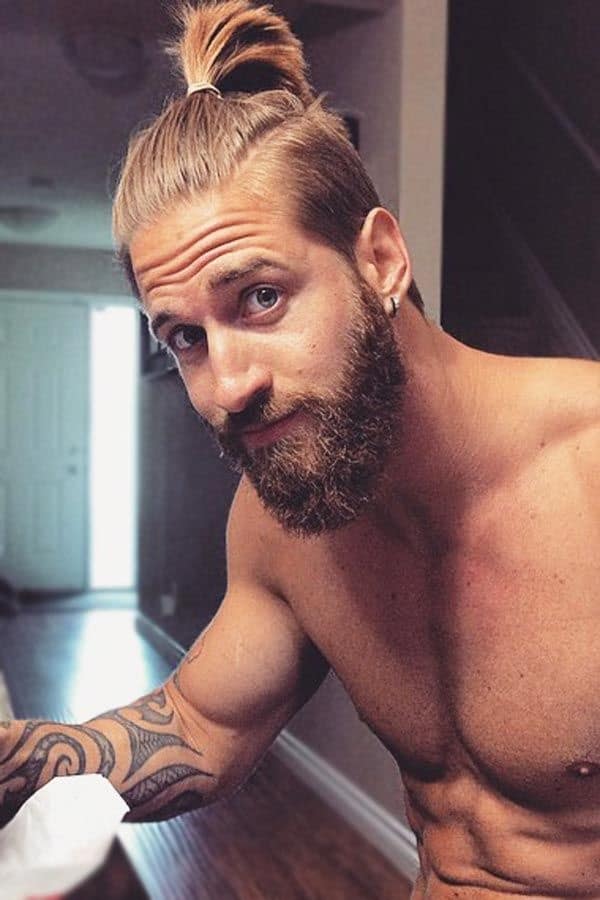 Image Source
The sexiest look for a man to increase the hotness quotient. Ponytails need long hair or even work well to get appeared in the list of shoulder length hairstyles for thick hair. The ponytail is a charming little thing, when coupled with a beard triggers off the masculine aggressiveness with the 'casually-careless' thing. Short ponytails are more popular as they complete the look. For this, you just need to cut your hair short, tie a proper knot, and then trim the uneven ends to enhance the style. Many also try and join the sideburns with the beard to make it a bit edgier. So, to get the girls to go crazy, this look is a must-try.
Wavy Brush Up Hairstyle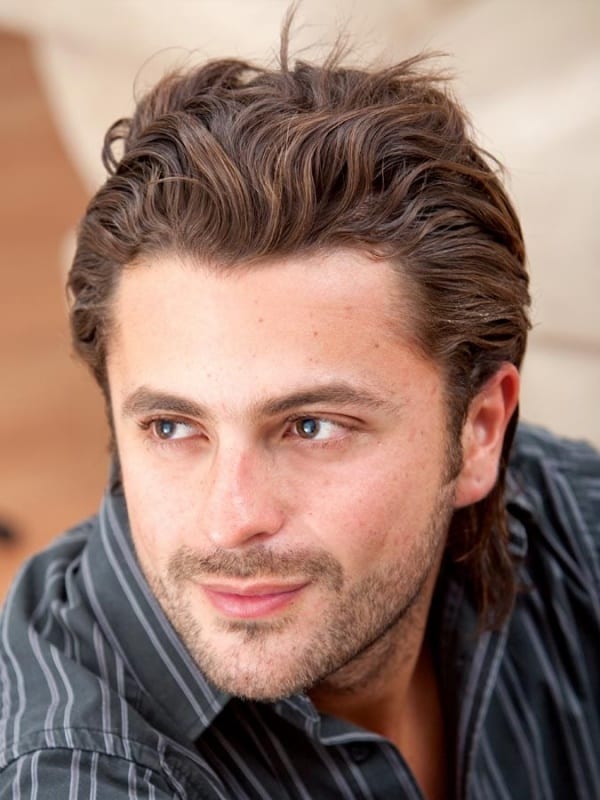 Image Source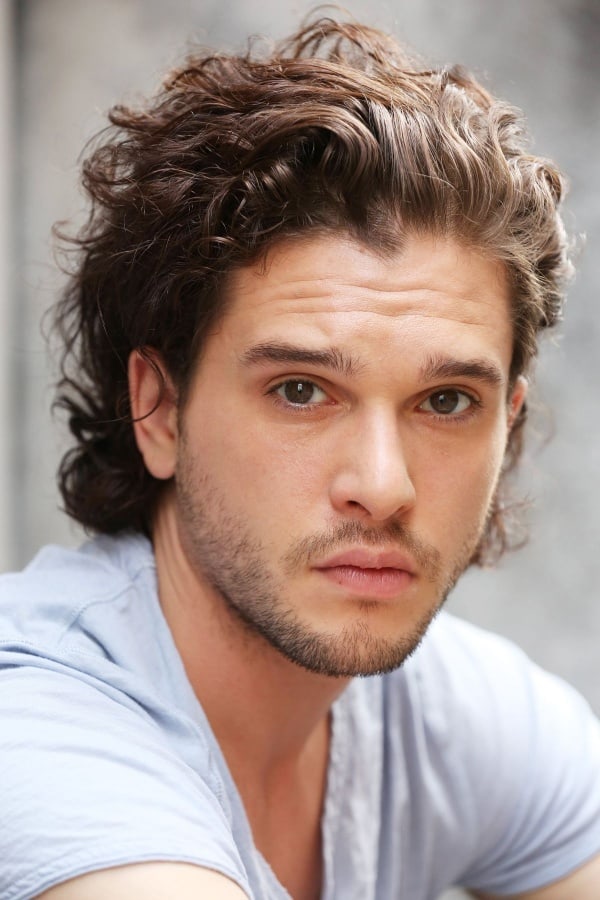 Image Source
For this, you need to style up the hair on the top in a deliberate messy way. The hair on the sides and the back, are cut short and styled accordingly with an undercut, fade cut, or simple taper. This one again has a striking similarity with the quiff. Curly or wavy hairdos do justice to this kind of style. Also, you need proper hair care maintenance products and daily combing to avoid tangles and improve texture.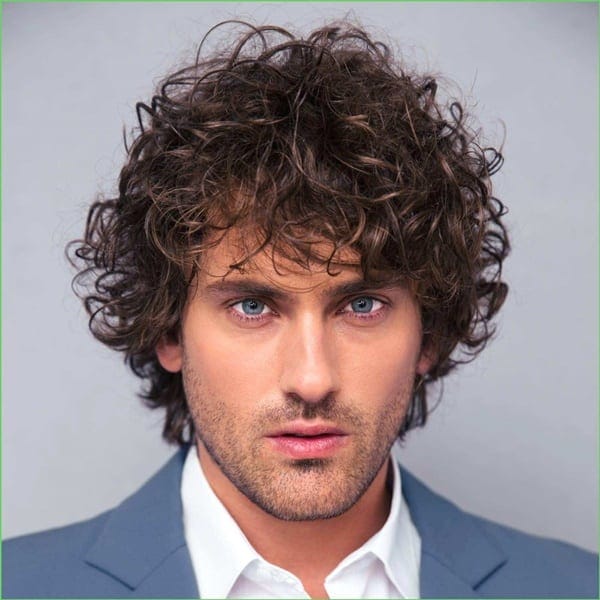 Image Source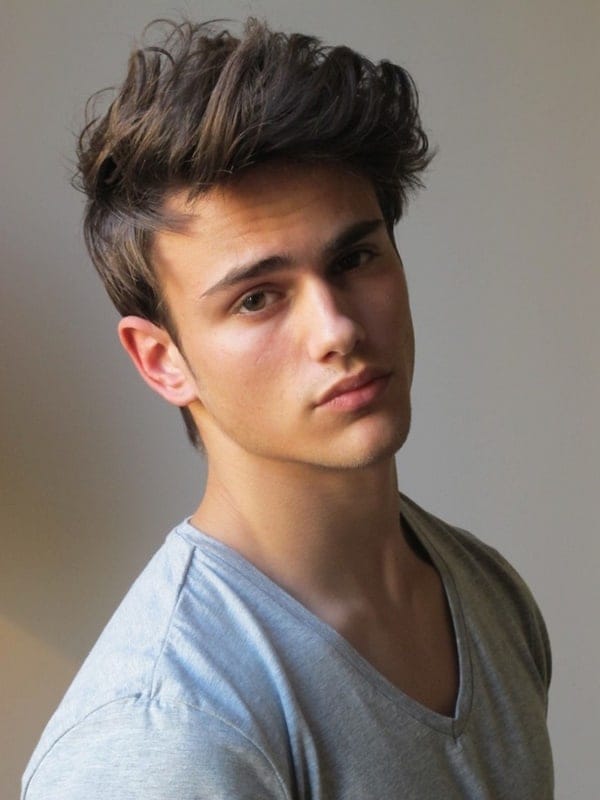 Image Source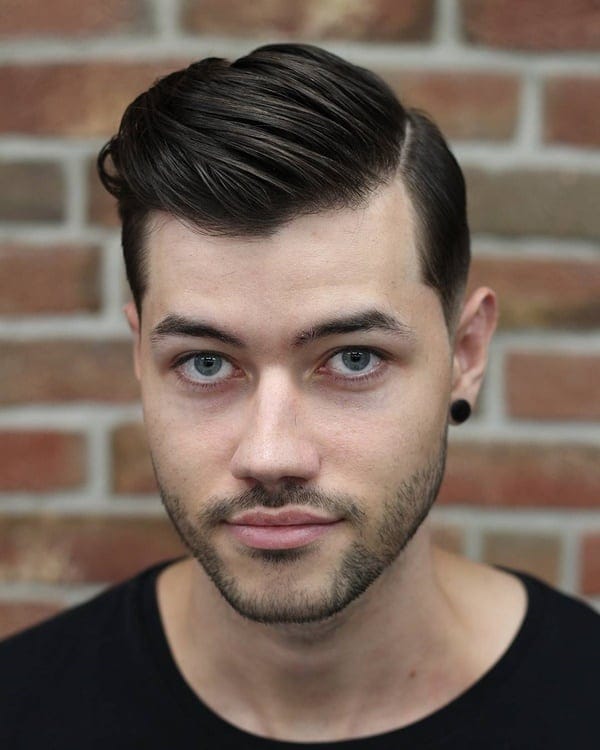 Image Source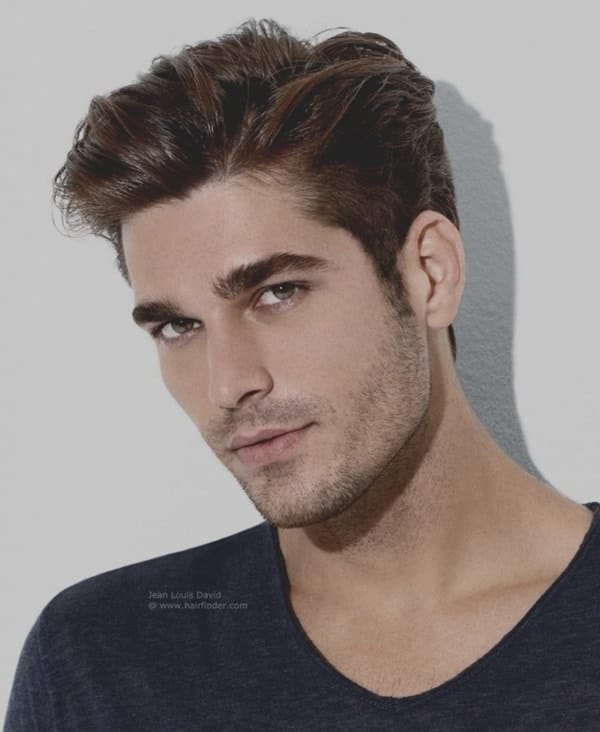 Image Source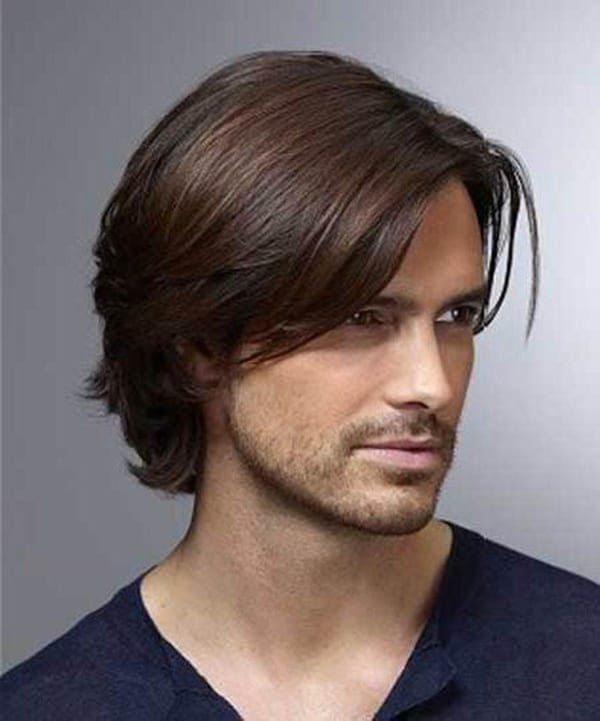 Image Source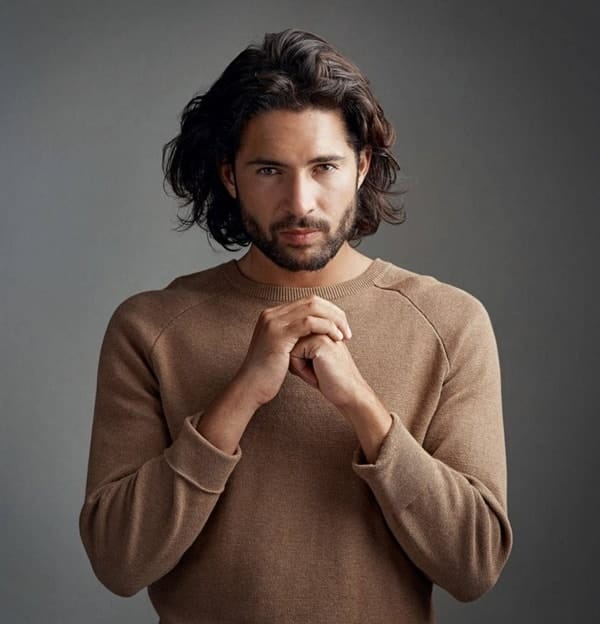 Image Source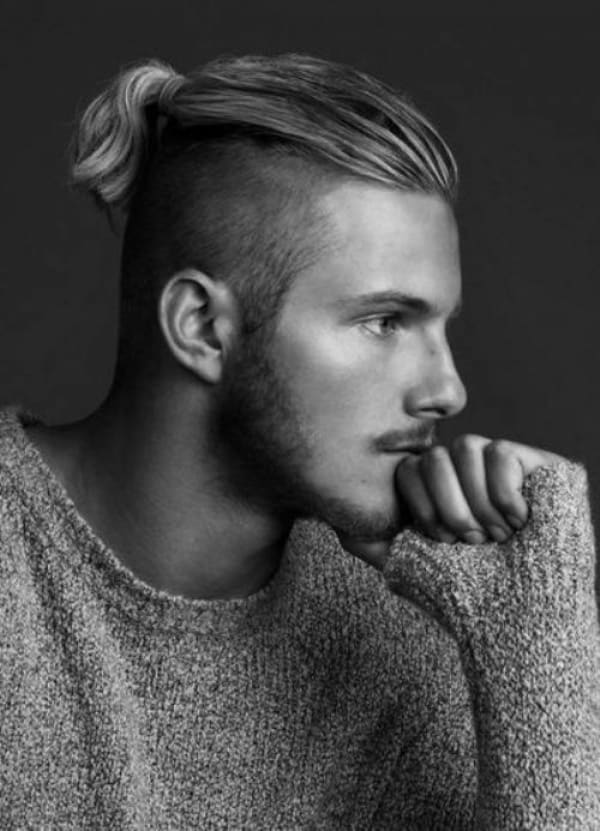 Image Source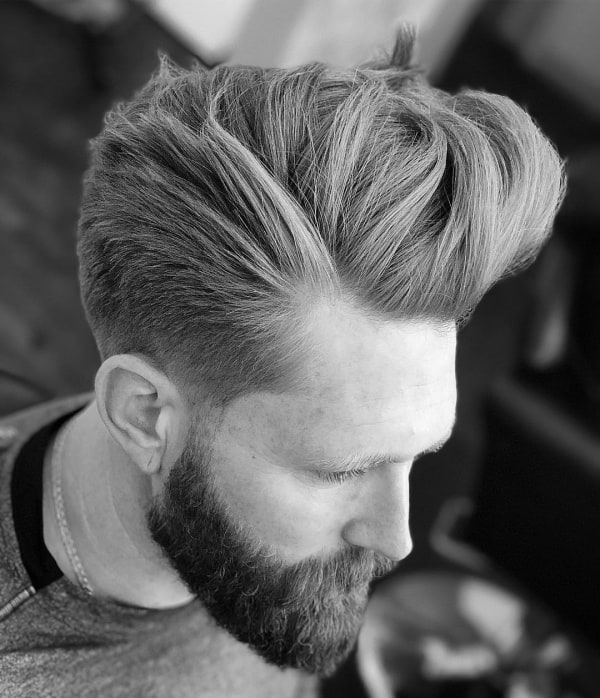 Image Source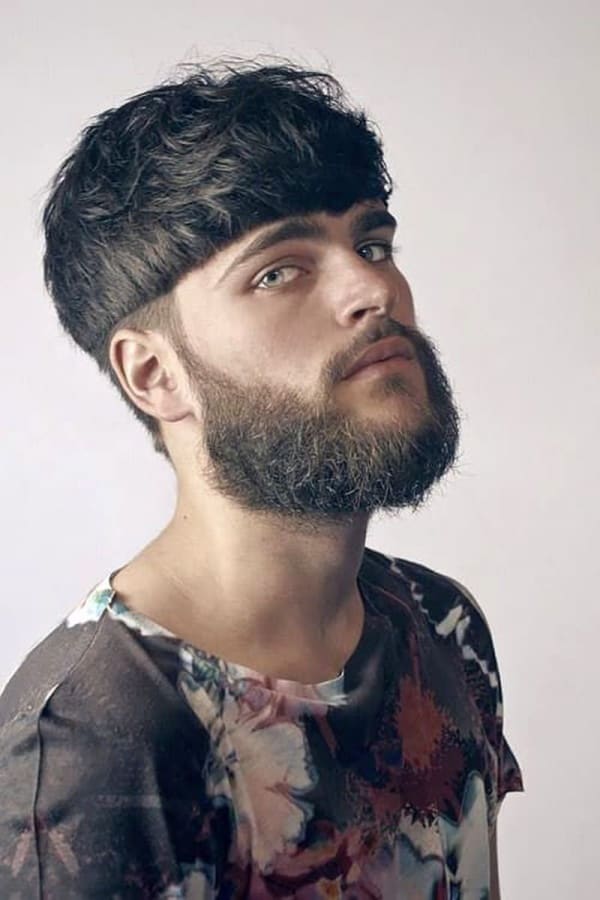 Image Source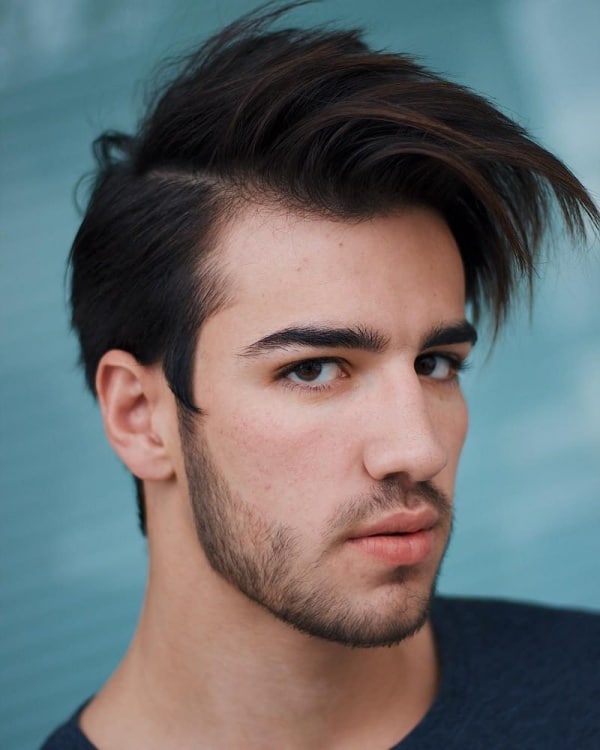 Image Source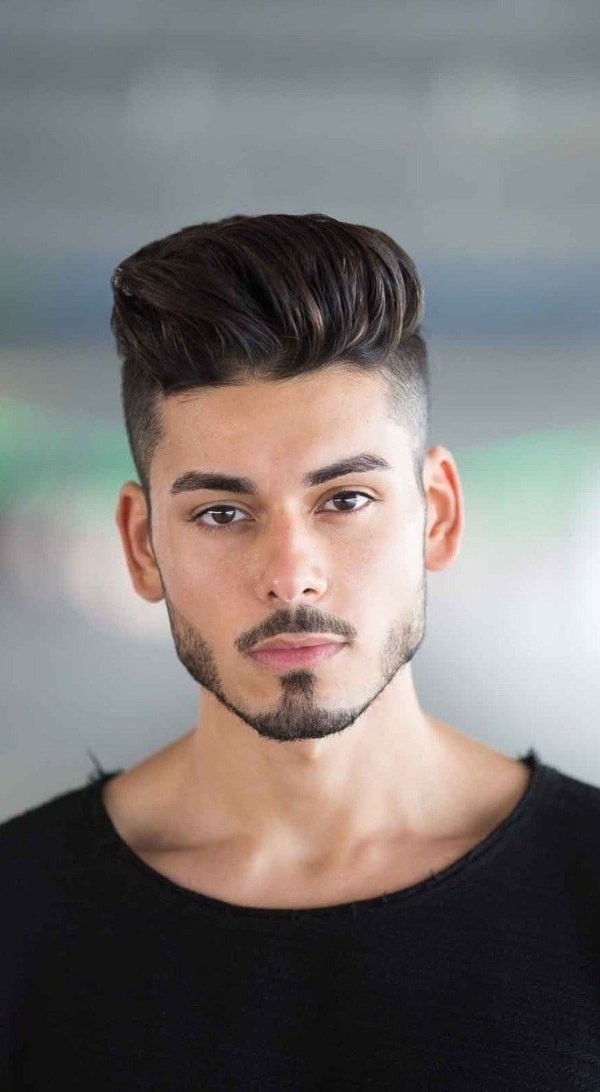 Image Source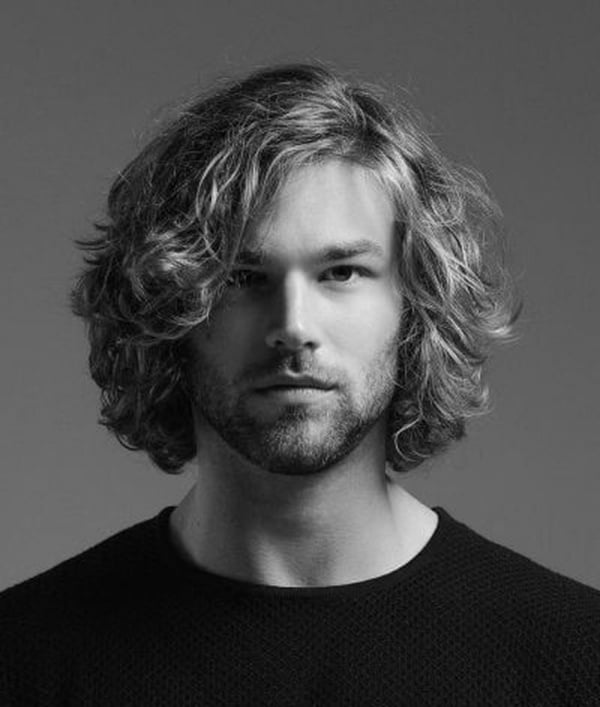 Image Source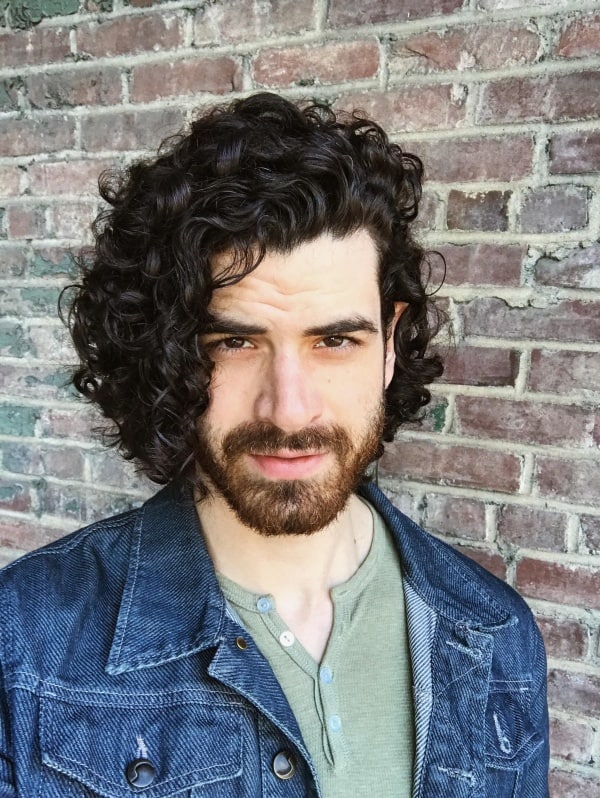 Image Source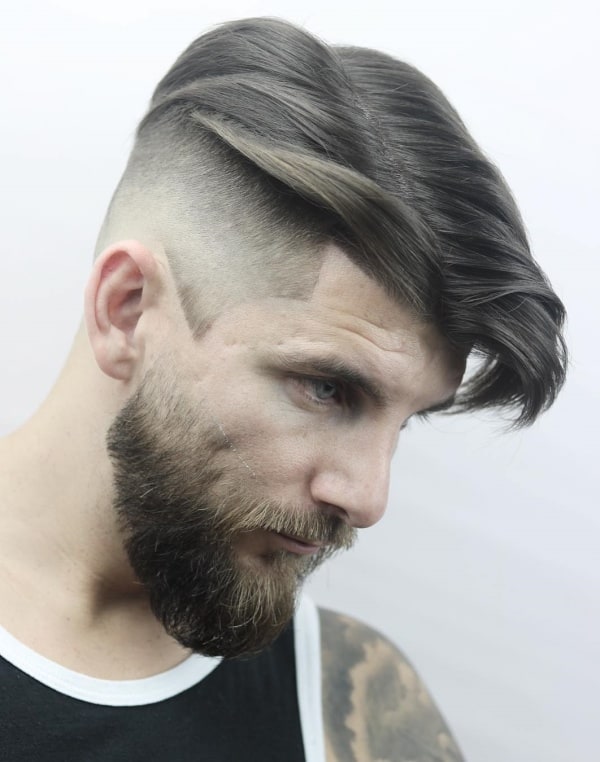 Image Source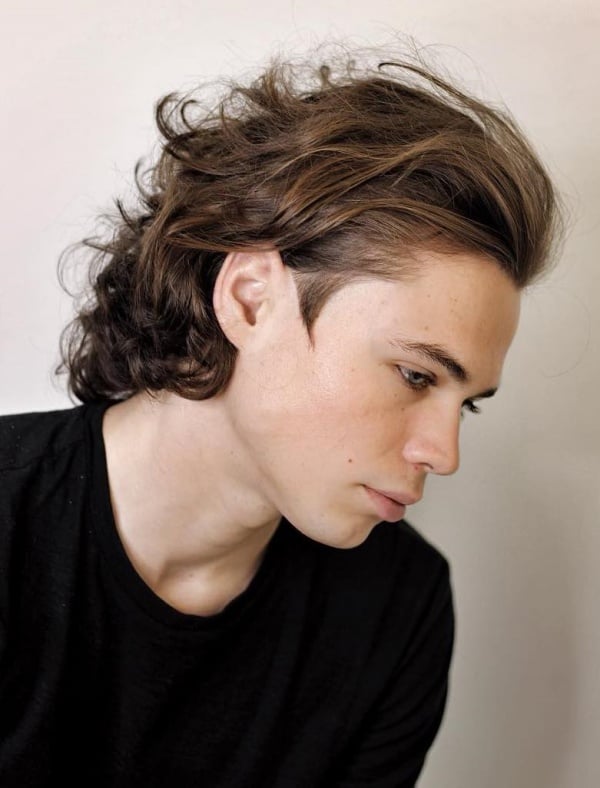 Image Source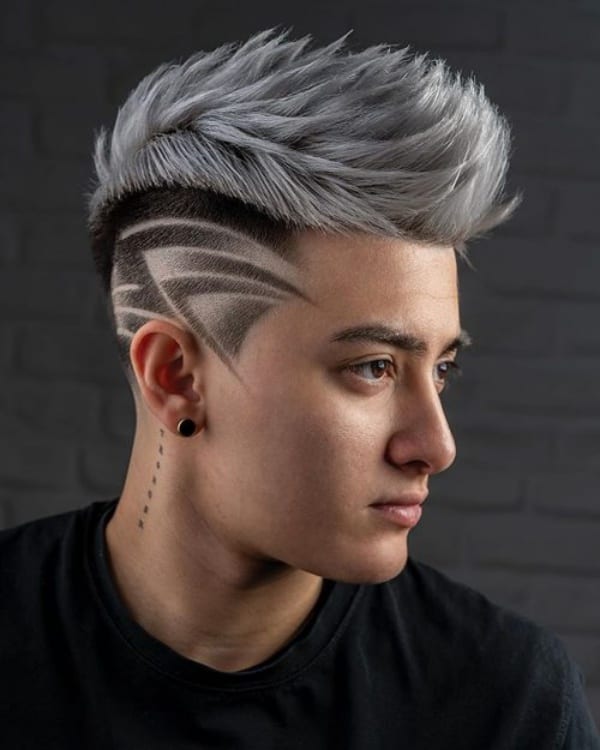 Image Source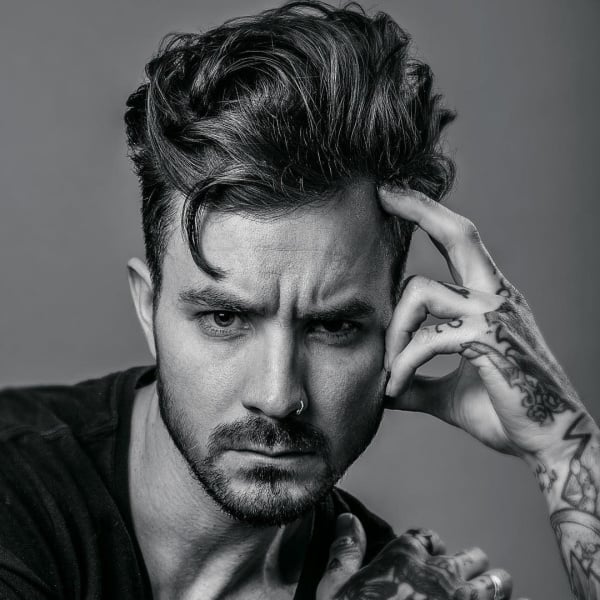 Image Source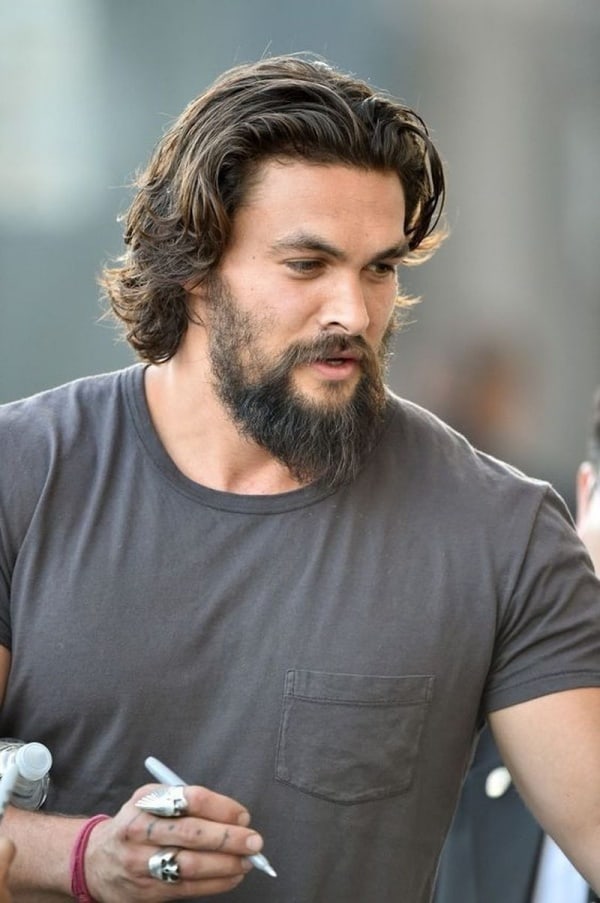 Image Source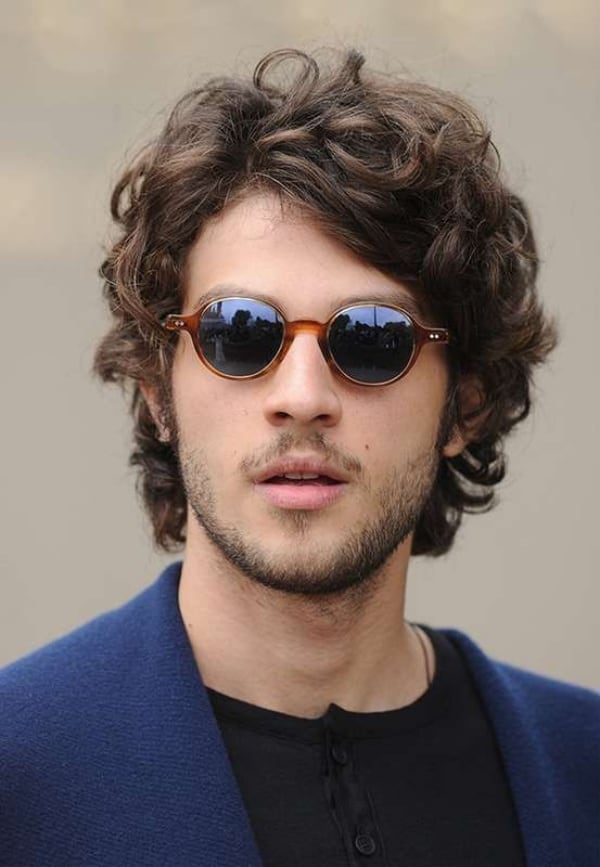 Image Source
Conclusion
Finally, we put an end to the list of medium hairstyles for men with thick hair. One thing remains true that every styling is supported by a hair texture that is thick and strong. So, before anything, it is important to care for the hair. That would include regular oiling, conditioning, combing, and increasing the intake of proteins and green vegetables. To top that, the trimming of split ends at regular intervals is also important.
The fact remains that some men are blessed with naturally shining hair and thick texture. But that also doesn't exempt them from treating their hair right. Layers are also a good way in protecting the texture of hair. Soft layers help in lessening the burden of your mane, integrate with the hair's natural texture, and preventing hair from getting tangled and developing unpleasant frizz. Well, with all the above points, now you know to treat your hair better. So, start from today and flaunt in style.