Suppose it is about getting a hairstyle that can function well without too much upkeep and cost. Braided hairstyles for men should be on your to-do list. With the application of little maintenance, braids can remain precisely the same for several weeks. Once you are done with a braid, you can stay relaxed and chill for the upcoming weeks. Be it the lengthy box braids tied up in man bun, braided dreadlocks, or even straight cornrows, and there can be numerous styles in men's braids. Though Afro men popularized braids for men, the fantastic combo of braid and fade is often opted by several men from different cultural backgrounds, including a high, low, or mid fade and even undercut on the back and around the sides with hair tied on the top. Also, you can cover your entire head with braids while keeping a taper fade. In the case of braid hairstyles, shape-up has also been a notable trend in current fashion.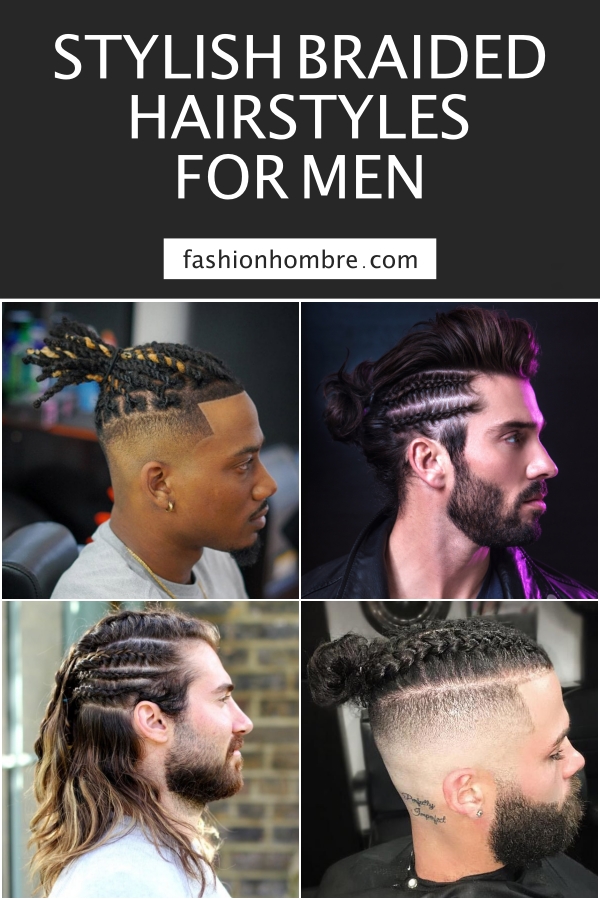 Though braids can stay in good condition for up to 6 weeks, they start going freezy from the roots and emerge as flyaways from the braids. Oils and dirt can also cumulate on your scalp. Therefore, routinely conditioning and shampooing are essential to keep up the health of your hair. Here, we are looking forward to having a glimpse of all the amazing braided hairstyles that you can get your hands on for different occasions. So, stay tuned to get your braids done easily.
Cool Braided Hairstyles For Men To Try
1. Short Hair Braids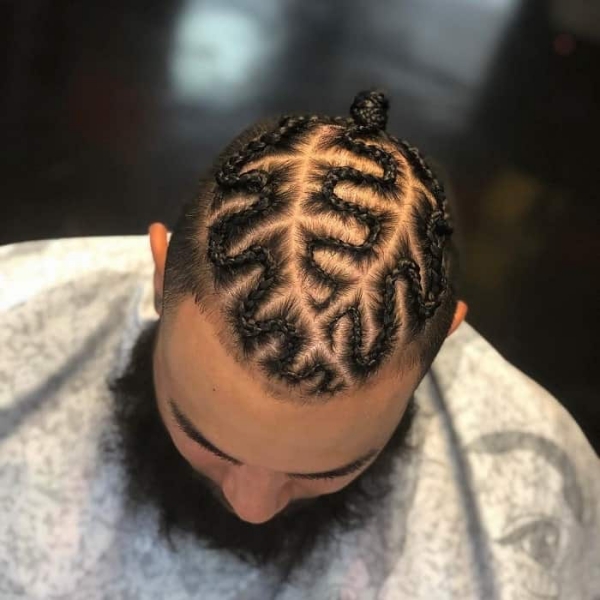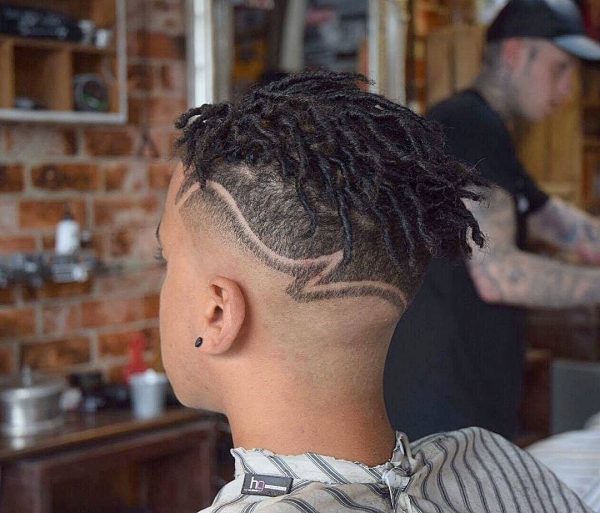 The first braided hairstyles for men that we will discuss are short hair braids, which are pretty popular among Afro-Americans. It is better to have thick and curly hair if you plan to style it in short braids. You need not put a lot of effort into styling your hair, even after a shower. It would help if you started braiding from the middle of the head. Make two sections of hair, and after separating them, twist from left to right and then in the opposite direction to form the x shape. Repeat the process several times to get the perfect hairstyle.
2. Long Braids Hairstyle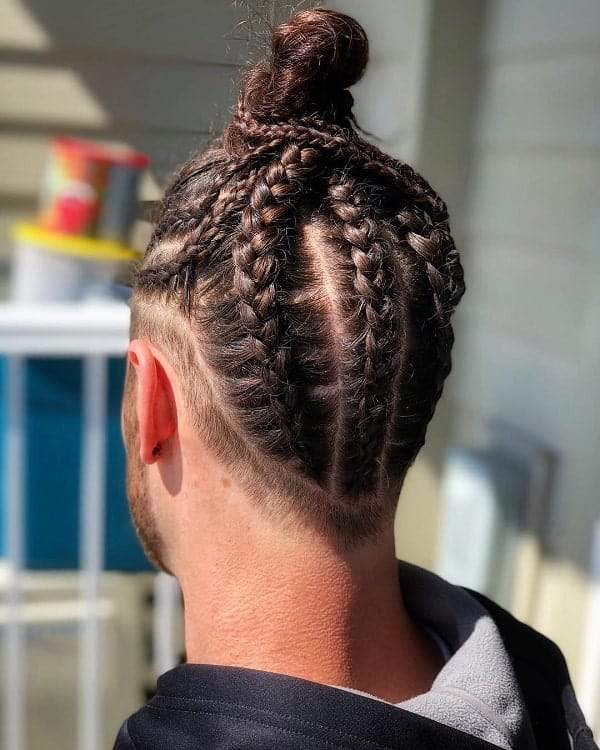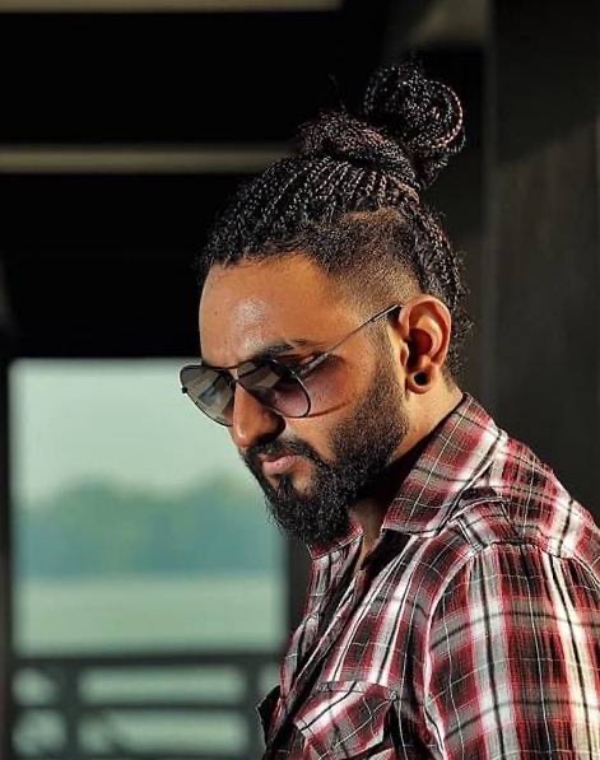 Braids will look good on men having long hair. It is often believed that long braids are a sign of strength and sagacity. To create long braids, you need to have at least three inches of long hair strands. There is no upper limit; you can choose to go for any length above three inches. You can choose to trim the sides of your head if you want to create braids only in the middle of your head, or you can also choose to develop braids all across the head.
3. Box Braids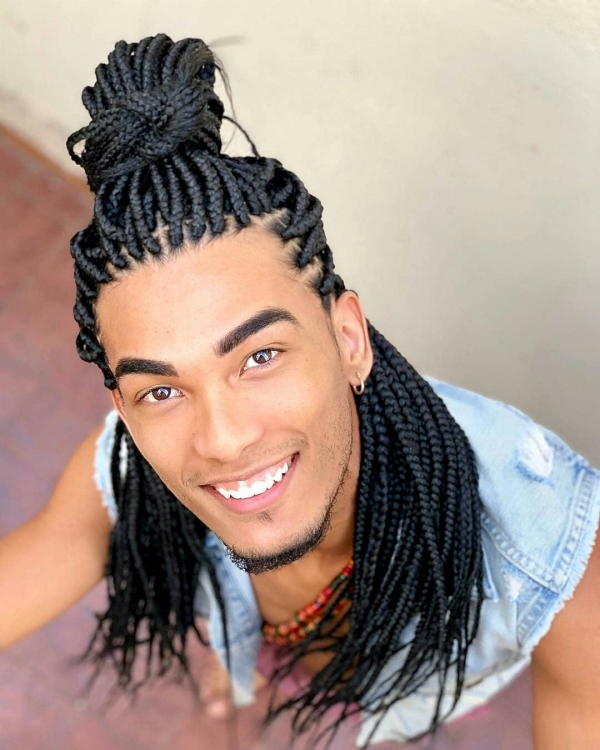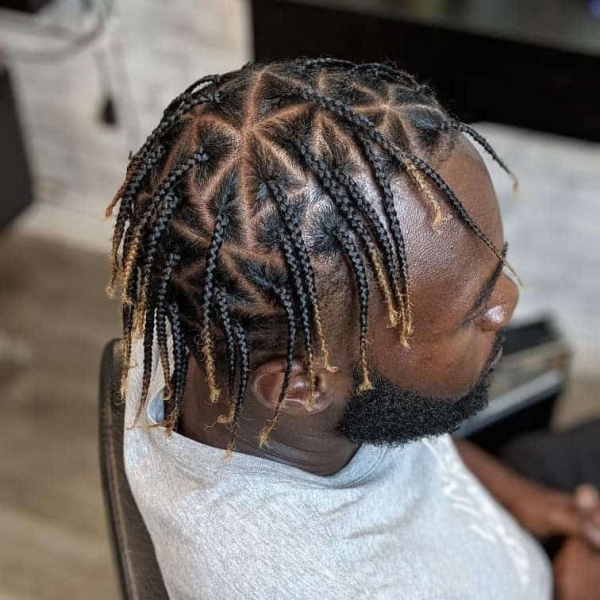 If you are trying to figure out low-maintenance braided hairstyles for men, then long box braids will elevate your style statement. As the name suggests, box braids are a modern variation of braids. There is more than one type of fade to choose from. You can go with a drop fade, temple fade, or anything between low and high fade. With the fading on the sides, the hair in the middle will be divided into multiple sections, and each one of them will have a square structure. This hairstyle will help you to stand out from the crowd.
4. Cornrow Braids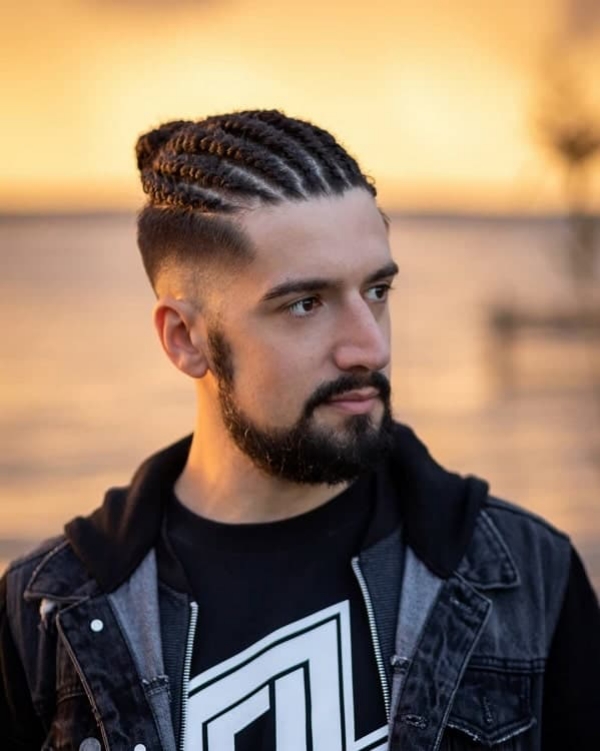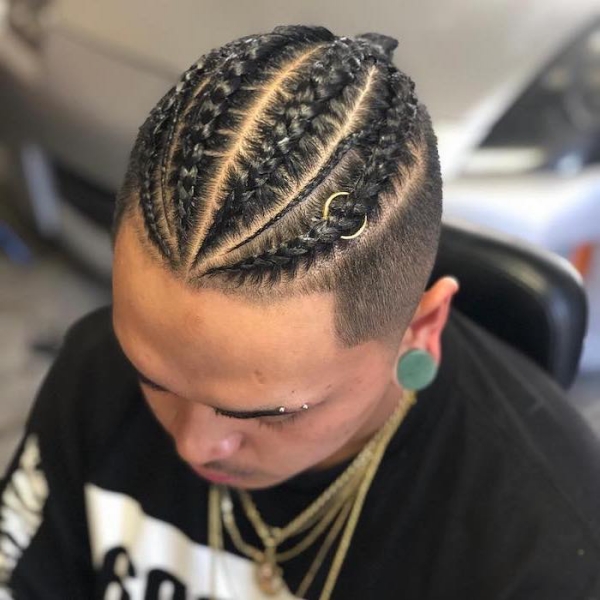 Most people get confused between braids and cornrows. It is a conglomeration of both these hairstyles. In cornrow braids style of hair, the braids of yours will gain a flattering look. It makes the style one of the most liked and cool haircuts for black men. In the back of your head, the braids will get mixed with the remaining natural hair. The hairstyle requires high maintenance, so you need to visit your barber at regular intervals.
5. Single Braid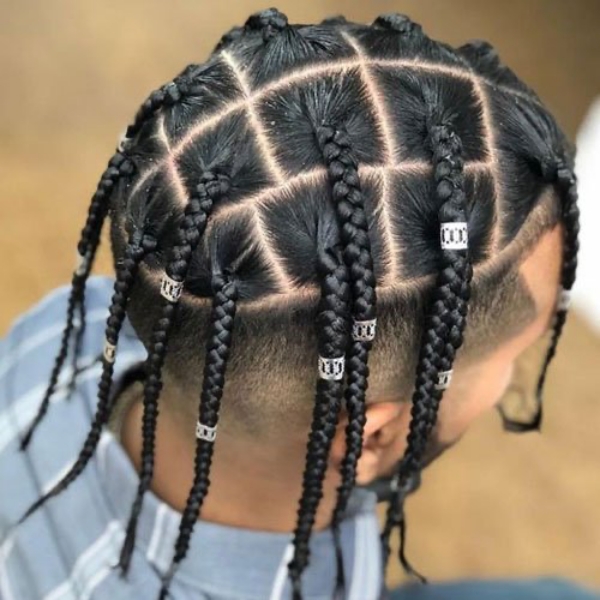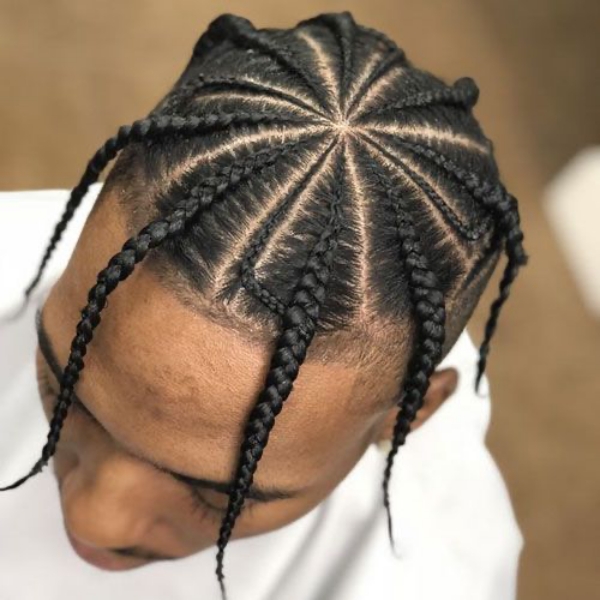 If you have long hair on top of your head, then gather all the hair and make a single braid with it. In this braided hairstyle for men the braid will start from the tip of your temple, and it will run back to your neck. In some cases, a man's single braid can also be rounded to create the milkmaid look, also known as a halo. There does not exist a doubt that this hairstyle will make a man look much more attractive. It is easy to create; ask your barber for it, and they will do the rest of the job. Visit your hairstylist from time to time to maintain the perfect look.
6. Two Braids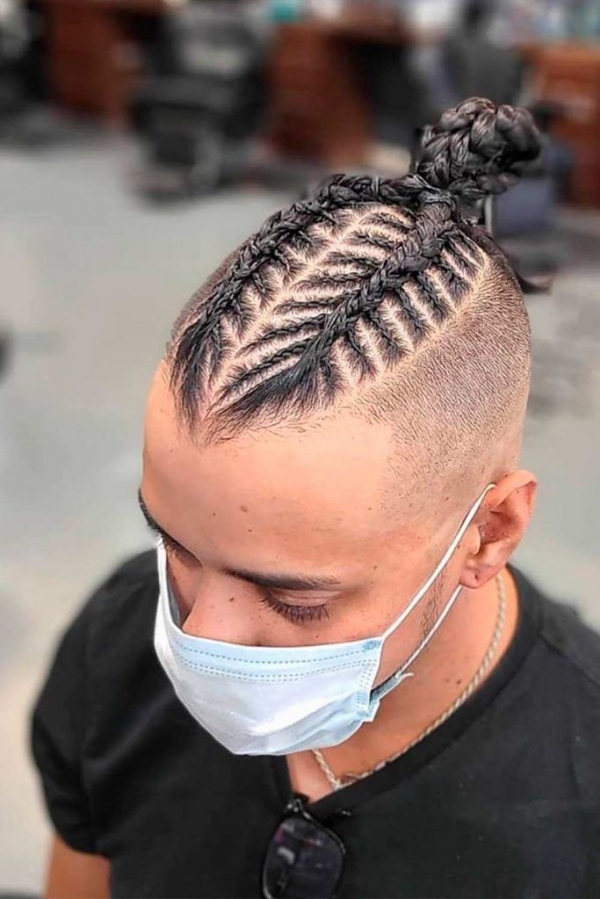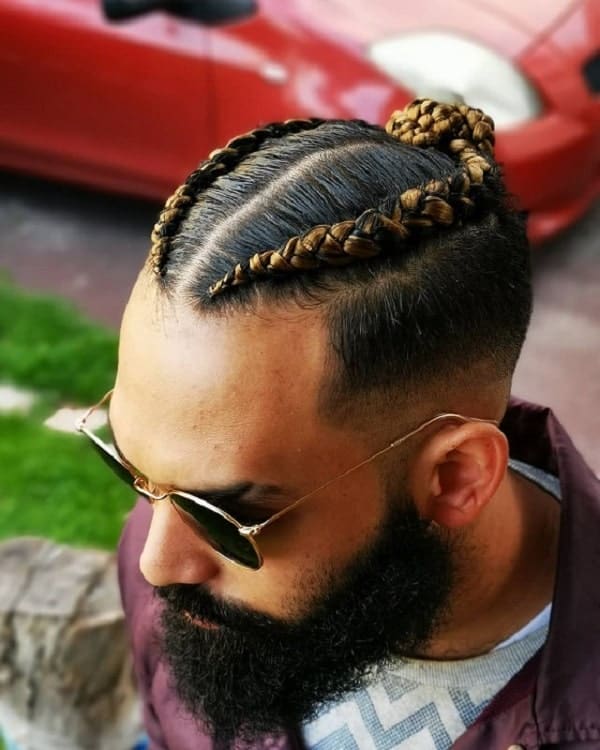 During hot summer days, to keep your long hair away from your face, you can go for a two braided hairstyle. Yes, you read it right. Instead of tying your long hair strands in one single braid, you can choose to go with two braids, and if you can pull it off with perfection, it will look good on you. With a two-braid hairstyle, you can choose to taper the sides and even choose to highlight your braids.
7. One-Sided Braid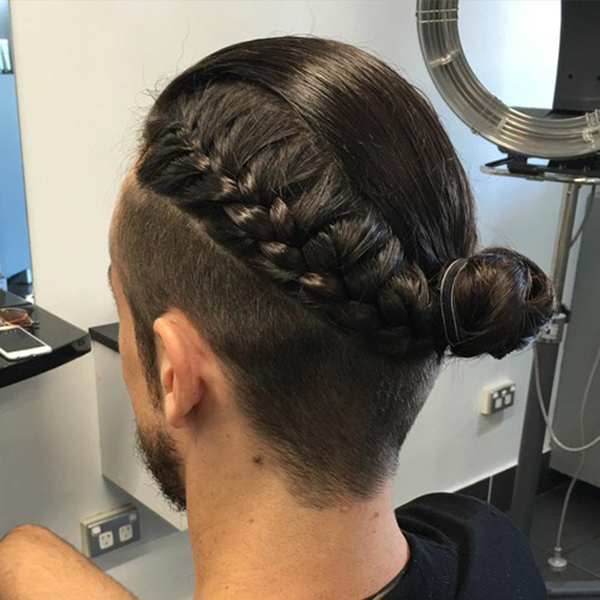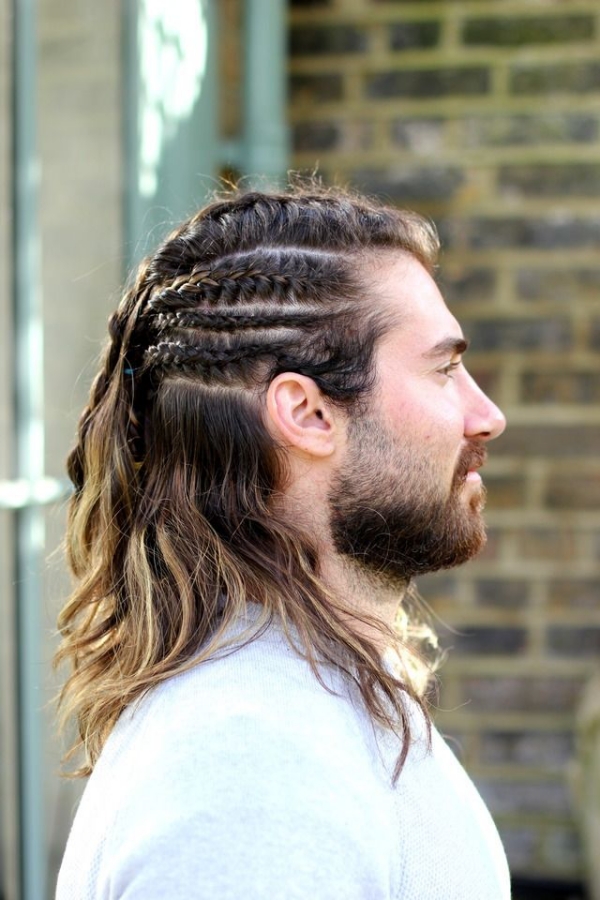 You must have heard about the side-swept bangs, then let us tell you that a one-sided braid will also look good on you. Leave the hairs on one of the sides just the way it is and create braids by locking hair strands on the other side. You can also choose to shave or trim the hair on the unbraided side. It will create a contrast, and that is what makes this hairstyle different from others. So, if you seek a bold and beautiful hairstyle, you can style your hair like this.
8. Braids With Taper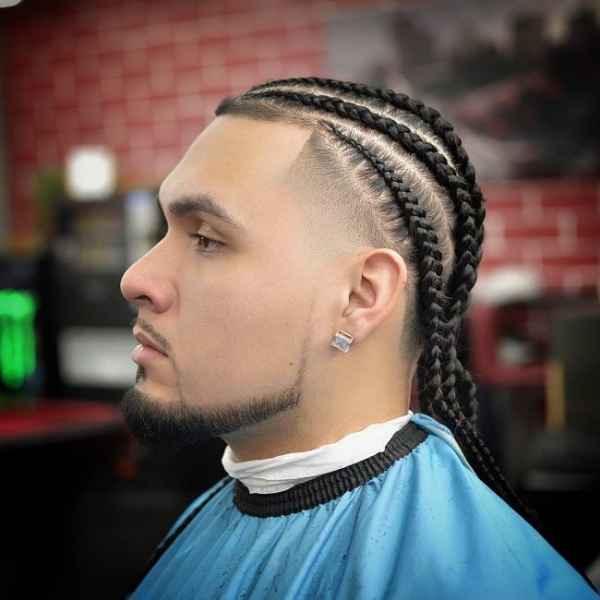 A tapered haircut means when the hair length changes gradually from the top of your head and keeps on getting shorter as you get closer to your neck and close to your ears. You can create braids with the hair strands in the middle of your head. It will make it look great, as the sides will be kept short compared to the long braided hair in the middle. Take professional help to achieve the perfect look just like you need for any other braided hairstyles for men, and keep visiting your hairstylist in regular intervals to keep the length of the hair accurate.
9. Zig Zag Braids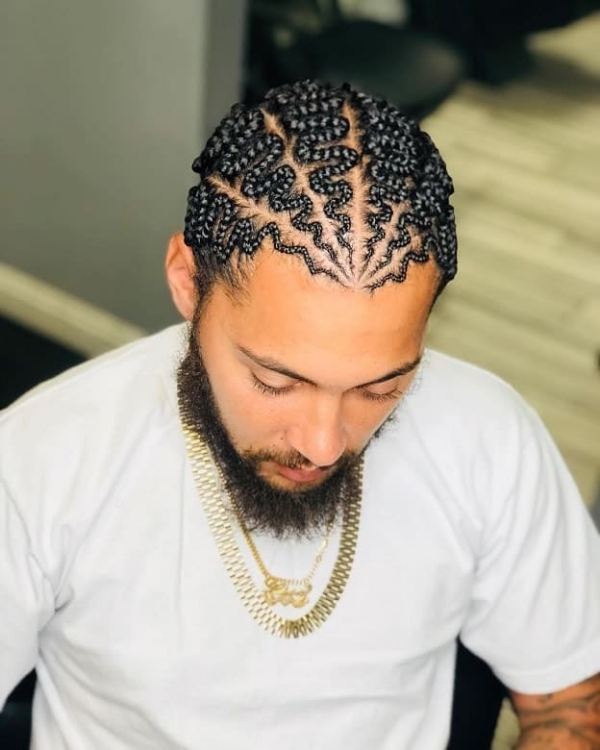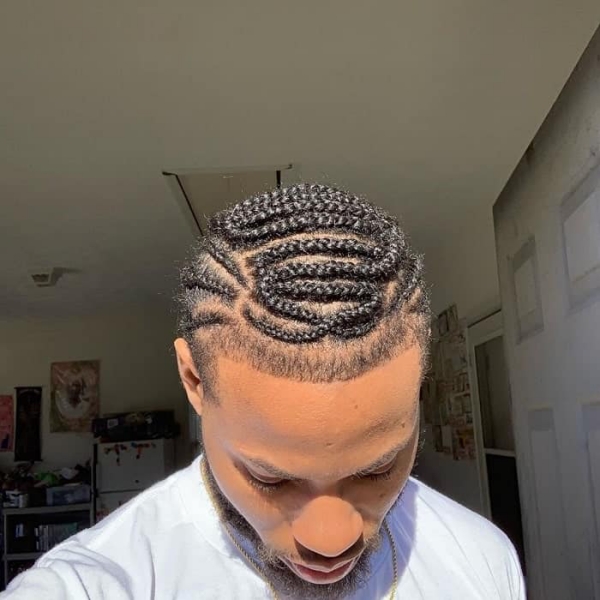 Irrespective of your hair type and texture, you can choose to go with a zig-zag braids hairstyle. Use a comb and then make several sections of your hair. Once you are done creating rows, brush down every single section in the downward direction. Then that your side requires to tie up all the ends of the braids to keep the braids in the proper position. Put one row over the other. To create this fresh look, take the help of a professional hairstylist.
10. Dreadlock Braids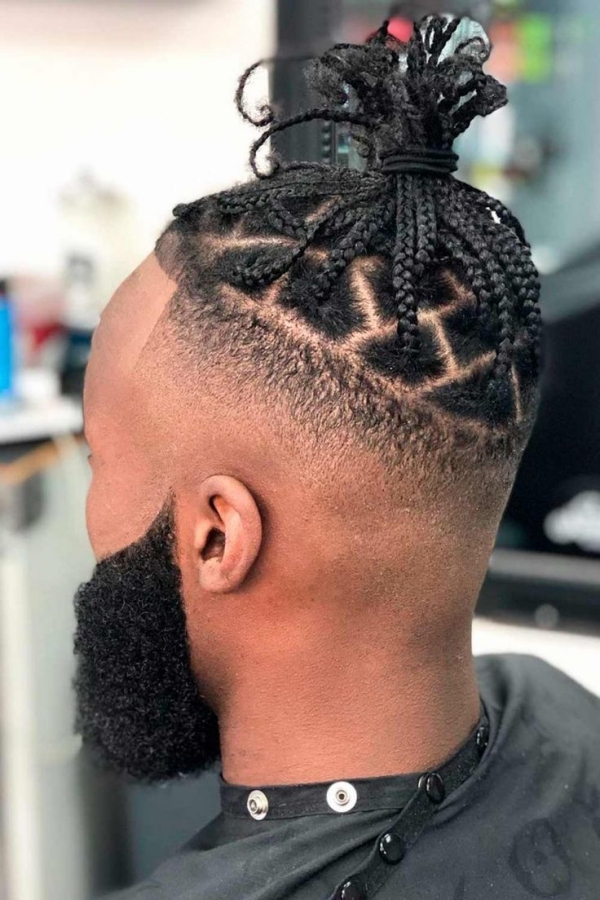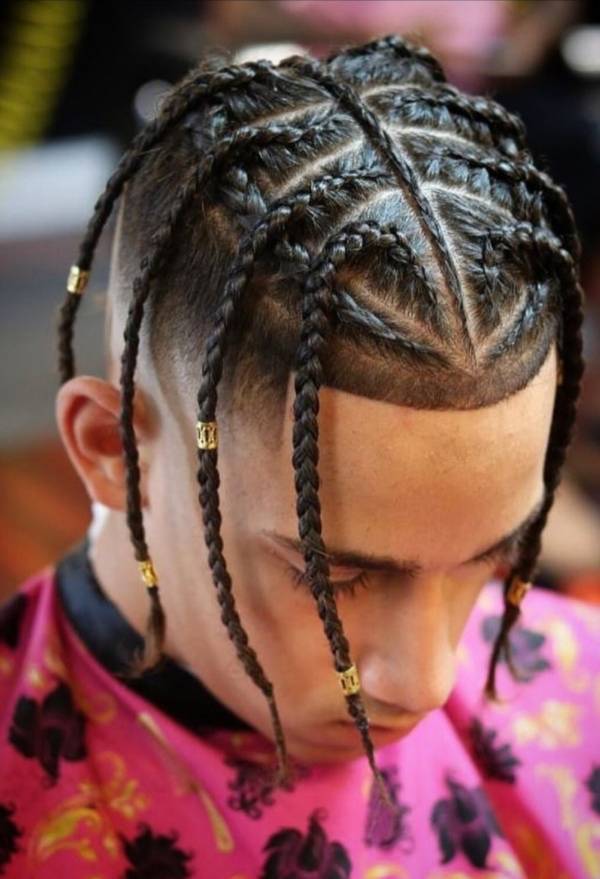 Dreadlocks which are known as locks are formed by interlocking the hair strands with one another. There is a very minute difference between dreads and braids. When you mix both these styles, it will create magic. Create the zig-zag-shaped braids with two or more strands of hair. All you need to do is weave the hair strands in and out, and your braids will be created. You need to carry this hairstyle with a lot of confidence, and once you go for this hairstyle, you need to stop washing your hair frequently.
11. Man Bun Braids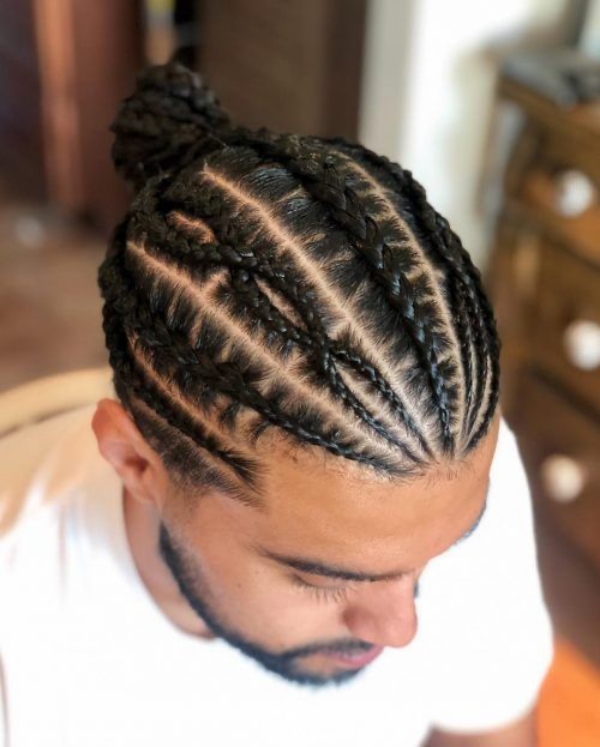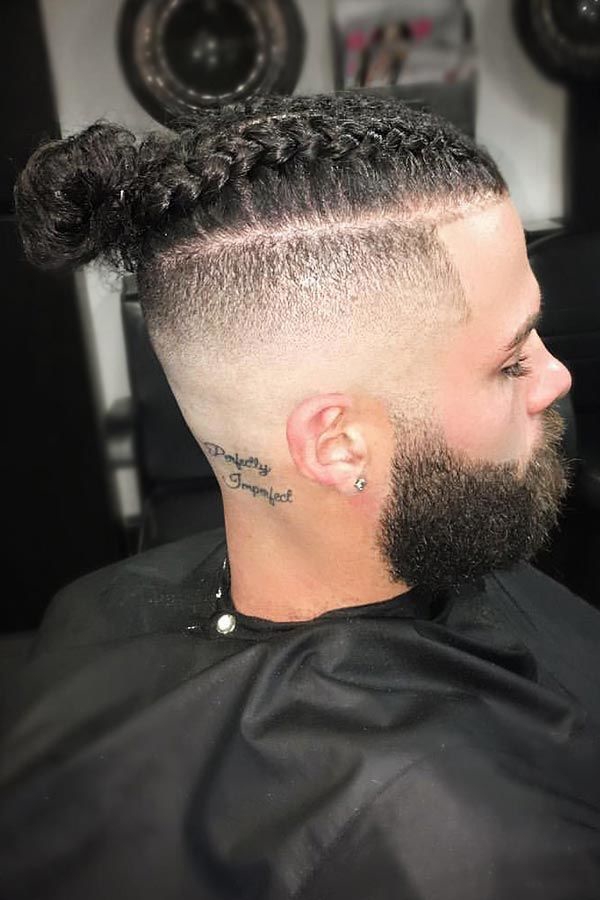 Braids are one of the classic-looking hairstyles and suit the men with black skin tone the most. On the other hand, a man bun makes a man look more muscular. After creating the braids with the hair in the middle of your head, the braids of yours will be tied in a man bun in the middle of your head. Make sure you secure them properly so that they don't get loose. You need to make sure that you have long braids as a certain length of braids is required to create the bun.
12. Mohawk Braid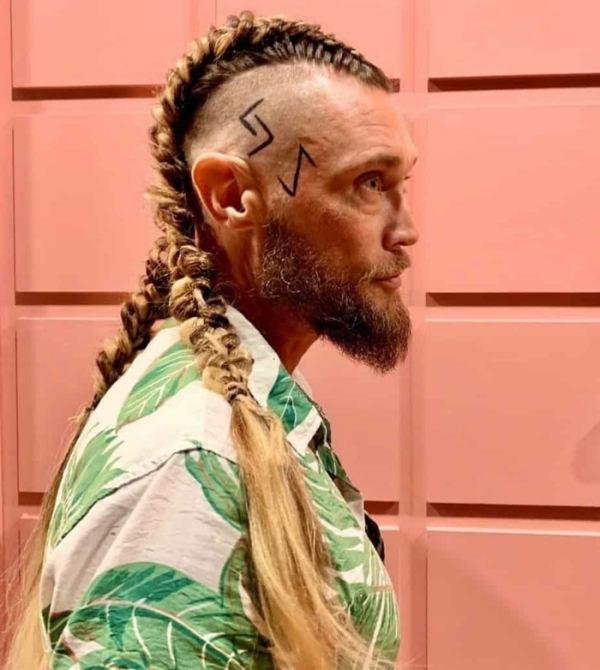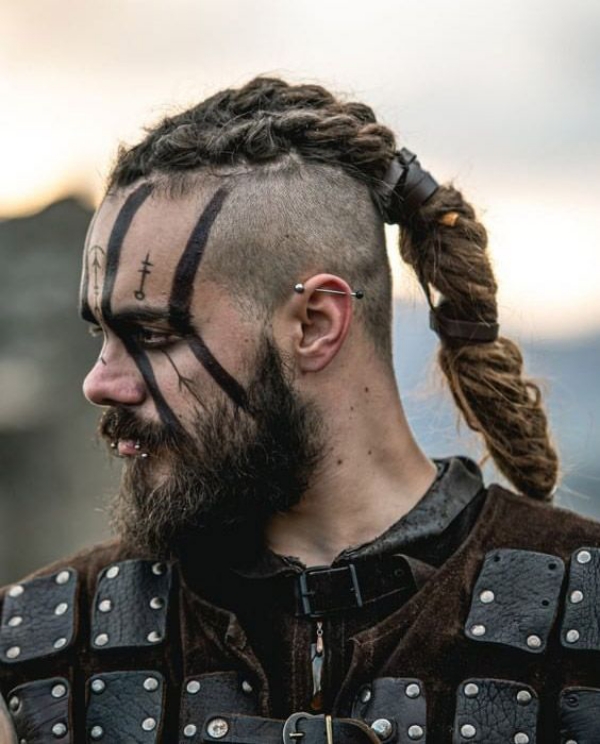 A braided mohawk makes a man look more handsome. This particular hairstyle is very much on the trending list among all the braided hairstyles for men, and if you are someone who loves to experiment with hair, then this is the hairstyle for you. Mohawk is a very funky-looking hairstyle. You need to shave both the sides and the back of your head. A long strip of hair will be left in the center of the head. More braids mean a better look. So, create as many braids as possible to achieve the sexiest look possible.
13. Pompadour Braid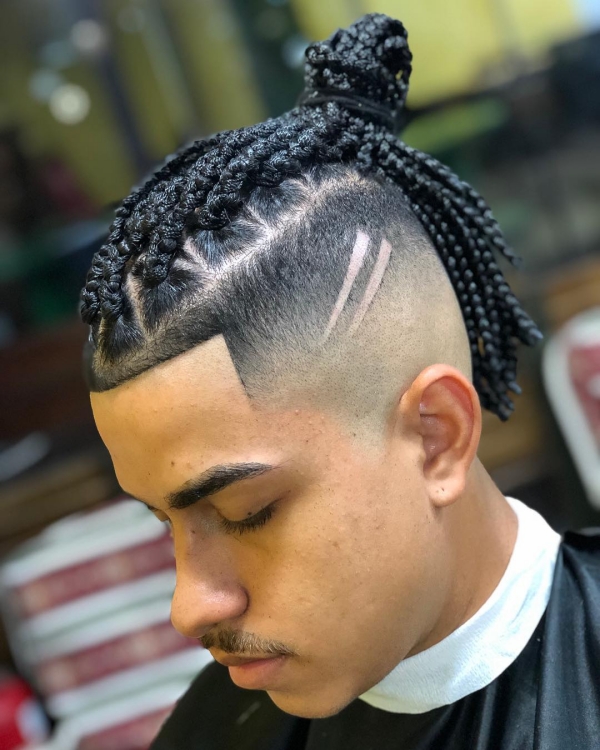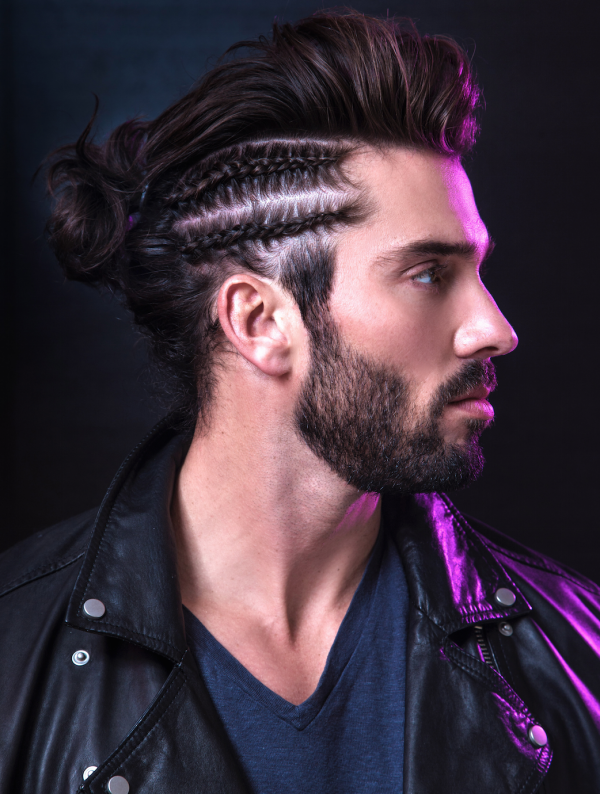 Pompadour is an evergreen hairstyle, and it will undoubtedly add volume to your hair. When you create a braid with long hair strands, it will add a modern touch to the classic hairstyle. The sides and back will be tapered short, or it will be completely shaved. If you choose to taper your hair, then make sure that the tapering gets gradually less as it will get closer to the hair in the middle of your head. Finally, twist the hair in the middle to make the braids and brush the hair back to create the pompadour.
14. Braided Ponytail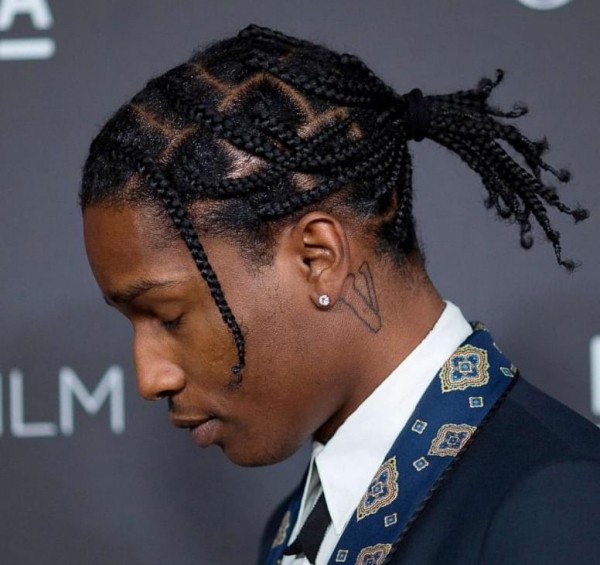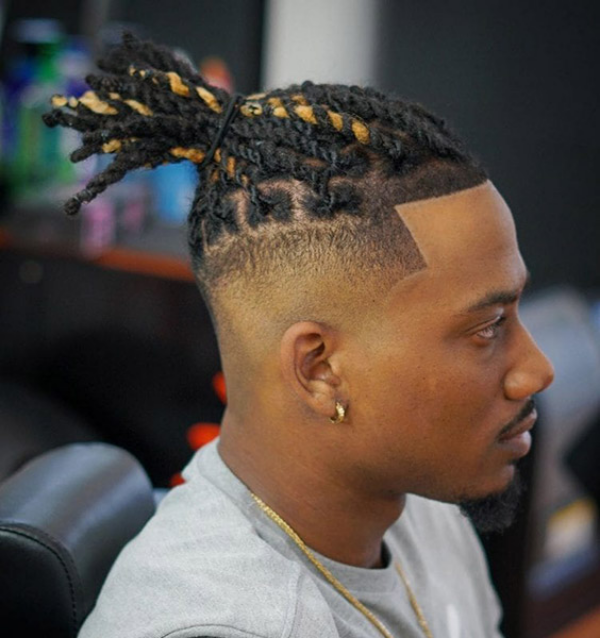 Are you planning to go on a casual date or go out with friends? You can count on a braided ponytail. First, braid your hair from near your temple and back to your shoulder. To add the final touch, you need to bend the end of your hair and tie the end of your hair with an elastic rubber band so that the braids do not get unraveled. Wash your hair regularly so that you can brush the hair effortlessly.
15. French Braid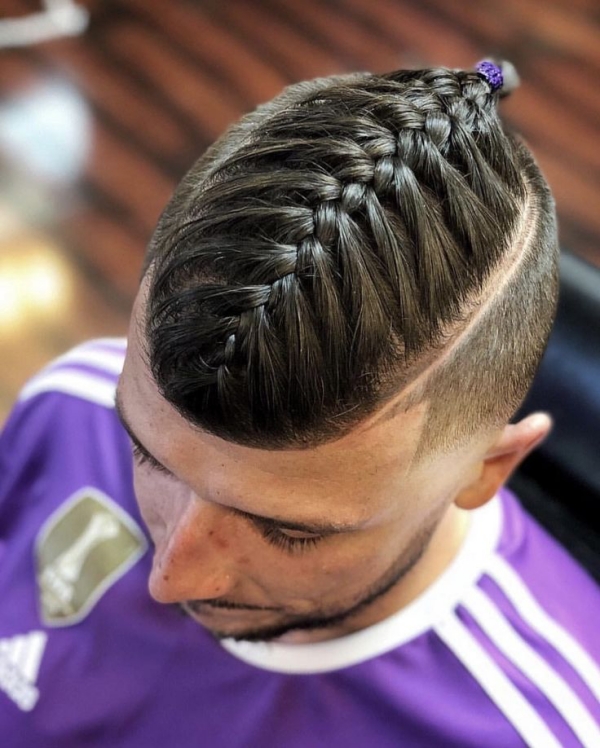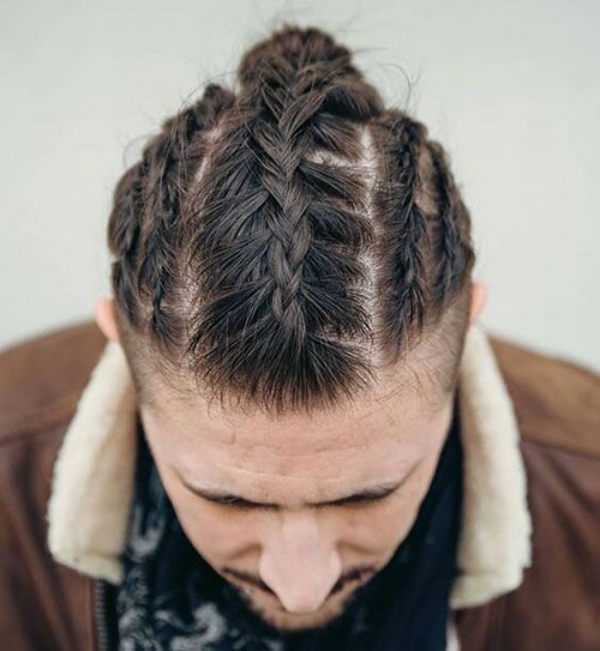 For a significant period, it has been thought that only women could pull off a french braid, but nowadays, men can also pull off a french braid look. In most cases, men associated with sports sport this hairstyle. Having long hair and planning to get a new hairstyle, you can choose the french braided hairstyle. To perform this hairdo, all you need to do is braid the middle part of your hair. A french braid will keep your hair away from your face when you are going out. Put one strand of your hair over another to create the braided pattern.
16. Braids With Fade Haircut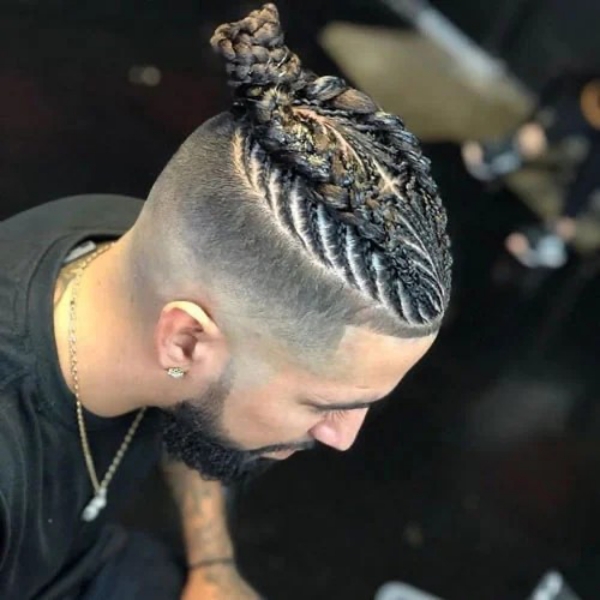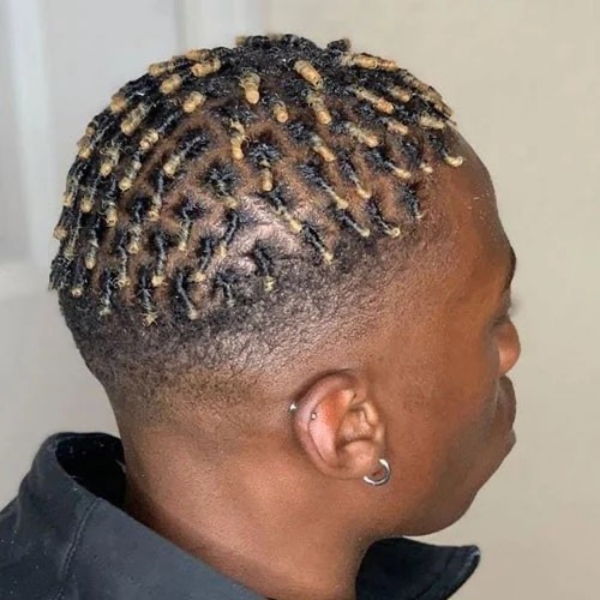 Thinking about braided hairstyles for men which will make you noticeable, then look no further than a braided hairstyle. Mix this braided look with a fade. Ensure that your head's sides and back are tapered low to create a soft, faded look. On the side, you can create your desired designs. Then style the top of your head and create an inverted braid with the hairs in the middle. The braid will remain tight on top of your head.
17. Blonde Highlighted Braids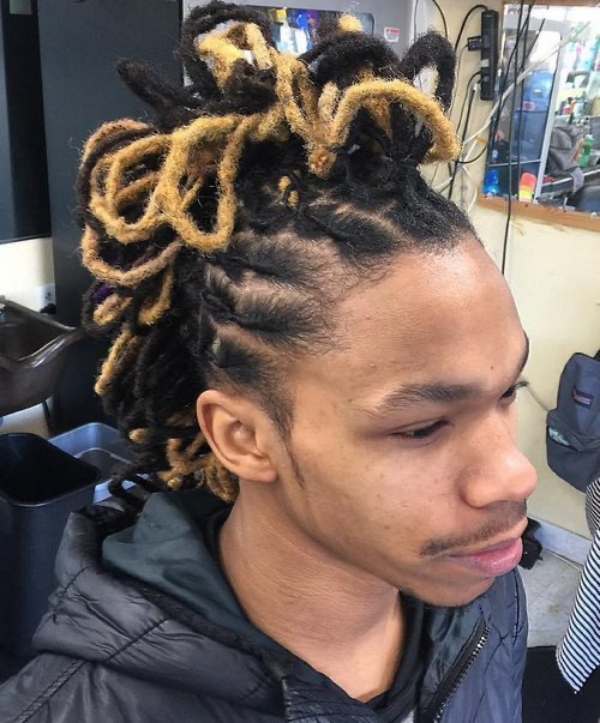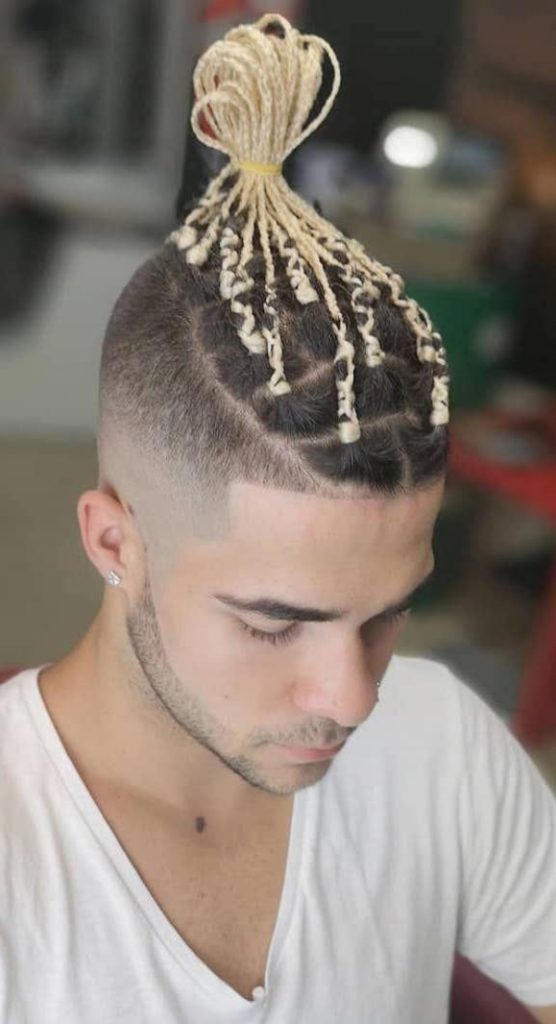 Want to make the braided hairstyle more fascinating? Highlighting the hair is the best way to achieve that. Blonde highlighting has never gone out of fashion. Putting one strand of hair over the other one is the only way to create your desired braided look. After completing the braids, highlight a few strands of your hair in the middle of your head. Go to a hairstylist for perfect highlighting, which will ensure a unique look.
18. Viking Braids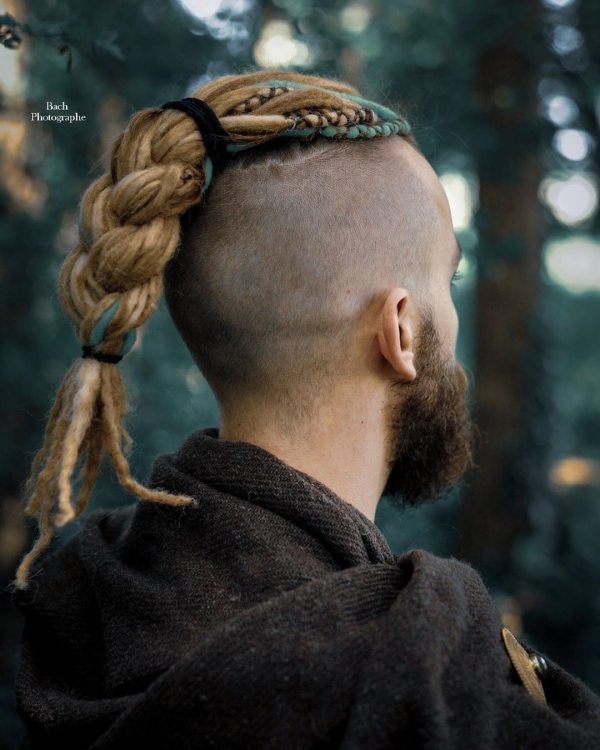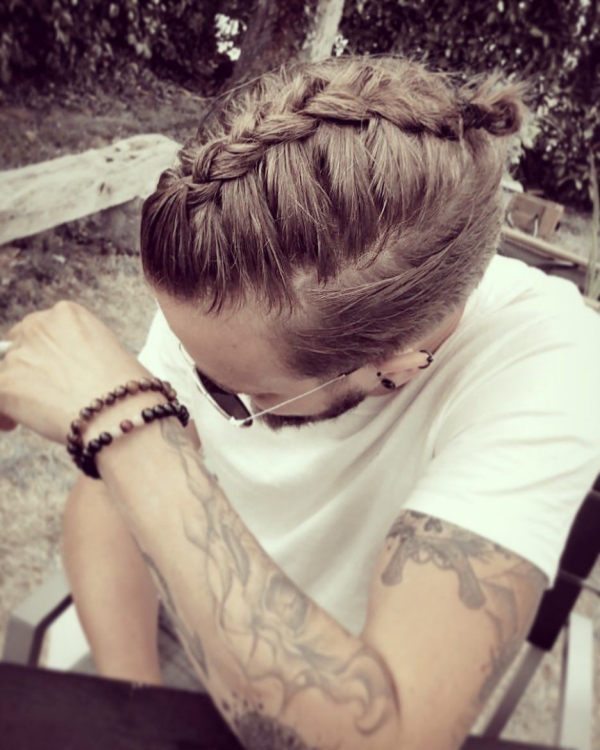 For the last few years, the whole world has been going crazy over one of the braided hairstyles for men, the Viking beard. If you have long hair on top of your head, you should try this trendy hairstyle at least once in your life. Create two braids on both sides of your head, and for the middle part of your head, you should go for a french braid. First, focus on the sides of your head and then create the french braid in the middle to complete the look.
19. Half Up Half Down Braids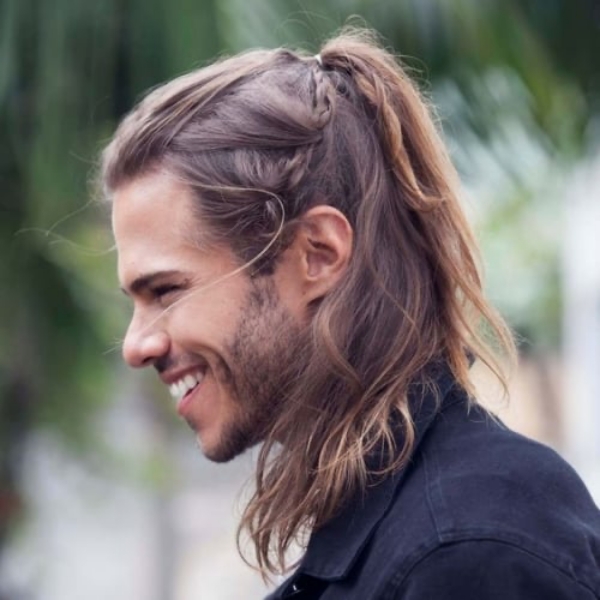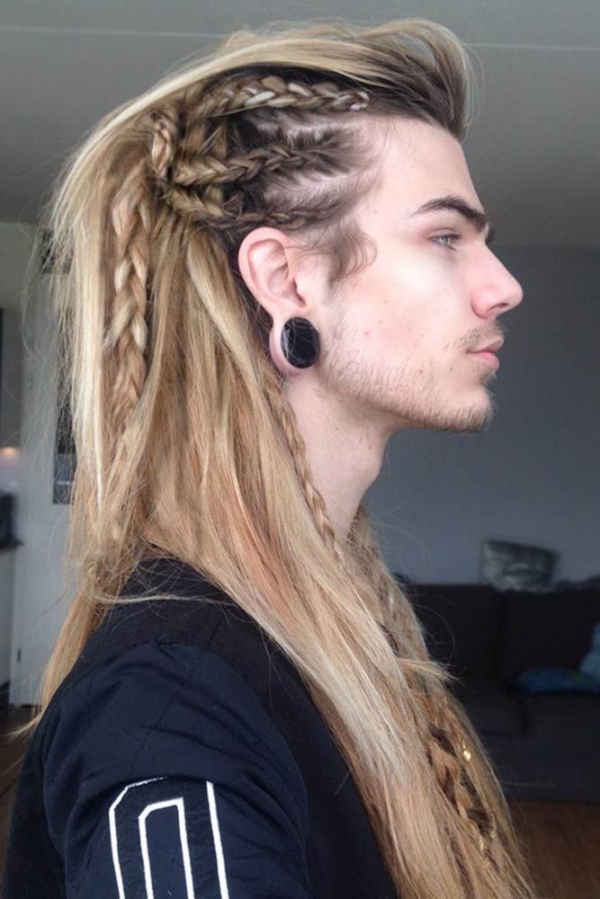 At first, brush your hair, then take a tiny section of hair from any one of the sides of your head. After that, create a braid with that strand of hair. Do the same thing with another strand of hair from the other side. Once you have two braids, one on each side, use your fingers to pull the hairs out of the braid. Stop removing the hairs out of the braid once you will achieve the desired width. After that, pull the braids together right in the middle of the head. It will create the perfect half-up, half-down braids hairstyle.
20. Braids With Bangs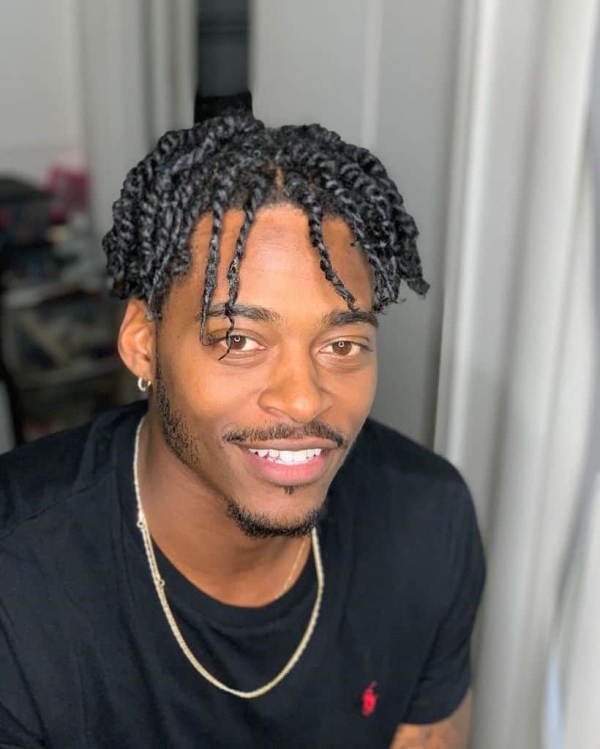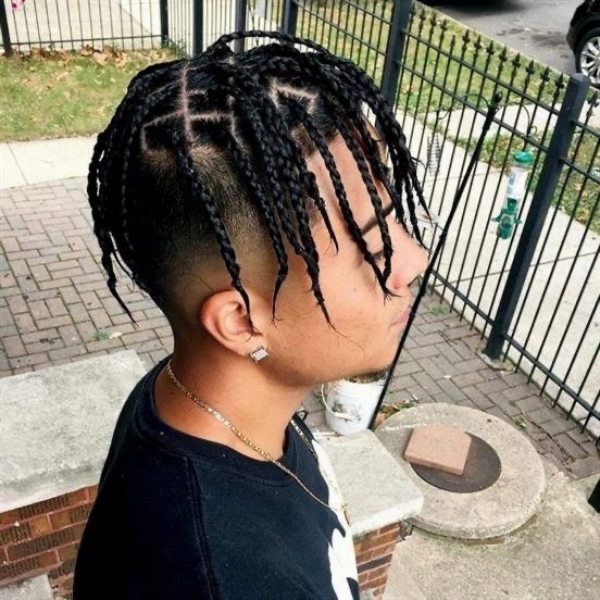 How you are styling your braids and also how long your hair is, you can create bangs. Create the bangs in front of your head near the temple so that this looks good with your braid. You can choose to tie the rest of the braided hair in the middle in a bun. This hairstyle requires high maintenance, so use hair styling products such as hair holding spray and hair wax to keep the bangs in their proper place.
21. Braids With Undercut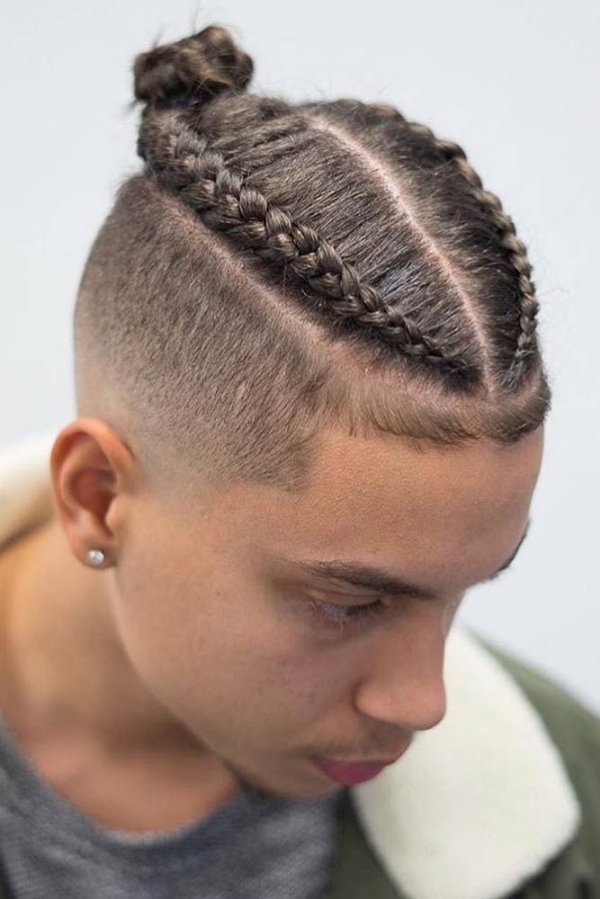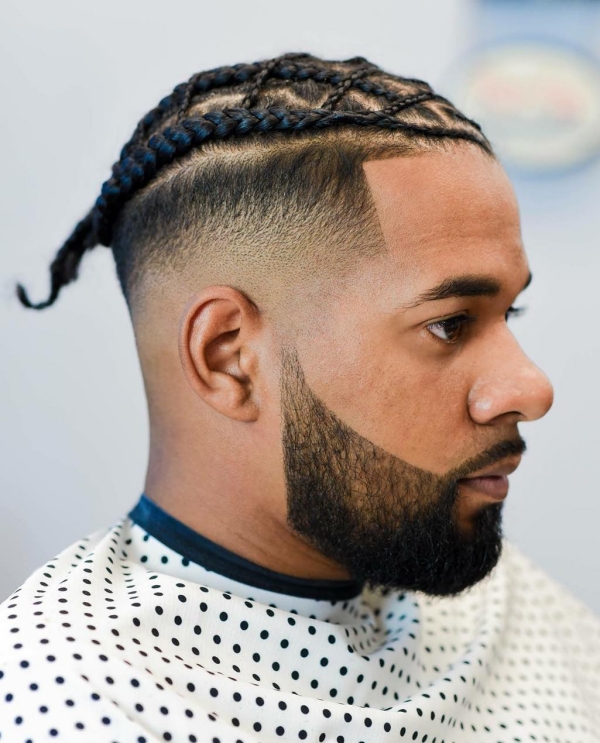 Men have always chosen undercut hairstyles over others to look attractive. Men who wish to have appealing braided hairstyles for men can shape themselves with the braids with undercut style. The chief feature of this hairstyle is to make the plaits more prominent without making them fade in the background. Braids have their own appealing characteristics, but pairing with an undercut raises another level of this haircut. This hairstyle features sleek back and side hairs contrasting the long hair on the top. From faded to disconnected, there are a plethora of undercut braided hairstyles for men's versions, which gives the braids a new look every time.
22. Braids With Shaved Sides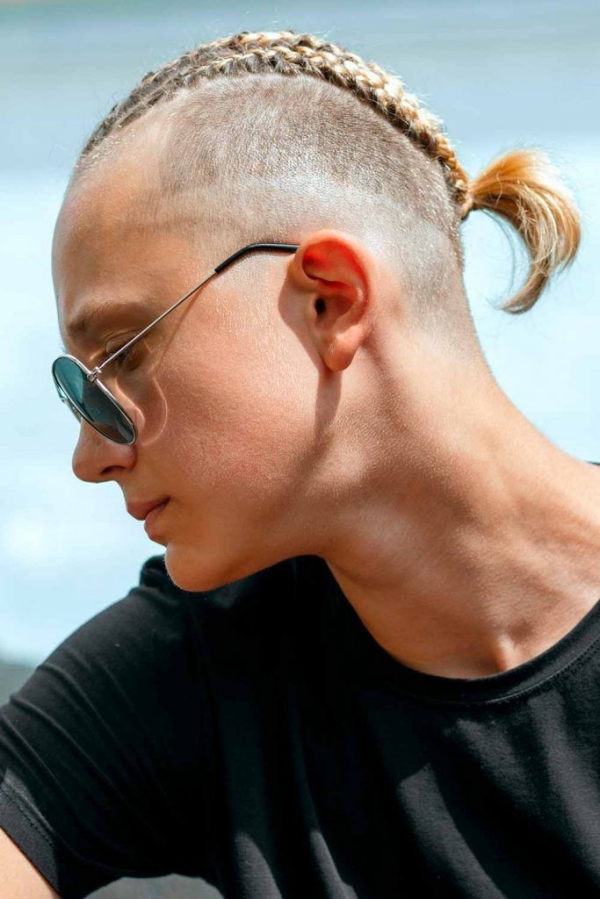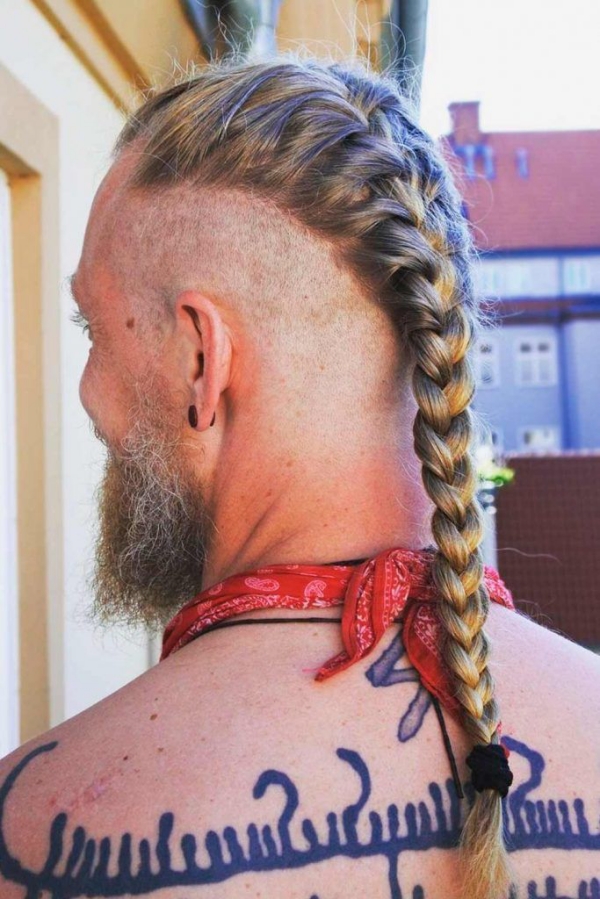 Who claimed that men couldn't flaunt braids with ease? If you wish to have a short yet creative hairstyle, braids with shaved sides are perfect. Men who need to have low maintenance and ready-to-go hairstyle can definitely create this style and flaunt themselves in front of others. In order to have the shaved sides, your hairstylist needs to use a trimmer along with a razor to give the perfect touch. The top braids become very prominent in contrast to the sides. Adding different colors will provide you with a bold and sexy look. You can increase the fashion quotient of this hairstyle by adding a beard on the face.
23. Bob Braided Hairstyle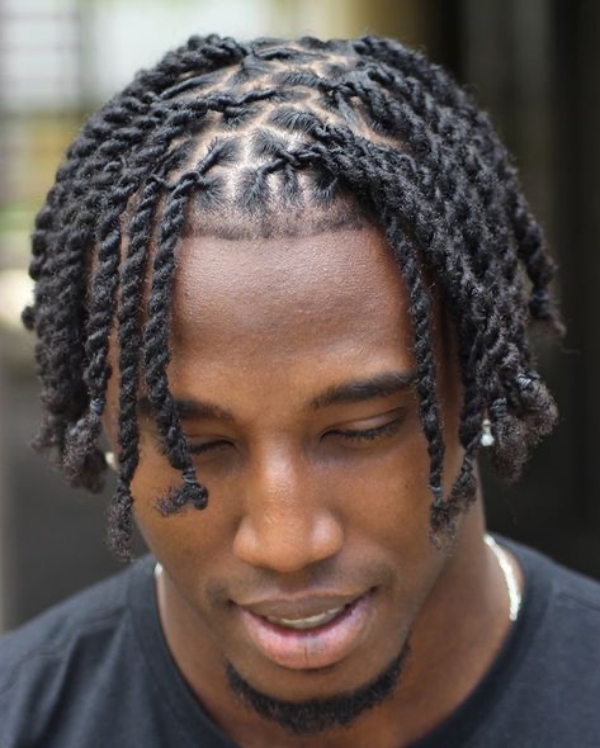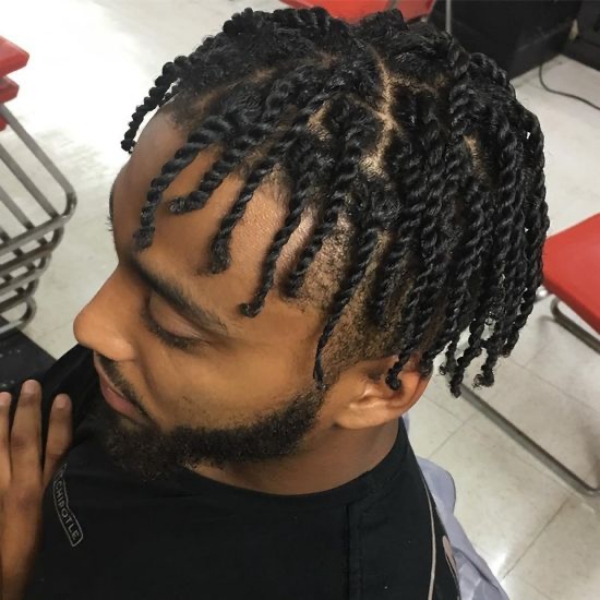 You can put on a great accent to your hairstyle with the Bob braids. This hairstyle is perfect for fat faces, but men with slim faces also look charming. In this hairstyle, the size of the top and side hairs is kept medium to long. This hairstyle is also known as slanted braid, which has a connection from the 90s. There are versatile styles of this haircut with which you can create a bold look to a decent look. Having this hairstyle needs an excellent professional expert. This hairstyle needs to be maintained if you wish to keep the shape in the same condition.
24. Reverse Man Braid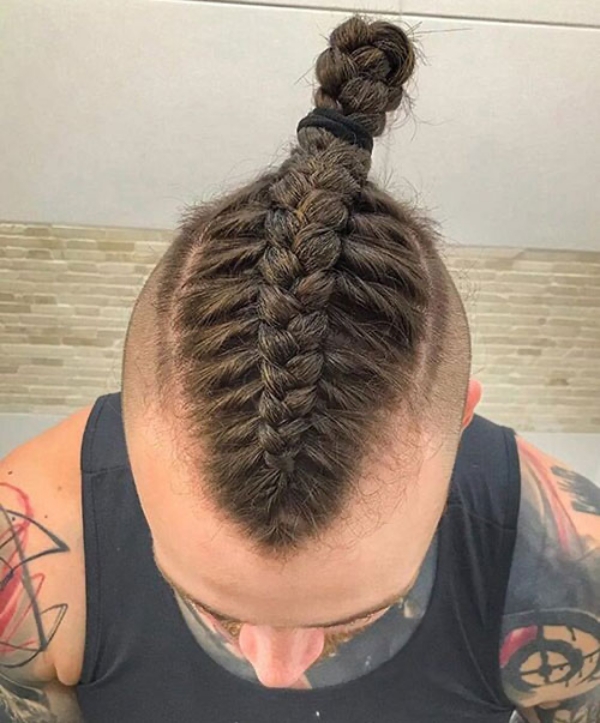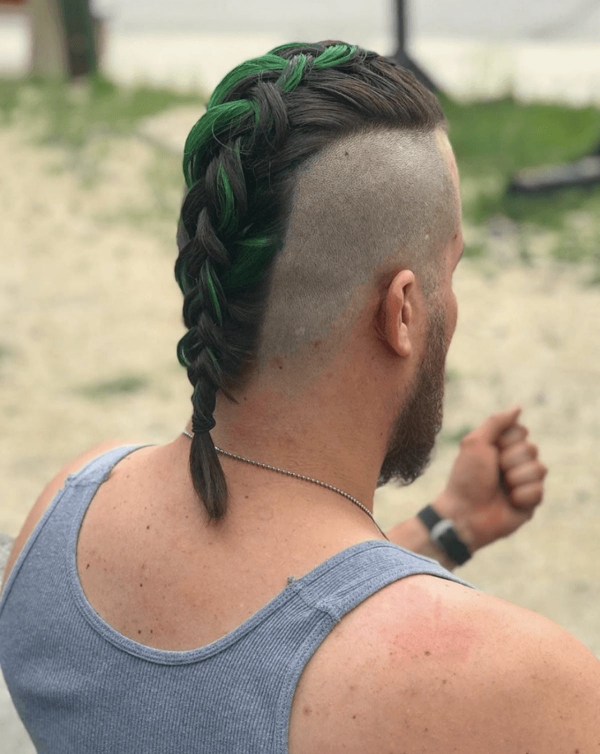 Are you looking for the coolest, braided hairstyles for men? Well, with the reverse man braid, you can put on a distinctive hairstyle. In the reverse braid, the pattern of braid is made in back hairs. From the name itself, you can take an idea of this hairstyle. There are a plethora of designs available for this hairstyle, making it one of the trendiest among men. It would be perfect if you grew your back hair long in order to create this hairstyle. Adding contrasting colors can make this look much more eye-catching and appealing.
25. Crown Braid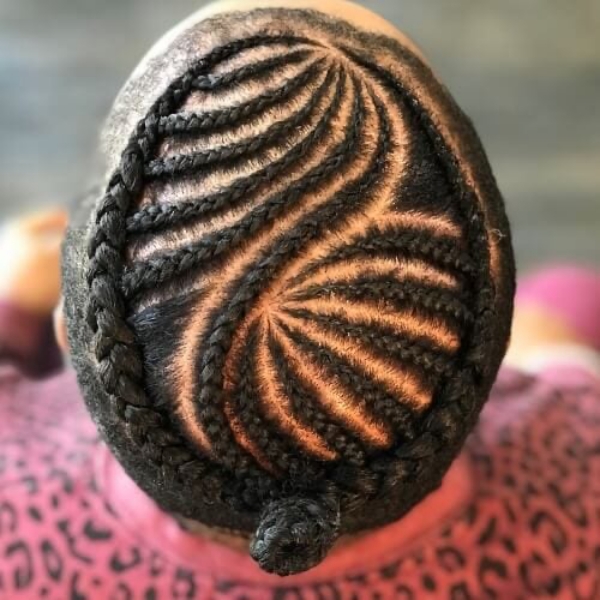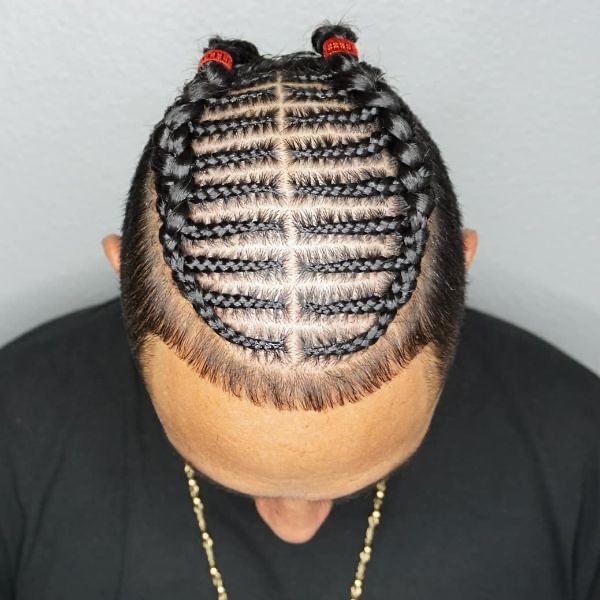 The crown braid hairstyle has been trending in recent days among men. To have this hairstyle, you need to grow your hair in length. The side and back hairs can be kept short of executing this creative style. With this haircut, you can make yourself look like a king. The top hair can have a single long thick plait or two plaits on either side to create a crown effect in this hairstyle. If you want a simple and ultimate royal look, choose the asymmetrical crown braid pattern. Adding a beard with this style is a suitable option to flaunt yourself.
26. Top Knot Braid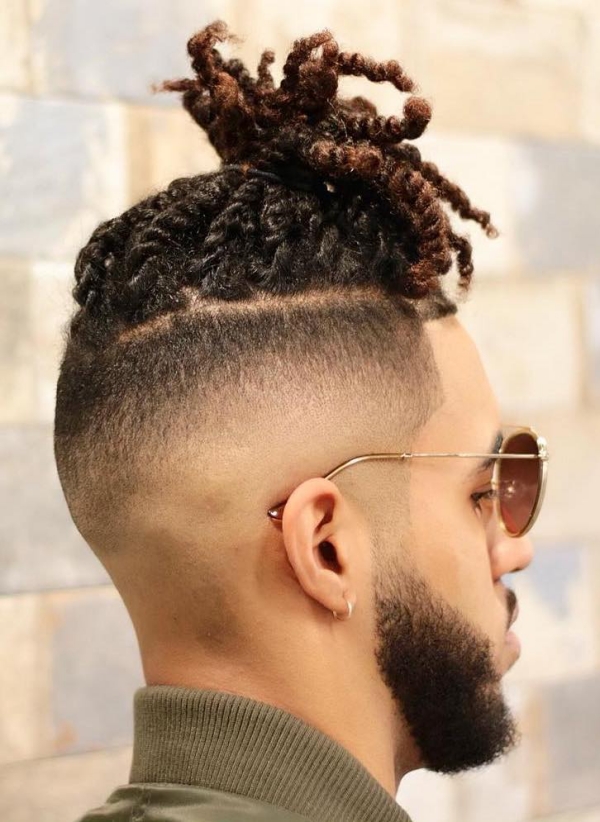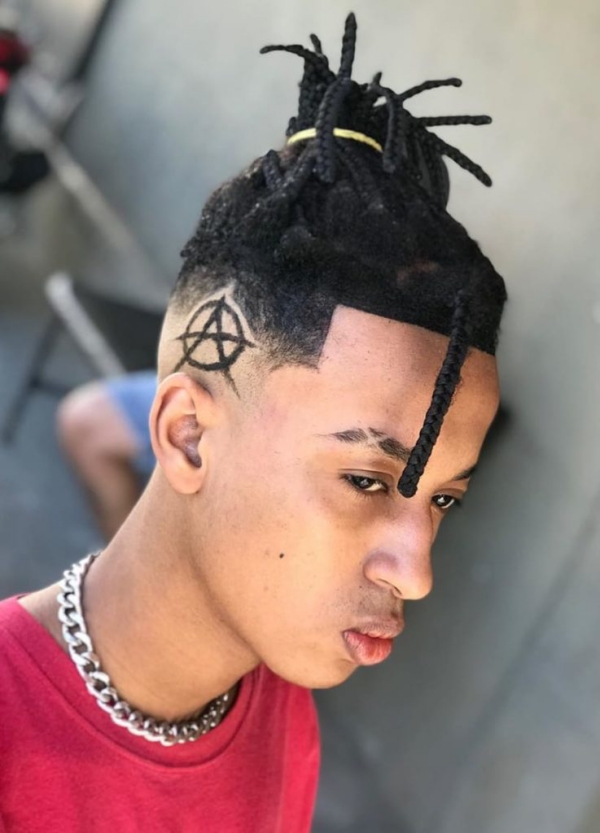 If you wish to have a hairstyle that mostly features your top hair, then having a top knot braid hairstyle is ideal. In this hairstyle, you don't have to put much coverage on the side hairs. If you want to highlight the top design, you can have the sides faded or shaved. This hairstyle has become popular as there are tons of other styles to create a contrasting look. Men favor clean-shaven faces to appear charismatic with this hairstyle.
27. Low Bun Braid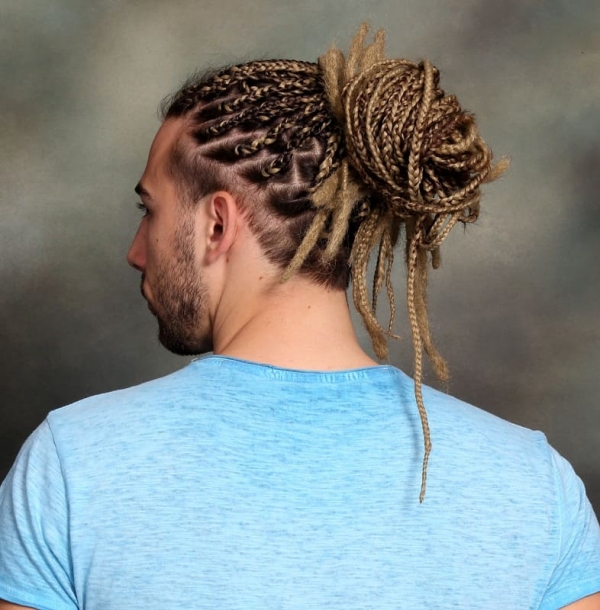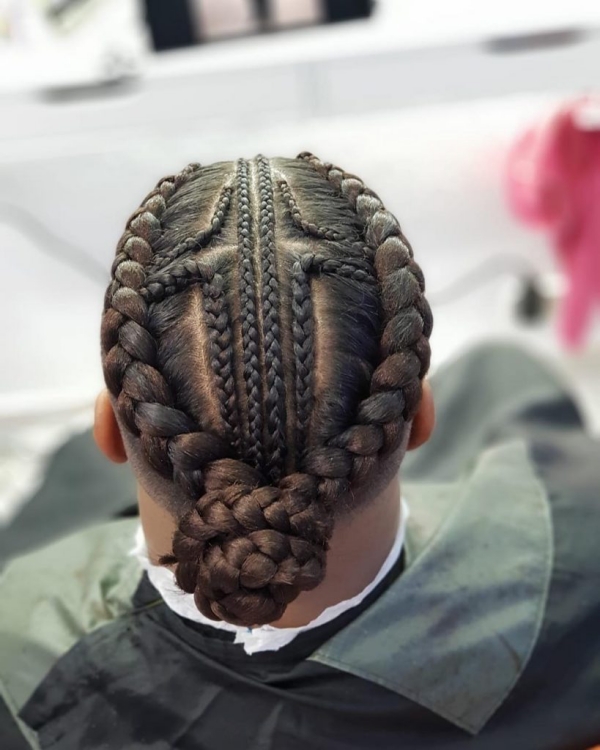 The low bun braid is a low-maintenance hairstyle. Thus, if you are looking for a hair-do that would not make you run to the salon for regular maintenance, this would be your best bet. It is a simple braid hairstyle, yet it is striking enough to catch everybody's attention. It looks beautiful on men with straight hair. Although, it suits all kinds of textures well. You have to let your hair grow free without any restrictions. Also, make sure you apply trusted styling products like hair mousse or gel and slowly caress your hair. Tie a knot but let it be loose so that it gives a messy and free-spirited look.
28. Spider Braid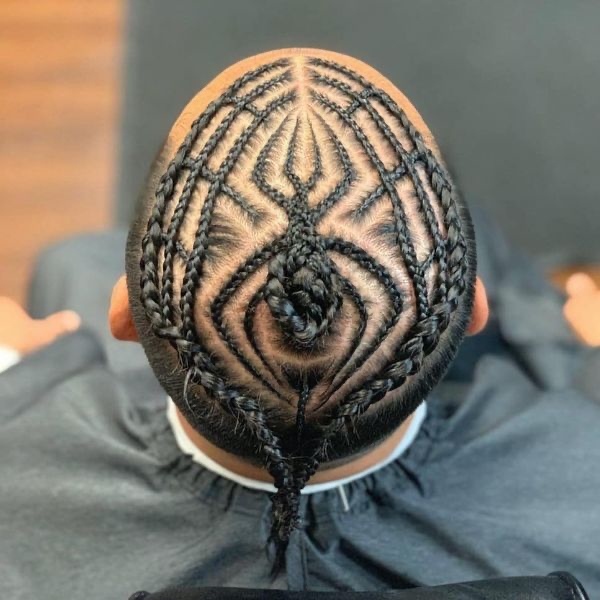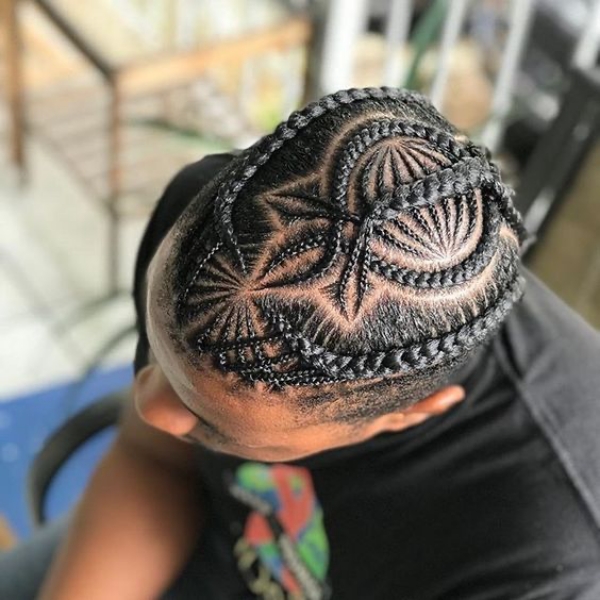 There are different braided hairstyles for men, among which the spider braid is the most choice able. In order to have this hairstyle, you need to shape your hair from an experienced hairstylist. In this hairstyle, the braids have straight lines and diagonals that intersect at the center. The side and back hairs are kept short. Spider braids are actually a part of box braids in which the difference lies in the crown pattern. Different hair strands can have different contrasting colors. This hairstyle needs to be shaped regularly to keep the style in shape.
29. Braid With Hair Design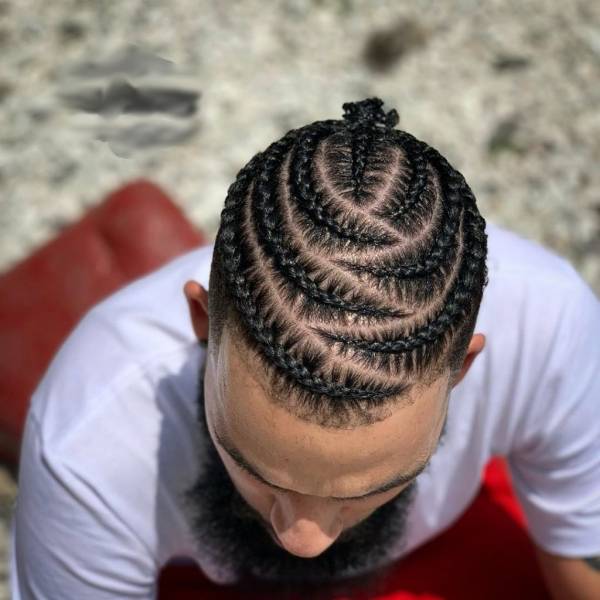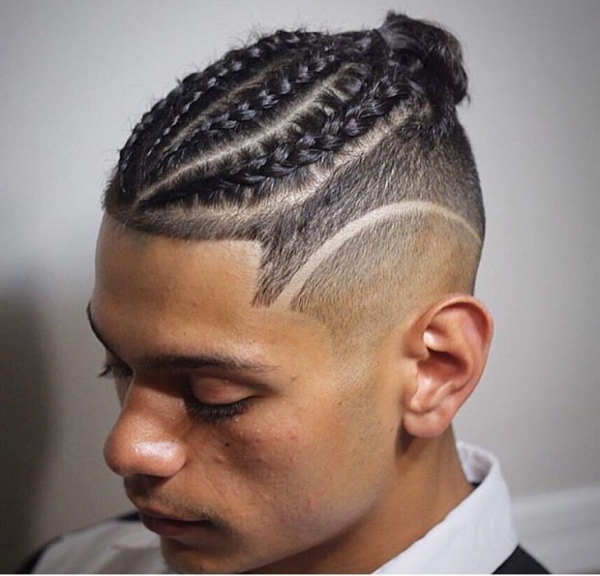 You can end up giving yourself a solid and sexy look with the braid with a hair design. An incredible thing about this hairstyle is that you can frame your face with the shape of your head. There are a plethora of braid hairstyles available, which makes this hairstyle popular among men. The hair expert cuts the hair with smooth and clean sides while the top is kept short and moving. Men can add a beard with different designs accordingly to get noticed.
30. Middle Part Braid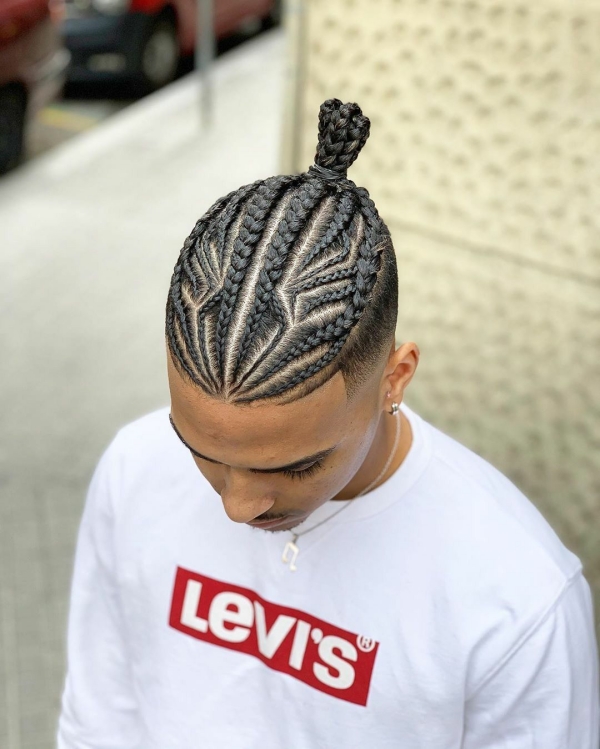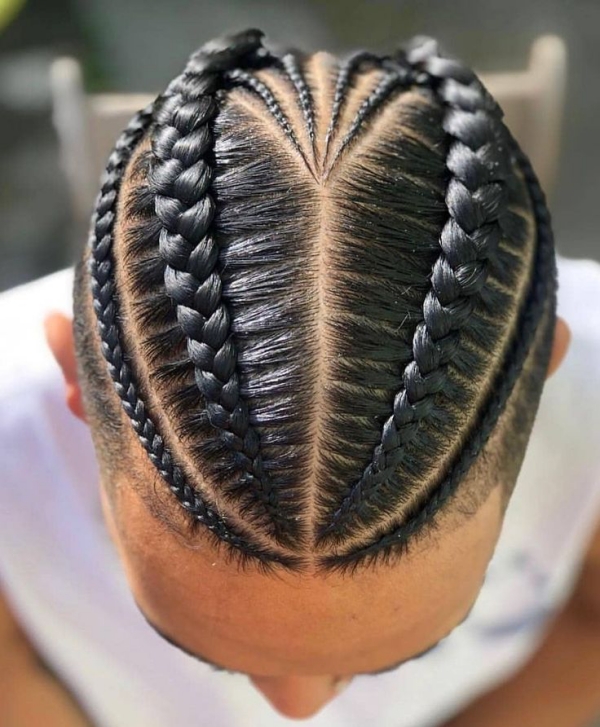 If you wish to have a hairstyle to tame your hair or hide certain imperfections, then adopting this style is an ideal choice. The middle part braid hairstyle offers a decent and smart look among older men. In this hairstyle, you can find the top hairs being brushed from the center on both sides. This hairstyle is one of the most regularly noticeable styles among young men. The classy way of its appearance makes it applicable in both formal and casual fashion. Men prefer to cover their forehead with this hairstyle.
31. Three Braid Hairstyle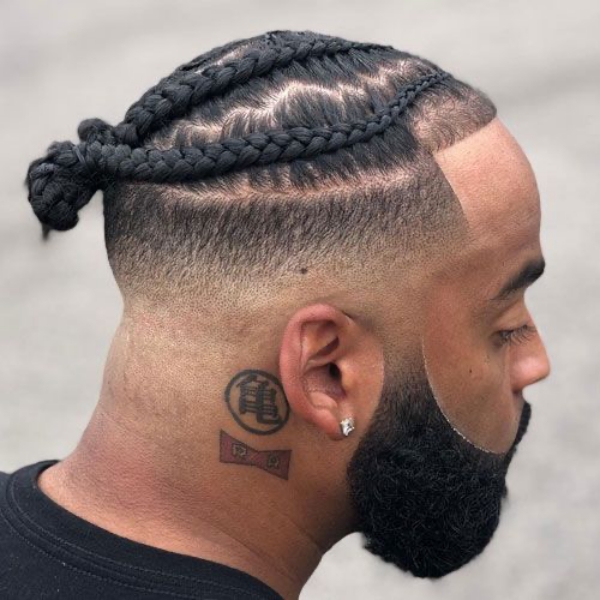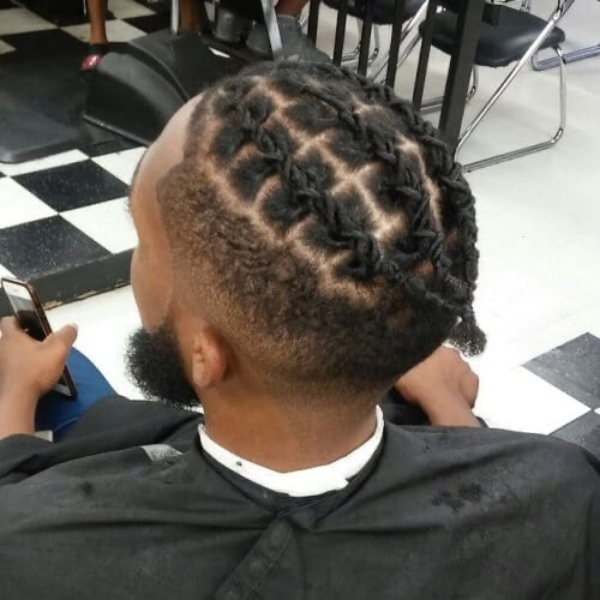 The three braids hairstyle is created in men to have a nest look that is full of impact. Depending on the style you wish to have, you can keep your hair long or short. Men who want to add another dimension to the hairstyle can keep this versatile hairstyle. In this hairstyle, you can observe that one braided hair goes through the center to the back of the head, while the other two braids are created through the sides to provide extra coverage of the hairstyle. This hairstyle needs to be groomed on a regular basis to keep the shape intact.
32. Fishtail Braid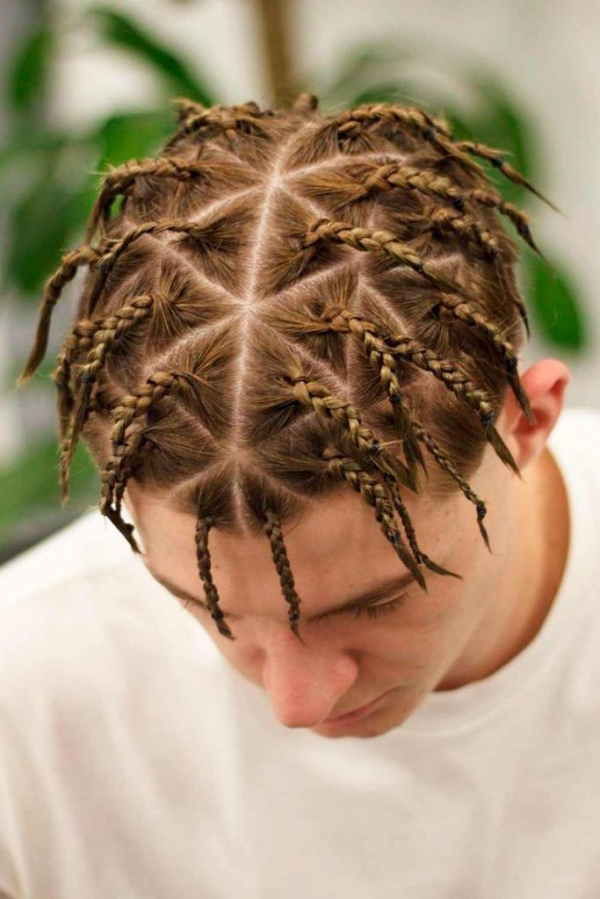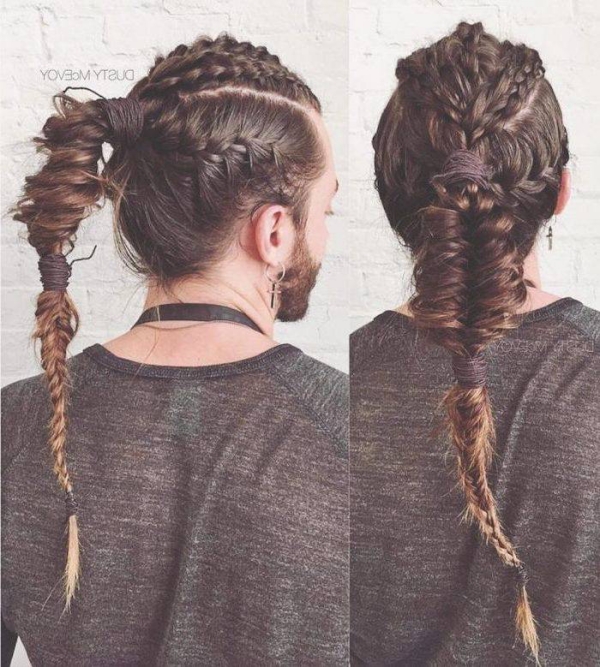 One of the most creative braided hairstyles for men is the fishtail braid. In order to have this fashionable hairstyle, you need to have thick and long hair growth. This hairstyle is also known as the Herringbone braid as it resembles the French Braid style. The difference lies in the fact that three sections of hair are used to the style in a French braid, while in Fishtail braids, only two sections are created. With this hairstyle, you can definitely be the center of attraction. Not only men but women also admire this hairstyle. In order to keep the ends of the hair in shape, you need to dampen the hair and apply the best hair products.
33. Hipster Braid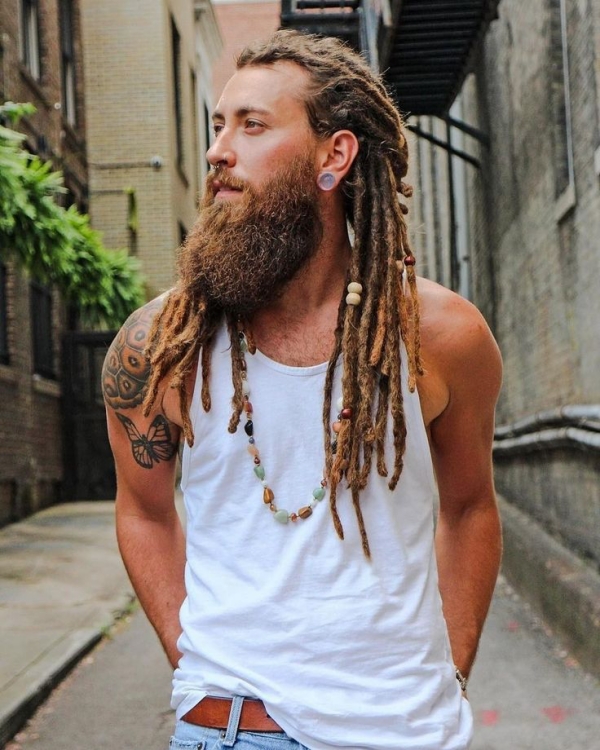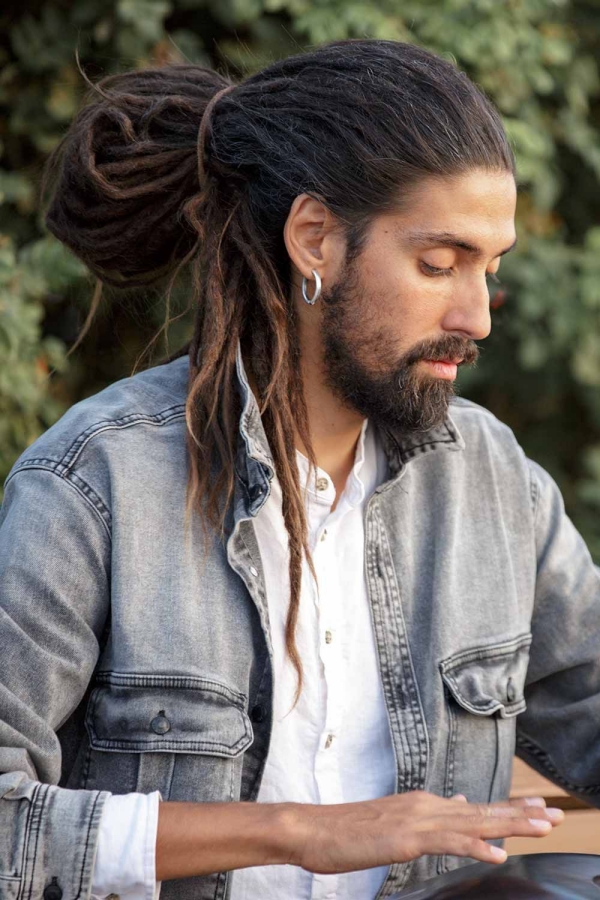 If you are tired of putting on the same man bun or ponytail hairstyle, you can update the hipster braid hairstyle. In hipster braid, the side and back hairs are kept short to medium shapes, while the top hairs are braided, pulled back, and tied. Most men prefer to connect the side hairs with the beard to give a matured braid look. The best thing about hipster braids is that they come with versatile hairstyles. In order to keep this hairstyle in perfect shape and good condition, you need to maintain it on a regular basis.
34. Multicolored Braid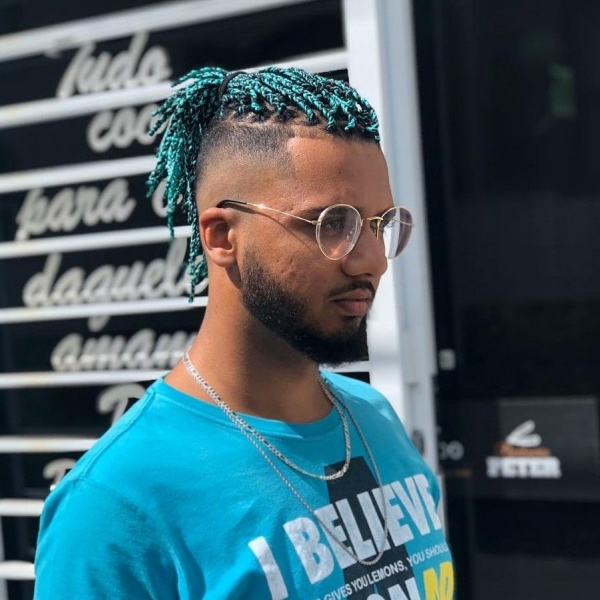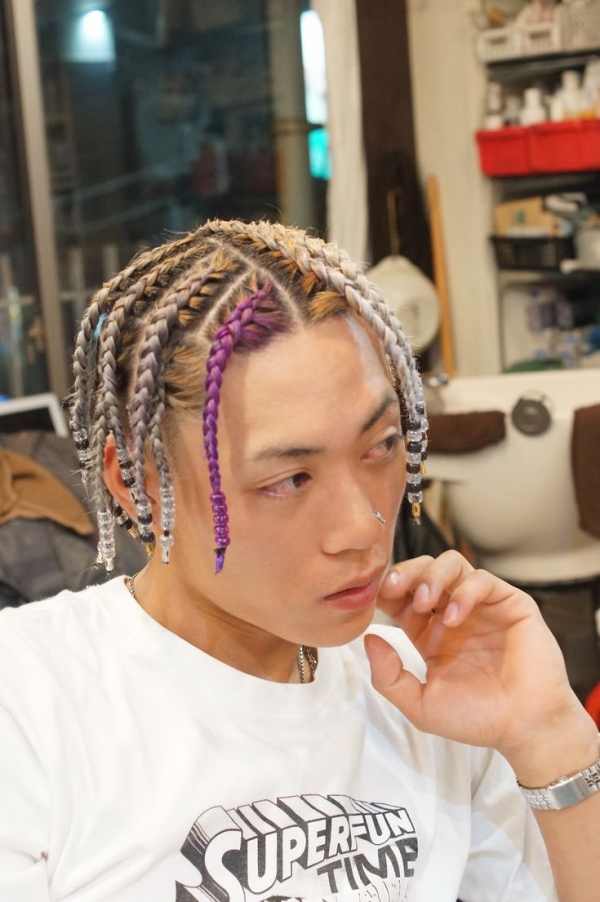 If you wish to have a sporting look, you can appear active with a multicolored braid. This hairstyle has become popular in most models as the design is highly eye-catching. There are many singers who love to flaunt this hairstyle. The multicolored braids hairstyle is most buzz-worthy when you are having any festive season. With the different colors, you can create different patterns of braids hairstyle, where each style has its own feature. From basic to advanced, there are a variety of colors which you can choose for yourself. Wearing a multicolored shirt will make a perfect combination with the hairstyle.
35. Men's Braids With Beads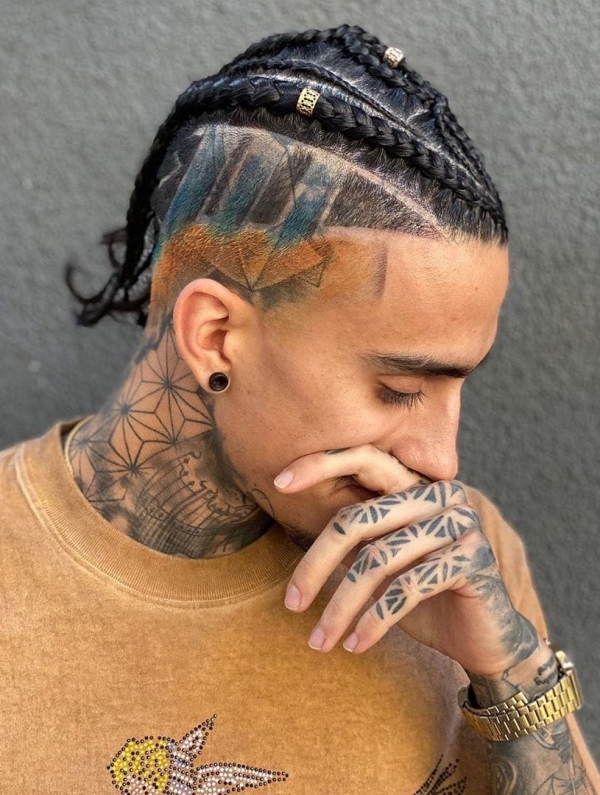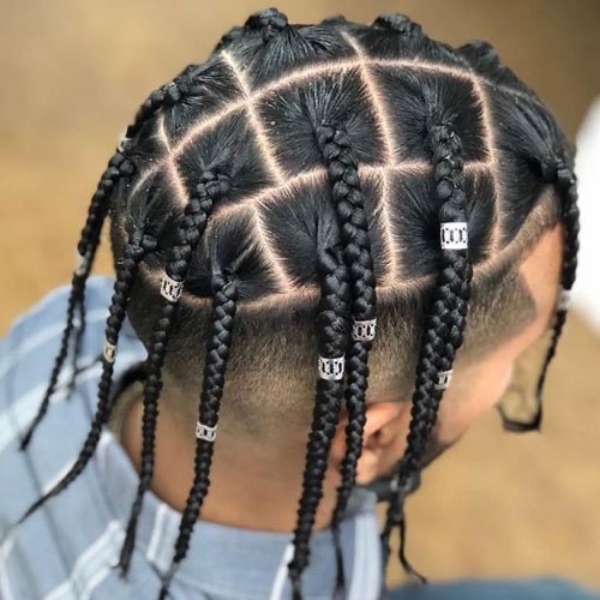 Are you looking for a different braided hairstyle? Well, braids with beads are the most trending hairstyle in recent days. In order to have braids with beaded hair, you need to grow your hair up to a suitable length. This hairstyle is popular as it fits in any guy, be it thin or fat. The versatility of this hairstyle is what makes it more common in most men. Beads turn out to be a perfect accessory in customizing your braids. The beads can be made of plastic or metallic with various designs.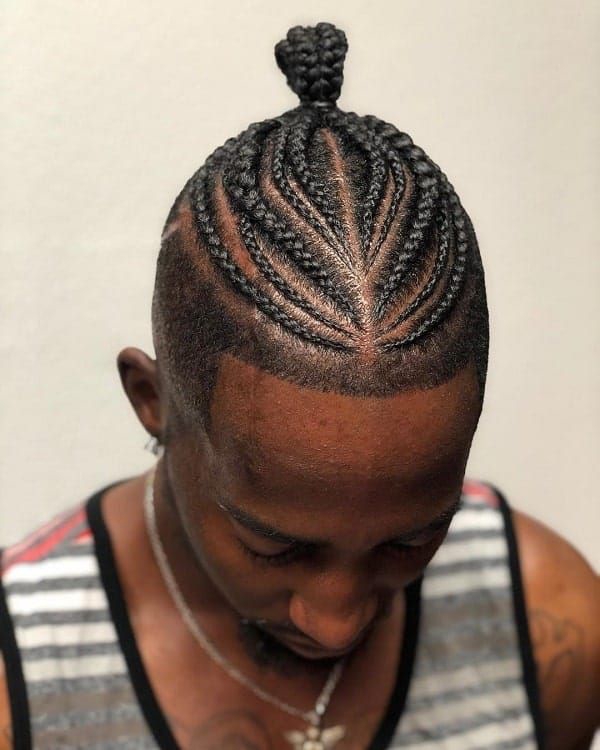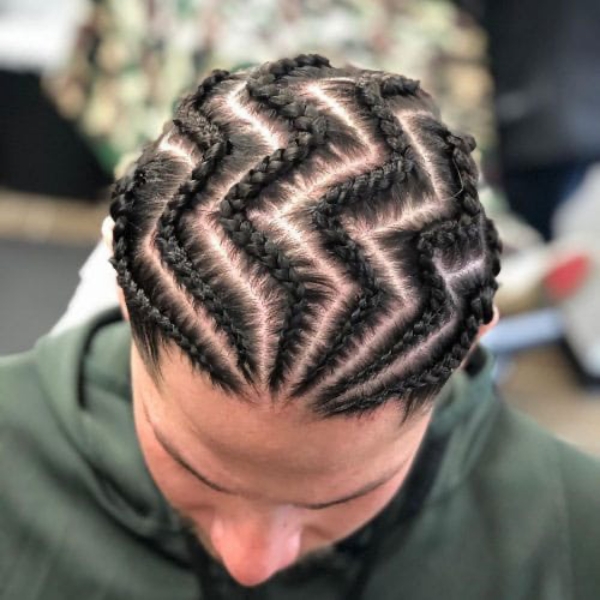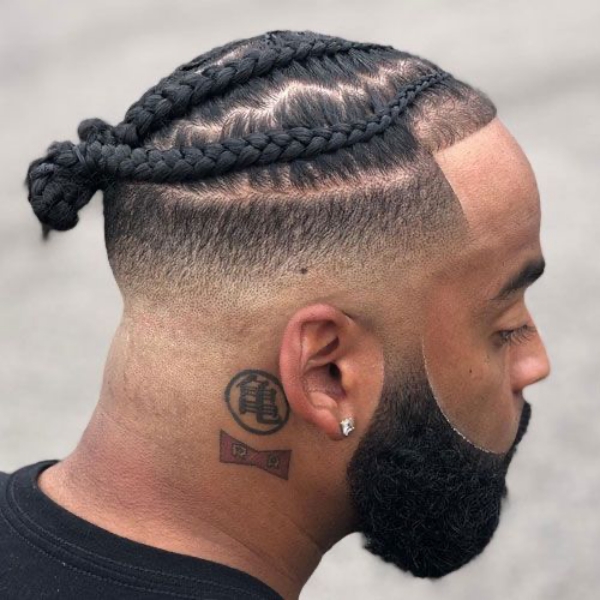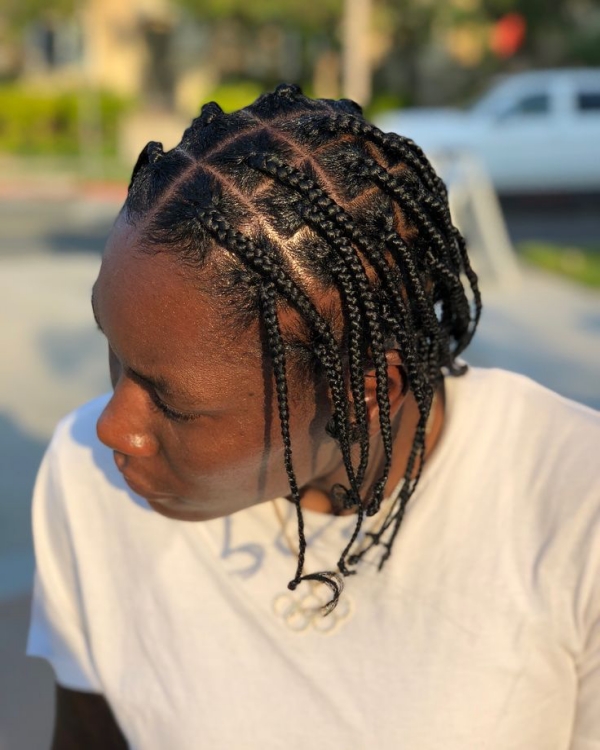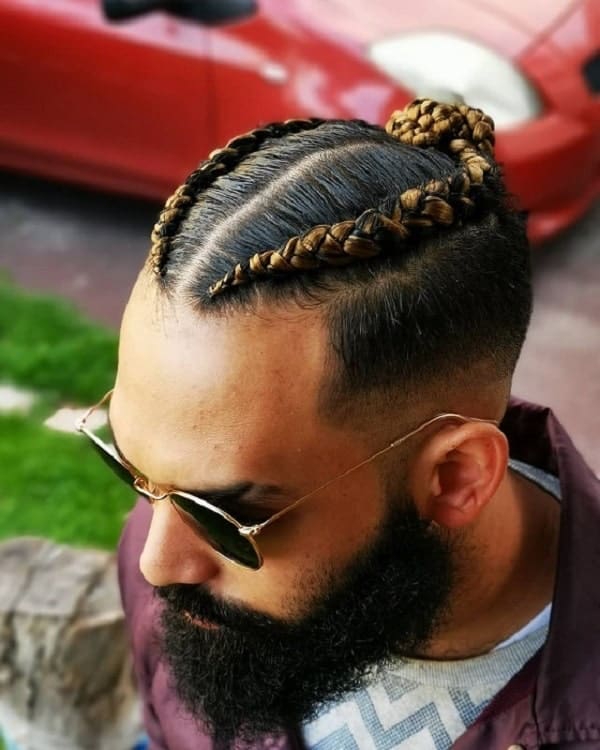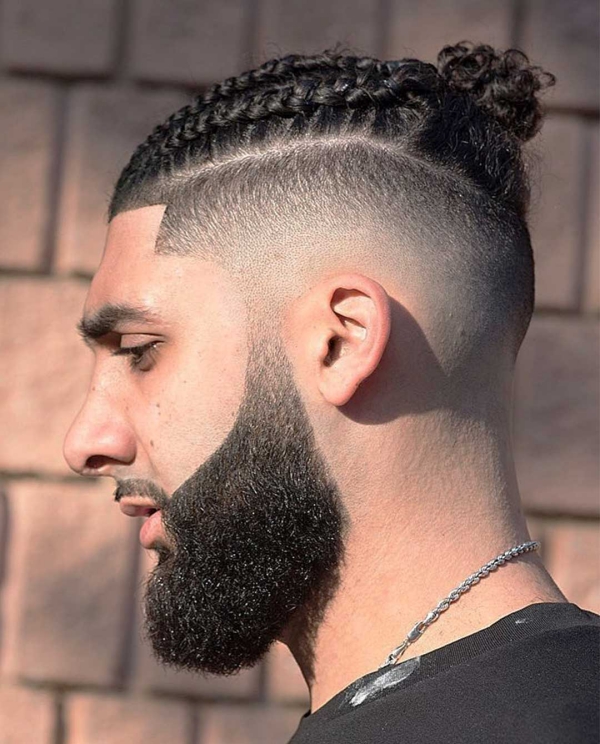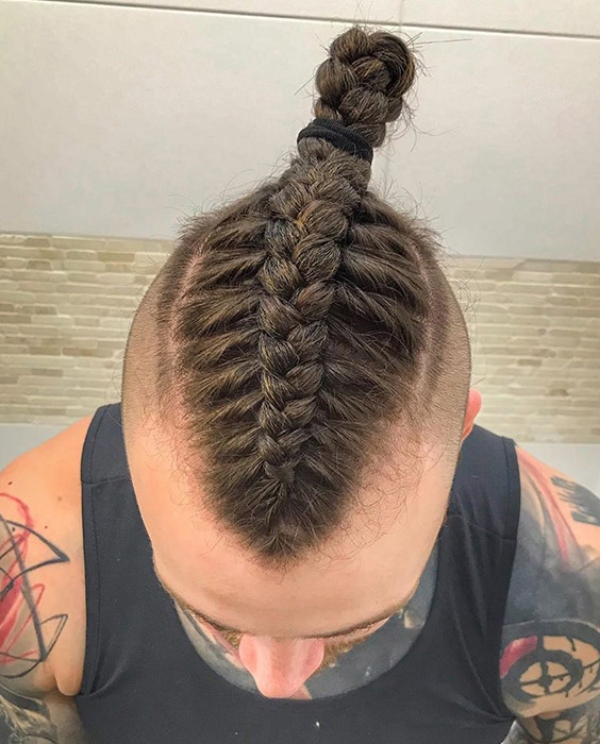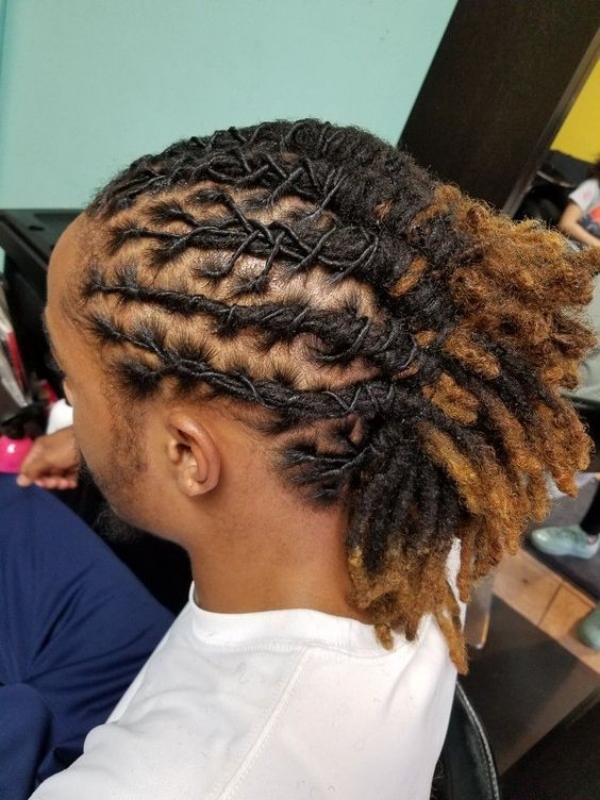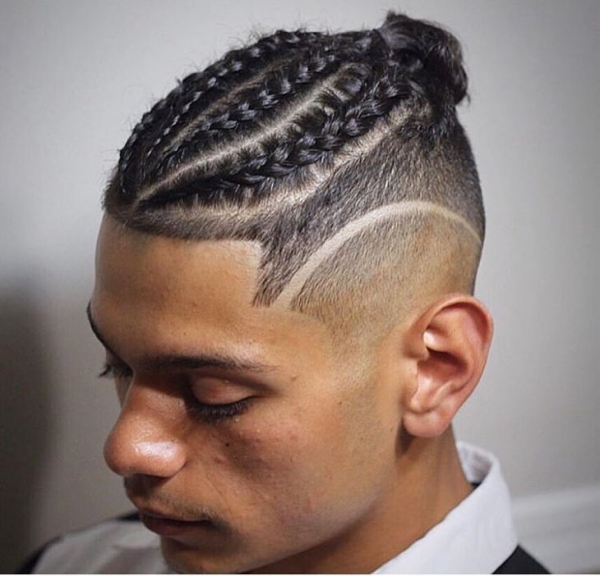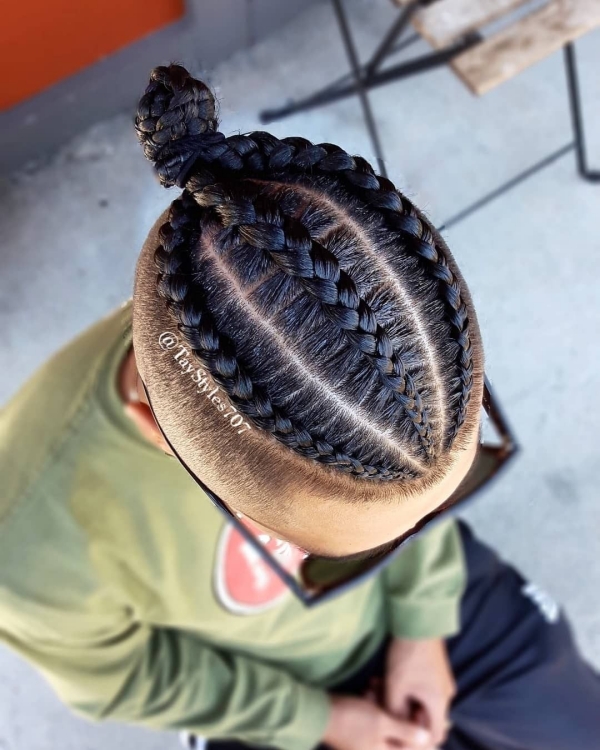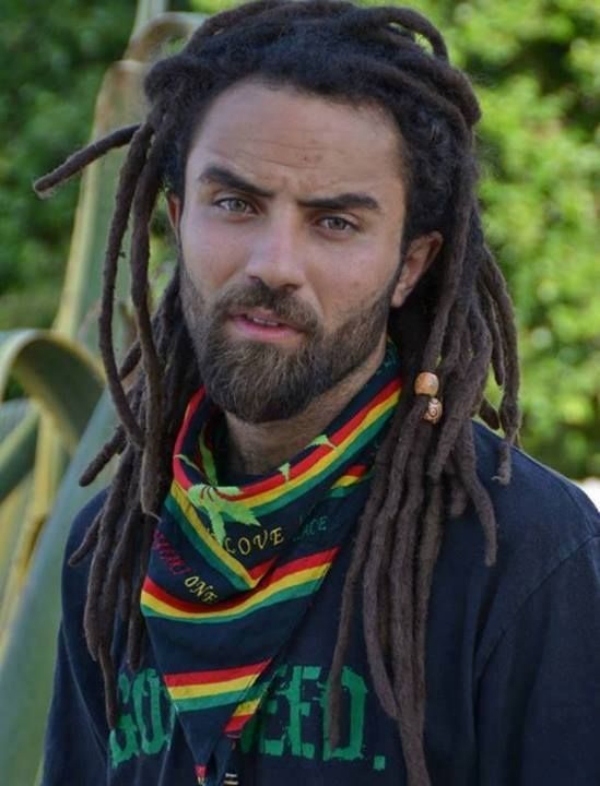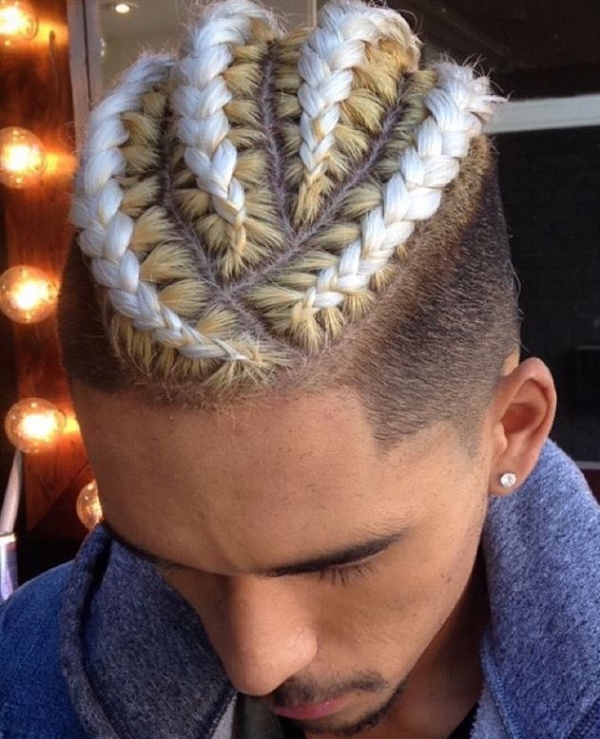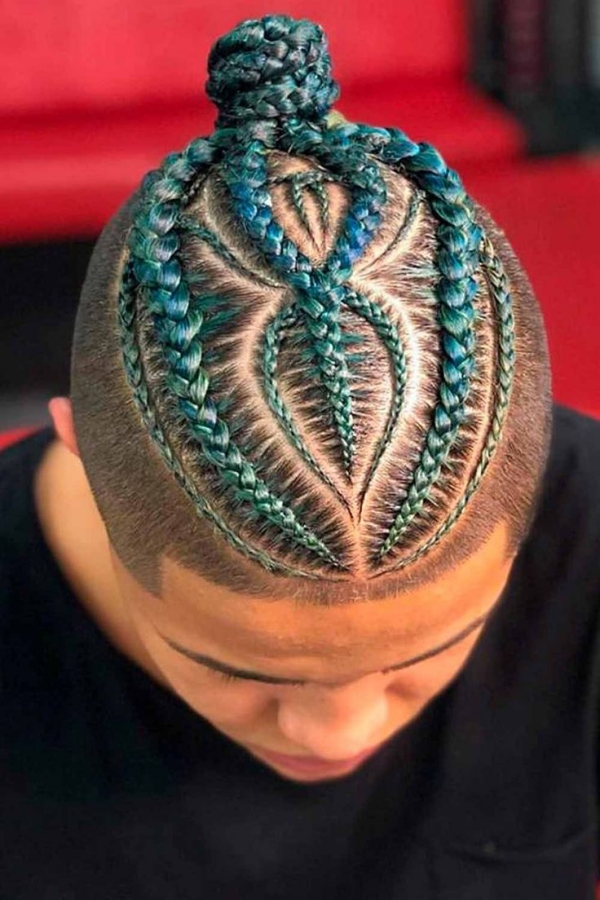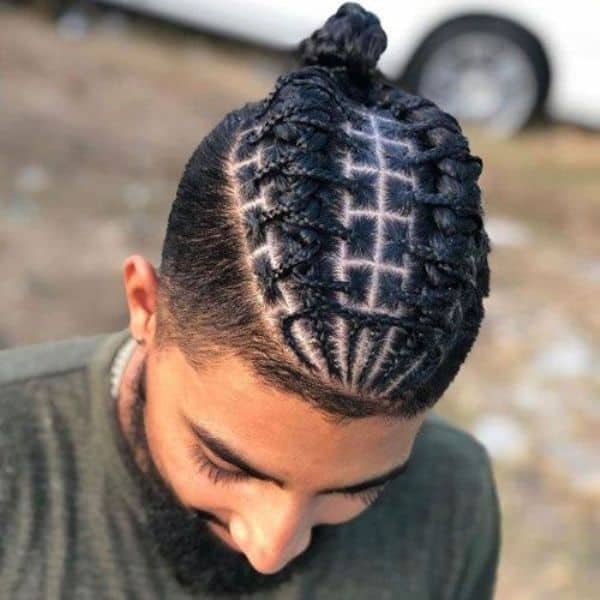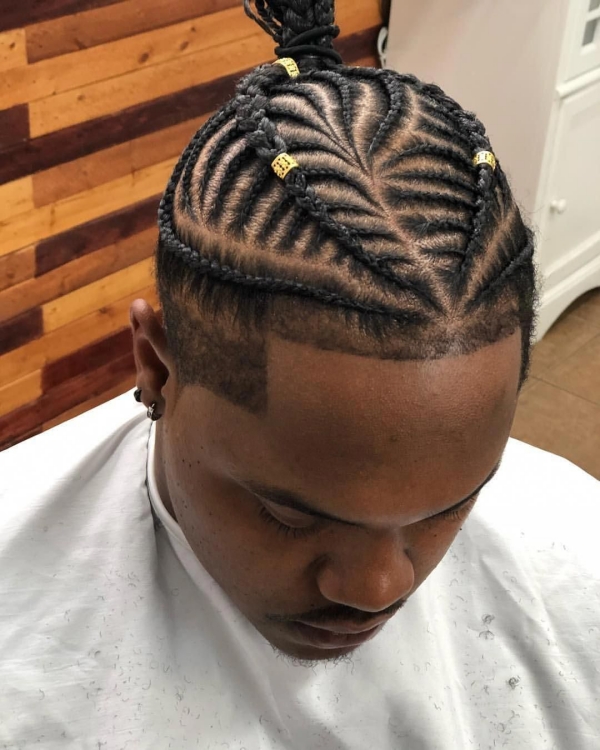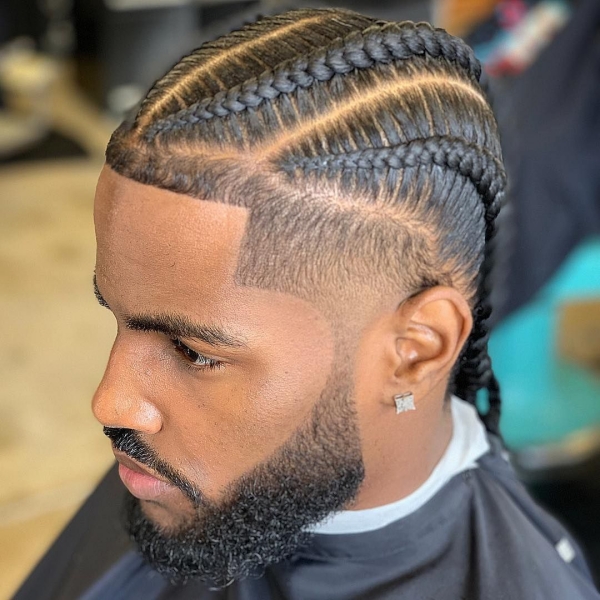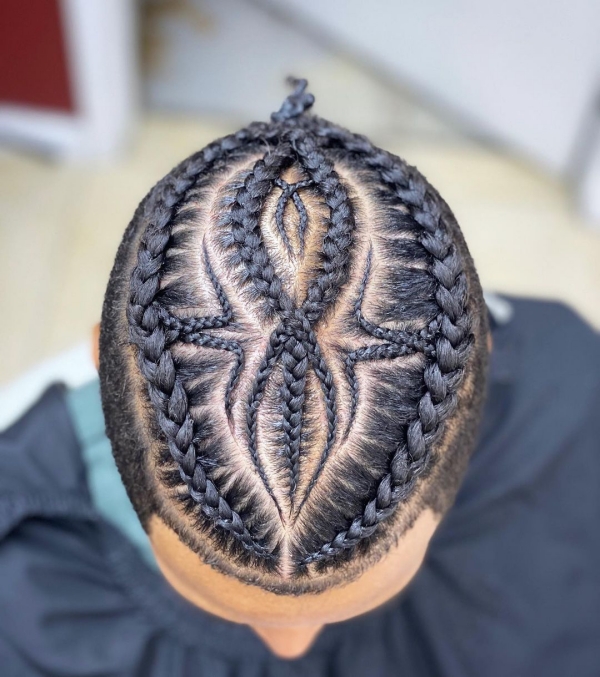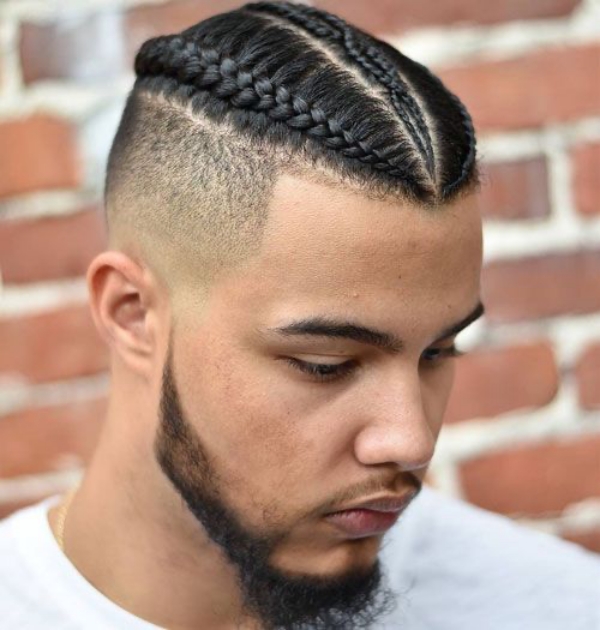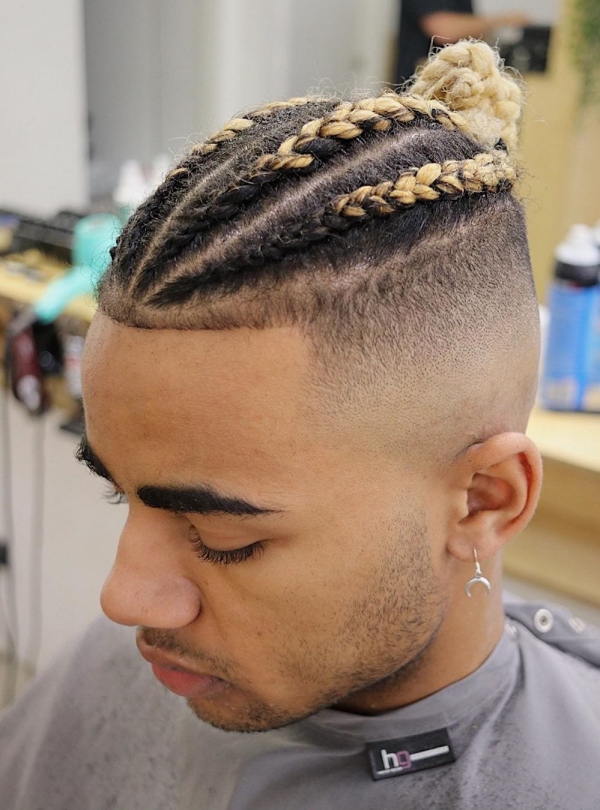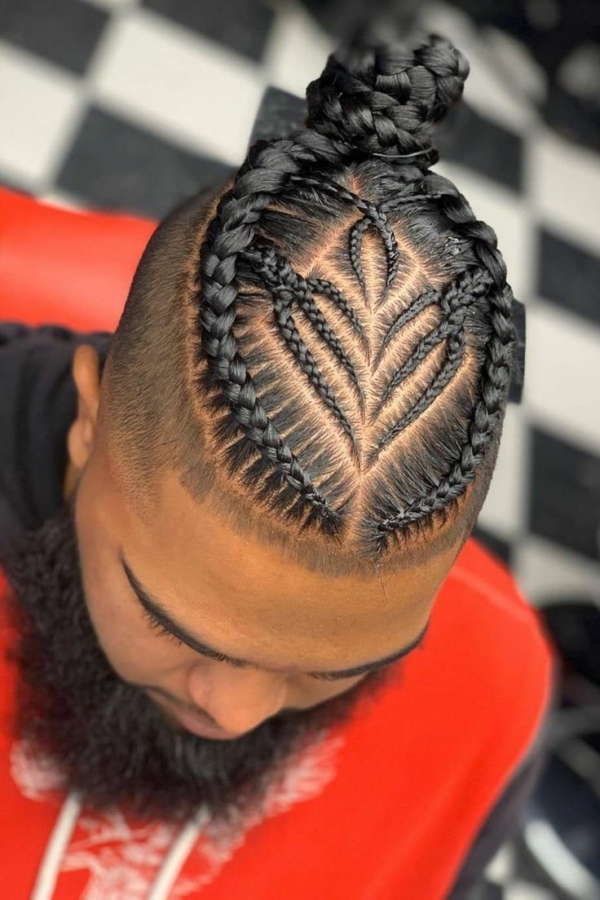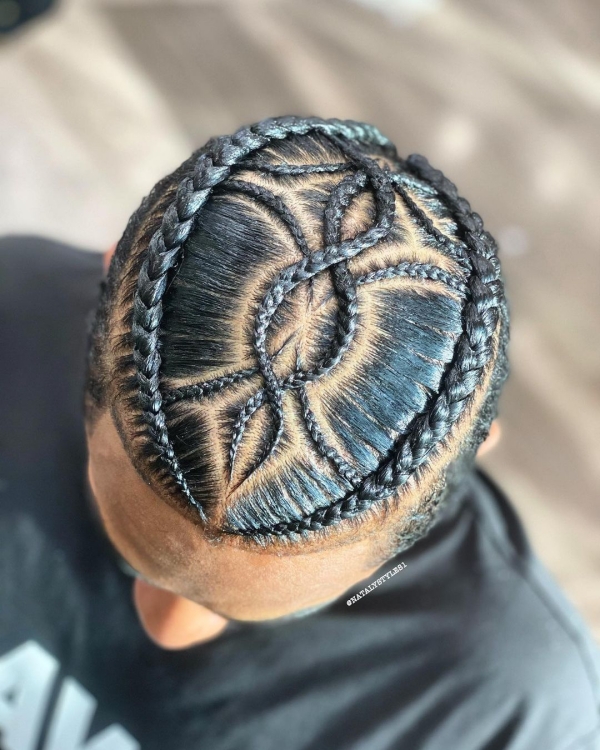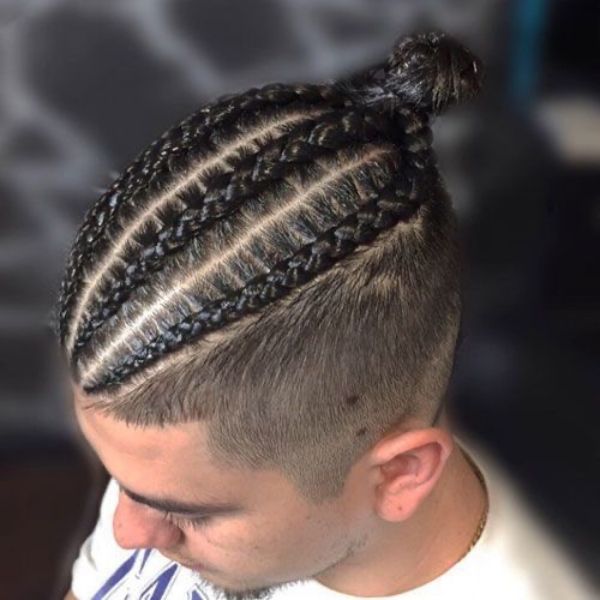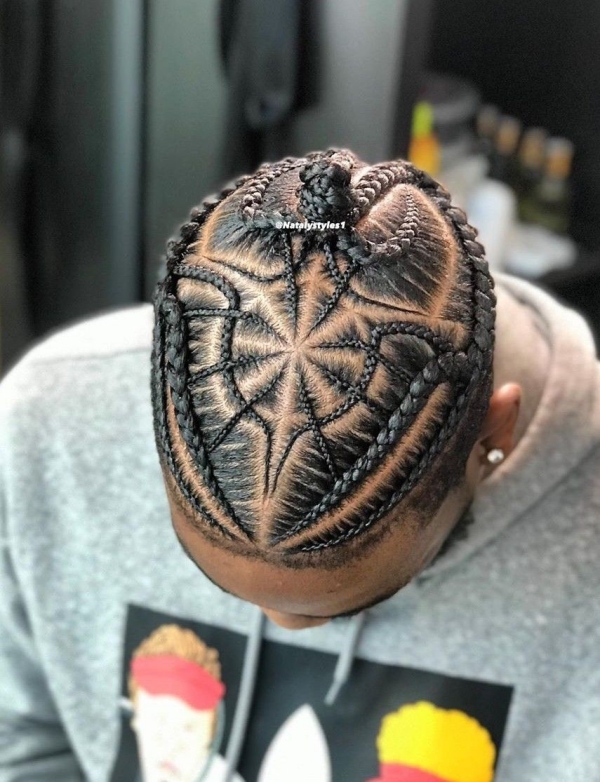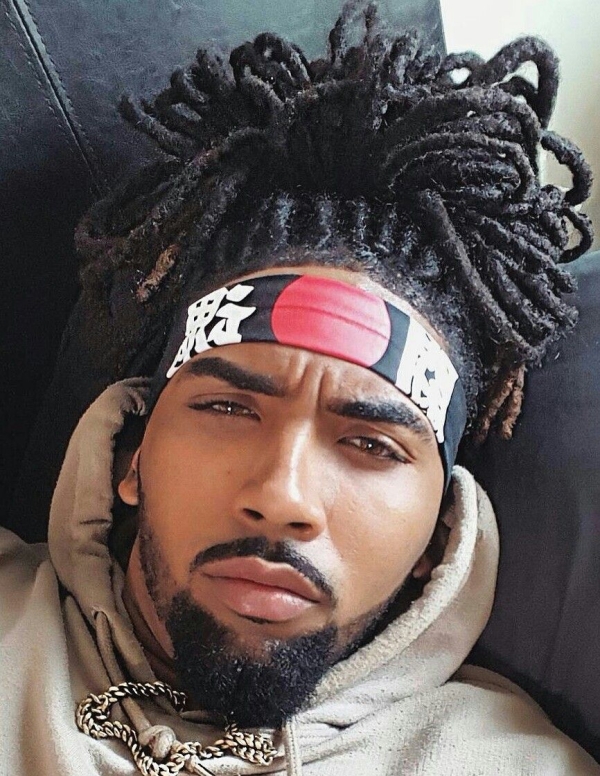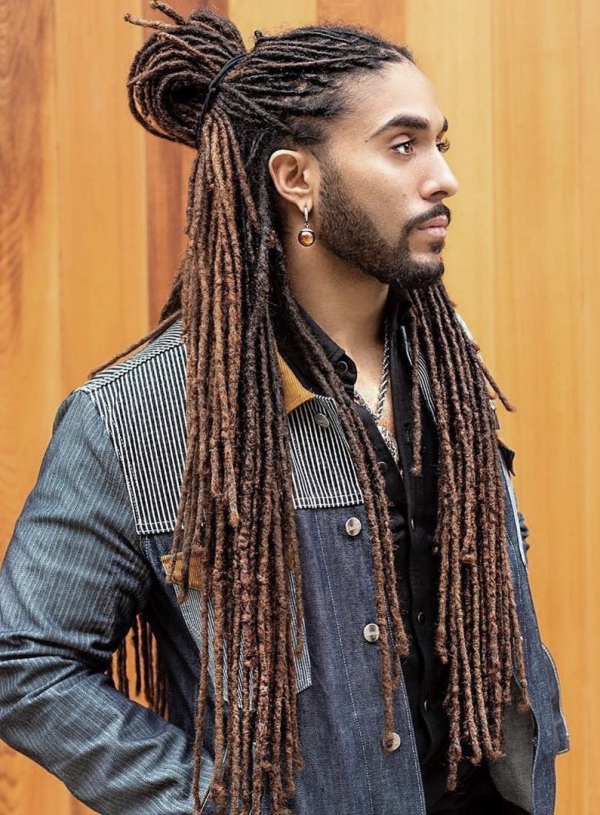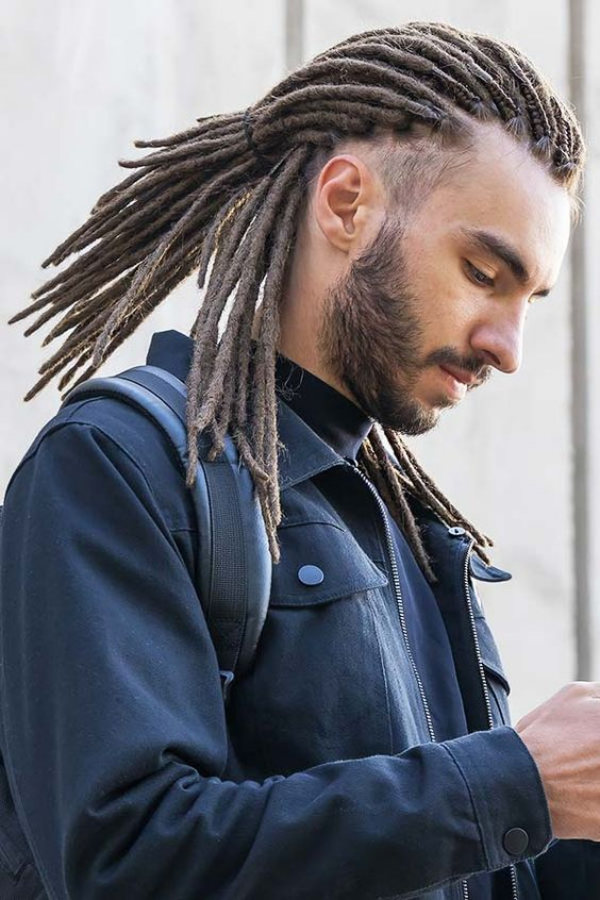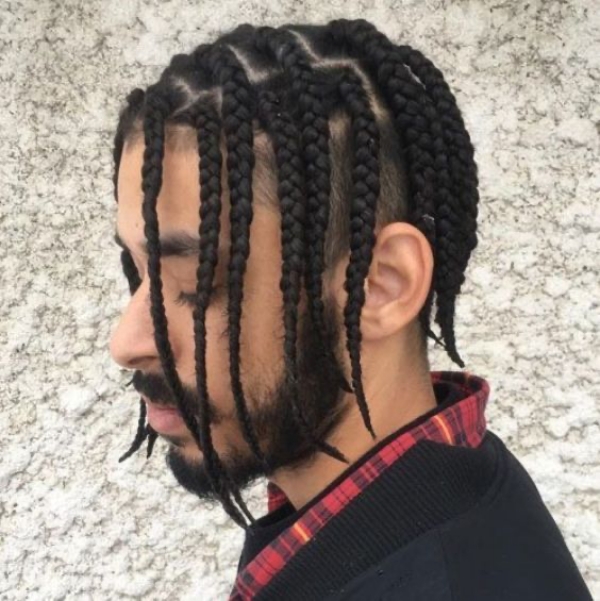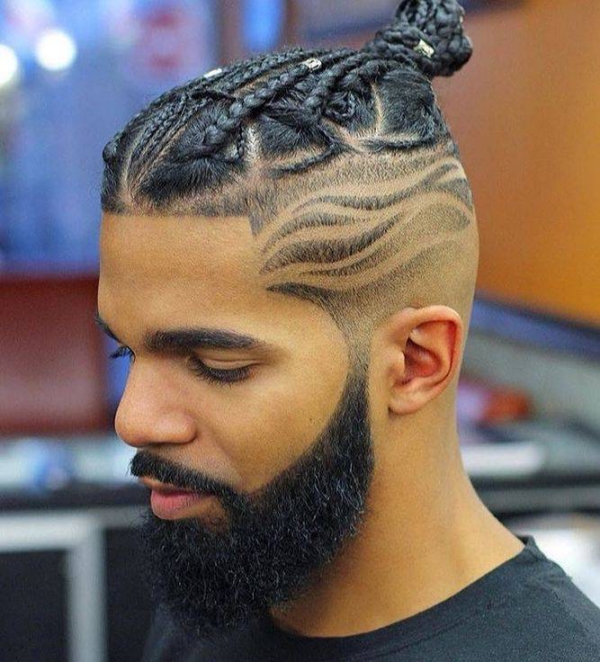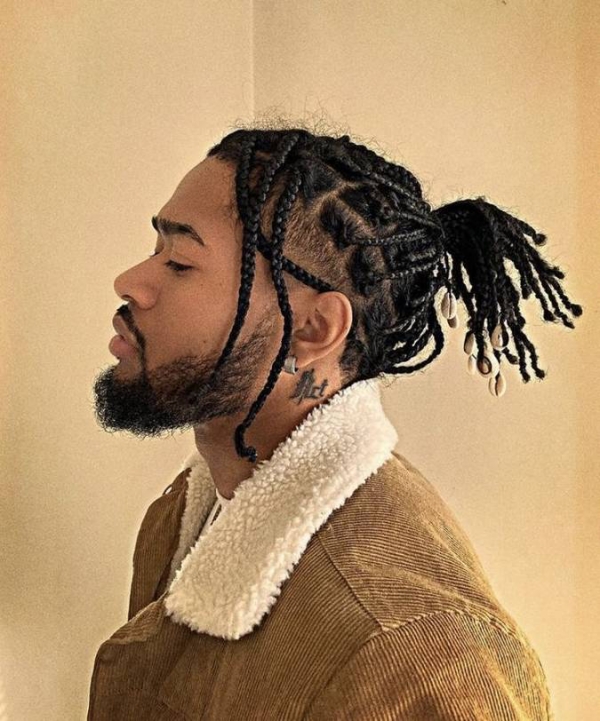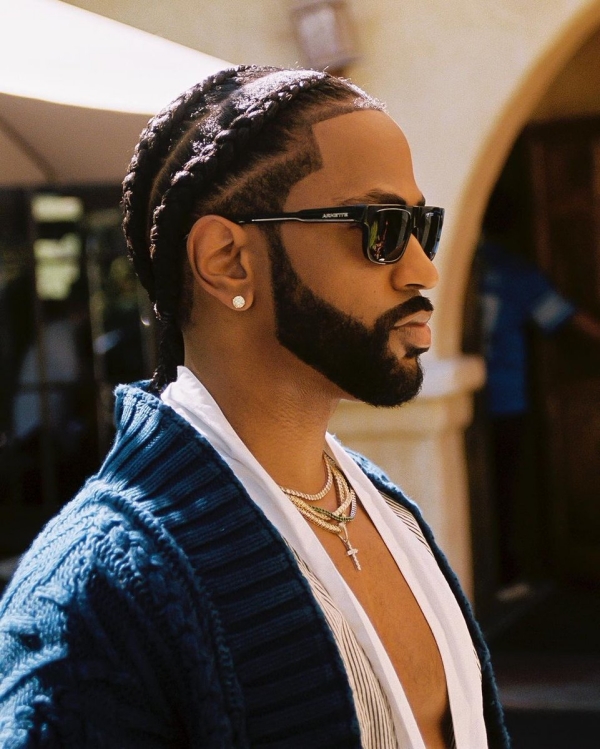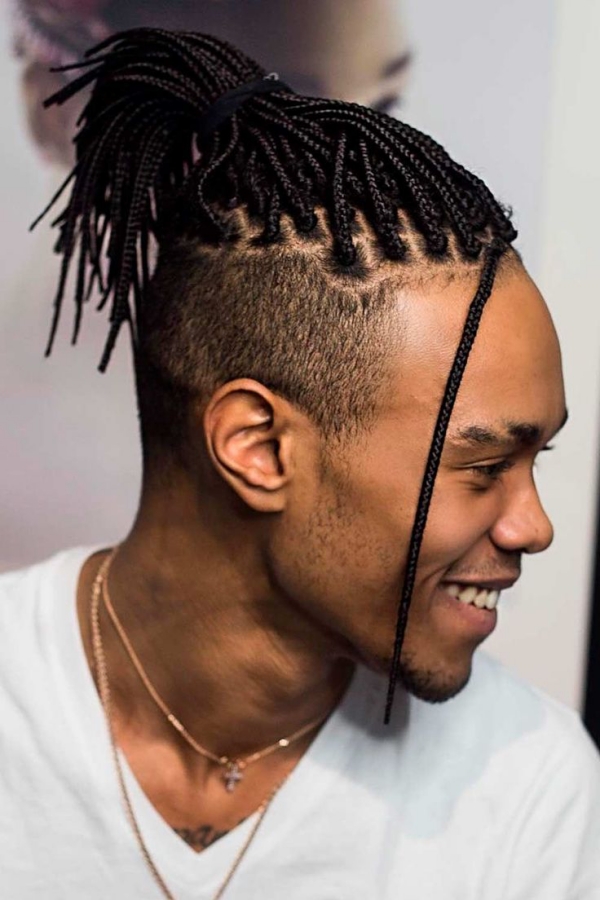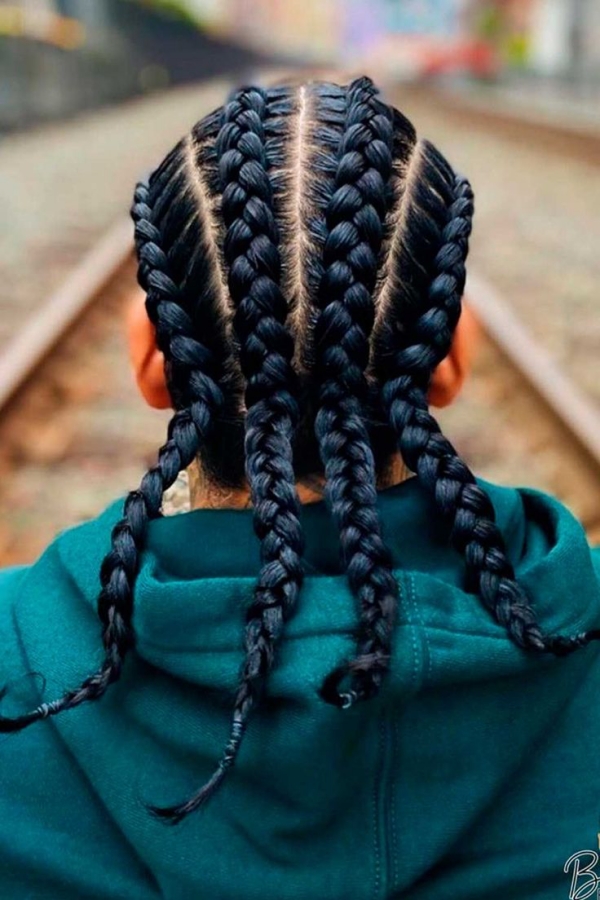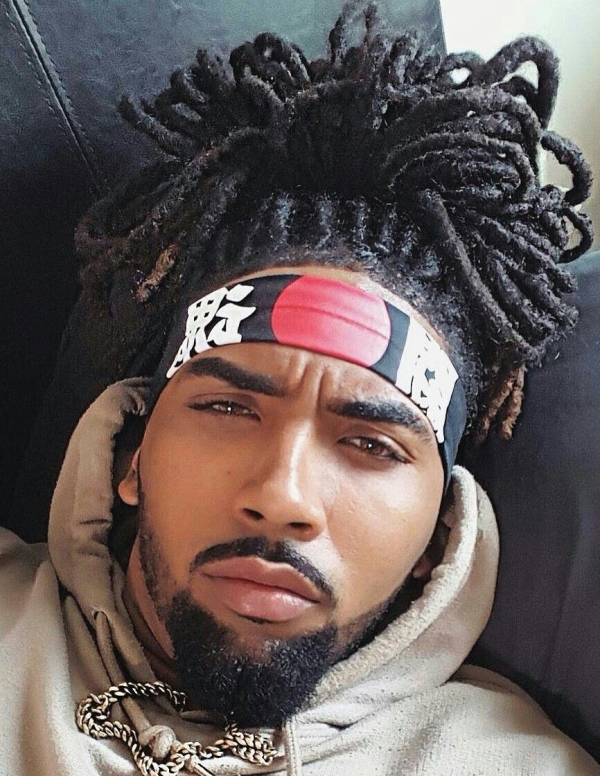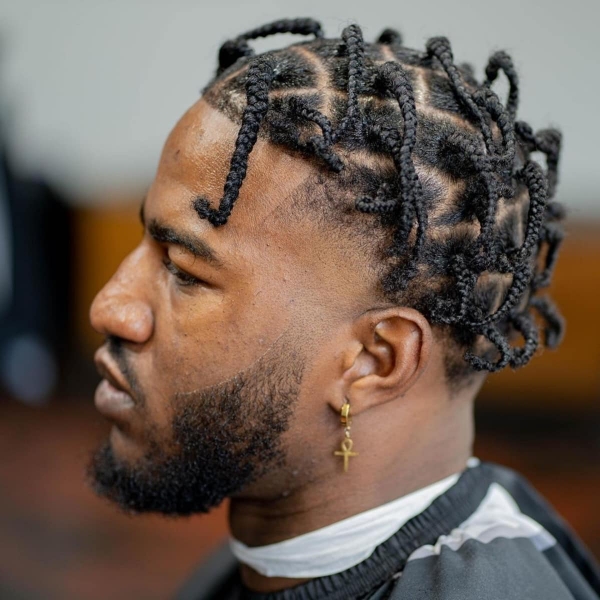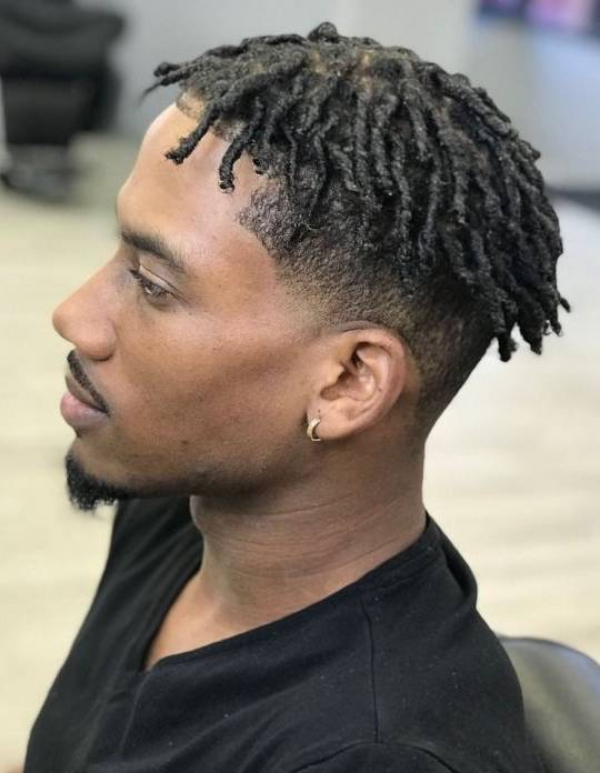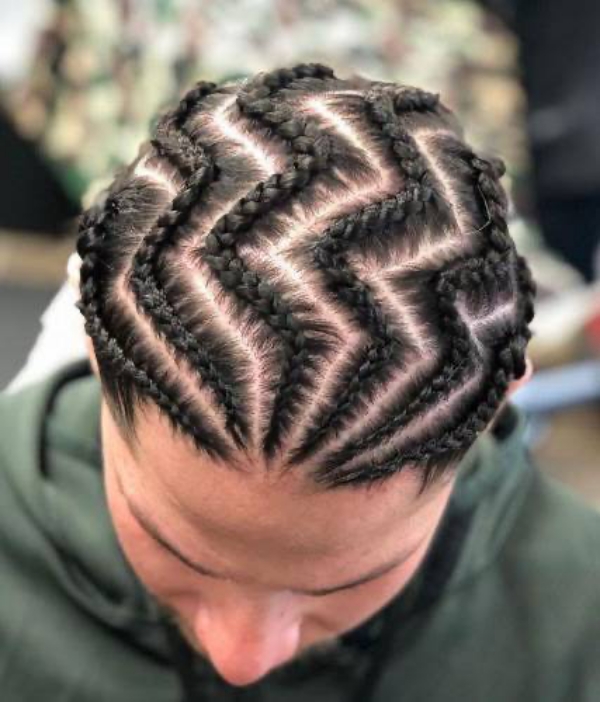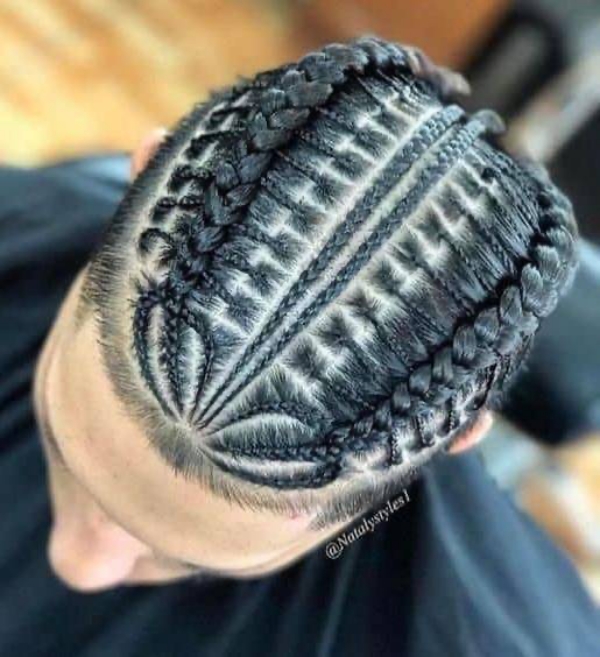 Does Braid Look Good On Guys?
If you are a guy with a bit of lengthy hair, then doing a braid can be a great hairstyle to keep the hair out of your countenance while simultaneously offering you a stylish appearance. Afro-haired guys can also attempt protective beard styles like cornrows with beautiful and intricate patterns to keep solid and healthy hair.
Is Braided Hairstyle Unprofessional?
Various ways of wearing braids exist in the world of fashion, and you can mend them according to your personality and choice. Despite that, braids are still considered inappropriate on formal occasions. However, natural hair must not be taken as unprofessional, and the backward ideas of society should be altered.
Is Braided Hairstyle For Guys in Fashion?
As the handsome man bun, braided hairstyles have also emerged as one of the coolest trends in recent times. The edge and versatility that it adds to your appearance look trendy as well as extraordinary. Especially, in the case of long curly or wavy hair, braids can act as a savior as well as a great style statement.
Conclusion
Hope you have been benefited from all our recommendations and you will definitely look good no matter which one you choose. Once braids are considered only as a hairstyle for girls but as the whole world is evolving like many other hairstyles such as a ponytail and man bun the braids have become a part of men's hairstyles. No matter how you braid your hair trends it will definitely create an edgy look. Be bold and pick any one of the extraordinary braided hairstyles for men. No matter what your profession is whether you are a rough and tough biker dude or a 9 to 5 office goer this type of hairstyle will suit every single gentleman. We have made this list after thorough research and these are the hairstyles that hairstylists from all over the world are recommending nowadays. So, just express yourself and put on a new look by changing your hairstyle into a braided look. Always remember one thing: style yourself to express and not to impress.
Related: