Hair Styling is undoubtedly the favorite thing men wish to do. Most of them even spend hours to obtain the perfect style. While most of them try and experiment with the length of their hair, the others prefer keeping it short. Some men wish to keep short or medium hair as a safe choice, while others get inspired by long hair for its practicality, look, and smart appearance. If you choose to flaunt off your sleek style, then a fashion-forward ponytail would make an excellent choice. When ponytail hairstyles experiment a bit more, there is no end to the styles they offer. This article provides you with the best ponytail hairstyles for men, which have become extremely popular these days.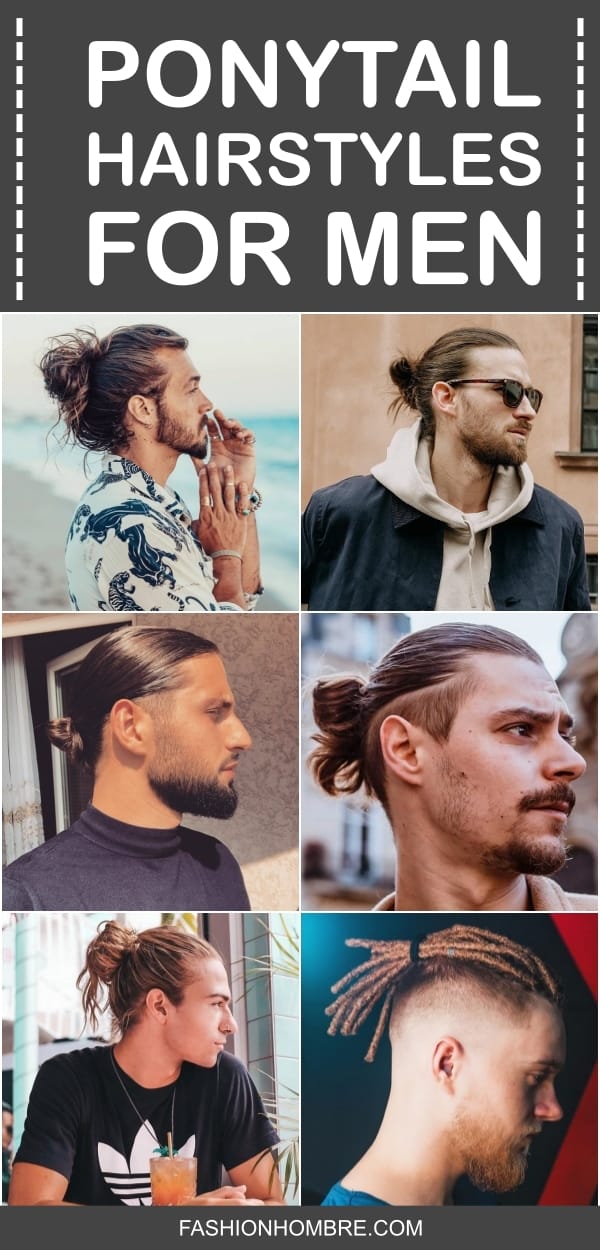 These sorts of styles assist men in carrying on their bold and trendy hairstyles that bolster their personalities. However, with the plethora of fashion guides with long, medium, and short and stylish hairstylists, it becomes challenging to finalize which style they want for their own. Though, you need not worry, for if you are stuck with choosing multiple hairstyles, our hair expert has got your back. This article will provide you with the best and stylish ponytail hairstyles, which you definitely will find appealing.
Classic Ponytail Hairstyles For Men
1. Short Ponytail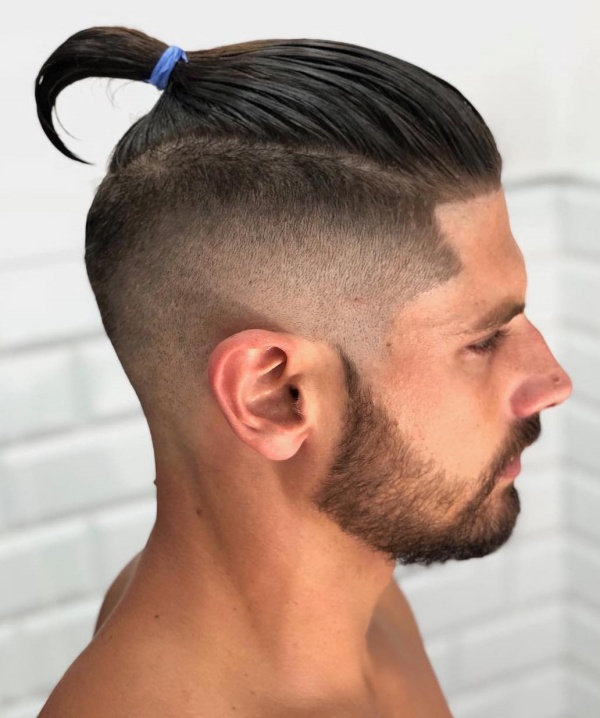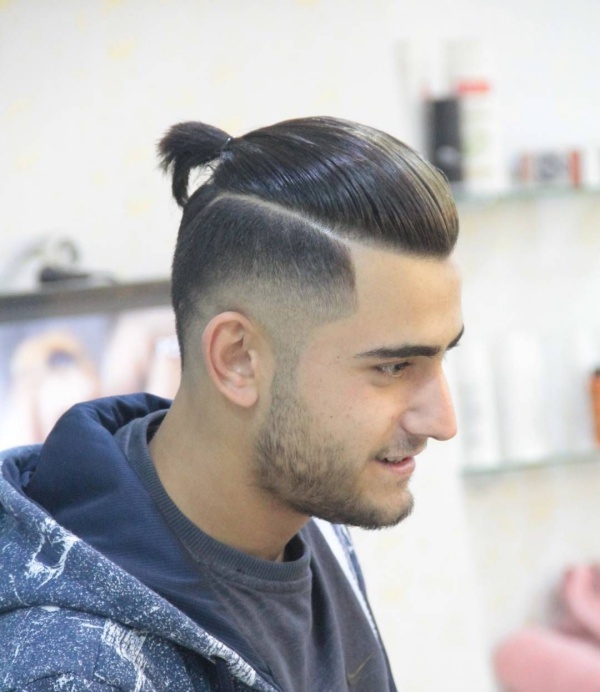 A short ponytail on top of your head is what you need if you have tapered sides. Try using a hair elastic to tie that hair down, and you will let your forehead breathe in the process. Short ponies are the best suited for guys who prefer their hairstyle to be low-maintenance. This hairstyle is ideally suited if you love to flaunt yourself in casuals. Also, if you top it up well, this hairstyle would be an excellent preference for formal looks.
2. Low Ponytail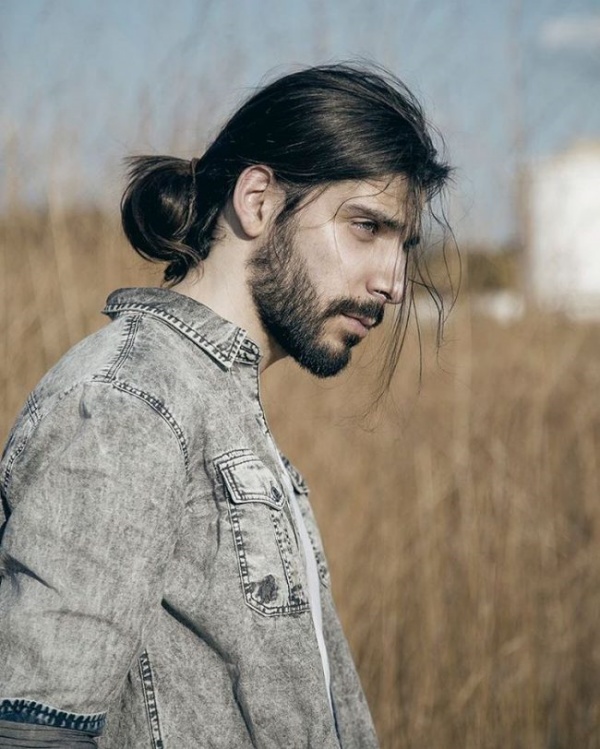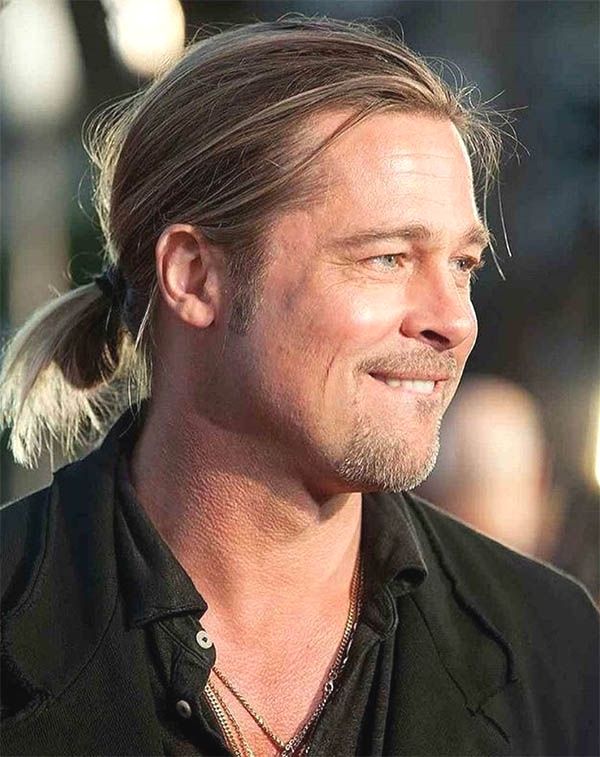 One can hardly go wrong with a low ponytail. It is undoubtedly a classic, and men have preferred it for a long. Also, if you seek a style that will let you show off your facial hair, this look would be the best bet to drive all the attention to your beard. It hardly matters if you have thick curly hair, locks, or even stick-strand strands, because this hairstyle is meant to suit it all. This hairstyle is an excellent style to sport if you have slightly longer hair and prefer trying out a chill, low-key look for multiple occasions. A low ponytail is a pretty excellent option to flaunt if you are wearing casuals.
3. Long Hair Ponytail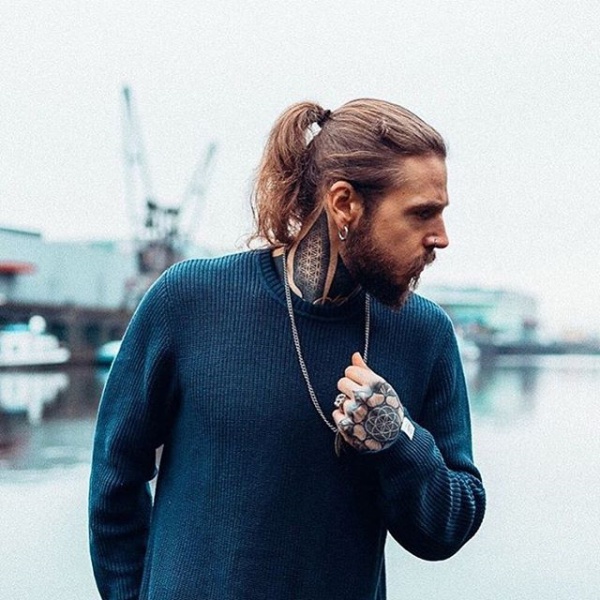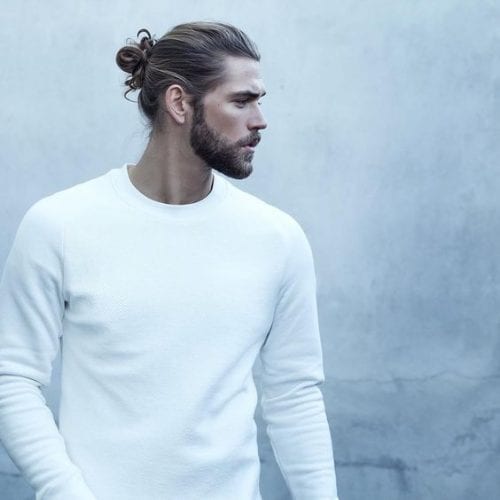 Long hair ponytail is undoubtedly one of the sexiest ponytail hairstyles for men. Although, sometimes, having long hair can be tricky with styling, arranging, and fixing each strand. But, with a simple long hair ponytail, all these procedures can be cut short. Thus, if you prefer to take a break from such tiring processes, a long hair ponytail is an easy go-to option. A man ponytail for long hair is pretty easy to make, and it will keep the mane tamed.
4. Braided Ponytail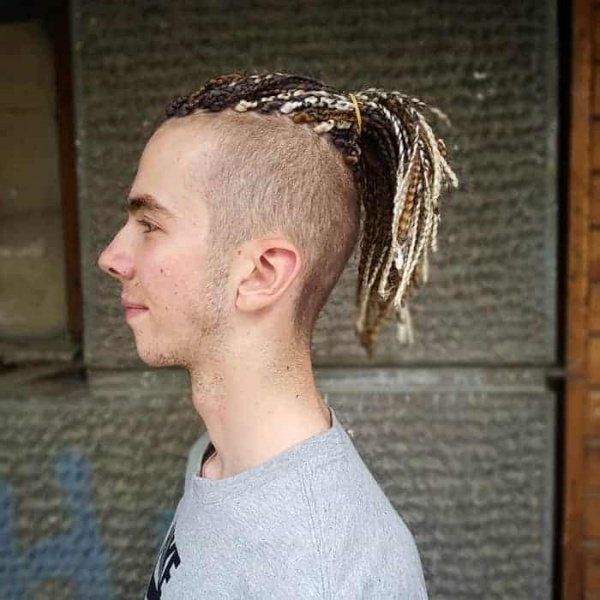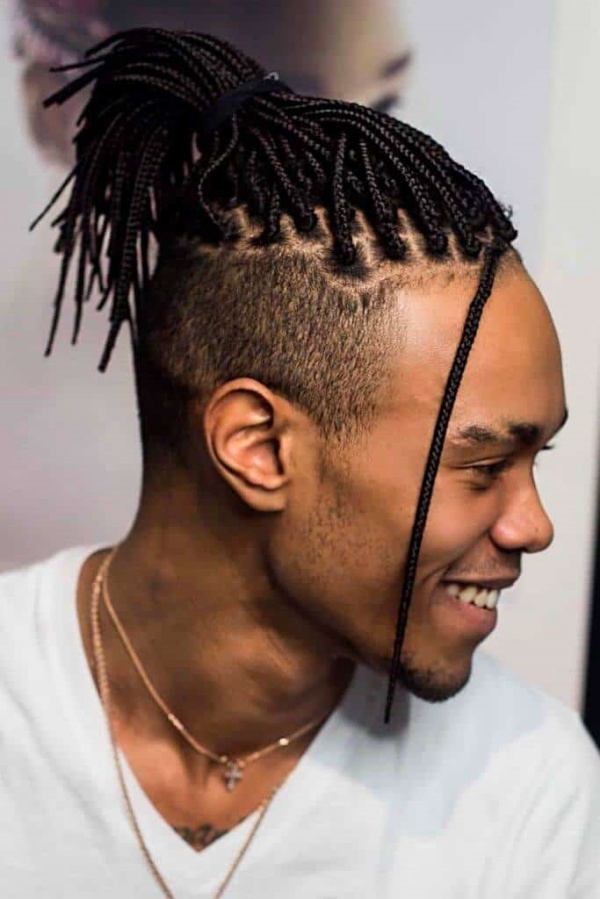 If you desire a fashionable hairdo, a rope and blonde ponytail for men is the thing you would never know you needed. Try combining all sorts of knits and thereby grow a beard to obtain that Norsemen appearance.
5. Half Up Ponytail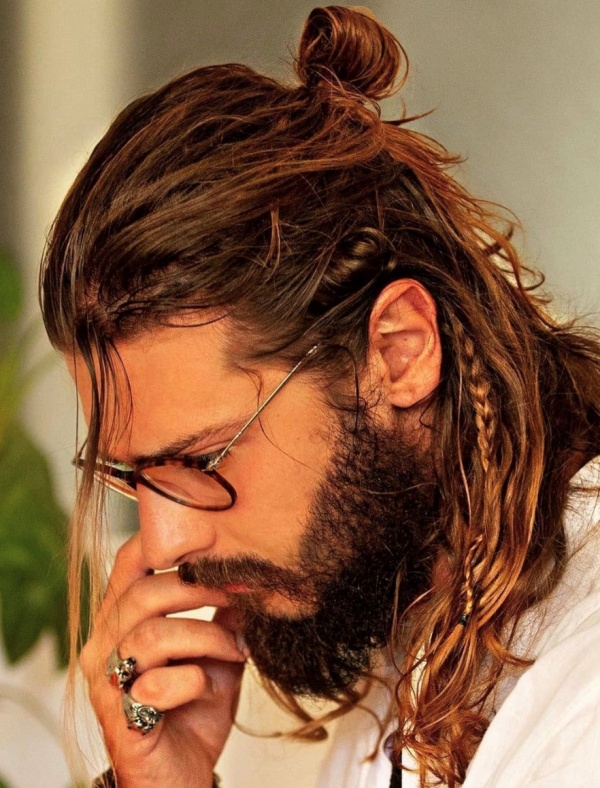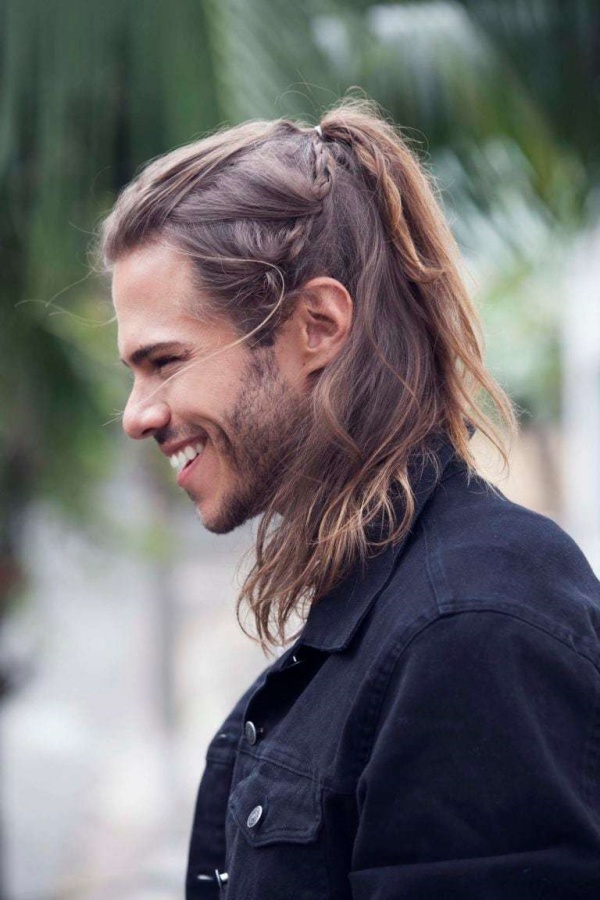 There is hardly anything like a half-up ponytail to keep the hair out of your face. This is a trick that girls and women have known about for years, and there is simply no reason why guys cannot benefit from it too. You get to enjoy the excellence of long hair, but you can additionally show off your sculpted forehead alongside your epic full beard.
6. Ponytail With Undercut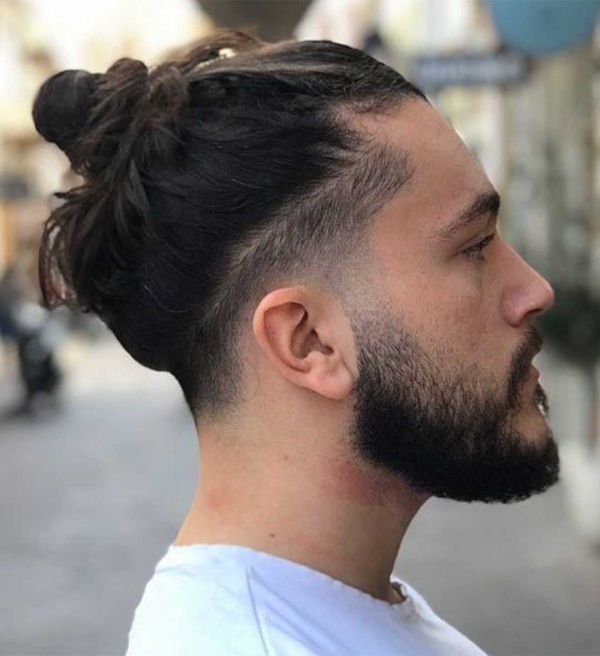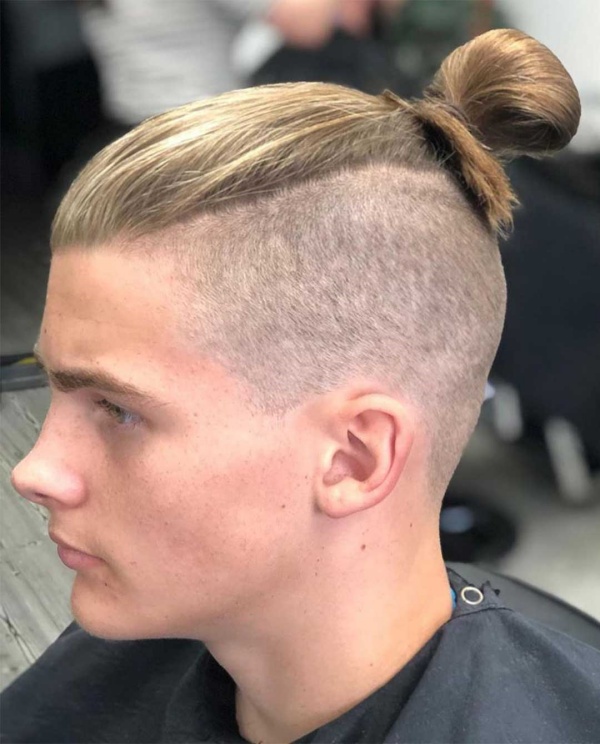 If you are looking for one of the best ponytail hairstyles for men, then a ponytail with an undercut is an ideal one. Ponytail with undercut has become trending because of its simple yet creative style. In this hairstyle, the side hairs are kept short and faded with a trimmer band razor, while the top strands are tied into a knot backward. This is the best short hair ponytail hairstyle you can have. If you are seeking a formal as well as casual hairstyle with a ponytail, then this is the perfect bet.
7. Dreadlock Ponytail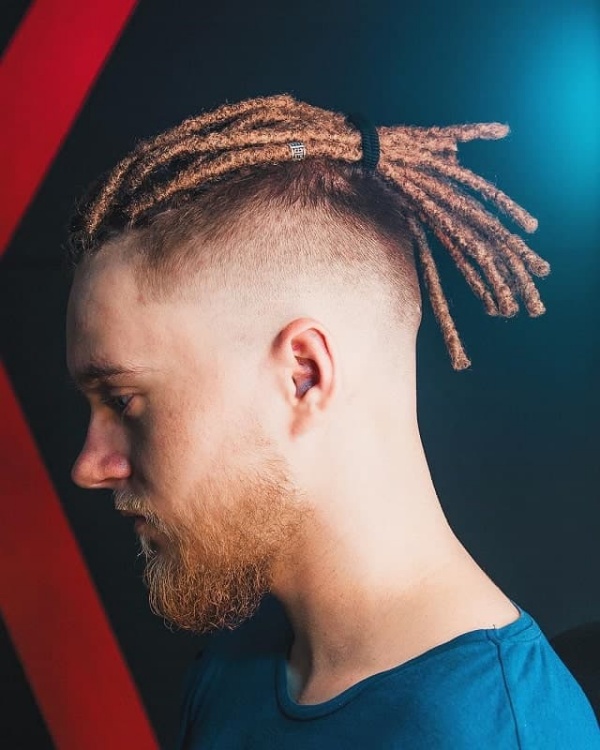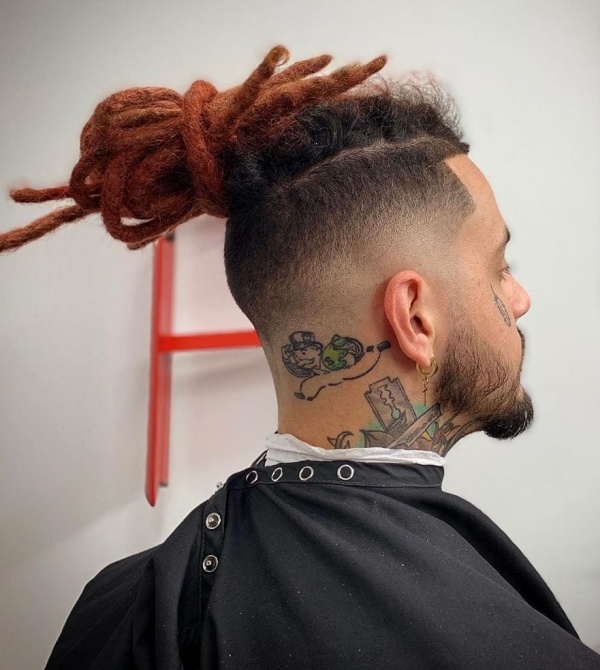 Dreadlock ponytails for men are undoubtedly a pretty stylish option as a trendy hairstyle. If you are afraid of getting these permanent knits, you are just one step away from getting a magnificent hairdo. You can even wear the dreads loose or try pinning it into a pony.
8. Messy Ponytail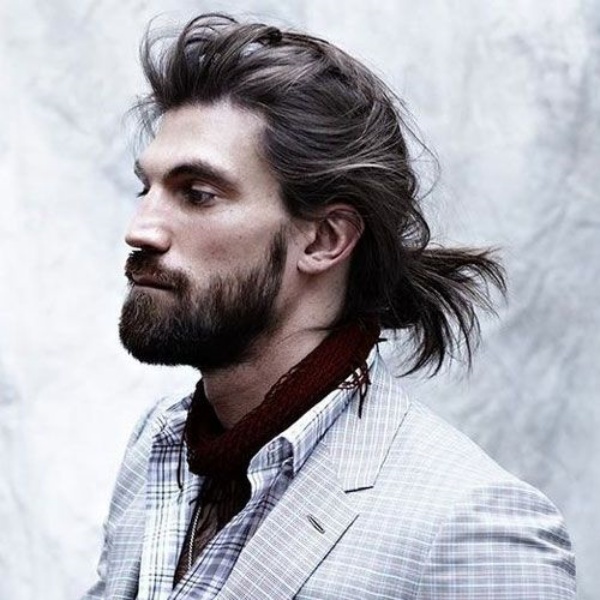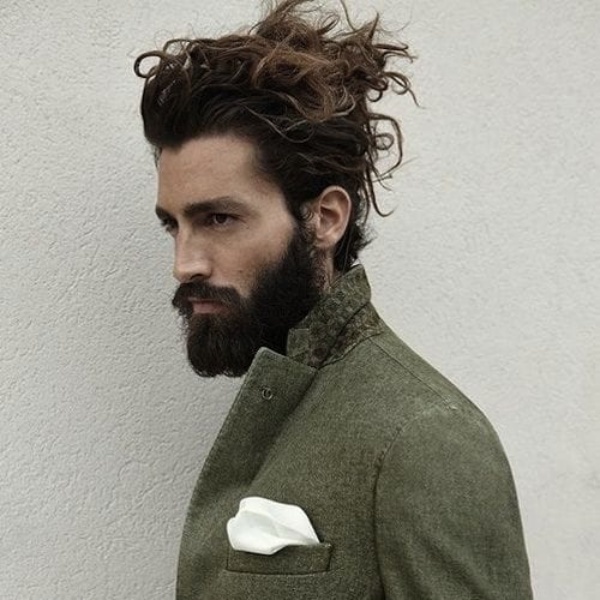 This is a low-maintenance hairstyle. It is a simple ponytail hairstyle, yet it is striking enough to catch everybody's attention. It looks beautiful on men with straight hair. Although, it suits well for all kinds of textures. You have to let your hair grow free without any restrictions. Also, make sure you apply trusted styling products like hair mousse or gel and slowly caress your hair. Use a comb for pulling your long hair to the back and make a pony. Tie a knot but make sure to let it be loose for a messy and free-spirited look.
9. Ponytail With Bangs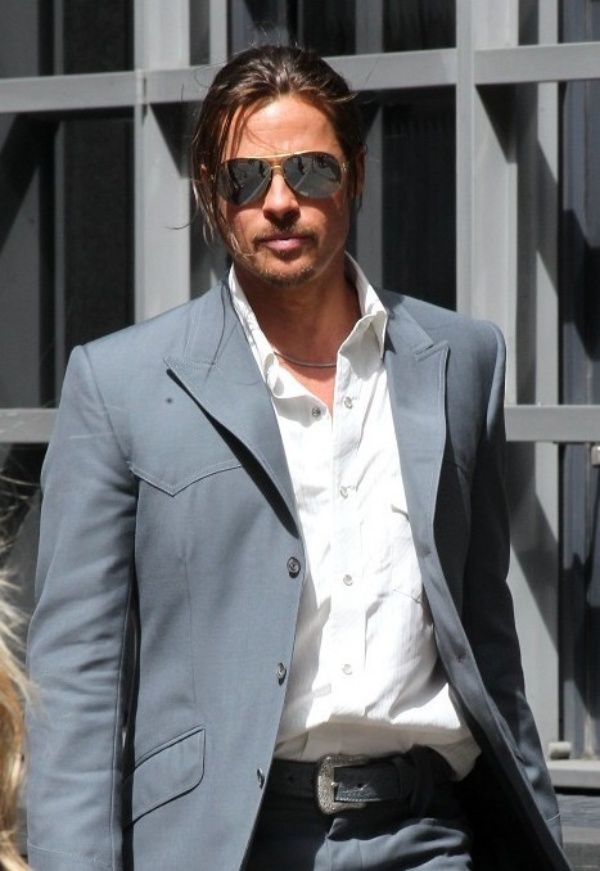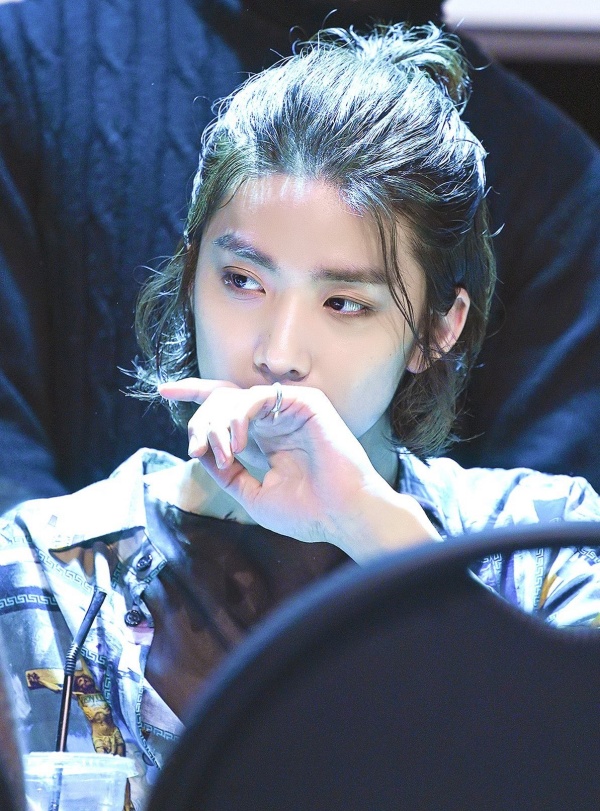 The ponytail hairstyles for men have come up with versatile designs; among them, the best one you can have is a ponytail with bangs. This hairstyle can be worn just like a man bun. The difference is that the top hair is tied up to the back, while some hair strands are left to hang on the forehead. This hairstyle is popular among men as the side, and the back hairs can be kept in different sizes and shapes. Most men prefer to have a clean, shaved face with this hairstyle. This is the best formal hairstyle you can have.
10. Ponytail With Side Part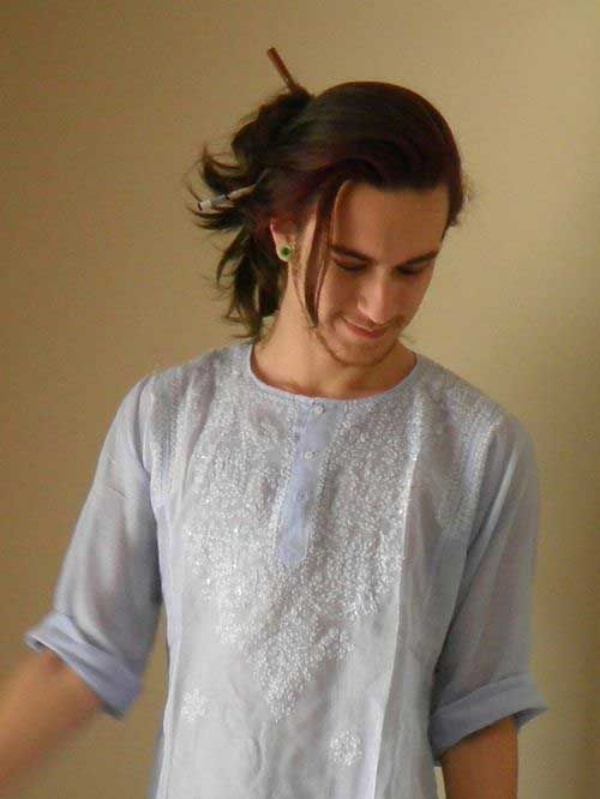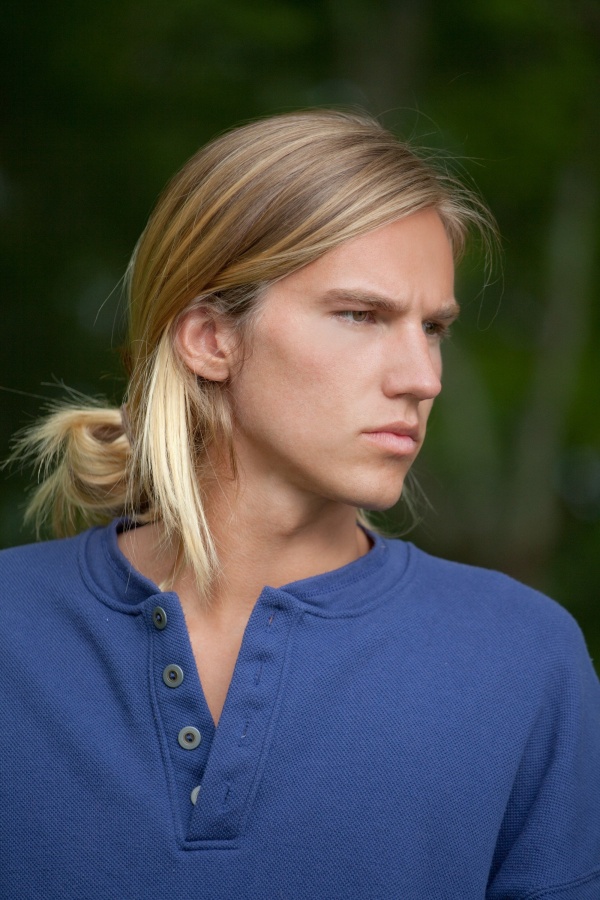 As long hairstyles are gaining more popularity among men nowadays, ponytail with side part has been updated to flaunt their long hair. Men from different aspects of life and profession can grow this hairstyle. If you have a solid beard line, then a ponytail with a side part is the best combination to put on your appearance. In this hairstyle, the top hairs are shaped into a ponytail over the backside, and a clear part is left on the sides. This, in turn, allows the side part to align with the beard style.
11. Laid Back Ponytail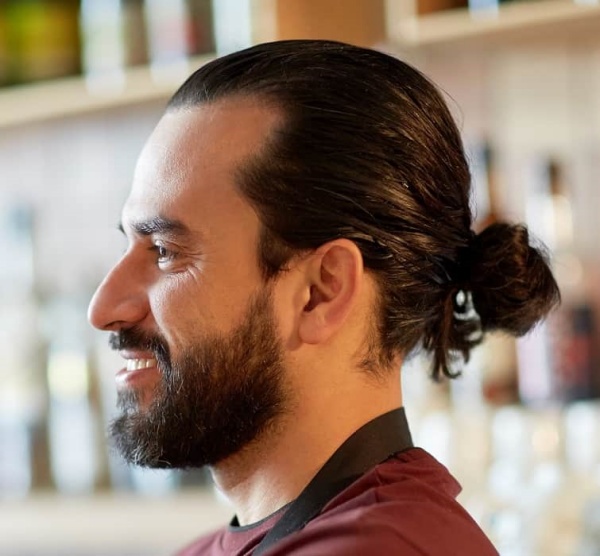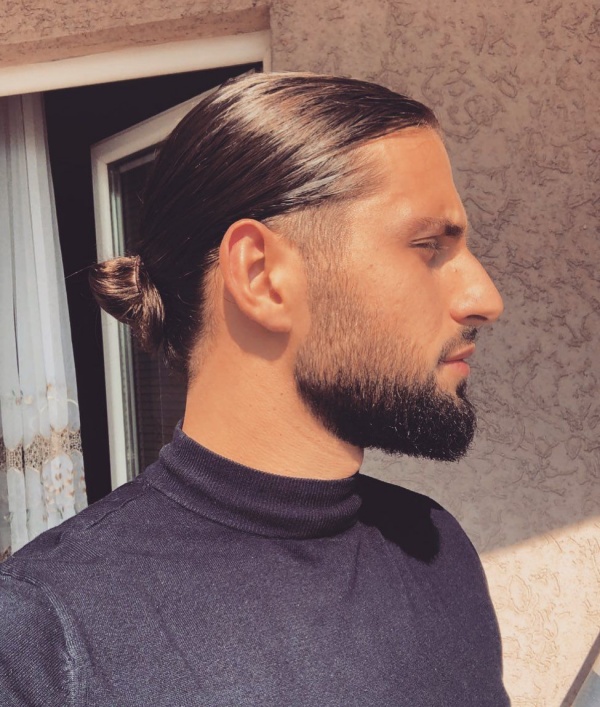 Just like any other ponytail hairstyle, this too has quite a few variations to it. You can enjoy a resting pony falling onto your neck or even a tight one standing stiff at the crown. To make it more captivating, try tapering the sides and the back. You can even go for braids on the top. But for that, you will need to make small sections and thereby start braiding and combine those braids for tying a knot. Ensure the fact that you need to keep the temples neat and sharp.
12. Man Ponytail With Shaved Sides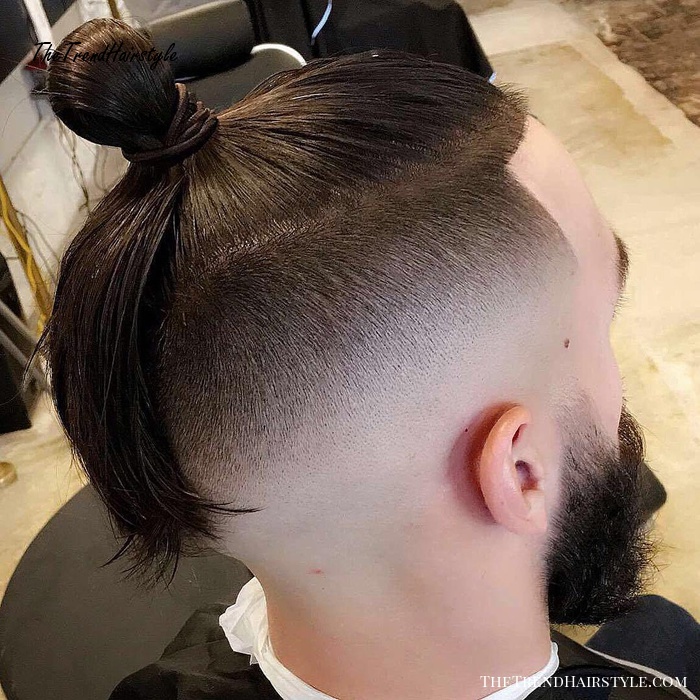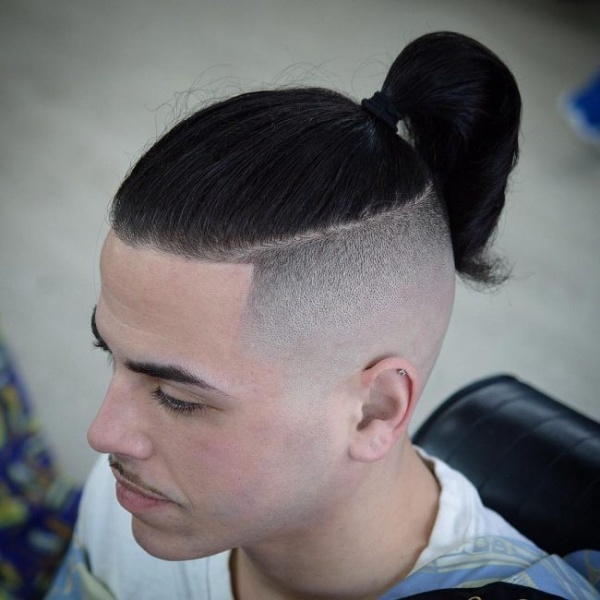 There are various ponytail hairstyles for men, among which a man ponytail with shaved sides is most eye-catching. Men who love styling their hair every now and then just experiment with this hairstyle at least once to feel its unique attractiveness. In order to have this hairstyle, the sides and back are shaved with a razor or trimmer, while the top hairs are tied backward. Most men love to keep thick beards with this hairstyle to look like Vikings. If you are looking for a low-maintenance ponytail hairstyle, this is the ideal one. This hairstyle has different variations depending on the size and shape.
13. French Braid Pony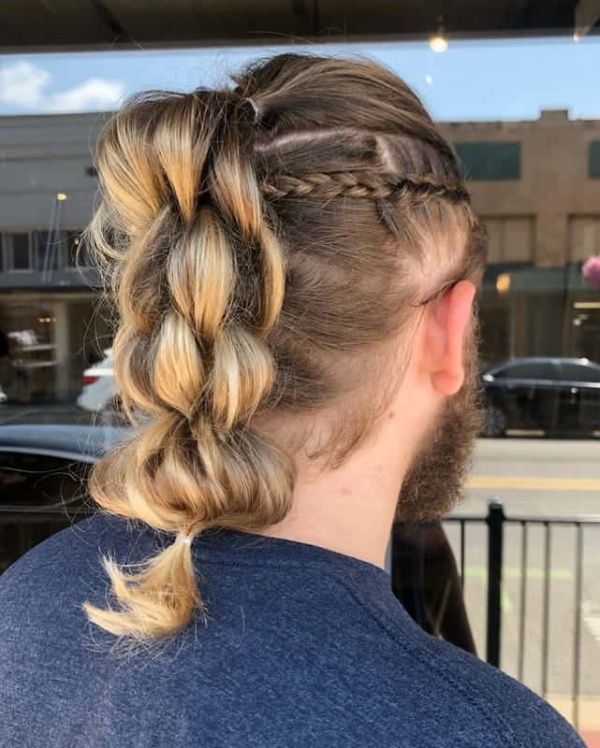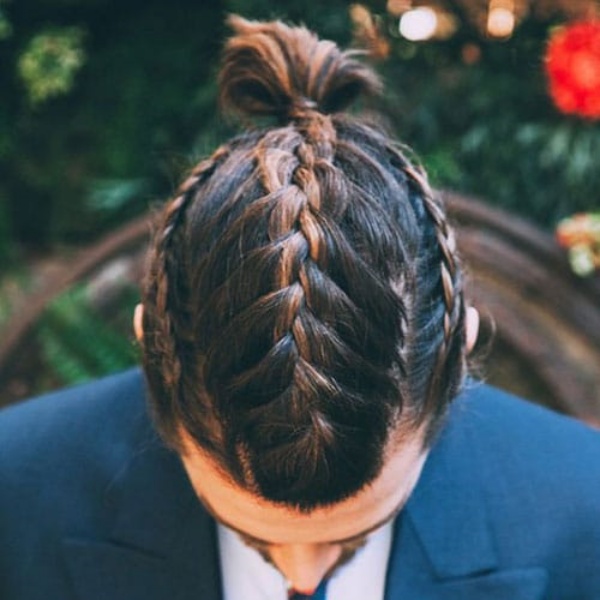 Braid hairstyles have become popular among men in recent years. Another name for men with braids is "cornrows." Among different braid patterns, the French braid pony hair is the best creative design, which men style themselves with. Men with long locks can keep this simple French braid as a style option. If you are a fashion lover, then shaping your hair with this style raises your fashion quotient. In order to have this hairstyle, you must visit an expert hair professional. This hairstyle needs maintenance and grooming to keep the shape and style perfect for a long time.
14. Ponytail With Twisted Knot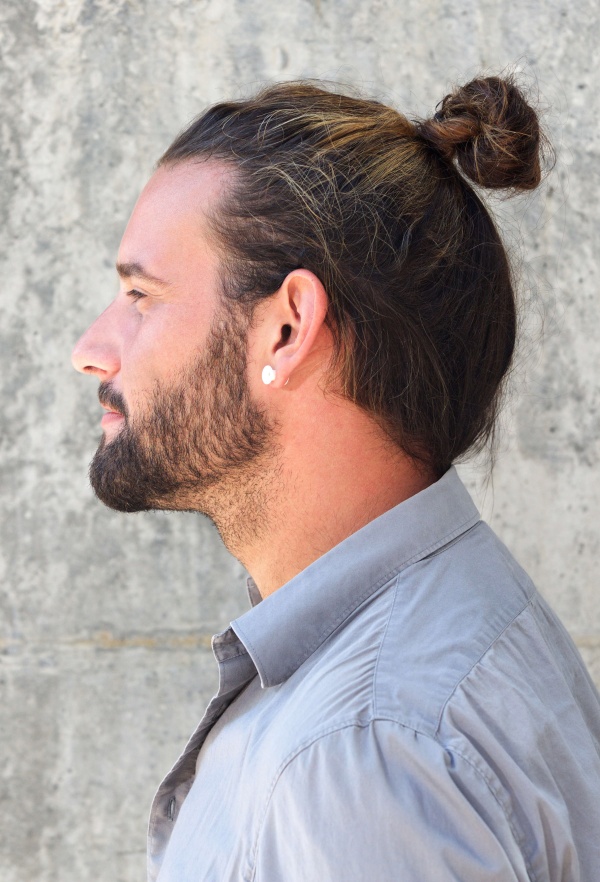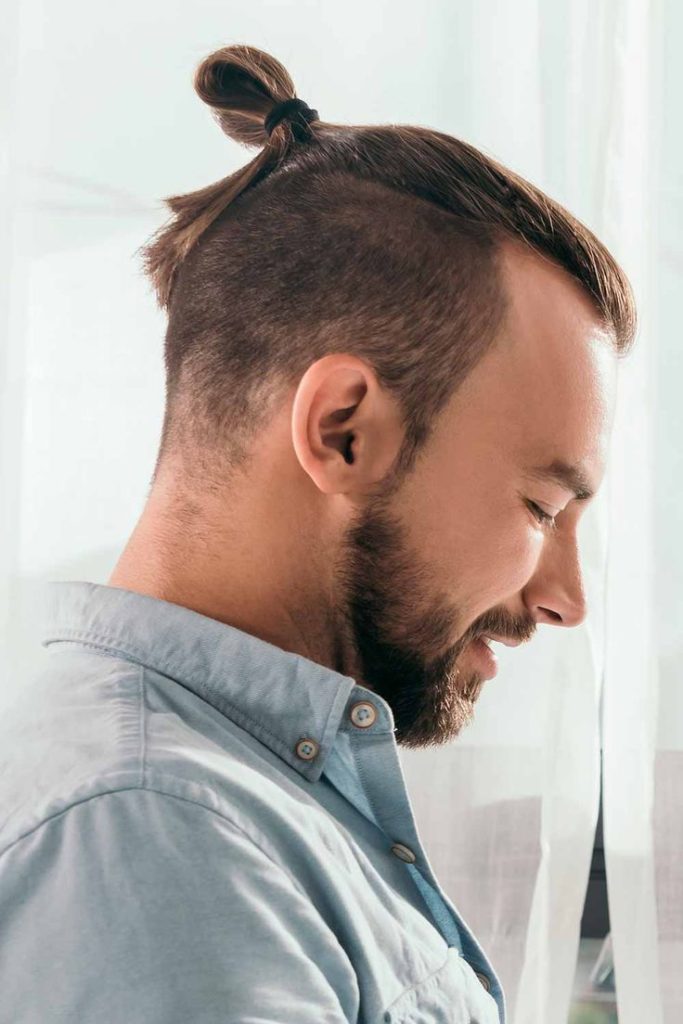 Men's ponytail hairstyles come in different unique styles and can be worn in any type of hair. Among the various ponytails, the twisted knot is one of the trending styles for men. Although twisted knots look complex, they are still excellent and easy to keep. The best part of the twisted knot ponytail is that it can be held in the medium as well as long hair. Be your hair straight or curly; it doesn't matter; the ponytail fits perfectly in any hair shape. If you wish to look appealing, then adding a patch beard is one of the best combinations.
15. Ponytail For Curly Hair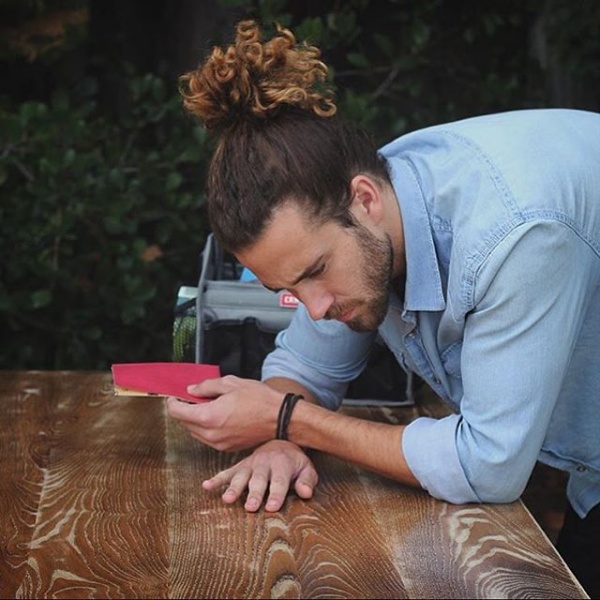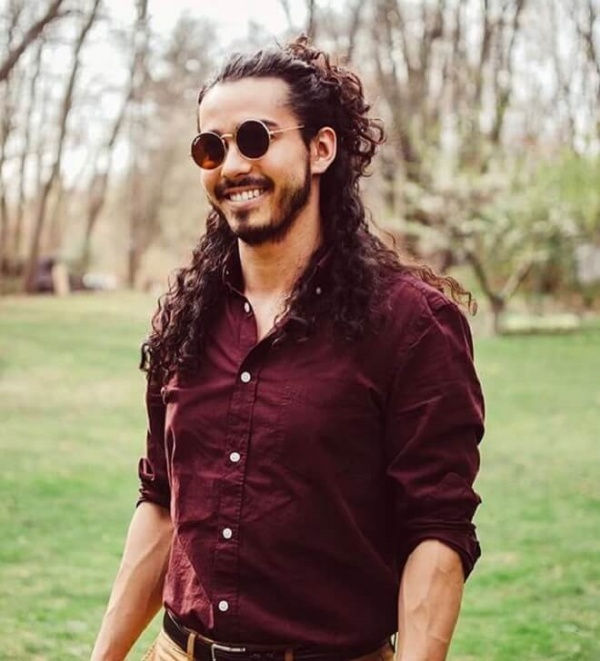 If you are looking for curly ponytail hairstyles for men, here you will get the best details. Men who are born with naturally luscious curly hair are unique and very lucky, although most men have to put in a lot of extra effort to get adapted to this look. Although this hairstyle is tough to maintain, it still comes under one of the most fabulous hairstyles for men. This hairstyle needs regular grooming, which makes it difficult for you to choose among the different curly hairstyles for men. Men with curly ponytails can give themselves a chocolatey boy look.
16. Slicked Back Razor Side Ponytail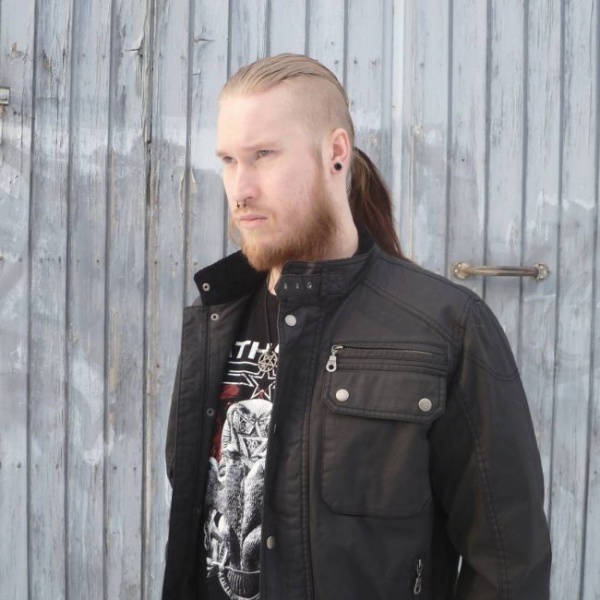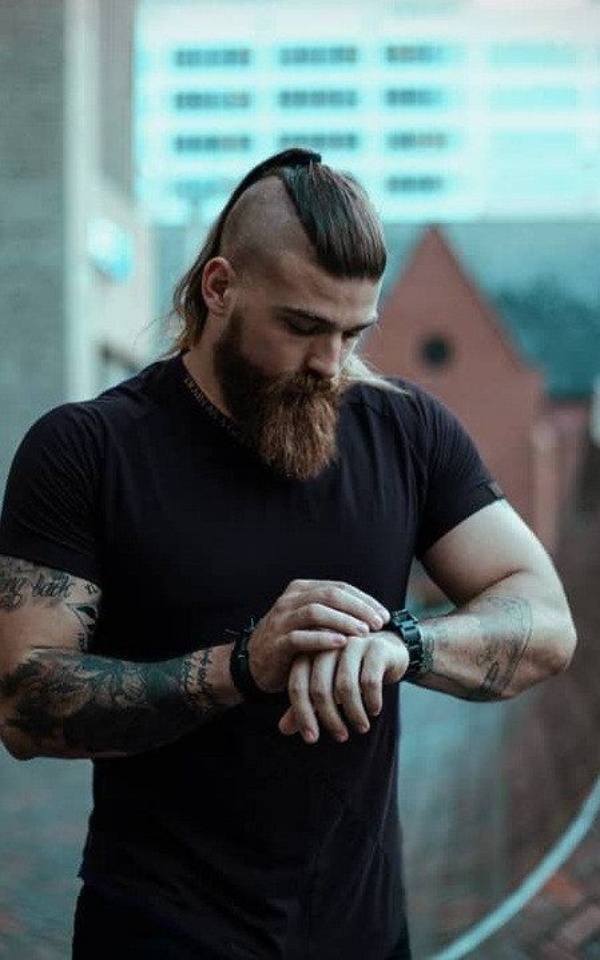 If you are looking for the extraordinary ponytail hairstyles men can have, then with a slicked-back razor side ponytail, you can give yourself an attractive look. In this style, the hair is grown on the top and at the back, while the side hairs are cut with a razor. Men love this hairstyle because the shaved sides make the ponytail more prominent. You can shape yourself with the most versatile yet classy design by creating this hairstyle from an experienced hair professional. You can add colors to your hairstyle to make them more eye-catchy.
17. Samurai Style Ponytail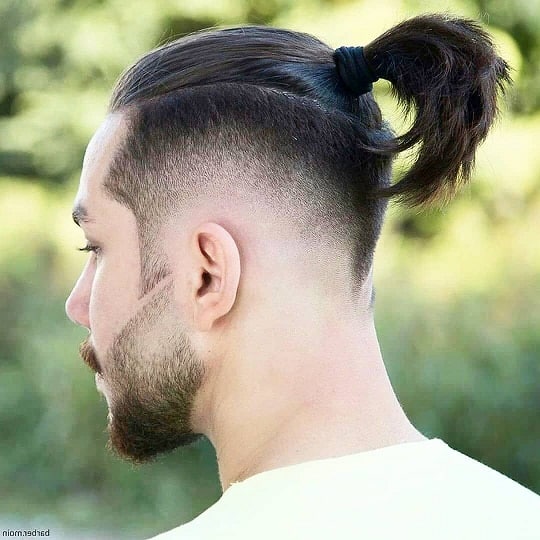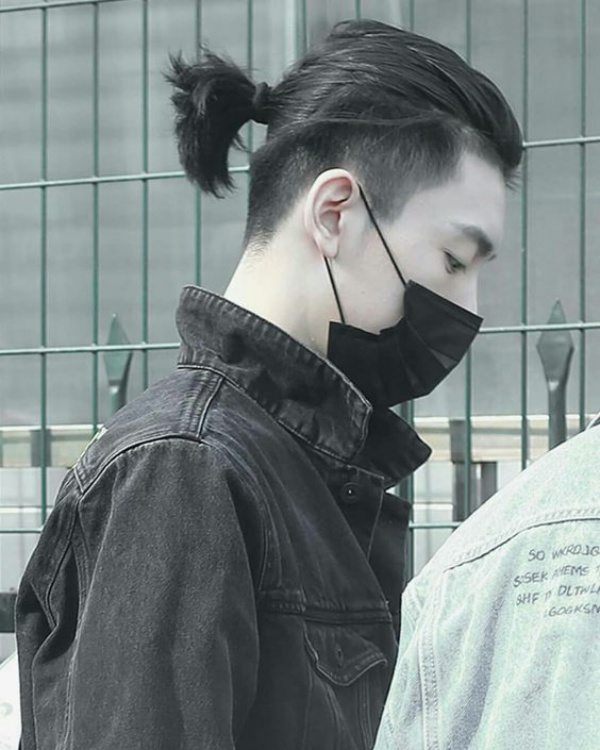 The ideal part of having long hair is that it serves endless styling opportunities. You can easily create a samurai look by flaunting a loose ponytail for men. Pin the whole bun on top of the head. Try and wrap a black ribbon around the base to give height to the hairstyle.
18. Tight And Bright Ponytail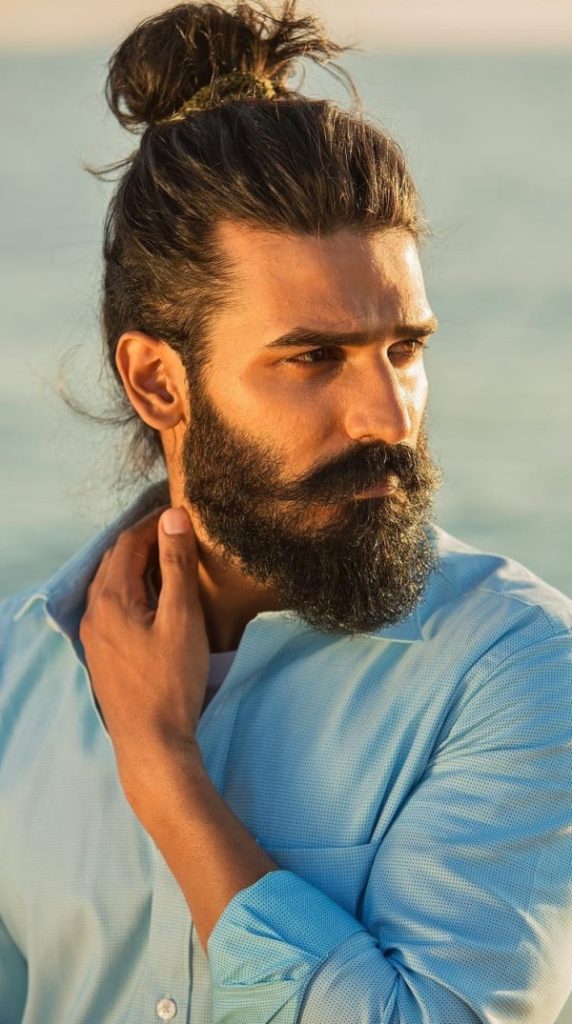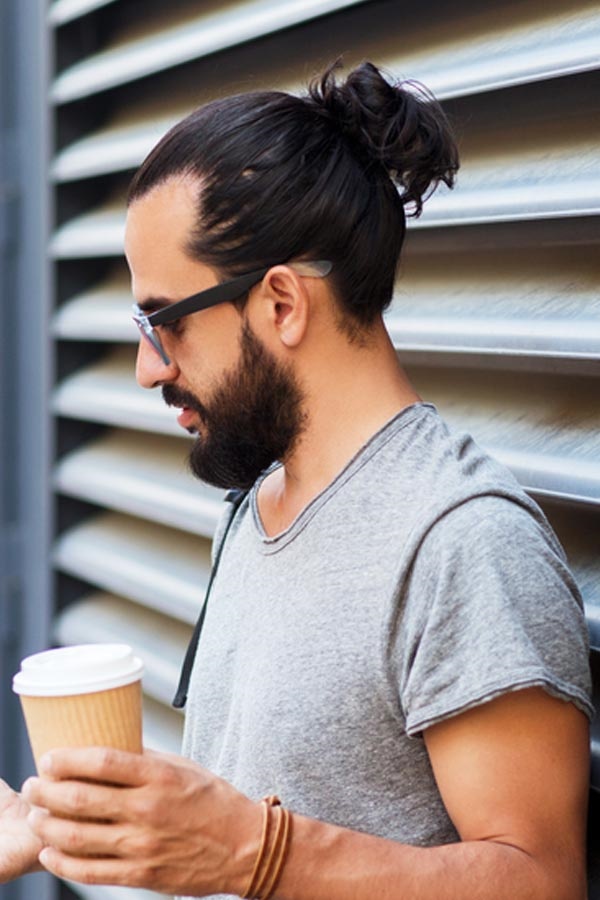 This is amongst those ponytail hairstyles for men which suit best for men with beautiful curls. For this hairstyle, you will need to keep your hair tight and show off your pony right at the top of your head. This style needs your hair to be curly enough for flaunting at its best. You have to let your hair grow to your neck level and also groom the edges to avoid split ends. The main attraction in this style is supposed to be the combination of dark hair with blonde. Dye your hair on the edges with the color blonde and let it dry. Right after this step, you will need to need to apply a hair mousse or gel and let it dry. That will allow you can handle your hair without much effort. Comb the hair from all the sides and pull them to the center-right at the top. Try tying a knot and flaunt the extraordinary contrast of deep chocolate and the bright shades of blonde.
19. Asian Man Ponytail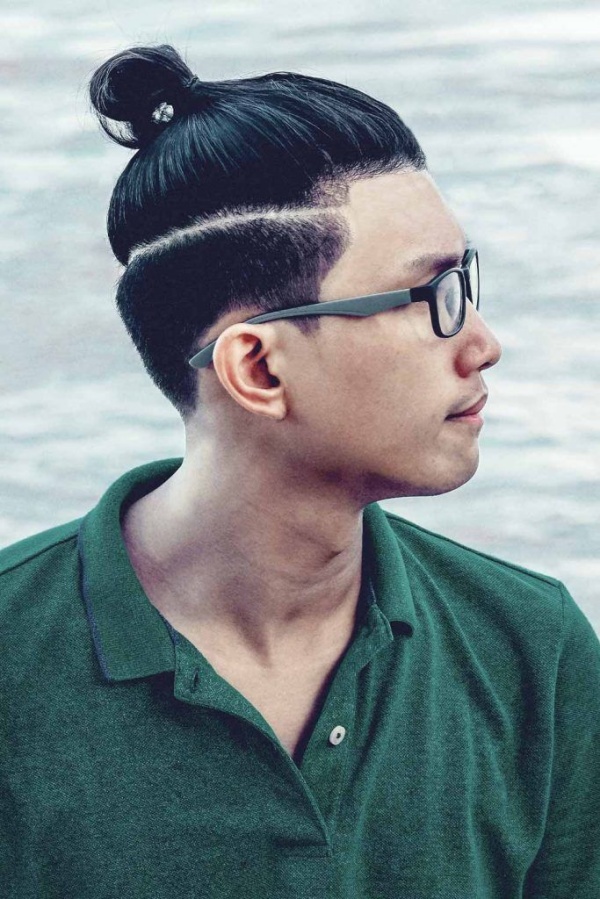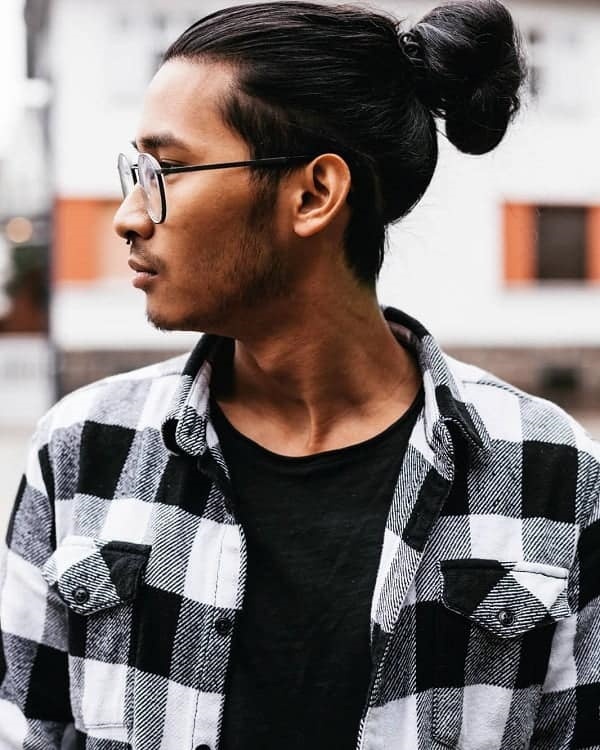 Try experimenting with a tapper on the sides and back if you are tired of fixing a Pompadour every morning. This will give your hairstyle a break and will let you opt for a top hairdo. The ideal part of this particular hairstyle is that any Asian man with a ponytail is bound to love this hairdo.
20. Mullet With Ponytail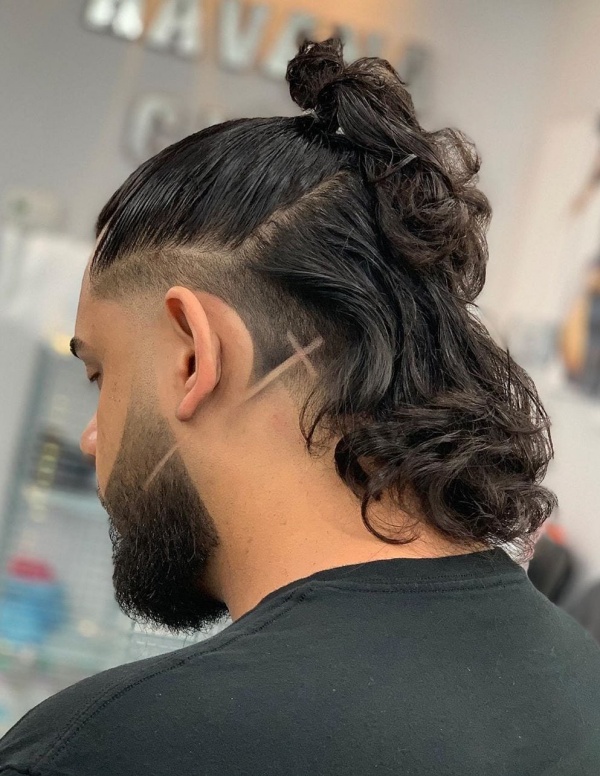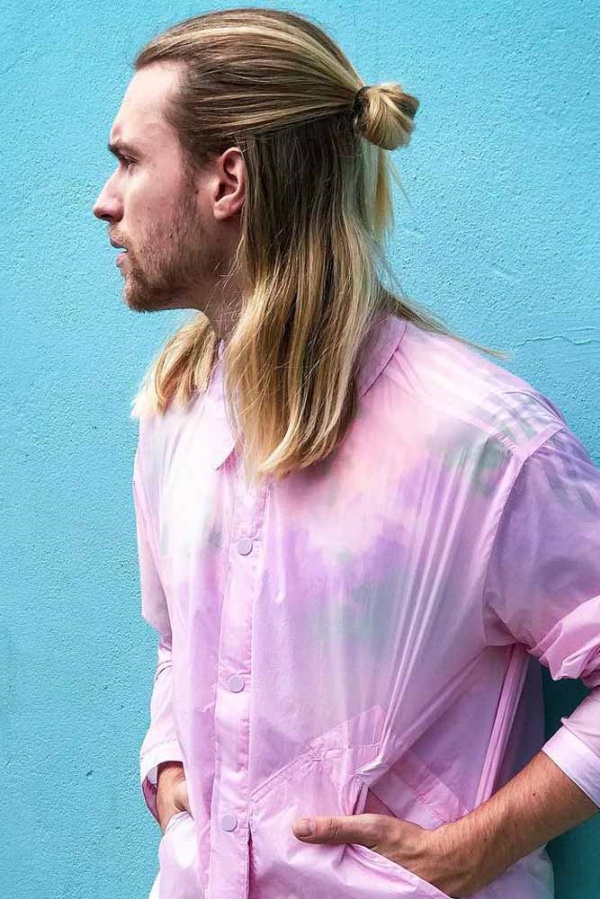 One of the recent comebacks made by ponytail hairstyles is mullet with a ponytail. This hairstyle has become one of the trendiest ponytail hairstyles among men. The traditional mullet with ponytail hairstyle is defined by keeping long hair all over the sides and back; the top hair is tied up to back as a ponytail, while some part of the top hair is made to fall on the forehead. This hairstyle is the best way to show your thick hair growth. You can create a masculine solid look by keeping a thick beard. This hairstyle needs grooming and maintenance to keep the style intact.
21. Voluminous Ponytail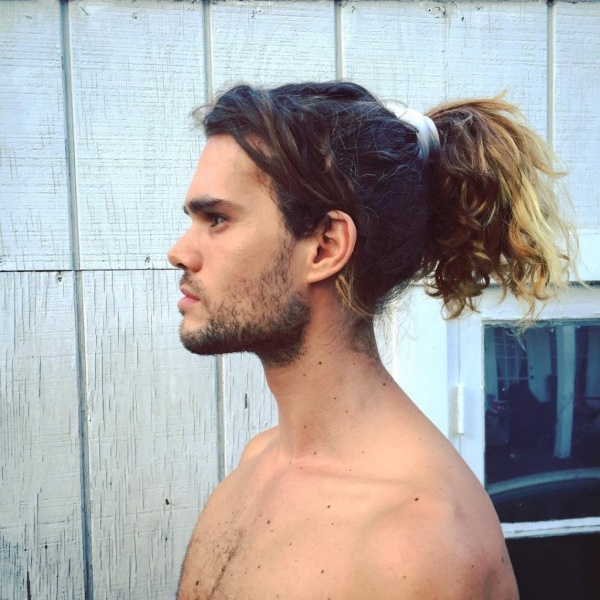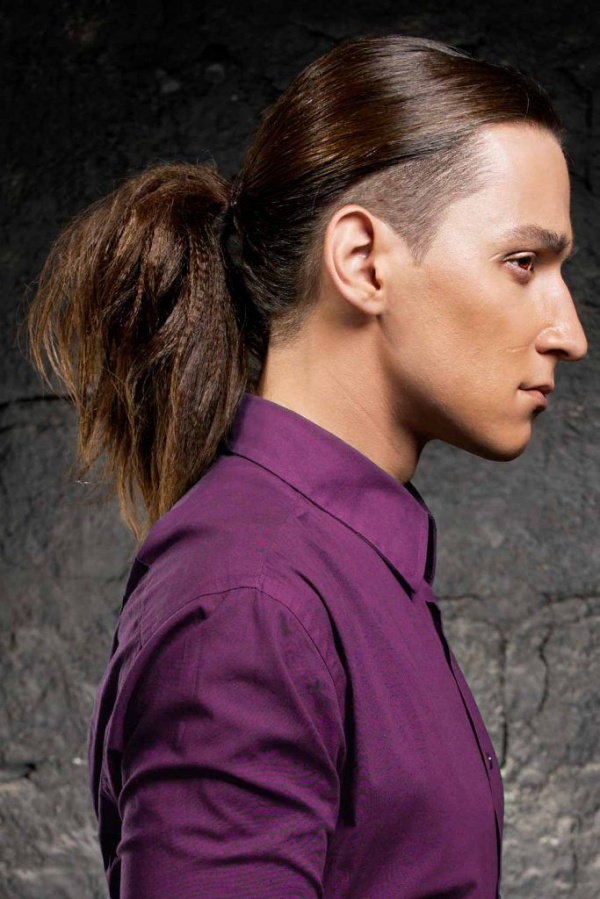 Are you looking for decent and straightforward ponytail hairstyles for men? With a voluminous ponytail, men can flaunt their thick hair in front of others. No one can say that voluminous ponytails are only suitable for women. If you have naturally curly hair, then a man ponytail can be just as full and voluminous. Nowadays, men can pull off this hairstyle easily because with the different new variations, keeping a ponytail has become more conventional. You can create one of the best voluminous ponytails by gathering half of your hair midway into a ponytail and simply tucking the ends into a hair tie, making a man bun ponytail.
22. Viking Style Ponytail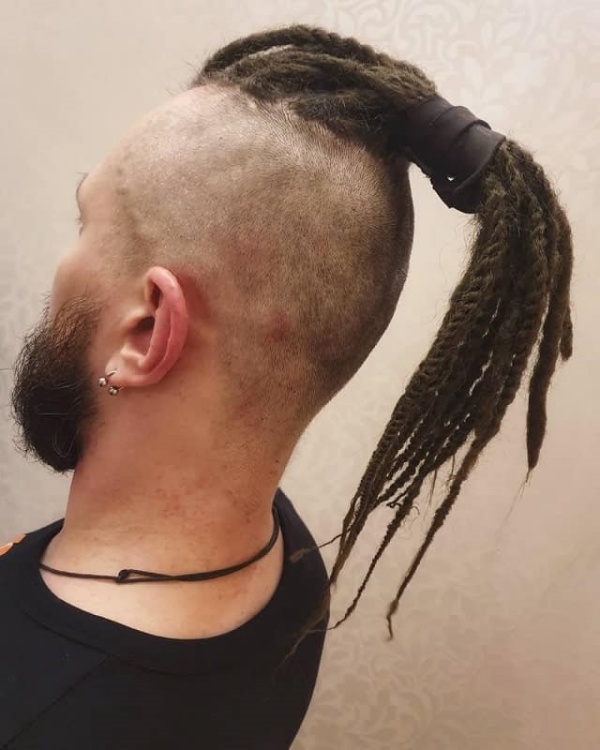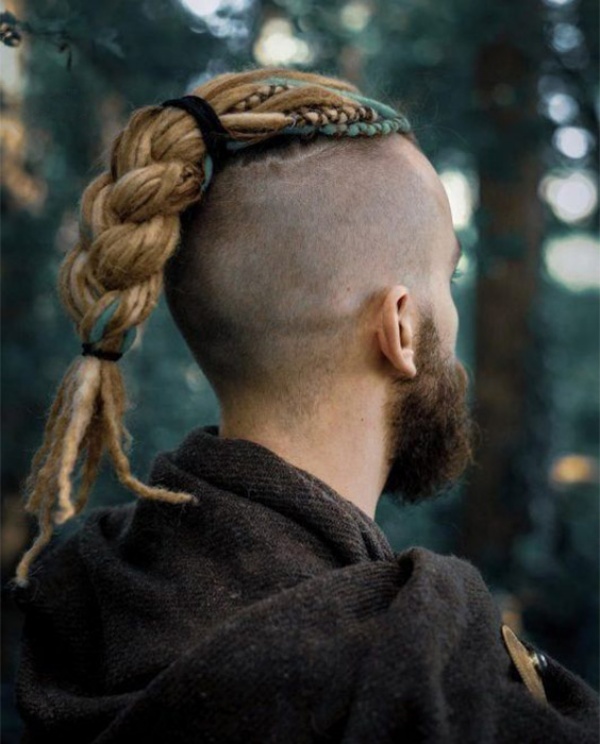 If you are looking for an undercut with a ponytail design, then the Viking-style ponytail is the best you can have from the list. This hairstyle has its own royalty and has become famous from the hit T.V. show Vikings and is also known as Bjorn Ironside haircut. Viking style ponytail features a long ponytail with shaved sides and back. The best way to express this elegant hairstyle is by pulling the hair into a full or half-length ponytail. In order to create the perfect Viking style, the ponytail is combined with thick facial hair.
23. Ponytail With Fade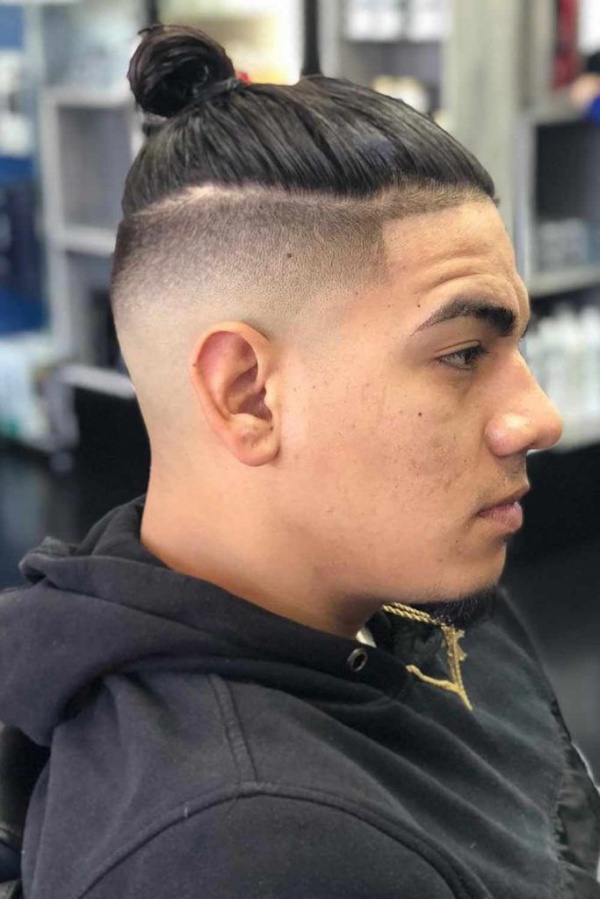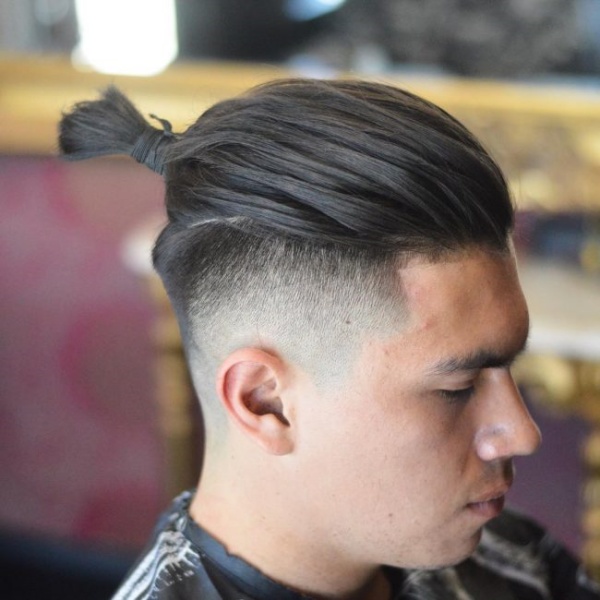 Ponytails are the new phenomenal styles seen in men everywhere. Among different ponytail designs, a ponytail with fade has an intriguing factor. If you desire to show off your long hair in a decent and styling way, then a ponytail with fade is an ideal style. In this hairstyle, the side and back hairs are kept short with the help of a trimmer and razor, while the top hairs are tied backward. This hairstyle has a unique, creative feature that makes your face more organized and prominent, among others. The ideal part of this hairstyle is that it is of low maintenance yet striking.
24. Ponytail For Older Men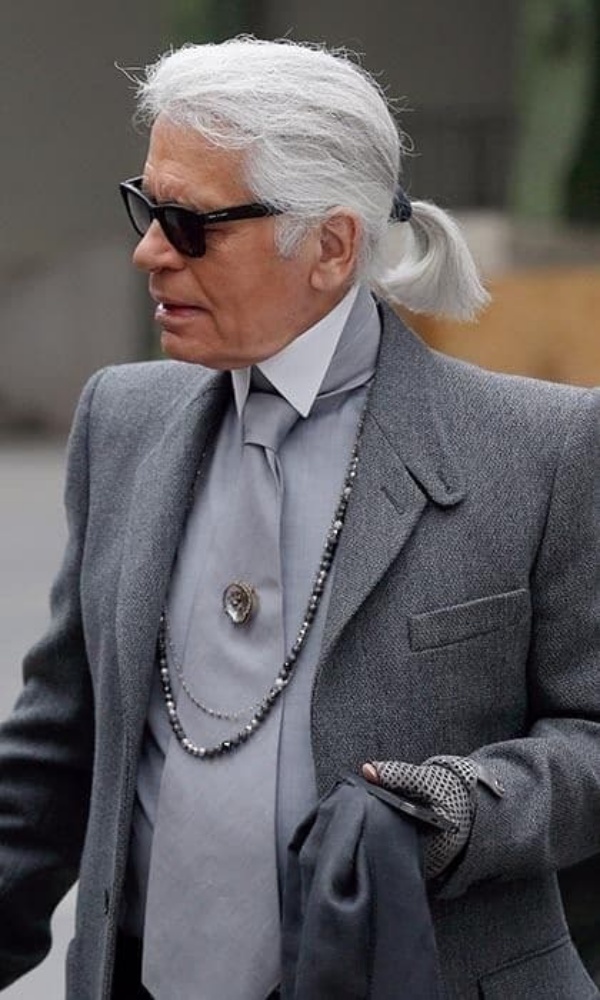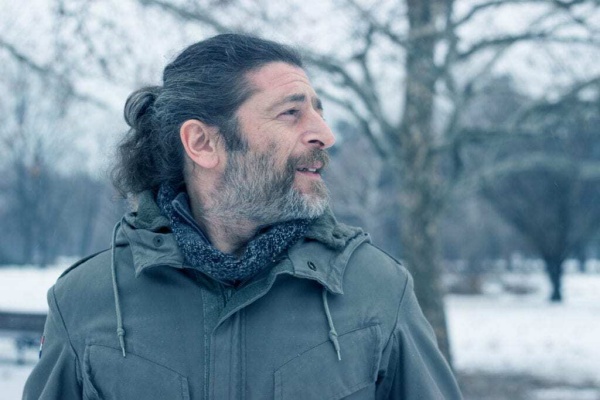 Who said that ponytail hairstyles for men are not suitable for aged adults? An old man with a ponytail hairstyle will undoubtedly look fashionable. If your strands are too short, you can even tuck them over your ears. Try flaunting a medium beard for showing off those sexy grays.
25. Ponytail For Receding Hairline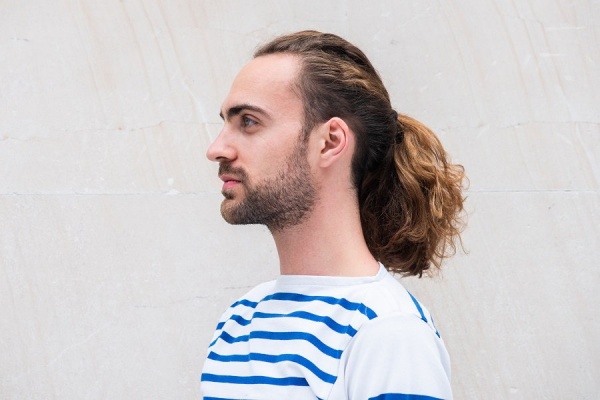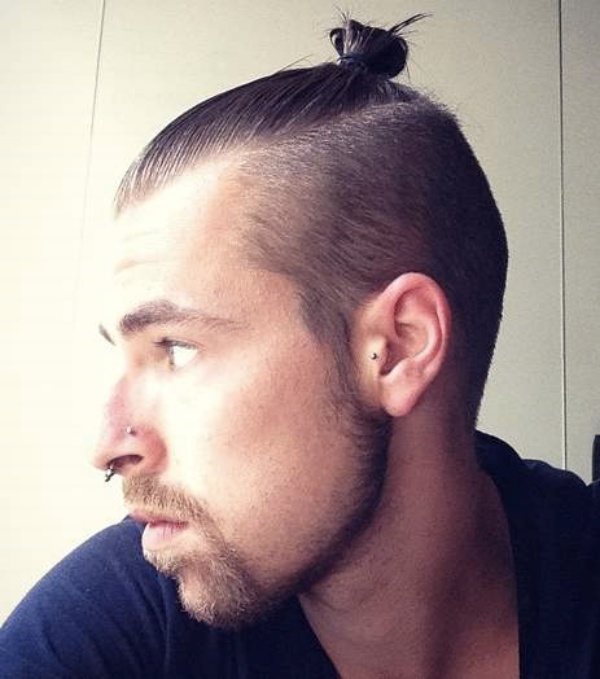 If you are worried about your receding hairlines, you can quit all your worries just with a funky ponytail hairstyle. Try covering or embracing your receding hairline with a ponytail hairstyle for men.
26. Grey Ponytail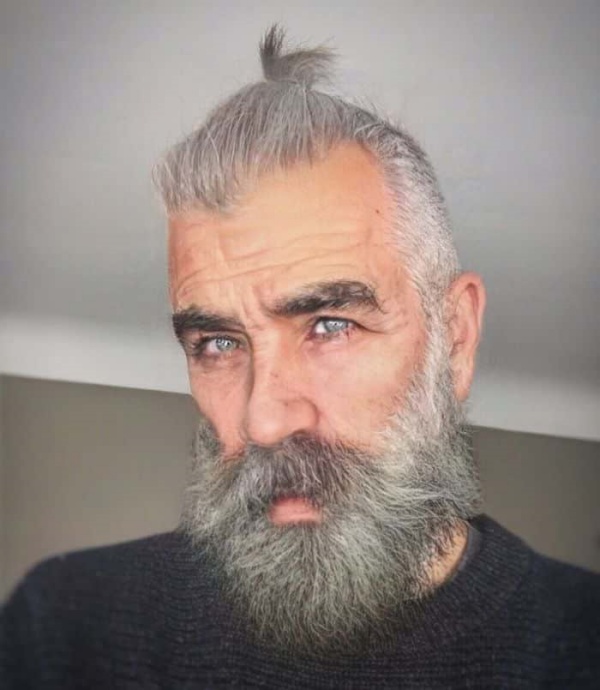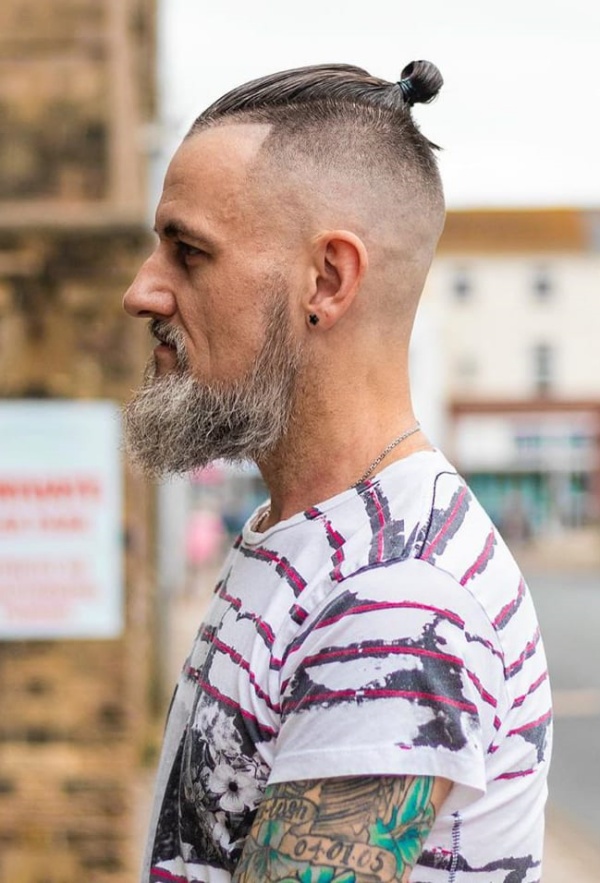 Gone are those days when people thought flaunting greys was underrated. The Witcher is bound to be jealous of your stunning grey ponytail for men. Dye your whole mane in a silver shade if you don't have natural greys. Then pin it back with a hair elastic. You will be enough to pull off a jaw-dropping look that is ultra-modern.
27. Amber Style Ponytail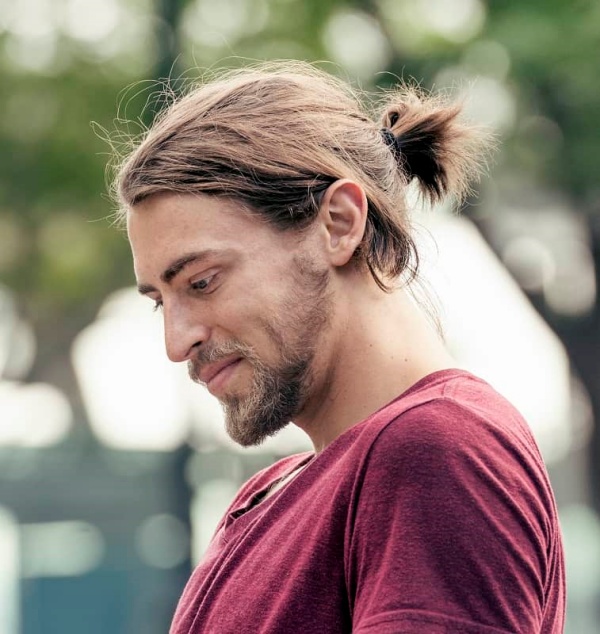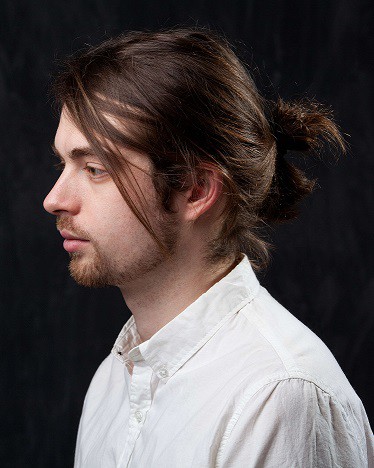 This is amongst one of the most beautiful ponytail hairstyles for men, which sets ways to flaunt your long hair with a subtle ponytail on the top. It would look so much better if you gave an undercut to elevate the top section. Choose a wider area for the sides and the back to trim down. Allow the hair on top to remain lengthy and thick. Try and experiment with the style by applying sable color to bring out an excellent color contrast. Flaunt the top with amber highlights and bring the hair close and tight for flaunting the look at its best. Take the help of an elastic band to tie a knot for the ponytail. Set the rest of the hair free and flaunt them without any restrictions. Ensure the fact that the temples and sideburns match with the tapered sides. Try a neat and stubble beard to make this style look better.
28. Ponytail For Thick Hair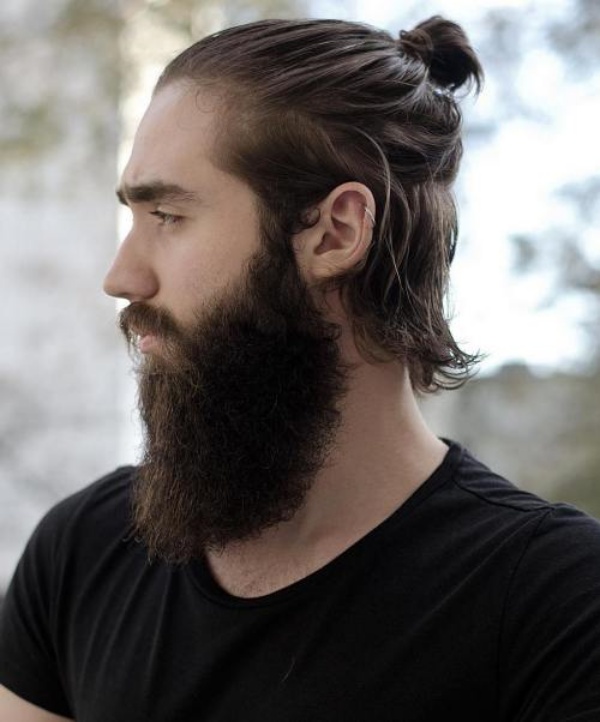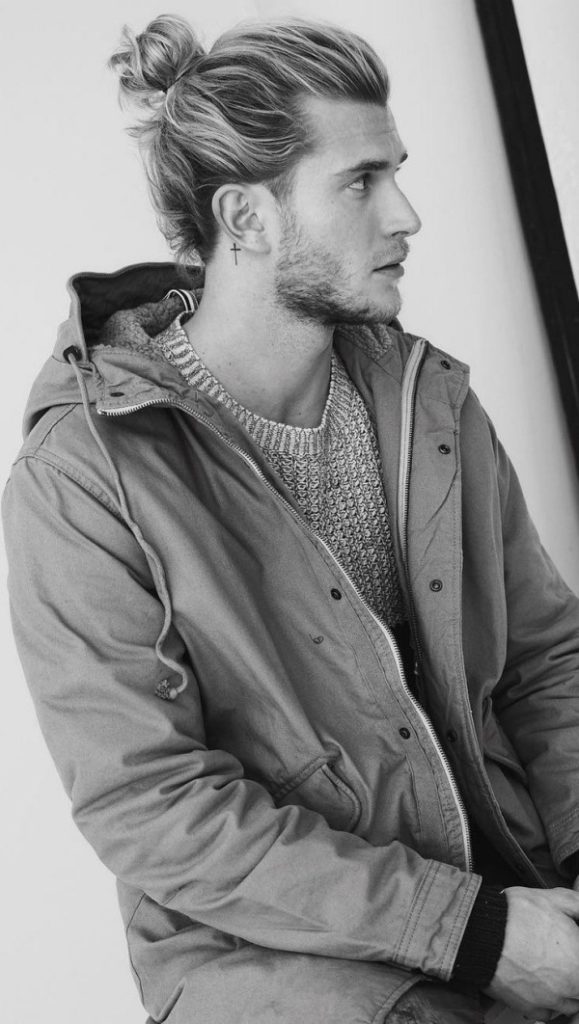 Thick ponytails are an all-time classic. Men with long and thick hair must consider themselves blessed as there are a variety of options to style with thick hair. In recent days, a ponytail for thick hair has become popular among men for its versatility. You can either have short, medium, or long hair, as it doesn't matter, as styling with thick hair is not problematic. The ponytail for thick hair needs maintenance in order to keep the hair healthy and in good shape. The ideal thing about this hairstyle is that with a thick ponytail, you can appear both formal as well as casual.
29. Ponytail With Beard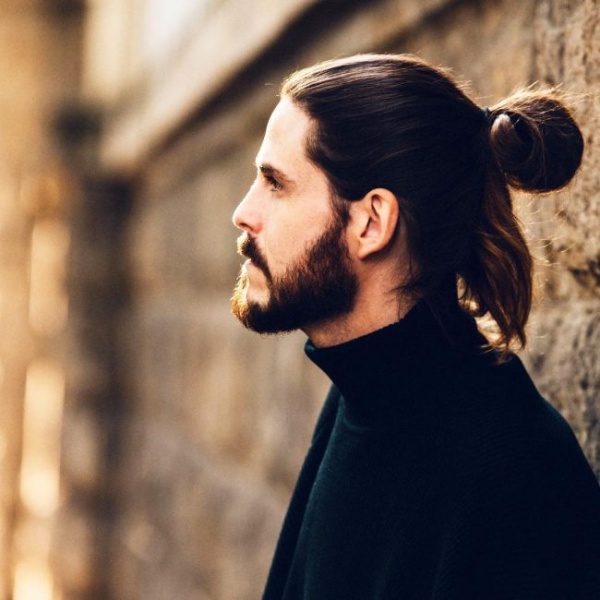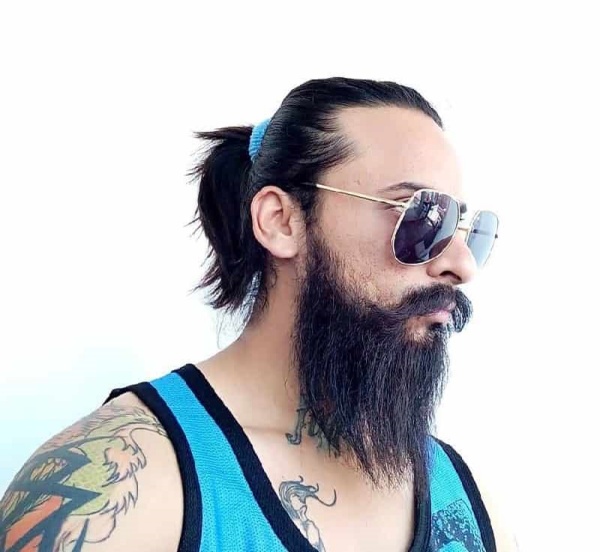 The ponytail is a charming new hairstyle trend, and a beard rightly compliments this style. It seems more and more like this hairstyle is slowly becoming known as a new classic in men's grooming. However, mostly in recent days, ponytail styled with a beard looks are having a significant moment. The beauty about flaunting such a trendy look is that you are already awarded multiple options to style it. You can easily wear off your ponytail hairstyle with a stubble beard. This will give you an easy go-to look suited for almost every occasion. This will also look more than just awesome if you try it with a stubble beard.
30. Blonde Beachy Ponytail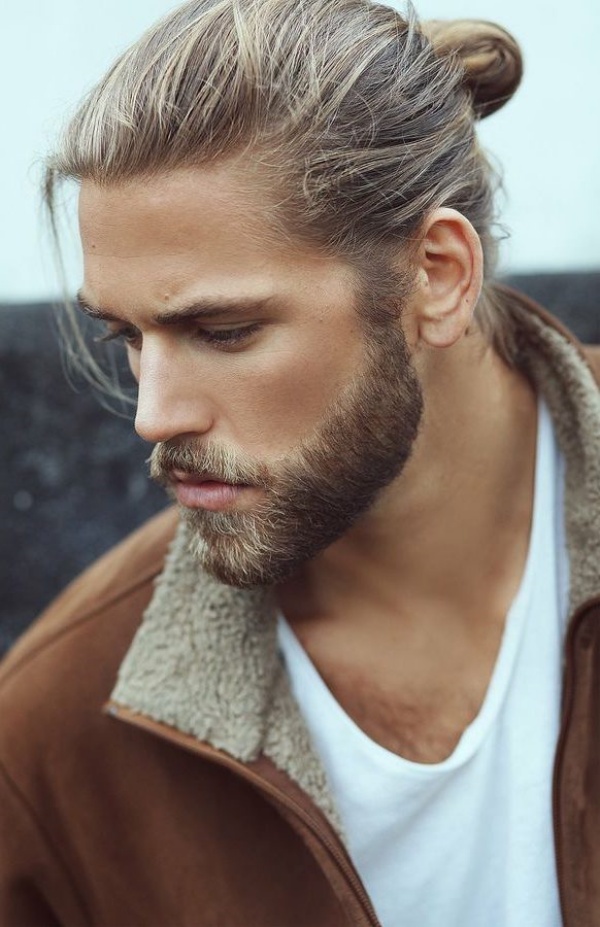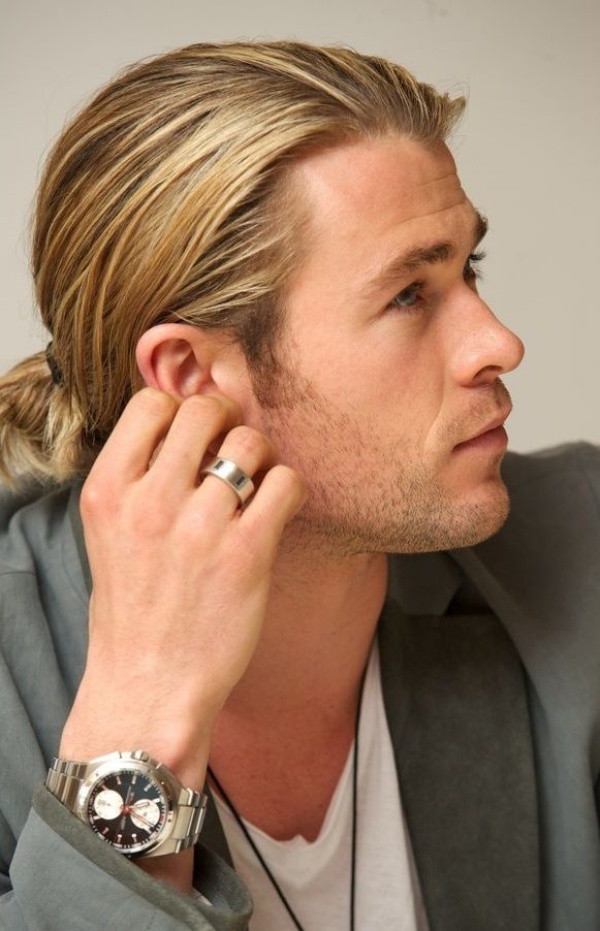 There is no doubt that blonde hairstyles are the most charming and alluring hairstyles among men. This has given a new rise to the Blonde Beachy Ponytail hairstyle. The hairstyle has become trendier among men as they vary from short, rugged man buns to bold long man buns. Whether you are a model or a businessman, a surfer or a celebrity, a blonde beachy ponytail is a striking option for every man. The hairstyle features that all the hairs are pulled and tied backward, giving an attractive shape to your face. It hardly matters if you are moving from office to bar or traveling along beach or mountains; this versatile style will make sure that you have the perfect style quotient.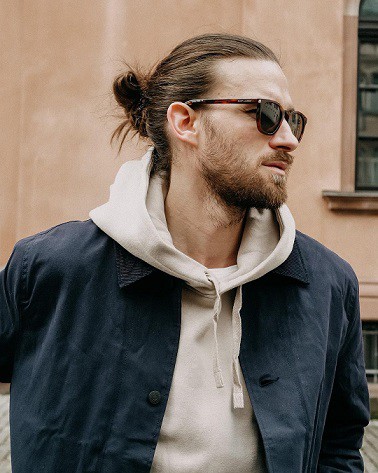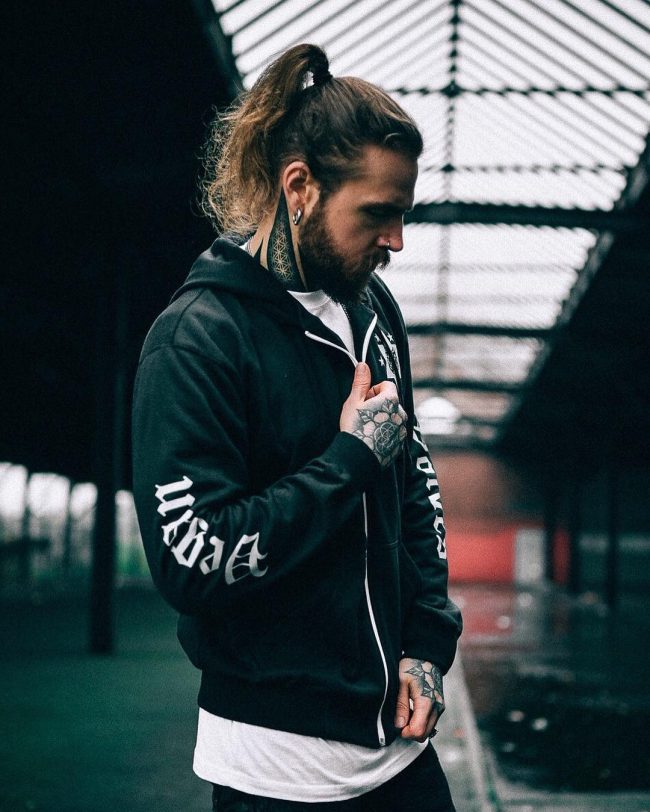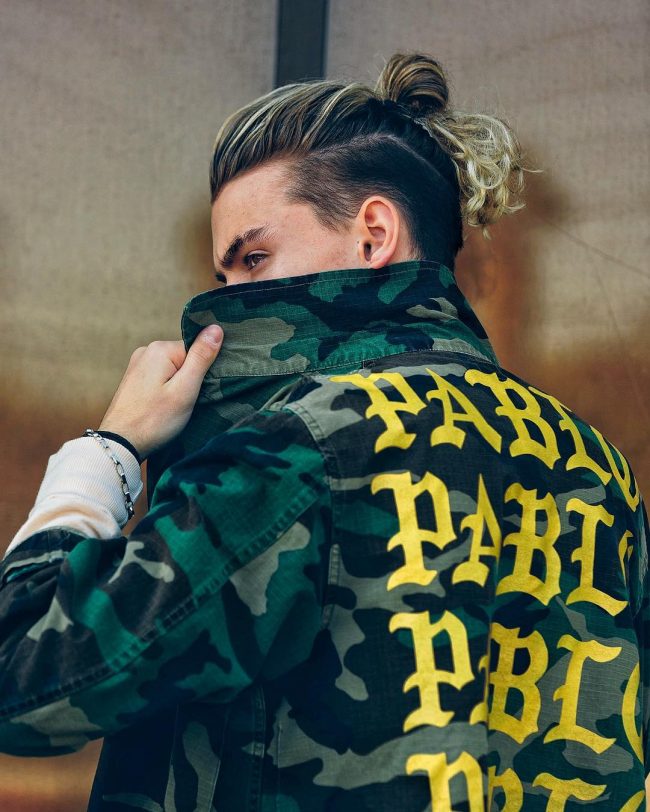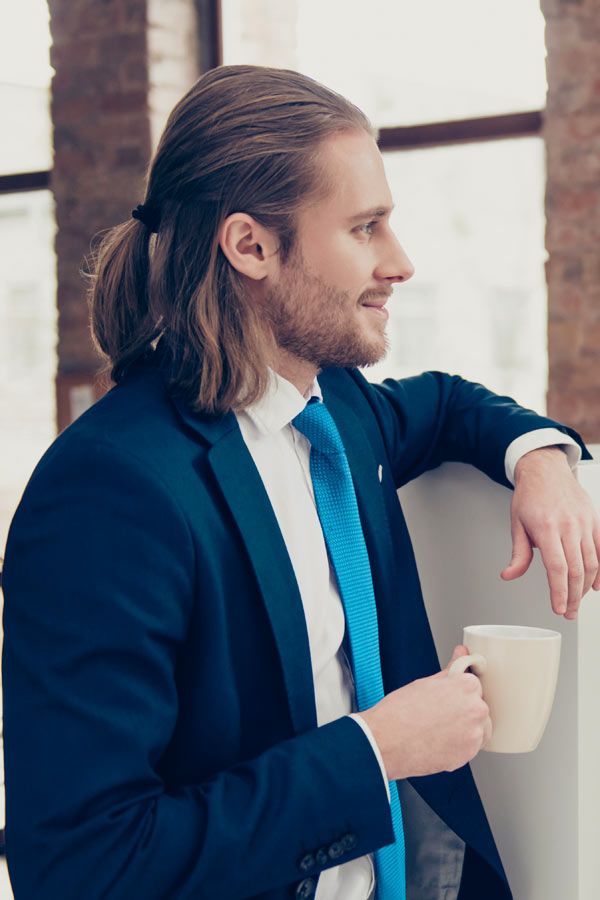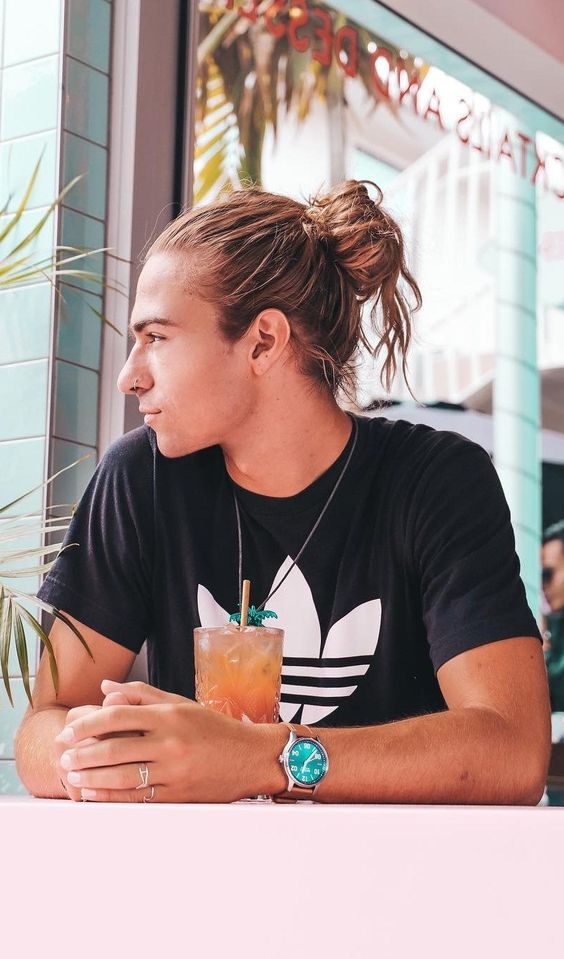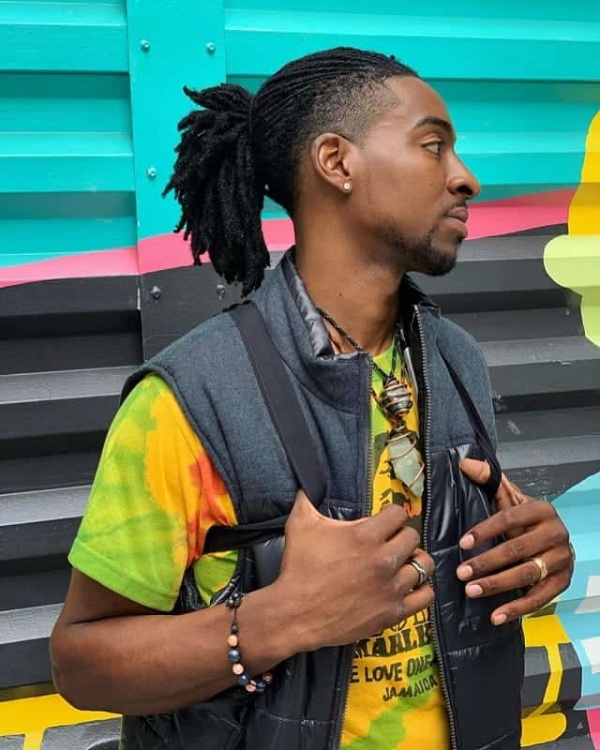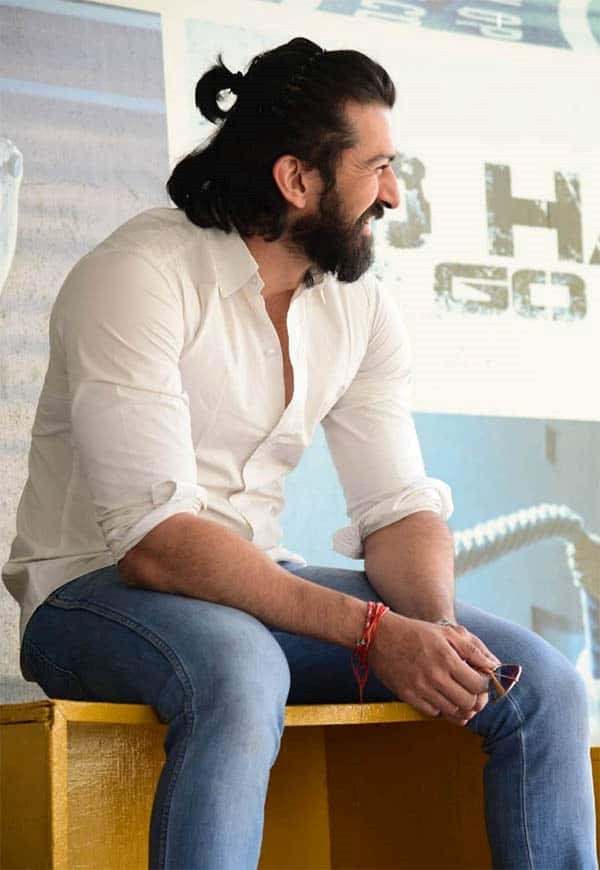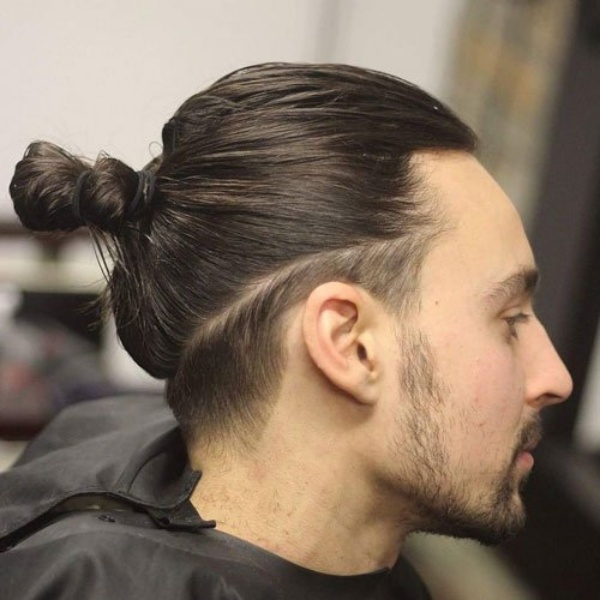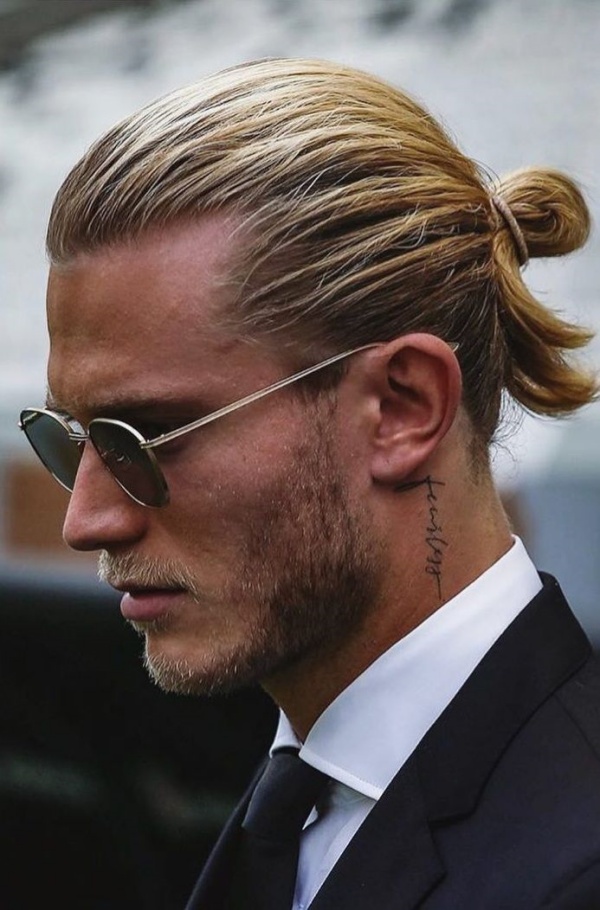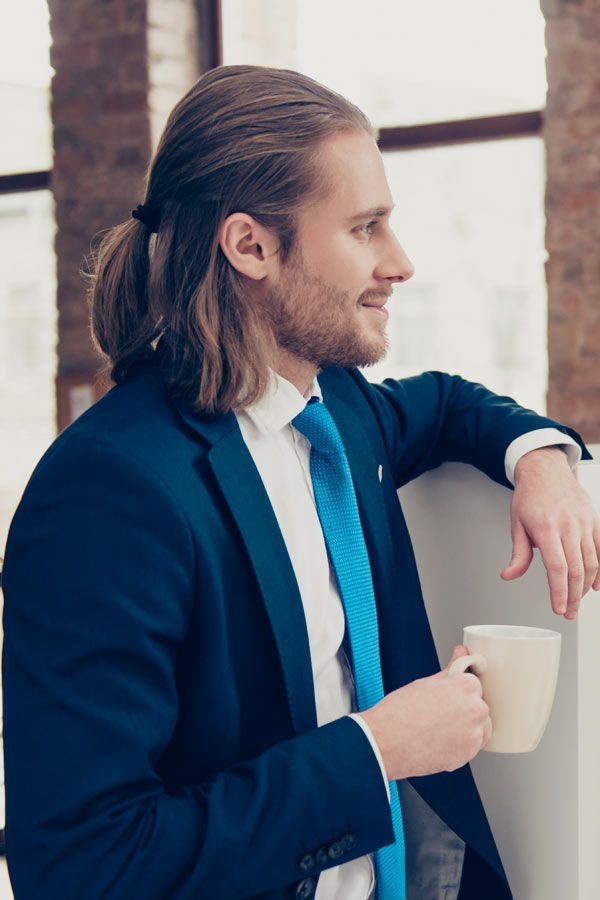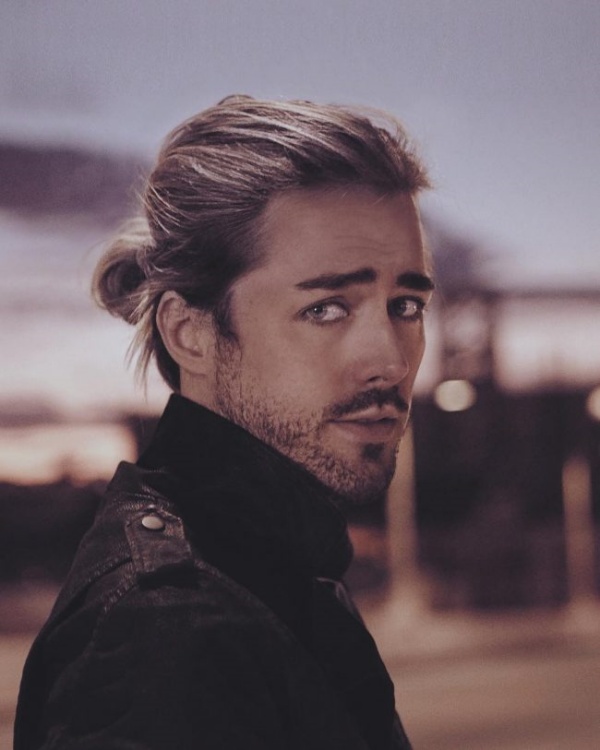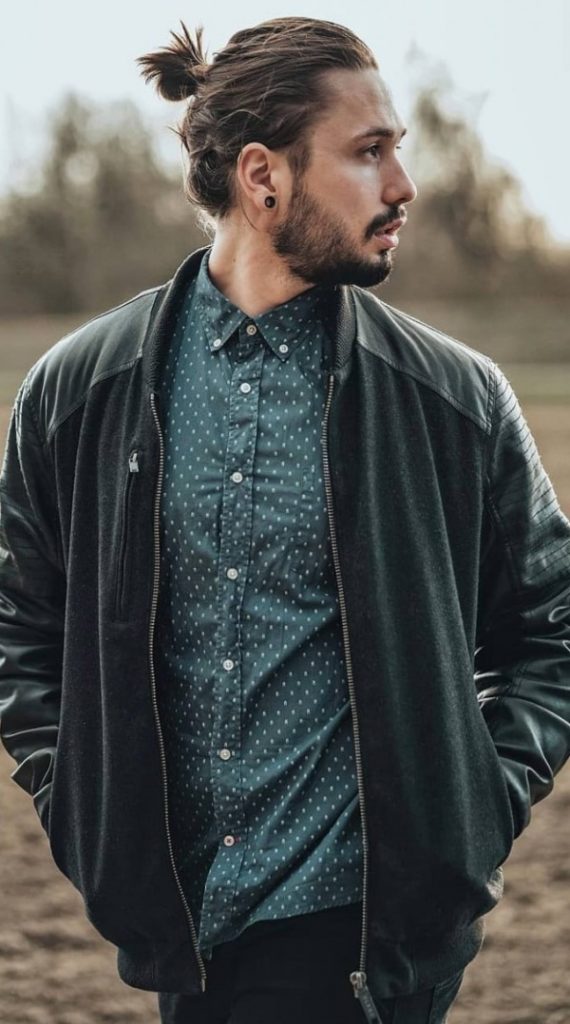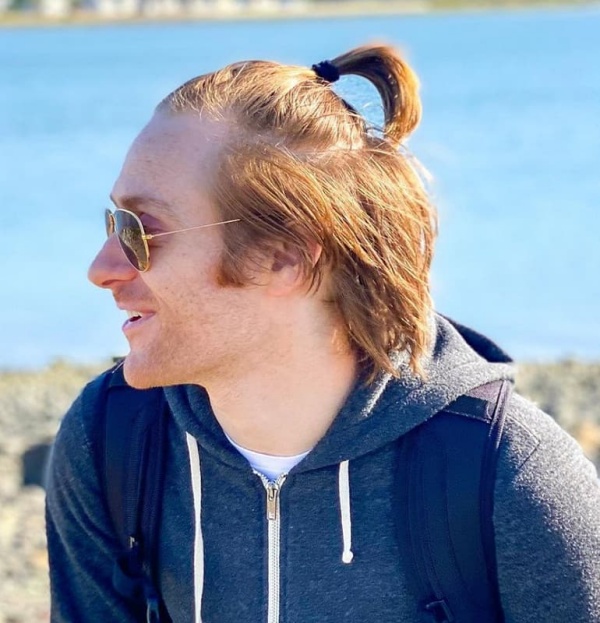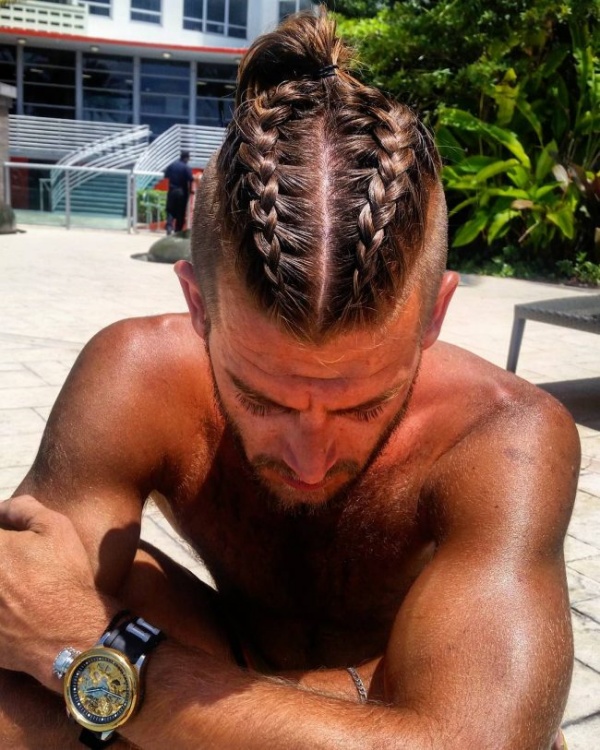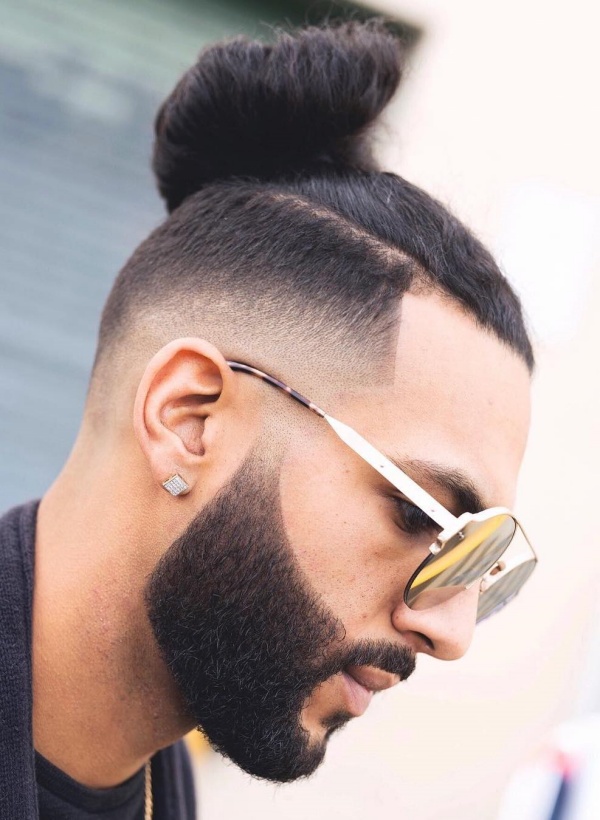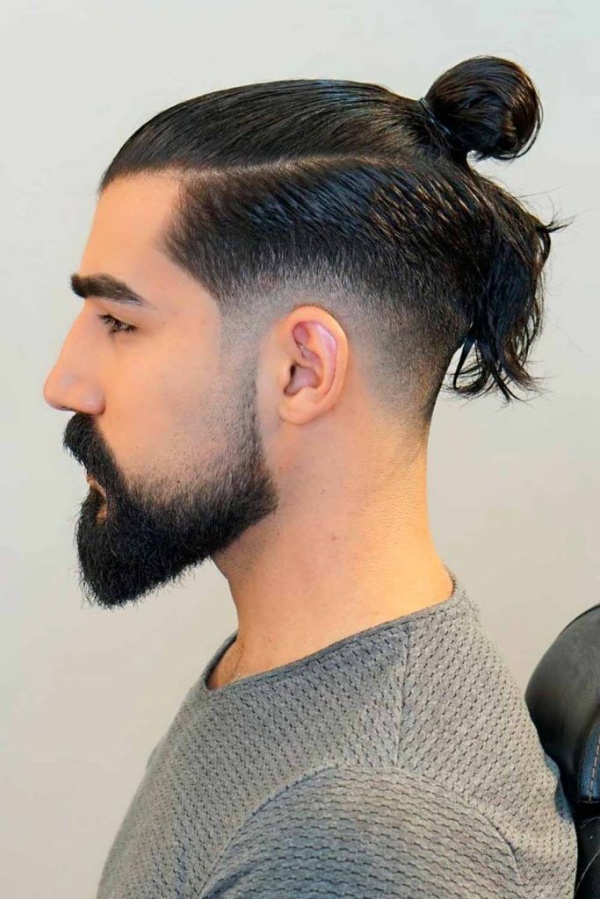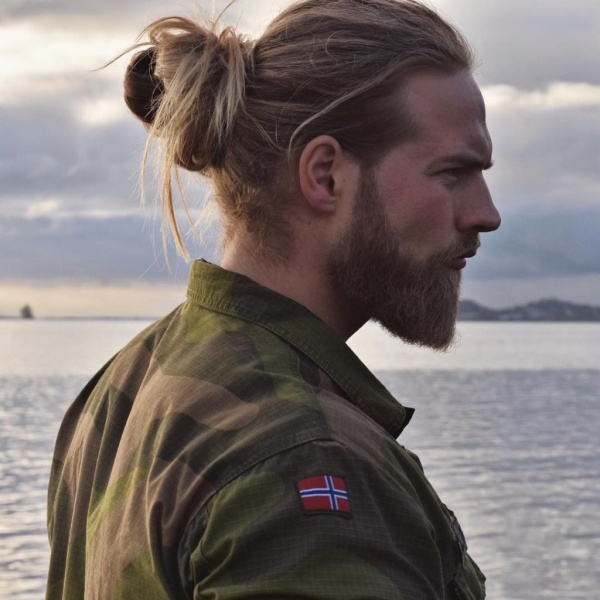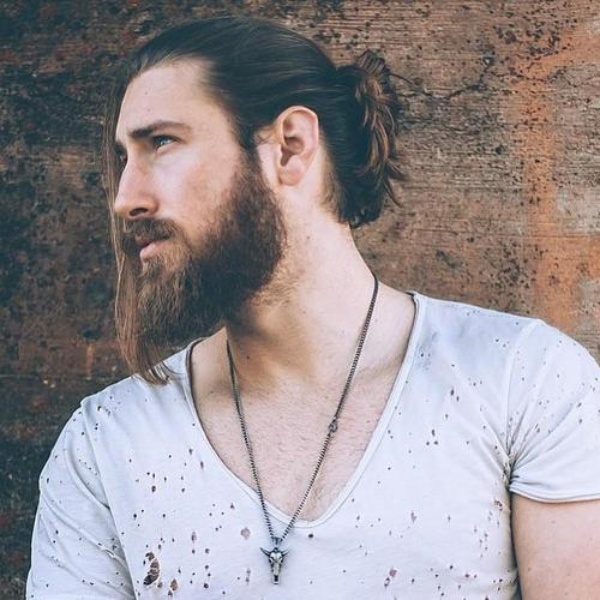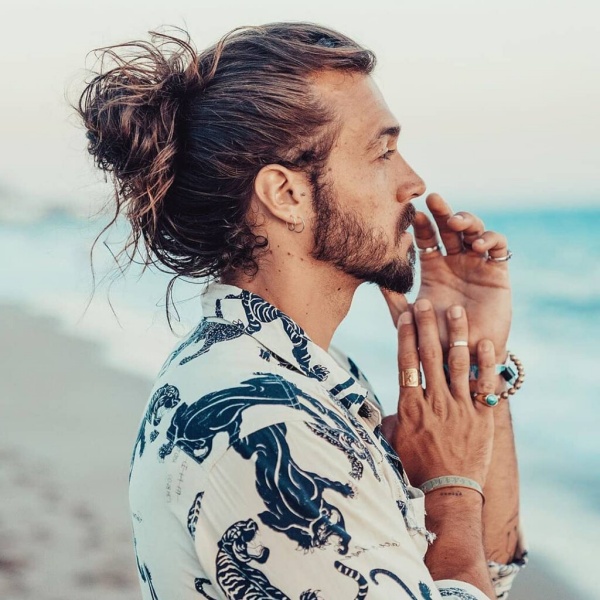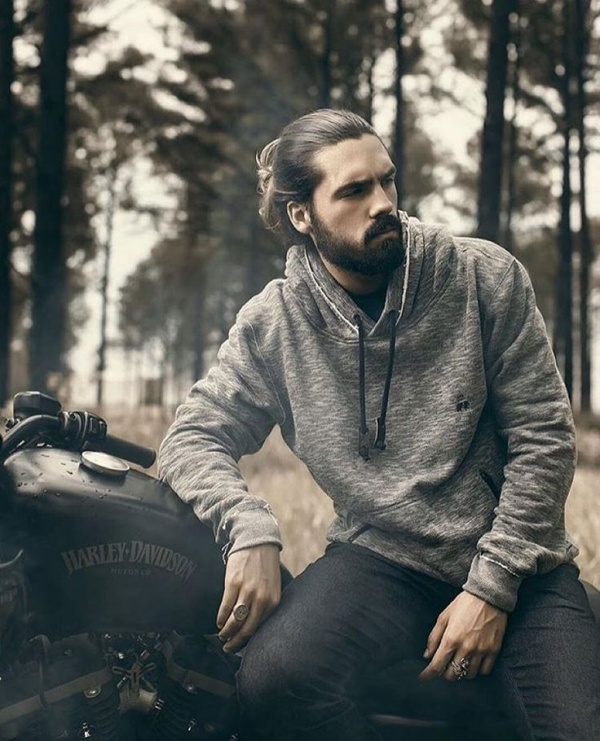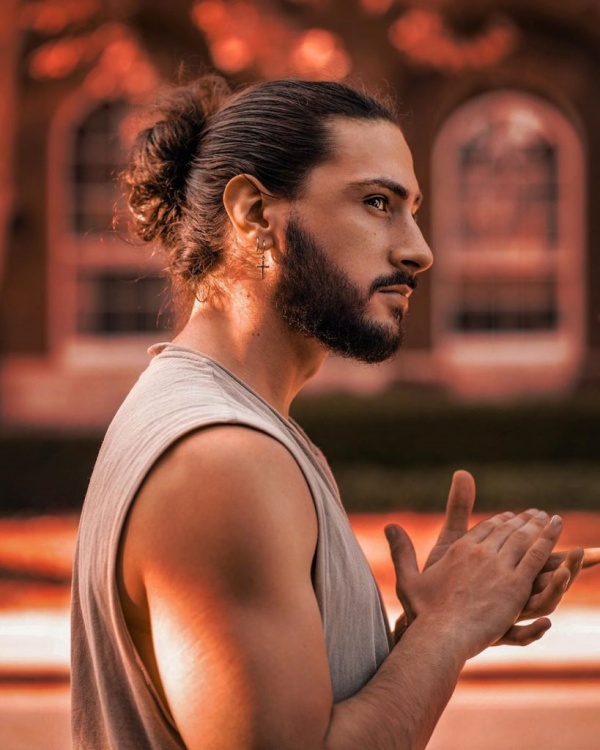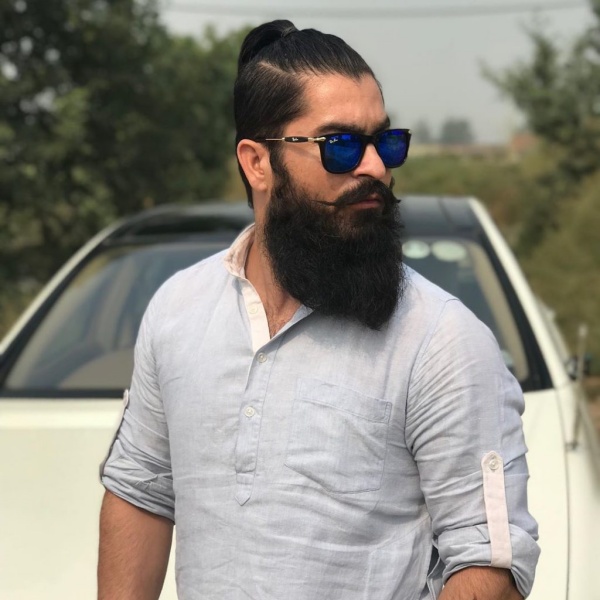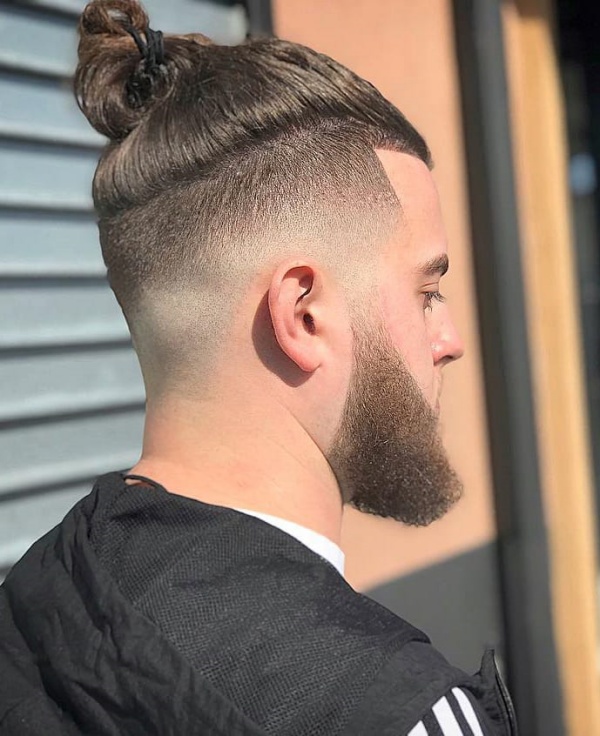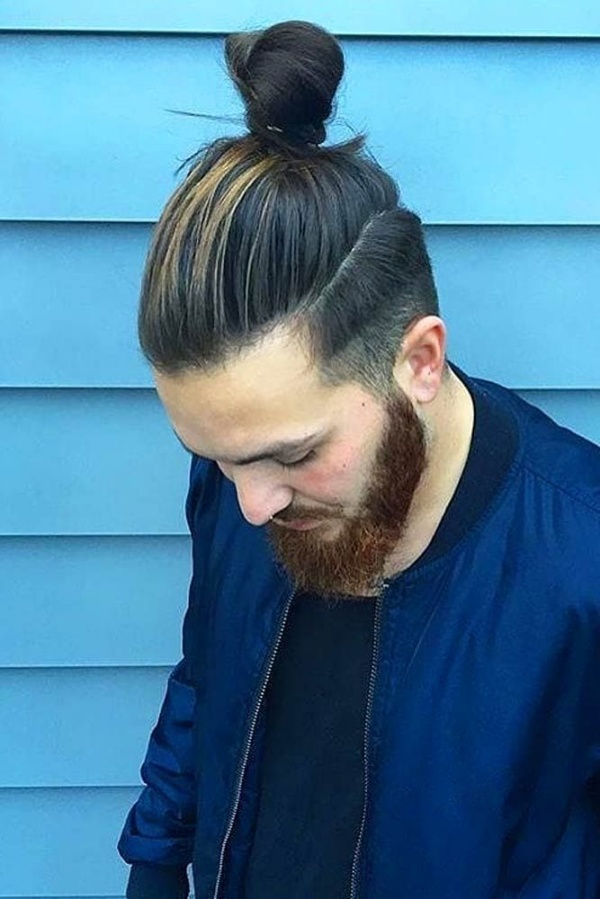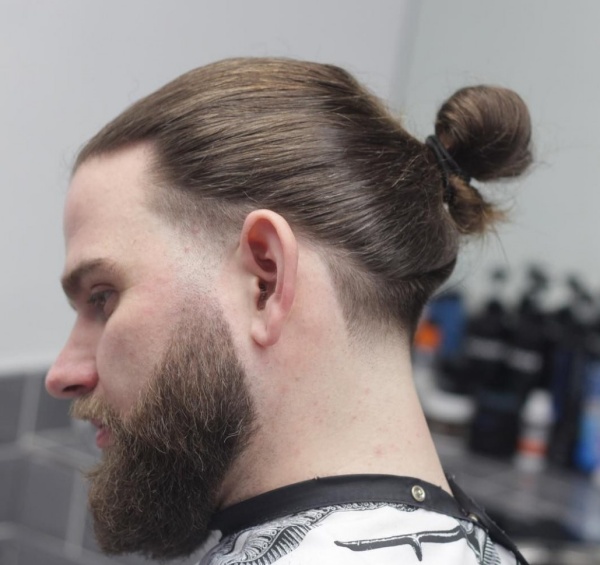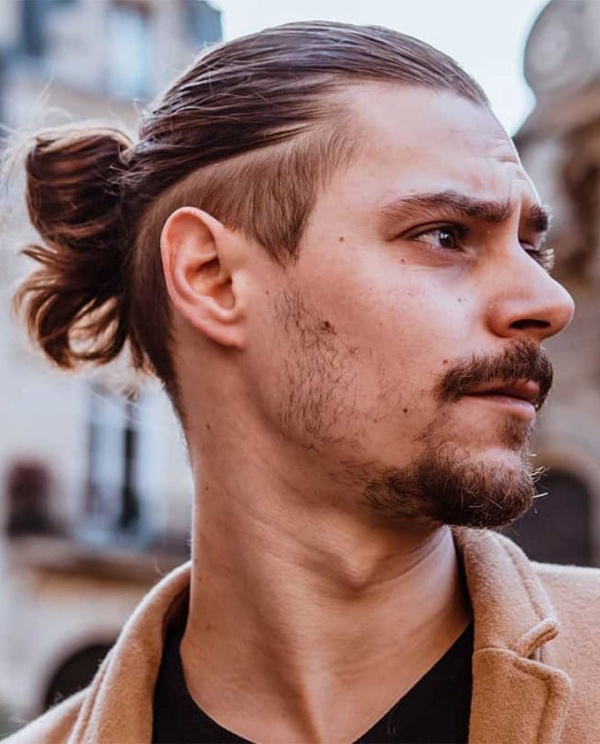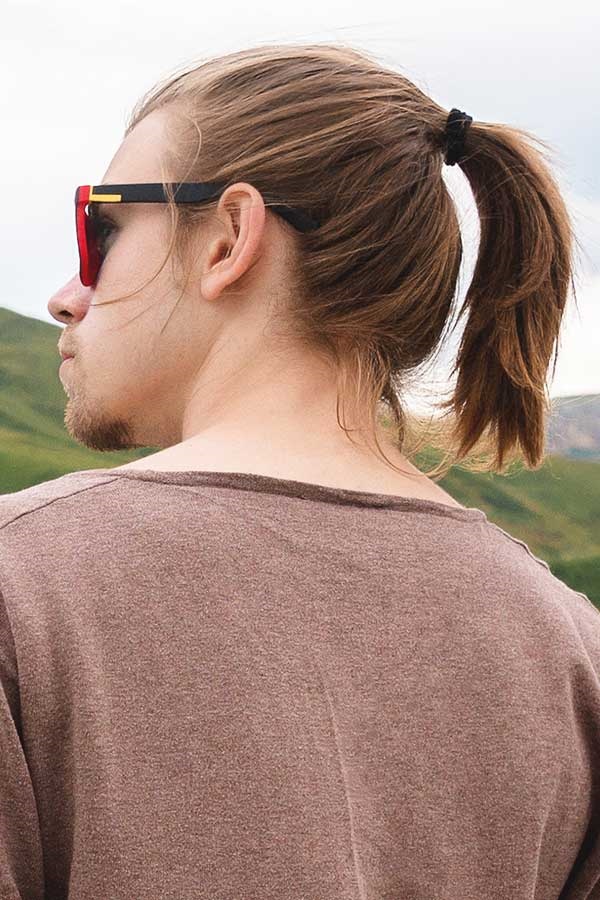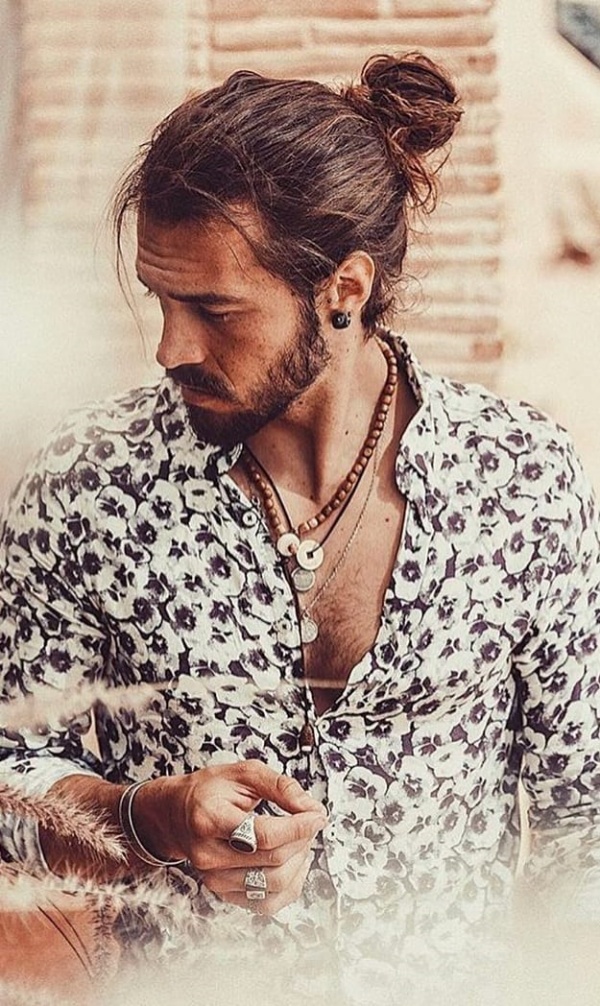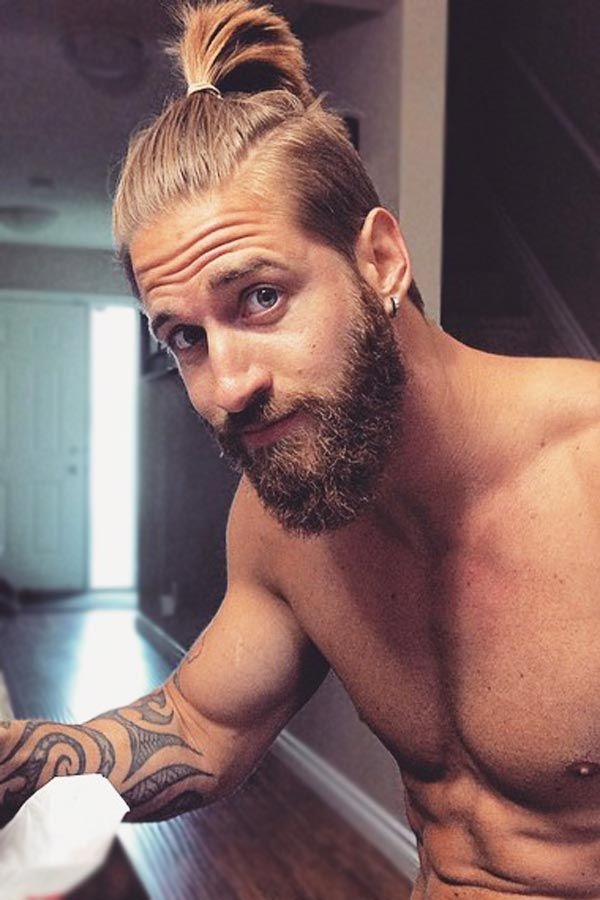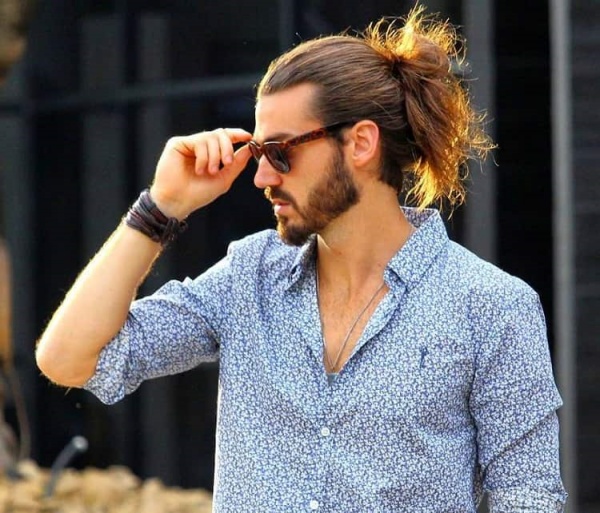 Related:
Conclusion
Men have been experimenting with various hairstyles for a long time. Among the plethora of hairstyles available, ponytail hairstyles for men have become trending unexpectedly. This list is created and updated by different hairstylists in order to provide you with the look you desire the most. From simple to complicated, you can opt for any style you fall in love with. The ponytail hairstyles are unique and creative. These hairstyles blend with your personality, giving you an appreciative look. There are many hairstyles available that will provide you with an evergreen look ranging from modern to ancient look. In this article, the task is made easy for you whenever you have to choose your suitable hairstyle. You can stop worrying about your looks and choose the one ponytail hairstyle that you like as all the styles will blend with you giving you the appealing, charismatic look you wish to have. The unique, fashionable styles will definitely flaunt your look with versatility.
What Is A Man's Ponytail Called?
With the increasing popularity, ponytail hairstyles for men have been in the limelight in recent days. The ponytail designs of men have a variety of shapes and structures. As this is an ancient style, a man's ponytail is commonly known as a man bun. This hairstyle features the top hairs pulled and tied backward, while the side and back hairs are kept in different sizes and shapes.
Do Ponytails Look Good On Men?
Men always love to experiment with their hair with different creative styles. Among different hairstyles for men, the ponytail is one of the most fashionable hairstyles. No one can say that only women can style themselves with ponytails, as men look pretty attractive with the various hairstyles. Ponytail hairstyle has been an old hairstyle for men. From small, medium to long, there are different sizes of ponytails that suit men perfectly.
Does Ponytail Make You Look Younger?
With the availability of different ponytail hairstyles for men, it has become easier for men to style themselves in a fashionable way. If you are confused about whether keeping ponytails will make you look younger or older, then the answer is that hairstyling, ideally with ponytails, will make you look five years younger. As in Ponytails, the hair is pulled backward; it helps in opening up the facial features by tightening the face. The Ponytails also help in making the eyes, eyebrows, and cheekbones more prominent.
Are Man Buns Feminine?
The ponytail hairstyles for men have been adapted from women. Hence, there is no doubt in the fact that man buns are more feminine. Although with the popularity of man buns, it has secured a good position in the fashion magazines and on the red carpet. With a nicely shaped man bun, men look pretty attractive. Thus one can say that buns are feminine, while man buns are masculine.
Is Long Hair For Guys Unprofessional?
Men have been keeping different hair shapes since old times. Short hair makes men look decent, while long hair makes them look much more handsome and attractive. Men with long hair need patience as well as professionalism. In order to keep long hairs, men need to groom and maintain them to keep both the hair and hair follicle in good condition.