A broad forehead and thinning of hair in the front are common in males. One can carry off the flaw with perfection through below rounded-up hairstyles for men having thin hair and big forehead.
Right styling and brushing of hair can redefine your appearance and notch it up with grace. We have brought some styling gimmicks to amplify your look and make it appear pitch-perfect!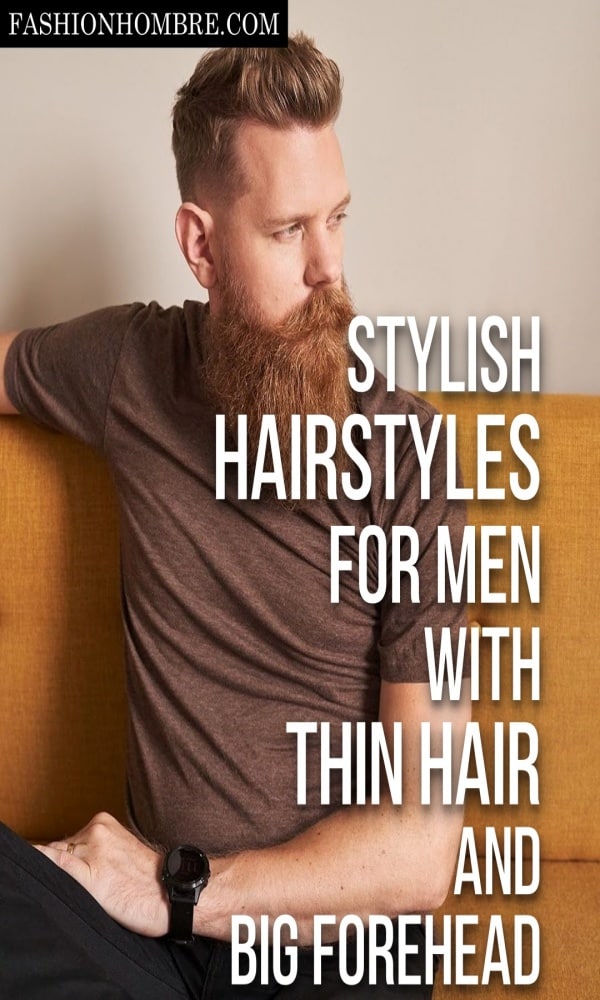 Do not hesitate to experiment, as that's the only way to settle for the best. Showing your hair bounce and luster is a hack even males with thin hair can master.
A couple of styling products and some hairstyles that match your appearance are all you need to ace it like a pro.
Before that, let's quickly glance at remedies that can prevent hair thinning.
How To Stop Your Hair From Thinning?
Who doesn't wants to flaunt a stylish and cool haircut? Retain the volume and luster of your mane and reduce thinning with the below-mentioned tips and tactics. It is imperative to restrict the hair loss and induce better growth of hair.
Intake of Proteins: Like your body, even the hair needs essential proteins to grow and get nourishment. Make sure to feed your scalp with protein-enriched products and spruce up the new hair growth again.
Relax: If you have a habit of pulling up the hair high, correct it today itself. Men with thin hair must keep it loose and bouncy to get the perfect touch.
Infuse Vitamin Supplements: Keep checking your vitamin level as it can be a major reason for hair thinning. People having a deficiency of Vitamin B12 and Vitamin D might adversely affect their hair growth.
Iron Check: Low iron level is also a big reason many people cannot get healthy hair. Taking a check on your iron levels can help in enhancing your hair health.
Conditioners can be Best Friends: Wash off your hair using a good shampoo and a conditioner. Just like your skin, even hair needs proper nourishment to revive from within.
Treat Hair with Aloe Vera Punch: Aloe vera deeply penetrates the hair shaft and treats your follicles with smoothening effect. Its application in any form can restore degenerated hair tissues and promote hair growth,
Check for deficiencies: Men often experience hair thinning due to deficiency of certain minerals and vitamins in their diets. Getting protection from all types of hormonal and physical issues is possible with a quick health check-up.
Regular Oiling: For healthier and thicker roots, it is imperative to moisturize the hair through proper oiling. Go for oils that can infuse deeply into the hair roots and protect you against hair loss.
Switch to a better Lifestyle: If you are under stress or leading a hectic life, it is important to look at your routine. Excessive stress and improper sleeping and eating schedule could be the biggest culprits. Keep them away for better hair health.
Best Hairstyles For Men With Thin Hair And Big Forehead
Go for a hairstyle that creates an illusion of a narrow forehead and thicker hair volume. Is it possible? Two common aspects of adoring such male hairstyle are leaving the top long and allowing the front to fall.
Keep sneaking below to learn all about how to flaunt your adorable look with ingenious hair makeovers. Now let's take a glance at most promising and stylish haircut for men who are facing balding issues. 
1. High Skin Fade Pompadour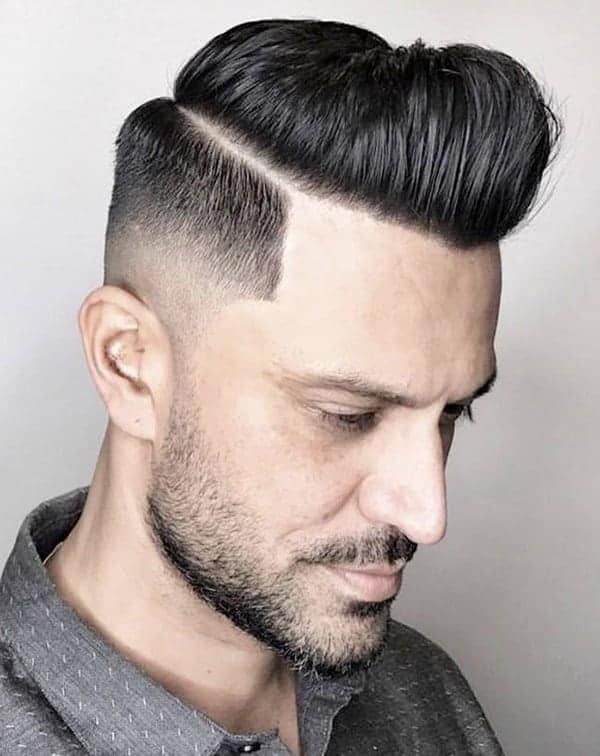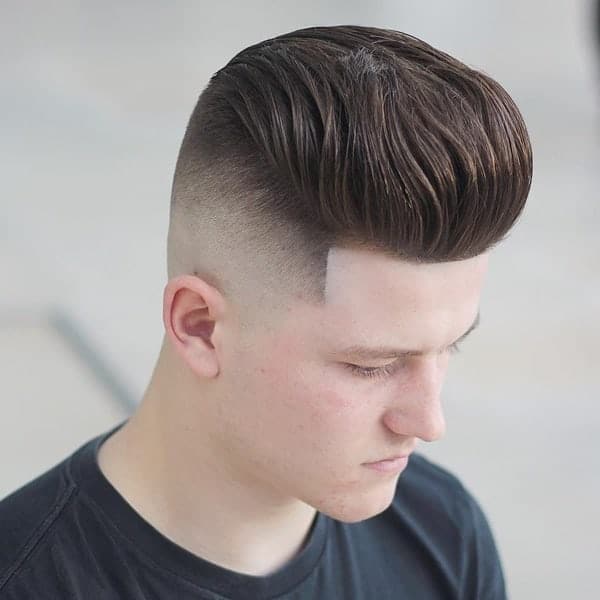 Starting with top male haircuts for big foreheads and thin hair, the pompadour look never goes out of fashion.
If you have to go for summer styling, keep it edgy with a high fade that further elevates the volume on top.
Use products to properly set your hair and grab the desirable styling.
2. Comb Over Fade With Beard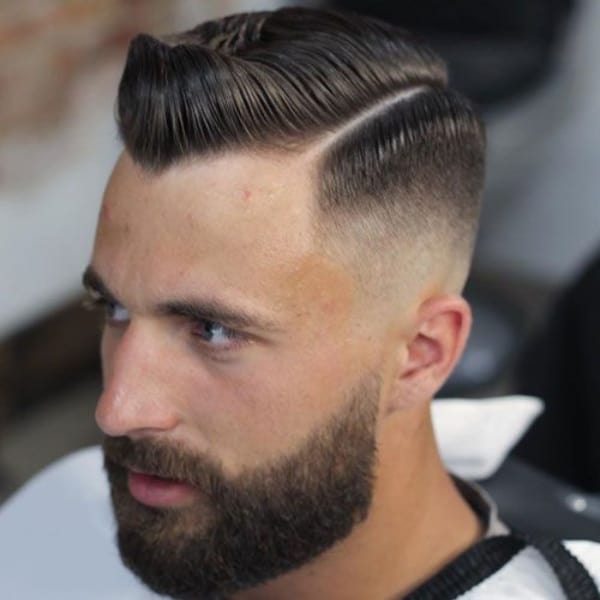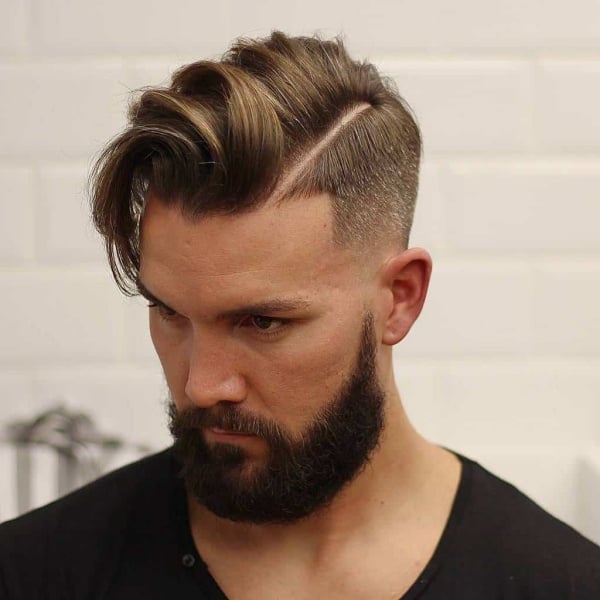 Comb over fade and beard look gives your personality a rugged touch. It also makes your forehead more well-framed and subtle.
However, this men's haircut might demand a few extra salon visits to trim down the fades. Enhance it with a shady beard, and you are good to go.
3. Buzz Cut With Long Beard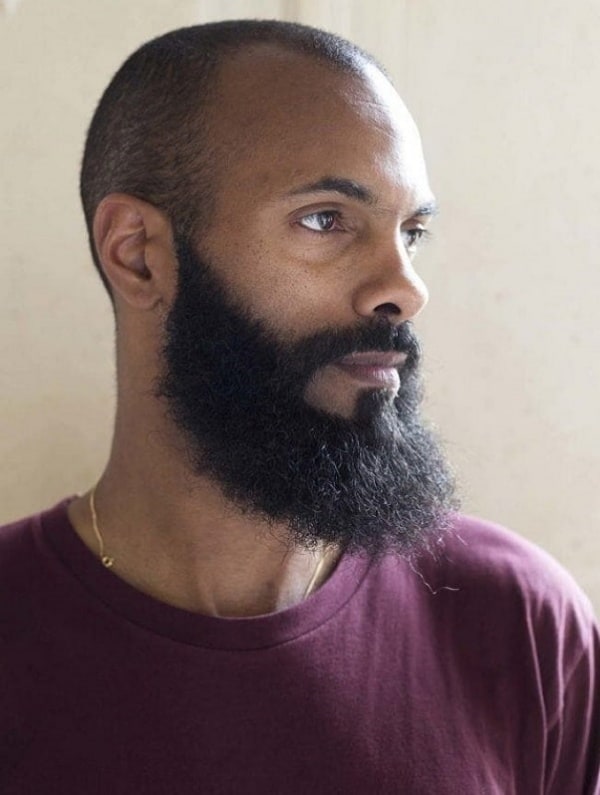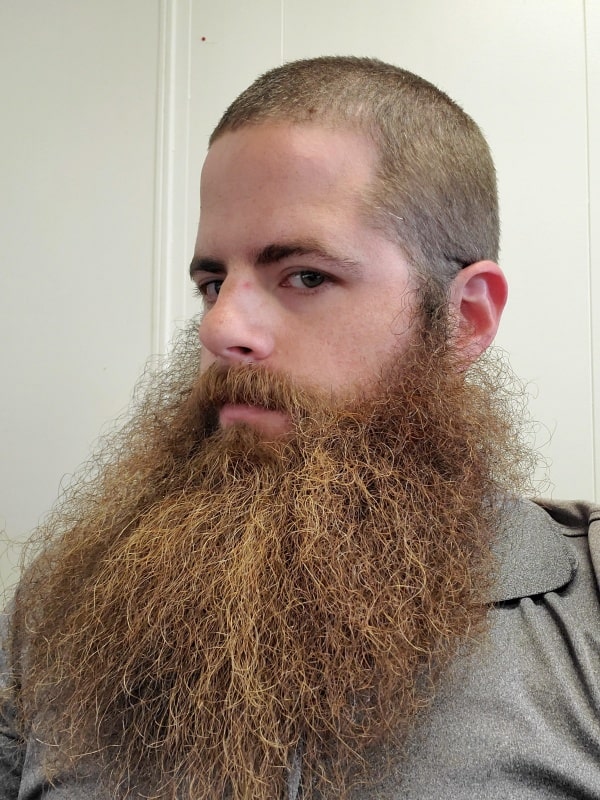 If you have lesser hair on the scalp, balance it with the voluminous beard growth. Pep up to look effortlessly stylish with an amazing buzz cut that matches your personality.
It is ideal for honing it according to the texture and style of your hair. Buzz cut also gives a sleek and neat finish to your face.
4. Crew Cut Fade With Beard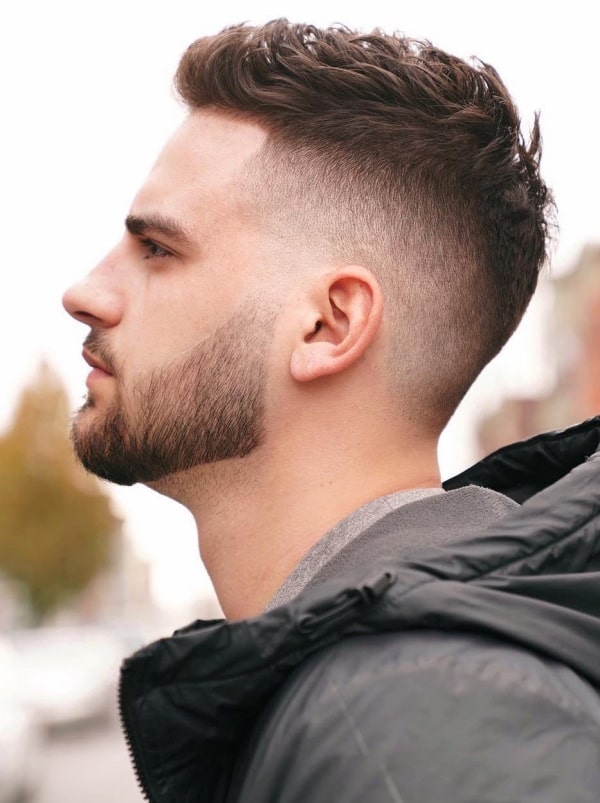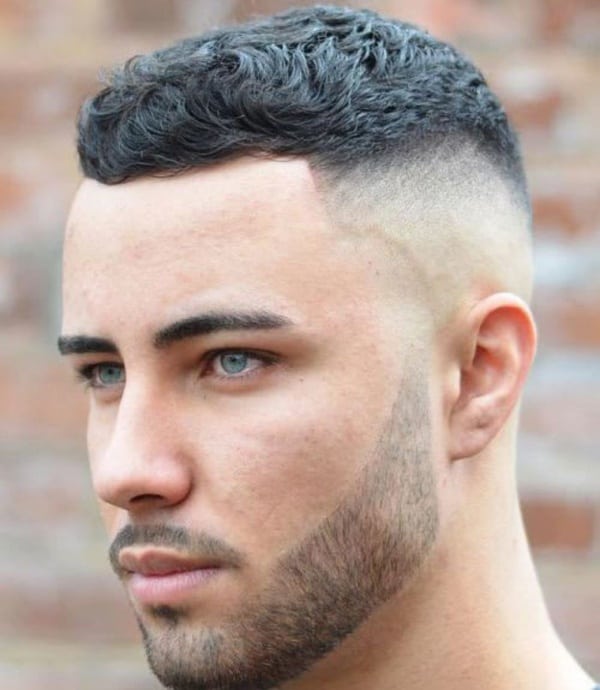 Young men who love spikes but cannot adorn them due to hair thinning can also adopt a crew-cut look.
It is quite popular amongst teenagers as a stylish beard, and crew-cut hair looks like a perfect combination.
Leave aside the fuss of hair styling and maintenance by adopting this super stylish hair look.
5. Textured Spiky Hair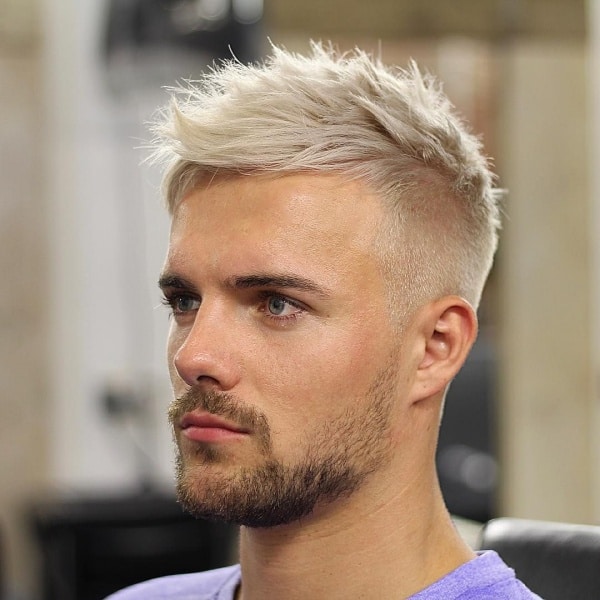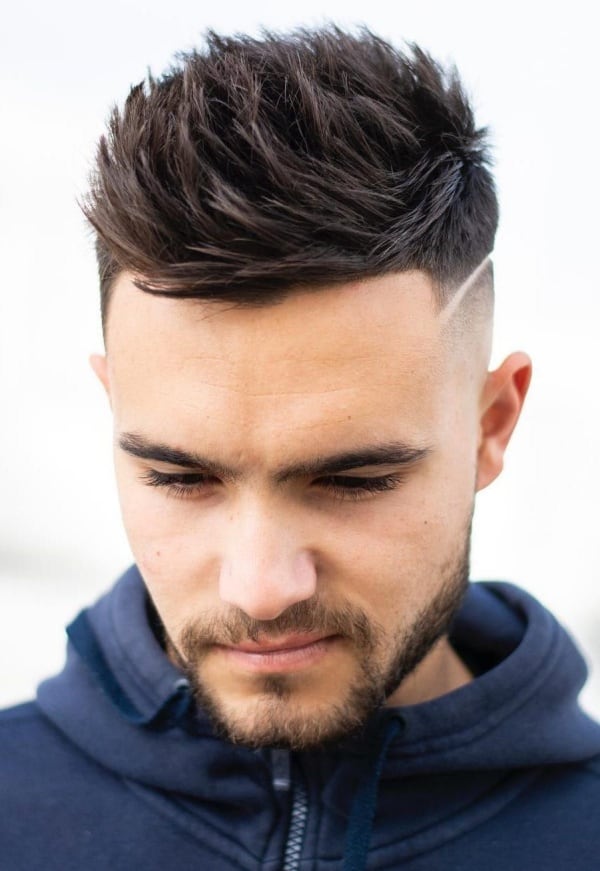 Now this one needs to showcase the talent of your hairstylist. Men who need apt hairstyles for thin hair and big forehead can count on textured spikes.
It is an incredible way through which people can trim off the spike textures into multiple variations to create a volume.
Adding highlights or color dyeing the texture can also accentuate the hair makeover.
6. Taper Fade With Beard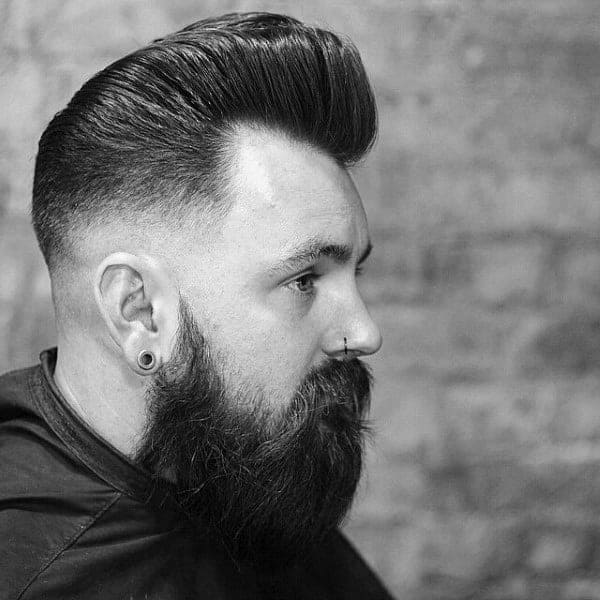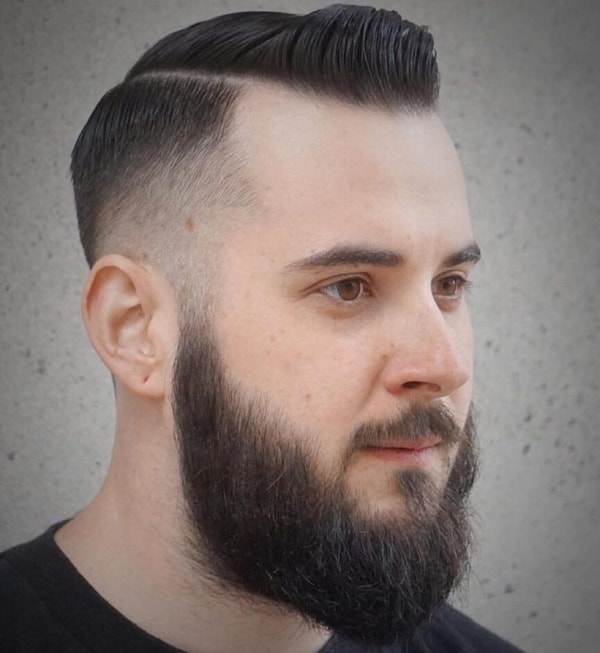 Taper fades are the hot talk of the town owing to their styling process and overall touch.
Irrespective of your hair type, taper fades look amazing and cover your broad forehead effortlessly.
Styling thin hair is about learning to keep them intact, and you can certainly embrace the volumes then.
7. Slicked Back Undercut With Beard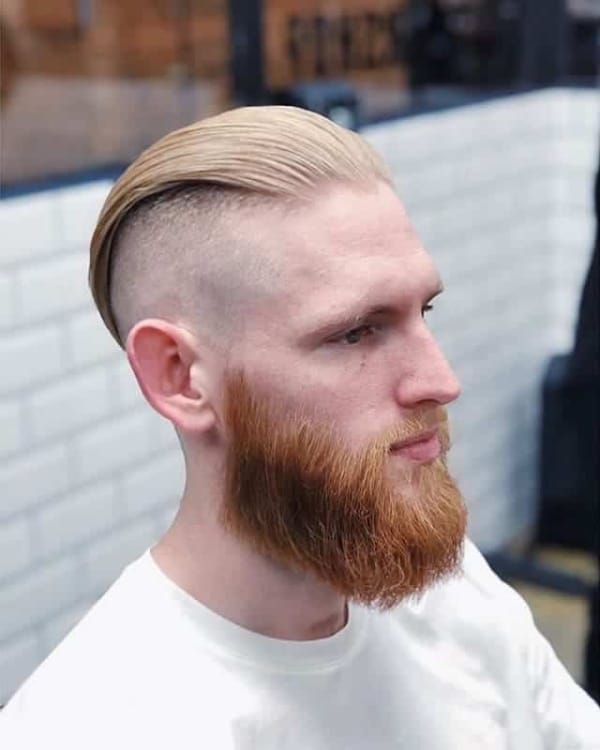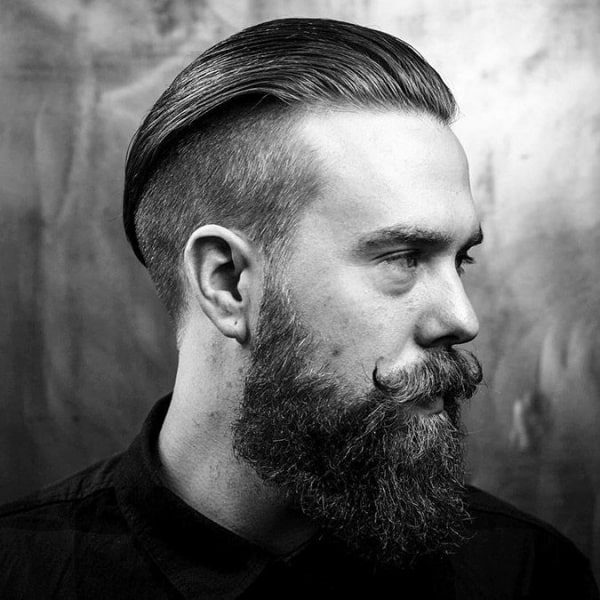 Some men have thin but long hair and are not willing to trim them down. It is rather a hack to prevent your hair from looking thinner.
So, what needs to be done? Just invest in a good hair gel and comb back the hair length for a formal and classy look. Shave off the sides to deviate attention to the center volume.
Adorn the slicked-back hair with a fuller beard and unveil your dashing personality.
8. Faux Hawk Fade Haircut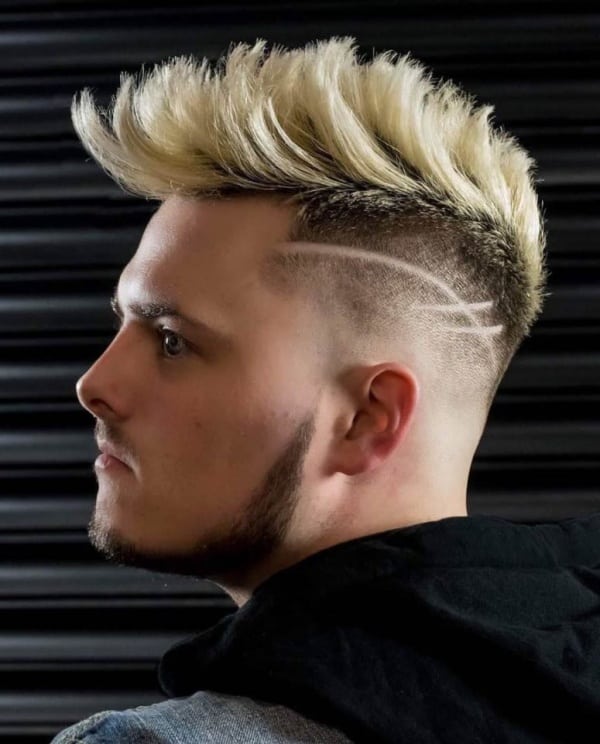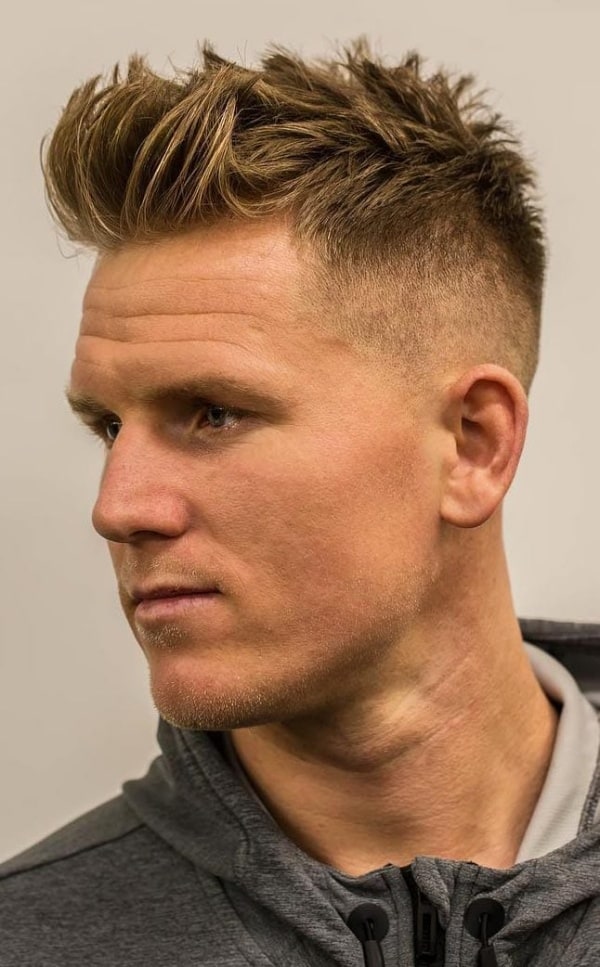 The faux hawk is a global fad these days! Men can try this hairstyle to look younger and smarter by shifting the attention from volume to style.
The faux hawk at the top is about creating a messy hair texture with some spikes on the top.
Hair fades down towards the sides giving it a finer touch. Once you know what suits you the best, it's easier to style up with grace.
9. Mohawk Fade With Beard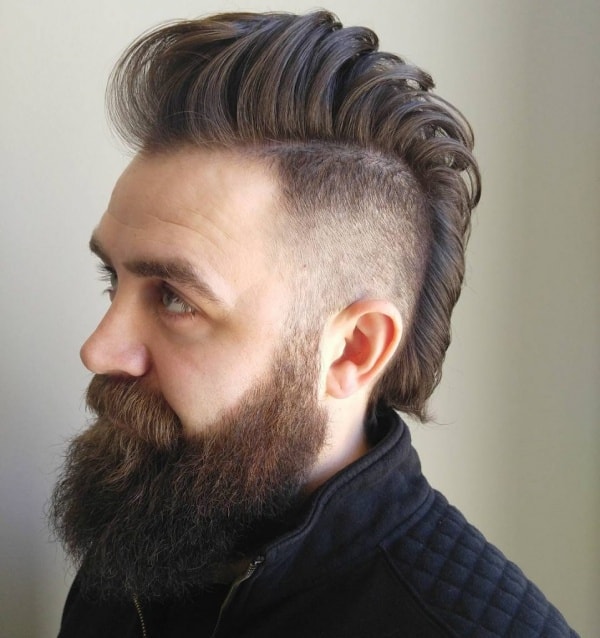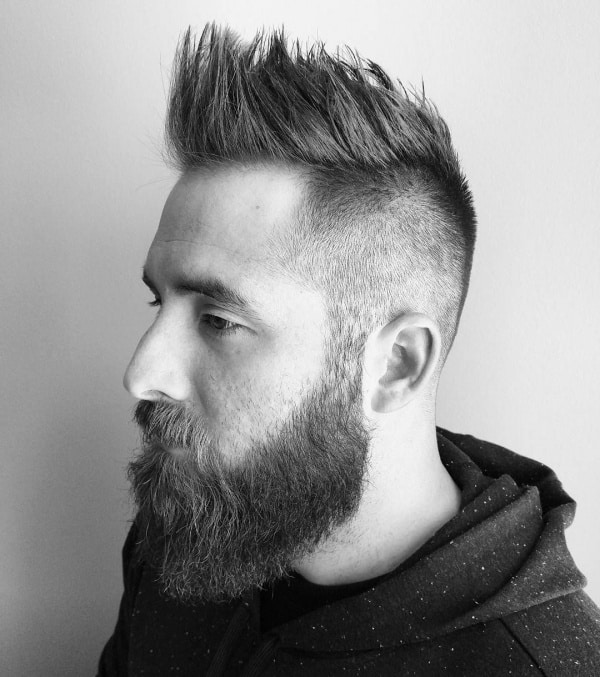 Men with a big forehead and thin hair might consider Mohawk hairstyles as their close pal. It features an elevated hair length and spikes at the middle part.
Embrace the fades on both sides to elevate the look further. Let the volume rise up as it creates a perfect symmetry to your face.
10. Textured Fringe Haircut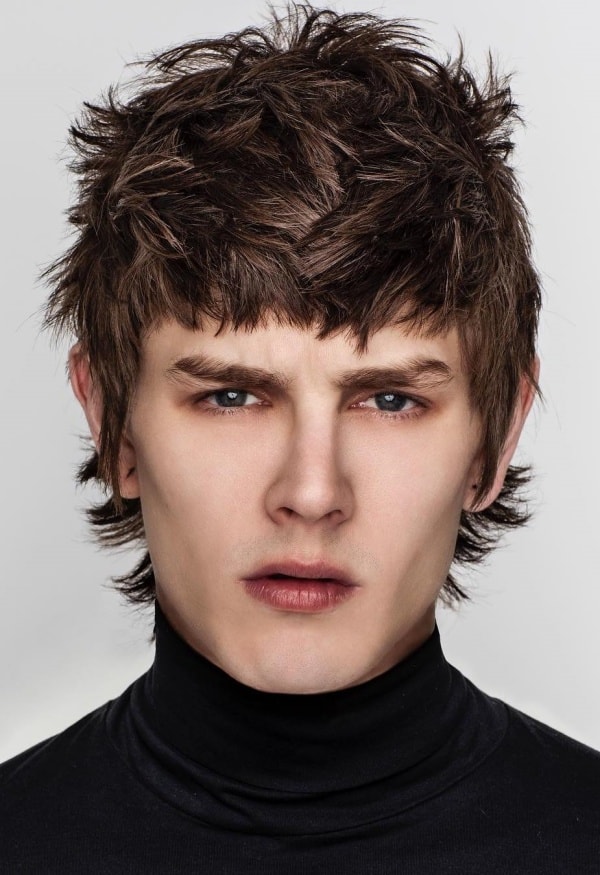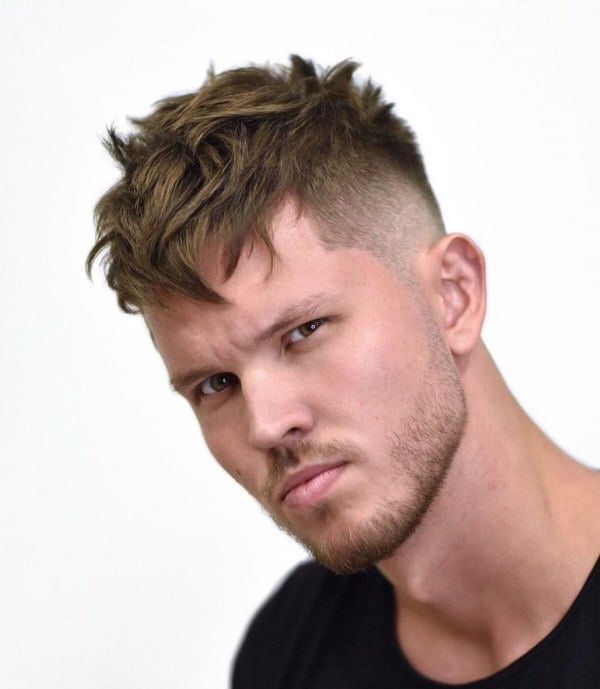 Let your hair also rock and roll carefree to make you look incredibly smart and amazing. Style up with a textured fringe cut and wonderfully accentuate your facial features.
Allow some additional elements to the hair, like irregularly shaped fringes and cuts. Keep focusing on your front hair portion, as it helps hide the forehead.
11. Military Haircut With Beard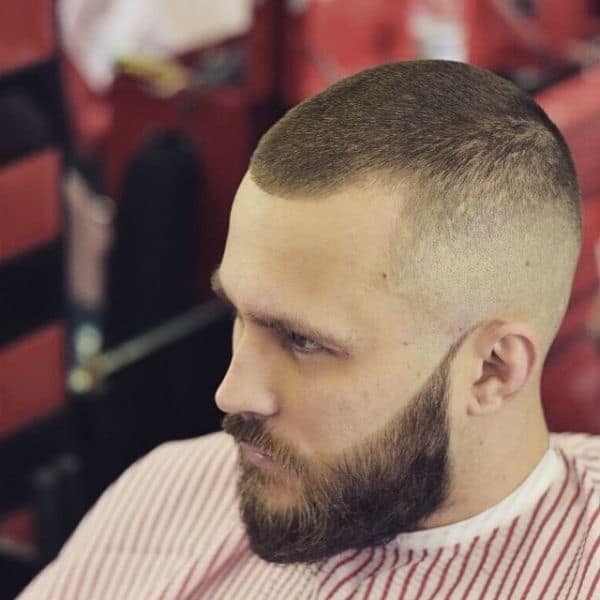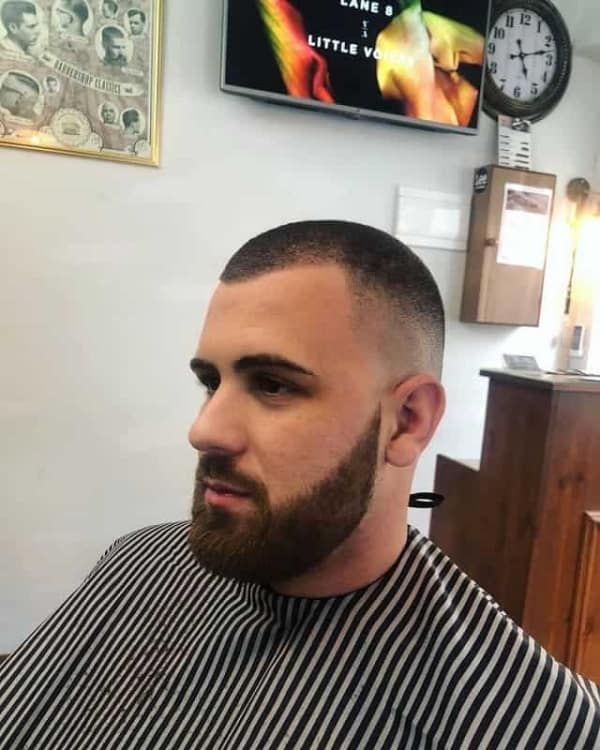 Military haircut also works on similar lines to that of buzz haircut. Here the side length is trimmed down, and even the hair top is minimal. Men unwilling to flip more with their hair texture can go for this subtle style.
Keeping a voluminous beard to complement the military haircut sounds like a real-style game. This elevates the appearance with a touch of modernity to it.
12. Side Part Fade Haircut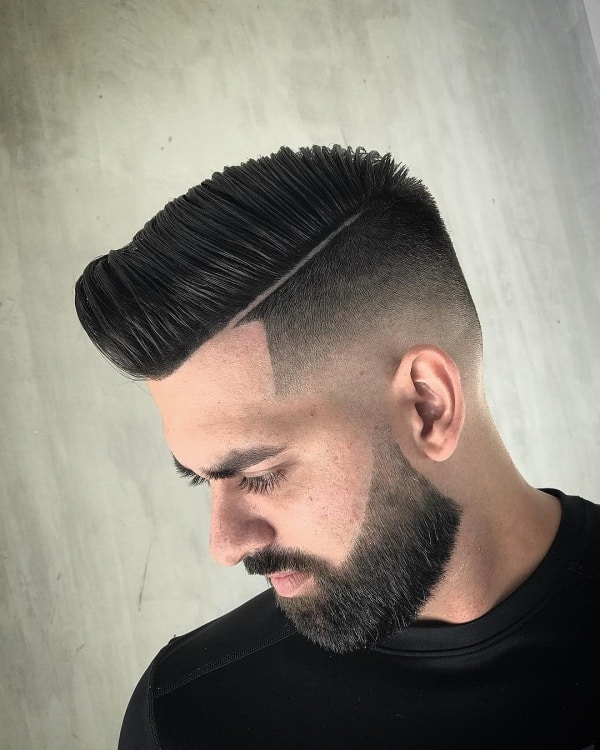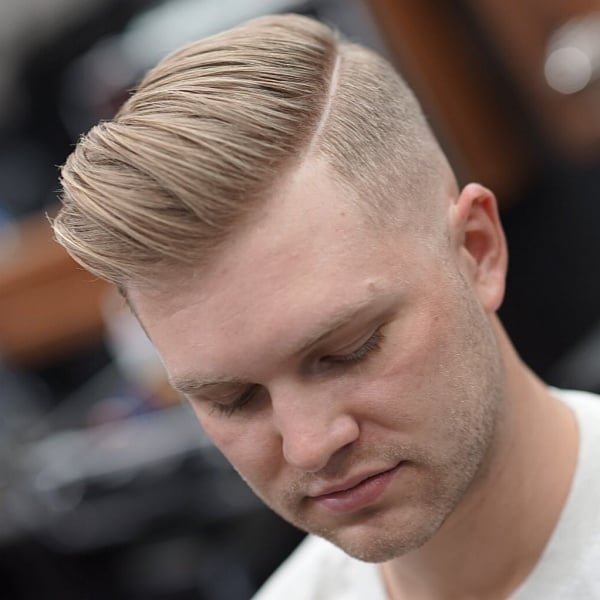 For a nice formal look that raises your aesthetics, carrying off the side parted fade hairstyle is cool. It might sound like an old-school haircut, but it could tactfully hide off the broad forehead.
Check out this amazing side-parted haircut with slight fading to add finesse to this modern haircut. Ensure that you side part the hair properly to embrace the best look.
13. Bald Head With Beard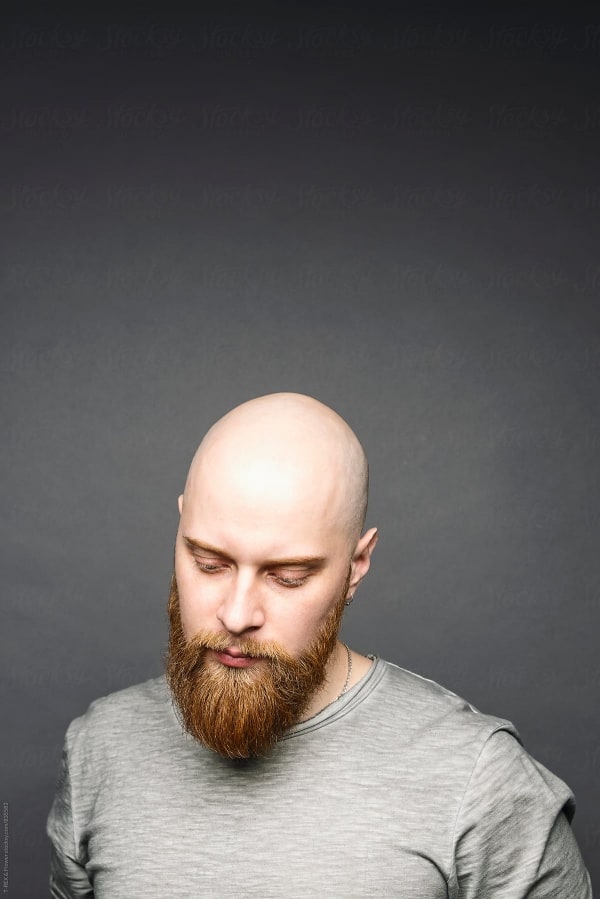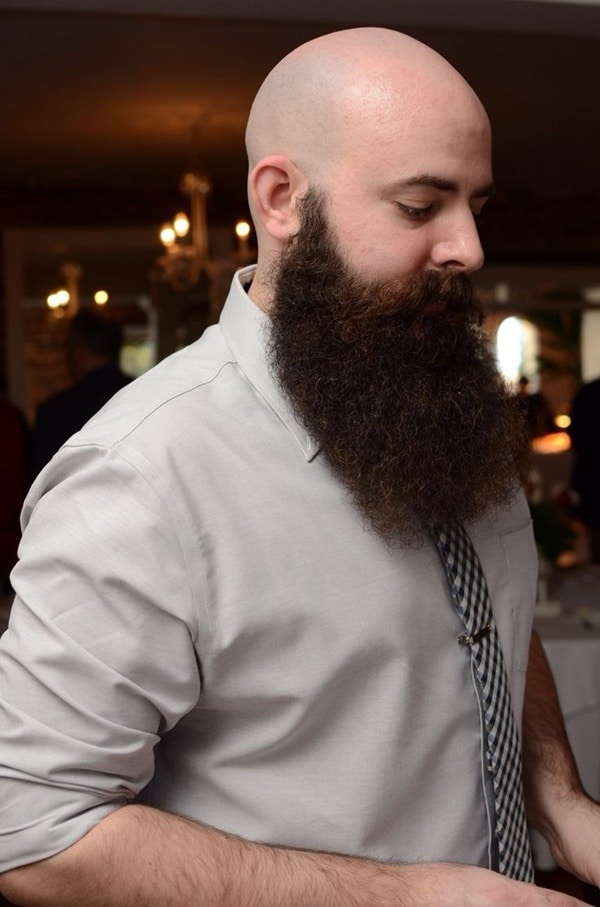 Can you dare to bare the head? If yes, go for this edgy and statement-making hairstyle. The shaved hair looks stunning and jaw-dropping, whether you hone it with formal or casual attire.
Bald the head completely and retain a fancy beard along with it. Investing in beard styling products and nourishing them gracefully is better.
14. Caesar Haircut For Thinning Hair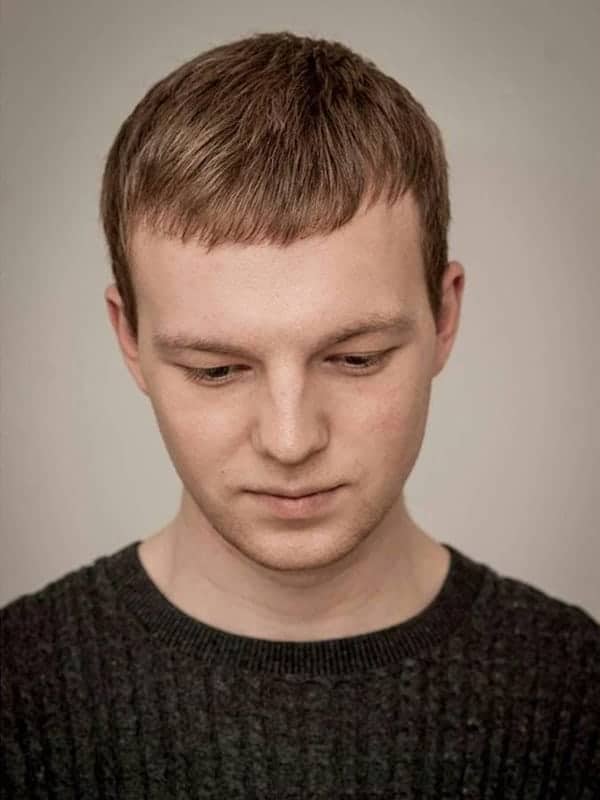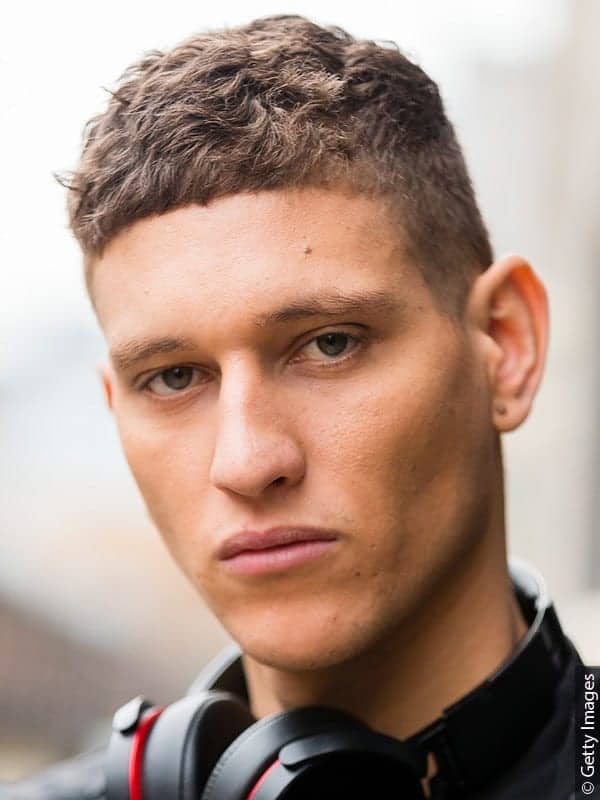 Get that cute chocolate boy image with a Caesar haircut. It tactfully neutralizes the length all over and hides the thinning problems.
Taking care of this hairstyle is possible by asking your stylist to align the hair length in moderate proportion evenly.
With this, you can appear gorgeous in that classy hairstyle.
15. Short Bowl Cut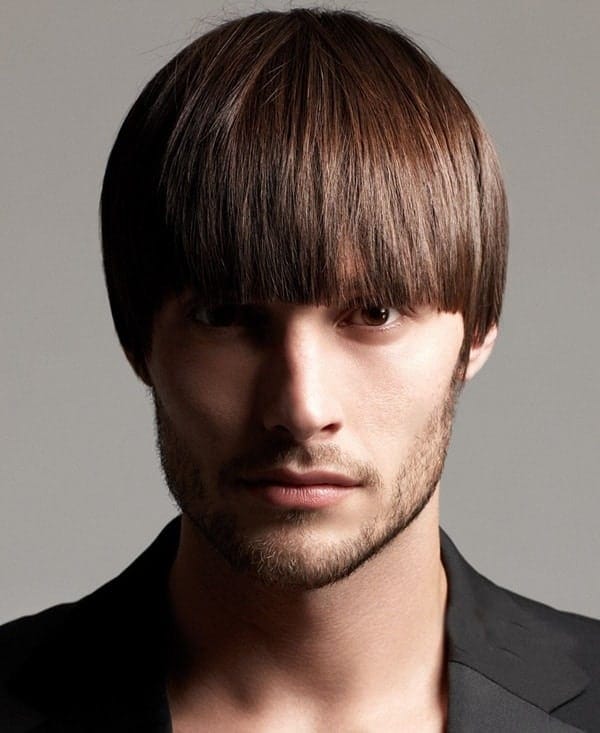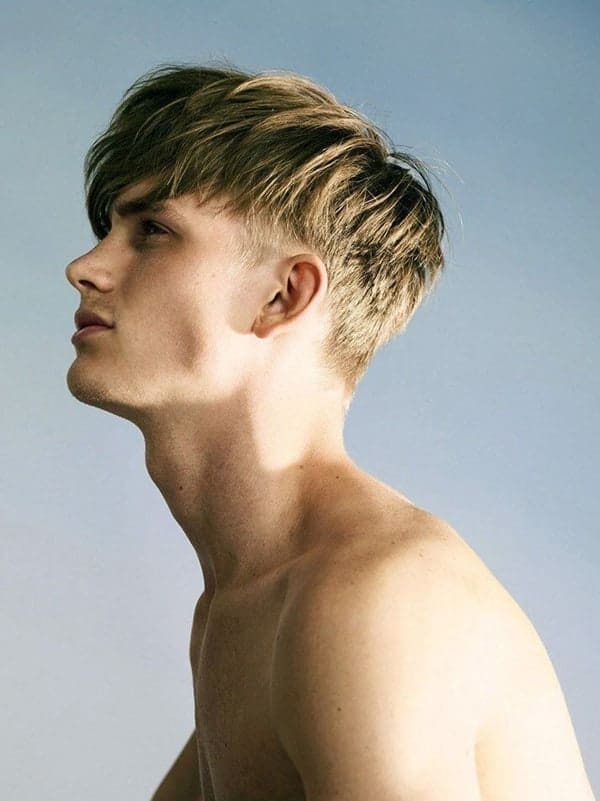 Now this one can completely hide the big overhead and thin hair with incredible bowl-cut hair. The haircut should be in the shape of a bowl that distributes the hair on all sides.
Depending on the length, you can ask your stylist to create the pitch-perfect look. It is an effortless haircut that can grab all the attention.
16. Short Curly Hair Style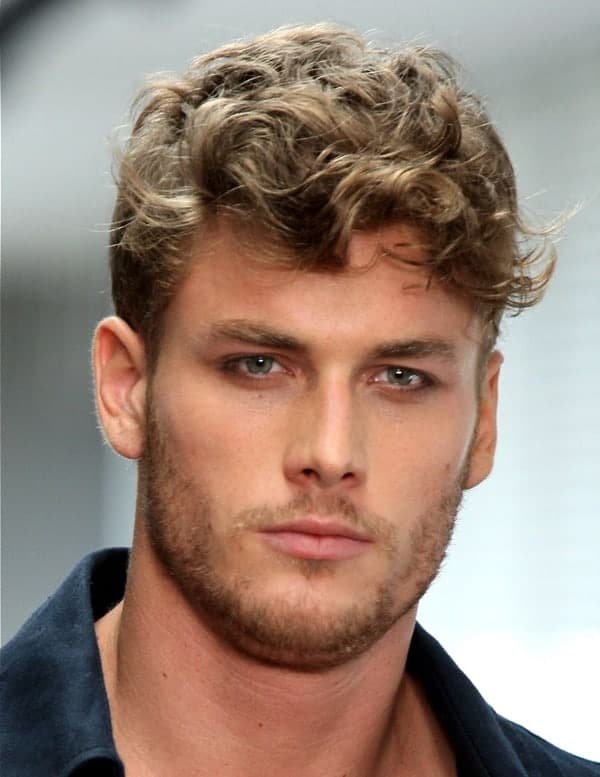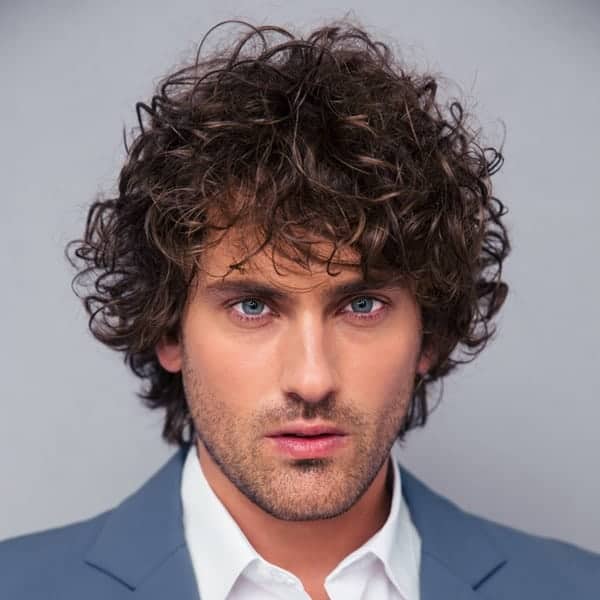 Men with a big forehead and thinner hair can embrace the curls to get some volume. This can develop waves and curls over your head to add appeal.
Highlighting your natural curls towards the front and upwards can hide the density issues.
Evoking more spikes and volume can create a lot of movement on the head. Dazzle out with your short and curly hairdo this season.
17. Swept Back Hairstyle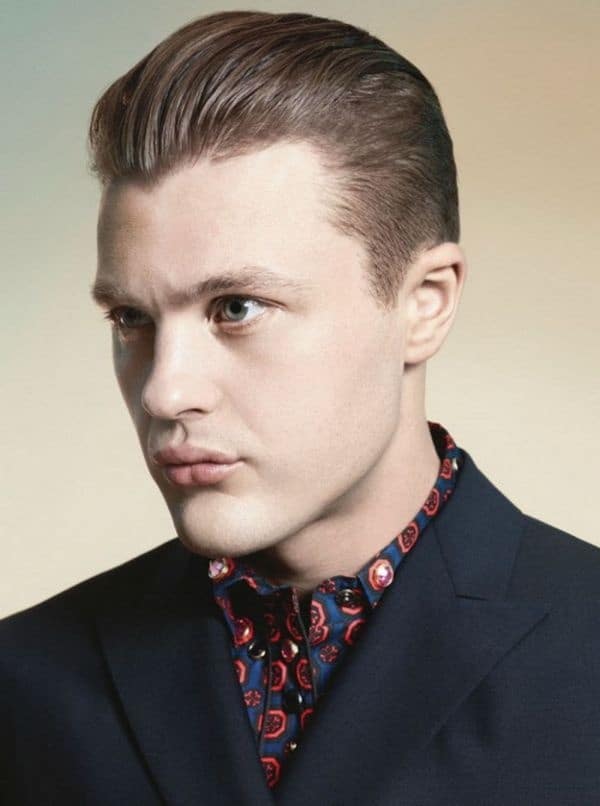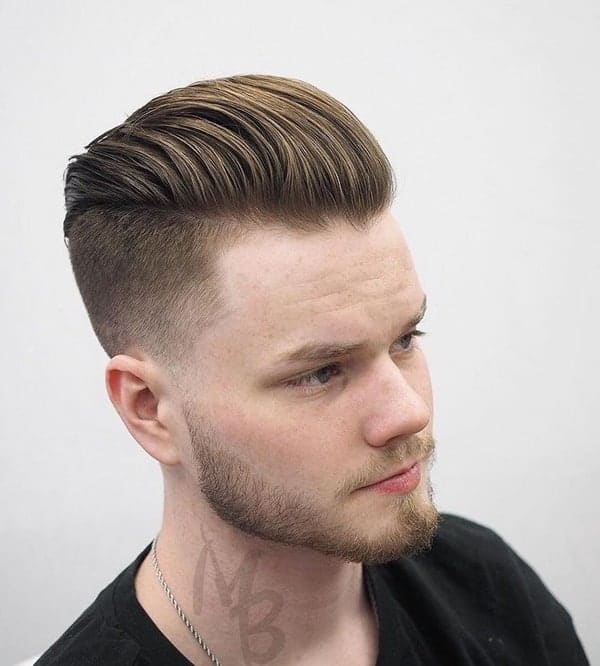 Men who have to attend many corporate events, parties, and functions need to look uber-stylish. Swept-back hair never goes wrong, as it can add volume to hair.
This type of hairstyle is perfect that create a B-shape forehead. Creating a wonderful hairstyle that can look incredible. Using a nice trimming edge to it can accentuate the final touch.
18. French Crop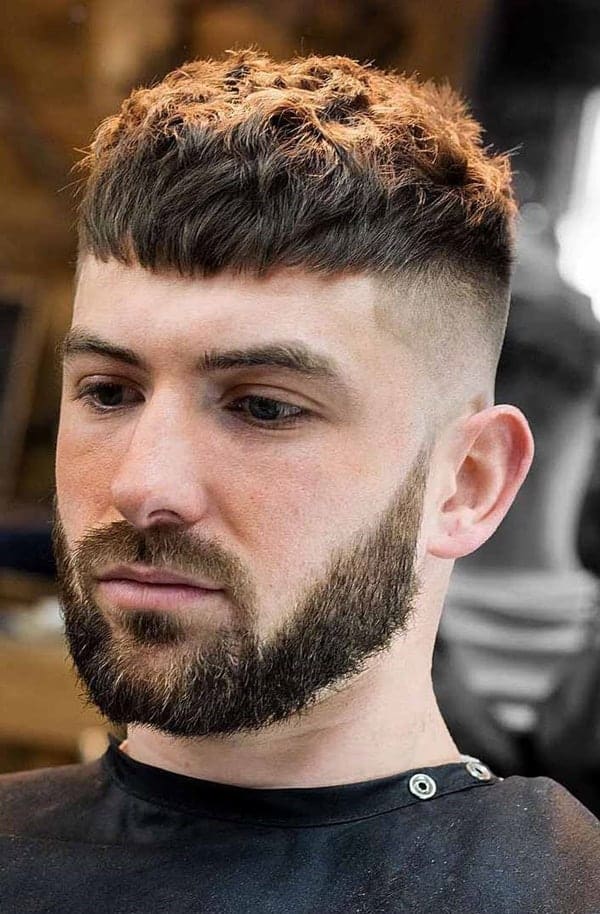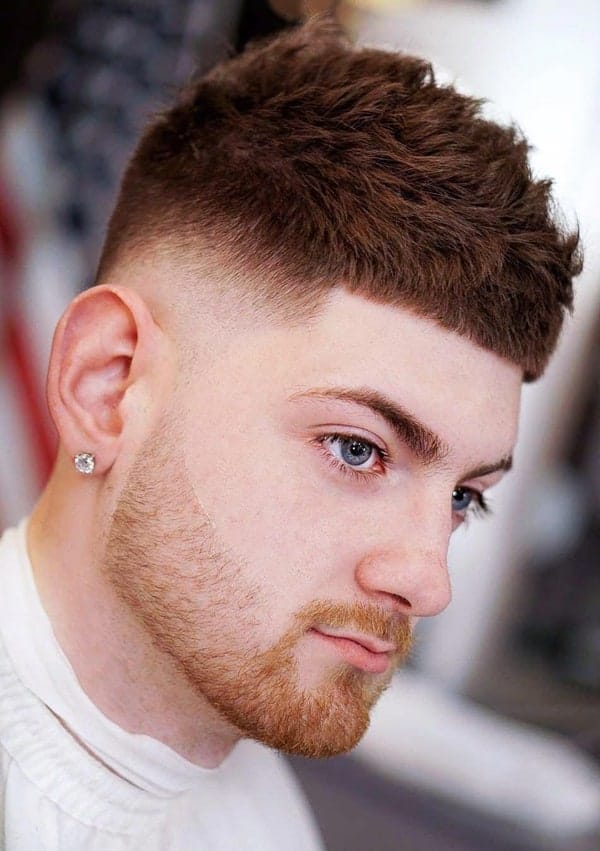 Willing to adopt this French crop hairstyle? It is suitable for men having big forehead and thinner hairlines. Keeping the hair on top shorter, followed by cropped fringes, is an exquisite French look.
This haircut can hide the hairline appropriately and give a suitable alignment to your personality. Jazz it up with a casual outfit to wind up the look.
Also, Checkout: Trendy Older Men's Hairstyles For Thinning Hair
19. Side Swept Fringe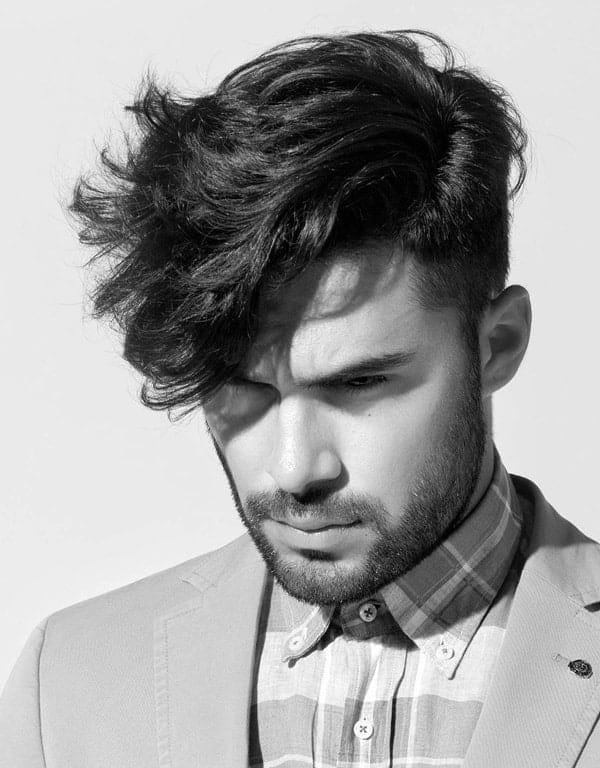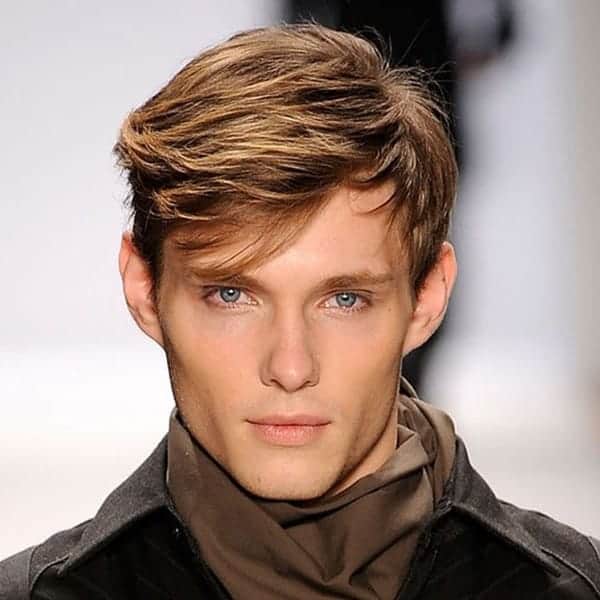 If you have a long but thinner hairline, create an illusion with the dramatic side-swept fringe look. This one is a cool dude style of hair that can make you look more stunning and smart.
A fringe style is always a good friend for men with broad foreheads. Nail the look and grab the attention with this epic statement style.
20. Layered Long Hair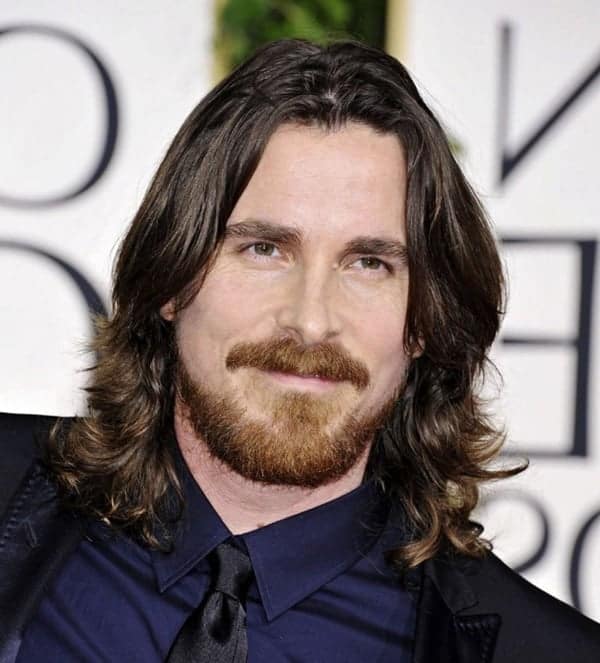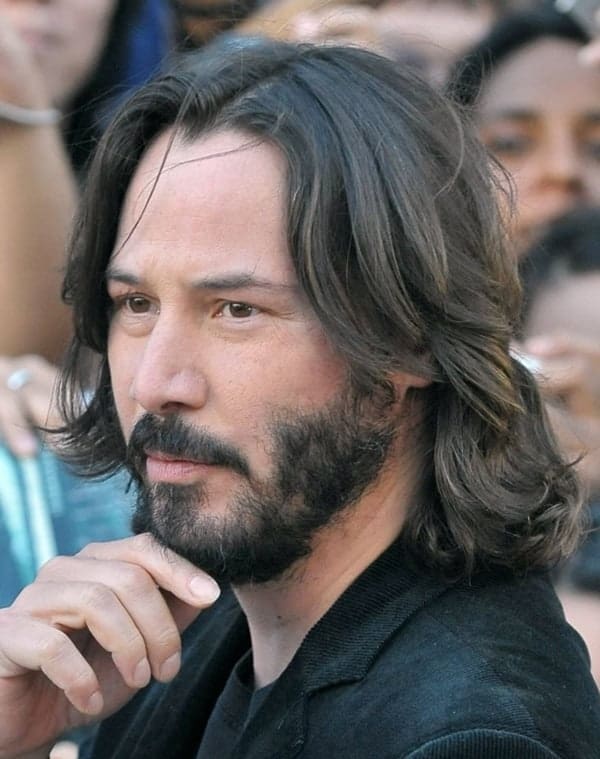 Vivacious and cool layered hairstyles look marvelous on men having thin hair and big foreheads.
Instead of keeping an even hair length, it is ideal to go for uneven hair length as it highlights the volume. 
Such type of impeccable hairstyles can be the perfect transformation. Be picky with the hair dimension and hair volume towards the front of your head.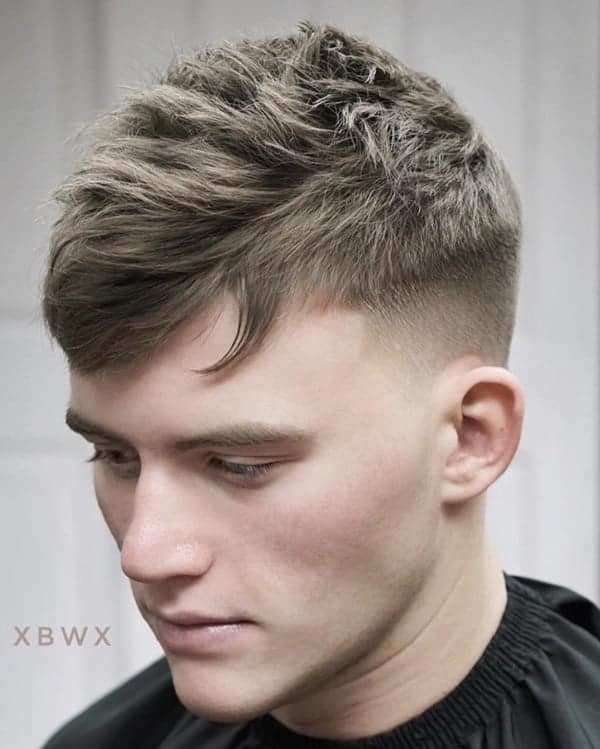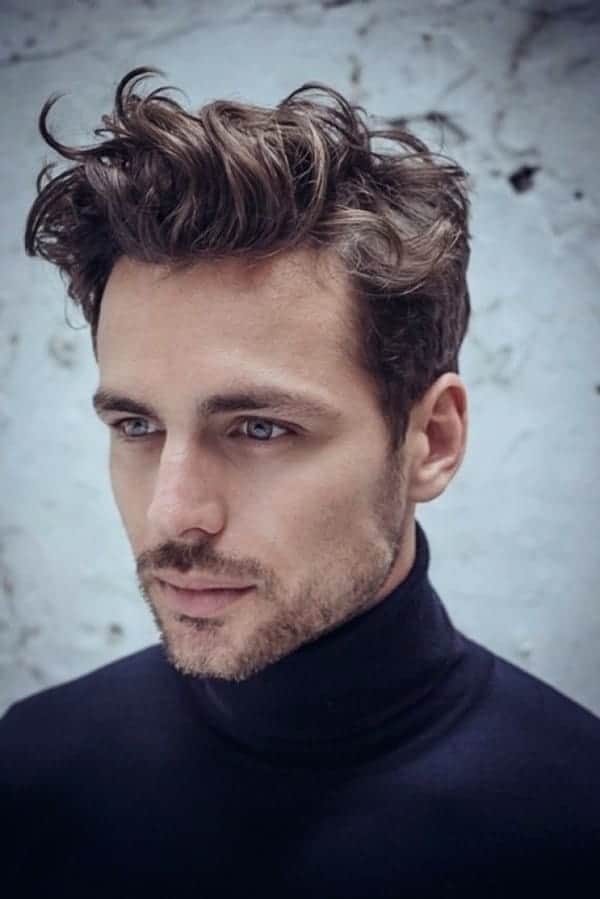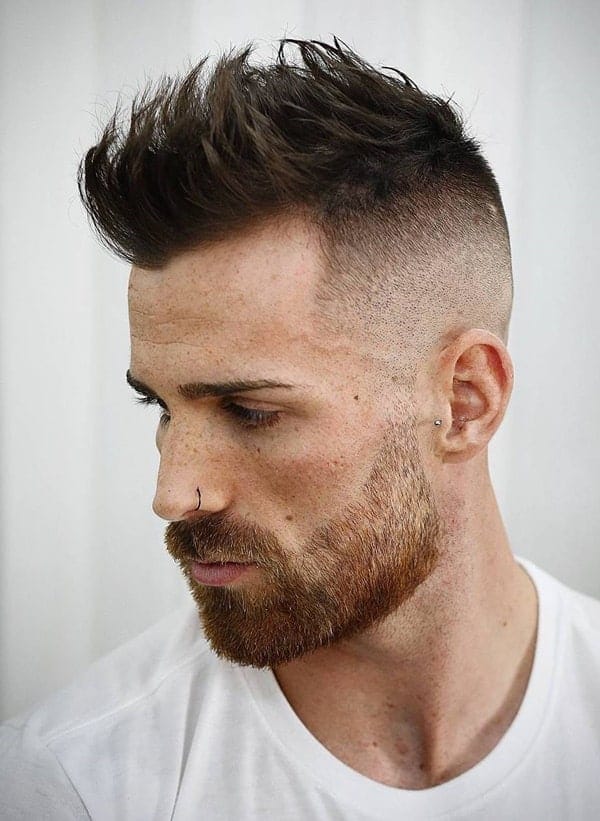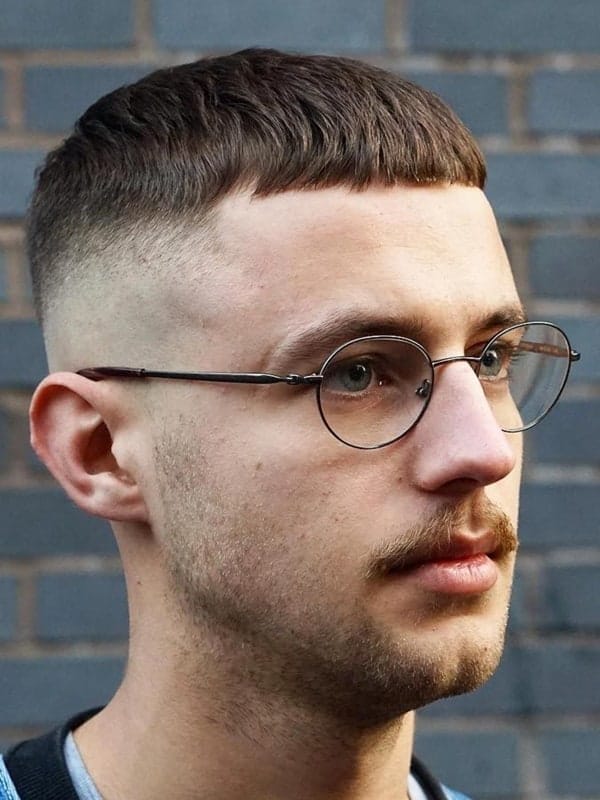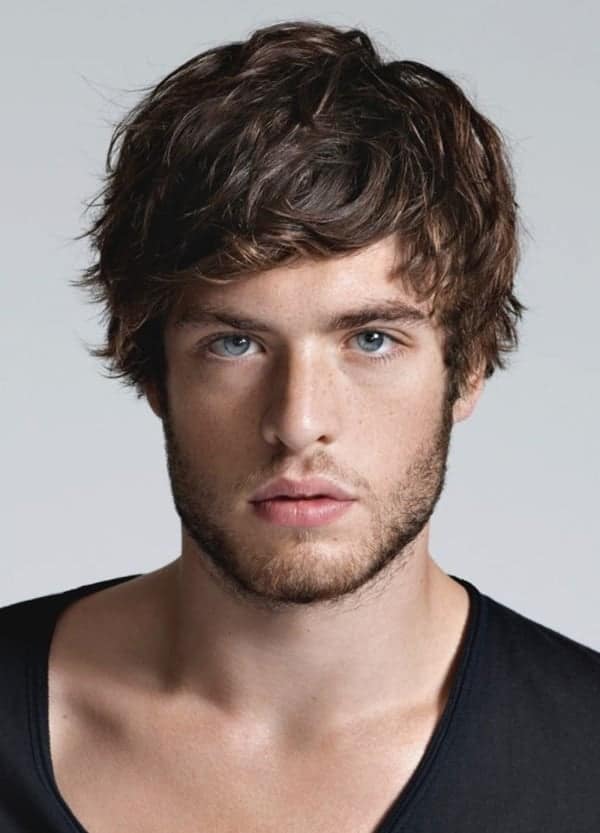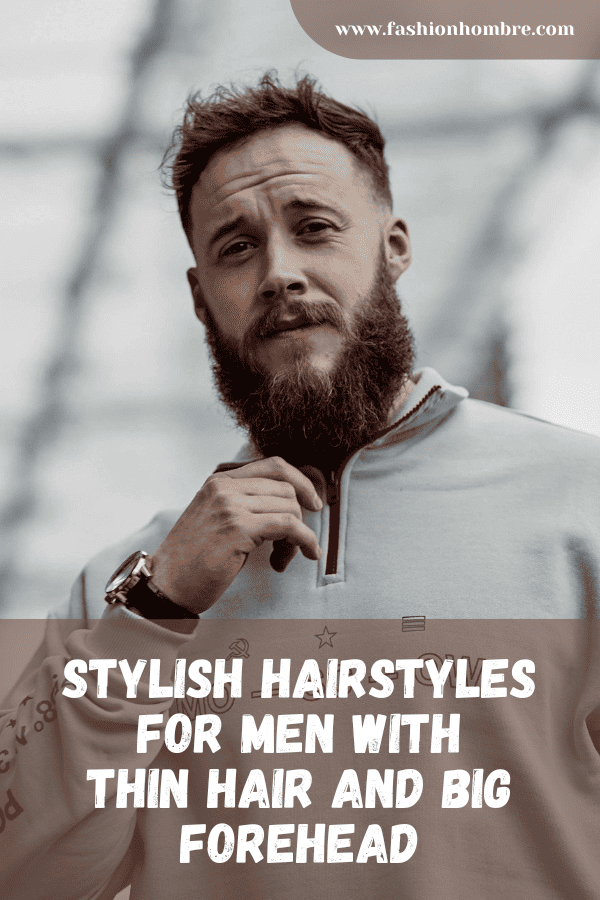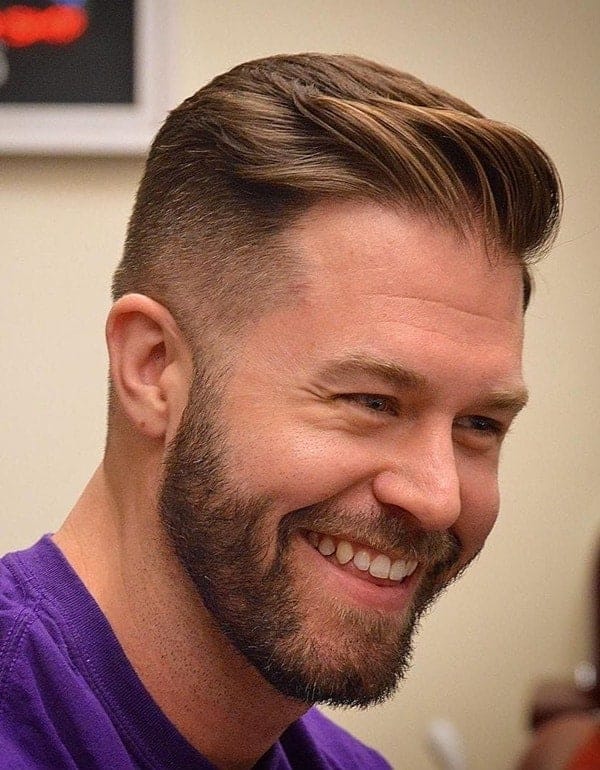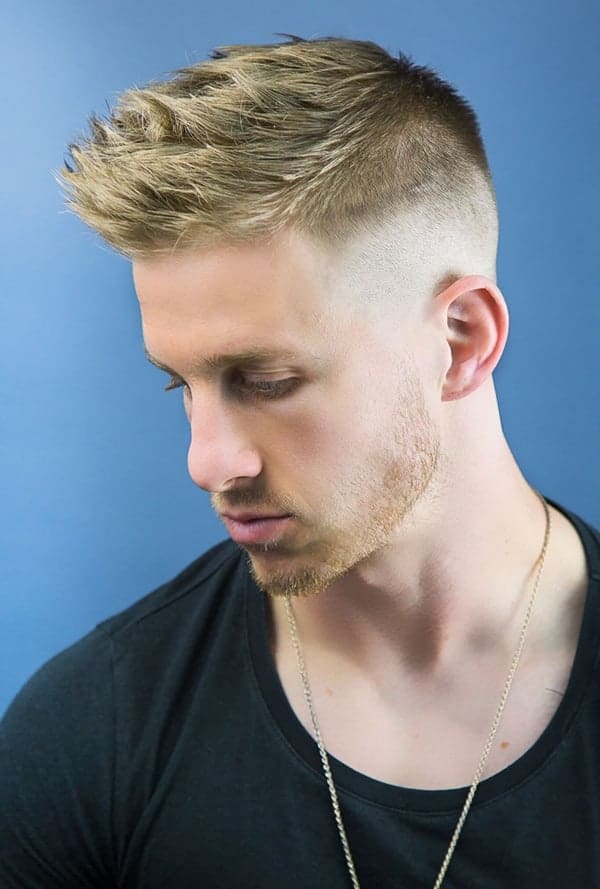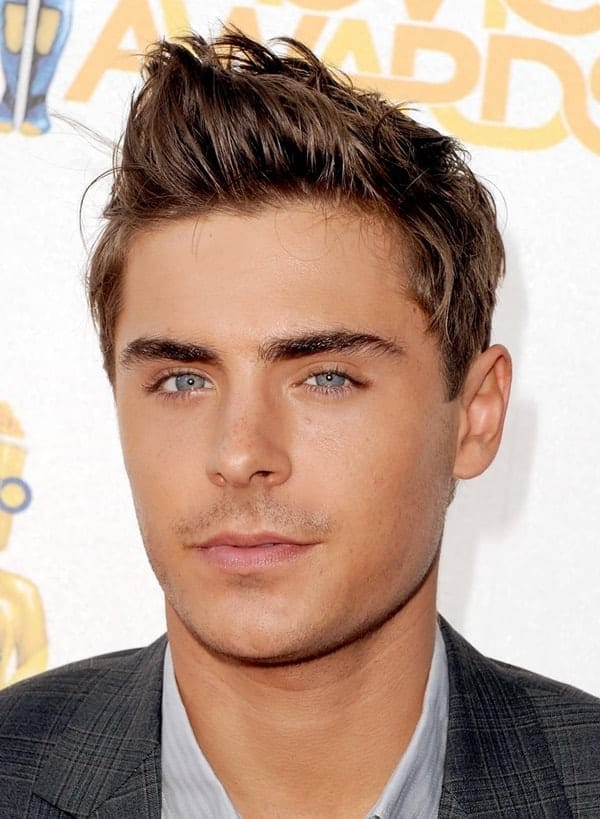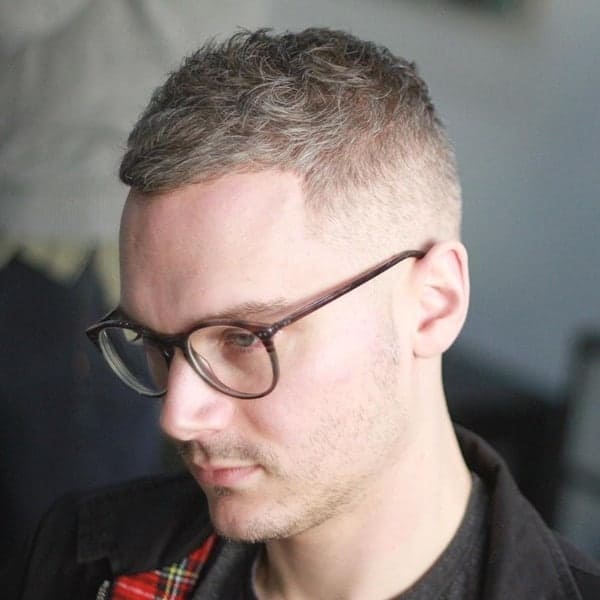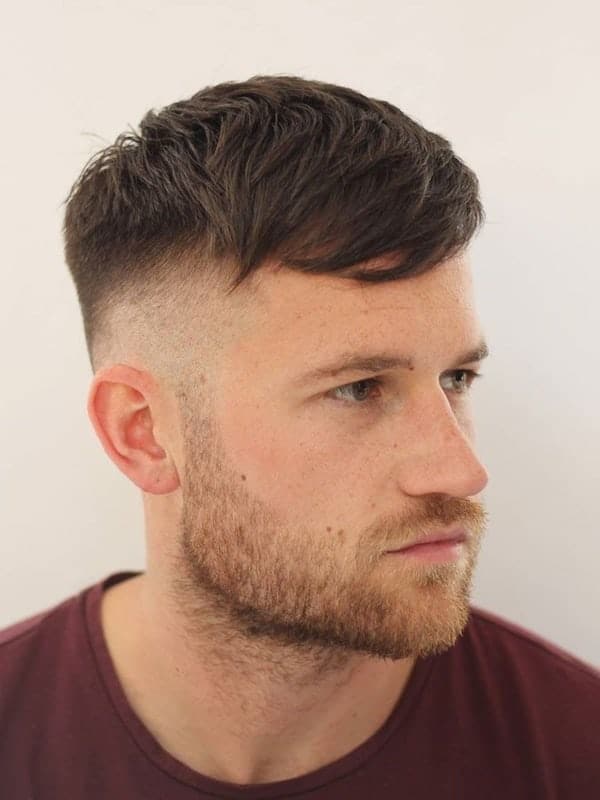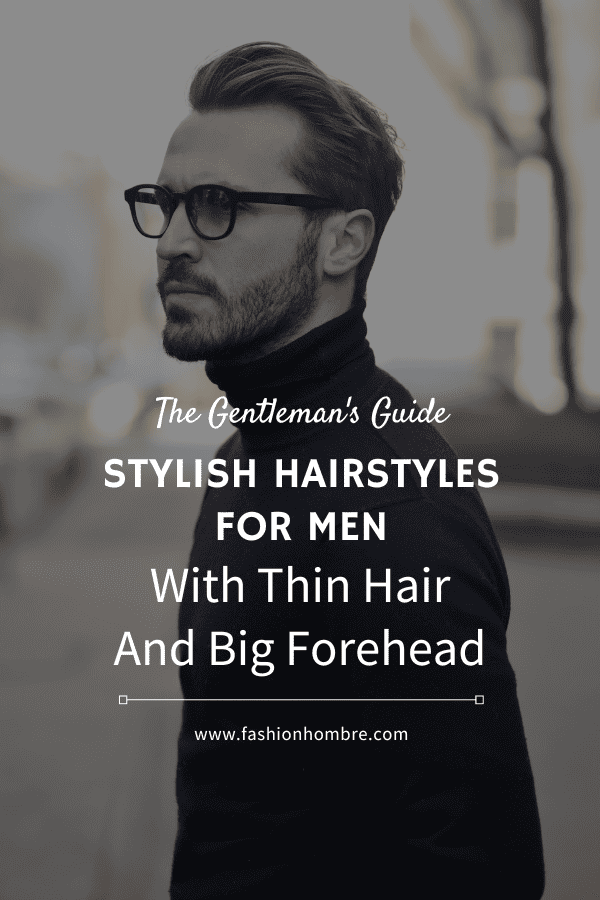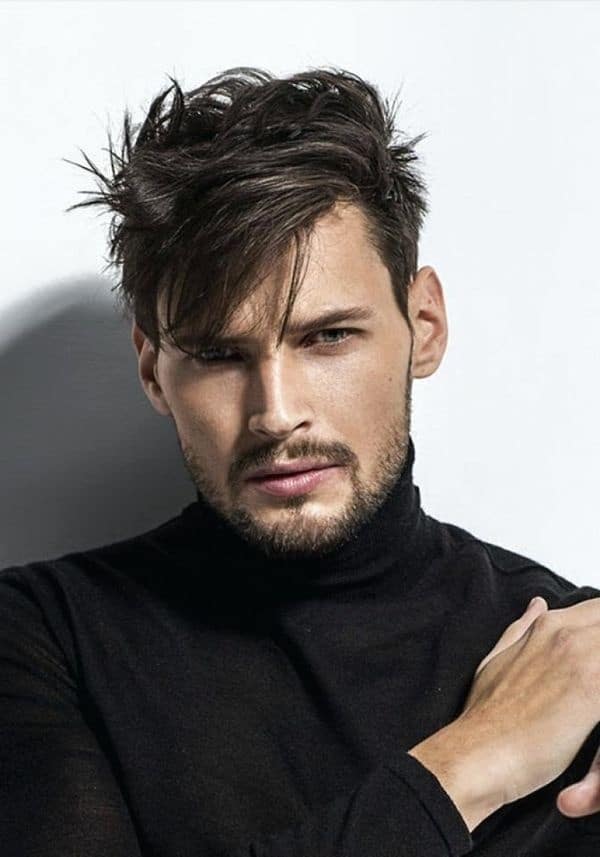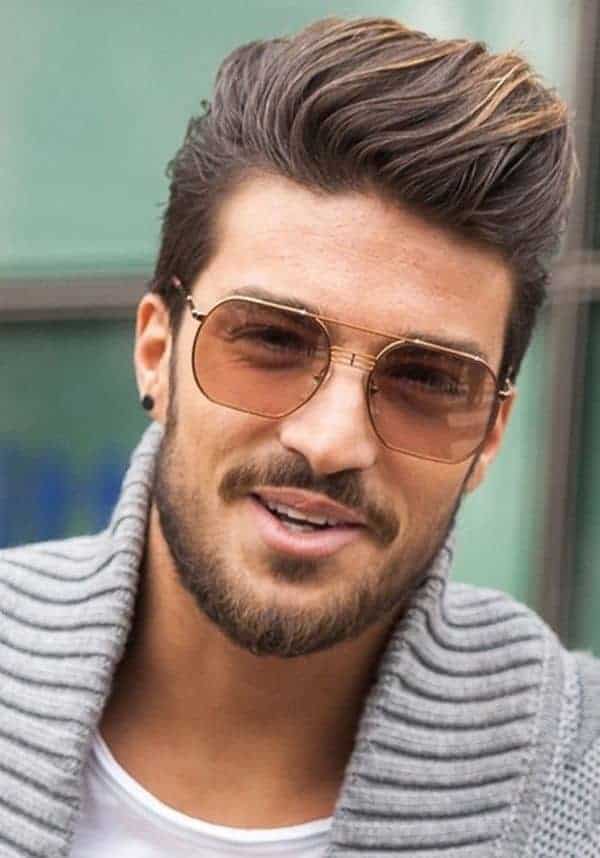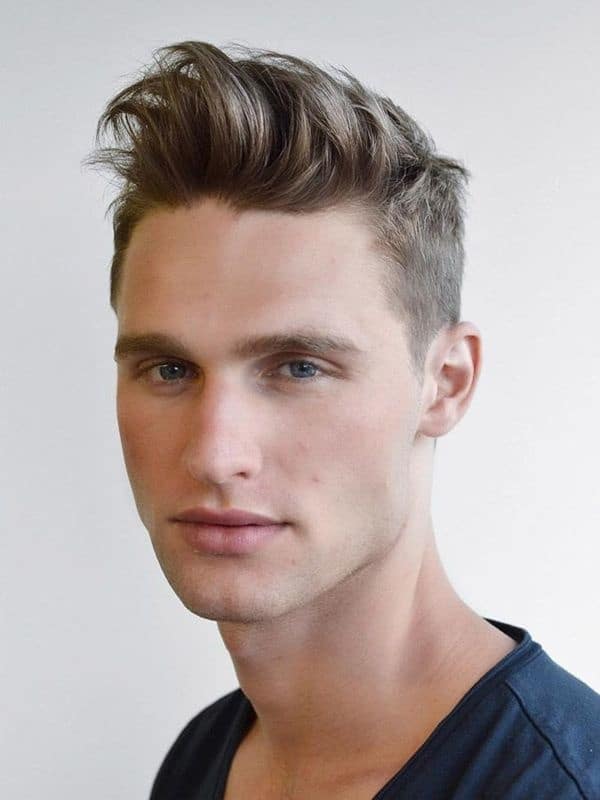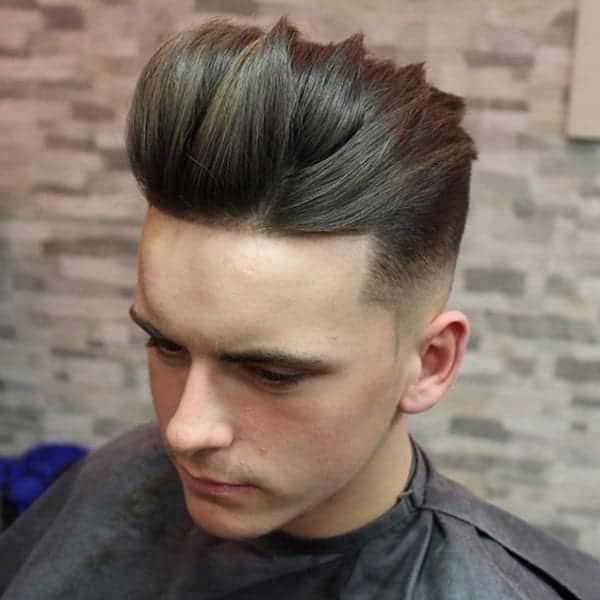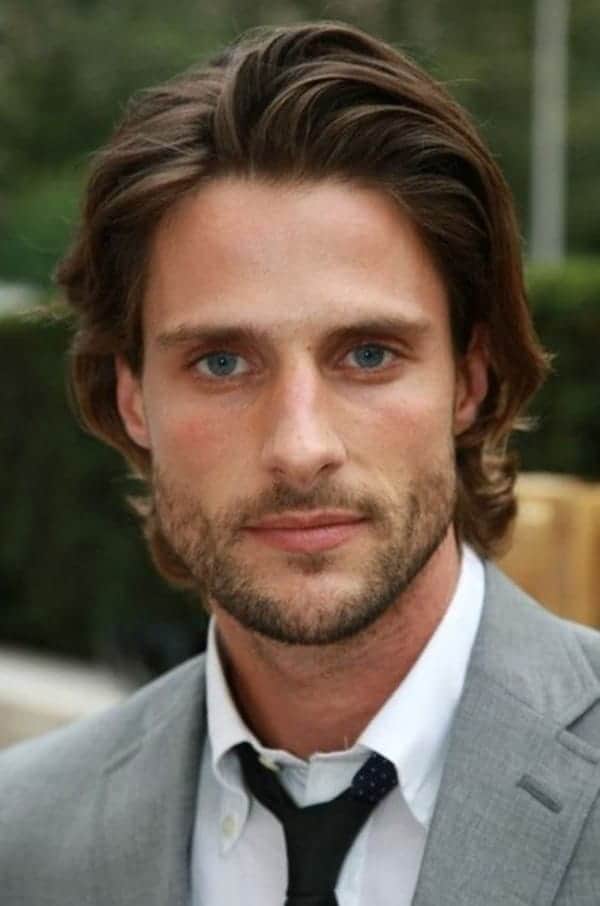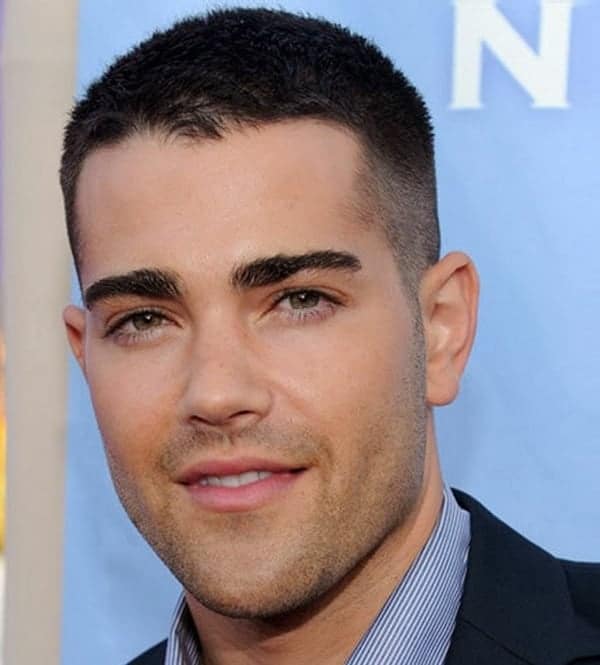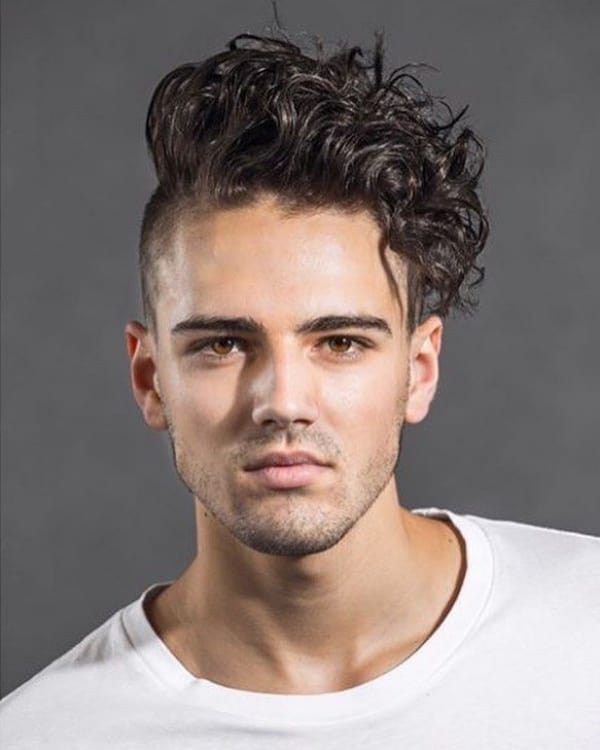 Also Read:
Conclusion
We've almost covered all trending hairstyles for men with thin hair and big forehead that could provide a perfect solution. Regardless of your physique or facial features, most hairstyles cannot fail to create magic.
Remember to spend the money rightfully on styles that impart the desired look. Pay attention to your hairline and face shape to get the perfect hairstyle.
The above guide is a detailed overview of top haircuts for a male that goes well with thinner hair. It's time to pour in your suggestions and thoughts on the same.