Blessed are those men who have naturally straight hair that is relatively easy to comb and upkeep even in a busy schedule. However, be it a man or a woman, maintaining curly thick hair is not a cakewalk at all. During the summer seasons, a scalp full of curly hair contributes to your sweat and discomfort. On the contrary, winters take away the moisture from your curly hair and create frizziness. Also, it needs a considerable amount of time to comb and wash your curly hair properly. Therefore, curly fade hairstyles can take away your discomfort and give you a unique style.

The fade haircuts complement your curly hair, unlike any other hairstyle. It reduces the burden of heavy curly hair on your head and offers you a more relaxed and smart style that adds a new dimension to your personality. So, let us dig deeper and know about the most trendy hairstyles you must try on your curly hair. However, firstly, we would like to offer you some valuable tips in the section below that make managing your curly hair easier than before.
How To Maintain Short Curly Hair?
Nourish Well:

Maintaining curly hair is different from maintaining straight or wavy hair. The former tends to be drier and thus, the natural oils that your scalp produces may not suffice. Therefore, you must nourish your curly hair well.

Take it Easy With Drying

As mentioned above, curly hair is naturally dryer in comparison to the rest. Therefore, any form of heat may only cause more damage to your beautiful curls. It is advisable to stay away from blow-drying your hair after having a hair wash in such cases.

Keep Brushing to The Minimum:

If you have naturally curly hair then you are truly blessed but if you have undergone a perm treatment, you want to avoid wasting the amount of money and effort you've applied to it by keeping brushing your hair to the minimum.

Use The Alternative To Blow-Drying:

Yes, it's true. We recommend avoiding blow drying your hair but you can always use a diffuser. For those who are unaware, a diffuser serves the same purpose as a blow dryer. The only difference is that while a diffuser dries the hair, it also reduces frizz.

Avoid Shampooing Every Day:

Straight hair may need shampooing every day but the same is not the case with curly hair. If you wash your curly hair every day, it causes frizziness as it gives more stress to the strands.

Choose The Right Shampoo:

You can't make use of just any type of shampoo you'd like. A simple anti-dandruff shampoo is not going to do it for you. It's best if you choose your shampoo wisely. Both, your shampoo and conditioner must be cleansing by nature.

Avoid Hot Water During Your Hair Bath:

The thing about having a cold water bath is that it helps lock the moisture in your hair. If there's moisture in your hair, you know that your hair is automatically more shiny and frizz-free.

A Deep Conditioner Should Be Your Best Friend:

One thing to note about curly hair is that it will require a lot more conditioning than you can imagine. Let's face it — curly hair is high maintenance by nature and you will have to do all that you can to make your hair feel comfortable.

Master The Art of Combing:

Don't pull or tag onto your curly hair too much. This method of combing will just end up causing more stress. The first thing that you must do is try and detangle your hair while it is still wet. It becomes easier to comb in a protected way thereafter.

Use a Satin Pillowcase:

Rough materials such as cotton end up coiling, tangling, and causing frizziness in your hair. It is best if you choose a satin pillowcase as the material is softer.
Best Fade Haircuts For Curly Hair
1. Curly Hair Shadow Fade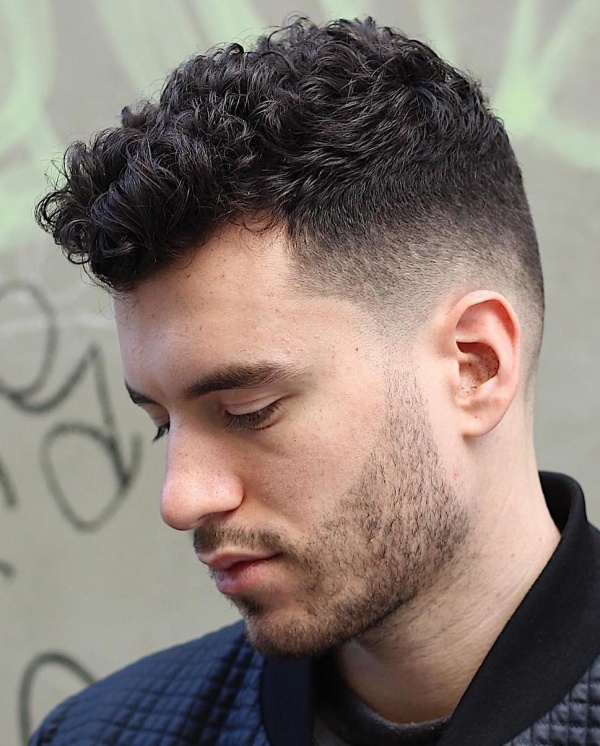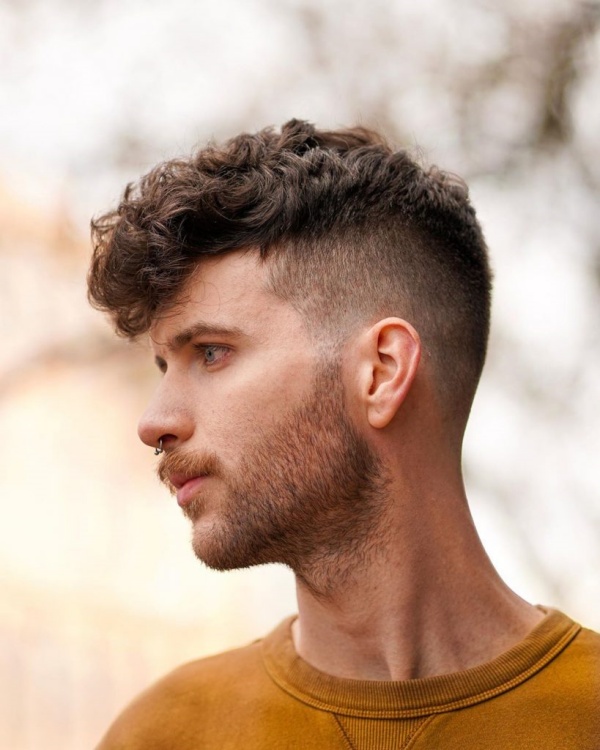 The shadow fade can be counted as one of the most adorable and stylish curly fade hairstyles that looks fashionable on young and middle-aged men. The top of this hairstyle contains a trendy French crop of curly hair that has thick fringes. The hair keeps on going shorter and straighter towards the rear part of your head. This popular hairstyle has earned fame as it suits different styles of beard and skin tones. Even the shadow fade hairstyle comes in several variations that you can try out based on your individual preference.
2. Taper Fade With Curly Hair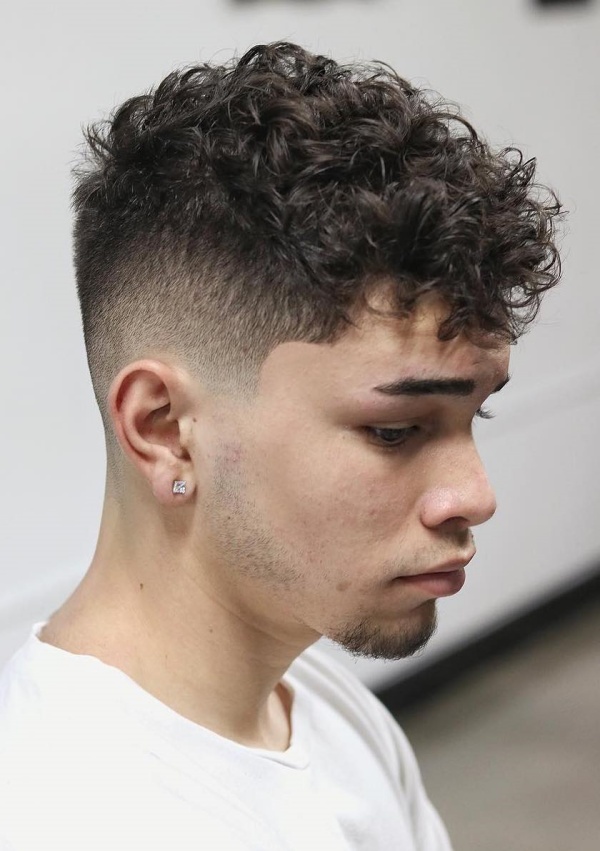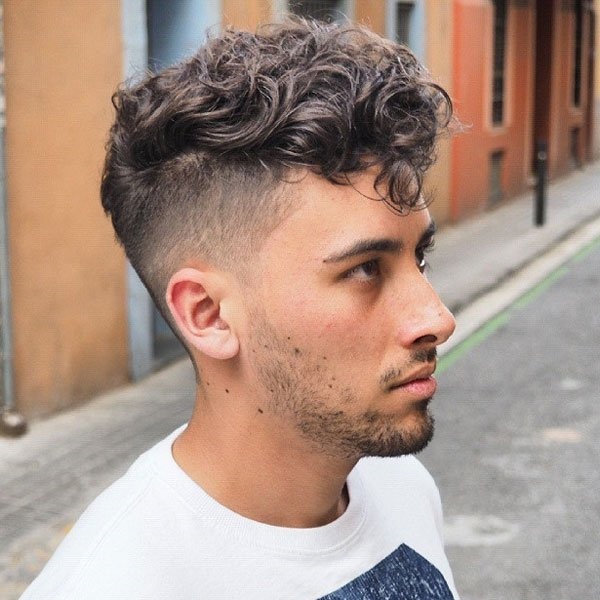 A classic hairstyle that matches your curly hair is taper fade. It is an all-time favorite hairstyle for men that have received admiration from all over the world. In this haircut, the hair goes on, fading towards the neckline and temples. The hairstyle creates a well-shaped line behind the hair. The combination of taper fade with a full beard is a deadly one that will steal the attention of everyone.
3. Low Fade With Curly Hair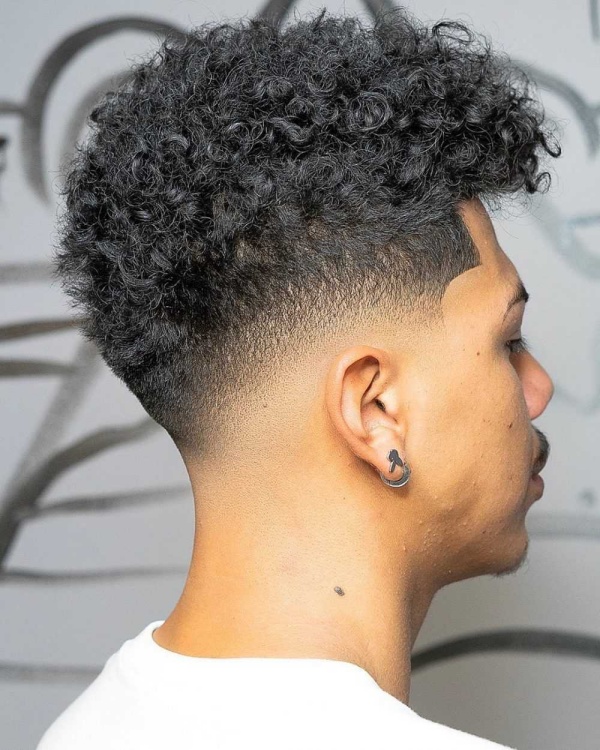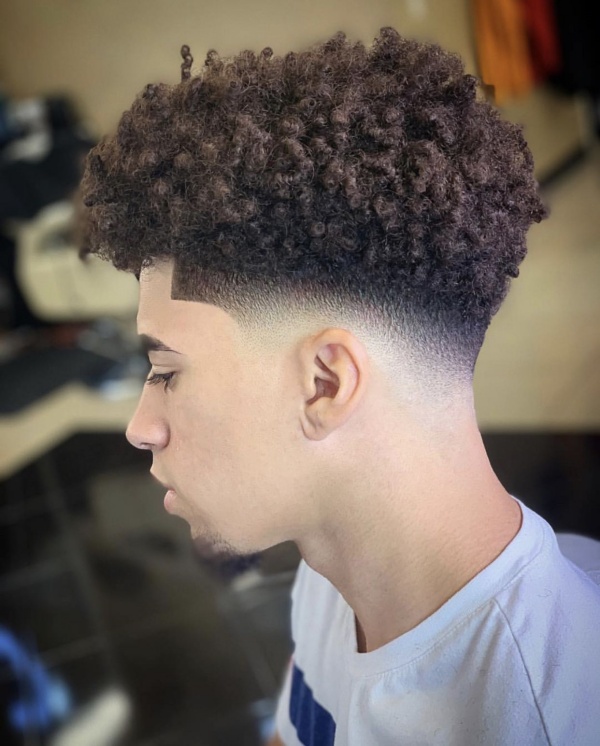 Does your curly hair cause discomfort and itchiness in your neck in summer? A low fade haircut can offer you relief from this issue while giving you an outstanding style. The fade begins just above your ears in this haircut and goes along the hairline on the back and sides to make a smooth transition. Barbers apply hair clippers to make the final result of this haircut. This modern men's hairstyle looks sophisticated to the core. 
4. Skin Fade With Curly Hair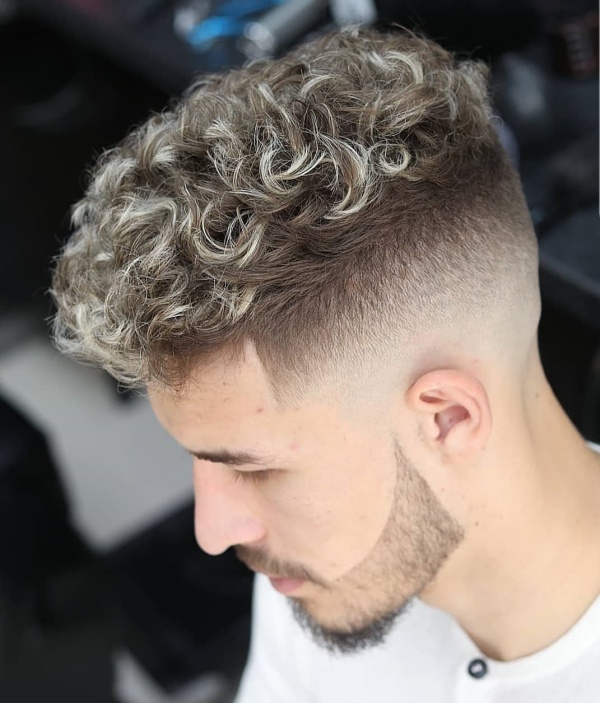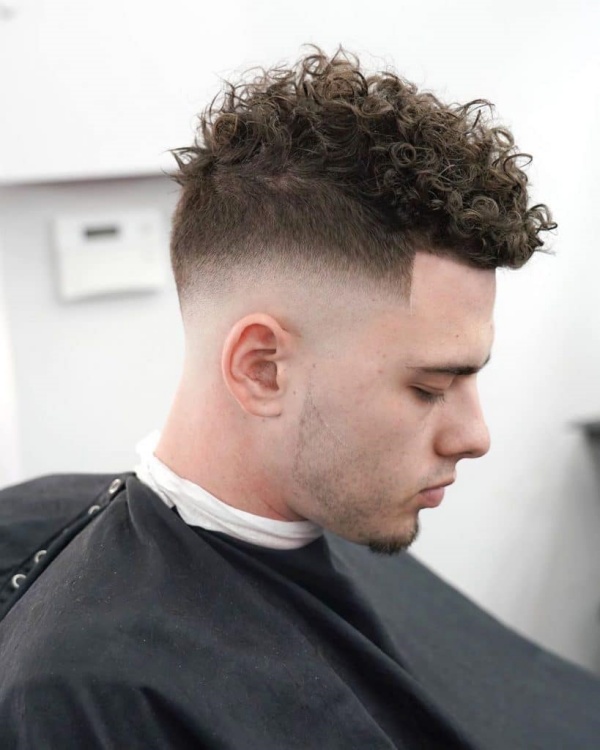 The skin fade with curly hair is among one of those hairstyles that have been trending among men for the past few years. The skin fade cut will highly complement the wavy and curly hair of yours. The side of your head will be shaved entirely and slowly; on the way to the middle portion of your head, the hairline will be visible. It is the beauty of this cut. Try to maintain a clean-shaven look to complement this particular hairstyle. Not only the side hair but also the hair on your back will also be shaved up to a certain length. At the same time, the remaining portion will be trimmed and will be mixed with the remaining part.
5. Drop Fade With Short Curly Hair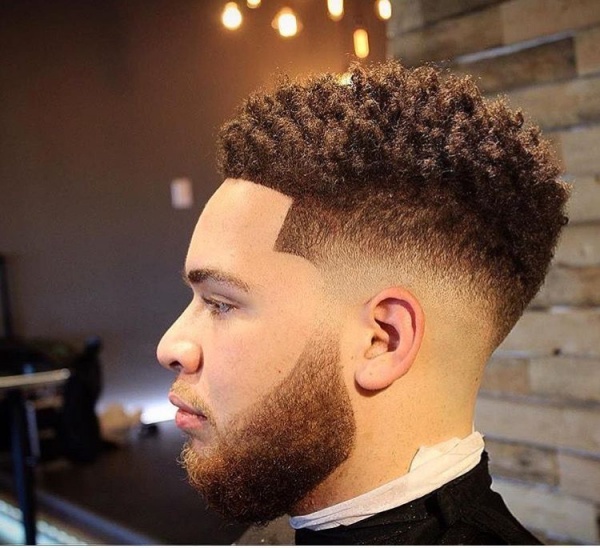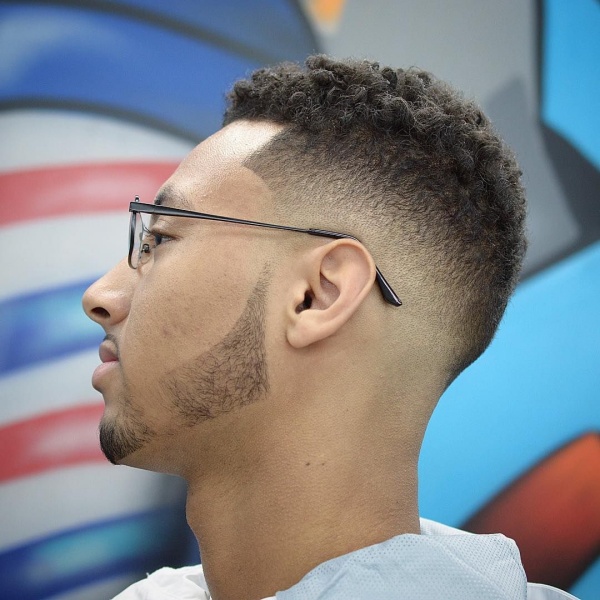 Have short curly hair, nothing to worry about. Just go for curly fade hairstyles such as drop fade cuts. If you are getting bored with a typical skin fade hairstyle, then you can go for a drop fade haircut for special occasions. The haircut will mainly focus on the area around your ears, where the fade will be curved down to your neckline to give you the best finish possible. On the back, most people prefer a 'U' cut, but you can also go for a 'V' cut. In the middle portion, keep the hair as long as you want. The length of the hair in the central part will not affect the hairstyle.
6. Mid Skin Fade Curly Hair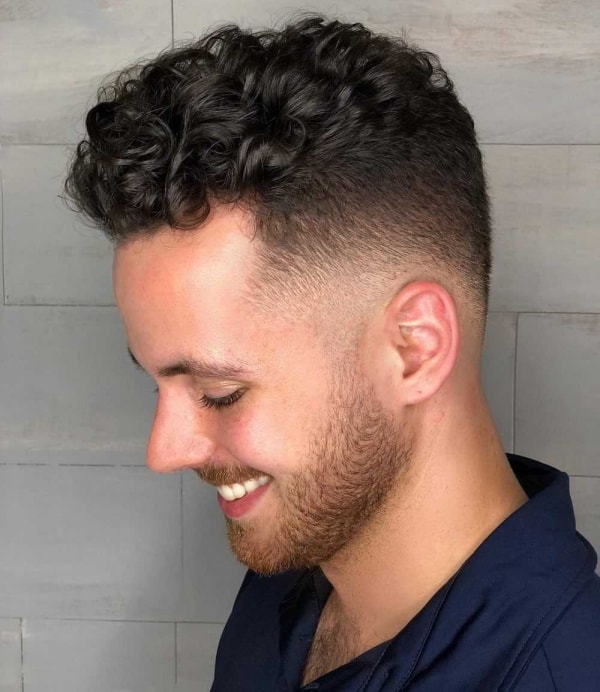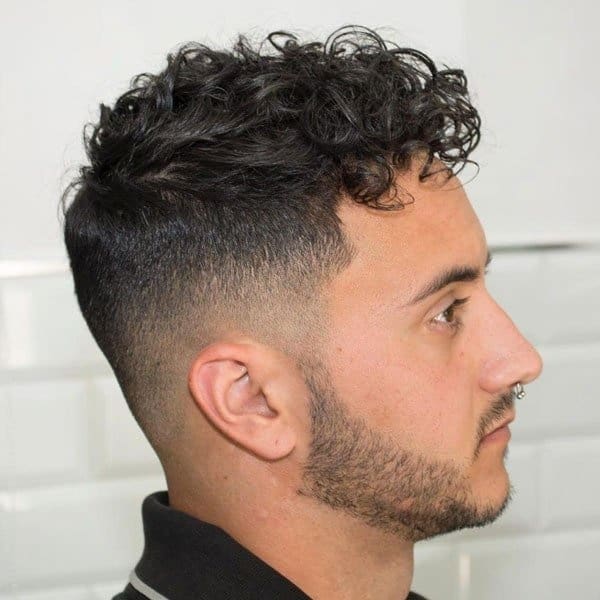 This type of mid-skin curly hair fade hairstyle is prevalent among guys. If you want to maintain the middle ground, then it is okay. You may ask your barber for a mid-skin fade. The mid fade suits those having a round face cut more than anyone. The hair on the head's top is kept long, while the hair on the sides and the back are trimmed to give you an exact look. The texture that this cut will give will look highly fashionable. The mid-skin fade can complement each type of hair in the middle, from short to long.
7. High Skin Fade With Curly Hair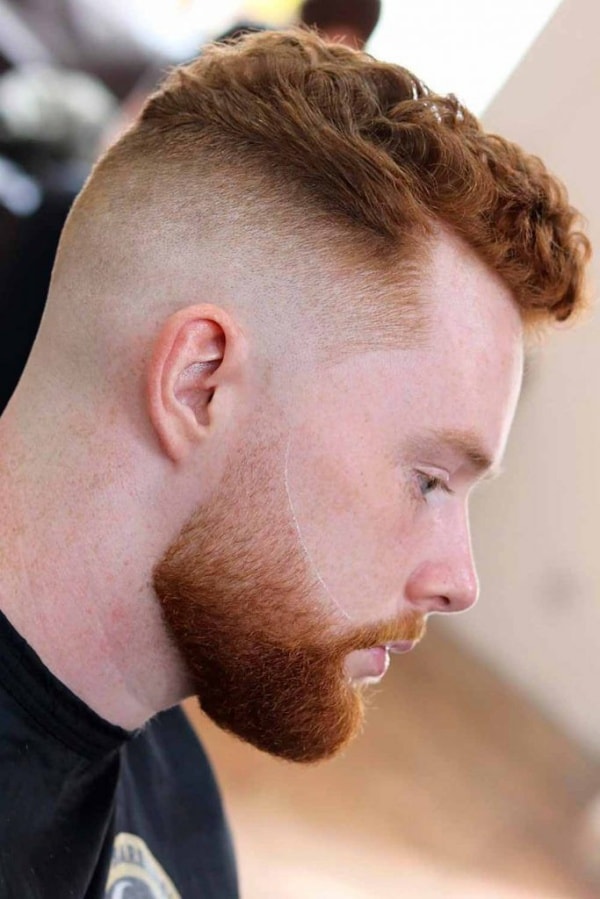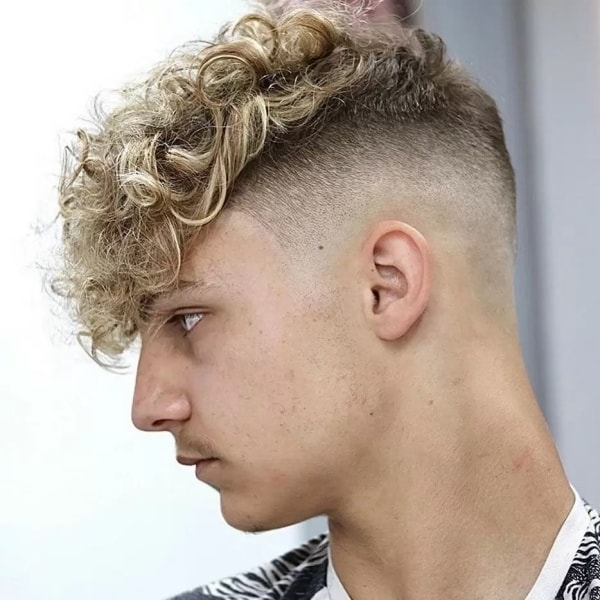 If you have curly hair, then this cool hairstyle will suit your face well. You need not put a lot of effort into maintaining the high skin fade with curly hair. The heir on top of your head will be kept long enough so that you can sport a long fringe over your forehead. The hairs on both the sides and the back will be trimmed extremely short of creating the contrast. It will make the perfect messy hairstyle that you desire. If you have a beard, connect the beard line with your hairline to create an even better look.
8. Temp Fade With Curly Hair
Temp fade, also termed as temple fade, is a signature haircut for people with curly hair. It is mainly an afro hairstyle, and in most cases, black men sport this hairstyle. The haircut primarily focuses on your temple area and tapes down on the sides and then proceeds to the back. The curls in the middle part can be styled according to your choice. You can choose to have a tight look or go for a naturally thick look. Just make sure that the hair in the middle is not too long.
9. Short Curly Fade Haircut With Stubble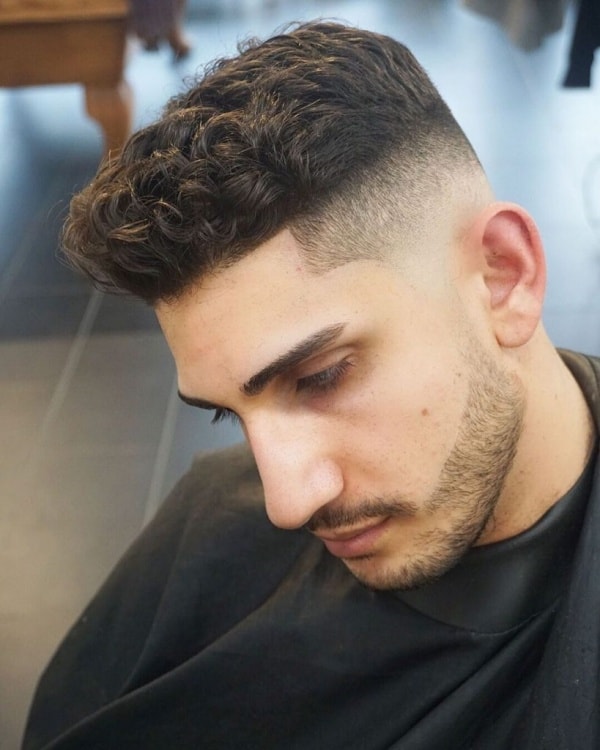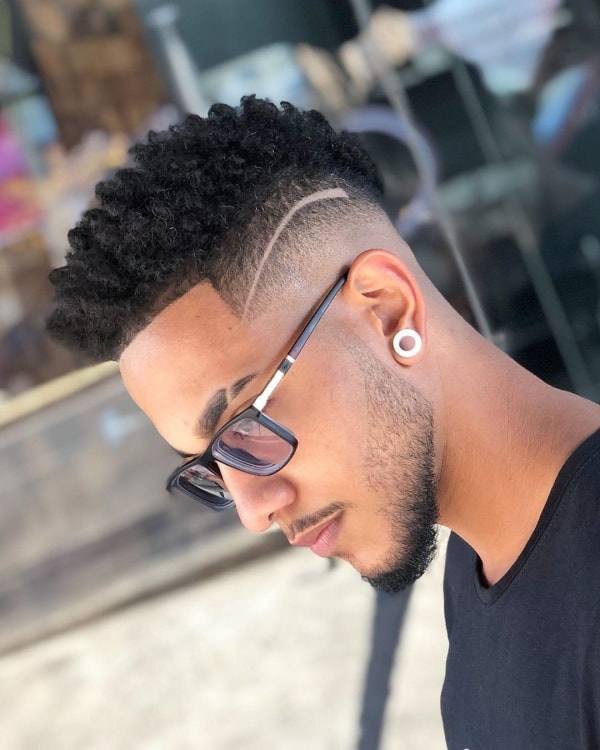 If you cannot control your curls, this short curly fade haircut will do the job for you. Cut your hair in the middle part of your hair shorter than usual. You can add contrast to the short curly hairs of yours with a medium or high skin fade. When you choose this hairstyle for you, do not forget to use hair styling products to maintain the hairstyle properly. The hairstyle looks even better with stubbles. So, let your stubbles grow, and don't forget to visit a barber from time to time to maintain the short hairstyle of yours.
10. Curly Fade Haircut With Long Beard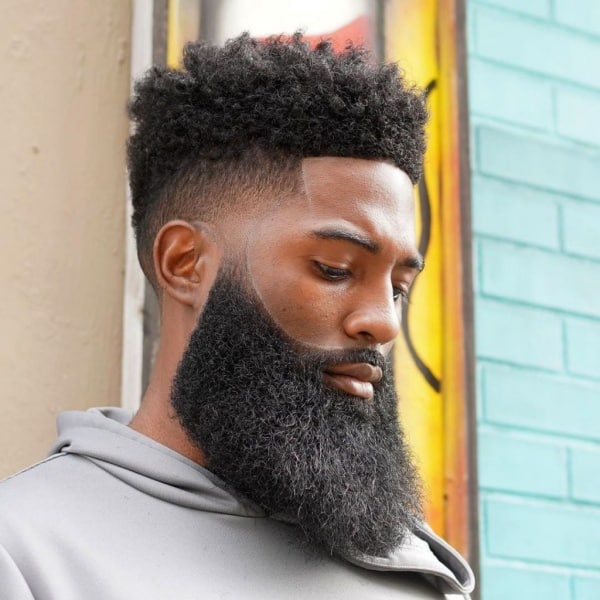 Men with beards are beautiful. So, if you can grow a beard and have curly hairs over your head, you should try curly fade hairstyles. Choose the type of fade according to your face pattern. You can even talk to your barber to decide the proper fade for you. You can choose from various fade cuts such as drop fade, high fade, and several others. If you have African origin, then you should try the temple fade. Choose to cut the middle portion of your hair according to your wish and keep a long beard with it to sport a rough and rugged look.
11. Side Parted Curls With A Fade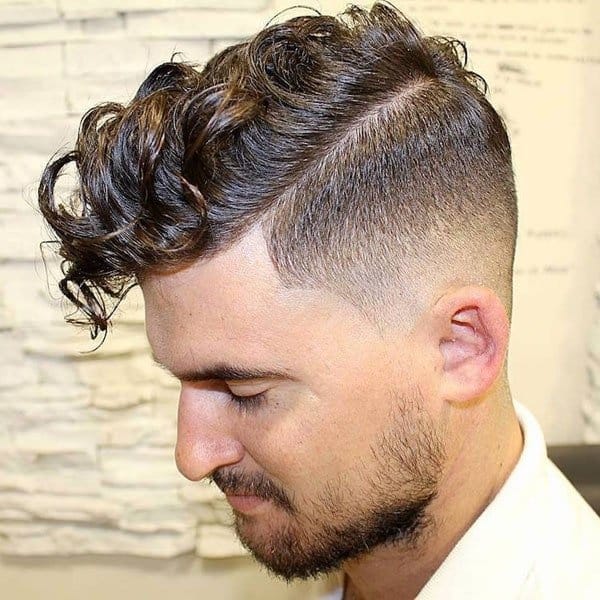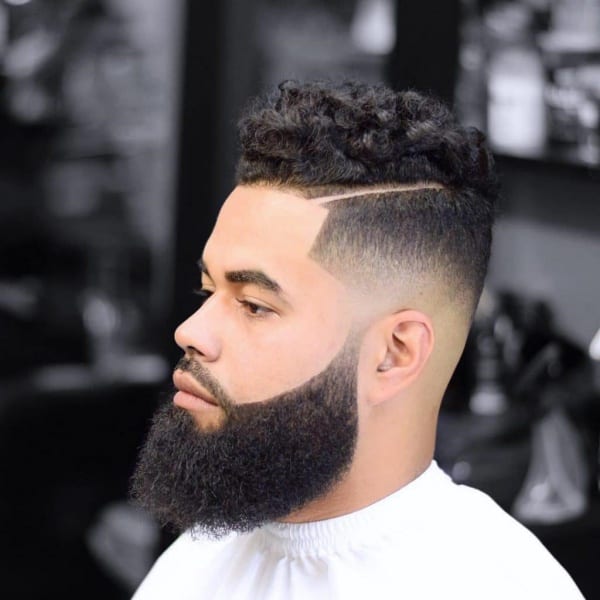 Not all curly-haired men are born for a back brush. Some men can quickly level up their fashion game with side-parted curls. However, your side-parted curls get the best appearance when combined with a fade. This take on the traditional side part matches the personality of modern men who prefer a mix and match style. You can take the help of products like styling gel or matte pomade to maintain your hair texture. The stark contrast of the side-parted curls against the fade offers a sharpness to your overall appearance.
12. Curly Fade With A Hard Part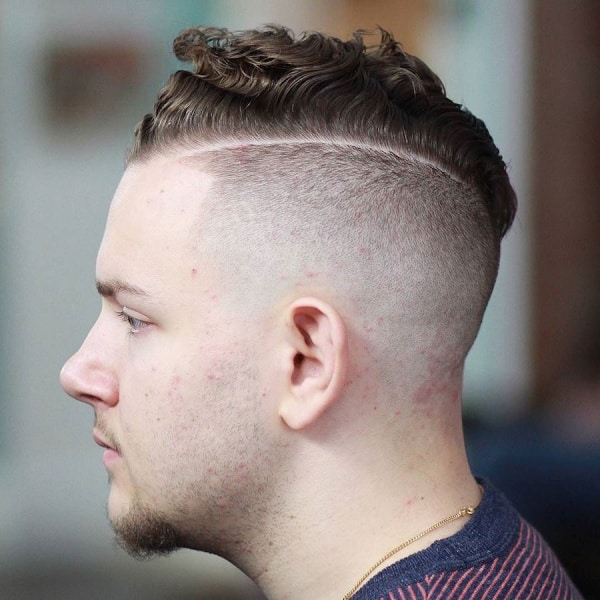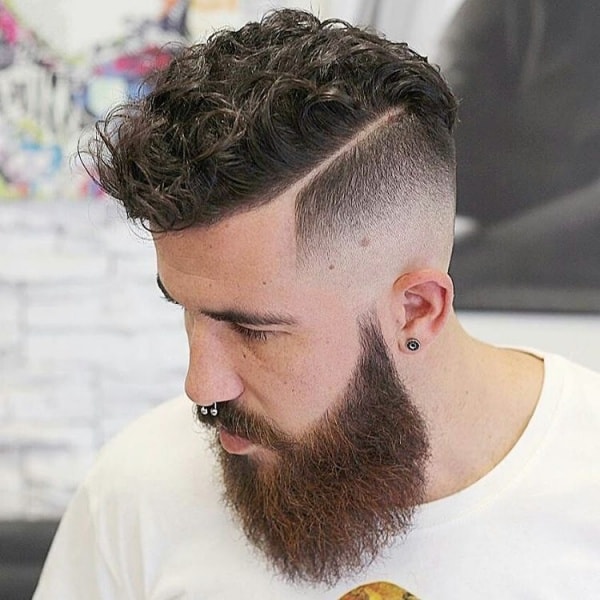 The hard part, also known as the razor part, is a prominent line created by trimming down through the scalp with a razor or trimmer. A hard part on curly hair needs a daily dose of maintenance for a clean and elegant appearance. This parting style keeps the long curls on one side of your hair. Therefore, if you wish to highlight your side part, then paring it with a curly fade can be the ideal option to select. You can go for a taper or low fade with your curly hair to match with the hard part naturally.
13. High Top Fade Hairstyle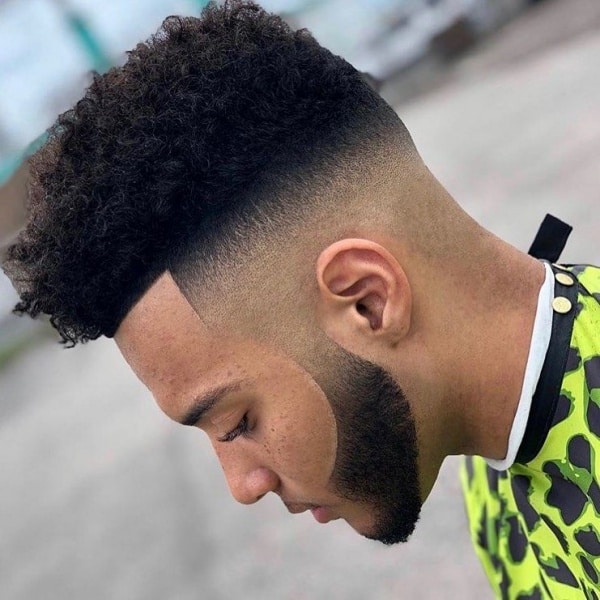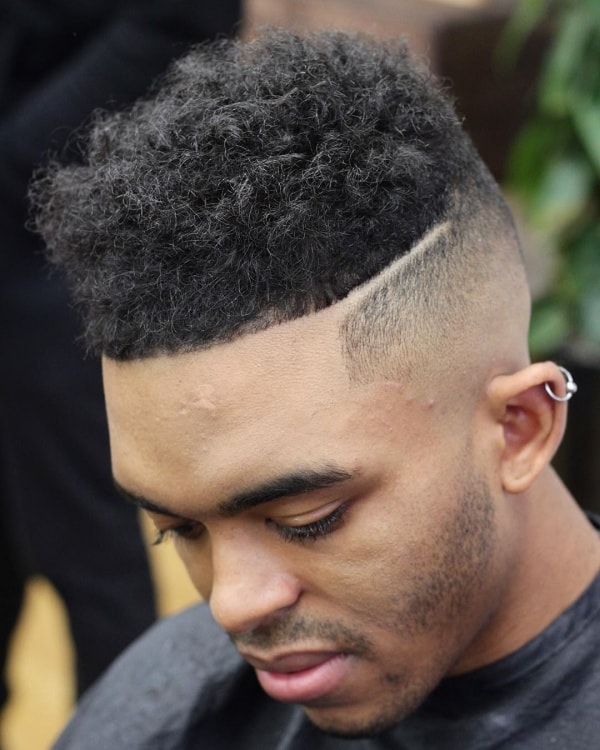 If you are too confused about choosing among curly fade hairstyles, then a high-top fade hairstyle should be your ultimate destination. This hairstyle is particularly suitable for black men with long afro on the top of the head. The upper part has a flat shape and gradually becomes faded in the sides. Inspired by the 80s men's fashion, this style offers you the opportunity to opt from many variations.
14. Fade With Long Curly Hair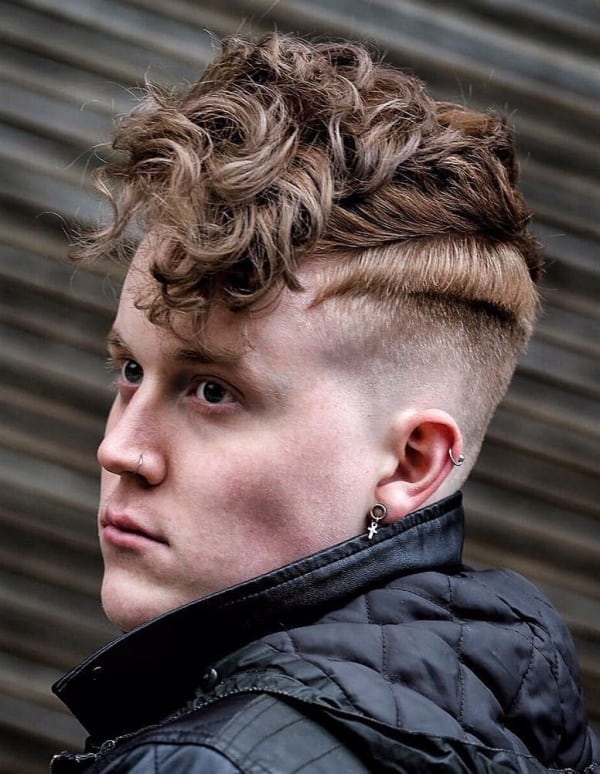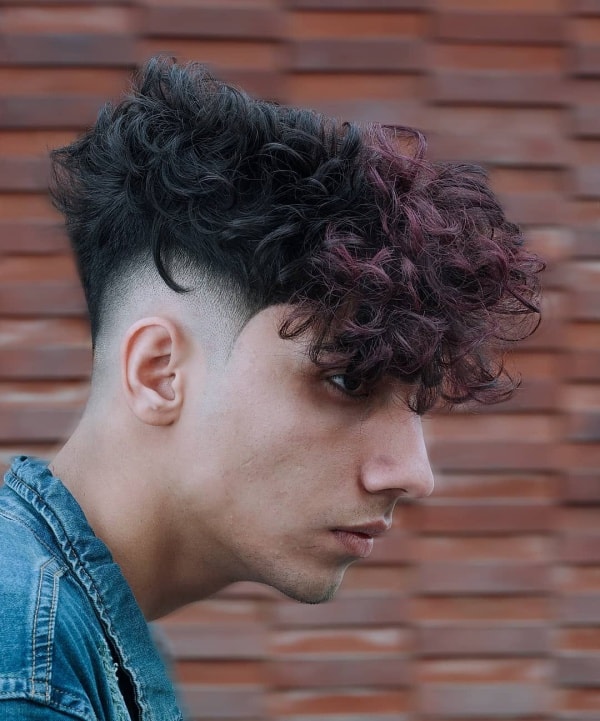 Don't know how to keep yourself fashionable with long curly hair? Then a fade can be your best decision. The long curly hair on the middle and top portion of your head with fades on the back and sides can add bounce and sassiness to your hair. The application of styling gel on this hairstyle is needed for carrying the texture.
15. Temple Fade With Curly Mohawk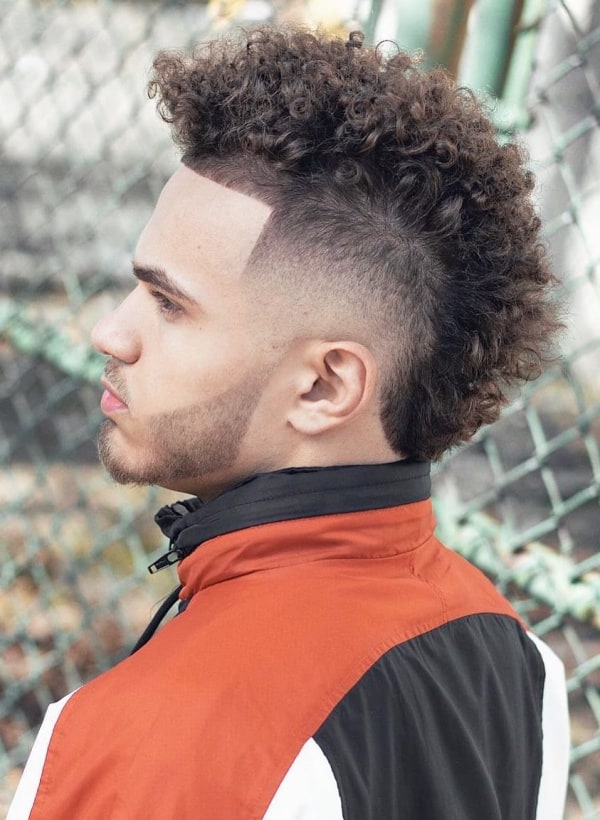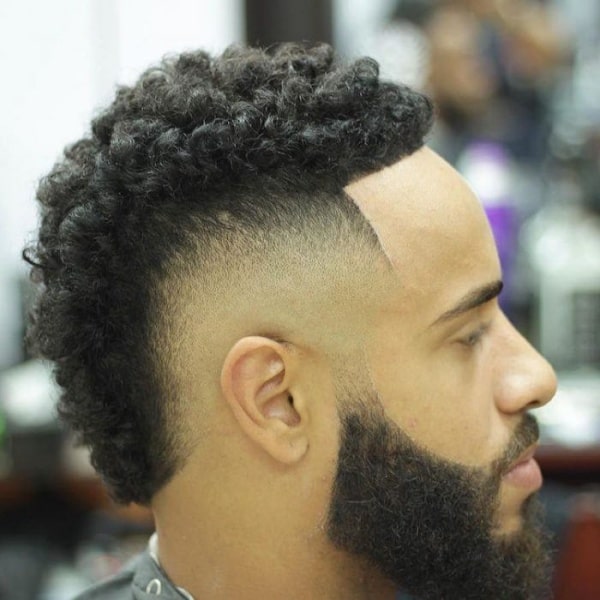 One of the most dynamic curly fade hairstyles that can offer you major look transformation is the temple fade with a curly mohawk. In this amazingly cool haircut, a classic curly mohawk expands from the extreme front to the very back of your hair while keeping your temples faded. The entire appearance is quite edgy and most famous among singers and rockstars who love experimenting with their hairstyles. If you are also bored with your typical, monotonous haircut, you should give this hairstyle a long due chance.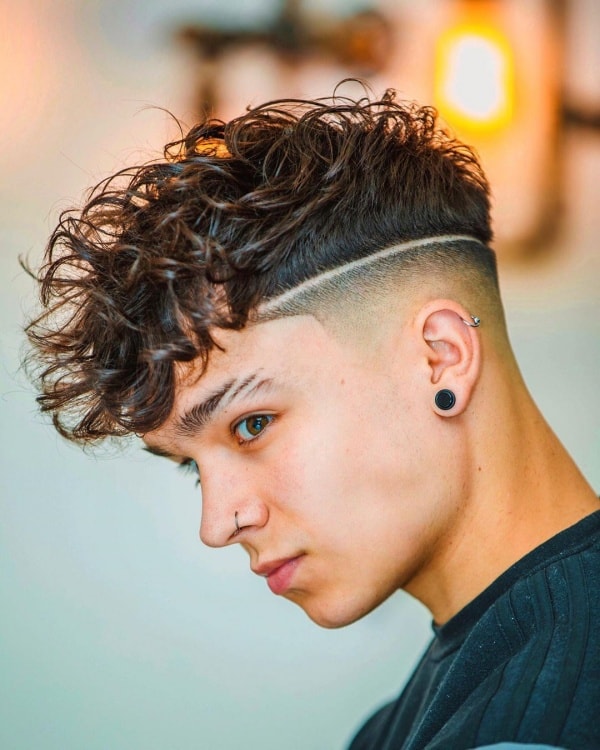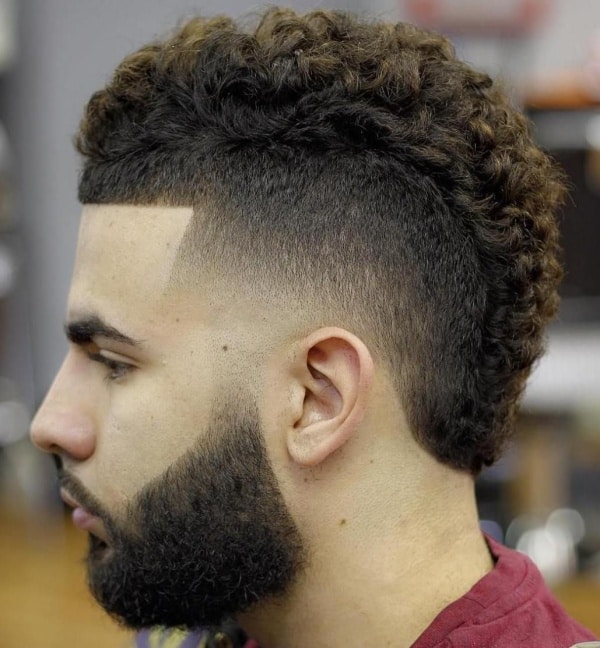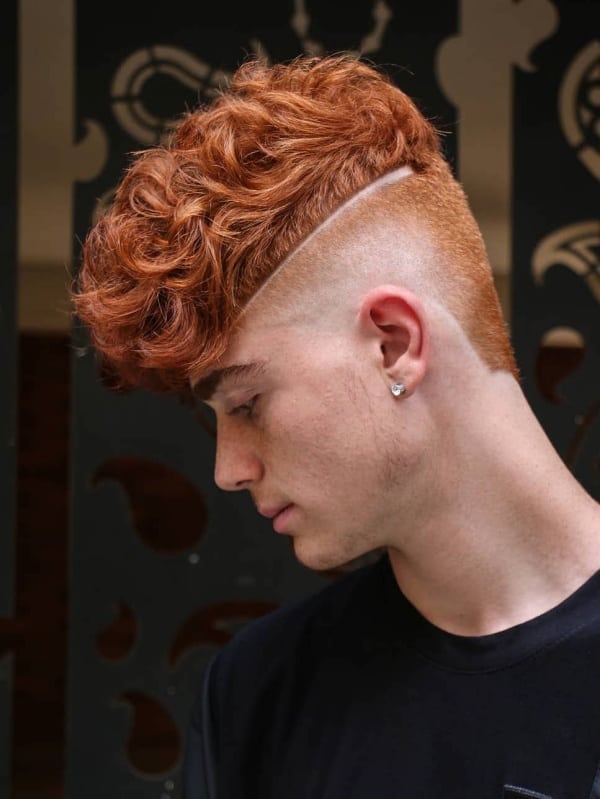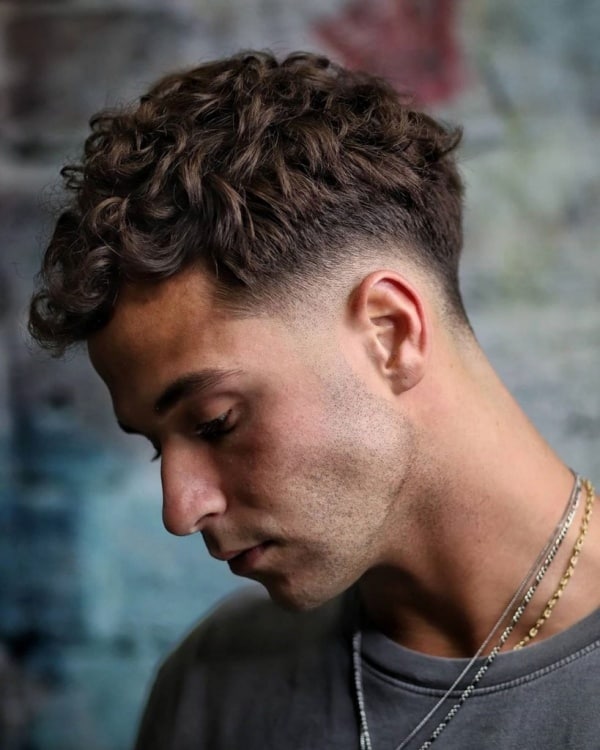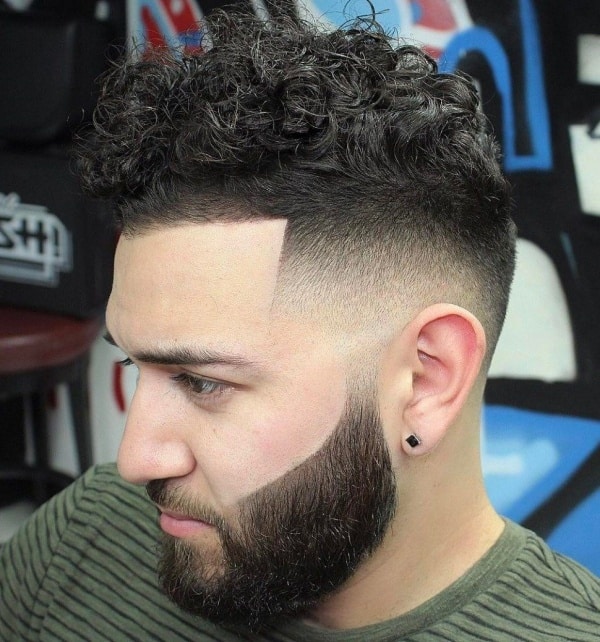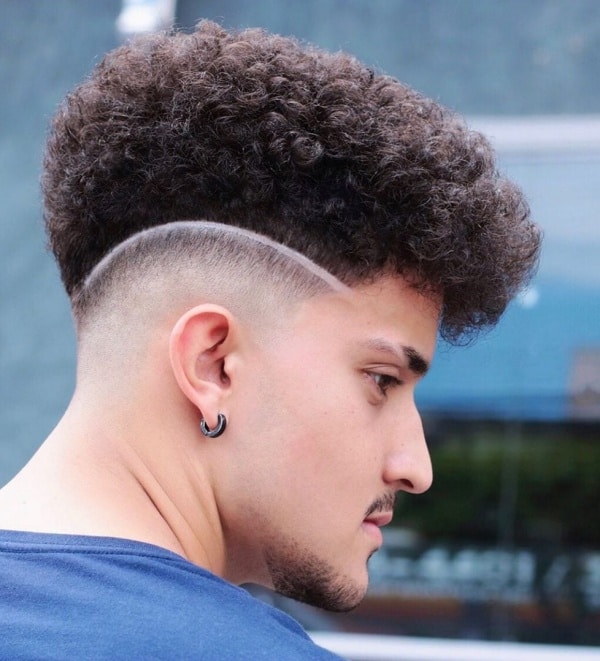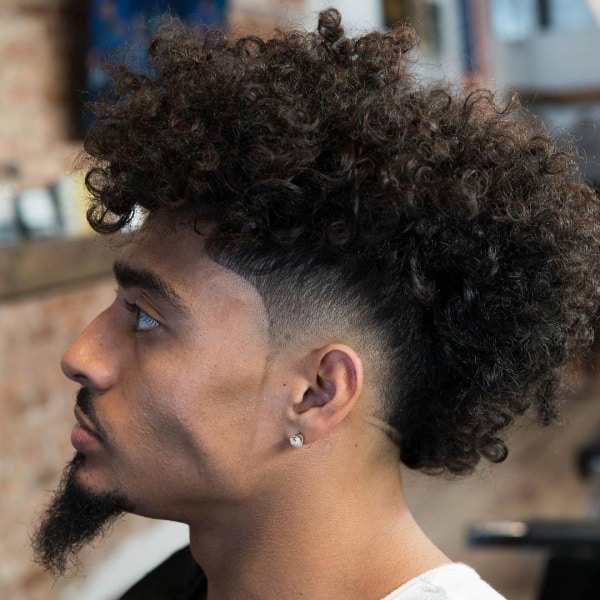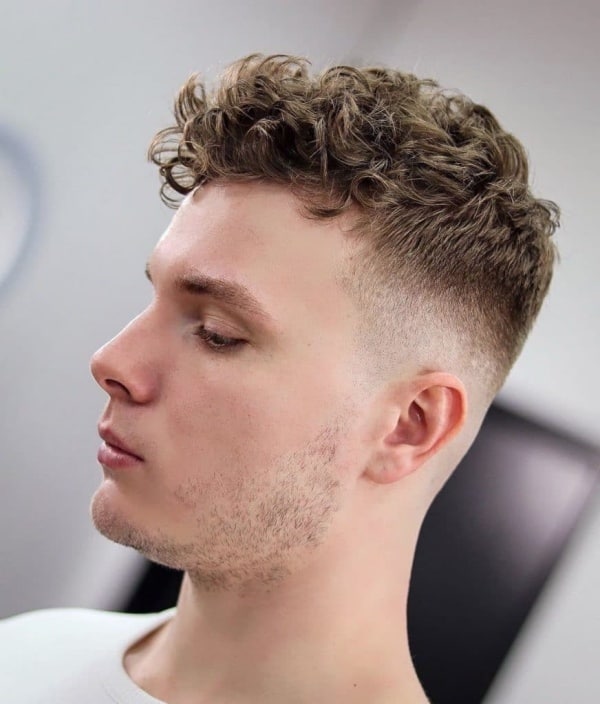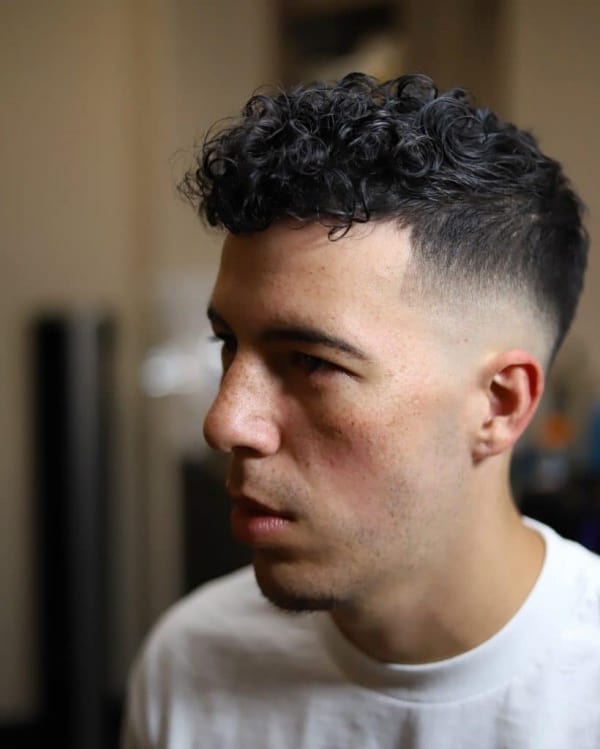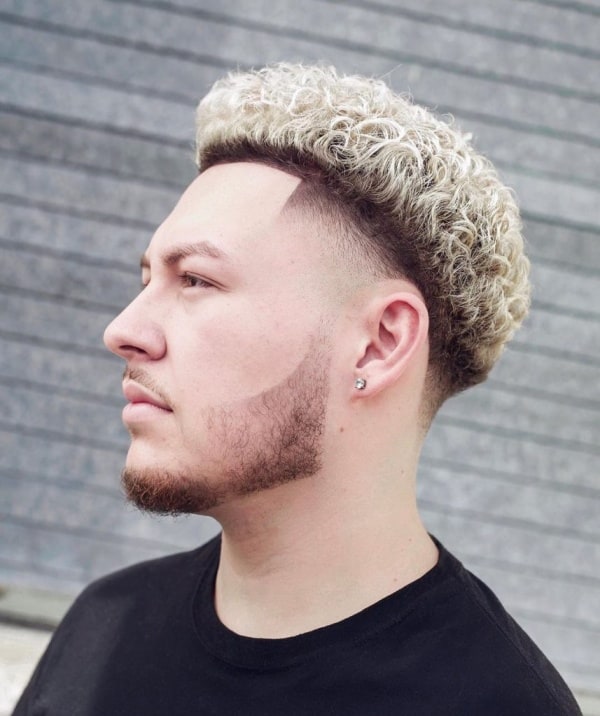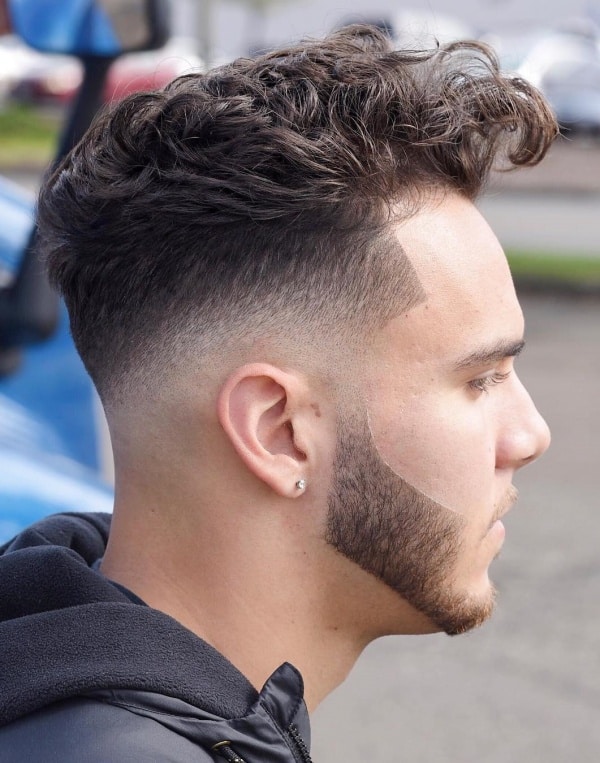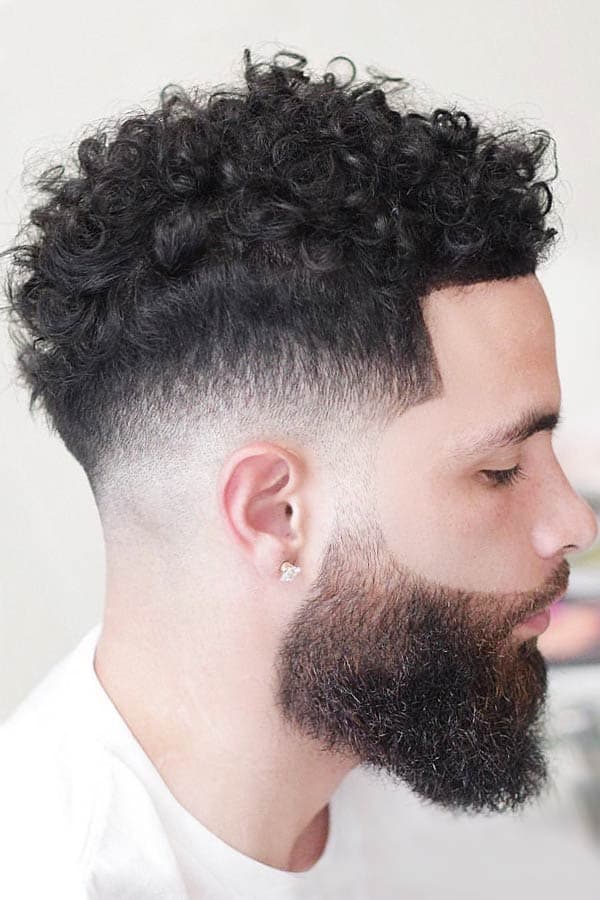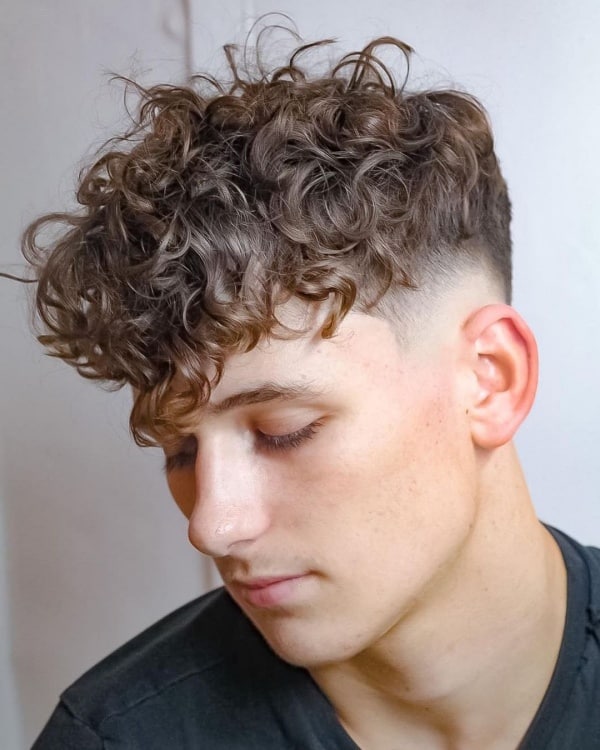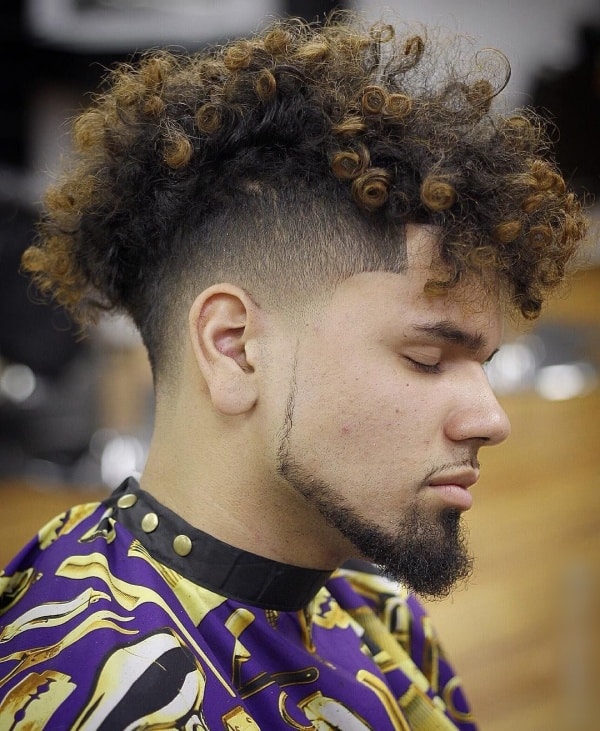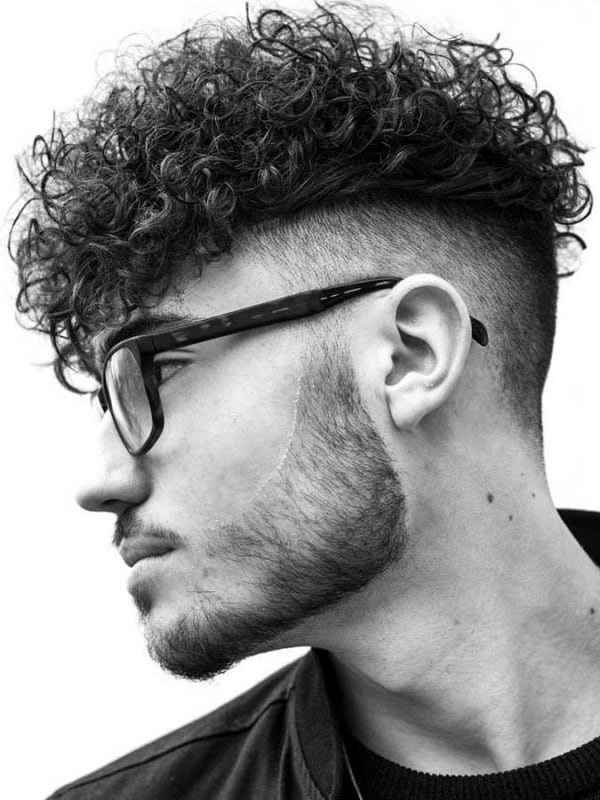 What Fade Looks Best With Curly Hair?
There are different fade hairstyles for curly hair, such as taper fade, temple fade, drop fade, high skin fade, and high top fade, and you can pick any one of them based on your facial structure, size, and structure your hair. If you are beginning with curly fade hairstyles, then start with the basic high, mid and low fade around the curly hair top of your hair. Just don't get stuck on a boring haircut. Opt for something trendy and versatile for your curly hair. 
Do Fades Look Good With Curly Hair?
Though fade matches every hair texture, straight, curly, or wavy, curly hair is particularly suitable for having fade looks. The density of curly hair goes best with the fades due to the contrasting appearance of this hairstyle. As curly hair is hard to comb and maintain, the faded hairstyle makes it more convenient to maintain. If you can carry the fade hairstyle with your curly hair, then don't step back from trying it.
Conclusion
People with curly hair often become victims of mockery, making them unconfident about their appearance and style. But if you can learn the correct way to apply curly fade hairstyles, then nothing can be more stylish compared to it. All you require is a little touch of maintenance and regular combing. The use of hair care products like gel and conditioner will be an additional advantage. So, choose more action and fewer words. It is time to get your hands on one of the fade hairstyles for curly hair and surprise your friends with the new avatar.
You may also like: