One might think that since men sport short hair, in comparison to women, there are fewer hairstyles for them to try out. However, that's not true. Men also have a lot of options that they can try out. There are multiple options available for all – be it for curly, straight, or wavy kind of hair. More than anything else, there's a unique touch that curly hair gives to your face-cut. The fashion world has brought in numerous curly fade hairstyles for you to experiment with. Curly fade haircuts provide you with a distinctive style. For those who are unaware, fade haircuts for curly hair are the type wherein the sides of the head are partially trimmed to a minimum length on different levels. Meanwhile, the front portion of the head packs quirky, medium-length curls that gently fall on the forehead. Before we go ahead and discuss different options for men's curly hair fade, it is important to understand how one may maintain the same.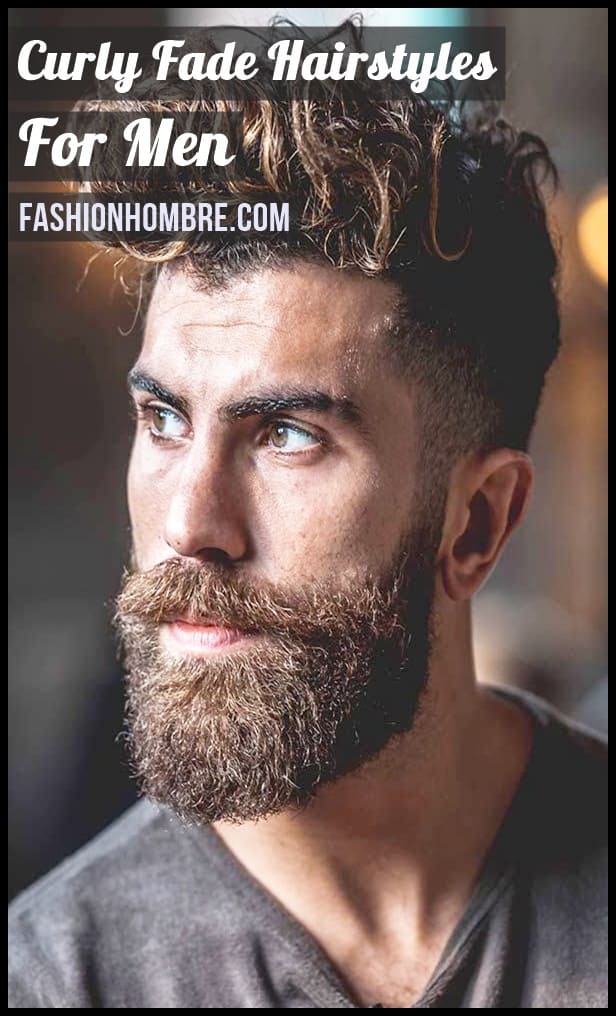 How to Maintain Short Curly Hair?
Nourish Well: Maintaining curly hair is different from maintaining straight or wavy hair. The former tends to be drier and thus, the natural oils that your scalp produces may not suffice. Therefore, it is important that you nourish your curly hair well.
Take it Easy With Drying: As mentioned above, curly hair is naturally dryer in comparison to the rest. Therefore, any form of heat may only cause more damage to your beautiful curls. In such cases, it is advisable to stay away from blow-drying your hair after having a hair wash.
Keep Brushing to The Minimum: If you have naturally curly hair then you are truly blessed but if you have undergone a perm treatment, you want to avoid wasting the amount of money and effort you've applied to it by keeping brushing your hair to the minimum.
Use The Alternative to Blow-Drying: Yes, it's true. We recommend avoiding blow drying your hair but you can always use a diffuser. For those who are unaware, a diffuser serves the same purpose as a blow dryer. The only difference is that while a diffuser dries the hair, it also reduces frizz.
Avoid Shampooing Every Day: Straight hair may need shampooing every day but the same is not the case with curly hair. If you wash your curly hair every day, it causes frizziness as it gives more stress to the strands.
Choose The Right Shampoo: You can't make use of just any type of shampoo you'd like. A simple anti-dandruff shampoo is not going to do it for you. It's best if you choose your shampoo wisely. Both, your shampoo and conditioner must be cleansing by nature.
Avoid Hot Water During Your Hair Bath: The thing about having a cold water hair bath is that it helps in locking the moisture in your hair. If there's moisture in your hair then you know that your hair is automatically more shiny and frizz-free.
A Deep Conditioner Should Be Your Best Friend: One thing to note about curly hair is that it will require a lot more conditioning than you can imagine. Let's face it — curly hair is high maintenance by nature and you will have to do all that you can to make your hair feel comfortable.
Master The Art of Combing: Don't pull or tag onto your curly hair too much. This method of combing will just end up causing more stress. The first thing that you must do is try and detangle your hair while it is still wet. It becomes easier to comb in a protected way thereafter.
Use a Satin Pillowcase: Rough materials such as cotton ends up coiling, tangling, and causing frizziness in your hair. It is best if you choose a satin pillowcase as the material is softer.
Related: Haircuts For Guys With Big Foreheads
Best Fade Haircuts For Curly Hair
1. Curly Hair Shadow Fade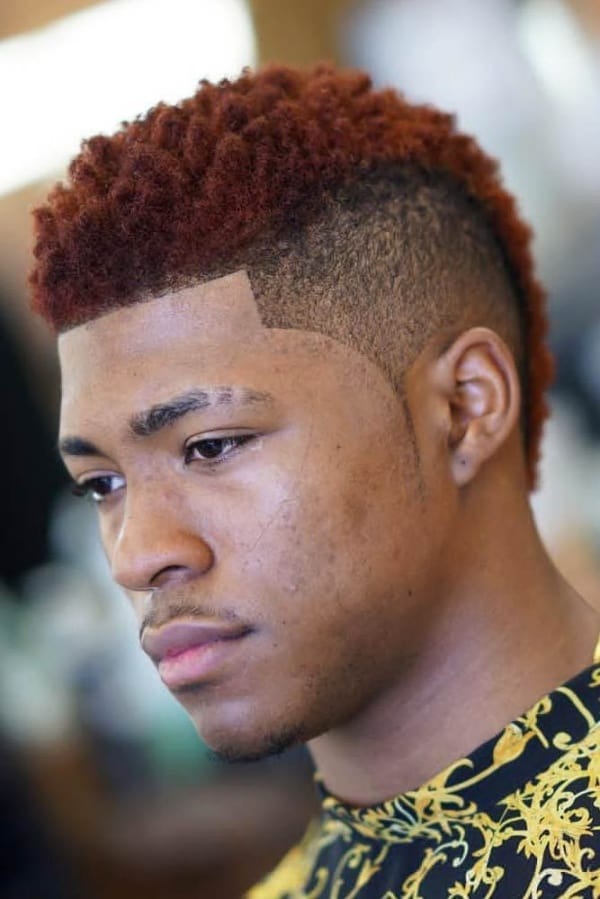 Image Source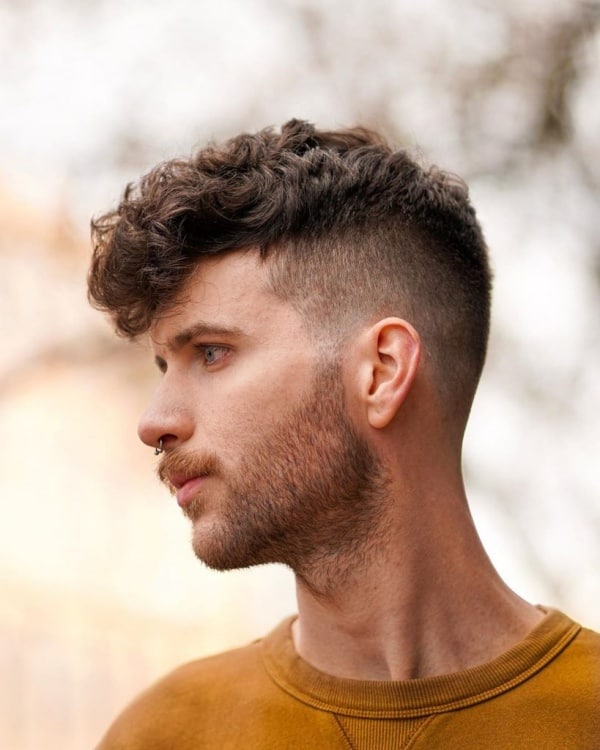 Image Source
This is among the most prevalent hairstyles for short hair these days. The best part about this hairstyle is that you can choose the variation of fade as per your preference. There are several options to choose from, i.e. medium, high, and low. Carefully pick the one that you'd like and we are sure you will be able to pull off this high-contrast look comfortably. You can even feature highlights on the top portion of your hair.
2. Taper Fade With Curly Hair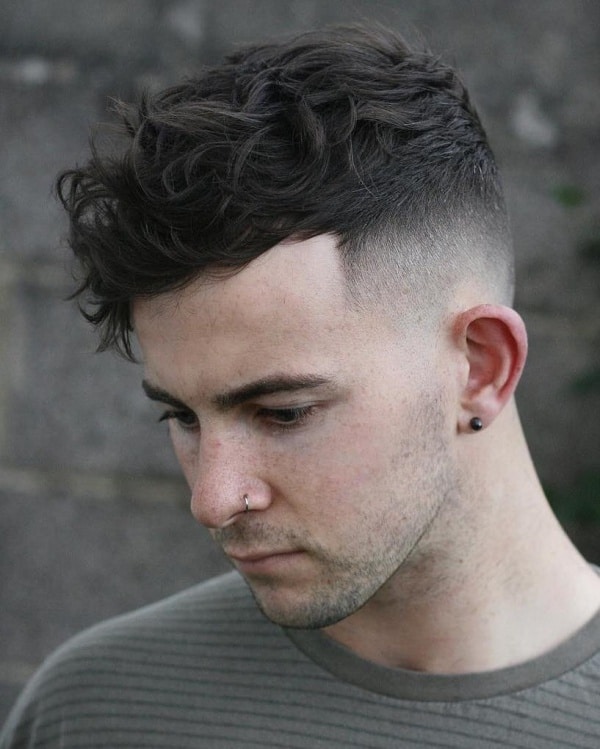 Image Source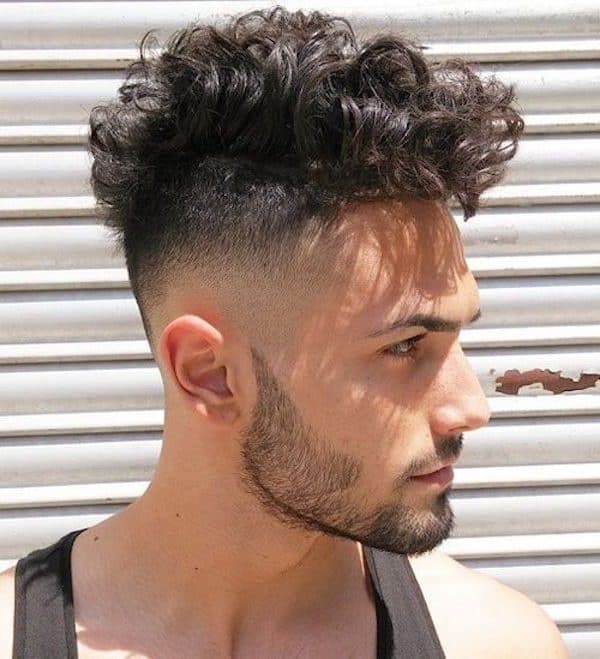 Image Source
The taper fade curly hair provides you an extremely dark yet subtle fade. It sits comfortably towards the sides as well as on the top. The taper fade is an extremely stylish look. Not many might be aware but the taper fade was first made popular back in the early 2000s. It is the classic Brooklyn-style look that anyone who'd want a chocolate-boy appearance should opt for.
Related: Cool Summer Haircuts For Men
3. Low Fade With Curly Hair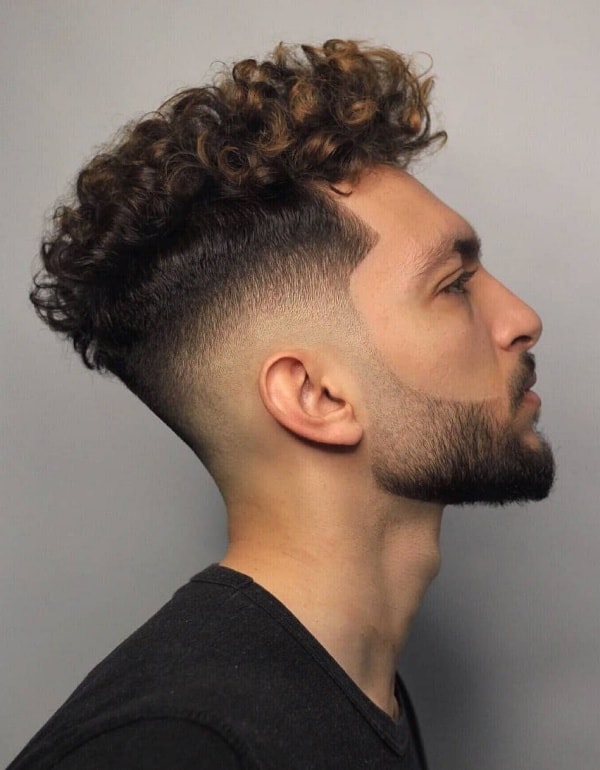 Image Source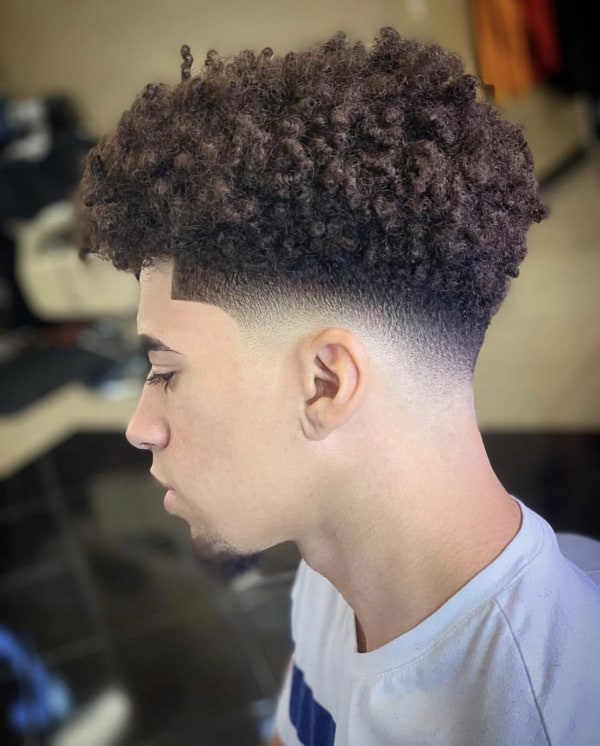 Image Source
The low fade look is the kind wherein the barber makes use of a simple technique but ends up actually producing a masterpiece in the form of your new hairstyle. In this case, the hair on the side portions is purposefully tapered down. In addition to this, the same look is extended towards the lower portion of your head. It is one of the most versatile looks you can opt for.
4. Skin Fade With Curly Hair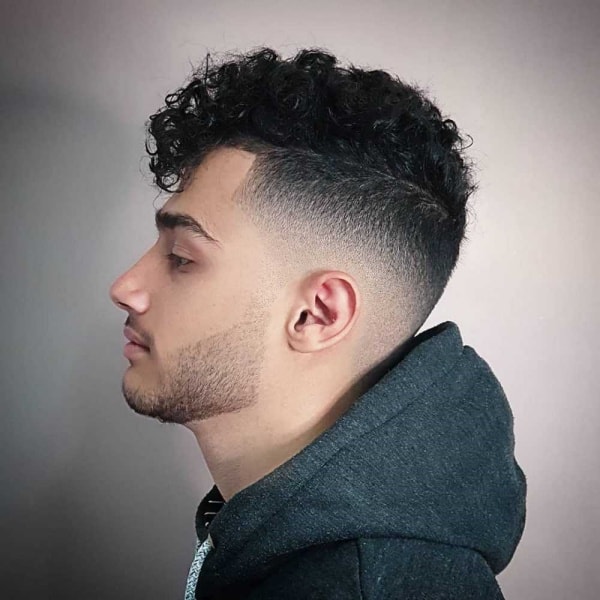 Image Source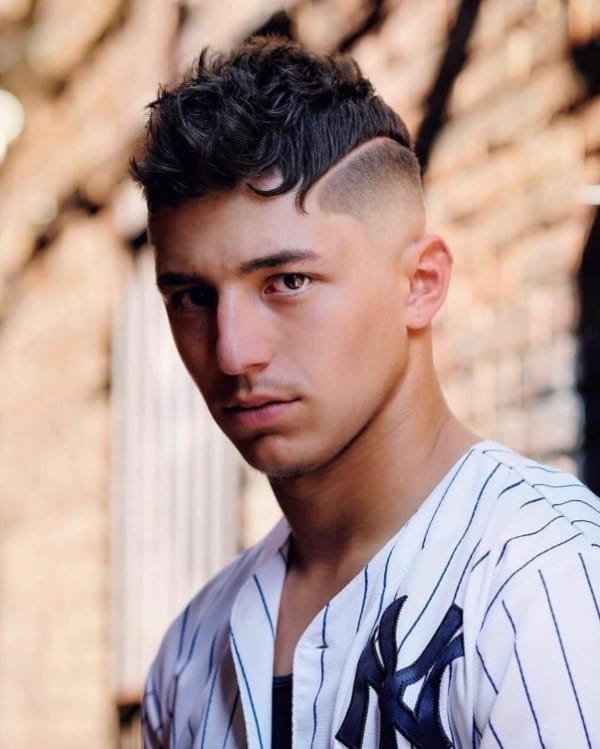 Image Source
The skin-fade kind of hairstyle is among the most popular hairstyles for men this season. Other famous names of this type of hairstyle are the zero blade cut or bald curly fade hairstyles. The thing about skin fade hairstyles is that it comes in multiple variations. It can be medium-length, high-length as well as a low-length hairstyle. It works best with a french crop, especially if you have curly hair.
5. Drop Fade With Short Curly Hair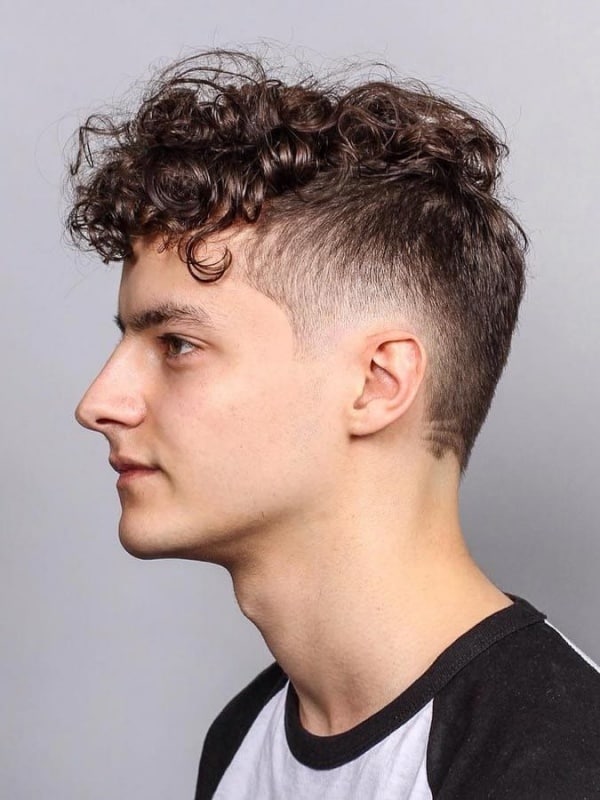 Image Source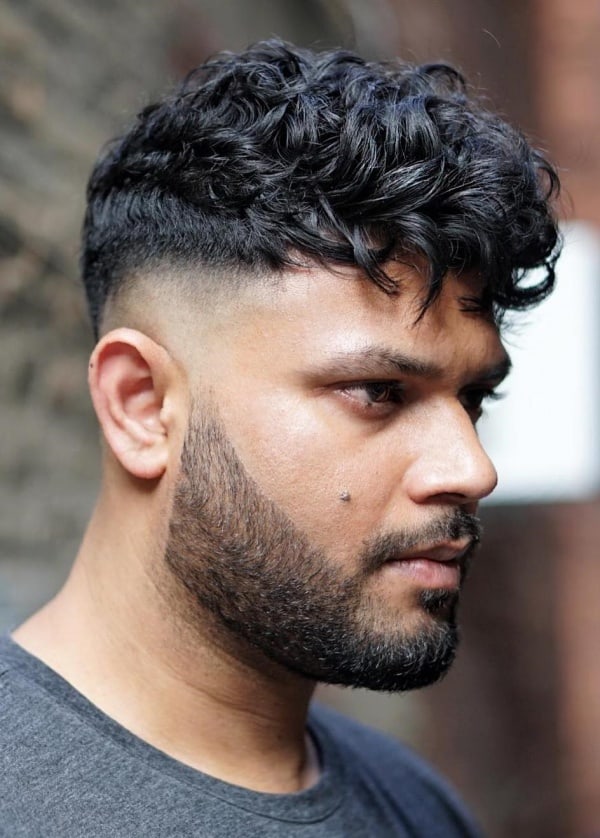 Image Source
Do you want a spicy yet cool look? The drop fade is the way to go. It is just another form of classic curly fade hairstyles but in this case, there are more variations. The reason why it is known as drop fade is that the fade literally drops behind the ears, giving you a unique look. Here's your chance to stand out at that party you'd always wanted to attend!
Checkout: Badass Anime Male Hairstyles To Try
6. Mid Skin Fade Curly Hair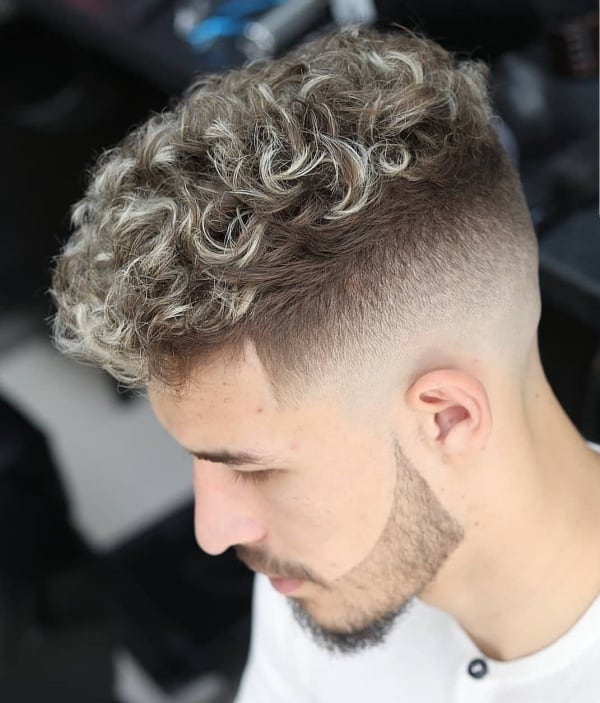 Image Source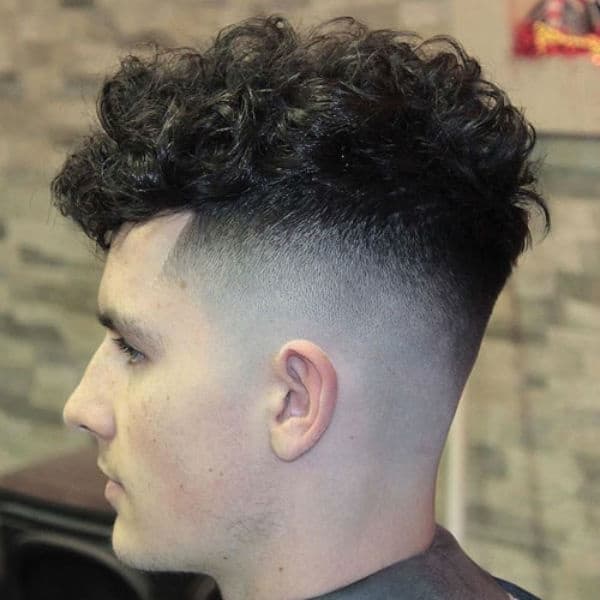 Image Source
Are you wishing to attain the perfect balance between a low fade haircut and a high fade haircut? Well, the mid skin fade is just that! If you decide to go ahead with this hairstyle, your tapered look will land just below the temples and right above the ears. Just like many other types of hairstyles mentioned in this list, the mid skin fade haircut can also be customized as per your preference, as far as we are talking about different variations.
7. High Skin Fade With Curly Hair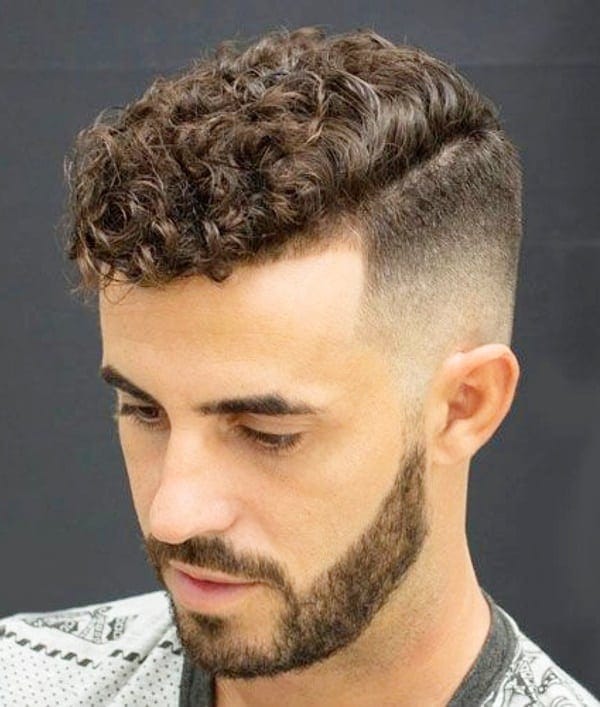 Image Source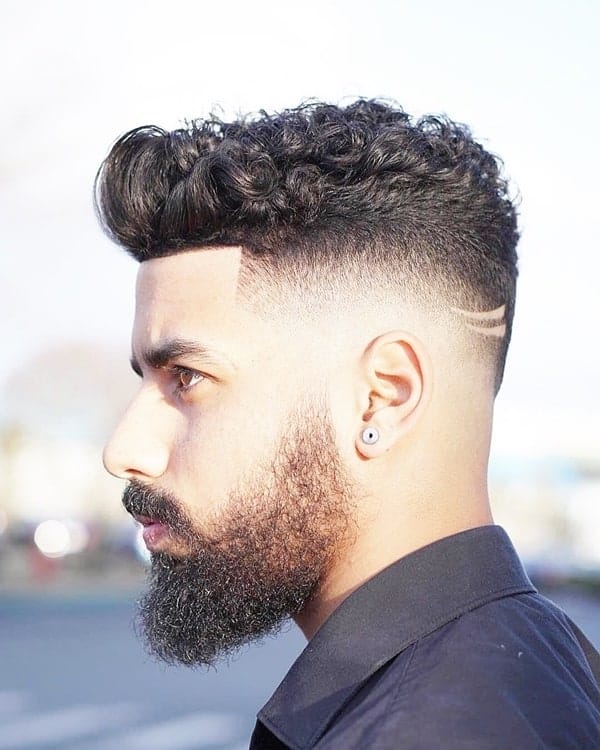 Image Source
It's high time you part ways with your long curly hair. Embrace the life where you sport a classic high fade hairstyle with a cool and new look. With this hairstyle, you will achieve a closely-shaved side. In addition to this, there is a high fade look that provides an abundance of definitions. You are sure to receive a nice and crisp look with this styling option.
8. Temp Fade With Curly Hair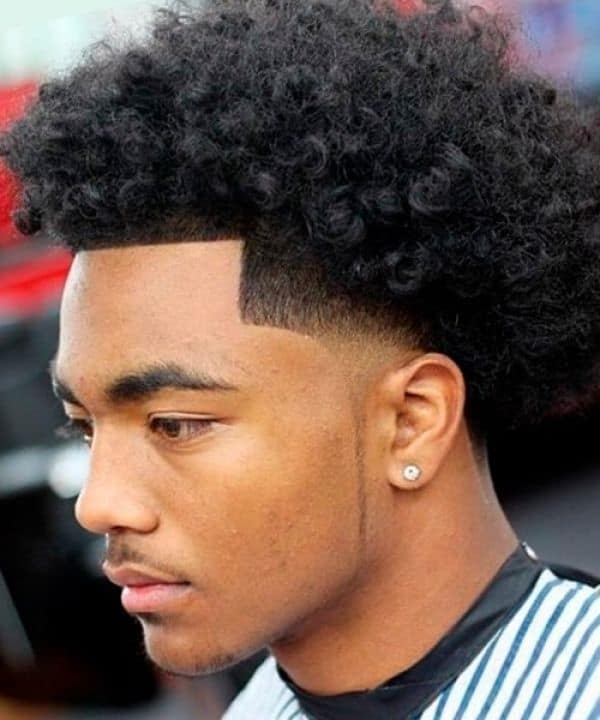 Image Source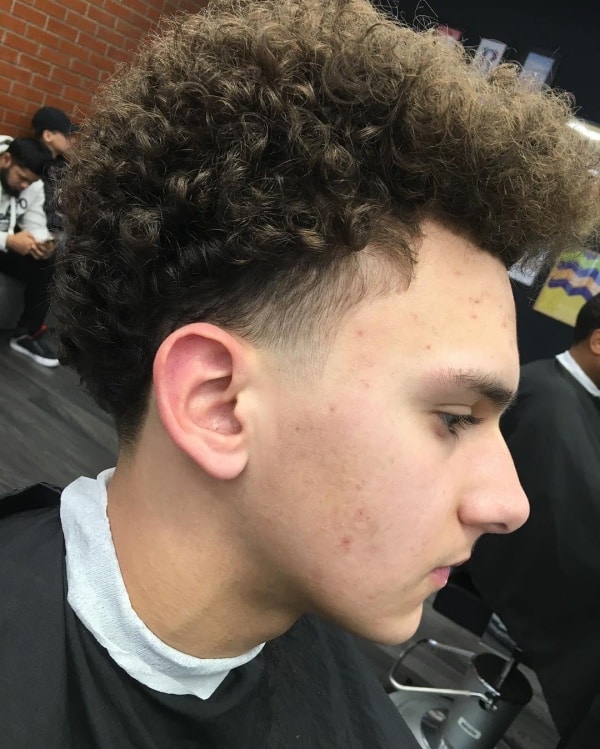 Image Source
The word "temp" in the temp fade hairstyle stands for the temple, which is also the reason why this kind of haircut is also called a temple fade haircut. It is one of the most killer combinations when you are trying to put it together with curly hair. Under this kind of hairstyle, you essentially feature tapered hair around your temple region. The sharp and crisp lines that are formed due to this create an extremely mature look.
Checkout: Long Hairstyles For Black Men
9. Short Curly Fade Haircut With Stubble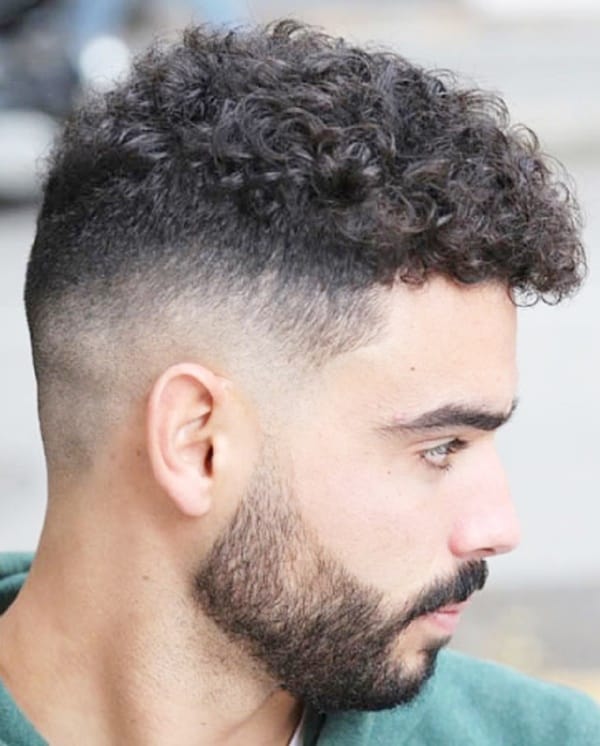 Image Source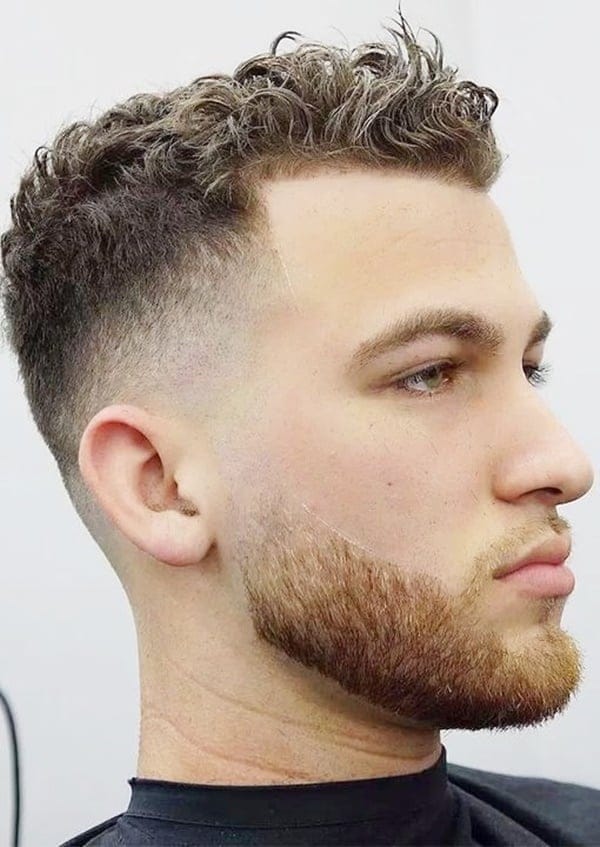 Image Source
While we all know what a short curly fade looks like but have you been able to imagine the look with a light stubble? If not, now is the time you do because the look is trending like wildfire in a forest. The stubble gives a sense of professionalism to the look. It might not make you look formal but it definitely is a clean look.
10. Curly Fade Haircut With Long Beard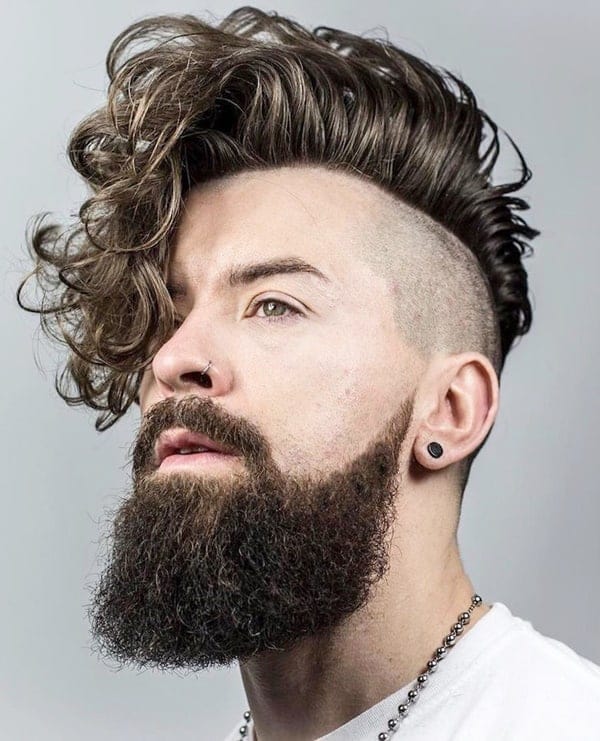 Image Source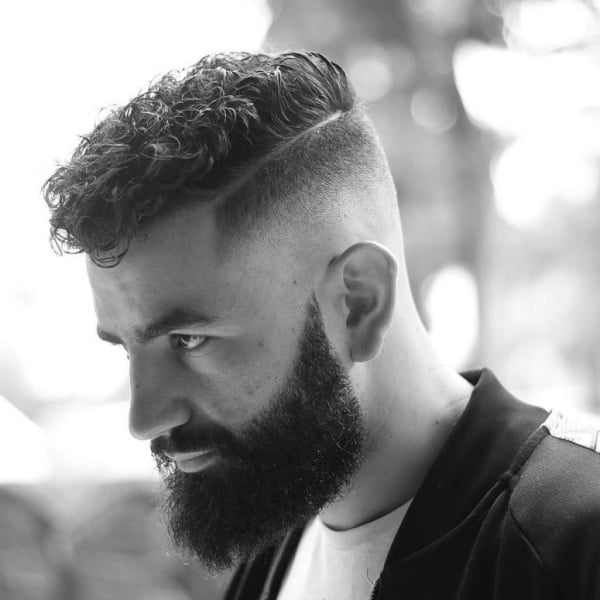 Image Source
If you are the kind who enjoys sporting a long beard then there is no better combination than curly fade hairstyles for you. It will balance out the whole look evenly. You don't want too much attention on your beard either, so make sure you don't go all out when it comes to this.
Related: Cool Haircuts For Men With Beards
11. Side Parted Curls With A Fade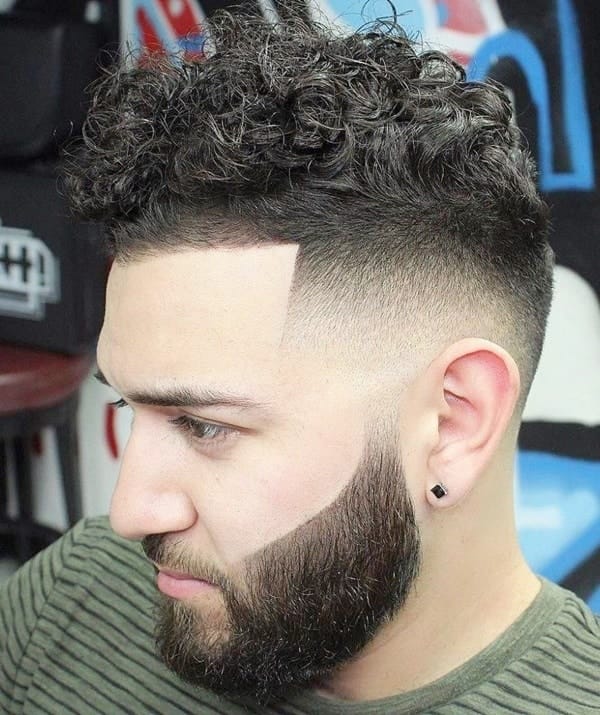 Image Source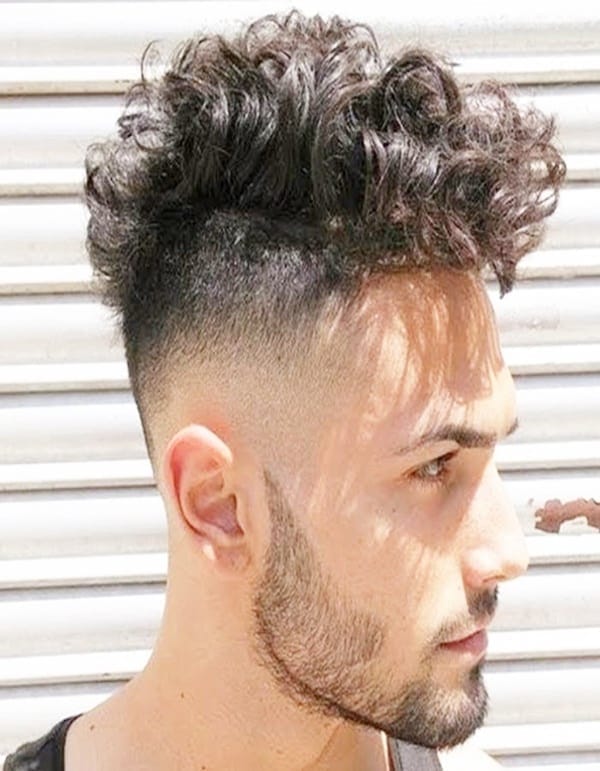 Image Source
Talking about curly fade hairstyles for men, you sure can't leave out the side-parted look. Although a lot of men don't like to side-sweep their curls, it is an extremely popular hairdo. It gives you that youthful look you always crave for. The best thing about this hairstyle is that it goes with a suit as perfectly as it goes with a pair of chinos teamed with a super casual T-shirt.
12. Curly Fade With A Hard Part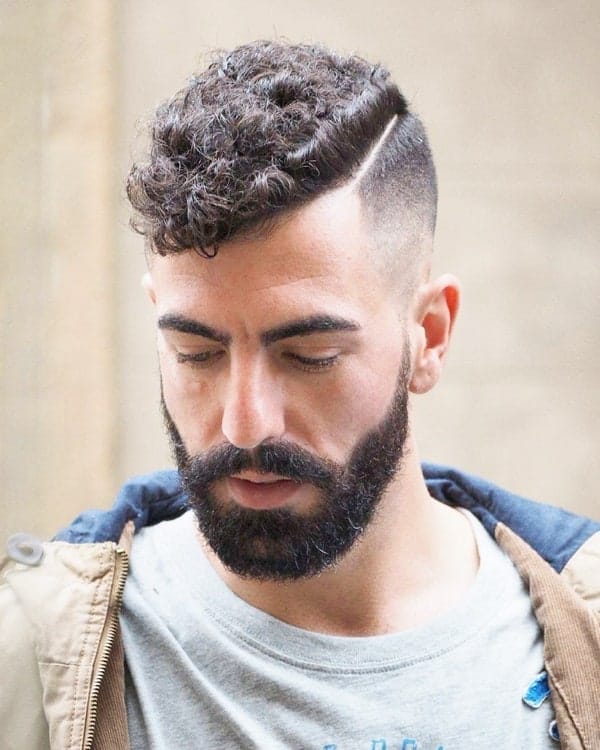 Image Source

Image Source
Hard parting is also referred to as razor lines. And they are basically a twist to the classic side-parted style. Hard parted curly hair is the order of the day. And if you want to stand out in a crowd with your curls, then this is the hairstyle we recommend. What makes this hairstyle more desirable is its clean look.
13. High Top Fade Hairstyle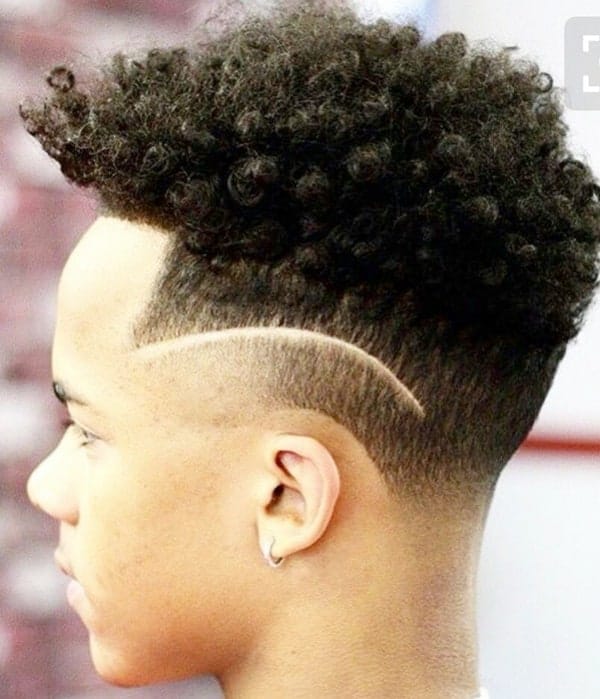 Image Source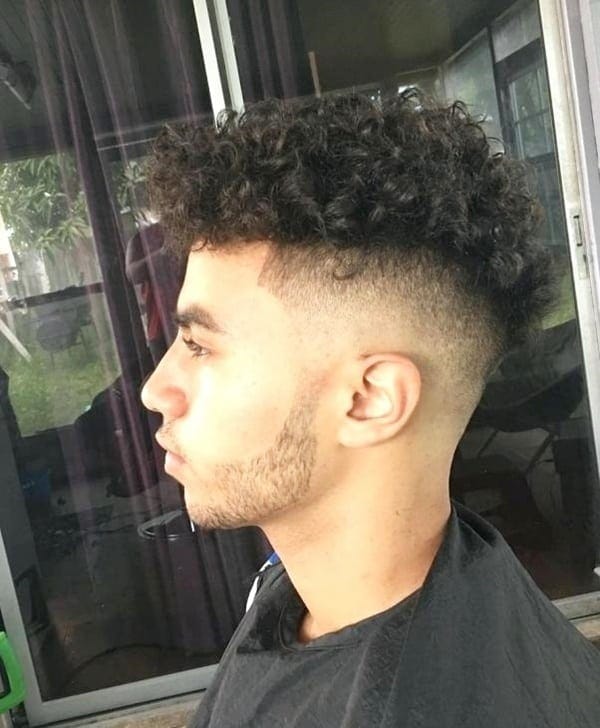 Image Source
This hairstyle is especially popular among Afro-Americans. But regardless of who is more into this style, it is popular and doable- all you need is thick hair on your head. Hair strands that are thin and silky might fail to create that raised mass of hair on the crown of your head needed for this hairstyle. You can don this hairdo with a shirt buttoned all the way up, for that ultimate downtown look.
Related: Trendy Afro Hairstyles For Black Guys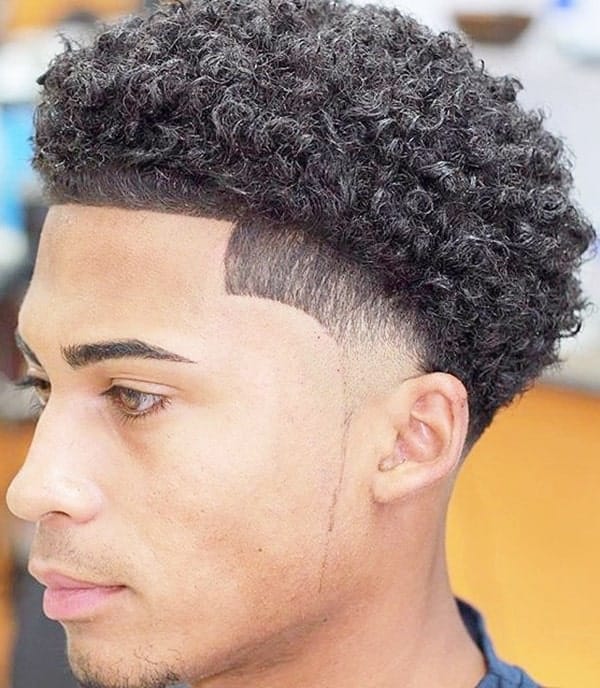 Image Source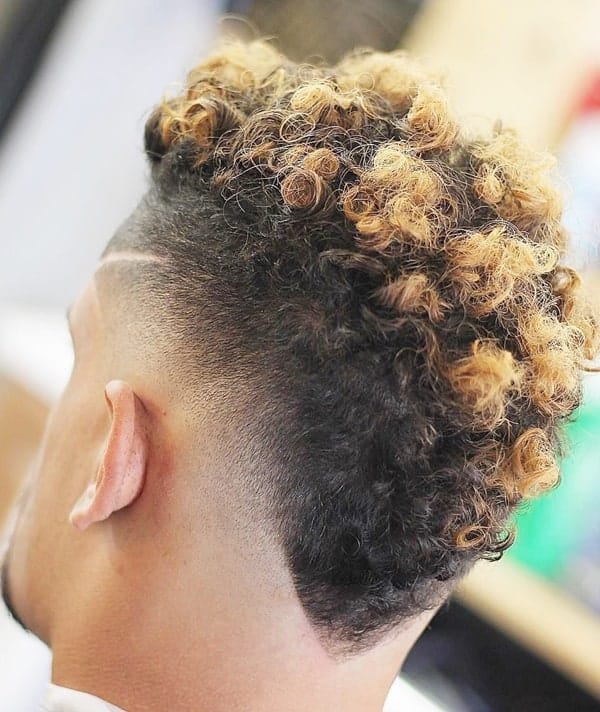 Image Source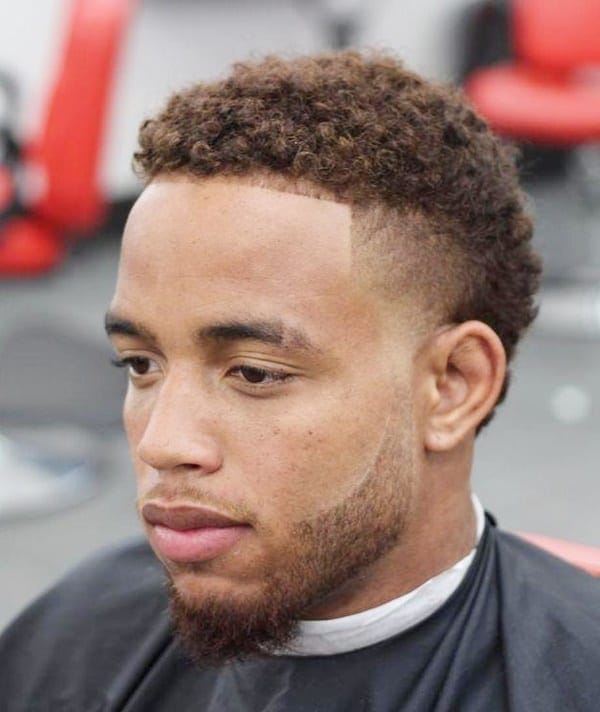 Image Source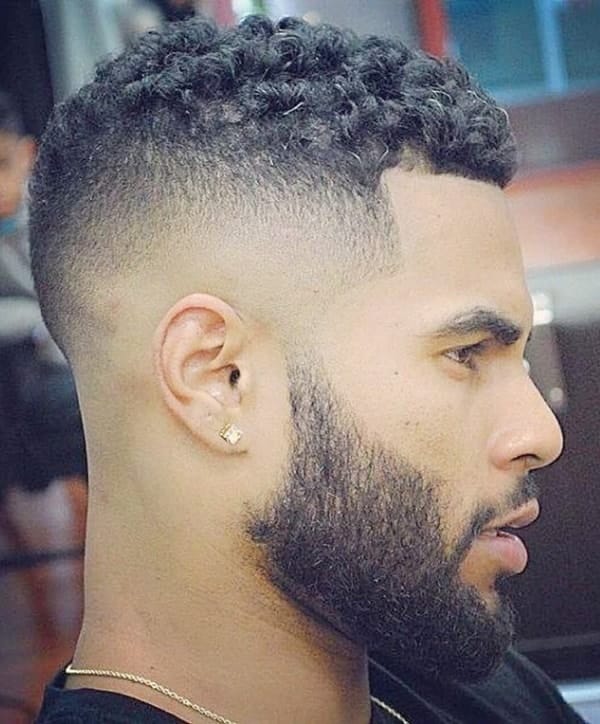 Image Source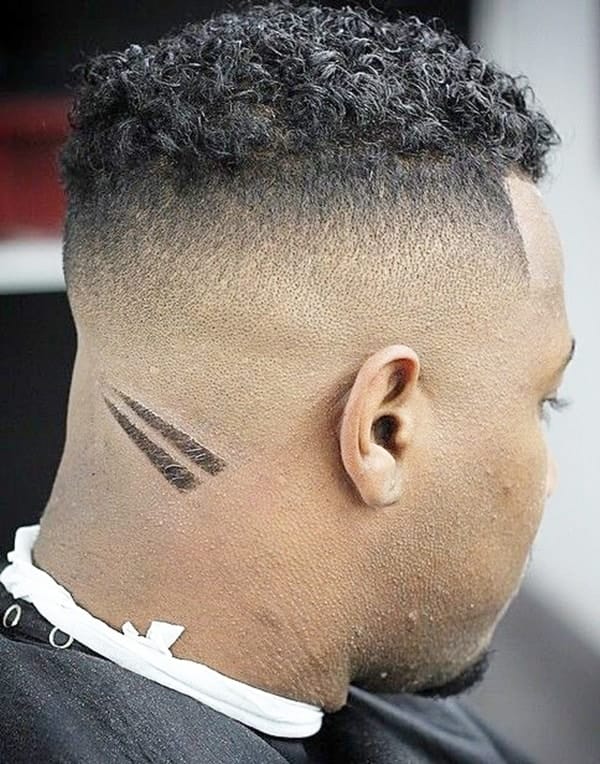 Image Source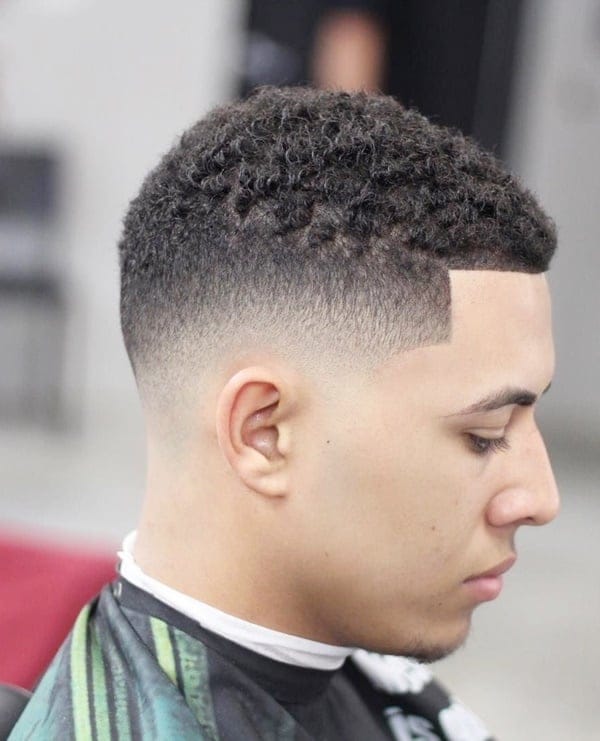 Image Source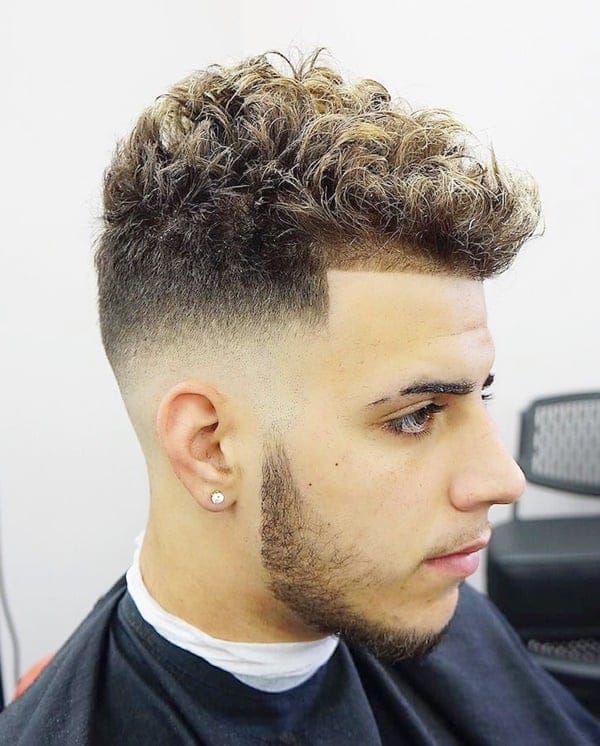 Image Source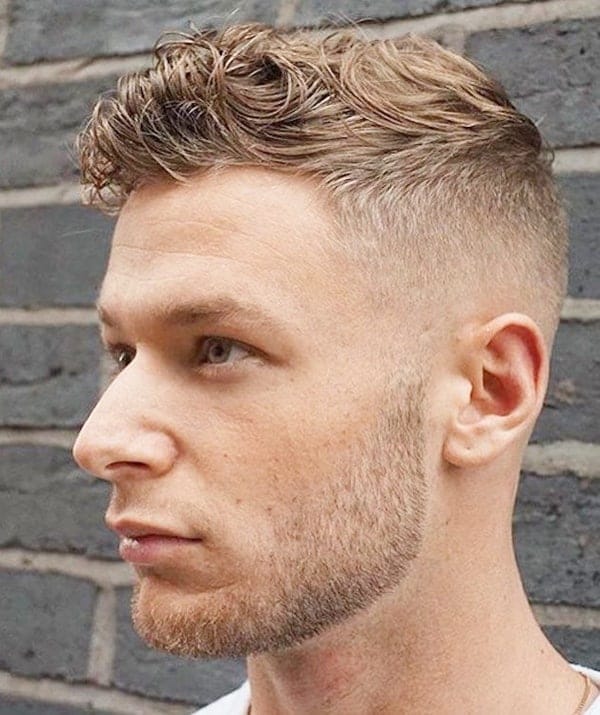 Image Source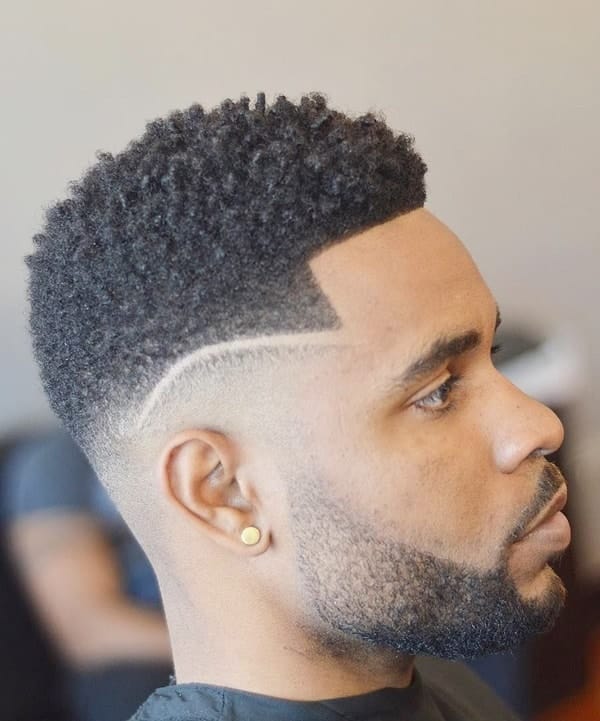 Image Source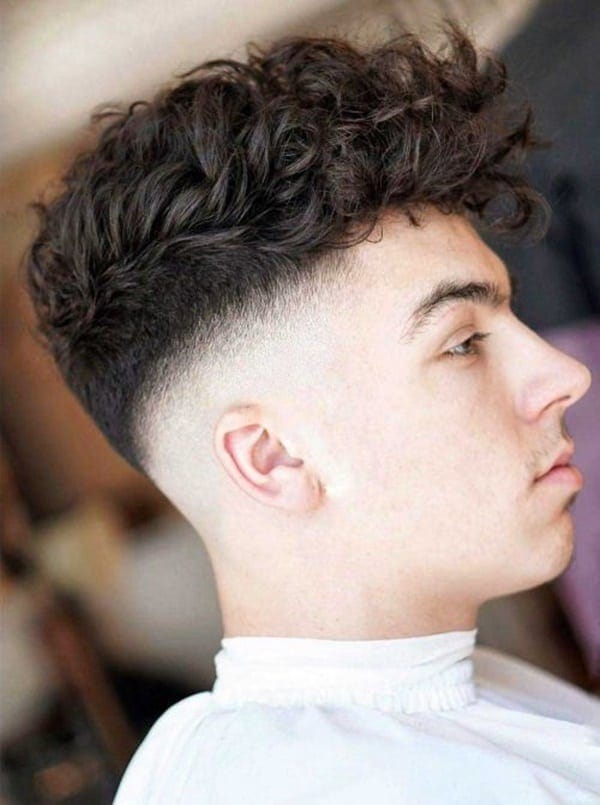 Image Source

Image Source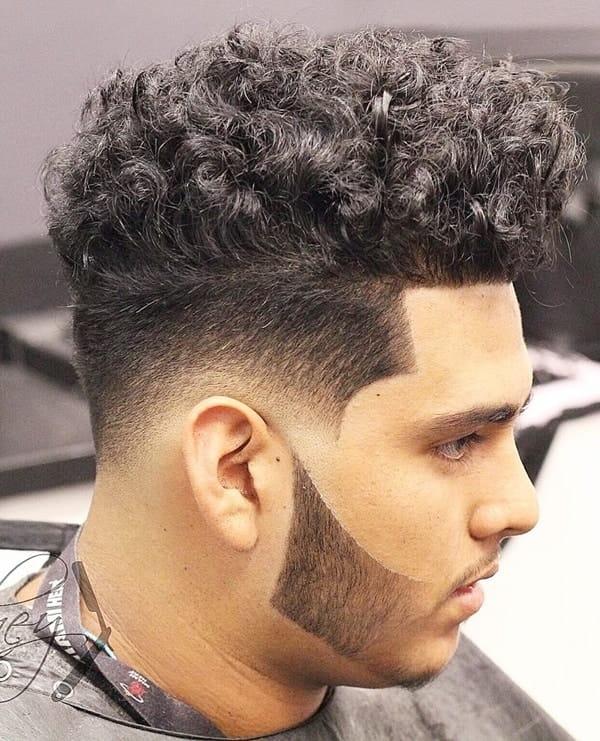 Image Source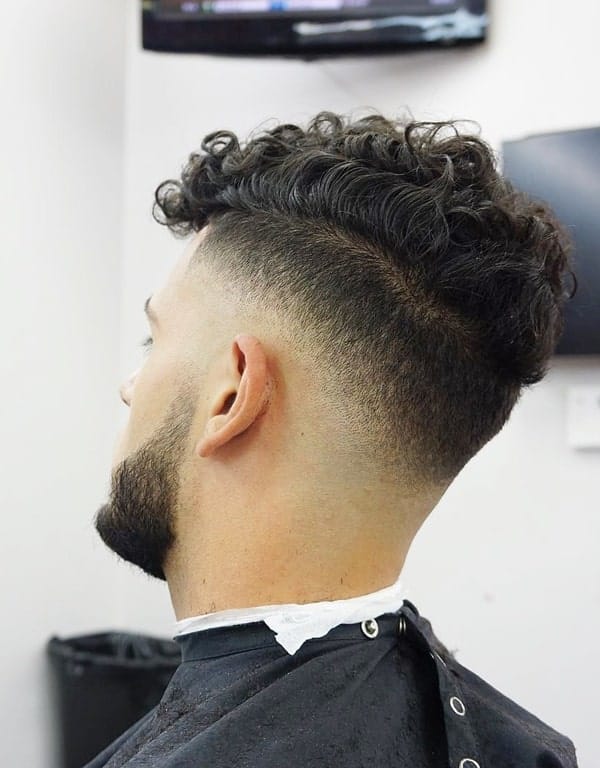 Image Source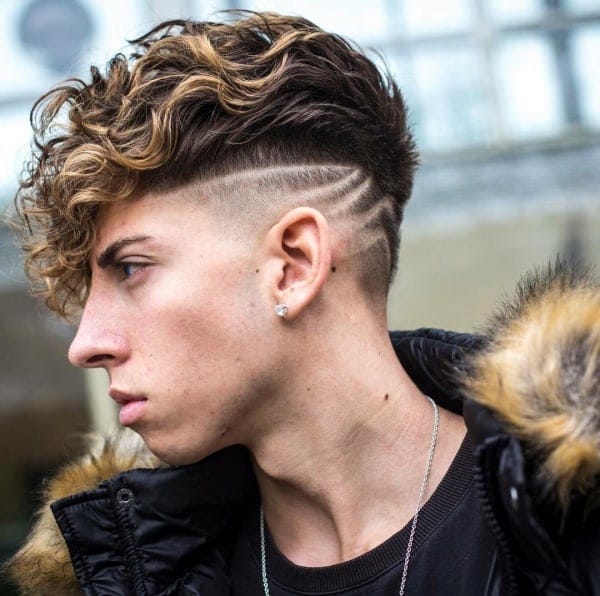 Image Source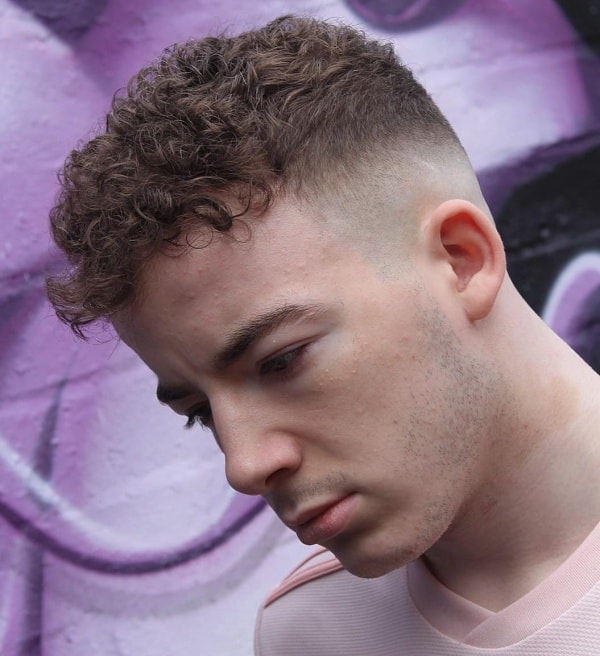 Image Source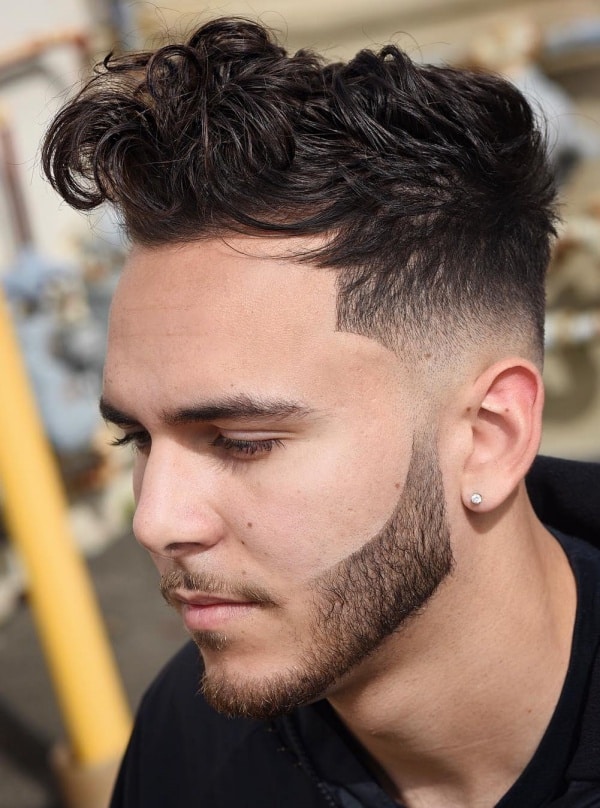 Image Source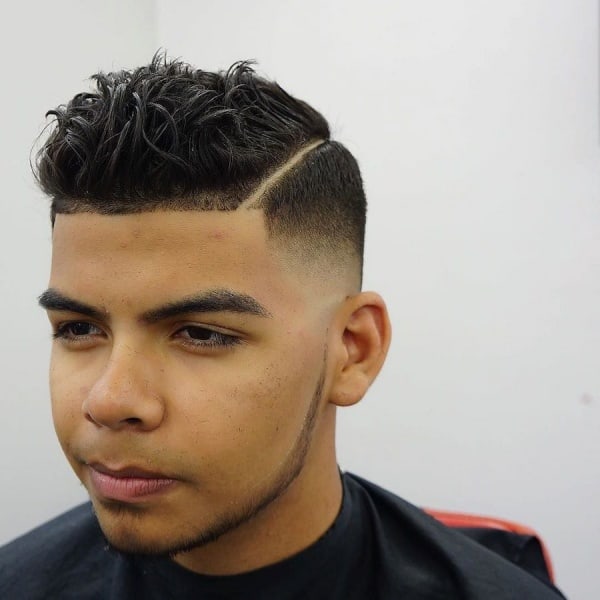 Image Source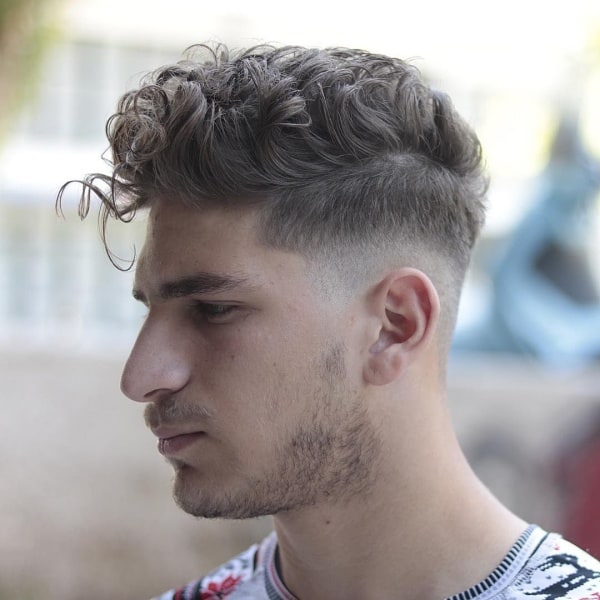 Image Source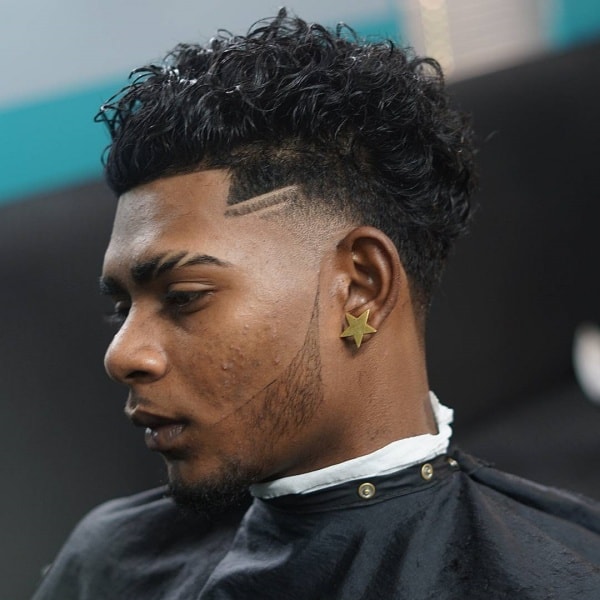 Image Source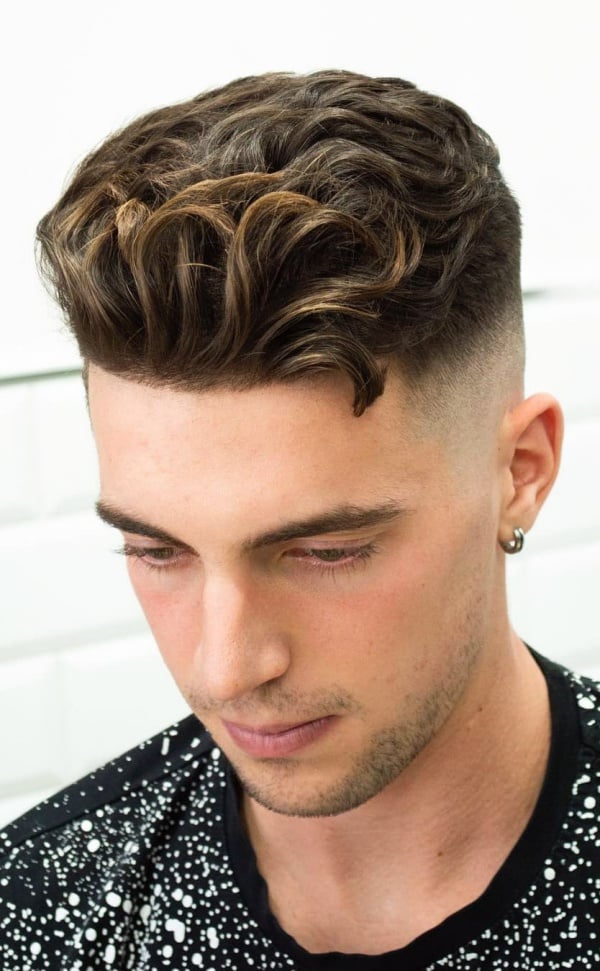 Image Source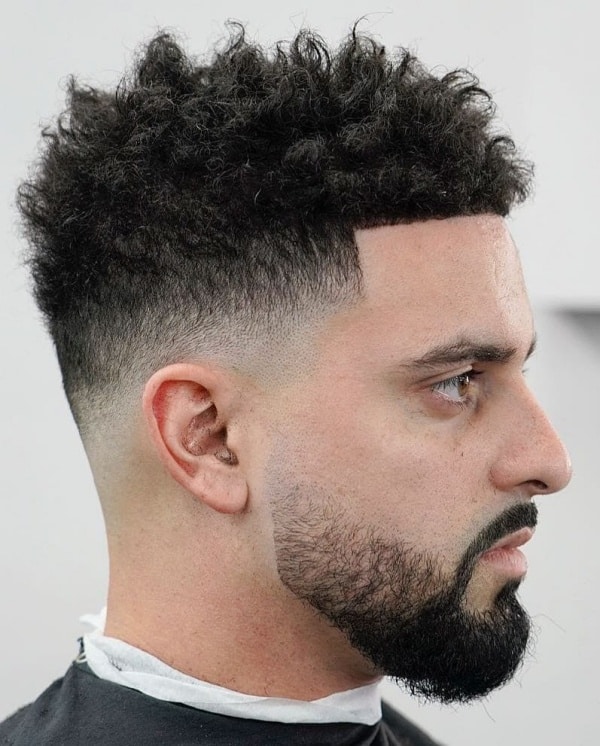 Image Source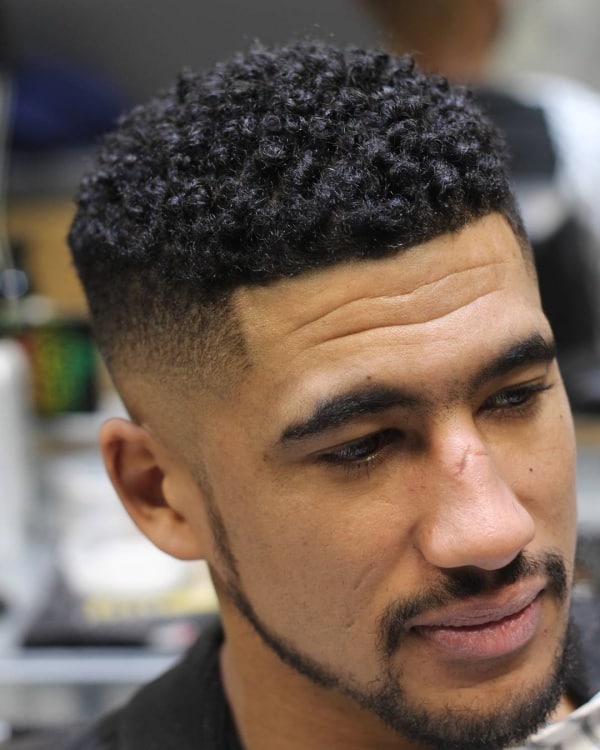 Image Source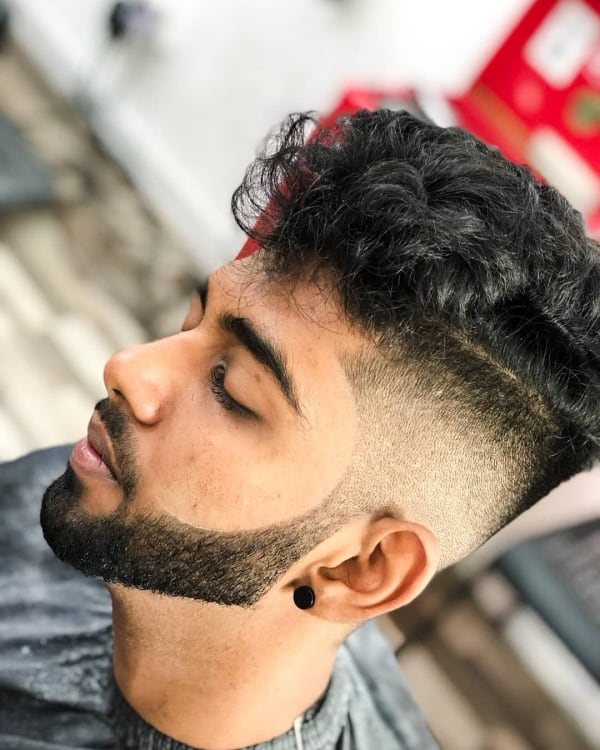 Image Source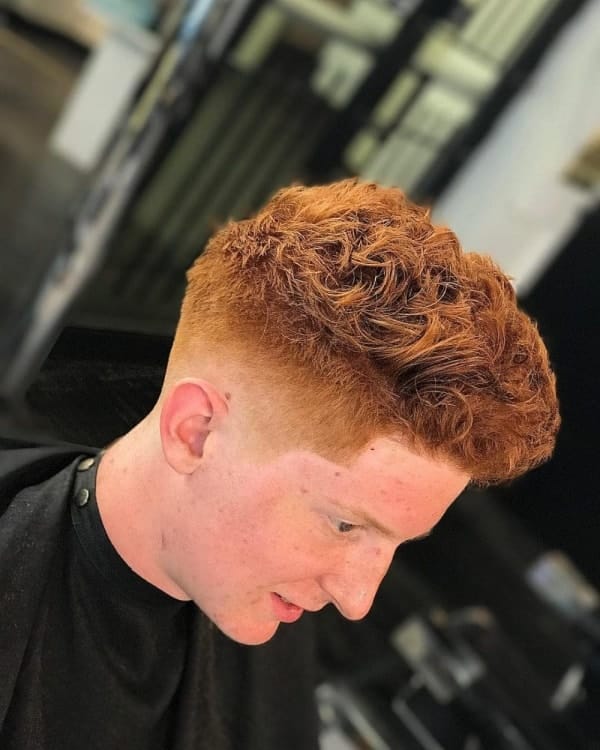 Image Source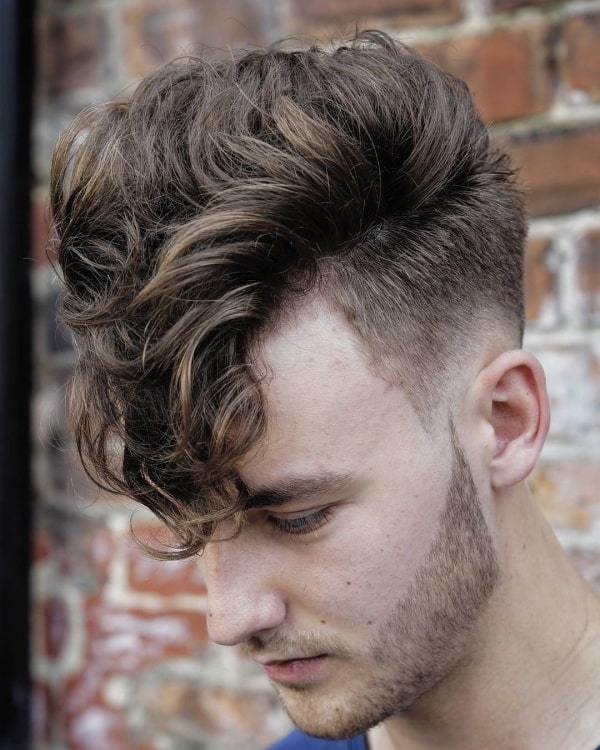 Image Source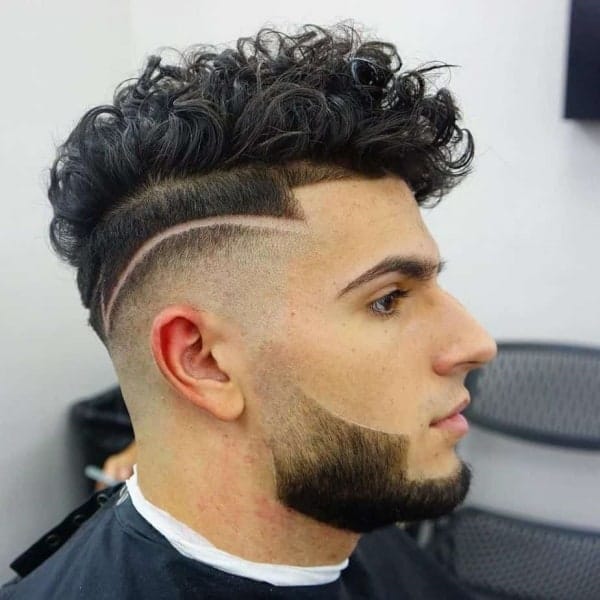 Image Source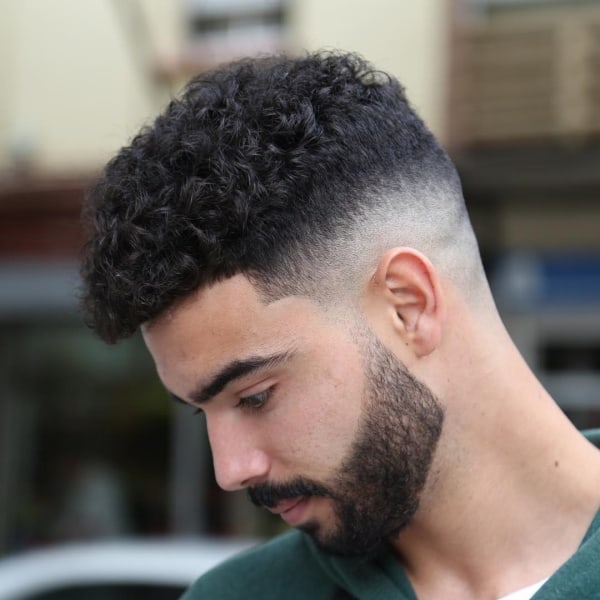 Image Source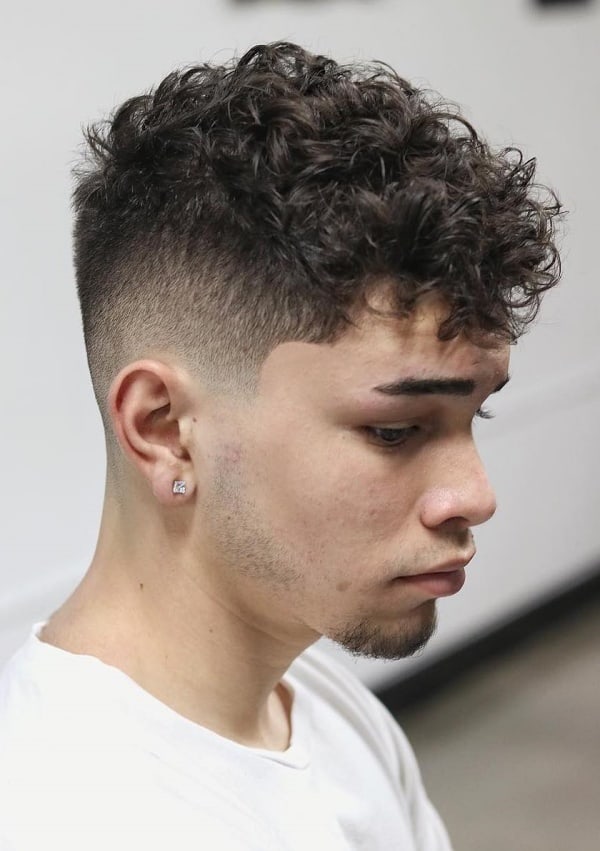 Image Source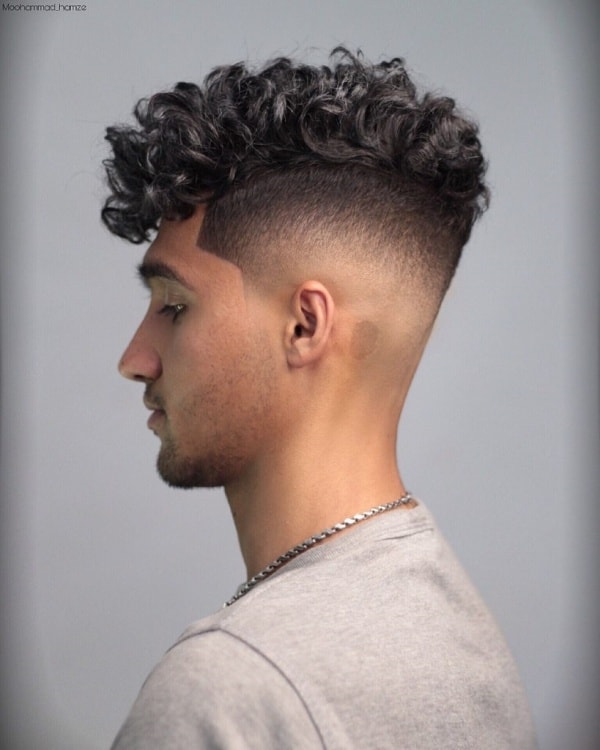 Image Source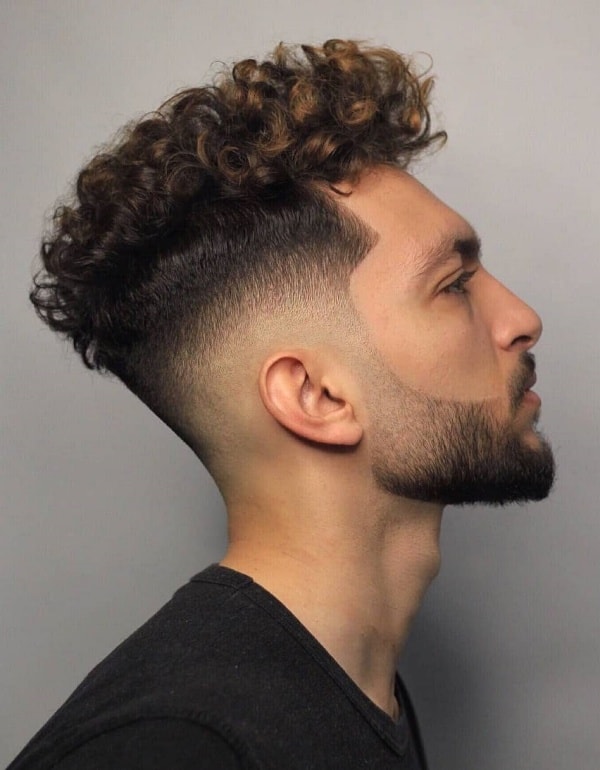 Image Source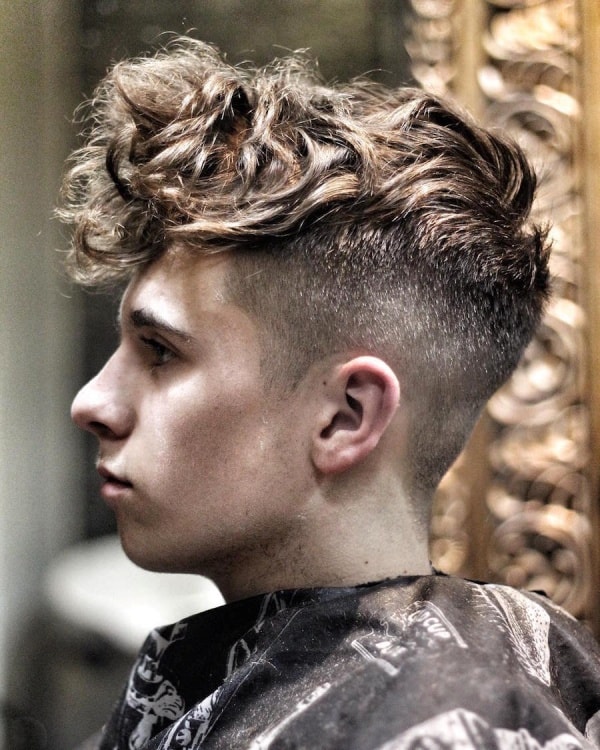 Image Source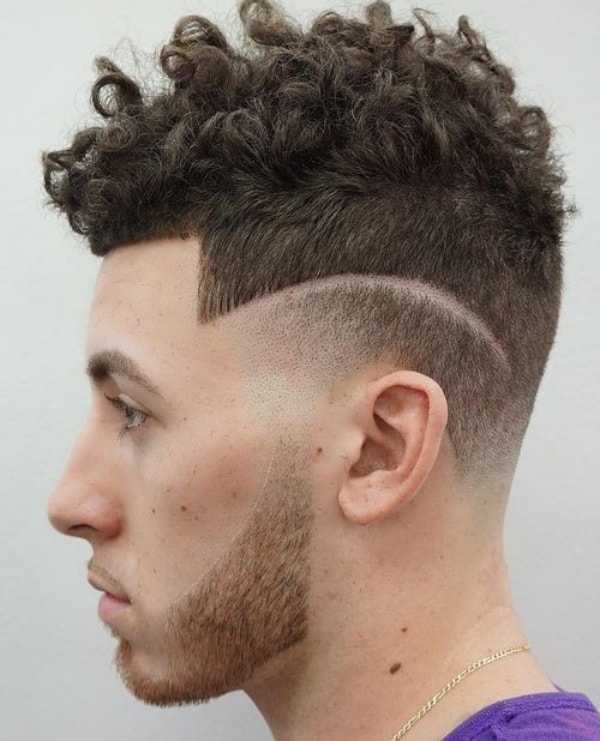 Image Source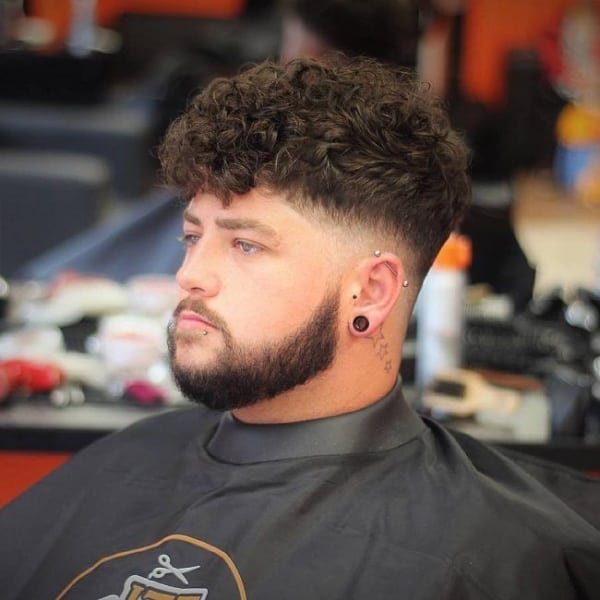 Image Source
These are some of the many hairstyles trending for men with curly hair this season. Each look mentioned above has something distinctive to offer. Regardless of which option you go forward with, we are sure that it will help you stand out in the crowd. Curly fade hairstyles have a different feeling about them but they need to be maintained as well. So keep in mind and brace yourself for investing the time and energy into you. In the end, all we can tell you is that it will surely be worth it.