Does your excessive body weight make you feel insecure about yourself? But let me tell you that your body weight should never be a barrier between you and your masculinity. Being optimistic about the shape of your body is as essential as realizing the importance of body fitness. If you are struggling to overcome the shamefulness about your overweight body, some dashing beard styles for fat guys can boost your everyday look in a minute. Not all beard styles go well with heavily shaped men. However, the right sort of beard can take away your flaws. So, you should not neglect your beard shape if you genuinely wish to enhance your overall appearance in front of the public.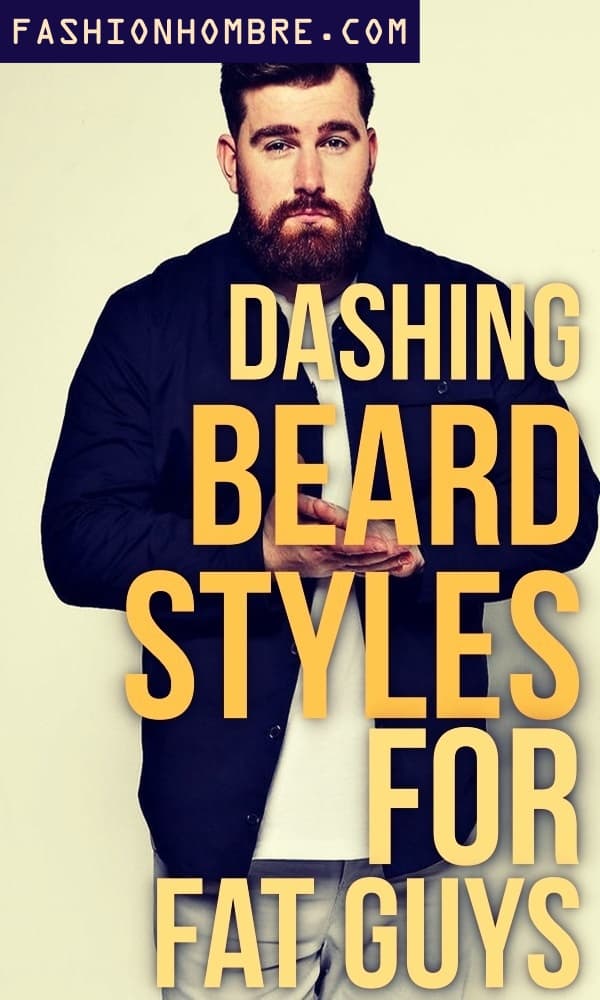 Recent psychology studies have found that women are more sexually attracted to those men who possess stylish beards. Therefore, if your body weight is becoming a hindrance between your true self and your general impression, then it is high time to give your beard a much-needed styling. So, read on to know some of the amazing-looking beard styles that will suit your chubby body.
What Are Round Face Dimensions?
As we are talking here about beard styles for fat guys, so to know if your face cut is round, you have to notice some points such as:
Those who have a round face, have no or very fewer angles towards the chin. They might not have any jawlines and of it is, then it will be round in shape as well.
The width of the cheekbones, as well as the length of the jaw, is approximately equal. Moreover, they will have a small area towards the forehead and the lower part of the face will be big in terms of area.
They have various beard styles for trying out as having diverse beard style will help in making their face angular in shape.
So, men who have round faces mostly complain about the reality that their faces might look chubby. So below in this post, we will give full beard styles for round faces from which you can choose.
How To Choose a Beard Style For Fat Faces?
Selecting the right beard style for fat faces is not an easy task. However, knowing the proper shape of your face can lessen the burden of choosing a suitable beard style. It lets you skip the hit and trial method and develop your beard in a well-suited shape with confidence. Long and well-structured beard styles go well with round shapes in a more appropriate manner. Though you can also try other beard shapes, such styles emphasize your jawline and make people concentrate on your chin. Therefore, your face will be elongated and appear less round. Van Dyke, Balbo, and Tapered beard forms will fall into dashing beard styles for fat guys.
How To Maintain A Good Beard?
A well-shaped beard does not grow in a day. It requires a long time of maintenance and upkeep to give your beard its desired shape. So, here we are going to discuss some key points to keep your beard dashing and attractive.
Trimming is one of the essential factors for the maintenance of your beard. In the case of shorter beard shapes, trimming frequency is always more, whereas longer beard styles require shaping up once or twice a week.
A clean and fragrant beard can take your style to the next level. So, make sure to wash your beard with shampoo once every week. Also, you can consider applying conditioner to eliminate the roughness of your beard.
If you wish to stimulate the growth and density of your beard, then using beard oil is a must. Make good application of beard oil and comb the facial hair regularly to avoid an untidy and shabby appearance.
Using good quality beard care tools is also a part of the maintenance. Therefore it is essential to ensure that your washroom does contain a well-manufactured beard trimmer.
Stylish Beard Styles For Fat Guys
1. Goatee Beard Style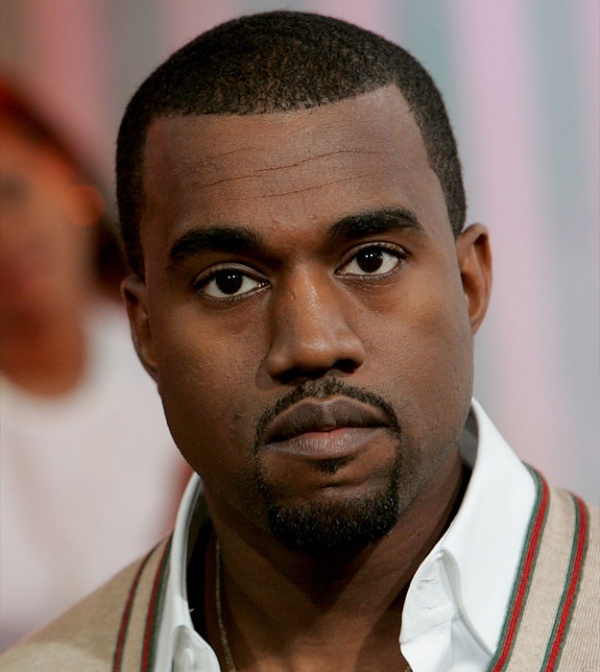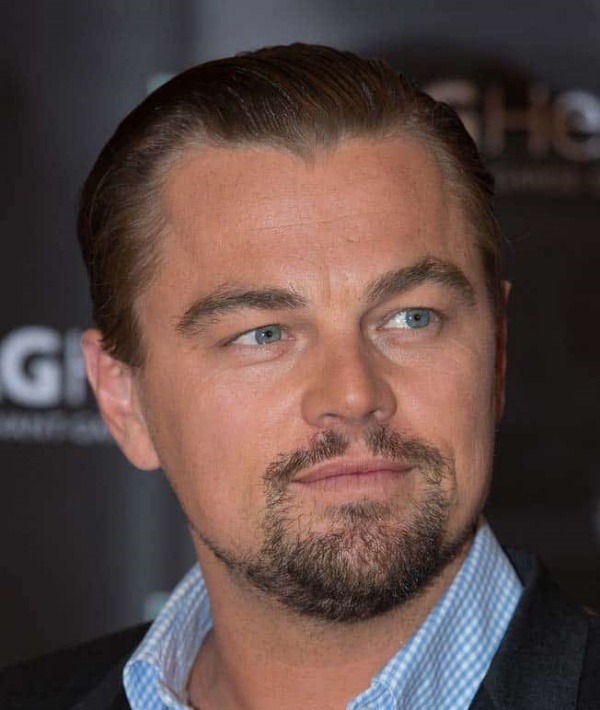 Goatees are hype in today's date. If you ever have decided to try a goatee, now is the time. With the massive resurgence in beard style trends, this classic style promises to make you look sophisticated and stylish. There is hardly any youngster who does not prefer goatees. A goatee beard style is all you need to implement for bringing your beard to the next level. However, to slay in this style, you need the perfect goatee to flaunt the features of your face. Luckily, there are a plethora of styles for you to choose from. So, be it a classic goatee, the Anchor, or a full one, you are bound to find a style for you.
2. Pointed Beard Style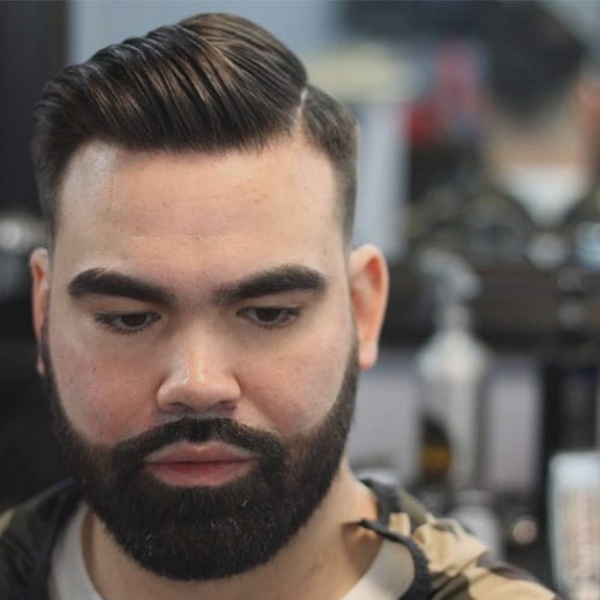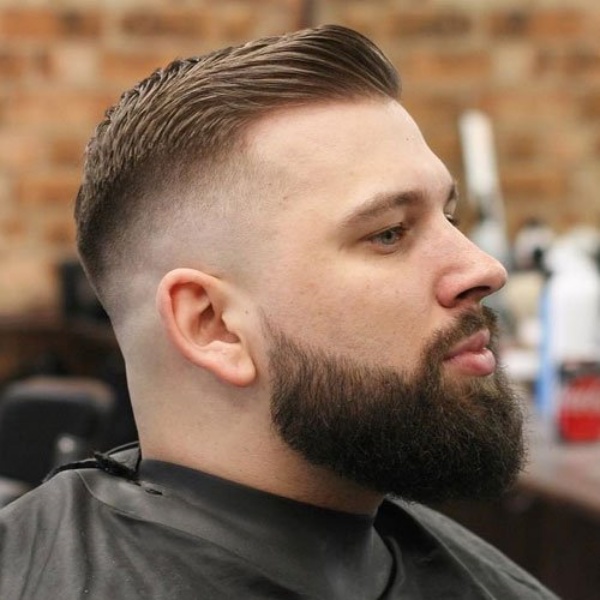 Men with sharp facial features would definitely love the idea of a pointed beard. It is an underrated opinion that fat guys cannot flaunt pointed styles well. The never-ending changes in the fashion world have brought out fresh trends for guys. The significant evolution of pointed beard styles has made it possible for almost all facial styles to try them out. As mentioned, pointy beards are versatile. So, it hardly matters if you are wearing formals or casuals; you are bound to have a suitable pointed beard style for one. Try experimenting with the Ducktail or french styles for flaunting a look that is suitable for all.
3. Stubble Beard Styles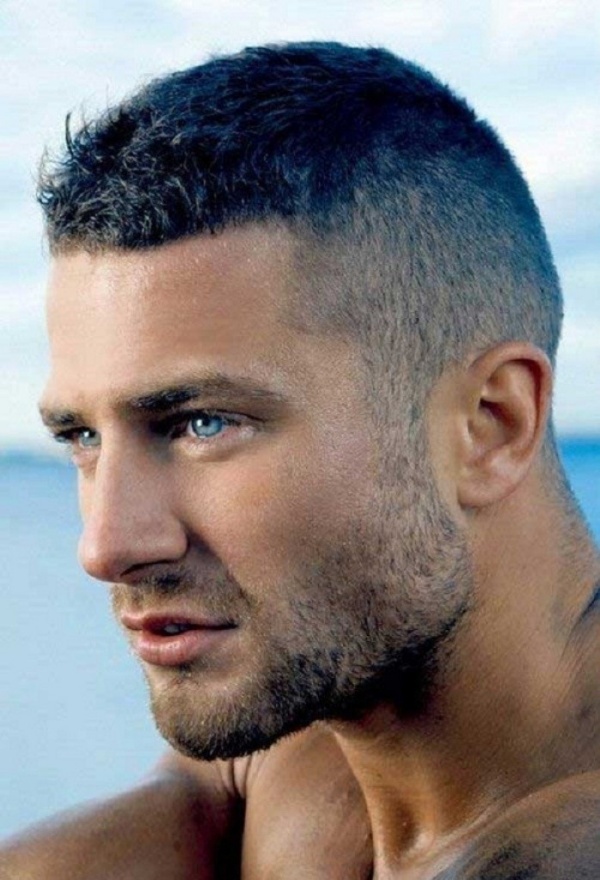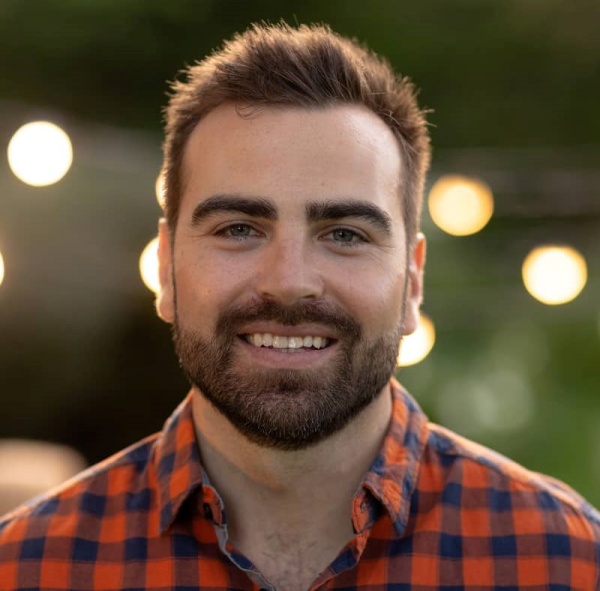 Stubble beard styles for fat guys is undoubtedly one of the most smart-looking style in recent trends. This style has continued to be popular with men for multiple reasons. If you want to style your scruffy beard to something more proper and formal, this would be the perfect bet for you. The range of cool stubble beards, starting from the light stubble to the medium one, is ideal to be suited for all your looks. You can even go for a heavy stubble if you prefer a denser look. This look also has a lot of room for experimenting with trendy styles, such as fades and goatees. This style looks smart enough when tossed with other smart beard styles.
4. Horseshoe Mustache Style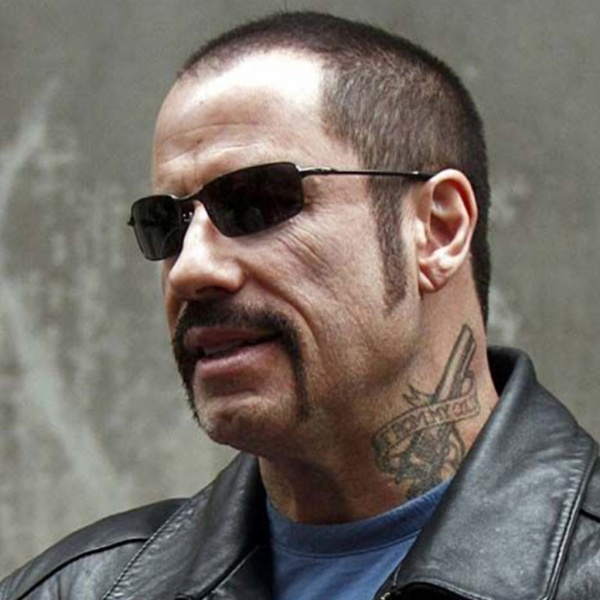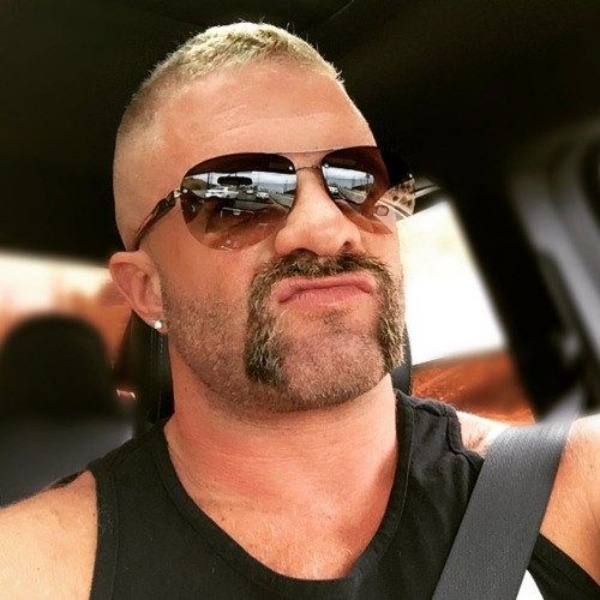 A beard style is complemented at its best with a properly shaped mustache. The horseshoe mustache is named after its shape. It looks almost like a goatee. Men prefer this style because it is easy to grow and maintain. This is most popular as a biker mustache as it flaunts a style where the mustache grows full, almost reaching out to the chin with its long extensions. If you have an oblong-shaped face, then you can pull this style off pretty easily. The modern twists to the classic horseshoe are all about experimenting with trendy styles along with the traditional ones.
5. Inverted-t Beard Style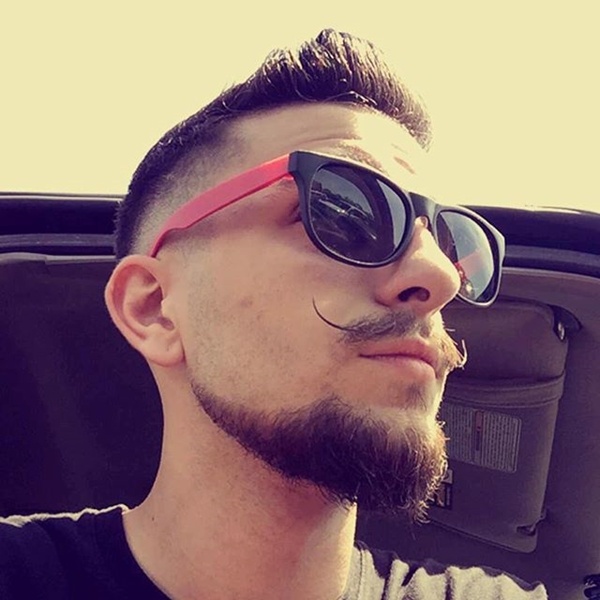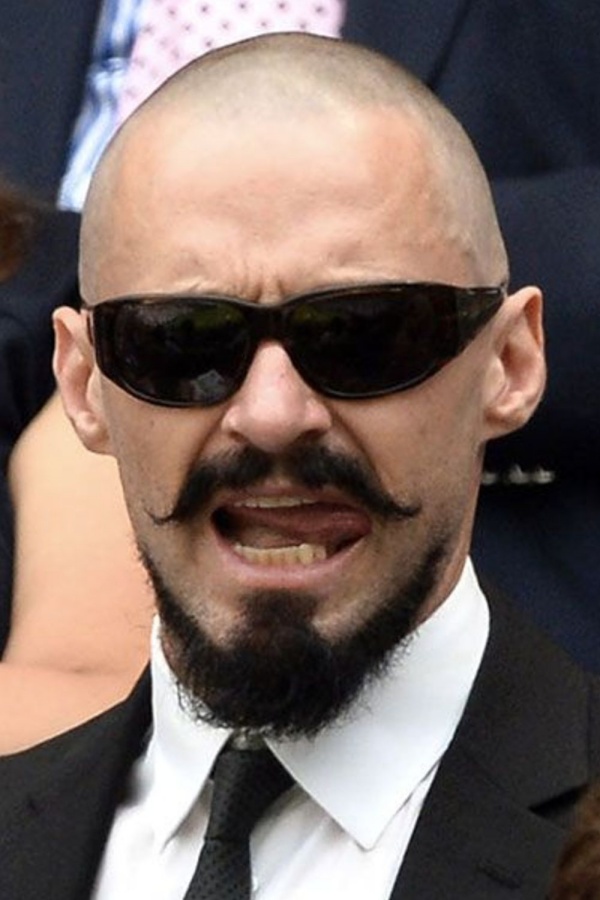 If you are up to experimenting with your beard style a bit, this is the perfect pick for you. The introverted T most popularly known as the disconnected beards such as the Balbo or the anchor beard are stylish enough for any face to pull them off. Men of almost all ages love these extravagant varieties of facial hair. Disconnected beard styles are often defined by combining a floating mustache alongside high chin hair growth, which on average resembles an inverted capital 'T.' If you prefer dressing versatile, this style is for you.
6. Chin Beard and No Moustache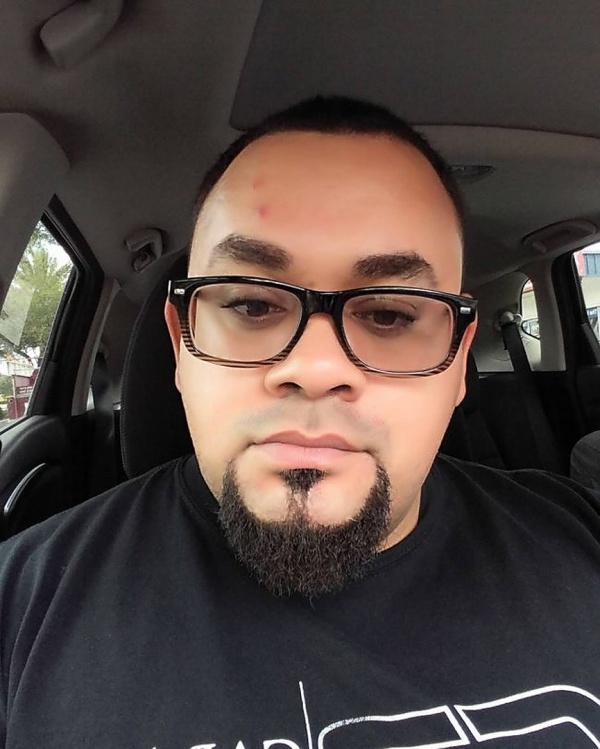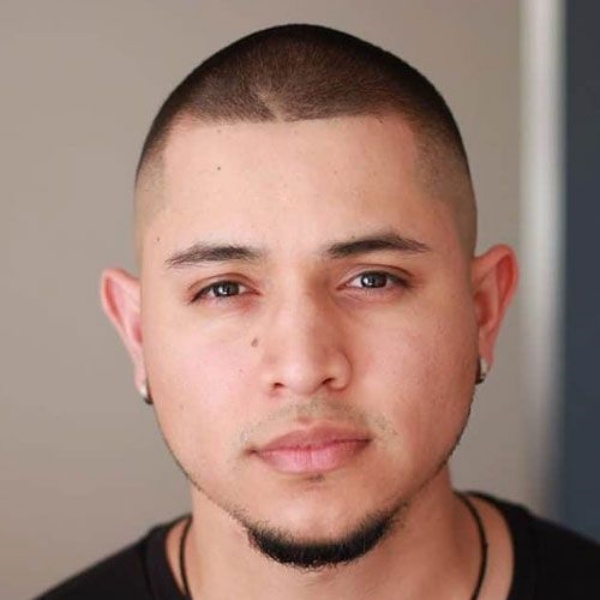 Men with different beard styles for fat guys appear slimmer with unique styles. The chin beard style and no mustache make fat guys appear thinner. This is the perfect goatee style to make men look eye-catching. Most Hollywood actors keep this style to flaunt their fashionable appearance. The best part is that the face appears fresh and clean. On top of that, this is a low-maintenance beard style to feature your face. With the assistance of a razor or trimmer, you can shape this creative style regularly to keep the style in shape.
7. Round Beard Styles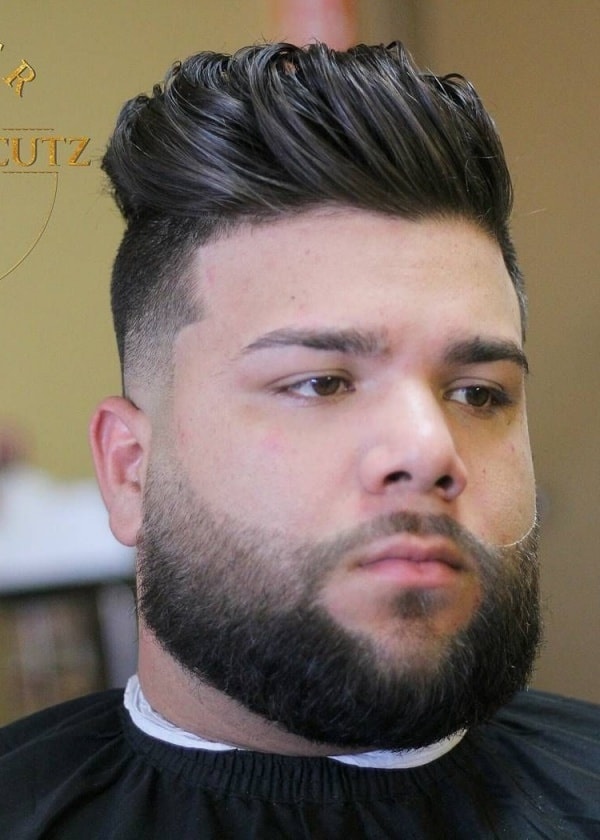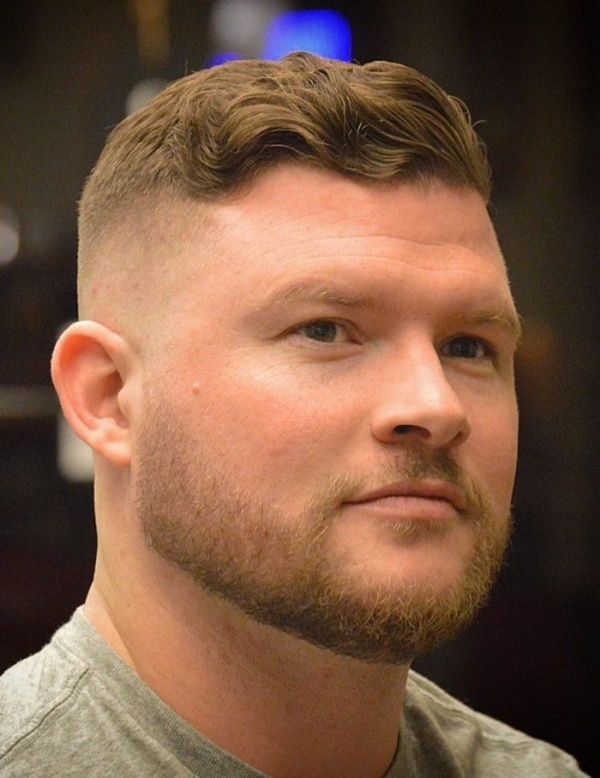 The circular nature of round beard styles can sometimes lack features, and you can create definition through sharp layers and textures. In fact, around beard style is rated the perfect canvas as it can benefit from extreme styles. Height and volume on top can append length to the face, and in aiming for jagged cuts, you can form an angular effect in the corners, which complements the round shape through symmetrical or asymmetrical shapes. There are versatile styles that are perfectly appealing.
8. Side Burns With A Pointed Beard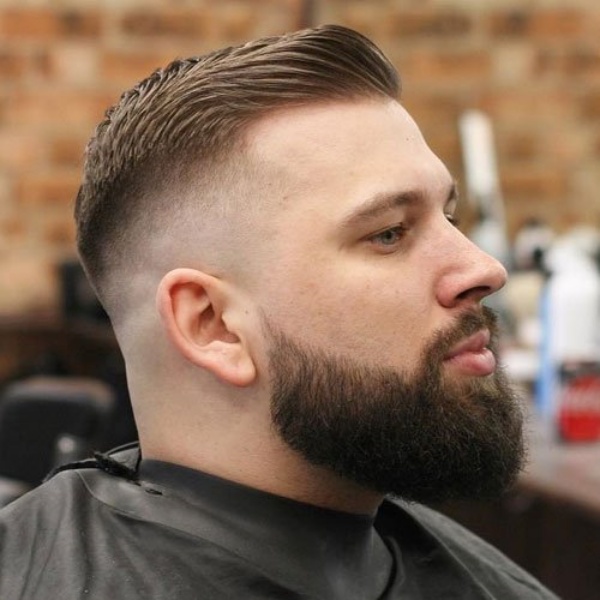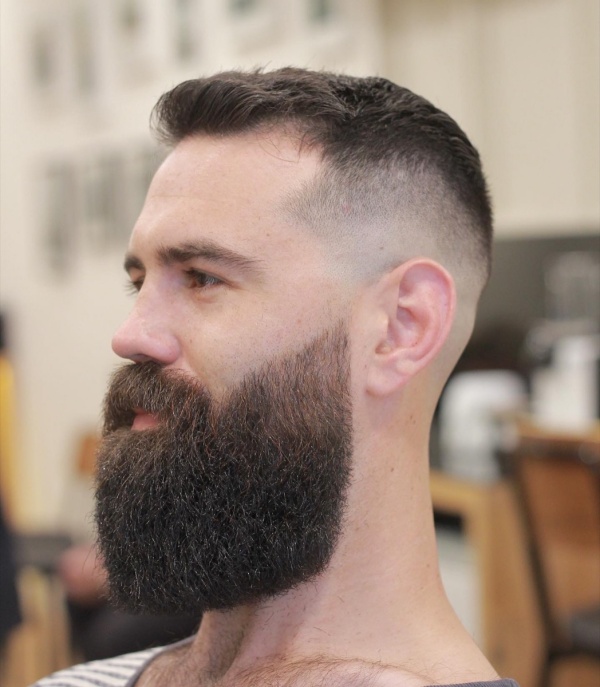 The best part of keeping beard style is to appear cool among men and be a center of attraction in front of women. With sideburns with a pointed beard, men can flaunt their creativity with beards. This is a unique shape and comes with an eye-catching effect. The beard of the sides is kept short or medium-sized, while the mustache and the chin beard are kept pointed and long. In order to have this style, you need to make use of a razor or trimmer to provide an appreciative appearance.
9. Boxed Beard Style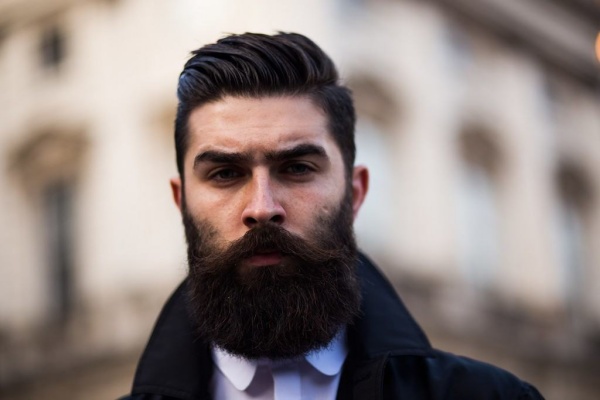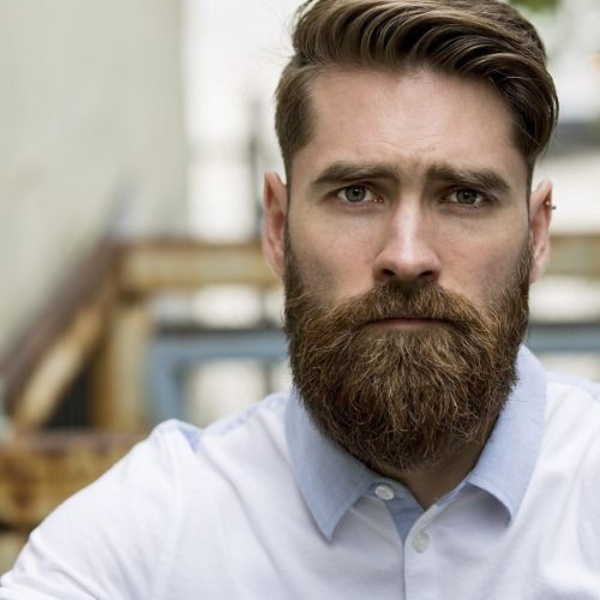 Among different beard styles for fat guys, the Boxed Beard style comes in various shapes and styles for men to flaunt their appearance. Boxed beard styles look a bit similar to Van Dyke beard style, but it has a more smooth appeal, making the style noticeable. The best alternative to full beard styles is a neatly trimmed boxed beard. The different options available in this classic beard style provides a suitable opportunity for men with any facial shape. This beard style needs proper maintenance to keep the style intact.
10. Van Dyke Beard Styles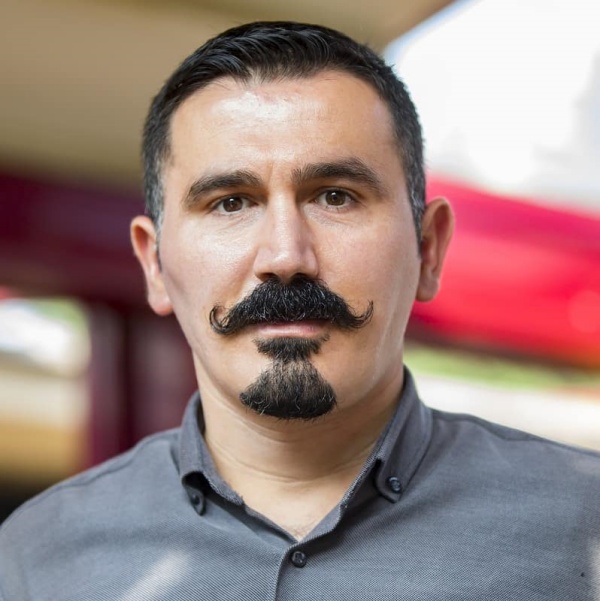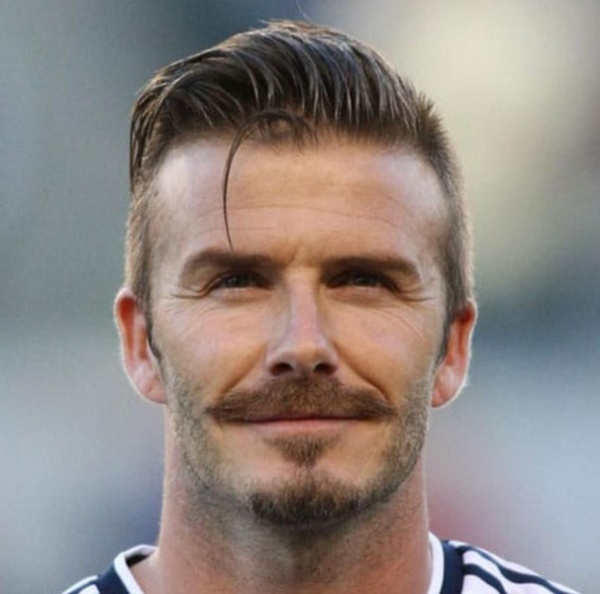 If you wish to look classy with one of the ancient beard styles, then Van Dyke Beard is the ideal style to make yourself look appealing. The contrasting feature of this beard style is that it mainly contains any growth of mustache and goatee, and the cheek hairs are shaved. This is a popular beard style mostly famous among Hollywood actors. The creative shape needs proper maintenance to keep the style intact and attractive. With this style, men look more elegant and can flaunt this style in front of women.
11. Full Beard Styles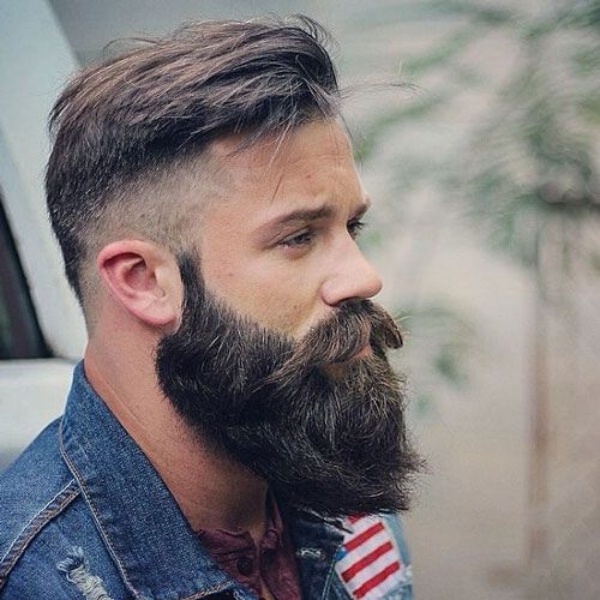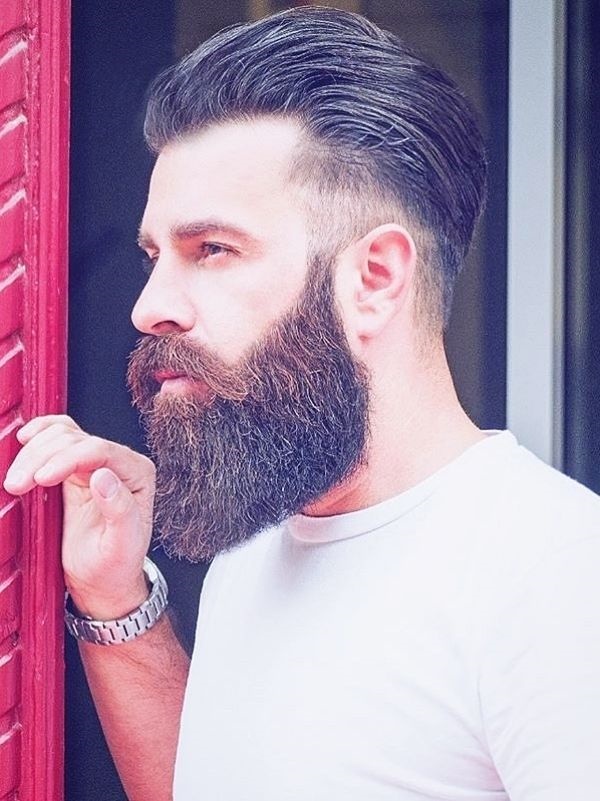 Full beard styles are considered to be the best expressive beard style of men. According to studies, women find men with dense beard growth more attractive. The full beard styles come in abundance with a plethora of creative designs. The beard is grown 7-8 inches long, and the mustache is connected with the beard, which fully-covered face. From actors to models loves to flaunt this beard style for its appealing fashion quotient. The long beard needs to be maintained and nourished to keep the skin and beard in good condition.
12. Verdi Beard Style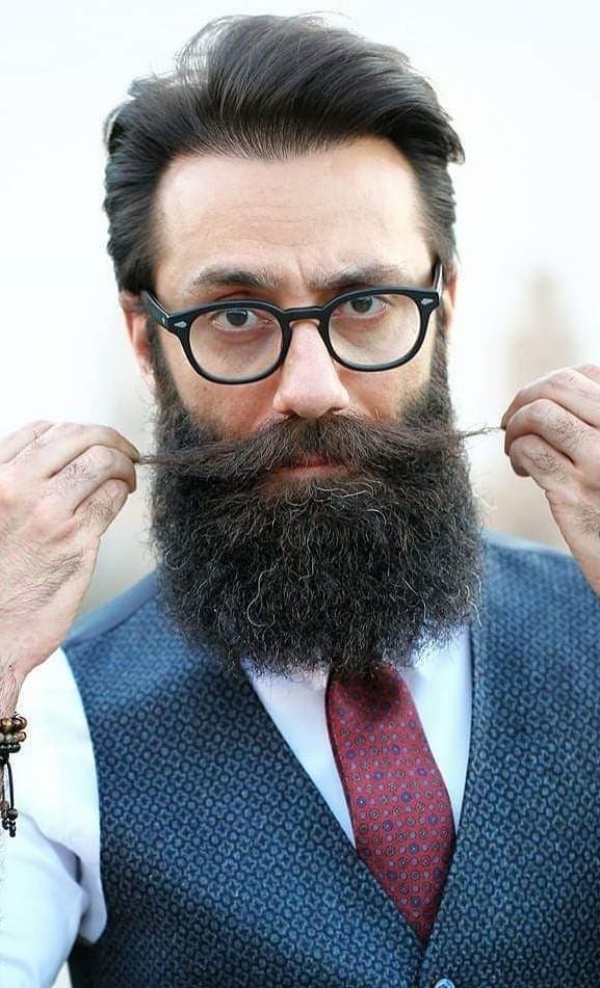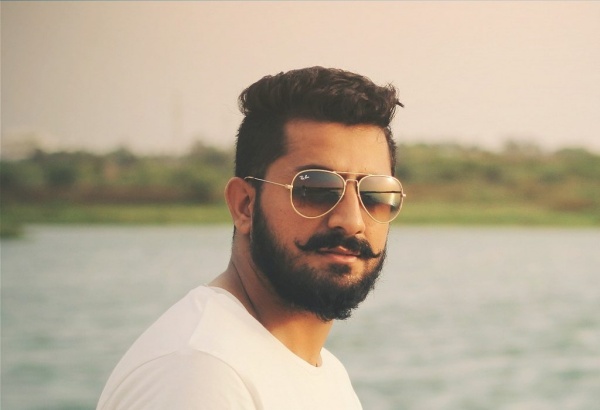 The Verdi beard style for fat guys is iconic and is endorsed by almost every man at one point in their lives. The ideal feature of this beard is that it has a naturally grown bottom with short sides. On top of that, the long bushy mustache is combed in a rounded pattern. In order to have a bold appearance, a waxed or styled mustache makes the look perfect. The beard style comes in small, medium to large sizes.
13. Fade Ducktail Beard Style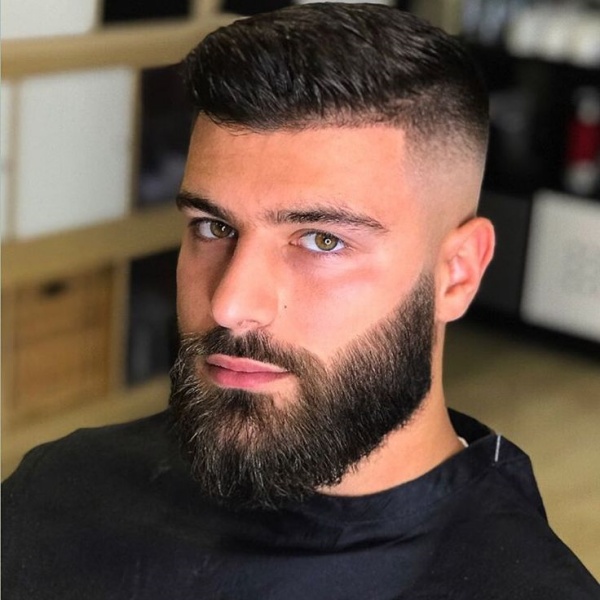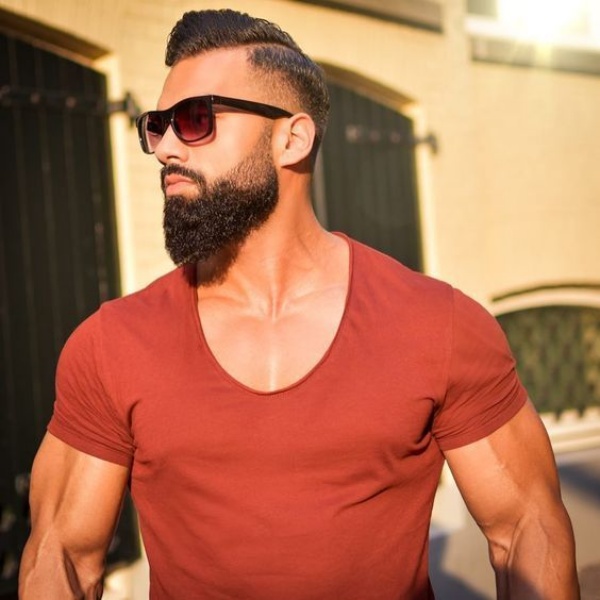 Another variation to the classy beard styles is the Fade Ducktail Beard Style. The full facial hair is styled differently to look like a duck's tail in the Ducktail beard style. In the faded Ducktail, the side beards are trimmed shorter than the beards of the chin area. Men who have dense beard growth are the luckiest to put on the faded ducktail beard. From men with thin faces to rounded ones, this style suits anyone. This is an appreciative beard style with its unique creativeness. Pairing the Ducktail beard with fade is an excellent option for creating a glamorous appearance.
14. Patchy Beard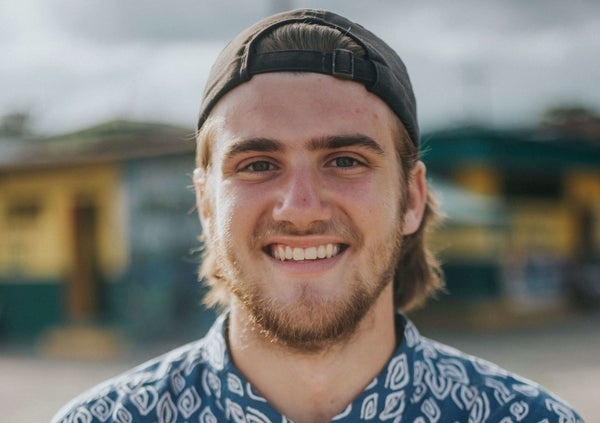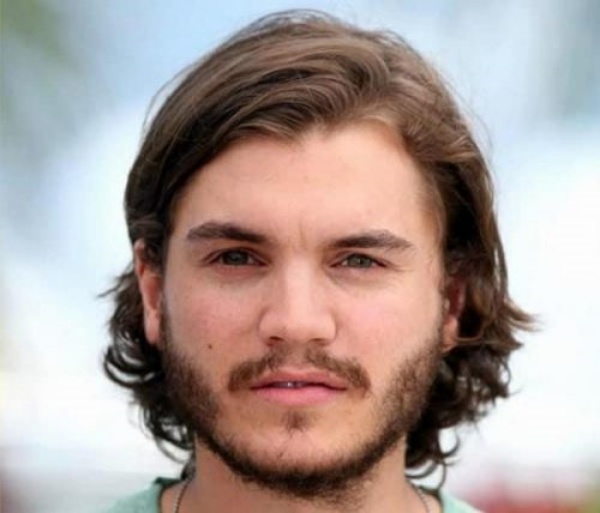 Patchy beard style is adopted by men who have good beard growth. In order to have a patchy beard, trim the beard close to the skin without allowing it to go scruffy. Some men think that patchy beards are unhealthy; this shouldn't stop you from styling yourself with this style. Nourishing the beard regularly will definitely keep the skin and beard healthy. It is finally the right time to dive deep into the different patchy beard styles which are present for every man. The main thing is that to keep a patchy beard; there is no ideal facial shape.
15. Balbo Beard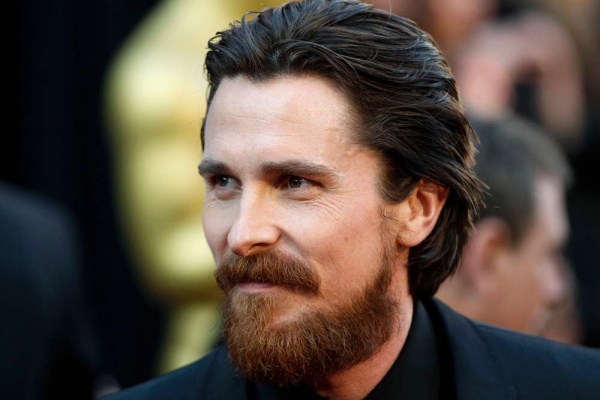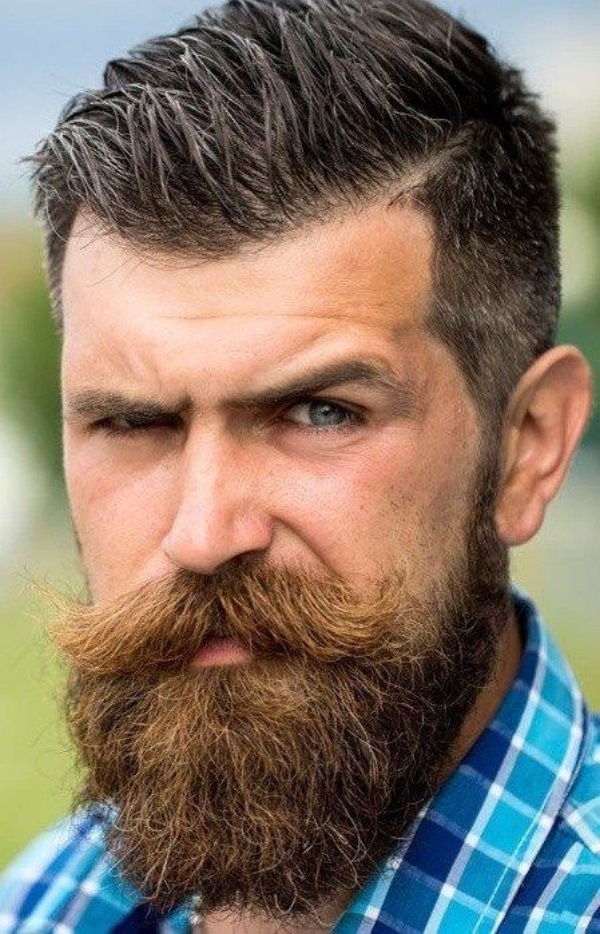 Are you confused about beard styles for fat guys, then with Balbo beard style, you can give an ideal shape to your face. The main thing that makes the Balbo beard creative is that it doesn't have any sideburns, and the mustache is trimmed and in a floating style. This beard style not only preserves the natural look of the beard but also provides an attractive appearance. You might find a similarity of Balbo beard with short boxed beard style. This versatile beard style with variations works nicely on men with any facial shape, making the Balbo beard popular among fat guys.
16. Tapered Beard With Soul Patch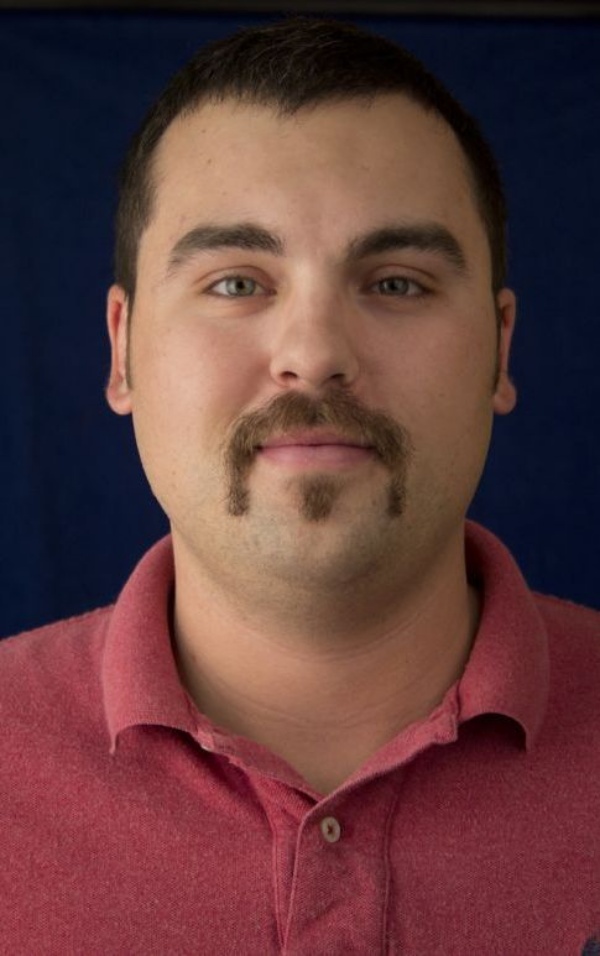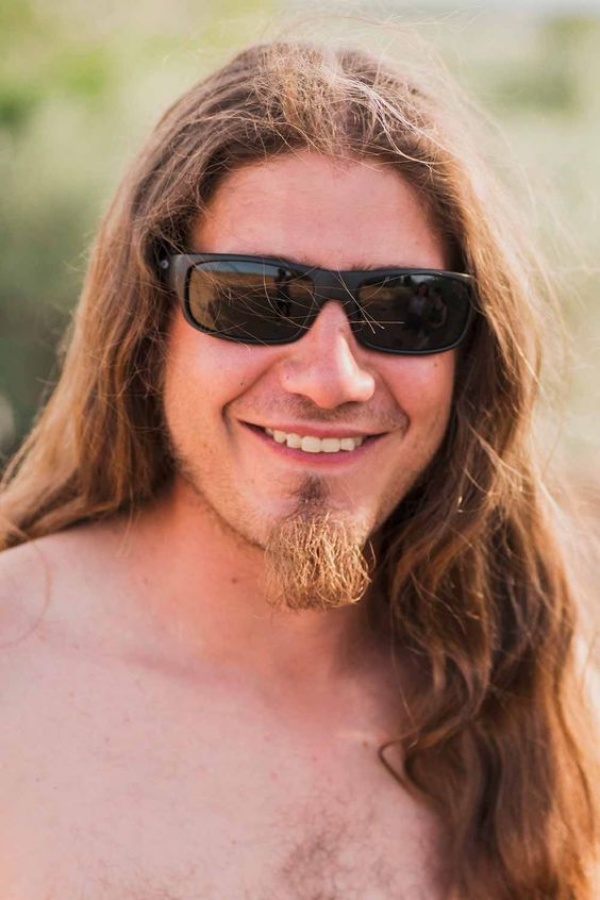 If you are seeking a beard style to spice up your facial hair without doing much work, then a soul patch tapered beard needs to be considered. Men love this fun facial hair as it is not only eye-catching but also an excellent option to show women how you care about your own look. The tapered beard with soul patch is a beautiful contrast, in which the beard is of smaller size than the soul patch. You can have a ready-to-go look with this beard style.
17. Short Beard Style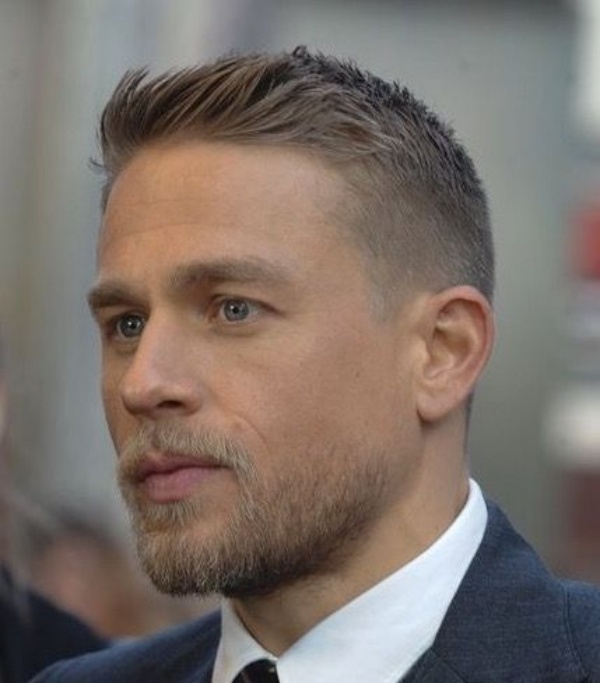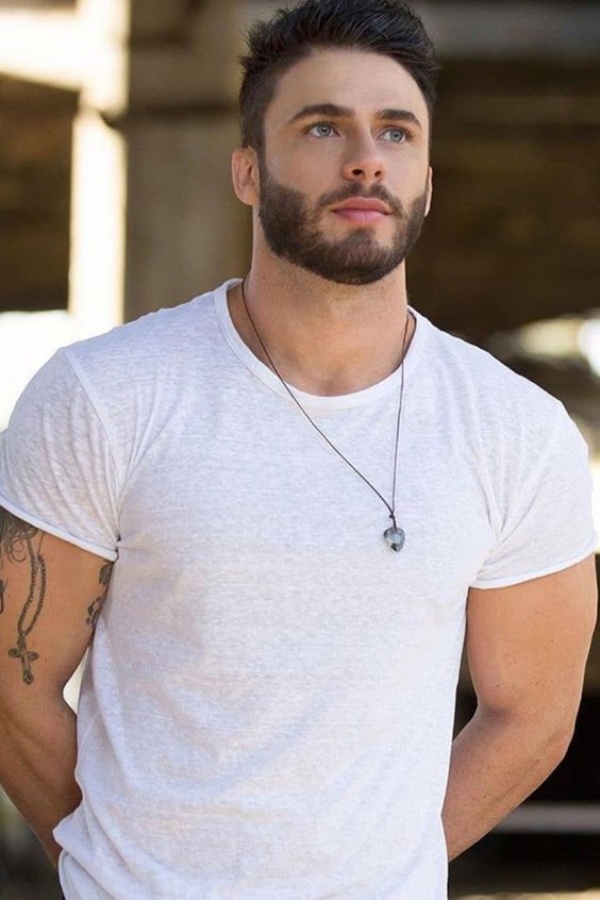 If you wish to keep it simple with your beard yet look cool, then short beard style is one of the most versatile and straightforward beard styles. A short beard makes a man appear smart and distinctive if the beard is grown and styled in the right way. On top of that, if you wish to have a fresh, clean, and bold look, then a Short beard style is ideal. With the various styles, you can appear both classy and decent at the same time.
18. Garibaldi Beard Style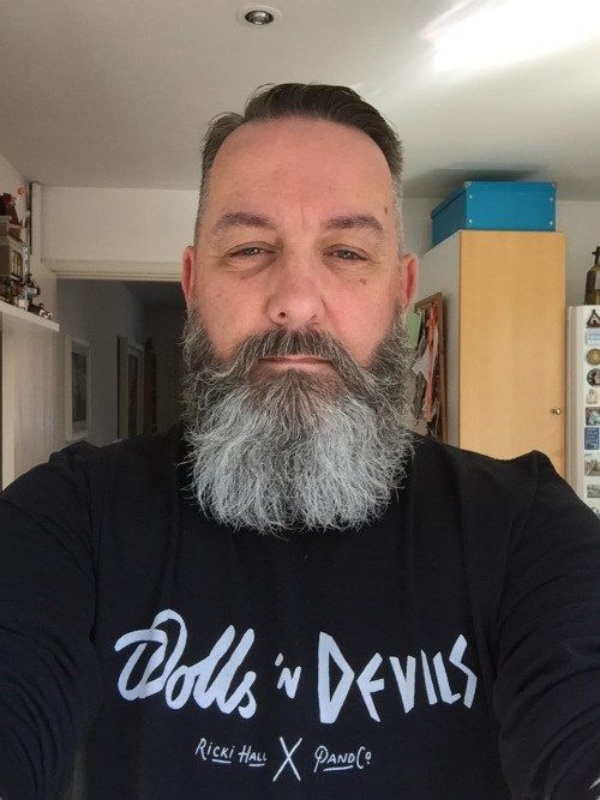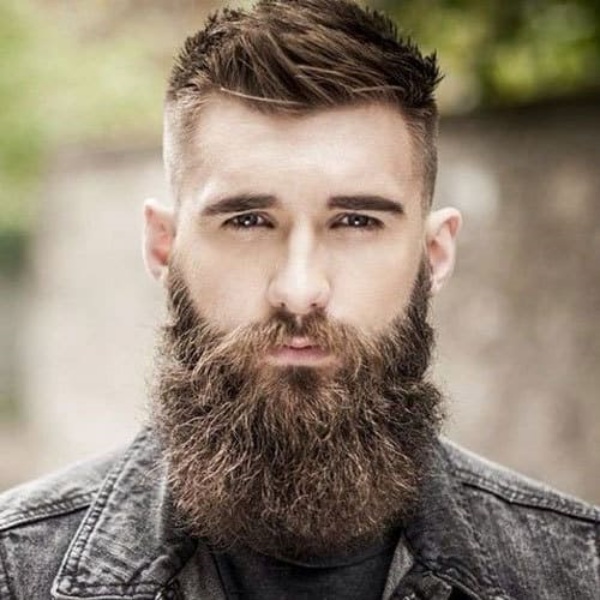 With a full-grown beard of a maximum length of seven to eight inches, the Garibaldi beard style is yet another trending beard style accepted widely by many men. The beard style features a wide rounded bottom part that is grown and shaped naturally with minimal trimming. The mustache is connected with the beard, while the side parts are kept a bit short in size. The Garibaldi beard style is named after Italian General Guiseppe Garibaldi. The beard style is best for men who appear hunky with a muscular physique.
19. Anchor Beard Style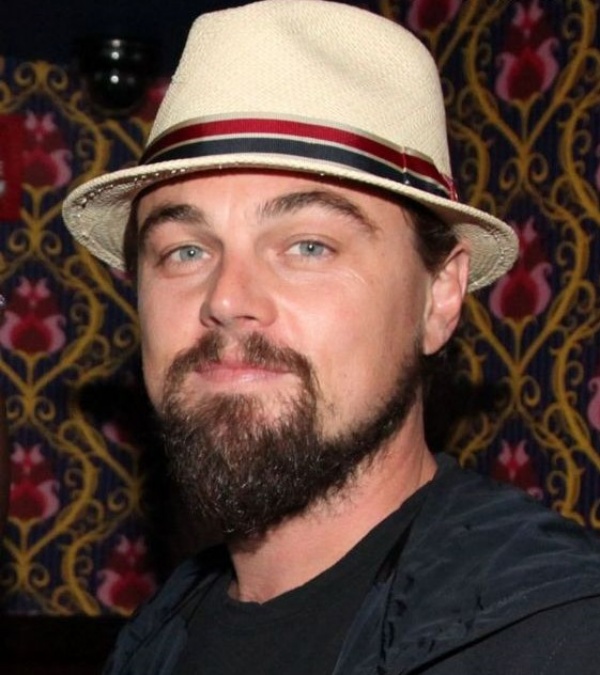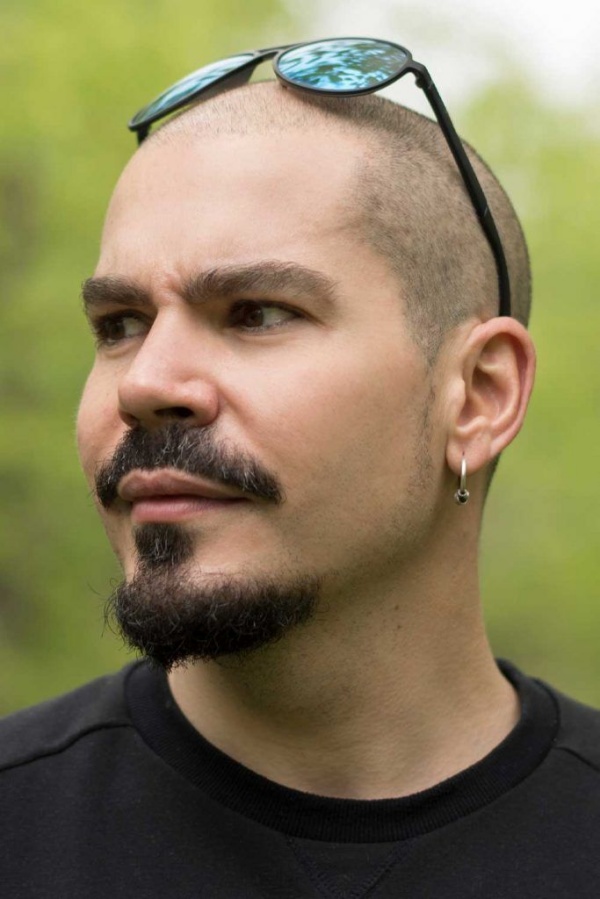 Men are now fascinated mostly by Anchor's beard style. Fans of Johnny Depp and Tony Stark can express their love towards them with this style. Anchor beards are mostly suited for men of all ages. A perfectly styled anchor beard gives every person a sleek and smooth appearance. The extra benefit of this beard style is that it's easy to maintain and requires less grooming. Men who wish to appear slim can put on this beard style and look attractive.
20. Bald Head With Full Beard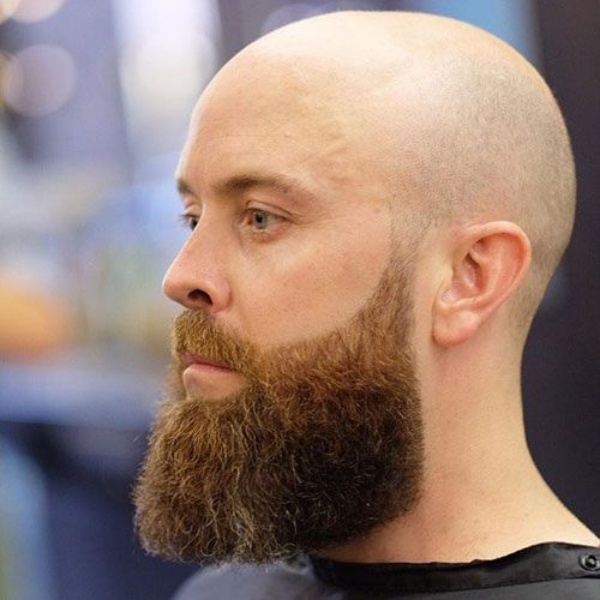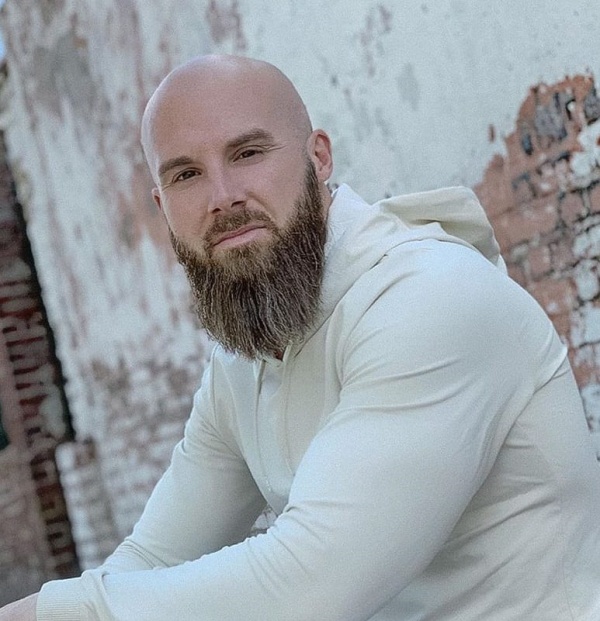 In order to look aggressive, men with bald heads have chosen a bearded style. A bald head with a full beard gives manliness to your appearance. By having a full beard, you can cover your face, which makes you worry less about your baldness. In front of others, you can flaunt your bright beard look with the different styles available. The full-grown beard can be of different shapes in order to fit your facial appearance. Be it a grey-colored beard or natural black; the beard appears dashing in contrast to the baldness.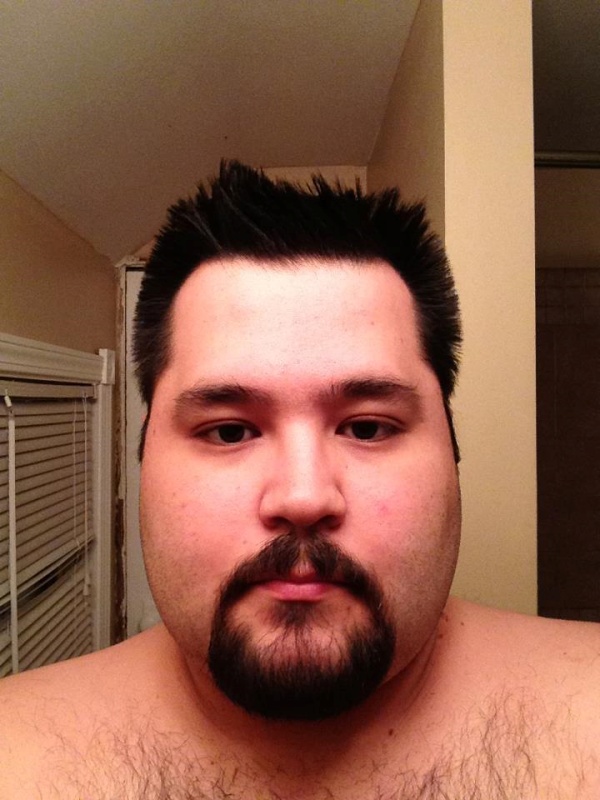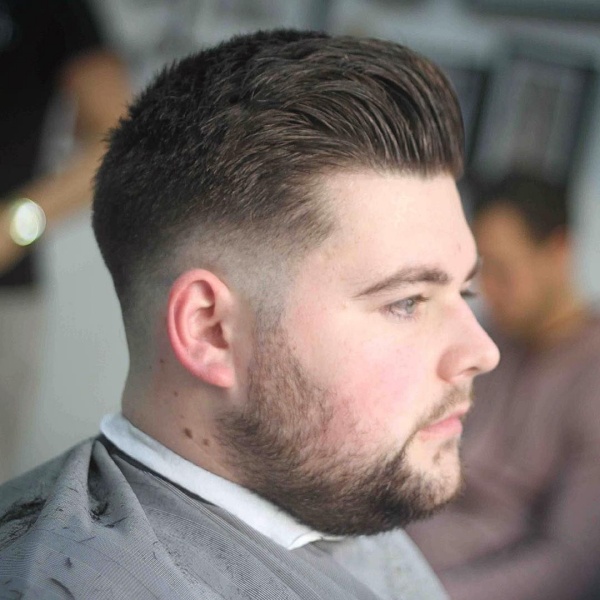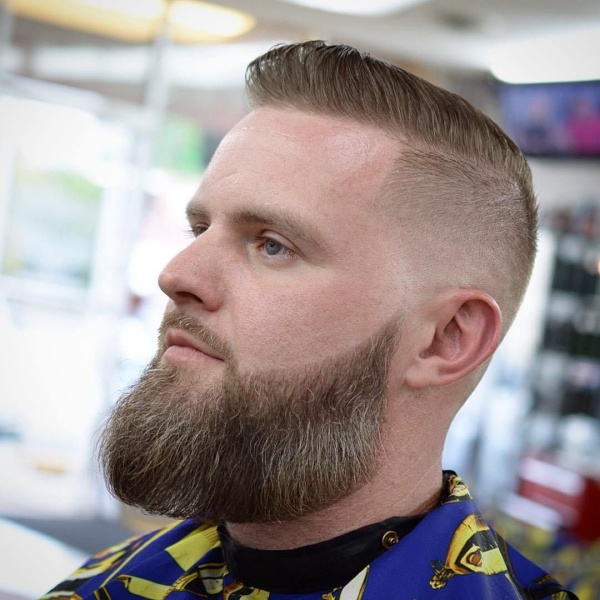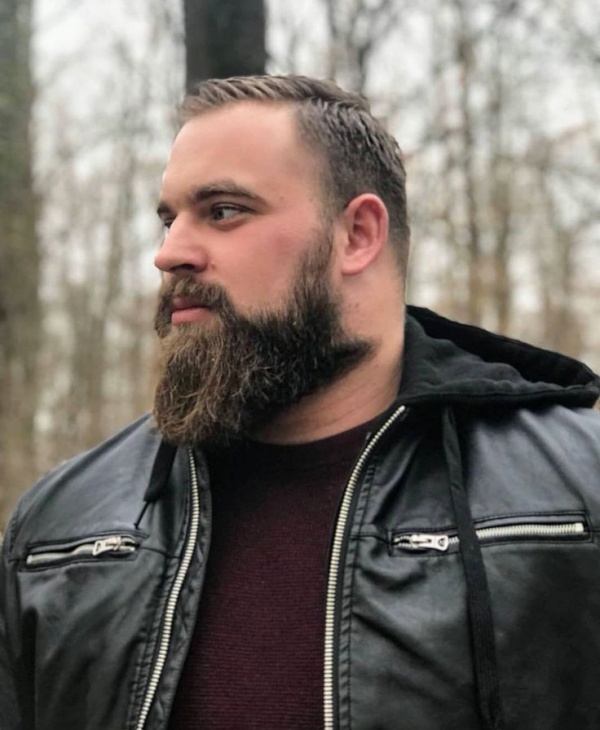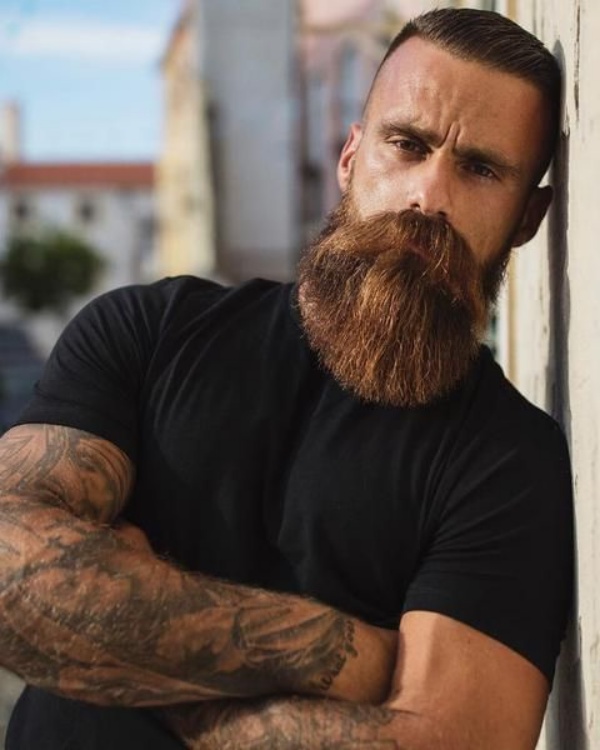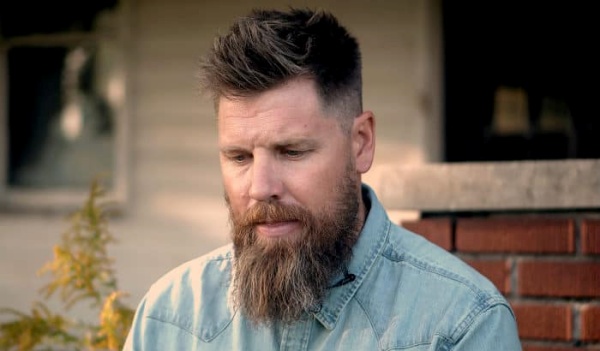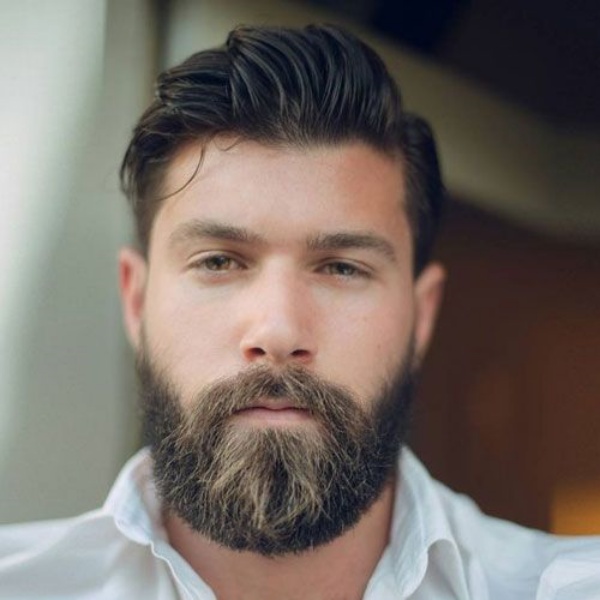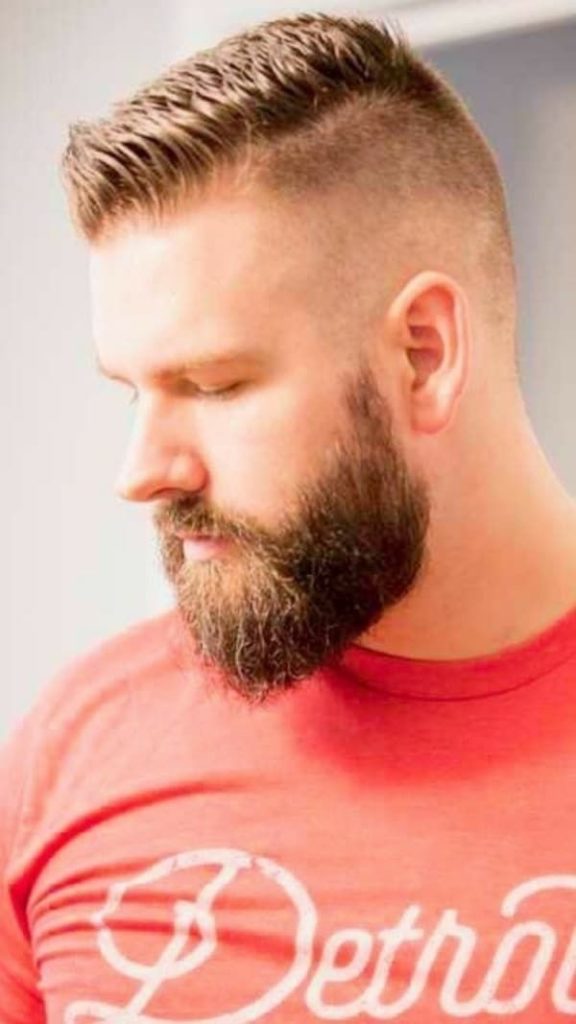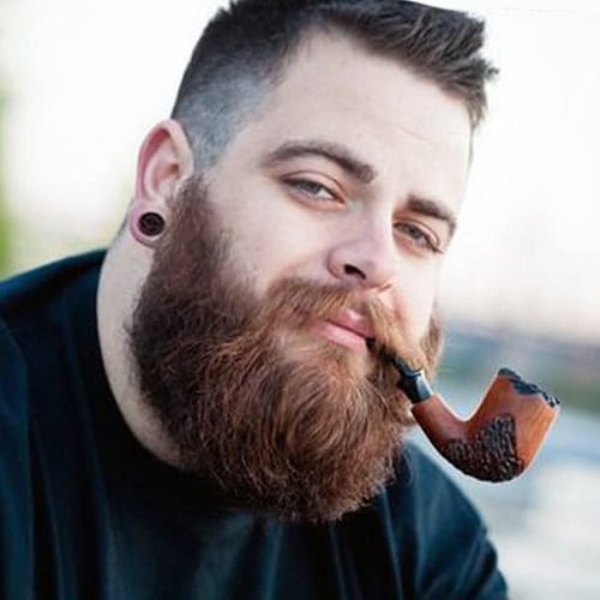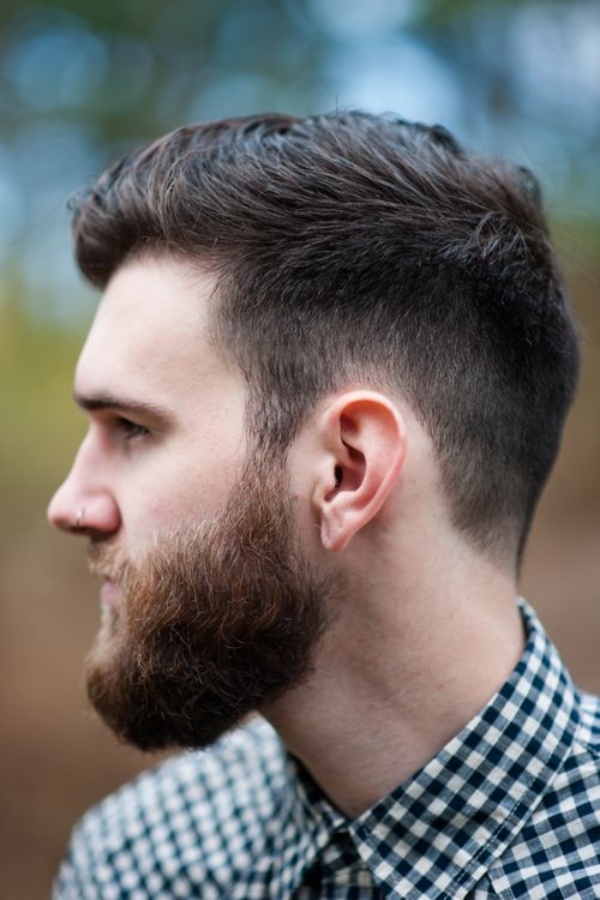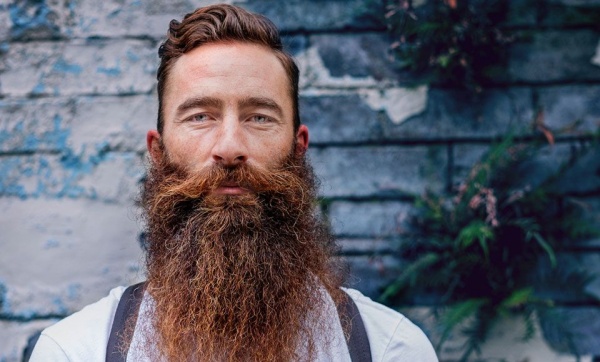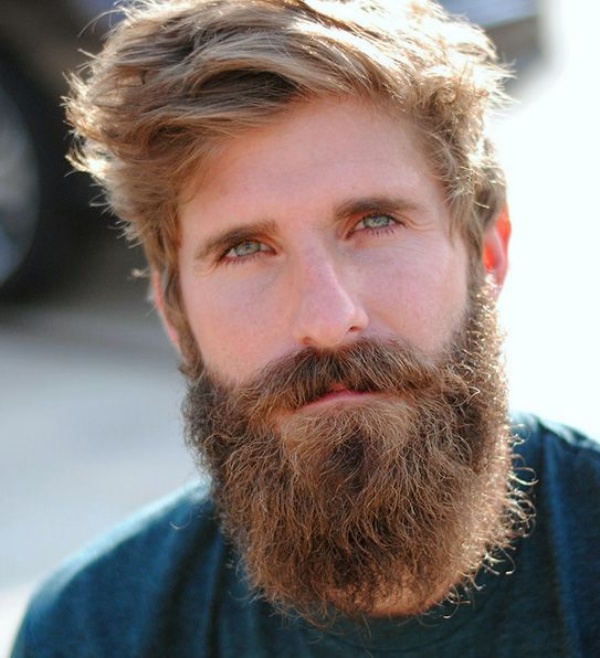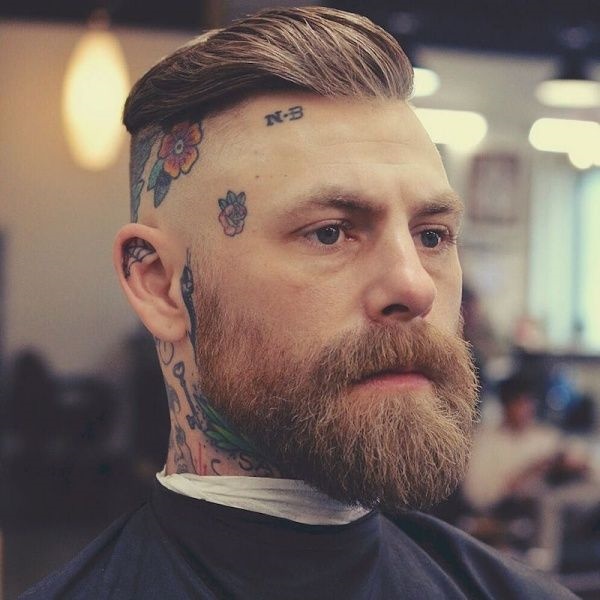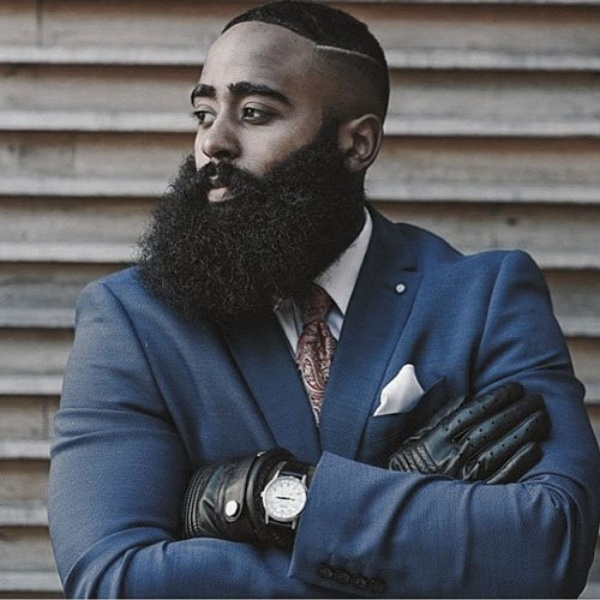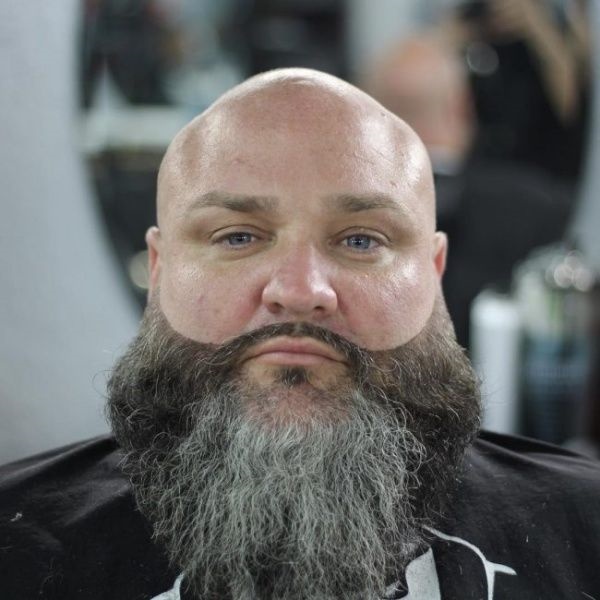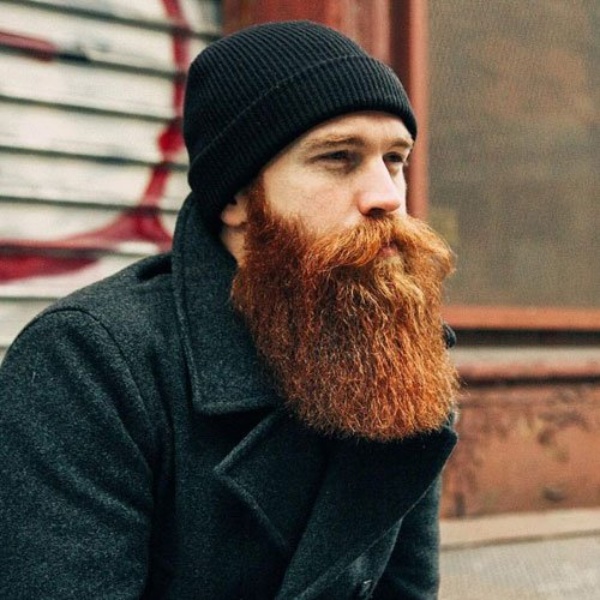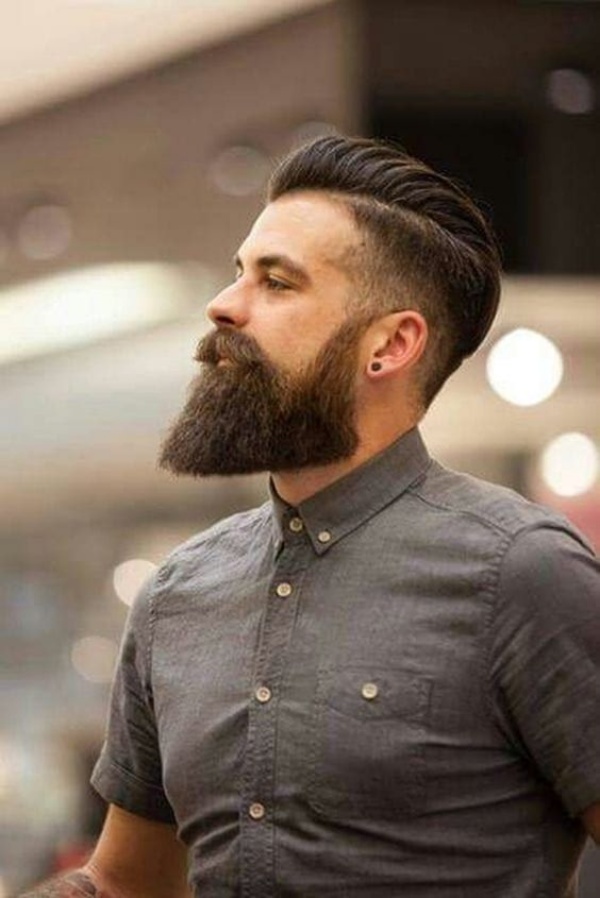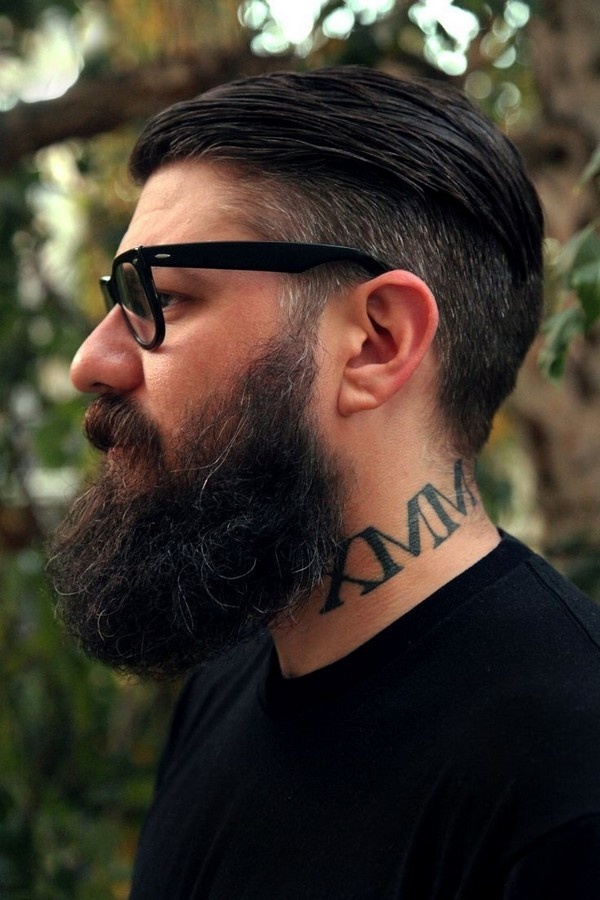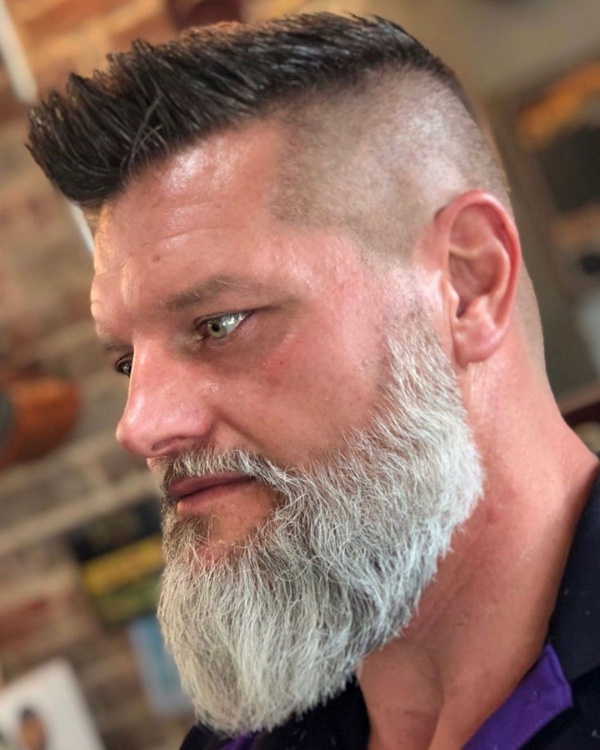 Conclusion
Nowadays, beard styles have been closely associated with masculinity. Men with attractive beard shapes are likely to draw the eyeballs of more women than men without a beard. More often than not, men who suffer from obesity go through a period of underconfidence. On the other hand, picking up a suitable beard can minimize the shortcomings of your body and face. In this article, our guide to dashing beard styles for fat guys is aimed at all those bulky men who want to develop their beards in proper shape and style. All these beard styles will be convenient for your chubby face, and now, it is your priority to opt for the beard shape you prefer. So, be ready to deck yourself up with the most masculine beard styles ever.
Check out: