Styling with the perfect short hair with beard styles is not only loved by most men. Some are pretty much obsessed over flaunting themselves with the various trendy hairstyles as well.
Choosing the right style and cut that would ideally suit the hair type and face shape is the basic way to create an expressing look.
One must keep in mind that different fashionable short hairstyles can be awful when anyone keeping the style fails to create the style perfectly, which makes the style ideal with beard shapes.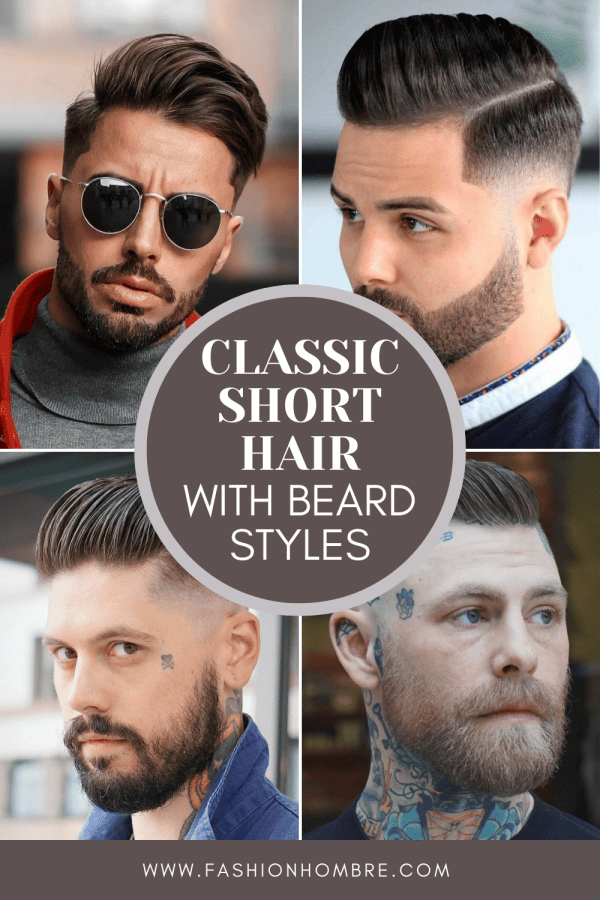 For most men who wish to check out the short hairstyles before applying them for real, this list turns out to be super helpful. There are many suitable styles that you will witness and find the ideal short hairstyles to suit your appearance and style.
Ideal Short Hair With Beard Styles For Men
The hairstyle focuses on the most common problems faced by men, which are hair loss, receding hairline, and thinning crown.
The best thing is that many styles are ready to go and hardly need maintenance.
If you're doubtful that age will create a barrier while choosing classic short hair and beard combo, you need to shed your worries now.
This article is filled with various short hair with beard styles for men that will guide you to choose one for yourself.
1. Short Undercut With Beard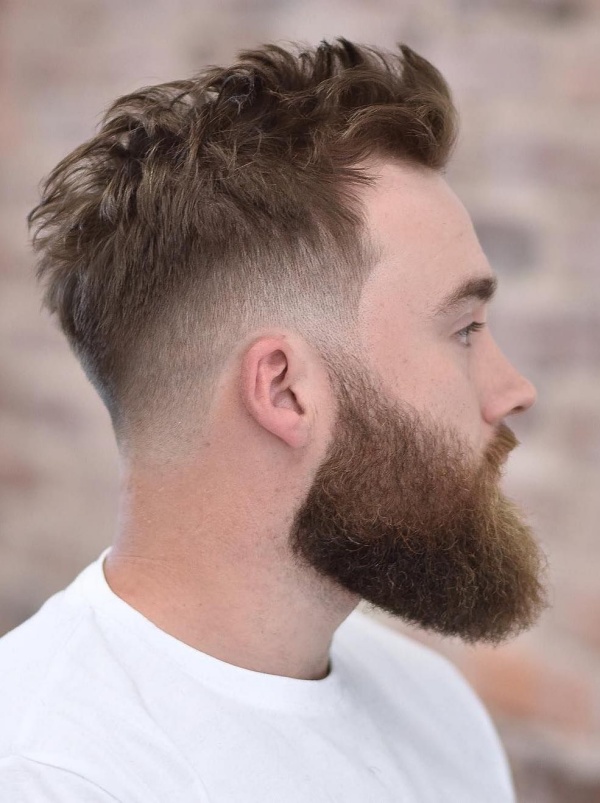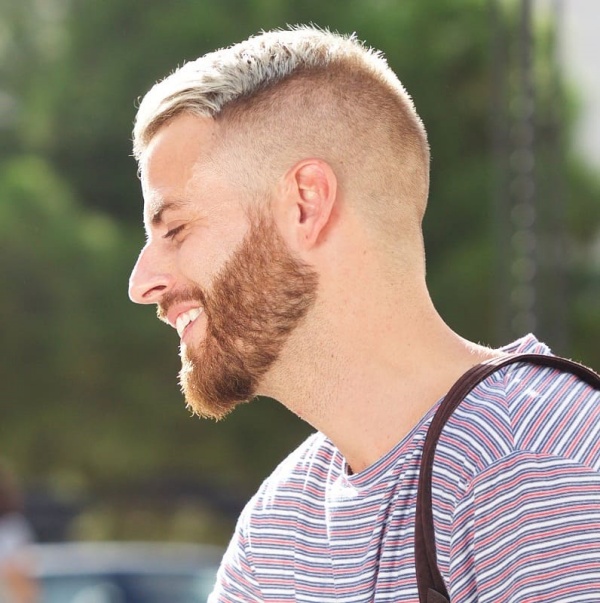 You can achieve the perfect pair of short undercuts by having a creative beard style to appear handsome. Most men love to flaunt their masculinity by pairing a perfectly styled short undercut with long and thick facial hair.
This style creates a prominent contrast and gives you an undoubtedly stunning look. The short undercut is a trending style as it is one of the ageless styles, and it doesn't matter whether you are a young boy or an older man.
2. Buzz Cut With Beard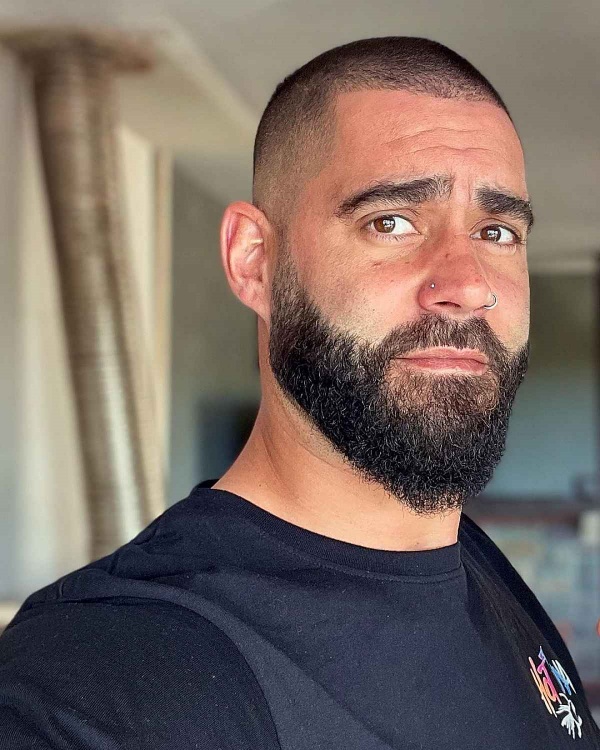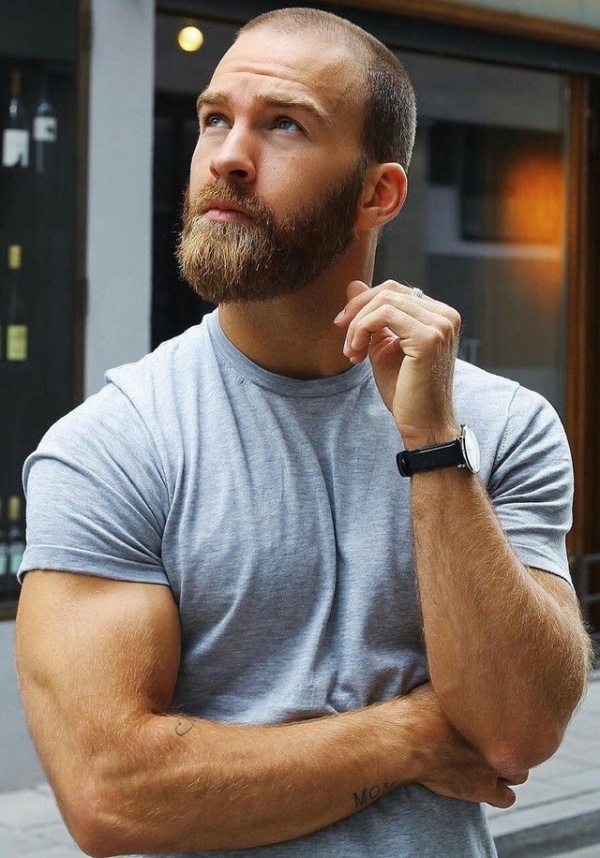 If you wish to have a bold and military look classic hairstyle, this is the best you can get from the list. Men of all age groups who love to experiment with different hairstyles, this is one modern style that will elevate your fashion to the next level.
Combining this hairstyle with a beard style will make you look appealing and eye-catchy. The ideal thing about this hairstyle is that plenty of beard styles go perfectly when paired.
Short faded beard suits rightly with a faded buzz cut, but keeping a long and dense beard will make you look rough and tough.
3. Short Hair With Fade And Beard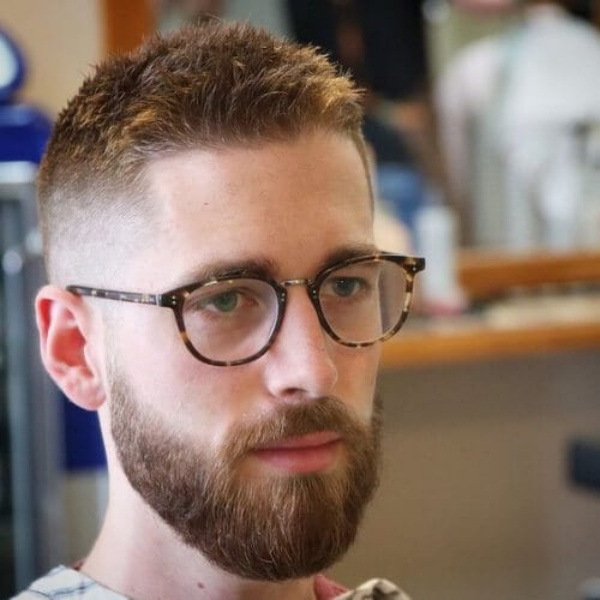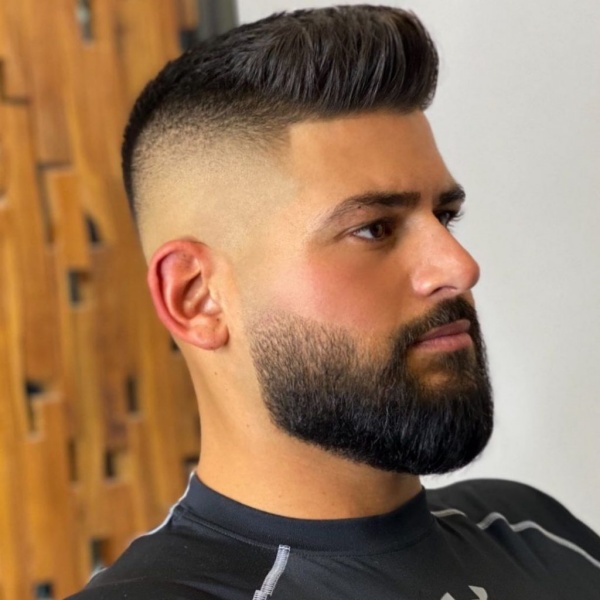 Having a perfect hair and facial beard style makes you feel dominant among the looks of others. One of the most versatile styles that men can pull of is short hair with fade.
On top of that, this hairstyle has a natural way of flaunting others with a high, low, and mid fade. There are different variations of fade that depend on where the tapering starts and where the short hair ends.
Adding a beard style and the hairstyle will create both a cool and handsome look at the same time. If you wish to look like a man, this is one of the manliest styles.
4. Short Slicked Back Hairstyle With Beard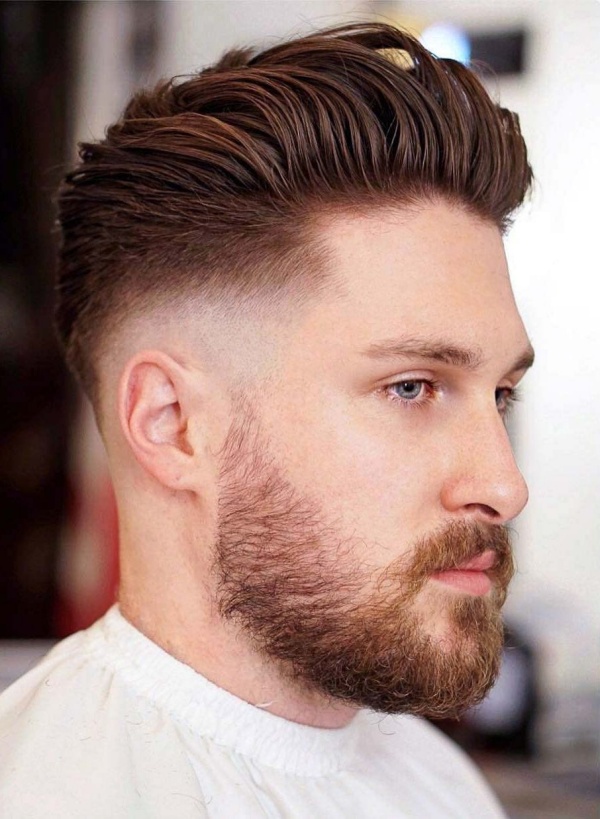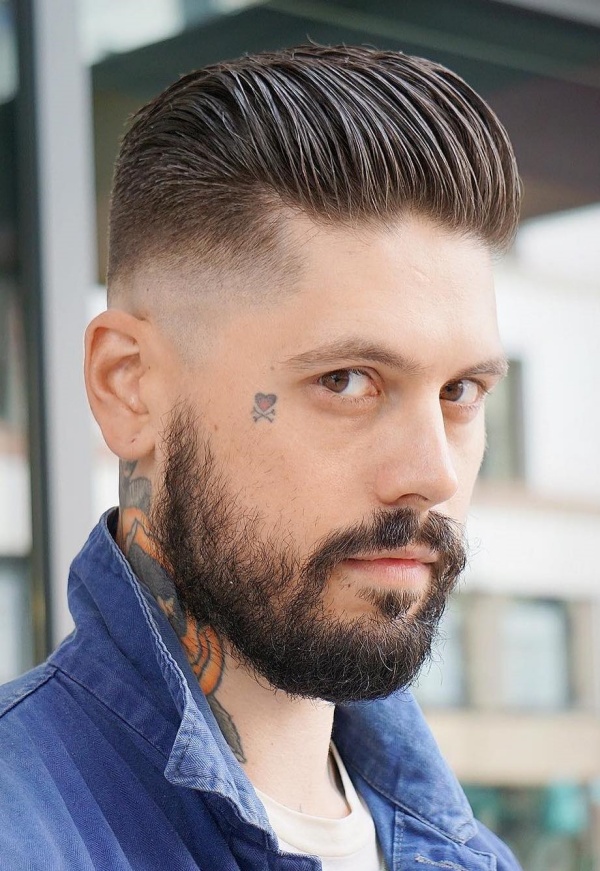 The short slicked-back hairstyle has been trending and is one of the top-listed hairstyles for an extended period among men. To create a more stylish appearance, men love to pair this style with a low or high fade along with a hairstyle that features long hair on top.
Among different short hair with beard styles for men, this combo turns out to be the perfect bet for you. There are a variety of extraordinary slicked-back hairstyles with an appealing effect.
Different slicked-back hairstyles stand differently and uniquely with the various beard styles.
5. Short Textured Crop Haircut With Beard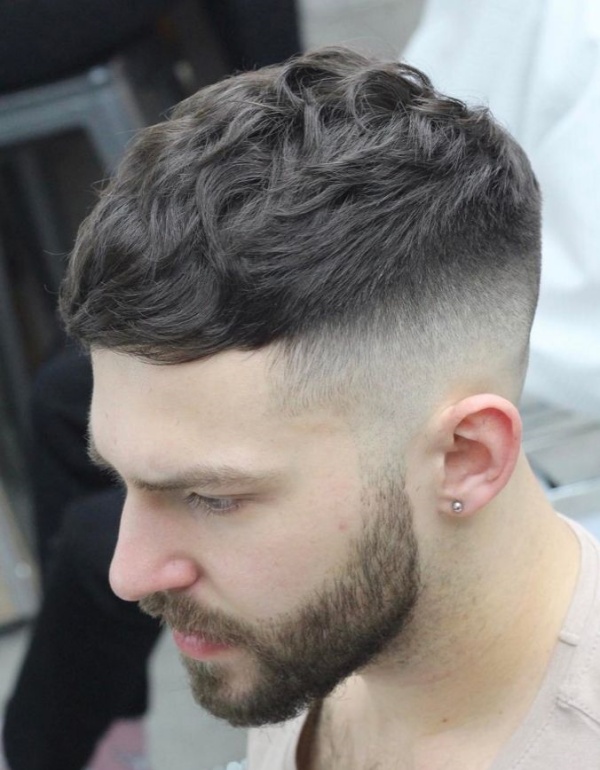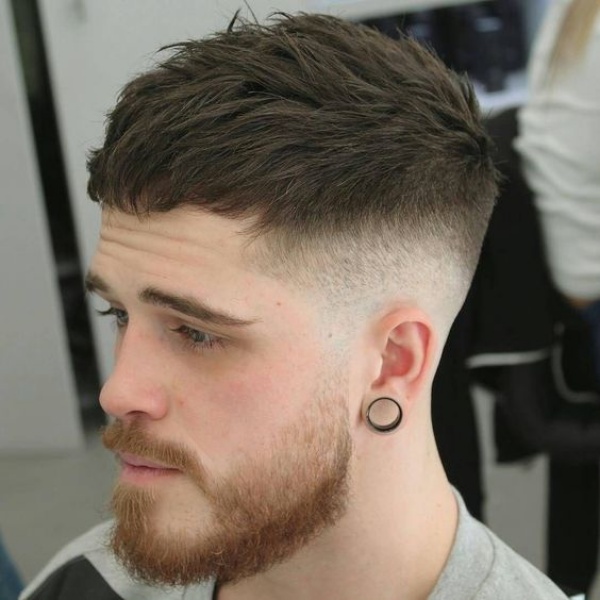 Men having dense beard growth might consider themselves lucky, as with the short textured crop haircut, you can create a fashionable appearance. The best thing about this hairstyle is that it can be styled with almost all beard styles without any worries.
Men with any facial shape can look appealing and fashion-forward with this hairstyle. Keeping this short hairstyle and a short beard will help you have a low-maintenance look.
It turns out to be best for men who spend less time styling their hair. Men having thin or receding hairlines can choose this hairstyle.
6. Shaved Sides Haircut With Beard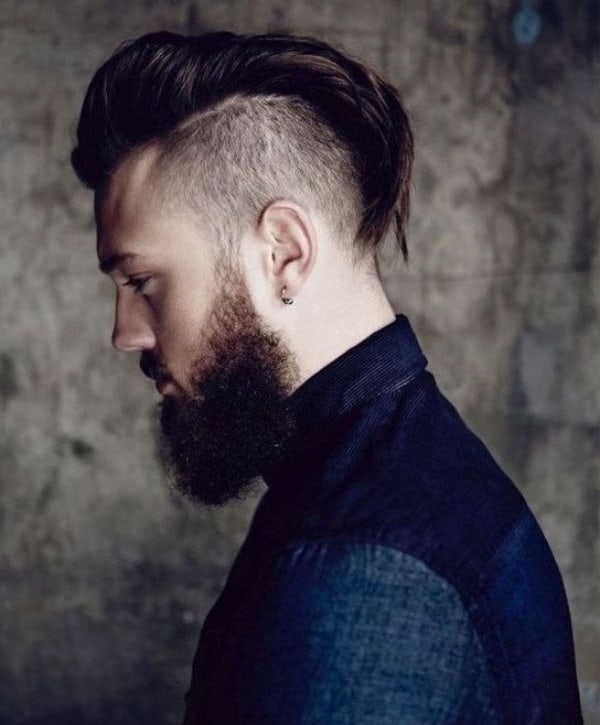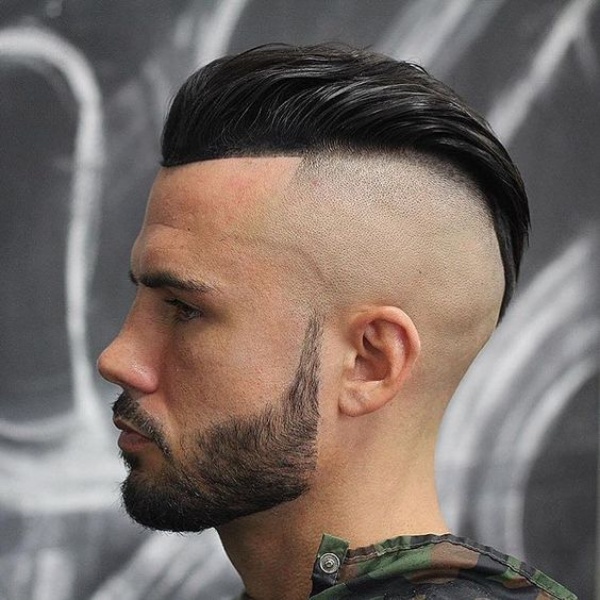 Are you looking for a versatile and extraordinary variation hairstyle? The short shaved sides haircut turns out to be the most hairstyle for men in recent days.
Having shaved sides hairstyle and a dense beard make them look much more manly than before. Facial hair helps create an expressive appearance to make a man appear flawless.
With this contrasting beard and hair combo, you will get appreciated. Whether you have a casual date or any event, this is the perfect way to put the stage on fire.
7. Textured Quiff With Stubble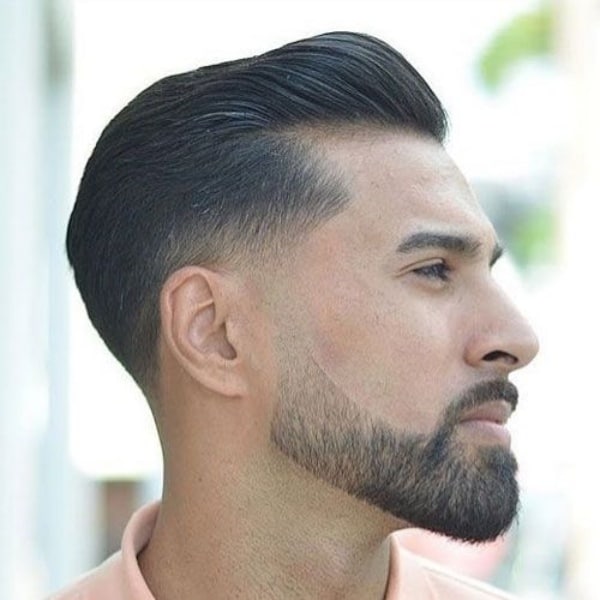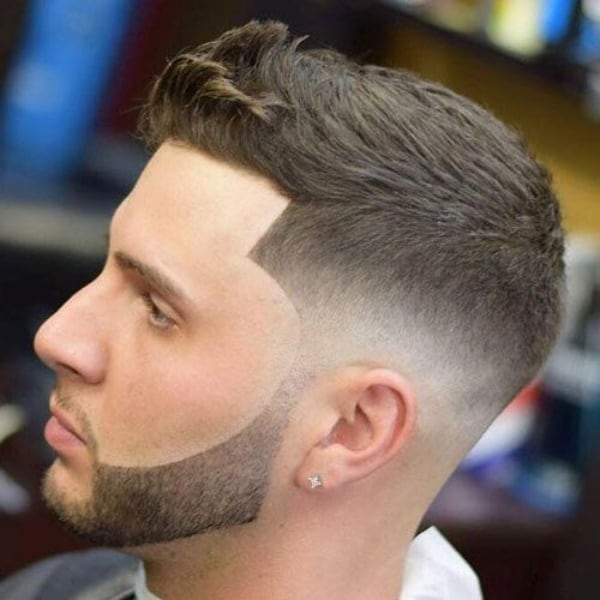 If you are interested in having an off-beat and unique hairstyle, then the textured quiff with stubble is the best you can have among the other short hair with beard styles for men. The textured quiff is undoubtedly one of the most trending and fashionable hairstyles nowadays.
For men worried about their thin hair or a receding hairline, this hairstyle works more than fine to look attractive. Pairing this hairstyle with a subtle beard is the best thing that enhances your beauty quotient.
With this hair and beard combo, you can never go any wrong.
8. High Taper Fade Pompadour With Beard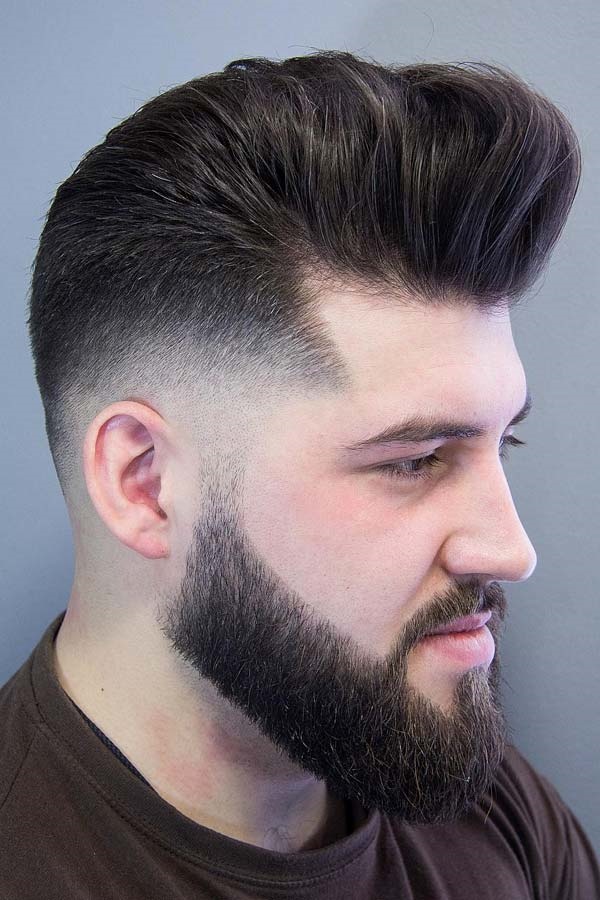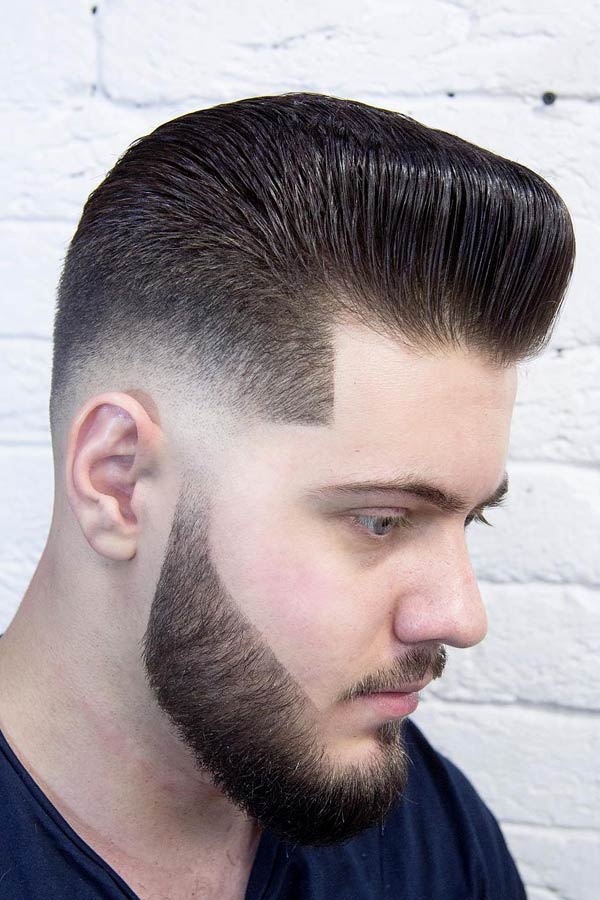 One of the record-breaking fashionable styles among men is the high taper fade pompadour. The taper fade highlights the skin on the sides and back that making the style appear much sexier and more prominent.
The edgy top hairstyle, when combined with a full beard, makes you look badass. Also, the edge up around the temples, the full beard, and of course, the loosely styled pompadour on the top make this look an undoubtedly badass one.
With this perfectly styled hair and beard, you can flaunt yourself in any room you step in.
9. Messy Hairstyle With Beard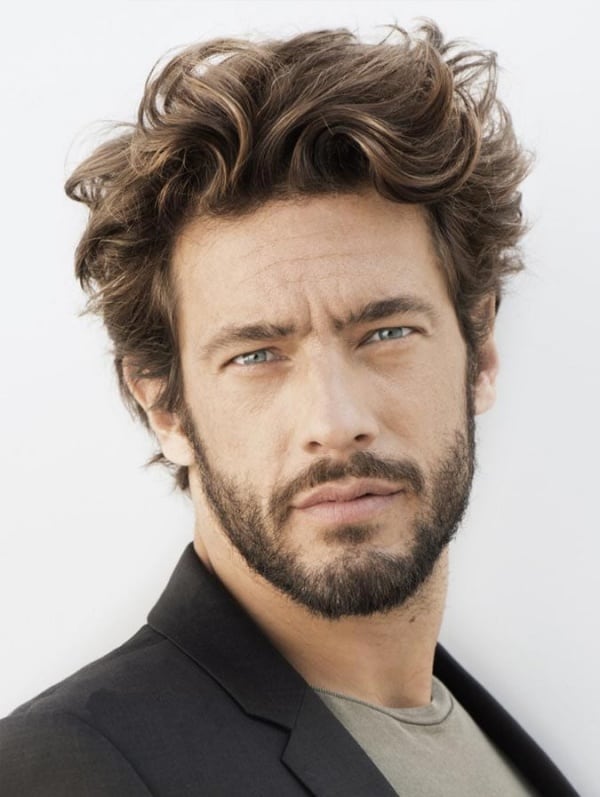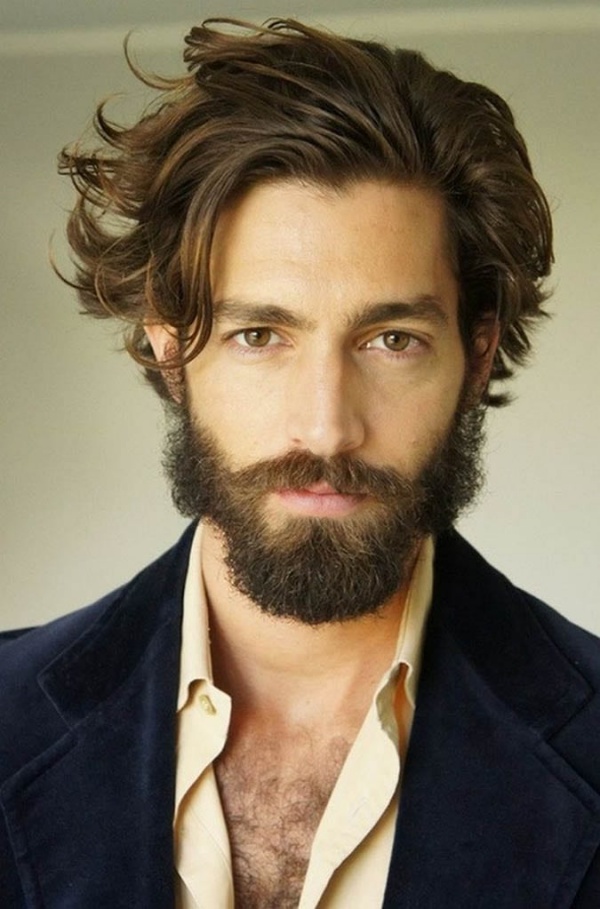 If you wish to have a hairstyle that would suit perfectly with your beard and help you style any time anywhere, even using your hand, the messy hairstyle with a beard is the ideal option.
The messy hair with a patchy beard gives you a chocolatey boy look. Nowadays, the messy hairstyle is a ready-to-go style popular among young to older men.
Although this is an unprofessional hairstyle, yet it can be styled at any professional event or meeting. When styled with any outfit of choice, this hairstyle makes you appear charismatic.
10. Short Sides Long Top Haircut With Beard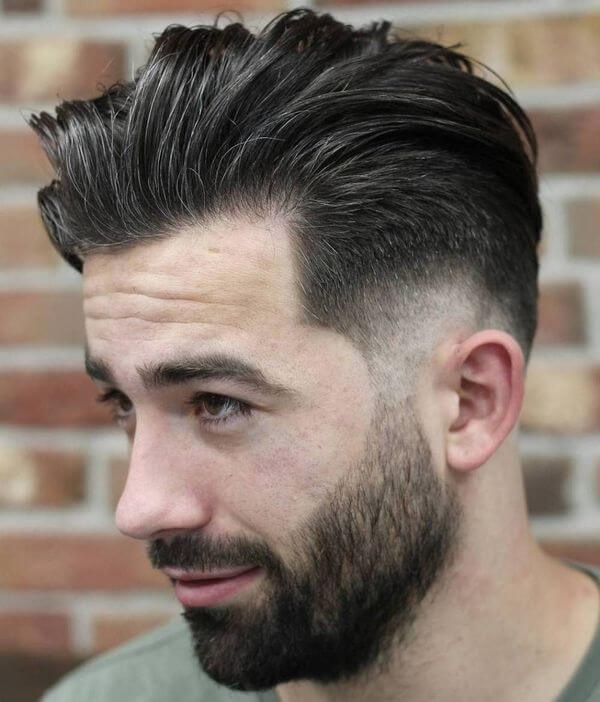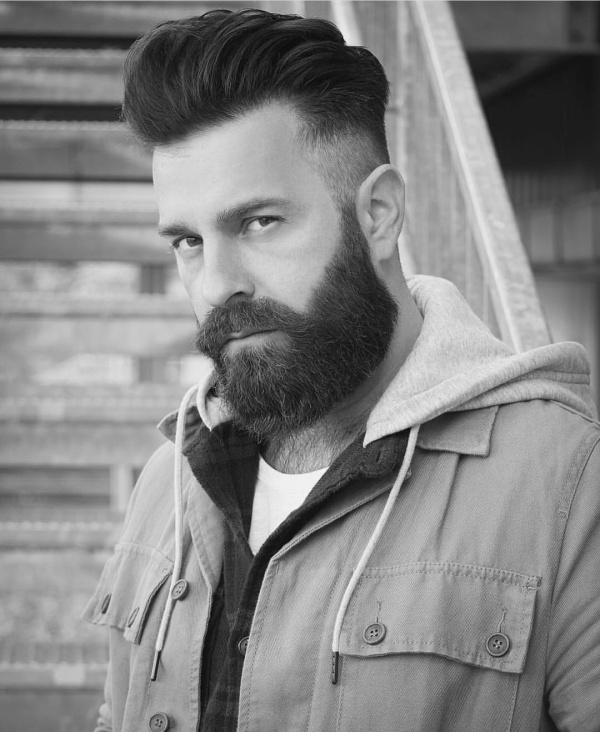 Among the popular short hair with beard styles for men, the short sides long top hairstyle with a beard is creating a rage in men to style themselves in this shape. This look goes best with medium-sized or long beards. Although some men prefer to keep short beards for a smooth appearance.
There is an endless way to style yourself when choosing the best design of short sides and long top haircuts. It doesn't matter whether your hair is wavy, curly, thick, or thin; there are multiple ways to style yourself.
11. Short Crew Cut With Beard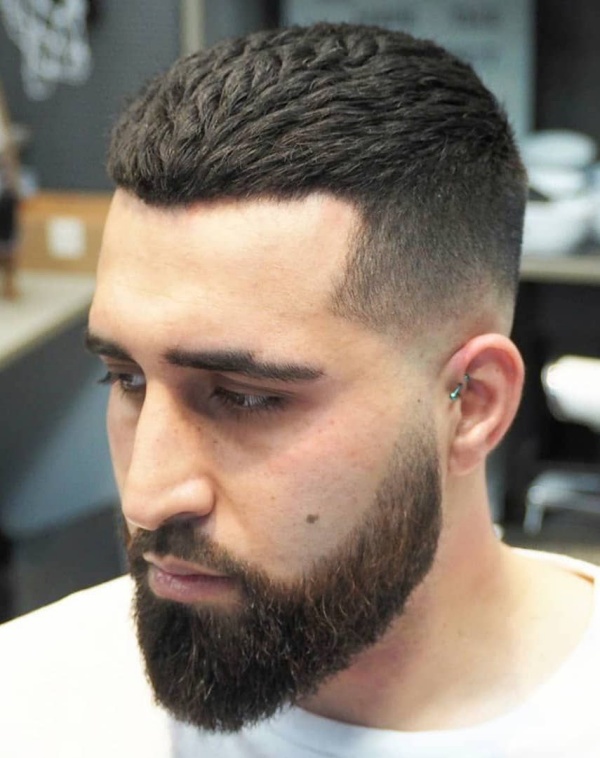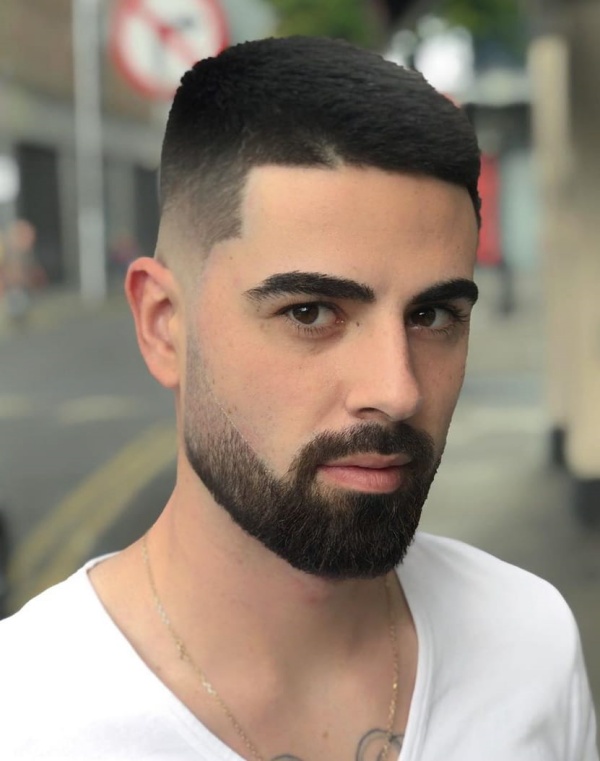 Styling yourself with a short crew cut hairstyle is one of the most practical shapes with different options that makes your look inspirational. The top hairs are trimmed short in this short hairstyle, while the side and back hair are trimmed even shorter or clean-shaven.
With a beard style, one creates a more prominent, appealing appearance. There are multiple ways to style yourself, from keeping a short tapered beard to a long, dense beard.
The best thing about this hairstyle is that it goes perfectly with any facial shape.
12. High Skin Fade With Beard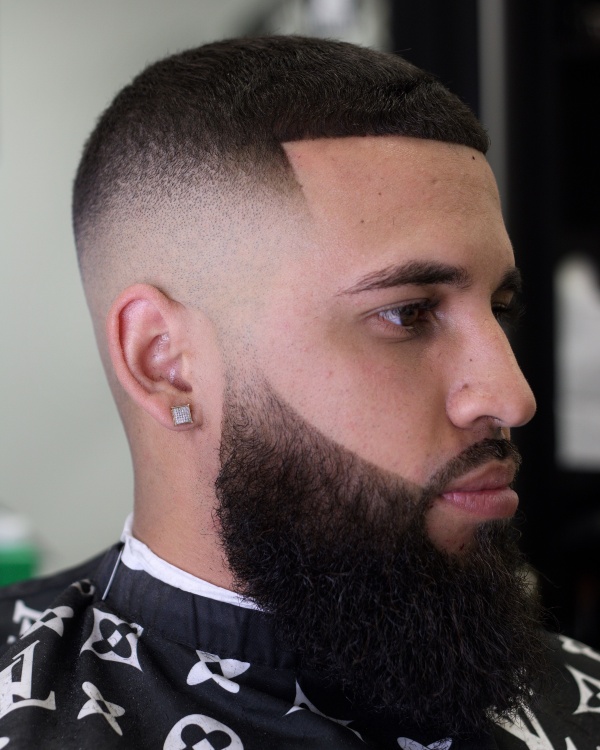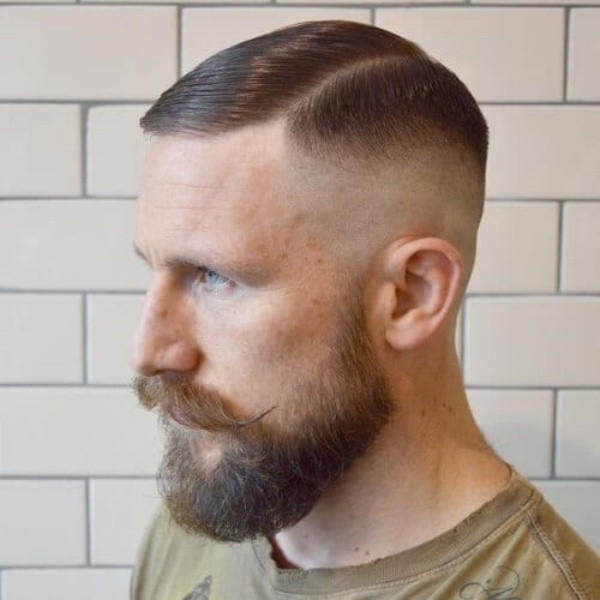 Do you wish to look unique from others? The high skin fade with a beard is the exemplary style to flaunt yourself in front of others. This hair and beard combo can be maintained easily, making it one of the popular hairstyles.
This hairstyle features the side and back hair shaved completely while the top hairs are kept short, reaching from the front to back in similar size. Some men prefer having a mustache with their hairstyle or a patchy beard to having a macho appearance.
13. Faux Hawk Fade With Beard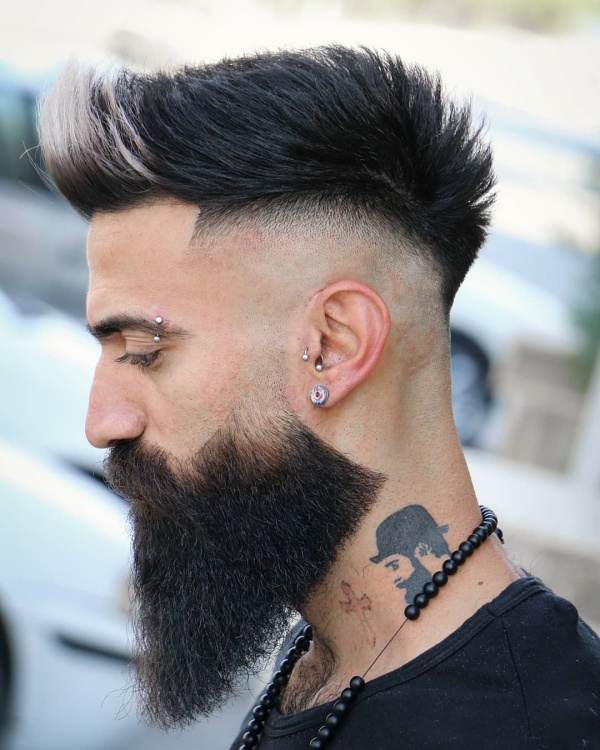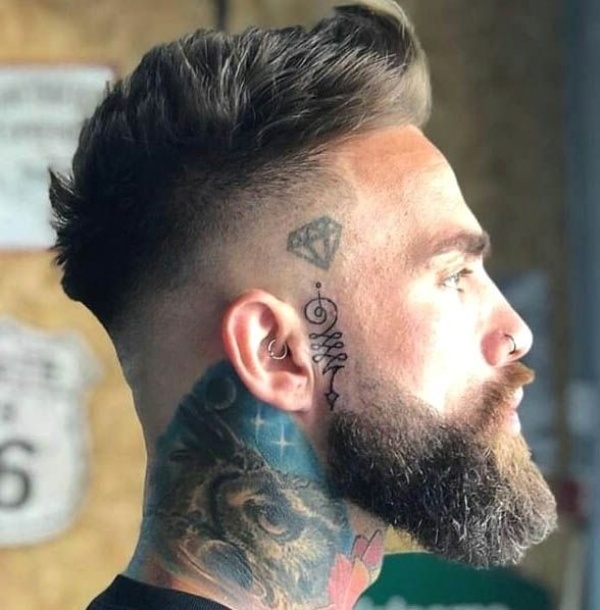 Having an edgy, trendy hairstyle is what most men wish. The wish is fulfilled by having the creative faux hawk fade hairstyle.
The name faux hawk has been derived from fake mohawk, which features the top hairs in a wavy pattern while the side hairs are kept short or faded style that reaches from top to bottom.
This hairstyle itself has an excellent appearance. Adding a beard with this hair makes the style more eye-catching. The ideal is that any man can keep this hairstyle, be it fat or thin, look appealing.
14. Side Swept Undercut With Beard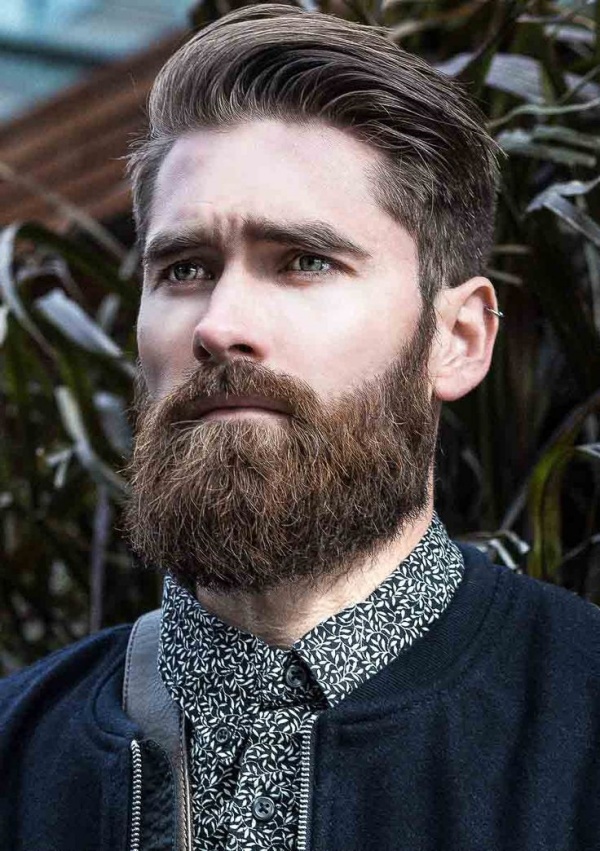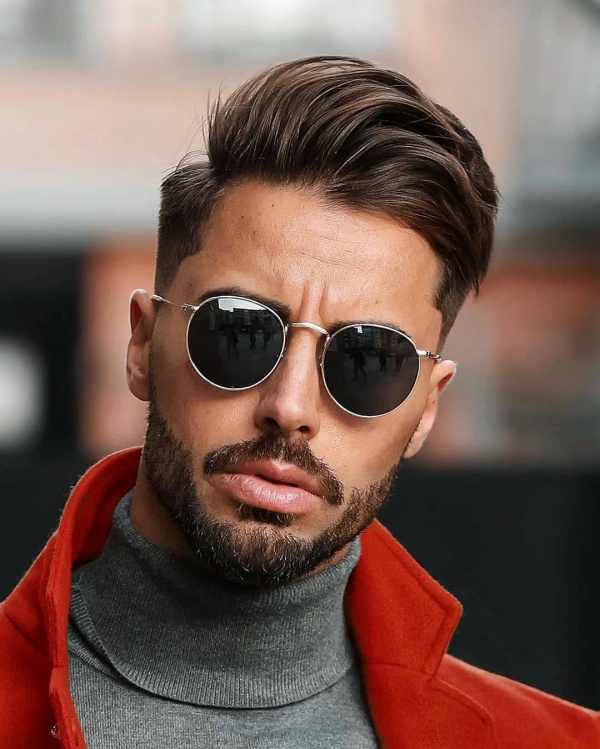 Men can create a versatile yet classy hairstyle with the side-swept undercut. This style is one of the trending short hair with beard styles for men you can have from the list.
The top hair are combed or swept on one side, and the side and back hair are trimmed to have this hairstyle. Men love to flaunt their long and dense beards elegantly and appealingly with this hairstyle.
This hairstyle needs to be maintained along with the beard timely to keep them in perfect shape and good condition.
15. Combed Side Part With Beard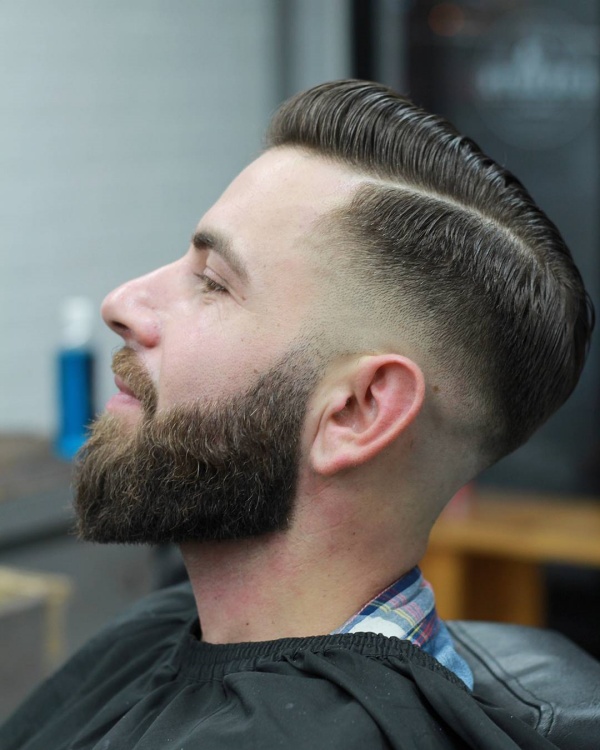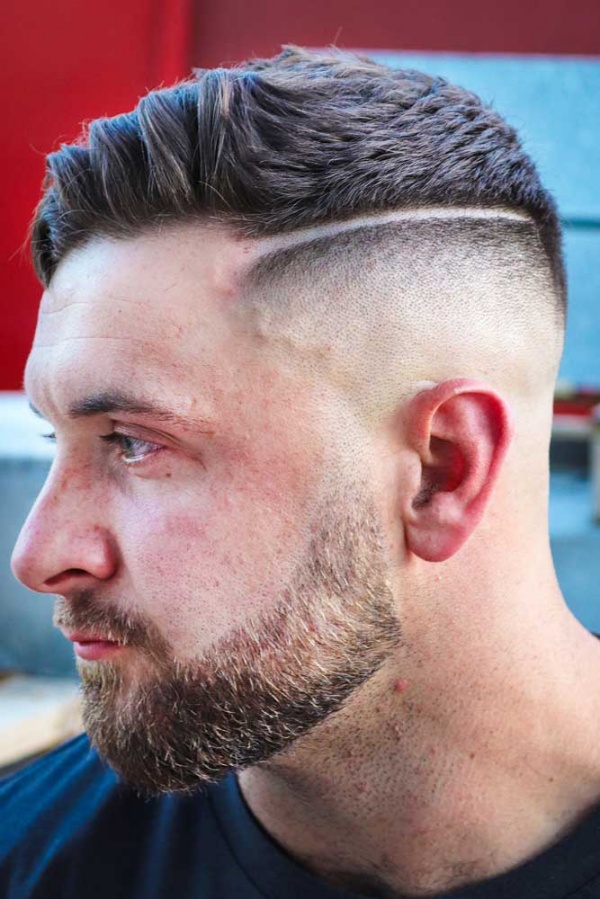 Most men who wish to create a low-maintenance and timeless hairstyle create the combed side part. The best thing about this hairstyle is that it can be styled by anyone and any facial shape, as it is versatile and stunning. Not only this, the hairstyle can be styled in different lengths and textures.
You can have a bright appearance by adding a perfectly styled beard with the hairstyle. Whether you have a casual party or a corporate event, this is the perfect hairstyle to style yourself.
16. Spiky Hair With Beard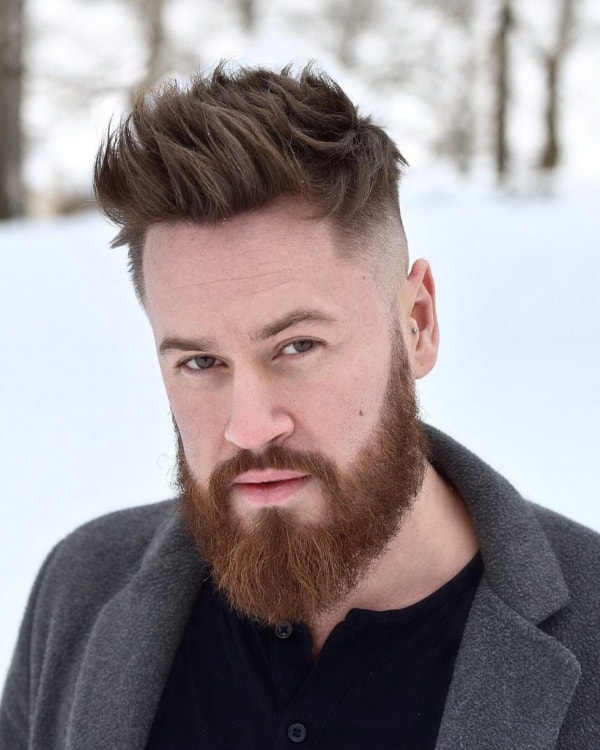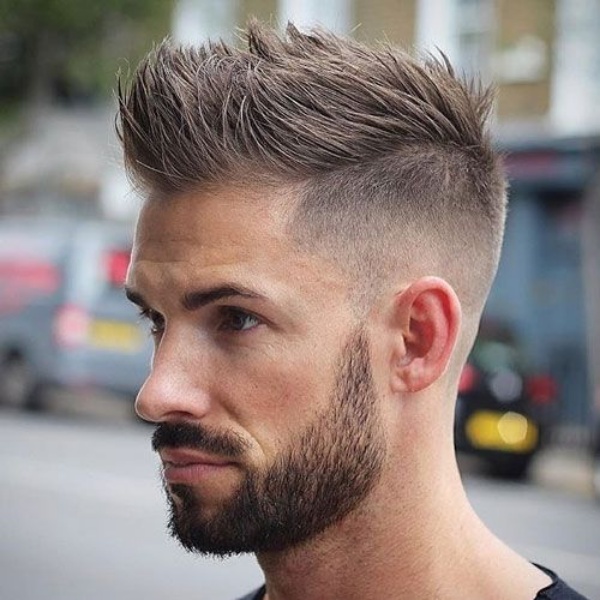 One of the latest hairstyles that have created its place in the fashion world is spiky hair with beard style. Men not only did style this hair in the late 90s and early 20s, but the style also created a huge fan following in recent years.
The best thing about spiky hairs is that the side hairs are kept short as compared to the top hairs, and the hair is kept upright in a contrasting style. Beard is the perfect way to add a touch of beauty to this hairstyle.
The use of good quality hair wax or hair gel is necessary to have this hairstyle for an extended period.
17. Shaved Head With Beard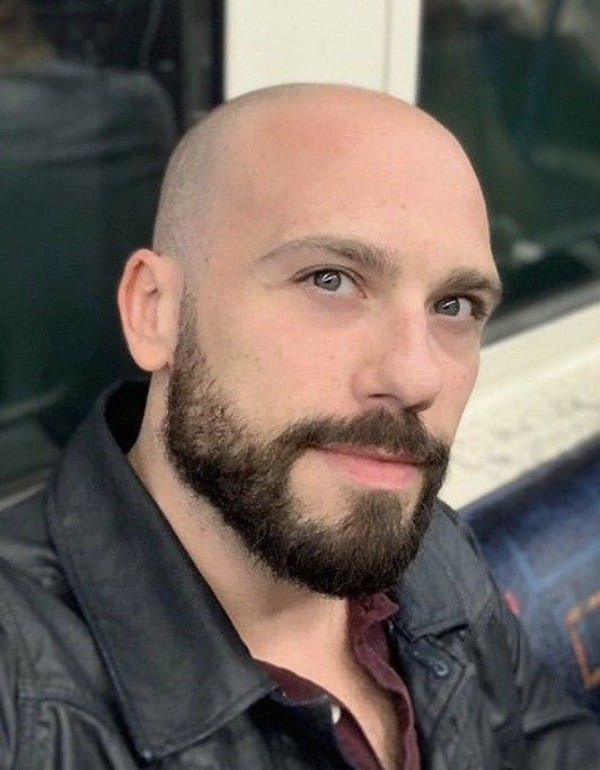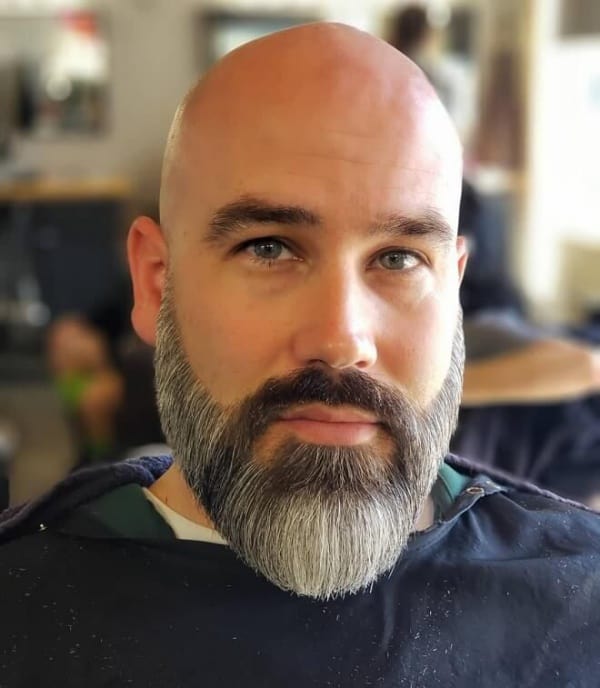 To have one of the artistic short hair with beard styles for men, you can choose the shaved head with beard style. The best thing about this style is that there are many ways to style yourself with the various beard designs.
Whether it is a french cut or a full-length dense beard, every style makes a prominent appearance. This look is one of the low-maintenance hairstyles; one only needs to maintain the beard's shape timely to keep the style intact.
Shaved head with a beard is a perfect purposeful look that goes with every facial shape creating a contrasting appearance.
18. Short Brushed Up Hair With Light Beard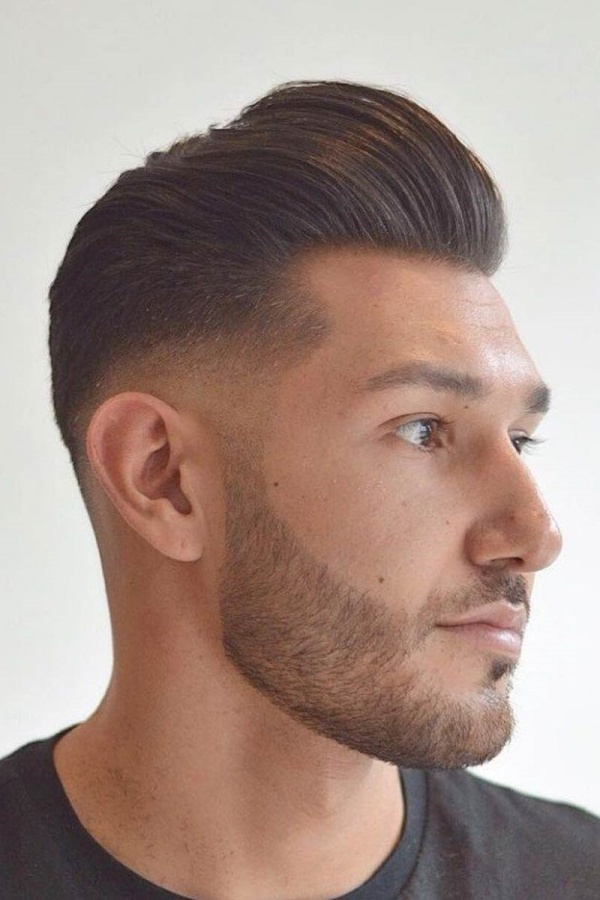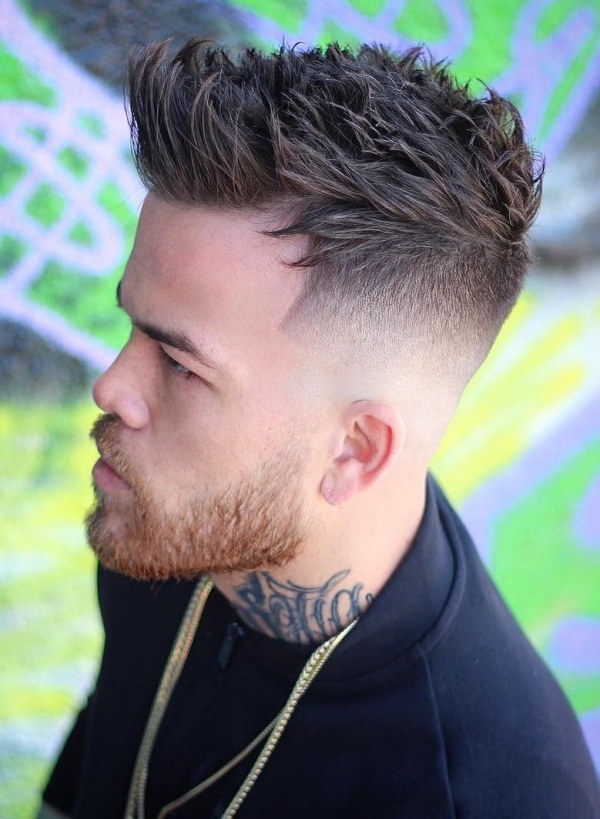 The short brushed up hair with a light beard has become one of the most fluent and cheesy hairstyles with which men love flaunting themselves. This hairstyle gives an iconic touch to the appearance with a low-maintenance hair and beard combo.
In this creative hairstyle, the side and back hairs are cut short in different styles. While the top hair are brushed up from one side and are kept messily. With the touch of a light beard, you can have a soothing appearance with a charismatic influence.
19. French Crop With Beard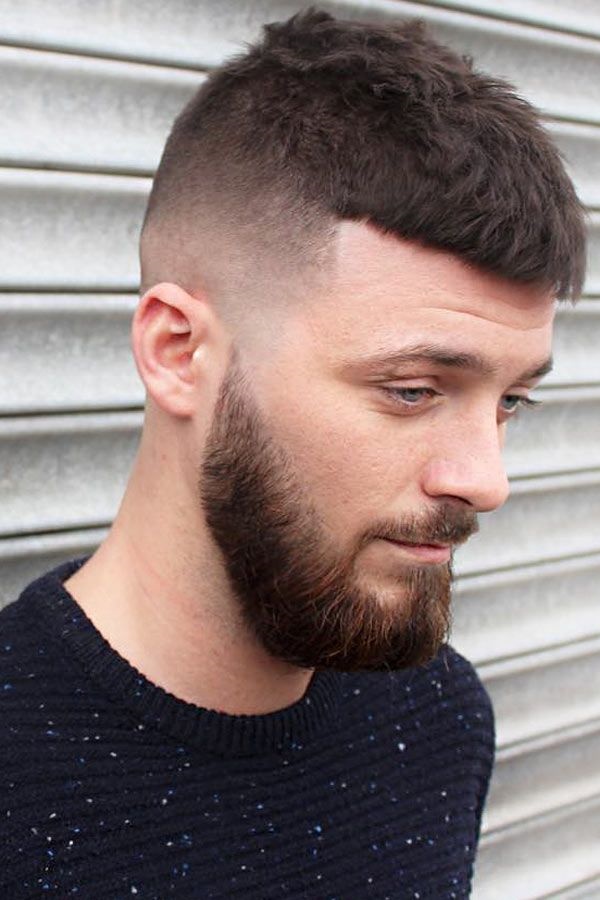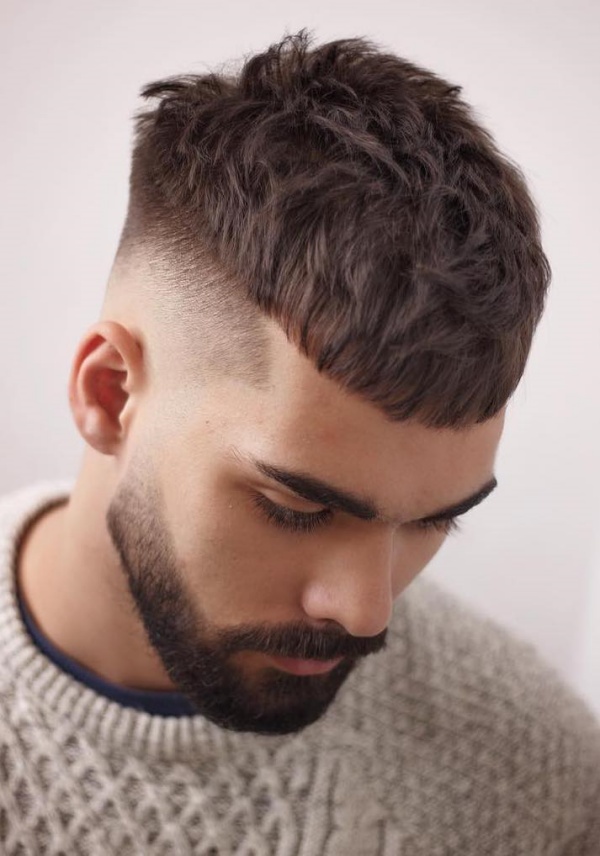 Men with a fashionable taste in appearance love the french crop hairstyle for its classy style. This hairstyle features short hairs scattered throughout the head, but the sides and back are either shaved or trimmed at zero, and a noticeable change in your appearance.
The best thing about this hairstyle is that it hardly needs any styling. You can appreciate appearance if you add a medium-sized to a short beard. The perfectly shaped hair and beard combination are easy to get the timeless style.
One can elevate the fashion quotient with this edgy and creative style.
20. Short Curly Hair With Beard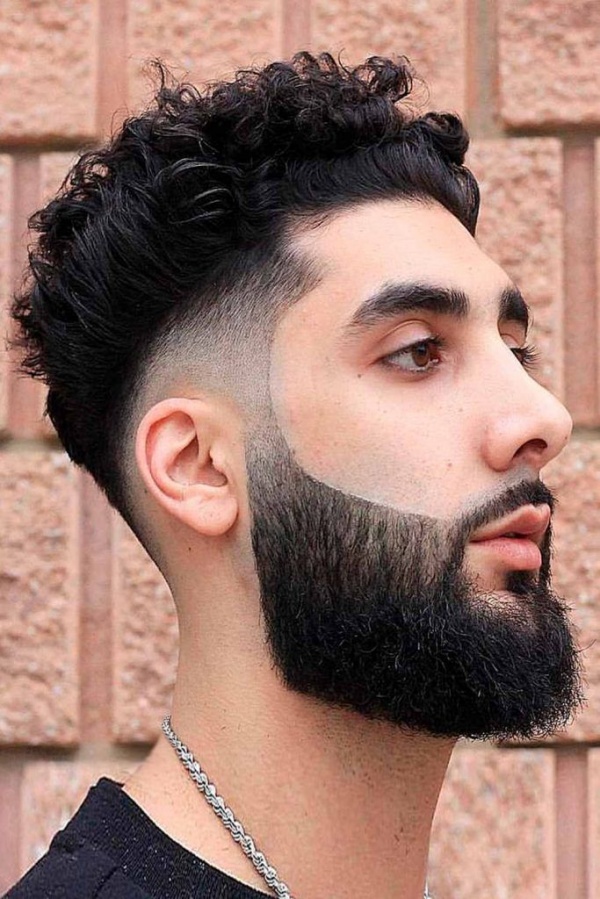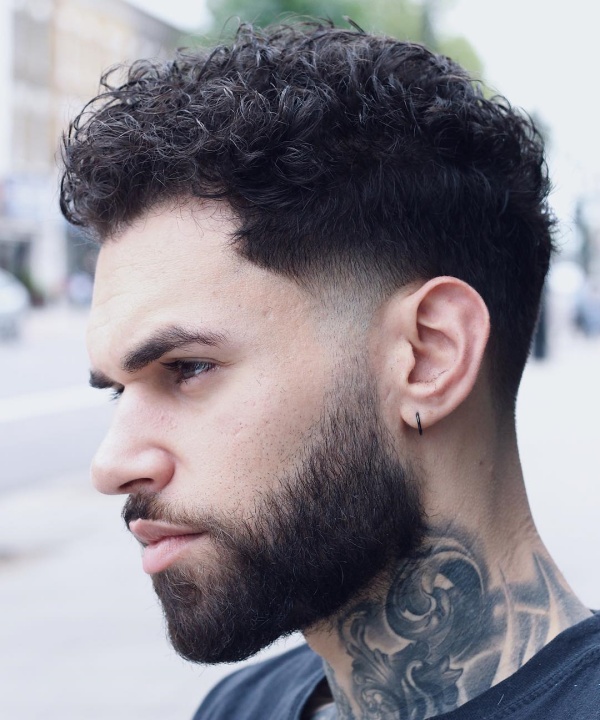 You might consider yourself lucky if you have naturally curly hair, as most men artificially create curls to shape the short curly hair look. The short curly hair is impressive, but it also creates a gentle look on men.
The combination of curly hair and beard has turned out to be both a trendy hairstyle at the same time as it has a deep impact on the opposite gender. On top of that, with this hairstyle, you can keep any type of beard style as the hair have their way of matching perfectly with any style.
21. Flat Top Afro With Skin Fade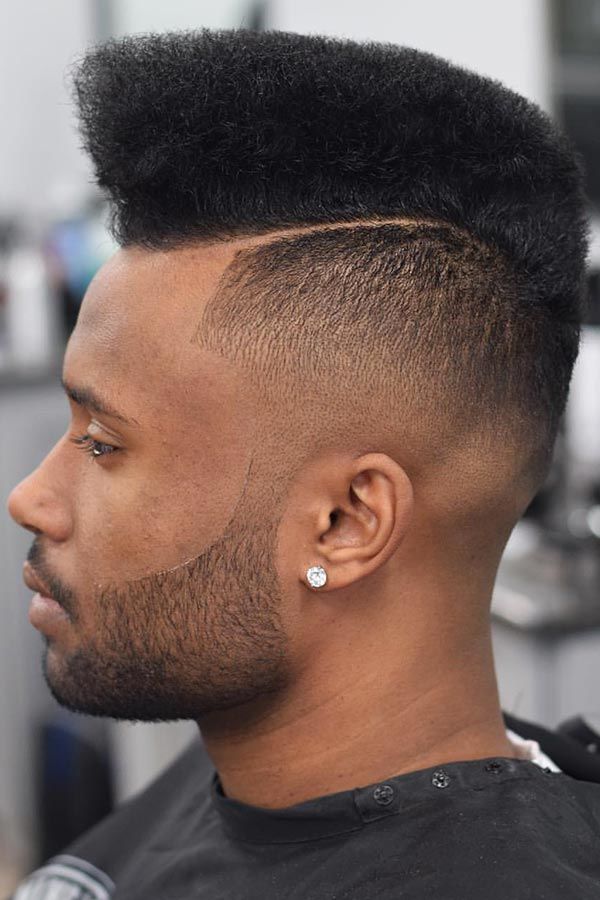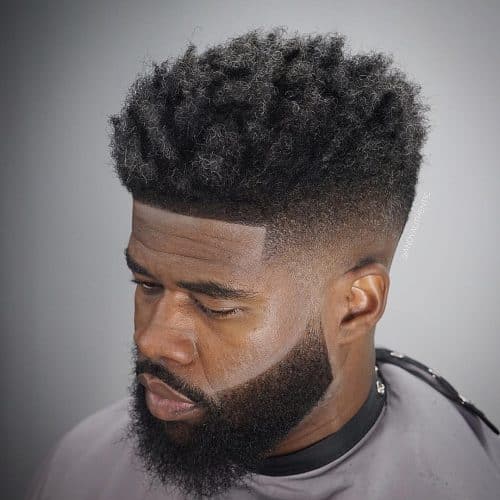 To have a sexy look, you can have a combination of a flat top afro with skin fade among the different short hair with beard styles for men.
The flat-top afro used to be most commonly seen in black men earlier. But in recent days, this style has been adopted by every other man for the excellent look it offers.
22. Fade With Side Swept Quiff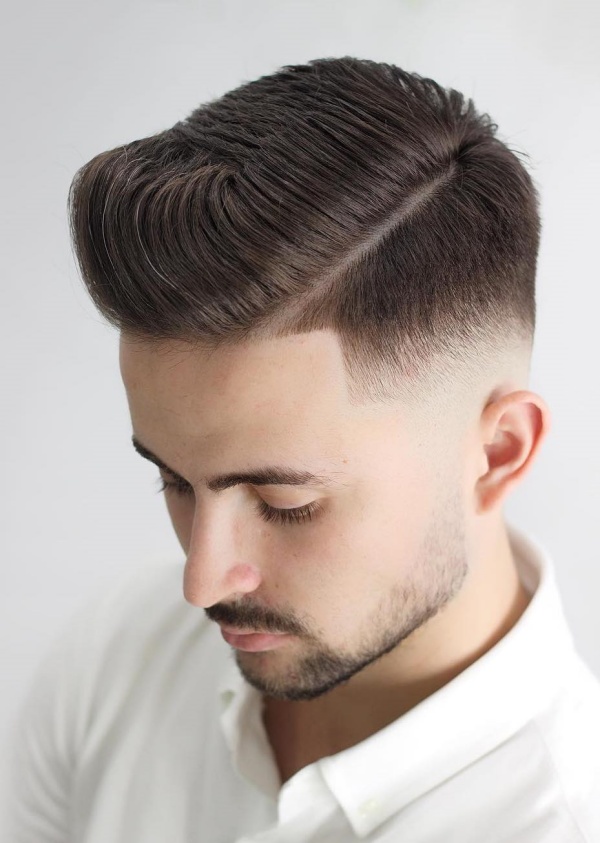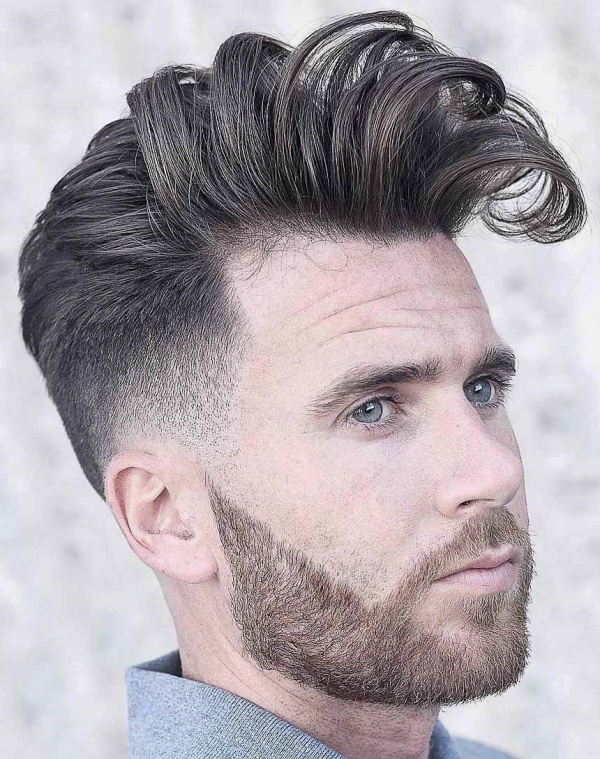 The fade with a side-swept quiff is a hairstyle with multiple variations, and the best thing is that it can be styled according to the facial shape and the hair type.
One can have a short beard for both professional and casual events. The ideal thing is that this is the most widely seen style in the men's fashion world.
23. Short Comb Over With Beard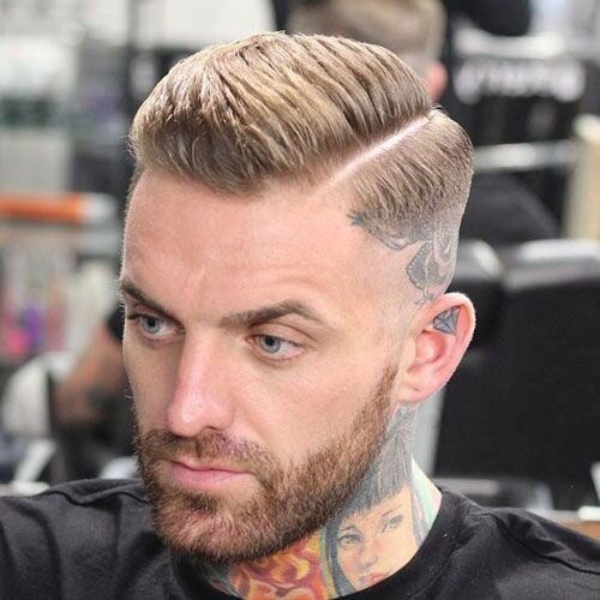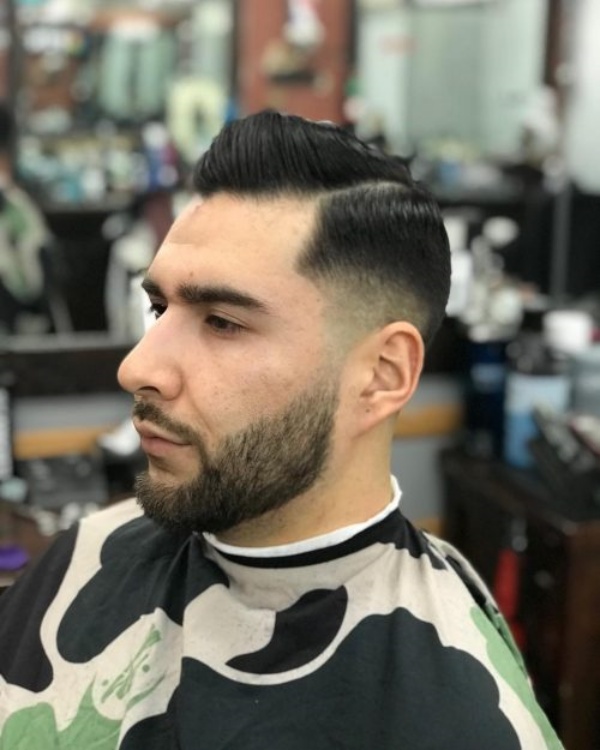 In recent years one of the most commonly seen hairstyles popular is the short comb over with a beard.
This hairstyle features the side hairs, which are kept short compared to the top hairs, which are comparatively brushed backward, hence the comb-over.
Men can keep short to long beard styles depending on their choice preference.
24. Side Parted Pomp With Fade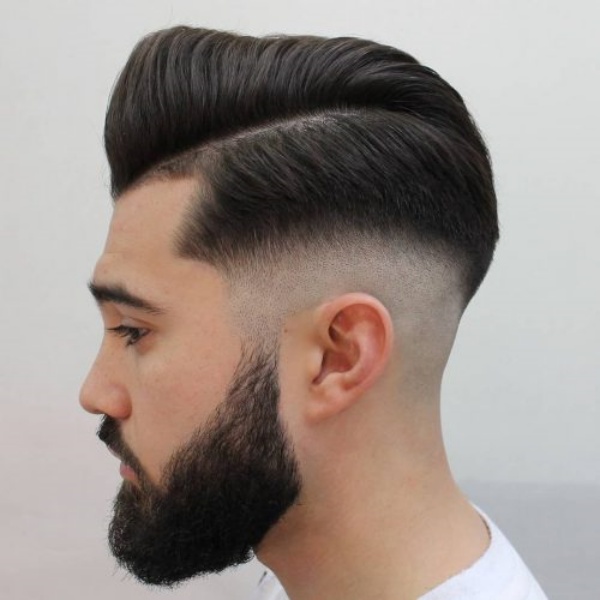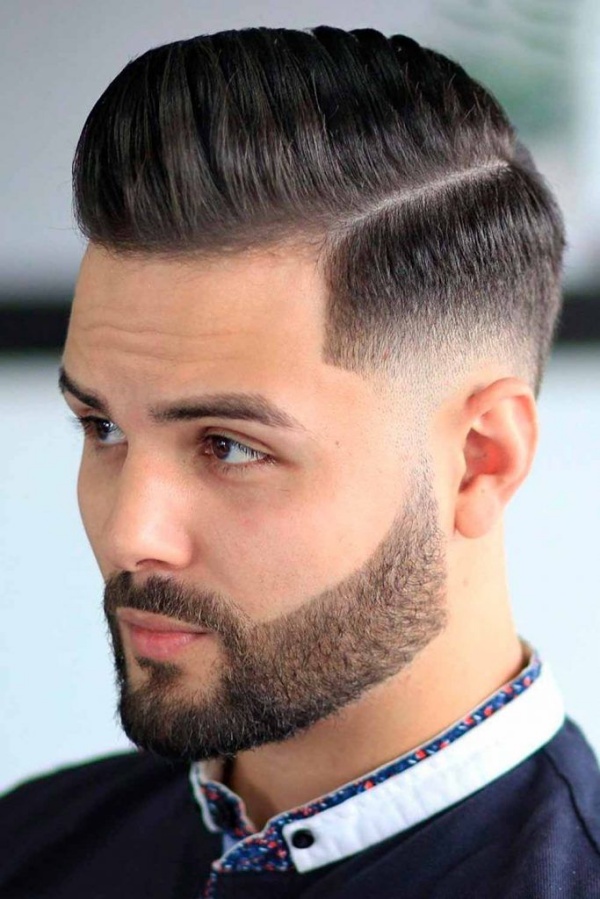 The most eye-catching and extraordinary short hair with beard styles for men are the side-parted pomp with fade. Adding a beard creates a contrasting feature and provides styling versatility.
This hairstyle works on hair of any length, and after you have shaped the hairstyle, there is no turning back from its flaunts.
25. Regulation Cut With Thick Beard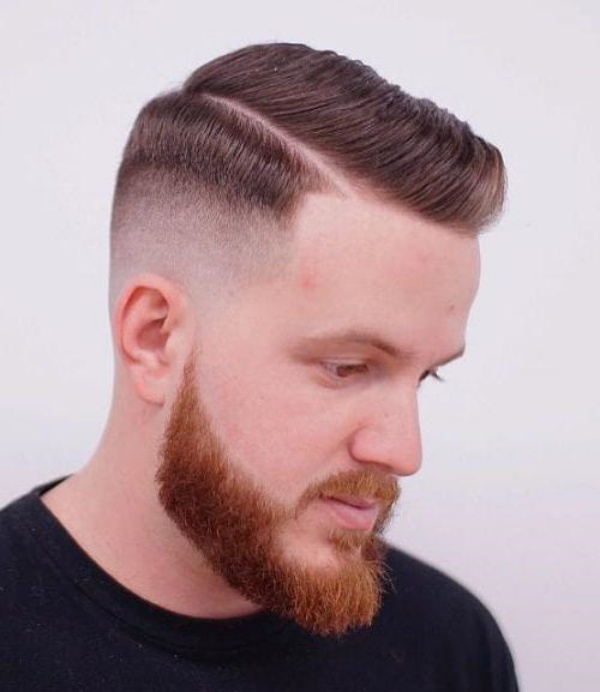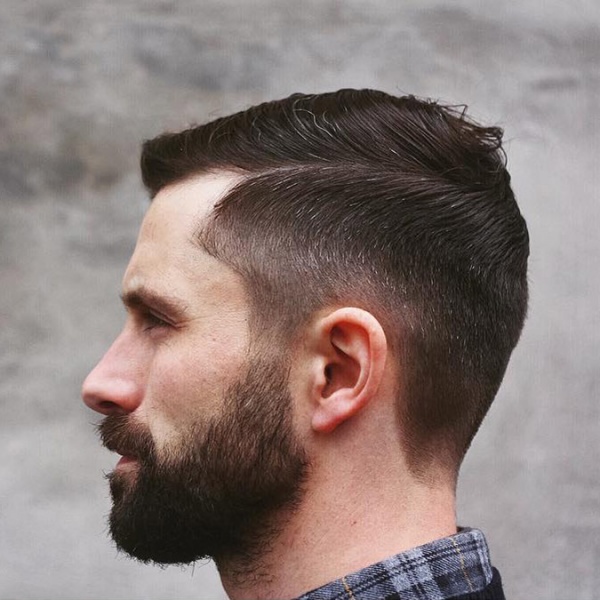 As longer army haircuts in which the top hairs are trimmed, and the side hairs are tapered completely make the skin visible, the regulation cut hairstyle is also popularly known.
One can keep a thick beard and create a contrasting style. This look is the best low-maintenance hairstyle with the best appealing factor.
26. Mohawk With Ducktail Beard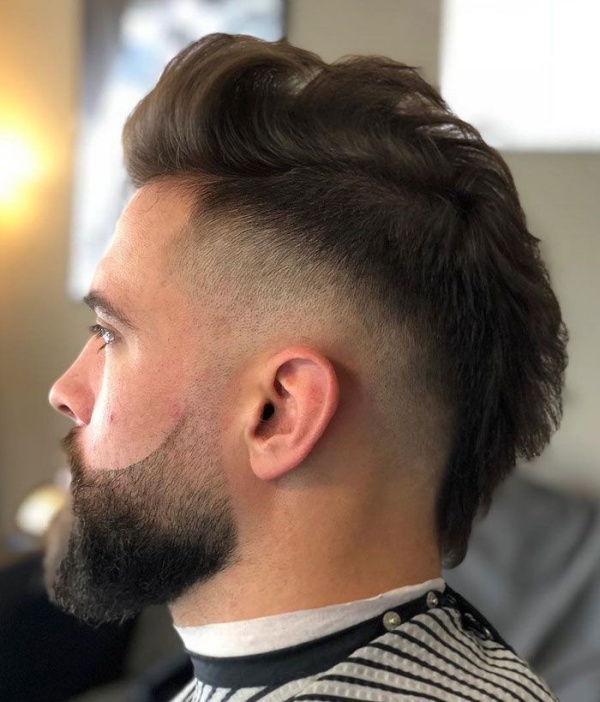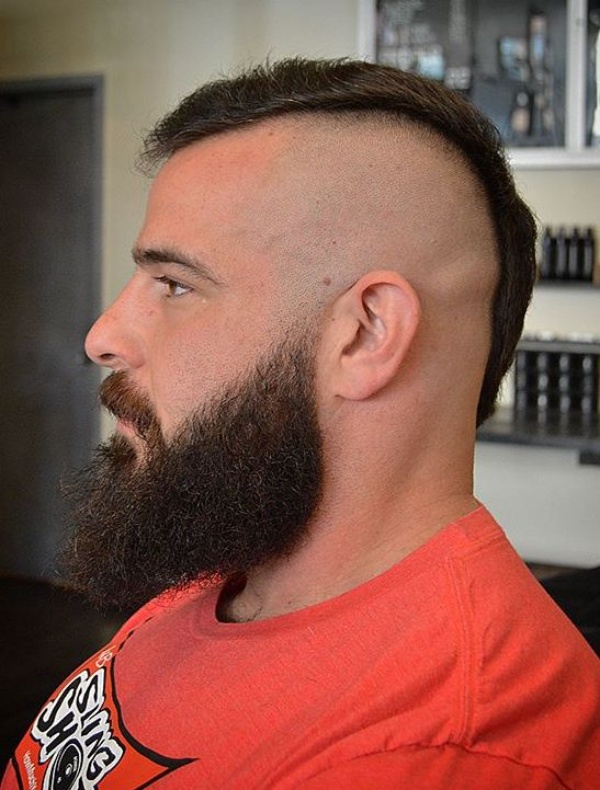 Are you looking for the perfect fashion-forward combination of beard and hair? Well, you can have the mohawk with ducktail beard from the list.
This design is kept by making the top hair upright from front to back, and side hair are kept short or medium-sized.
Combining with the Ducktail beard, you can elevate the charismatic appearance.
27. Top Knot Short Sides With Beard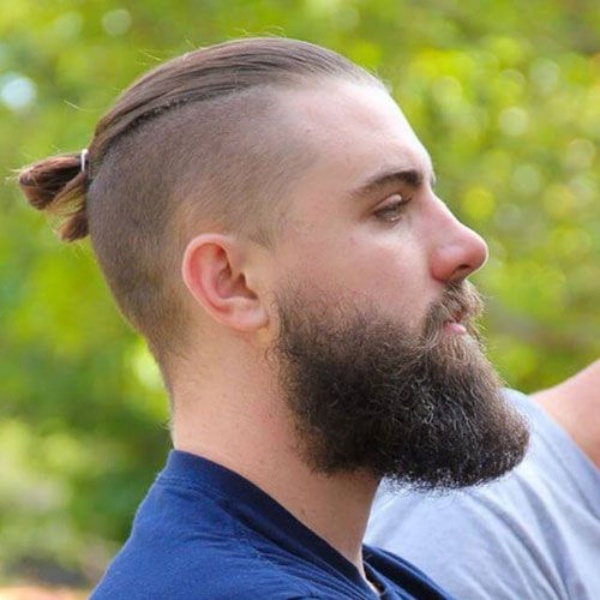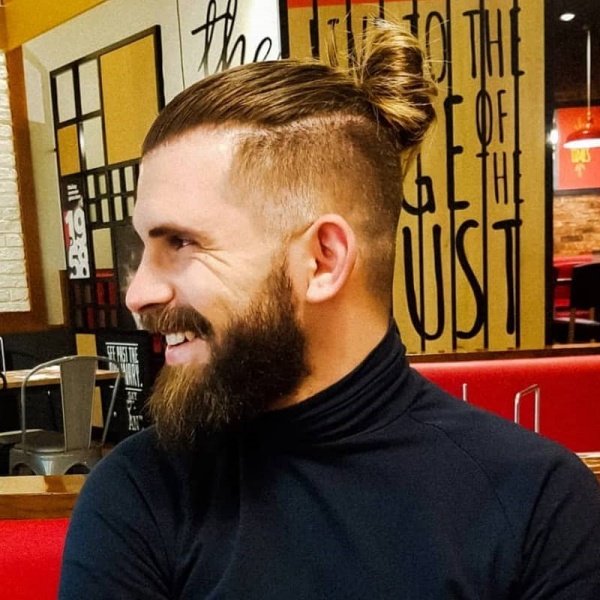 The top knot with short sides is one of the appealing and contrasting short hair with beard styles for men. To have this style, the top hair are kept long and are pulled and tied at the top of the head. The side hair are trimmed short mostly and are styled by joining them with the beard.
28. Fringe Undercut Hairstyle With Beard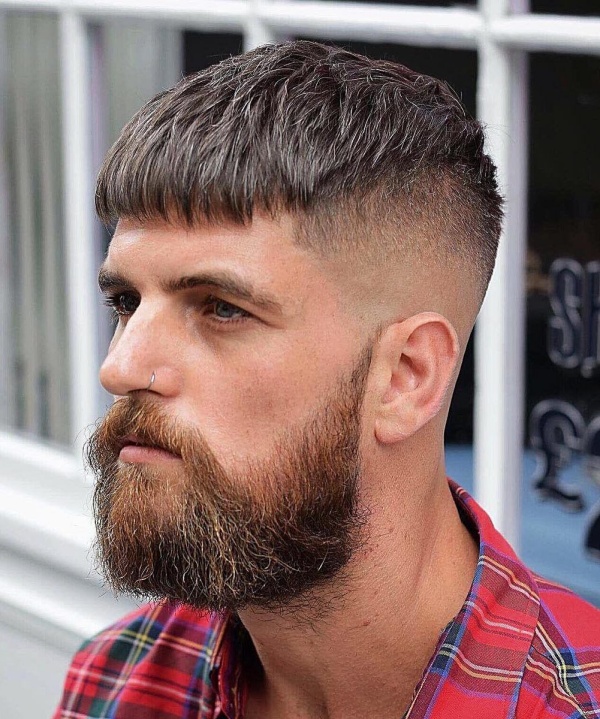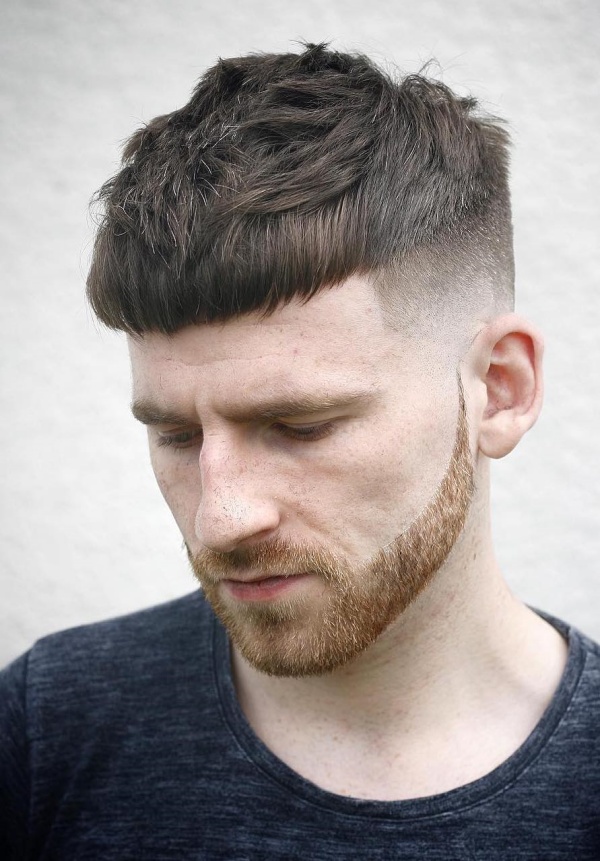 The best style with which you can flaunt your jawline and the shape of your head is the fringe undercut hairstyle with a beard. In this hairstyle, the side hair are cut short while the top hairs are kept long that, in turn, cover the forehead. Keeping a contrasting beard style with this hair is what men love the most.
29. Bowl Cut With Beard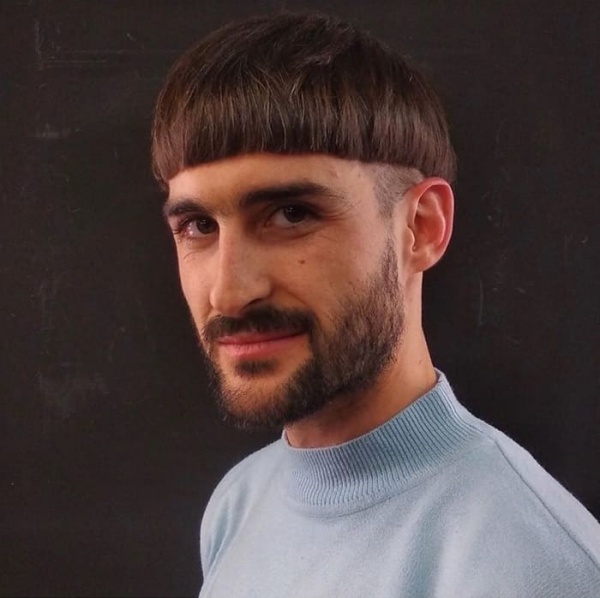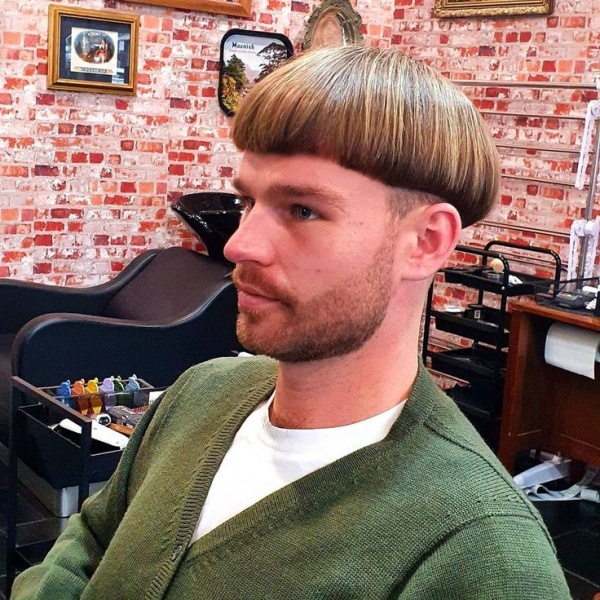 The bowl cut hairstyle is a timeless hairstyle that takes us back to the past from where the style is adopted. This hairstyle is commonly known as the mushroom cut.
In this hairstyle, the side and back hairs are trimmed while the top hairs are kept long that cover the forehead. It gives the haircut a mushroom appearance.
30. Razor Fade With Groomed Beard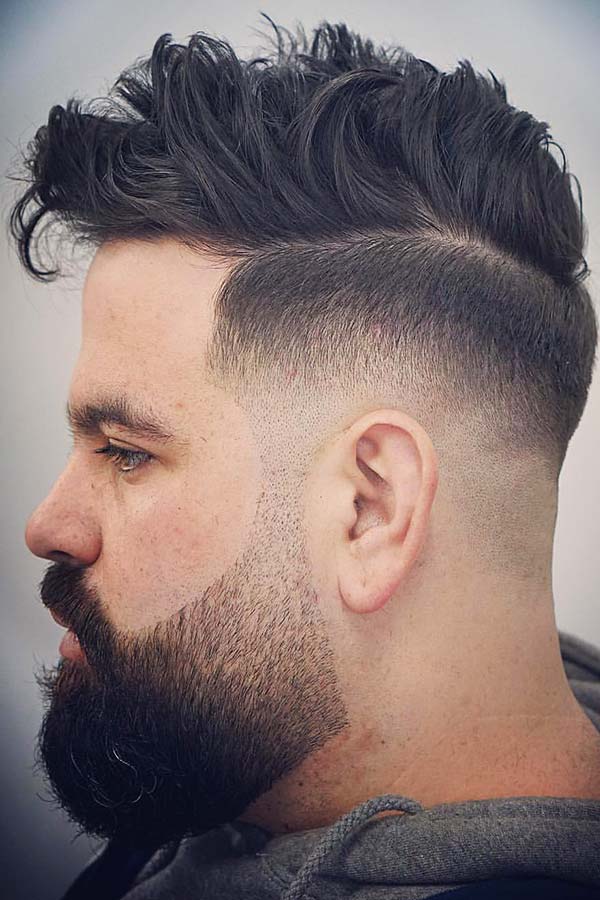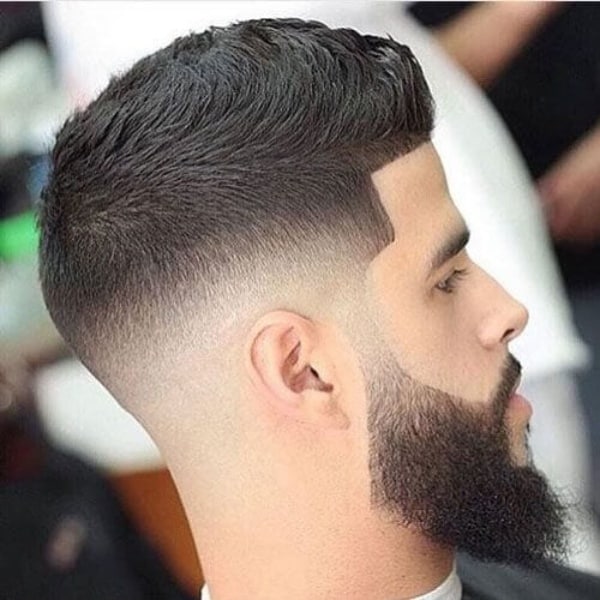 The razor fade is one of the easily maintained hairstyles in which the side and back hairs are shaved. The best thing is that in this style, the beard is groomed so that there is a disconnection with the faded hair, which is another way of creating a contrasting style.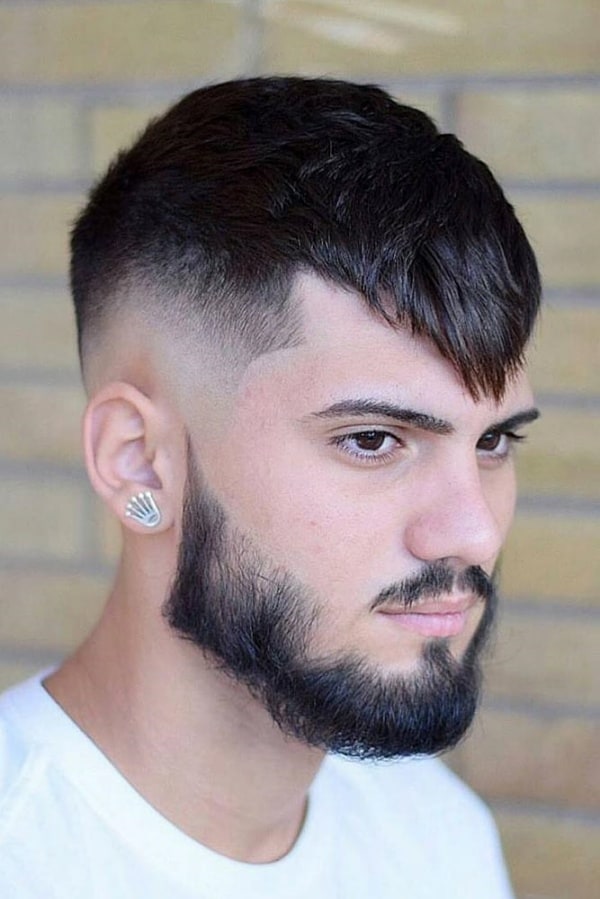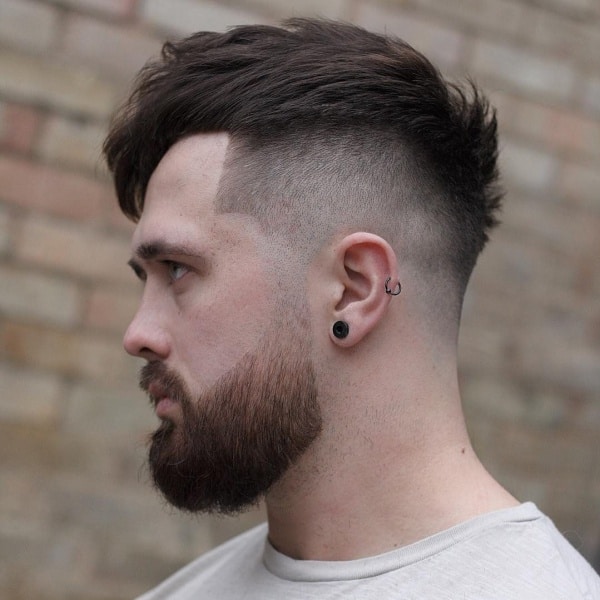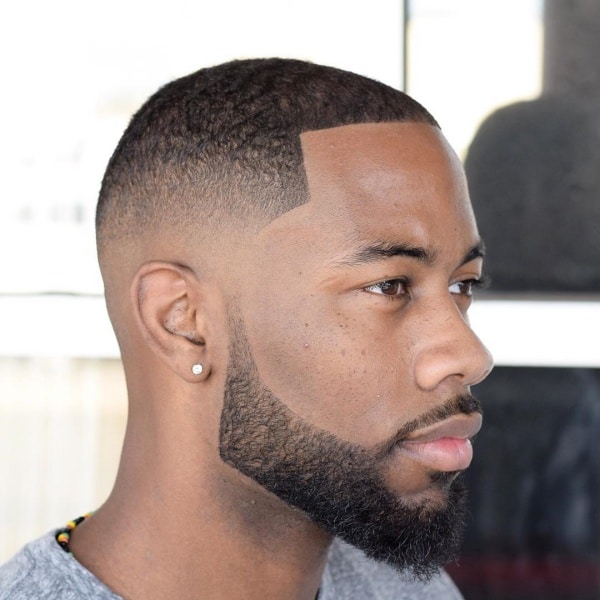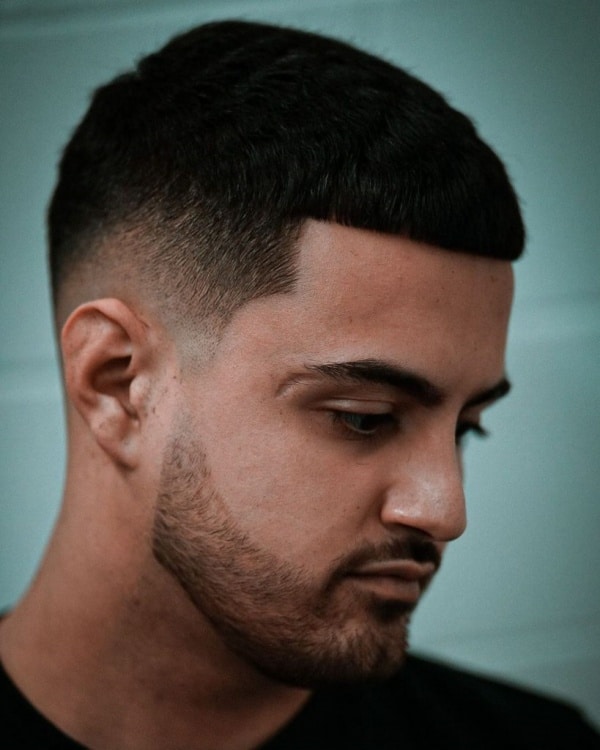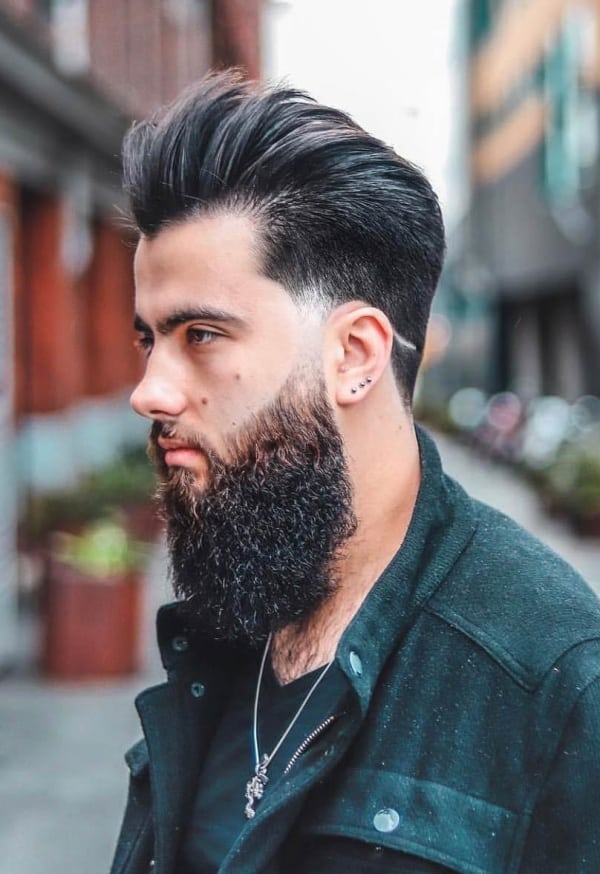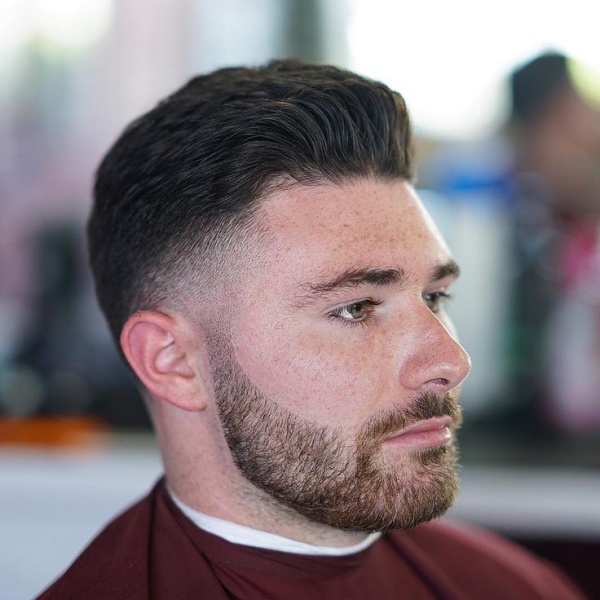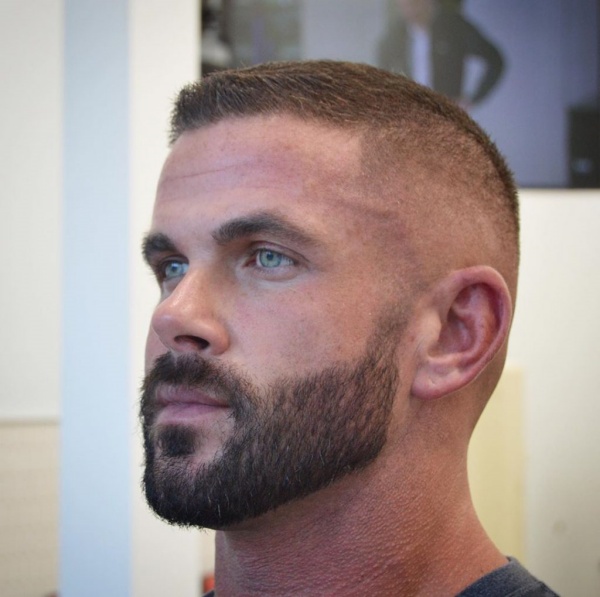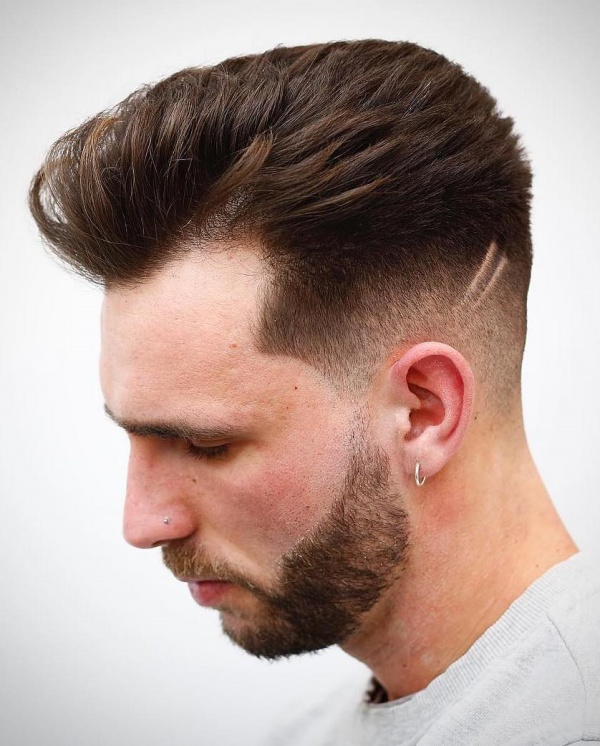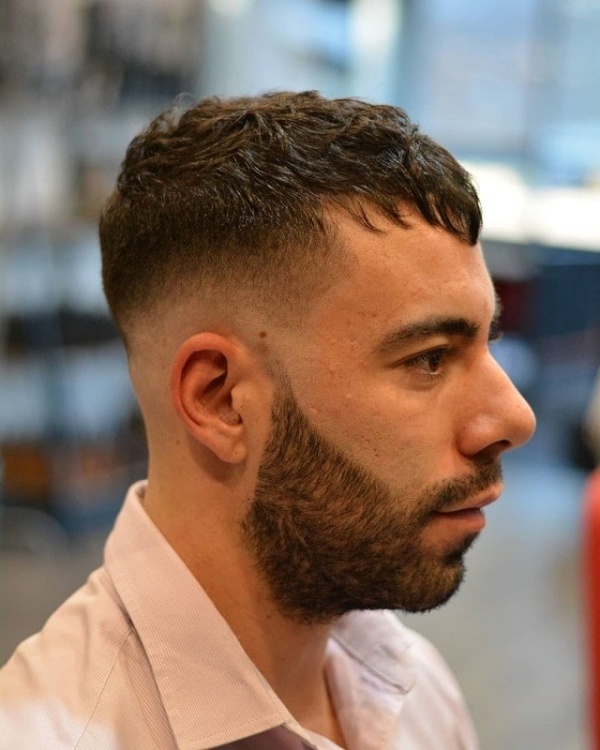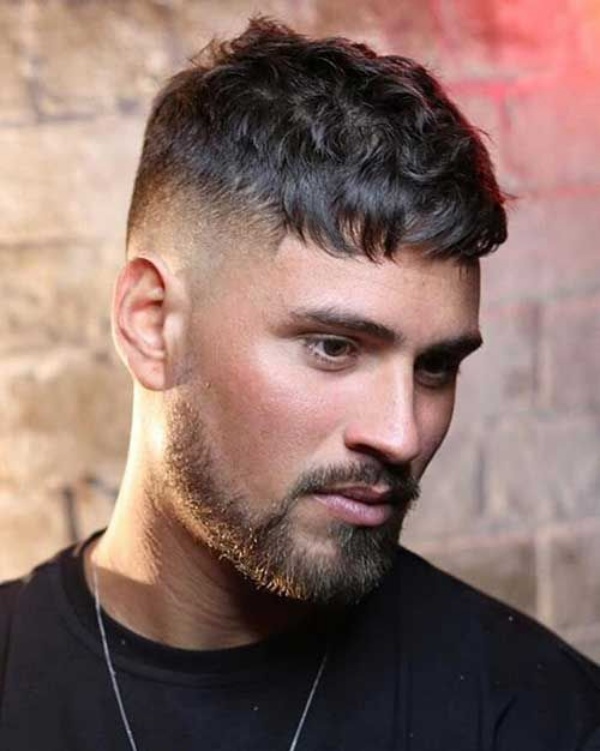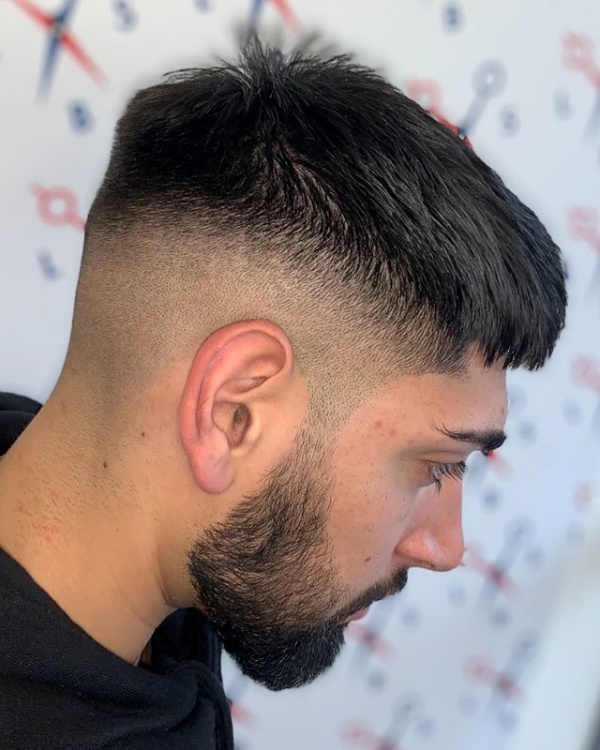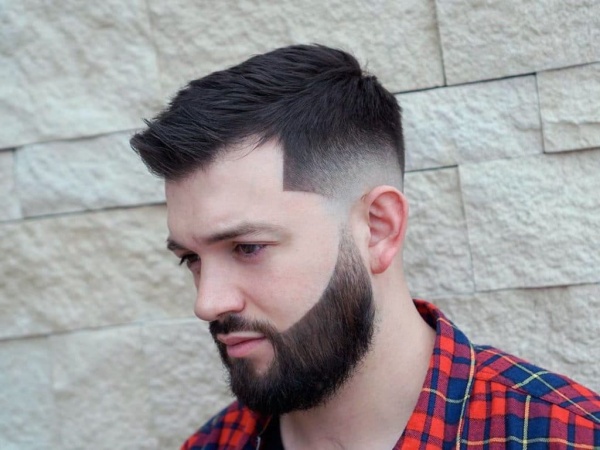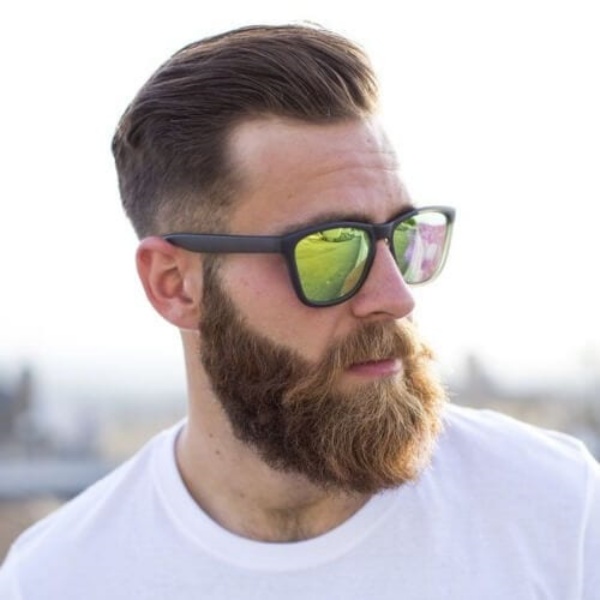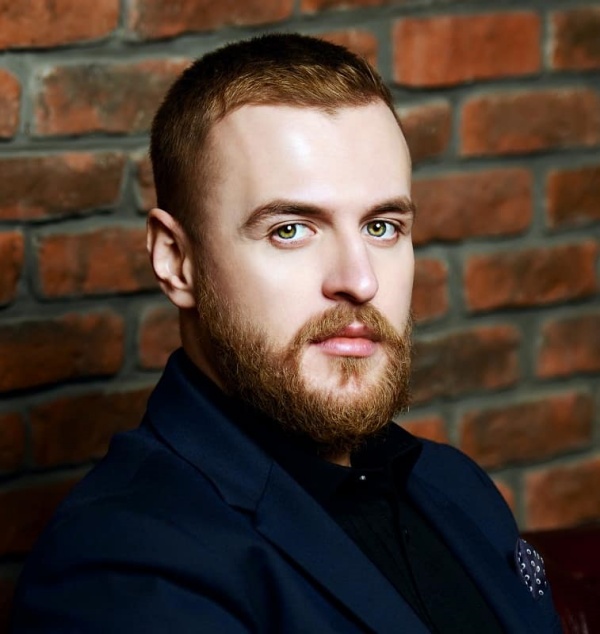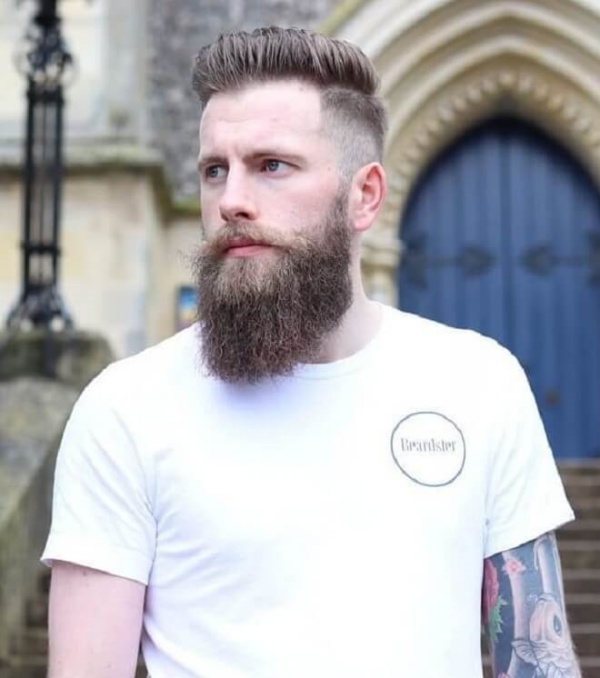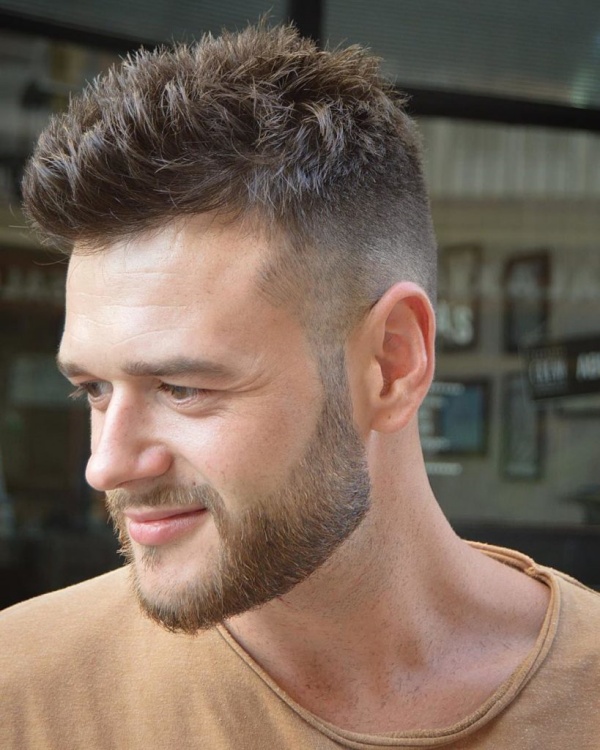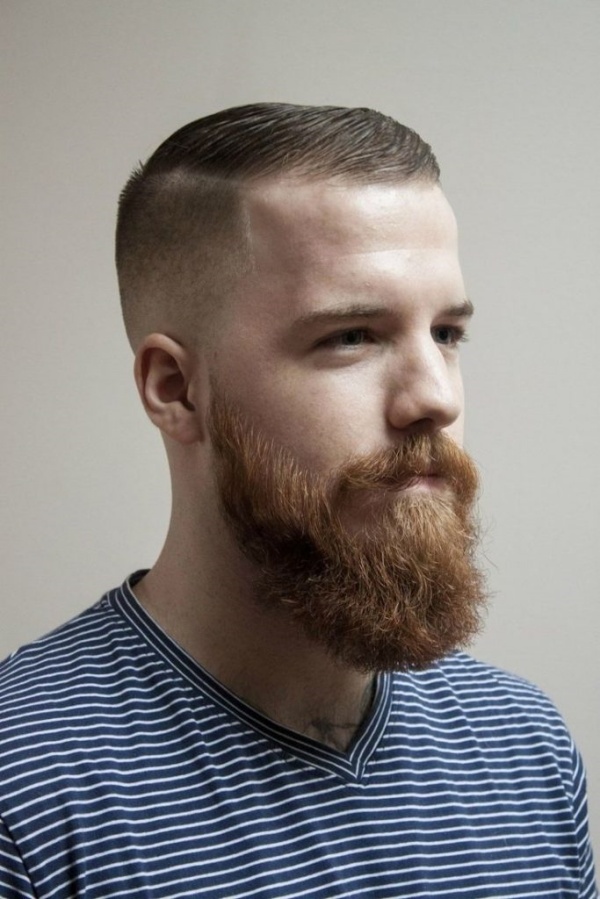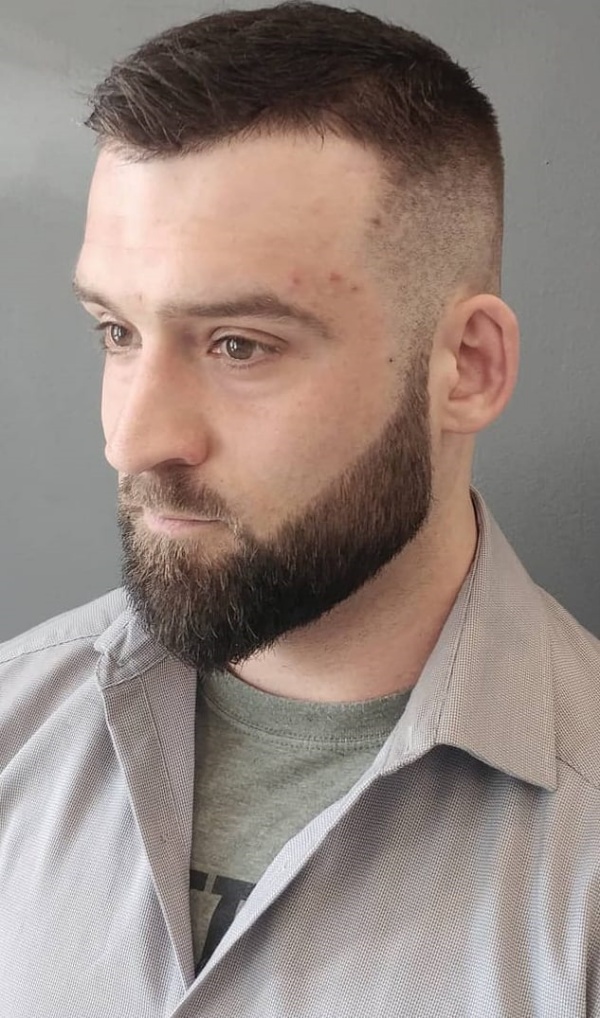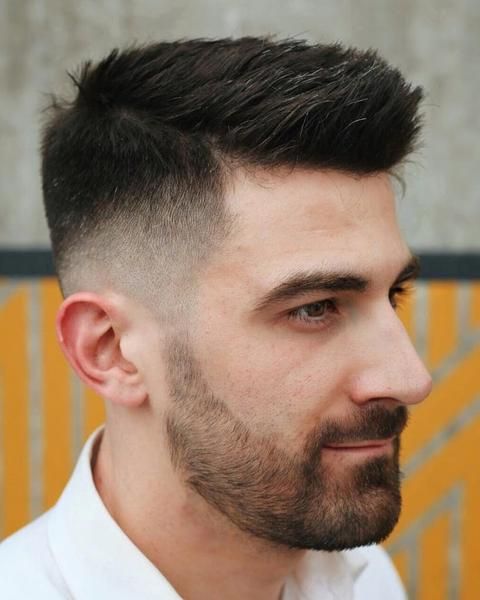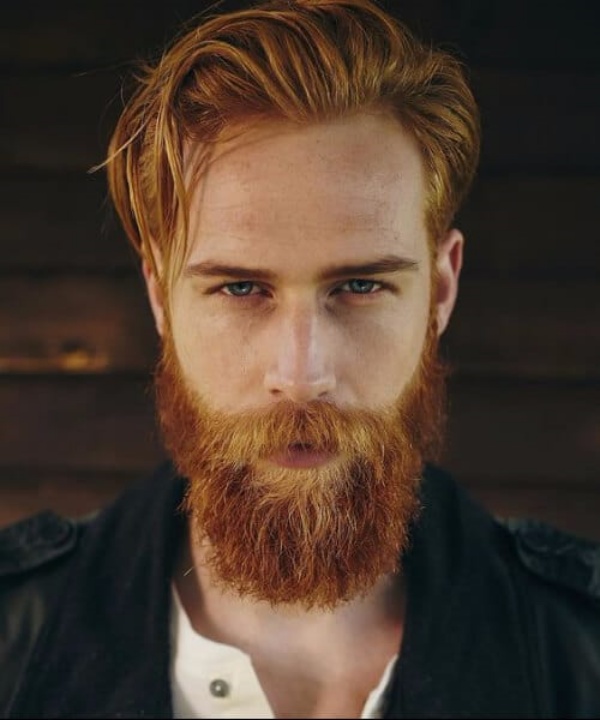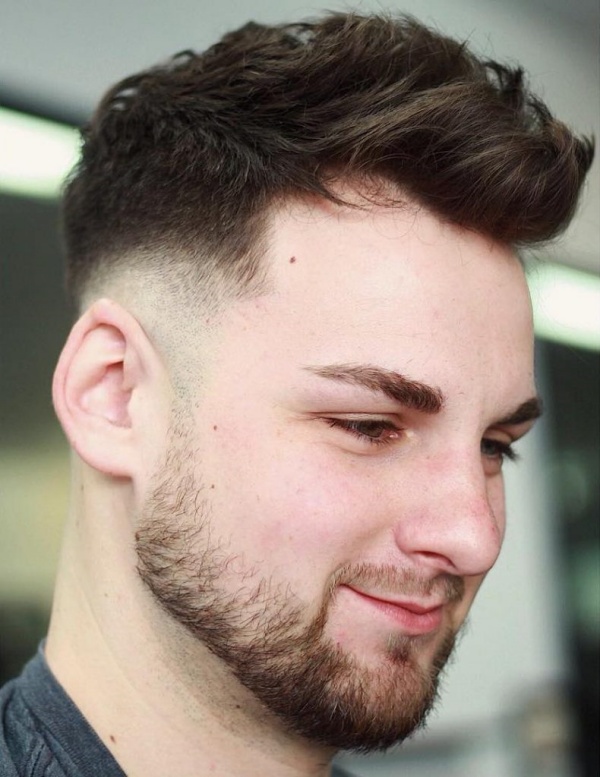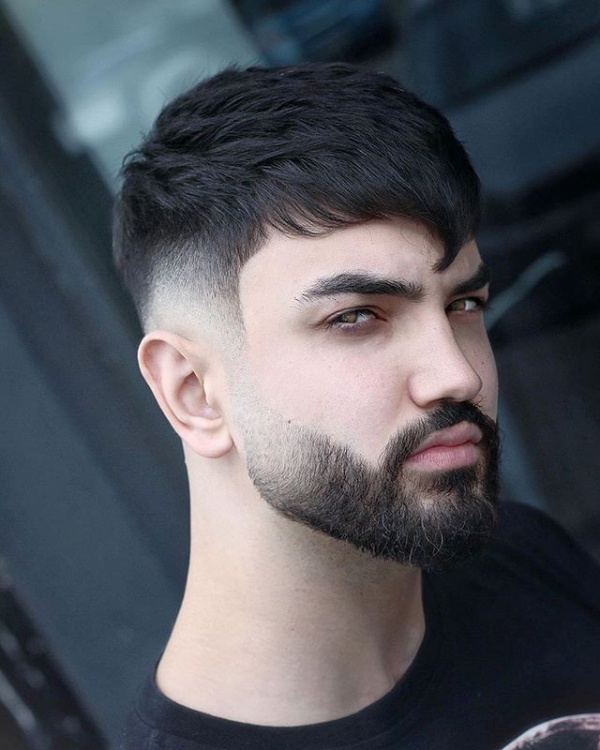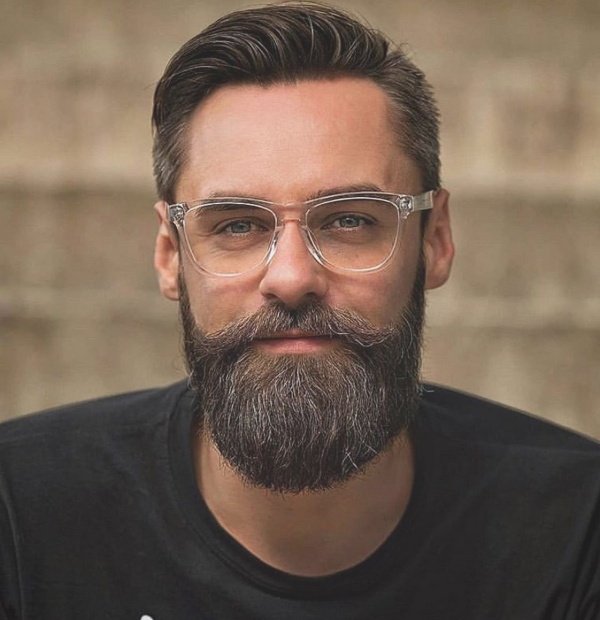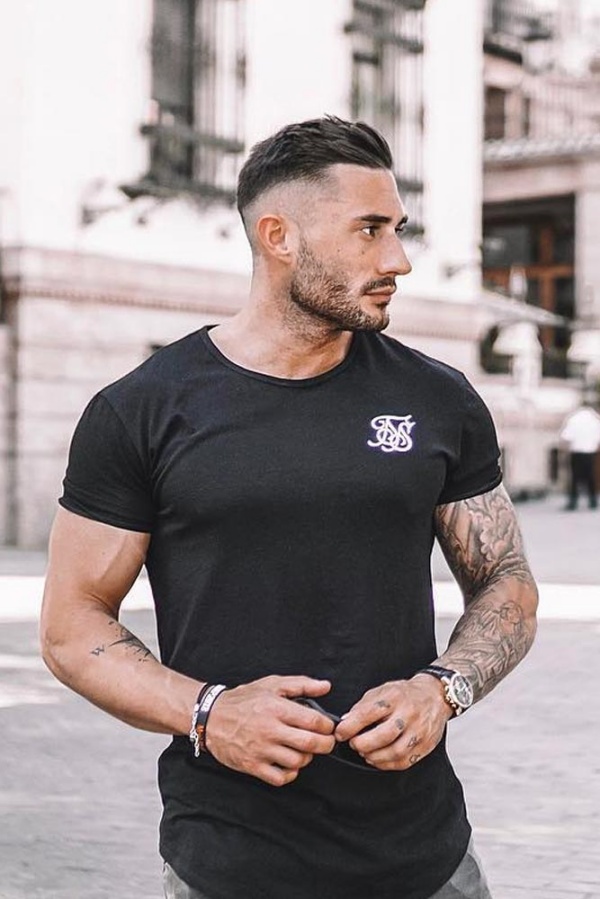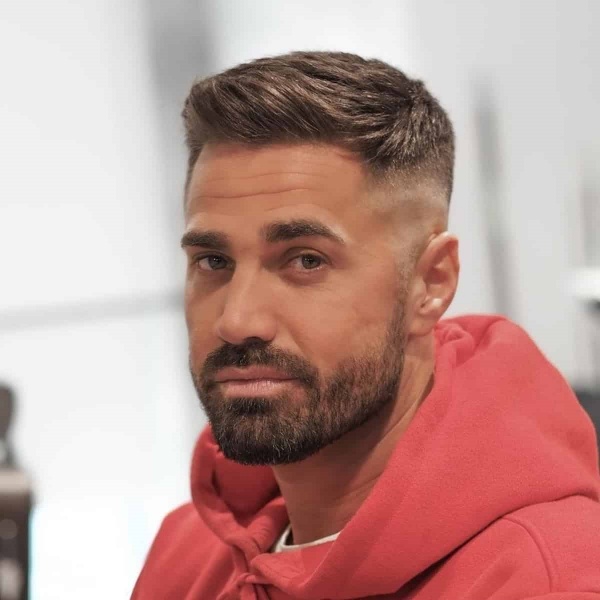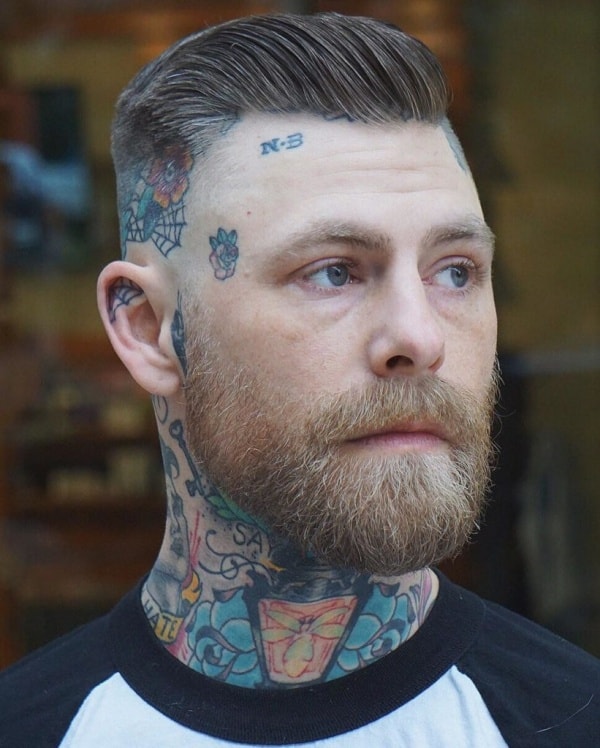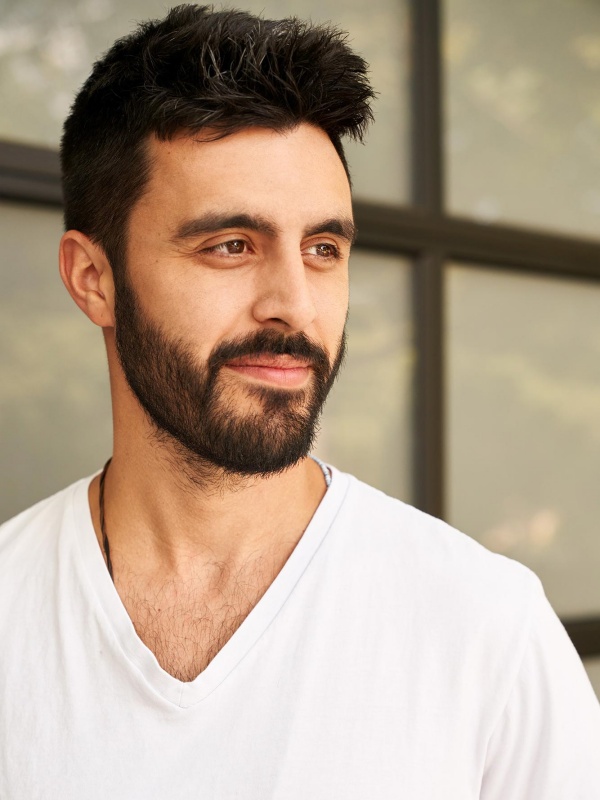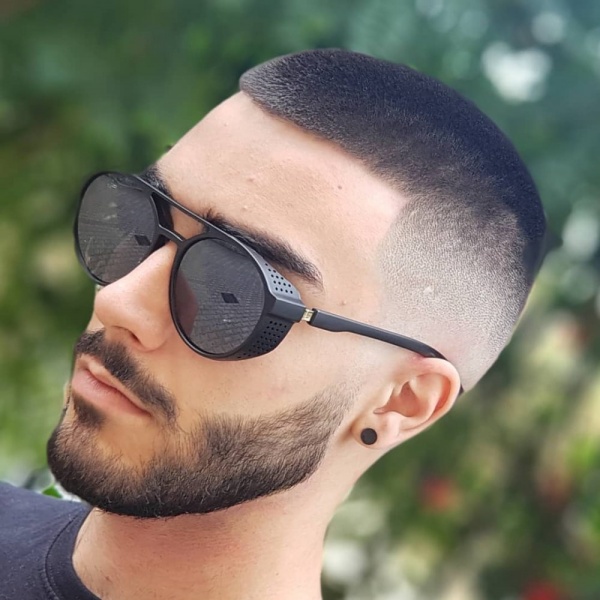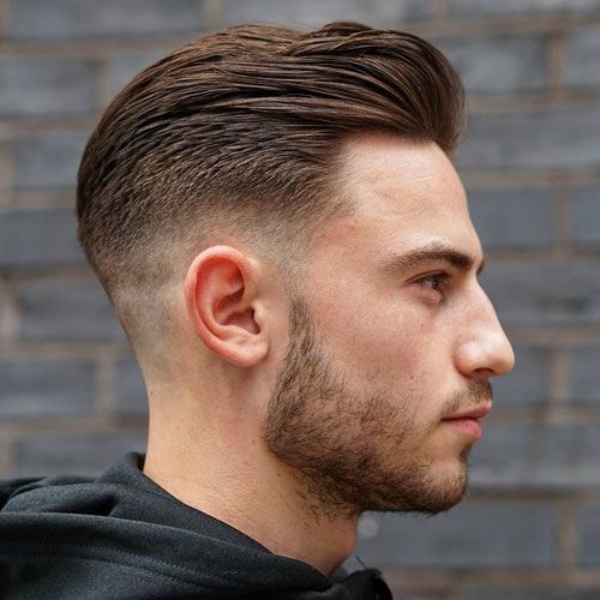 Related:
Conclusion
The basic concept is unique and has provided different variations of short hairstyles. To make men satisfied with their short hair and beard combo, with the help of expert hair professionals, we have made this list of short hair with beard styles for men.
From old to recent, classic to the latest, you have seen all the different short hairstyles with detailed features. This has made hairstyling a lot easier and kept the perfect beard style.
The hair can be medium or short, wavy or curly; you need to remember that although the hairstyle is short, it needs grooming and maintenance to keep them healthy and in perfect shape. This is made possible with the various natural hair products available that can be applied to hair without any side effects.
This list full of short hairstyles is regularly updated for men to flaunt their hair in front of women. There is nothing to worry about, you just need to ask your hairstylist to create the hairstyle that makes your heart go crazy.