Men with a dense beard and an edgy smile are the 'real' deal to watch out for- agreeable much? Well, the fact that men rear quite an obsession for their beards, the Viking beard styles are slowly gaining momentum and might be stated as the next new trendsetter. To cut it short, men if you are all ready to adopt some unique and bold style along with customized improvisations, then here you go. The Viking beard styles are just what you need. To be specific, this might not be just bearded rather a strong style statement symbolic of the strength and valor of the mighty-heart Vikings who were much prominent for their long beard and hair.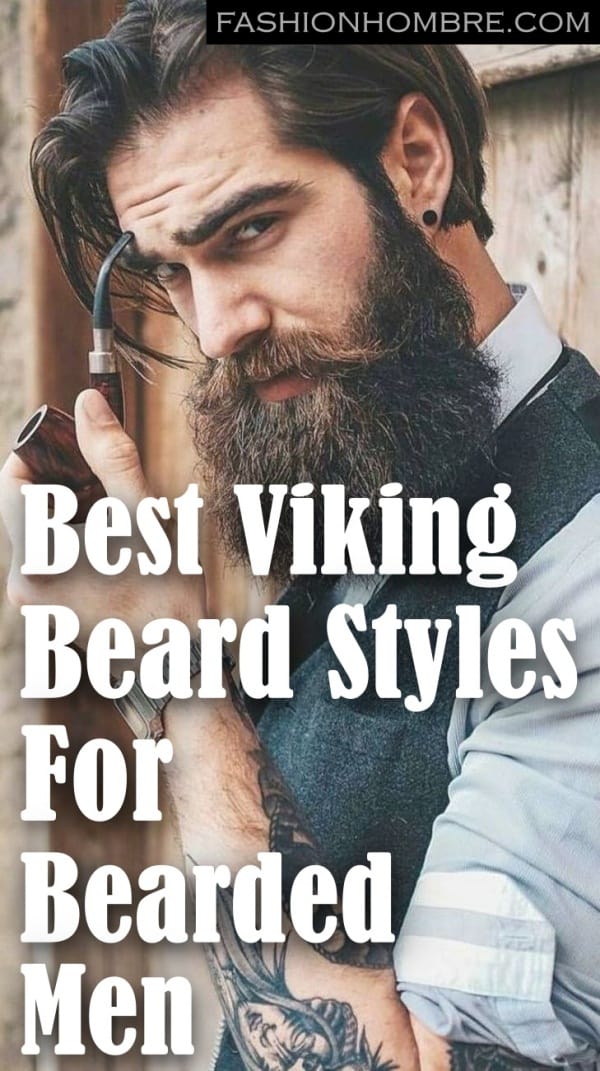 To guide you a bit, the following sections of this write-up would deal with the various Viking styled beard you would love to flaunt in style. However, before that, we would also love to discuss for you the tips to grow and maintain a Viking beard while the story behind this naming this beard style.
So, all ready for an exciting read? Get your eyes glued and read on.
What is a Viking Beard?
The Viking beard has a long history of adventures and daredevil acts that mainly reminded of the Vikings, who had their origin in the Scandinavian countries listing Sweden, Norway, and Denmark. They were the warriors, rather invaders, who were at constant war with each other. They were also constructing ships that made them victorious in the war.
Excavations and remnants have also stated the association of combs and toothpicks to the places where they have stayed. Thus, this is again suggestive of the fact that they had always maintained good hygiene.
The Vikings were known to have long hair and beards, and while heading for the war zones, they would tie them up in long ponytails, to abstain from any hindrance while the war was on, and that was the most striking feature.
The Vikings grew their hair and beard to get warmth in the chilly weather. The present times have seen men donning this style to promote the strong, daredevil, rough, and tough look. This one looks impeccably dashing on men with an awesome physique to flaunt it well.
Macho Viking Beard Styles for Men
1. Short Viking Beard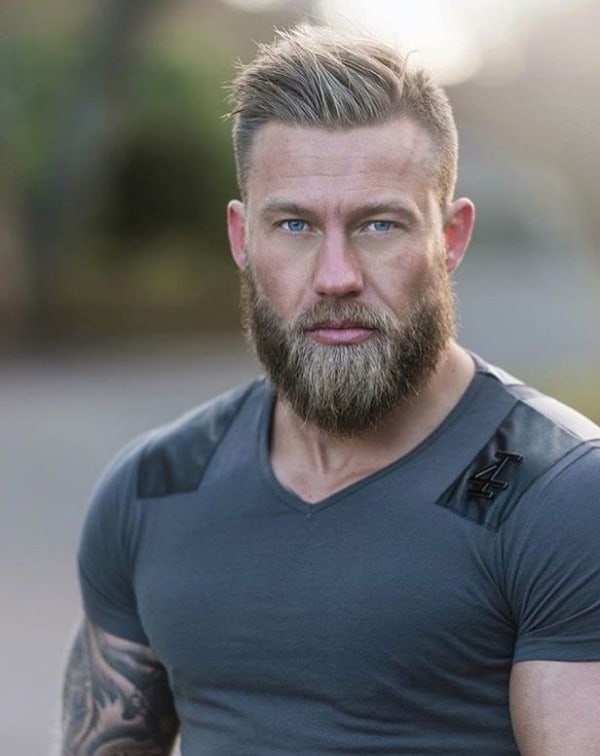 Image Source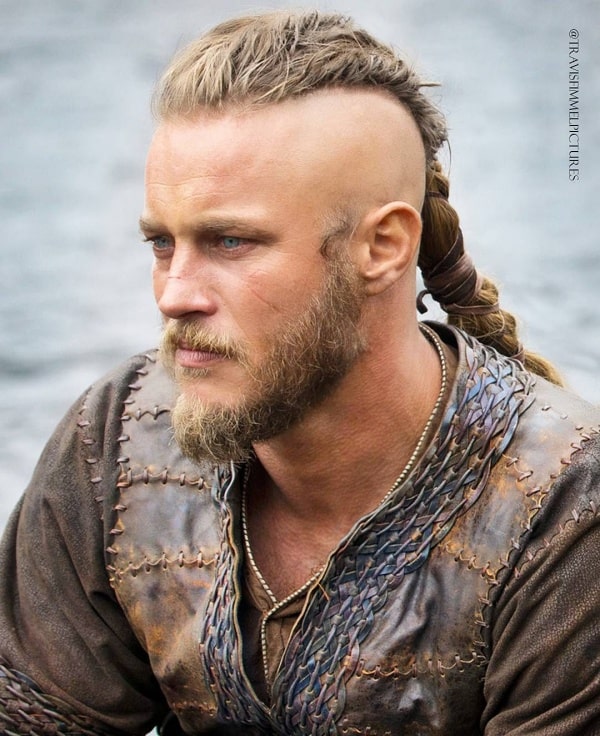 Image Source
As discussed above, the Viking beard is meant for the daredevils and bold people. So, for the ones who would prefer low maintenance opt for this short Viking beard. This would not only enhance your sharp facial features but would also stand out as a great fit for the office look. This one would also work great for the men who are in the process of growing their beards. Short-comb or spiked hairdos work best with a short Viking beard. Besides, you might as well add a long mustache to complete this look. For a quick rule of the thumb, try the beard or mustache in blond.
2. Red Viking Beard Styles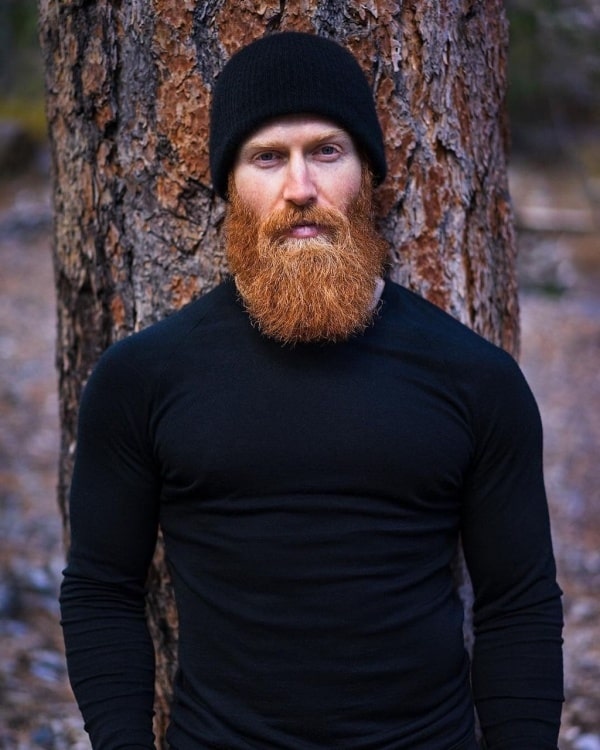 Image Source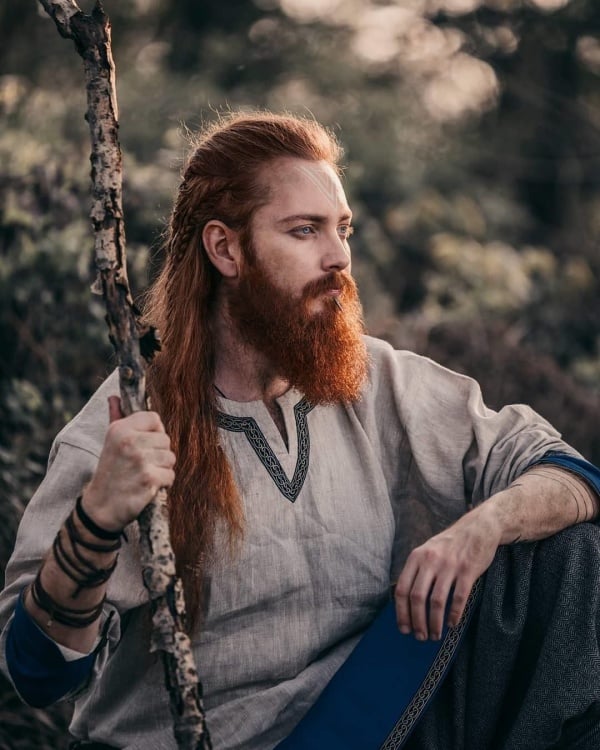 Image Source
Viking beards always score a 100 irrespective of the hair color of the guy donning it. If you are the lucky one to get natural ginger, you are a step ahead in resembling the daredevil Vikings when compared to your deep hair colored peers. To add to that, a voluminous bunch of thick red facial hair is sure to give you a unique personality and striking presence, wherever you visit. Red, as we all know anyway symbolizes power, strength, and valor. When merged with the ultimate face enhancer for men, would undoubtedly yield fruitful results. So, give it a shot.
3. Messy Viking Beard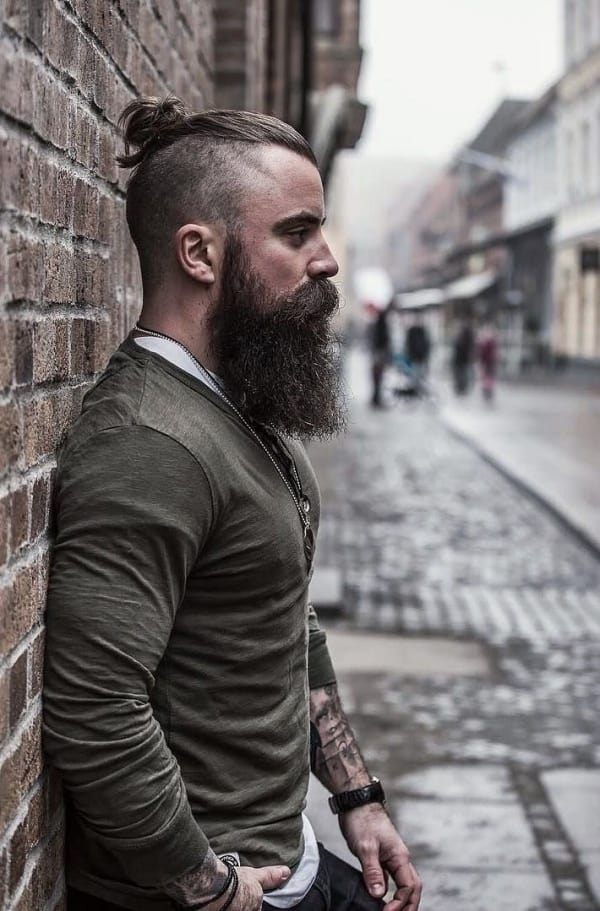 Image Source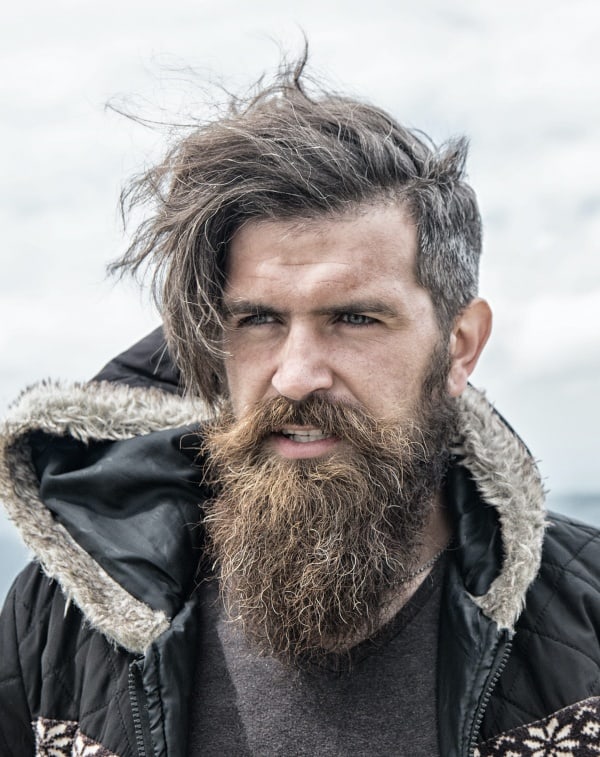 Image Source
To place it honestly, the modern interpretation of any sort of traditional style of the Viking beard is mesmerizing messy and that quite steals the show. Again, while discussing the Viking beard styles, historians and excavators have put forwarded the view that the Vikings had well-groomed and neatly trimmed beards and mustaches. So, which view to trust? Let's call it a truce and try both the versions. Anyway, men in a disheveled state of beard add more roughness and rugged tinge, which is just too difficult to resist. To bring back the Viking spirit and to defeat all odds, go for this look at least once in your lifetime.
4. Single Braided Beard Look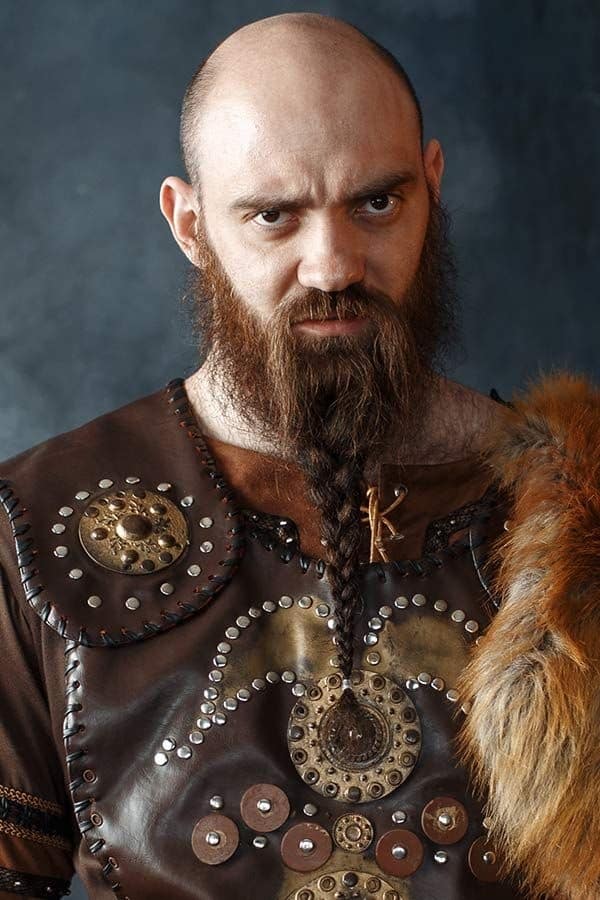 Image Source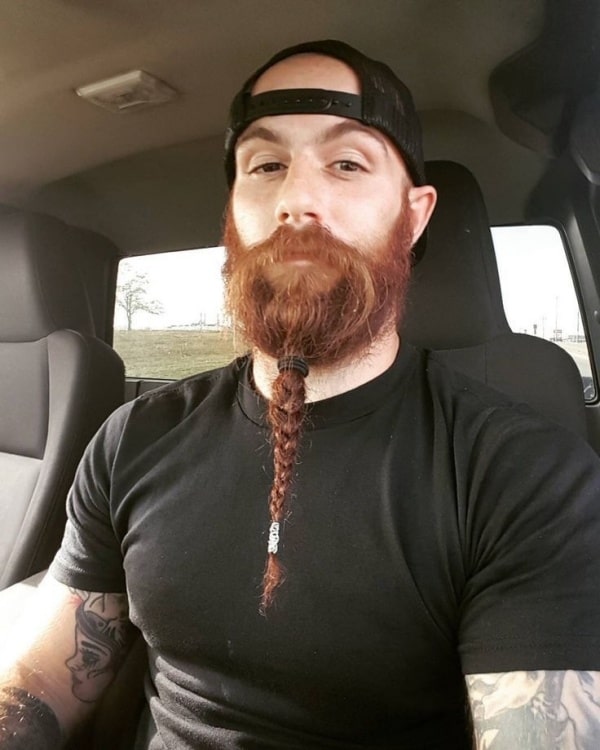 Image Source
As we already know, the Vikings preferred the kind of beard style that stated tying the beard into a single braid while hitting the battlefields. The warriors who had long beards preferred these styles more to maintain and keep the beard in order, and to avoid any hindrance during the fight. The historians have also formed the opinion that the modern single braid beard style that we have today has its source here. While you are thinking of trying more complex styles, then this braided one is a good style to start with.
5. Skin Fade Viking Beard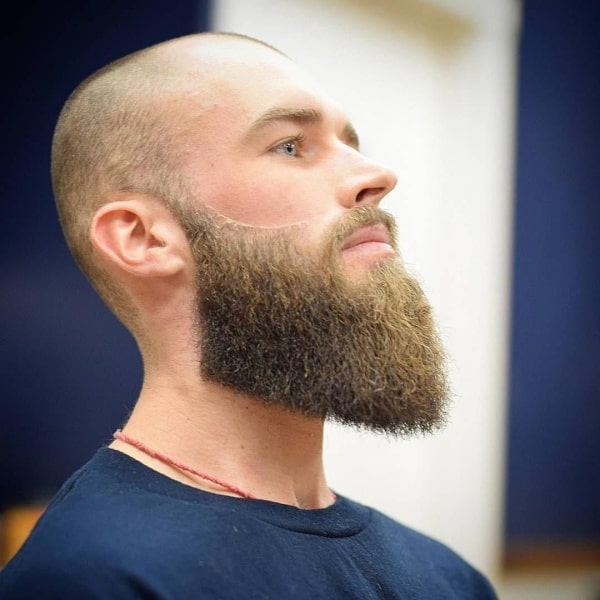 Image Source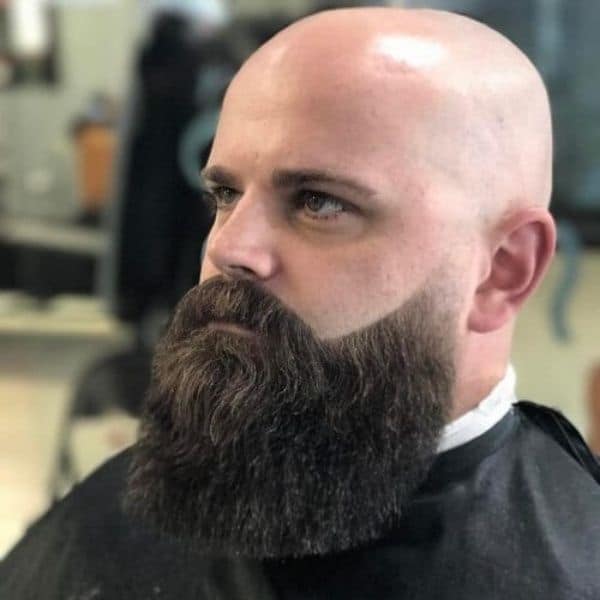 Image Source
A bald fade coupled with a Viking beard is a great way to enhance your killer look instincts. This duo of dense beard with a skin fade style cut would result in a look that would enhance the intensity. Also, this look would give you an outstanding cover to grab the best parts of your facial features. However, for the best results, ask your barber to trim the beard on both sides equally. Now, on a more serious note, only the daredevils who are ready to take the plunge can opt for this.
6. Pointy Beard Look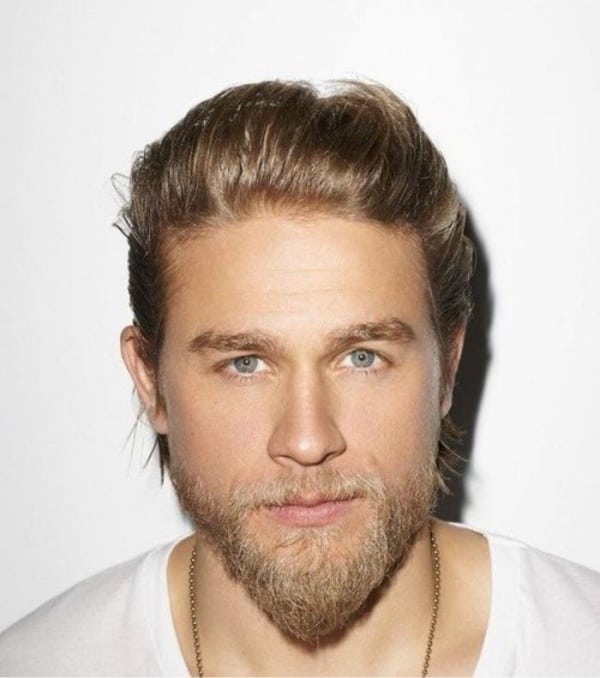 Image Source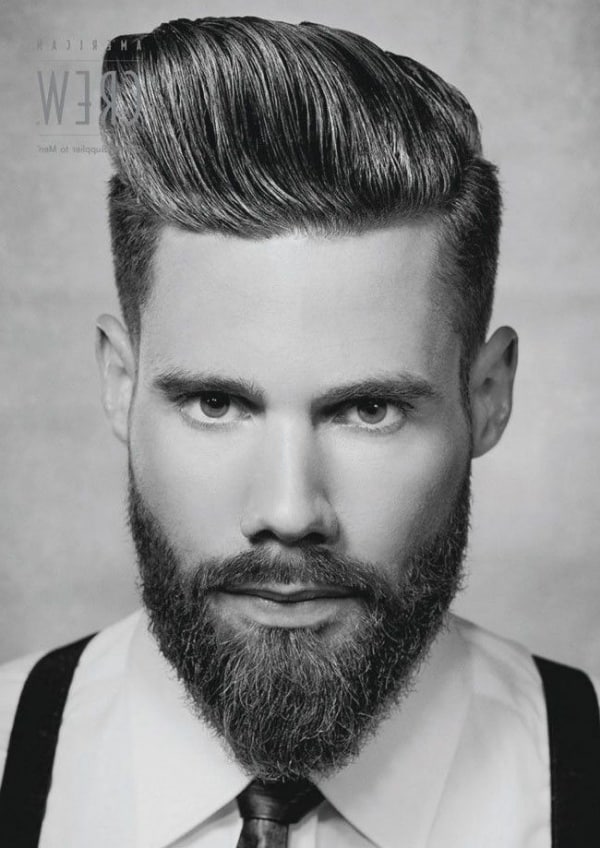 Image Source
The beard and hairstylists have stated that the pointy beard look can make or break your style. A great way to sharpen your facial features. Try shaping up your beard in a way that would be pointing towards the bottom. The Pointy Viking beard style in the list of Viking beard styles escalates the 'man-thing' in your appearance at a greater level, while at the same time creating more elucidation and stimulating confidence. If you are lucky enough to be born with a triangular face and tapering chin, a nicely trimmed and fashionable pointy beard would look best.
7. Long Beard Look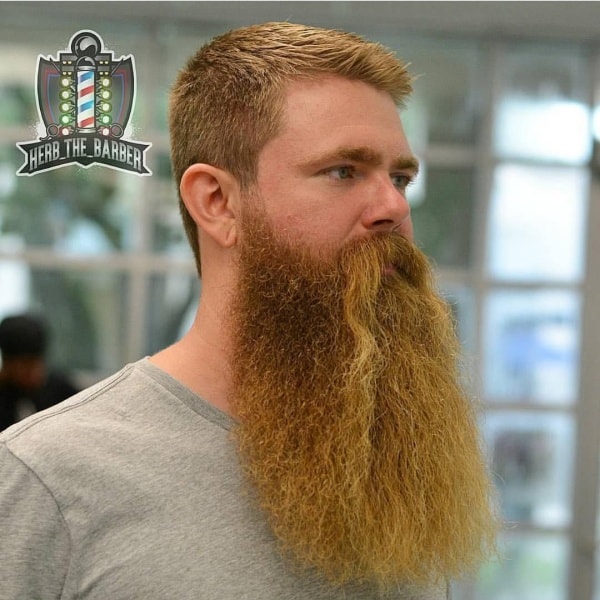 Image Source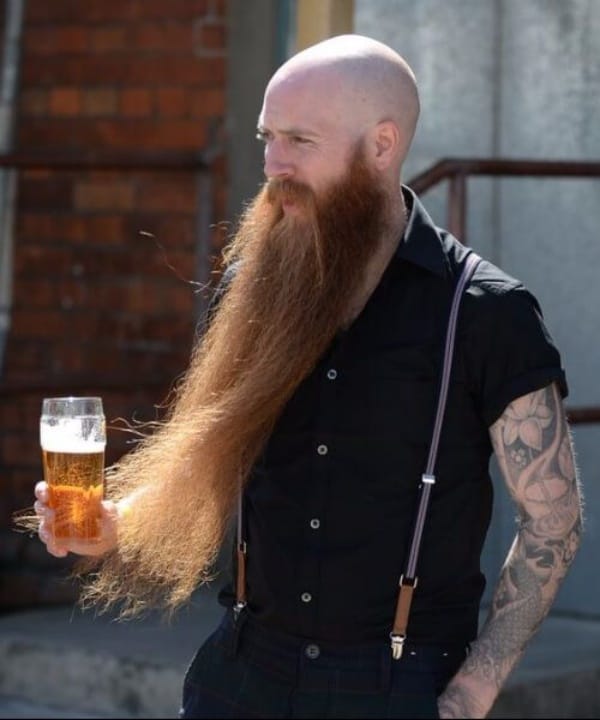 Image Source
Again, the beard style that gives an edgy and on-the-top look. Also, with this style, a chin beard is well-trimmed and maintained in a way that the mustache and the beard are kept and placed in the same length. While the facial hair and the beard share the same length, the total look supports an evenness and uniformity while keeping the hair unkempt and disheveled. However, the long beard might also make you look aged so be a bit careful and go for the newest and youthful hairstyles to maintain the overall aesthetics. You might as well try beard oils to maintain your beard.
8. Rounded Viking Beard Look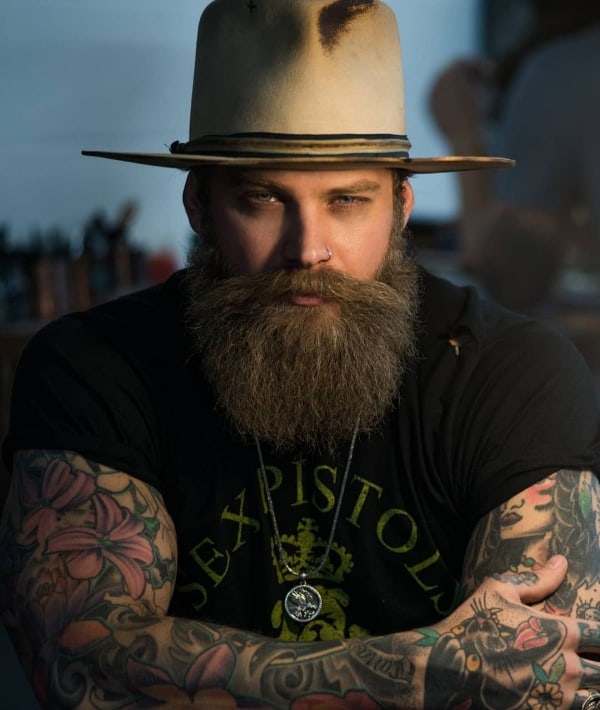 Image Source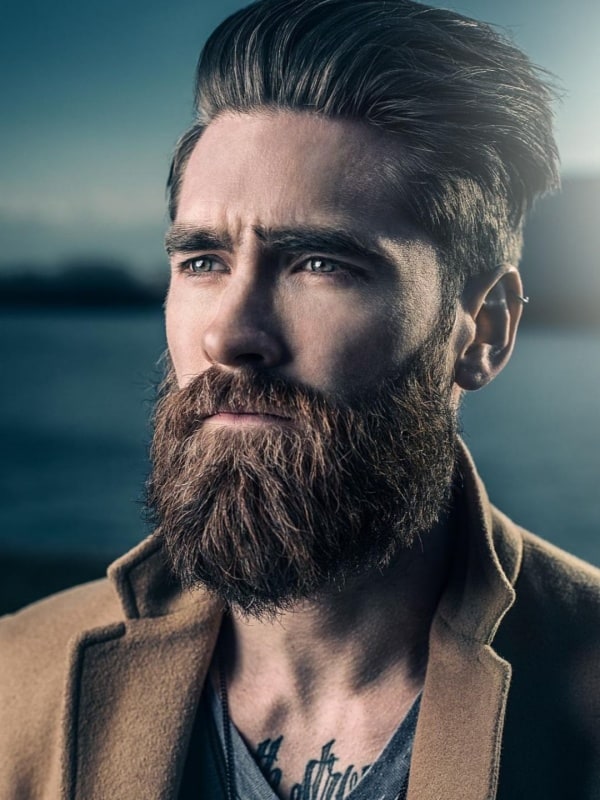 Image Source
Another cool and mature look to give you the tag of a show- stopper. Other than being a clean-cut and suave style, men also like to flaunt this one with a big mustache. The rounded Viking beard is a grand style with a majestic silhouette. This would work great as a professional style even if the company has certain stringent guidelines. This style speaks of awesomeness and adds up to the entire volume of the look. So, this again stands out as a suave look, speaks of depth, and complements the office look.
9. Pony Beard Look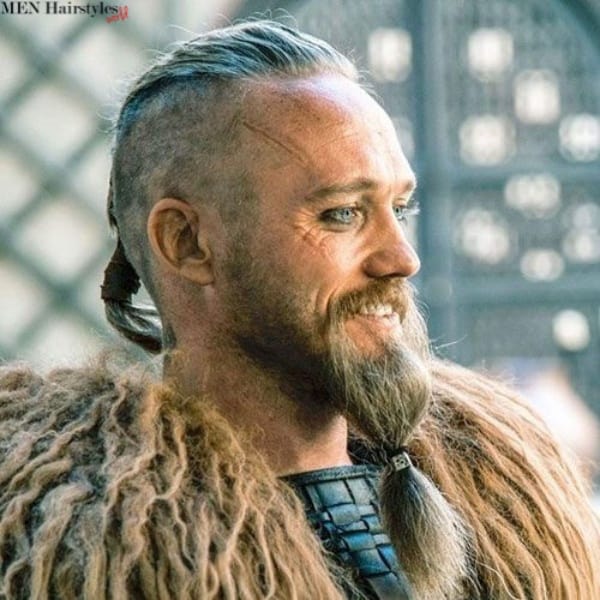 Image Source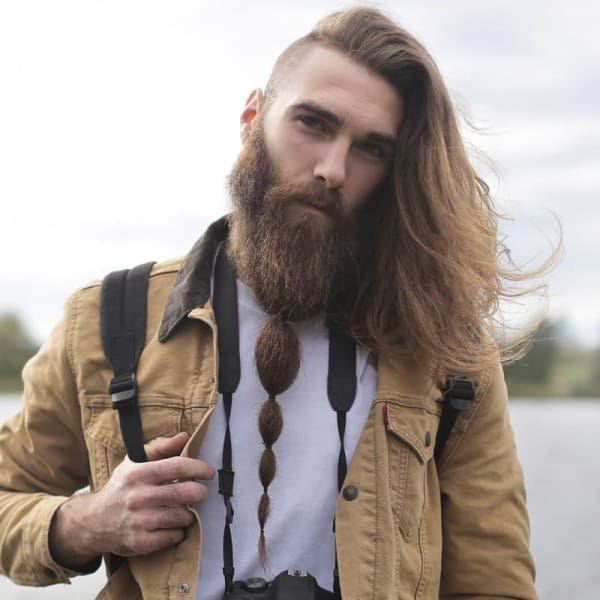 Image Source
The ponytail with a beard is a charming style to get its name listed in the Viking beard styles. The ponytail and beard are a great combination that quite enhances the boyish charm. Beyond the strong and obvious fact that most of the women have a thing for men with ponytails, the ponytail beard looks are quite a simple and rapid alternative for the perfect blow-drying and trimmed styling of your long hair. This one is a trending style that works well on all men and is fit for all seasons and occasions.
10. Double Braided Beard Look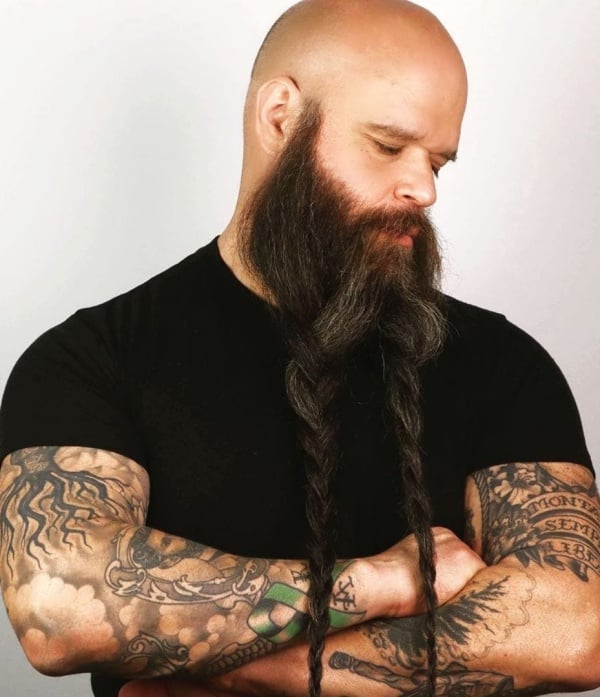 Image Source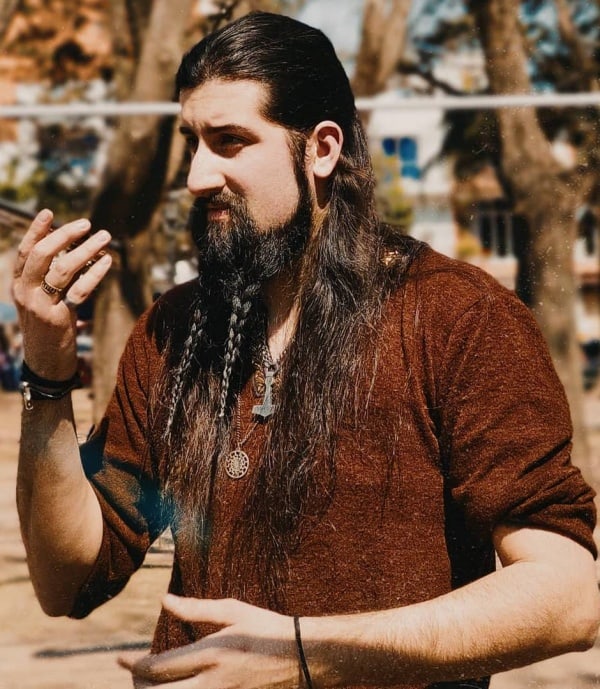 Image Source
Yes, Khal Drogo, that's the word even I thought while thinking about this look. A full and dense beard might appear better to some minus any braids or tangles. However, opt for the middle path and go for the best of both the worlds by making two smaller and equal braids on both sides of the beard. For a better and enhanced look, you might as well incorporate a long mustache into the braids. To complete the look, you might as well tie the two braids with rubber bands, which I think looks extremely cute. So, go ahead and tie them strong.
Related:
11. The Medium Viking Beard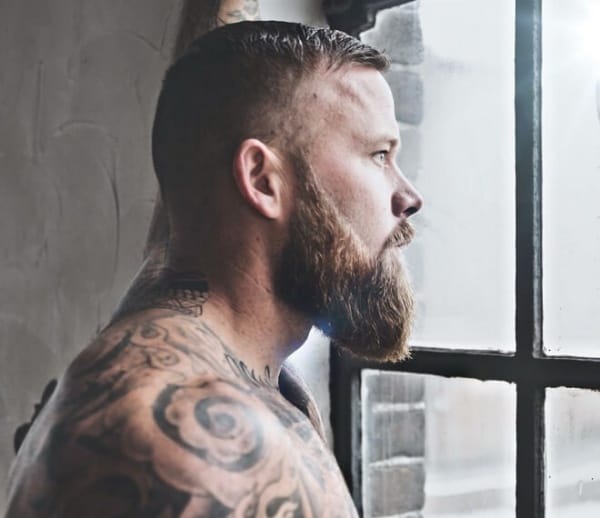 Image Source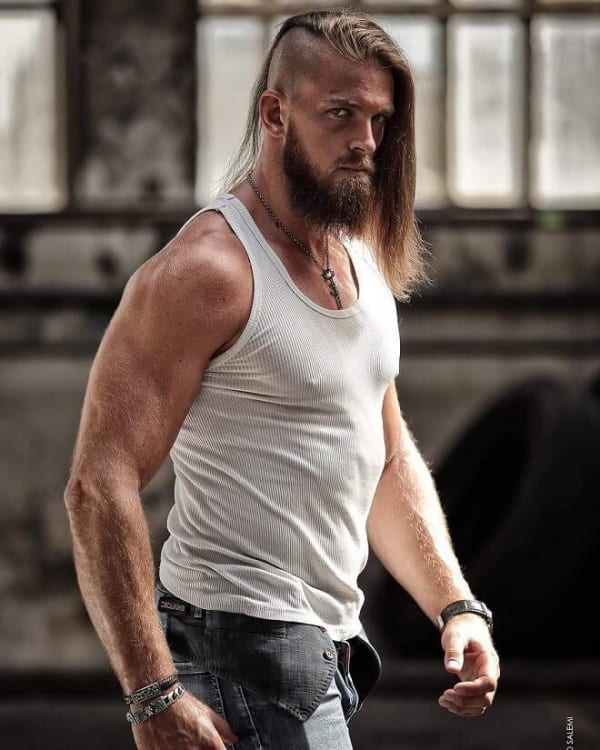 Image Source
The men who generally prefer low maintenance hair-do then the medium Viking beard is just ideal for them. This one is neither too short nor too long, so just the perfect thing you had been hunting for. However, the main key over here is maintenance and proper grooming, at regular intervals and whenever needed. That would include a kit containing beard oils and moisturizers. The medium-length Viking beard is a classy one touching the upper portion of the chest, however, all you need to do is maintain it properly, and that where the entire trick is.
12. Square Viking Beard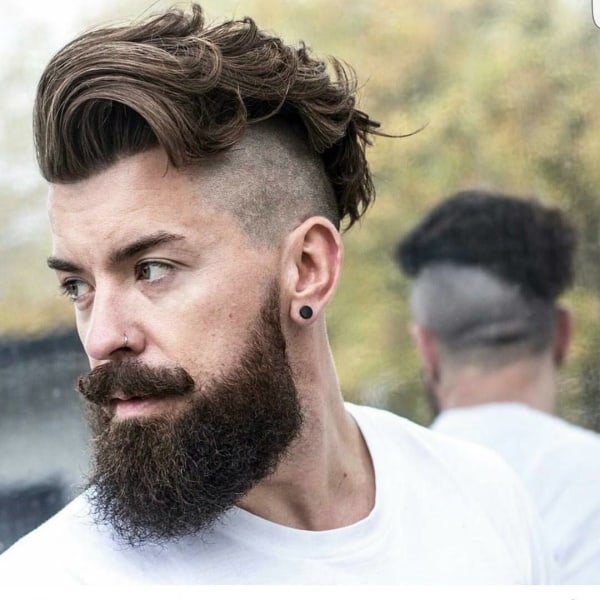 Image Source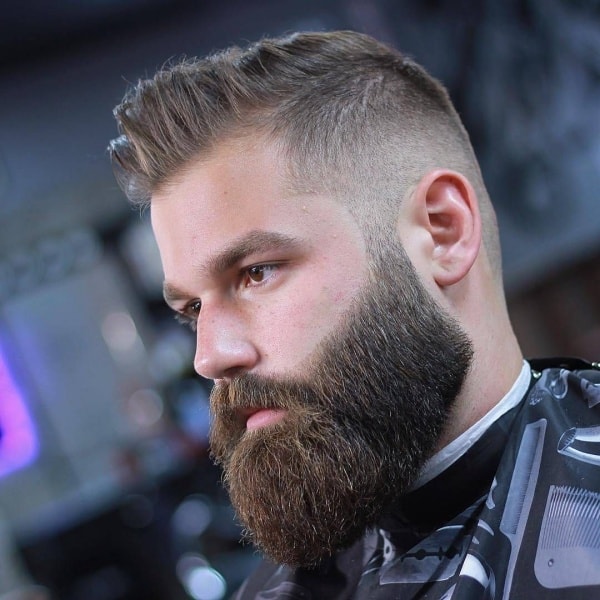 Image Source
The ultimate neat and sophisticated name in the list of Viking beard styles for men. You can very well opt for a Square Viking beard. All you need to do is start shaving from the cheeks, however, some amount of hairs should be left behind for achieving the square-shaped beard. Trimming is the primary thing that should be achieved for a neat appearance with this a Square Viking beard. Talking of aesthetics, this one would score full marks. Try this one and be ready to be the show-stealer, be it in office or in someplace after work.
13. Viking Beard for Older Men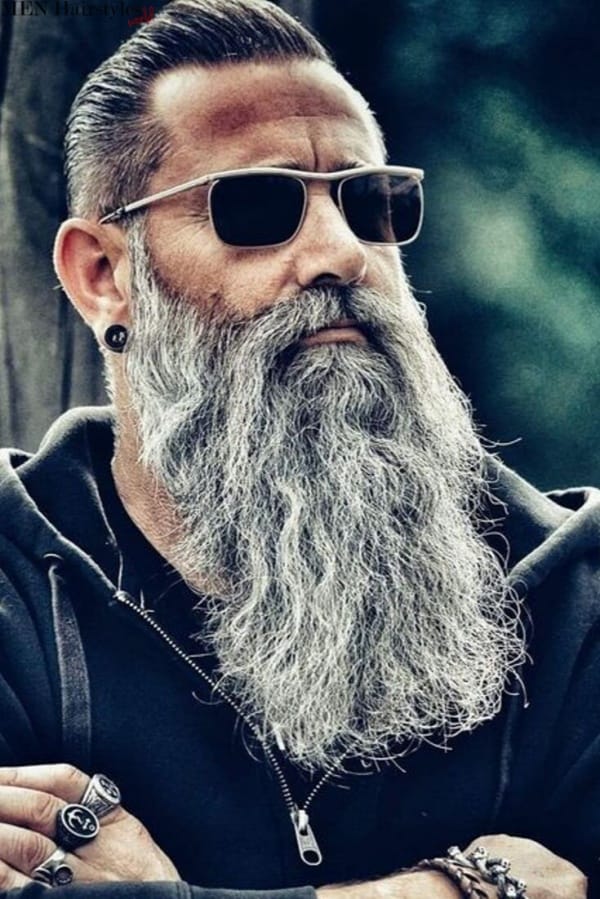 Image Source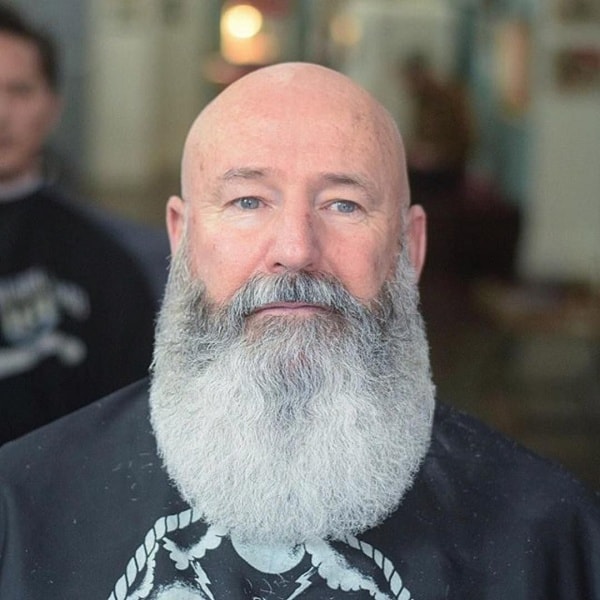 Image Source
The newest and unique trend for older men to get indulged in. Though this beard style fits all the ages due to its easy maintenance skill, older men with a charming and bright personality would love this. To top it all, try donning a long mustache placed perfectly on the beard of the beard, circulating the outline. So, this is a hit because why should young have all the fun? Also, do not forget to update all your profile pictures after donning this look and do share the number of likes received.
14. Multi Braided Viking Beard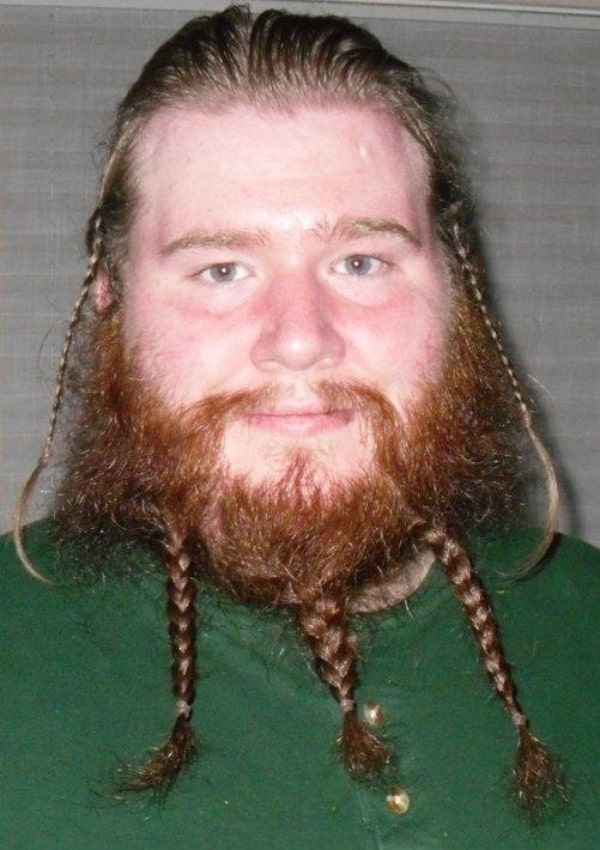 Image Source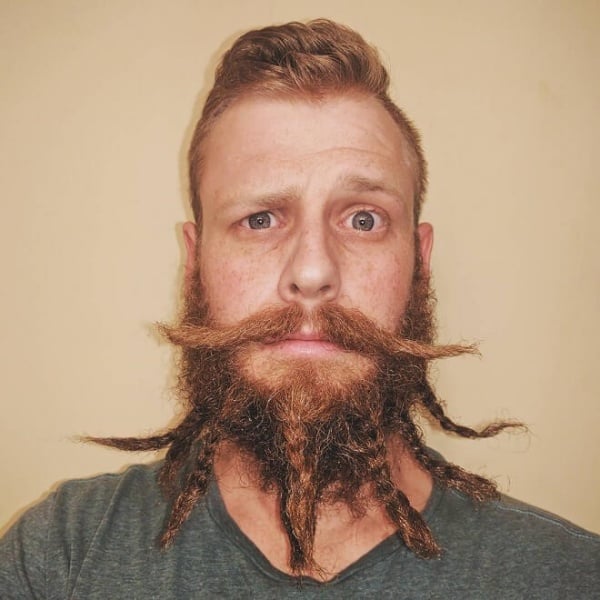 Image Source
Some people might find this thing to be funny, but opting for the multi-braided Viking beard instead of a single or double beard is a very modern approach of trying something different. If you have a long beard and the zeal and zest of opting something different, here you go. For the proper maintenance of the beard and for standing out in the crowd, this one remains unmatched. After making the braids, you need to separate them with a rubber band and let them all take a place in the front of the chest to go for an urban-chic look.
15. Long Hair with Viking Beard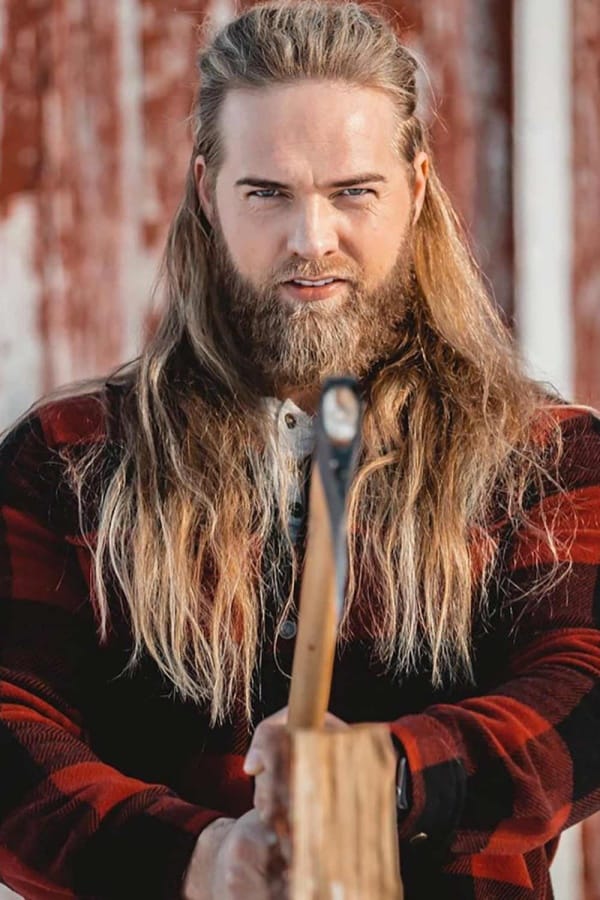 Image Source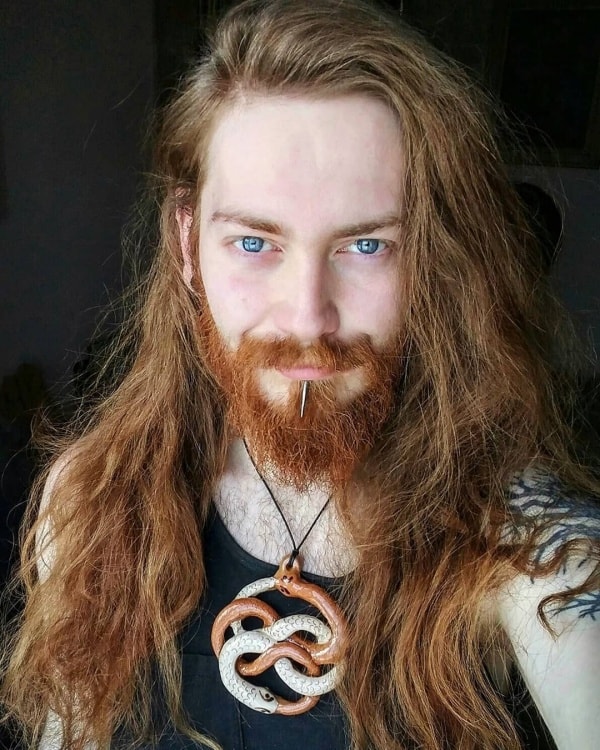 Image Source
If you are all up for flaunting your long hair with beard, this one is a must-try. The long hair with Viking beard is a great match if you have a broad face. The mustache is like the icing on the cake which you might as well avoid if you want. However, it's presence makes the look go all cool and dashing. But, this needs proper maintenance so keep trying for beard oils, shampoos, and moisturizers to opt for the one which you think matches the texture properly. Also, comb it well and avoid the tangles as much as possible.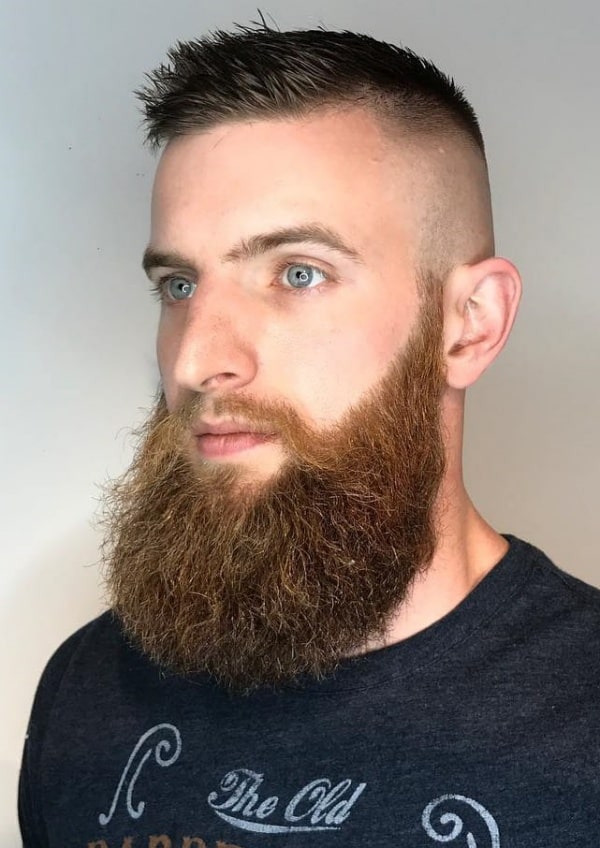 Image Source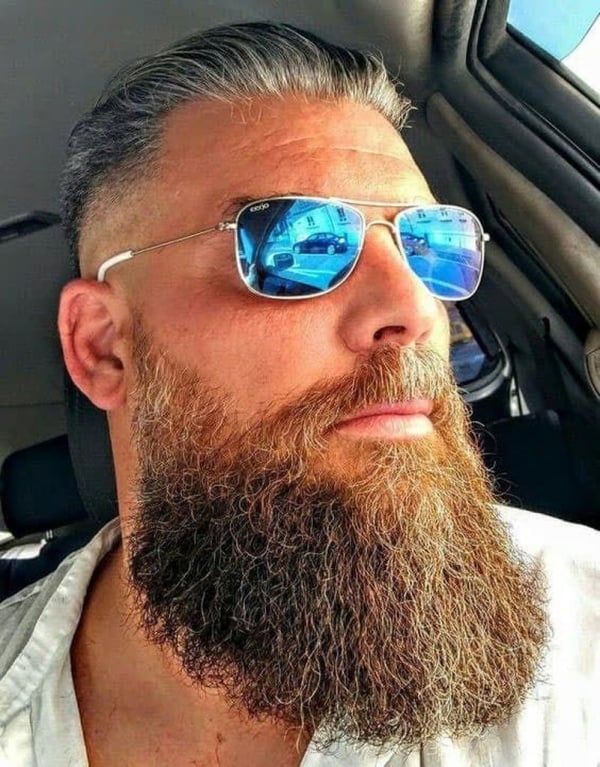 Image Source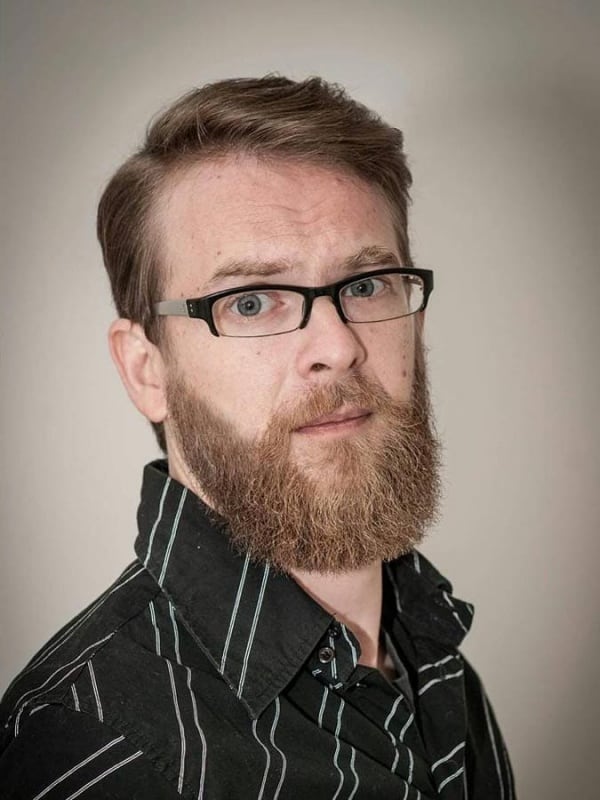 Image Source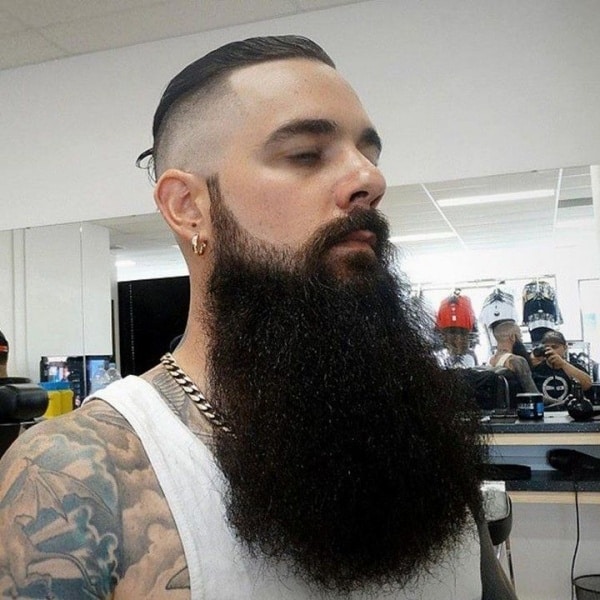 Image Source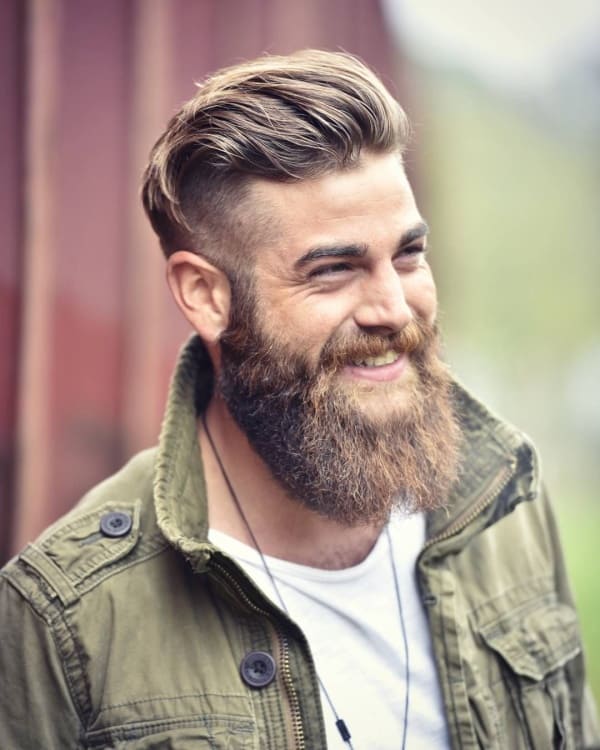 Image Source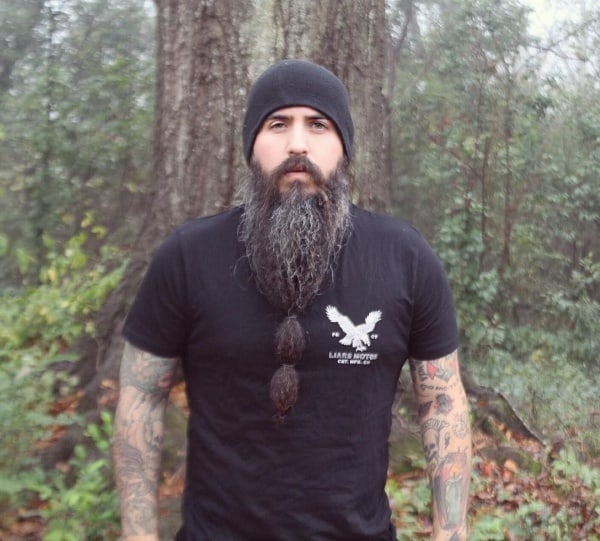 Image Source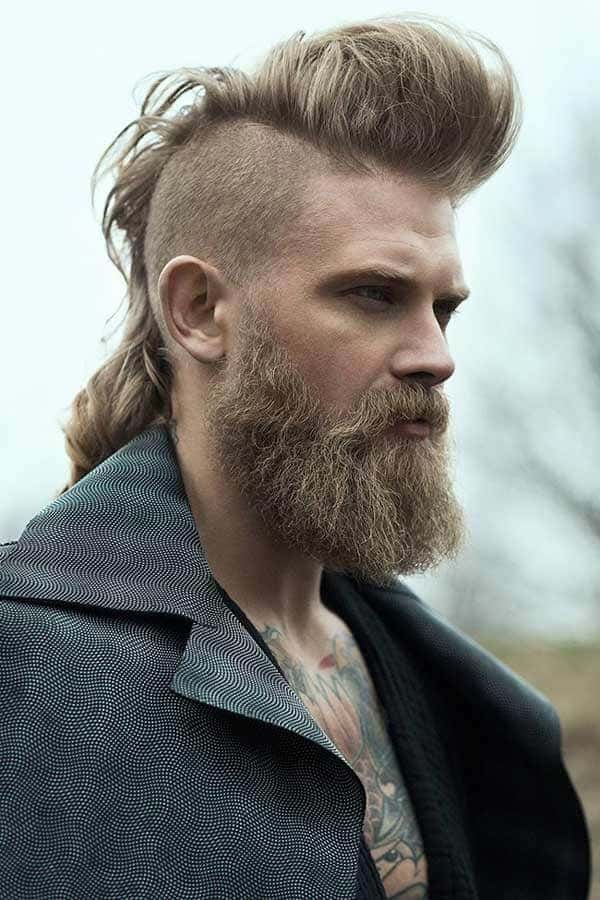 Image Source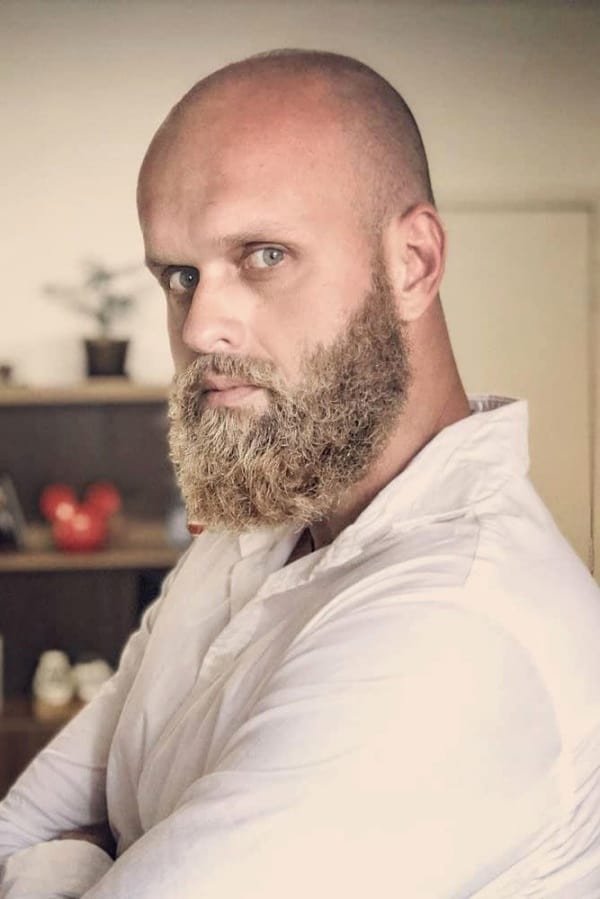 Image Source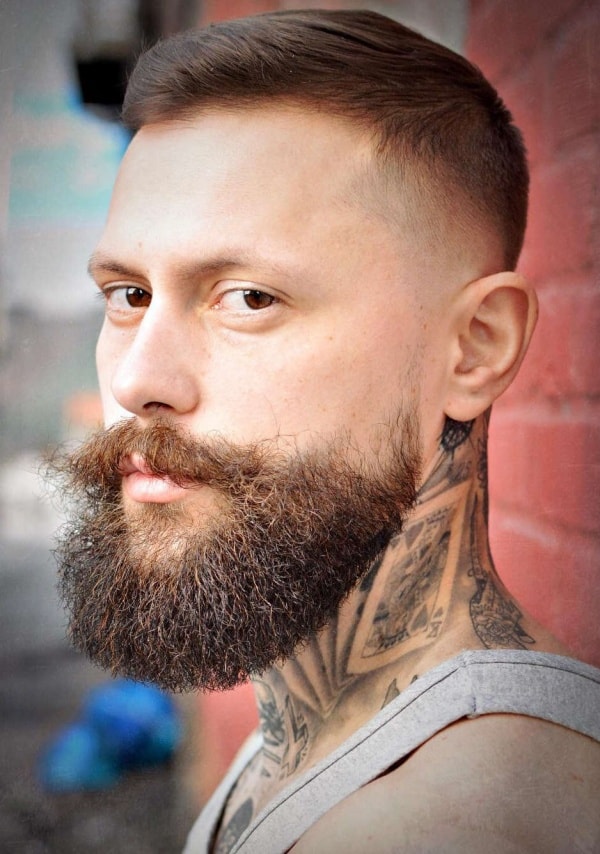 Image Source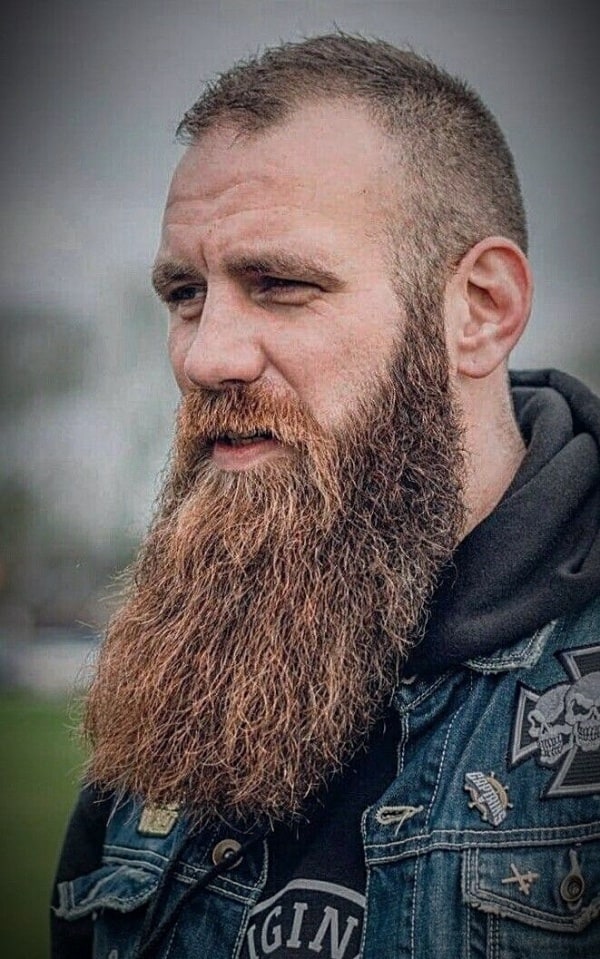 Image Source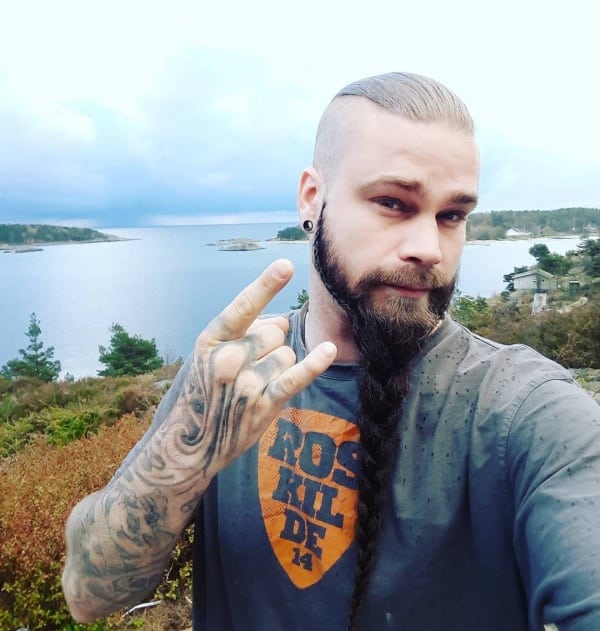 Image Source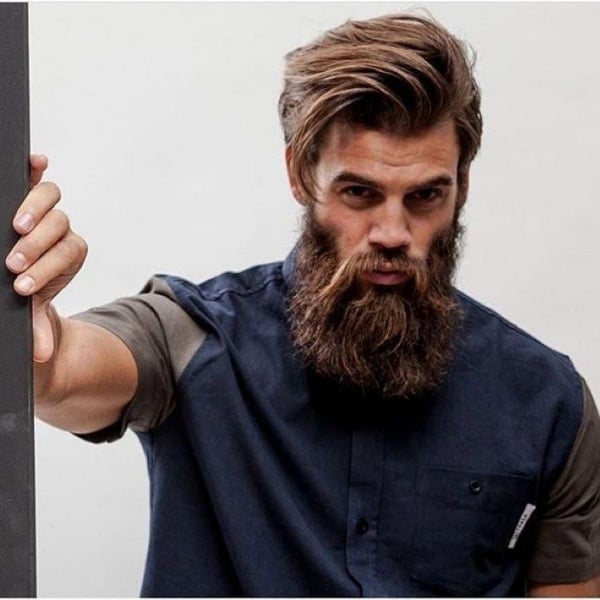 Image Source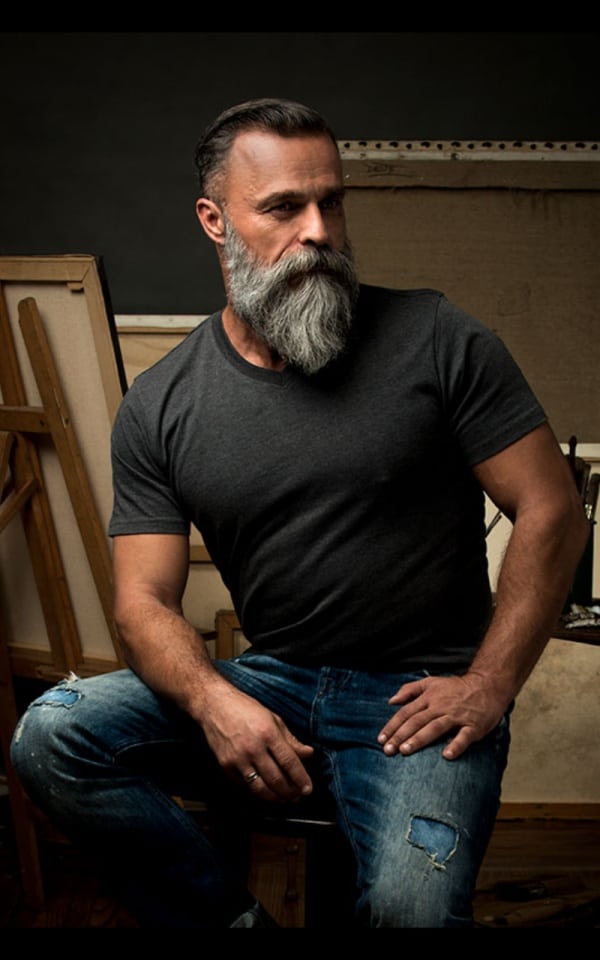 Image Source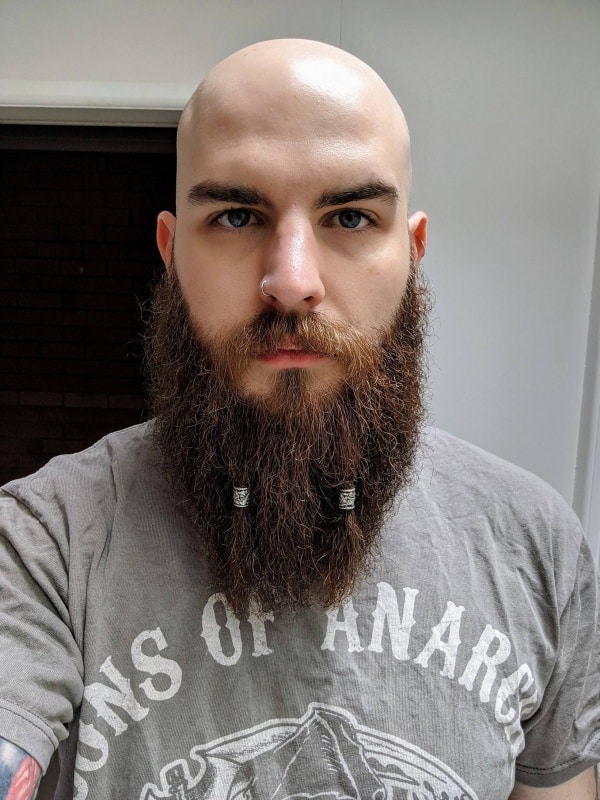 Image Source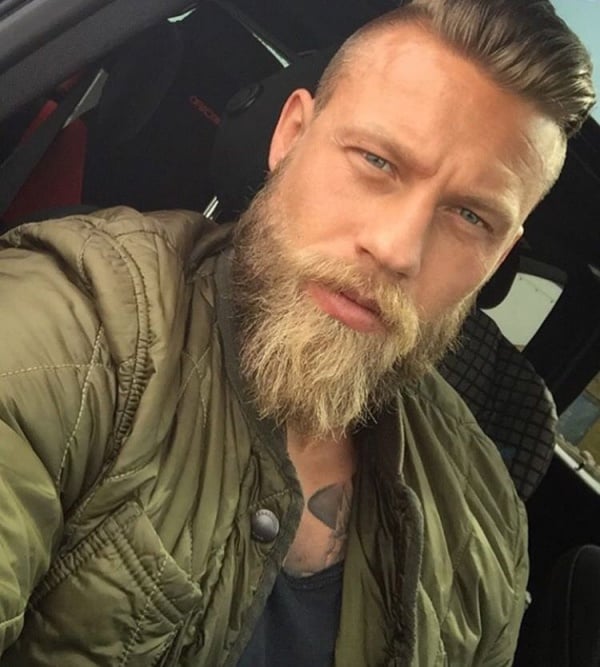 Image Source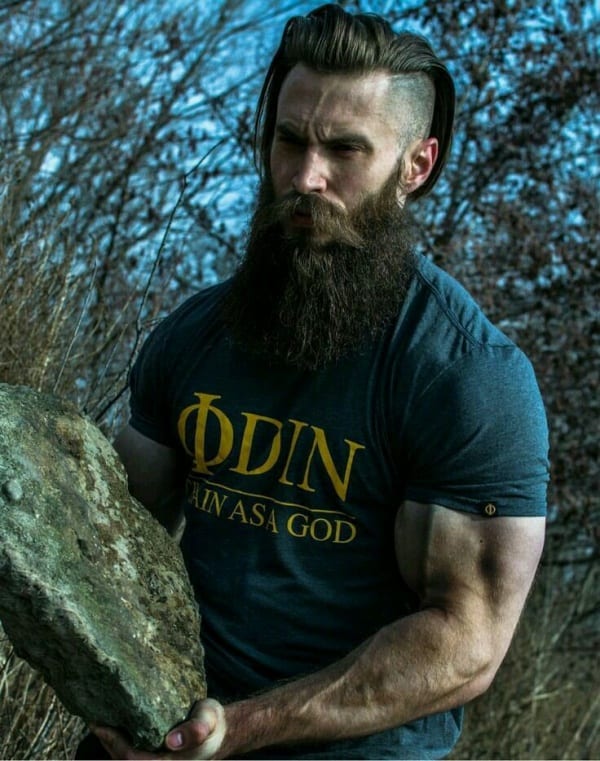 Image Source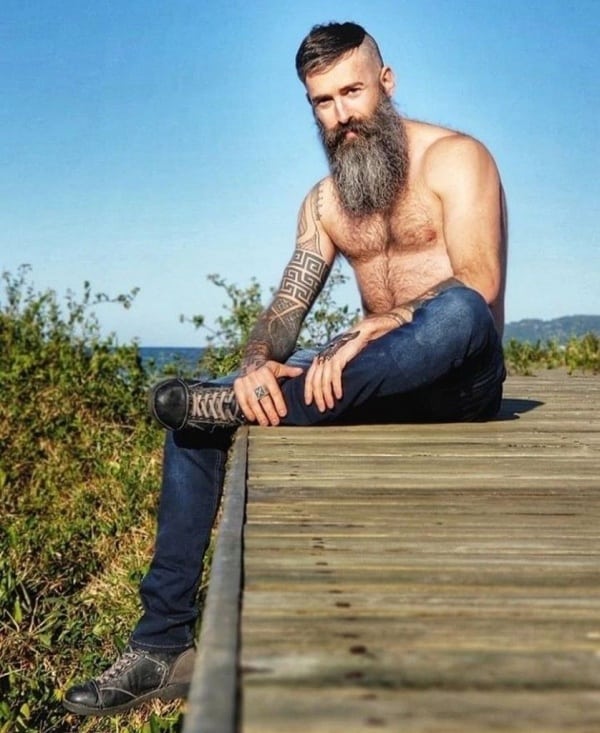 Image Source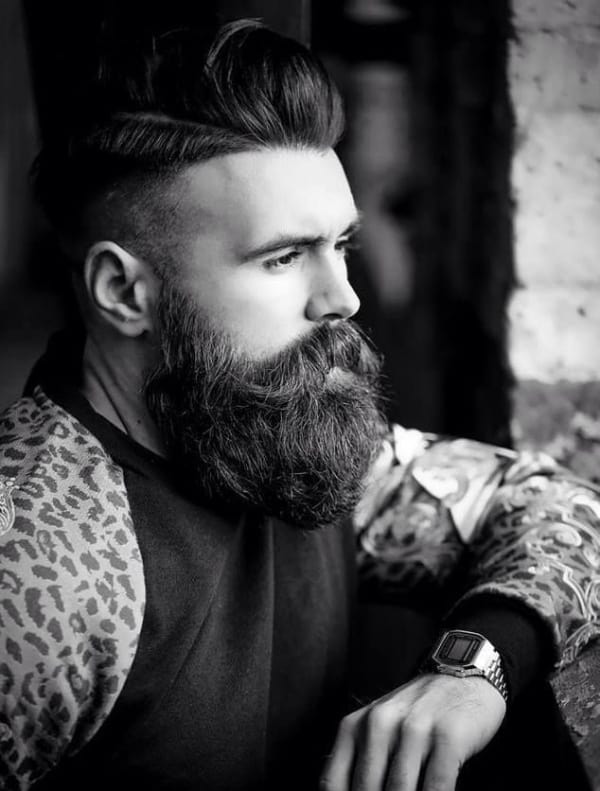 Image Source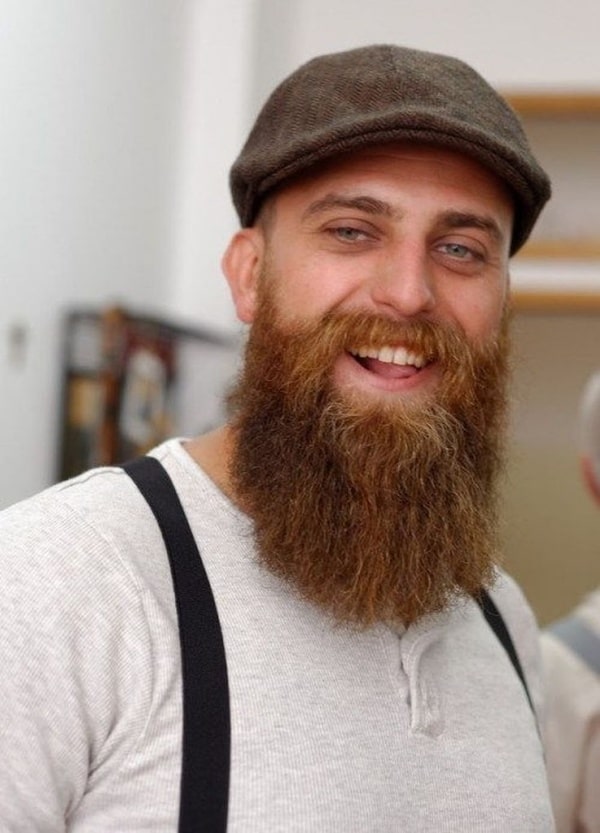 Image Source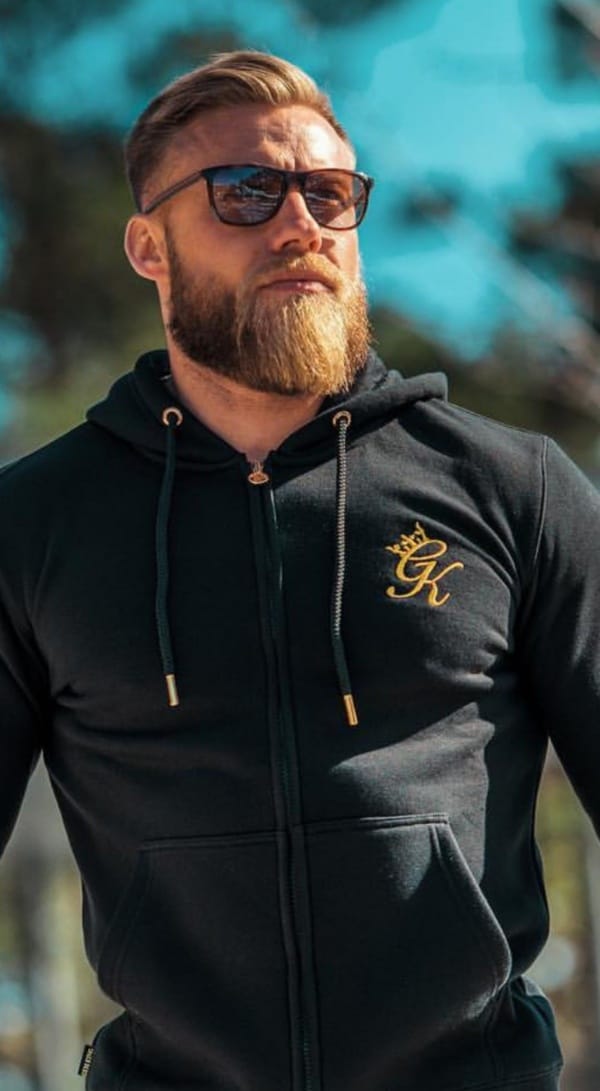 Image Source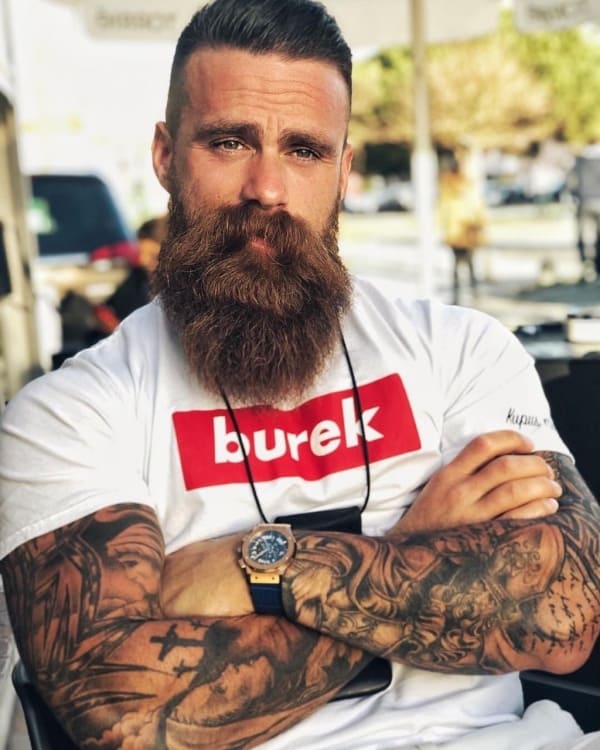 Image Source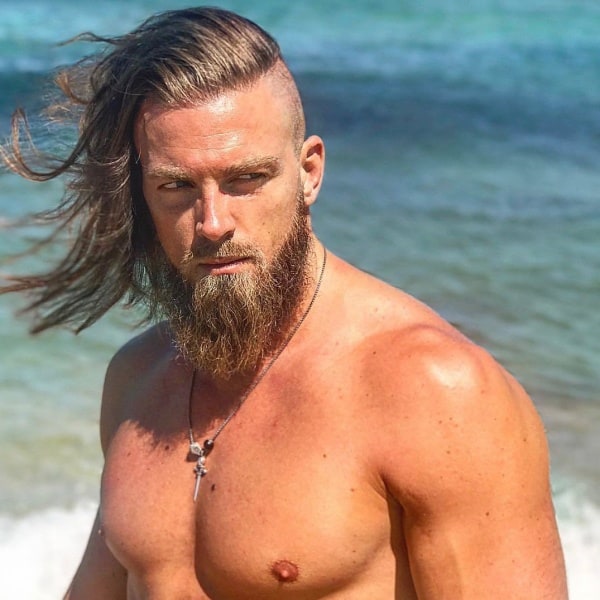 Image Source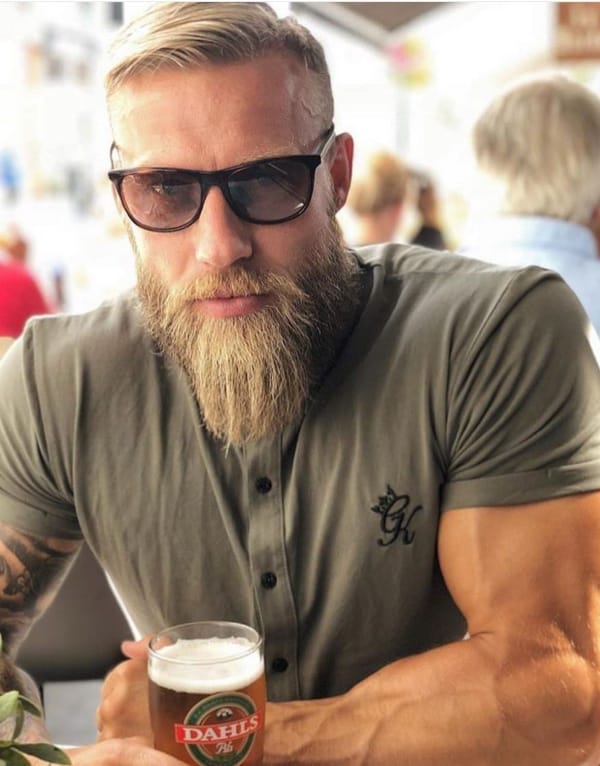 Image Source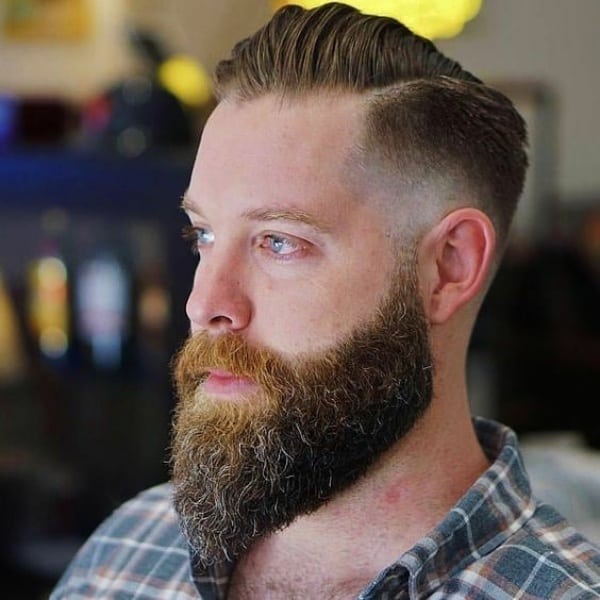 Image Source
How To Grow And Maintain Viking Beard?
The dominant factor in the growth and maintenance of this beard style demands a whole lot of time, dedication, patience, and accuracy. Again, for the proper growth and maintenance, you need to follow certain steps to avoid tangles, dandruff, and other similar obstacles. So, read on the tips for the most appropriate Viking beard.
The primary thing is to opt for a beard style which you think would enhance your looks more.
Invest a lot of time to let your beard grow properly. The most important thing is the proper trimming needed from time to time, which usually requires almost 7 to 13 weeks for the actual growth of a Viking beard.
The next thing is the adoption of a healthy diet as it is essential for the speedy growth of hair. Opt for a balanced diet while increasing the content of iron in the food. Of course, avoid fatty foods and as it puts a bar to healthy hair growth.
Make beard oils and moisturizers an important part of your shaving kit as they help a lot in boosting the growth. Apply them at least twice a week.
Proper skin-care is as important in this case as healthy hair would also allow the beard hair to grow fast.
Of course, a superior-quality grooming kit is equally important for maintaining the perfect beard style.
After dealing with all the above, now let's read about the various types of Viking style beard.
Conclusion
That's how we conclude the list of Viking beard styles. All the above styles mentioned might be different, however, proper trimming, and maintenance is the key to success for an envious and shinning beard no matter what style you adapt to.
The Vikings were mostly known for their valor, courage, and the ability to pull off any daredevil act possible. Of course, these days we can't expect a recapitulation of all the deeds, however, men, you can still thrive on the spirit of the Vikings and indulge in various sporty activities by at least donning the style they had popularized ages back. Go ahead and try on.