For those who love traveling, do you know that traveling is a life changing experience? Here, I mean – we all love discovering new sight-seeing places and exploring far-off places, but have you ever thought that long-term adventures can actually spark your soul and alter your personality to large extent.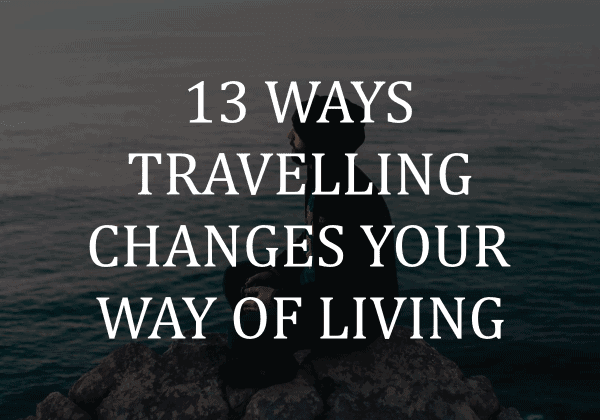 So, next time you go for a trip – try to make the most out of your trip by keeping these unique ways travelling changes your way of living and perspective in mind as we know there is no greater feeling than having your bags packed and getting ready to go on your next adventure. Here are few reasons how traveling will change your life.
WAYS TRAVELLING CHANGES YOUR WAY OF LIVING
You Learn To Live In The Moment
Traveling teaches you how to make the most of any place. Traveling is a feast for your eyes and it sounds really amazing visiting places you've never been before and seeing spots you've only read about.
You'll Break Out Of Your Comfort Zone
Traveling helps you in getting out from your comfort zone and you start seeing the world from a new perspective. Situations that may seem uncomfortable to you sometimes like – eating alone at a restaurant on a highway or staying alone in a hotel at night won't seem so scary anymore.
You Become More Connected To The World
When you travel and embrace new places, new people and new experiences you become more open up to the outside world. By exposing yourself to something different, you are able to understand different ways travelling changes your way of living.
Traveling Proves To Be The Best School For Learning
Yes, traveling makes you less idiot. When you're traveling, you are in constant learning process.
You Gain New Perspective
Want to enjoy a holistic lifestyle? It's important to note here – seeing how other people enjoy their life, undoubtedly changes the way you are planning to live your life. You get a chance to re-examine your values.
You Become More Social
It's like sink or swim on the road! You learn to make new friends out of strangers and feel more comfortable in approaching new people.
You Learn To Read People
Non-verbal communication plays vital role in reading people's mind and situations. Learning to read body language helps you a lot in achieving a clear picture of your surroundings.
Your Creative Juices Are Enriched
Truly, living in another culture and learning their practices enhances your psychological process that makes you more creative.
You Stop Being Frightened Of Food
Trying different types of food is a delightful moment for everyone I personally believe this. Friends! When you travel across the world, you must adore every dish you order.
You Learn To Be Humble
Yes, even I learned to be humble! While traveling, you get a golden opportunity to learn many new things in life and that will only come with more experience such as – sleeping outside in a tent during cold winter nights.
Travel Improves Your Mood
Removing the stress from your busy life is one of the best ways travelling changes your way of living. Vacations drastically change your mood and fill your heart with happiness.
Traveling Is An Ultimate Chance To Test Your Relationship
Have you ever planned long family tour? You must go at least once in a year. It's proved traveling makes you a better person and also improves your relationship with other family members.
You Become More Adventurous
When you're confident, you can do anything such as – sky diving, rock climbing, trekking, etc. Remember, more you put yourself in uncomfortable situations, the less uncomfortable you will feel.
We hope, that now you have understood how these 13 ways travelling changes your way of living prove to be one of the most powerful and transformative experiences of your life. In other words, traveling has the power to transform your life and changes the way you think about yourself and the world. So, Happy Travelling!!!