Do you wish to embrace grandeur with majestic tattoo art? Flickering with versatile and unique forearm tattoos is the best choice for guys.
It's something you can have a glimpse at every day. It is a premium spot for the placement of a beautiful tattoo design.
Forearm inks pertain to a distinct level of inspiration and creativity. Through these tattoos, men can opt for traditional, modern, ordinary, or abstract designs.
We have chalked out many striking forearm tattoo ideas for men in the post below.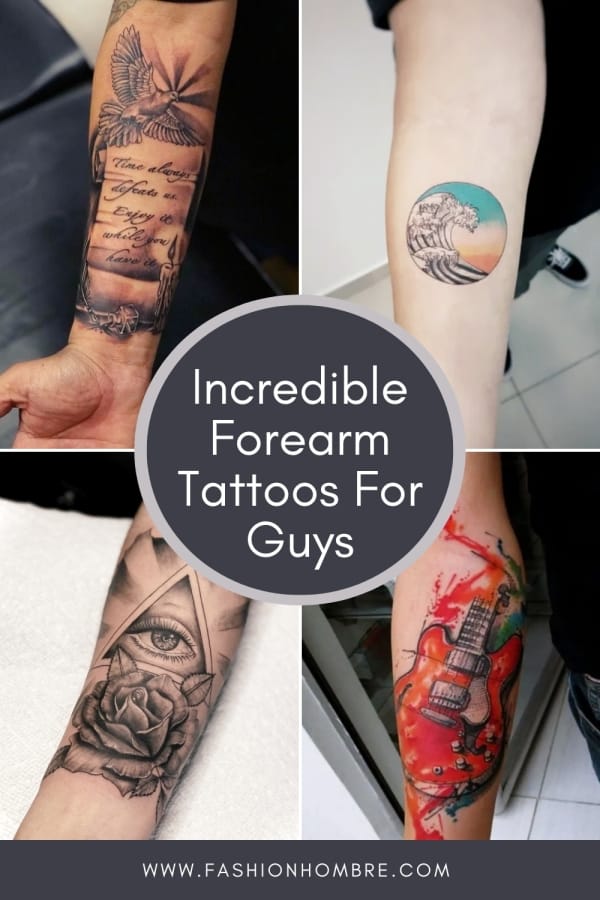 Best Forearm Tattoos For Guys That'll Look Good
Splurge your creativity over a trendy, style-stud forearm tattoo that marks excellence and perfection.
If skeptical about the placement, begin with temporary ones and then switch to permanent ink.
Forearm tattoos are extracted anywhere from your elbow, inner sleeves or outer sleeves.
Let's glance at the most incredible and cool forearm tattoos for men that stand out from the rest!
1. Dragon Forearm Tattoo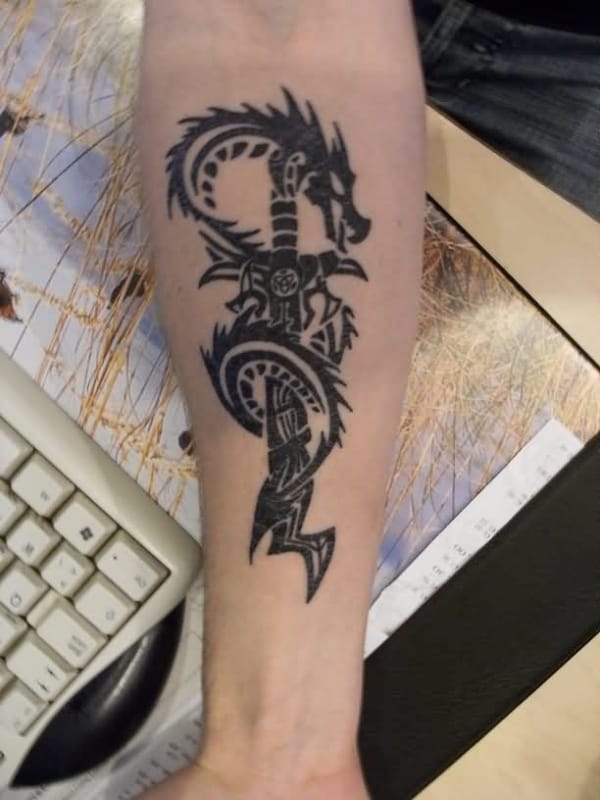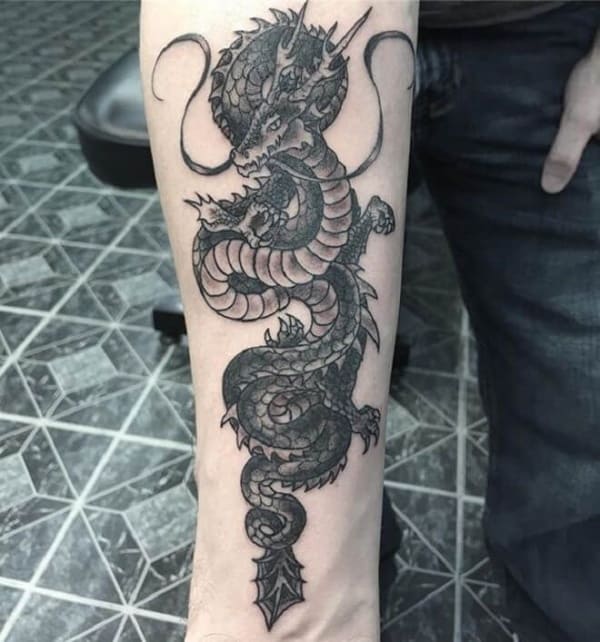 Right from the evolution of tattoo ink art, the significance and grandeur of the dragon have been impeccable.
They are considered among the most mystical characters who hold ties to Chinese and Asian cultures.
Dragons are an auspicious symbol of wits, good fortune and prosperity in life. Men honing this tattoo art indeed replicate their virtue of fearlessness.
The forearm is wide, and getting this tattoo ink here makes an apt impact!
2. Wolf Forearm Tattoo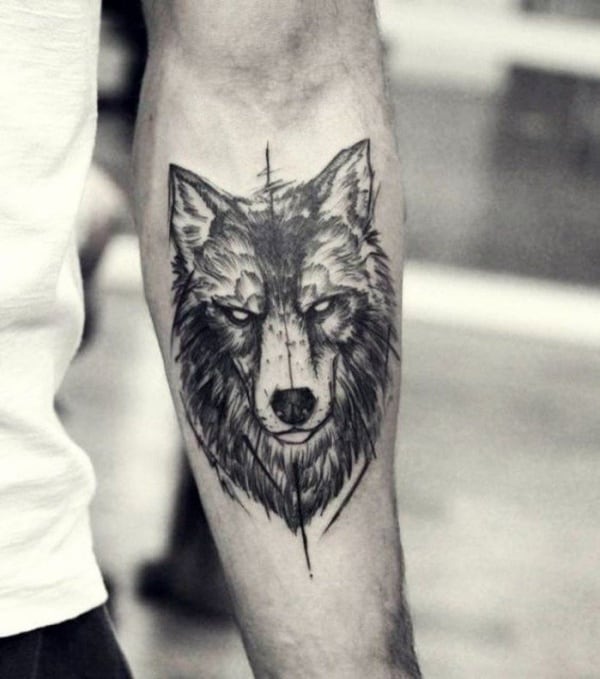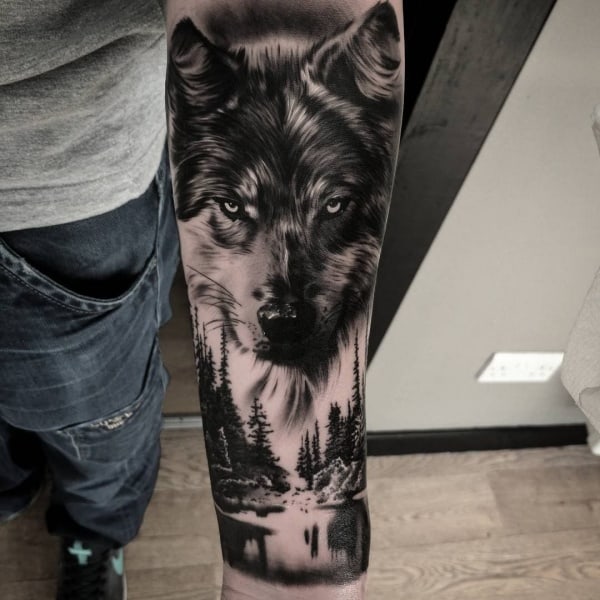 Fiery and full of power, the wolf tattoo symbolizes supremacy. You can ask your ink artist to carve out a wolf tattoo with intricate detailing over it.
The design of these tattoos appears excellent and embeds a sense of strength in oneself.
Endorsing this tattoo style revives the charm of this free-spirited animal who rules his realm.
Go for it, guy, if you ought to embrace the real power of possession.
3. American Flag Forearm Tattoo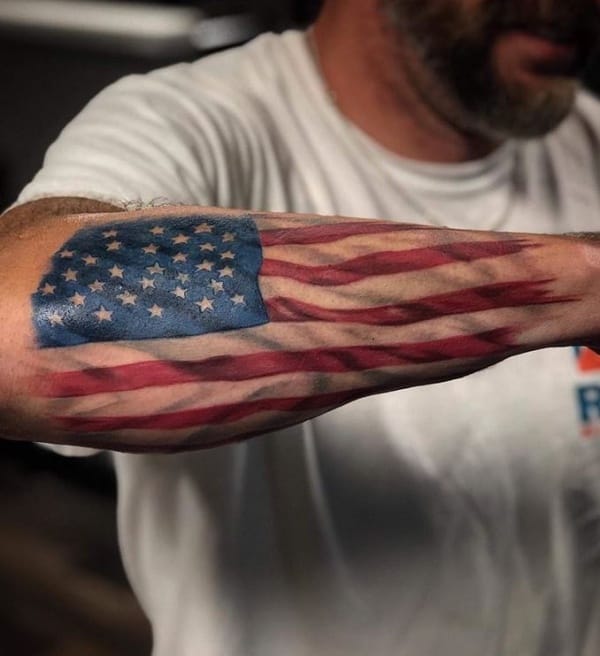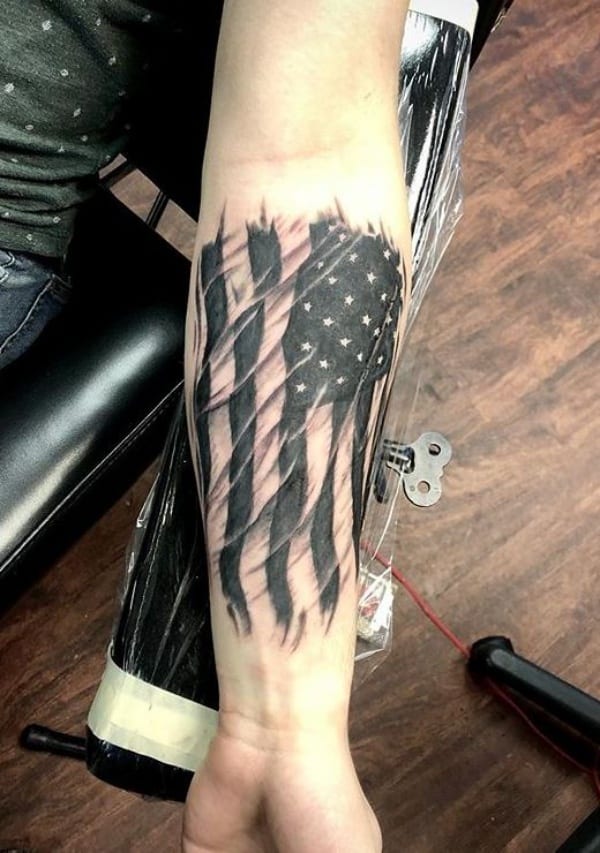 American men can display honor and pride through this tattoo design. It is a wonderful forearm tattoo that displays grandeur and patriotism.
Donning an American flag tattoo symbolizes peace, prosperity and passion. Men adorn this type of tattoo adhere to their own beliefs, thoughts and ideologies behind it.
You can either infuse the real colors of the national flag into it or allow it to stay in the shades of black and white. This can be entirely your choice.
4. Tree Forearm Tattoo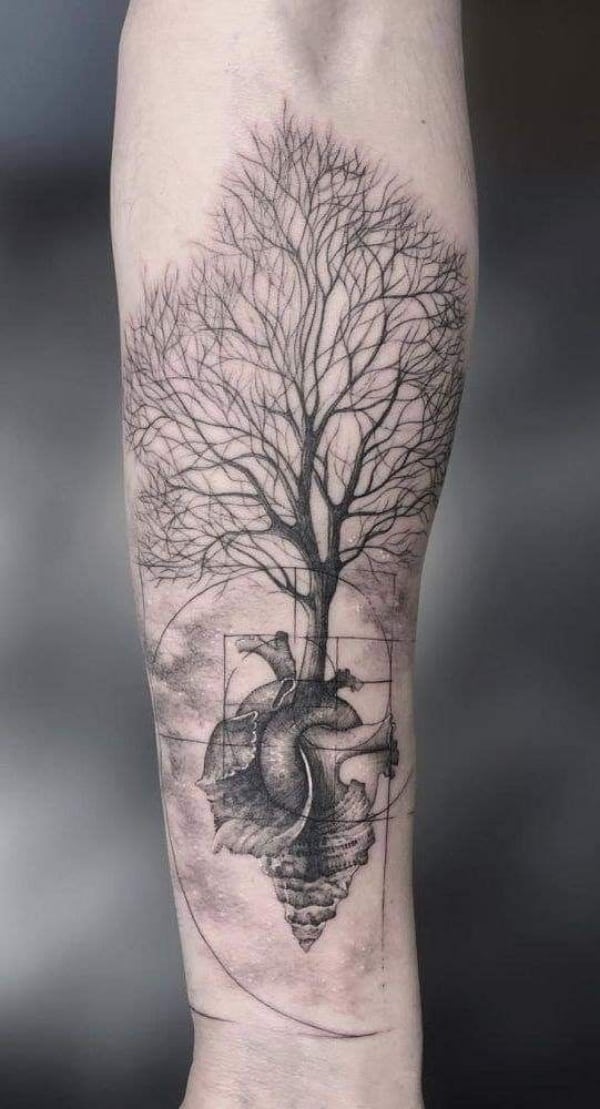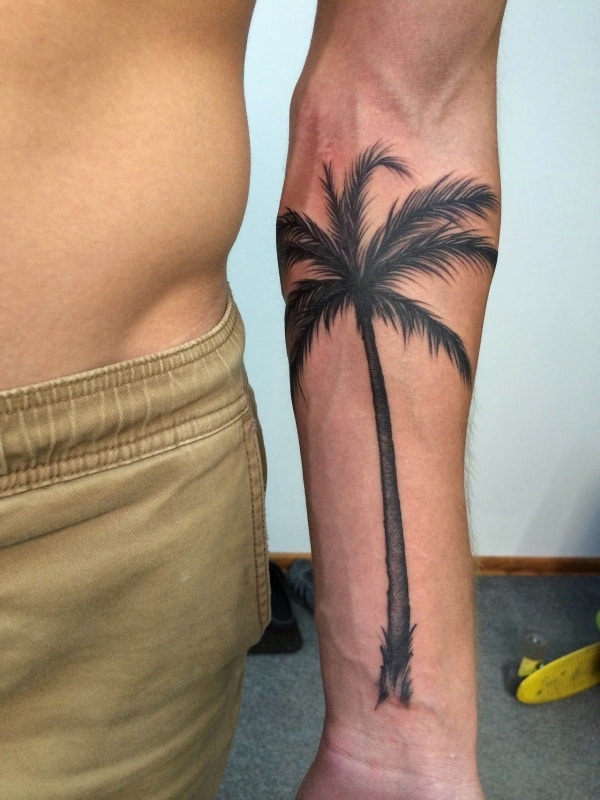 Getting an ink of a tree on your forearm marks immortality and spirituality. Trees are a perfect symbol of standing strong against all worldly storms.
Trees replicate the ups and downs of human life with their changing cycles. It begins with the seeding and then how it grows during various stages of life.
Adorning a tree tattoo is an amazing thought if you are a sheer nature lover.
Many guys like to only ink its roots, while others might prefer getting the full tree inked on their hand.
5. Rose Forearm Tattoo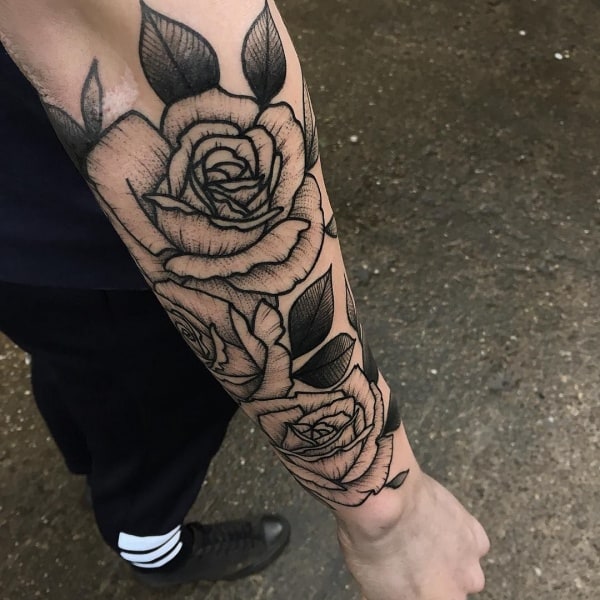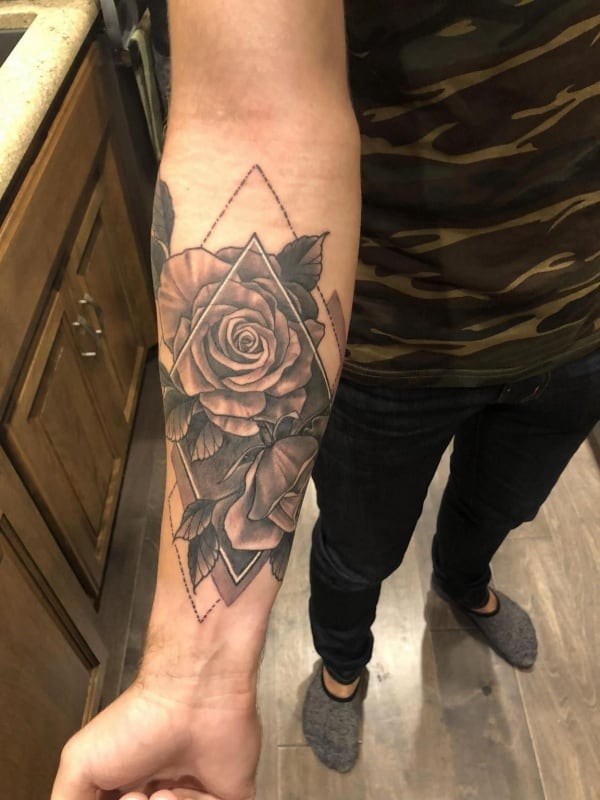 Another elite and timeless tattoo ink that never fades in trend is rose art. Both men and women can elegantly adorn the rose inks in versatile ways and patterns.
Budding roses symbolize love, creativity and inspiration to achieve the biggest heights in life.
Many men who have been through a rough patch also ink thorns with roses. It refers to the challenges and difficulties faced by people in their lives.
One can amalgamate a splash of colors into this tattoo to heighten its impact.
6. Eagle Forearm Tattoo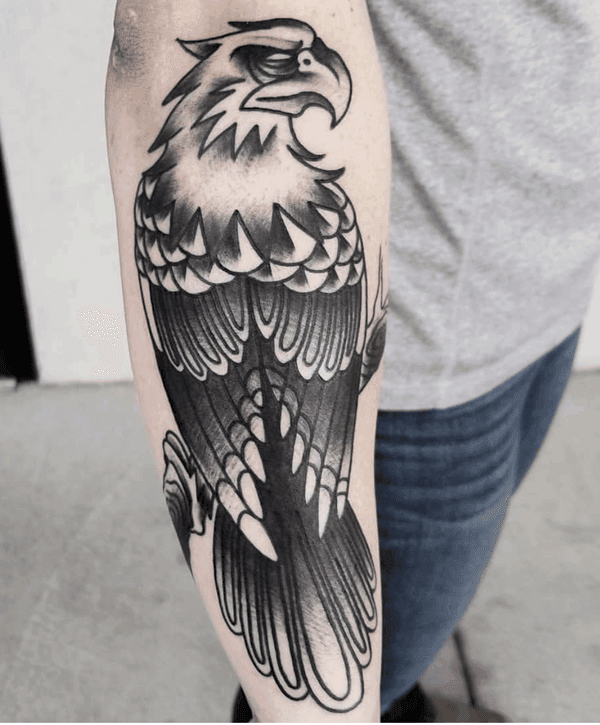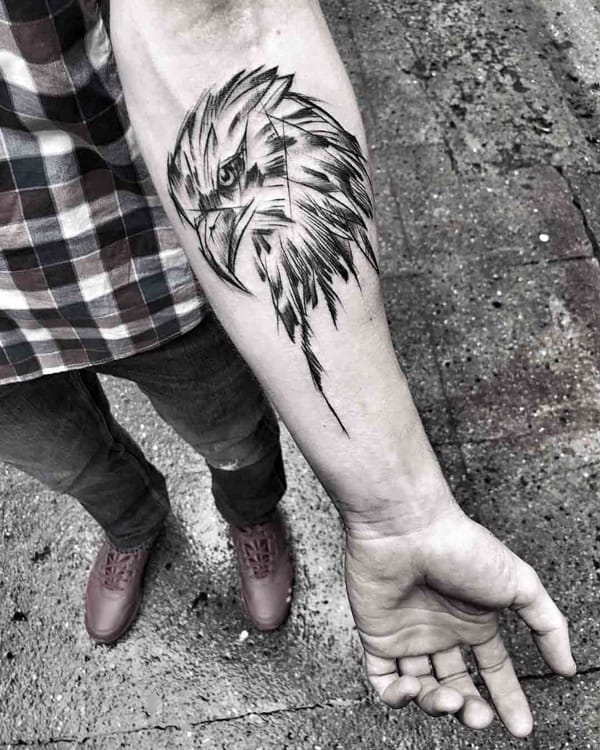 How about getting a classic eagle inked on your forearm? Eagles are fierce birds who hit the highest skylines with their courage.
Men who intend to achieve the best in their lives can seek motivation with this cool forearm tattoo.
Many cultures and religions also associate eagle tattoos with prosperity, wealth and good fortune.
You can get this wonderful tattoo inked to unveil the most powerful sides of yourself.
7. Lion Forearm Tattoo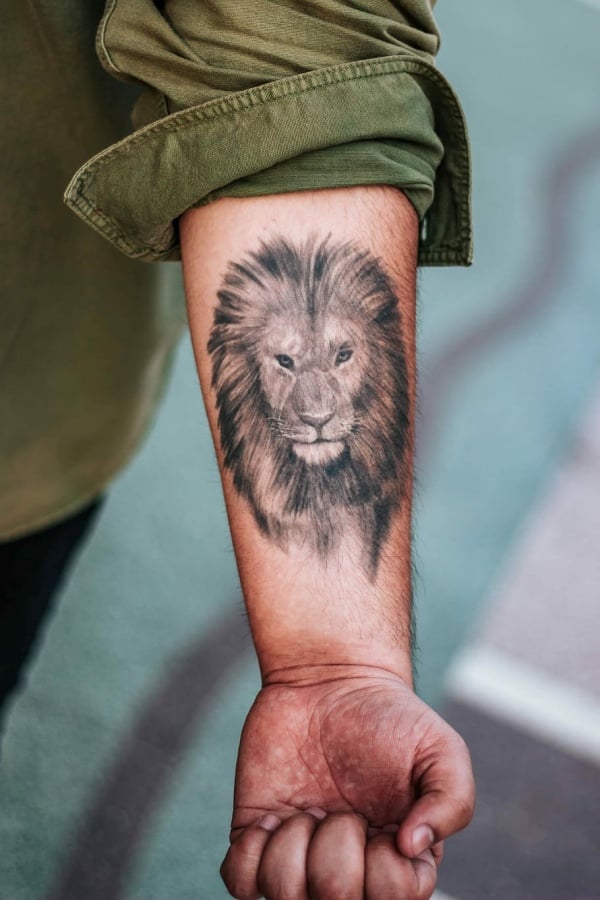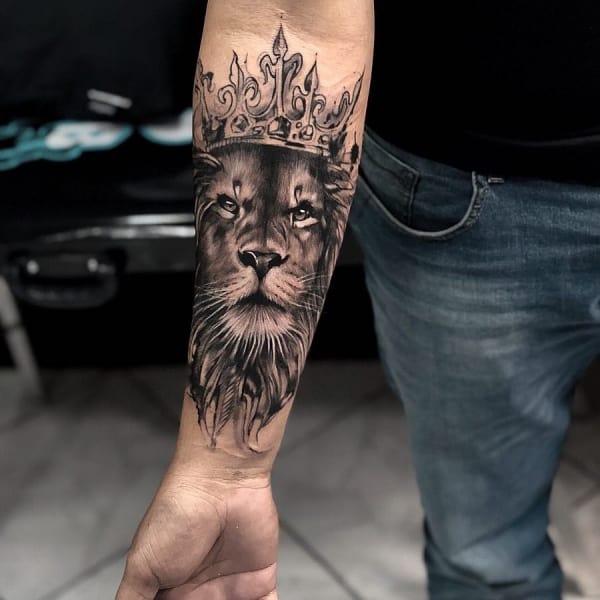 Try this majestic forearm tattoo that replicates the masculine strength of a man. Imprinting a lion's face on a man's forearm is an incredible idea.
The lion's ferocious side perfectly syncs with the men's royalty. Depicting your strength and power through this type of tattoo is astonishing.
Get this impressive ink today to display the power of the jungle king with full power.
8. Phoenix Forearm Tattoo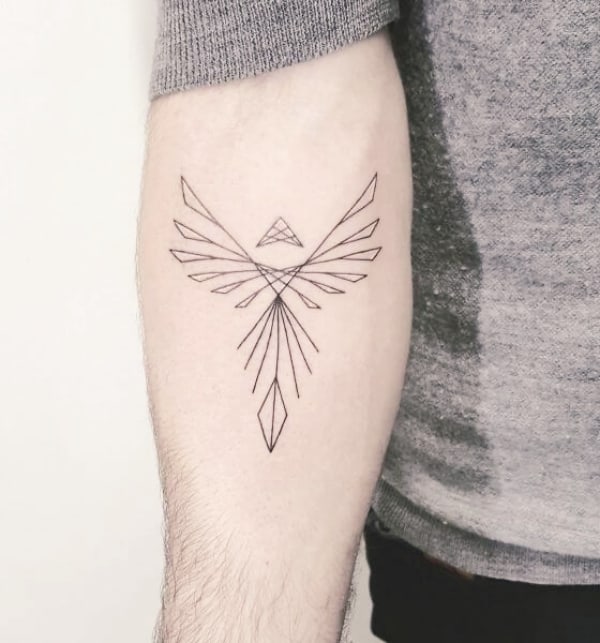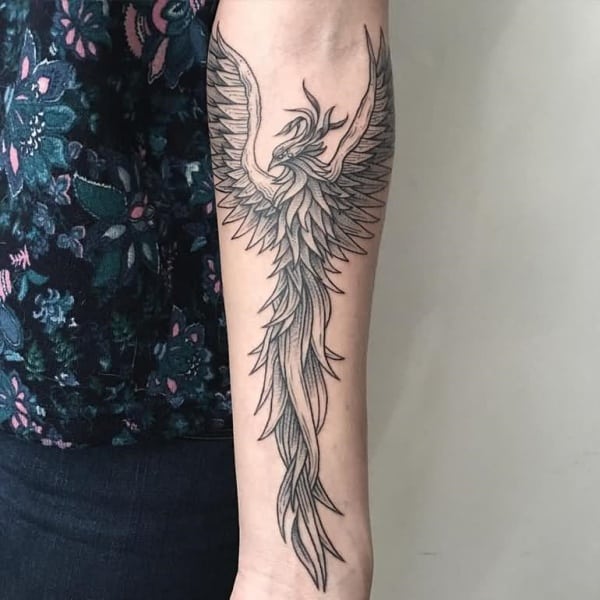 Do you believe in the cycle of birth and death? The Phoenix bird is known for its birth from the ashes and burning down to fire.
A phoenix forearm tattoo is the latest trend that makes you more focused and determined.
Many people also don this tattoo with a perspective of mythological significance and make attempts to revive their cultures back.
Phoenix tattoos can be a perfect pick for the season.
9. Compass Forearm Tattoo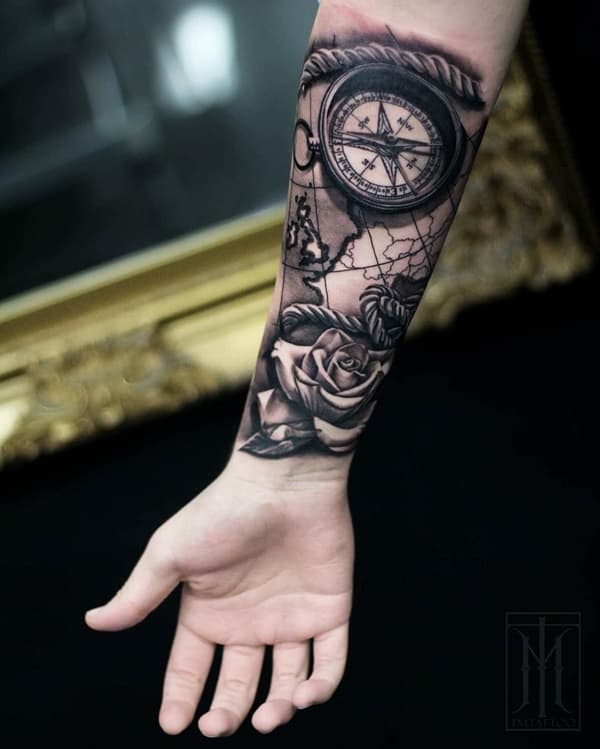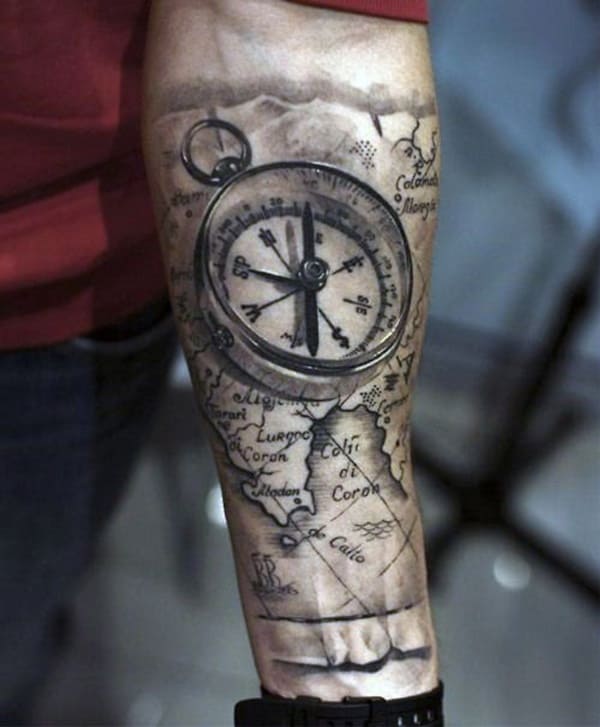 In the old times, sailors used the compass tattoo as a symbol of protection while navigating seas.
Many men carve out this beautiful compass forearm tattoo to witness a new path in their lives. It is also a symbol of positivity, inspiration and an urge to achieve things in life.
If you are skeptical about perceiving an ambition, this type of tattoo can work as a motivation. Keep your heads high no matter how fierce the storms are!
10. Geometric Forearm Tattoo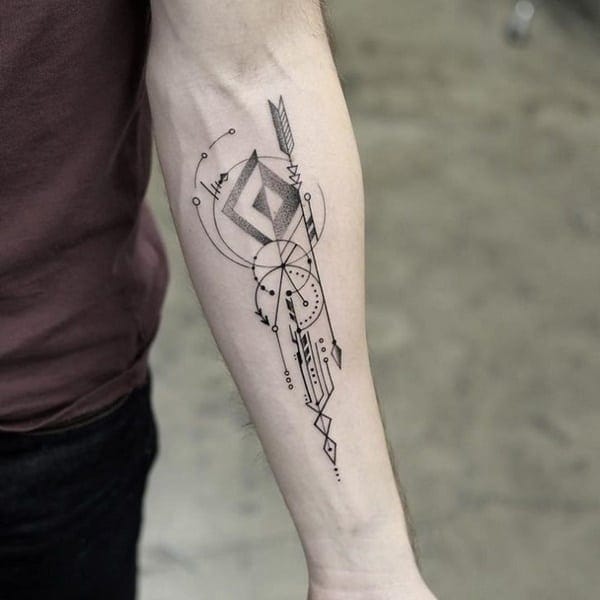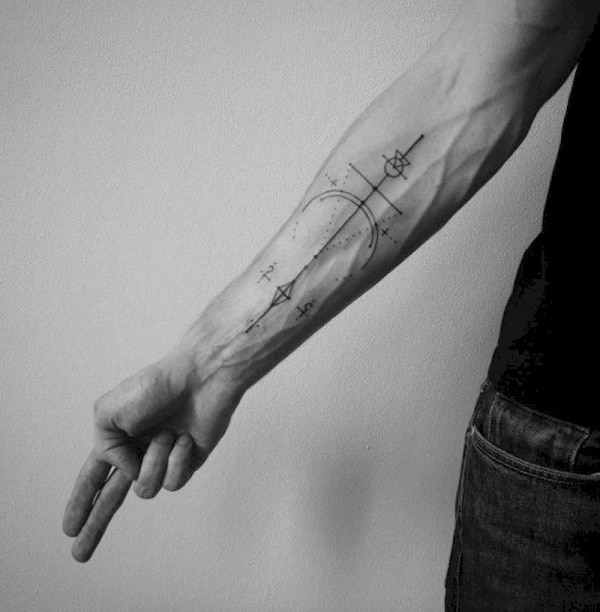 If you are scouting for some trendy and cool forearm tattoos for men, get a modern geometric design inked on your hand.
This type of tattoo holds its own meaning that looks edgy as well. Opt for simplistic and bigger geometrical designs that create perfect symmetry on your hands.
They also connect you to various theories and concepts that have a geometrical style to them. Show up your vogue and charisma with the astonishing geometric tattoo design.
11. Forest Forearm Tattoo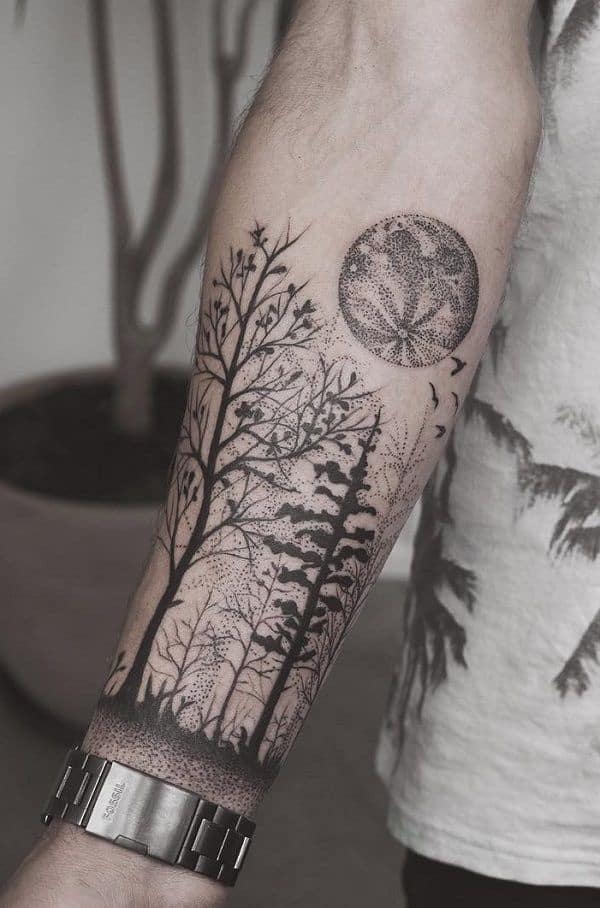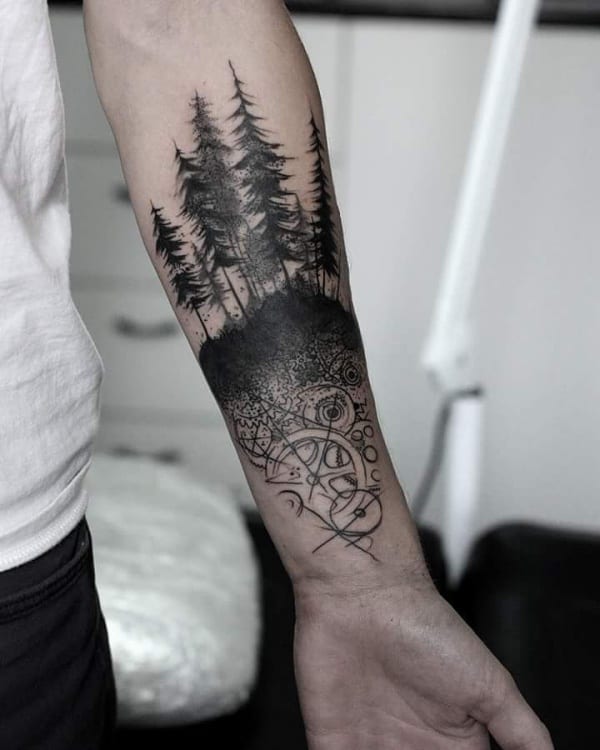 Time to show your mystical and secretive side with an intricate forest design tattoo. Get the entire forest image designed over your forearm that replicates serenity and peace.
Forest tattoo is also an epic symbol of life that's eternal in various forms. It shows you the power of withstanding any tough situation with dynamism and strength.
Men willing to beat all odds in their lives and achieve positivity can get this inspirational tattoo inked.
12. Mountain Forearm Tattoo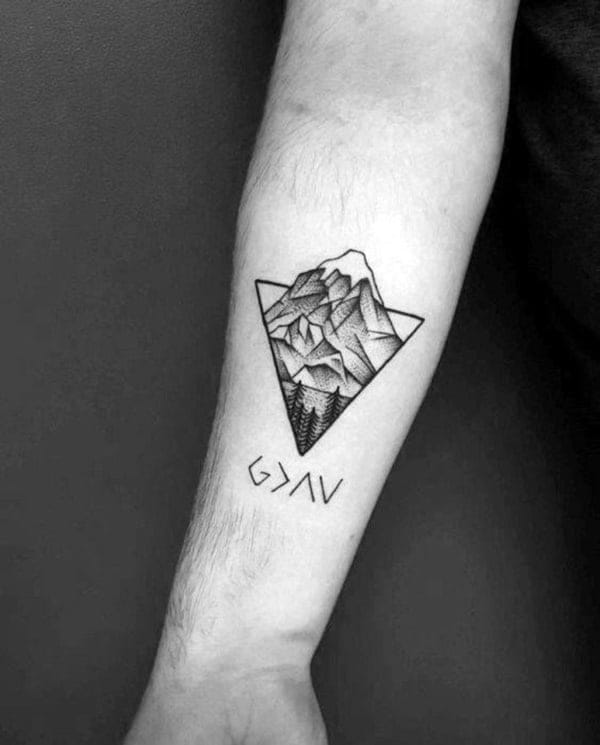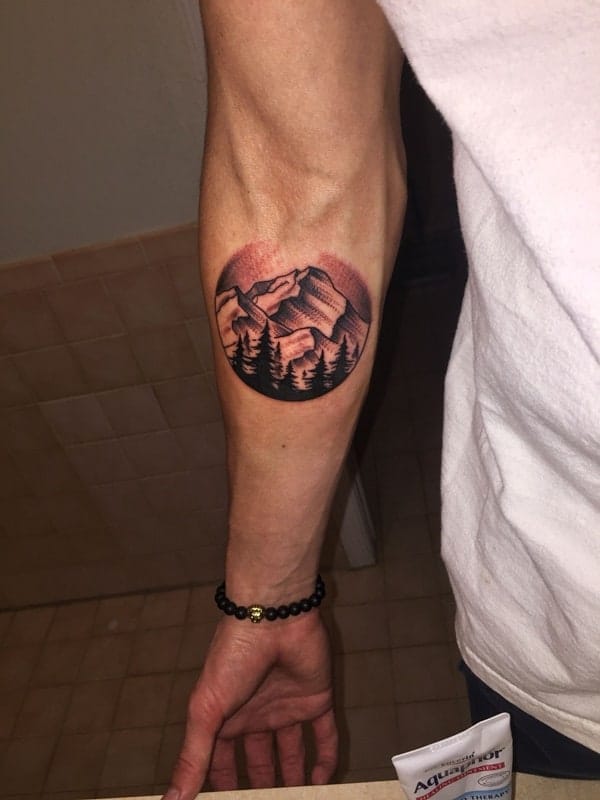 Nature restores invincible power and force in its glimpse. Tattoos with eternal images like a rock-solid mountain depict the grandeur.
If you need the motivation to pave your path amidst all negative situations, then go for it.
A Mountain forearm tattoo can also symbolize the epic connection with nature's wonders.
If you are spear-headed about achieving the best things in life, go for a beautiful and grand mountain tattoo design.
13. Owl Forearm Tattoo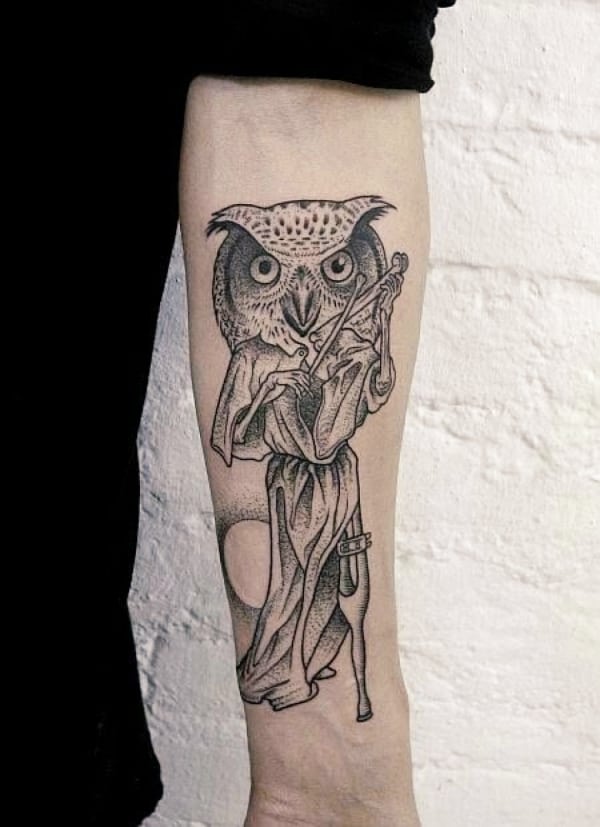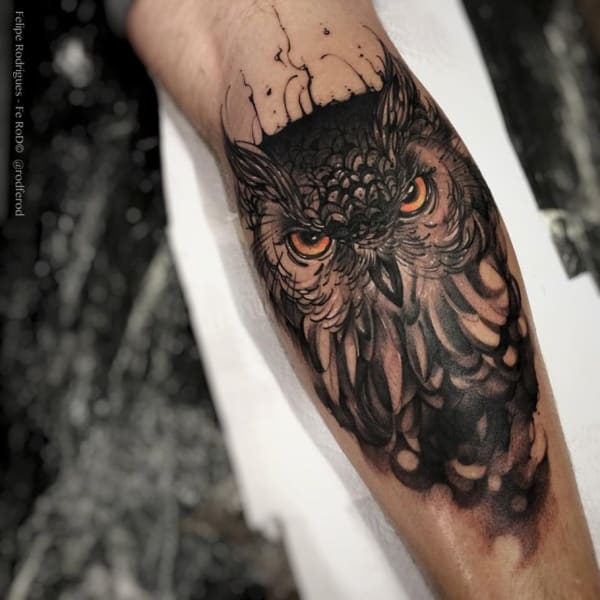 Do you believe in the power of intuition? The owl symbolizes the creature who can see the future in advance.
Men can ask their ink artist to create a fierce owl tattoo with shining eyes that inspire them to keep their heads high.
This tattoo design is an amazing choice for men who need to be more determined. If life's goals seem blurred to you, adorning these types of tattoos can work wonders.
You can opt for a grey shade or get it inked in various colors.
14. Forearm Band Tattoo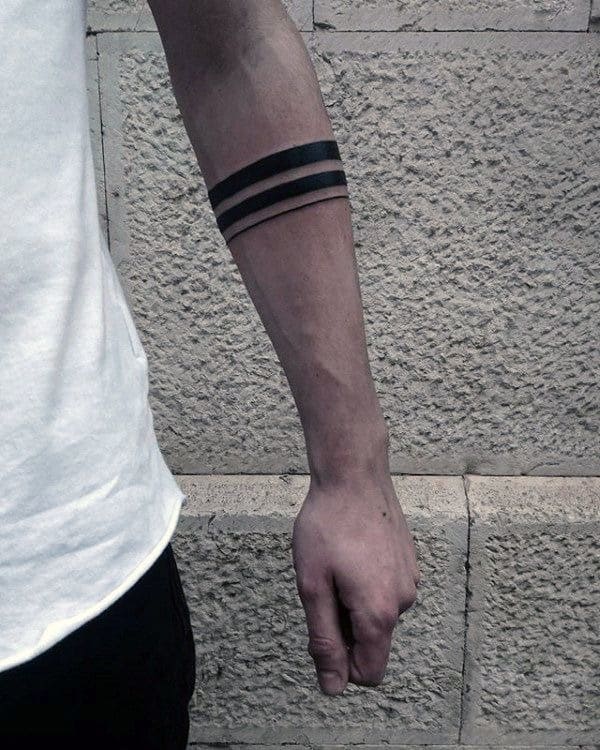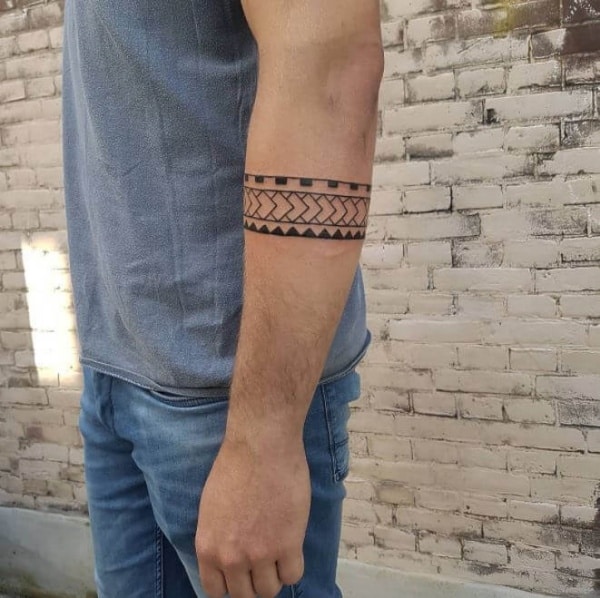 Guys who are not comfy with the entire forearm inks can go for a trendy band design. Behold the graceful band tattoos that showcase the beauty of minimalism.
There are several striking band tattoo designs to choose from. The wearer must opt for a fine and crisp band or the thick one.
Getting the ink of your loved one as a tattoo can also be magical. It is possible to choose a preferred style amongst multiple options and finalize it.
15. Wing Forearm Tattoo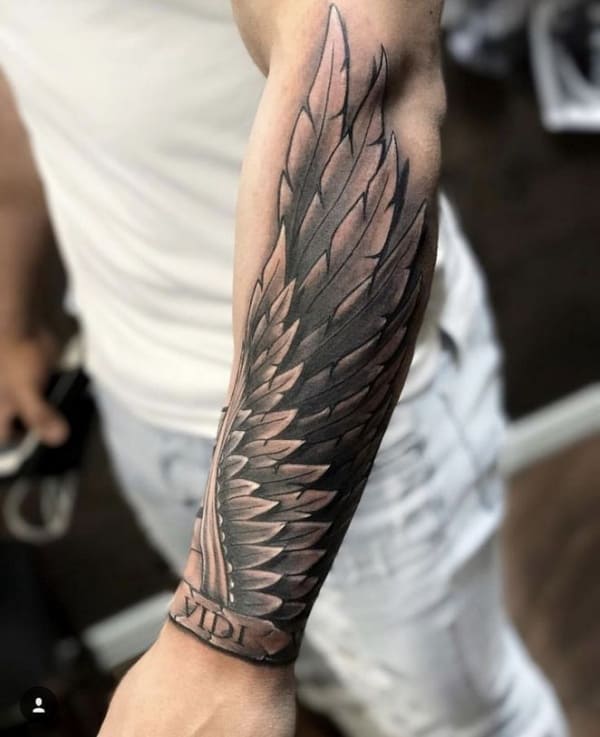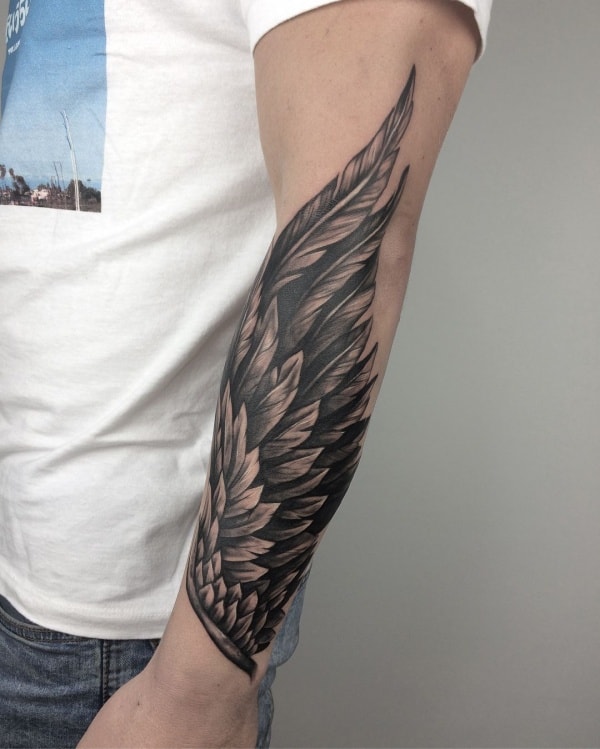 As they say, spread your wings and fly high to achieve the best in life! Wing forearm tattoo shows up the urge to take a free flight towards your dreams.
Guys who are firm in their decisions and are not willing to go back, in any case, can opt for this tattoo design.
It is an expression of living a free life no matter what.Go for it if you are willing to lead a free life and are convinced about it.
16. Jesus Tattoo On Forearm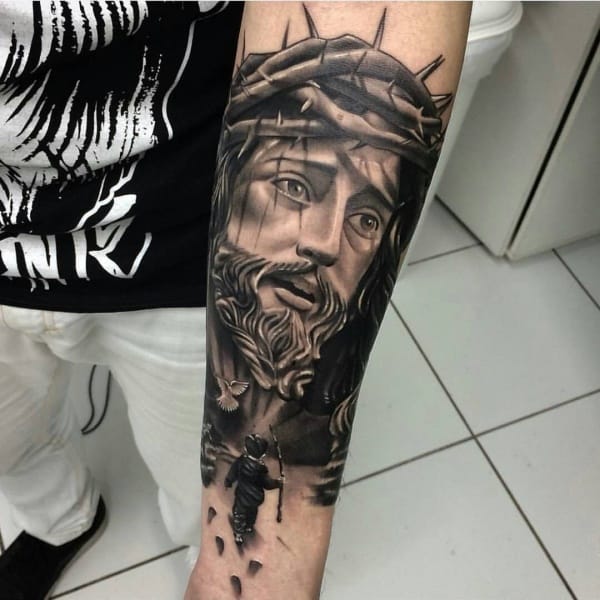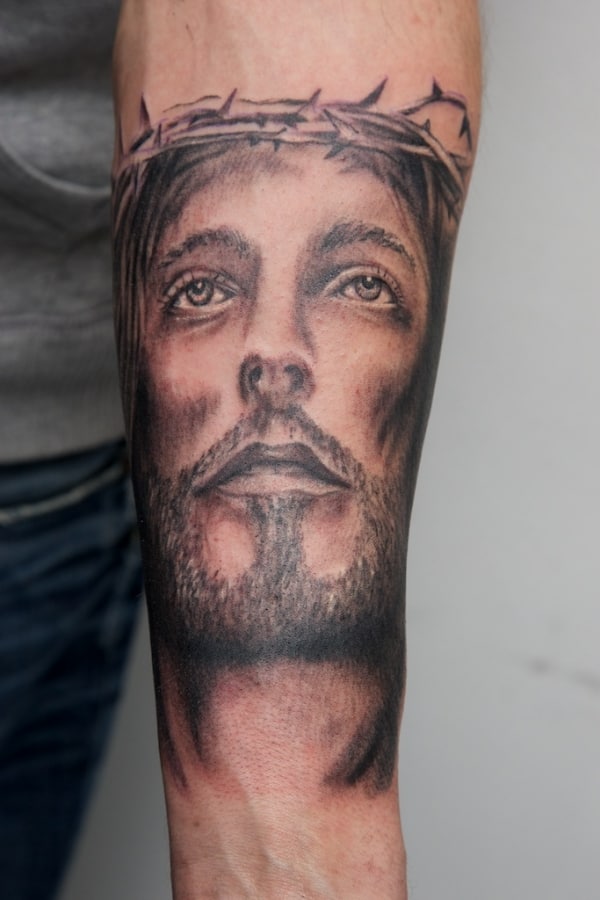 Are you a firm believer in Christianity? Embracing your religion with pride is always recommendable. Integrating the Jesus tattoo in unique designs and patterns is a great idea.
You can get it in an edgy look with various transitions. If you need a peaceful imprint of Jesus, go for an image with folded hands.
Another option is to choose a 3D design that looks more striking and beautiful. A Christ tattoo on your forearm can be a perfect idea.
17. Forearm Armor Tattoo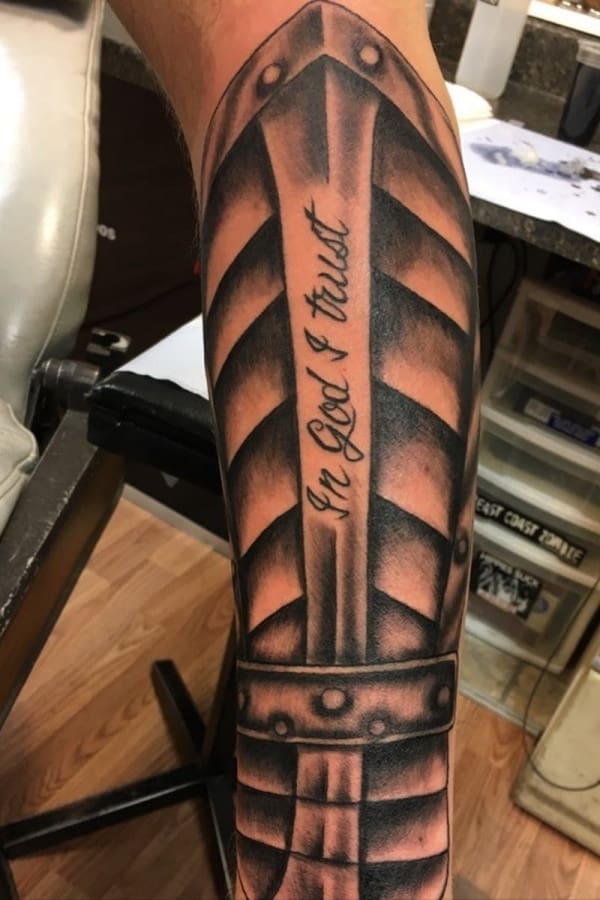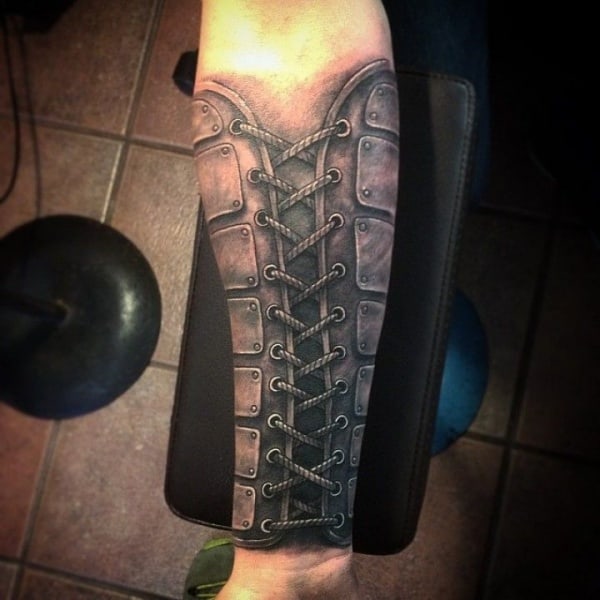 Armor tattoos remind you of living life like a soldier. Men handling life's jitters with all their strength deserve this ink.
Wearing armor on your forearm can give you a knight's vibe. Deck yourselves in the armor ink and portray your bravery in the best manner.
A professional tattoo artist might also suggest various ways to enhance the appeal of these tattoo designs.
Small embellishments can further uplift the tattoo image.
18. Arrow Forearm Tattoo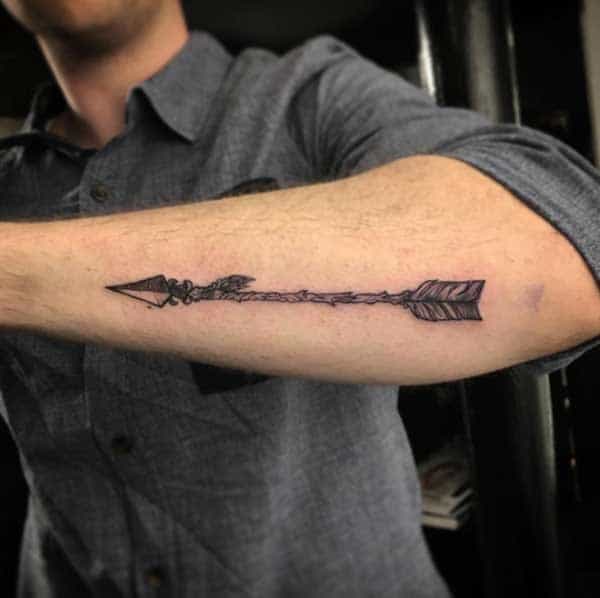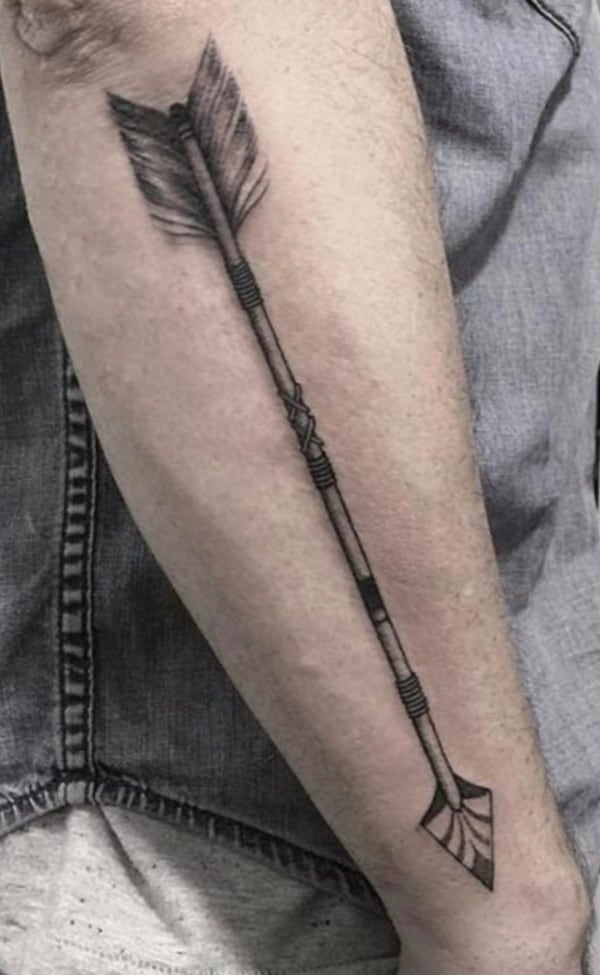 Honing the arrow tattoos with full dominance symbolizes the power of real men. Arrow ink also holds a cultural significance and shows strength.
If you are directionless in life and willing to achieve something big, getting this arrow tattoo is a great idea.
It inspires you to head in the front direction and negate all life's difficulties.
19. Koi Fish Forearm Tattoo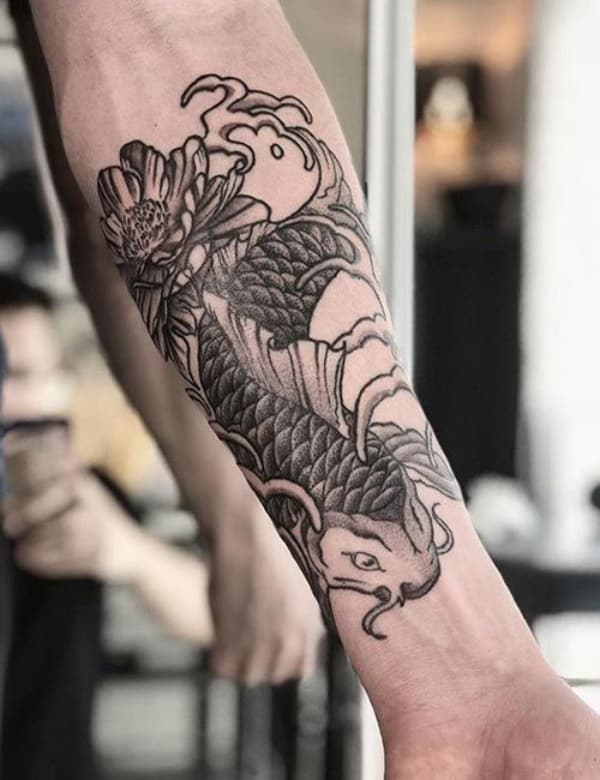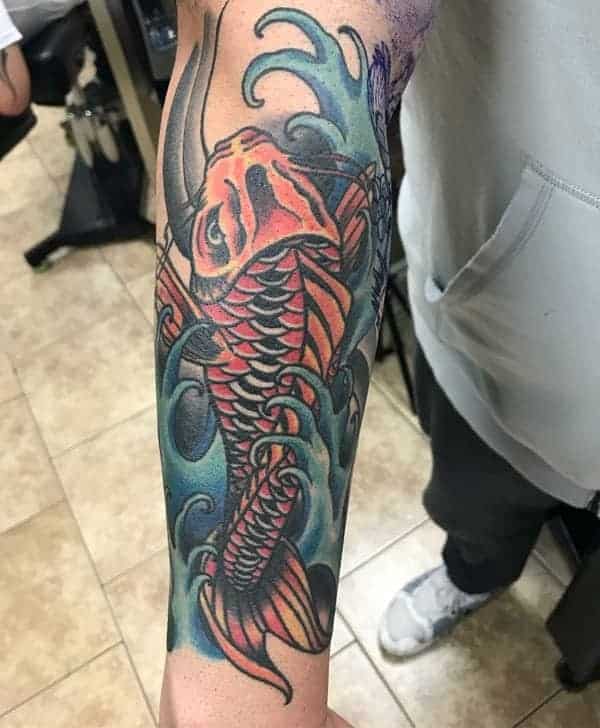 Koi Fish's forearm tattoo is a symbol of good fortune that many men wish to adorn. It's lively and full of self-belief that makes you feel more positive.
Other aspects of Koi Fish ink are strength, positivity and the ability to achieve anything in life.
This tattoo also holds dominance in Japanese culture. You can enhance the tattoo design by adding a splash of hues to it.
Small intricacies and decorative elements can further elevate the look of this design.
20. Polynesian Forearm Tattoo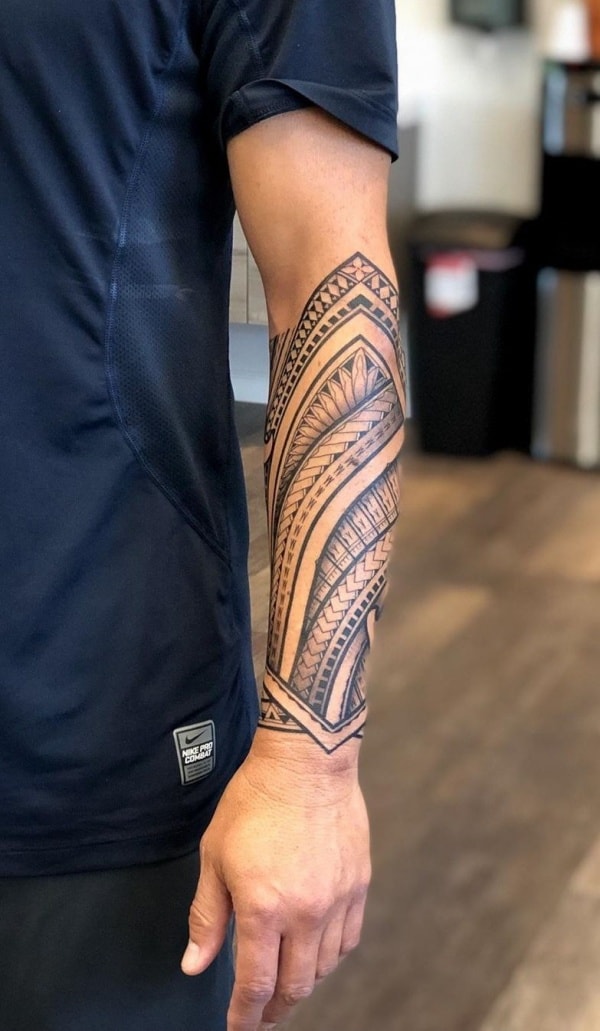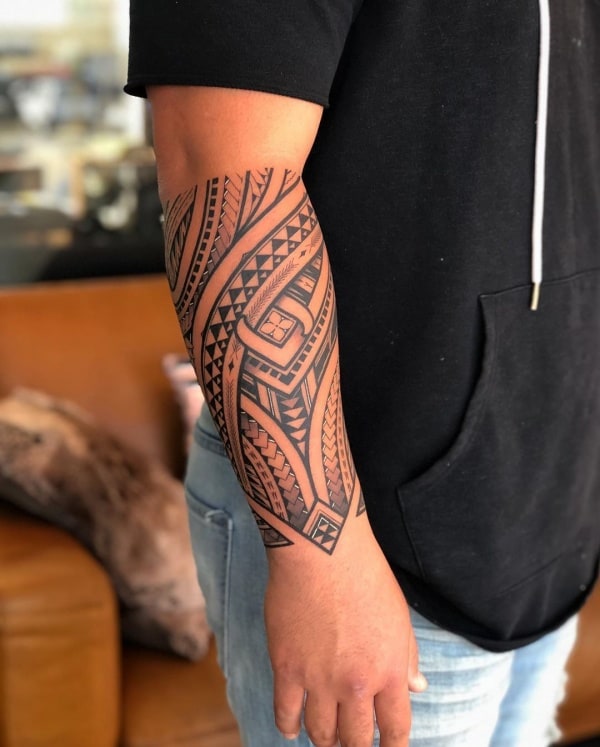 Men willing to carry off the tribal vibes can head-on with Polynesian ink. It depicts the inner spirit and strength of men who wish to break all bondages.
The symbolic representation of this tattoo is leading the fleet of people.
Although many misconceptions are prevalent about the Polynesian designs, they hold a pure meaning.
Donning this tattoo rightfully is important for displaying the right meaning.
21. Feather Forearm Tattoo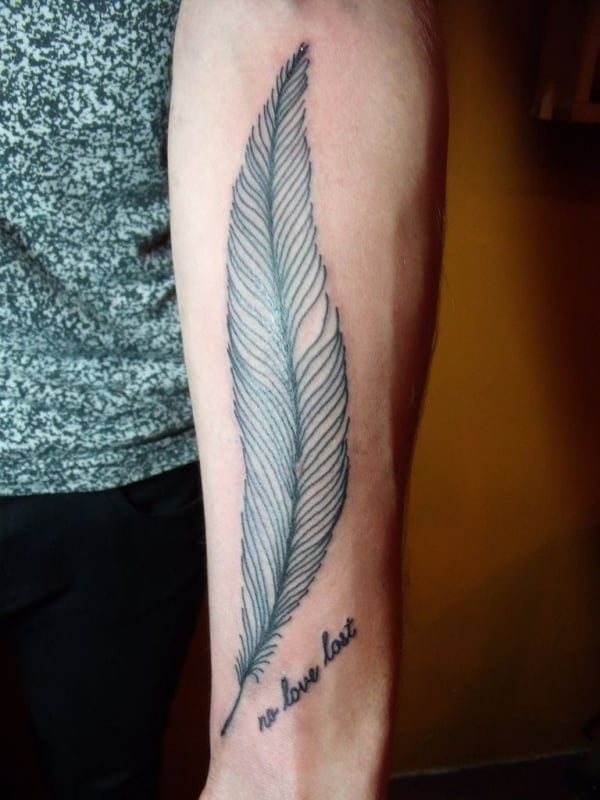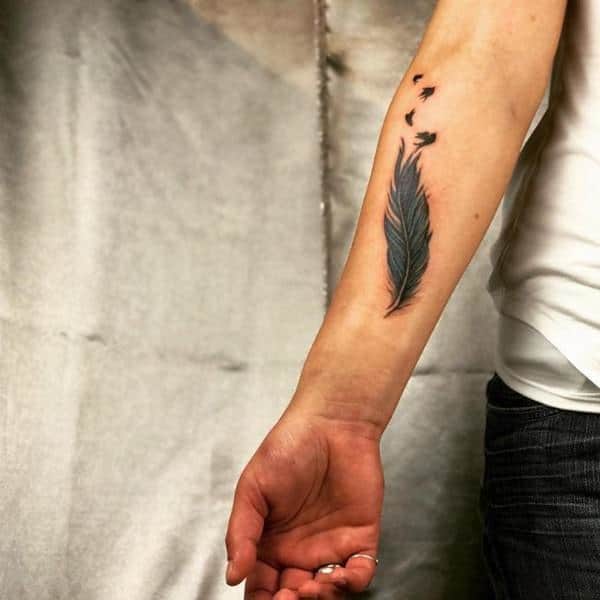 Feathers are associated with your inner zeal and contentment. Showcase your happiness and free-willed attitude with this exemplary feather tattoo design.
Several cultures have associated certain aspects of feathers to the spiritual world.
The hidden fact is that feather tattoos signify your liberated persona. If you always need a magic wand around you, get the feather inked immediately.
22. Praying Hands Tattoo On Forearm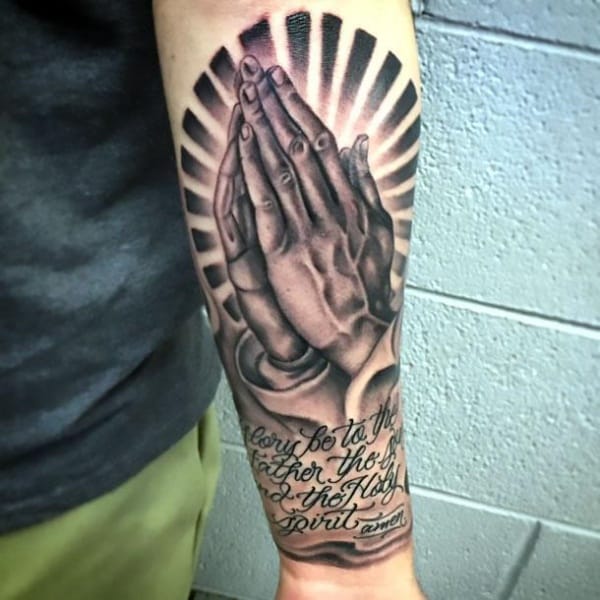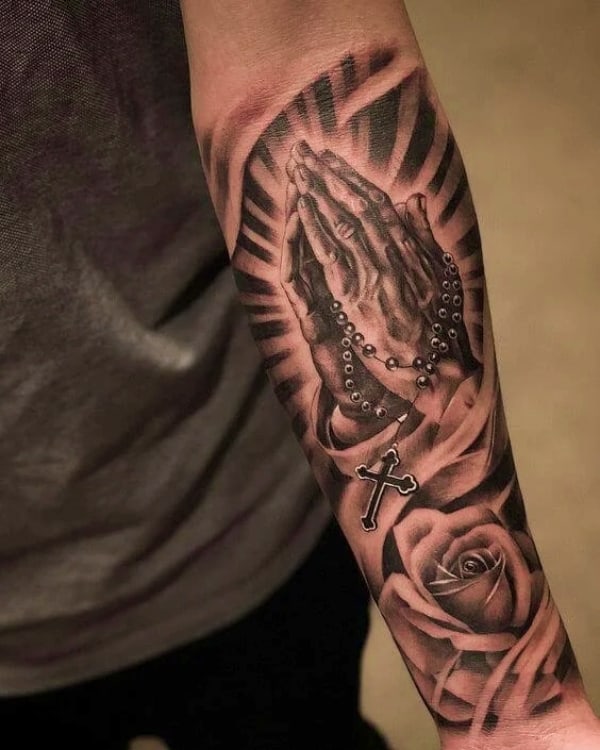 Practicing and preaching gratitude with the praying hands' tattoo can be the most mindful decision.
If you truly believe in Christianity, think about praying for all the goodness around you.
Such inks elaborate on the power of faith and belief in god. The supreme power is holding an invisible shield that merely needs your glance.
Try to imprint the beautiful praying hand tattoos with an added magnitude for the lasting impact.
23. Solar System Forearm Tattoo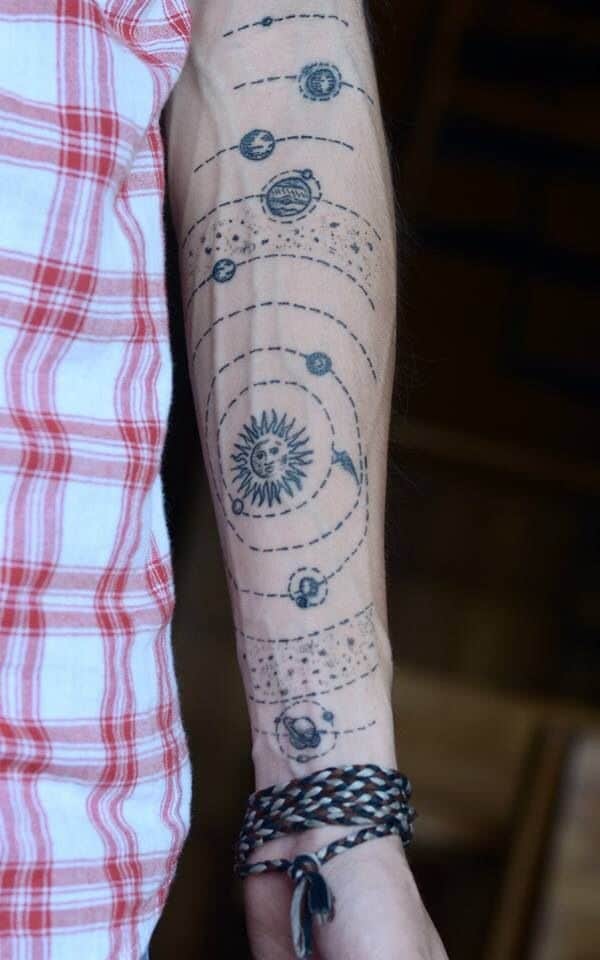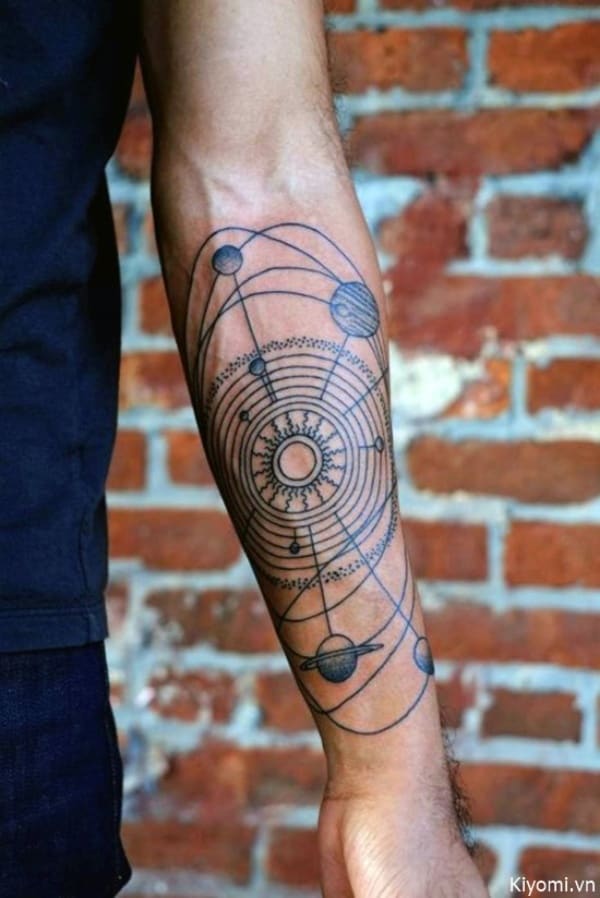 Do you connect yourself to the cosmic vibes? The fascination for planetary objects such as the sun, moon and stars can spark up a light in your eyes.
Infuse a vibrant universal aura with a trajectory that knows no bounds.
Once you are aware of the style of honing the timeless ink, things will turn out in your favor.
Though the solar system might appear a simple picture, it has deeper interpretations that only the wearer can relate to.
24. Buddha Tattoo On Forearm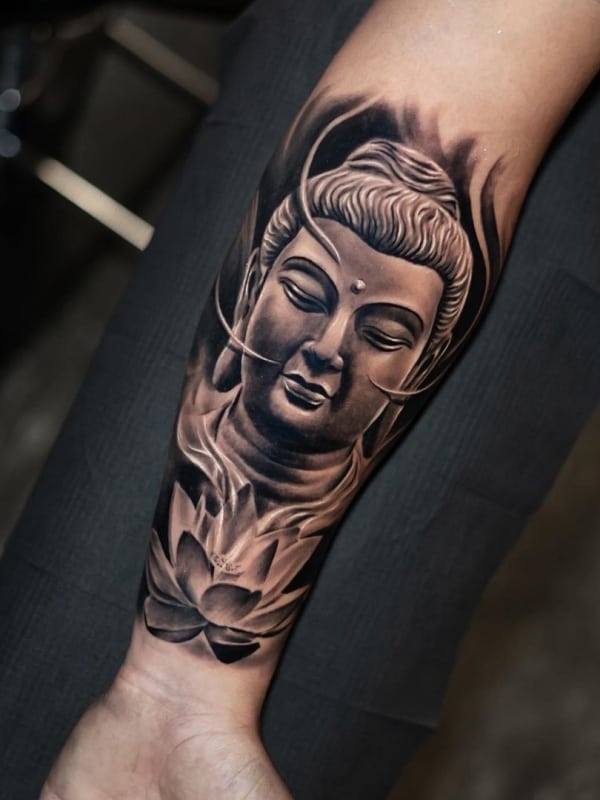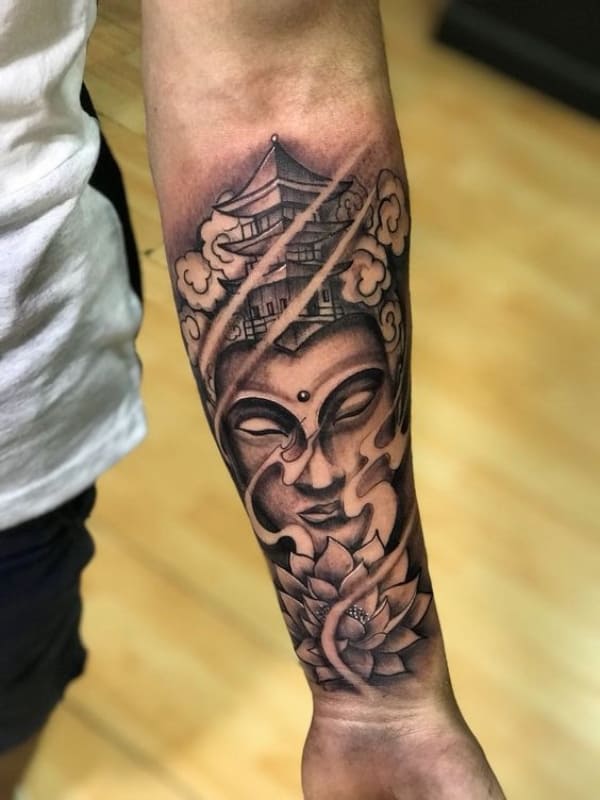 Buddha tattoos unveil a glimpse of unexplainable peace and sanity. Several tattoo artists carve down the Buddha image with unique techniques to bring out its realism.
Reflecting your firm belief and ideologies through a Buddha tattoo is a great idea. A meditating Buddha image or the one with folded hands is impeccable to try out.
Enlighten your free spirits, souls and bodies with a Lord Buddha tattoo ink and cherish peace.
25. Skull Forearm Tattoo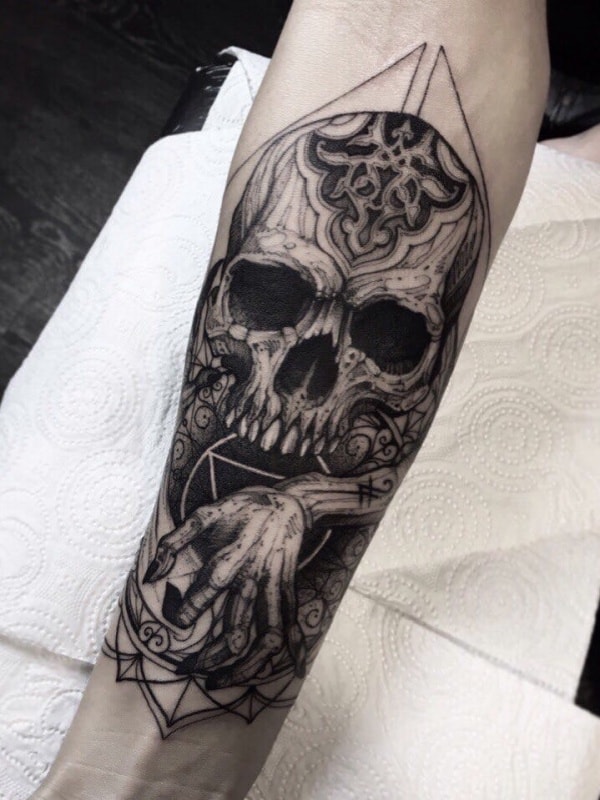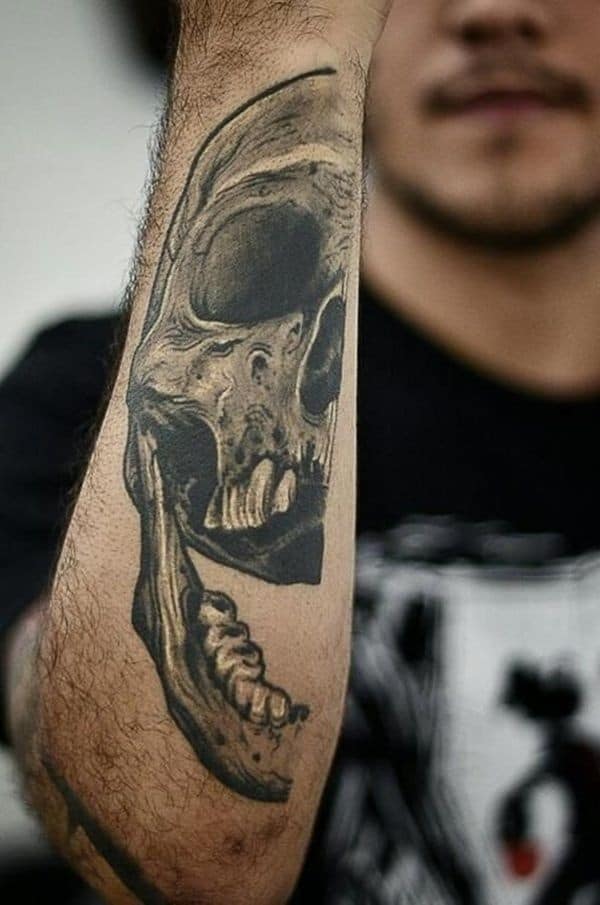 Most people misinterpret the real meaning of a skull tattoo, but it holds a unique meaning. Instead of an evil spirit or death, the skull symbolizes life and protection from death.
Many guys also hone it with a spirit to celebrate each day of life like it's their last one. The beauty of nature is its evolution and end.
People need to accept and understand the fact with symbolic representations like that of the skull.
26. Snake Forearm Tattoo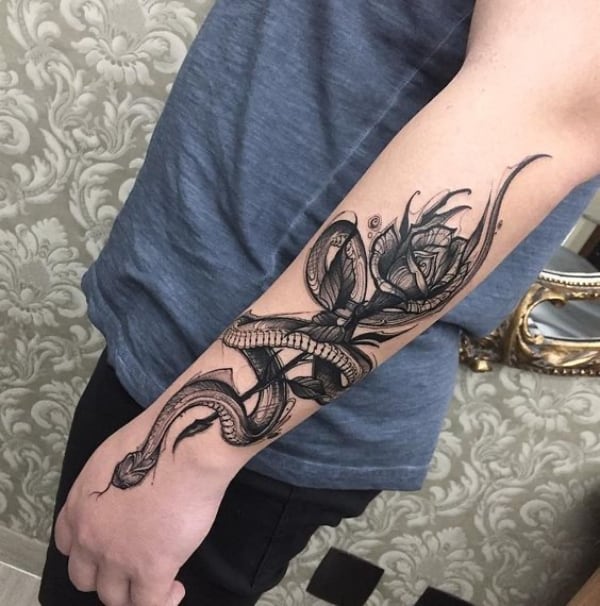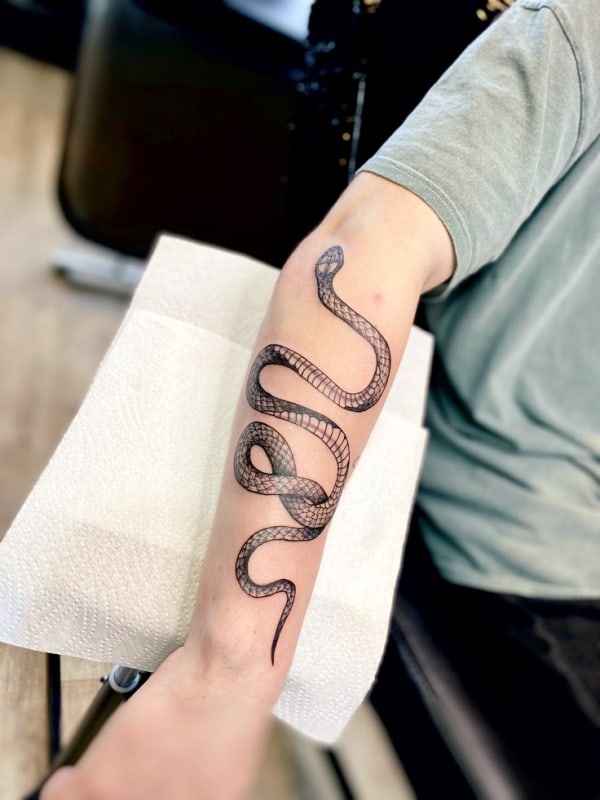 Next up on the list of forearm tattoos for guys is the snake ink that displays your ferocious side.
As snakes shed off their skin and revive back, the cycle of birth and death is also inevitable. It can result in a wonderful transformation if done right.
A curvy snake design on your forearm can be a popular choice for men welcoming change in life.
27. Tiger Forearm Tattoo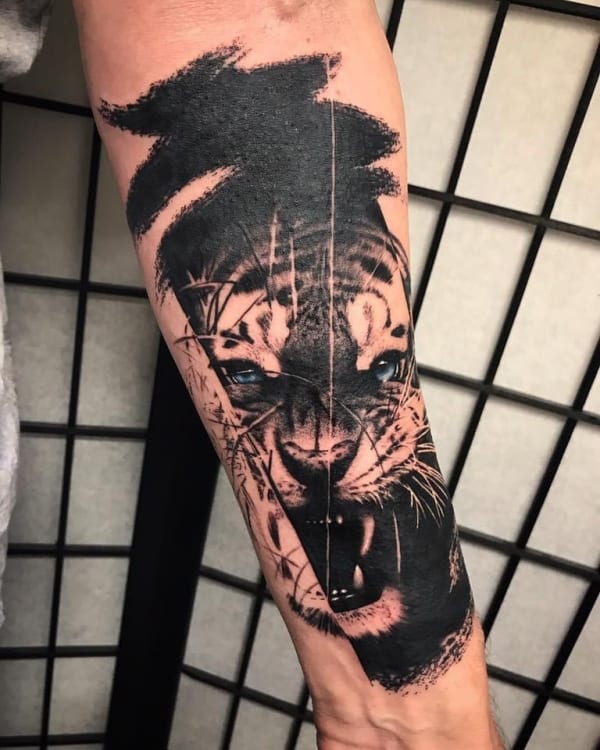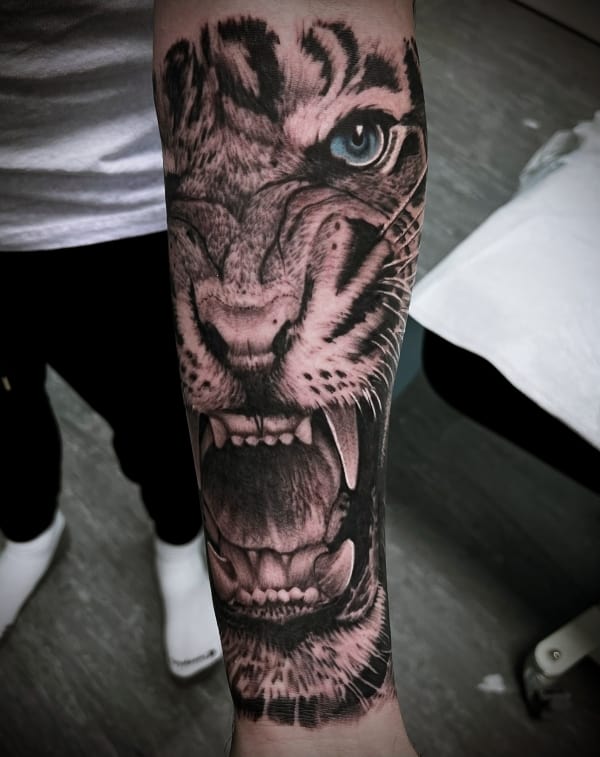 Men who need spectacular tattoo art that symbolizes power can adorn Tigers on their forearms. It is also an integral part of Asian culture.
This is a wonderful ink that replicates passion, ferocity and pace. If you are determined to achieve big things in life, acquire them with a fearless commitment. A tiger tattoo can symbolize it.
28. Name Forearm Tattoo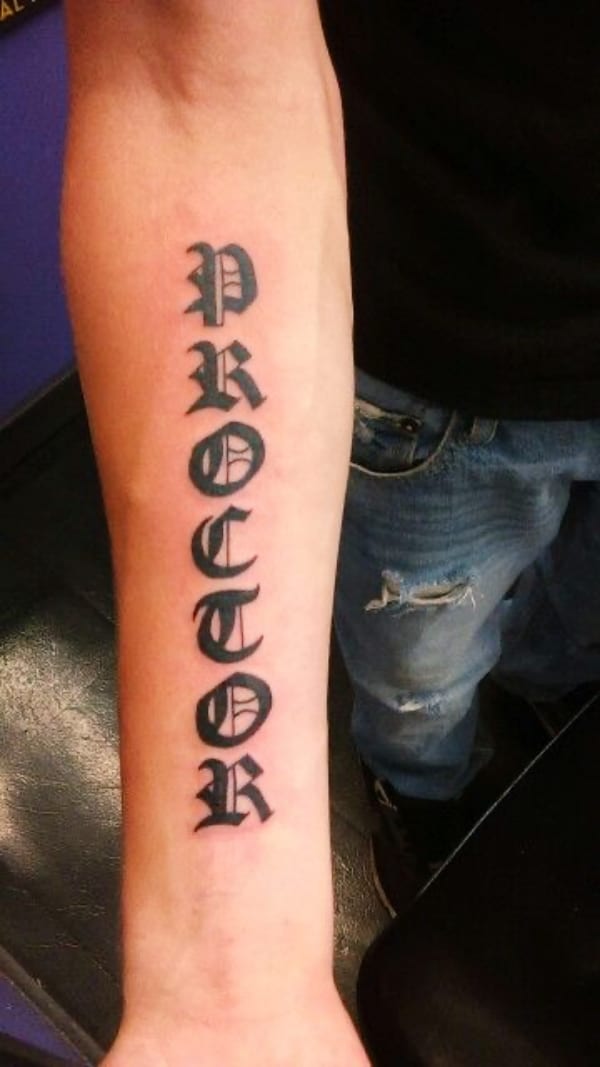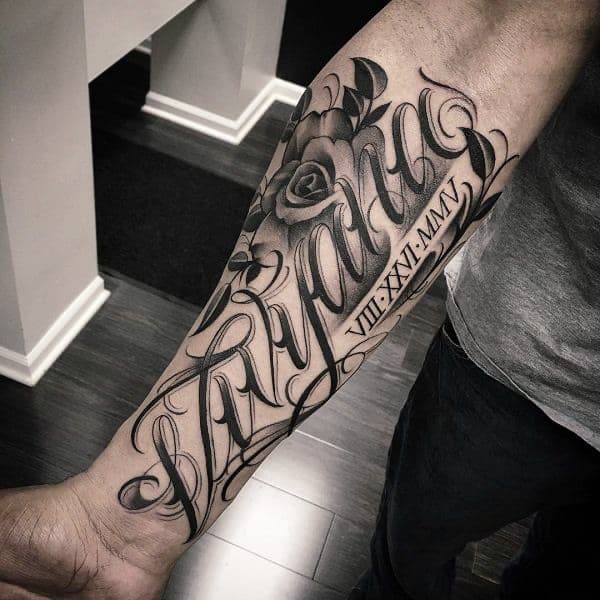 Getting the ink of someone you love from the core of your heart is blissful. The best way to do this is by placing a name on your forearm tattoo.
Choose the name of your favorite character, beloved person or even yourself to adorn over the forearm. It represents your faith and hope in manifesting someone close to you.
29. Quote Forearm Tattoo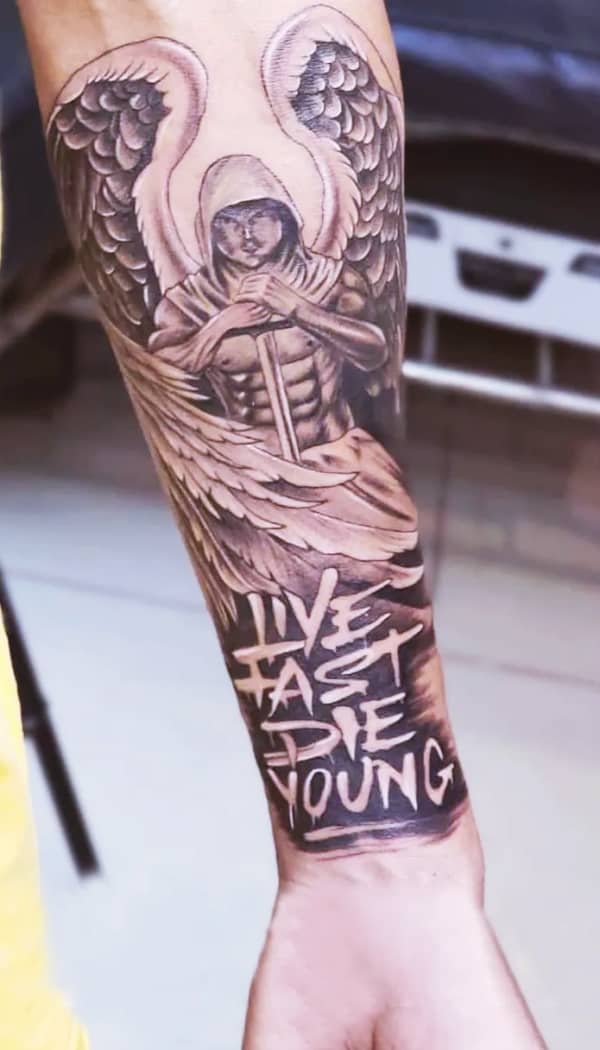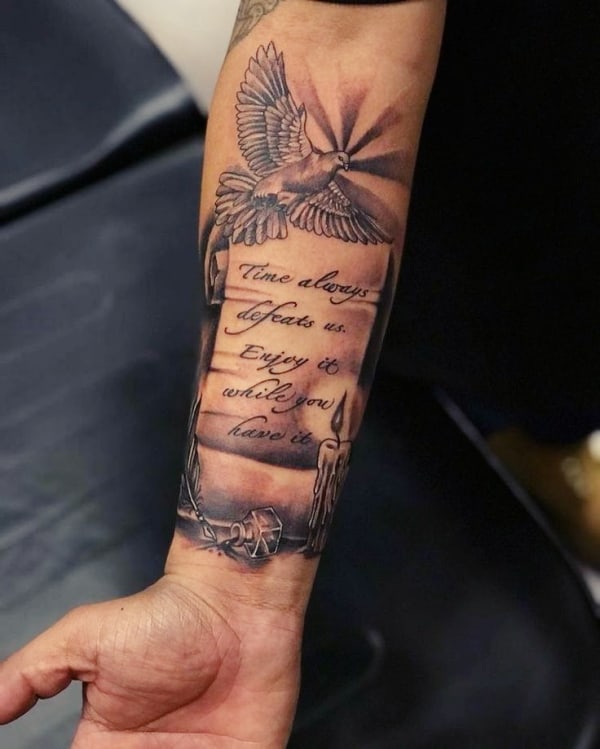 Exhibit the statement or thought you truly believe in through a perfect quote tattoo design. Imprinting your favorite words on the forearm is an excellent idea that replicates your true heart.
It also speaks volumes about your persona and character. Getting a quote forearm tattoo can be the best thing to get subtle art on your sleeves.
30. Wave Forearm Tattoo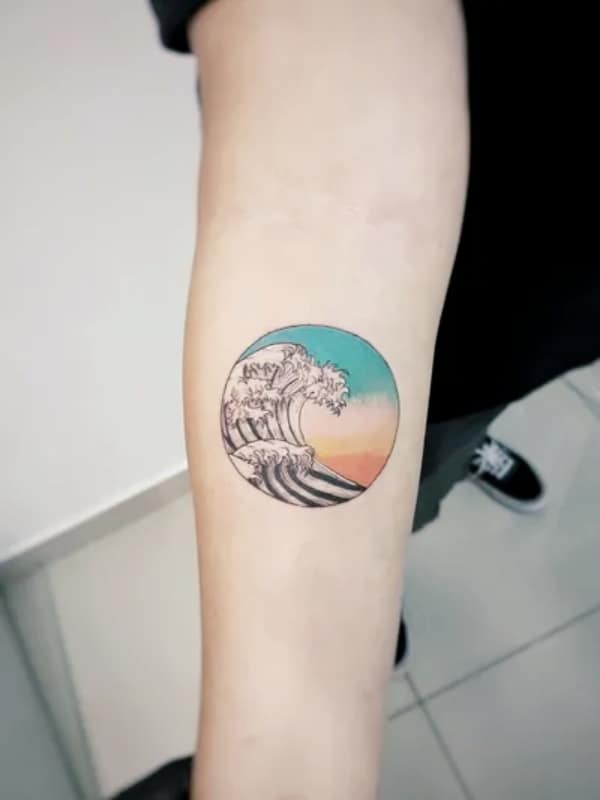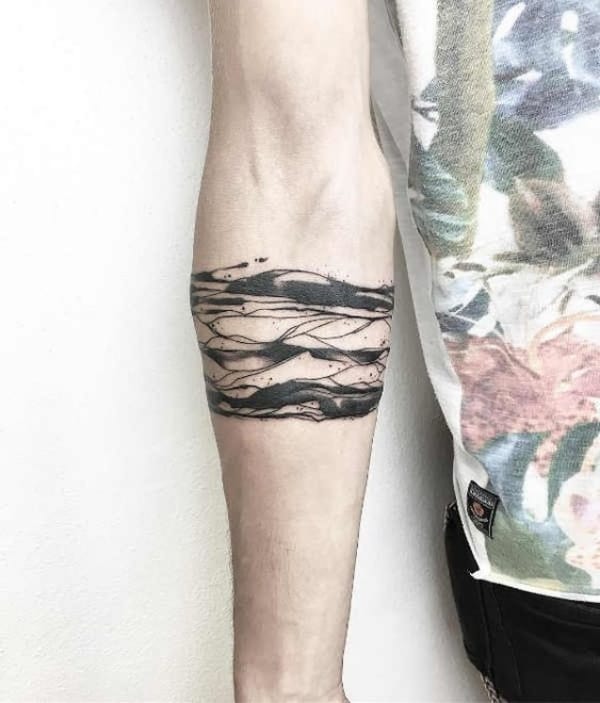 Men who fancy small forearm tattoos can go for a wave design. It is a simple design that signifies a specific emotion, thought, nature or dream.
You can choose a preferred symbol or the whole design over a wave tattoo.
Many people also embrace this ink to match their horoscopes like cancer, Aquarius or Pisces. It inspires you to stop worrying and go with the flow!
31. Anchor Forearm Tattoo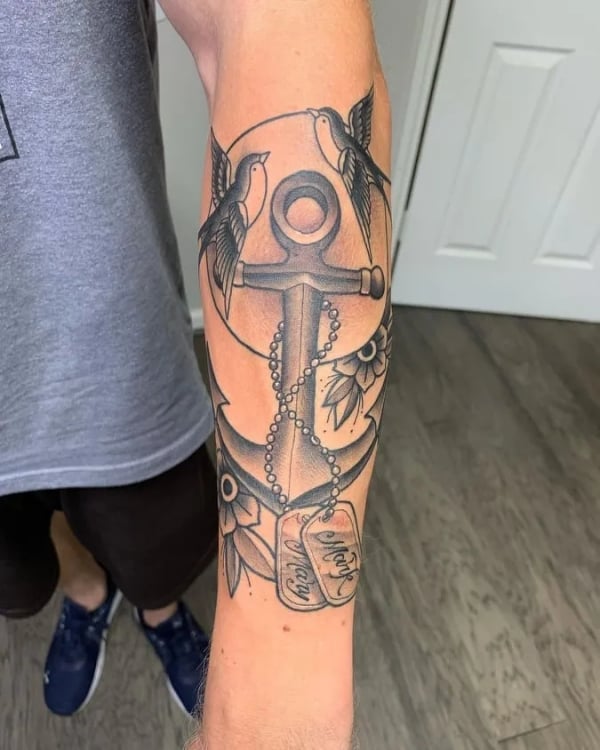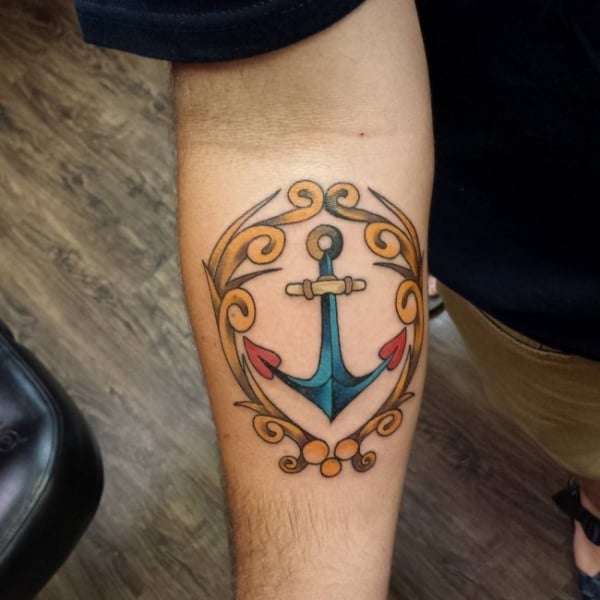 An anchor ink can be the statement design that retains popularity among men and women. These designs are classic, stylish and elegant.
Many people hone this striking anchor ink that also symbolizes hope and dreams. Trying out such inspirational tattoo designs can also depict strength and bravery.
32. Guitar Forearm Tattoo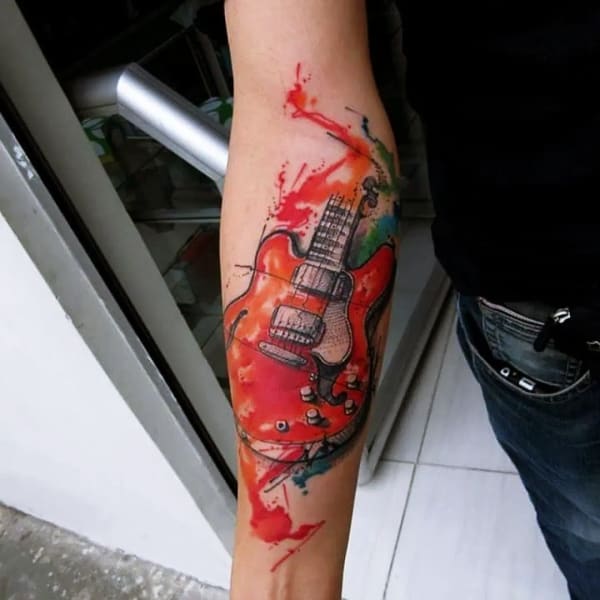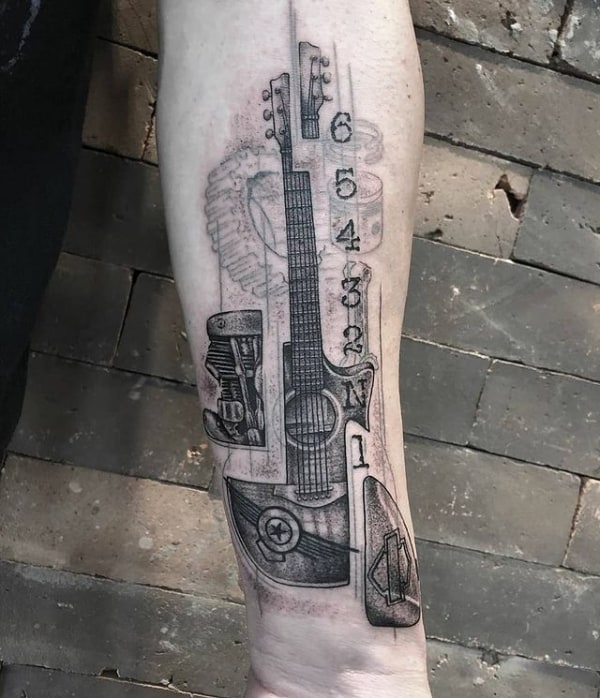 Many music lovers try such guitar tattoos as it marks the prominence of guitarists and musicians.
A guitar ink on your forearm is wonderful if you have an innate love for sounds. Chords of guitars are also associated with happiness, peace and serenity.
Every time you glance at it, your nerves will calm. It is indeed a relaxing tattoo design.
33. Eye Forearm Tattoo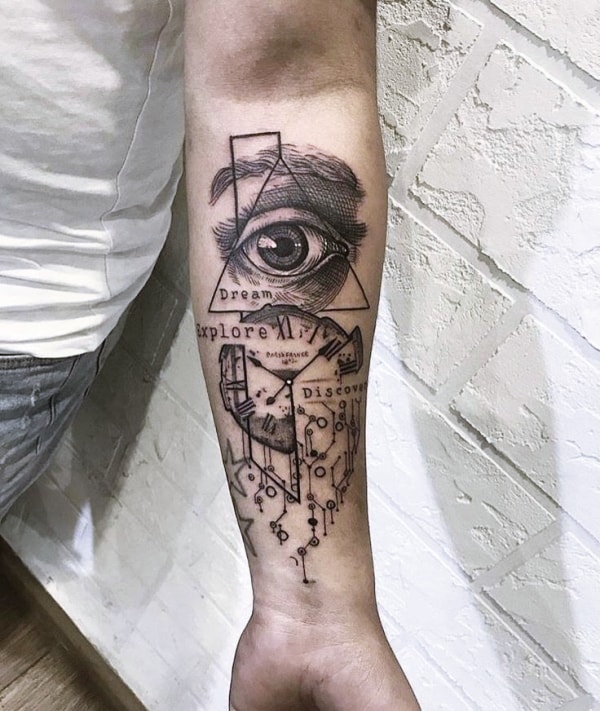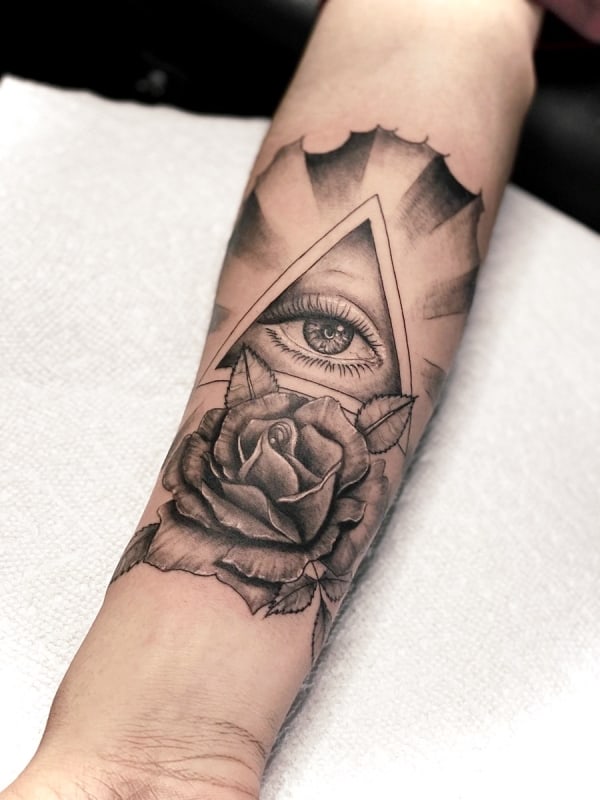 An eye tattoo can have versatile meanings and emotions that connect to the wearer. The evil eye is associated with protection, while the third eye shows strength.
Other versatile meanings of donning an eye tattoo are knowledge, security, leadership and vision to life.
The way of getting the tattoo art inked determines its real meaning. Your professional artist can add a personalized touch to it.
34. Heartbeat Forearm Tattoo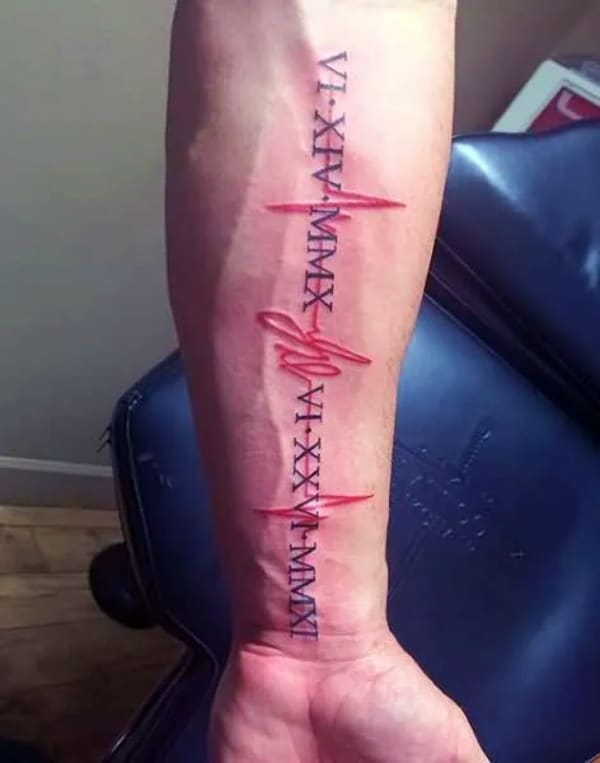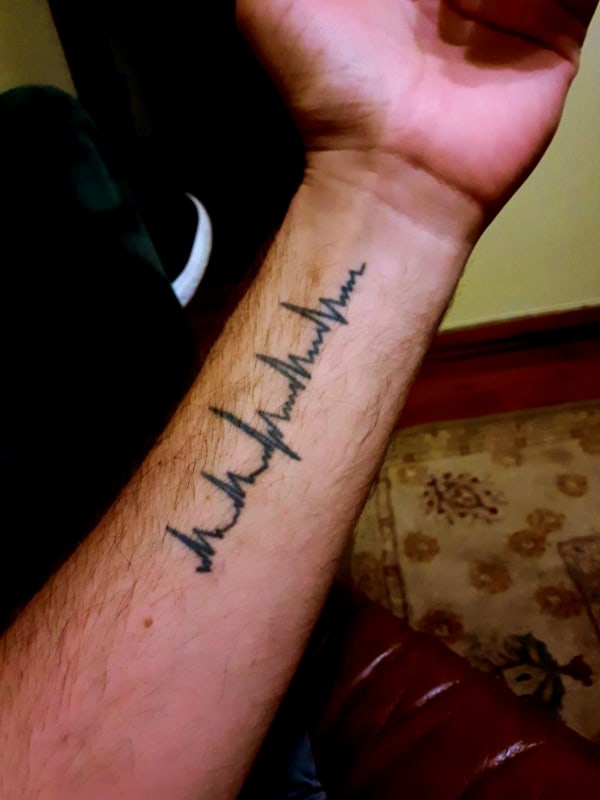 The heartbeat tattoo is a sign of remembering real love, peace and serenity. It can constantly remind you that most precious things are small and fragile.
Men who have a close bond with someone can show it through tattoo art. It's a unique design that can be more meaningful if done right.
35. Star Forearm Tattoo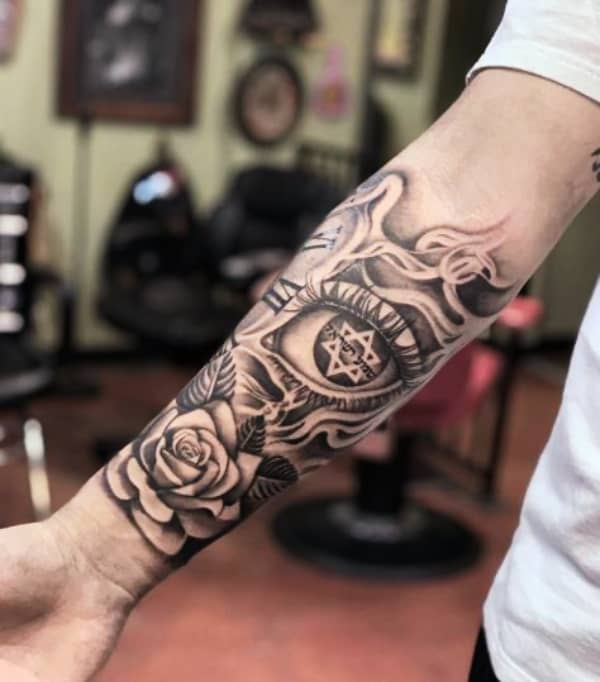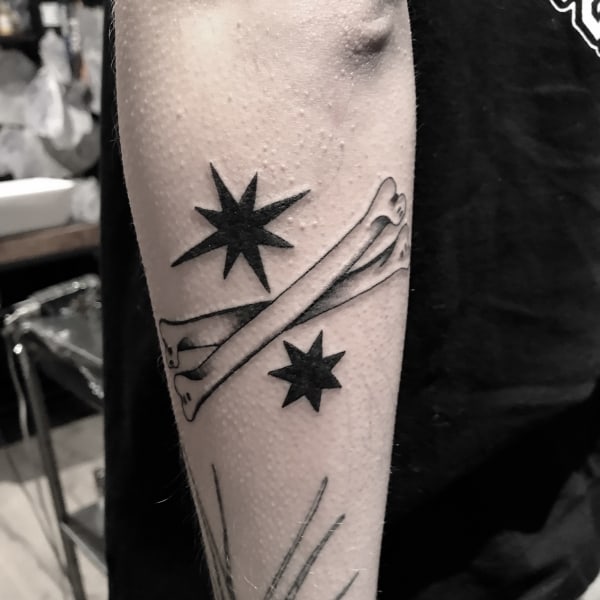 If you need simple tattoos that can be hidden in the inner sleeves, then star ink is a great idea. A nautical star represents the sailors' hope and safety urge.
Stars also replicate protection, spirituality, guidance and safety. A star sign looks amazing and holds a vogue that's catchy.
Flaunt it with your attitude and steal the viewer's attention at sight.
36. Women Face Forearm Tattoo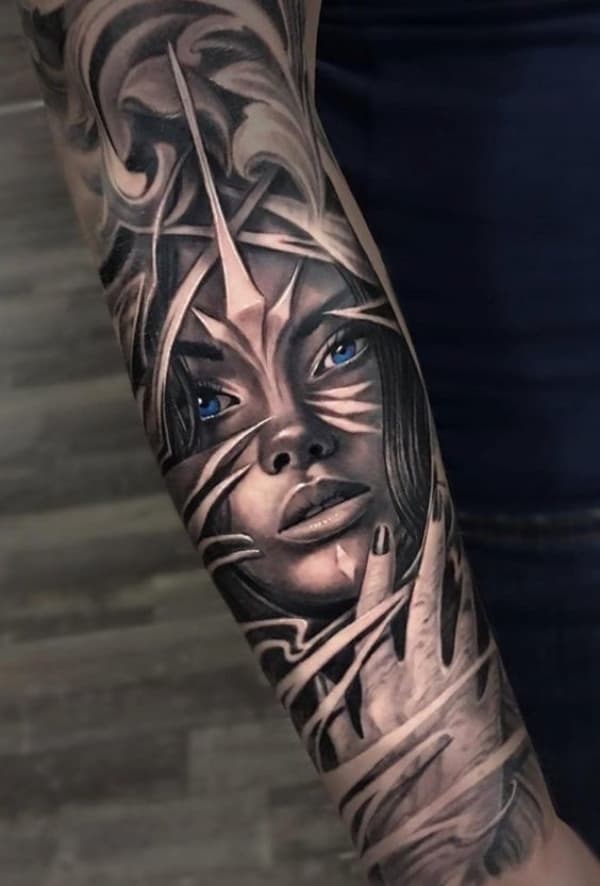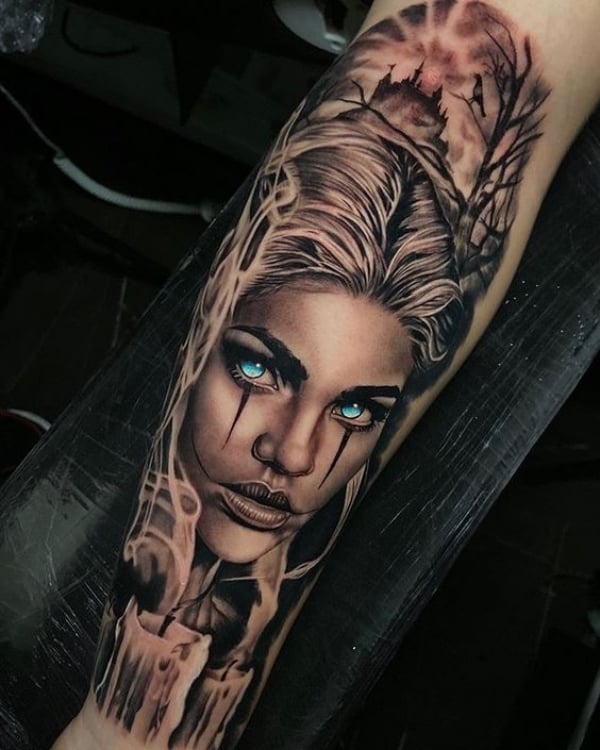 Women's faces usually relate to fortune, hope, courage, bravery, harmony and good times. A galore of so many emotions can be dipped in a single ink.
It is an enchanting tattoo art that makes you feel more courageous and strong.
It's a belief that a woman's face forearm tattoo might also help you to come out of financial struggles and troubles.
37. Clock Forearm Tattoo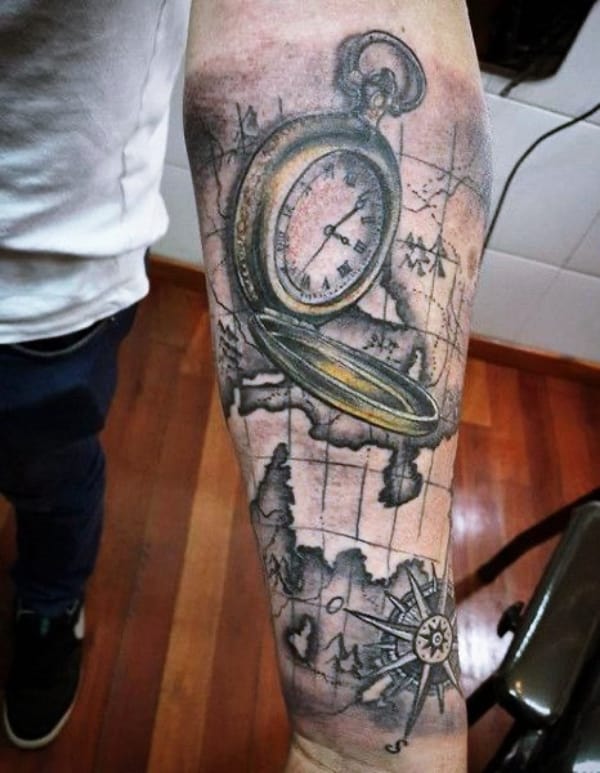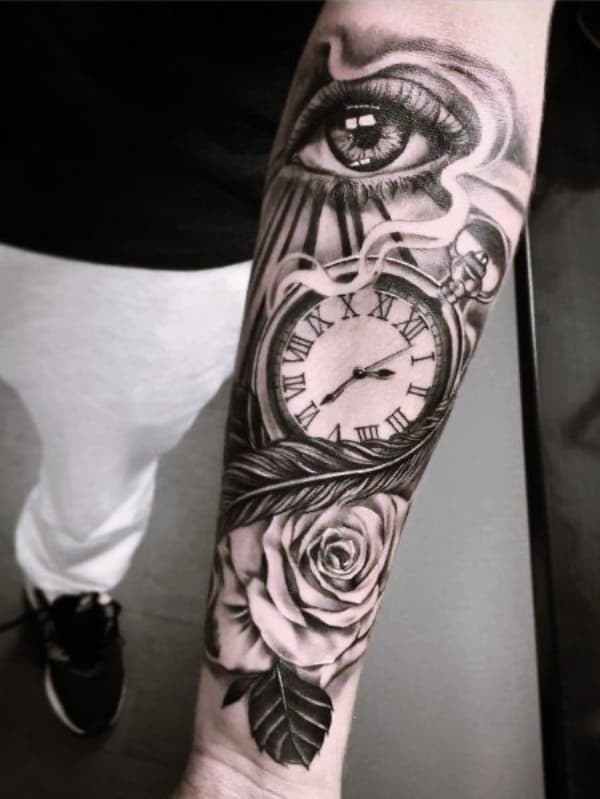 If you wish to constantly appreciate the value of time, then embrace a classic clock tattoo.
It symbolizes the passage of time, existence, eternal period and infinity of nature. Clock inks can have many deeper meanings and concepts.
Many people also associate it with living your life to the fullest.
38. Music Note Forearm Tattoo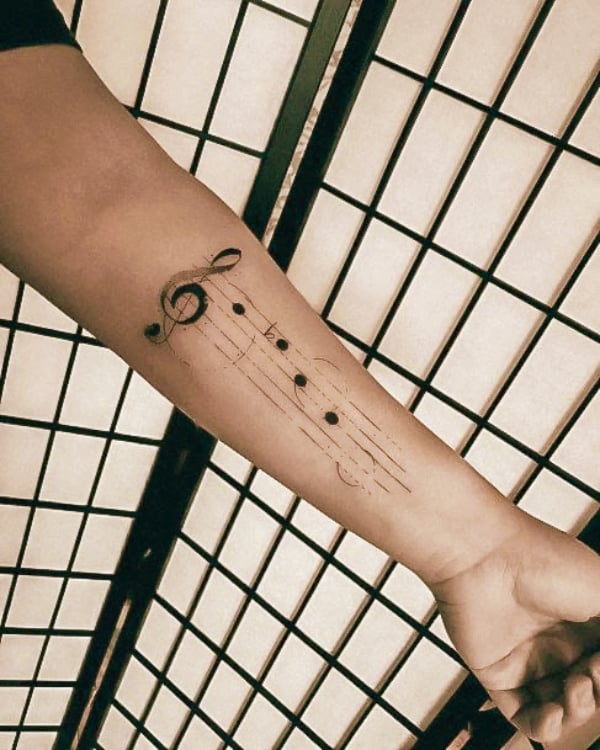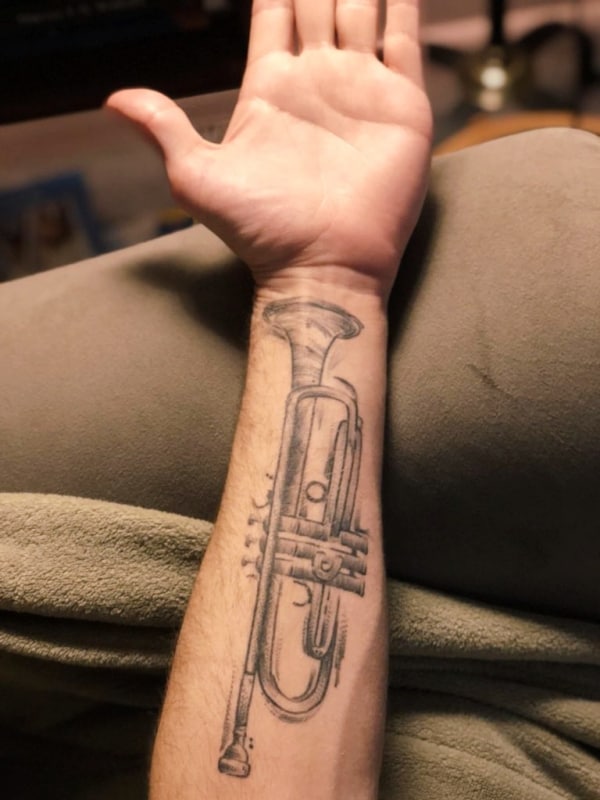 The versatility of good music knows no language, and a music note is a universal symbol of sound.
Getting inked the secret language of music is a sheer blessing that only a few might relate to.
Musical tattoos hold a deeper connection with various instruments, sounds and songs. This is a compelling tattoo design that holds innate beauty.
39. Watercolor Forearm Tattoo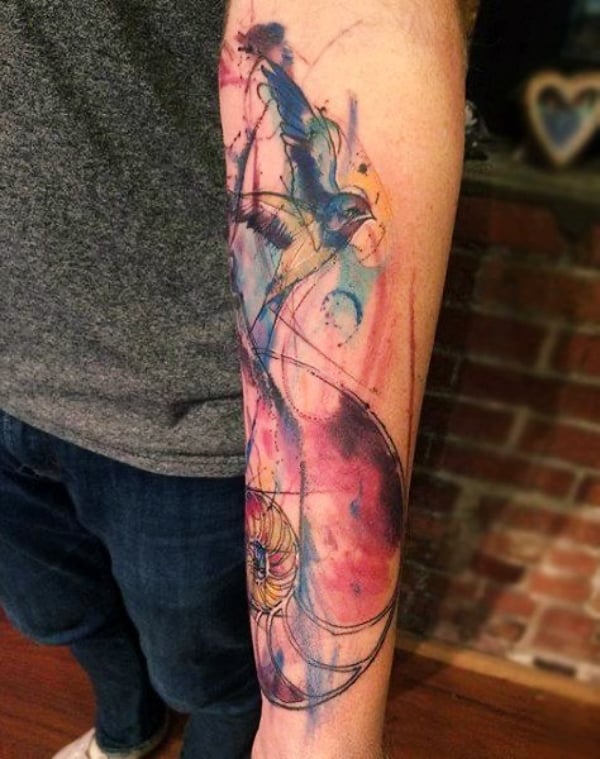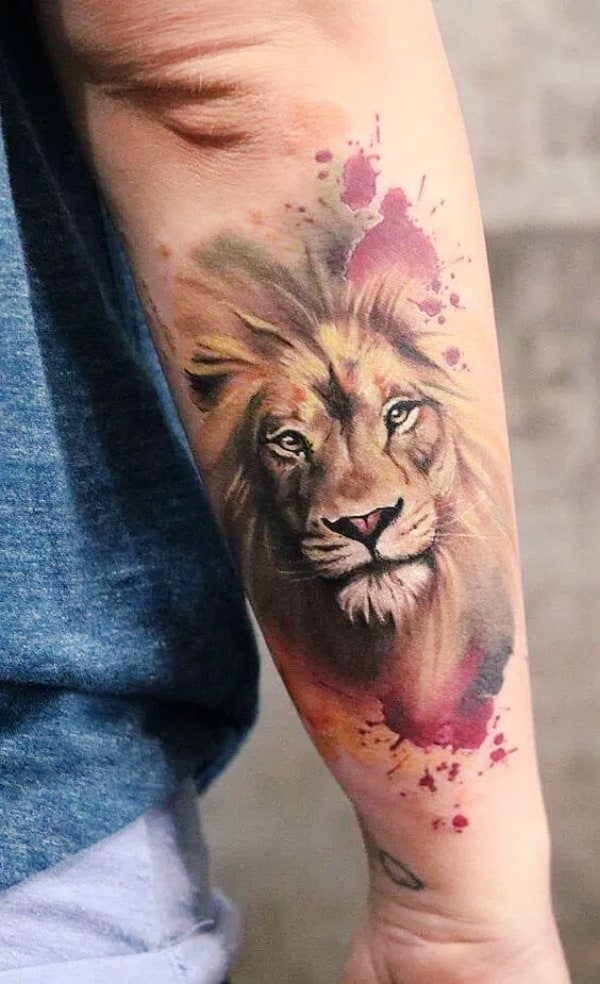 Vibrant, astonishing and appealing watercolor tattoo art is a new fad. The perfectly dipped-in hues of different shades over a modern design sound like a great idea.
You must pick a pop of color that blends well with the ink to give a perfect impression. Watercolor forearm tattoos are simplistic, beautiful and elegant.
40. Scorpion Tattoo on Forearm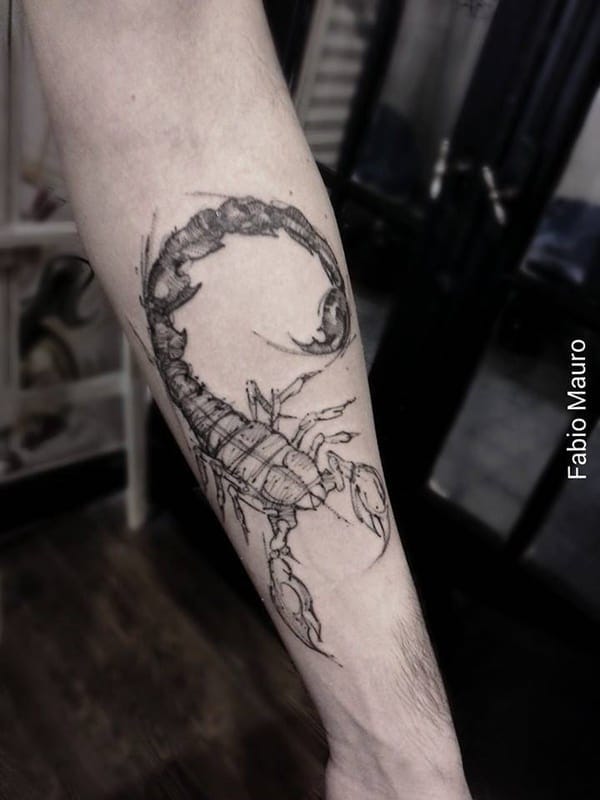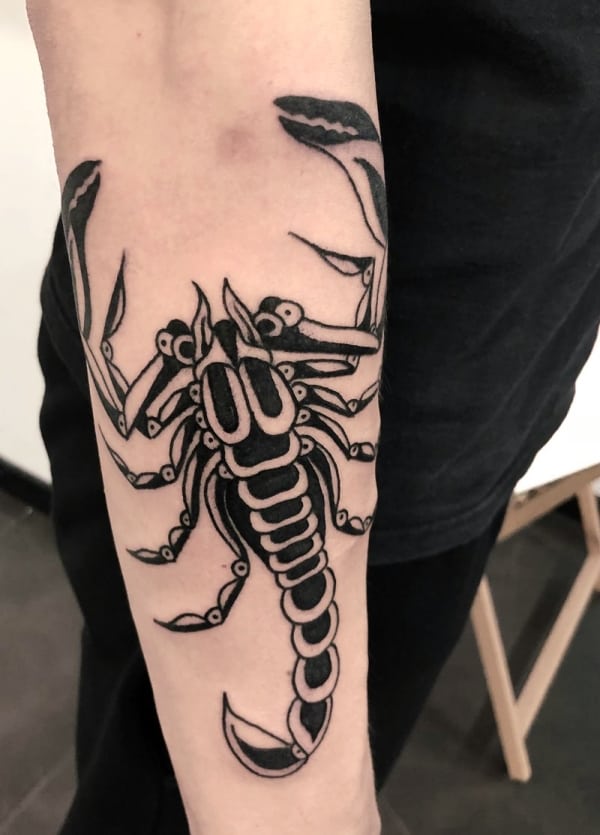 Flaunt your 'Go-Getter' attitude with an aggressive and fierce scorpion tattoo on your forearm.
Get it inked in a black shade that signifies the wild side of this creature. In many religions, Scorpio is a symbol of triumph and bravery.
Scout for your preferred meaning and get the stylish tattoo sign inked wonderfully for a perfect look.
41. Giraffe Forearm Tattoo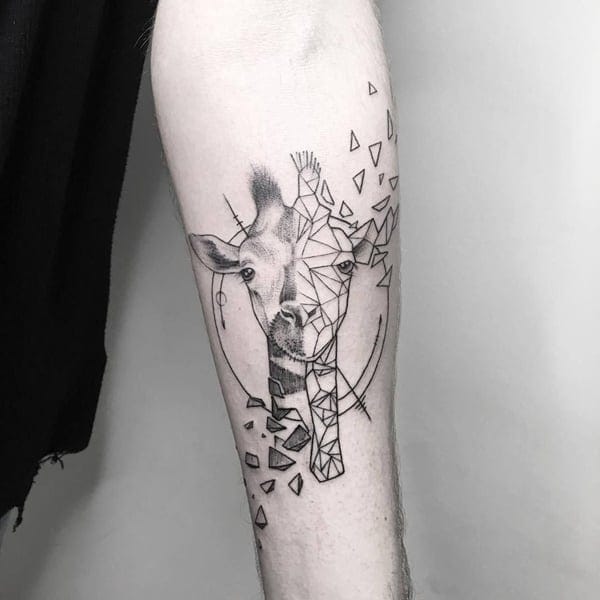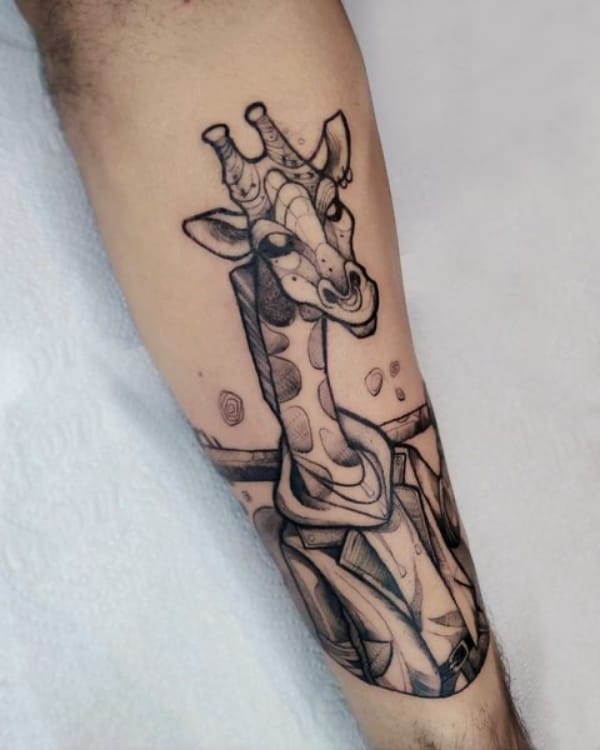 Explore that wild streak in you with the giraffe forearm tattoo for guys. If you like to imprint the long-necked animal to adorn your forearm, go ahead.
The giraffe symbolizes traits such as intuition, patience, dependability and grace. Going for this impressive tattoo art on your forearm also displays peace and tranquillity.
42. Small Sparrow Tattoo on Forearm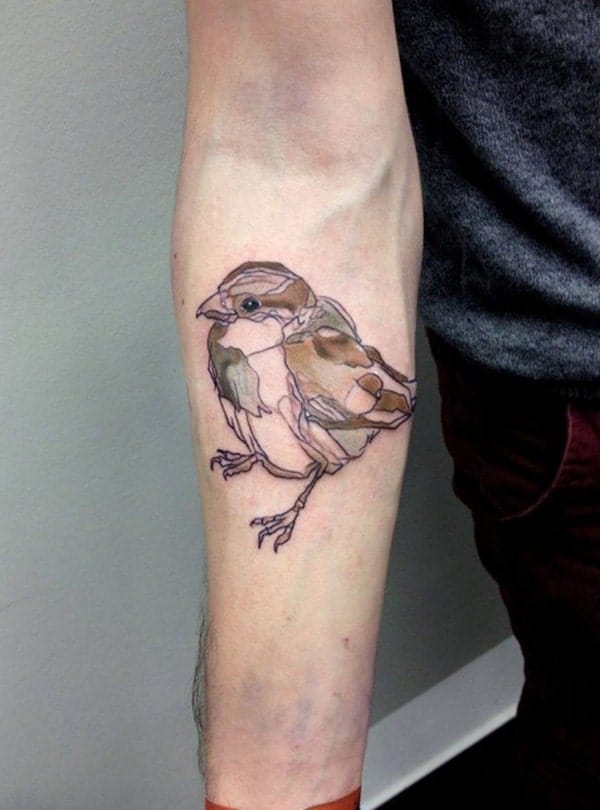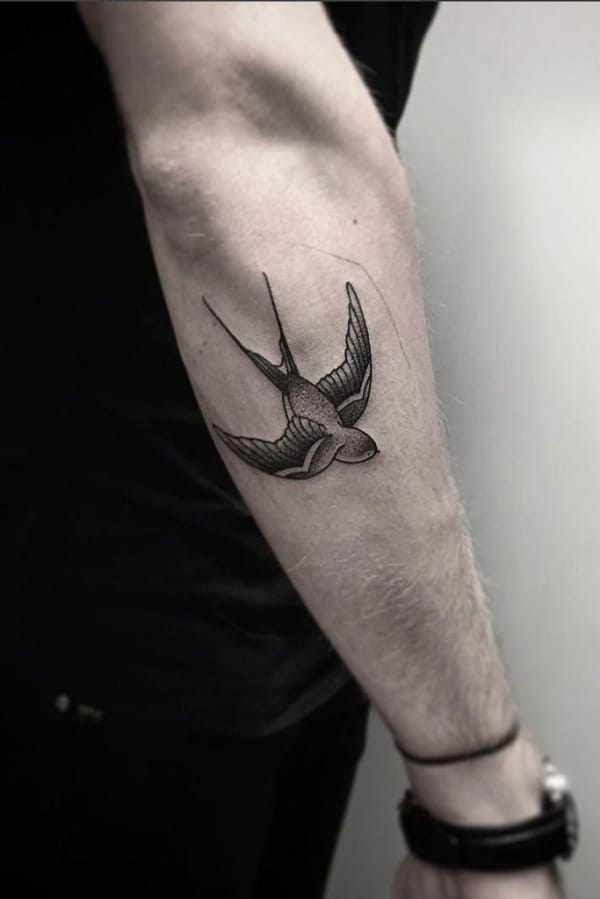 Do you wish to embellish a small yet meaningful tattoo on your forearm?
How about going with a tiny sparrow that signifies autonomy and liberty? This cute little bird is visually appealing and known for its senses.
Opt for a splash of colours in this tattoo for a stunning design. It can be a perfect pick to look stylish and edgy.
43. Mandala Forearm Tattoo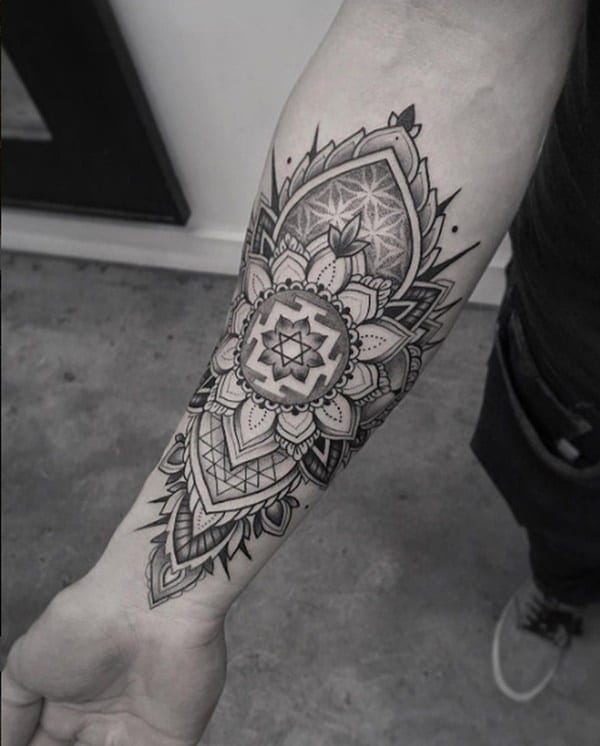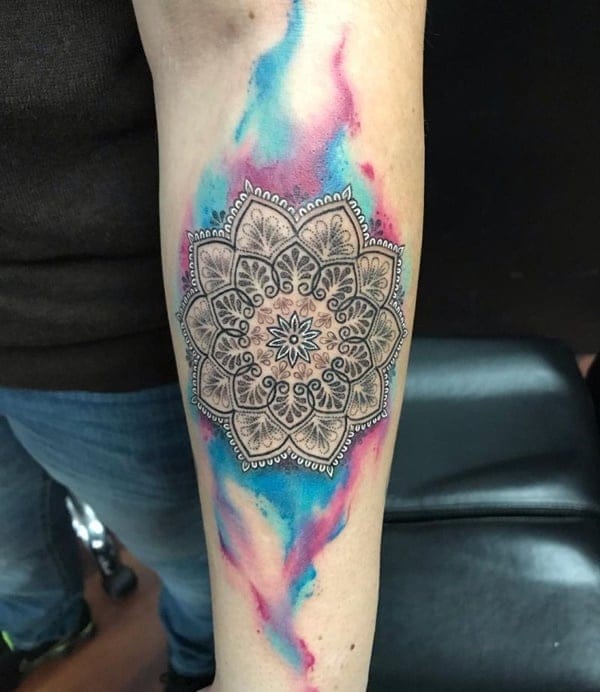 Mandala designs are known for elevating peace, sanity and self-realization in oneself. Getting a mandala tattoo inked can have a calming effect on your mind.
It can help in increasing concentration levels to achieve your goals. Embrace the vogue with unique mandala tattoos like a clock, wheel design, infinite circles or tribal themes.
Find your style on the web and place it for reference in front of your artist.
44. Guardian Angel Forearm Tattoo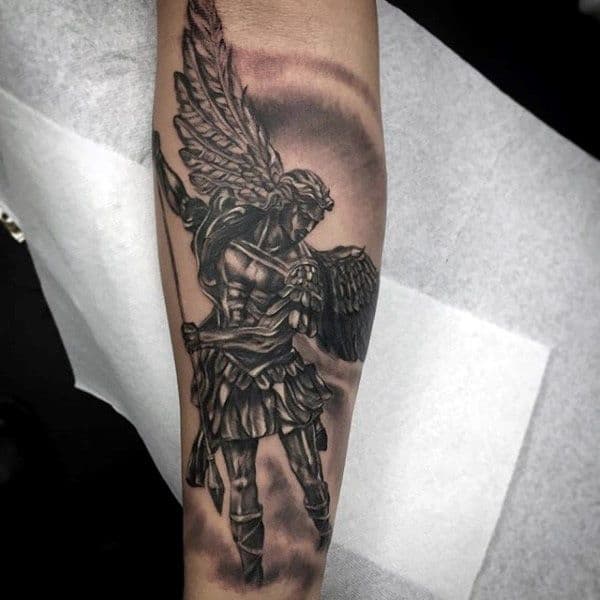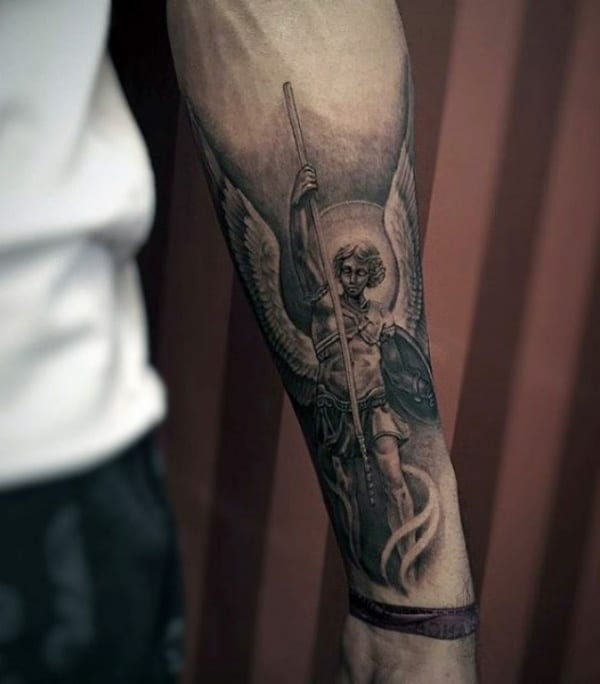 An interpretation of a guardian angel on your forearm is a shield to safeguard you from all the evils. It is also a sign of prosperity, positivity and good fortune in life.
A colourful guardian angel is a delight for the viewers as it enhances happiness in oneself.
These angels are marked as the soulful figures from heaven who bless you with positivity in life.
45. Tribal Forearm Tattoo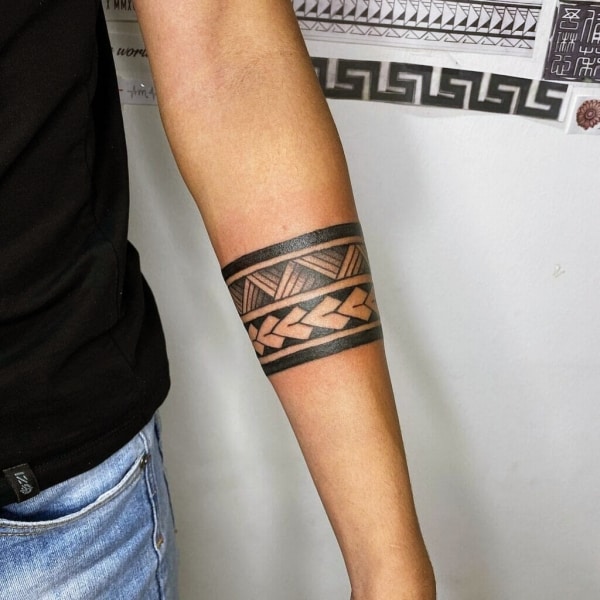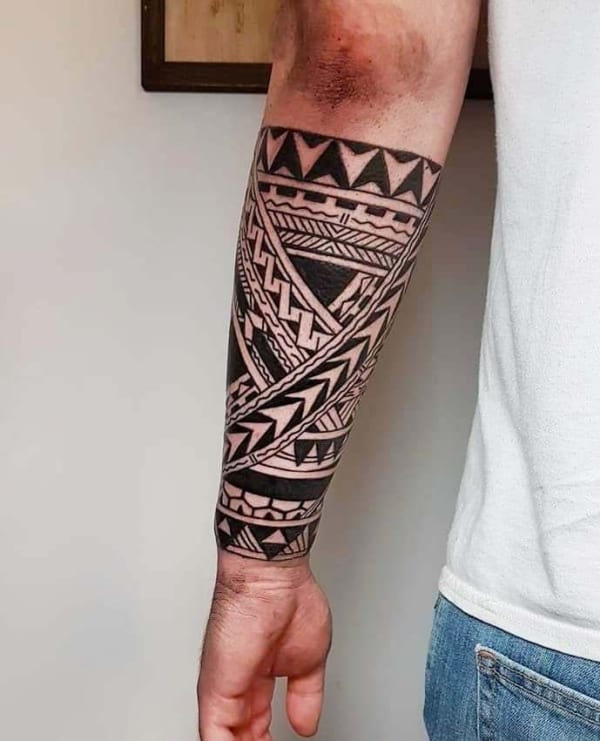 Men willing to hone a meaningful and timeless forearm tattoo design can go for tribal inks.
There are myriad of unique tribal designs that are rugged, wild and full of male vibes.
Several cultures or religions consider tribal inks to symbolize their ages-old existence.
There are versatile themes based on which you can get the tattoo inked.
46. Sugar Skull Forearm Tattoo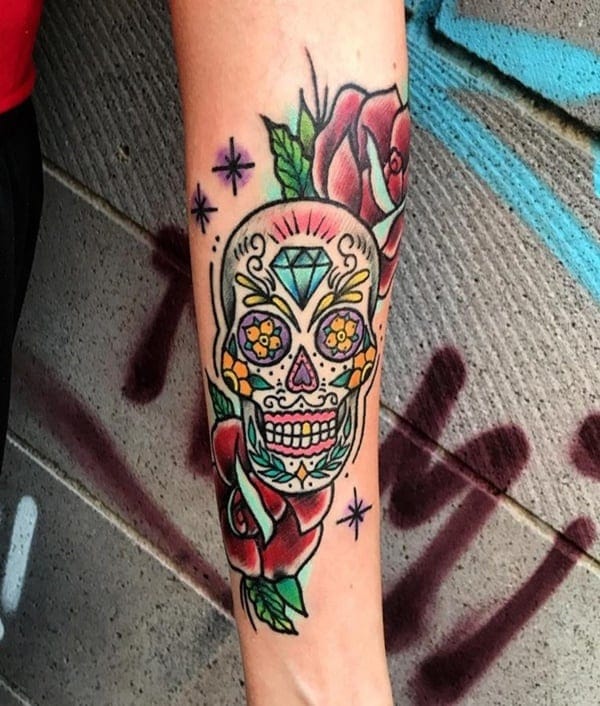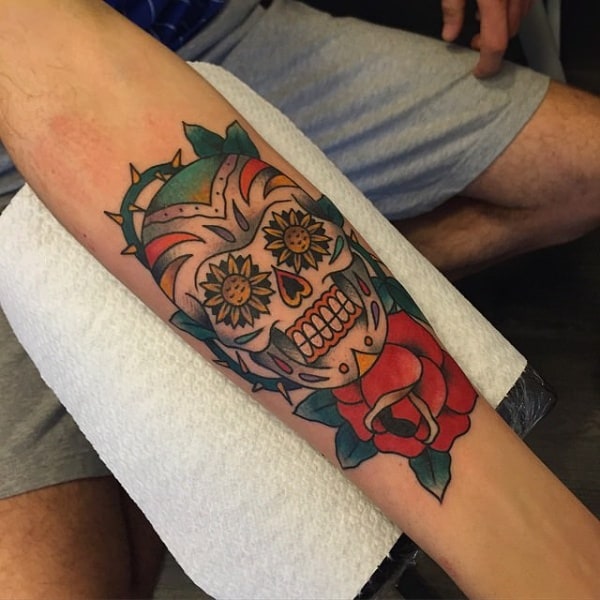 A colour-dipped sugar skull tattoo forearm tattoo symbolizes the dominance of masculinity.
Many tribes and cultures interpret the significance of this ink in various manners. It simply looks perfect and can behold anyone's sight.
If you wish to adorn something unusual, powerful and dynamic on your forearm, this one is to go for!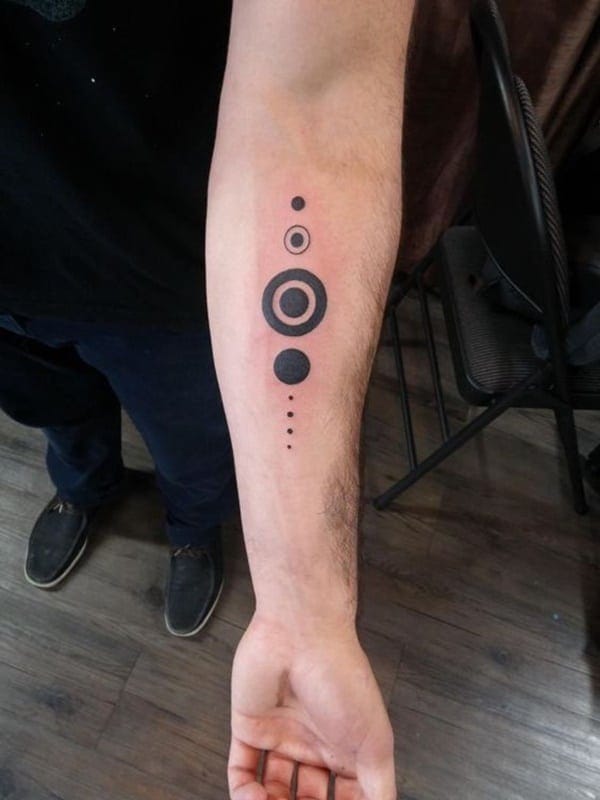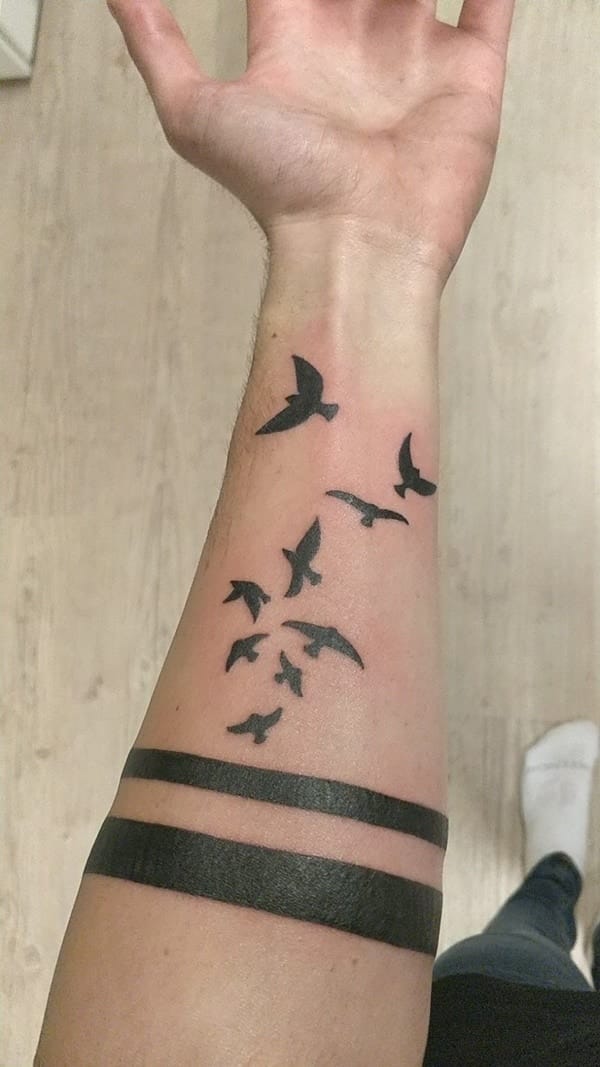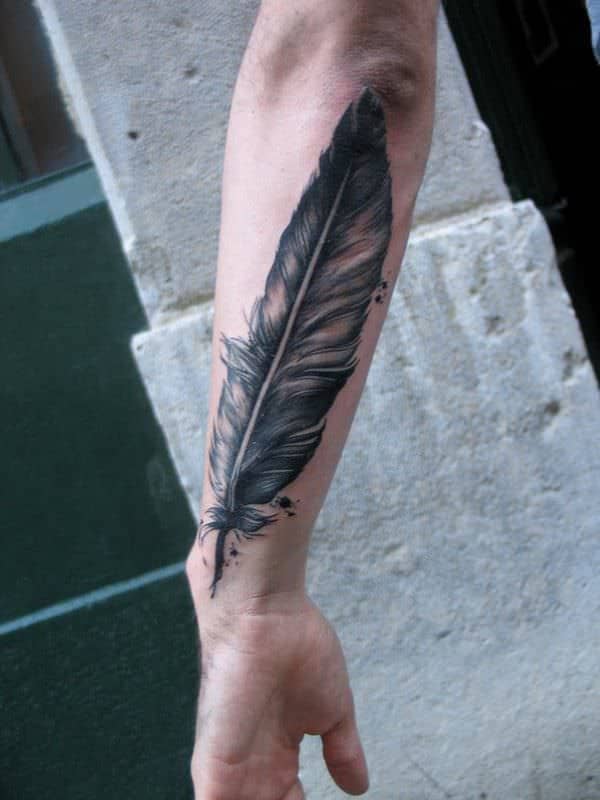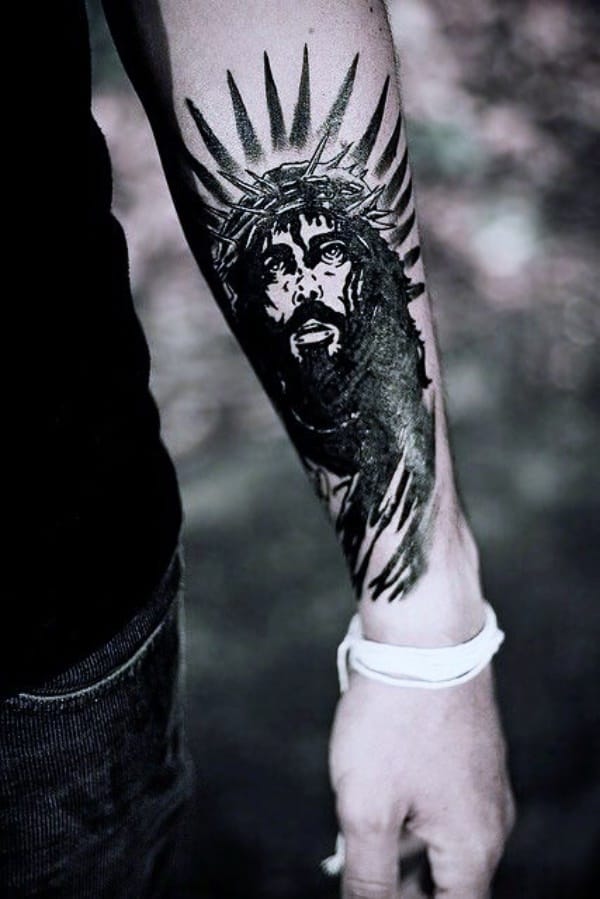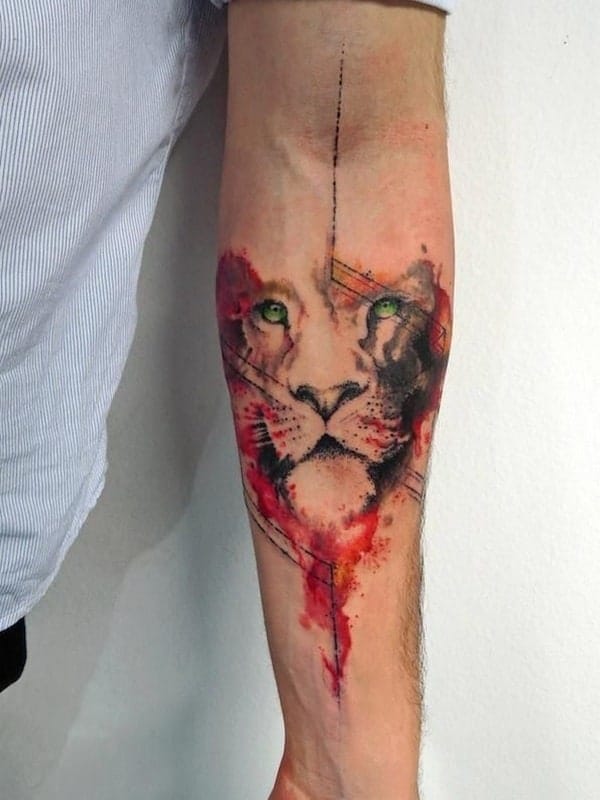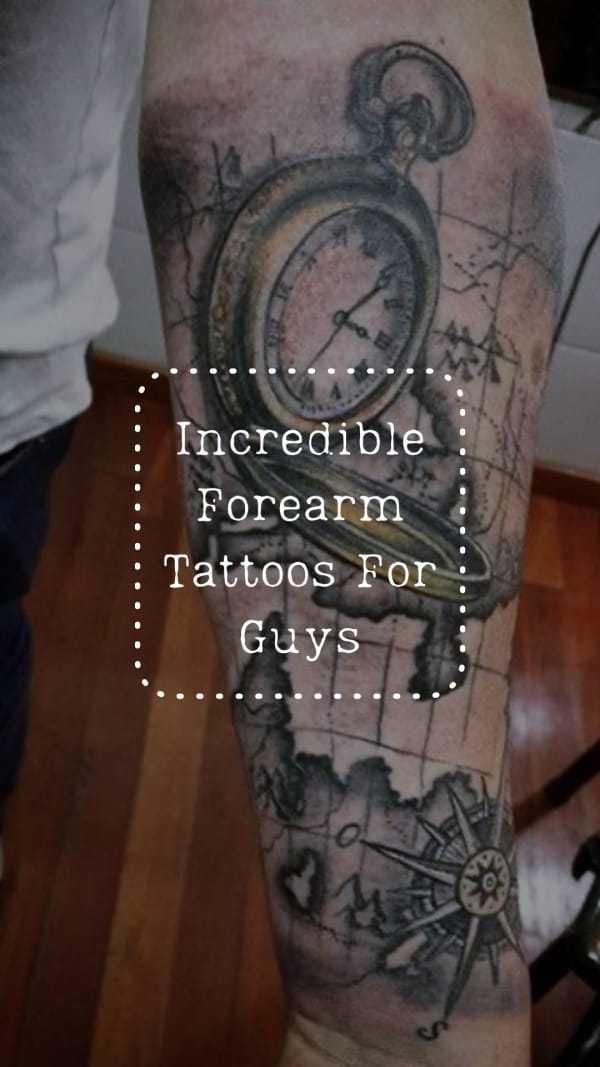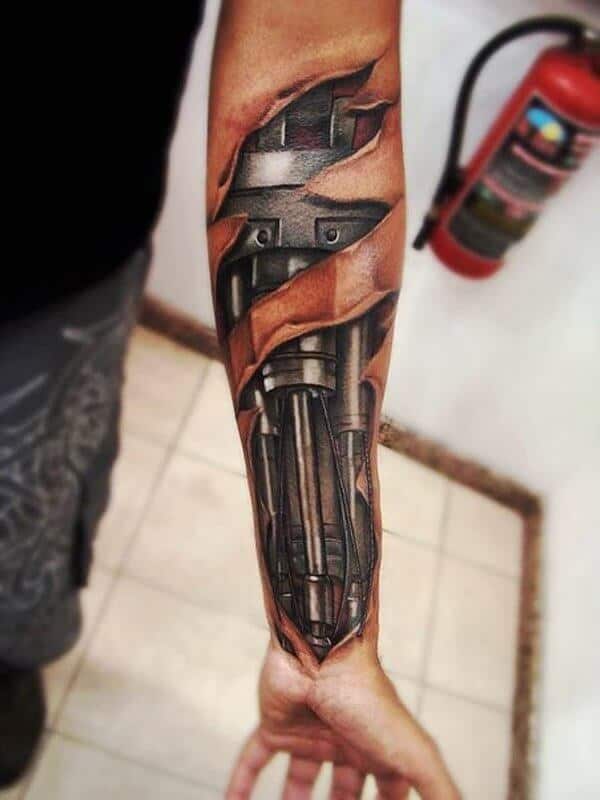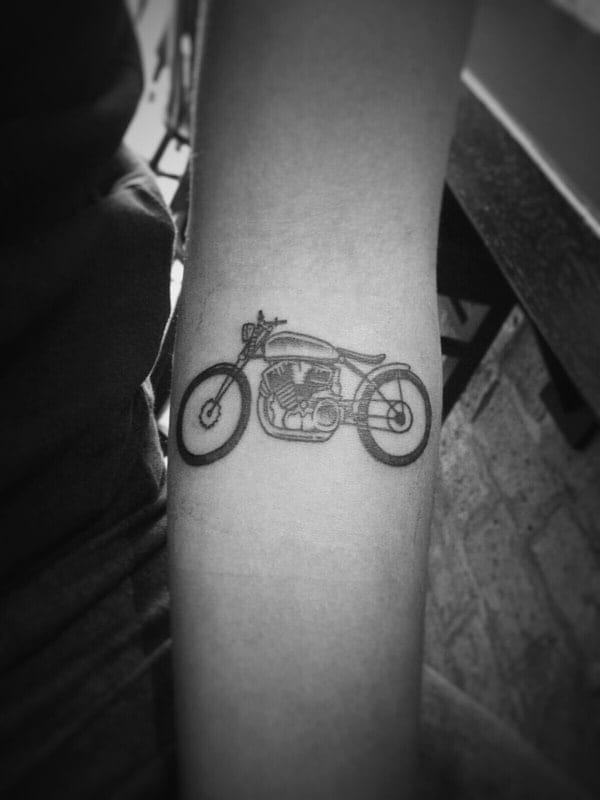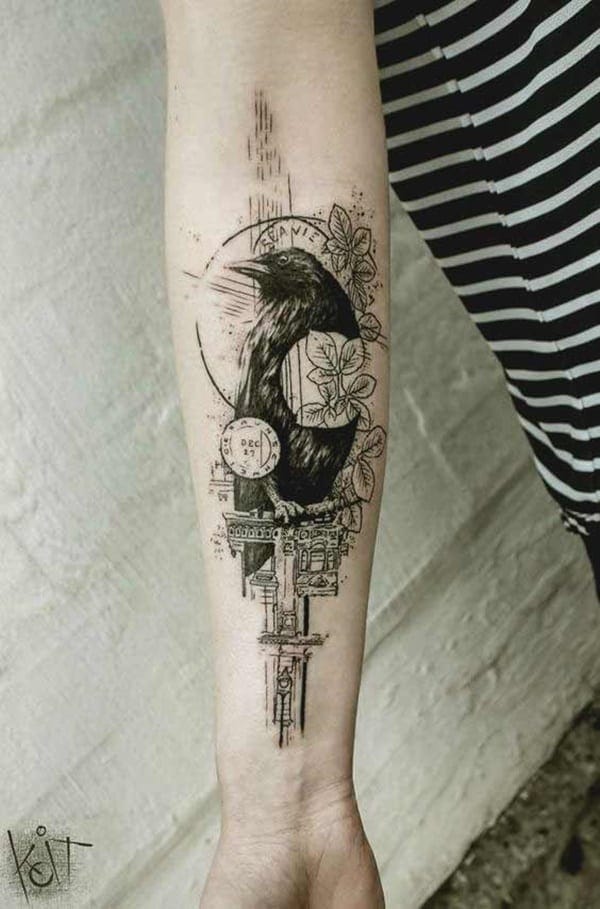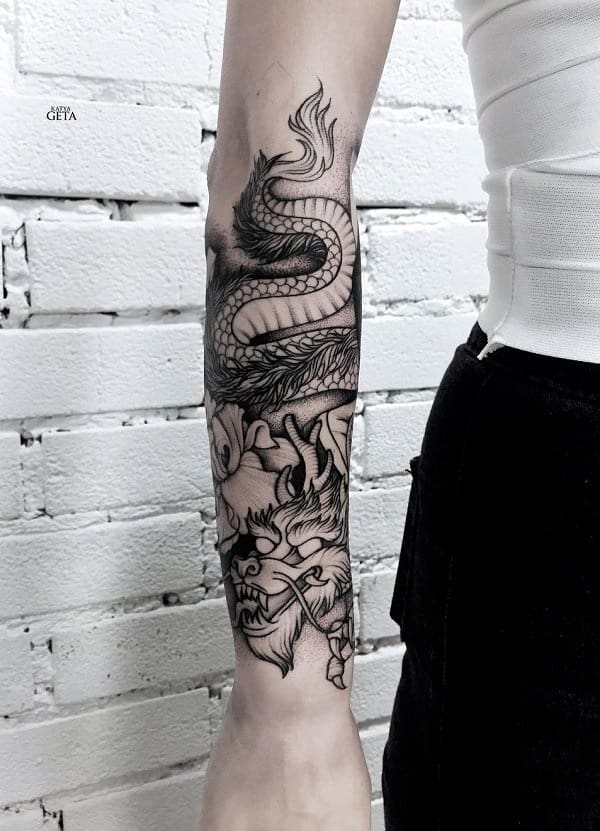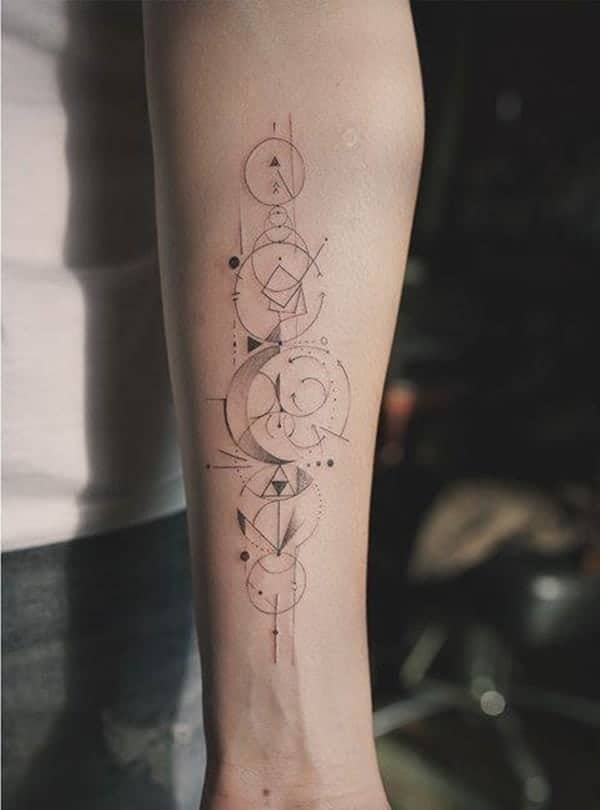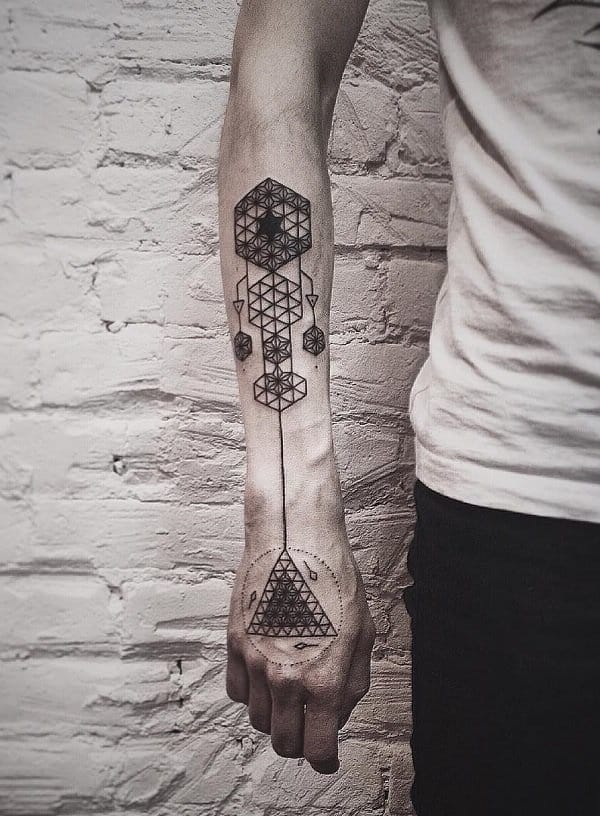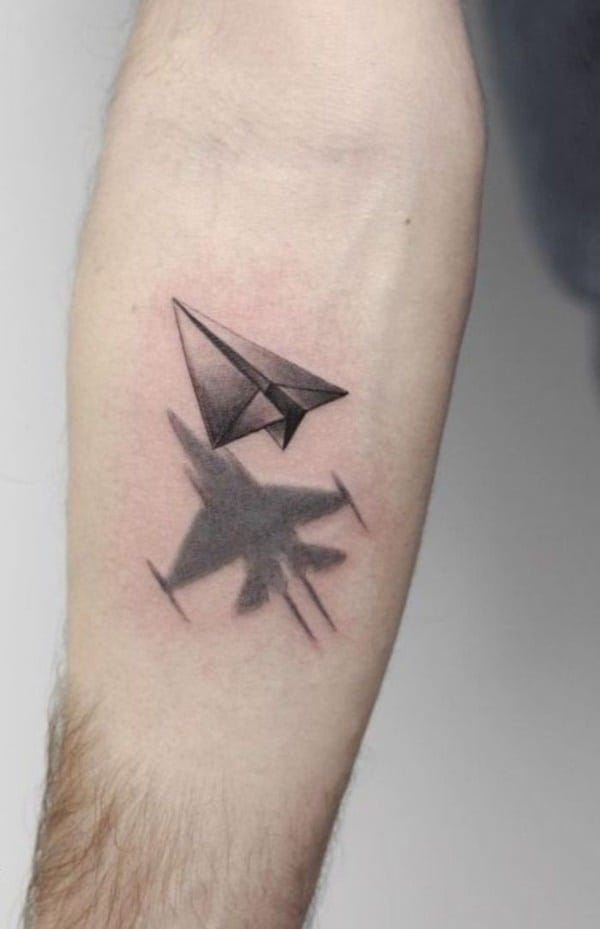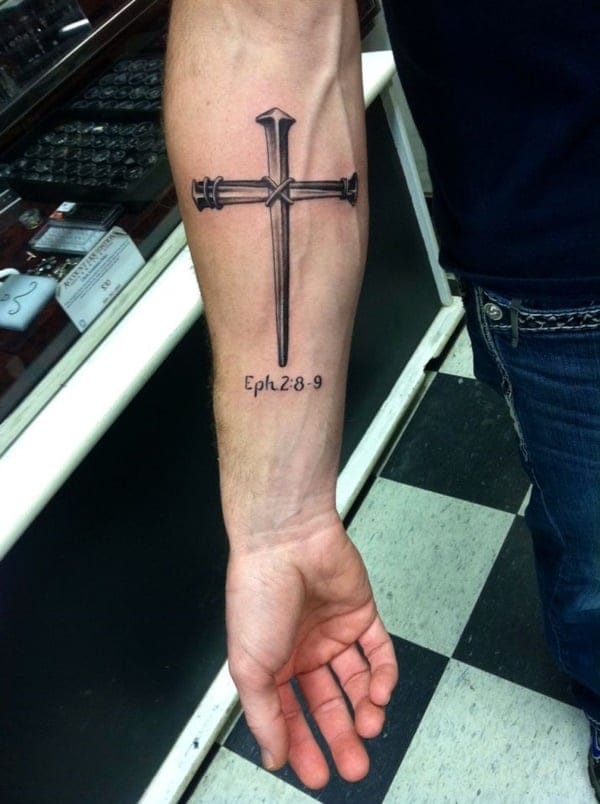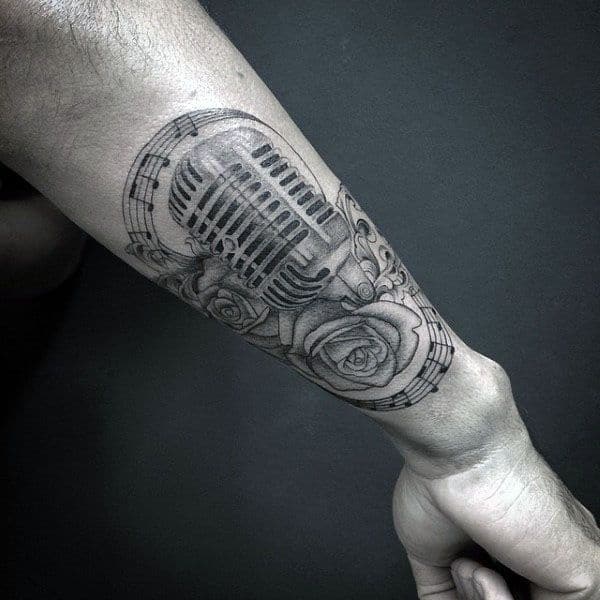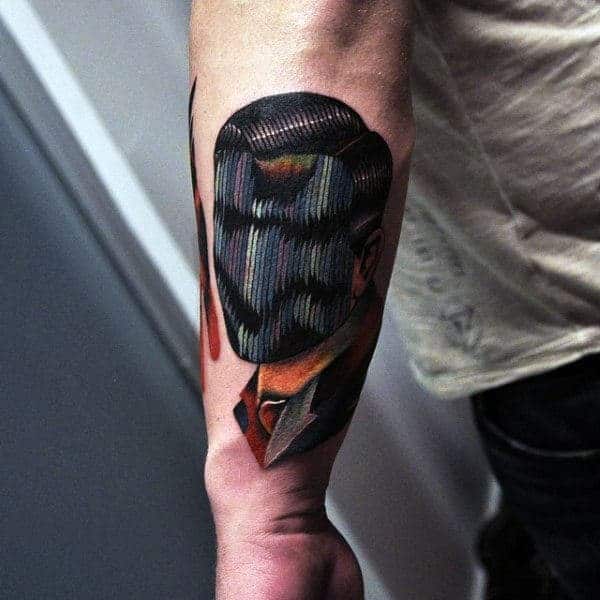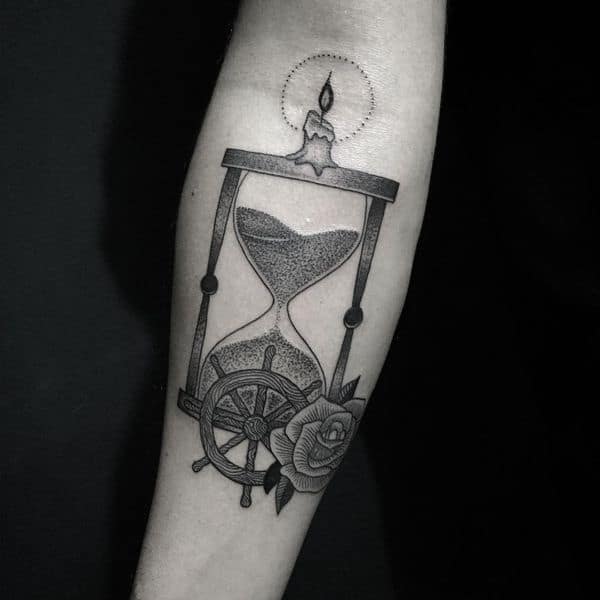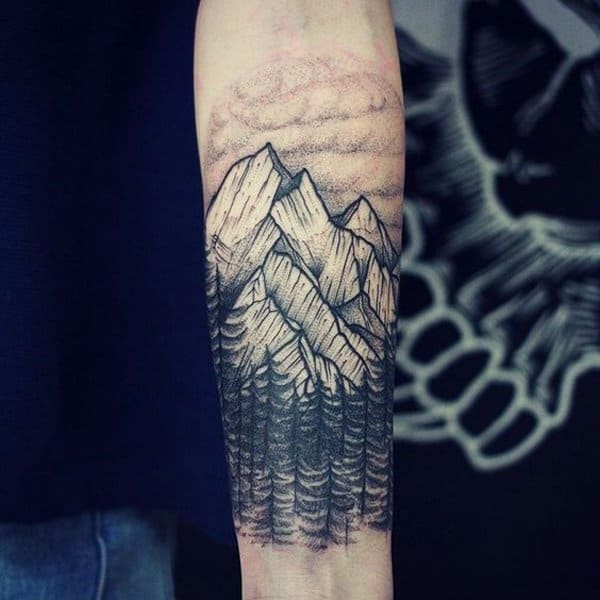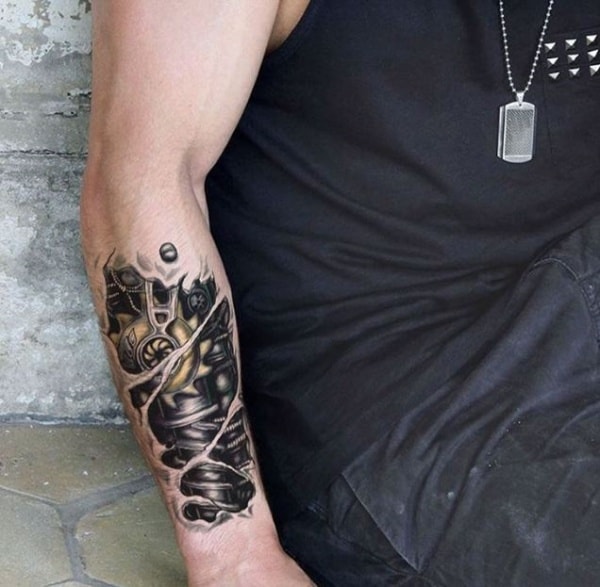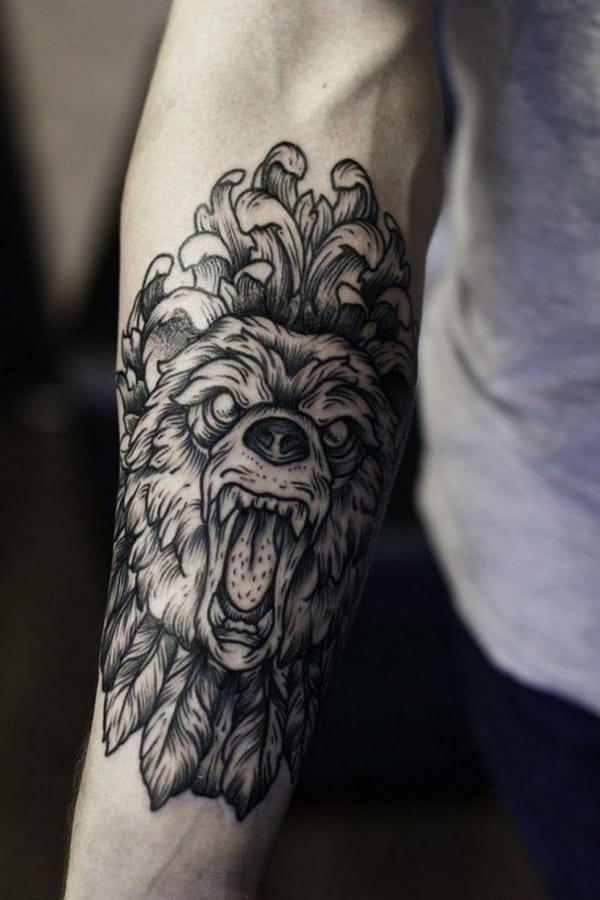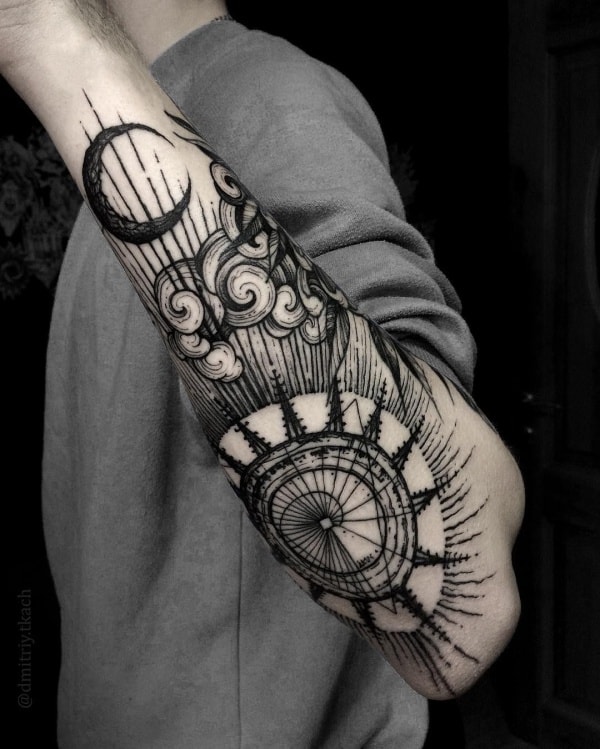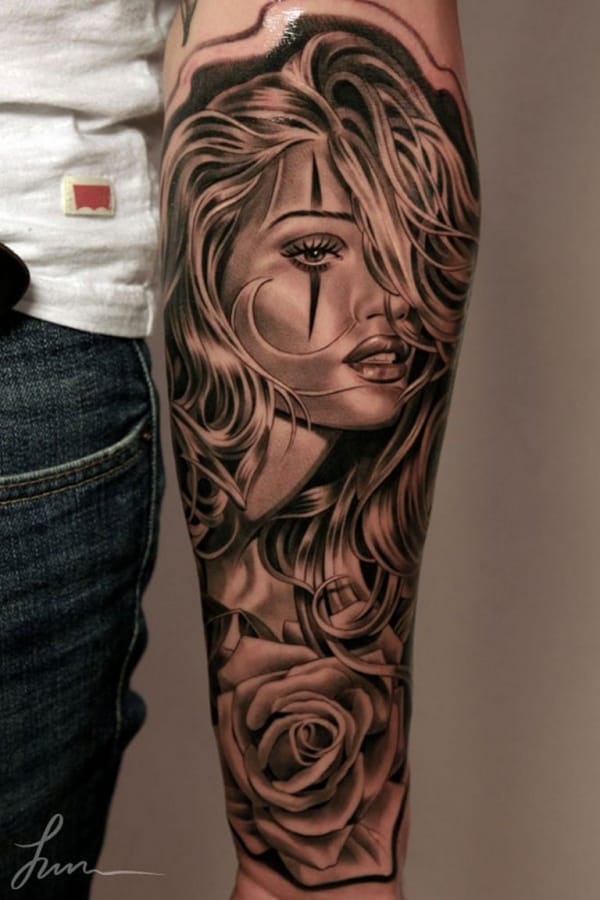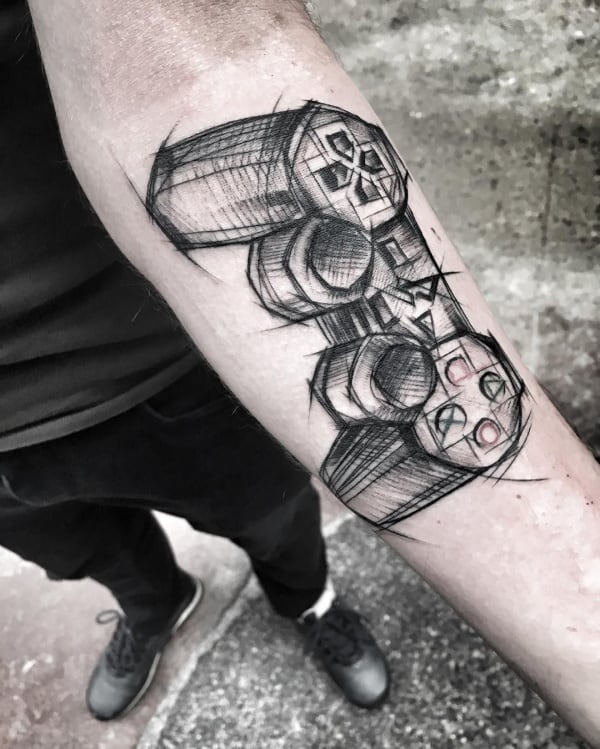 Related:
Winding Up
Above stated forearm tattoos for guys are just an idea to know what you exactly expect from your tattoo designs. It helps conjure your brain to develop new ideas and fresh approaches.
We'd like to hear back from you about any such rare and futuristic designs. Attractive forearm tattoos with diverse concepts are insightful and inspiring.
We suggest you plunge into your favorite designs and art forms for a versatile appeal. Men are very specific about the artwork they like and find attractive.
So, go and explore the alternatives to shortlist the best ones!
F.A.Q:
What Does A Forearm Tattoo Mean?
There are a few things that a forearm tattoo can indicate. It refers to trust, confidence and emotional interpretation. It is a perfect idea to wear a preferred tattoo on your sleeve and flaunt it with pride. Forearm inks are visible and remind you daily of your preferred designs.
How Painful Is A Forearm Tattoo?
The forearm is a broad and harder area on your skin, thus making these tattoos less painful. Even then, you must stay cautious about getting the design rightfully inked to avoid injuries. Remember that if the design is intricate, it might take more time resulting in further pain and suffering.
How Much Does A Forearm Tattoo Cost?
The price of the forearm tattoos might vary on multiple factors like the place, size and experience of the tattoo artist. When the tattoo size increases, its cost also surges. A basic forearm tattoo might cost around $200-$1200. If you further infuse more colors, designs or detailing into the design, the price increases considerably.
Do Forearm Tattoos Last?
Yes. Permanent forearm tattoos can last for quite a long time. You can further ask the professional tattoo artist about how long they will last, other alternatives and many other such aspects. Explore multiple alternatives before getting the final ink. After all, permanent ink is bound to last comparatively longer.