Getting a tattoo inked is a big decision and there are various reasons behind choosing a specific tattoo design. Many tattoos have different meanings and represent lots of things. Men and women all around the world opt for getting tattoos that depict some specific meaning. Tattoos of Solar Systems are also gaining high popularity nowadays. Also, here we present some Beautiful Palm Tree Tattoo Designs And Meaning. Therefore, in this article, we are giving you the meaning, placements as well as a list of 15 Amazing solar system tattoo designs and ideas.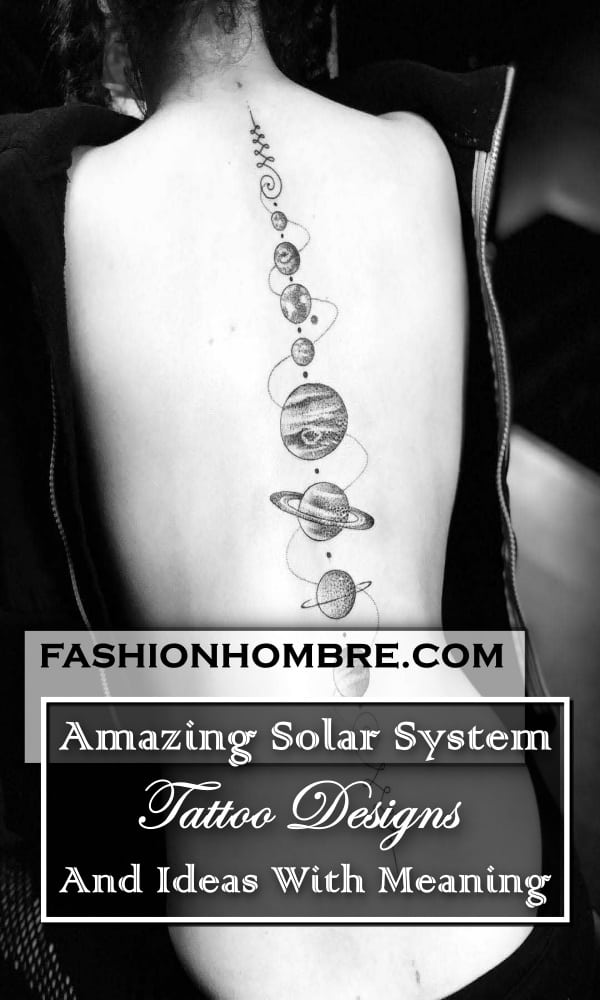 Beautiful Solar System Tattoo Designs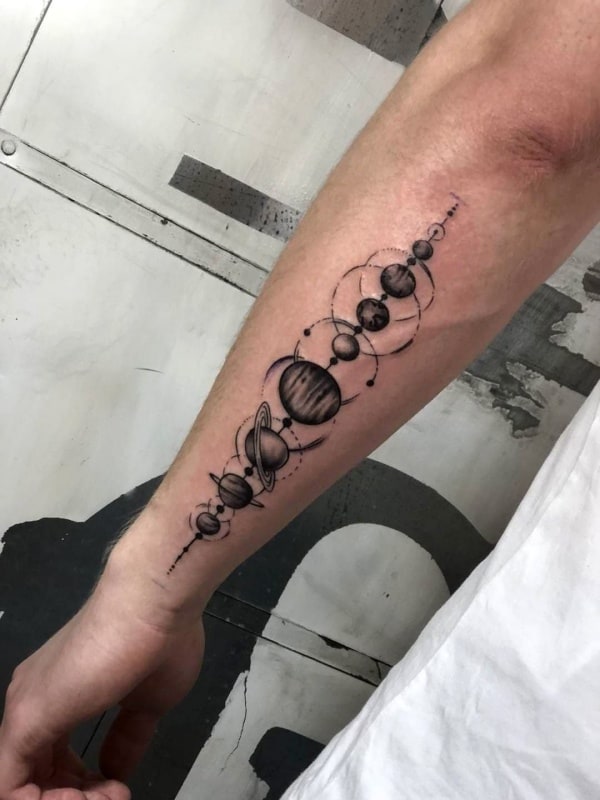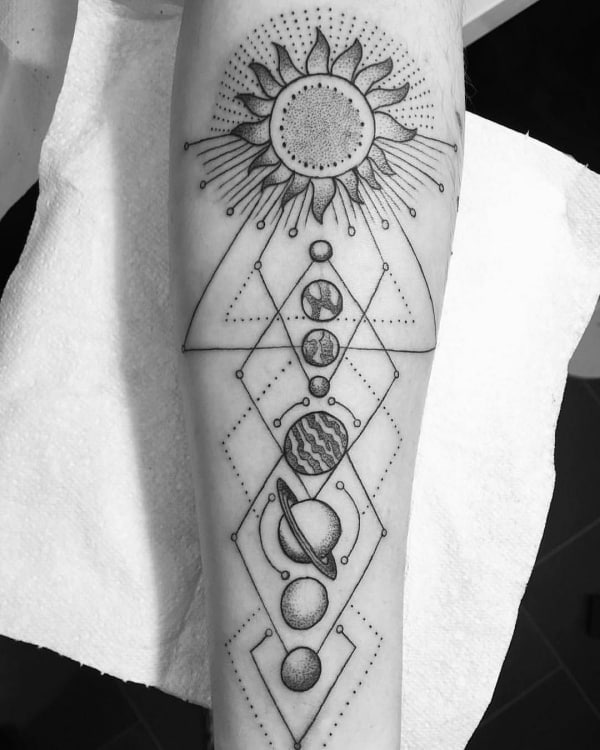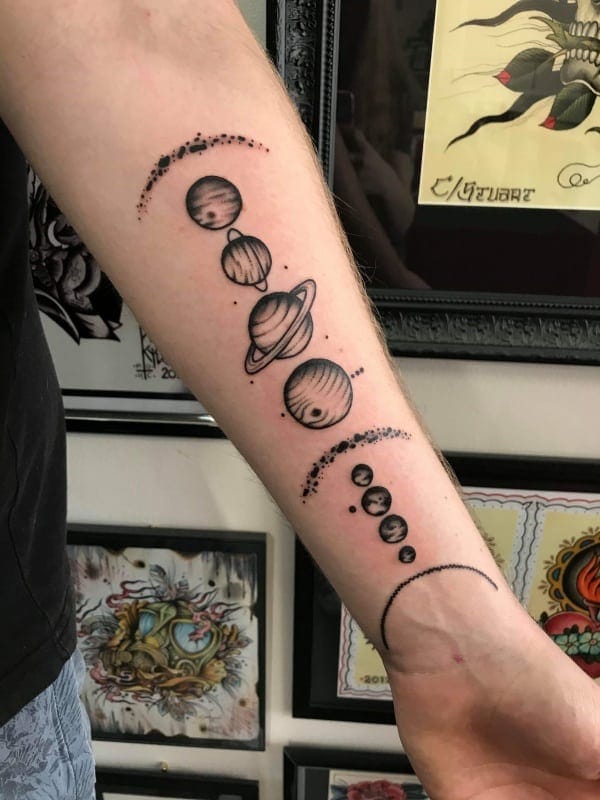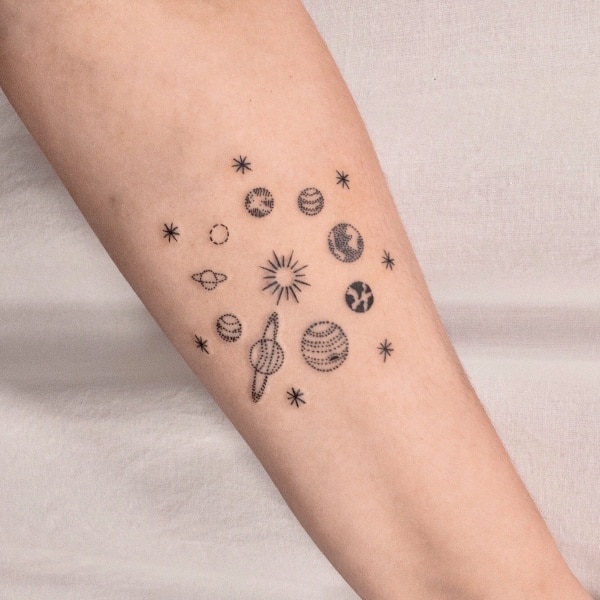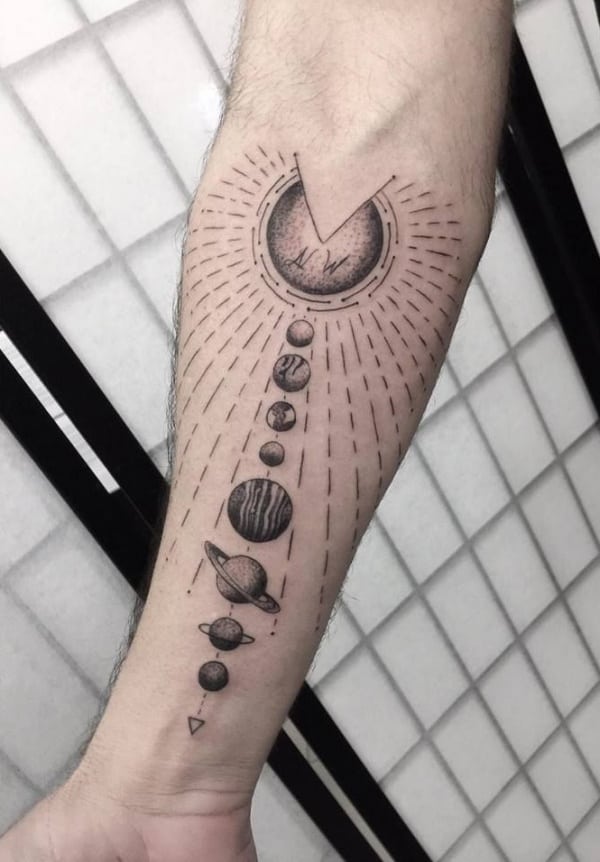 Solar System Tattoo Meaning
If you have an interest in planets, sun and other planetary objects then you should get a tattoo of Solar System. Many people see these tattoos as a means of touching the spirit of adventure in people. We all are enthralled by the unknown things and many people who may not have glimpsed the solar system; they can experience it by having the solar system tattoo designs. Solar system tattoos help us in understanding the world we live in by capturing it in an easy yet holistic way. It is also for those people who love to keep a layer of unknown things and enjoyment attached to their soul.
Solar System is as inexplicable as you can imagine. It's wondrous as well as a true definition of mystery. Through these tattoos, all the sizzling stories told about the solar system, like the orbiting of planets around the sun, the possible survival of outer space beings in certain planets and the glowing beauty and shapes of other planets come alive in our thoughts. Solar System Tattoos allow us to realize the fact that while we can name a thousand words that divide us, there is one that unites us all that is the universe. Hence, these tattoos can be also used as methods of moralizing harmony among people of religious persuasions, varied races tribes, and faith.
Solar System Tattoo Placements
There is a wide array of Solar Systems Tattoos that are inked on the body and all have different meanings. Choosing a design depends on the preference of a person or where he or she wants to get it inked. These tattoo designs are suitable for both men and women and look wonderful. There are various body parts where these tattoos can be placed. Some people choose to get a tattoo inked on those body parts, which are not easily visible, and they can simply hide it in their workplace.
So, the placements of Solar System Tattoos depend on the wearer and what is the reason behind getting the tattoo; it's for style statement only or they want to give a specific message. Hence, people highly prefer getting this tattoo inked on the ankle, wrist, back, chest, arms, forearms, biceps, triceps, legs, back of the neck, hands, and others. 
Different Solar System Tattoo Ideas: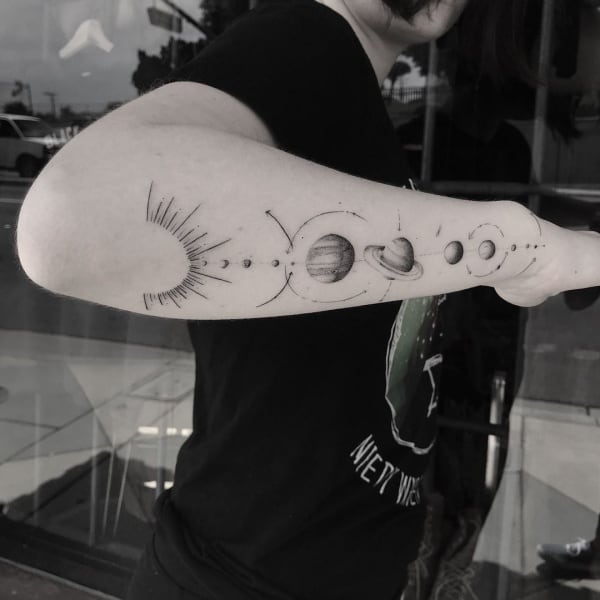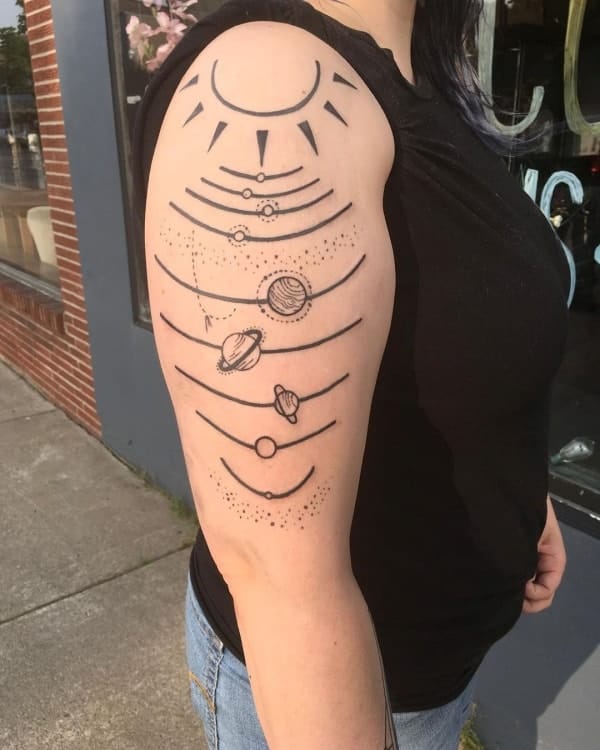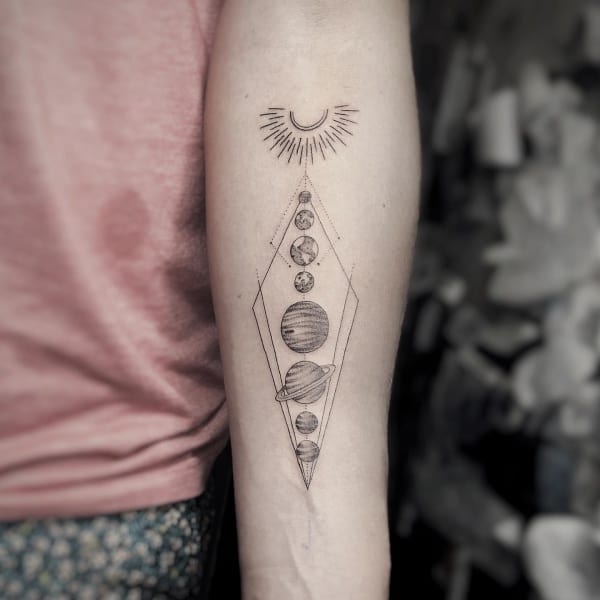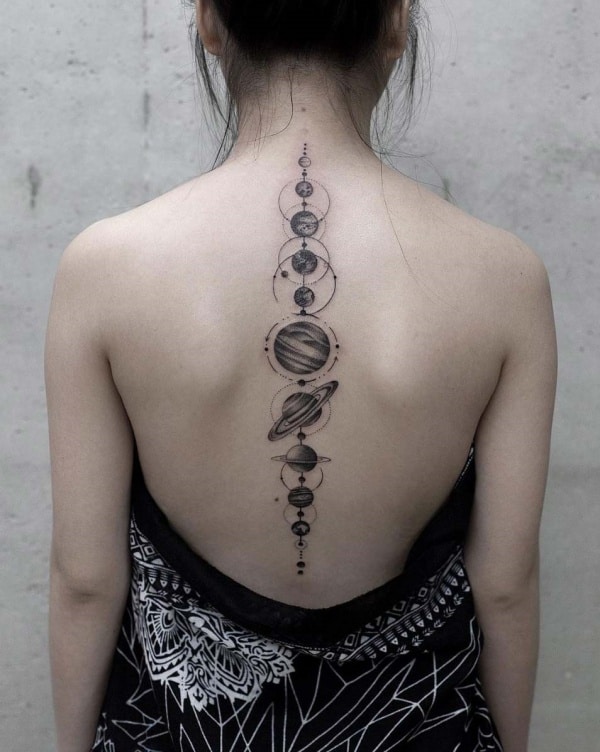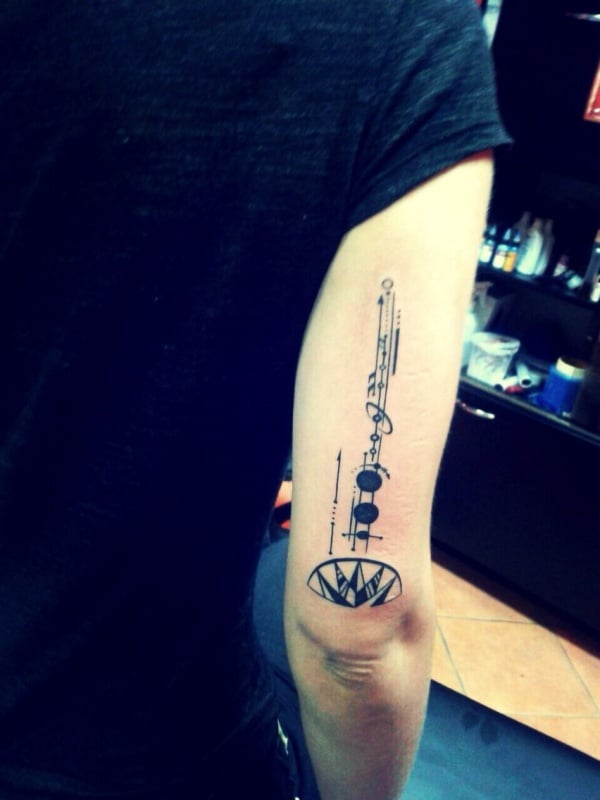 Solar System Forearm Tattoo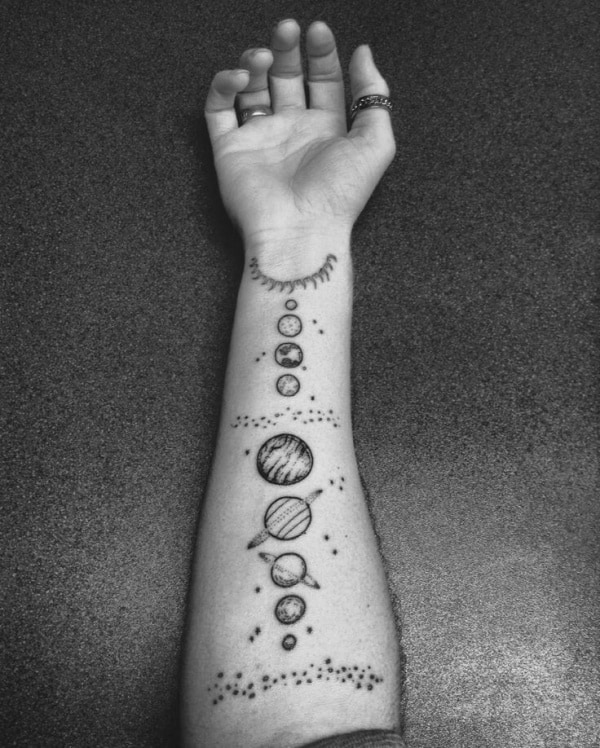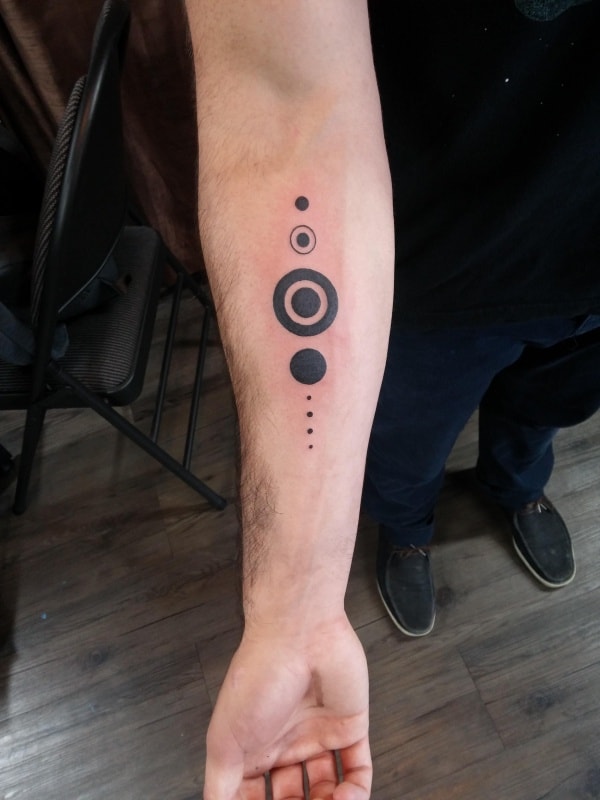 If you are the one who is seeking a simple and attractive tattoo design then you can choose to get inked Solar System Forearm Tattoo. The forearm is considered as an ideal body part to get a tattoo. Moreover, as this tattoo has a design of the solar system, so there will be plenty of space to ink it in elongated form having various details.
Solar System Back Tattoo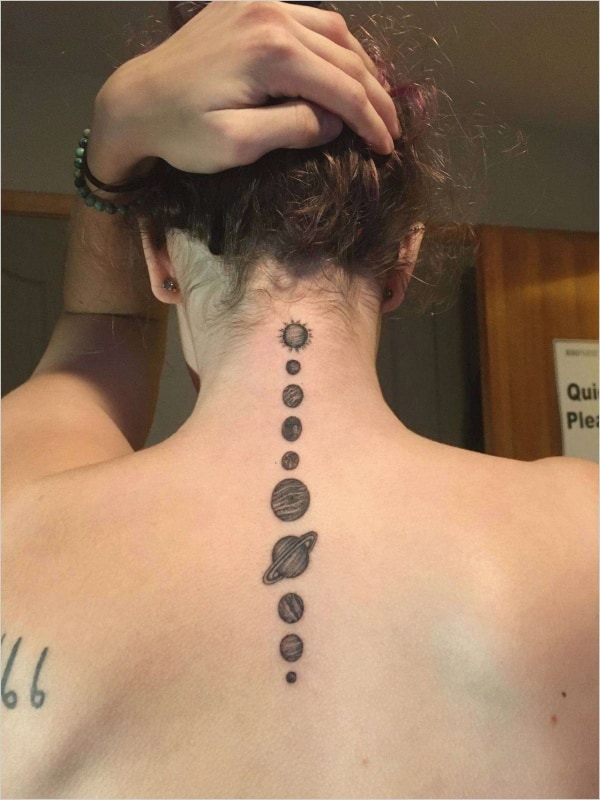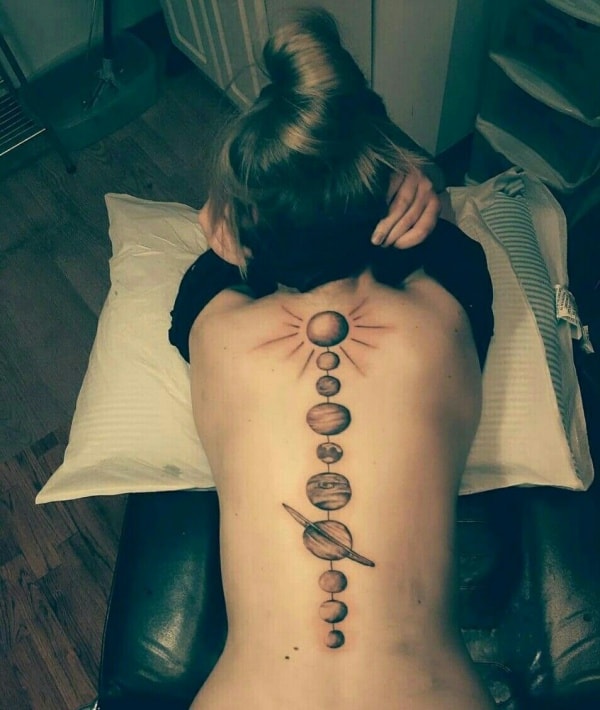 Solar System Back Tattoo is widely preferred by women and looks very gorgeous. This tattoo shows all the planets and other elements in a detailed form. The color you can choose accordingly such as black, blue, red and others. Solar system tattoo on the back can be easily hidden and shown by the wearer depending on the situation.
Geometric Solar System Tattoo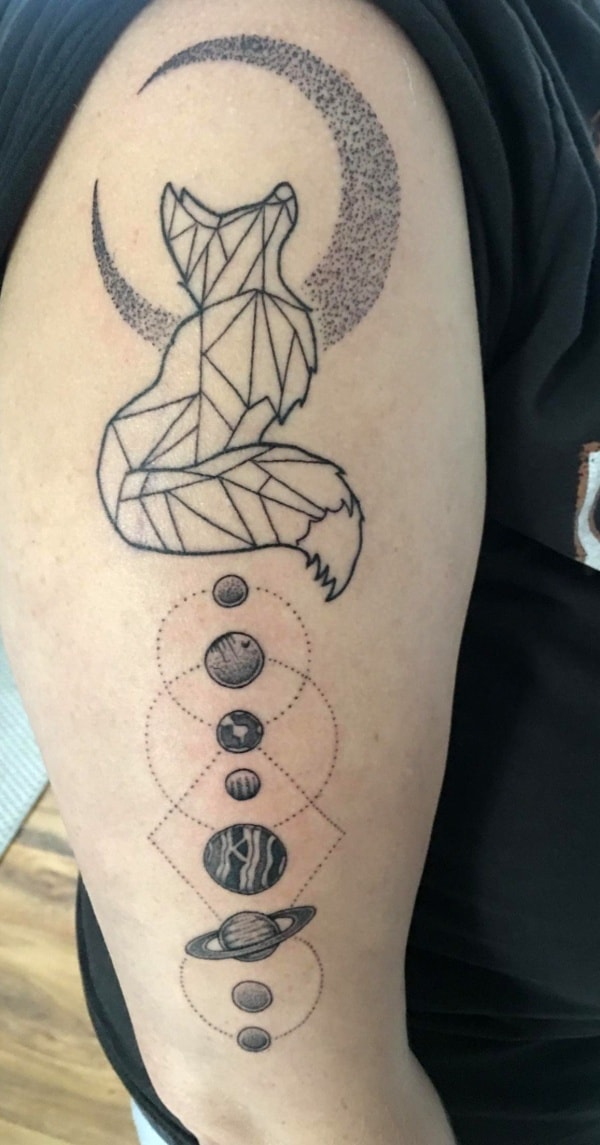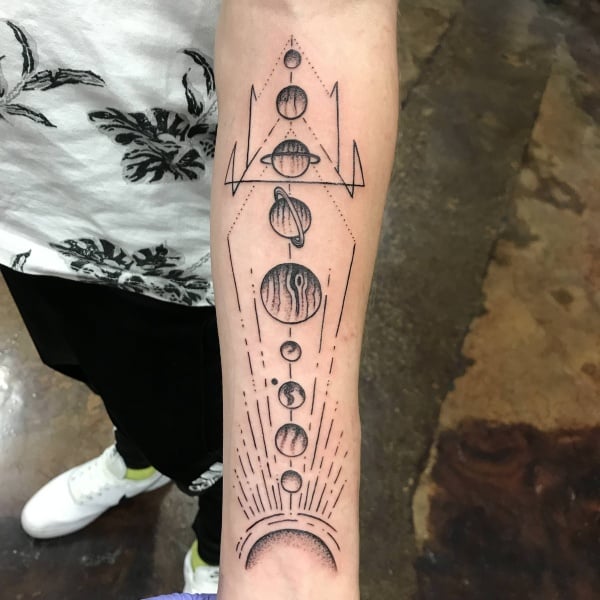 Geometrical patterns are very popular especially in terms of tattoos. You can opt for various shapes such as circular, rectangle, and squares. This tattoo is worn for representing the universality of life and is very attractive. The style is often turning out to be inspirational and can be inked on hands, arms, shoulders and other body parts.
Minimalist Solar System Tattoo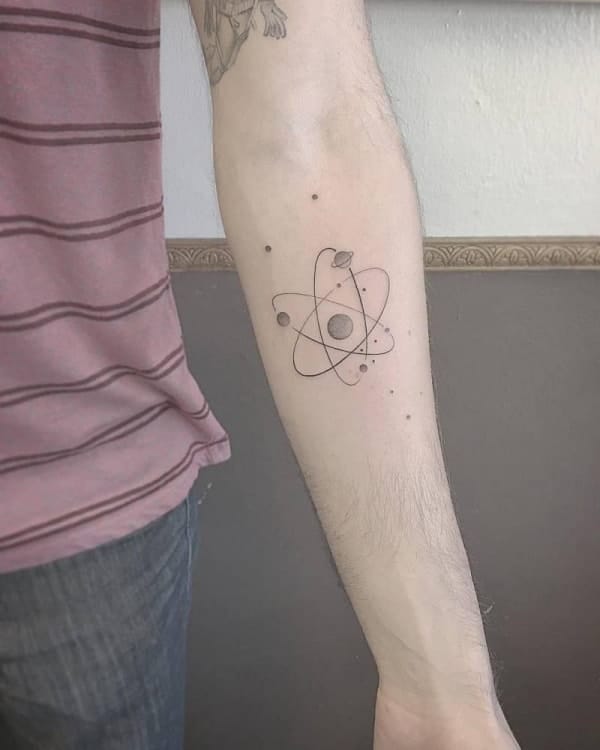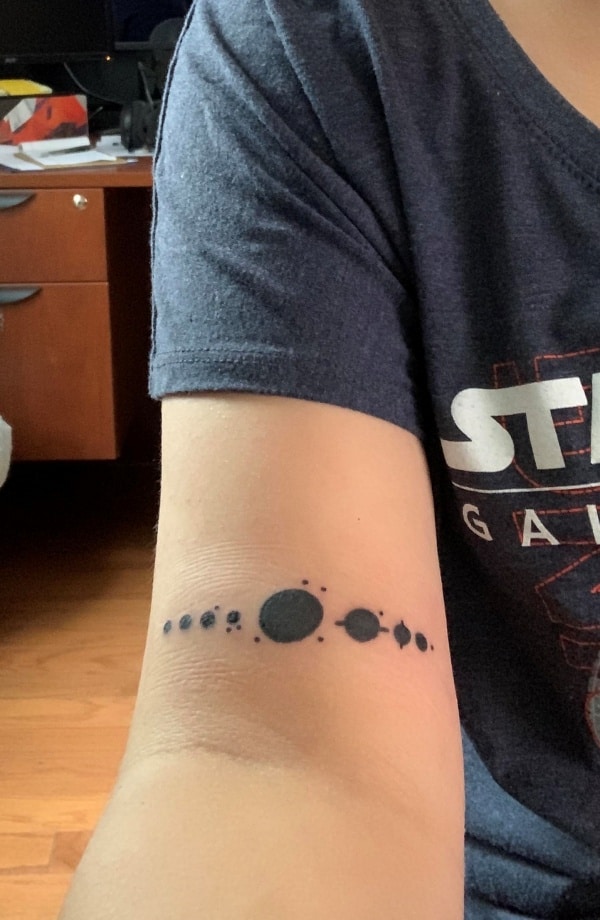 This is a small tattoo and has fewer details as compared to the other tattoos mentioned in the post. Those who do not want to highlight their tattoo can wear this type of outstanding tattoo. The body parts chosen for this tattoo are the wrist, behind the ear, back of the neck and ankle. Besides, this tattoo is good to have if you are a space tattoo lover.
Solar System Arm Tattoo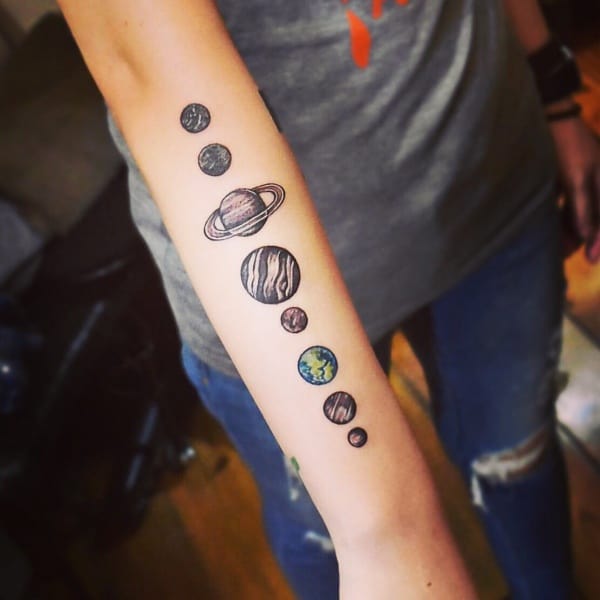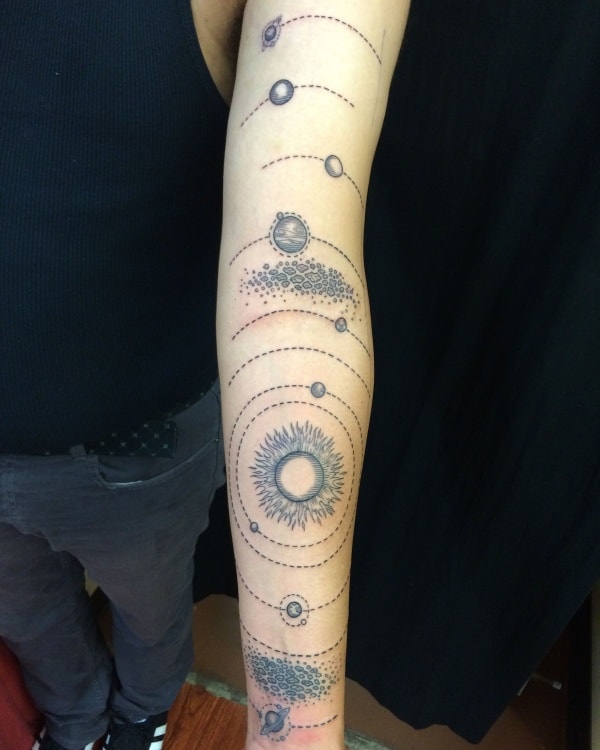 Solar system tattoo designs in the arm can be inked in big or small sizes as per your preference. This can be a perfect body art for your body and shows your mysterious nature like the solar system. In addition to this, the Solar System Arm Tattoo has various planets and is one of the most amazing designs.
Watercolor Solar System Tattoo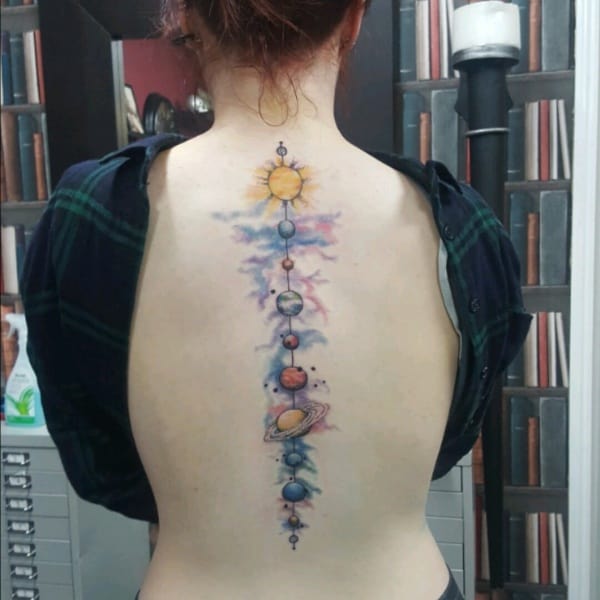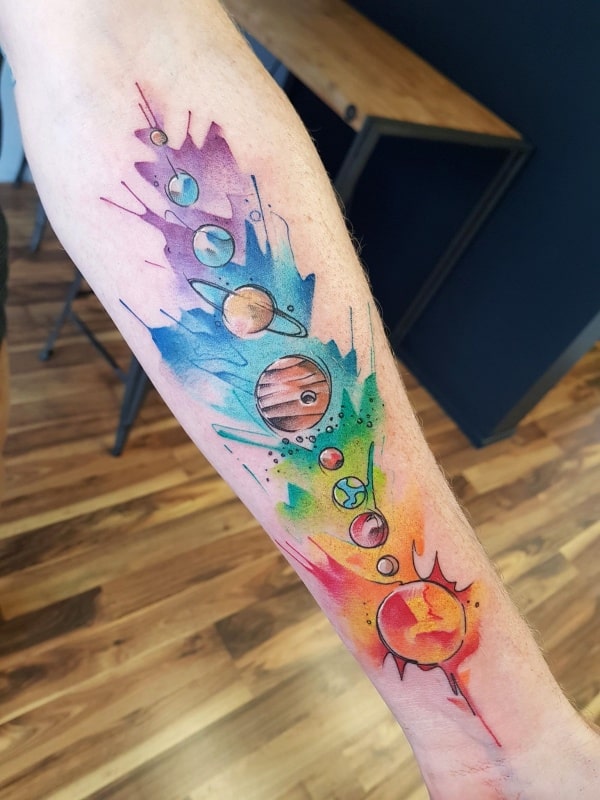 This is a very colorful tattoo and is widely preferred by girls. This type of tattoo is used to symbolize that you have some serious goals in life that need to be fulfilled. The collection of colorful planets in this tattoo design looks very gorgeous and makes you stand out from the rest of the crowd.
Solar System Wrist Tattoo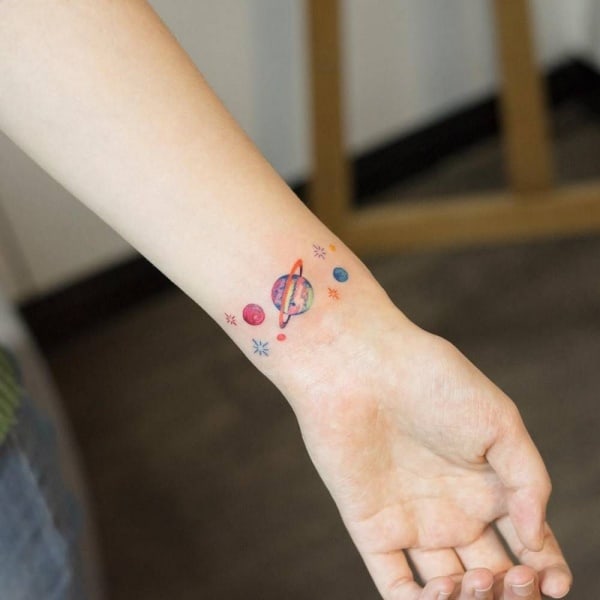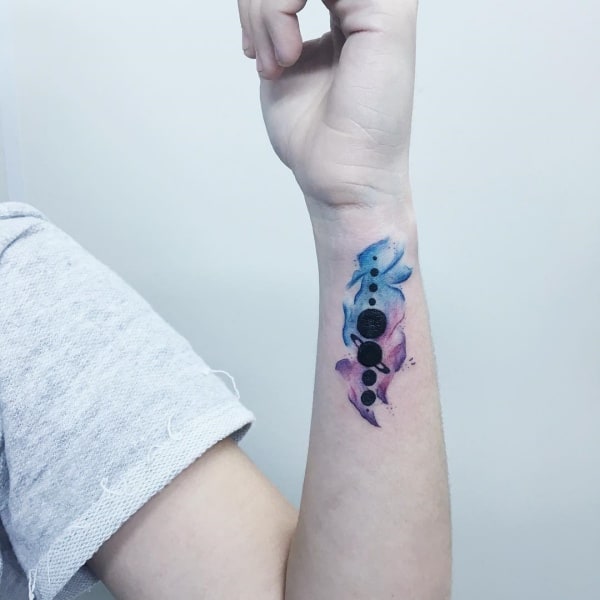 When you are looking for a small and cute tattoo then choosing a Solar System Wrist Tattoo is a good idea. You can select various variations for this cute design such as depicting some specific planet such as mercury, Saturn, earth or any other. Moreover, this tattoo is known for giving positive energy to the wearer.
Solar System Chest Tattoo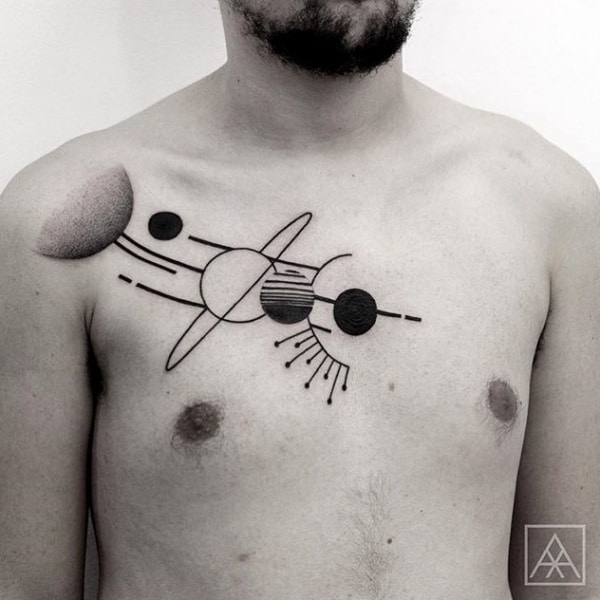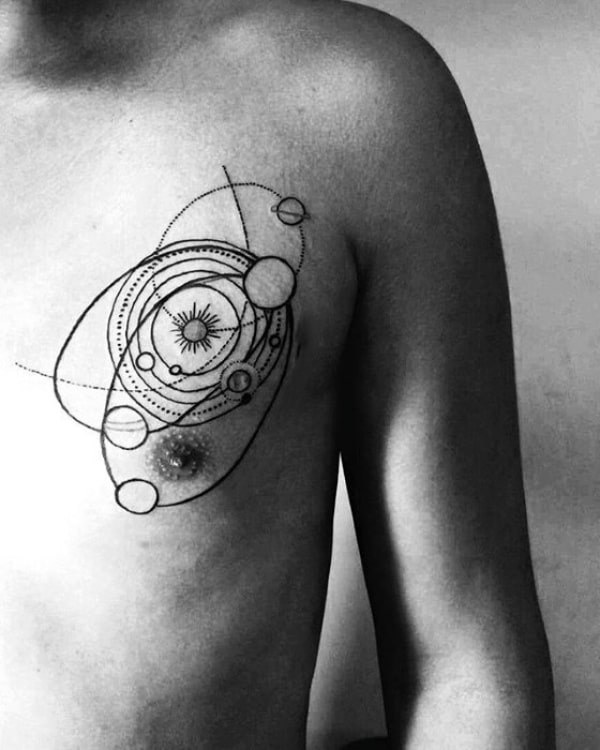 Solar System Chest Tattoo is mainly preferred by men and shows their tough personality. These tattoos are highly reckoned due to their detailed representation showing all the planets. It is a contemporary mix of the universe, which makes it unique, and eye-catching tattoo design. Also, take a look at these Cool And Stylish Arrow Tattoos For Men.
Solar System Tattoo Sleeve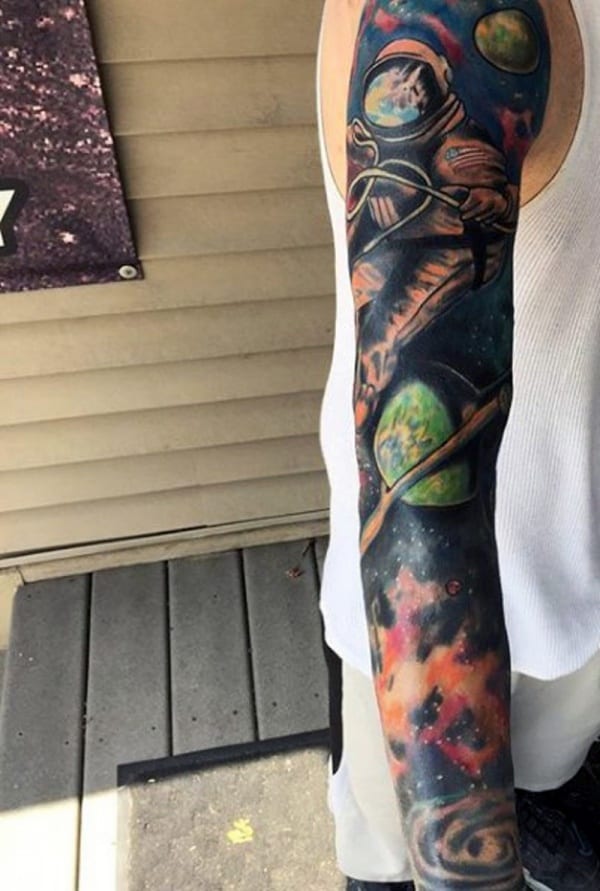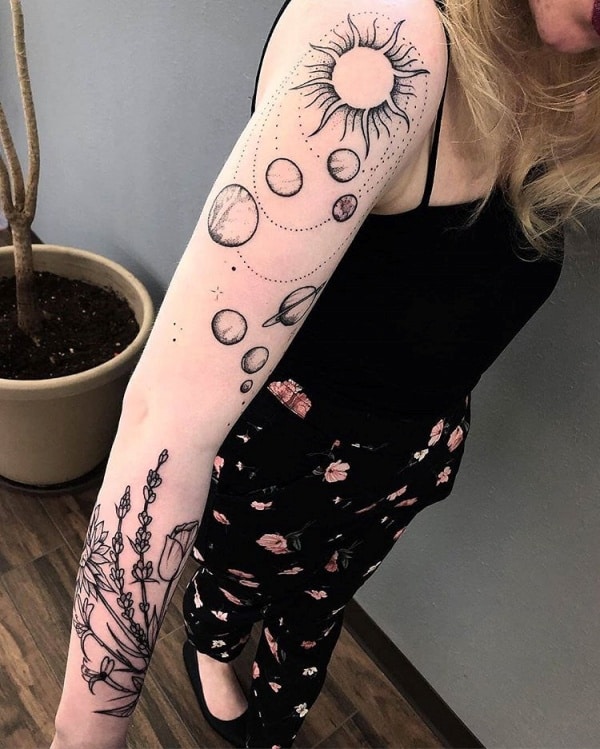 This is a modern tattoo design that is inked in the sleeve. It is perfect for the one who wishes to set up a style statement. This tattoo is generally big in size covering the whole sleeve area and is typically more detailed. Apart from this, Solar System Tattoo Sleeve is widely popular amongst the bikers and athletes.
Solar System Armband Tattoo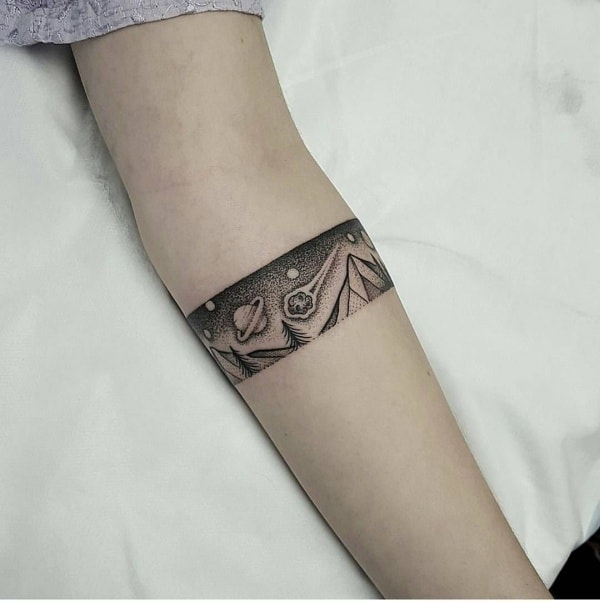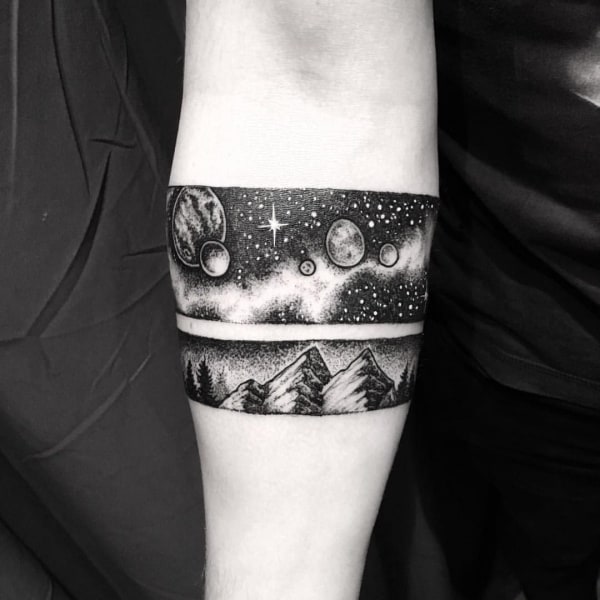 This is a wonderful tattoo of Solar System inked on Armband. The accurate design of the Solar System makes it alluring and the size is depending upon the choice of the wearer. In recent years, these tattoos gained popularity due to their significance meaning and zodiac signs related to them. It is a classic tattoo design with a dynamic appeal.
Solar System Sternum Tattoo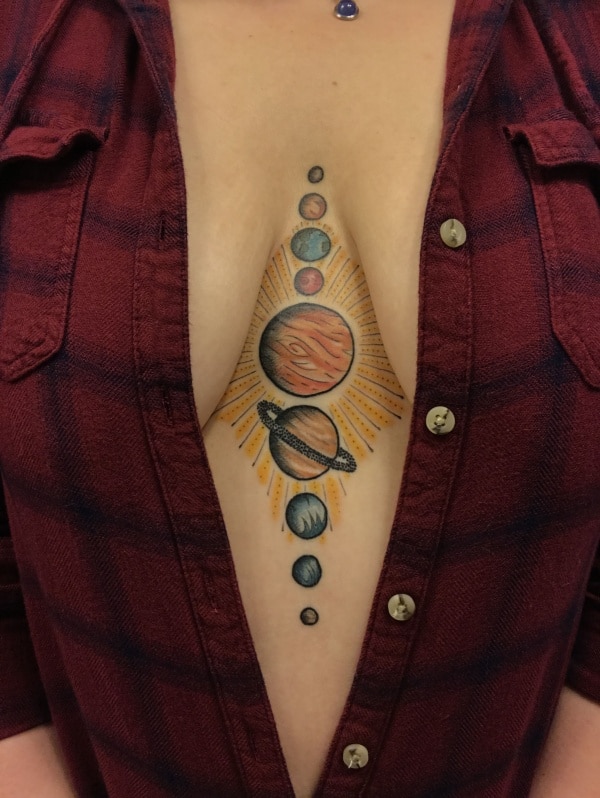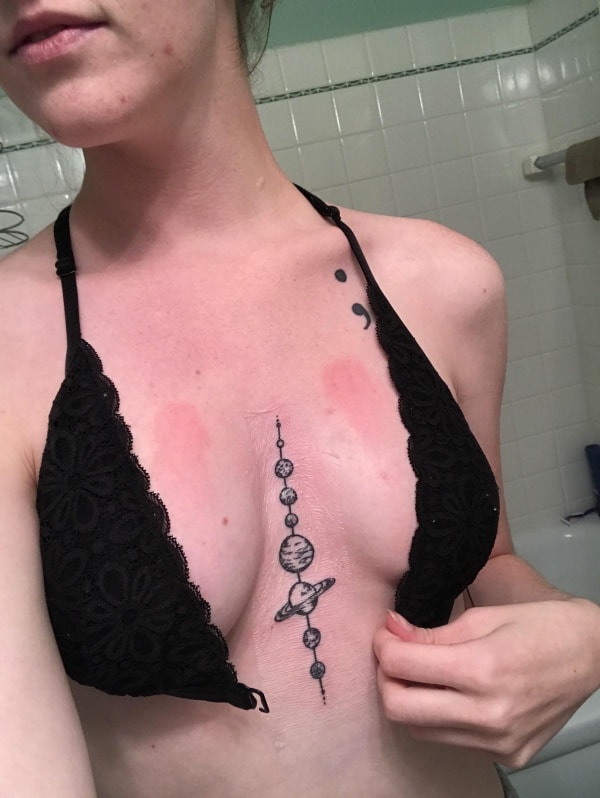 This is one of the most unique tattoos worn by women and is very attractive. These types of tattoos start between the breast and plunge underneath. Sometimes it can be painful to get inked this tattoo but when done you will love the results. The size of this tattoo is generally big but you can select the size according to your pain tolerance level and preference. Also, here are some Simple Star Tattoo Designs For Guys.
Solar System Leg Tattoo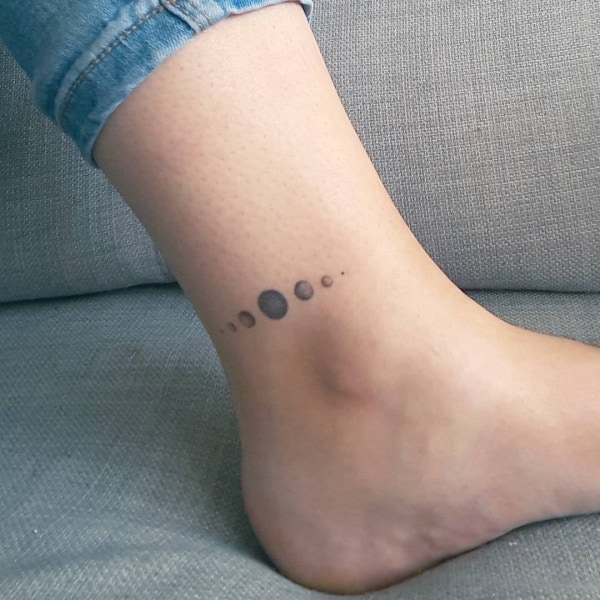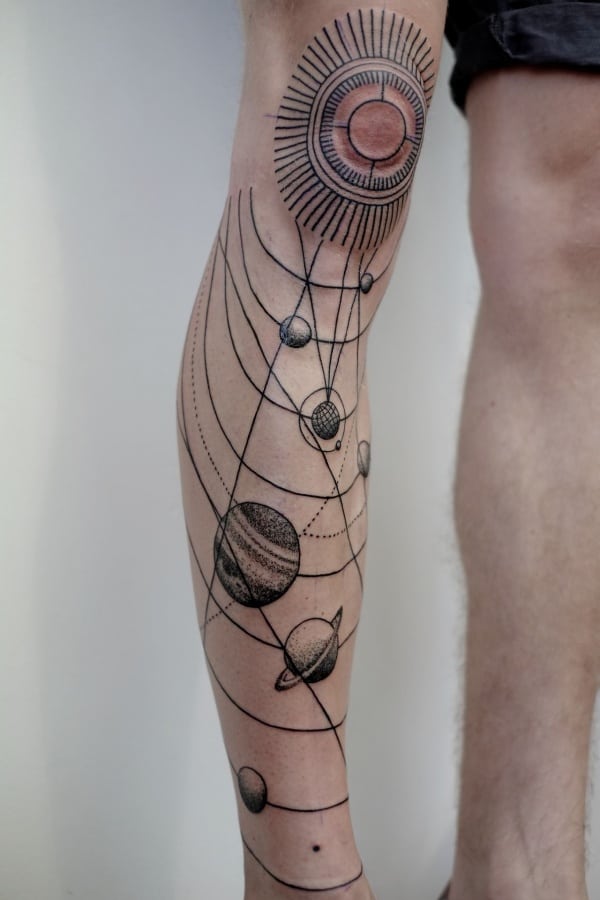 Some people who do not make their tattoo visible choose legs to get the tattoo inked. Legs are an ideal position for getting a solar system tattoo designs because they can be easily shown off or cover up as per the desire of the wearer. You can go for a large size tattoo of Solar System to wear on legs instead of a minimalistic tattoo.
Solar System Tricep Tattoo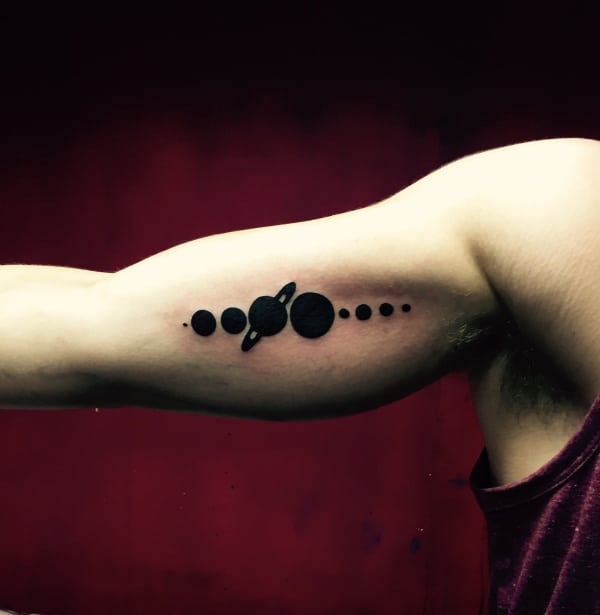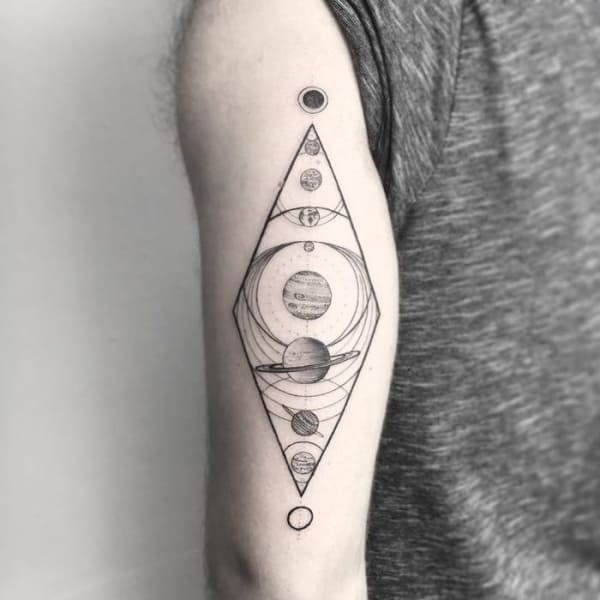 This tattoo is highly preferred by men because it is masculine and tender. A Tricep is a place in your body where everyone can see your tattoo and get overwhelmed also. You can have this tattoo in the eclipse form or all planets in colored form. So, it's an amazing tattoo to have and show your belief in planets and things related to them.
Solar System Inner Bicep Tattoo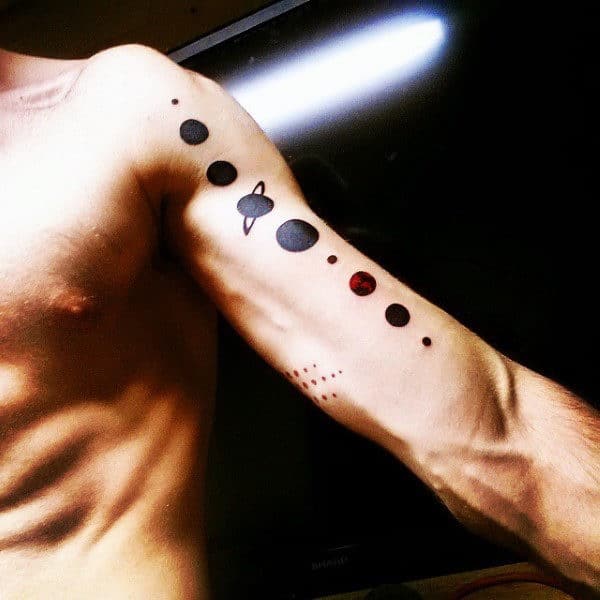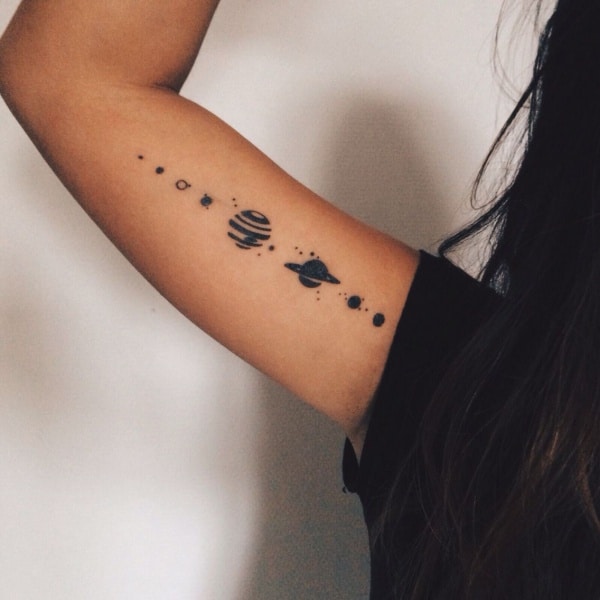 If you are the one who doesn't want to make your tattoo visible to everyone then this tattoo is for you. This tattoo is popular amongst the men and represents the power of the wearer. In addition to this, this tattoo shows your connection to science and its symbolic meaning as well. Here we have some Best Small Forearm Tattoos For Guys.
Solar System Ankle Tattoo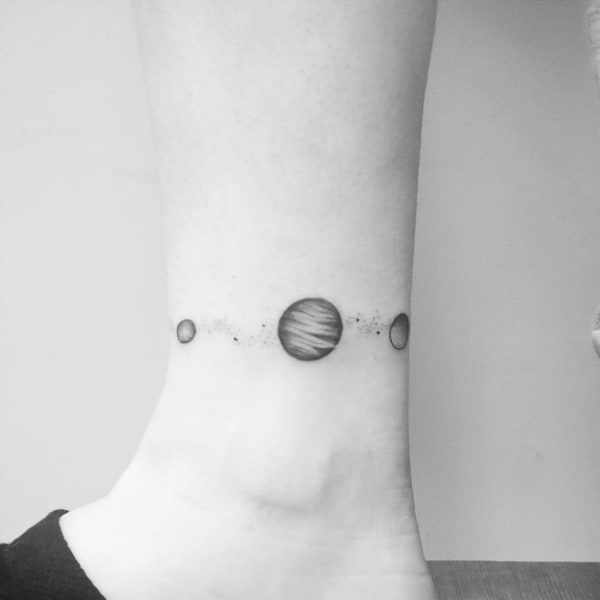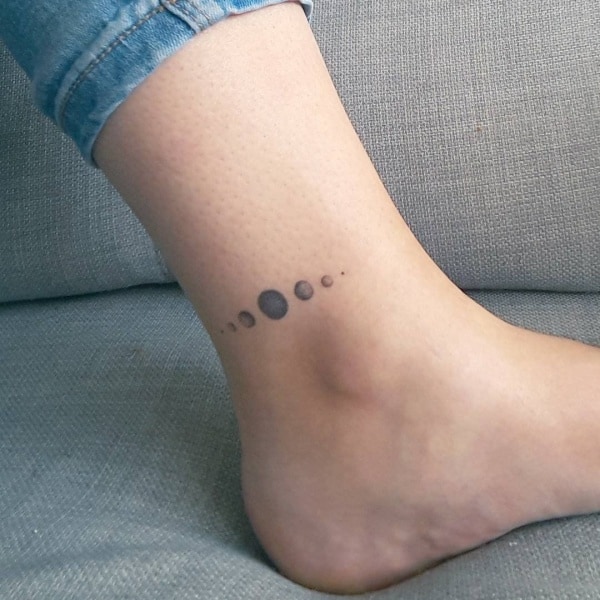 You can also get inked tattoo design of the Solar System on the ankle. This is a small tattoo with fewer details but is very alluring. Highly preferred by women, this tattoo consists of some planets and you can also choose various colors to get this tattoo done. Besides, it looks very cute and enhances the overall personality of the wearer.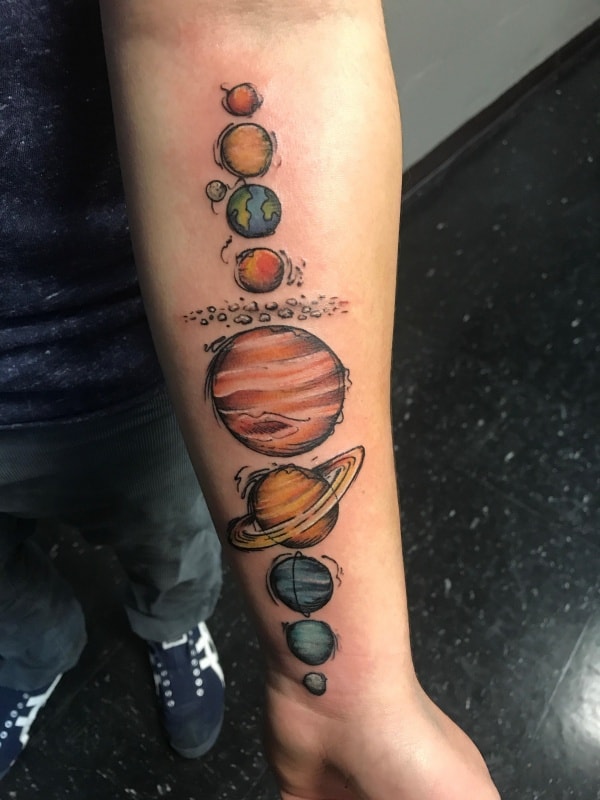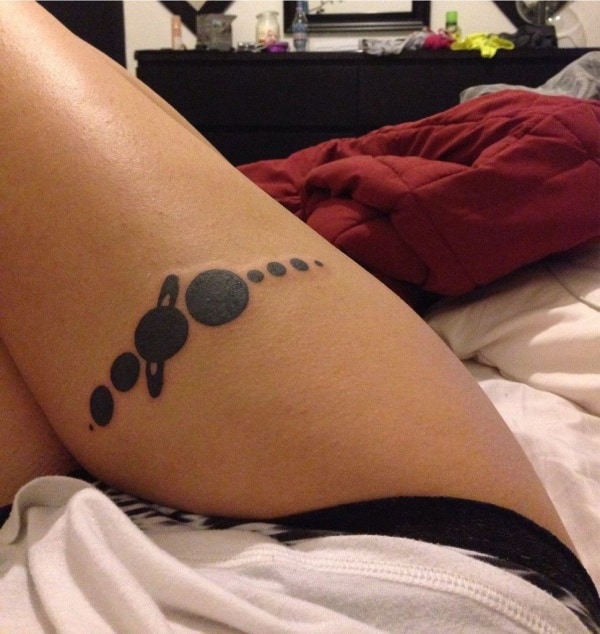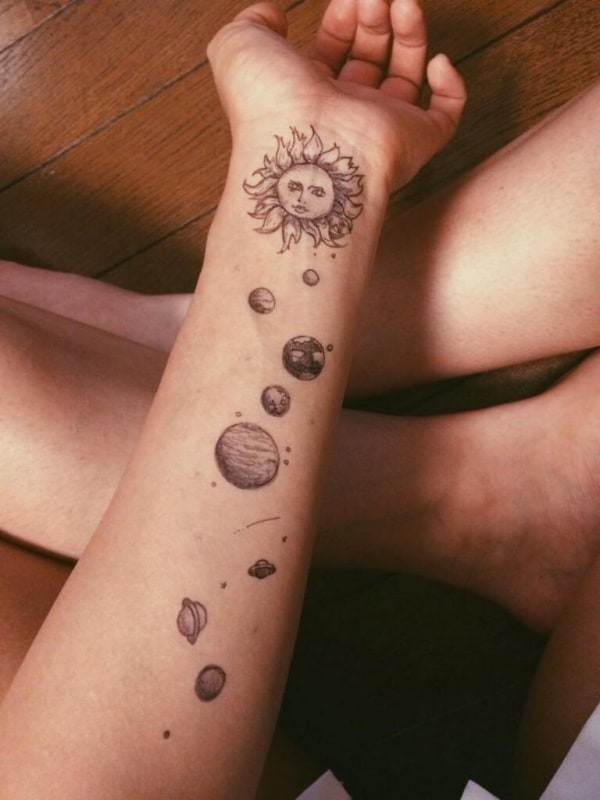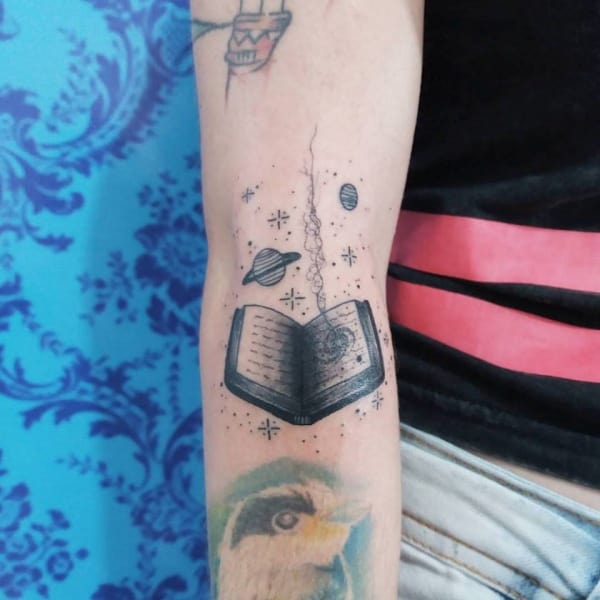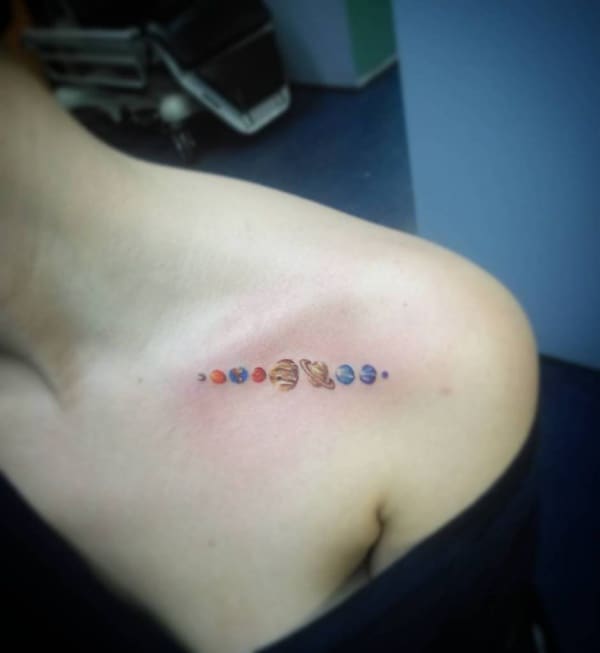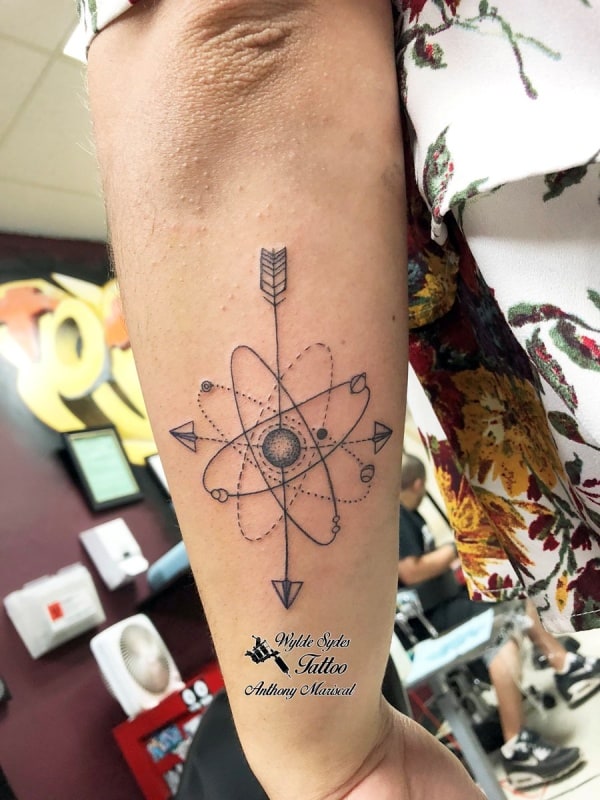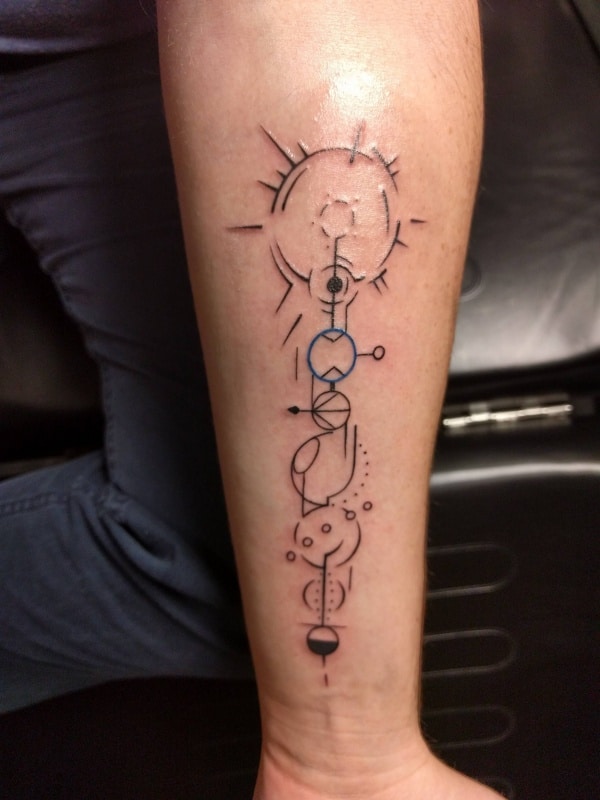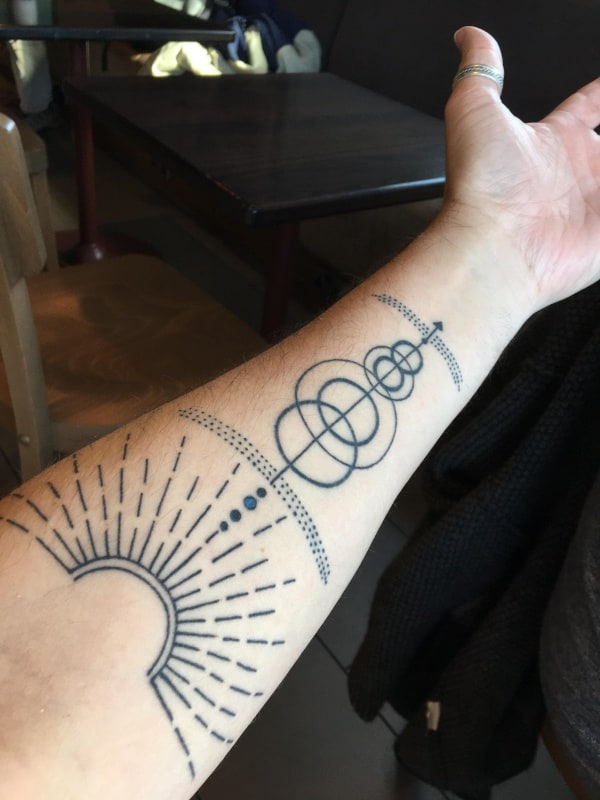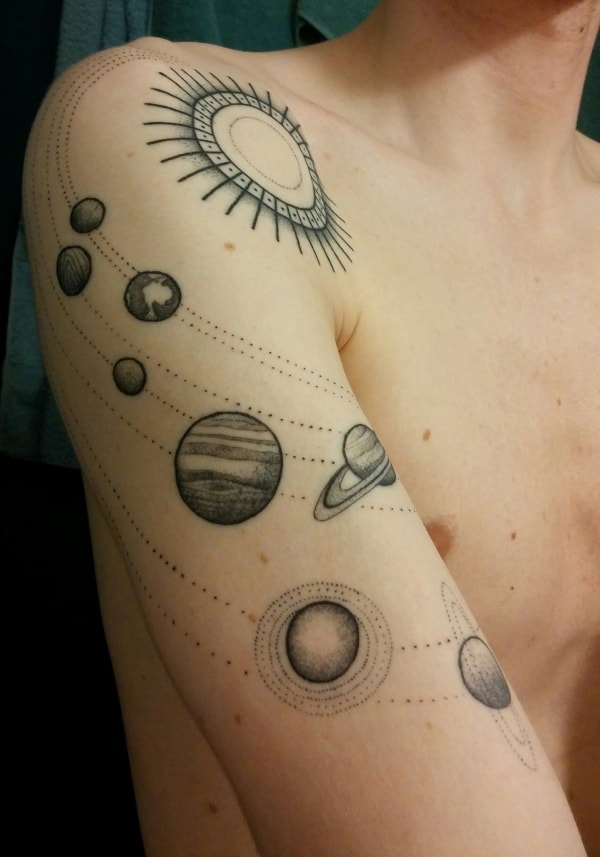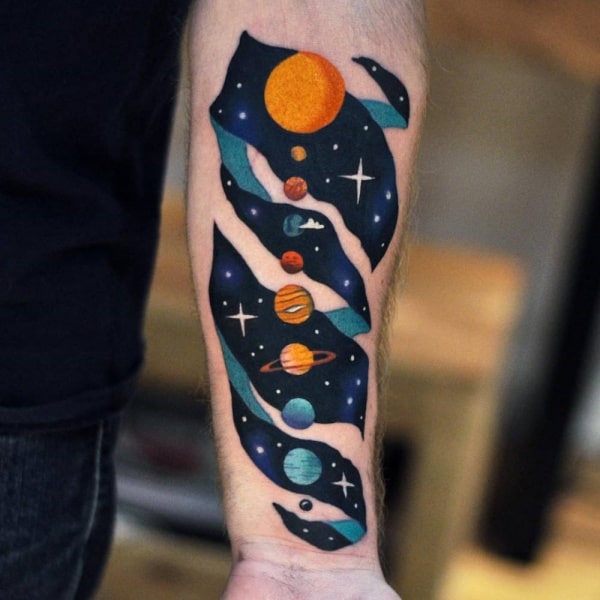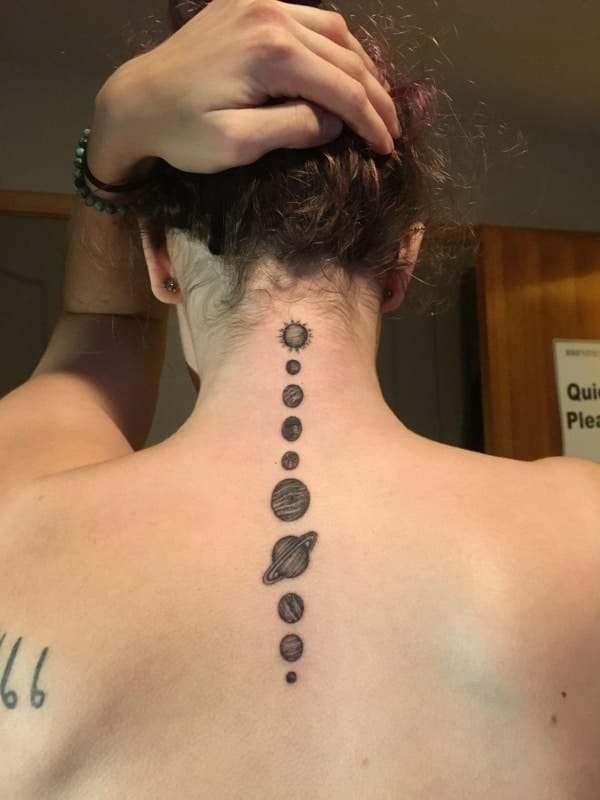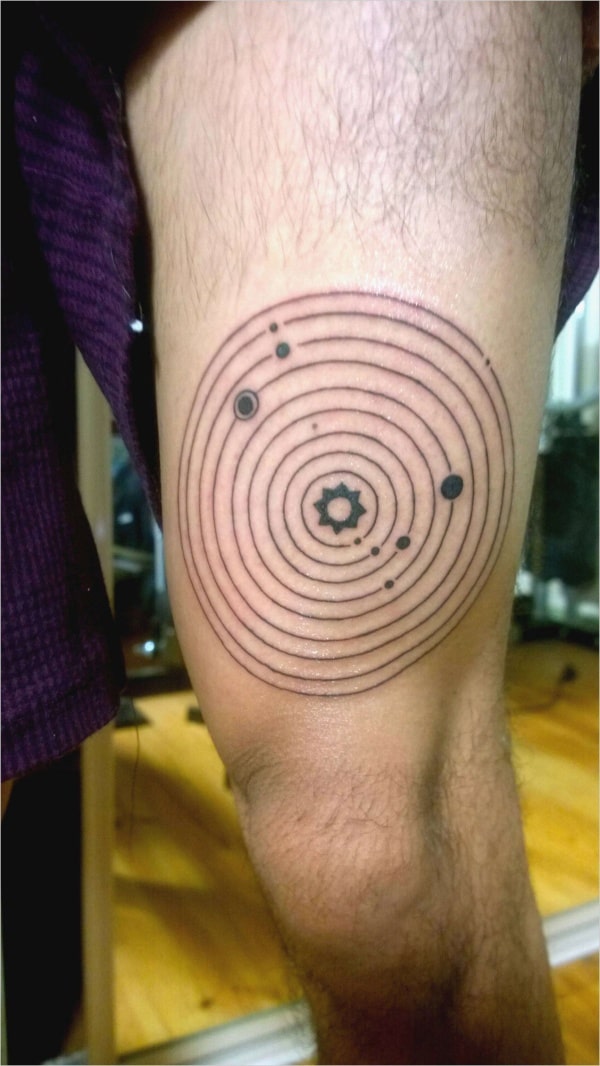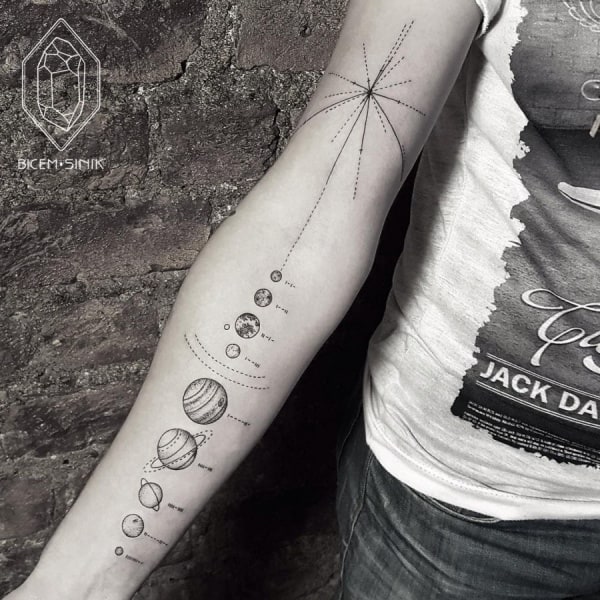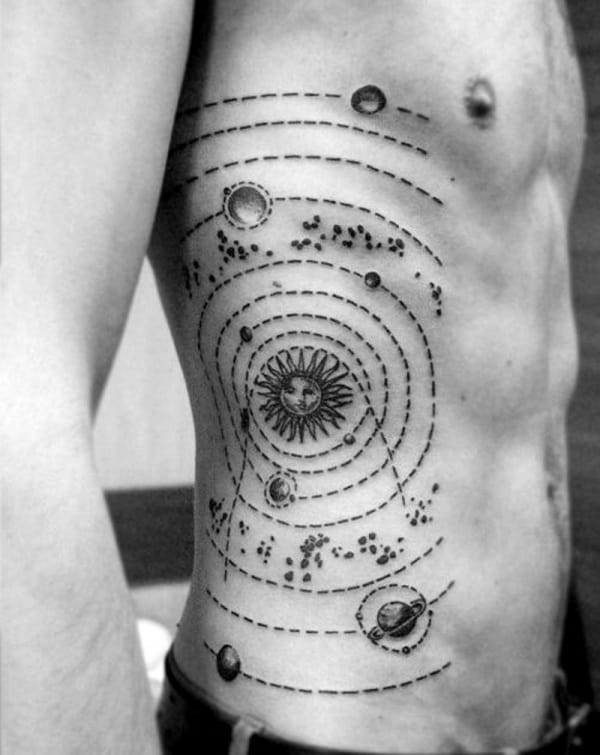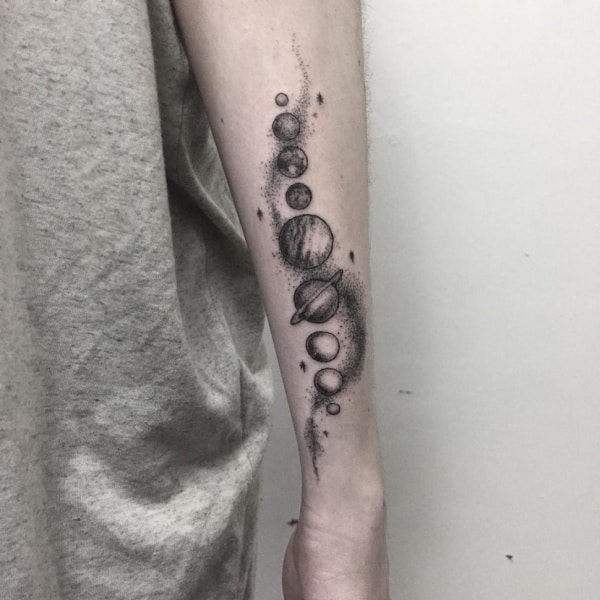 Solar system tattoos are not only colorful and attractive but are meaningful also. There are a lot of skilled tattoo artists who are working in the field of inking amazing tattoo designs. You should hire a top artist to do the great work for you. They will be able to help you out with any last-second tweaks you'll require to make and they will walk you through the whole tattooing process. Also, here we are giving you some Awesome Aquarius Constellation Tattoo Designs With Meaning. Thus, try the solar system tattoo designs mentioned above in the post and get newly personalized space tattoos to impress dear one.