When people decide to get their first tattoo then they are very much confused about it. There are various tattoo designs which have their wide meaning and importance. In this article, we are going to give all the essential details regarding memento mori tattoo designs for men. This type of tattoo has a unique meaning and symbolizes various things.

In the artistic as well as in the religious world, these tattoos have their importance. It reminds all of us that mortal is an exultant thought, we play our role in the universe the best we can, and we pass on to be it Heaven or Hell. Hence, in this post, the meaning, placements as well as a list of different memento mori tattoo ideas are given. Checkout Some Simple Mountain Range Tattoo Designs For Men.
Stylish Memento Mori Tattoo Designs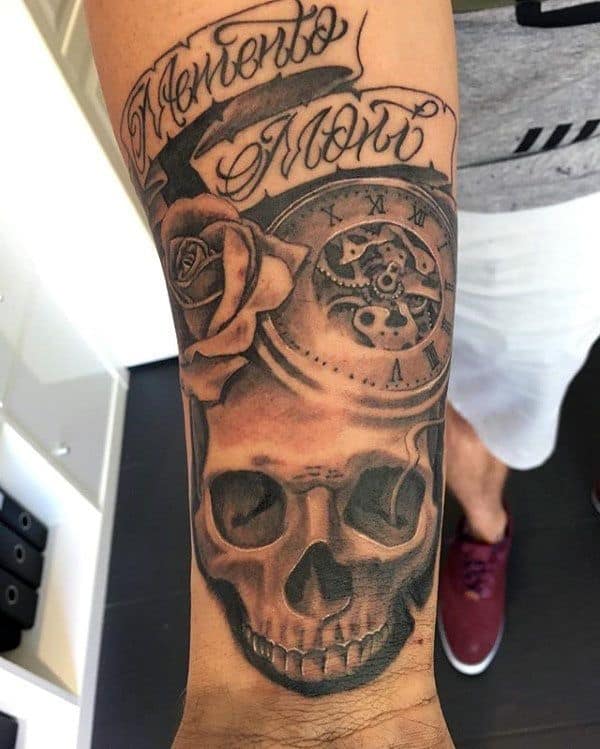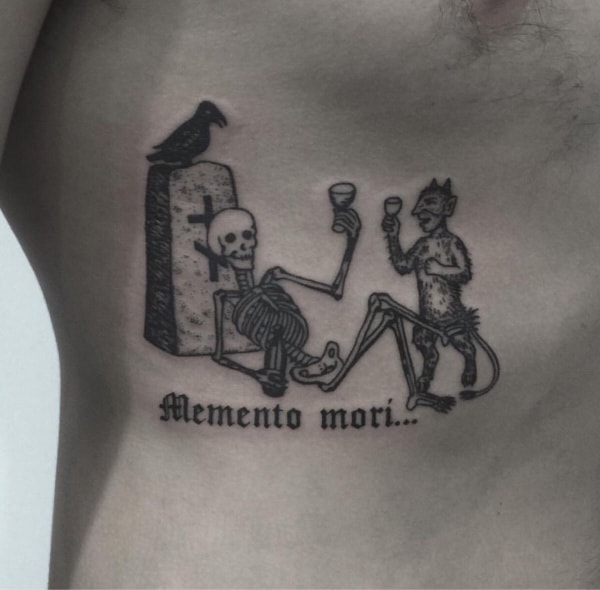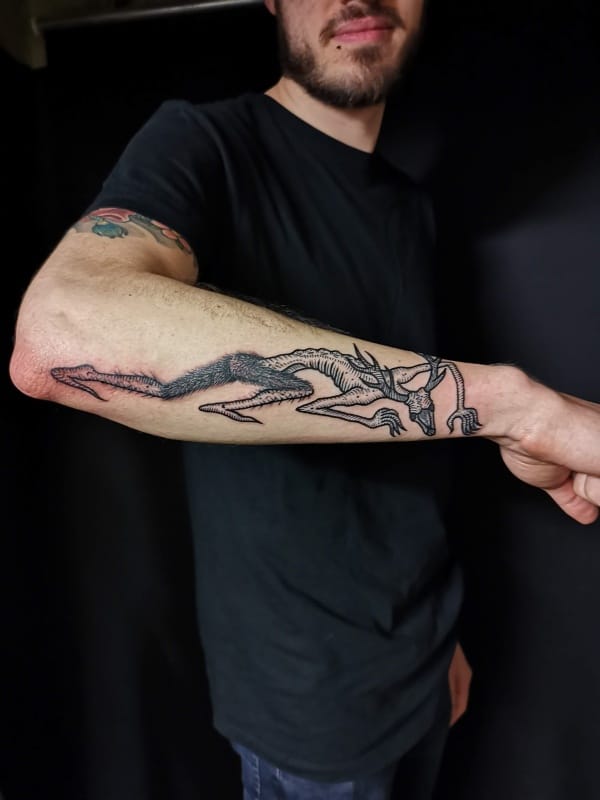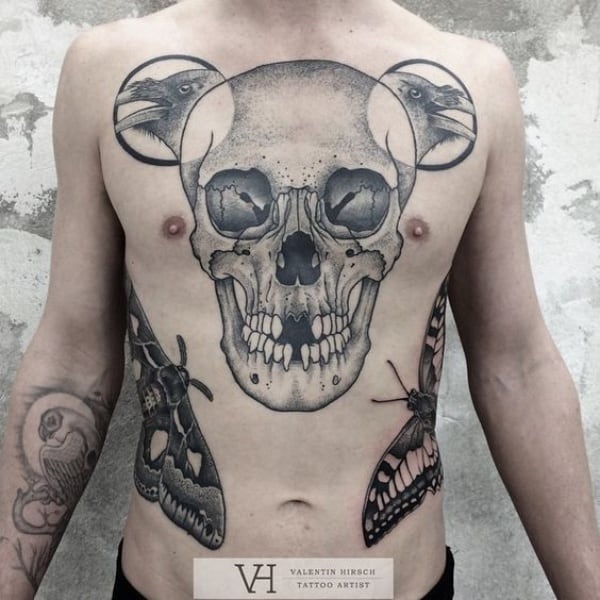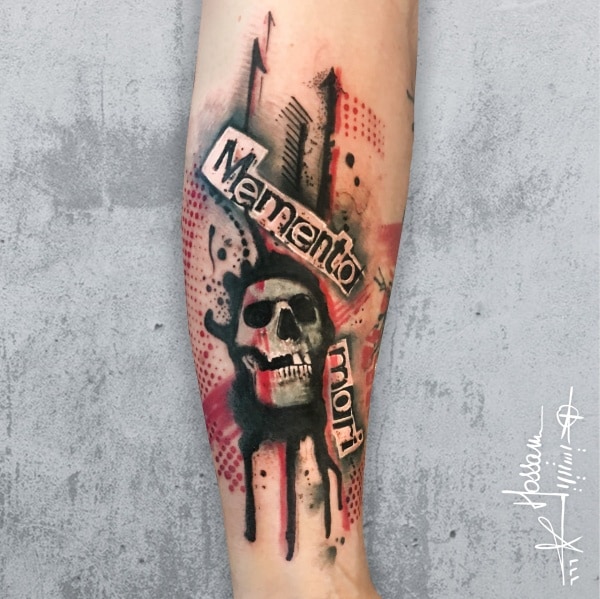 Meaning Of Memento Mori Tattoo
Before opting to get this tattoo inked you must know its meaning or what does it symbolize. Basically, 'Memento Mori' is a Latin word that means 'Remember that you will die' or 'Remember death'. It holds its origin to the Medieval Latin Christian theory of practice on reflection of mortality. It has been a significant part of the very ascetic discipline to perfect the character by cultivating indifference and knowing the truth about the immortality of the character.
This tattoo design also emphasized Hell, Heaven, and the recovery of the soul in the afterlife. Memento Mori's expression came from the practices and theory of the mortality of life that we live. When anyone thinks of death, he or she might connect with the feeling of being alone or afraid. However, this term is supposed to show the fact that everything and everyone ultimately dies, it is the most natural part of life so be victorious over the idea as an alternative. This tattoo design is one more reminder to oneself to live every day to the fullest since you never know when your time to die may come.
Placements Of Memento Mori Tattoo
Whether people are on their first tattoo or not, they still might be having complexity deciding where to place it. Choosing the right spot to get the tattoo makes it look extremely best. You must select the right place to get memento mori tattoo designs so that it symbolizes its meaning as well as matches your personality efficiently.
Nowadays, modern society regards death as a horrible reality but people get this tattoo inked to show that they do not have fear of death. That's why in recent times memento mori tattoos have gained significant popularity. There are various places where you can get this tattoo such as back, chest, legs, thighs, shoulders, arm, biceps, forearm, upper arm, wrist, minimalistic tattoo in fingers, below the neck, ankle, and elbow.
Different Memento Mori Tattoo Ideas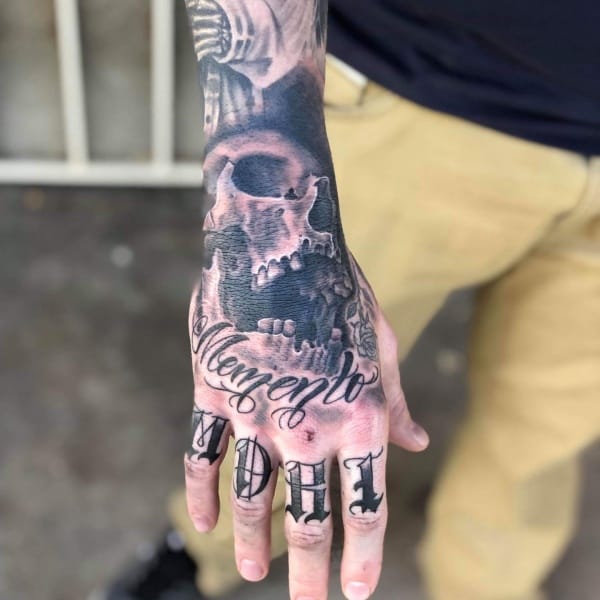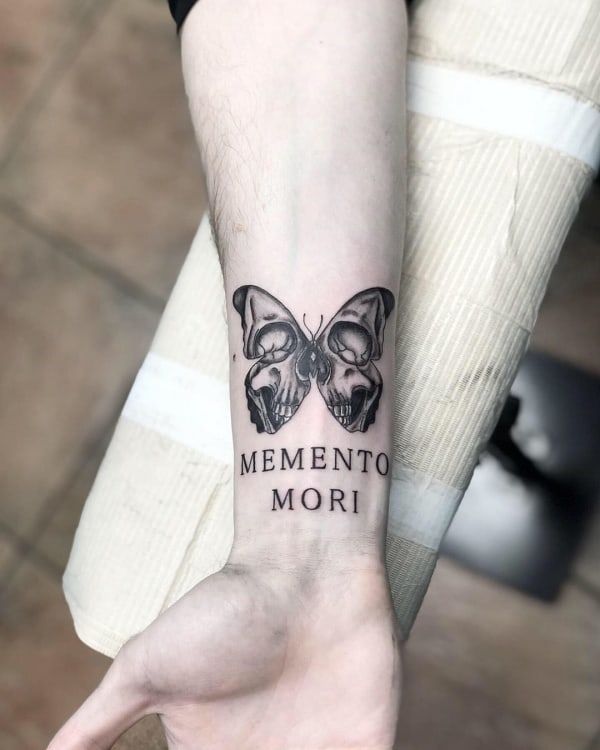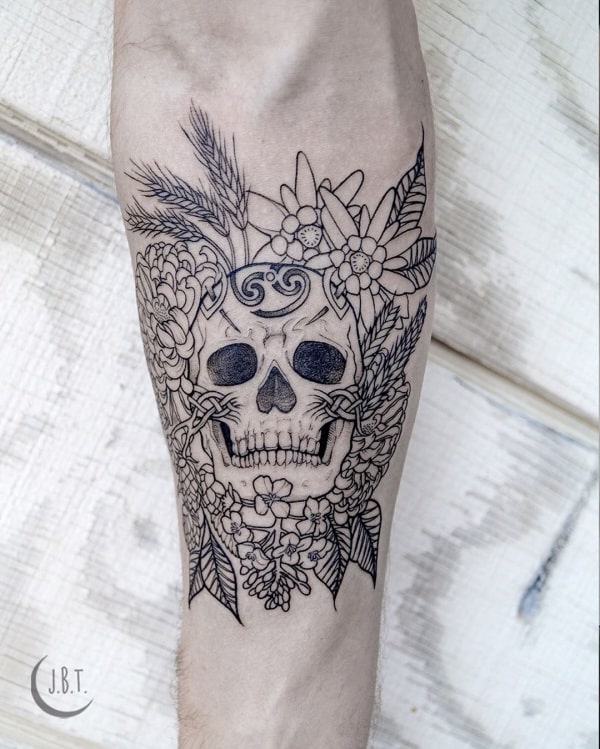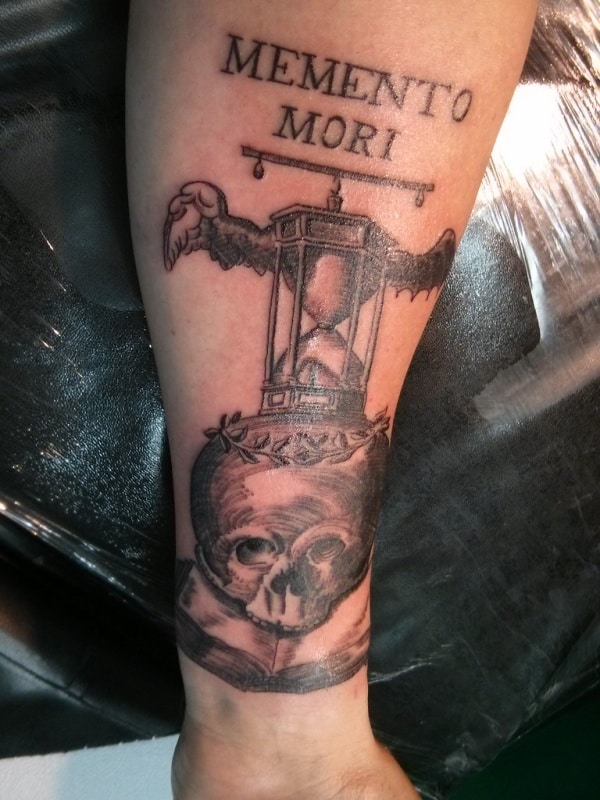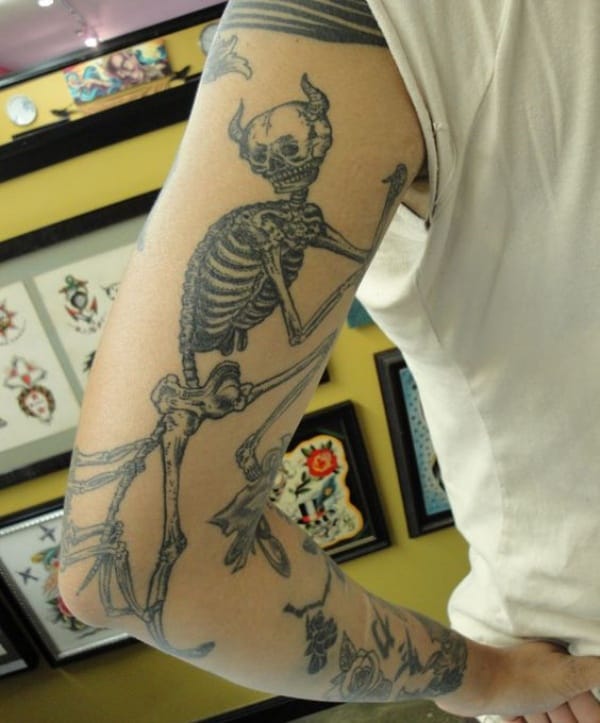 Memento Mori Forearm Tattoo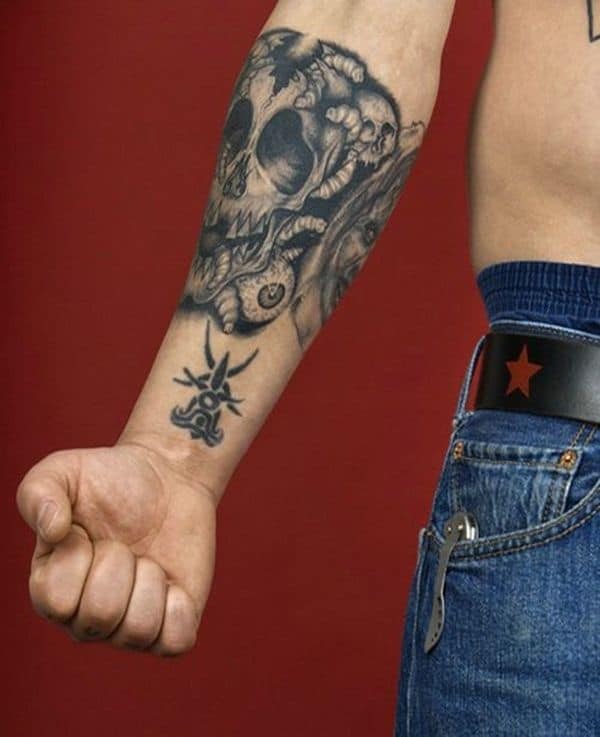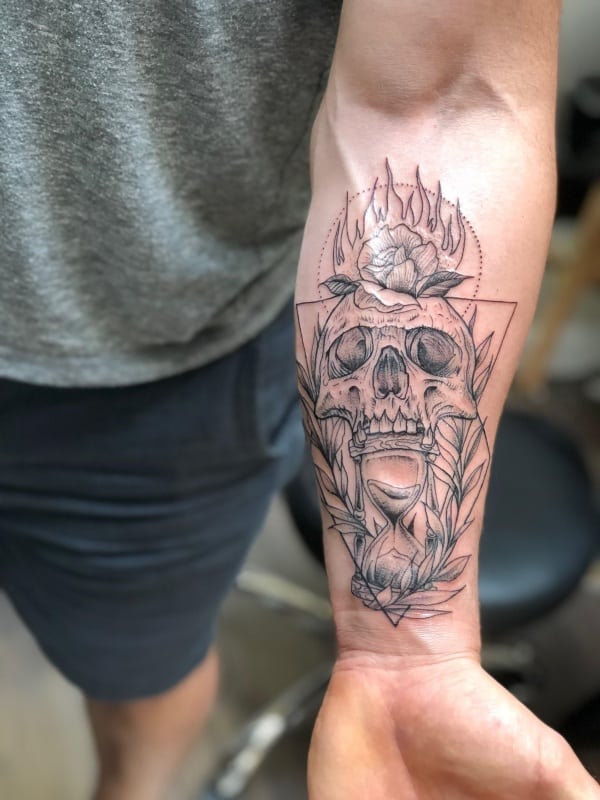 The forearm memento mori tattoo is very popular and is known for its wonderful placement. You can select the size of this tattoo as per your desire. This tattoo can be inked in black color and easy to hide at the workplace. You can have this tattoo to define your personality and makes you stand out from the rest of the crowd.
Memento Mori Wrist Tattoo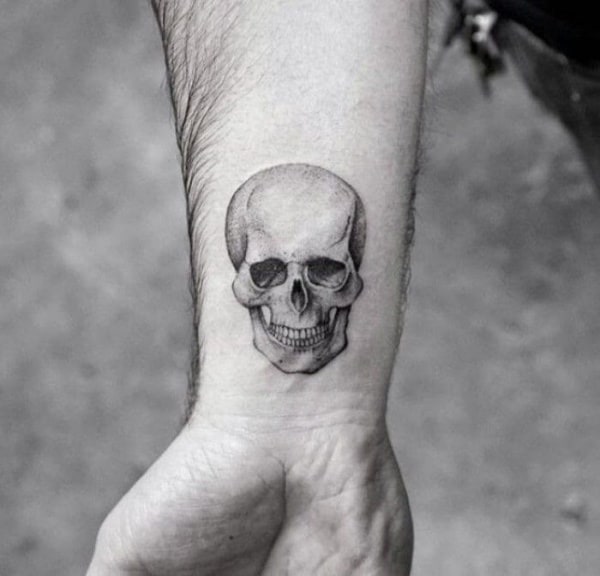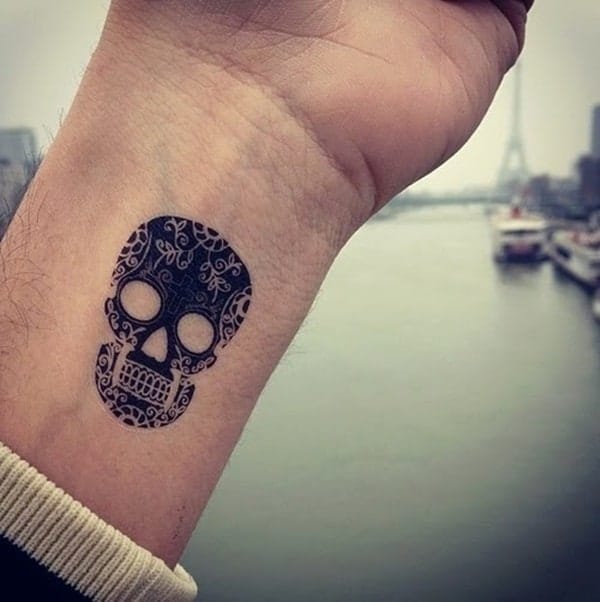 Memento Mori wrist tattoos are considered as one of the most unique tattoos and look very nice. They look very simple but mean a lot to a wearer. This type of tattoo is popular amongst both teen boys and men and here you can get a minimalistic memento mori tattoo ideas. Moreover, this tattoo is very eye-catching and can be easily visible.
Memento Mori Skull Tattoo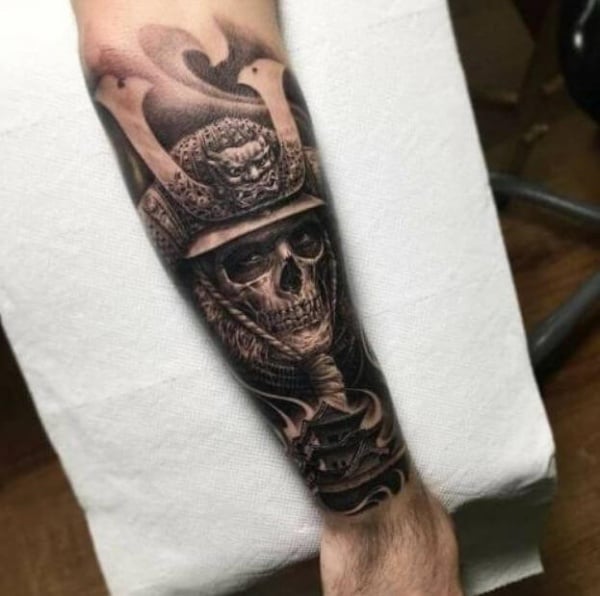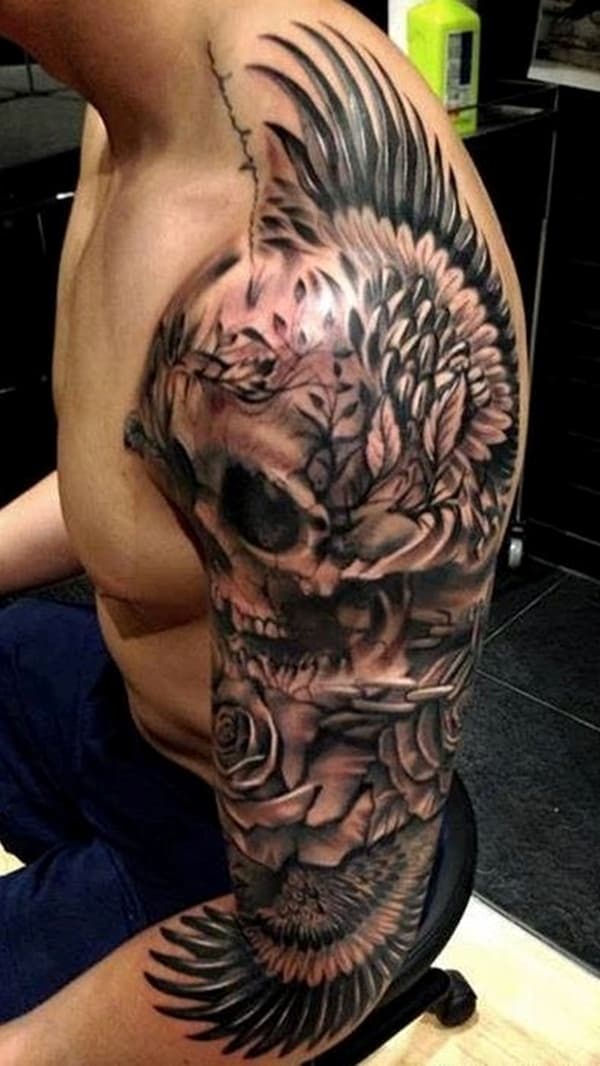 Next in the list of Memento Mori Tattoo ideas is Skull Memento Mori. This tattoo idea represents the death and courage to face the fear of death. It depends on you that you want to get inked the design of a complete skull or just a small part of it. Apart from this, this is a very popular reminder that we all will leave this world one day. Also, Have a Look At Some Awesome Father and Daughter Matching Tattoos.
Minimalist Memento Mori Tattoo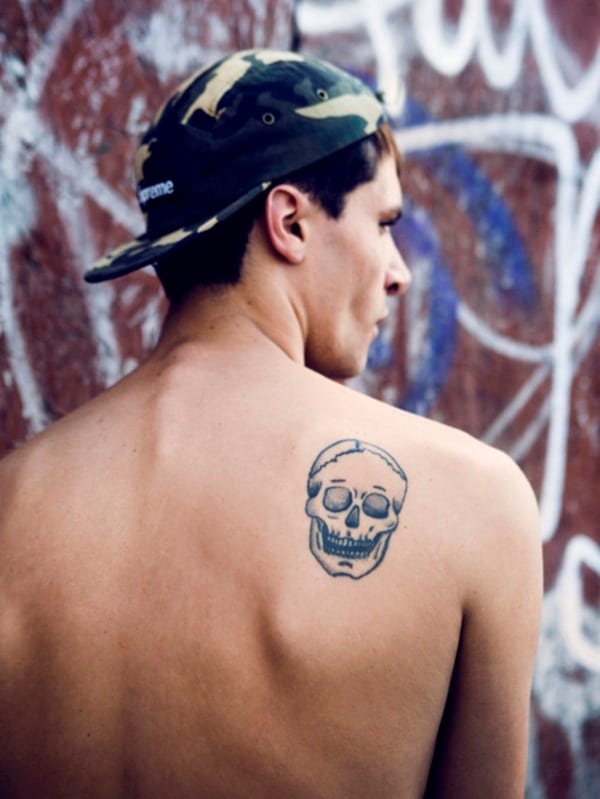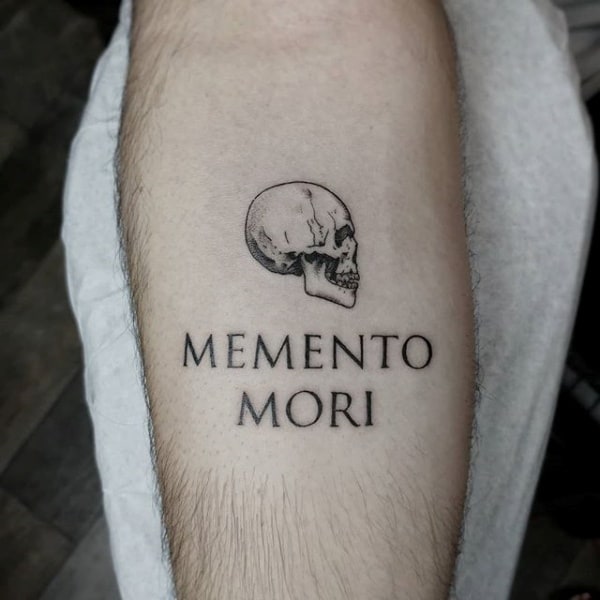 Minimalist tattoos are highly preferred by people due to their small size. Memento mori tattoo designs in a small size catch the attention of everyone wherever you get it inked. This minimalist tattoo symbolizes the virtues of humanity and can be the best option if you don't want a big tattoo.
Memento Mori Chest Tattoo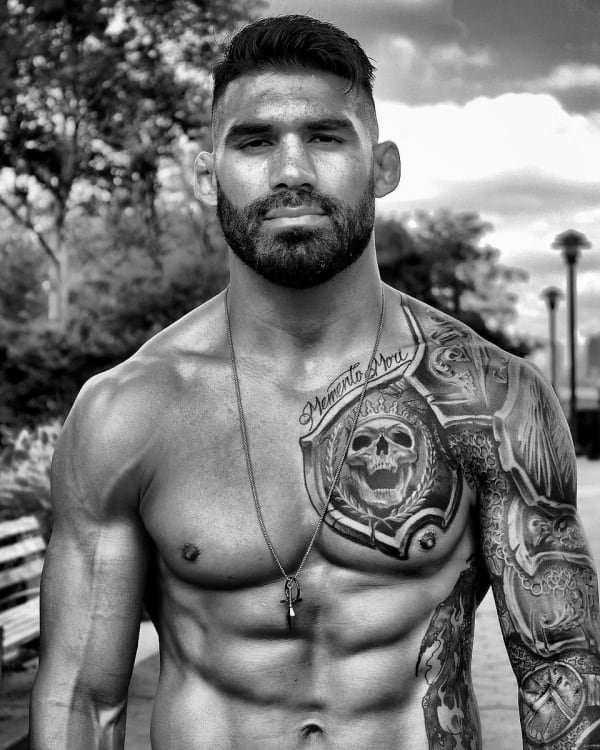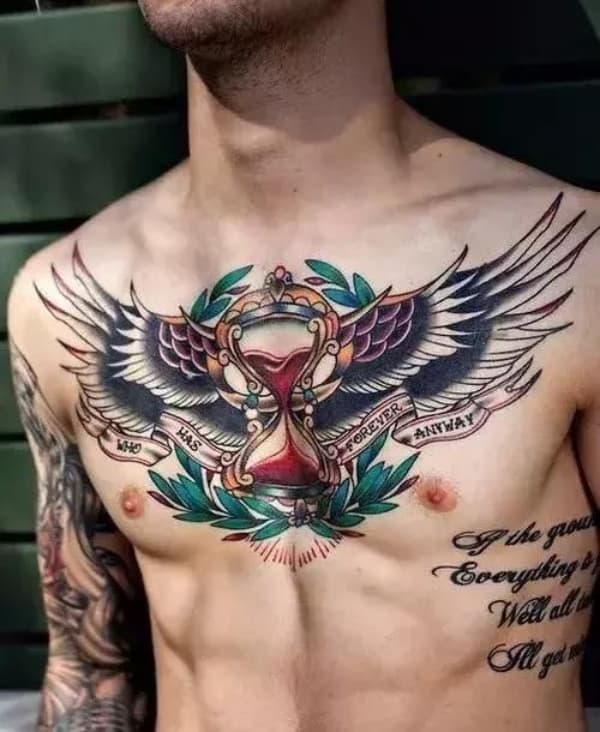 Memento Mori continues to be a popular aesthetic niche and many men get it inked on the chest. This tattoo on the chest is big in size as compared to other tattoo designs and defines the strong personality of the wearer. The chest is chosen to get this tattoo because this is an ideal spot as it has a big surface area that allows artists to draw memento mori tattoo in big size.
Memento Mori Traditional Tattoo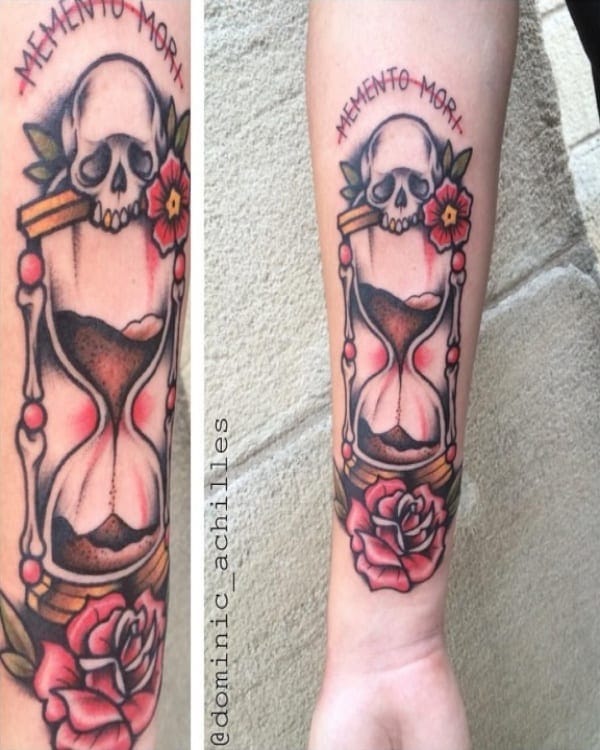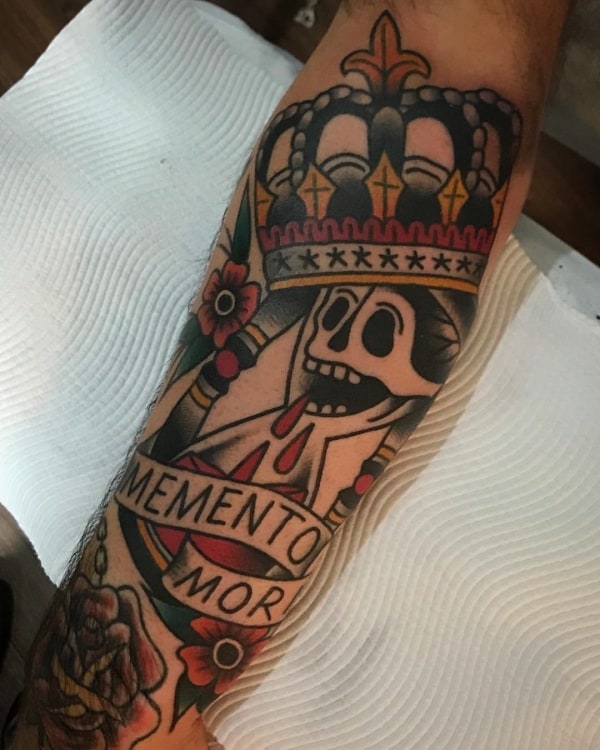 If you are looking for a special memento mori tattoo designs then you can go for the traditional design of Memento Mori. This design is widely preferred by those who believe in traditions as well as want to honor the history of the art form. In addition to this, this tattoo also represents a strong symbolic value and reminds that everyone is here to die.
Memento Mori Arm Tattoo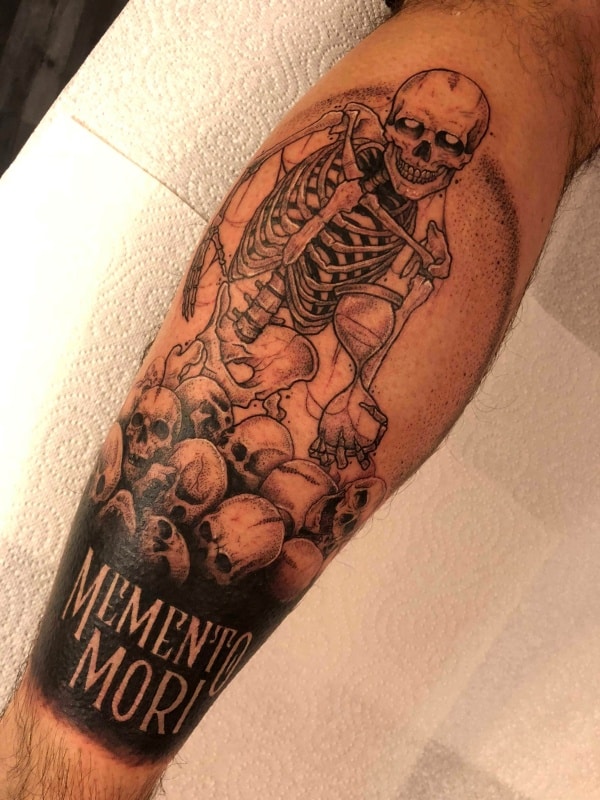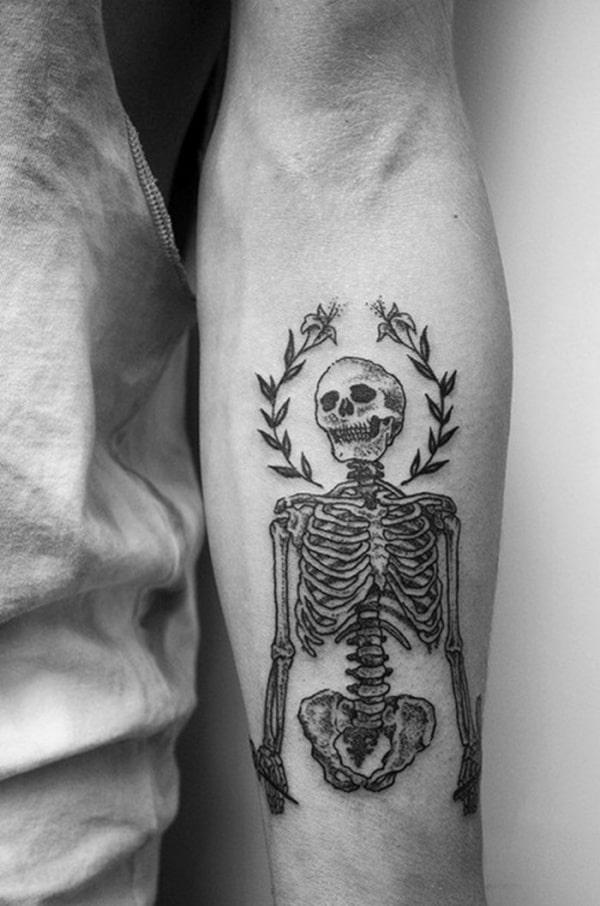 An Arm is one of those body parts that are highly preferred by people to get the tattoo inked. This tattoo looks very inspiring and as per your choice, you can have the tattoo up and down the entire sleeve of your arm. You can also opt for a minimalistic memento mori tattoo designs to get inked in the arm as per your desire.
Memento Mori Cursive Tattoo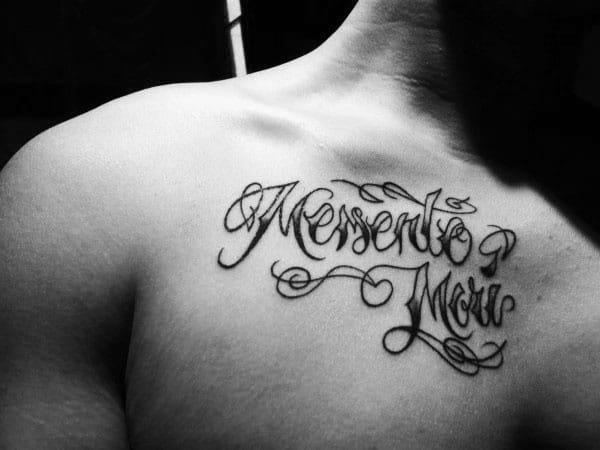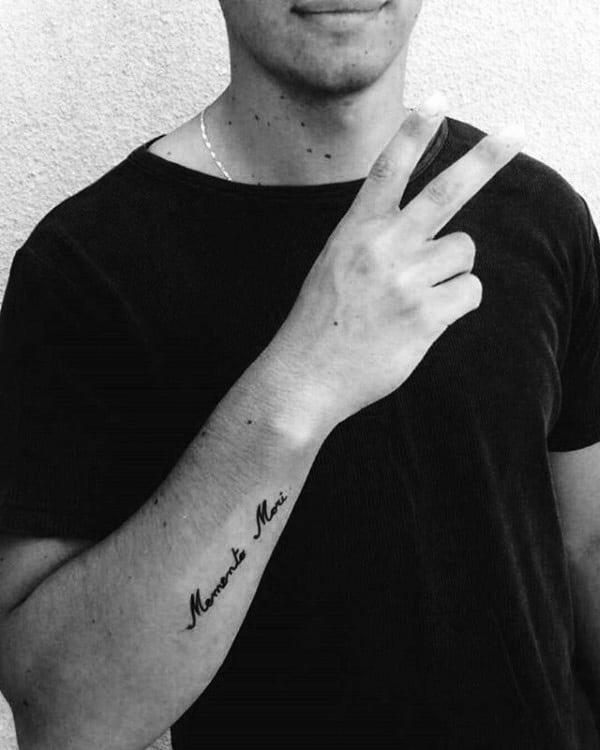 This is one of the most unique memento mori tattoo ideas. In this idea, the Memento Mori is written in the cursive writing on the body part. There are various types of cursive from which you can select as per your choice. Furthermore, many people choose this tattoo idea because they love to get fonts to get inked instead of getting any pattern or design.
Memento Mori Latin Tattoo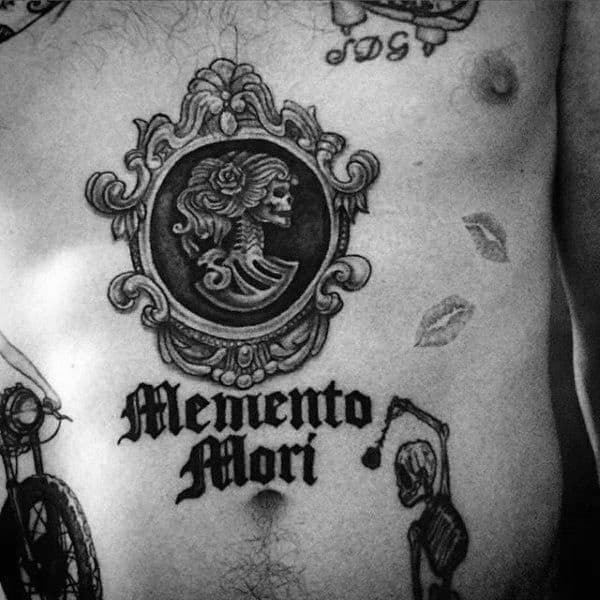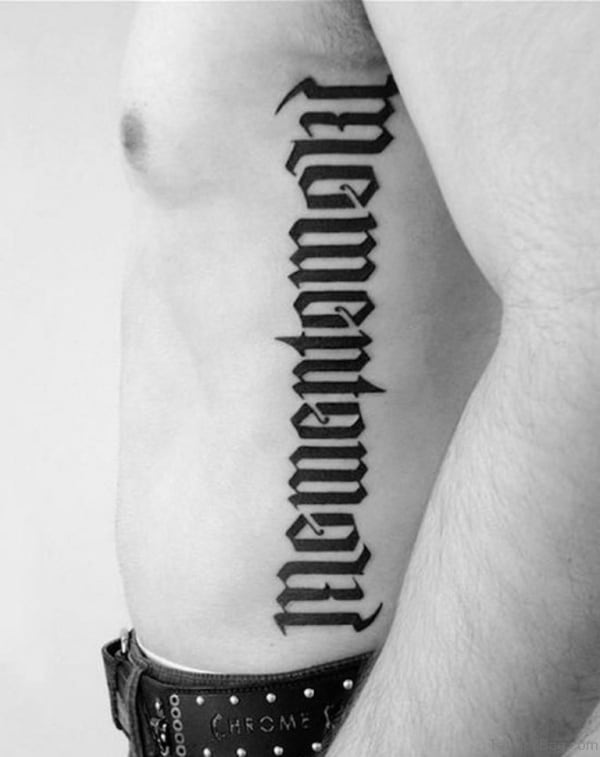 Latin tattoos are very attractive and are popular amongst teenage boys. Memento Mori Latin tattoo symbolizes how the wearer is attached to the meaning of this tattoo. People who are the followers of Christianity mainly opt for this tattoo. Additionally, you can get this tattoo in the shoulders, arms, wrist, or wherever you want.
Memento Mori Sleeve Tattoo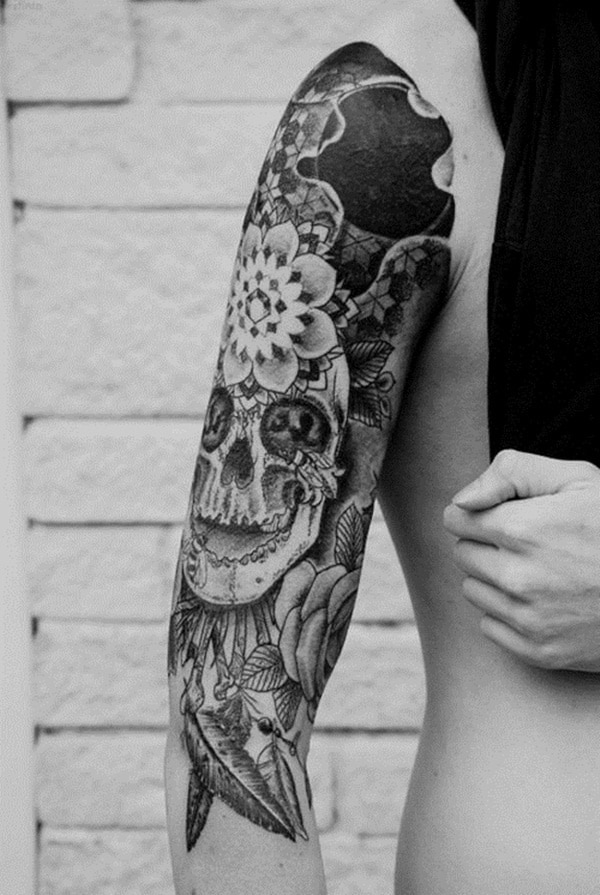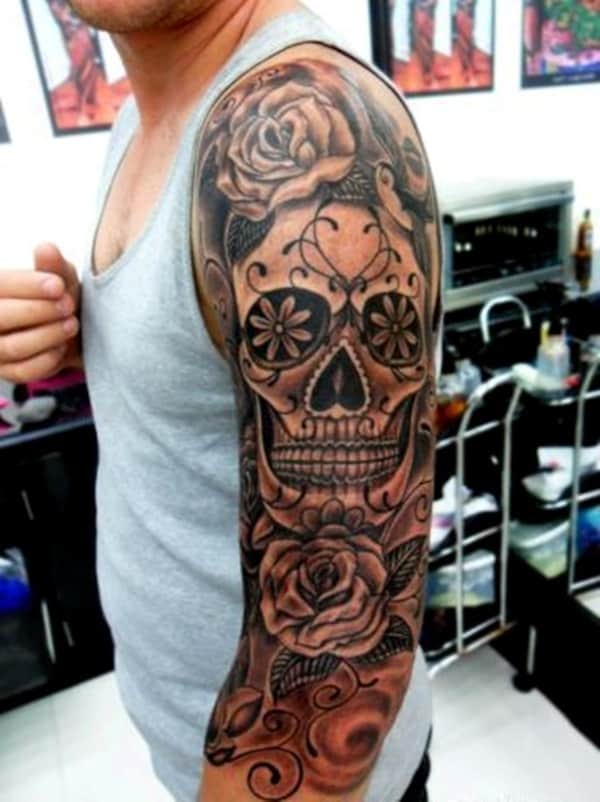 Generally, Sleeve tattoos are big tattoos and many times is a collection of some small tattoos. Memento mori tattoos in sleeves can be a single design or collection of small tattoos. Men highly preferred this tattoo because it is visible to everyone and gives a style statement also. According to your choice, you can ask your tattoo artist to get it complex or simple.
Memento Mori Shoulder Tattoo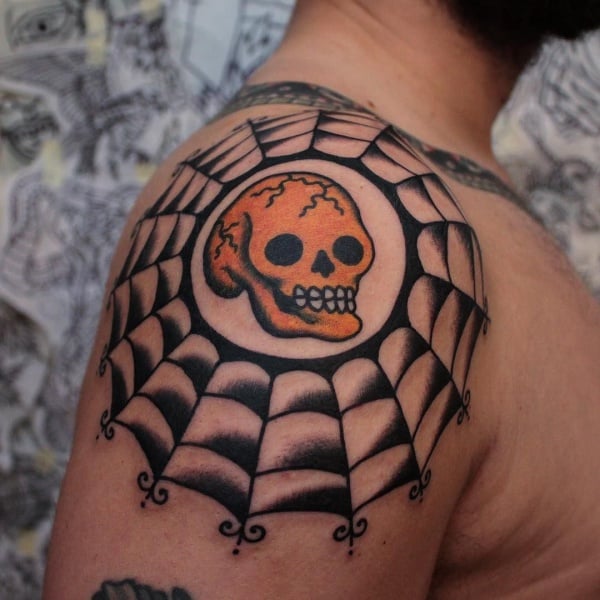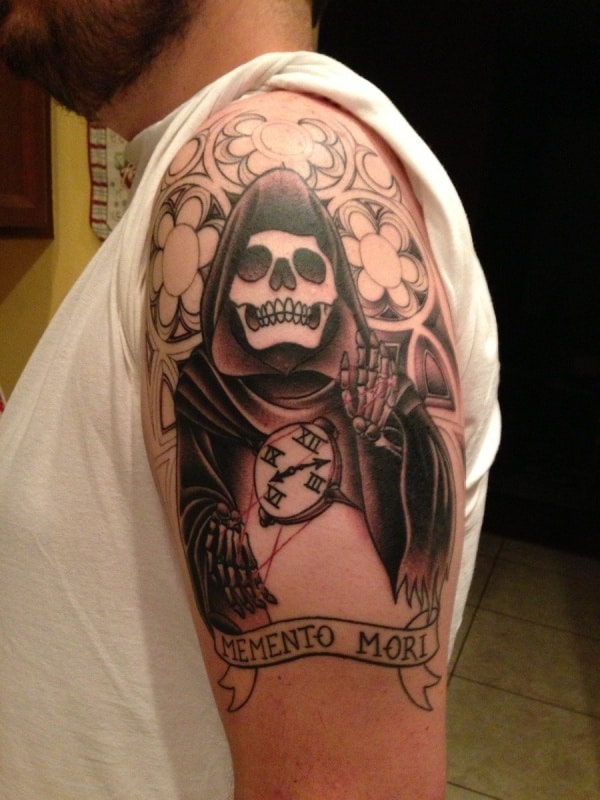 It is usually believed that Memento Mori's kind of tattoo design on shoulders symbolizes the courage of wearer to face death. This tattoo design can be inked in many colors such as red, black, blue and others. A colorful memento mori tattoo looks very nice and also gives a cool look to the wearer.
Memento Mori Hour Glass Tattoo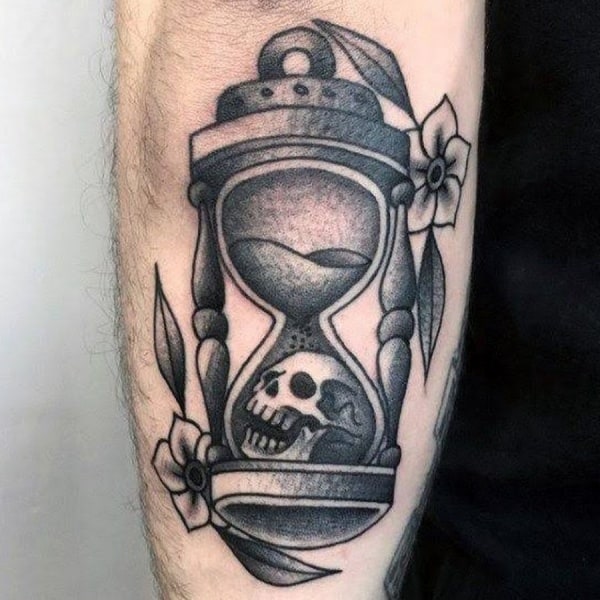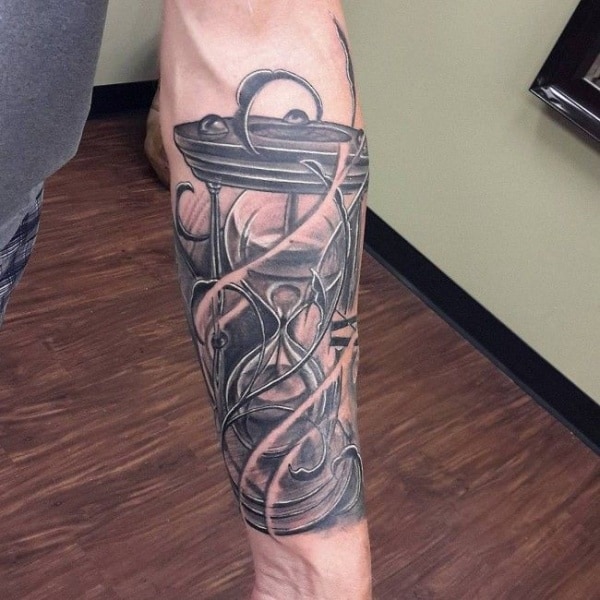 Memento Mori Hour Glass tattoo is one of the most innovative and eye-catching tattoo designs. The Hourglass represents the passage of time and Memento Mori Hour Glass's design together represents that the death is near and one day we all have to die. You can ask your tattoo artist to make it in such a way so that the design can be easily understood by the viewer.
Memento Mori Bicep Tattoo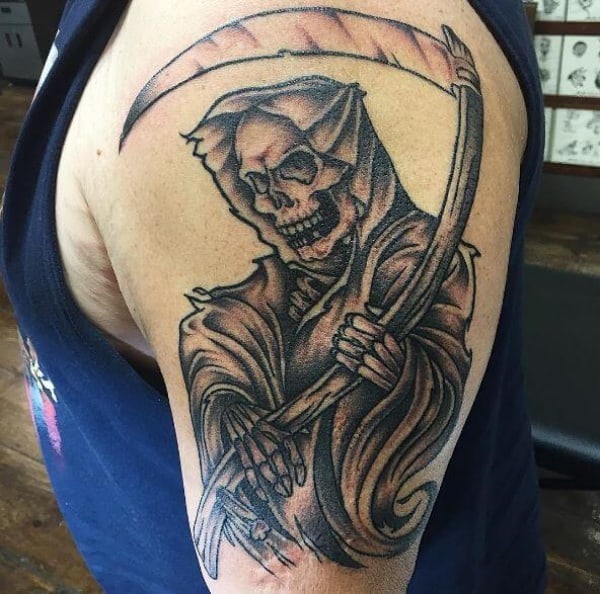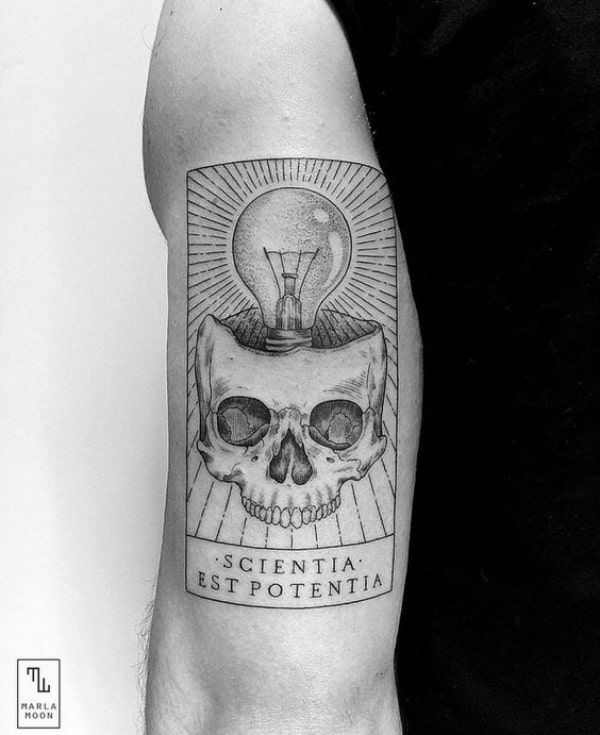 Working men who want to get a tattoo but don't want it to make visible in the workplace go for this Memento Mori tattoo to get inked on Bicep. The tattoo design here is mostly hidden and also protected from the sun. You can get Memento Mori design in single or both the biceps according to your choice.
Memento Mori Leg Tattoo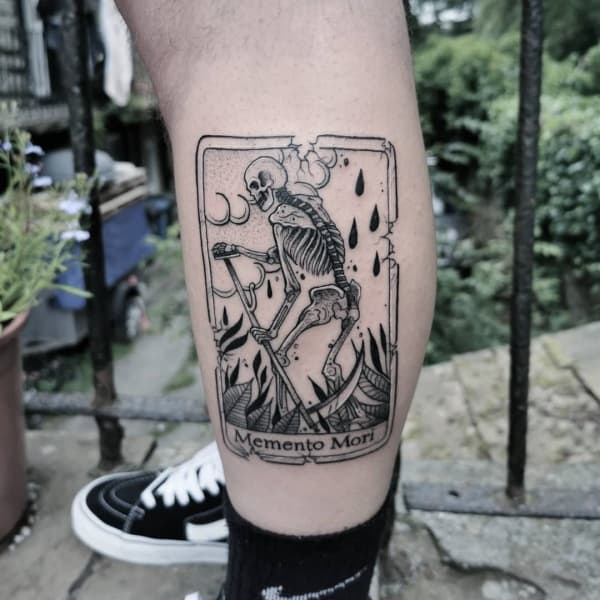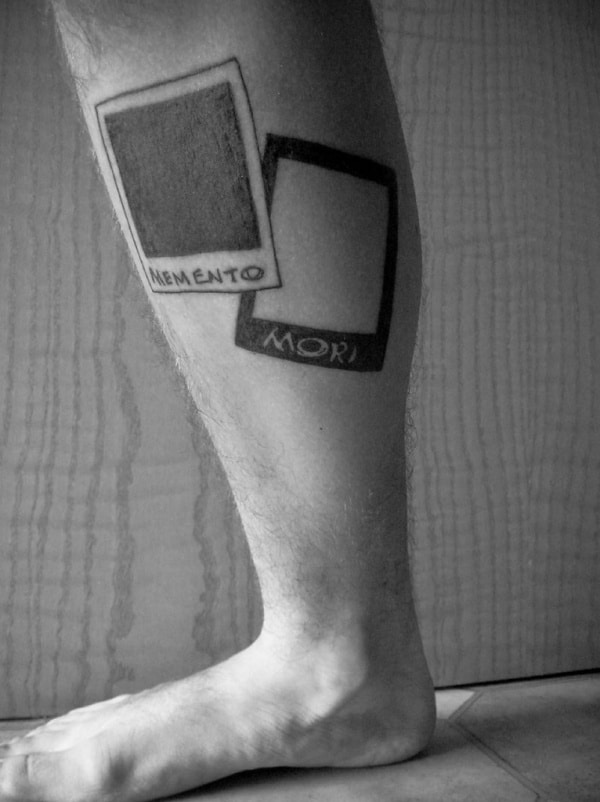 One of the excellent locations for getting the tattoo design of Memento Mori is a leg. This is so because you can easily show or covered up the tattoo that is inked in legs. There is plenty of space to design the Memento Mori design effectively. Besides, this tattoo design in leg shows the belief of men in destiny and death.
Memento Mori Elbow Tattoo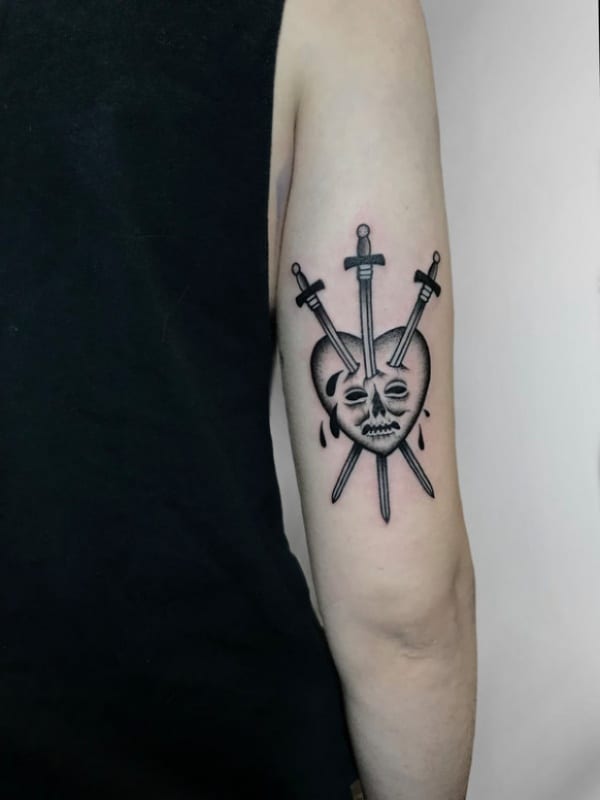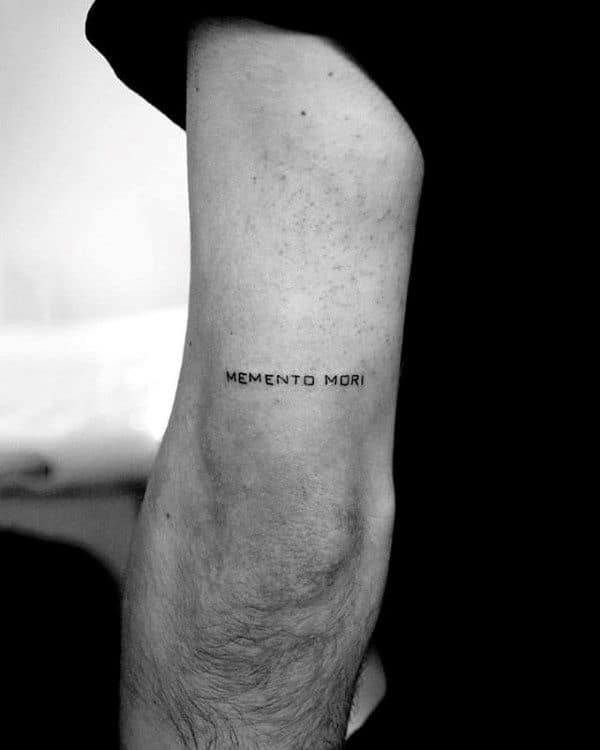 Elbow is a body part where people also get a tattoo inked to make it unique. In the elbow, a small size memento mori tattoo designs can be placed very easily. If you want then you can go for a small circular tattoo design related to Memento Mori. This tattoo design represents the confidence to face death and live fearlessly all through your life. Also Checkout Beautiful Palm Tree Tattoo Designs With Meaning.
Memento Mori Tattoo Images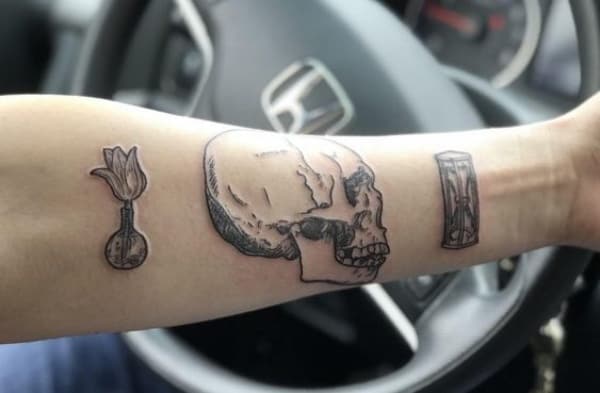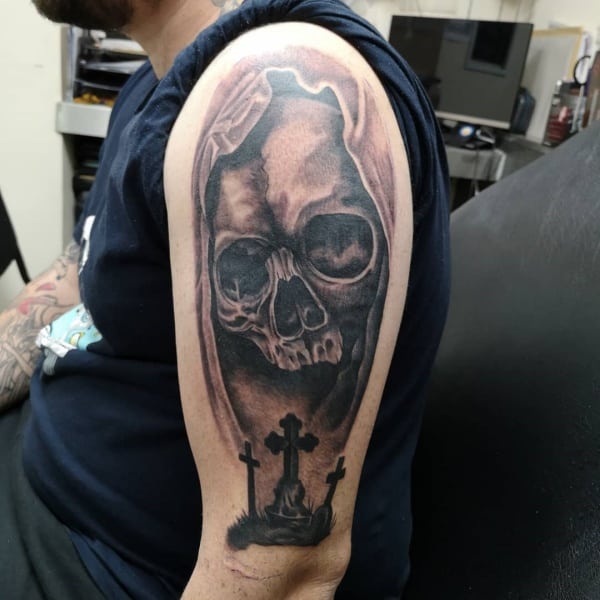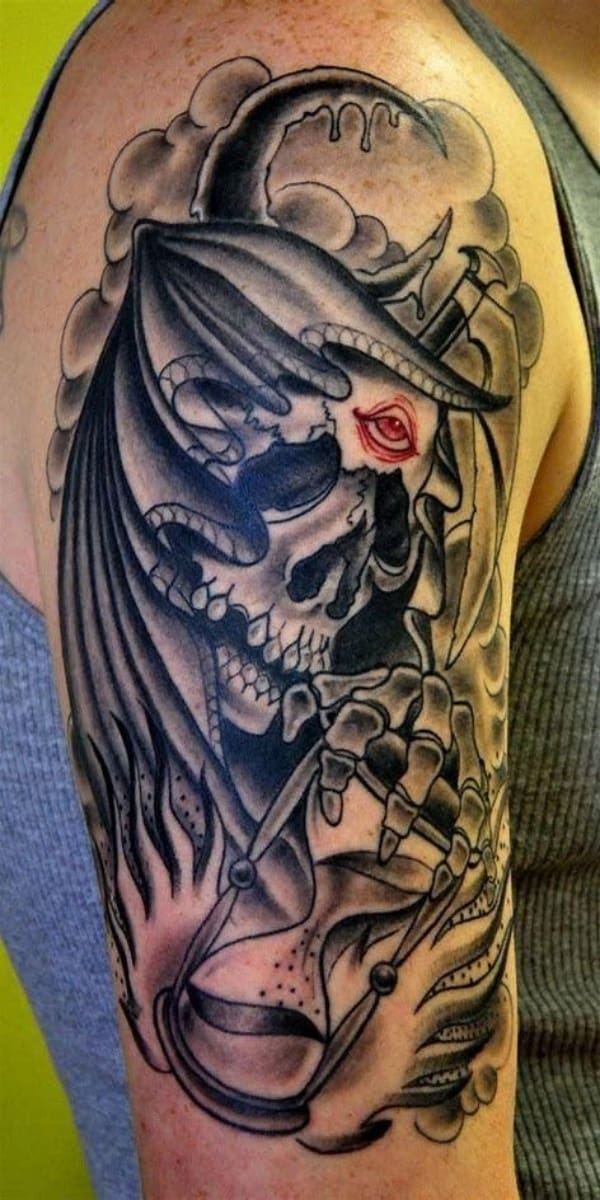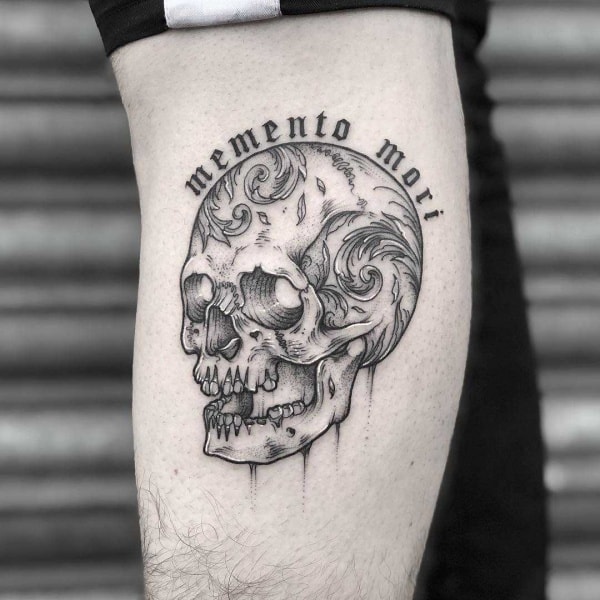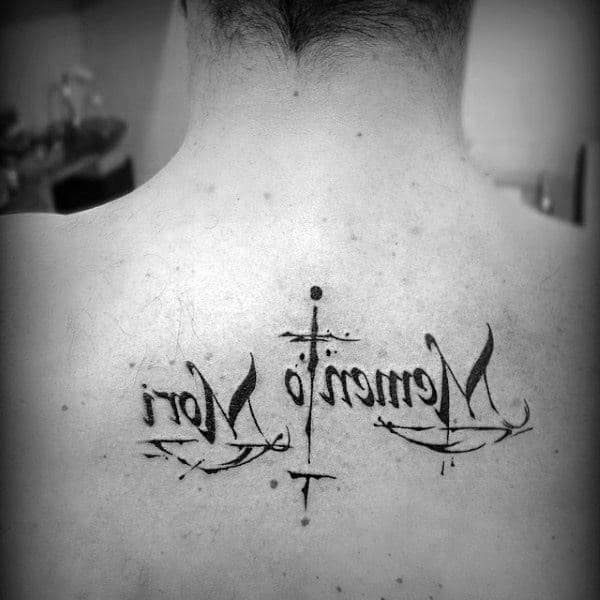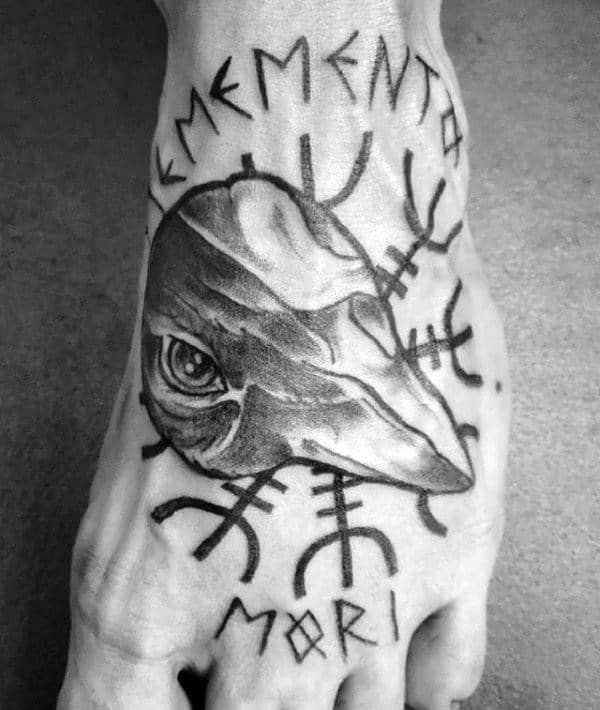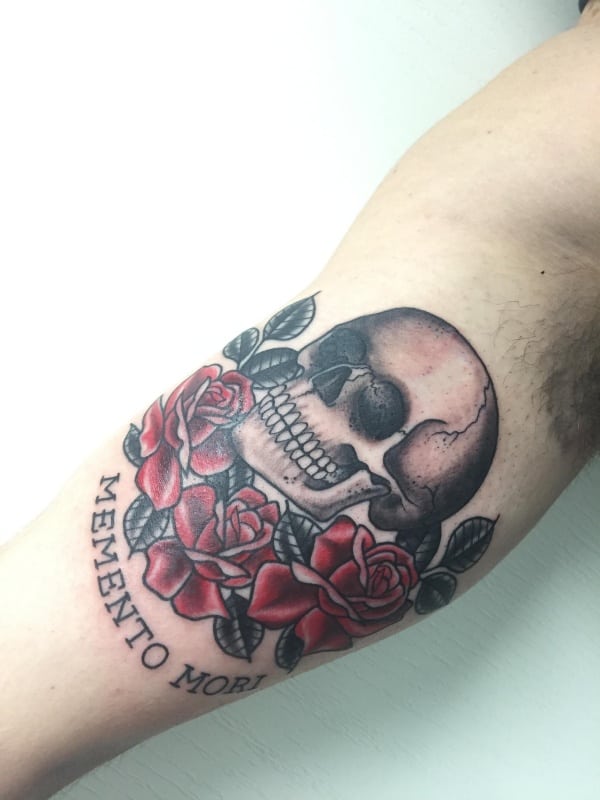 There are various ideas to get Memento Mori designs to get inked on your body parts as a tattoo. Men are very much interested to get this tattoo to show their courage and fearless nature. As a popular theme, memento mori tattoo designs retain much of its well-established meaning. So, if you are the one who does not afraid to die can get this tattoo as a "reminder" of death.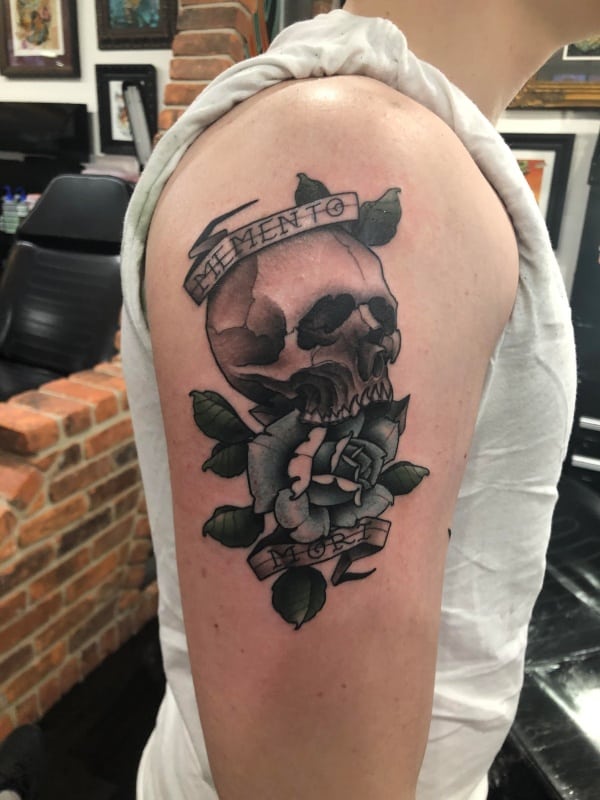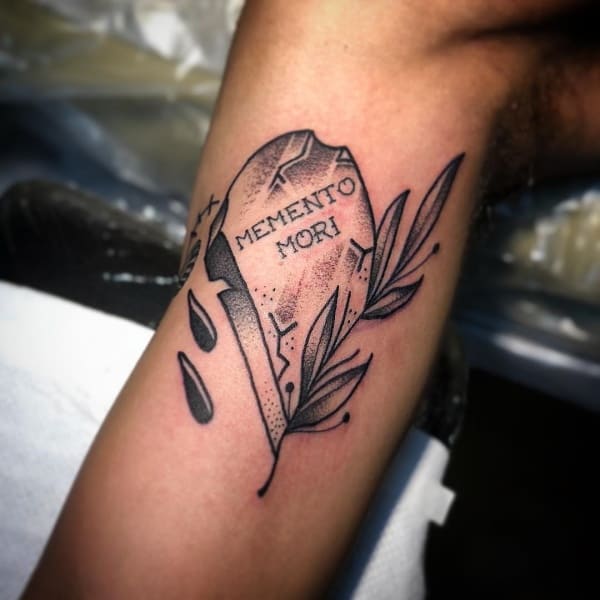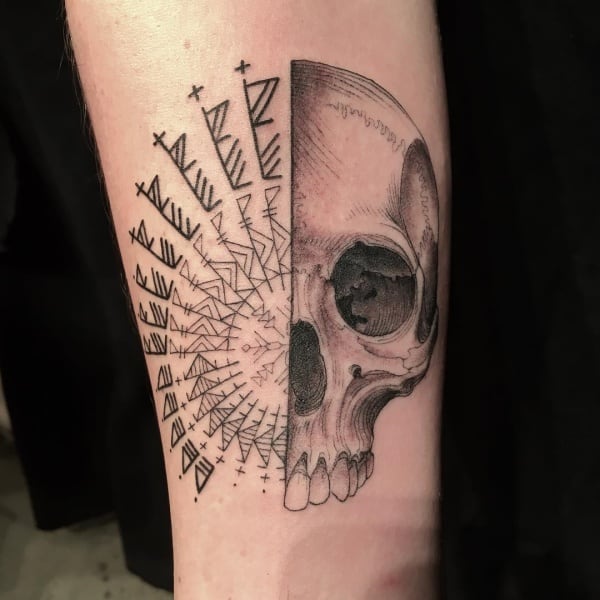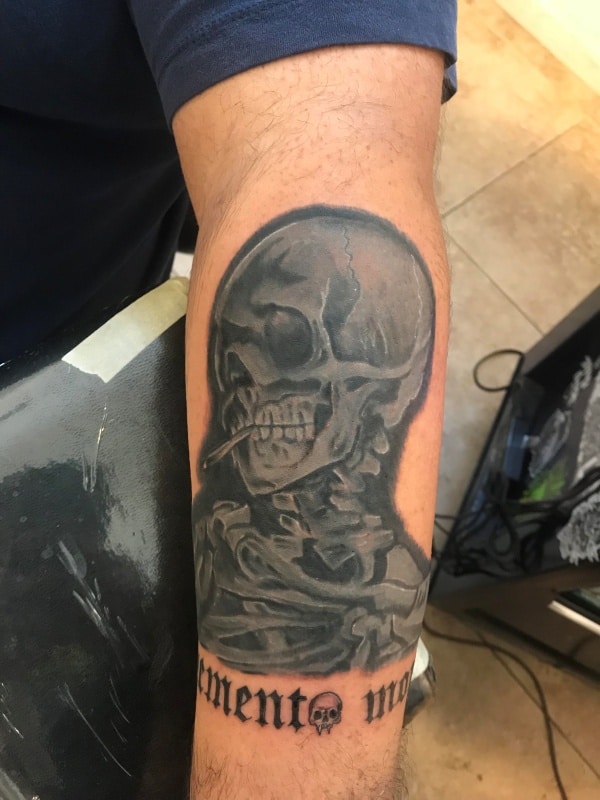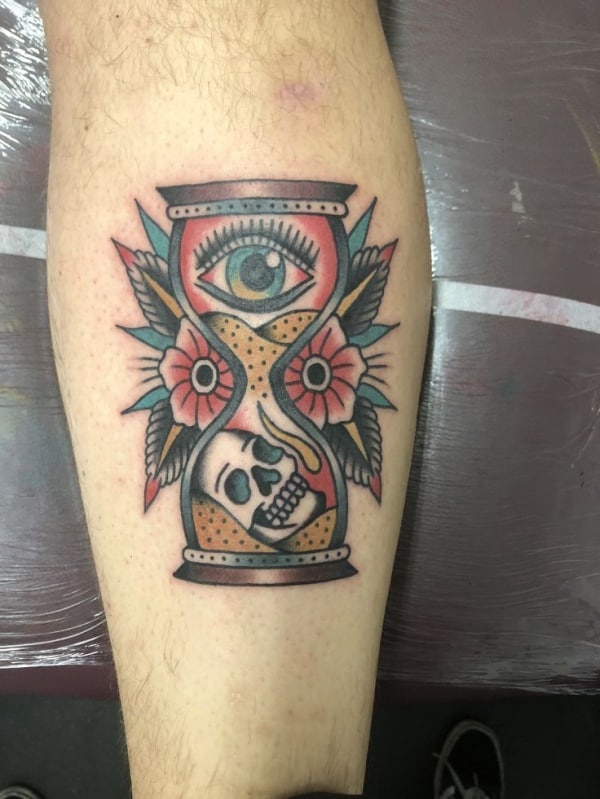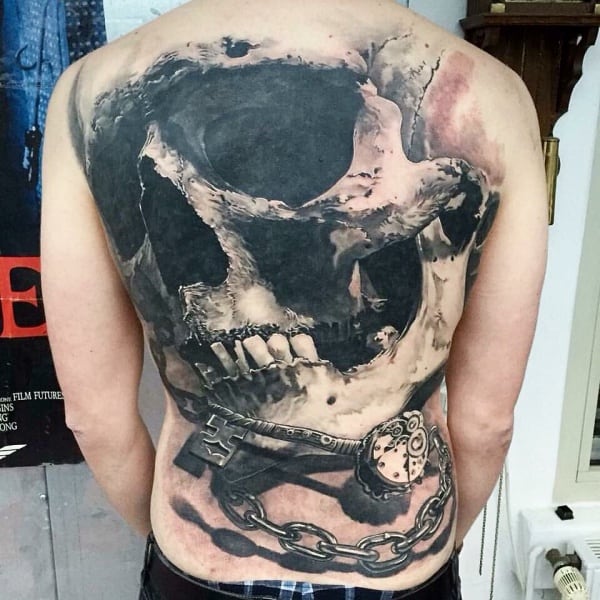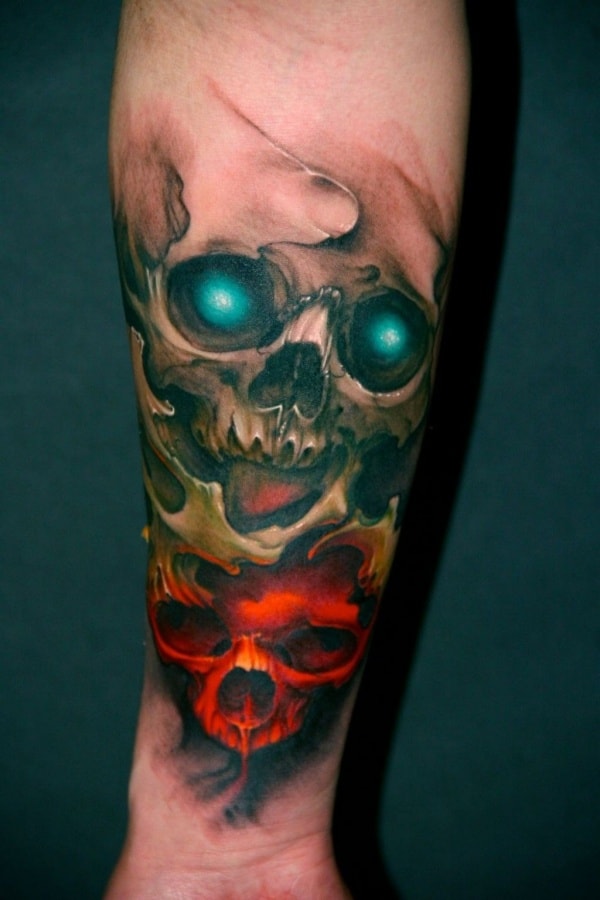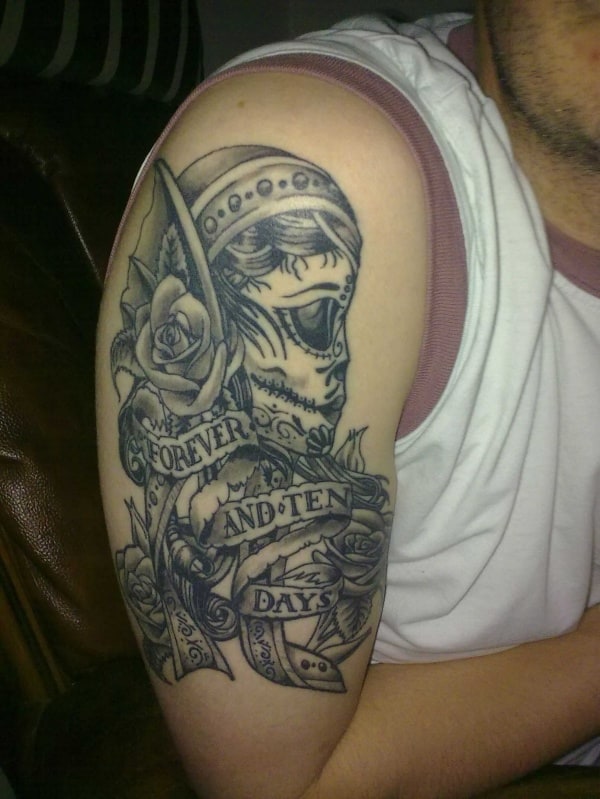 Furthermore, we hope that you will surely like this post regarding the memento mori tattoo designs and you can choose an idea to get inked from the list given above in the article. Thus, you can also tell us which tattoo design is your favorite through your comments. Thank you!