There are a lot of symbols in the world that have been existing for years. Some of them might be as old as 100 years while others age back to a time, which goes back to as old back as memento mori. Not many might be aware of this but memento mori represent a richly-rooted culture that is most famously known for its ancient traditions. As has been trending these days, most individuals prefer getting inked with memento mori tattoo designs.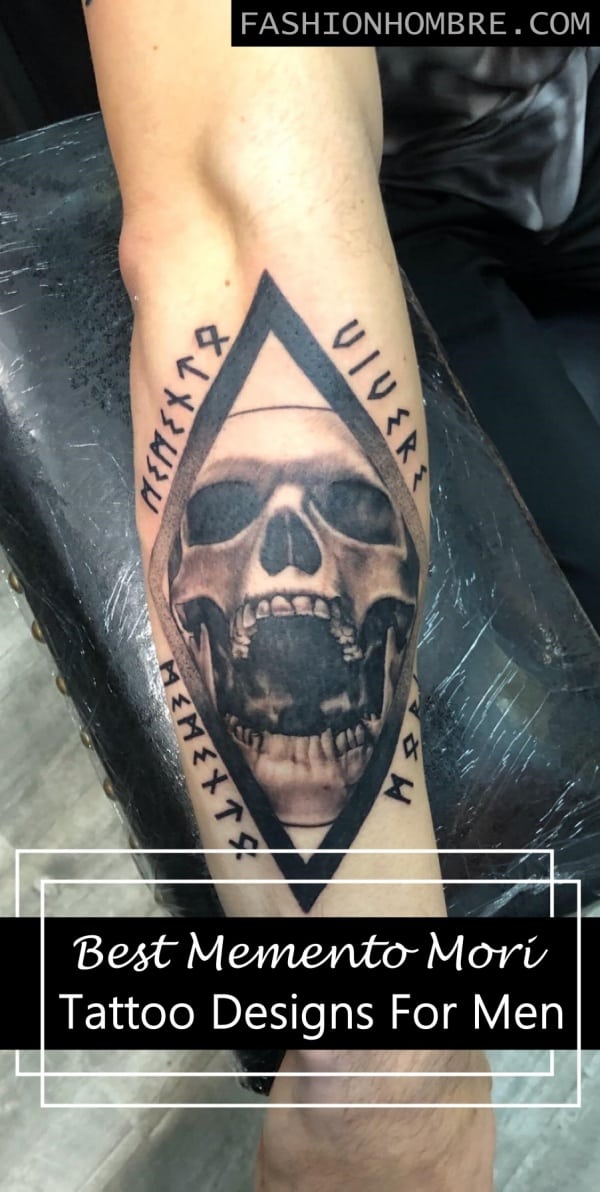 What Does a Memento Mori mean?
Before opting to get this tattoo inked you must know its meaning or what does it symbolize. Basically, 'Memento Mori' is a Latin word that means 'Remember that you will die or 'Remember death'. It holds its origin in the Medieval Latin Christian theory of practice on reflection of mortality. It has been a significant part of the very ascetic discipline to perfect the character by cultivating indifference and knowing the truth about the immortality of the character.
This tattoo design also emphasized Hell, Heaven, and the recovery of the soul in the afterlife. Memento Mori's expression came from the practices and theory of the mortality of life that we live. When anyone thinks of death, he or she might connect with the feeling of being alone or afraid. However, this term is supposed to show the fact that everything and everyone ultimately dies, it is the most natural part of life so be victorious over the idea as an alternative. This tattoo design is one more reminder to oneself to live every day to the fullest since you never know when your time to die may come.
Best Placements Of Memento Mori Tattoo
Whether people are on their first tattoo or not, they still might be having complexity deciding where to place it. Choosing the right spot to get the tattoo makes it look extremely best. You must select the right place to get memento mori tattoo designs so that it symbolizes its meaning as well as matches your personality efficiently.
Nowadays, modern society regards death as a horrible reality but people get this tattoo inked to show that they do not have fear of death. That's why in recent times memento mori tattoos have gained significant popularity. There are various places where you can get this tattoo such as back, chest, legs, thighs, shoulders, arm, biceps, forearm, upper arm, wrist, minimalistic tattoo in fingers, below the neck, ankle, and elbow.
Stylish Memento Mori Tattoos For Men
1. Memento Mori Hourglass tattoo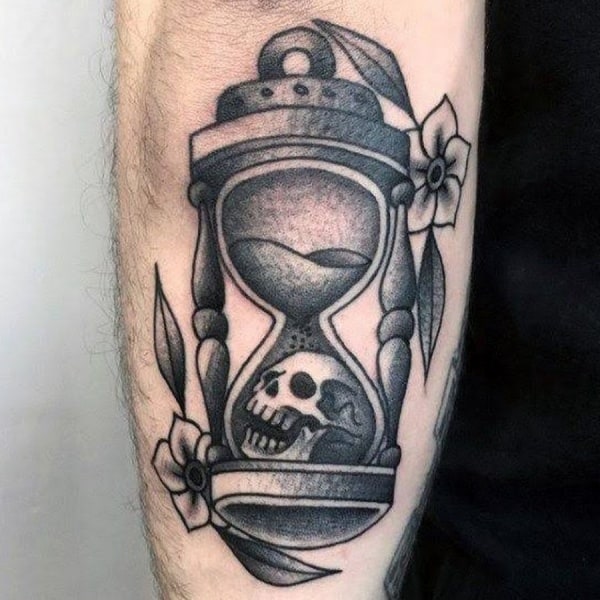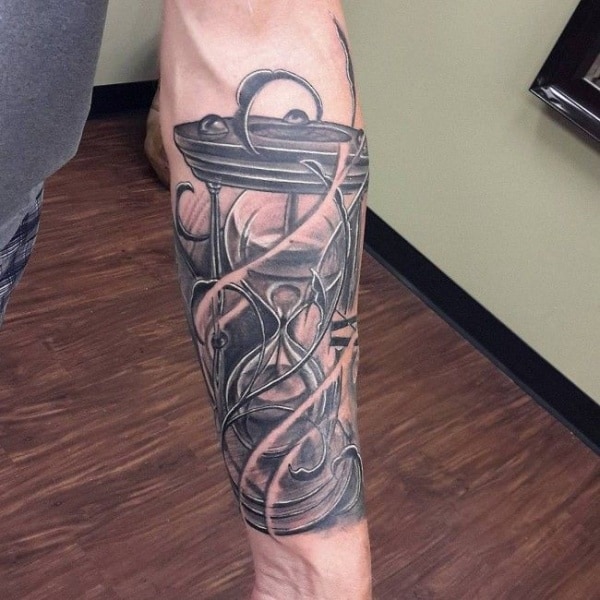 The hourglass, as we all will agree, stands for the transition. It is a reminder to us that time doesn't stop for anyone. The hourglass talks about the fleeting nature of the world. It is among the best ways for one to incorporate the hourglass memento mori tattoo designs. It doesn't necessarily have to be a plain design. You can use vibrant color tattoos that will actually stand out on your body. Many people like to opt for colored tattoos because it ends up providing a subdued approach.
2. Memento Mori Skull Tattoo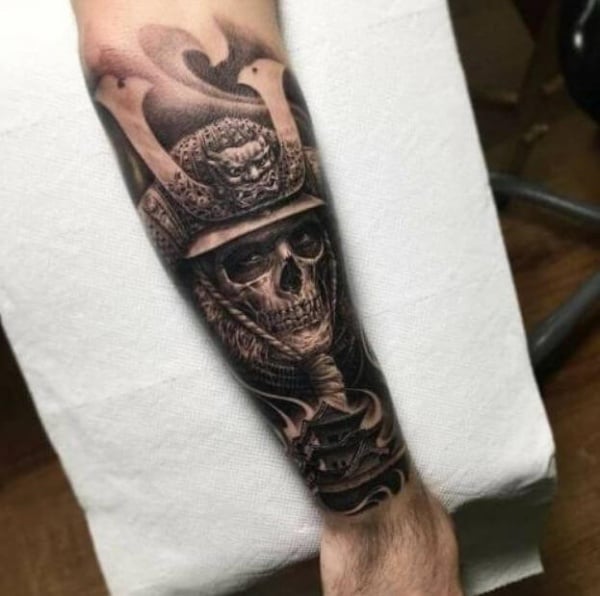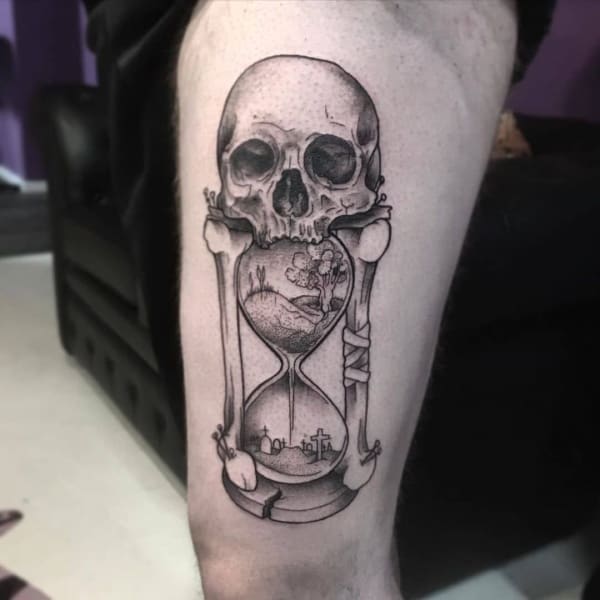 Skulls are most commonly associated with death and mortality. Therefore, the skull symbol is actually the most-suited when it comes to incorporating the same with memento mori tattoos. Older artistic representations of memento mori tattoos find their roots in skulls and skeletons for the longest time possible. All credit to their deep association with death, people are able to recognize or relate the aspect with memento mori directly. When it comes to skulls, there are many different designs that can be experimented with.
3. Memento Mori Back Tattoo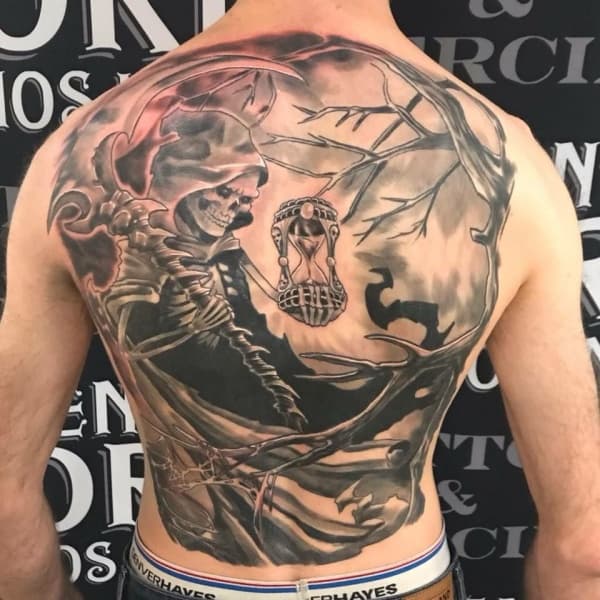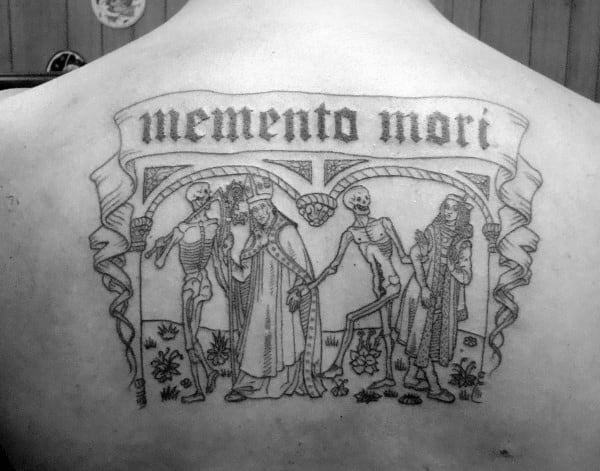 If you're planning on getting a memento mori tattoo on your back, then it will end up providing you a lot of space wherein you can design something out. Since you will have a lot of space, you can go on to incorporate several different designs in one. Many people even end up inking through different quotes within the design itself. So you can go on to experiment, as much as you want. Don't stop yourself from exploring the same.
4. Memento Mori Chest Tattoo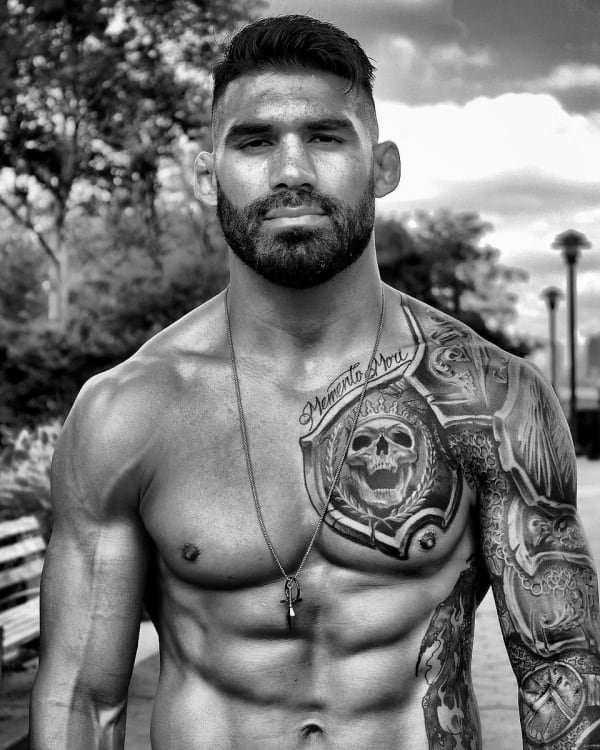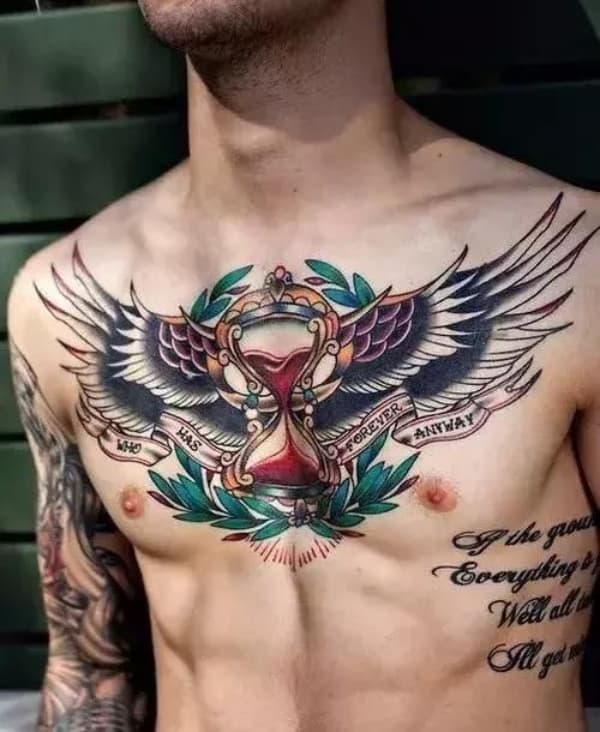 Given the popularity that memento mori holds, many people are even trying to get it on their chest. The size of the tattoo is big as it is being placed on the person's chest. Similar to the back tattoo, the tattoo on the chest is also quite elaborate in size. This ends up defining the strong personality that the individual actually stands for. The chest is usually selected as the base of the tattoo because it provides a large area to cover and thus, it is the most sought-after memento mori tattoo.
5. Memento Mori Ambigram Tattoo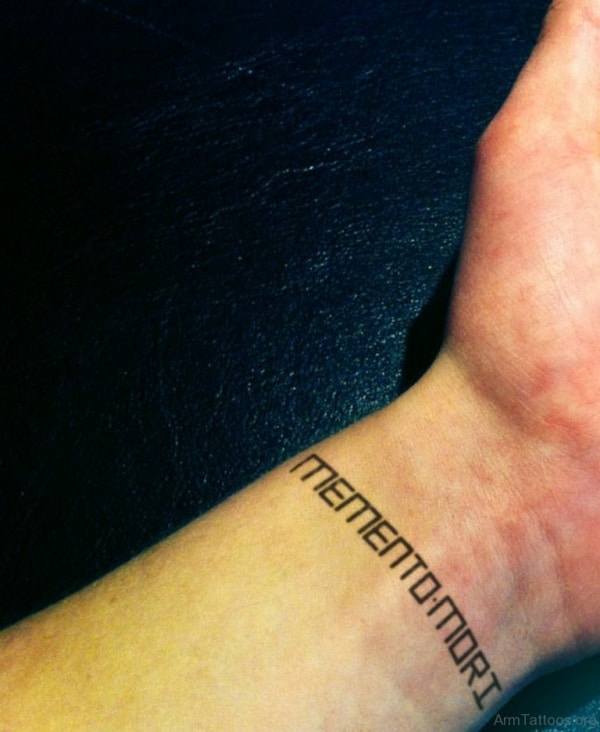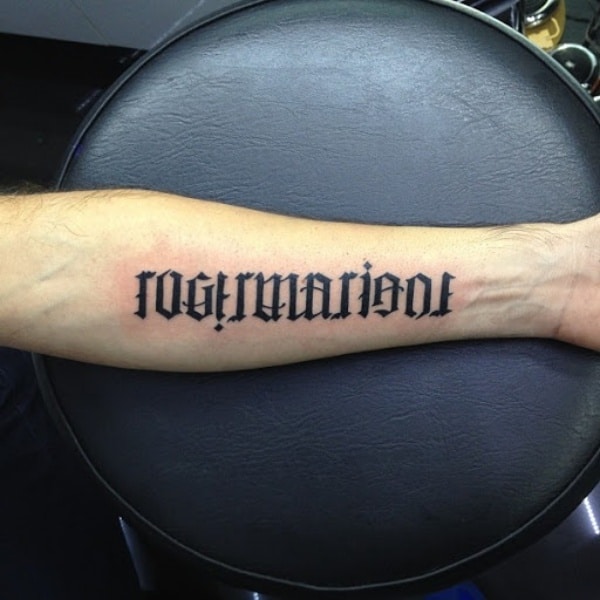 Ambigram has been popular among the audience, since forever. The ambigram tattoo design utilizes the text to push forward interesting designs. For those who are unaware, an ambigram can be described as a calligraphic design that "manages to squeeze two different readings into the same set of curves." The effect that is produced, as a result of this, is unimaginable. It's actually an interesting approach taken towards body art.
6. Memento Mori Wrist Tattoo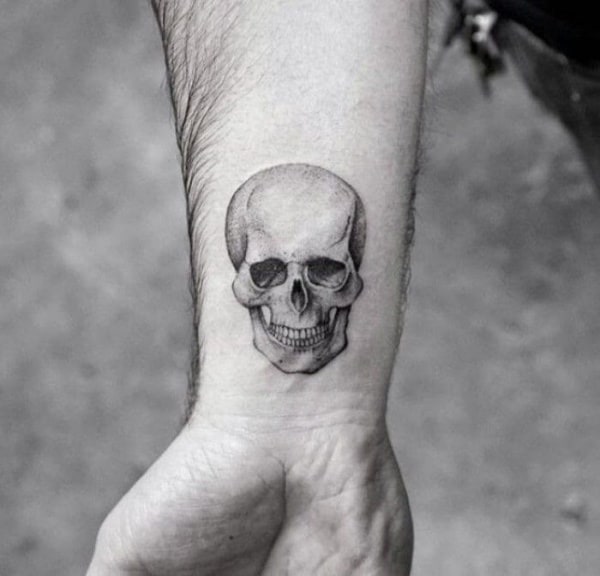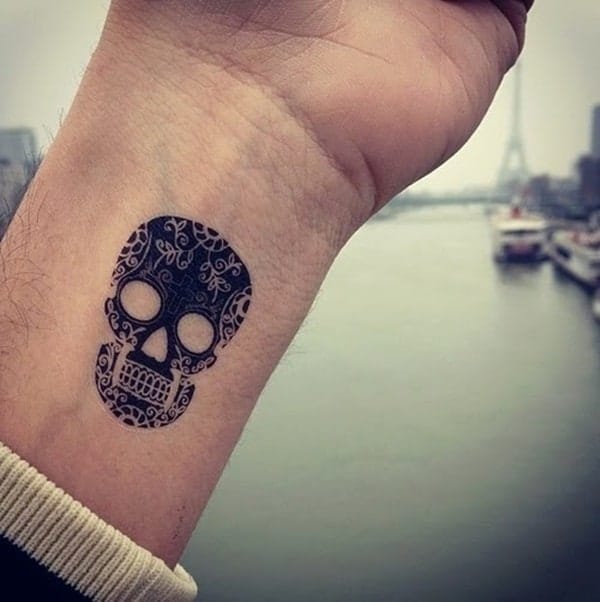 The wrist is a considerably smaller area to get a tattoo on. In comparison to all the body areas that we have suggested, the wrist is perhaps the smallest area wherein you can get anything at all. You might want to stick to getting something minimalistic. However, most individuals even opt to get a text or their favorite quote onto their wrist, and thus, we suggest you get memento mori written on your wrist.
7. Memento Mori Flower Tattoo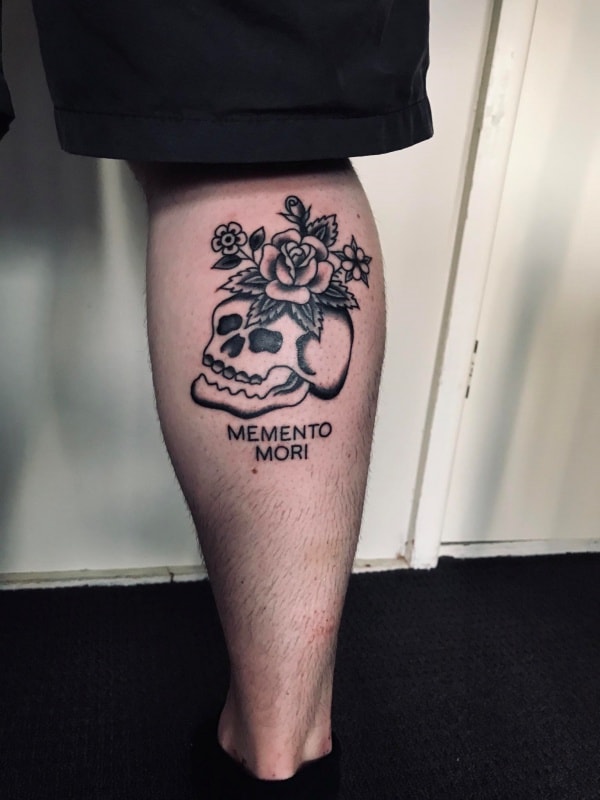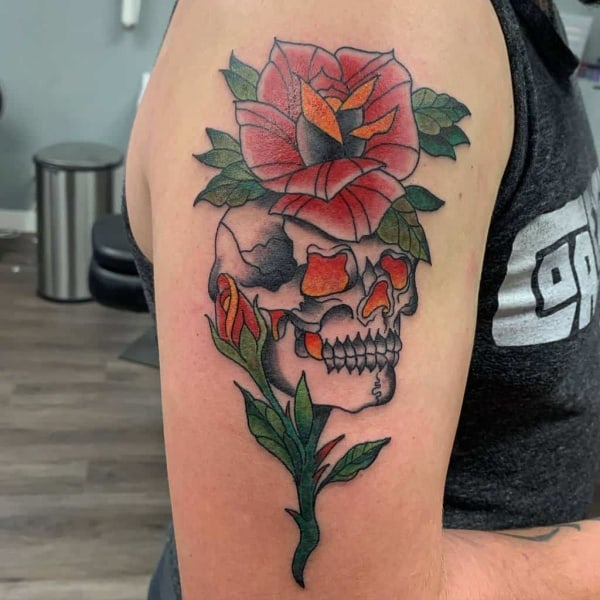 Flower tattoos in itself, are quite beautiful-looking. They are among the most meaningful tattoos that have been designed. While more times than often, it is the women who get the flower tattoo set. However, if you do decide to get a memento mori flower tattoo, then the same can look quite masculine as well. You can even pay your tribute to your loved ones through this tattoo design – it is quite symbolic by nature. If you are looking for a subtle memento mori tattoo, then this is it.
8. Memento Mori Shoulder Tattoo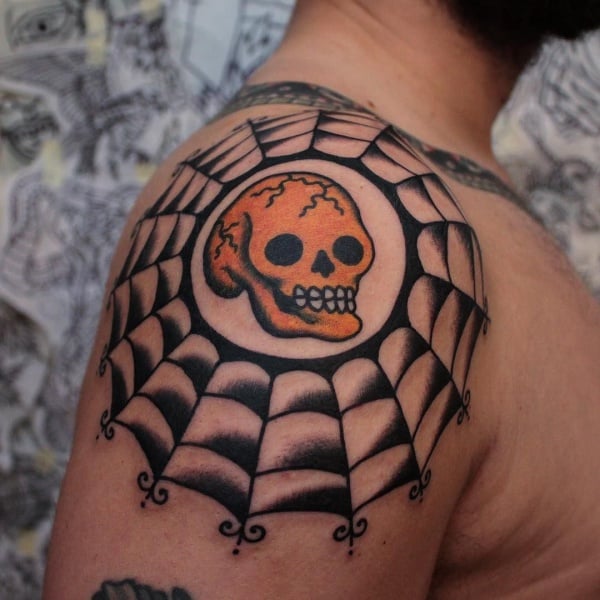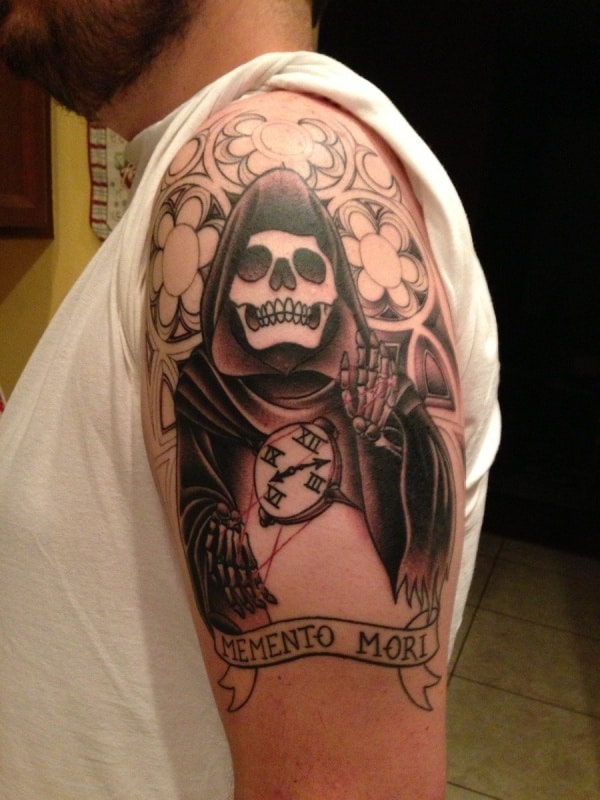 If you do want to go and push the thrust beyond any form of restriction, then you can choose to throw in some colors and get some mean graphics done on your shoulders. The thing about shoulder tattoos is that they can look pretty badass if you are able to pull them off perfectly. If you're the kind of person who enjoys wearing a tank top, this might be an ideal place for you to get the ink done.
9. Memento Mori Cameo Tattoo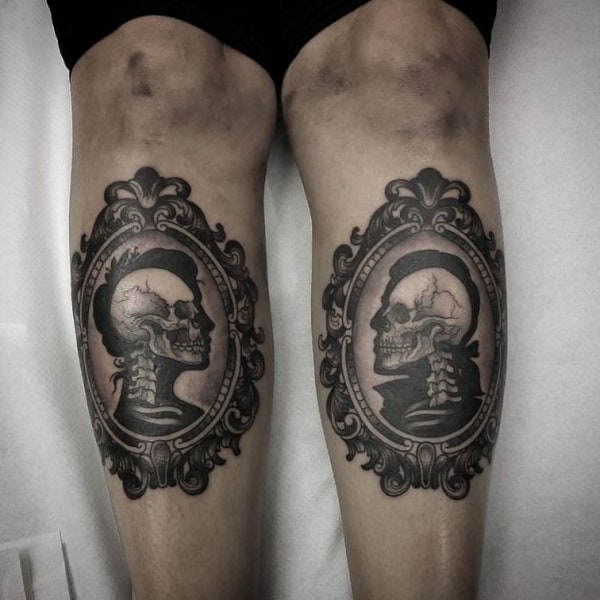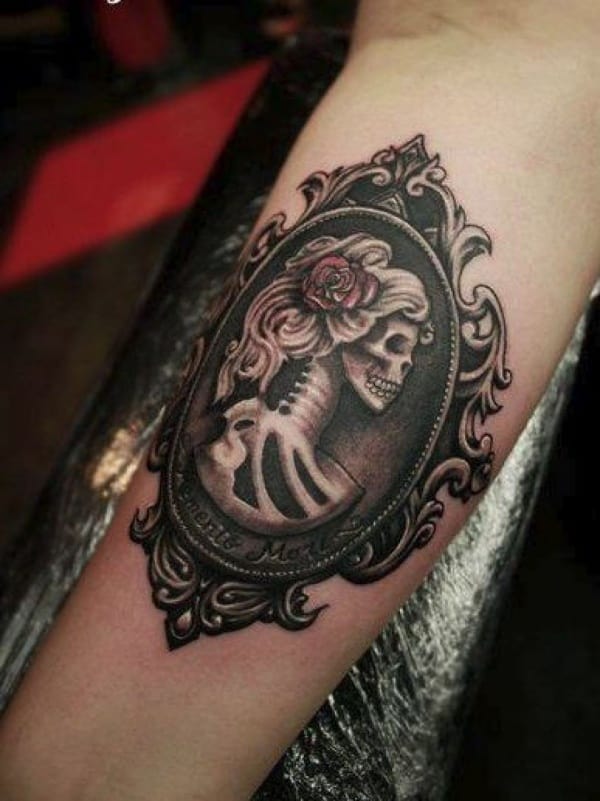 The cameo tradition goes back way in time. Origins of the cameo design can go as long back as the fifteenth or the sixteenth century. The term 'cameo' is commonly associated with a form of jewelry. Cameos initially started off as artists carving on them. The modern-day cameos have changed quite a bit and they have even taken the form of body-art. It's an exciting piece of art-work that you can get on any part of your body, as far as memento mori tattoo designs are concerned.
10. Memento Mori American Traditional Tattoo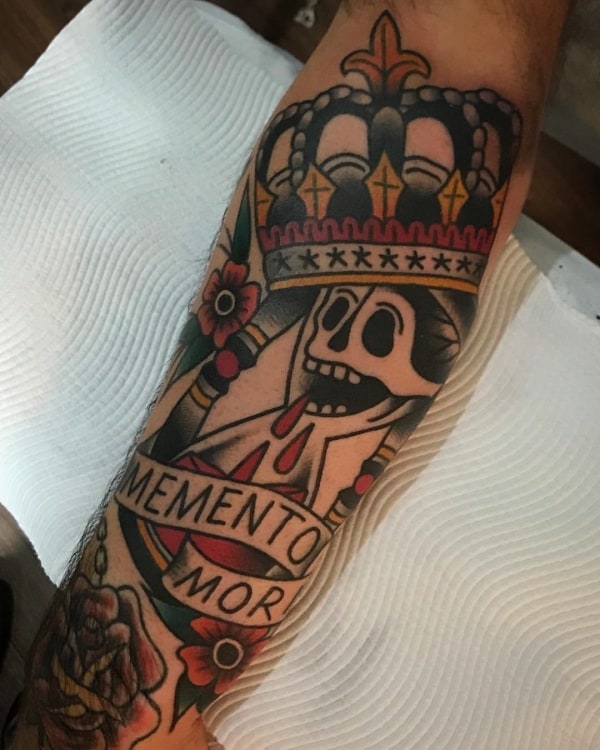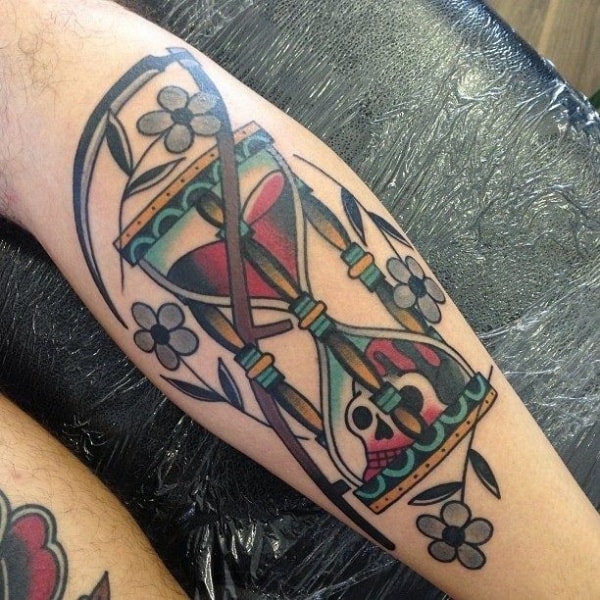 Traditions are known to progress with time but there is something about the American culture that is ageless. This is exactly why American culture continues to progress with much glory and pride. If you resonate with the American culture much, the memento mori American traditional tattoo is the one for you. It is ideal for anyone who is patriotic by nature and is looking to fill in a significant amount of their body.
11. Memento Mori Coin Tattoo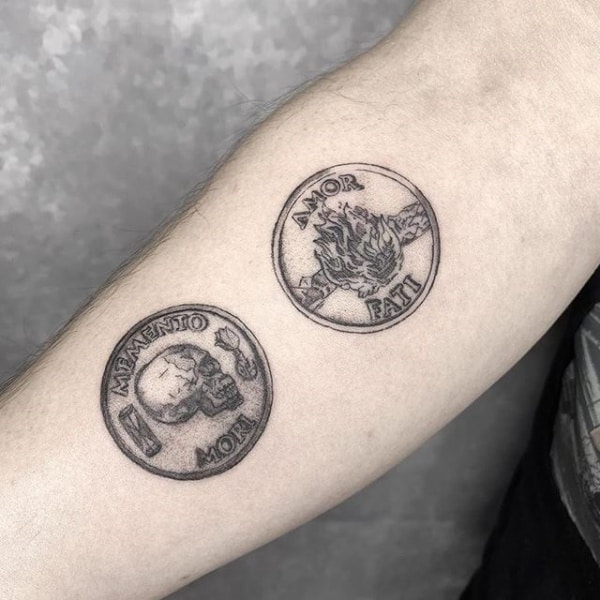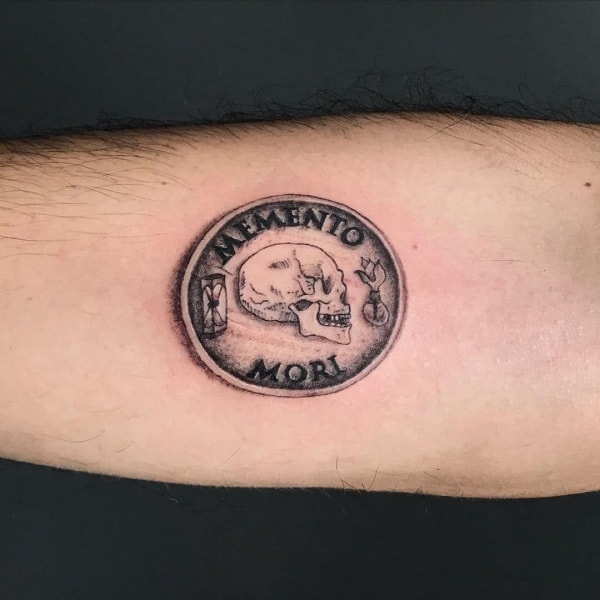 One might think that perhaps, only pirates love their gold and silver coins. You'd be surprised that the story behind the memento mori coin is deeper than limiting pirates. Coins have long stood for and represented our history that has evolved over several years in the past. Coins usually portray heads of state and heroic figures that have heralded for centuries. It is through objects like the coins, that help us realize exactly how far we've ended up reaching. There is a deep meaning involved when it comes to getting a coin tattoo done.
12. Memento Mori Clock Tattoo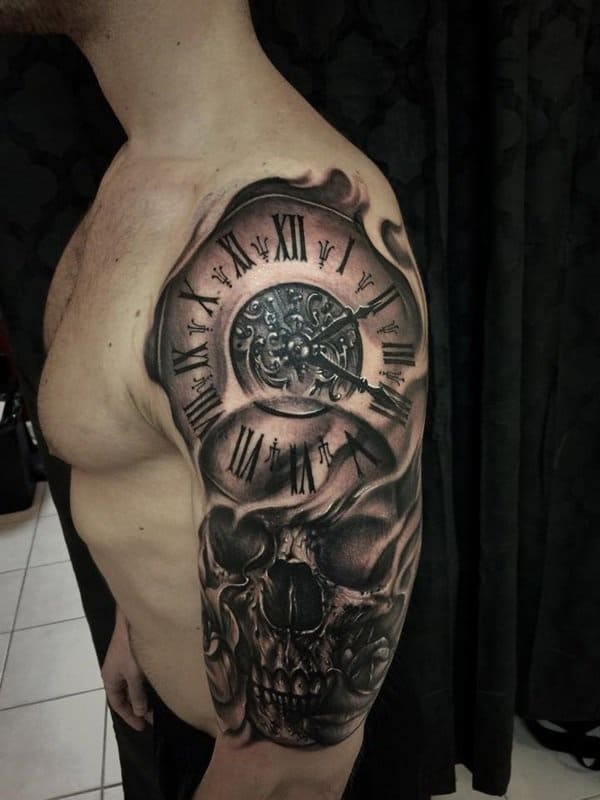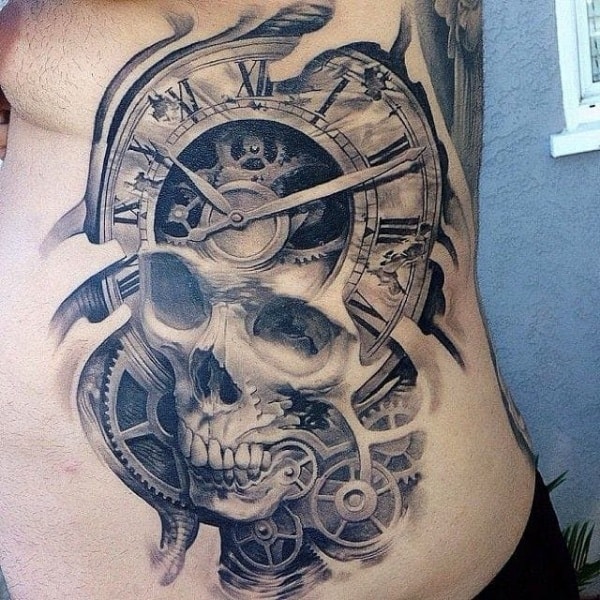 We all will agree that one of the most valuable things that a man can and should value in life, is his time. It has a very meaningful impact – the clock. Keeping that in mind, it is quite easy to understand why most people give time so much importance. Speaking about body-art, when it comes to time and depicting its significance, the best way that it can be done is through the representation of a clock. There are numerous designs when it comes to clock tattoo but incorporating it with memento mori is perhaps the best decision that you can possibly make.
13. Memento Mori Watercolor Tattoo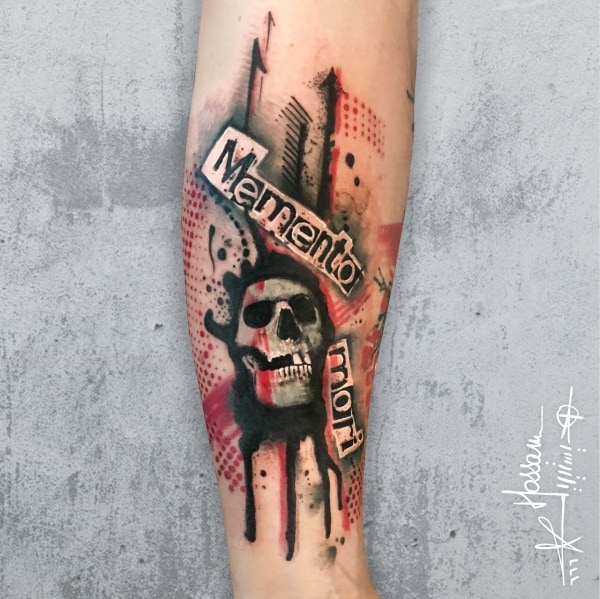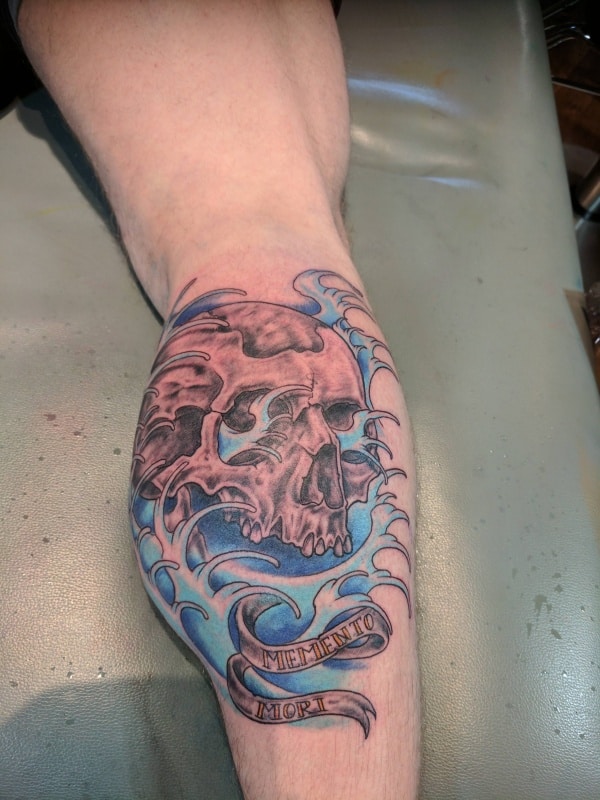 If you want to get something that is special and unique, something that is quite different from what most people would get, we would suggest that you look for something that has a direct connection with watercolors. It's been trending quite a bit in the recent past. There has been a lot of rave around watercolor body art, so much so that it is quickly becoming a sensation. There are many different forms through which the memento mori can be represented through watercolors. You have the choice of either getting a simple text that reads memento mori in watercolor form or you can get several objects around the tattoo.
14. Memento Mori Forearm Tattoo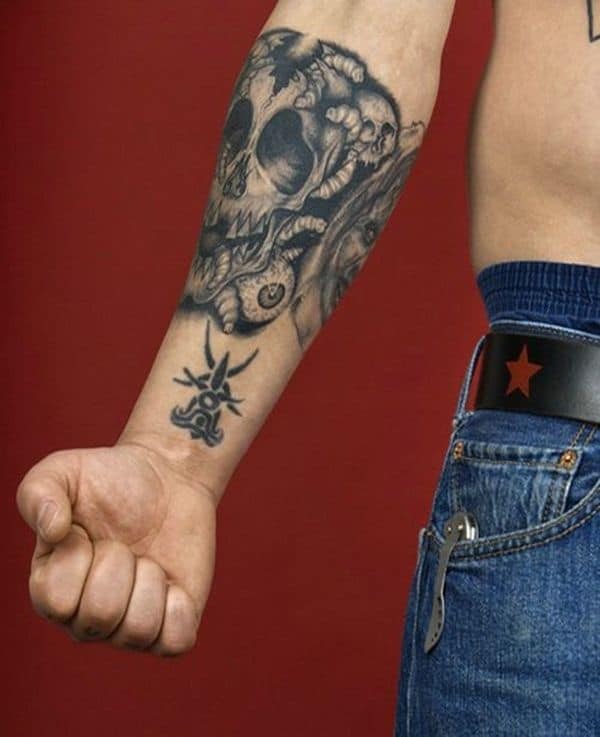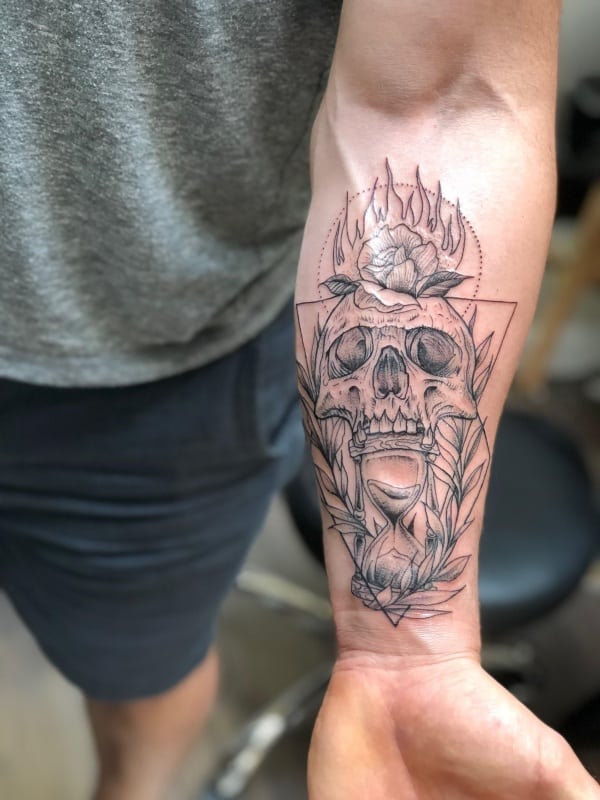 The forearm memento mori tattoo designs are very popular and are known for their wonderful placement. You can select the size of this tattoo as per your desire. This tattoo can be inked in black color and easy to hide at the workplace. You can have this tattoo to define your personality and makes you stand out from the rest of the crowd.
15. Minimalist Memento Mori Tattoo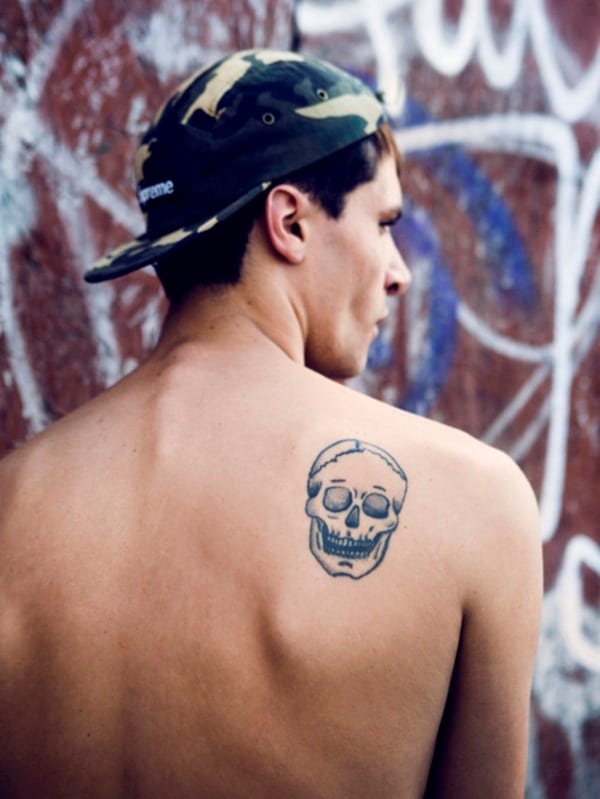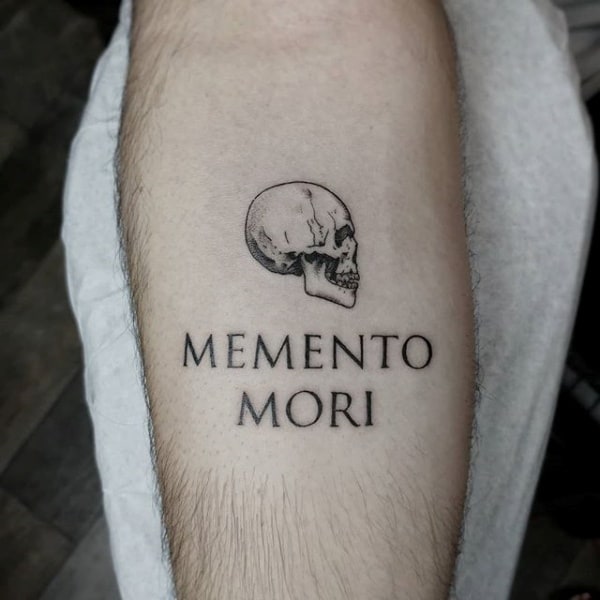 Minimalist tattoos are highly preferred by people due to their small size. Memento mori tattoo designs in a small size catch the attention of everyone wherever you get it inked. This minimalist tattoo symbolizes the virtues of humanity and can be the best option if you don't want a big tattoo.
16. Memento Mori Arm Tattoo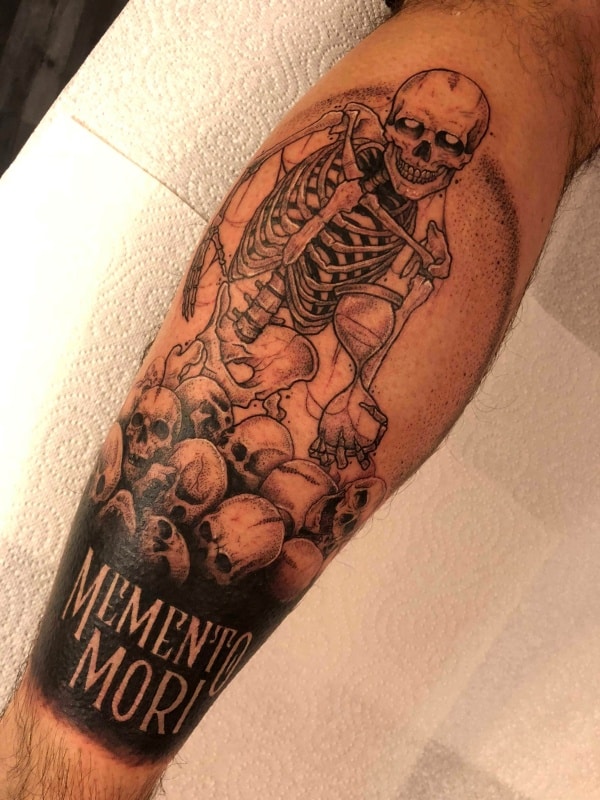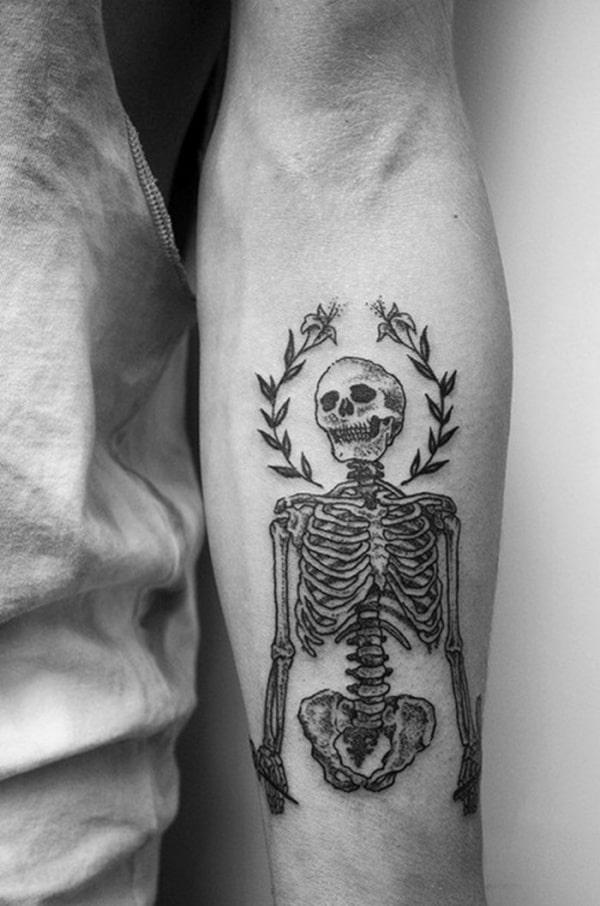 An Arm is one of those body parts that are highly preferred by people to get the tattoo inked. This tattoo looks very inspiring and as per your choice, you can have the tattoo up and down the entire sleeve of your arm. You can also opt for a minimalistic memento mori tattoo designs to get inked in the arm as per your desire.
17. Memento Mori Cursive Tattoo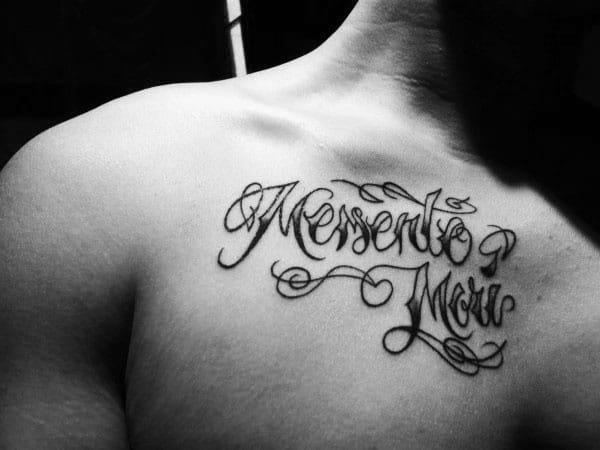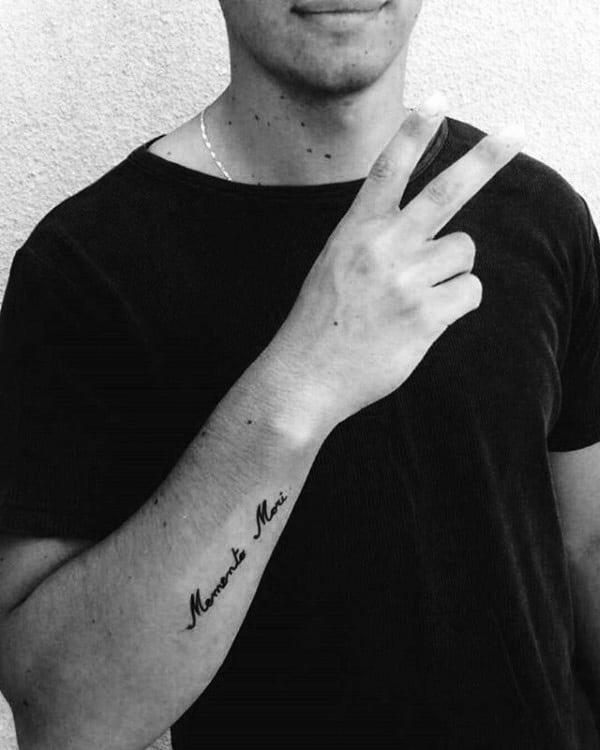 This is one of the most unique memento mori tattoo ideas. In this idea, the Memento Mori is written in cursive writing on the body part. There are various types of cursive from which you can select as per your choice. Furthermore, many people choose this tattoo idea because they love to get fonts to get inked instead of getting any pattern or design.
18. Memento Mori Latin Tattoo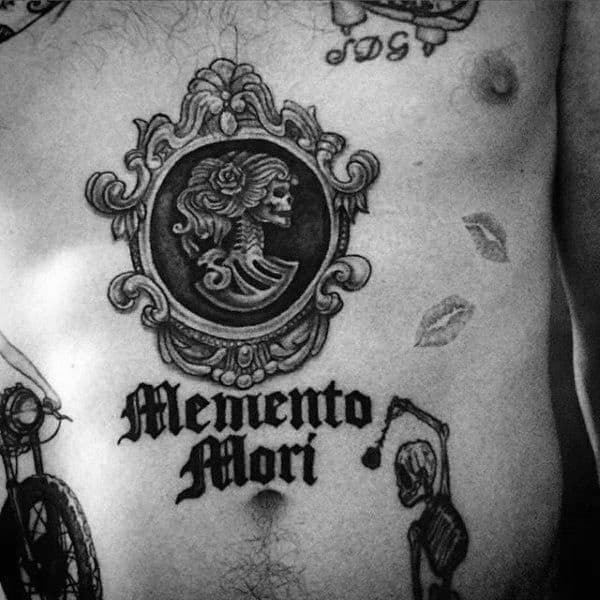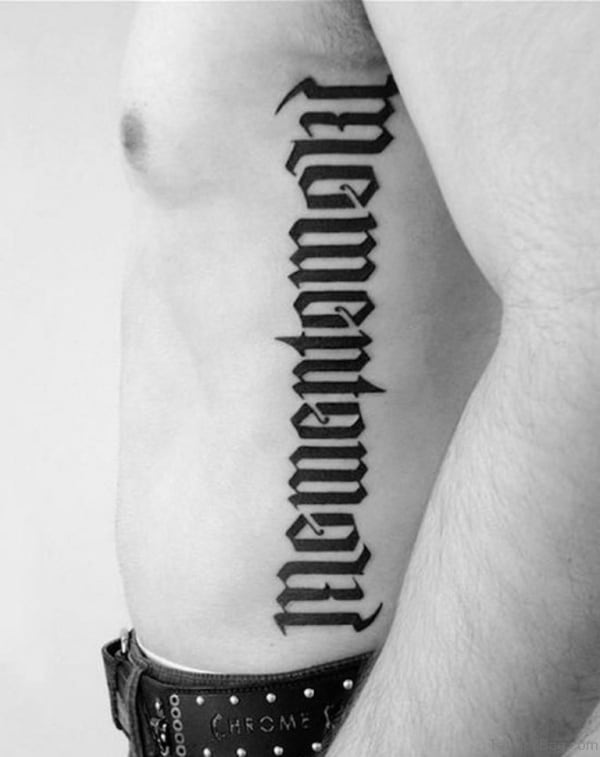 Latin tattoos are very attractive and are popular amongst teenage boys. Memento Mori Latin tattoo symbolizes how the wearer is attached to the meaning of this tattoo. People who are followers of Christianity mainly opt for this tattoo. Additionally, you can get this tattoo on the shoulders, arms, wrist, or wherever you want.
19. Memento Mori Sleeve Tattoo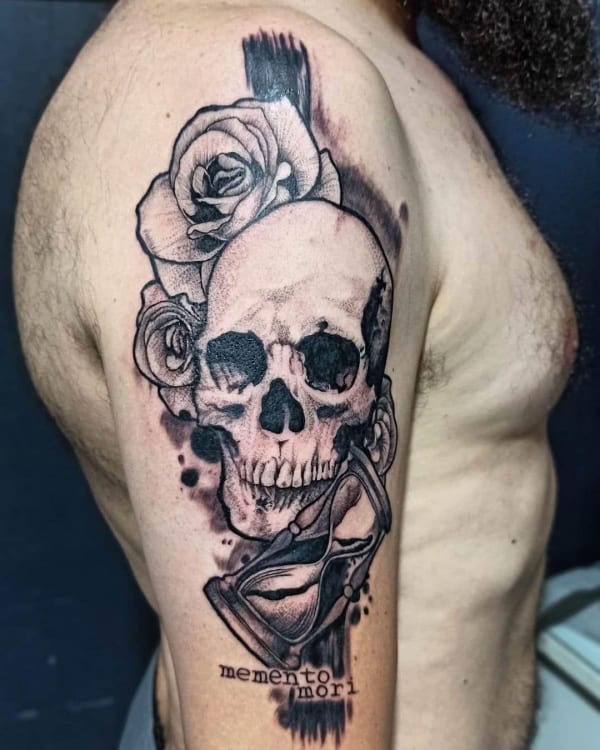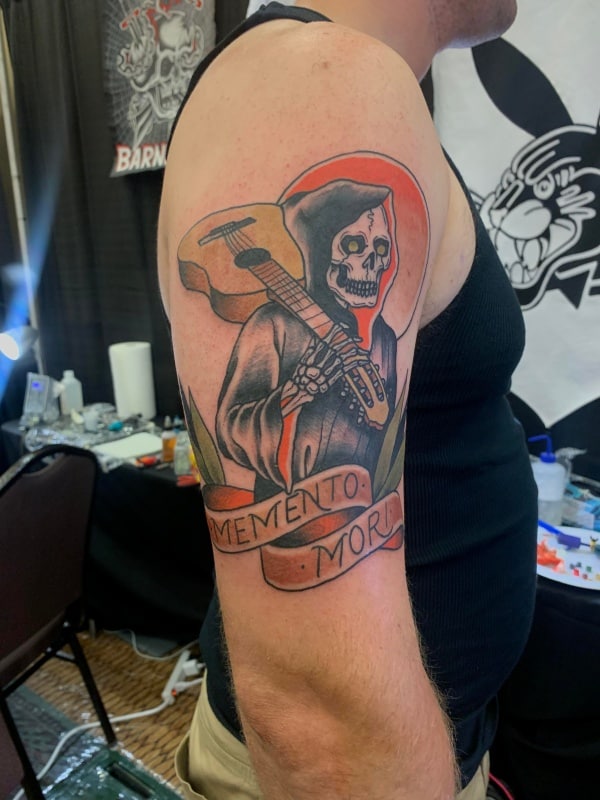 Generally, Sleeve tattoos are big tattoos and many times is a collection of some small tattoos. Memento mori tattoos in sleeves can be a single design or collection of small tattoos. Men highly preferred this tattoo because it is visible to everyone and gives a style statement also. According to your choice, you can ask your tattoo artist to get it complex or simple.
20. Memento Mori Bicep Tattoo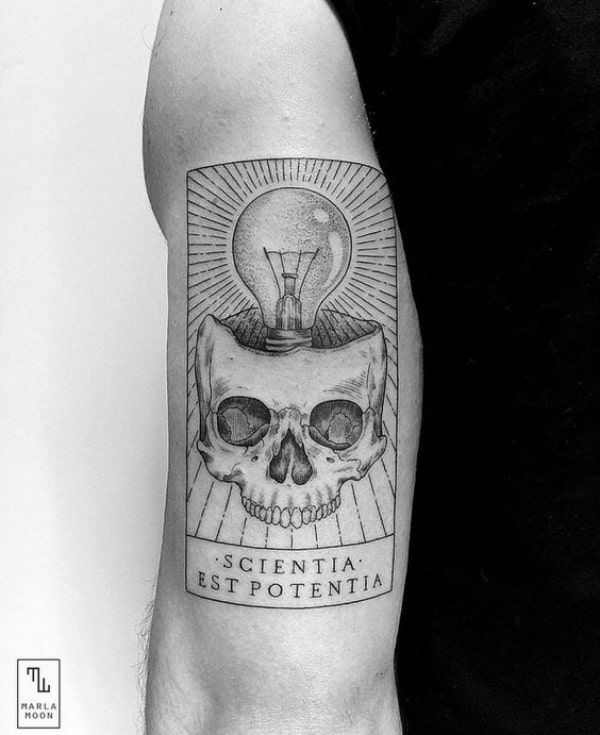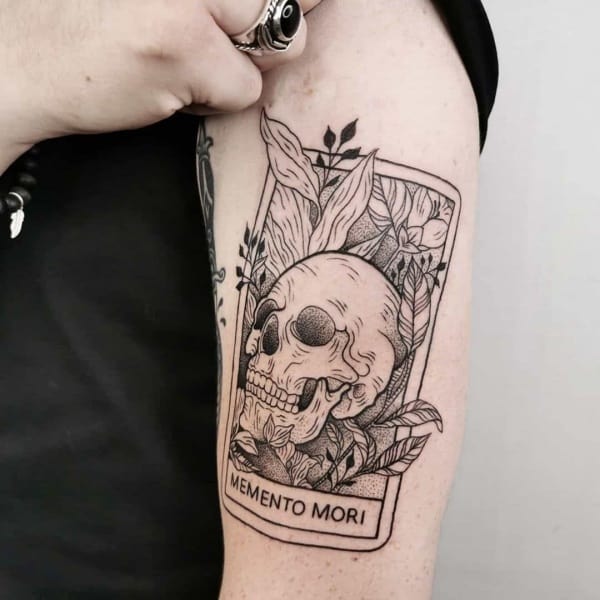 Working men who want to get a tattoo but don't want it to make visible in the workplace go for this Memento Mori tattoo to get inked on Bicep. The tattoo design here is mostly hidden and also protected from the sun. You can get Memento Mori design in single or both the biceps according to your choice.
21. Memento Mori Leg Tattoo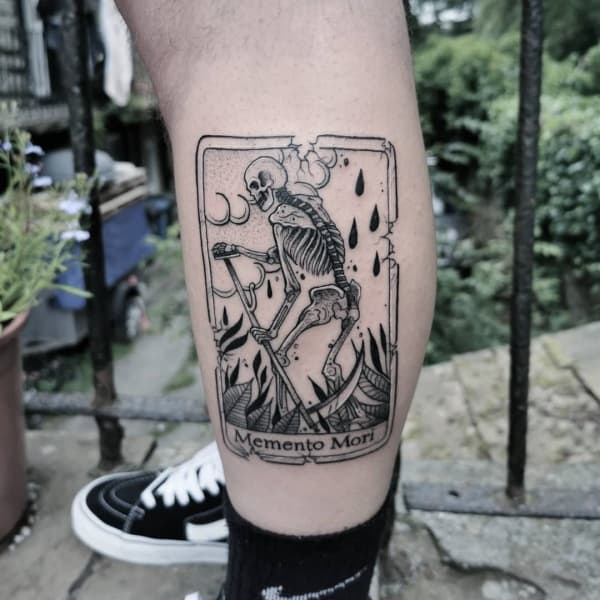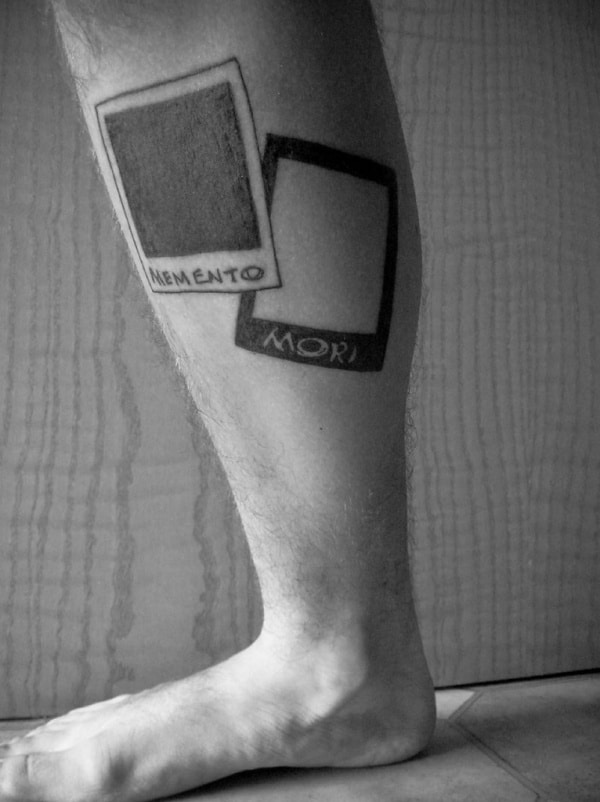 One of the excellent locations for getting the tattoo design of Memento Mori is a leg. This is so because you can easily show or covered up the tattoo that is inked in legs. There is plenty of space to design the Memento Mori design effectively. Besides, this tattoo design on the leg shows the belief of men in destiny and death.
22. Memento Mori Elbow Tattoo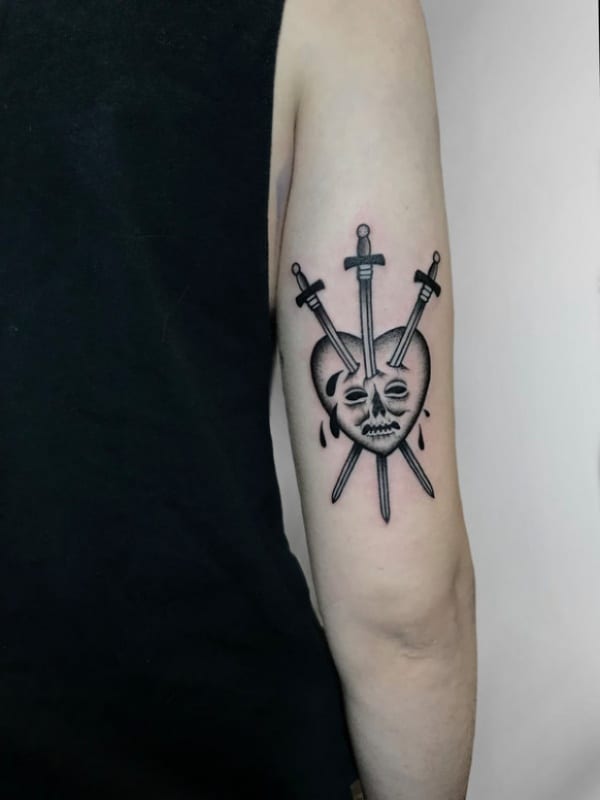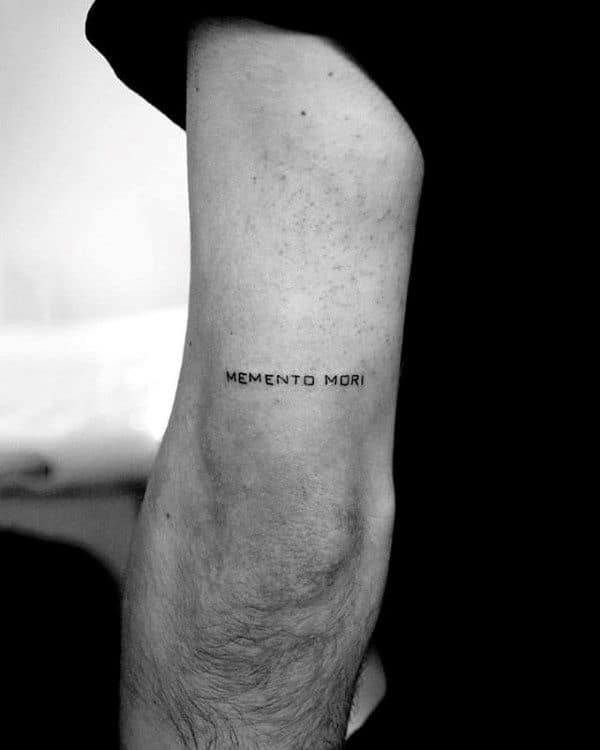 Elbow is a body part where people also get a tattoo inked to make it unique. In the elbow, small size memento mori tattoo designs can be placed very easily. If you want then you can go for a small circular tattoo design related to Memento Mori. This tattoo design represents the confidence to face death and live fearlessly all through your life.
Also, Read: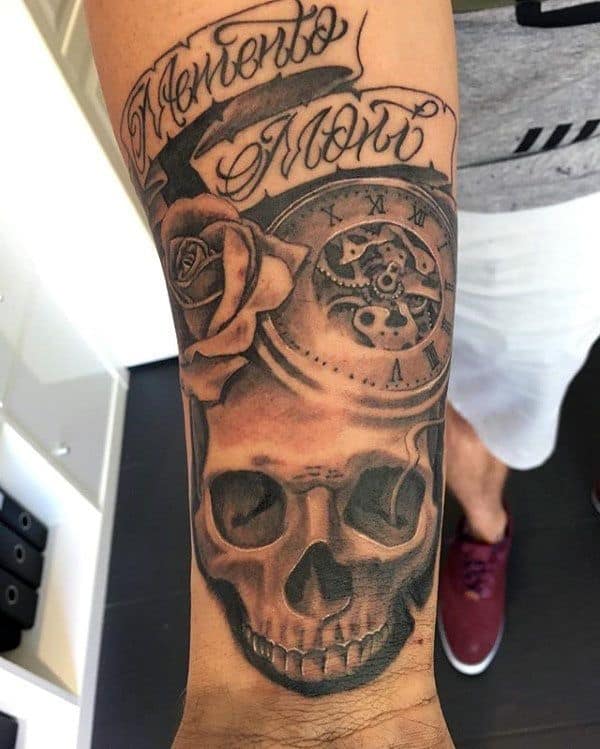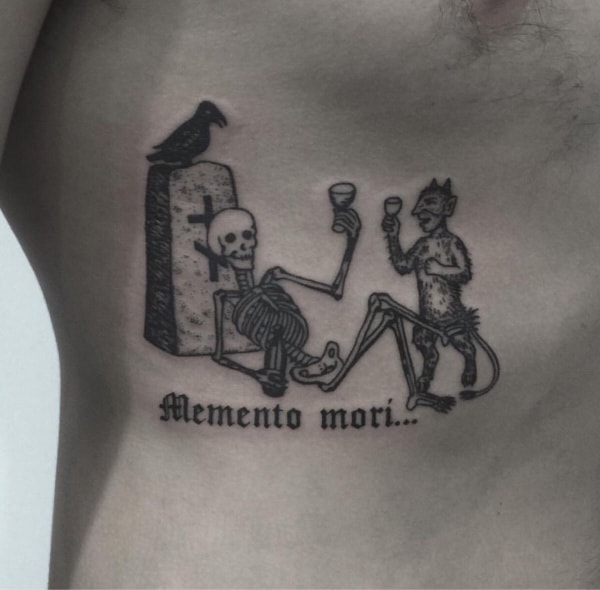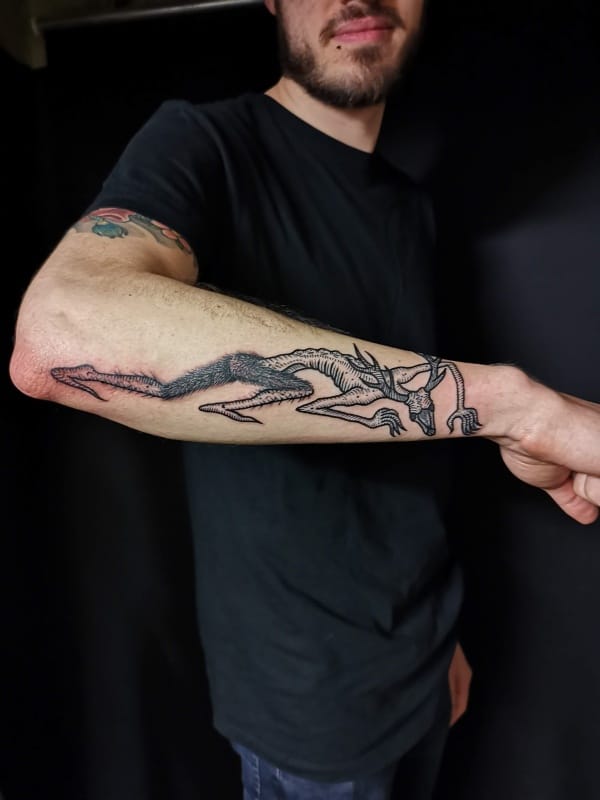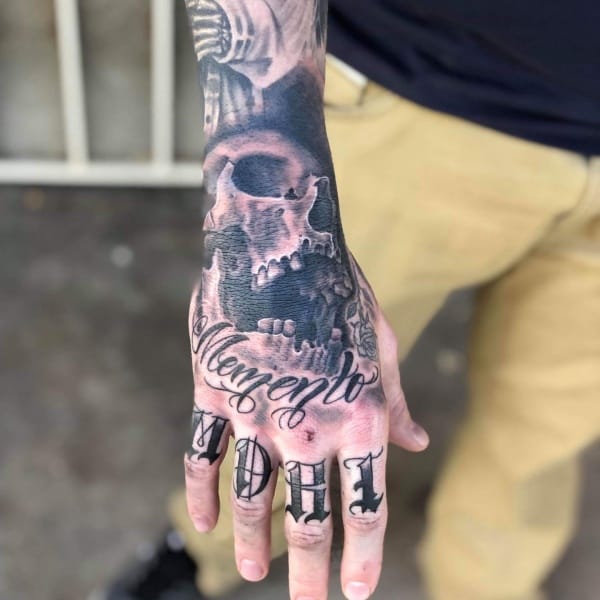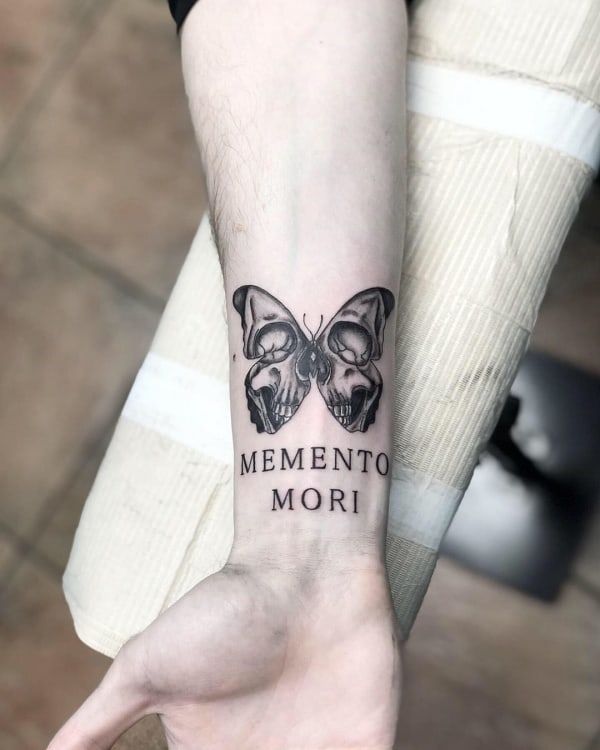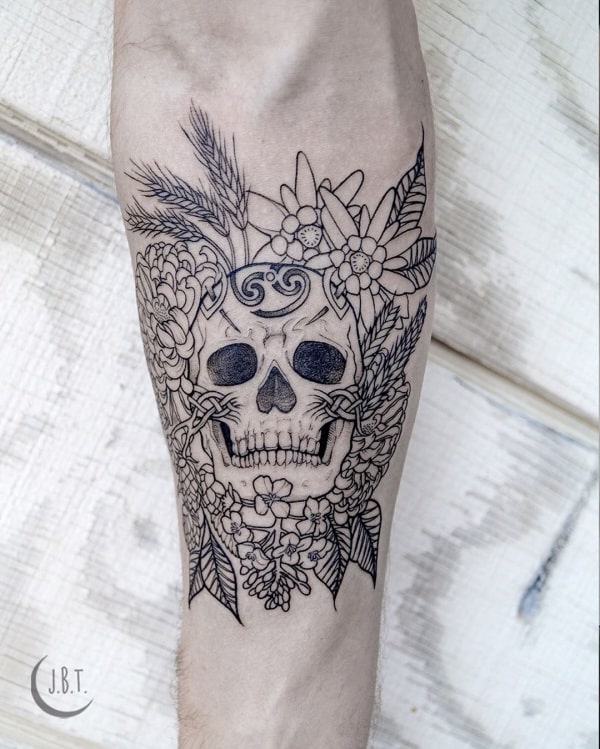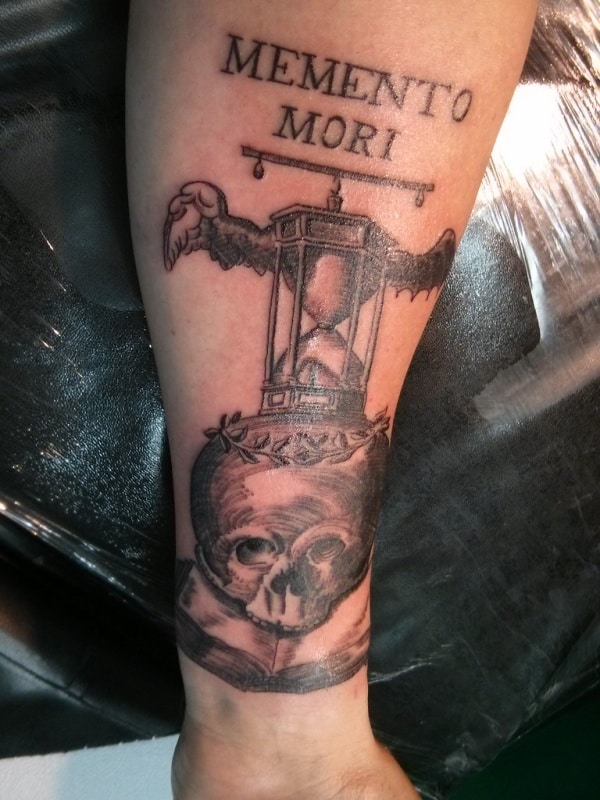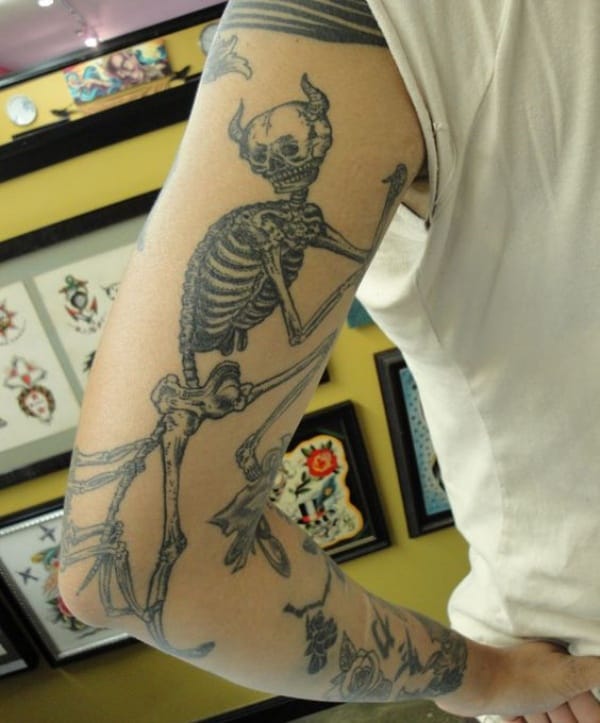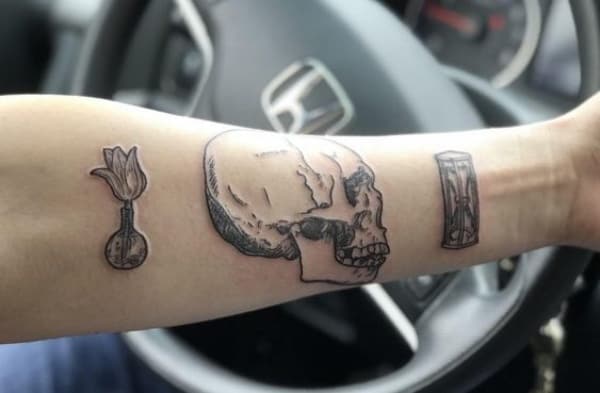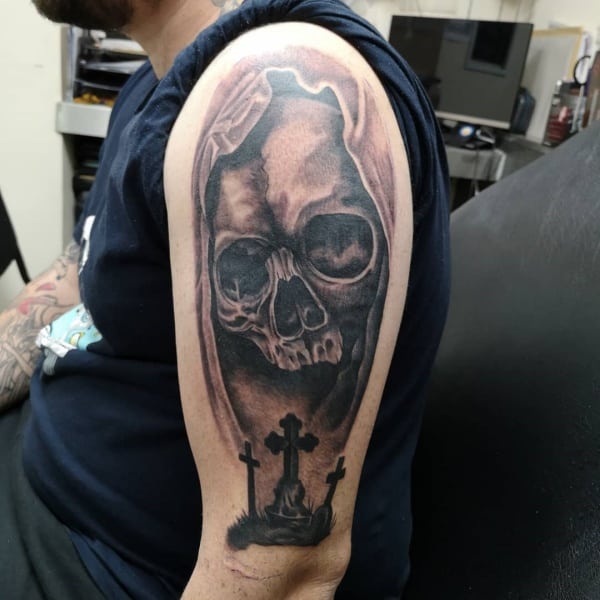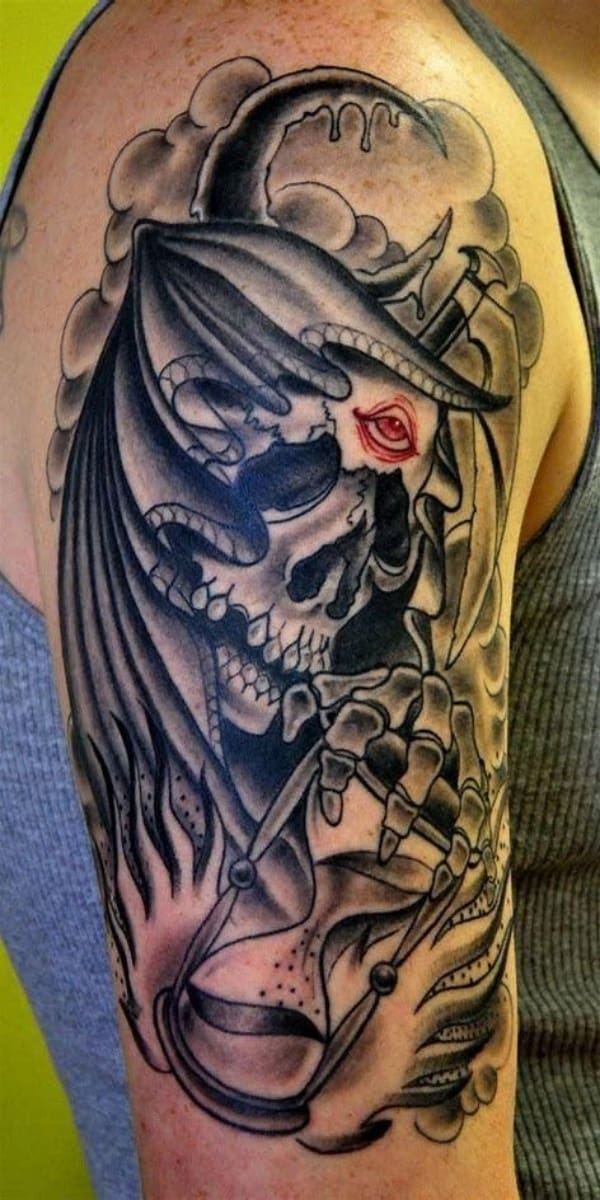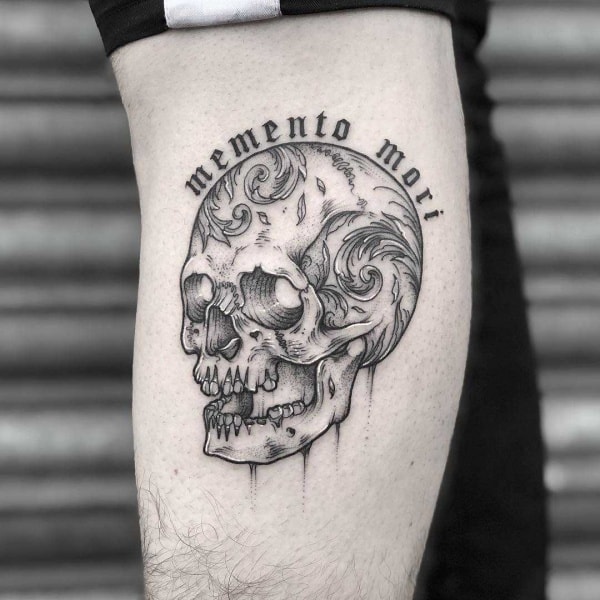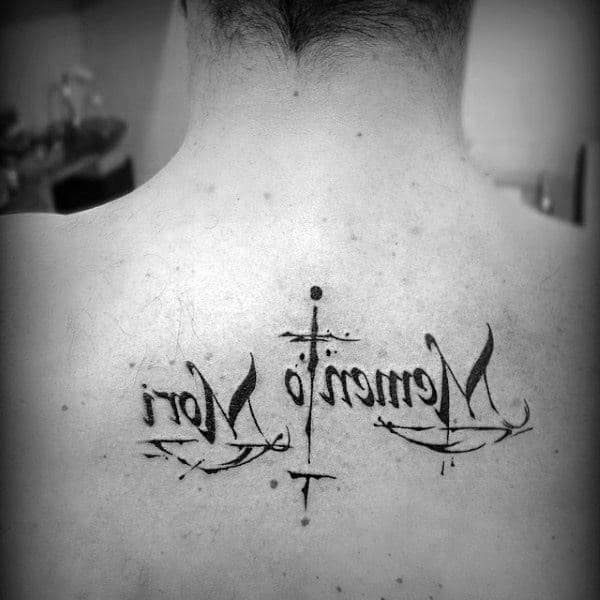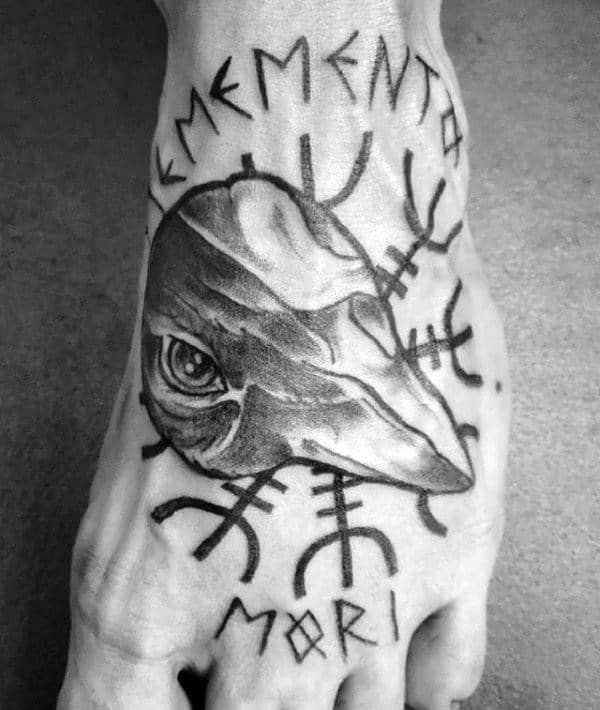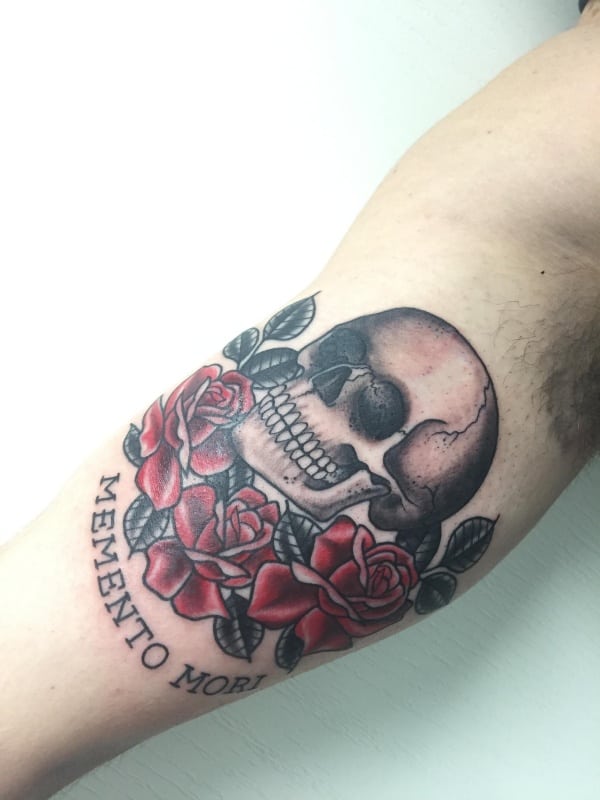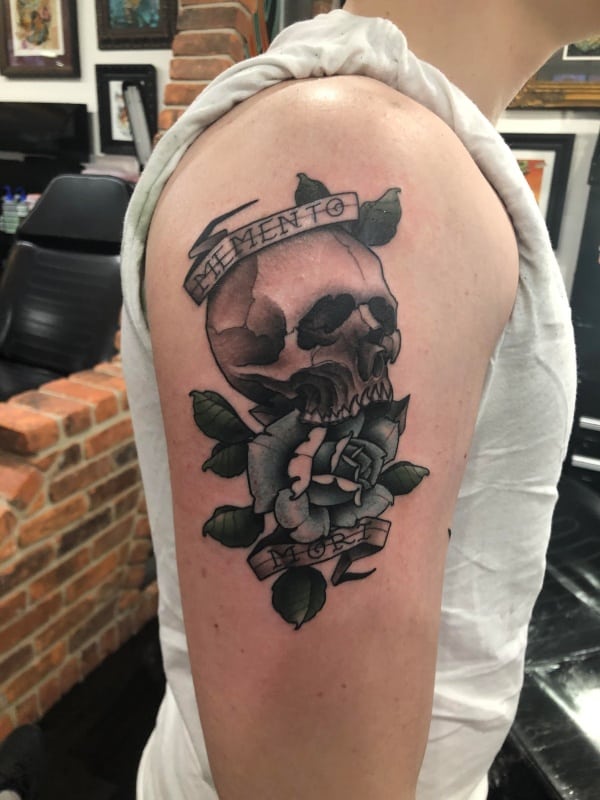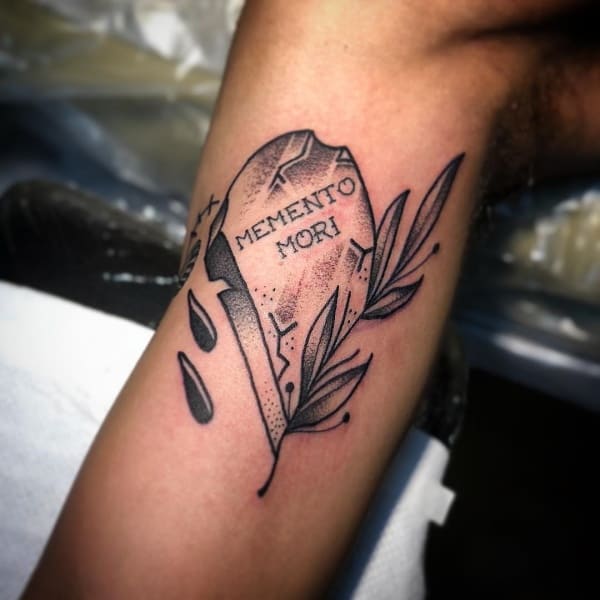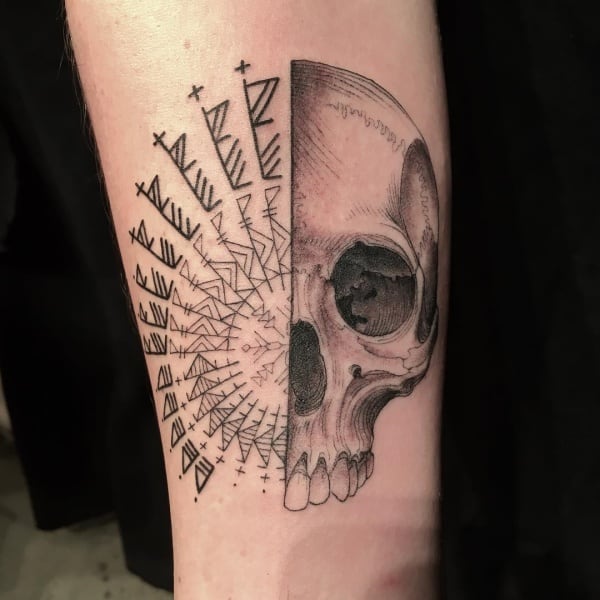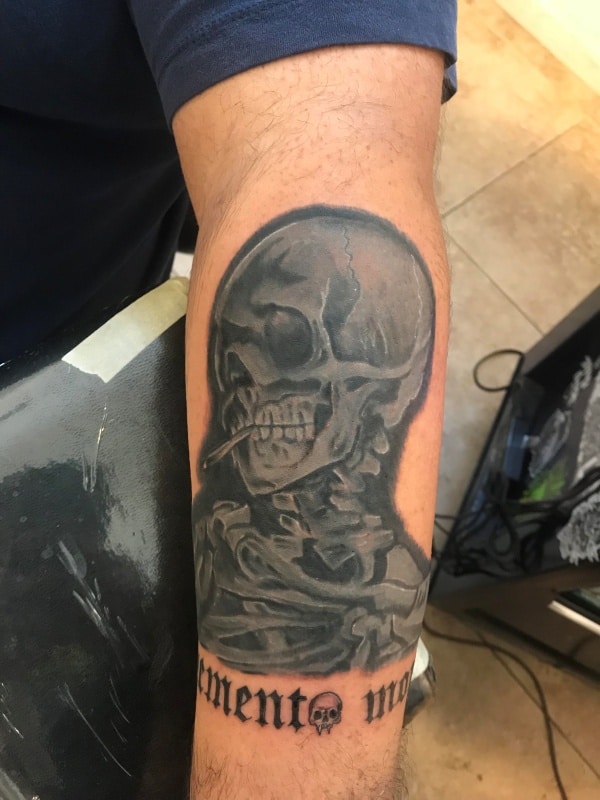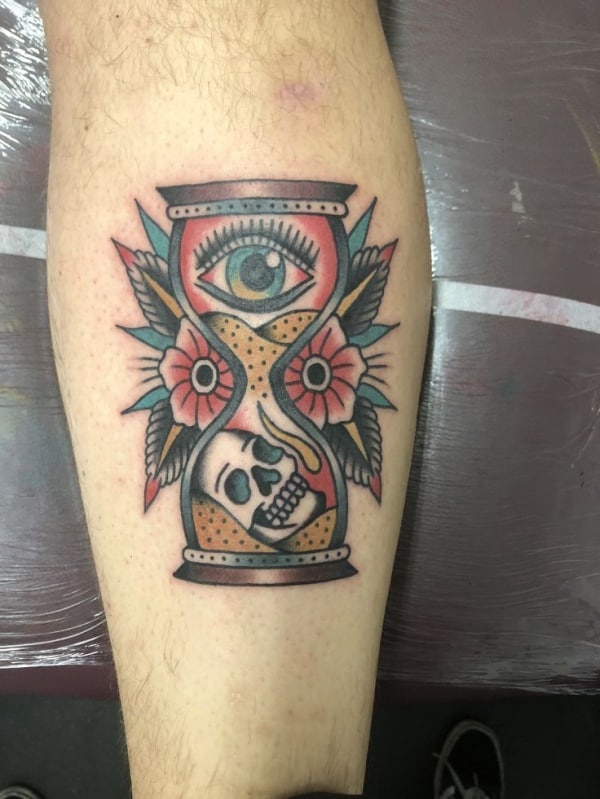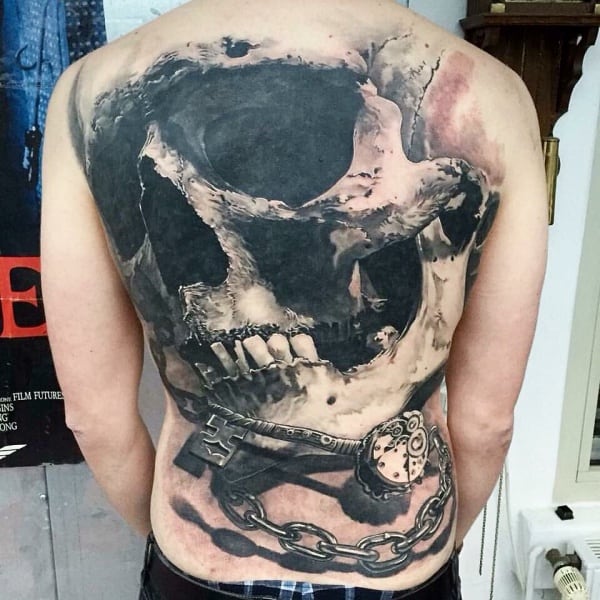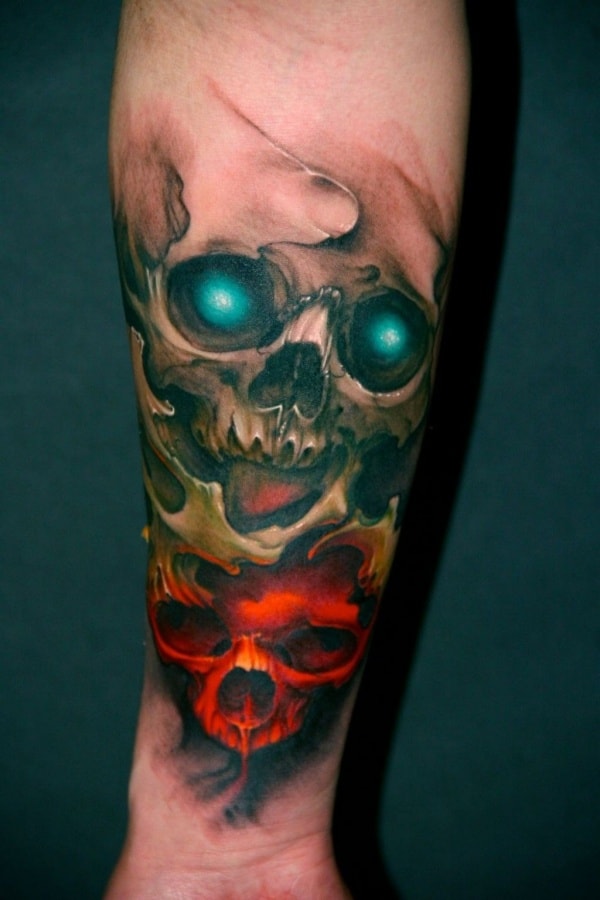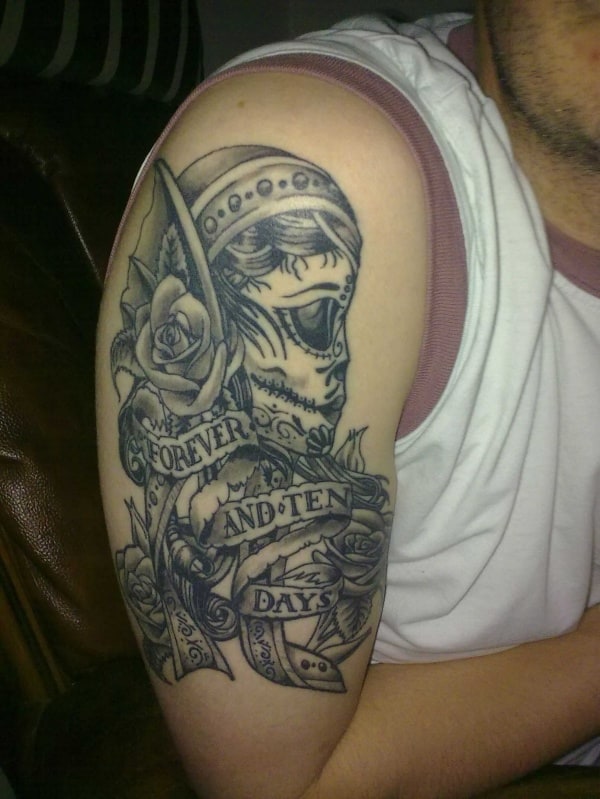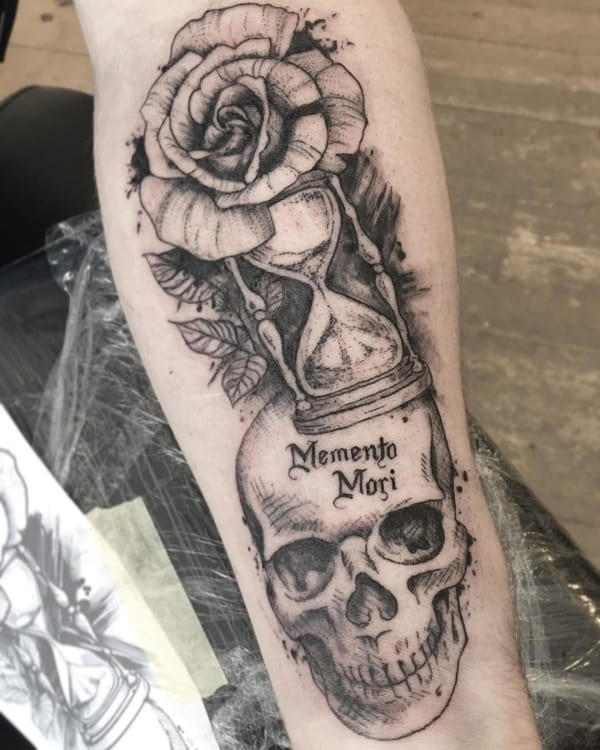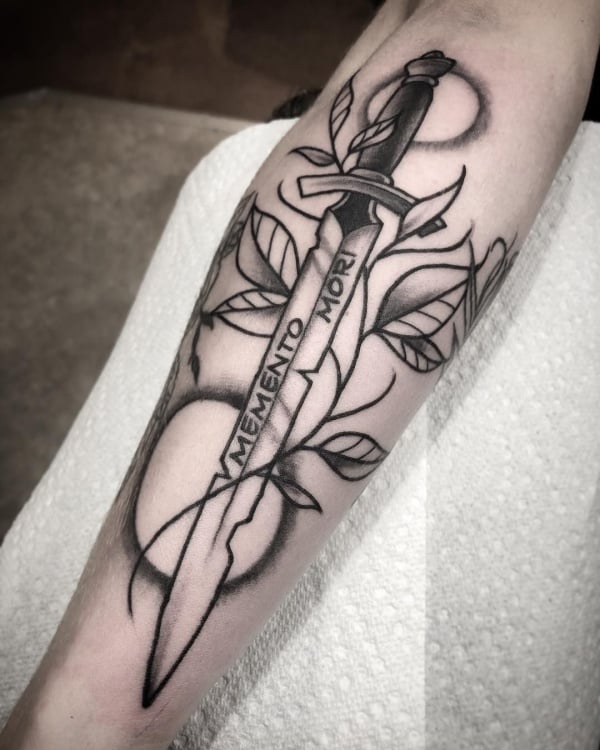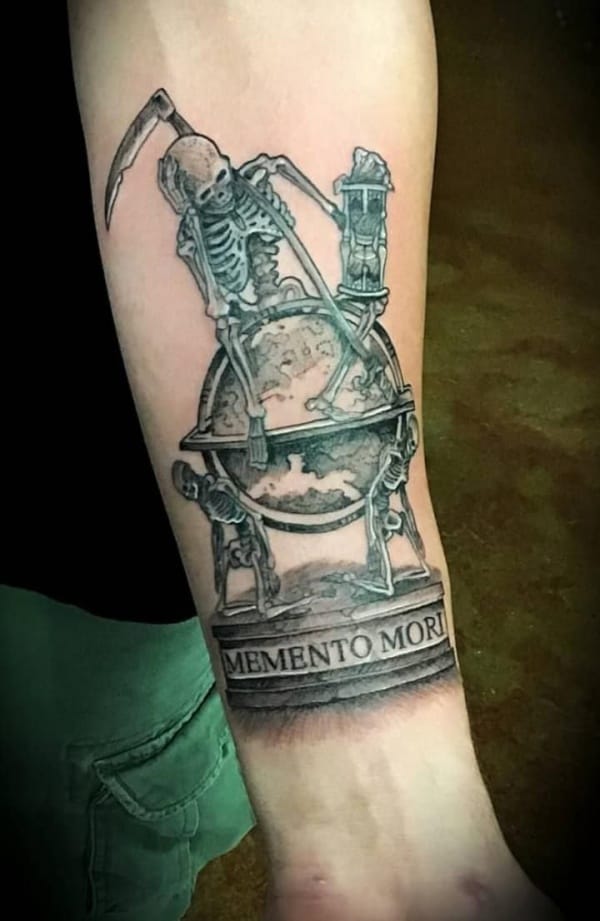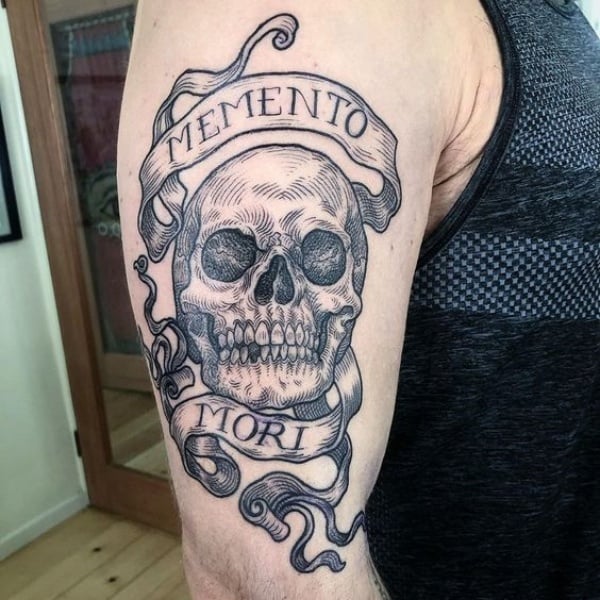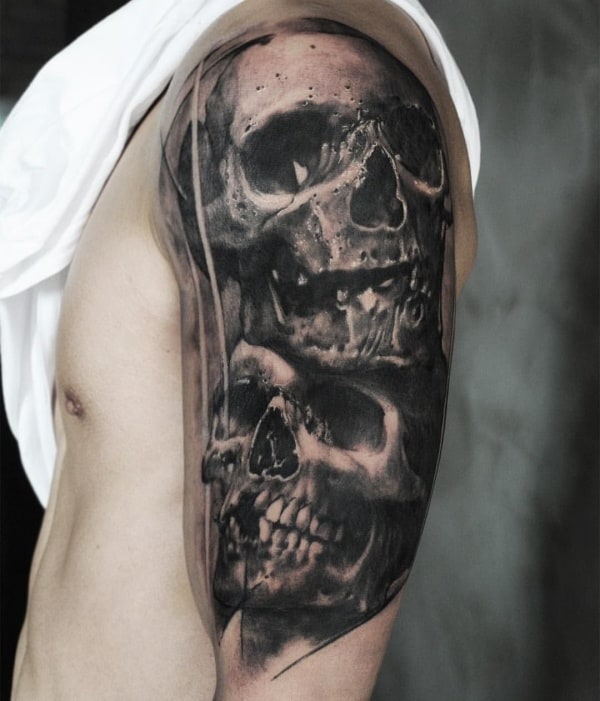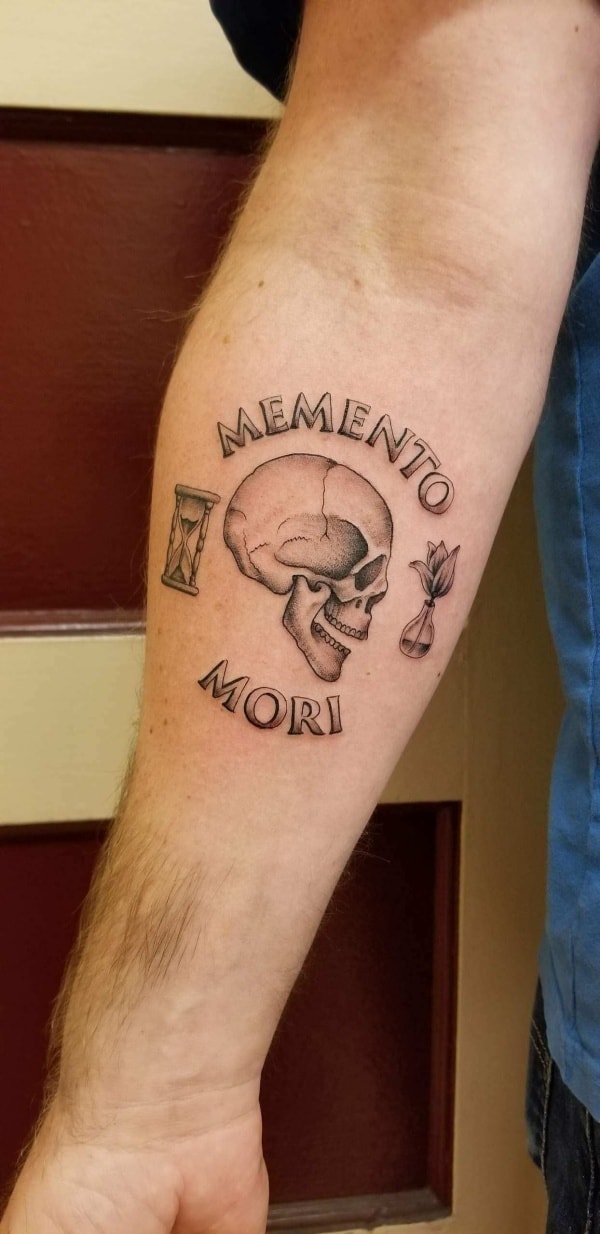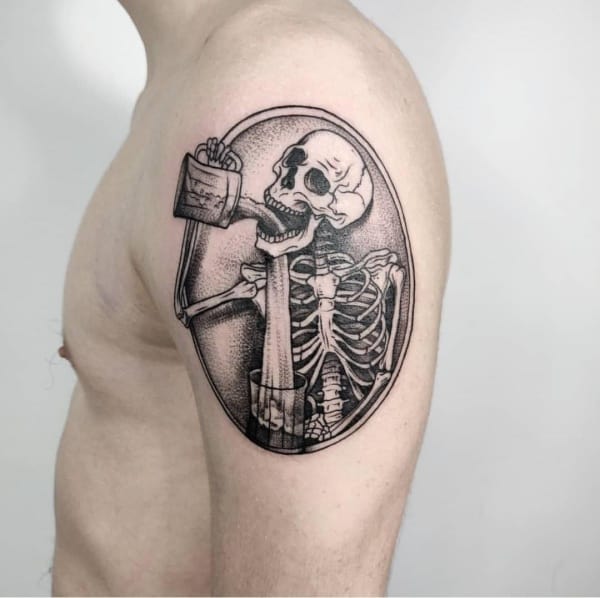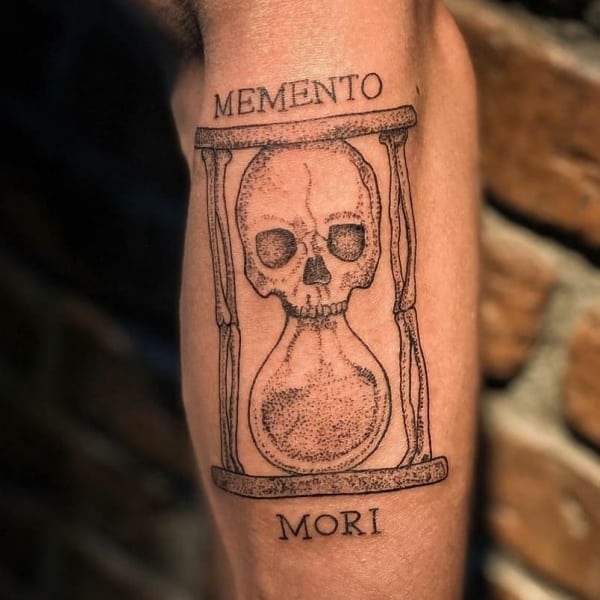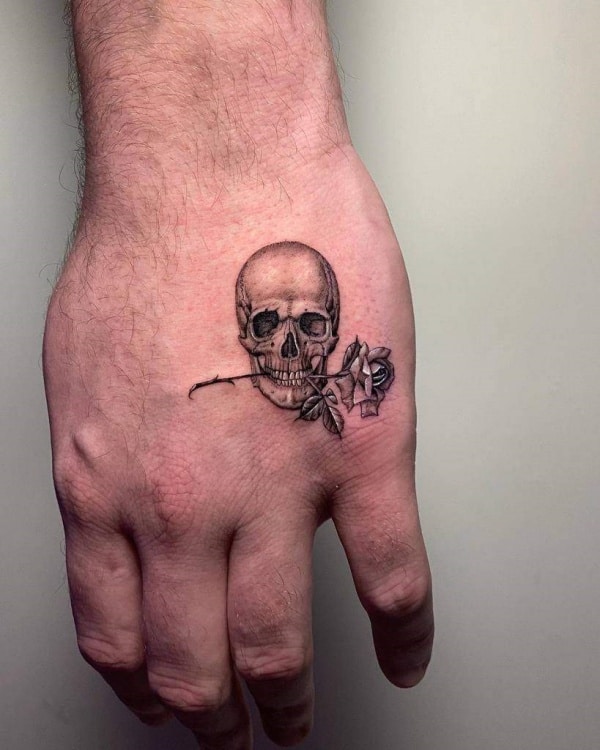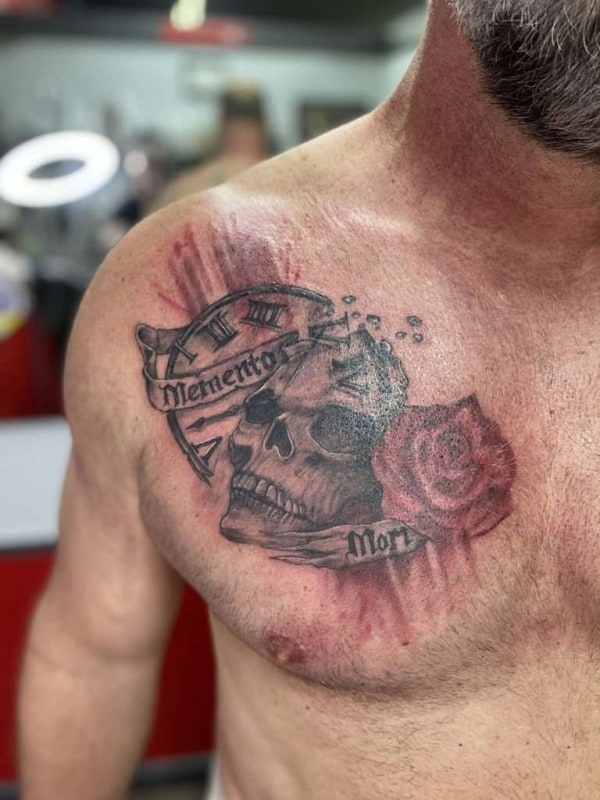 Related:
Coclusion
There are a lot of options to choose from when it comes to memento mori tattoo designs and the list is endless. If you still feel like you don't have enough options to explore, the internet is filled with an abundance of choices. However, we really hope that the list above at least provides you with a base on which you can start off. The beauty of body art is that it is expressive in nature. Therefore, you have the canvas enough to experiment with several different designs. Before you go exploring any particular design in general, make sure that you are absolutely certain about getting the design for obvious reasons, i.e. it is permanent by nature.