Getting inked is one of the coolest things ever. In the recent past, it got a new hiatus with the emerging tattoo designs. From sceneries to intricate patterns, or from palm trees to mere geometric straight lines, tattoos have never failed to amaze us. However, a tattoo design gets proper enhancement only after its desired placement in the body part. The forearm, that is the area from elbow to wrist is one such place that serves as the perfect canvas. Tattoo artists these days have come up with incredible forearm tattoos for guys.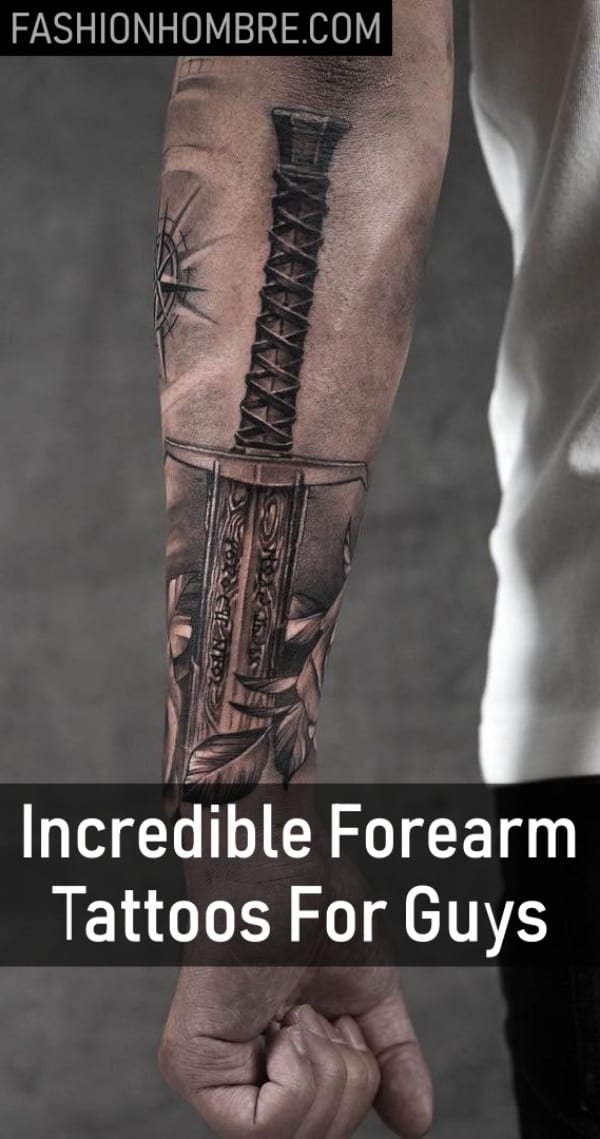 Also, termed as the sleeve tattoo, this might include a long stretch joining the two ends or an assemblage of several designs covering the larger parts of a man's arm. However, no matter how cool the designs are, men might get skeptical while donning this as many of the professional spaces have banned tattoos equating them with indecency. But that's ok if you can wear long sleeves to get them concealed. So, with that remedy in mind, today we have the list which includes some of the exclusive designs of best forearm tattoos for men.
But before that, let's get quick to the actual meaning behind a forearm tattoo.
What Does a Forearm Tattoo Mean?
Tattoo artists consider the forearm to be one of the most versatile places in the entire human body for donning a tattoo. For showing the intricate patterns this place works great while you can conceal it whenever you want. It's also a popular choice as the wearer would get a huge space to convey his thoughts and beliefs and look through it whenever he feels like without caring a much or two about the raised eyebrows surrounding him. These tattoos also signify that the wearer is a brave-heart as forearm tattoos might be painful and not easy to handle sometimes.
Now, after being acquainted with all that let's deal with the incredible forearm tattoo designs for guys.
Best Forearm Tattoos for Men
1. Dragon Forearm Tattoo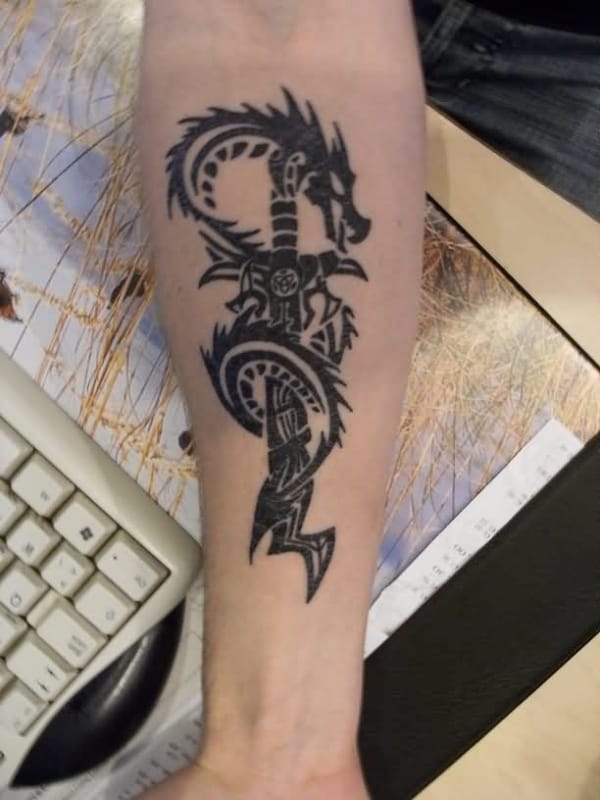 Image Source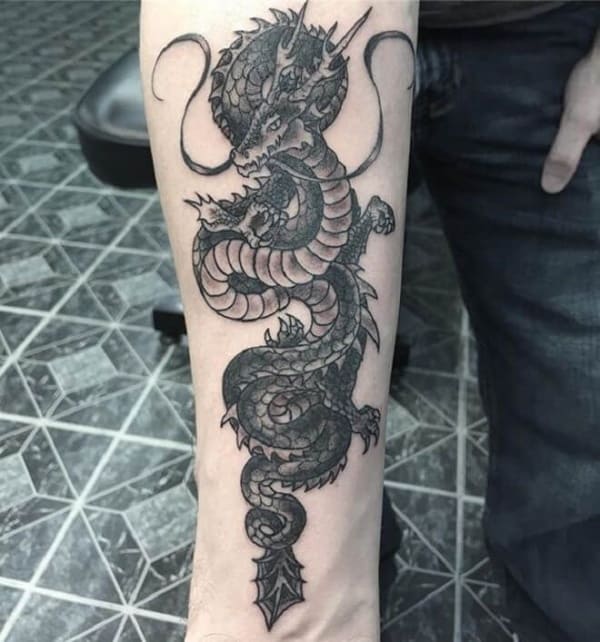 Image Source
For ages, dragons have been one of the most mystical and revered characters to be found in the Asian culture. Mythology has also mentioned about the dragon tattoos. Now, you have a choice between a traditional Chinese dragon tattoo or a Jade Dragon tattoo. They represent intelligence, valor, bravery, durability, prosperity, and sheer good luck. These tattoos are extensively majestic and demand unaltered supremacy and attention. So, forearms are the best places to get one due to its broadened area. Get them inked in different hues or simply black, the effect remains the same.
2. Wolf Forearm Tattoo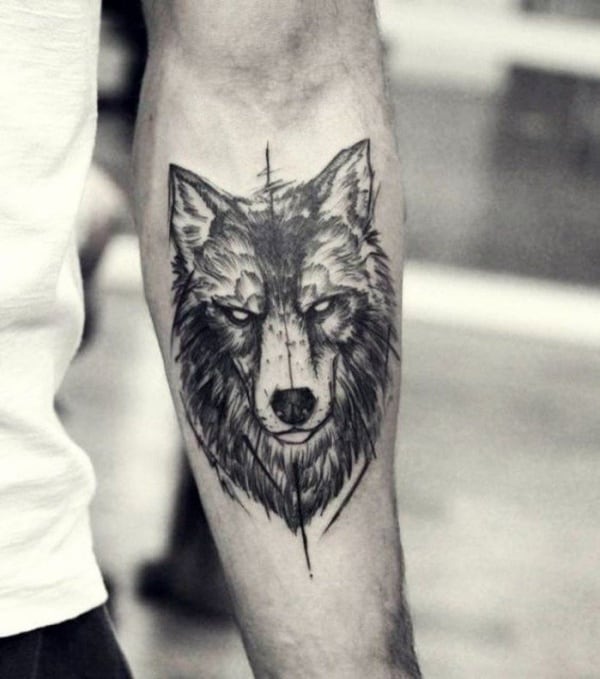 Image Source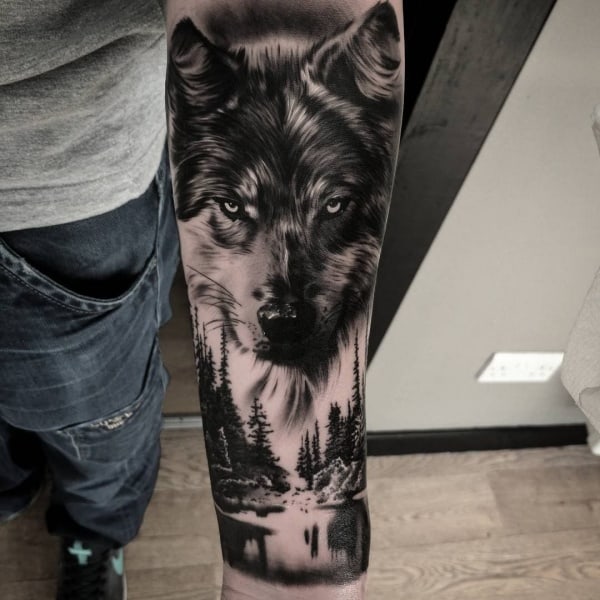 Image Source
I somehow think this one to be the creepiest, sending shivers down the spine. Getting a wolf inked on the forearm not only looks excellent but also works great as a design when paired with other animals, or other tattoos related to nature, trees, moon, or other abstract objects. Wolves have always endorsed themselves with the debate of being good or bad, other than being mighty and extensive. To look back, the native Americans considered the wolf to be a totem or a spirit animal, sent to guide them through the avenues of life, representing honesty and tenacity. So, the wearer might also consider himself to be possessing these virtues.
3. American Flag Forearm Tattoo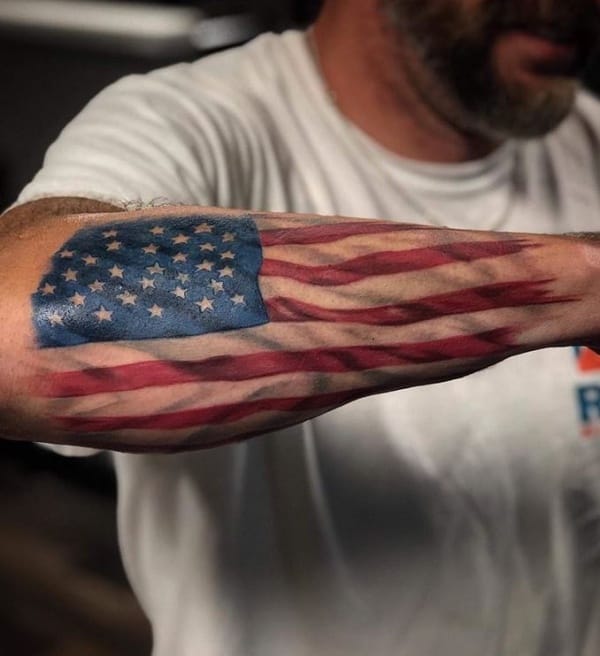 Image Source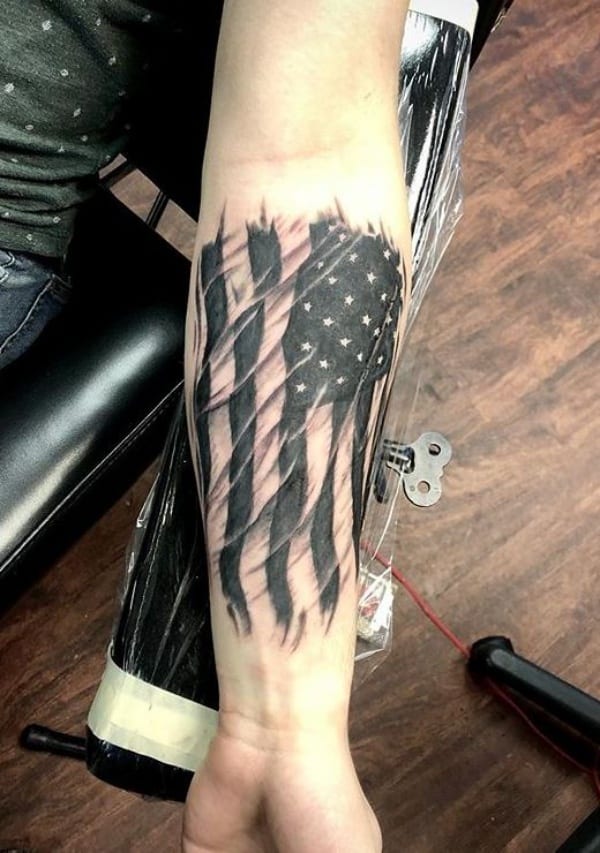 Image Source
A matter of immense pride and honor for the Americans, which not only symbolizes patriotism but also the unaltered love and passion one has in store for his country. American flag tattoos might as well be symbolic to commemorate the loss and mourning the death of a loved one, instead of donning a cross or angel tattoo, irrespective of the fact that they were retired militants or mere laymen. This refers to the fact that the person who lost his/her life had been dedicated to the country while keeping the American ideals and beliefs close to their heart till the end of his life. The best part is that these flags look best when donned in their original hues of red, black, and white while stealing glances in black-and-gray style.
4. Tree Forearm Tattoo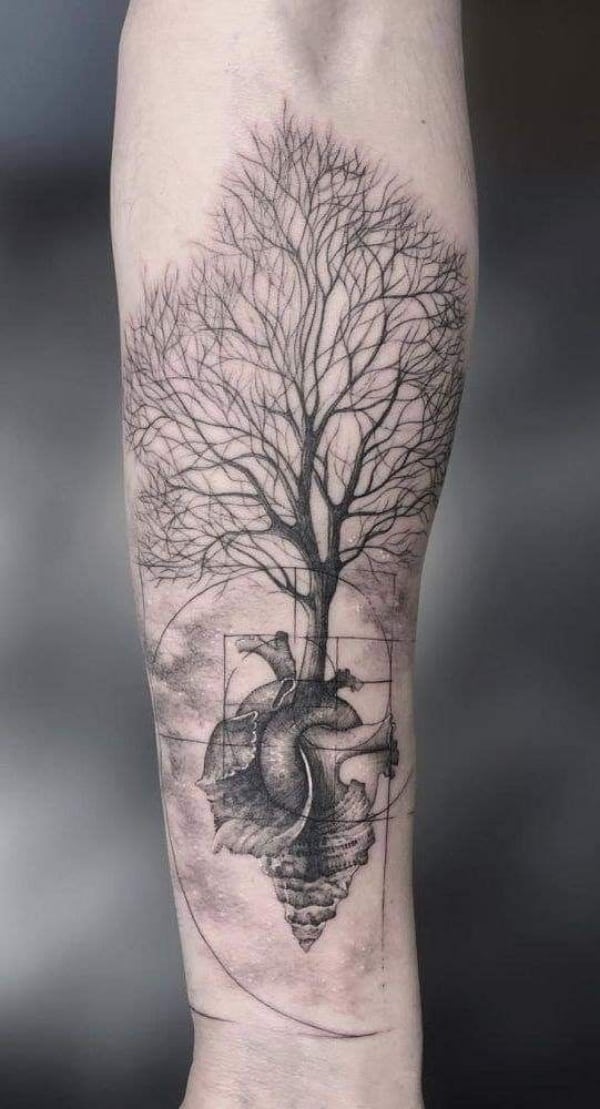 Image Source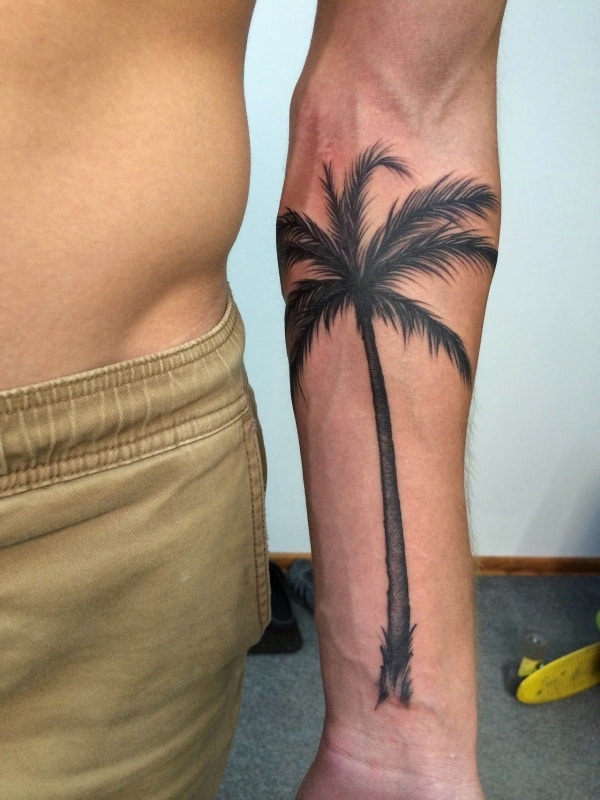 Image Source
Trees are symbolic of long-lasting eternity as they can survive up to hundreds and thousands of years, along with bounded by spirituality. As they tend to undergo a lot of change throughout the year, which includes going from dead and decayed in winter to endorsed in foliage during the spring and summer, individuals consider these to be symbolic of rebirth. Trees are also known to provide refuge, comfort, shelter, and food to people and animals. For all the reasons, above, nature lovers or the ones who feel connected with nature, should consider donning a tree tattoo. You would have loads of options to choose from like highlighting just on branches or leaves, or inking different types of trees, or even thinking of drawing a full forest.
5. Rose Forearm Tattoo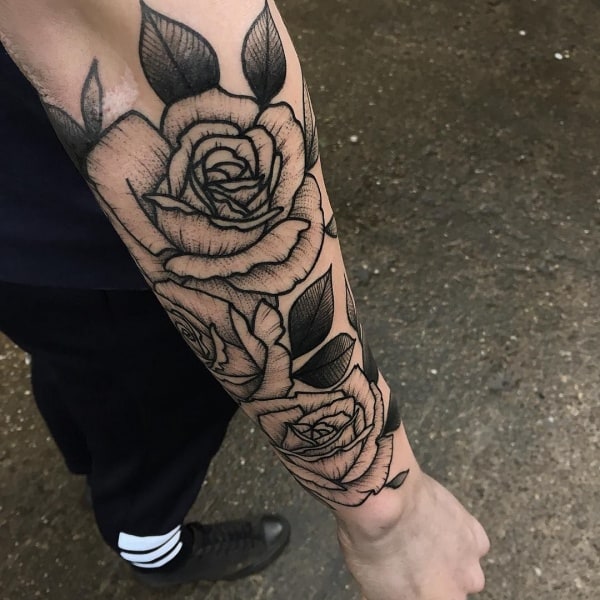 Image Source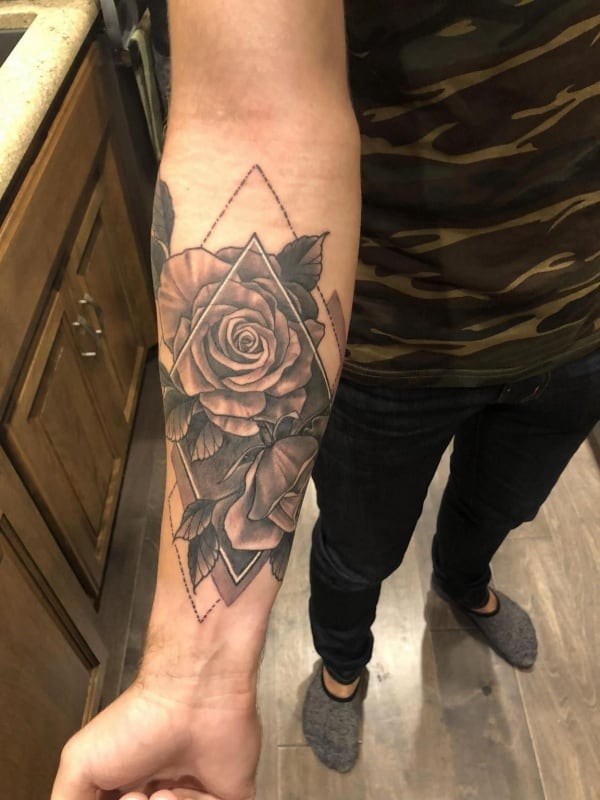 Image Source
One of the most classic designs in the list of forearm tattoos for guys. Rose flowers are symbolic of emotions, sentiments, and concepts. Again, blooming roses also refer to the immense beauty and emergence of new hope. In the days that were, sailors would get these rose tattoos inked to their bodies to remind them of the happiness waiting for them back home. On the other hand, the thorns are symbolic of pain and loss. Thus, to sum it all, the rose is symbolic of all the beautiful and challenging aspects of life. The different colors of each rose also have different meanings. Red roses are symbolic of love and immense passion, while white roses represent sanctity and peace, and black stands for the end of an era.
6. Eagle Forearm Tattoo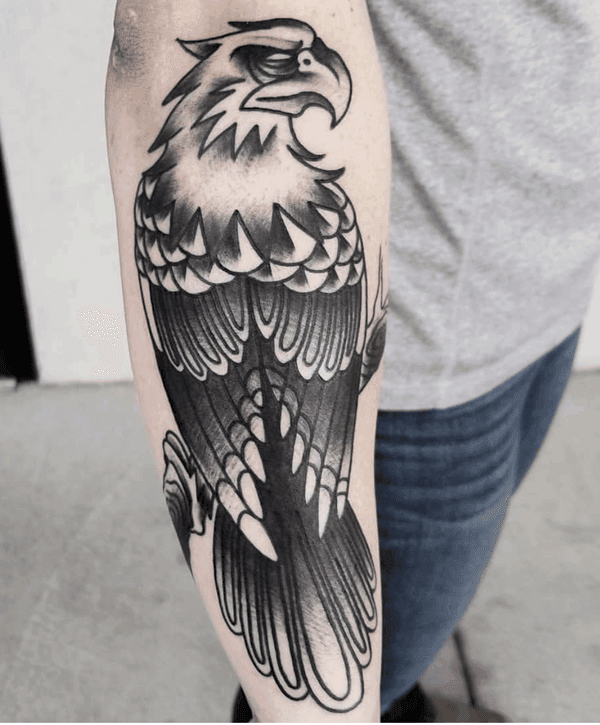 Image Source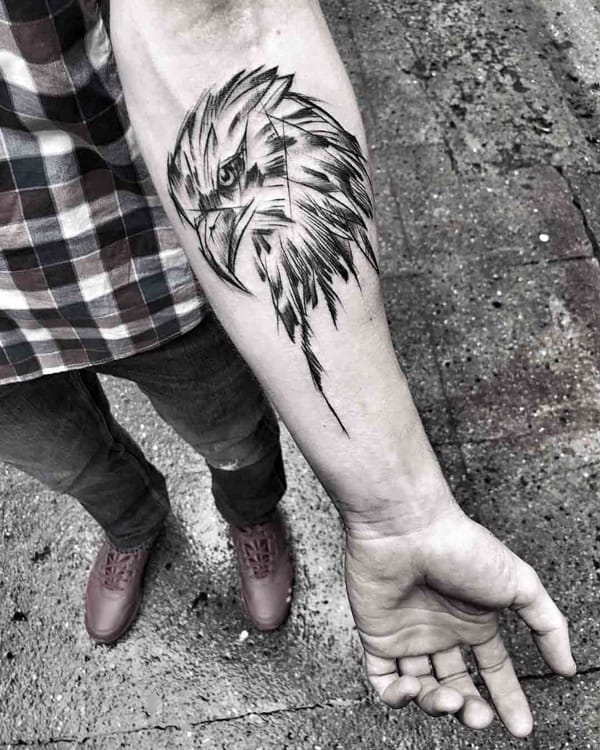 Image Source
Eagle tattoos inked in hues of black, green, and grey is symbolic of massive supremacy while being linked to power and capability. Eagle wings tattoos are a favorite among men due to their capability to soar high in the sky above. So, that's a sort of motivation that works well for men while they get the eagle inked on their forearm. Eagle was also an integral part of the United States of America while being connected to various other cultures at that time. For instance, in ancient Greece, the eagle was thought to be symbolic of manliness, chivalry, and bravery.
7. Lion Forearm Tattoo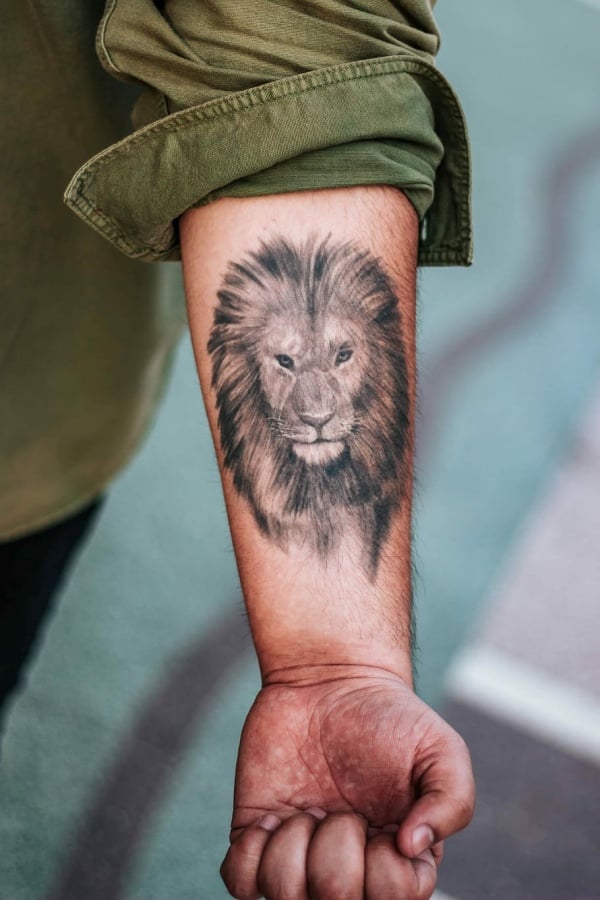 Image Source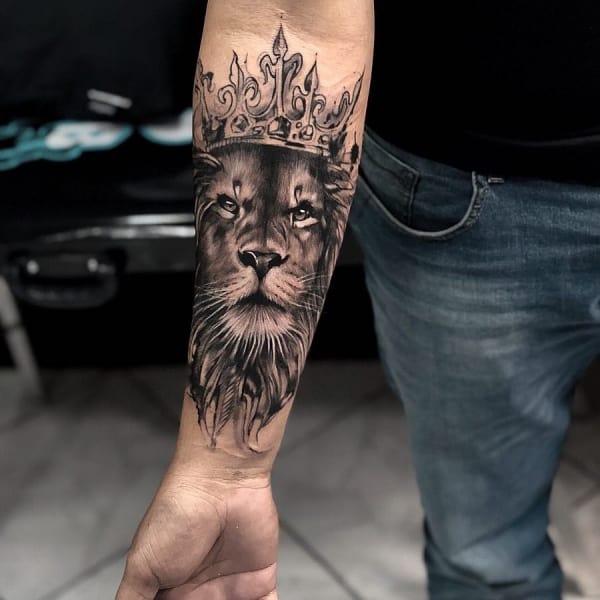 Image Source
No need for guessing but lion tattoos are thought to be symbolic of power, pride, and bravery. The forearm is thought to be a dominating part of the body which is again in a way matching well with the strength and virility of the lion. Men also link the lion symbol with royalty and aristocracy. For a more prominent effect, try to get this inked in hues of black, or any darker shade, and feel your inner strength and bravery get a new edge altogether.
8. Phoenix Forearm Tattoo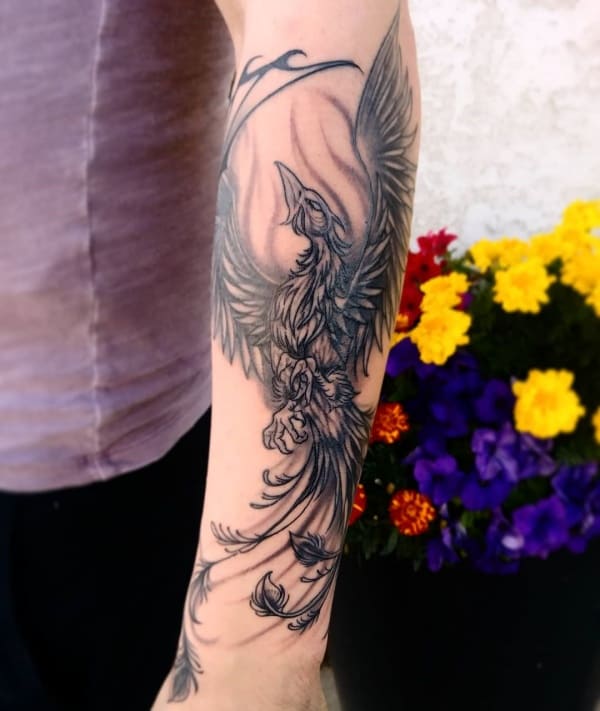 Image Source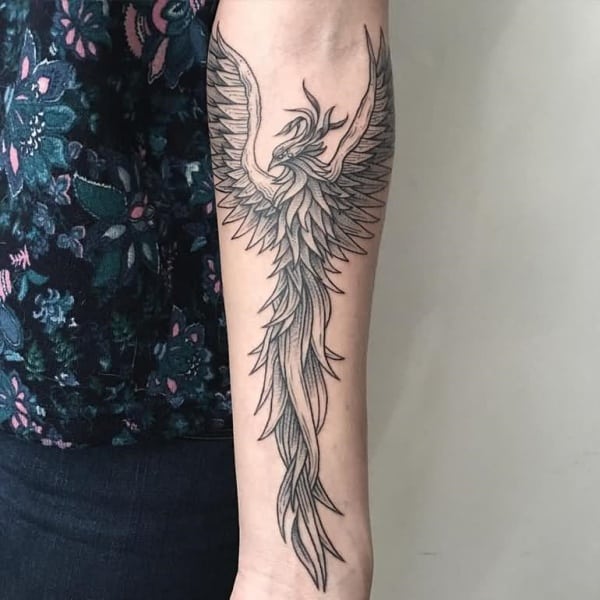 Image Source
The Phoenix bird is symbolic of rebirth and renaissance. The Phoenix bird has its name attached to the age-old stories and myths that perished in a blazing fire while getting rebirth in those ashes. These tattoos got trendy becoming a hit among people who had made their way through intense suffering while emerging back as a stronger person. This one again looks best when donned in black ink. Also, in Chinese mythology, the phoenix forms a perfect match with the dragon, so both would also work best as a couple of tattoo designs.
9. Compass Forearm Tattoo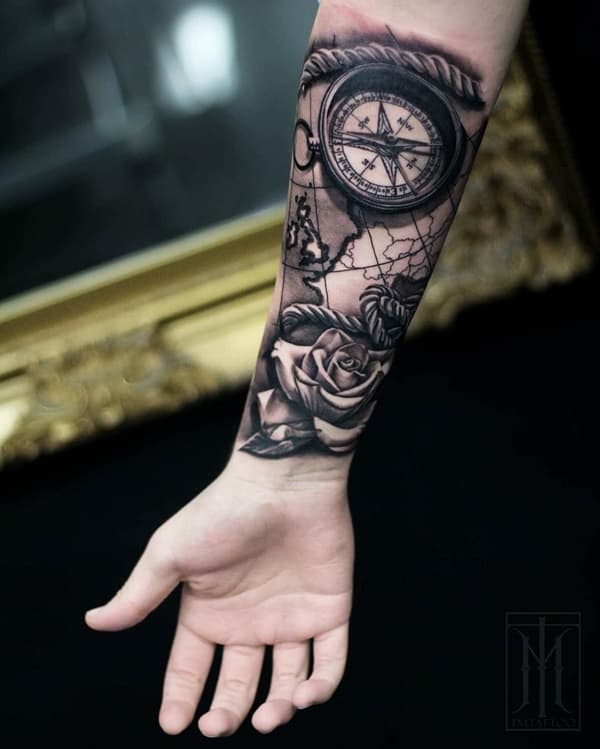 Image Source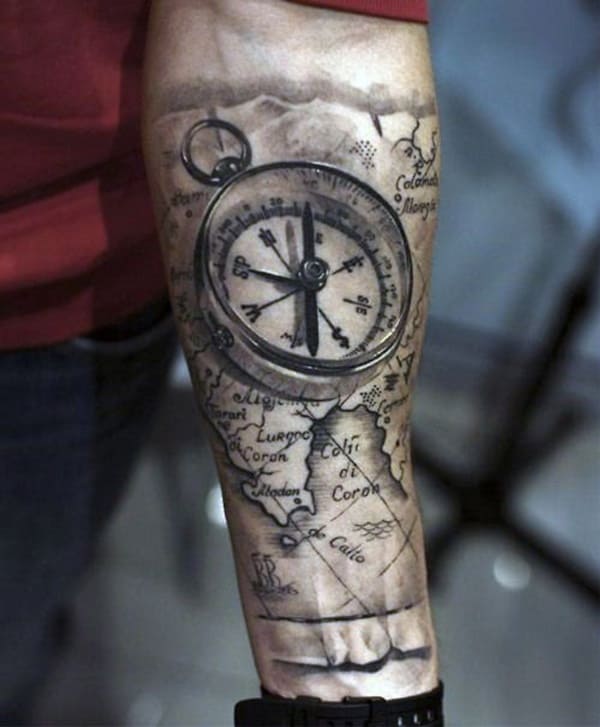 Image Source
This one is a famous tattoo for the sailors in the past, as we already know, that the compass is the device that they used for navigation. Even today, it deploys the same function only with a different perspective. Men prefer compass tattoos these days to pave their path through life. Many people also consider this to be a lucky sign as a compass is always placing its wing towards North, so some people consider it to be symbolic of their mind while feeling inspired and placing their mind only on the right track. Others consider placing the name of the person who has been like an inspiration, on the northernmost tip of the compass, hoping them to pay a tribute in this way.
10. Geometric Forearm Tattoo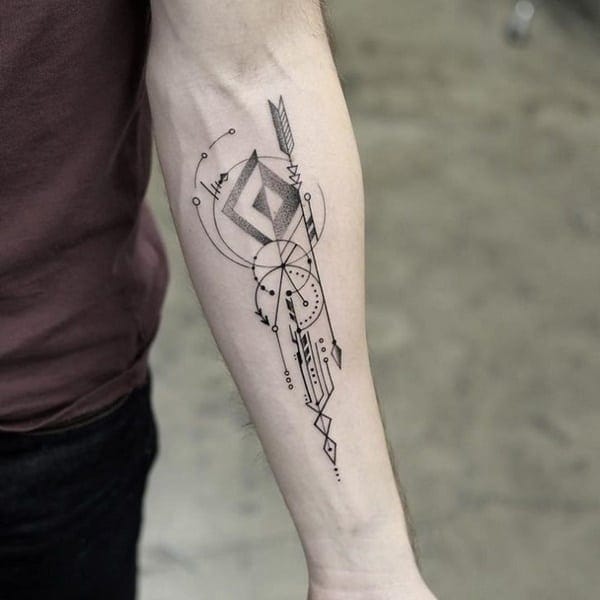 Image Source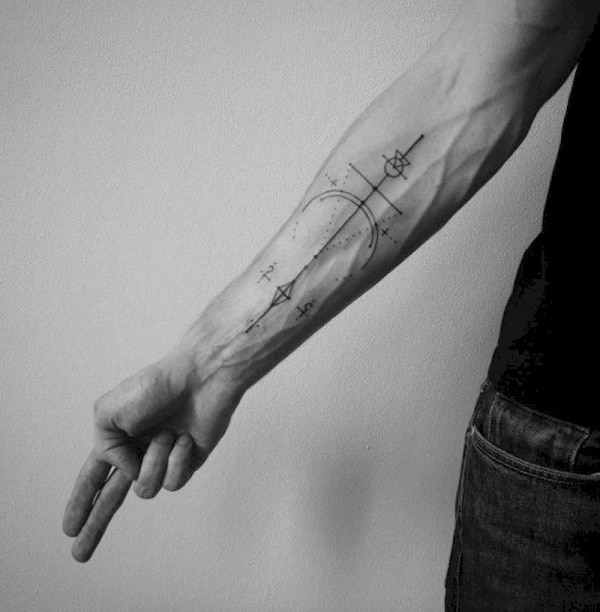 Image Source
This name has been trending for some quite time now in the list of forearm tattoos for guys. They have a certain modern, practical, and futuristic tinge when compared to the other tattoo styles and designs, but look extremely good on their own. These designs are simple but elegant. So, the more you perceive them, the more depth and intricacy you would likely to get noticed. So, that makes geometric tattoos a great choice for the individuals, who never want to get bored with body art and styles. Spiritual and mathematical theories and concepts are often concealed within these geometric tattoos, thus, making them the ultimate choice for people who are an ardent fan of these.
11. Forest Forearm Tattoo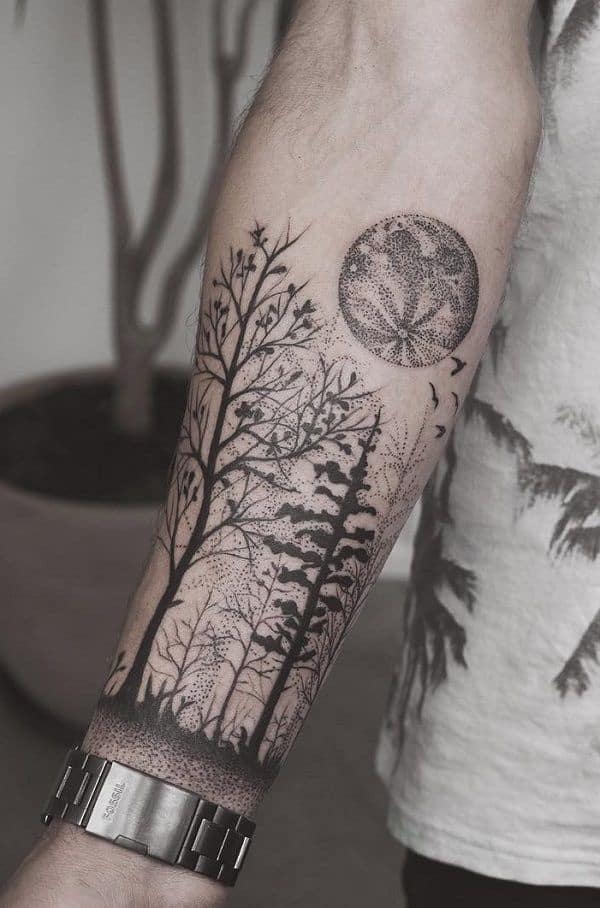 Image Source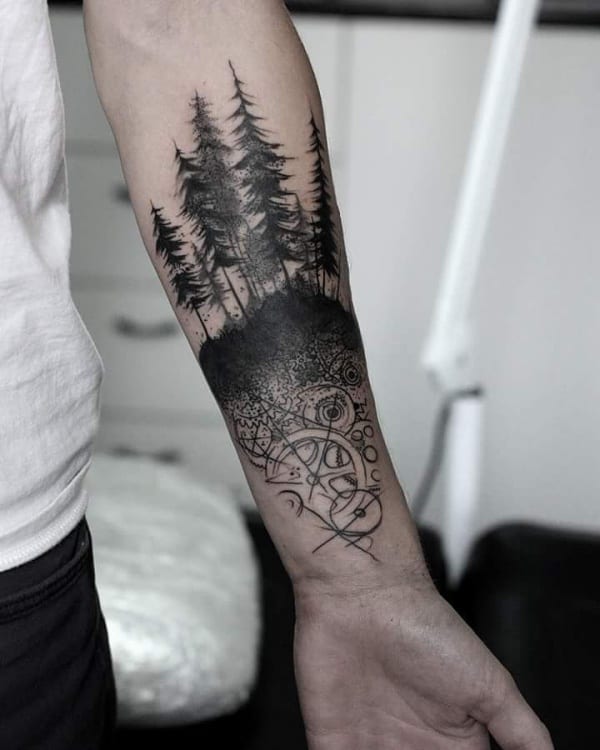 Image Source
Forest is full of life, while at the same time being shrouded by a deep haze of mystery. People donning forest tattoos are mainly in awe of the massiveness and serenity that they have, while they are also being symbolic of life, eternality, and rejuvenation. For more symbolism, people are also drawn towards a forest tattoo due to its long-standing durability and the power of endurance to stand anything and everything that crosses its path.
12. Mountain Forearm Tattoo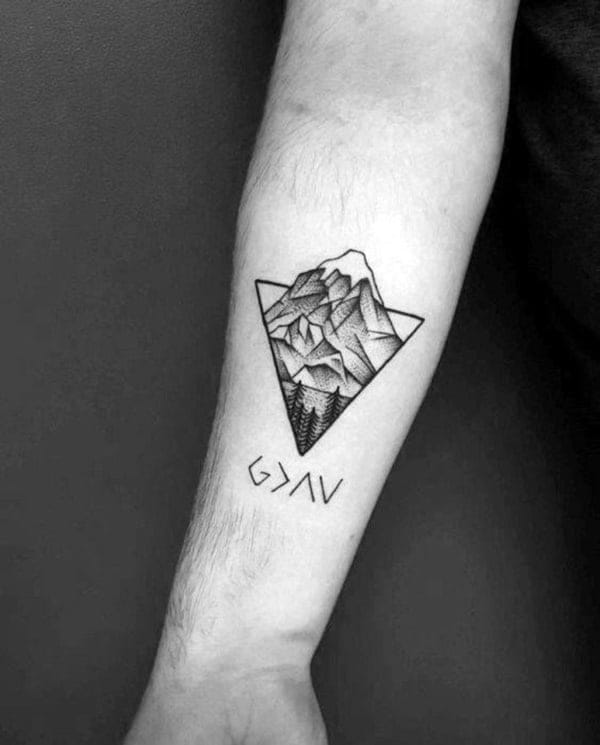 Image Source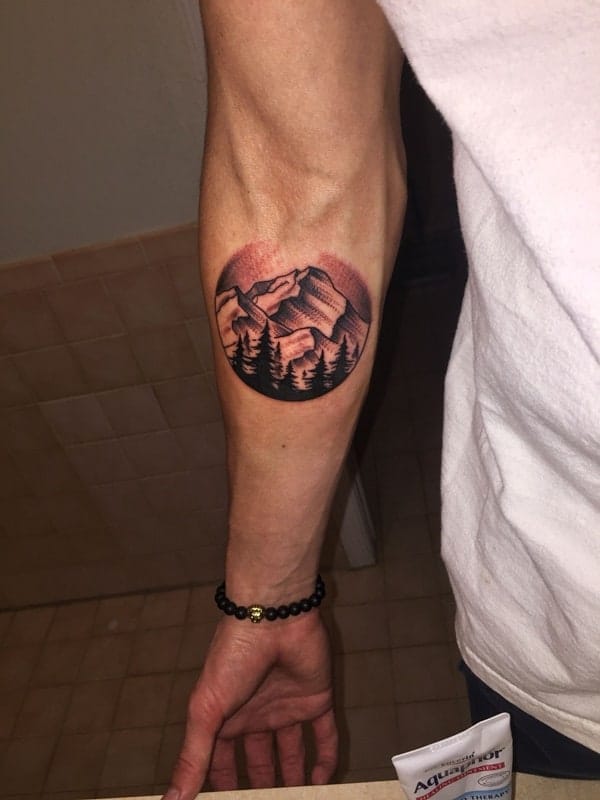 Image Source
A forearm is a great place to opt for a mountain tattoo as the area is a broad one. The mountains, with all its splendor and magnificence, stand still, symbolizing the firm wall that overcomes every obstacle, removing all sorts of connections with the worldly issues while enhancing the deep connection with nature. Mountains tattoos are also a great way to justify the determination and strong-willed nature of the wearer.
Related:
13. Owl Forearm Tattoo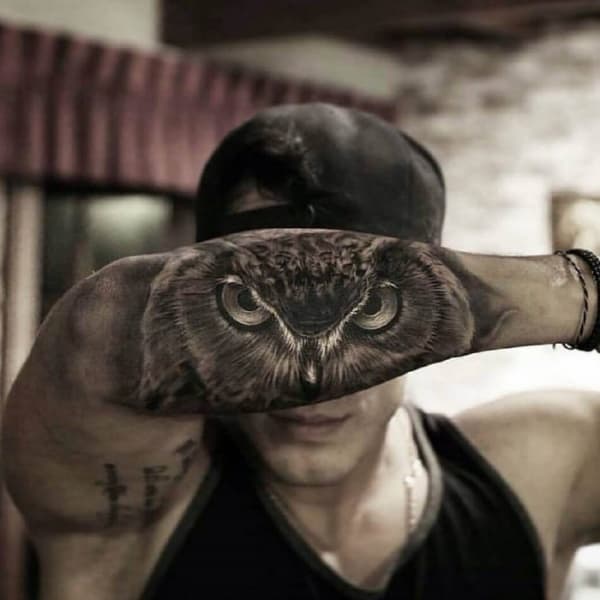 Image Source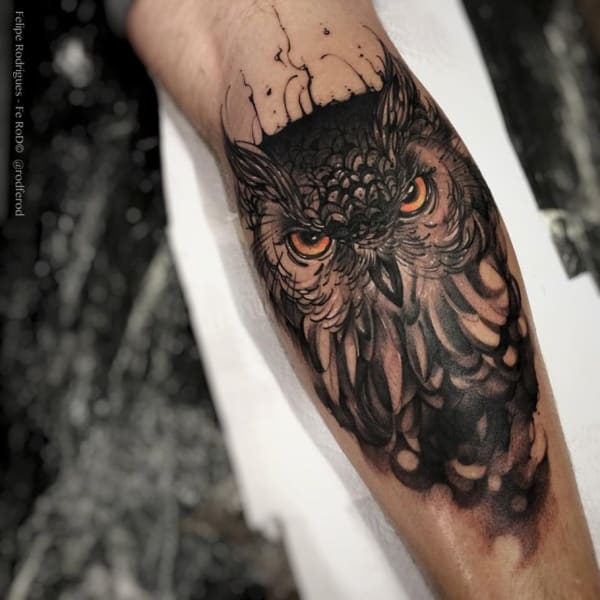 Image Source
Owl tattoos are symbolic of sheer knowledge, pure wisdom, and transition. Certain cultures also thought the owl to be the preserver of the dead and thought that it had the means to communicate with the death and get engaged in all the occult things. Owl tattoos are best donned in colorful hues. In fact, due to their night vision and the ability to see through things, this has become a great favorite among the men who are apprehensive in trusting people and take time before opening properly in front of new acquaintances and their world.
14. Forearm Band Tattoo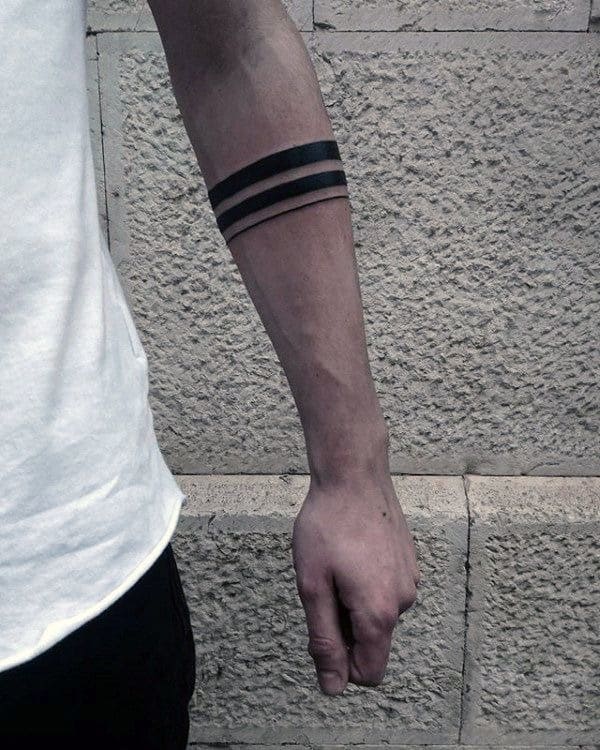 Image Source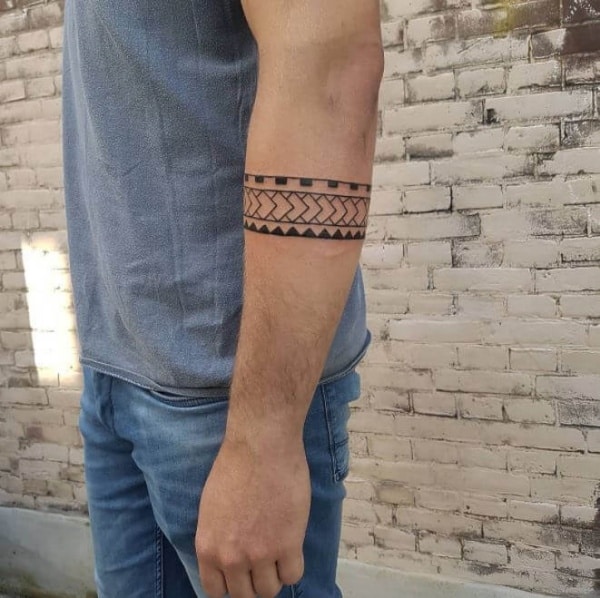 Image Source
The forearm band tattoos for guys have quite made a name for themselves in the recent past. These are sleek, minimalist in nature, looks bold and of course, are immensely effective. This might look as simple as a band but gets changed to an attractive tattoo to get placed in the forearm. This transition from the band to the tattoo again depends on the wearer. Some people get this band drawn to mourn the death of a loved one who had left for the heavenly abode years ago.
15. Wing Forearm Tattoo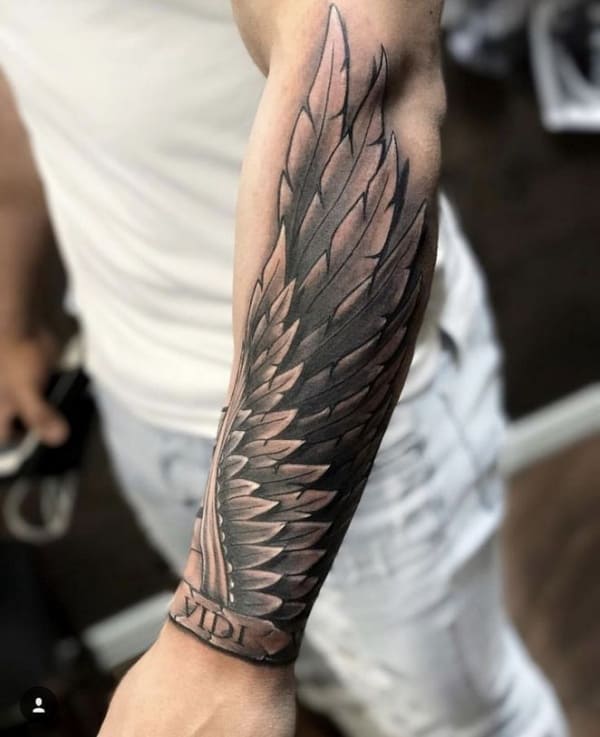 Image Source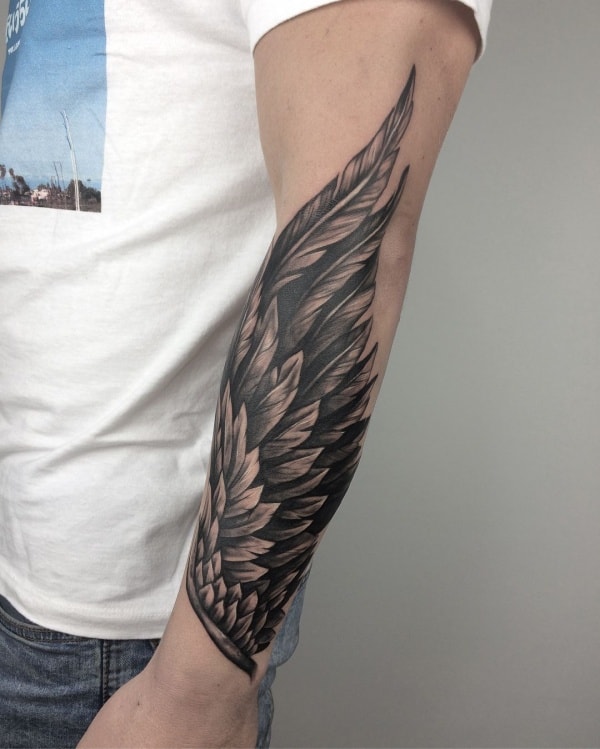 Image Source
The wing is always a symbol of freedom or letting go of all things bad. Individuals wanting to express their liberation from the bindings or shackles, or anything that holds them back, perhaps this is a great way to state that. Of course, another name in the list of forearm tattoos for guys which greatly expresses the free and lively nature of the wearer.
16. Jesus Tattoo on Forearm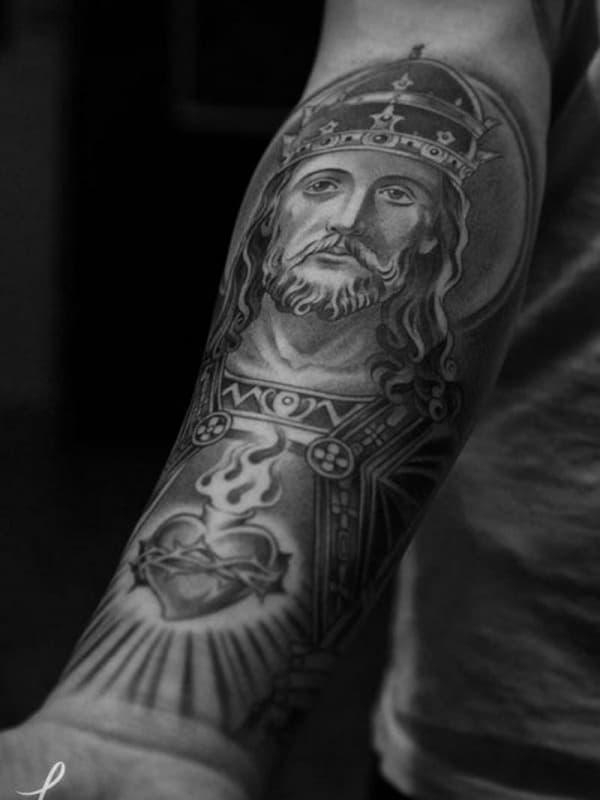 Image Source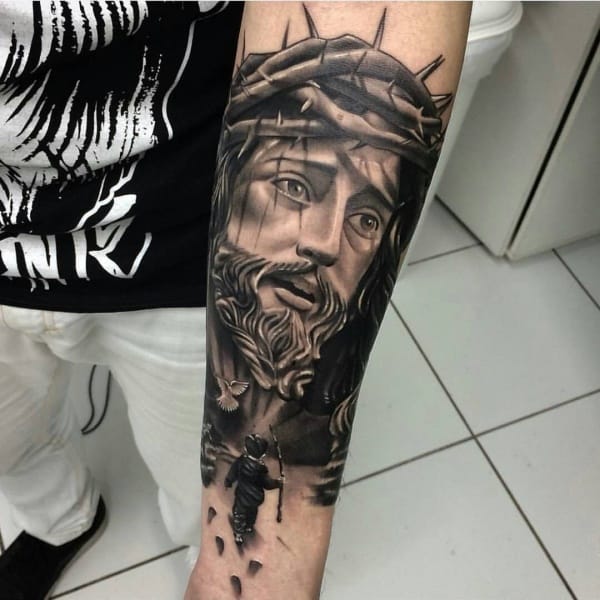 Image Source
If you are a passionate Christian and want to explore signs of the religion in various other ways, try to integrate other designs and symbols of Christianity along with the face of a Jesus, to give it an edgy look. For a more over the top thing, you might as well try Jesus with folding hands inked in black, or a miniature version of the last supper scene done in a 3D format. No matter what, the face of Christ would always inspire you while triggering off the inner bravery. So, get this done at one go while remembering that Christ would always be with you.
17. Forearm Armor Tattoo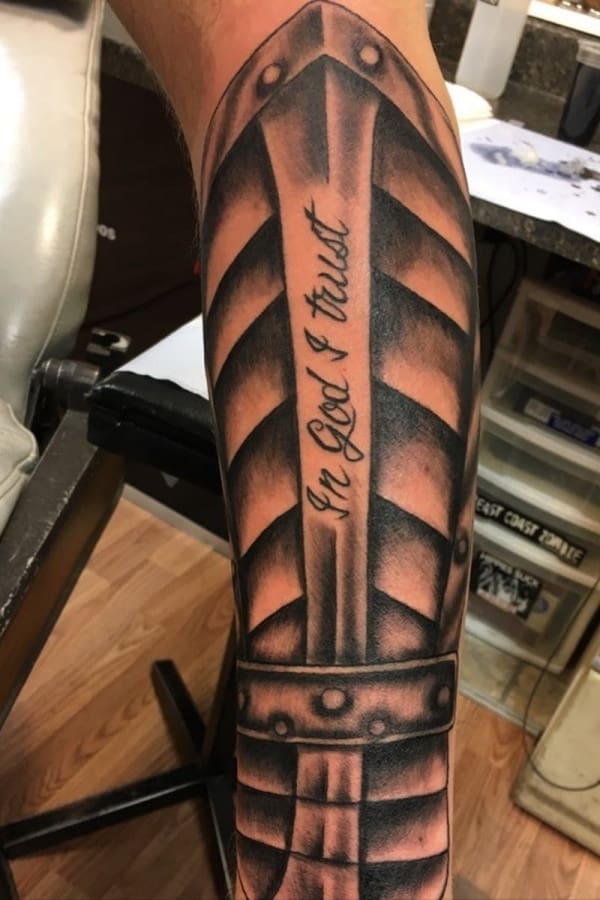 Image Source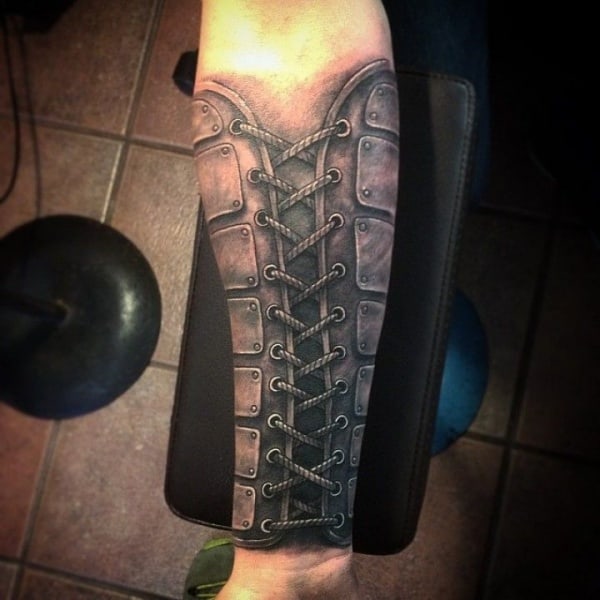 Image Source
The armor tattoos donned on the forearm always get me reminded of the Gladiator. The scene of a battlefield with swords clinging and men fighting in full galore while decked up from head to toe in armor, headgears, carrying swords, and spears. If you also think the same while donning this tattoo, then consider yourself a knight from the 17th century, showing extreme courage and heroism, and get it done at one go. The tattoo artist might also suggest new ideas surrounding the armor like the iron shields, helmets, and gauntlets, enhancing the look of the tattoo.
18. Arrow Forearm Tattoo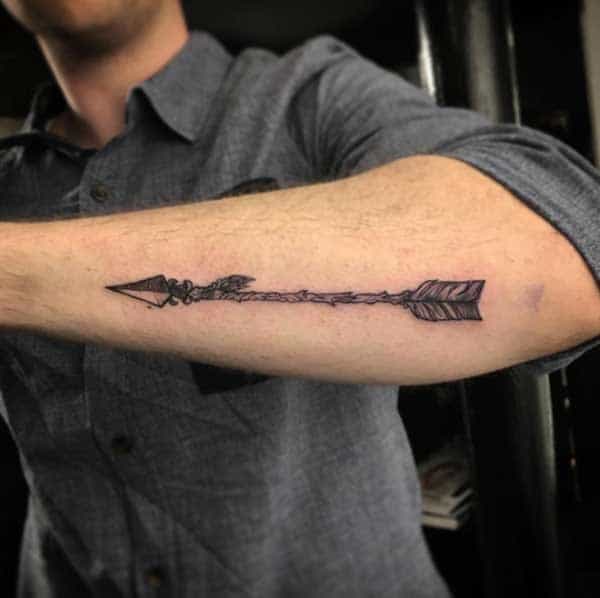 Image Source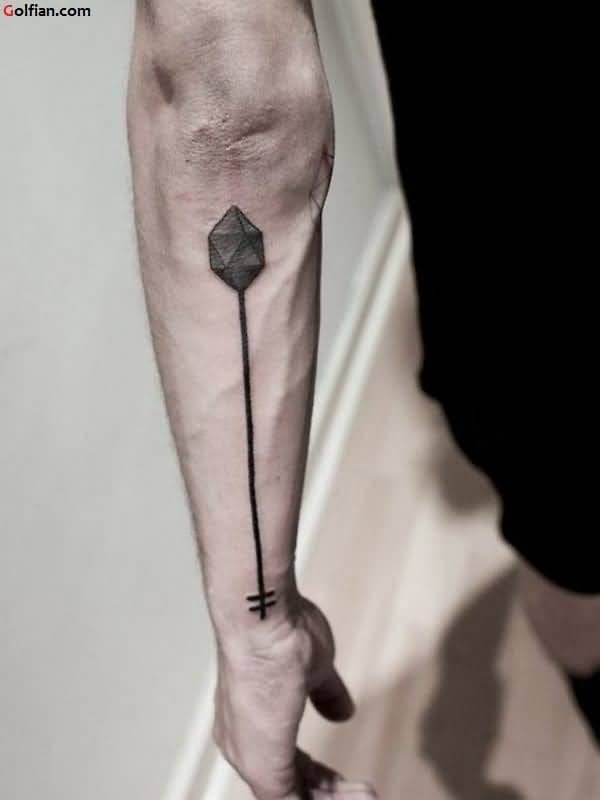 Image Source
These tattoos derive their source from the age-old American culture. Because of this, the arrow tattoos have gained much prominence. Today, they are drawn mainly to represent strength and valor in certain phases in someone else's life and then searching for the proper direction to lead your life. They also are suggestive of all the personal achievements and the struggle it takes to reach up there. This also refers to moving towards the specific goal in life, without brooding much about the past.
19. Koi Fish Forearm Tattoo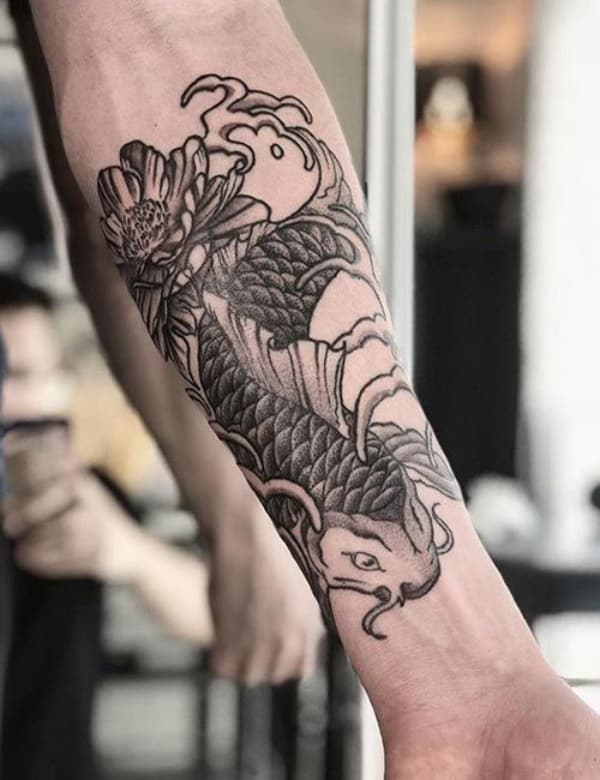 Image Source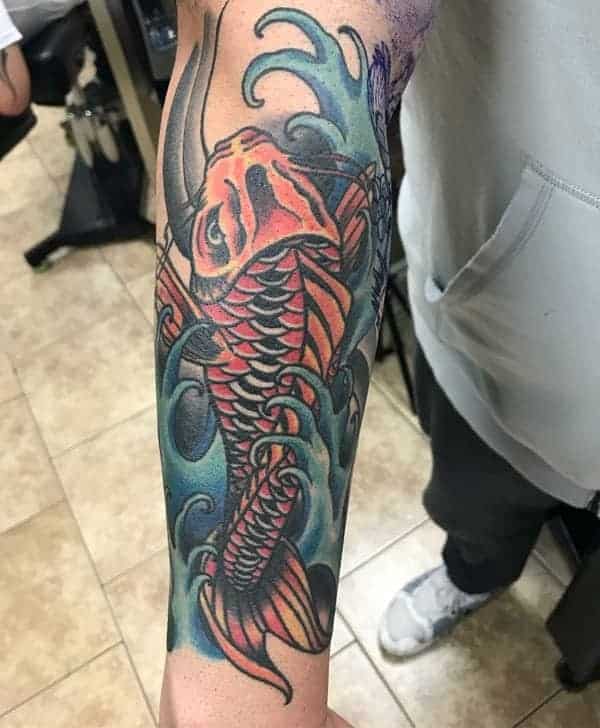 Image Source
These are a very common symbol to be drawn by the tattoo artists. The koi fish tattoo represents firmness, free-willed nature, liberation, determination, and sheer good luck. These are derived from the amount of respect and perseverance that the Japanese people have shown for the Koi fish. To enhance the design, they have also drawn the koi fish by amalgamating it with water, fire, and the lotus flower. Try this one in several colors and be the star of the show.
20. Polynesian Forearm Tattoo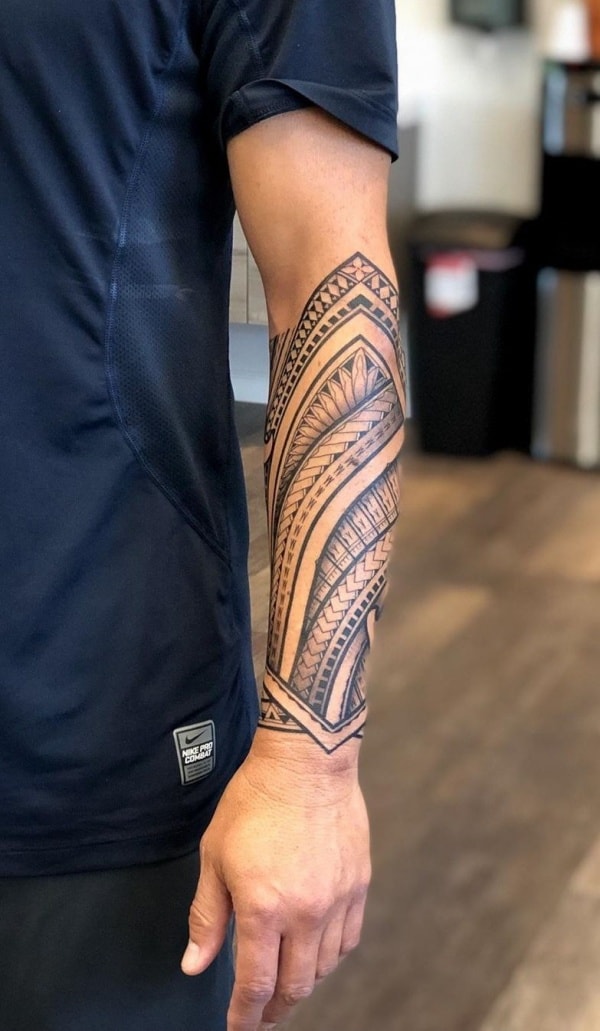 Image Source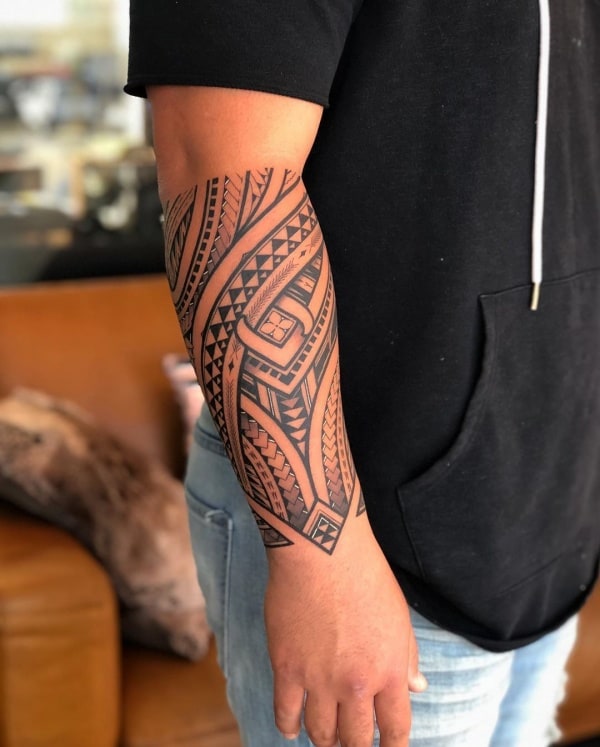 Image Source
People tend to call this a tribal tattoo as tribal people are known for their indomitable spirit and courage. This name in the list of forearm tattoos for guys makes an account of your daily deed of courage. To go by tradition, islanders considered the forearm tattoo to be not only symbolic of authority and altruism, but also representing overall leadership and manhood. These tattoos were also donned to mark the high status in a hierarchical society while considering them to be a sign of social stratification.
Also, Read:
21. Feather Forearm Tattoo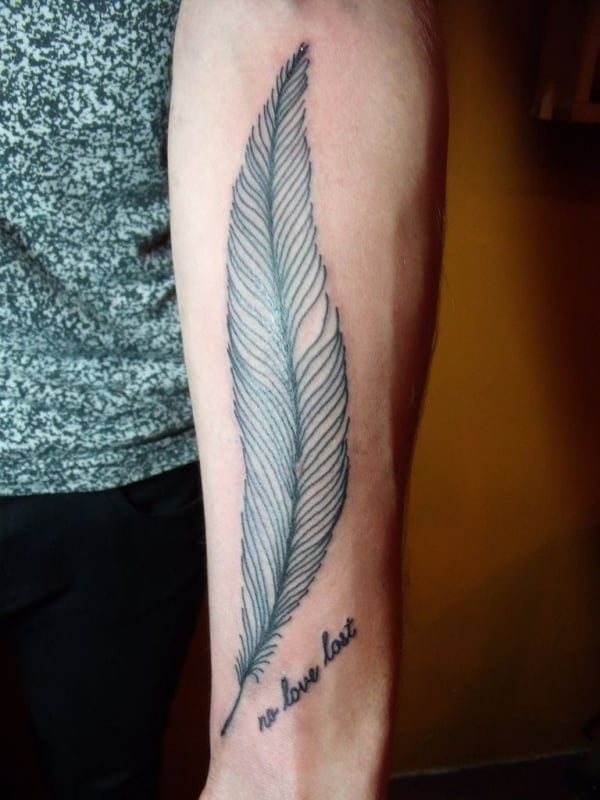 Image Source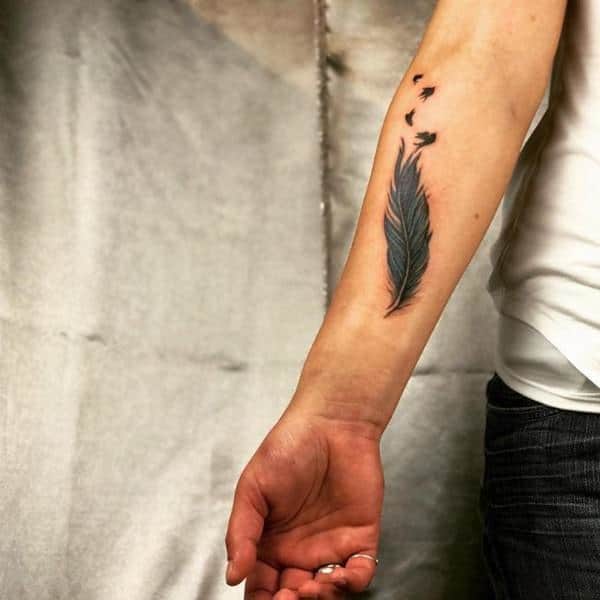 Image Source
Different people and different cultures have signified various meanings to these feather tattoos. Firstly, feather tattoos represent the birds and the various attributes they possess like courage, truthfulness, liberation, cheerfulness, and free-willed nature. Certain cultures also state that feathers are the messages sent from the spiritual world. In fact, in the homogenous North- American culture they signify a certain kind of spiritual protection.
22. Praying Hands Tattoo on Forearm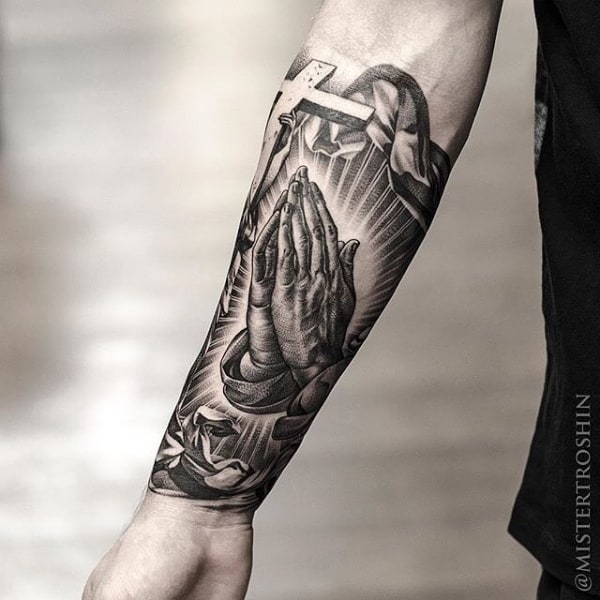 Image Source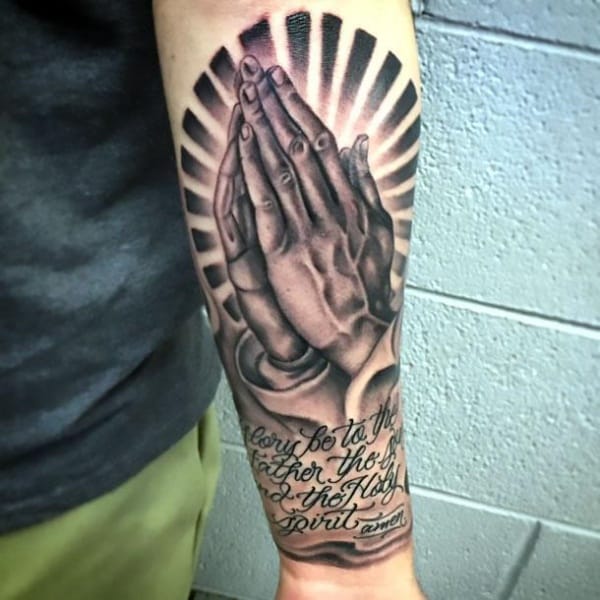 Image Source
This one again holds significance to Christianity and donned as a remembrance to the power of praying to Christ the Savior. Though most of the men would consider this one to be emphasizing their faith, this one holds a deeper meaning that speaks of the dedication to one-self and family, a respectful heart, and life that speaks of courage, and sacrifice.
23. Solar System Forearm Tattoo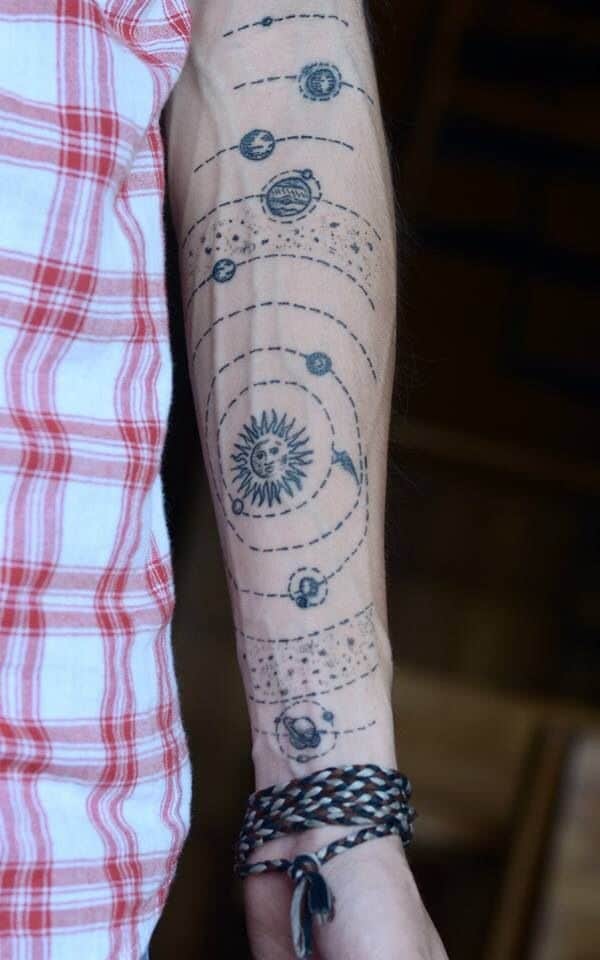 Image Source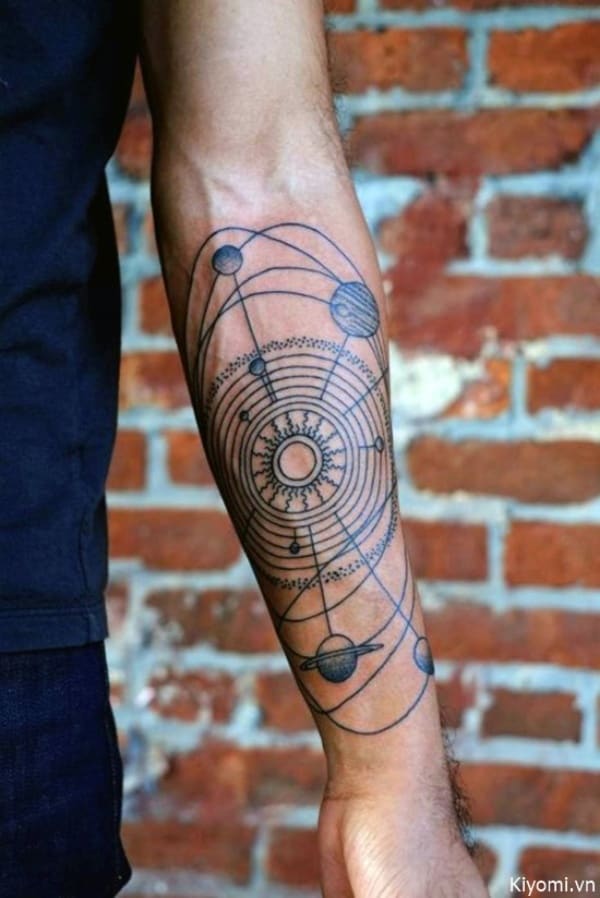 If you are still fascinated by the moon, sun, and other planetary objects, this one is for you. Get yourself a tattoo of the solar system in the forearm. Anyway, it speaks of various colors that automatically catches the attention. To top that, these planetary objects are also a good way to explain the adventurous nature of the wearer. The solar system might look simple but is quite unfathomable when it comes to a clear depiction.
24. Buddha Tattoo on Forearm

Image Source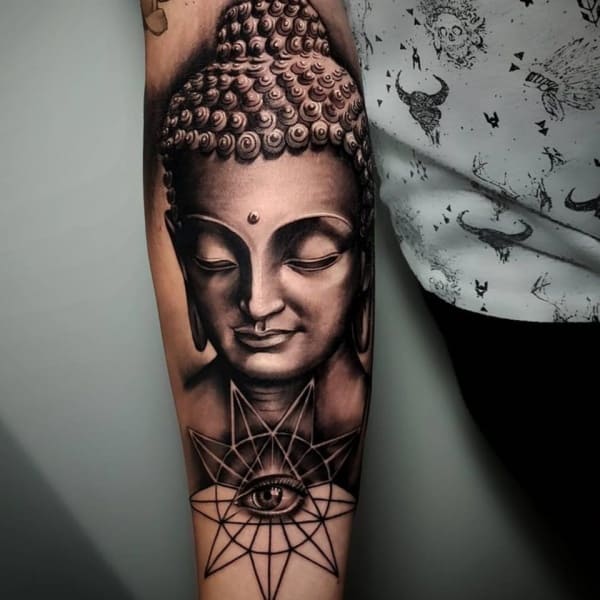 Image Source
Tattoo artists consider the Buddha tattoos to be extremely personal, reflecting the story of one's personal life. However, this one also offers great variety which further suggests that no matter in what stage of enlightenment you might be in or no matter how many hardships you have faced, there is a certain pose of Lord Buddha for these.
25. Skull Forearm Tattoo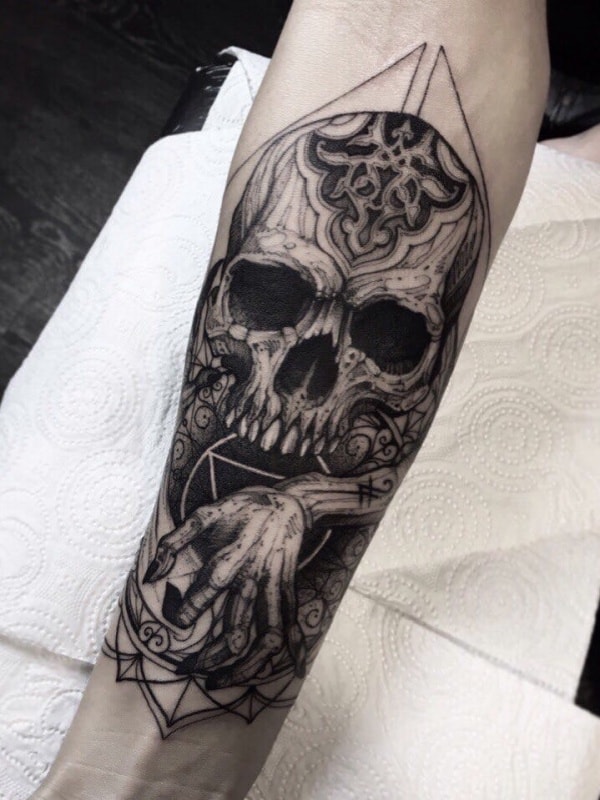 Image Source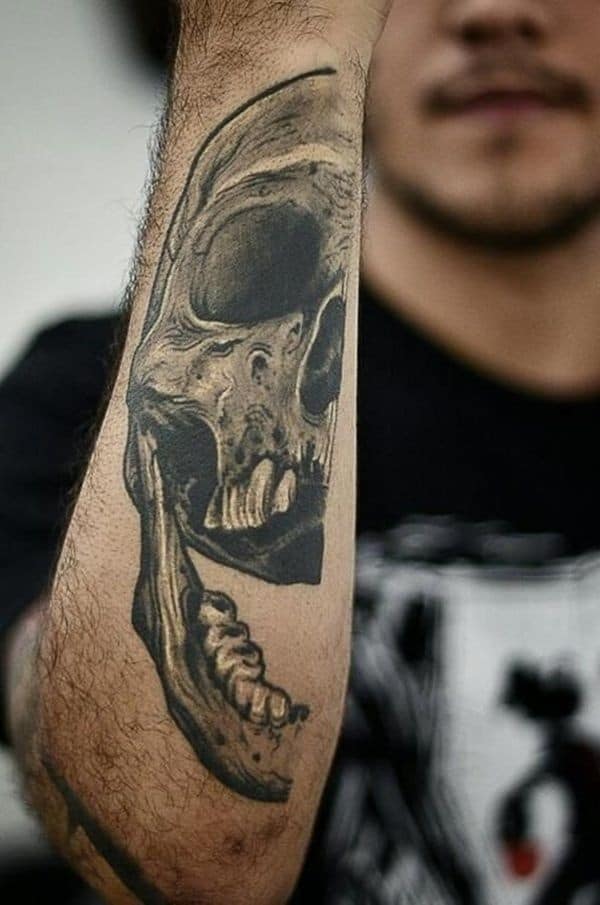 Image Source
People tend to link this one with all sorts of negativity. However, this name in the list of forearm tattoos for guys is symbolic of life, in fact, donned to celebrate life. It also signifies that death is the inevitable truth of life that nobody can escape. So, men donning a skull tattoo is suggestive of the fact that he has come in terms with his mortality and non-permanent status in this world. On the contrary, a skull tattoo integrated with a rose represents the interesting concept of beauty and decay. This one also works great as a forearm tattoo is filled with different colors.
26. Scorpion Tattoo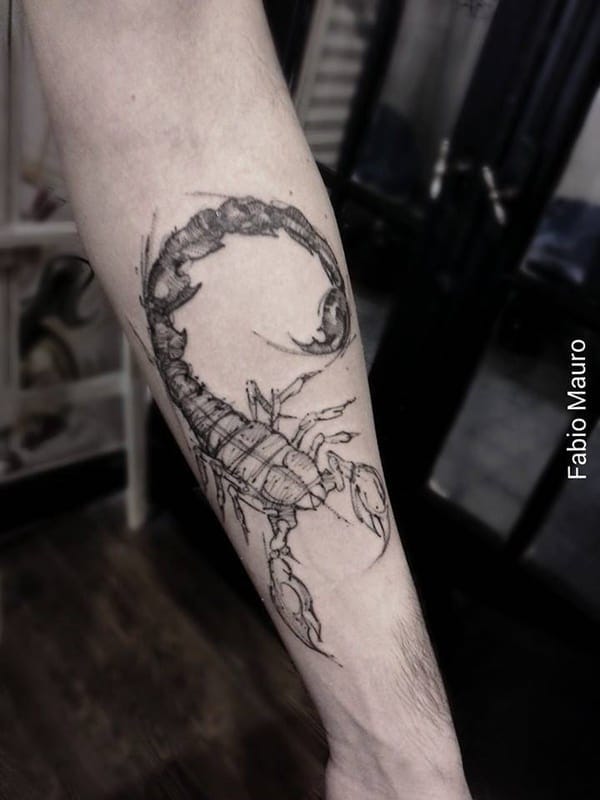 Image Source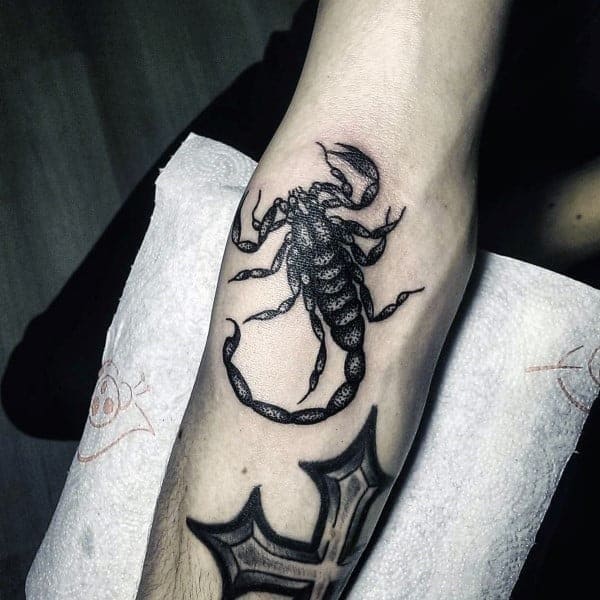 Image Source
Scorpion Tattoos are popular amongst the people who have a bold nature. This is a small forearm tattoo for men. When it is created using black color it shows its dark side and when created using bright color it shows the peaceful nature of a Scorpio. In some traditions Scorpio tattoo also represents victory. So you must go for this tattoo design without any doubt as it is also a great way to spice up your everyday looks.
27. Giraffe Forearm Tattoo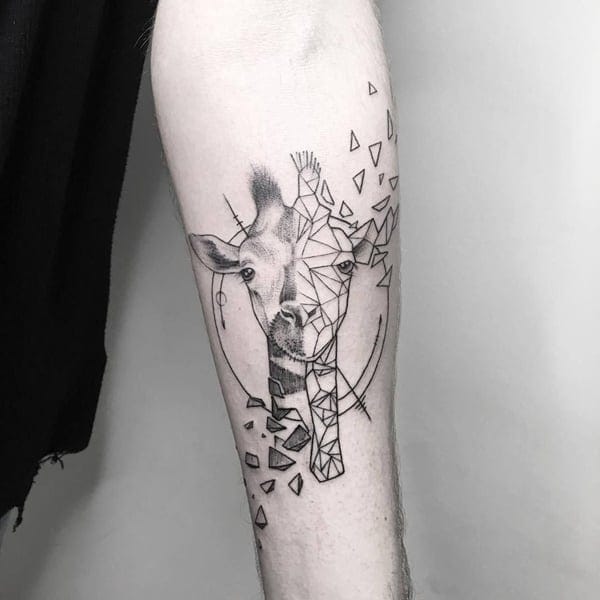 Image Source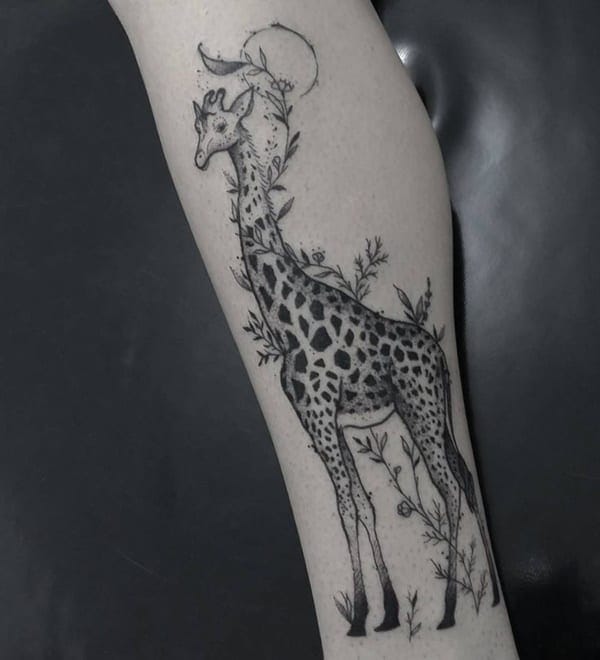 Image Source
If you are a nature lover, then Giraffe Forearm Tattoo is for you. It's always an amazing way to get a beautiful version of your favorite animal. This clean-lined giraffe with attractive shaded spots is an ideal forearm tattoo for men. Apart from this, Giraffe tattoo design the high thinking of the wearer and represents peace as well.
28. Small Sparrow Tattoo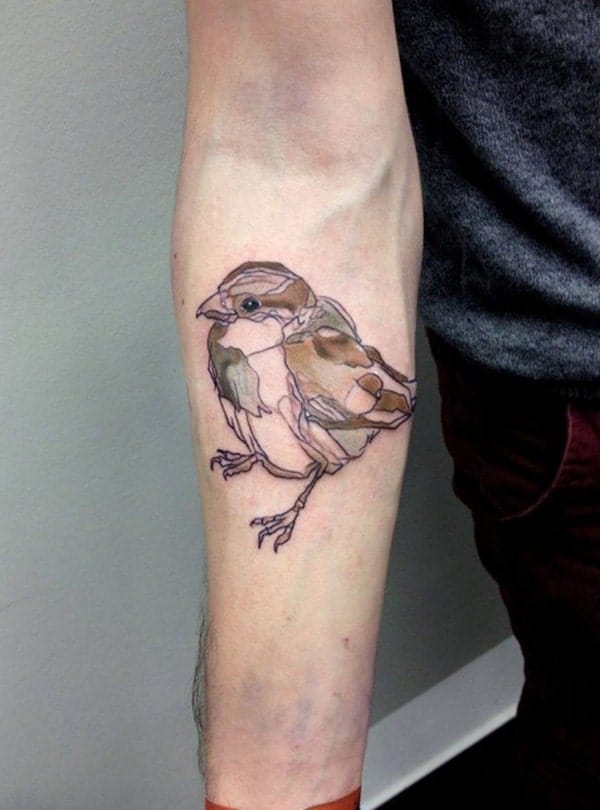 Image Source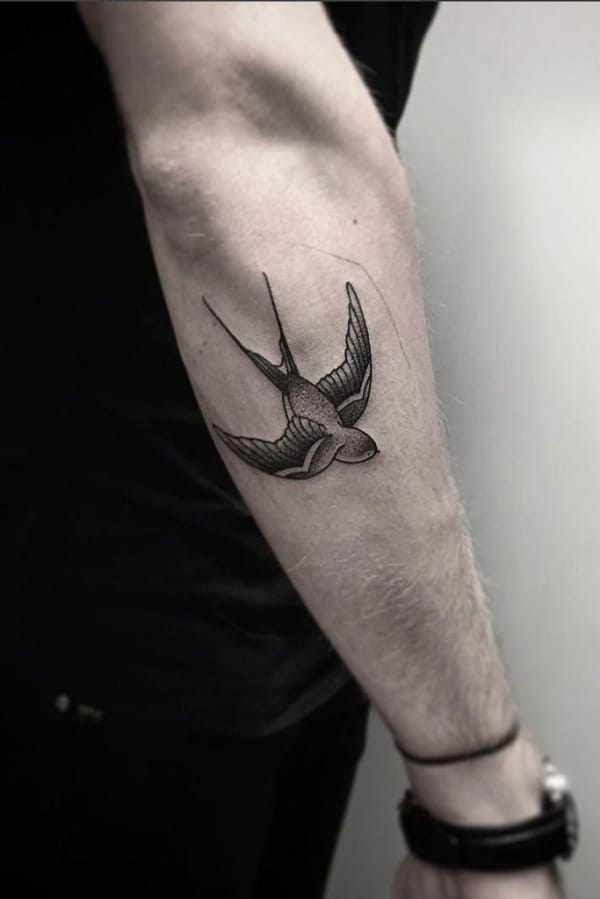 Image Source
Next, in the list of small forearm tattoos for guys is a sparrow Tattoo that mainly represents freedom. These birds populate the entire world with their songs and cute chirps. So getting this tattoo inked by men is a great way of getting in touch with their superior senses. Hence, this tattoo is absolutely amazing and can also eliminate stress within your daily life.
29. Mandala Forearm Tattoo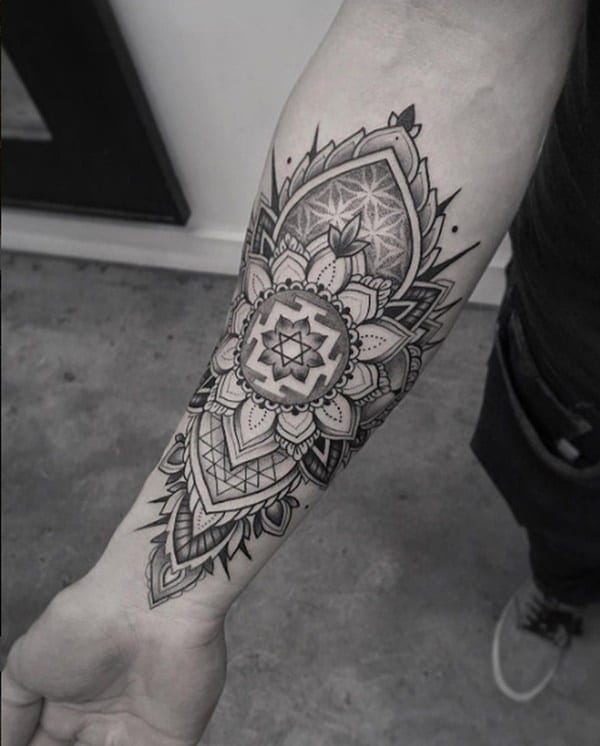 Image Source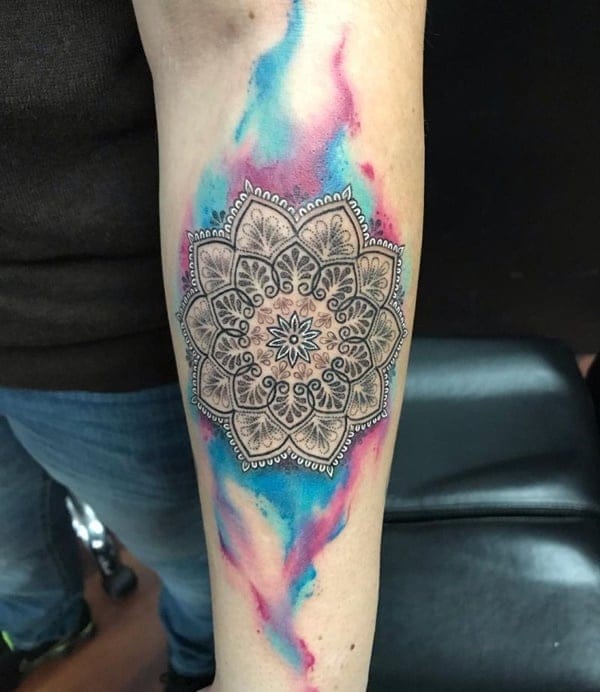 Image Source
If you are connected to Yoga or some spiritual things then this tattoo design is for you. The main objective of the Mandala tattoo is to calm the mind. This is a perfect forearm tattoos for guys and will give you a stylish look too. There is a variety of these tattoos available such as Tribal, Triangle shape Mandala, Clock, and wheel design, full circle, flower, and many more. So you can choose the type of mandala tattoo according to your choice.
30. Guardian Angel Forearm Tattoo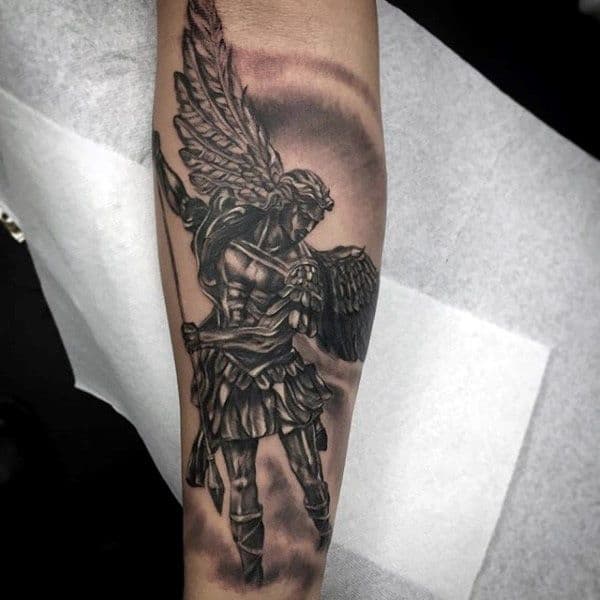 Image Source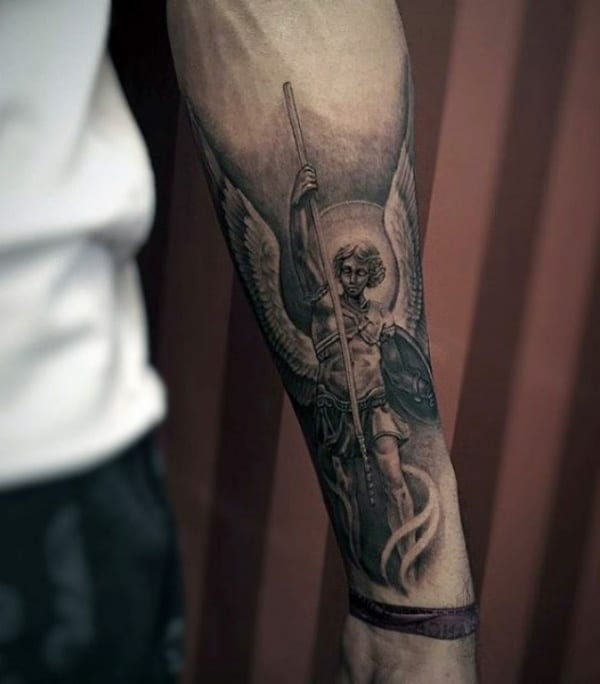 Image Source
Guardian Angel tattoo design represents your eternal protection. You can get this tattoo in various types such as Mary angel tattoo, angel tattoo with wings, floating angel, and so on as per your preference. According to Christian culture, angels are messengers of God. So get this tattoo in your forearm from an experienced tattoo artist.
31. Tribal Forearm Tattoo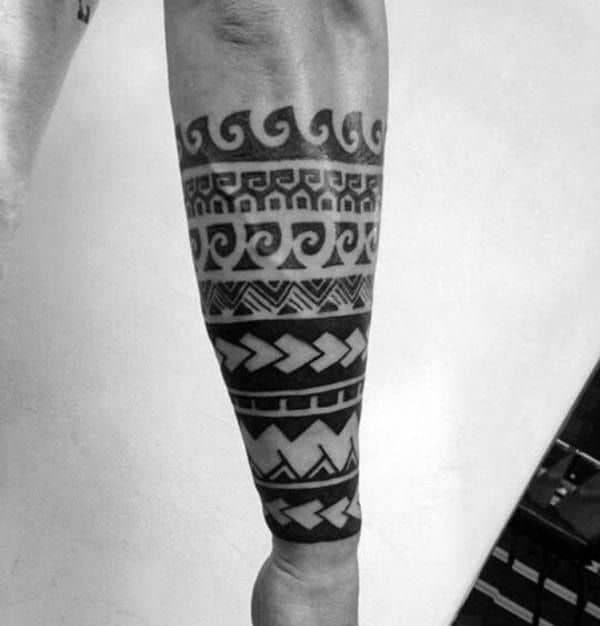 Image Source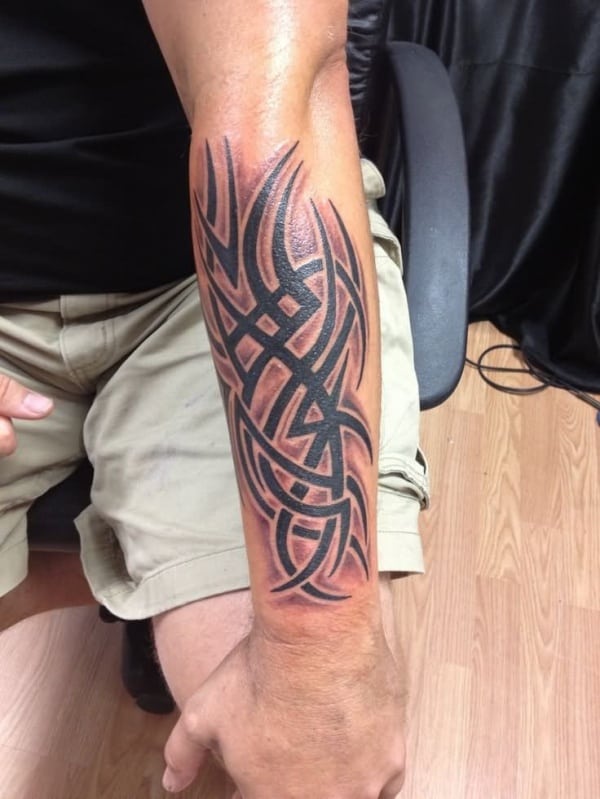 Image Source
Tribal Tattoos are one of the classiest designs. Tribal designs originated with a range of inhabitant tribes around the globe. These are generally oozed with masculinity do not need too much of a difficult shading. Additionally, men who are truly inspired by the Mayan culture highly get this tattoo done. You can select to get various Tribal Tattoo designs such as Modern, Libra Tribal Tattoo, Lotus Tribal Tattoo, and many more.
32. Sugar Skull Forearm Tattoo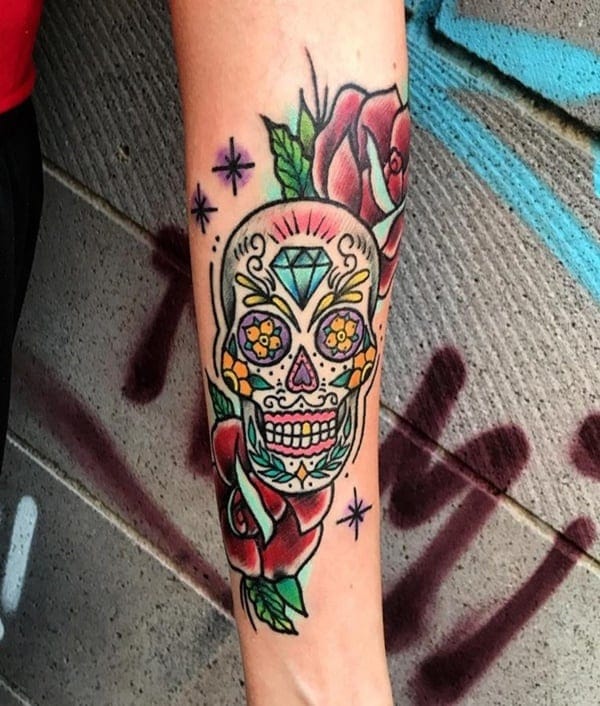 Image Source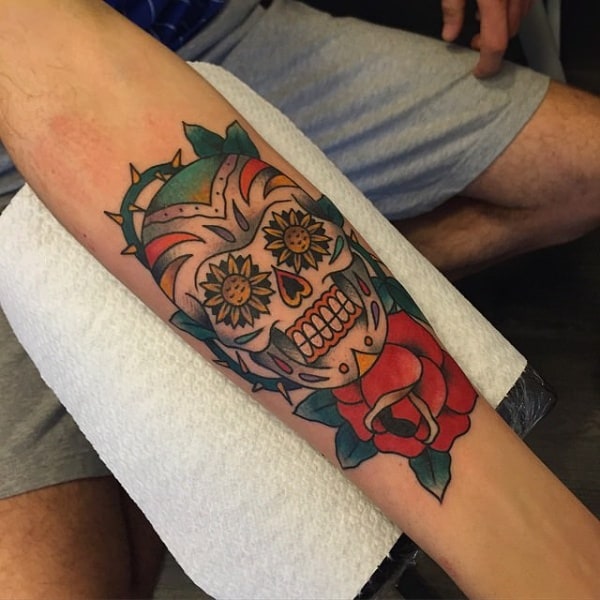 Image Source
Sugar Skull Tattoo design mainly signifies triumph and rebellion in various cultures. To make it stylish you can get it in various shades and colors according to your desire. This small Sugar Skull Tattoo will look perfect on the forearm of men and portrays the life of those guys who do not want to get dominated.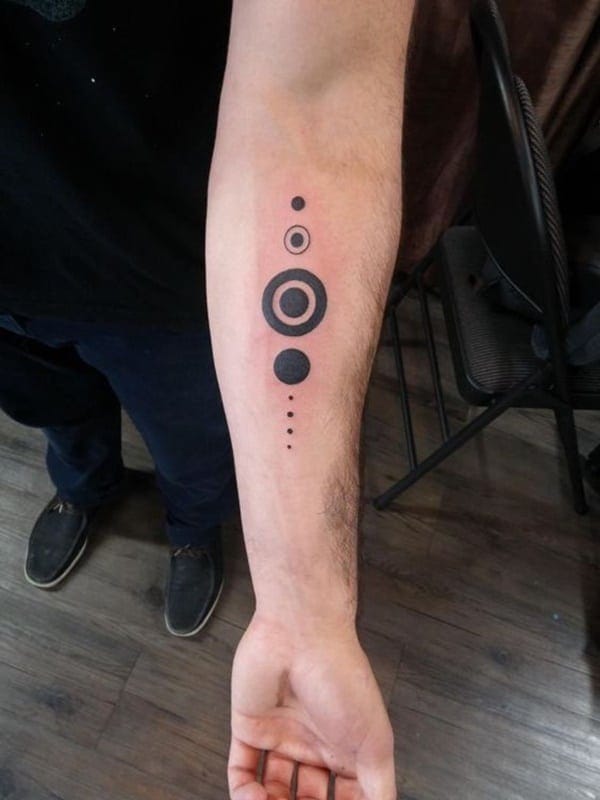 Image Source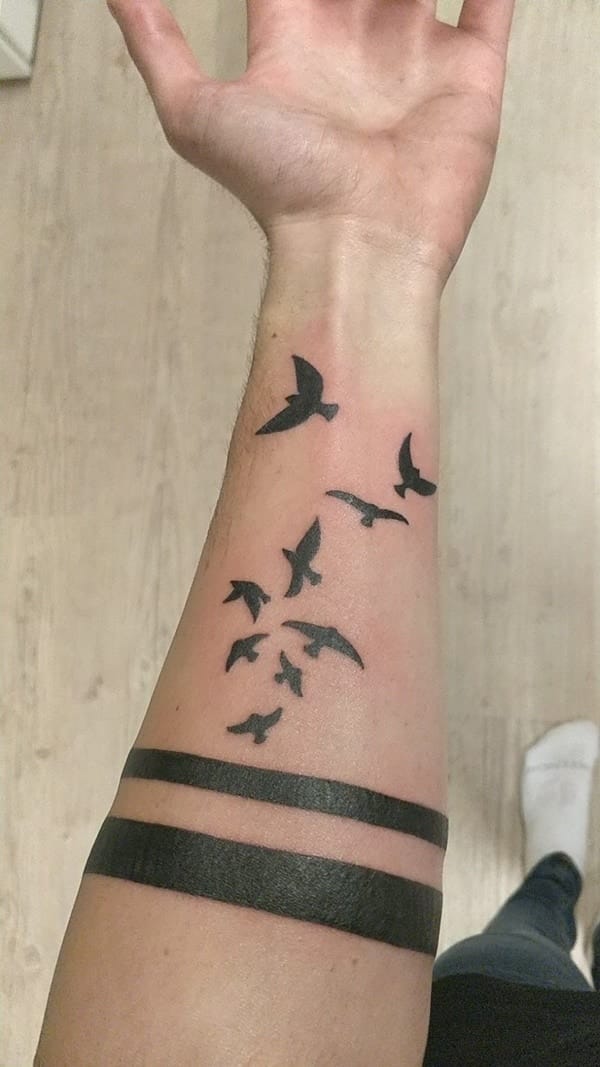 Image Source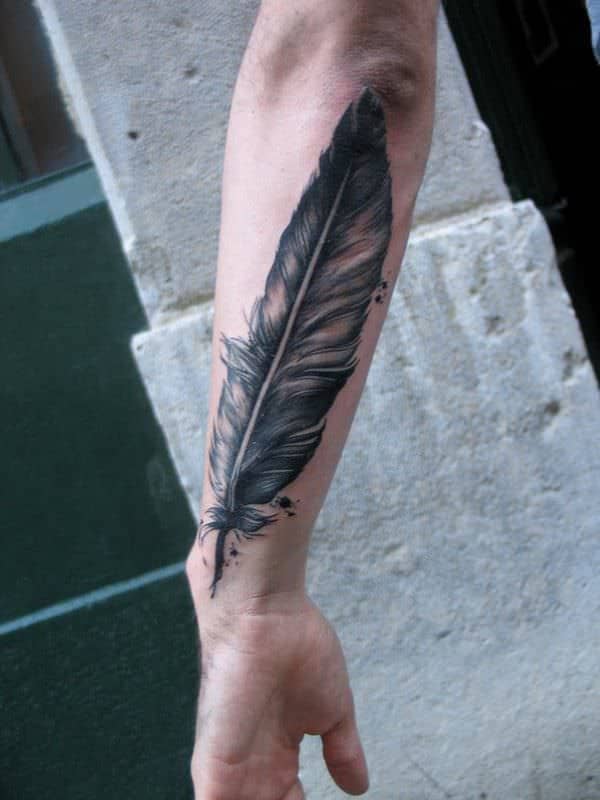 Image Source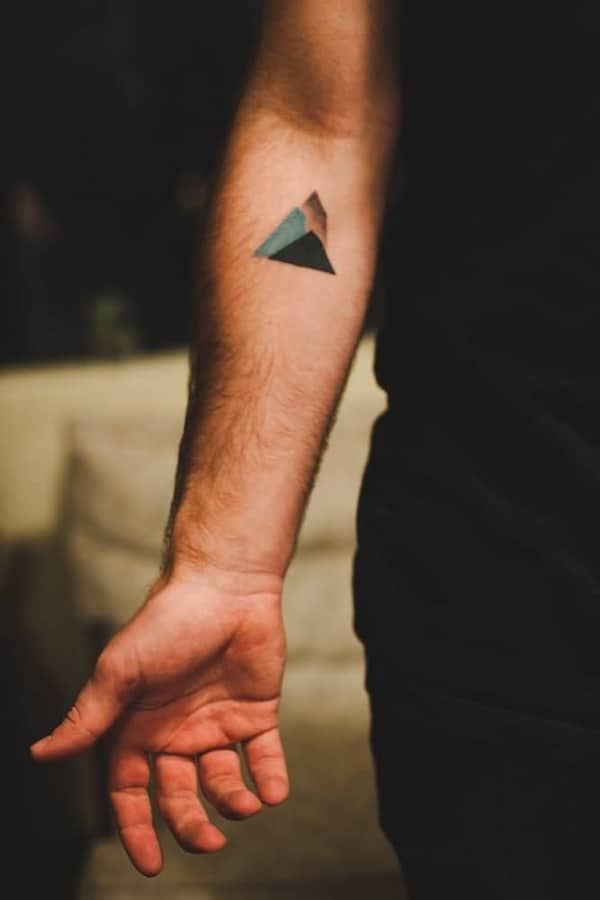 Image Source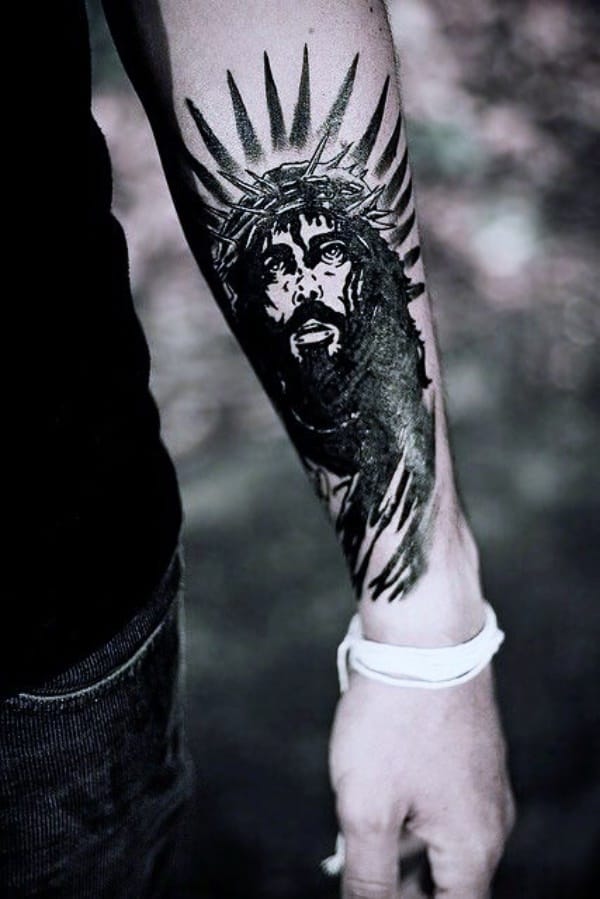 Image Source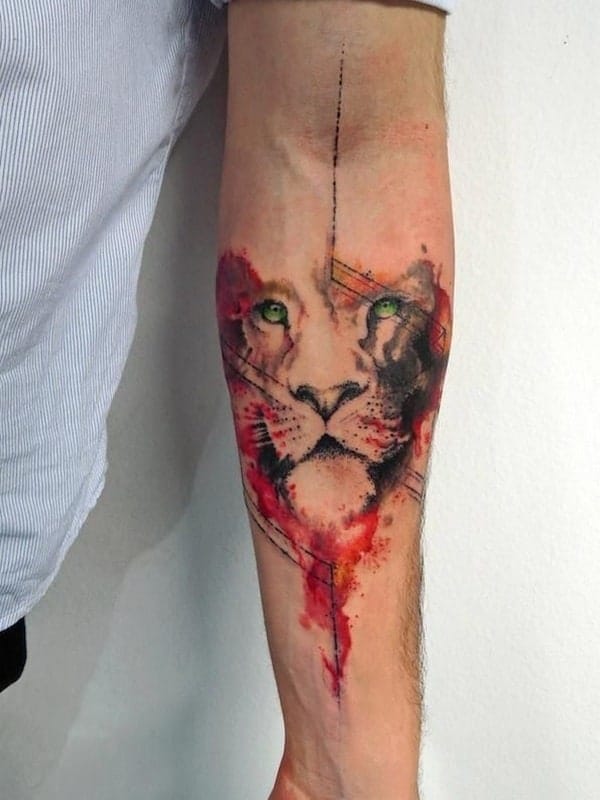 Image Source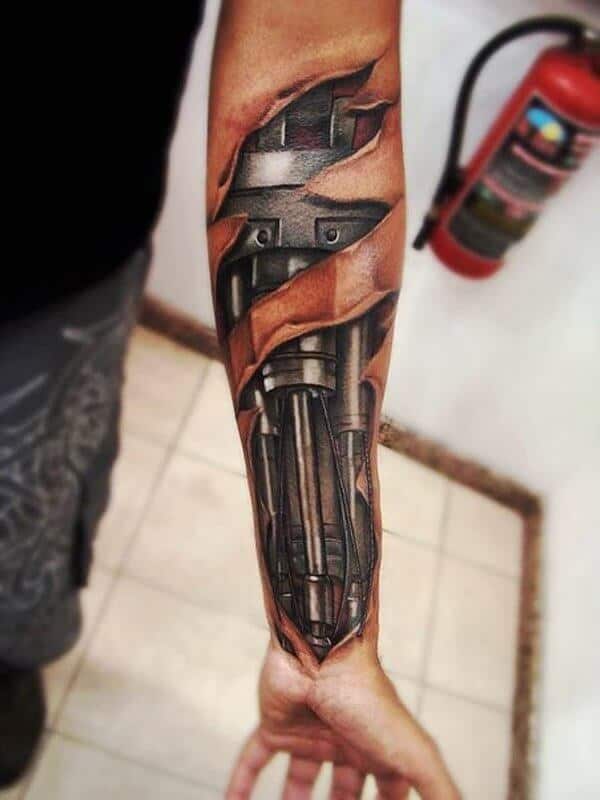 Image Source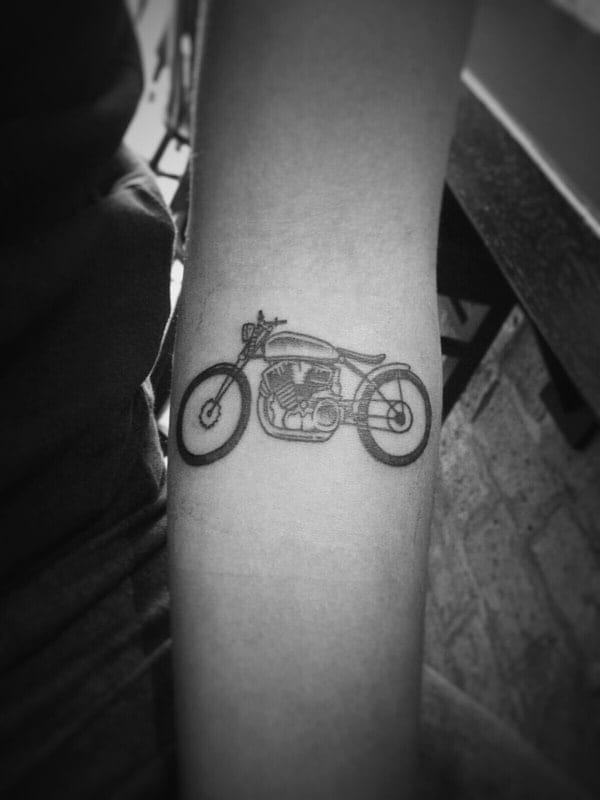 Image Source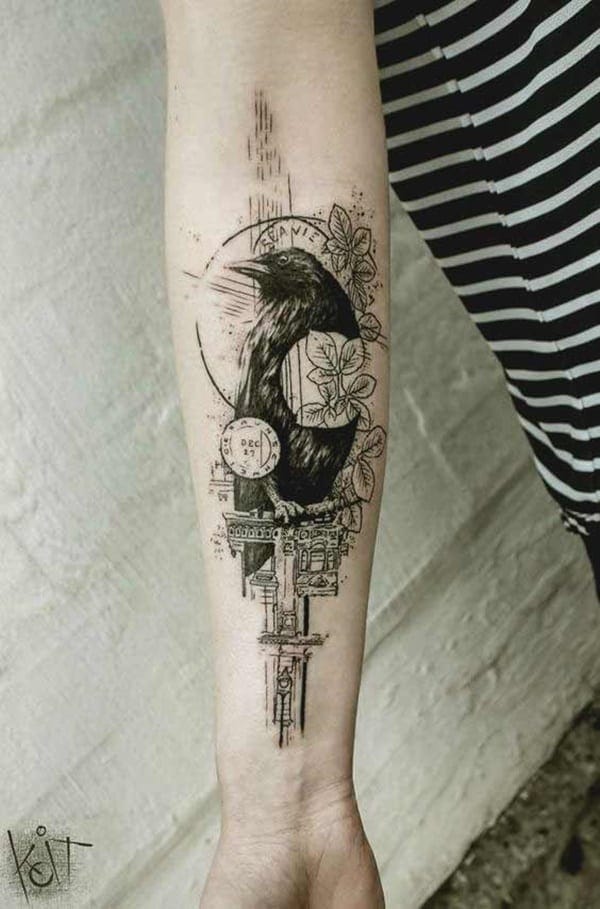 Image Source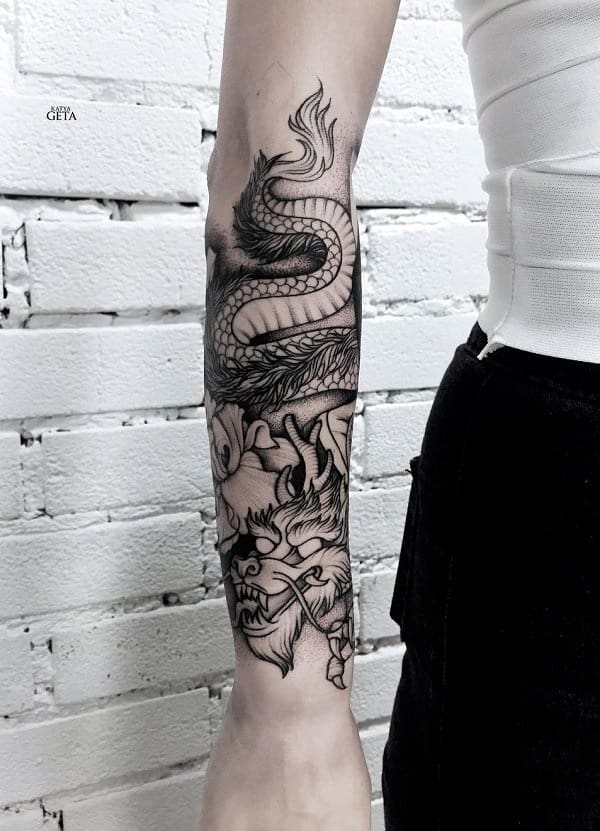 Image Source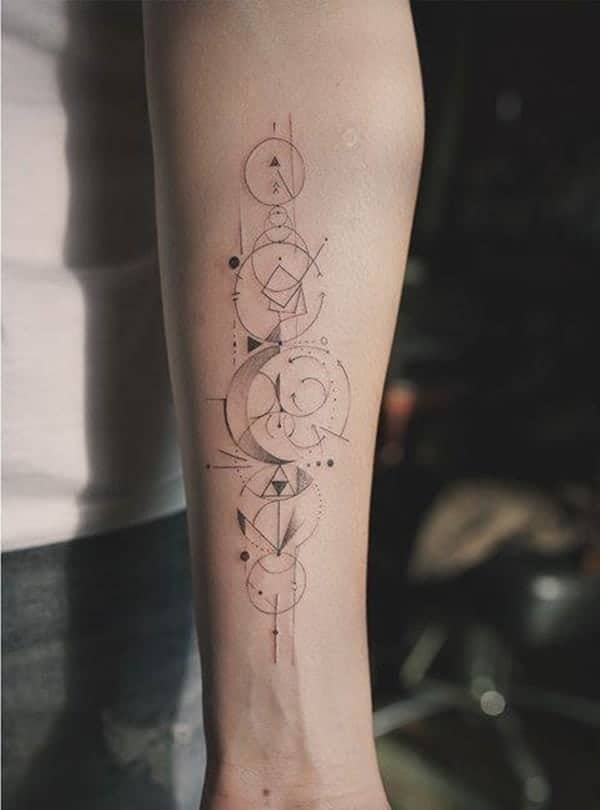 Image Source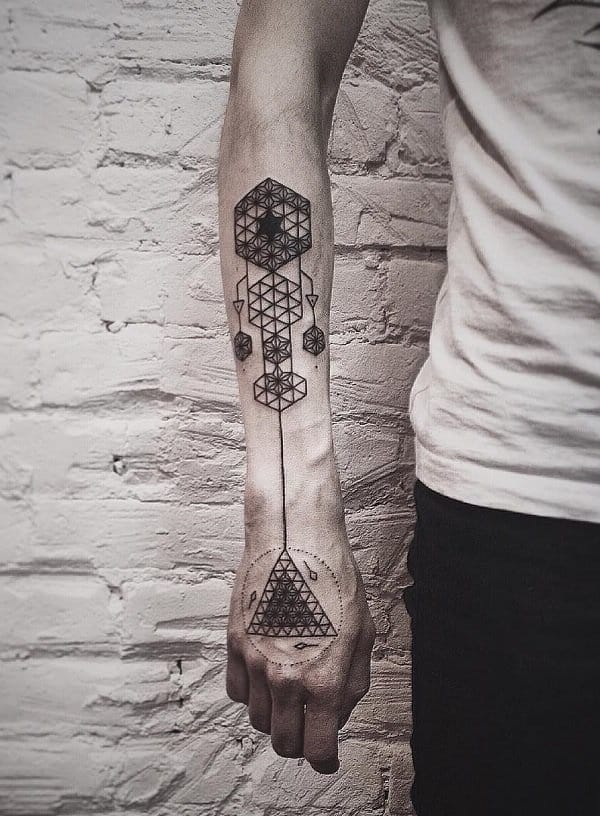 Image Source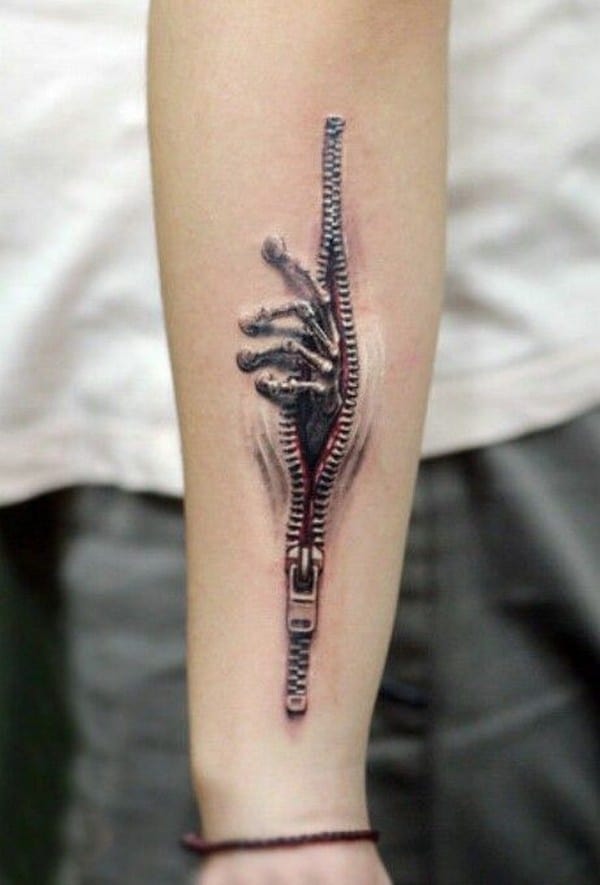 Image Source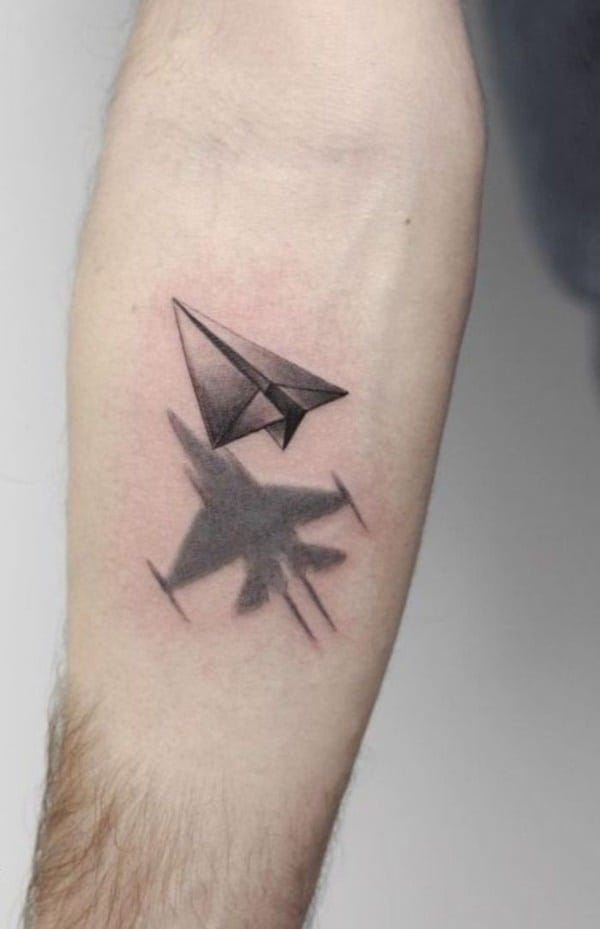 Image Source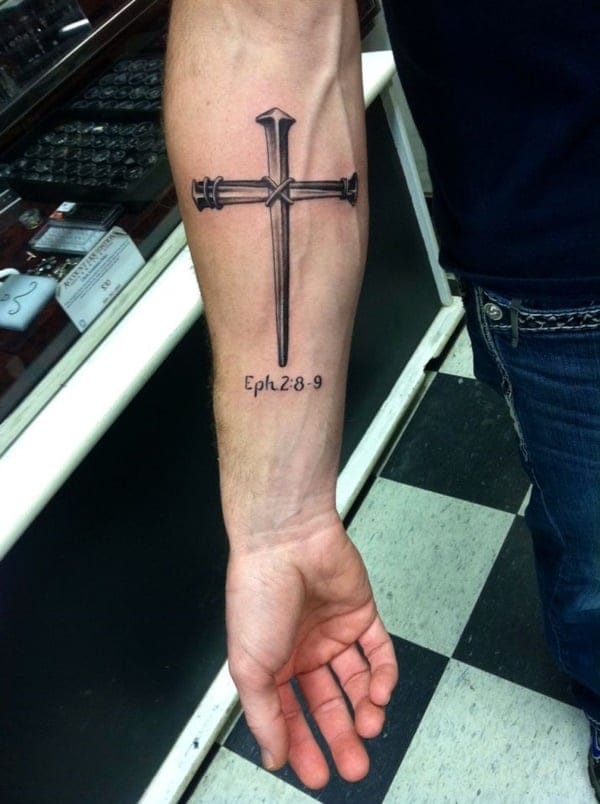 Image Source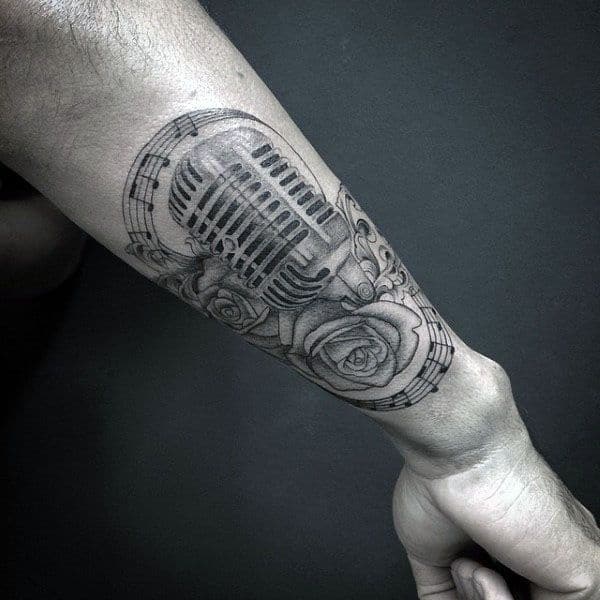 Image Source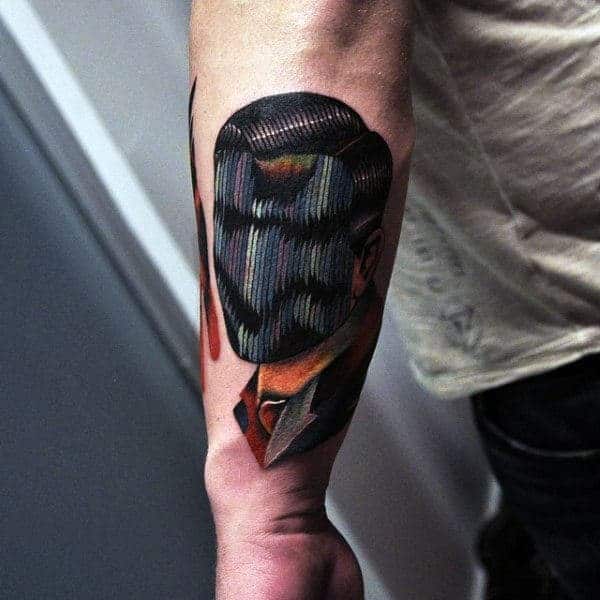 Image Source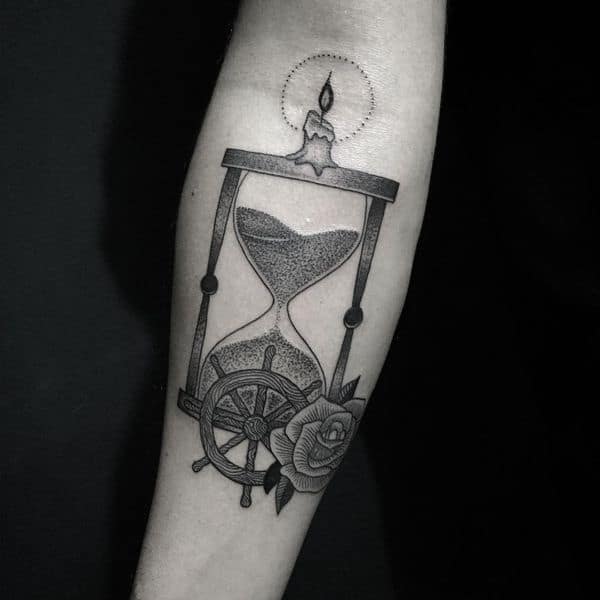 Image Source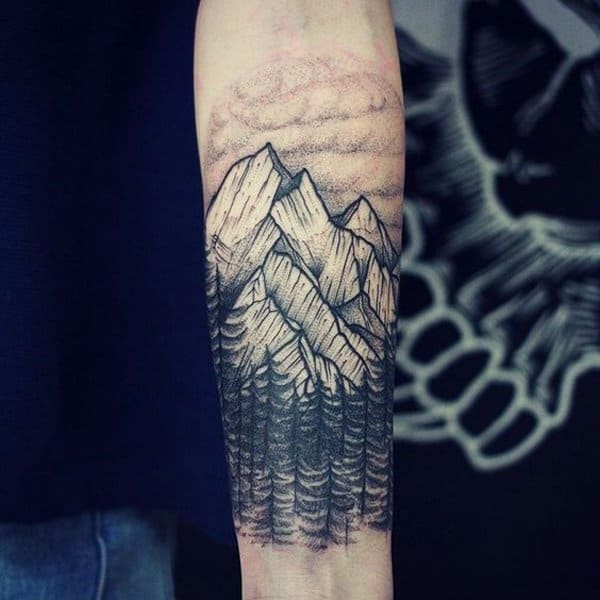 Image Source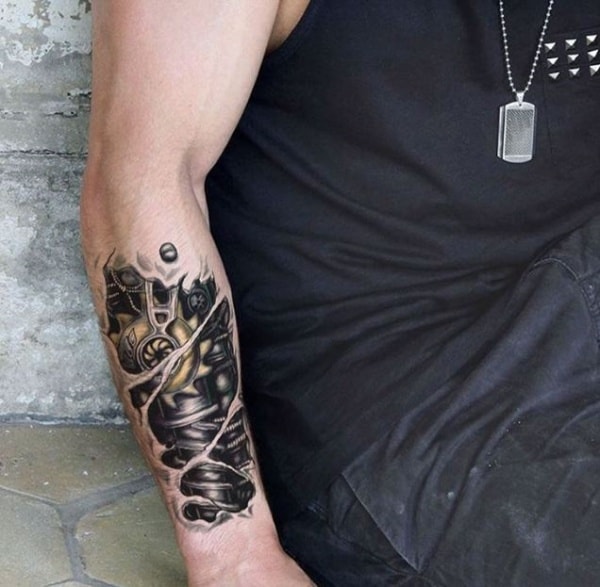 Image Source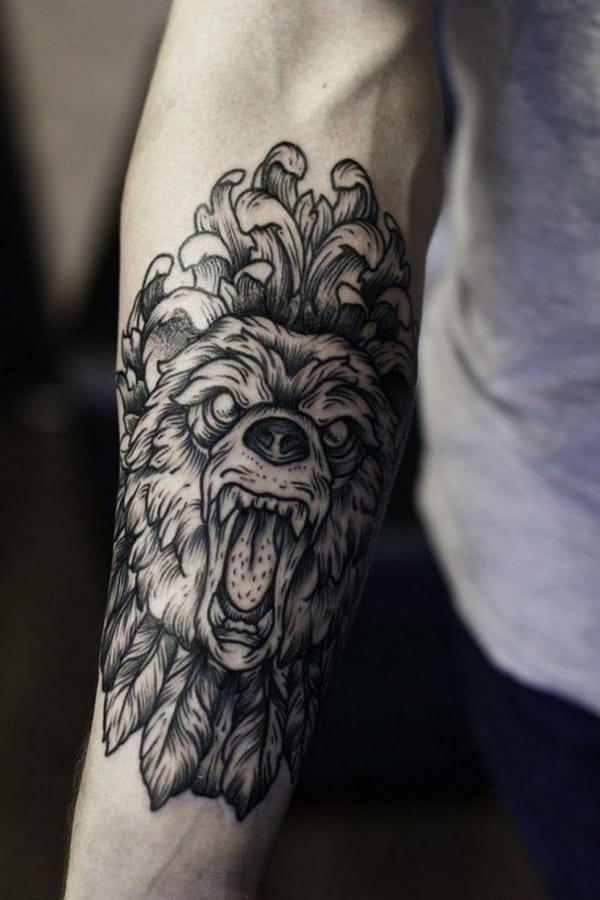 Image Source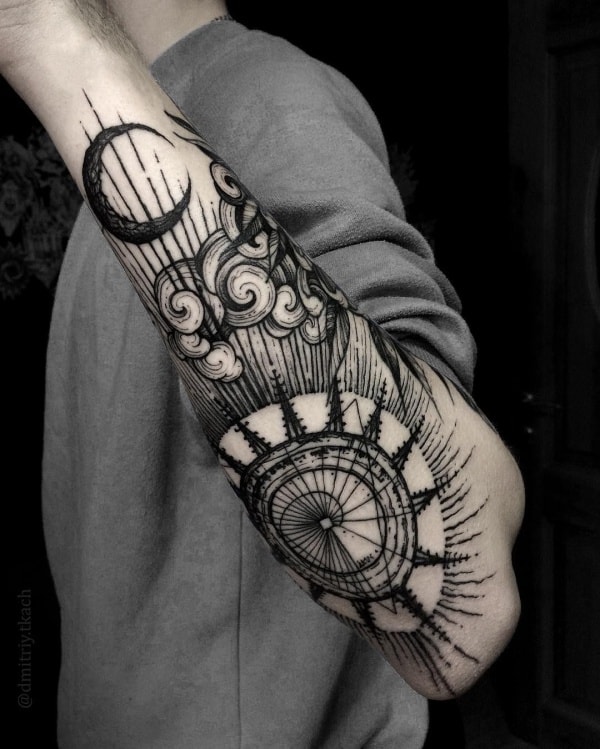 Image Source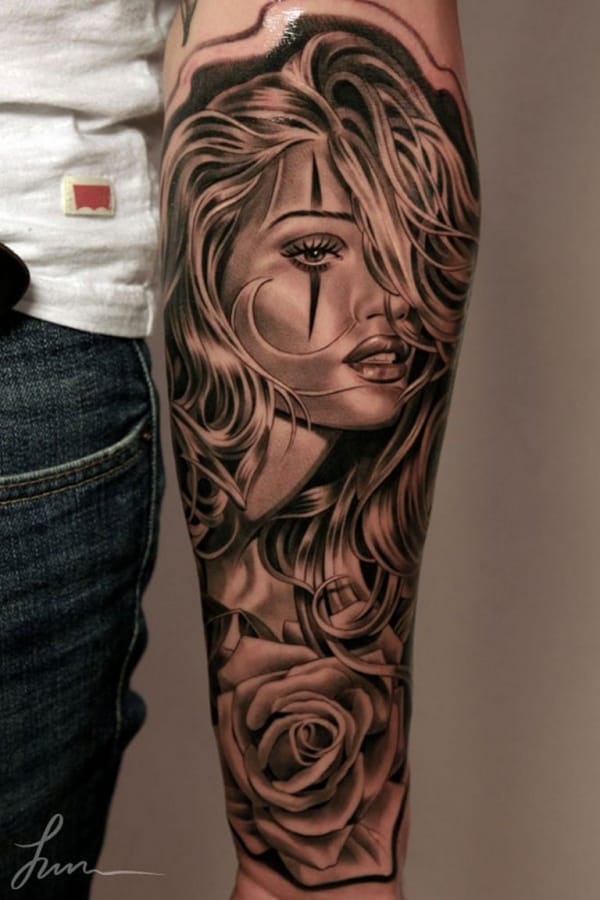 Image Source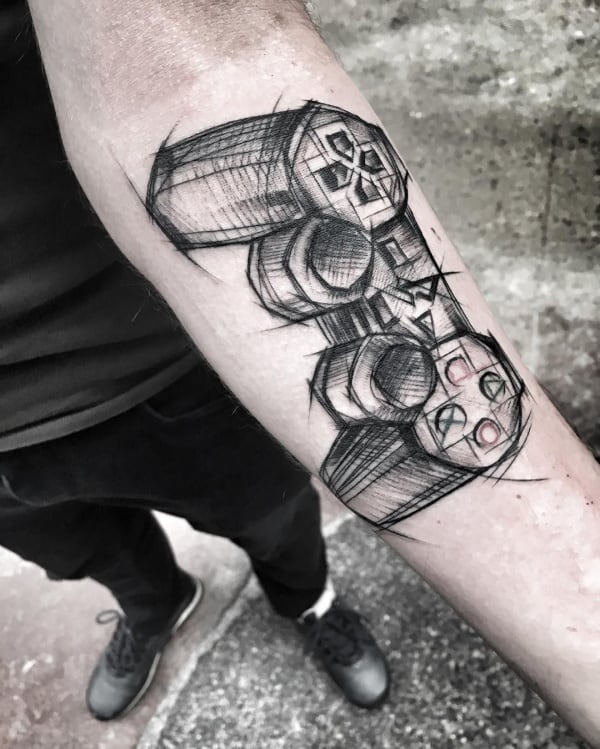 Image Source
Conclusion
Finally dealing with all the various designs of forearm tattoos for guys, we have reached the conclusion. Forearm tattoos as discussed before are attractive that catch attention more often than any other body part. With all the tattoo and their meanings, it would finally ease your work to stream down everything and finally take the plunge.
The list that we presented above was quite insightful. So, by now, I am sure that you guys have already planned for your next tattoo venture. So, get on the ride, get it done as all of us are eagerly waiting for your next selfie, or should I say the selfie flaunting your newest body art.