Many people got confused regarding what design to choose for getting a tattoo. There are various tattoo designs from which one can choose. In this post, we are going to discuss palm tree tattoo designs. The palm tree is a very popular tree tattoo design that is trending nowadays. To show the love and importance of palm trees you can get inked them in your bodies. Therefore, below in the article, we are giving you meaning, placements as well as various types of palm tree tattoo designs. Checkout Some Cool Neo Traditional Tattoo Designs.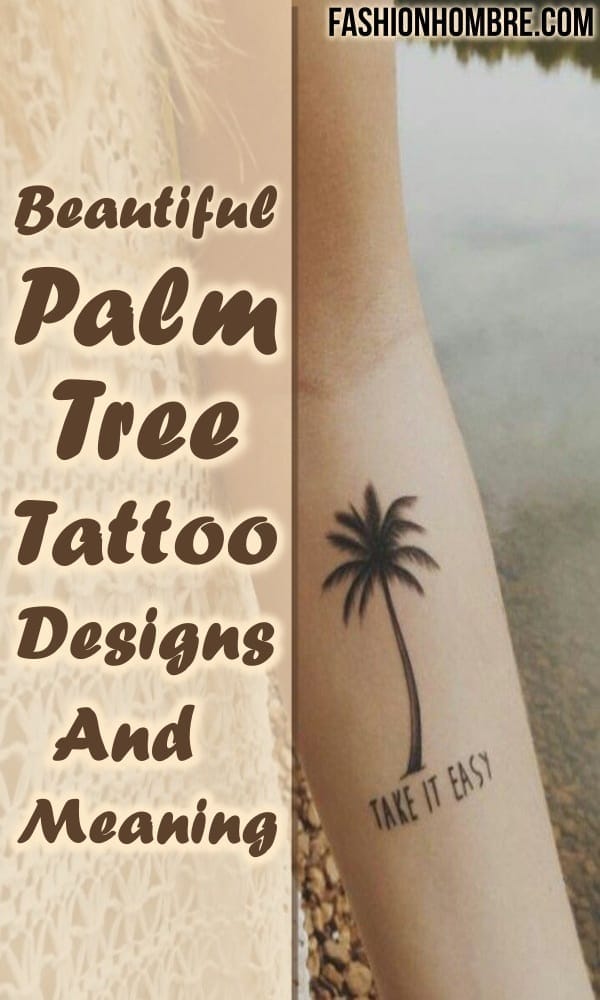 Amazing Palm Tree Tattoo Designs And Ideas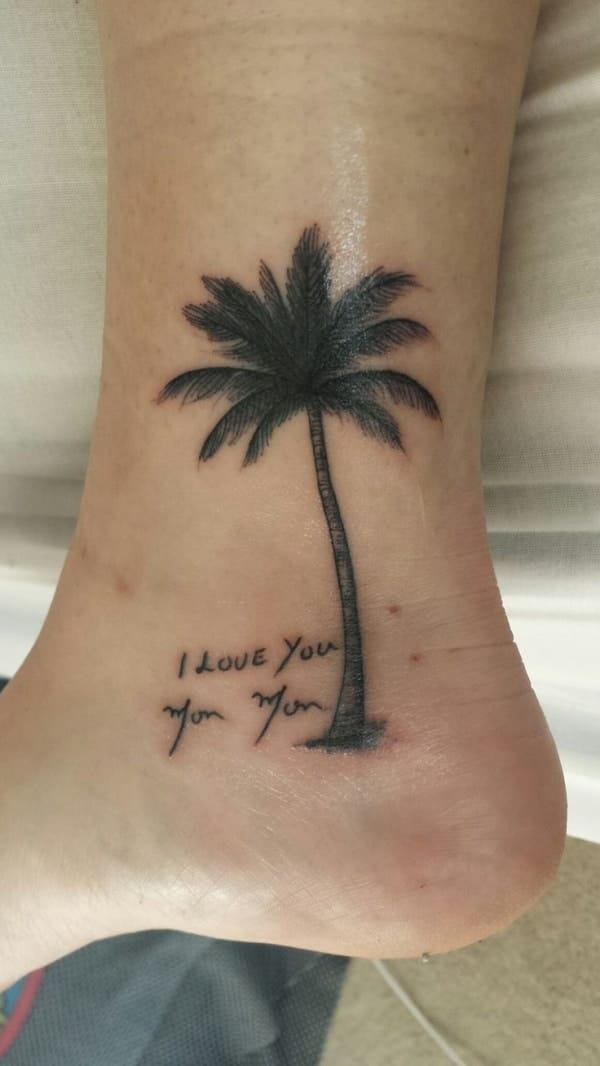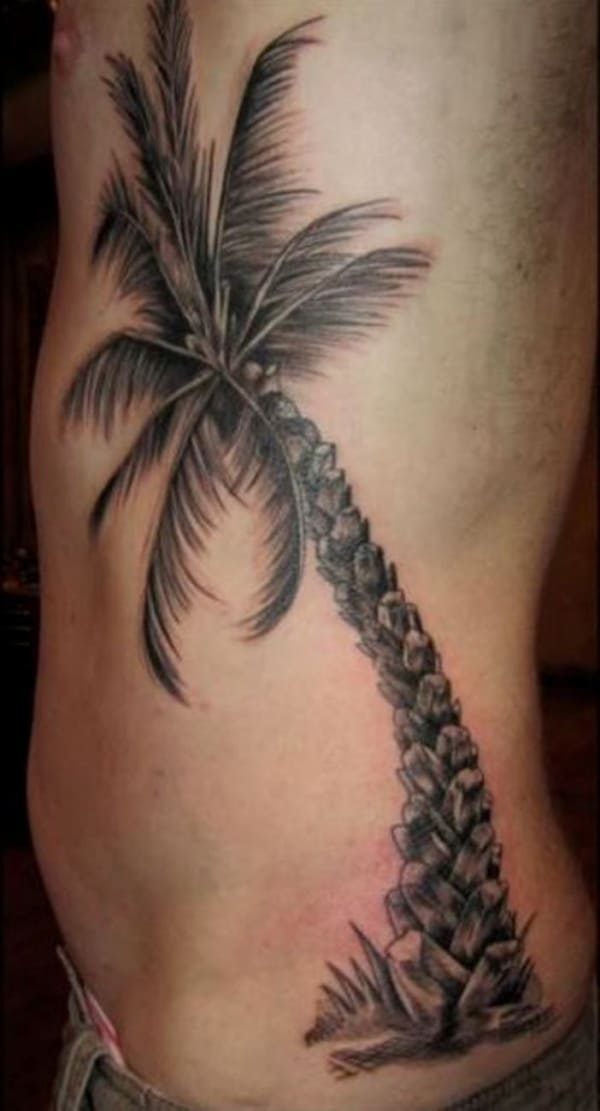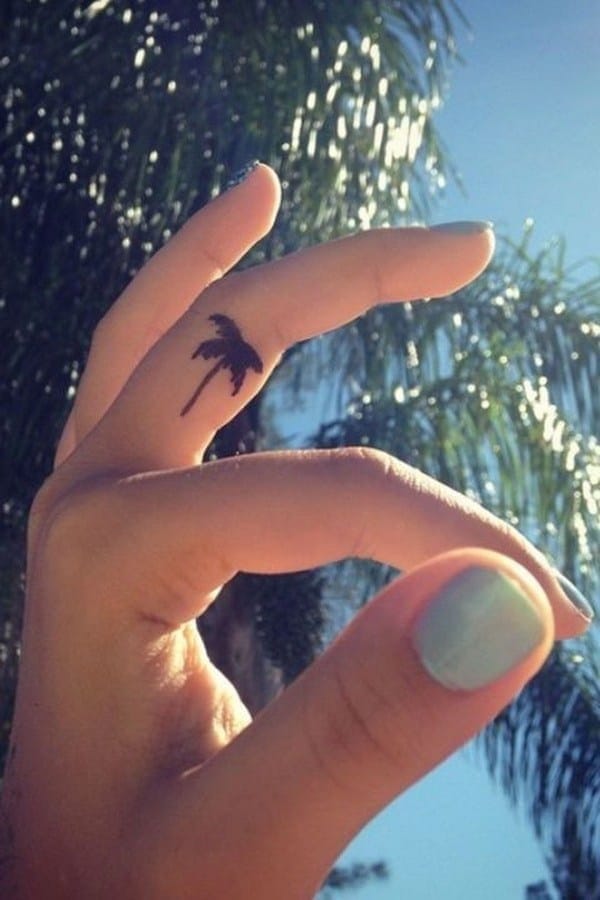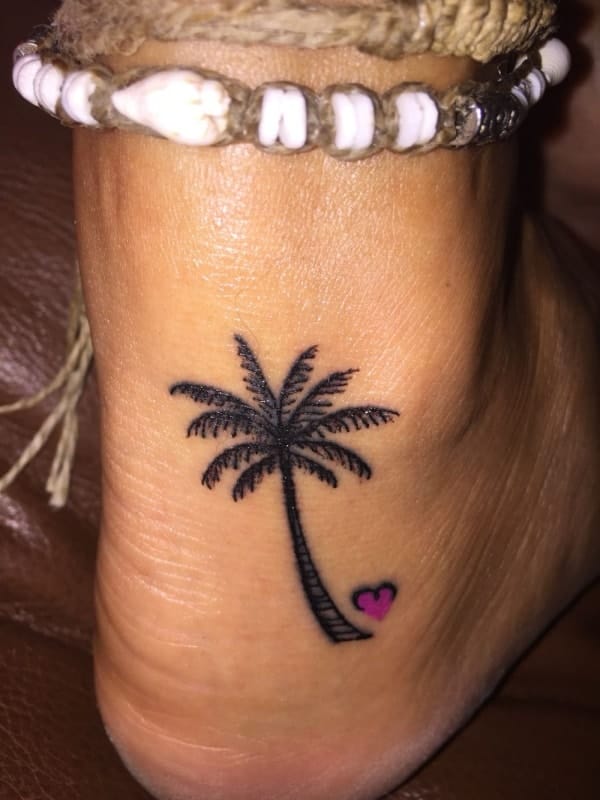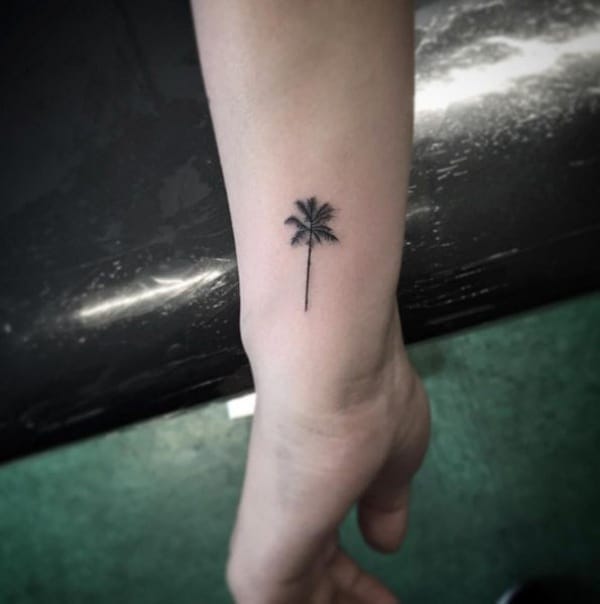 Meaning Of Palm Tree Tattoo Designs
In different cultures, the palm tree has a significant place and have various meanings also. For Christian, the palm tree is a symbol of reappearance and win over death. This symbolism comes from the Bible story of Jesus. The followers of Jesus Christ laid palm leaves on the pathway that Jesus walked through as he goes through Jerusalem to be crucified by the Romans. As per the Christian beliefs, after death he resurrected three days and so having a palm tree tattoo will represent faith in Christianity. 
For the ancient Assyrians and Egyptians, the palm tree was the Tree of Life. It was a source of food and its nectar was used in ceremonies to keep dead people in a semi-animated state, so this tattoo also represents life. In various cultures, the palm tree represents the Garden of Paradise. These communities also believe the trees are symbols of goodness and wisdom. At present, in western culture, palm trees represent sunny skies and relaxing vacations. These trees are related to beach life and people who love adventures loved to ink these tattoo on various parts of their bodies. Apart from this, some of the representations of palm trees include unification, resurrection, honor, truth, fertility, expansion, vitality, value, protection, singleness, strength, harmony and aspiration.
Palm Tree Tattoo Placement Ideas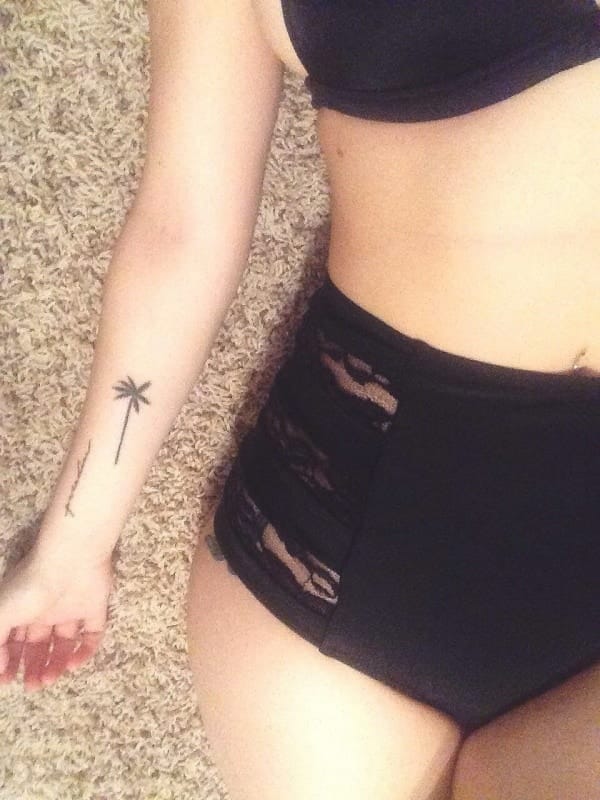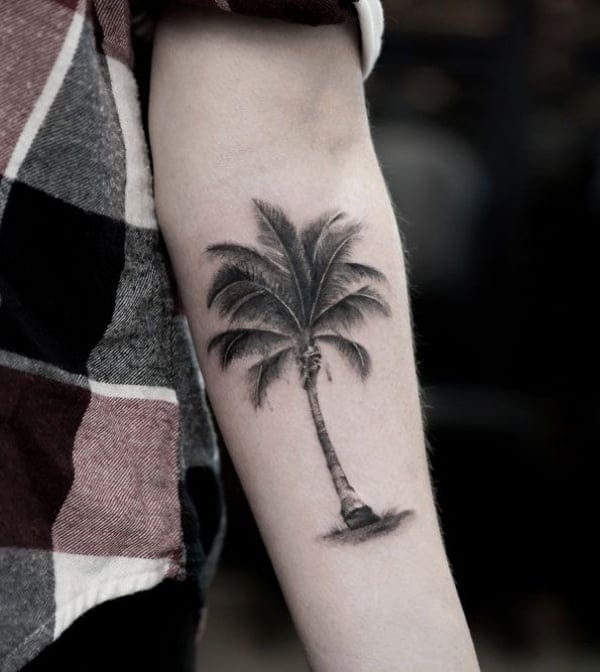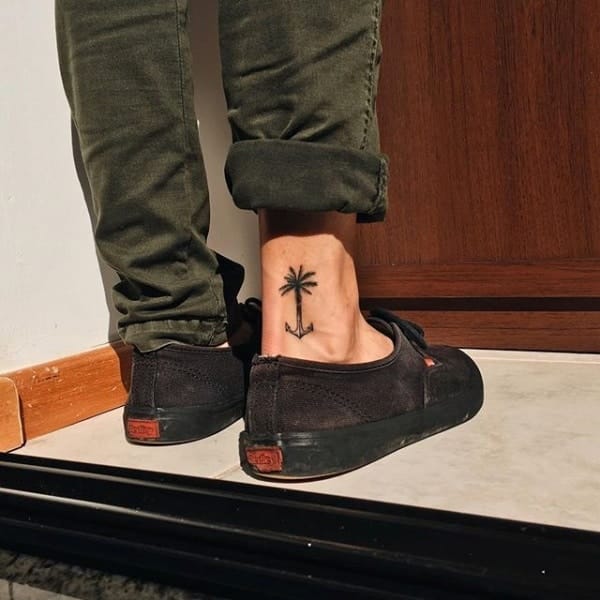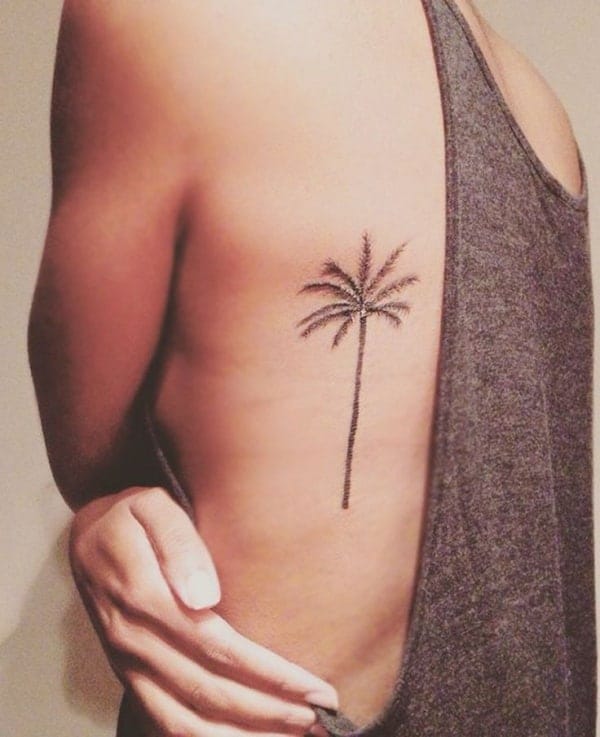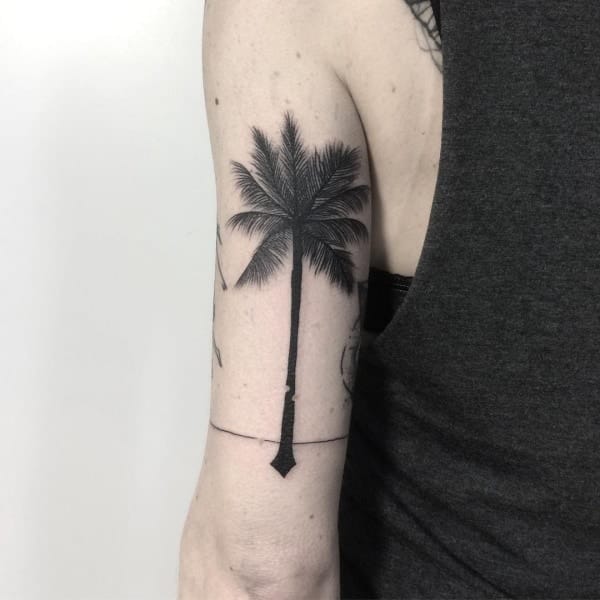 Palm tree tattoo designs look great and a single palm tree forms an eye-catching tattoo. As a result of extended designs, you can ink a palm tree on different parts of your body depending on the exact size of the tattoo you want. The size also matters when it comes to the placement since small tattoo fits perfectly on the wrist and ankle and big size tattoos are perfect for legs and hands. In addition to this, you can also get this tattoo ink as a part of a collection of other big tattoo covering your chest or back. Other body parts that could form a perfect canvas for the tattoos include the ribcage, arm and the foot.
Palm Tree Tattoos are suitable for both men and women due to their simplicity, symbolism, meaning, and beauty. Whether you desire simple or detailed and realistic body art, this tattoo design will still work for you as there are endless design preferences available. All you need to do is to decide a perfect placement of it that works perfectly for you. Besides, if you are a working person and do not want to make your tattoo visible to all then you can get it inked on the back of the shoulder, forearm or ankle.
Back shoulder Palm Tree Tattoo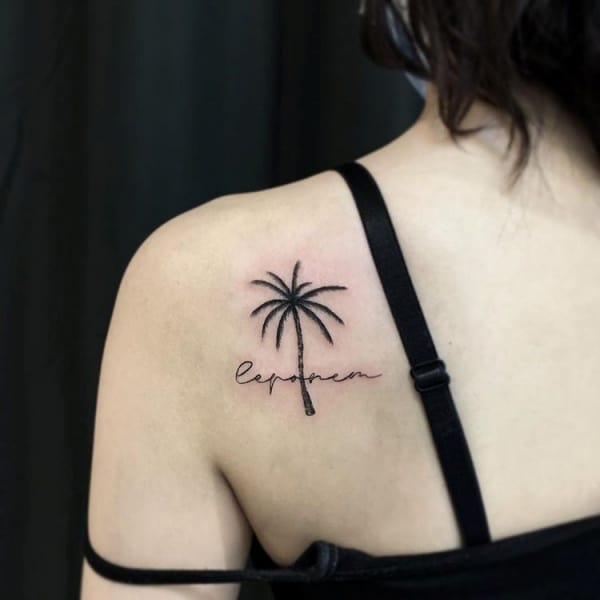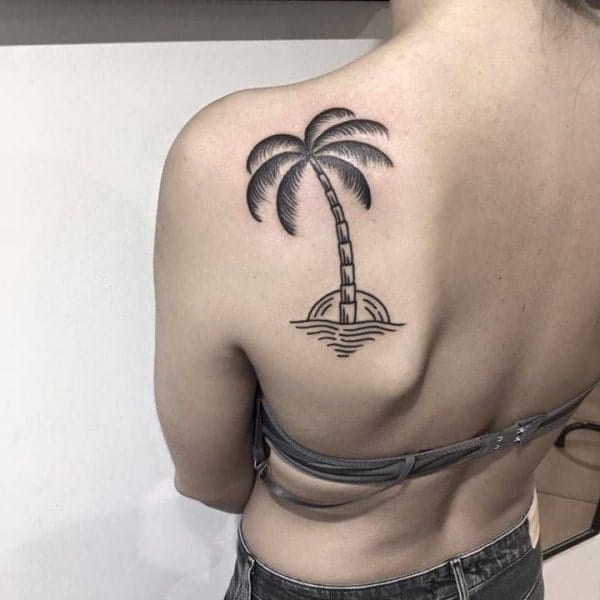 This is a perfect tattoo for those who want to show their tattoo stylishly. Most of the girls go for this tattoo idea. Palm Tree Tattoo symbolizes longevity and the choice of getting it inked on the back shoulder makes it more elegant and classy. Apart from this, this tattoo looks best on fair to medium skin tones.
Tiny Wrist Palm Tree Tattoo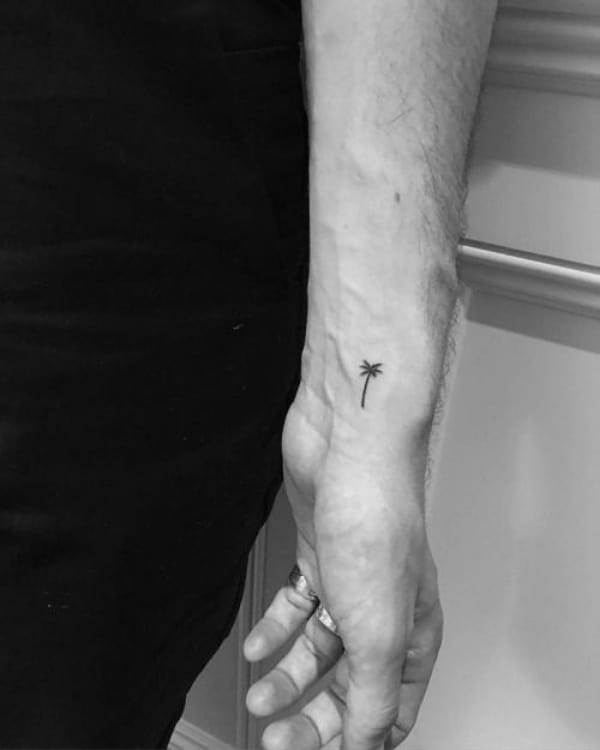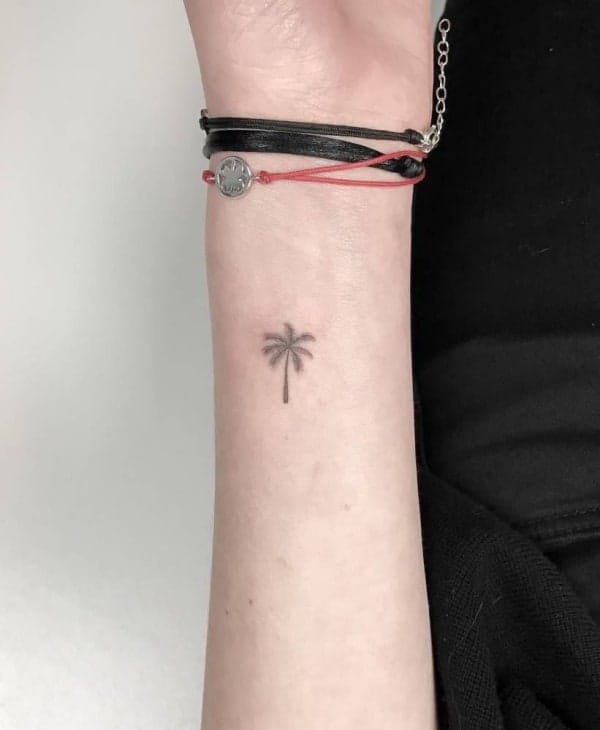 Wrist palm tree tattoo designs are very popular due to their small size. In the wrist, a palm tree tattoo fits very nicely and by seeing it daily you can feel positive and confident. This tattoo also symbolizes happiness and can be done by using several colors. The small branches of the palm tree tattoos give it a graceful look.
Palm Tree Shoulder Tattoo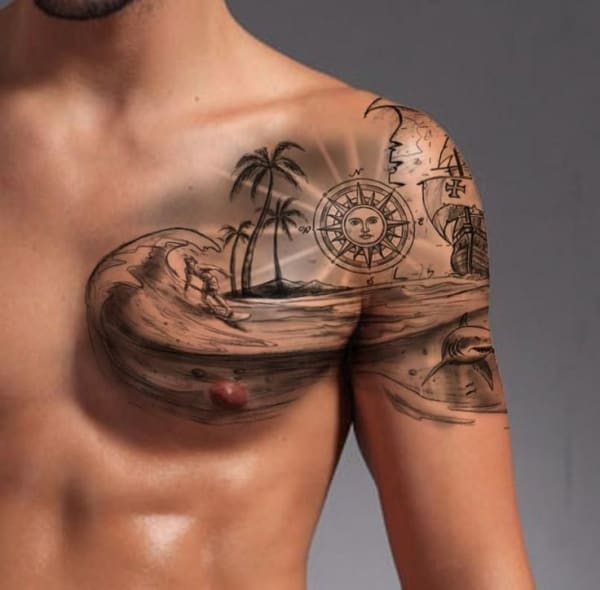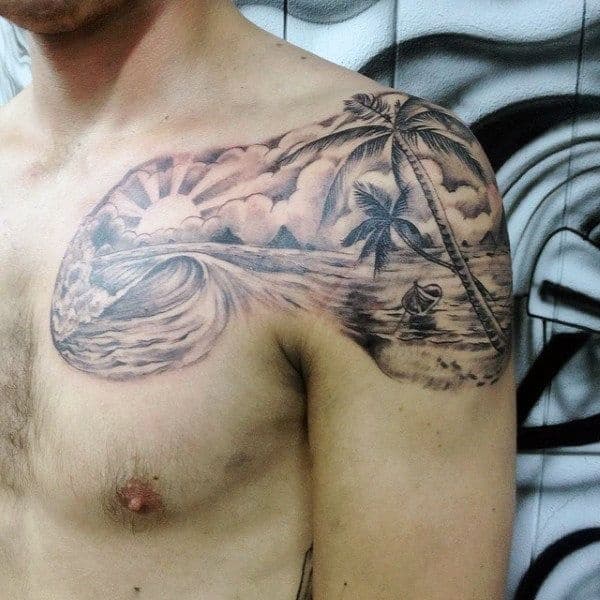 If you want a palm tree tattoo design with extra details and a perfect position, then this one is for you. You can have it done on the front side of your shoulders and it looks very striking. This tattoo conveys a message in various ways and can be inked in dramatic black color. Hence, the Palm Tree Shoulder Tattoo is just the right idea to mark positive life beliefs efficiently.
Palm Tree Ankle Tattoo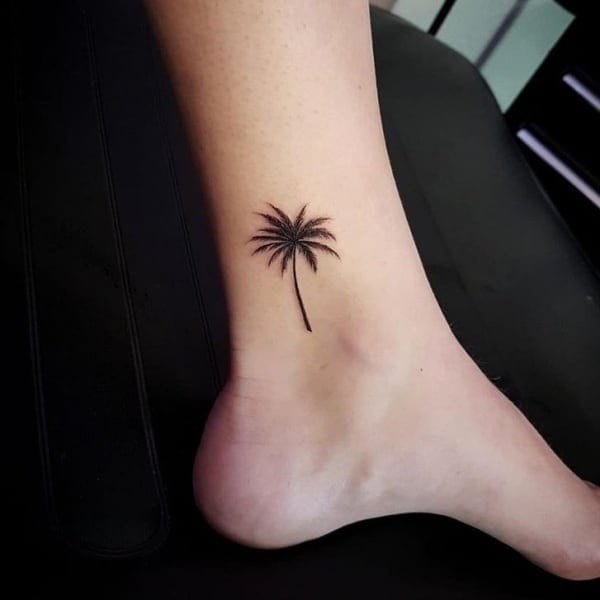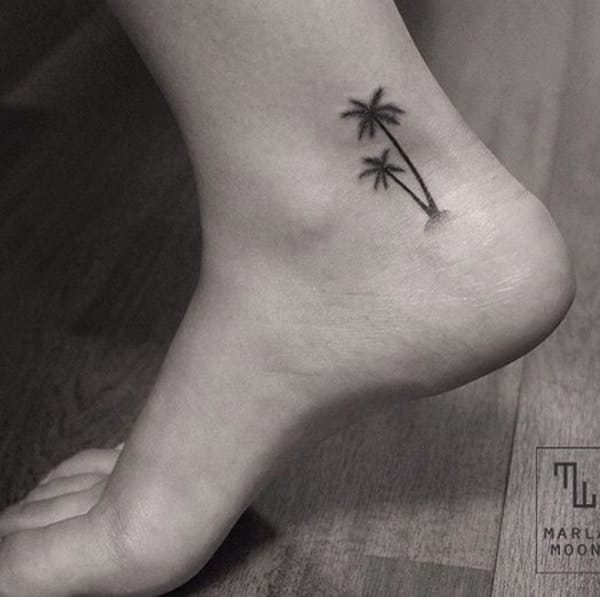 For those who are seeking a small and simple tattoo design then they must go for Ankle Palm Tree Tattoo. This is counted amongst the highly reckoned tattoo design because it can be easily highlighted by wearing shorts or jeans. You can select a simple palm tree design with some small branches to get perfectly fit in the ankle.
Palm Tree Bicep Tattoo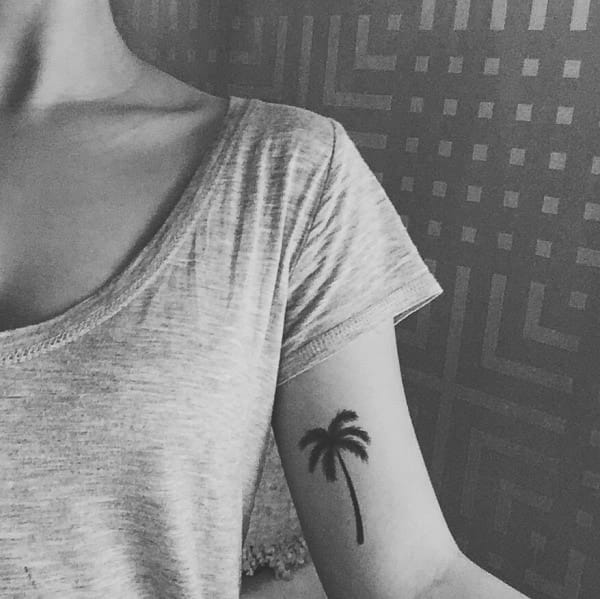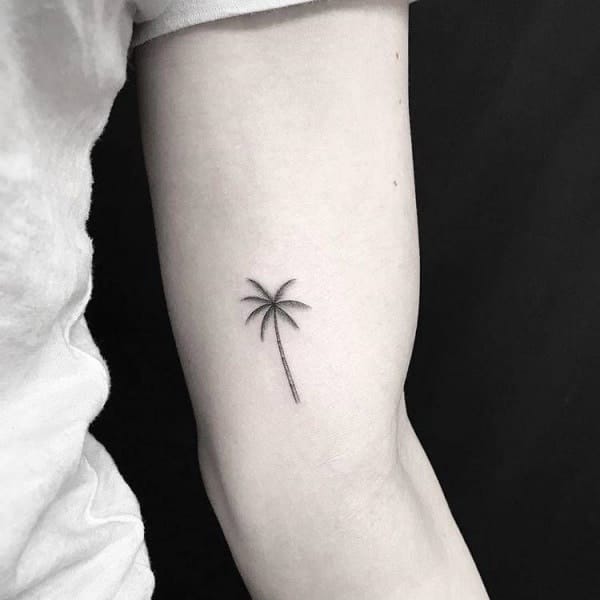 This tattoo design is widely inked by women because it is appropriate for selective display. Many times people want to keep their tattoo simple, so this tattoo design is perfect. But, if you want then you can add some designs such as nice flowers around the palm tree to draw the attention because of its uniqueness.
Palm Tree Foot Tattoo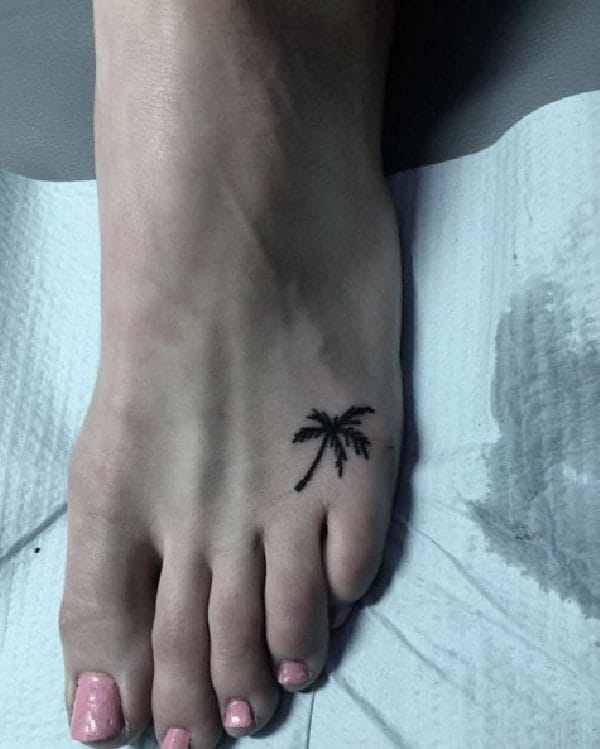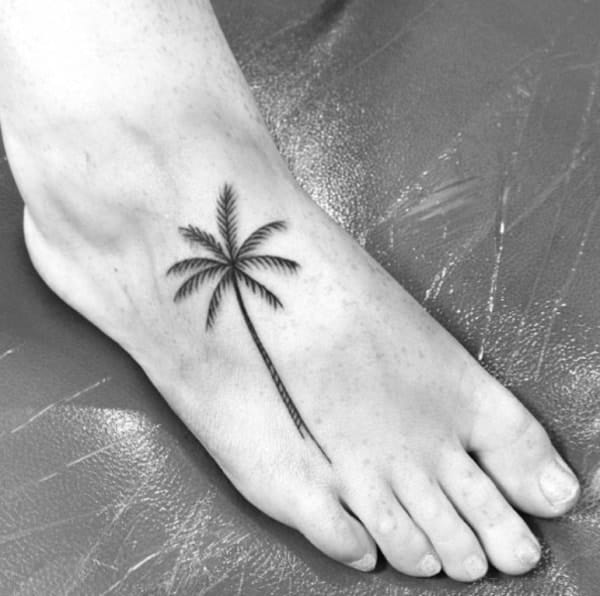 Next in the list of palm tree tattoo designs is Palm tree foot tattoo. Due to its modern art and realistic looks, it is very popular amongst men and women too. You can select from big to small palm tree tattoo as per your desire. Moreover, when you get it inked on foot it maybe not visible to everyone in the workplace, but you can show it off when you are at home or during the beach holidays.
Palm Tree Back Tattoo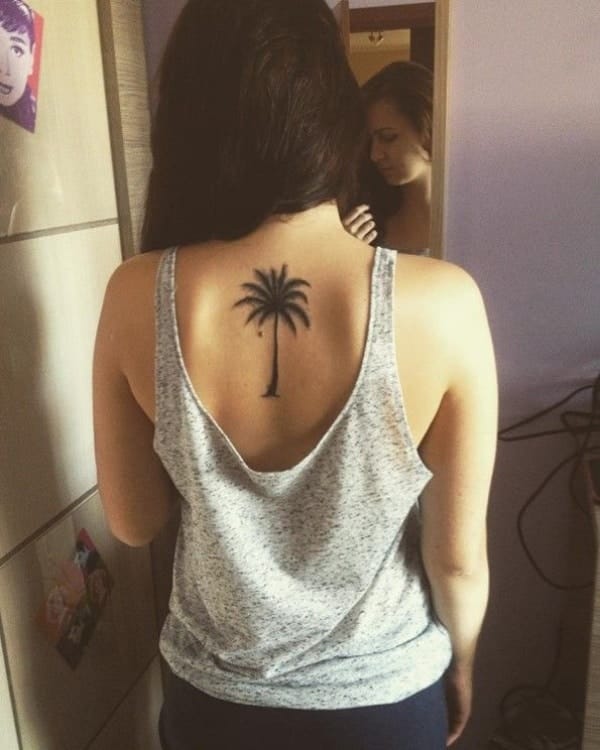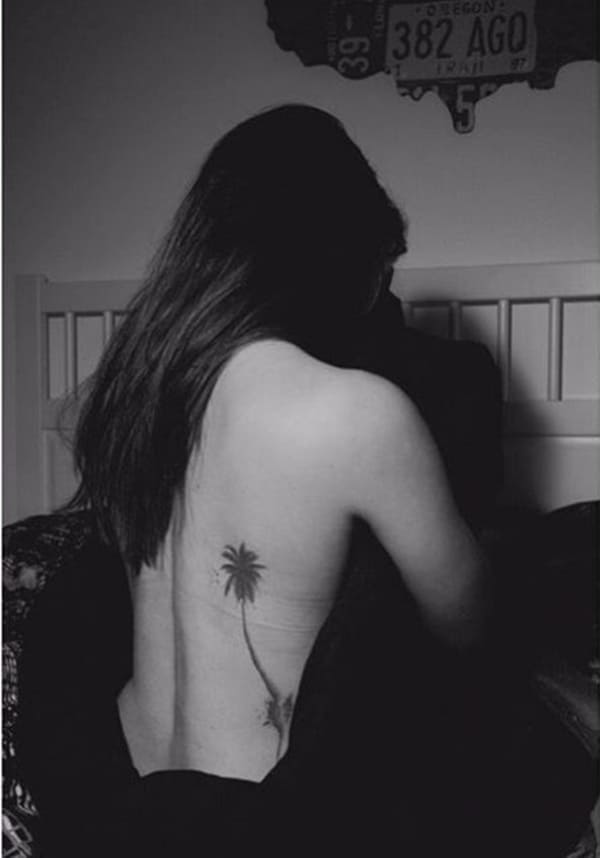 Palm Tree Back Tattoo is mainly suitable for girls who want to show their high thinking. Women mainly prefer big size palm tree tattoo on their back. This tattoo represents the victory also and gives an alluring look to the back which can be easily visible by wearing a backless dress. Thus, what are you waiting for? Go for Back palm tree tattoo designs and stand out from the rest of the crowd.
Palm Tree Forearm Tattoo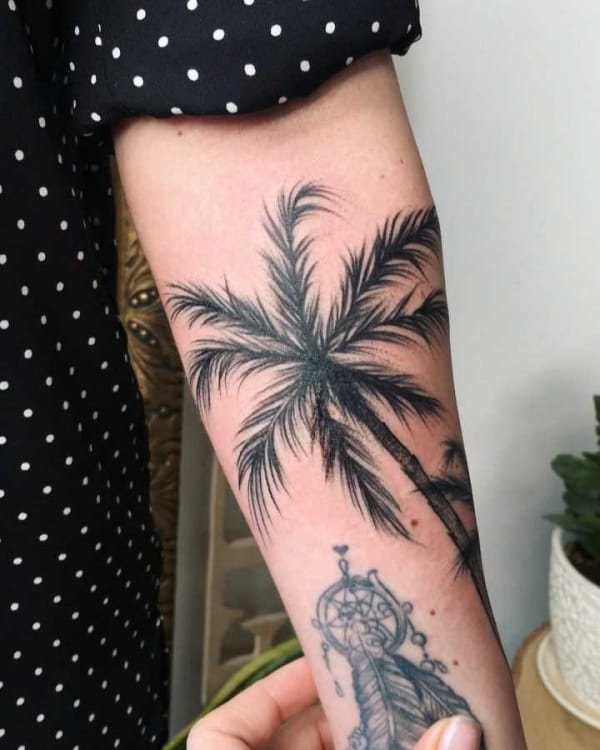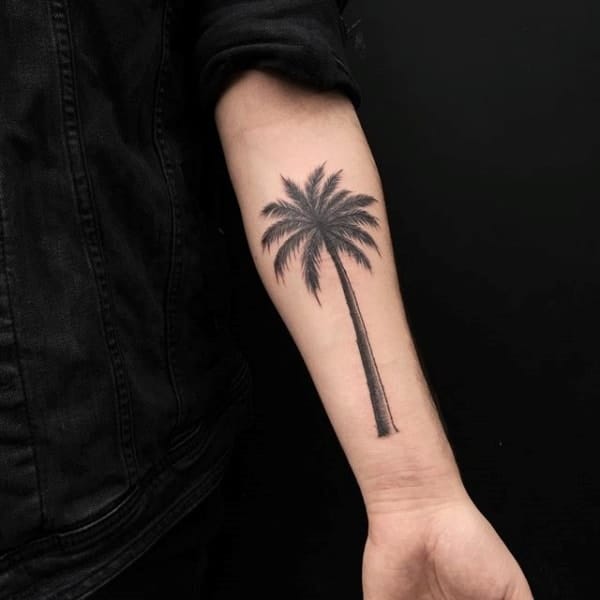 This tattoo design depicts a big single palm tree which is very attractive due to it's sleek, simple as well as gorgeous conceptualization. Forearm Palm Tree Designs has a straight trunk with some big green branches. You should visit an experienced tattoo artist so that he understands exactly what you want and give you the desired results.
Palm Tree Finger Tattoo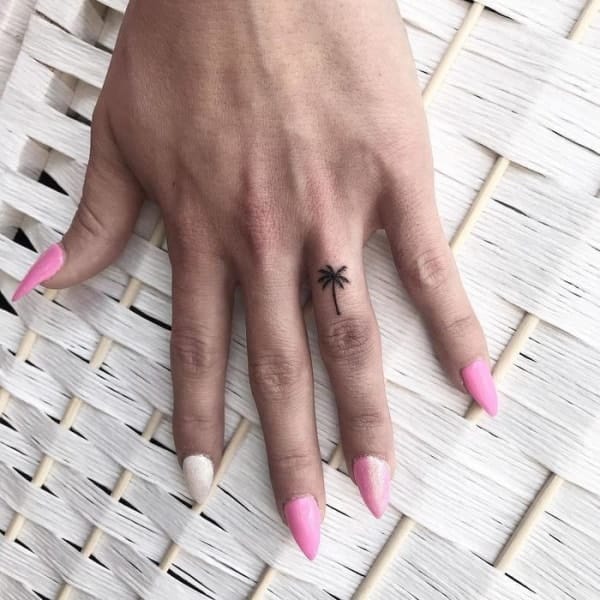 The eye-catching and bright aura of this tattoo design makes it stand out of the crowd and is very popular amongst the girls. This tattoo design features a small palm tree spreading its branches. In addition to this, you can choose various colors also to get this tattoo inked such as yellow, black, green and others according to your choice. Also, check out some stylish arrow tattoos for men.
Different Palm Tree Tattoo Ideas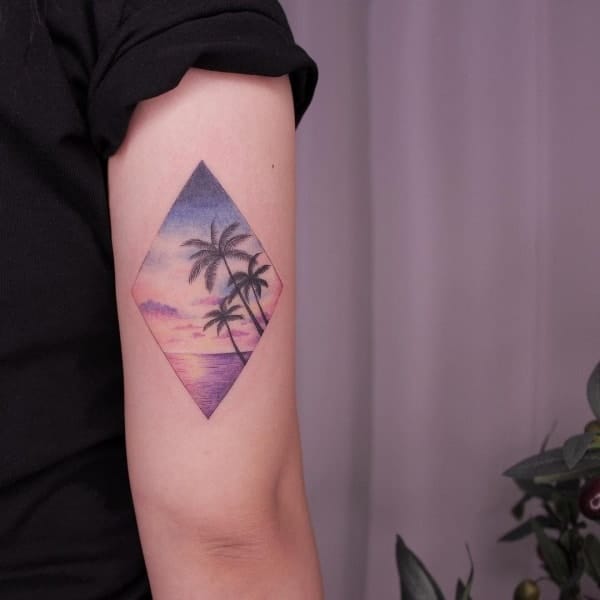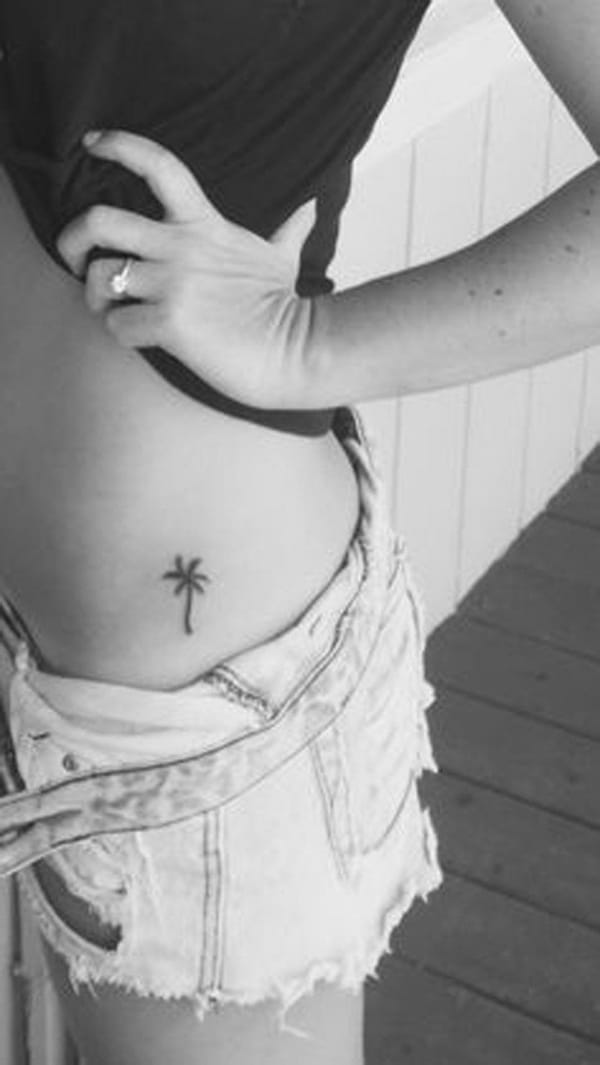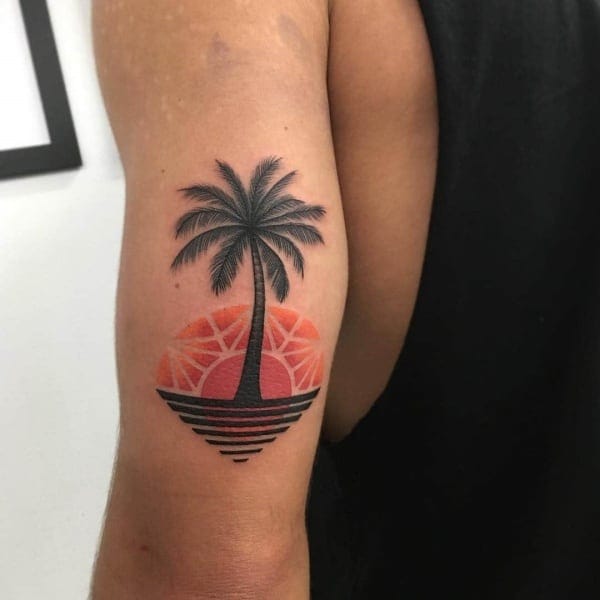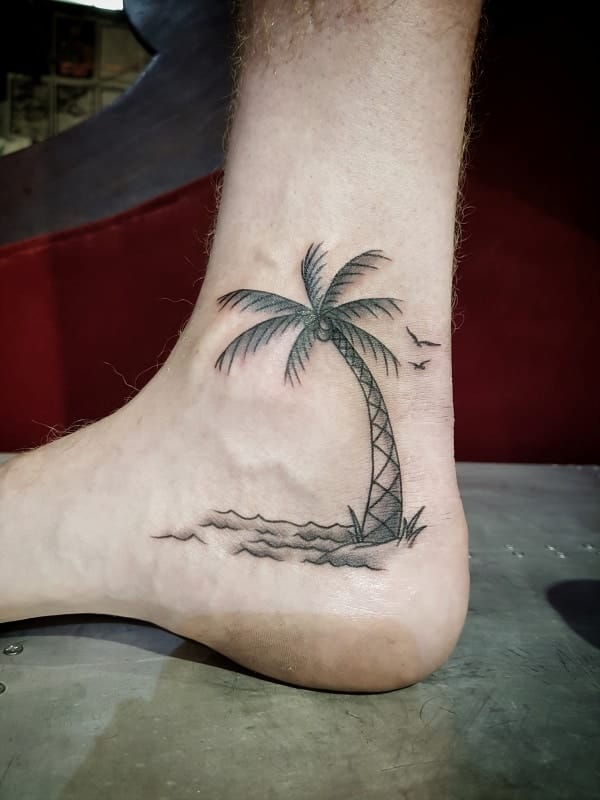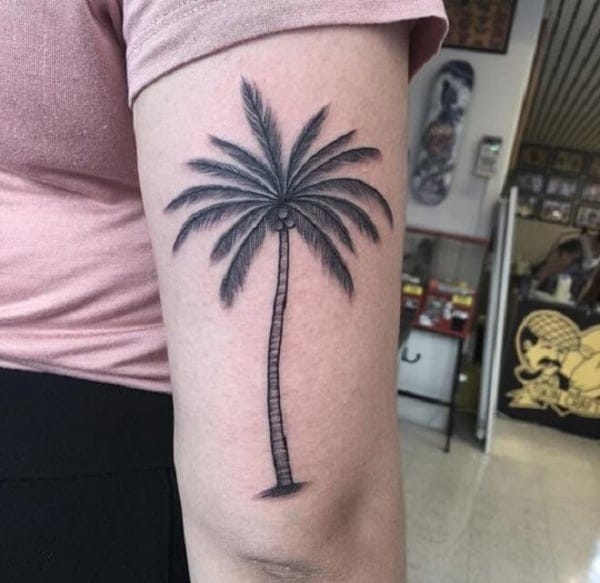 Classic Palm Tree Tattoo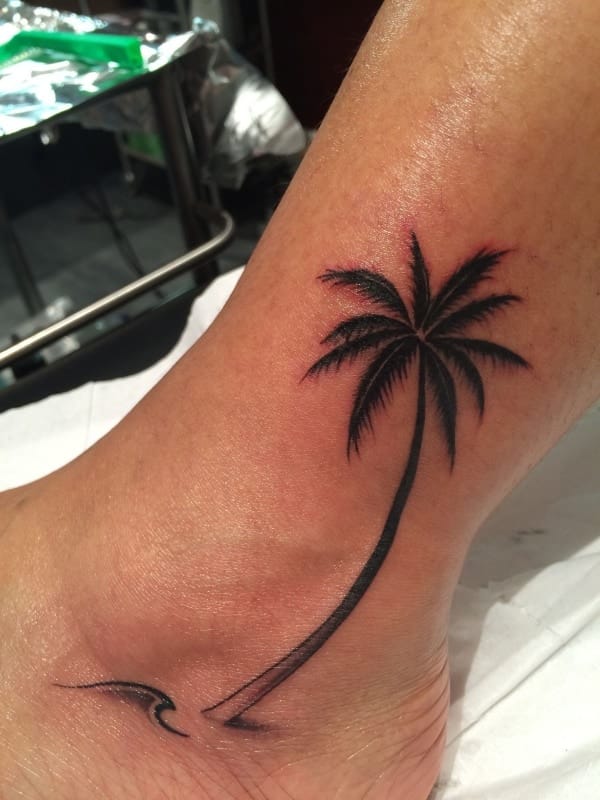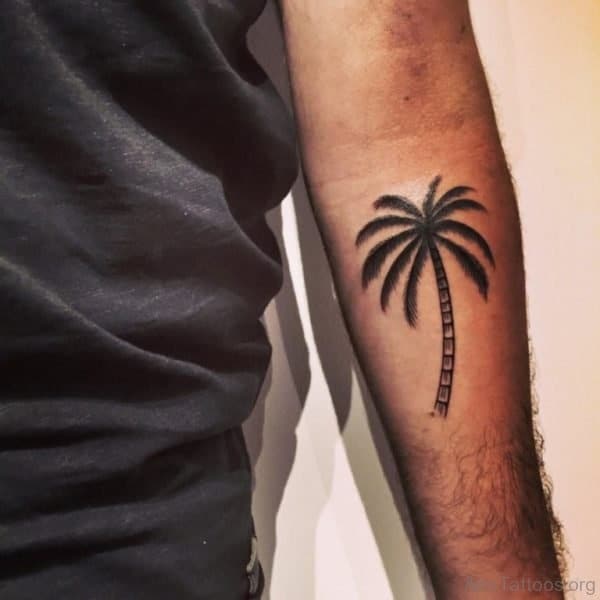 Classic palm tree tattoo can be your ideal selection if you want a black bold palm tree tattoo. This is a simple design that is very straight forward but the number of features that the ink gives it is hard to ignore. In addition to this, this is suitable for both men and women and represents the simplicity of life.
Small Palm Tree Tattoo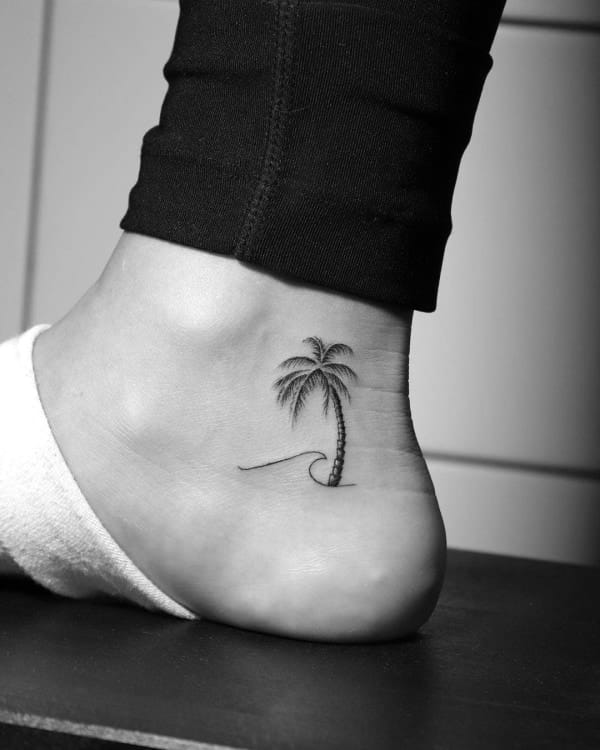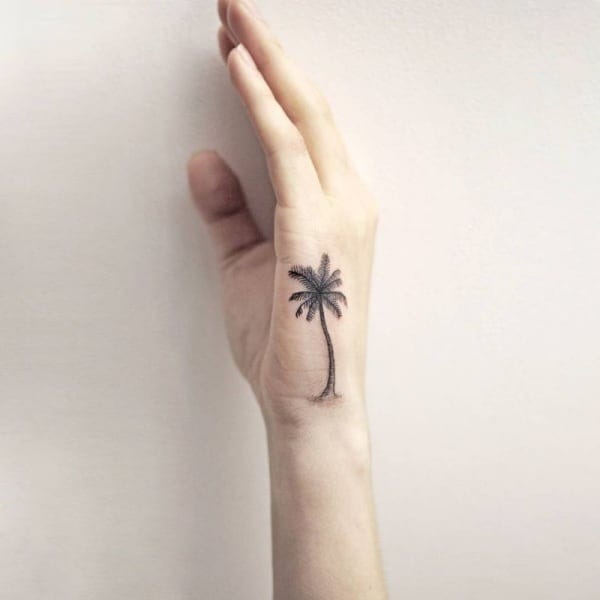 This is one of the cutest palm tree tattoo designs. This design is perfect for girls and is very popular because it is very simple and looks outstanding. If you are the one who wants a small tattoo then you can for this small palm tree tattoo as it is also perfect to get inked on fingers.
Traditional Palm Tree Tattoo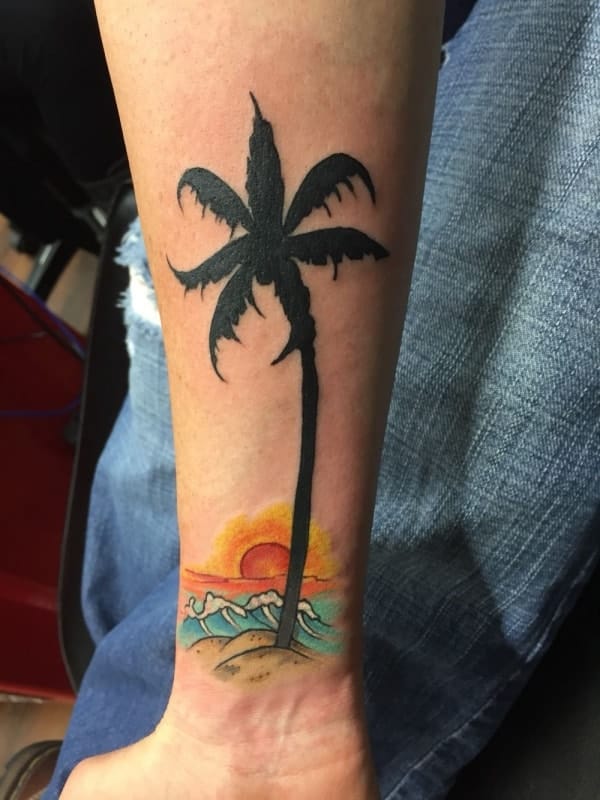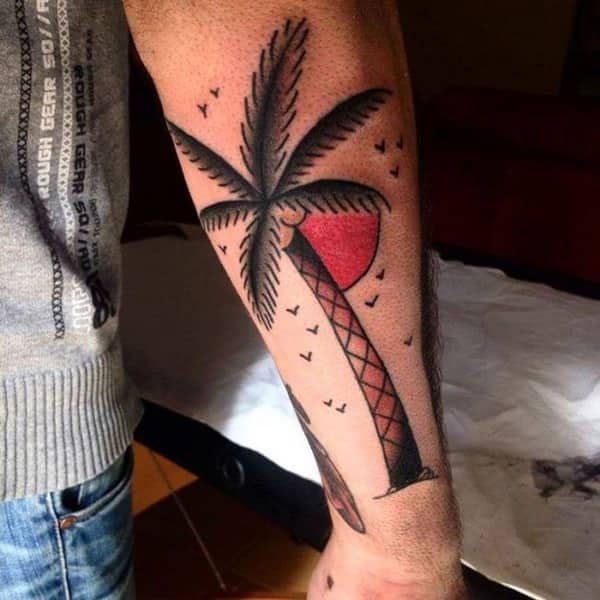 This is one of the most unique tattoos and it looks very amazing. Apart from getting a simple tattoo in black color ink, one can choose Traditional Palm Tree Tattoo. This tattoo is perfect to get inked in the chest and show that you follow your tradition. In addition to this, as per your desire, you can choose the size of this kind of palm tree tattoo.
Circular Palm Tree Tattoo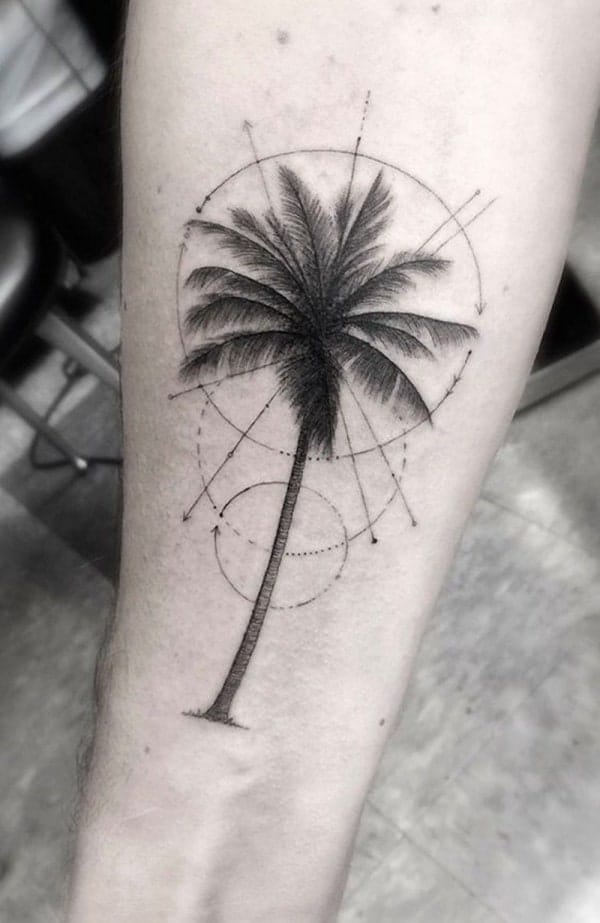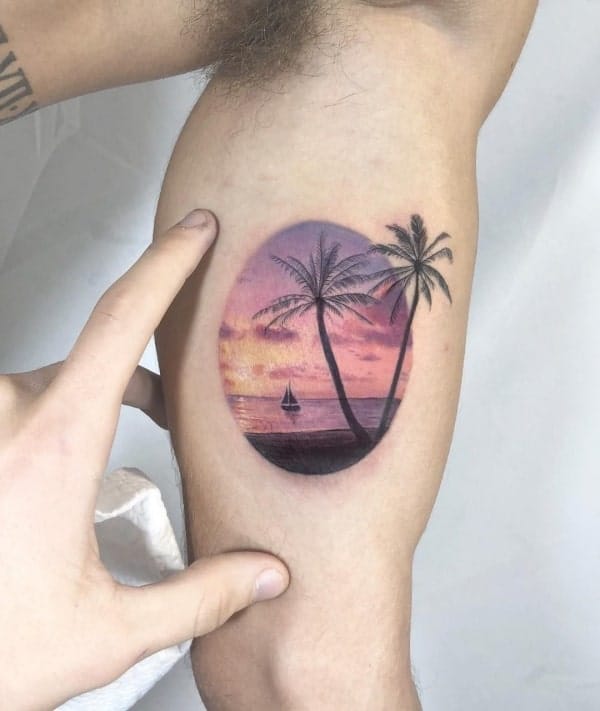 Next in the list of types of palm tree tattoo designs is Circular Palm Tree Tattoo. This tattoo is highly recommended due to its circular pattern. One can hide it easily in the workplace and can show by wearing a t-shirt by getting it inked in shoulders, legs or arms. A realistic palm tree branches in the circular pattern show the effect blown in wind through moderate shading of ink.
Watercolor Palm Tree Tattoo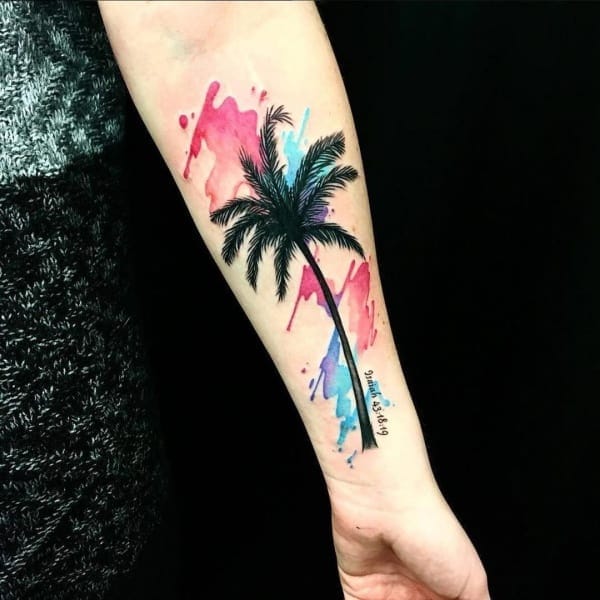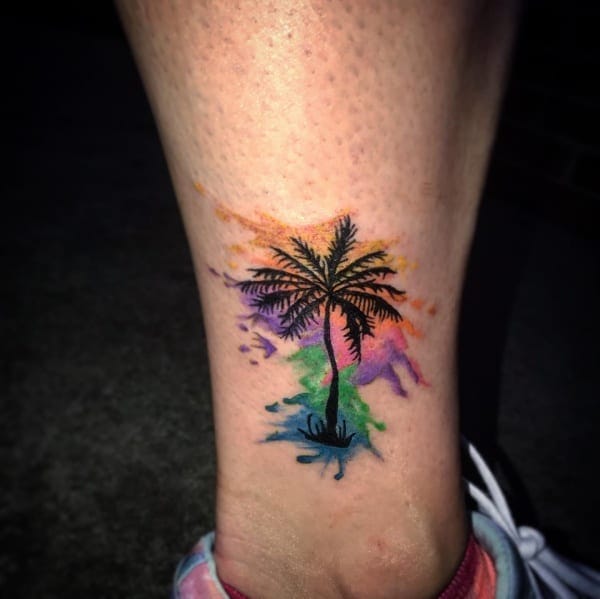 Many people only prefer black ink tattoo, but you can also try Watercolor Palm Tree Tattoo as it looks awesome. Various colors can be selected such as red, blue, yellow, green and others. As per your desire, you can choose size and position such as arm; shoulders or others to get this inked this beautiful Multi-Colored Palm Tree Tattoo.
Palm Tree Sleeve Tattoo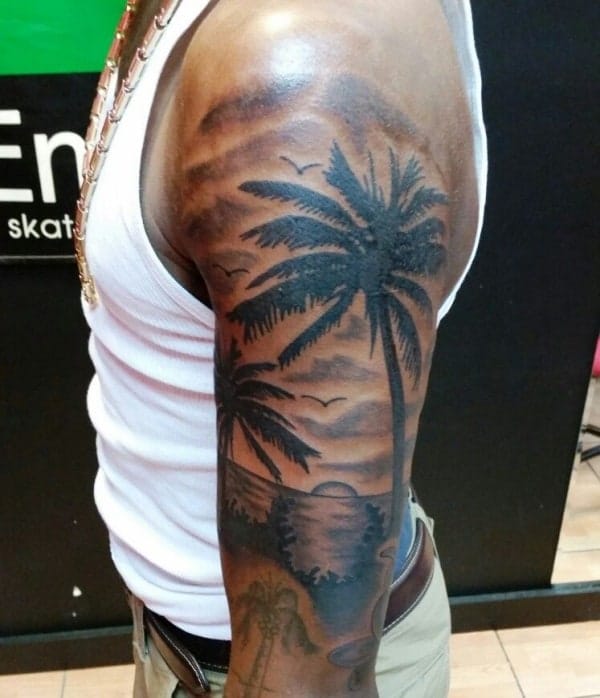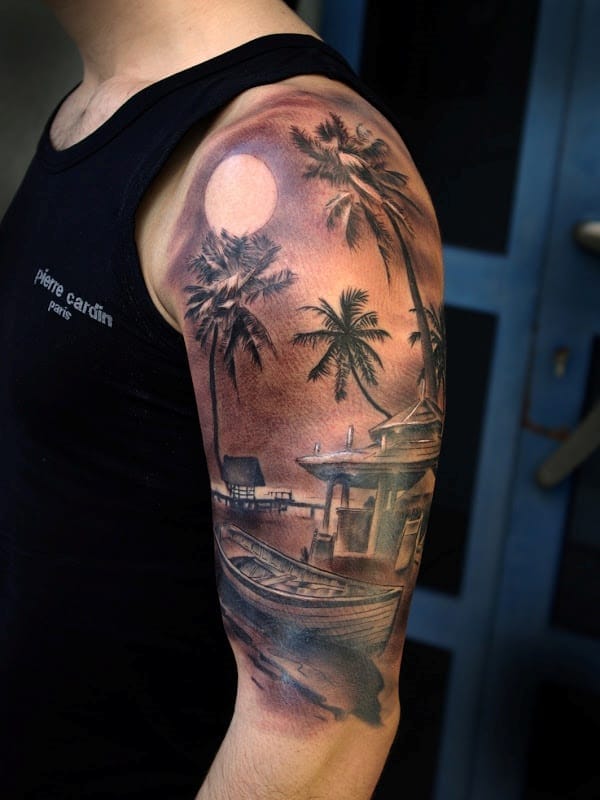 Palm Tree Tattoo with Rose is very popular amongst the girls. This tattoo design is a reminder that how beautiful life is. You can select various sizes of a palm tree to get inked. This tattoo is also reckoned amongst those who want to make it visible. Moreover, you can select many colors to add in tattoo to make it more attractive. Here we have small forearm tattoos for guys. Check them out-
Geometric Palm Tree Tattoo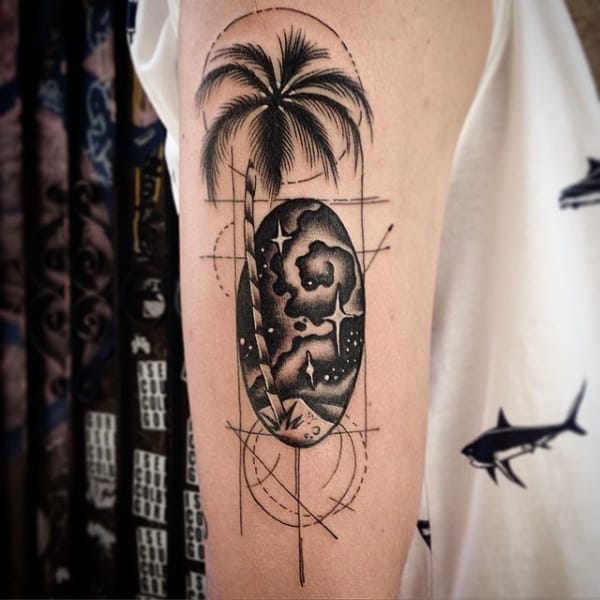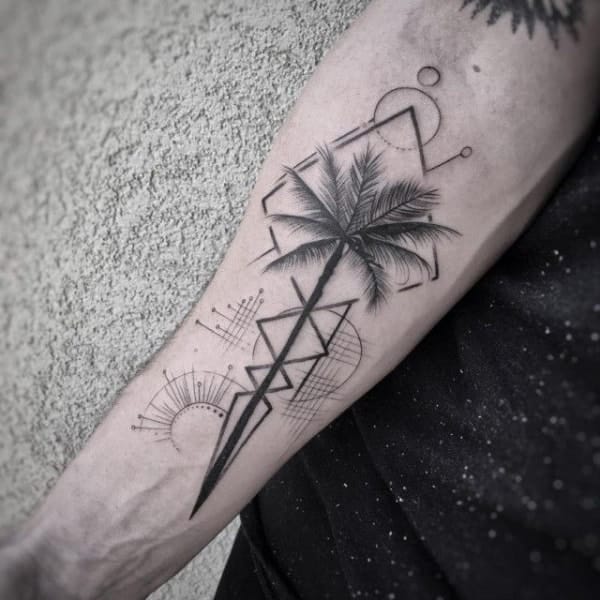 Geometric Palm Tree Tattoo looks very appealing and symbolizes the systematic way of living a life. You can choose various geometric patterns such as circle, triangle, pentagon, star-shape and many more. You can get this tattoo ink in chest or forearm, people mainly preferred Geometric Palm Tree Tattoo in big size so that it looks eye-catching.
Palm Tree Beach Tattoo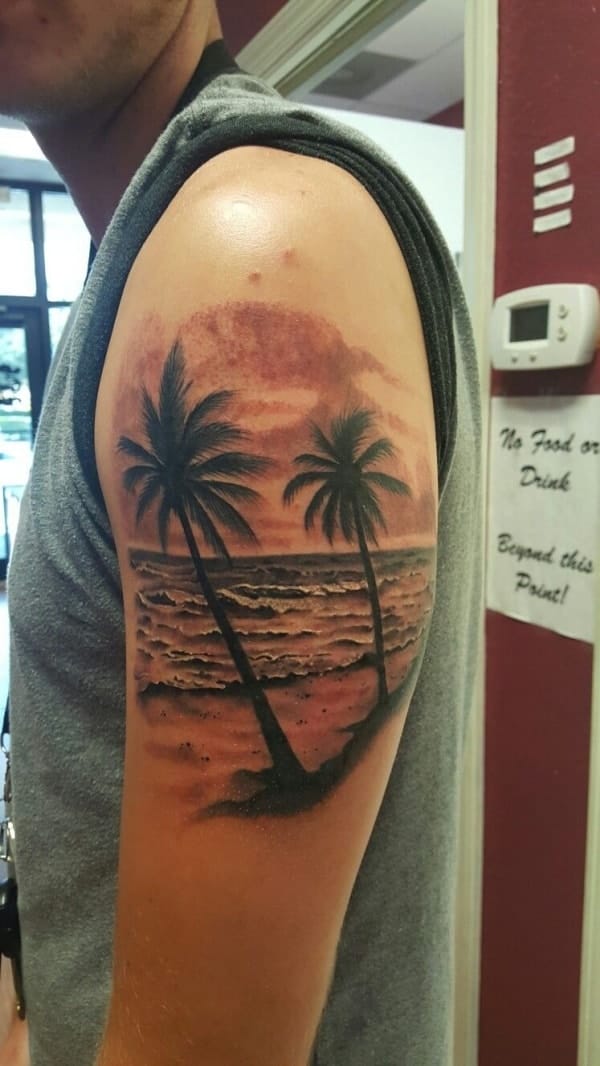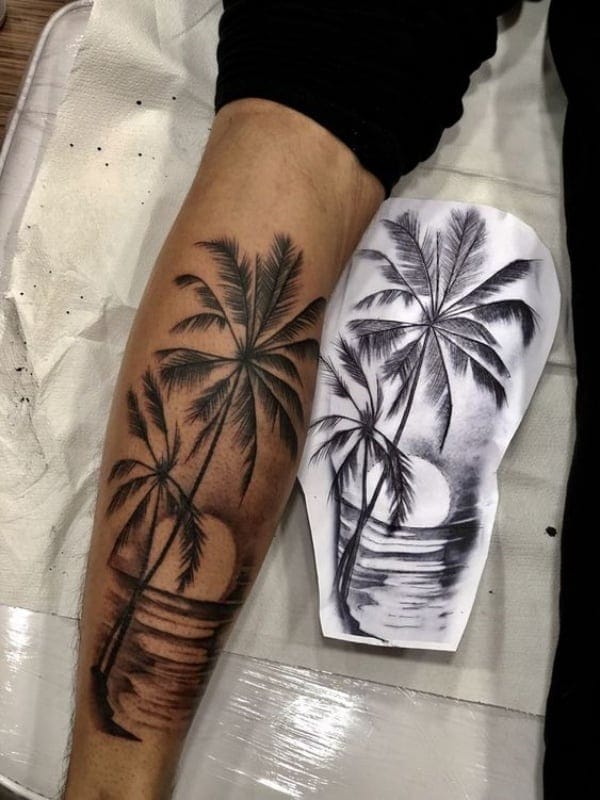 Many people love visiting beaches; especially women love to play at beaches and want to get them inked as a tattoo. So, you can go for a palm tree beach tattoo design which looks very awesome. This tattoo features a palm tree with some ocean waves around it to make it more appealing. Apart from this, the Floral Palm Tree tattoo shows happiness and depicts that wearer is a nature lover.
Palm Tree With Clouds Tattoo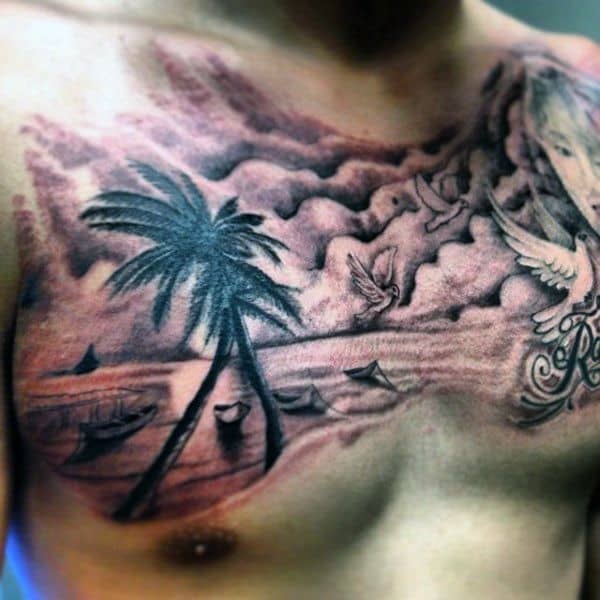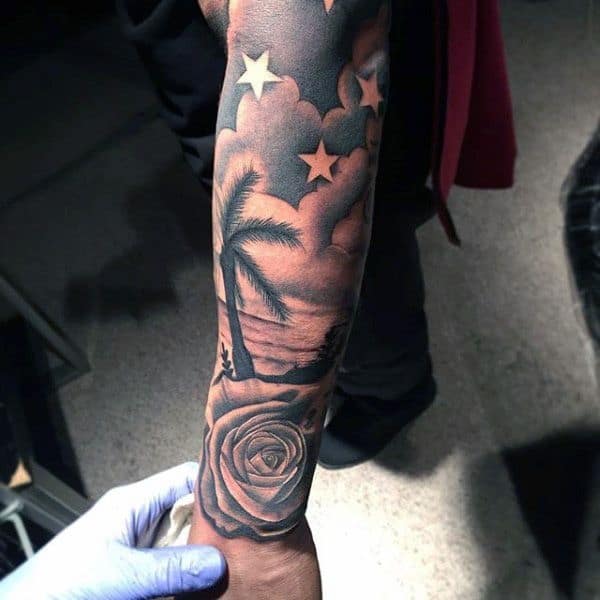 This is one of the artistic tattoo designs and looks outstanding. Apart from choosing a simple palm tree, you can go for a palm tree tattoo with clouds in the background. Most of the people preferred to get this tattoo in various colors such as palm trees in green color and beautiful clouds in the background using blue color. Besides, you can get inked this attractive tattoo on any position of the body such as arms, thighs, back or any other.
Heart-Shaped Palm Tree Tattoo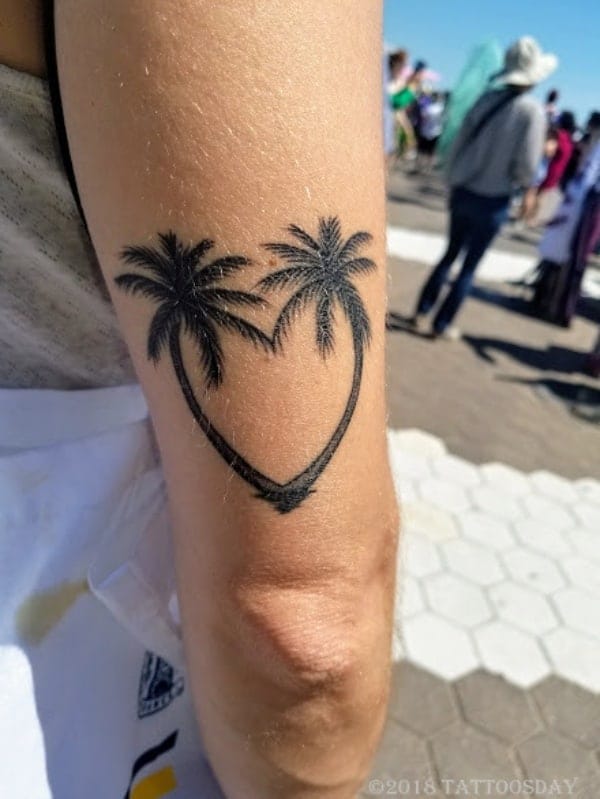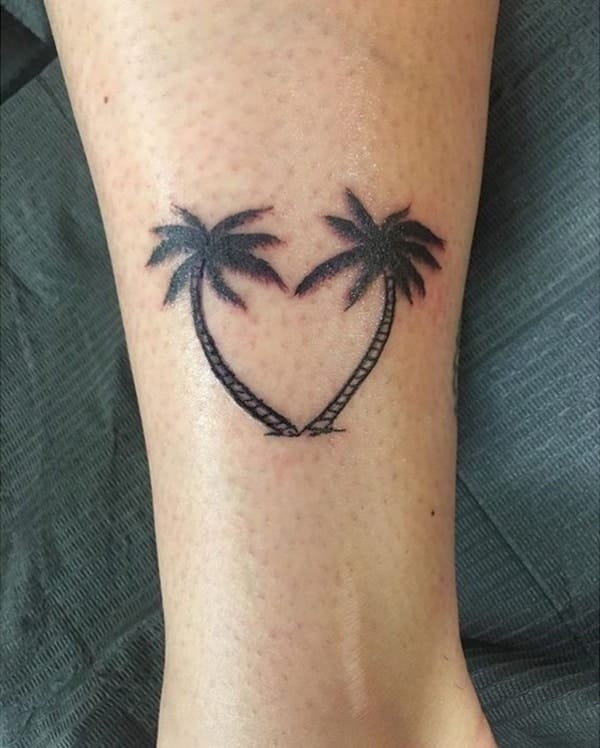 Heart-Shaped Palm Tree Tattoo is one of those striking tattoo designs which show your belief in love. This tattoo simply symbolizes love along with the palm tree which shows your positive attitude for love. As per your preference you can get this tattoo in various colors such as green, red and others. These palm tree tattoo designs are ideal for both men and women who are in love.
Palm Tree Sunset Tattoo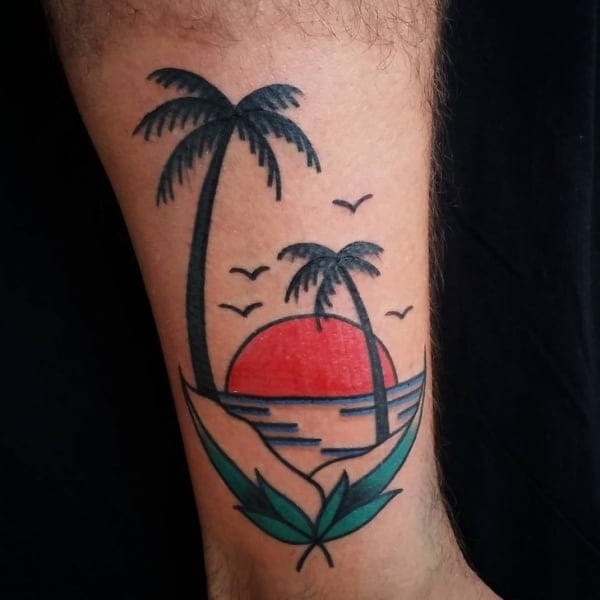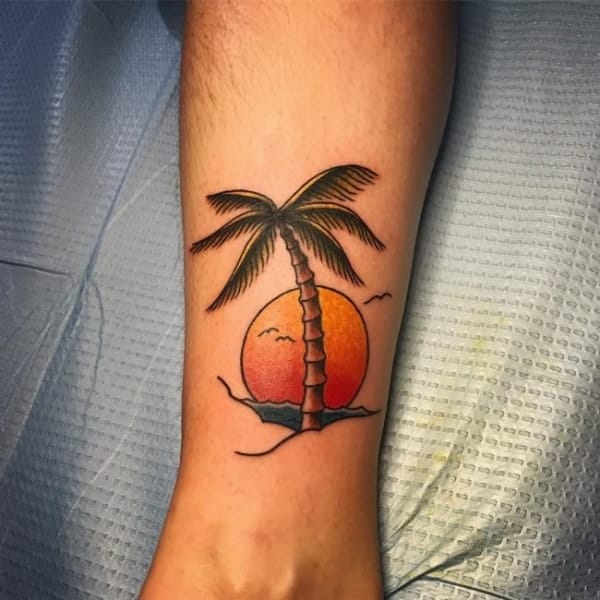 Last in the list of different types of palm tree tattoo designs is Beach Sunset Palm Tree Tattoo. This beautiful tattoo reminds you about a beach holiday and shows how much you are close to nature. If a palm tree reminds you of a required vacation then you must get this tattoo. Furthermore, the idea of a tropical sunset tattoo design combines a beach tattoo and palm tree tattoos as both these designs to make a tropical scene that is admirable to see.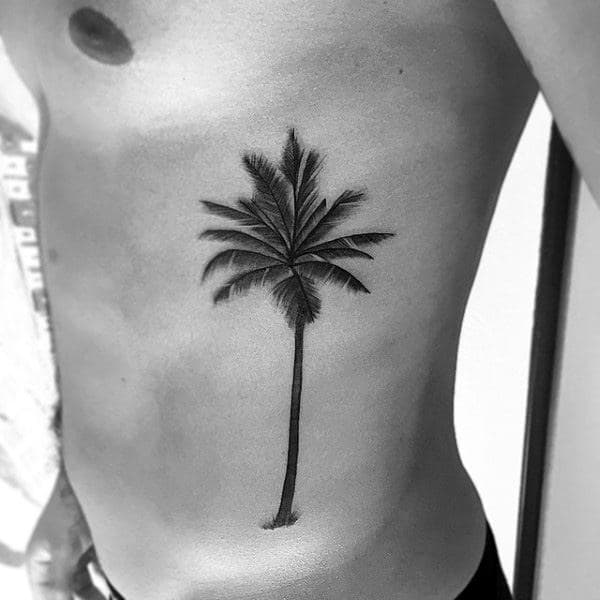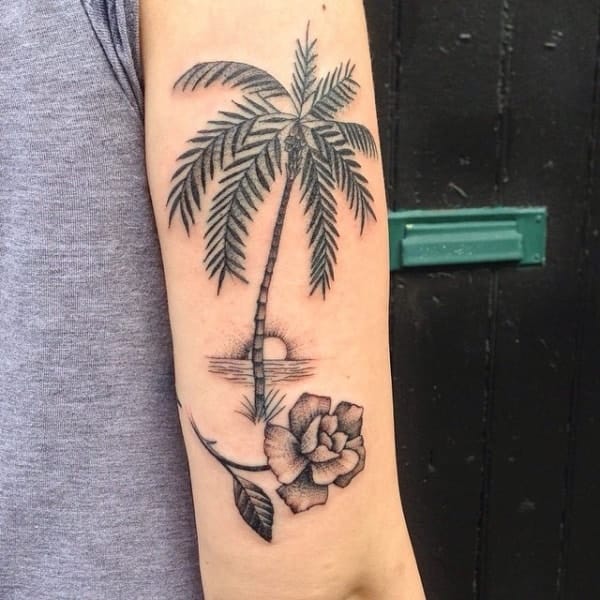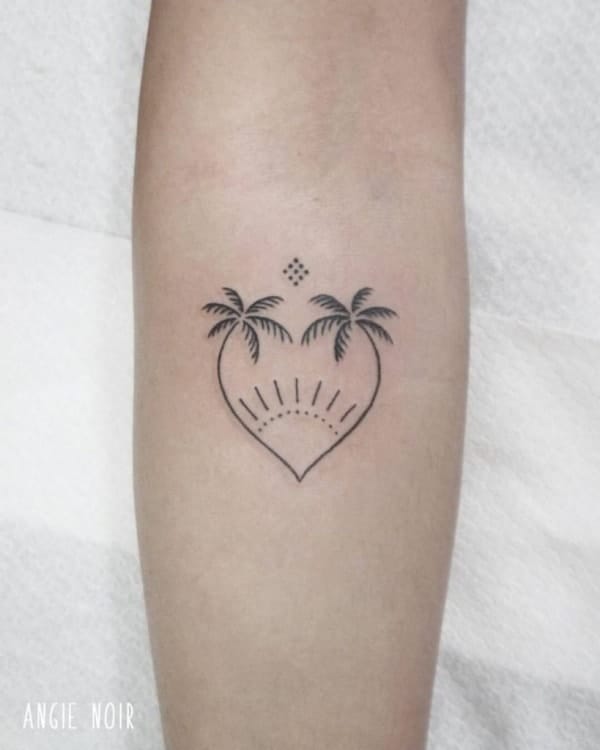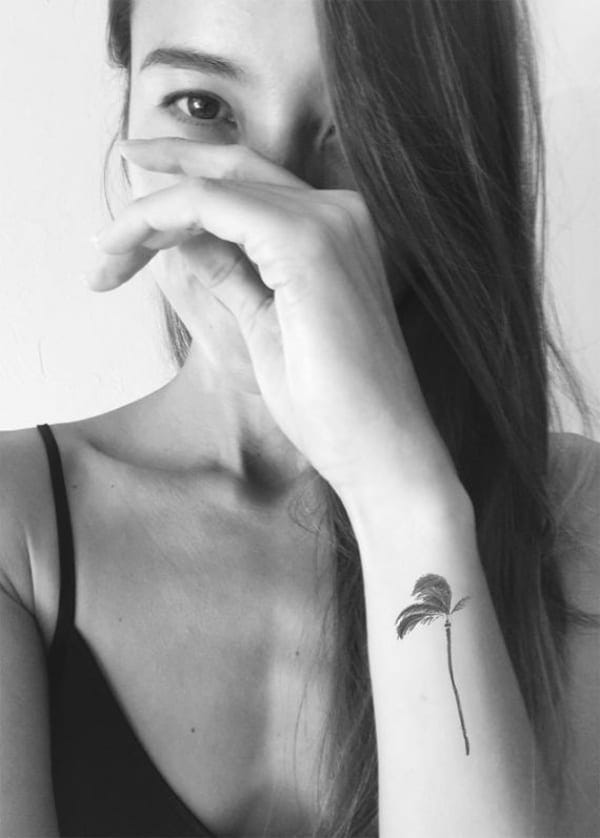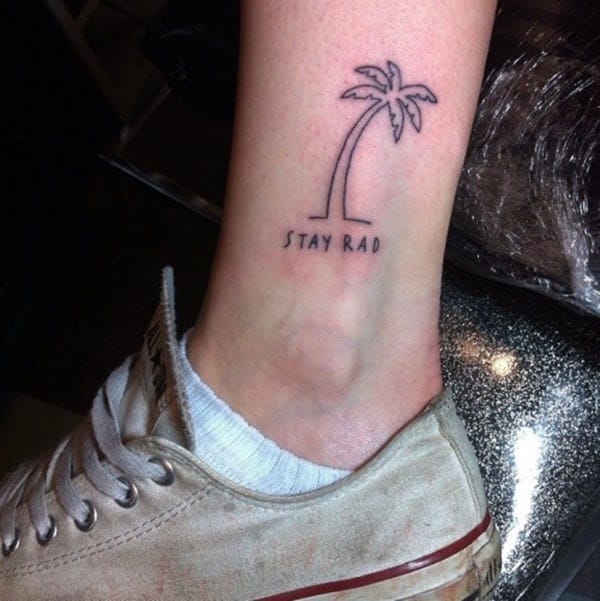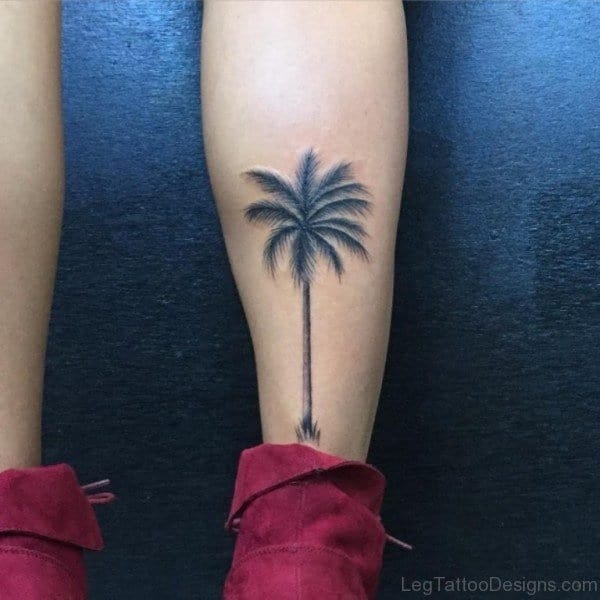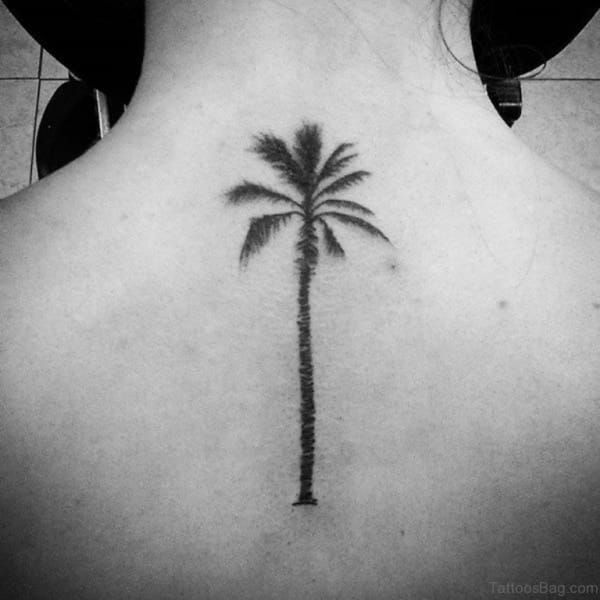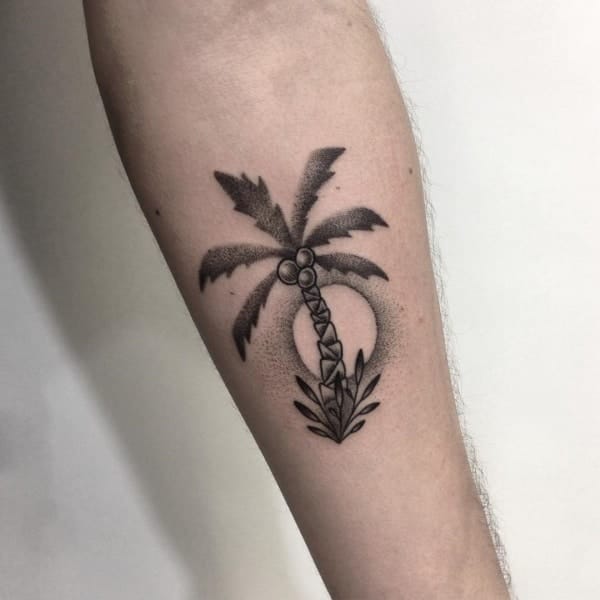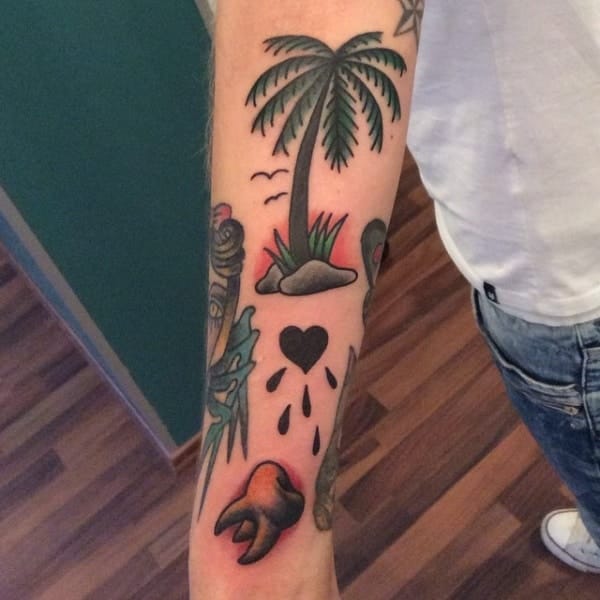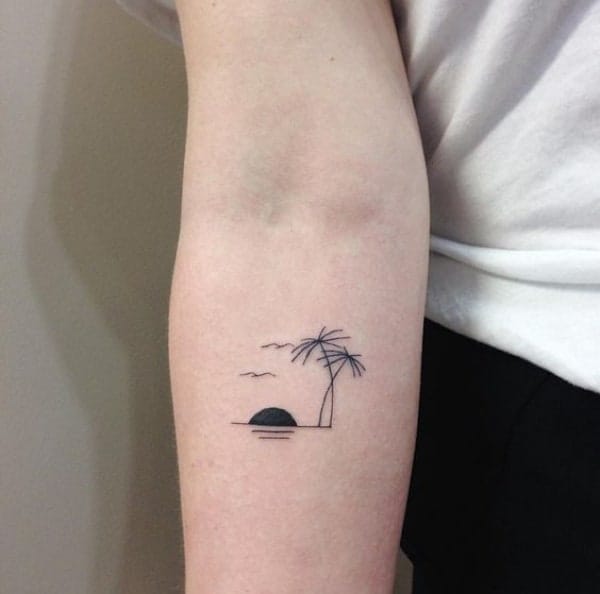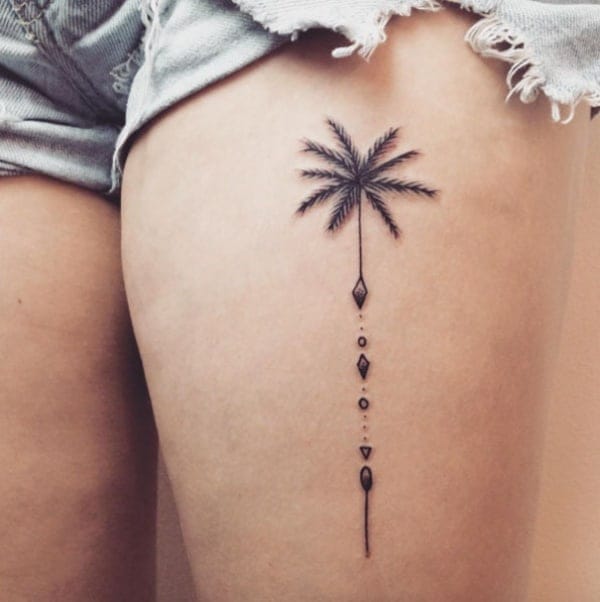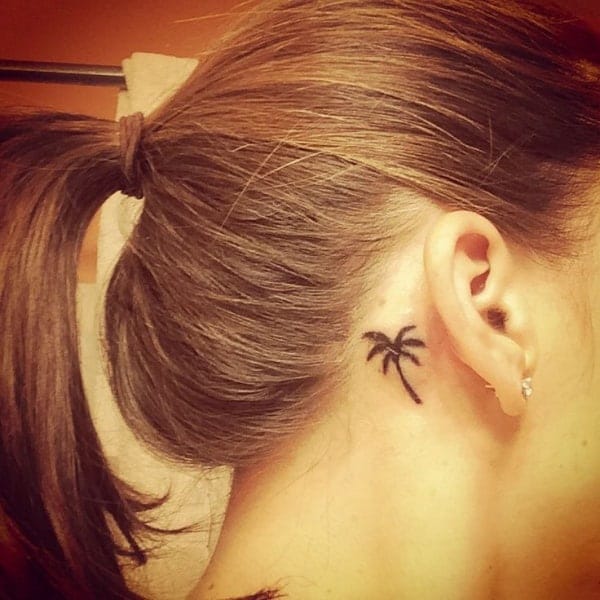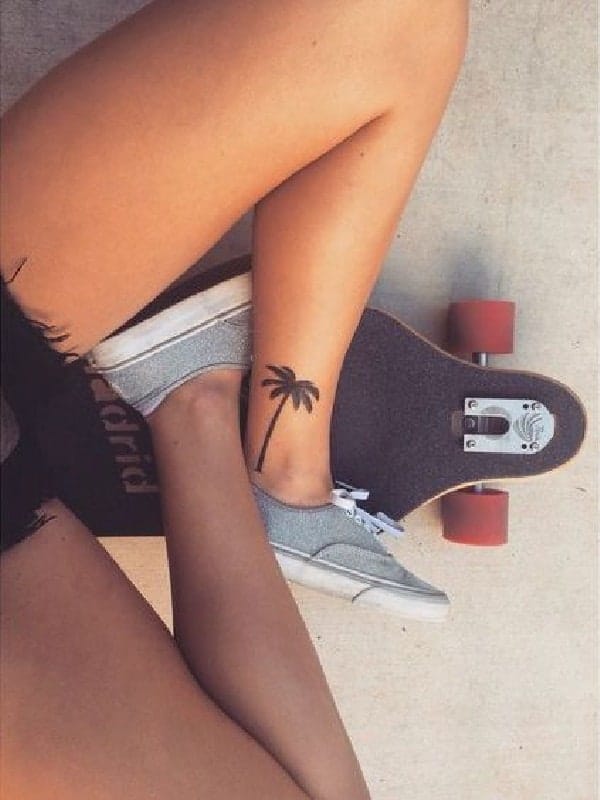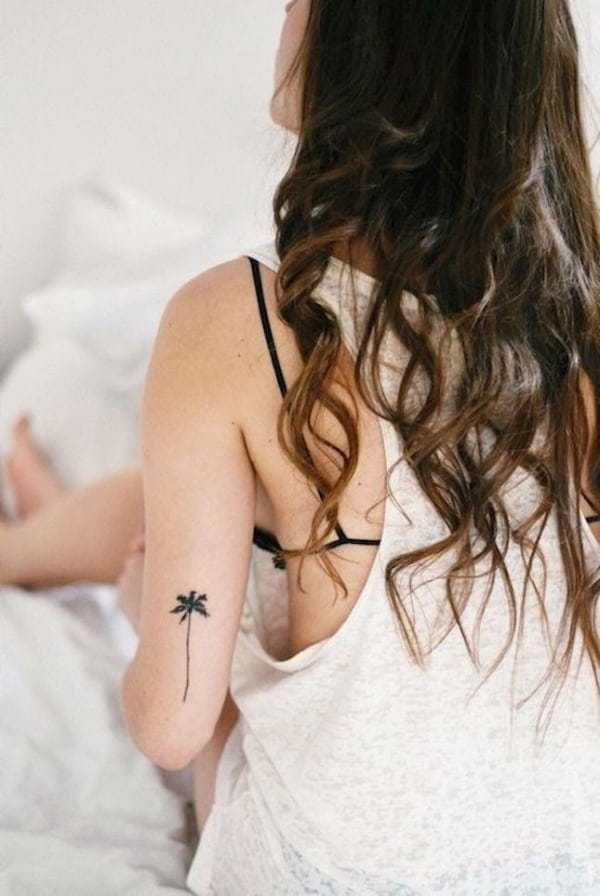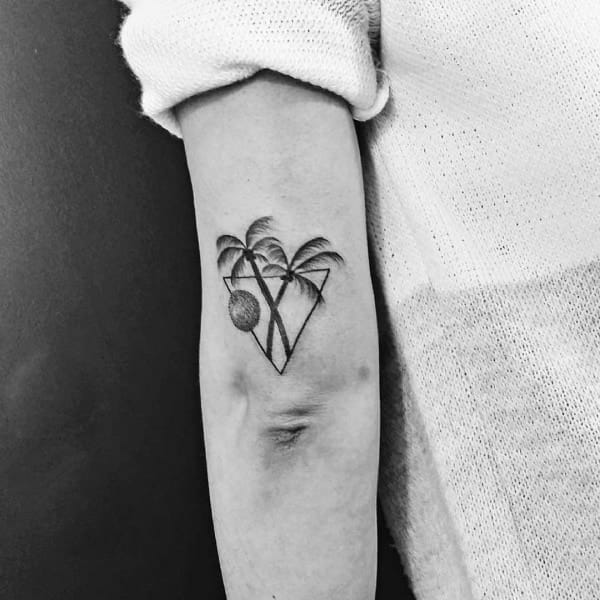 For many years, people have painting palm trees and now choosing it as a tattoo design also. To get this tattoo, you must visit a highly experienced tattoo artist who can give you the desired results. The head of a palm tree is similar to the glowing sun star and in the same way; people want their life to be full of light and happiness. Hence, we hope that you will surely like the different types of palm tree tattoo designs mentioned above in the list and let us know through your comments.