The glazing sun, the silver sand, the glittery sea, and the cool breeze swaying past the palm trees, making the leaves tremble- perfect beach holiday scenario, right? Recently, palm tree tattoo designs have been trending and slowly gaining popularity. No points for guessing, but a part of its popularity is also dependent on its remembrance to the cool shade produced by its evergreen leaves coupled with the holiday vibes that it emits.
Not all tattoos are suited for every body part. However, the cutely formed torsos of these palm trees are an exception to this. They seem to fit in anywhere, and even get concealed in smaller areas like the wrist or the ankle. The life expectancy of certain variation of palm trees extends up to 100 years. So, donning a palm tree tattoo might also be predictive of eternality and consistency.
Now, having said and heard a lot about the palm tree tattoos, I am sure even you are planning of getting one. So, to lessen your work just get your eyes glued to the section below for the exclusive palm tree tattoo designs. Also, before that, have a quick read of the actual meaning behind a palm tree tattoo.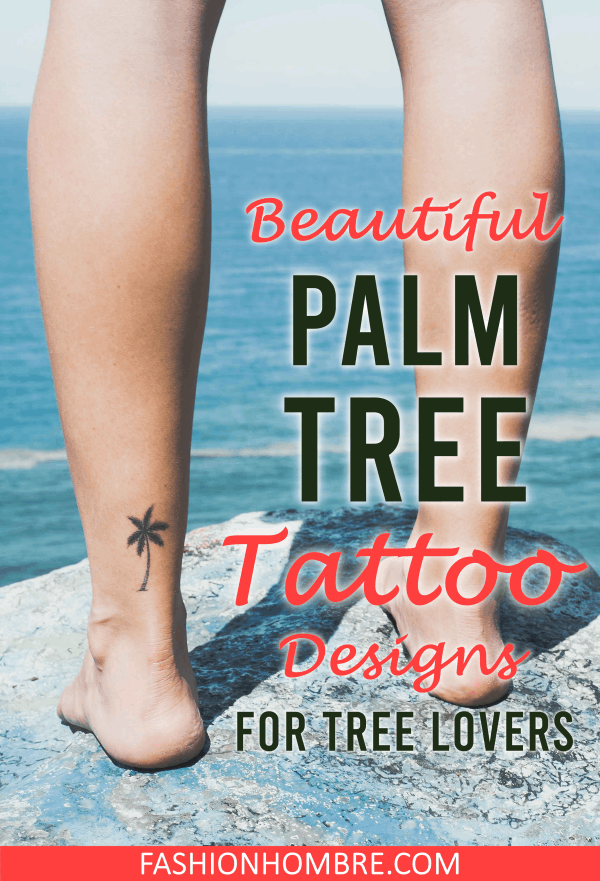 What Does a Palm Tree Tattoo Symbolize?
If you have a deeper and closer look at a palm tree, the first thing noticeable is its uniquely made lean trunk. As per scripts and philosophies, the palm trees are depicted to represent the Paradise's Garden, while being the epitome of sheer wisdom and morality. Palm branches are also thought to be symbolic of God in certain beliefs and sects.
Also, to look back, a palm branch was a sign of victory and bravery, that was presented to the athletes in ancient Greece.
With that note, now let's delve deep into the various palm tree tattoo ideas.
Amazing Palm Tree Tattoo Designs And Ideas
Small Palm Tree Tattoo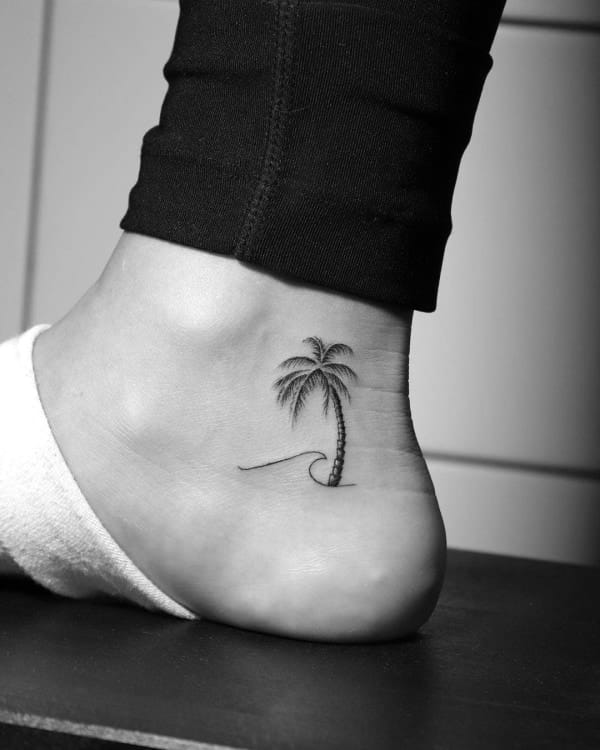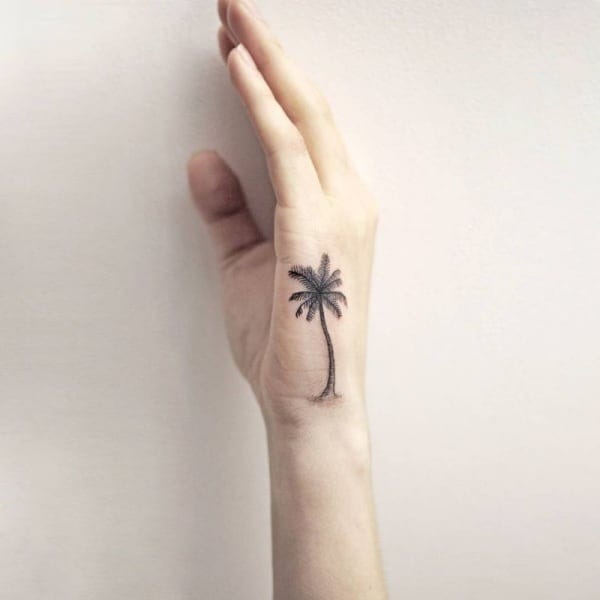 The palm tree tattoos are mostly known for their tiny and intricate placement ideas. Might appear small but they are mostly elongated and that makes all the difference. They seem to cover quite a significant part of the body part in which they are placed. Placing them on the wrist or on the sides of the hand might be a good idea to flaunt the tattoos best. In case, you have it in you, try the calf muscles or the back for the sassiest designs of palm tree tattoos. Just get it done in hues of black or green, and see the wonders it creates.
Traditional Palm Tree Tattoo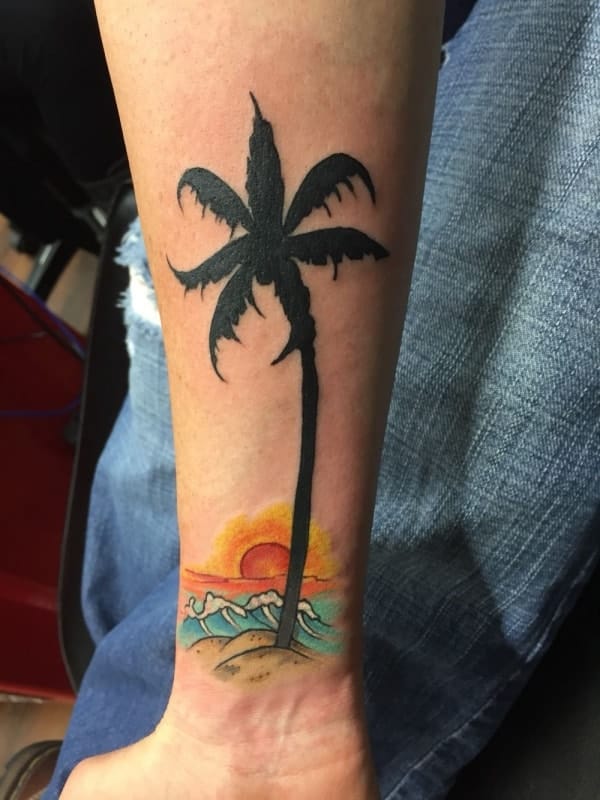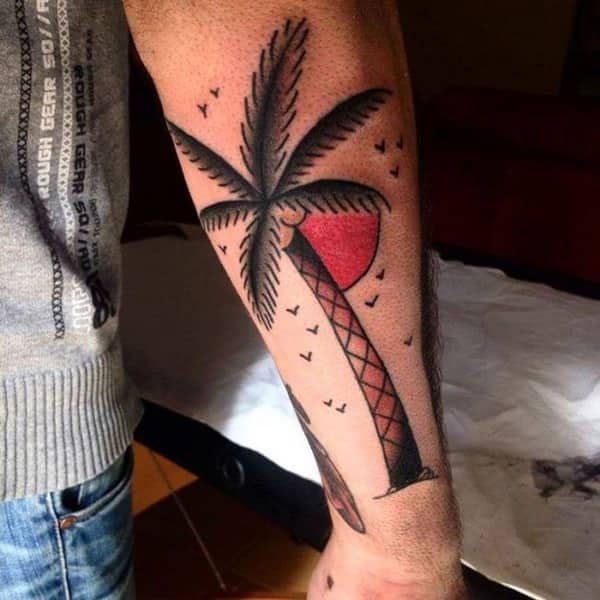 The traditional palm tree tattoos might have a deep-rooted impact. They project important virtues like immense love, eternal peace, truth, glory, and ethics among other things. However, the palm tree tattoos have gained immense popularity due to the holiday vibes it produces, along with the beach vacations. In fact, for some people, they also produce a unique soothing effect.
Try to get inked in the vibration of hues or in simple dark shades of green, or black. As a quick tip, try getting inked with the beach on the backdrop of a setting sun to enhance the aesthetics.
Palm Tree Sunset Tattoo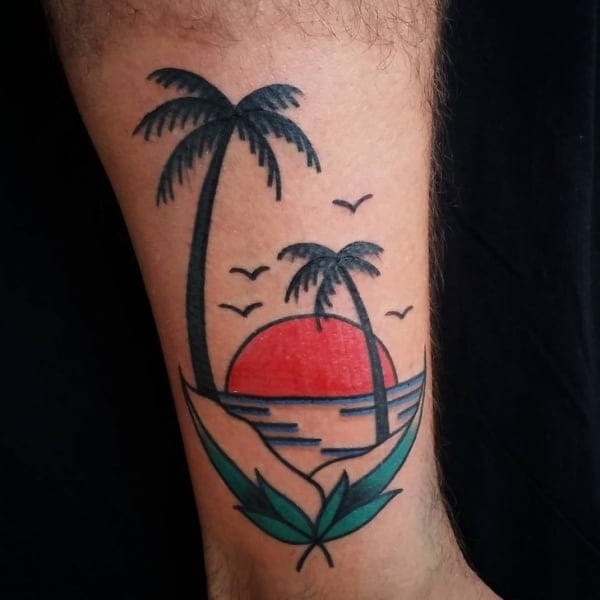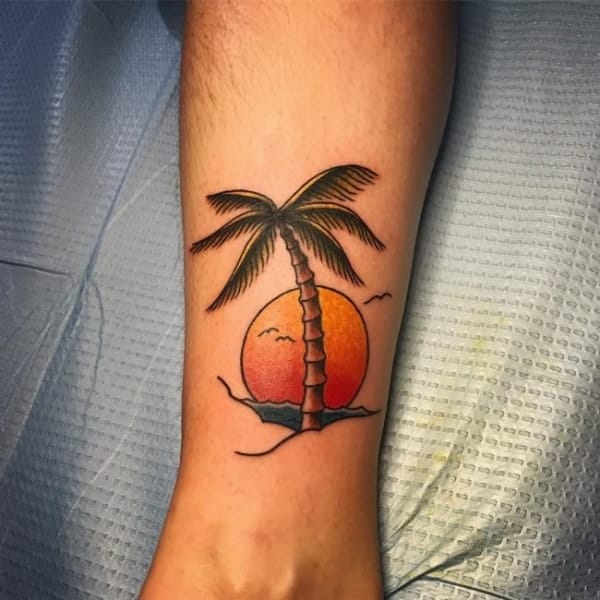 Sunset, breezy beach, and a setting sun- the ultimate trio to soothe your nerves. The shade from the leaves of the palm trees is like the cherry on top. The tropical sunset endorses a certain kind of warmth and visual satisfaction, every time it gets visible. On a more philosophical note, sunsets always remind us of the never-ending cycle we call life, which forms a full round with death. Sunsets can also have their name attached to eternal beauty, life and death, love, a ray of hope, inspiration, and perpetual love. For a feel-good factor, no other tattoo works better.
Palm Tree Foot Tattoo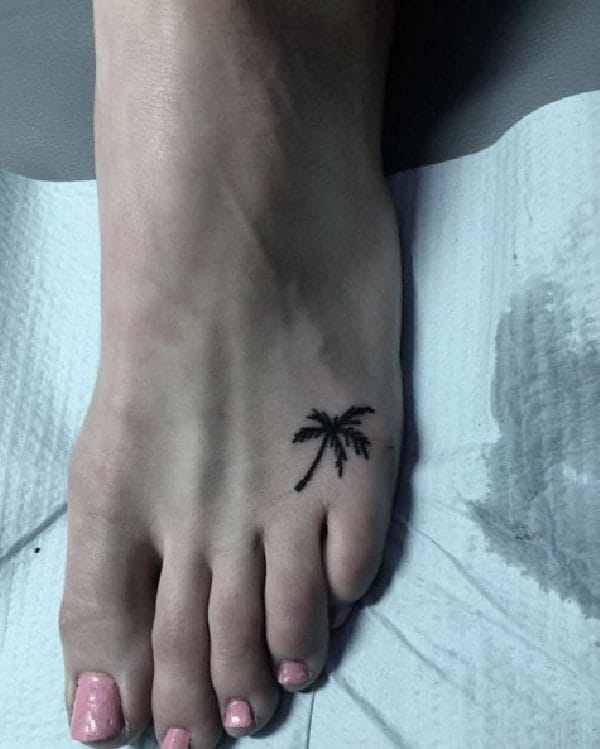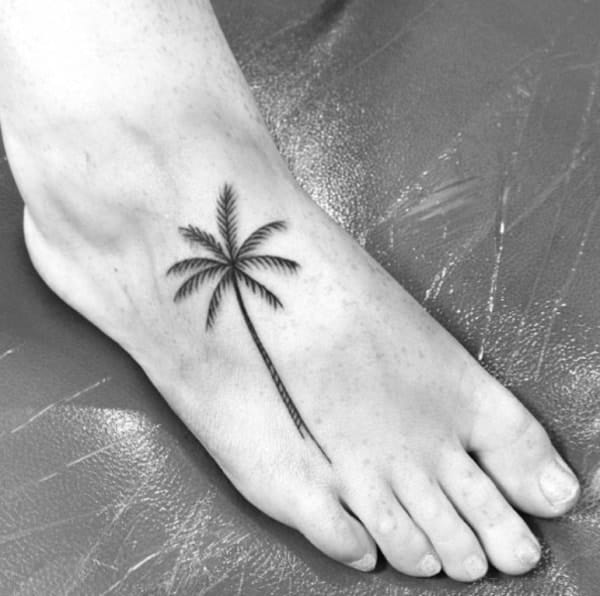 People belonging to the Christian faith consider the palm tree to be symbolizing retort and the triumph over death. These trees have a deep-rooted link to beach life and people in love with adventures love to get inked with these tattoos on different parts of their bodies. A tattoo on the leg also refers to the traveling nature of the bearer along with the inquisitive sense to get known to everything new, different, and unique. Get this one in colors, and remember the refreshing and rejuvenating time you had spent during the beach holidays. So, all set for this one?
Palm Tree Ankle Tattoo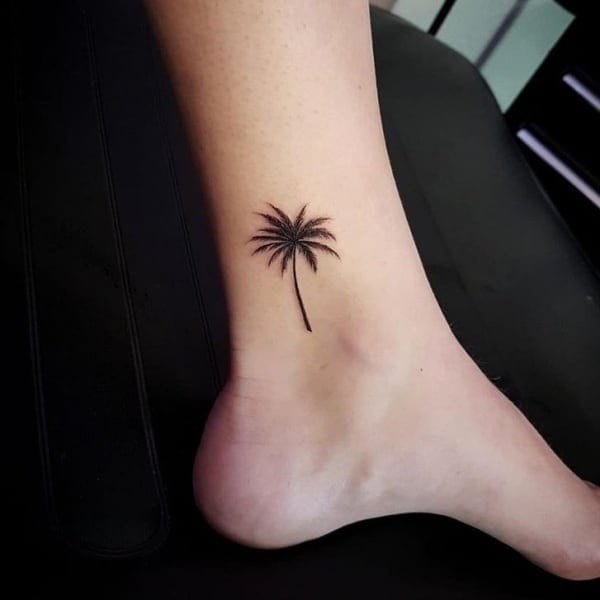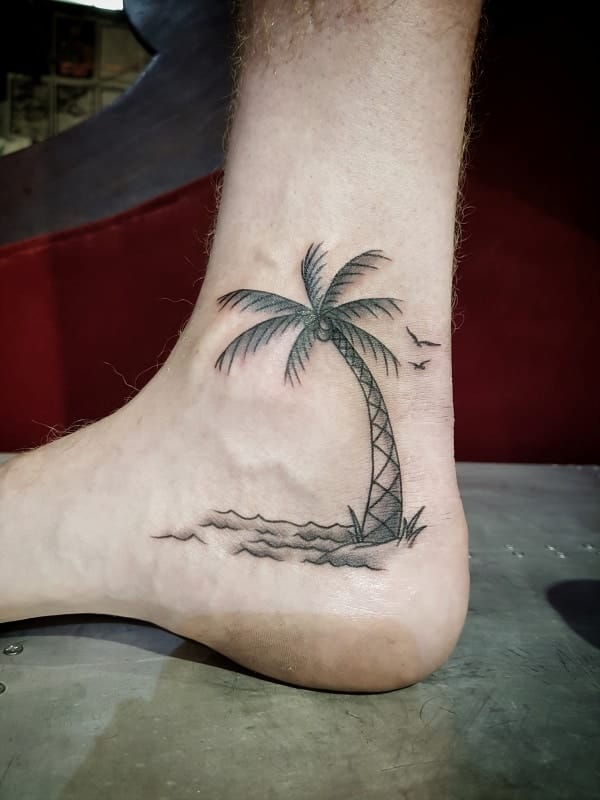 Are you a travel enthusiast looking for something to suit your style and nature? Then this is the name on the list of palm tree tattoo designs, tailor-made for you. The palm tree is often signified as the 'tree of life'. So, for the people who consider traveling and beach vacations an integral part of their lives, get a palm tree tattoo donned on their ankles. Setting sun with a slightly tilted palm tree gives major traveling goals, reminding you of the beach vacays and traveling spree. Go for an ankle tattoo just before your next beach vacation and then see the real fun settling in.
Palm Tree Sleeve Tattoo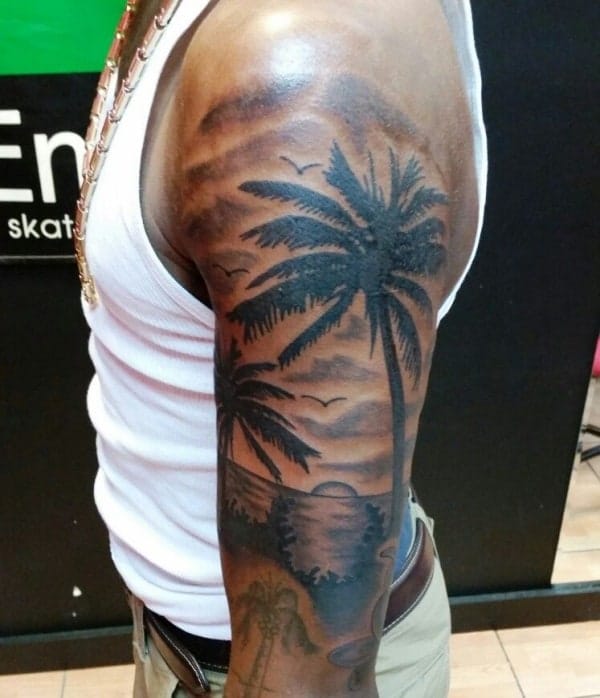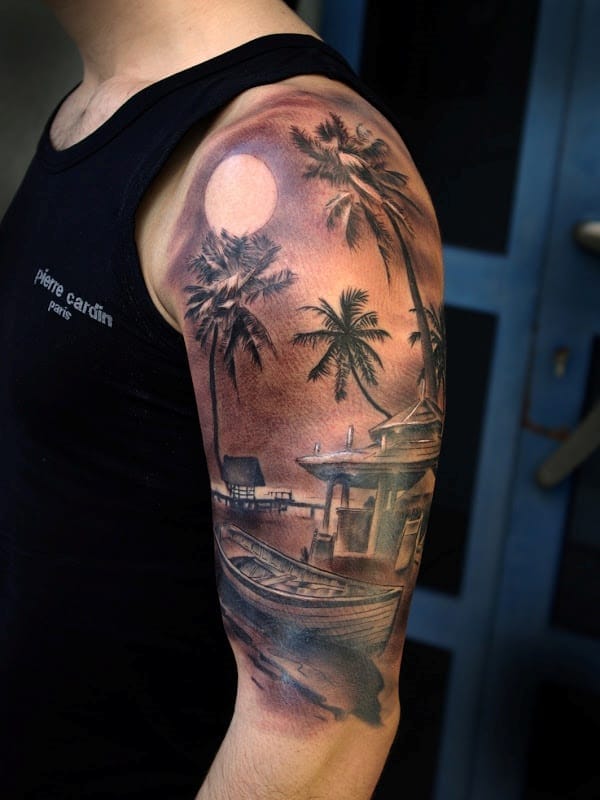 Palm tree tattoos have quite carved a niche for its simplicity, aesthetics, and the various meanings and representations. They would spoil you with their innumerable designs and placement ideas. All you need to do is think of a large canvas that enhances the beauty of these designs. Sleeve tattoos have become immensely famous these days and would suit you best if you do not shy away from flaunting your tattoo to the world. A palm tree inked in black or green, drawn as a sleeve tattoo is also a sign of the positive thoughts and actions nurtured by the wearer.
Palm Tree Finger Tattoo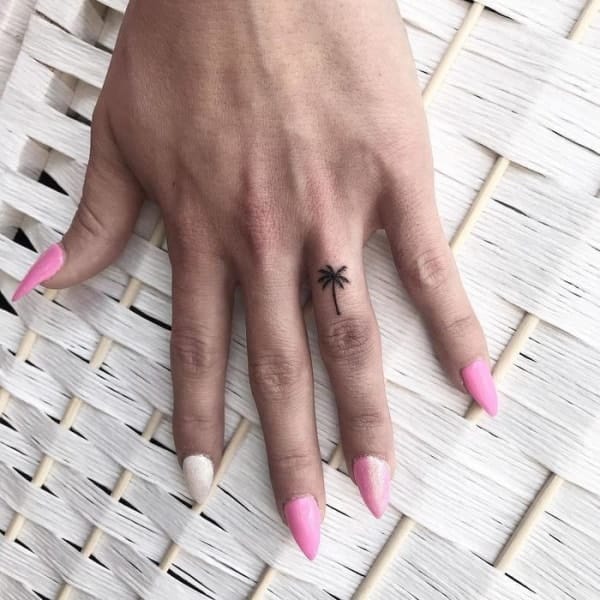 Finger Tattoos are the tiniest and the cutest to get placed in the list of palm tree tattoo designs. Palm tree tattoos have claimed their presence in the scenario in full galore. However, for the ones who love tattoos yet have some obligations in flaunting them, these palm tree finger tattoos are just what you need. Get them done on your finger as they would require less space whereas they get concealed whenever you want. These tattoos represent happiness so get them done in vibrant colors, to get reminded you of happiness, confidence, and positivity, in several hues, with a tinge of gracefulness.
Watercolor Palm Tree Tattoo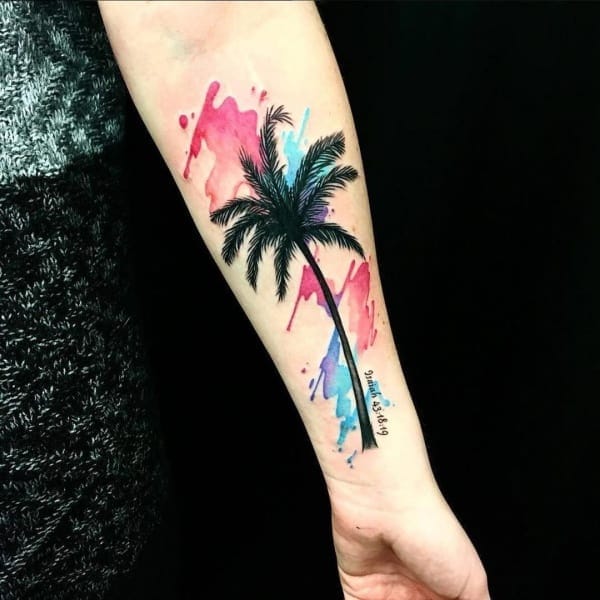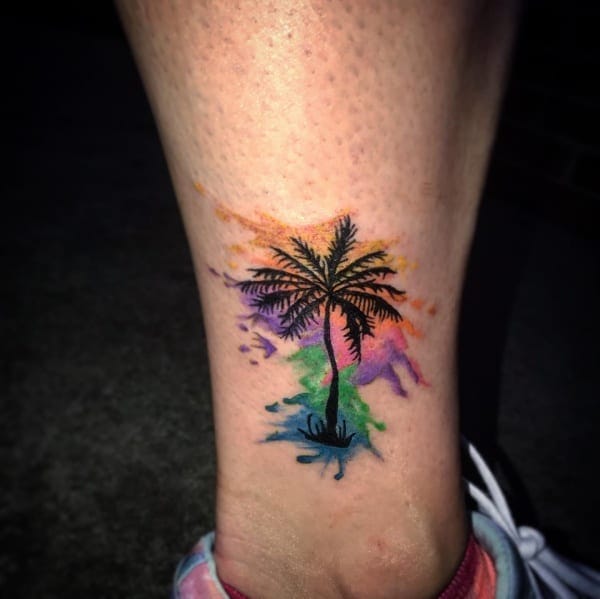 The most eye-catching of all the palm tree tattoos. Get it done anywhere, they are sure to steal a few glances. The lively texture and the vibrancy of the hues make it an expressive one. Get inked by using shades of blue, green, yellow, red, violet, etc., as per your choice and visualization. For better usage, get it done in a bit enlarged way, and place it on the arm or shoulder, for its proper enhancement and broadened canvas. The large size enhancing all the colors would automatically increase the simplicity and beauty of the palm tree tattoo design.
Palm Tree Shoulder Tattoo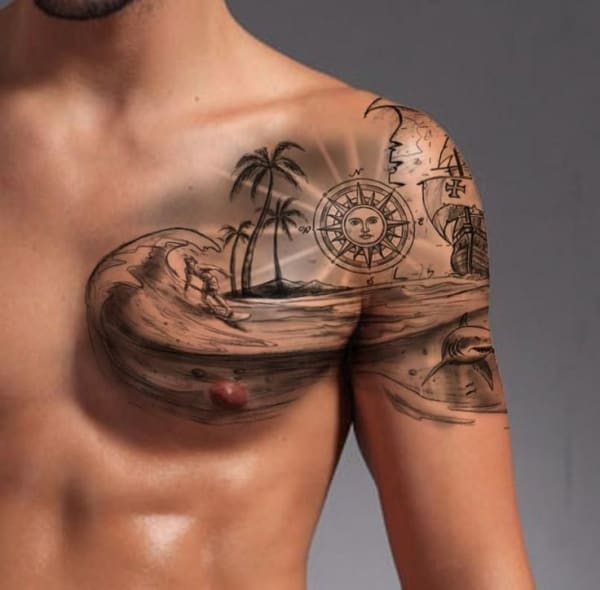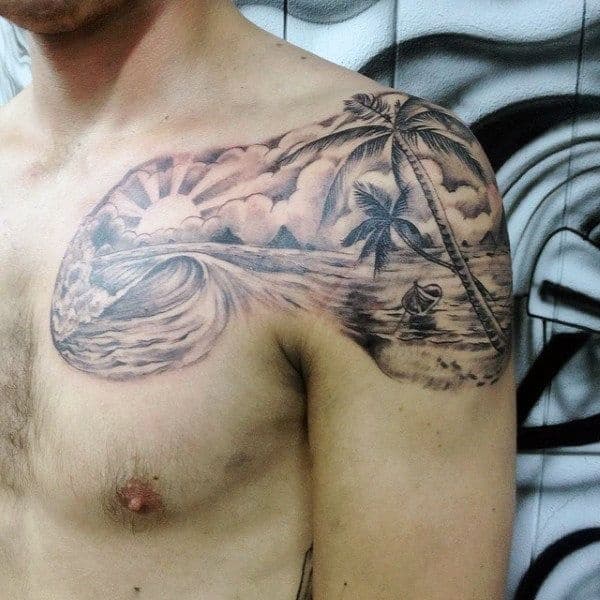 If in the search of a palm tree tattoo that produces the perfect placement along with an extra description, get this one done for sure. Try placing it on the front part of your shoulder to make it look ravishing. Palm trees are anyway significant, being the conglomeration of efficiency and positivity. Get it donned in shades of black and let positivity emit in the way it wants to.
Placing it in the front part of the shoulder also shows your daring nature and the possession of a mighty heart. However, don't miss a photoshoot after donning this specific palm tattoo design.
Heart-Shaped Palm Tree Tattoo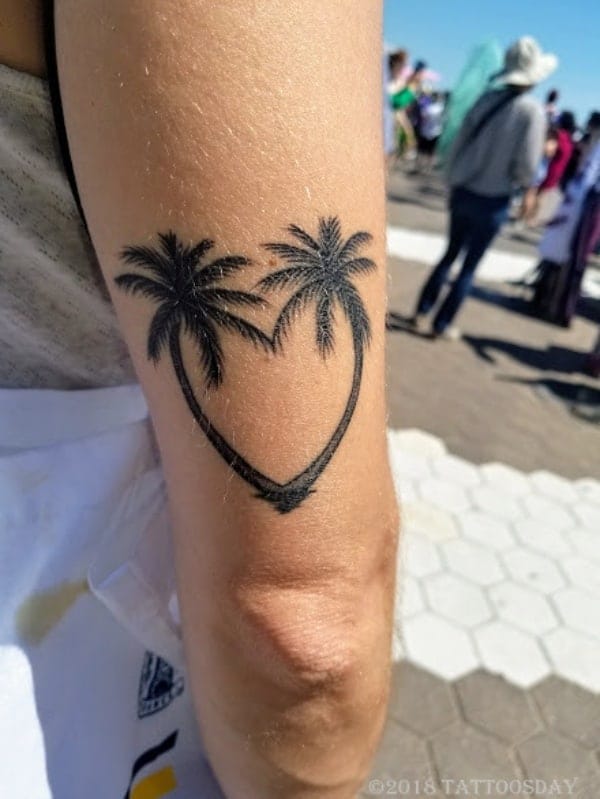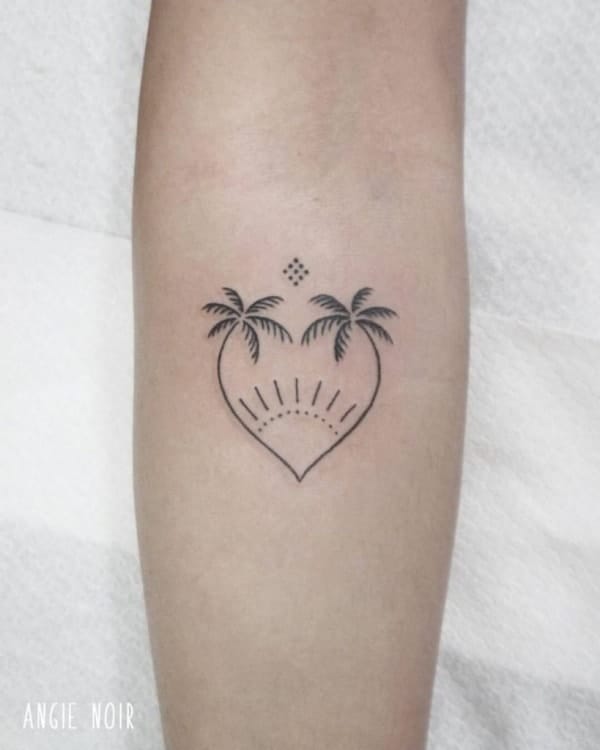 Dual positivity is the biggest virtue of a heart-shaped palm tree tattoo. Both the palm tree and the sacred heart are important Christian symbols. A sacred heart signifies the commitment placed in name of the divine heart of Christ. Apart from this, heart tattoos also signify the compassionate virtue in a person, depicting immense love, and courage. So, placing a heart-shaped palm tree tattoo is also the best way to express grief, loss, or to commemorate the death of the loved ones. So, try this one from the list of palm tree tattoo designs to indulge in wellness.
Circular Palm Tree Tattoo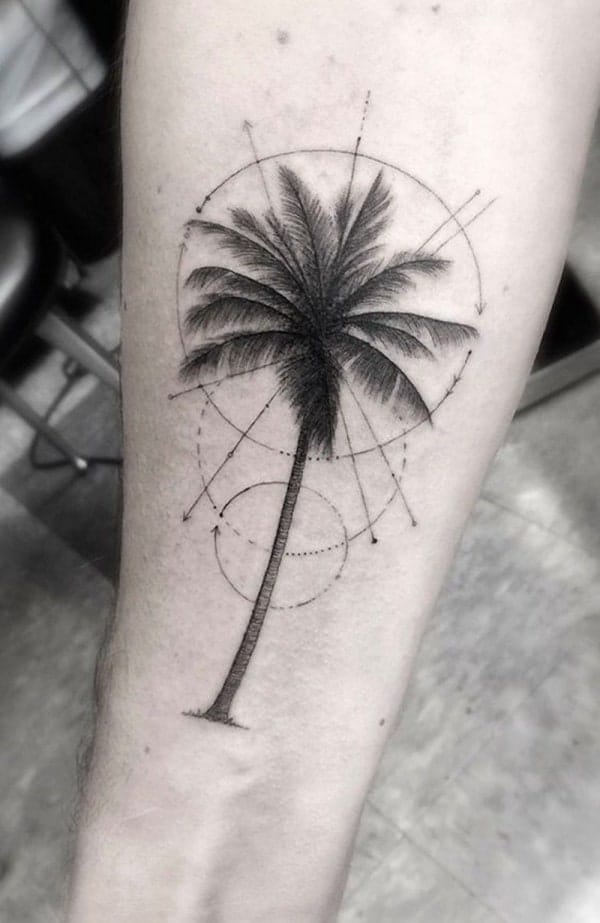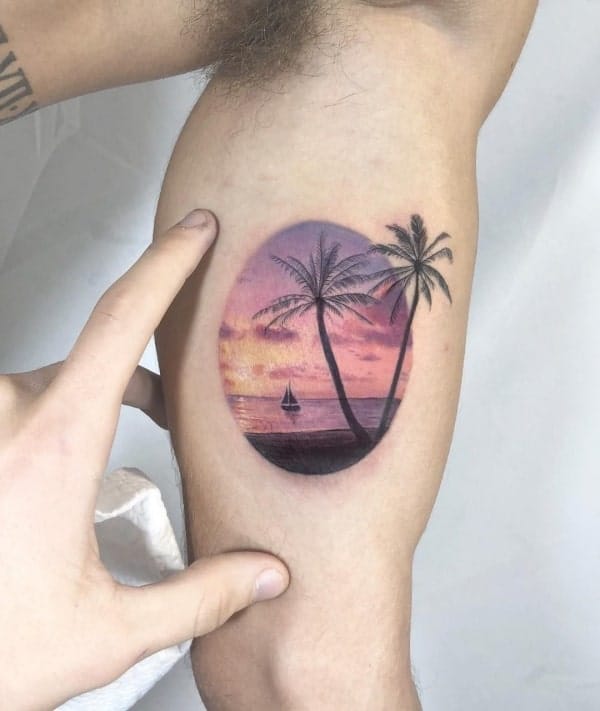 Its uniqueness is based on its circular pattern. In fact, you can also conceal these tattoos if they become an issue in your workplace. Outside your workplace, flaunt it in style by wearing a t-shirt and getting the tattoo placed in the shoulders, legs, or in the arms. To make it look more realistic, draw the palm tree branches in a circular pattern, showcasing the effect of wind blowing over the branches, done with the proper shading of ink. This is the best one as per the recommendations by all the professionals, as it's flexible and works best whether you are in toiling hard in the office or clubbing with friends.
Palm Tree Beach Tattoo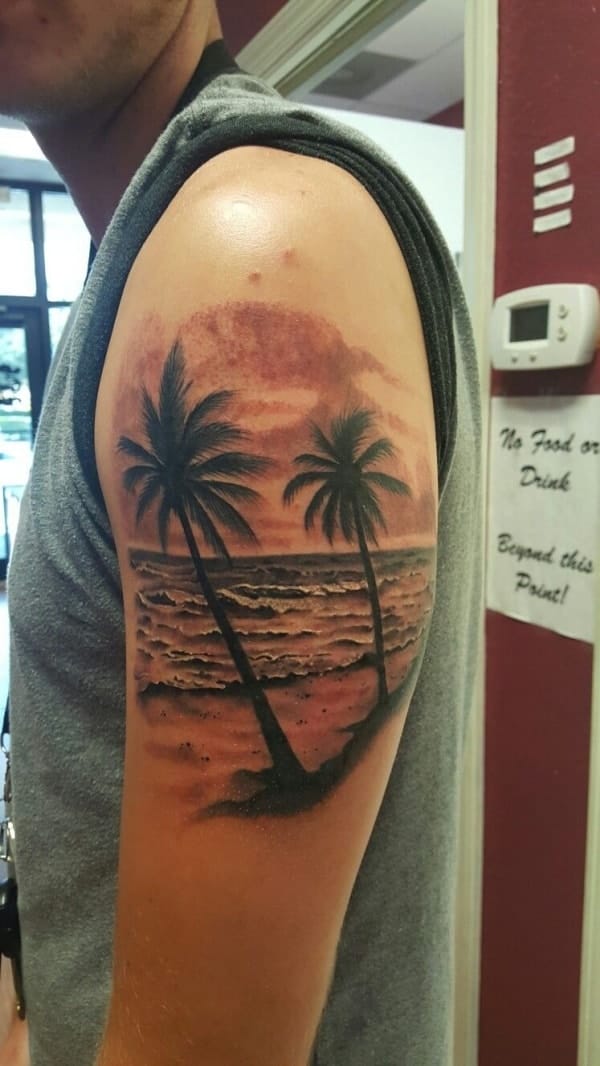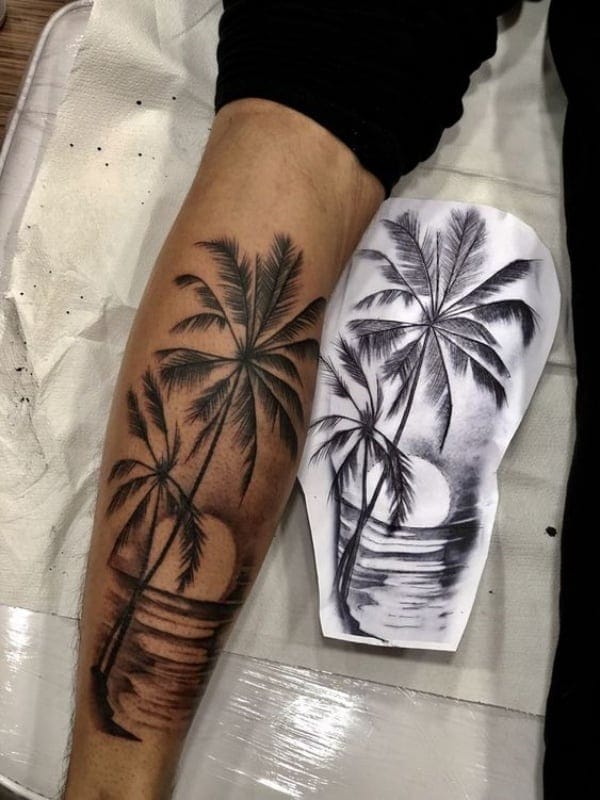 Pinning for a beach vacation but don't have the means? Get a beach tattoo done for yourself. Palm trees have their names attached to sunny beaches, soft breezes, along with the adventure, and holiday vibes. The palm tree beach tattoos look awesome after getting circled by the oceanic waves all around, and that itself increases the appeal. To top it all, this palm tree beach tattoo shows immense happiness, and positivity, along with the fact that the bearer is a nature lover. Thus, to show some love towards nature and to feel the holiday vibes, opt for a palm tree beach tattoo.
Palm Tree Bicep Tattoo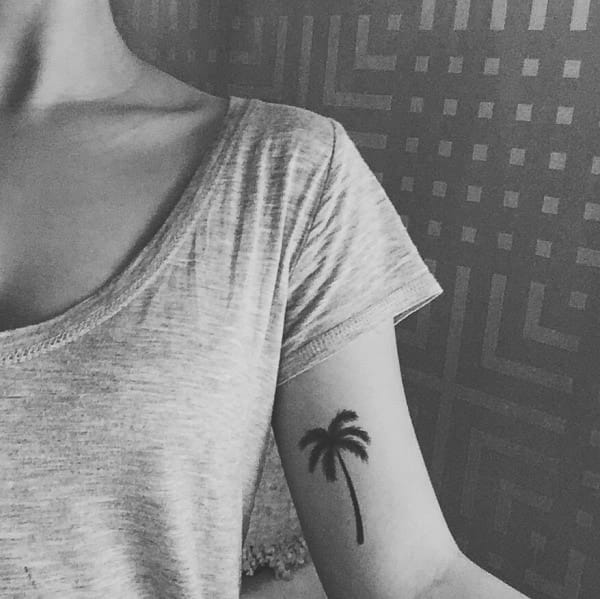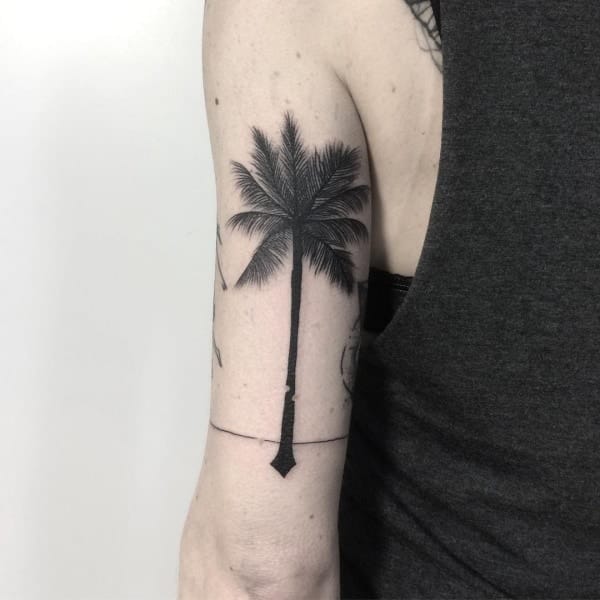 Palm tree tattoos in their miniature forms look best on the biceps. Try to place emphasis on the detailing by donning realistic sunsets and the simplicity of serene and sandy shores. The biceps in fact form a wonderful canvas for the enhancement of the tattoos while adding to the masculine image and increasing the appeal. Even if most of the time the bicep tattoos are simple and that is the key to perfection, designing flowers around the palm tree or something else also won't score a bit less in the scoresheet of uniqueness. So, hit on the gym, flaunt your biceps, and get the tattoo your heart desires.
Forearm Palm Tree Tattoo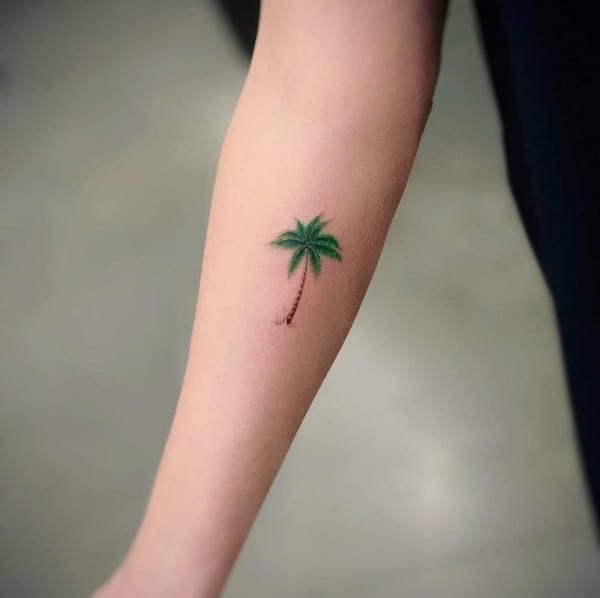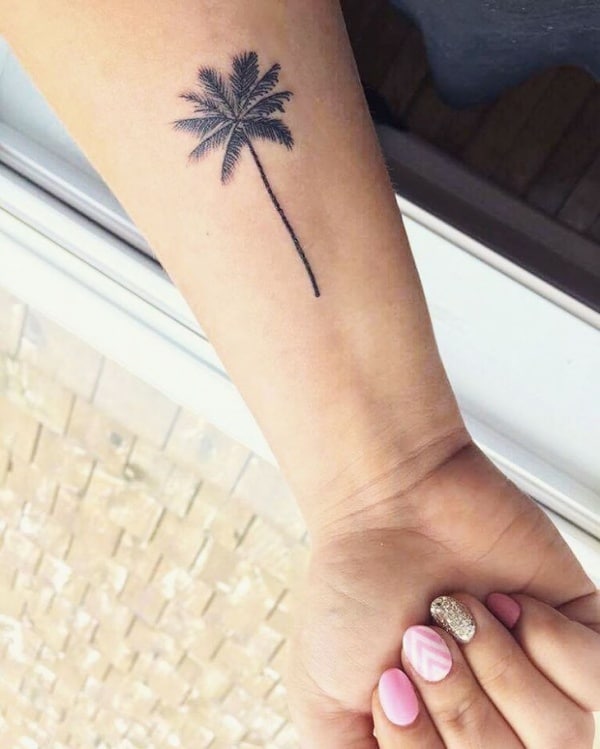 Millennials shy away from the forearm tattoos as they might cause some trouble while applying for jobs. However, try opting for long sleeves and make it a mandate for office wear if you can't deny your love for the tattoos. Apart from the work hours, forearms are one of the most flexible areas to flaunt a tattoo. If you have plans to convey something meaningful a forearm is a perfect place to flaunt one. To share a secret, if you are planning to get inked for the first time, there is no better place than the forearm, as it emits the least pain.
Tiny Wrist Palm Tattoo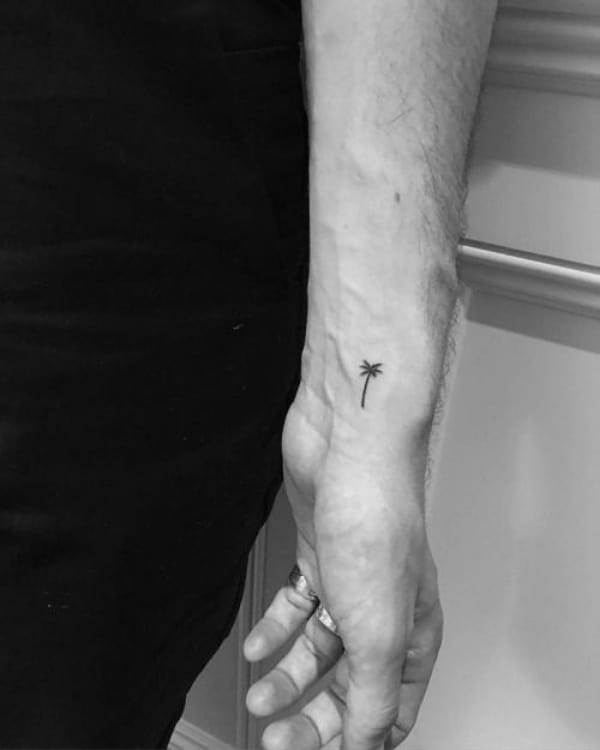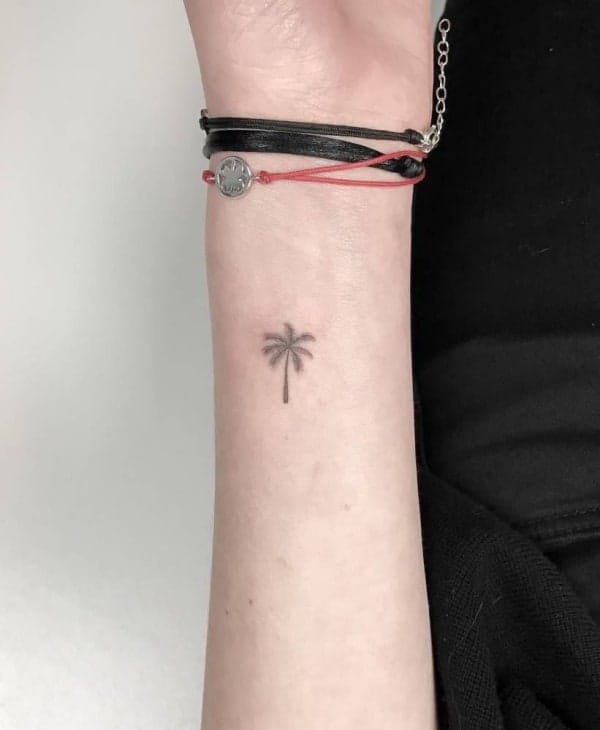 The name in the list of palm tree tattoo designs to have an ocean full of options. A tiny palm tree, in shades of black and grey, looks cute and attractive, but you might as well enhance this with a short quote or symbol. No matter you want to choose a design that is symbol or complex, when coupled with a palm tree works best while making it flexible to conceal behind the sleeves when necessary. Try to don it well with well-defined lines and angles, which are minimalist and masculine, thus making them the perfect choice while donning your first tattoo.
Back Shoulder Palm Tree Tattoo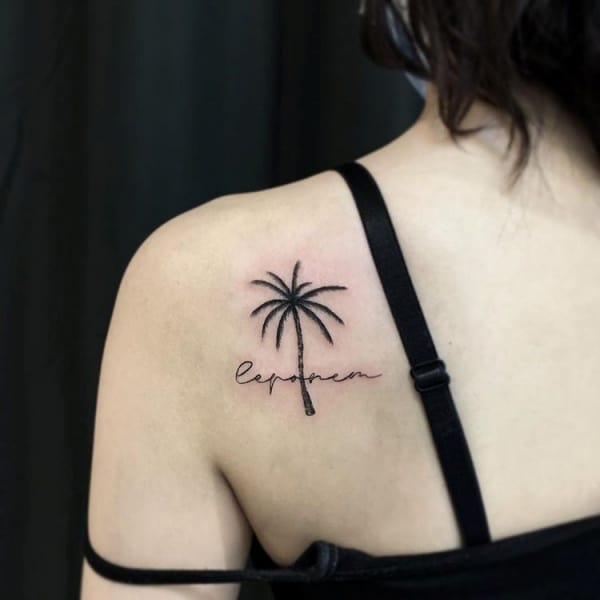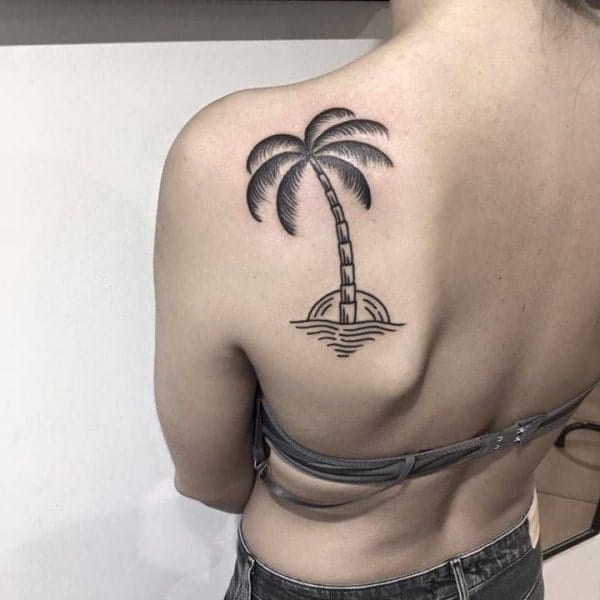 If you are bold, daring, and filled with immense style, get this done. Girls have a special liking for this tattoo. As discussed before, the palm tree tattoos represent longevity. So, getting it donned on the shoulder back makes it look more elegant and sophisticated. In addition, this tattoo looks more prominent on fair or medium skin tones. For best results, try to get this inked in hues of dense black, grey, or green, for the edgiest look ever. Also, opt for a halter neck top and get all the attention you deserve. Do not forget a photoshoot after that.
Geometric Palm Tree Tattoo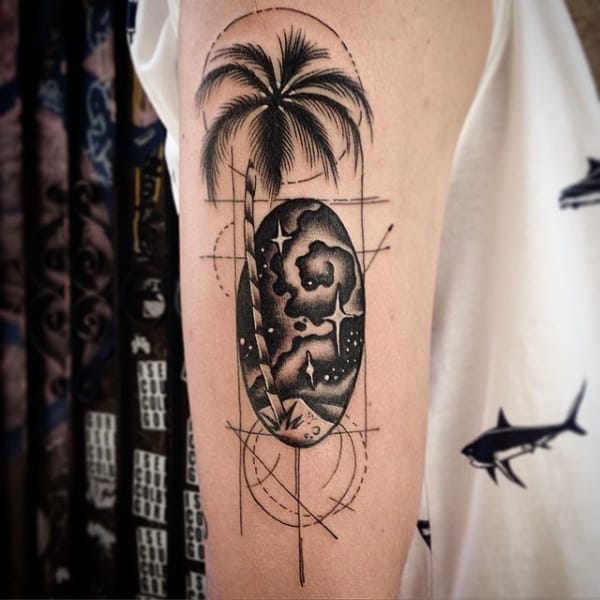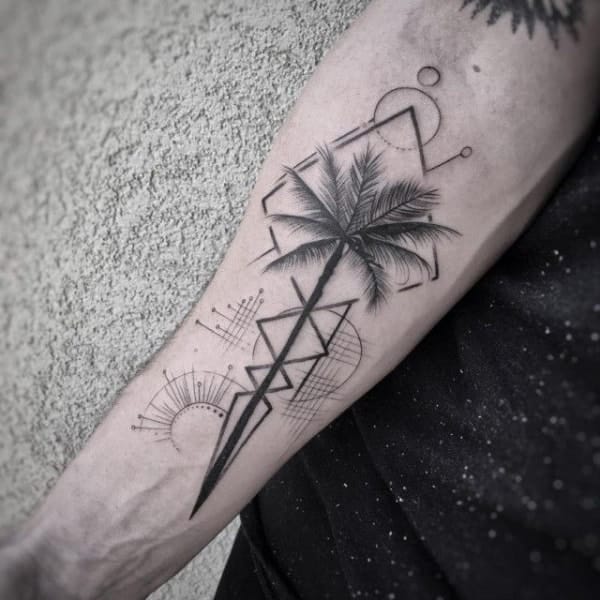 The most appealing and intricate of all the palm tree tattoos. This one, with all the lines and patterns, represents well a methodical and systematic style of living. With this, you might also get to choose from the list of geometric patterns including a circle, triangle, a pentagon, star-shape, and lots more. For the best part, get this one inked in your chest or on the forearm. For tattoo lovers, they mainly opt for Geometric Palm Tree Tattoo in massive sizes to make it more appealing and eye-catching.
Classic Palm Tree Tattoo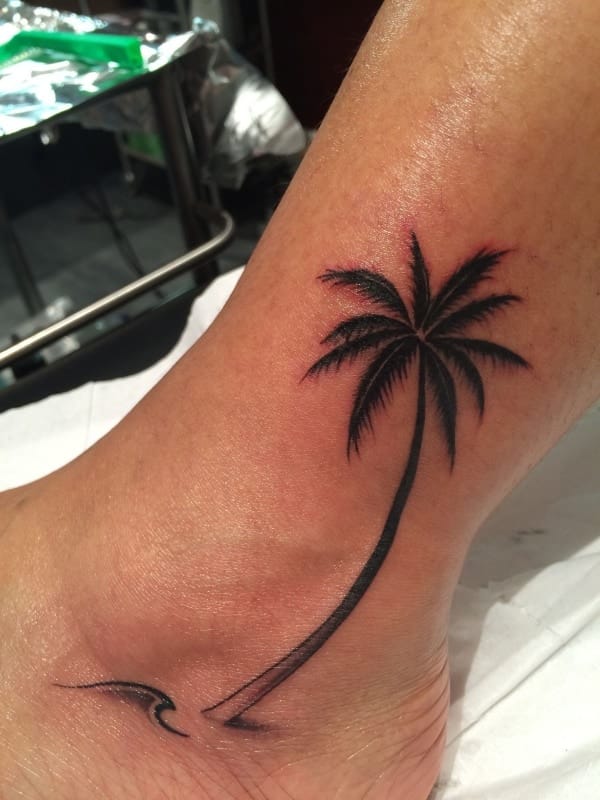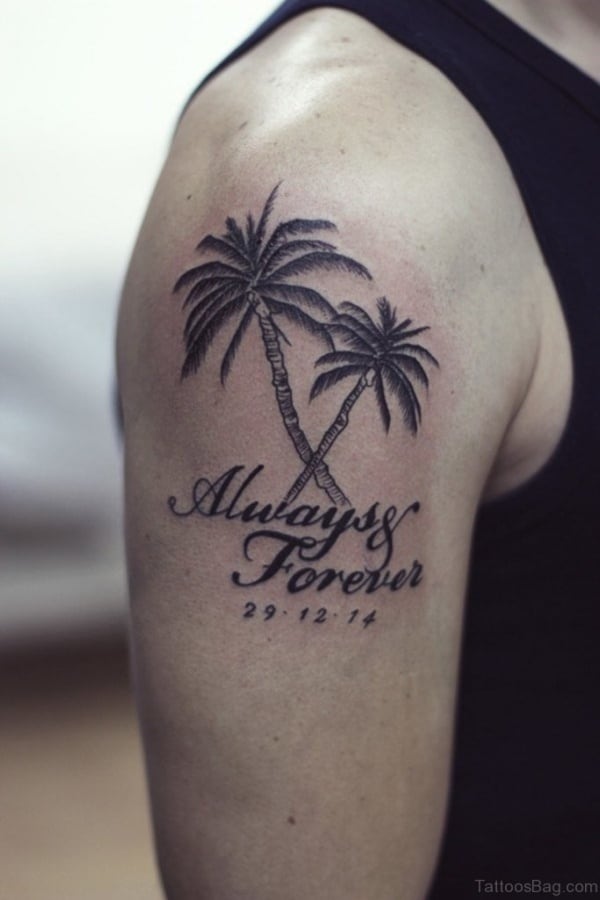 While opting for a classic palm tree tattoo, people tend to select a palm tree inked in darker shades of black and green. The design might be simple but black to seems to enhance each aspect of the design clearly, giving the tattoo a different meaning altogether. This one is too hard to ignore when placed in the foot or on the arms. To top it all, this works best for both men and women, explaining the simplicities of life yet portraying an edgy format.
Palm Tree Back Tattoo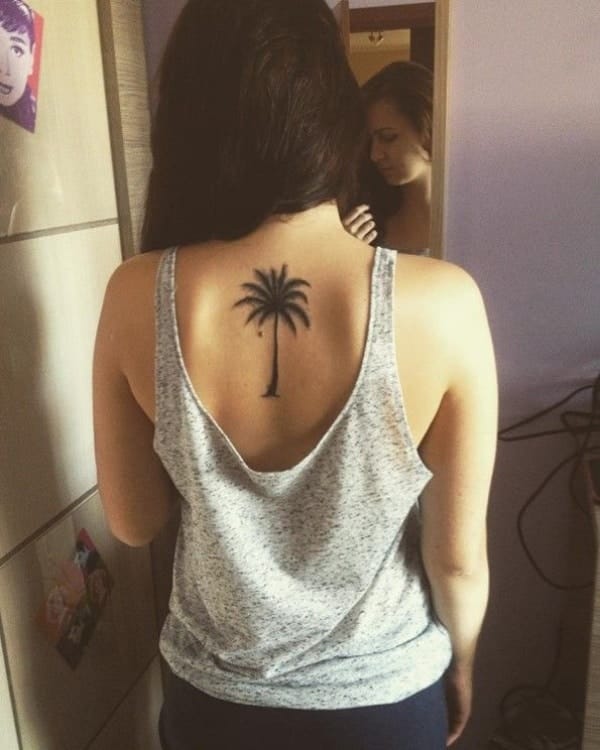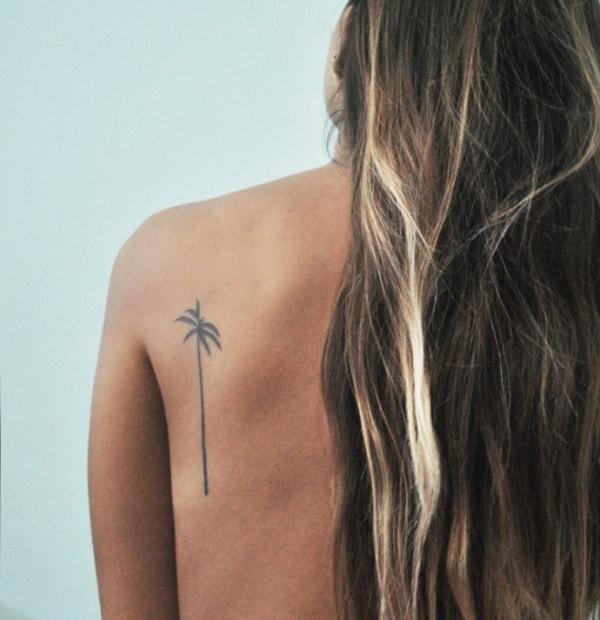 These tattoos look insanely elegant along with increasing the style quotient. Only the brave-heart can dare to do this one. An increasingly large palm tree, spreading its leaves, inked in hues of black and gray is a visual pleasure along with an achievement on the part of the wearer. Palm tree tattoos might look simple, but when drawn with grace, becomes the uttermost symbol of style and sophistication. Give it a shot and get ready to count the likes.
Palm Tree With Clouds Tattoo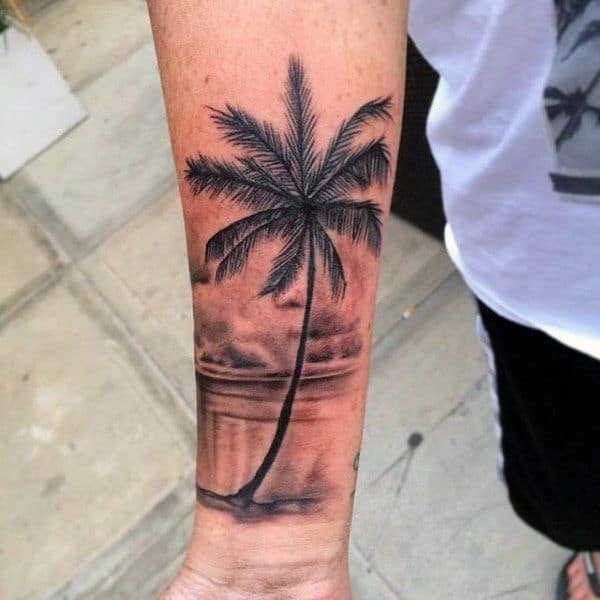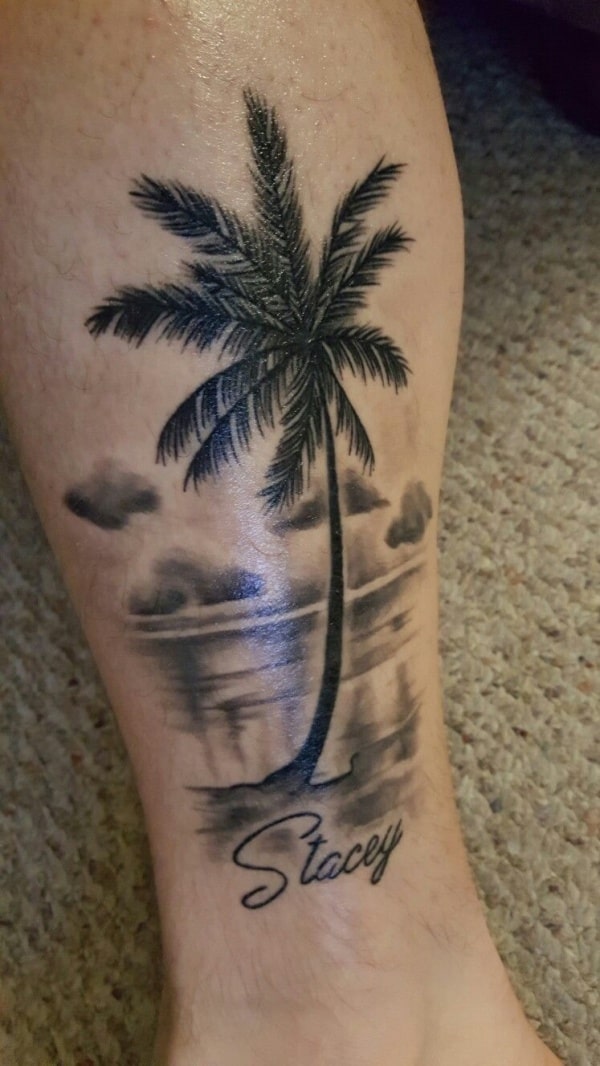 This one bears an artistic tinge and is a class apart while discussing the list of palm tree tattoo designs. The beauty of a simple palm tree gets a total modification with clouds floating in the background. People normally do this in shades of various hues such as green-colored palm trees with large, blue-colored clouds in the background. The best part remains that this one looks attractive by getting it donned on any body part like the arms, legs, thighs, or at the back.
Related: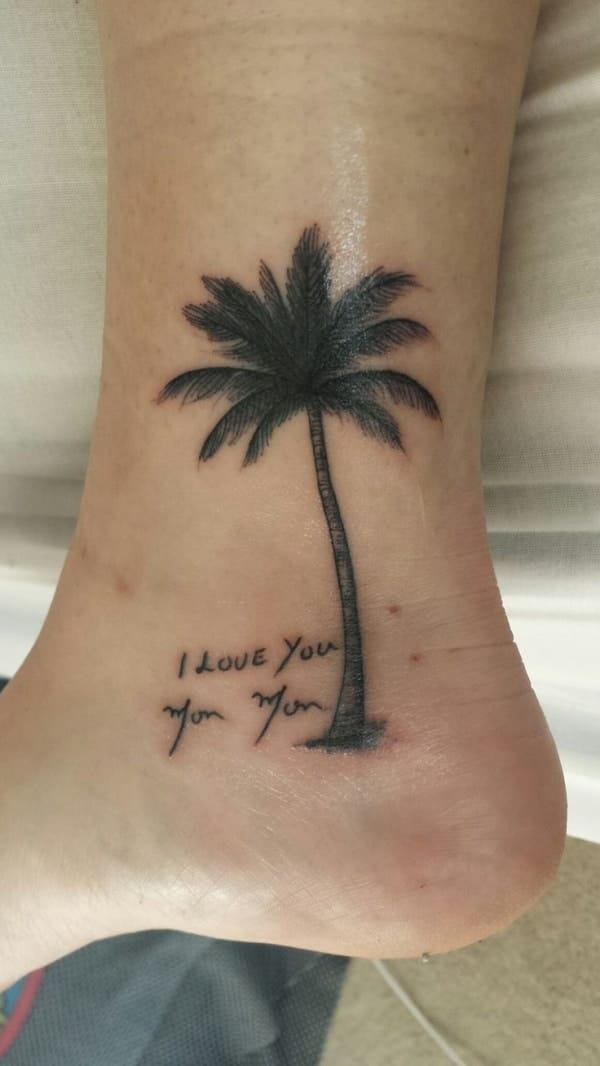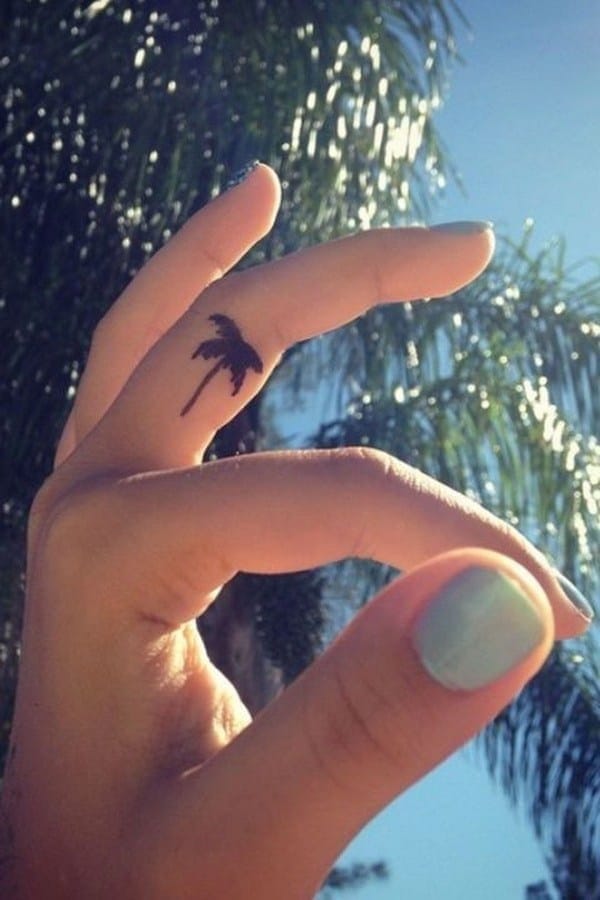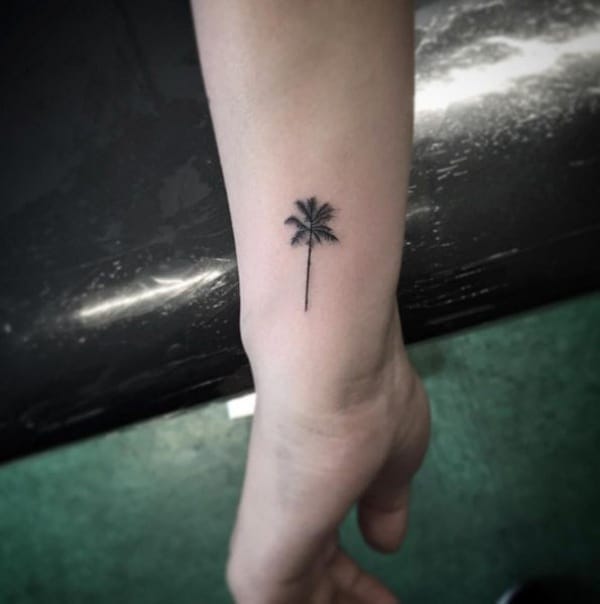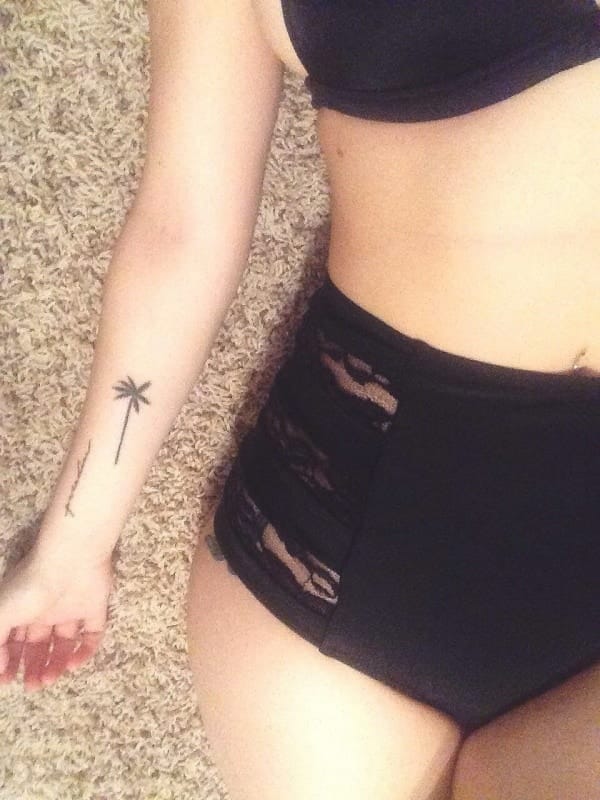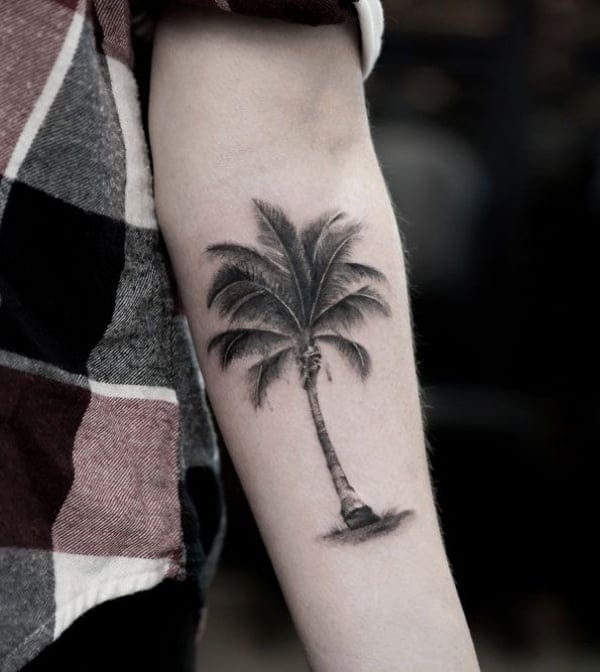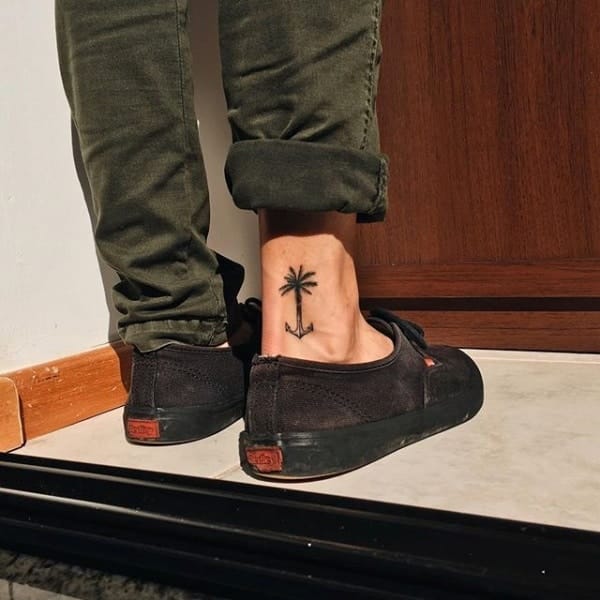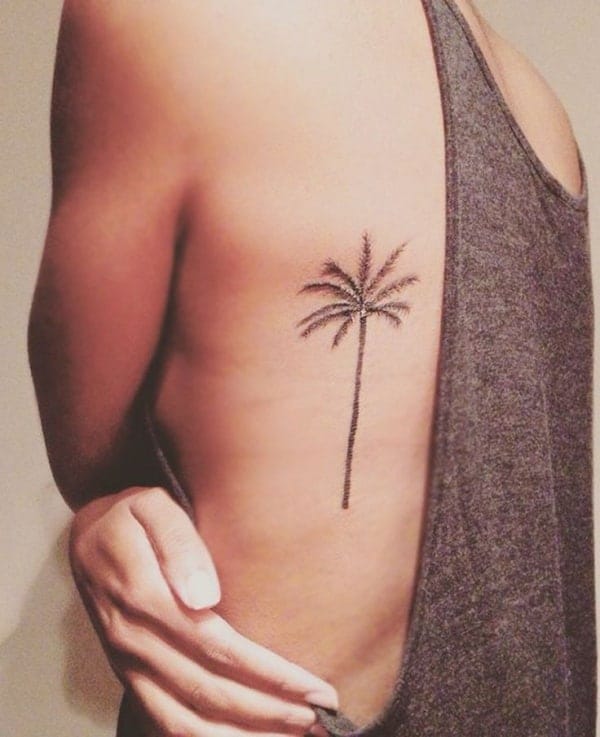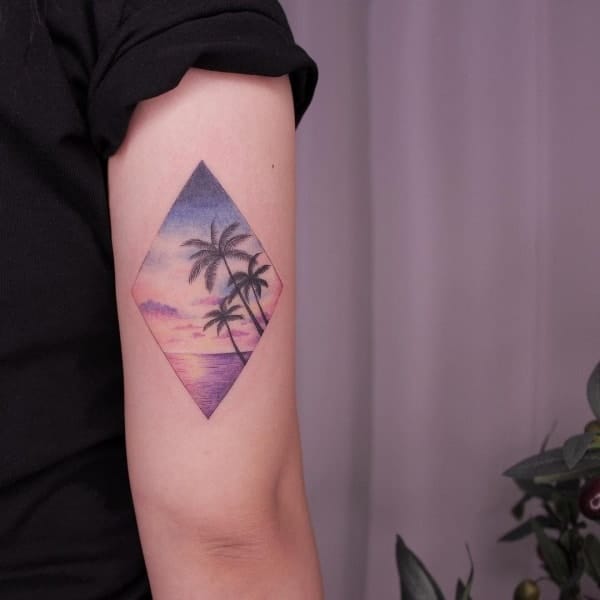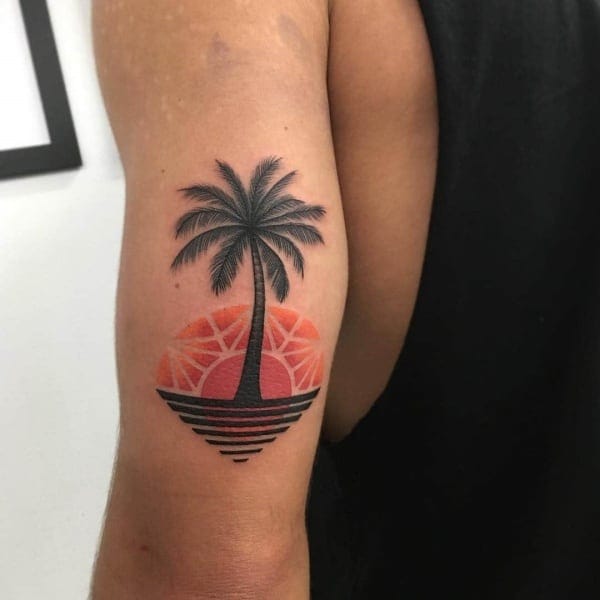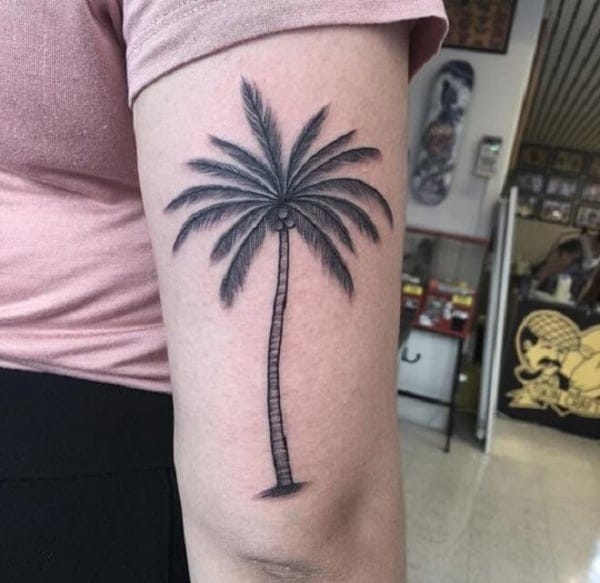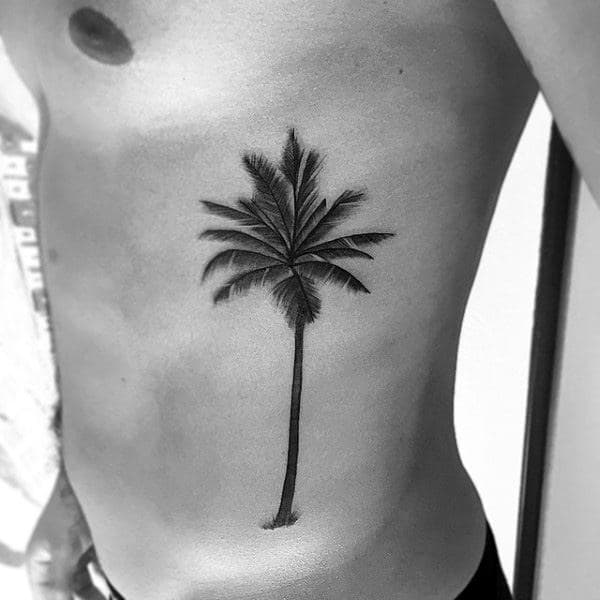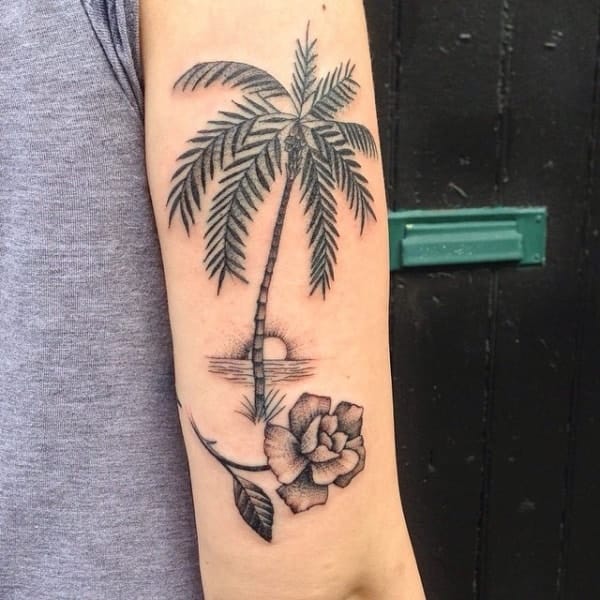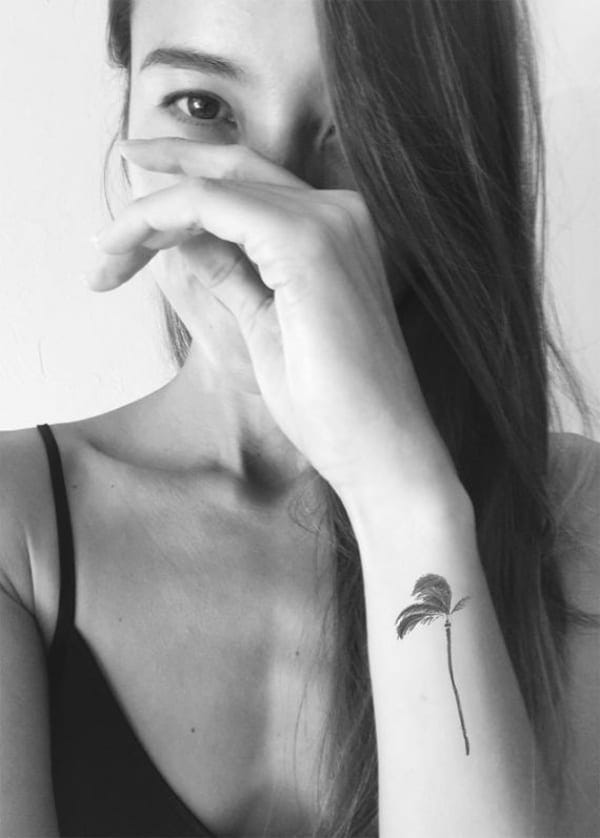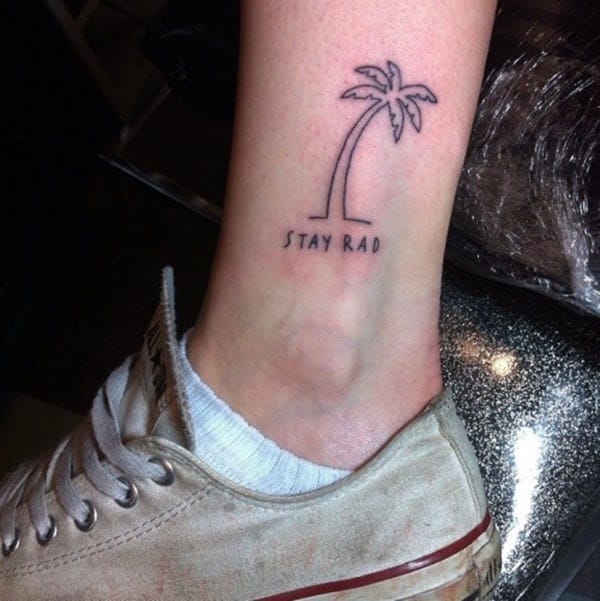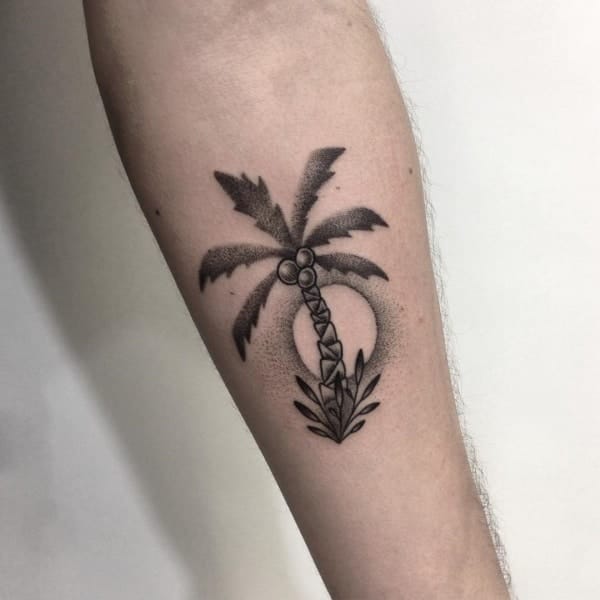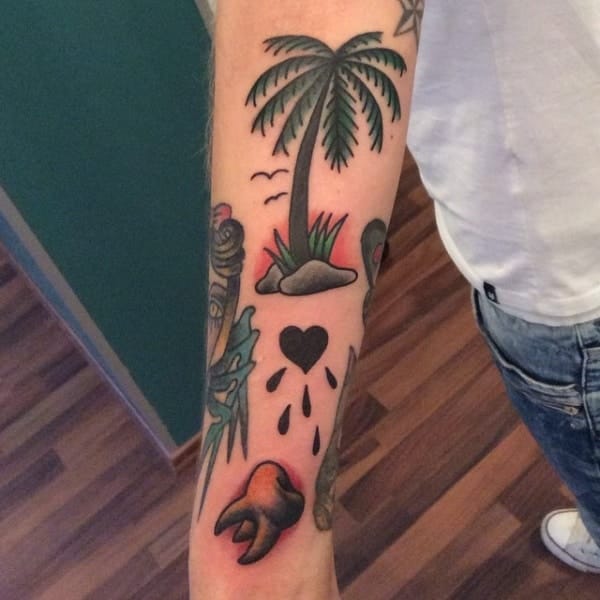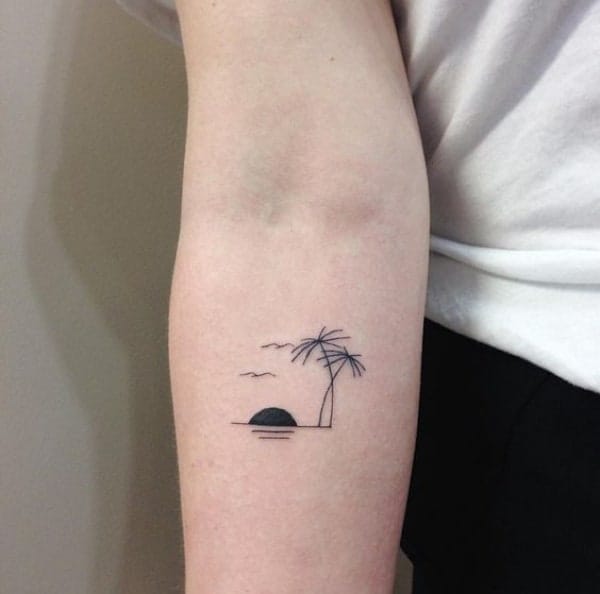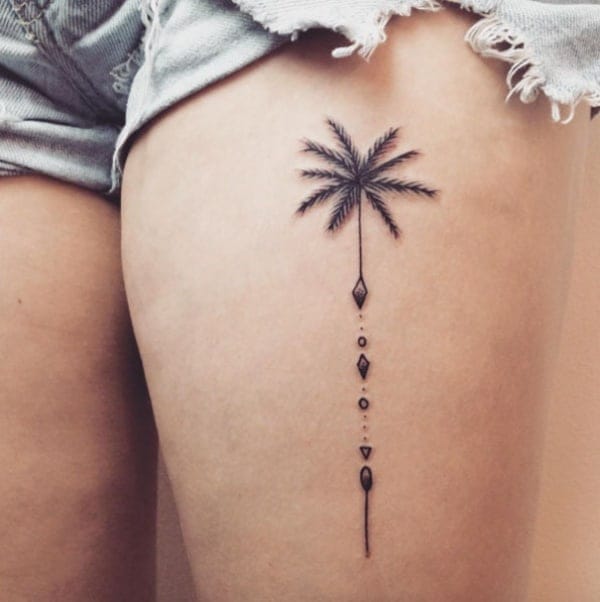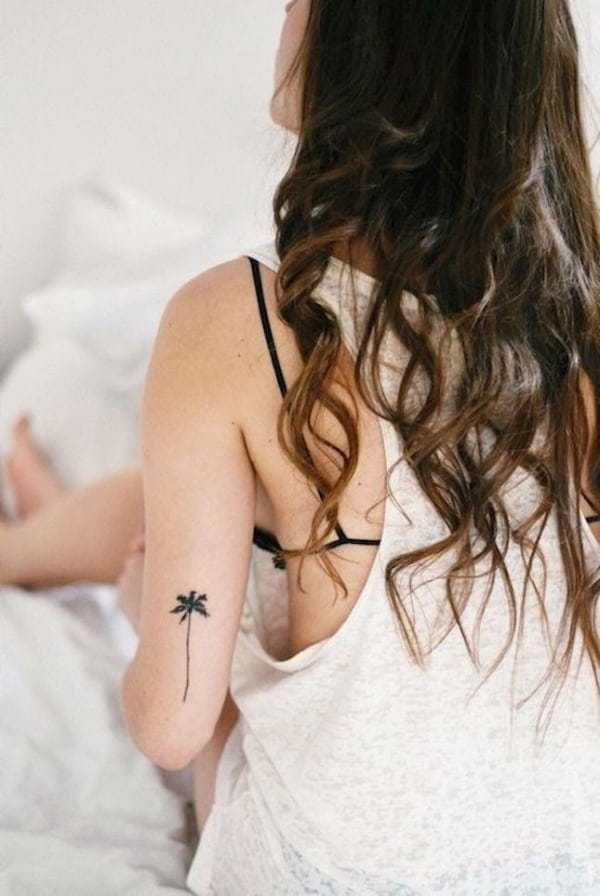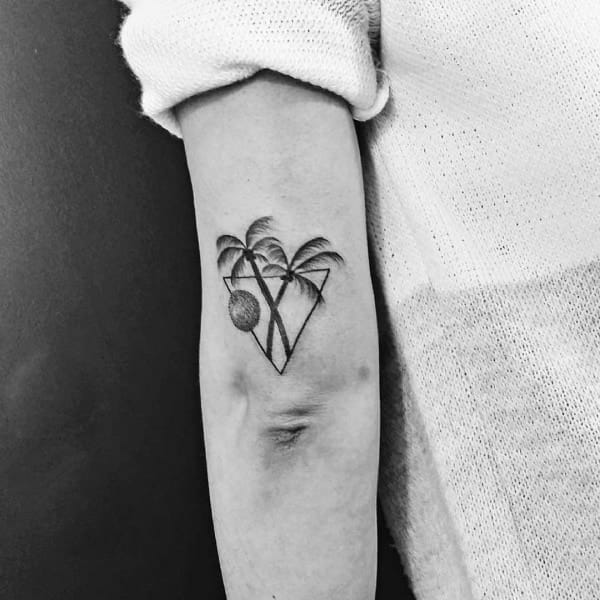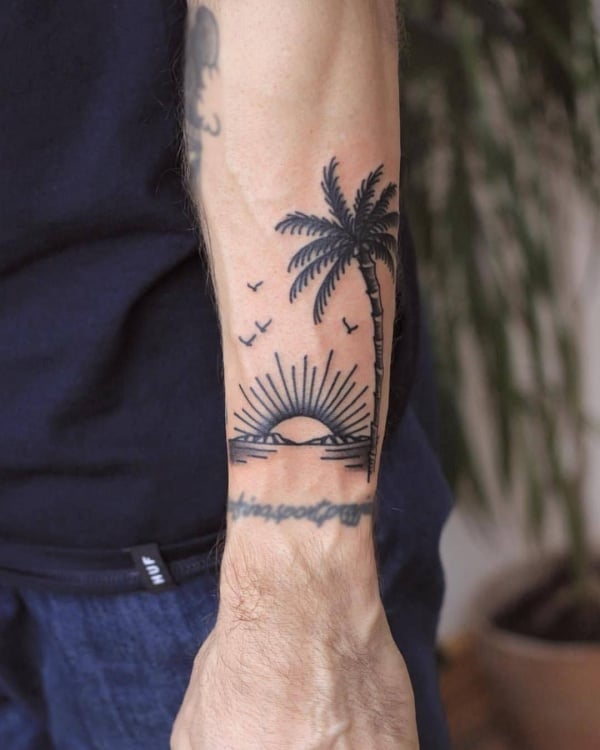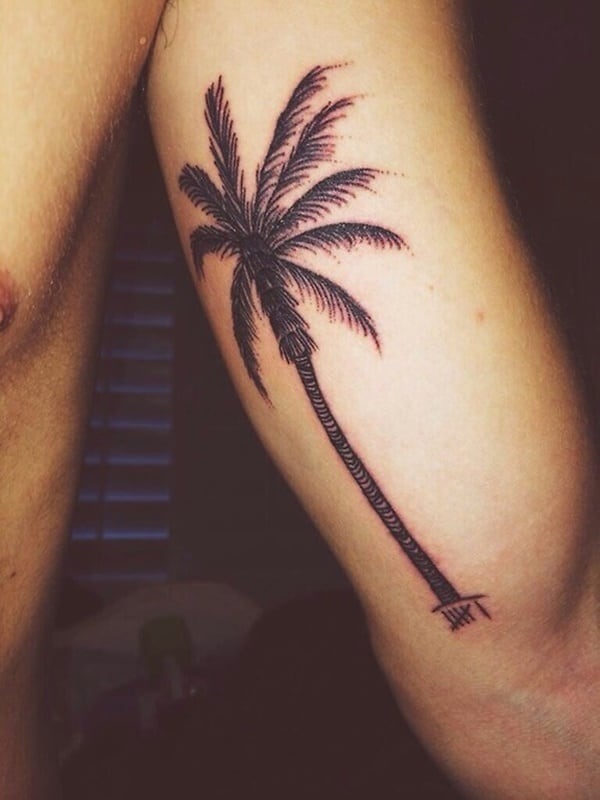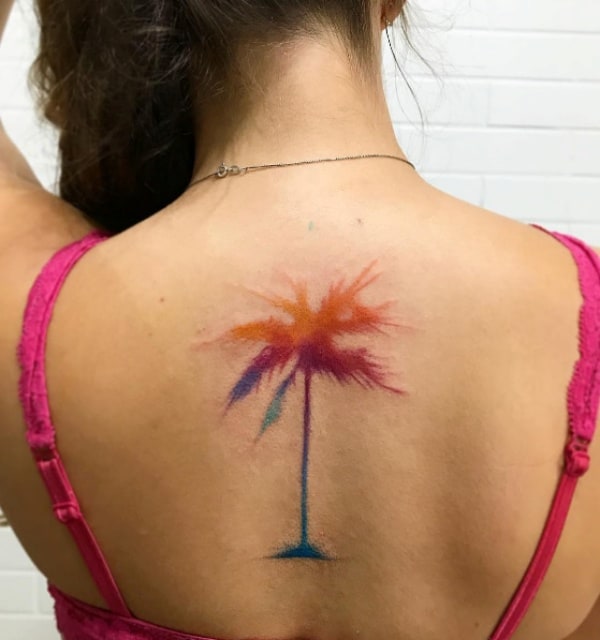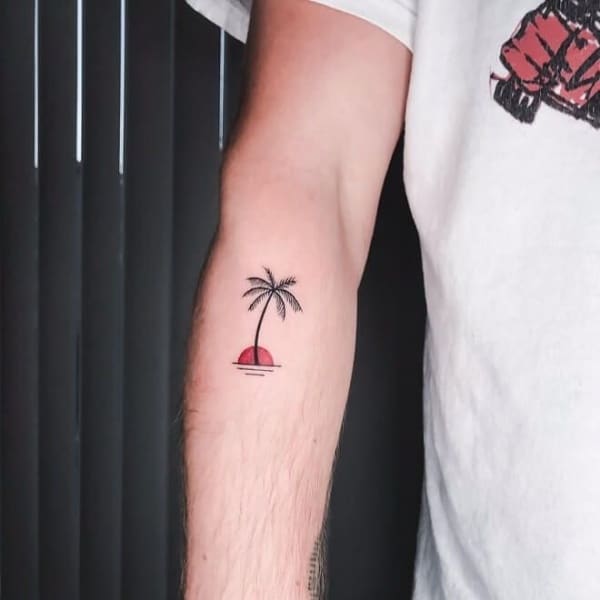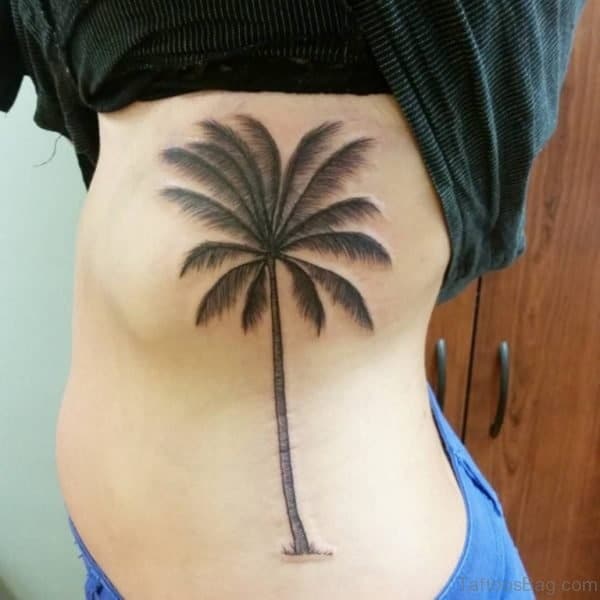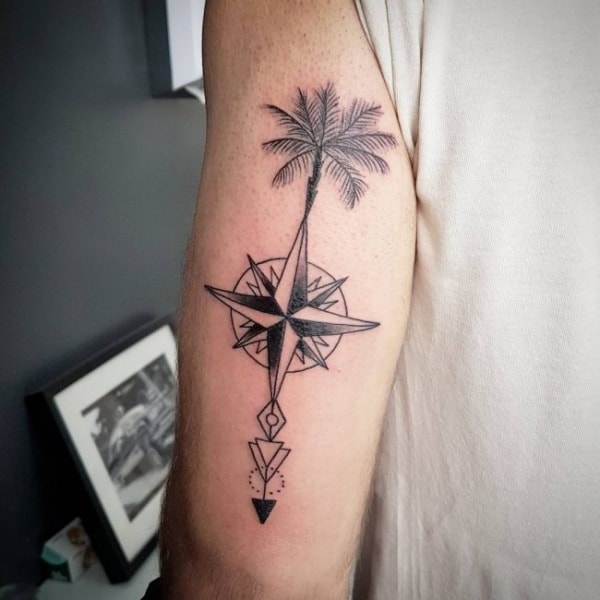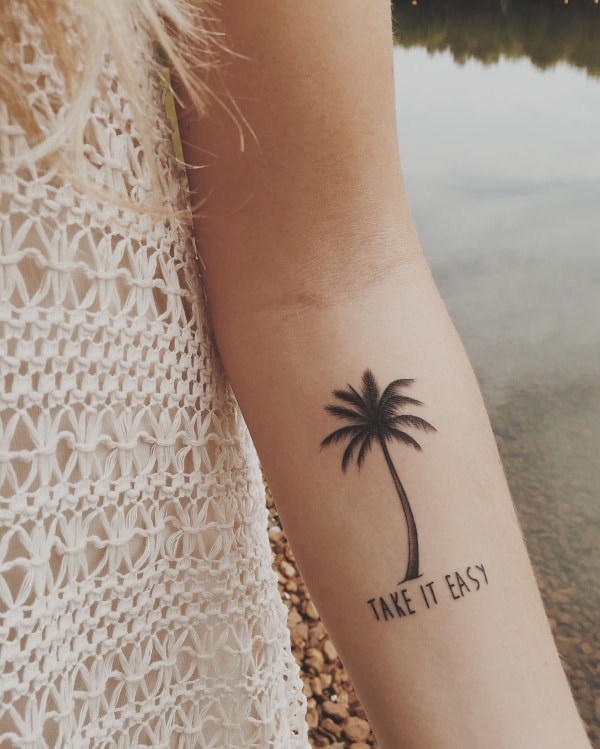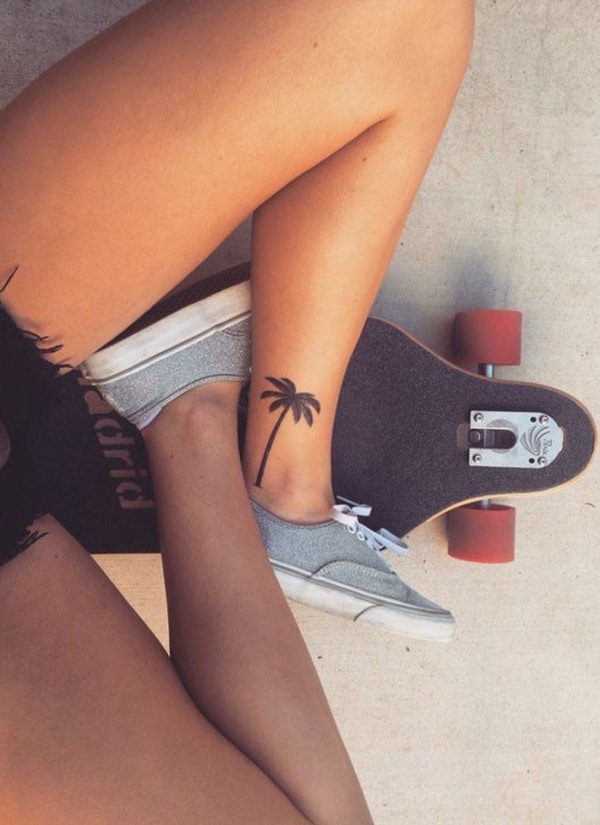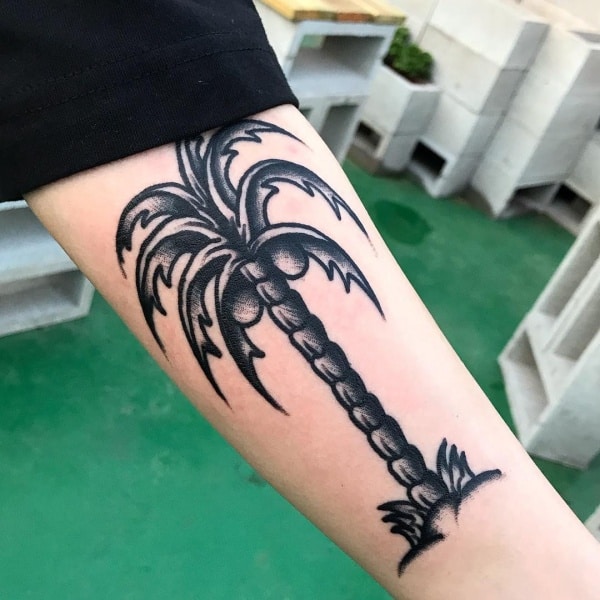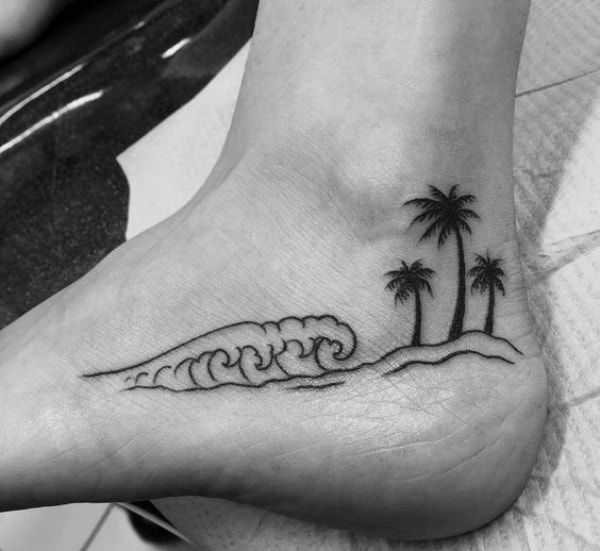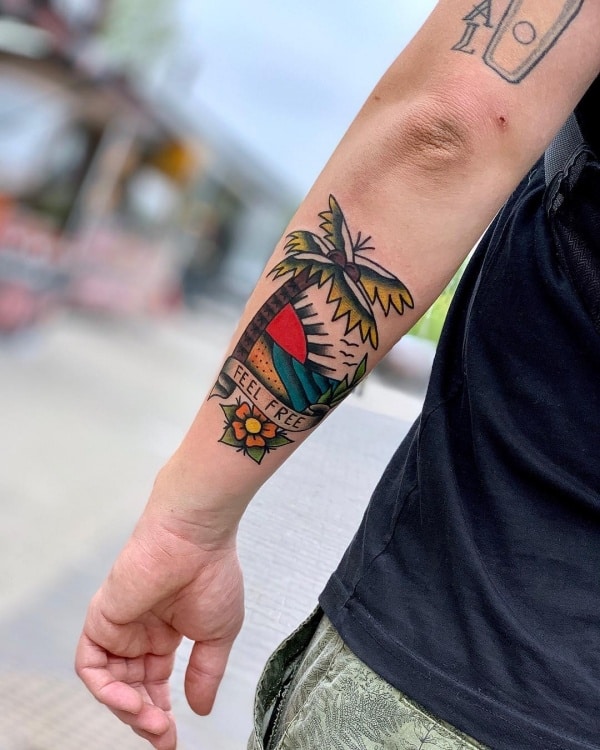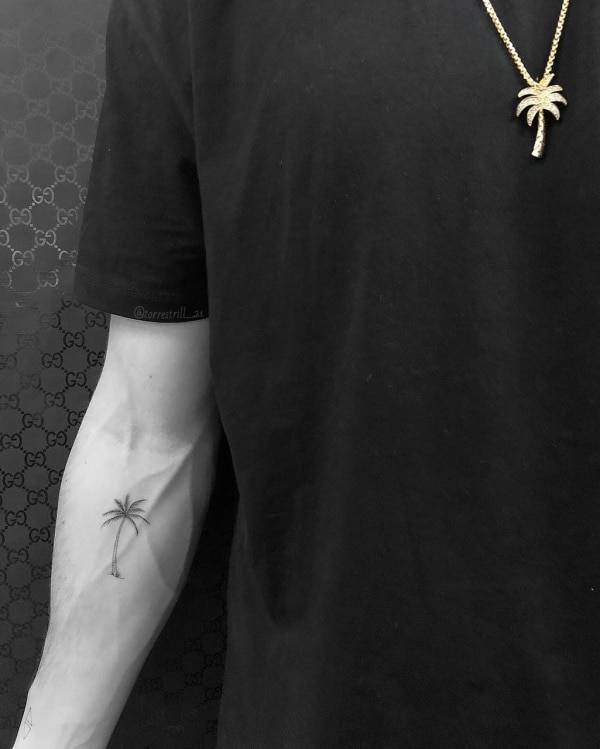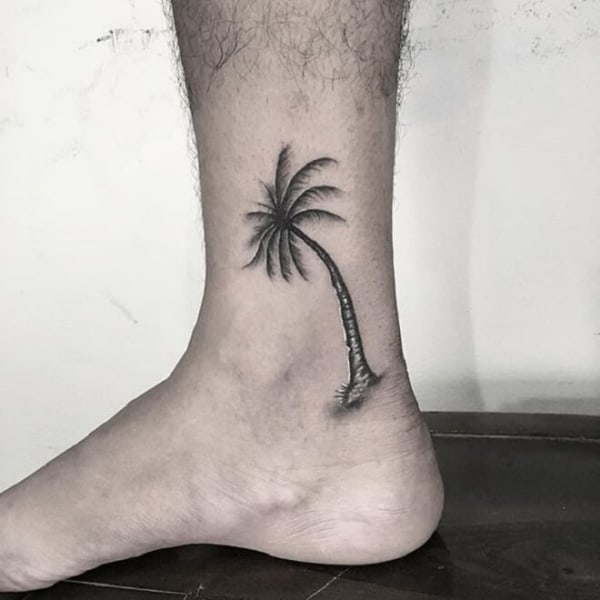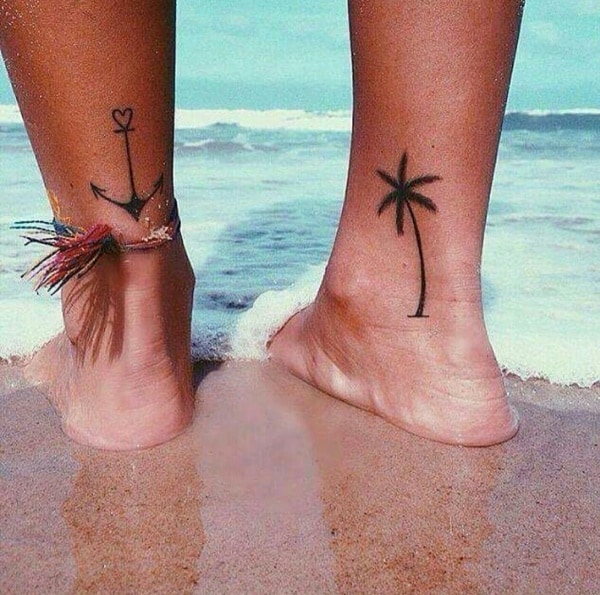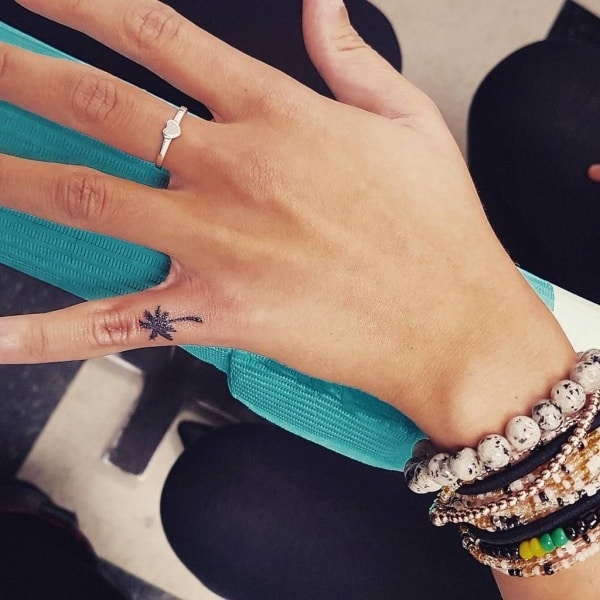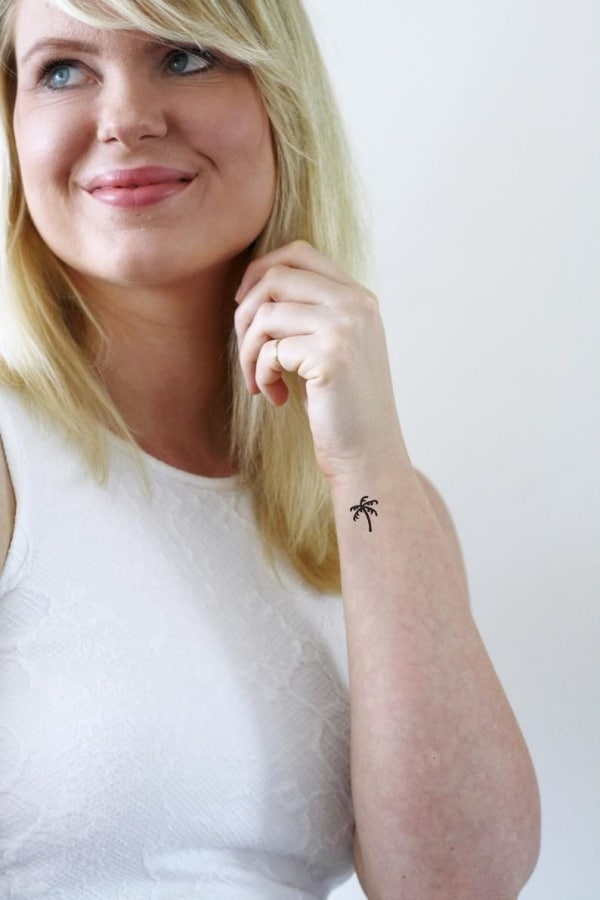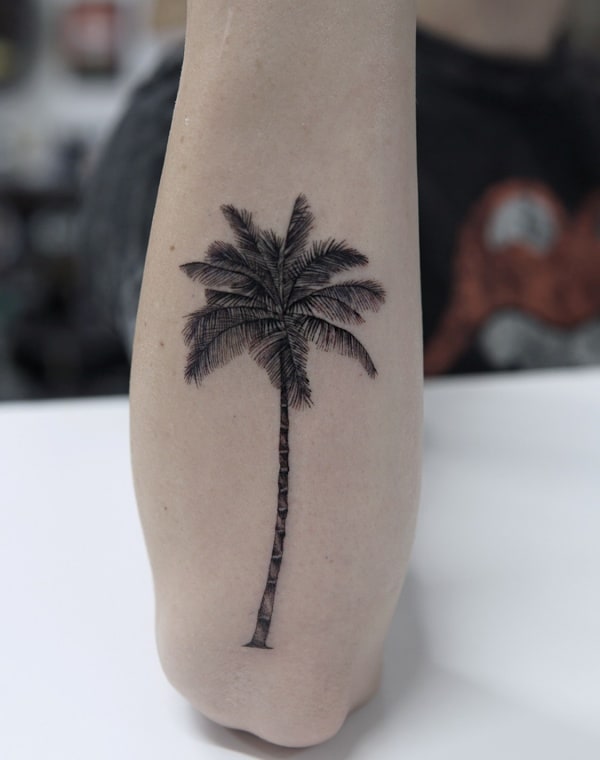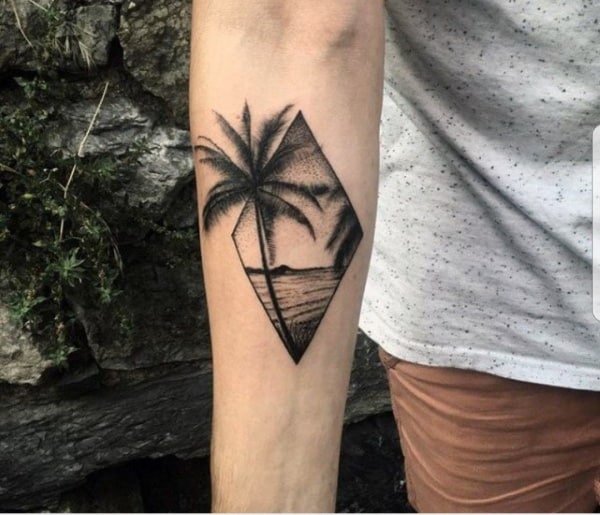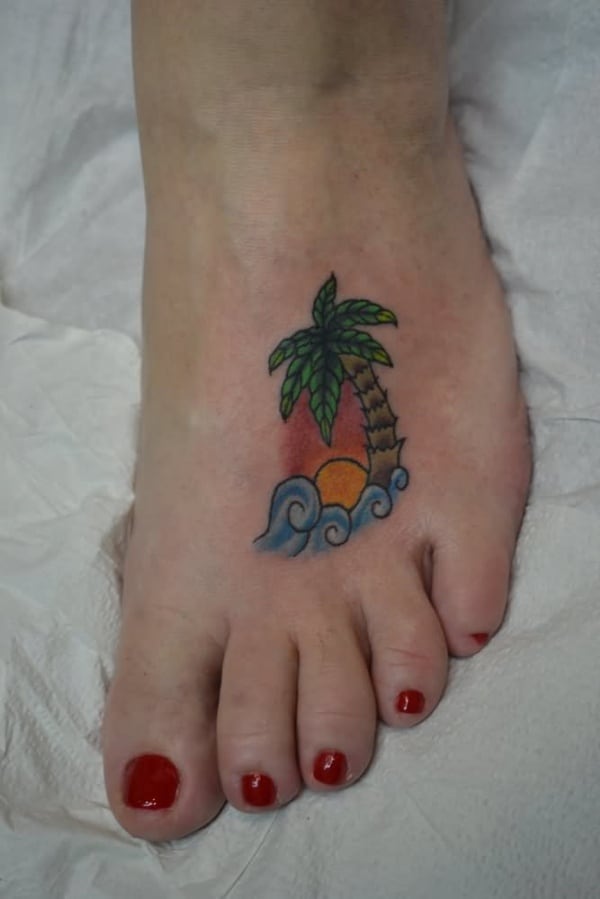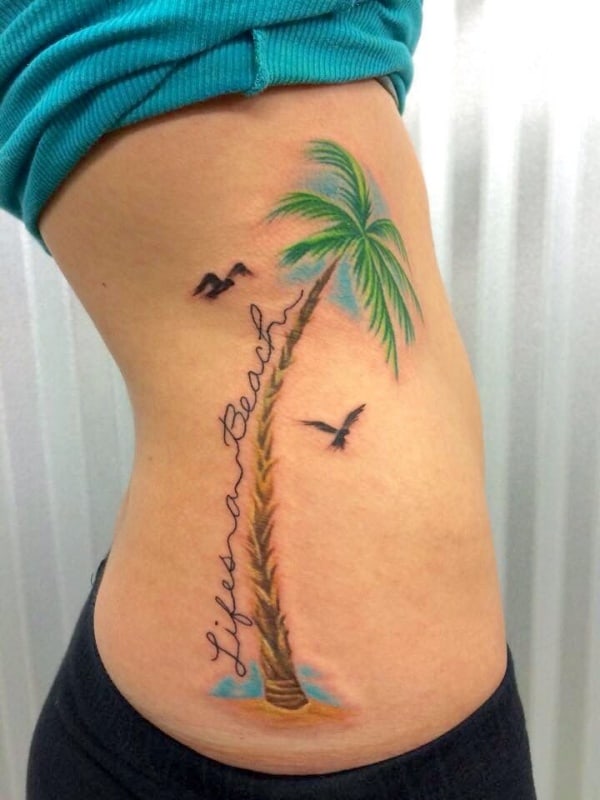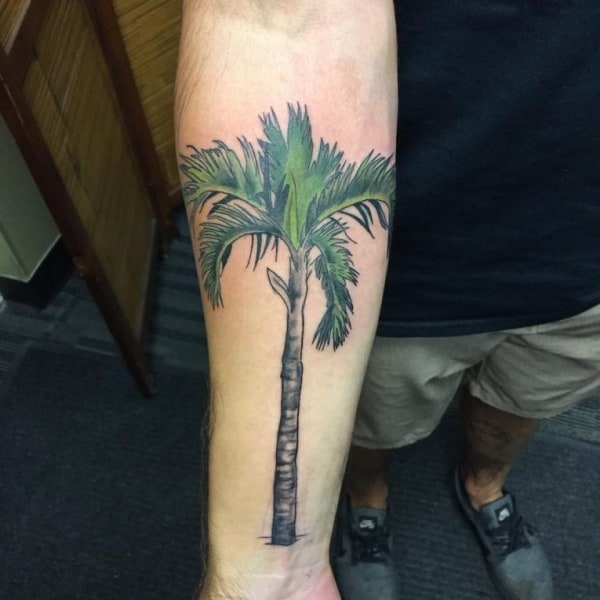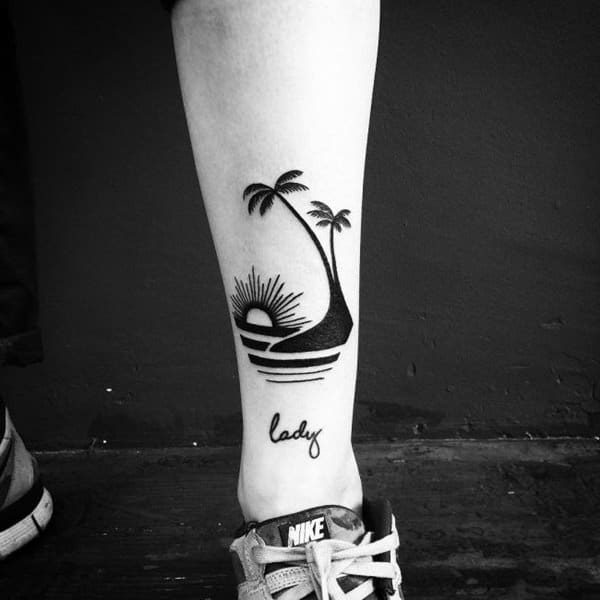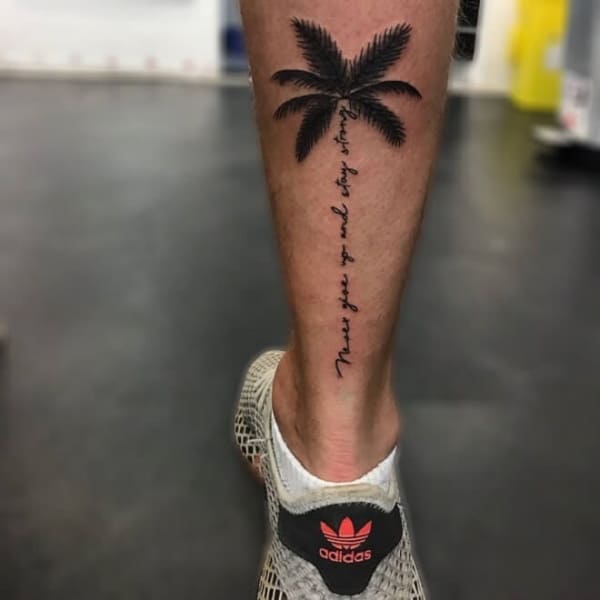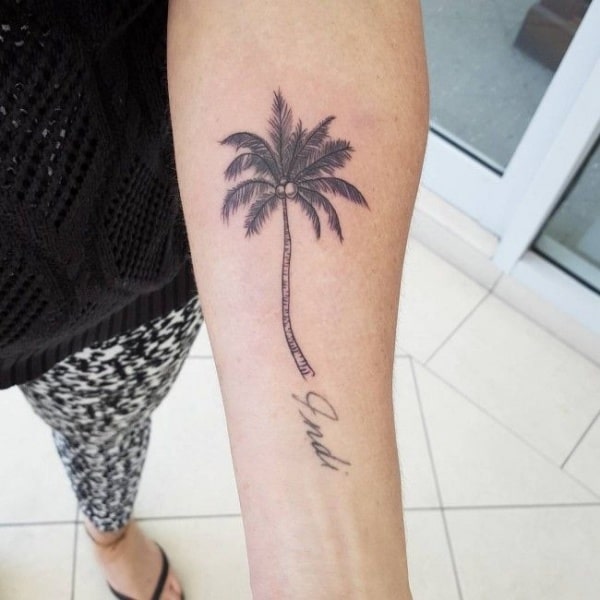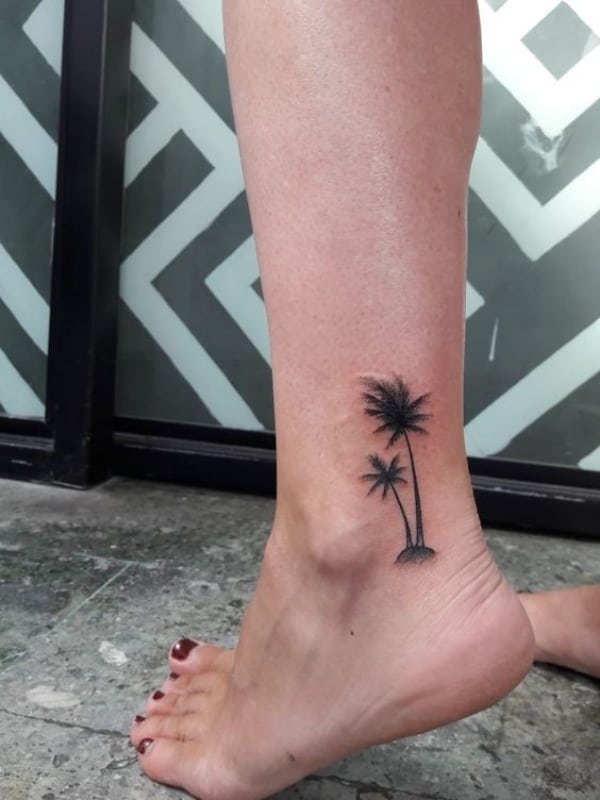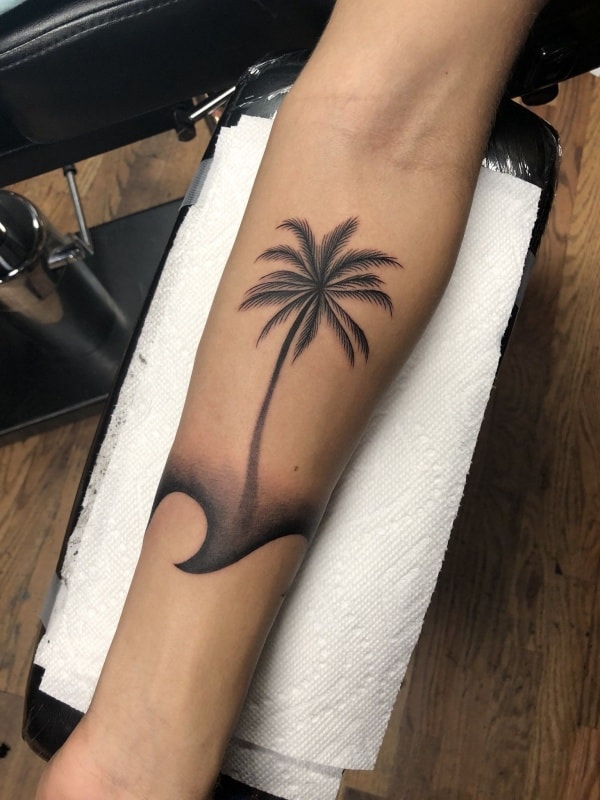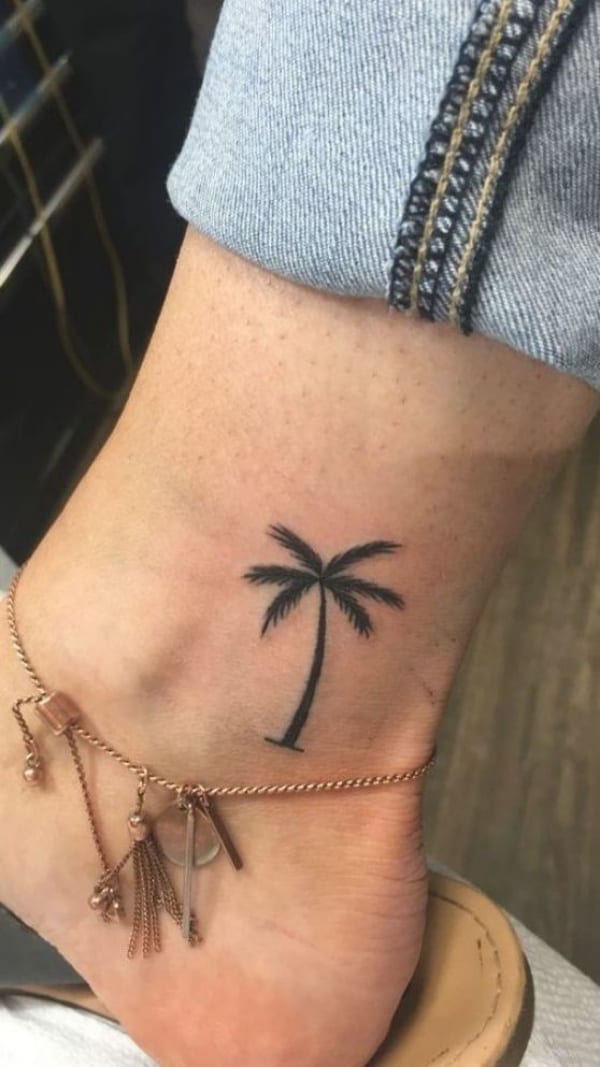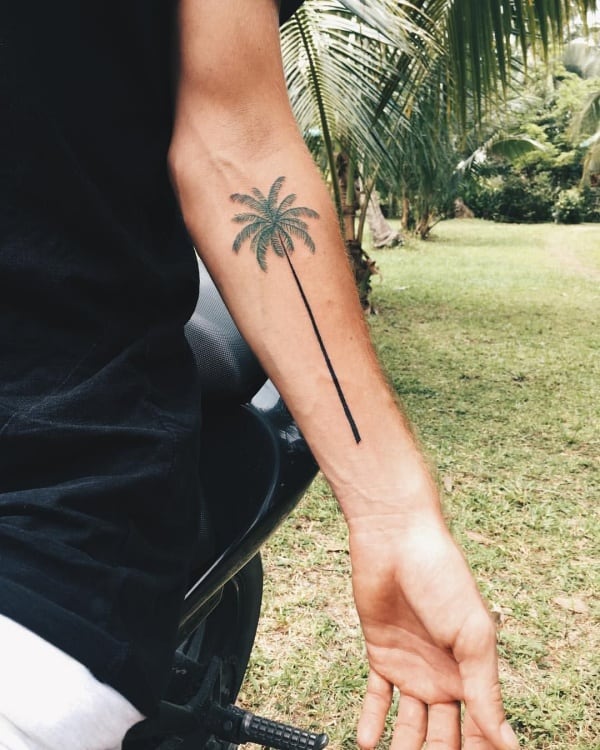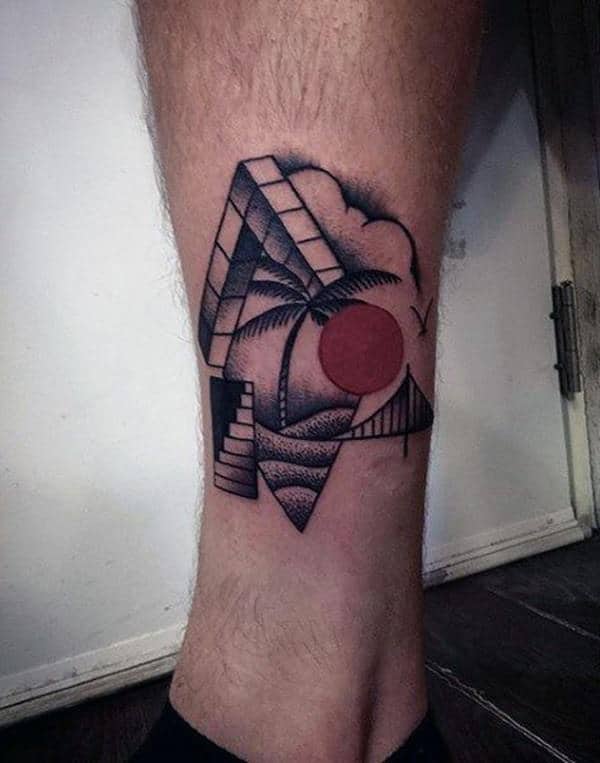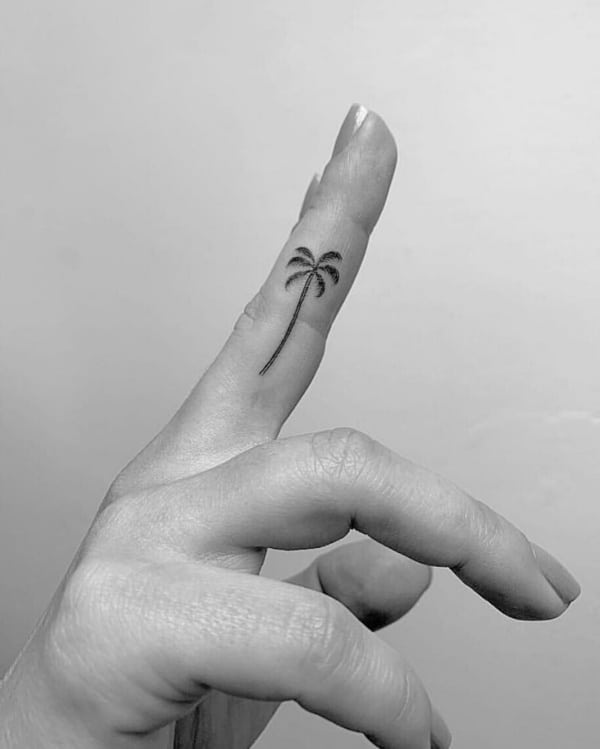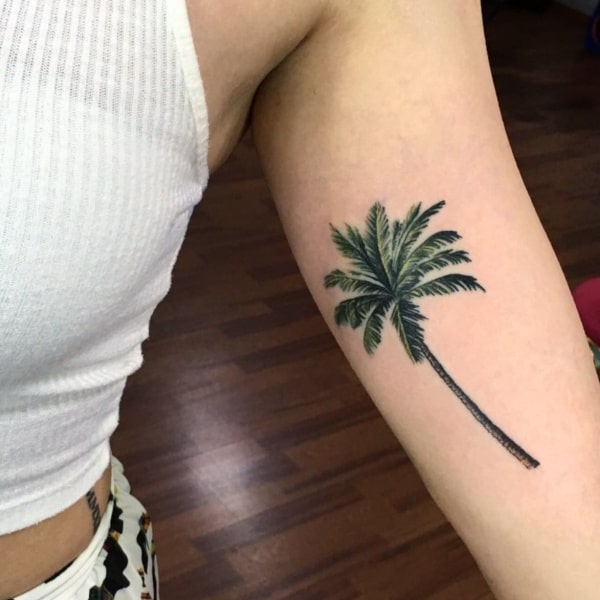 That brings us to end the list of palm tree tattoo designs. The palm tree as we discussed before, is a sign of immense positivity presented in the most simplistic and minimalist ways. So, donning this one would remind you of the simple philosophies of life endorsing us with its intrinsic values. By this time, I am sure by now you have already picked on your next tattoo from the list we presented above. Apart from these, if you have something new in mind, do get it done for sure. Just remember to get it done well and flaunt it in style.