How to shave with an electric razor? is a common question asked by most men. Somehow portability and smooth shaving of electric razor have succeeded in overwriting the love for traditional shaving method using blades on wet face. Electric razor has the cutters that work behind a perforated screen. This perforated screen is so protective for the skin when the cutters oscillate.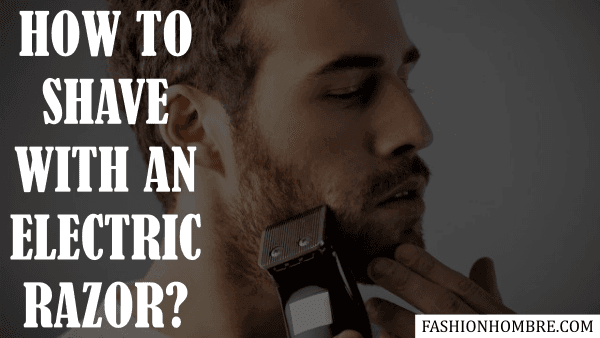 The modern series of electric razor also give the cordless operation facility. This is useful in both types of shaving i.e. dry as well as wet. It is very easy to clean these electric razors with detergent or you can sanitise it with an alcohol-based solution. Here Are Some Simple Hacks To Stop Sweating So Much. Here is the complete guide for how to shave with an electric razor for an efficient and convenient shave.
Steps To Follow While You Shave With An Electric Razor
Catch More Hair Effective Circulation

There are a variety of electric razors available in the market like foil shaver, rotary razor, etc. While using the rotary shaver you have to follow circular motion to cut down the bulk. Both the clockwise as well as anticlockwise motions have to be used in overlapping fashion to catch more hairs.

While using foil shavers you need to have controlled and short strokes. Keep the direction of the strokes in the hair growth. Be sure to hold the razor perpendicular to your skin.

Go Beyond Basic Circular Motion

Circular motions are the basis of how to shave with an electric razor. But you don't have to be restricted to the circular motion. As your hair may grow in different directions, such single motion will not be enough. While using an electric rotary razor you can improve coverage of hair by experimenting and changing the circular patterns.

Likewise in the foil shavers, you need to change length and directions of the strokes to check which works better. You also need to experiment pressure to be applied on the razor.

The No Pressure Rule

You must remember the rule of no pressure on the electric rotary razor. It may hurt badly if you apply more pressure while shaving. Foil shavers need slight pressure for a smoother shave. Here is a complete guide to Fix Your Patchy Facial Hair.

Electric rotary razor doesn't work like foil shavers in case of pressure. You have to be light with the electric rotary razors compared to foil shavers. Your free hand can assist you in stretching the skin. Minimise risk of hurts with such tighter skin.

To Use Shaving Cream

It is better to go for dry shave rather than wet shave using shaving cream. Use minimum lather to maintain the quality of your shave. More lather may impact negatively on your shaving experience. Same applies to the foil shaver as well. You can always go for trial and error to know which works best for you.

Be Patient

Never ever hurry in the shaving act. You may be going let for your job or a date but you have to take your time and be mindful. Give attention to your task regardless of the razor you select.

You may experience irritation on the neck area with the electric razor. It is suggested to go for this area first. You can improve your shaving quality by flipping it upside down. Such razor flipping can help you shave your moustache perfectly. It will also help you maintain razor quality with single foil contact with skin.
While moving on how to shave with an electric razor you need to do required preparations needed for shaving. You also have to follow aftershave treatment for better skin nourishment. You must wash your face with cold water and pat it dry with a soft towel. Now apply moisturising aftershave balm. Such healthy aftershave routine will help you experience best shave each time. Also Checkout Some Body Parts Men Should Never Shave.