Probably, there is no such guy who does not look forward to the opening of school after a long and boring vacation. School is not only about studying, or appearing for exams, a large part of our school lives consists of having fun with friends and classmates. So, going to school also demands a cool and casual style that will easily win the attention of your fellows. Though the wardrobe is often filled with various clothes, it gets difficult for a teenage guy to choose which one is perfect for wearing in school after vacation. Therefore, we are presenting to you 15 amazingly stylish back to school outfits for guys that are bound to create a positive impact on your classmates and let you be in the limelight.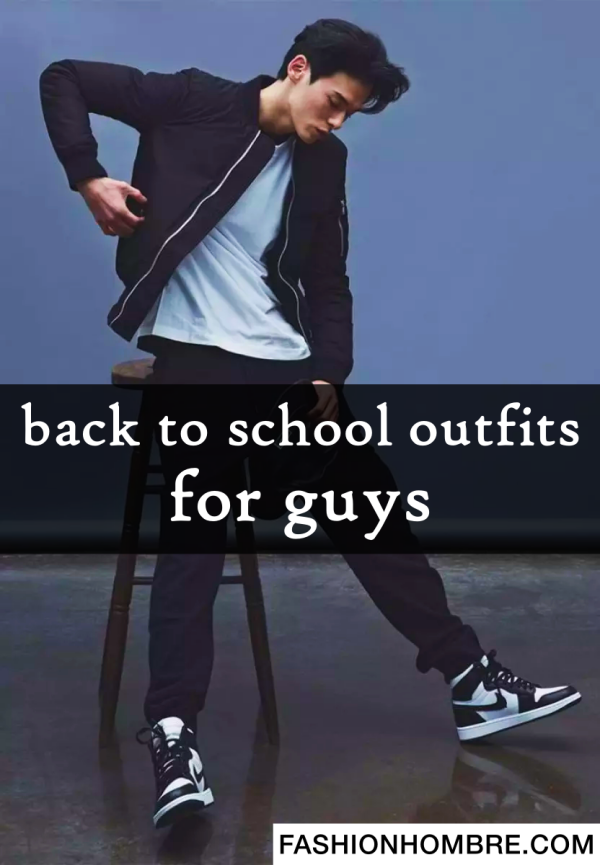 Best Back To School Outfits For Guys
1. Black Jeans And A Denim Jacket With Boots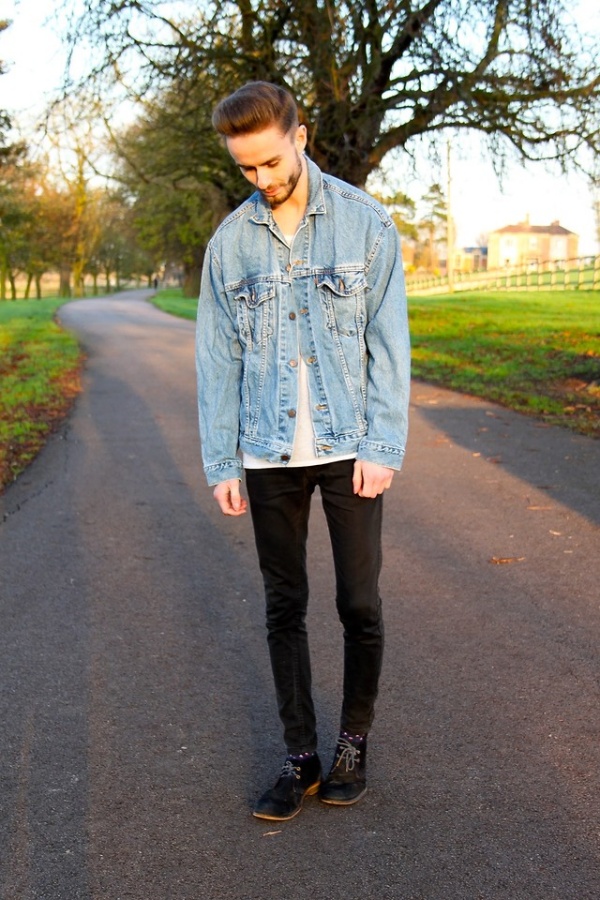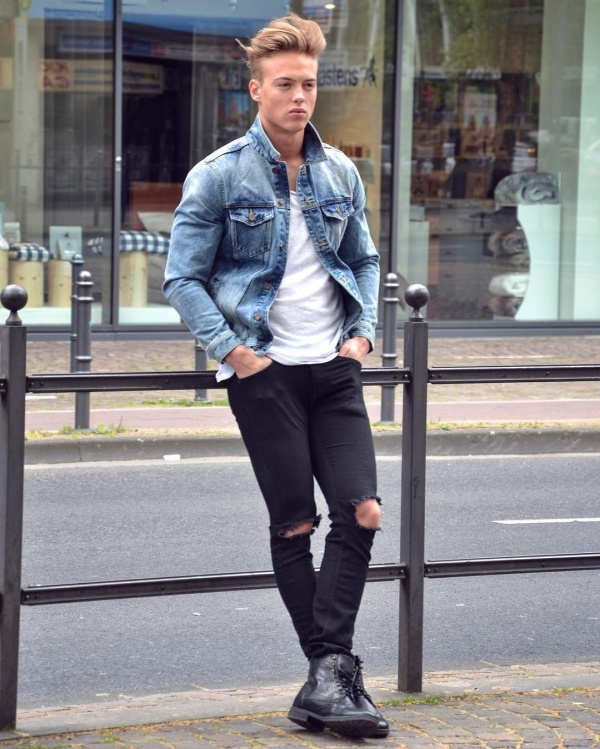 It is a classic dress-up for men. You can pair a white t-shirt with black jeans. Over the t-shirt, you can put on a blue denim jacket. Keep the jacket unbuttoned to enhance the style statement. You can wear suede or leather shoes to complete the look, and you can also choose sneakers to wear with this outfit. Wear any jeans according to your preference, but most men prefer shredded skin-fit jeans.
2. White Polo Shirt Black Trousers And Leather Boots Outfit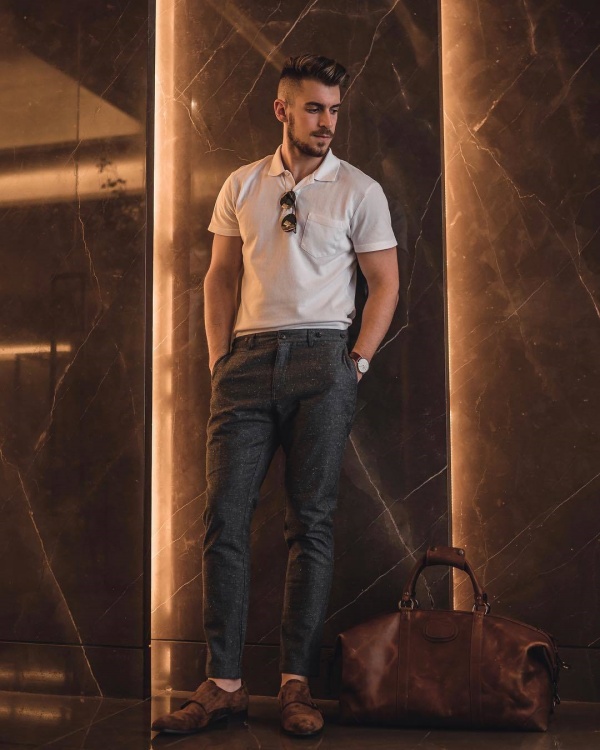 A white polo shirt never goes out of fashion. Select a black trouser to pair them with the white polo. For your feet, go for a pair of leather boots. Choose to wear tan-colored or black leather boots to match the outfit. You can tuck in your shirt within the trouser, or you can also keep the shirt out of your trouser. Always remember one thing if you are tucking in, wear a belt. The belt color should be dark, something like black or brown.
3. Sweatshirt With Vans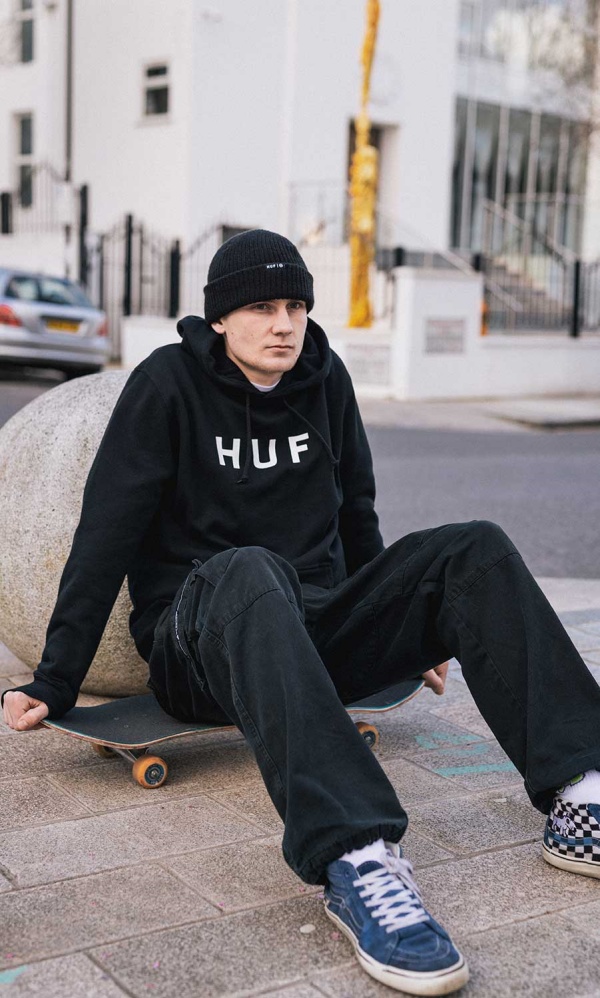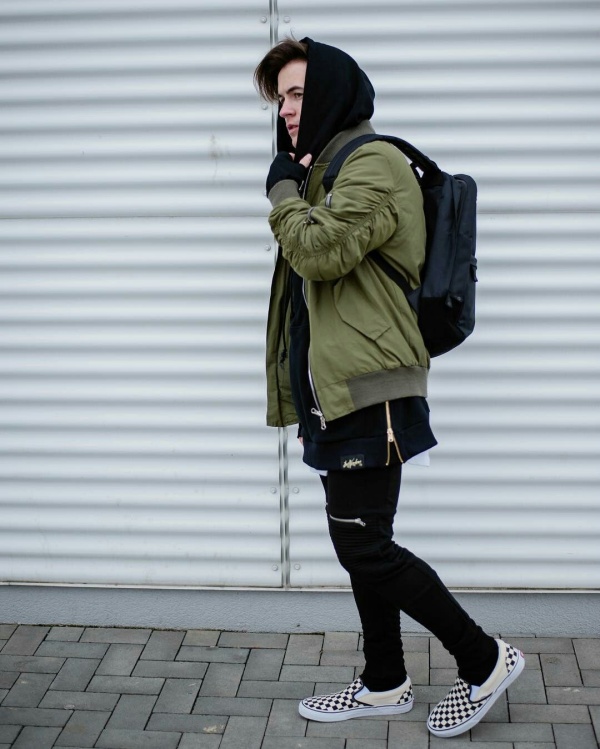 A sweatshirt will protect you from the cold breeze when you are going back to school. Whenever you are wearing a sweatshirt, pair it with trousers. If you are wearing dark-colored trousers, go for a light-colored sweatshirt and vice versa. Under the sweatshirt, you should wear a full sleeve shirt and put the collar out of the sweatshirt. To complete your back-to-school outfits for guys, put on your favorite pair of Vans sneakers. Go for bright-colored sneakers like a red or yellow one to display your youthfulness and cheerful mood.
4. Hoodie With Distressed Skinny Jeans And Sneakers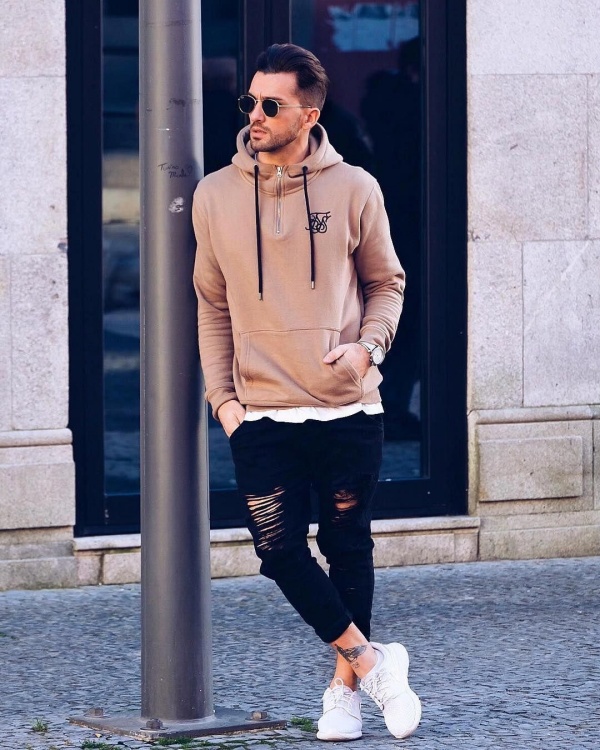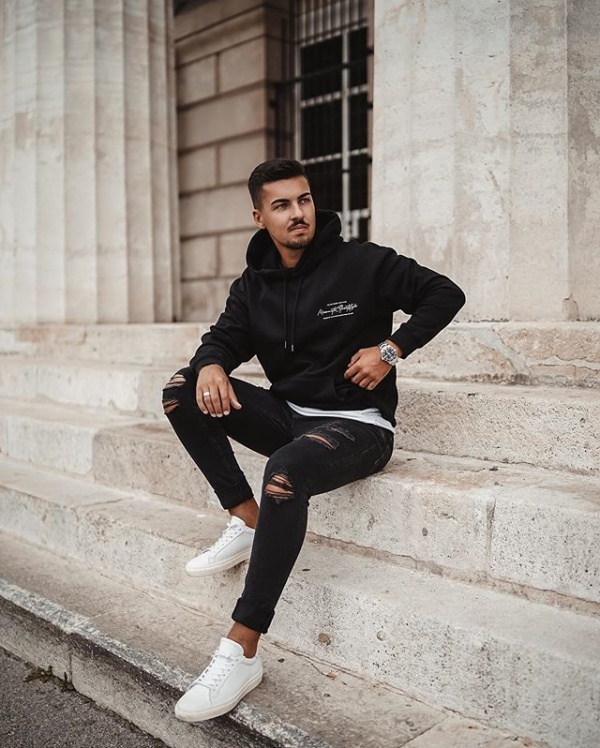 Whether you choose a hoodie with chain or without chain, it is an ideal piece of clothing to complete one of the most liked back-to-school outfits for guys. You can wear a t-shirt, or you can also choose to wear only the hoodie. With the hoodie, you can wear skinny jeans. Choose to wear distressed skinny jeans to sport a rugged look. Finally, before going out, put on a pair of your most loved sneakers.
5. Tailored Sweatpants And T-shirt With White Sneakers Outfit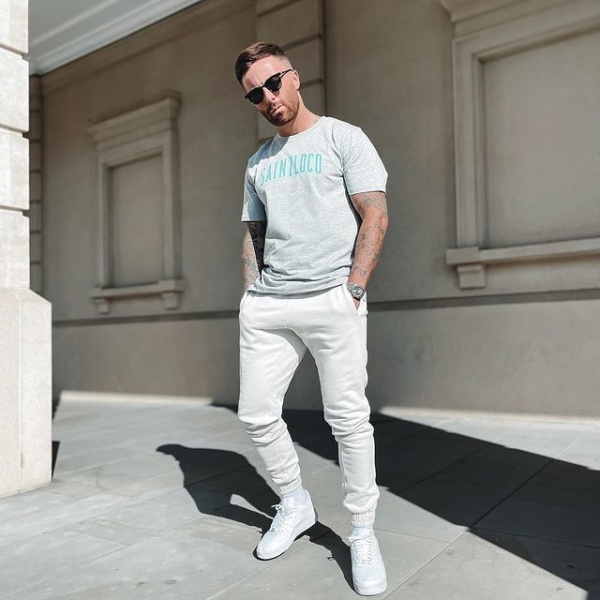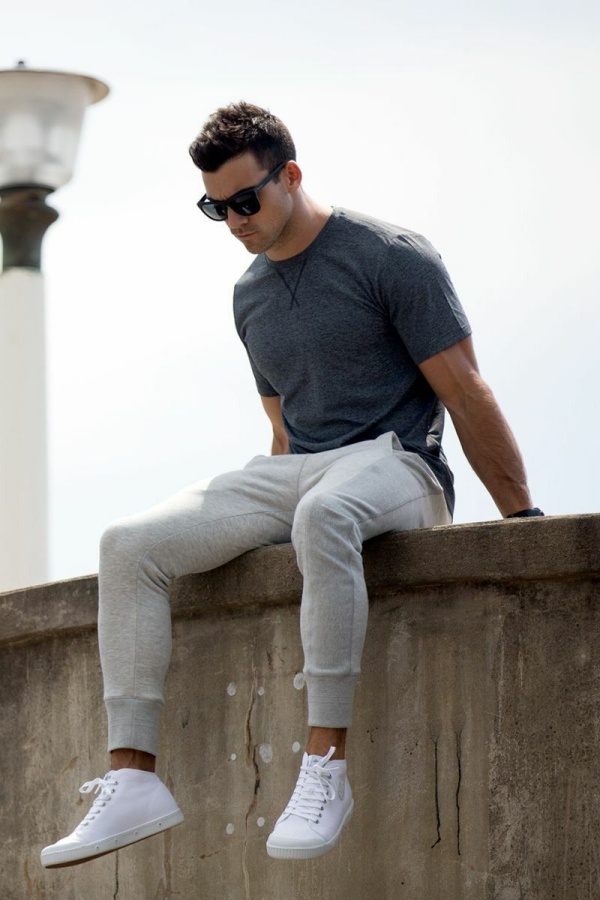 Yes, you read it right; tailored sweatpants will go well with a pair of white sneakers. In addition, Tan or black-colored sweatpants will complement this outfit nicely. On top of the sweatpants, wear a t-shirt to complete this one of the most preferred back-to-school guys' outfits. You can choose to wear a graphic printed t-shirt, or you can also go with a basic round neck white t-shirt, and even a white polo will also do the job for you.
6. Black Jeans With Cardigan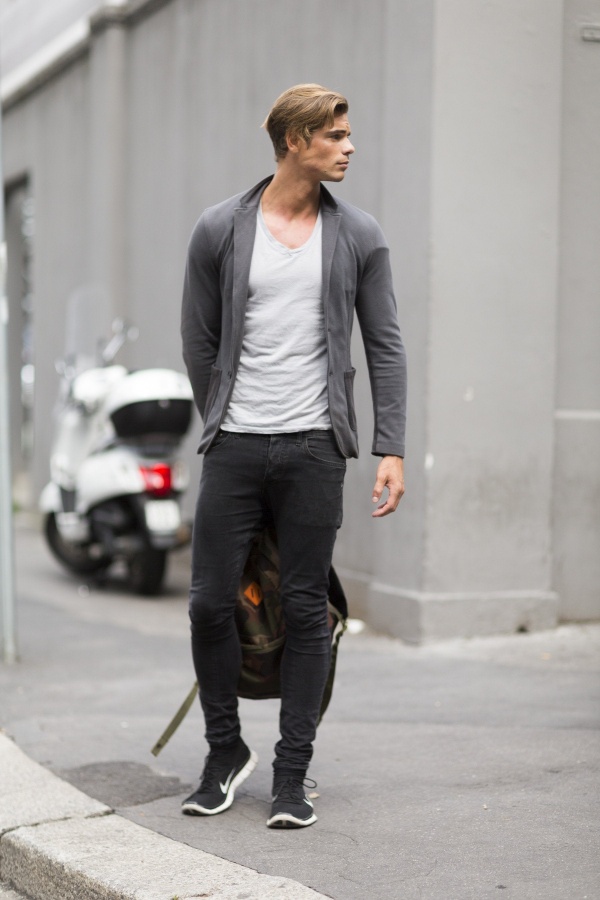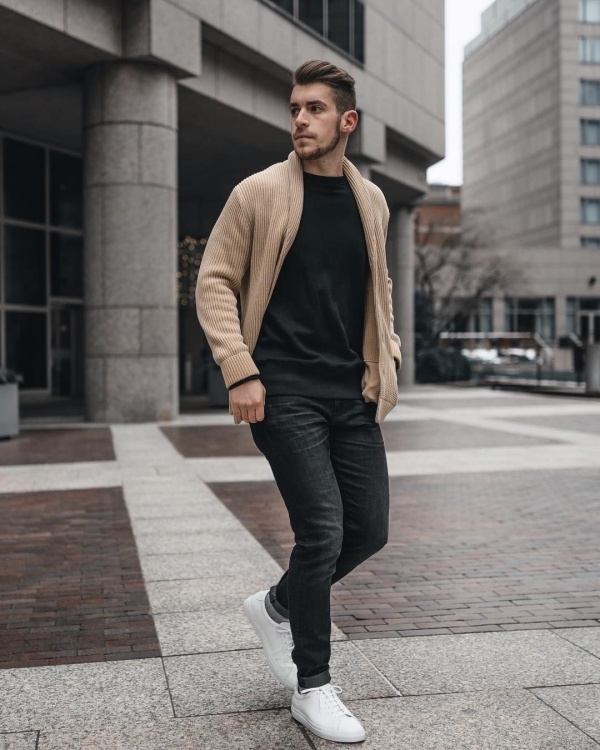 Are you looking for some stylish back to school attires for guys? Well, you can end your long quest with this unique outfit. The significant part of this outfit is the striped tie. Wear a full sleeve formal shirt and then put on a grey or navy blue cardigan over it. Ensure that the color of the shirt is light so that the focus remains on the striped tie. Under that wear, a skin fit black jeans. While choosing the black jeans, don't choose shredded or ripped jeans as this will not go well with the formal shirt under the cardigan.
7. Jeans With Parka Outfit For Teen Guys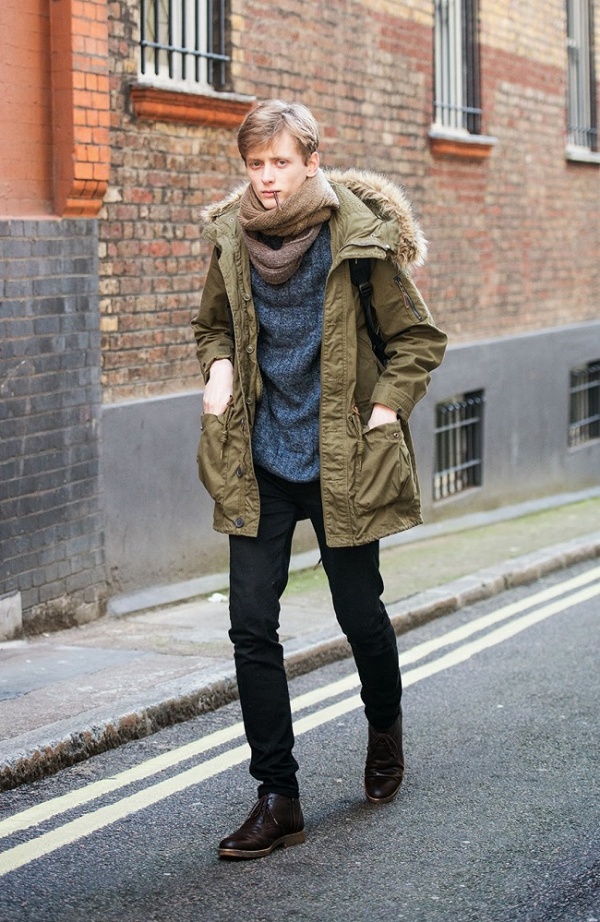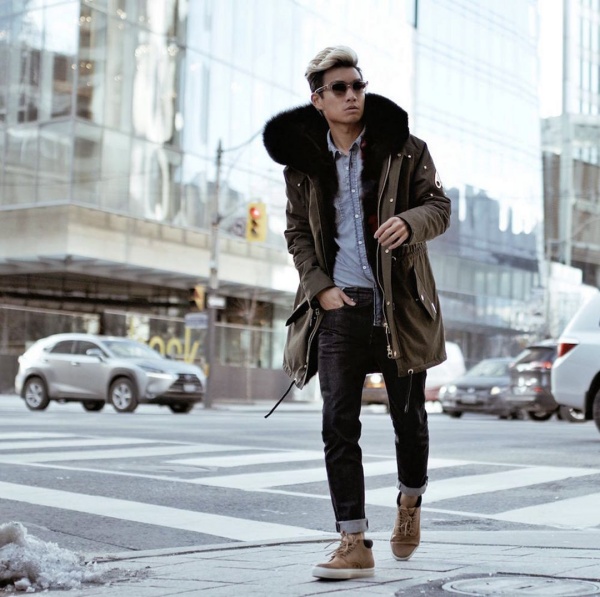 Teenage is the time of your life where you should experiment with your back to school outfits for guys. Parka is nothing but a coat with a hood attached to it. It is also known as Anorak, and fur is present in the outer lining of the dress. Wear dark-colored jeans with your parka outfit. Other than that, you should also make sure that you wear a dark-colored parka outfit. Under the parka, wear a basic t-shirt to complete the outfit; you can also wear a checkered shirt.
8. Leather Jacket Paired With A T-shirt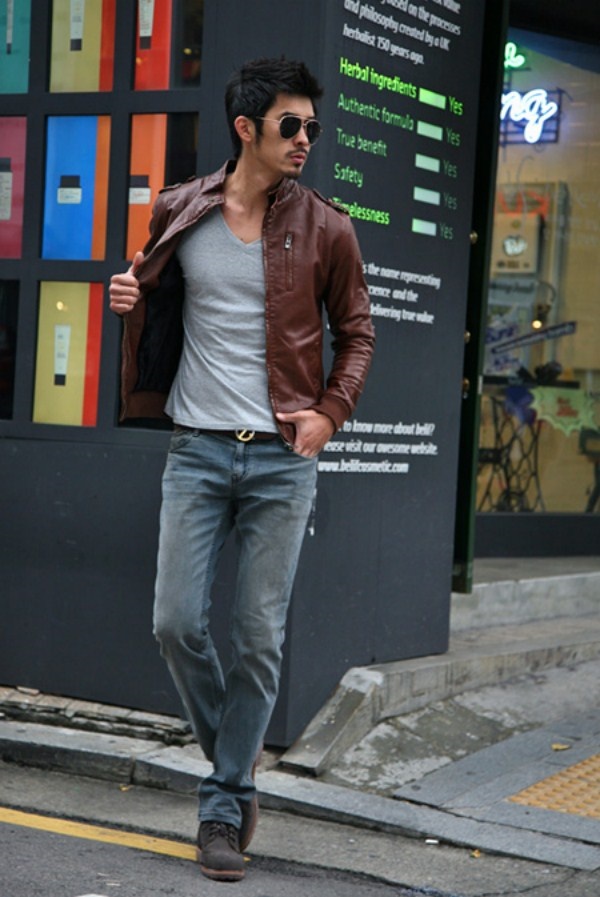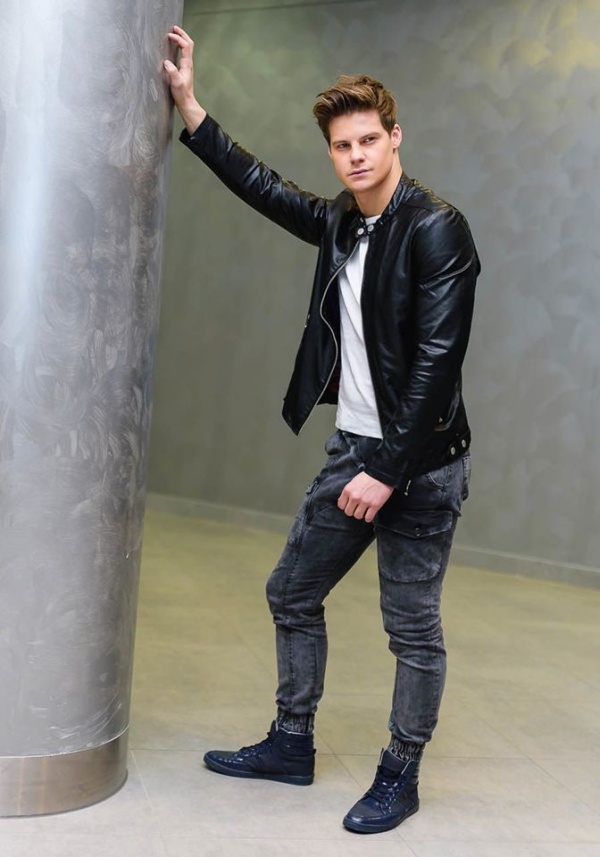 Leather jackets always remain on the trending list. A simple t-shirt look of yours will be glorified if you put on a leather jacket over it. Go for a dark-colored leather jacket such as black, blue, or brown, and under it, wear a light-colored t-shirt. For the bottom wear, you can choose to wear black or blue jeans. Go for ripped or shredded jeans if you think that will suit your style. Finally, put on sneakers or suede shoes and make an impression.
9. Bomber Jacket With Chelsea Boot Outfit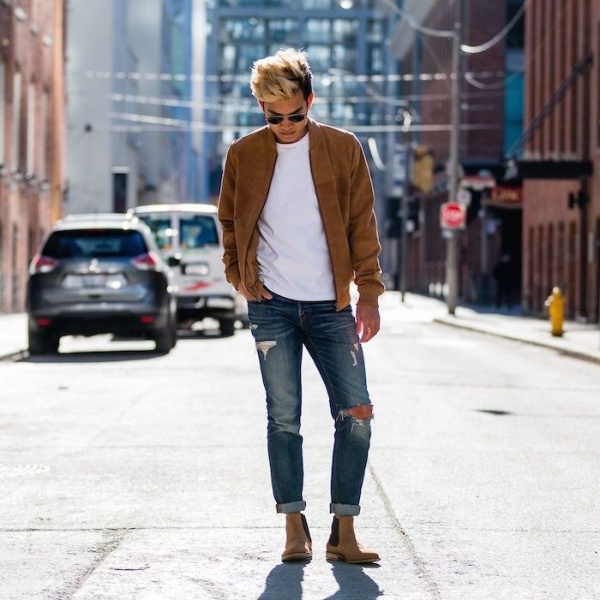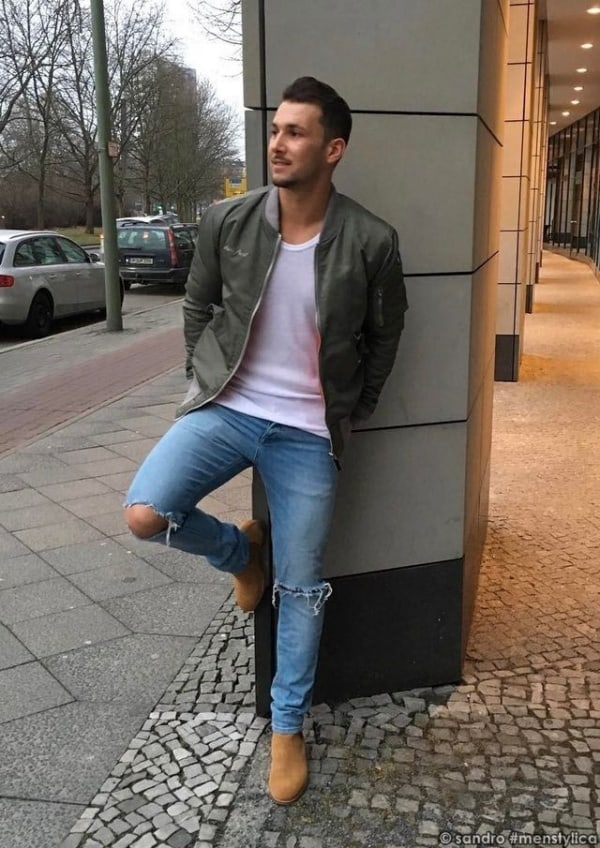 A bomber jacket will make a man look more attractive. No matter what you are wearing inside of the bomber jacket, you will catch a few eyeballs in school for sure after putting on this outfit. If you are wearing a graphic printed t-shirt under the bomber jacket, you should keep the chain of the bomber jacket open. Other than that, you should pull the chain up. Wear any colored jeans under it and complete the outfit with a close-fitted, ankle-length Chelsea boot.
10. White Tee Denim Shirt And White Sneakers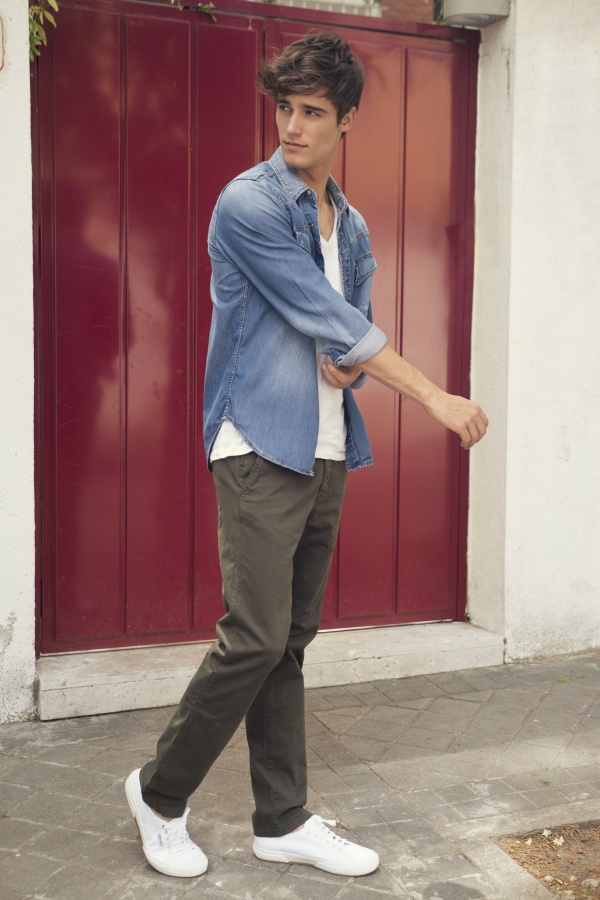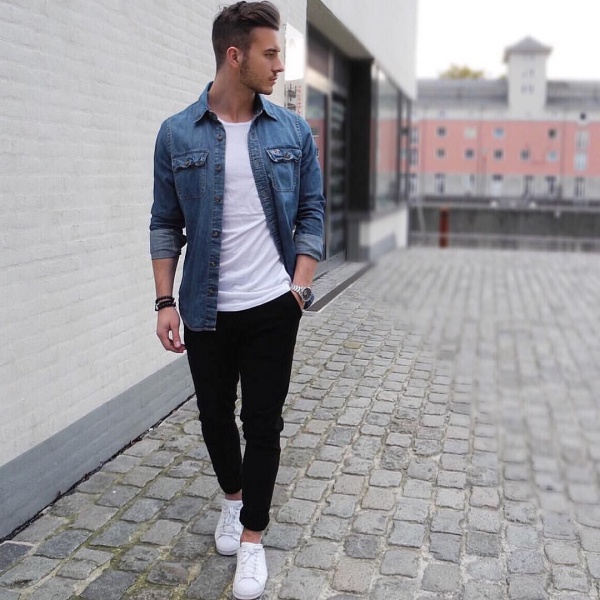 Denim shirts are equally capable of attracting people like a denim jacket. Put on a white t-shirt and over it wear a blue or black colored denim shirt. Keep the shirt unbuttoned. Enclose the buttons only if you are tucking in the shirt. In that case, also keep the top few buttons open. You can choose to wear a trouser under it, and stylists mainly prefer a dark-colored trouser. Finally, choose a pair of white sneakers that will go well with the outfit.
11. Long-sleeve T-shirt With Grey Skinny Jeans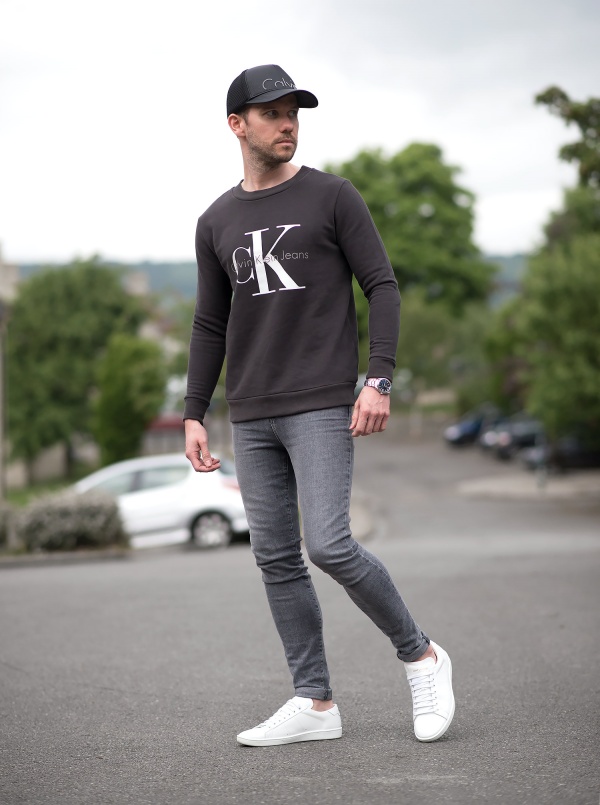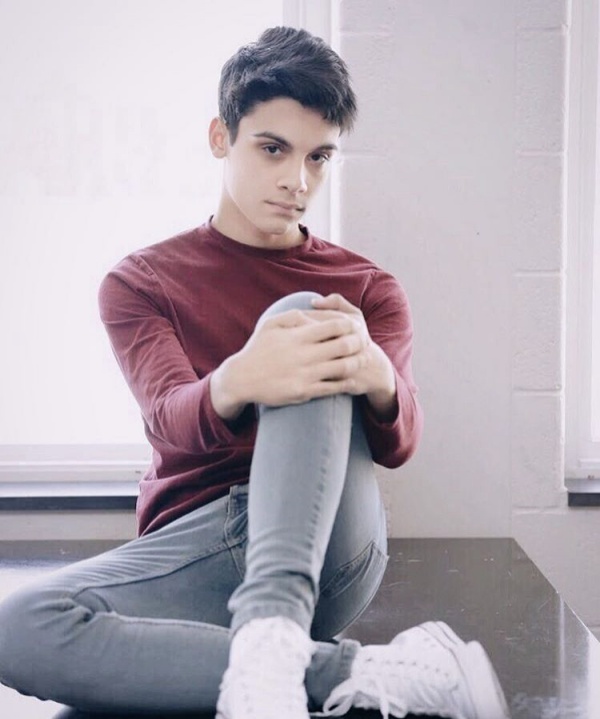 If you are in the teenage phase of your life, then you must have skinny grey jeans in your closet. Please put it on and for the upper body go with a long sleeve t-shirt. As the color of the jeans is grey, pair it with a bright-colored t-shirt. You can go with something like red, yellow or any other bright color. Pull the sleeves up if you want to show the veins in your hand and want to impress people around you. Whether you will wear a round neck t-shirt or a V-neck t-shirt, the choice in case of back to school outfits for guys is yours.
12. Black T-shirt Black Jeans And White Sneakers Outfit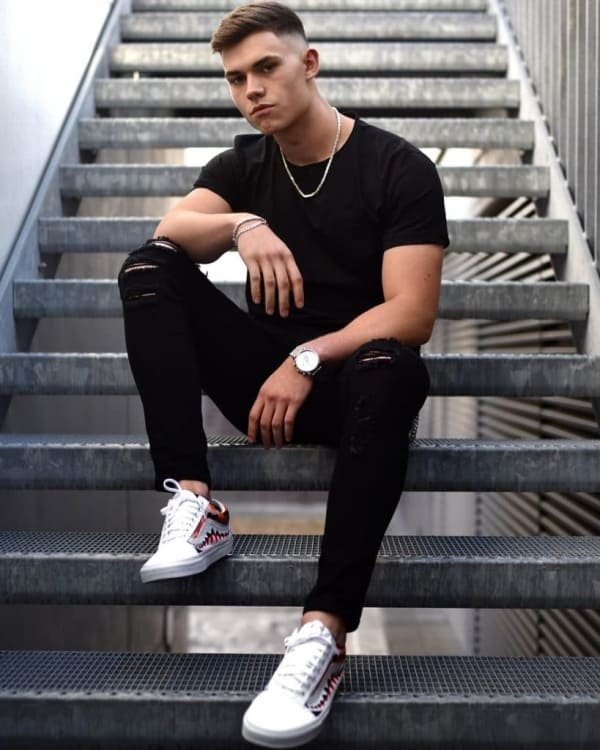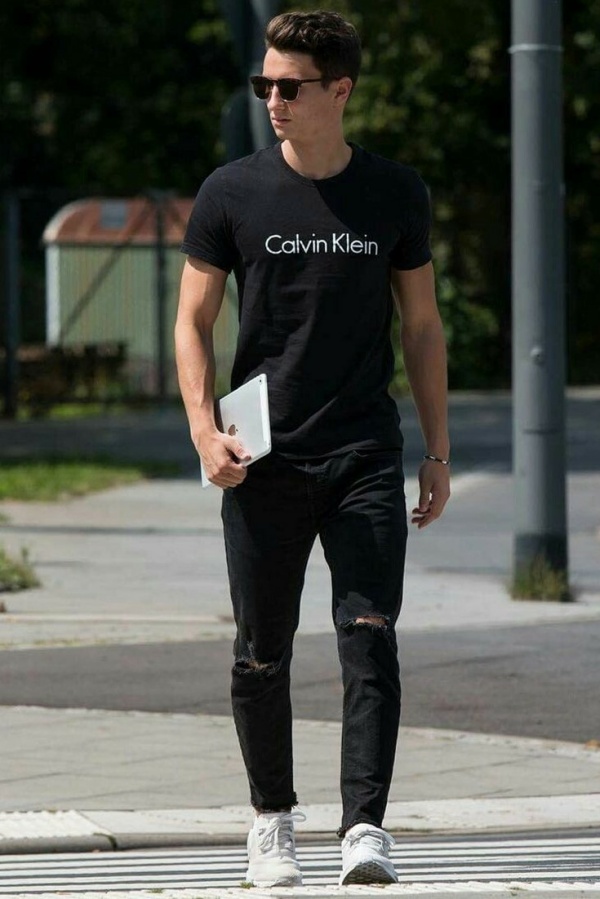 An all-black outfit will be complimented well by a pair of white sneakers. To complete this outfit, you need a black t-shirt and black jeans. You can choose to wear any black t-shirt, and for the jeans, you can choose to wear a simple one or a distressed one as both will go well with the black tee and white sneakers. Just make sure that the jeans that you are wearing have skinny fittings.
13. Varsity Jacket With Jeans Outfit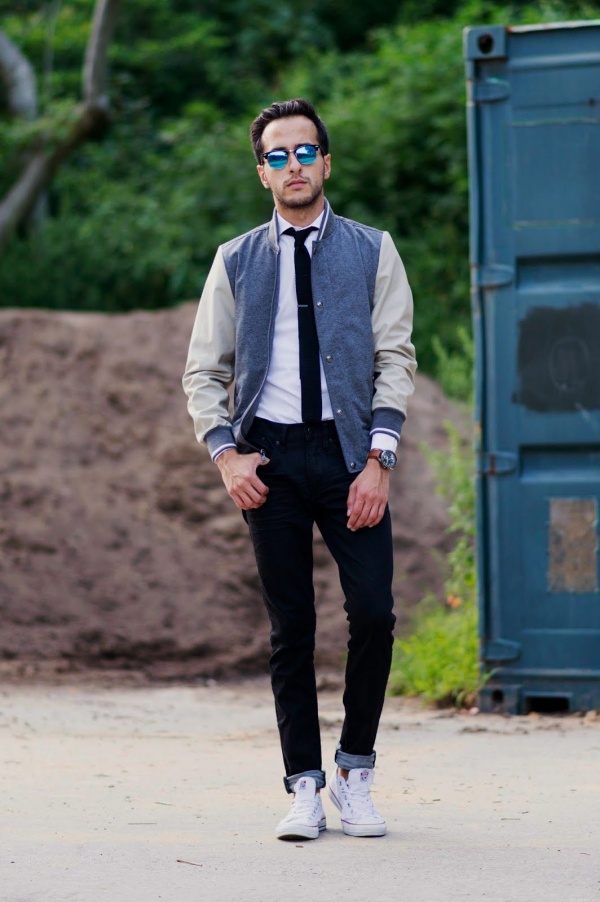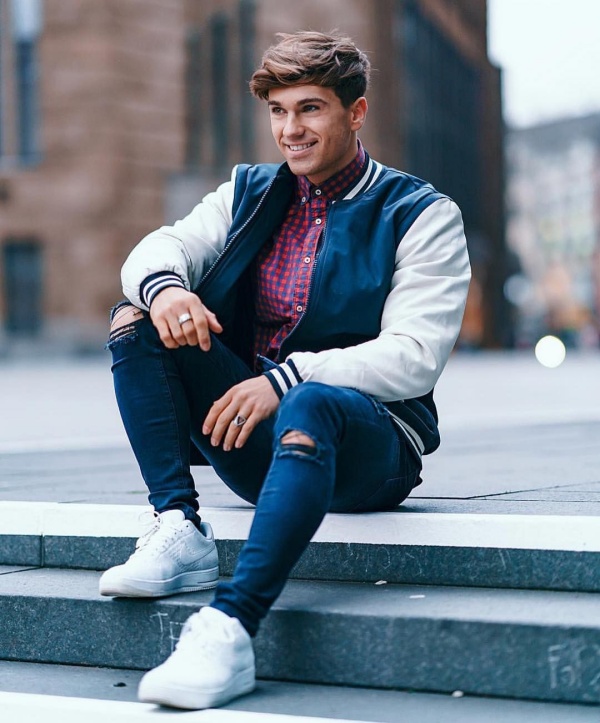 The varsity jacket, also called the Letterman jacket, is one of the most preferred pieces of clothing among the masses for going to school. You can wear almost any colored t-shirt under the varsity jacket. However, don't pull the chain of the jacket unless you are feeling cold. Instead, put on jeans to create the perfect back-to-school look. You can choose any dark-colored jeans, but most stylists recommend black or blue jeans.
14. Suede Jacket Outfit For Teen Guys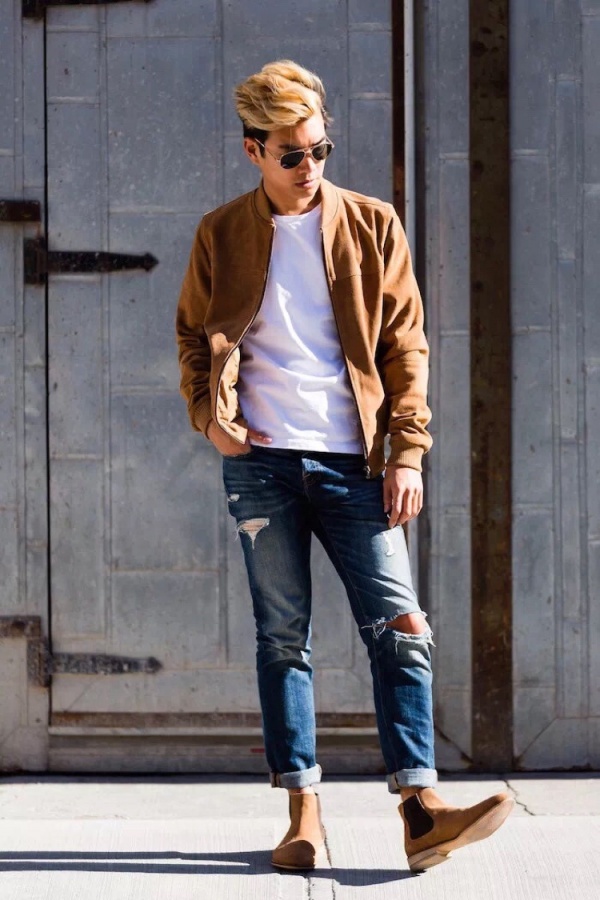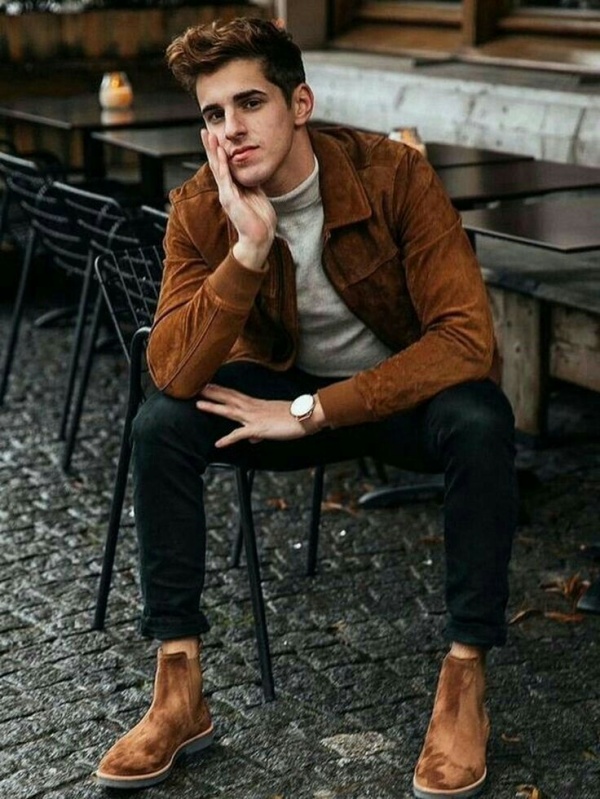 A suede jacket is an ideal piece of clothing that you can wear to look smart while keeping the overall outfit casual. Pair the suede jacket with white, black, or blue jeans, depending on the color of the jacket owned by you. Under the suede jacket, wear a navy blue, black, or white basic t-shirt. Don't pull the jacket chain up if it is not necessary, as it will take the youthful and charming look you are trying to create.
15. High Top Sneakers With Sweatpants Outfit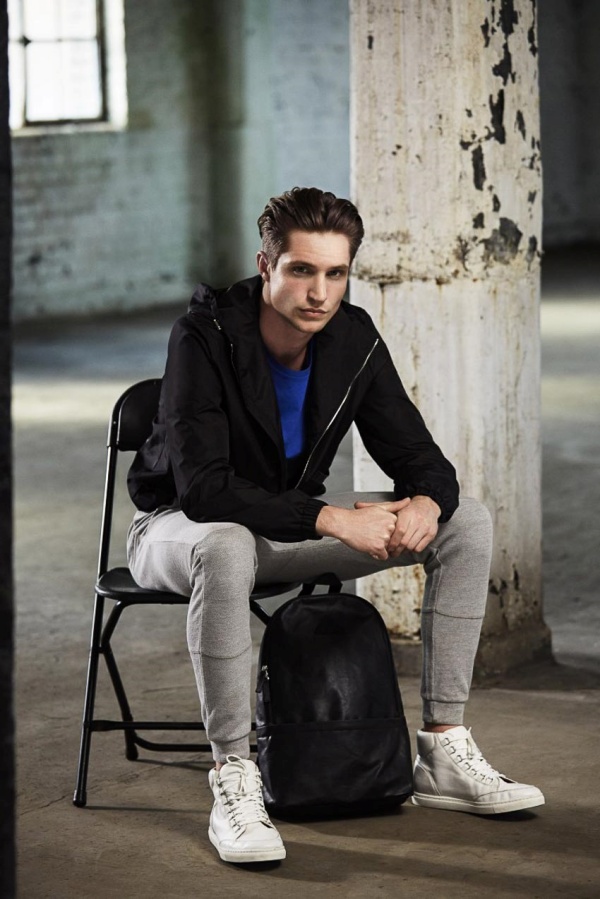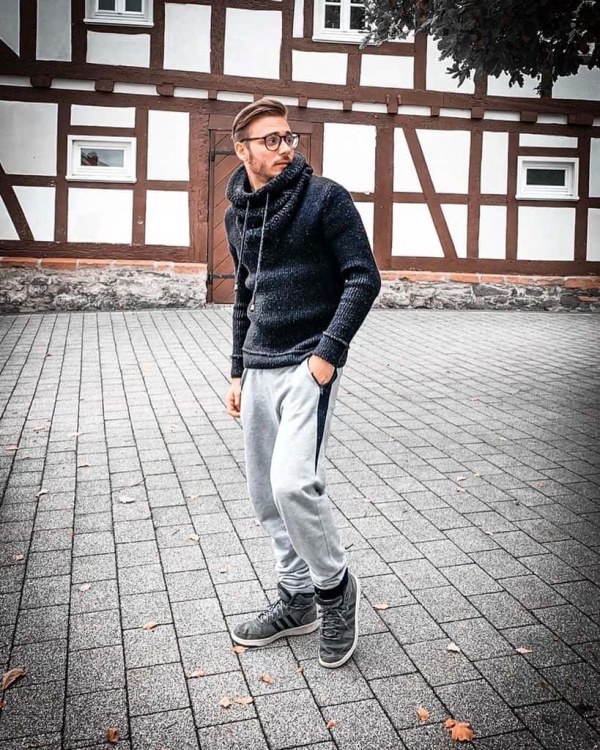 A pair of high-top sneakers will enhance the glamour of any outfit. Wearing a sweatpant will make you look more attractive while keeping the onlookers focused on the high-top sneakers. For the body's upper part, choose a checked shirt to put on over a graphic printed t-shirt, or you can choose to wear only an oversized tee.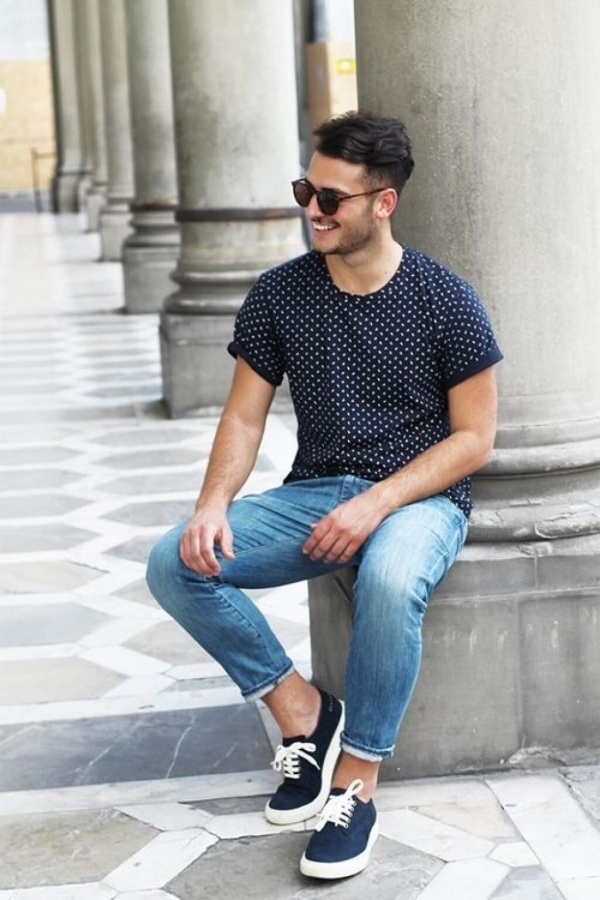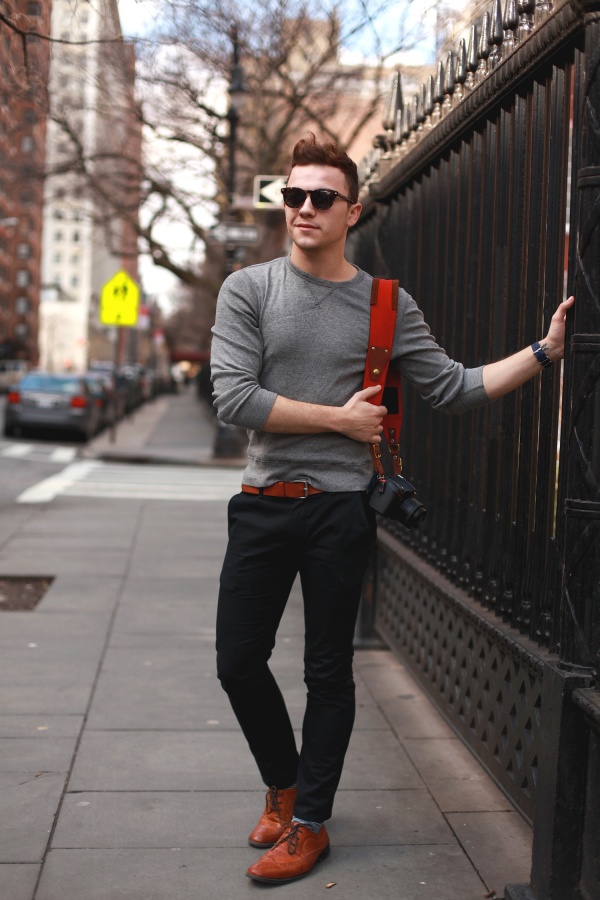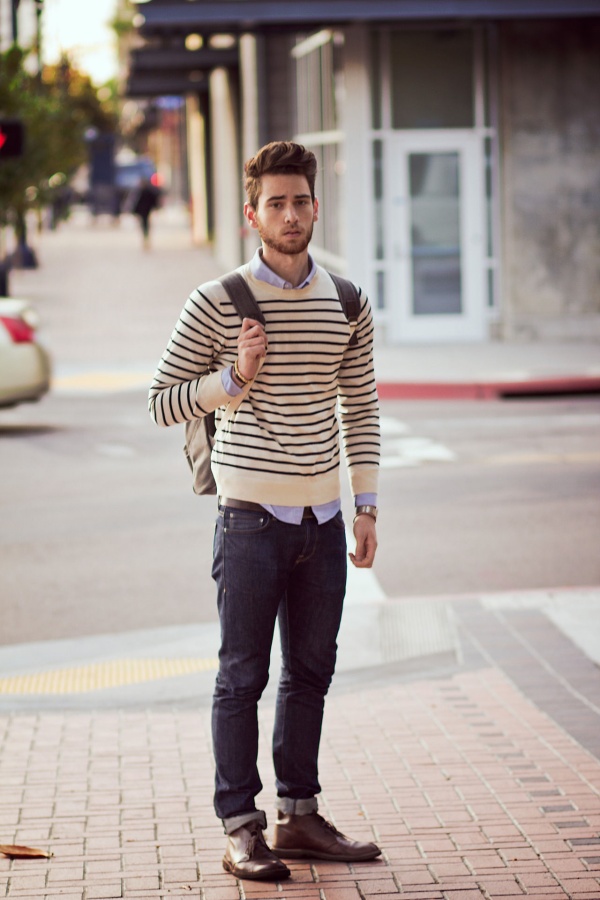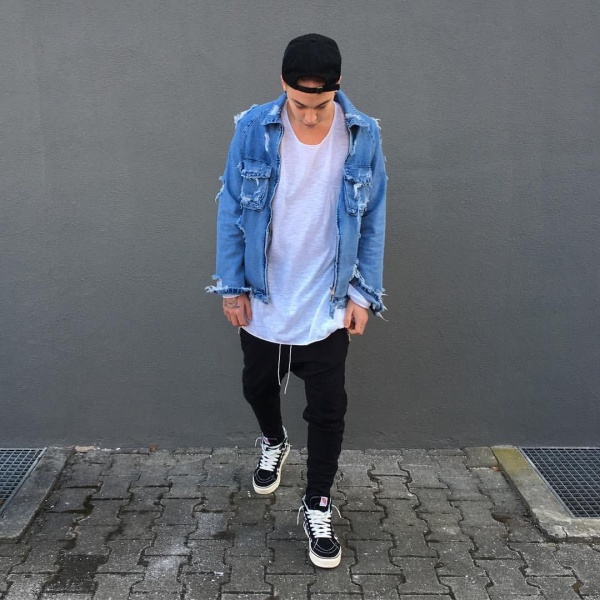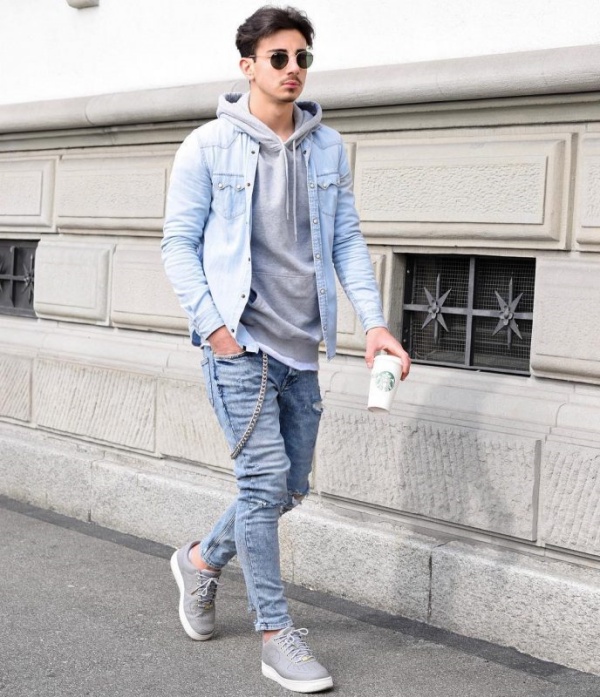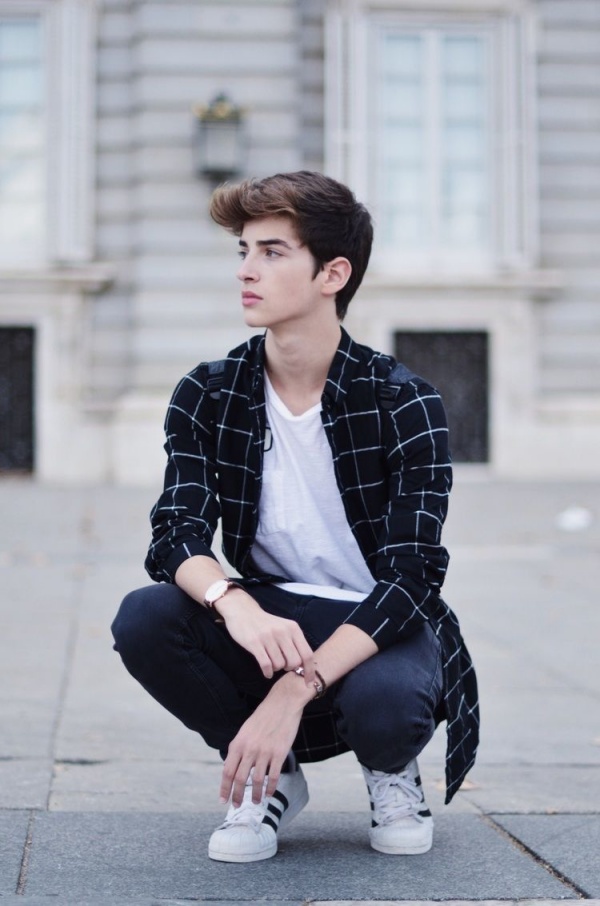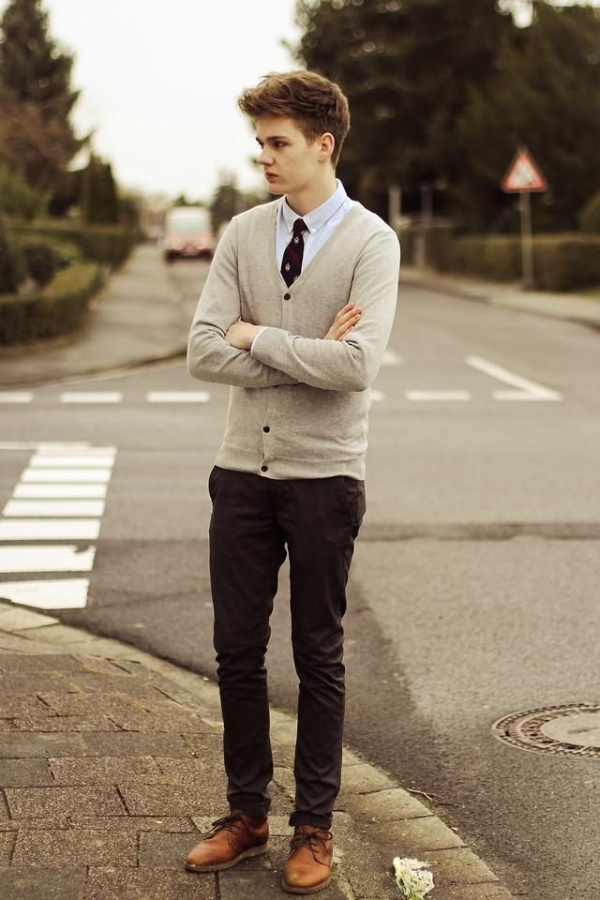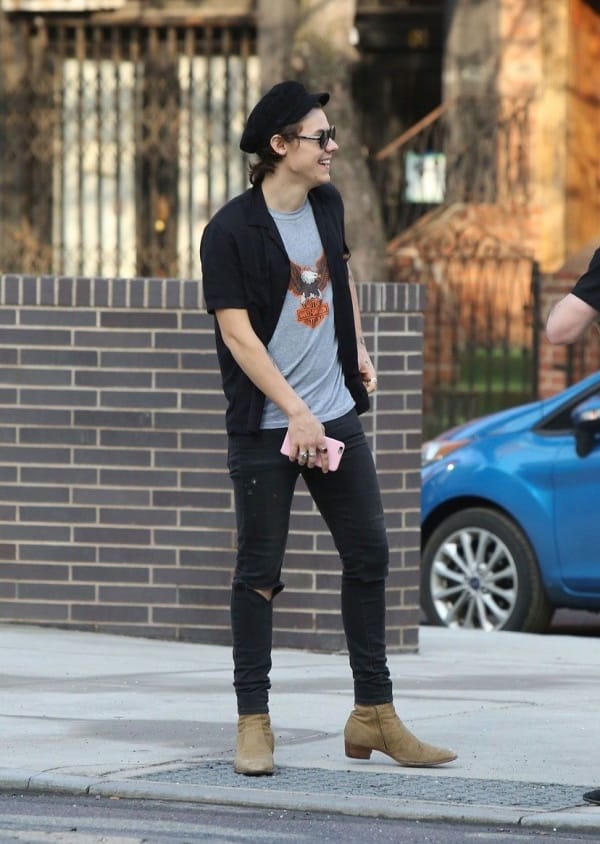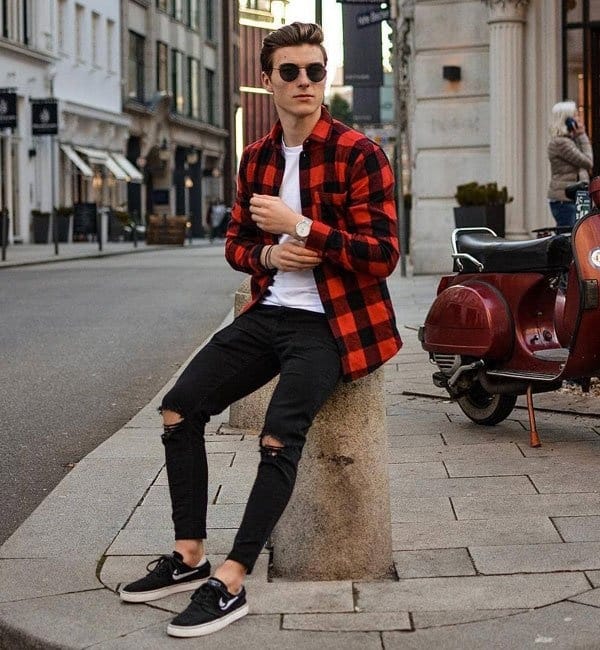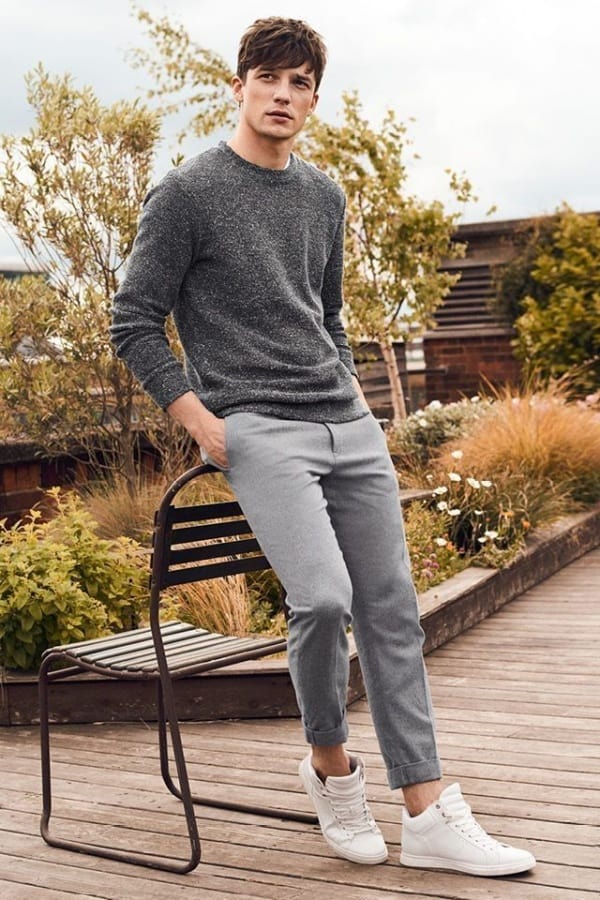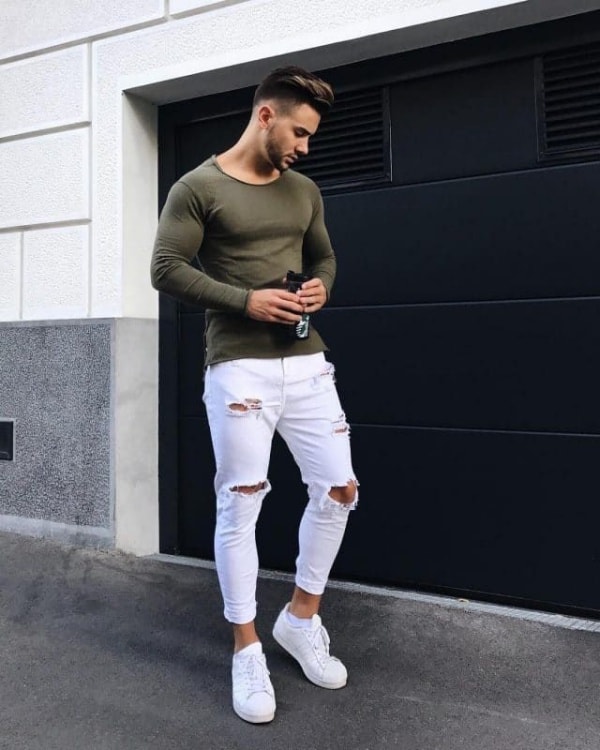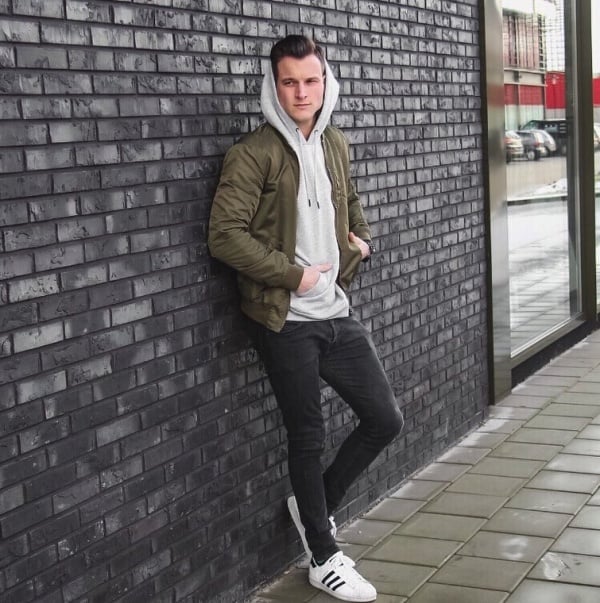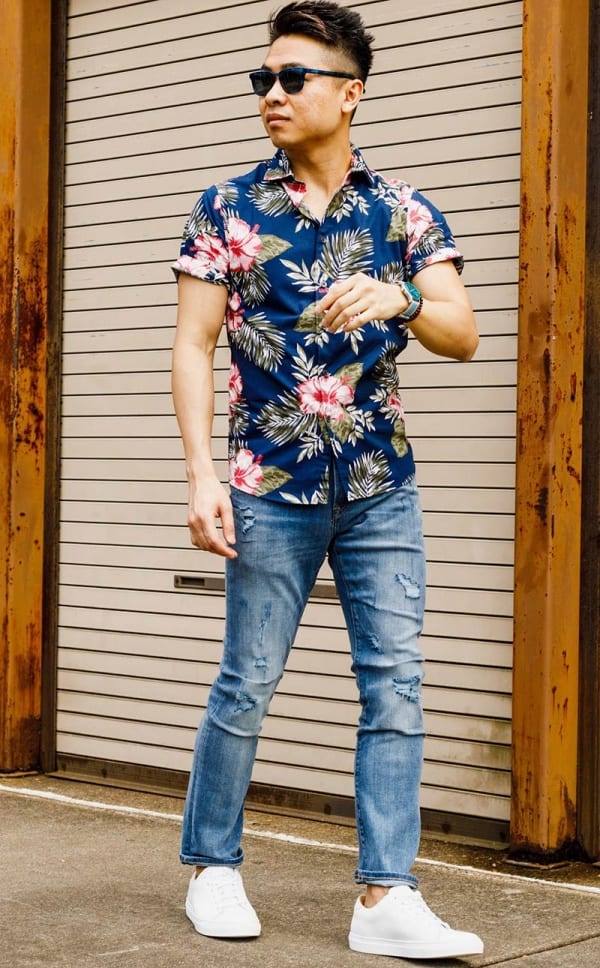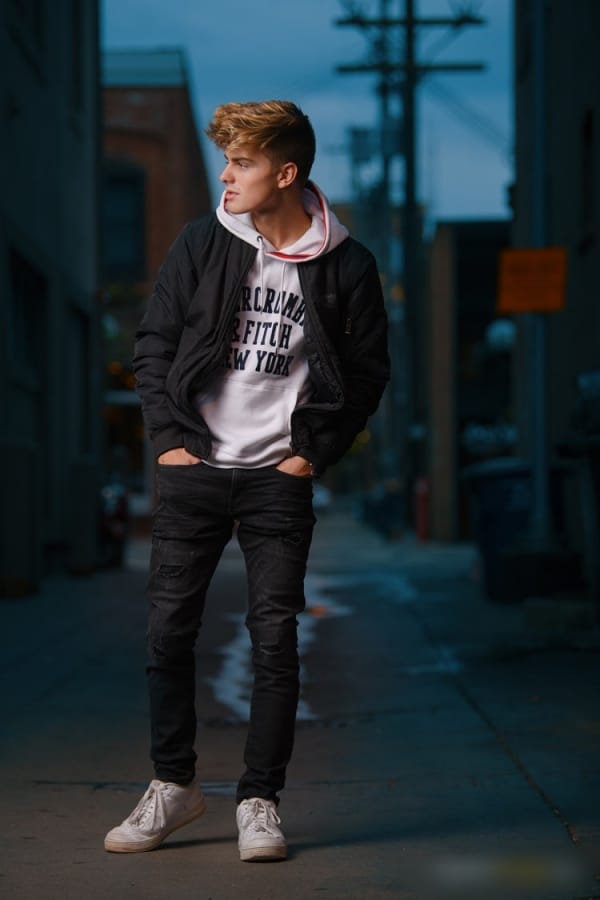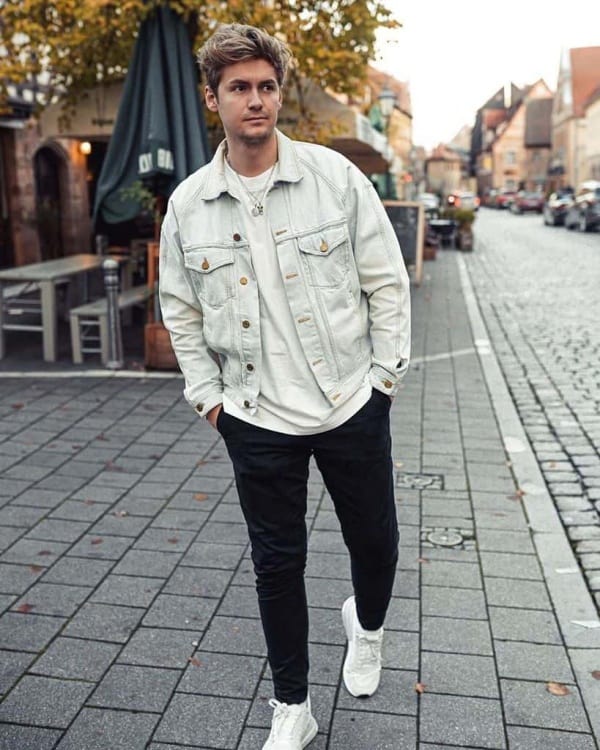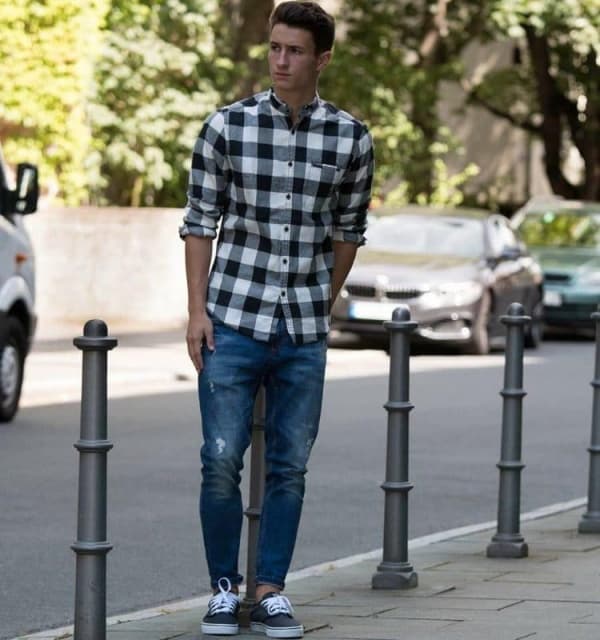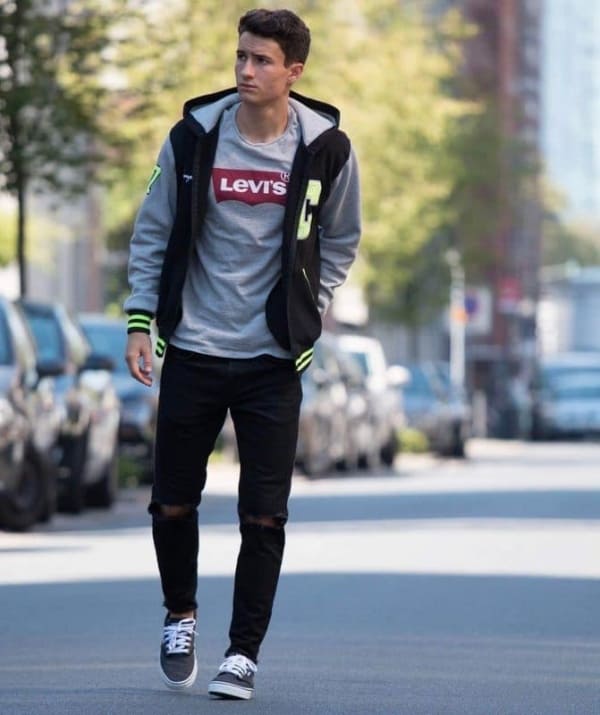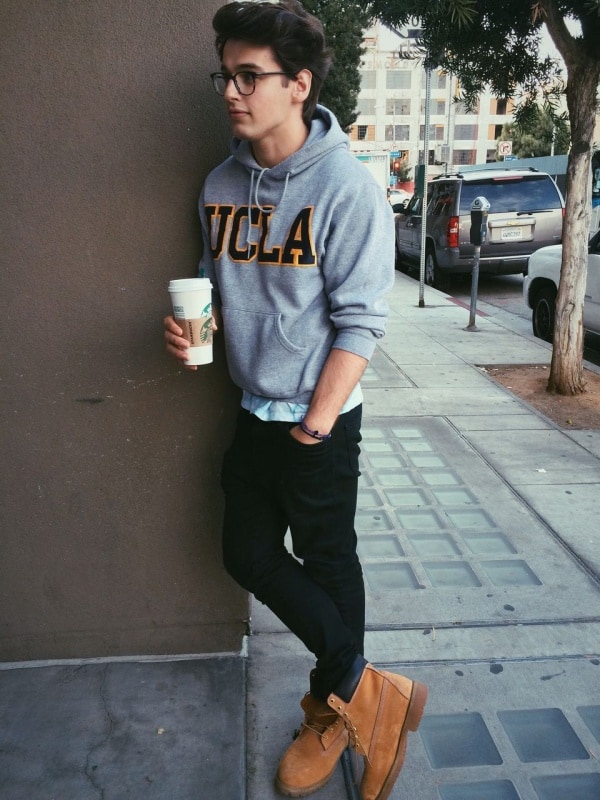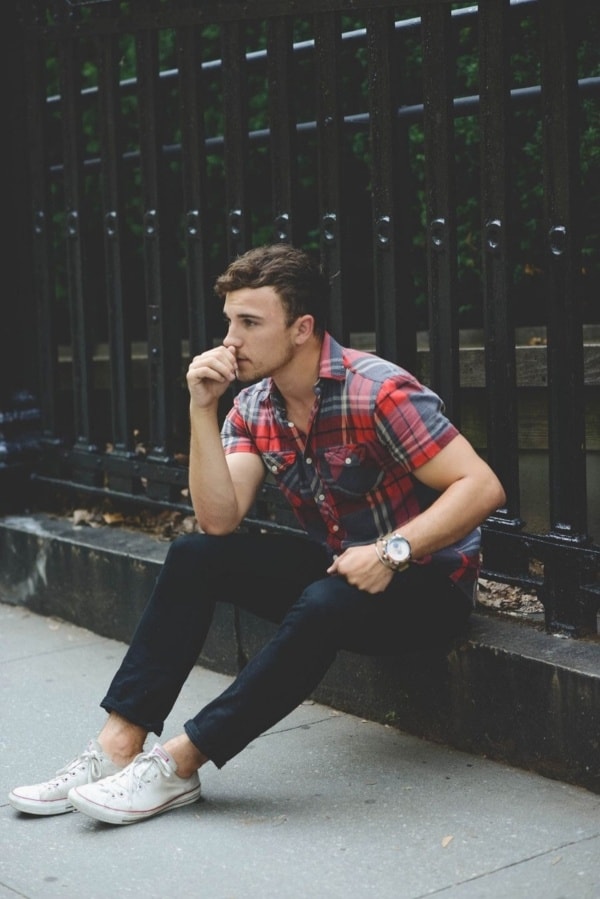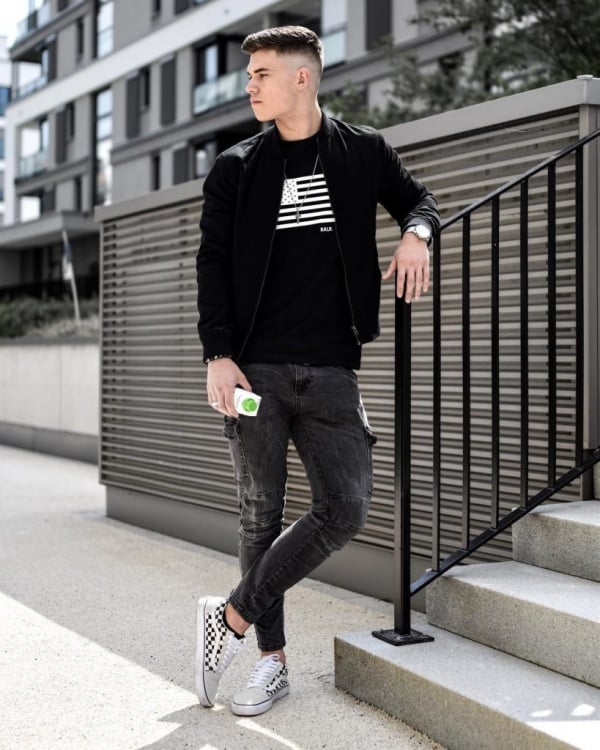 Conclusion
This article on the best back to school outfits for guys has attempted to help you decide what you will wear while going back to school after the break. But it is still up to you, what you will wear to impress the people around you. Put the best foot forward, find the best upper wear, and pair it with the best bottom wear. Next, complete the outfit with your favorite shoe in the collection. When you are wearing a formal shoe or sneakers, make sure that the shoe is clean. No matter how charming the outfit is, a dirty shoe can ruin the whole outfit. So what are you waiting for? Get ready to go back to school once the break is over. Fill your closet with all the necessary pieces of clothing.
You may also like: