Most young guys are still satisfied with the basic shirt and formal pants or T-shirt and jeans at the workplace or weekend hangouts. However, if you pay some of your attention to the upcoming unique trends in fashion, it can make you stand out in the crowd. Hipster denotes an individual who is a follower of the new trendy and out-of-the-box style statements. Undoubtedly, youth is the best time to experiment with some fabulous hipster outfits for guys. Hipster outfits help to emphasize your true personality and let you play with your creativity in full swing.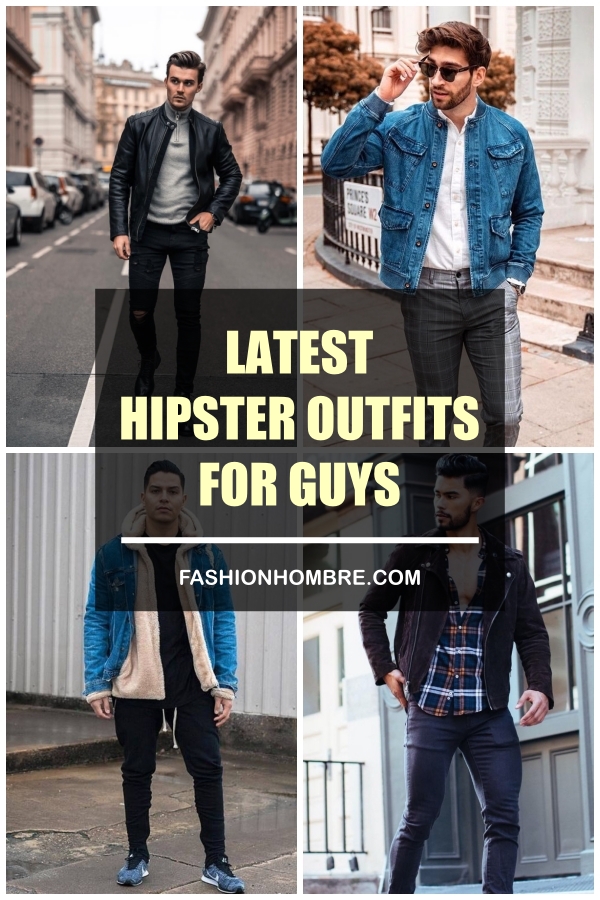 Being a hipster comes with many advantages, like showing your innovative ideas and feeling comfortable in style. The concept of belonging outside the mainstream offers a tinge of content that you have particular and distinctive choices. Hipster fashion is an amalgamation of different style features which appear unconventional and aesthetic to the bare eyes. Hipster men possess an individual taste for music, art, and fashion, and the flavor of their persona is reflected through their clothes.
So, let us contemplate on some of the most outstanding guys' hipster outfits that should find a place in your closet.
Best Hipster Outfits For Guys To Style
1. Black Jeans With Denim Shirt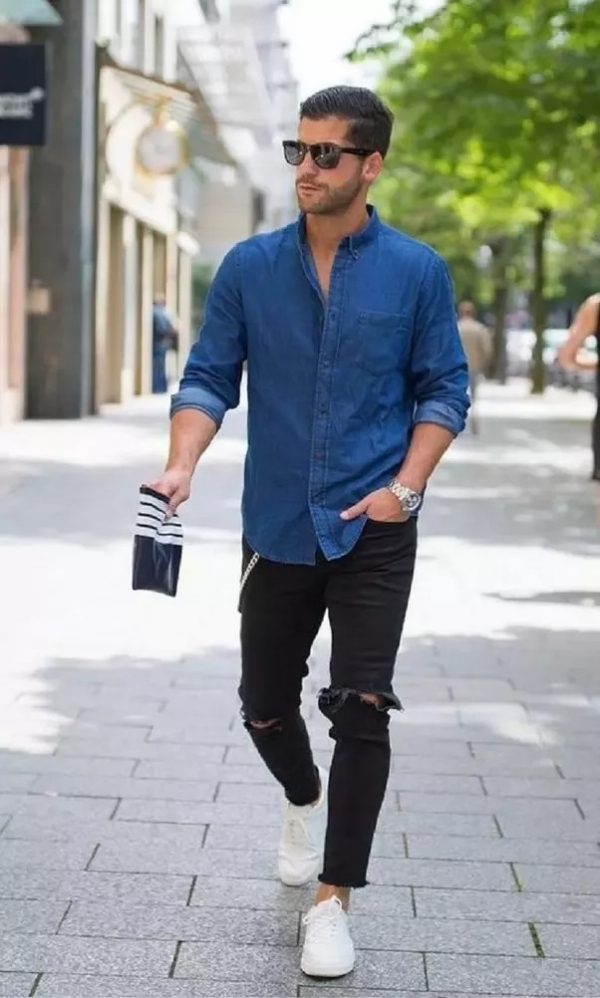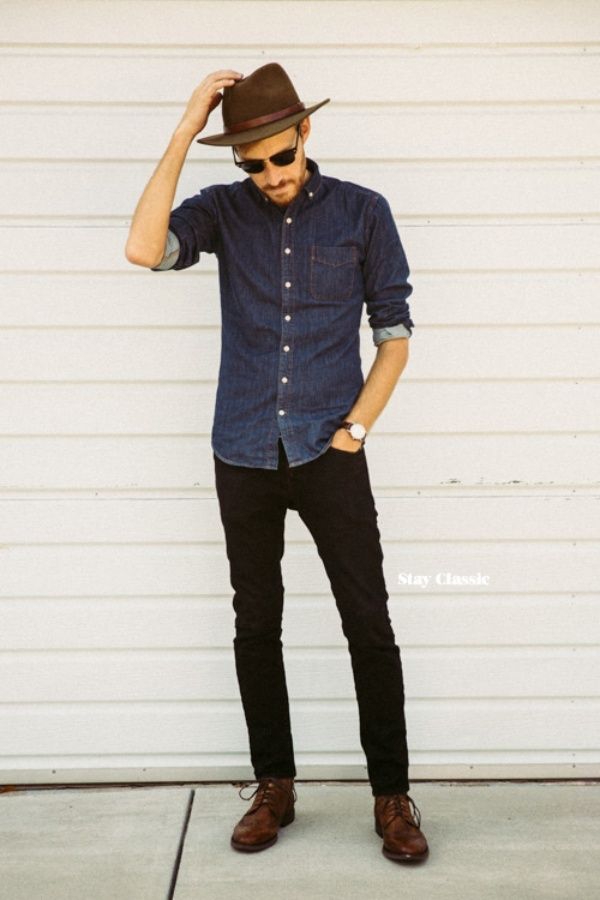 To bring an exciting twist to your regular denim shirt outfit, you can wear your black jeans with a navy blue denim shirt. The contrast of colors plays the primary role in this outfit. If you wear a white t-shirt with your black jeans, you can put on the navy blue denim shirt to layer with the t-shirt. A pair of dark brown shoes can be a cherry on the cake. During the daytime, a set of sunglasses and a classic watch will be the perfect accessories to complete the appearance of your clothes.
2. Plaid Shirt With Blue Jeans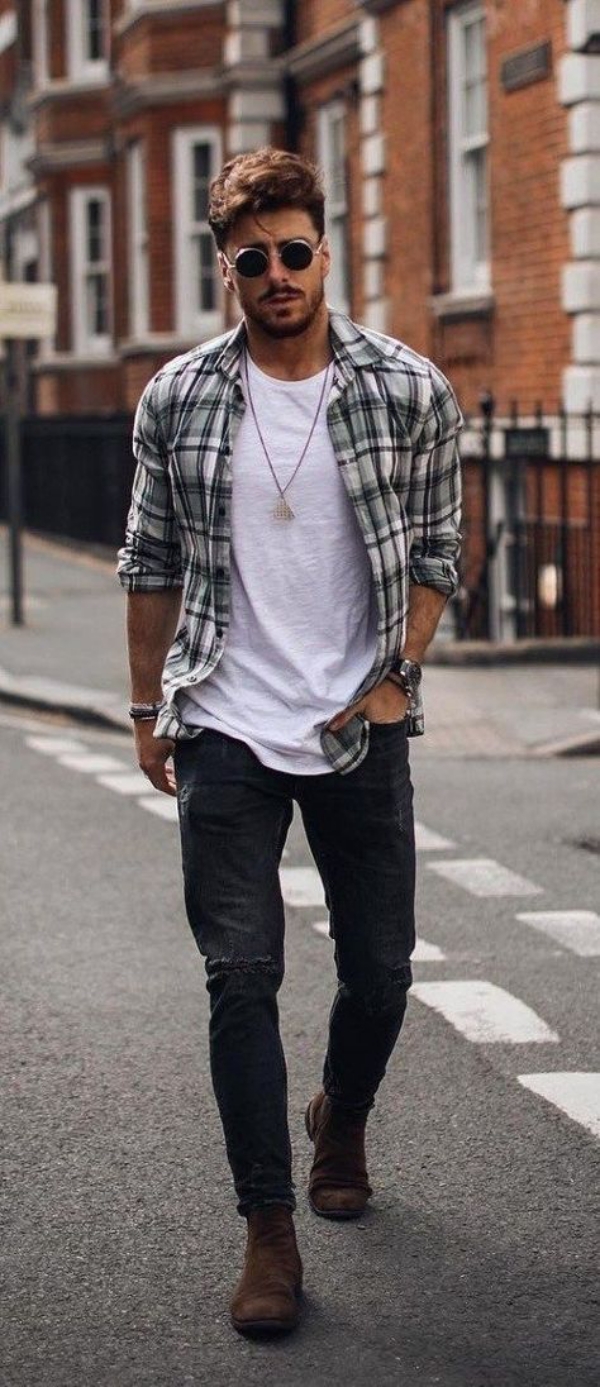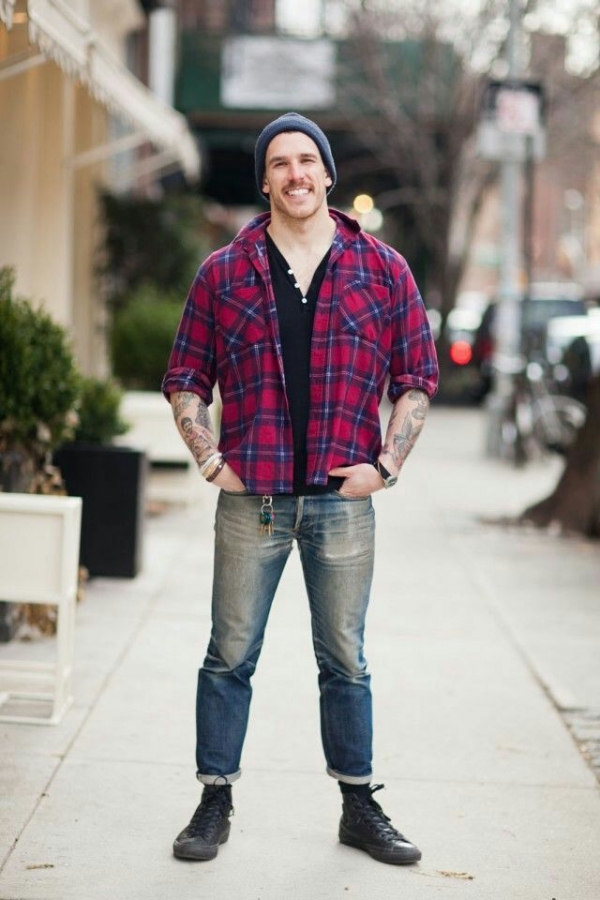 If you wish to combine vintage with modernity in your outfit, a plaid shirt with blue jeans can be your perfect pick-up. Notably, during the fall or winter season, plaid shirts can protect you from the chilly wind while offering you a great style statement. Red plaid shirts are specifically suitable for combining with blue jeans. This outfit combination is both casual and stylish at the same time, fulfilling your fashion demands. In the case of footwear, put on a pair of black or brown leather boots to complement this one of the perfect hipster outfits for guys.
3. Suspenders With T-Shirt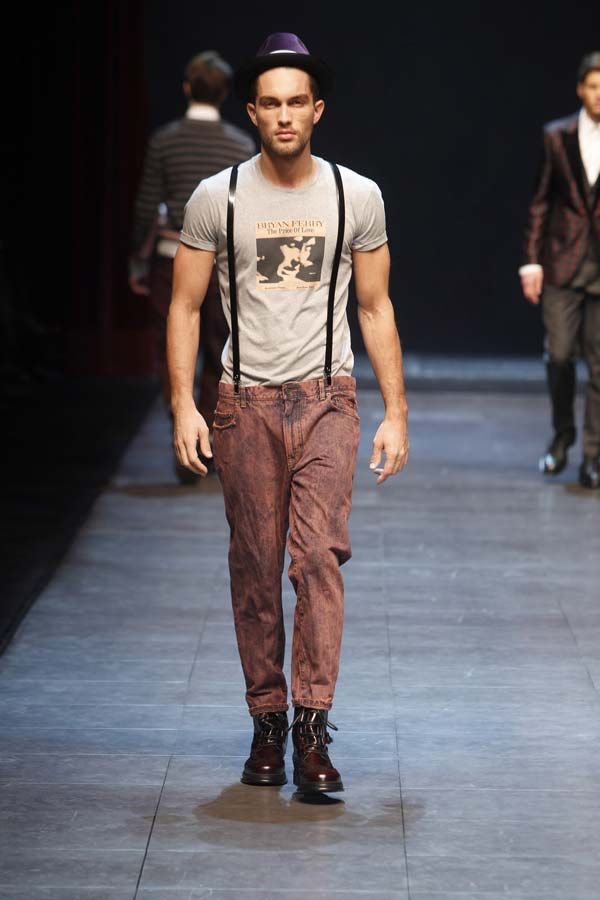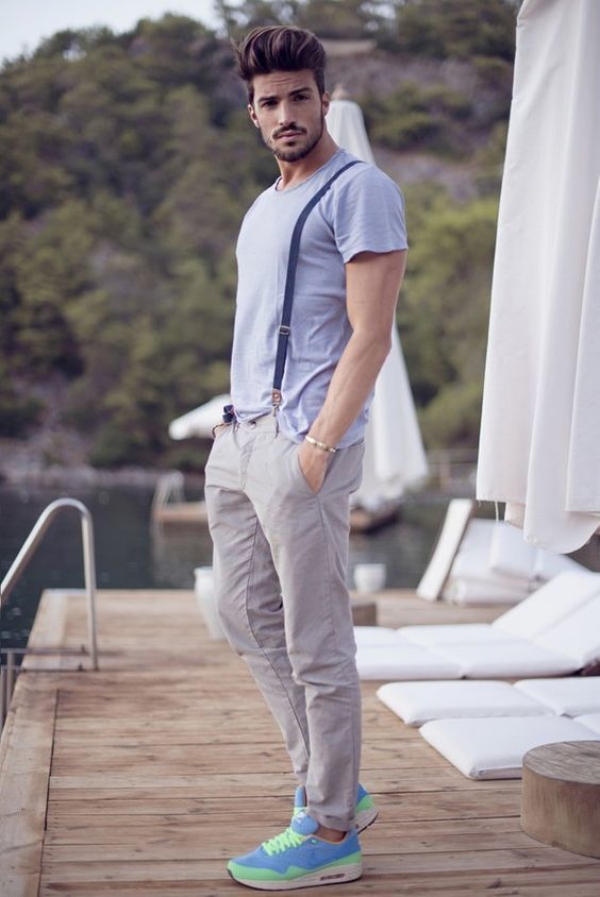 Do you want to make your regular solid-colored t-shirt a bit interesting? How about trying it with a pair of suspenders? Take out a solid white t-shirt specifically and wear your suspenders on it. Since the early 1800s, suspenders have been in fashion on and off, and let me tell you that they are one of the most masculine accessories ever. They help make an outfit more visually exciting, and unlike ties that can only be worn with shirts, suspenders go well with both t-shirts and shirts. Be it formal pants or jeans at the bottom; the suspenders will rock in every combination.
4. Ripped Jeans With Casual Shirt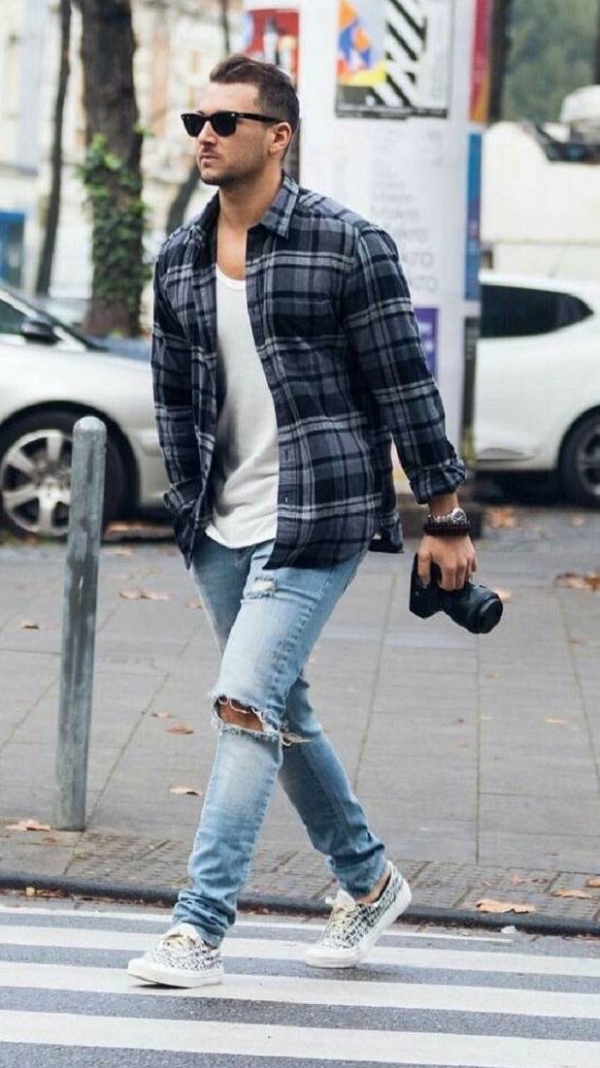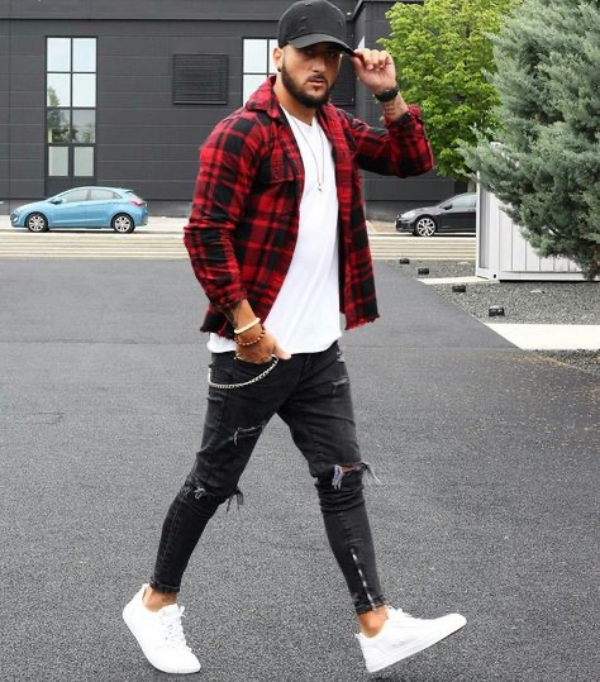 If there is one combination of hipster outfits for guys in which you can include different varieties, then ripped jeans with a casual shirt should be your ultimate choice. Whether blue, white, grey, or even black, ripped jeans always offer a supremely stylish look that no other bottom wear can offer. In the case of t-shirts, varieties such as printed, graphic, and solid-colored will function as a perfectly suitable combination. Sneakers, sports shoes, or even loafers will fulfill the need for apt footwear in your outfit.
5. Sherpa Jacket With Hoodie Outfit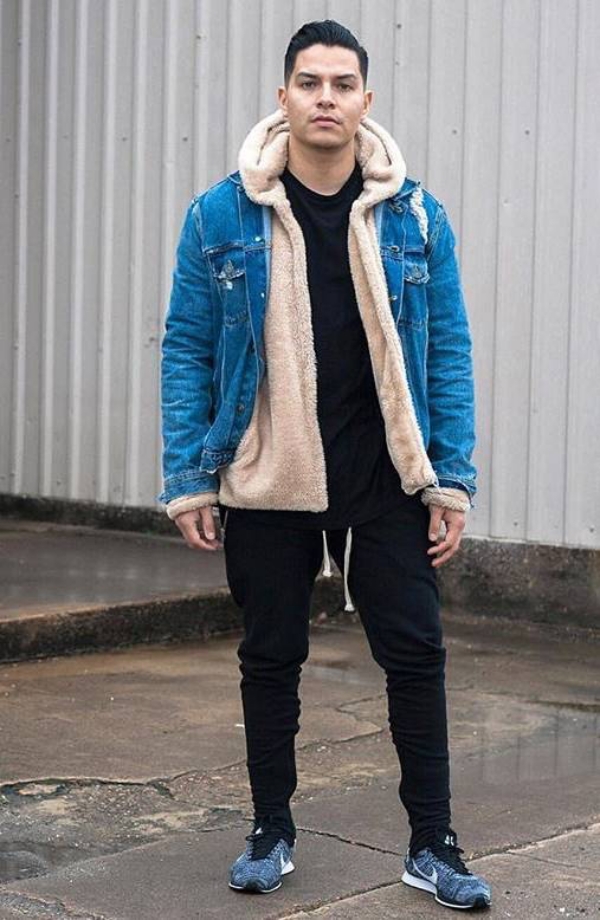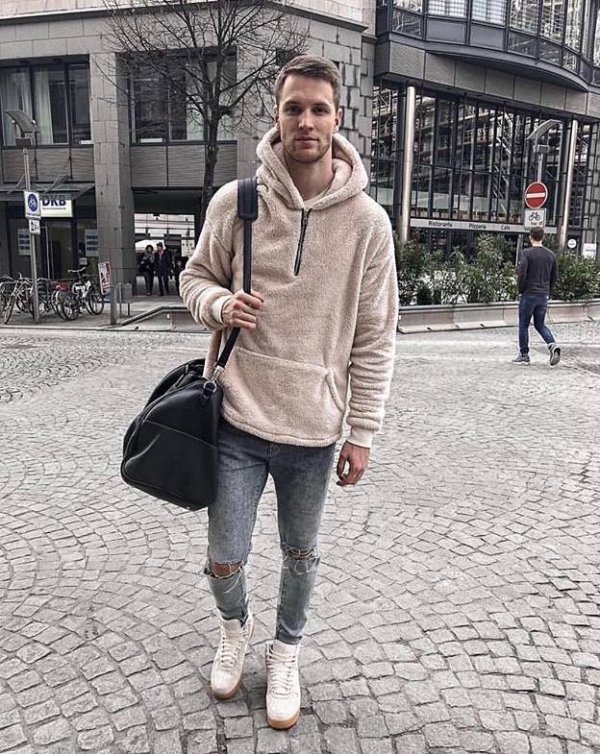 Sherpa is a fabric of polyester, acrylic, and cotton used to manufacture warm jackets in winter. Beyond the usual woolen sweater or leather jackets for winter, sherpa jackets will deliver uniqueness in style and warmth in harsh winter months. If your sherpa jacket comes with a hoodie, then it is undoubtedly a bonus. Just wear it over your jeans t-shirt and go on flaunting your casually glamorous look during the fall and winter seasons. Do not skip pairing leather booths with your outfit for a more refined look.
6. Cargo Pants Style With A Scarf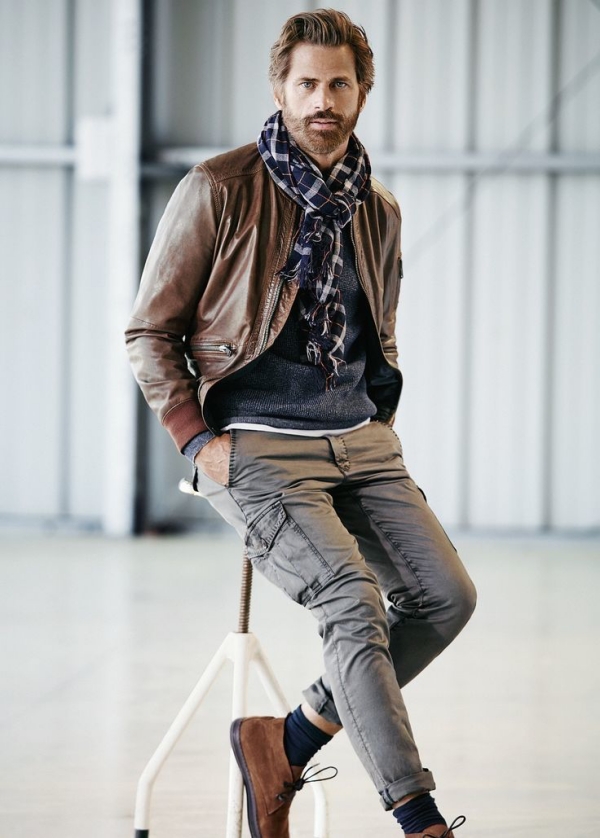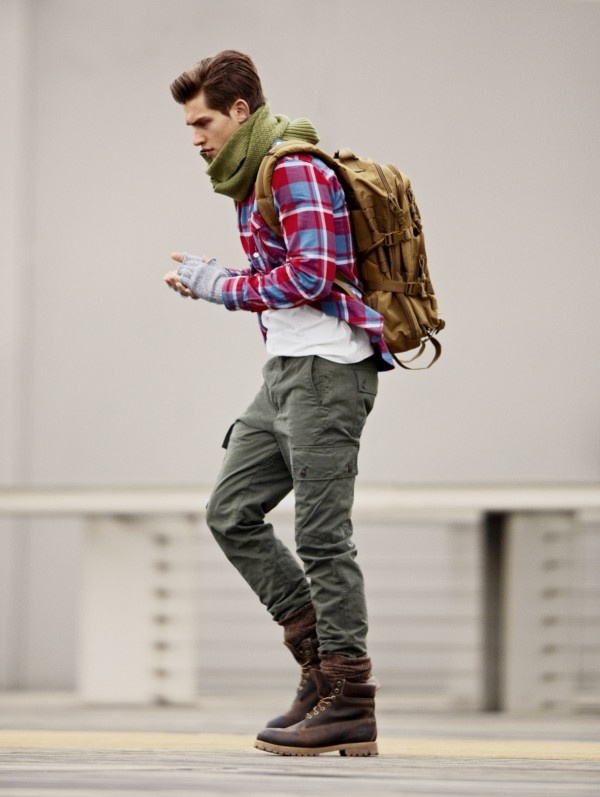 Cargo pants come with a lot of pockets, and they are mostly made of cotton. The bags of cargo pants are large enough to carry a lot of things, with cargo pants put on an oversized tee. Complete the outfit by putting on a scarf around your neck. Choose a scarf with a checkered pattern to go well with the outfit we are discussing here. Before going out, put on the best pair of sneakers in your collection.
7. Black Leather Jacket With Beanie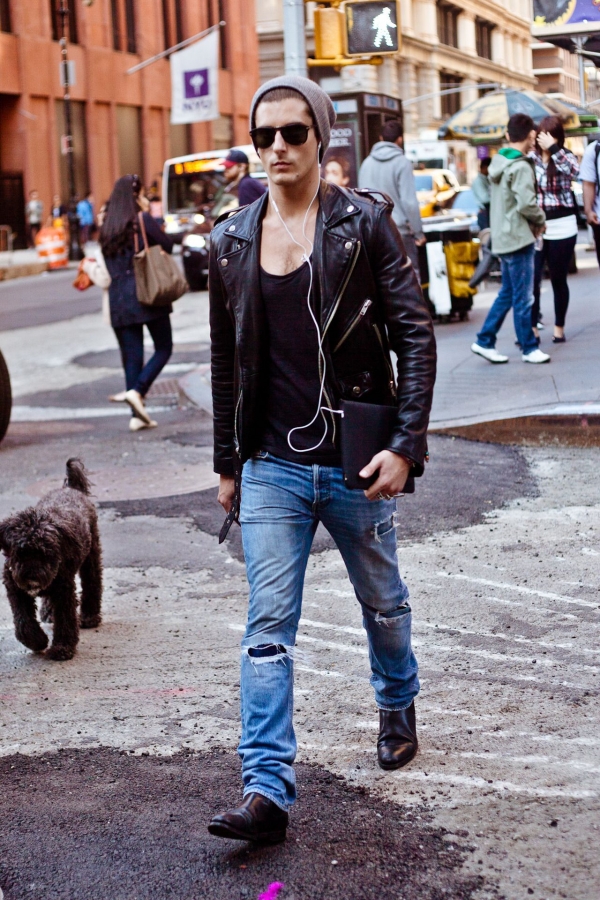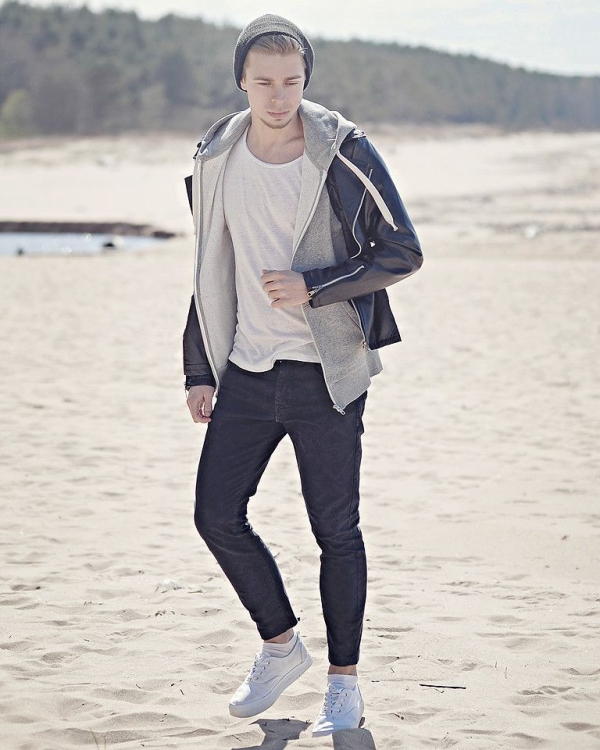 Leather jackets never go out of fashion. Moreover, if you are going to wear a black leather jacket, then under that, wear a light-colored t-shirt. It is safe to go in a white or grey shirt. A mild to highly distressed blue jeans will go well with the jacket and the tee under it. On top of your head, put on a beanie which will create a more rugged look. Before stepping out of your house put on a leather shoe which will make you look more fashionable.
8. Plaid Pants With Denim Jacket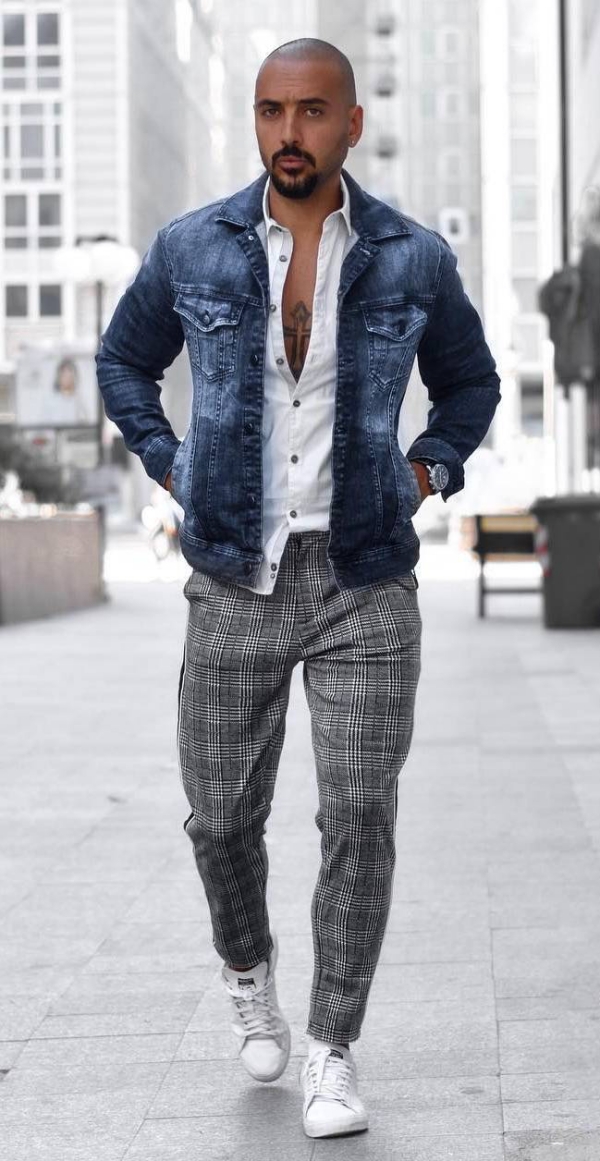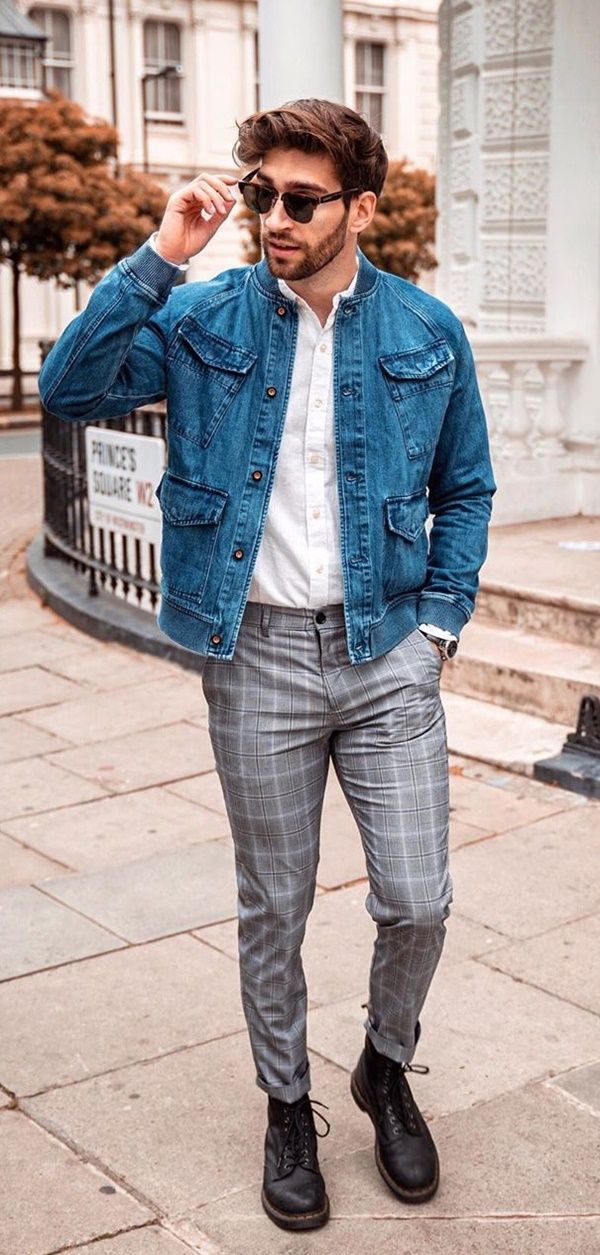 Denim jackets are enough to make any casual outfit look stylish, but when paired with plaid pants, the beauty of a denim jacket gets doubled up automatically. The deadly combination of plaid pants and denim jacket is great for fall and winter fashion. You can match any solid-colored t-shirt based on your plaid pants, and the denim jacket over it will take the outfit to the next level while maintaining its simplicity. For completing your look, a cap or sunglasses can be sufficient. Footwear like a pair of sneakers or leather boots will do justice to your hipster style statement.
9. Shorts With Loafers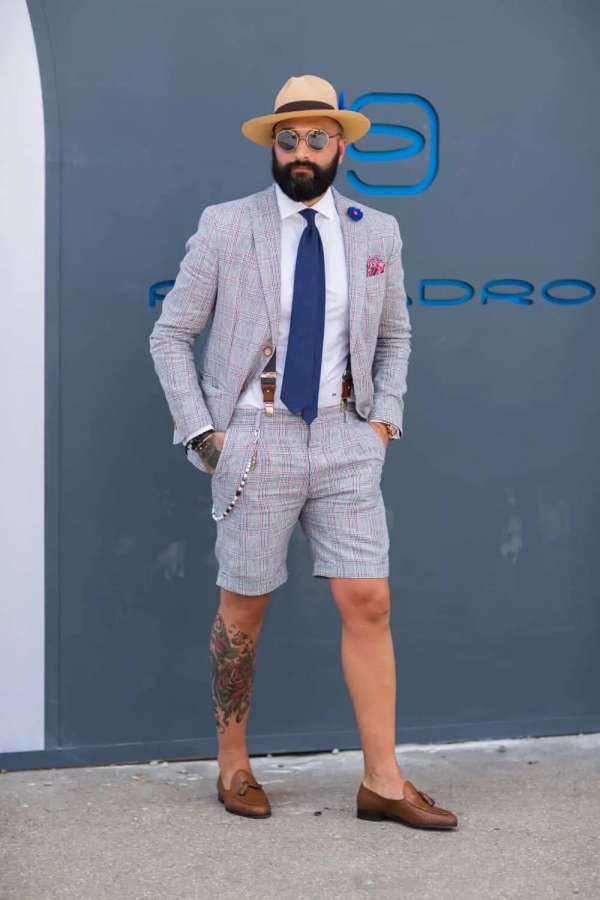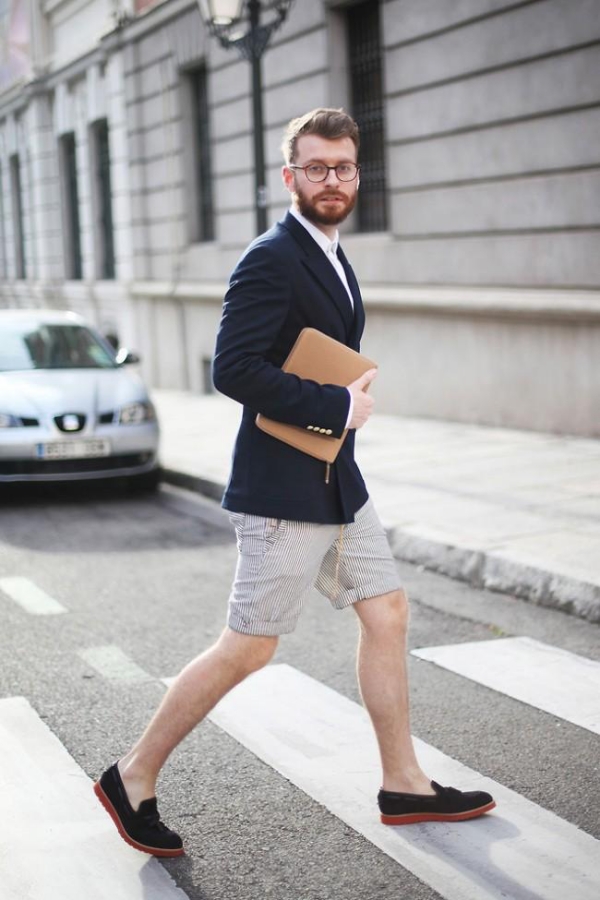 Being experimental with your style is synonymous with being a hipster. Among the most trendy hipster outfits for guys, an outfit like shorts with loafers is meant to steal your attention. Over the shorts, you can put on topwear like shirts or t-shirts according to your comfort. Make sure you choose topwear in contrast with the shorts' color. The loafer's shade should be on your outfit. Tuck in your shirt and show your elegant-looking belt to give your outfit a visually pleasing appearance.
10. Denim With Striped Shirt And Sneakers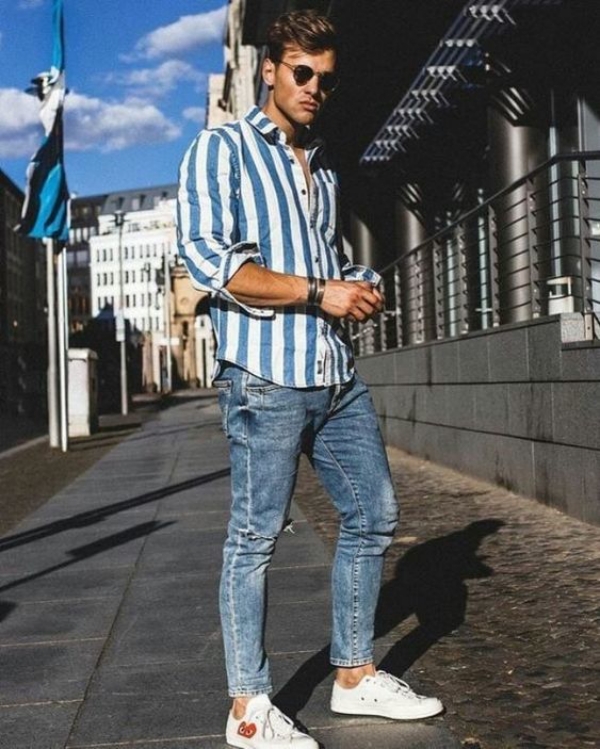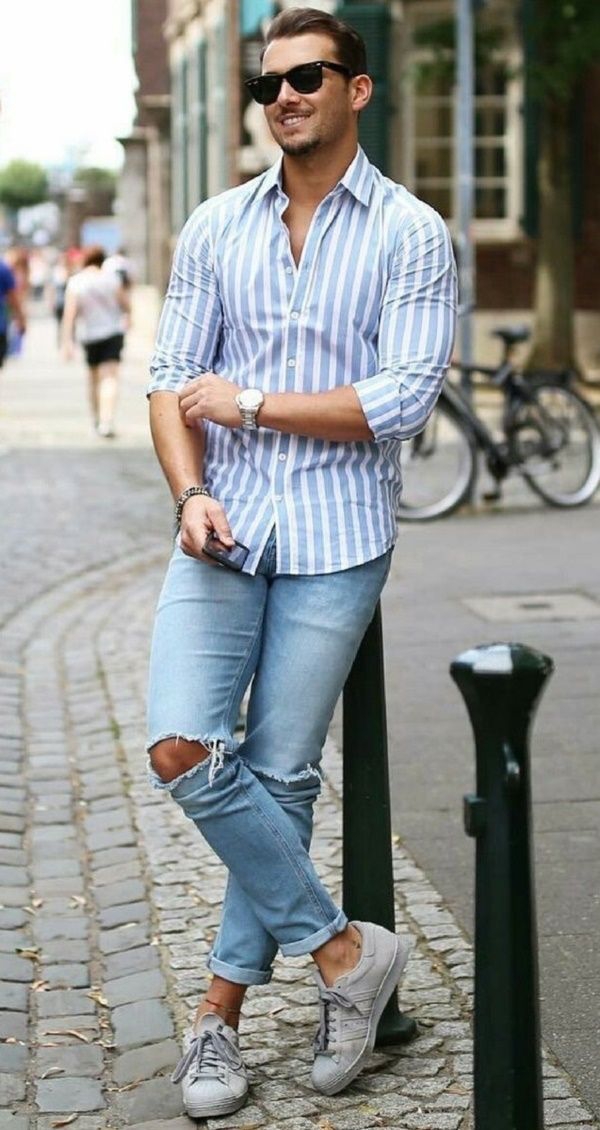 Be it a weekend hangout with your close friends or a romantic date with your girlfriend, the combination of striped shirt and denim is made to grab some eyeballs. Playing with colors is an essential part of choosing a striped shirt. Once you are done with selecting the appropriate shirt, pick out relaxed-fit jeans accordingly. To give your outfit the ultimate sassy touch, you can include a pair of suitable sneakers in your look.
11. Printed Shirt With Black Pants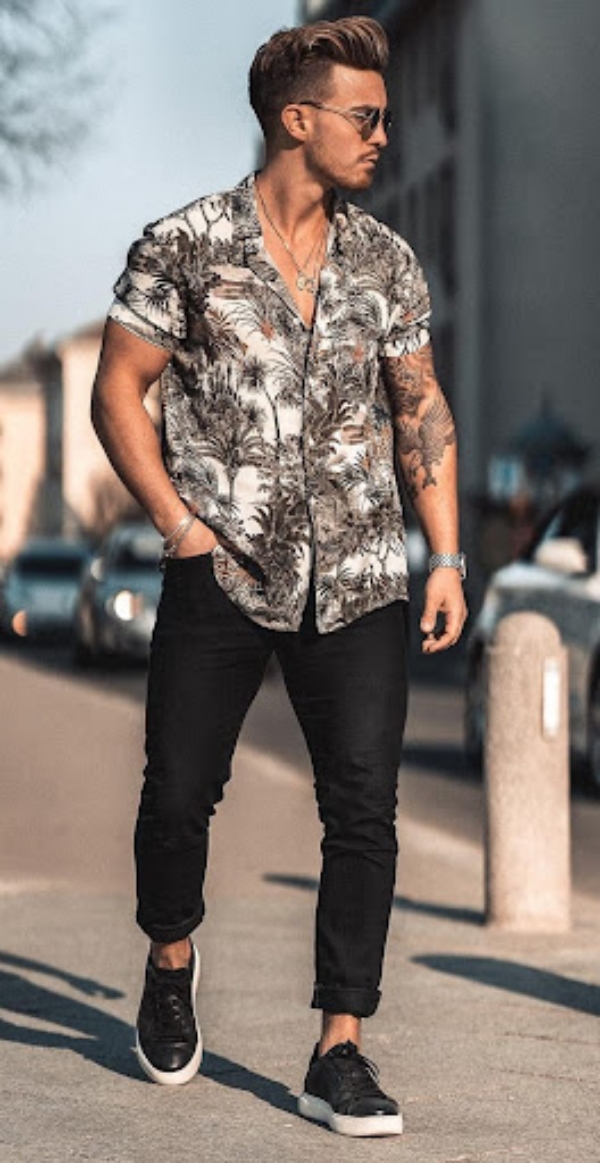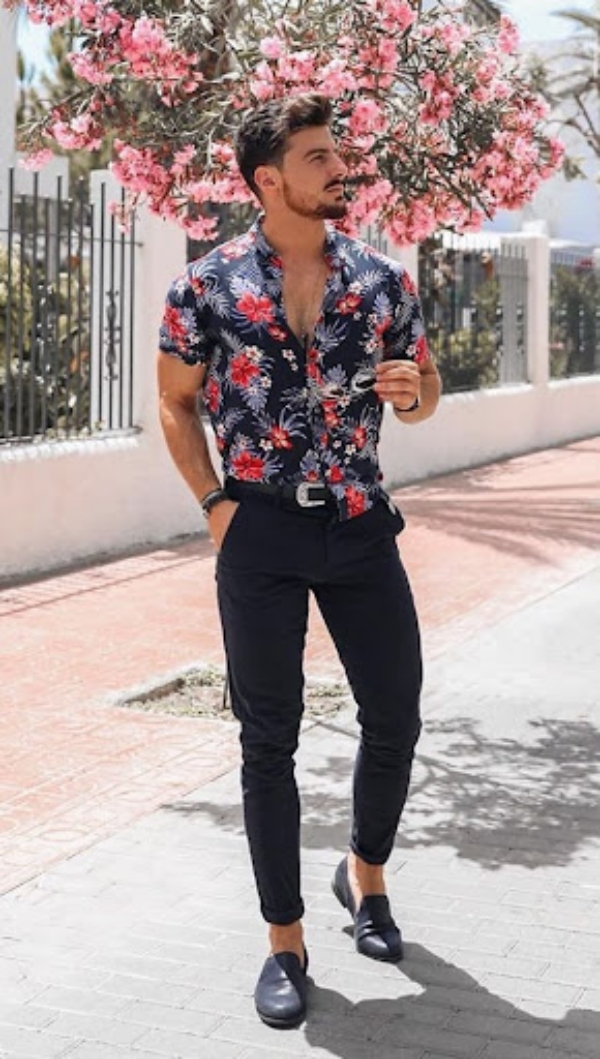 In case you want to highlight your funny persona through your outfit, then this summer, a printed shirt should be your perfect pick-up. Take a set of black pants with your printed shirt for a fantastic contrast in your outfit. You can give a thought to varieties like abstract, floral, and cargo prints in your shirt. For making it one of the special hipster outfits for guys, make sure to opt for a handsome pair of leather boots.
12. Biker Jacket With Chelsea Boots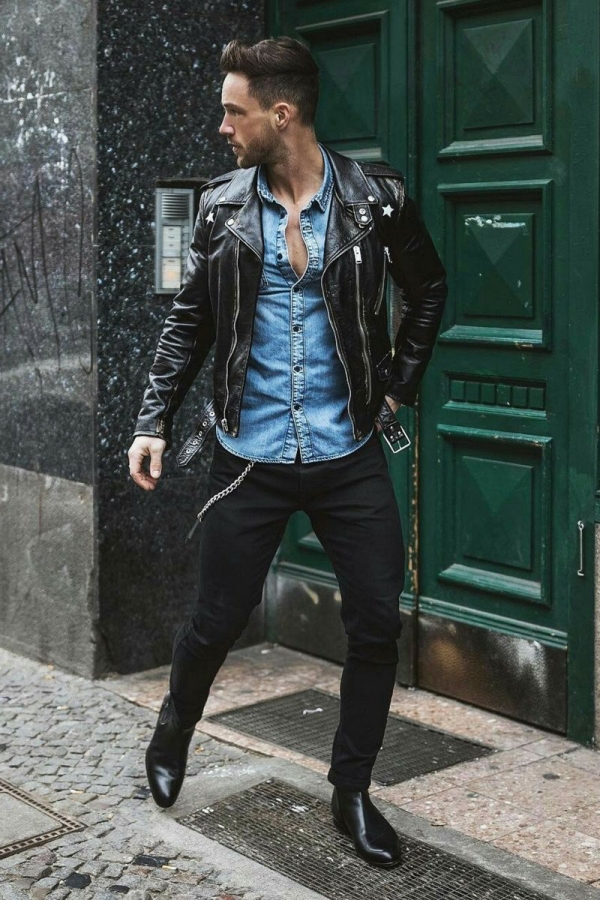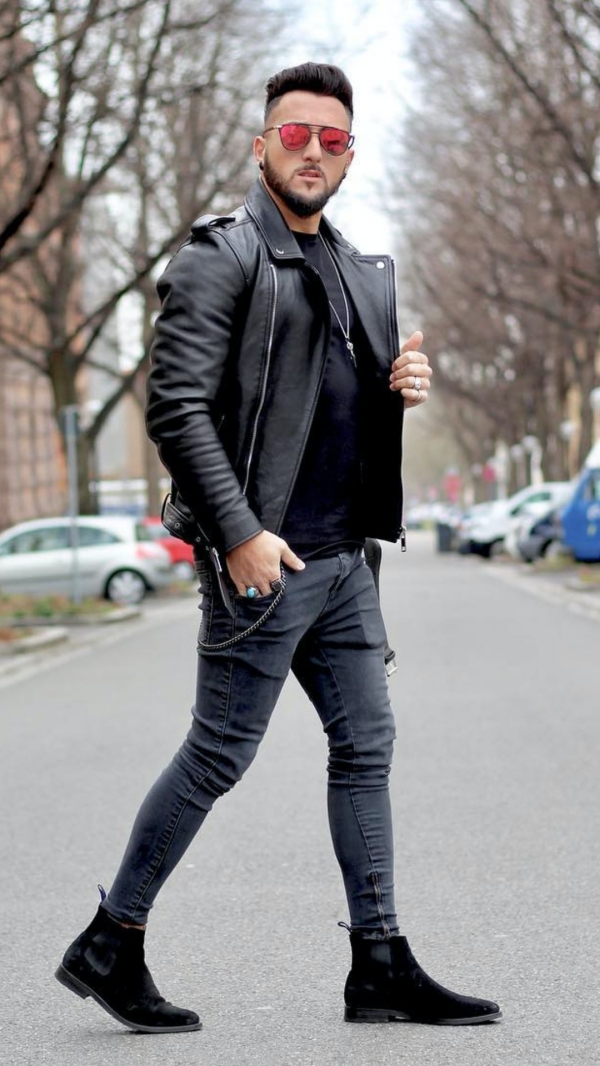 Are you a fan of long rides on your bike? Then you need to have a biker jacket in your closet. A biker jacket is a type of jacket that is short and has a close-fitting, which will help you to create a rough and rugged look. While riding, you can choose to keep the jacket's zip open, or you can also enclose it. To complete the look before putting on the jacket, wear a tee under the jacket. A skin fit of jeans will go well with this outfit. Finally, a pair of Chelsea boots will elevate your style statement.
13. Loose T-Shirt With Converse Shoes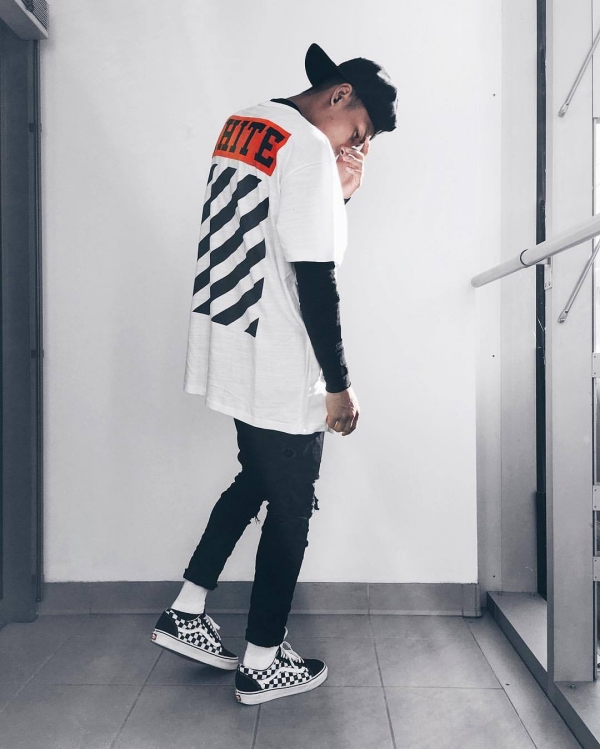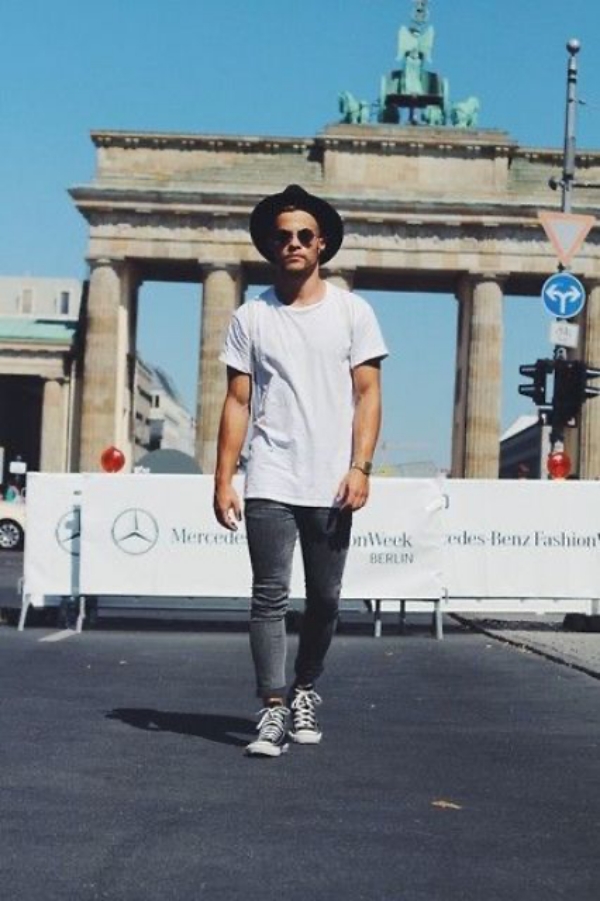 Converse is a renowned sneaker brand. If you are looking to create a chilled and relaxed look then a converse shoe will help you achieve that look. Put on a loose-fit oversized t-shirt. It is better to choose a printed tee. Under that, you can wear low waist jeans or decide to go with cargo. Make sure that the color of the t-shirt is bright and the jeans that you are going to choose should be light in color.
14. Wool Sweaters With Beanie Outfit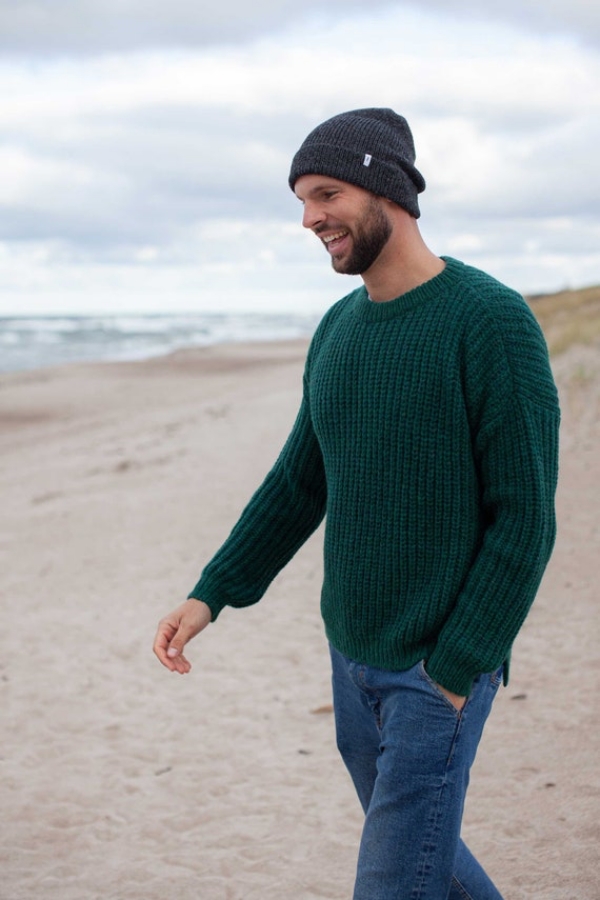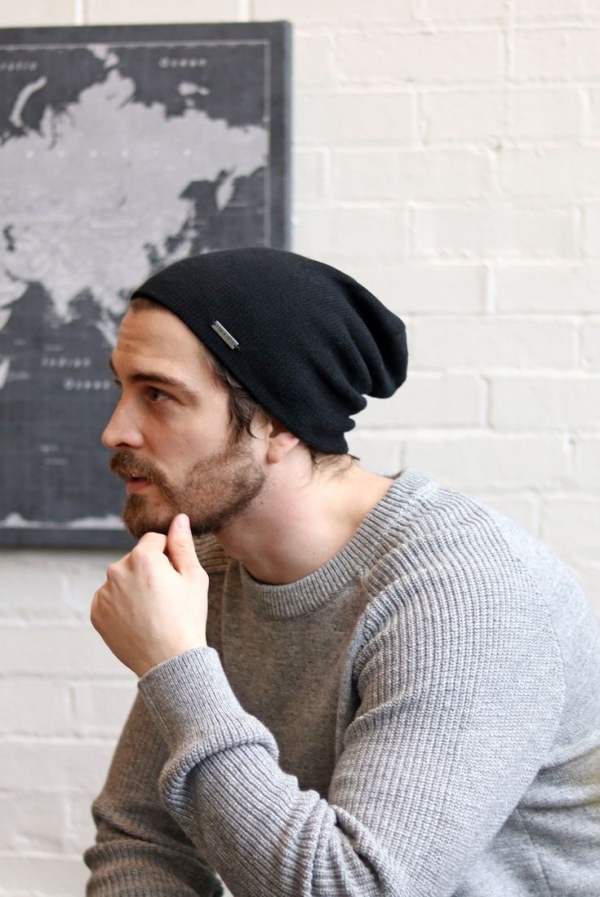 During winter, no matter whether you are going out with your girlfriend or just planning out a night out with your friends, you can always count on a woolen sweater. You can choose to go with either a sleeveless woolen sweater or a whole sleeve woolen sweater depending on the rest of the outfit you will wear. To enhance the beauty of your outfit, you can put on a beanie. What you will wear under the sweater does not matter, and under that, you can choose to wear both jeans and trousers.
15. Vintage Hipster Outfit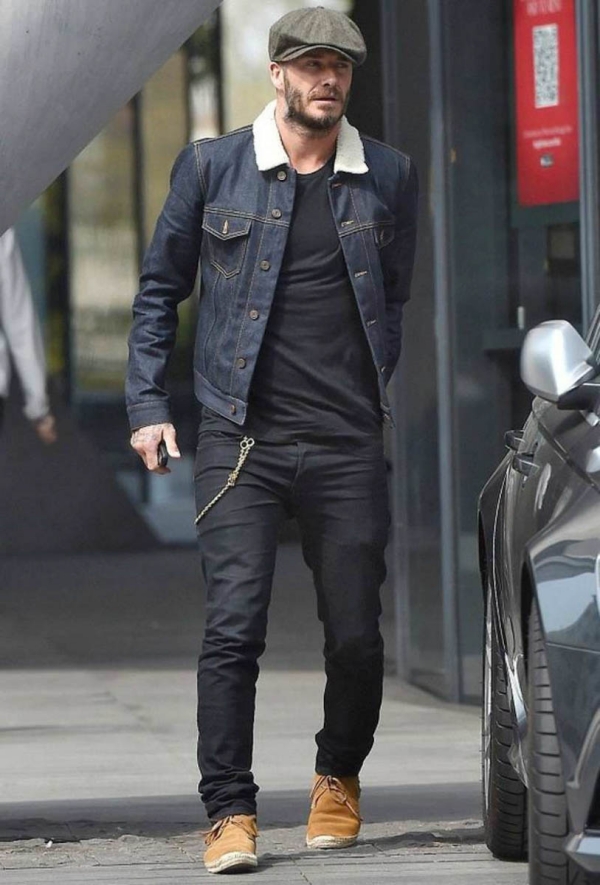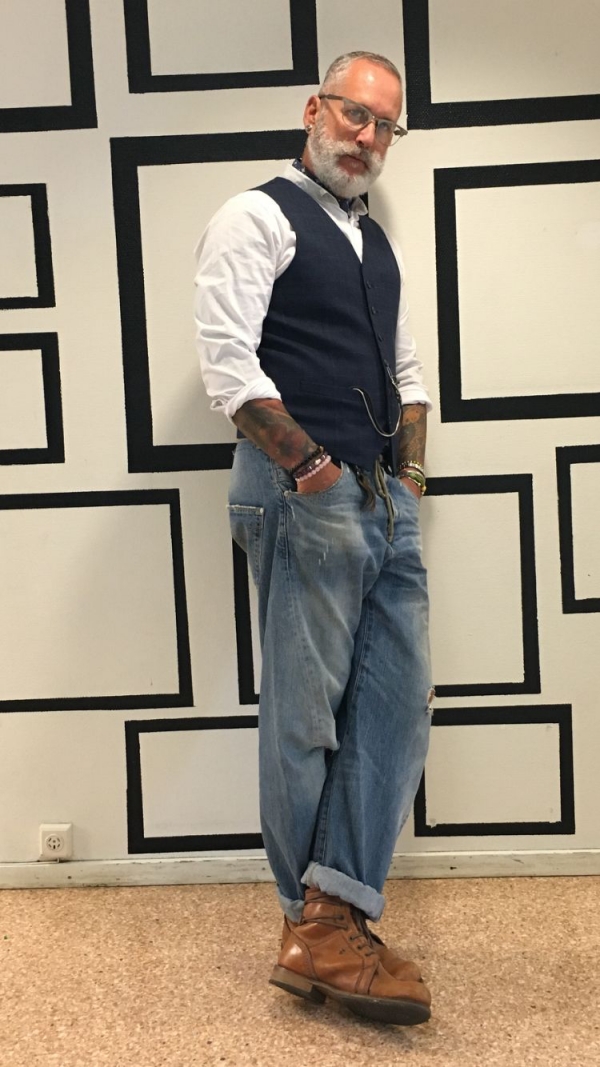 If you are looking forward to creating a vintage look, you can always count on a hipster outfit. Find a pair of trousers that have a skin fit and put it on with a tight-fitted shirt. You can also choose to wear a basic t-shirt instead of a shirt. Putting on a pair of old sneakers will complete the vintage look of yours. With this outfit, you can choose to wear different types of accessories to achieve the 90s look.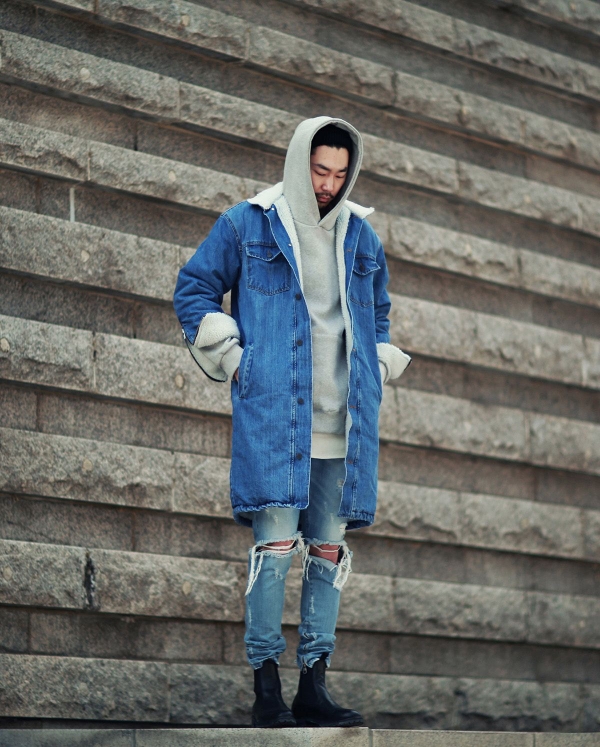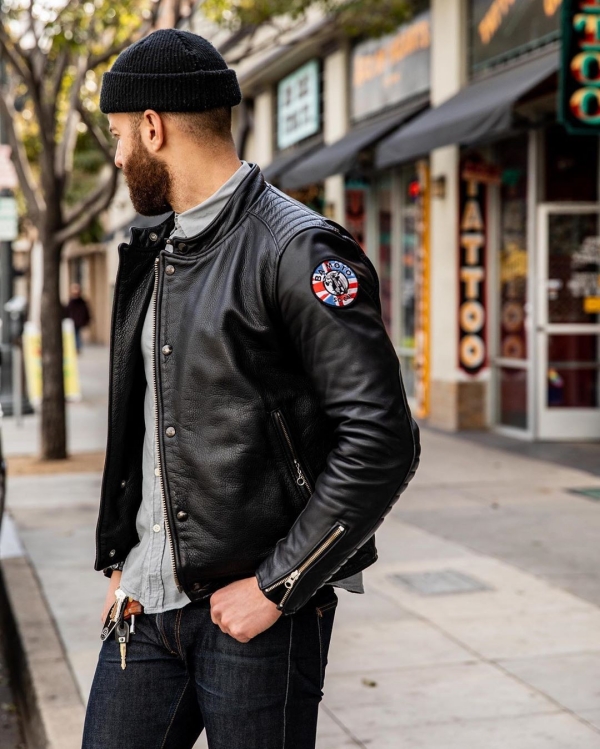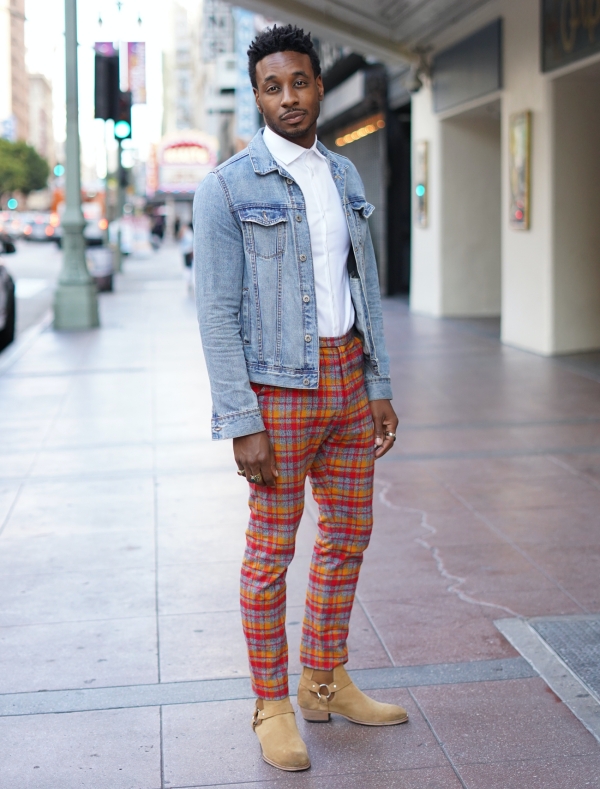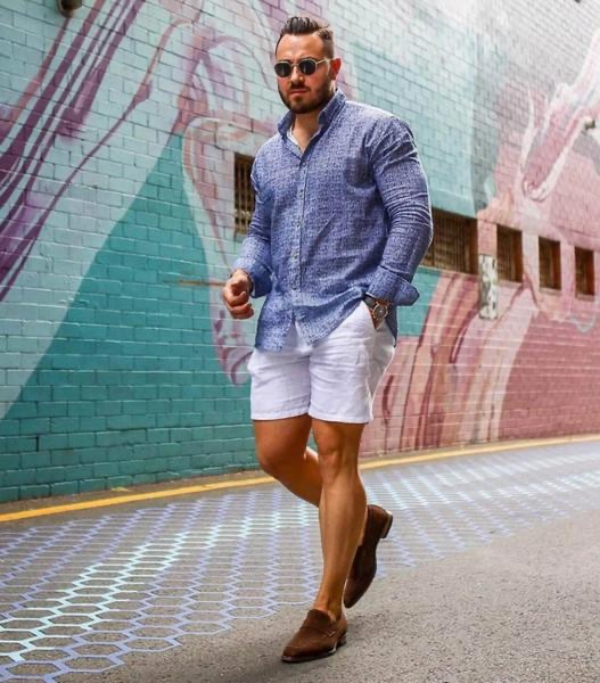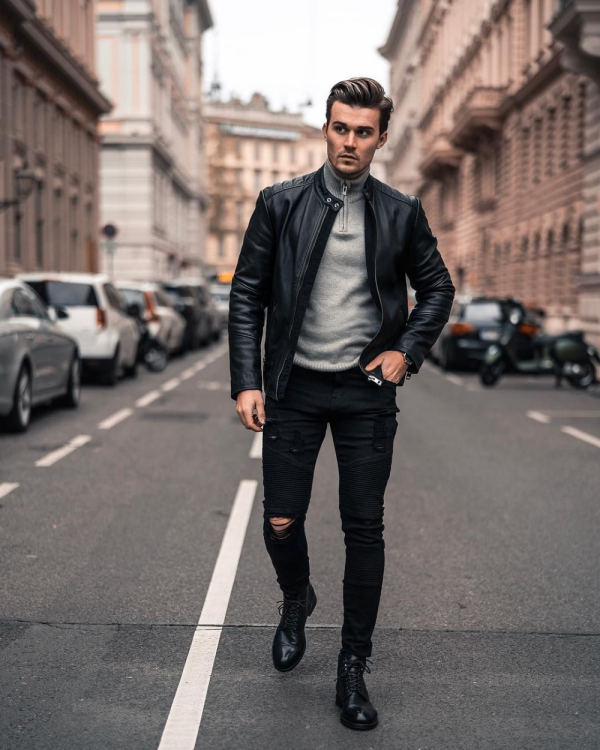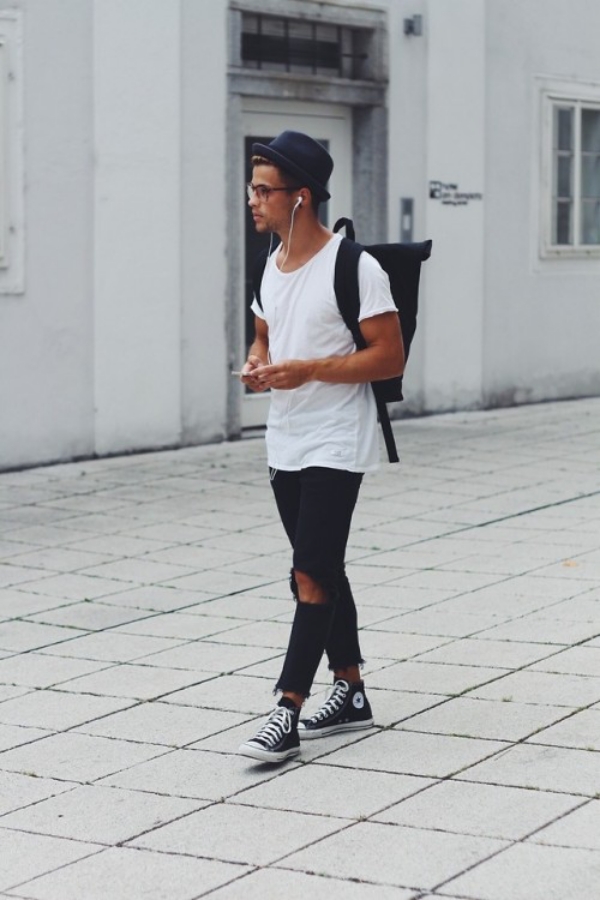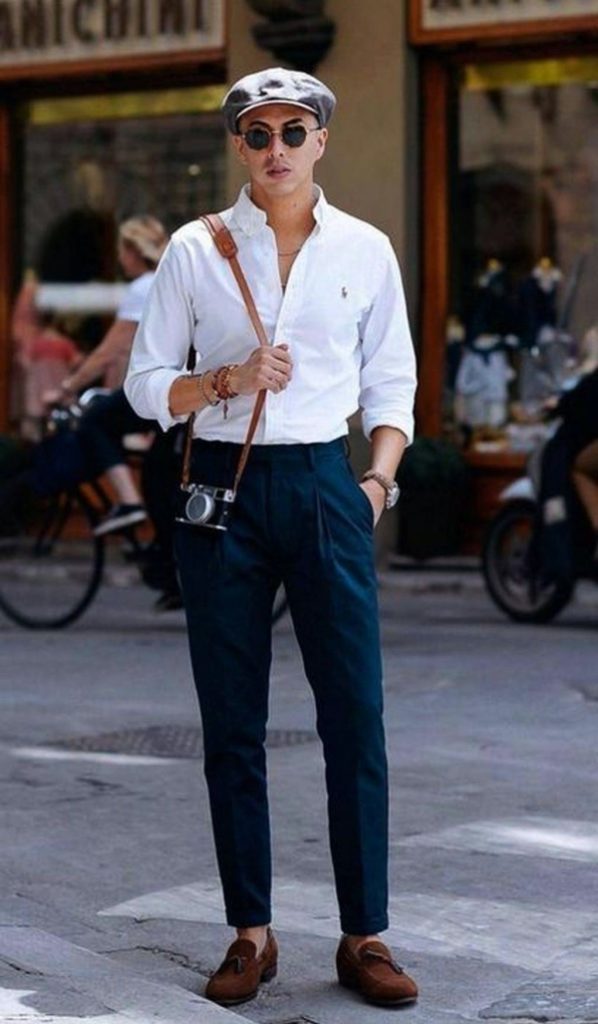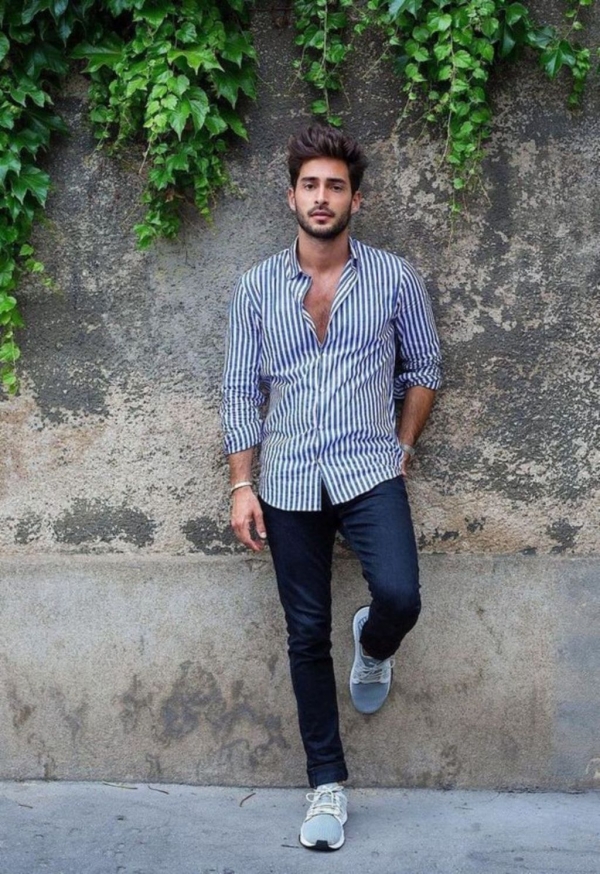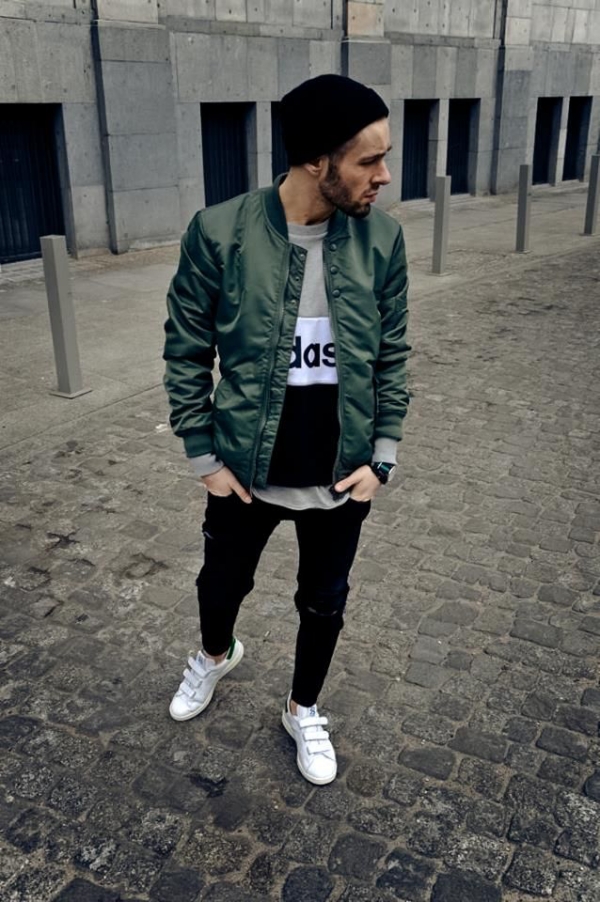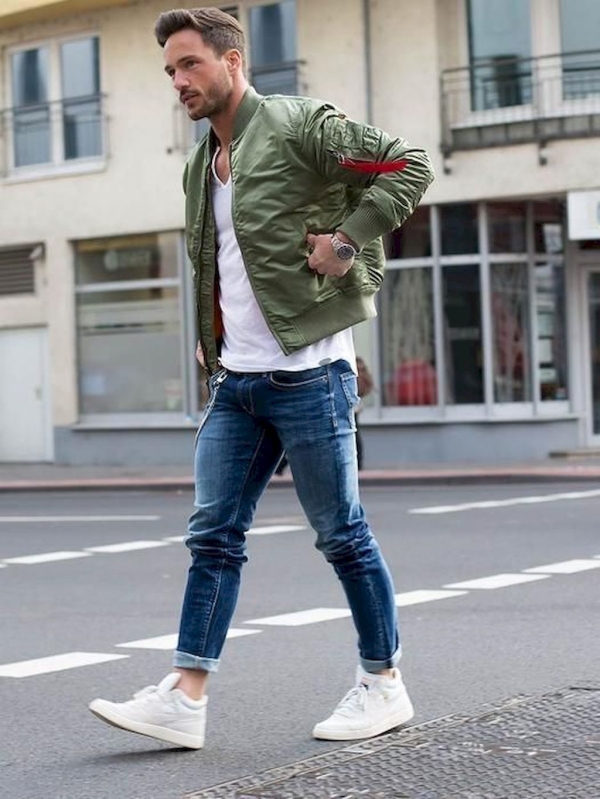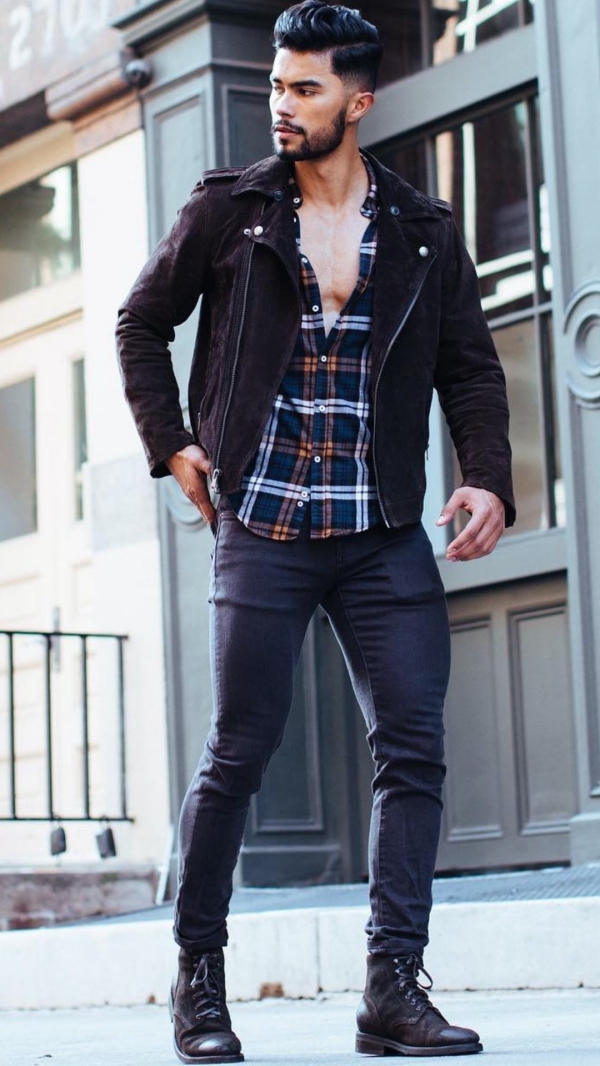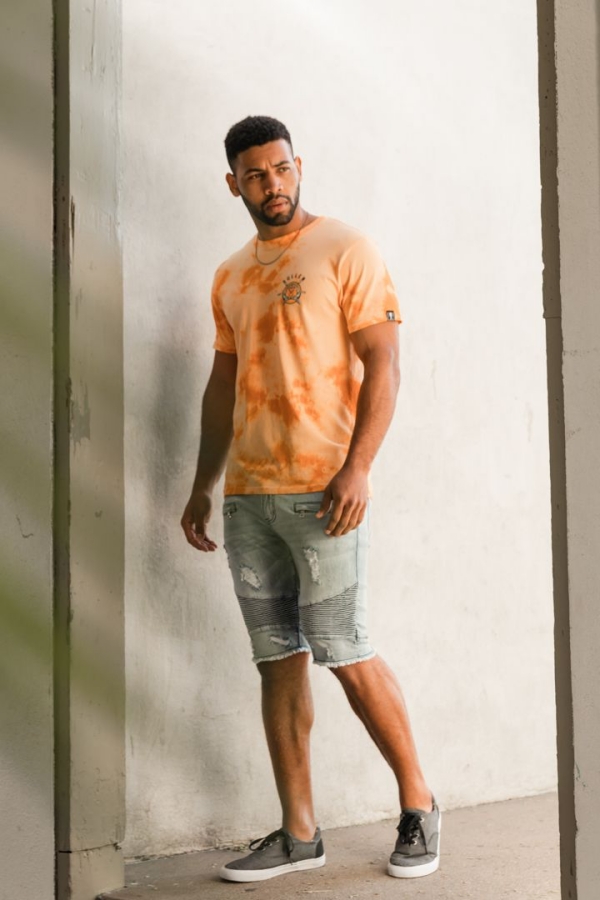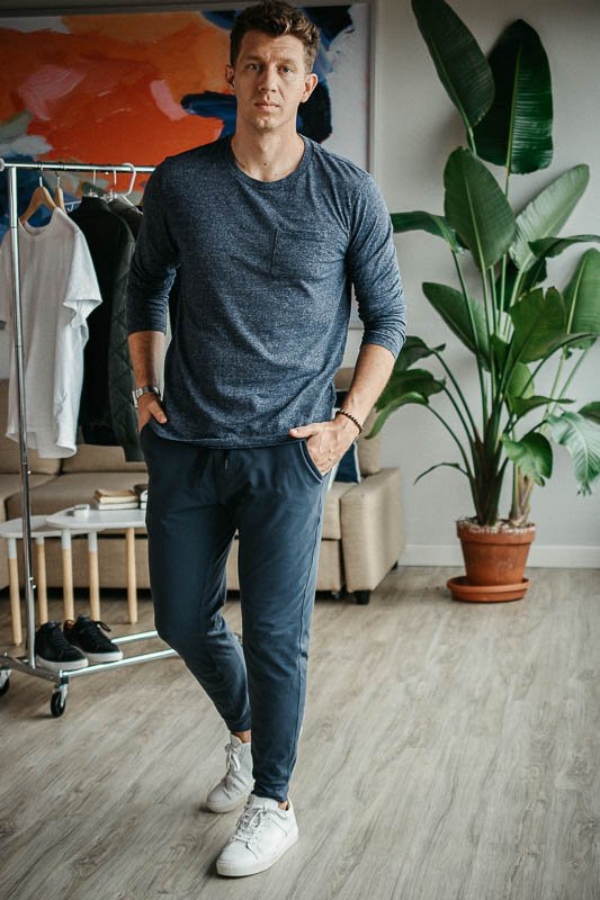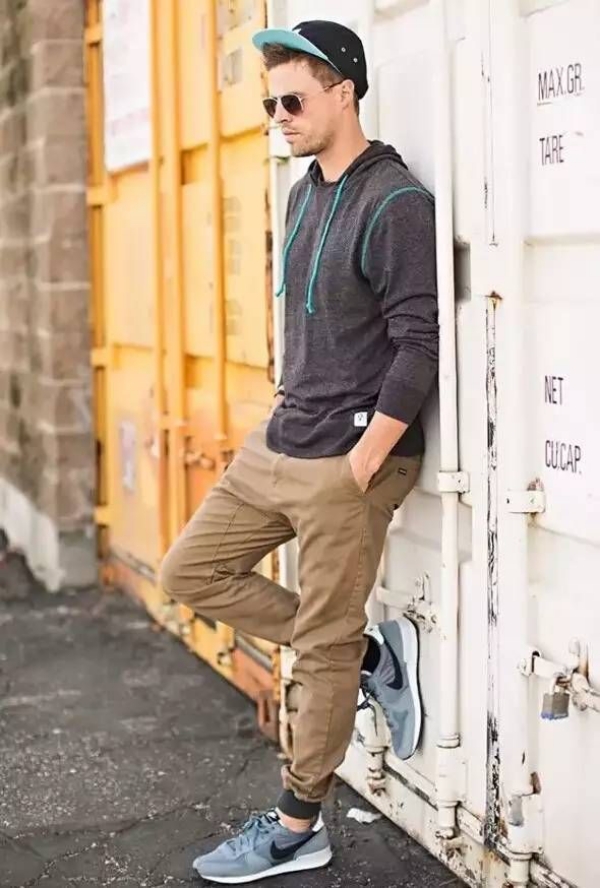 Conclusion
Count your uniqueness as your blessing and dive into the world of trendy hipster outfits for guys. Being a hipster is not only about remaining unique in case of your attire. Instead, it also defines your choices as an individual. During your young years, try to be as experimental with your outfits as you can. The young mind is full of innovative ideas and weaves your path to creativity. If you do not have the clothes to create the perfect hipster look, add some of the pieces of clothing to your closet. The components of clothing need not be expensive. Choose the one that fits you well and helps you to stand out from the rest. Invent your hipster look and always remember one thing, – "dress to express and not to impress."
Related: