A pair of black jeans is that quintessential accessory that goes well with all the casual apparel. It can never go wrong while donning the smart casual or semi-casual style-agreeable much! Just to expand, how about pairing the black jeans with a roll-neck sweater, and customized coat? Or, for an uber-cool semi-formal style, team up those black jeans with a dress shirt, while placing a blazer on top, and putting the perfect pair of oxford shoes. A simple tip; to enhance the look, and to be the star of the show, opt for either black or brown shoes to team up with a pair of black jeans. Trust me, they work the best. That quite seals the deal while you are troubled with the thought of what to wear with black jeans men.
If you are up for more recommendations, try opting for dress shoes or mere boots, and accessorize with a belt, and only think of a white or blue shirt. Also, integrate your love for jackets to complete the look. Try this one with a perfectly fitted blazer. Something more daring! Well, you'll always have the option of a leather biker jacket or bomber jacket. A statutory warning; Wearing button cuffs, as a substitute to cufflinks is a big NO.
Stylish Black Jeans Outfits For Men
If that worked well, and you are still in the mood for more variations to enhance the look while putting on your favorite pair of black jeans, get hooked on to the section below. Here, we have for you the 15 most stylish black jeans outfit ideas for men. Read on:
1. Black Jeans With White Shirt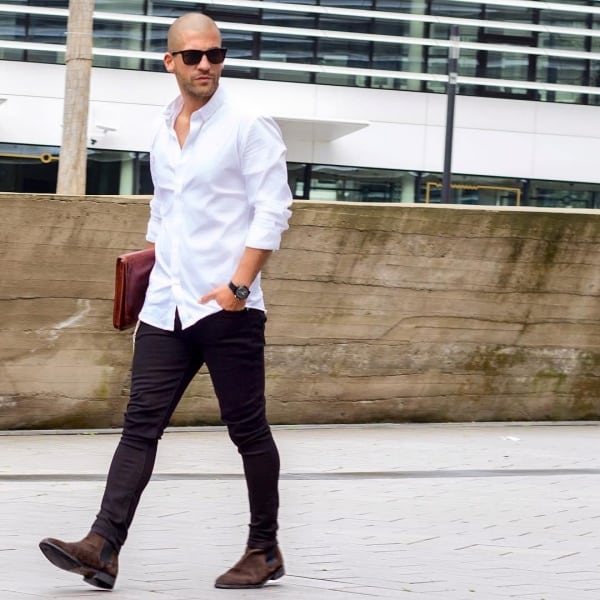 Image Source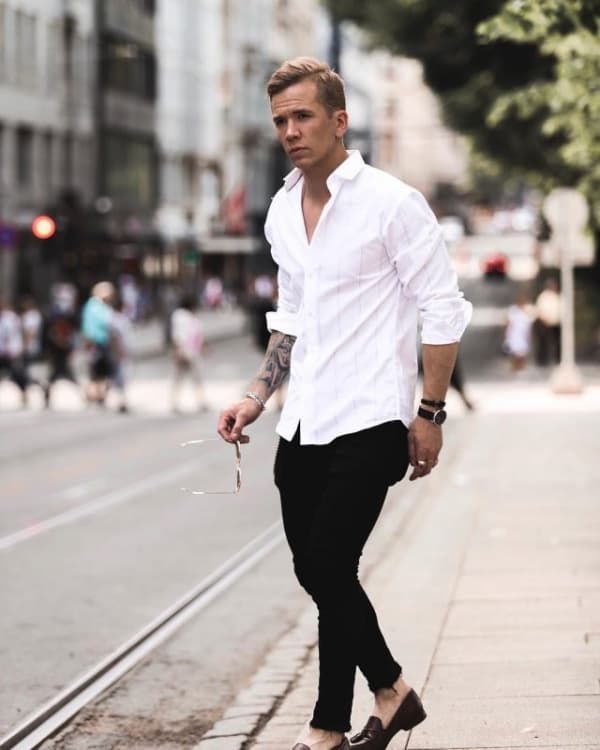 Image Source
I would love to describe this as the ultimate classy combo. A complete look for men to create a casual and clean style, owing to their contrasting yet aesthetic textures. So, to round up, if you truly want to opt for a minimalistic look yet appear dashing, try for a skin fitting jeans and a short-sleeved shirt. Try simple add casual accessories like a cap and sneakers. In case you want variation in shoes also, polished looks demand the leather low-top versions while the other hi-tops version suit the casual style more. For a bit, more experimenting, you might as well try the mesh, suede, and canvas shoes.
2. Black Jeans With Chelsea Boots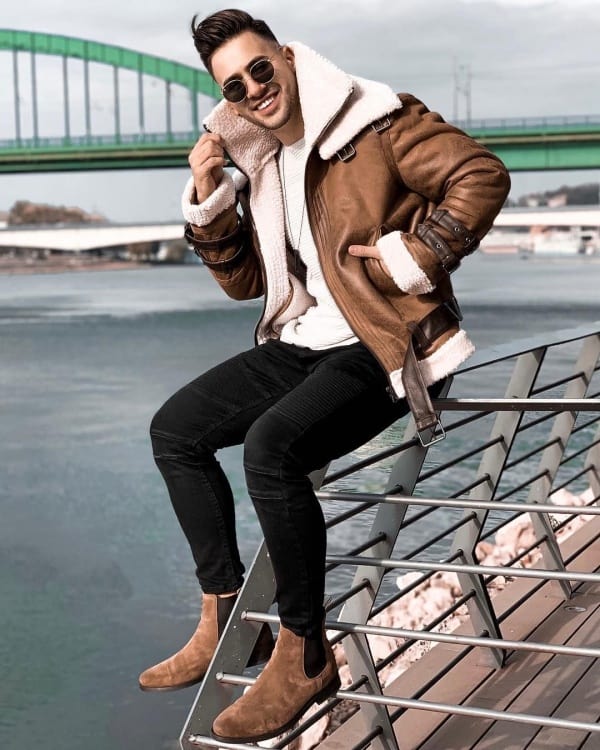 Image Source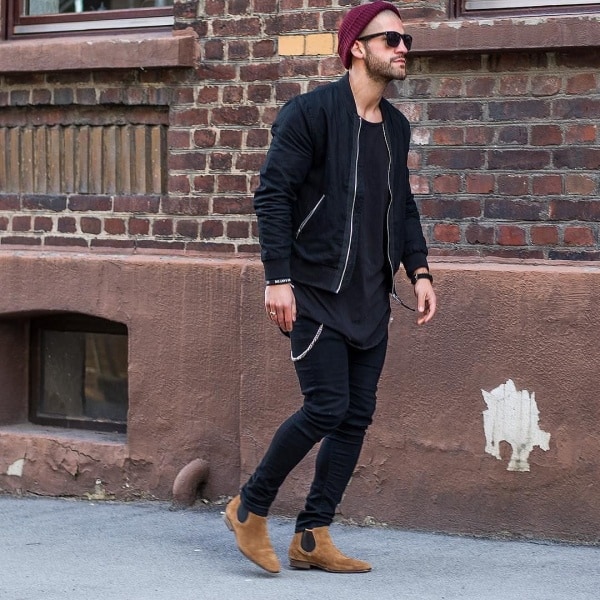 Image Source
Another classy combination, or should I depict it as a statement maker? While thinking of what to wear with black jeans men, try for this combination. As smart as it can get, black jeans blend well with either brown or black Chelsea boots. Slim fit jeans are the variety that suits the best with the Chelsea boots. They hug your legs in a way so that the lower body doesn't look skinny, while the slimmer leg streamlines towards the bottom to place your jeans perfectly on the boots. For an outstanding look, team up the combo with a white crew-neck t-shirt. For creating the perfect yet casual style, you might as well accessorize your outfit with a brown barn jacket, which goes well with the pair of black jeans.
Checkout: Street Style Outfits For Men
3. Black Leather Bomber Jacket And Black Jeans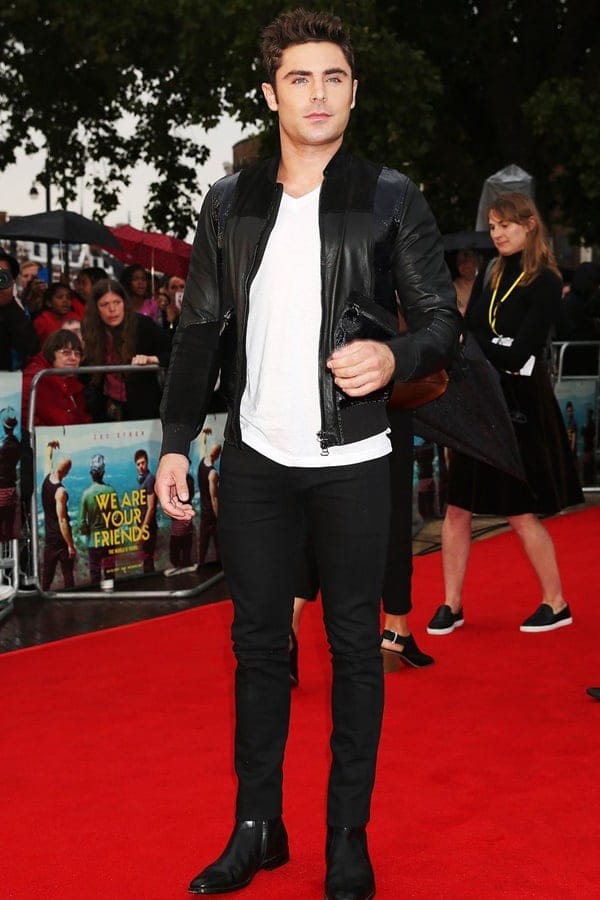 Image Source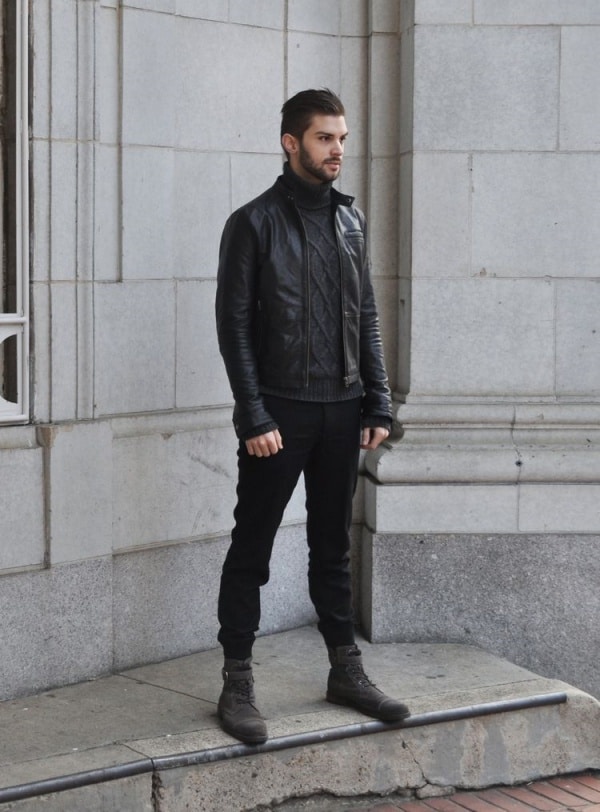 Image Source
If you're after a casual yet sharp outfit, consider wearing a black leather bomber jacket and black jeans. Both the pieces are extremely comfortable and will look great when paired together. Finish the look, by adding silver leather sneakers.
4. Lightweight Parka With Black Jeans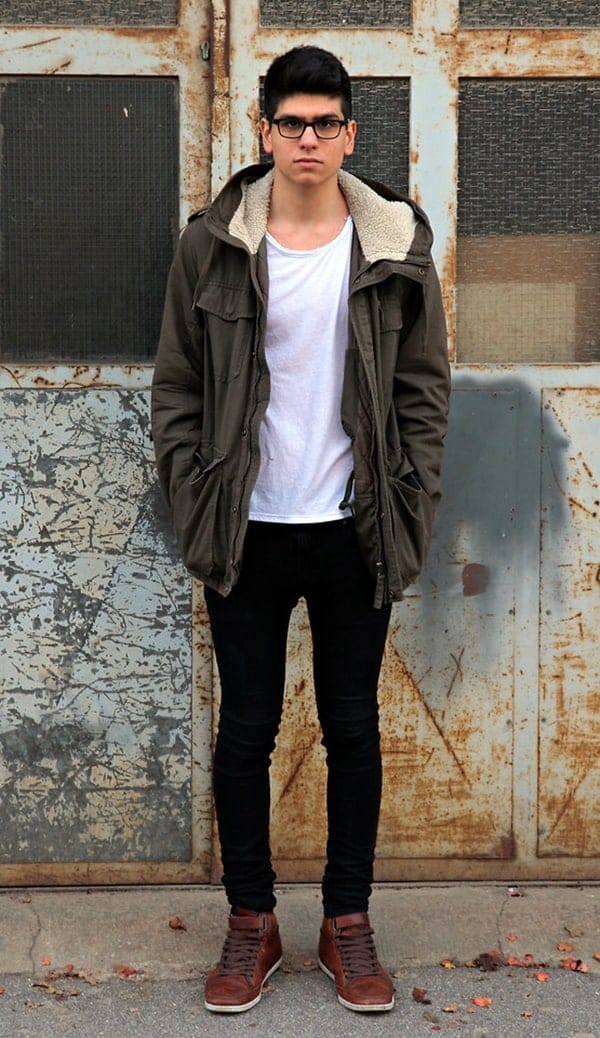 Image Source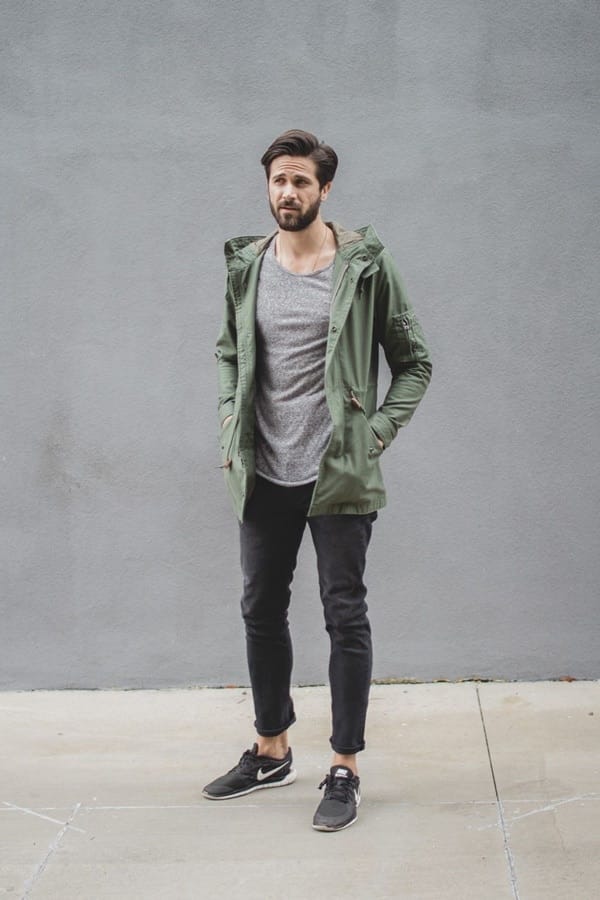 Image Source
Are you hunting for a casual yet seriously stylish outfit combo? Teaming an olive lightweight parka with black jeans is an awesome choice when you want to add flair to your boring outfit. When it comes to shoes, pair it with a wonderful pair of black low top sneakers.
5. Black Jeans With Long Coat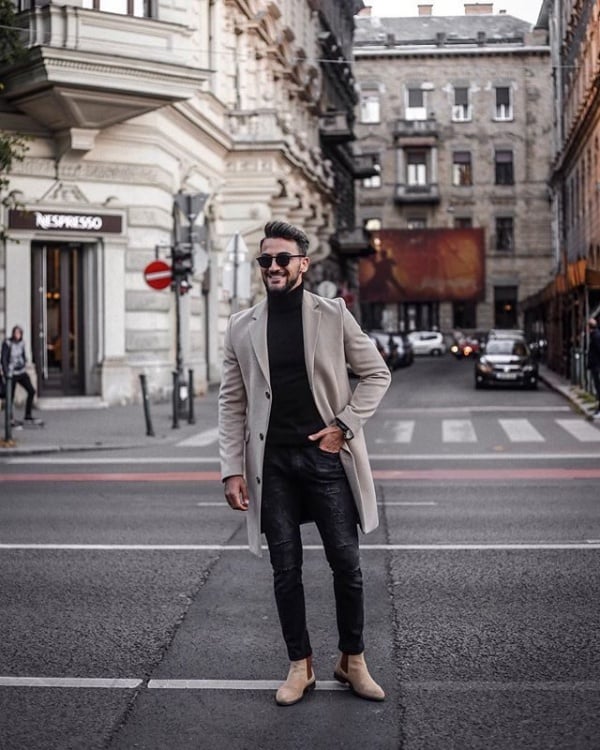 Image Source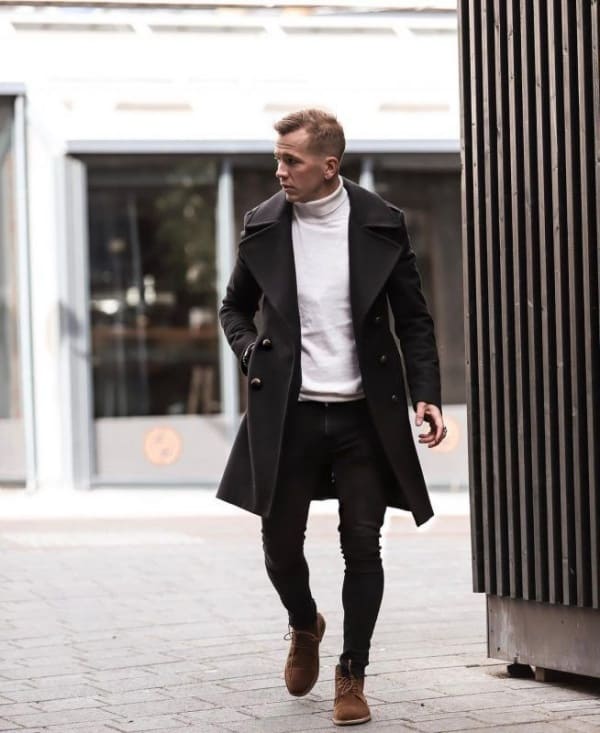 Image Source
Undoubtedly, long coats are the most versatile clothing accessories while we discuss winter essentials. A well-fitted, long coat is the best look elevator from a cool and casual to a classy-dapper. So, this time upgrade your white t-shirt and black jeans with a long coat. A look that makes you sharper while you're comfortable in almost all the formal and semi-formal occasions. The versatility of the long coats even allows you to wear these over the suit. Just remember, woolen long coats are for winters, while the material changes to cotton during the sultry season.
Related: Denim Shirt Outfits For Men
6. Black Jeans With Grey T-Shirt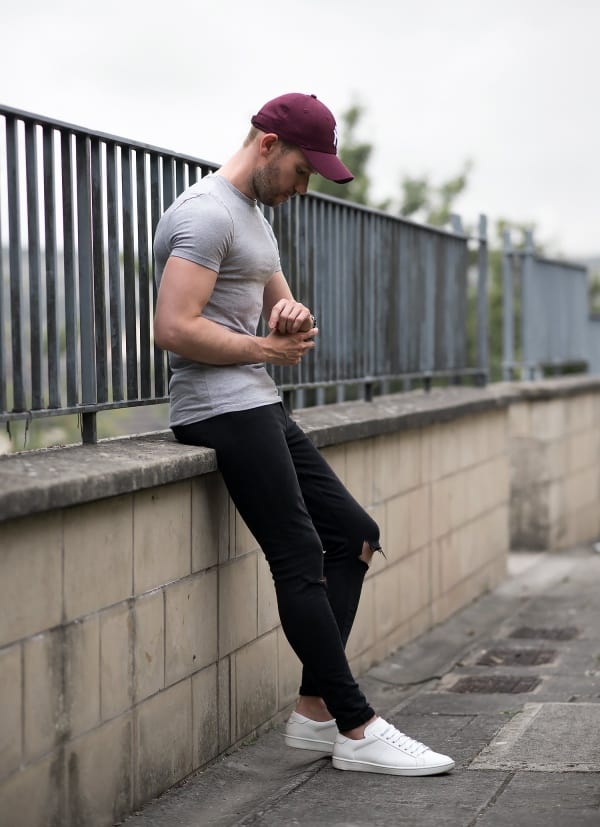 Image Source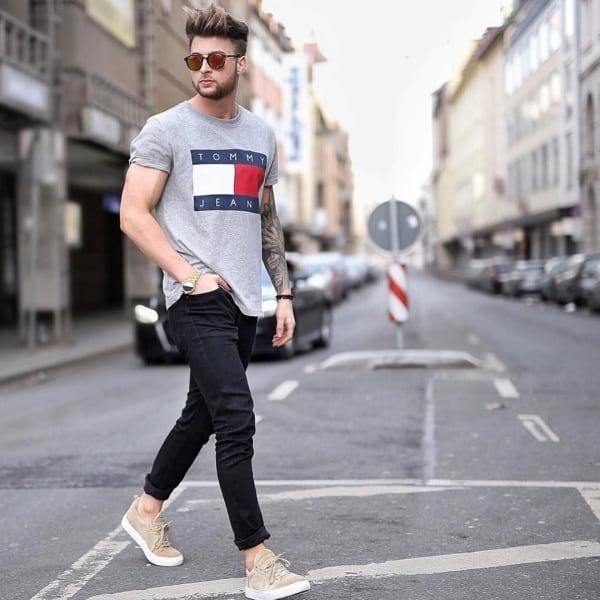 Image Source
The combination that requires minimal styling yet yields great results. Other than black, and white, the world can be also grey. Confused? Well to sort it out, while you are a bit too bored with the classic pairing of white tees and black jeans, resort to hues of grey. This pairing might sound a bit unusual while considering what to wear with black jeans men. However, black suits all and even work great with grey. However, remember to never team up the black jeans with an overly dark grey t-shirt as they lack that contrast required for a look on-point. Instead, opt for a soothing, steely grey to make sure that the garment pairing is just what you need.
7. Black Jeans And A Black Field Jacket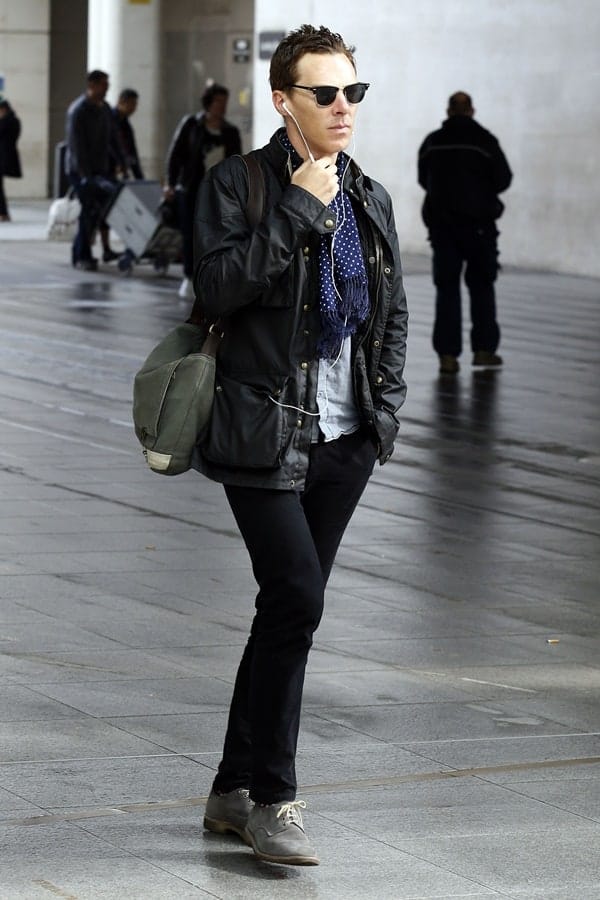 Image Source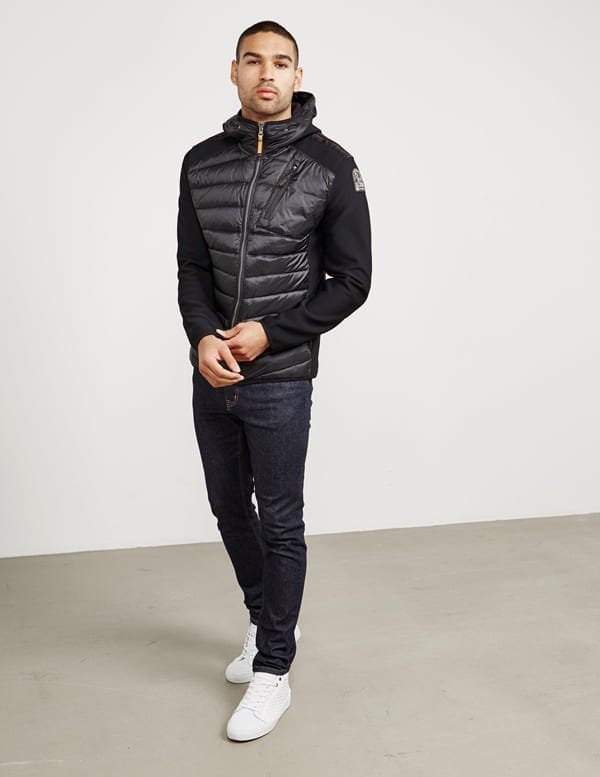 Image Source
Wondering, what to wear with black jeans men when it's the question of enhancing your personal style? You'll love this easy combo of a black field jacket paired with black jeans. Add a sportier touch to your look with grey athletic shoes. Dress it up to the office on Friday!
8. Black Jeans With Denim Shirt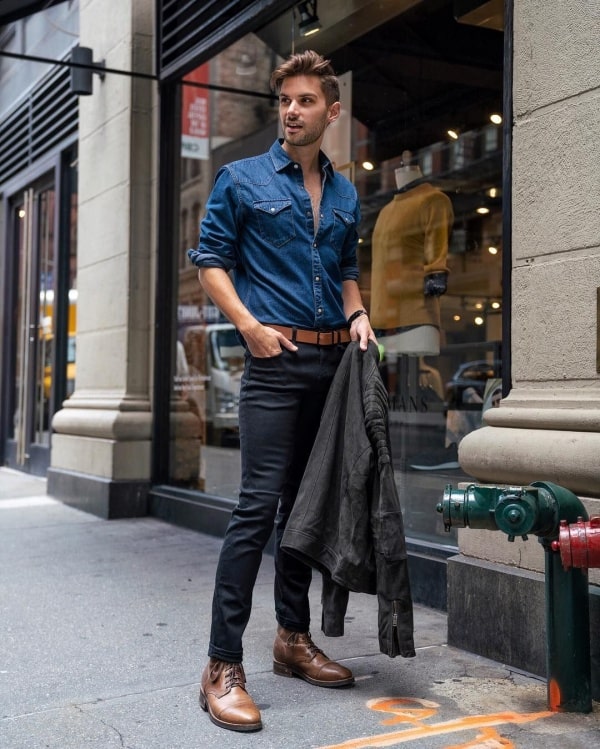 Image Source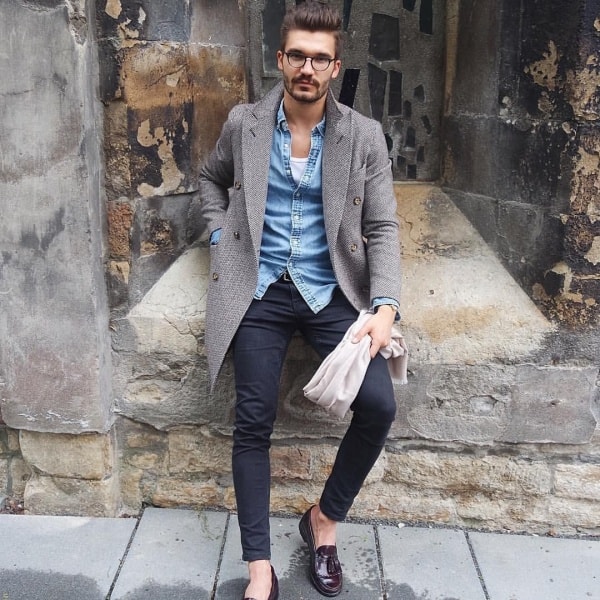 Image Source
The combination of black jeans with a black t-shirt and denim shirt is very easy to put together without a second thought. The combo helps you look cool and ready for anything without spending much time in the closet. Complete the look, by adding sunglasses.
Here We Have: Bomber Jacket Outfits For Men
9. Black Jeans And Red Plaid Shirt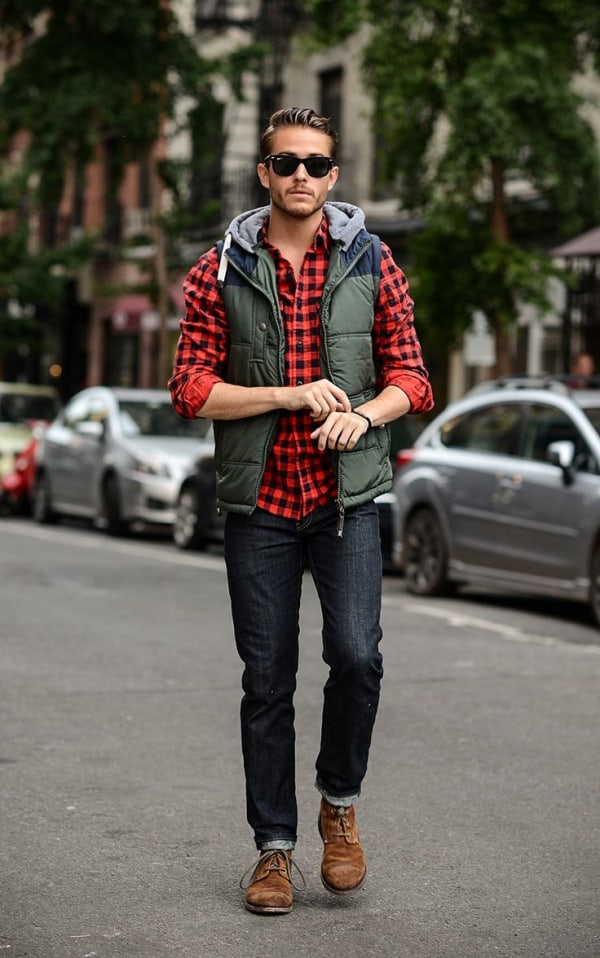 Image Source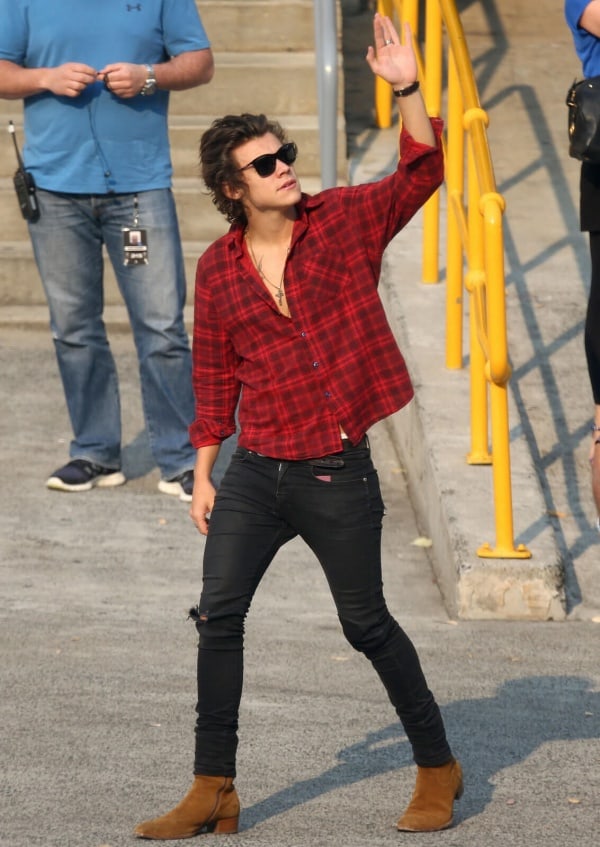 Image Source
Time for you to sizzle in a red plaid shirt, while its pairing is done with the pair of black jeans. Try this style hack and go for the combo of red and black. Well, on a more serious note, try to pull off the modern-day casual look by donning a red plaid long sleeve shirt with black skinny jeans. Also, who said men can't style? To top it up, go for the pair of white leather sneakers or leather Chelsea boots to slay in style.
10. Black Jeans And White Shoes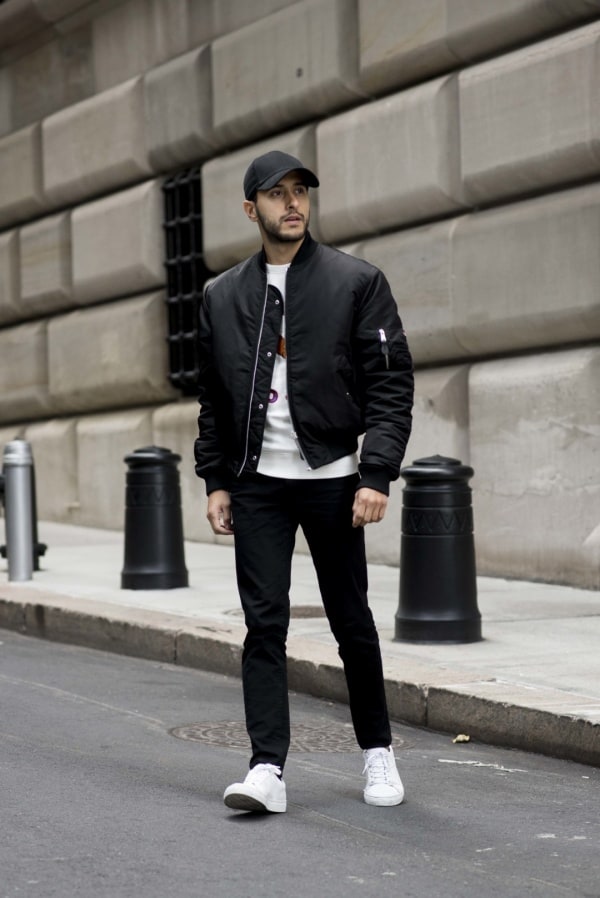 Image Source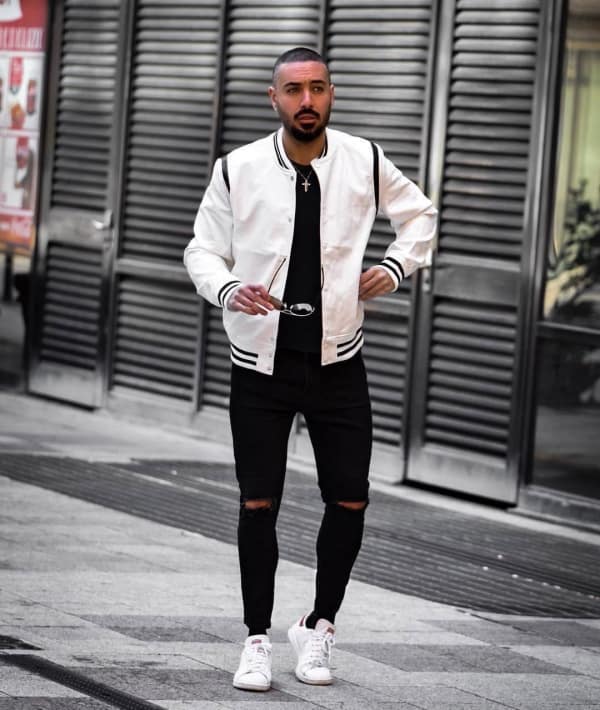 Image Source
Shoes also make up an important segment while the thought of what to wear with black jeans men peeps in. This one has been a personal favorite for ages. The top-up white leather sneakers make for an essential combo with black jeans, enhancing the uber-cool look. While seeking more options, oxford shoes work best for a semi-formal style.
11. All Black Look!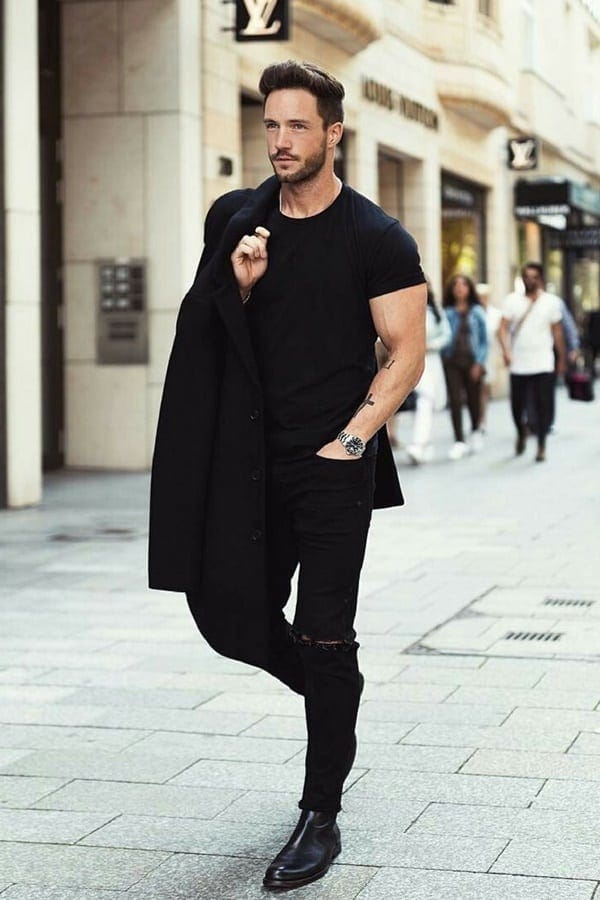 Image Source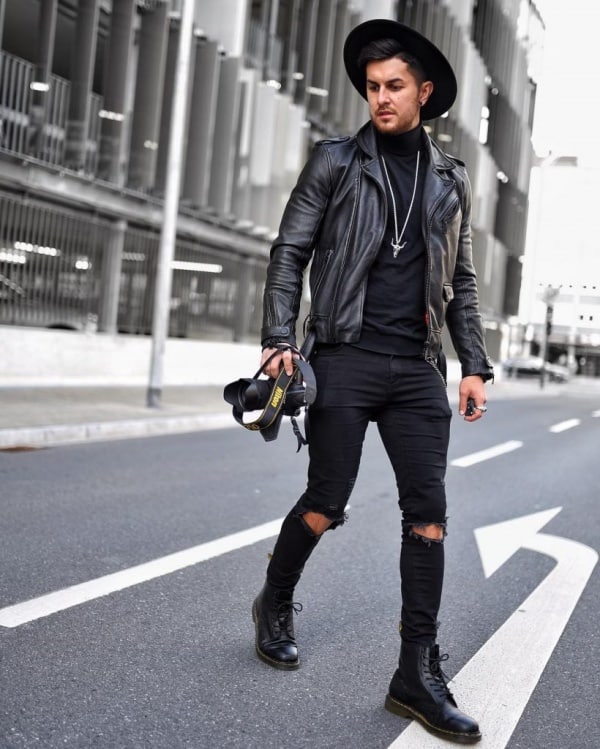 Image Source
As of this year's update, the all-black look is worldwide popular. To create a grunge look, you just need to adjust your shawls and scarves in the form of a poncho and carry an extremely long baggy overall over your black jeans for a stunning look.
Also, Checkout: Stylish Fall Outfits For Men
12. Checkered Shirt With Black Jeans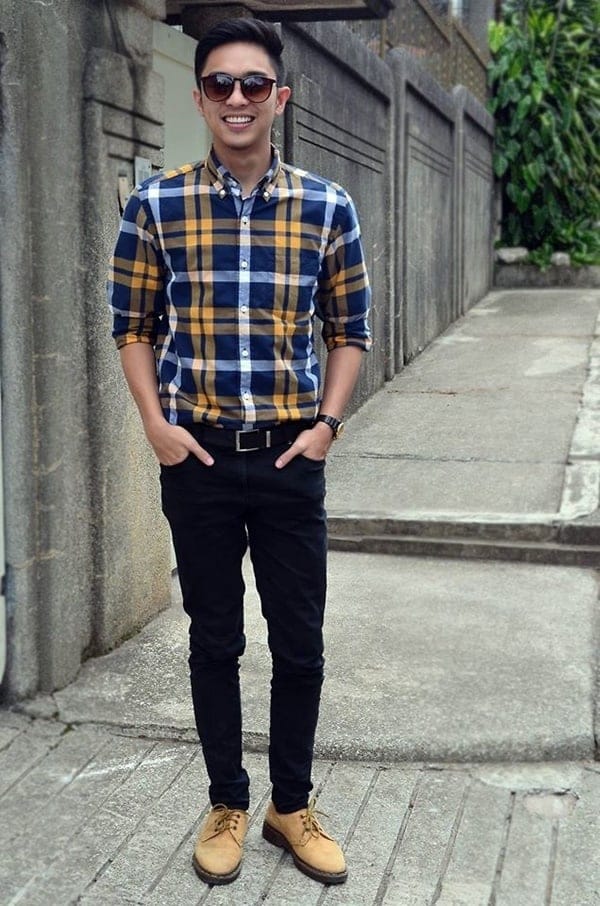 Image Source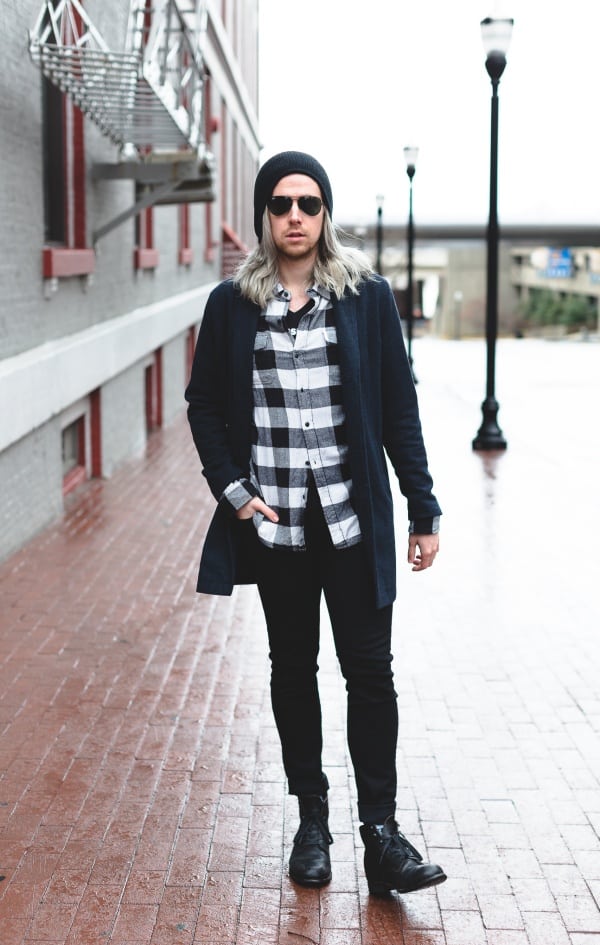 Image Source
A checkered shirt with a black ravishing fleece-lined jacket matched with black jeans never go wrong and it's a great way to welcome style into your life. This combo could prove your super casual look for days when you can't decide what to wear.
13. Black Jeans And Denim Jacket Outfit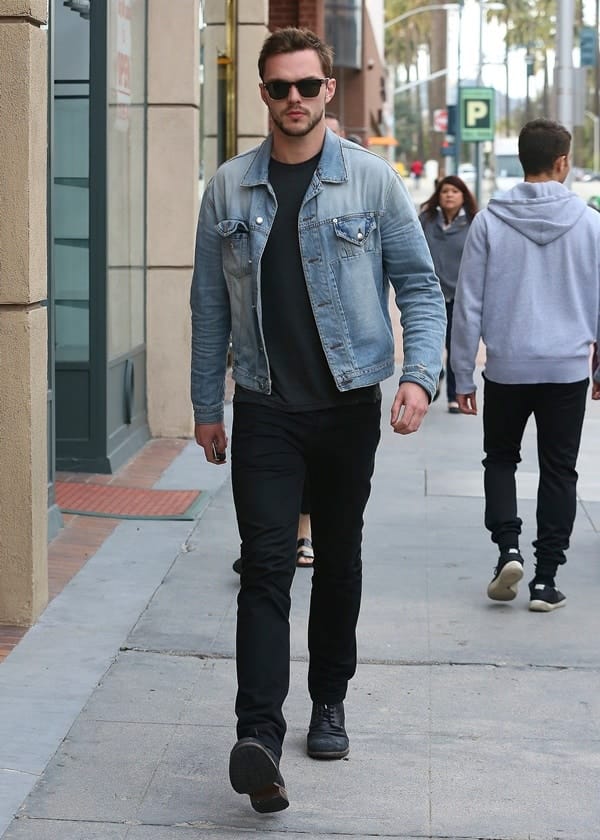 Image Source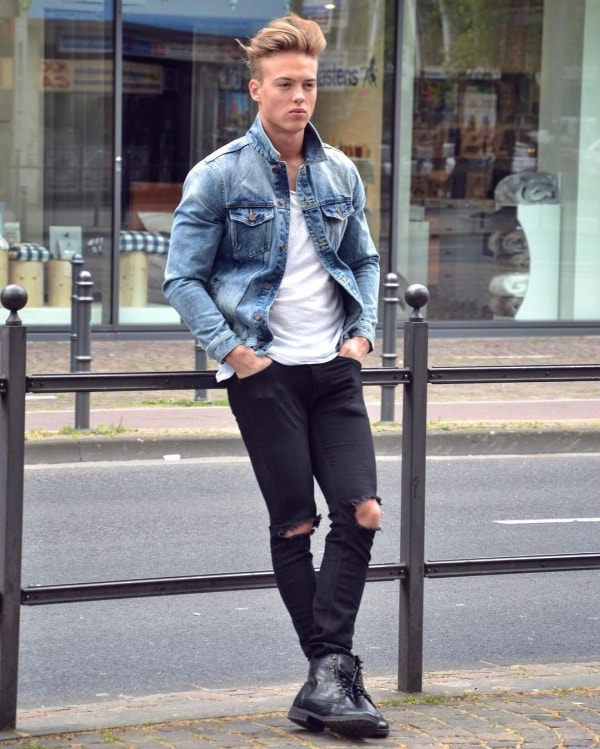 Image Source
Denim jackets seem to be a pleasure for all the seasons. If you are a lover of laid-back styles, black jeans and a denim jacket is just the outfit you need my friend. For something casual, try the combo of blue denim jacket and black jeans.
14. Black Jeans With Tan Shoes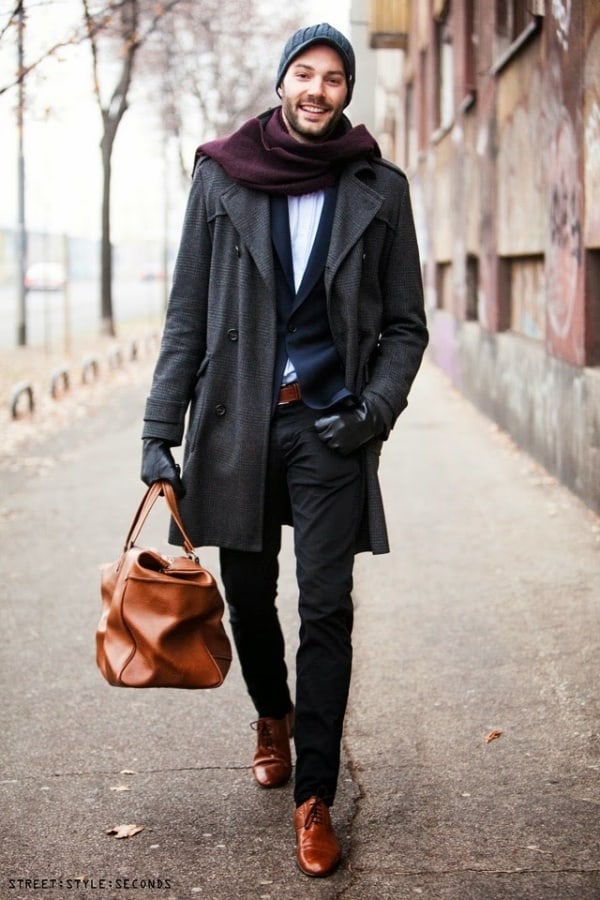 Image Source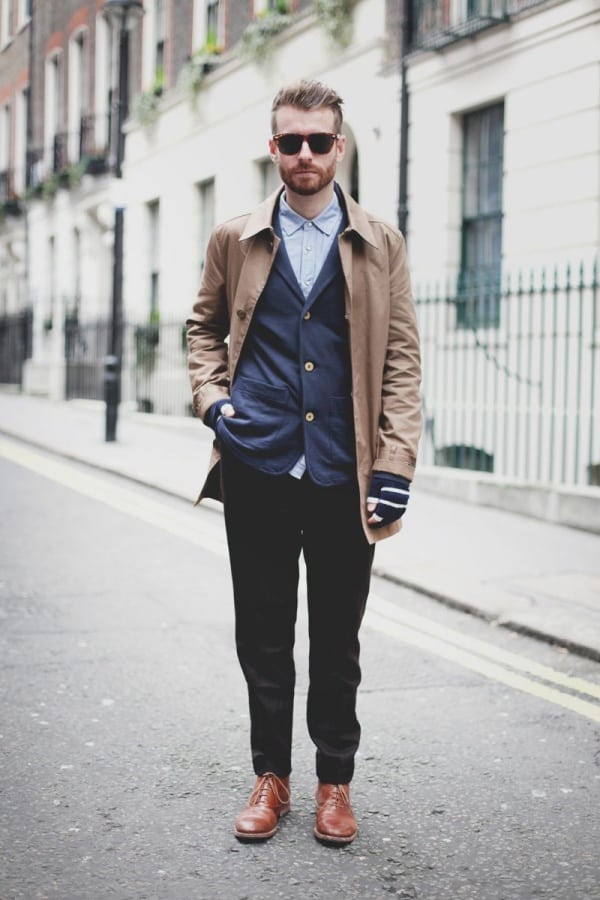 Image Source
Comparatively, this is a combination that is less in usage, but black jeans with tan brown, yellow ochre, or even rust gold complete the look. You can also try this casual look with a modern spin, and team up this entire thing with any pastel-colored shirt.
Related: Dark Jeans Outfits For Men
15. Dark Blue Blazer And Black Jeans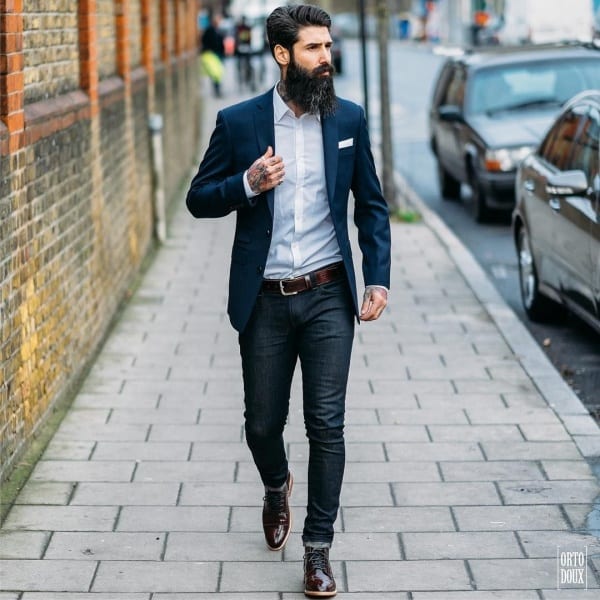 Image Source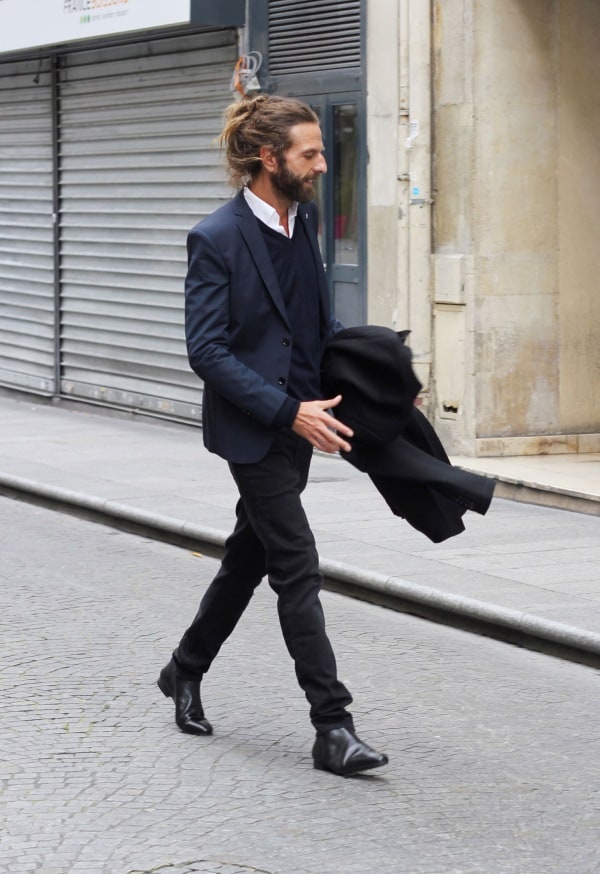 Image Source
If you're on a hunt for a casual yet dapper ensemble, opt for a dark blue blazer with black jeans as one of the easiest what to wear with black jeans male. Both items are totally comfortable and will look good paired together. To bring out the fun side of you, rock a pair of brown leather work boots.
16. Black Jeans And Commando Trousers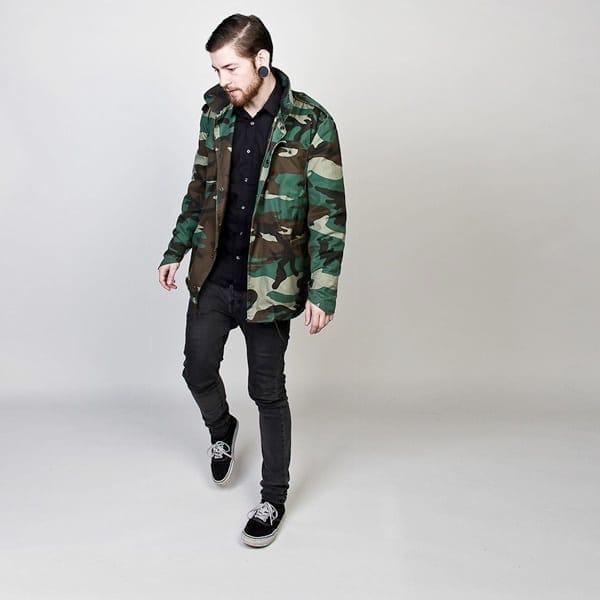 Image Source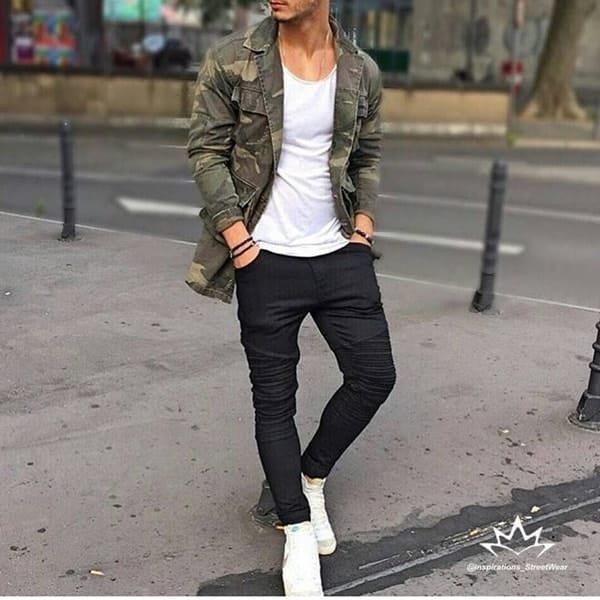 Image Source
Have you heard commando jackets are a must-have piece to be accessorized in your closet this year? If you don't know how to achieve it, you can always cut your old pair of commando slacks and add a couple of rags onto plain white shirts. Pair it with black jeans and add suede jeans to complete the look.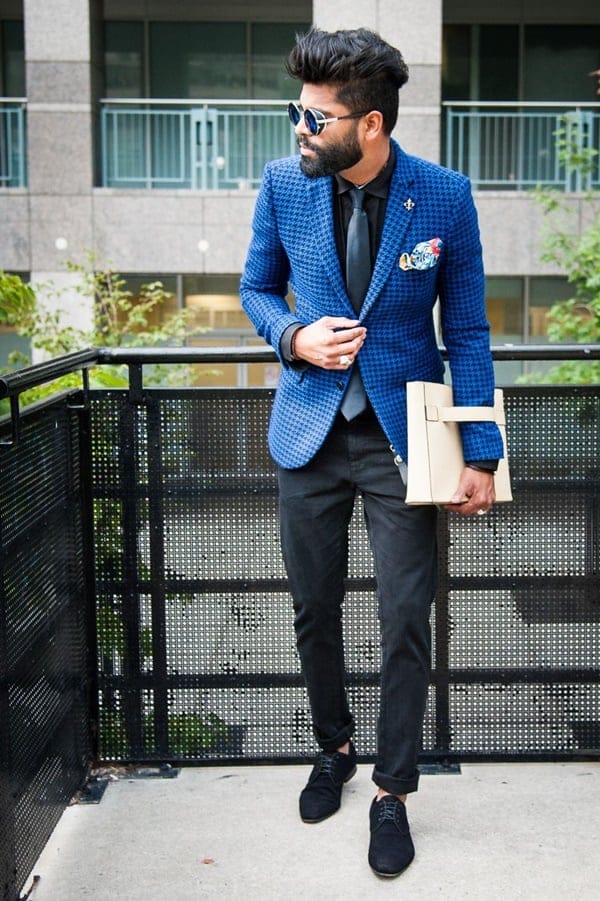 Image Source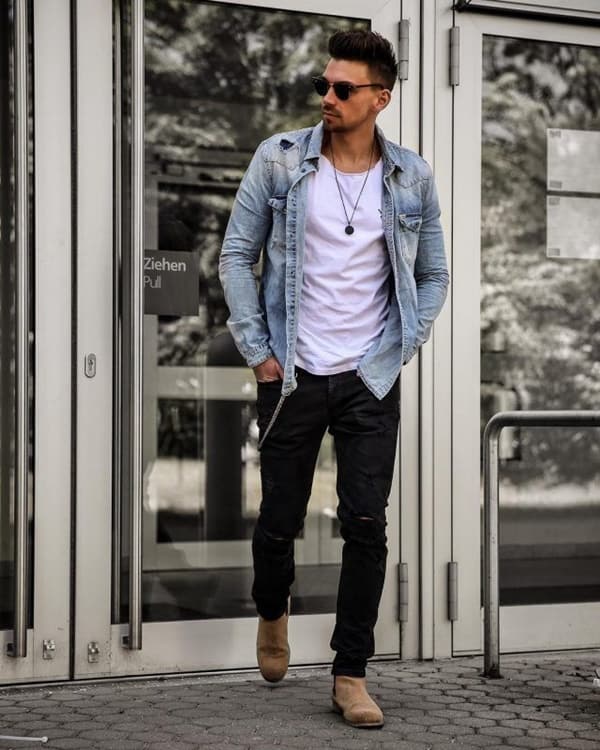 Image Source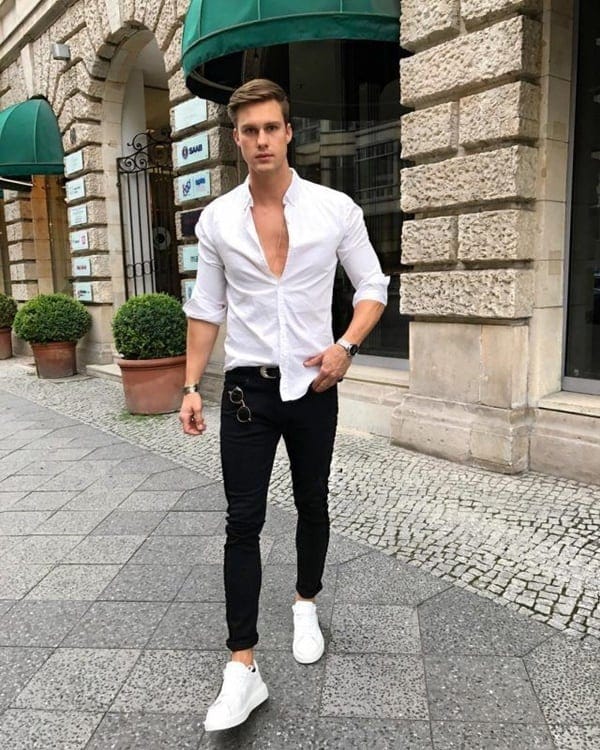 Image Source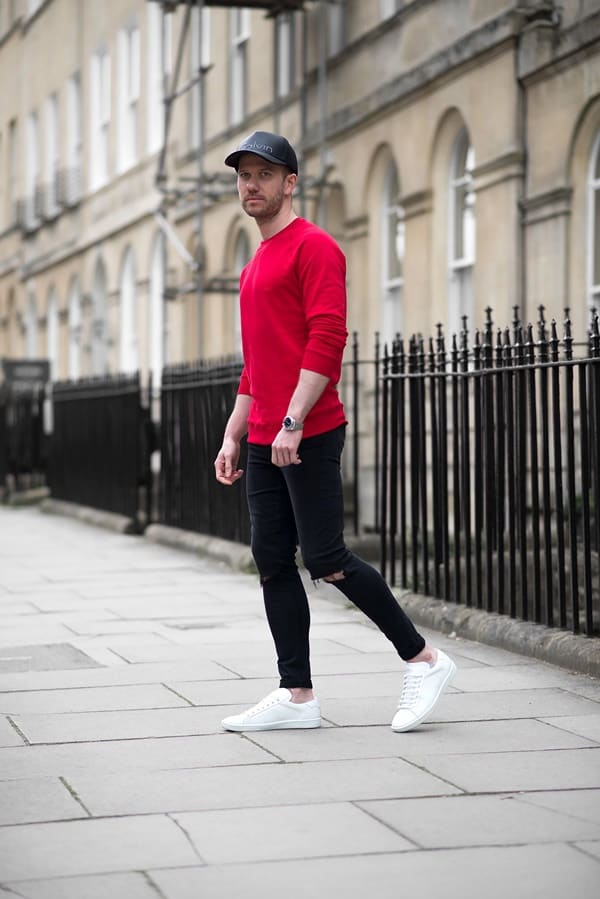 Image Source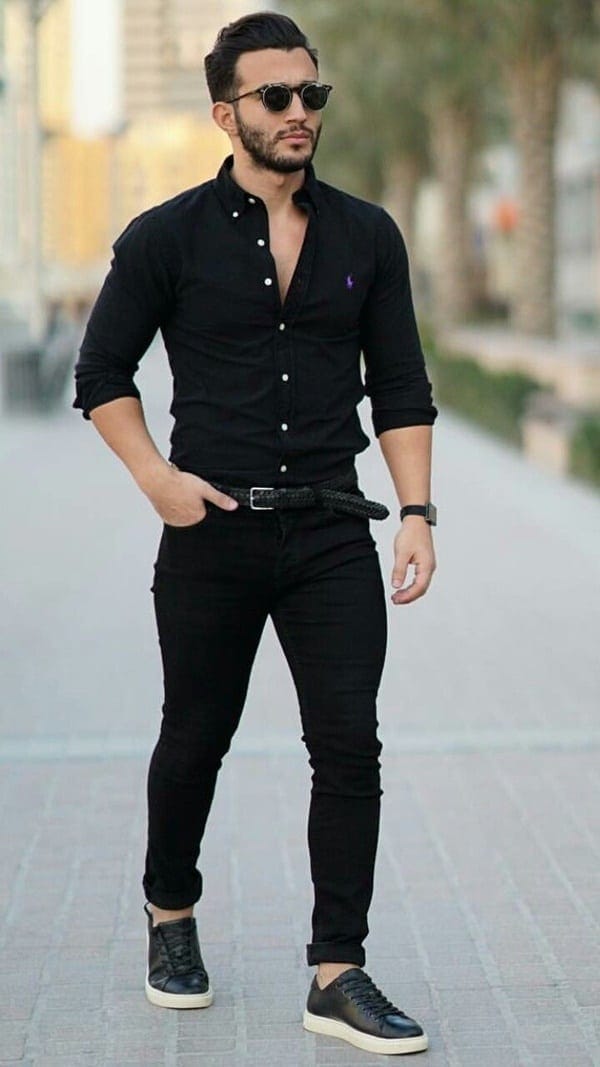 Image Source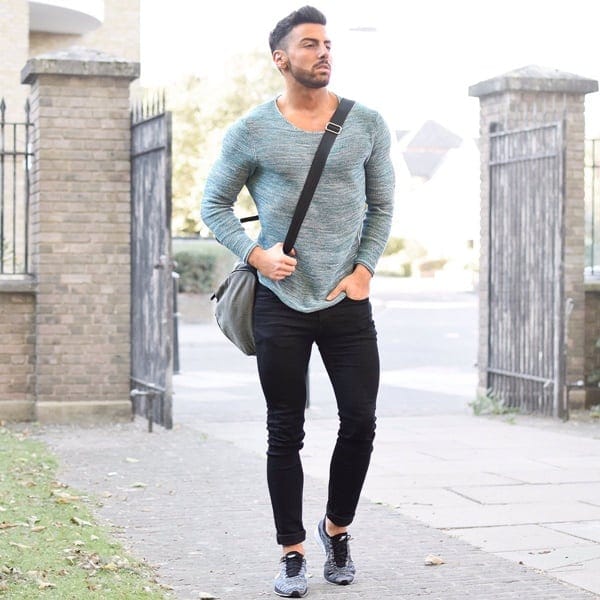 Image Source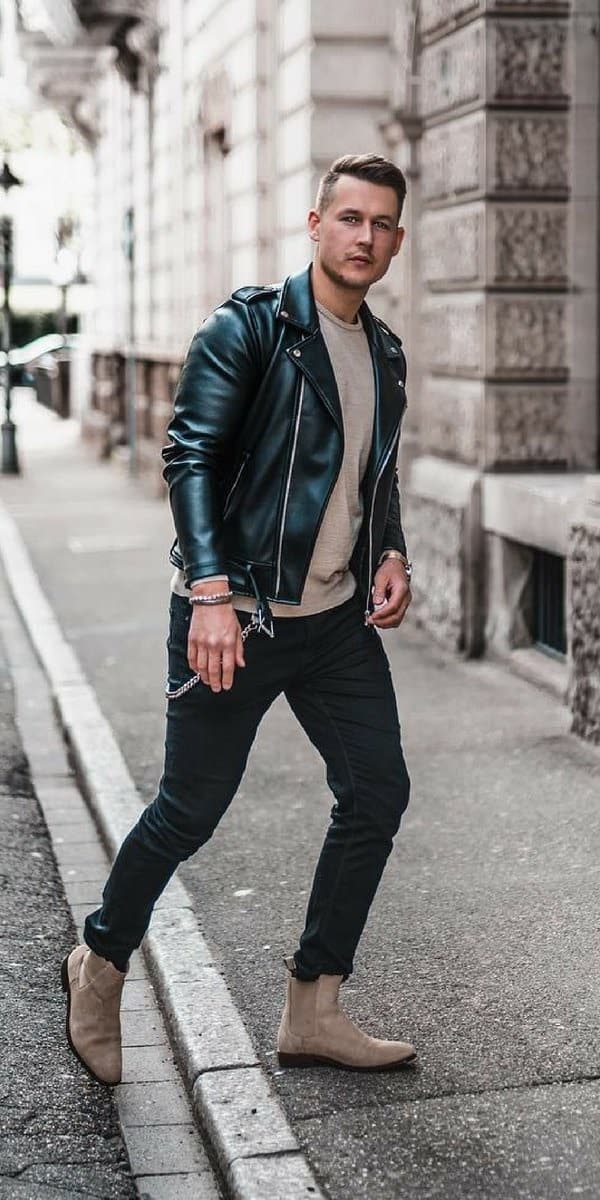 Image Source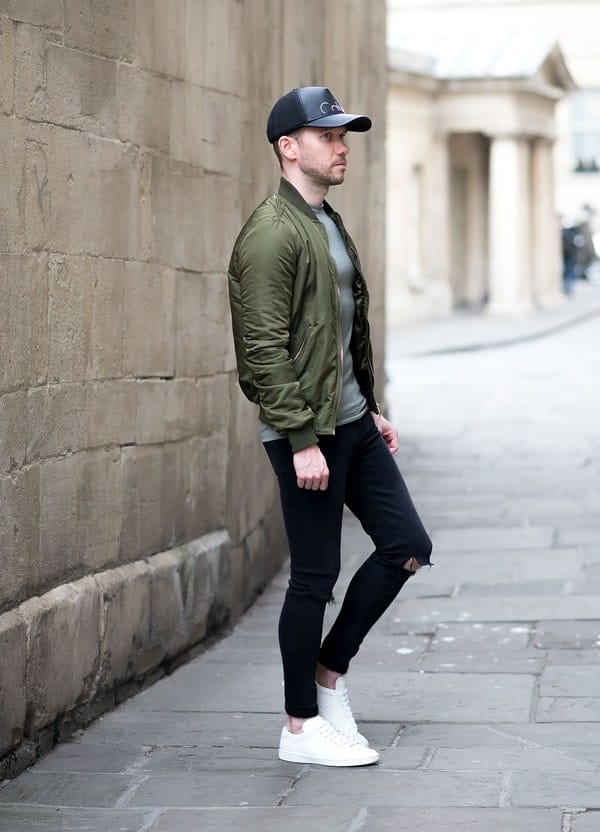 Image Source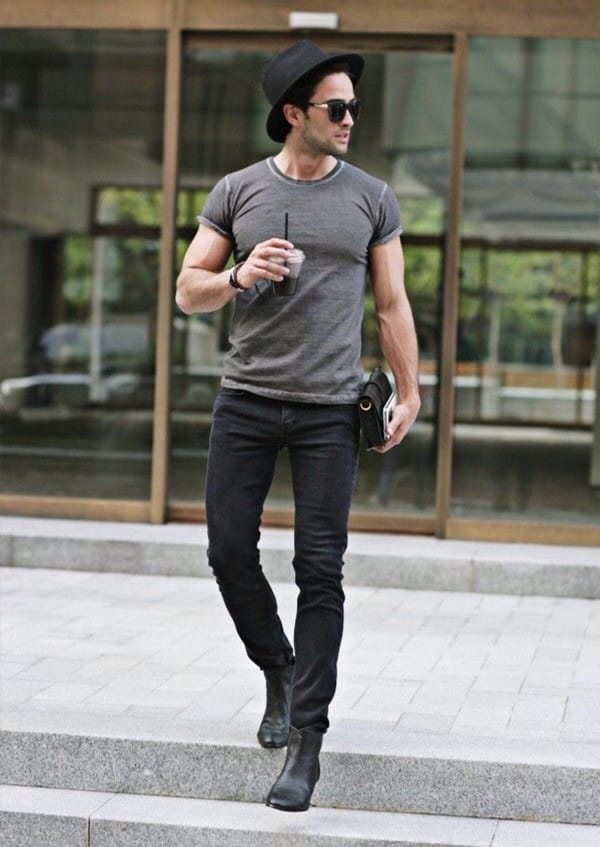 Image Source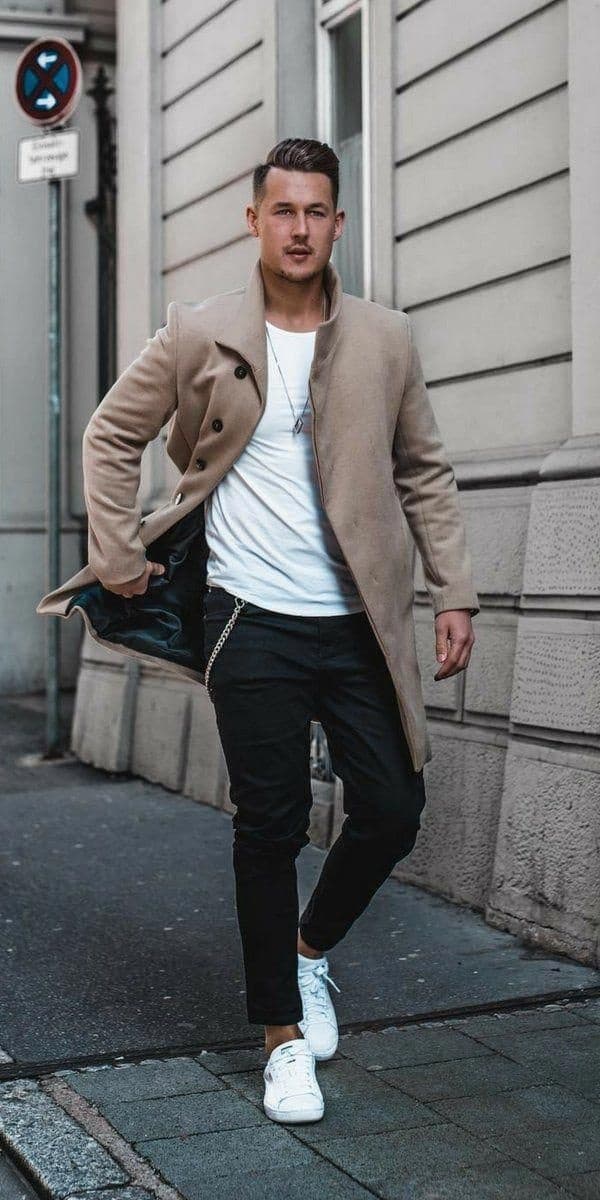 Image Source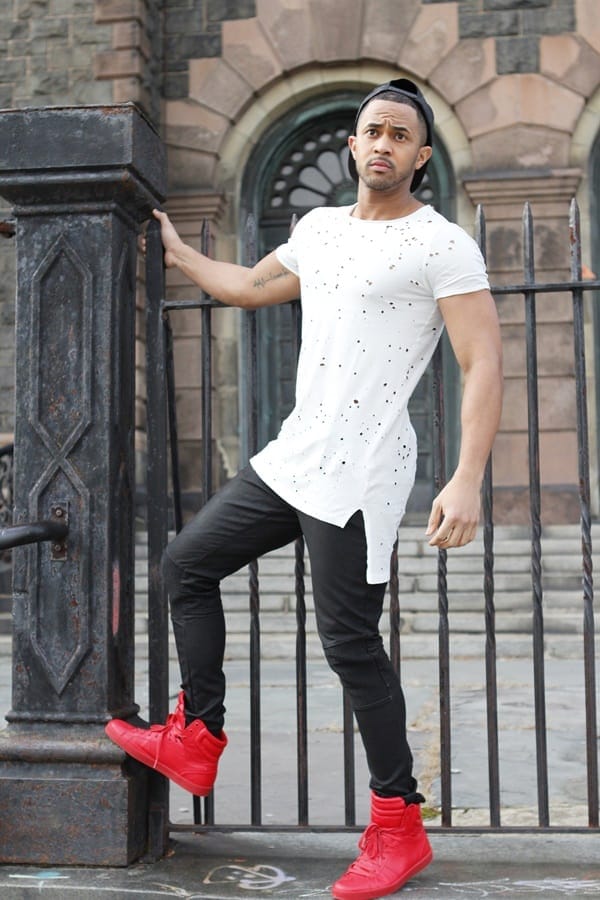 Image Source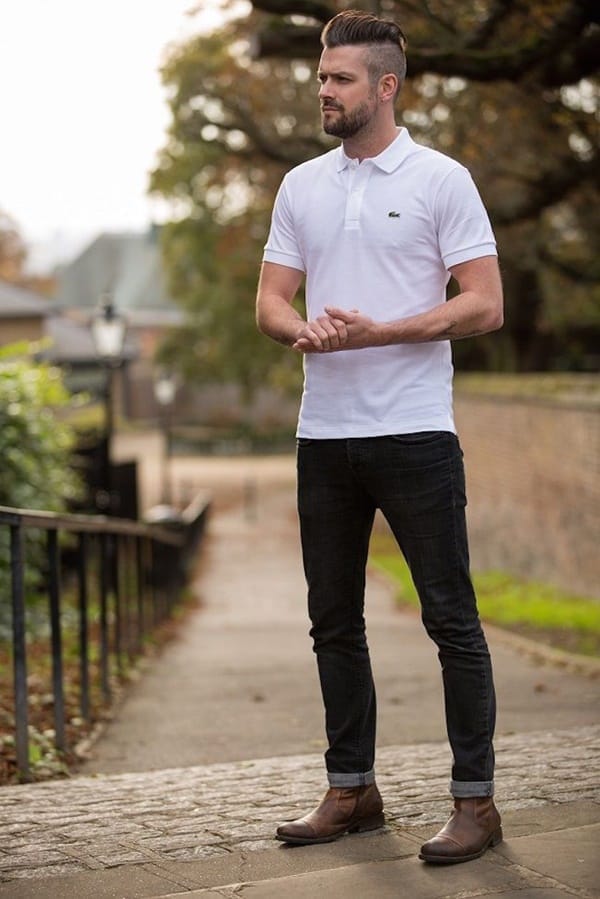 Image Source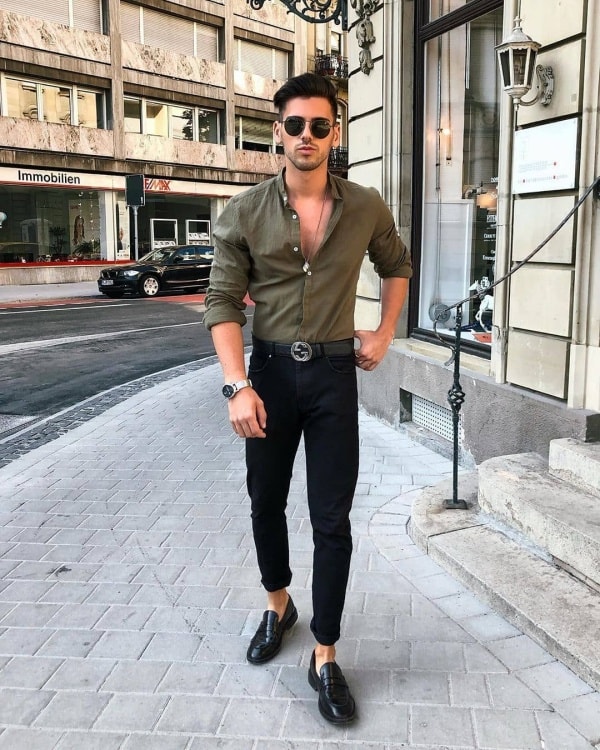 Image Source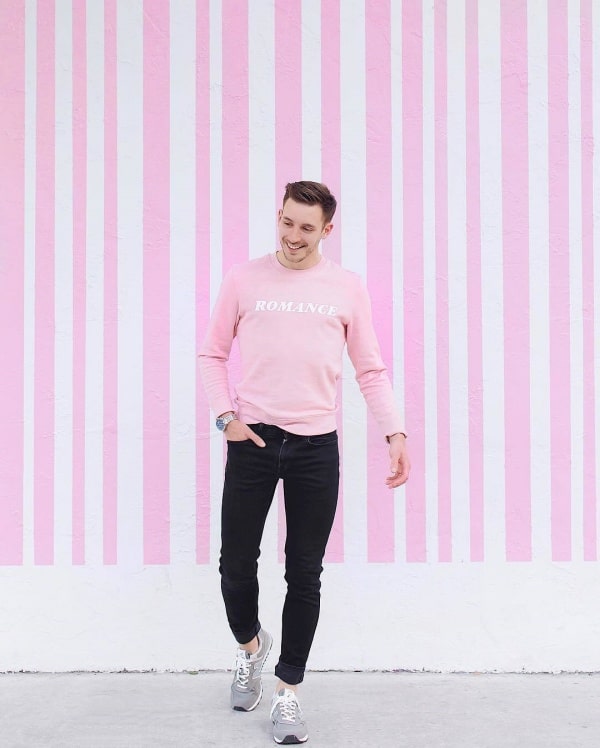 Image Source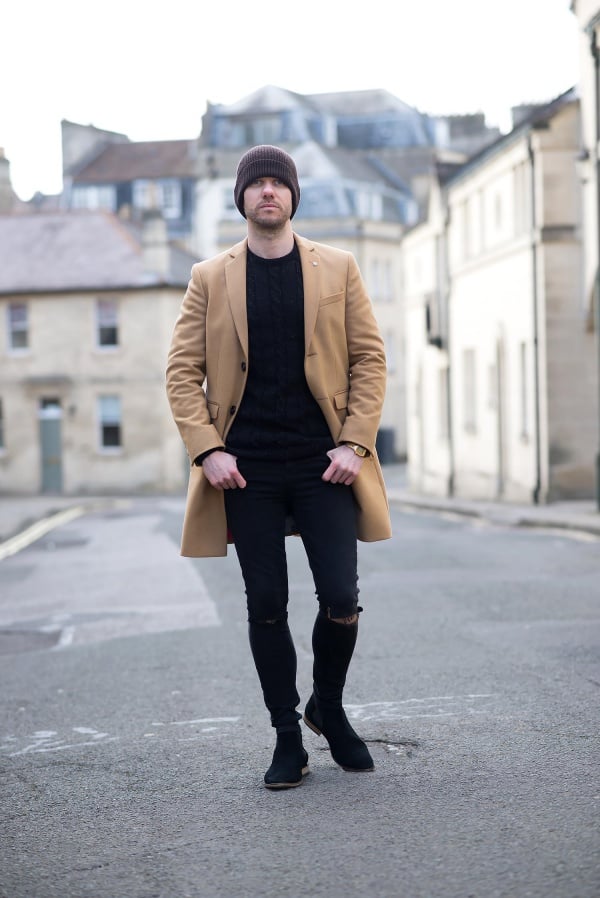 Image Source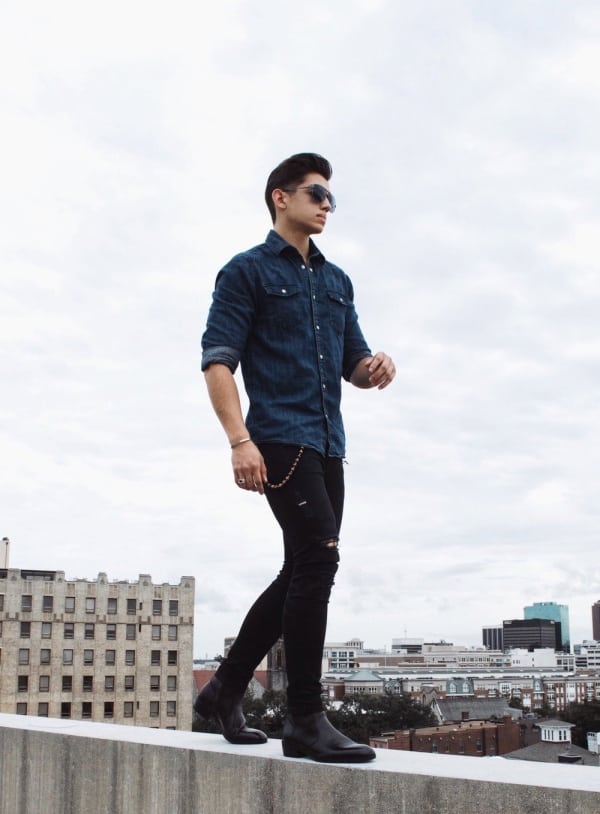 Image Source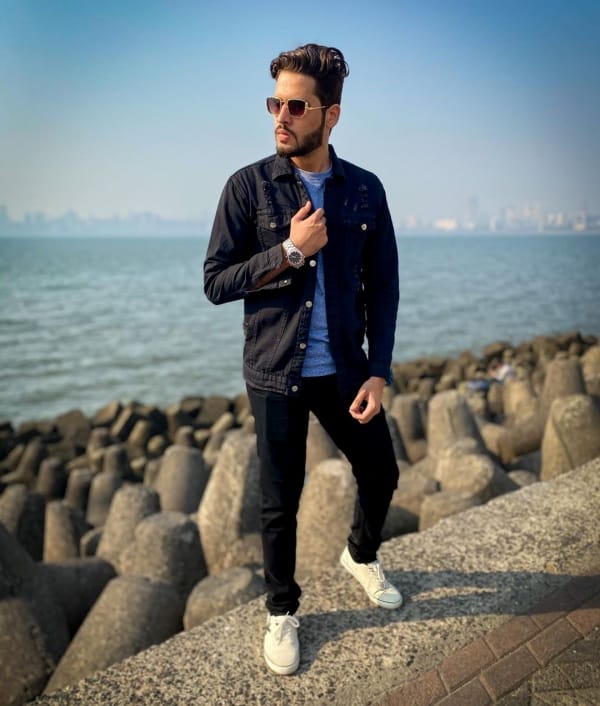 Image Source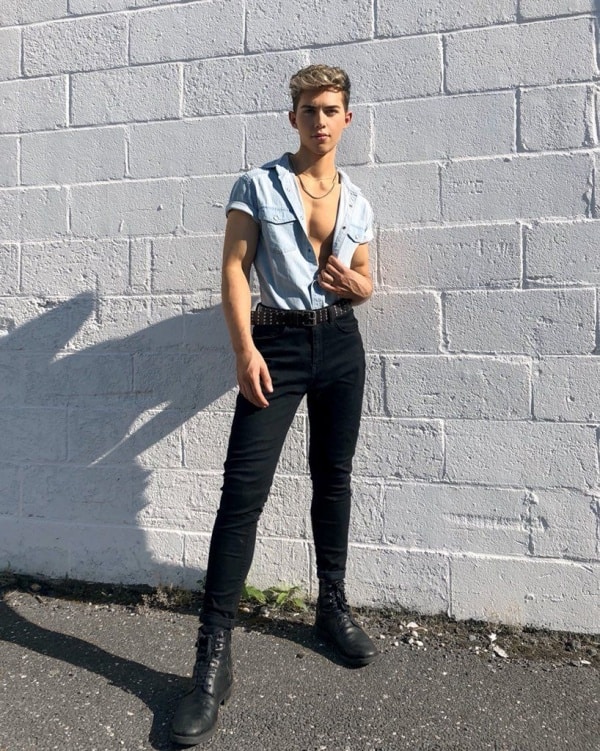 Image Source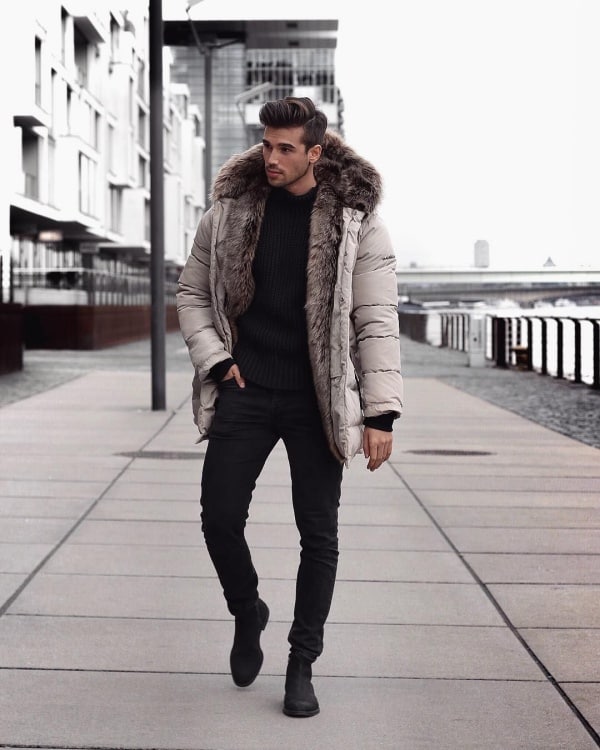 Image Source
Thus, we reach the concluding part. Honestly, styling can be of various types but opt for the thing only when you feel you are comfortable while donning it, instead of following the trending fashion. Black jeans are the accessory that enhances both the comfort and casual style. The first things that strike whenever we think of what to wear with black jeans men are white shirts/t-shirts, and white sneakers to complete the overall look.
For a more casual spin-off, the white athletic shoes might also make a good substitute instead of the sneakers. However, with the list above I am sure you'll be spoilt for choices. This time just unleash yourself and opt for things you have never tried before. Refurbish your look, surprise your surroundings, and be the show-stealer. So, what's the wait for? Shuffle the cupboard, get the stuff, and embark on the journey of rediscovering your style.