Willing to capture a unique retro theme or a street-style look? Plaid pants outfit ideas have always helped to notch up men's style. Its' checkered designs, adaptable prints, and casual style enhance the overall appearance.
Matching these stylish pants with tees, shirts, blazers, and accessories can render an impeccable look. Conventionally, the plaid pattern was used only in woolen clothing.
Over time, many transitions occurred, thus assimilating it into vivid fabrics and hues.

Best Men's Plaid Pants Outfit Ideas To Wear
We have listed down a quick brief on versatile plaid pant outfit ideas to help you out. If you are skeptical about selecting a suitable style, go through the list and make your pick.
Wear your attitude, grace, and sophistication to don it like you own the look. Let's begin with the comfy and trendy combos created with plaid pants for men this season.
1. Black Long Sleeve Shirt And Grey Plaid Pants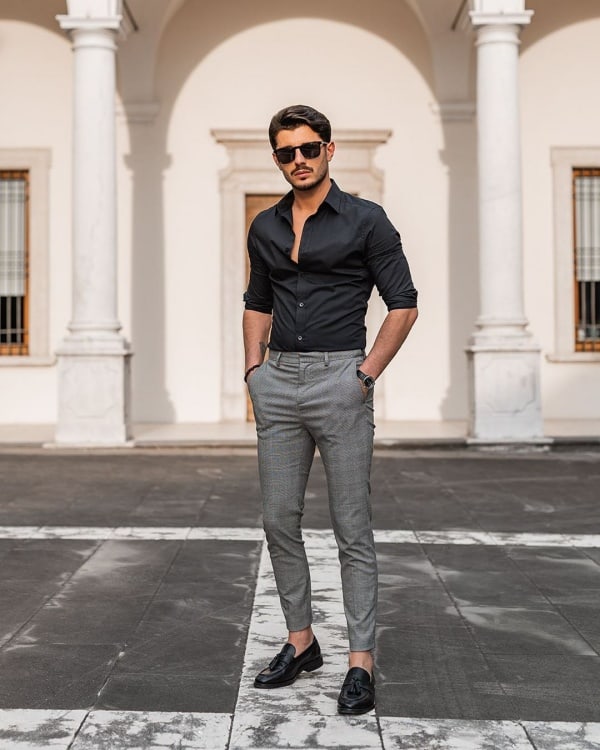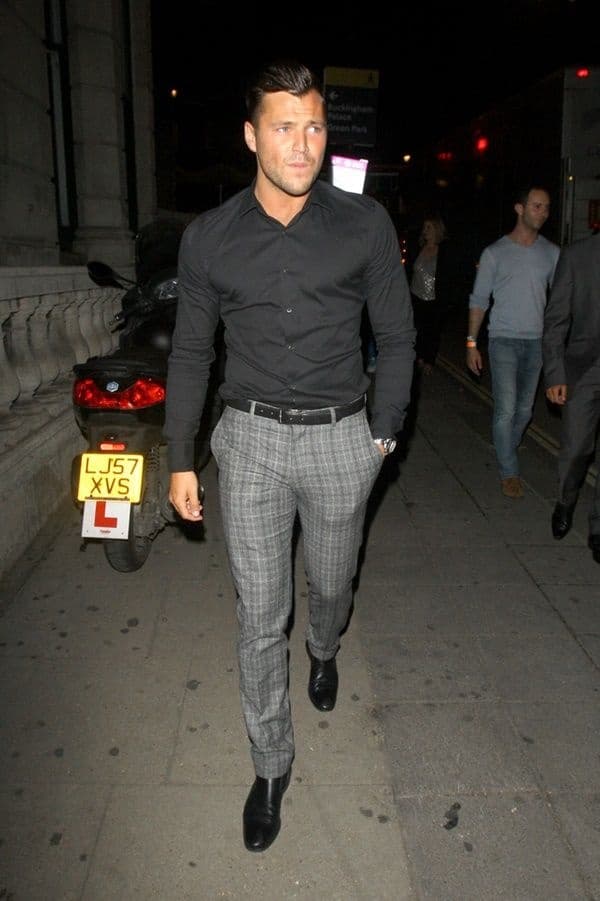 Black survives as the regal combination with anything you wear owing to its supremacy. Grey plaid pants and a classy black shirt with long sleeves is a stupendous attire.
Anyone can pull off these ankle-length slim-fit pants that look like a pro. Do not forget to style yourself with a cool pair of shades and elegant formal shoes.
Nothing beats the enigma of black with plaids!
2. Neck T-Shirt With Plaid Pants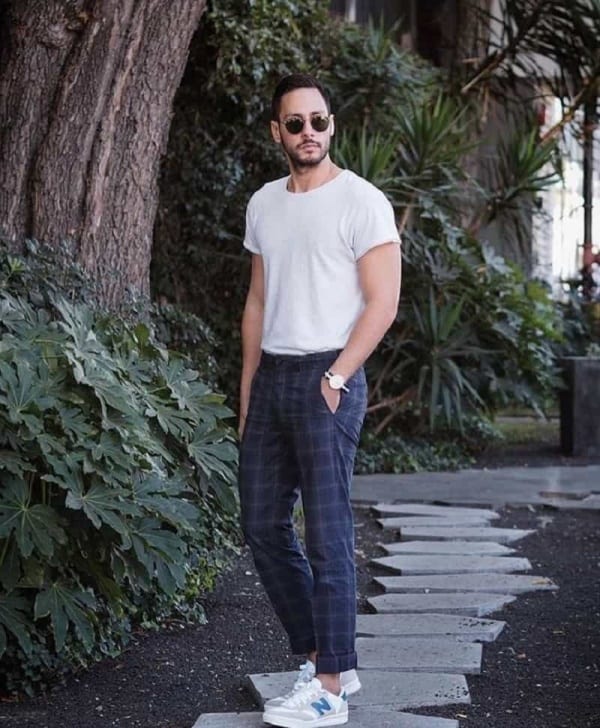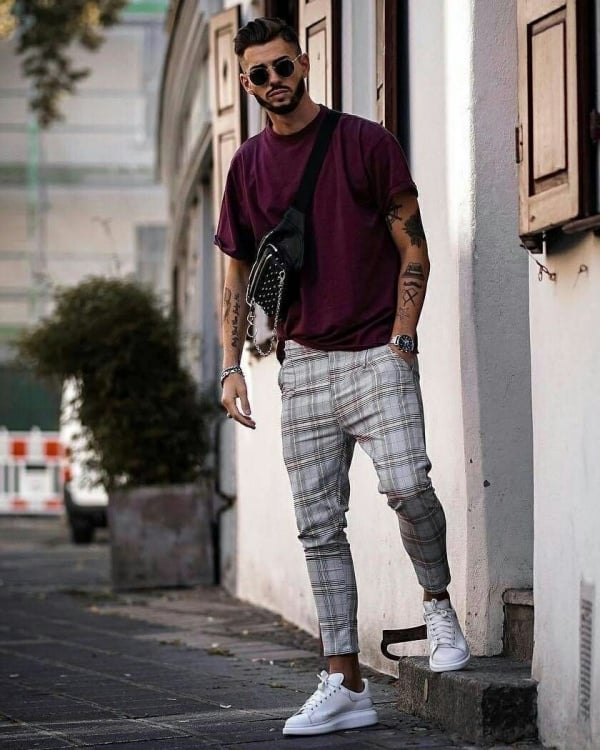 Do you prefer to keep it more subtle and simple? Then why not go for casual round-neck t-shirts when it comes to men's plaid pants outfit ideas?
Men who believe in holding an edgy fashion statement, even at the workplace, can try this out. Layering up a pullover can further help in protecting you from chilly winds.
Choose neutral shades of tees for an impressive and neat appearance. A pair of smart sneakers and a watch does the rest of the magic.
3. White Shirt With Plaid Pants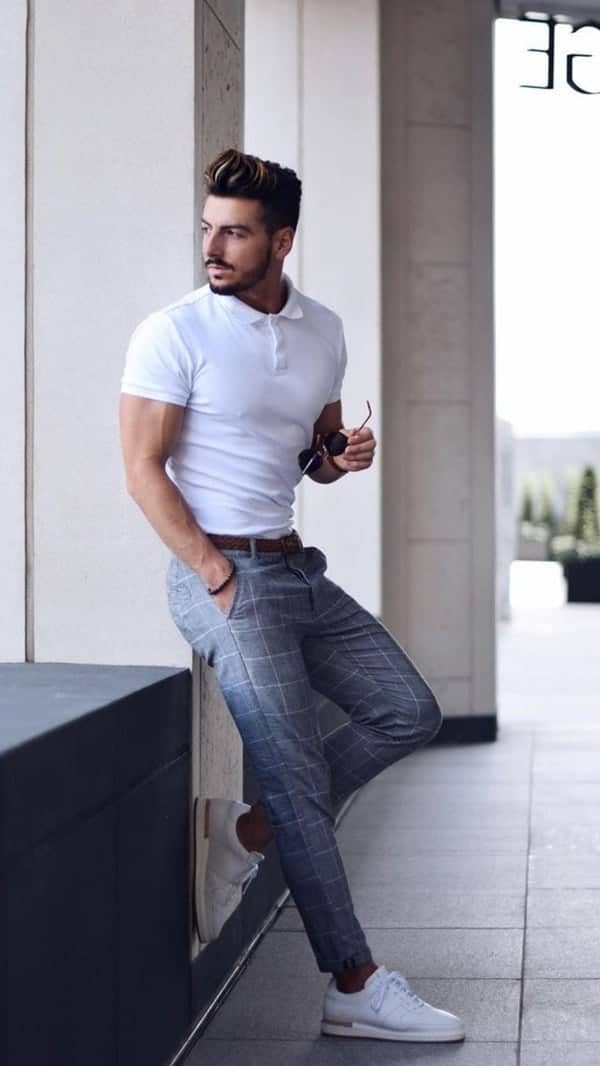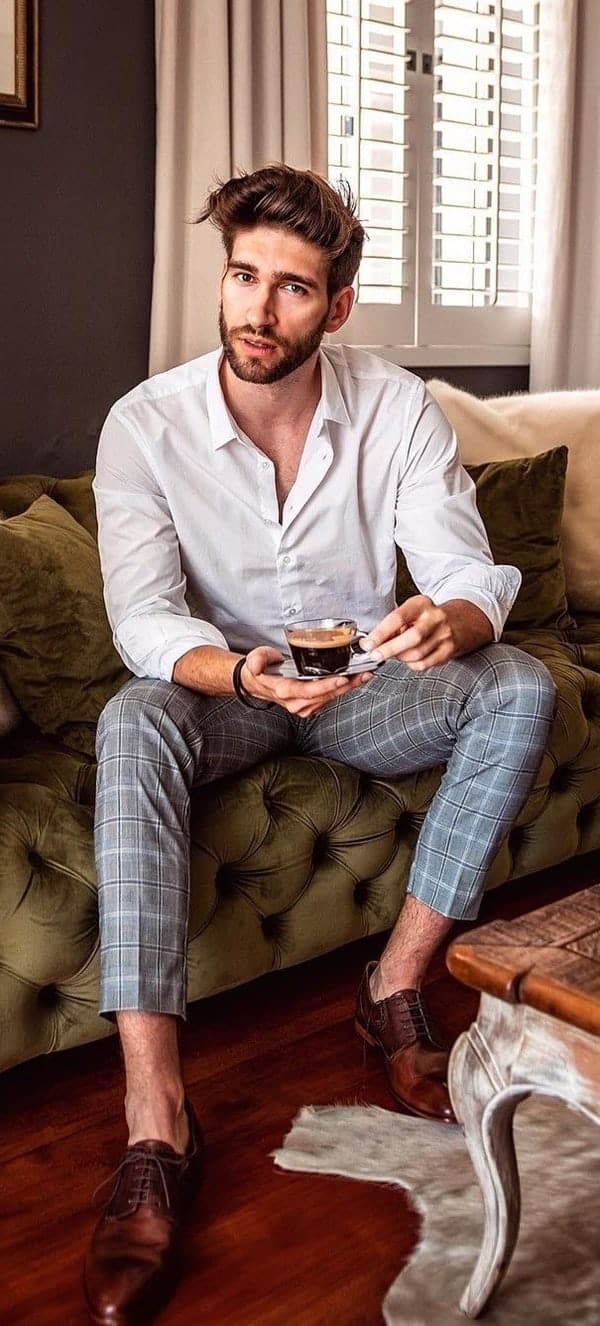 Men have an innate connection with shades like white, blue, grey, and black! Cool and soothing white shirts with rolled-up sleeves and plaid pants add a dashing touch to your persona.
Navy blue plaid pants with tapered bottoms add a neat formal touch to your attire. It can undoubtedly be the best outfit choice you've ever made!
4. Black Blazer With Plaid Pants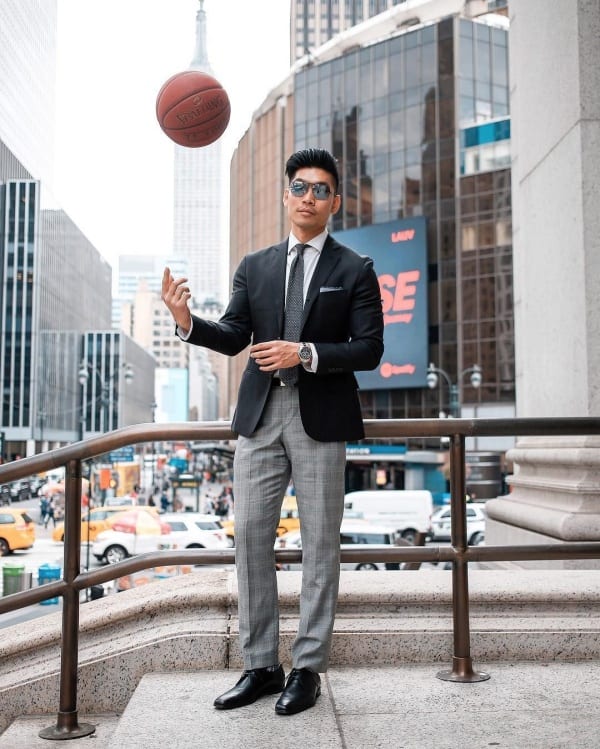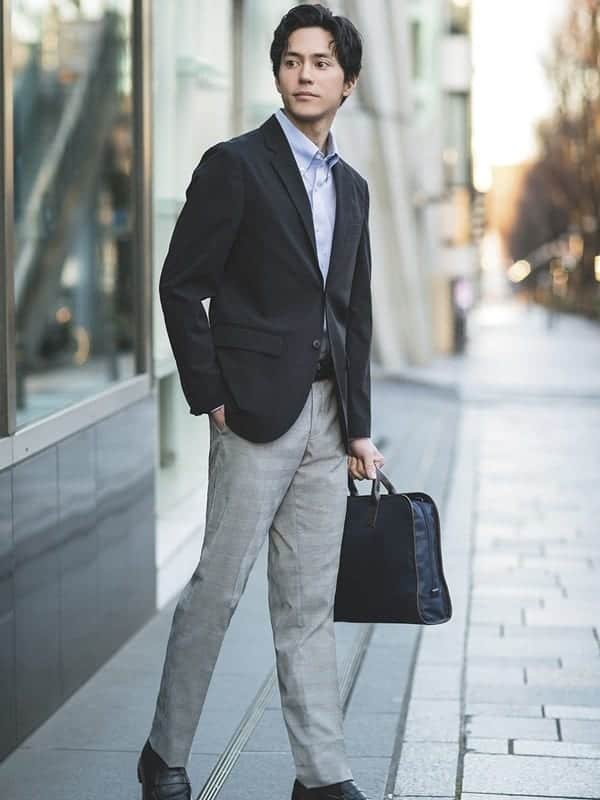 Do you have to rush for a formal party or office meeting? When short of time, go for this charming outfit option with plaid pants. A white or light grey shirt with stylish plaid pants and a black blazer gives you the desired focus.
Embark excellence, class, and a rich vibe in your formal attire by bringing plaid pants and the black blazer together. This can undoubtedly be a perfect formal choice to make.
5. Half-Sleeve Colorful Print Shirt With Plaid Pants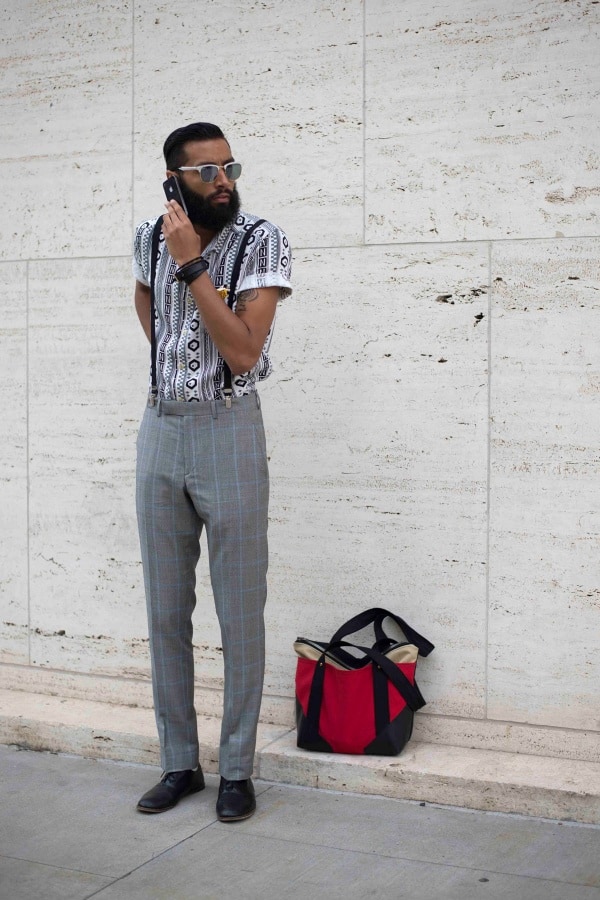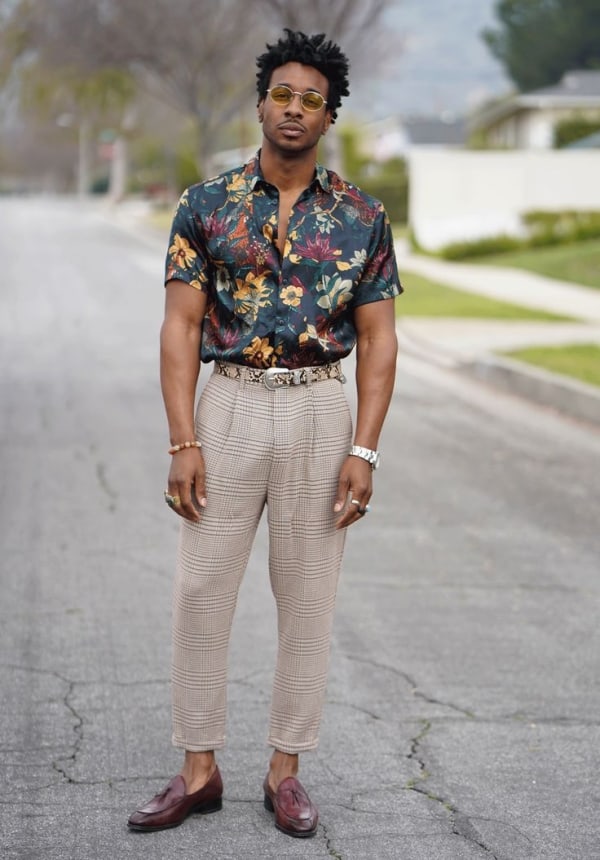 Versatility is the real essence of styling. The more you flicker with your choices, the better it gets. Teaming up a half sleeve colorful shirt with plaid pants can create a semi-formal appearance that looks amazing.
This can be a good idea if you have to roll off to a friend's outing after a hectic office day. Many men are not very fond of typical formal office wear and need to experiment for a unique appeal.
Going effortlessly sophisticated yet vibrant is possible with a colorful half-sleeve shirt and plaid pants.
6. Denim Jacket With Plaid Pants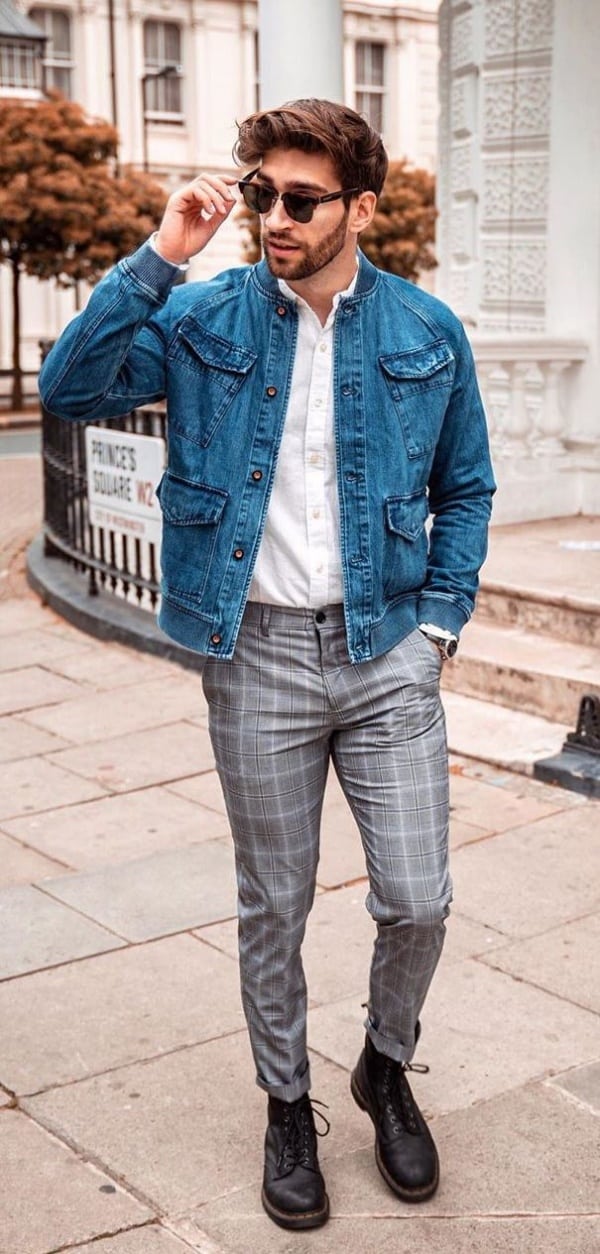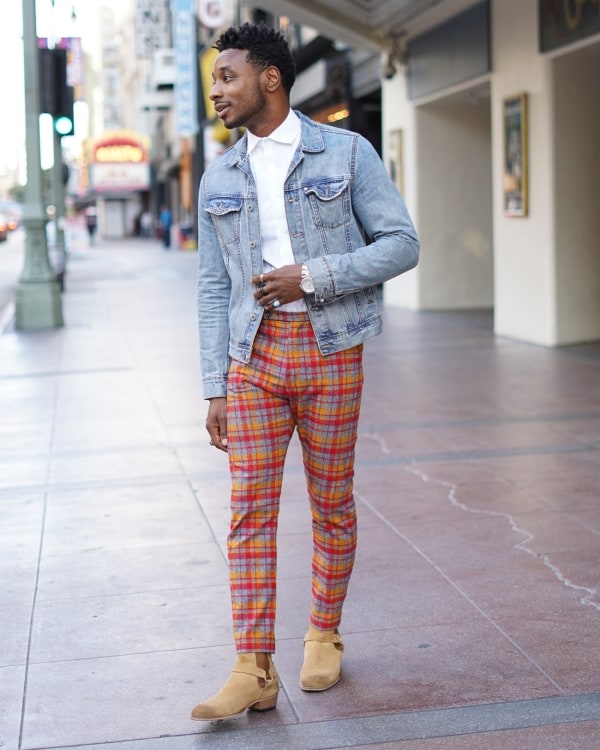 When traveling or going for a holiday, nothing beats the diversity of a denim jacket. There are endless ways and styles to give yourself a makeover with a denim jacket.
Starting from jeans to semi-casual pants, even plaid pants can complement denim jackets pretty well.
Combining plaid pants and a denim jacket could be the most mindful decision as it sparks your persona with a twist.
7. Black T-Shirt With Plaid Pants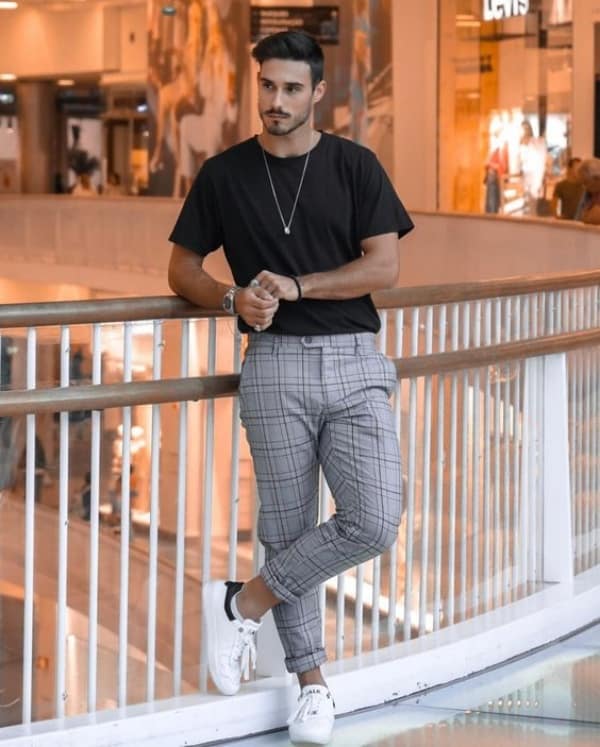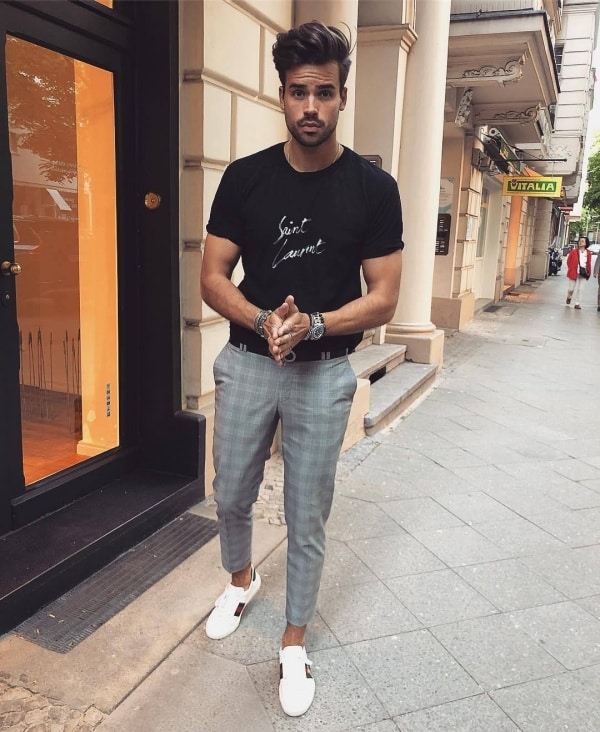 Satiate your love for 'Black' with this men's plaid pants outfit idea. The sheer glimpse of this combination can make you go in awe of it.
A fine black t-shirt, probably a crew neck one with plaid pants, is all you can crave for. It evokes a sense of class and helps you notch minimalism at its best.
Donning this classic plaid outfit with the vogue for a meeting at the outskirts sounds like a plan!
8. Hoodie With Plaid Pants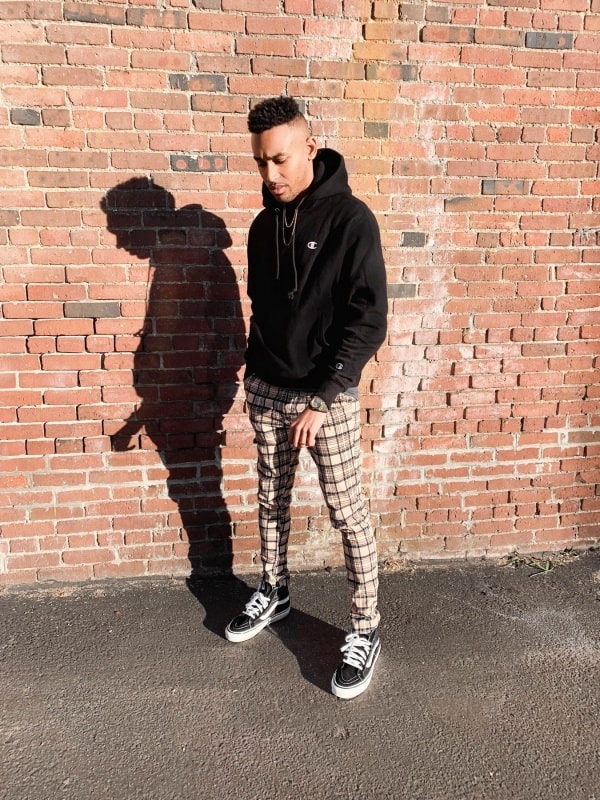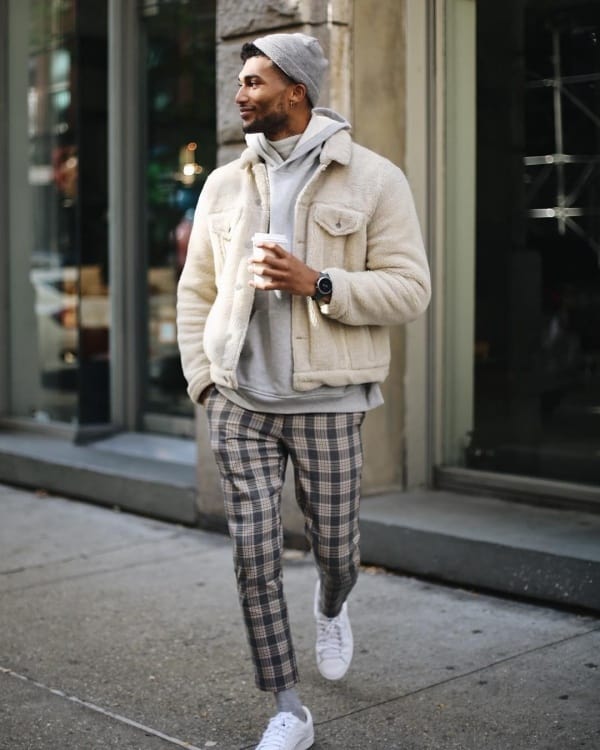 Winters are approaching, and keeping yourself warm and snuggled is of utmost importance. An oversized hoodie t-shirt with tapered plaid pants can also accentuate your physical symmetry.
This attire is ideally suited for various events and occasions. Experiment with the hoodie's designs and colors to match and create a perfect combination.
This is indeed an eye-catchy outfit that most men would love to adorn on chilly winter days.
9. Overcoat With Plaid Pants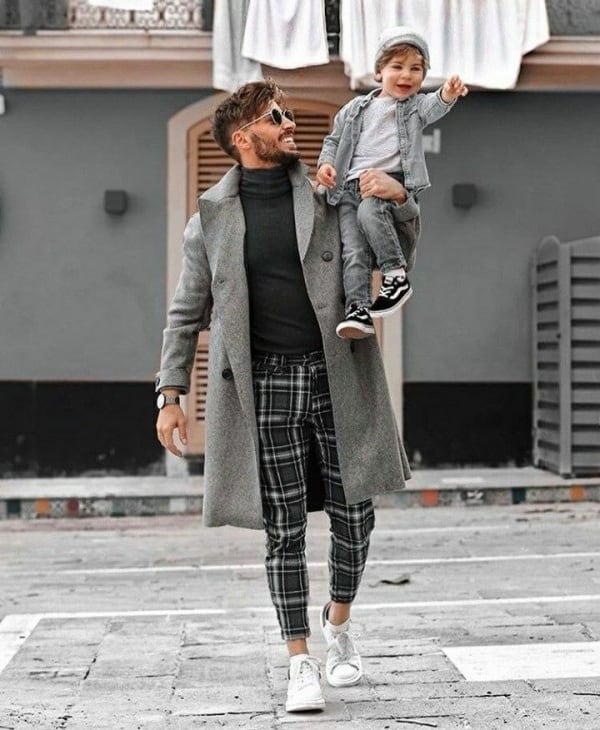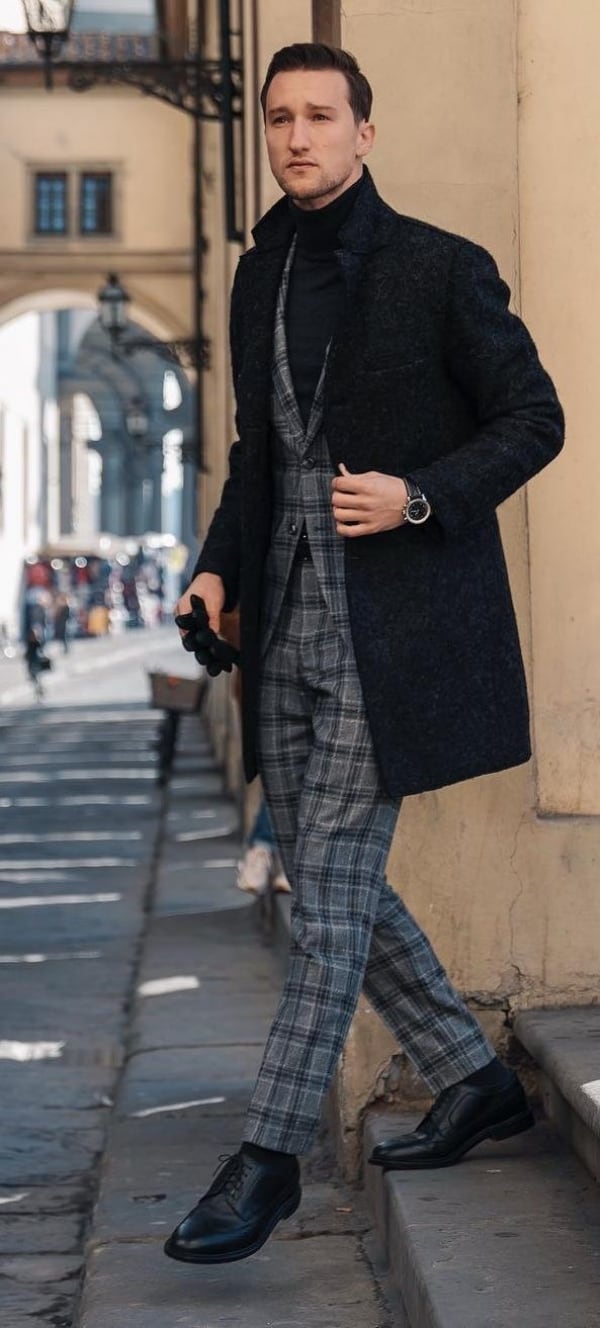 How about looking like a dapper dude with this fabulous plaid pant attire? Overcoats are a common choice for men moving out in cold and chilly winters.
If you are searching for an incredible combination that keeps you warm yet fashionable, this is it. Grey or beige wool plaid pants with a white or black overcoat is a desirable combo.
One can flicker with colors of their choice, but darker tones are advisable as they keep you warmer. No winter attire can get completed without stylish leather boots.
10. Sweater With Plaid Pants Men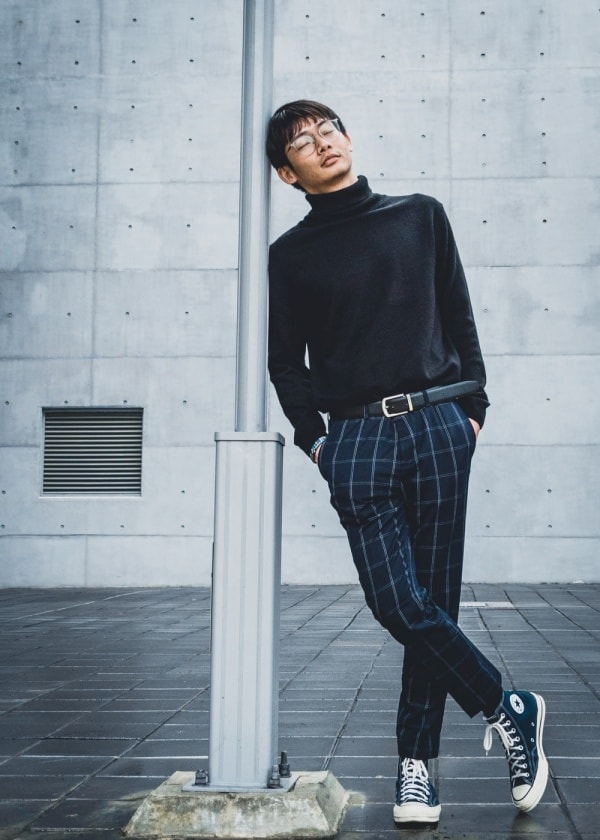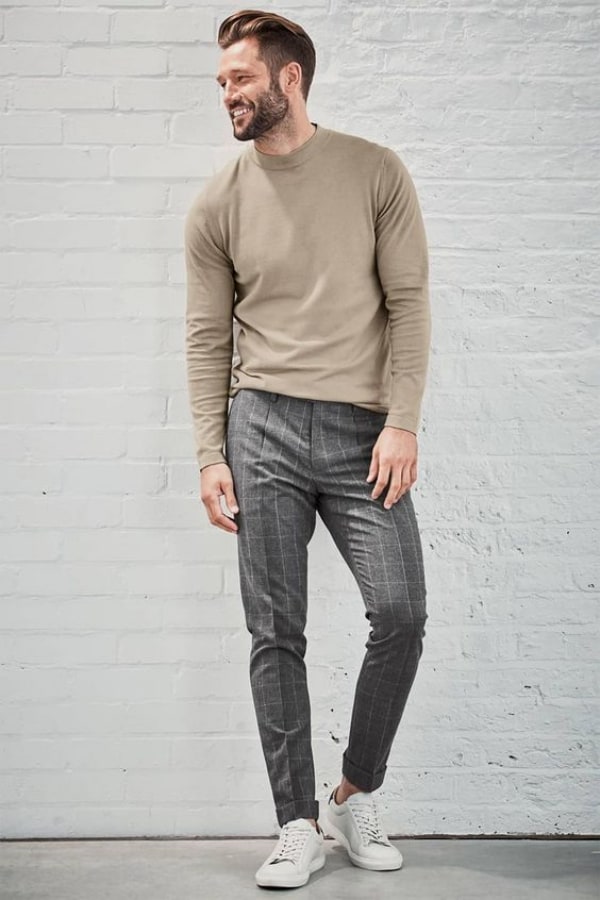 Nothing beats the cold and chilly winters better than woven sweaters. Pairing a warm woolen sweater with checkered plaid pants can be an interesting choice. There are many options, patterns, and designs available in sweaters.
Pick any of them and team up with your grey or olive plaid pants for a subtle touch. In extreme weather scenarios, you can layer up an overcoat for a statement look.
Be the head-turner with a high-top sneaker or trendy semi-formal shoes.
11. Leather Jacket With Plaid Pants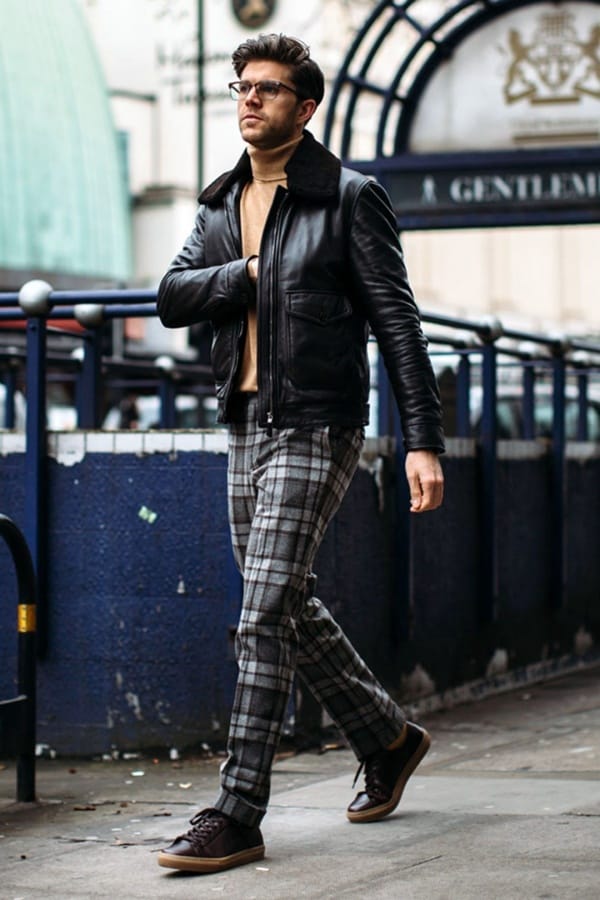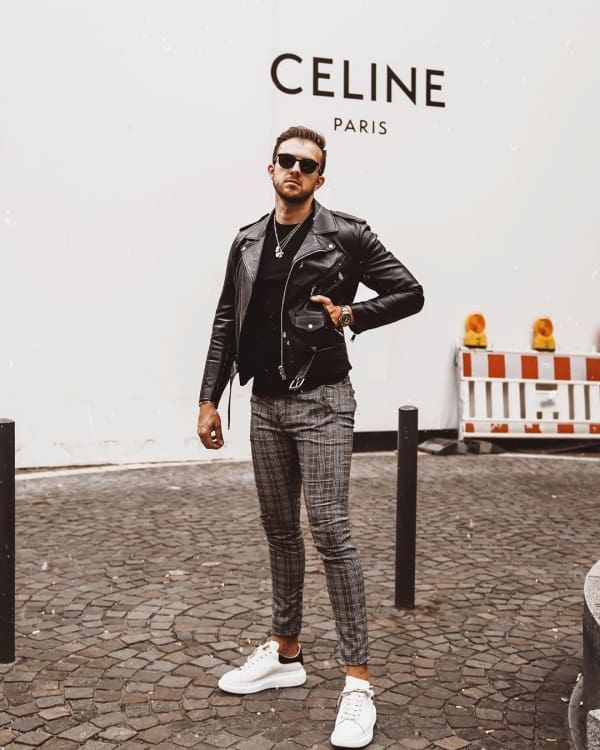 It is an outrageously stylish and popular men's plaid pants outfit idea that goes well with every look. Whether formal or casual or a party stunner, leather jackets fit into every slot perfectly.
A classy black leather jacket and grey plaid pants work when you are willing to add volume to your persona. Raise your aesthetics with this contemporary and epic outfit combination.
12. Puffer Jacket With Plaid Pants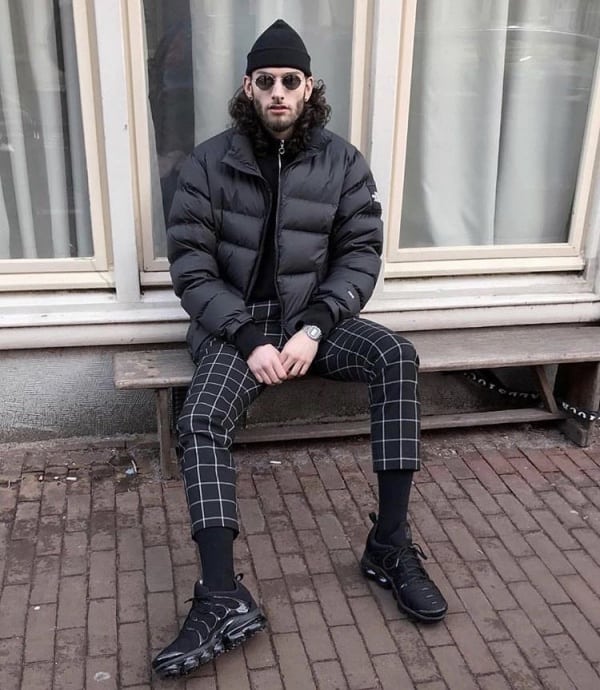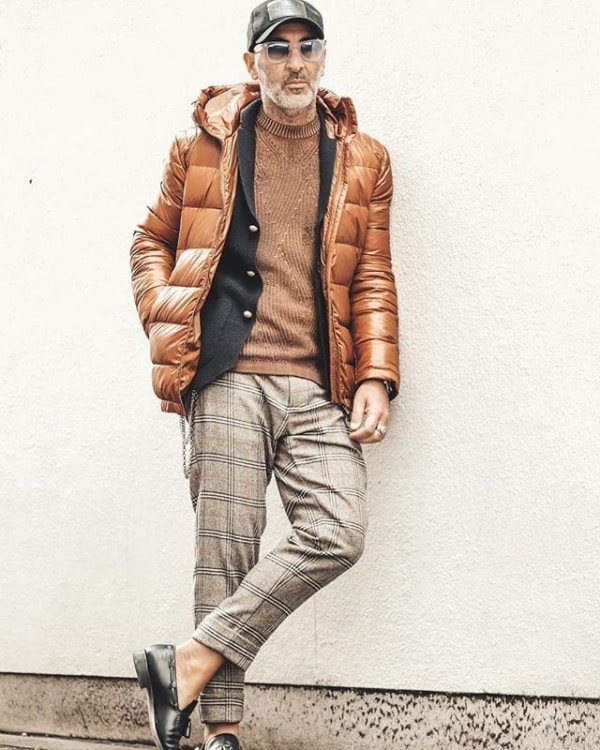 With a phenomenal variety of puffer jackets, one can spoil themselves for the choices. Deck up in plaid pants, the puffer jacket combo, and a woolen beanie.
Styling this look with some accessories or shoes can elevate the charm to level apart. No wonder you'll be noticed at every outing or event for such enticing plaid outfit attire.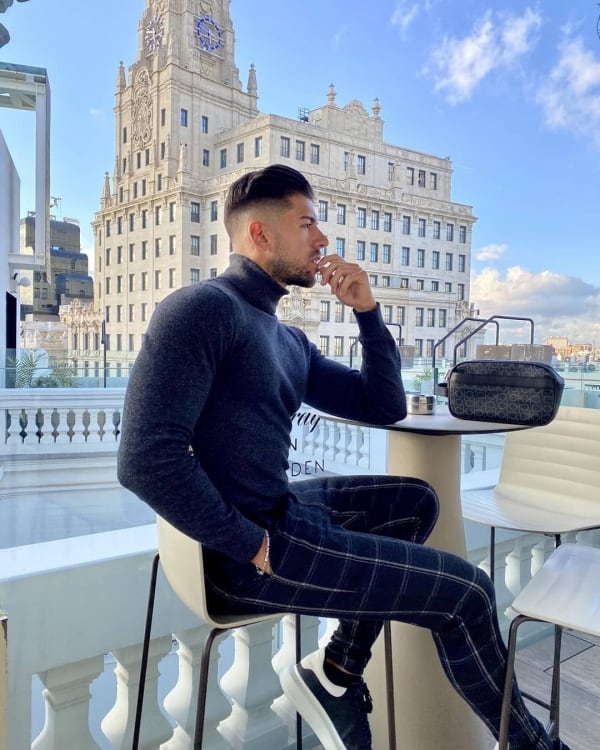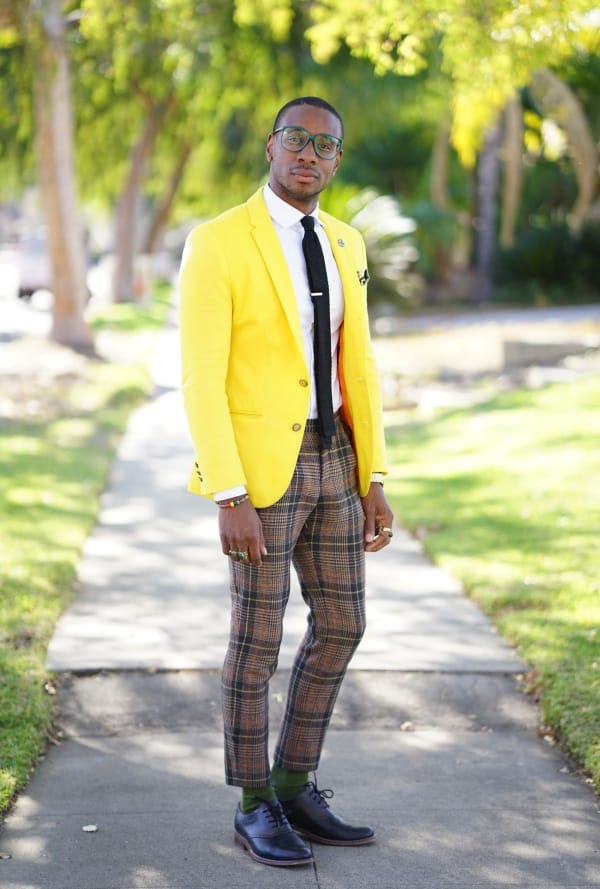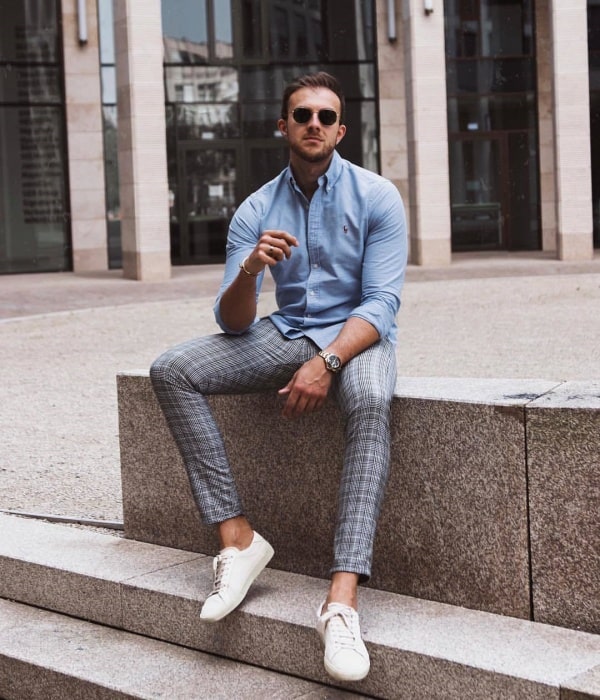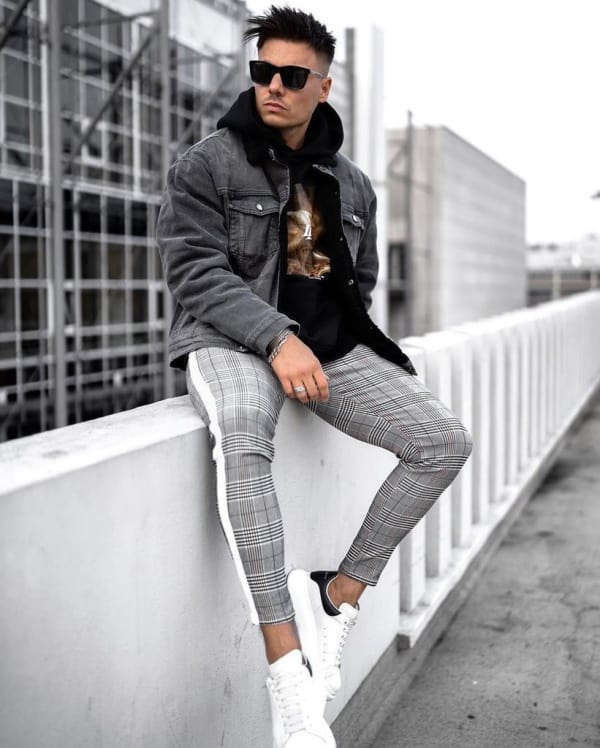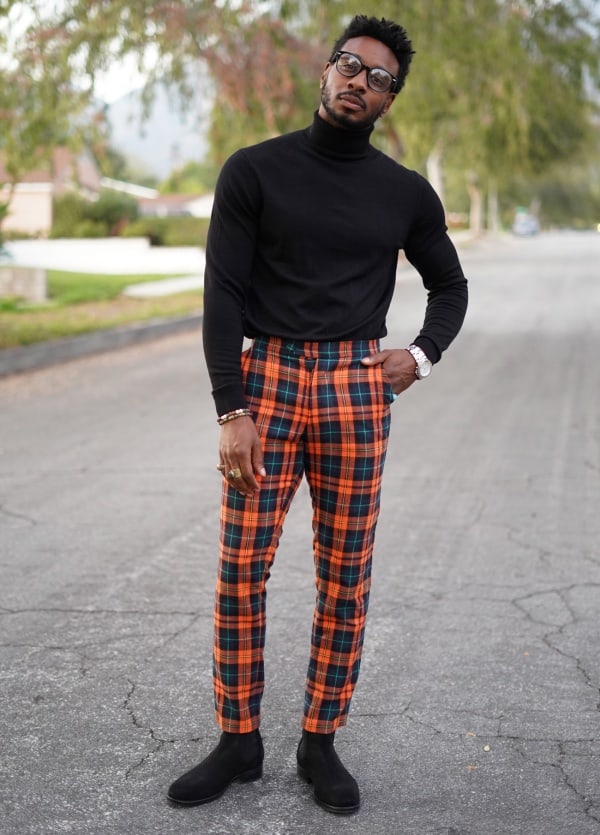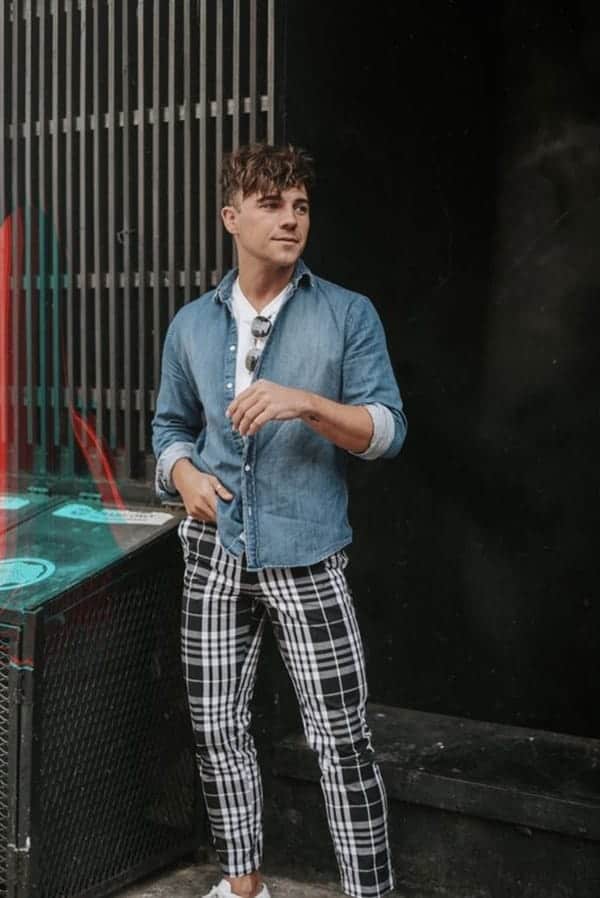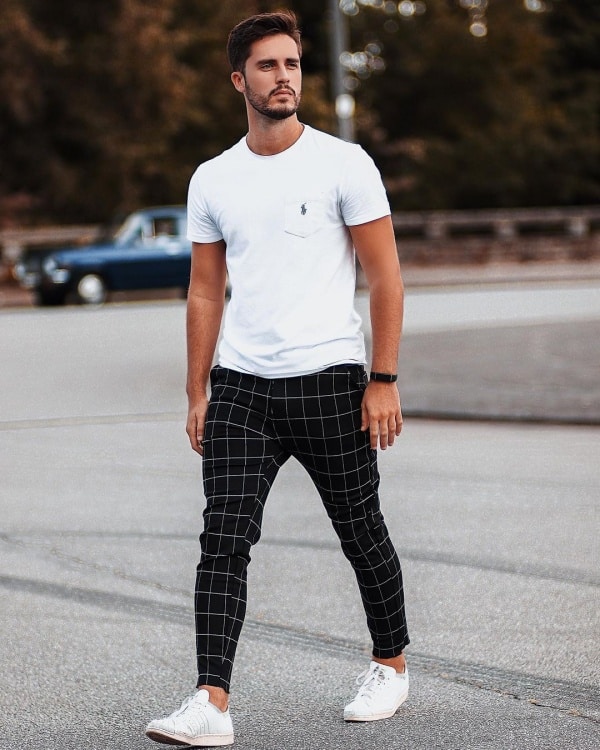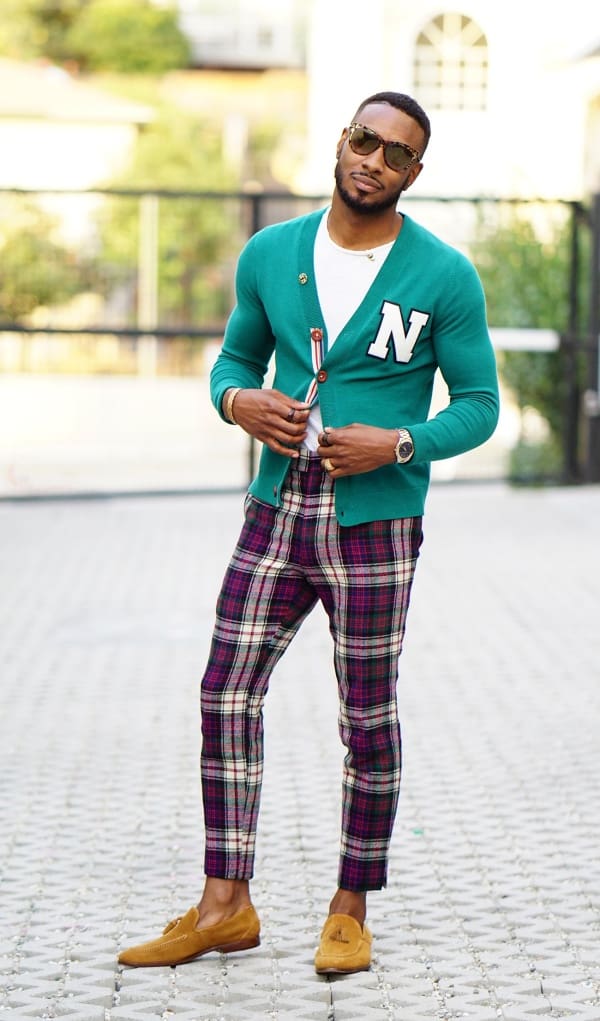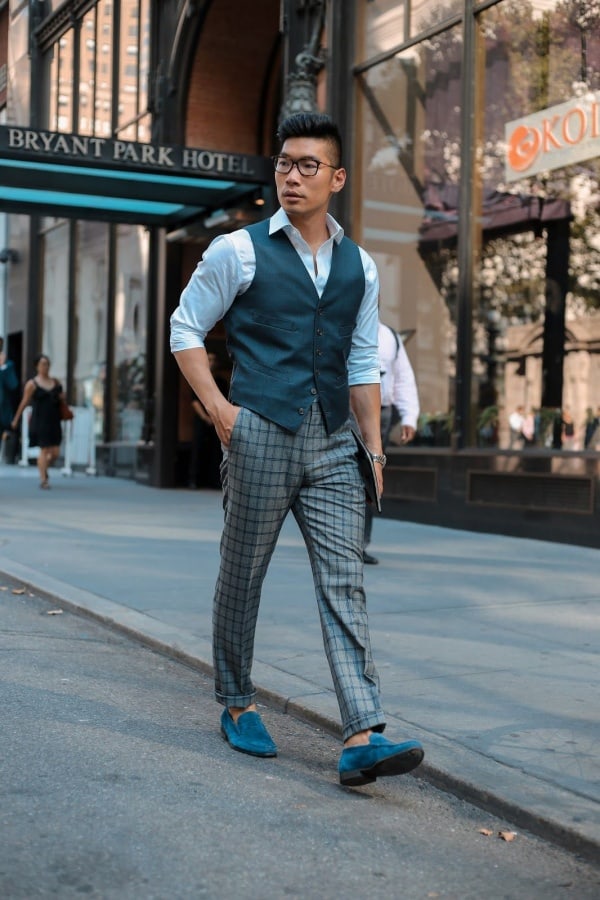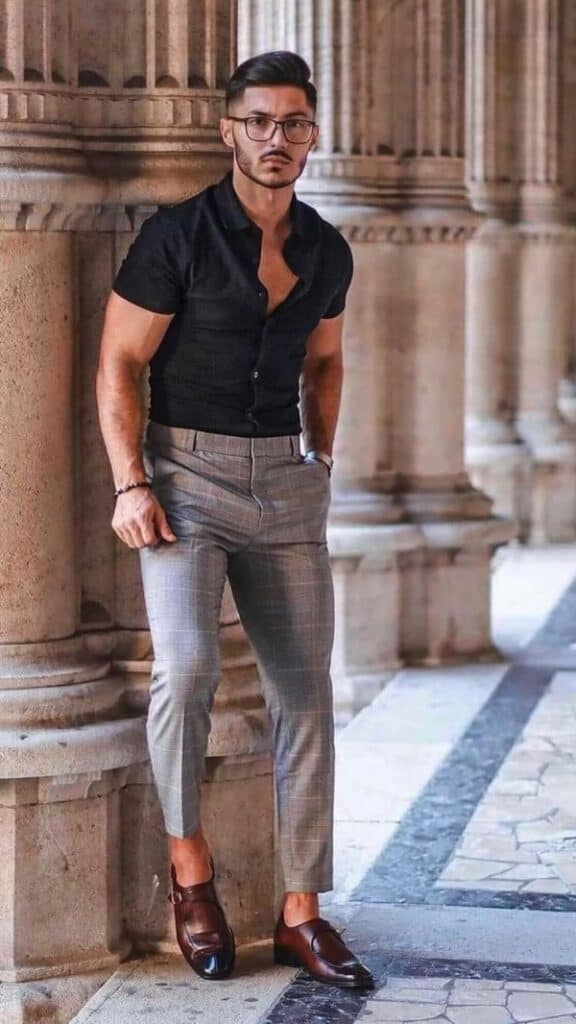 You may also like:
Winding Up
Men's plaid pants outfit ideas extracted above depict the recent fad in their fashion arena. Such types of tailored styles and combinations replicate real fashion essence. These plaid pant outfits in distinct patterns and varieties are turning out to be a craze for young guys.
Accessorizing the look with different elements such as caps, sunglasses, boots, or watches is a great idea. Men eyeing the latest plaid outfit trends must give this one a shot. Purchase and pair them up uniquely for upcoming events or formal wear.
There's a lot to explore, from half-sleeve tees to full shirts and sweaters, overcoats, or puffer jackets. Uplift your wardrobe with these stylish plaid pant ideas and dazzle the fashion game like a pro!
F.A.Q
Are Plaid Pants Semi-Formal?
Plaid pants add a unique appeal to your fashion game and perfectly suit any formal or semi-formal attire. Teaming it with shirts offers a plain formal look to it. Experimenting with half t-shirts or denim jackets can add a semi-formal touch. You can make choices as per your preference and taste.
Can You Wear A Plaid Shirt With Plaid Pants?
The plaid design is appealing and attractive, which blends well with any other piece of clothing. However, plaid pants' actual style and grace are visible when you pair them with solid-colored shirts, tees, and jackets. Creating a plaid co-ord set is also an excellent option to ace the fashion game.