Be it an early morning walk or a friendly hangout, the joggers outfits for men have become an essential garment in every fashion-conscious man's closet. When it comes to styling the joggers efficiently, men often go out of ideas. However, in reality, there are several cool ways to give your everyday joggers an extraordinary appearance. The jogger outfit ideas are easy enough to try anytime and do not require a lot of effort. First, decide the event in which you will wear these joggers and then go on styling them accordingly.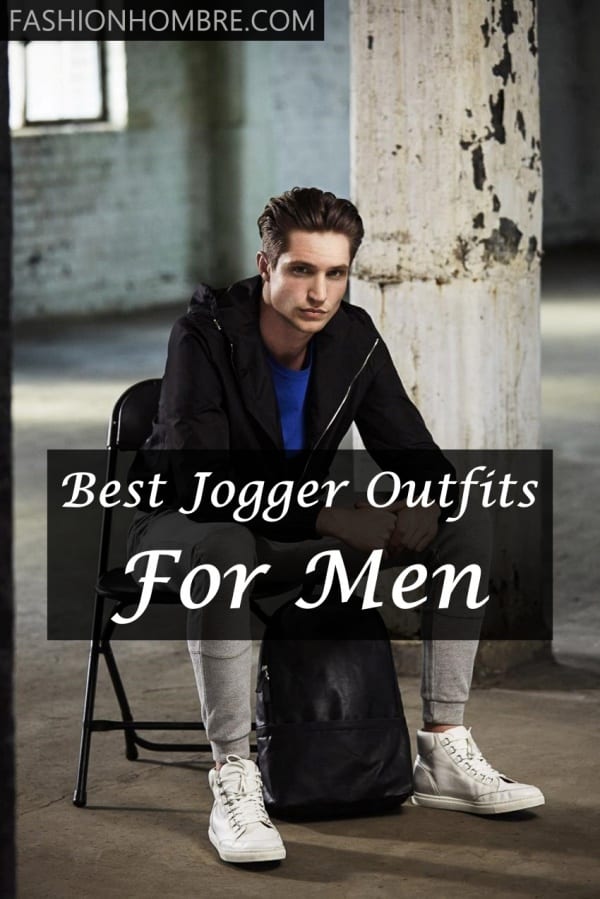 Joggers have a relaxed fit and offer you extreme comfort in every season whether it's summer, winter, or spring. If you apply the right techniques, then joggers can be worn on various occasions. Therefore, you can attempt the joggers outfits based on your personal likings. Just a touch of uniqueness and your regular joggers can transform into amazing attire. Read on the selected 15 best men's joggers outfits to know which one suits you.
Men's Outfit With Jogger Pants
Denim Jacket With Joggers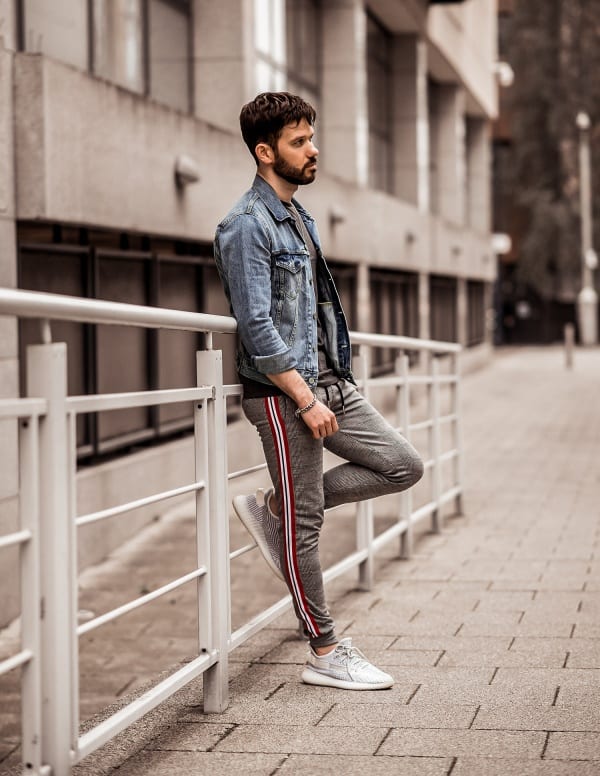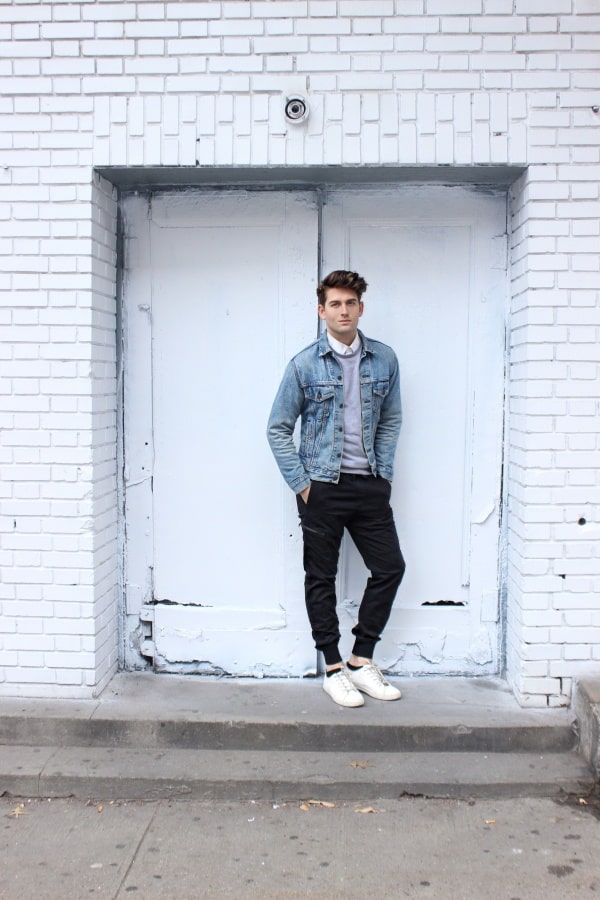 If you are both a person who loves to be in style but wants to wear any exceptionally comfortable outfit, then grabbing some comfy joggers is your ideal choice. However, to style these joggers efficiently, you must grab hold of your favorite denim jacket. Simple black joggers and tour comfortable black or white t-shirt will surely get a fascinating stylish twist when accompanied by that denim jacket in your closet. So, you will not need to brood over the tough decision of choosing style over comfort, as both style and comfort can come running to you by creating this fashionable look of wearing joggers with a lovely denim jacket.
Leather Jacket With Joggers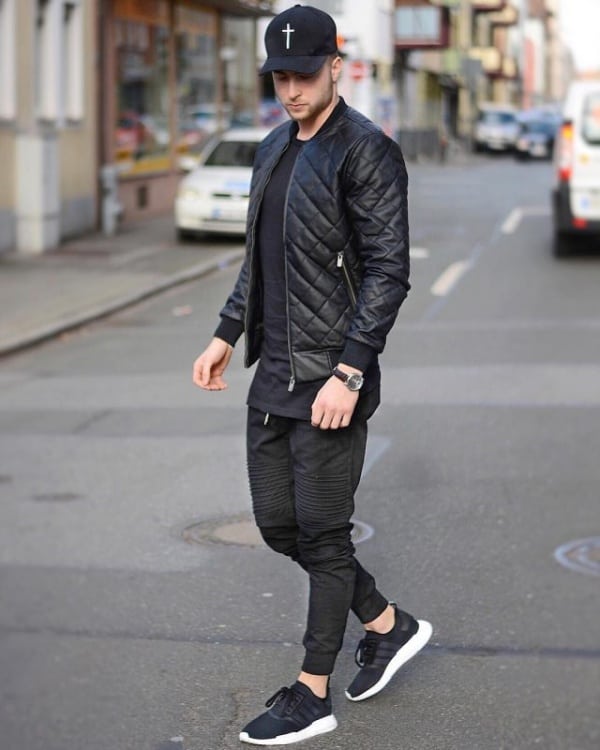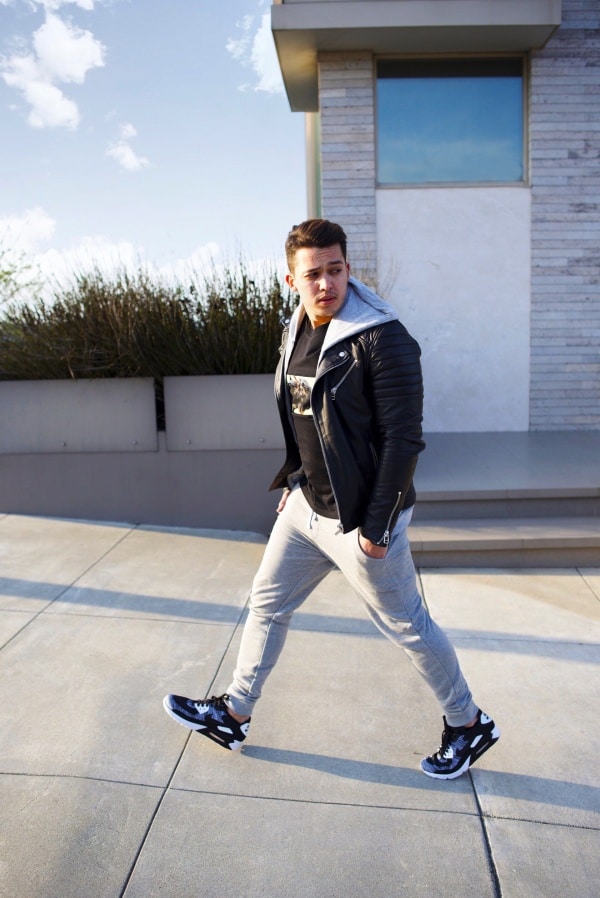 Have you been thinking of creating a stunningly styled look but are too clingy when it comes to leaving the comfort of wearing your cozy joggers outfits for men and your favorite t-shirt? Well, then a leather jacket is all you need! Leather jackets are amazing garments present in every closet and can create the most elegant look in no time. So, just wearing your favorite leather jacket over casual joggers and a t-shirt will leave you with the most stylish look of all time! A black leather jacket looks fantastic with grey or white-colored joggers and can be paired with a black, white, or even ash t-shirt to get the most stunning look. A pair of black sunglasses will give you the complete look that you desire.
Joggers With A Blazer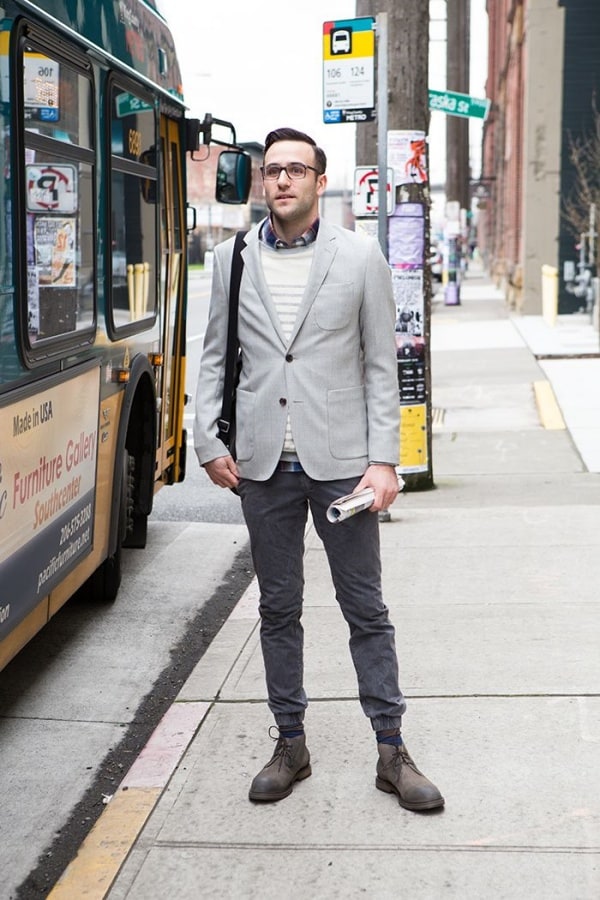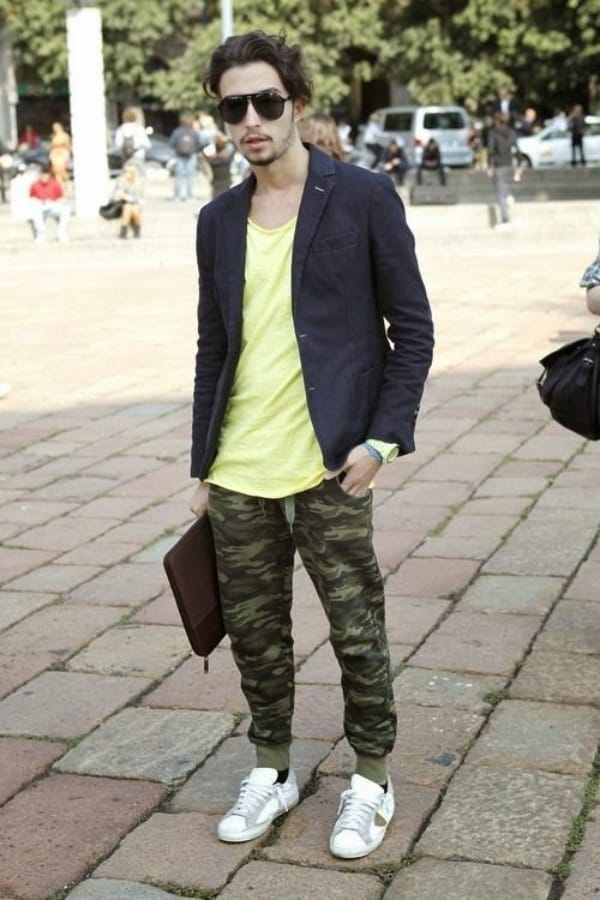 Blazers are one of the wardrobe essentials for men! This excellent piece of garment can enhance any casual look into a more formal and stylish one in no time. So if you are trying to discover the simplest way of improving your joggers' look, then wear a blazer of complementing colour, and you are ready in no time. Joggers look amazing with a blazer, provided they are matched in the perfect colour combination. So, choose the colours based on your preference and match the joggers and blazer to venture out in style.
Joggers And Hoodie Combo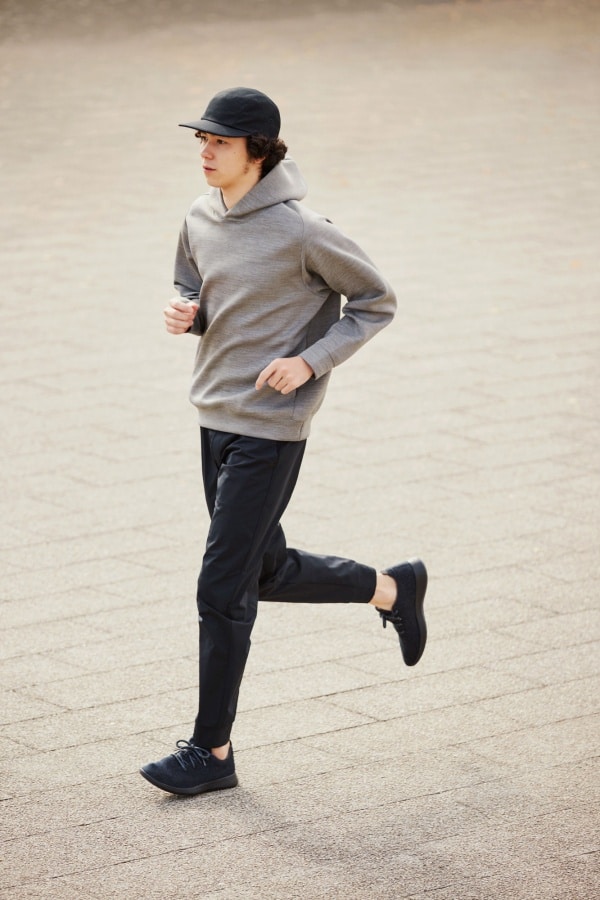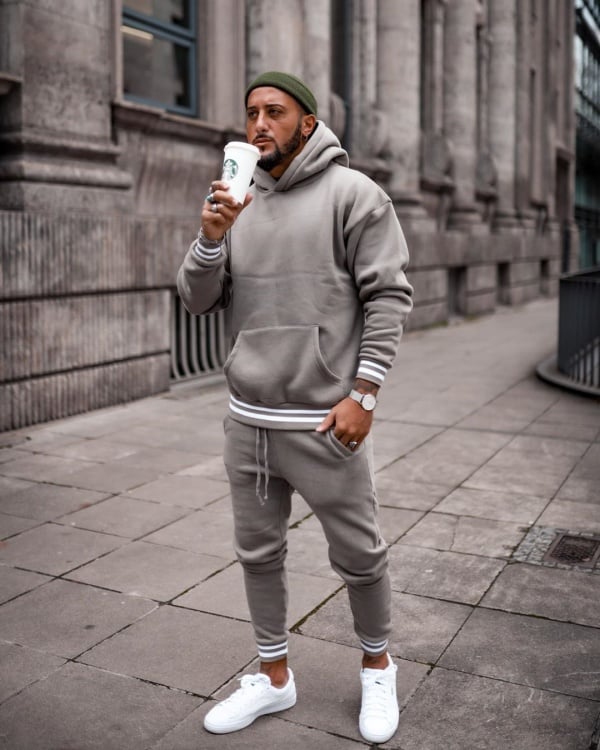 If you have been thinking of grabbing hold of the most comfortable garment that can create impressive and praiseworthy joggers outfits for men look, then a hoodie is indeed the garment which you want. Hoodies indeed are men's favorite and the most comfortable clothes. Thus, pairing a pair of joggers with a cozy hoodie makes completely comfy and casual yet stylish apparel. You can try wearing a hoodie and a pair of joggers of the same color to give it a tracksuit set appearance or wear a complimenting color combination. If you are a lover of both the shades black and white, then these two colors go perfectly with this joggers outfit idea for men.
Joggers With A Casual T-shirt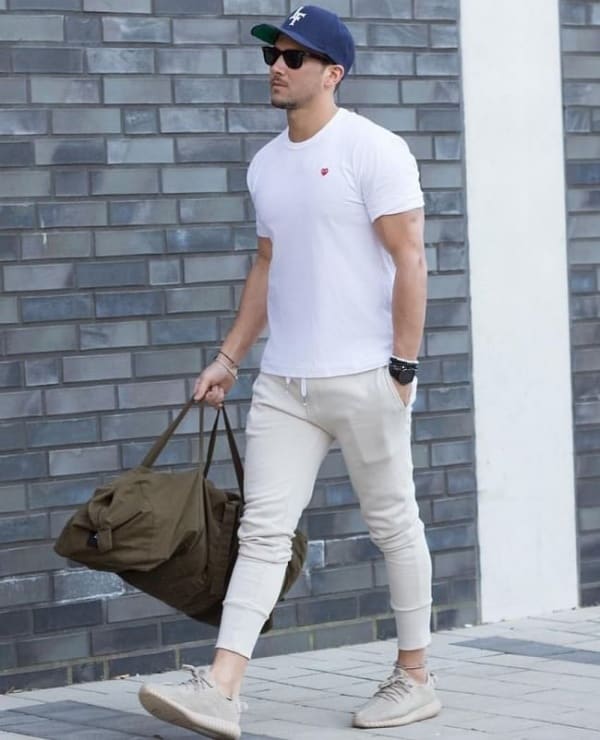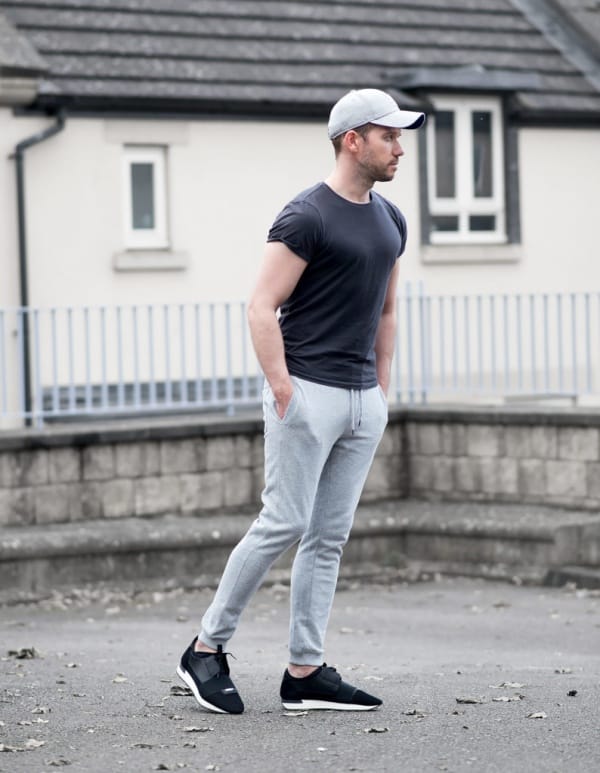 A casual t-shirt is the best friend a comfortable pair of joggers. Pairing a simple t-shirt with a pair of joggers is the choice that every man makes. This casual look not only makes you feel cosy and relaxed but can give a sense of smart dressing if the correct colours are chosen. Colour combinations like black and white, black and ash, ash and white, blue and blue, blue and beige, and several others give any person a truly stylish look. A casual pair of sneakers and sunglasses match perfectly with this look.
Sleeveless T-shirt And Joggers Outfit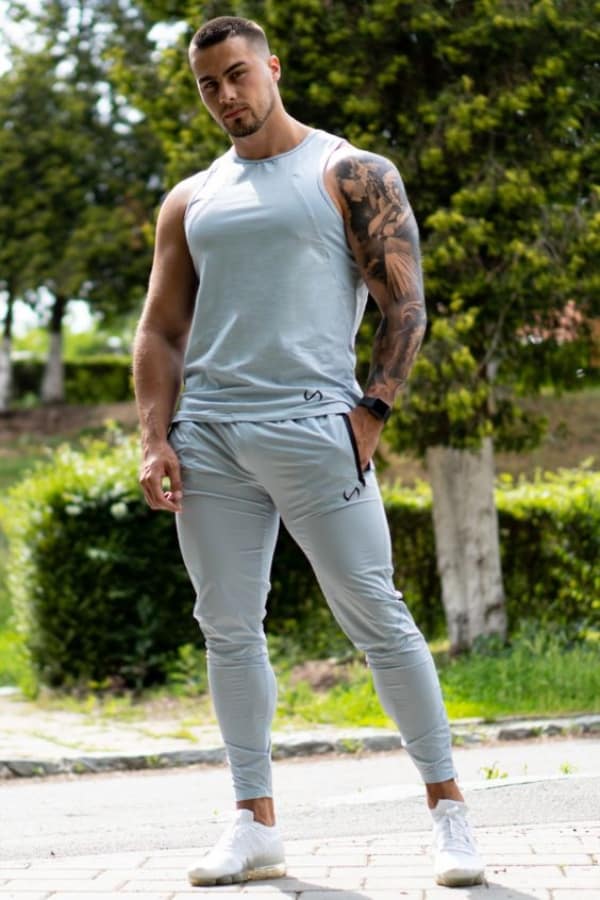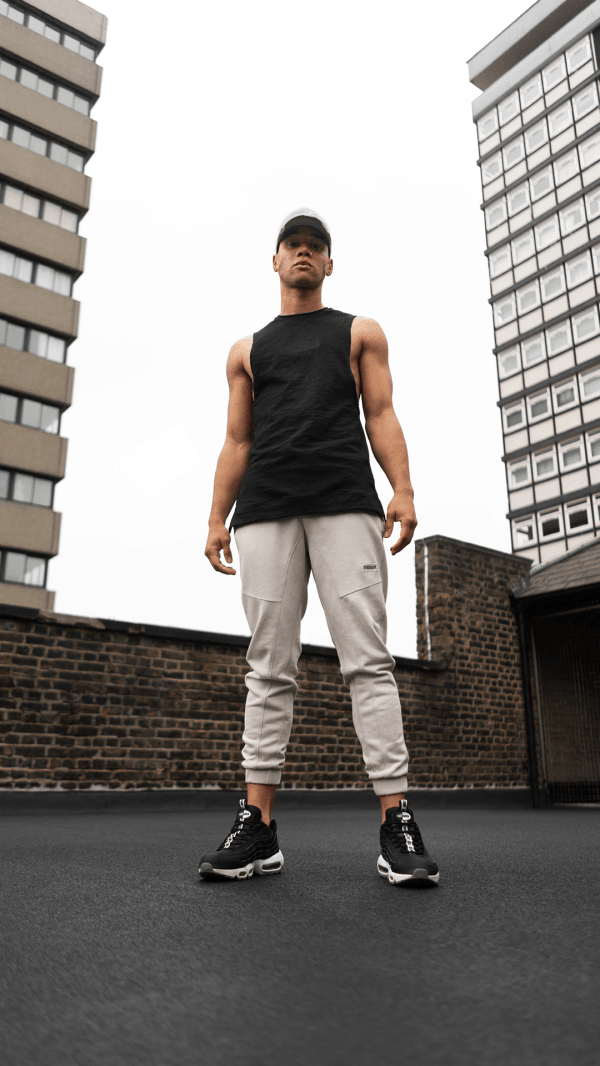 A casual look what any person thinks of creating when they decide to wear a pair of joggers. Thus, comfort is what every person is looking for when they are choosing joggers outfits for men. Among the various options of wearing joggers comfortably is pairing them with a sleeveless t-shirt. A sleeveless t-shirt can act as a stylish yet casual look by wearing a black cap and sunglasses. Sneakers are great for getting the best look. An entire black look is the best, or pairing black or ask joggers with a white sleeveless t-shirt or black with grey are great choices.
Dress Shirt With Joggers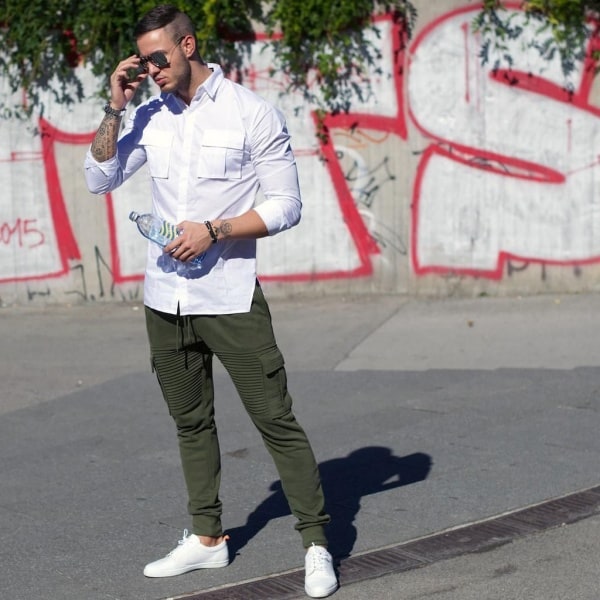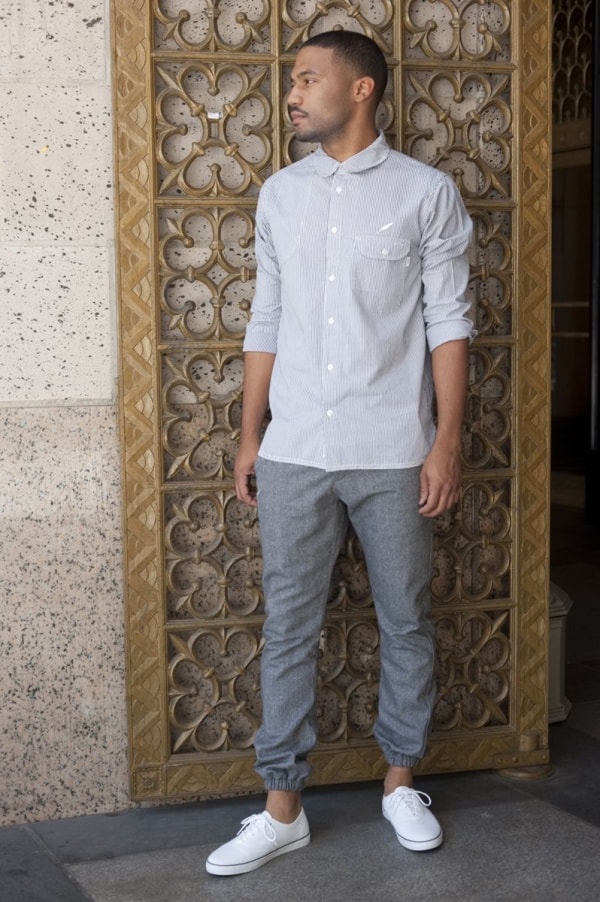 A dress shirt and formal pants or jeans have always been ready to go outfit option for men. However, with joggers dominating the world of apparels, a dress shirt can be paired with them too. Thus, joggers with dress shirts van look super excellent for creating a regular look while retaining the comfort you always wanted. Like any formal pants, jeans, or a pair of joggers of any desired colour can look amazing with any dress shirt. You can pair any shade of a dress shirt with a pair of black joggers and be sure of creating the most stylish look effortlessly.
Related: Best Summer Date Outfits For Guys
Polo Shirts And Joggers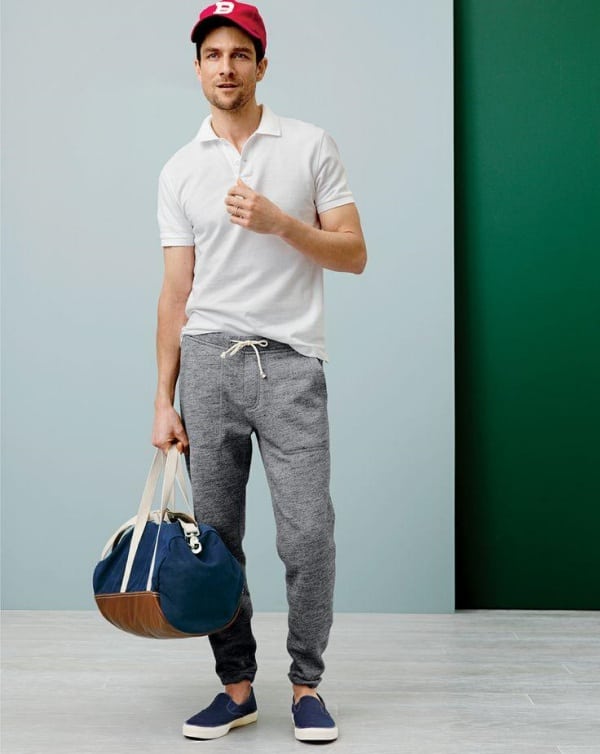 Polo shirts are the most loved garments, which are generally paired with denim jeans. So if polo shirts are your go-to attire, then you will be glad to know that joggers are a super match for these polo shirts. These two not just create a casual look but also make you appear very smart. However, be very particular about choosing slim fit joggers to slay this simple look.
Long Coat And Joggers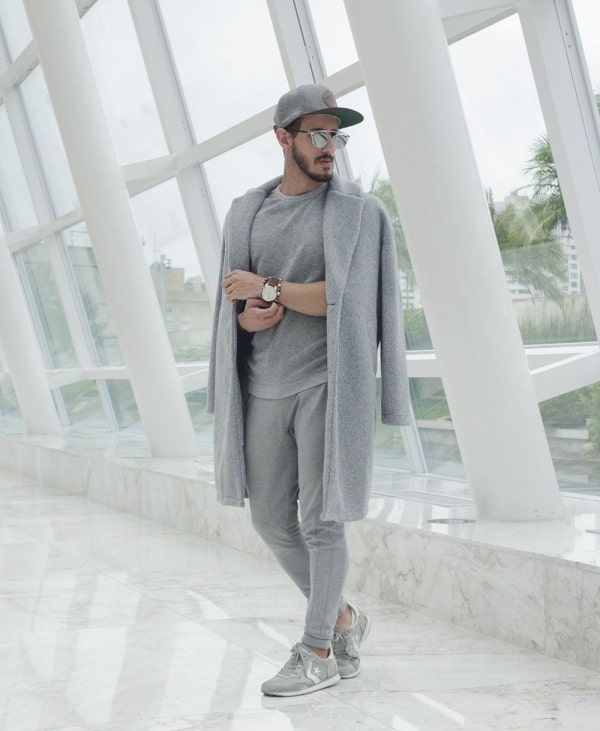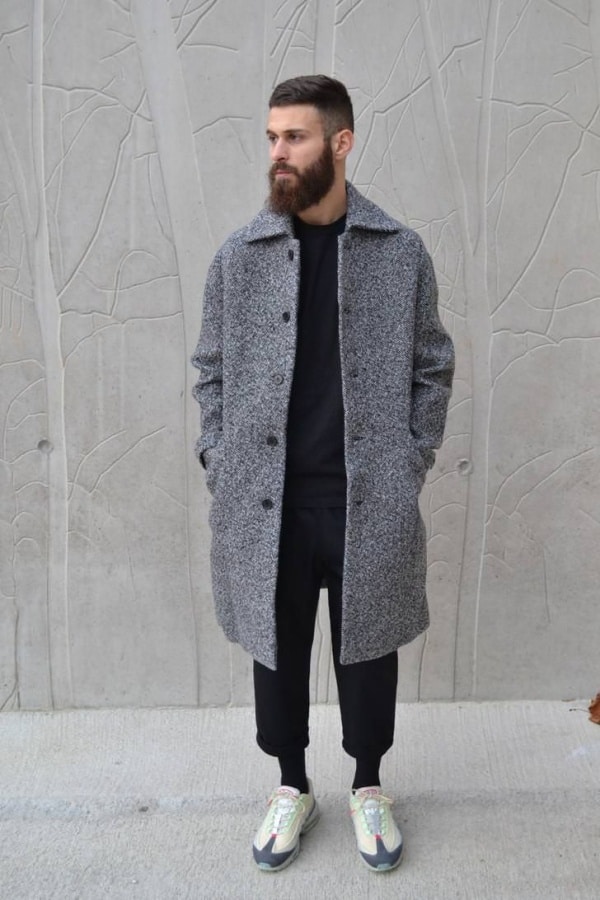 Long coats have accounted to be a classic wardrobe essential. These long coats are not merely a wardrobe basic but can add elegance to any look that you are creating. Thus, even a comfy pair of joggers can reach the epitome of style and fashion ob being paired with a long coat. Just a black or brown long coat over grey, white, black or even blue joggers will give you the most elegant look.
Sweatshirt And Joggers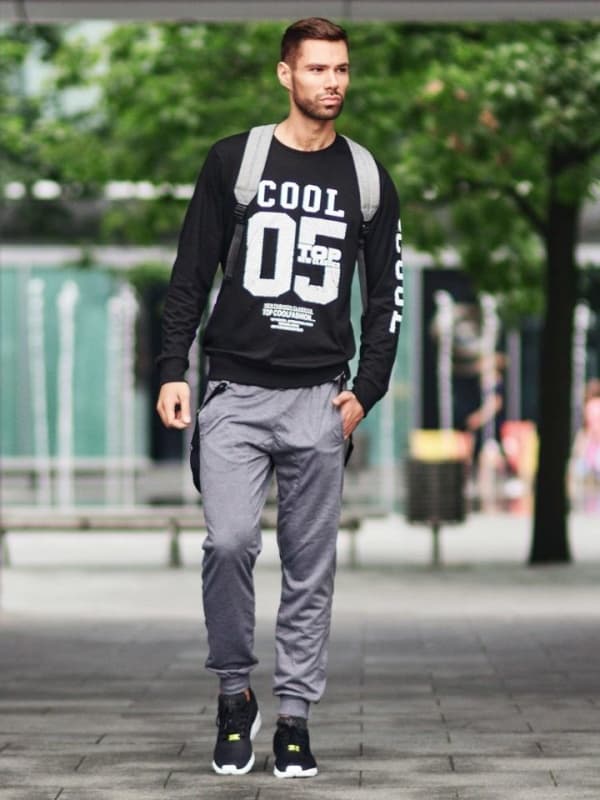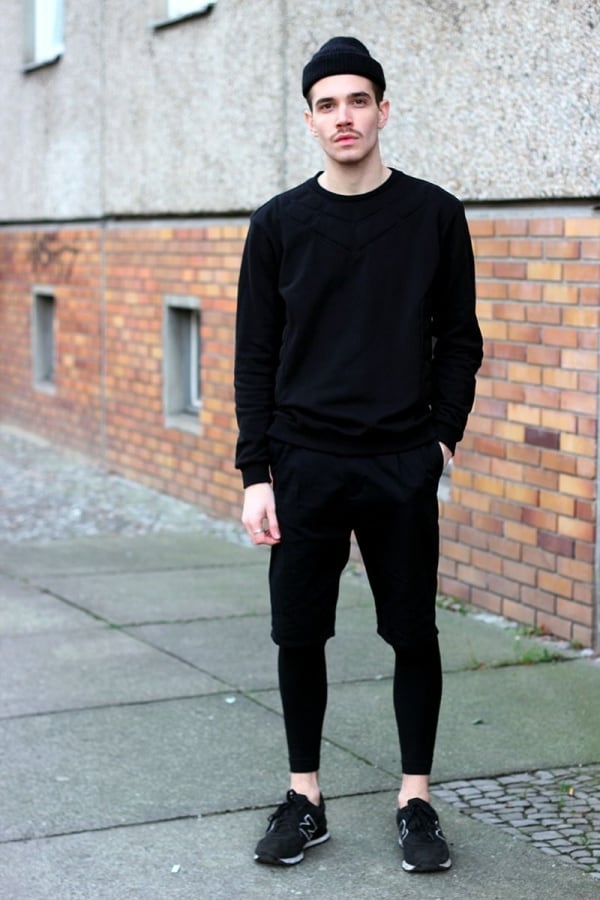 Among the most basic ways of styling joggers outfits for men, a sweatshirt hits the top of the list. Sweatshirts are super comfortable apparels that can add smartness to any person wearing them. Thus, a pair of joggers can work wonders with a sweatshirt to give a super casual and bright look. This entire set can look great if worn of the same colour. Or otherwise, a colour combination like black and white, black and ash, ash and white, blue and white, beige and white, or other vibrant colours can be great choices.
Track Jacket And Joggers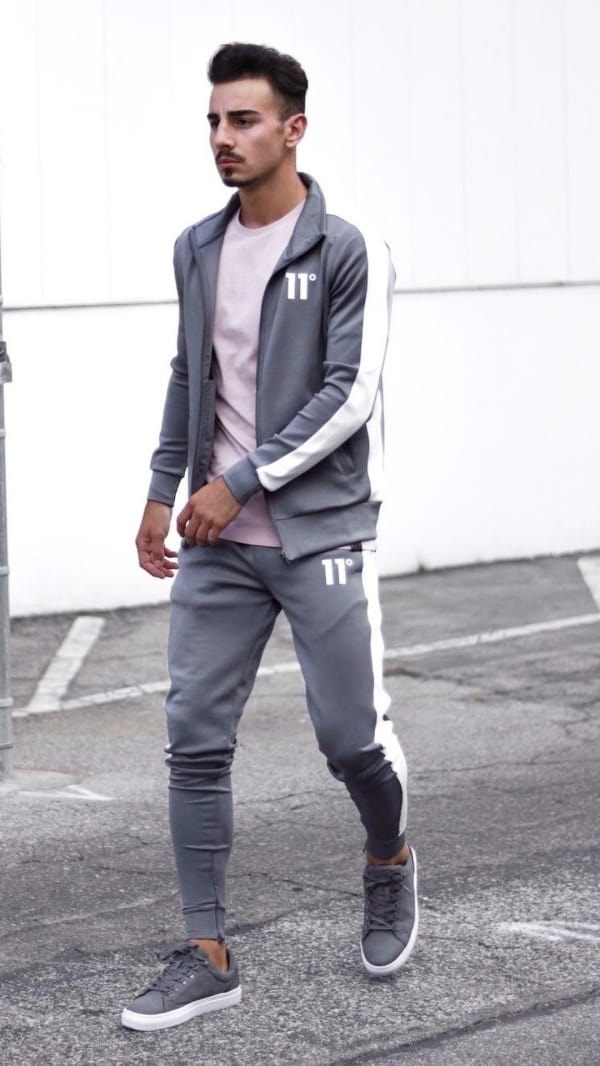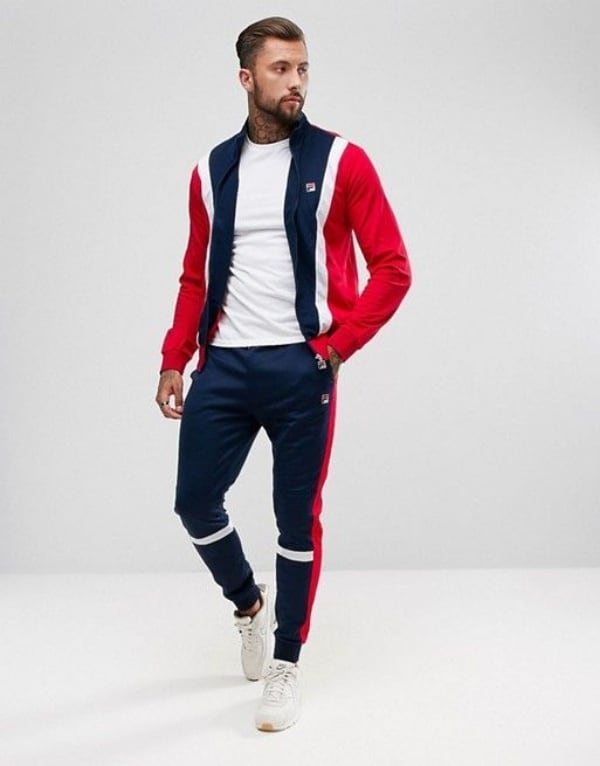 A sports attire that looks smart, too, is what every fitness freak seeks. It is indeed essential to wear active wears that are highly flexible and comfortable and can be the best choice for performing some exercises. However, the style element is what is challenging to add in sports attire. So, your search for this comfortable outfit with style element will get over as soon as you realize that joggers and a track jacket are the combinations you have been looking for. Both joggers and track jackets are incredibly cosy and exercise-friendly outfits with style elements, which is a brilliant choice.
Bomber Jacket And Joggers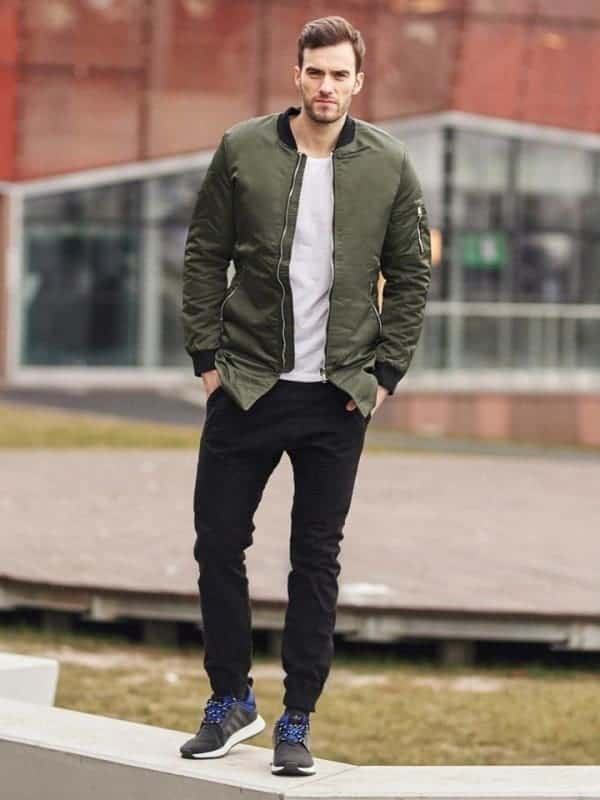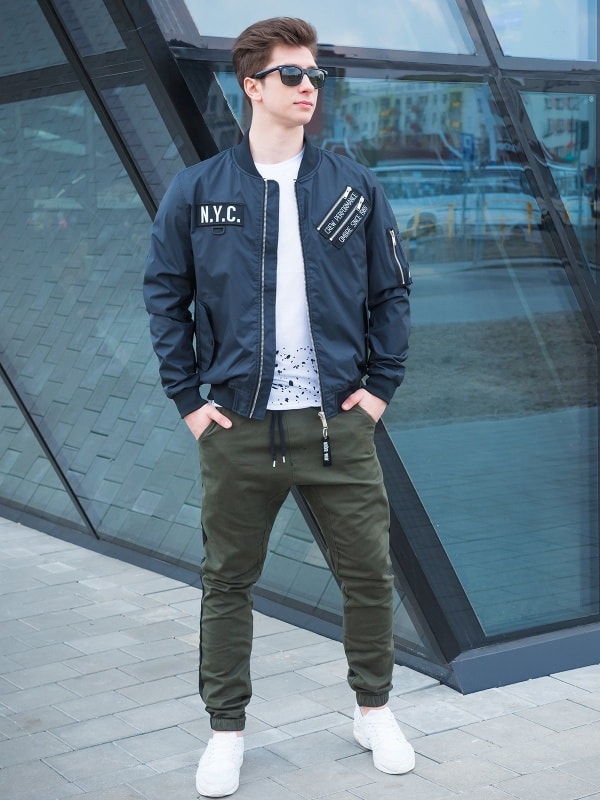 Bomber jackets have reached an excellent level of popularity and have become one of the stylish jackets available in the market. These bomber jackets are, in fact, an ideal choice of wearing along with a pair of joggers. This combination gives a genuinely stylish look, and the look can even be further enhanced by wearing a pair of black sunglasses and sneakers. Furthermore, you can leave the bomber jacket unzipped and wear a t-shirt within.
Cardigan And Joggers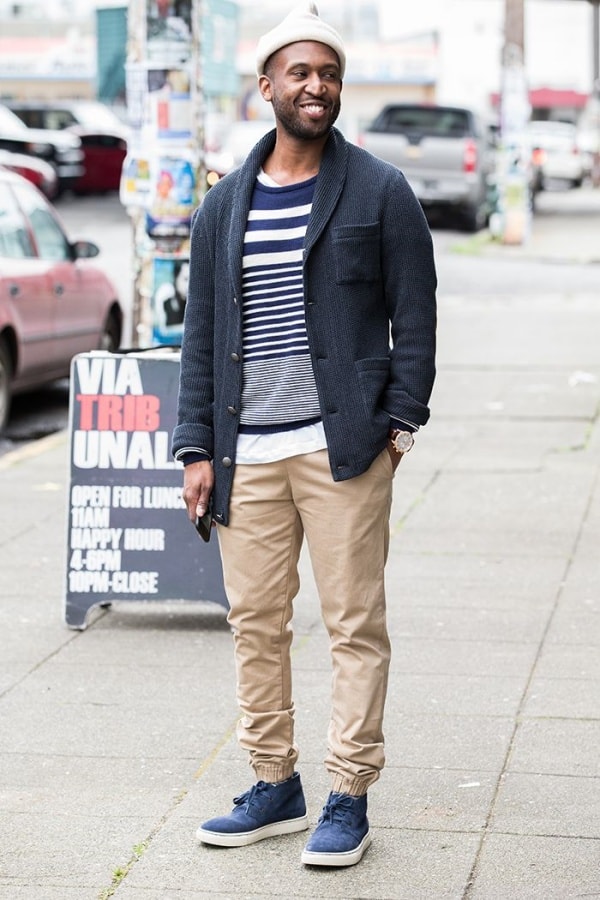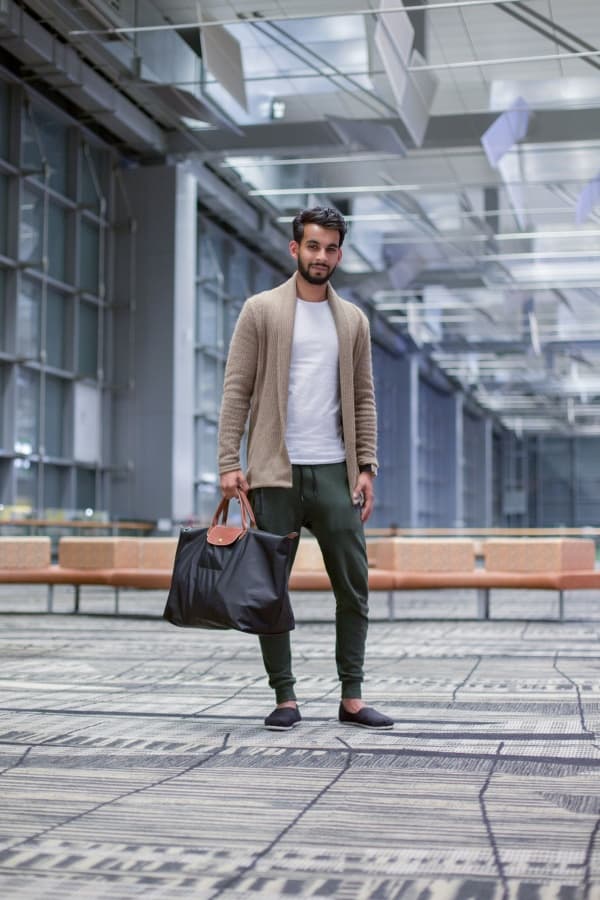 The best garment for keeping yourself warm during the cold season is a cardigan. These are extremely smart apparels. However, it becomes confusing as to what will be the perfect bottom wear with these cardigans. The solution to this confusion is joggers. Joggers are equally casual and cosy garments, just like a cardigan, and the two paired together will give the most brilliant look.
Joggers With Tassel Loafers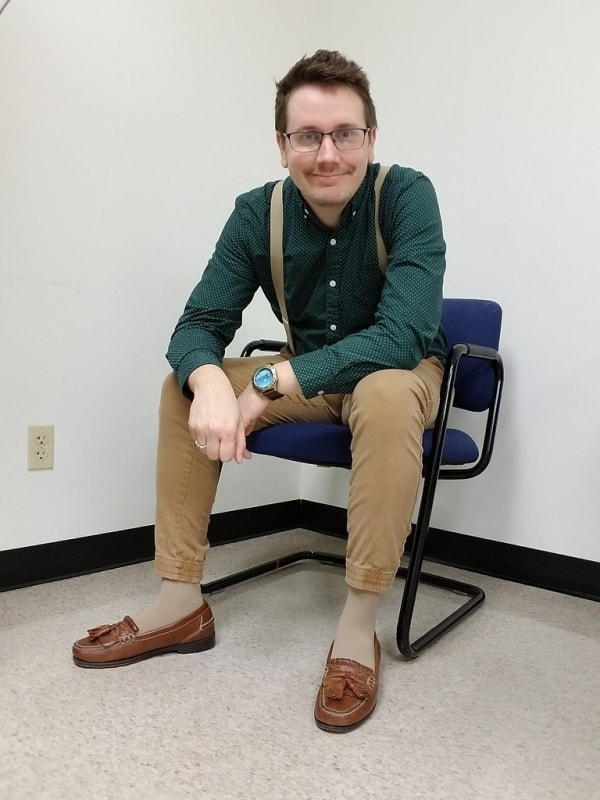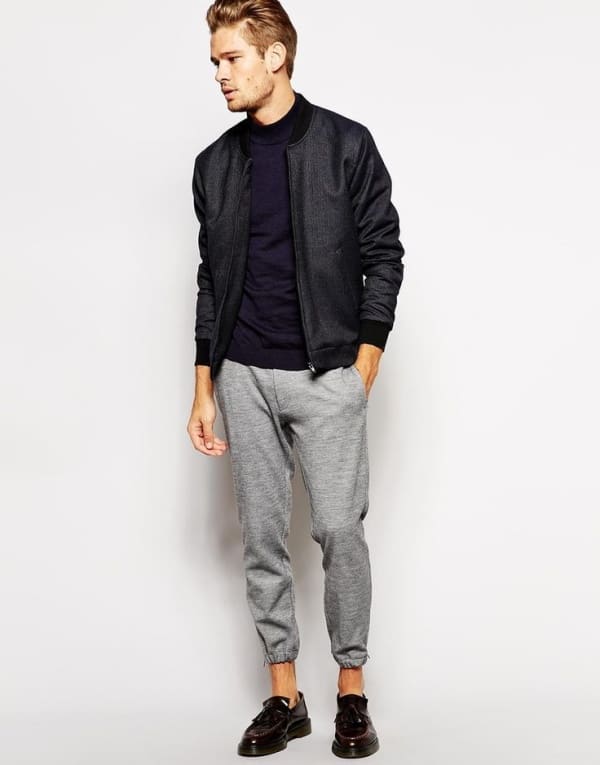 Joggers are super garments that are capable of being paired with almost all types of shoes. So, you can easily create any look, a casual one or a more fashionable one with joggers. Even tassel loafers can be a lovely match to a pair of joggers, specifically a pair of slim joggers. Tassel loafers can be paired with joggers of brown, black, dark blue, beige, etc. Even suede shoes look good with joggers if styled with relevant upper wears.
Joggers And Sneakers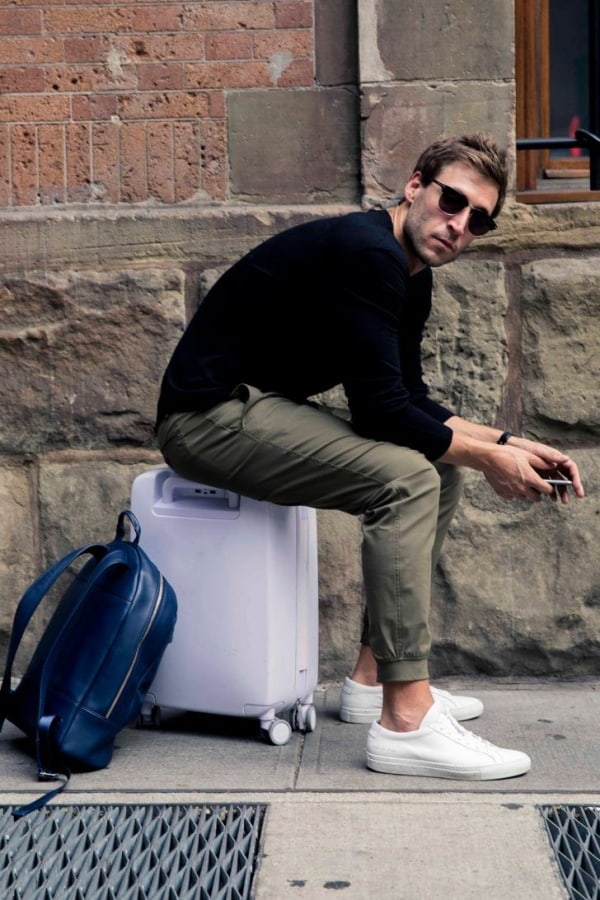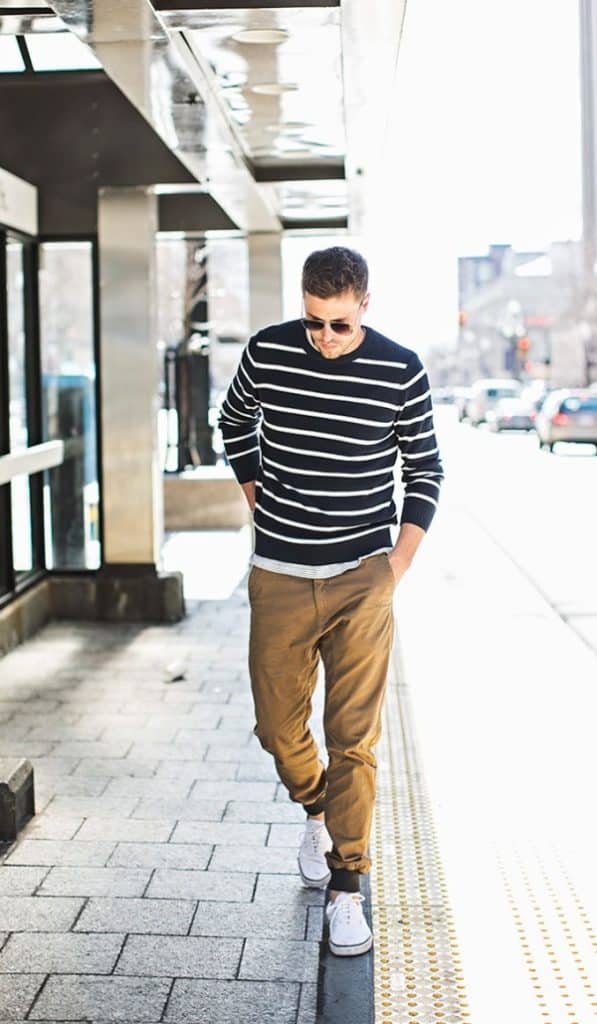 Sneakers are the best friend of joggers. Sneakers are the best choice of footwear when it comes to wearing any casual outfit. So, if you have tried creating a relaxed look with joggers, sneakers are the first choice of footwear to match joggers. Any casual look can become very smart looking in wearing a pair of sneakers, especially if you are wearing joggers.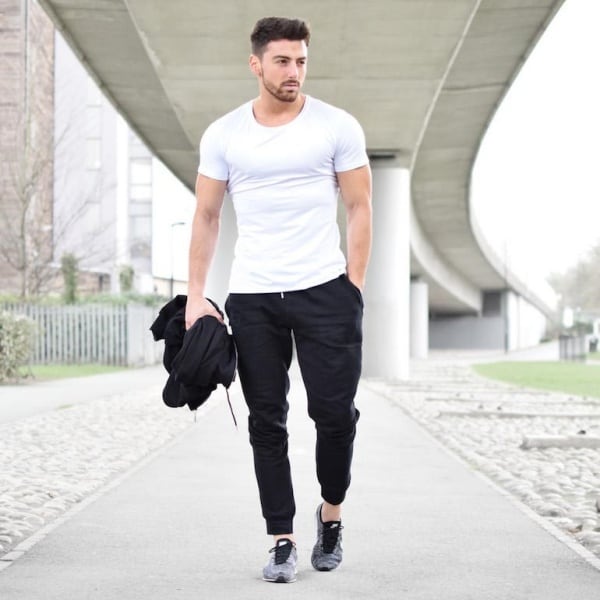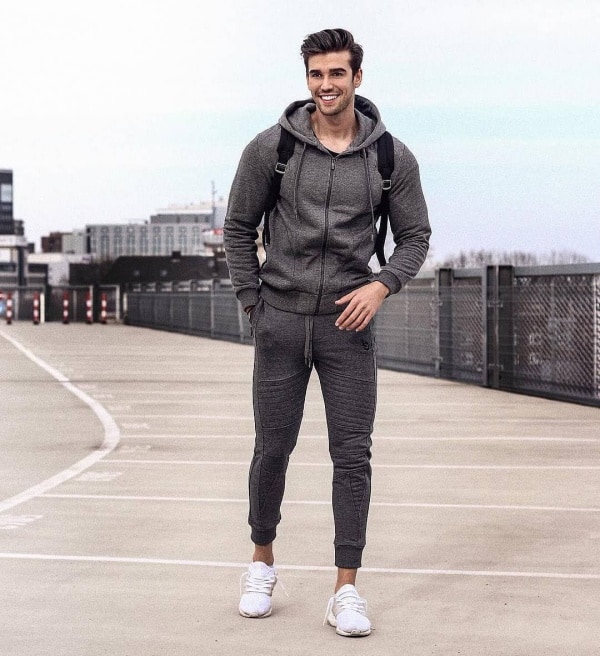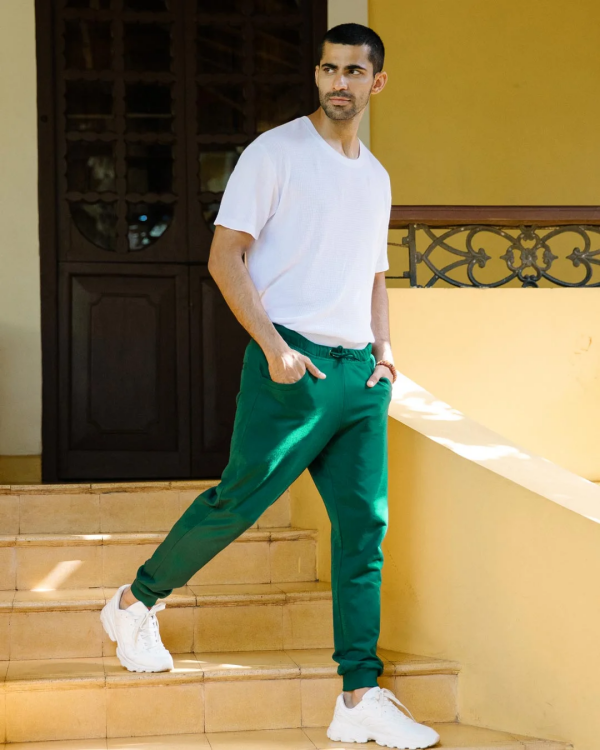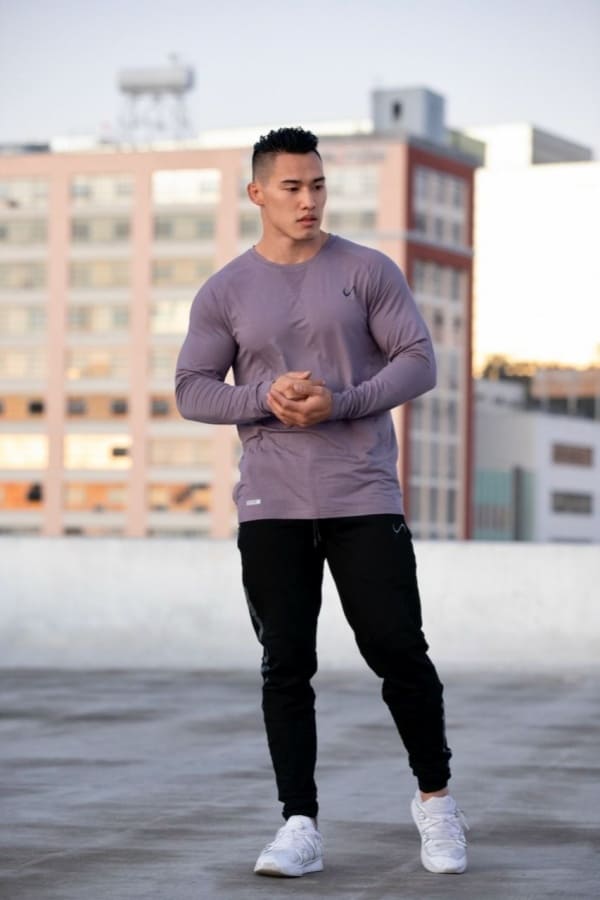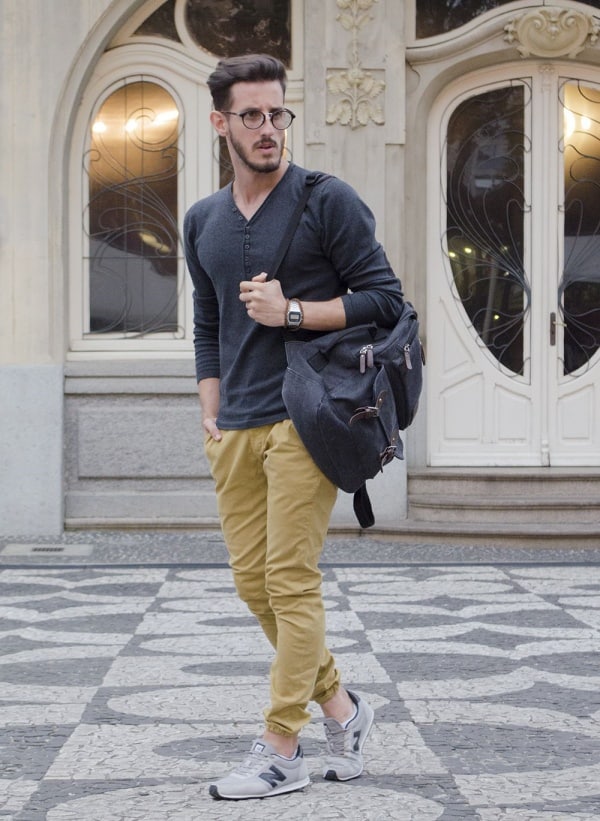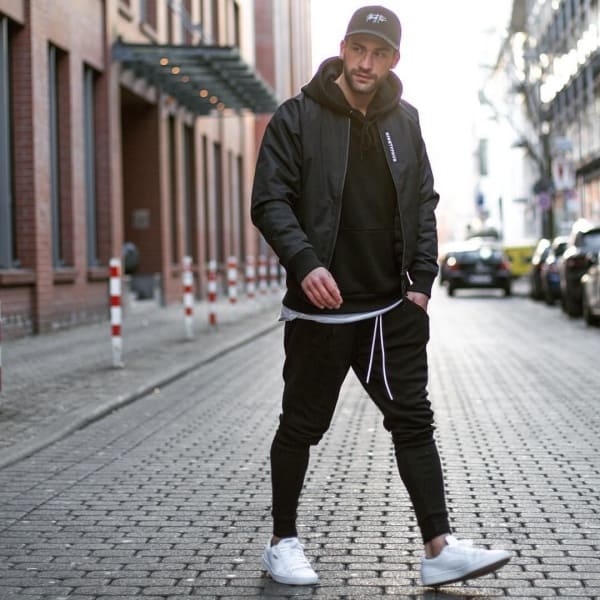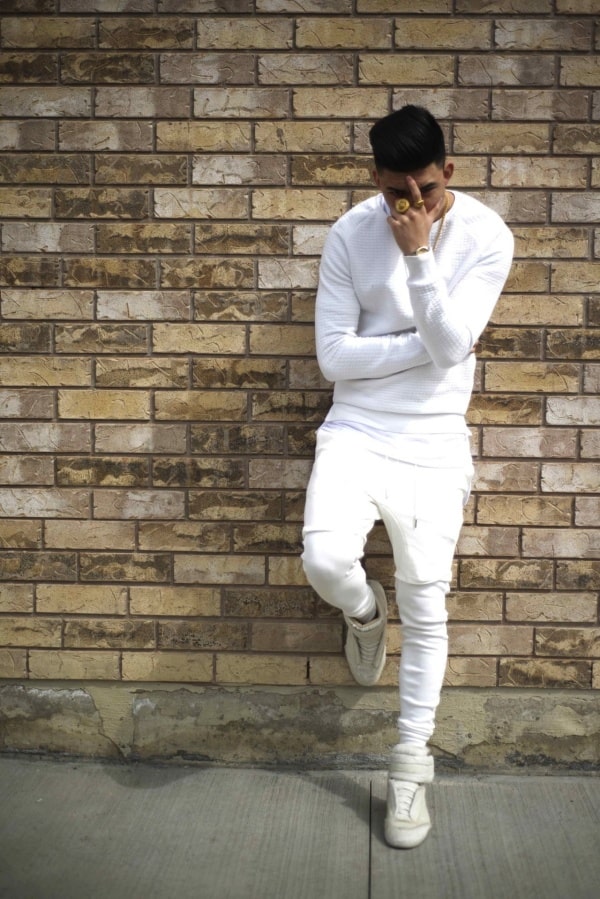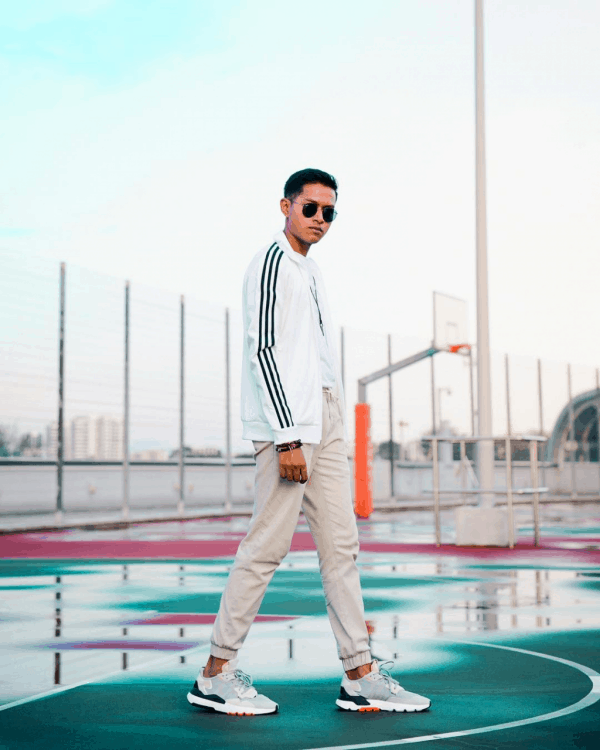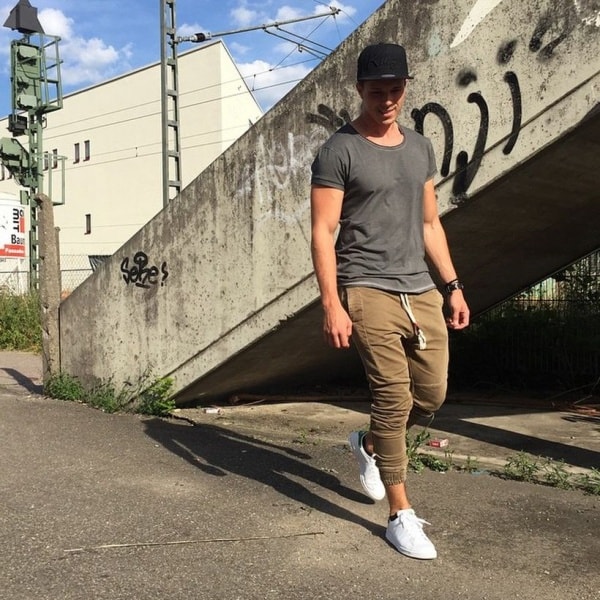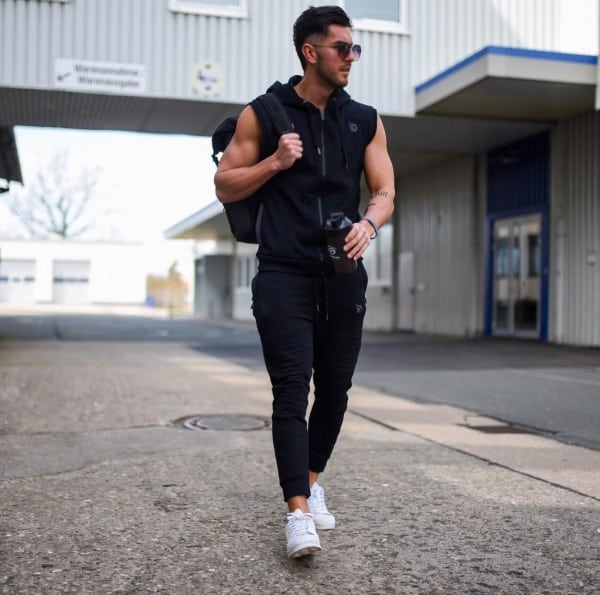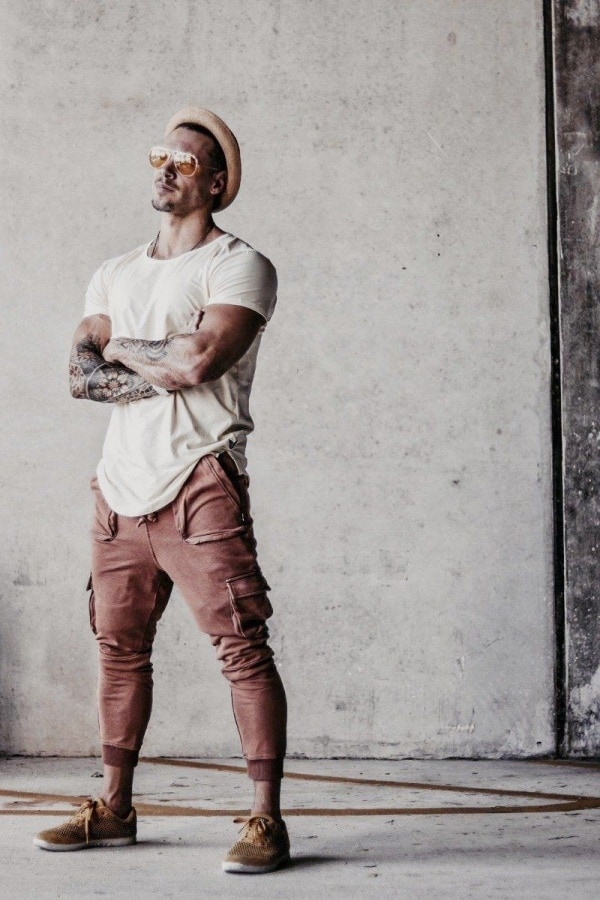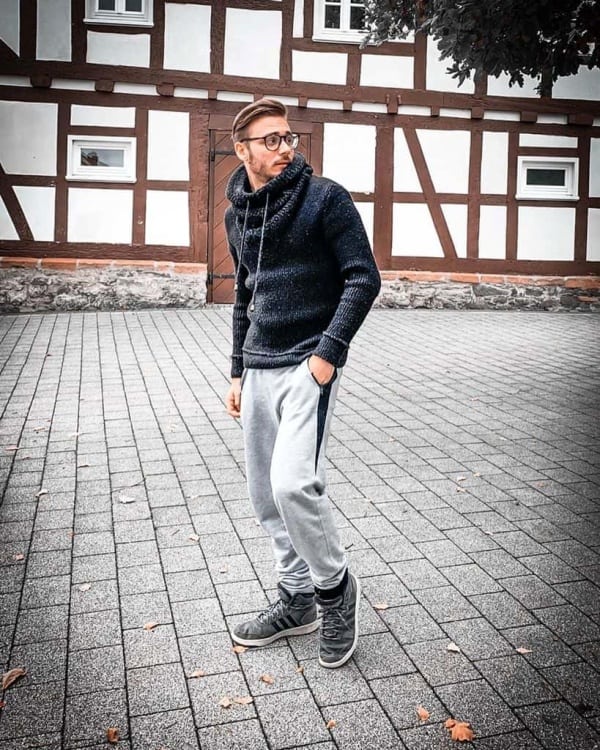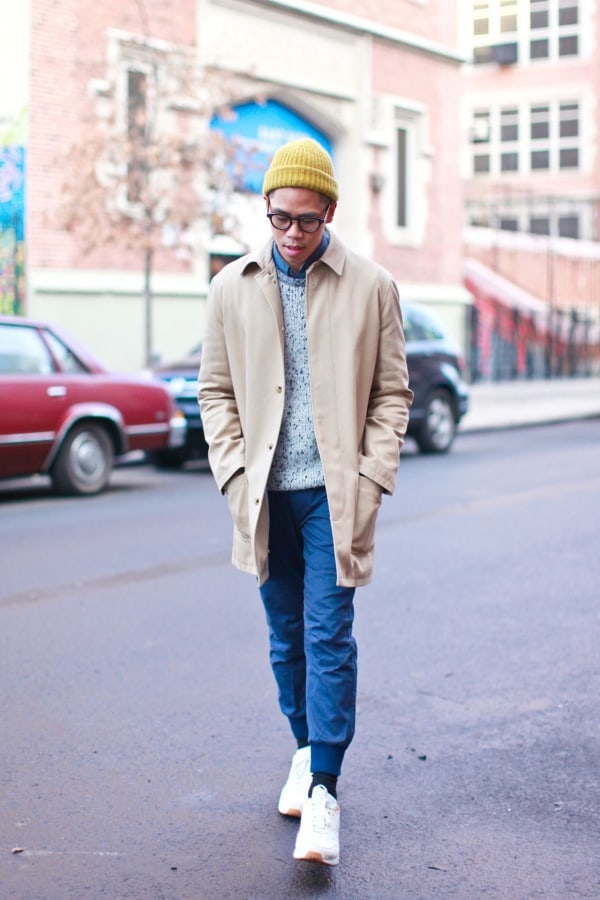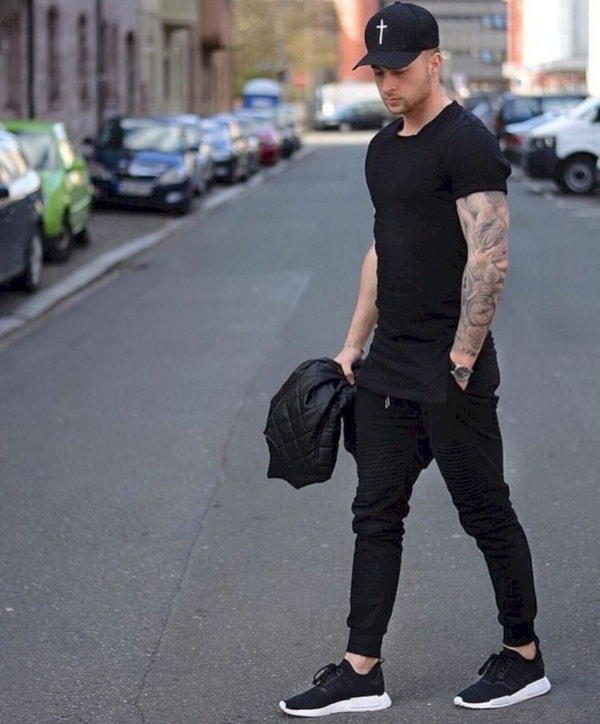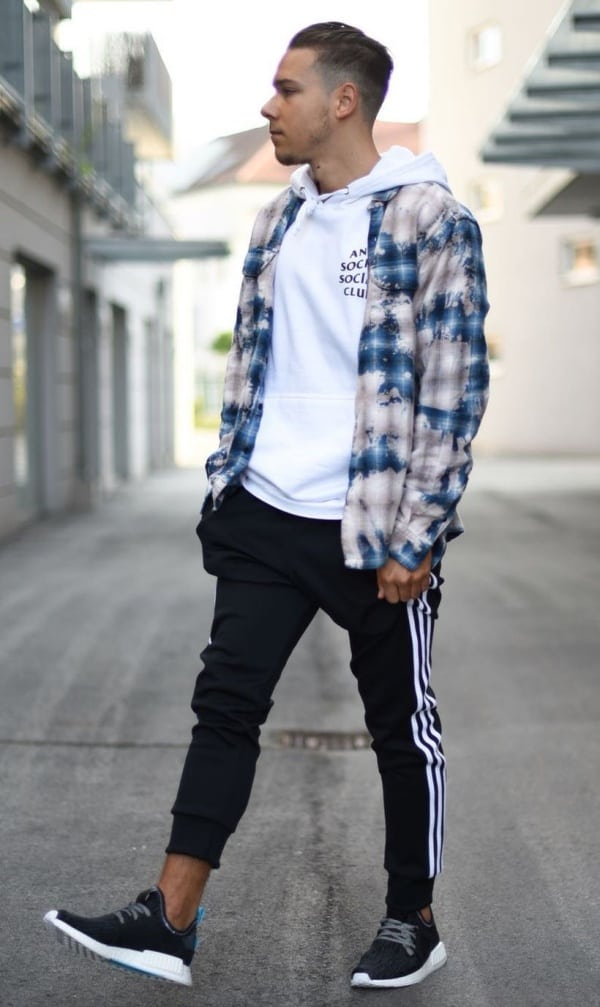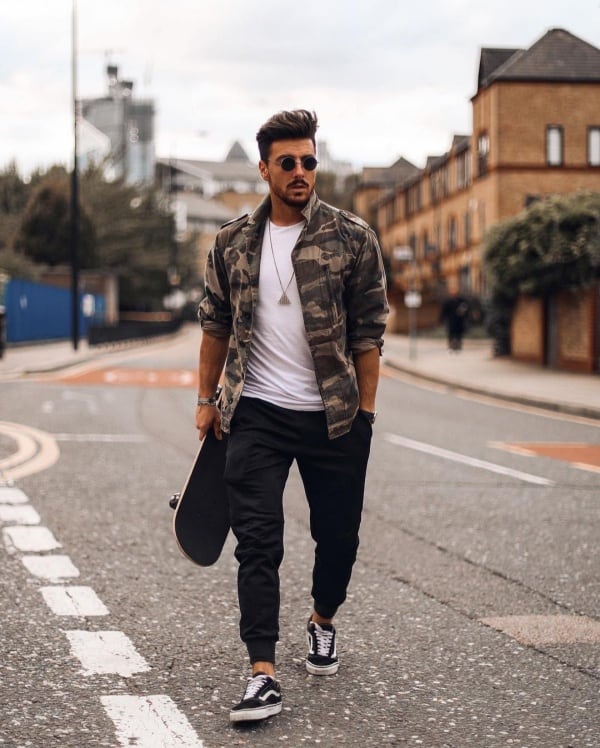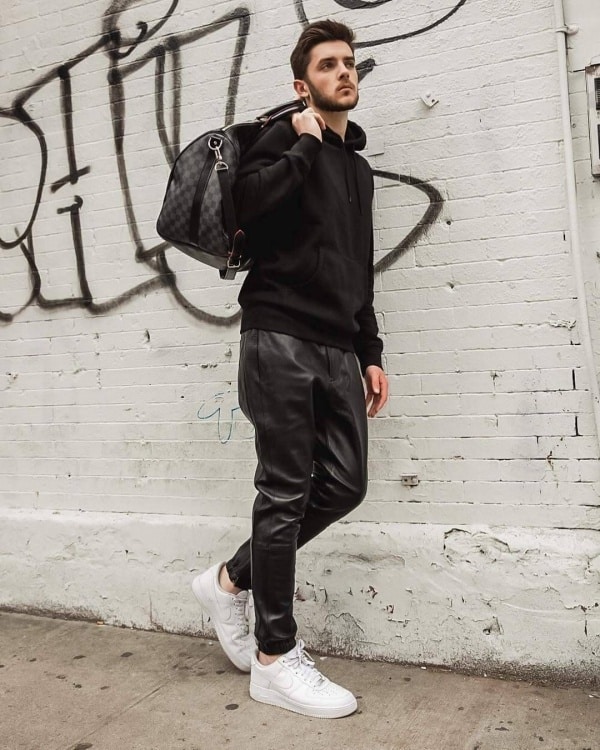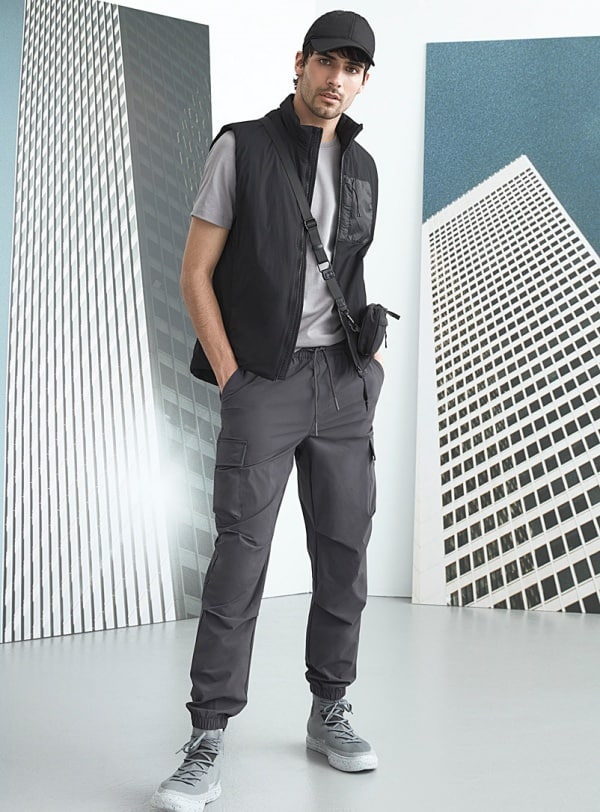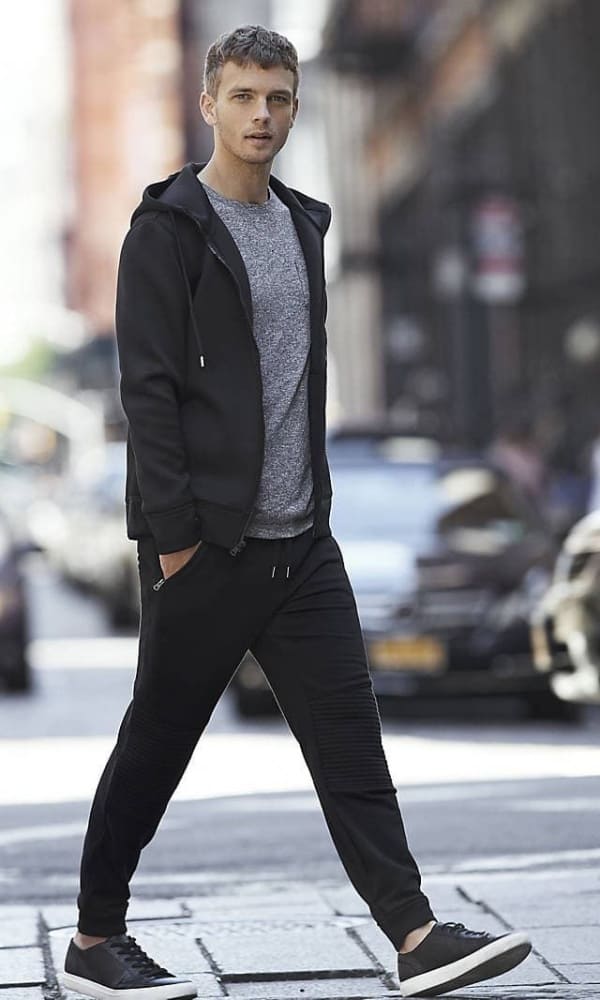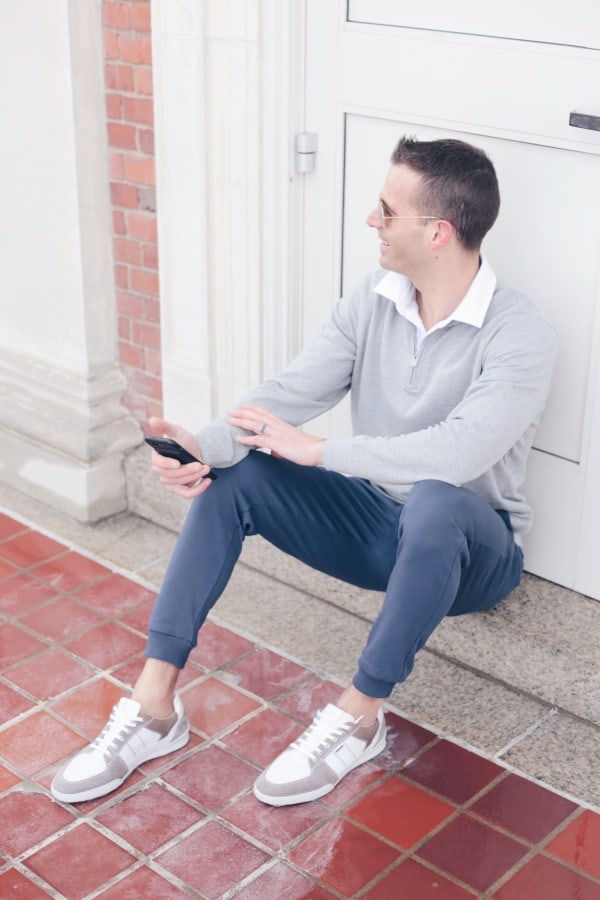 Conclusion
There are a variety of joggers outfits for men that you can style very smartly. Joggers are one of the most versatile types of outfits capable of being styled in multiple ways. Any look can be created with joggers without even investing many efforts as joggers are superb alternatives to jeans, chinos, sweatpants, and even formal pants. Even though joggers are not exactly a part of formal wear, joggers can create a formal look. If you love to keep everything low-key and stylish, joggers are the all-rounder that will quench your thirst for finding the best and ideal bottom wear. Joggers thus are the pants for every season, every time, every occasion, and for creating any and look. Furthermore, even uncountable outfits can be worn with joggers following the look you are finally developing.
You may also like: