The pleasant breeze and blooming flowers of spring invite us for upgrading our wardrobe to welcome the new season gleefully. There are so many new outfits and styles waiting for all you men to try and explore, and what can be a better time than the new spring season. May it be some comfy pants, loose t-shirts or any casual outfits, or maybe some ethnic and traditional outfits, or even formal wear, you can style them all up in your way this season. Thus, men's spring outfits are available in abundance and in multiple different styles too. So explore all the options that you want to and try out all the different outfits throughout this season.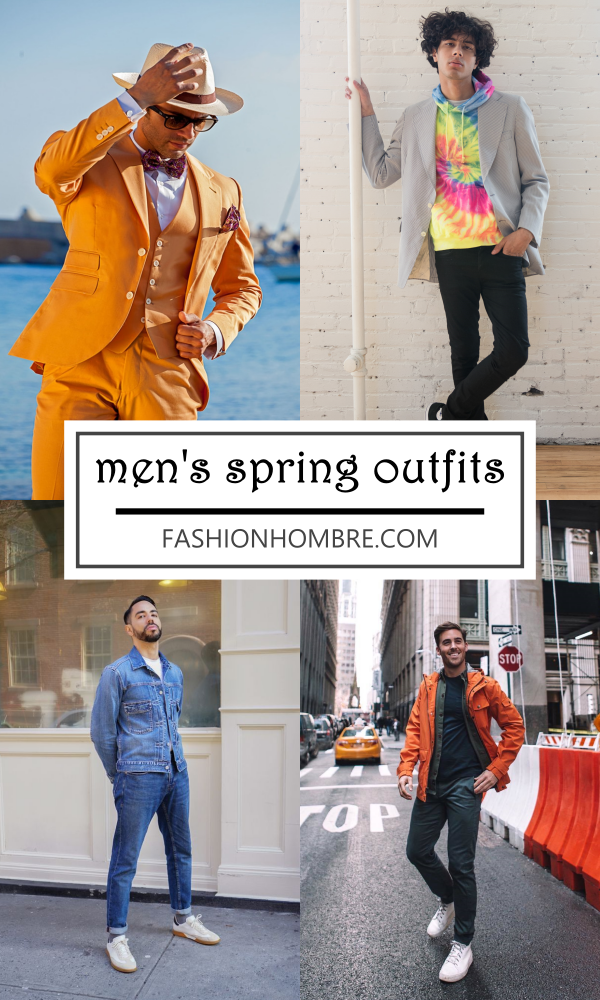 Best Spring Outfits For Men To Try
1. Tropical Shirt With Chinos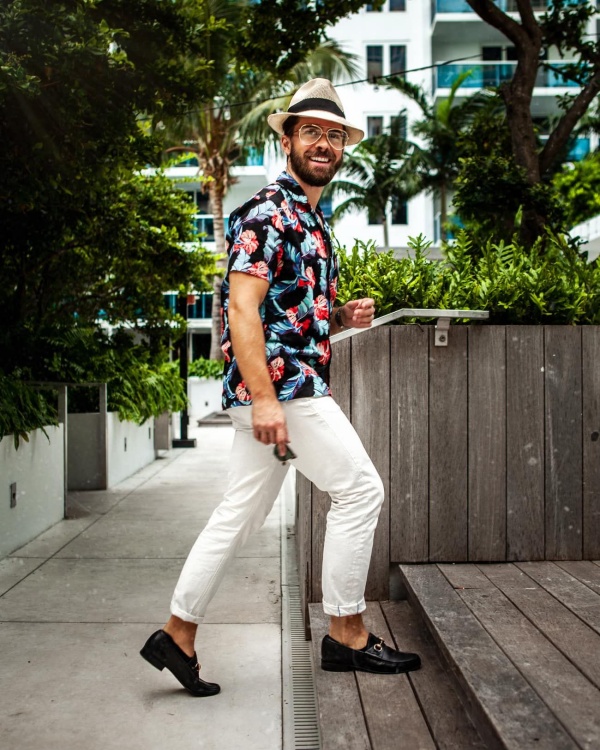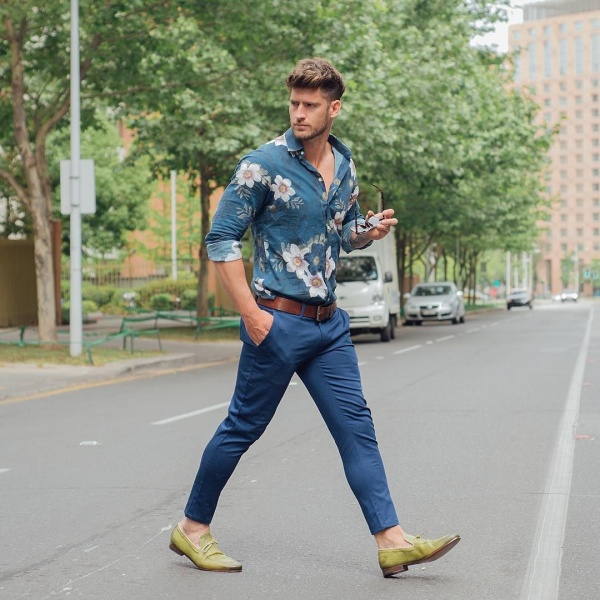 Spring is a season of a fresh start and new beginnings. With all the colorful flowers blooming and green leaves on every tree, trying a tropical shirt is a must. A tropical shirt is typically loose-fitting and airy, which is just perfect for the warm spring season. The best way to wear this funky tropical shirt is matching color chinos, ideally a green one. The perfect pair of these tropical and chinos can be paired with a pair of some Hawaiian footwear or a simple pair of ketos.
2. Full Sleeve Striped Shirt With Jeans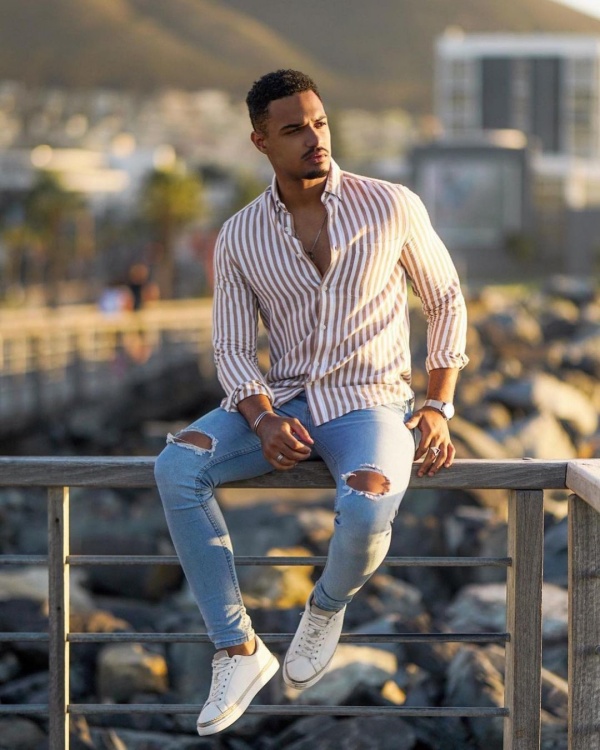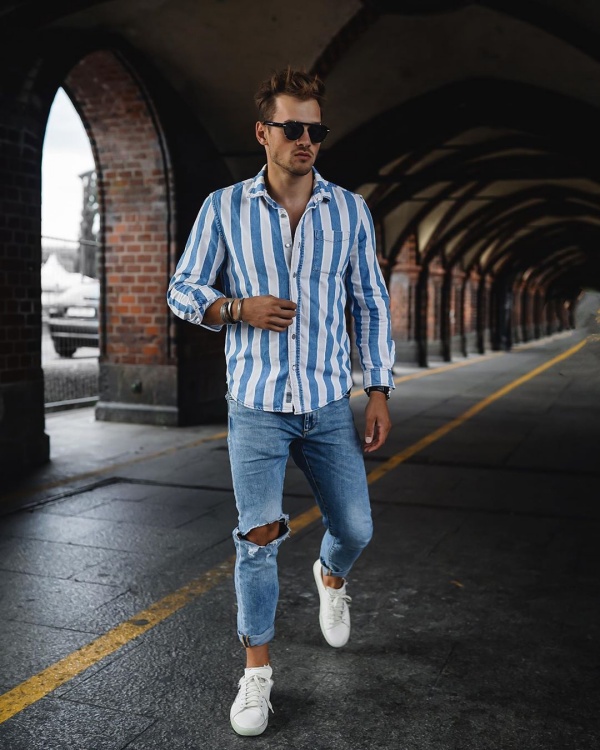 Stripes are everyone's favorite, especially when they are some lovely striped shirts! So why not get a bright striped shirt for yourself this spring season? A full-sleeved striped shirt is a good choice for men's spring outfits. May it be a vertically striped or horizontally striped shirt; both look amazing. There are various colors in which these striped shirts are available, so select any of the shorts of your choice. Do not worry about the color, as any colored or striped shirt can go perfectly with a pair of denim jeans. Pair these two with a pair of ankle boots.
3. Denim On Denim Outfits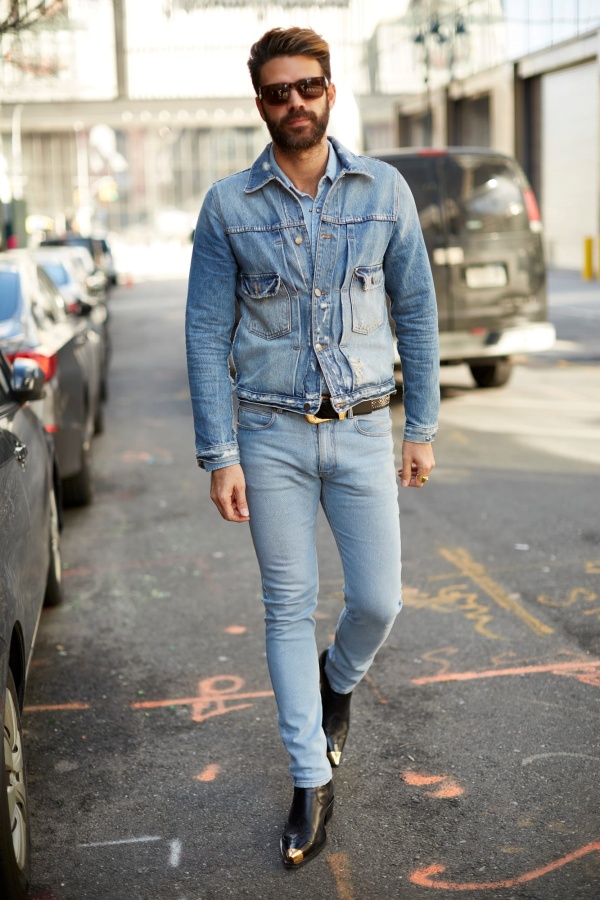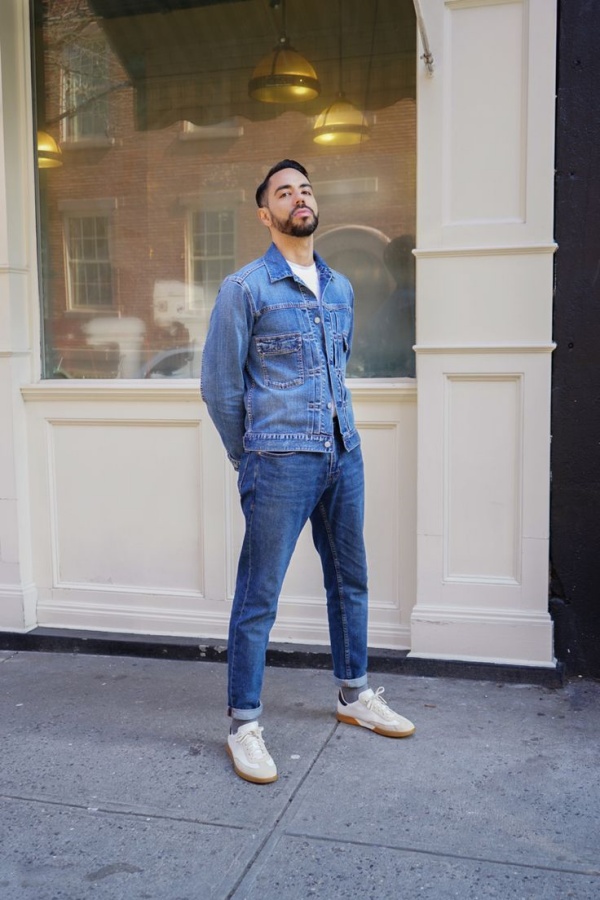 Denim is something that never goes out of fashion! Denim on denim is a great way to create a chic look! There are so many options when it comes to trying different types of denim. Even denim on denim can be pulled off well. One of the best denim on denim outfits is wearing a denim jacket over jeans and pair it with a black or a white tee shirt. A classic denim shirt with denim jeans looks good too. To break the all-denim chain, you can pair this outfit with a pair of black or brown shoes. Even a pair of classic white shoes look great in a denim on denim outfit.
4. Spring Layering Outfits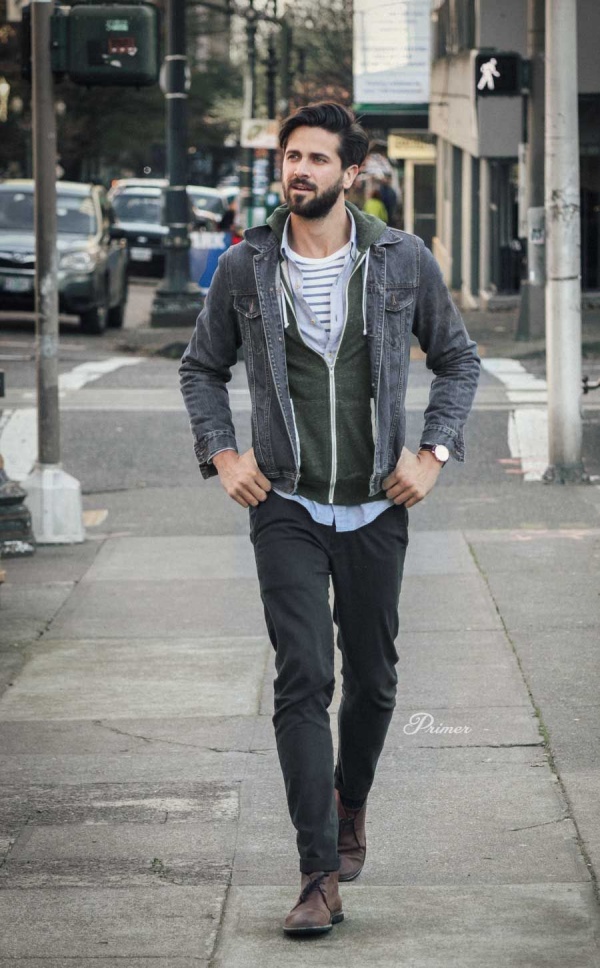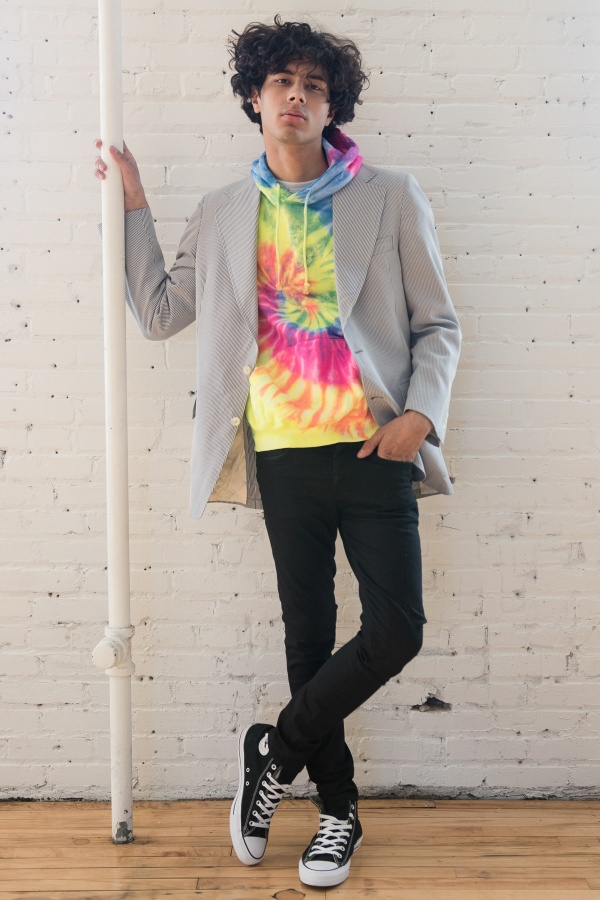 Layering outfits look the most classy of all. So when it comes to styling yourself up in the summer season, trying layering men's spring outfits should not be missed! Try a layering outfit the casual way this season by pairing jeans with a printed t-shirt and top it with a vibrant colored shirt or jacket. You can also slay the layering look by wearing a comfortable bottom outfit and then pair it with a thin shirt. If satisfied, a sweater can be worn, or a blazer can work wonders. Finally, a vest coat can add class to the final look.
5. Gingham Button-Down Shirt With Khaki Shorts And Boat Shoes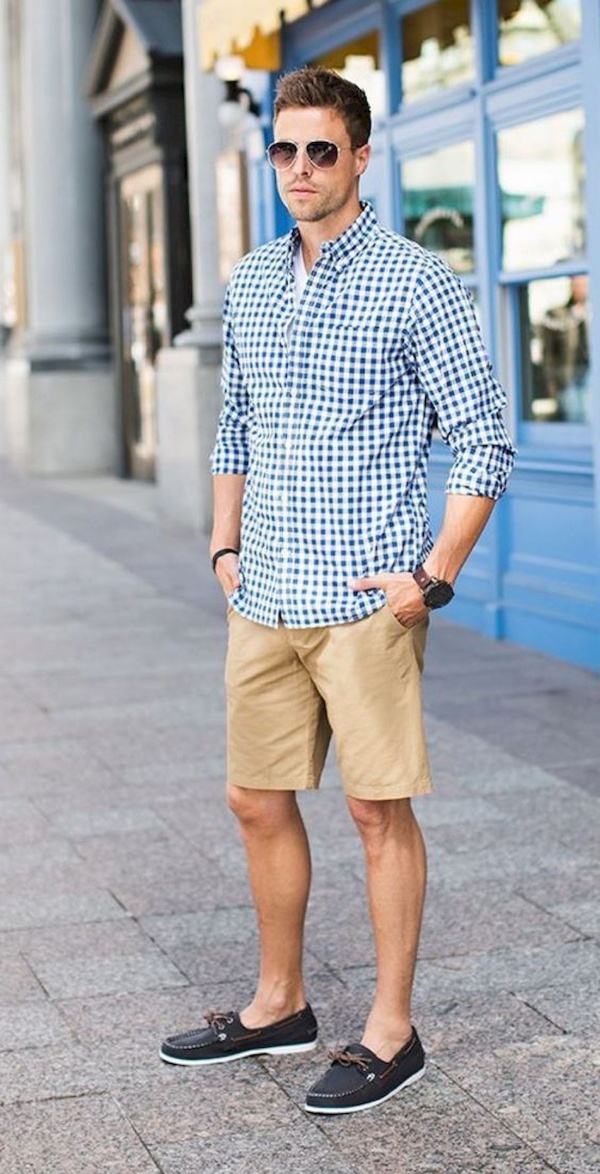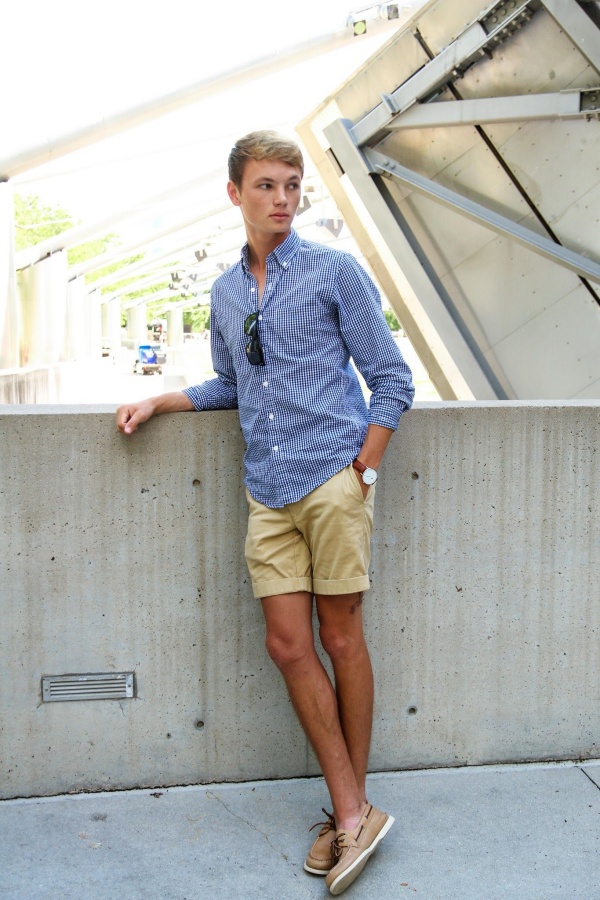 Gingham's button-down shirt is a cool outfit worth trying during the spring season. However, with the warm winds wearing a light-colored gingham shirt looks fantastic. These gingham shirts seem pretty cool when you wear them with a pair of khaki shorts. A vibrant color gingham shirt or a light-colored one, and both look cool with khaki shorts. Pair this outfit with a couple of boat shoes to style up this spring. A pair of sunglasses and a simple watch will complete this look.
6. Bright Colored Shirt With Blazer Outfit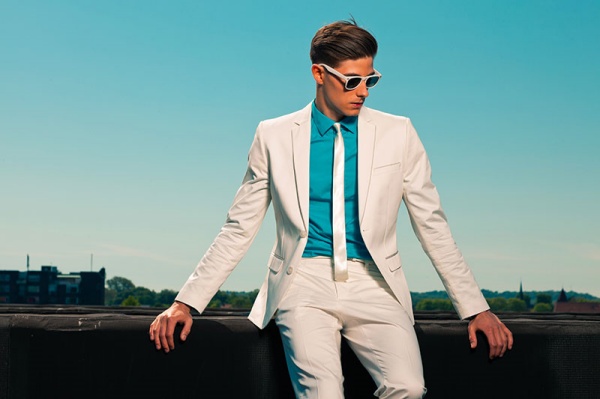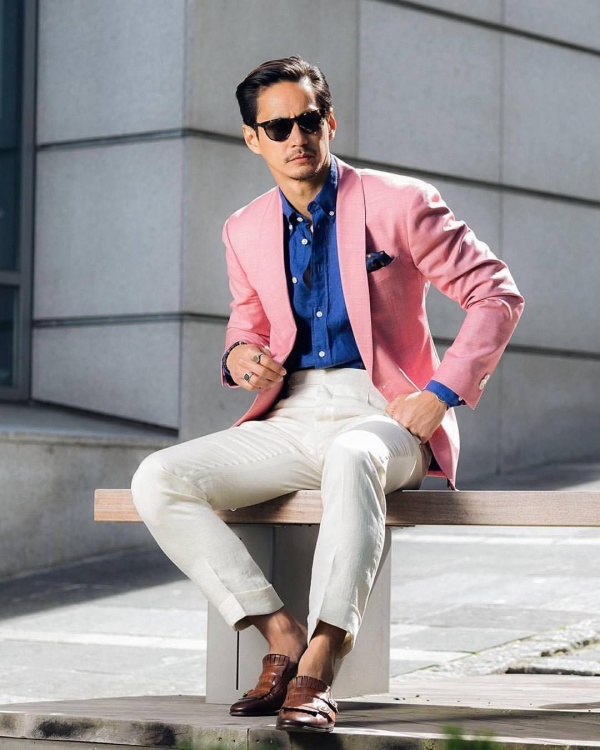 Bright colors are the best for the bright and chirpy spring season. A bright-colored shirt is thus a great outfit idea. These bright colored shirt looks lovely when paired with a blazer. As for the bottom wear, you can wear a pair of charcoal dress pants to get a bright look. Leather shoes look great with any having with a linen blazer.
7. Hoodie With Ripped Jeans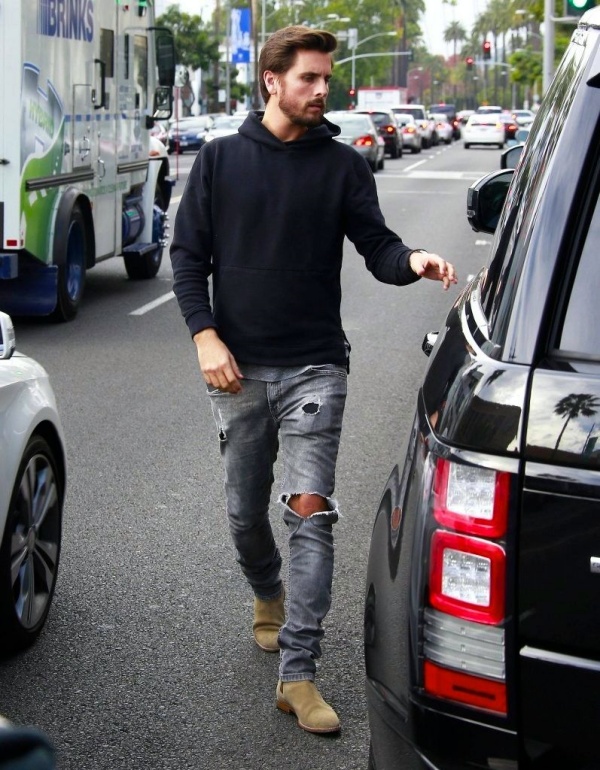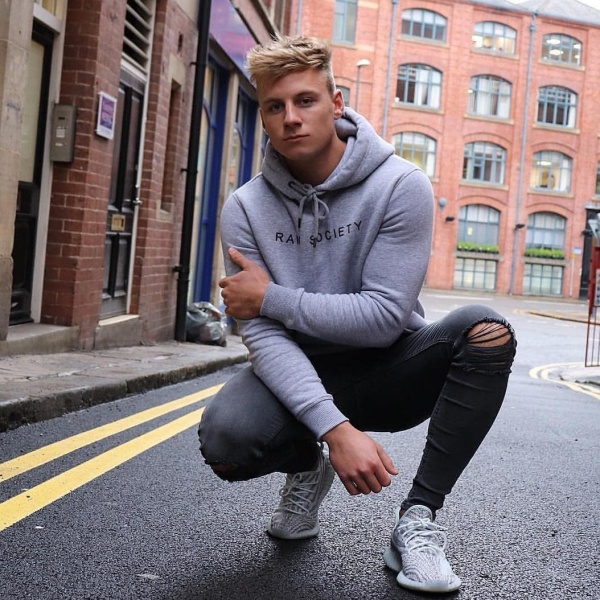 Hoodies are among the best men's spring outfits to wear and keep yourself comfortable in the cool breeze of spring. So, if you are a hoodie lover, get any hoodie of bright and spring-friendly color. Put on this hoodie with a pair of ripped jeans and slay the hoodie look this spring. A sleeveless hoodie is indeed a great idea for spring. You can wear such an outfit with a pair of funky sneakers or plain boots, as per your choice.
8. Trench Coat With Brown Loafers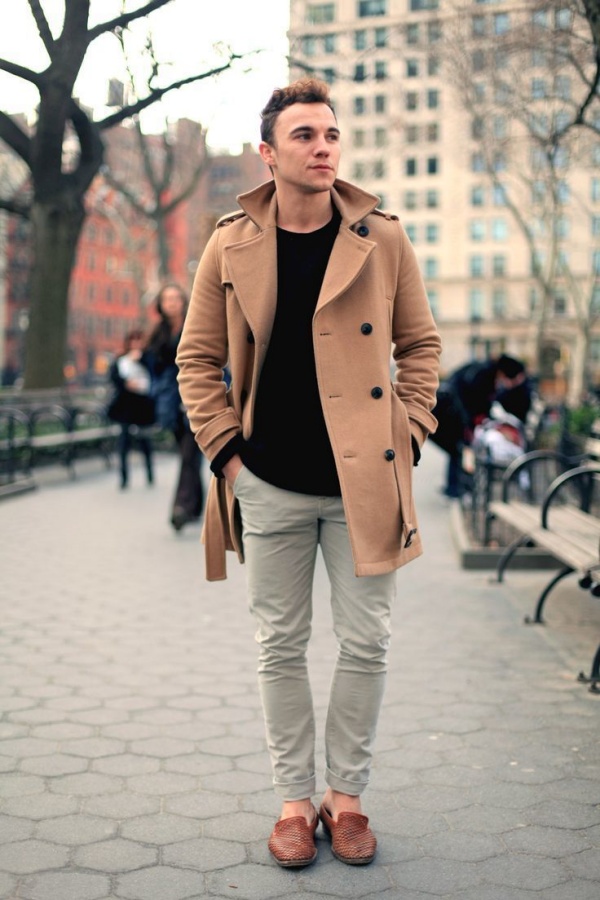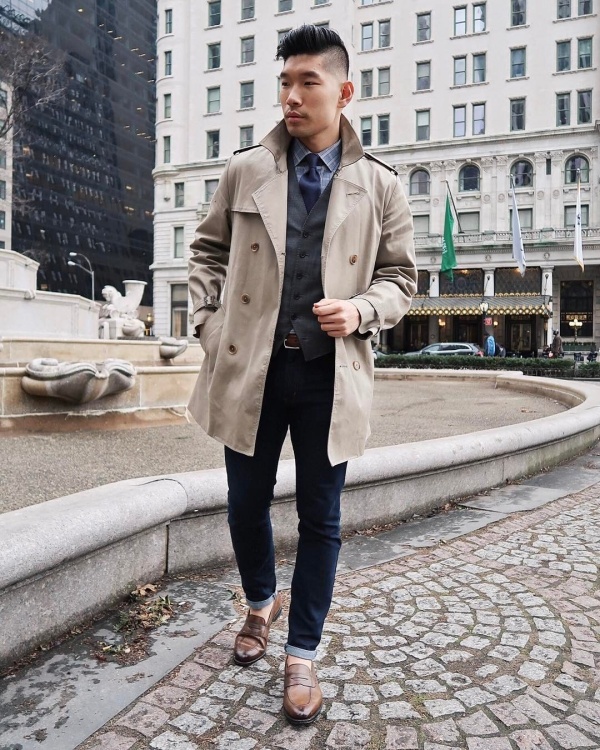 Trench coat account as a wardrobe essential that can be worn for many years to come. This durable piece of clothing adds elegance to any look. These vast and baggy double-breasted trench coats look fantastic when worn with brown loafers. Not only does it give you an elegant look, but it also makes one look very stylish. A pair of black leather shoes or black boots definitely will enhance the look of any person wearing this outfit. This complete look is excellent for being worn at many occasions and parties.
9. Polo Shirt With Sneakers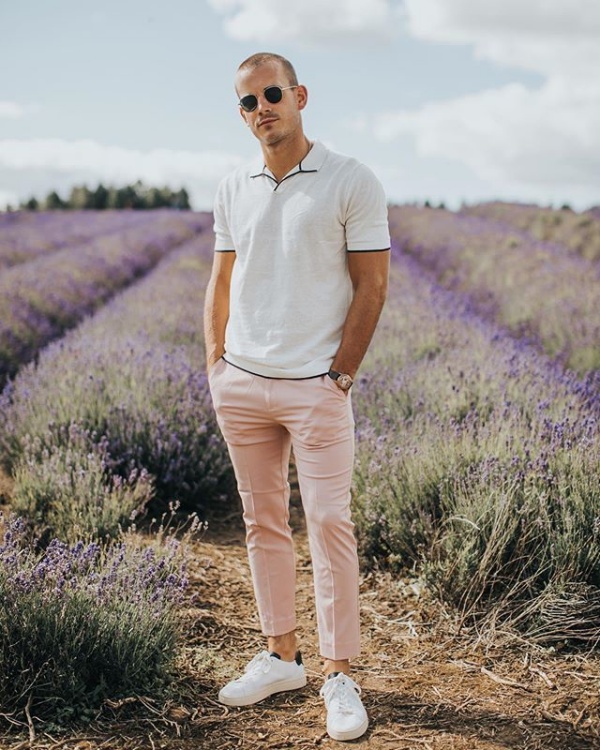 Casual wears are the most comfortable outfit in every season. What can be better than dressing up casually and comfortably yet being able to get a stylish look? Thus, some ideal casual wear like a polo shirt is a lovely choice to pair with a pair of shorts, or sweat pants, or even jeans. Although any pair of shoes can go with a simple yet stylish polo shirt, a set of sneakers always look great. They are not only comfortable but remain as casual as you like.
10. Leather Jacket With A Tie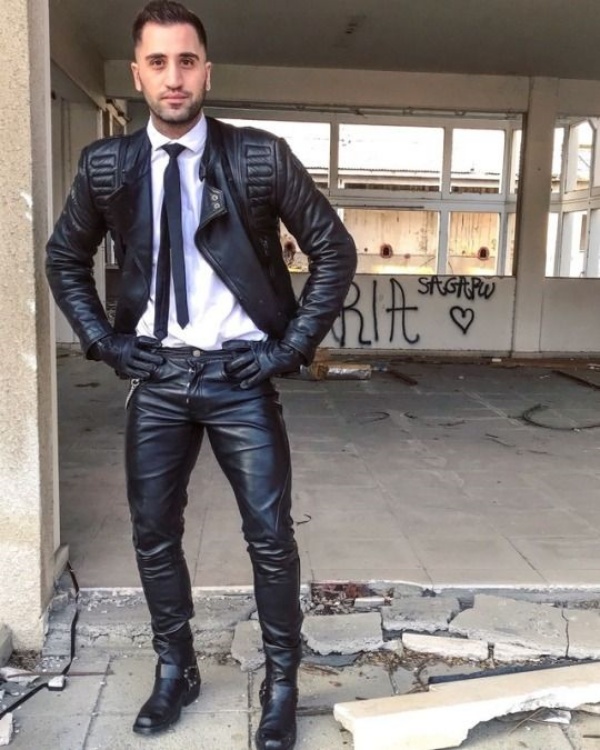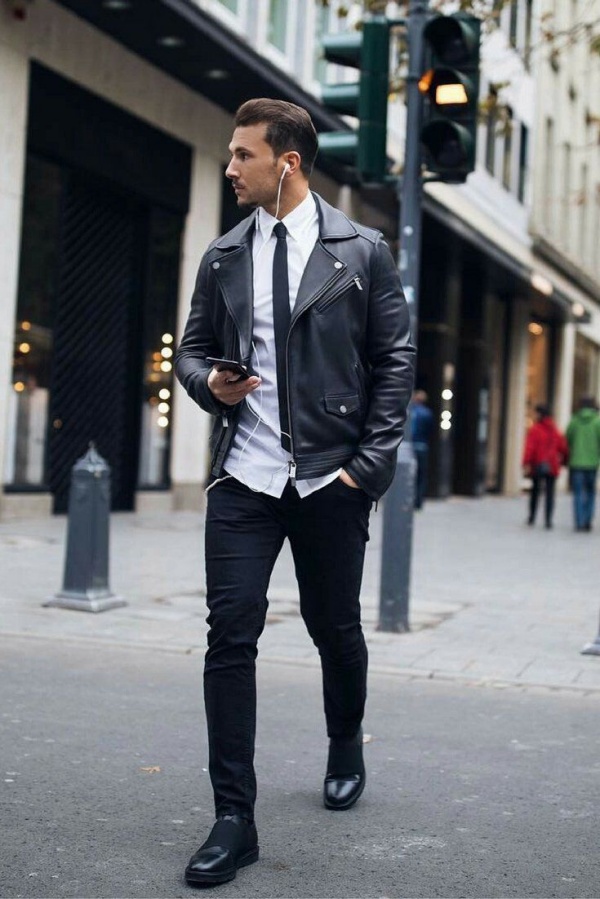 If you want to wear some comfy and straightforward outfits yet gear up an all-stylish look, a leather jacket can do that for you in no time. So, all you have to do is grab your favorite plain t-shirt or a shirt and combine it with a pair of comfy jeans. To style up this casual look, grab hold of a classy leather jacket and build elegance in your look effortlessly. If you are eager to experiment and try something new, catch a matching tie and complete the unique yet stylish look. Finally, complete your look with a pair of leather shoes or white sneakers.
11. Crew Neck Sweater With Cargo Pants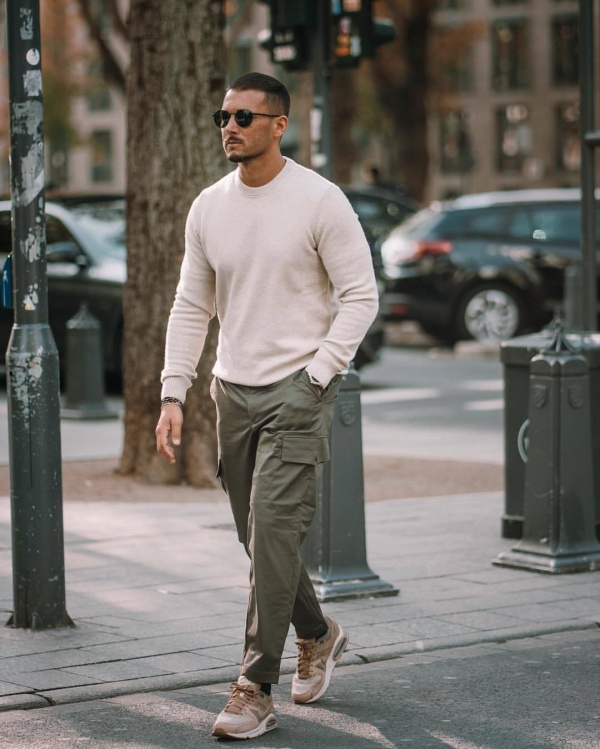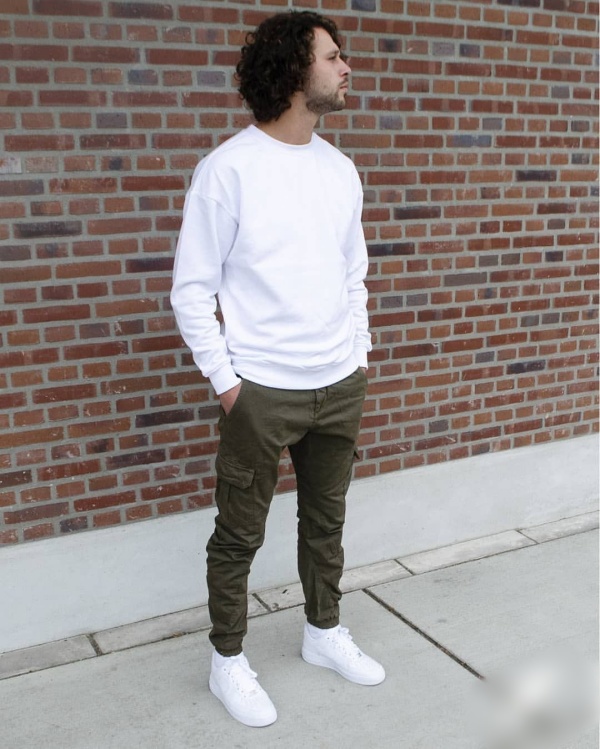 Your closet is incomplete with a good piece of crew neck sweater and even a pair of cargo pants! So, pair up these two garments and create a perfect casual and summer-friendly look. However, to add some style element to this look, wear a simple smartwatch and a pair of black sunglasses. Finally, do not forget to wear a good pair of shoes matching the outfit. A pair of black athletic shoes is an excellent idea for getting a casual and stylish spring look.
12. Cowboy Hats Over A Nice Three-Piece Suit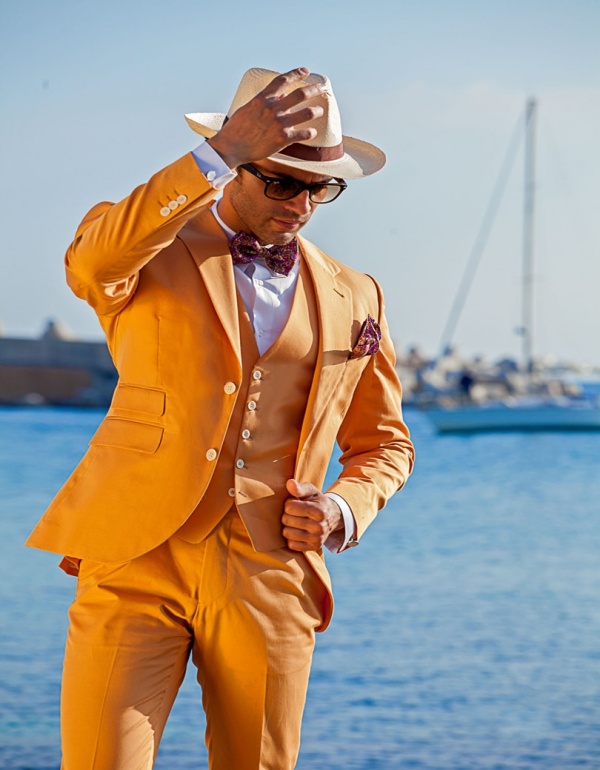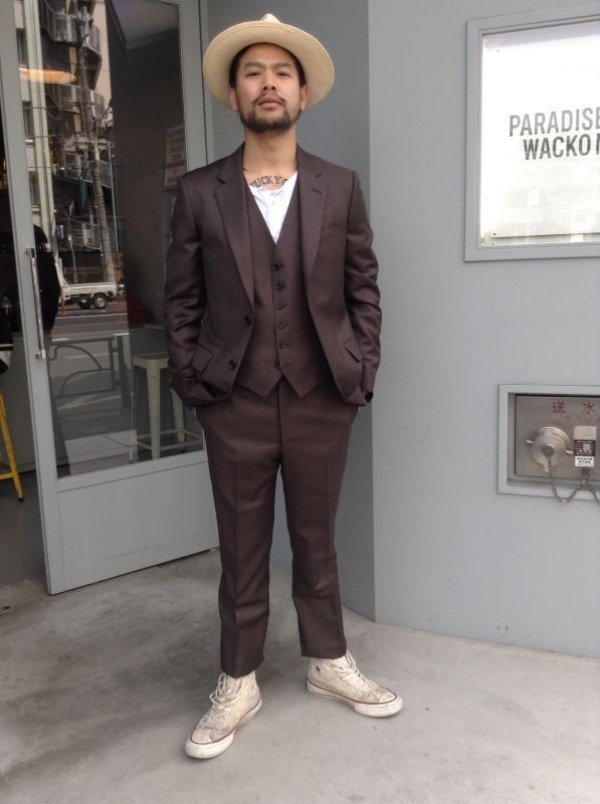 The ideal and most straightforward way of getting an intelligent and standard look is opting for a complete set of a three-piece suit. Wardrobes are nothing without some classy three-piece suits. So, this spring season, try out wearing one of your favorite three-piece suits. However, do not forget to add some stylish twists to the outfit! Wear a complementing cowboy hat and funk up your sophisticated look in no time. No wonder how a little cowboy hat can change your entire look make you grab all the attention.
13. Style With A Rain Jacket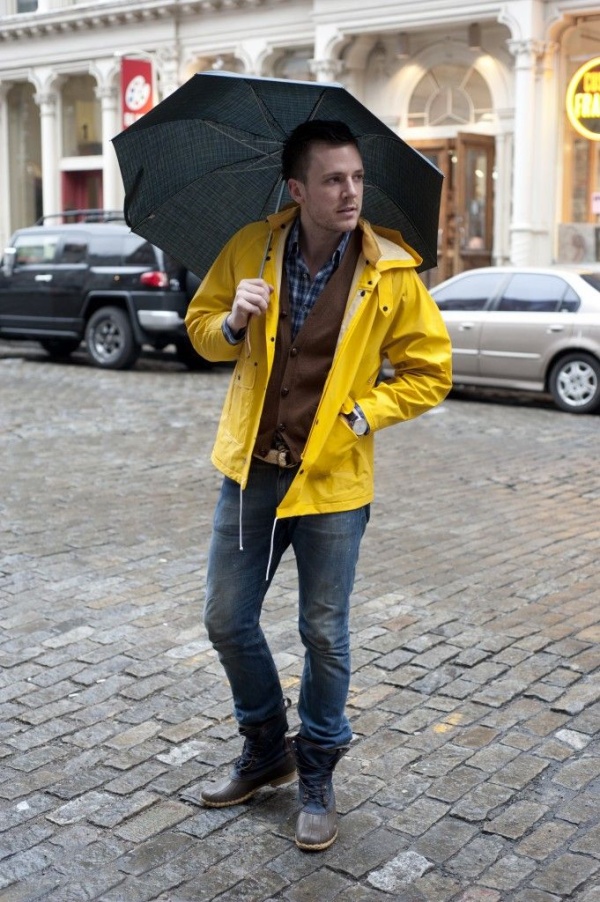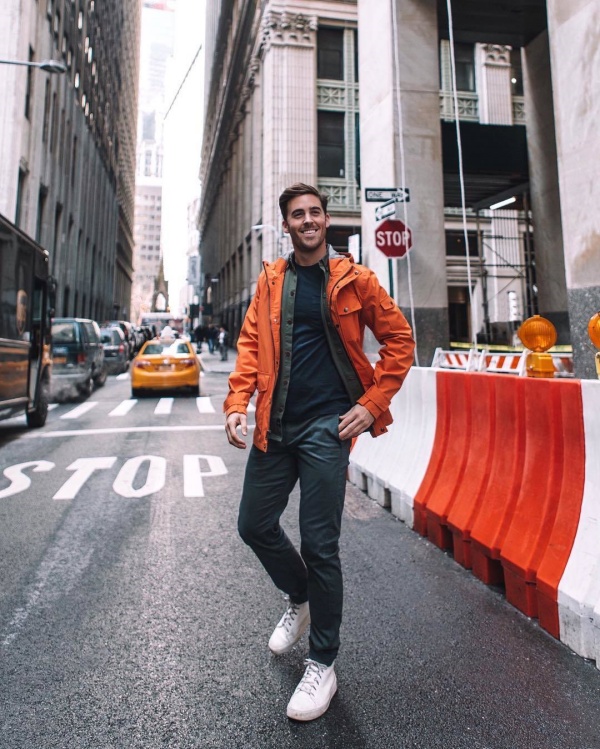 Among the various men's spring outfits that can be tried this season is a bright-colored and baggy rain jacket! So, if you have still not decided what new you are trying this spring, grab a bright-colored spring jacket and wear it over your favorite plain t-shirt or a striped one. Pair these with denim jeans or a casual pair of sweatpants, and slay the casual look effortlessly. Furthermore, black pants also work wonders in this outfit. Finally, a pair of black shoes or a white one maintains the casual look while sustaining the smartness you carry.
14. High Waisted Trousers With A Button-Down Shirt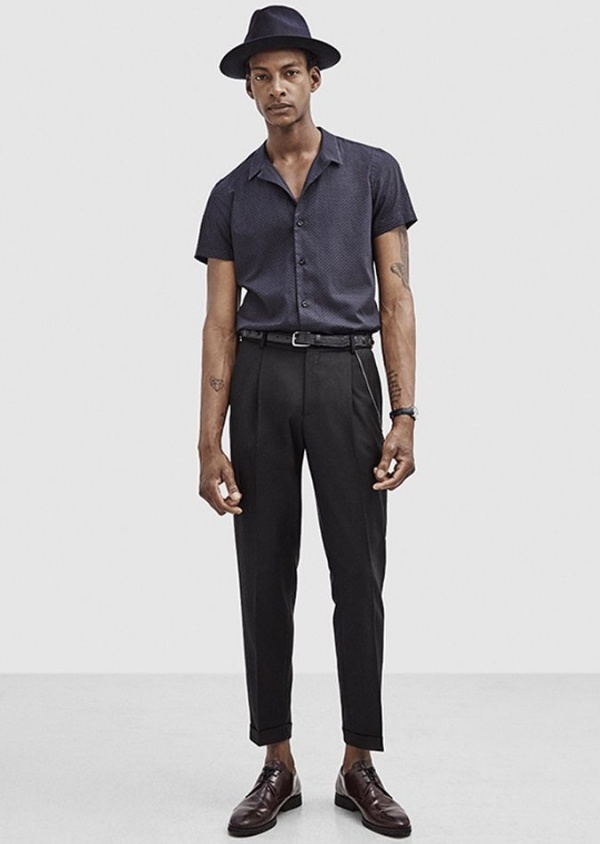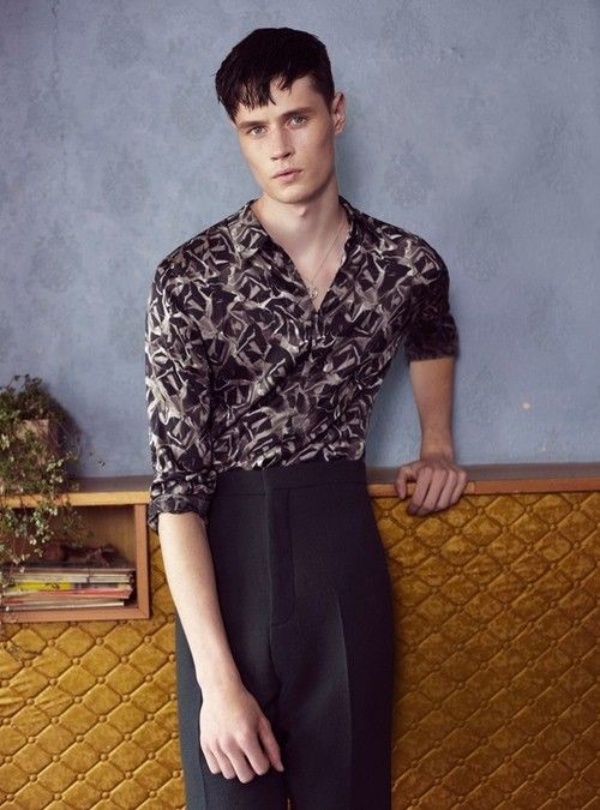 A loose shirt is one of the most comfortable attire that anyone can possess. With the advancement in styling and fashion, even a casual loose shirt can appear very stylish. Whether you want a plain shirt or a printed one, an oversized button-down shirt can be made modern in no time. All you require to do is pair them with some matching high-waisted trousers and tuck in the shirt. This relatively new fashion attire is worth the try this spring season. Wear this outfit with a pair of matching formal shoes and funk up your spring look.
15. All White Outfit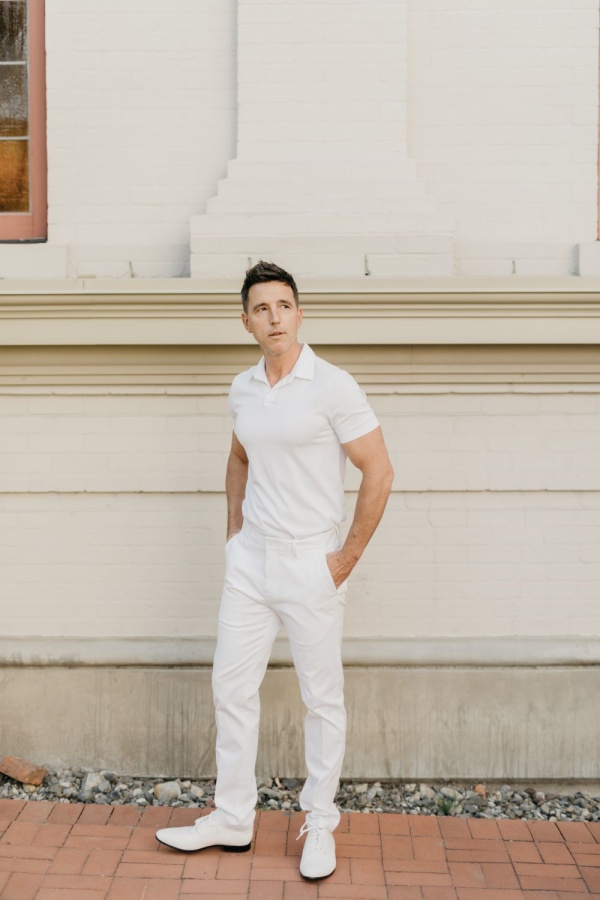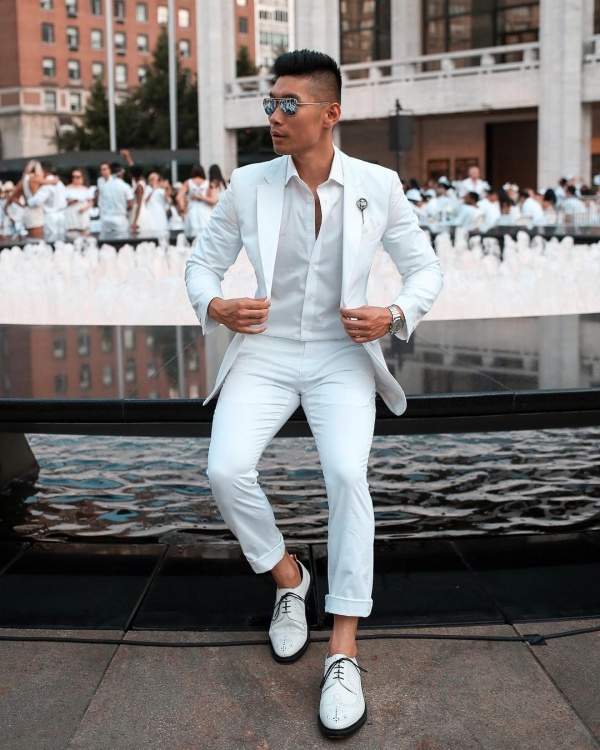 The most aesthetic of all outfits is a white one. So why not try an all-white look this spring? If you like to wear a shirt, pair a white one with a pair of white jeans and even white shoes, or even a casual t-shirt can be worn the same way! A brown or black belt can break the all-white chain and look stylish too. A full white three-piece suit or a complete white layering outfit can also be a great match! Pairing such formal outfits with a black or brown tie, belt and shoes add to the style element in this attire.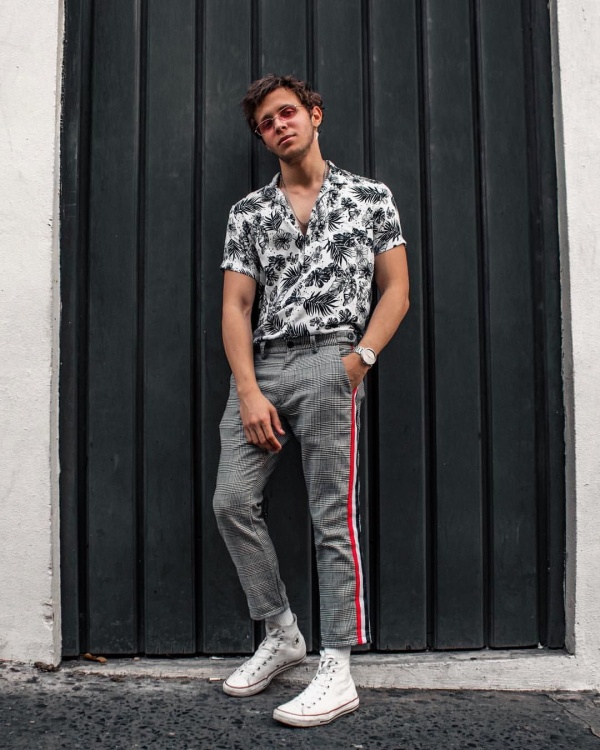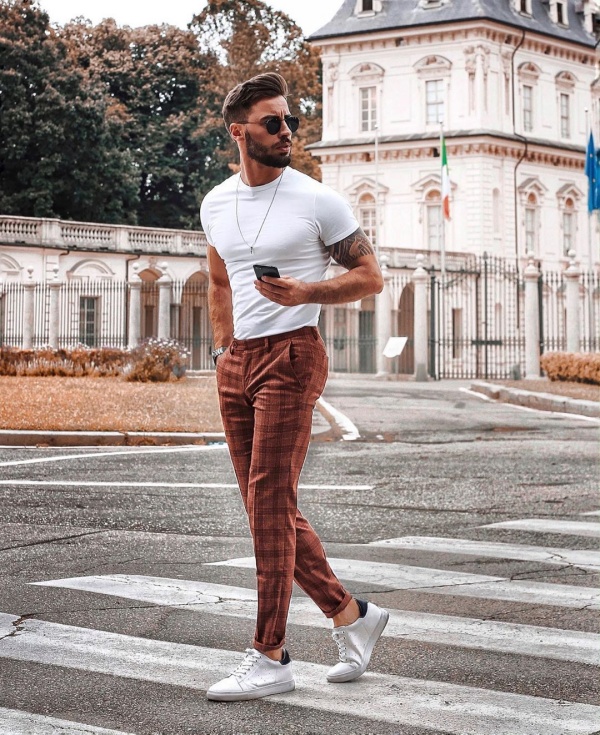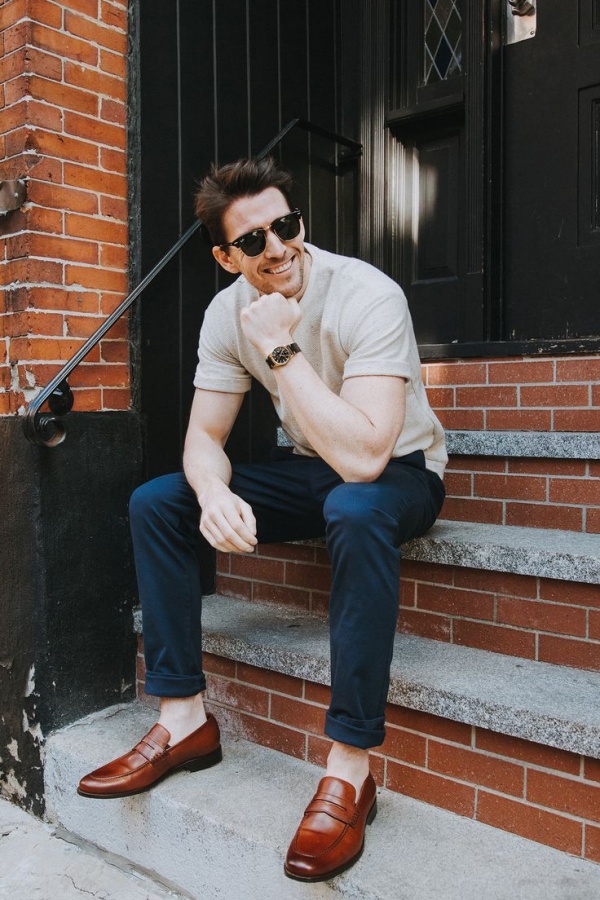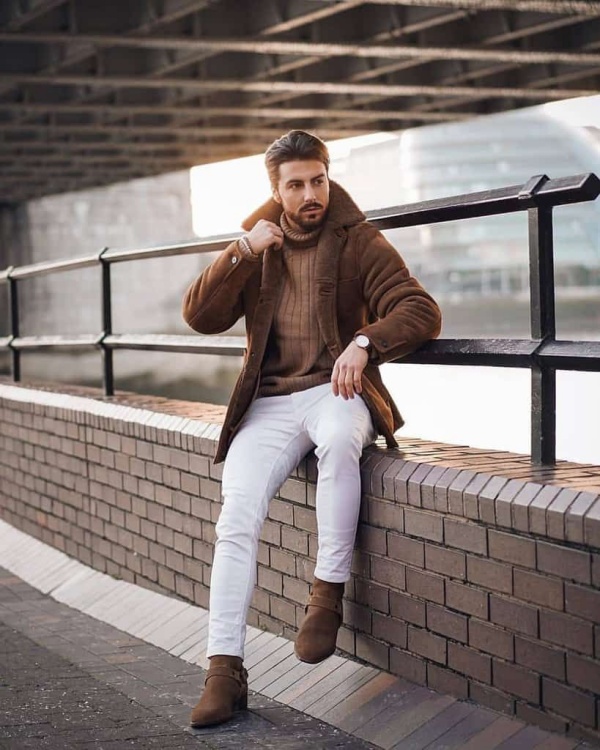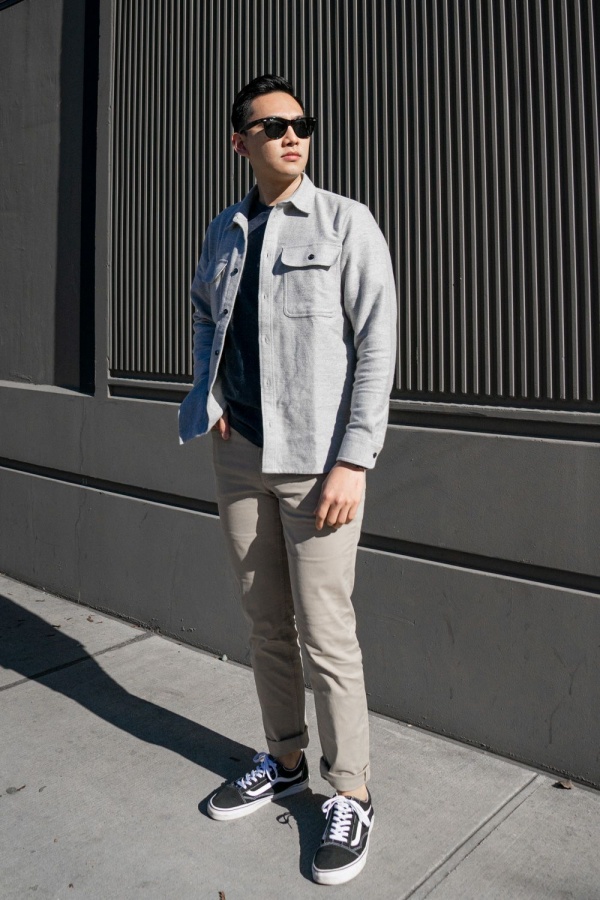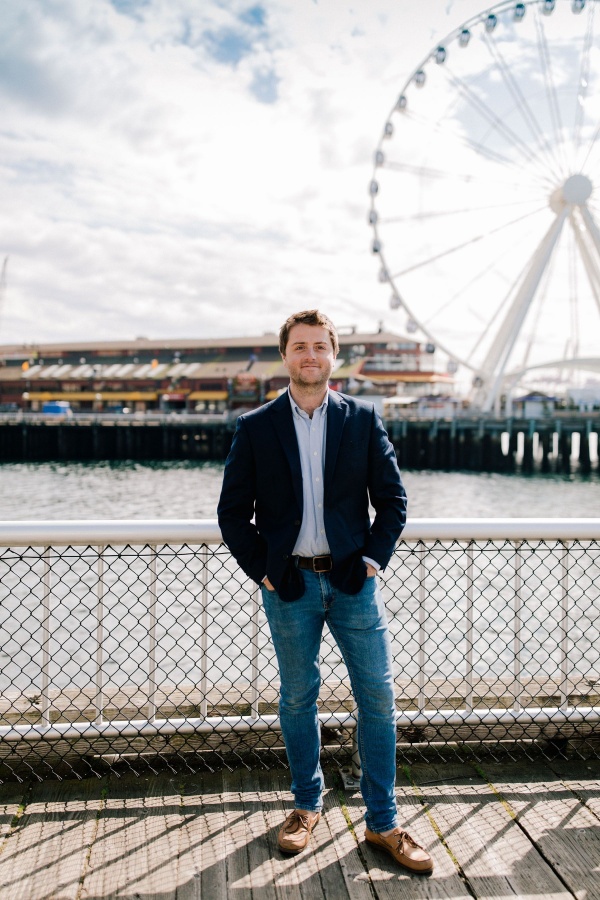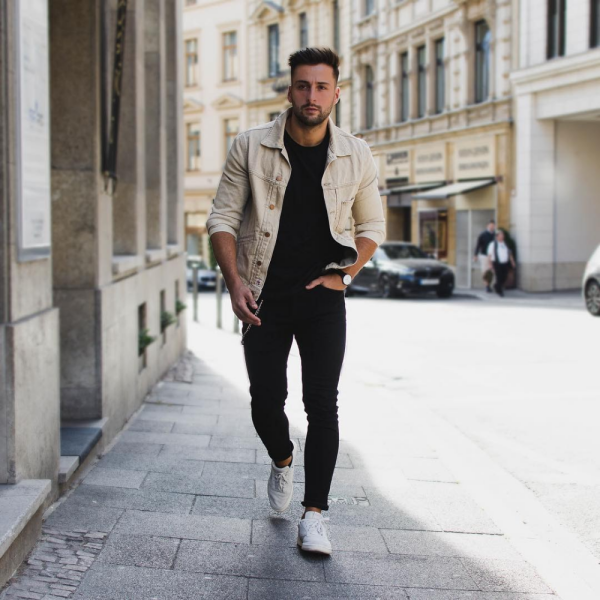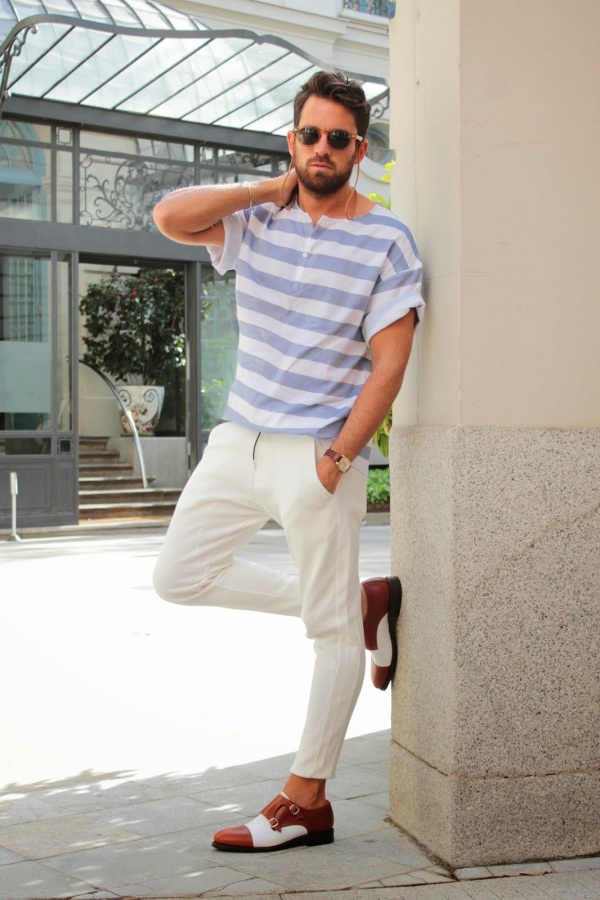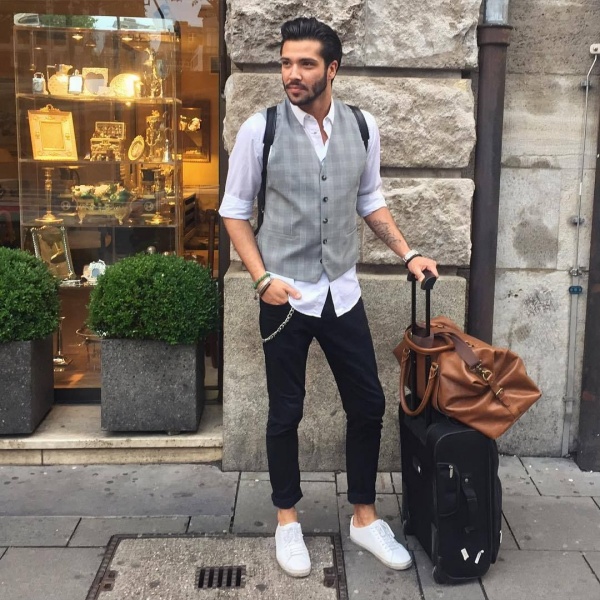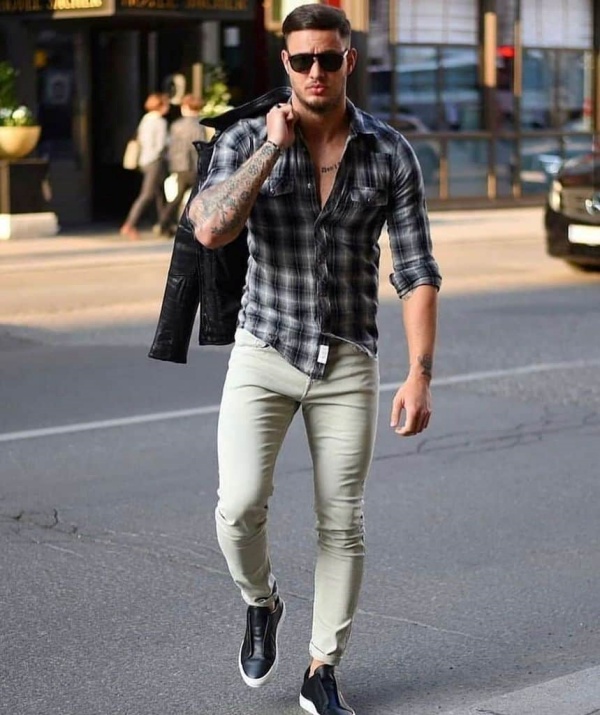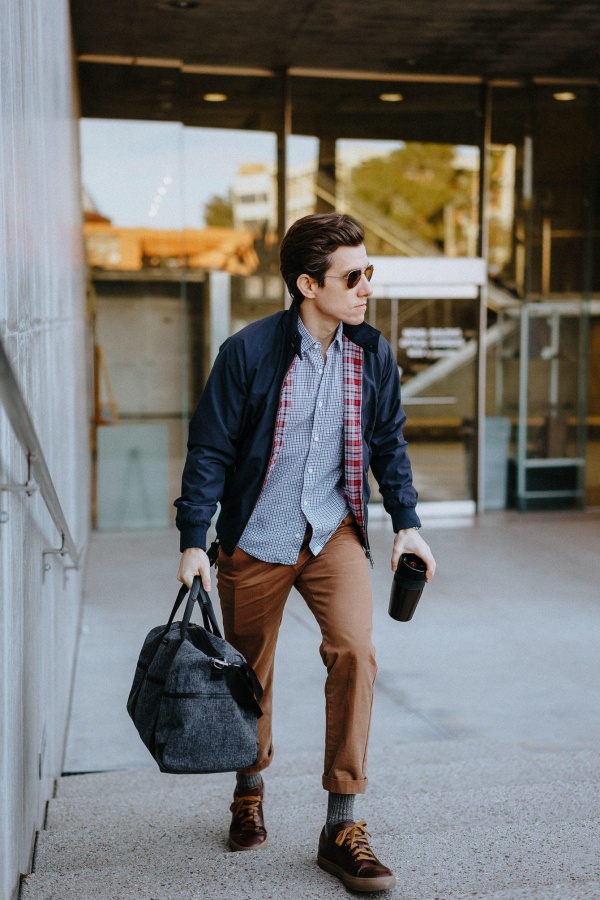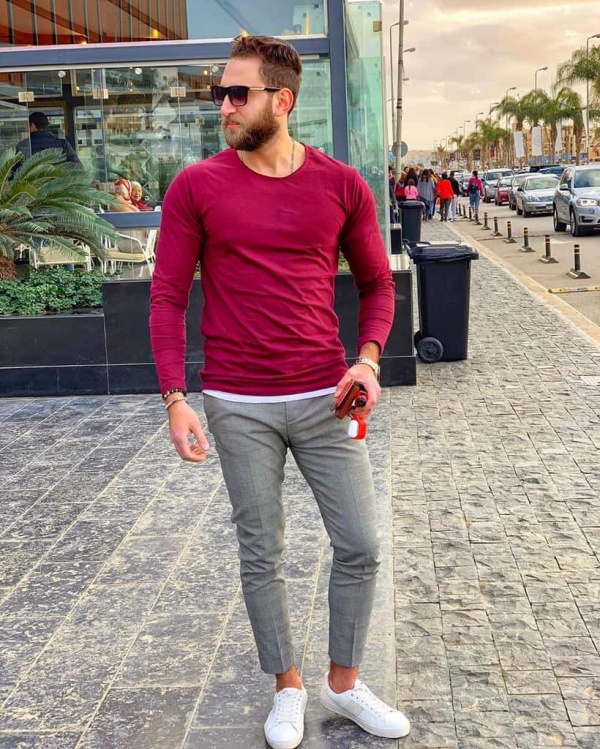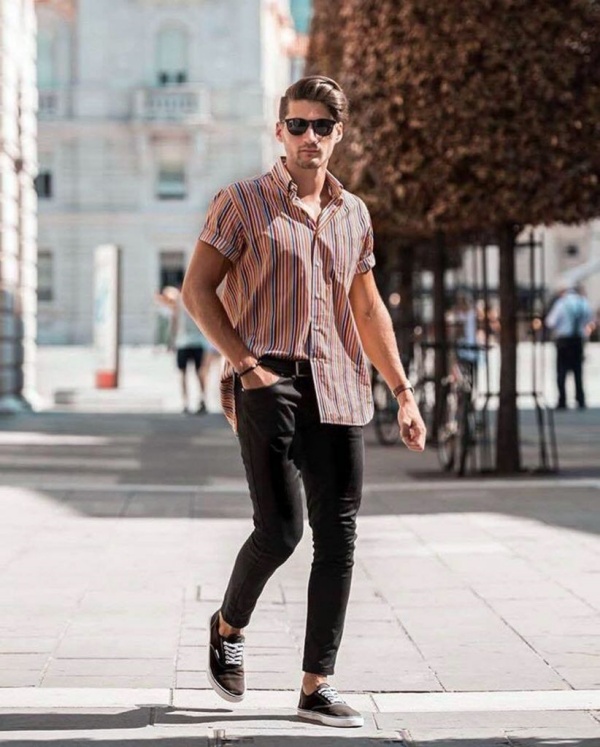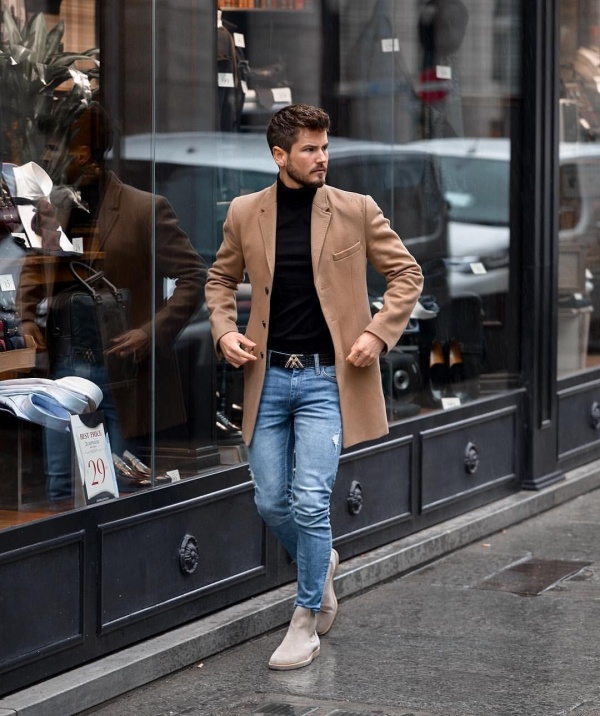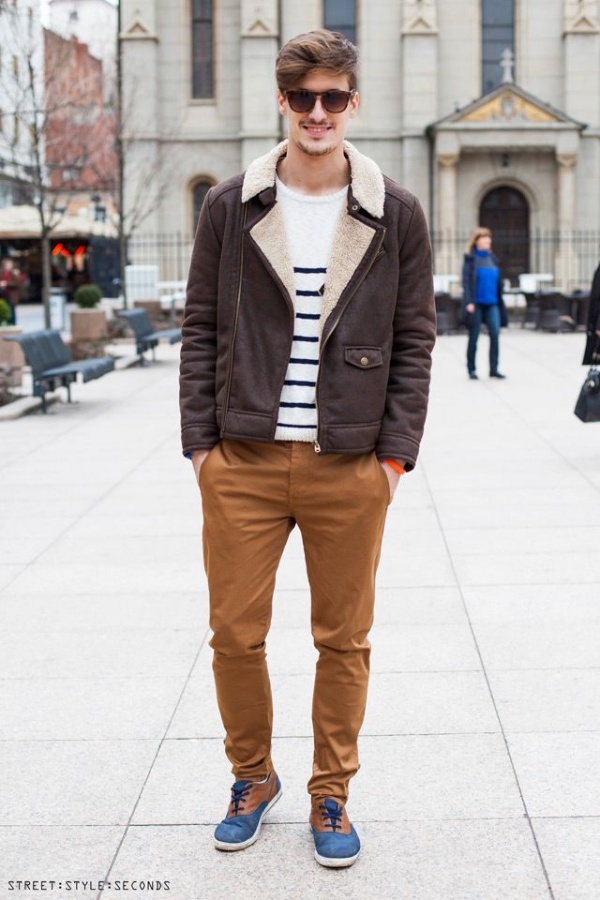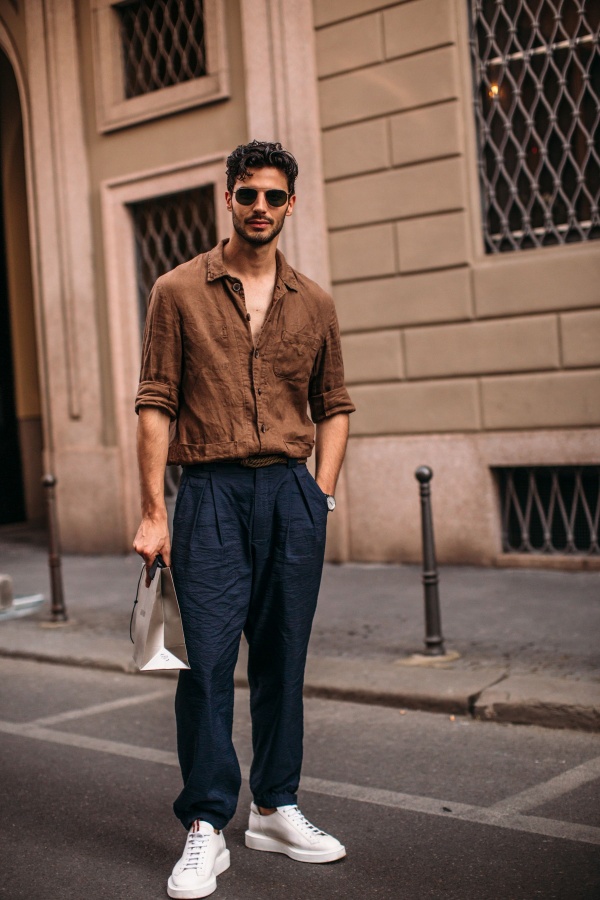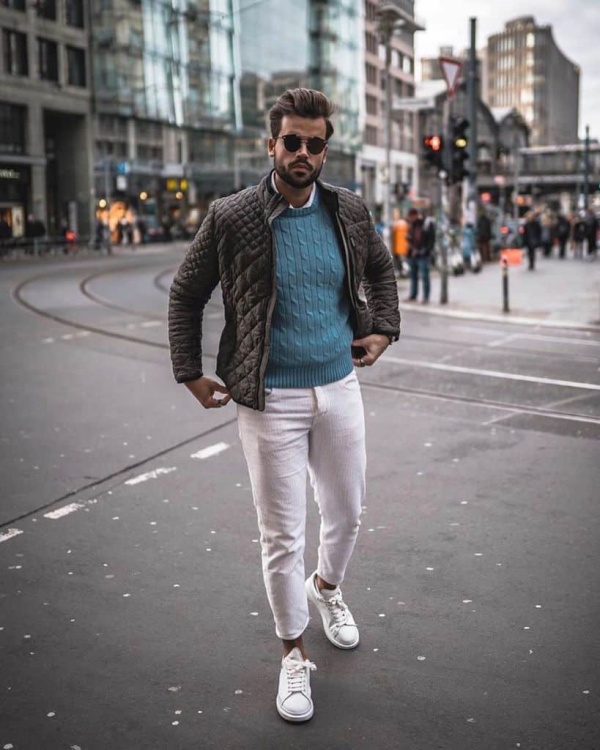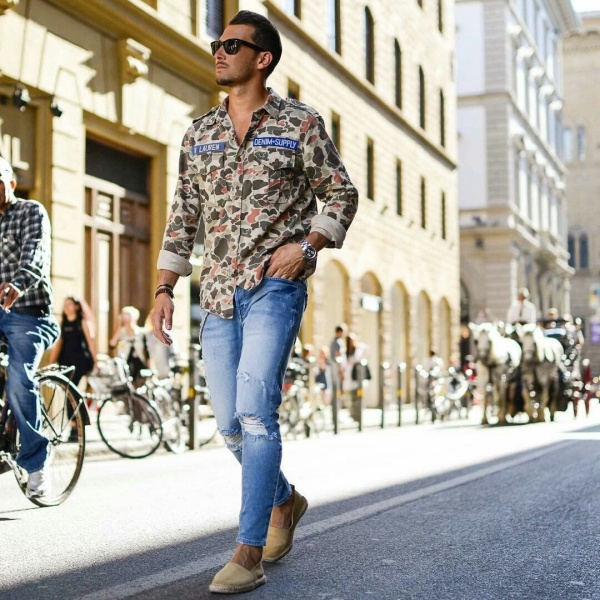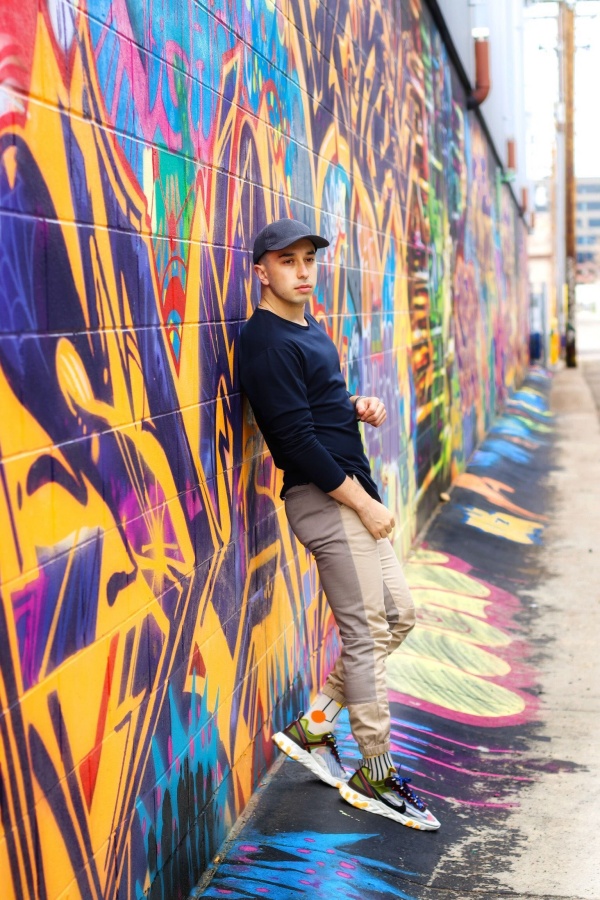 Conclusion
So, you can choose to stay casual or go all stylish this spring season. With all the men's spring outfits options available, styling oneself has become extremely easy while making it possible to stay cozy and smart. Keep your look enhanced and try out different and new outfits this spring season, balancing all your comfort and style together.
You may also like: