What's the first thing to notice in a man? His styling sense, suave look, killer attitude, glaring smile, and of course, his choice of clothes. Did I miss out on anything? Perhaps, no. While we emphasize the choice of clothing, there is a certain kind of attire that deserves mention. Contemporary men have found their love in a double-breasted suit, that has marked quite a strong fashion revival. Men might have restrained from the thought of wearing one, not knowing the art of how to wear a double-breasted suit. However, they are back with a bang, and better than before, with wrapped-around couture, and adding certain bits of exaggerating features.
If perceiving the thought of how to wear a double-breasted suit, then here's a bit of advice from the style guides. Double-breasted suits look best when donned by short men as they make the legs look elongated. On that note, we have our thought for the day. Check out the section below for the most stylish double-breasted suits for men. But prior to that, don't you want to know more about a double-breasted suit? I am sure, you do.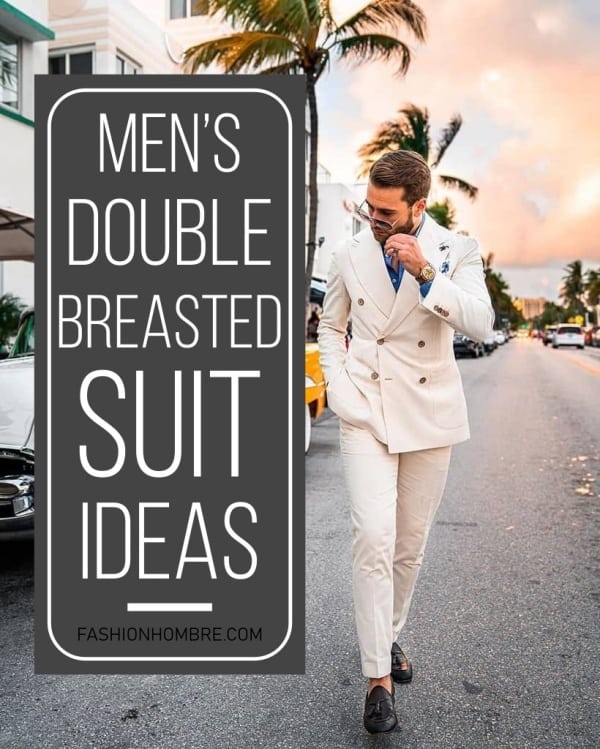 What Is a Double Breasted Suit?
A double-breasted suit is a vest shaped garment that has wide, overlapping front flaps on its either side and two symmetrical columns of buttons on the front. This garment is supposed to be one of the most flattering items that men would love to promote. They help to broaden the shoulders, by tucking in the belly. It gives a proper shape to the entire body, thus making it a favorite style statement for the leaner men.
Some would prefer to call the double-breasted suits somewhat extravagant, with pretentious and showing-off vibes. However, this is a particular aspect that also makes it relevant in this confident era of menswear. It's might be too classy to term as a trend, but the fact remains that the double-breasted suits have been a part of the fashion street, and has always been a solid move.
Now, what's next? Get hooked on to the section below and have a quick revamp of your style statement.
Stylish Men's Double Breasted Suit Outfits
1. Navy Blue Double Breasted Suit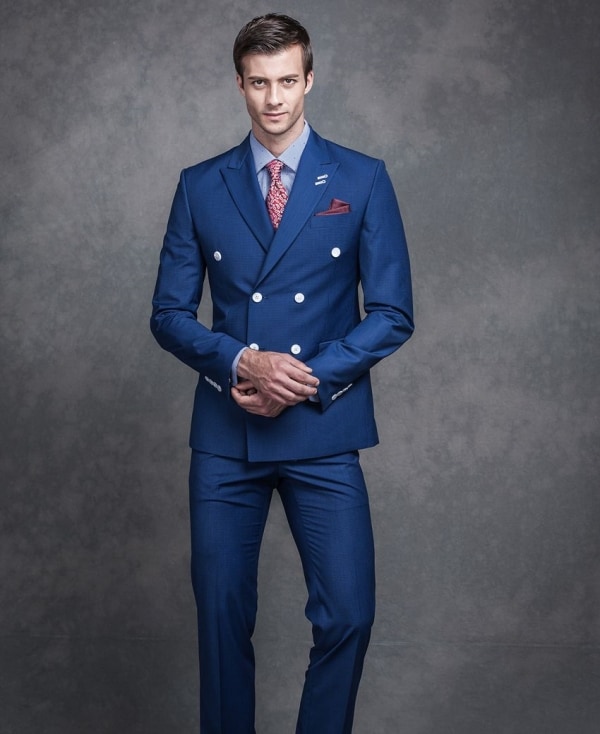 Image Source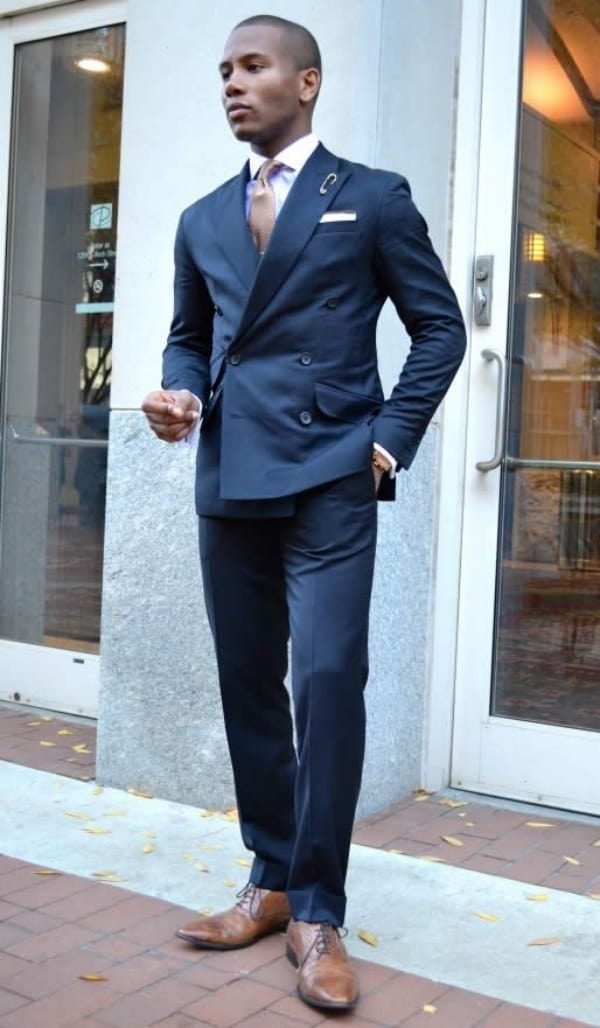 Image Source
Men can't thank enough the color blue for striking the right chord in the fashion arena. Talking of the perfect style statement, let's discuss a bit about the smart and casual pairing. Let's say, you want the appropriate pairing that's fit to wear in any situation. Here, we have a pair of navy blue double-breasted suit, and white jeans. How about a twist in the look? Team up the attire with a pair of navy leather derby shoes that would effortlessly boost up the classy factor of your look. To channel your inner fashion quotient differently, a navy blue double-breasted suit works well with the grey cargo pants.
2. Double Breasted Suit With Turtleneck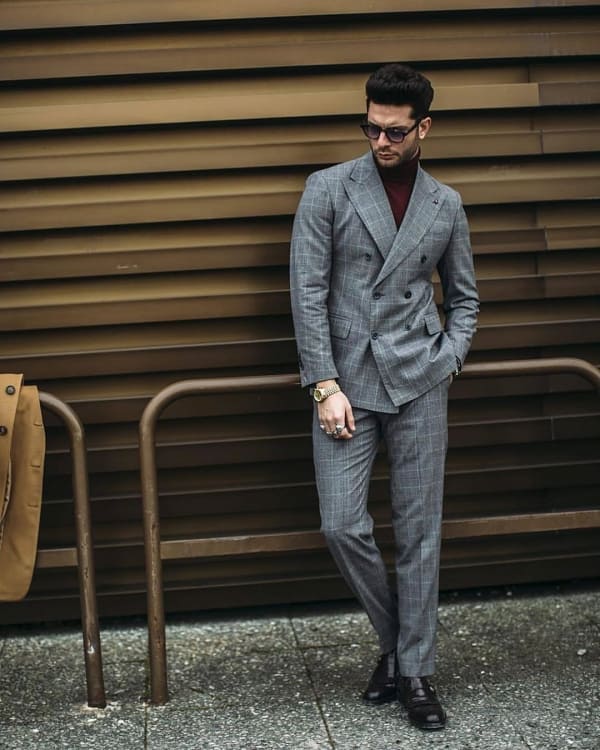 Image Source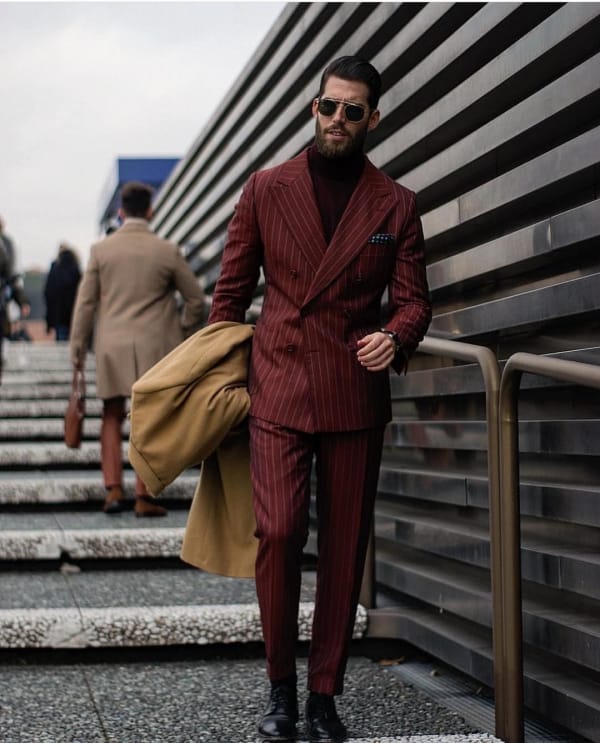 Image Source
Here, we have a debate coming up. While some men might find the turtleneck intimidating, others might attach the turtleneck style with a casual sense of sophistication and elegance. If you are seeking how to wear a double-breasted suit with a twist, then the turtleneck is the best option. Whether you combine a turtleneck with a pair of jeans, a suit, or a blazer, the tinge of refinement and finesse remains unaltered.
Smart-casual is the dignified way to term the combination of a double-breasted suit with a turtleneck. If planning to place a turtleneck under the blazer, try to opt for monochrome designs, and let the suit's design do the talking.
3. Grey Double Breasted Suit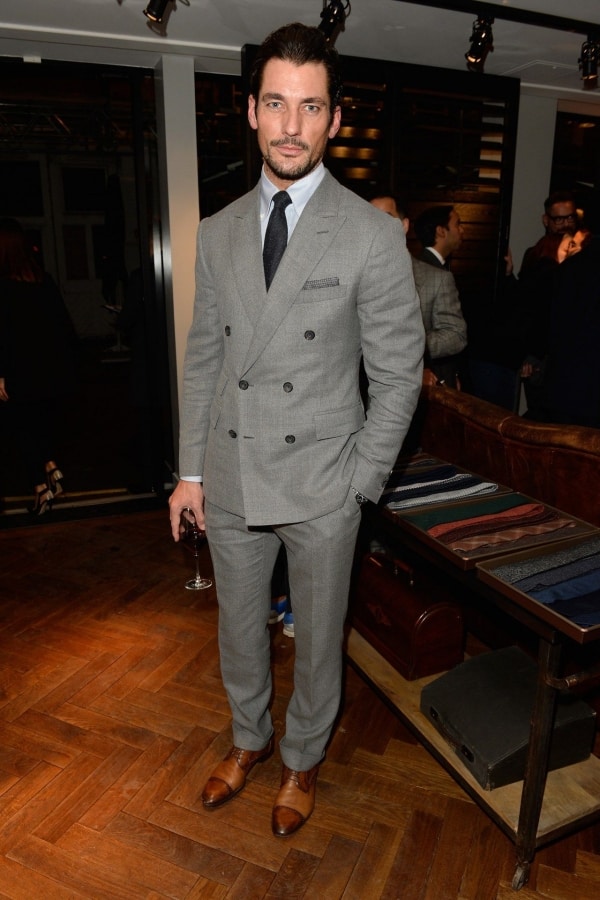 Image Source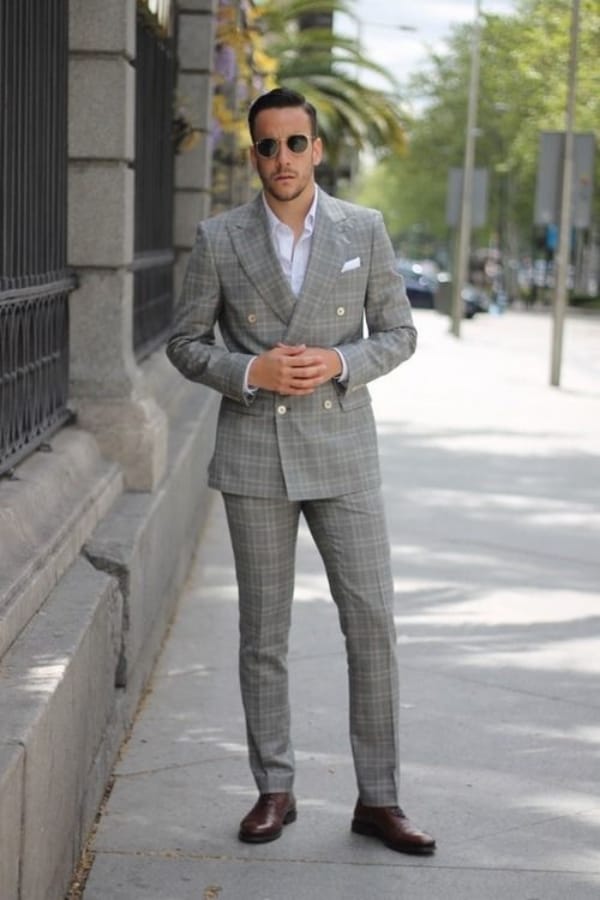 Image Source
Be the show-stealer even while donning the formals. Want to know how? Here, we have the combo of a grey double-breasted suit with a pair of navy jeans. They strike an interesting balance between formal and casual. Besides, they are also the most iconic and irreplaceable style that the British people have adopted for winter styling.
But, is that all? Well, you have the option to slay in style with a trendy pair of brown leather oxford shoes. That's the best way to add a tinge of sophistication to the get-up. What's next? A pair of shades, and a killer attitude to complement the entire package.
4. Double Breasted Suit With Bow Tie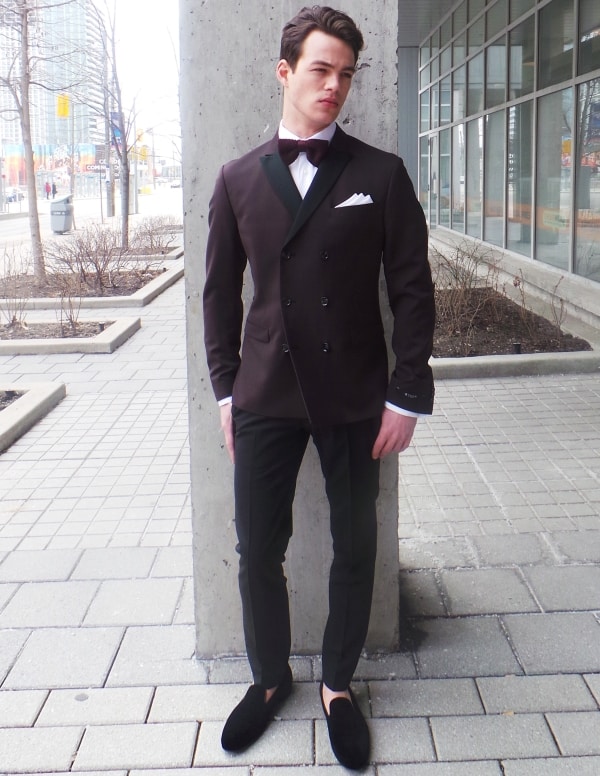 Image Source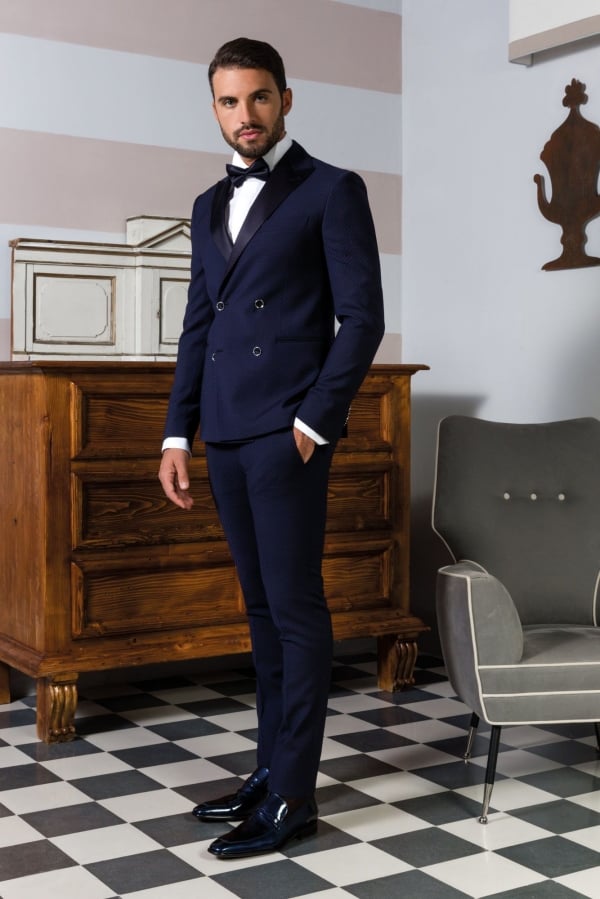 Image Source
Want to avoid a fashion blunder? Never wear a double-breasted suit minus a bow tie. If you are in doubt about how to wear a double-breasted suit with a bow tie, then the answer remains with much ease and sophistication. Talking of versatility, the bow ties would always score a point more than the traditional neckties. However, before anything else, you need to familiarize yourself with the basics. This would help you to look good while donning the pair of a suit with a bow tie.
Remember to get the fitting right, and don't go overboard with the bow tie, as it would destroy the entire beauty of the show.
5. Light Blue Double Breasted Suit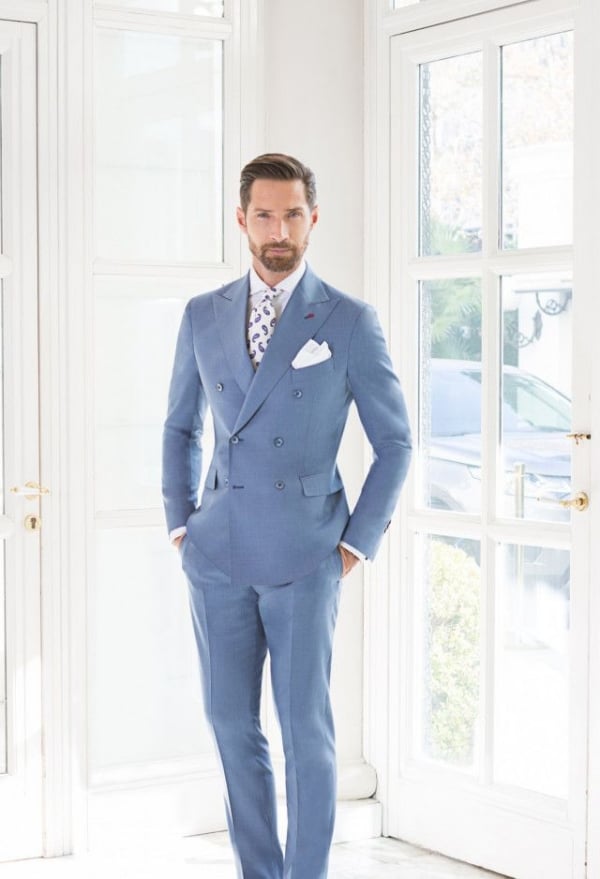 Image Source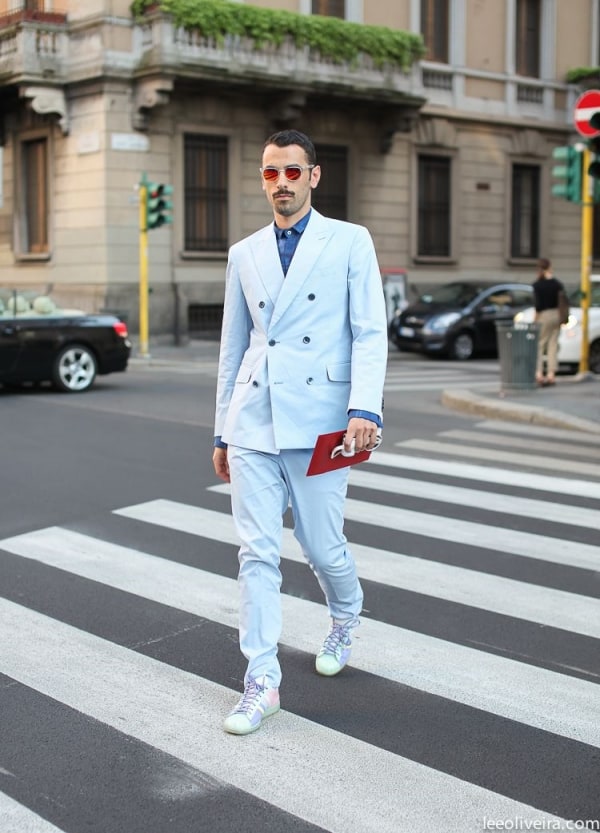 Image Source
We have already discussed the significance of blue for men's style of dressing. Here we go a shade lighter to discuss the light blue double-breasted suits. They would make you look sultry than the warm Indian summers. The attire makes sense if you wear it for formal biz-meets, casual dinners, sizzling prom nights, or the perfect date. They make you look slim-fit, while you slay on the style.
However, here are a few designer tips before we start with the styling quotient. Make sure you choose the cut well, along with the design of the suit, and the shade that suits the skin tone.
6. White Double Breasted Suit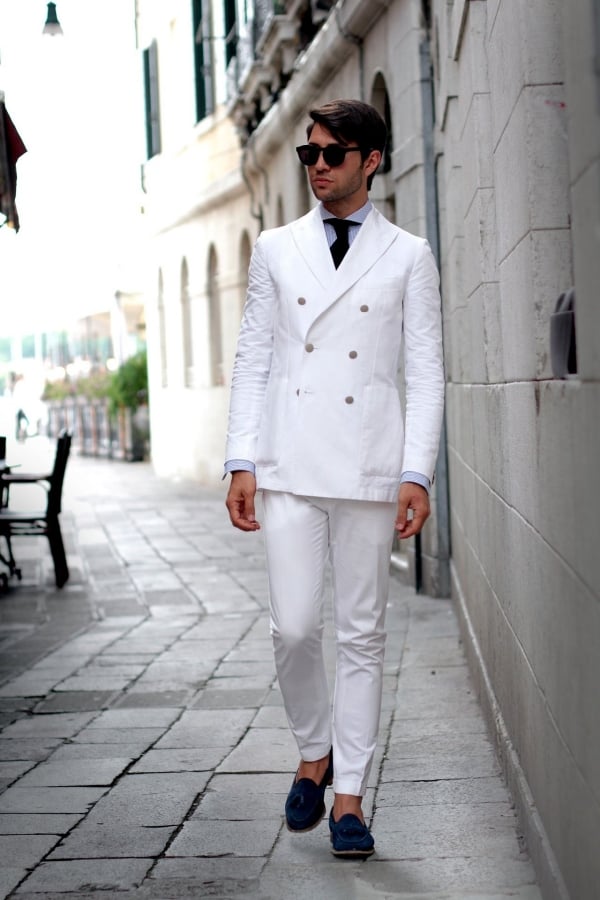 Image Source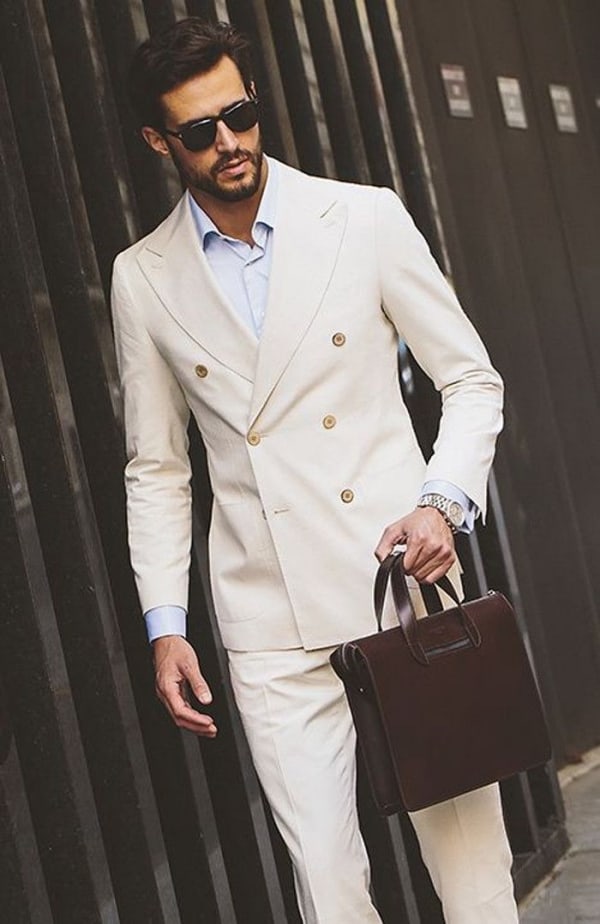 Image Source
White stands for serenity and sophistication and has a fanbase at a different level altogether. So, any style statement in white is a visual treat for the eyes. Think of white color as an alternative while planning how to wear a double-breasted suit. Here, you have the alternative to customize your styling by selecting a full white double-breasted suit, that speaks of elegance mixed with style.
If you are a fan of old-school styling white is the color for you. Just remember Pierce Brosnan or Richard Gere. Need we say more? Champion the white color, and pair it up with a pair of brown loafers.
7. Double Breasted Blazer with Jeans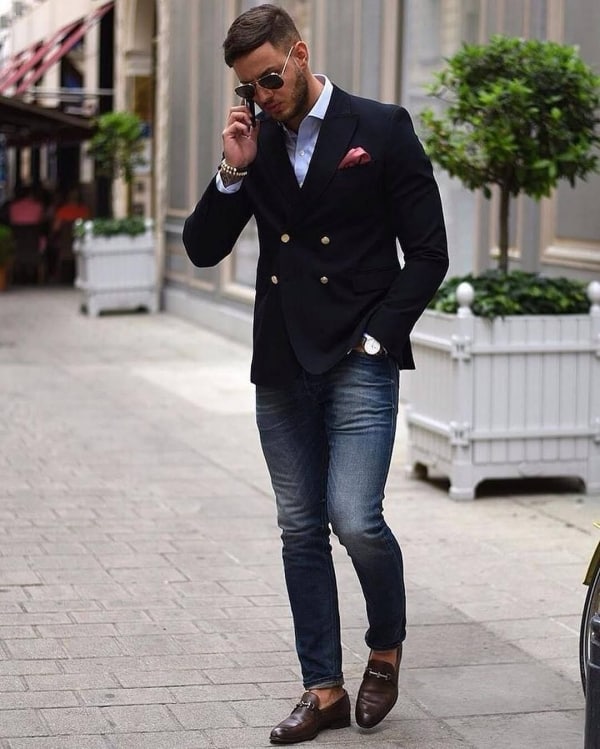 Image Source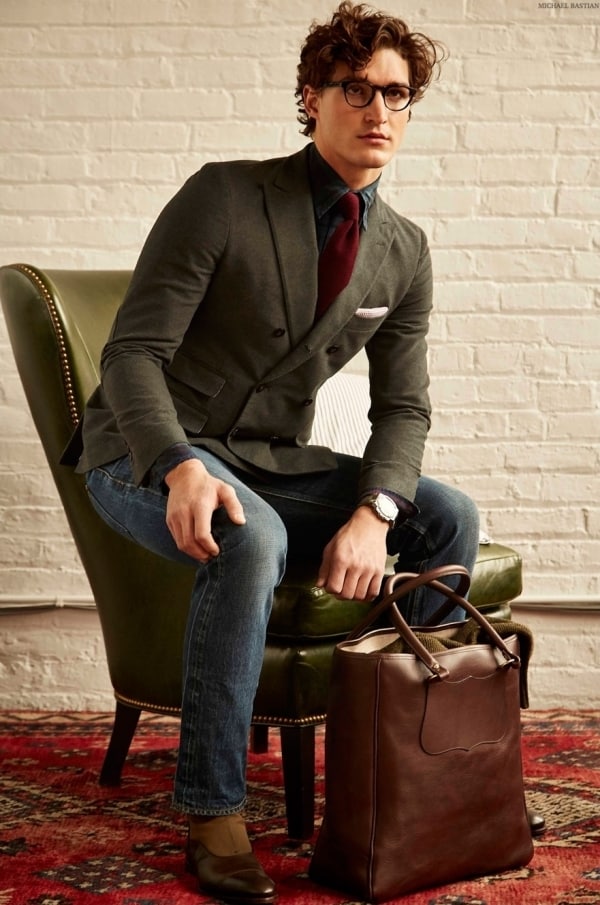 Image Source
Pairing up a blazer with jeans is the best way to combine classy wear with a casual tinge. Thinking of a casual style, choose the light blue jeans, or faded styles with a straight-leg cut. Almost all the blazers work well with blue jeans, however, a rule of thumb states that it is best to avoid navy blue.
Another fashion tip states to place the sleeves around the wrist level. Besides, let the blazer's shoulders align with your shoulders appropriately. Further, just make sure that you aren't choosing a loose-fitting, or whether your blazer is too tight. Think of streamlined, youthful tailoring.
8. Black Double Breasted Suit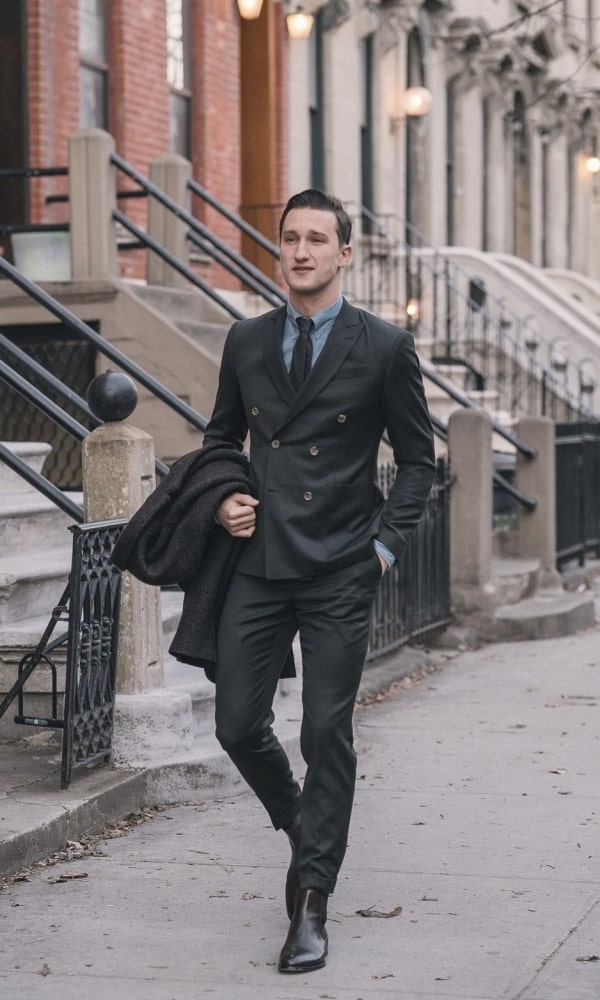 Image Source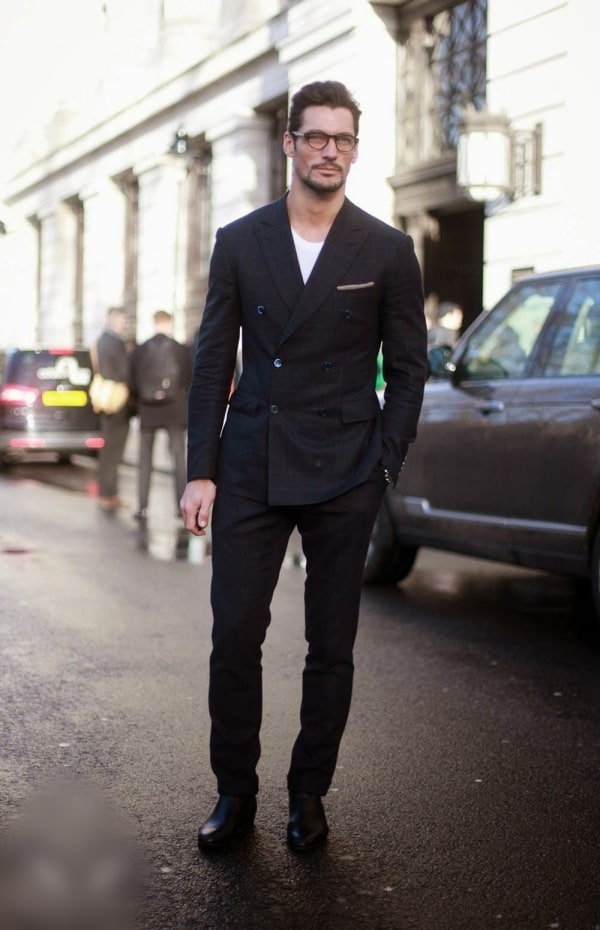 Image Source
Black is the edgiest color while planning how to wear a double-breasted suit. Apart from the flattering style statement, think of slimming down your body with a black double-breasted suit. The style is classy, contemporary along with the much-needed killer attitude.
To look out of the world, the large trousers paired with the black double-breasted suits are the best way for experimentation. So, what's next? A little bit of showing off with the beautiful black won't cost much. Rock the look with much ease, and do not forget to change the display pictures. How many likes were you counting?
9. Double Breasted Suit With White Pants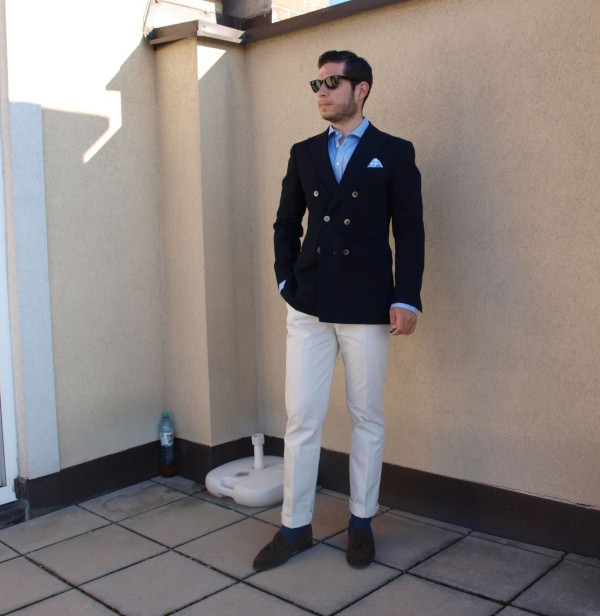 Image Source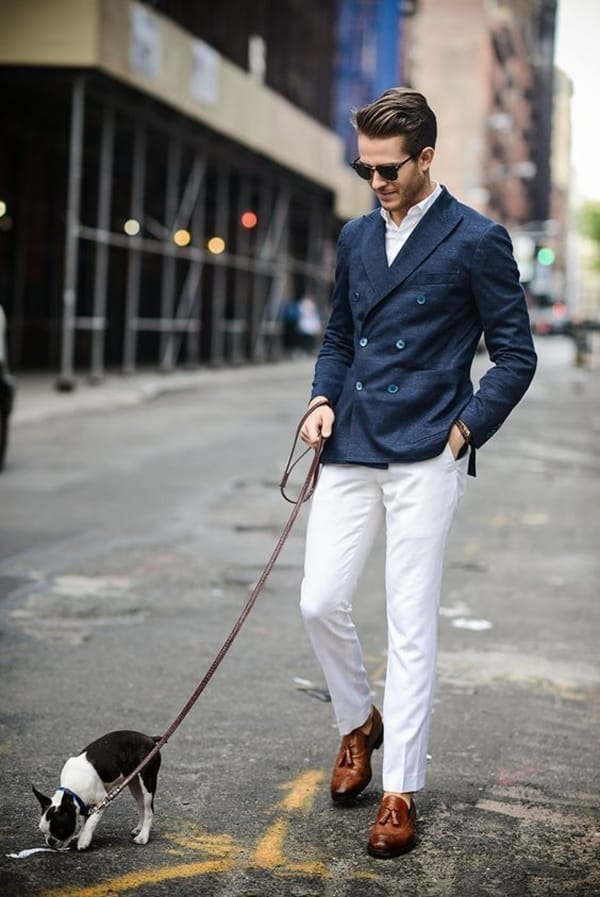 Image Source
Men would love to term the style as navy wear. This is a sharp, clean look for the summer heat. For better enhancement, a white collared shirt in crisp cotton material serves as the perfect base. Here, the royal blue jacket works well to nail the suave look.
Here, let's deal with the accessories. Pair this up with a knit tie, and white dial slim watch with a navy, or white canvas strap. As for the material of the suit, choose a grainy linen-silk blend, contrasting with the white buttons. Also, you can't afford to forget the suede loafers. Now, imagine the entire look. Wasn't that sexy, AF?
10. Double Breasted Pinstripe Suit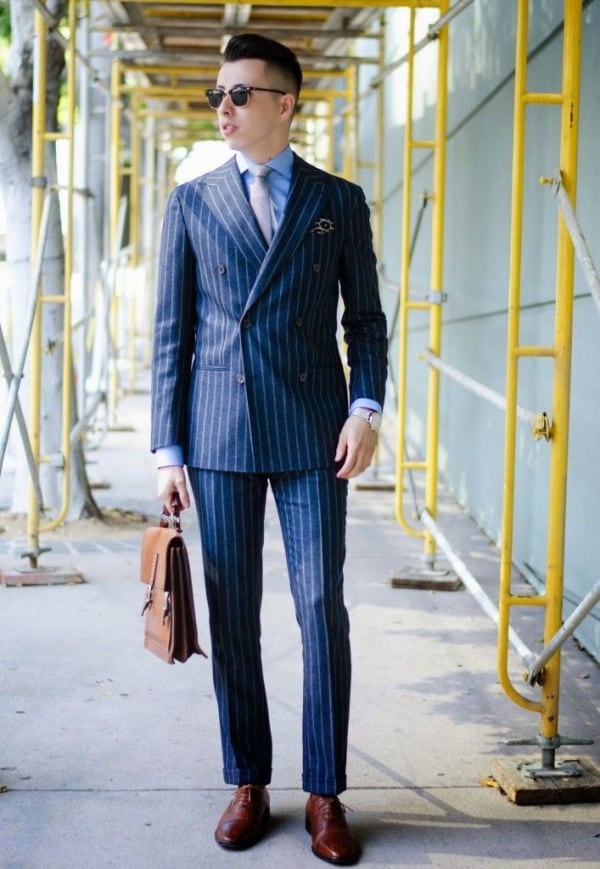 Image Source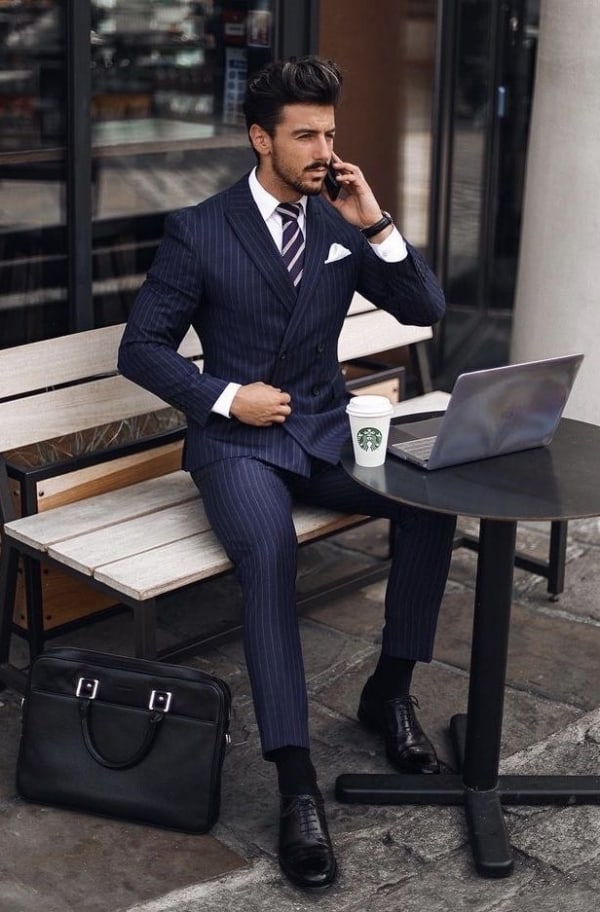 Image Source
Pinstripe suits were never out of fashion. Besides, the contemporary designers have churned out the traditional tailoring, and have sorted out the pinstripes like any other pattern. For instance, while thinking of how to wear a double-breasted suit, you can always place an option in wearing pinstripe trousers with a casual t-shirt.
Here, we also have the accessories. Let's say pairing up black or deep burgundy shoes with the charcoal grey Suits. Think of getting away with dark brown shoes. Try to avoid tan or light orange color shoes. For a casual and relaxed outfit, try on opting for dark green or navy colored clothing.
11. Double Breasted Suit With Vest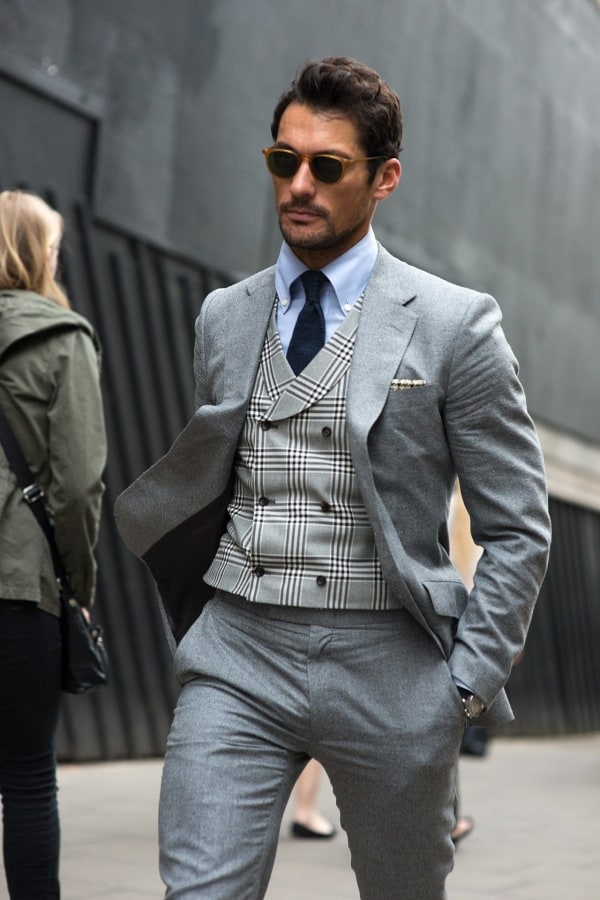 Image Source
Even if you perceive the style to be a bit old fashioned, donning a double-breasted suit with a vest is much in the contemporary scene. Thinking of a unique style statement, the warmth that is produced with the conglomeration of jacket and waistcoat wrapped across the front makes it look more enhanced.
Talking of the vest, it should get properly fitted, but not so much tight that the buttons would pull out. The vest should also be long enough that would hit about an inch below the trouser waistband. The motive remains that no dress shirt should be shown between the two garments.
12. Brown Double Breasted Suit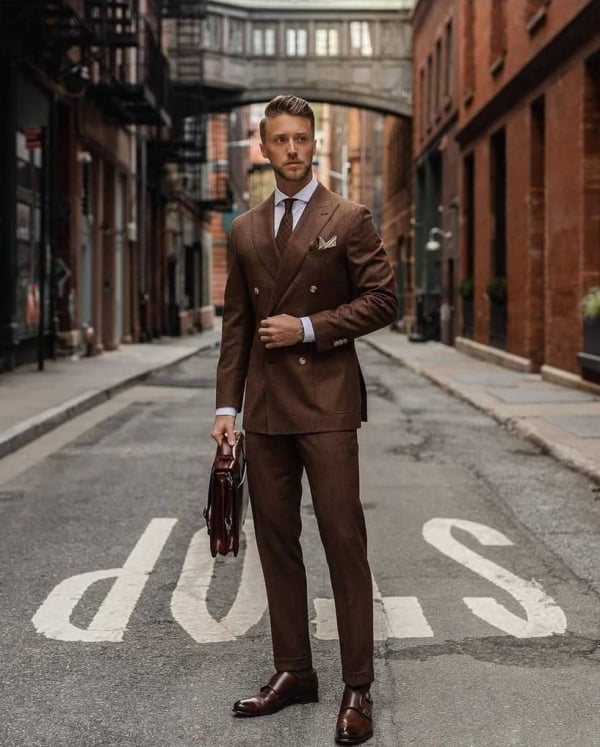 Image Source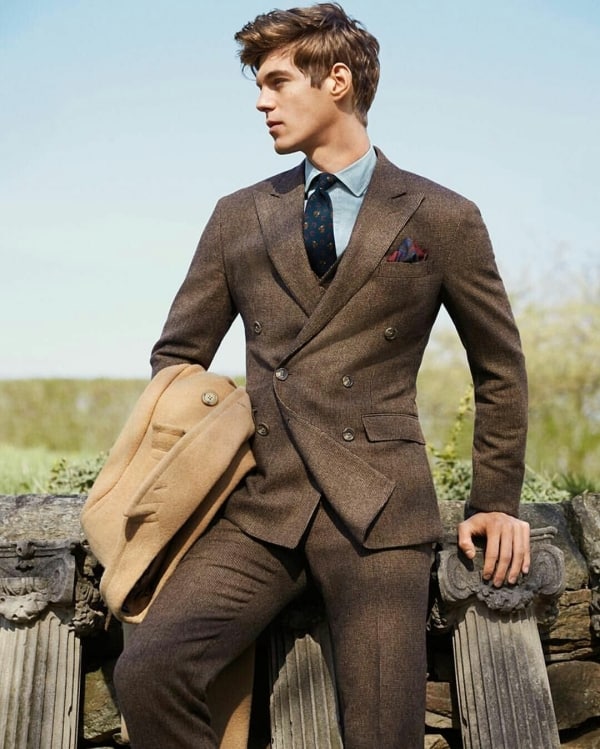 Image Source
Here, let's deal with the formal tone while discussing how to wear a double-breasted suit. A full brown suit with brown pants is the way to seal a bold and formal style. Besides, if you are in love with the classic colors and want the love to get reflected on every aspect of the style, there is no other alternative than the full brown double-breasted suit. Rock the look in all your presentations, and you are welcome.
13. Double Breasted Blazer With Chinos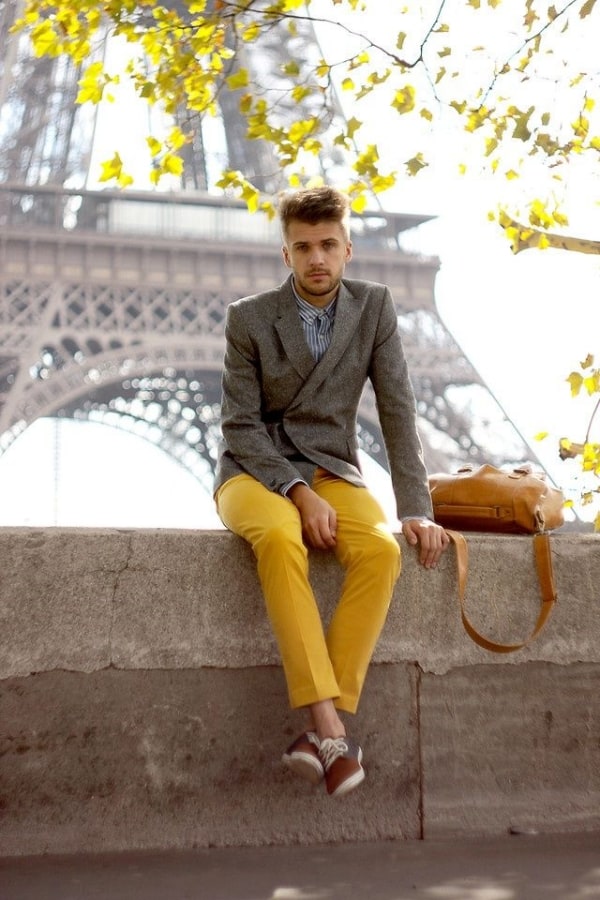 Image Source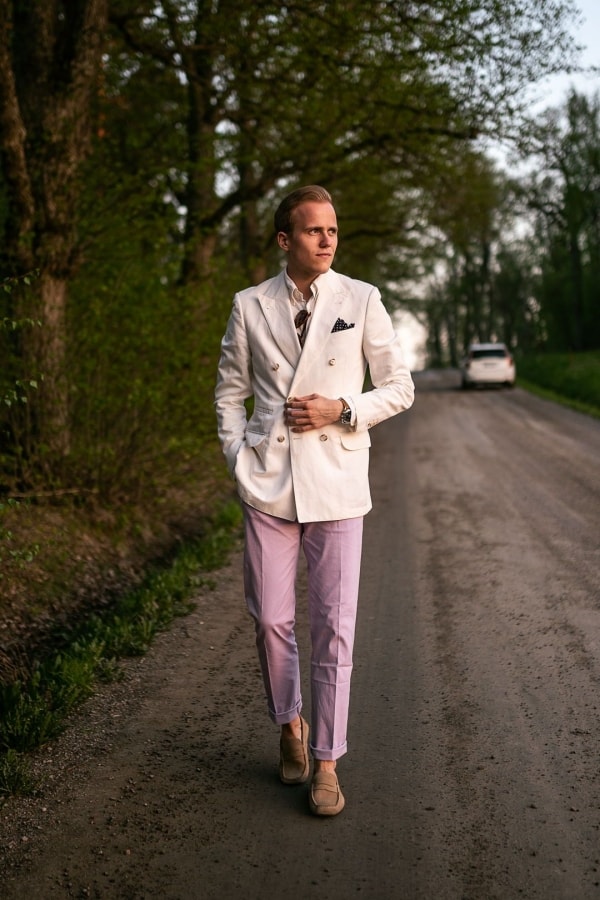 Image Source
Chinos are the latest entrant to the fashion scenario of men. While you might be a bit apprehensive about pairing the double-breasted blazer with the chinos, trust me, they look uniquely beautiful. For the best results, try the beige-colored chinos. They promote the cool and casual base for styling while keeping in mind the comfort quotient. So, think best, act smart, and slay the new style with ease and perfection.
14. Plaid Double Breasted Suit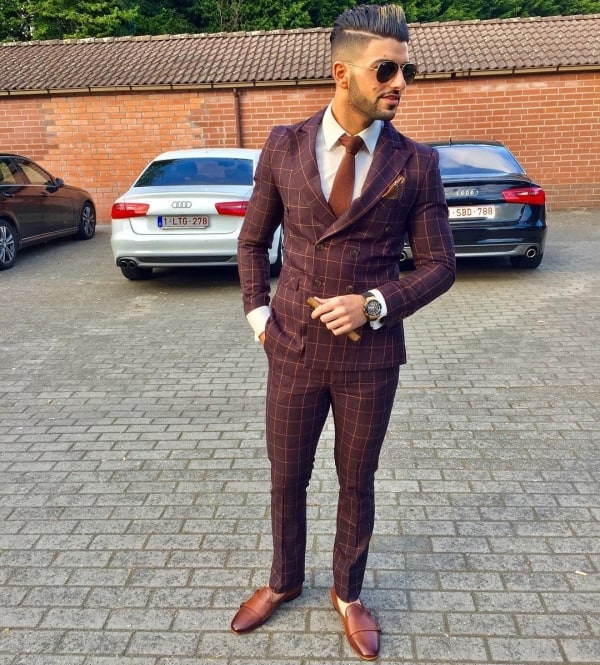 Image Source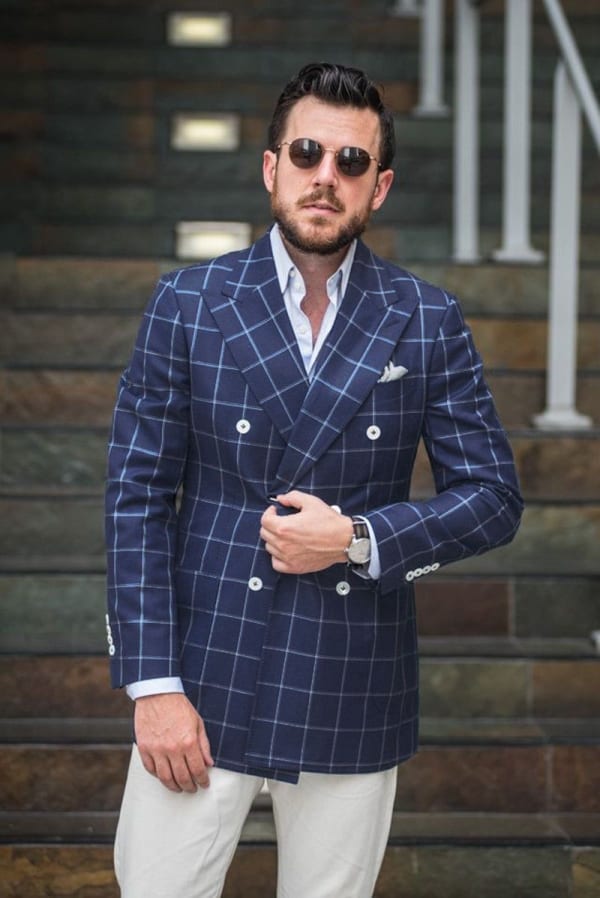 Image Source
This one would be a hit with the office-goers. A plaid double-breasted suit is nothing without a waistcoat. So, make sure to get one in light grey color. The plaid one is a modern and sophisticated touch retrieved for a classy look. So, what more do we need? A broadened smile, a larger-than-life attitude, and the confidence to win any game. Was that cool? Then go for this style today.
15. Green Double Breasted Suit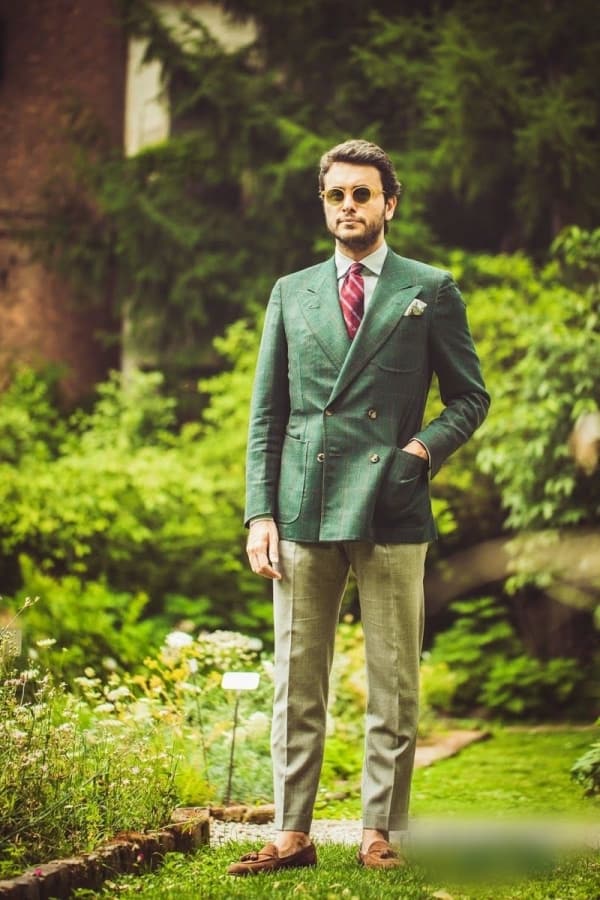 Image Source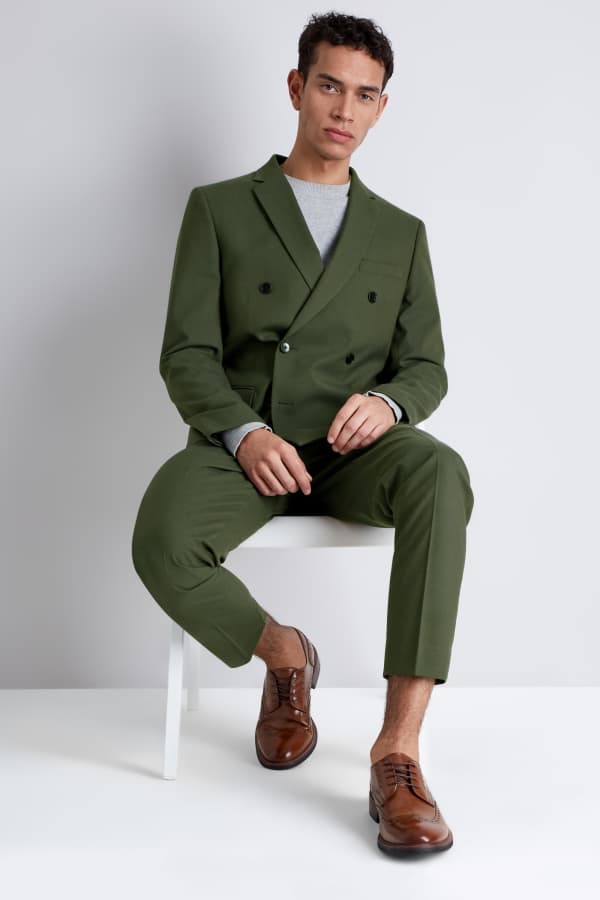 Image Source
This was something out of the league. A green, or olive-colored suit makes it easy to catch the attention. A powerful yet classy approach to style, green also makes you look slender. Try the double-breasted suit in green for any formal occasion or business dinner, and seal the deal with the unique title. They are sleek, stylish, and contemporary that men would love to flaunt.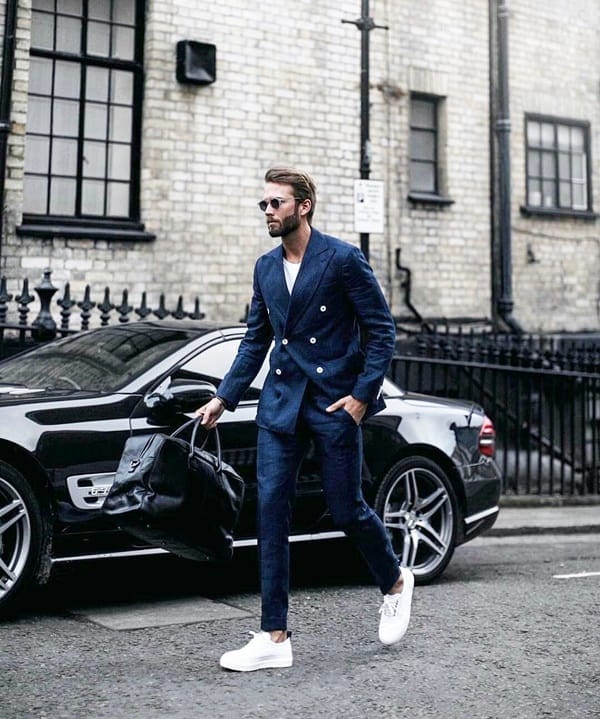 Image Source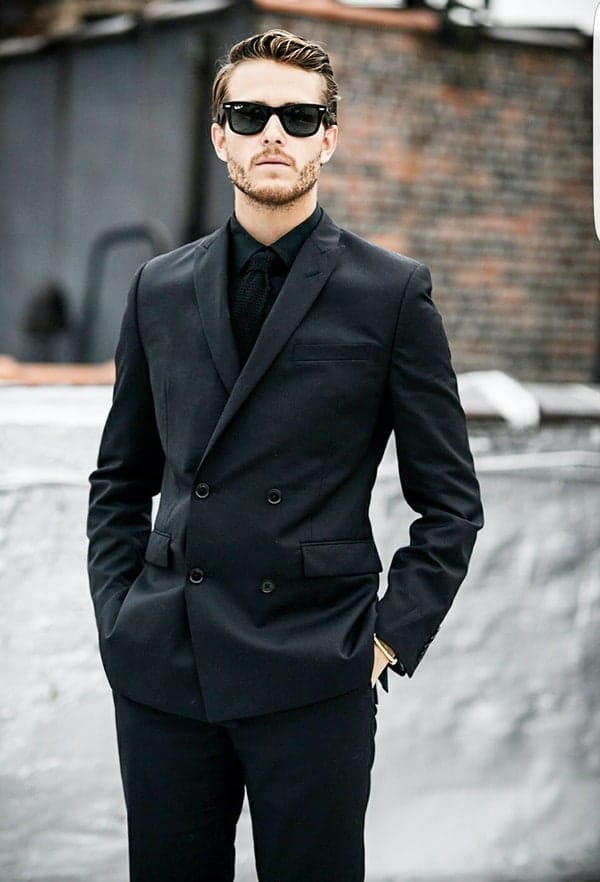 Image Source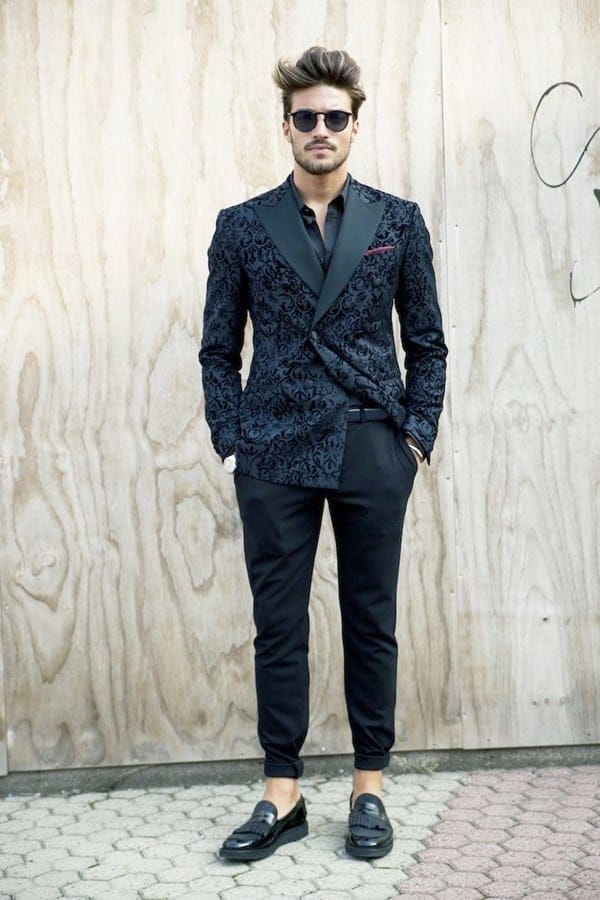 Image Source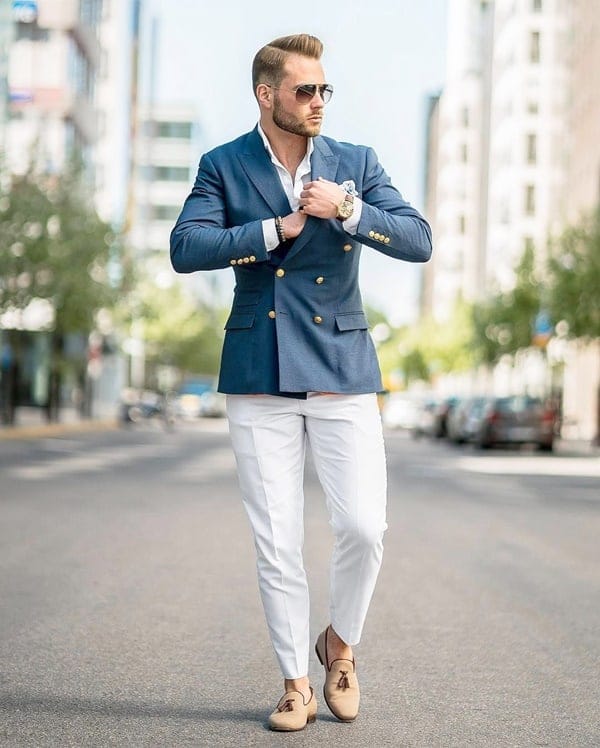 Image Source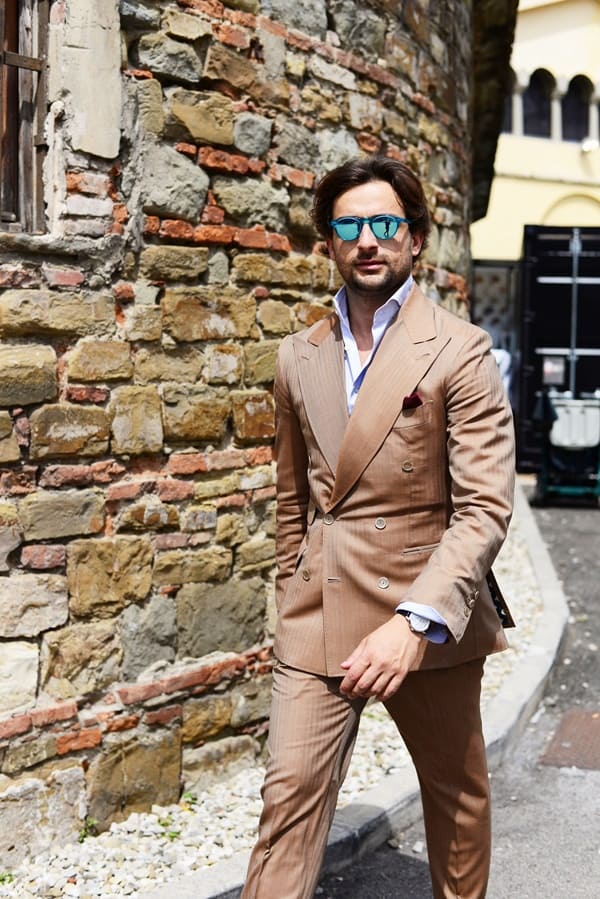 Image Source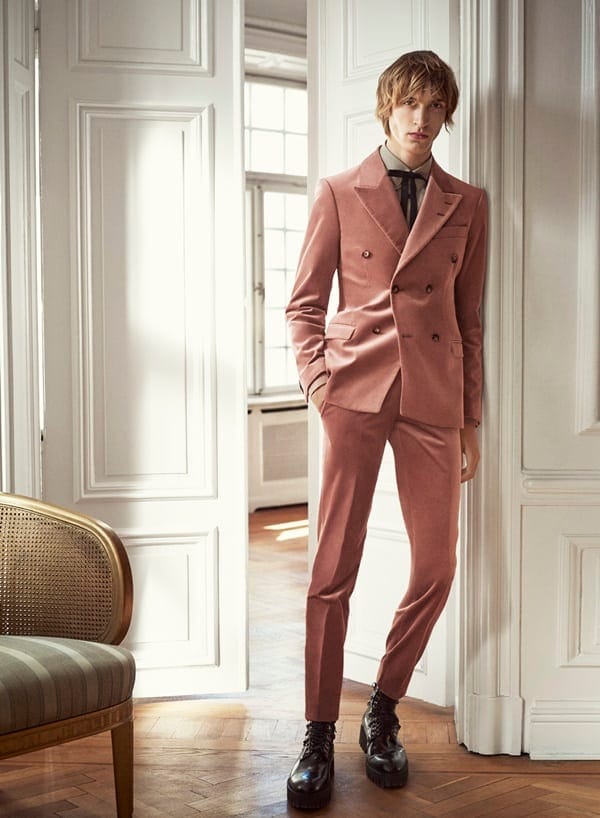 Image Source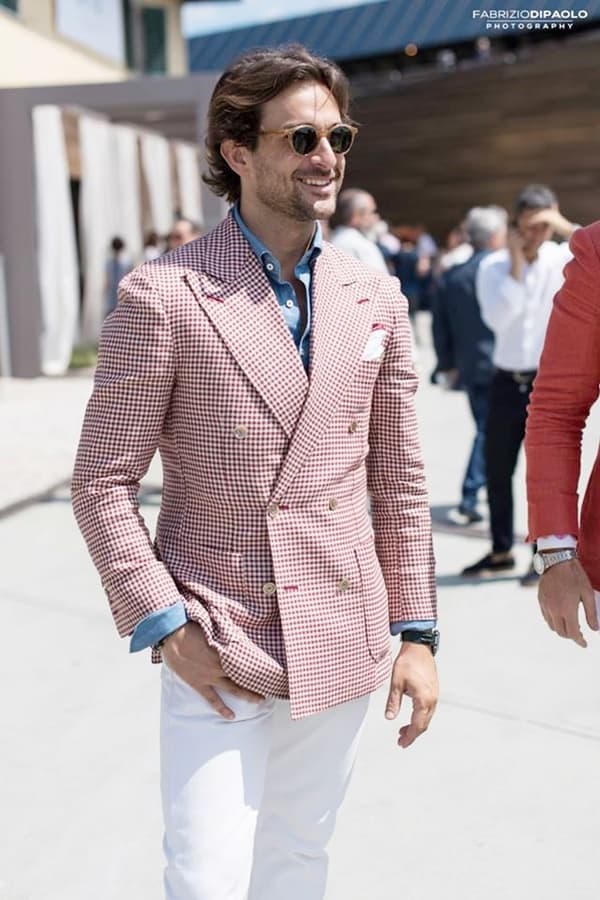 Image Source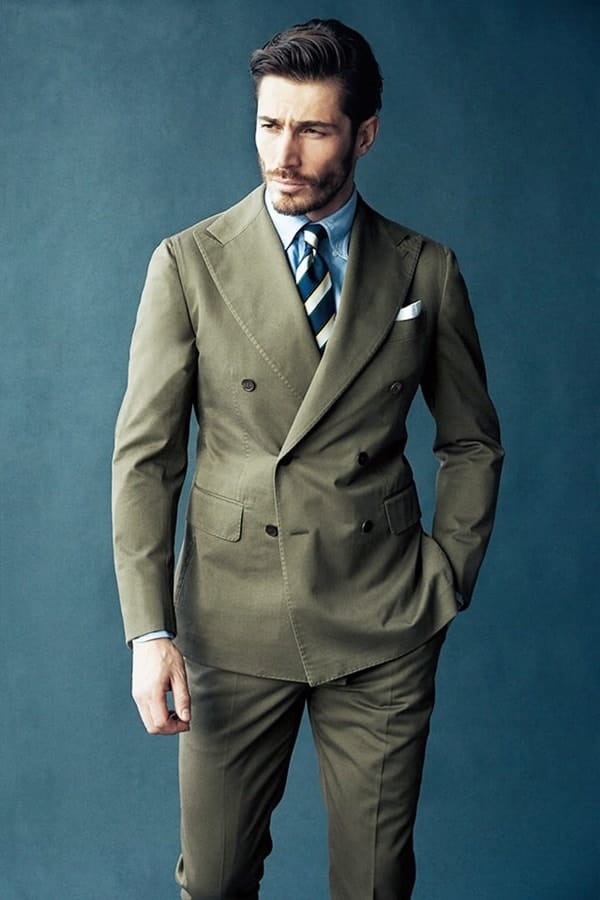 Image Source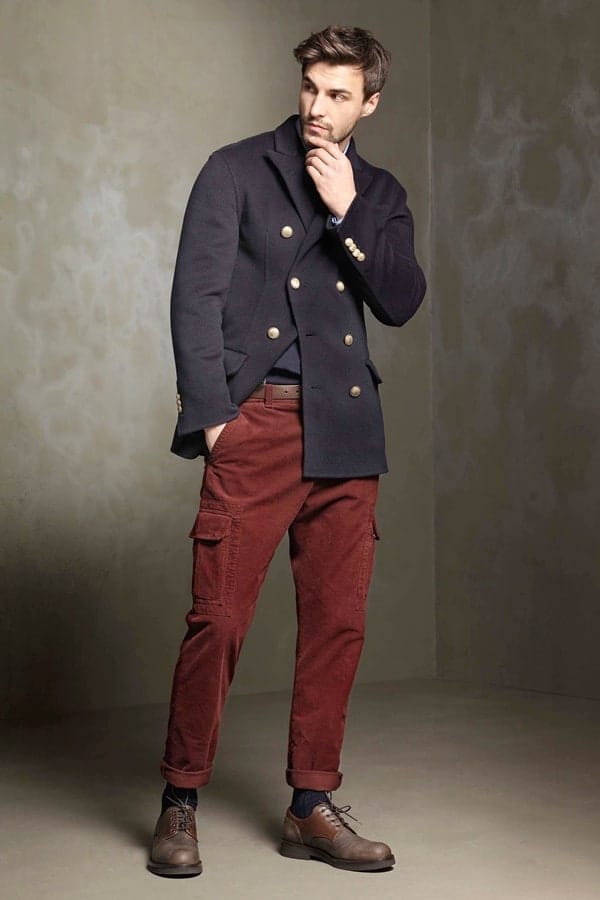 Image Source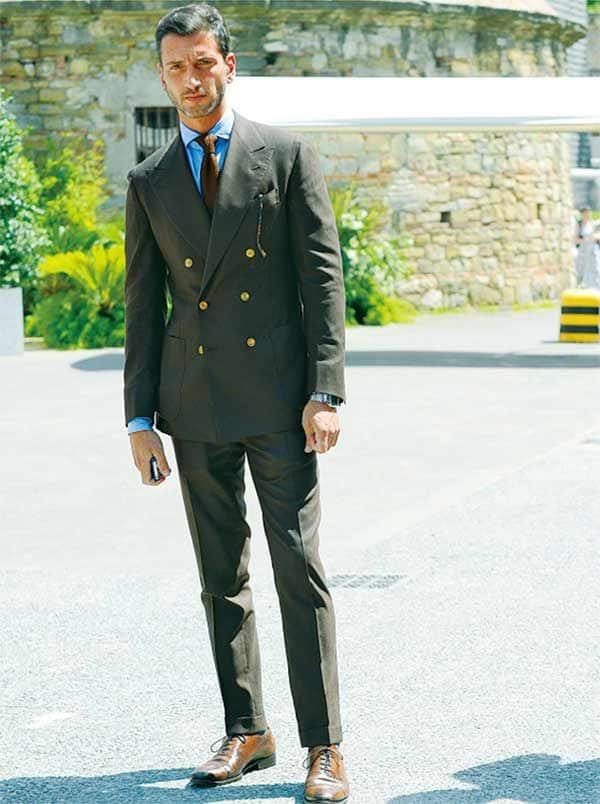 Image Source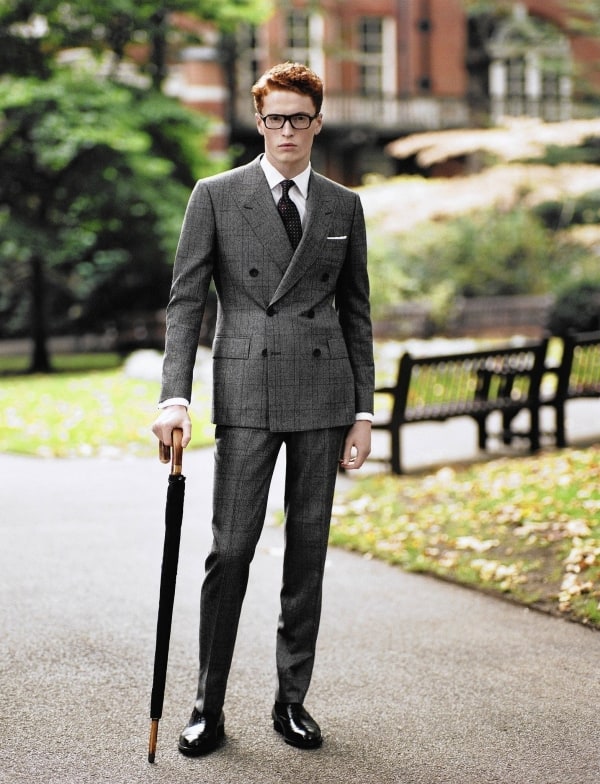 Image Source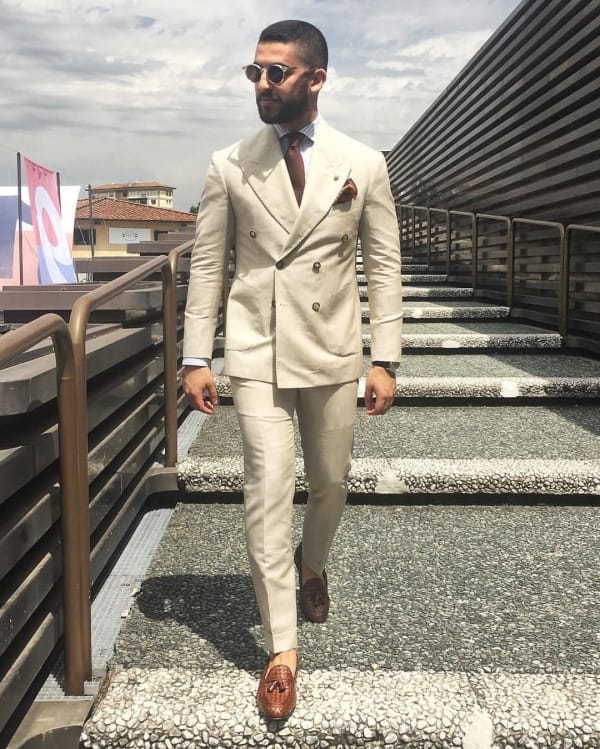 Image Source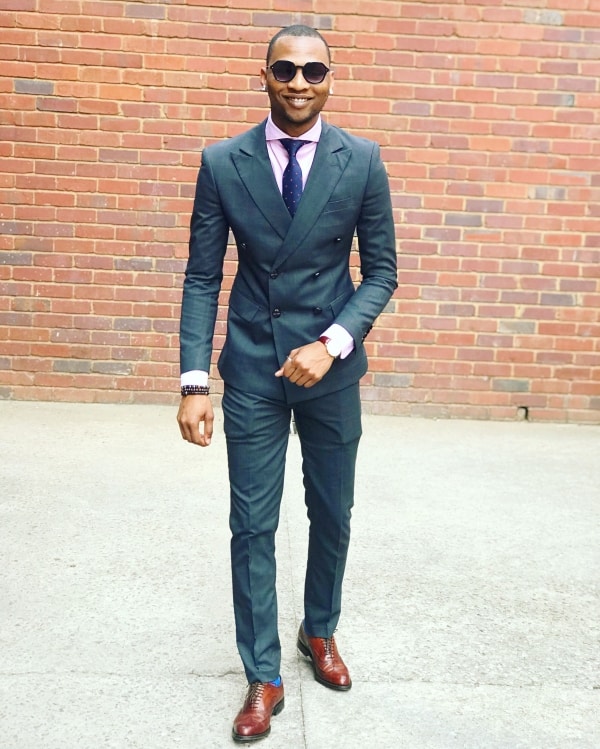 Image Source
Related:
With that name, we conclude the list of how to wear a double-breasted suit. While the double-breasted suits might be out of fashion for many, they have made a comeback, and this time it is done with much ease, style, and perfection. All you need is to play with your colors, choose the combos right, and pick the style which you think you can slay it well. So, what was the last thought? There might be an entire house of styling features, but choose the one which you think you can carry off well. The rest, as they say, would fall into place.