A suit is generally a set of clothes comprising a suit jacket, coat, and trousers. It is worn with a colored dress shirt, necktie, and dress shoes, and it is traditionally considered informal wear in western dress codes. The lounge suit originated in 19th century Britain as a more casual wear alternative for sportspeople and British country clothing. Nowadays a grey suit with brown shoes is highly fashionable and is really on top of the men's fashion trend. And age is not a burden between the fashion. A 45-year-old gentleman will look as hot as the new adult boy in this style.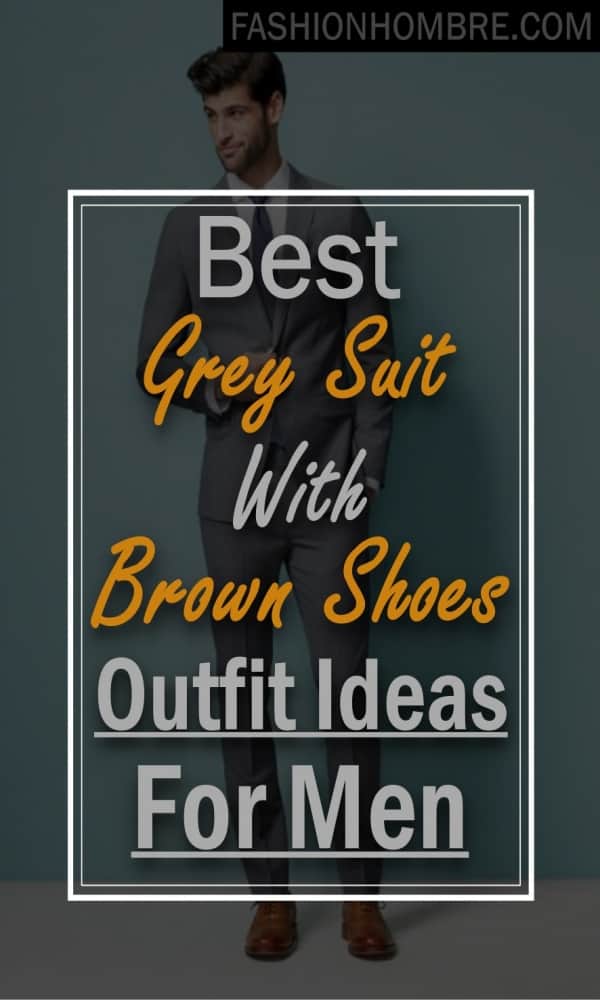 A Grey suit is generally worn with a dark-colored shirt, dress shirt, or a t-shirt doesn't matter what the complexion of the men is, and brown shoes are always a good mark informal as well as casual wear. Many people avoid any tie with a suit to get a semi-formal look. Although the grey suit is formal and informal and has different styles, men have to be confident enough to wear it.
Stylish Grey Suit And Brown Shoes Outfits For Men
1. Charcoal Grey Suit Brown Shoes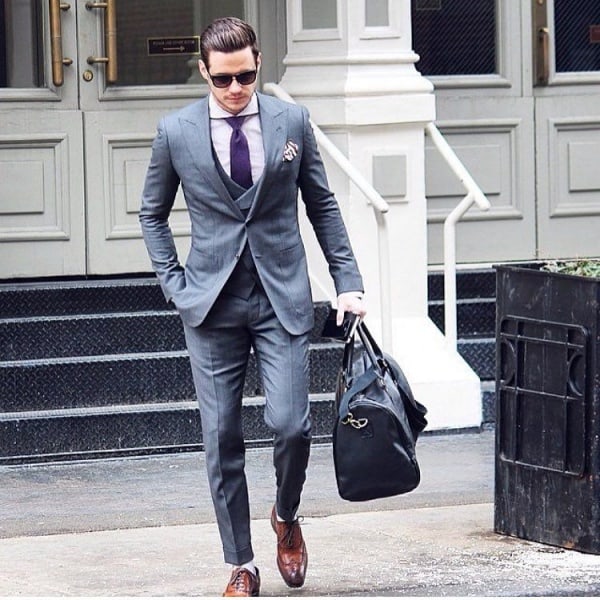 Image Source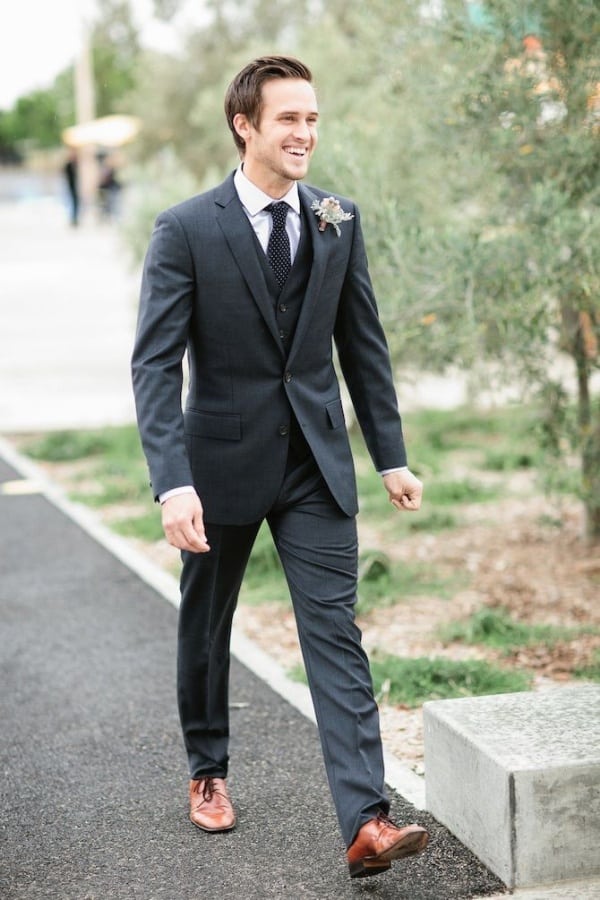 Image Source
Charcoal grey suits are more formal than usual or light grey suits. It gives a lot of confidence in a man when it comes to an official meeting or an outdoor conference. In order to protect oneself from the sun, grey suits are the best. The masculinity will automatically boost up if there is a brown shoe of high-quality leather. Grey suits and brown shoes make the best combination and give an expensive look to any type of occasion. Grey suits are most versatile and can always be styled with light or dark brown shoes.
Related: Stylish Semi Formal Outfits For Men
2. Grey Suit With Brown Chelsea Boots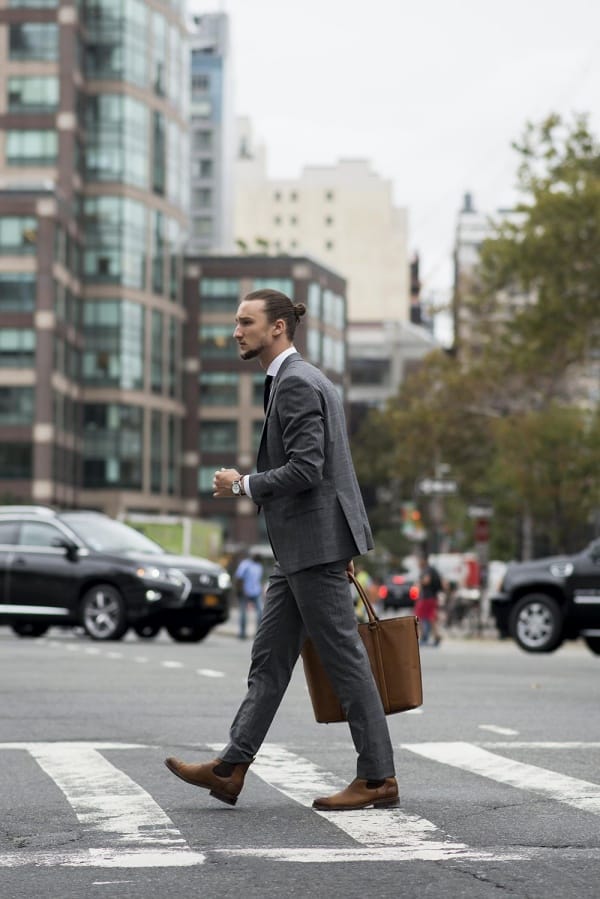 Image Source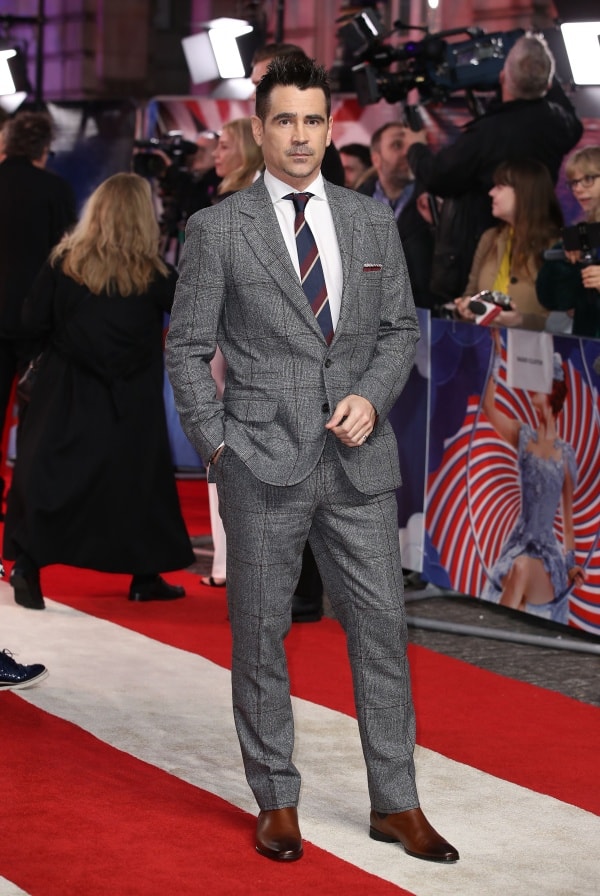 Image Source
While black shoes may be the most typical option to pair with a grey suit, brown shoes can balance your look and give it a soothing personality. Likewise, Chelsea boots are the most formal and can be paired with a suit of any color, but Chelsea boots aren't designed to be worn with a tuxedo. Your suit needs to have slim pants as they will look best with the cut of the boots. Chelsea boots are always fashionable, giving a hot and sexy look to the daily style and a sweet flavor to masculinity.
3. Grey Suit With Pink Shirt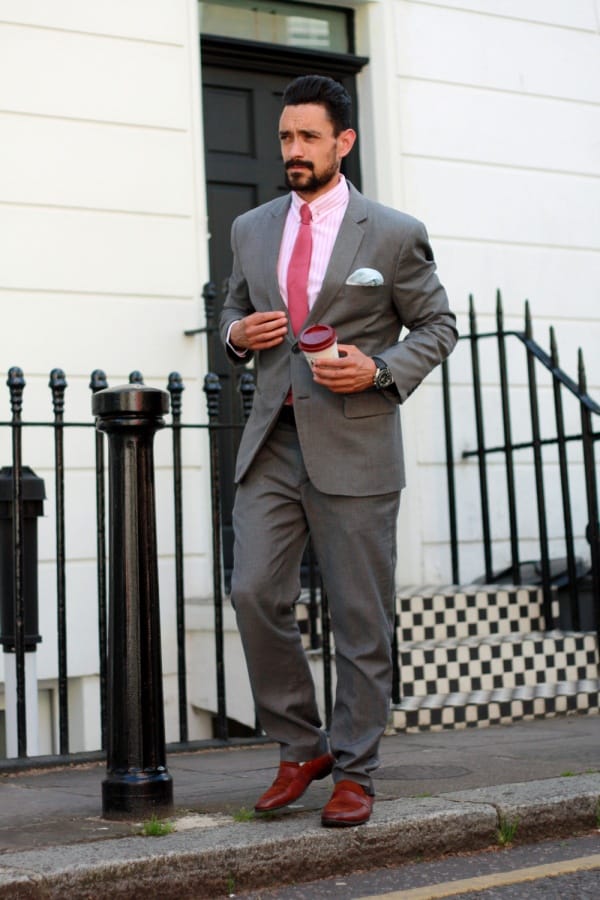 Image Source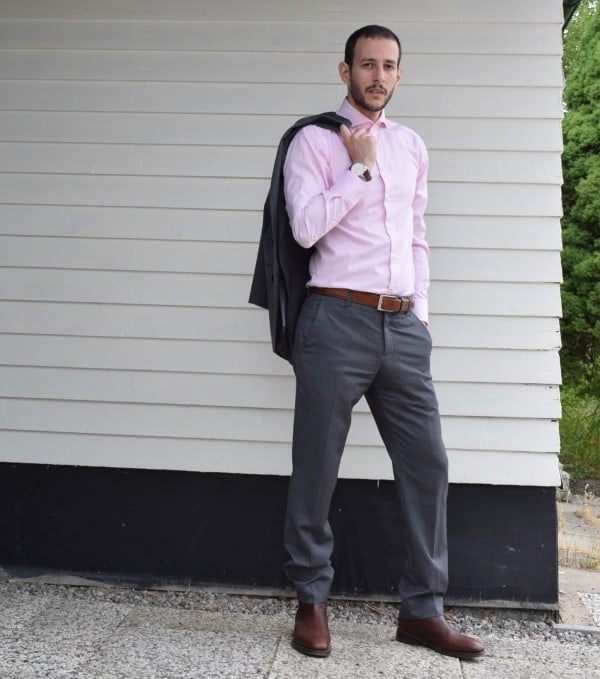 Image Source
A pink shirt paired with a Grey suit may sometimes sound daunting for a man, but it is pretty easy to style. To give it a flavor, you may wear a blue striped tie or a necktie. This style is more of a wedding look than an office look. Apart from the groom, his mates can also opt for this style to grab the crowd's attention. Pink shirts always give a chocolate boyish teen boy look, but a grey shirt over that will highly be defined as formal wear.
4. Wear Your Grey Suit With Tan Brown Shoes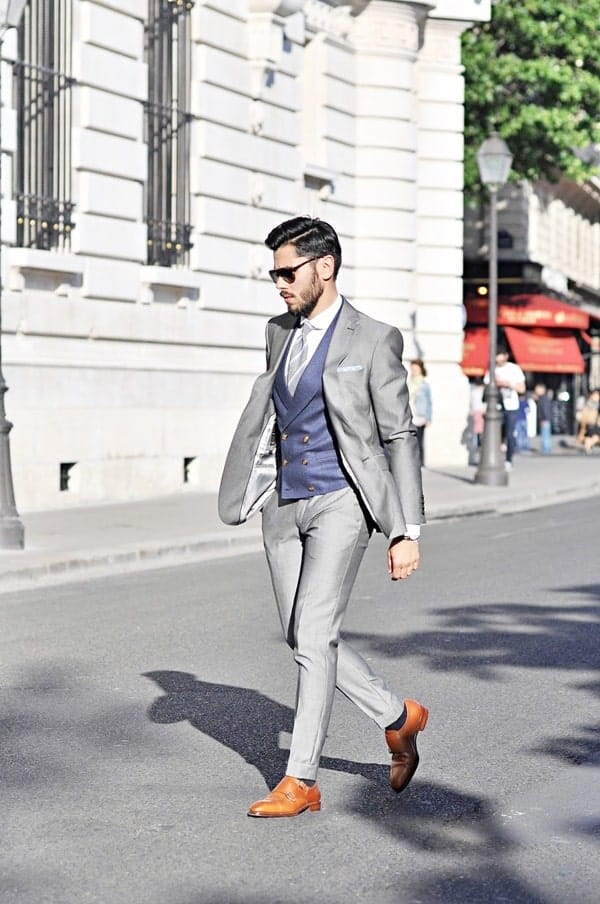 Image Source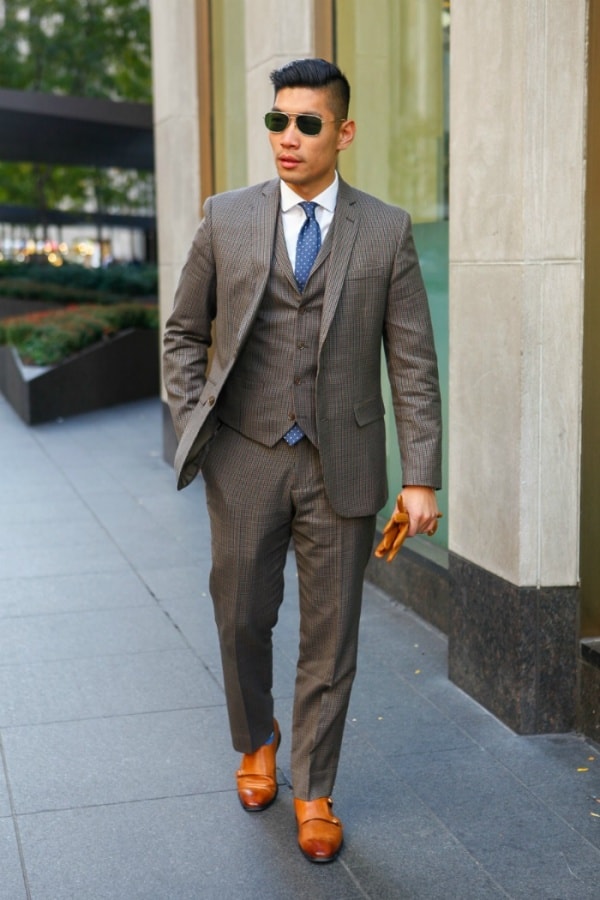 Image Source
The beauty of a grey suit outfit is that it leaves enough room for versatility. You can indeed experiment with a range of various colored shirts and shoes with your grey suit look. Tan or camel-colored shoes will always give your grey suit a relaxed vibe, while the dark brown or even Burgundy hues will give your suit a more formal appearance. In summer, you can wear your grey suit with tan-brown shoes. You can have your own style of dressing up, and fashion trends as brown and grey both are neutral, and they appear together more than people have noticed and are definitely a perfect pairing.
Checkout: Formal Shirt And Pant Combinations For Men
5. Go Checkered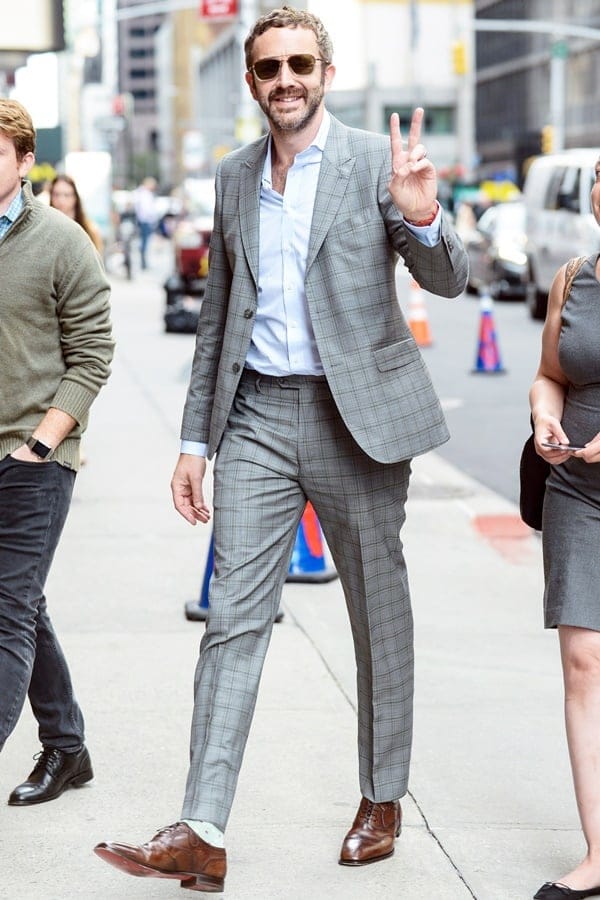 Image Source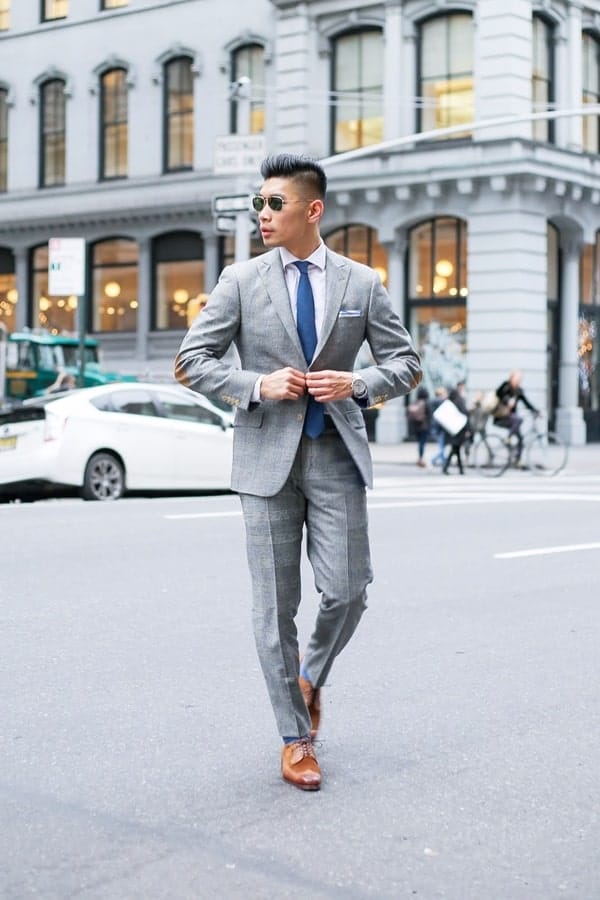 Image Source
Checked shirts or checks suits are undoubtedly suitable pieces to wear. The fact that is most admired when it comes to checkered shirts is that you can style them with utter versatility. Checkered patterns have been popular choices for men's fashions for uncountable years. A Grey suit with brown shoes looks way more attractive and sometimes can be the center of attraction, undoubtedly if it is a checked suit. As a grey suit gives a natural confidence look, a checked suit is one of them where you can blindly trust your confidence and don't need to worry about your style.
6. Slay With A Red Or Burgundy Tie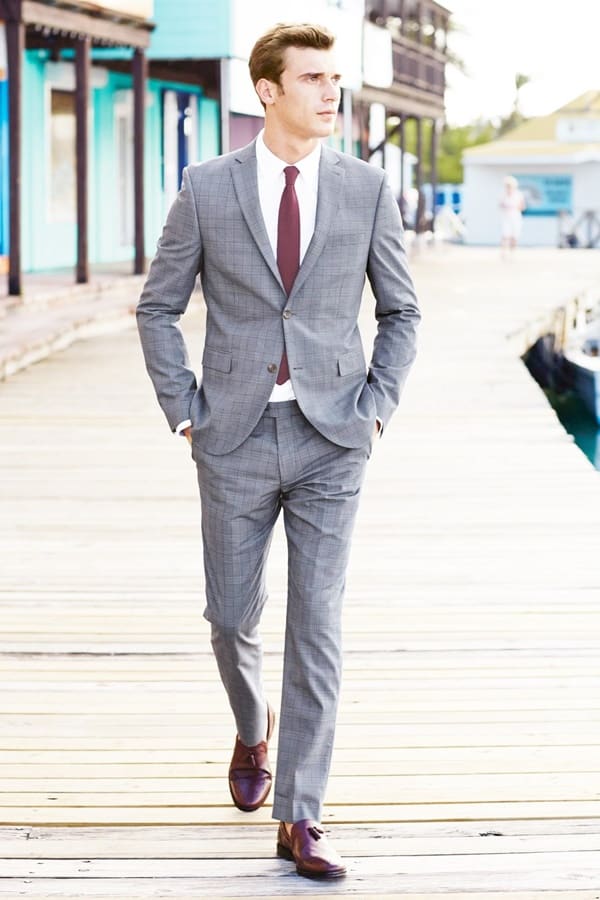 Image Source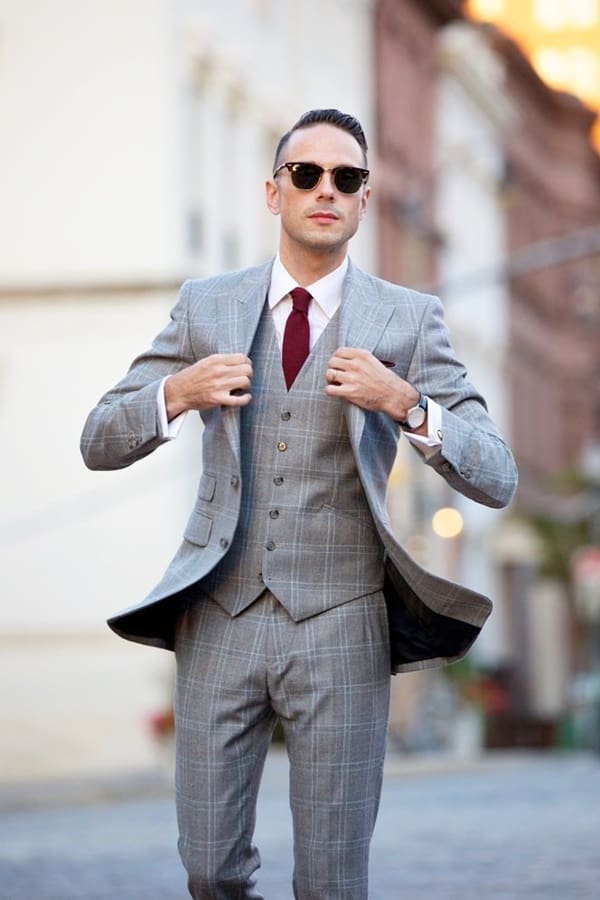 Image Source
A grey suit with brown shoes has never been outdated and cannot be stopped by age. To give this style a spicier look, then you must try wearing it with a shirt of any color and slaying with a red or burgundy tie. These two solid and vibrant colors are almost similar but will have two different looks when worn with a light-colored shirt. Boosting up your masculinity and giving you a sexy look, this whole combination is perfect for any occasion.
7. Grey Suit With White Shirt And Black Tie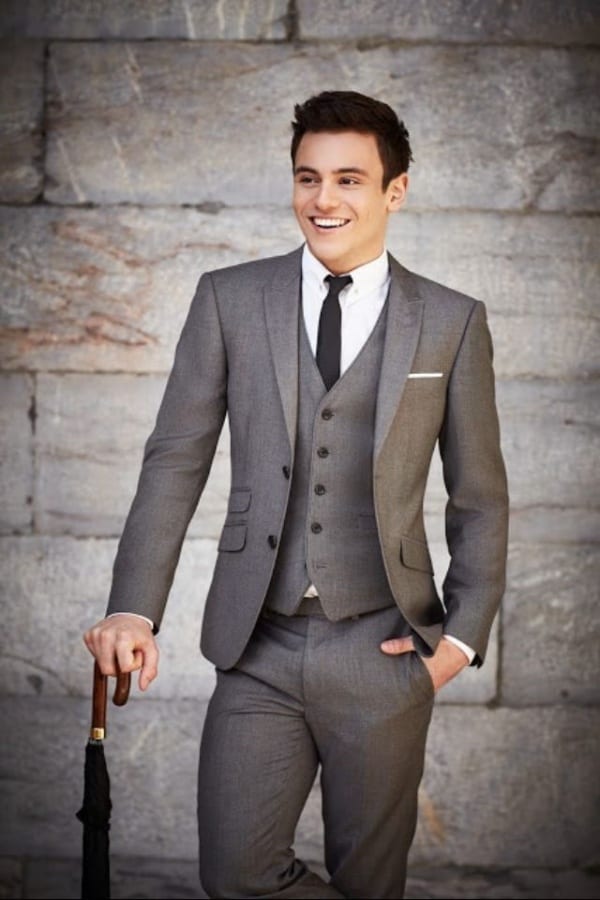 Image Source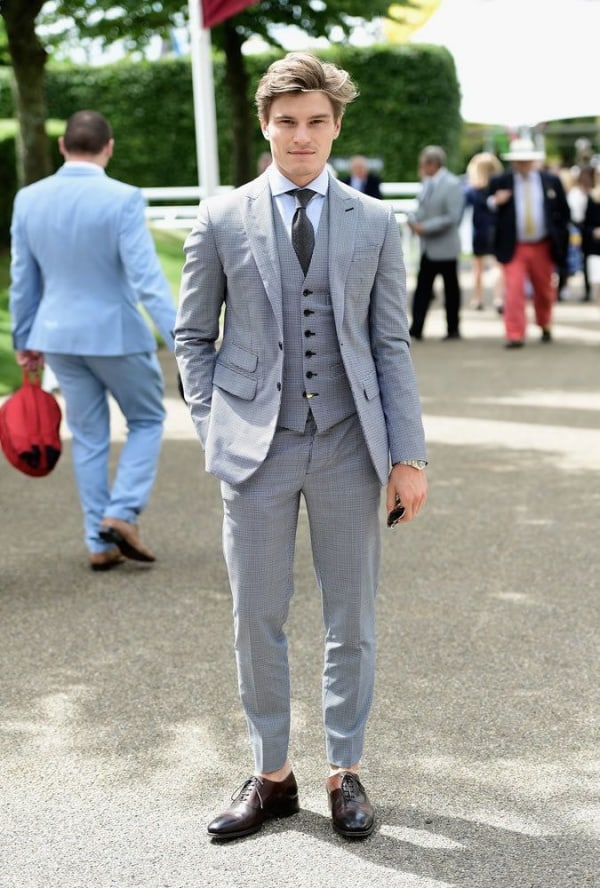 Image Source
Basically, any dark-colored tie with a white shirt and a grey suit would fit for cocktail attire, and if it is a charcoal suit, you can even try it for black tie optional events. Meanwhile, lighter colored shirts will work better with medium and light grey suits. Light color shirt always gives a clean look to the man, and it is best for the morning events at work where men will be fresh and confident enough to perform.
Related: Black Pants With Brown Shoes Outfits For Men
8. Grey Suit with White Shirt and Blue Tie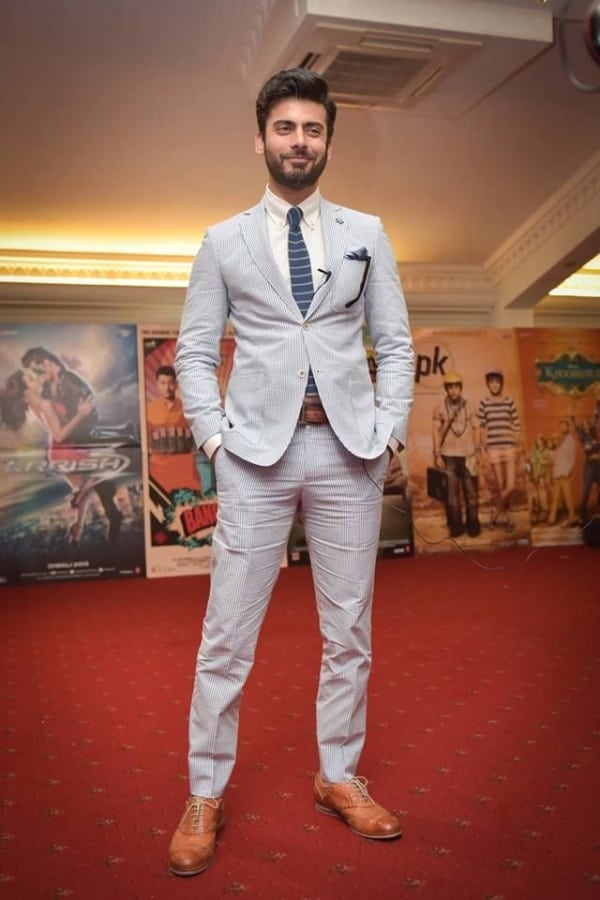 Image Source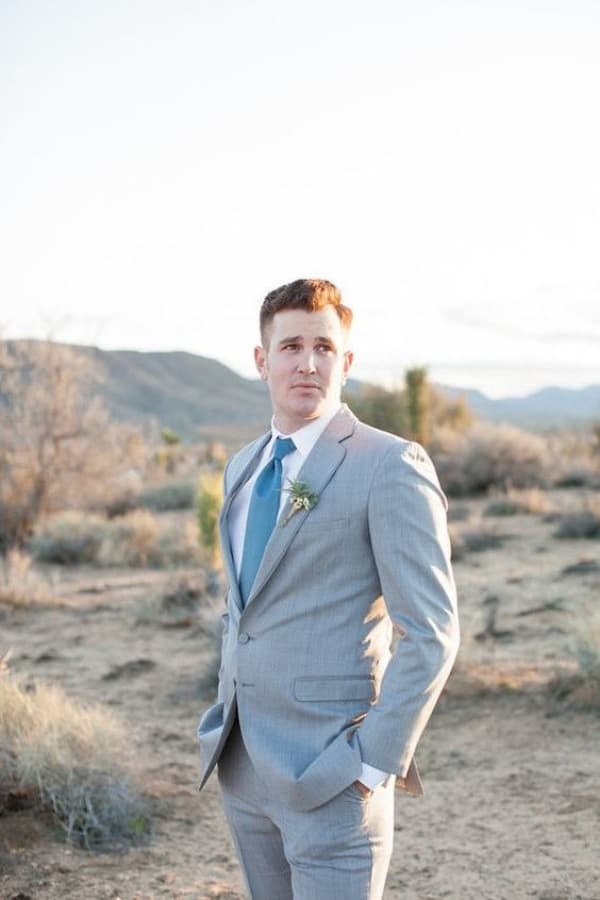 Image Source
A blue shirt with a grey suit combination would perfectly complement a navy or Burgundy tie, leading to a more elegant look. A blue shirt and medium grey suit would look particularly striking with a slightly offbeat colored tie such as an olive green or purple tie. A light blue shirt is another good choice for a classic look. Red and blue ties go well with blue shirts.
9. Grey Suit With Black Shirt And Tie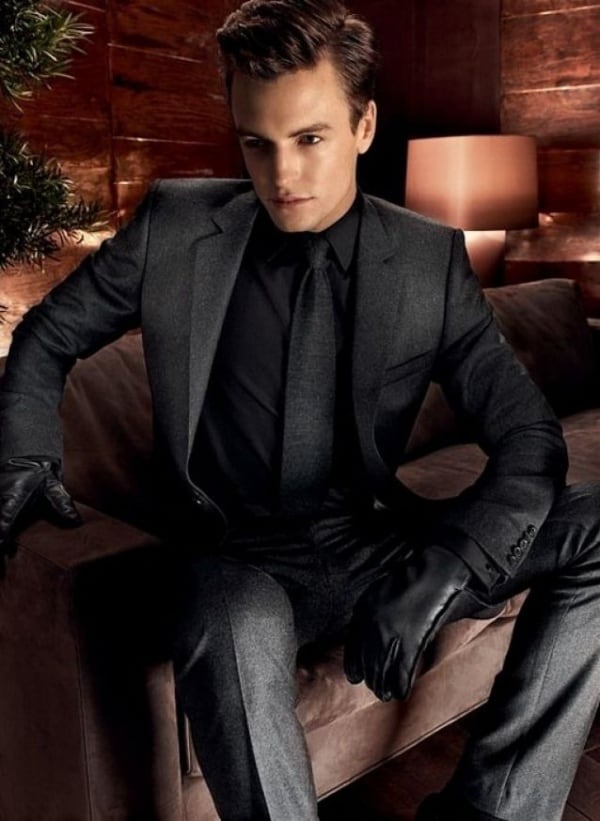 Image Source

Image Source
The combination of a grey suit with brown shoes, there is another excellent combination of the black shirt and grey suit, which is ideally paired with a black or grey tie. You can finish the look with a black pocket square and black shoes or brown shoes. This combination is way too formal as well as casual when going to parties at night. You can style this look the best with brown loafers for a clean yet stylish appearance.
10. Radiate Your Gentlemanliness With A Scarf


Image Source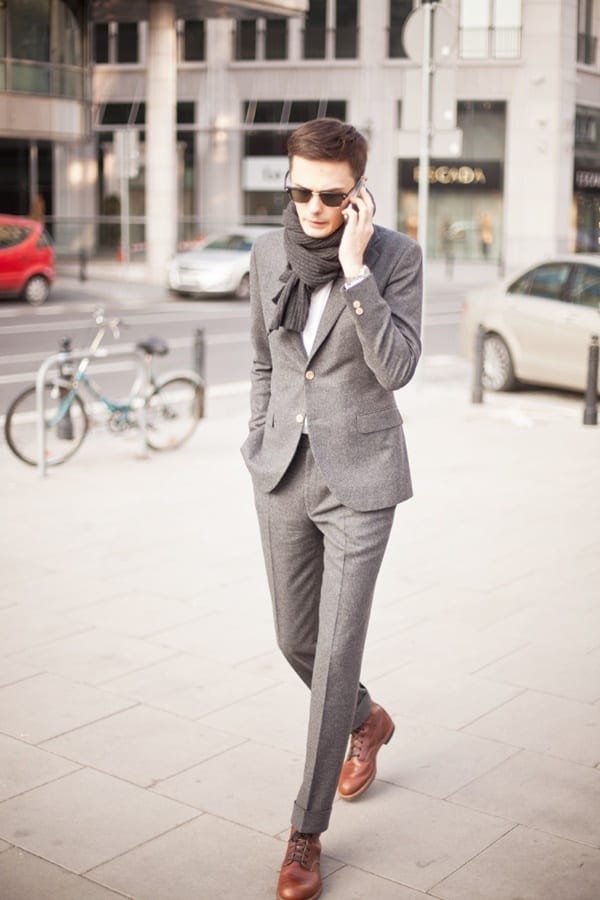 Image Source
Who says men can't style their scarfs well? While perfectly styled with scarfs, grey suits look unexplainably well. A Grey suit with brown shoes and scarf gives you a historic yet elegant look, and it is way too famous for photoshoots in western countries. It is a popular outfit for the winter season. Giving masculinity and personality a perfect level and matching your confidence, this style is famous, and one must try it with confidence.
Checkout: What To Wear With Dark Jeans Men?
11. Layer With An Overcoat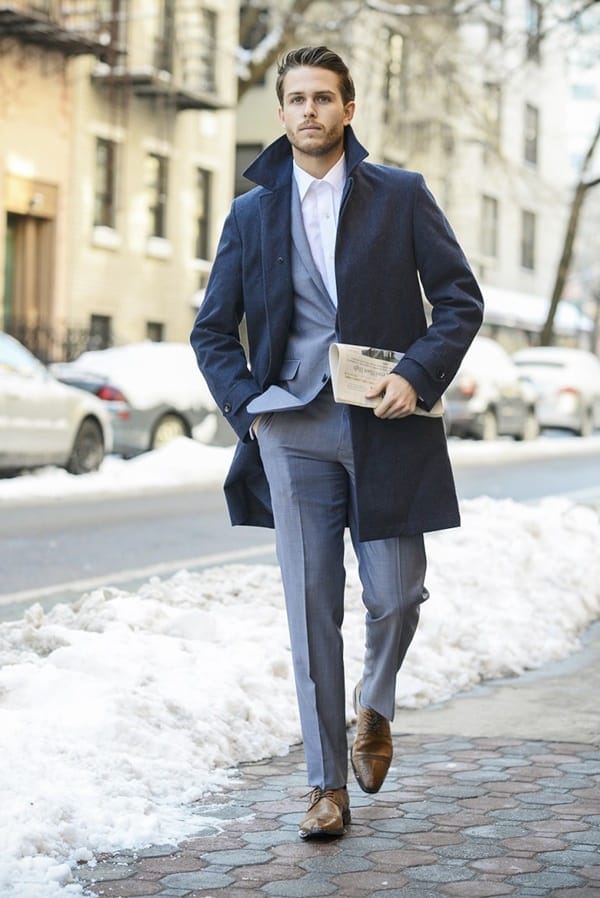 Image Source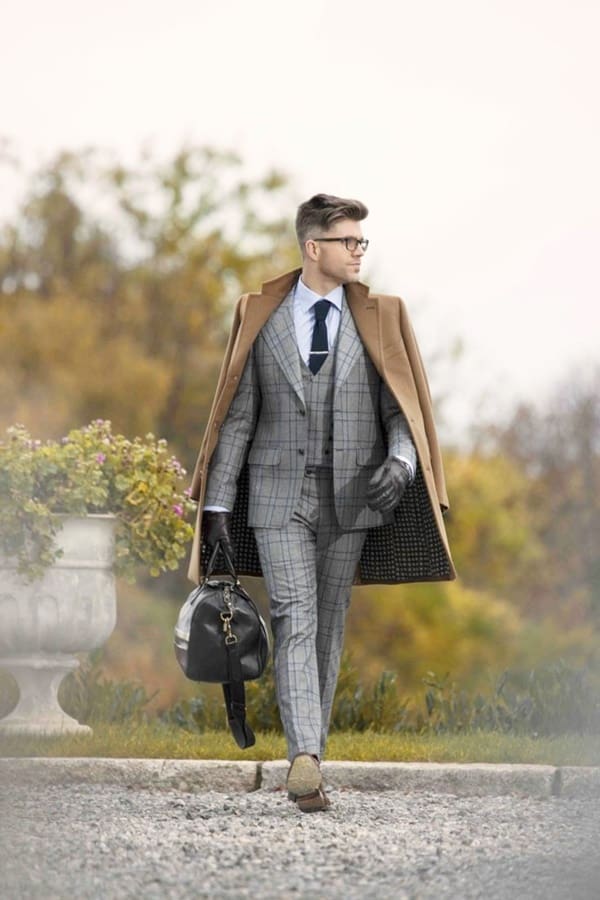 Image Source
Styling layers properly is one of the basic tricks every man should know. Even when simply put, layers undoubtedly look stylish. The layers are the best option to try to add depth, variety, texture, and visual interest to otherwise simple outfits. Trying an overcoat is indeed a smart idea because it leaves room to style both up and down. You can try wearing a flannel shirt or even your plain white shirt with an olive or navy-blue overcoat to rock the look. Olive chinos would undoubtedly add a bit of refinement to this outfit. This outfit is enough for transitioning from an official look to one for a date pretty easily.
12. Up Your Style Game With A Turtleneck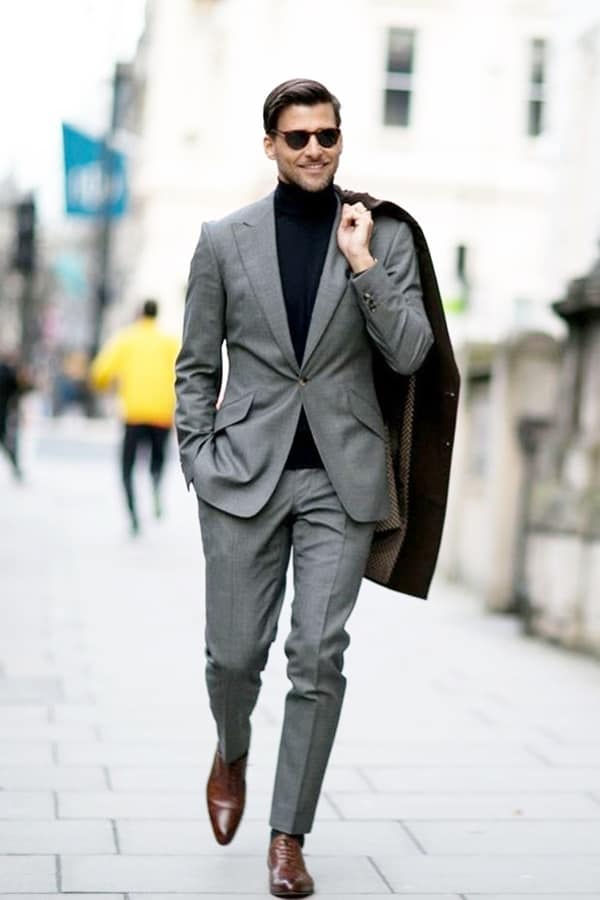 Image Source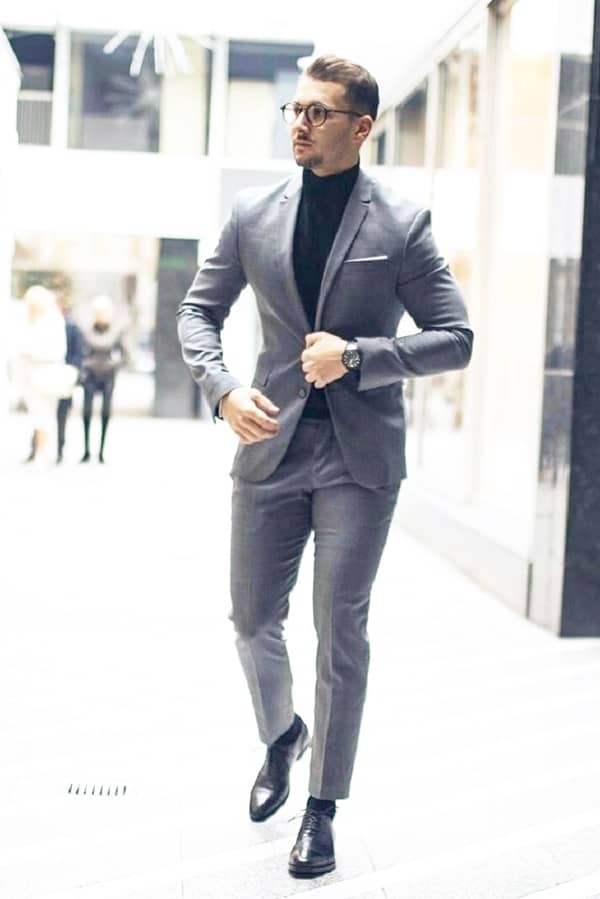 Image Source
Turtlenecks are undoubtedly the best pieces of clothing for men to try for the season of fall. These getup offers room for both casual or formal wear only if carried in the right way. Another best part about a well-styled turtleneck outfit is that it aids in adding some charming vintage vibes that make you steal the show with ease. A dark grey roll neck will prove to be the best match when layered with a grey suit. This formal outfit will suit you best for corporate evenings and big gatherings. If you style this very outfit with brown shoes, there is no way you miss a chance to impress your admirers.
13. Grey Suit With Brown Tie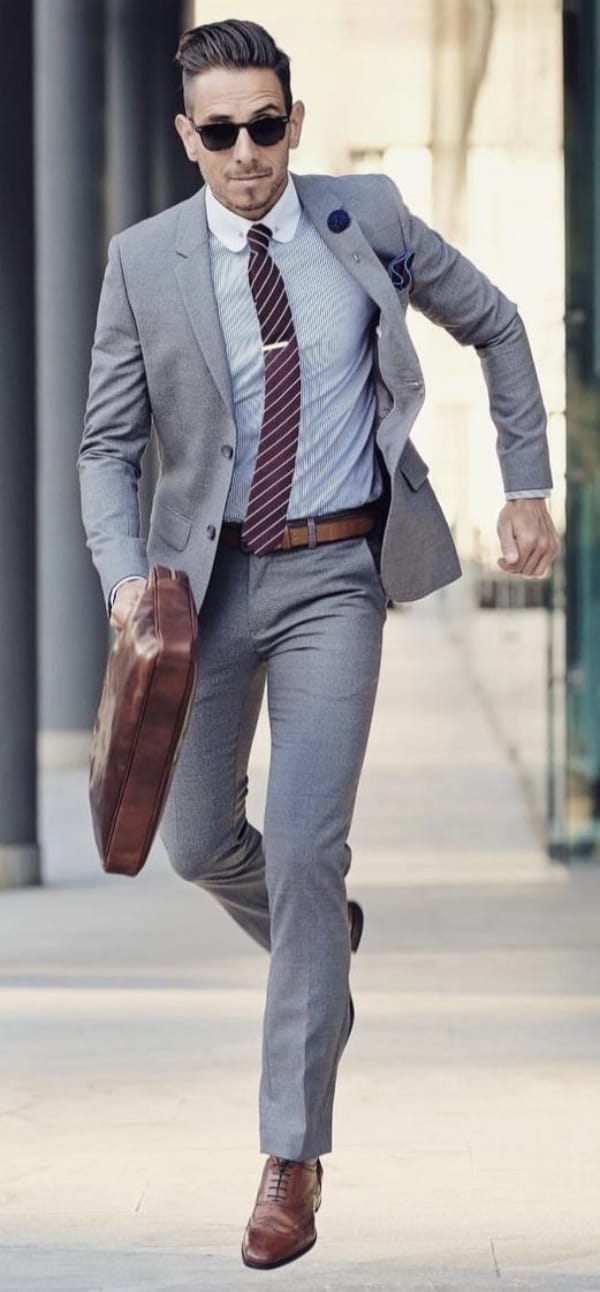 Image Source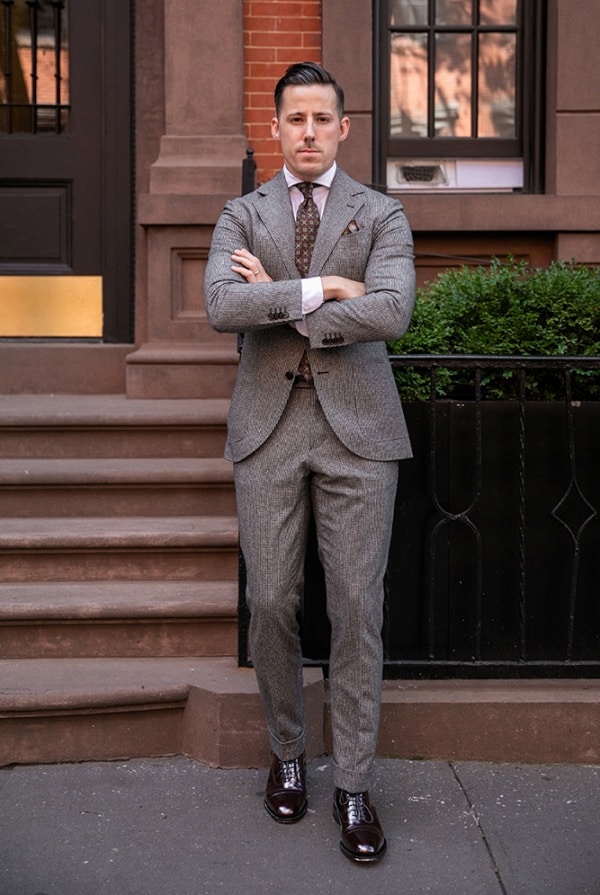 Image Source
Grey suits are definitely an absolute men's wardrobe staple. More than just a conventional business suit, you can easily pair your grey suit with a multitude of shirts. A brown tie will definitely act as a cherry on top for any formal outfit you choose to style, and it will work more than just fine when paired with your grey suit. If you are strutting your medium grey suit, try pairing it with shirts of lighter shades and string along with a brown tie. You should style your grey suit with brown shoes without a second thought for a classy look.
Here We Have: Dashing Formal Outfits For Men
14. Grey Suit With Maroon Tie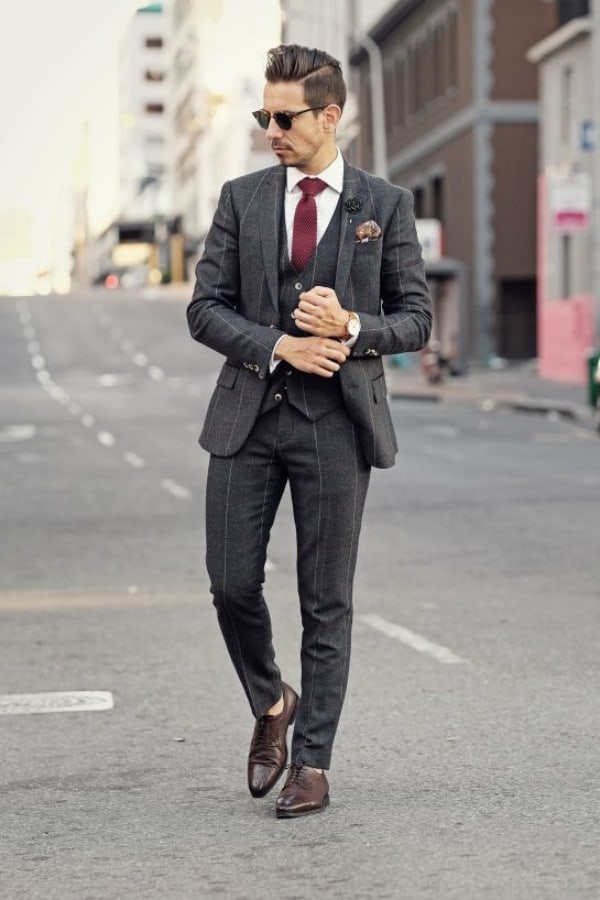 Image Source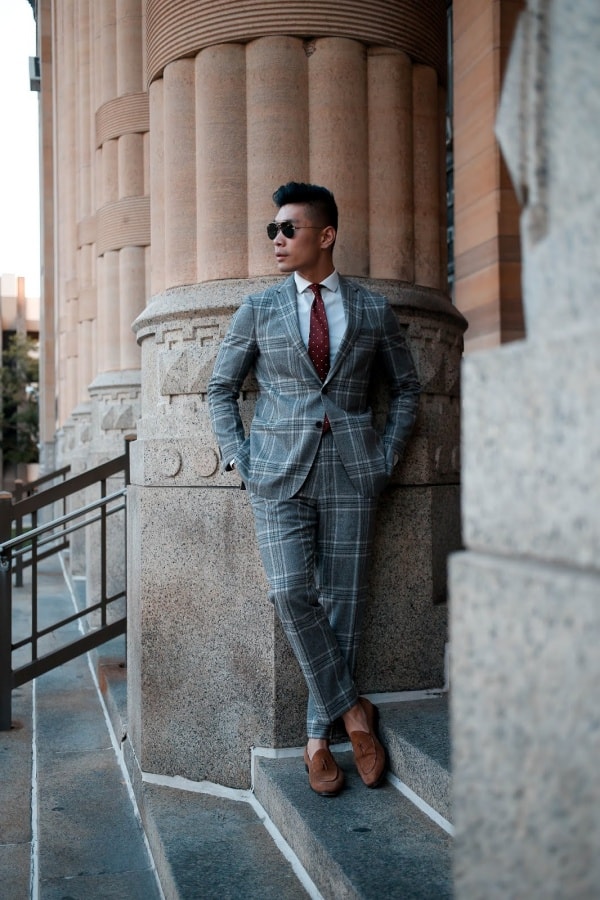 Image Source
According to the outfit choices preferred by modern men, a grey suit paired along with a maroon tie will look unexceptionally classic. If you pair your grey suit along with a maroon tie, you will indeed breathe an elegant touch into your wardrobe. Pairing your grey suit with a maroon tie is a fail-safe option to infuse your styling rotation with some manly refinement. You can even try and get a little creative when it comes to the choice of your shoes. You can also get along with traditional brown shoes or play down this look with a pair of dark brown leather loafers.
15. Grey Suit With Green Tie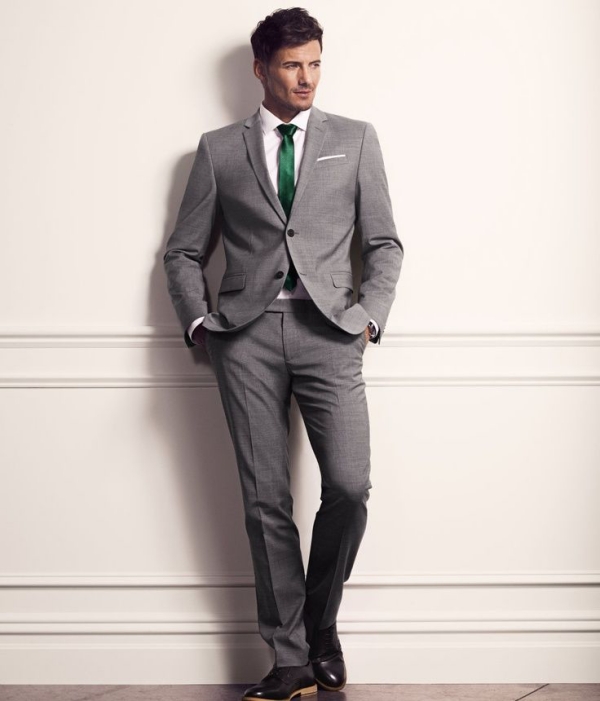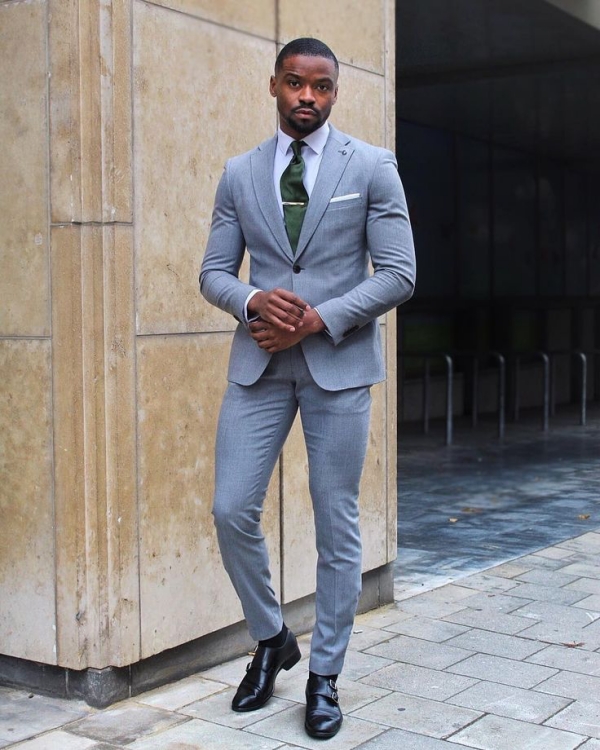 A grey suit looks sophisticated when paired with a green tie for an outfit deserving of a sharp gent. A refined outfit comprising a grey suit paired with a green tie is enough to hallmark your expert styling. Try complementing your ensemble with a pair of brown leather double monks. That will definitely make your all-to-safe getup look suddenly fresh and fun. This outfit is proof that you can remain cool yet pulled together even under the sweltering heat. You can even experiment with a pair of dark brown suede tassel loafers to this equation if you desire more of a laid-back finish.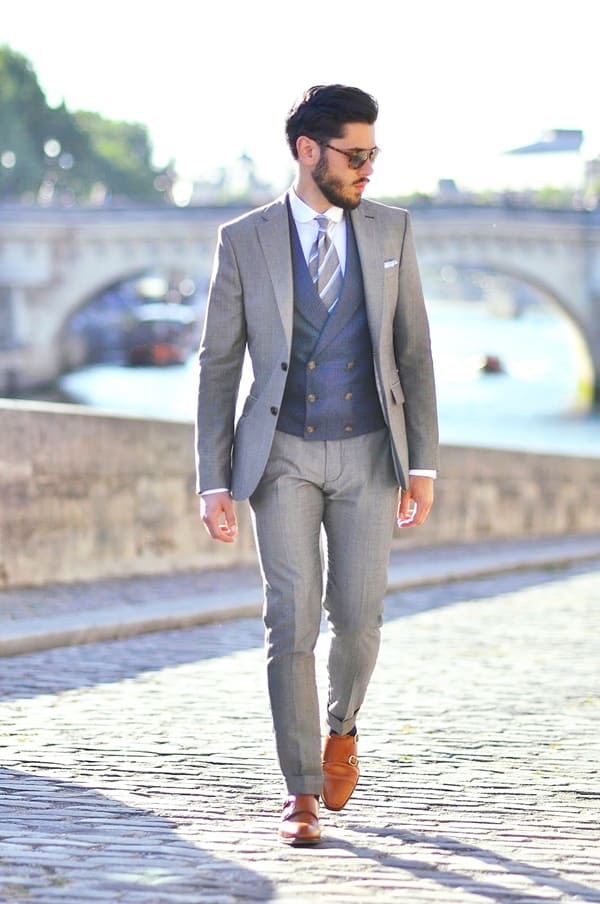 Image Source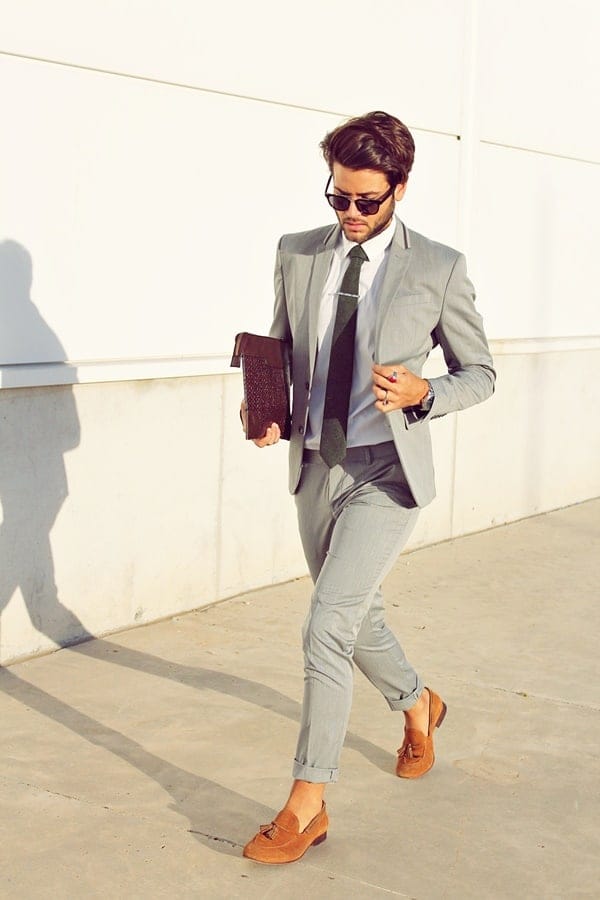 Image Source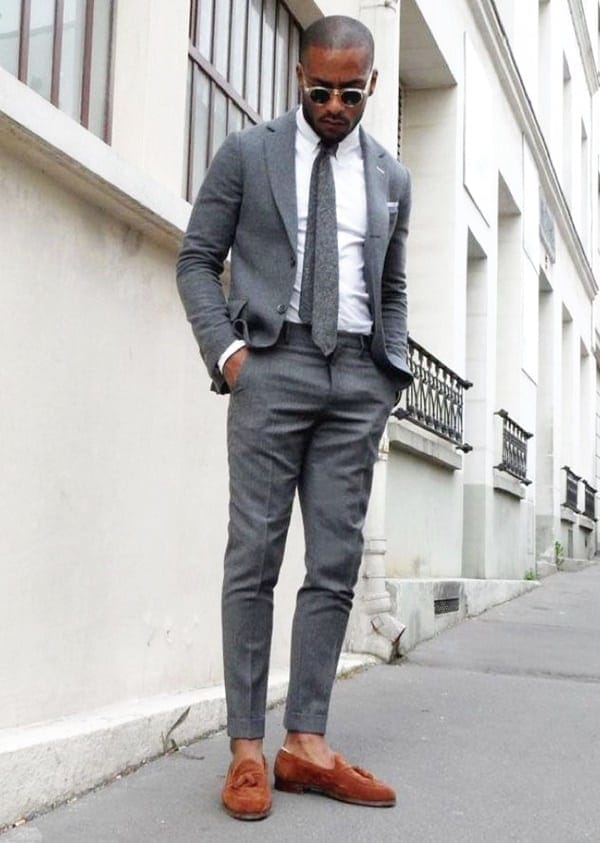 Image Source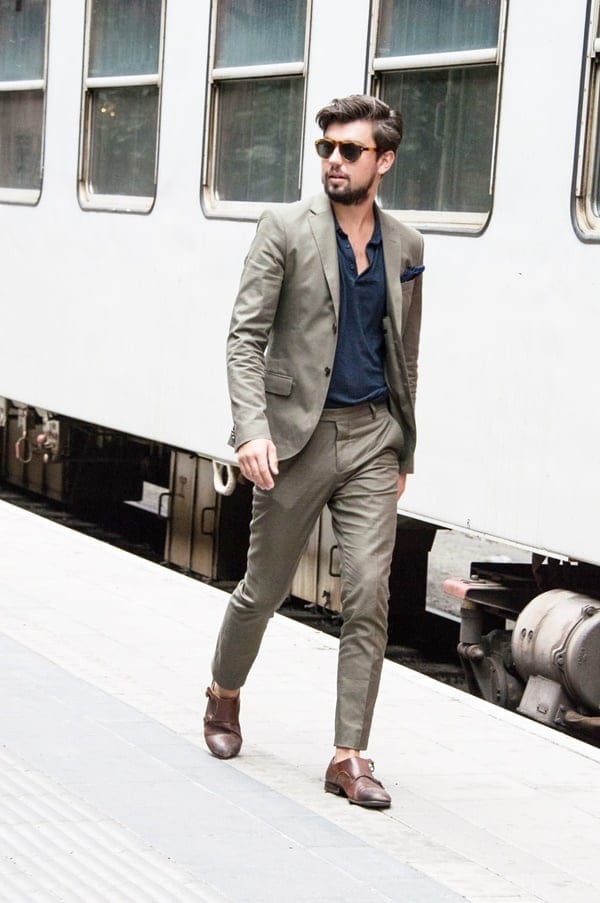 Image Source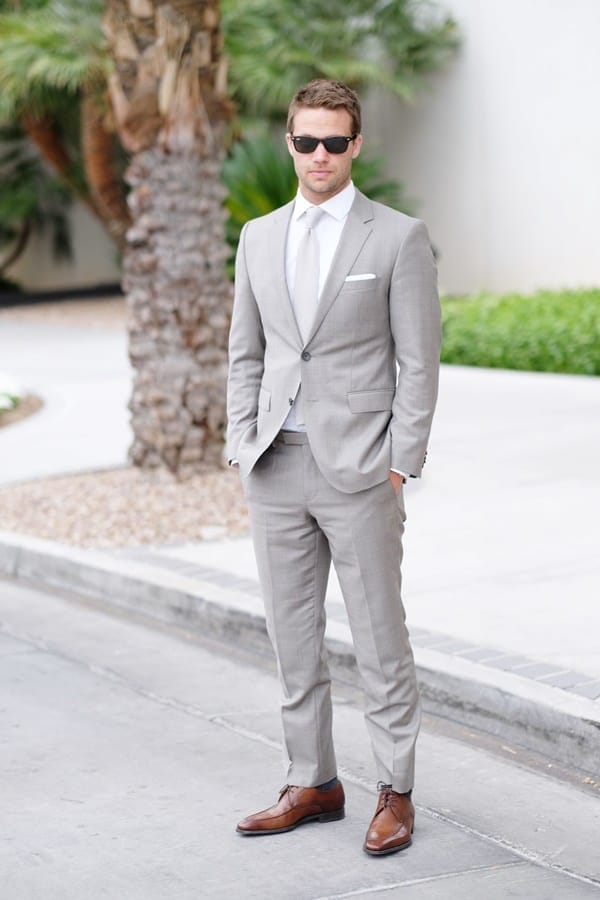 Image Source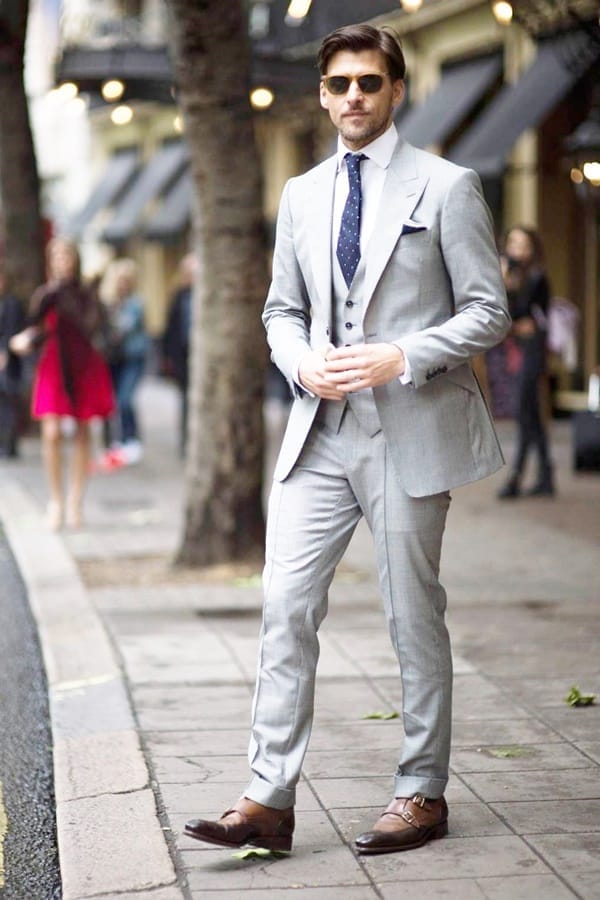 Image Source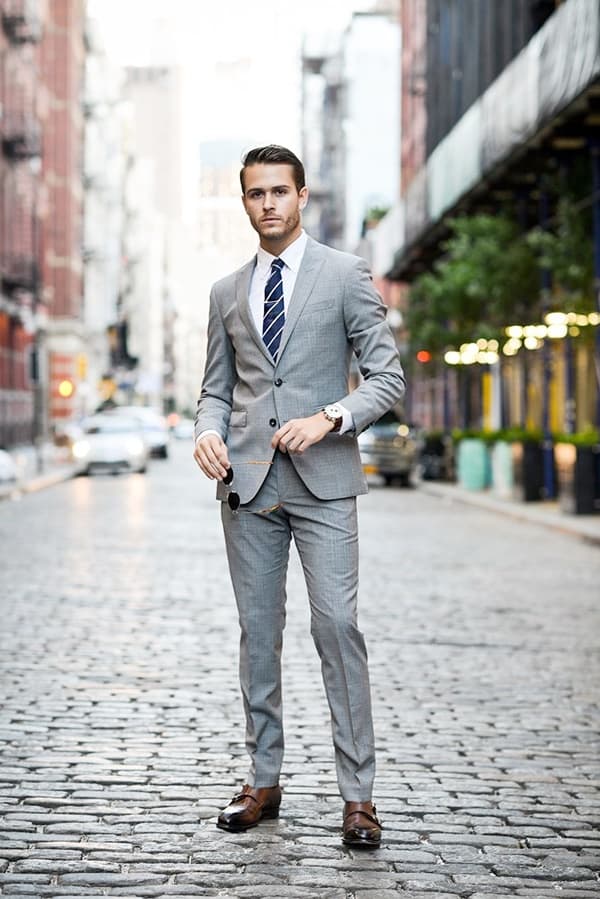 Image Source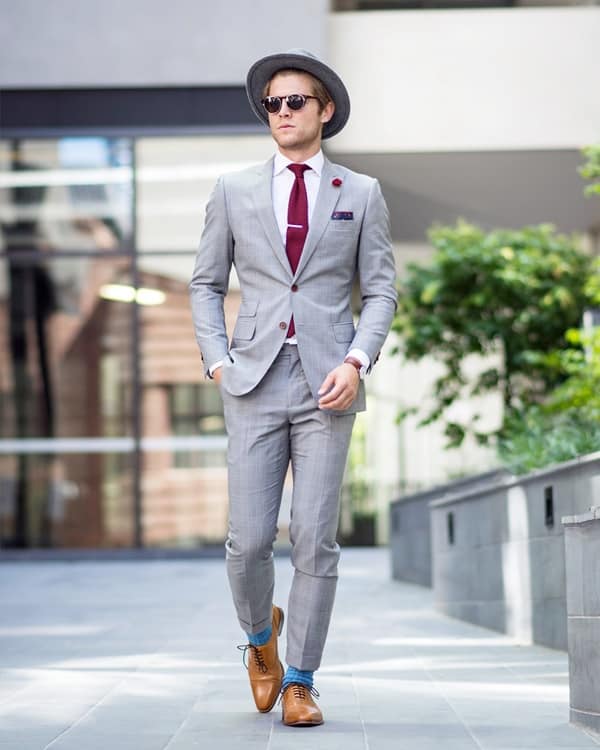 Image Source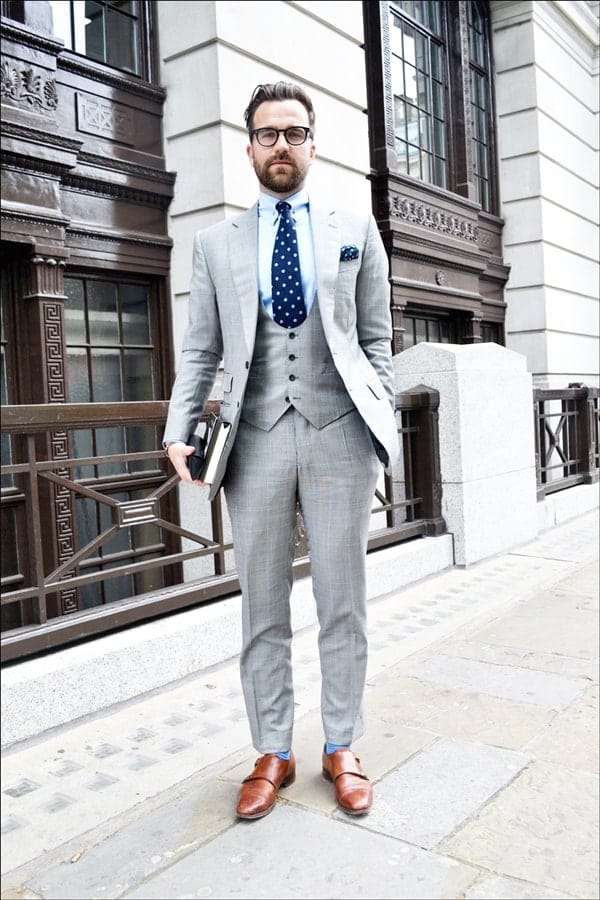 Image Source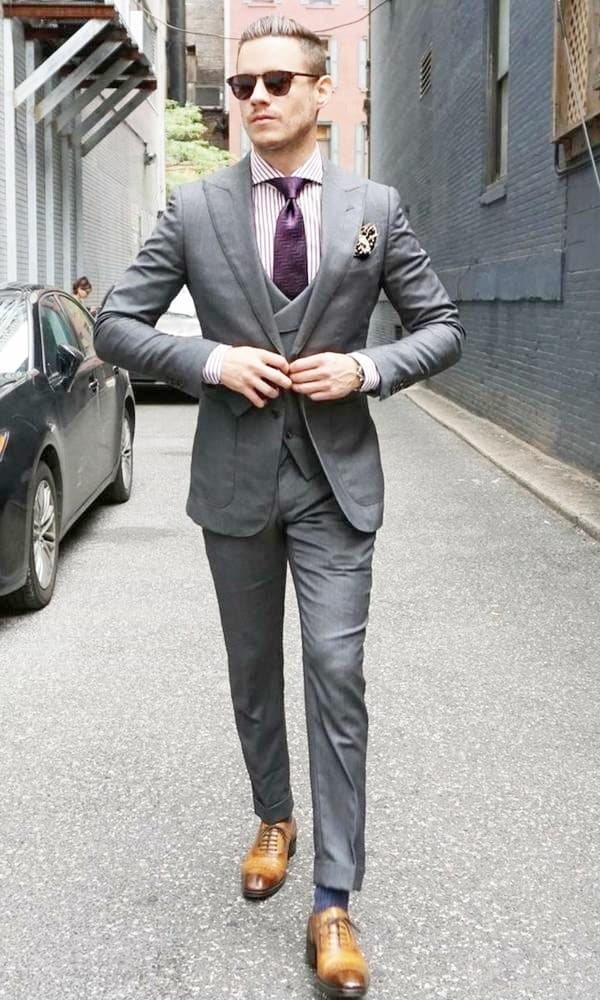 Image Source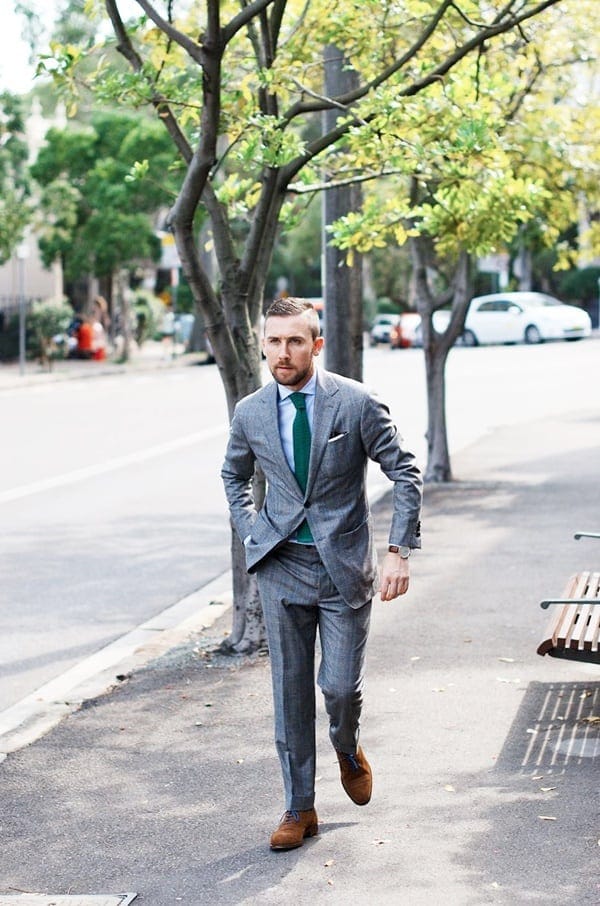 Image Source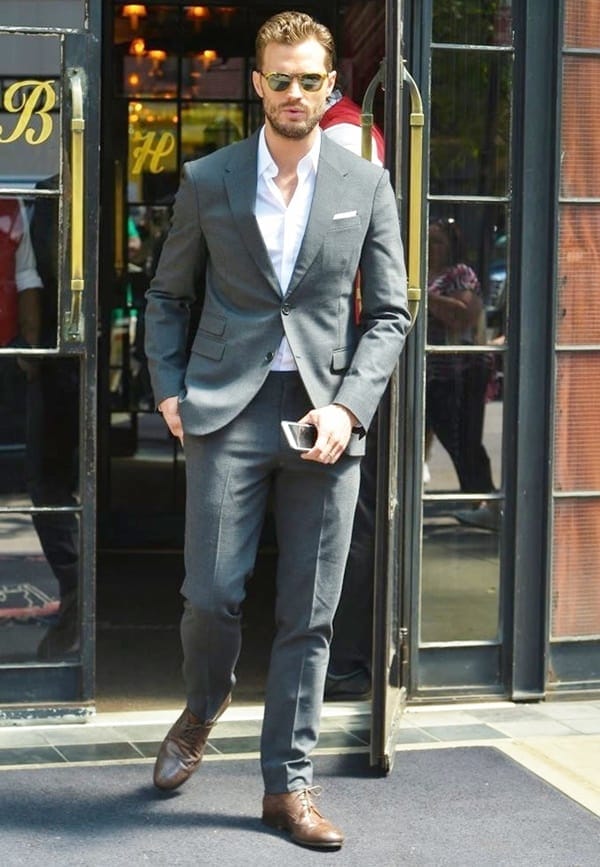 Image Source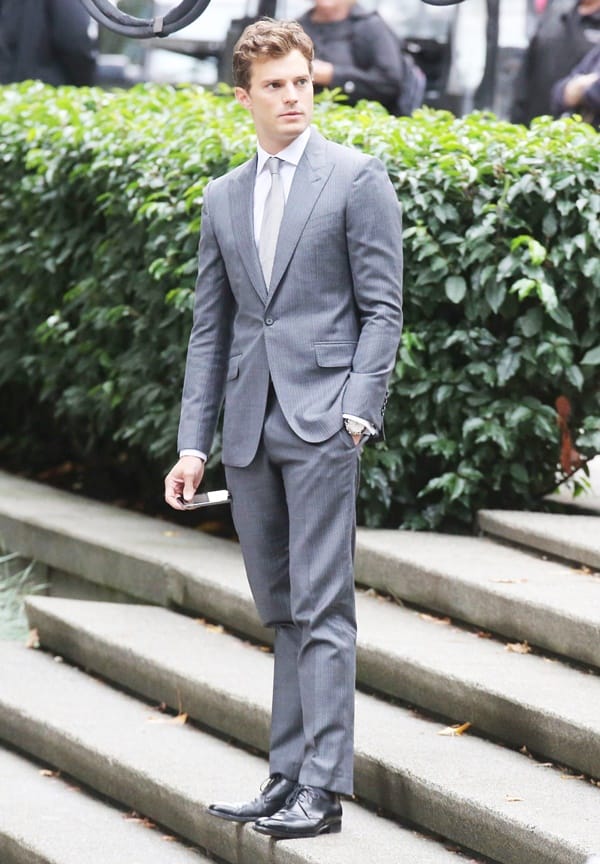 Image Source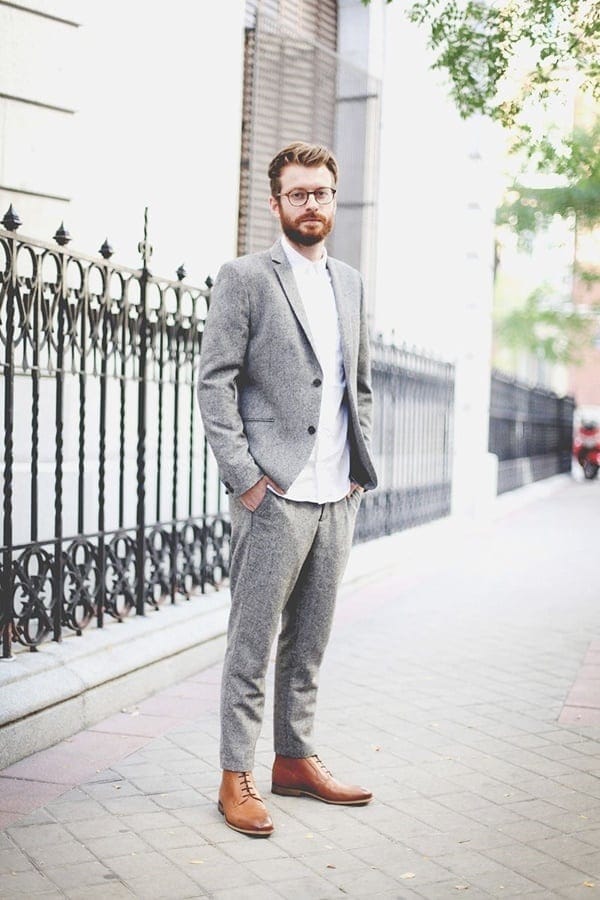 Image Source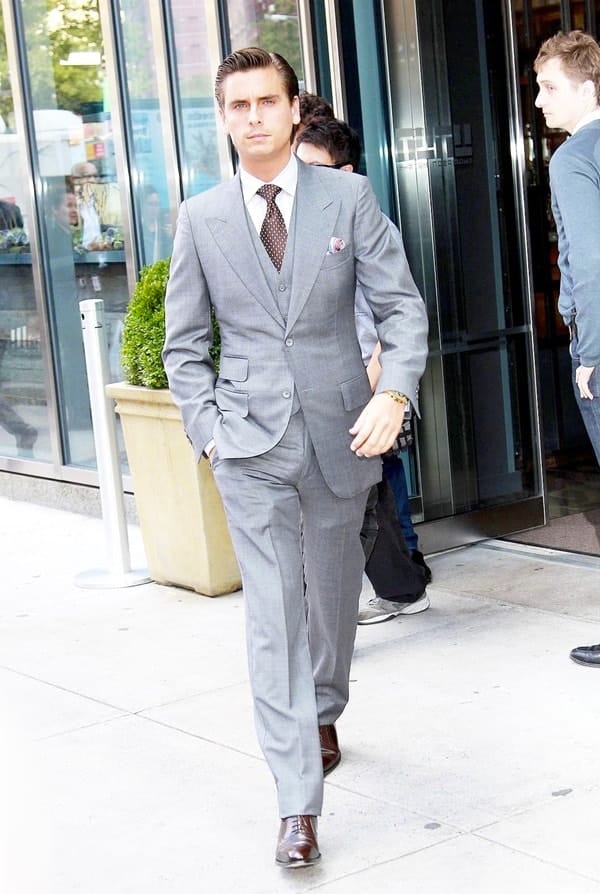 Image Source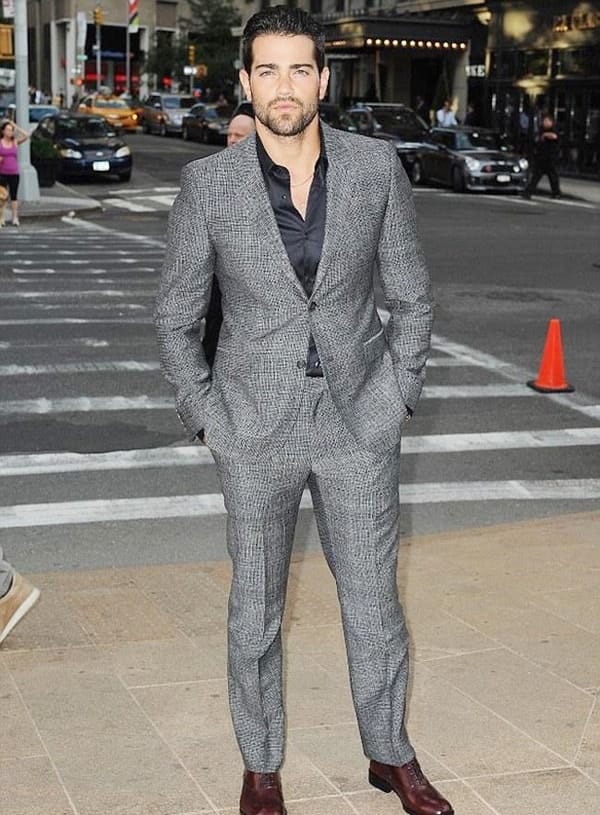 Image Source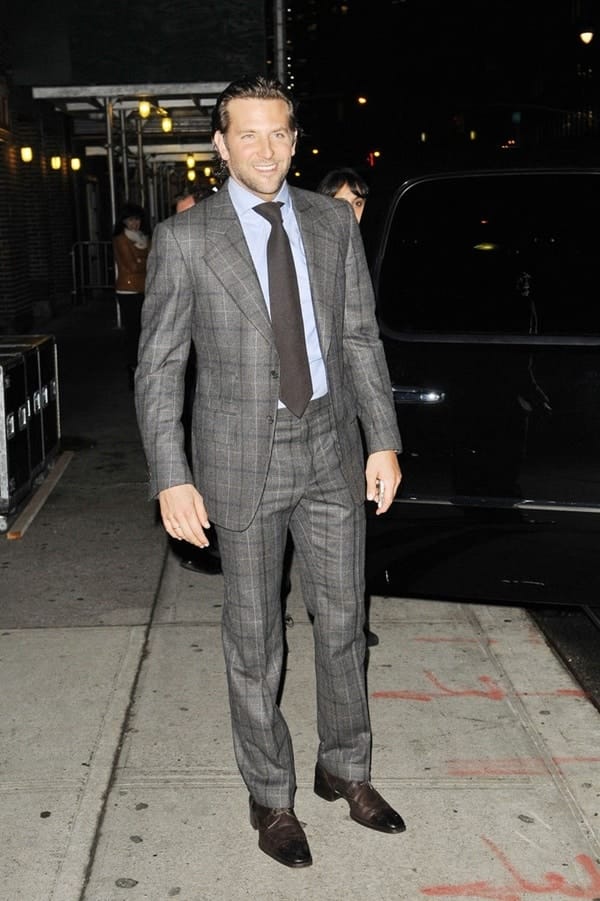 Image Source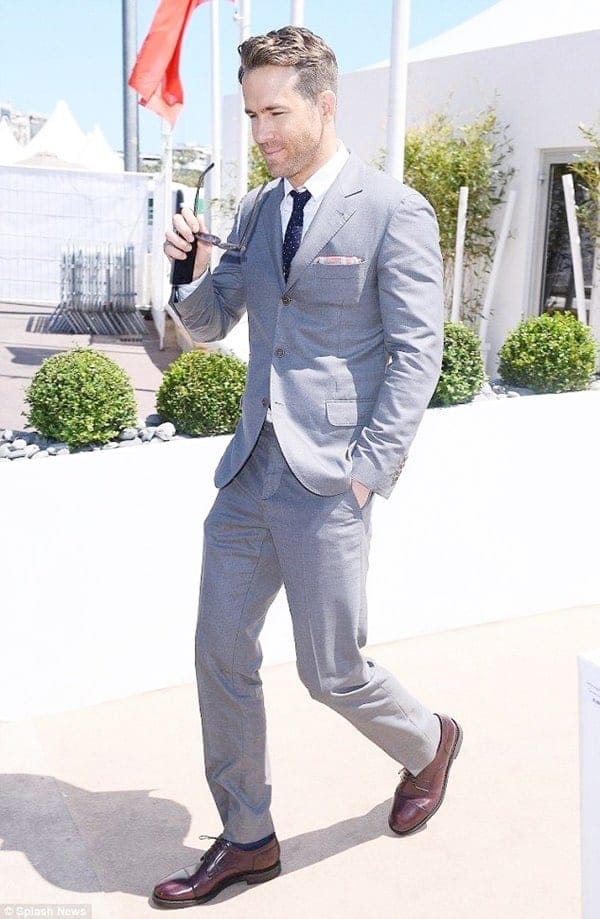 Image Source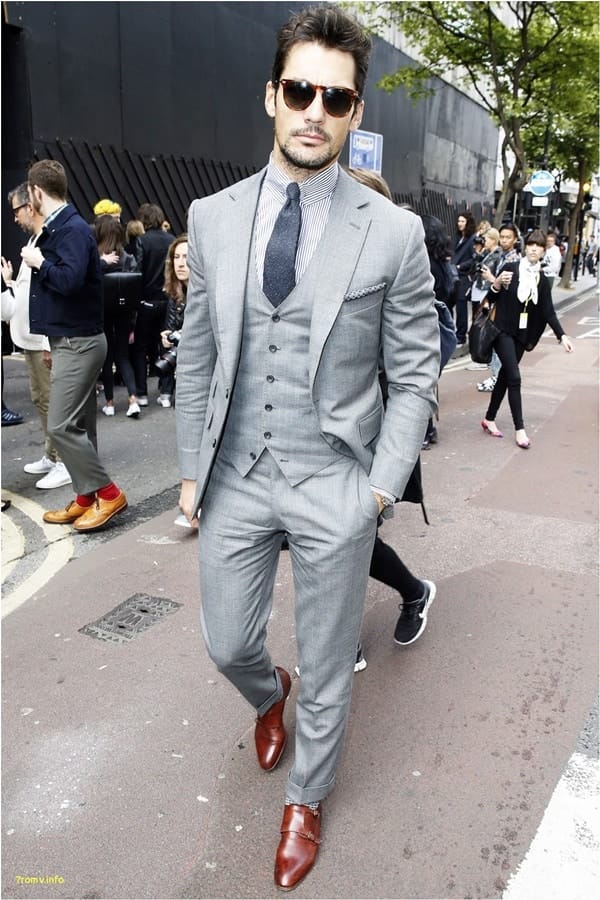 Image Source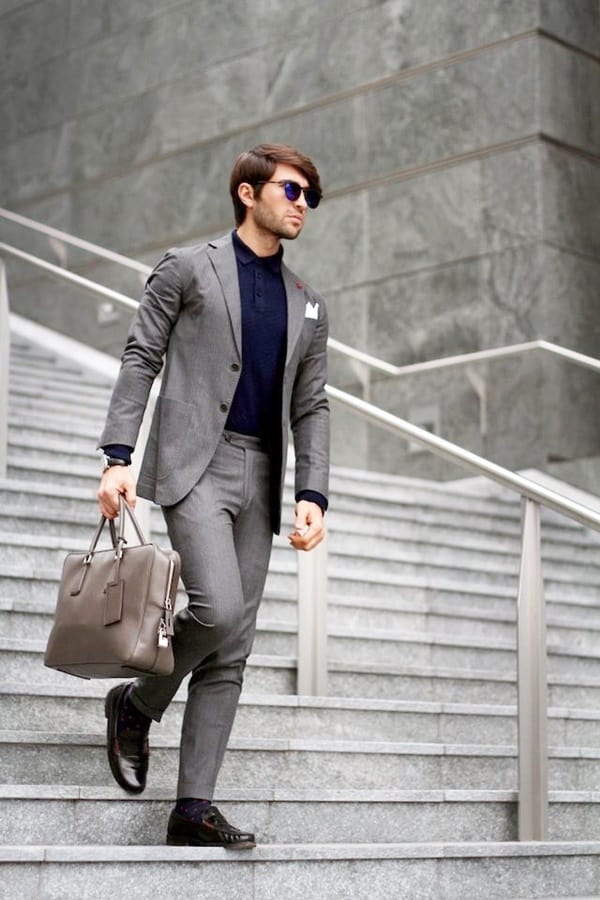 Image Source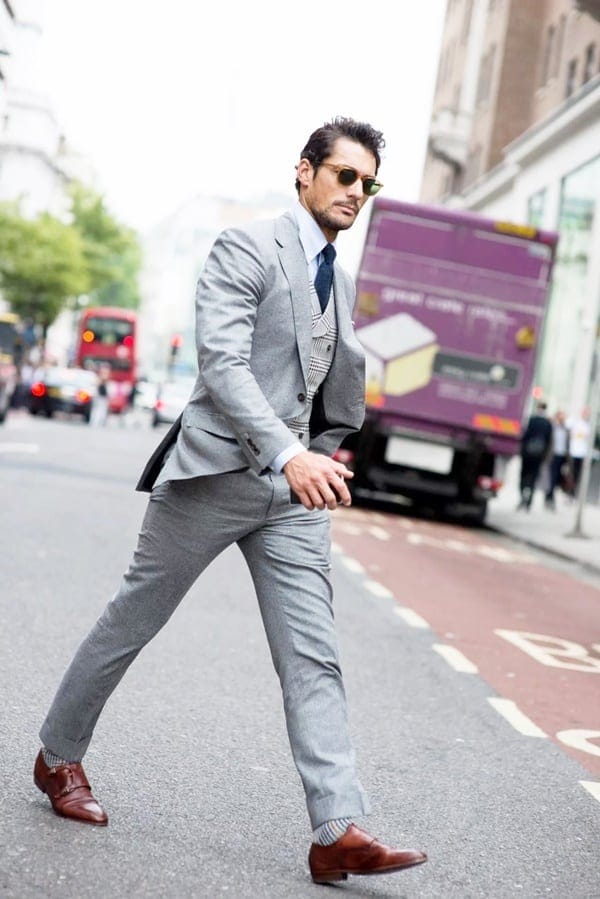 Image Source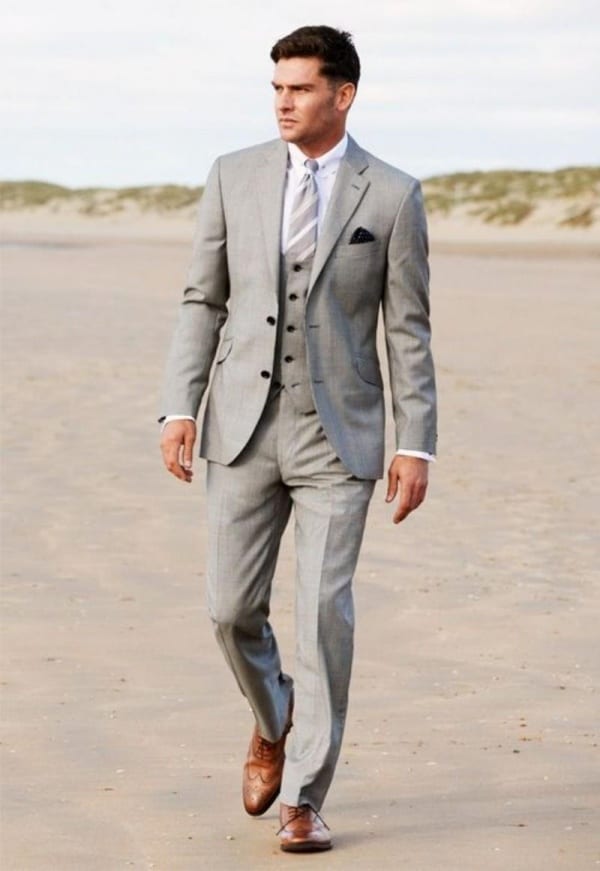 Image Source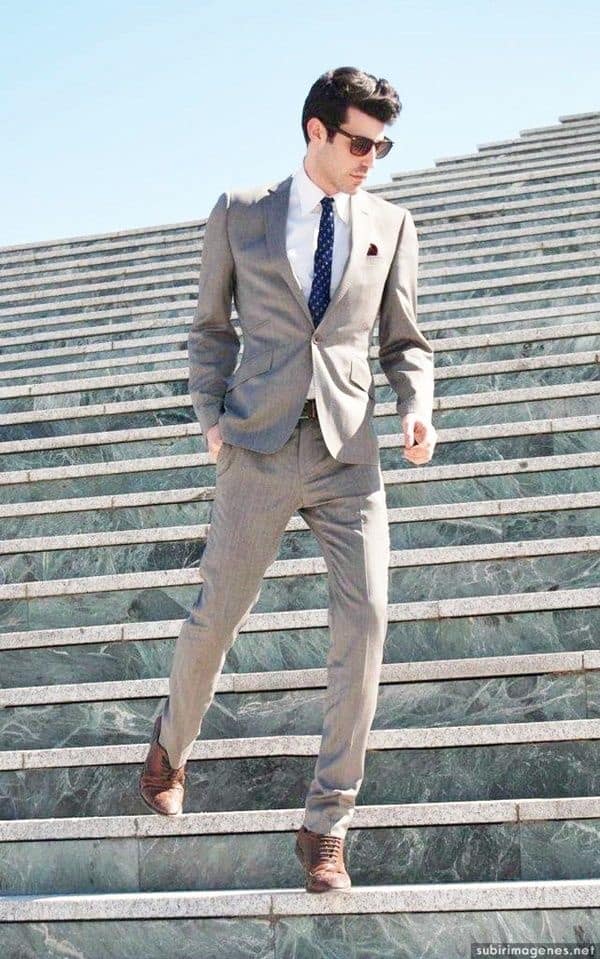 Image Source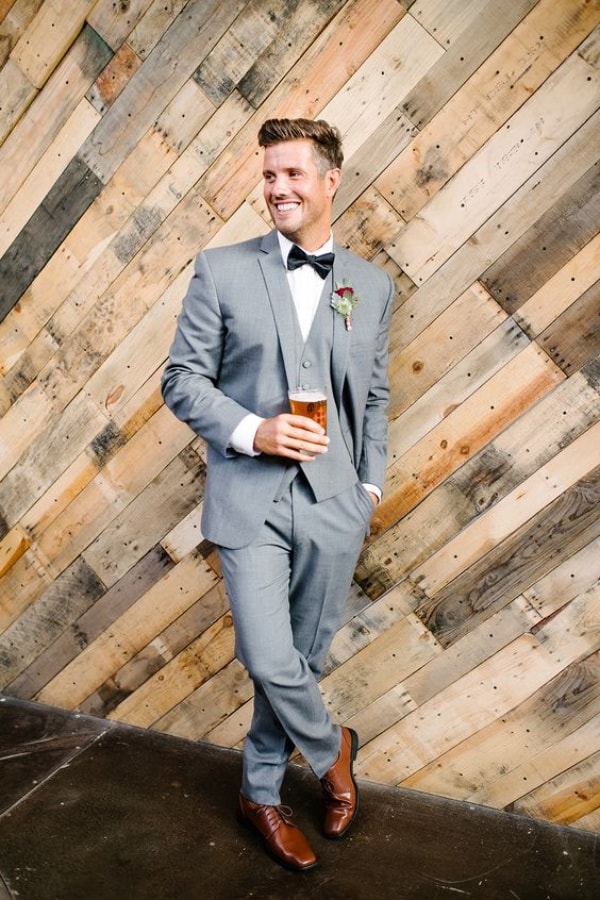 Image Source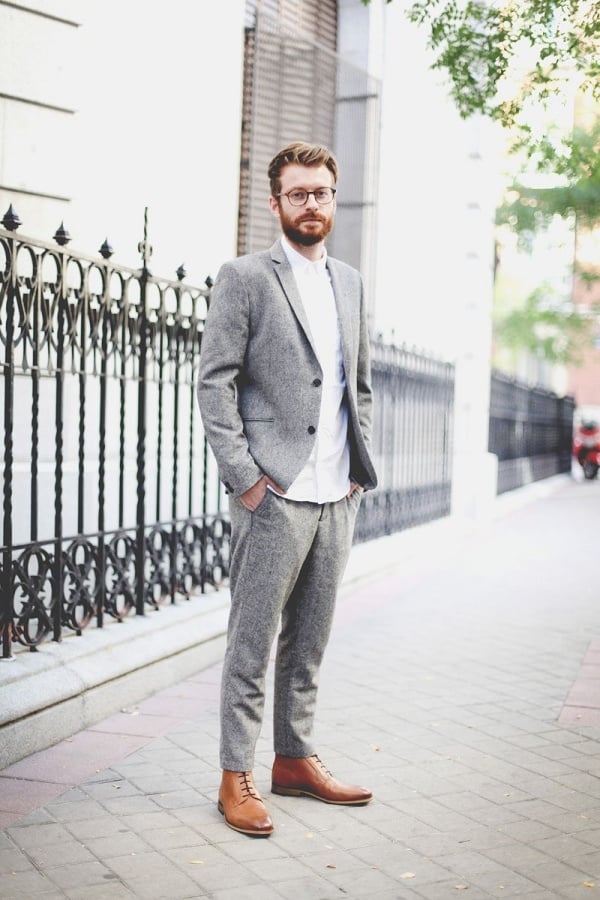 Image Source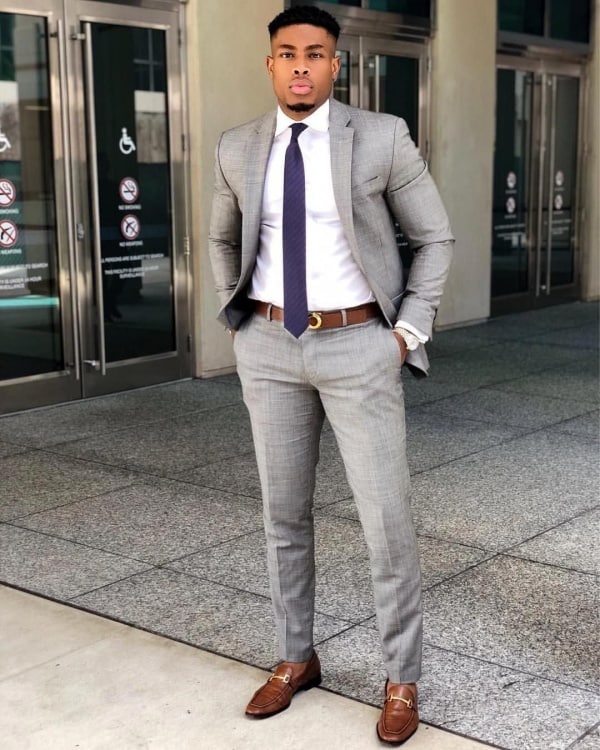 Image Source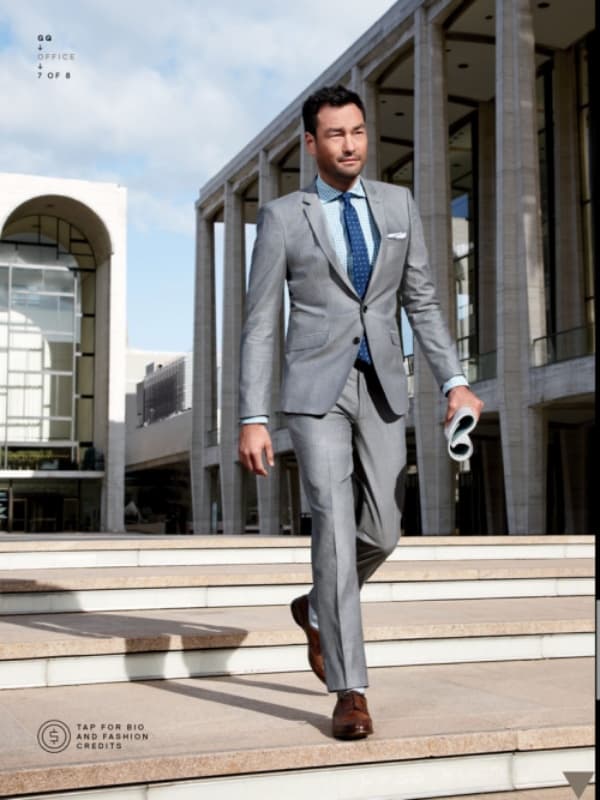 Image Source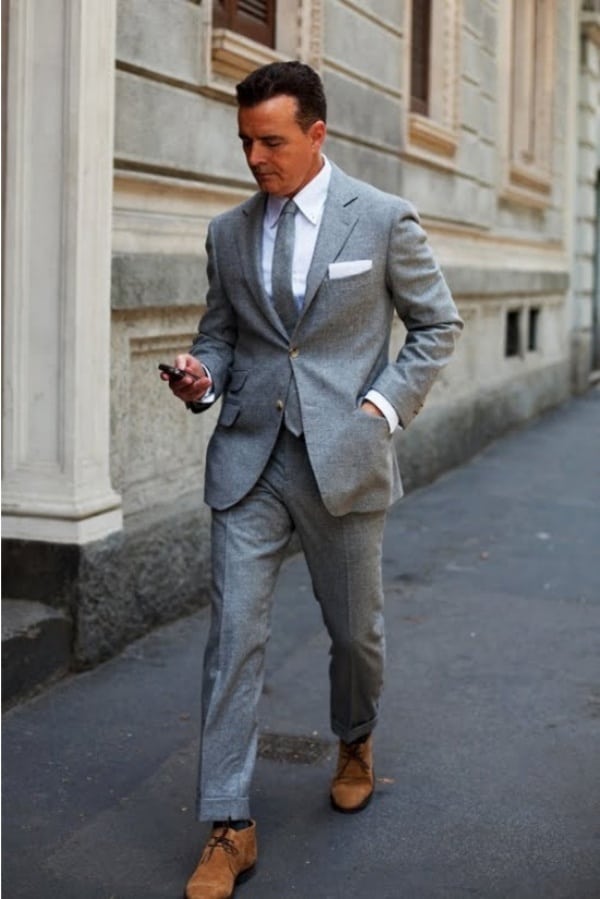 Image Source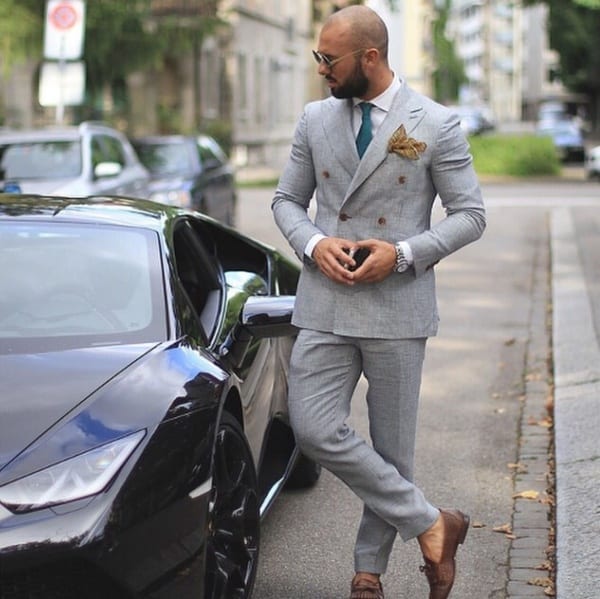 Image Source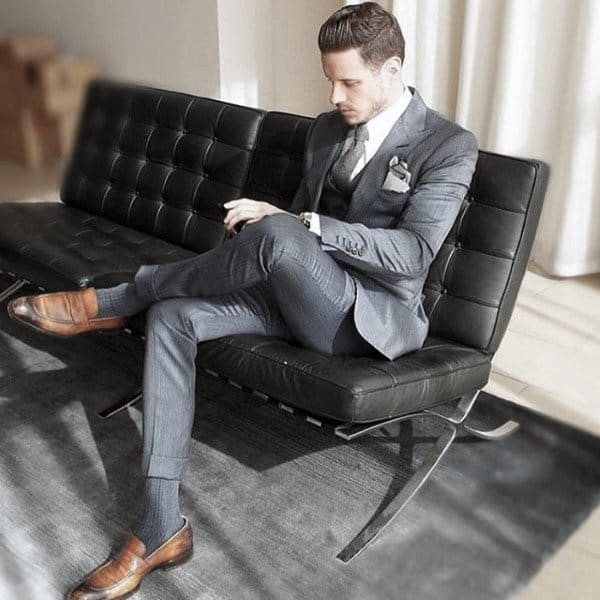 Image Source
F.A.Q
Is A Grey Suit Considered Formal?
Whether your outfit stretches out to be formal or informal clearly depends upon how you style it. Grey suits are both formal and informal at the same time. A light grey suit is typically considered more casual and informal when compared to a charcoal grey suit. When it comes to business, and you've to make a mark over there, you better go off with a charcoal grey suit. Also, grey has a look of confidence and experience. Formally showcasing your confidence and talent, the grey suit is perfect wear. Grey is neutral, and it matches with every skin tone, so you don't have to worry about your suits before leaving for the office every morning.
What Does A Grey Suit Mean?
As grey gives another level of confidence in a person, a grey suit with brown shoes is an excellent choice for a second interview. You can also wear a grey suit with brown shoes at a wedding if you prefer a suit over any other dress form. Almost every shirt looks great with a grey suit, but dark-colored shirts are mostly preferred. It is one of the preferable suits to travel with because of its incredible versatility and is considered the best color for everyday business. Any shoe shade goes with a grey suit, but brown shoes and a grey suit make the perfect match.
Conclusion
Throughout the 20th and 21st centuries, the tailors of England, Italy, and Spain have led to the design of men's suits. The slim-fitting mohair and sharkskin suits were developed in London and Milan during the 1960s. Over the ages, grey suit with brown shoes has been trending as well as the fashion of men. Recently women of all ages have started practicing this style like the men, where they have found this way too attractive on any occasion. Also, due to the humid climate, suits are frequently made in shades of grey to reflect sunlight.
Also, Read: