Most seem to think that shirt and pant combinations for men are the most boring thing to discuss in the world. But if probed deeper, there's an array of interesting things to discuss and consider regarding men's formal fashion.
Gone those days when men's fashion was restricted to certain combinations, and everything seemed too stale. Now, the picture is somewhat very different, which proves how far it has come.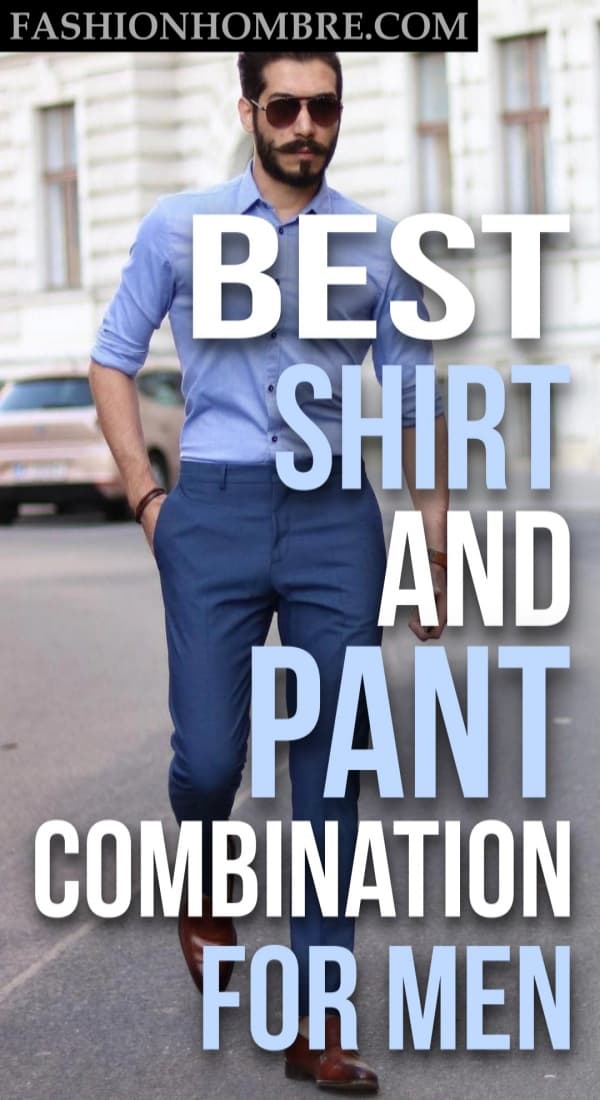 A plethora of changes has taken place in the men's world of fashion since the initial period. So, nothing is monotonous and boring anymore, and to utter surprise, everything has a hint of color and contrasts with it. Be it your every day at work, or a party, the range of formal outfits can cater to each of its purposes.
However, amidst so many options to choose from, you might end up getting confused regarding which one to choose. Thus, we have brought you some important tips and suggestions to wear your formal wear right.
No offense has been meant to anybody with the mention of words "shape," " body," "skin tone," and such. Kindly, do not relate yourself personally to the adjectives.
How To Choose The Perfect Shirts And Pants Color Combinations?
Know Your Ideal Skin Tone

The combination of shirts and pants depends primarily on your skin tone. Whether you're darker, medium skin tone, or fair, can create a stark difference in the fashion combination. Most people have the wrong notion that darker people must wear lighter shades, but nothing such yet exists! Instead, darker people must wear darker contrasts, and fairer people must go for lighter pastel shades, while the medium skin tone people can play around with a few color variations.

Be Sure About The Checks And Patterns

Just like solid-solid can ruin the fashion game, checks-patterns, if worn together, can do the same too! So, if you're wearing a check shirt, then make sure not to pair bottom wear with patterns on it. Do the vice-versa if you're opting for checkered pants. Otherwise, too many patterns might repel each other, thus ruining the look.

Pick The Perfect Contrasting Colors

When you are up to finding the perfect shirt and pants color combinations, maintaining the ideal contrast is very important. It takes a bit of research and some fashion sense to pair lighter-colored top wear, with a dark-colored bottom and a neutral pair of shoes. However, there is no such limitation when it comes to your choice of color palettes.

Go For The Evergreen Pairs

If you have no clue about contrasts, patterns, and cannot make the fabric choice, then you must play it safe to save yourself from looking like a clown. There are certain evergreen shirt and pants pairs and combinations that never goes out of style, and can be paired anytime. Go for blacks and whites, pinks and greys, blue and beige, as these pairs can never really go wrong anywhere.

Choose The Right Fabrics

Fabrics can make a huge difference, especially when you are looking forward to the right shirt and pant combinations for men. Whether it is a cotton shirt with cotton pants or a rayon shirt with polyester pants, it is the fabric that determines your look. So, get a fabric testing session before you choose your material.
Now that you know how to pick the right formal shirts and pants combinations for yourself, it is time for some specially curated suggestions from our end. Take a look!
Best Shirt And Pant Combinations For Men
1. Grey Pants With Black Shirt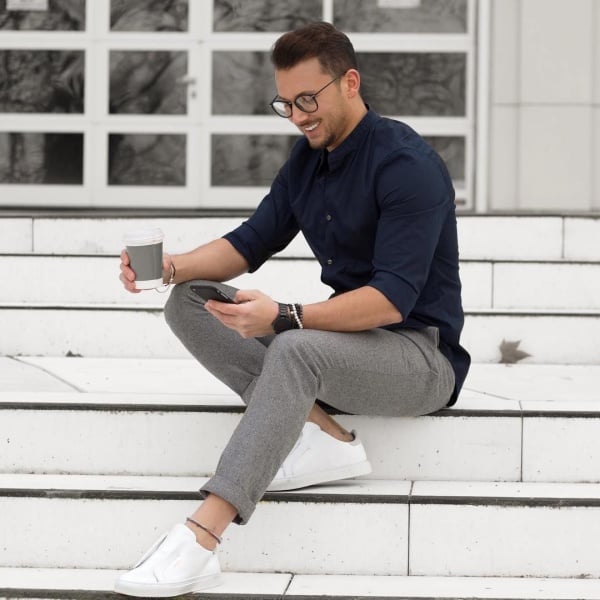 Image Source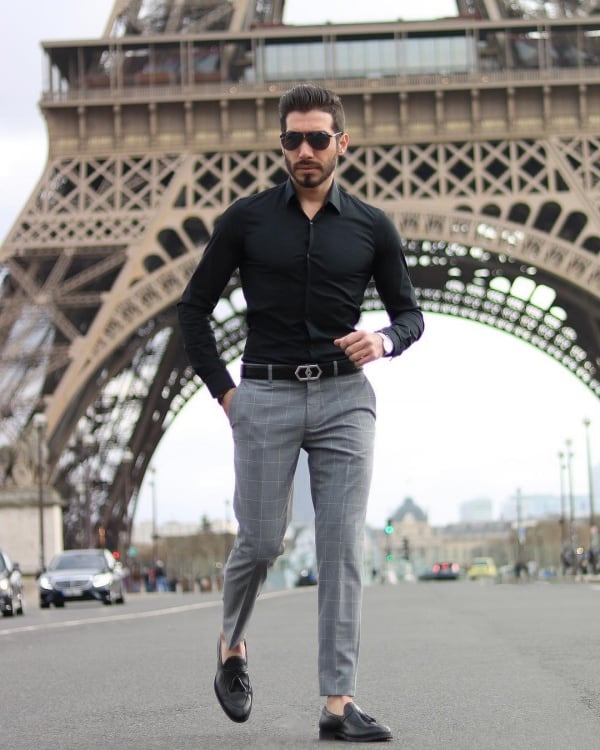 Image Source
Most men love to keep it neutral and do not want a stark contrast. For those, such a shirt and pant combination of neutral shades can work great.
Though many might object the combination, the contrast of grey and black can complement each other very well.
The incredibly dapper formal look, paired with a pair of brown shoes, can create an instant appeal to the onlookers.
2. Black Pants With Blue Shirt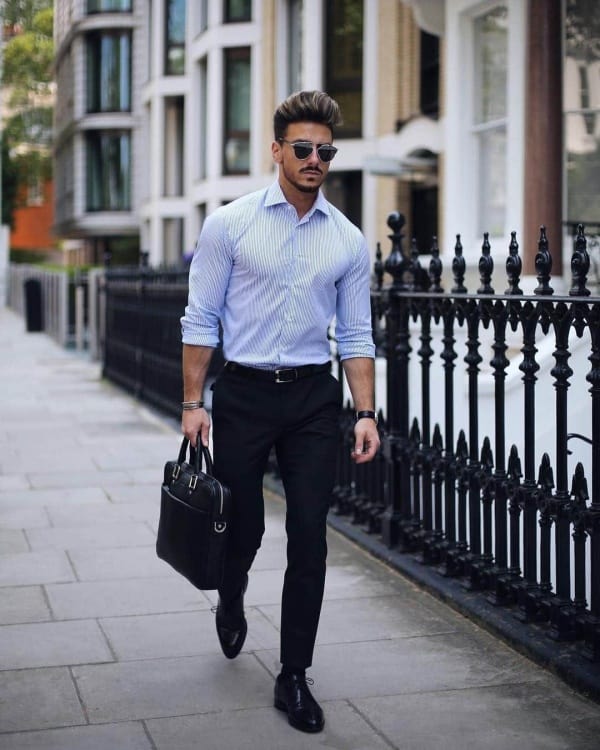 Image Source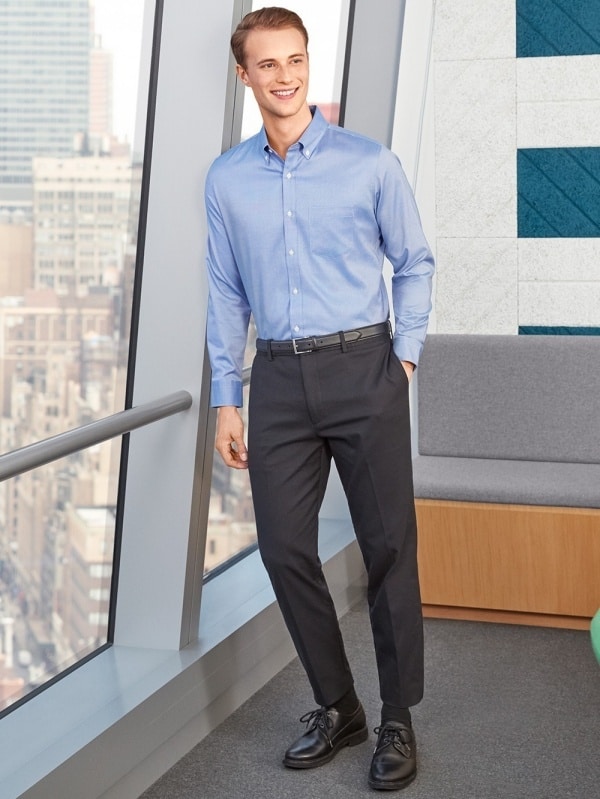 Image Source
If you're up to a polished and elegant look, wearing a blue shirt with black pants can work like wonders. Especially those who prefer comfort dressing, injecting a bit of class along with outfit satisfaction, is a great idea.
Do not forget to ensemble a pair of dark brown leather shoes with it for the extra fashion pinch. The outfit has the perfect modernised casual touch to it.
3. Khaki Pants With White Shirt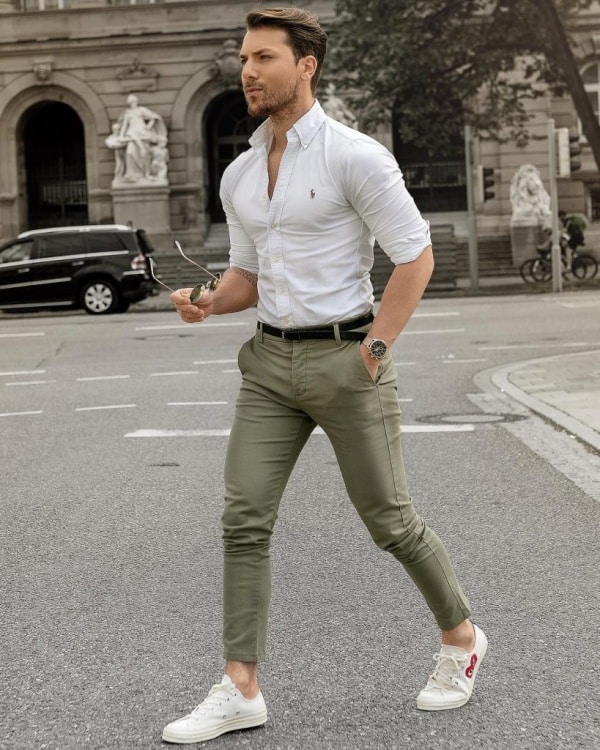 Image Source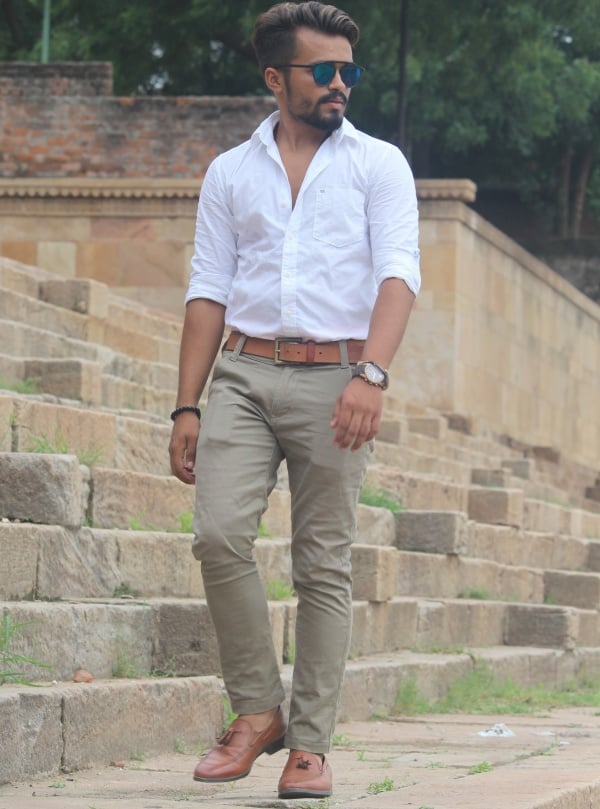 Image Source
The Khaki Pants with White Shirt is the new cool, and those who want to get a fresh and crisp look can choose this attire. Button up a white shirt with a pair of khaki chinos pants for the perfect relaxed, and casual look.
Those who prefer light-colored contrasts can ensemble it with a pair of tan brown or white shoes for the classic summer look. The best part about the particular shirt and pant combination is that it would ideally match any skin tone.
4. White Shirt With Black Pants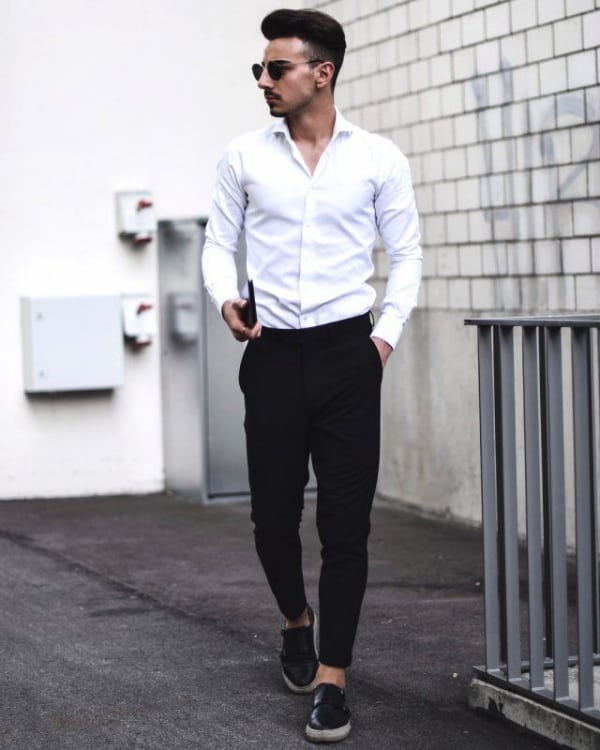 Image Source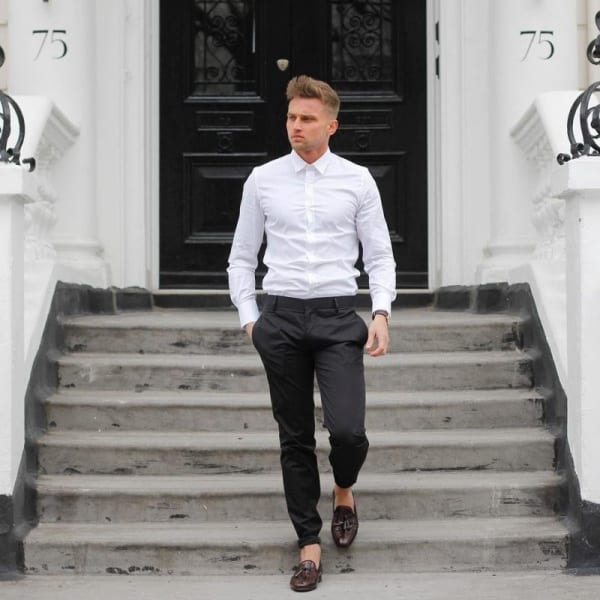 Image Source
Among all the combinations that exist, it stands out to be one of the most classic combinations of all time. If you do not possess ample knowledge about fashion, then the particular combination is going to be an easy game for you.
Just put on the crisp white shirt and pair it up with a fine pair of black chinos pants. It is the perfect combo to wear if you're heading for a corporate meeting. You can even shroud on a blazer to amp up the look.
5. Blue Pants With Pink Shirt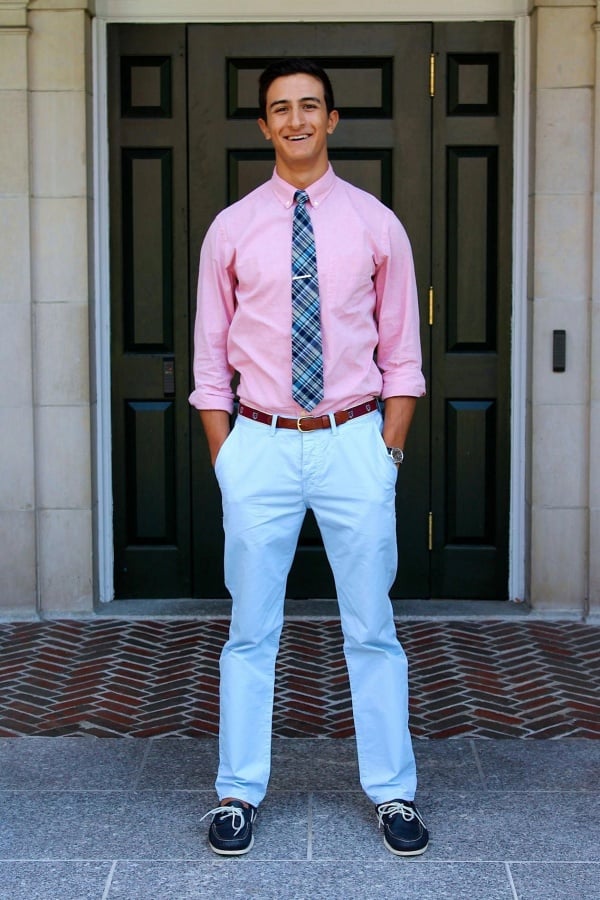 Image Source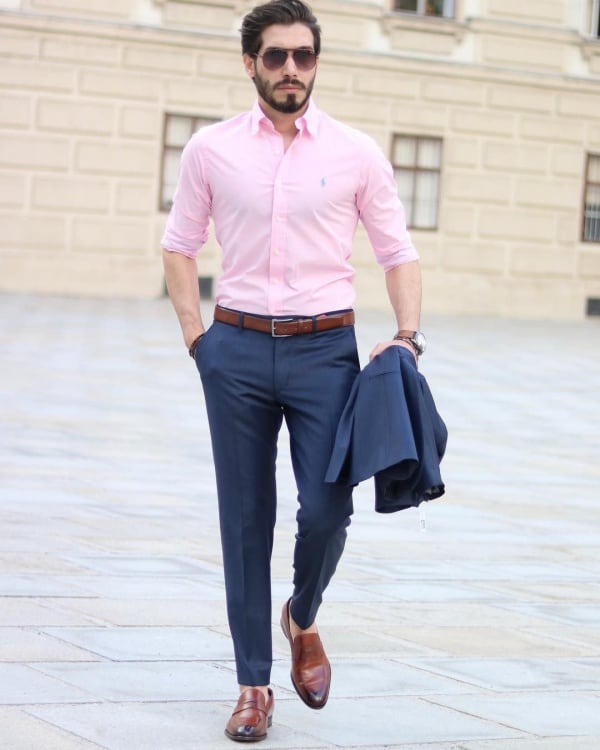 Image Source
Who said pinks aren't for men? Nobody. Thus, if you have the right sense of colors and fashion, then even you can rock a pink shirt with blue pants. This particular shirts and pants combination can give you a quirky fashion twist and can add a fresh essence to your outfit.
If you're wearing a bright pink color shirt, then pair light blue pants with it, and if the to wear is of a lighter shade, then pairing up a navy blue pants would be great. Those who want to keep it more casual, a pastel pink shade, would be fabulous.
6. Light Blue Shirt With Dark Blue Pants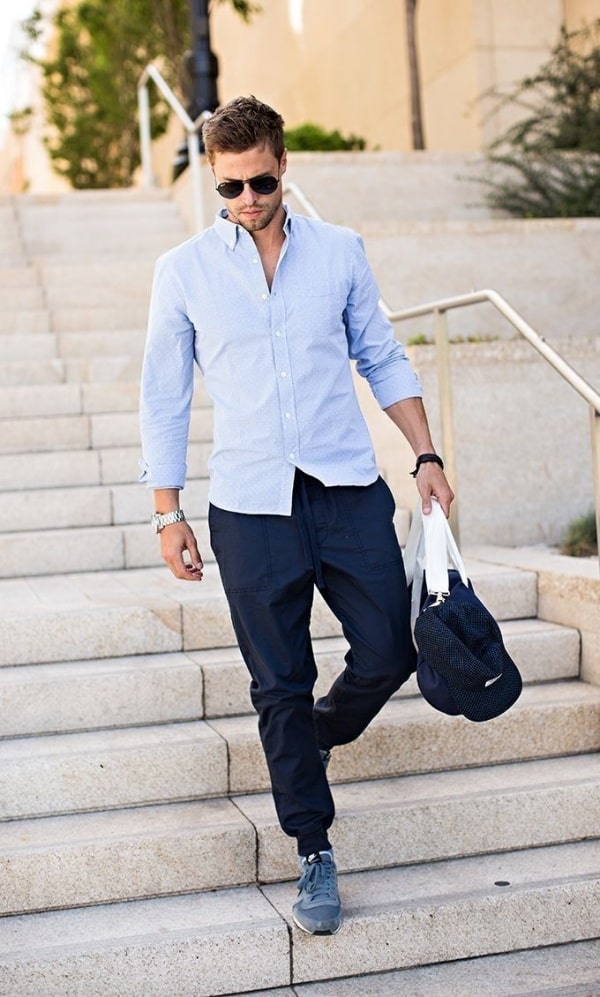 Image Source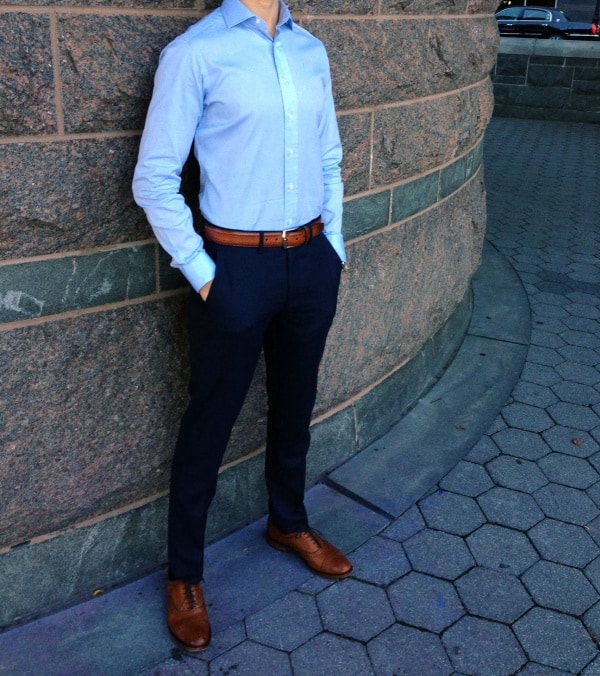 Image Source
Blue and blue, when paired together, can contrast each other very well and looks quite amazing. If you love the monotone color palette way too much, then pairing a light blue shirt with a pair of dark blue pants can level up your fashion game.
Wear dark blue cotton pants and pair up your sky blue shirt for the perfect summer outfit. For someone who has a medium to darker skin tone, the combination is going to work well.
7. White Shirt With Grey Pants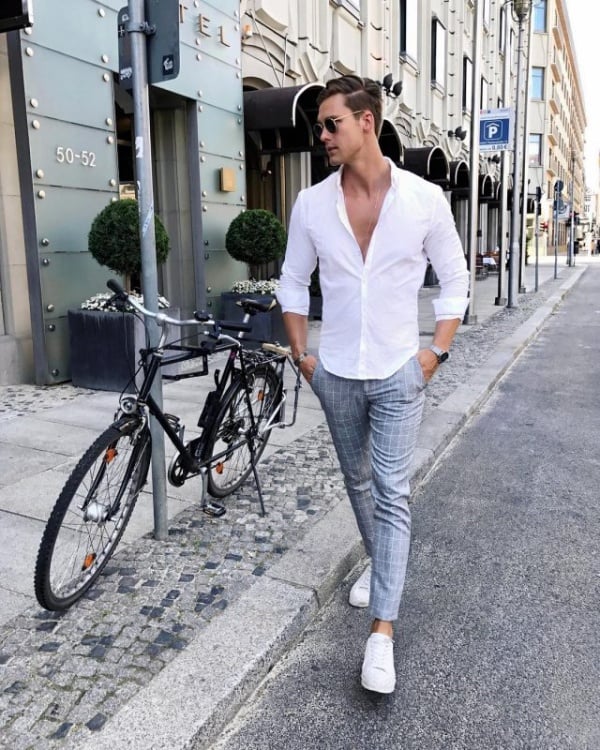 Image Source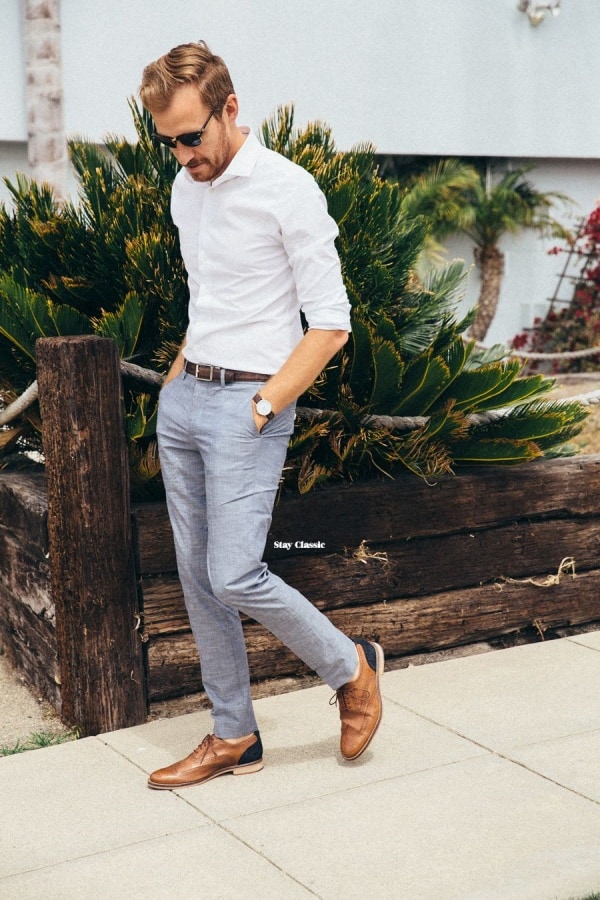 Image Source
No matter what age group you are, and to what type of style you follow, the white and grey are one of the most popular combinations to follow.
The best part about wearing a solid white shirt with a pair of charcoal grey pants is that it doesn't put you into any barrier of color palettes, and thus, anybody can carry it in their own way.
Though white and grey belong from a similar color palette when paired rightly, they can create sharp contrasts with each other.
8. White Pants With Dark Blue Shirt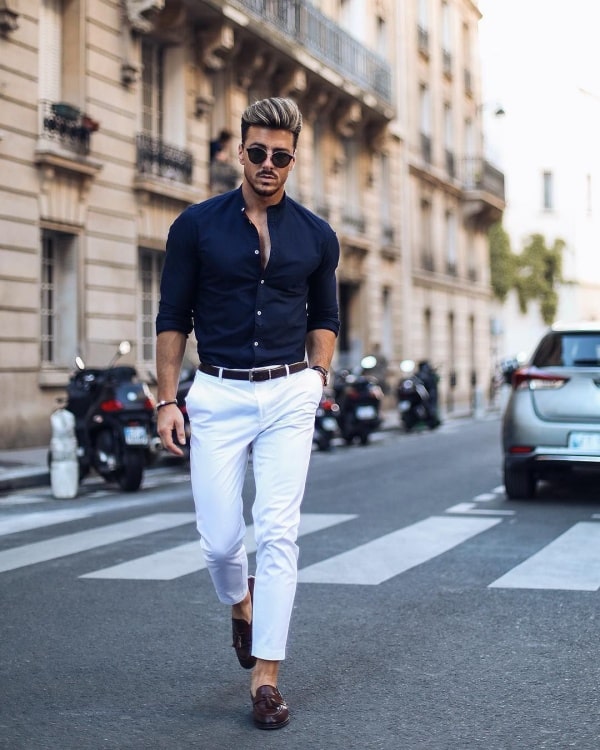 Image Source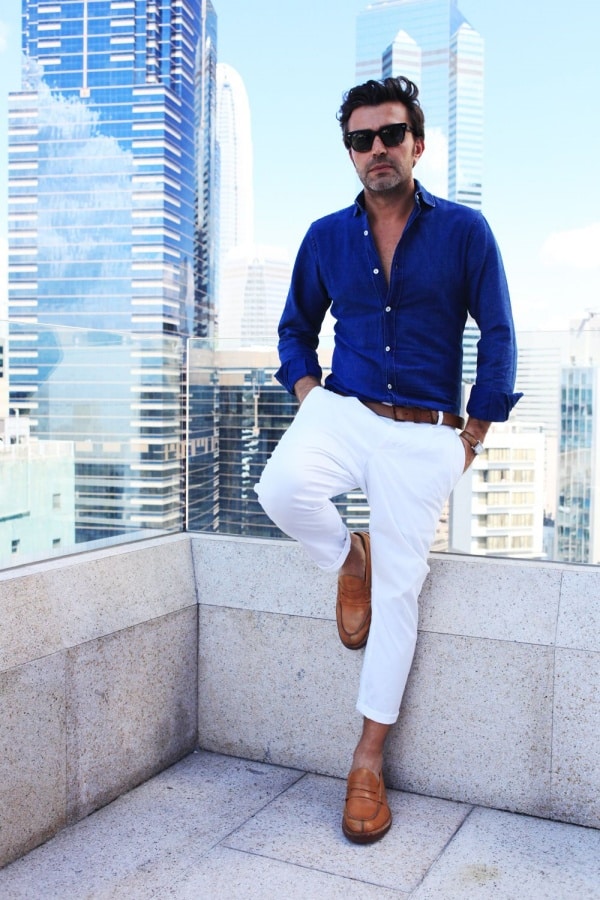 Image Source
If you love to do a bit of experiment with fashion and outfits, then bossing up a white pair of pants would be fabulous. Not often do the people see a man flaunting a crisp white pair of pants with the right dark blue contrasting shirt. So, you're going to attract a lot of gazers.
To add more dimension to your look, you can go for white checkered pants, which elongates till above the ankle with a body-fit dark blue solid buttoned shirt. Complete the look with a pair of black shoes for the extra amp.
9. Green Pants With White Shirt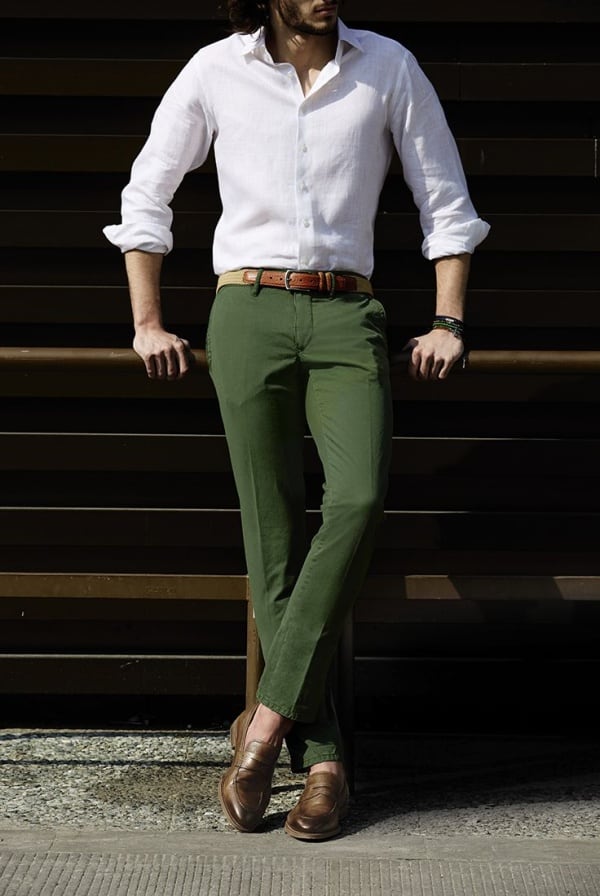 Image Source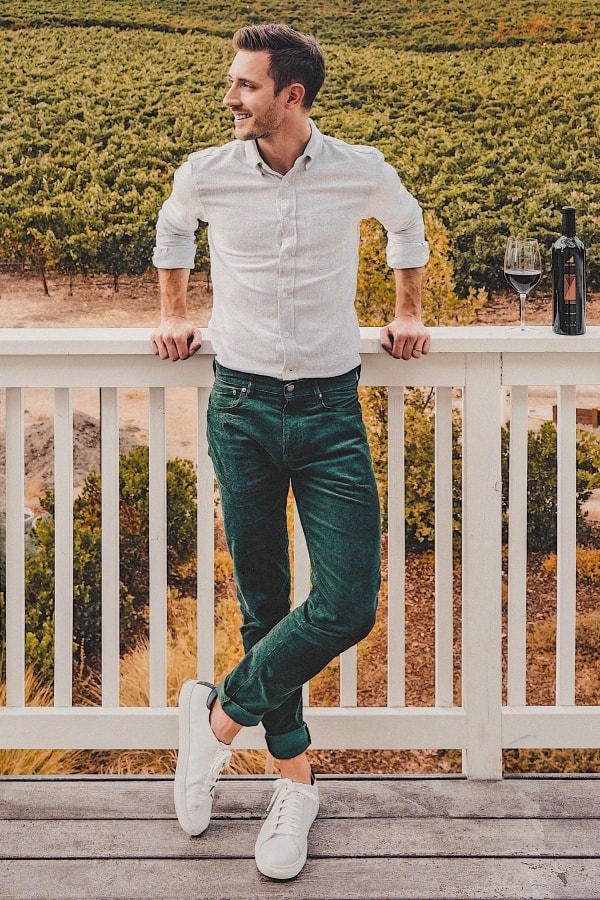 Image Source
Though you cannot wear a particular combination while going to your office, but it can definitely be worn at a party or a club without giving a second thought.
Choose a sap green spare pair of pants and pair a short white shirt with it. Also, do not forget to wear a rust-brown pair of shoes with it.
Whether you are heading for a party, or for a holiday, this look can cater to every purpose.
10. Maroon Shirt With Black Pants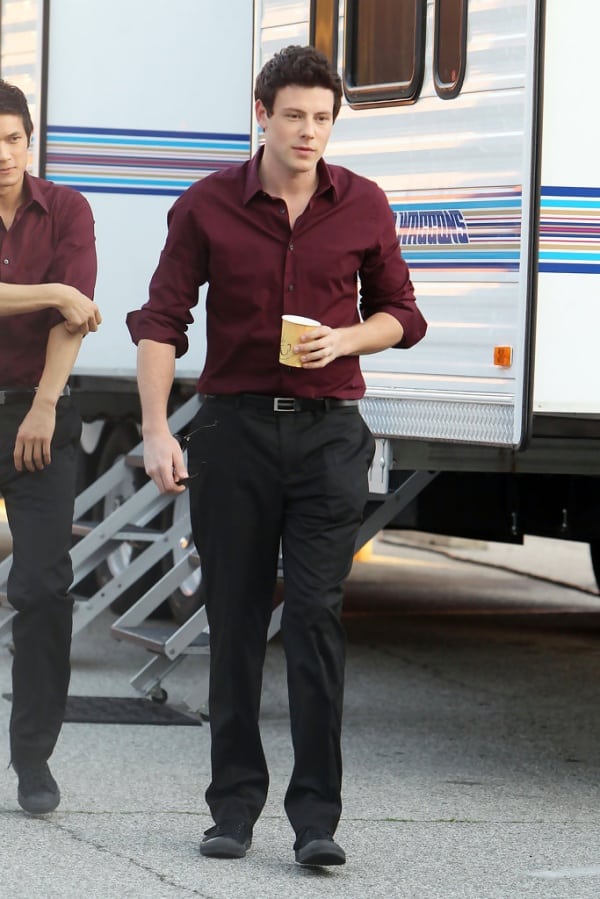 Image Source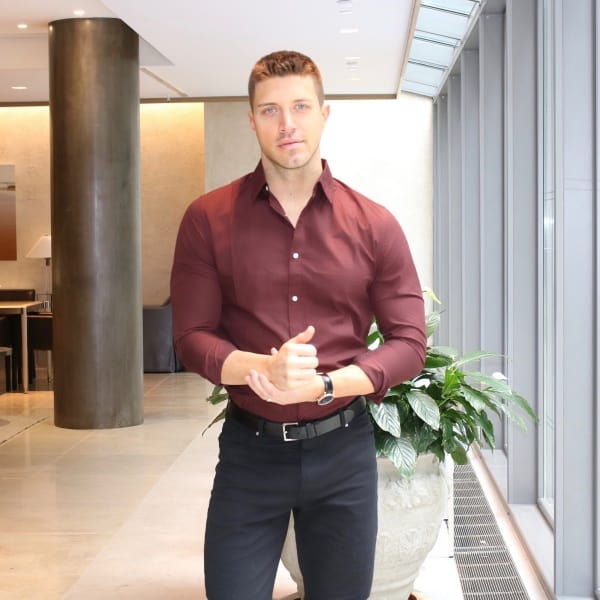 Image Source
Maroon, even though a darker shade, can look incredibly cool if paired with black pants. Black, being a neutral color, can be paired with any colored shirt, but when paired with maroon, it expresses a richness to the look.
If you're concerned about your body shape, then wearing darker neutrals like maroons and blacks, can make you look a lot more slender. Lastly, it is essential to judge the fabric of the shirt and the pants to ensure a clean look.
11. Checkered Shirt With Khaki Pants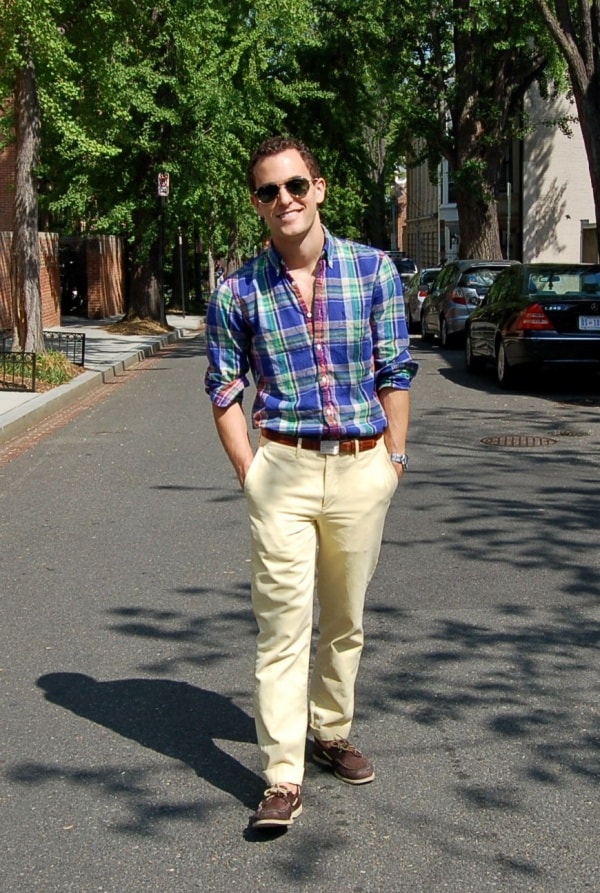 Image Source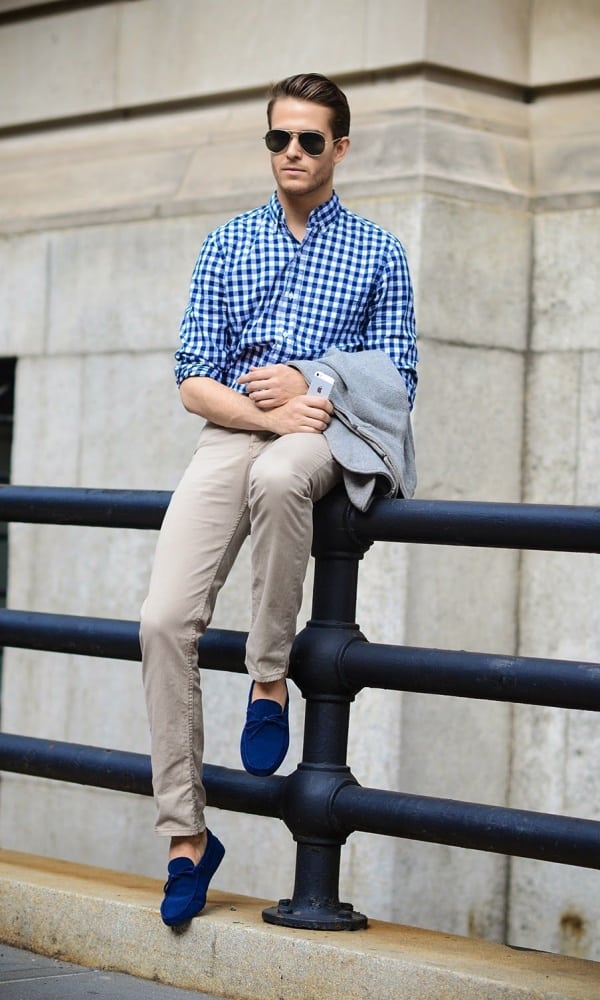 Image Source
If you're too fond of the checks, then wearing a neutral check shirt with a pair of khaki pants, would be great. Khaki is a neutral color, and thus, allows you to pair any colored checks (especially darker) with it at ease.
It is one of the most relaxed and casual looks that one can wear. For someone who loves to experiment with the style, this combination is a must-have!
12. Cream Pants With Black Shirt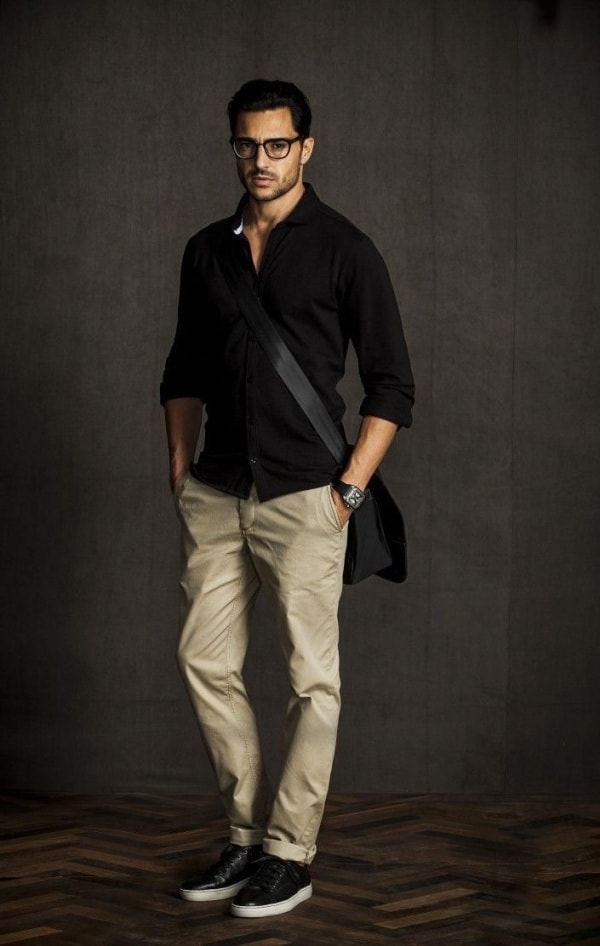 Image Source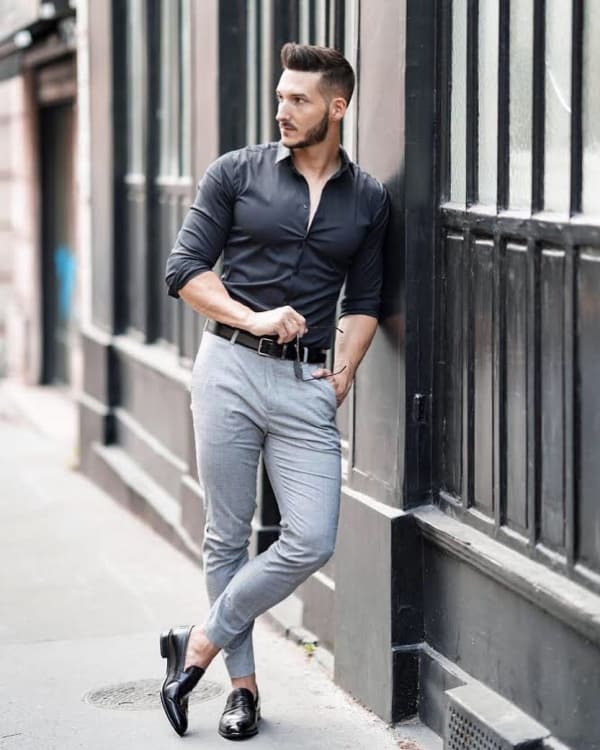 Image Source
Those who always love to keep their contrast style up-level, wearing a combination of cream pants with a black shirt, is the ideal example.
Consider wearing a light cream-colored pants and top it up with a solid black shirt from your closet.
If you are someone who does not prefer many colors in their outfit, such a shirt and pant combinations for men will definitely suit you.
13. Dark Brown Pants With White Shirt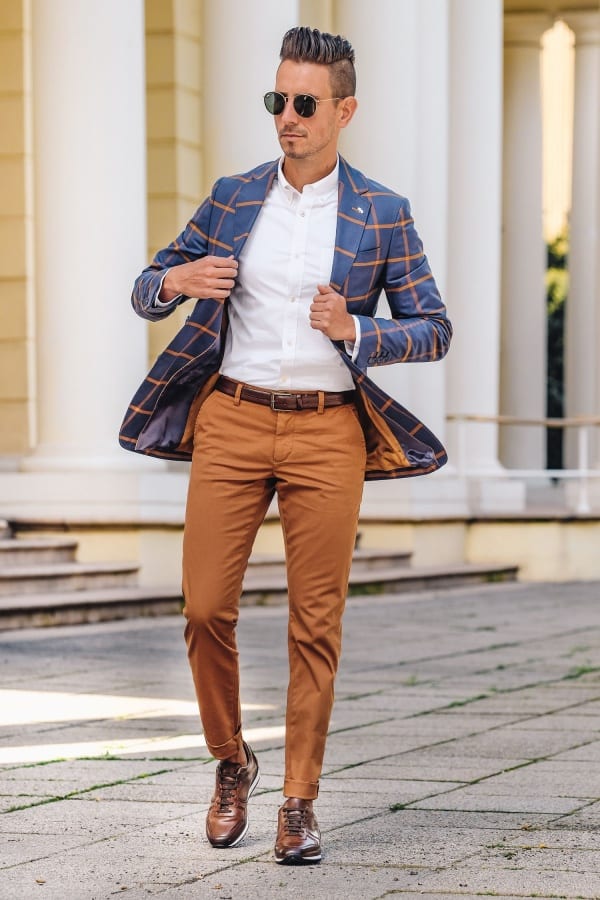 Image Source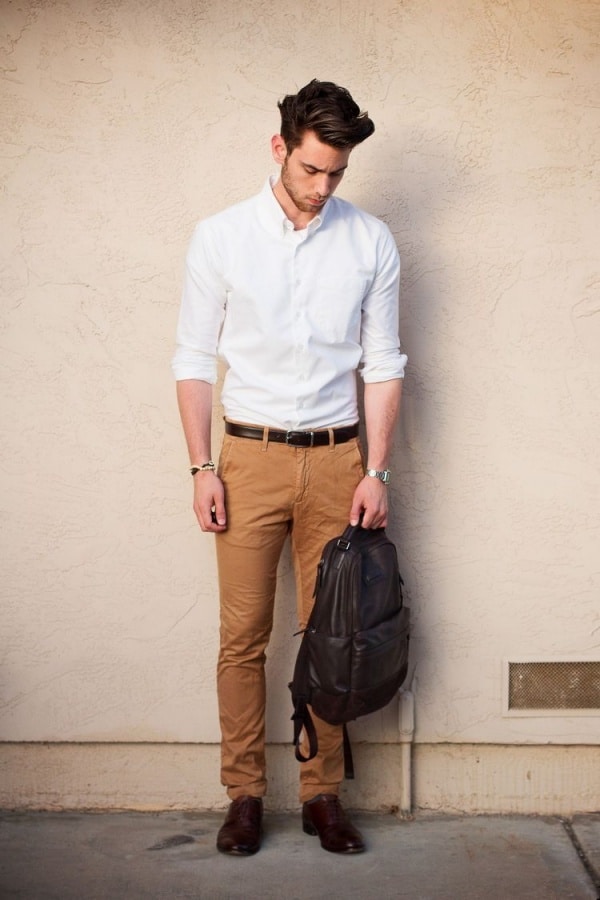 Image Source
If black contrasts are too mainstream for you, then going for dark brown pants would be great. Instead of giving a neutral look, it will create a contrast and add some dimension to it.
However, such a dark color requires some light contrasts to help the fashion game level-up. Thus, pairing a crisp white cotton shirt with a dark brown color is truly a game-changer.
But, ensure you're choosing the fabrics, which has a certain gleam and richness, to amp up the look.
14. Dark Green Shirt With Cream Pants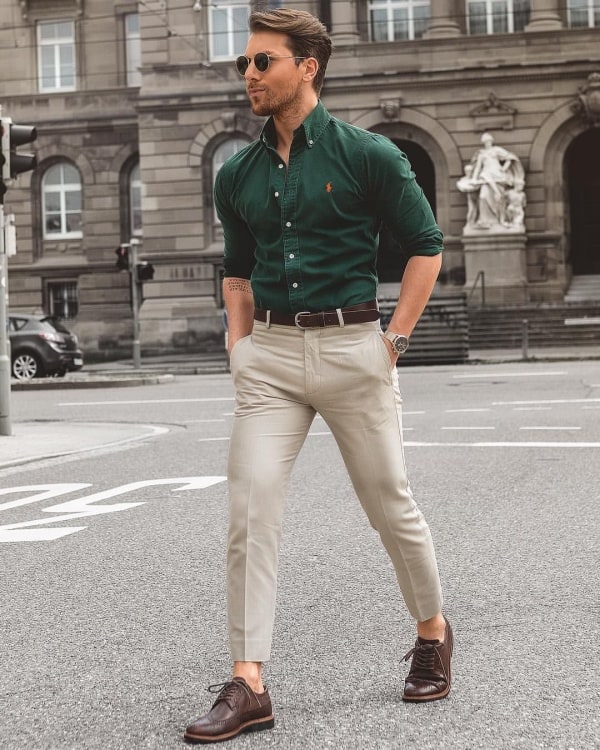 Image Source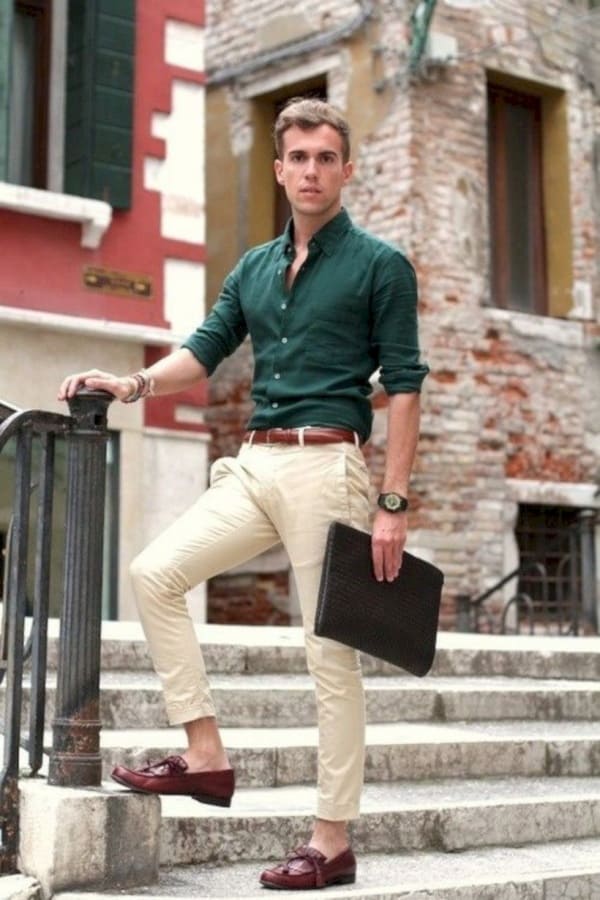 Image Source
Are you prepping up for an office dinner or a meeting, then buttoning up a gleaming dark green shirt would be appropriate.
If you're slim and slender, then choose a narrow-fit pair of cream-colored low waist chinos and flaunt a full-sleeve dark green shirt.
It is not a common combination that you get to see every day, and thus, if you can pull it off nicely, it can definitely upgrade your style game.
15. White Shirt With White Pants And Blazer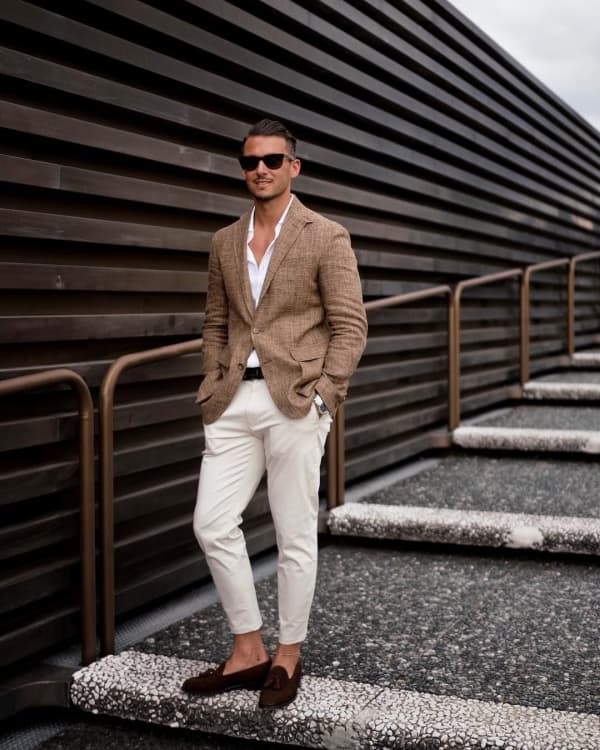 Image Source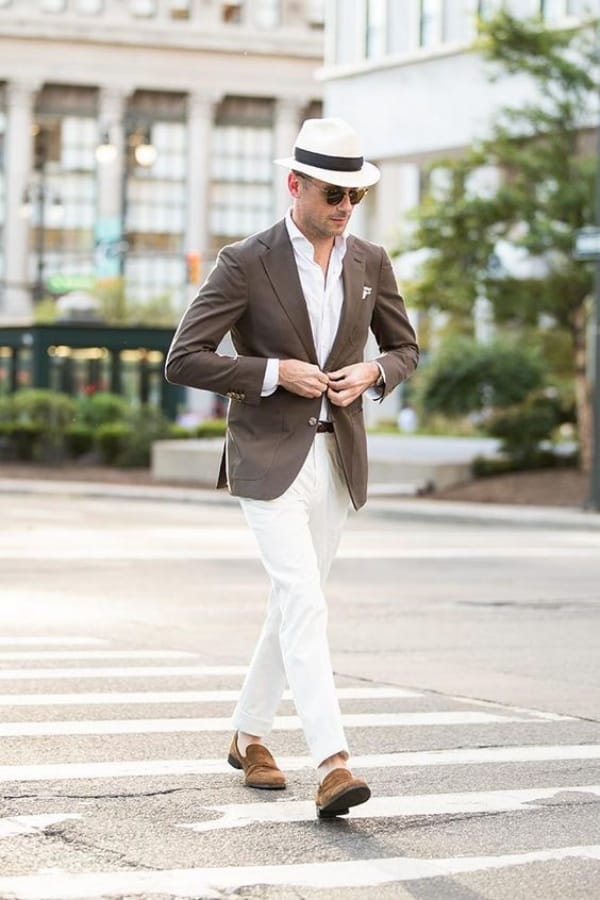 Image Source
If you are heading to a wedding party or any special occasion, then draping yourself up in an all-white outfit from top to bottom, would be absolutely out of the world.
Pair up a crisp white shirt and wear a similar shade of pants and blazer to maintain the monotone.
However, if you want to add some amp to it, you can go for a patterned blazer or pants. Add some precision to the look with a black bow-tie, and cufflink.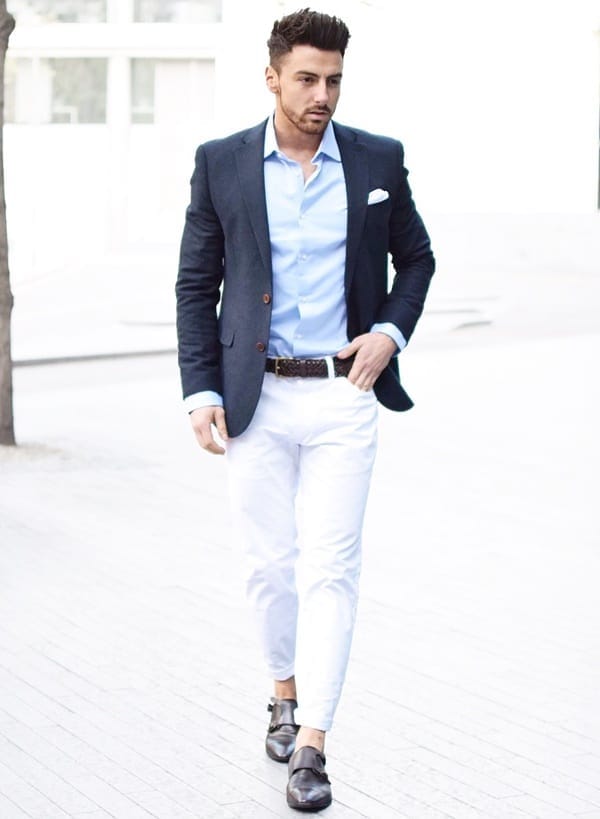 Image Source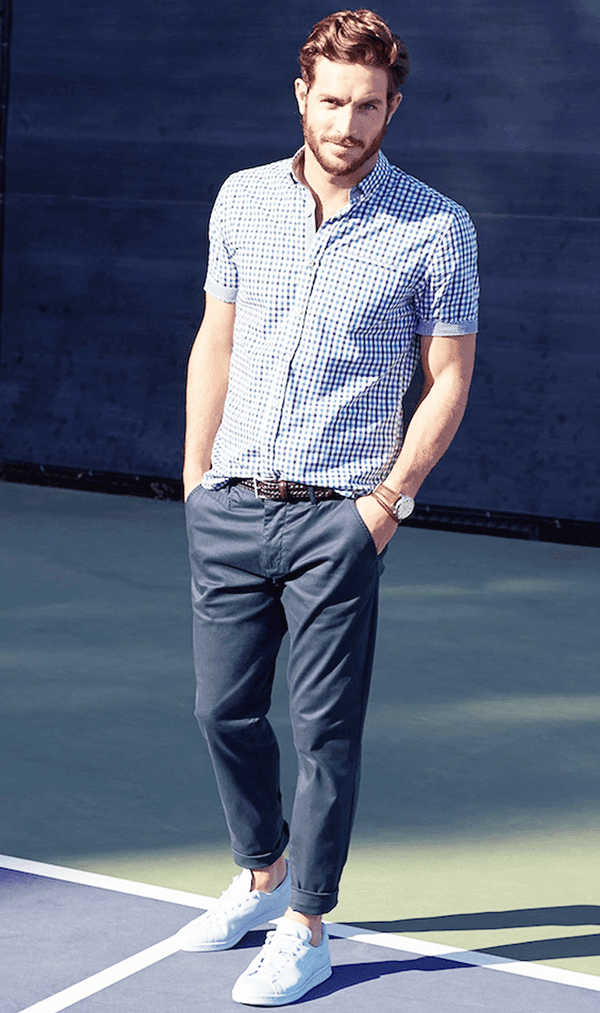 Image Source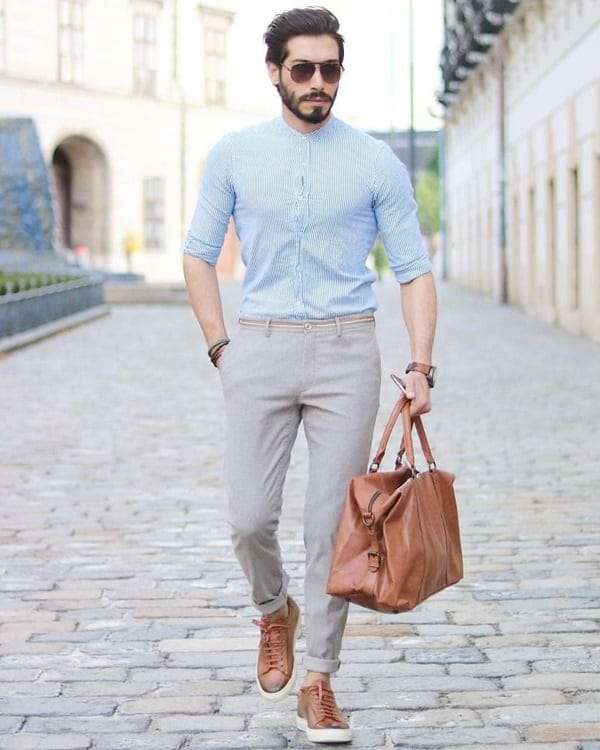 Image Source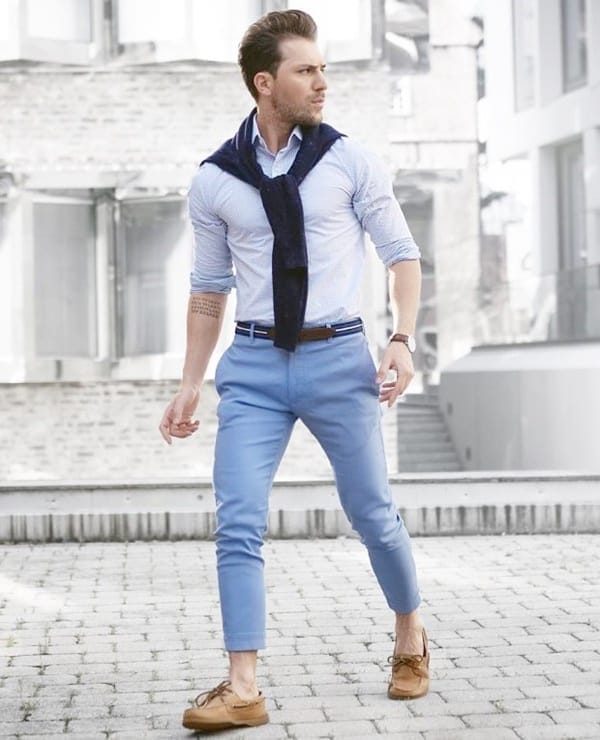 Image Source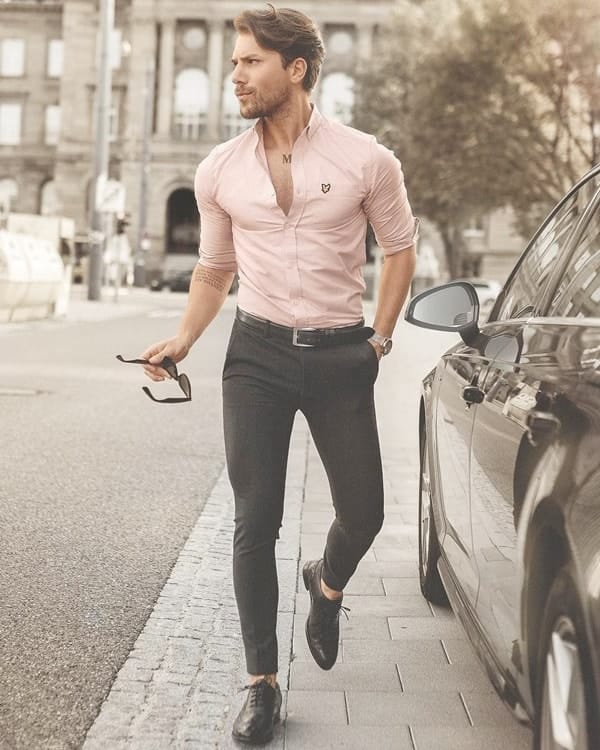 Image Source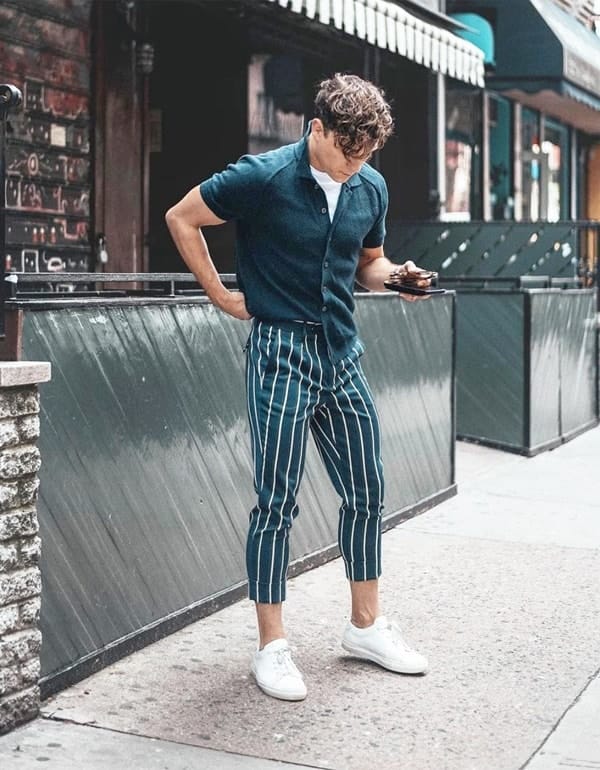 Image Source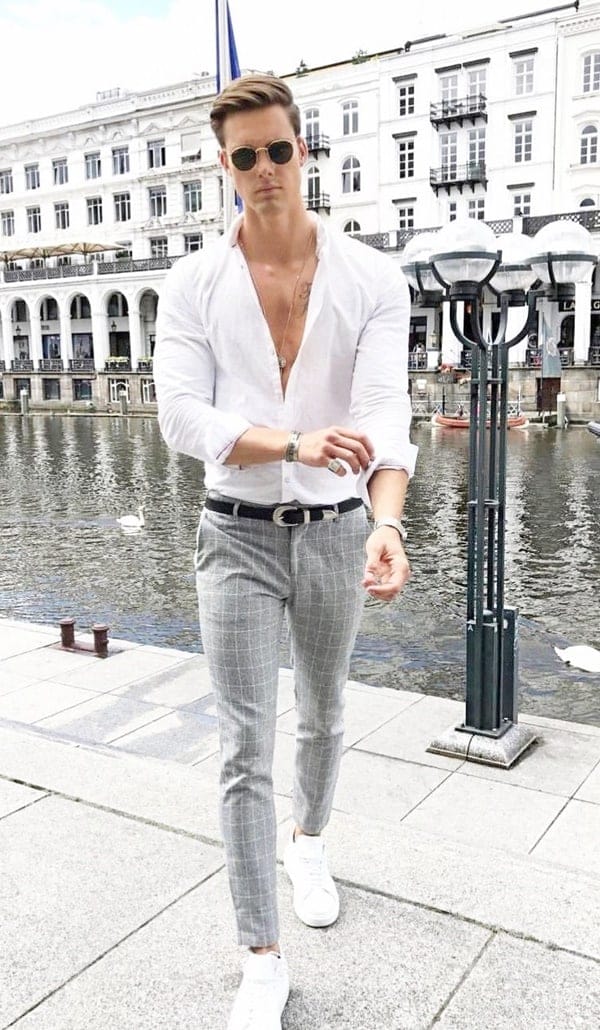 Image Source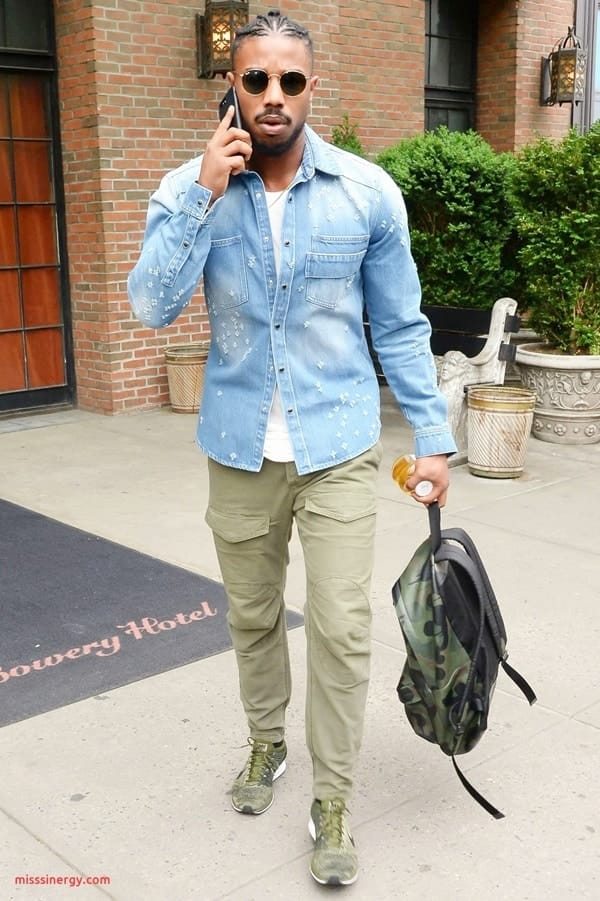 Image Source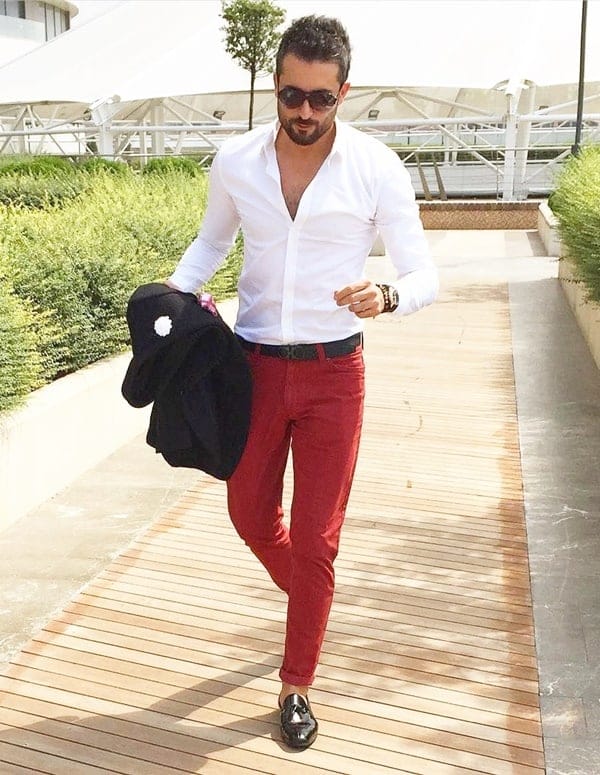 Image Source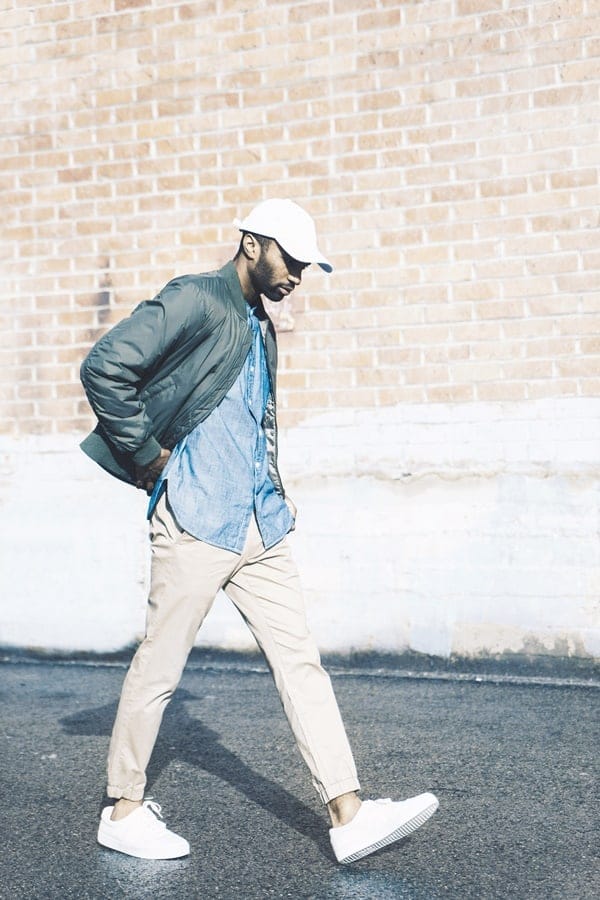 Image Source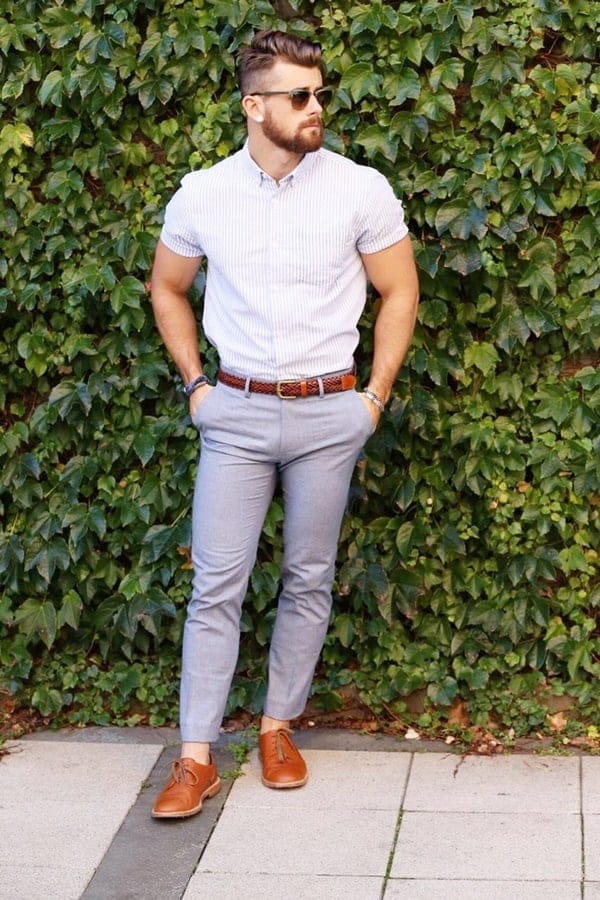 Image Source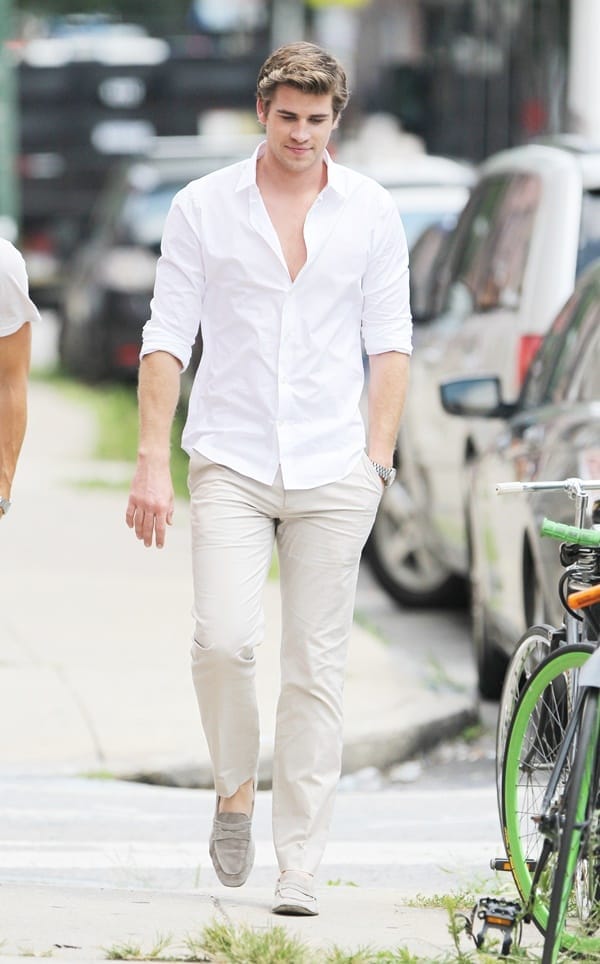 Image Source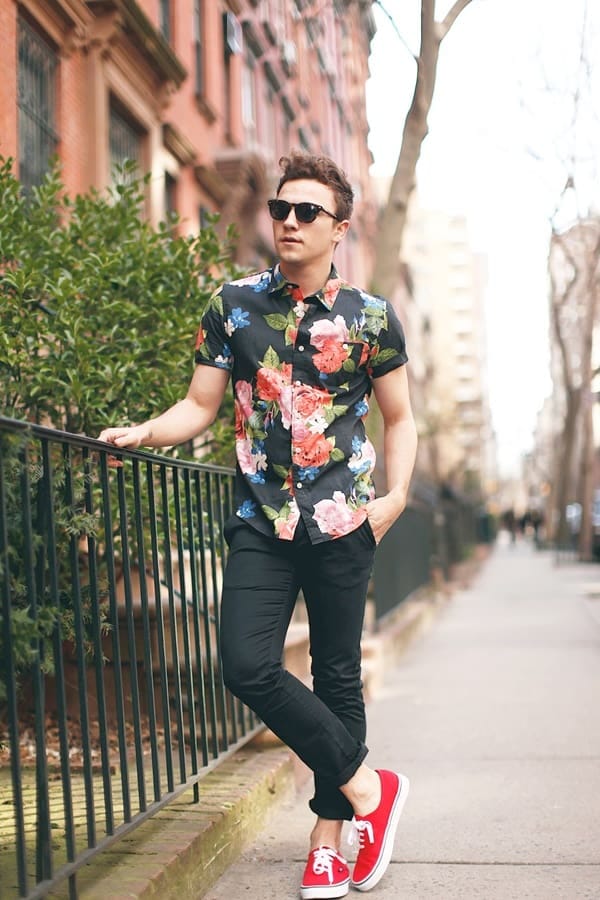 Image Source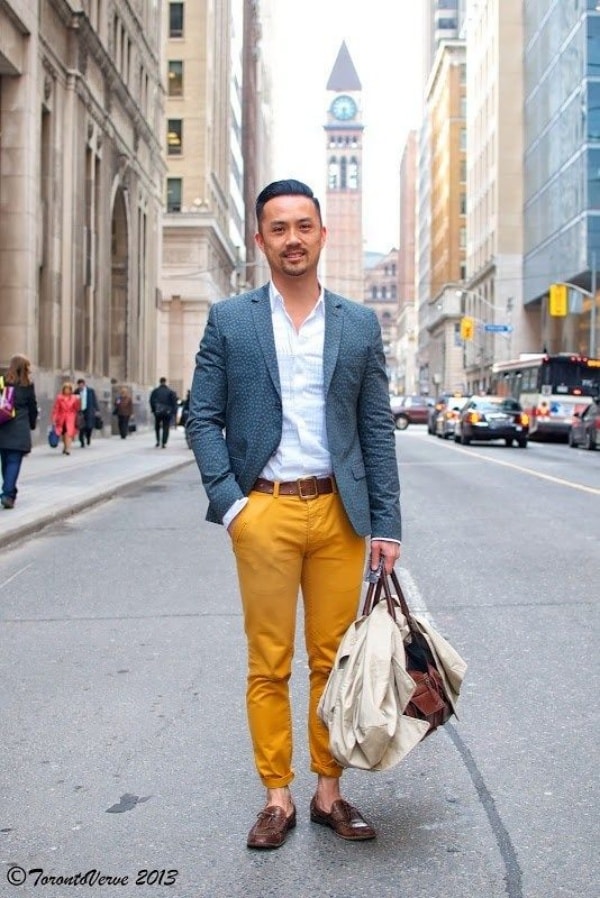 Image Source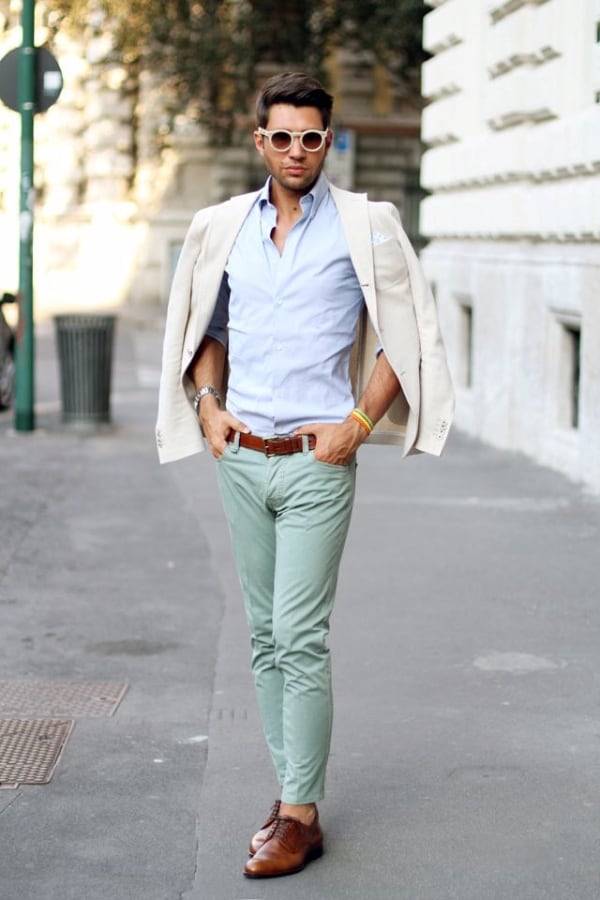 Image Source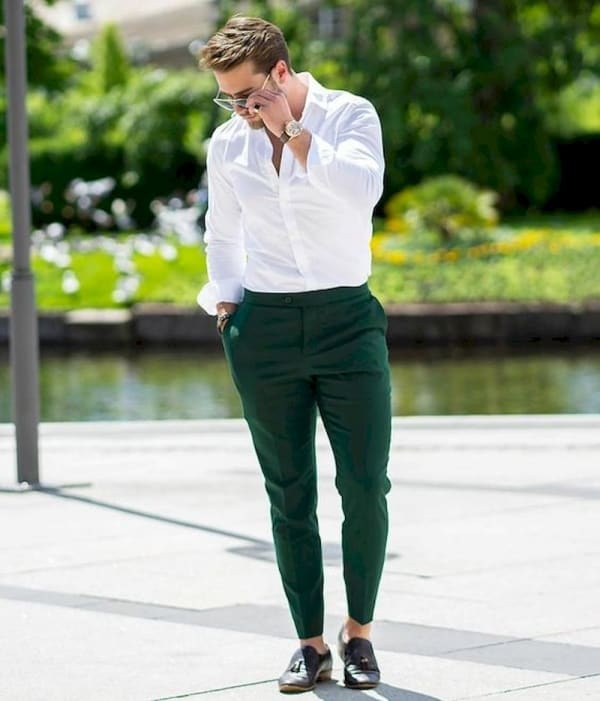 Image Source

Image Source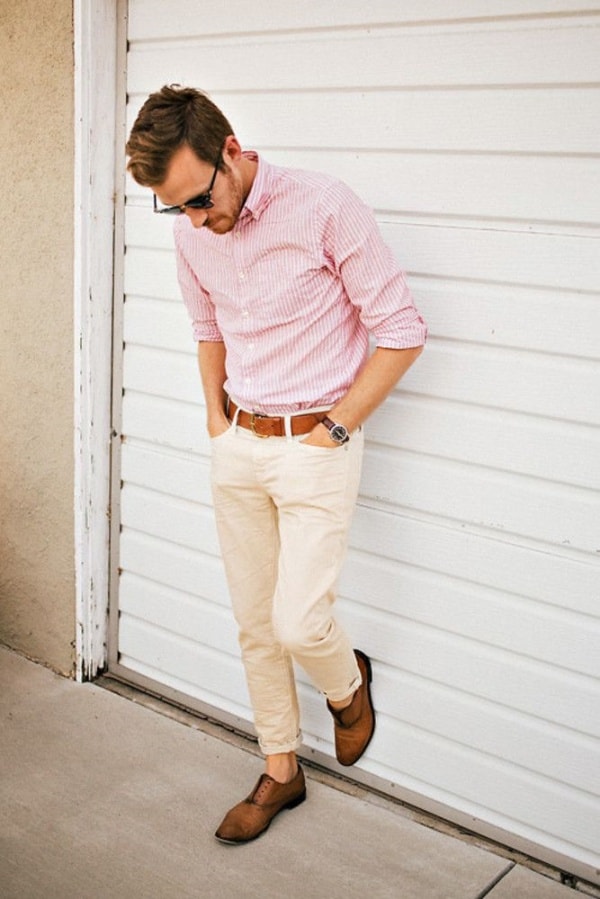 Image Source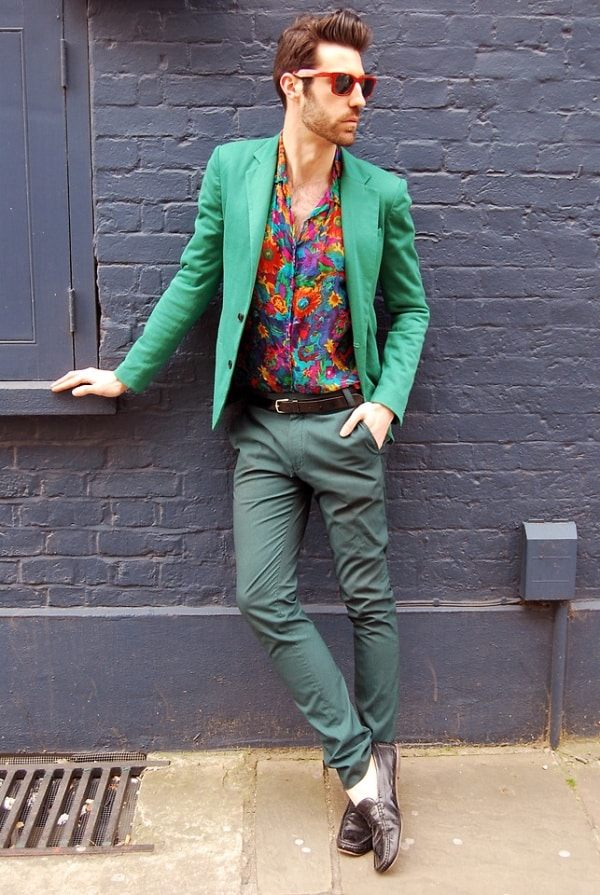 Image Source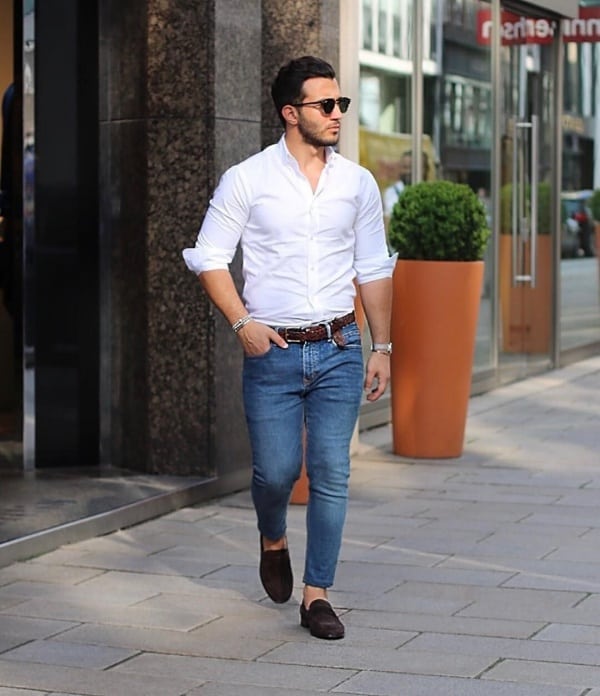 Image Source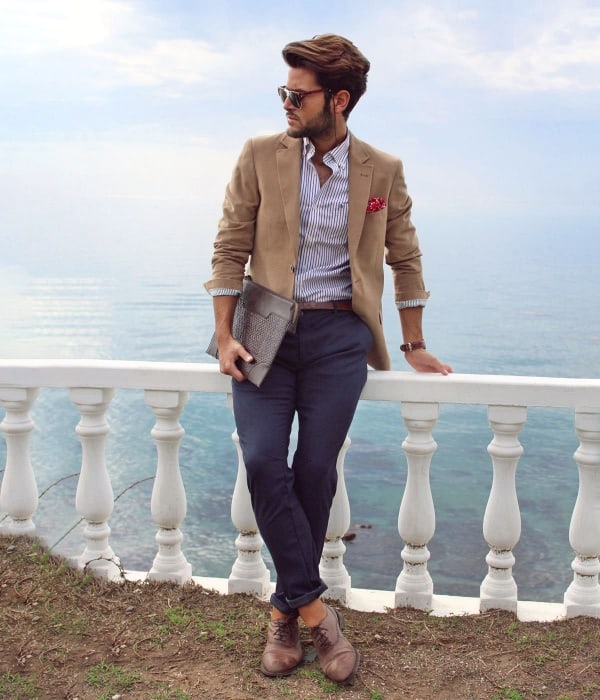 Image Source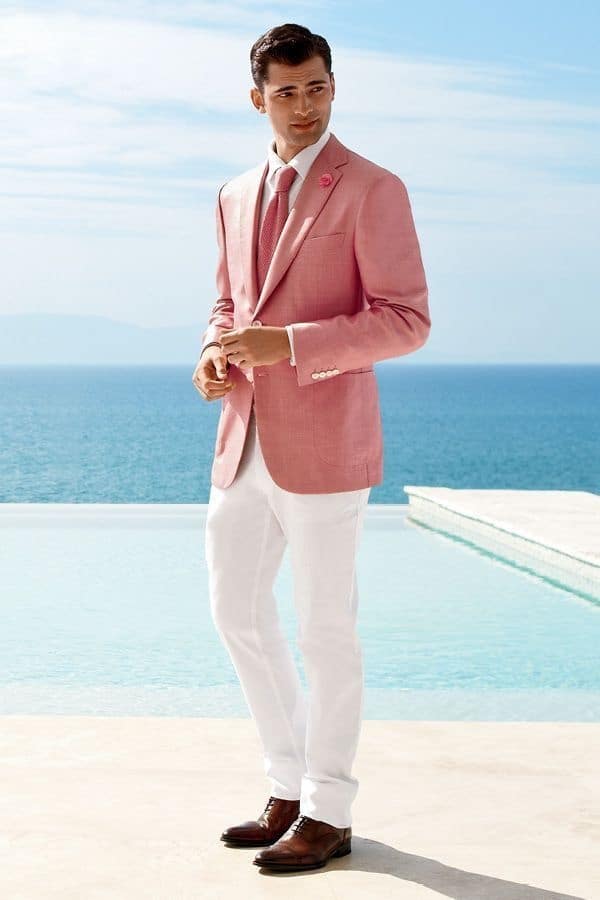 Image Source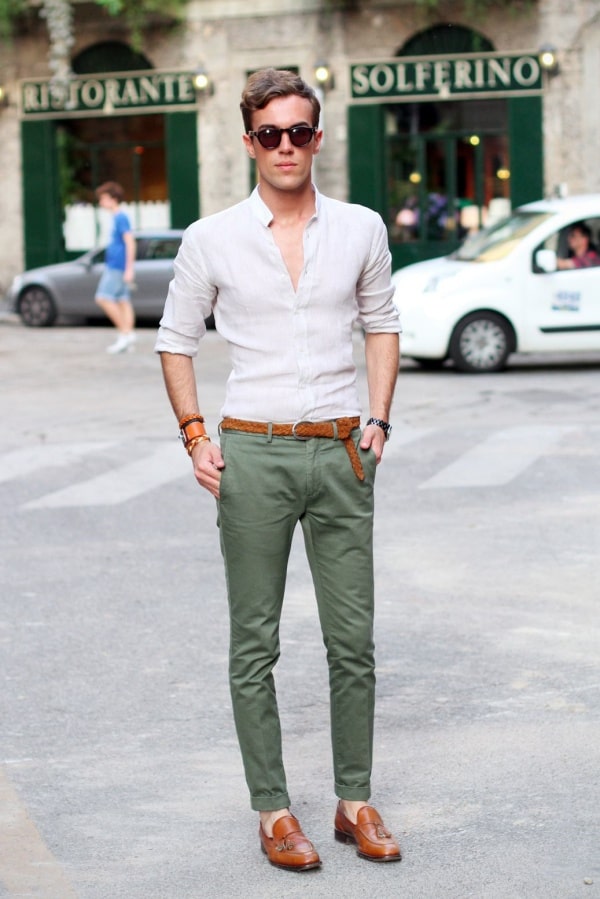 Image Source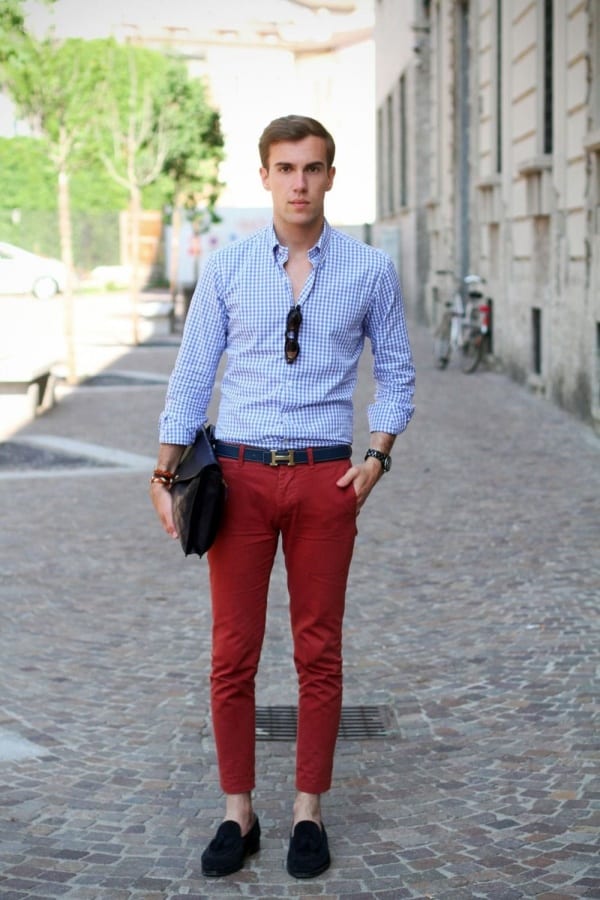 Image Source
Conclusion
We know, making a choice isn't easy – be it in life or in a wardrobe. But, whatever choice you make, it must be worth the effort you did.
While there is still a pinch of possibility to get your life's choices right, it is not that simple with your wardrobe selection, especially if you do not have any prior experience and a taste bud of fashion.
Thus, we came up with our suggestions, which have probably helped you gather some knowledge to choose the right shirt and pant combinations for men. Now, tell us which one was your favorite among them?
You may also like: