Once a forbidden combination is not an all-time forbidden combo. Similarly, even though pairing a suit with sneakers was something that could not be thought of ever, but over time, a lot has changed and so is the fashion world. Keeping the frequently faced issue by the corporate sector fellows, students, and officials, sneakers have been considered as an ideal choice that can help them get rid of the strict leather bindings. So, even when you are all suited-up, you have the option to choose comfort over anything and everything. There are a number of options when it comes to sneakers, and it is hardly possible that there will be no option left to pair with your suit look. So, do not wait around any further here, and scroll down below to check out the suggestions that we have picked for you to rock the dashing suit and sneaker look.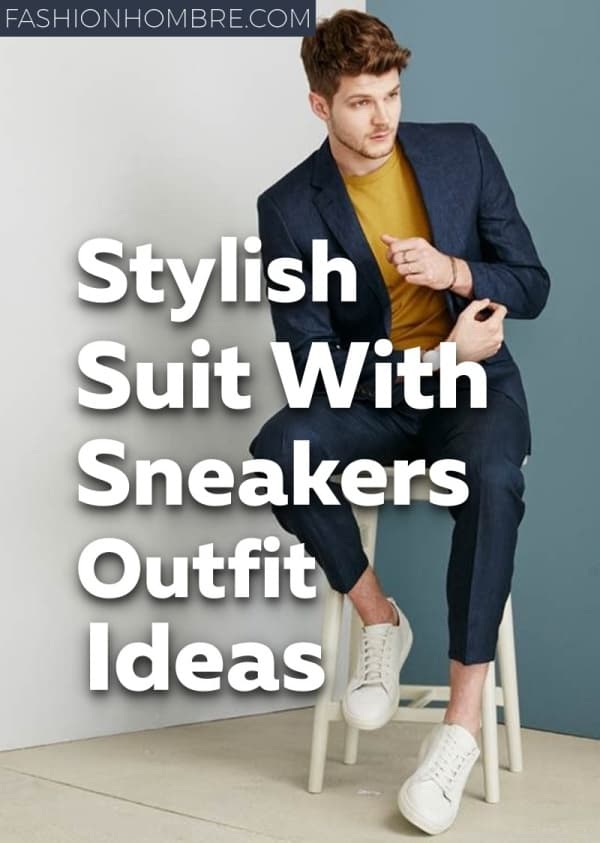 Perfect Sneakers With a Suit Looks
1. Pair It Up With Crop Trousers Or Sweatshirts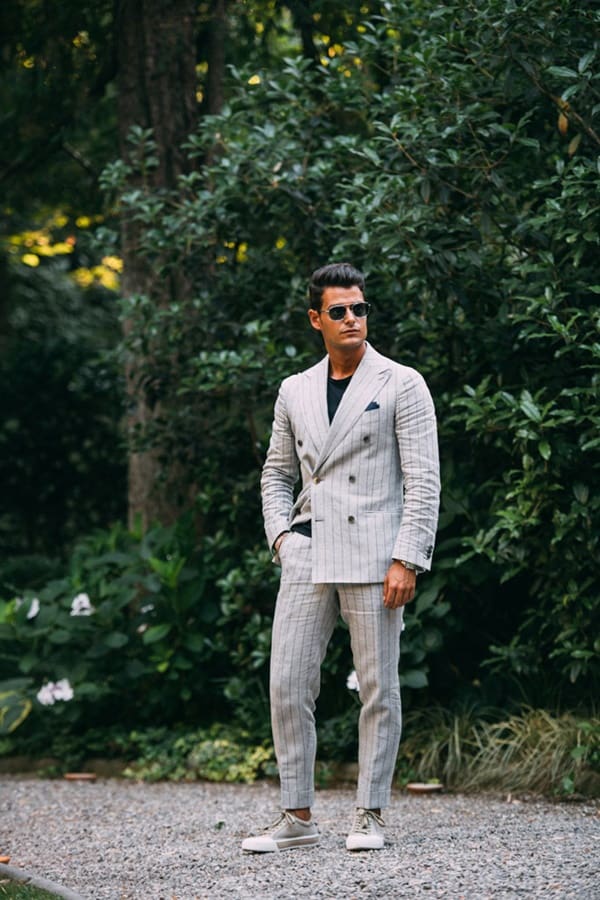 Image Source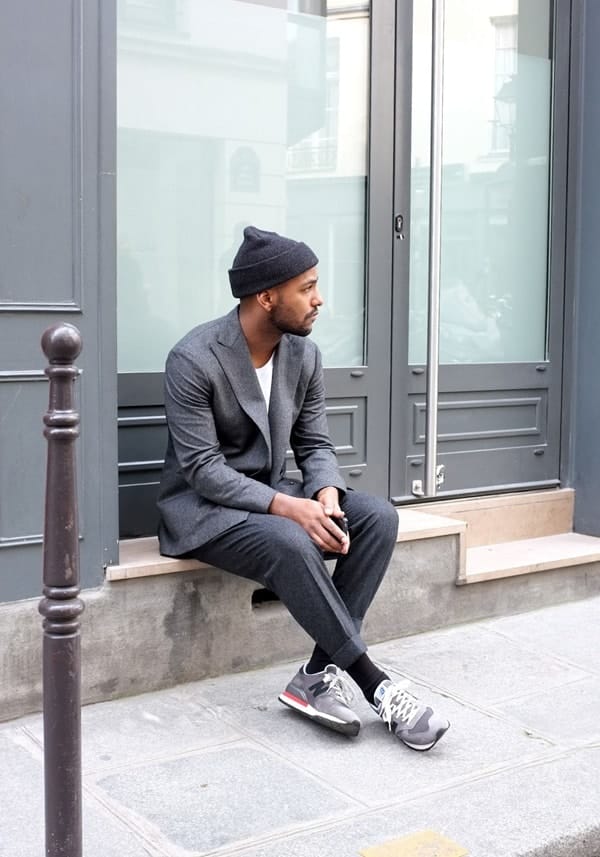 Image Source
Go out and wear your sneakers with something modern like cropped trousers or pair your sneakers with a sweatshirt or a simple t-shirt with an oversized coat. This makes you look like a young modern guy. Moreover, wool trousers have become so trendy nowadays, so don't forget to try your sneakers with cool trousers to give a perfectly modern look.
2. Choose The Classics Over Anything Else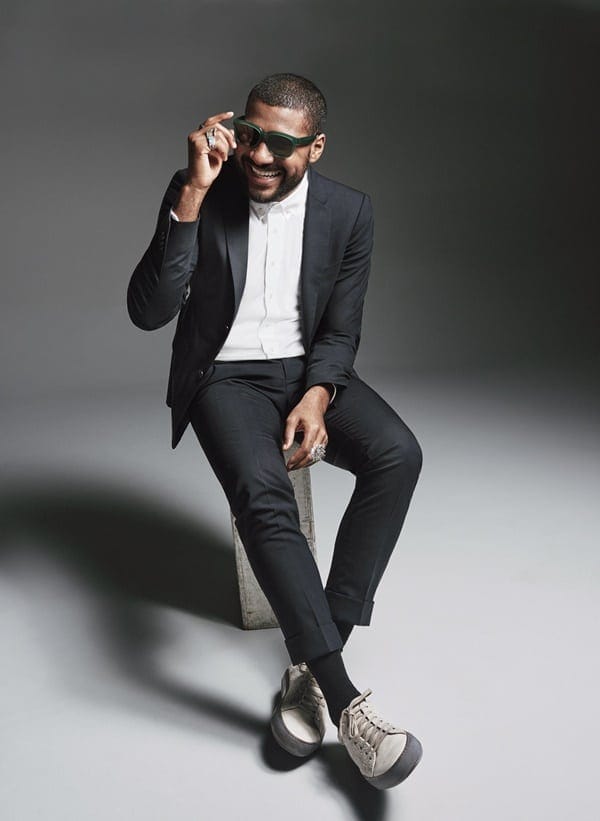 Image Source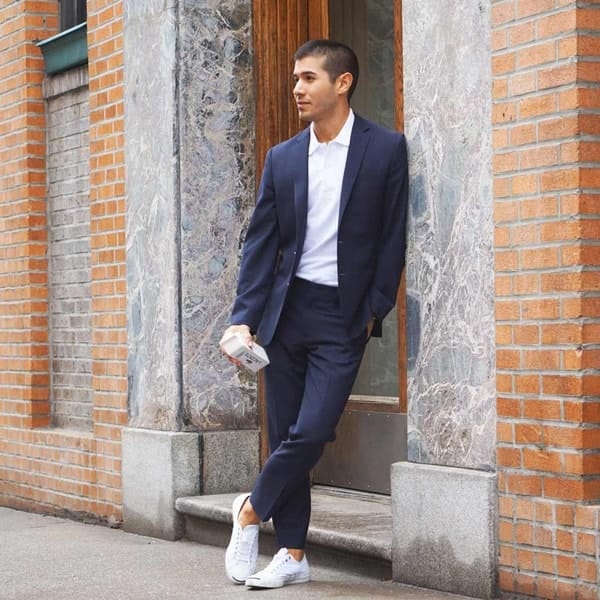 Image Source
Wear your sneakers with something classic like well-cut clothing. Classic Vans silhouette is something that you must have noticed most commonly this season. You will find the best collection of the silhouette at big brands like Tom Ford and Givenchy which you can pair with a classic shoe shape. Opt for muted colors to enhance the look.
3. Formals Can Be A Look Too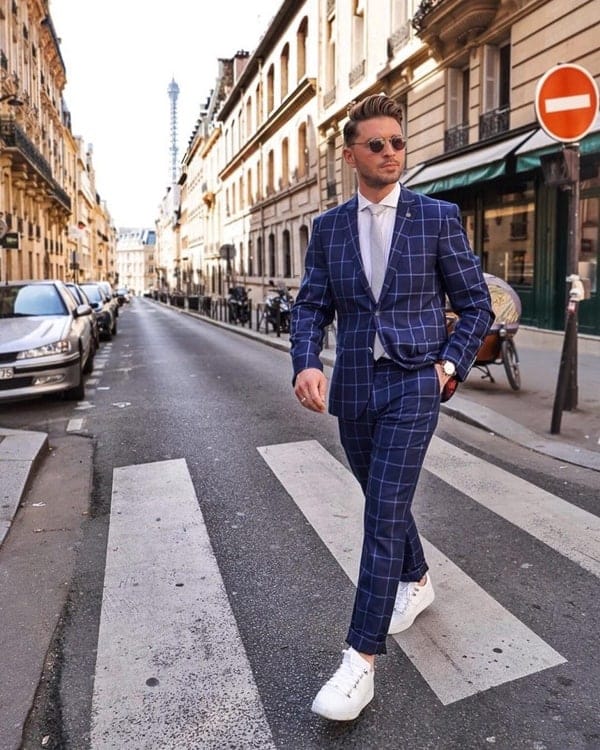 Image Source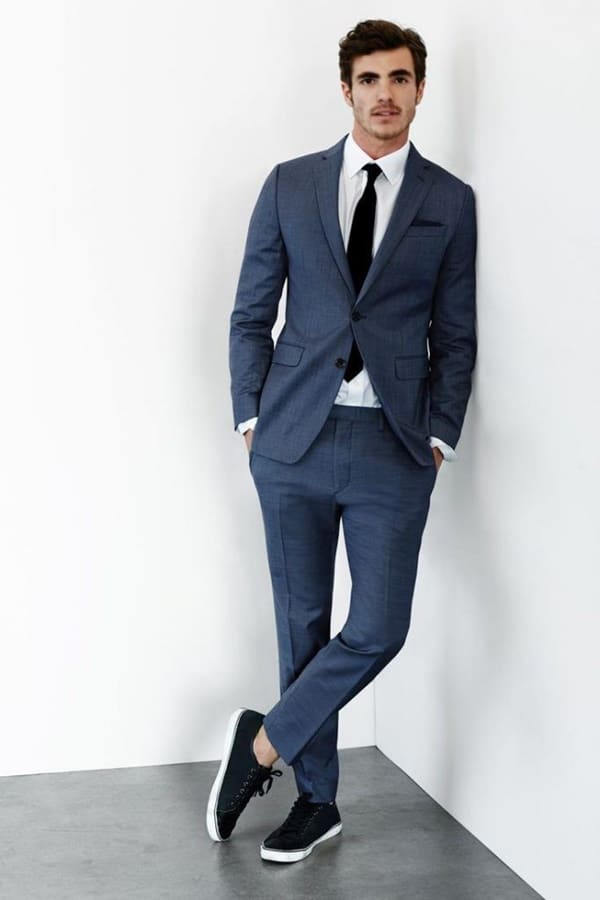 Image Source
It is very important to look sharp and crisp in your formals. Combining sneakers with formal is like mixing peanut butter and chocolate. Unexpected but at the same time amazing. While choosing this outfit idea, ensure that you are choosing the right pair of sneakers and pair it with a fitted, slimmer silhouette. This will give you a streamlined aesthetic look. Also, you can pair your trainers or sneakers with a formal blazer.
4. Customize Your Own Clothing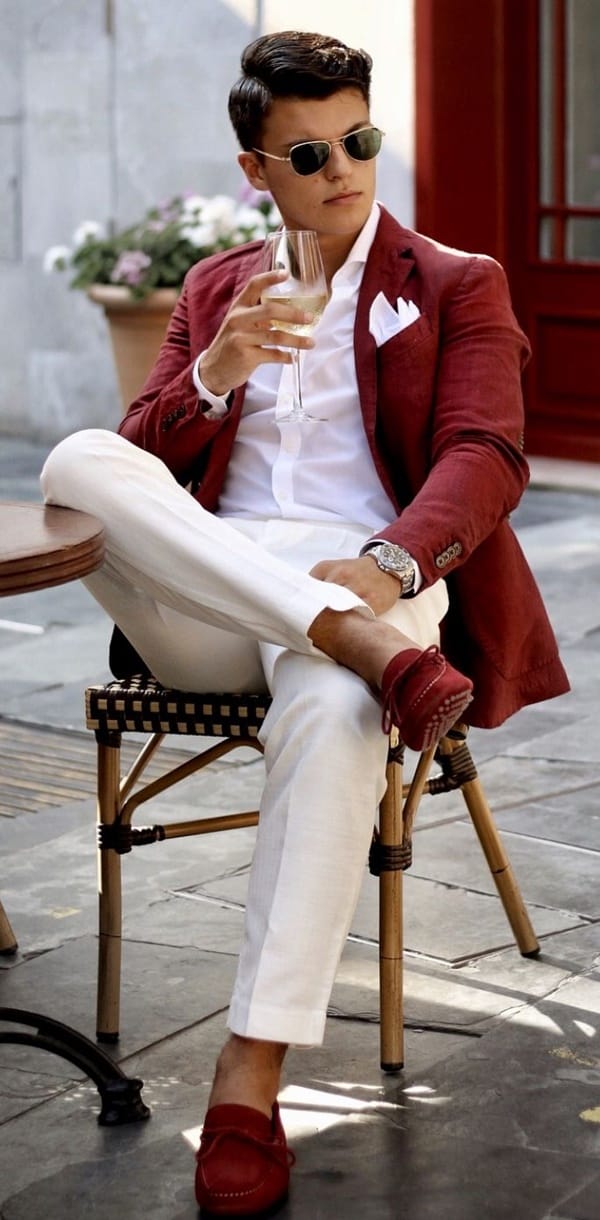 Image Source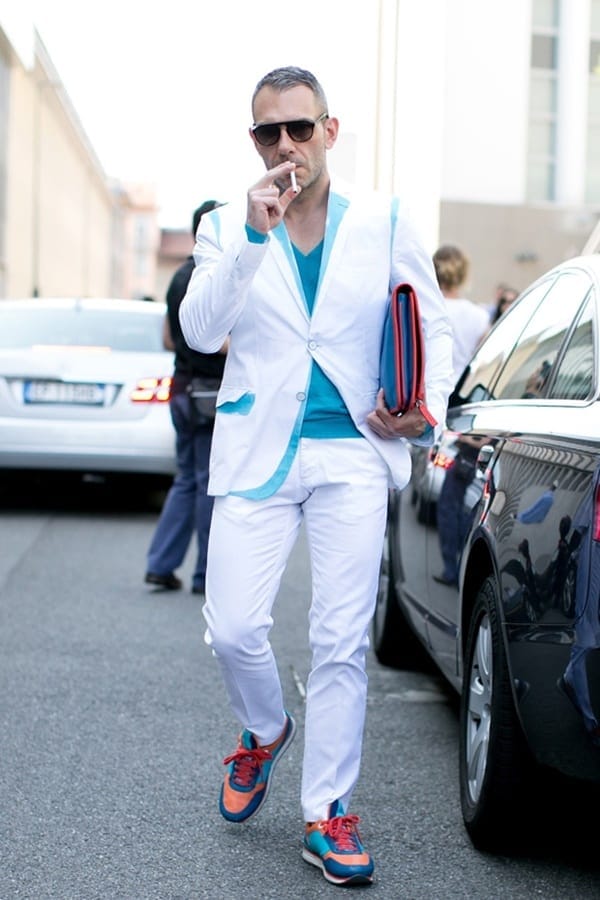 Image Source
Sometimes simple is more. Pairing your bold trainers or sneakers with a minimal piece of clothing can get you the best outfit of the season. Over-sized souls and bright colors eye-catching sneakers with a plain suit are highly in trend nowadays. Just avoid big prints or logos on the suit and keep it all simple above.
5. Party Looks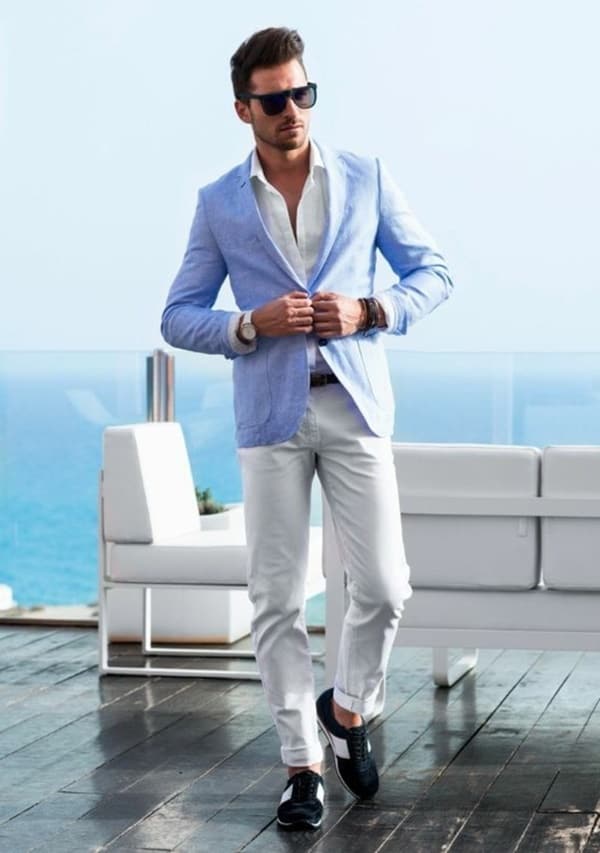 Image Source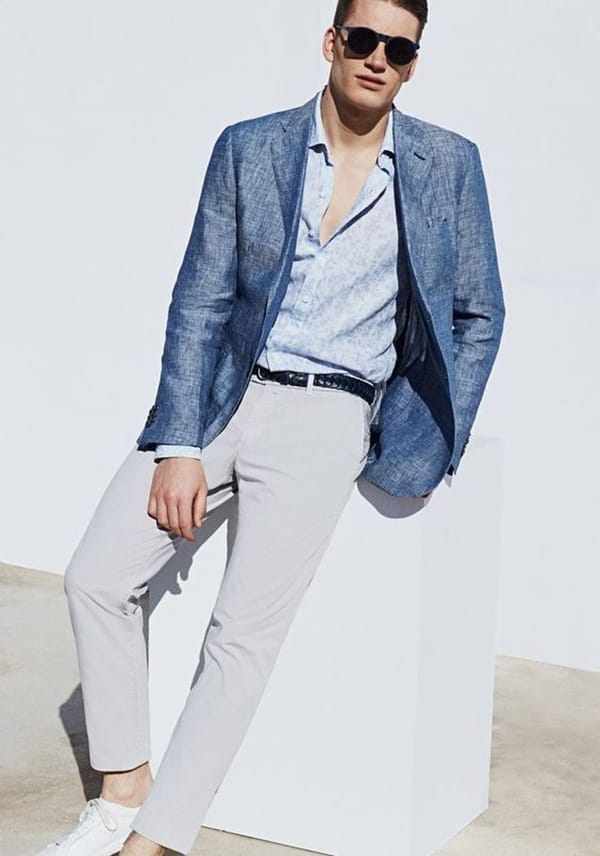 Image Source
The last suit with sneakers look is the party look. Party mood can be more fun with perfect party attire. The most important is comfort while dancing. Sneakers can be a very good option for a party night. You can go for muted colors of sneakers especially white with a very loud color of a blazer like deep red or dark blue. Pair the loud blazer with a sweatshirt and a jean long with jeans along white sneakers to get the best comfortable attire for the party
Dashing Suit With Sneakers Combinations
1. Black Suit With Sneakers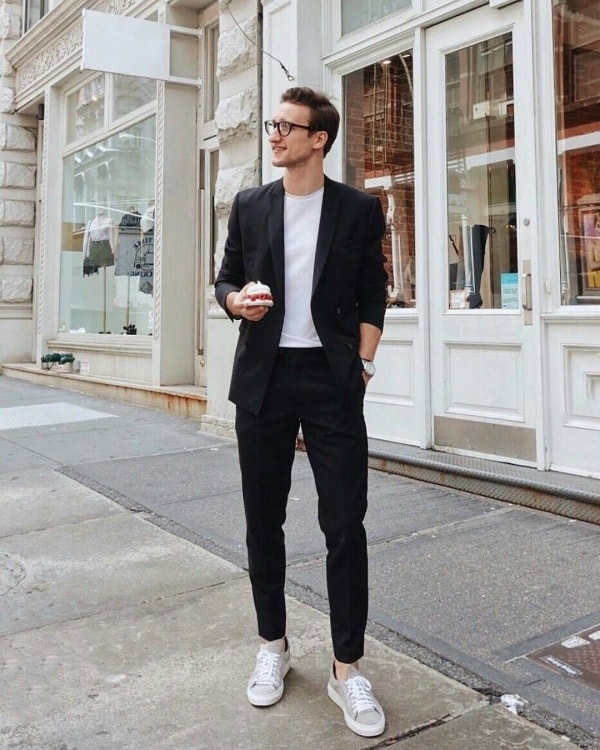 Image Source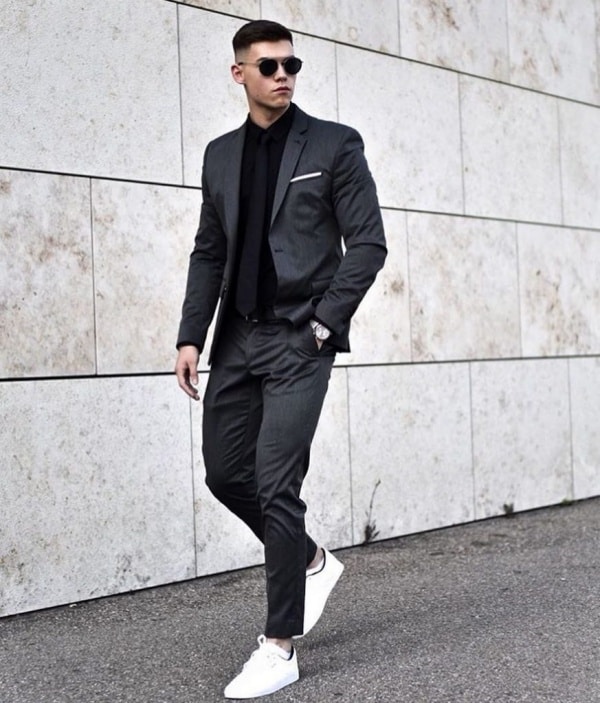 Image Source
You have often pictured yourself in a pitch-black suit, but hardly ever thought of comforting your feet by wearing sneakers along with it. We know, it might sound a bit awkward to pair sneakers with a suit but the trend chart has a different thing to say altogether. There are ample sneakers that look absolutely like formal shoes but are sneakers in real, and once you consider wearing them, there is hardly any going back. After all, who does not want to get rid of the hard leather soles?
2. Blue Suit With Sneakers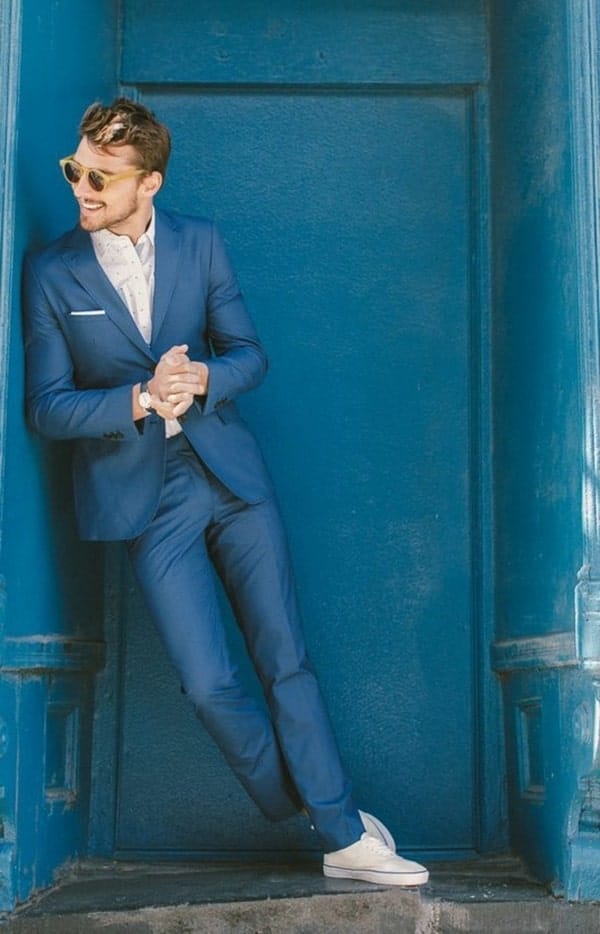 Image Source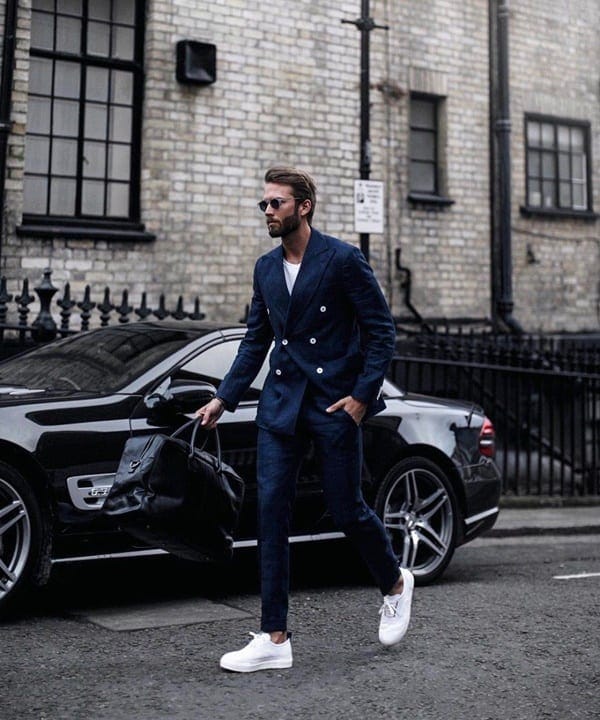 Image Source
Most men do not like it to be black always, and some of them prefer to have certain color definitions. No, we definitely do not mean the bright hues, here. You can stay minimal by choosing the suit color to be blue, and yet look absolutely stylish. Blue, however, gives you a range of color options to explore, and the best part – you can never really run out of options here! The fact that makes men crave for the blue, is the fact that you do not need to think twice before choosing sneakers to wear with a blue suit.
3. Grey Suit With Sneakers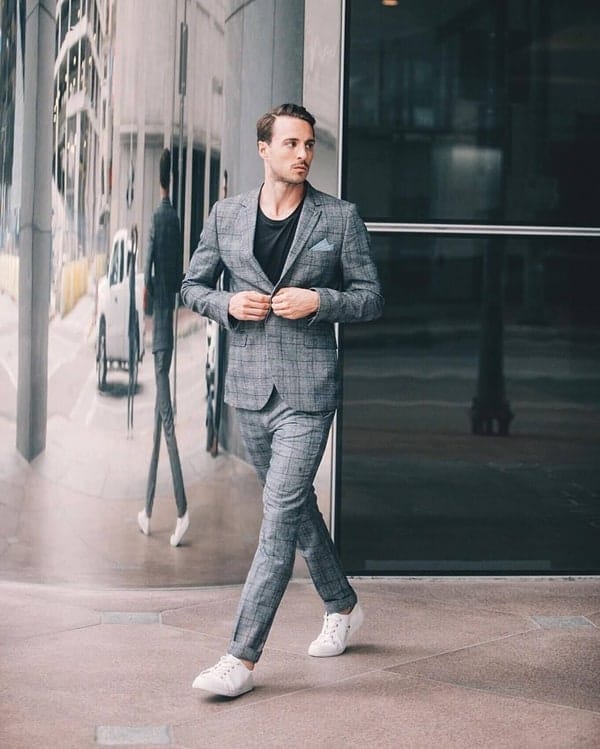 Image Source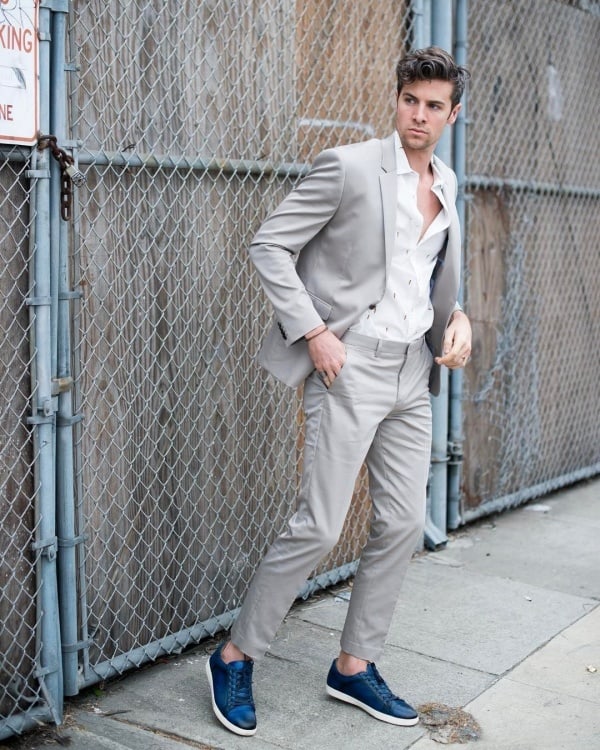 Image Source
No, grey isn't always boring – you cannot obviously wear a yellow or orange suit, so considering the facts, grey is not an option to let go! Whether you love fashion or do not like to experiment at all, pairing a grey suit with sneakers works for both the instances too well. You can, however, try ample options in textures, and clothing materials in grey that certainly makes a difference in which sneaker to choose. Sneakers in blue, or in white, or absolutely black would look great when paired with any grey suit type.
4. Maroon Suit With Sneakers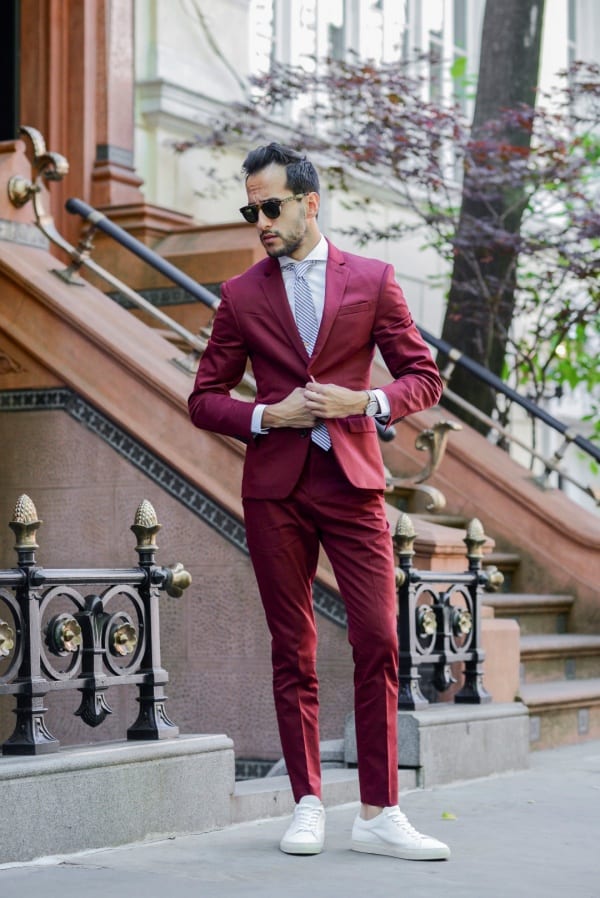 Image Source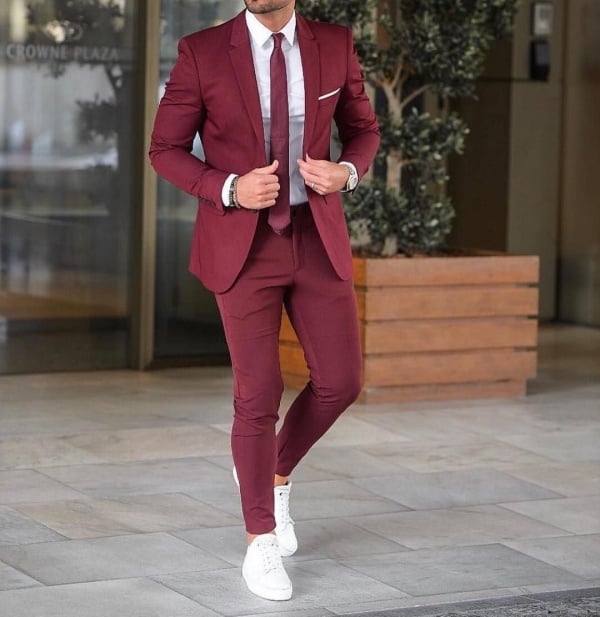 Image Source
Now, maroon is not for all- yes, and we mean it. In fact, most men do not even what 'maroon' color is, and how does it look like. Definitely, it is not their cup of tea because you do not really wear a maroon suit; you carry it with your personality. If you have a personality that talks a lot about you and gives the handsome hunk vibes, then you can definitely go ahead, and pair your maroon suit with a white pair of sneakers. Though there are many other color options hardly anyone would do justice like the white one.
5. Brown Suit With Sneakers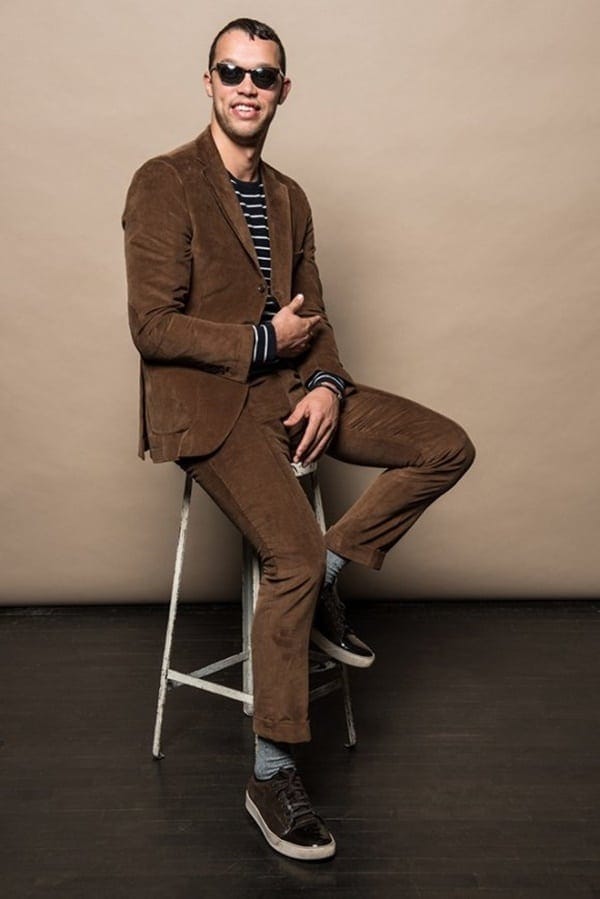 Image Source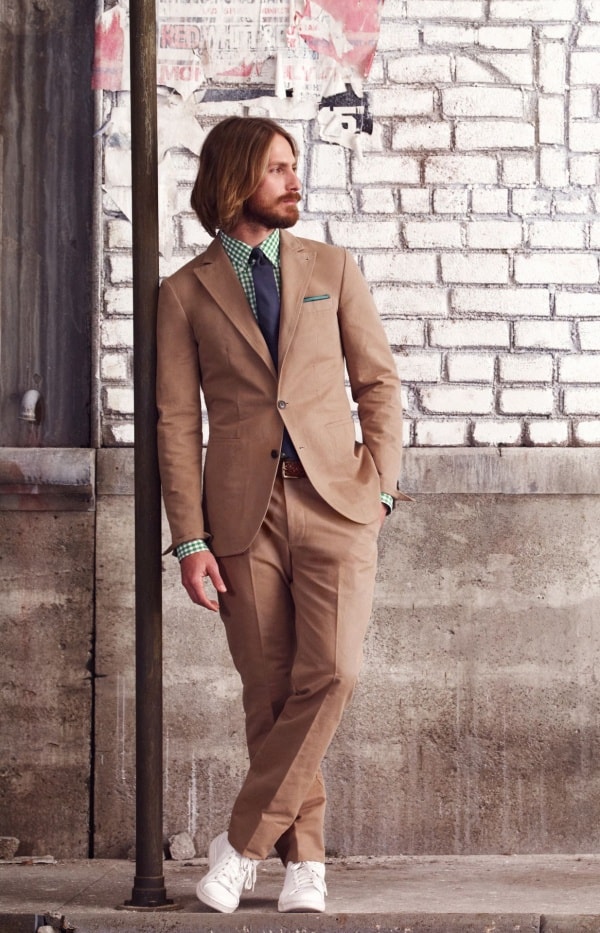 Image Source
Brown is not always boring just like black isn't always a smart choice. So, when you are in a dilemma, why not give brown a try? No matter where you are heading to, either a workplace or an outing, brown works for every occasion. You might think that choosing a sneaker to go with it would not be a good decision but a pair of white sneakers would not do any harm to your style. However, if you go for a light brown suit, then going for black sneakers is not a bad idea at all.
6. Khaki Suit With Sneakers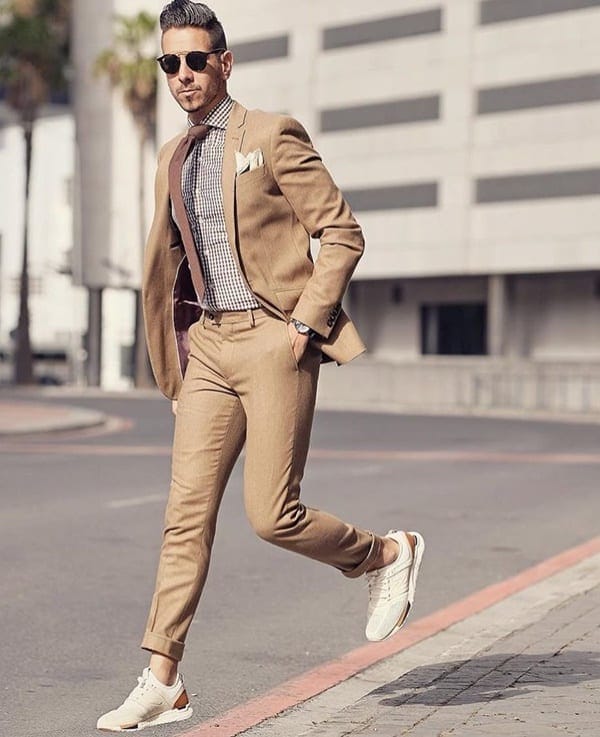 Image Source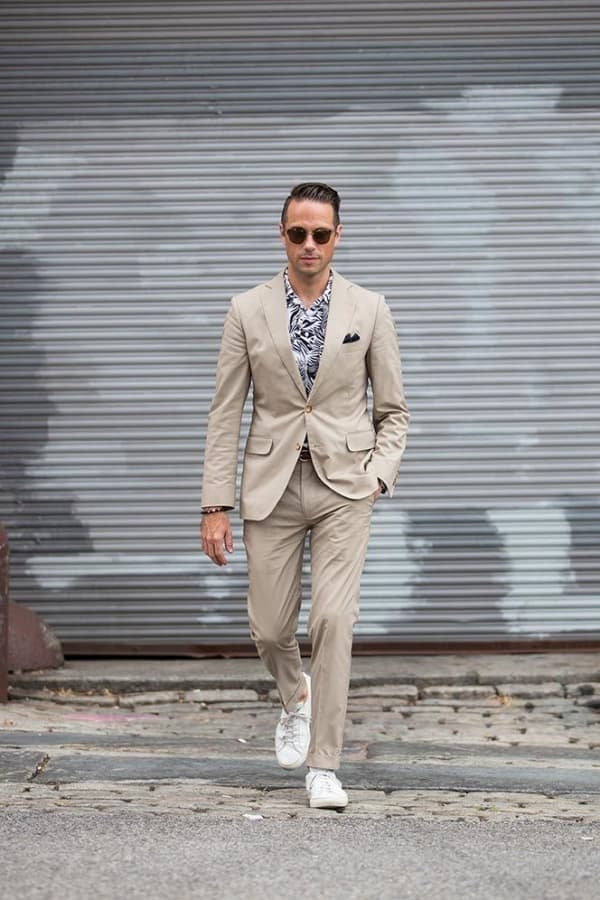 Image Source
Khaki is almost a new color that has made its existence in the fashion industry. If you are someone who always loves to experiment, and has a taste for fashion, then choosing a khaki suit with sneakers is the ideal choice. The best part about choosing a khaki suit is that it has a lot of textures in it, and thus you can try whichever sneaker type you would like to. Especially, a glazed brown color or a pitch-black colored sneaker would be the ideal choice to go for.
7. Checkered Suit With Sneakers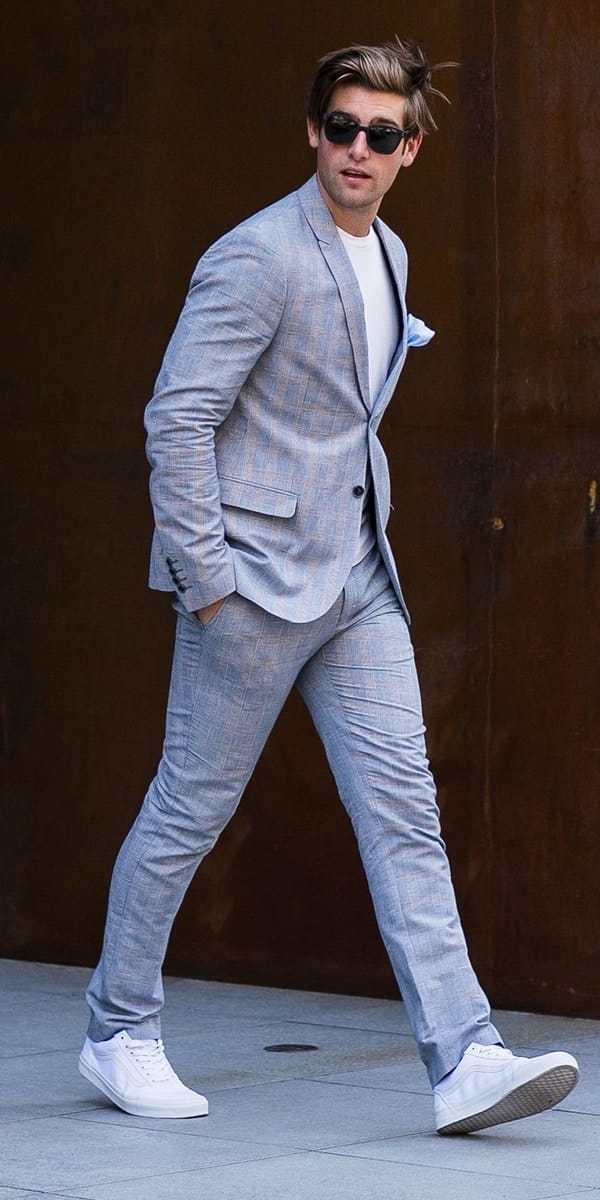 Image Source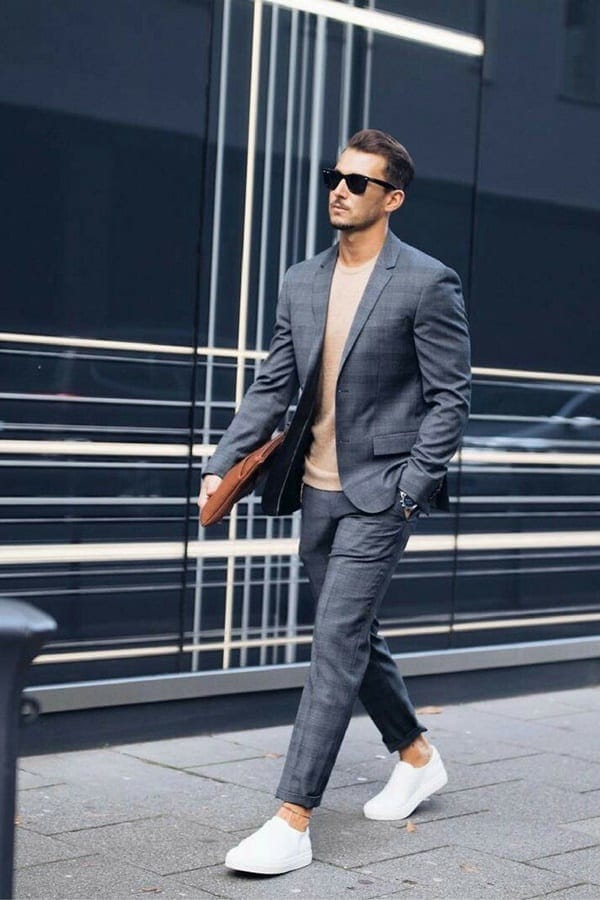 Image Source
If checkered shirts can make you look handsome, then why not a checkered suit? Though it is quite a new and latest fashion concept that has crept in, it caters to everyone's fashion preference. Being one of the checkered design categories, the particular gives you the scope to choose from a range of color options, and yet not overdo it too. However, any color or sneakers type would be ideal with the particular outfit, and it completely depends on the type of checkered suit you are going for.
Checkout:
8. Striped Suit With Sneakers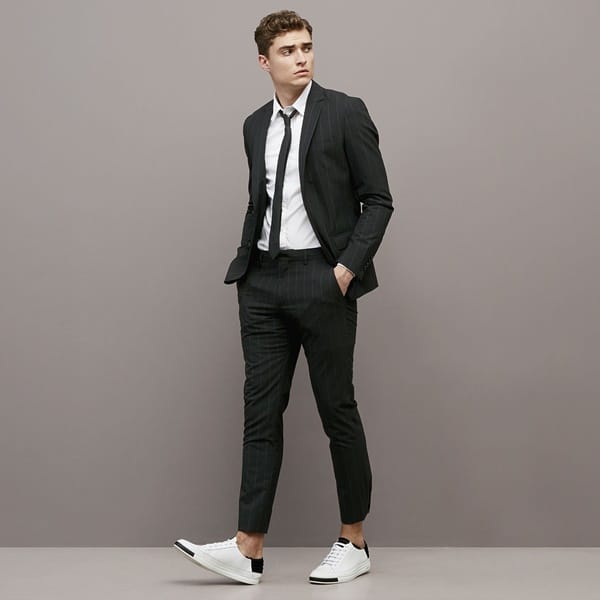 Image Source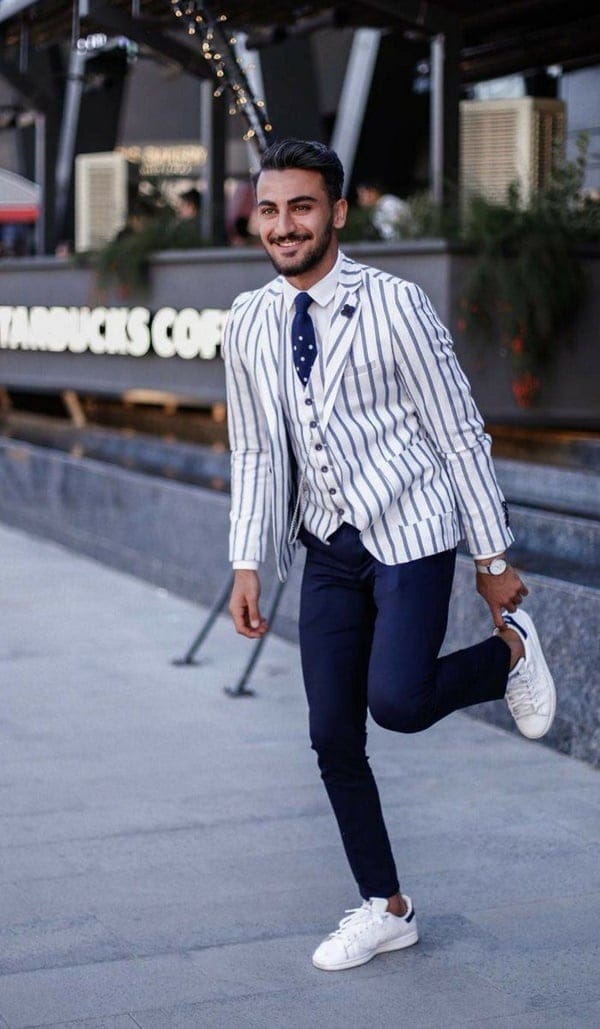 Image Source
Just like checks, the striped suit style is something quite new in the fashion world, and thus many have not been able to digest it completely yet. But not everyone likes the boring solid suits, and probably wants to try something absolutely different. For them, pairing the striped suit with sneakers is a great option. The advantage of wearing such a suit is that even the common black and brown sneakers would go with it.
9. Green Suit With Sneakers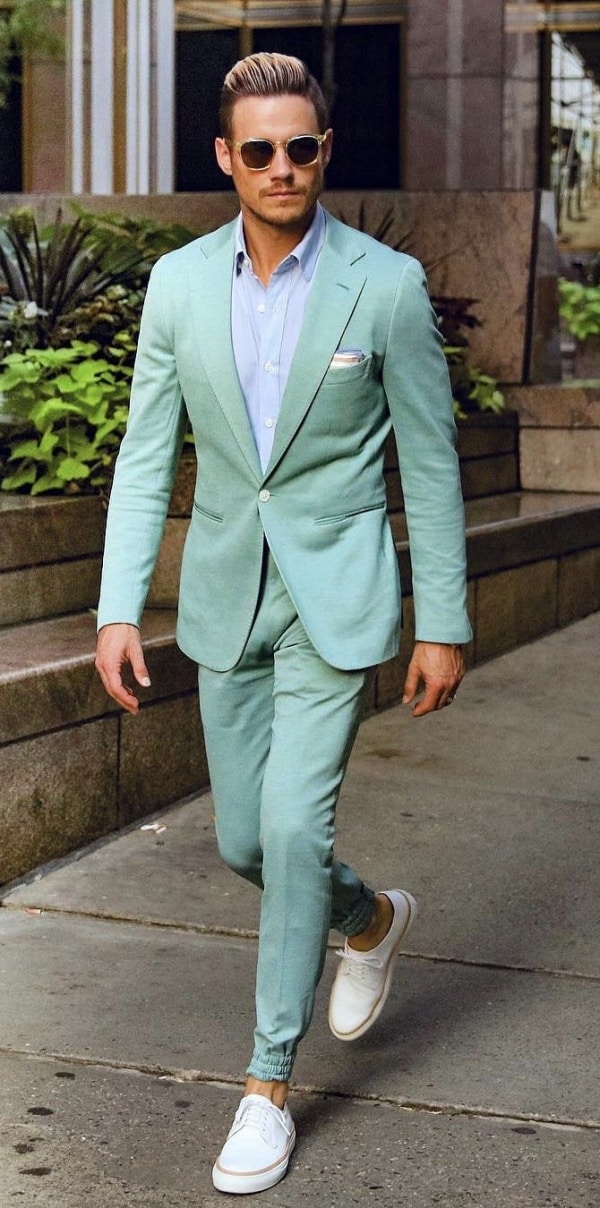 Image Source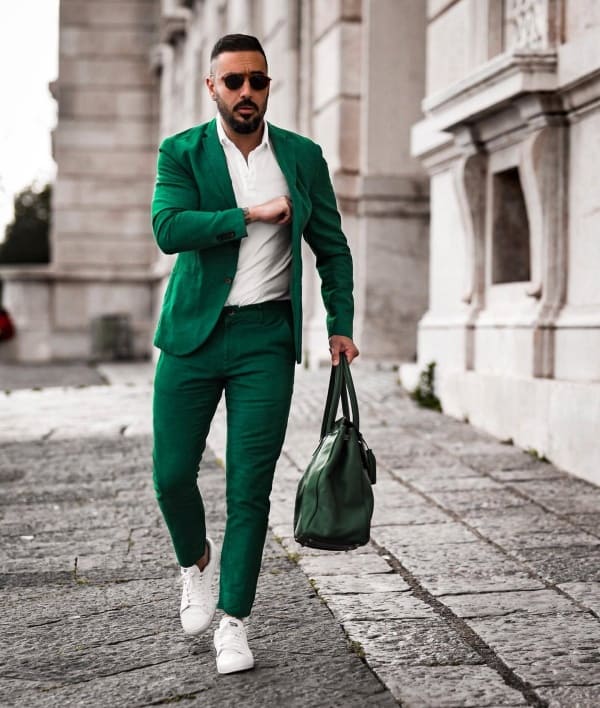 Image Source
Never really heard of it? But what is the harm to try something different when you know that you can carry it? Bottle green or even a pastel green colored suit can be an ideal choice, and you do not even need to stick to the solid color palette. You can, instead, go for stripes and checks or can also try out several other textures to make it look absolutely different.
10. White Suit Paired With Sneakers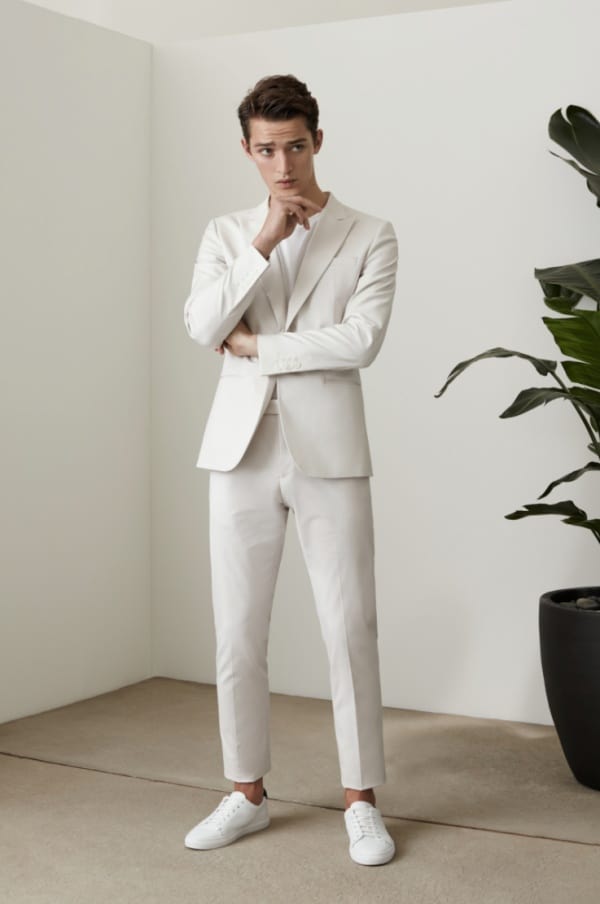 Image Source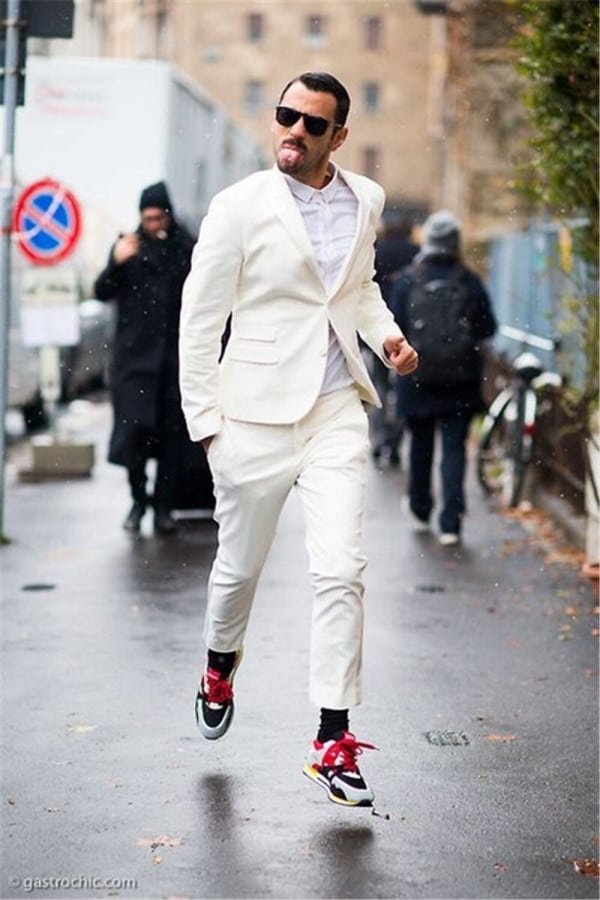 Image Source
Though the white color is not an absolutely new concept, most men do not know how to pair it well with the sneakers. For them, we suggest going for a solid white suit. Doing that cuts off the major scopes of going wrong with the sneakers. However, a brown or a blue sneaker would be an ideal choice to go with such a look.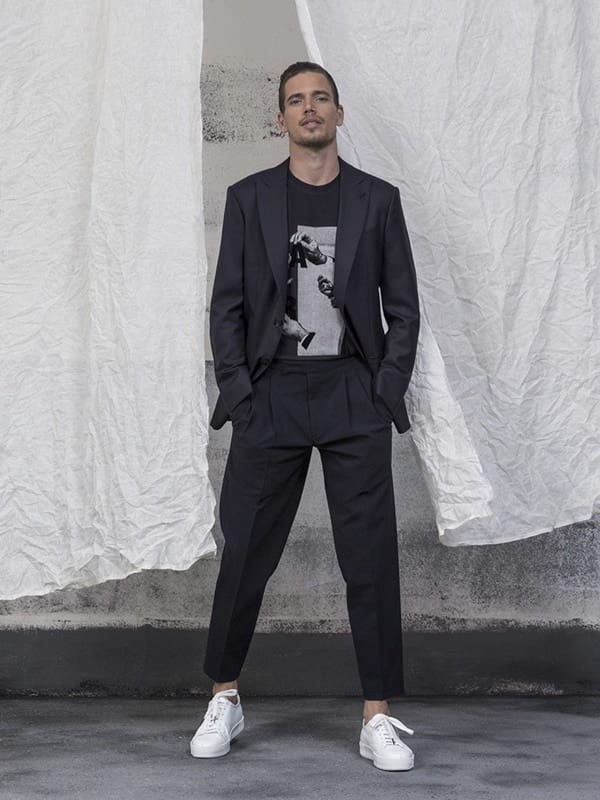 Image Source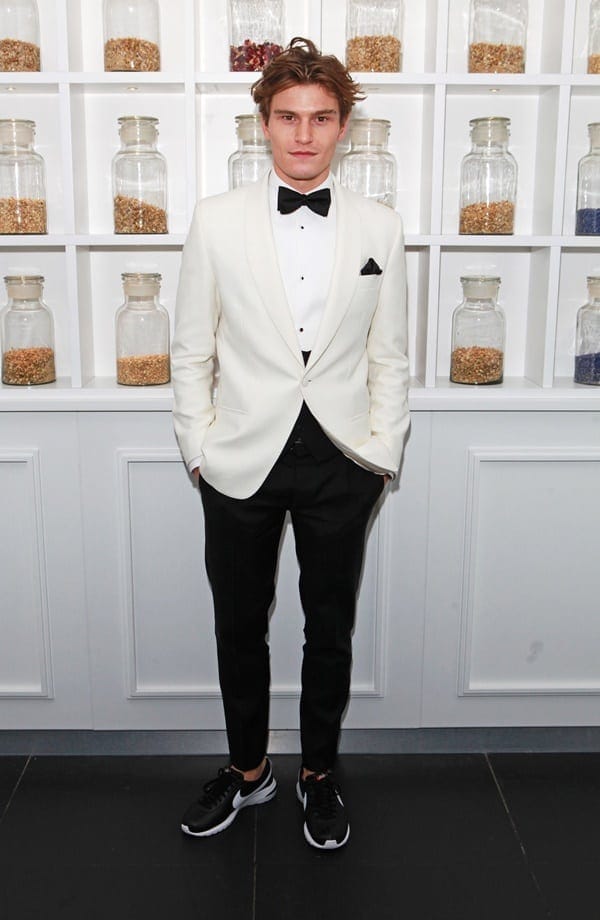 Image Source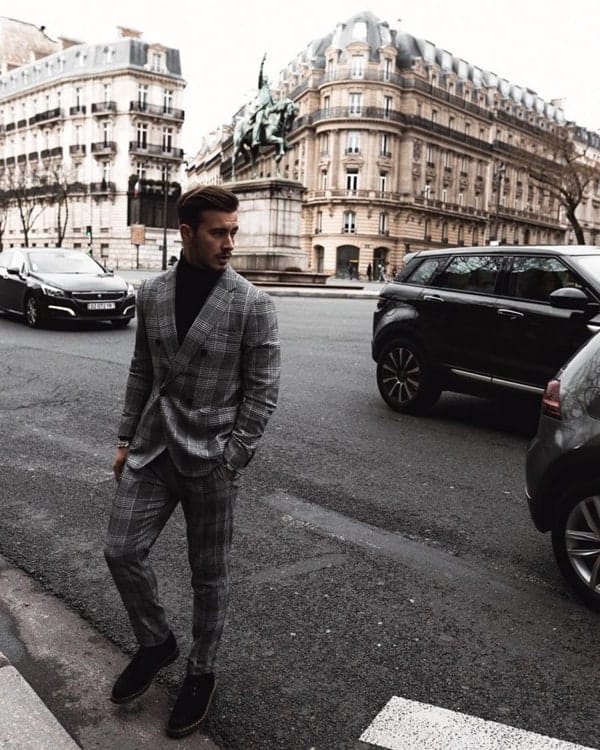 Image Source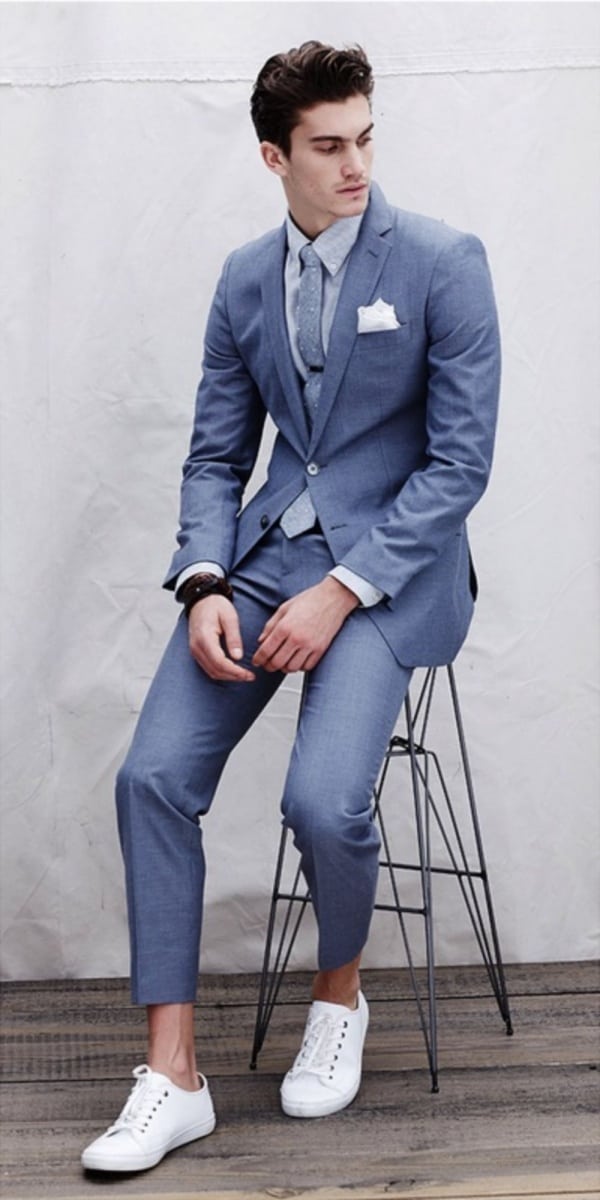 Image Source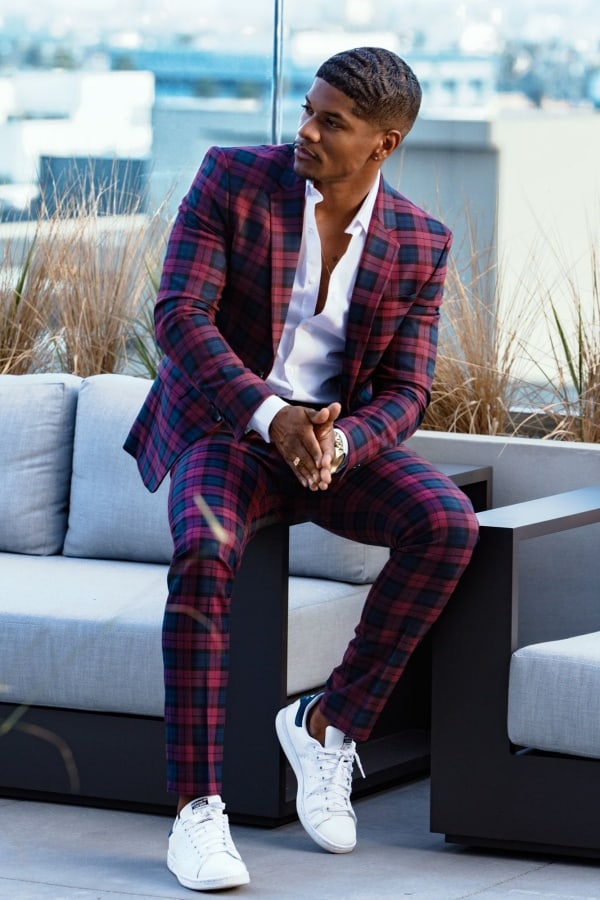 Image Source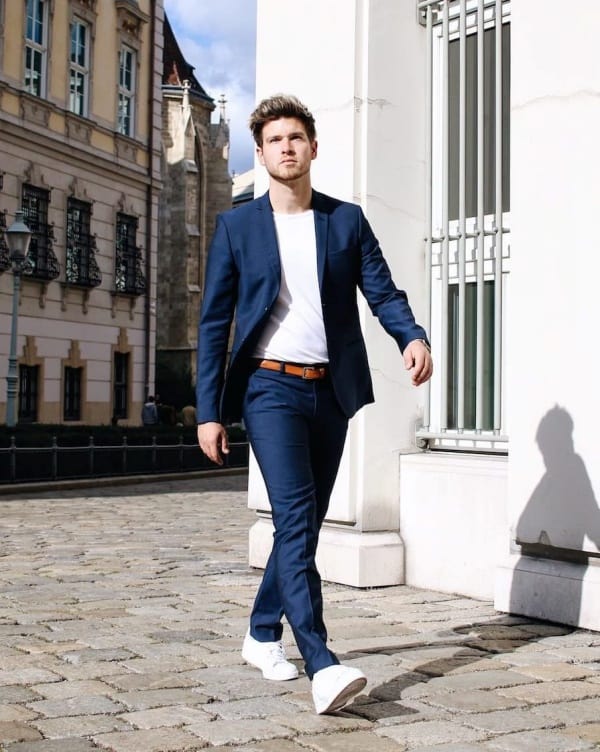 Image Source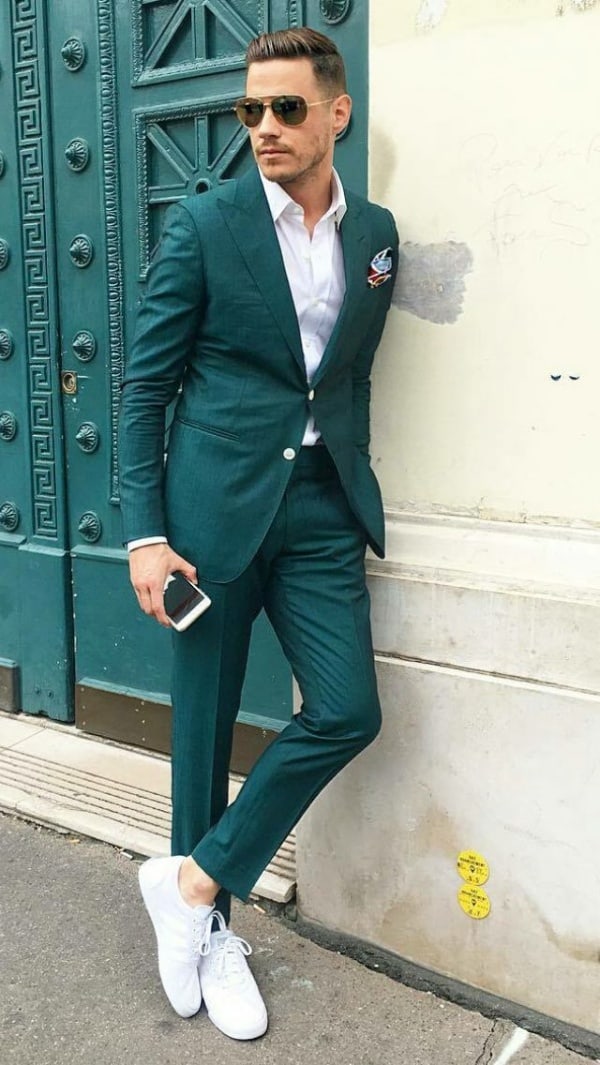 Image Source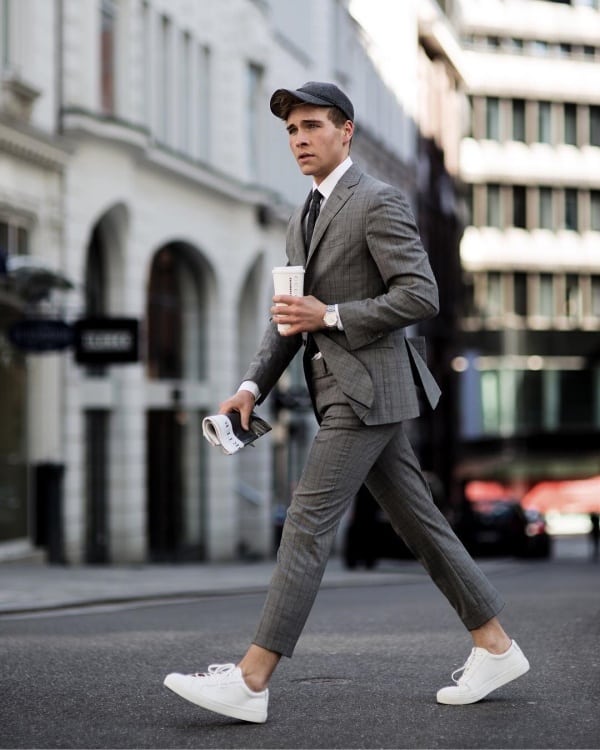 Image Source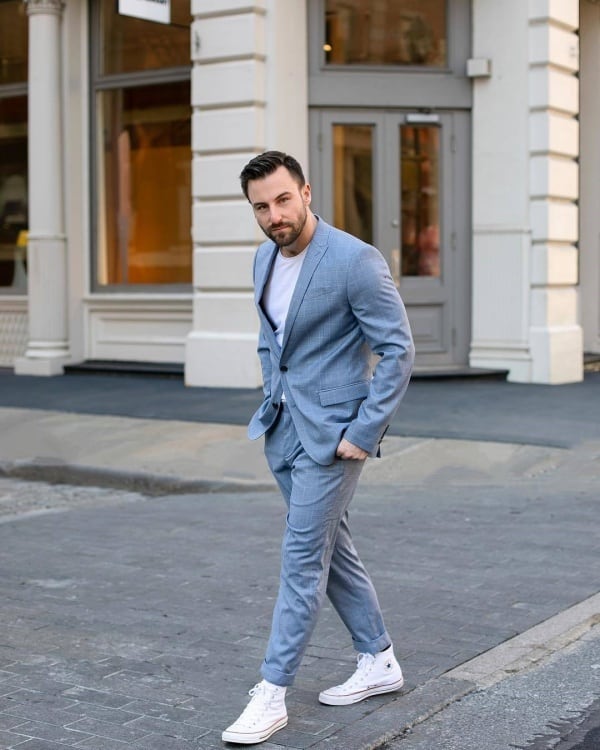 Image Source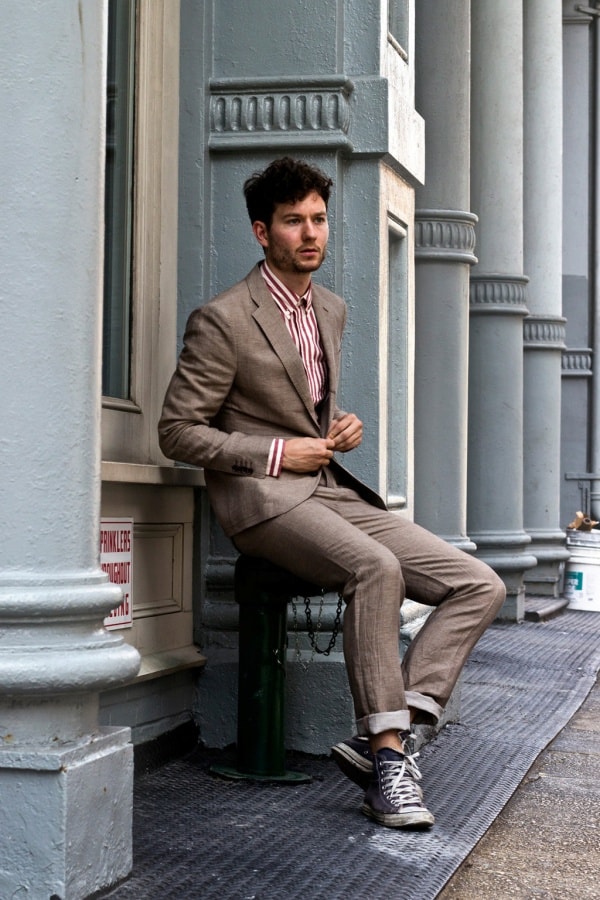 Image Source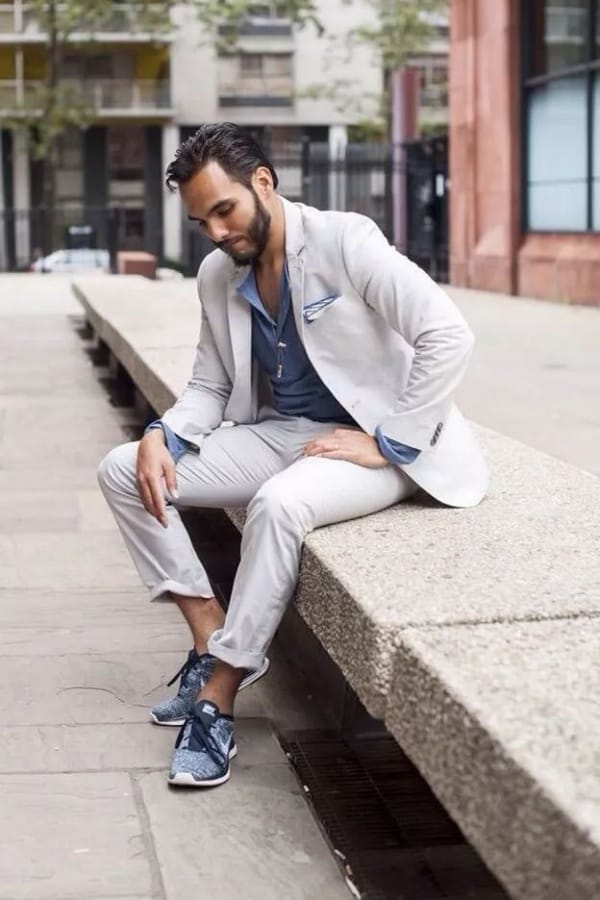 Image Source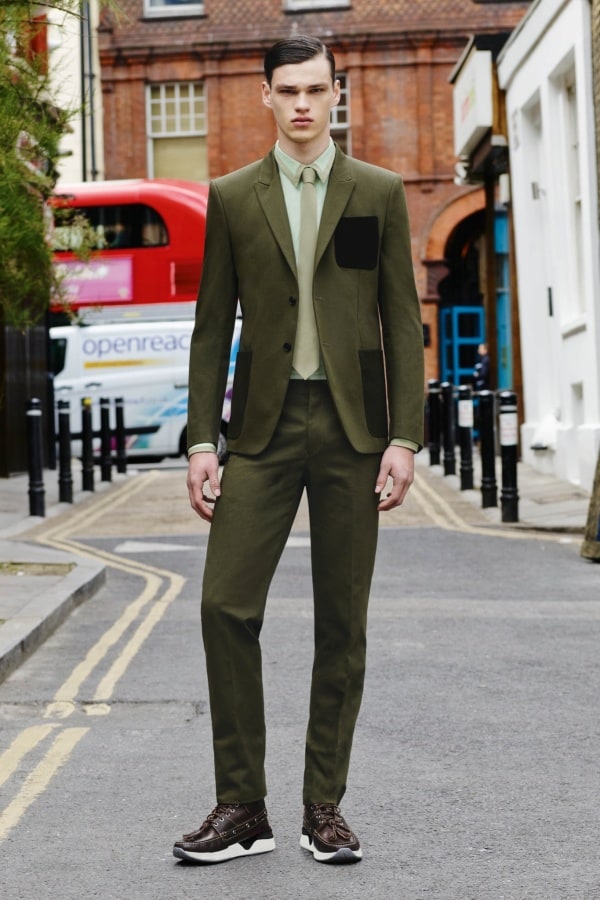 Image Source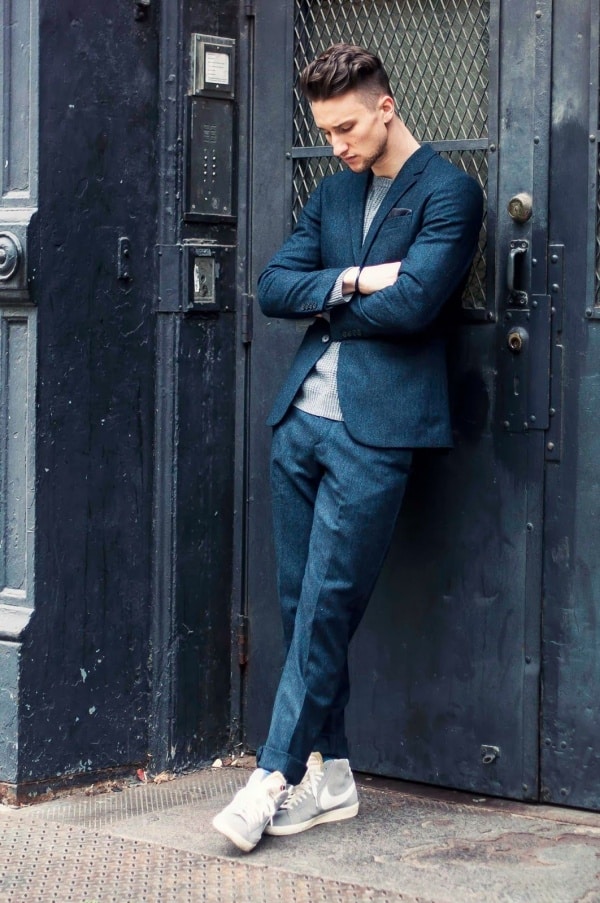 Image Source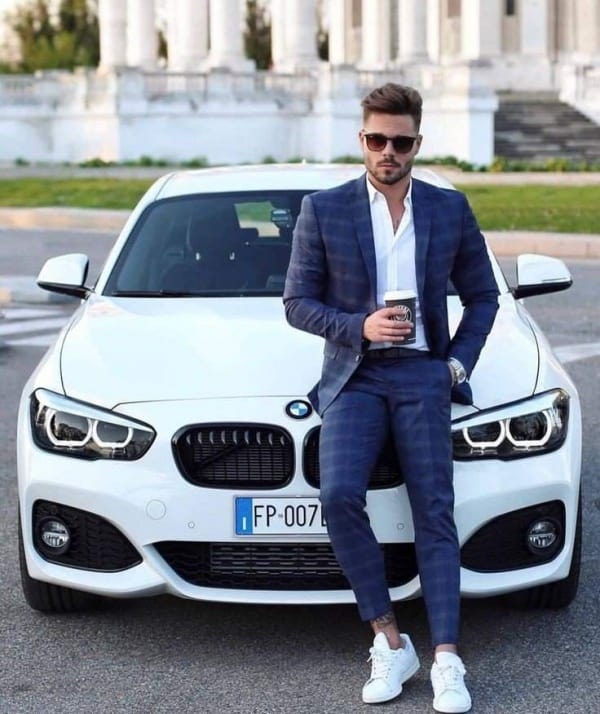 Image Source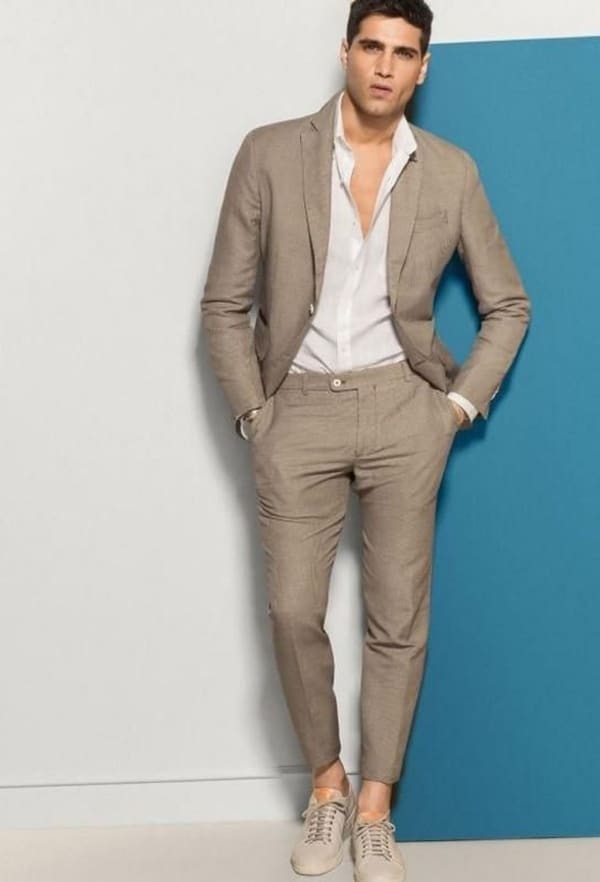 Image Source
Even though you are not too fond of suits, there are certain occasions that call for such formals. But to wear formals, we do not mean you to dress like your dad. You can be suited-up, and still feel comfortable, and look absolutely stylish in the suit with sneakers. However, you need to pay great attention to the details such as silhouettes, colors, and materials while choosing the ideal pair of sneakers because it needs to go with the texture, color, and material of the suit. So, having given you the guidance regarding the style game, now it is your turn to switch it on and style it yourself.
Related: