Are you craving that Man-tastic look? Nothing beats the charm of blue and black hues for man attire. Refer to this style guide for exploring the best blue blazer outfit ideas for men.
It can give you a fair idea of ideal combinations and how to notch them in style.
Blazers are an evergreen fashion statement, no matter wherever you go. Trying out a blazer outfit can work wonders when it comes to epic fashion sense.
Men can adorn it in numerous formal, semi-formal, or even casual combinations. Dressing down in a blazer can be the most trendy outfit choice to opt for.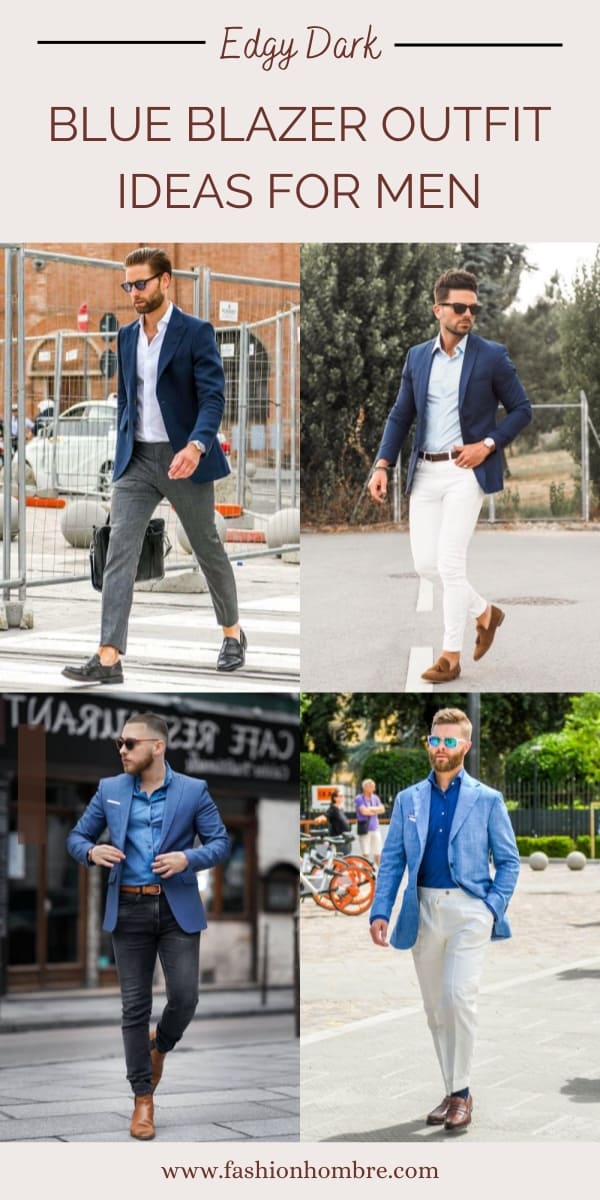 Fresh Blue Blazer Outfit Ideas For Men in 2022
Pairing a stylish blazer with multiple combos can surely give you flattering compliments. If you have to attend any party, event, or gathering, adorning this outfit is impeccable.
Carrying off elegance in the most fantastic way is possible with this outfit combo. Nail it with the fantastic blazer look that elevates your persona and imparts an effortless casual look.
1. Blue Blazer With A Black & White Striped T-Shirt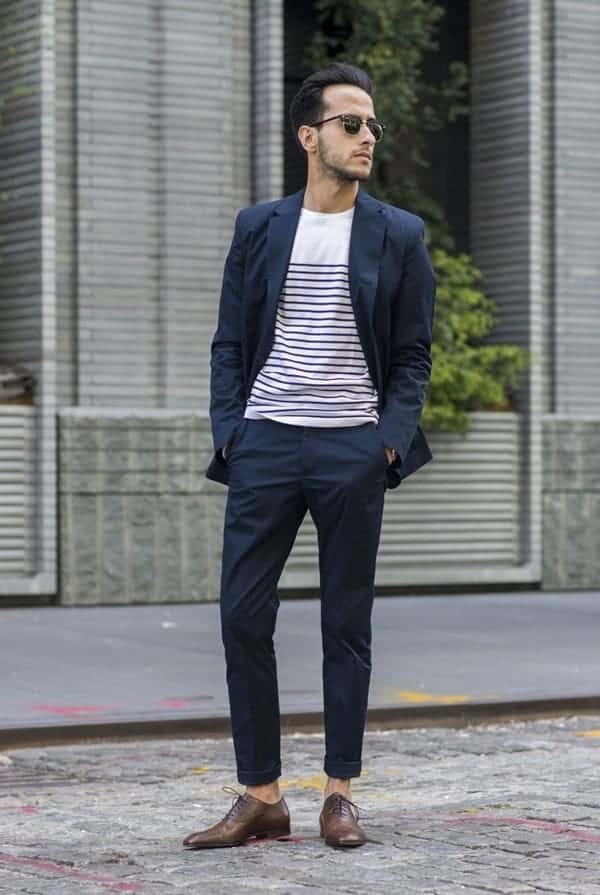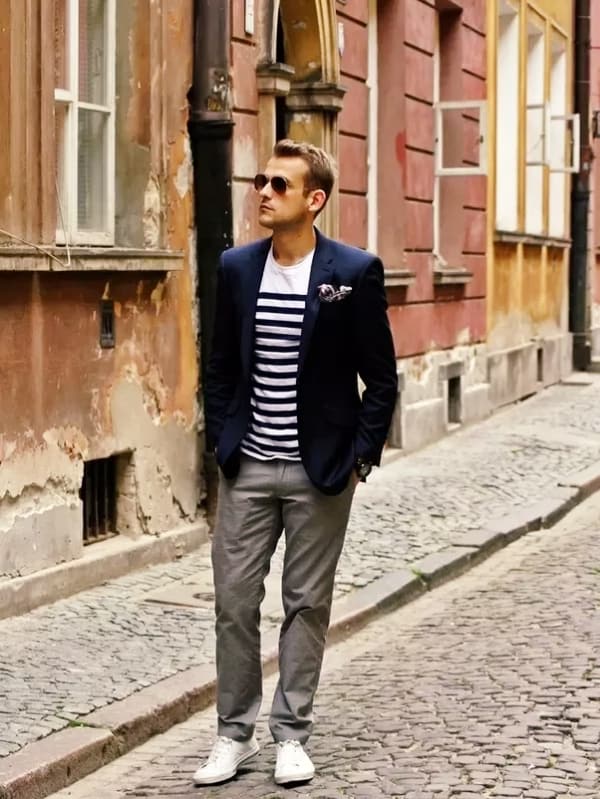 Blazers are common friends to multiple garments, and they can blend in well with several looks. If you are willing to grab a dashing casual look, the enigma of the blue blazer is impeccable.
You can attempt it with a black-and-white striped T-shirt followed by the casual pant below. This type of relaxed look adds an incredible vibe to your personality.
You can flicker with various shades of blue blazers like navy blue, royal blue, or dark blue.
2. Blue Blazer With A Plain White T-Shirt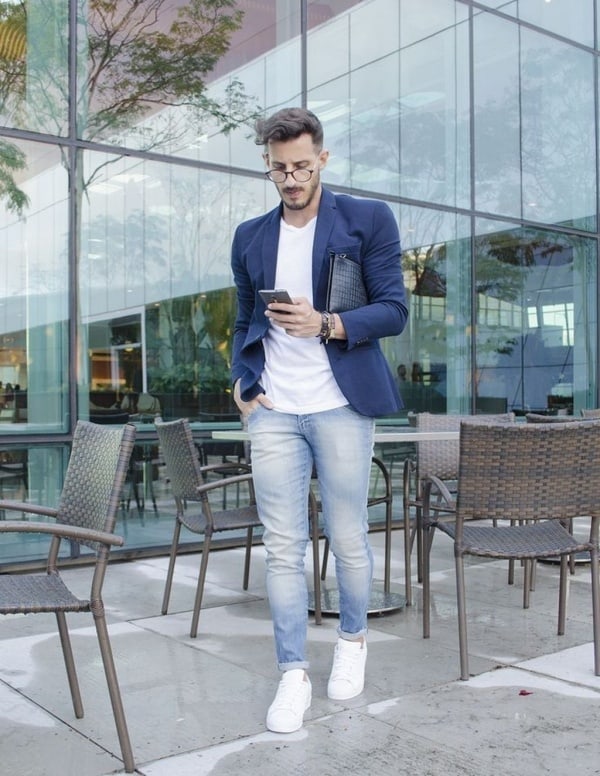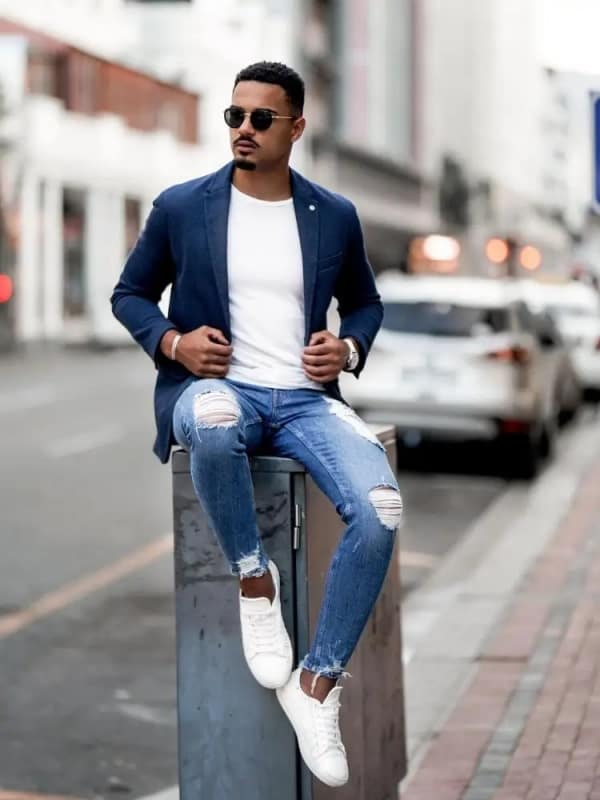 If too much layering baffles you, keep it subtle and minimal. A piece of plain white t-shirt paired with a blue blazer can be a versatile clothing style.
It adds a fashion pump to your personality. You can prefer the plain white t-shirt and a blue blazer combination with denim jeans for a casual appeal.
Adding a pair of white sneakers can give you a perfect look.
3. Blue Blazer With Light Blue Shirt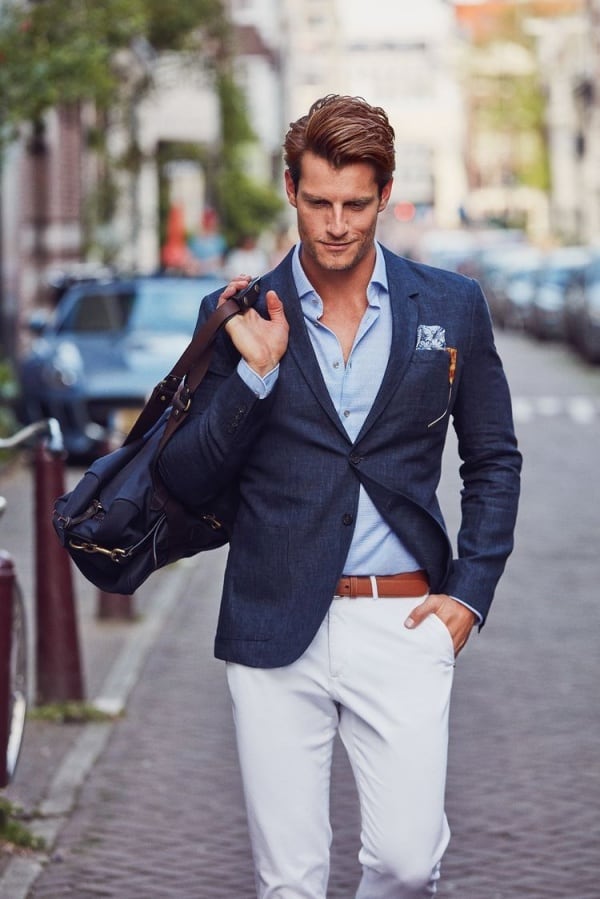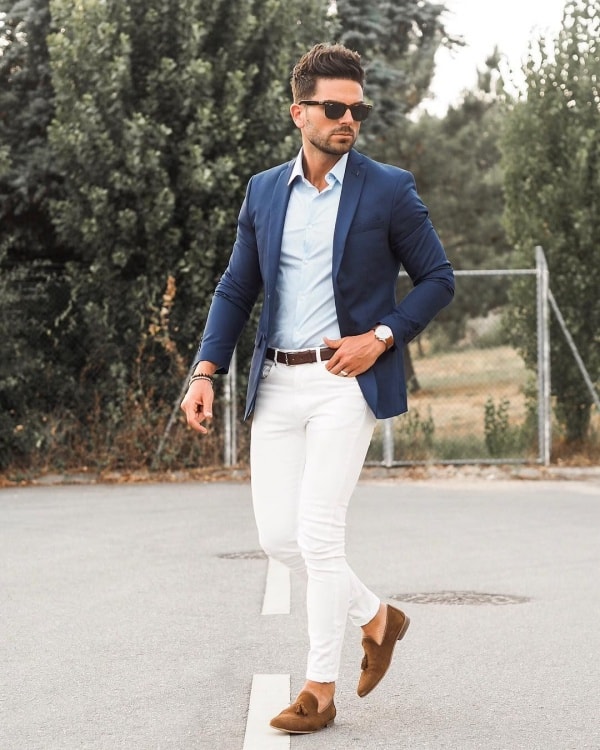 Incorporating the blend of blue blazer and light blue shirt is marvelous. Men can team up the blazer with a formal light blue shirt for a perfect combination.
Creating a contrast between versatile shades of blue makes you look more fantastic. Complete the attire by wearing a smart pair of formal shoes along with it.
A few simple tips can take your look from 'meh' to amazing.
4. Navy Blue Blazer With Grey Pants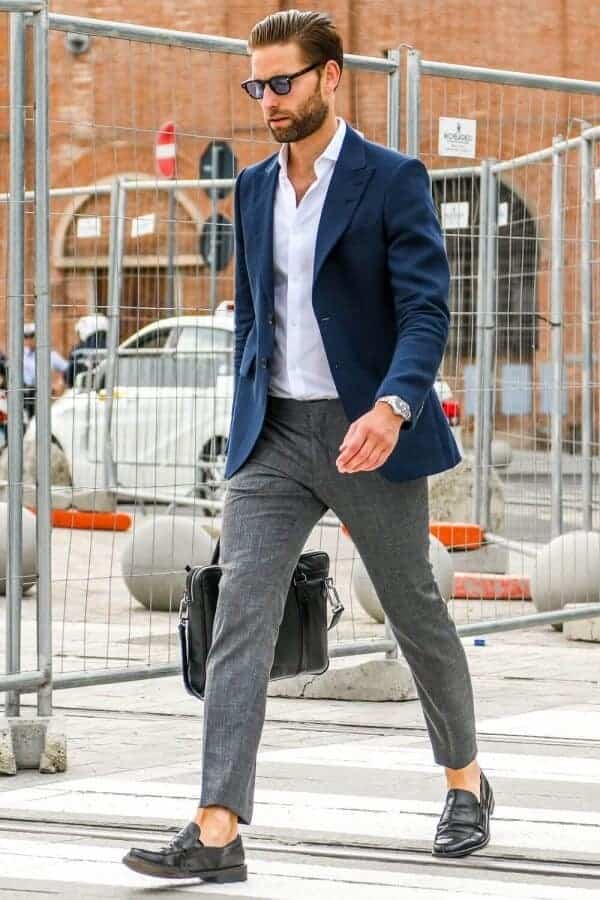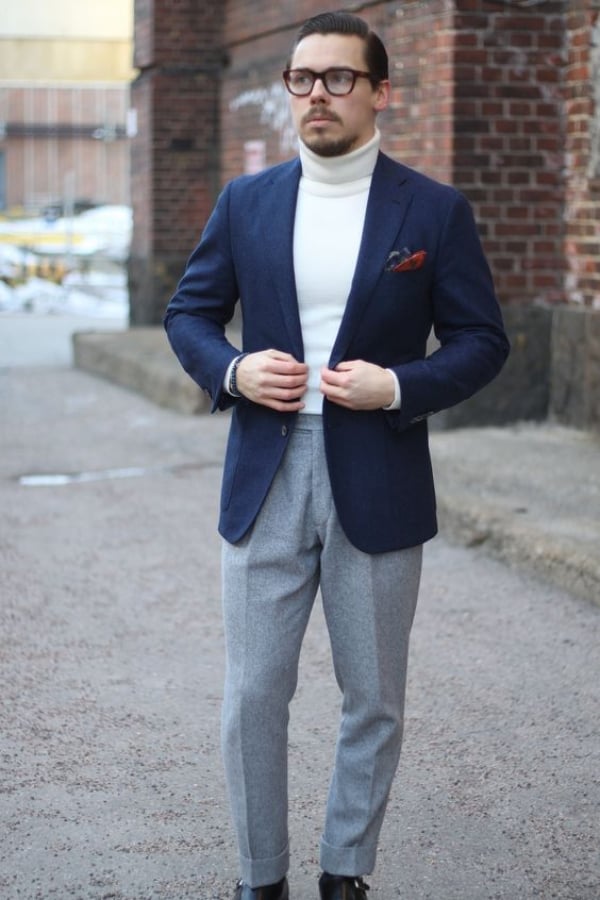 Next up in the league of blue blazer outfit ideas for men is a grey and blue combination.
Pairing a stylish blazer with black or white shirts can create a phenomenal aura. Powering yourself with the slayish blazer can enhance your image.
Especially in corporate gatherings or events, teaming up formal blue blazers with grey pants and a white shirt can be incredible.
Use lighter tones in contrast to accentuate the final look.
5. Blue Blazer With Black Denim And White Shirt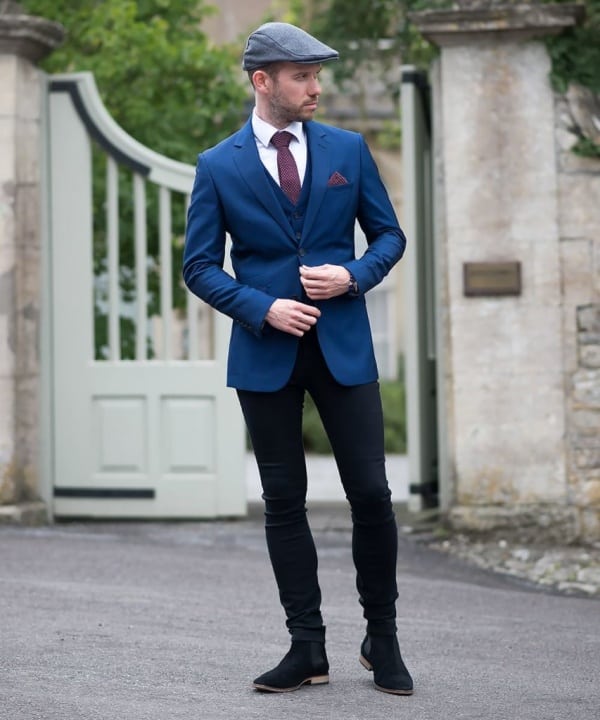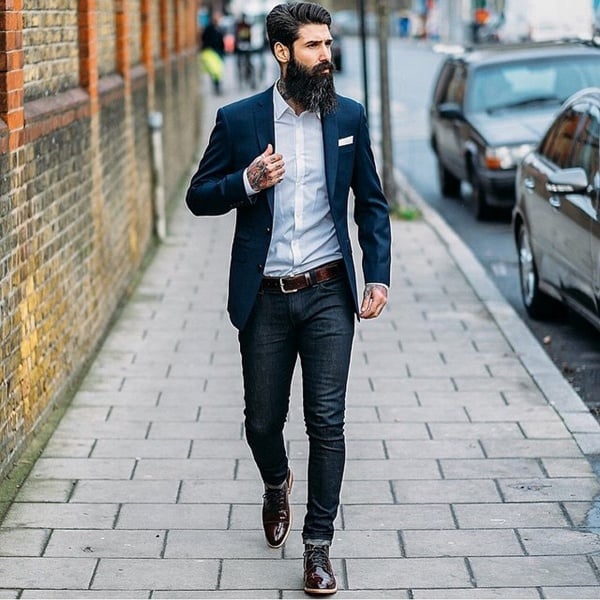 Are you looking for a fusion of casual and formal for a mixed look? How about trying the blue blazer and denim combination?
Pairing up black denim jeans with a stylish white shirt and blue blazer sounds like a perfect idea.
You can complete this semi-formal look with trendy sneakers or loafers below. Accessorise well with a watch and cool sunglasses to wind up the look.
Carry off that killer smile, and you are all set to go!
6. Formal Navy Blue Blazer With Khaki Pants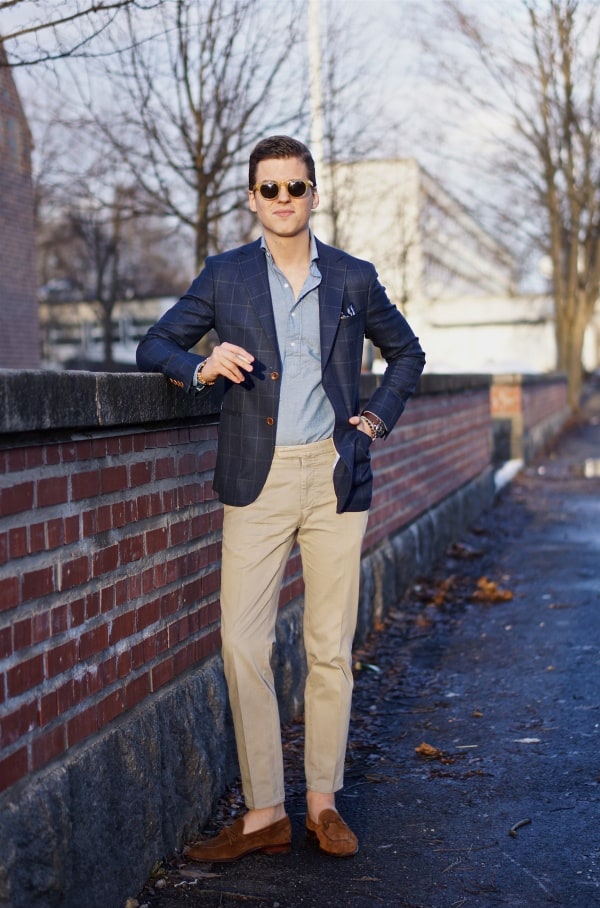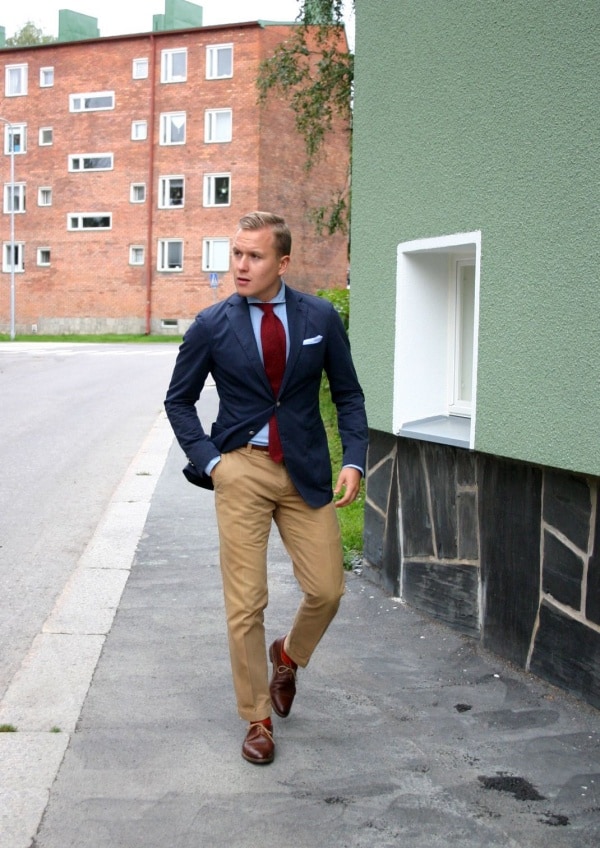 Trying out unique outfit ideas like a formal navy blue blazer with stylish slim-fit khaki pants is impressive.
Carry it with vogue, and you can nail the style game with this deadly combination. Experiment with a white or an ice blue shirt followed by a maroon tie.
This super cool apparel enhances your personality and helps you stand out from the rest.
7. Navy Blue Blazer With Light-Coloured Chinos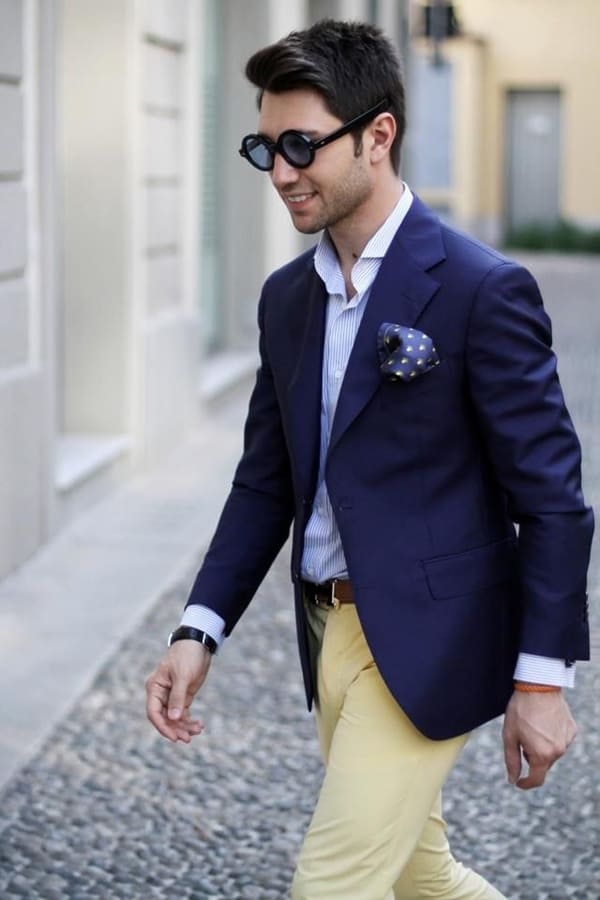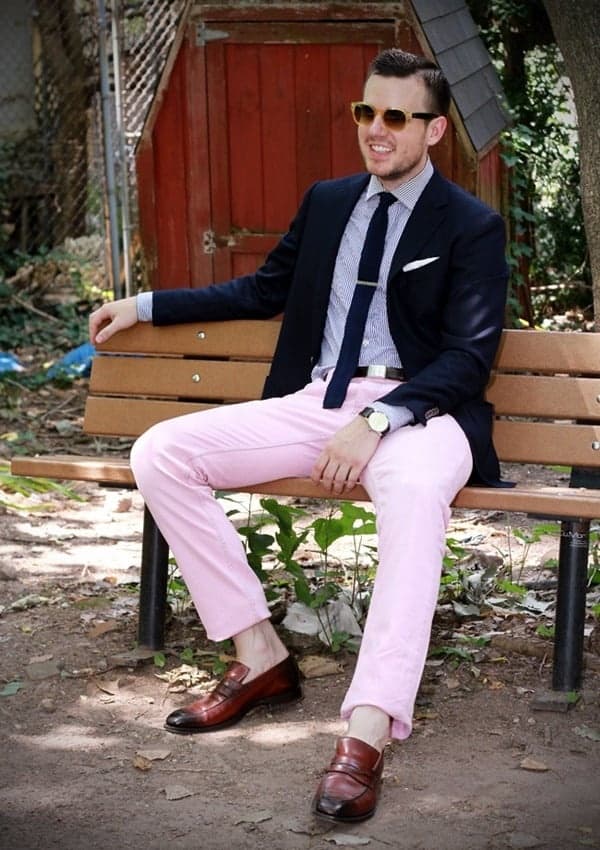 Chinos are a trending fashion that will stay here for decades. The elite and slim chino pants infuse a dash of style into your attire.
Honing this type of apparel with complete elegance is epic. While opting for a navy blue blazer, choose light-shade bottoms in khaki, beige or grey hues.
Adding a casual vibe with black chinos can also work wonders. Remember that shades of chino must be selected, keeping in mind your personality and styling choices.
8. Blue Blazer With Pink Shirt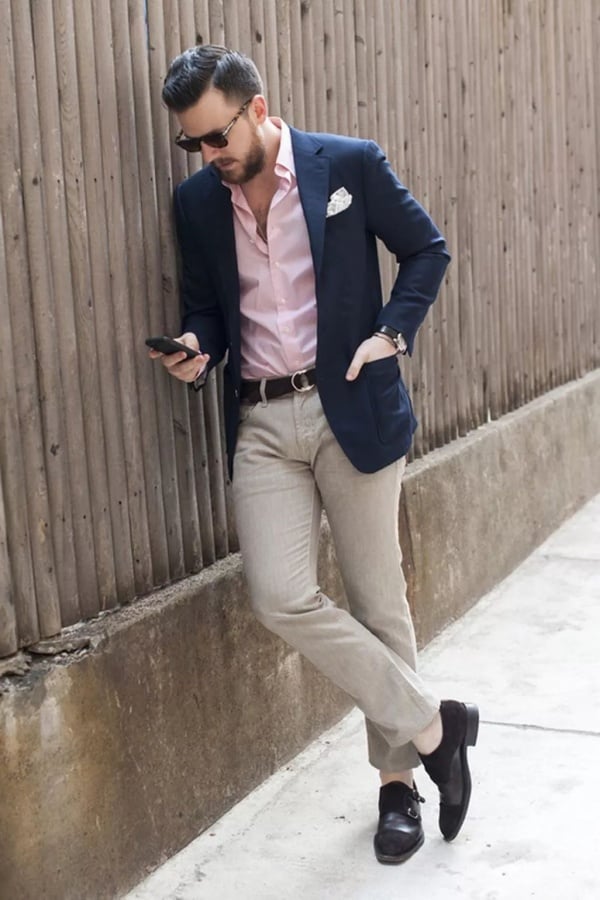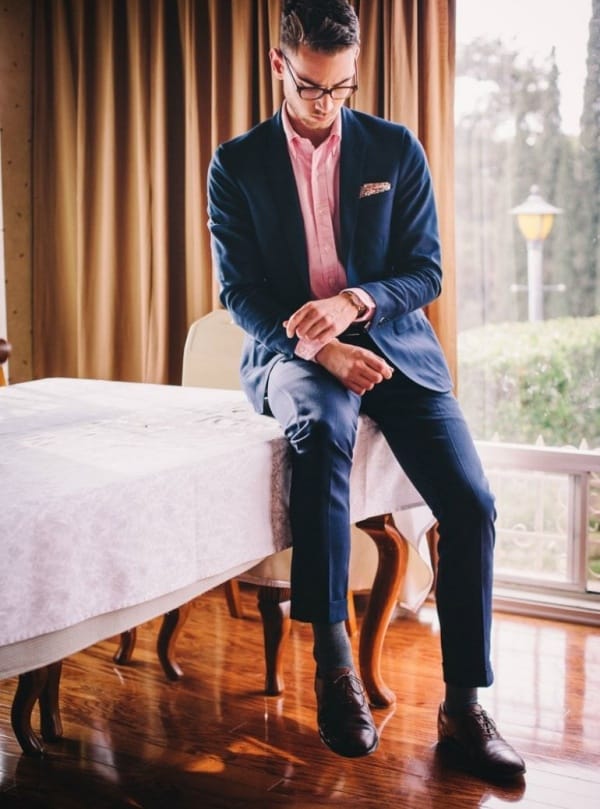 Beat the monotony by infusing a splash of pink into your dressing style. A stylish blue blazer with a light pink shirt can look class apart.
It can look brilliant with light-colored pants, adding a perfect formal touch to the attire.
Ditch the ordinary blazer pant combinations and try this one to hit the odds with grace and fashion.
9. Blue Blazer with Black Shirt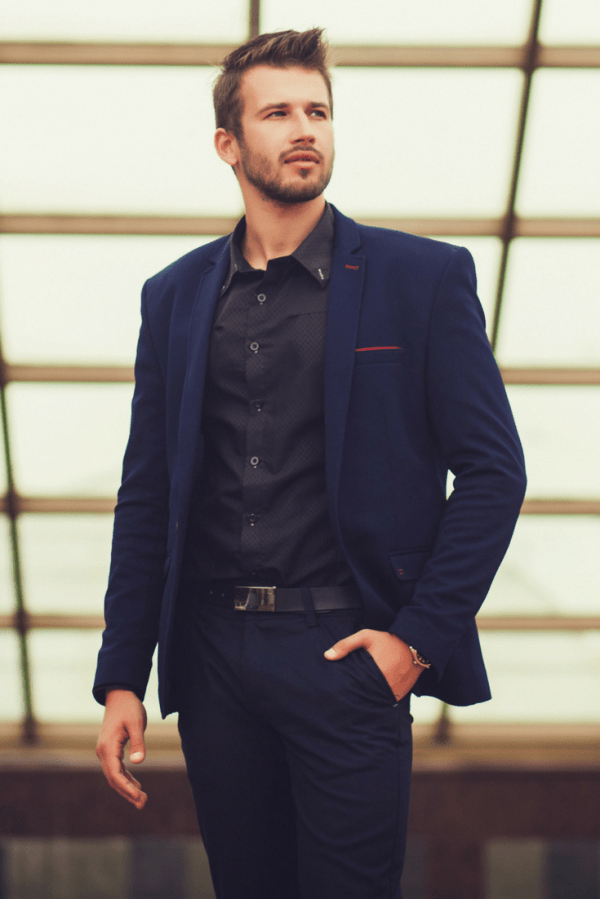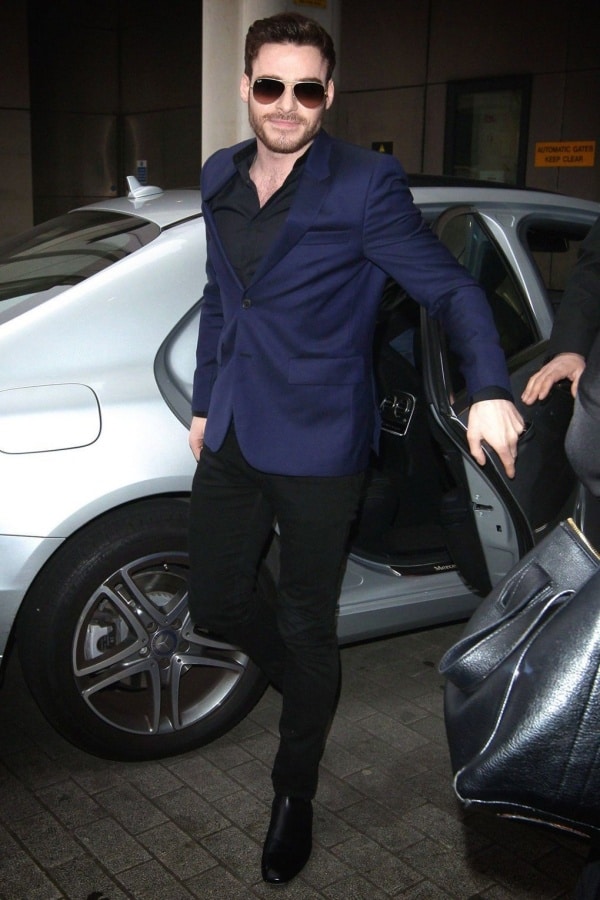 Blue and black are timeless colors that can look perfect in every moment. Wearing a classy navy blue blazer with a black shirt sounds like a perfect combination.
Men can experiment with the royal blue blazer and black pant combo to stand out in any wedding or party event.
Depending on the occasion, you can flip between formal and casual looks. Pairing up the clothes in the proper sync can enable you to look spectacular.
10. Blue Blazer With White Pants And White Shirt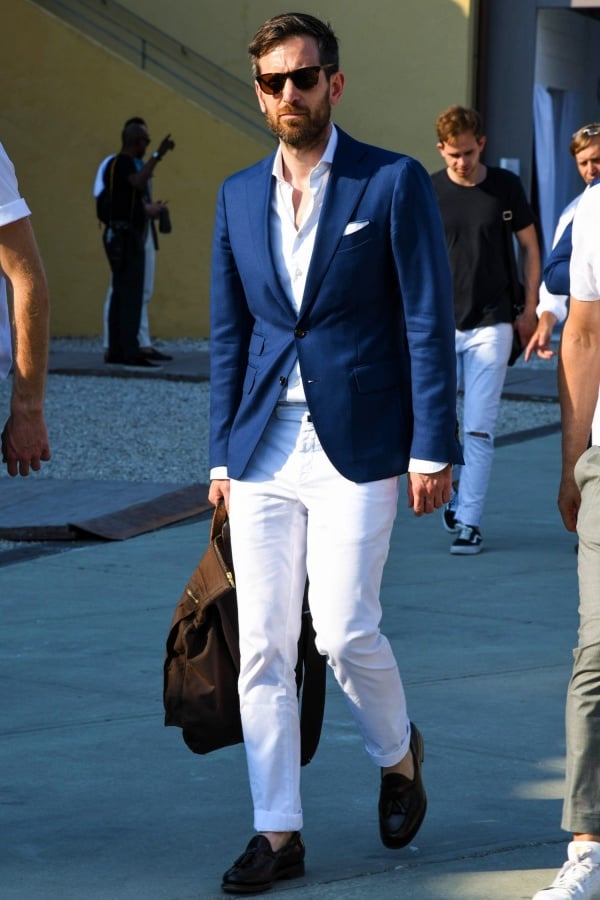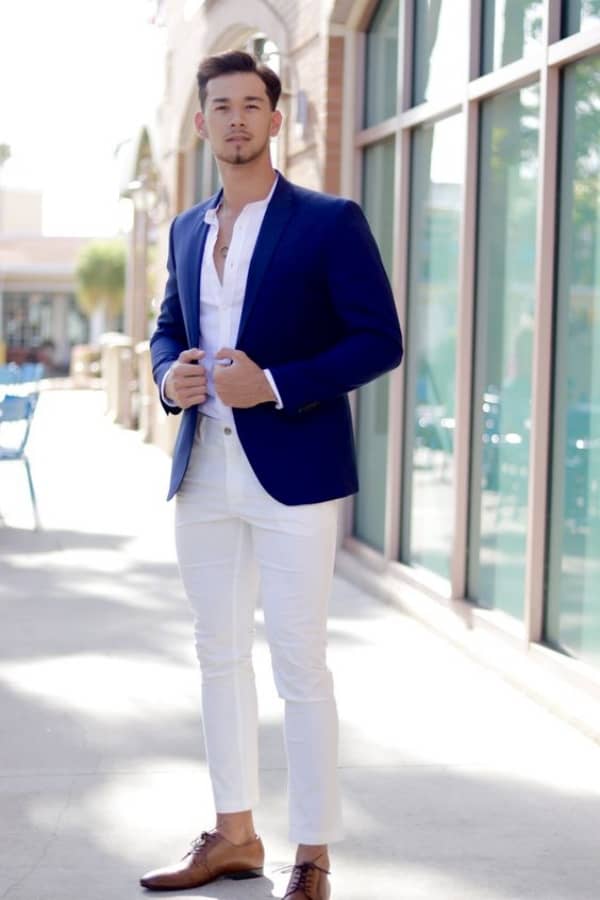 Willing to grab a time-tested look? Proper dressing can change your mood and fill you with loads of confidence and strength.
While scouting on top blue blazer men outfits, we could not stop ticking this style. The navy blue blazer with a white shirt and white pant combination is blissful.
Apart from looking very neat, it adds finesse to the outfit. Going for some accessories can behold luxury with divinity.
11. Blue Blazer With Blue Jeans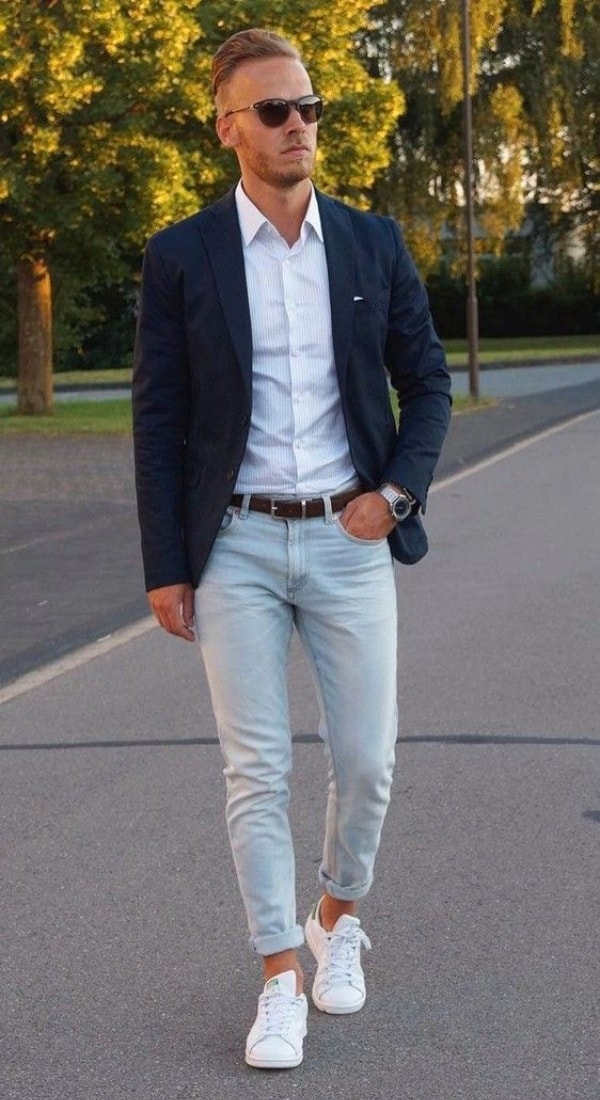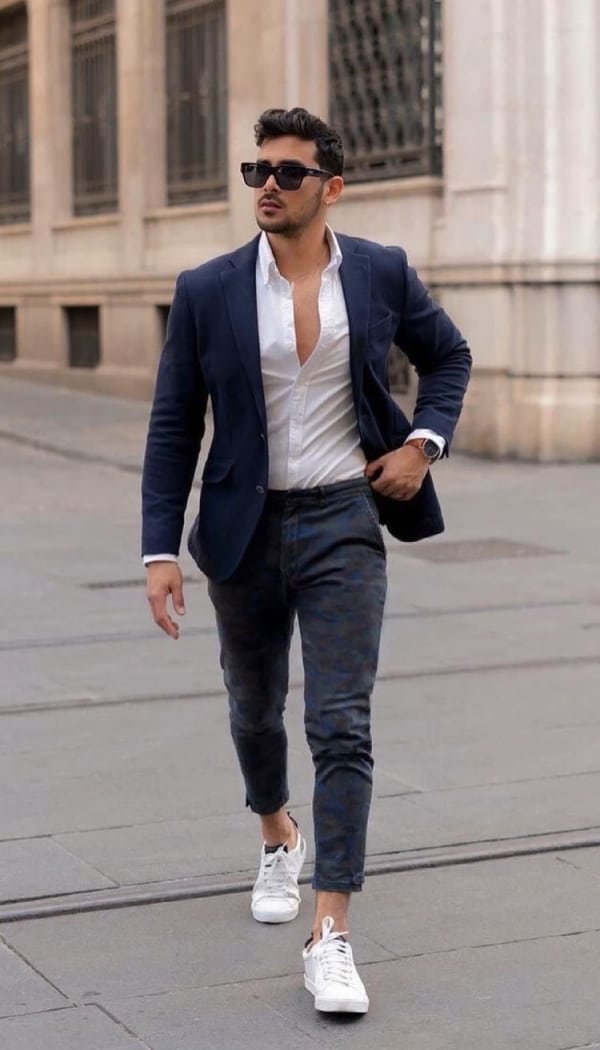 Blue blazer is a wardrobe staple for men! You can show up at any event with a wonderful blue blazer and blue jeans combo.
Giving yourself a striking makeover with a few tweaks in styling is commendable. Go for a royal blue blazer, navy blue jeans, and a white shirt.
No wonder you will fetch the attention of the people around you. The amount of compliments you are bound to gather from everyone is also incredible!
12. Blue Blazer With Striped Shirt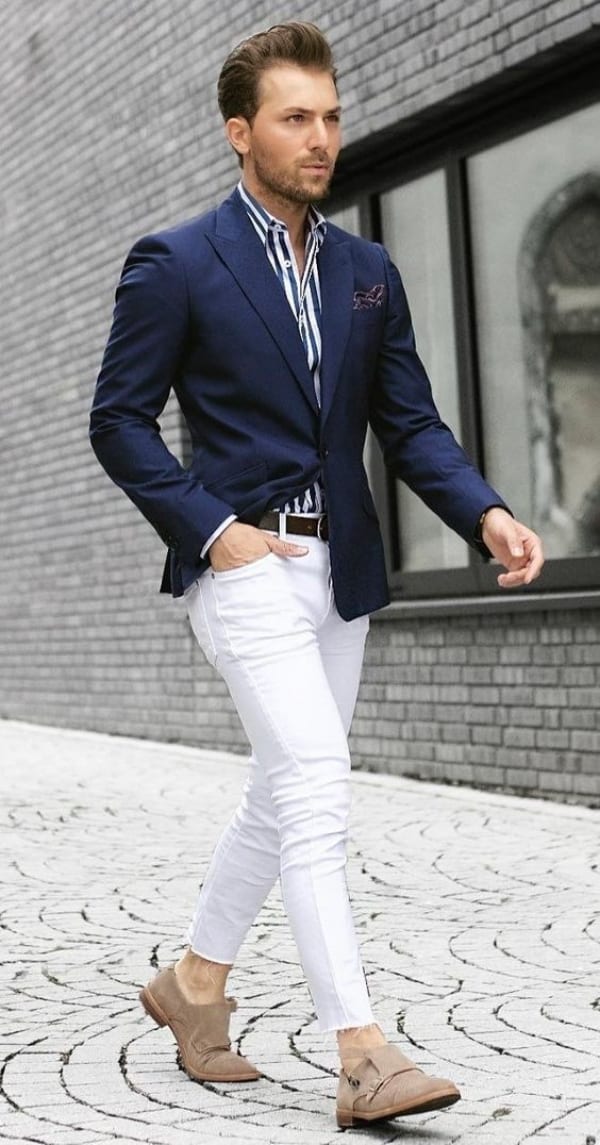 A basic white and blue striped shirt complemented with the blue blazer can look flattering.
Styling blue blazers can have countless alternatives, and creating a perfect combination needs some knack for fashion.
Coordinating the white chinos, striped shirt, and a dark navy blue blazer together is advisable. Ensemble with white sneakers, and you are ready to rock the look.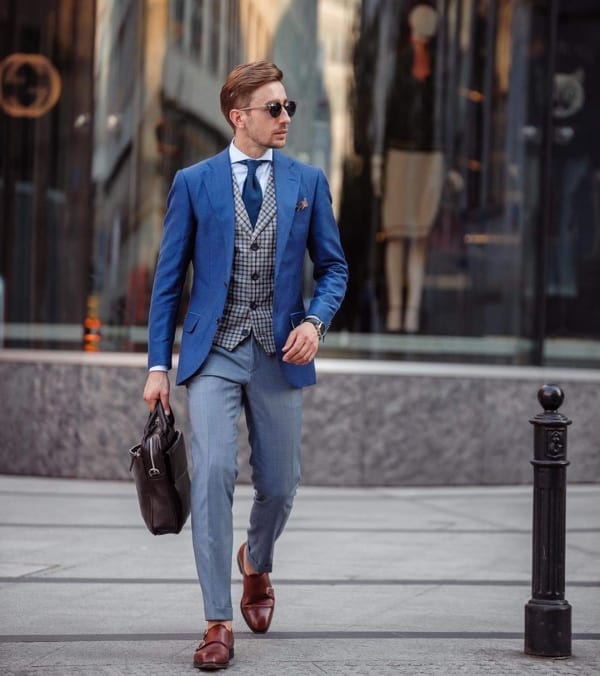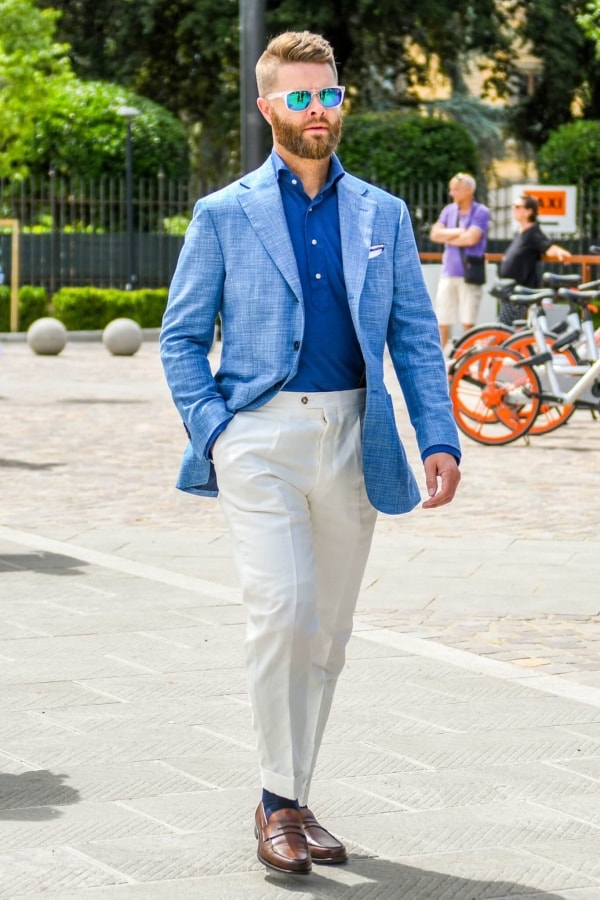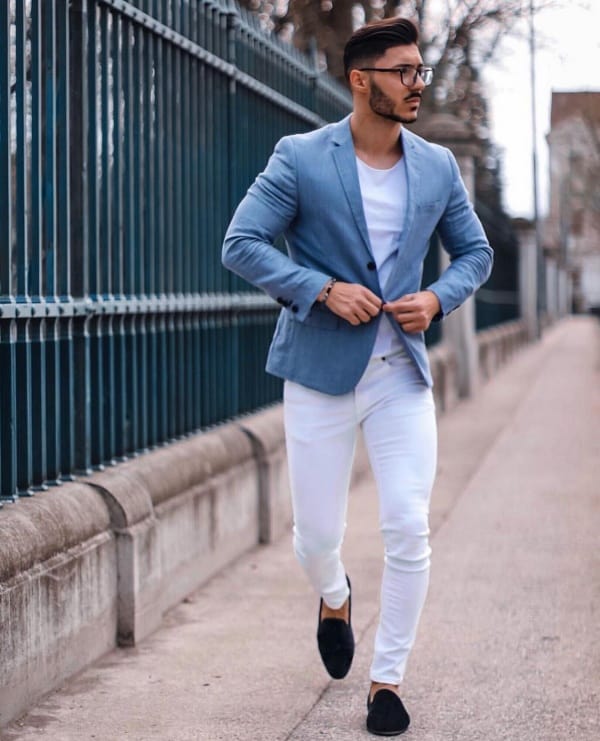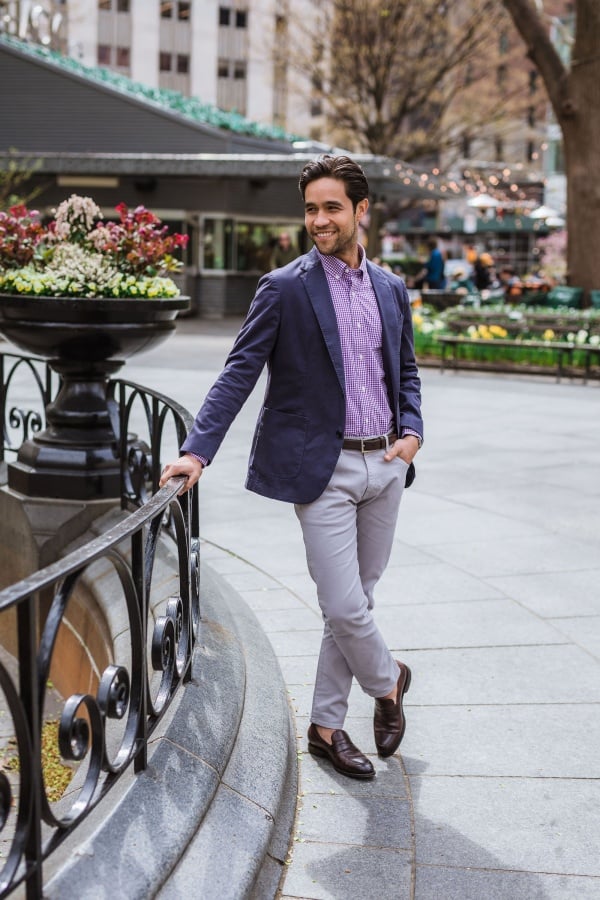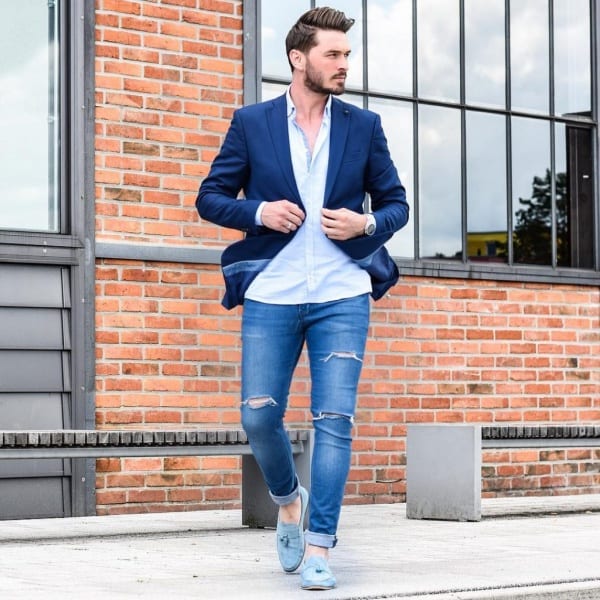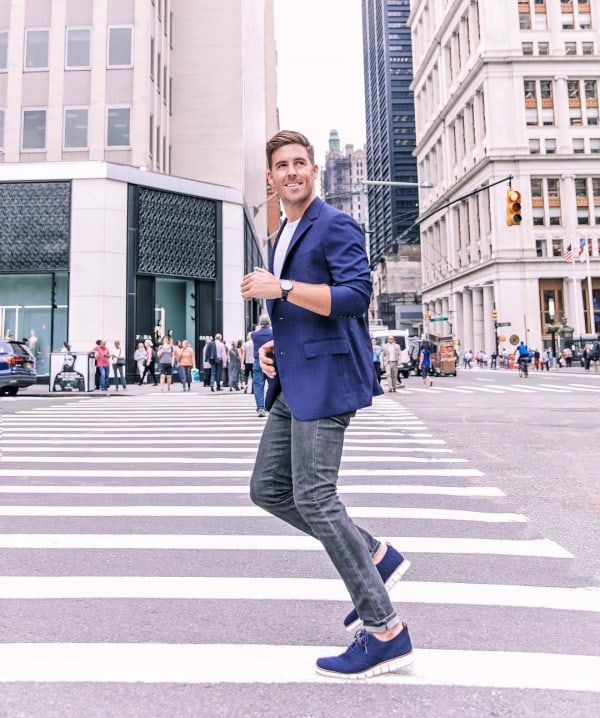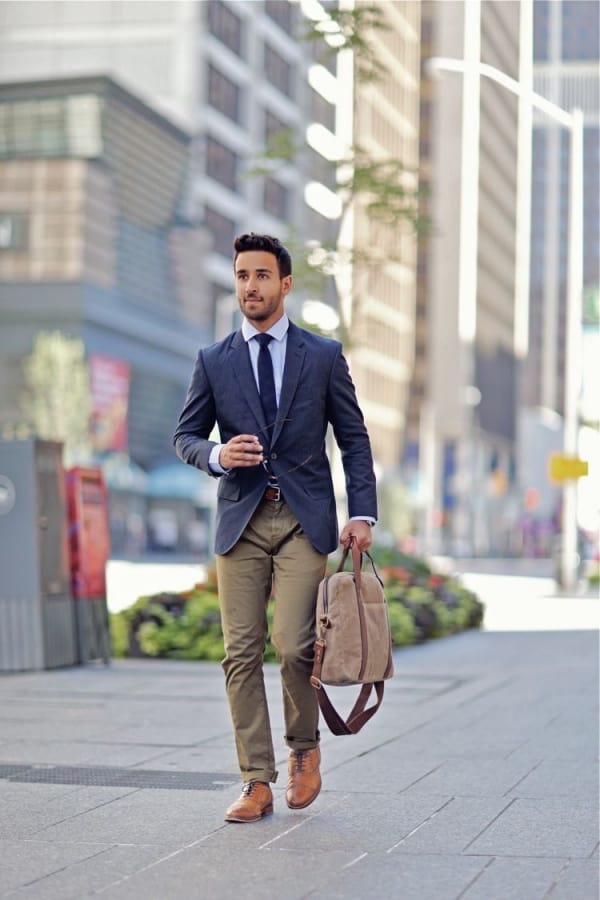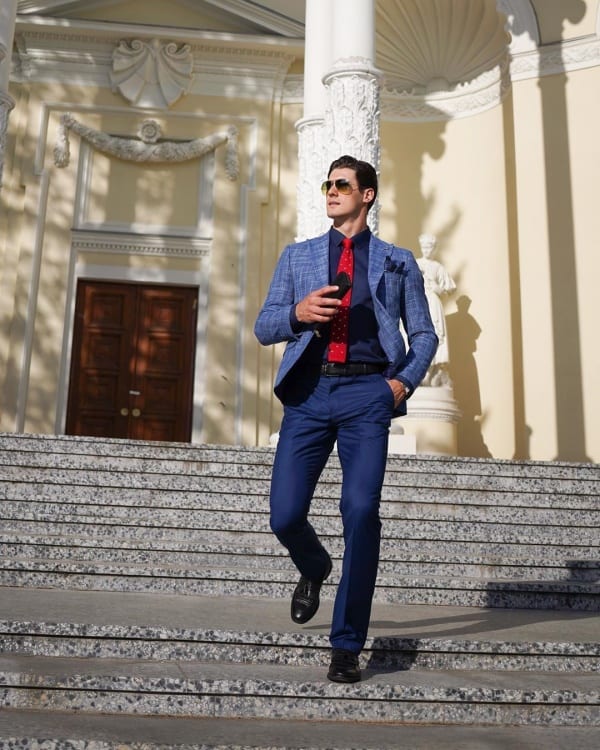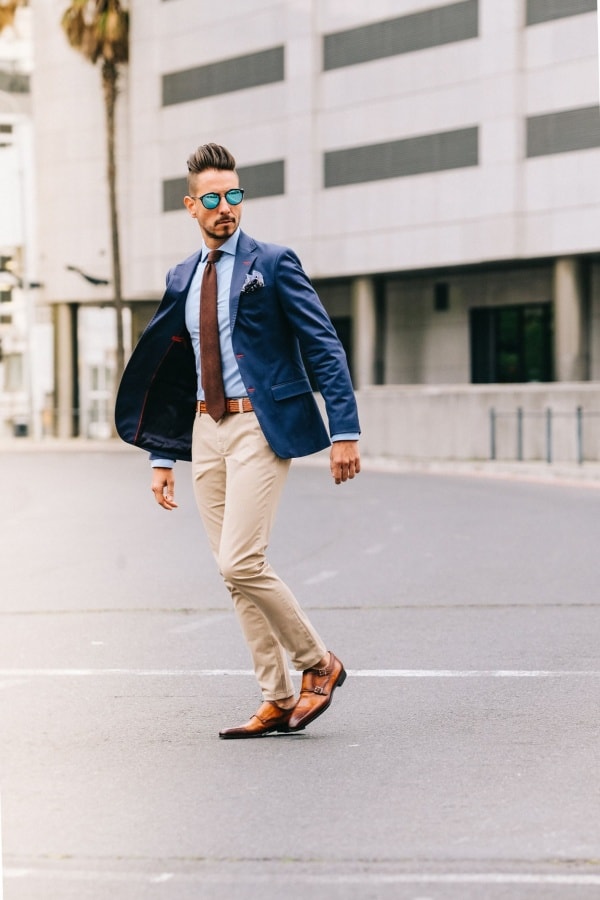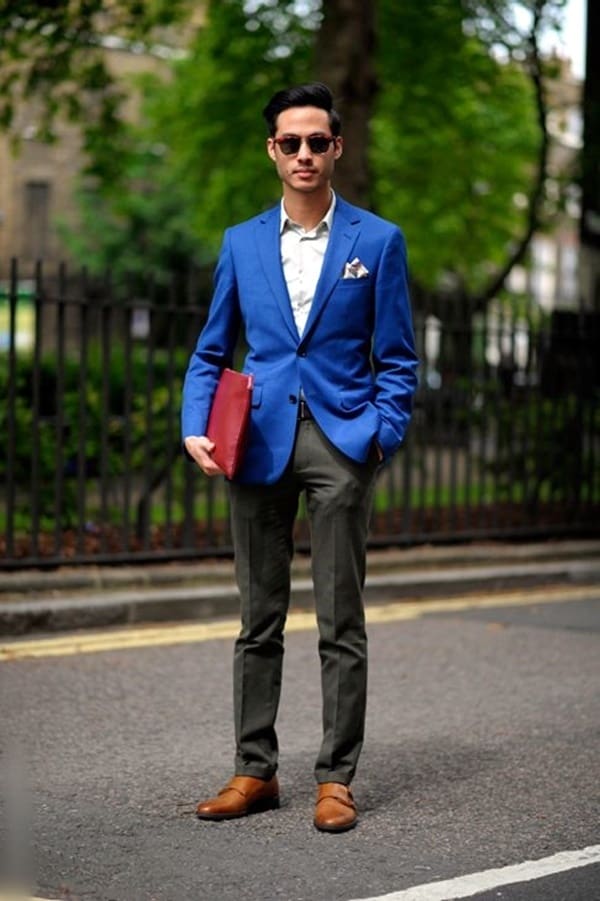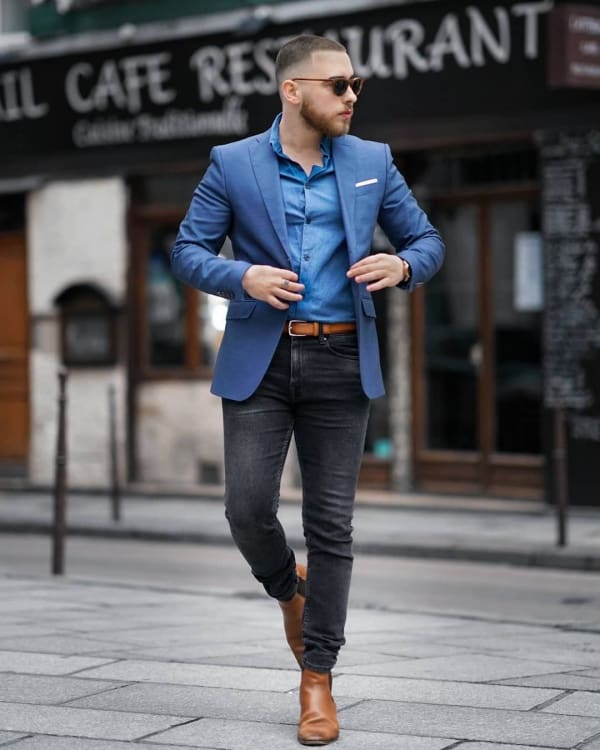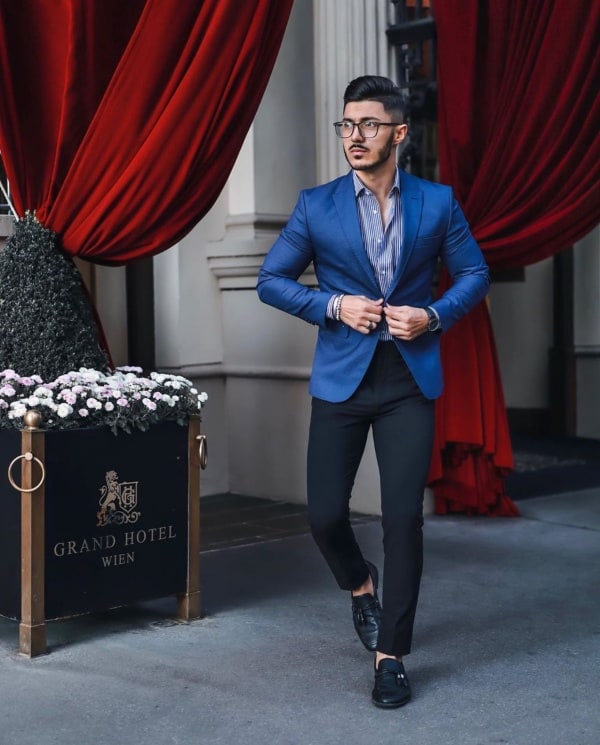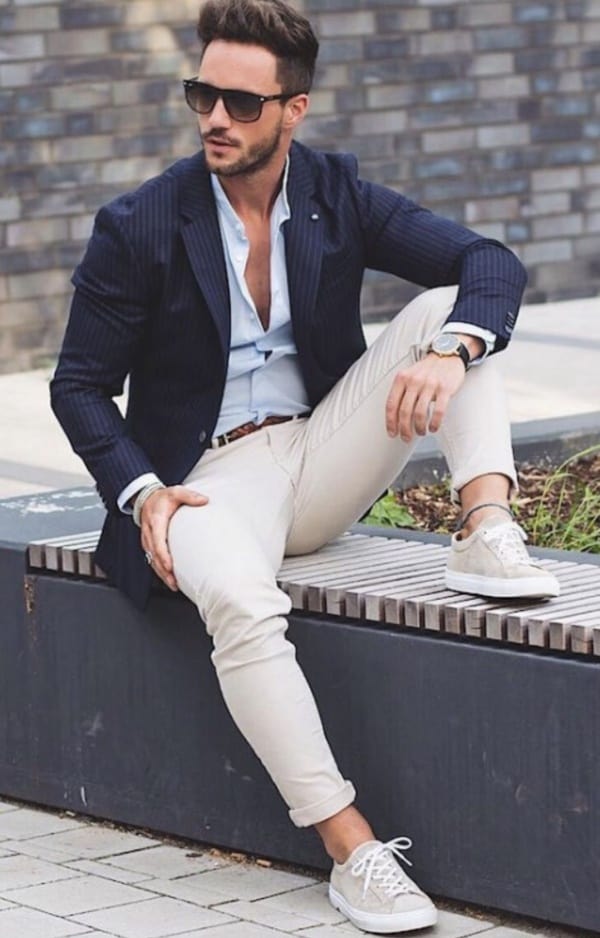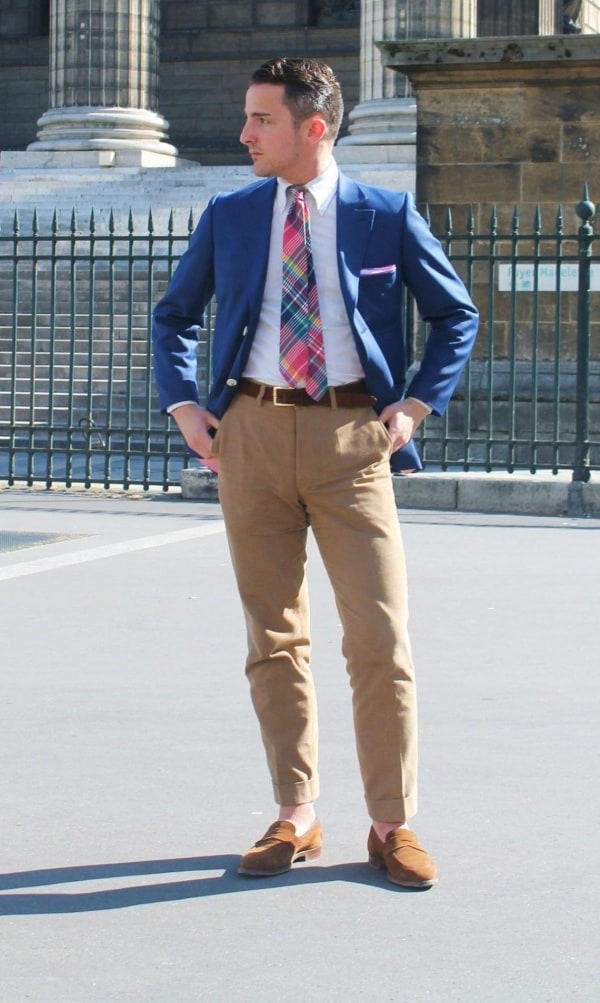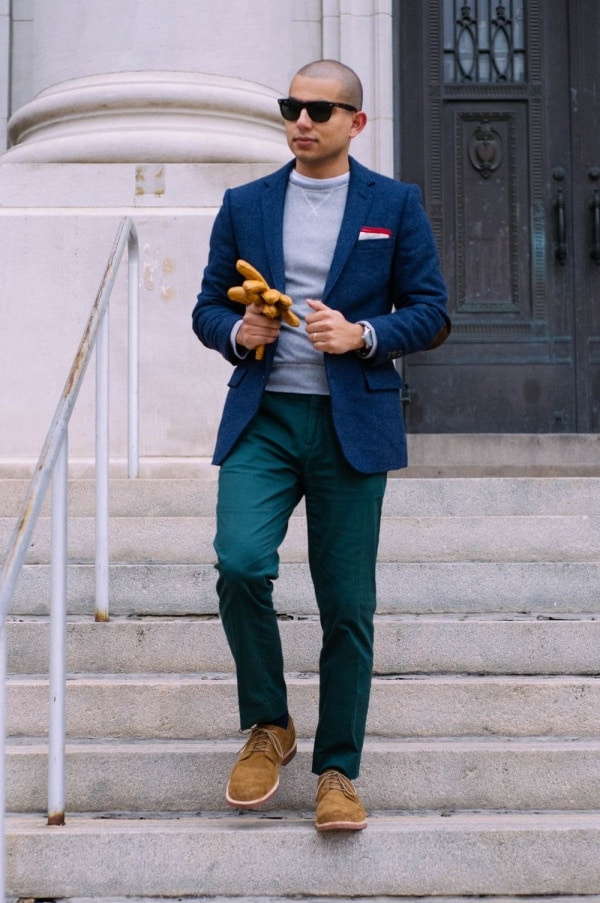 You may also like:
It's a Wrap!
Blue blazer outfit ideas for men slated above can be incredibly stylish and rise up the style game like a pro!
It is adorable to witness so many unique ways and styles one can adopt to re-create unique blazer looks.
Catchy, glamorous, and fashion-studded blue blazers can grab the limelight when styled right.
So, why wait for others to steal the best fashion combinations? Pioneer the look with elegant accessories followed by a dash of personalized touch.
Flip amongst diverse shades of blue to choose the best one. With such thoughtful styling options, men can transform the blue blazers into a classic outfit idea!
F.A.Q
Can I Wear Blue Blazer With Blue Jeans?
Definitely Yes! Starting from traditional denim blue to ice-blue jeans, there are multiple options to try with a navy blue blazer. If you are bored of blue, try out other hues like beige, khaki, grey and white to look stylish and handsome. Opt for darker color jeans but be careful of avoiding a mismatch.
Which Shirt Is Best With A Blue Blazer?
If you ought to play safe, nothing beats the magnitude of a white shirt. In other cases, one can also pick light pink, sky blue, or grey shirts to create a perfect contrast. Remember that allow one element of your attire to stay striking while letting others be subtle.