The trend of pairing men's bomber jacket outfits with peculiar fashion outfits has driven the crowd crazy and the trend doesn't seem to take a backseat anytime soon. No matter from where you derive your style statement, bomber jackets have catered to become almost everyone's cup of tea! Being a timeless piece of fashion, the particular jacket is a classic style which appeals to each and every man out there.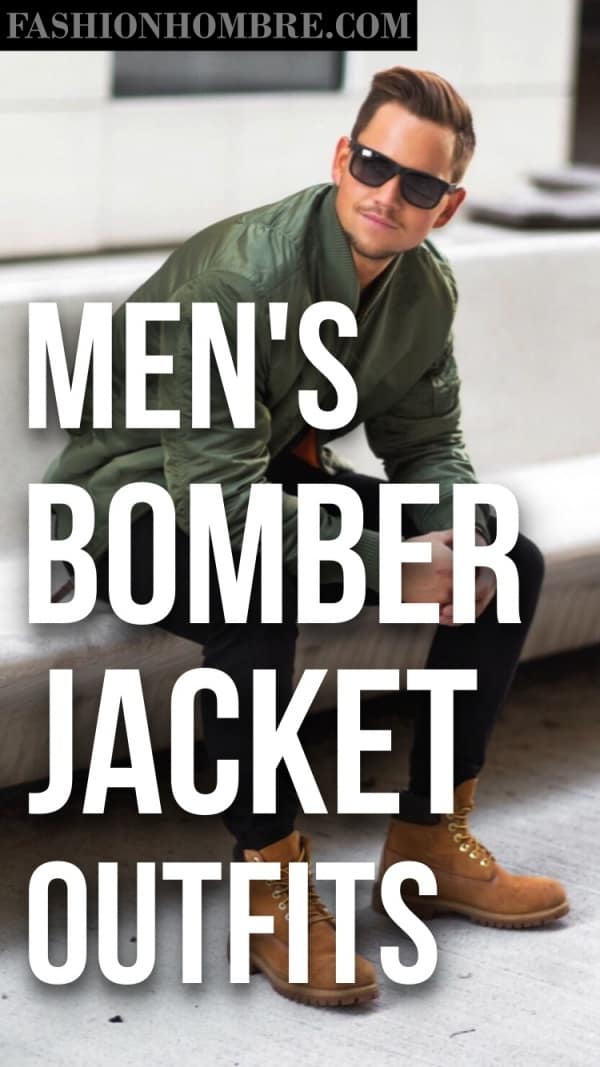 The bomber jacket, being a versatile fashionwear, is the ideal one to keep you warm in the chilly winters and yet add a statement to your personality. Just like its variety in styles, it offers a wide range of material choices as well from suede to polyester. Amongst so much variety, it might be difficult to choose the ideal bomber jacket that has been made for you. Thus, we have brought to you a variety of bomber jacket ranges for you to choose from.
How Should a Bomber Jacket Fit?
This season, bomber jackets have ruled it! Be it the fashion runway or the street fashion, bomber jackets have not left any stone unturned to cater to the wardrobe interests of individuals, especially men. Even though these bomber jackets have acquired the topmost position amongst the men's bomber jacket outfits, not everyone is quite aware of the style that one must ideally follow to rock the bomber jacket look. Just like every clothing comes with its own room of style versatility, bomber jackets are no different. There are quite some certain ways that tell the men how to style a bomber jacket without ruining the personality. We have suggested some of the fitness tips that can help you look absolutely perfect.
The first step to ensure whether your bomber jackets are going to look good is definitely the fit. Look out for the right measurements of your body, and if possible put on some trials to test the real fit resume.
Next, comes the color. The complexion and the personality or even the hair color you have are the factors that end up contributing to your choice of bomber jackets. You can only be sure of it if you try them once, standing in front of the mirror.
Don't try to get too creative in the beginning because carrying an outfit ideally, is a job, too hard. So, if you are someone who is trying a bomber jacket for the first time, then we suggest you take it slow. Otherwise, getting on to some fashion experimentations can ruin the game!
Begin with denim and white tees at first, and then try to implement some colors. One can hardly ever go wrong with a pair of blue denim and a white t-shirt because they look good on anyone, and with any bomber jacket you pick, irrespective of complexion, physique, and age.
Make sure the bomber jackets are coming down to your hip length because that's where they should lie. If those are not, then probably you're wearing the wrong size! But if you are looking for a quirky cropped style, then it should be absolutely fine.
Do not wear a bomber jacket too tight just to look cool because those are not meant for clingy cuffs and tight wrists. So, always get a trial and check if the bomber jacket is hanging a bit loose on your body, and enabling you to move.
The final decision is where you should think about whether the collar of your bomber jacket is sitting comfortably. So, make sure that the collar is not touching your neck, and suffocating you.
Cool Bomber Jacket Outfits For Men
Bomber Jacket With Distressed Jeans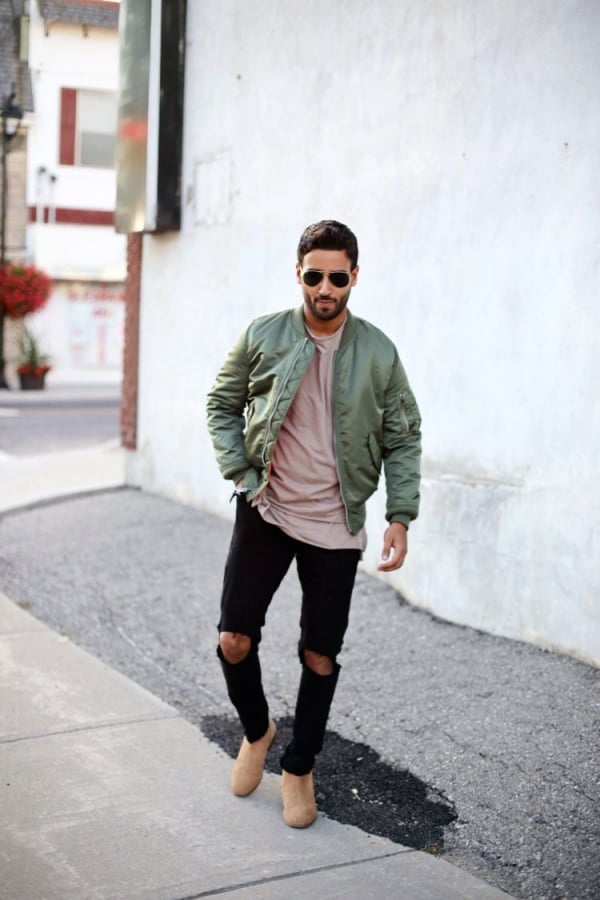 Image Source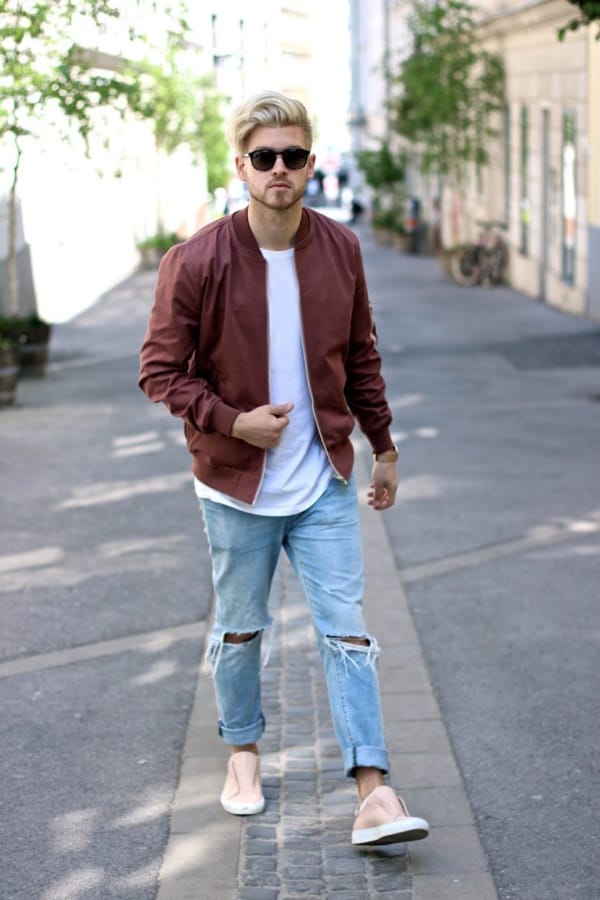 Image Source
Wanna look cool as a dude? Then, bringing a change in your style of clothing is utterly important, and playing it safe with the men's bomber jacket outfits, will definitely not help. But replacing it with a pair of distressed jeans and a bomber jacket can definitely help. It bestows you with a boho look and adds a bit of messiness to it, which nonetheless, looks absolutely amazing!
Here We have: Cool Clothes For Teenage Guys
Bomber Jacket With Chinos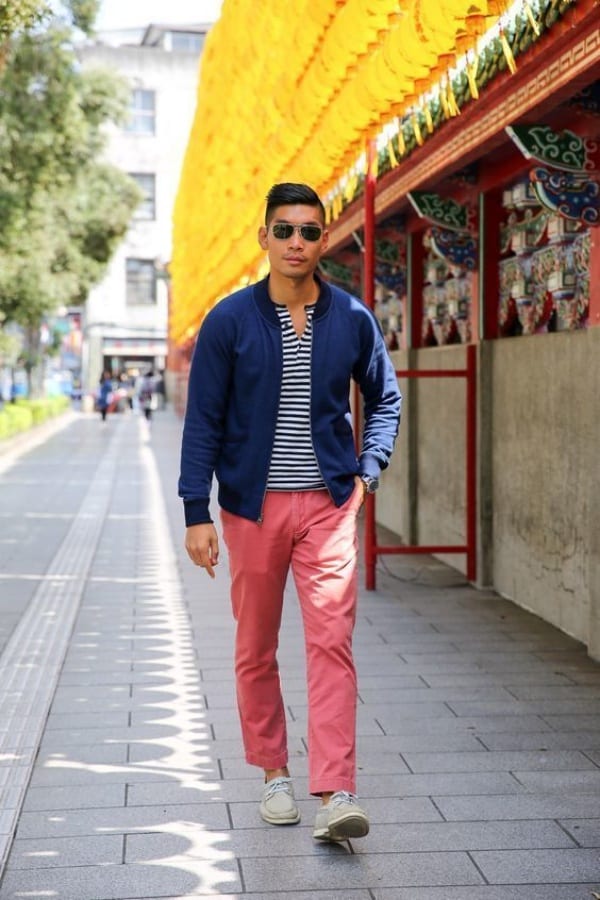 Image Source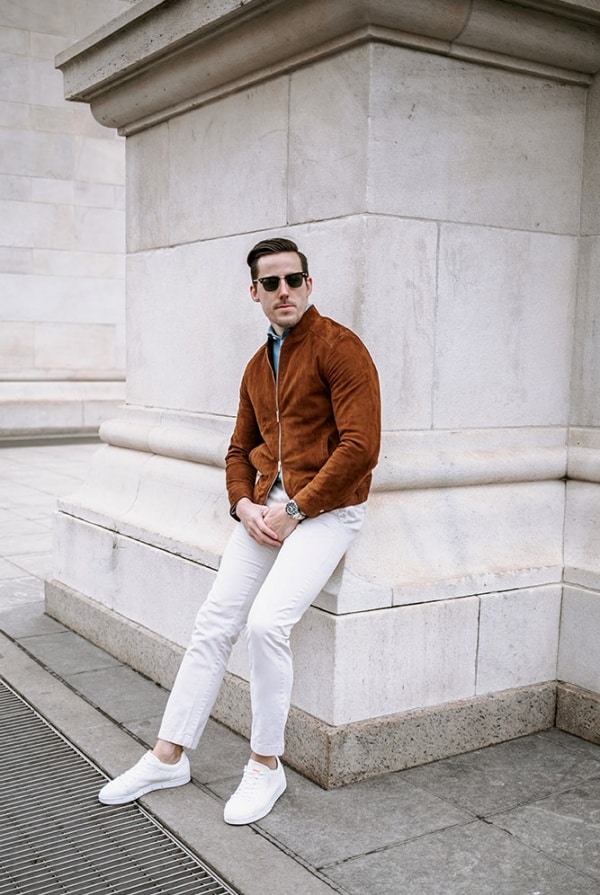 Image Source
Do you want to look slimmer than you are on the camera lens? Then wearing a bomber jacket and pairing it with a pair of chinos can illustrate it likewise. Chinos, much like narrows, makes your legs appear comparatively narrow and the bomber jacket that comes down to your hip helps to hide the wider waistline. So, if you are thinking of pairing both of these, then don't think twice!
Related: Chinos And Shirt Combinations For Men
Bomber Jacket With White T-Shirt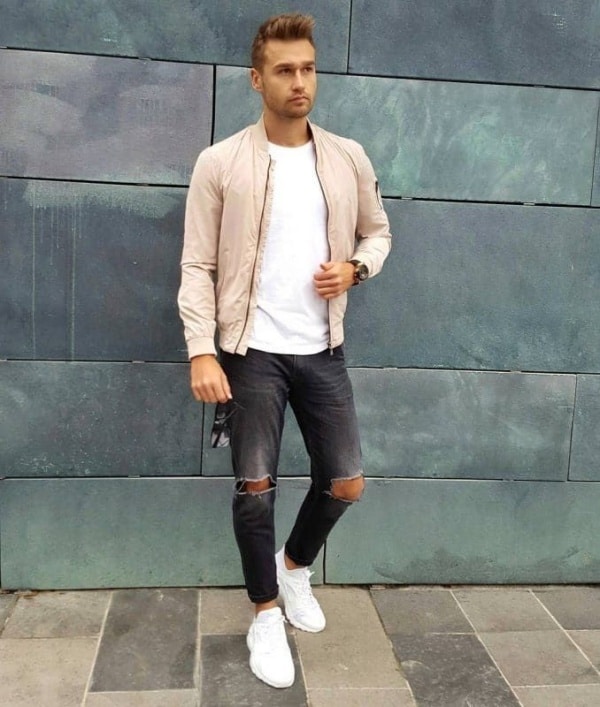 Image Source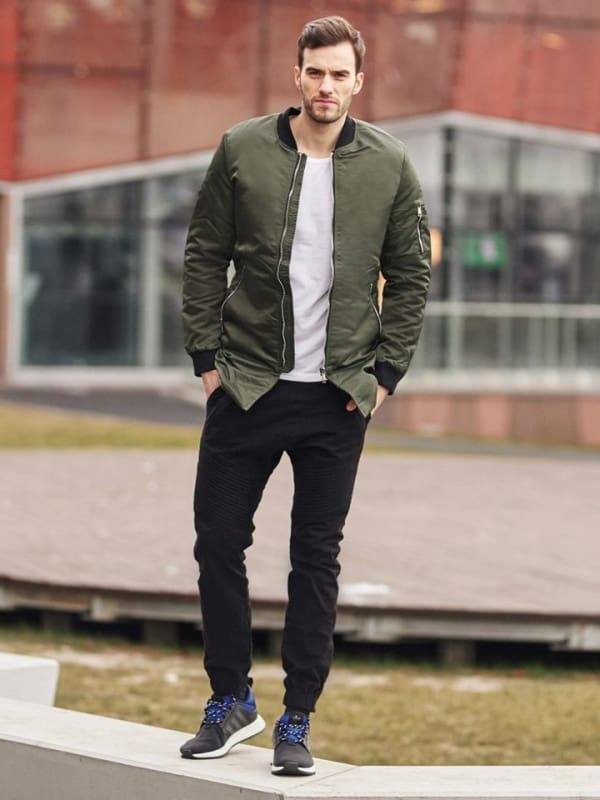 Image Source
Bomber jackets usually come in a range of colors, from blacks to blues and whatnot. In contrast to that, the solid white color of the t-shirt stands out and thus, when paired together, balances out each other. No matter which of the bomber jackets you wear, as far as it consists of a darker shade, you can definitely go ahead and pair a white t-shirt with it.
Checkout: White Shirt And Blue Jeans Outfits
Turtleneck With Bomber Jacket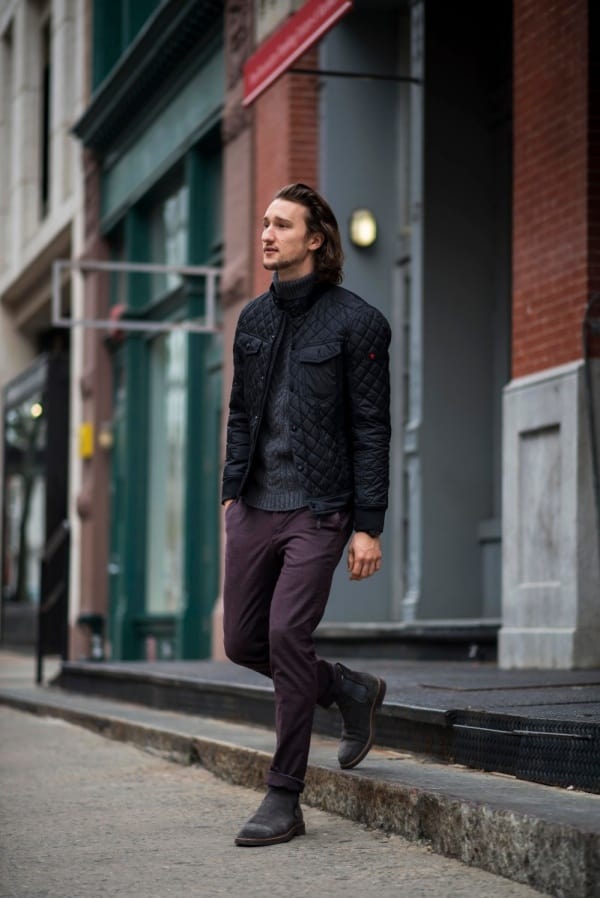 Image Source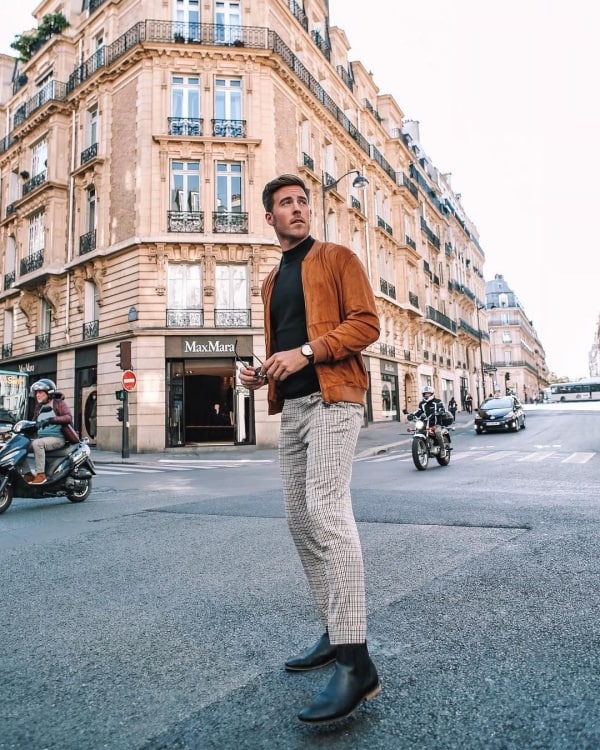 Image Source
Men with longer neck lengths and wider shoulders are made for the turtleneck t-shirts. The particular outfit gets even more amped up when paired with a bomber jacket in winters. The turtle neck t-shirts make the features of your physique more prominent, making you look a bit muscular. Just hood up a bomber jacket in leather, and you're good to go!
Hoodie With Bomber Jacket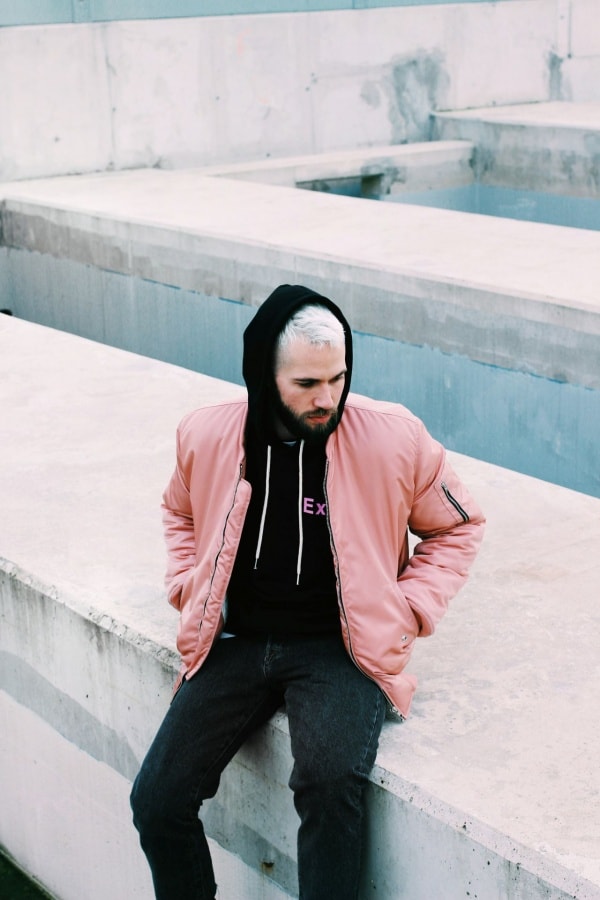 Image Source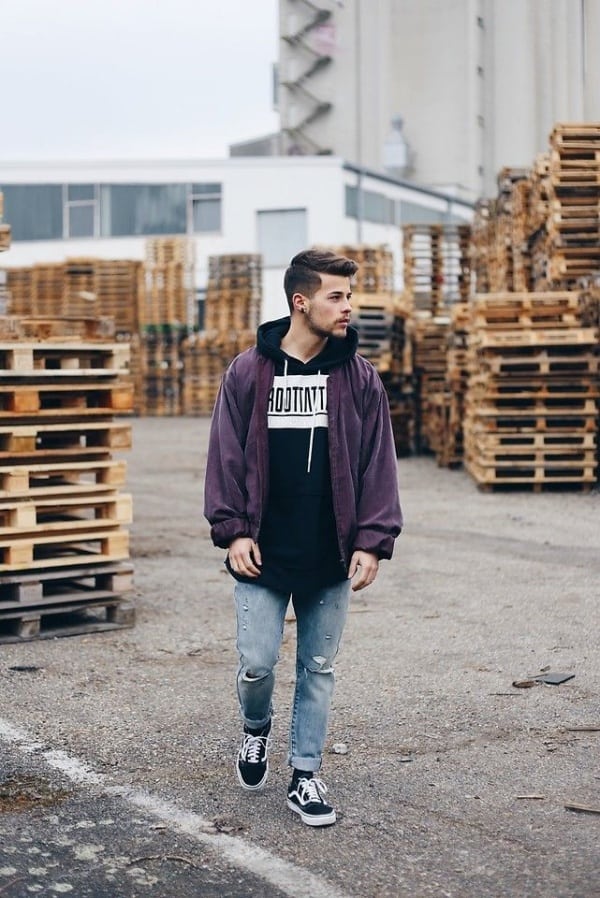 Image Source
Living in a chilling cold country makes it difficult for you to survive and still carry the fashion. But you can get both in one, then it will be no less than magic! Styling a grey-colored hoodie with a black bomber jacket can keep you warm and hold your fashion at the same time.
Bomber Jacket With Shorts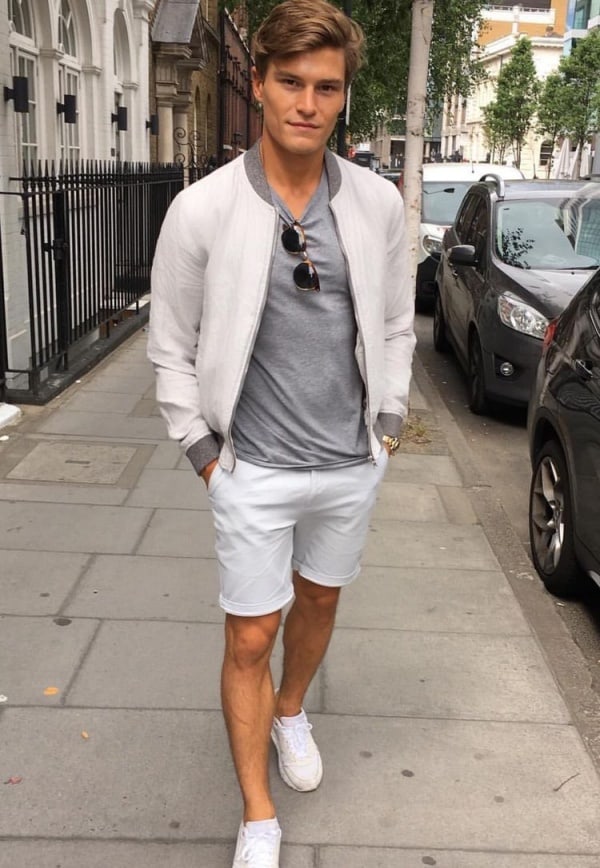 Image Source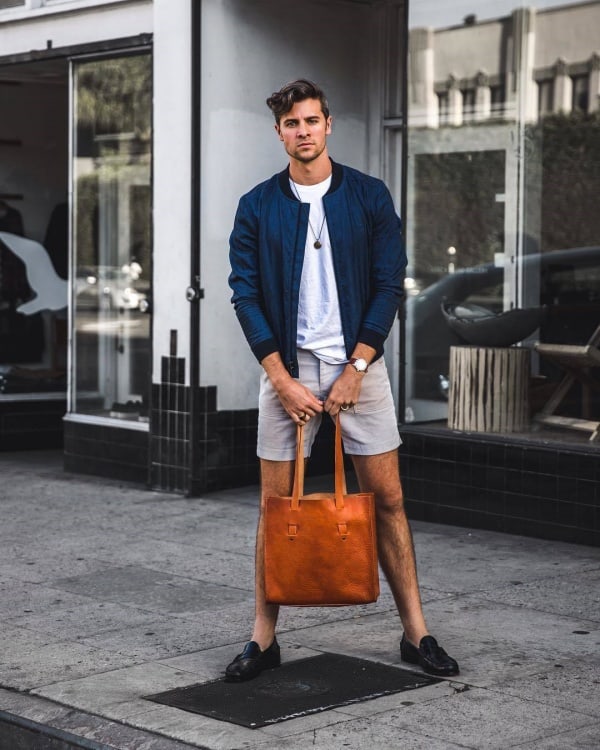 Image Source
They say living a casual life isn't easy. But we say, being a couch potato is easy too when we put fashion at your fingertips. You can pair a bomber jacket with a pair of shorts and yet look cool. It is kind of a messy look that can add a dash to the whole personality without doing too much.
Have a Look: Beach Outfits For Guys
Bomber Jacket And Shirt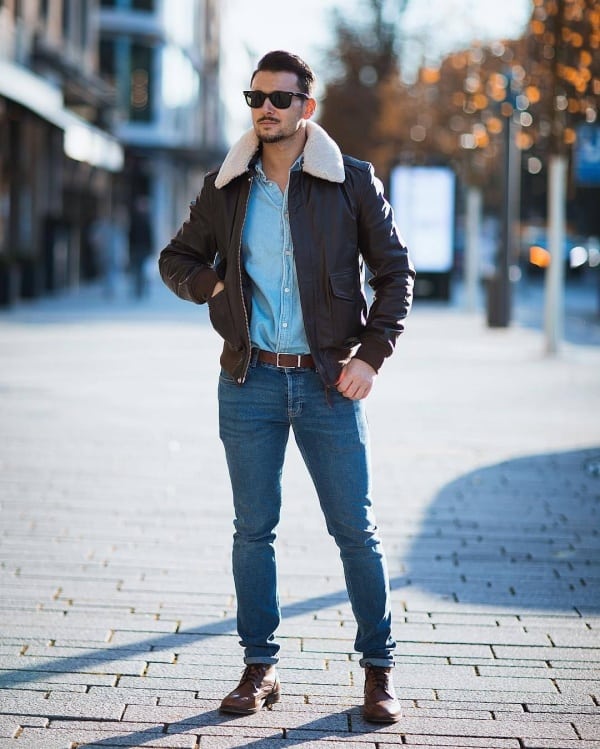 Image Source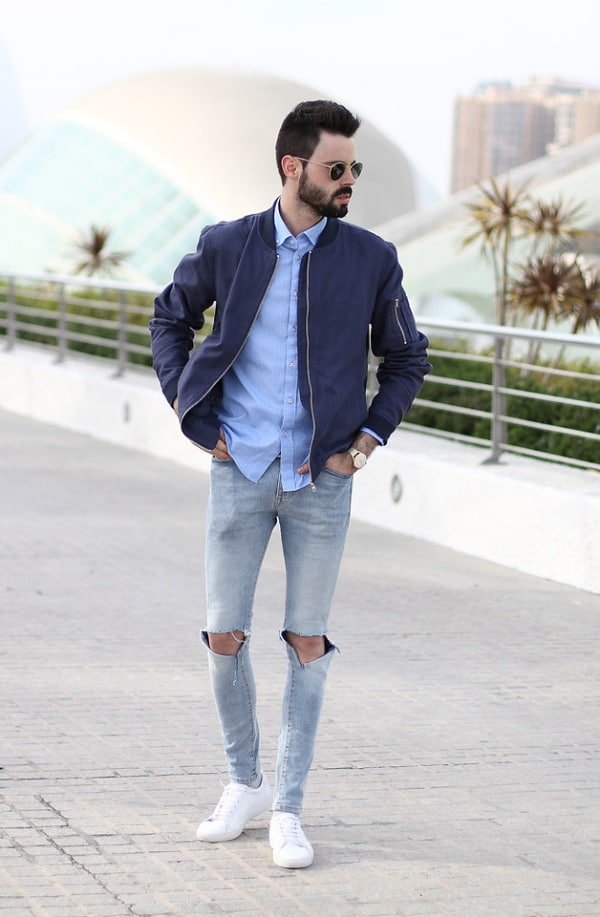 Image Source
Do you think Bomber Jackets cannot look good with the formals? Then, you are absolutely wrong. The particular jacket looks absolutely cool, no matter what type of outfit you are going with if you keep the contracts in mind. Bomber jackets themselves have a lot of hype in them, so there is no way that you would try to add the extra pinch of fashion hype to it. If you are going for a neutral-colored Bomber Jacket, then wearing a shirt in white color, can make you look absolutely amazing.
Related: Fall Outfits For Guys
Bomber Jacket With Boots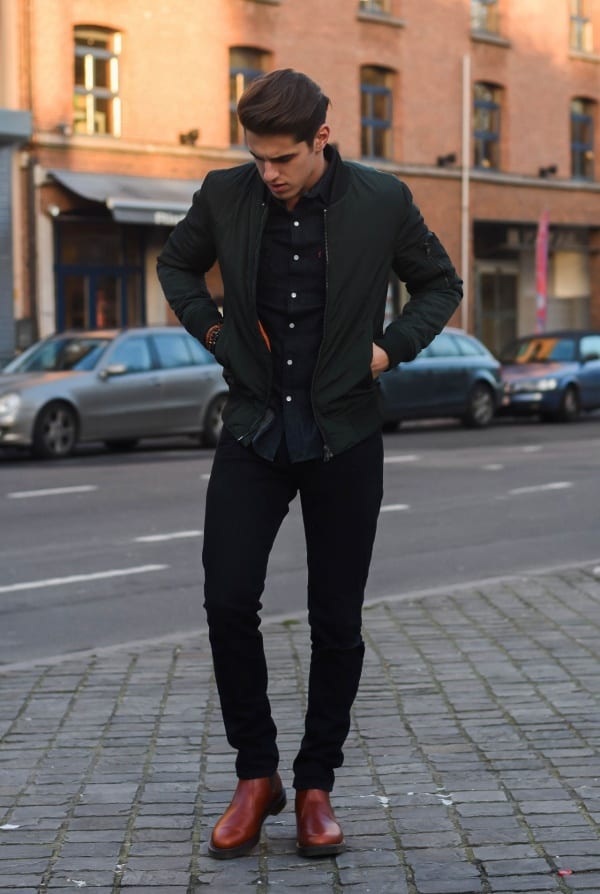 Image Source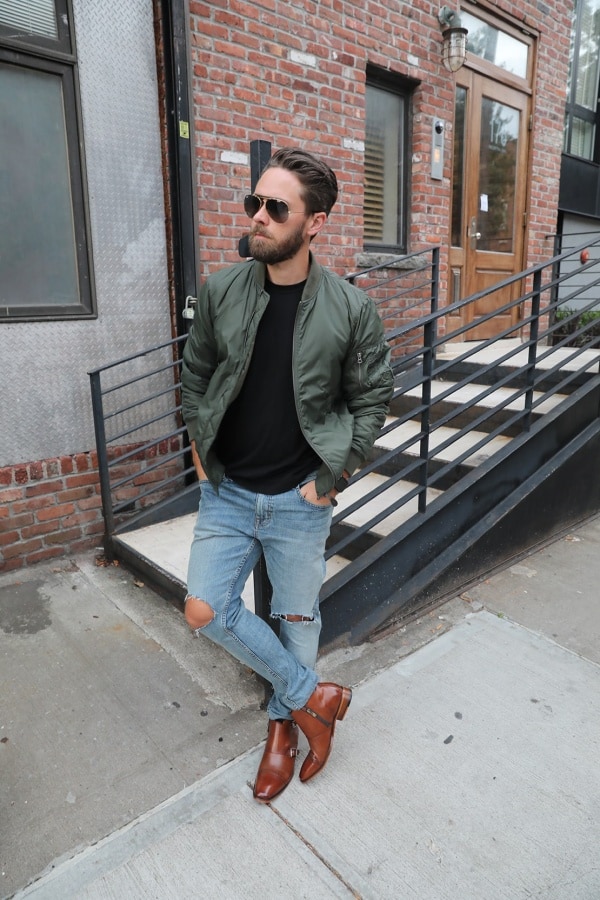 Image Source
Men are nothing without the masculine touch to their outfits. While you are wearing a bomber jacket to keep it all cool and composed, excluding the boots will never complete the look. Whatever is the color of your bomber jacket, wear the boots in either white or brown color, and you will never have to look twice in the mirror.
Bomber Jacket With Tie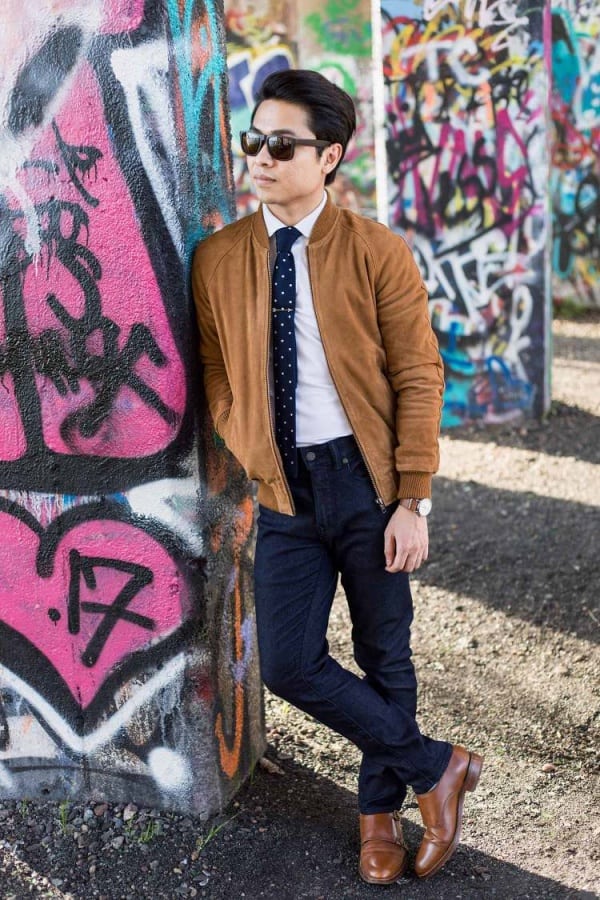 Image Source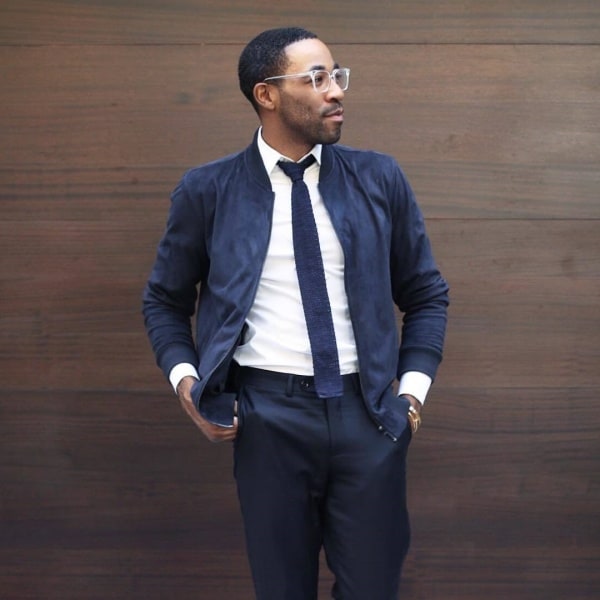 Image Source
No, you will not look like a clown if you wear a tie with a bomber jacket. Everything has its own way of style and all you have to do is, know the right way. Style your formal, go-to office outfit, with a tie either in wine red or in off-white, and match up a cool bomber jacket with it.
Related: Semi Formal Outfits For Men
Bomber Jacket With Joggers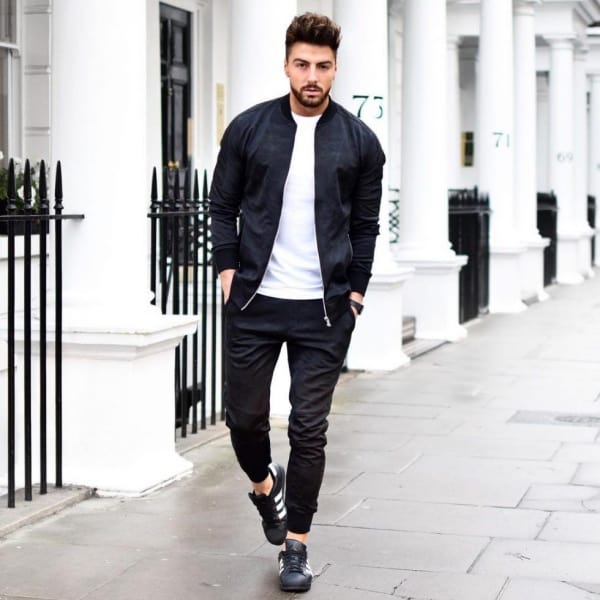 Image Source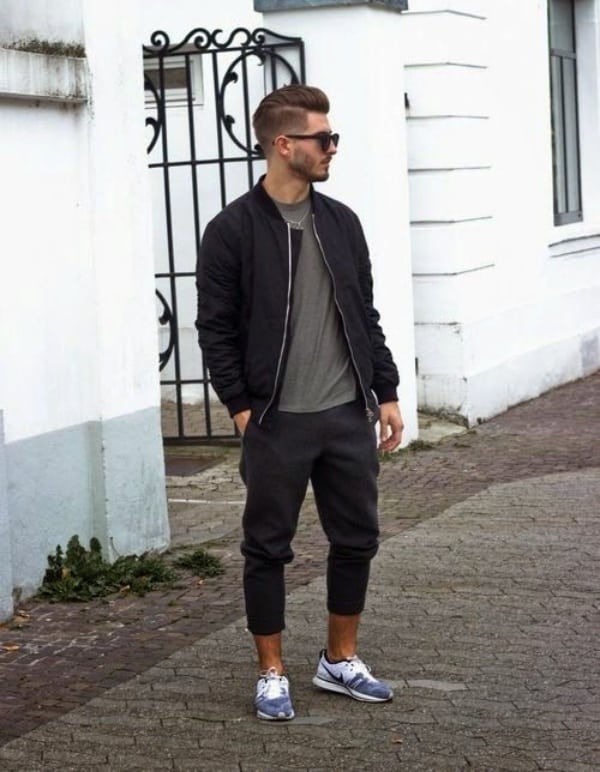 Image Source
Are you one of those Instagram influencers who do not leave a chance to look cool with their outfits? Then there is no better way to style it, other than wearing a bomber jacket with a pair of joggers. Maybe you are going out jogging, and still want to look good and absolutely perfect. However, keep in mind to wear something light in color, and that doesn't look over the top because you want to make it look casual.
Best Bomber Jackets For Men
Olive Green Bomber Jacket Outfits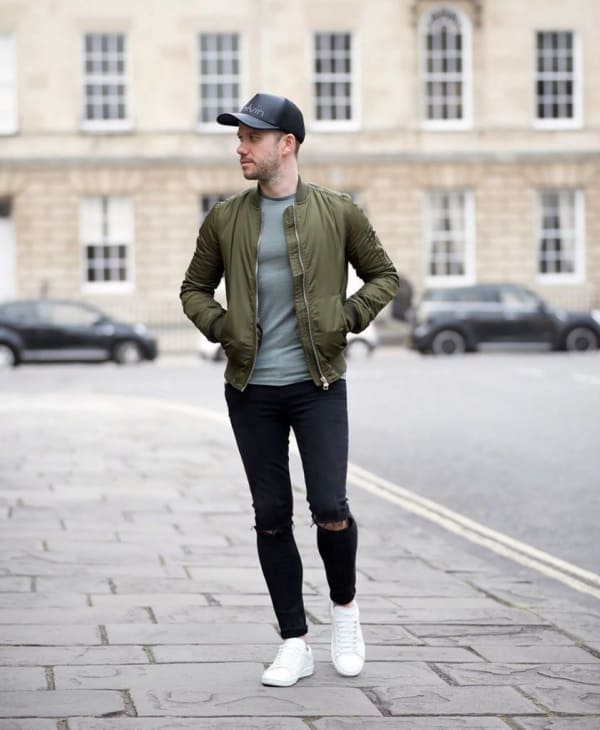 Image Source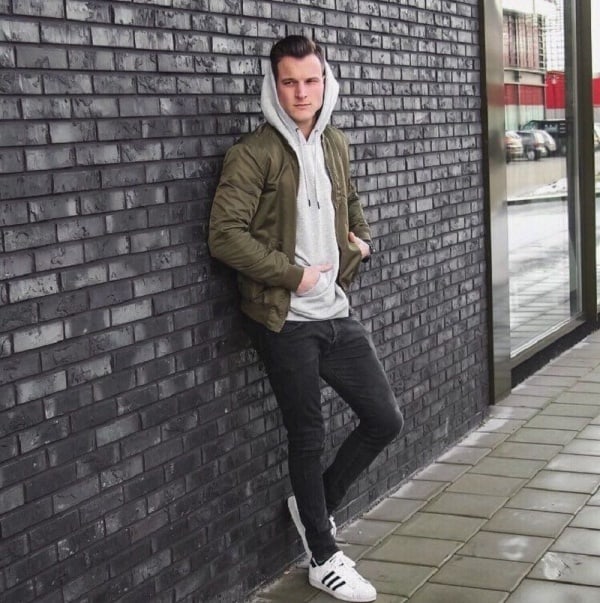 Image Source
The classic olive green bomber jacket is one of its kind and is made to suit every man's personality. Pairing up a pair of blue jeans along with a white shirt is the ideal look that one man can have. Also do not forget to sneak in a pair of white leather sneakers to match up with the whole look. The particular look can make you look cool and yet minimal at the same time.
Related: What To Wear With Dark Jeans For Men?
Black Bomber Jacket Outfits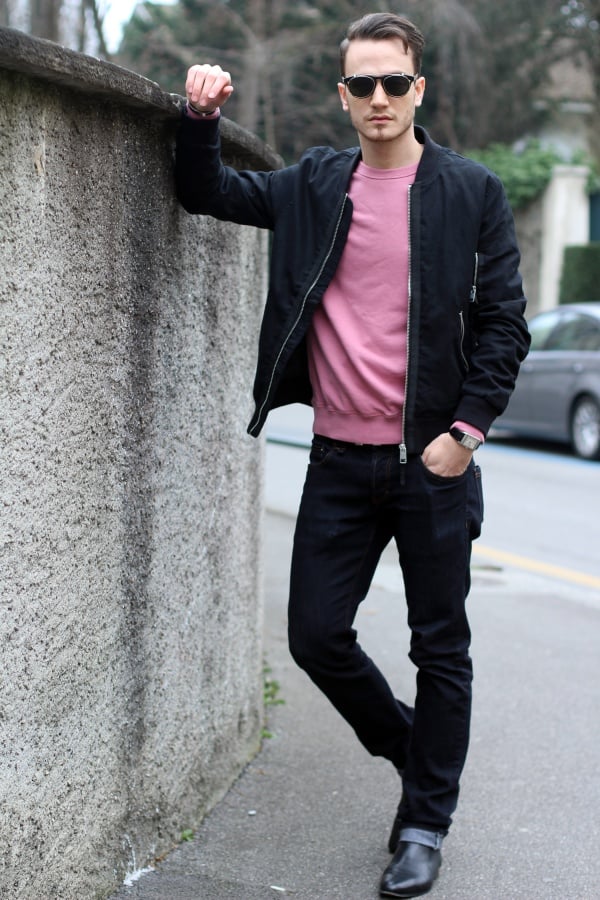 Image Source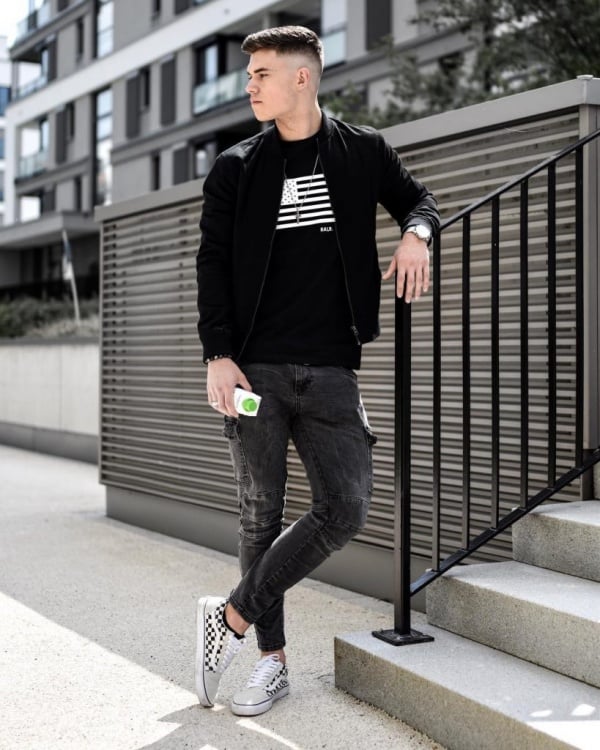 Image Source
If you are someone who does not prefer to experiment much with diverse colors and shades, then the black bomber jacket can be your ideal choice. For those who prefer to add just a bit of style to your ordinary men's bomber jacket outfits, going for a jacket that is black in color, can balance out everything. The best part about the particular look is that the material of the jacket hardly matters so you need not worry about that while choosing a black bomber jacket.
Burgundy Bomber Jacket Outfits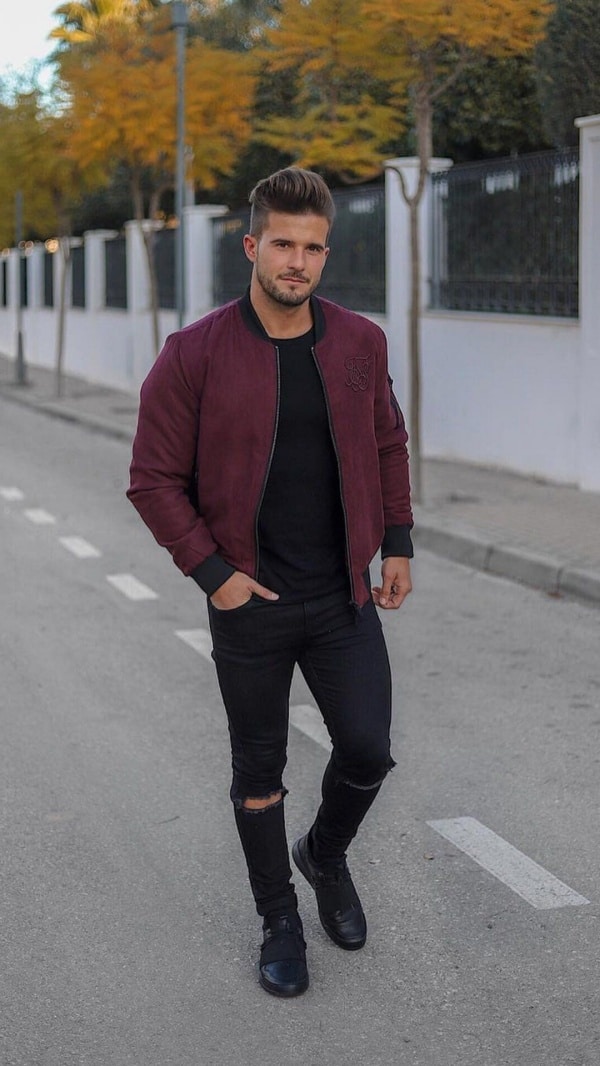 Image Source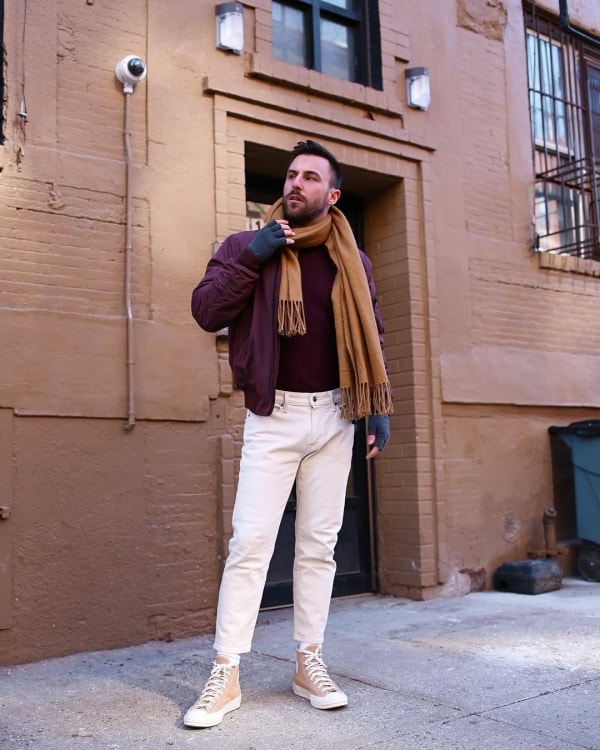 Image Source
Do you have a knack for the warm-toned colors and want to make them a part of your wardrobe? Then, going for a burgundy bomber jacket may help you do fashion justice. However, staying in a nutshell of black and white men's bomber jacket outfits won't help in this case. As burgundy belongs to the house of denim, you certainly cannot pair blue denim with the burgundy jacket. A black pair of jeans and a round neck t-shirt in yellow ochre or while would look really cool.
White Bomber Jacket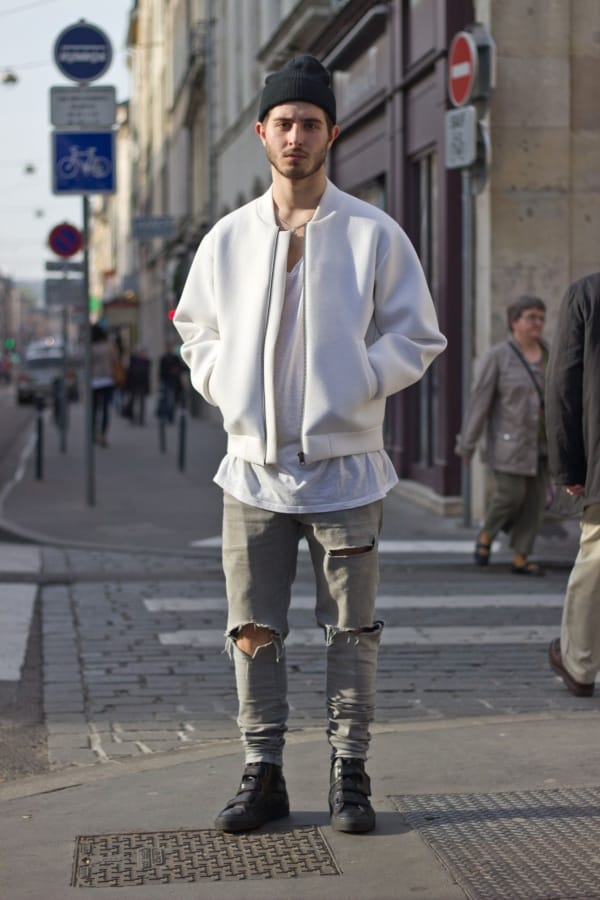 Image Source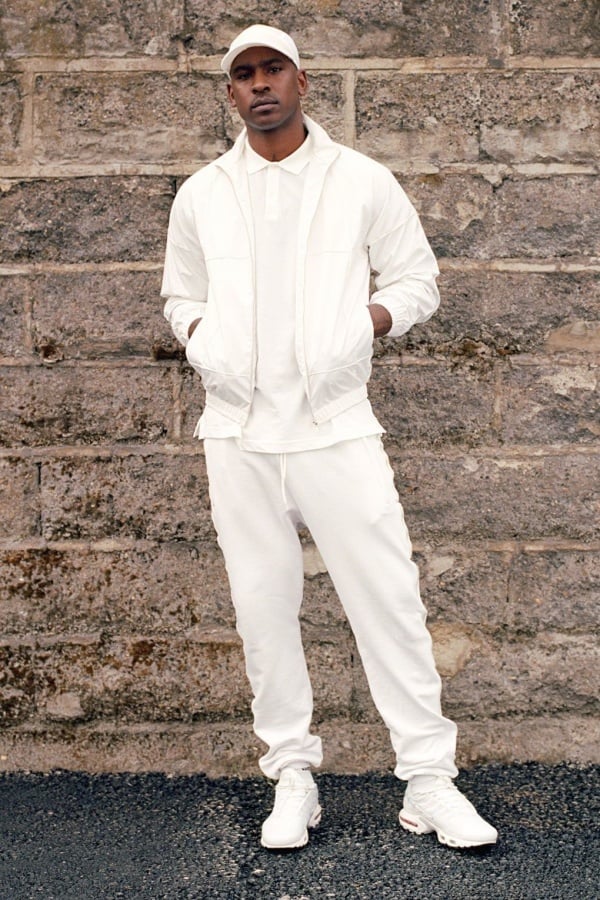 Image Source
Just like black, white is another classic color when it comes to bomber jackets and certainly one not to keep out of your wardrobe. For the men who prefer to give the fresh spring vibes with their clothing, white can come off as a great color. In the meantime, you can also balance out the contrasting shades that you are wearing along with. An all-white look would also not look bad on such men!
Also, Checkout: All Black Outfit Ideas For Men
Leather Bomber Jacket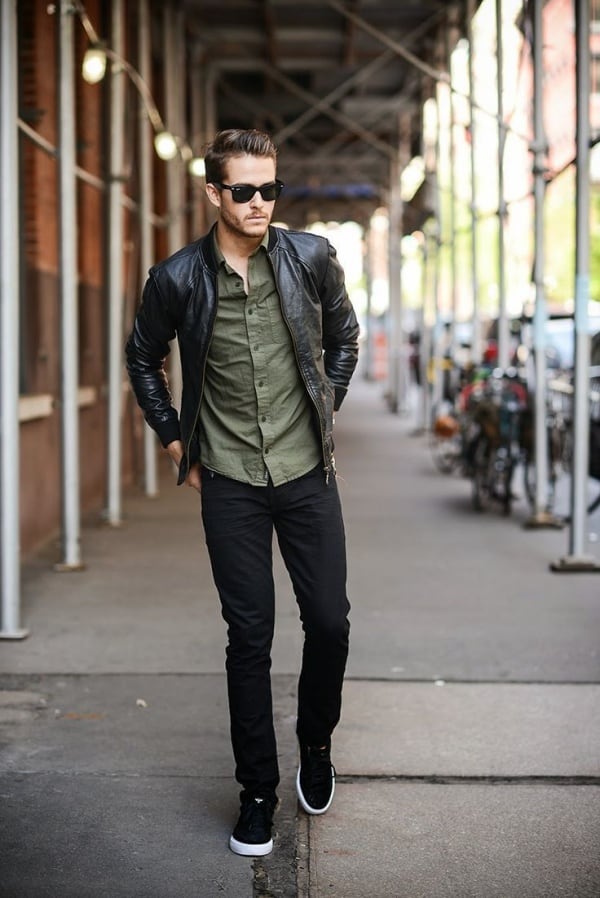 Image Source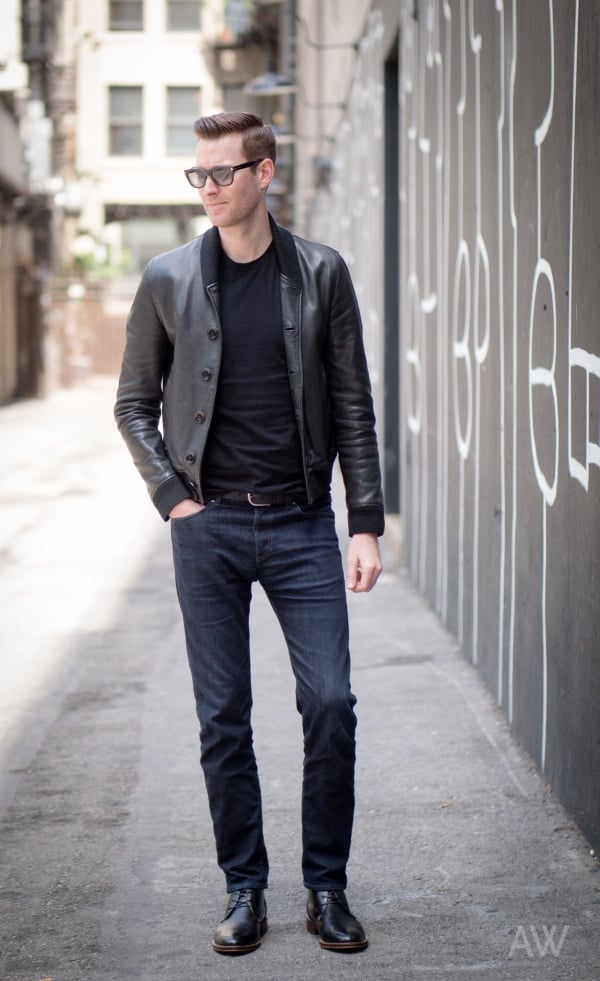 Image Source
Bomber jackets hardly rely on any material, especially when it comes to the material. It hardly matters what the material is, and that is what adds definition to the bomber jackets. The leather jackets look extremely cool and add a hint of smartness to the individual's personality. All you can do is just pair up a pair of trousers in brown shade and tuck in a contrasting white t-shirt.
Suede Bomber Jacket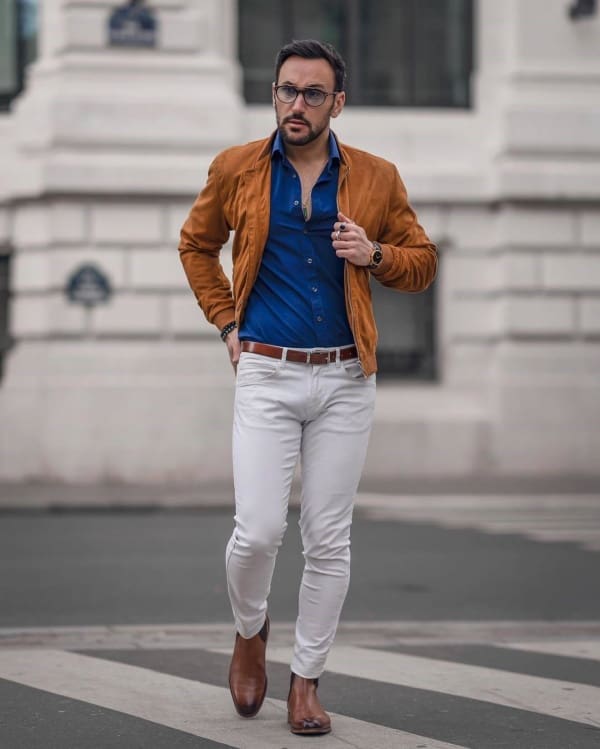 Image Source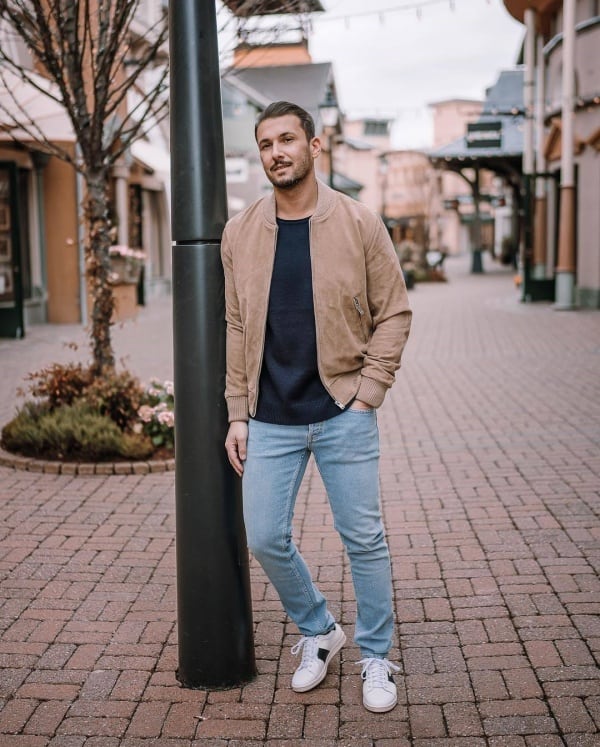 Image Source
If you are already tired of the go-to black and white colors of the bomber jackets, then it's probably time to settle for something warm and outstanding. That's the suede colored bomber jacket, which seems to have been particularly made for the men who are ready to take that extra risk of fashion. It might be everyone's cup of tea, but those who can get on a deal with it, have already conquered the fashion game!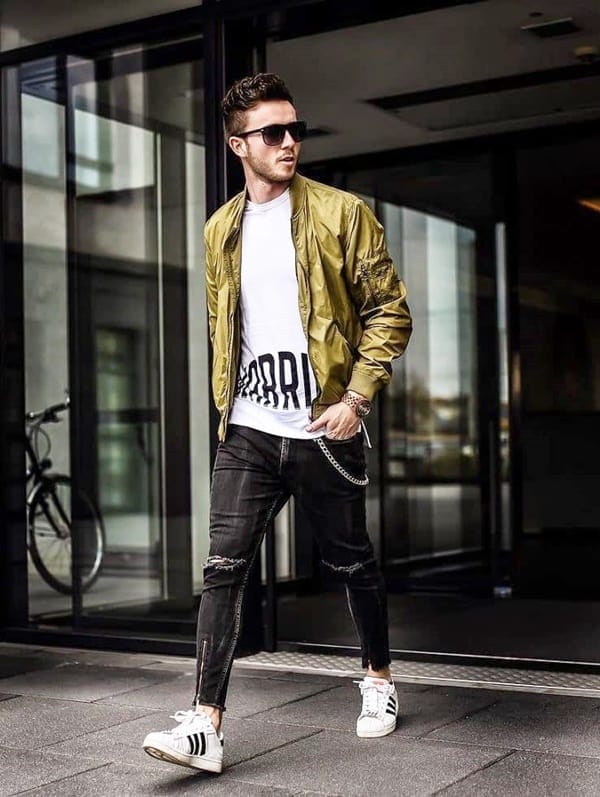 Image Source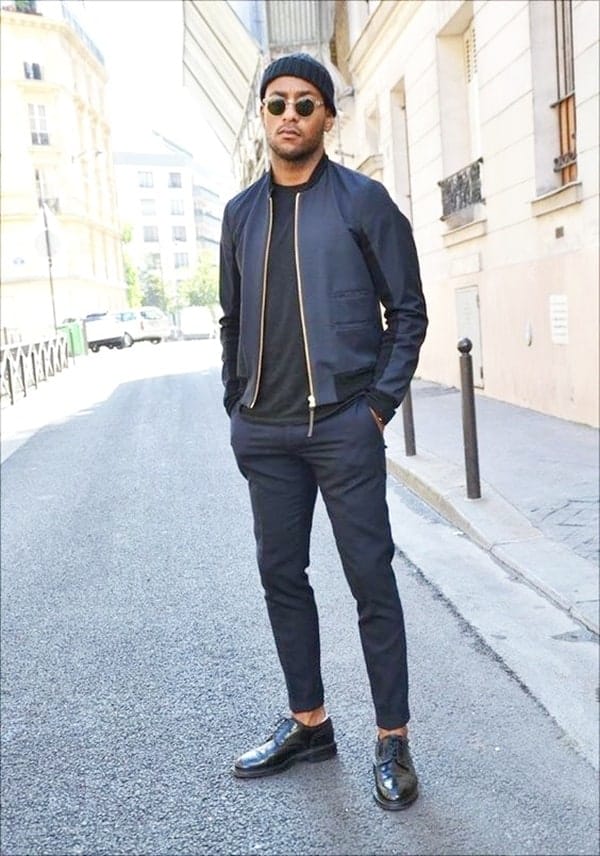 Image Source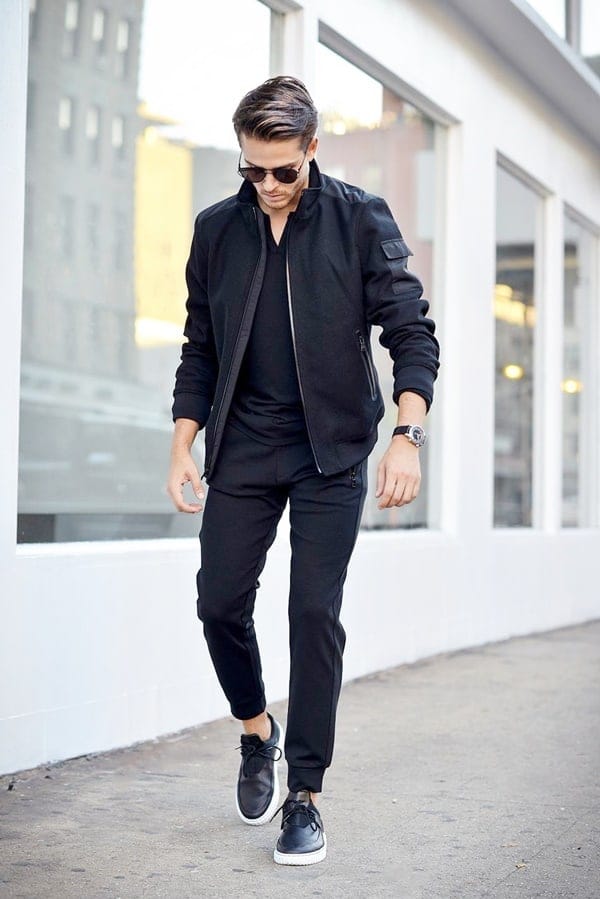 Image Source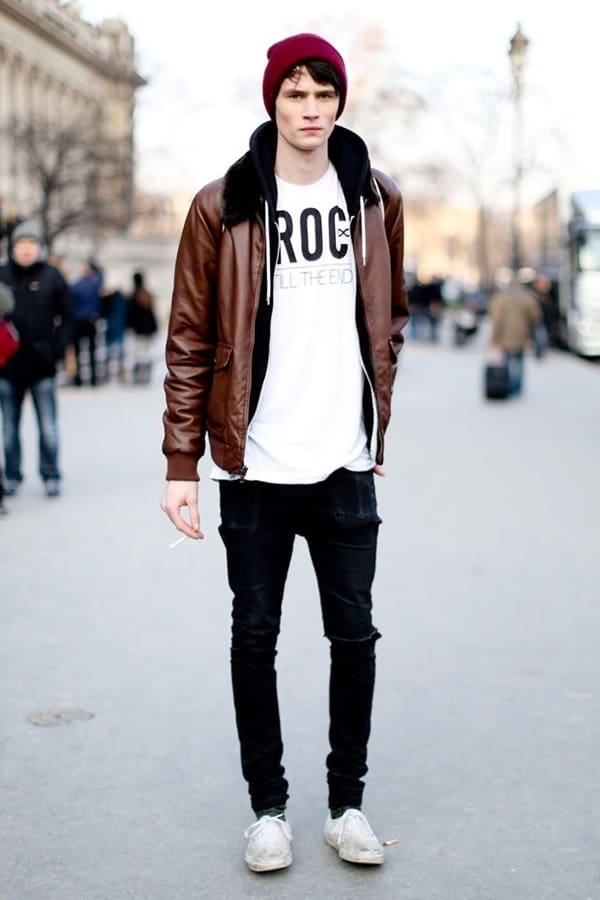 Image Source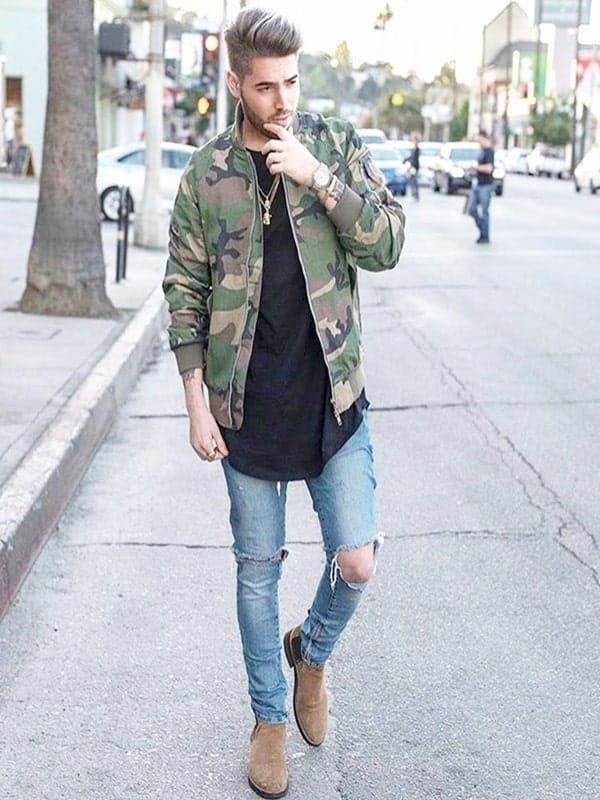 Image Source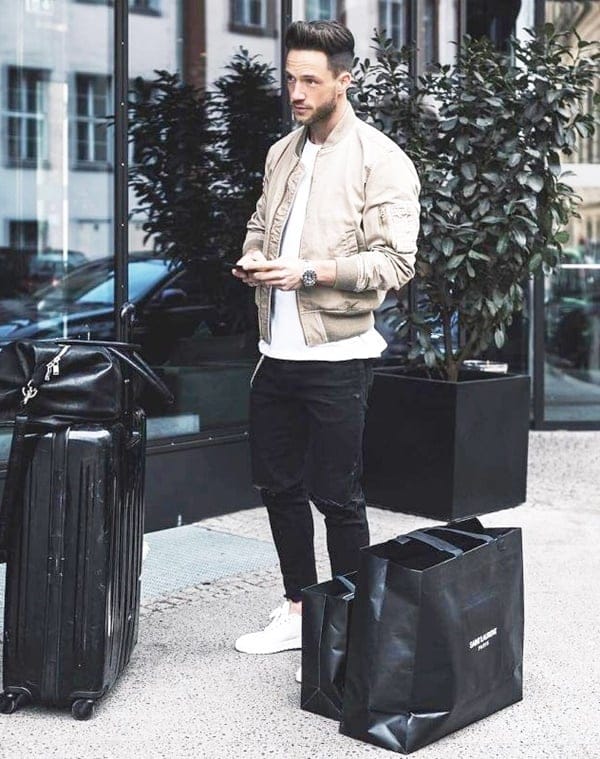 Image Source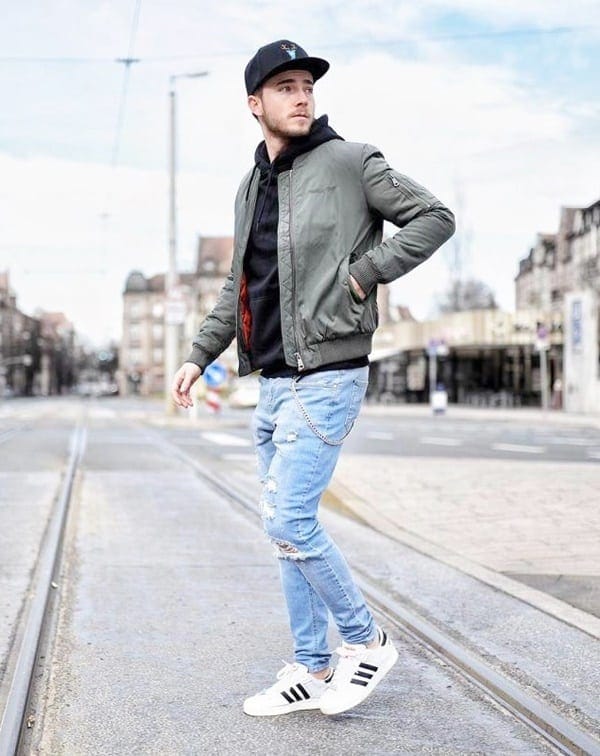 Image Source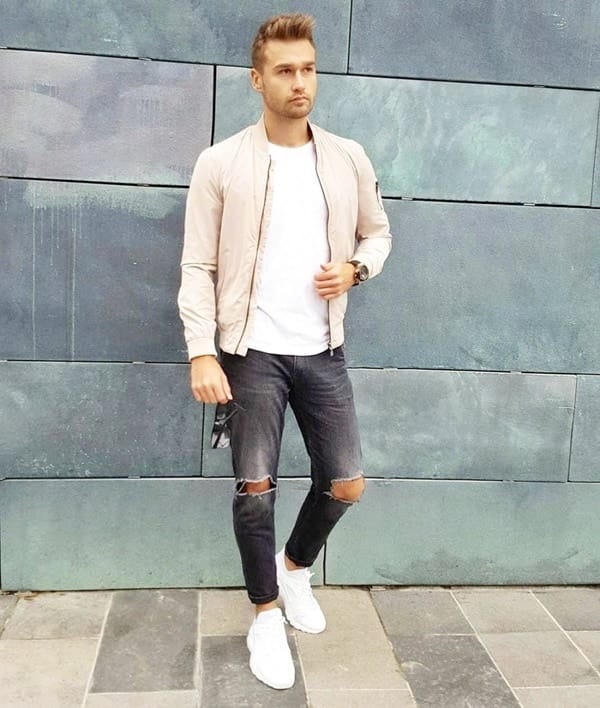 Image Source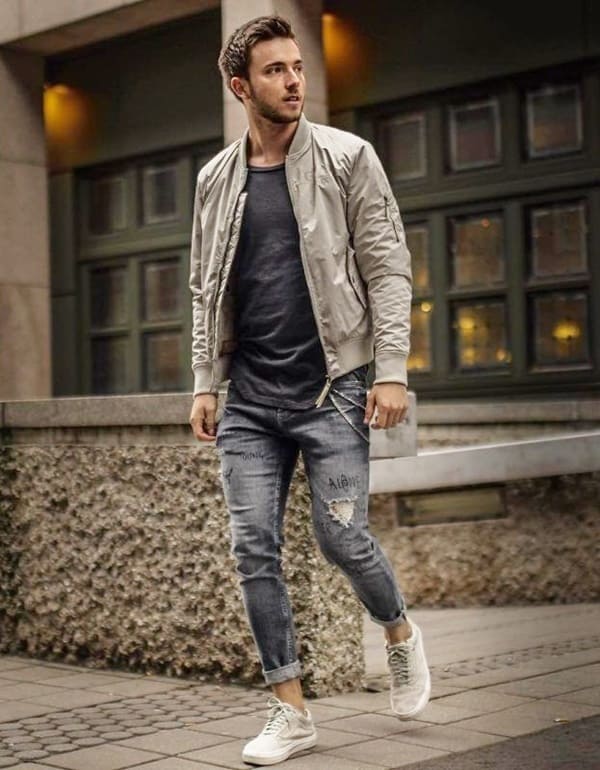 Image Source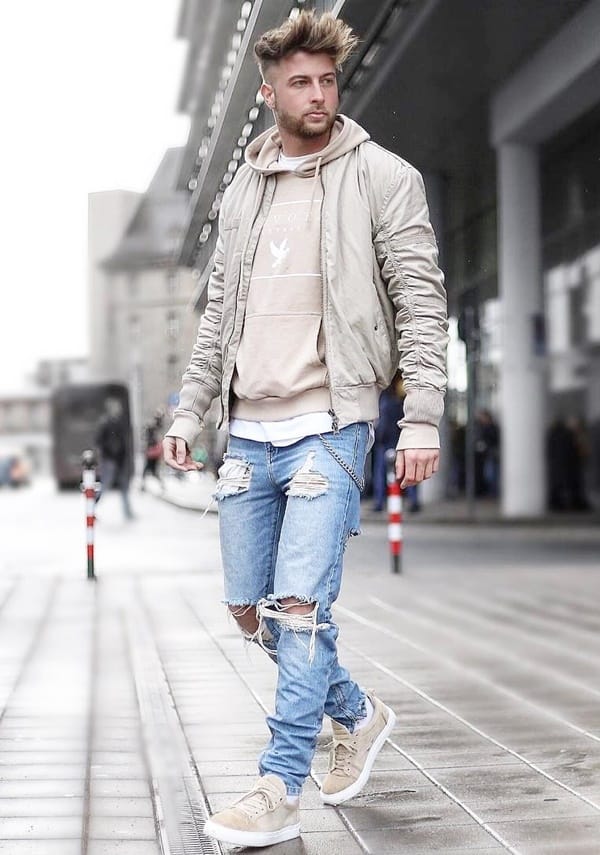 Image Source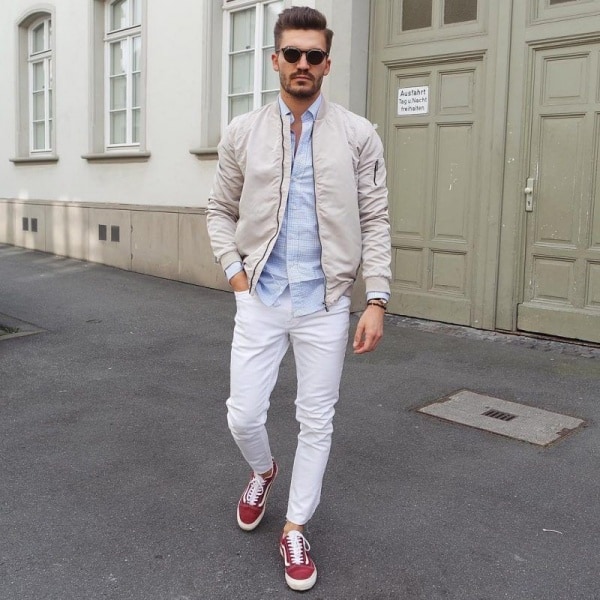 Image Source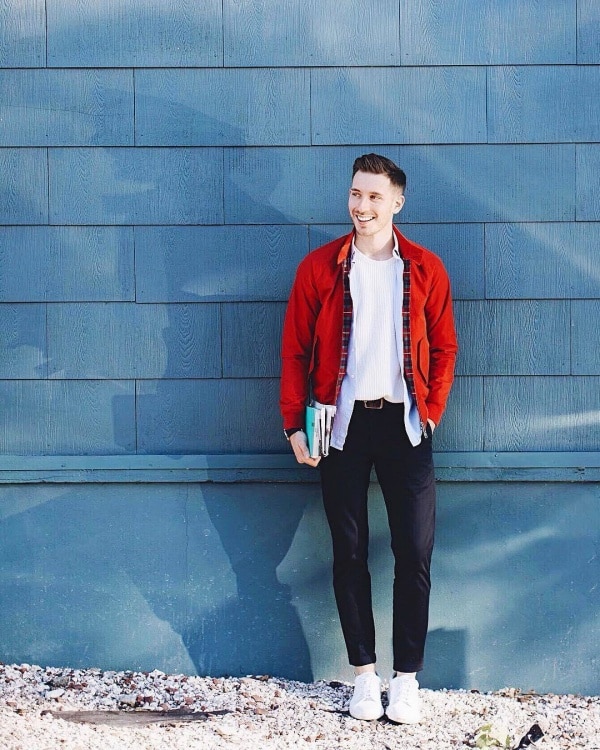 Image Source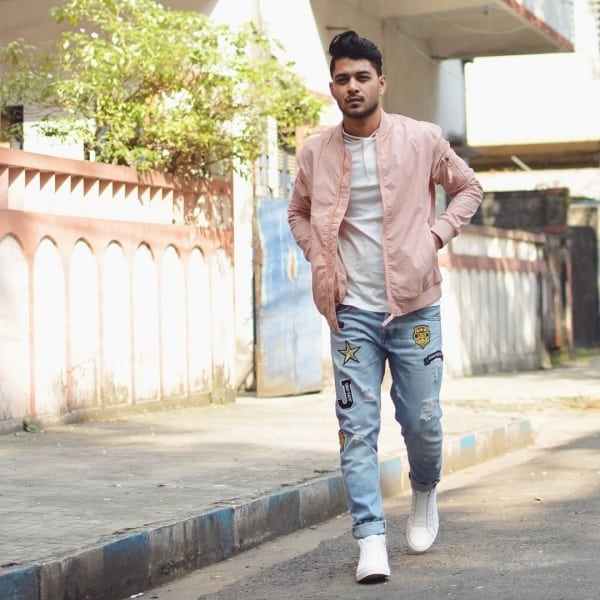 Image Source
Though the bomber jackets derive their origin from the humble military background, over time, they have cast quite a prominent footprint in the fashion industry. Nowadays, the men's bomber jacket outfits have become every man's wardrobe staple and have reached the apex in the fashion world due to the versatility it involves, and the style it allows you to boast on.
The fact that it can be styled and worn in multiple ways, makes it more difficult for the men to be sure of their own individual style. As style remains an ever-evolving factor, we managed to make it a bit easy for you to choose the ideal bomber jacket outfit. The series of styling ideas suggested above will surely help you to navigate through the different styling types and will definitely let you explore a bit. Henceforth, you can be sure of never giving a second thought before wearing bomber jackets.