The color black has an unpreceded elegance and boldness that no other shade can offer you. You must have come across the famous saying that black is beautiful or black is bold. The absolute truth is that you should keep trust in this old saying if you want to achieve your fashion goals like a pro. When choosing the right outfit for a formal event, casual hangouts, or lively parties, men either go for black jeans or black T-shirts, or black sunglasses. But have you ever thought about an all-black outfit for uplifting your style on a particular occasion? An all-black attire is not only stylish but also offers a bit of individuality in your appearance. Especially in the winter season, late-night parties, or official meetings, your all-black outfit can be the right key to unlock the door of many beautiful women's hearts. If you still have not attempted an all-black outfit, then be bold and try out our ten super stylish all-black outfits for men on upcoming occasions.

Stylish All Black Outfits For Men
Black Sleeveless T-shirt With Black Ripped Jeans And Black Shades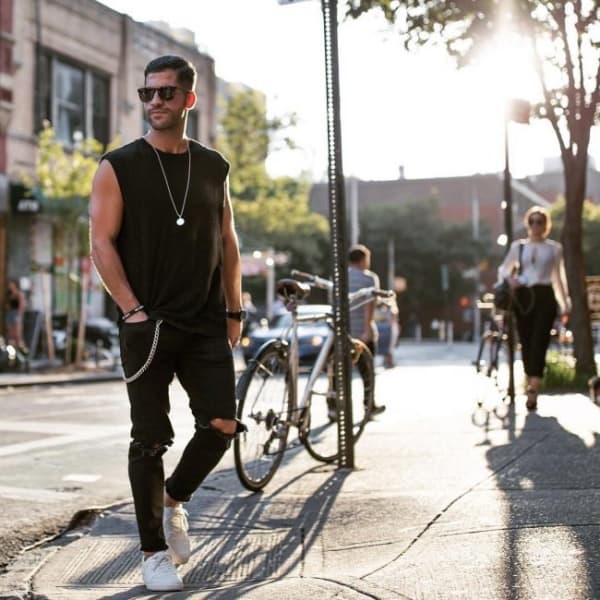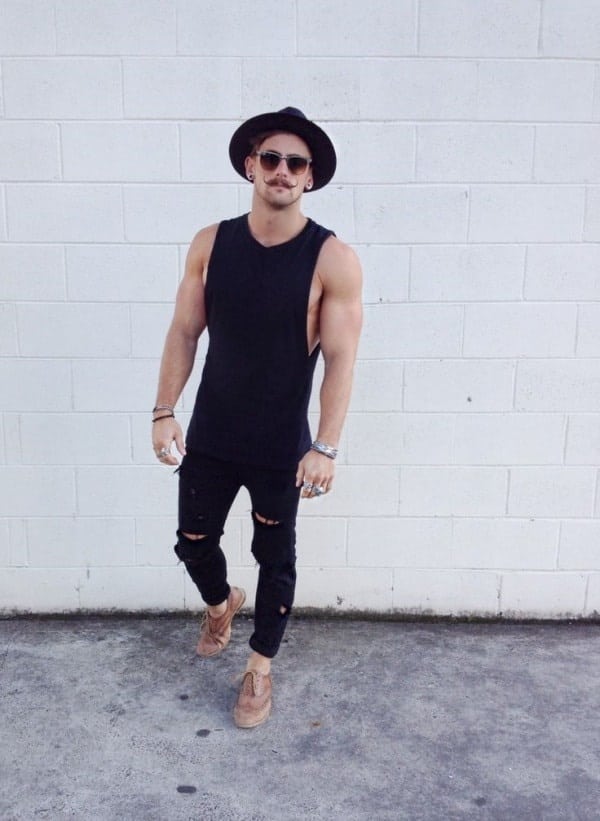 Make your summer outfit look cool by pairing a black sleeveless t-shirt with black jeans. Select black ripped or distressed jeans. Make sure that the t-shirt material is comfortable to wear as this is mainly an outfit for summer. Some sleeveless t-shirts also contain a book pocket. If you want to carry little things, then you should select this type of t-shirt. You can either have high, low or even mildly distressed jeans. Wear black-colored shades to protect your eyes from the scorching heat of summer. You should go for this look only if you are not overweight.
Black Graphic T-shirt Black Jeans And Black Cap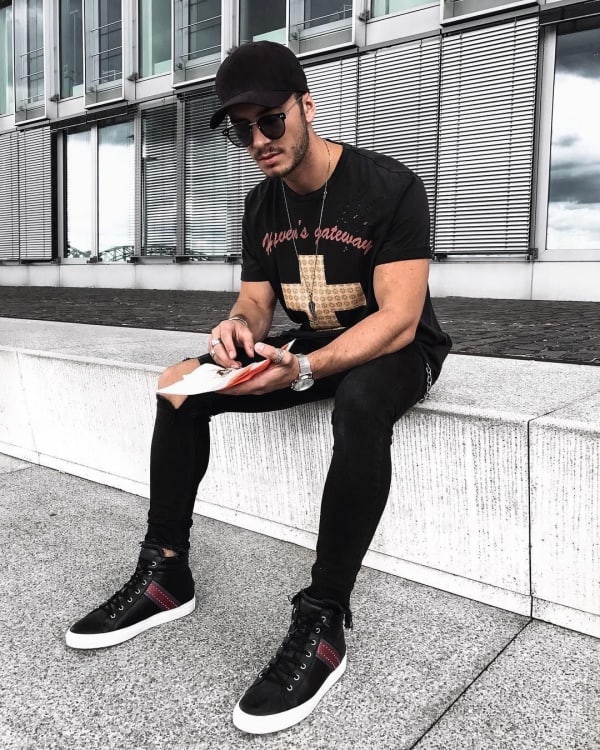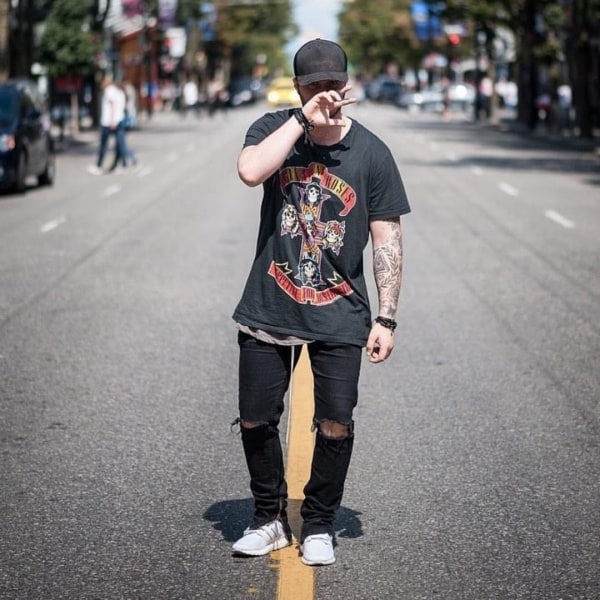 Millennials really like this outfit among all-black outfits for men as this is easy to style. You can sport any typography or an image on your t-shirt. Either a full sleeve or a half sleeve t-shirt will be suitable for this look. The same thing applies to the standard cut and drop-cut. Both will complement the look with black jeans. Go for distressed jeans, which will suit this hipster kind of look more. To include a final finishing touch to this look, put on a black-colored cap. Other accessories can also be worn with this outfit like shades, or pieces of jewelry, etc.
Black T-shirt Jacket And Jeans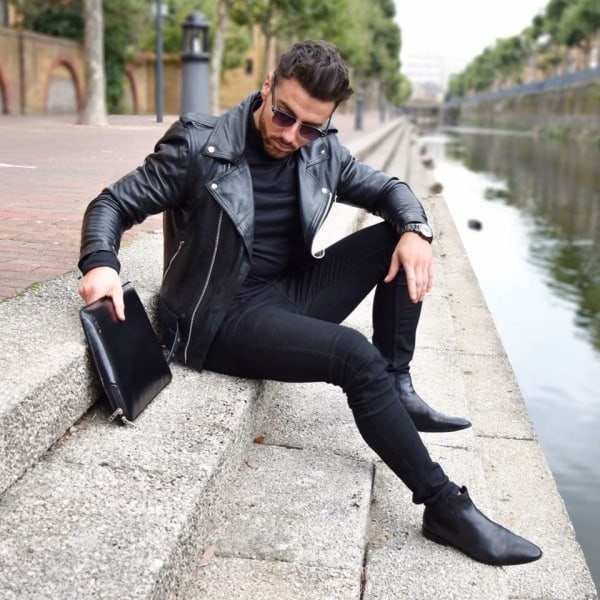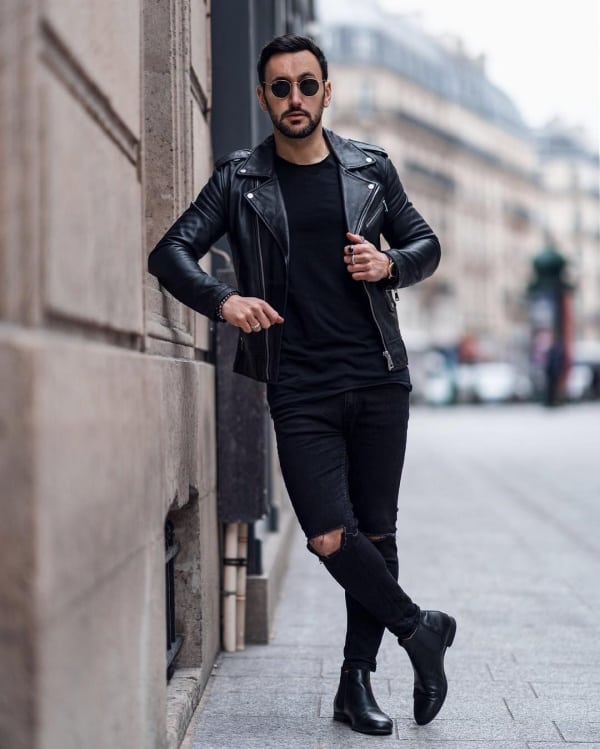 In most cases, it is a fantastic look preferred by bikers. However, you can wear it to go to a party with your friends. Wear a half sleeve t-shirt and put a jacket over it. You can select from various types of jackets. Most stylists prefer a denim jacket or a leather jacket. Keep the buttons or chain open to maintain the look. For the bottom part of your body, wear jeans. If you want to have an all-black look, then select a black jacket and black jeans. Your jeans might be distressed, and you can also choose the length of your jeans according to your preference.
Black Graphic Sweater With Black Denim Shorts And White Sneakers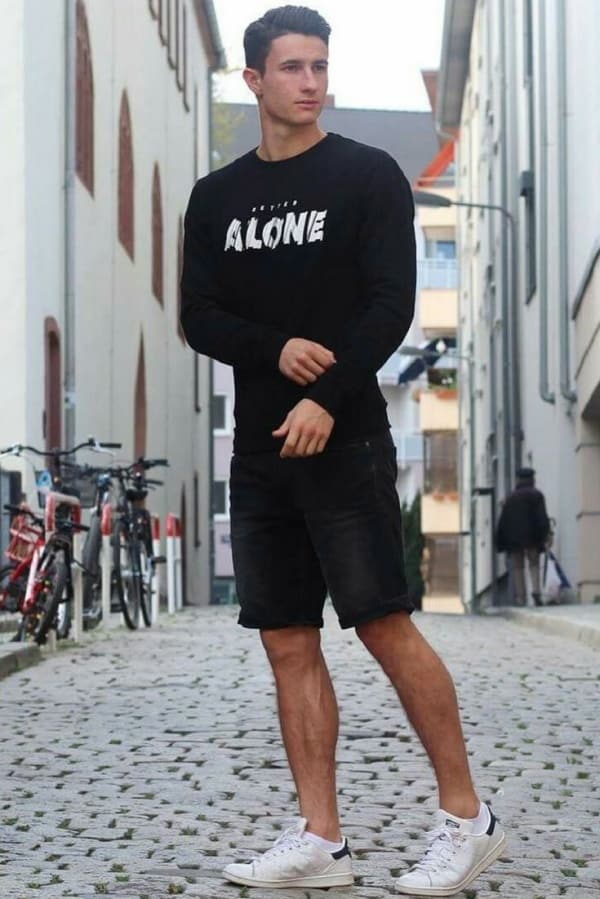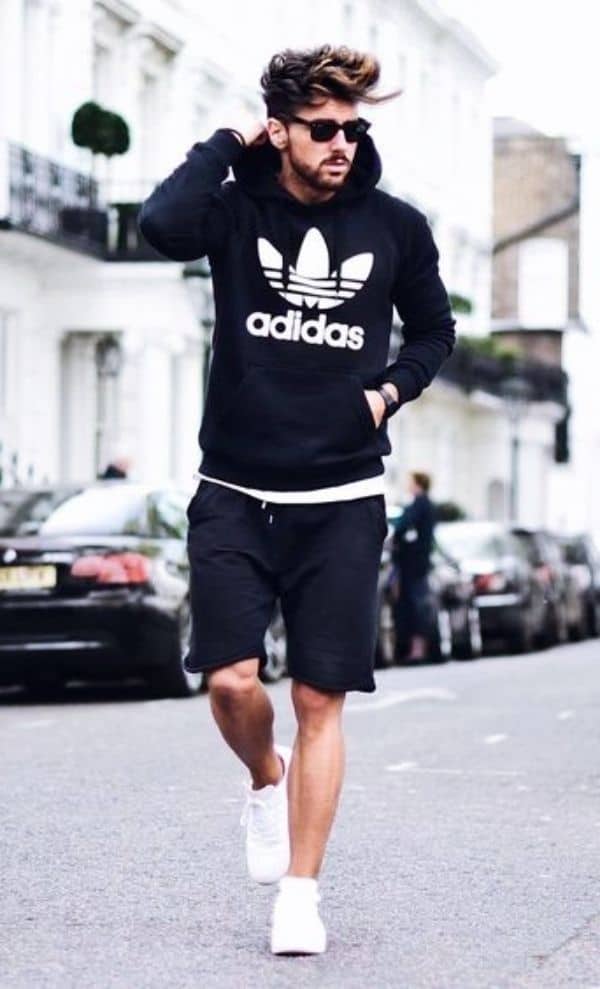 You can also show your love in the winter season. Wear a black sweater and pair it with black denim shorts. You can choose a graphic printed sweater that will express your feelings. Make sure that the shorts reach up to your knee. You can also fold the shorts a little if it is too long. To add contrast to your whole outfit, wear a pair of white sneakers with it. Do not forget to wear white socks with your sneakers to complete the look. Choose to wear either a round neck or a V neck sweater as both will complement your style.
Black Pants With A Matching Shirt And A Black Leather Jacket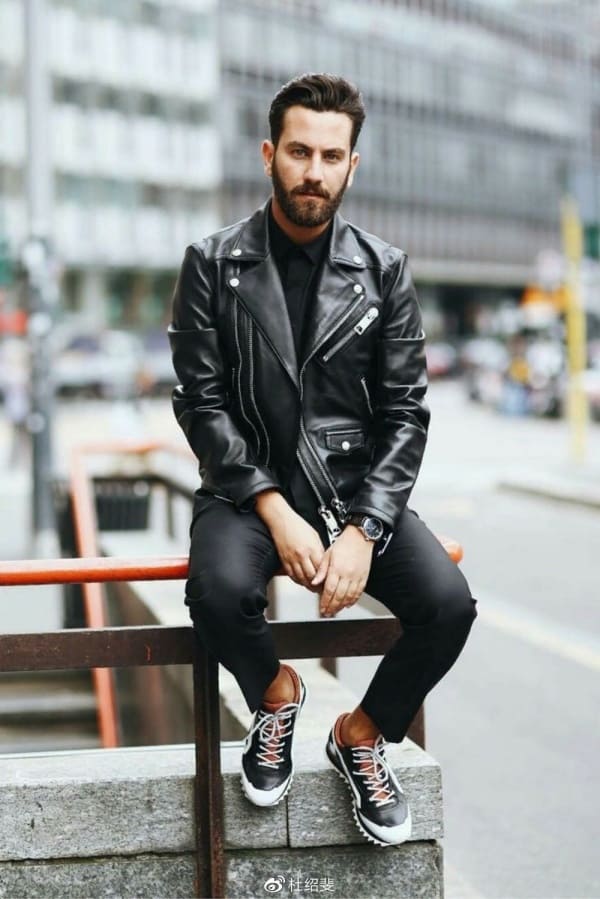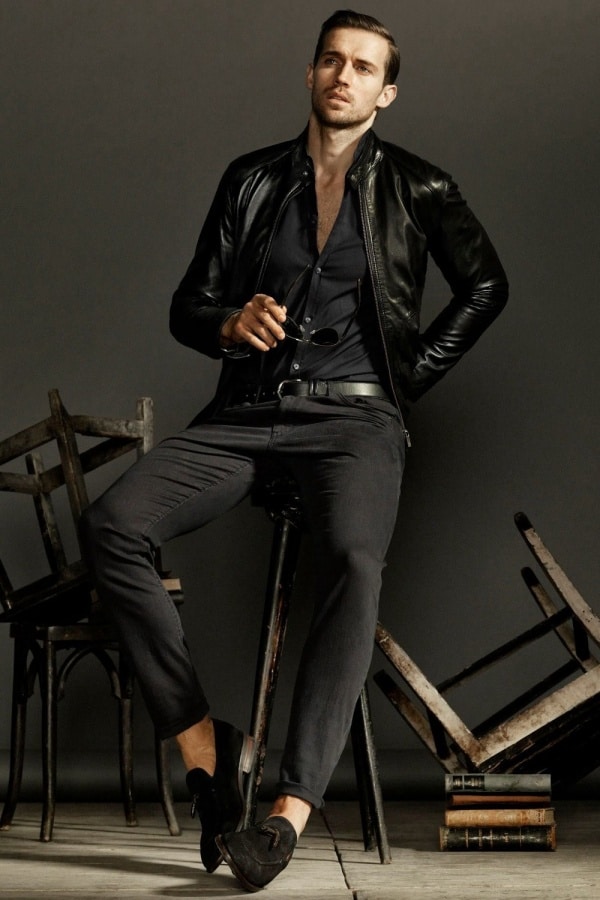 You can wear a leather jacket over a shirt and create an aura if you carry it properly. You can enclose the chain of the jacket, but it is better to keep it open. Select either a black or white formal or casual shirt to wear under it. Make sure that the color of your jacket is black and wear black jeans at the bottom. It is better to go with regular jeans instead of distressed or ripped ones as they will not go well with the look. If you really want to wear distressed jeans, opt for the slightly distressed ones.
Black Coat Black T-shirt And Brown Shoes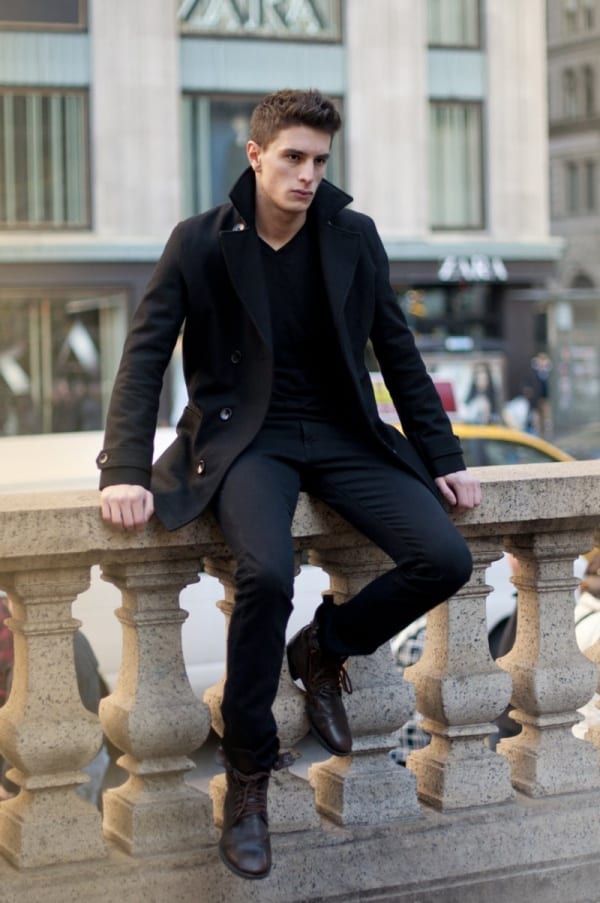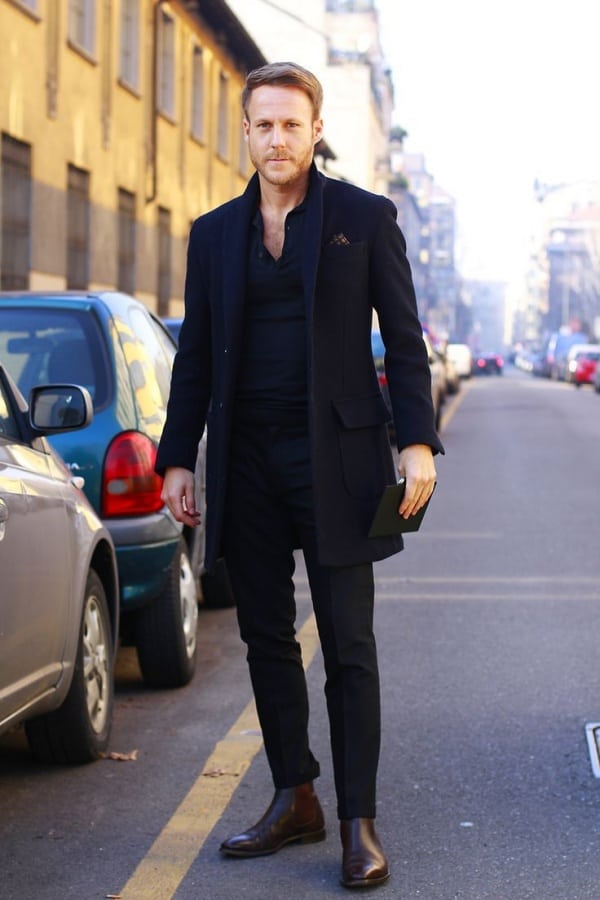 Don't like to wear a formal shirt under the coat? Well, you can now even wear a black coat of yours over a black t-shirt. You can choose to wear a t-shirt with or without a collar. As the t-shirt will remain inside the coat, it is better to choose a t-shirt with no less design. You can even take the coat off if you are feeling the heat. Under that, you can either wear jeans or formal pants as both will look equally good. With this combination, wear brown shoes, which will cover your feet thoroughly and help you catch a few eyeballs.
Black T-shirt Fitted Pants And A Leather Jacket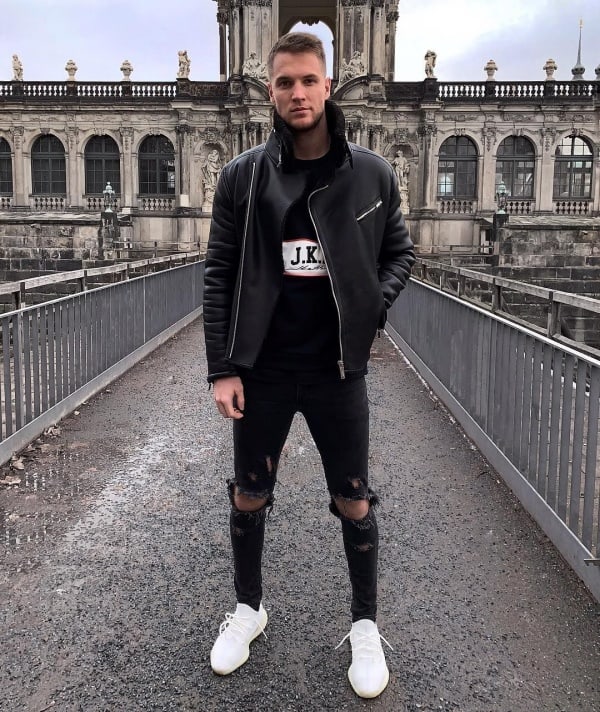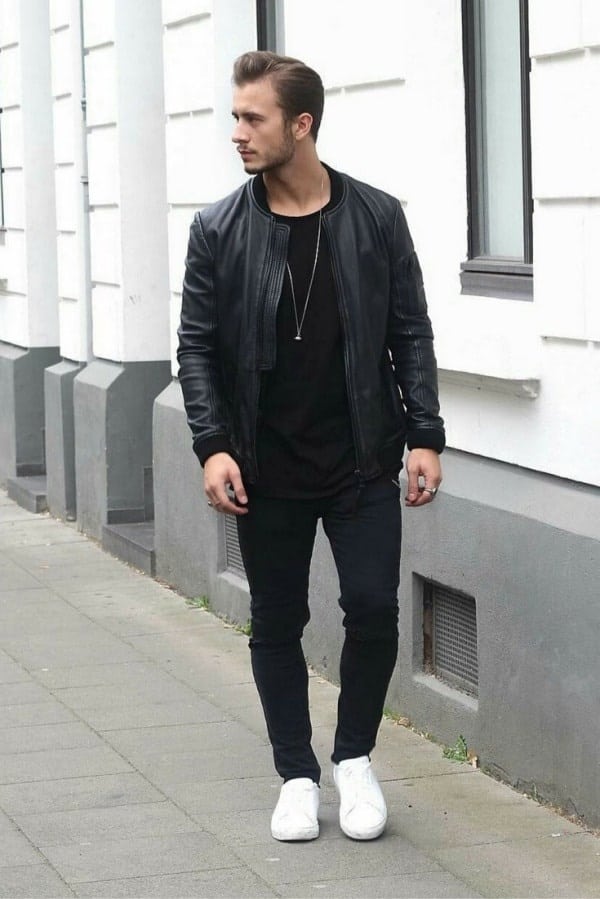 Outfits that fit well will automatically make a man look more handsome. Go in a black t-shirt and wear pants that work well on your waist. The pants should not be very formal as the rest of your outfit is casual. You should go in slim-fit pants. While selecting the t-shirt, most of the stylists recommend a polo-neck T-shirt. You can also wear a v neck or a round-neck t-shirt. If you want, you can also put on a leather jacket to create a more manly look. Wear a black jacket which will ideally match with the all-black outfit.
Black Pant Suit Outfit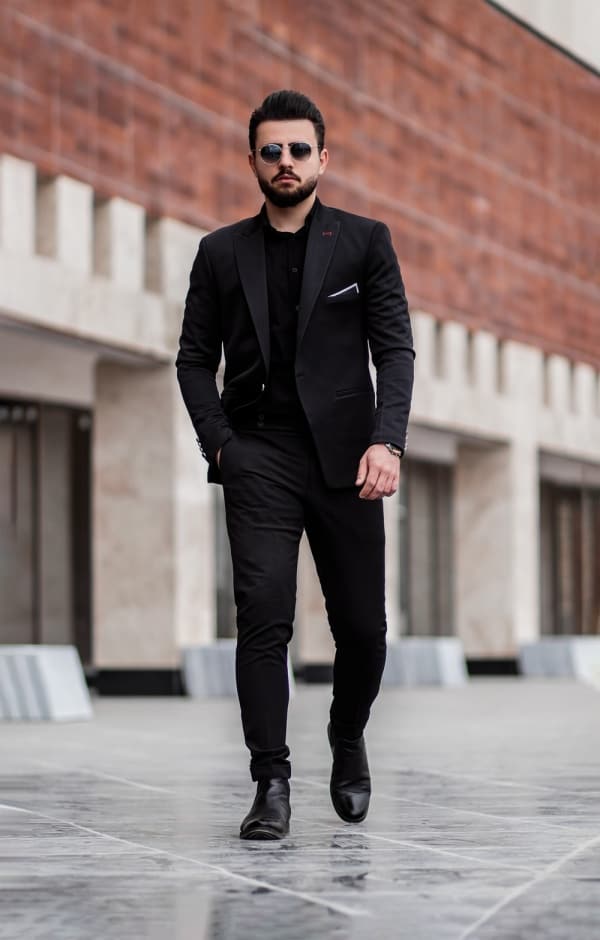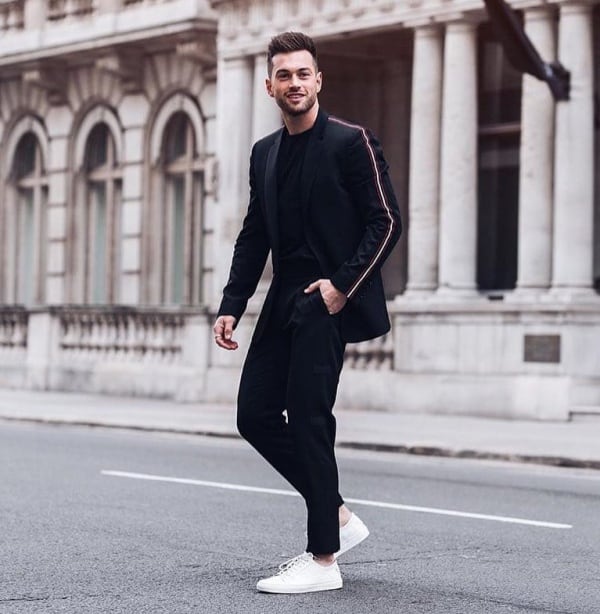 Thinking about wearing an all-black formal outfit, well, of course, you can. Wear a black suit over your shirt, and under that, you should try formal black pants to complete the style. The shirt should be either black or white. Tuck in your shirt, and you can either enclose the buttons present on your suit or keep them unbuttoned. One can wear this formal outfit in the office, which can even be worn to attend a family function like marriage ceremonies. You can wear proper black shoes with or without laces to complete this outfit.
Black Long-sleeve T-shirt Black Ripped Denim And Black Suede Boots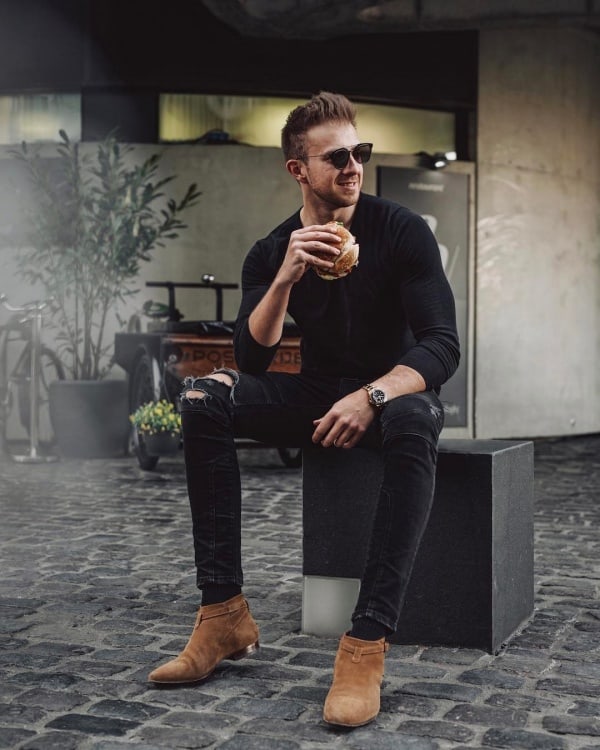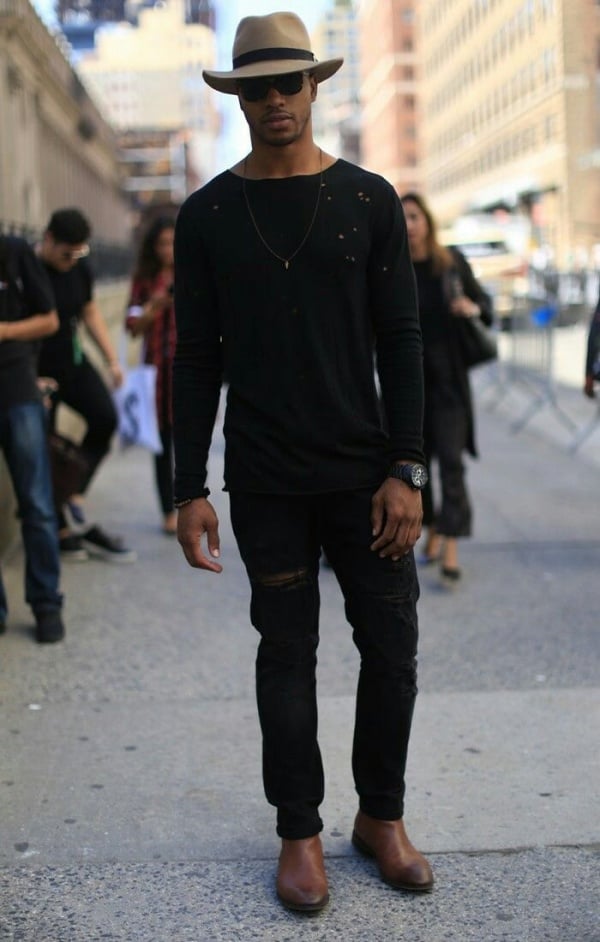 It is favored as one of the most incredible all-black outfits for men. Put on a round-neck black full-sleeve t-shirt and pair it with black jeans. If you want, you can also pull the sleeves a little bit. Go for ripped or distressed black jeans to create a bad boy look. You can go for high, mild, or low distressed jeans. Every one of them will look good and will match the combination. Wear a pair of black-colored suede boots to complete the look. Whether you are going on a date or just going to your college, you can always count on this combination.
Black Shirt Pant With Formal Black Shoe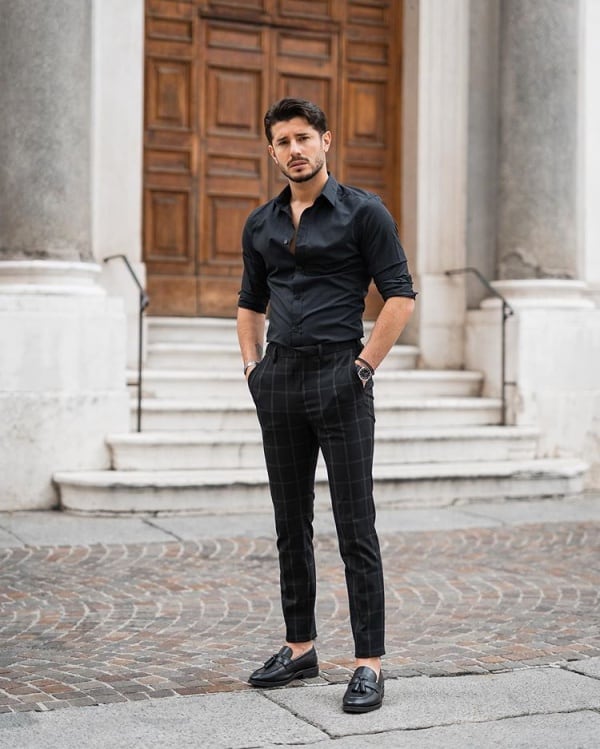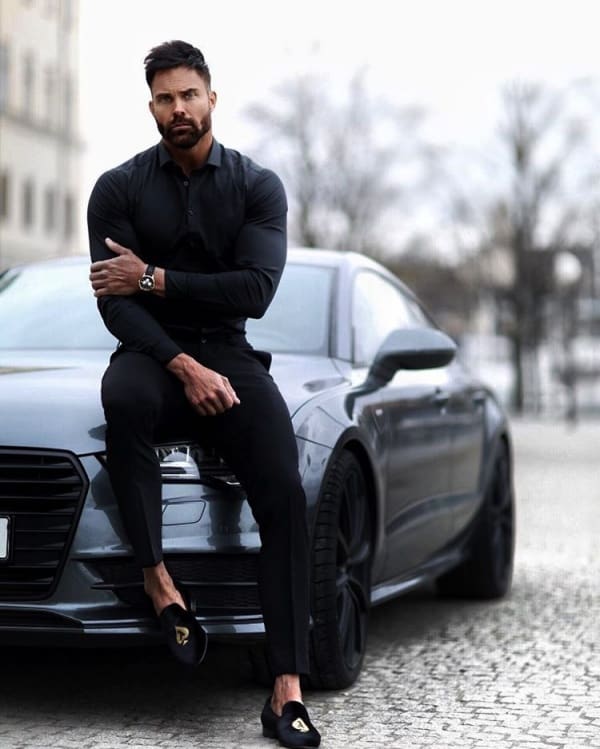 A black shirt always makes a man look more attractive. To complete this all-black outfit other than a black shirt you also need black pants and a pair of black shoes. You can go for plain black shorts or a printed one depending on the occasion you are selecting your outfit. Shoes are a significant point of your overall outfit. Formal black shoes will complete the look of yours. Always tuck your shirt in if you are going for this outfit. Roll your sleeves if you want, or you can keep the full sleeves intact. Just put it on according to your preference and comfort level.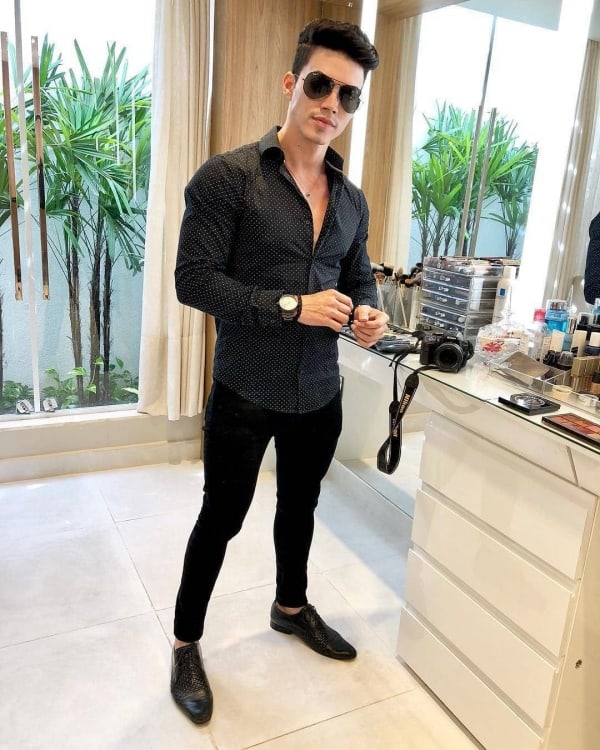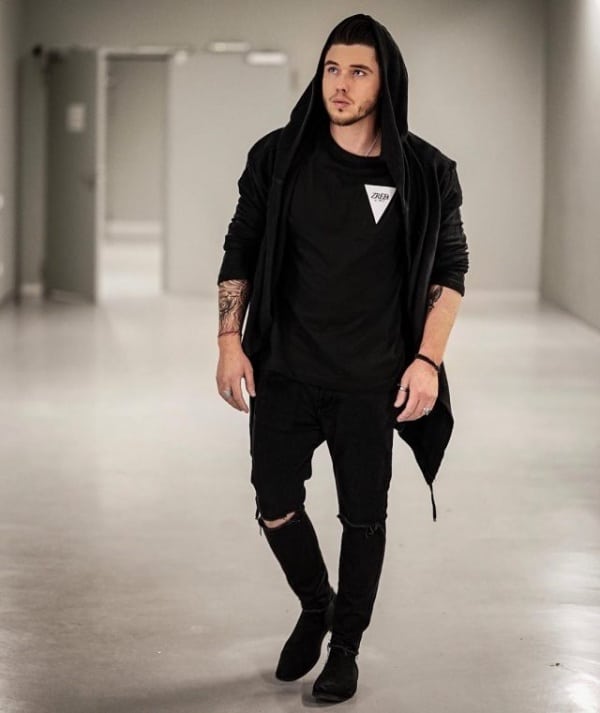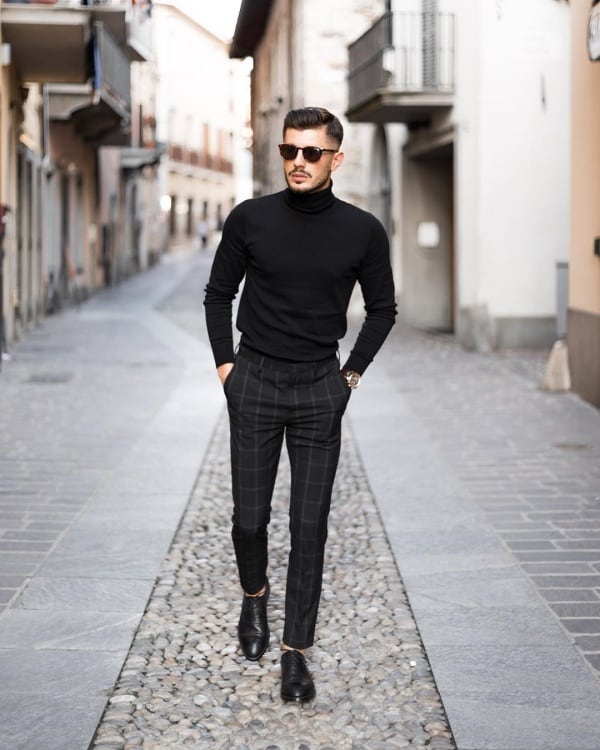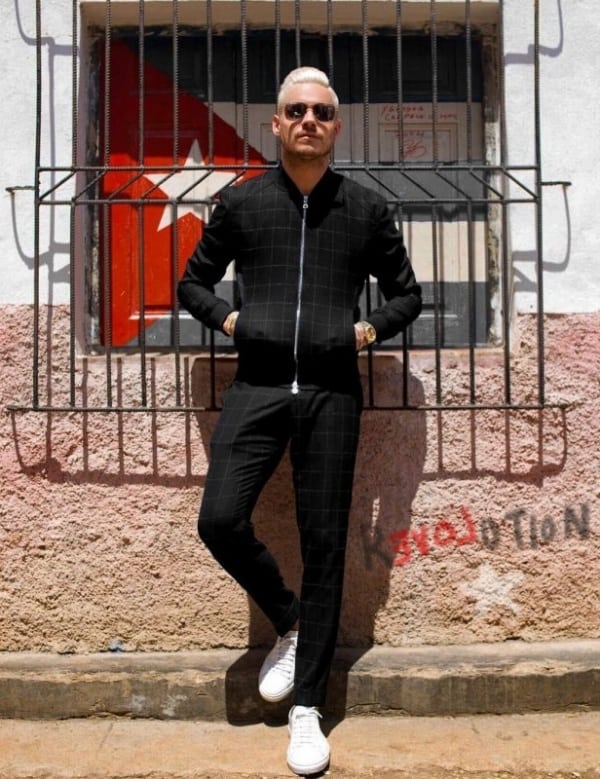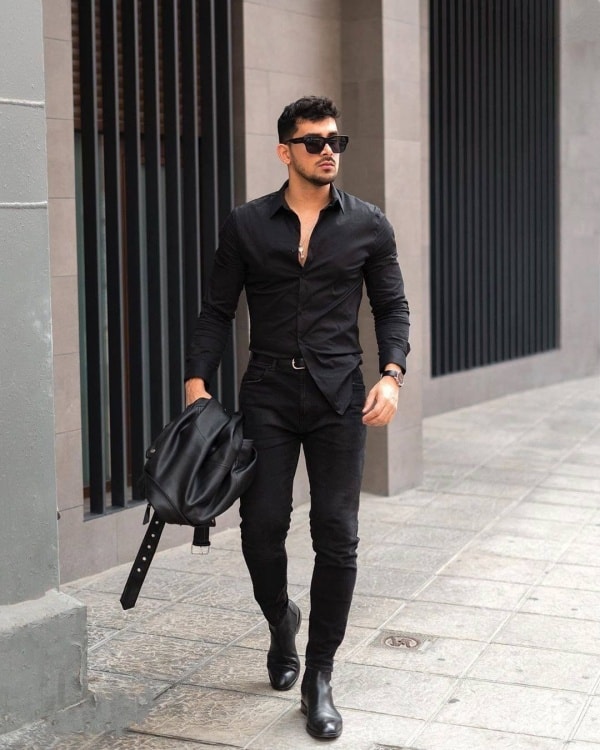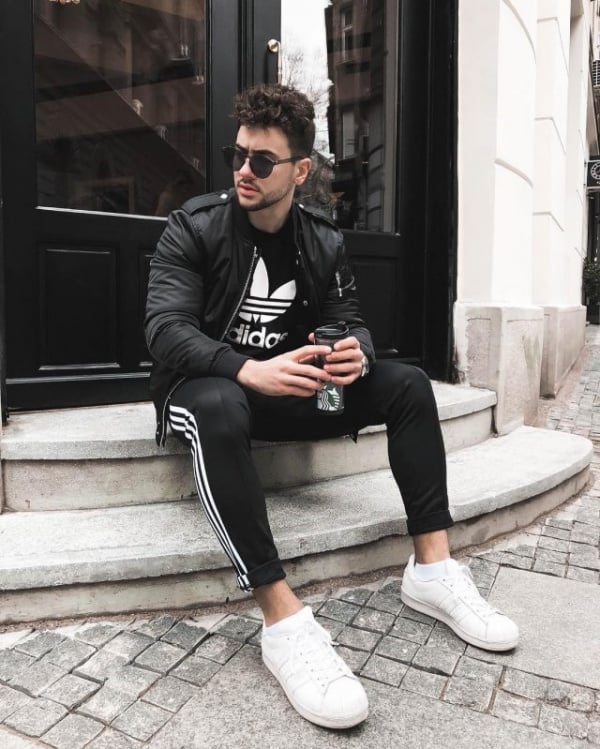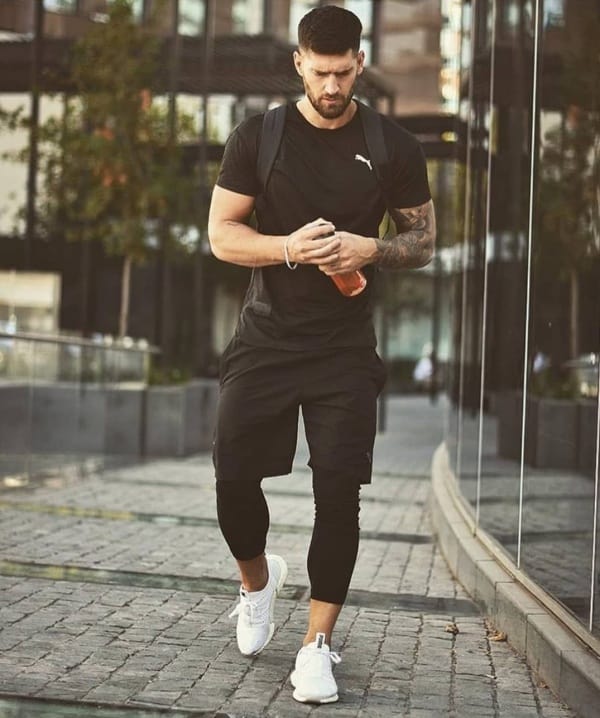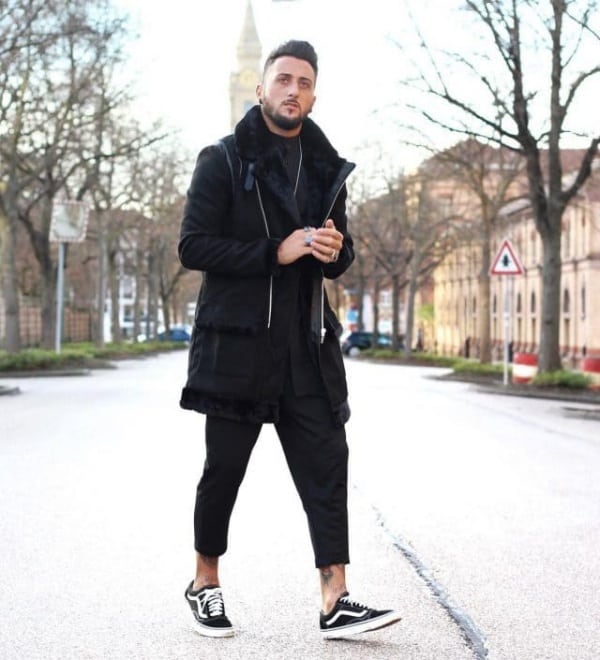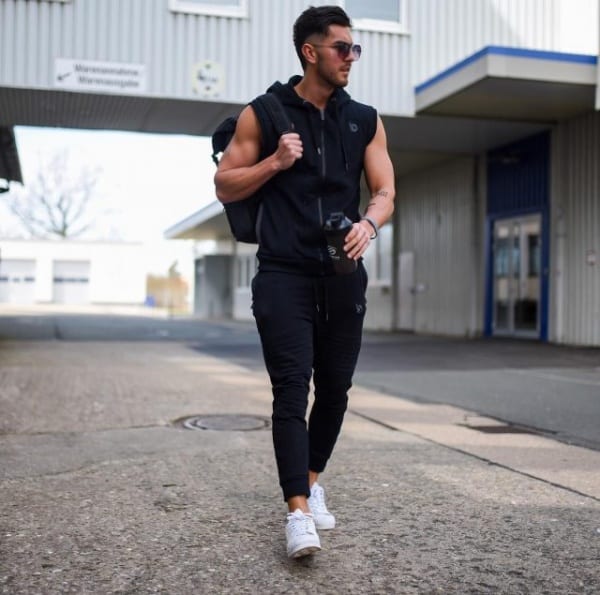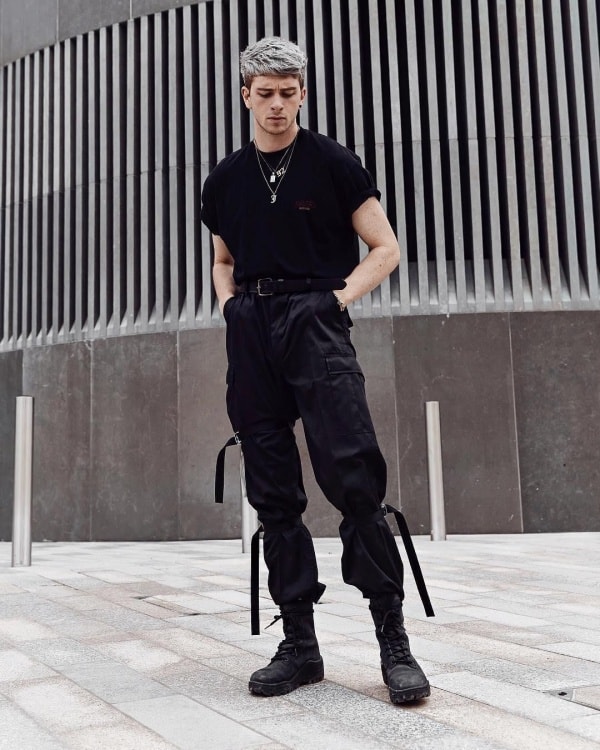 Is All Black a Good Outfit For Men?
Black is such a bold shade that any man can carry it with the least effort. From business meetings to weekend parties, all black outfits for men will never fail to catch people's attention in the surroundings. Style is a subjective and personal choice. So, if you are confident about wearing black, then there should be no look back from an all-black outfit. 
Do All Black Outfits Look Good?
The elegance and slimming effect of black looks great on all skin tones, body types, and hair colors. Therefore, if you can pick up the appropriate pieces to wear, then an all-black outfit can offer you an unmatched look in all seasons and occasions.
Is All Black Outfit Business Casual?
Due to the dynamic and classy effect of the color black, it can suit almost anything from business to casual or even marriage ceremonies. For a killing business casual look, you can pair black jeans with a black t-shirt and jacket or a black shirt with black jeans. Even a black suit and tie are considered to be the ideal outfit combination for business events.
Conclusion
How you should style your outfit entirely depends on your convenience and preference. Though men of all ages admire all-black outfits for men, you should consider essential parameters like the occasion, season, and size. If you have a heavy and broad stature, a black attire can offer you a slimming effect. Be it a casual event, formal meeting, or even a wedding, the right all-black outfit will make you the center of attention. So, give yourself a chance to try an all-black outfit and shine on every occasion with confidence.
You may also like: