Do you anticipate that blue and white are a boring combination for men? Well, this post on blue jeans and white shirt outfits for men could be a reality check on this myth.
There are incredible ways to make this classic duo look ravishing. White shirts and blue denim are the wardrobe essentials that every man owns.
Perhaps, how many of us pair it up rightfully? As summers haunt you, the dark colours are kept at bay.
Soothing white hues are every person's delight in such a climate. White is also known to absorb heat away and makes you feel lighter.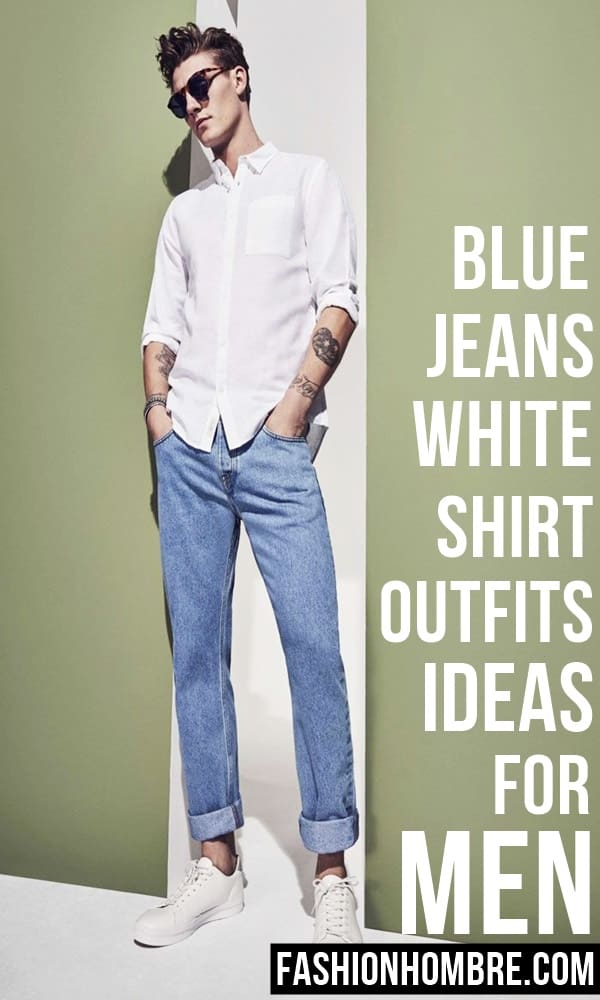 Stylish Blue Jeans And White Shirt Outfits For Men
The attire shaded in all white and light blue can impart a jaw-dropping classic look.
You can admire yourself and thank us later for the fantastic outfit ideas disclosed below.
So, let's take a glance!
1. Blue Jeans White Shirt With Brown Shoes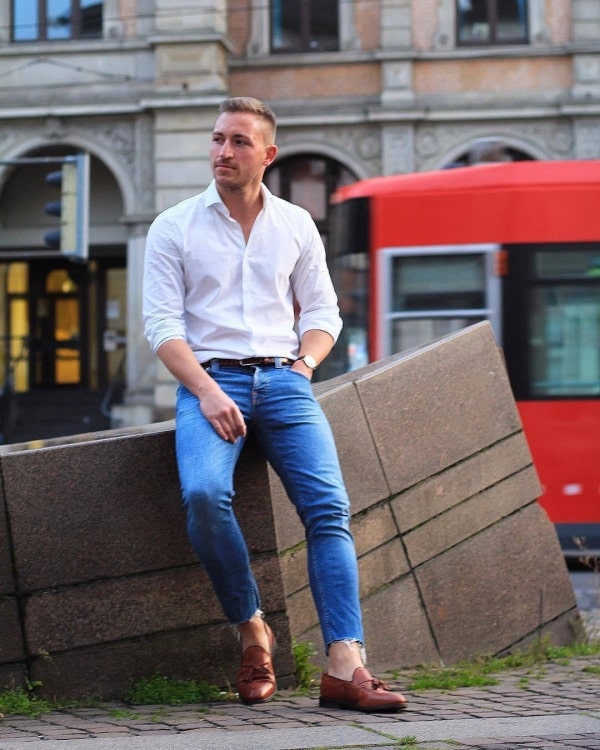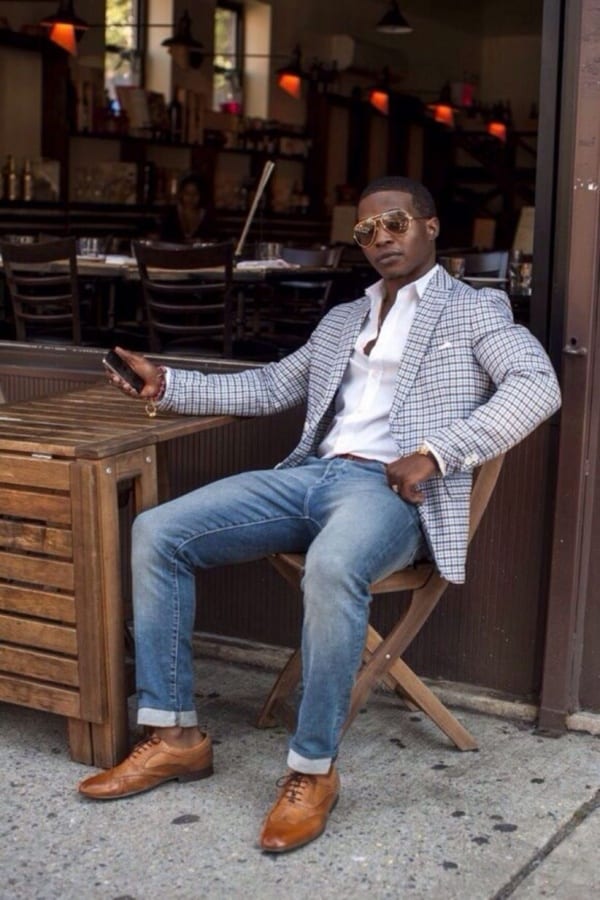 If you desire to look dashing without any investment, deck up in a white shirt and blue denim outfit. Accentuate the combo with a pair of brown shoes, and get ready to rock.
The subtle effect of this combination creates a seamless balance that neutralises the impact.
The right type of accessory and dressing style can elevate your personality, and girls can't resist glaring at you!
2. Blue Jeans White Shirt With Blazer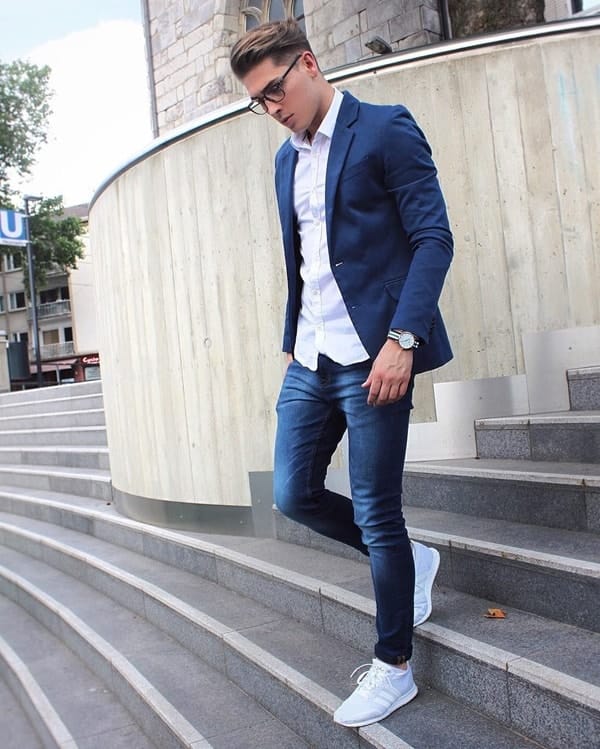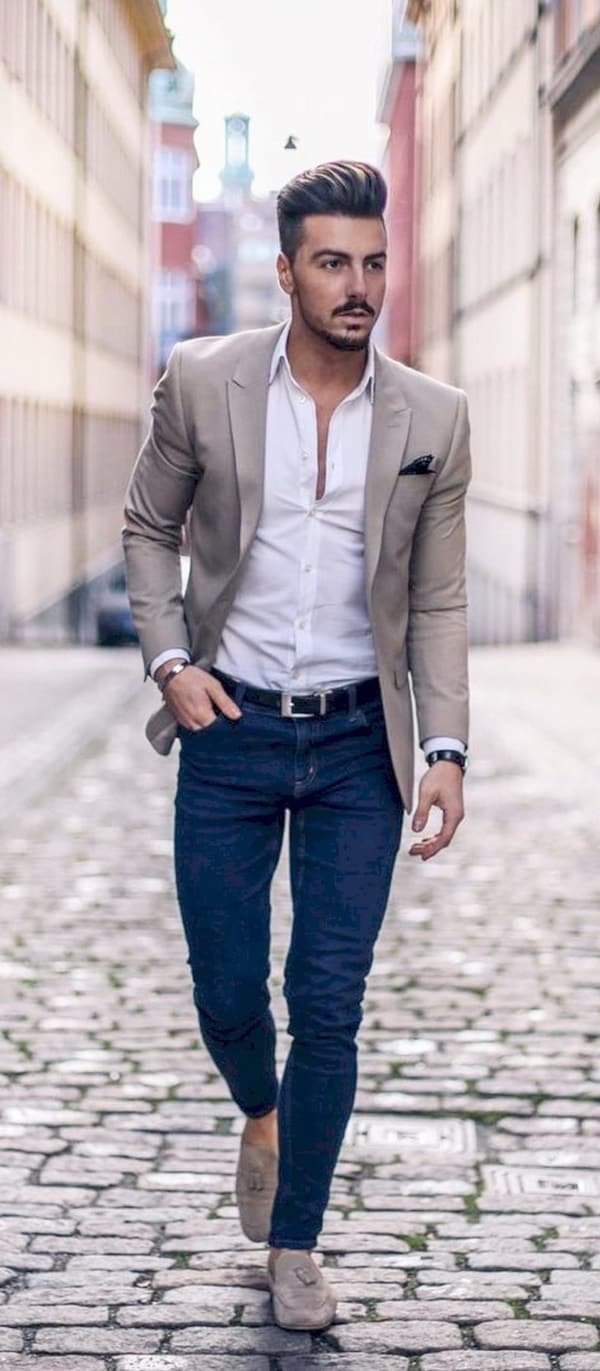 Not all men are friendly to colours. Some like it as classic and subtle.
Blue jeans and white shirt outfits with a dash of the blazer can incorporate a perfect semi-formal party look for the men.
Be selective with your choice of denim, as too much casual would spoil the combo.
Keep it simple and elegant when you team up a bottom with a blazer. A plain white shirt never fails to do the required magic.
With a few elements, you are all set to amp up the look and steal the show.
3. Blue Jeans White Shirt With Sneakers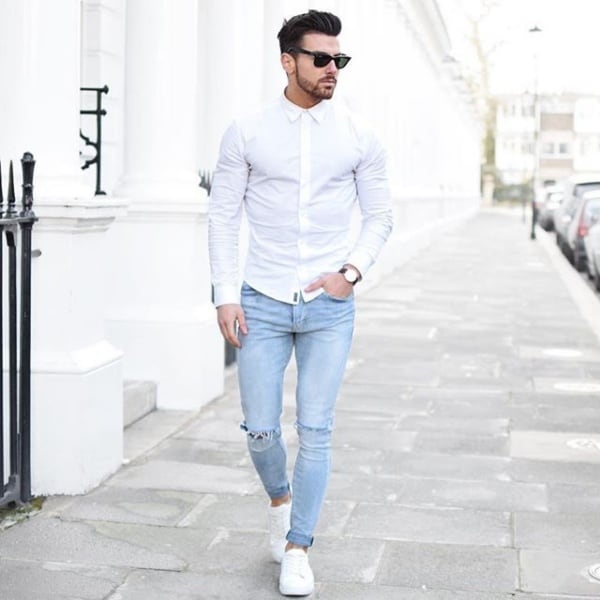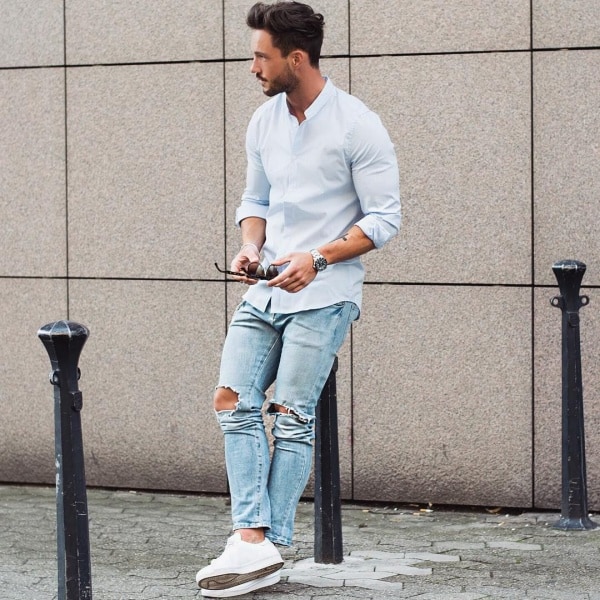 Dazzle and become the talk of the town with smarty sneakers collaborated with the classic staple outfit for men.
Rugged denim and casual sneakers speak volumes about your heroic persona. Spice up the look by wearing an ice-blue denim shade, as it's a sheer treat to the eye.
Take leverage with choices of sneakers in terms of shades, patterns and preferred length of it. Wear stylish shades and a classy watch to wind up the look.
4. Blue Jeans White Shirt With Boots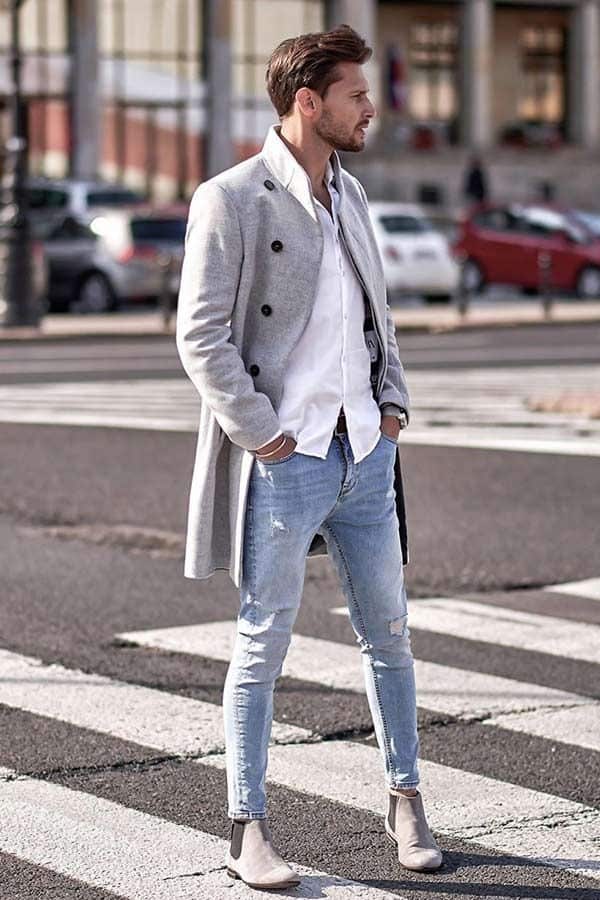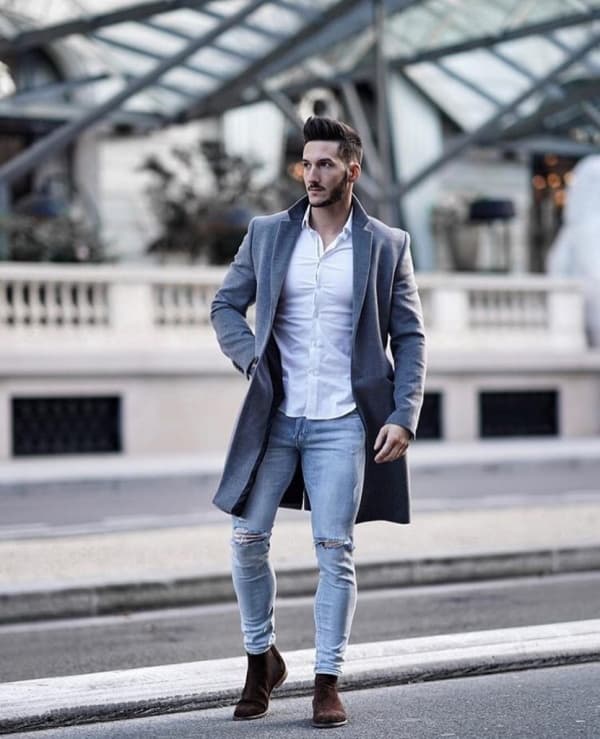 Spare the fuss with a perfect winter look in white and blue. Blue denim and white shirt outfit with an overcoat and long boots can create an epic style statement.
No one can dare to doubt your choices and taste with this combo.
Keep the winters away by choosing a cozy overcoat and hone it over the tapered, slim—fit denim pants.
Remember that black or brown can be the classic tones that crave your attention when it comes to boots.
5. Ripped Blue Jeans With White Shirt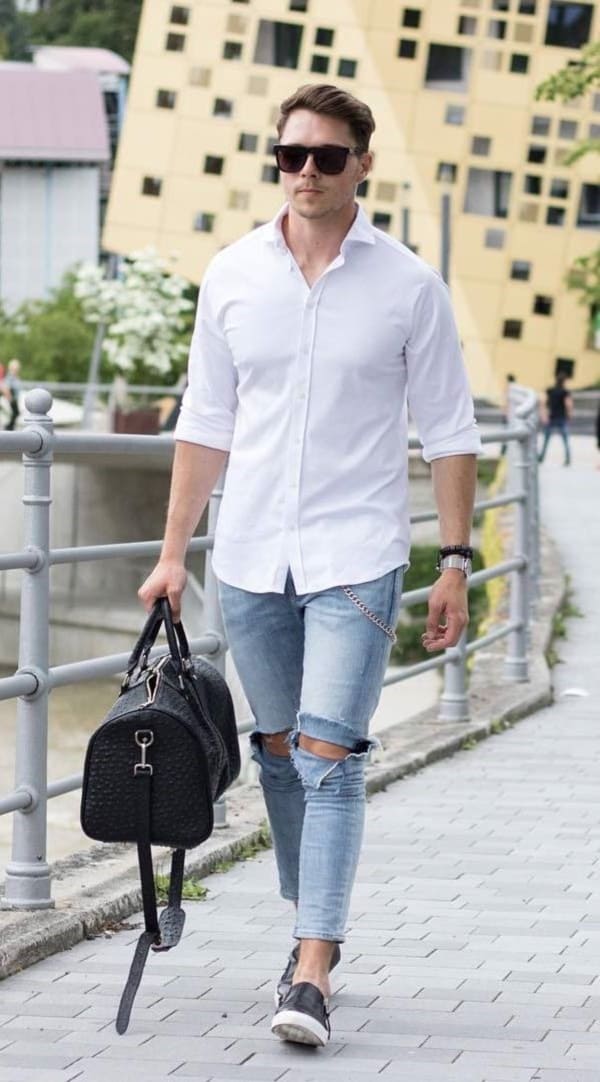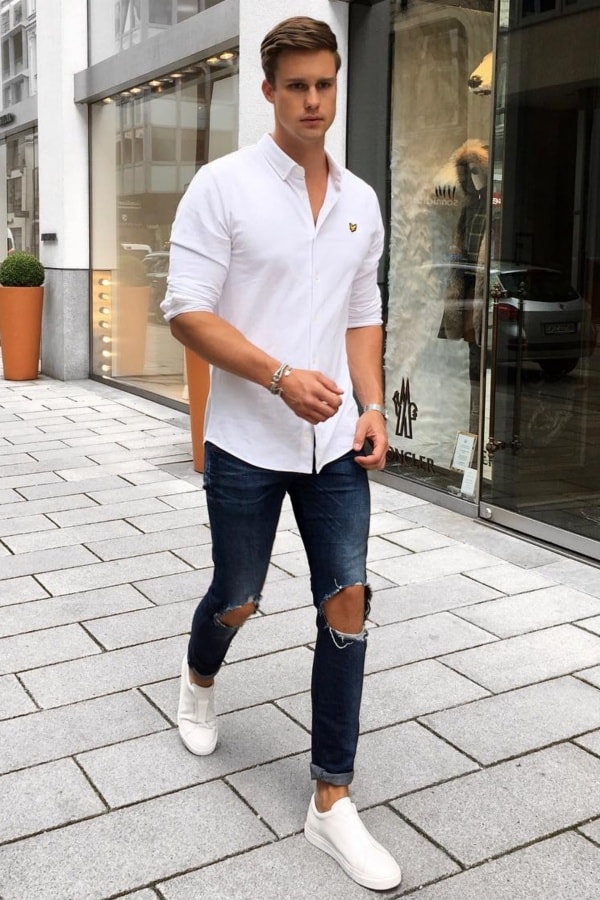 Ripped dark blue denim, a casual white shirt and a pair of breezy loafers are our next pick.
If you have a friend's casual outing planned in advance, dazzle up with the ripped jeans and white shirt signature look.
Less is more when you stick to effortless styling options. A cool watch or a pair of ice-blue shades could do the magic.
This combination is anyways the epitome of simplicity, sober and minimal look.
6. Blue Jeans White Shirt And a Long Overcoat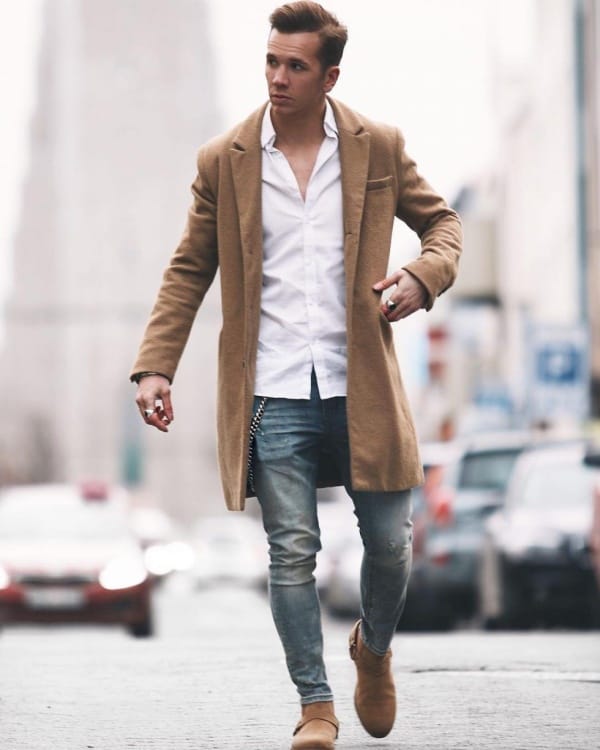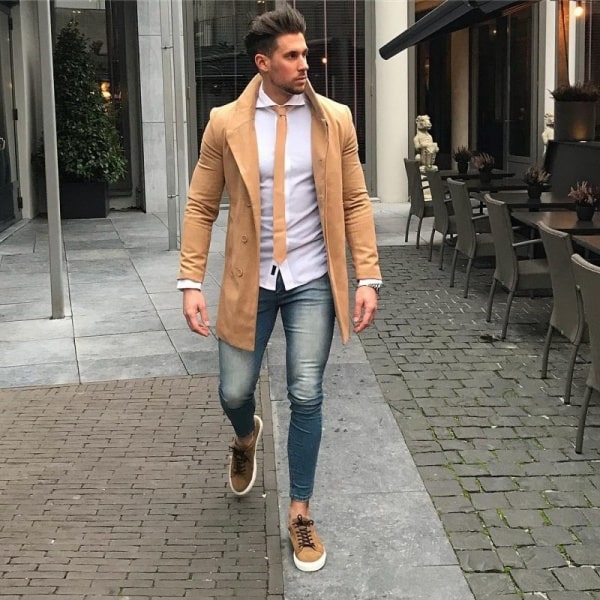 Bearing the cold but yet wishing to look fashionable? Style up our base combination with an overcoat.
Wearing attire in cold weather needs a lot more fashion sense as you have a lesser scope of experimentation here.
Stand out from the rest with an incredible light brown or a dark grey overcoat with brown shoes below.
Choosing the right combinations can enable you to enforce effortless styling for yourself.
7. Formal Blue Jeans And White Shirt Look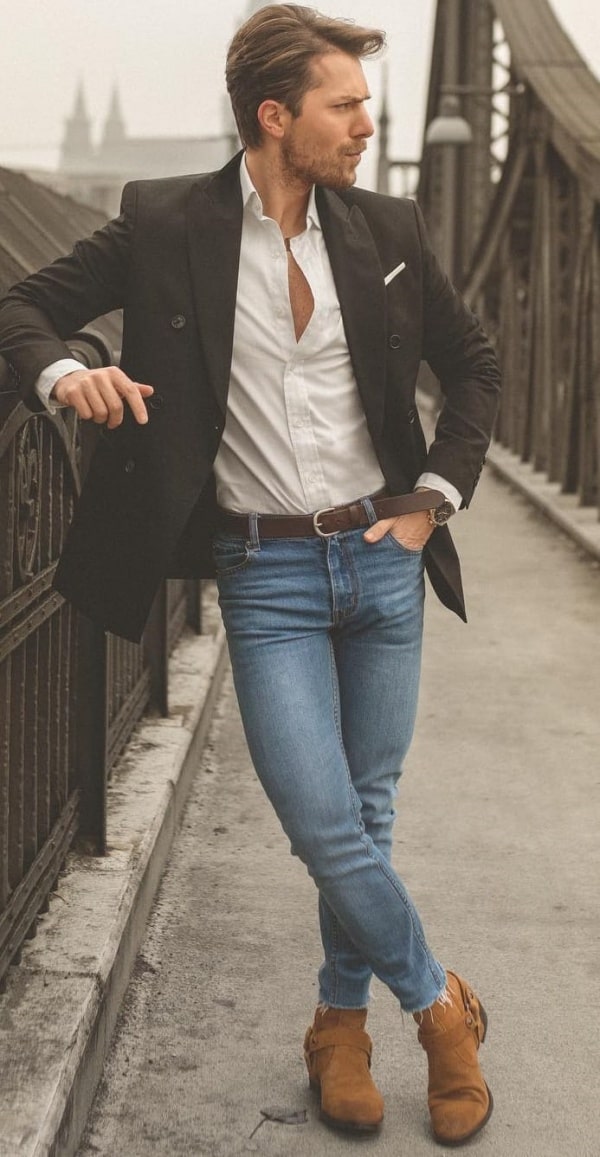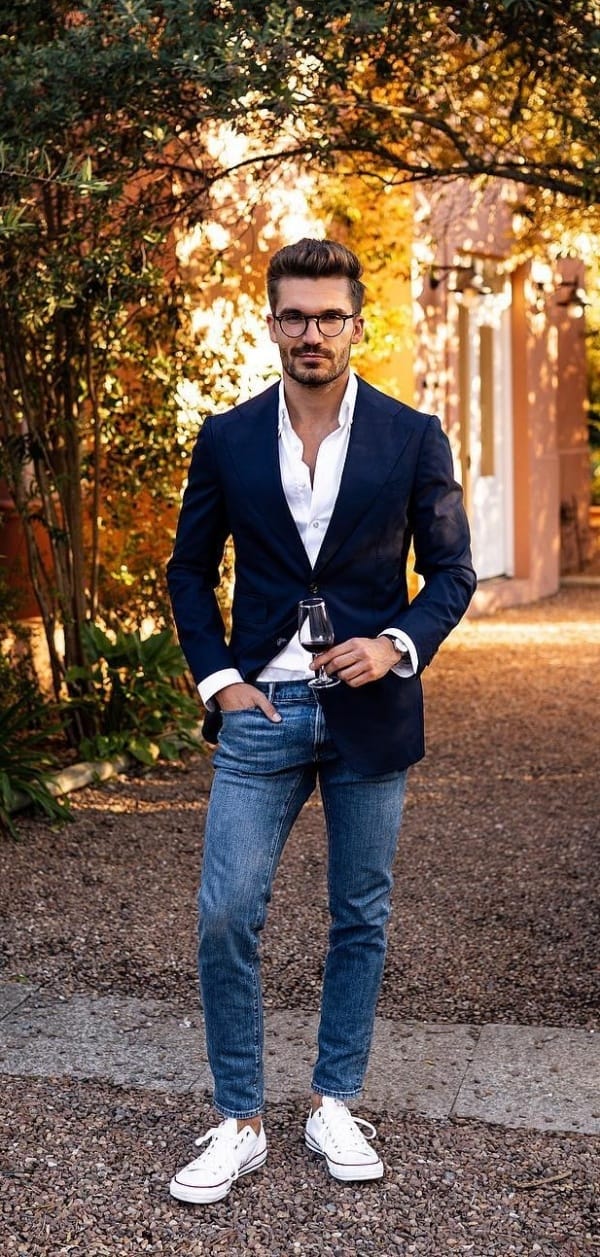 Do you want to give up on the formal trouser and shirt combination? It appears monotonous and sounds dull.
Assimilate the power of denim by redefining formal wear with a twist. Start with a plain white shirt and neat blue straight-fit denim pants below.
Showcase the look with a classic black blazer, followed by the formal shoes below. There you are! All are set to attend the client meeting at the outside venue.
8. Blue Jeans White Shirt With Denim Jacket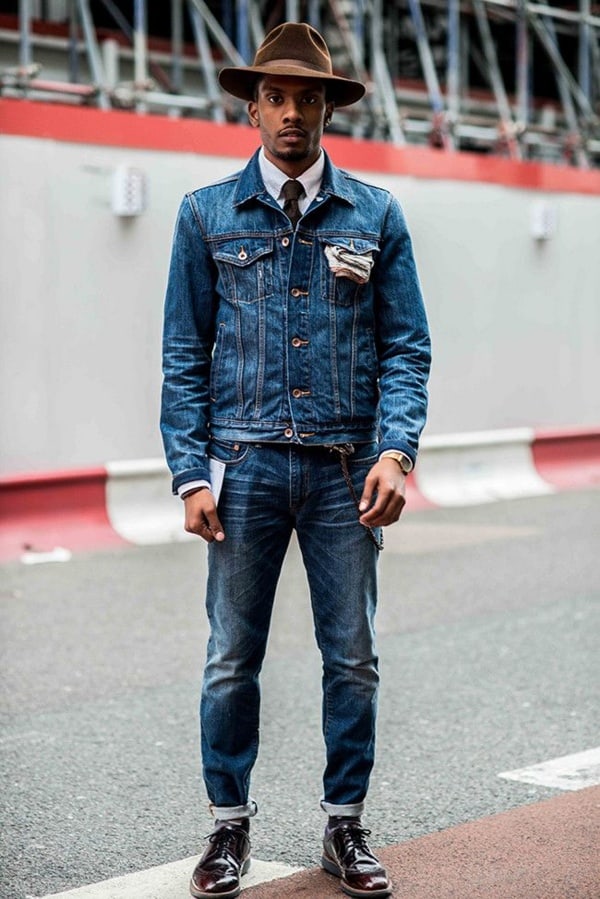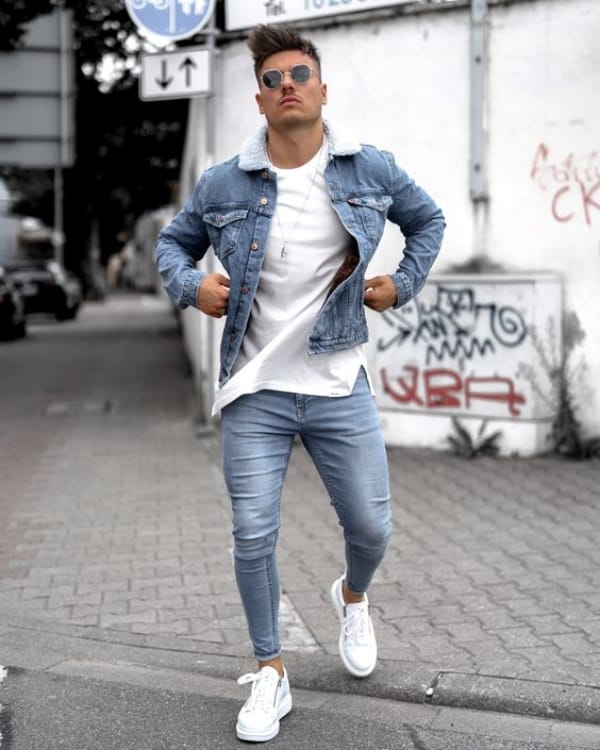 Bring it up for your bad boy image with a casual denim jacket look. Blue jeans and a blue jacket are perfect for pairing the denim together.
It is a great idea to curate a contrast with the spectacular white shirt and blue denim look. Go for a subtle hue as you combine a monochrome look.
Ensure that the shirt has no elements to give it a neat touch.
9. Blue Jeans White Shirt With Leather Jacket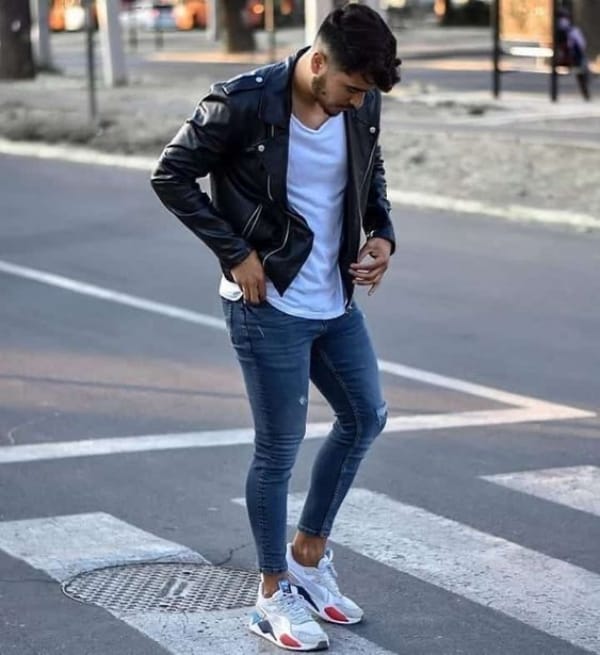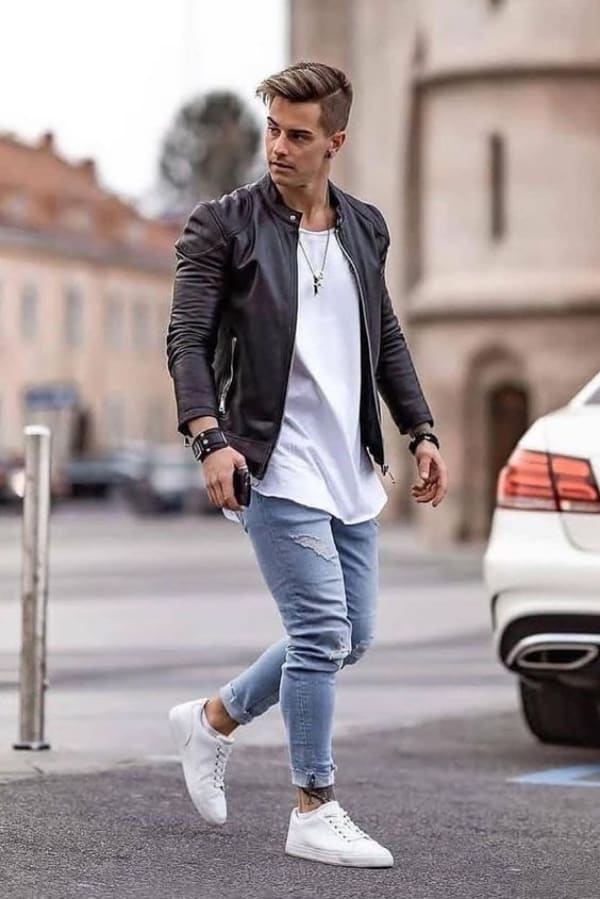 Blue jeans and white shirt outfits leverage many options for men, and a leather jacket complements it well.
Slay in style with the black leather jacket that can strike eyes at sight. Go for a dull effect when it comes to denim jeans and white to spruce up the jacket effect.
The comfort and delight that blue jeans and white shirt leverage you are incredible. Wear your attitude to rule the bossy look!
10. Blue Jeans White Shirt With Sweater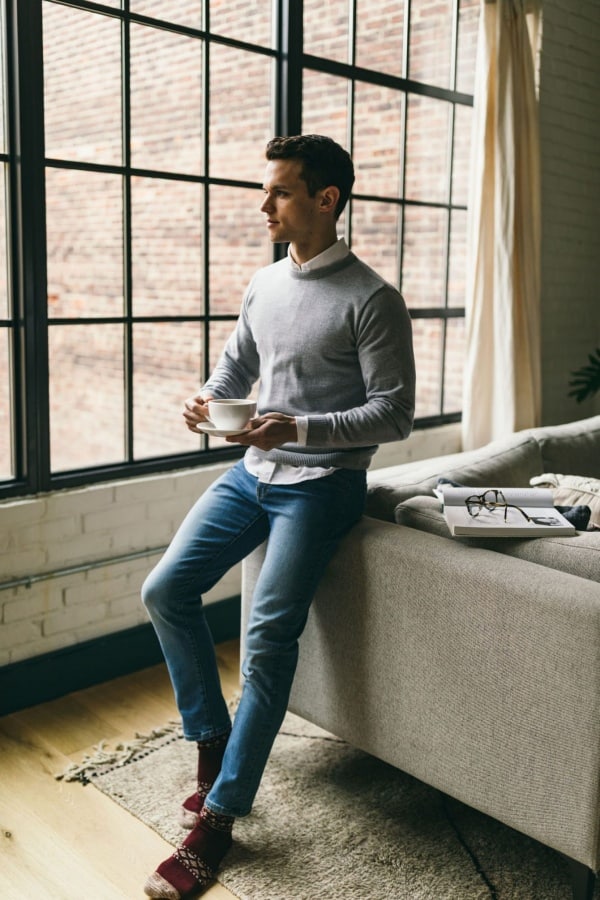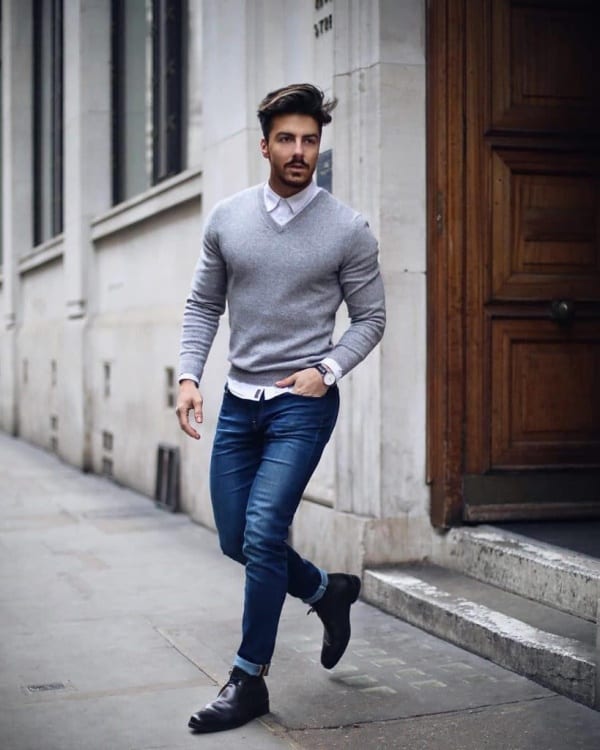 Are Winter styles a bit tricky? No more! We've sorted down the cozy sweater look for a unique style. Ditch the bulky blazers and save yourself a relaxed woollen blazer this season.
There is no thinking about more alternatives when you have a grey or white sweater to pull over.
Hone that charismatic look with the contrast of blue jeans, a white shirt and a subtle nude sweater. A little sneak-through of the white shirt accentuates the effect.
11. Blue Jeans White Shirt With Bomber Jacket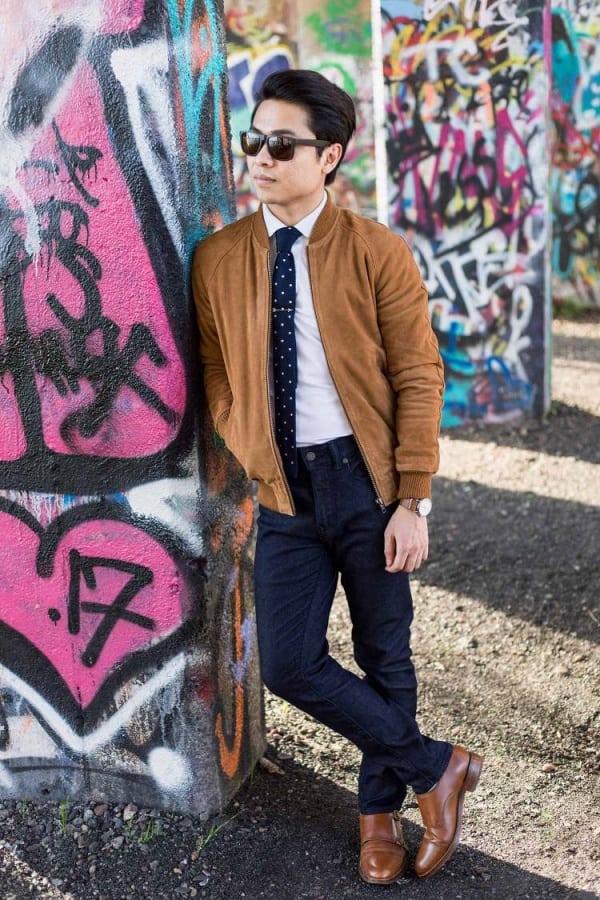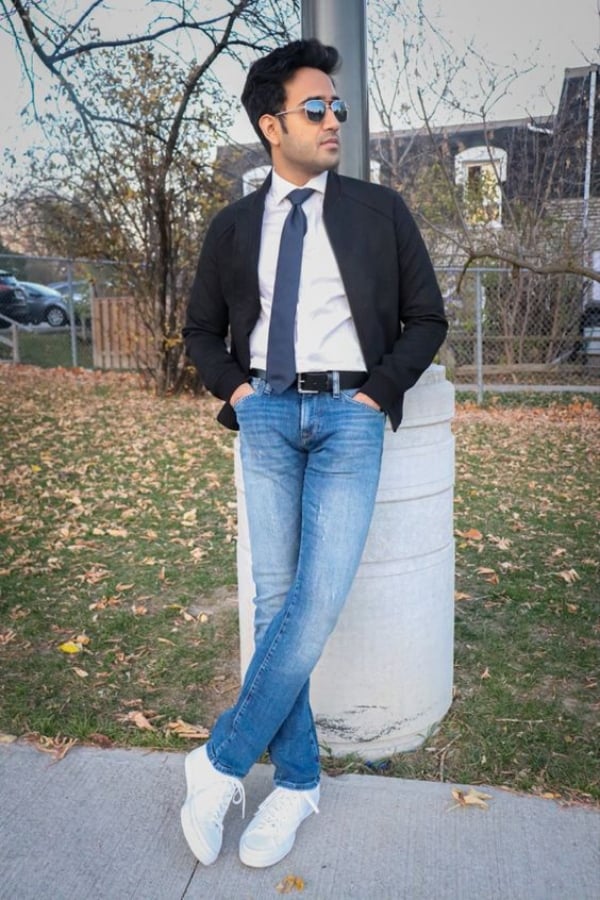 Do you prefer layering up your shirt and jeans combos quite often?
Then, how about adorning the bomber jacket with stylish ripped blue denim and a casual plain white shirt?
Do not hesitate to pick an excellent and classic shade of bomber jacket that syncs well with your taste.
It can be a perfect idea, no matter how doubtful you are.
12. Street Style!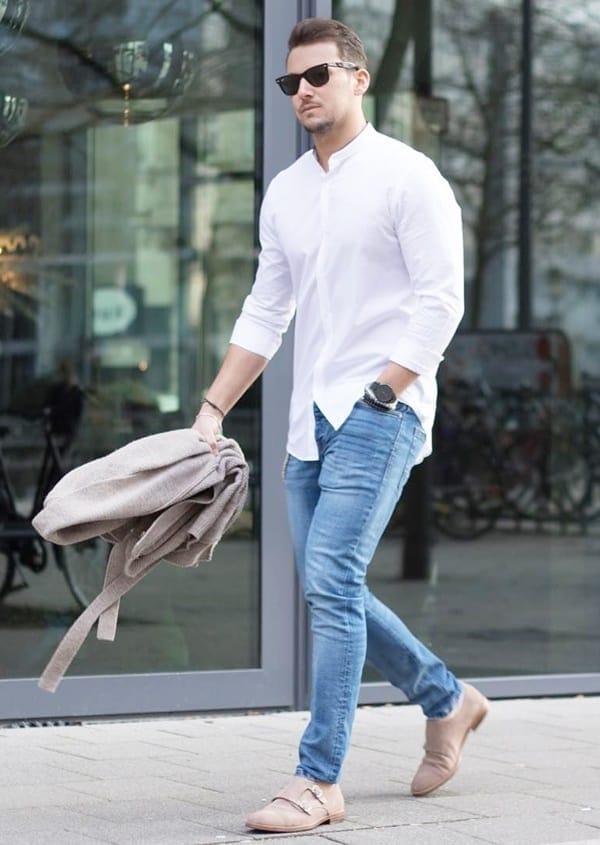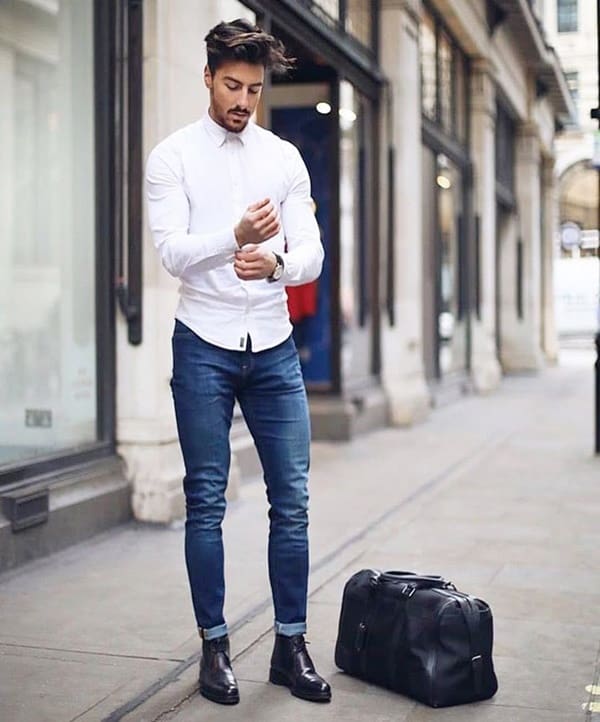 Street fashion can never run out, as you have fantastic options to choose from.
Pairing relaxed denim jeans with a button-down shirt and pulled-up sleeves is the hottest fashion trend.
Spike it up with an interesting watch or the cool sneakers.
Willing to amplify it with an oomph factor. Well, you must also try out the oxford shoe effect.
13. Light Blue Jeans Paired With Checkered Shirts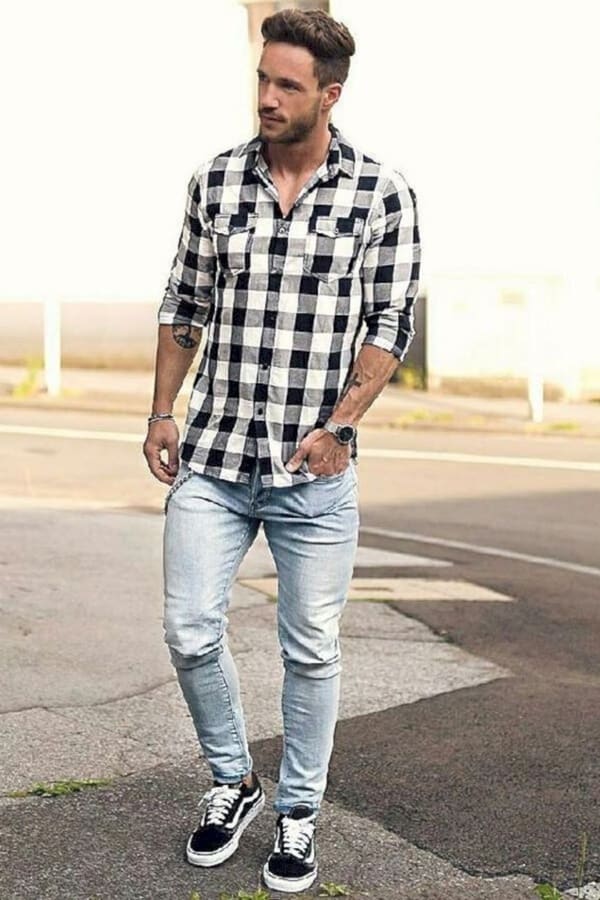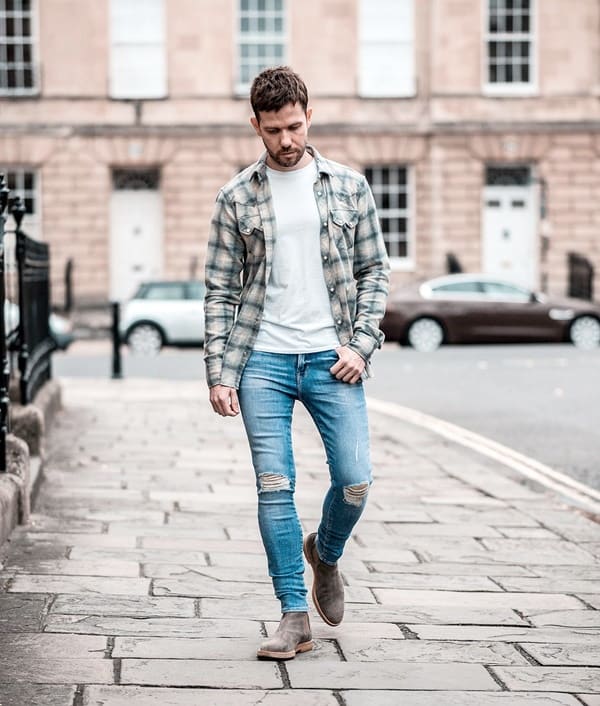 The combination of light blue jeans with a checkered shirt is super easy to throw together without any second thought.
Guys! You must have at least one piece of checkered shirt in your closet if you're looking for a completely new look to go out for a casual outing with friends.
A checkered white and black shirt in a button-down style with a pair of blue denim is wonderful.
You can jazz up the look by wearing a plain white tee inside with the open shirt style.
Slay your cool dude attitude with this combination, and get ready to rock the trend on a casual summer date.
Amp up the versatility with the designer shoes below.
14. Travelling Style With A Leather Belt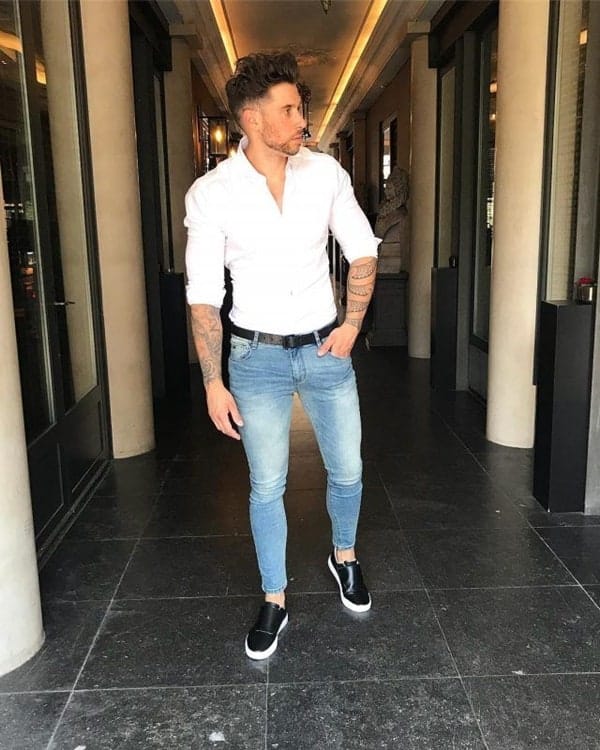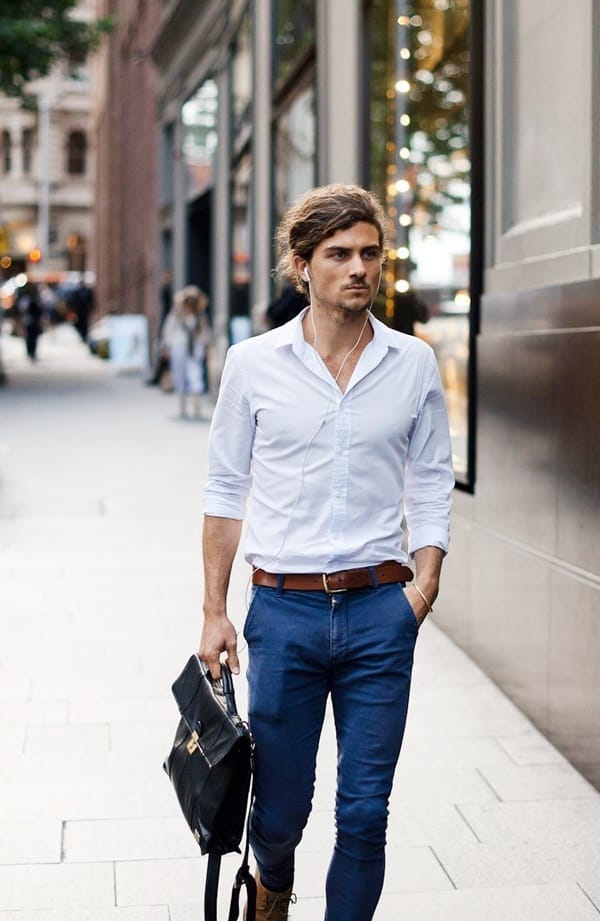 When you are in a hush and have to move out for a meeting, give no second thoughts to the easy-breezy white shirt and blue denim look.
Pep up for travel with blue denim, a tucked-in shirt, and a brown leather belt to complete the appearance.
Don't forget to take along your travel gear for an enjoyable time.
15. Blue Jeans, White Shirt With Waistcoat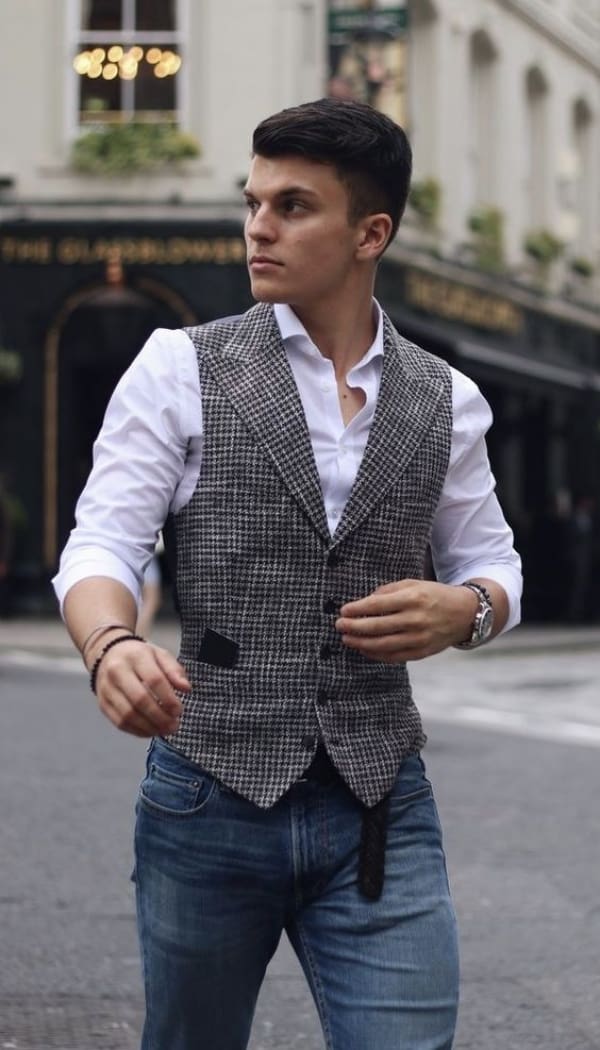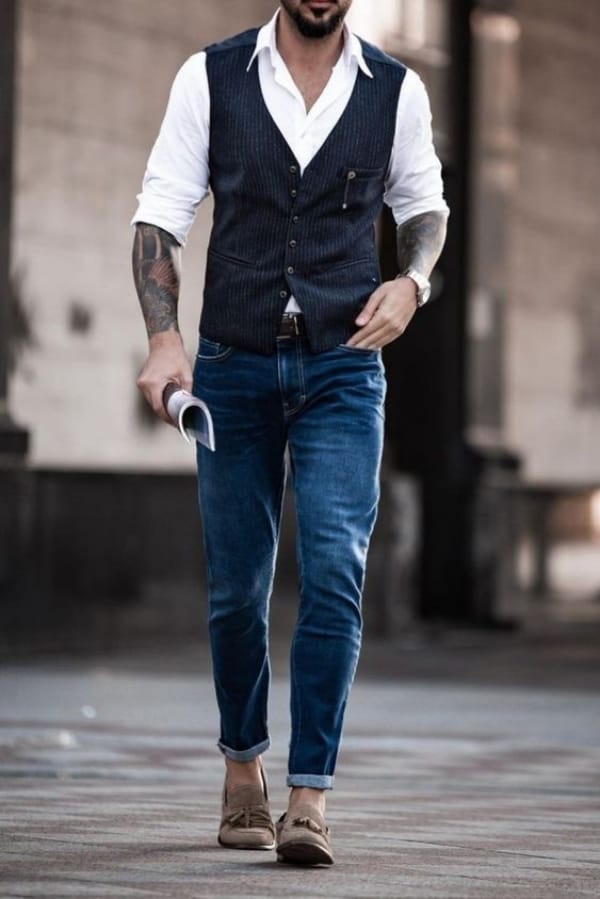 Be party ready within no time through this exotic waistcoat combination that's classic!
A casual attire combined with a black or checkered waistcoat can instantly deck you up for the event.
It is an effortless fashion statement that needs no second thoughts.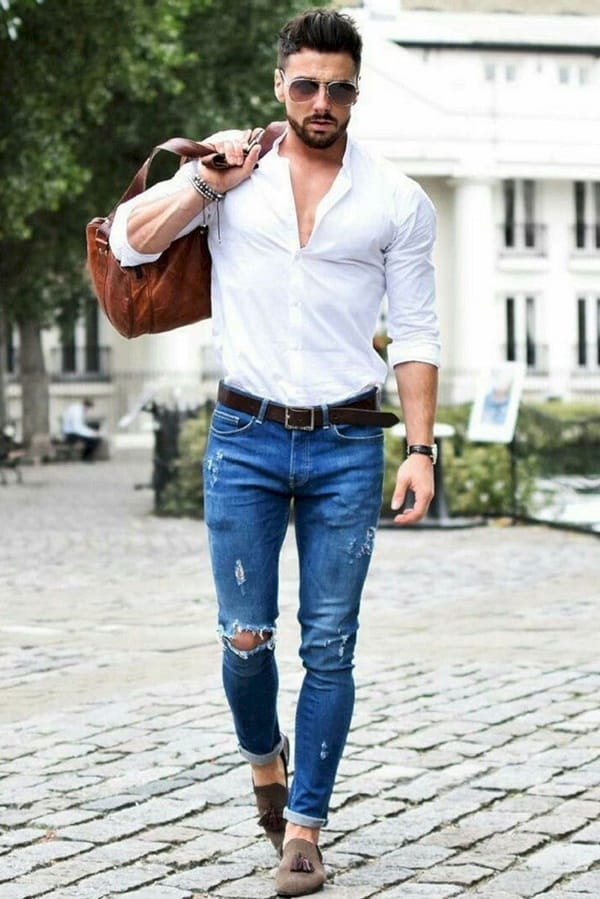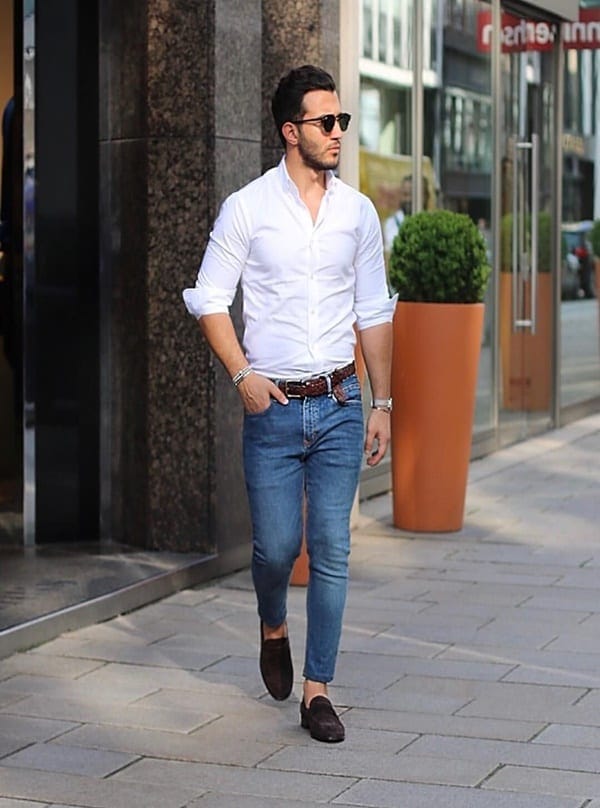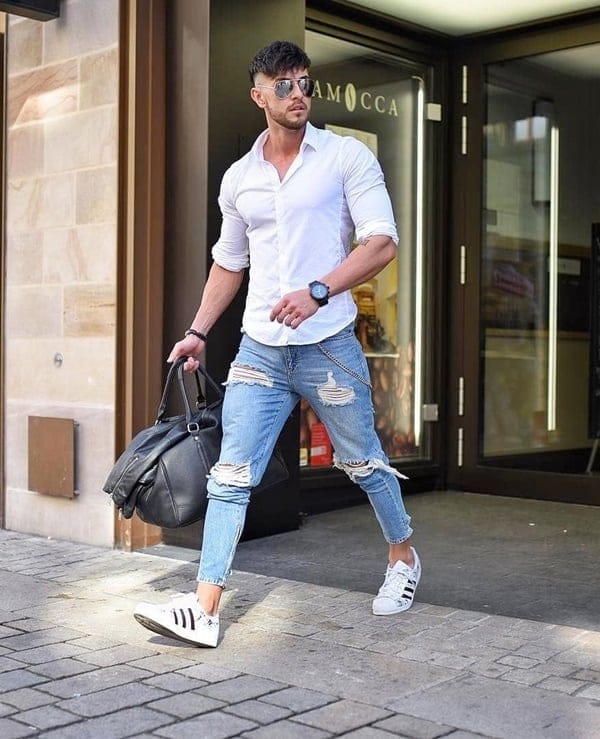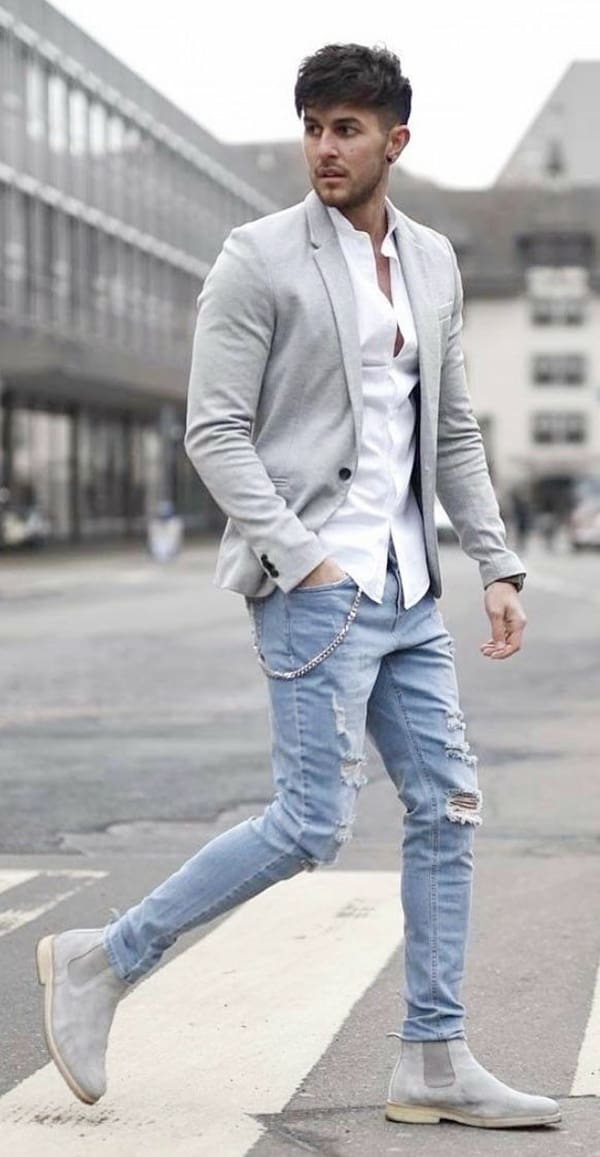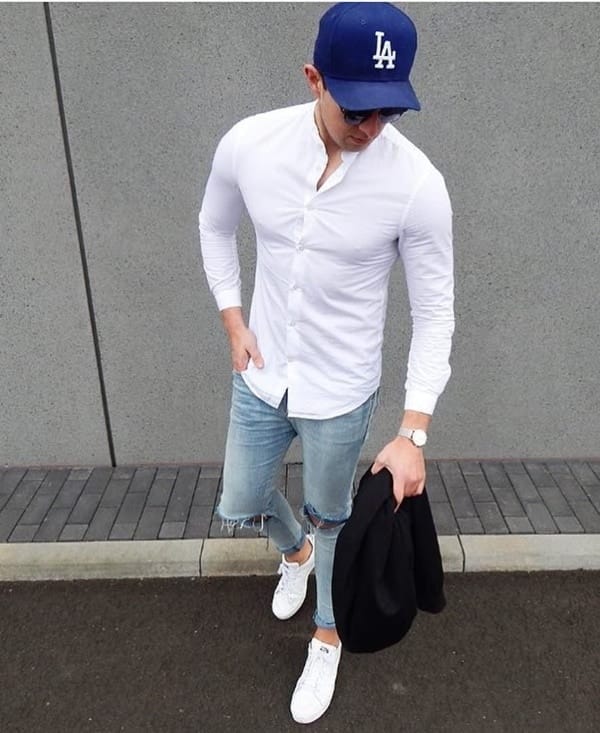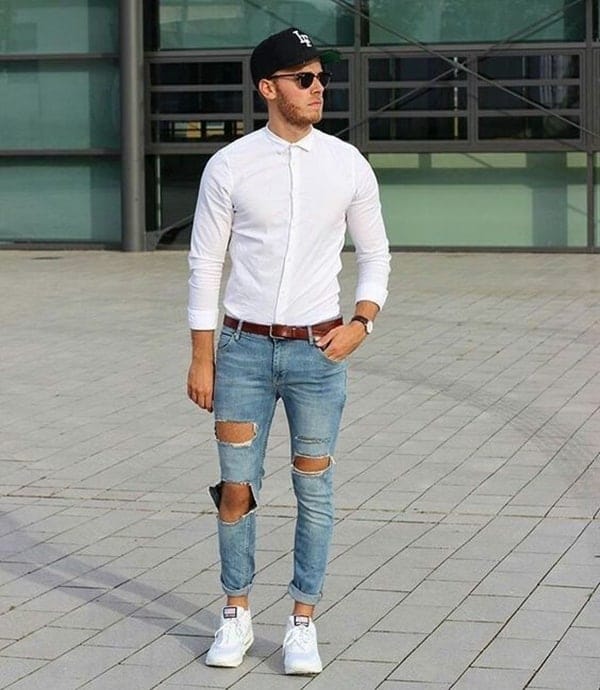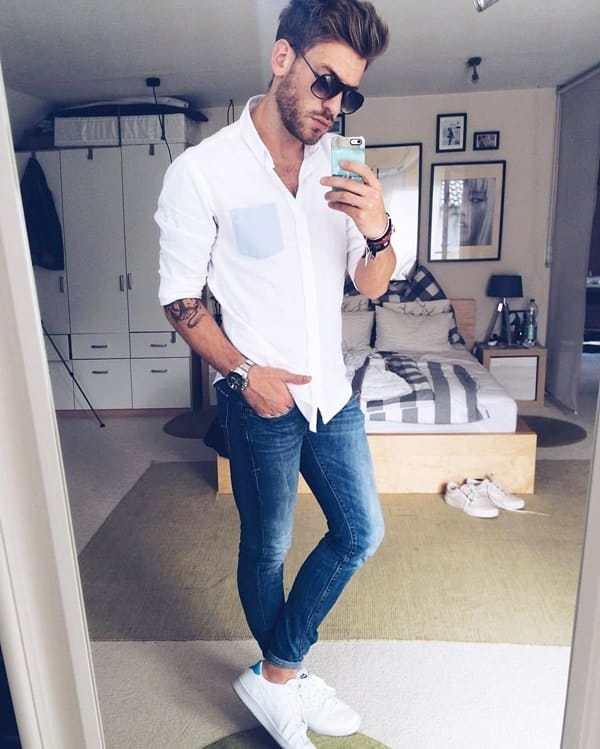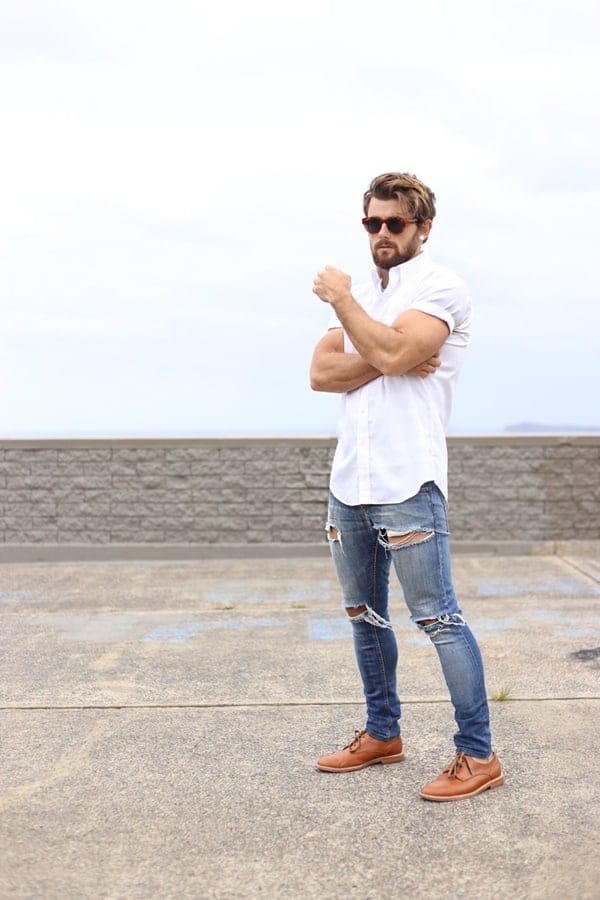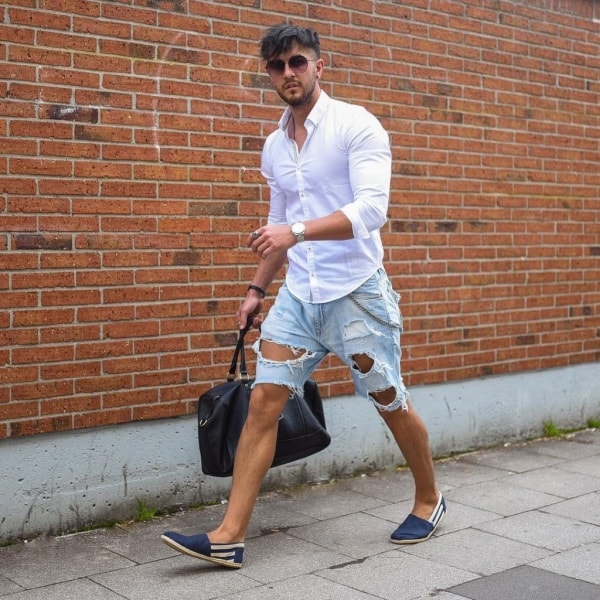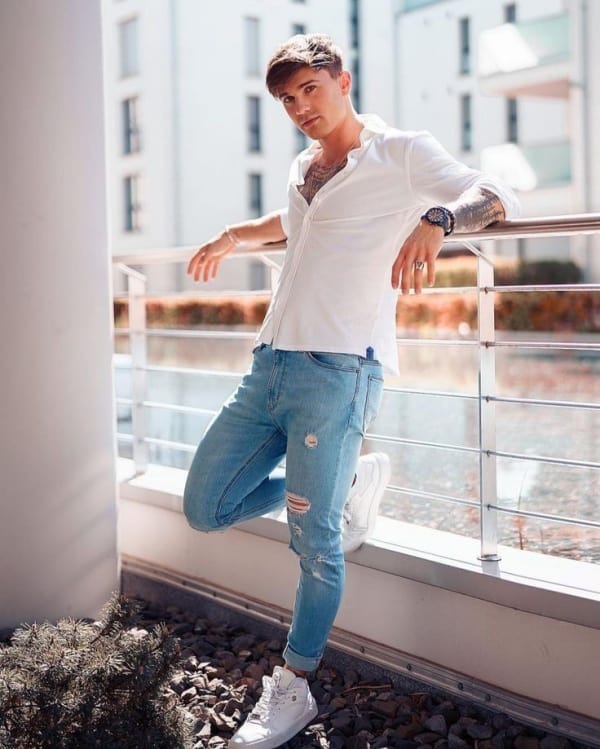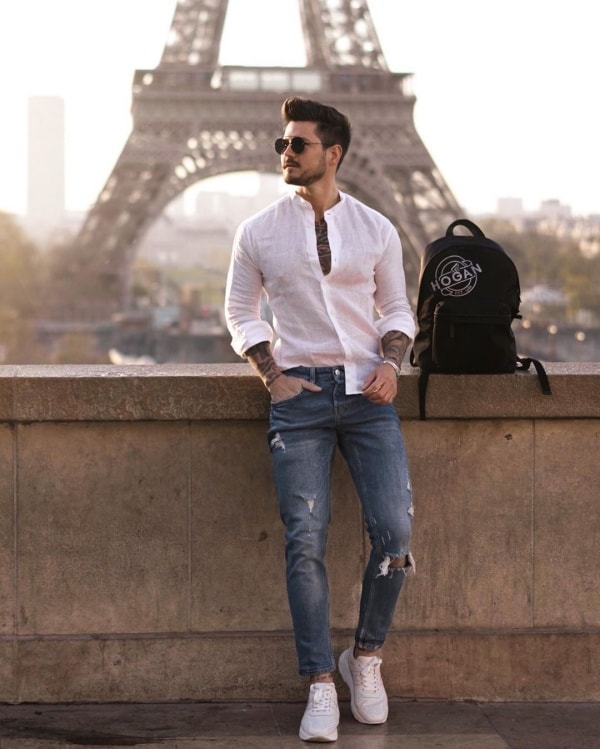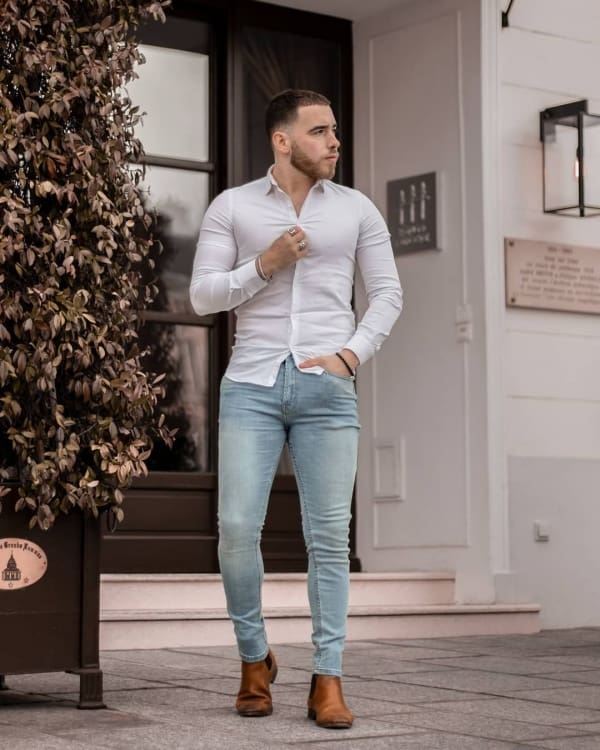 Related:
Winding Up
This combination upholds a great potential to be dressed in various ways. Glamming it up with blazer, shoes and stylish accessories takes you a step ahead.
Remember that sustainable fashion is something that men are always inclined to.
Most men favour minimalistic looks, and blue jeans and white shirt outfits for men are a perfect idea of the same.
You can ponder and choose your favourite style that meets your requirements and enhances your look.
In the end, twist up the appearance with your additional tweaks and notify us of the same.
Write back to us if you are looking for more ideas or hacks to create a perfect dude look!
F.A.Q:
Do White Shirts Go Well With Blue Jeans?
There is no doubt on the fact that blue jeans and white shirts make a perfect combination. Wear sneakers or sporty shoes and pull up the sleeves to add a sporty touch. This combination can never turn out wrong, provided you adhere to the above mentioned styling tips. Embrace versatility, and you are good to go!