Teens are the most anxious and cautious about the latest fashion trends! Ain't that true? We have curated an exclusive list of cool outfits for teenage guys that can accentuate their personalities and add charm to their appearance.
Don't you wish to be that cool dude with unique swag? Casual and trendy outfit styling needs a great sense of ongoing fashion theories and comfort.
Expressing your real self and depicting your character through clothing is a saga that has been going since ages.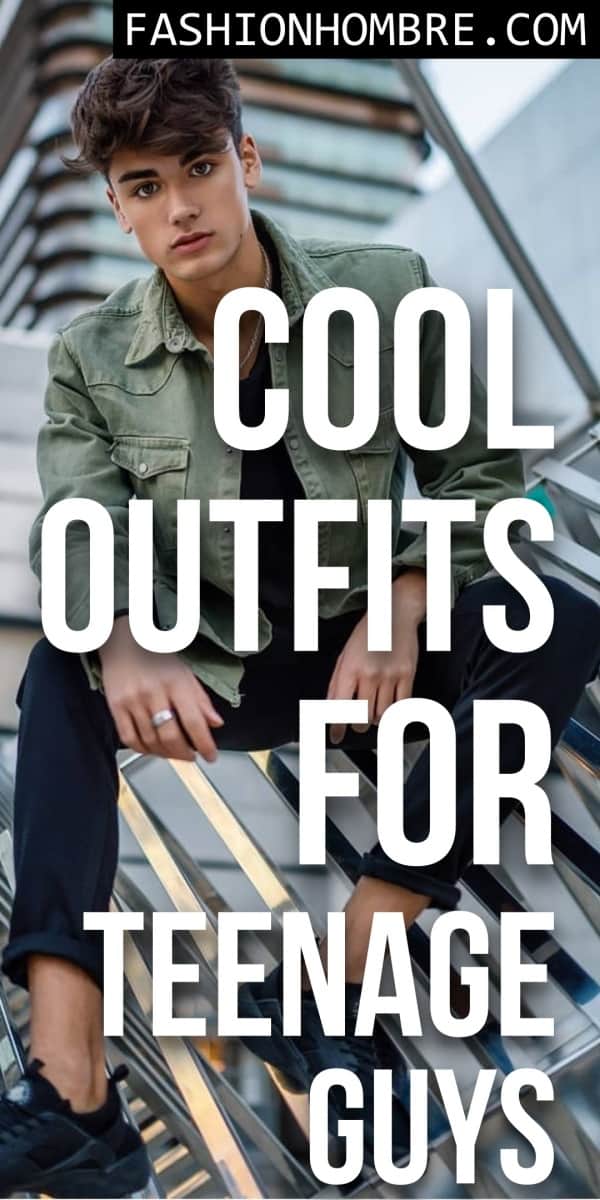 Cool outfits for teenage guys often blend comfort and style, leaning into the latest trends. A relaxed pair of slim-fit jeans, a graphic tee, and a hoodie or bomber jacket makes a casual yet trendy look. Chinos, a button-down shirt, and clean sneakers work well for more formal settings. Accessorizing with a stylish backpack or watch can elevate the outfit.
Stylish Outfits For Teenage Guys
Teenage boys might be apprehensive about the choice of outfits, styles, patterns and designs as countless options are making them go cynical!
If you are also going through the same issues and looking for attractive outfit options for different seasons, occasions and moods, this guide can surely help you.
We have compiled a comprehensive list of cool outfits that might inspire you for a new-age fashion!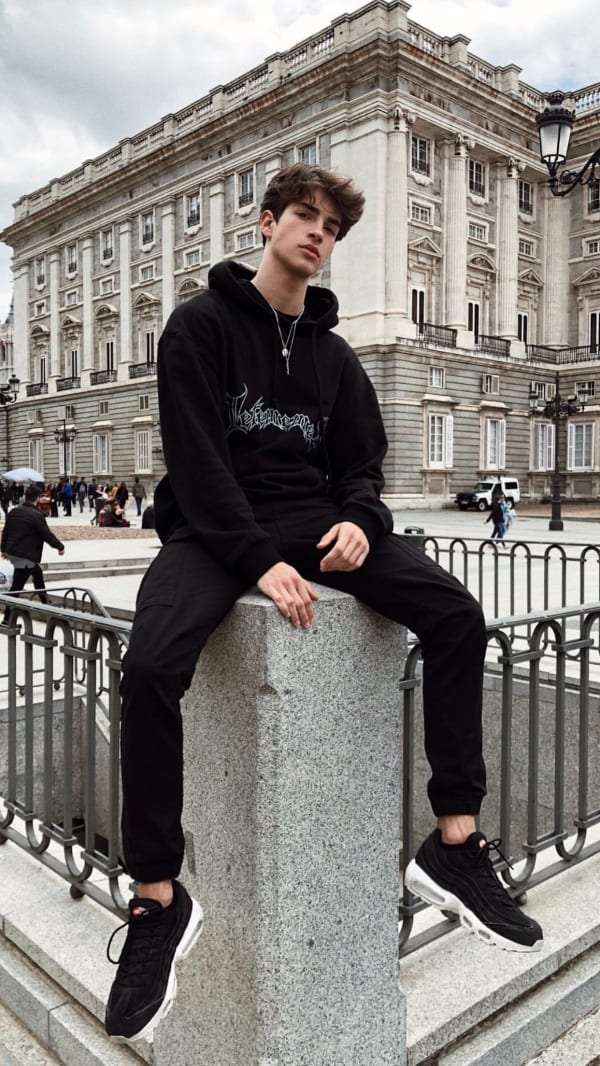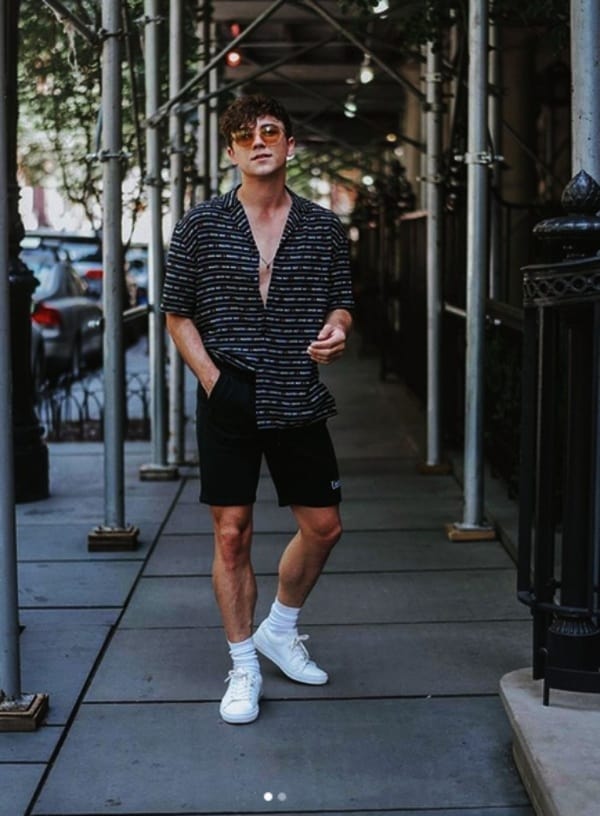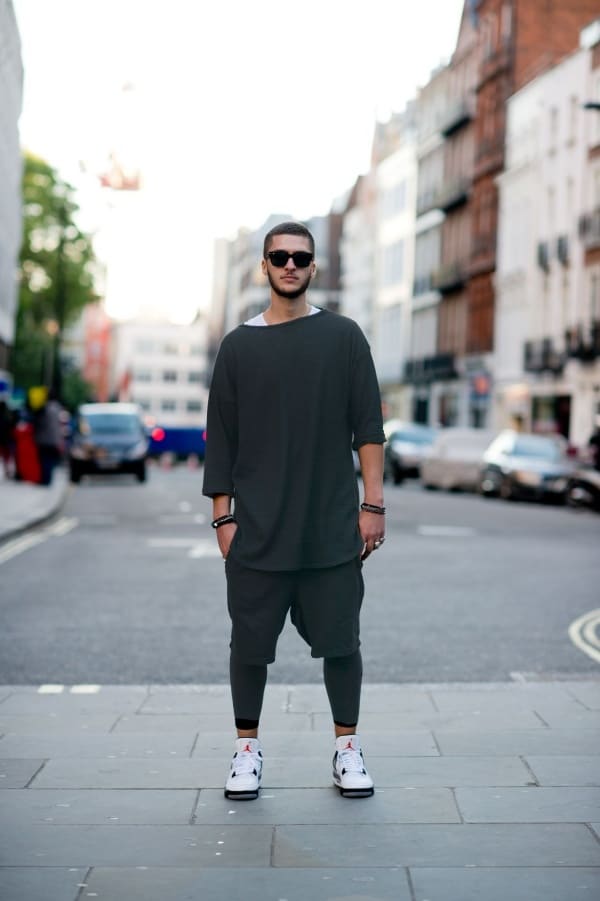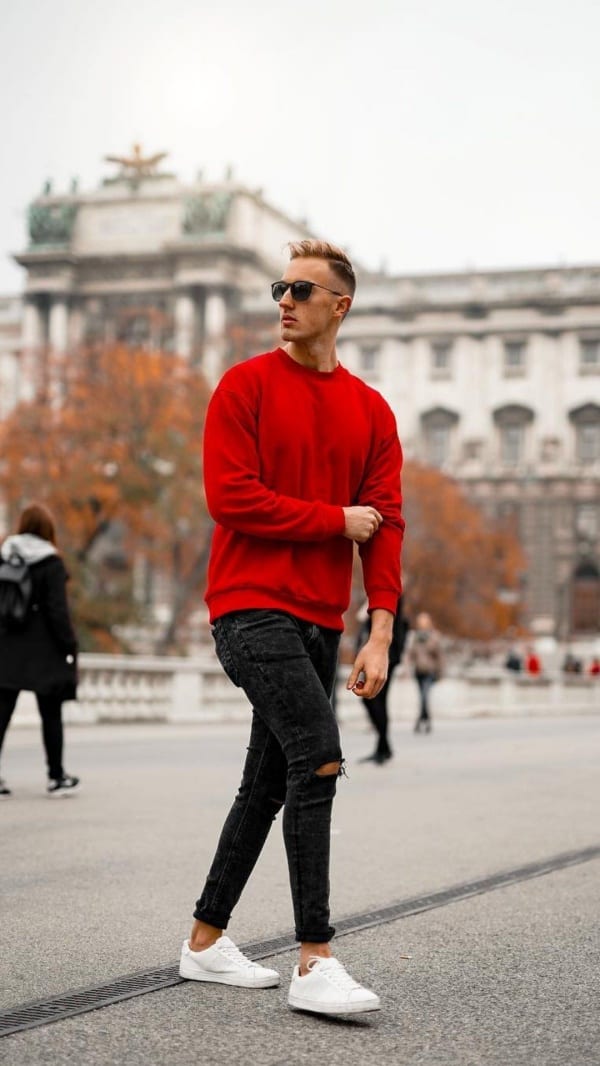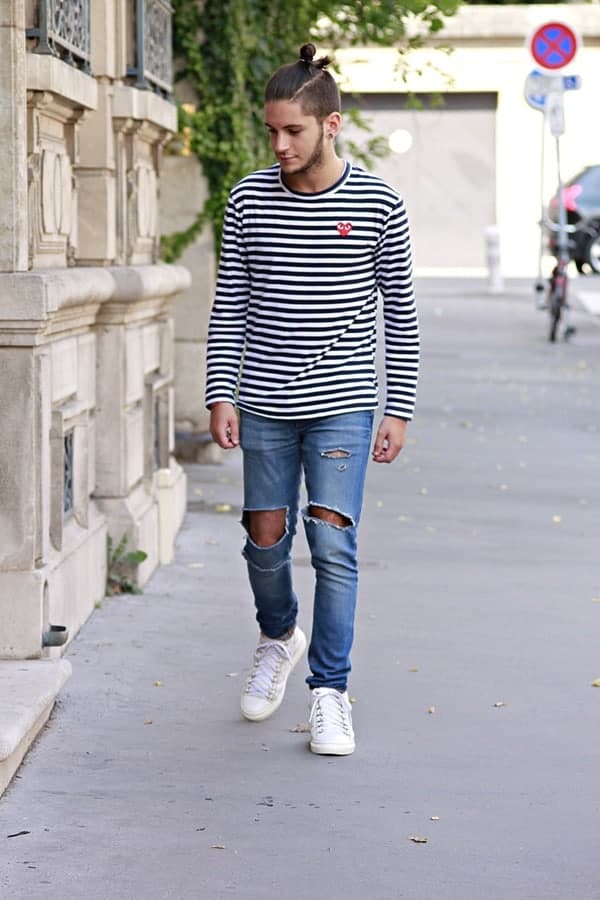 1. Black On Black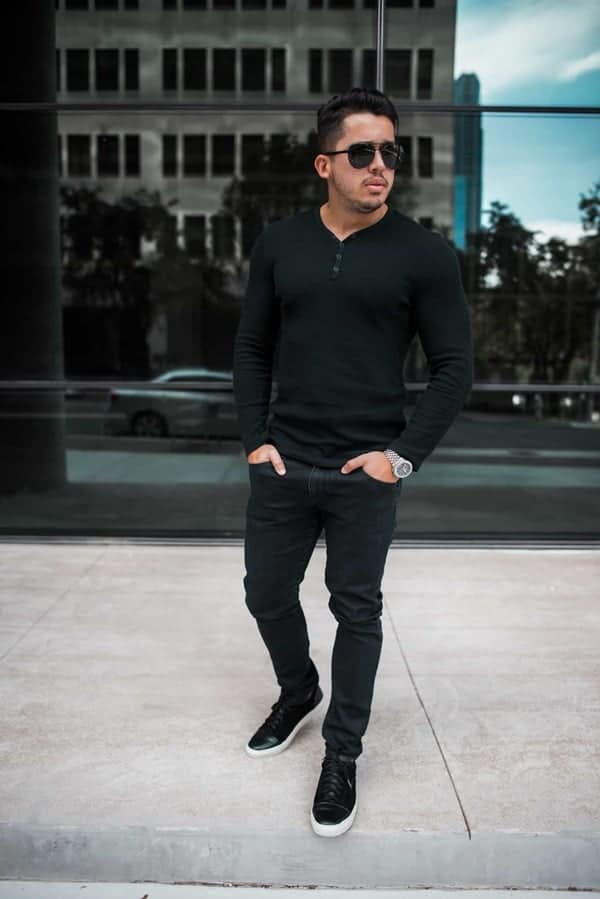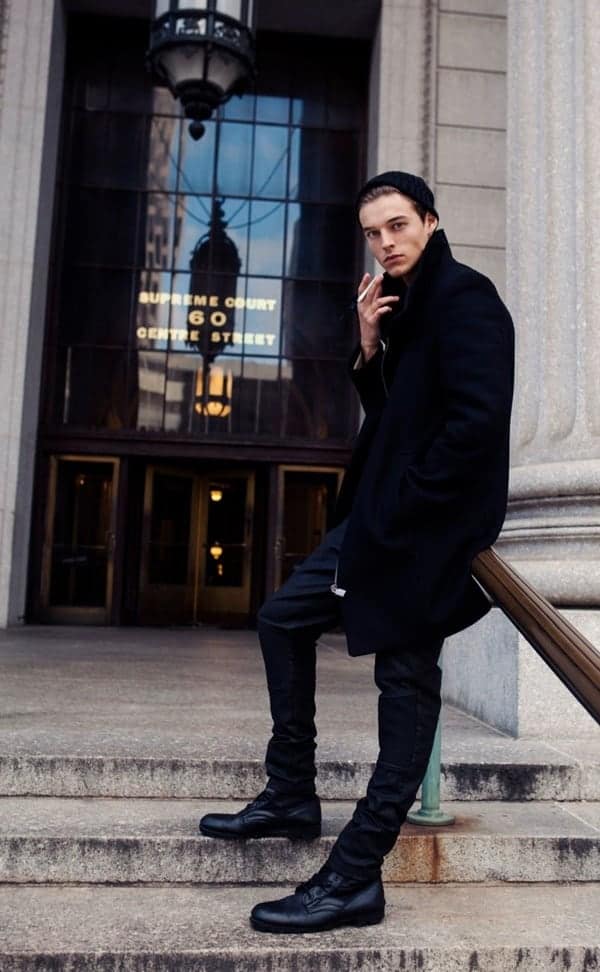 The charm and vibe of the black colour are unmatchable! It is sober, classy and imparts a versatile appearance to the wearer.
Wearing a black-on-black combination can be a perfect teen style that gives you a flashy grace at the next party.
Pair a casual black shirt or t-shirt with black jeans or formal pants to grab all the attention. There's nothing that can beat the galore of epic black suits.
2. Long Sleeve T-Shirts And Jeans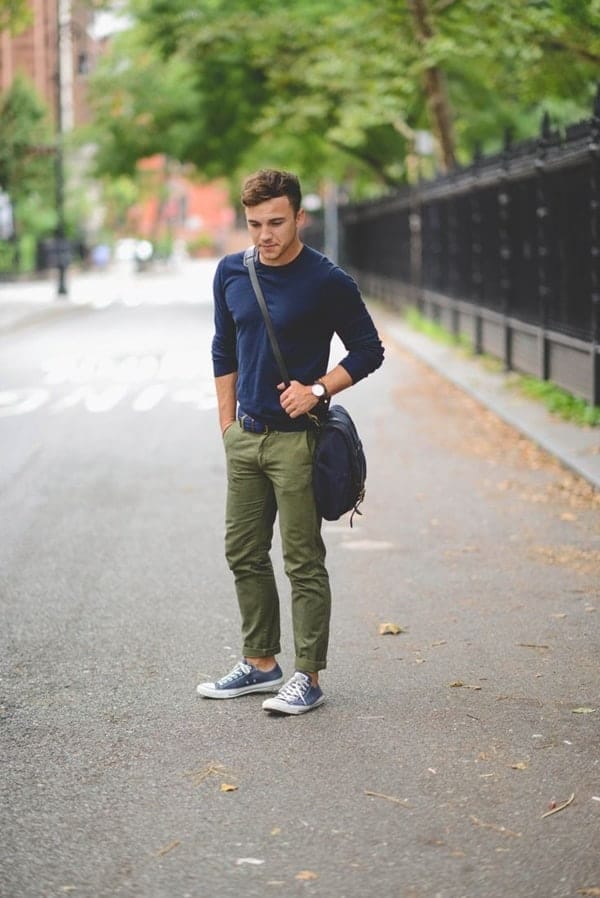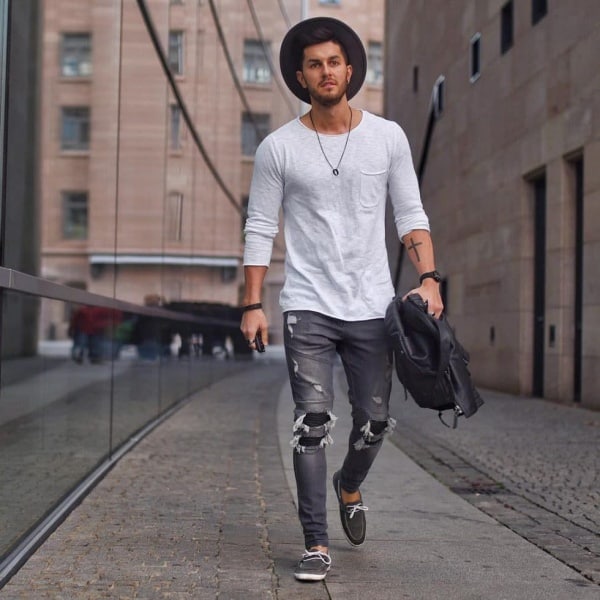 Teenage boys are willing to look cool and go easy-breezy with their fashion tastes. A nice long sleeve t-shirt paired with jeans can raise up your style quotient incredibly.
It is a one-fit for all option that can suit guys of various body types and physical structures. Go for a light jeans tone and choose deep colour tees over it or reverse the contrast otherwise.
3. Ripped Jeans With A Black T-Shirt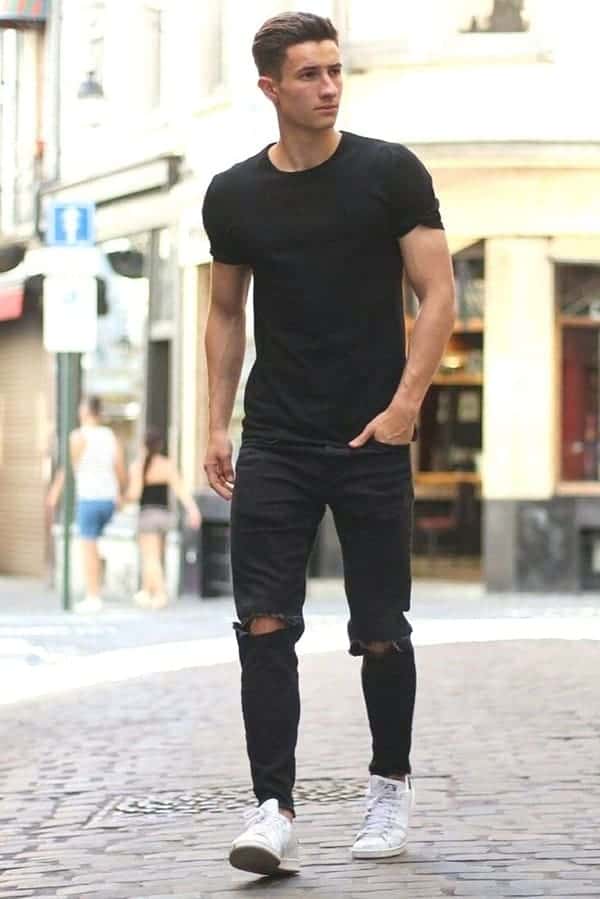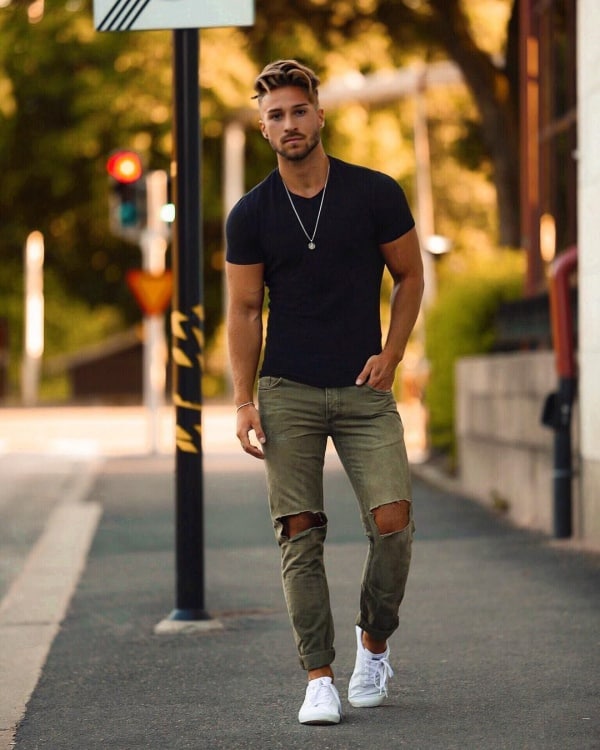 Ripped jeans are perfect for a casual hangout date with your college buddies. Though they might look like old torn-out pants, they are pretty expensive and can give a dashing touch to your sweet chocolate boy image.
It is amongst the best outfits that teenage boys can style with any random t-shirt from their closet. Light-coloured ripped jeans with dark black, or navy blue plain t-shirts can be a killer combo, dude!
Related: Casual Summer Date Outfit Ideas For Men
4. Camouflage Pants With Plain Tees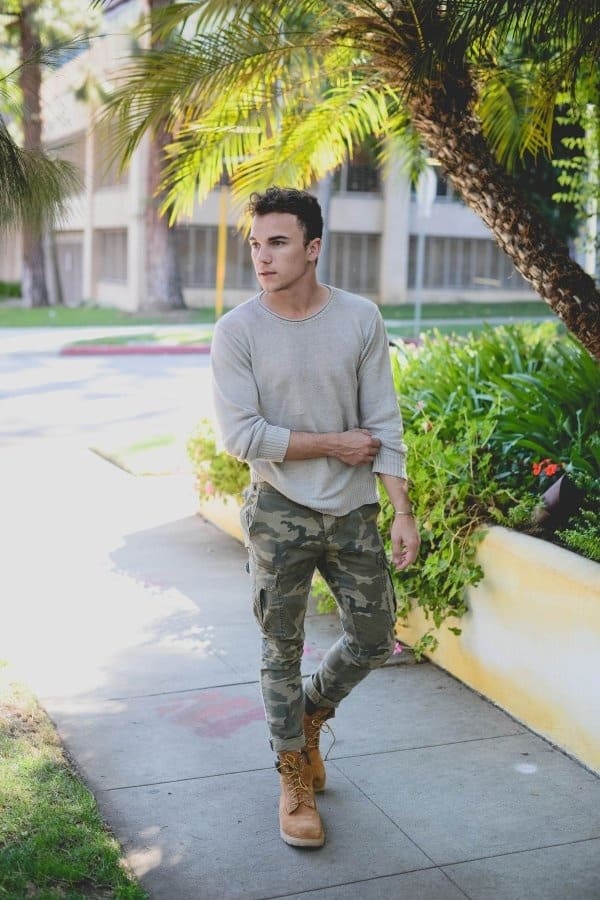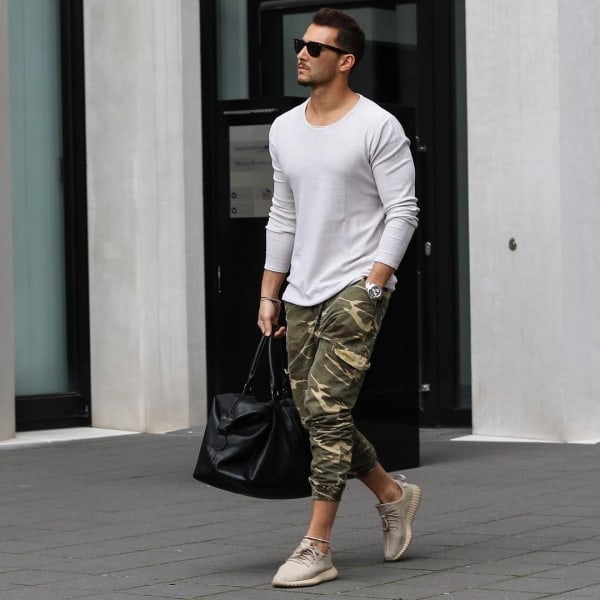 The camouflage fever is yet to stay for a long while in the fashion world. So why not grab it for your next college party or outing?
Camouflage pants can render you a celeb look without any effort. They are usually available in cotton and amalgamated with plain white t-shirts for the perfect look.
Go for baggy pants that reach above your ankle length. This combination can blend style and simplicity to churn out the most adorable version of you.
5. Sleeveless Hoodie With Baggy Pants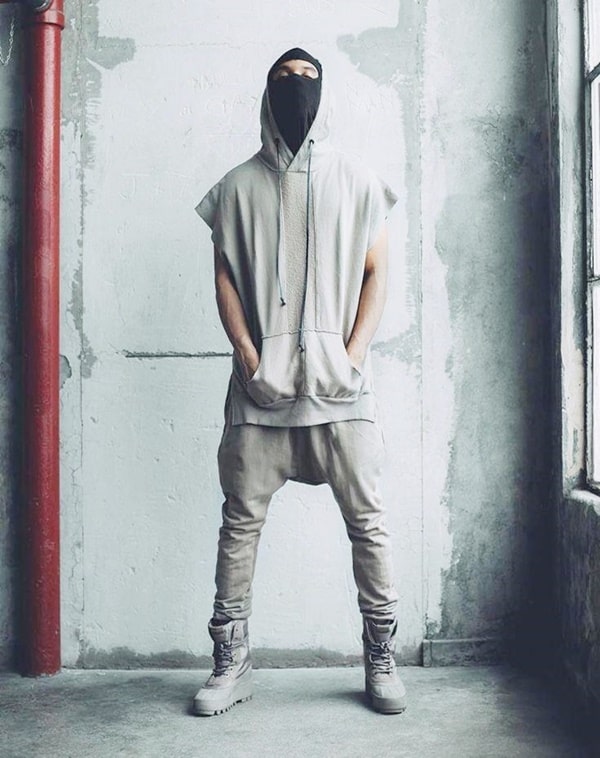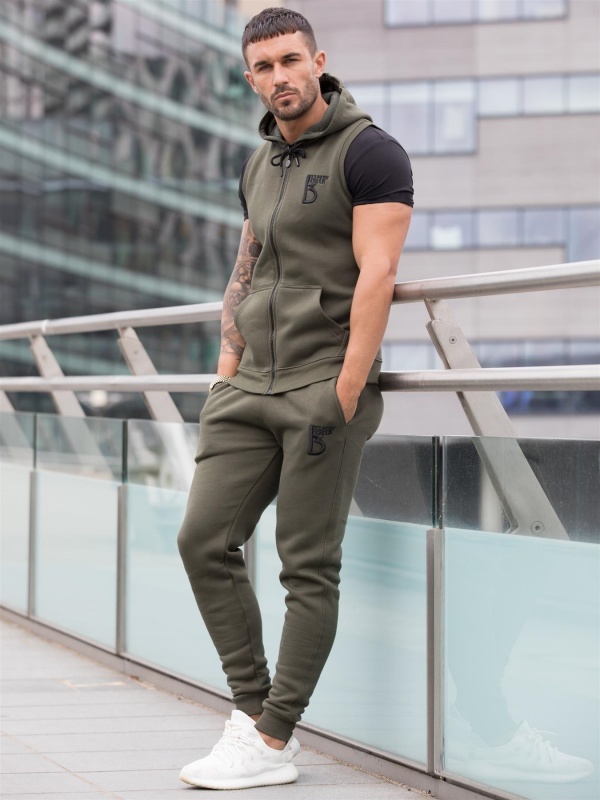 Tall and slim teenage guys are more conscious about selecting the right outfits! Hoodie fashion is a great idea to create a statement look by leveraging your height.
It is a perfect summer fashion to combine a sleeveless hoodie with baggy pants easily available around the markets.
Make it further appealing by styling it with a pair of sunglasses and stylish sneakers. Teens with a good physique can flaunt their muscles to woo chics around!
6. Tank Top With Jeans Outfit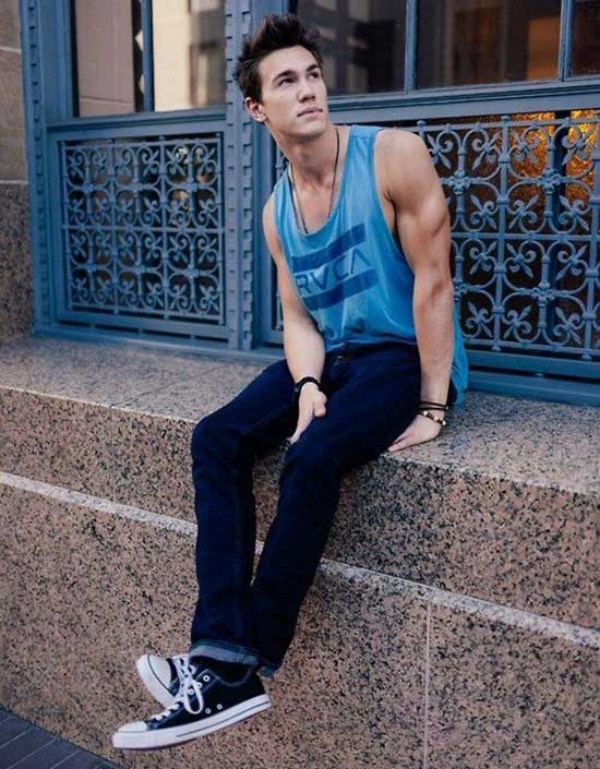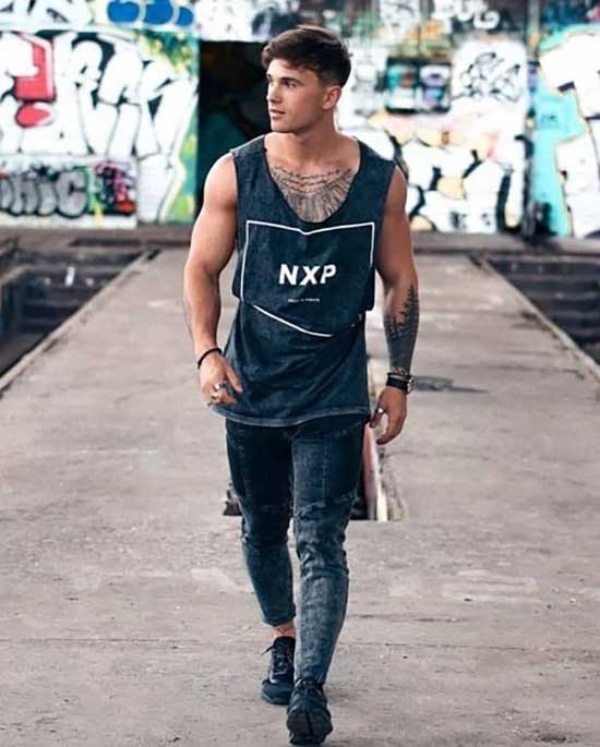 Roaming around in the streets in tank tops can be a great idea for teenage guys who wish to ace the fashion game.
Tank t-shirts with cool comfy jeans can be the perfect summer outfit that needs no approval.
Boys who sweat more and love their gym sessions usually love to wear this interesting combination daily.
Complete the look with a pair of cool sunglasses, and you could look effortlessly slayish!
7. Button Down Shirt With Sneakers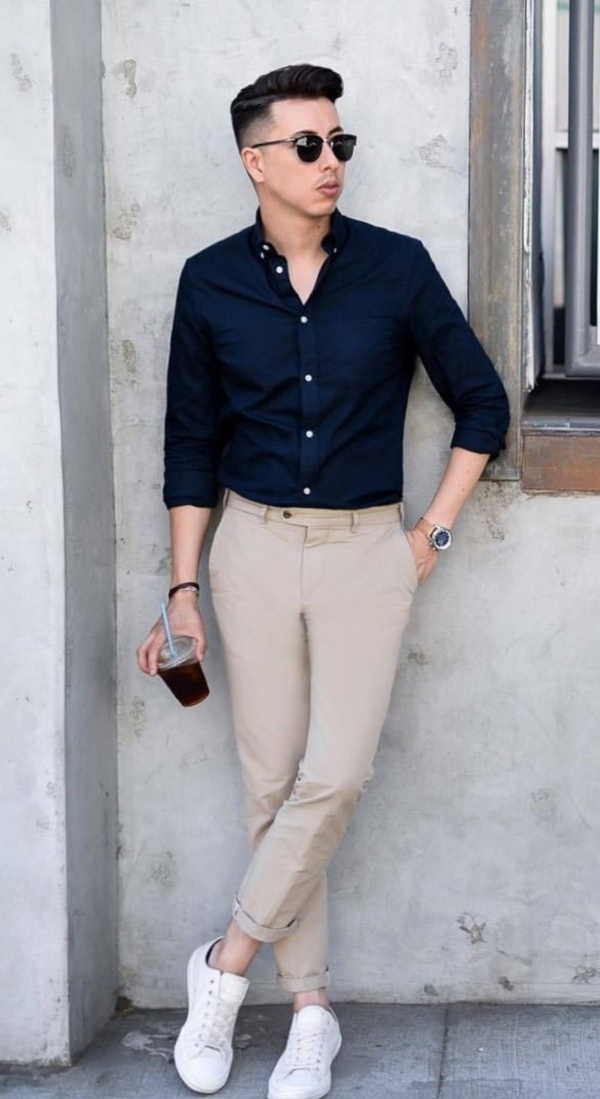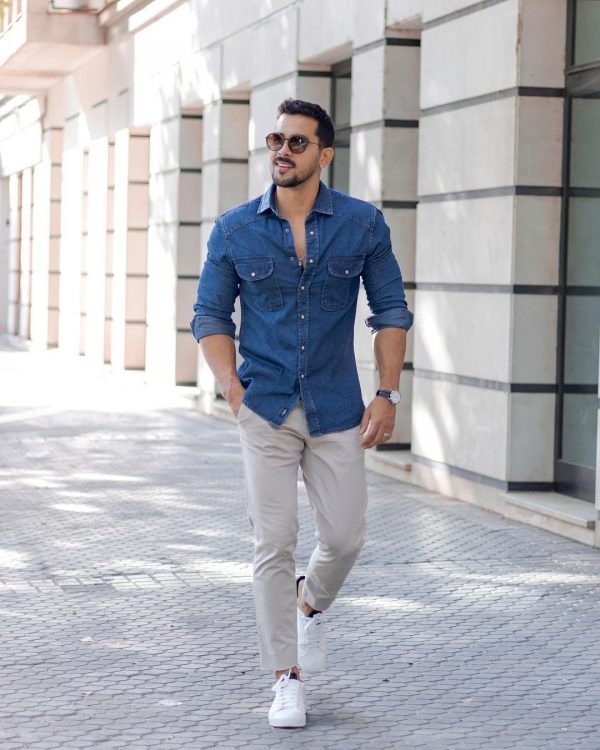 Whether it's a birthday party or a university presentation, the button-down shirt can never go off-trend on our list.
Boys favouring a more polished and clean look can embrace this combination by adding a fashion flavour to it.
Invest in a good pair of comfy sneakers and cool chino pants that enhance your shirt's look.
It is one classic combination usually found in every teenage boy's wardrobe!
8. Black Leather Jacket Styled With A Beanie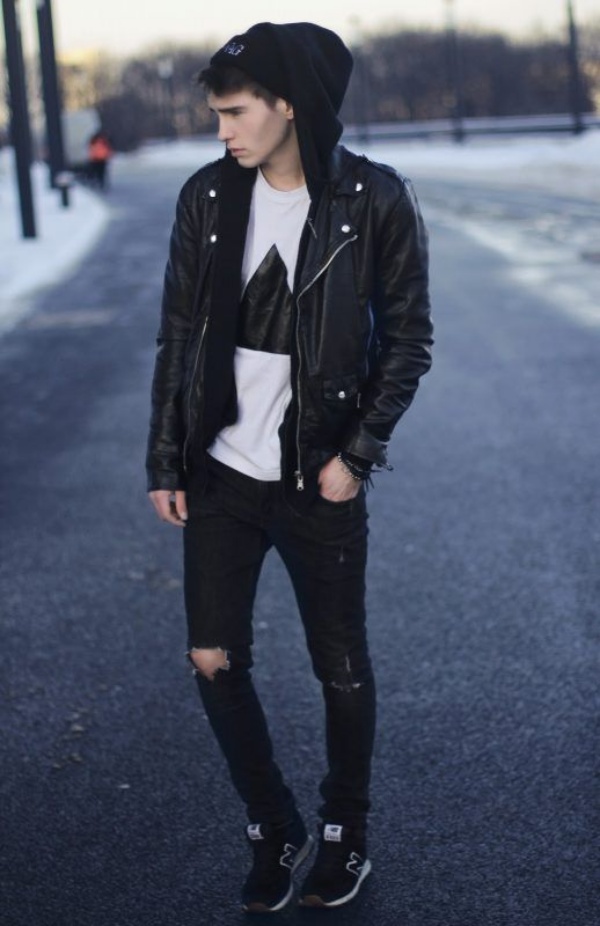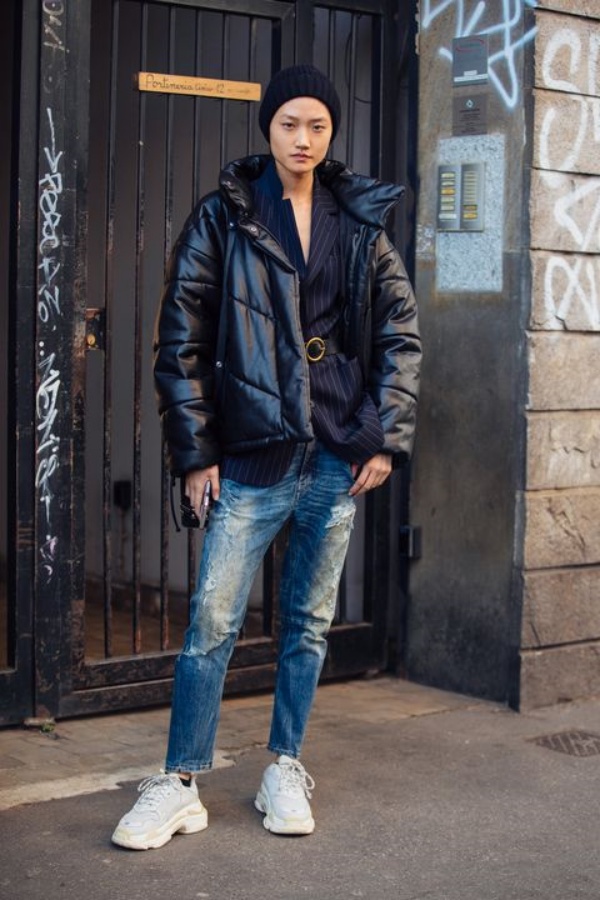 A black leather jacket and a stylish beanie can't escape the cool outfits that teenage guys love to adorn in chilling winter spells.
Purchase a nice black leather jacket that can give you 20 different looks if used mindfully.
The epic biker jacket is a hit amongst teenage boys who wish to look more flattering and want to get noticed amongst the rest.
Adding a comfortable beanie further spikes up the spirit of your outfit.
9. Go With Tie Dye Trend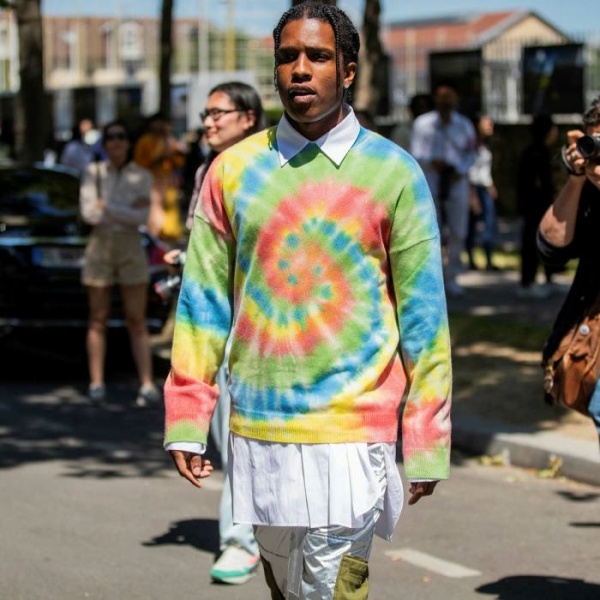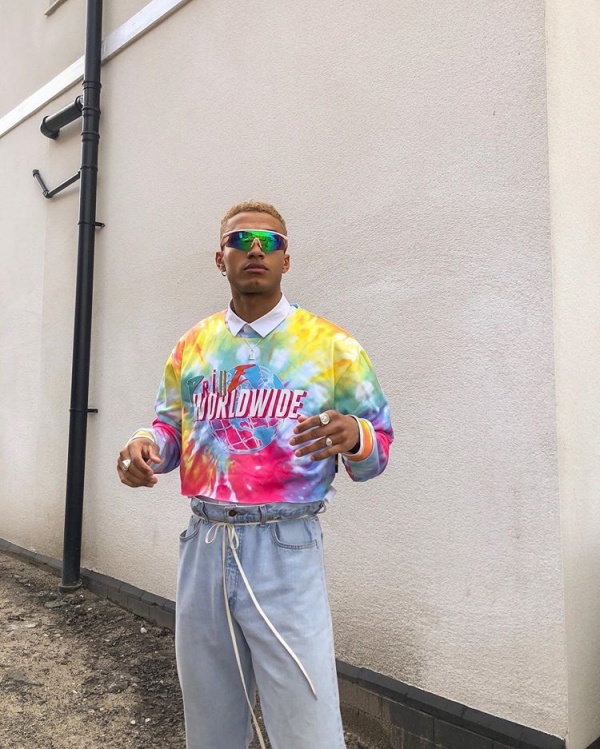 How about splattering some vibrant hues into the air? Claim your swag with this jaw-dropping tie-dye trend loved by teenage guys these days.
The particular multicolour style is suitable for boys of distinct age groups.
Pristine white background with a random splash of vibrant hues is a summer dressing that nurtures the vibe of colours.
The soothing effect of this t-shirt can add a striking effect to your personality!
10. Adding Scarf To Your Outfit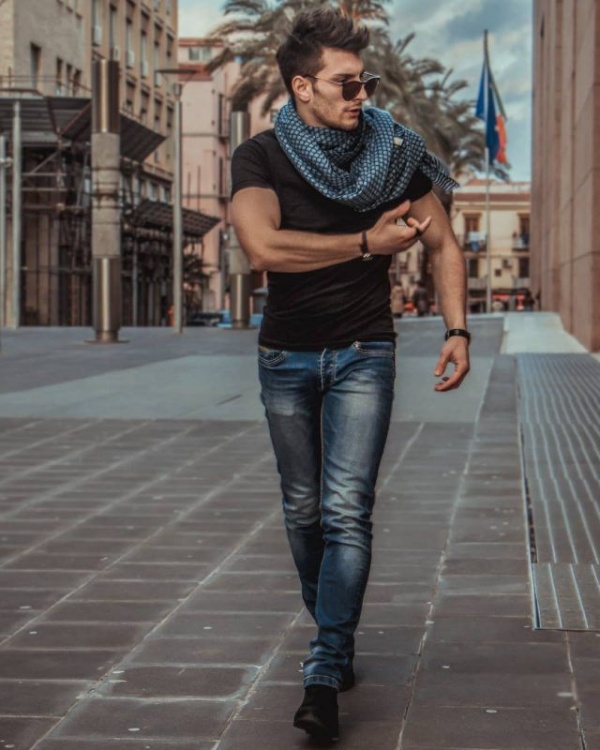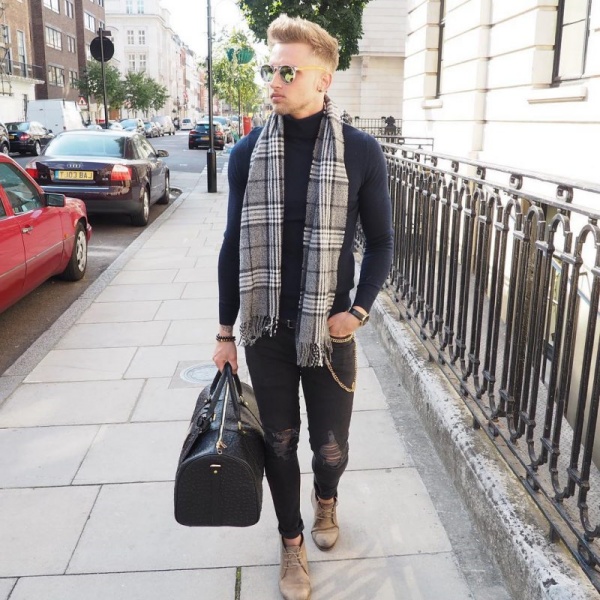 Who says only girls can adorn their outfits with accessories? Wearing a scarf can be a cute fashion trend that teenage guys would love to try this season.
Apart from protecting you against the summer heat, wind, storm and winter chills, it also adds a statement to your attire.
Trendy scarves can complement well with shirts, t-shirts and jeans of all types. So flaunt it in your style and be the head-turner!
11. Joggers With Hoodies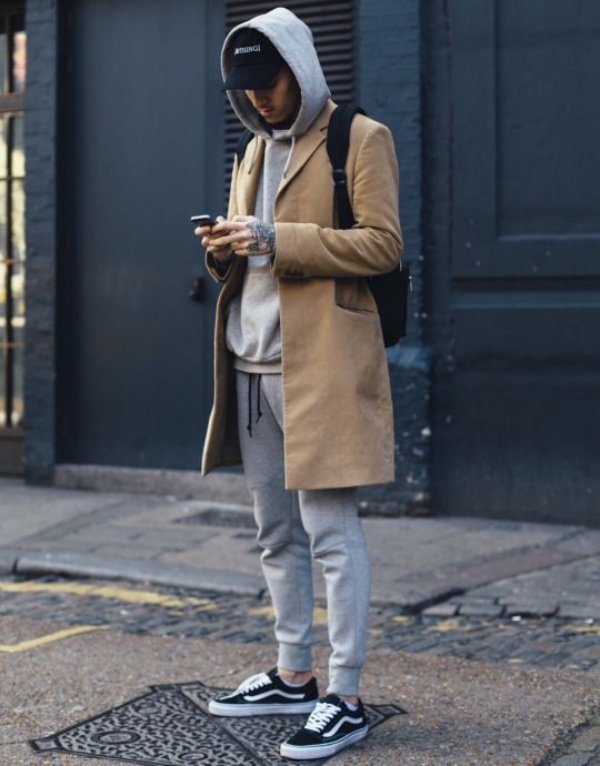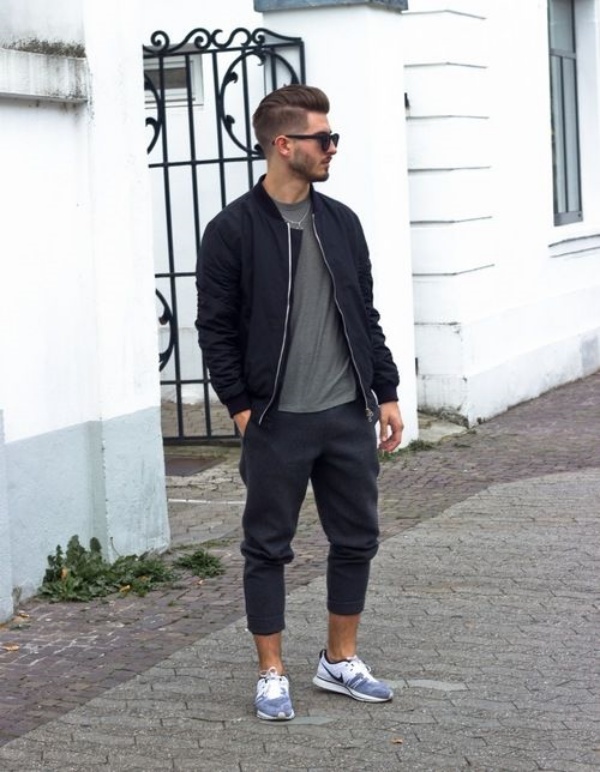 Do you want to adopt a style that lets other people keep gazing at you? Going sober and comfortable can sometimes be the best thing to crave for!
Jogger pants can be cool and easy to carry when combined with stylish hoodies. Many teenage boys even opt for these pants at their gym workout sessions.
Not just are they extremely comfortable, but they are also available in versatile designs and patterns. Go for it!
12. Polo T-Shirt With Jeans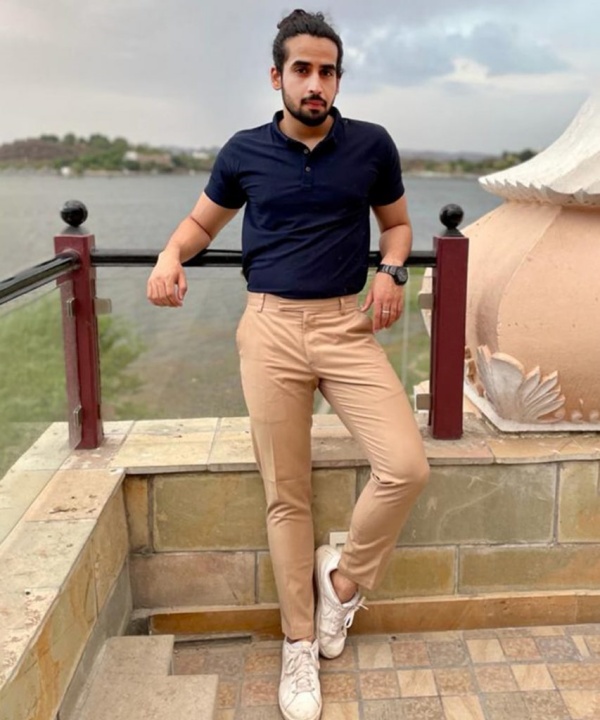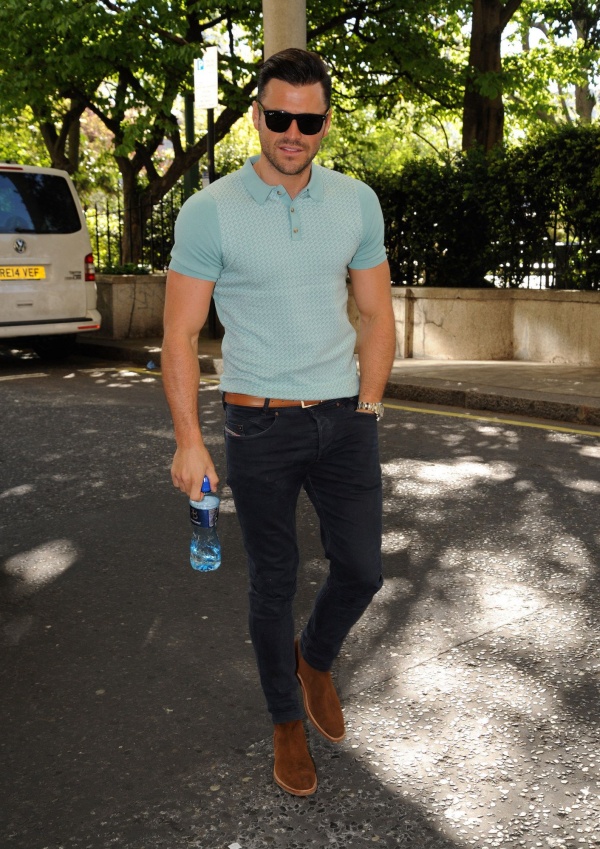 The 90's trend is still ongoing, and we think it might last for decades to come! The grace and elegance that polo t-shirts impart to one's personality are beyond words.
If you are amongst the decent, calm and composed boys who love being in their shells, then dressing up in this type of t-shirt can be a great thought.
Adding a pair of trendy jeans does all the magic, and you have a broad spectrum of other styling options with it as well.
13. Cardigan With Chinos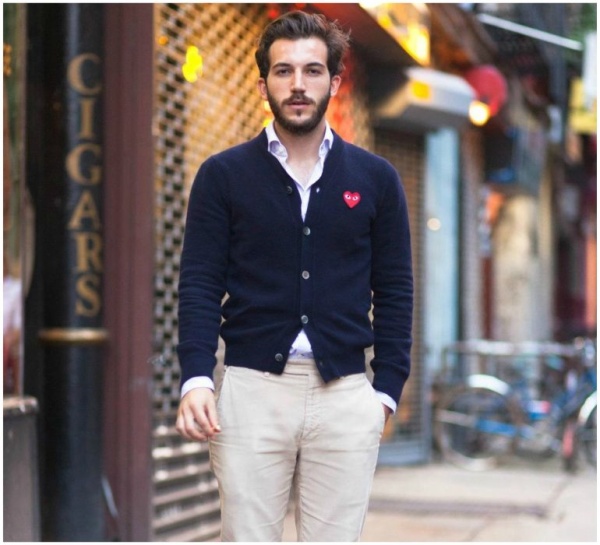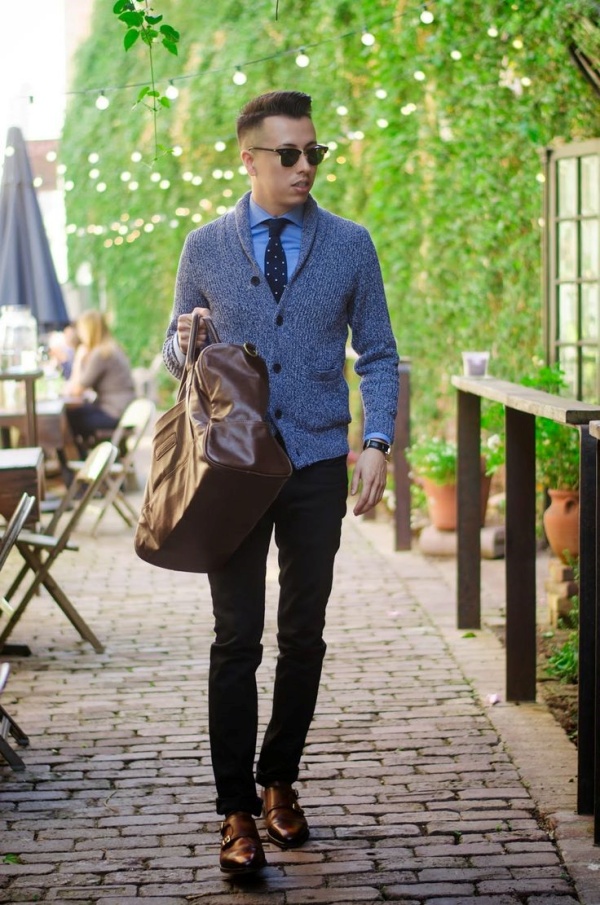 When winters freeze you deep down, it's time to deck up in a cardigan look paired with chinos that makes you look like an old-school boy.
These trendy outfits can surely compliment the teenage guys who prefer a sober appearance and want to get layered up against the cold.
Ankle-length chino pants give a dramatic touch making you look more edgy and handsome. Be choosy with cardigans!
14. A Plain T-Shirt Layering With Oversized Plaid Shirt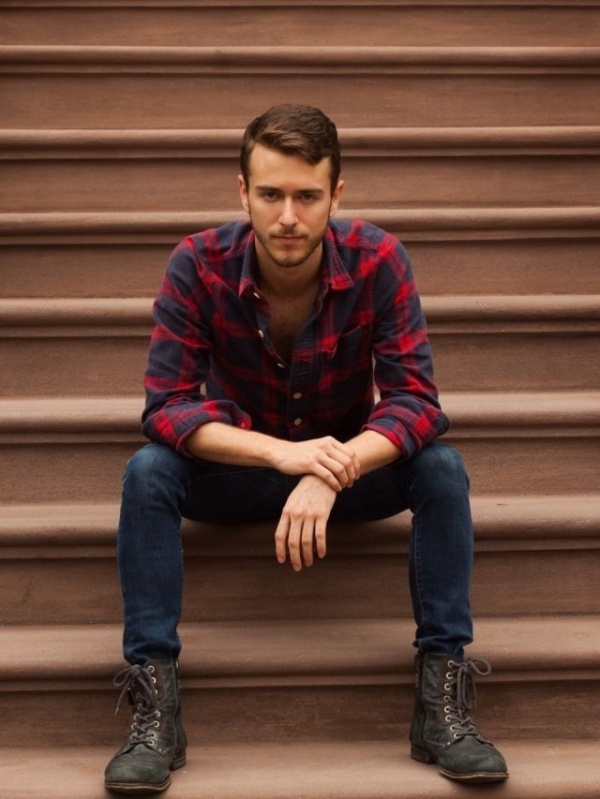 Are you looking for more relaxed casual outfits for teenage guys? Get a plain t-shirt and layer up an oversized plaid shirt over it for a fine appearance.
Many young guys have a slender build, and this outfit makes them look a bit bulkier and fuller.
It is a prominent dressing style adopted from top movies where t-shirt and shirt are in complete contrast to one another.
Satiate your shopping spree by getting this combination, and you are all set to go!
Awesome Summer Outfits For Teenage Guys
How to beat the summer heat in style? Check out the list of amazing summer outfits that could make you look trendy and cool effortlessly.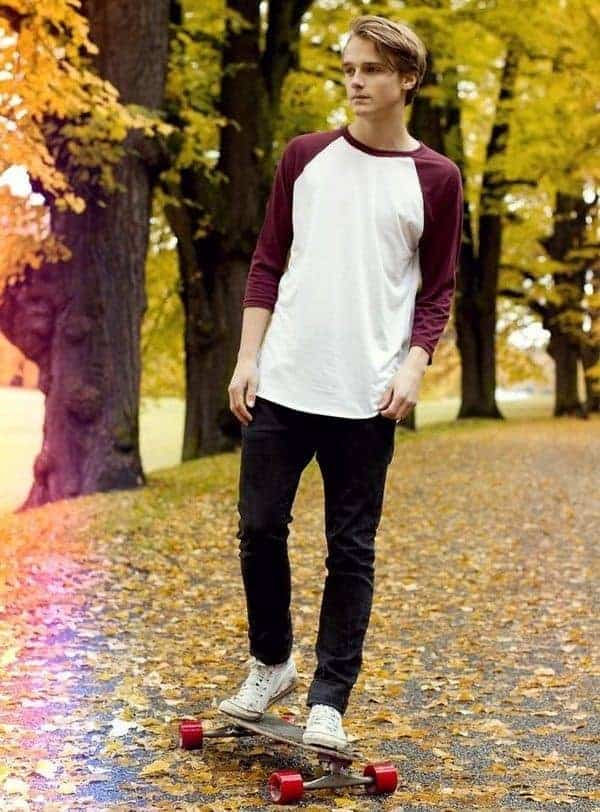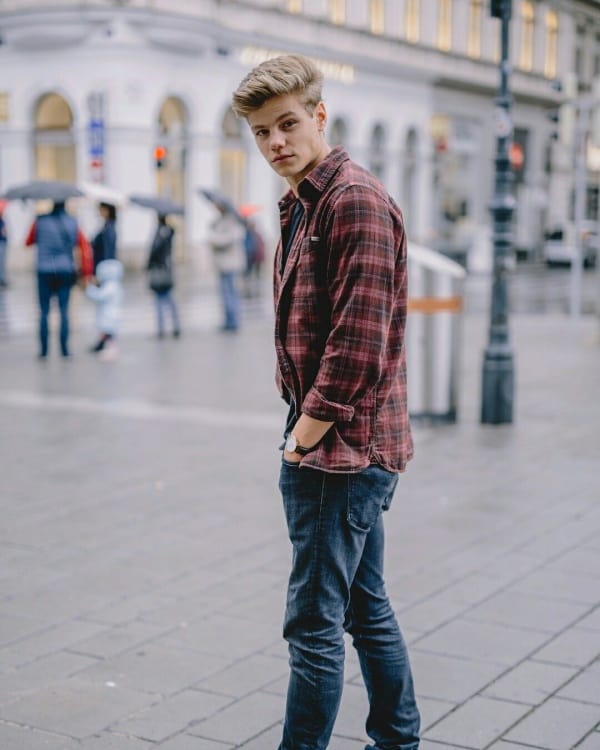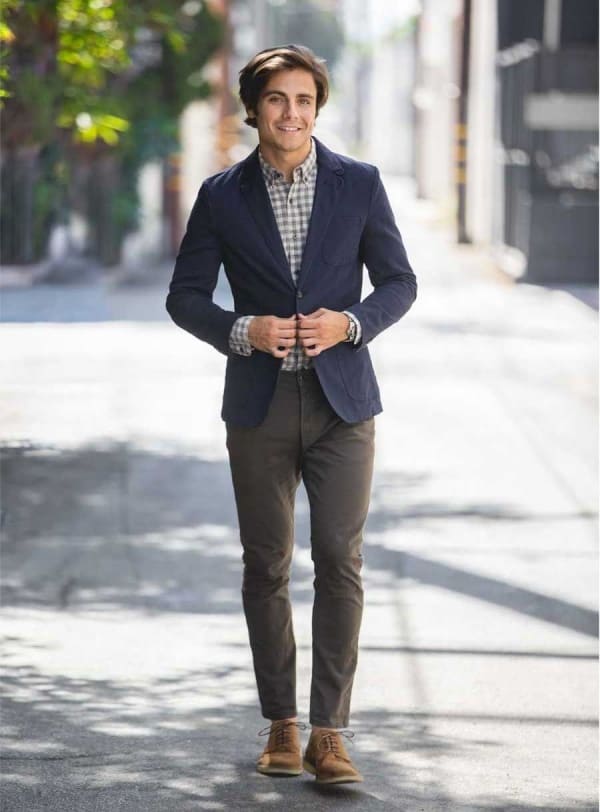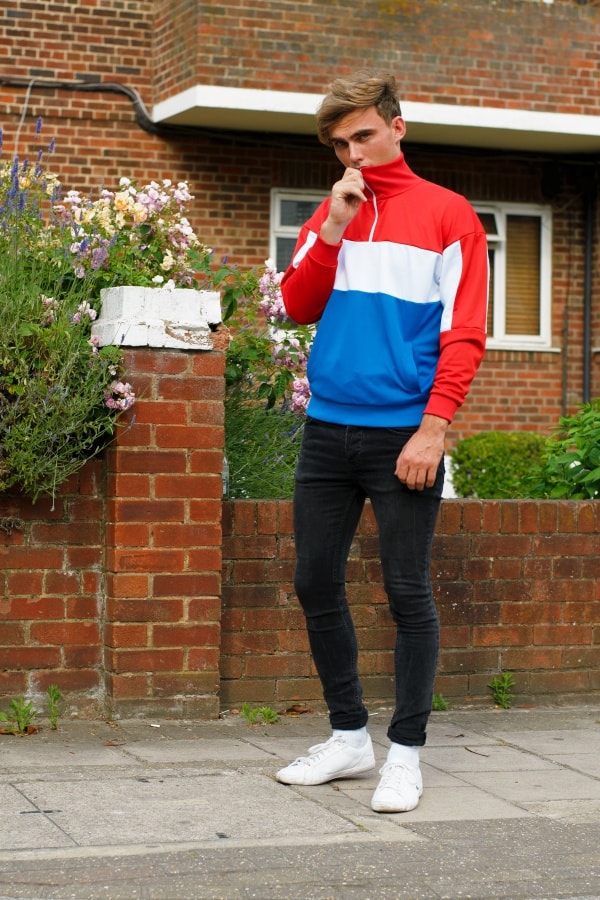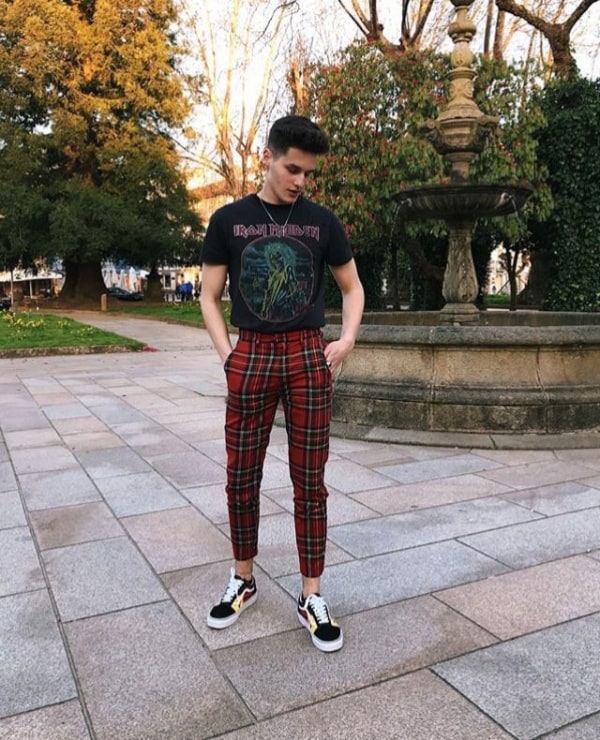 1. An All-White Ensemble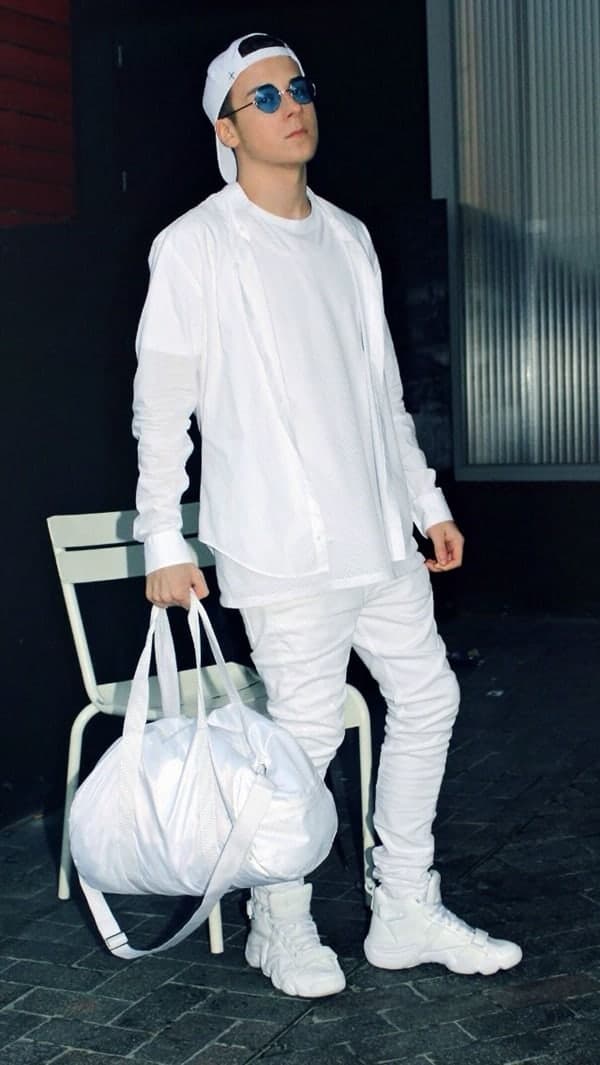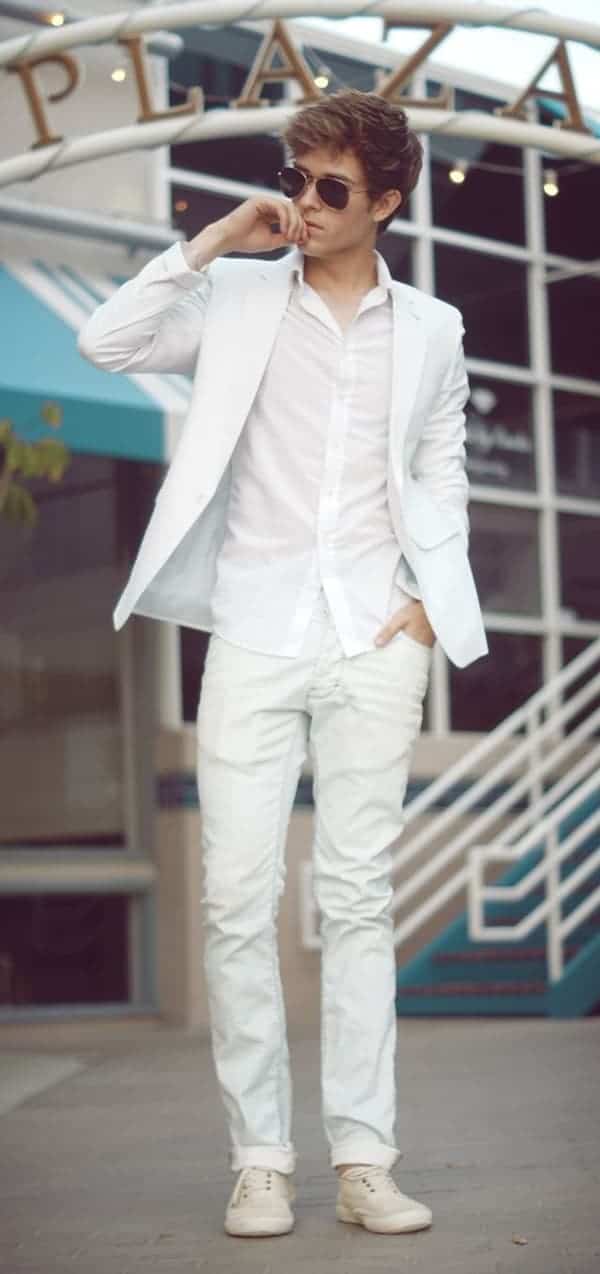 They say black is classy, but white is ROYAL! Undoubtedly, the number of styling options you have in an all-white look is unmatchable.
The vibes of surreal white outfits can raise your fashion game to a completely new level. There are so many unique varieties available in whites that it's confusing to pick the best one.
Our favourites are the white casual full sleeve t-shirt look with white cotton pants or the white blazer with a white chino and cool sneaker look.
Be playful with your whites, as they never go wrong!
2. A Checkered Shirt Teamed With A Pair Of Jeans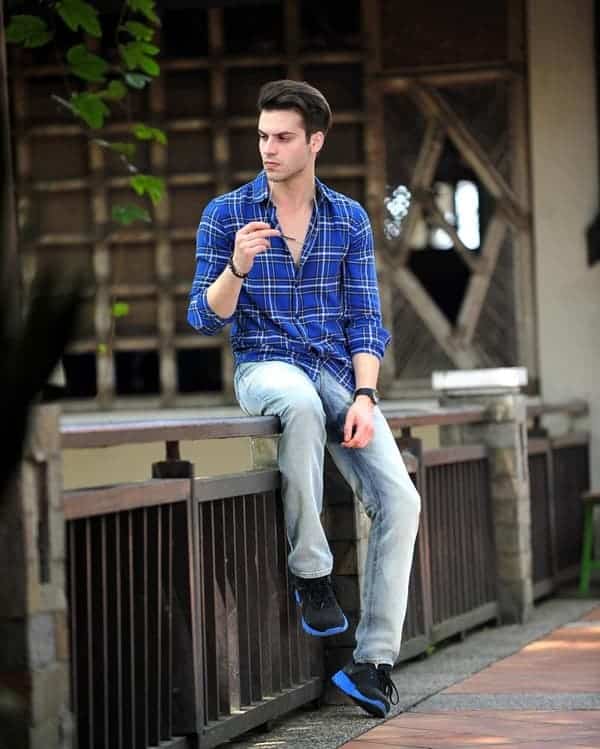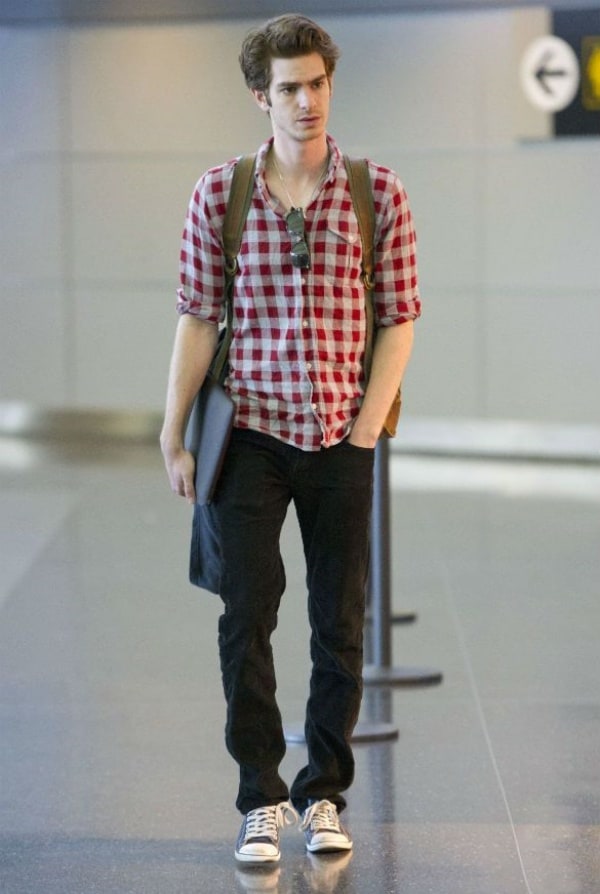 If you are pondering over some swag outfits with detailed features that uplift the personality of teenage boys, this one deserves a try!
The mind-blowing blue or red checkered shirt with a pair of dark jeans can create an intense combination which looks appealing.
One can style it in versatile ways to match their taste and choices. So be the cool dude and stay naturally stylish with this boy-next-door fashion trend!
3. Shorts And T-Shirts Combination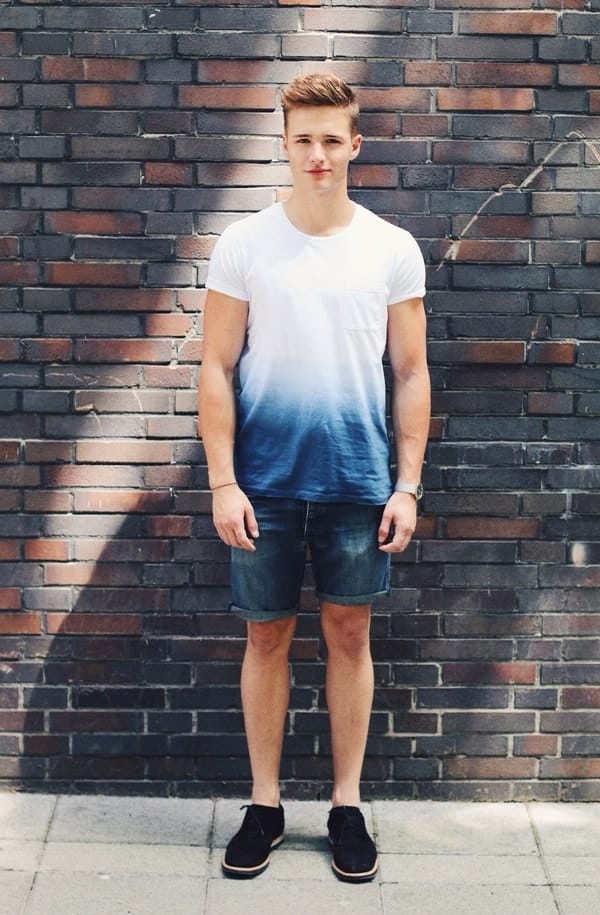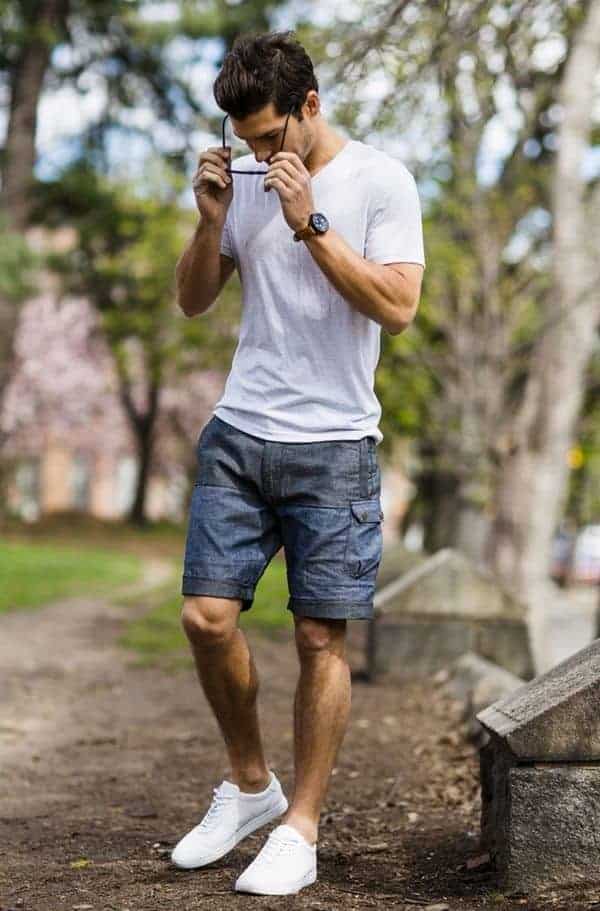 Beat the summer heat with this cool outfit idea that most teenage guys going off to play are in love with!
The comfy knee-length shorts paired with a breezy t-shirt can be the most comfortable outfit in your wardrobe.
Boys can wear shorts with any t-shirts they like and flicker with different shades and combinations of tees.
It is the most affordable outfit option as you have a plethora of such options easily available in the market.
Boys can also try out funky shorts and plain t-shirts as they appear more striking and noticeable.
4. Cool Denim Shirt And Jeans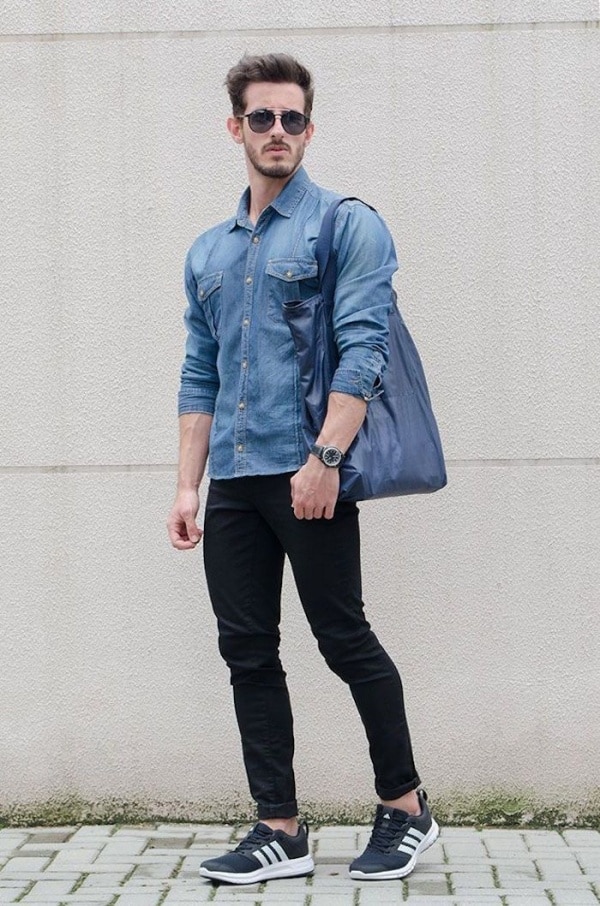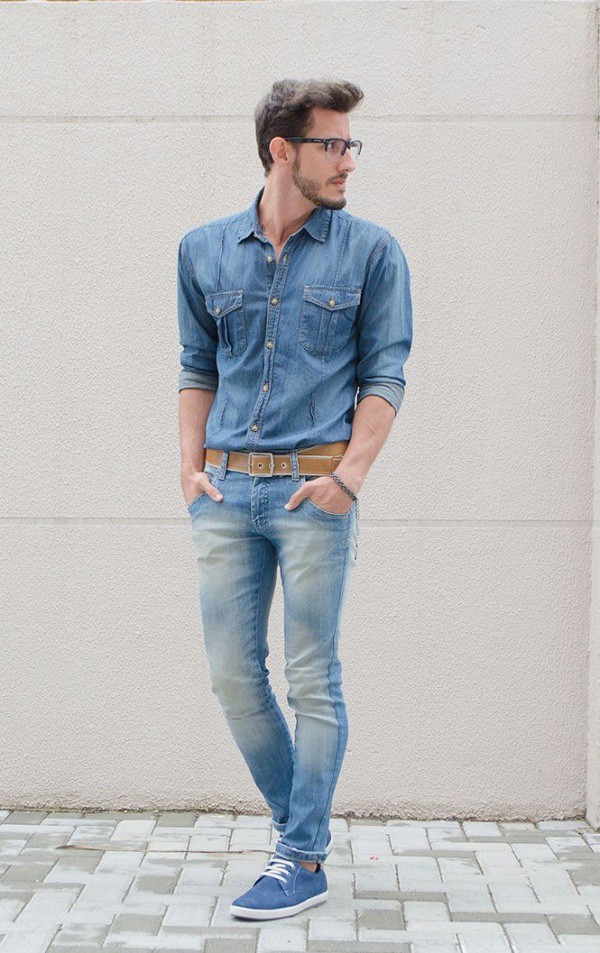 Accentuate the grown-up man in your teen look with an epic combination of the denim shirt with jeans. It is a highly preferred fashion pick chosen by men with masculine and strong personalities.
You can look quite handsome and amazingly graceful in all denim looks. One can try different denim shades and combinations to grab the desired cuteness level.
A tan brown belt over this look adds up to your monochrome look. Going all denim can only add more style and grace to your personality.
5. Camouflage T-Shirt With trousers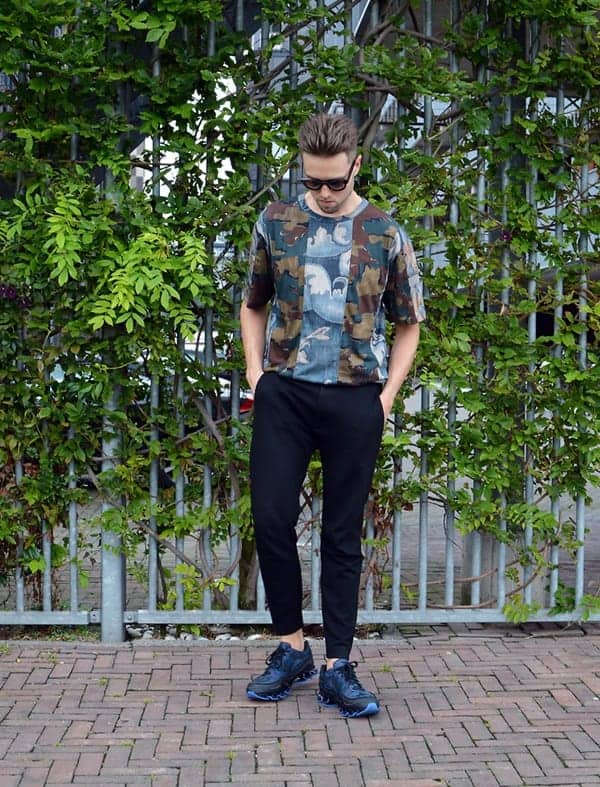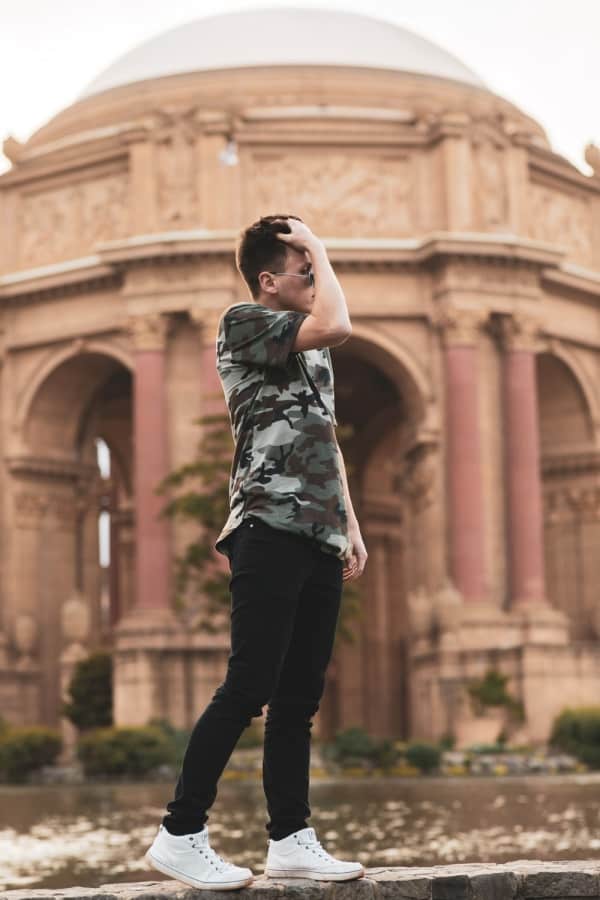 Yet again, we can't resist the camouflage swag! The thump and fad of camouflage t-shirts can never grow old, and neither have we wished it to be.
Flaunt your stylish teenage vibe with this camouflage t-shirt paired with a cool pair of trousers that you feel comfortable carrying.
We bet this can be a deadly combination that could grab the attention of all those lovely girls in your college! It is a unique and fascinating style to go for.
Many teenage guys also nail this style by wearing chunks and accessories for an added glam quotient!
6. Floral Print Shirts With Jeans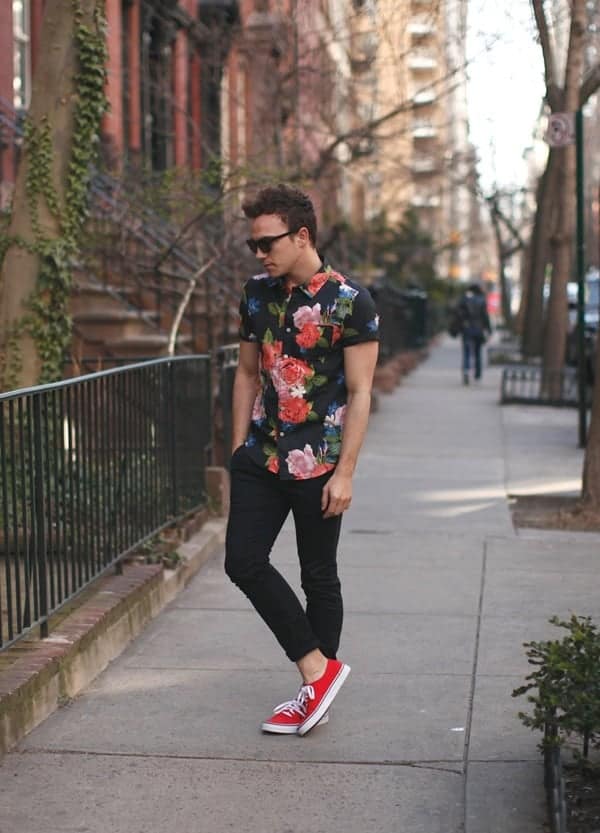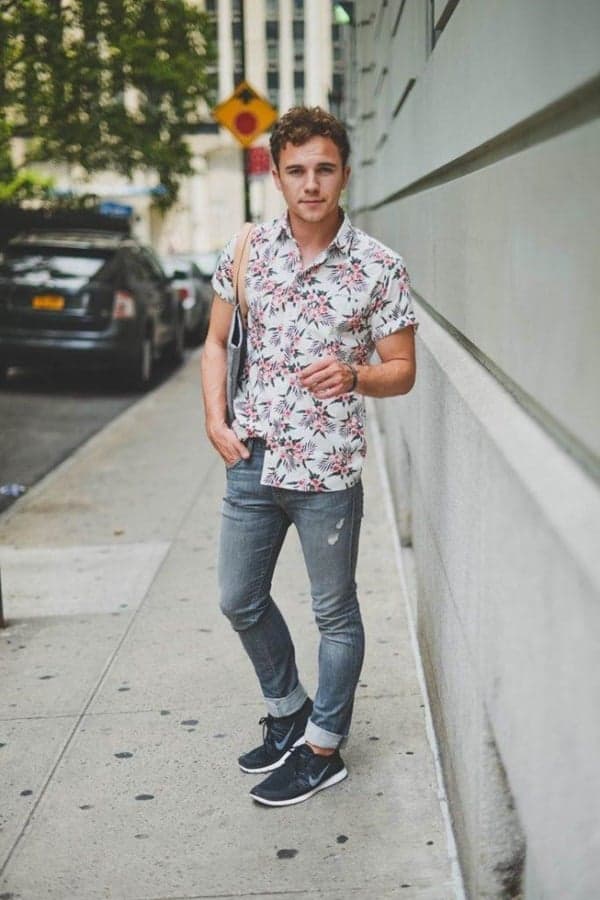 The cool summer-friendly floral print shirts are the next upbeat trend that teenage boys must not miss out on. This wonderful styling option has gained great popularity around the time.
Blooming sun and vibrant floral prints are an impeccable combination that is simply perfect. Opt for breezy fabrics like cotton to keep you cool under the scorching heat.
This style of outfit can easily shed off that summer hotness and bring in some light around you. Go for a bit loose and comfortable jeans that are easy to wear all day long.
7. A Striped Shirt With Denim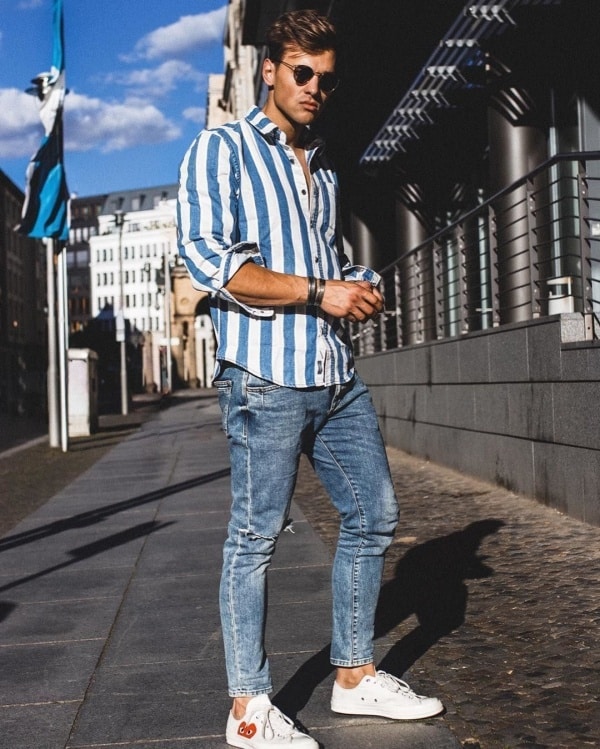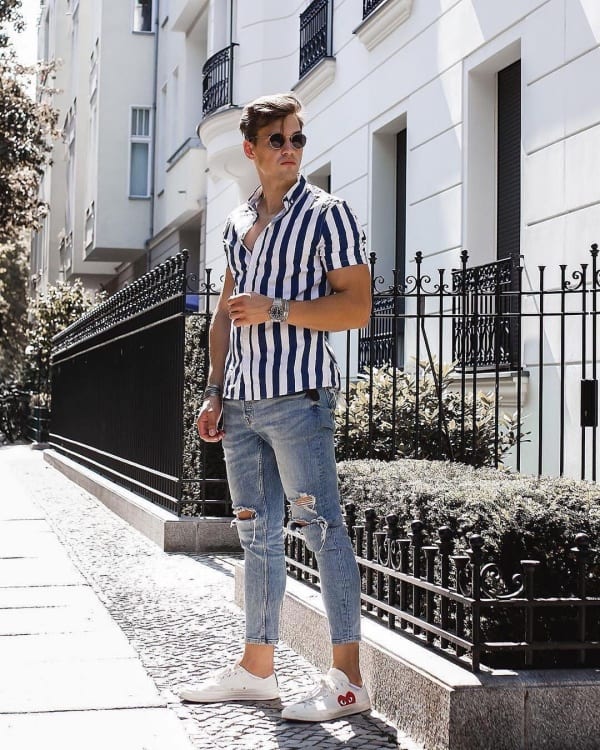 White and blue stripes give you a celebrity glamour and a striking appeal that one can't miss out on.
You might have spotted many actors wearing the striped shirt and denim combination, giving them a dashing appeal.
So why not rock the teenage style with the same combination?
Though any type of stripes can work for this combination, the charisma of white and blue is unbeatable. It holds a class and elegance that's worth every penny.
It is an ultra-modern classy combination that perfectly suits the smart guys who are not willing to compromise on fashion and comfort both!
8. Graphic Tee With Ripped Jeans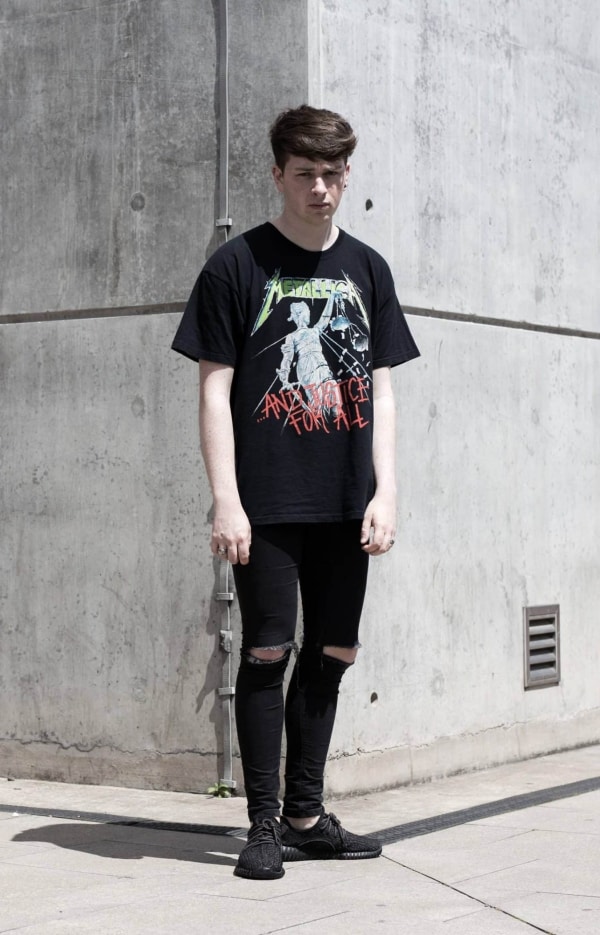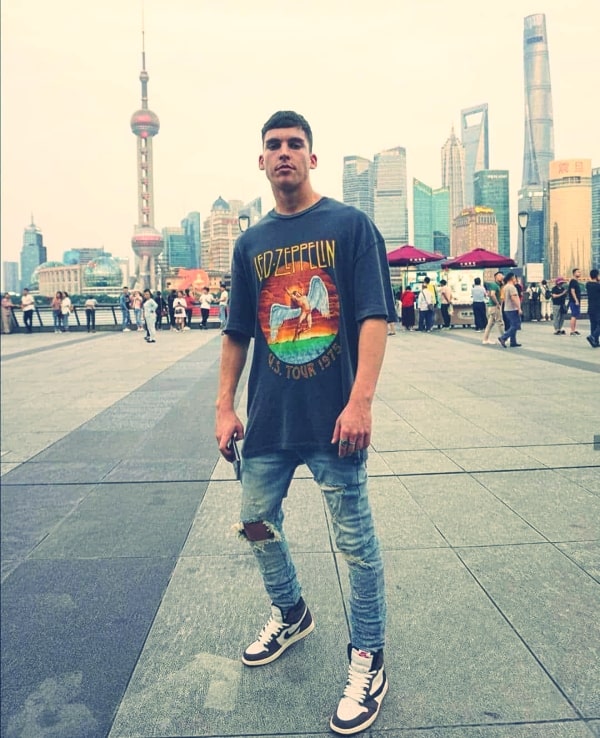 The ever-popular summer outfit for teenage boys available in the market is a graphic tee and ripped denim jeans. College and school boys love graphic prints as they can style them in versatile ways.
You can also go for personalized graphic tees that give you a unique identity and makes you stand out from the rest. Ripped jeans can further add charm and strength to your cut look.
Young guys love to experiment with versatile graphic t-shirt styles like radium, 3D prints or the ones with cartoon characters imprinted on them.
Fashionable Fall Outfits For Teenage Guys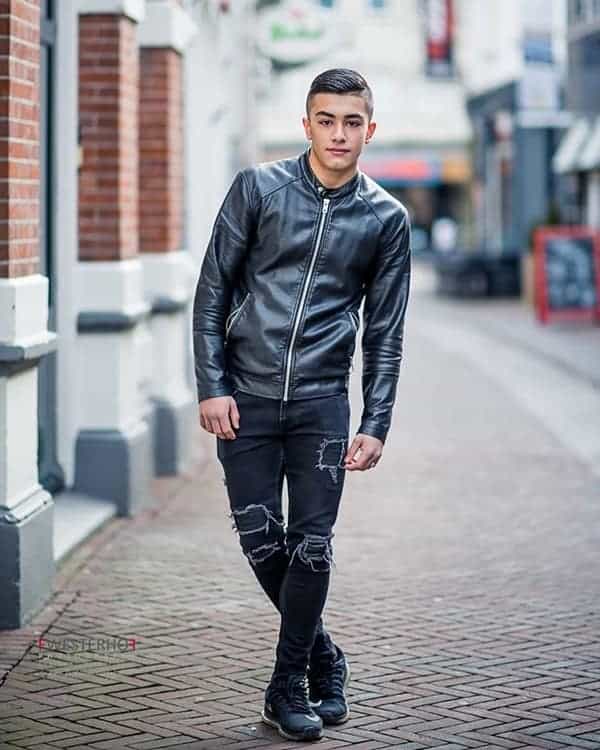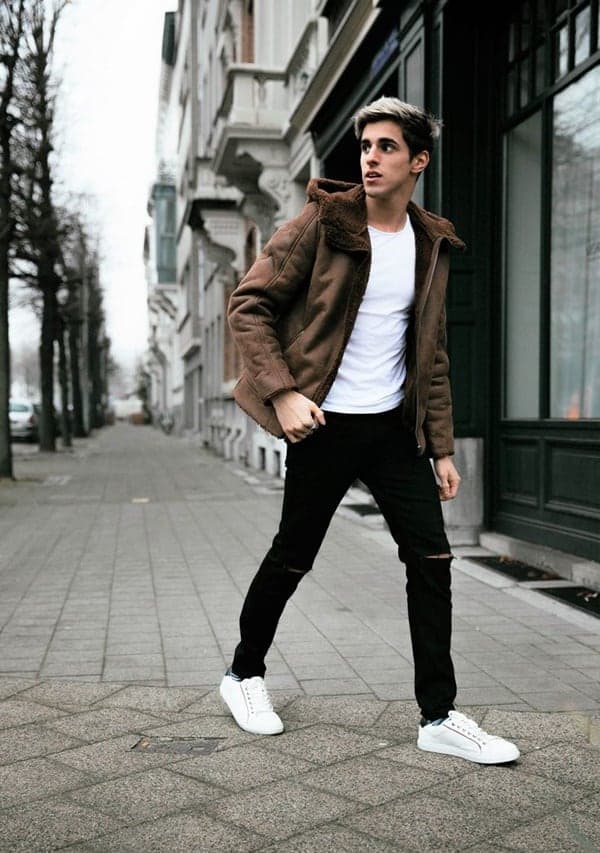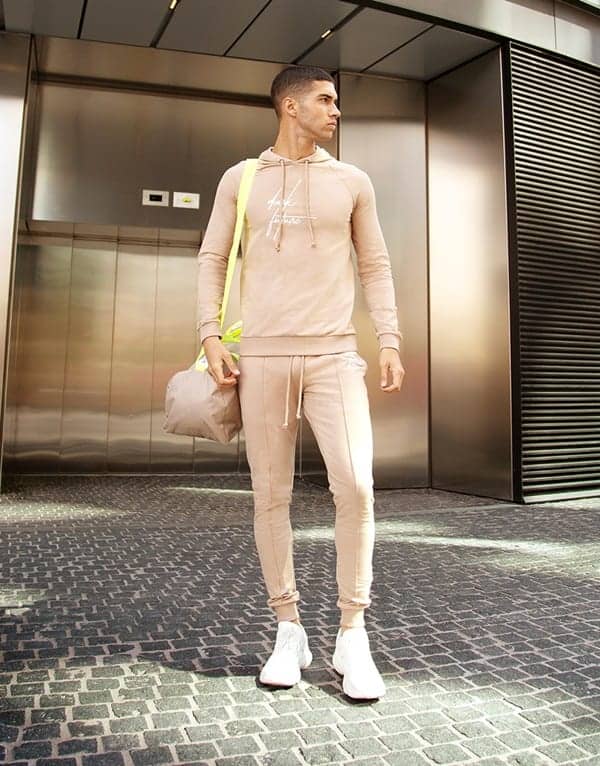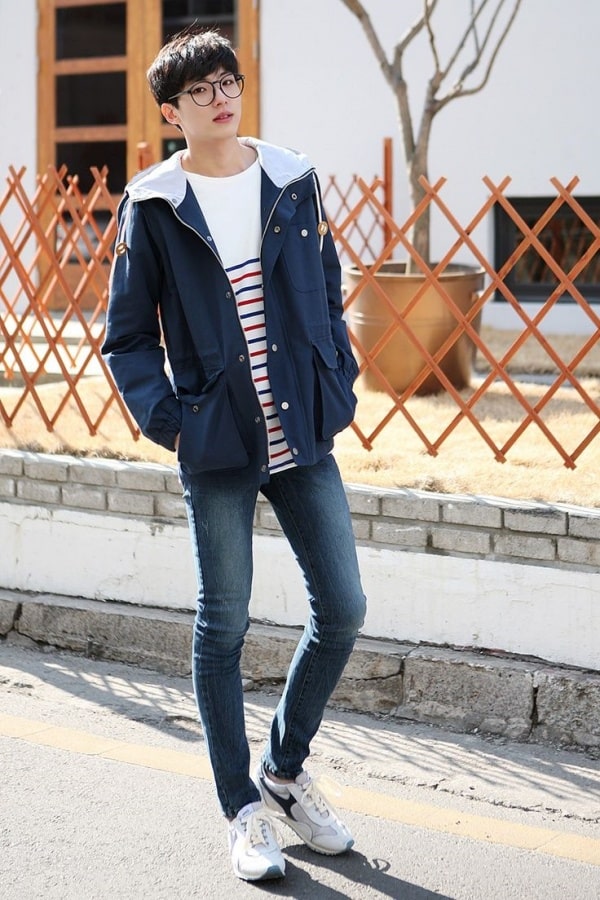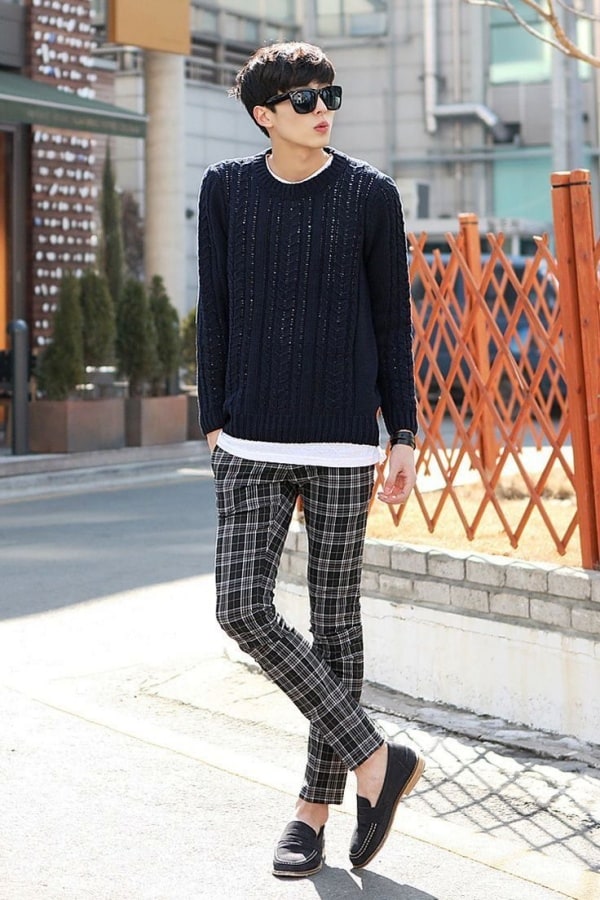 1. Leather Jackets With Fitted Pants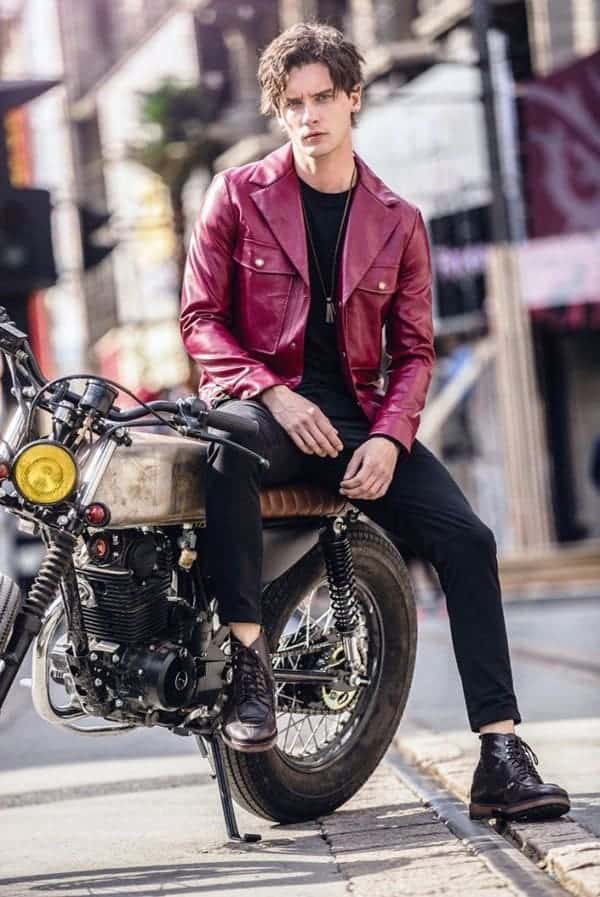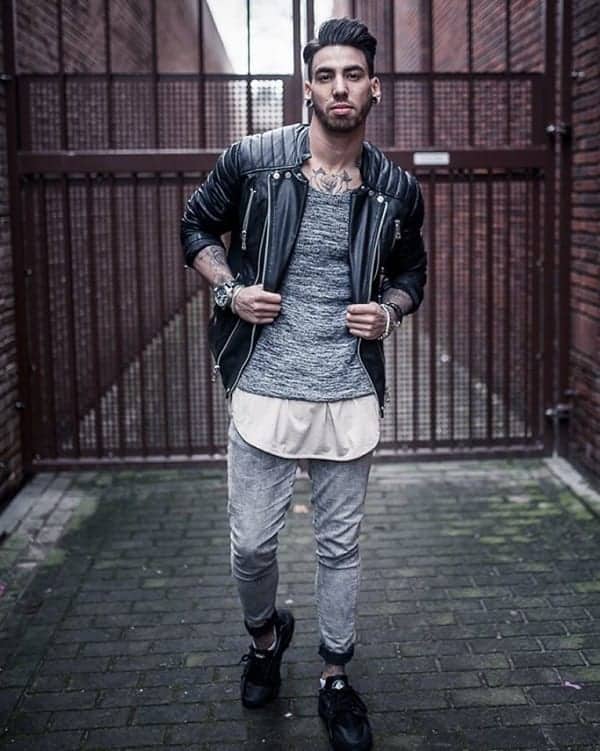 Fall outfits demand layering, and we bring up the best outfits that teenage guys can carry off like a pro, even in winters.
The leather jacket is a timeless classic staple that would never escape the fashion realm ever.
Men and boys have a soft corner for leather jackets as they create a unique style statement that's hard to beat.
Staying cosy is essential in winter, and wearing fitted pants could give you the required warmth.
A plain top, black fitted jeans and a zip-through hoodie below the leather jacket with street-style shoes complete your look!
2. Sweatshirt And Jeans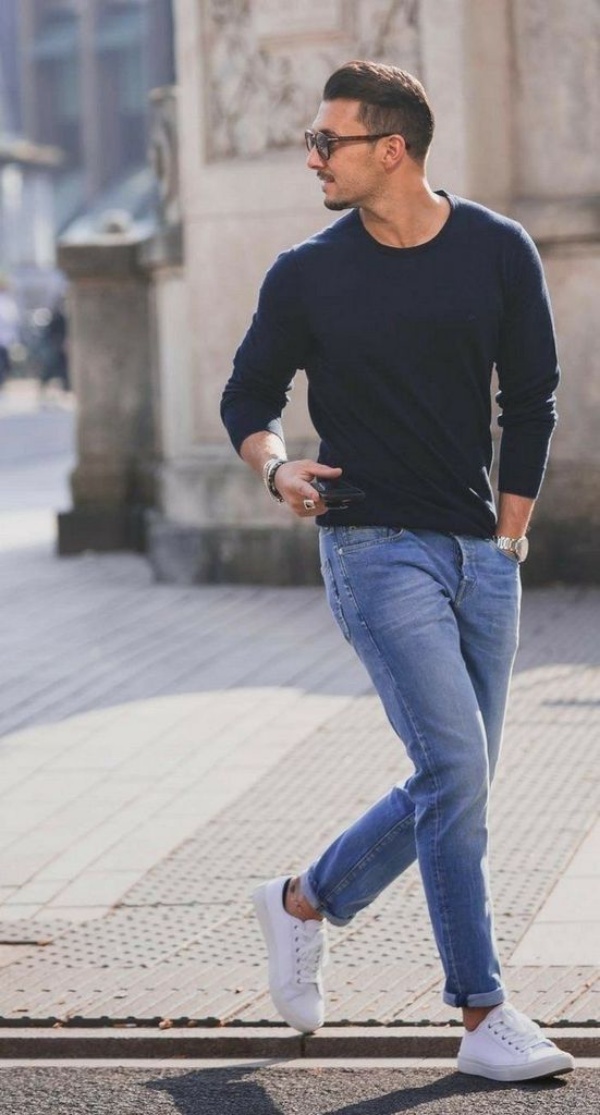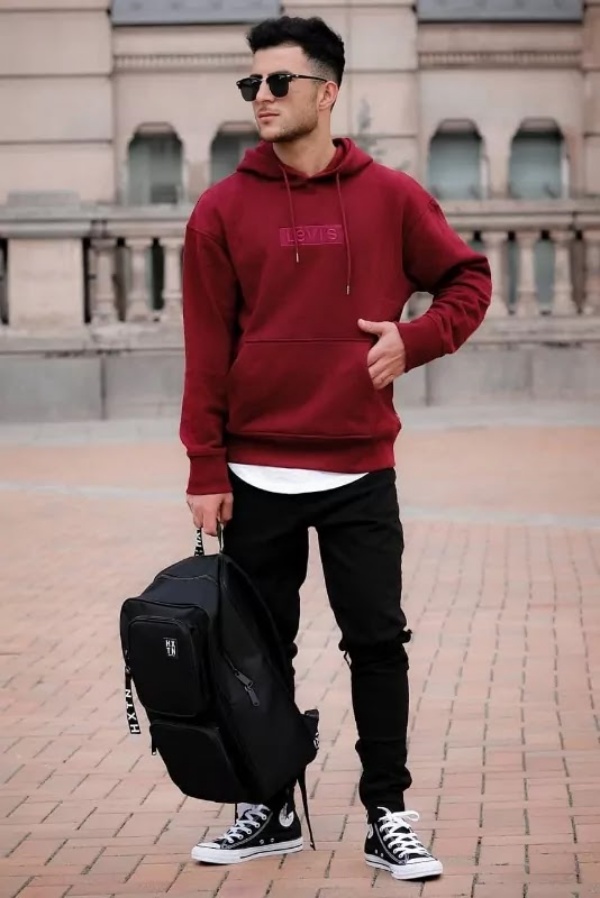 Cosy sweatshirts impart a new length and extension to your personality. Cute teenage boys can look simple yet flamboyant with a sweatshirt and denim look.
Denim is the winter's best friend as they can never go wrong in wrapping you up for the cold days.
An oversized sweatshirt accentuates and broadens your shoulder width, thus giving it an additional dimension that syncs with your body structure.
Acid-washed jeans are a good call to complement this as it provides that rugged vibe most teenage guys love to chase. After all, every guy wants to get that manly appeal!
3. Turtleneck With A Sherpa Jacket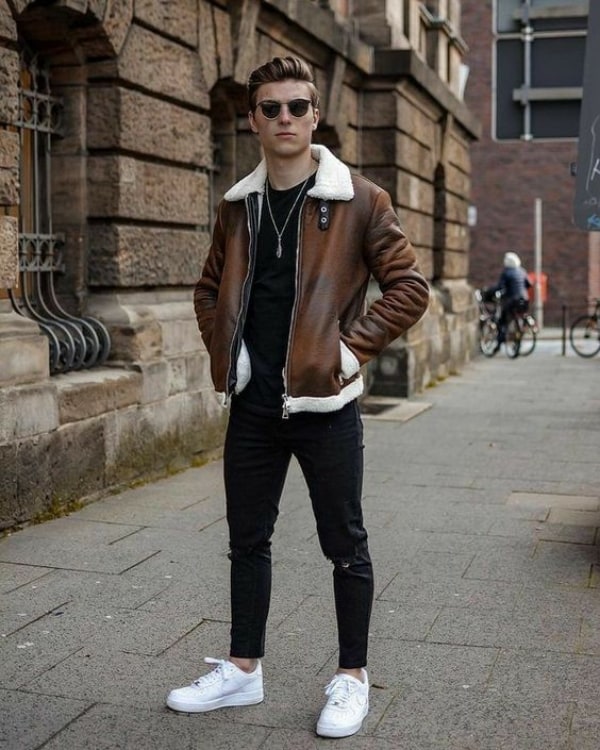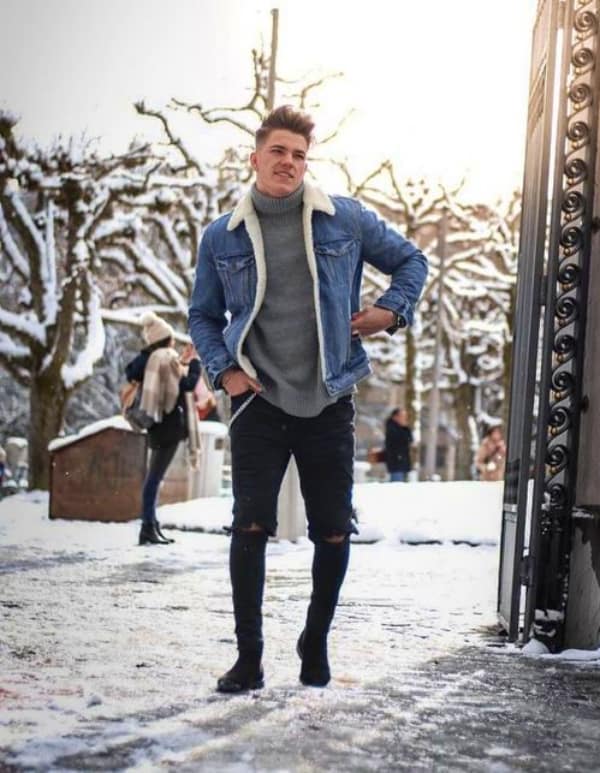 Turtleneck t-shirts serve as the classic winter wear giving cosy vibes during the moment of fall.
They can provide you with a more relaxed appearance while you are busy juggling between study and work schedules.
Layer it up with the furry Sherpa jacket, patterned trousers and the casual style shoes that make you look more handsome.
Don't bother about the colour options, as basic deep hues and denim never go wrong.
If you are going on a day date or willing to hang out with your buddies, this combination is surely a noticeable concept to go for!
4. A Sweater Matched With A Pair Of Jeans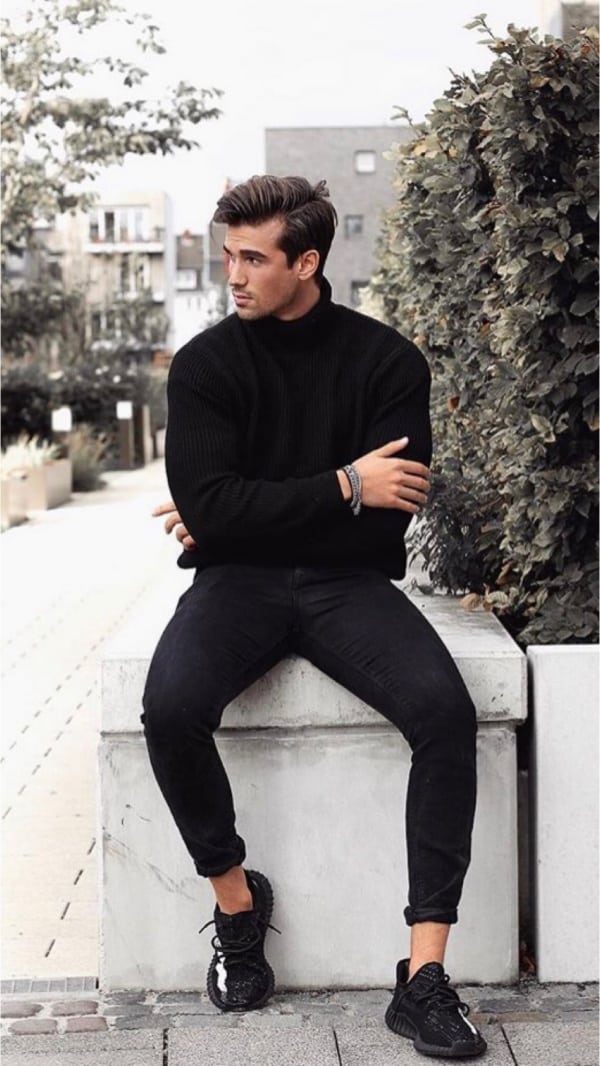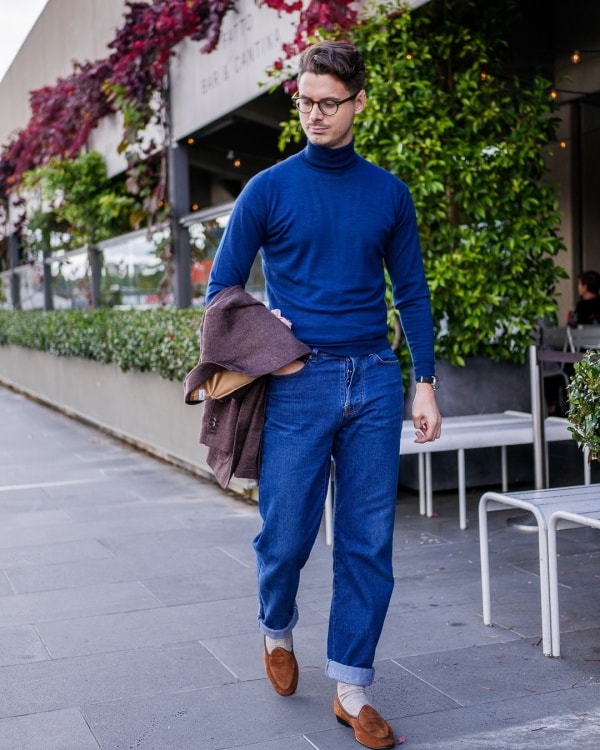 Are you sneaking for a monochromatic winter look? Match up your sweaters with a pair of jeans to create that havoc-style look that's perfect for the upcoming fall.
Styling sweaters is tricky if you don't check for their fitting and styles.
Create a unique winter fashion code by selecting a classic sweater-denim combination that fits you perfectly.
Adding up a scarf to this everyday outfit is a great idea.
If you wish to get decked up for an upcoming party or event, go for a chunky sweater, party pants, and casual shoes to look more polished and stylish!
5. Denim Jacket With Jeans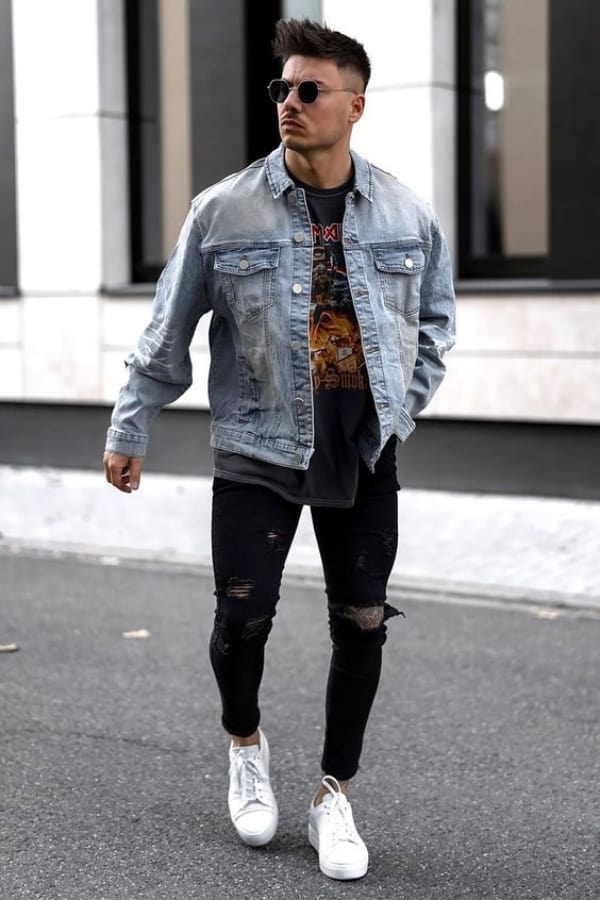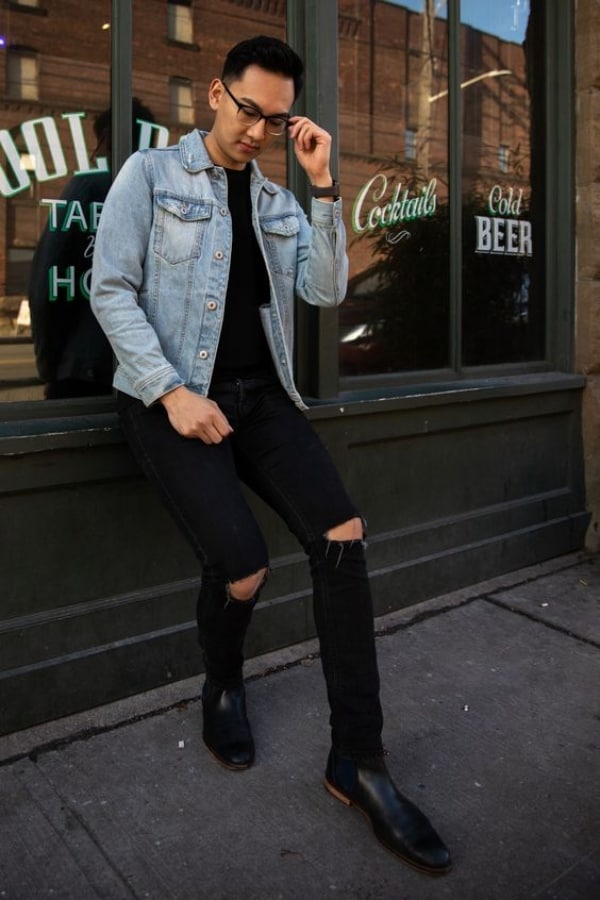 We are short of words when it comes to the relationship between men and pieces of denim! The vogue of denim jackets comes in versatile styling options that help elevate the style game over the top.
One can coordinate the semi-formal and casual styles both with denim magic. Try acid-washed jeans with a simple tee and layered denim jacket over it to complete the appearance.
Denim has no option of fading out, and there are ample ways of styling it with various shirts and tees that could enable you to rock the look.
6. Bomber Jacket Paired With A Tee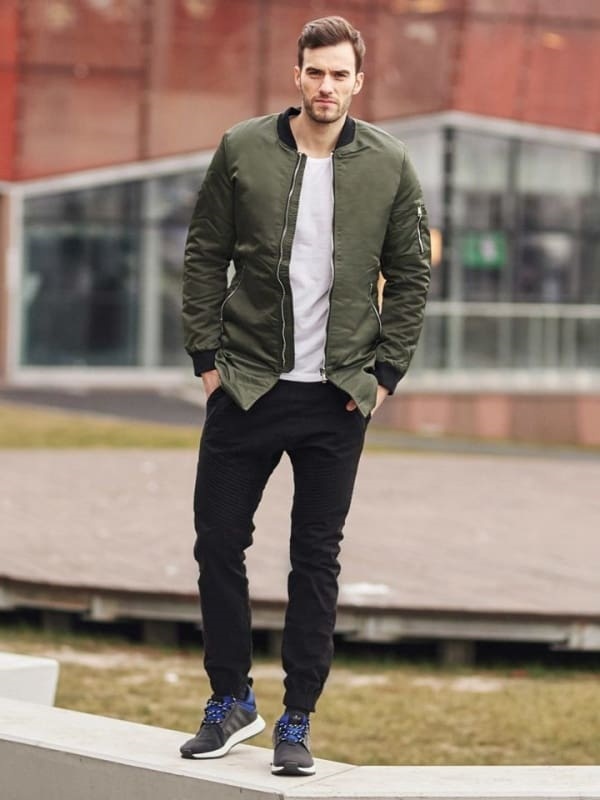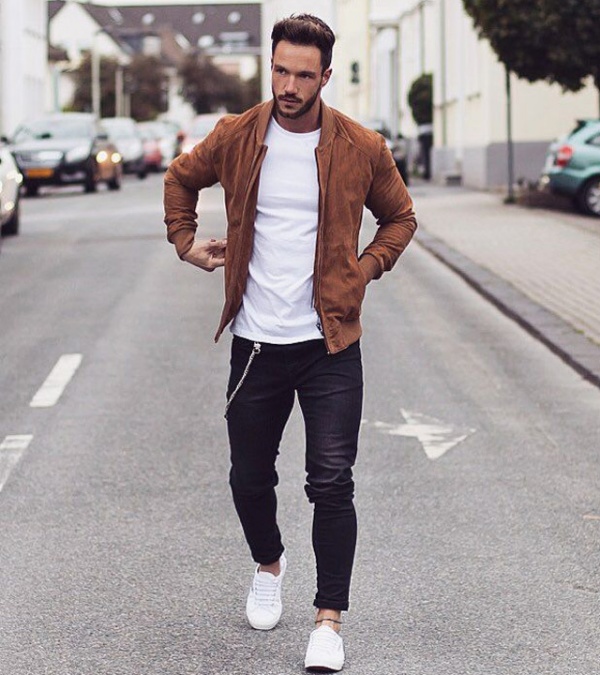 7. Hoodies With Shorts For Teens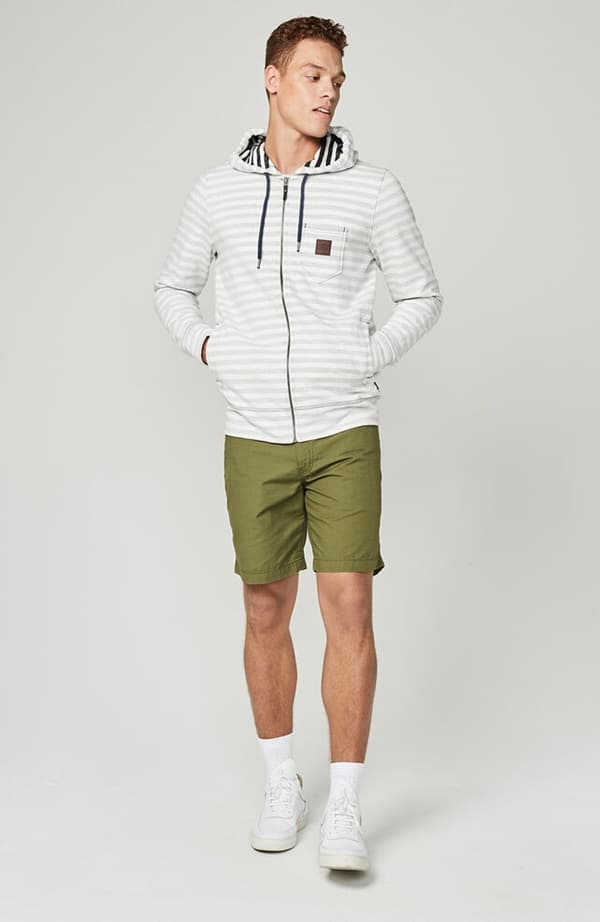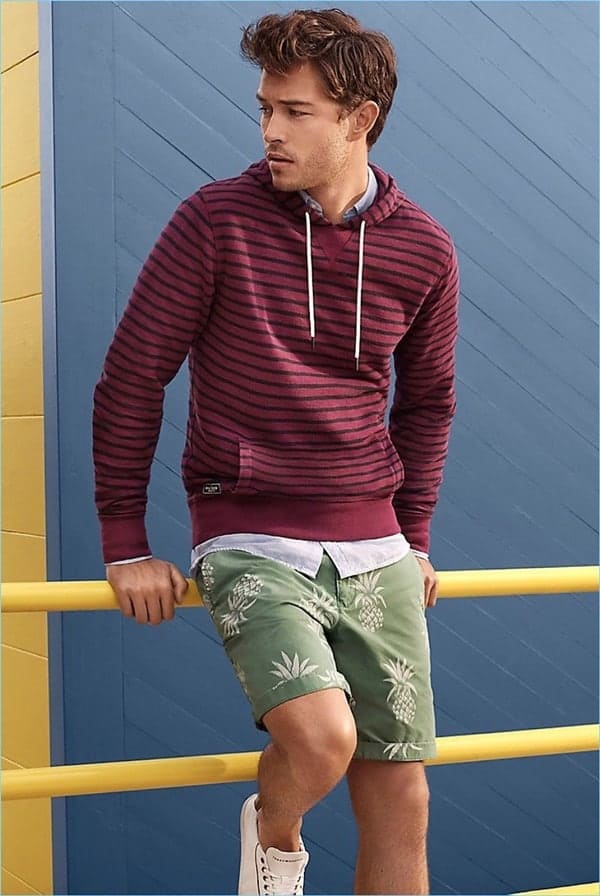 Spread your swag with the stylish hoodie look! When winters are willing to show some mercy, let the outfit trend go offbeat by pairing hoodies and shorts together.
These are amongst the most relaxed styles that many teenage boys love to carry off in style.
It is undoubtedly a great fit, and wearing high-top sneakers with this look can add more volume to the final appearance.
But, of course, it is entirely your choice to pick colours and combinations that match your taste. Just remember that don't overdo fashion, or it looks cheap!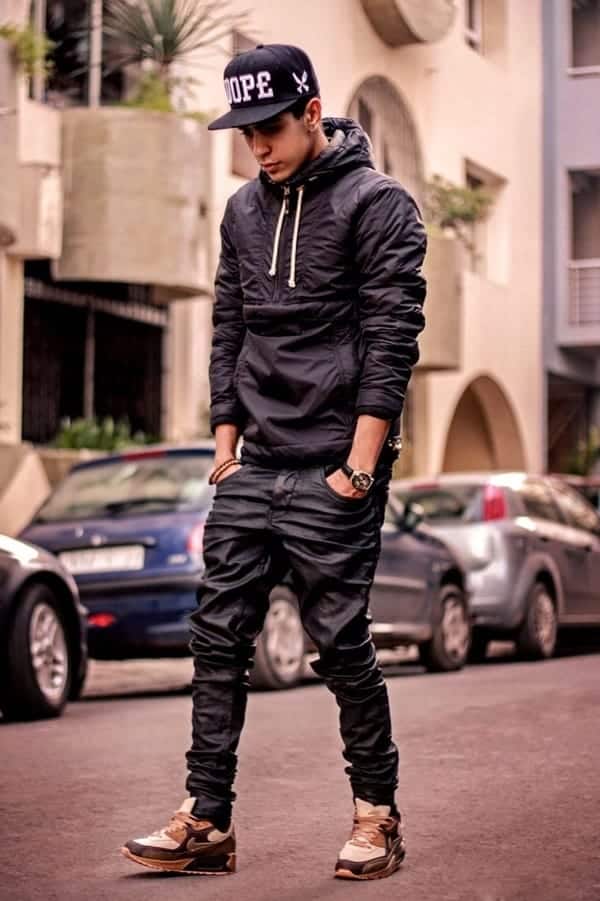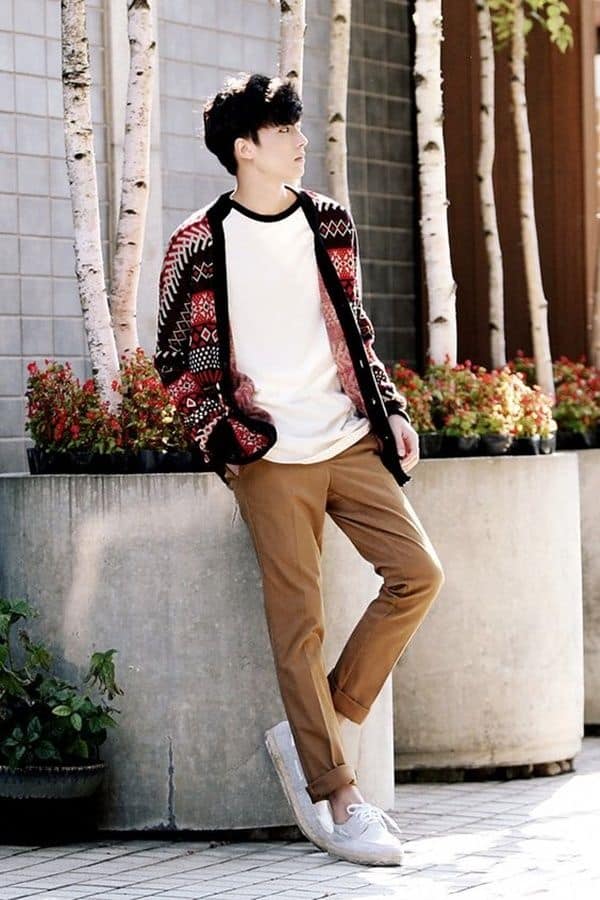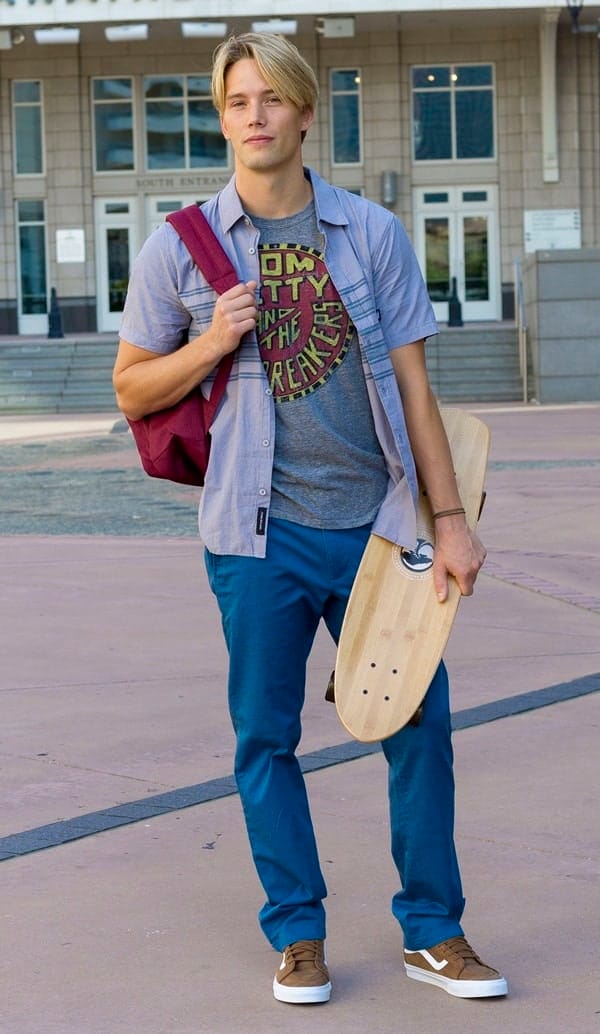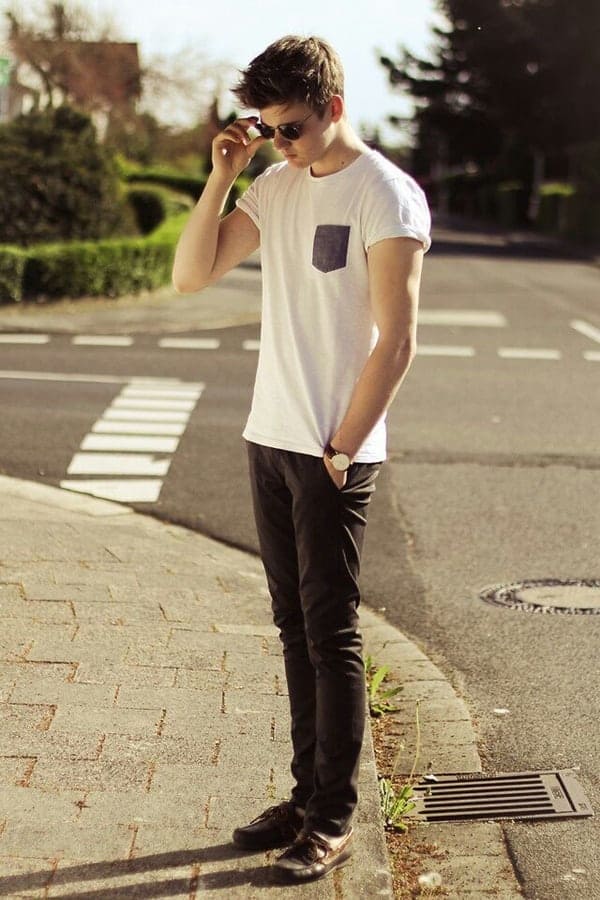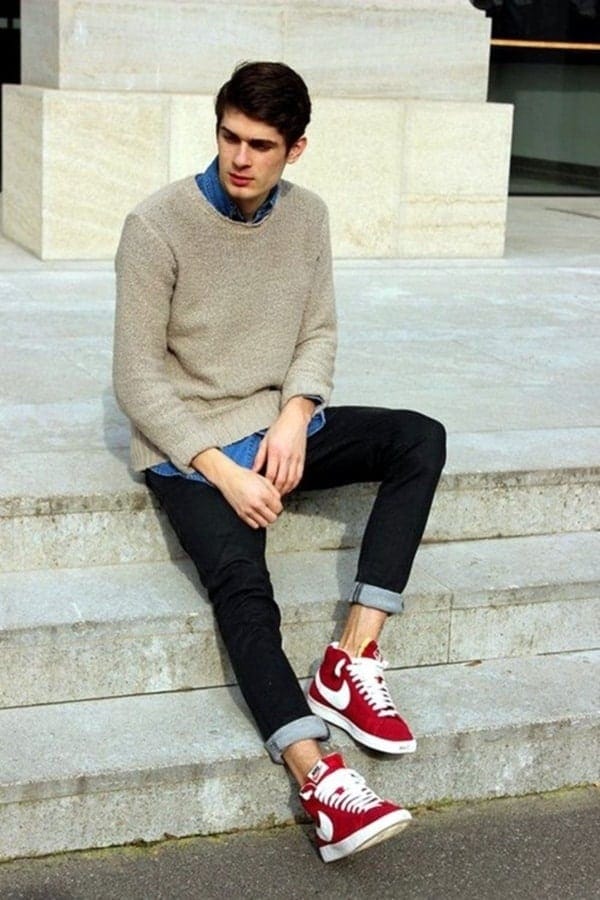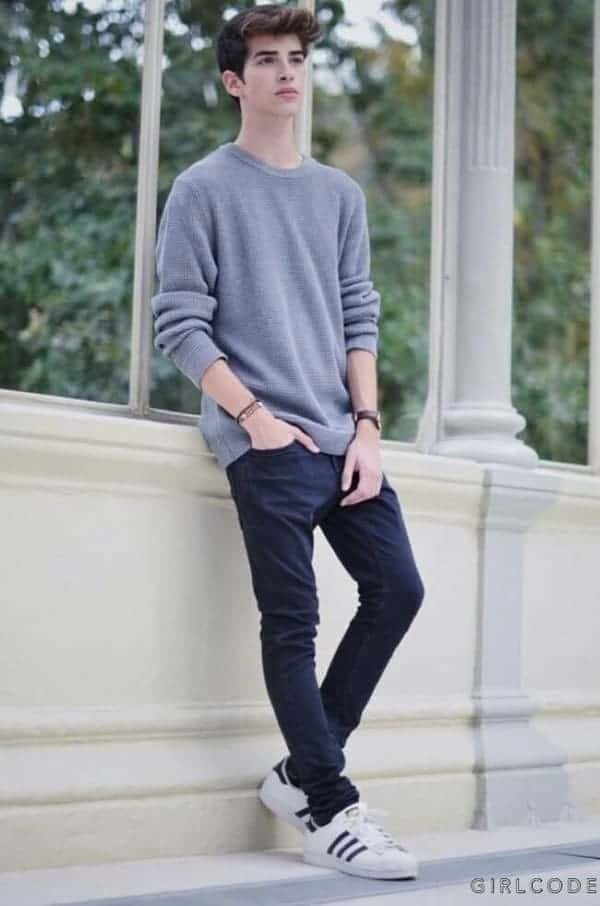 You may also like:
The Bottom Line
With so many cool and stylish outfits for teenage guys, you might fall short of space to assimilate them all together.
A better idea is to divide your outfits into seasons and occasions for a more organized set-up.
We have amalgamated the versatile options and combinations in the list above that could enable you to style like a dapper dude for any party, gathering, outing or event.
Are you a fashion lover? Who says men have limited sources when it comes to slaying the trends with swag?
The above list is just a few handpicked options from the decisive outfits that are easily created from the staple clothing available in most wardrobes of teenage boys.
So be the fashion icon with incredible outfits and styles unveiled above!