Gone are the days when men's fashion was all about collared shirts and cotton trousers. Times have changed now. Today, there are more men than you can imagine who take fashion as seriously as their hobbies and work; who love to stand out of the pack; and who prefer to challenge women head-on with their on-point fashion game. And no, not just adults, even teen boys are up to making things matter in the world of fashion. If you are a teen, and you know fashion counts in life and the significance of cool outfits for teenage guys, then you are either a star or one in the making.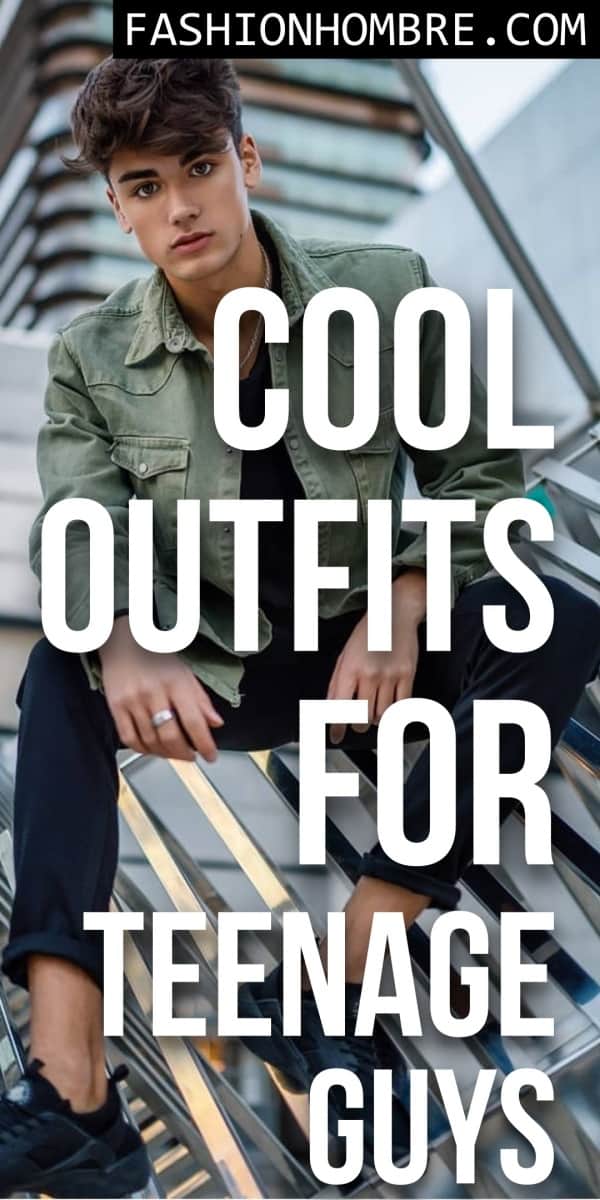 If you are a fashion star, then read on to find out if our tone on men's fashion resonates with yours. And in case you are a star in the making, then read on for some valuable fashion advice. You can find all the guidance needed to upgrade your style, right on this page.
Here, we talk about really cool outfits for teenage guys, and how you can maximize your style impact wearing them. We also tell you what shoes you need to have in your wardrobe to make it compete. The guidance offered is to the point and practical so that you can genuinely be helped.
So, what makes you wait? Give this write-up a read, amp up your fashion potential, and show the world your new fashion-forward avatar.
How Can a Teenager Look Stylish? – 6 Styling Tips For Teenage Guys
Your posture is pretty much a part of your style. If you do not or cannot hold a good body posture, you will make your style miserably fail. After all, no matter how stylish your clothes or expensive your shoes are, and how perfect your hair and accessories look, you can't turn heads on the road, taking a droopy walk with a slouched back. So, stand erect and hold a stout upright body position when you walk. This way, you will pull off an outfit that is out there, perfectly.
It's easy to get swept away by trends. But doing that would be a folly in the case of hairstyles. You should only pick something which suits your face cut and your personality perfectly. Simply don't get a hairstyle done just because every teen boy on the TV shows up in it.
Wear well-fitted clothes. And by clothes, we mean both top and bottom wears. Yes, oversize clothing is a thing. But to do that trend right, you will have to know what clothes look great in a size or two up. Without that knowledge, it's better to avoid going oversize with your clothes.
Choose colors that complement your complexion. You might be fair or dark, but there are going to be colors you pull off well. It is important to do some research and find out which those colors are. Once you figure that out, shopping for your outfits will be a breeze. Also, don't forget that there is a world beyond white, black and blue. Try to experiment with colors. Take chances and go for shades that you haven't worn before. By doing so, you might just set some trends for others to follow. But then again, even when you experiment, it's important that you keep your complexion in mind.
Comfort matters a lot in the world of fashion. If you haven't yet realized that, it's time you did. Meaning, when you purchase clothes, shoes, and accessories, you shouldn't simply go by their looks- looks can be deceptive. On many occasions, people leave good-looking clothes and accessories lying untouched in their closet forever, just because those items fail on this one front i.e. comfort. And hence, it is important to invariably consider comfort while shopping.
If you don't have a lot of clothes and shoes, don't get disheartened. Have a variety of accessories like belts, headgear, and jewelry items in your possession You can create new looks every time by simply mixing and matching your accessories with the available clothes. This is a million-dollar tip and will never make you feel you repeat your clothes over and over again.
Stylish Outfit Ideas For Teenage Guys
1. An All-White Ensemble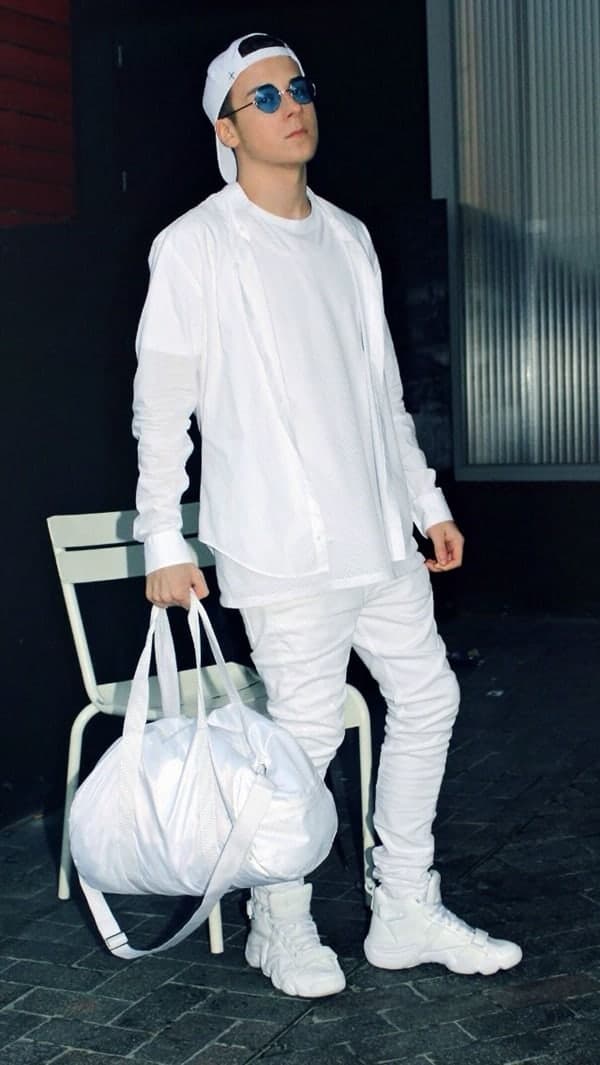 Image Source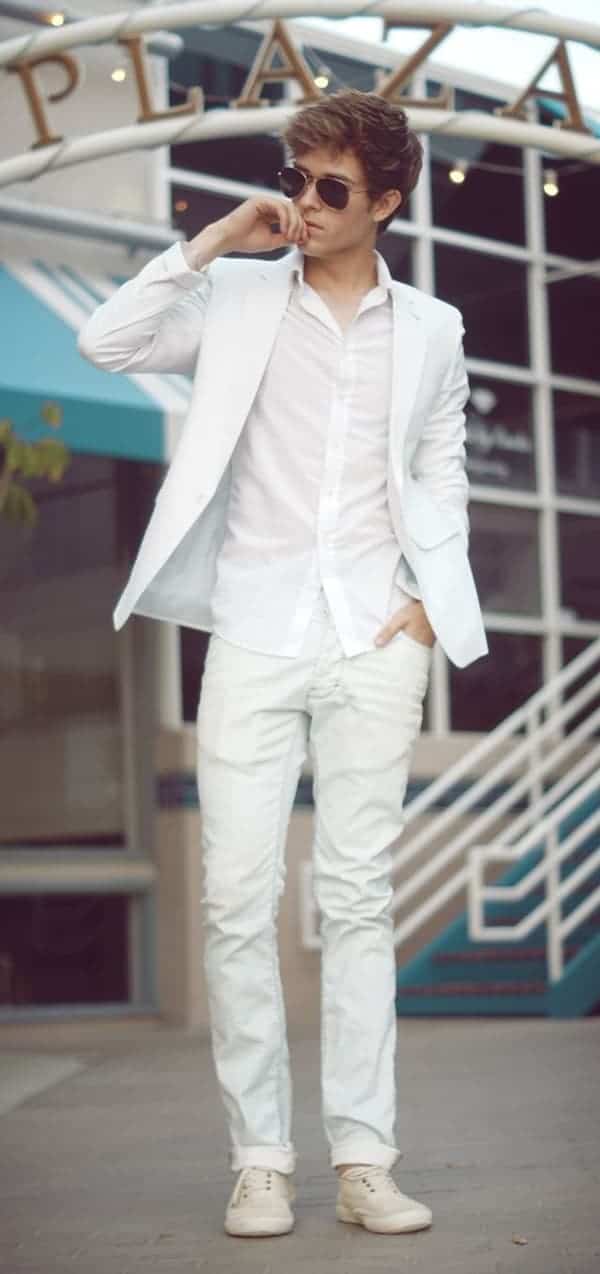 Image Source
The best thing about teenage dressing is that you can dress up or down as per the occasion in question. And hence, if you want to look dapper and perfectly ready for a formal function, then just slip into an all-white ensemble. But note that it's a high-maintenance outfit. Meaning, you can't be hopping around wearing it- even a speck of dirt on the shirttail could ruin your entire look.
2. Leather Jackets With Fitted Pants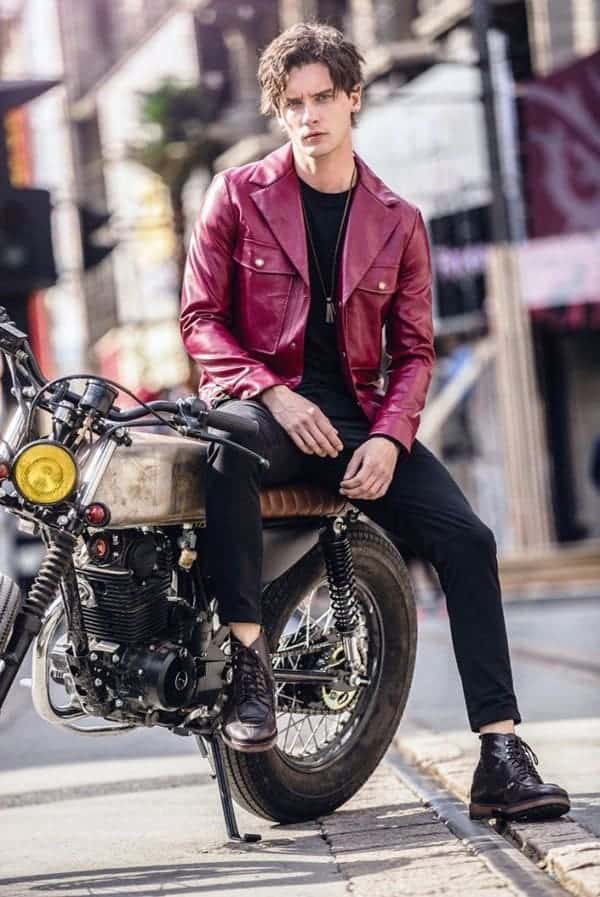 Image Source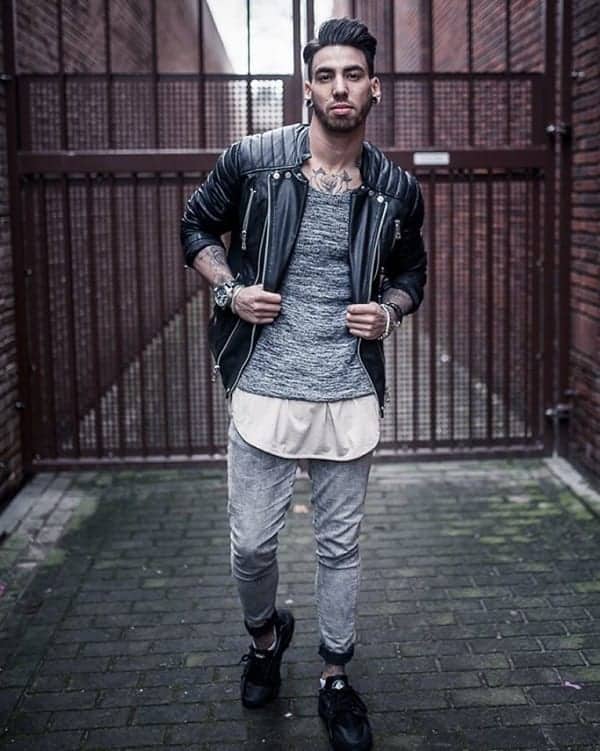 Image Source
Almost all fall outfit ideas for teenage guys that involve jackets simply rock. But leather jackets have a different say in the world of fashion. By throwing one over your shoulders, you will at least turn a hundred heads. And no, don't team your jacket with random pants, make sure your bottom wear fits you snugly. This is for the maximum impact!
3. A Checkered Shirt Teamed With A Pair Of Jeans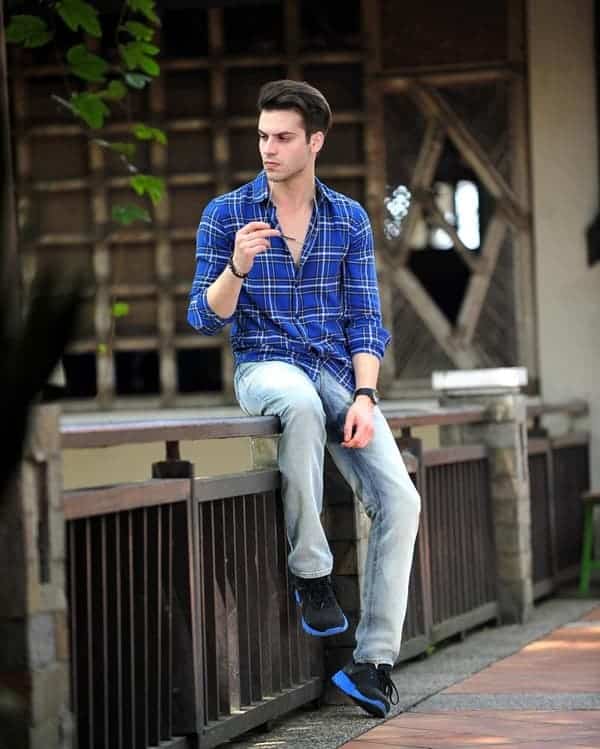 Image Source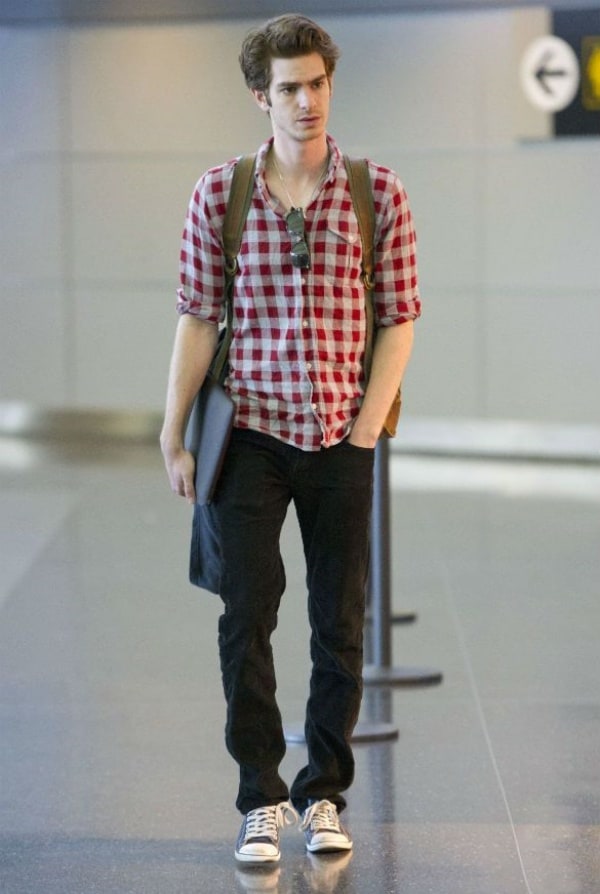 Image Source
Talking about cool clothes for teenage guys, how can you not mention checkered shirts? They are so old and commonplace, yet so impactful. Even today, when guys wear their checkered shirts with jeans, girls steal glances from them. So, there is no question you will go wrong in this outfit. Just make sure you avoid bigger checks, if you are lean and lanky.
4. Hoodies And Track Pants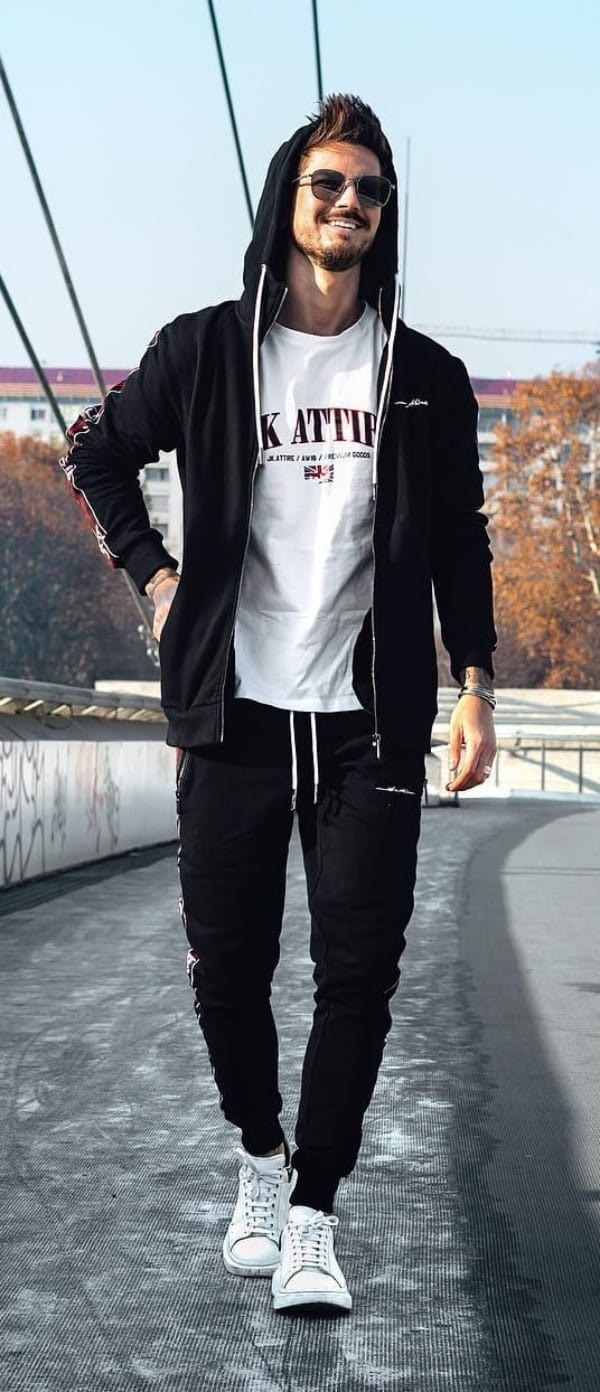 Image Source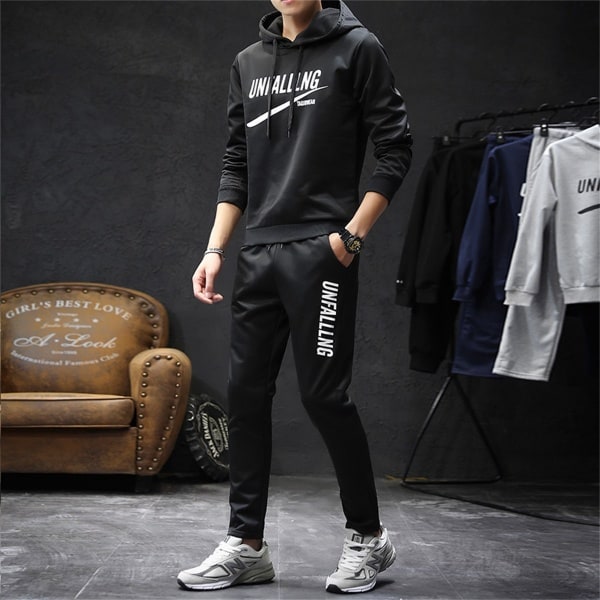 Image Source
Although you love to look your best at all times, it's not humanly possible for you to show up on every occasion and at every place in that fine suit stored hung in your closet. So, you need clothes that are outright casual but have the potential to make you look good and feel comfortable at the same time. Thankfully, hoodies and track pants together serve that purpose really well. And guess what, teen boys look insanely hot in this outfit.
5. Black On Black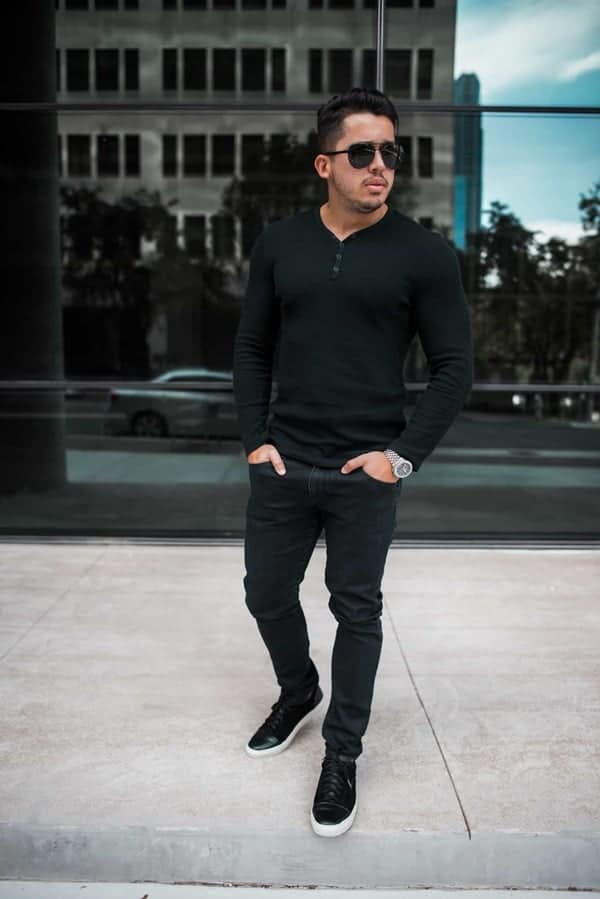 Image Source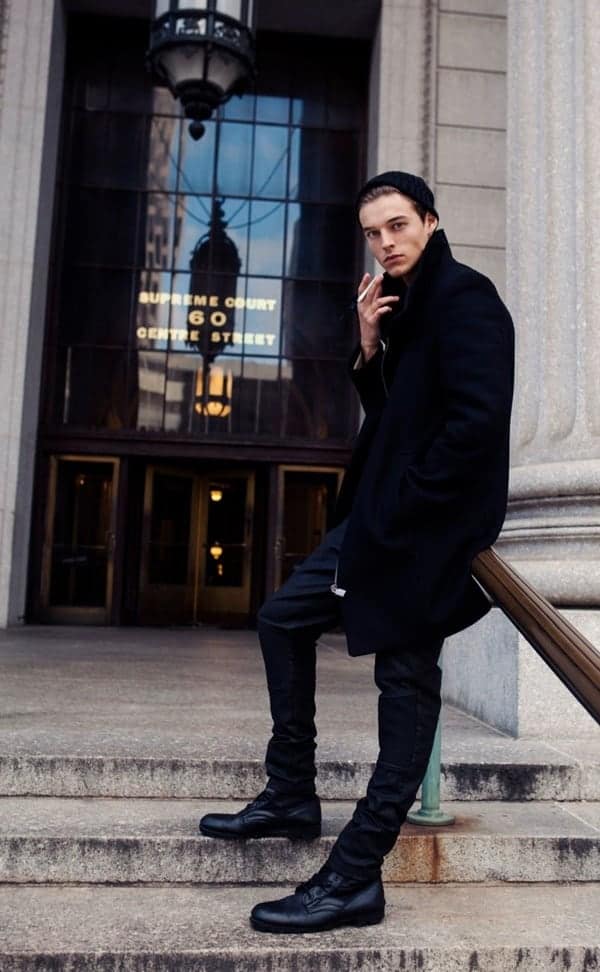 Image Source
Not all cool outfits for teenage guys have the kind of impact a black on black outfit has. With a pair of sneakers and shades, you can effortlessly take this simple look to another level. You will be glad to know that carrying off a black on black look is not difficult. No matter what your complexion is, this outfit is going to complement it perfectly. It also doesn't matter how bulky or lean you are, black hides every flaw seamlessly.
6. Shorts And T-Shirts Outfits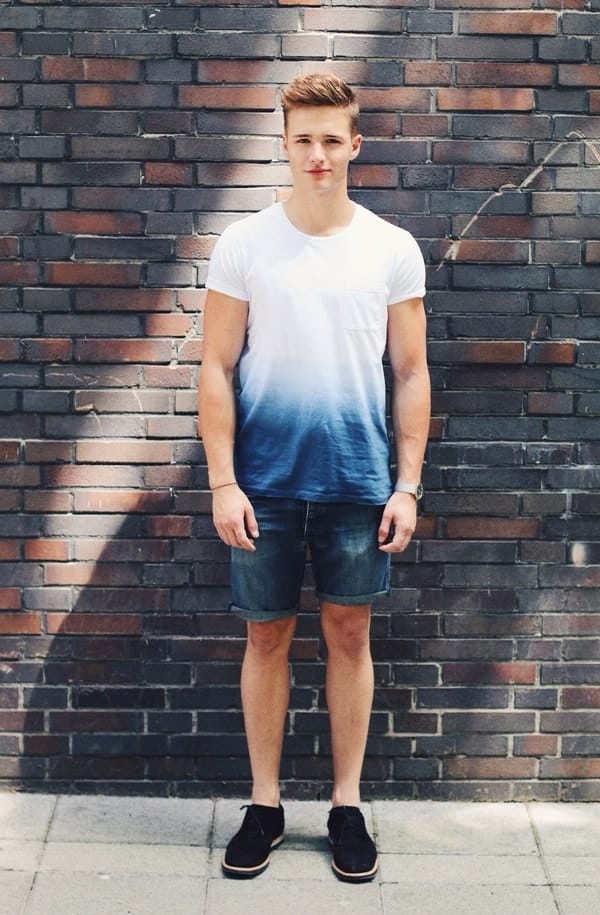 Image Source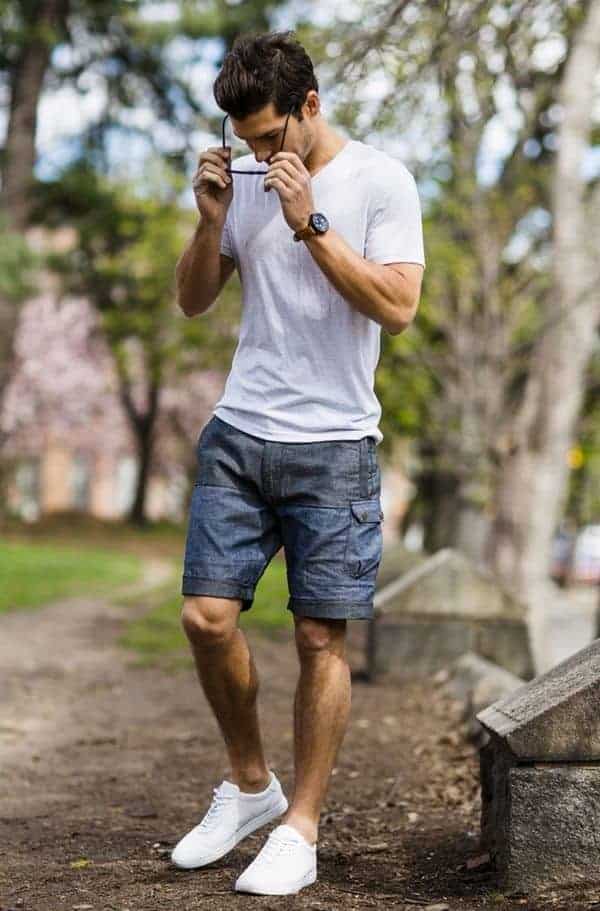 Image Source
Summers are already here, and more than anything else in your wardrobe, you probably love the shelf that holds all your shorts. Nonetheless, you won't have to feel sorry about that, you are in love with just the right thing. But make sure you match your shorts with a nice t-shirt for that perfect beachy summer look.
7. Cool Denim Shirt And Jeans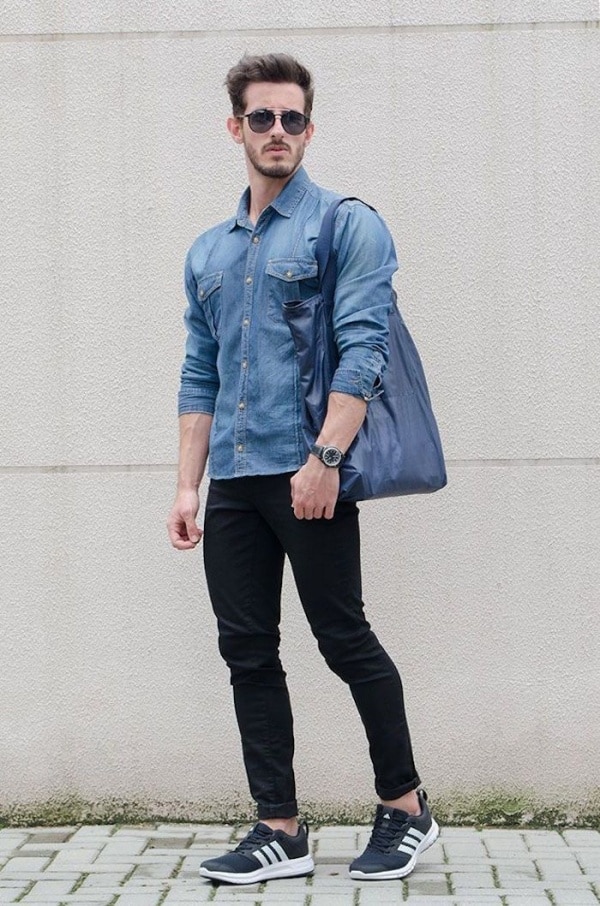 Image Source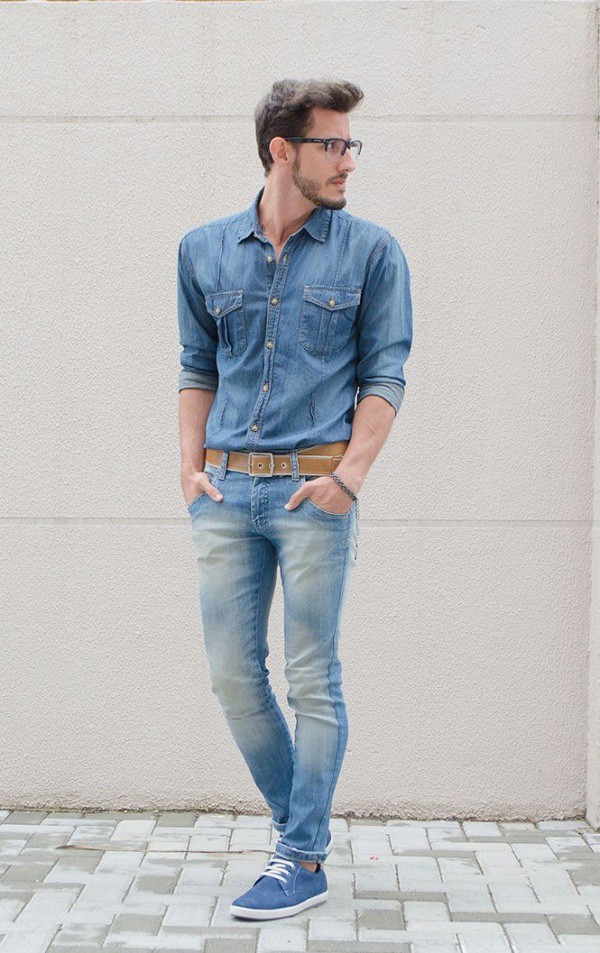 Image Source
Talking about clothing styles for teenage guys, we often choose to skip denim shirts. Not because they are outmoded, but because we think they are a little too aged for energetic teen bodies. But actually, denim shirts are a versatile clothing item and suit teens as much as they suit adults and young adults. Although you can pair them up with regular pants, they ooze out a macho look when worn with jeans.
8. Camouflage T-Shirt With Trouser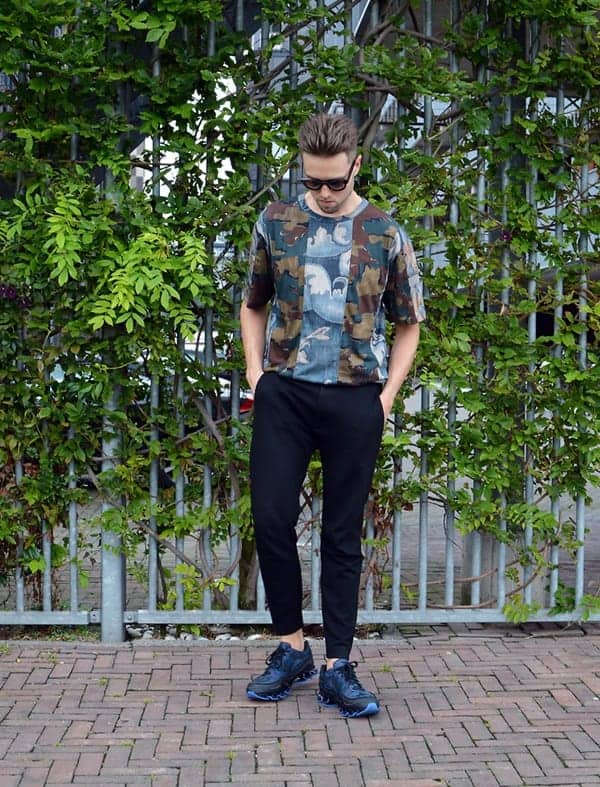 Image Source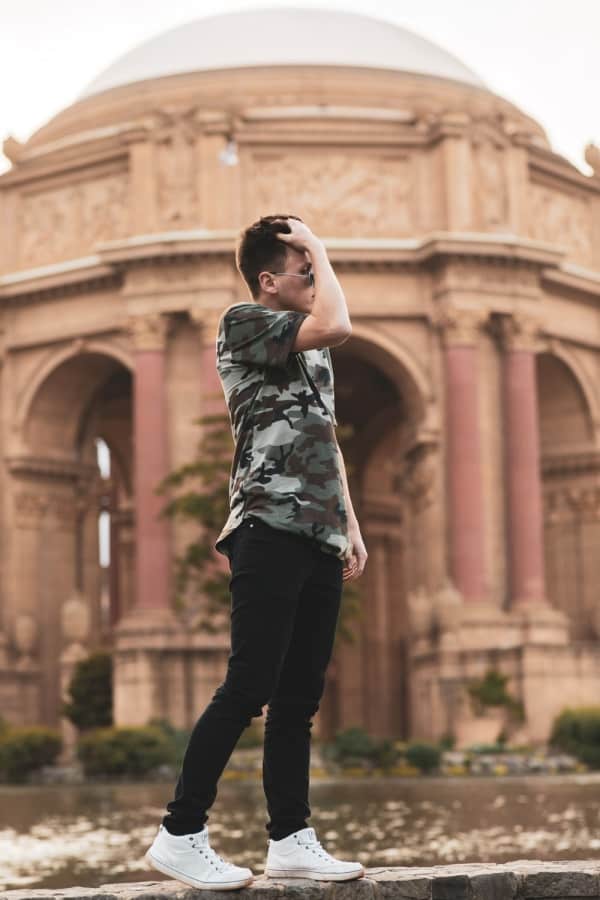 Image Source
One of the highly demanded outfits for teenage guys is Camouflage T-Shirt with trousers. Army print T-Shirt motivates the teenage guys to join the Army and their love for the nation. Wear dark color trousers; it will complete your trendy look completely.
9. Floral Print Shirts With Jeans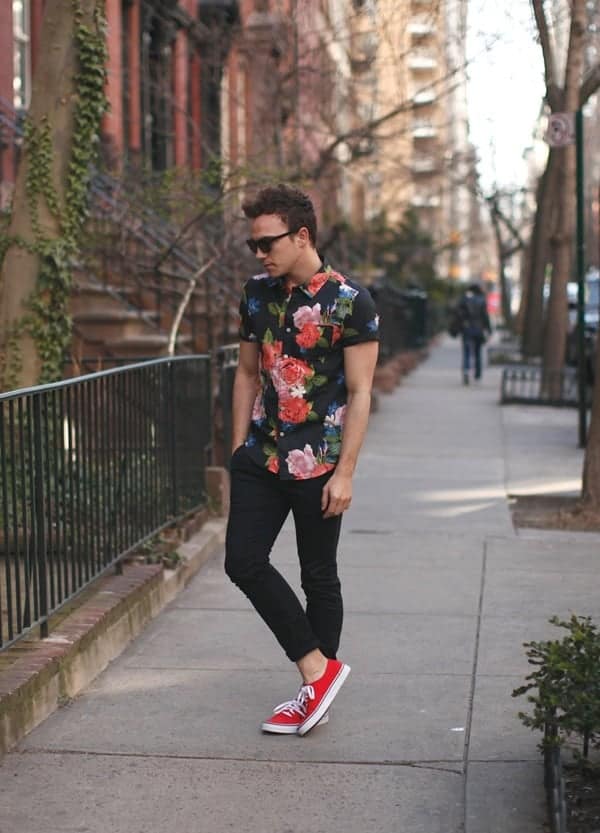 Image Source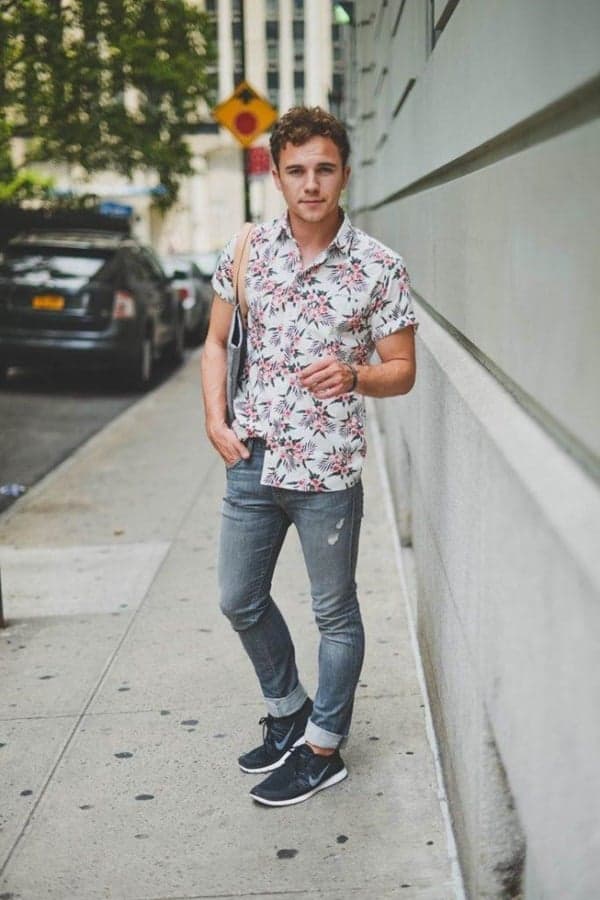 Image Source
This breezy summer for a stylish look you must go for Floral Print Shirts. You can match it up with shorts or pants as per your preference. Additionally, a pair of loafers would complete it all collectively.
10. Ripped Jeans With a black T-Shirt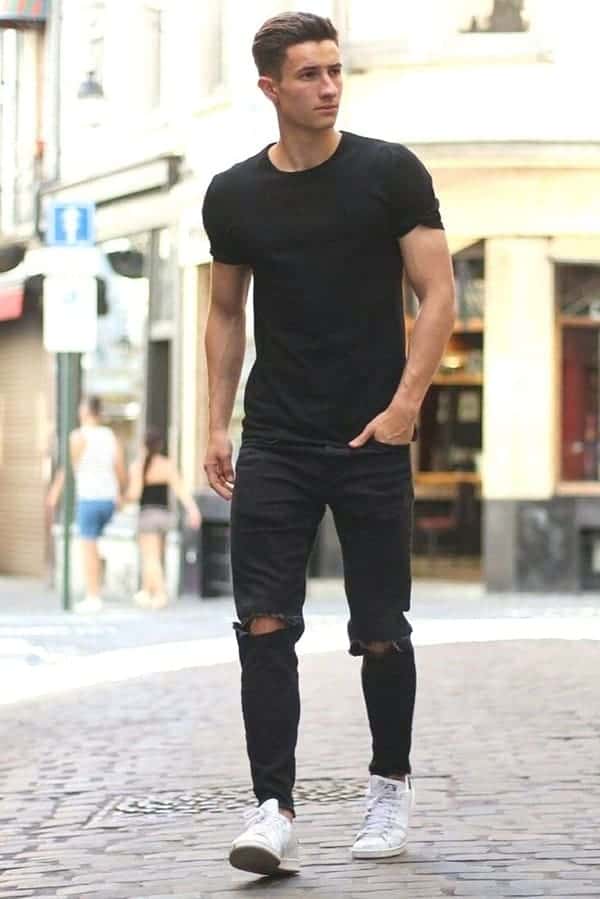 Image Source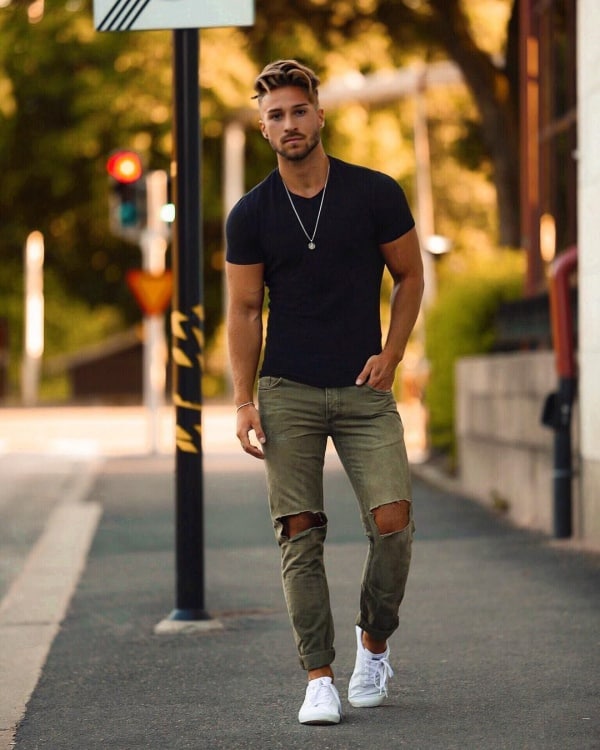 Image Source
Ripped Jeans with a black t-shirt is one of the cool outfits for teenage guys. It has been trending and for the last two years, it is highly demanded also. Hence, you can add the trend to your daily look by pairing your black T-shirt or hoodie with a pair of ripped jeans.
11. Chinos Paired With T-shirt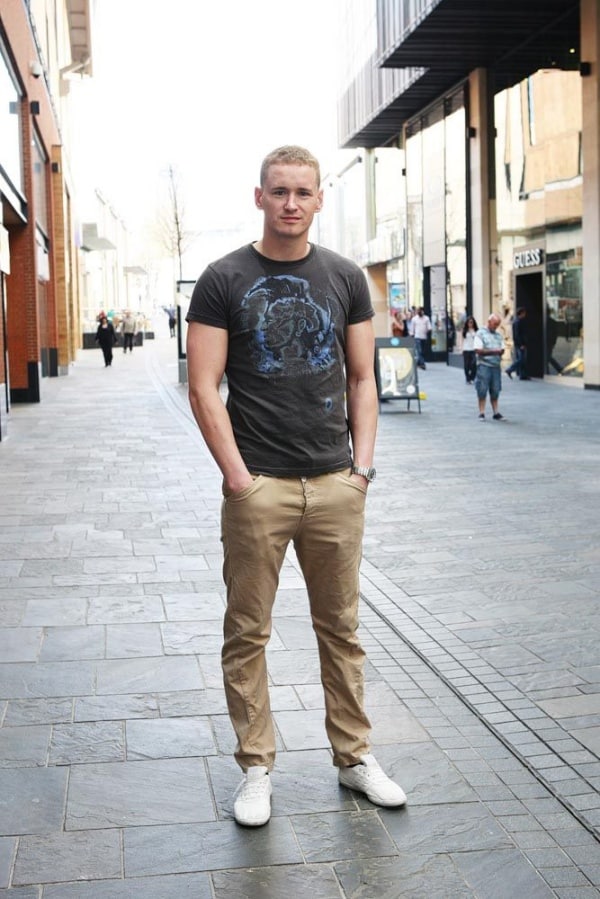 Image Source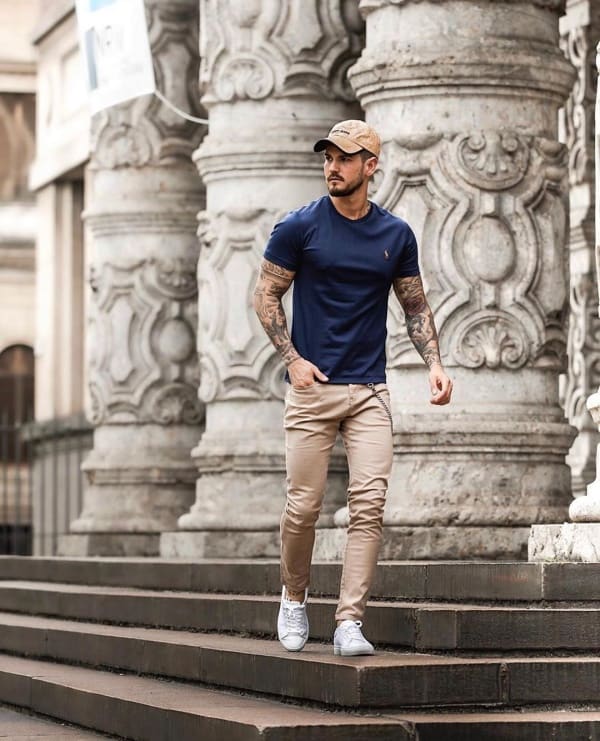 Image Source
All cool outfits for teenage guys might look insipid in front of a pair of chinos matched with a fitted round neck t-shirt. This outfit gets a perfect ten on ten with respect to informal style. Just make sure you have the coolest pair of sneakers to go with this getup.
12. Long Sleeve T-Shirts And Jeans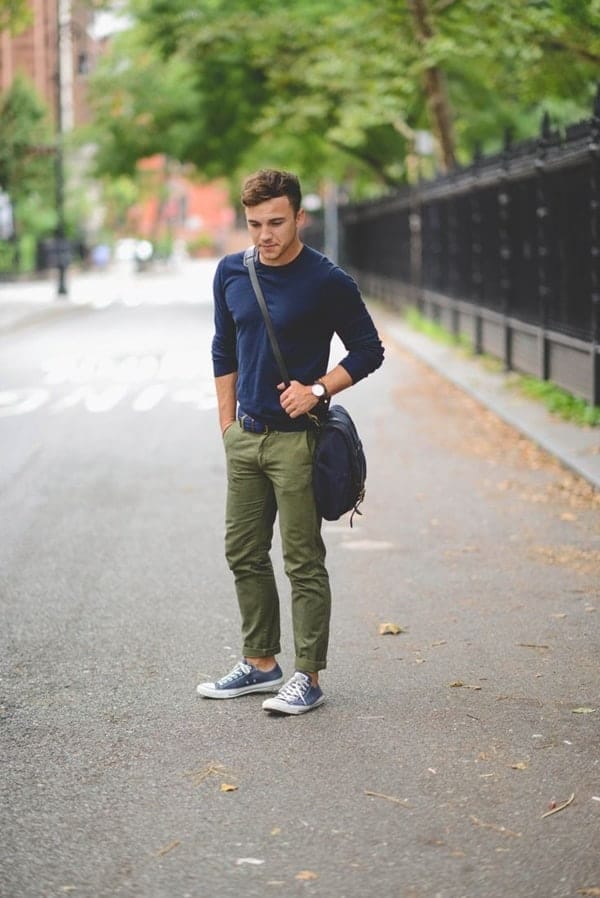 Image Source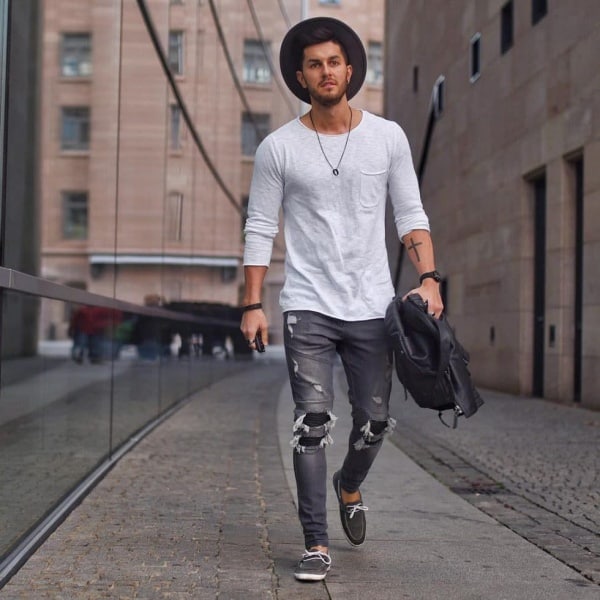 Image Source
If you are of the opinion that long-sleeve t-shirts are a thing of the past, then you haven't probably seen a well-built teen boy flaunt it with oodles of charm. Well, teen boys in long-sleeve t-shirts look outright adorable. And when they complete the look with a pair of jeans, they become a sight worth all your time.
13. Camouflage Pants With Plain Tees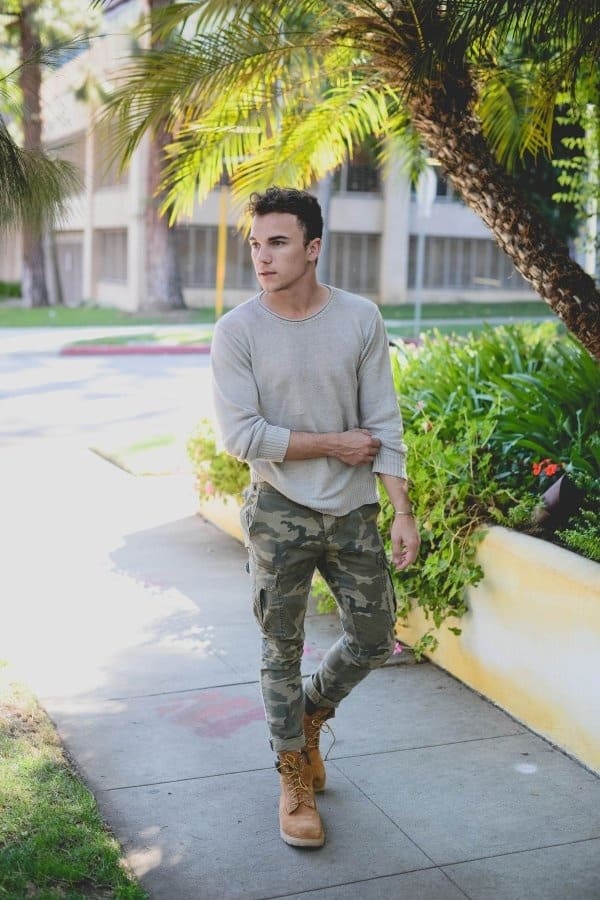 Image Source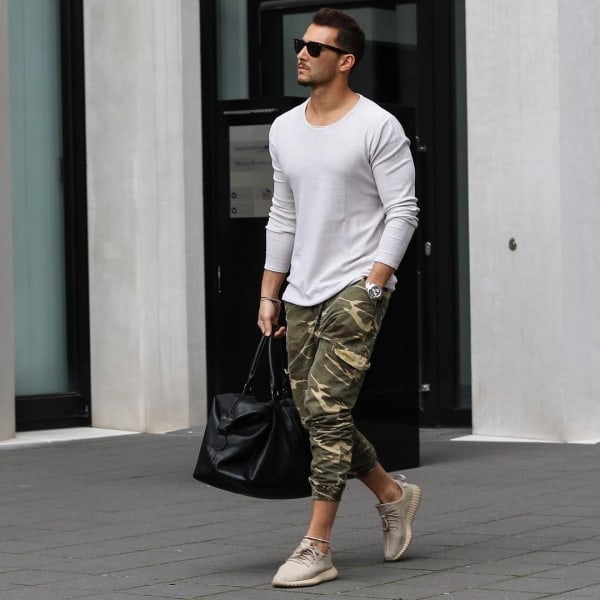 Image Source
Camouflage pants simply cease to lose their charm. And when you are a teen, you can don them with a real thick air of confidence. Match your camouflage pants with boots, a pair of shades, and a fitted t-shirt, and you will be set to send out tough military vibes.
14. Hoodies With Shorts Outfits For Teenage Guys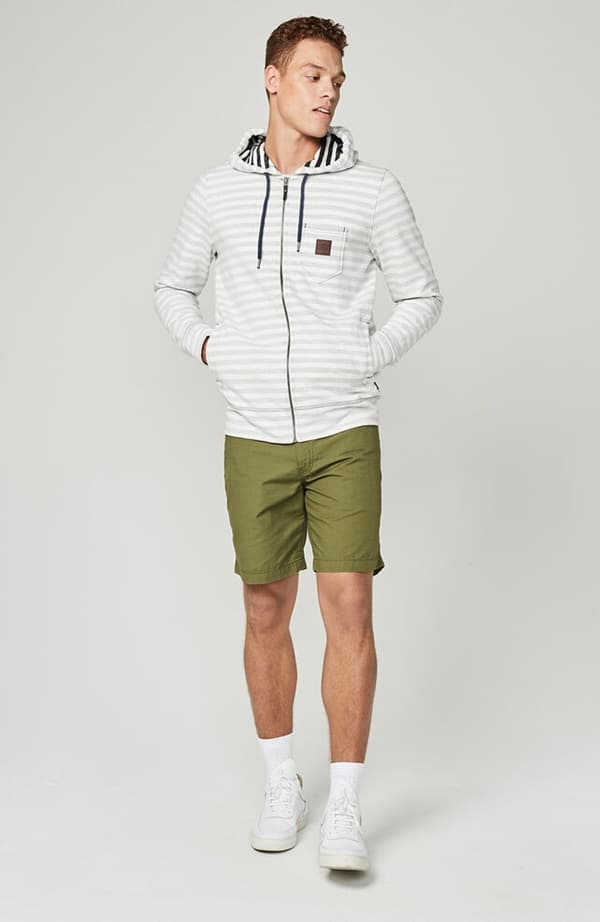 Image Source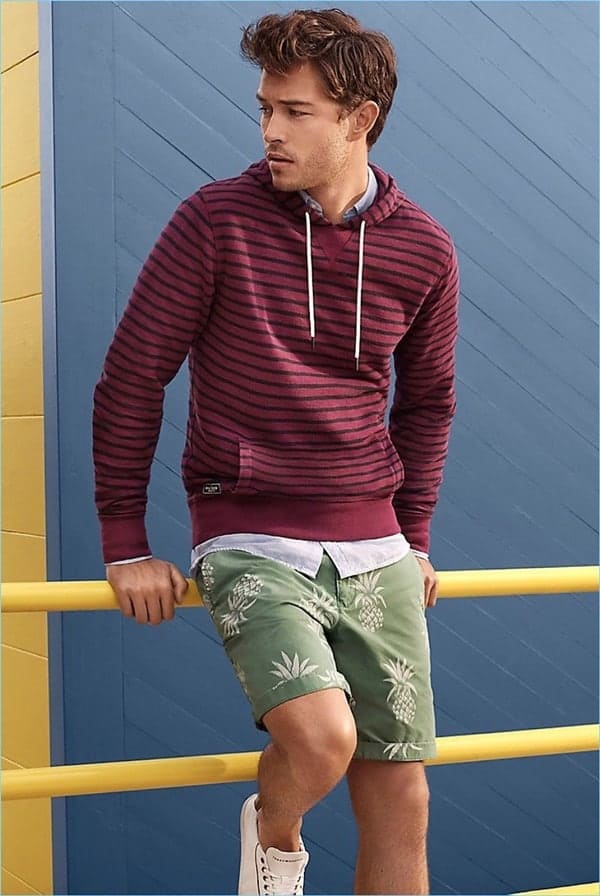 Image Source
You love your hoodies, and we completely understand your love for them. They are simple, cool, comfortable, easy-going, stylish, and of course, versatile. But if comfort is what you are seeking from your hoodies, then team them up unfailingly with shorts.
15. Floral Print Shirts And Shorts For Teen Boys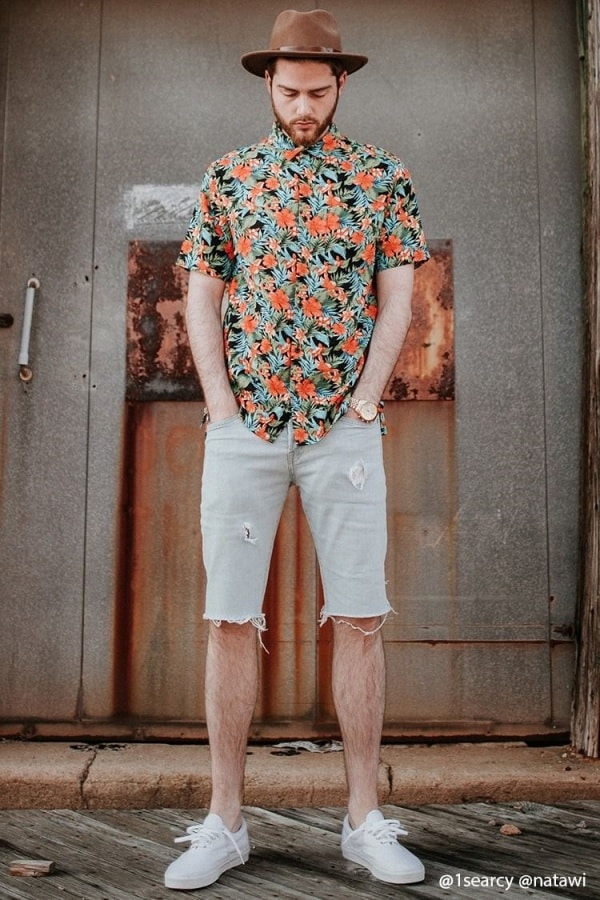 Image Source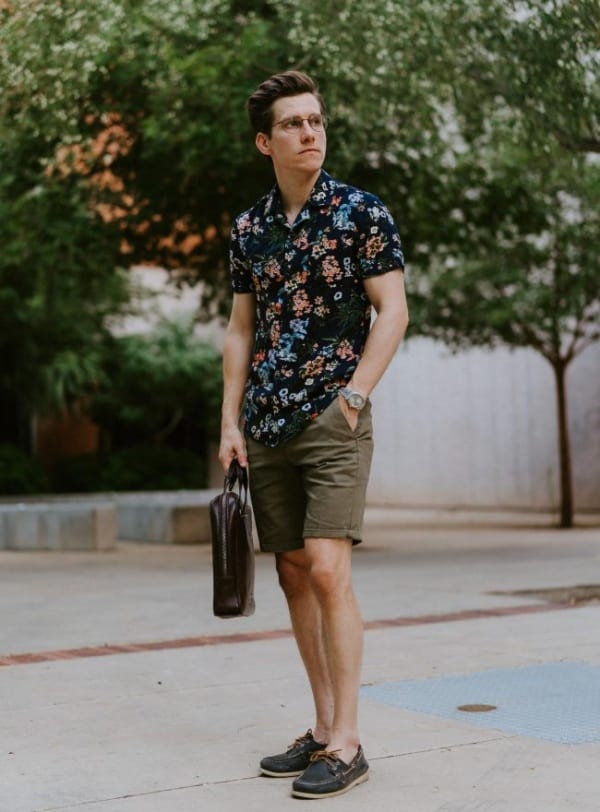 Image Source
Cool outfits for teenage guys don't always need to point at leather jackets and denim shirts. Sometimes, they could also mean something off-beat such as floral shirts teamed with shorts. Although this is a typical holiday outfit, teen guys these days don't like to compartmentalize fashion for any reason. They are more outgoing and like to experiment with their clothing without reserves. Hence, it's no surprise that you will find them donning this outfit even on shopping trips and movie nights.
16. A Sweater Matched With A Pair Of Jeans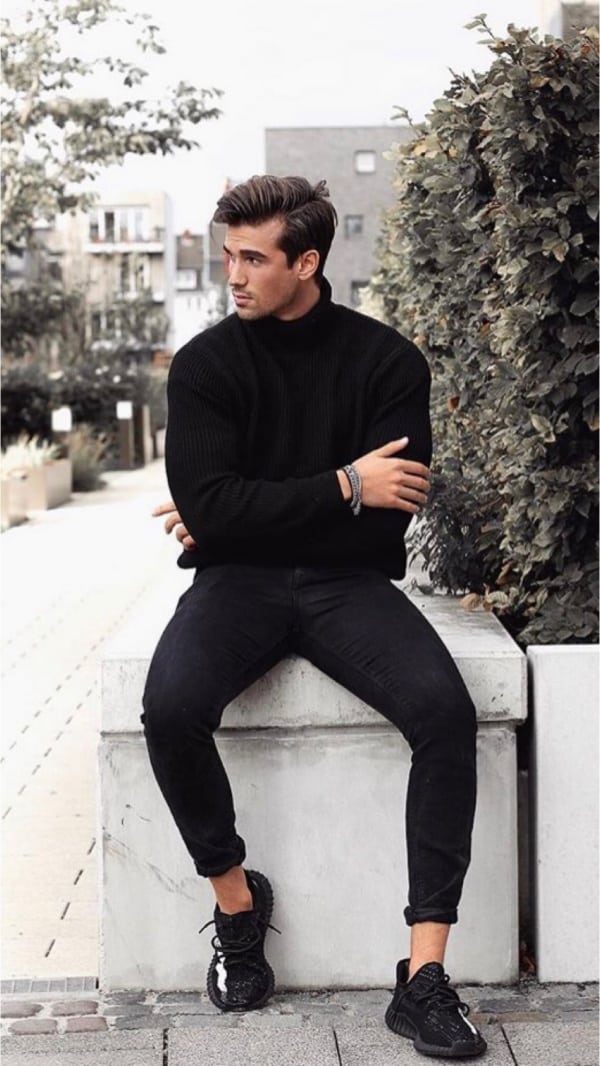 Image Source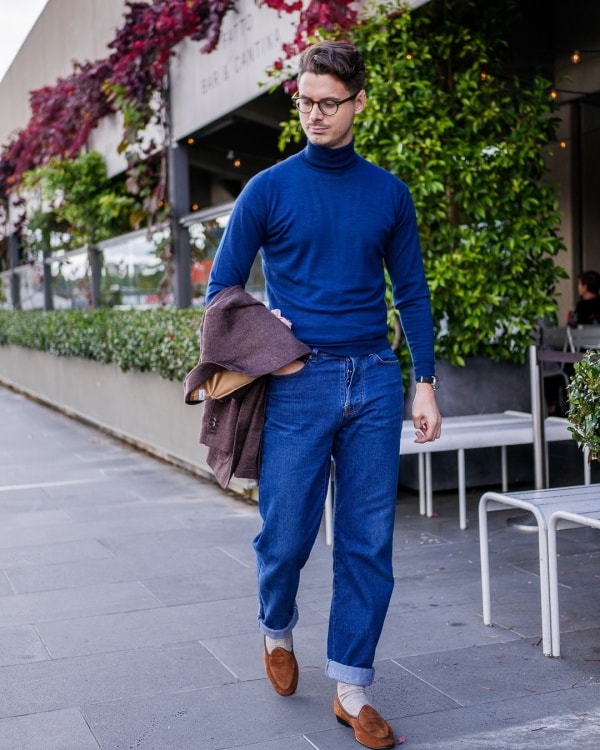 Image Source
Fall outfits for teenage guys such as this one are like a platter of comfort food- pure enjoyment! And trust us, you won't even have to be a fashion Guru to be able to do this look right. All you need is a good sweater, a shirt or a plain t-shirt underneath, and a pair of basic jeans to complete this look. Just refrain from over-accessorizing. Bear in mind that the entire stake of this look is on the sweater. Meaning, if you have got it right, you have already had success with this outfit.
17. A Striped Shirt With Denim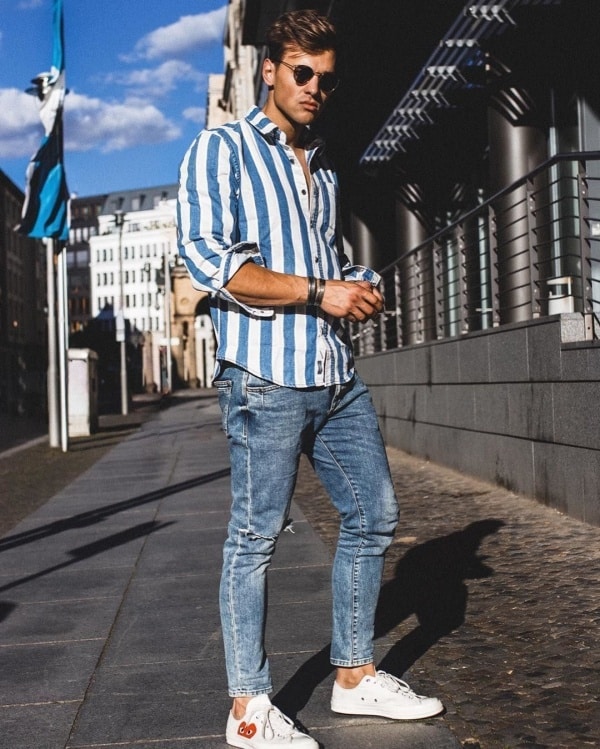 Image Source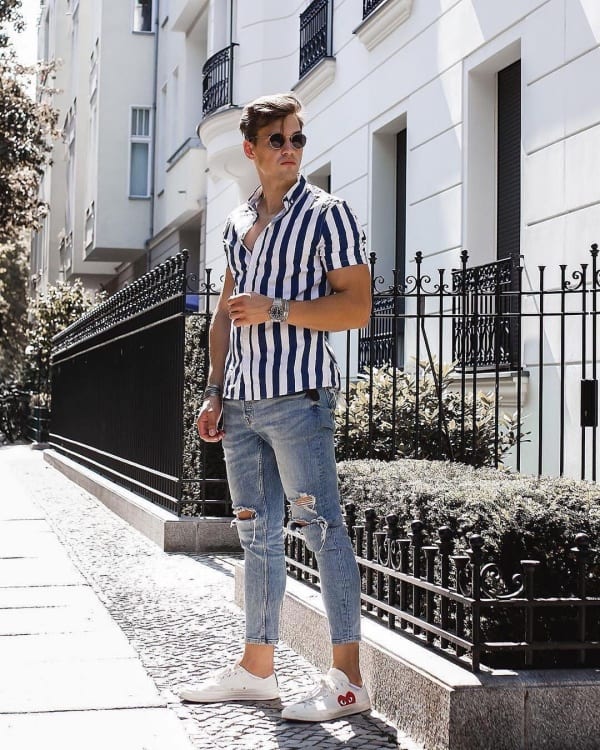 Image Source
Sometimes, cool outfits for teenage guys can be something as basic as a striped shirt teamed with a pair of denim. And why not! You don't really need your style to shout at the top of its voice to be noticed. Even if it's a basic striped shirt paired with jeans, it can be stylish enough to be a talking point, without trying hard.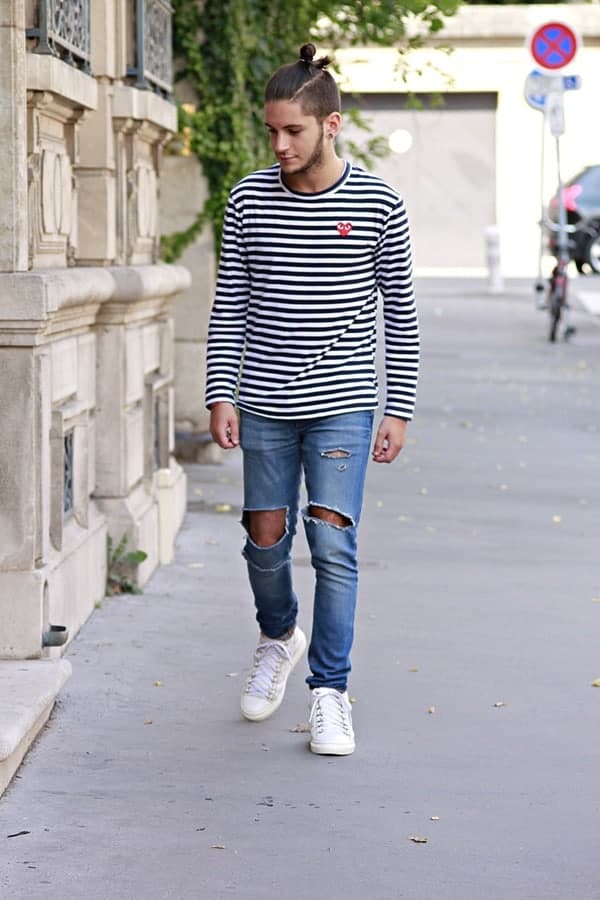 Image Source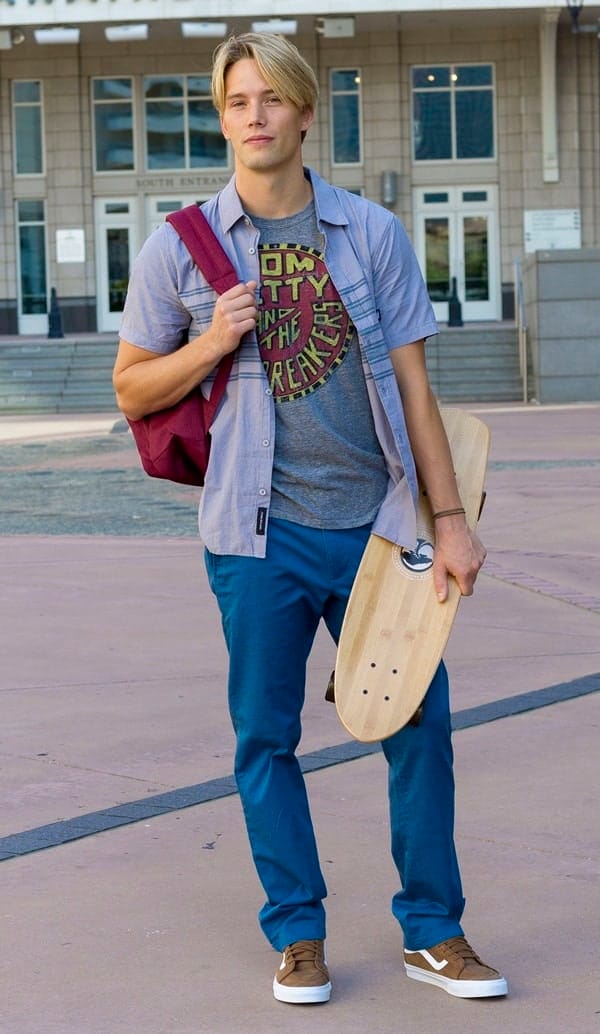 Image Source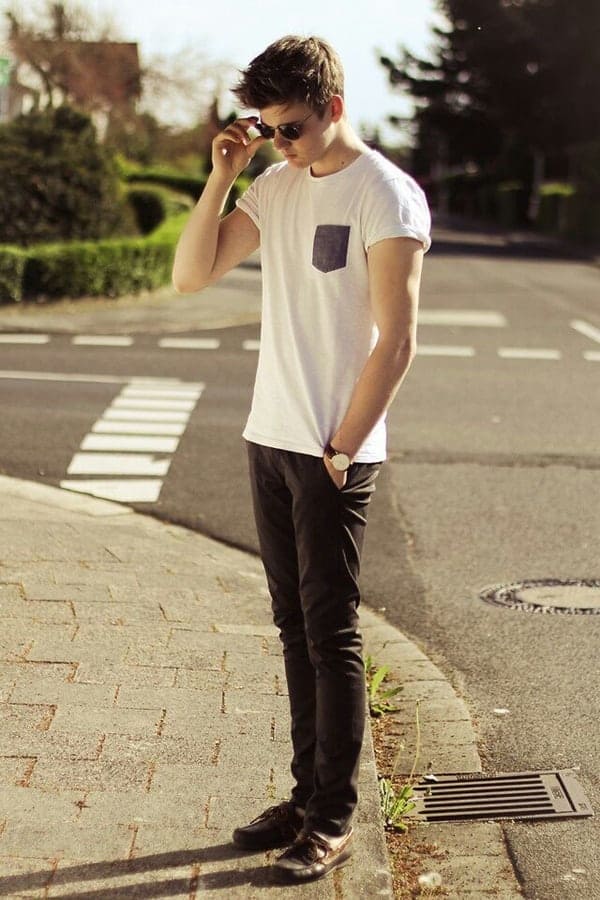 Image Source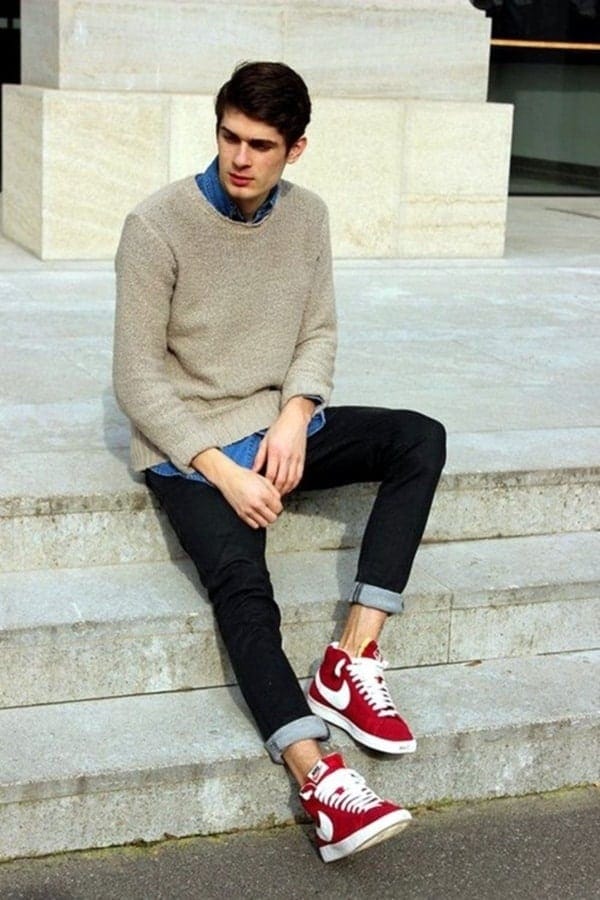 Image Source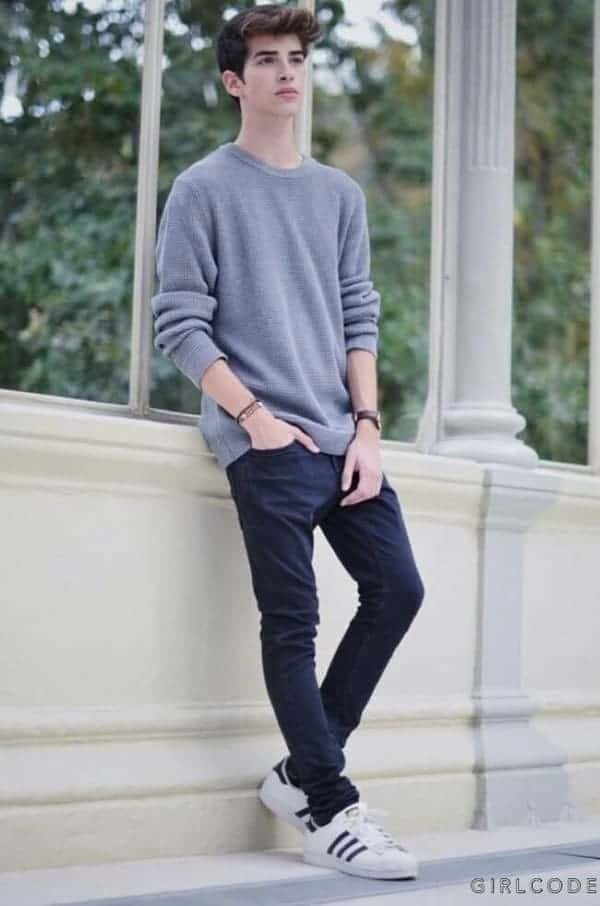 Image Source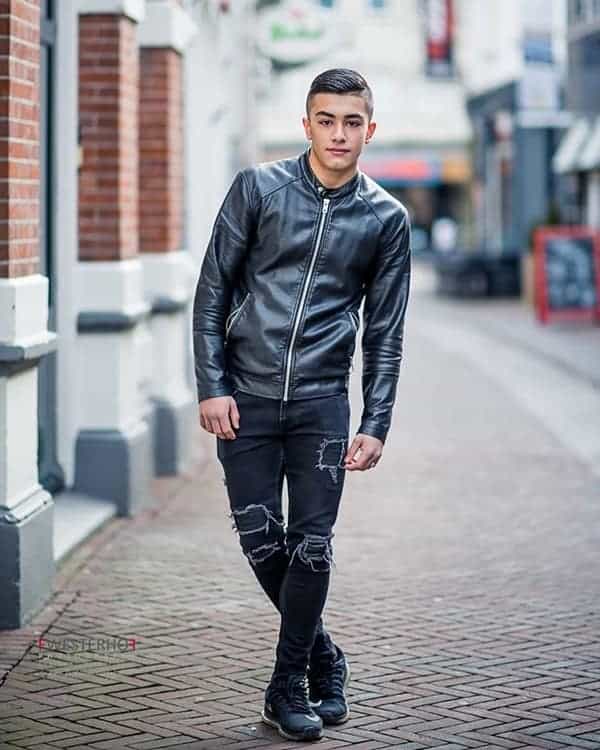 Image Source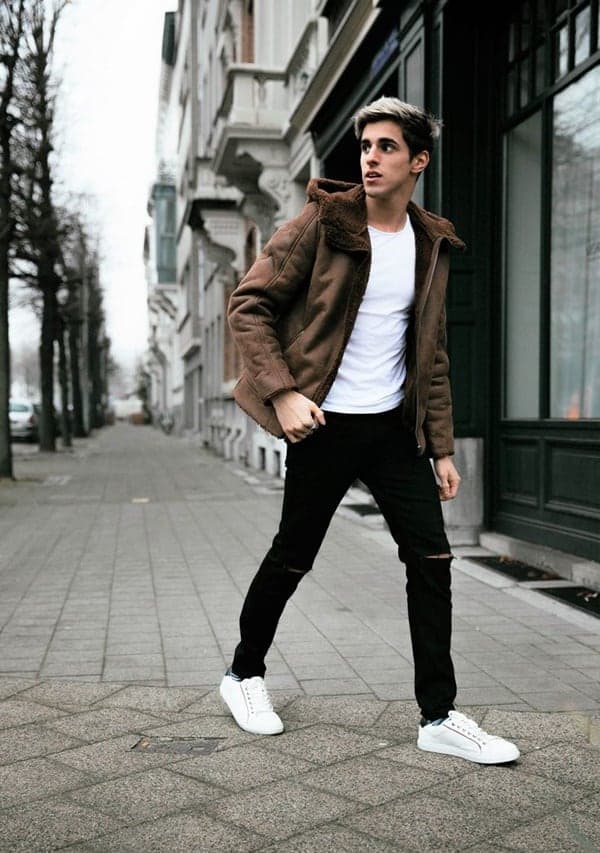 Image Source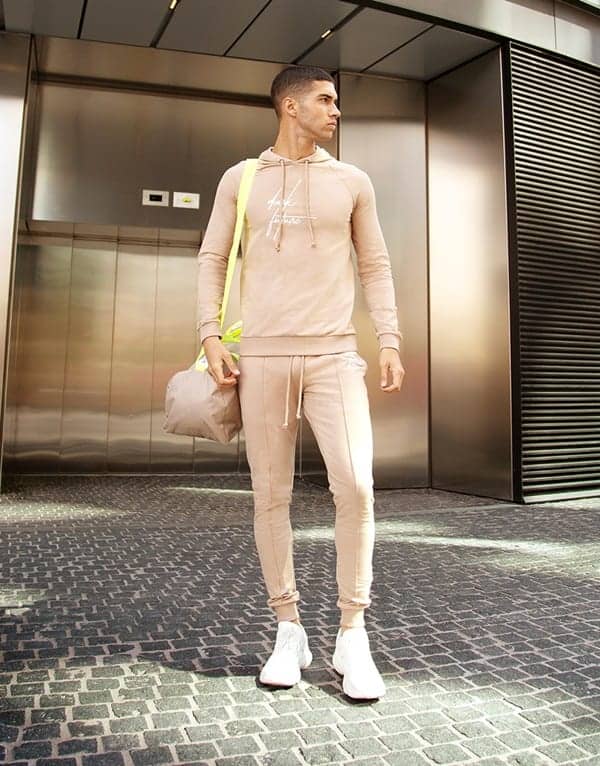 Image Source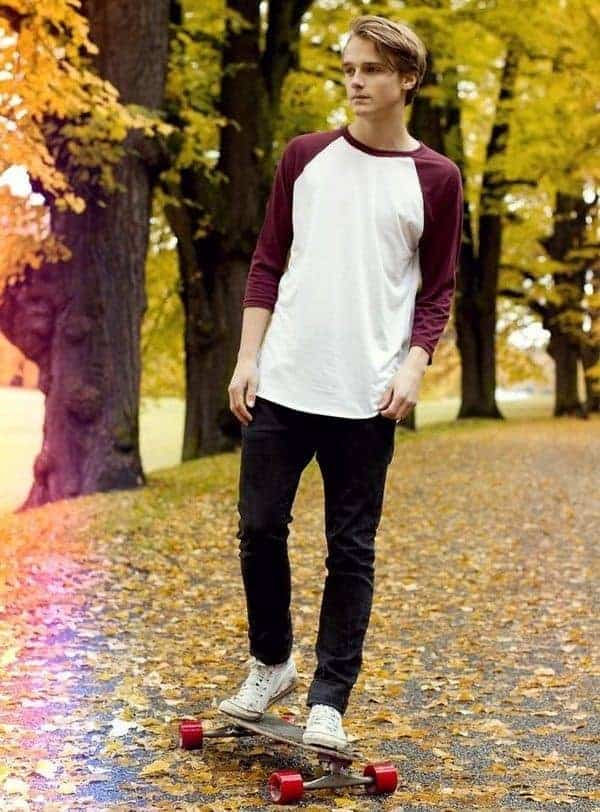 Image Source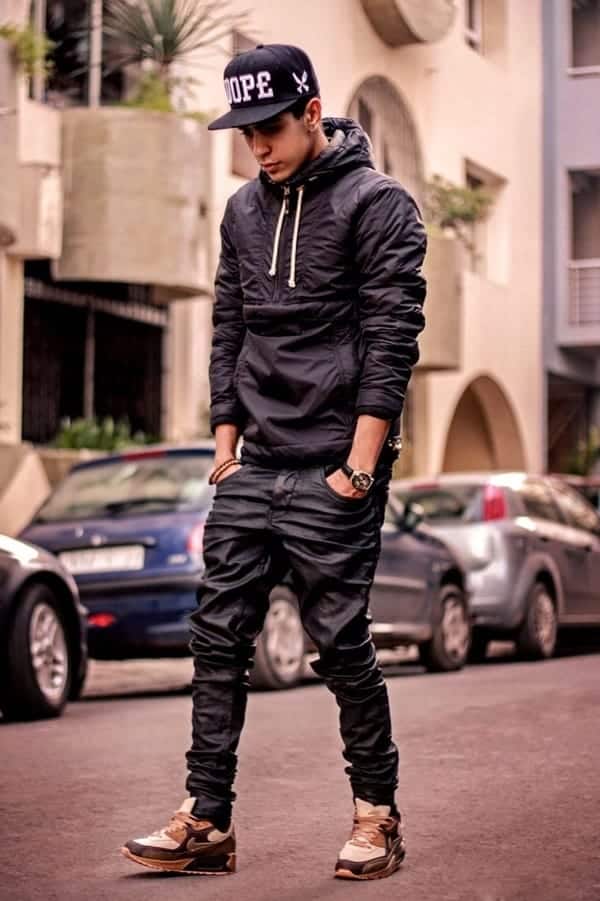 Image Source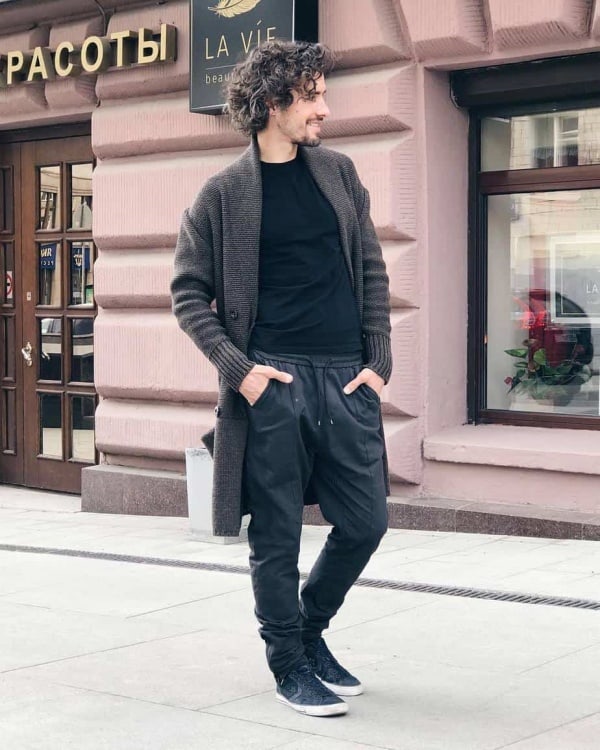 Image Source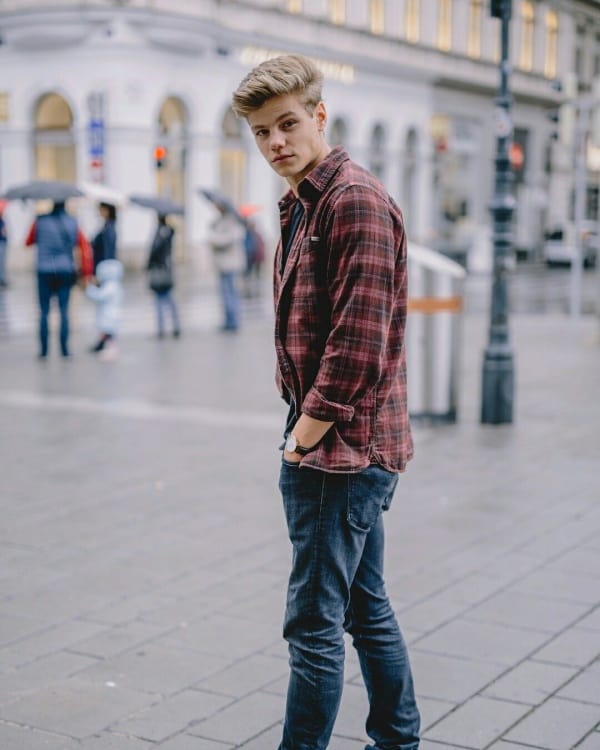 Image Source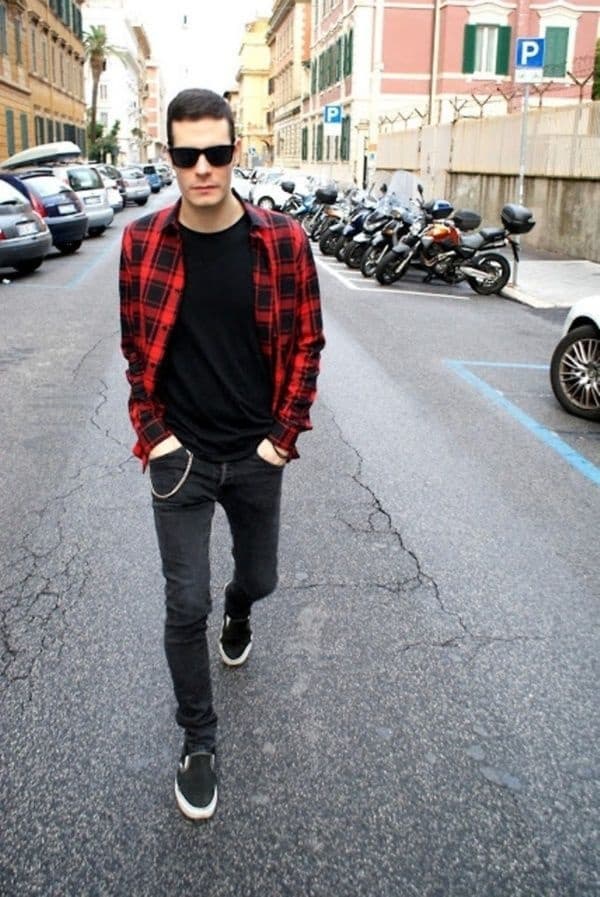 Image Source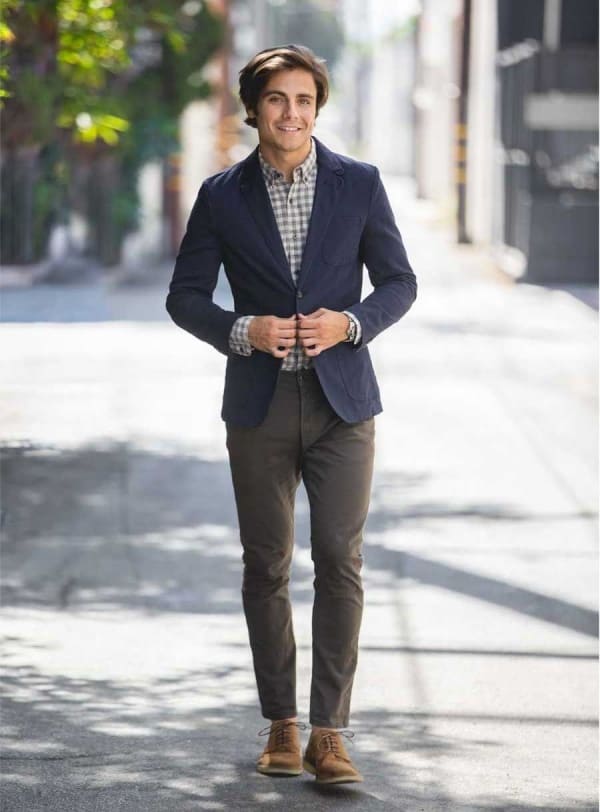 Image Source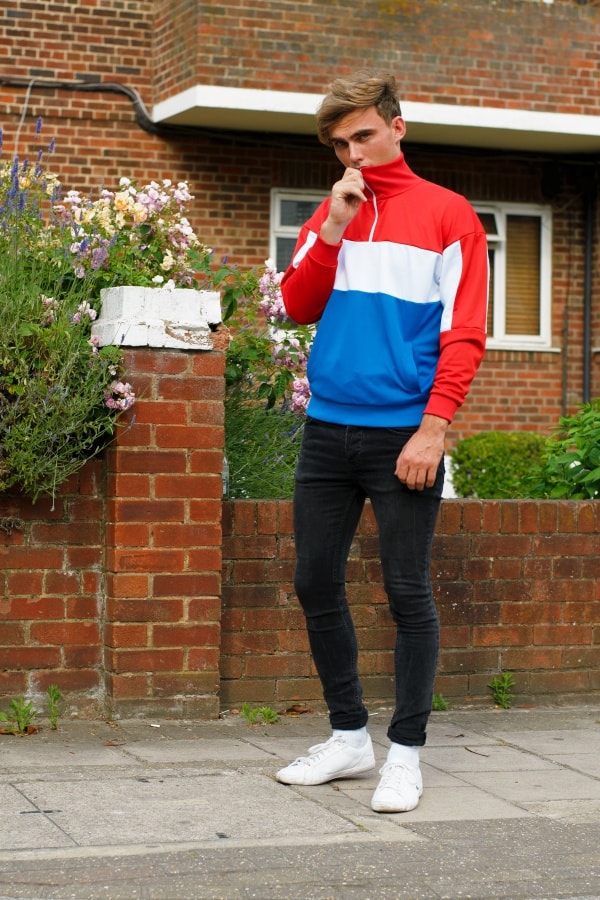 Image Source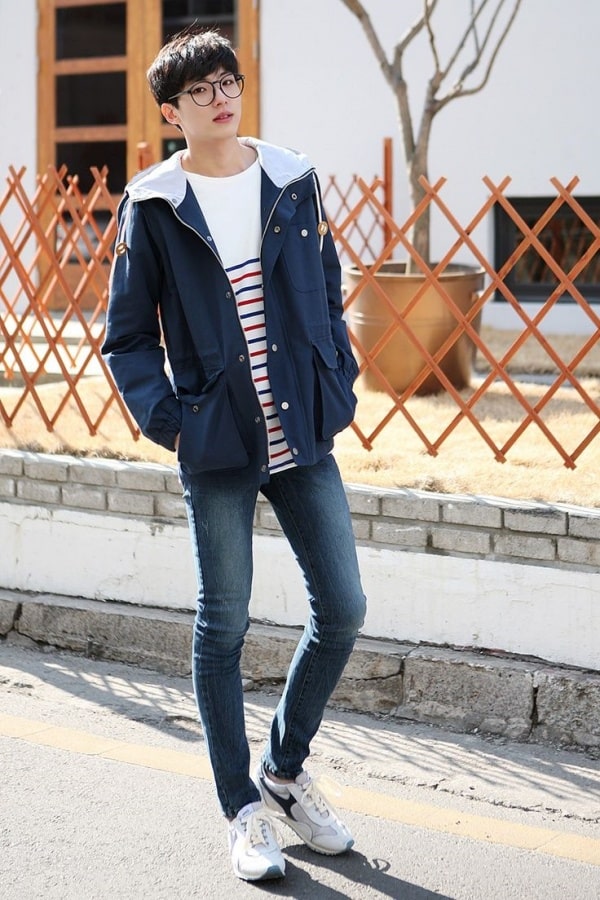 Image Source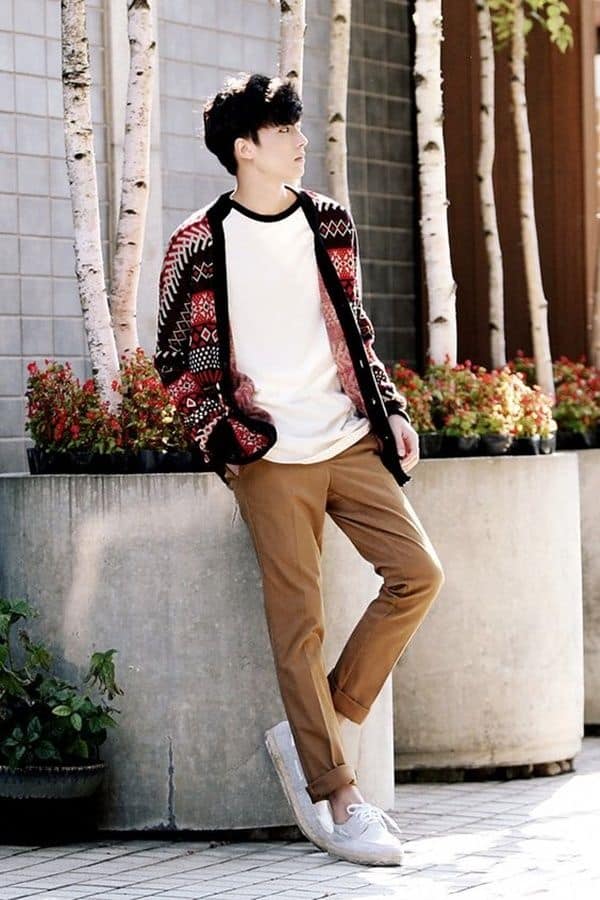 Image Source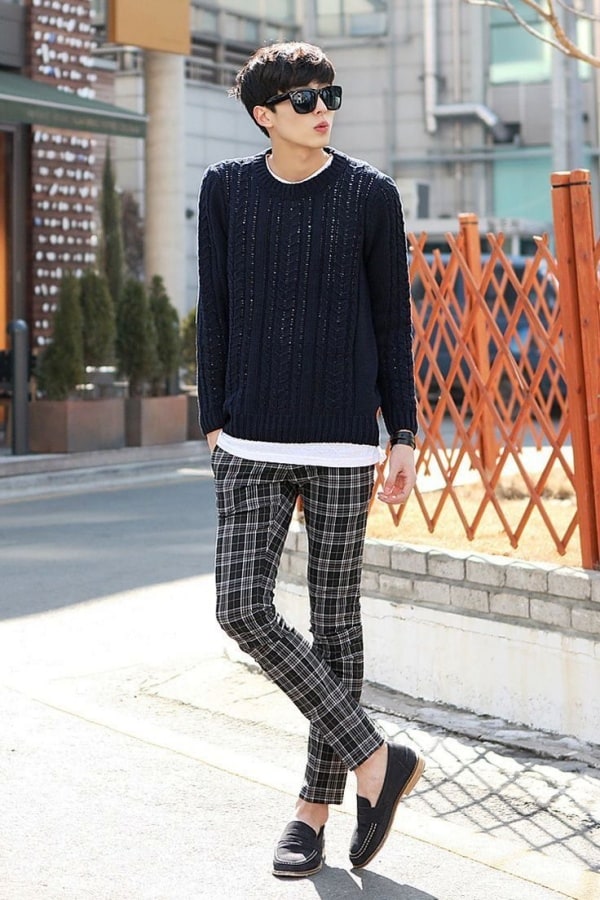 Image Source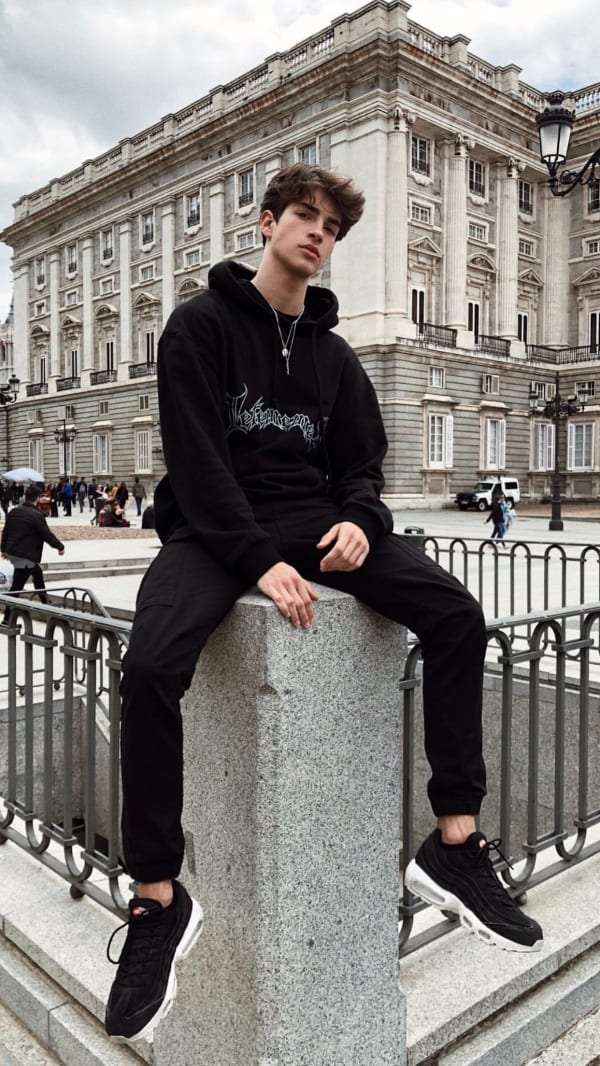 Image Source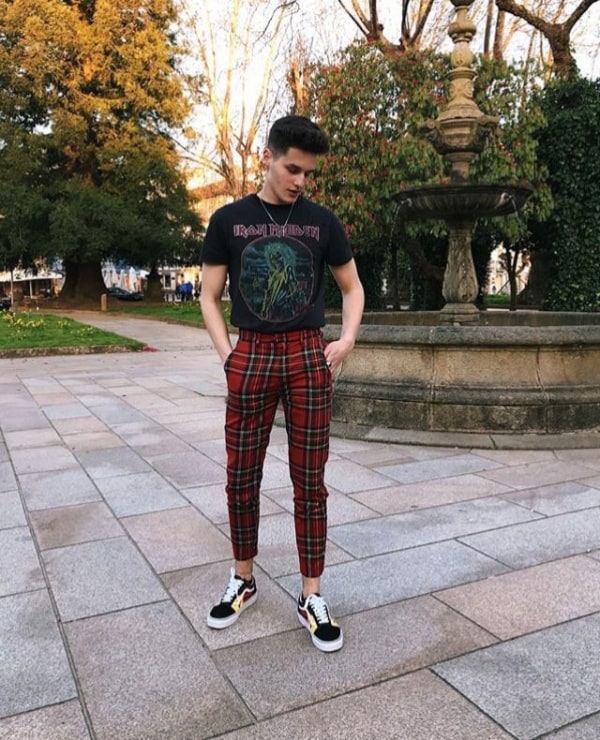 Image Source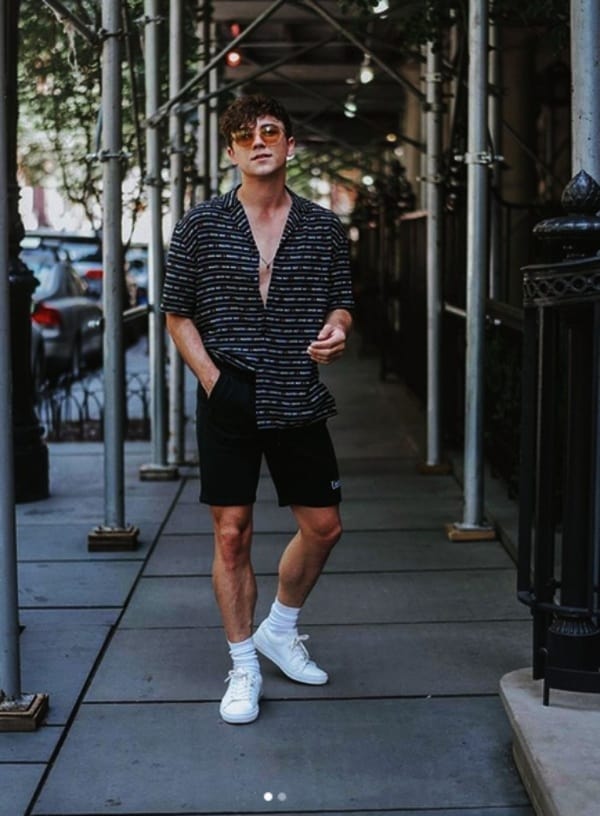 Image Source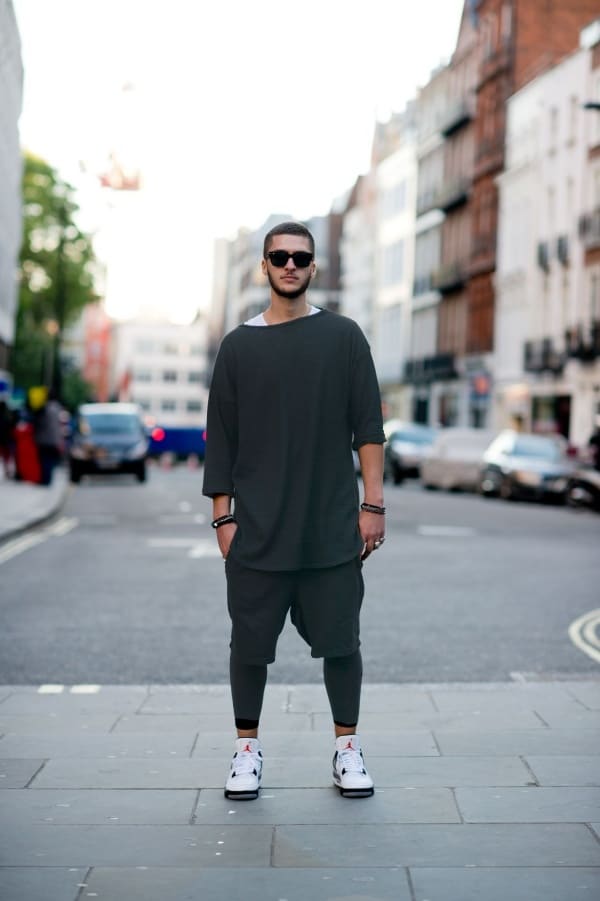 Image Source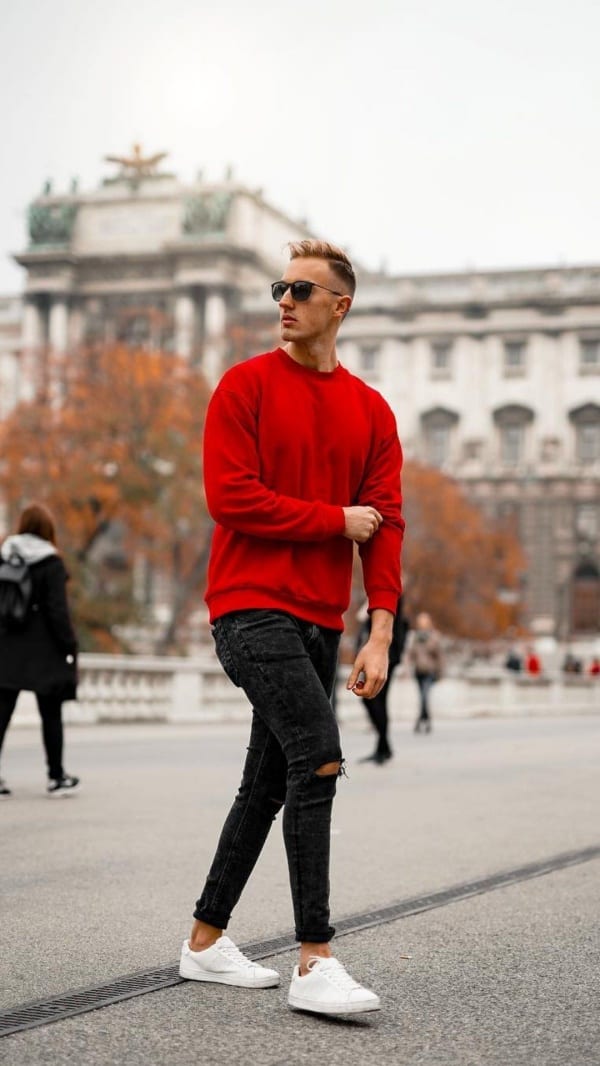 Image Source
7 Must-Have Shoes For Every Teen Boy
1. A Pair Of White Sneakers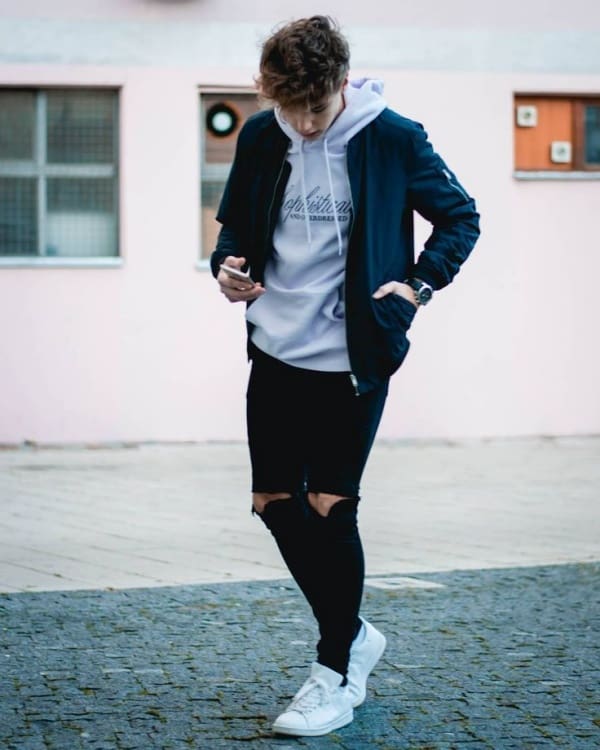 Image Source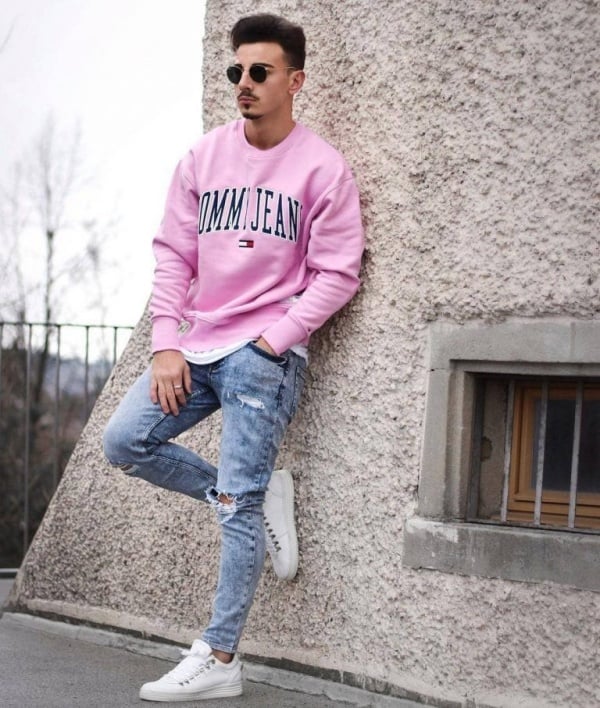 Image Source
If you are a teenager, and you don't have a pair of white sneakers in your collection of accessories, then you certainly don't have the right footwear for half of the clothes in your closet. White sneakers are a staple in every teen guy's wardrobe. And that is why they are a mandatory investment for anyone willing to amp up their style.
2. Dress Shoes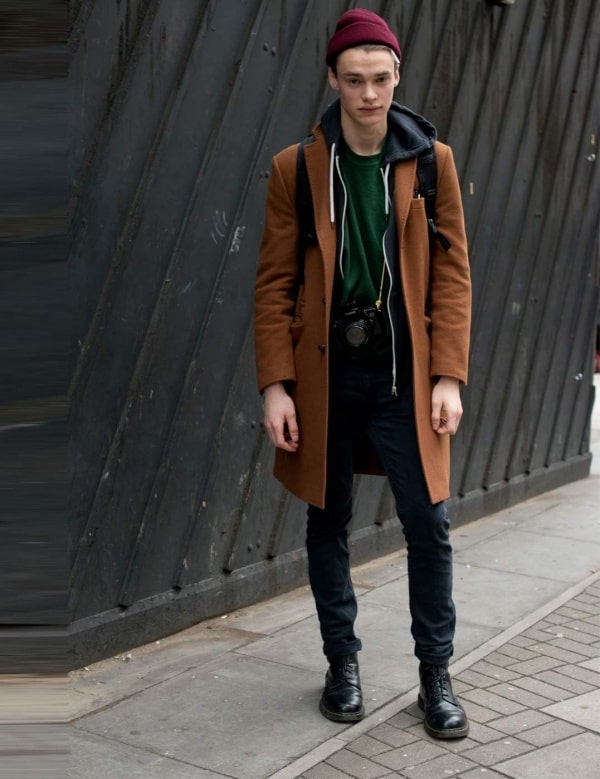 Image Source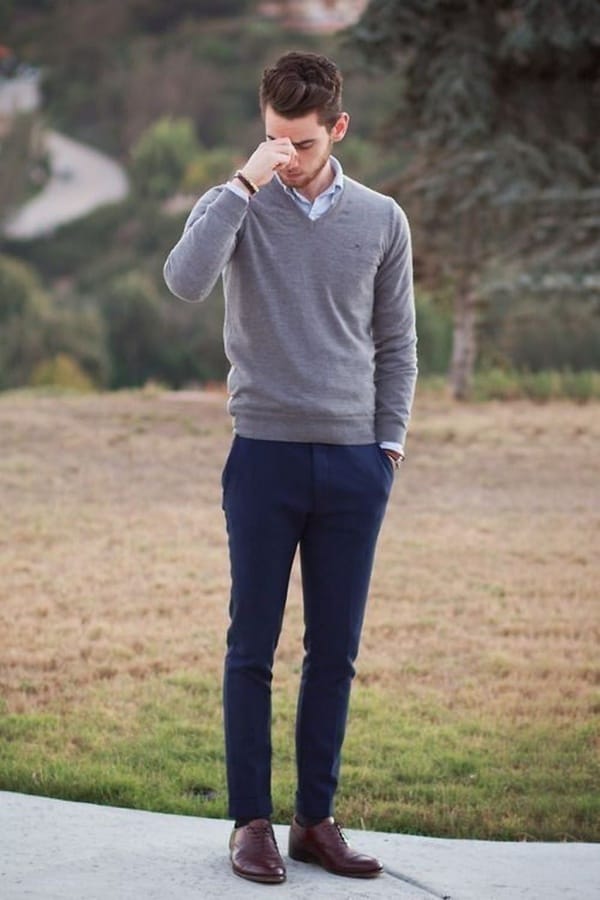 Image Source
It's quite natural for anyone to feel dress shoes are not a compulsory addition to a teen guy's shoe collection. But if you are a teen who loves attending formal events and family functions in proper formal clothes, then there is no reason why you shouldn't have a pair of dress shoes to call your own. And with so many varieties of them available for purchase, choosing your first pair or the perfect next pair is never a challenge.
3. A Pair Of Boots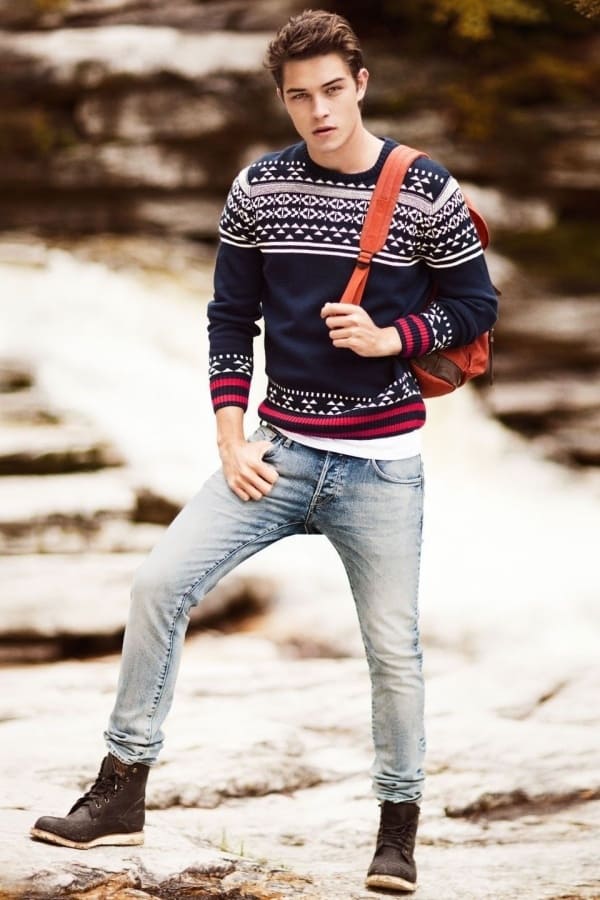 Image Source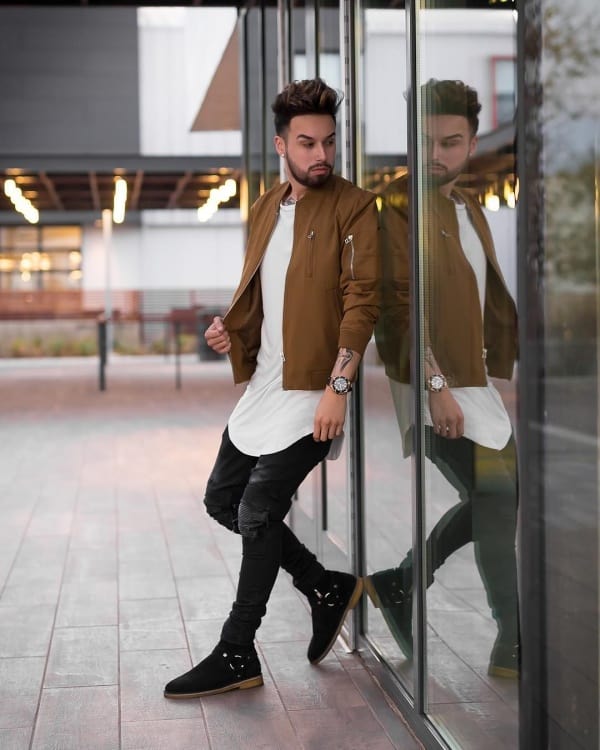 Image Source
These rugged shoes are a must-have if you don't like to radiate an innocent teen vibe all the time. Wearing the right pair of boots will not just pack you with confidence but will also give you some respite from sneakers and loafers. But boots are a risky type of shoes to own. You cannot team them up with everything. And that is why when you do not have the right clothes to style your boots with, these shoes turn out to be a bad investment. Nonetheless, they are a mandatory addition to your wardrobe, if you love masculine wearables.
4. Colored Sneakers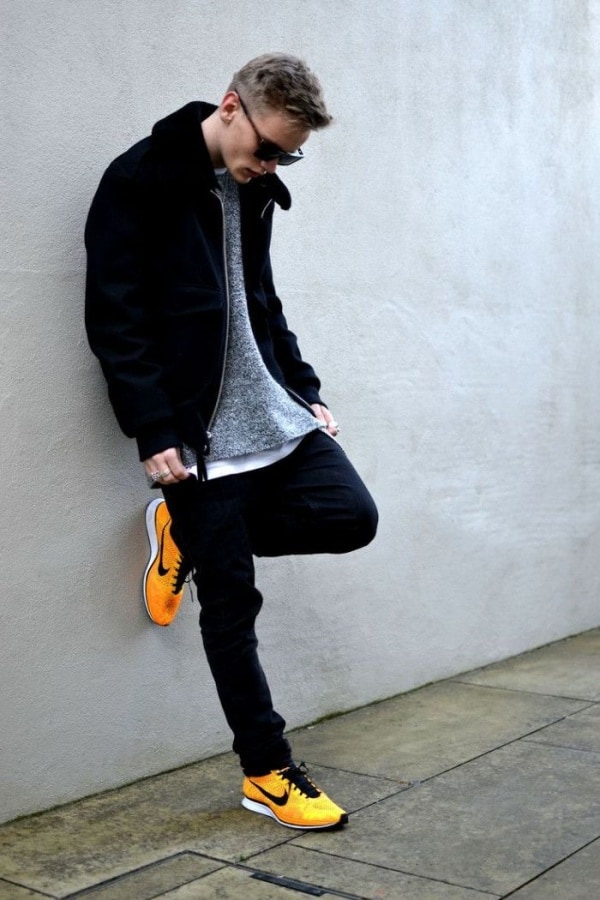 Image Source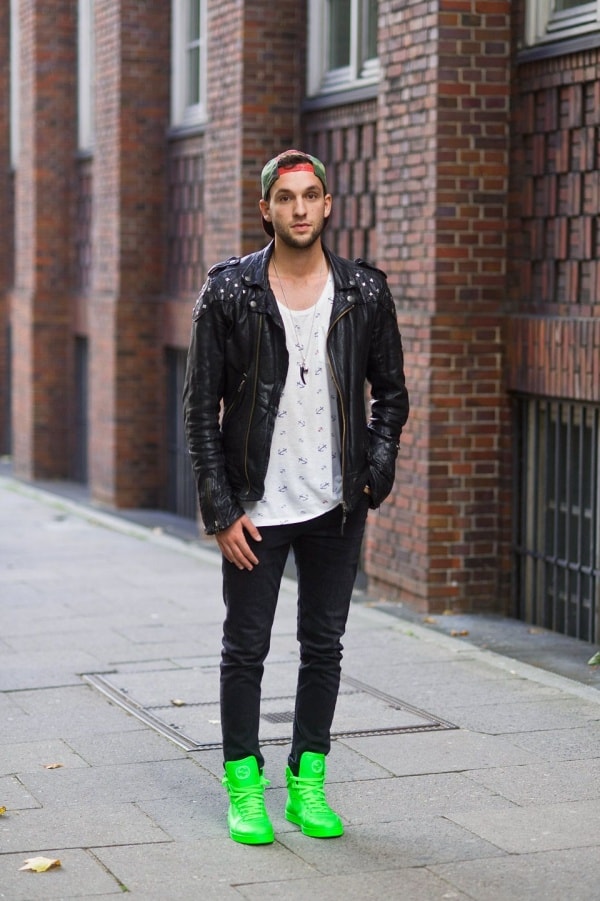 Image Source
You simply can't have enough sneakers. Whether you love your shorts, your jeans, or chinos, you need a pair of sneakers to match them all perfectly. And since you already probably own a pair of white sneakers, it's now time to pump some money into a few colored pairs. Some versatile colors could be navy, red, and black.
5. Sports Shoes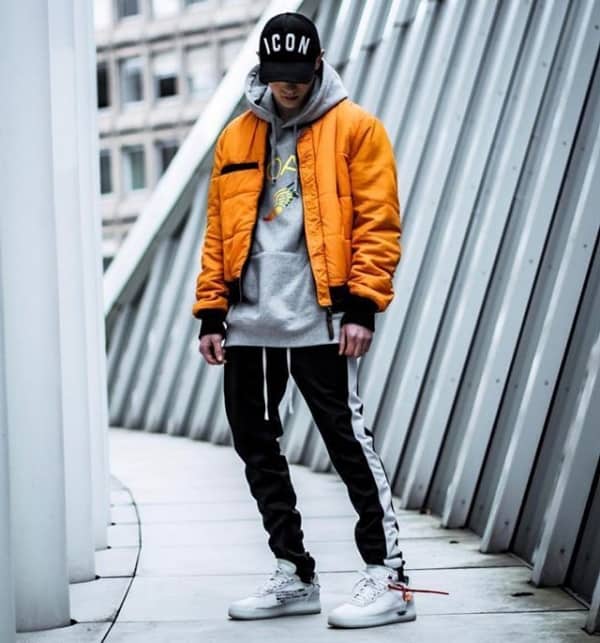 Image Source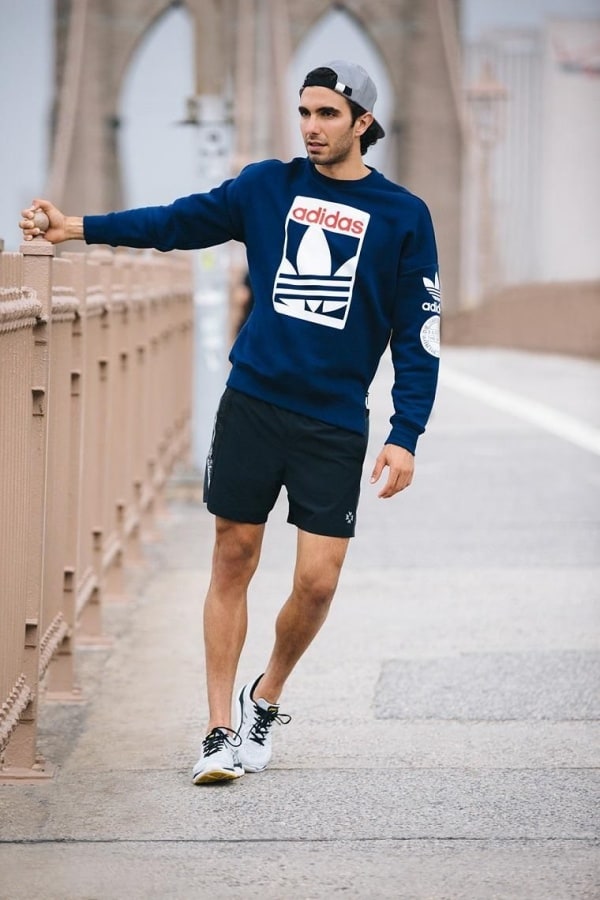 Image Source
You don't need to be a hard-core player to own a pair of sports shoes. You can have it just because it's such an in-thing to own. Sports shoes are available in hundreds of different brands, models, and designs. And that is why your possibilities of finding that one perfect pair are very-very high. You can style your sports shoes with track pants, chinos as well as jeans, without really looking like a player undergoing training.
6. A Pair Of Hi-Tops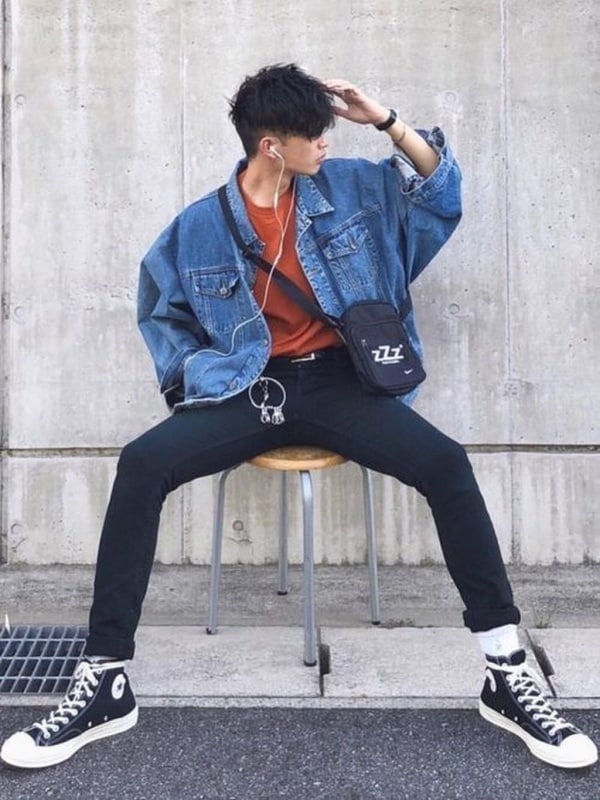 Image Source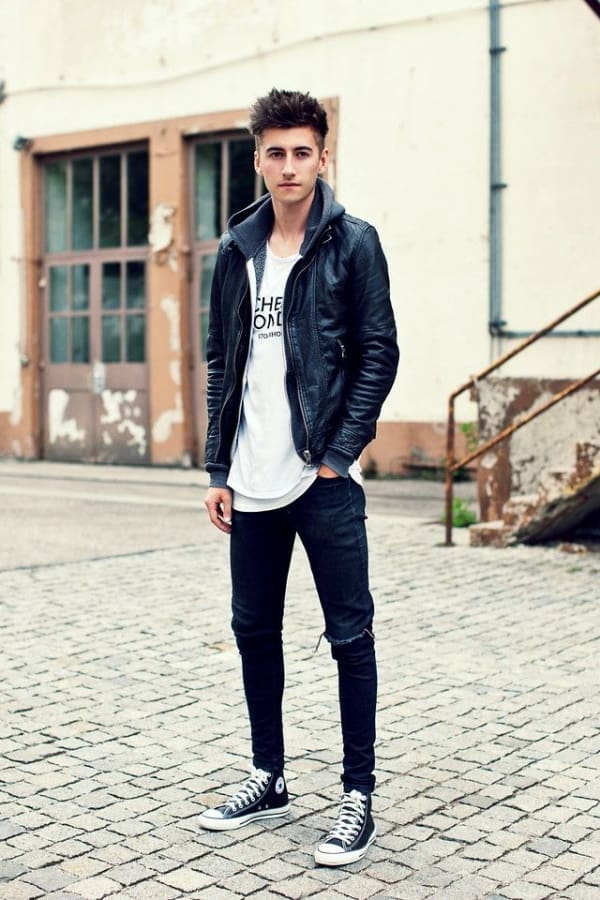 Image Source
If you are a teenager and you still don't have a pair of hi-tops in your footwear collection, you need an instant wardrobe upgrade. Hi-tops have a youthful essence to them. And hence, they are ideal for teenage boys. But they have a complete casual feel, which makes them unsuitable for formal occasions. However, that's simply no problem, they are suited to all other occasions imaginable.
7. Espadrilles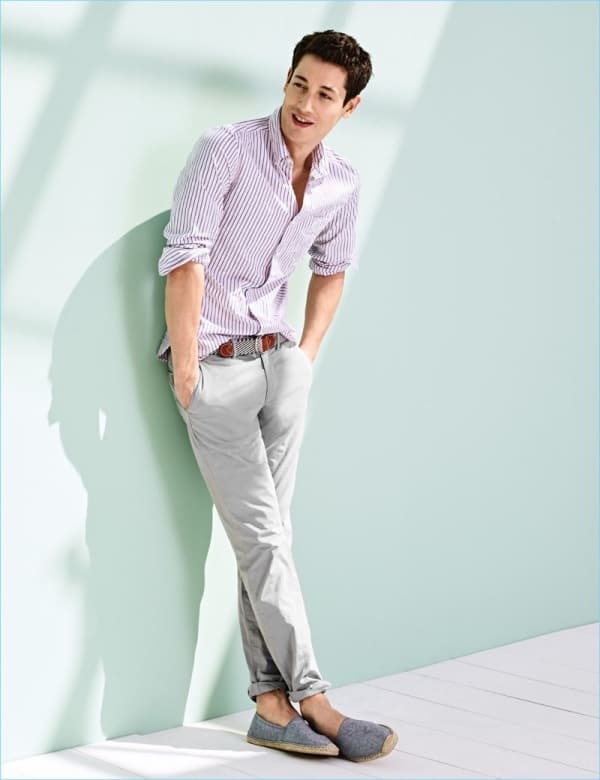 Image Source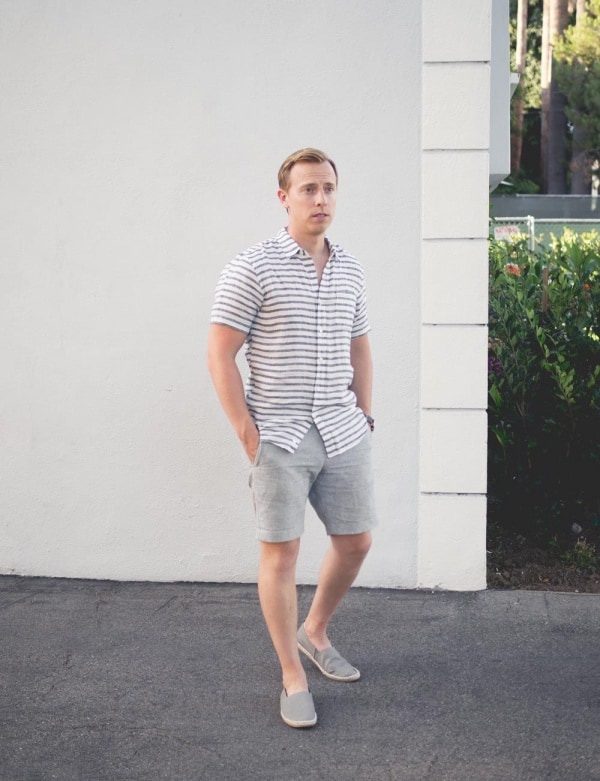 Image Source
Espadrilles are like a mild breeze on a scorching hot day. No, we are not trying to be poetic; we are just highlighting their role during summers. They come with a cotton or canvas upper part and a flexible sole, which makes them a perfect summer companion for teenagers. But bear in mind that they complement shorts the best. So, it's better not to try to force-pair them with other outfits, especially formals.
Conclusion
The above cool outfits for teenage guys have so much versatility in them that they can together make up your entire wardrobe. Starting from black and black outfits to blazers and turtlenecks, you find almost everything in the list above.
Let us tell you how it helps to have so many options at hand. Well, with a multitude of options at your disposal, you can decide better what to wear on different occasions. That means this guide proves to be a ready source of advice for fashion lovers who are sick and tired of their constant indecisiveness regarding outfit selection. And thankfully, when you know what to wear, the 'how to wear it' part gets easy- it just flows out of your mind.
If, however, you are not creative enough to conjure ideas in mind regarding how to style the outfits mentioned above, then just follow the basic styling tips we have offered. They are based on established tenets of style and real-life fashion experiences. And that is why they are able to help you as efficiently as a fashion guru is. Every day, you will confront numerous fashion roadblocks. The style tips above will help you sort out such fixes painlessly.
What's the bottom line? It's that you have a wonderful fashion guide at your disposal now. So, make the most of it and be the enchanter you always desired to be!
You may also like: