Outfit styling has always been a fashionable way to express the true self of Teenage guys. With the plethora of outfits, boys can style according to their heart desires—most teen boys style to express themselves in front of the opposite gender. Teenage boys wish to be the center of attraction. With the best outfits, this can happen quickly. Although teenage boys lay confused about which style to choose, that will be fruitful in expressing themselves. This article has been created for those boys to give them the best shape. At the end of the article, you might get confused about the plethora of cool outfits for teenage guys.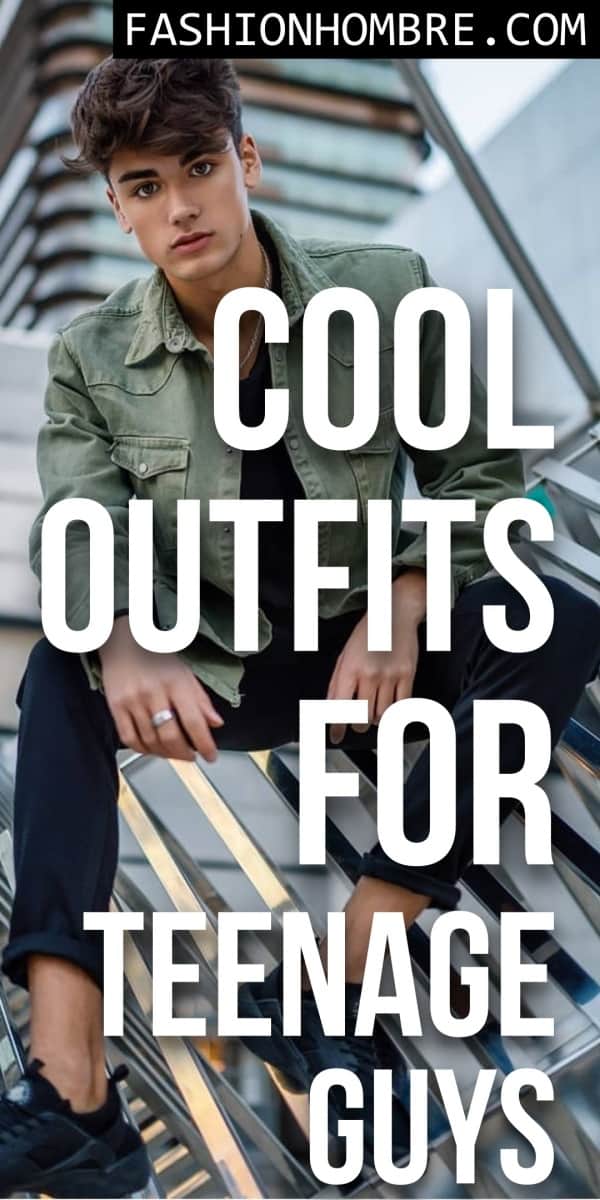 Here you will get to know about the latest outfit ideas for teen boys, summer outfit ideas for teenage boys, fall outfit ideas for teen guys & spring outfit ideas for teenage guys. The list of stylish outfits that are provided here is readily available in the market. Here you get some deadly combination of shirts, pants, and accessories that will give you an attractive look you wish to have. So, let's jump into the list and apply the styles to yourself to appear stylish.
How To Be a Fashionable Teenage Boy?
Your posture is pretty much a part of your style: If you do not or cannot hold a good body posture, you will make your style miserably fail. After all, no matter how stylish your clothes or expensive your shoes are, and how perfect your hair and accessories look, you can't turn heads on the road, taking a droopy walk with a slouched back. So, stand erect and hold a stout upright body position when you walk. This way, you will pull off an outfit that is out there, perfectly.
It's easy to get swept away by trends: But doing that would be a folly in the case of hairstyles. You should only pick something which suits your face cut and your personality perfectly. Simply don't get a hairstyle done just because every teen boy on the TV shows up in it.
Wear well-fitted clothes: And by clothes, we mean both top and bottom wears. Yes, oversize clothing is a thing. But to do that trend right, you will have to know what clothes look great in a size or two up. Without that knowledge, it's better to avoid going oversize with your clothes.
Choose colors that complement your complexion: You might be fair or dark, but there are going to be colors you pull off well. It is important to do some research and find out which those colors are. Once you figure that out, shopping for your outfits will be a breeze. Also, don't forget that there is a world beyond white, black and blue. Try to experiment with colors. Take chances and go for shades that you haven't worn before. By doing so, you might just set some trends for others to follow. But then again, even when you experiment, it's important that you keep your complexion in mind.
Comfort matters a lot in the world of fashion: If you haven't yet realized that, it's time you did. Meaning, when you purchase clothes, shoes, and accessories, you shouldn't simply go by their looks- looks can be deceptive. On many occasions, people leave good-looking clothes and accessories lying untouched in their closet forever, just because those items fail on this one front i.e. comfort. And hence, it is important to invariably consider comfort while shopping.
To be a fashionable teen you don't need to have a lot of clothes and shoes. Having a variety of accessories like belts, headgear, and jewelry items in your possession can create new looks every time by simply mixing and matching your accessories with the available clothes. This is a million-dollar tip and will never make you feel you repeat your clothes over and over again.
Stylish Outfit Ideas For Teenage Guys
1. Black On Black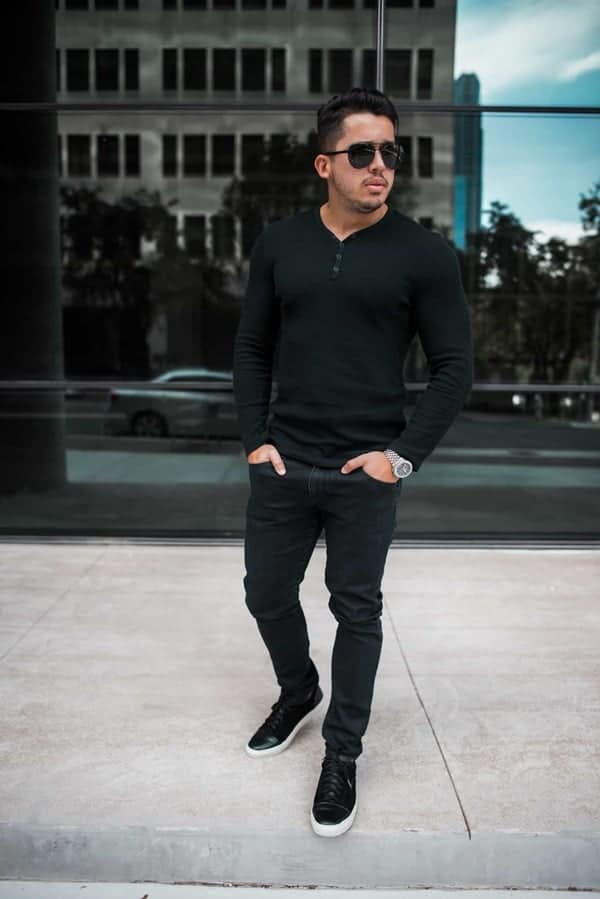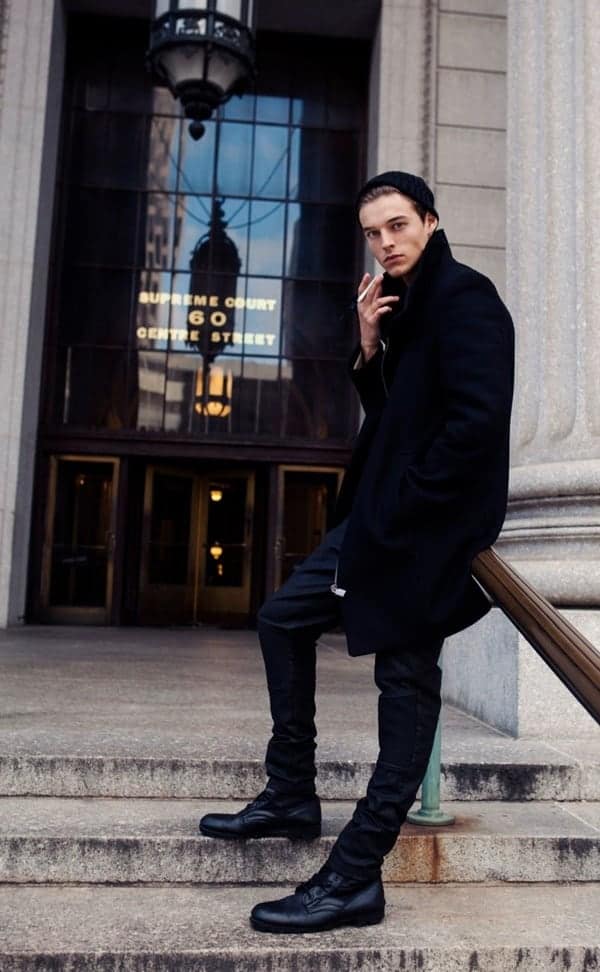 Black color has its craze among teenage boys. This color is sober and gives a unique, authentic look. Black-colored party wear is available for teen boys. The party wear goes perfectly with black formal pants or jeans. Wearing a white tie with the Black on black outfit gives an eye-catching appearance. Ethnic Black suits have been a stylish outfit for a long time. The black color dress can also be used for mourning. Be it a black shirt, t-shirt, suit, or kurtas, every type has its own popularity.
2. Long Sleeve T-Shirts And Jeans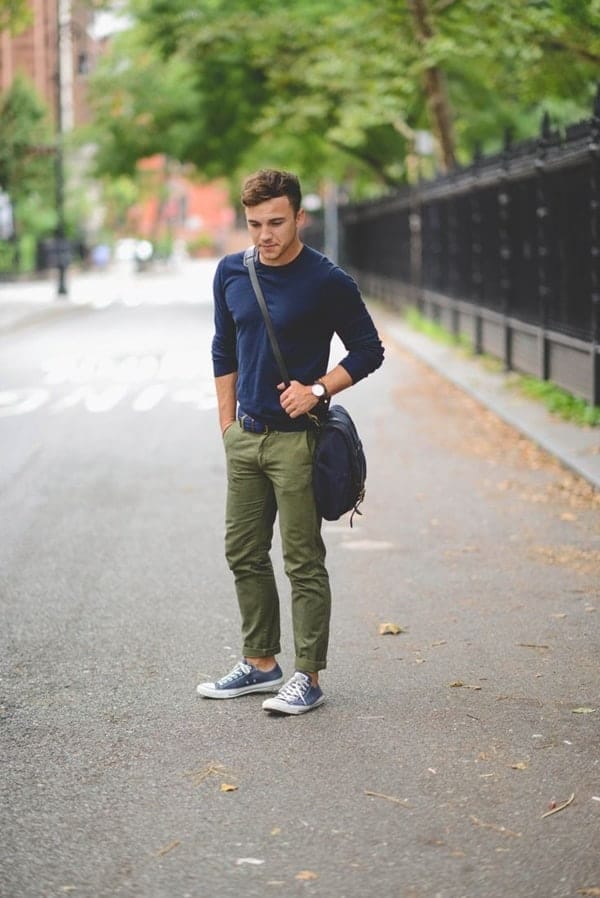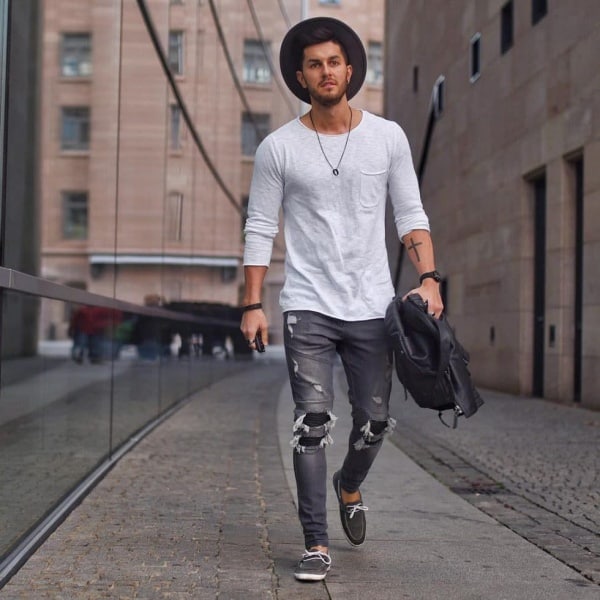 Long sleeve t-shirts are outfits that never get old. It has been worn by men, especially teen boys, since ancient times. In modern times Long sleeve T-shirts along with jeans have become a popular style. This style has been a fashion quotient for all types of teen boys. From fat to thin, white to black, everyone fits perfectly in this style. The most favored pattern that is mainly followed is light jeans with deep-colored t-shirts and vice versa.
3. Ripped Jeans With A Black T-Shirt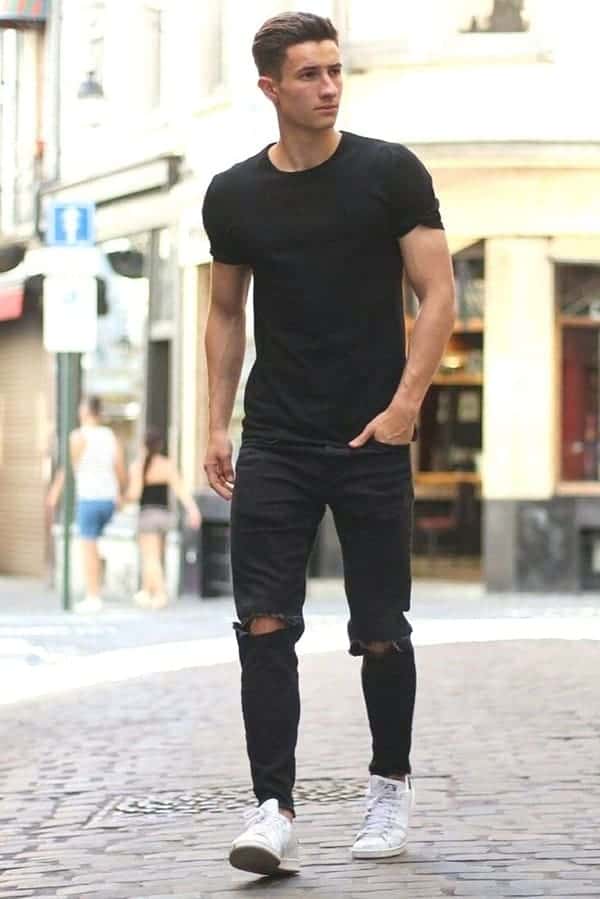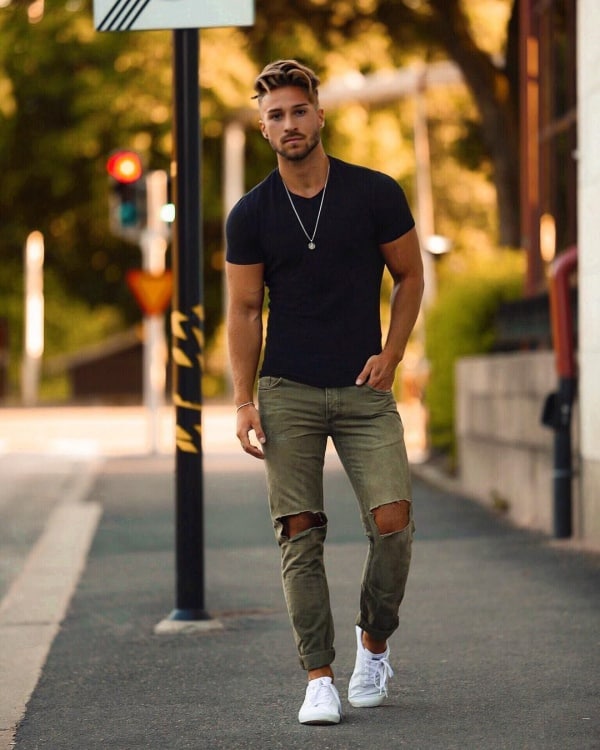 Ripped jeans are locally known as damaged jeans. Although the price of ripped jeans is costlier than regular jeans, boys look dashing in ripped ones. Ripped jeans with a Black T-shirt have turned out to be cool outfits for teenage guys. Boys love to wear black than any other color as it appears more prominent. Black T-shirts can be worn with both deep and light-colored ripped jeans. This combination turns out to be sexy when white sneakers are worn with it.
4. Camouflage Pants With Plain Tees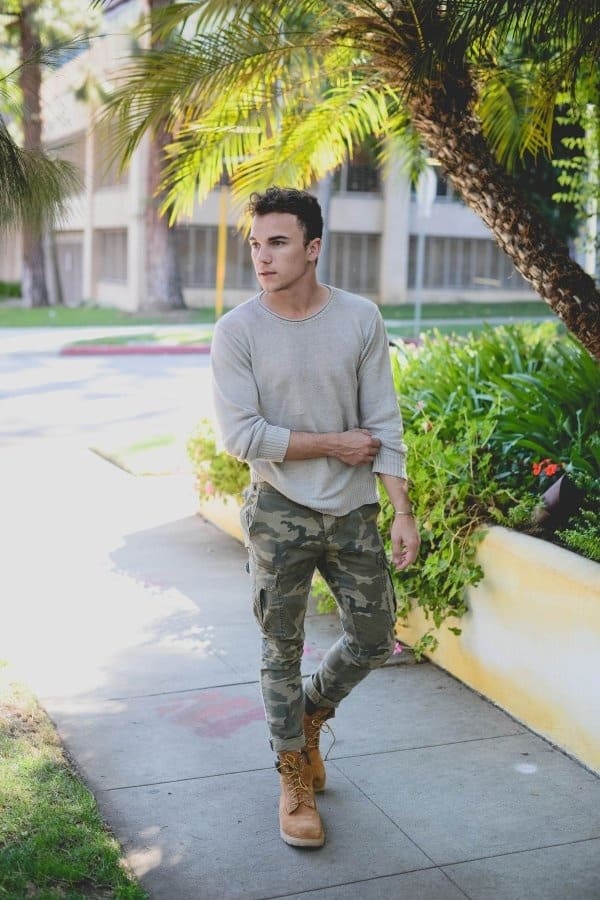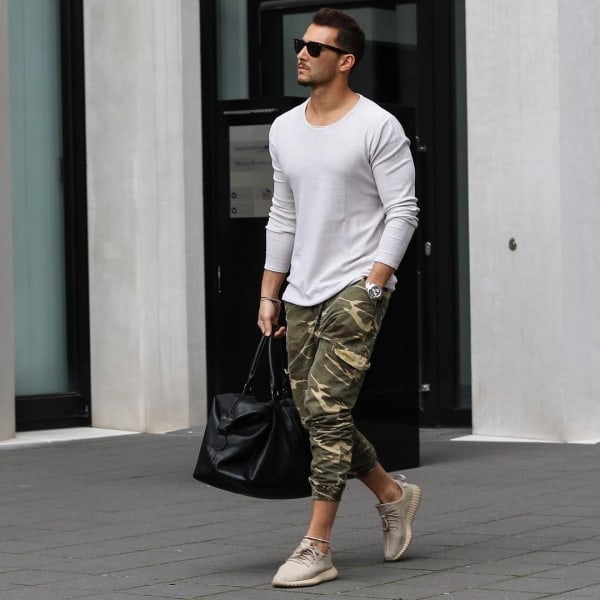 The name itself suggests what the style can be. Camouflage pants have been in demand since most actors started wearing them. They are mostly available in cotton. The color varies widely, and the used colors are bright in order to mix with the environment. The camouflage pants can be worn below the ankle or above the ankle. Boys love to combine Camouflage pants with Plain Tees in order to combine both style and simplicity. You can add sneakers with camouflage pants to make them more appealing. Plain Tees are available in a variety that matches the camouflage pants design. If you wish to make others admire your style, then this is the best you can have.
5. Sleeveless Hoodie With Baggy Pants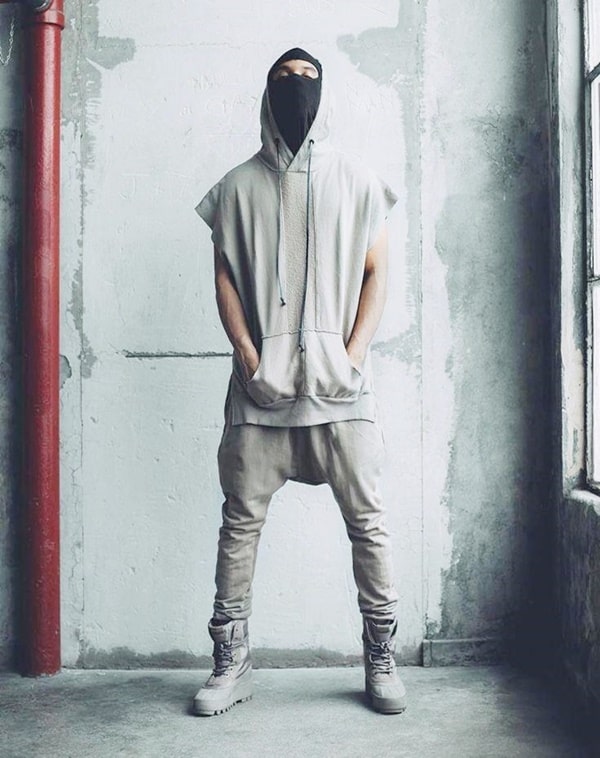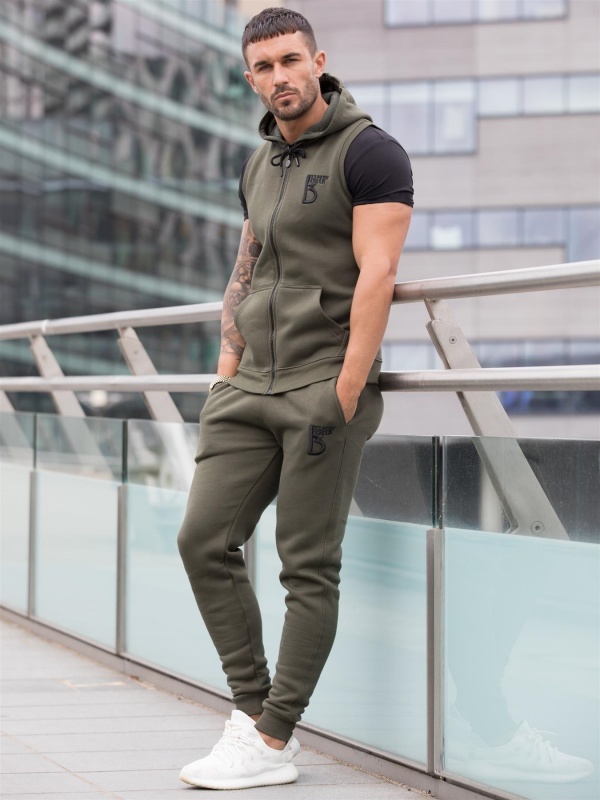 The hoodie is a unique fashion among boys. Hoodies are not only worn in the winter season. Sleeveless hoodies are available to express your style in the summer season also. Sleeveless hoodie with baggy pants has been doing rounds in the fashion market. Baggy pants offer a casual style, and with the hoodie, the style becomes more appealing. With sunglasses and sneakers, the style glows differently. Teen muscular boys love to show their muscles with this style.
6. Tank Top With Jeans Outfit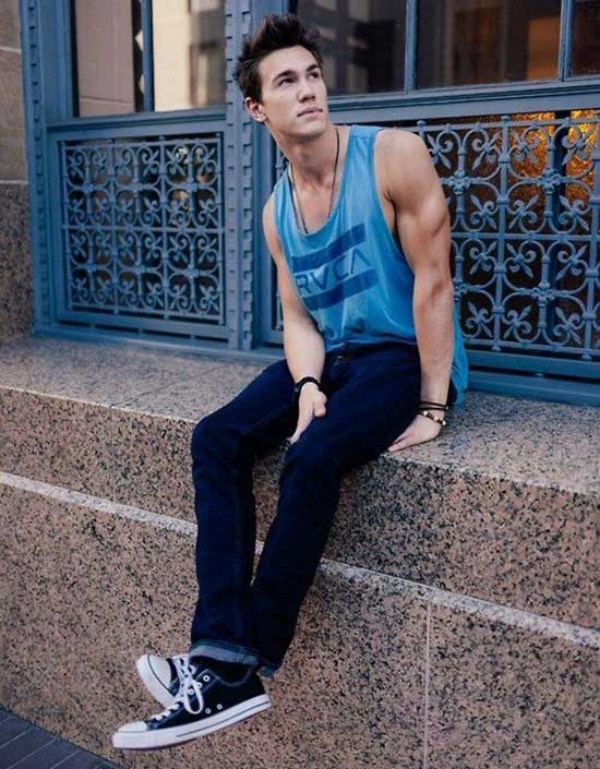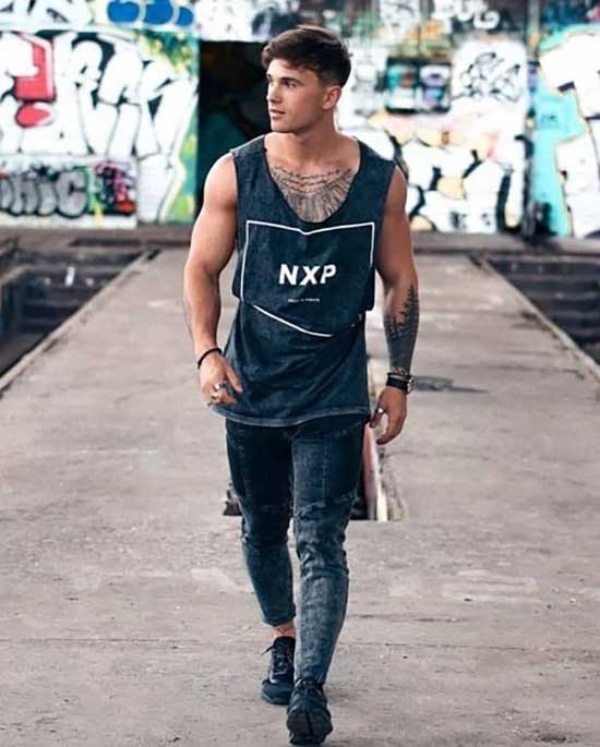 Tank tops with jeans outfits have become cool outfits for teenage guys, mainly in the summer season. Every teen boy likes tank tops as they are very comfortable to wear on and off. Most gym-going guys prefer wearing tank tops to work out smoothly and flaunt their bodies. Jeans along with tank tops make the style complete. Boys with this style look appealing to girls. Some boys prefer riding bikes with this style of outfit.
7. Button-Down Shirt With Sneakers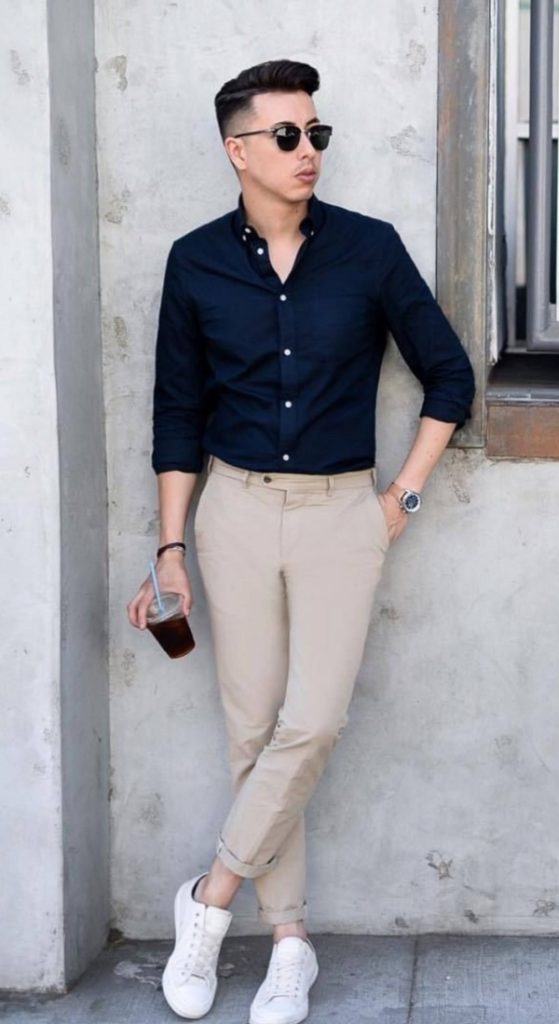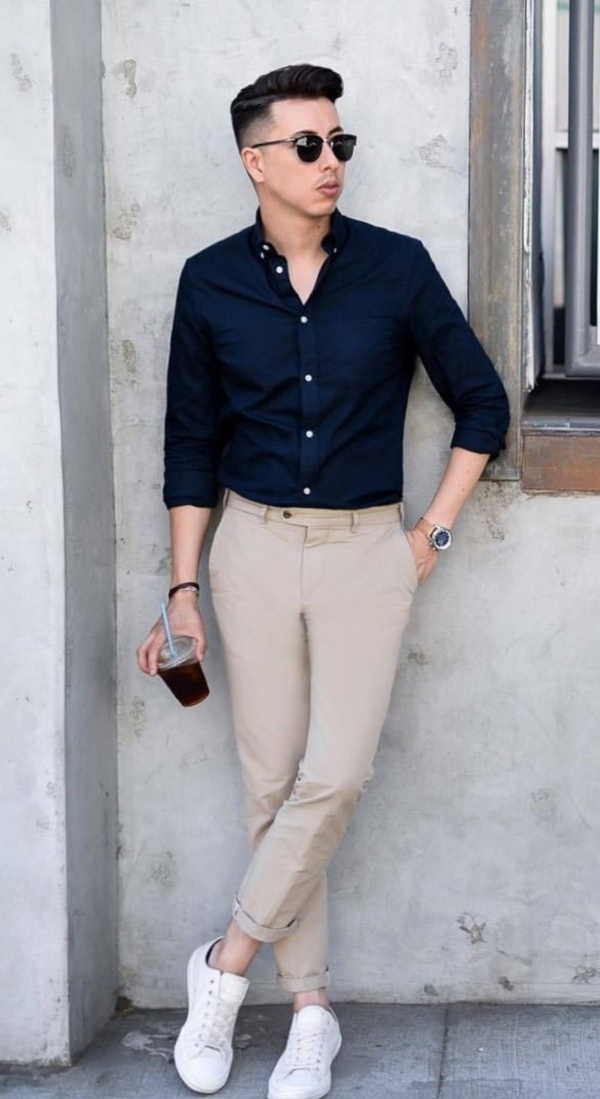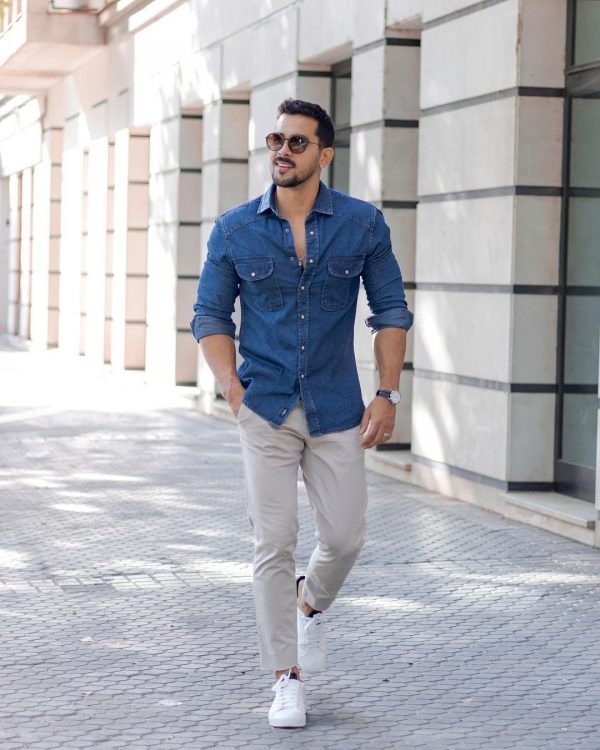 Shirts with collars that can be button-down have a pretty cool appearance. The boys look chocolatey in this style. From birthday parties to office-going, teen boys can wear Button-down shirts. This gives a positive vibe. The combination of button-down shirts with sneakers is way out of the fashion quotient. If you desire to look the best among other men, this style will be the best. This is the most common style that you will find in every other boy.
8. Black Leather Jacket Style With A Beanie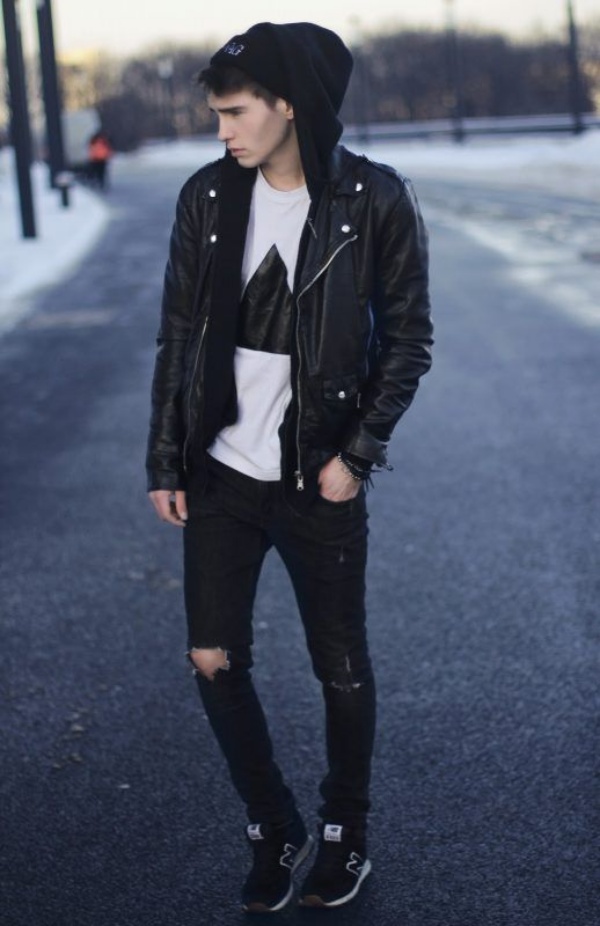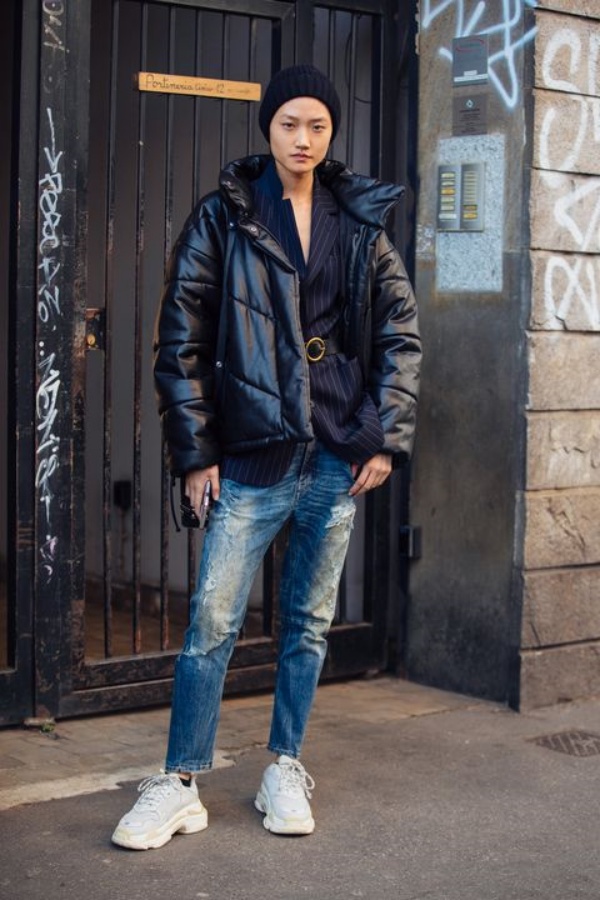 Leather jackets are always dashing when it comes to flaunting your look. Leather jackets are available in a diversity of colors. Among them, a Black leather jacket is the most popular in the market. The black color has its own demand when it comes to leather. Most bikers love wearing leather jackets both as a safety measure and also to look sexy. A Beanie with the jacket will definitely appreciate you. The beanie adds spirit to this stylish outfit idea.
9. Go With Tie Dye Trend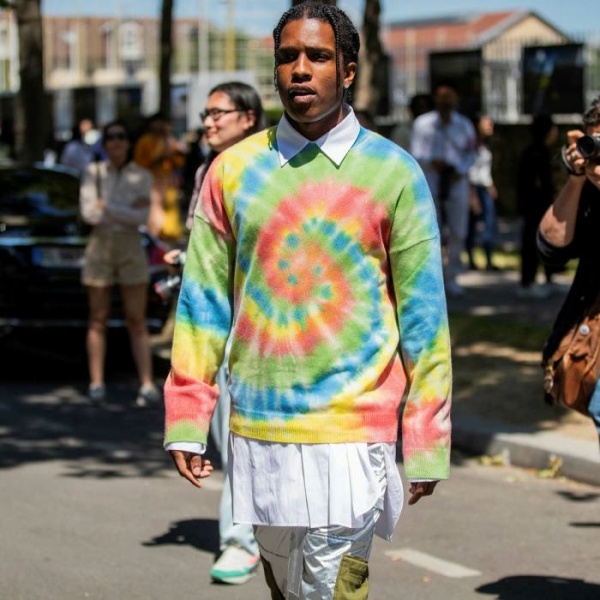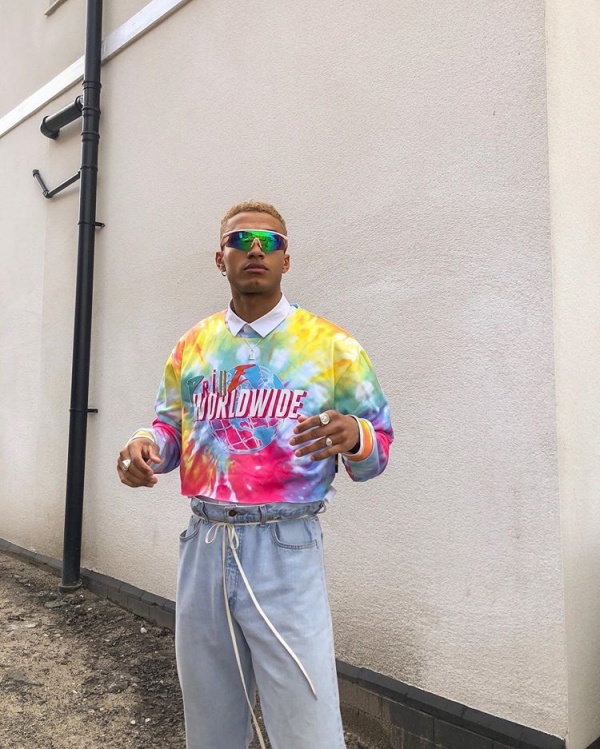 Tie-dye shirts are cool outfits for teenage guys as well as very much comfortable to wear. The best thing about this particular style is that the shirts can be made at home also following elementary steps. Even the tie-dye shirts available in the market are also cheap. They vary from light-colored to deep color. Teen boys of every shape get perfectly fit in this style. Most boys love this dressing style in summer as its comfortability gives a soothing effect.
10. Adding Scarf To Your Outfit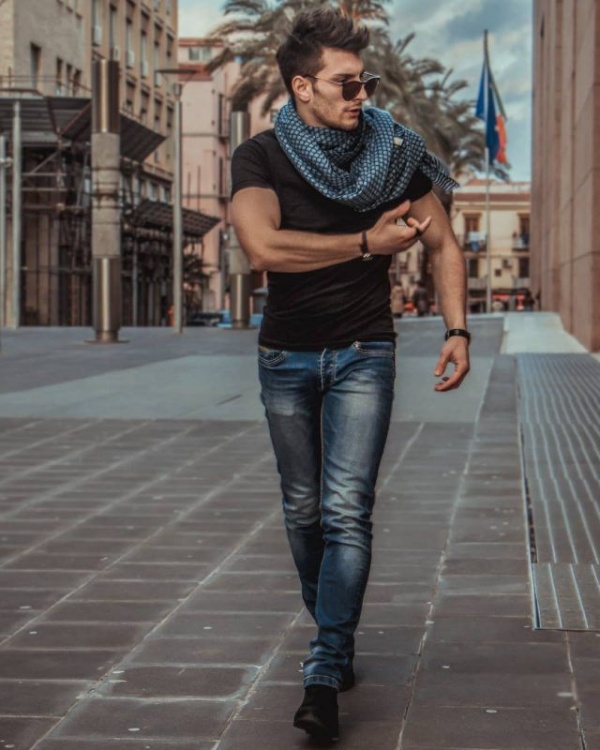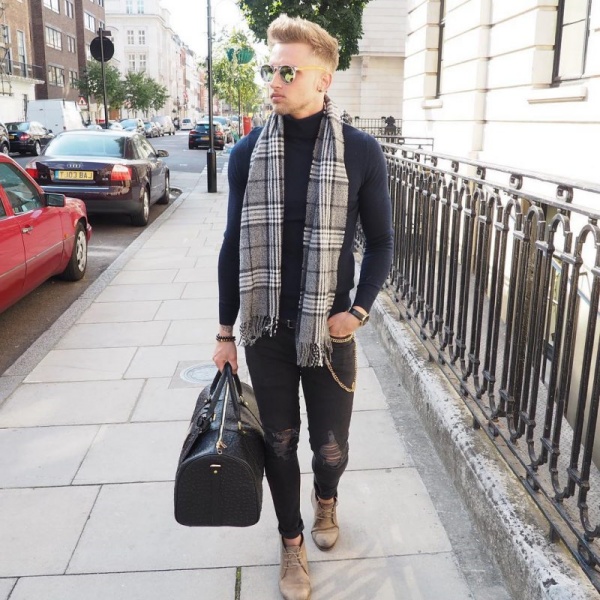 Although there are lots of outfit ideas. Wearing a scarf with your outfit is the cutest of all. This is a popular style as one can have matching color scarfs with the outfit. The scarfs also help in protecting from the cold season. The scarves can be worn with jeans, shirts, t-shirts. This has unique creativity of its own. The scarves are also cheap. They are available in almost every market. You can flaunt your own style with this type of outfit idea.
11. Joggers With Hoodies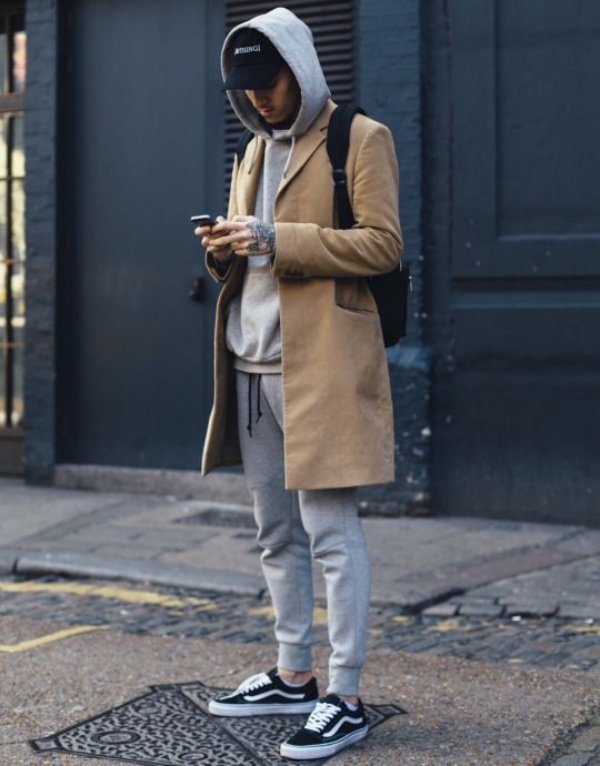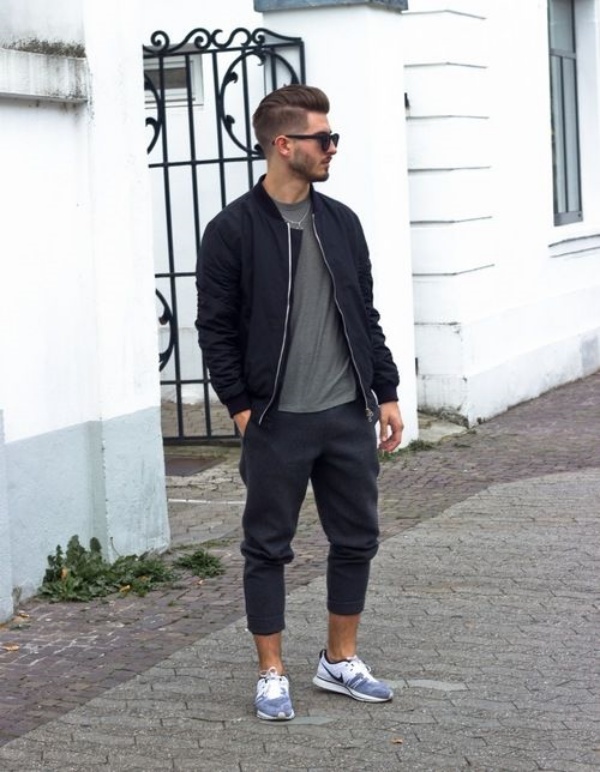 If you wish to have a style that gives you uniqueness and comfortable among others, go for the Jogger with hoodies style. This style has mainly been adapted from boys who do morning exercises. Nowadays, you can see everyone doing workouts in this outfit. The joggers are very comfortable, and you can choose among the various designs. The hoodies are available for both the winter and summer seasons. This also helps in the rainy season as the joggers are washable.
12. Polo T-Shirt With Jeans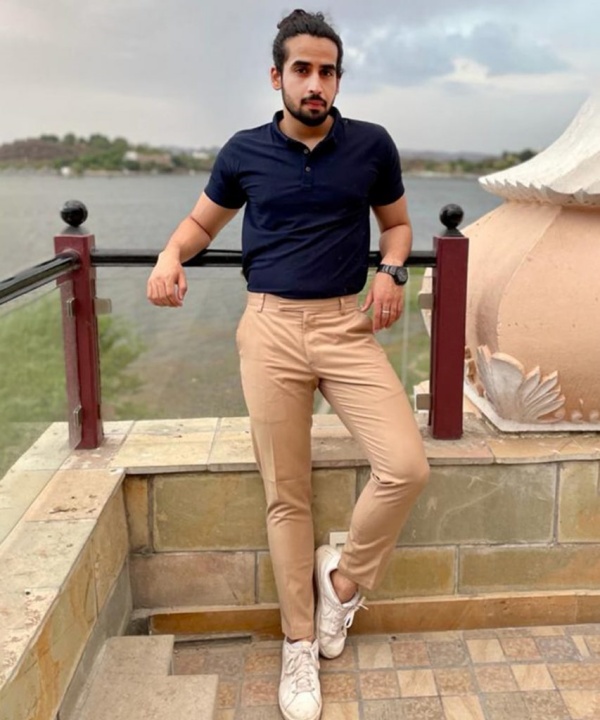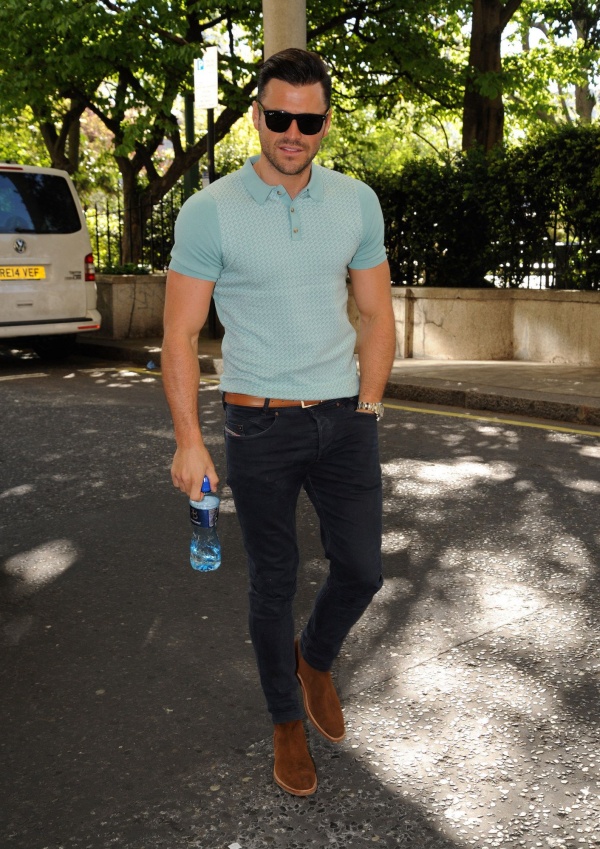 Polo T-Shirt has been a fashionable dressing outfit since the '90s. Earlier, most actors were seen in Polo t-shirts. This led to the development of this dressing sense with time. Nowadays, wearing Polo T-shirts with Jeans is termed cool outfits for teenage guys. The jeans added much spirit to the look. Boys with this style appear very confident. The Polo t-shirts can be worn with any color of jeans. This has made the outfit idea one of the best for its broad spectrum of style.
13. Cardigan With Chinos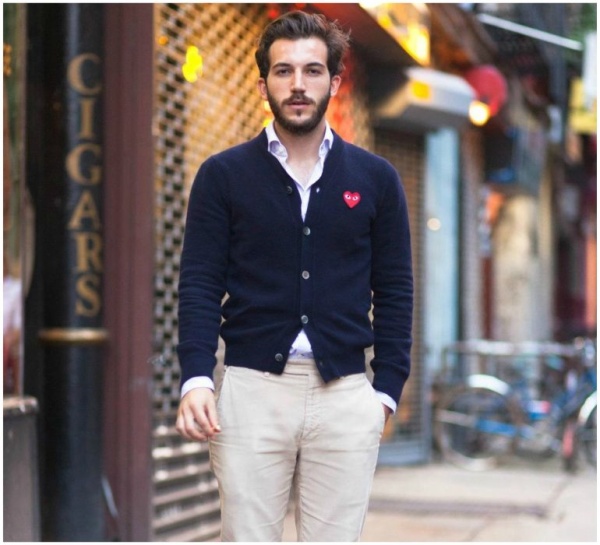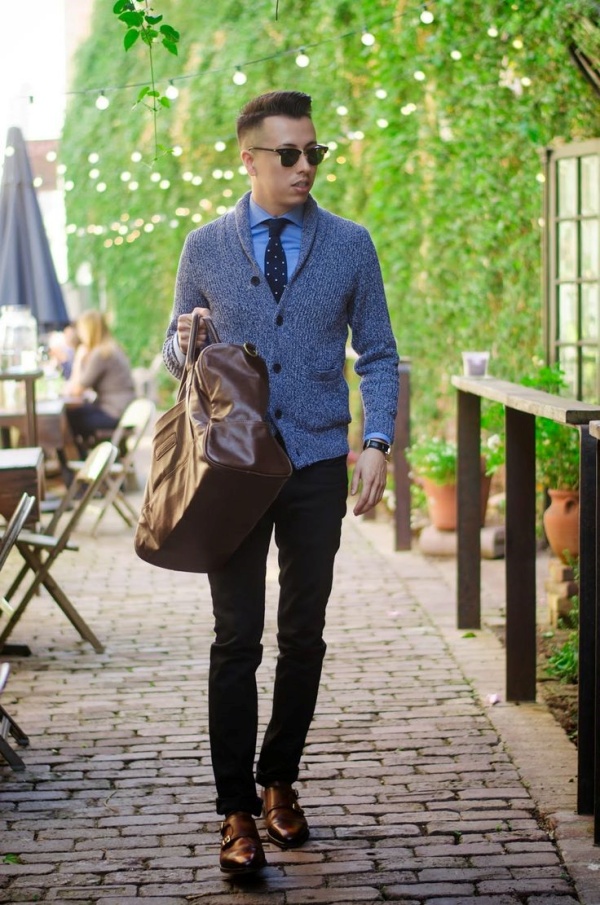 One of the best winter outfit styles is Cardigan with Chinos. This style can be seen mostly in Korean dramas, which are shot in cold areas. The Cardigan gives a sober appearance as well as protection from cold. The chinos are pants that are above the ankle. They have become a trendy style, and along with Cardigan, the style is now soaring heights. Tallboys with this style appear handsome and appreciative. The various cardigans available make this style a choice-able one.
14. A Plain T-Shirt Layering With Oversized Plaid Shirt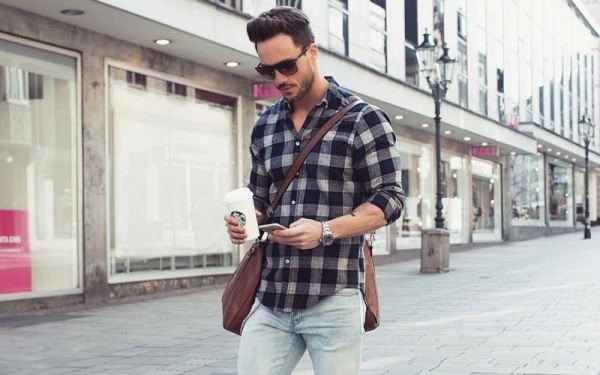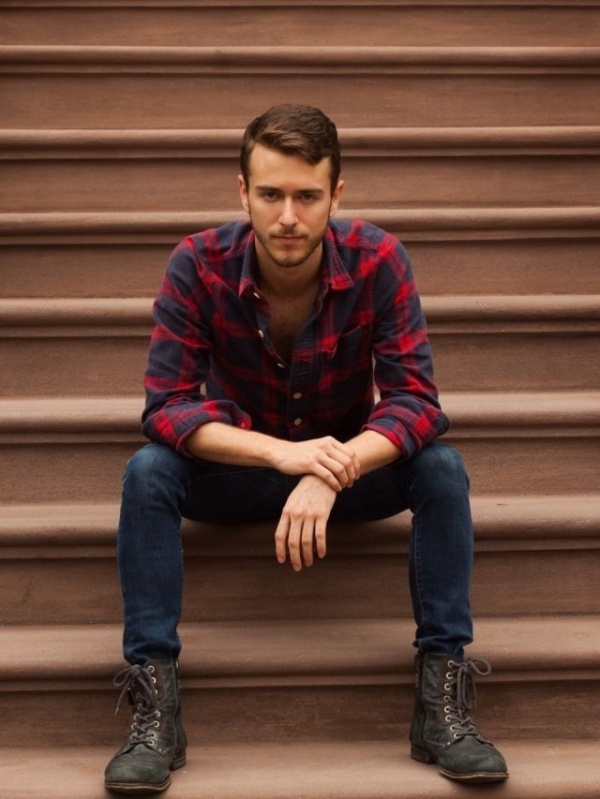 This is a relaxed style among different outfit ideas. A plain t-shirt layering with an oversized plaid shirt gives a chocolatey appearance. Most young boys have adapted this style from movies. This style has gotten much more trendy with its use by various actors. The color of both the t-shirt and shirt is contrasting. Sometimes you can get a similar color plain t-shirt and plaid shirt. From small shops to shopping malls, you will get this type of shirt everywhere.
15. Jeans With A Blazer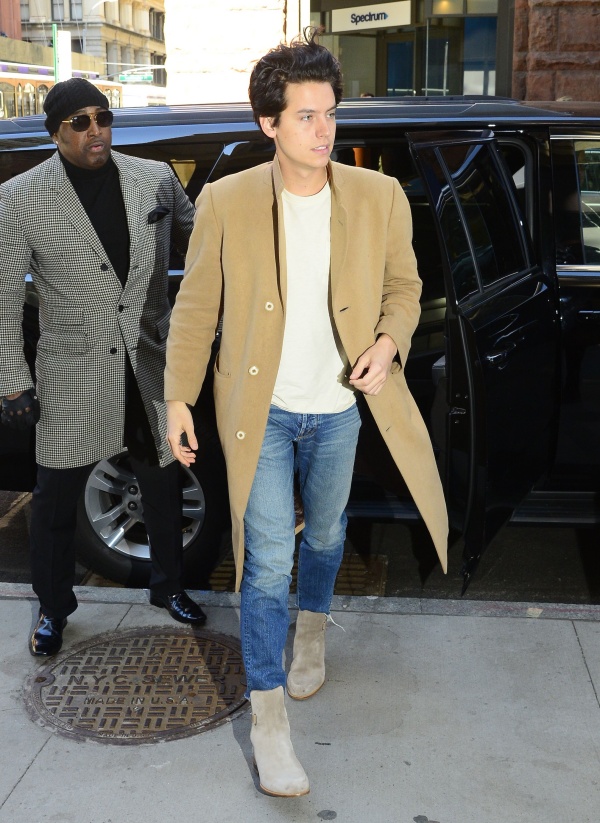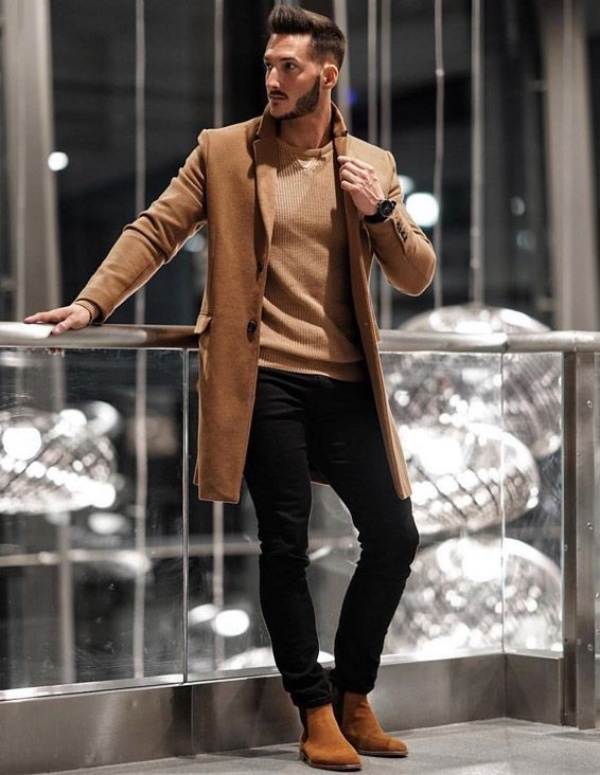 Jeans with a blazer are counted among cool outfits for teenage guys. Blazers are worn in schools, colleges in winters. Many boys wear blazers at office parties, marriage receptions. Adding joggers with blazers is a unique, creative idea. This increases the heat of the style. Outfit ideas like this are the real fashion quotient. Boys have found this idea as the best for wearing blazers in a cool way. You can try this style on yourself to have a beauty quotient.
Summer Outfit Ideas For Teenage Guys
1. An All-White Ensemble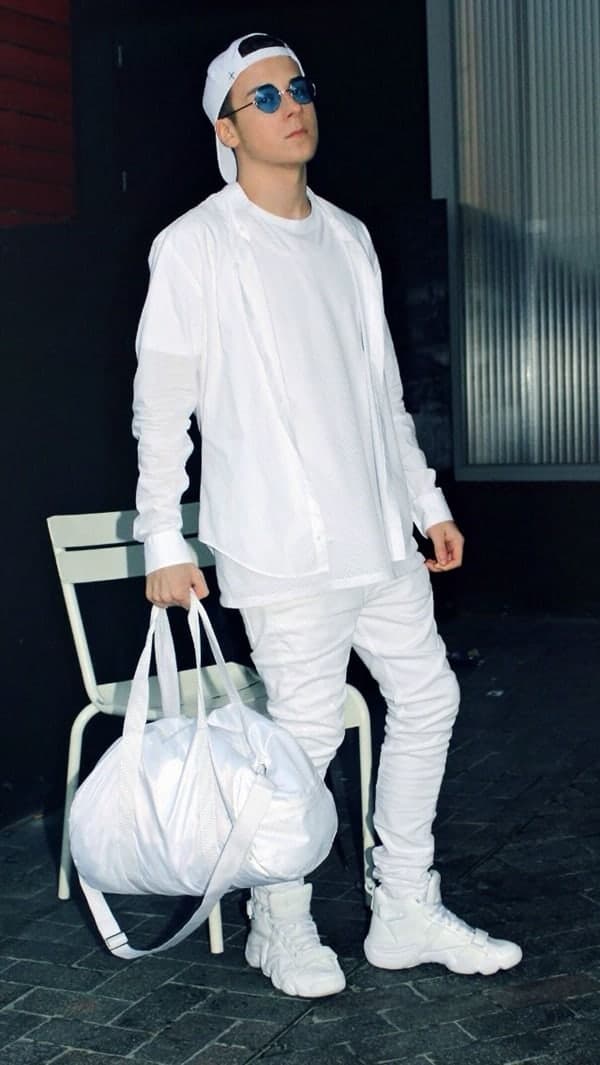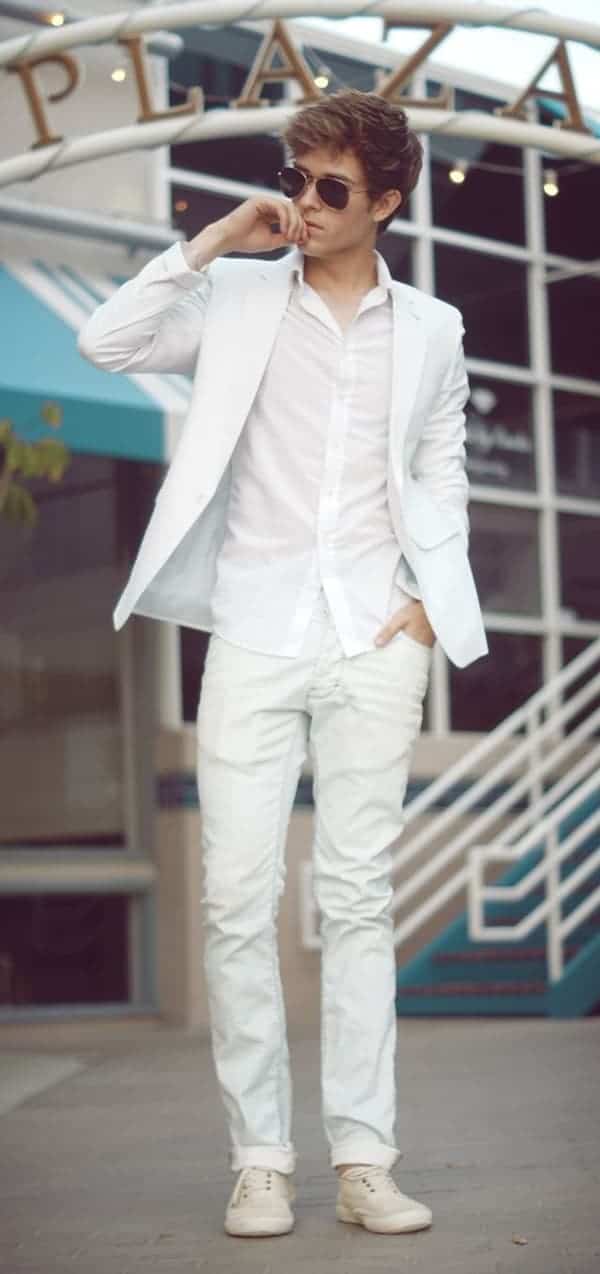 There is undoubtedly no end to the options available when it comes to an all-white ensemble outfit summer design. Such variety is what makes it far higher confusing to pick a design that it already is. However, you need not worry, because if preferring the jeans appears confusing, we got you. Choose the perfect design for you depending on the size and style of the pattern. This will definitely give you an ideal shape.
2. A Checkered Shirt Teamed With A Pair Of Jeans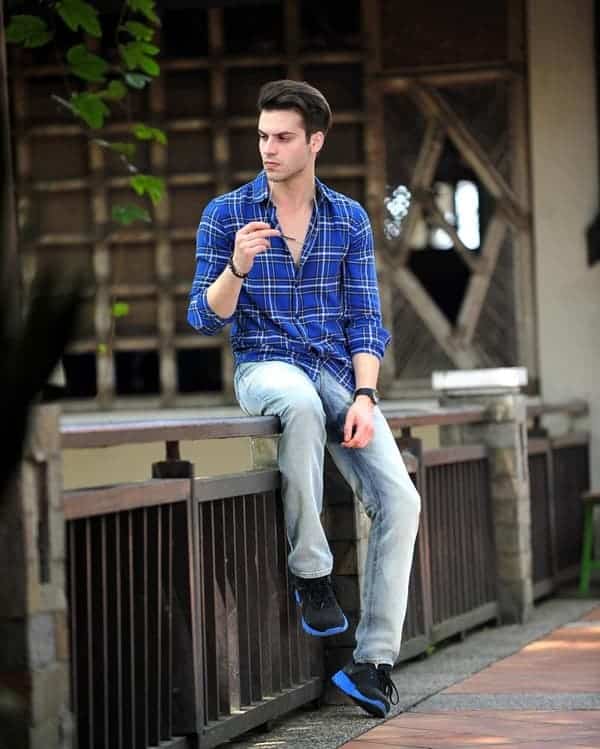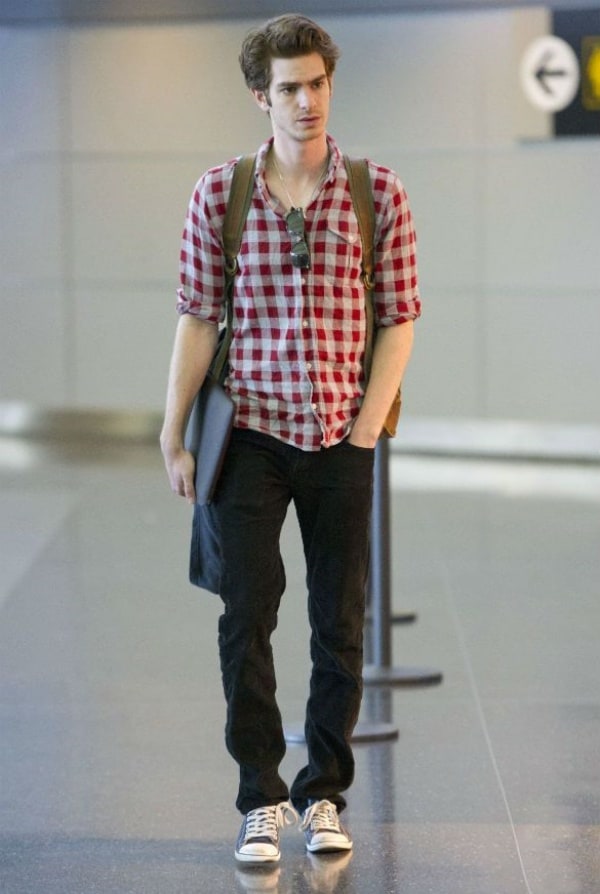 If you are in search of a fabulous outfit with bold and detailed features, then an intense checkered shirt would undoubtedly be ideal for you. Such realistic designs are just enough to blow your mind. A pair of jeans is famous with the shirts because of their intense appealing ability. The best part of getting a checkered shirt with a pair of jeans is that you can style it in multiple ways.
3. Shorts And T-Shirts Outfits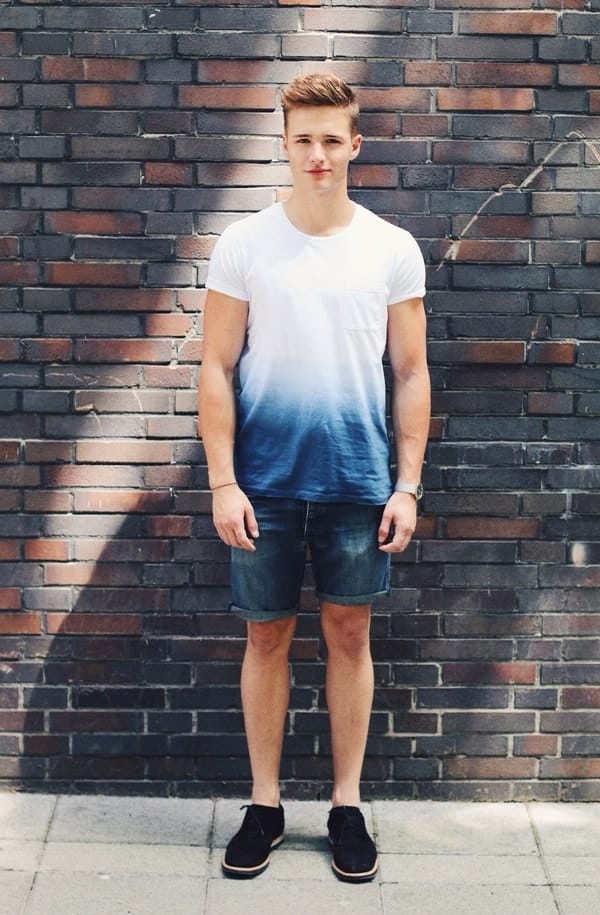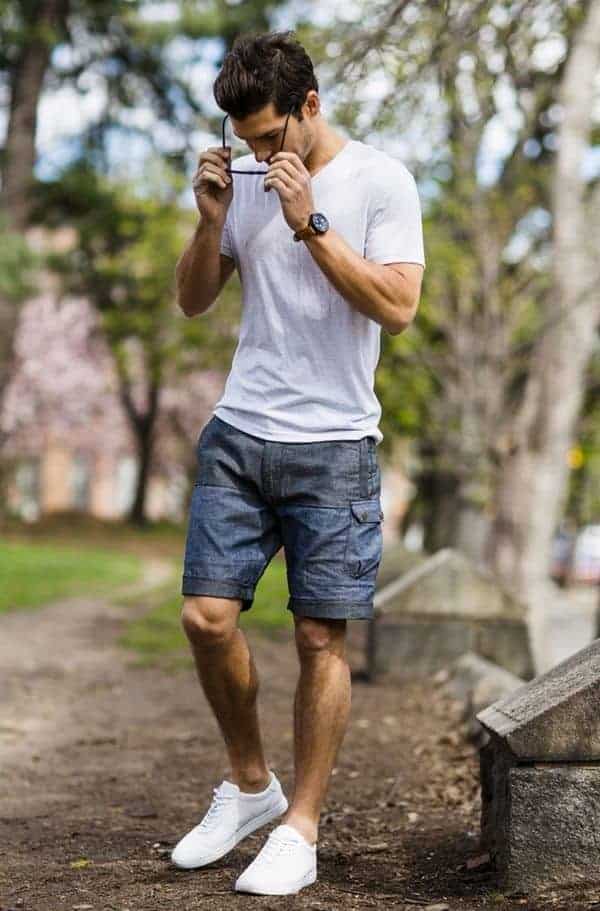 Shorts and T-shirts are considered to be cool outfits for teenage guys. Shorts can be of different types. They vary from knee-length to thigh-length. If you wish to have one of the most comfortable outfits for summer, this one is the best you can have in your wardrobe. You can wear this anytime. They are the cheapest outfit you can have for your summer days. Different colored shirts are available for other colored t-shirts. The t-shirts can be a full sleeve or half sleeve, depending on the choice of the individual. The neck pattern of the t-shirt can be both V-neck or Round neck. Every design of a t-shirt goes with shorts.
4. Cool Denim Shirt And Jeans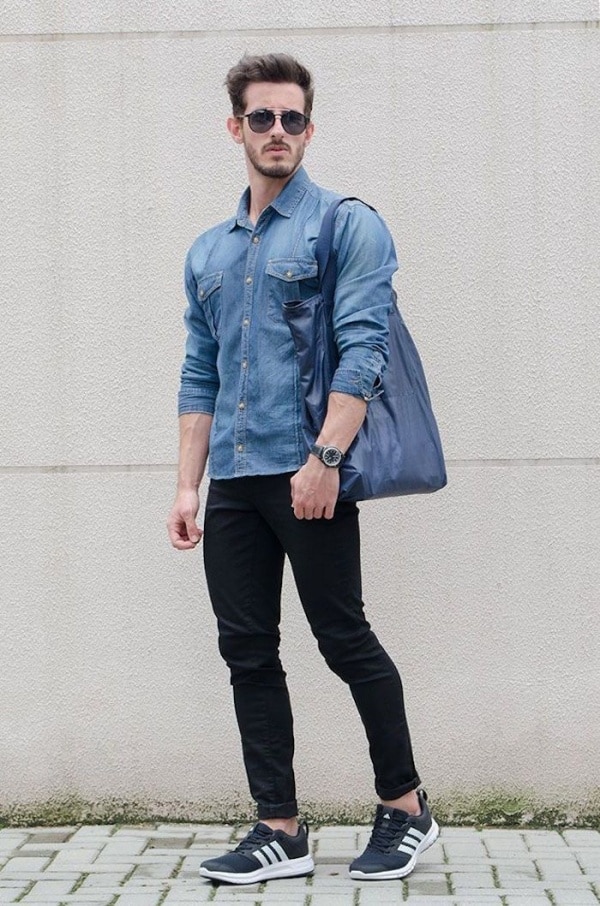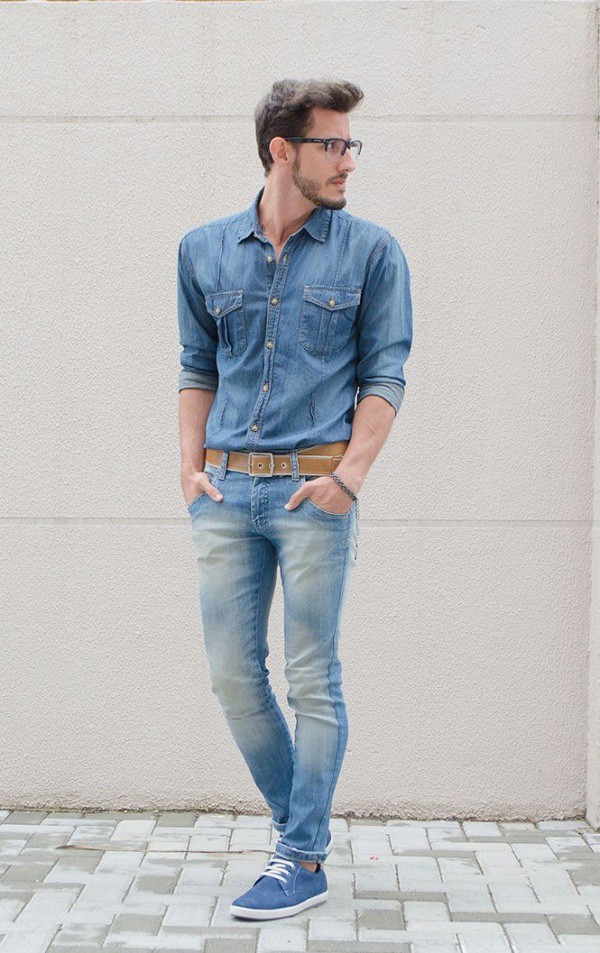 Cool denim shirts and jeans are among the most preferred choices among men. These outfit ideas are a beautiful, masculine, and expertise choice. If you are intended to adorn your figure with this style, there are various choices available for you. Cool denim shirts are trendy and admired by a lot of men. There are a plethora of jeans colors available for adorning your cuteness. The significance of this summer style would depend on the combination you choose. You can stick to monochromatic traditions or go along with the colorful ones.
5. Camouflage T-Shirt With Trouser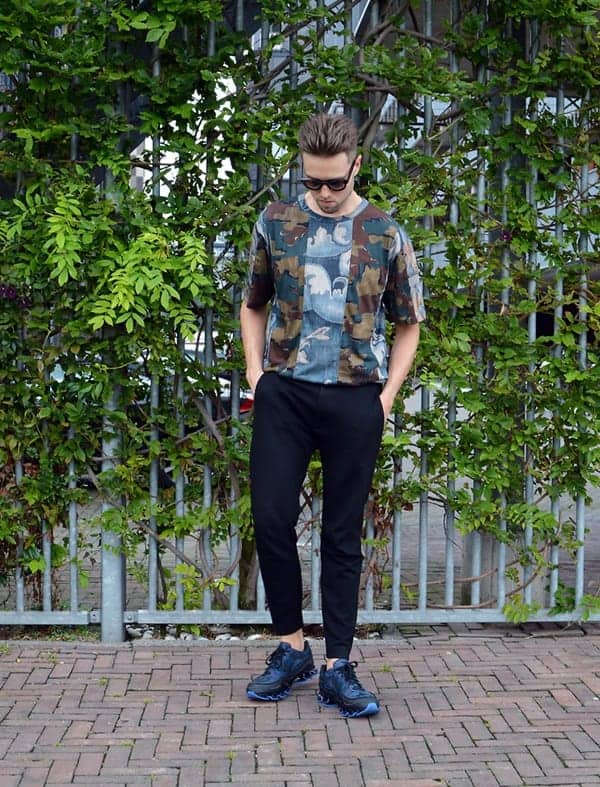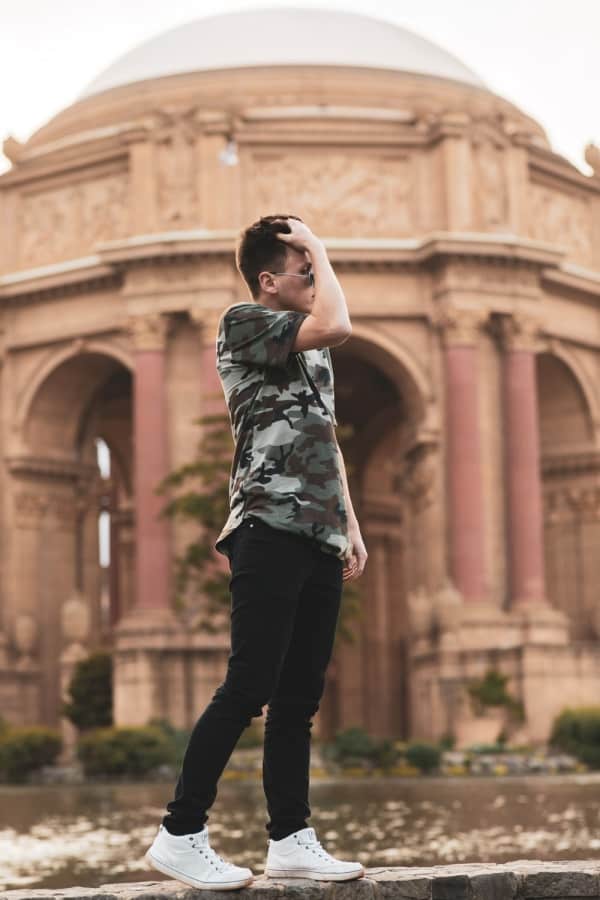 You can choose this style to show your own true nature. Camouflage t-shirts are ideal for teen boys who want to flaunt their cool side with a new approach. Trousers add a comfortable way to your appearance. Boys make this deadly combination of Camouflage t-shirt with trousers to attract the boys of their age as this is a unique style among others.
6. Floral Print Shirts With Jeans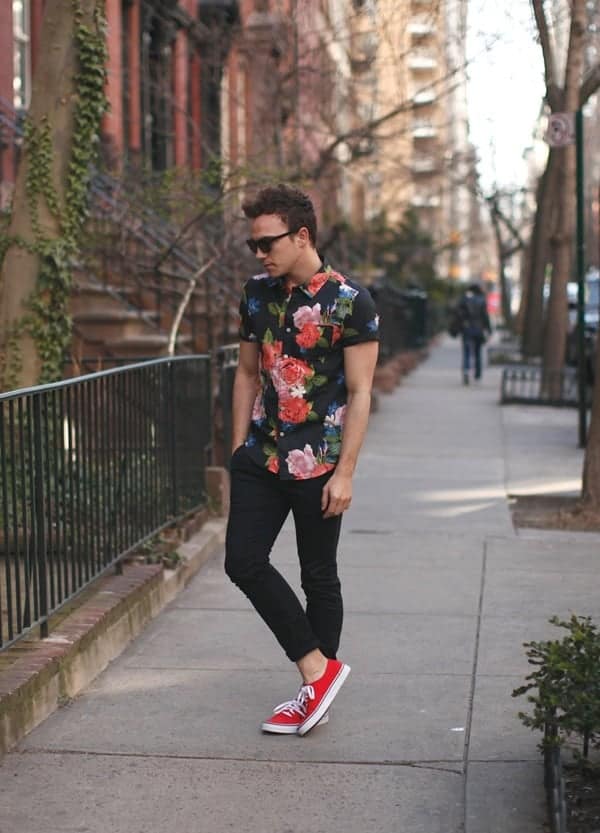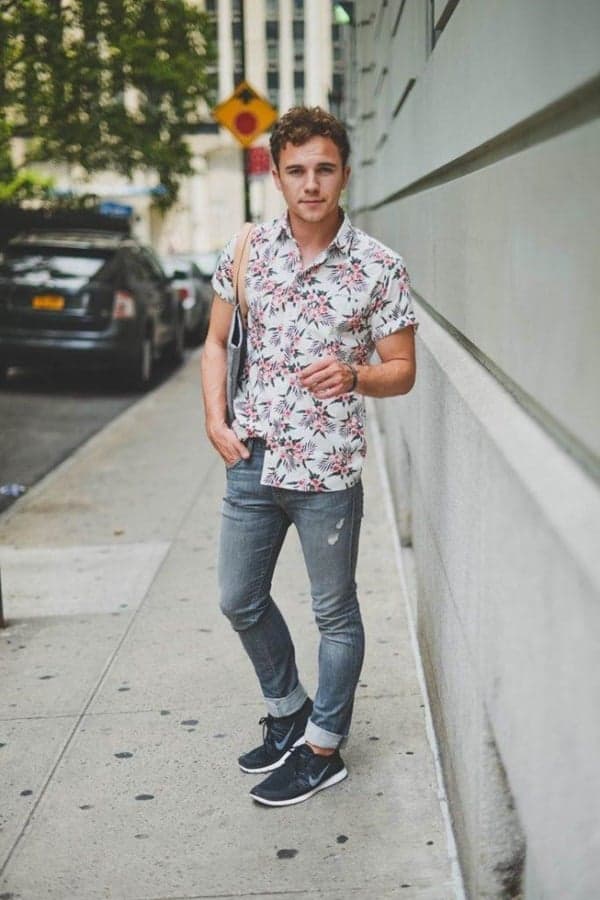 Floral print shirts have been in demand in the market. This is the best summer style one can have. For its high popularity, floral print shirts with jeans have become cool outfits for teenage guys. Different flowers have different meanings. The shirts are made of pure cotton. You can choose your own design in this style of outfit. Boys choose this style over others as they help to shed off the summer hotness as the shirts are light.
7. Chinos Paired With T-Shirt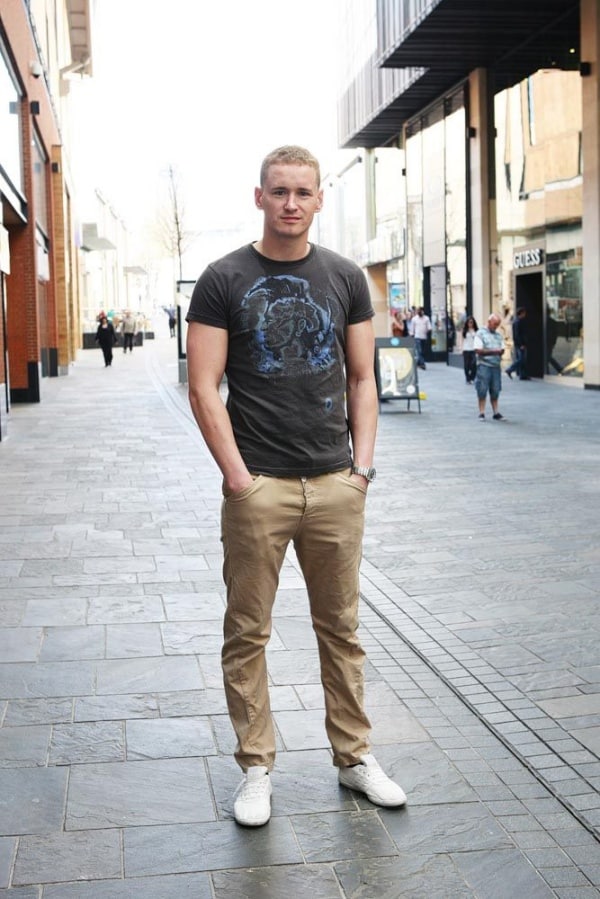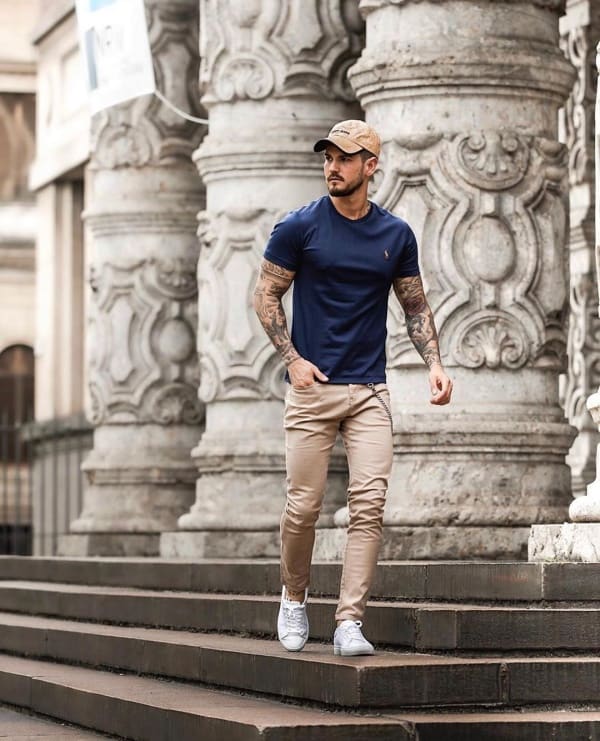 Chinos are an excellent style of their own. They are mainly pants that are worn above the ankle. Regular jeans can also be made into chinos by folding them. Chinos with T-shirts are the most favorable choice for teen boys. With sneakers, the look appears more appealing and promising. You can pair your chinos with your t-shirt color as both are perfect with each other. Chinos have become costlier than standard jeans because of their popularity.
8. Floral Print Shirts And Shorts For Teen Boys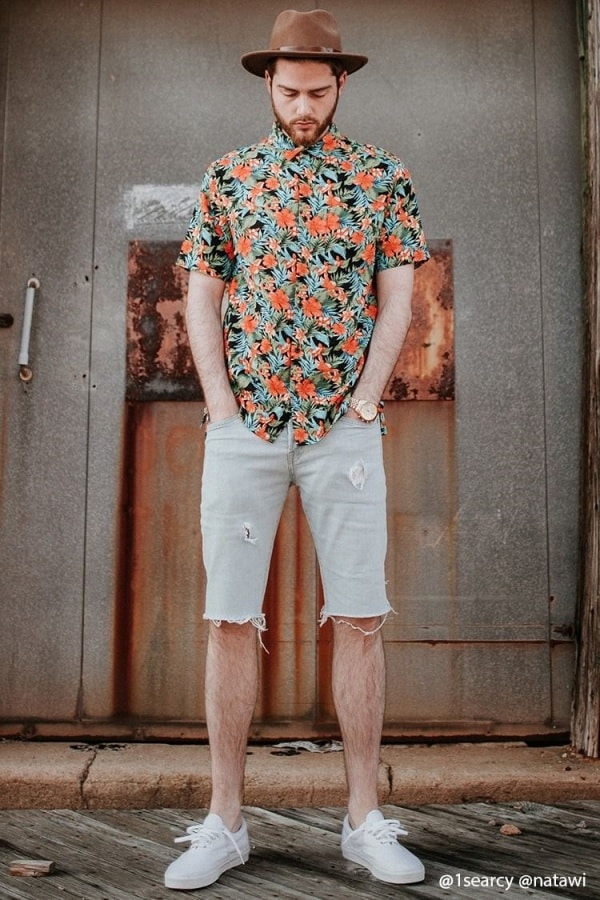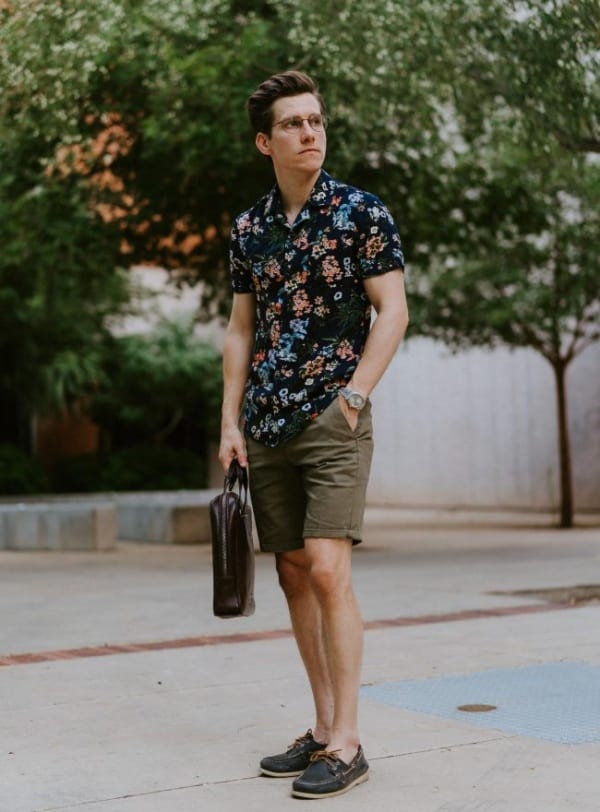 With floral print shirt trends evolving every single day, there are still some things that have remained the same, and among those stands floral patterns with their full glory. The bloom of floral shirts adds a sense of love and coziness to the room. The different shades and sizes of the floral shirts make them ideal for the style you wish to have. You can have any flower design as all have unique meaning and character. With shorts of the same design, this makes a good combination that is eye-catching.
9. A Striped Shirt With Denim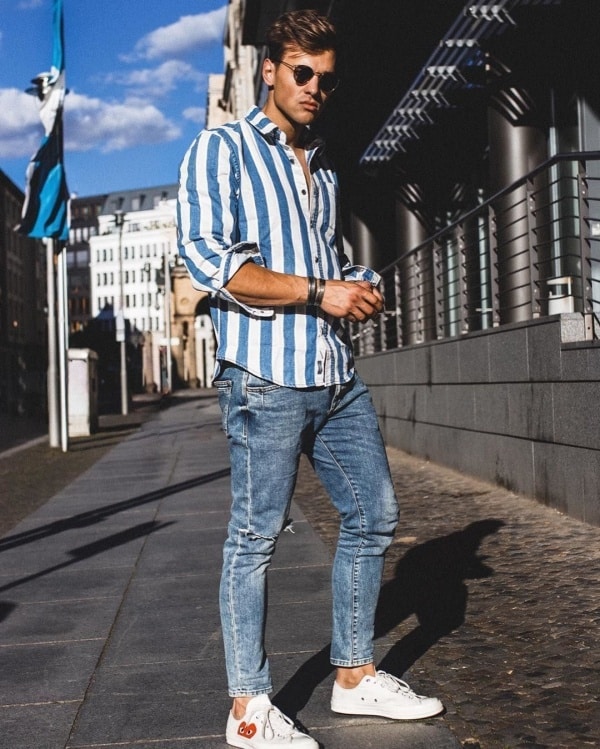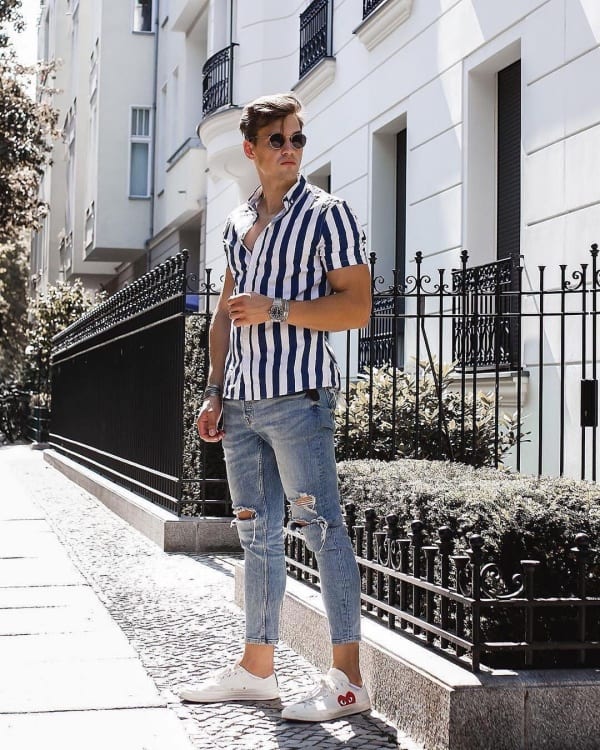 Striped shirts are cool outfits for teenage guys in recent fashion. Most actors wear this outfit in advertisements. You can go for different pattern strips as all are unique and creative. There are a variety of colors for striped shirts. The denim jeans are the most preferred combination with this outfit. Men love to flaunt their style quotient with this modern style. You can depend on this style to be appreciated by others.
10. Graphic Tee With Ripped Jeans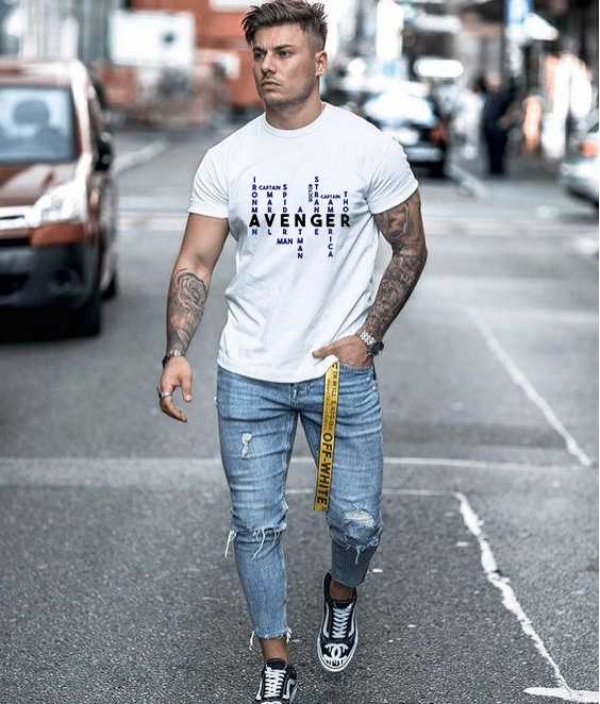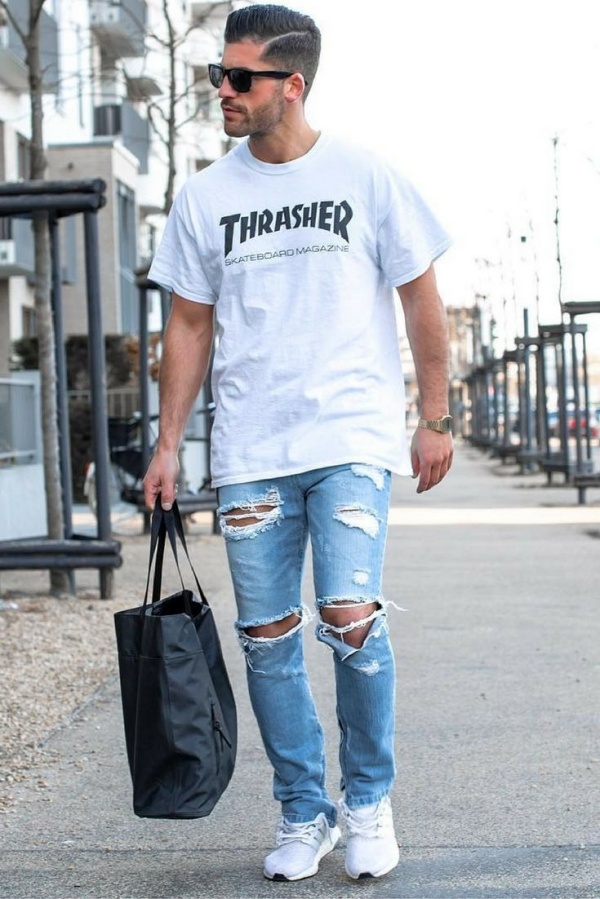 Nowadays, a new type of outfit idea that has been launched in the market is a Graphic tee with Ripped Jeans. Earlier graphic T-Shirts were available readymade. With recent development, customized graphic t-shirts can be made in a particular order. These graphic t-shirts are mainly used as a gift. The ripped jeans add to the charm of this style. Teen boys are mostly wearing graphic t-shirts. Some t-shirts have 3D printing with glows on their own. Radium is used in these graphic t-shirts.
Fall Outfit Ideas For Teenage Guys
1. Leather Jackets With Fitted Pants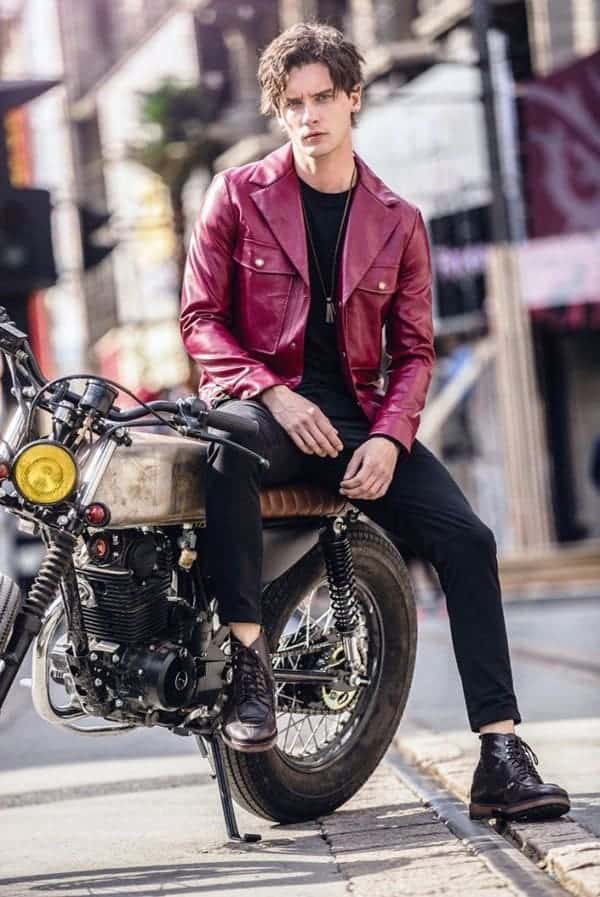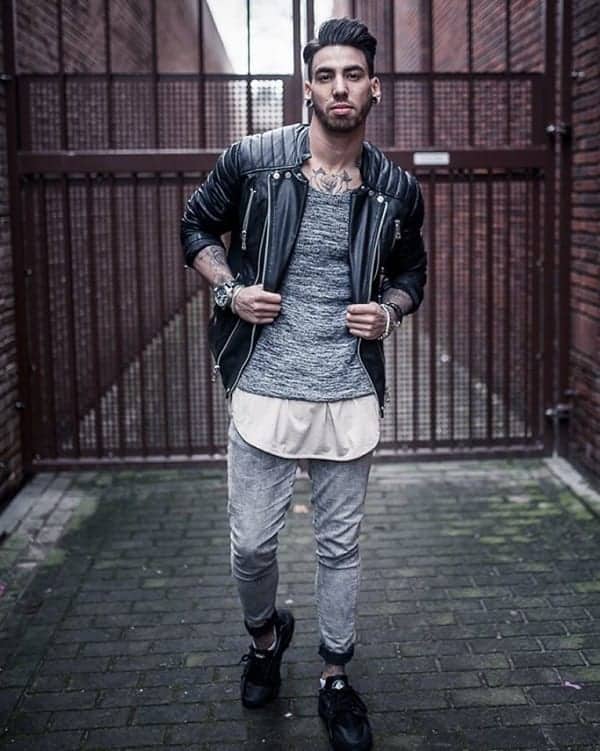 Leather jackets are timeless classics that never go out of fashion. Their versatility makes them ideally suited to be paired with almost every outfit. It is definitely a wardrobe staple that has been men's favorite since the beginning of time. Leather jackets say some bold statements about your style choice, so be sure before picking one for yourself. Leather jackets with fitted pants are one of the entire outfits for a man to try. So, if you wish to keep it simple, try a combination of a pair of black-fitting jeans with a black or a white tee. You can even wear a zip-through hoodie below your leather jacket to ensure that the look is not entirely plain—top off the look with a pair of converse or similar-looking street-styled shoes. You can even wear a cap and your favorite pair of shades with this look.
2. Hoodies And Track Pants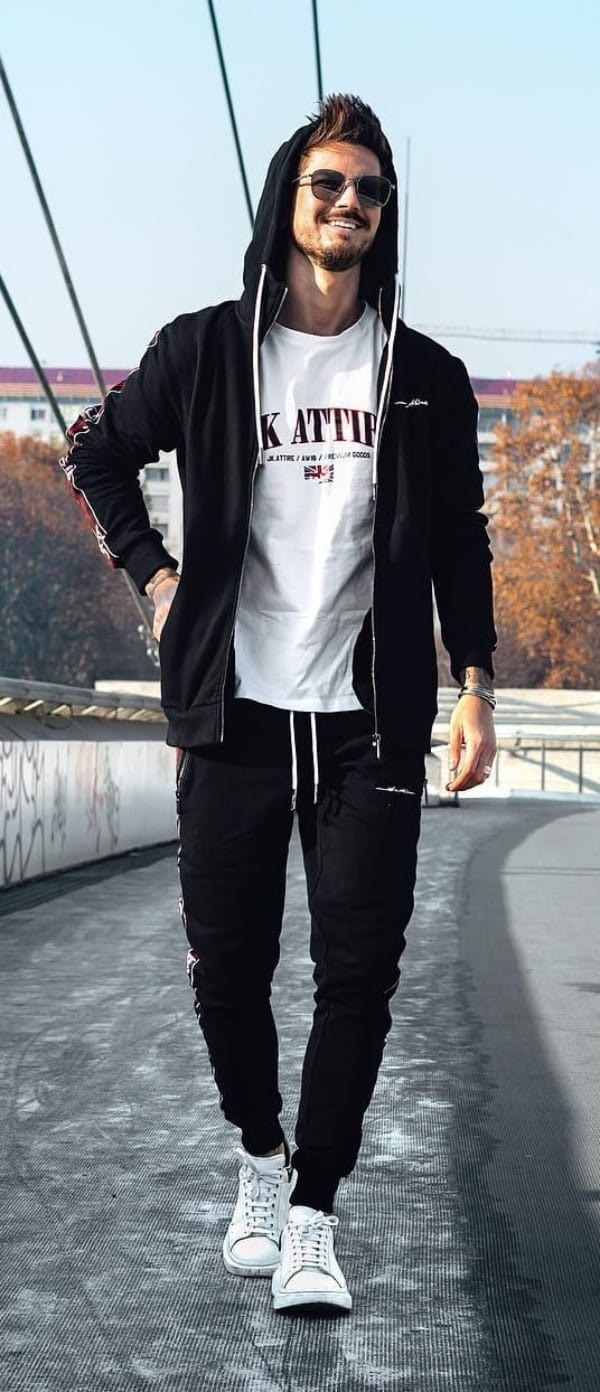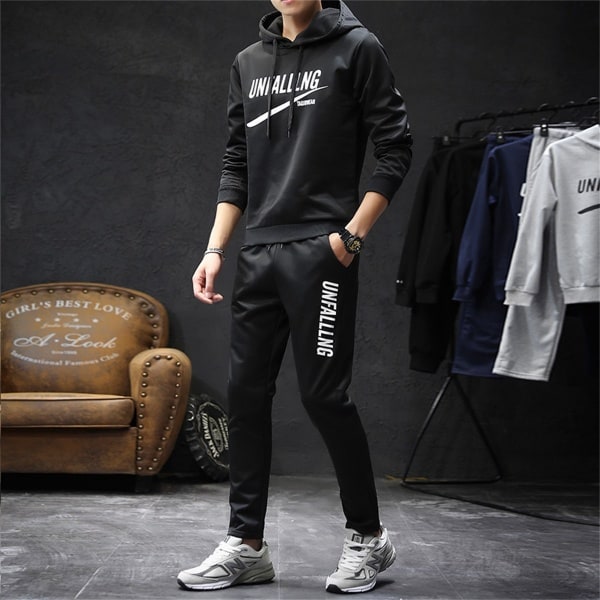 Hoodies paired with track pants are undoubtedly a stylish yet straightforward outfit for guys to try for the fall season. This look is not only enough to keep you warm, but it will also enhance your stylish vibe. Wear off this combination on any casual day or for running simple errands. You can even layer it up with a muffler on cold days for adding a mix to the otherwise plain outfit. For a slim-fit men's track pants look, try a zipper hoodie and regular track pants. If you wish for a perfect casual look that fits comfortably, try a pull-over hoodie along with baggy track pants.
3. Sweatshirt And Jeans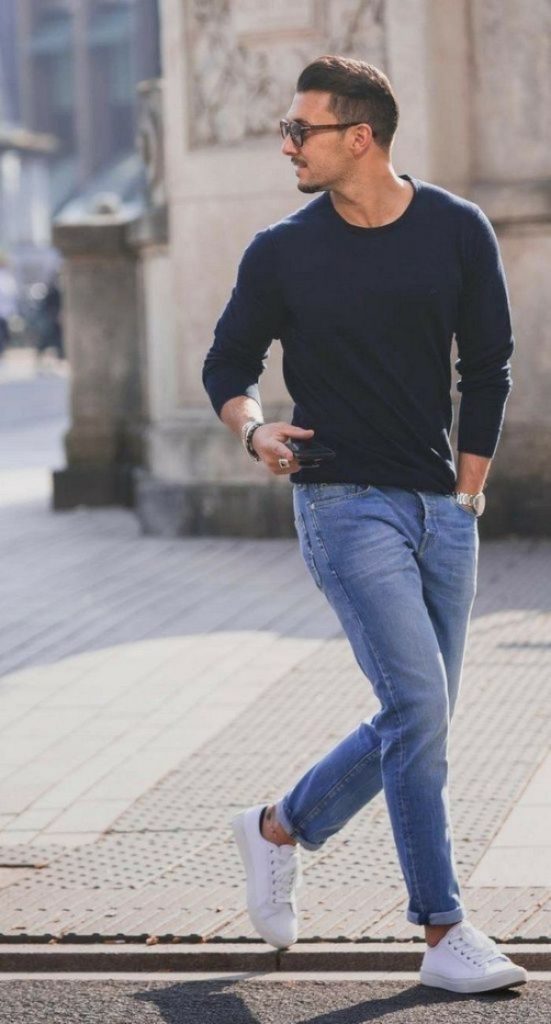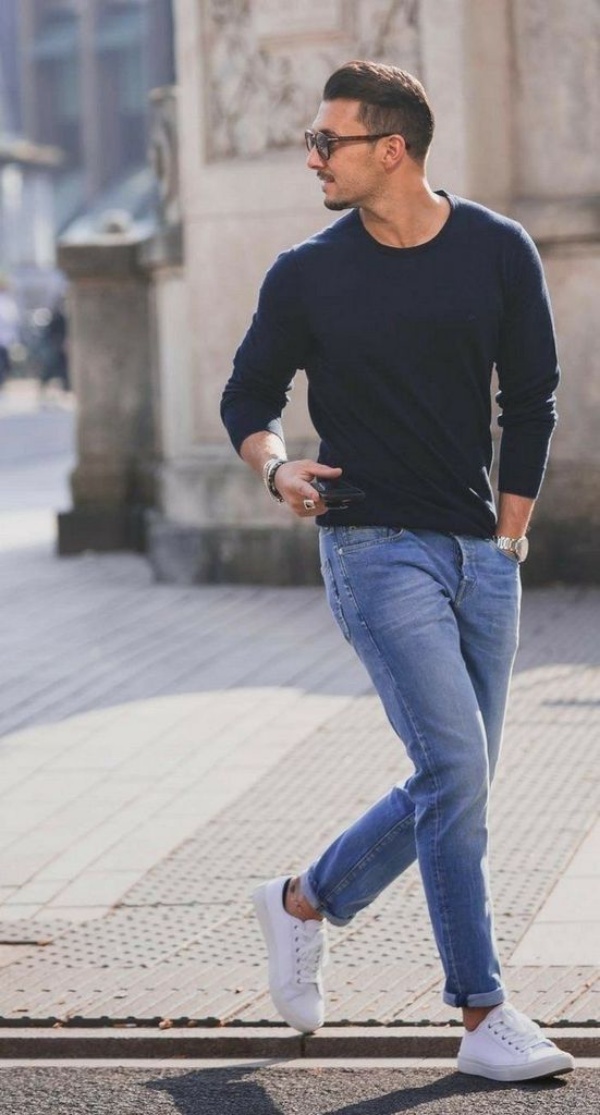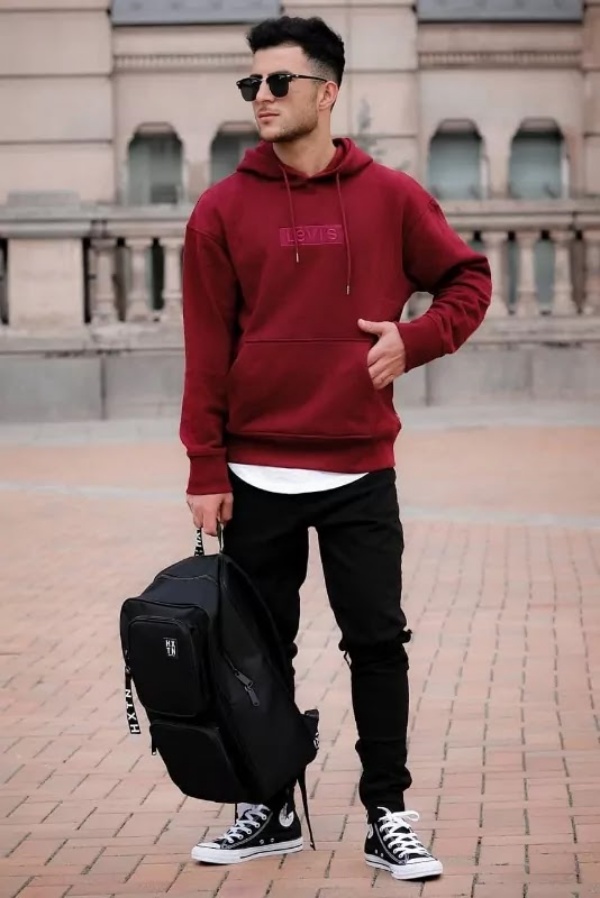 The versatility of sweatshirts has expanded into new lengths for personal style. Jeans will always be a solid option regardless of the fit you choose. Denim suits as the perfect match for sweatshirts as nothing can hardly grow wrong with denim. It serves as a complement to the oversized t-shirt while accentuating your body's structure. You can easily add texture to this outfit by pairing it with ripped or acid-washed jeans.
4. Turtleneck Style With A Sherpa Jacket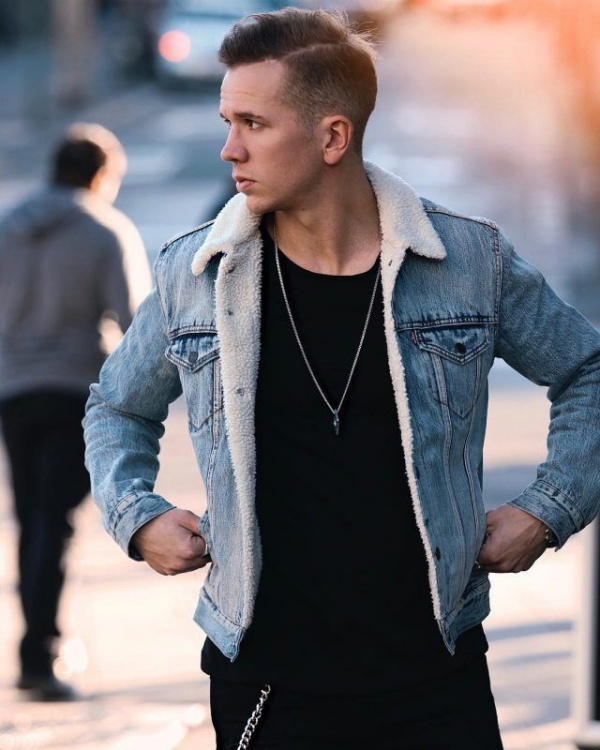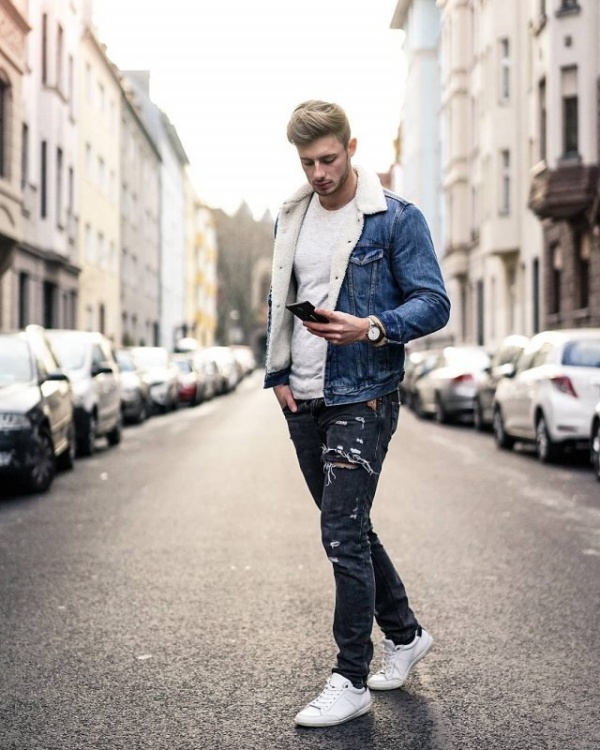 If you want to list out some cool outfits for teenage guys, turtlenecks would be one of the preferred choices. There is nothing more relaxing than turtlenecks to wear while inside, hiding from the cold. This classic winterwear would give you cozy vibes in every possible situation. Try styling a pair of patterned trousers along with your turtleneck and layer it with a Sherpa jacket. Prefer wearing casual-styled shoes when you style this combination. Light gray will be an easy color option if you are not sure about what to choose.
5. A Sweater Matched With A Pair Of Jeans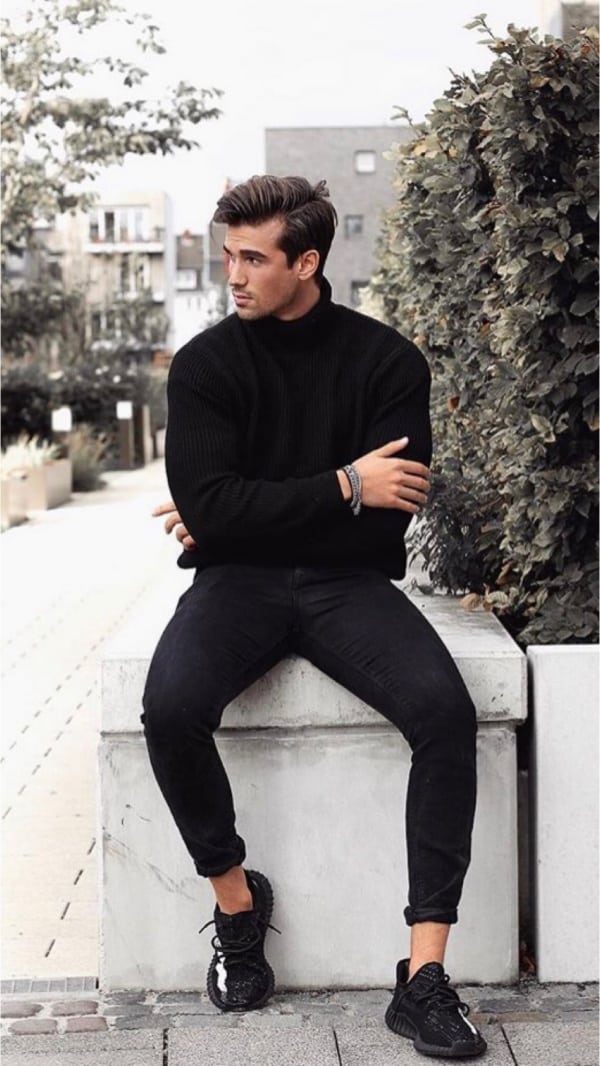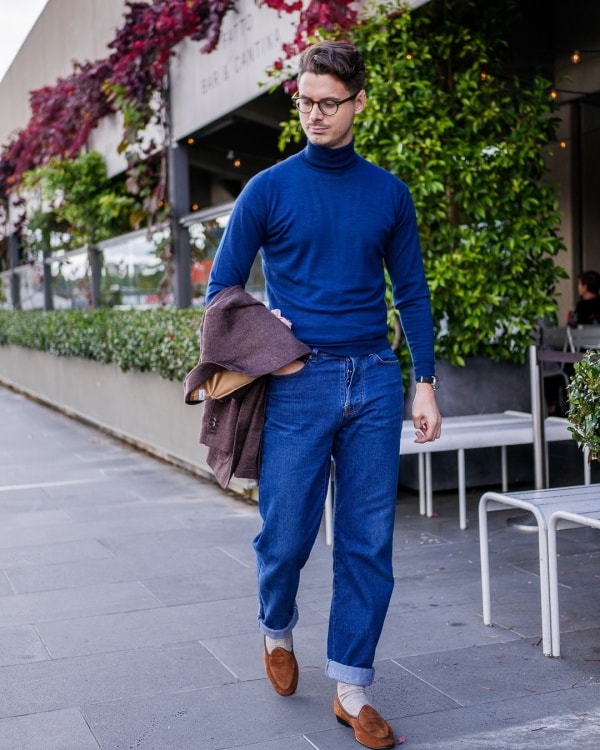 With the fitting jeans and properly matched sweaters in your closet, there is no way someone can stop you from a havoc-styled outfit for the fall. Sweaters styled with jeans are not only comfortable but also an easy-to-style option. Though there are no absolutes for fashion, some codes better are followed for an all-time classic look. Try pairing your slim jeans with a body-fit sweater, and bring along a scarf to spice up the otherwise everyday outfit. Also, if you wish to pair your chunky jeans, try them with a chunky sweater. Bring on your casual shoes, and you are ready for the day!
6. Denim Jacket With Jeans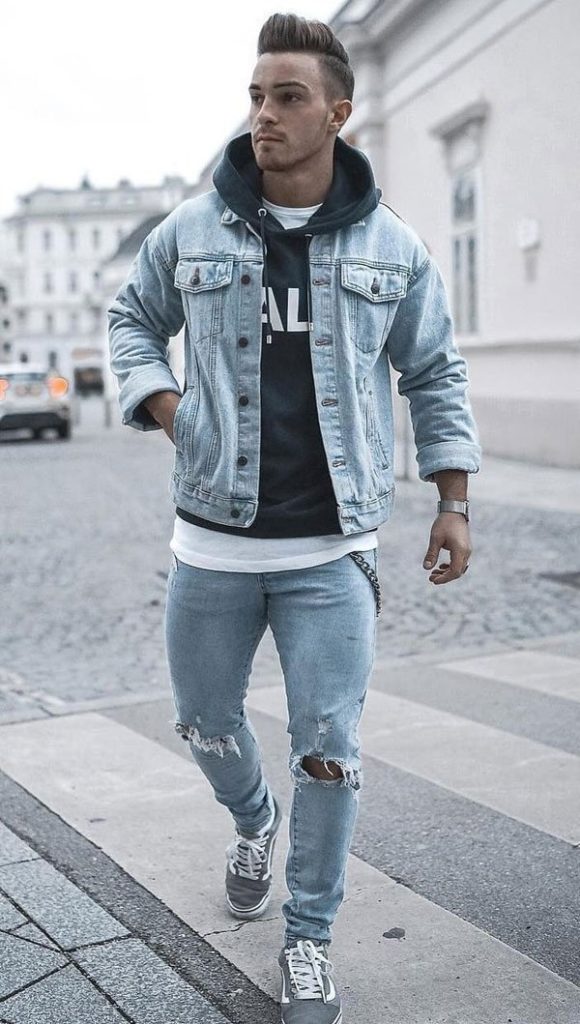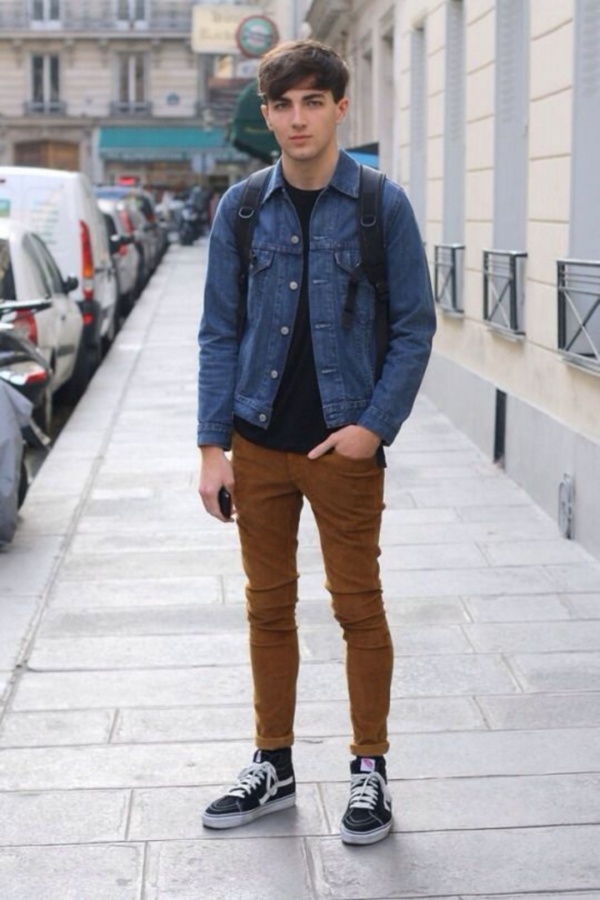 Denim jackets are timeless versatile that have an open room for any option of styling. You can try it both for casuals and semi-formals with ease. If you wish for a casual outfit, try dressing in your acid-washed jeans and a tee layered with your denim. Denim hardly fades out in fashion, so you have the choice to style it with any shirt or tees available in your wardrobe and rock the look.
7. The Double Jacket Look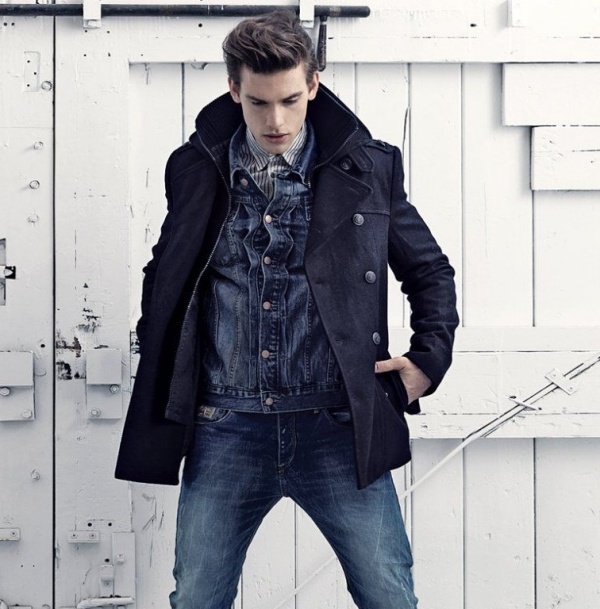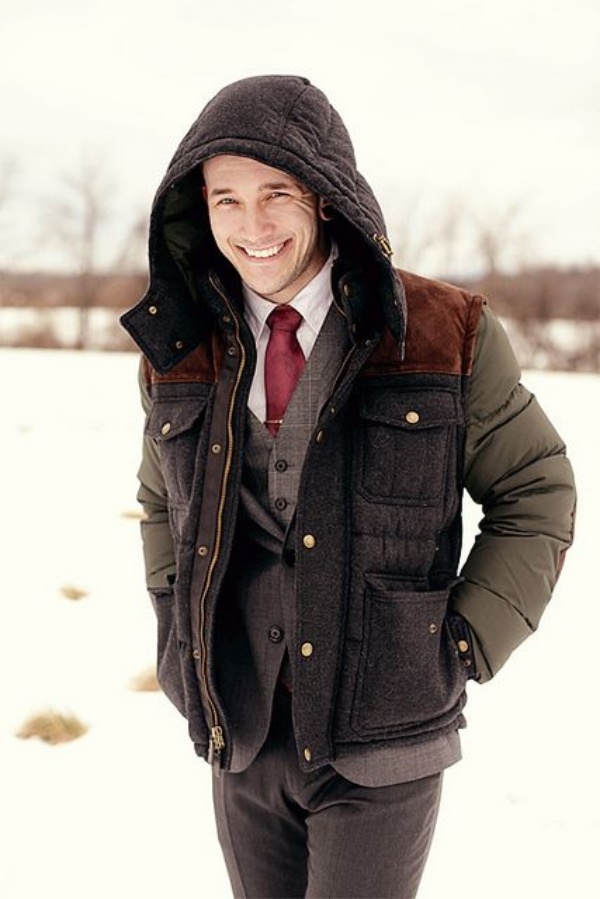 There are so many ways to wear off a double jacket look that one can hardly go wrong with it. This is undoubtedly one of the topmost cool outfits for teenage guys as it flatters the majority of men. It will broaden your shoulders, cinch your shoulders and hide your belly too. You can dress it up by playing it straight-laced and corporate or even unbutton the stuffy connotations with a boxy fit that will slop off the shoulders. It is the best-suited outfit for job interviews, first dates, corporate days, or even for your parties. You can wear it formally or separate it smartly along with trousers and a shirt. For a casual look, try it with trousers and tees.
8. Bomber Jacket Paired With A Tee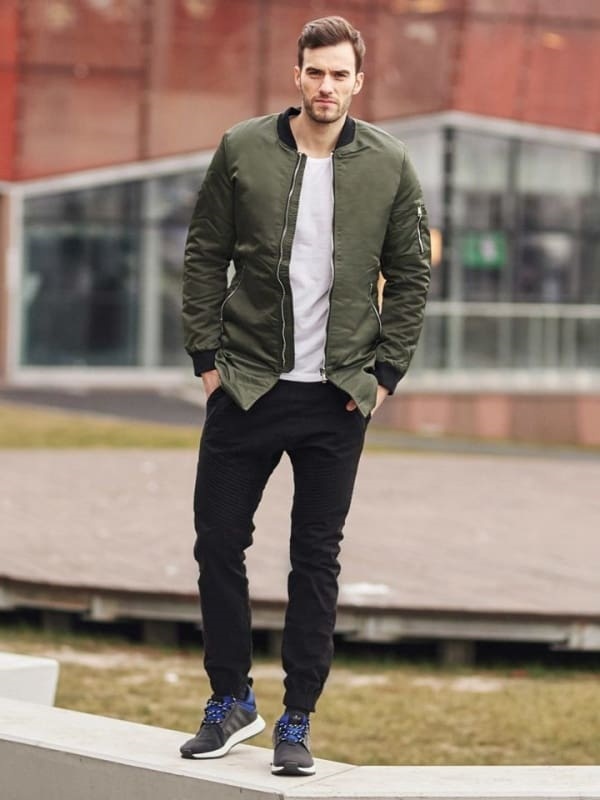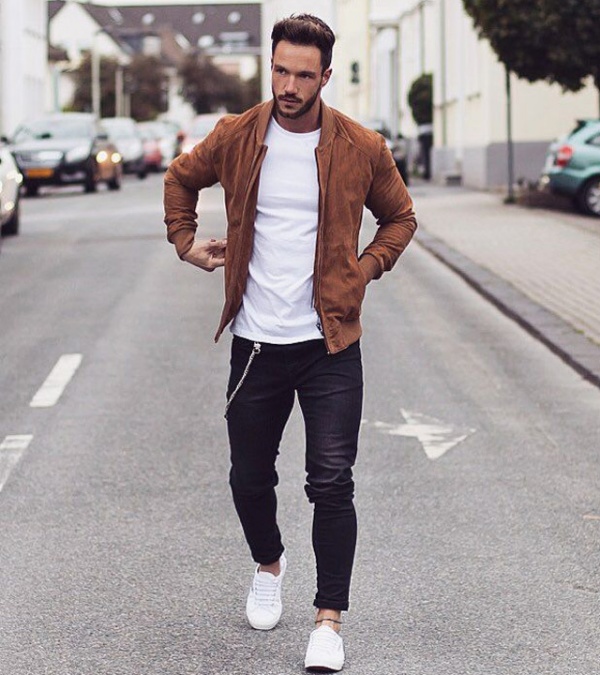 A bomber jacket is a timeless piece of a classic that every man needs in their wardrobe. It is both fashionable and versatile, making it a classic fit for being paired with all types of outfits. Black is a traditional choice when it comes to bomber jackets. A black nylon bomber will give you a sleek, stylish, and athleisure look. You can spice up your classic black bomber with white or other light-shaded tees for the best look. To rock the look, you can try pairing it with lighter shades such as blue denim or tan chinos. Flaunt a pair of white sneakers for the exact casual vibe.
9. Overcoat With Chelsea Boots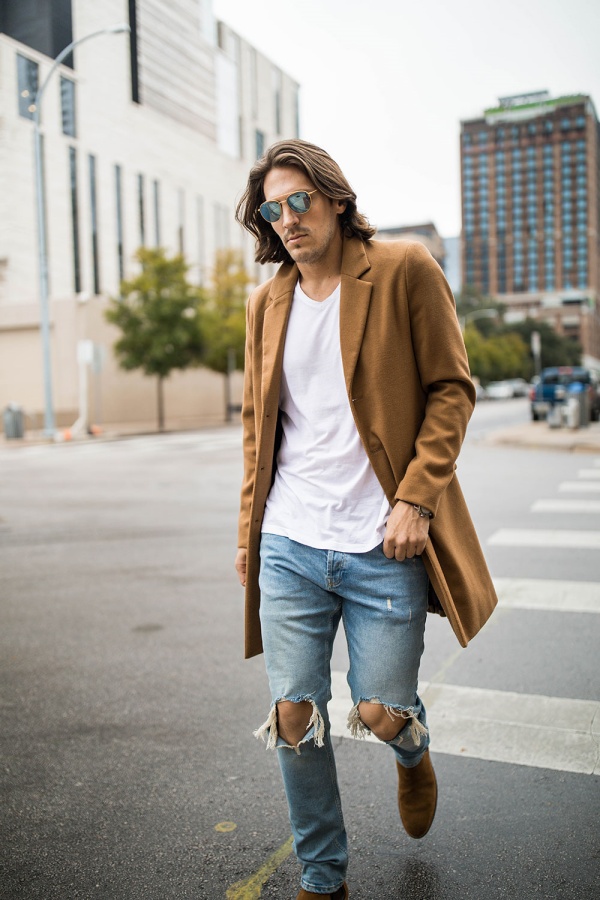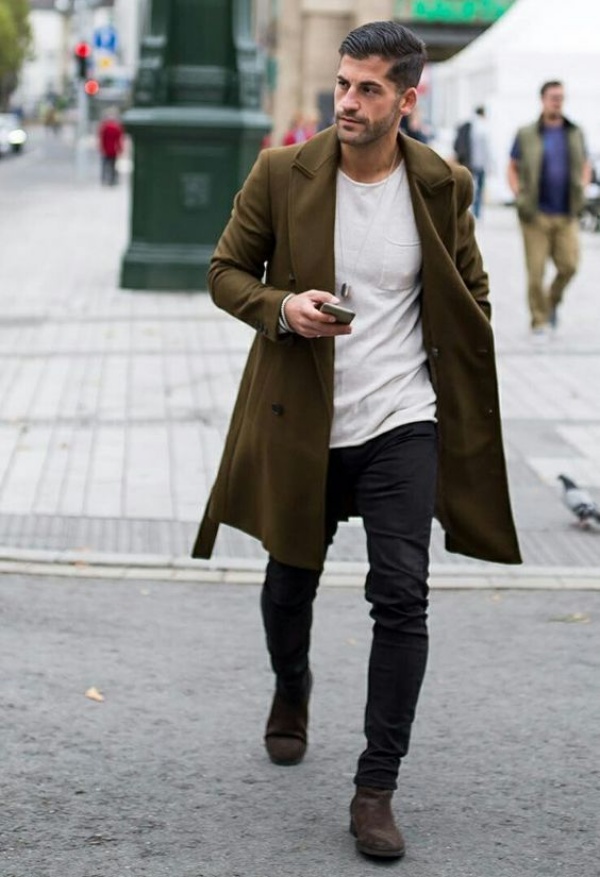 Overcoats are among the best outfit choices for cool outfits for teenage guys for the falls. A combo of a camel overcoat and white dress pants would undoubtedly be the definition of polish. You can also try the same with a pair of beige dress pants for a refined look. Tone down this combination by pairing it with a suited pair of Chelsea boots. If you want to keep it entirely casual, wear your overcoat layered over a tee, pair it up with grey chinos, and add stylishness to your classic Chelsea boots. An overcoat with a pair of black chinos is certainly a dapper outfit.
10. Hoodies With Shorts Outfits For Teenage Boys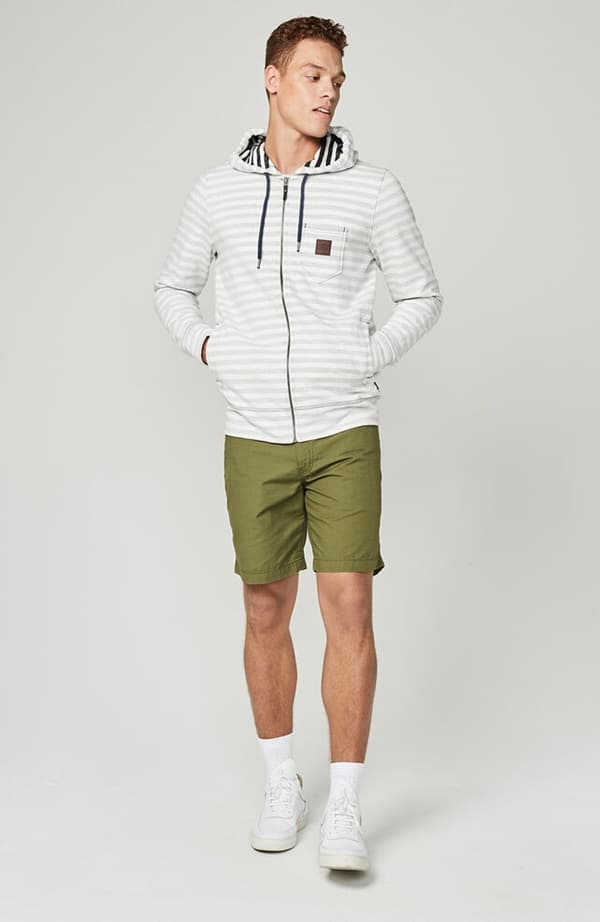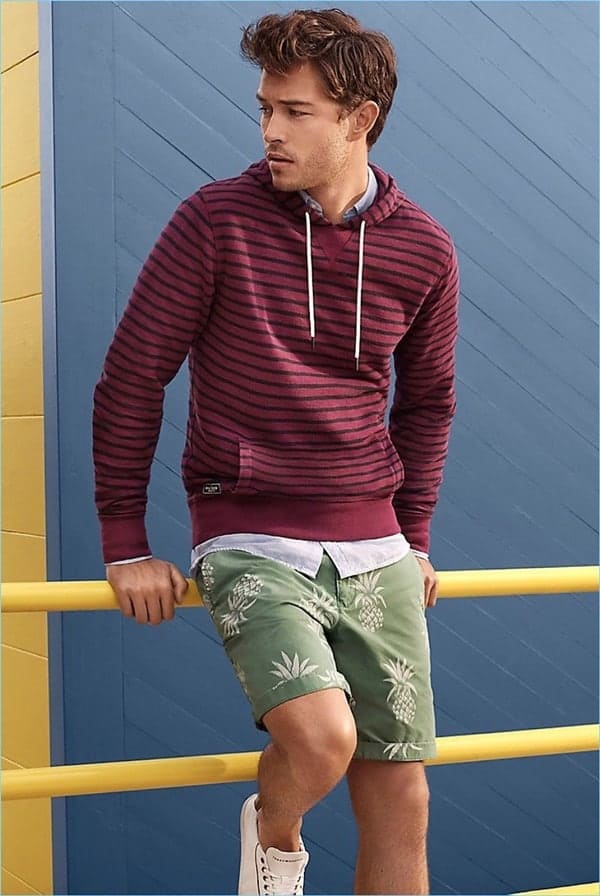 When it comes to men, hoodies paired with shorts are easy-to-wear looks that they can rock off daily. If you are someone who prefers calm and relaxed styles, this is undoubtedly your fit. Black and white canvas high-top sneakers would be the best element to add stylishness and casualness to your outfit.
Cool Outfits For Teen Boys in 2022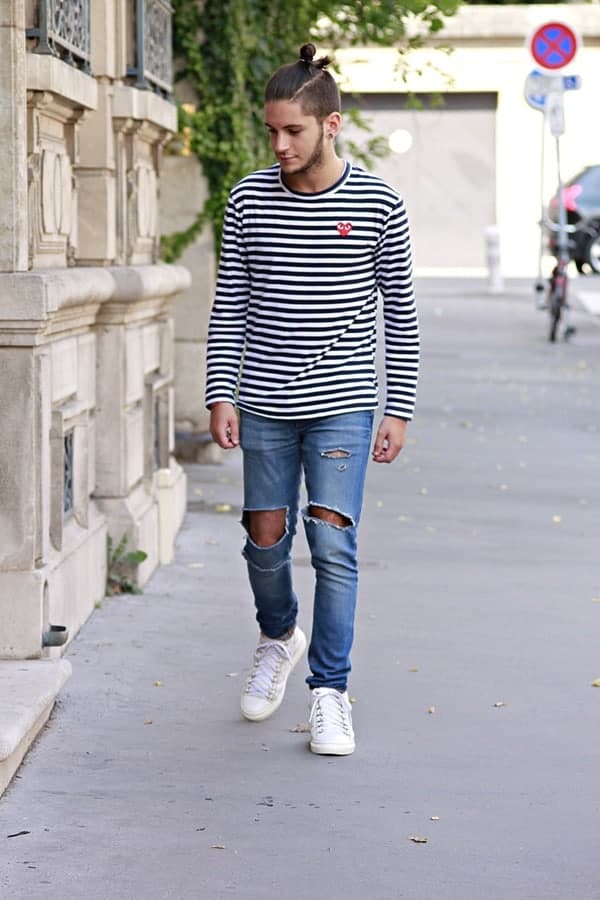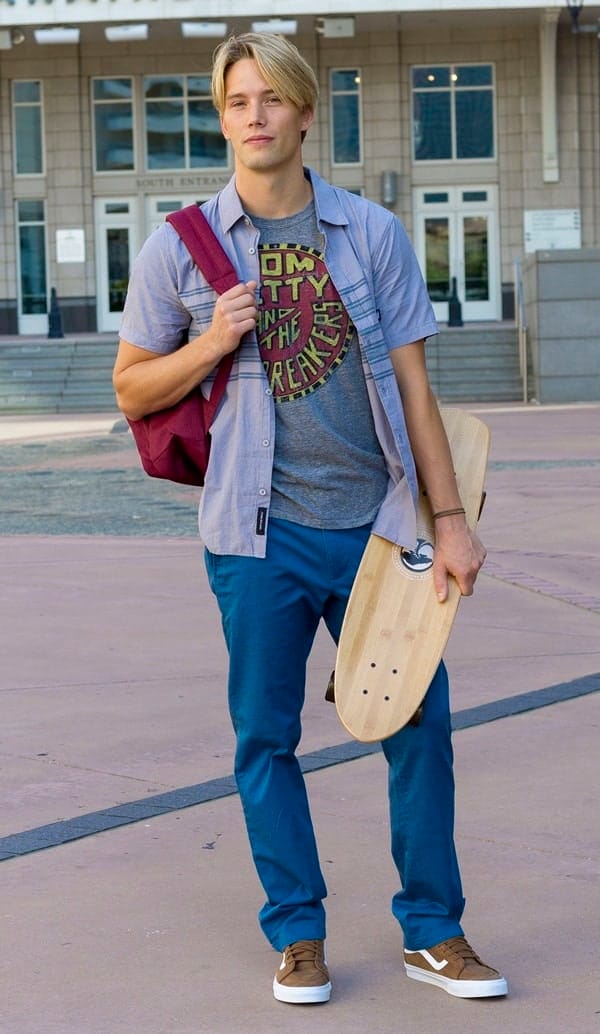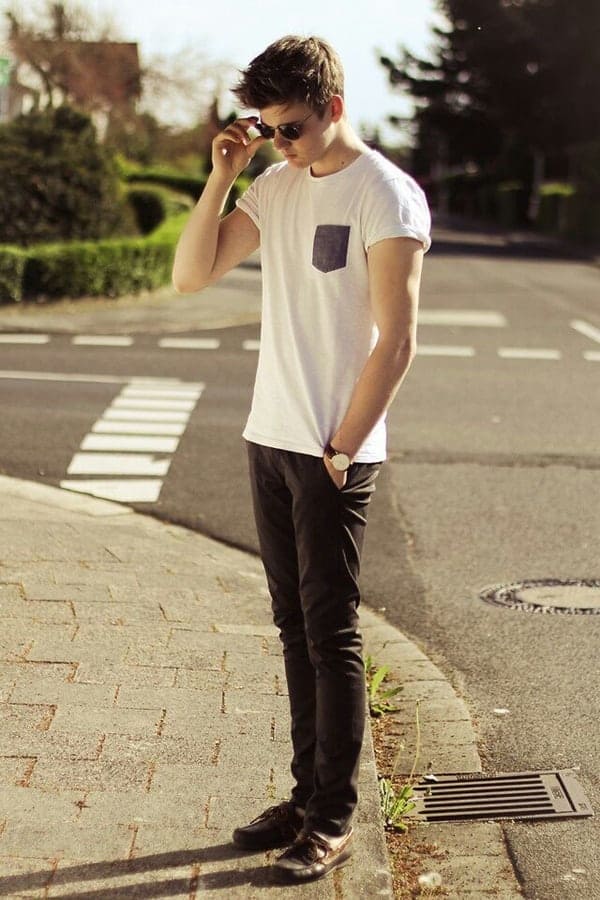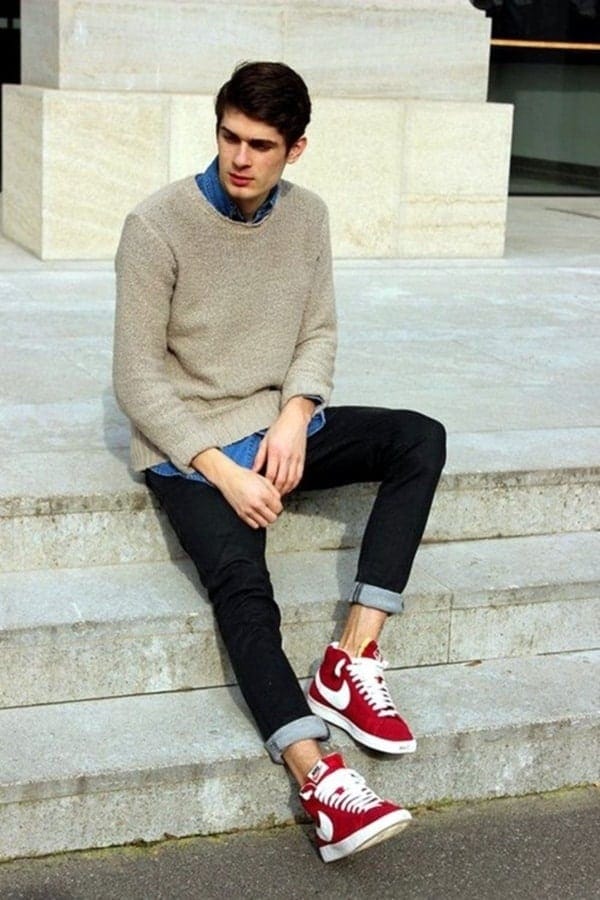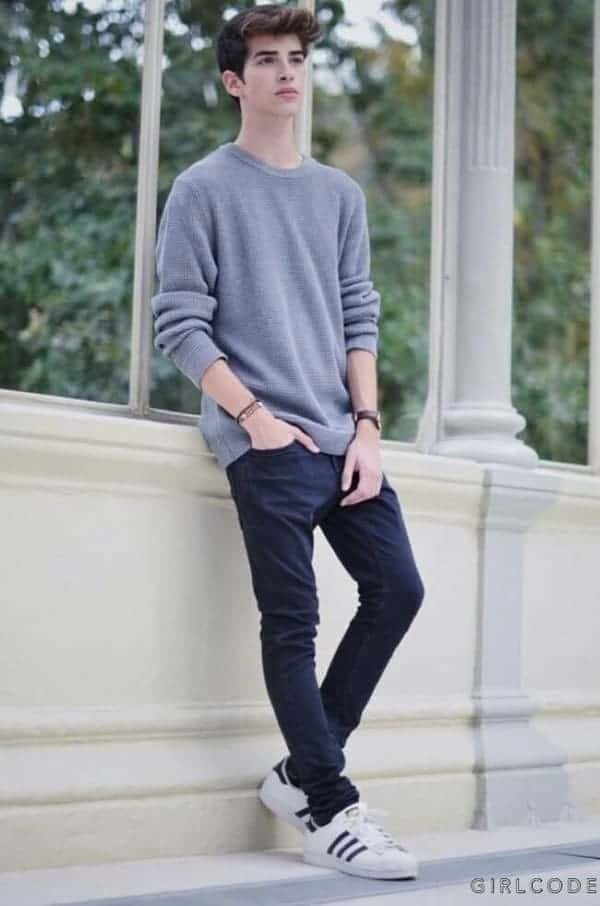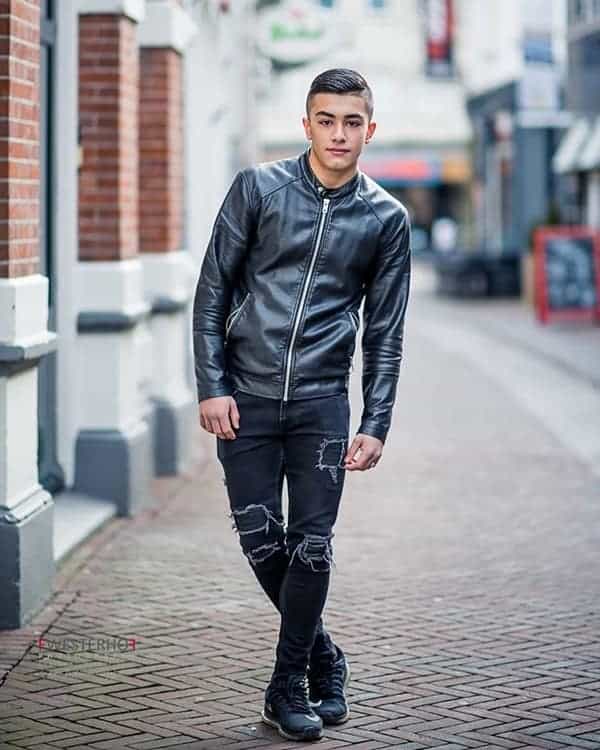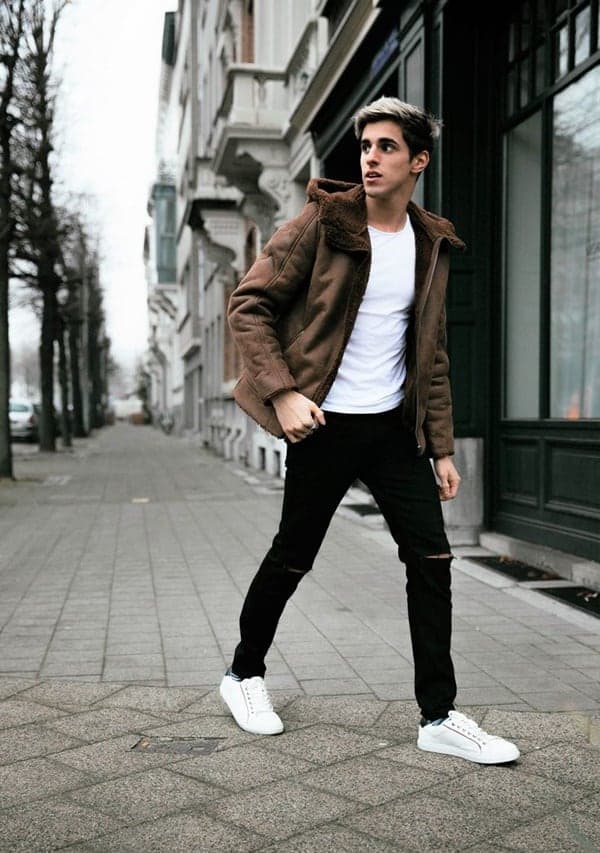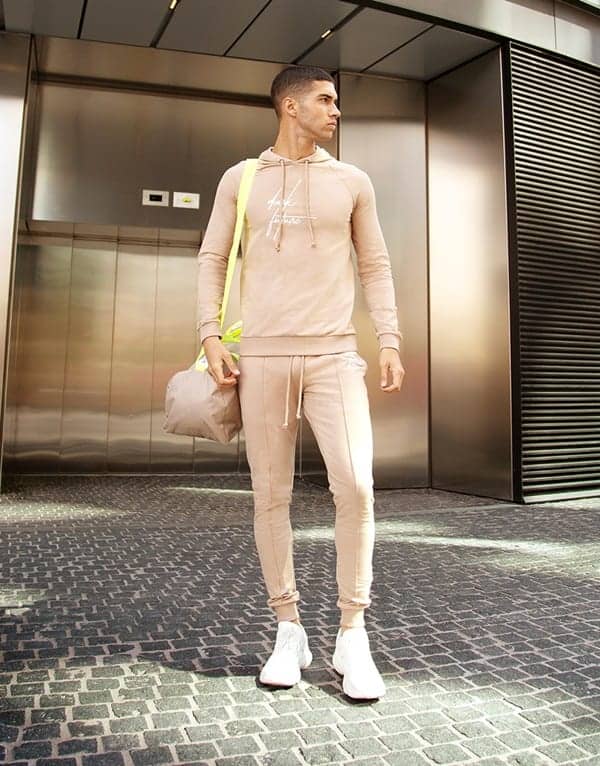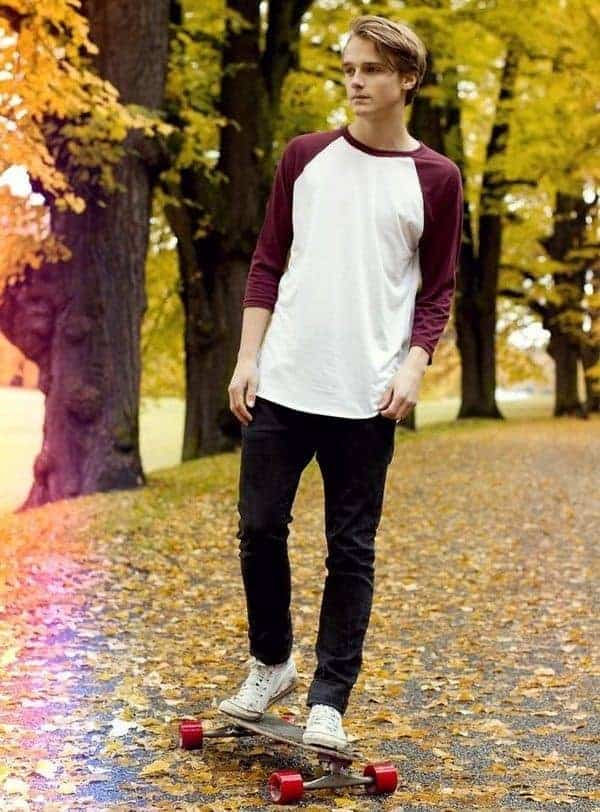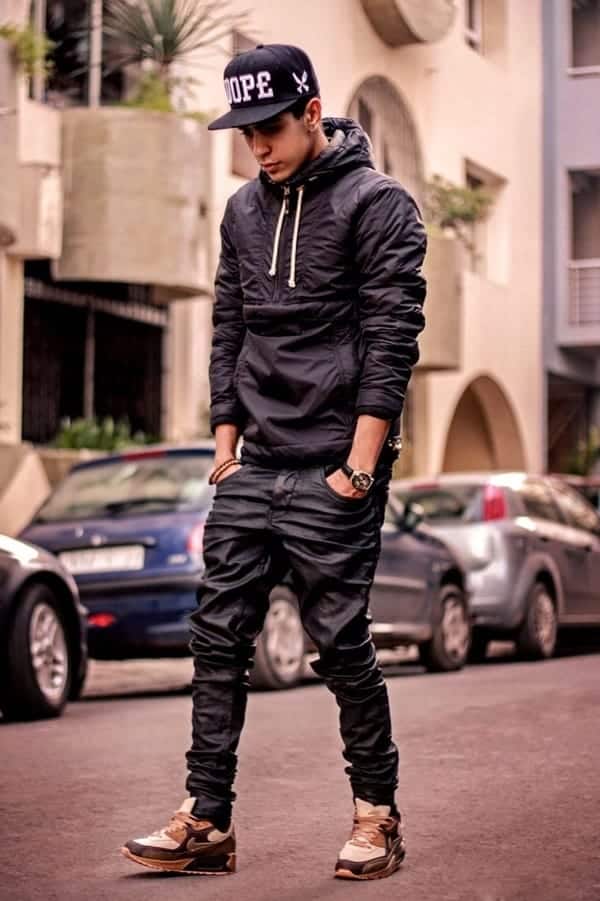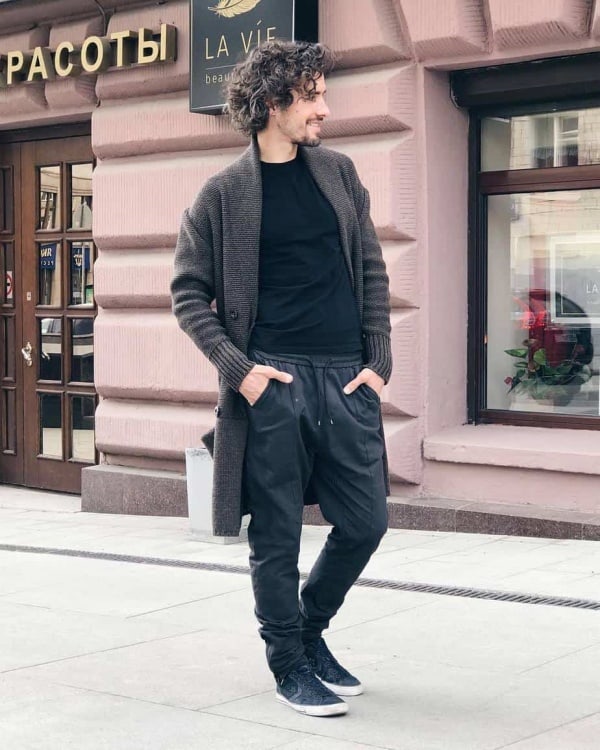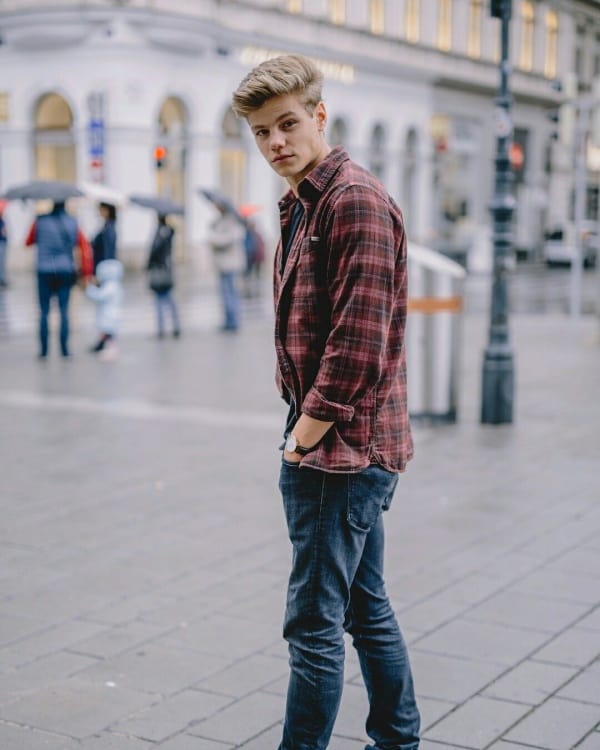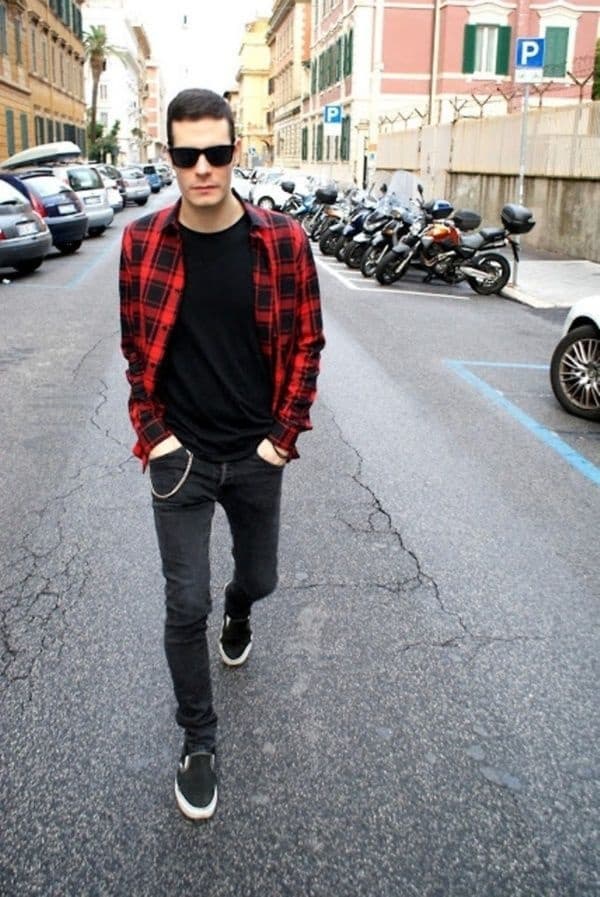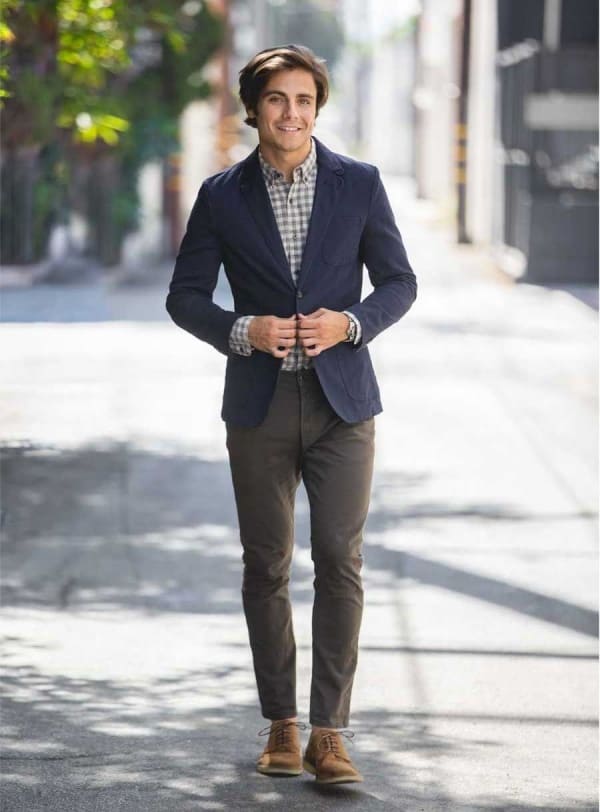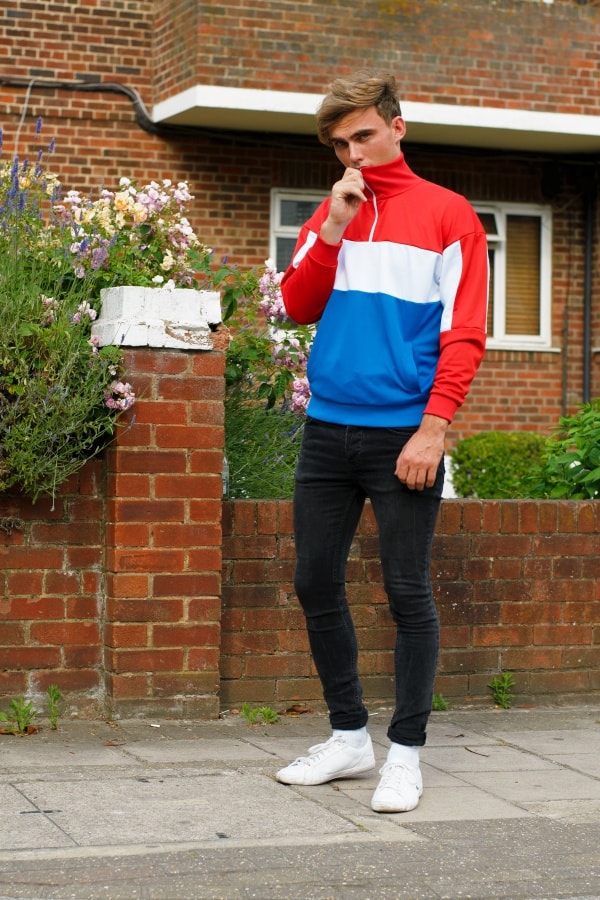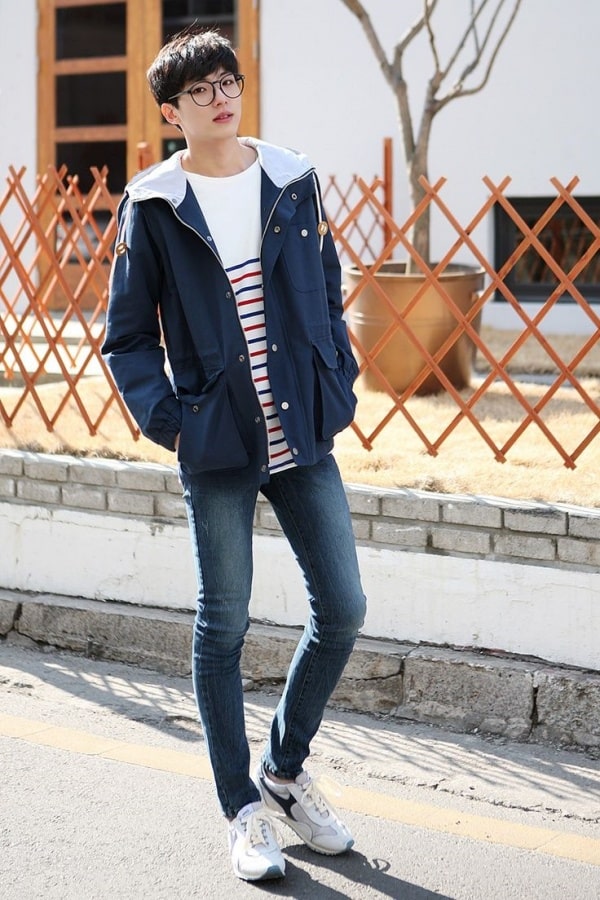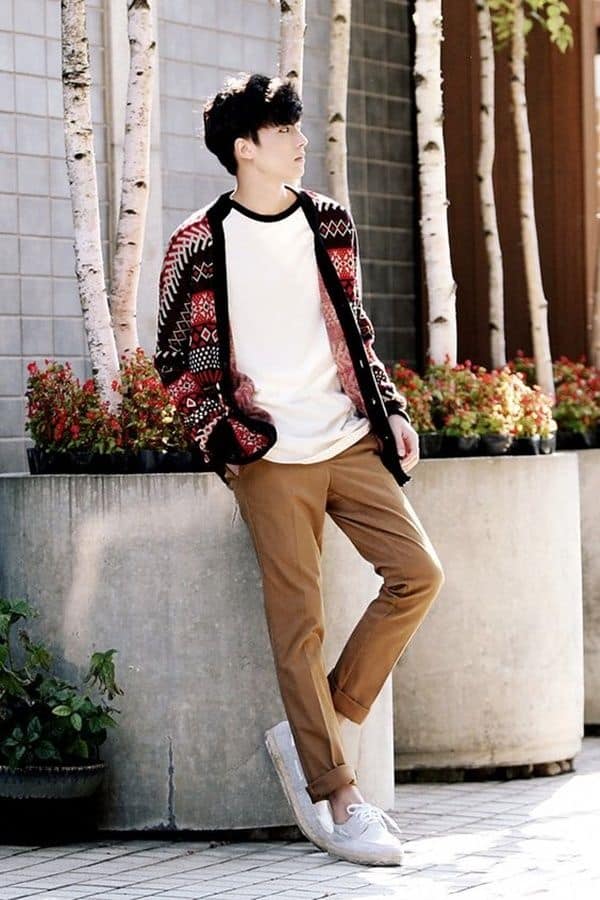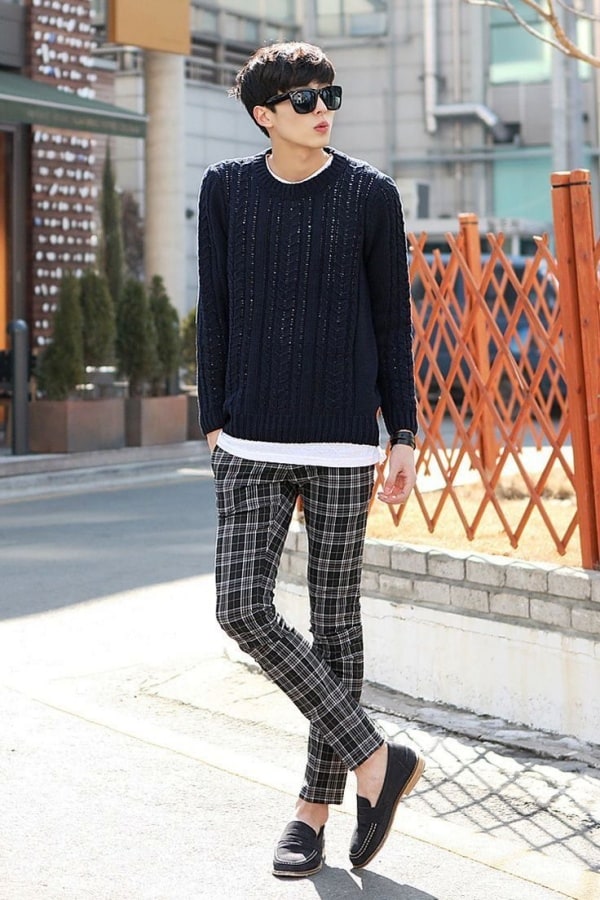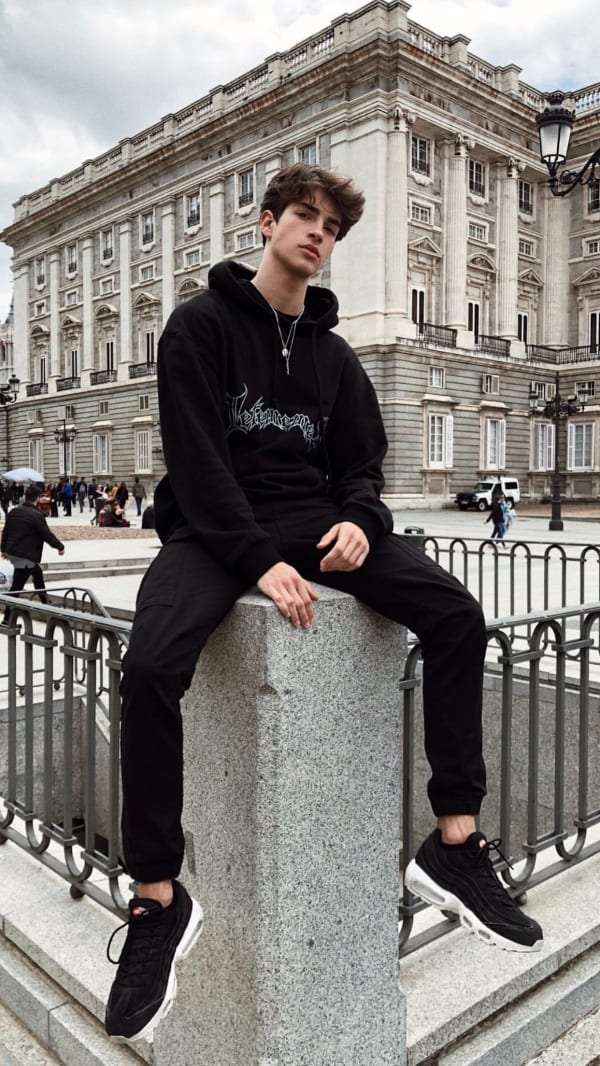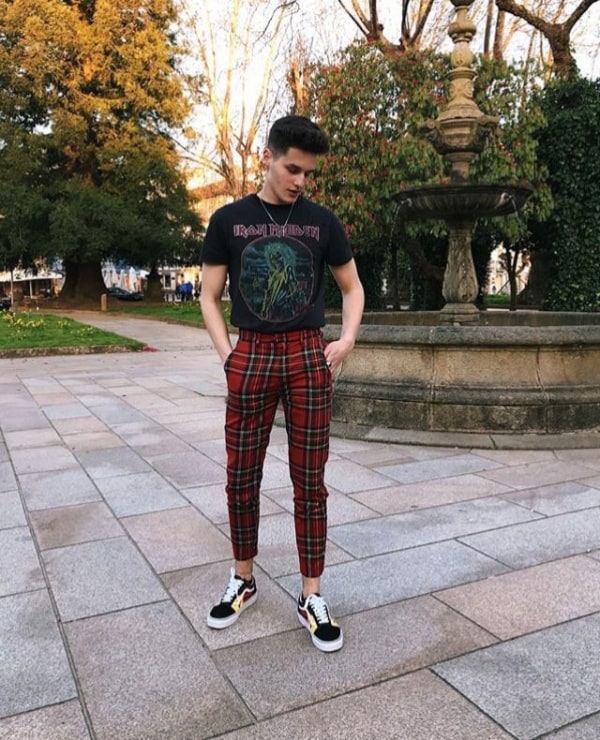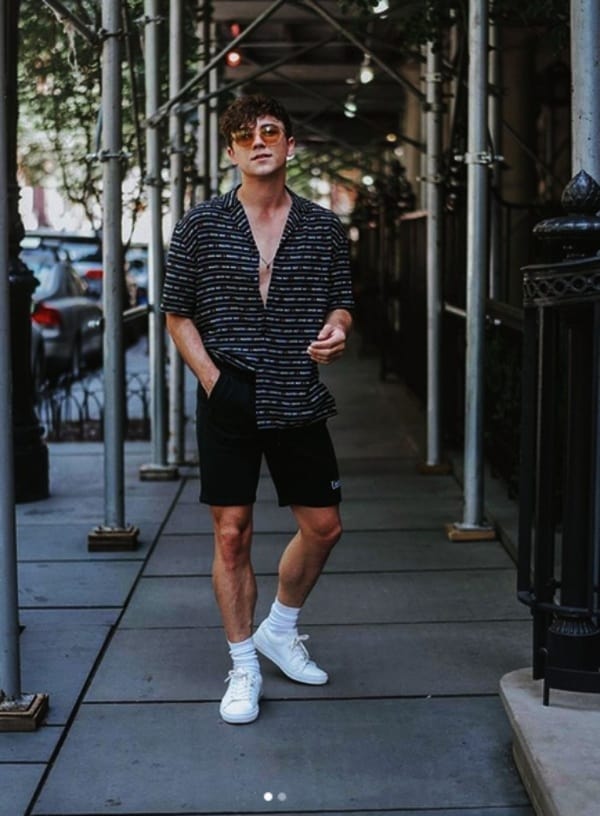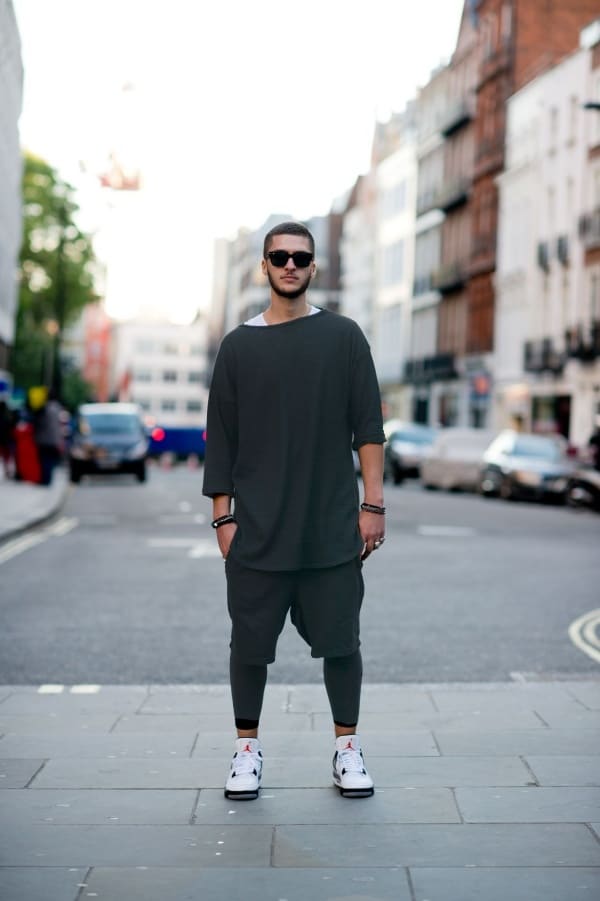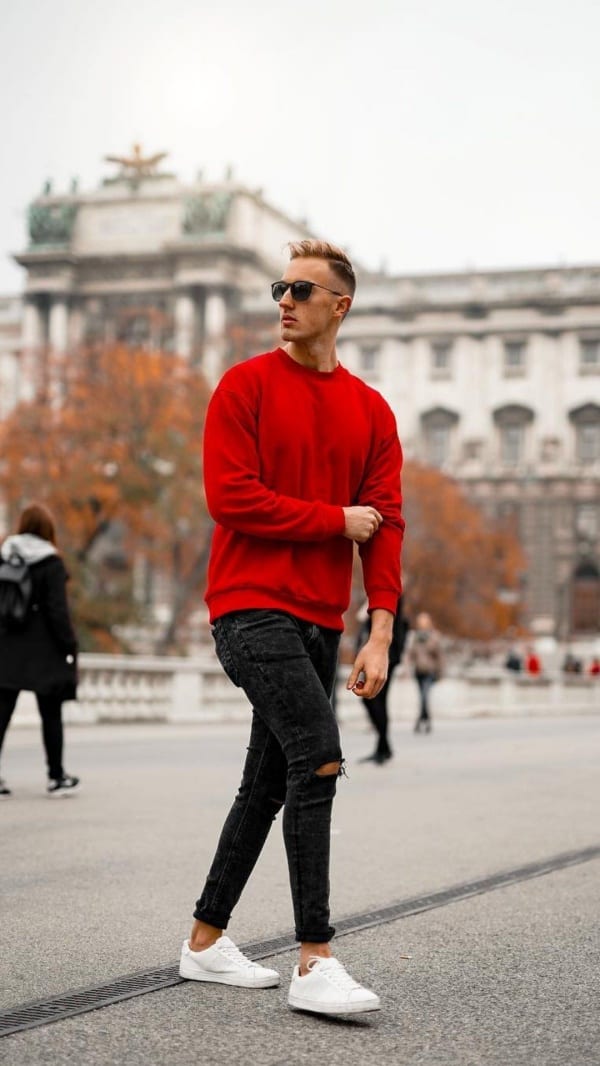 You may also like:
Conclusion
The above cool outfits for teenage guys have so much versatility in them that they can together make up your entire wardrobe. Starting from black and black outfits to blazers and turtlenecks, you find almost everything in the list above.
Let us tell you how it helps to have so many options at hand. Well, with a multitude of options at your disposal, you can decide better what to wear on different occasions. That means this guide proves to be a ready source of advice for fashion lovers who are sick and tired of their constant indecisiveness regarding outfit selection. And thankfully, when you know what to wear, the 'how to wear it' part gets easy- it just flows out of your mind.
If, however, you are not creative enough to conjure ideas in mind regarding how to style the outfits mentioned above, then just follow the basic styling tips we have offered. They are based on established tenets of style and real-life fashion experiences. And that is why they are able to help you as efficiently as a fashion guru is. Every day, you will confront numerous fashion roadblocks. The style tips above will help you sort out such fixes painlessly.
What's the bottom line? It's that you have a wonderful fashion guide at your disposal now. So, make the most of it and be the enchanter you always desired to be!