Chinos have recently become a wardrobe essential for men. You are all set to dazzle with decent chinos and shirt combinations at any event.
There are a myriad of stylish combos and styles for men to get a pitch-perfect look!
Formal shirts or casual ones, checks or plains, stripes or patterned; there are versatile options to try with chinos.
With this attire, men can now grab an astonishing appeal for a brunch date or evening party. When in a fuss, rely on chinos, and you can surely not go wrong!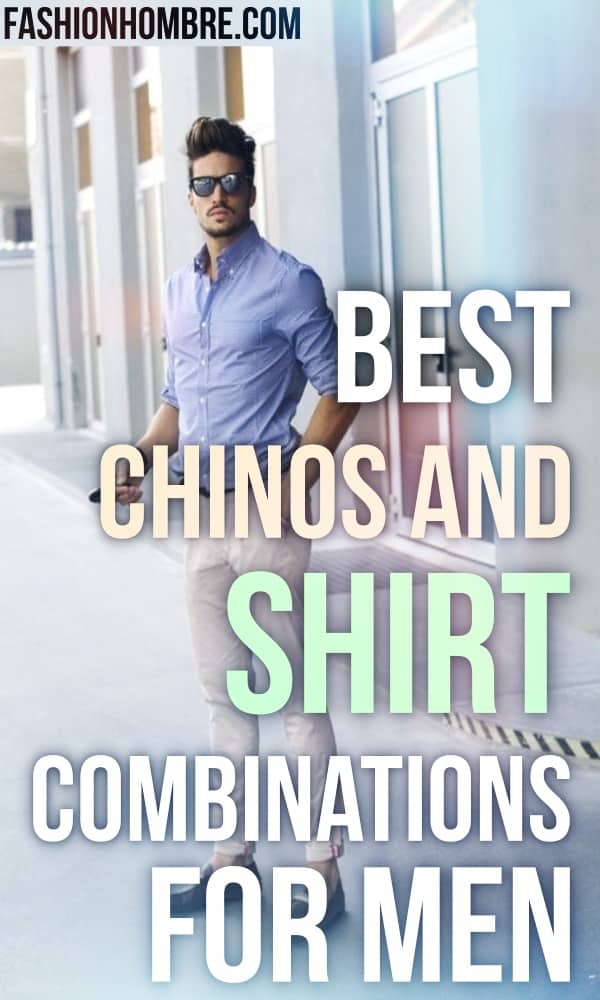 Stylish Men's Chinos and Shirt Combinations To Try
Haven't you heard of chinos? They are stylish fitted pants with tapered bottoms that give a sleek dimension to your physique.
This is a classic dressing staple to own the fashion game. We have spilled some beans on a diverse range of chinos and shirt combinations below.
Scout over them to get an overview of how to dress to impress and yet stay comfy in your skin.
1. Green Chinos With Striped Shirt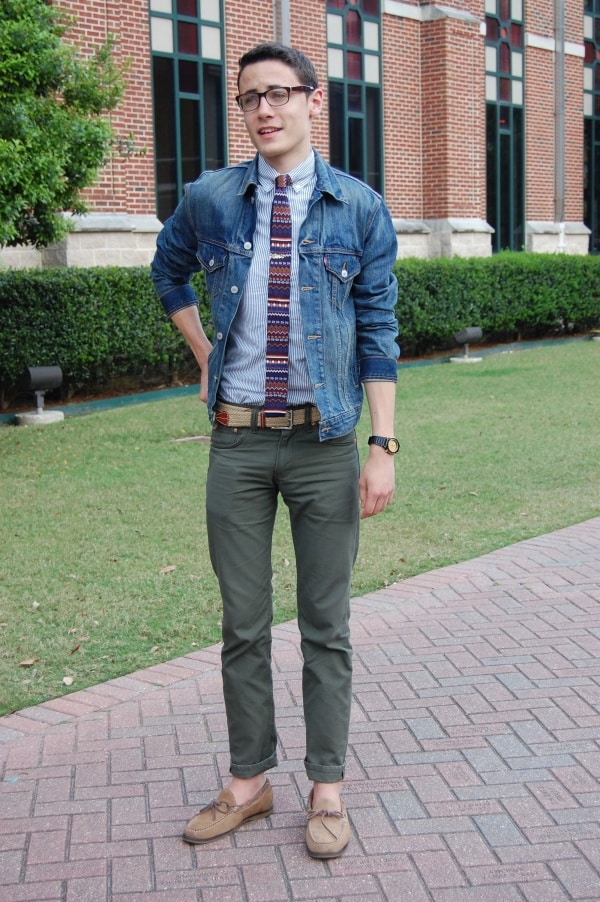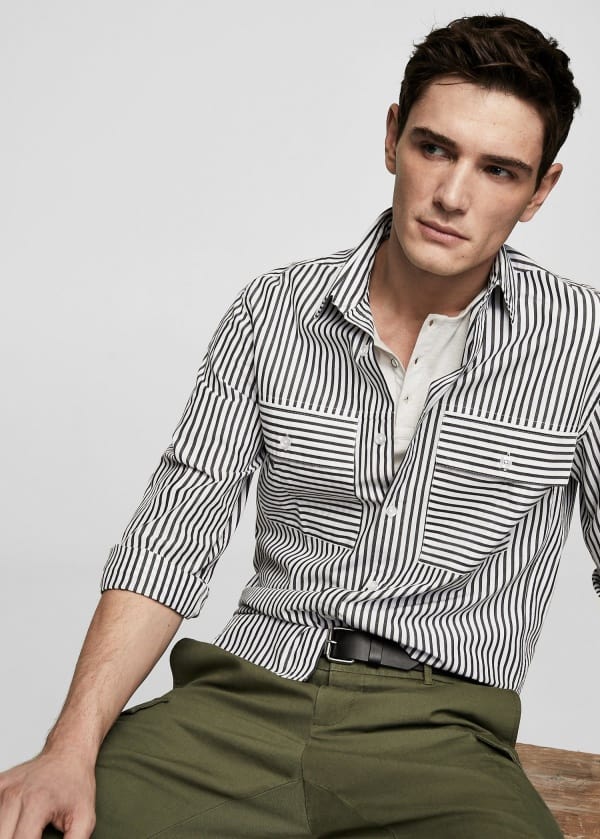 Are you looking for unique chinos and shirt combinations that give you a fashion stud look on a dinner date? Try out a pair of green chinos with trendy striped shirts.
You won't certainly find this combination a daily deal.
Who says men can rule fashion fads? Be the head-turner with dark green chino pants and a striped shirt in any subtle hue.
Give it a spike with a pair of cool sneakers and glares to complete the look. No wonder girls won't be able to resist themselves from adoring you for it!
2. Dark Blue Shirt With Tanned Chinos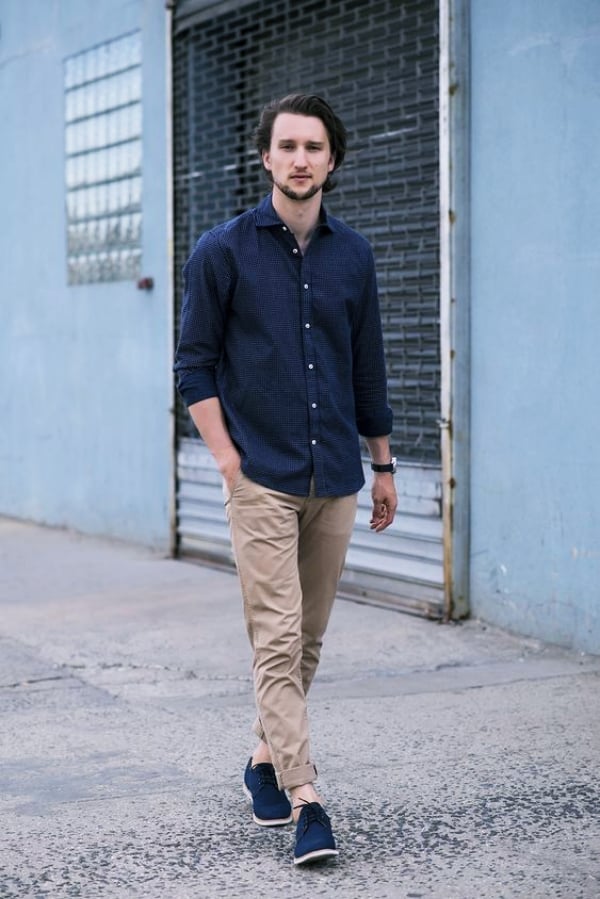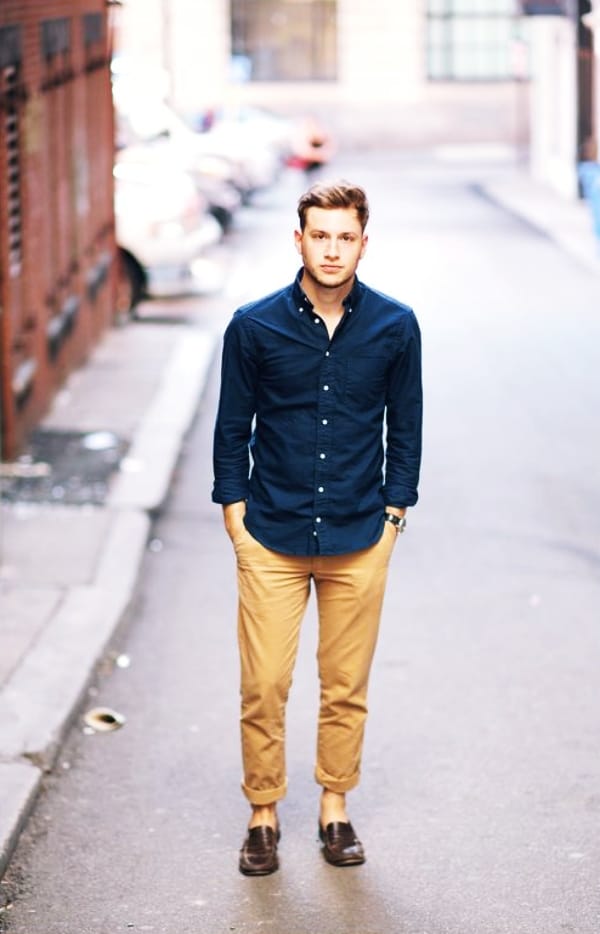 Some men and guys are not very much willing to experiment with colours. So, let simplicity head up at this place.
Wearing a beautiful dark blue shirt with Tan Pants rests as the most sophisticated option to try on.
Chinos have a peculiar style that looks amazing when assimilated with any colour.
Try out the dark blue coloured shirt and classic tan colour chinos together for being a head-turner.
This stylish trend works wonders on both formal and casual fronts. Brown sneakers and a classy watch justify the look.
3. Denim Shirt With White Chinos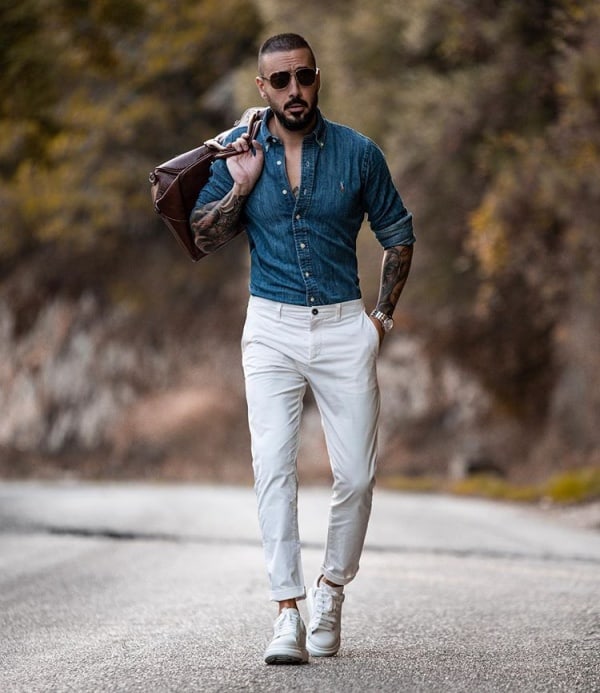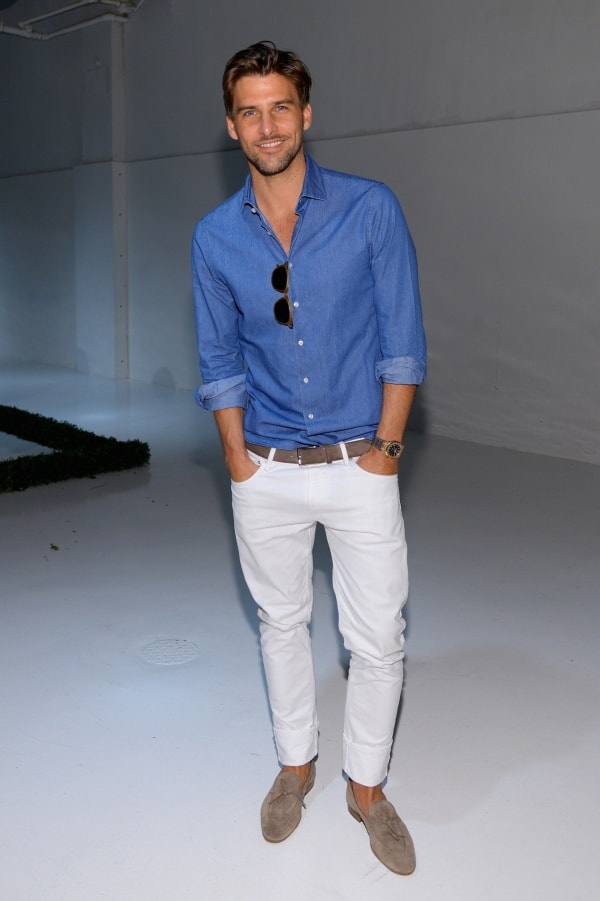 Denims easily make their way into any picture without much effort. Designers have been flickering with endless concepts, designs and trends in denim over many years.
You definitely do not have to think much about picking a cool denim shirt from your wardrobe and teaming it with the sleek white chino pants.
Roll it up an inch from the bottom to add a casual vibe. We doubt if this outfit can go wrong in any case.
Nothing beats the enigma of whites and denim when you have to impress your girl on a coffee date!
4. Grey Chinos With Navy Shirt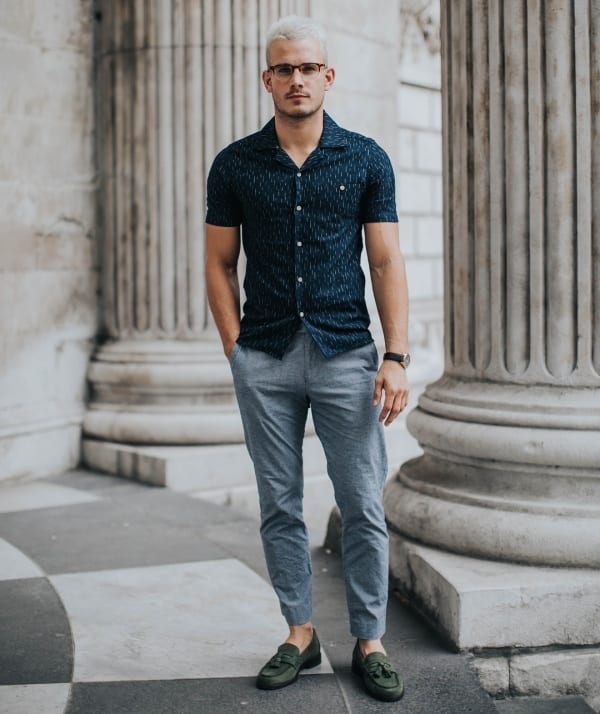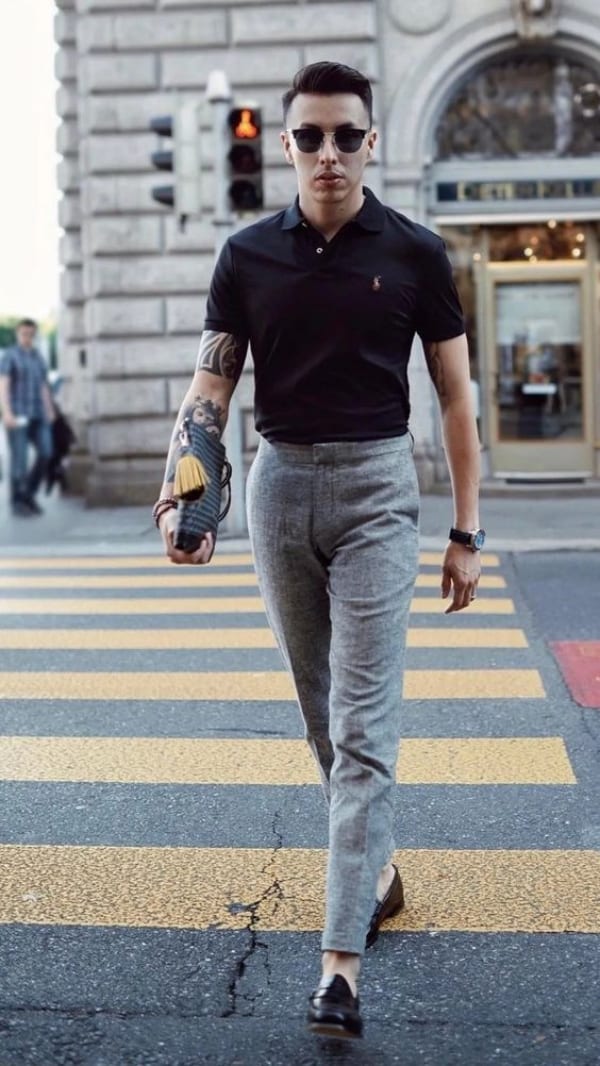 Generally, men associate greys with more formal and simple looks. But designers have recently used their magic wands to do marvellous transitions with greys.
A slim-fit chino pants is a grey shade; the navy blue shirt is jaw-droppingly gorgeous. One can go breezy with a half-sleeve shirt or notch the elegance with full sleeves.
With this combo in your closet, it is easily possible to rock every occasion with a fashion statement.
Don't overdo accessories, as you already have a great outfit to boast about. Any black shoes or sneakers in black will complement the combination.
5. Navy Chinos With Light Blue Shirt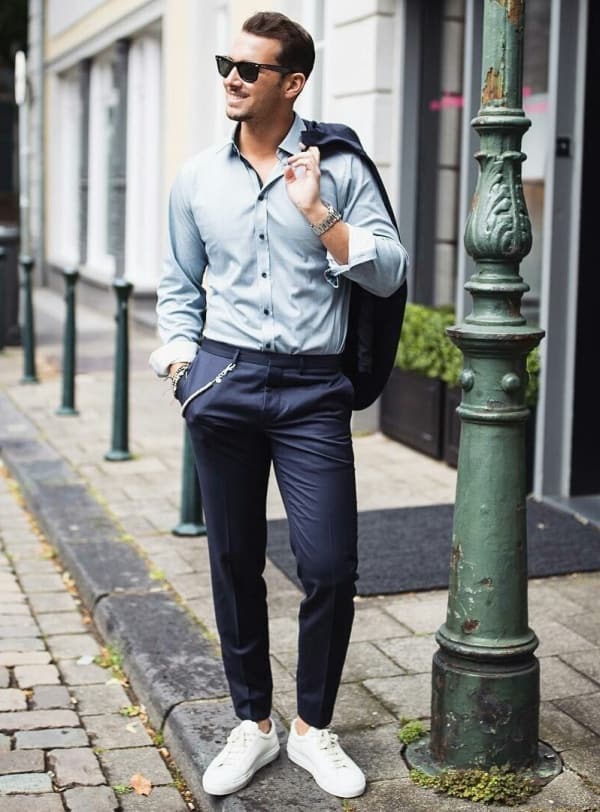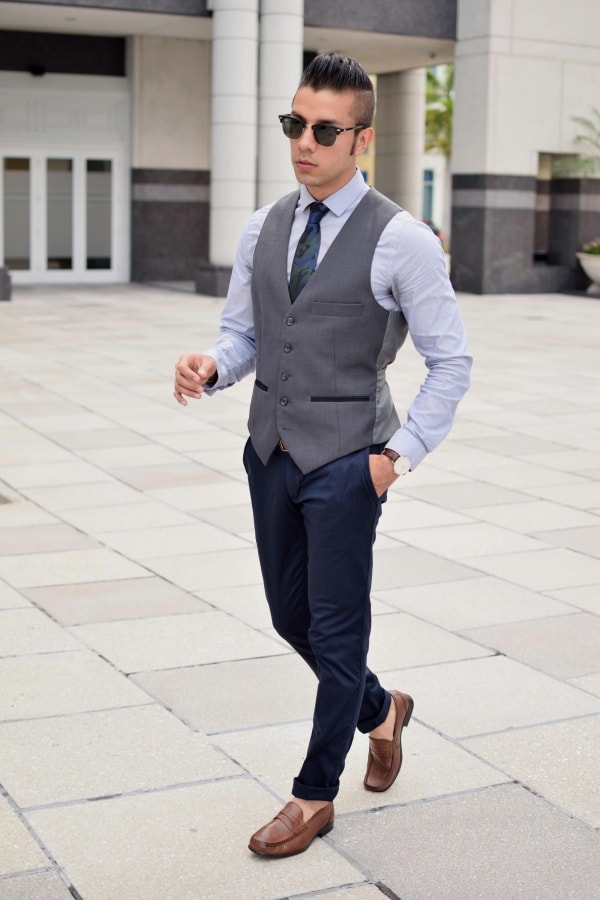 Time to go GAGA over a formal fervour! Chinos can be unbiasedly incorporated into formal attire with some essence of trends.
We can't stop ourselves from pumping in more blues here. Grab that bossy touch by creating an all-formal combination that's purely you.
Pep up by wearing classy navy blue chinos with a subtle sky blue shirt. Men can also don a blazer or waistcoat to head up for a corporate meeting.
The divergence of two blue shades is magnetic, and you can't stop yourself from looking beauty-struck!
Also, Read:
6. Black Shirt With Beige Chinos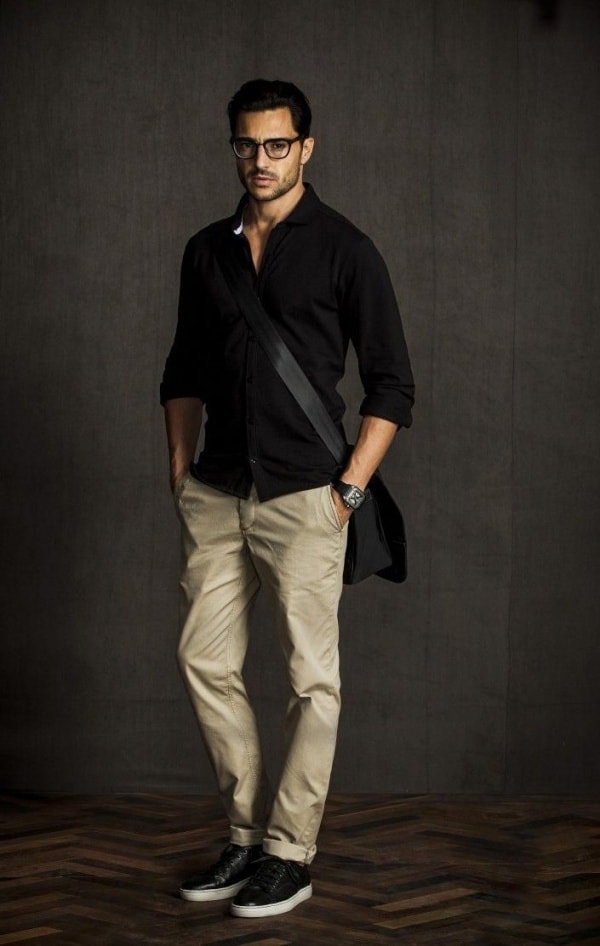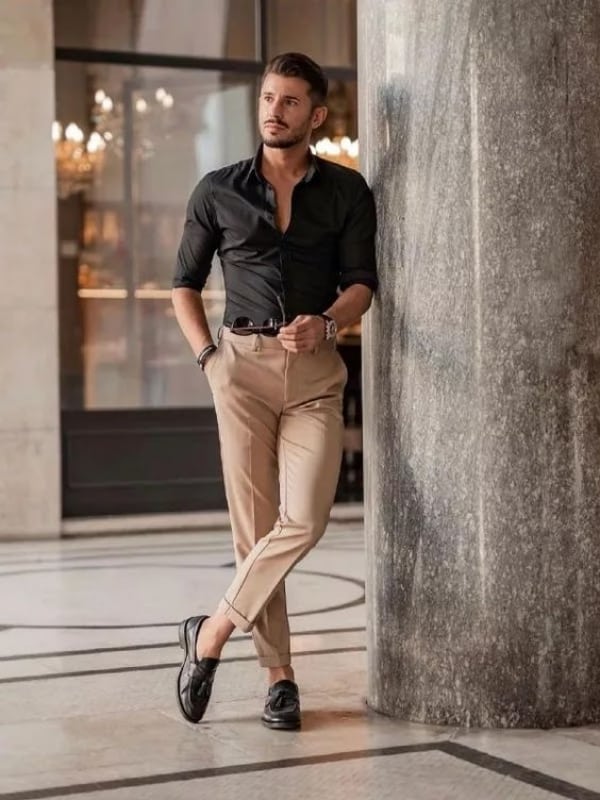 If looking handsome and acing those killer looks is your way to dress, grab the black and beige fever.
The casual black shirt with beige chino pants is like the most striking transition. 
As you glance at this outfit, it is evident that you'll love it! Who doesn't have a black staple shirt in their closet?
Invest in classy beige chino pants, and you are good to go. This outfit brings out the most dashing side of you effortlessly.
Deck up in this timeless chinos and shirt combination to ace with grace!
7. Chambray Long Sleeve Shirt And Grey Chinos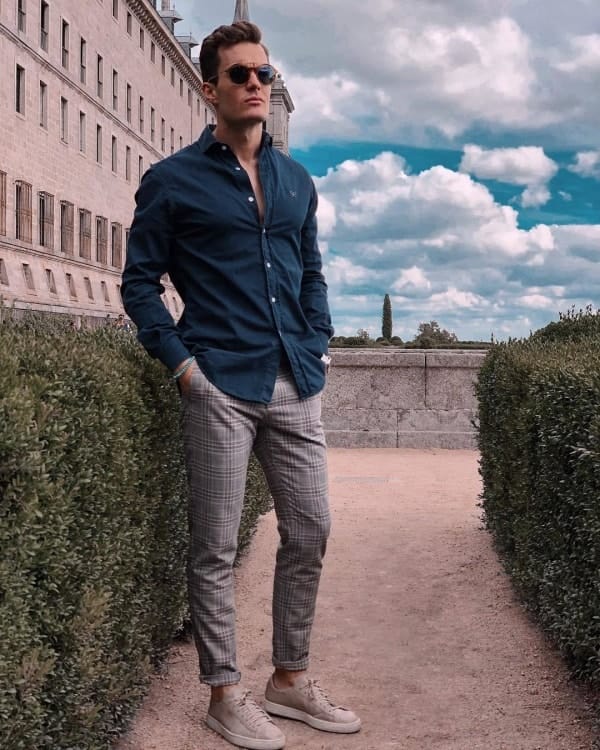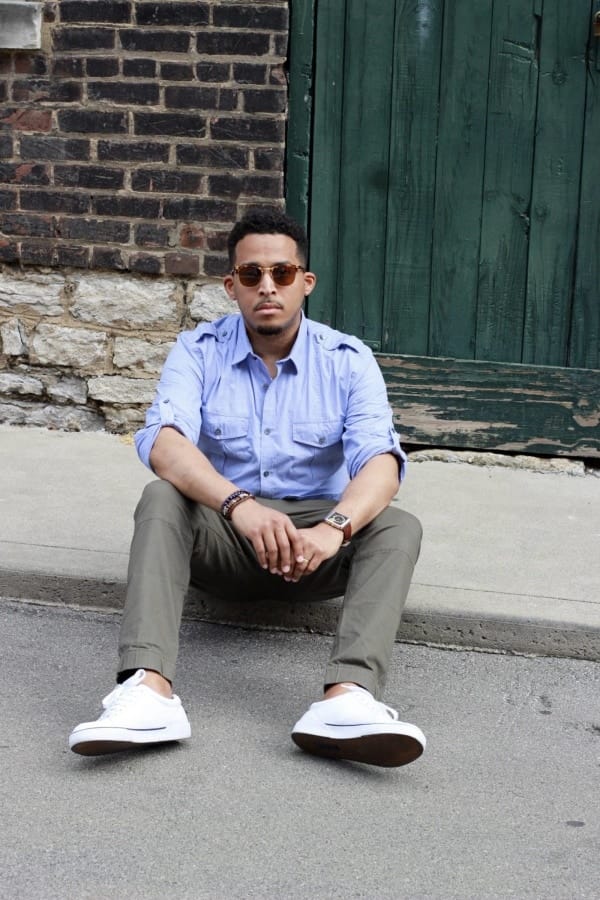 Do you need something for vacation mode? Why compromise on style when you have shelled out so much for a trip?
Settle for a Chambray long sleeve casual shirt and a check or plain grey pants along with it.
Ensemble this combination while rejuvenating yourself around the shores or having a party night with buddies.
Sometimes, a bit of styling can work wonders on your personality. And yes, don't forget to slide in those white sneakers, which work as a game-changer.
8. Vertical Striped Shirt With Grey Chinos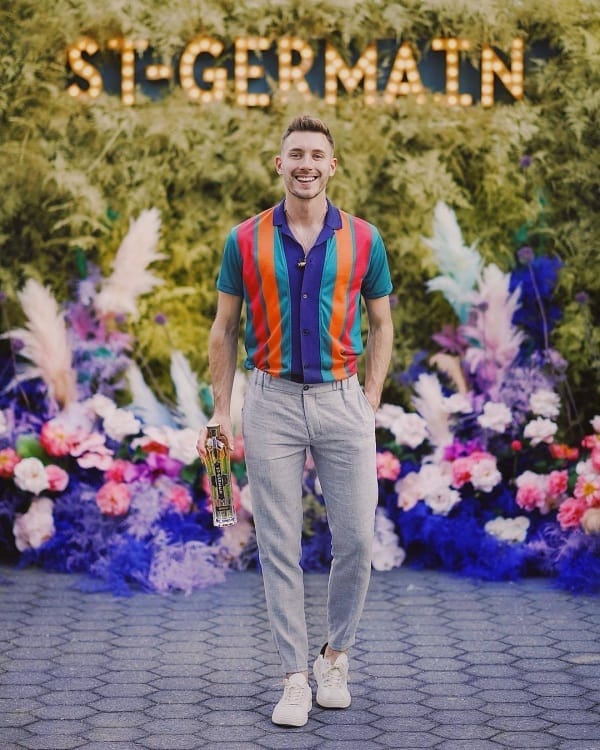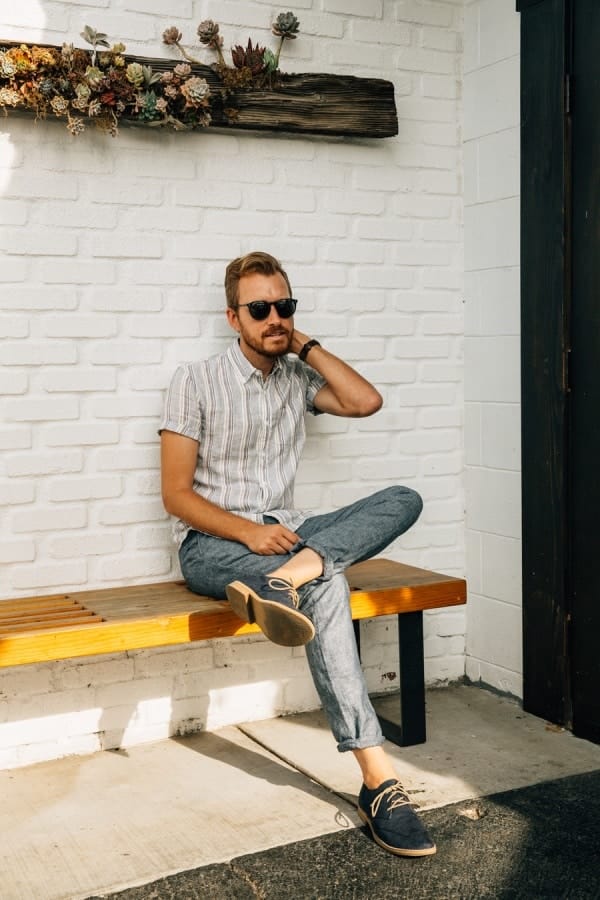 Next up in chinos and shirt combinations that can be styled uniquely is a striped shirt and grey chino pants.
This type of slim-fit chino looks excellent with a vertically striped shirt. You can choose sleek stripes or broader ones for a dramatic touch.
It is advisable to fuse in some colours in the shirt to accentuate the simplistic grey chinos.
You can also opt for a white and grey striped shirt for a relaxed soothing touch.
9. Slim Fit Shirt With Black Chinos!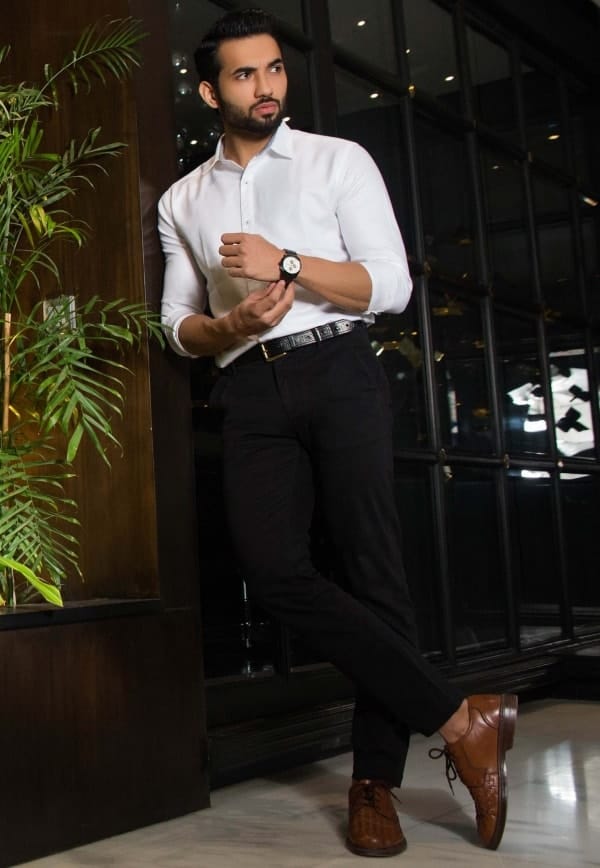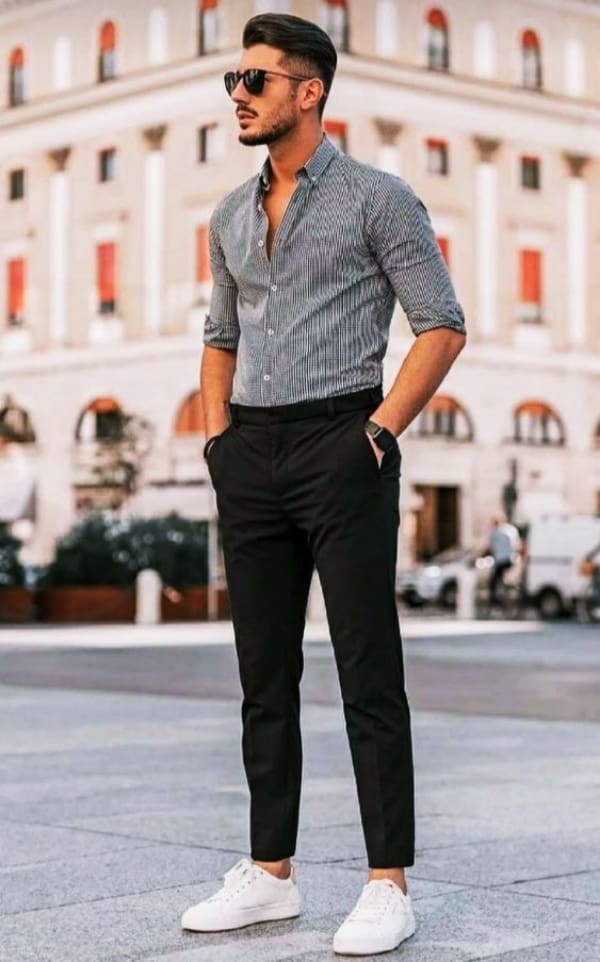 Raise the style quotient with a slim-fit shirt and edgy black chino combination.
Men with good physiques can experiment with a slim-fit shirt and complete the statement with black chinos.
You can't go wrong in honing this epic formal look at any event or occasion.
Whether it's weddings, celebrations or a workplace commitment, black chinos are a hit. No wonder you can complete the makeover with a pair of loafers.
Luckily, men now have ample options to revive a new look for themselves!
Have a Look:
10. Floral Shirt And Grey Chinos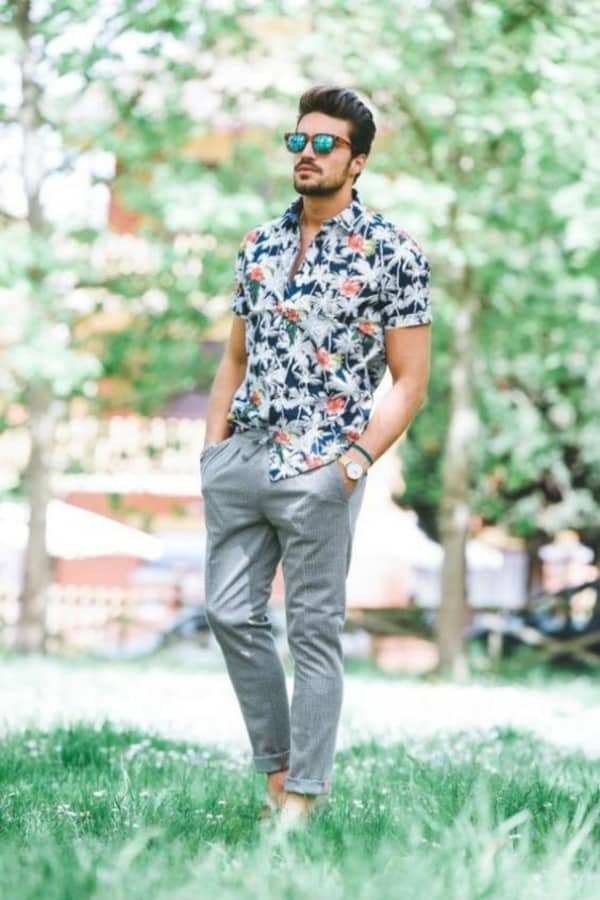 Heading for a beach vacation? The floral shirt and the grey pants work wonders when in a hurry.
Team up a bright, calming, half-sleeve shirt with a pair of grey chinos. The combination can look amazing with a pair of smart sneakers and cool shades.
Floral prints are a new hit; they look impressive, provided you style them upright. Remember to notch this combination with a full attitude to impart the ultimate finesse.
11. White Shirt With Olive Chinos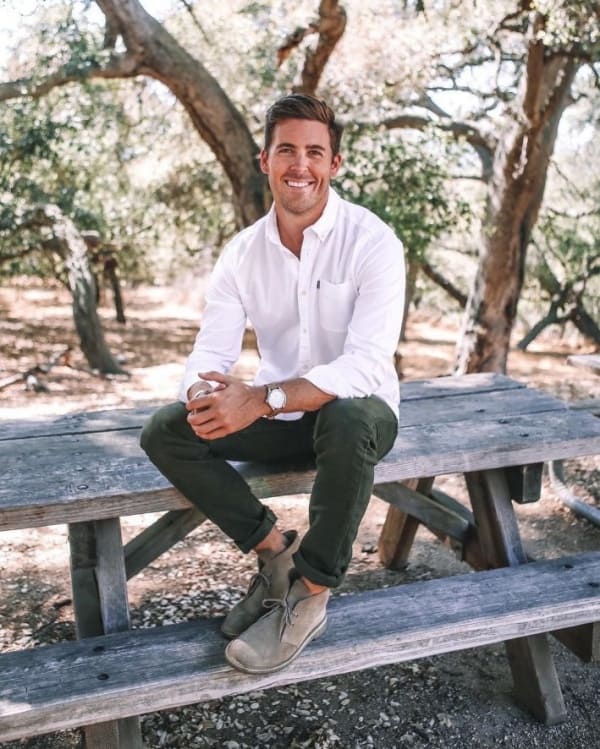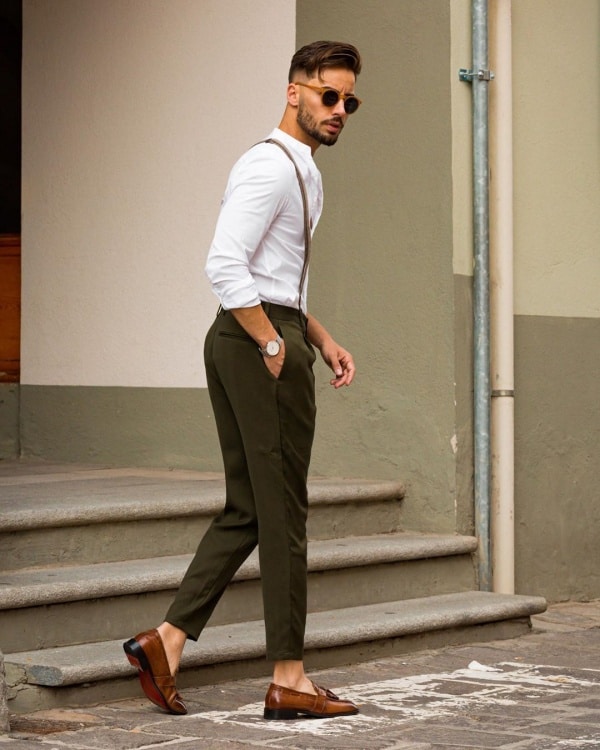 Enhance your handsome looks with a surreal white shirt paired with dark olive chino pants. This combination is undisputedly stylish and can make you stand out amongst others.
Men who aim to appear stylish and cool together can try this combination. Embrace the real essence of minimalism with a white and olive combo.
It could make you look quite smart and add further charm to your personality. This is a must-try option if going on a casual event or a date with your loved one.
12. Maroon Shirt With Black Chinos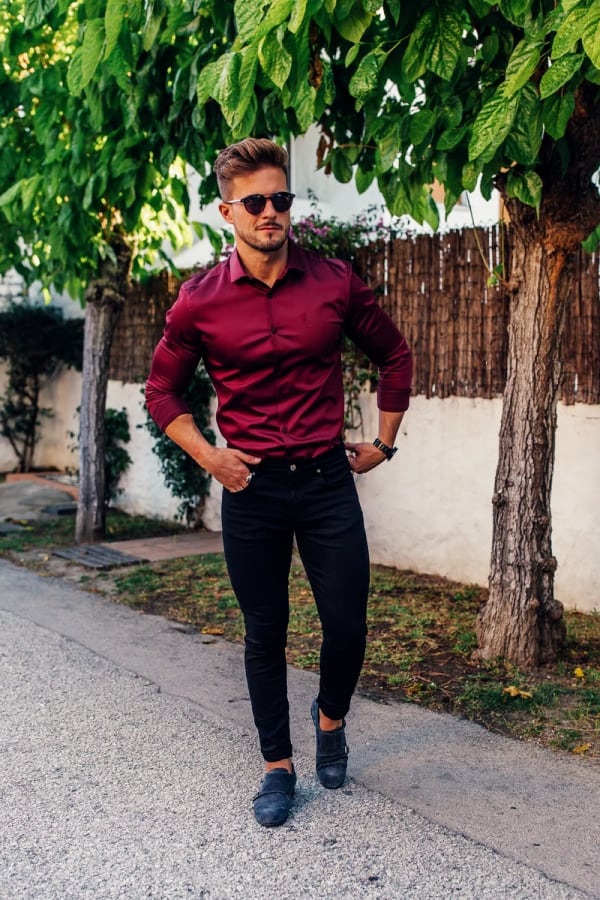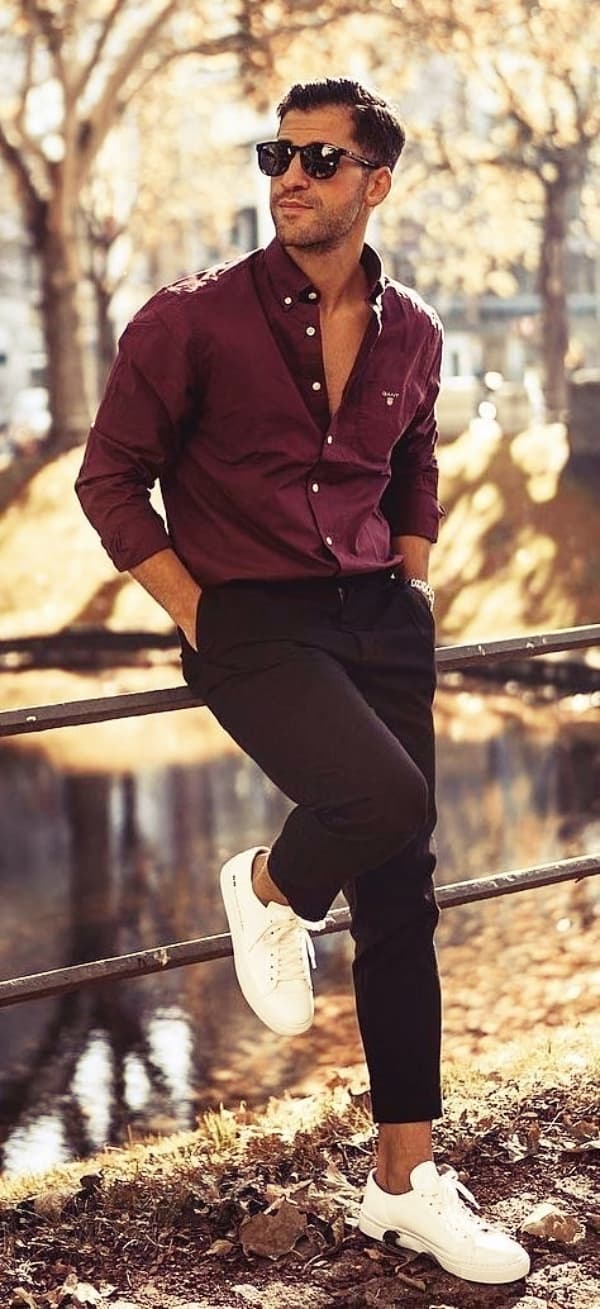 Spread the festive charm and spree with an absolutely glamorous maroon-coloured shirt and black pants.
Maroon colour complements almost all skin tones and body types. There are versatile options in maroon shirts like the plain coloured or the checks.
It is essential to wear black chino pants with maroon pants to rock the fashion world.
Suppose it's an evening event or occasion, the magic of dark colours is invincible. Try it out to know for yourselves.
13. Brown Chinos With Sky Blue Shirt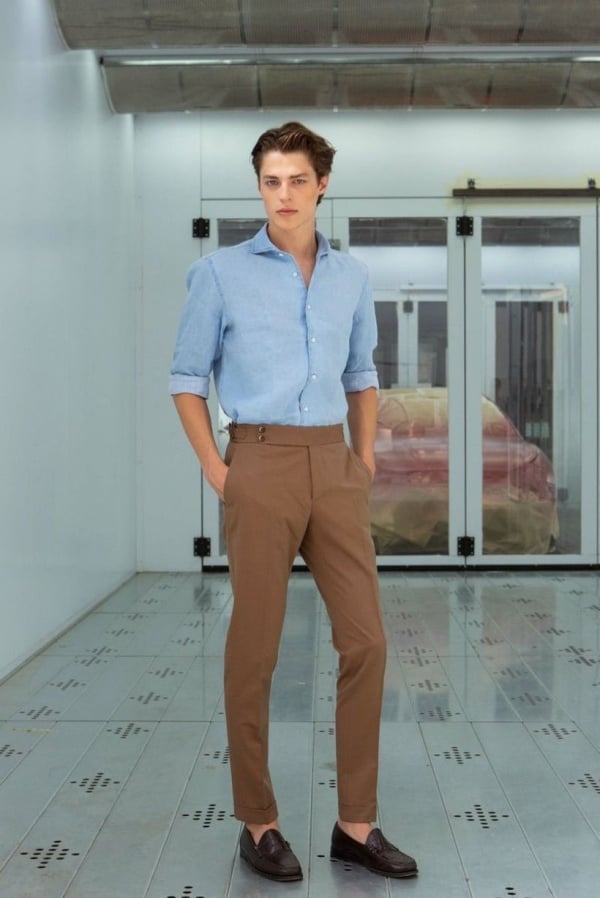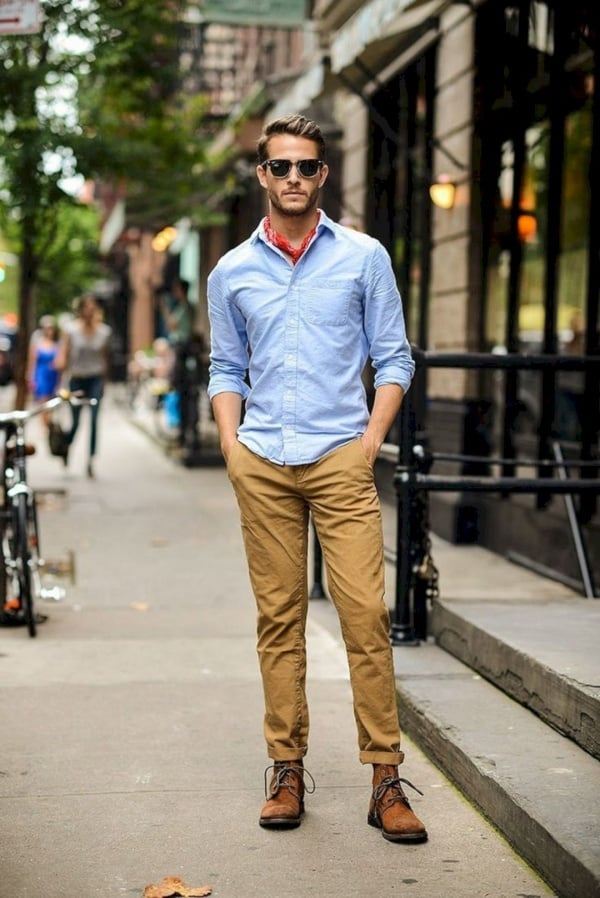 After black, if any other colored chinos can cater to your interests and make you look good, that is brown.
Being a neutral color, you stay far from committing any fashion blunders, and the addition of the sky blue shirt makes it count.
As both belong to the neutral color family, when put together, they balance each other quite well.
14. Blue Chinos And Black Shirt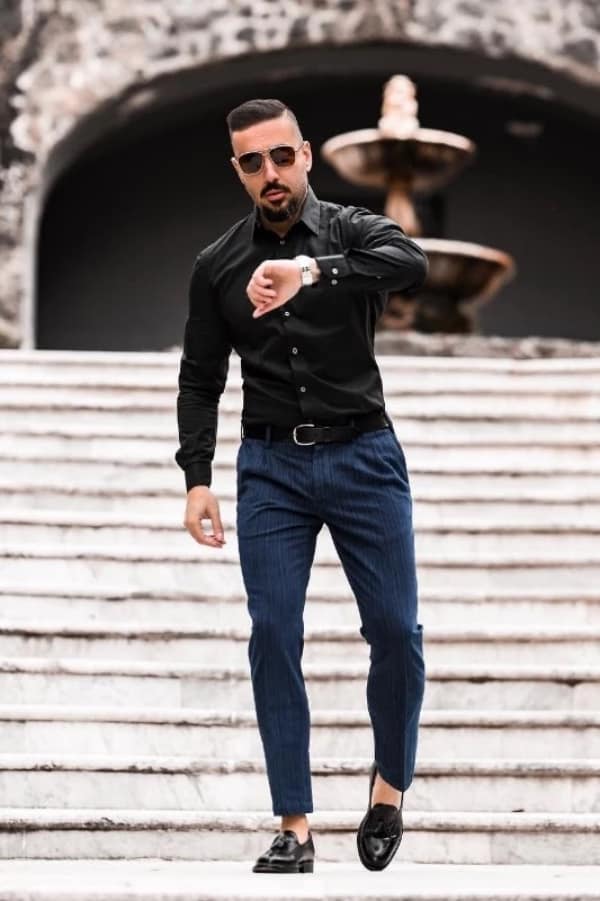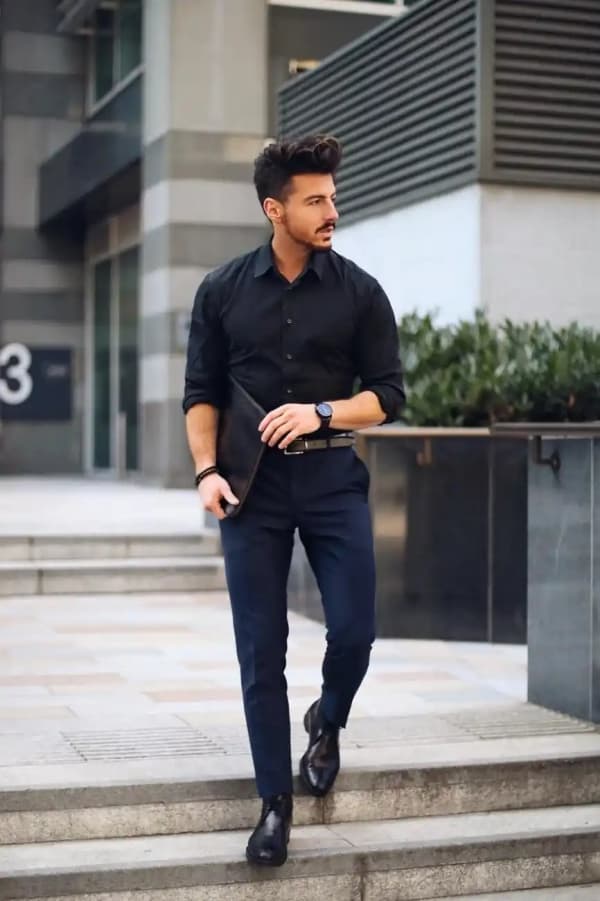 The classic black and blue combo is back with a twist! Now we have assimilated the blue chinos with a casual or formal black full sleeves shirt.
Men can try out different combinations of blue, like sky blue or navy, to team up with black. The aura of black is superb, and you cannot go wrong with any colour or design.
15. Polo Shirt And Chinos Combination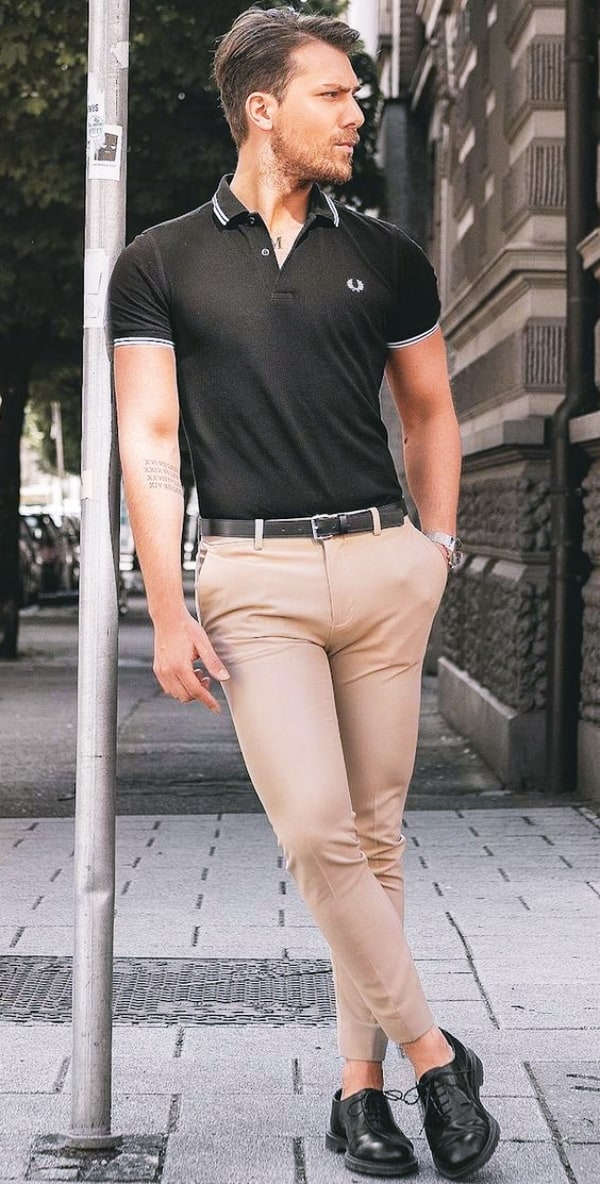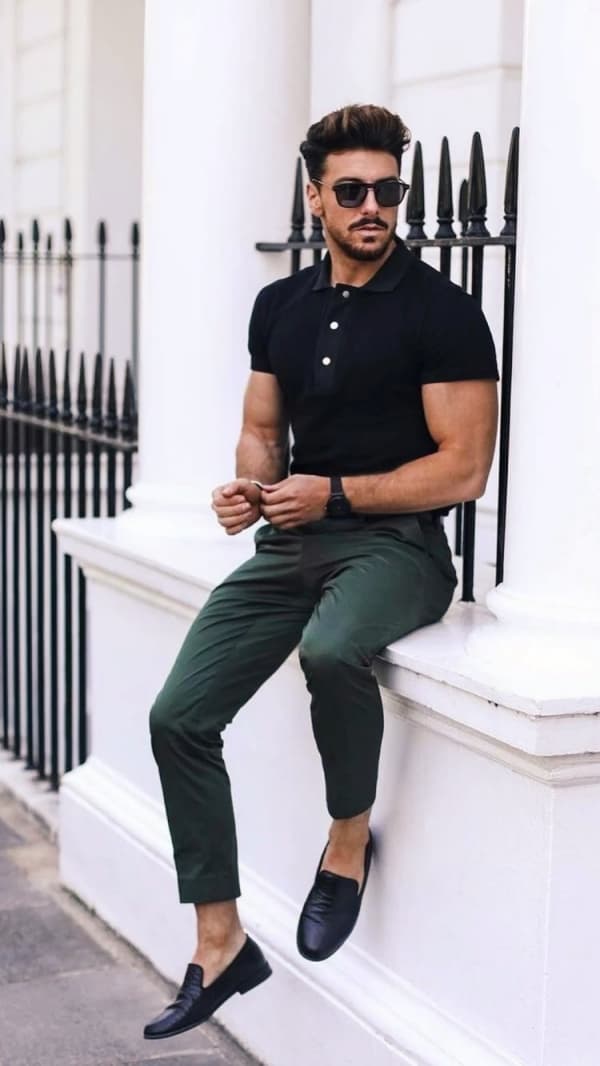 How about rolling over a Polo shirt and chinos combination? Polo shirts add a sense of grandeur and edgy touch to your outfit.
Team up a stylish slim-fit chino pants that snuggles across your legs flawlessly.
Opting for the polo shirts and chinos combination can work as the best style statement ever.
It is essential to create an epic fusion of clothing by mindfully mixing up the elements that sum up into perfect attire.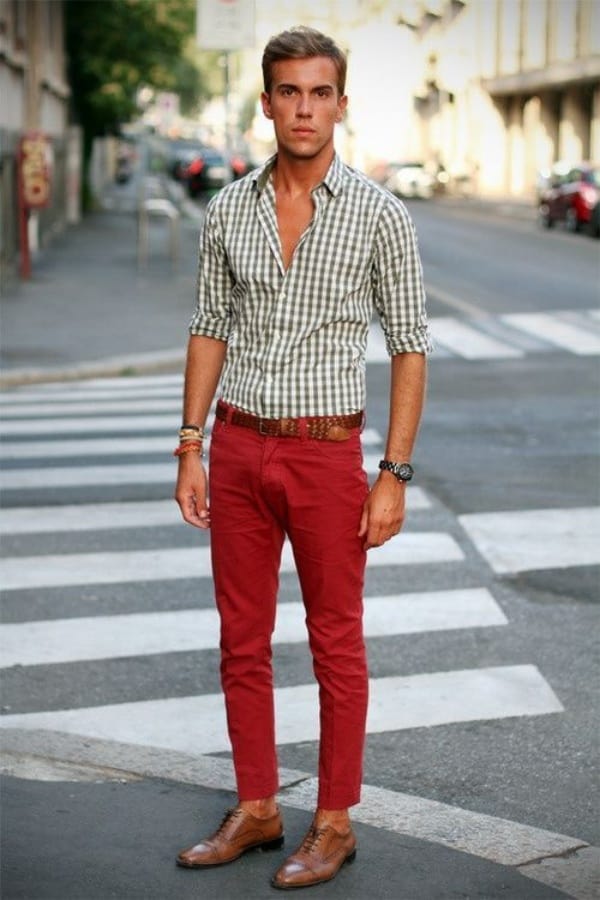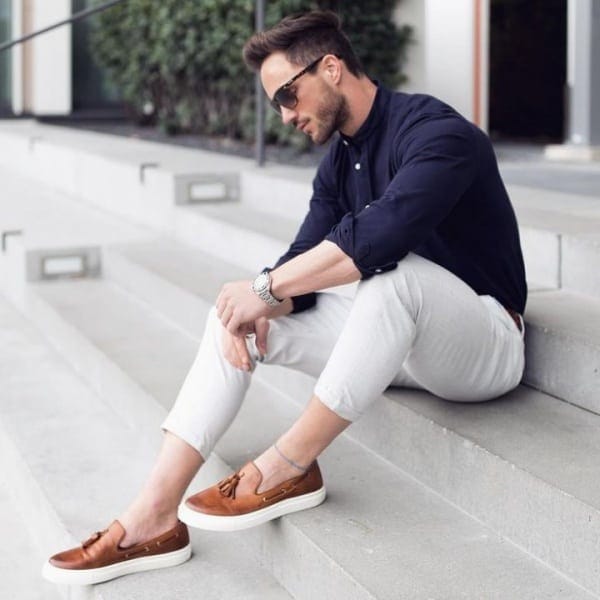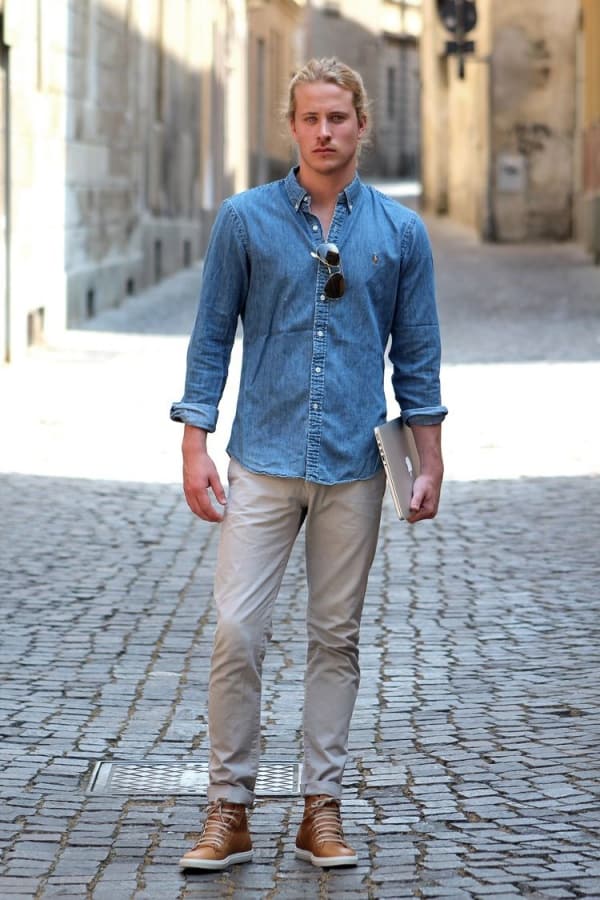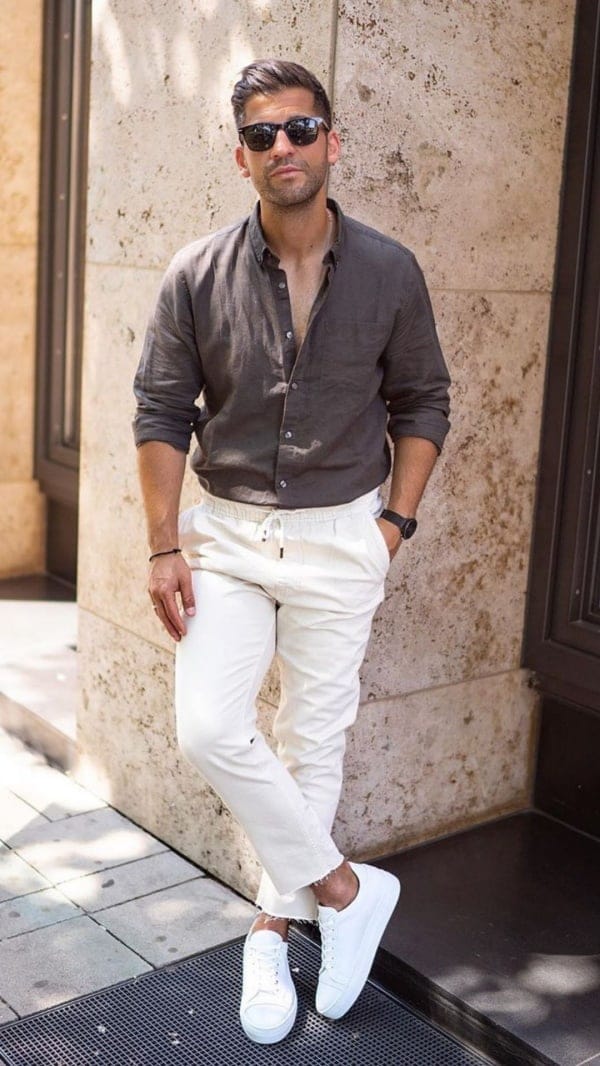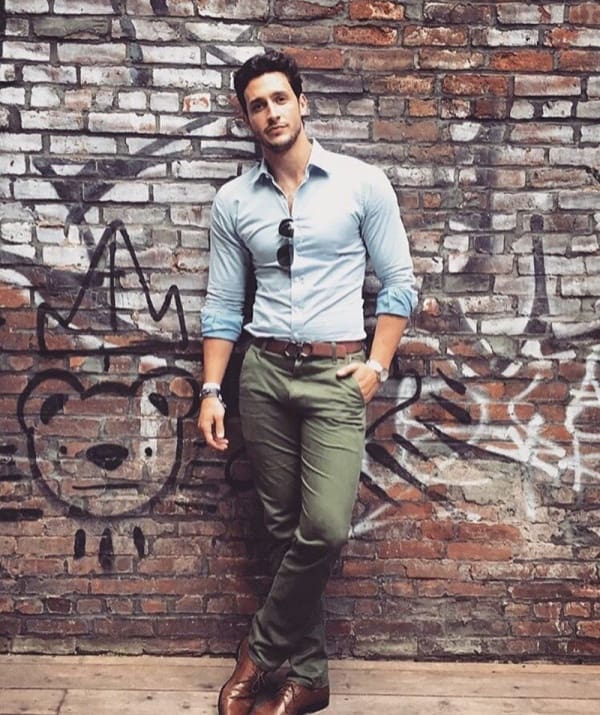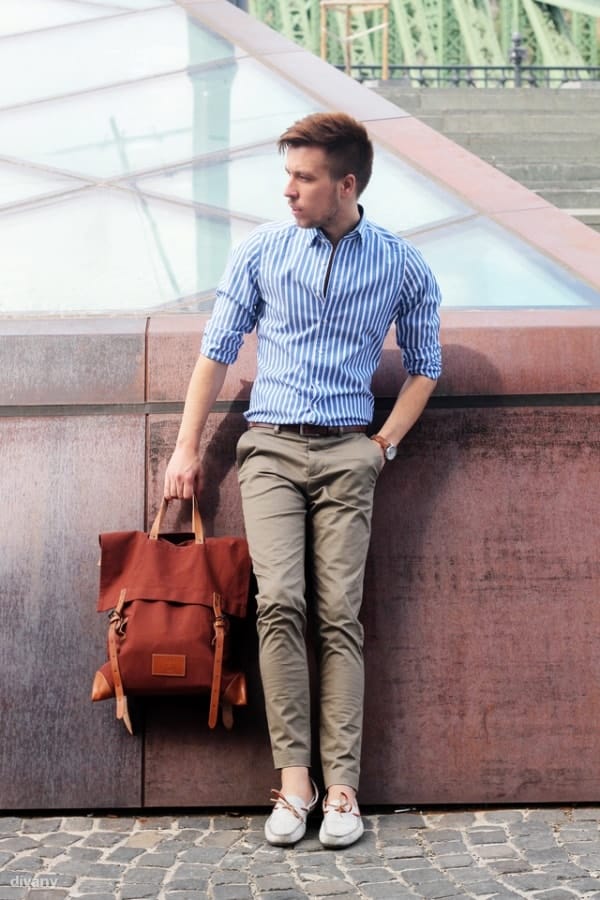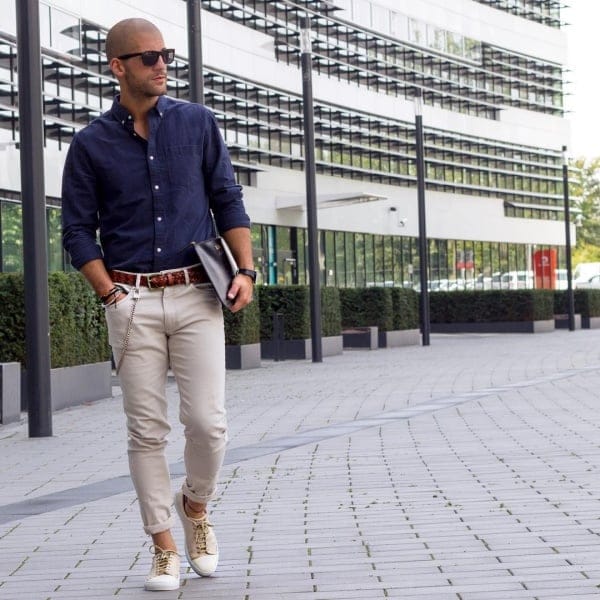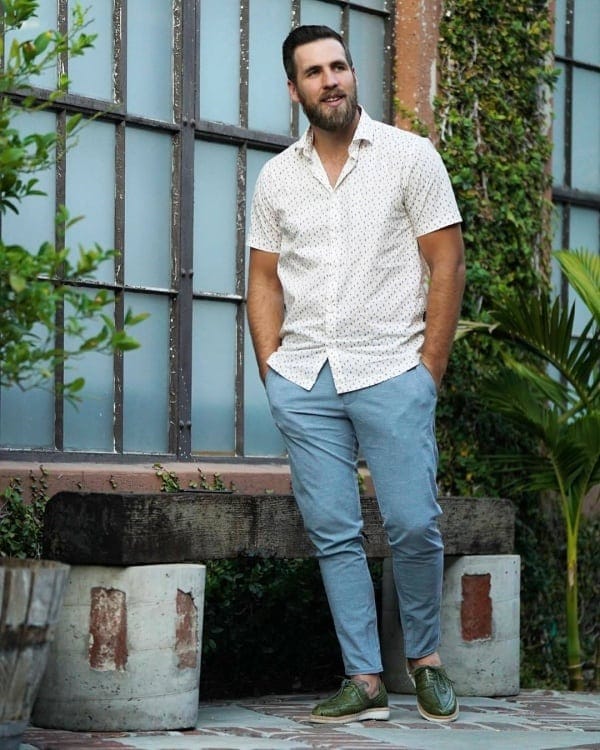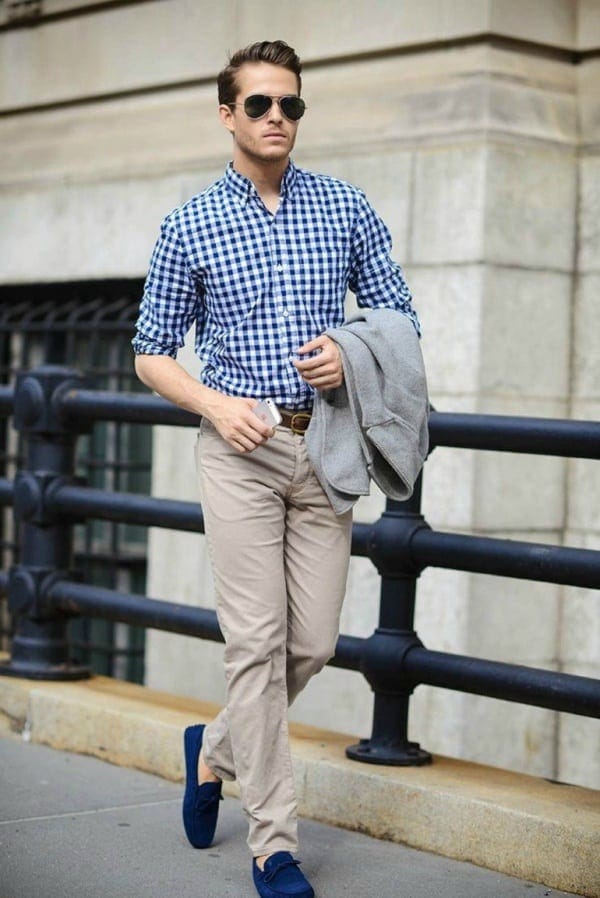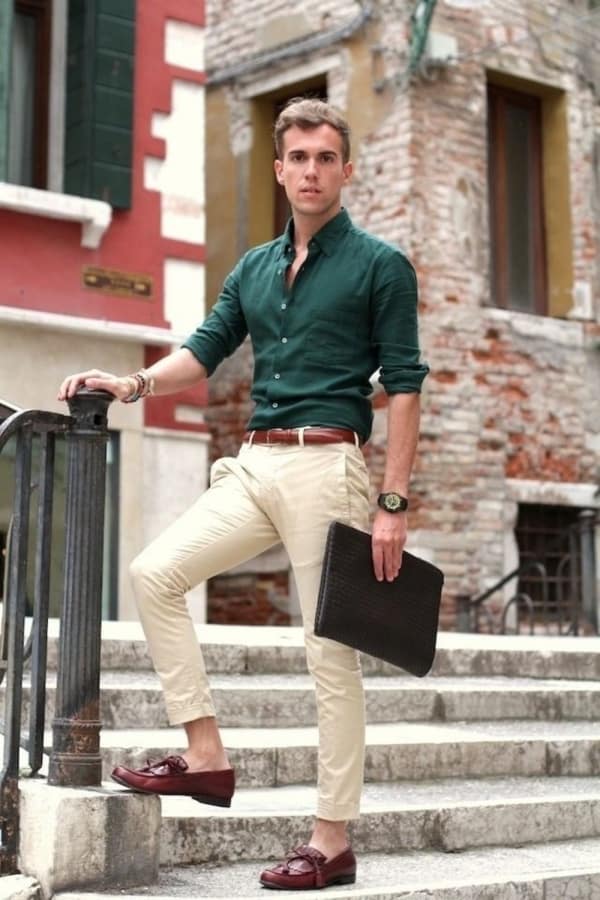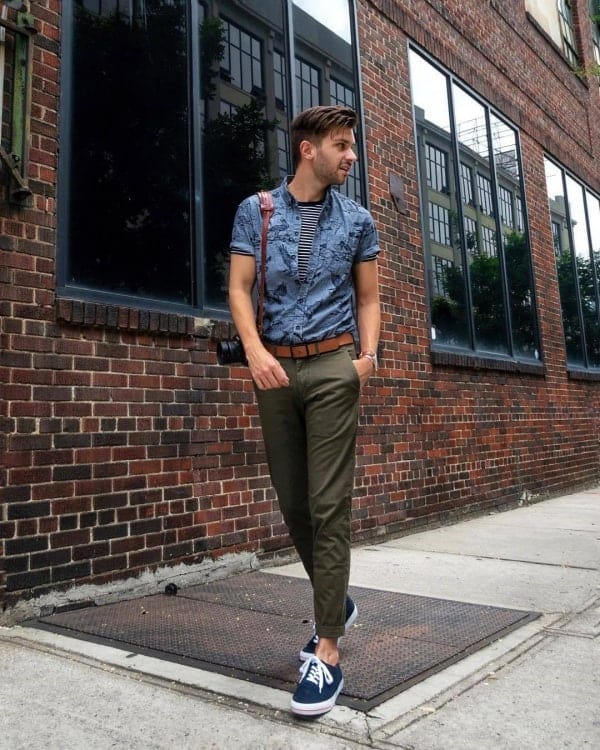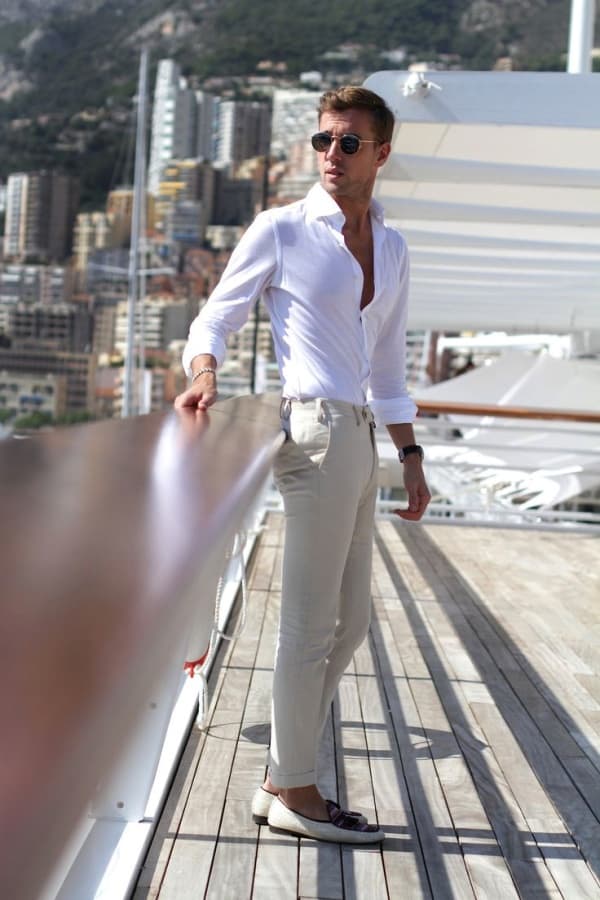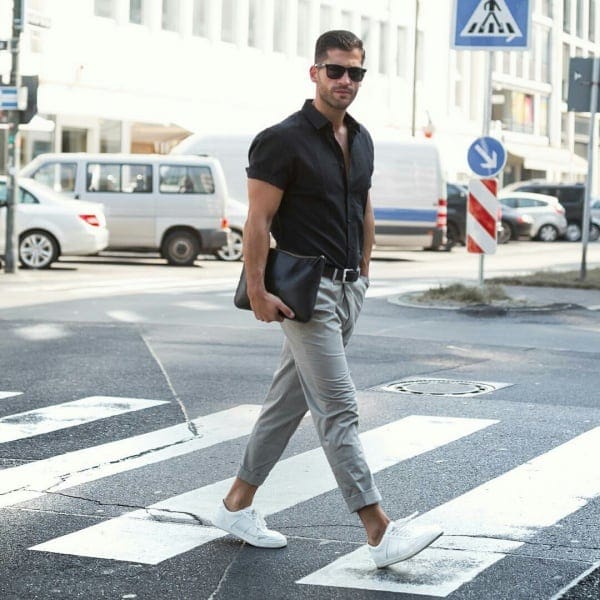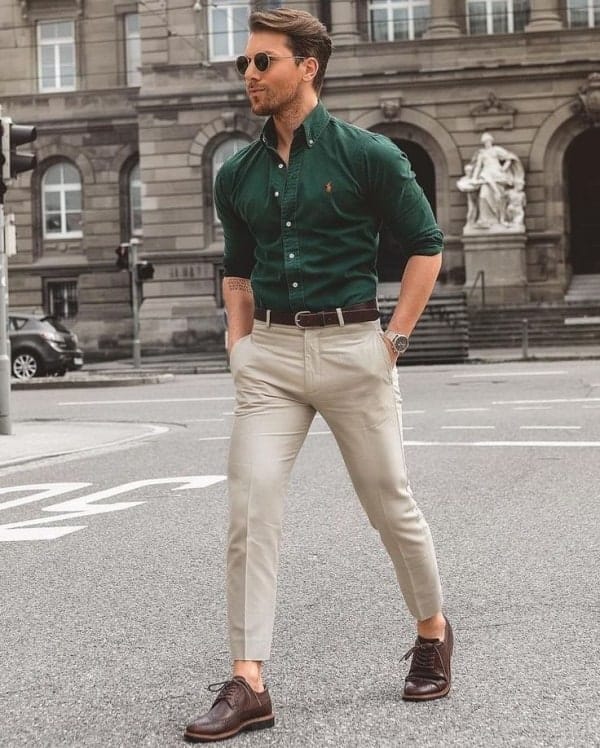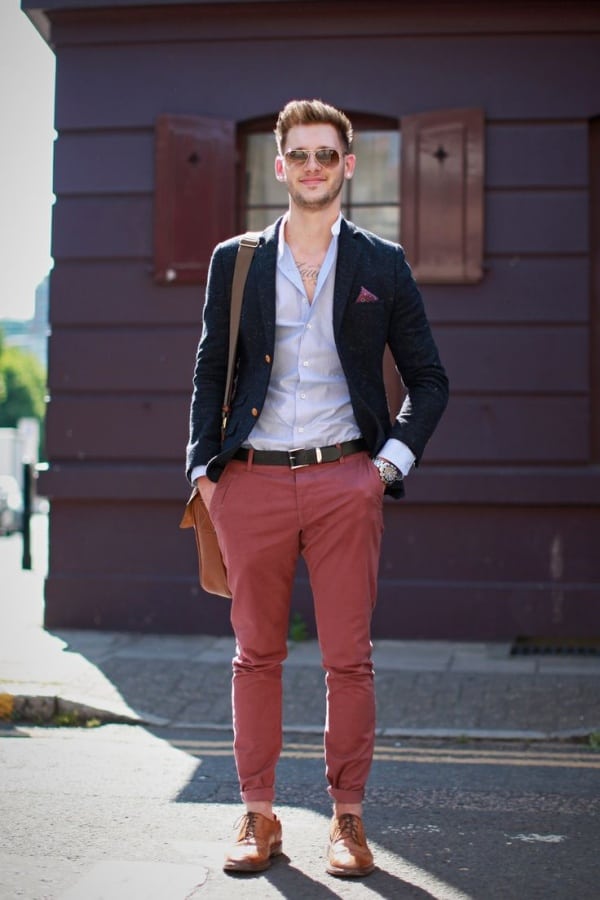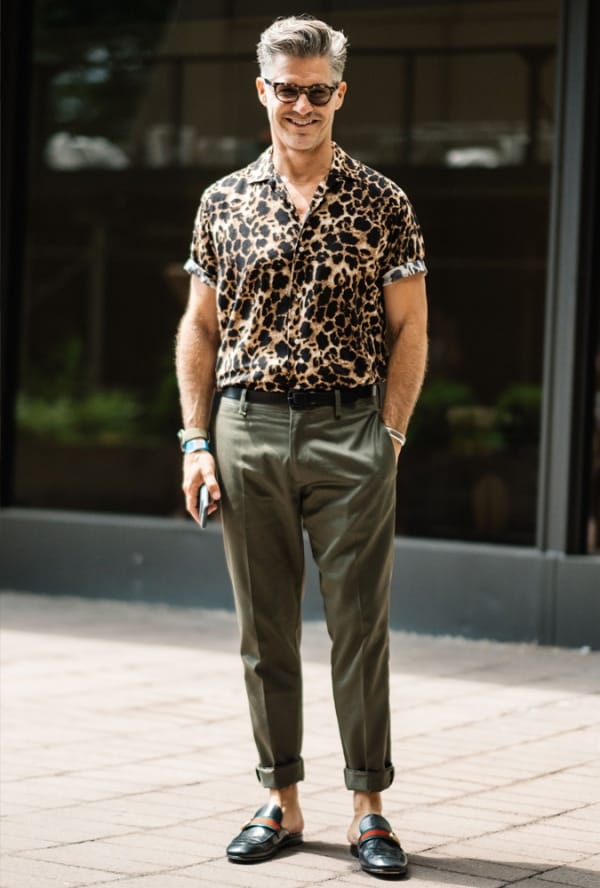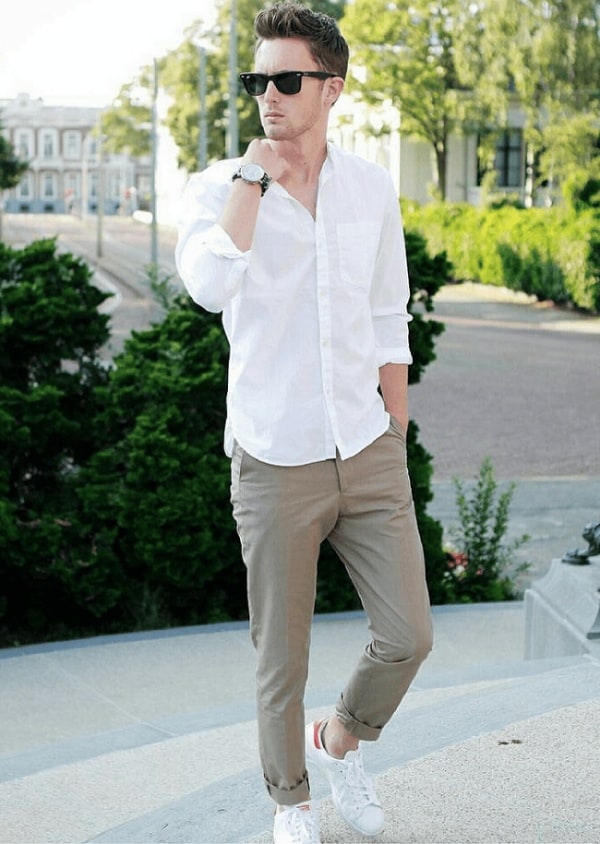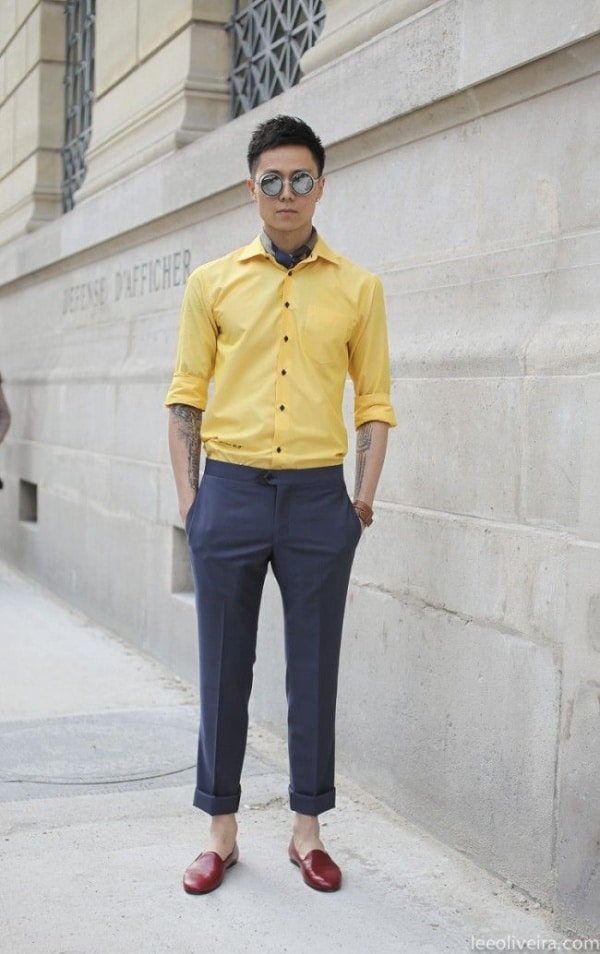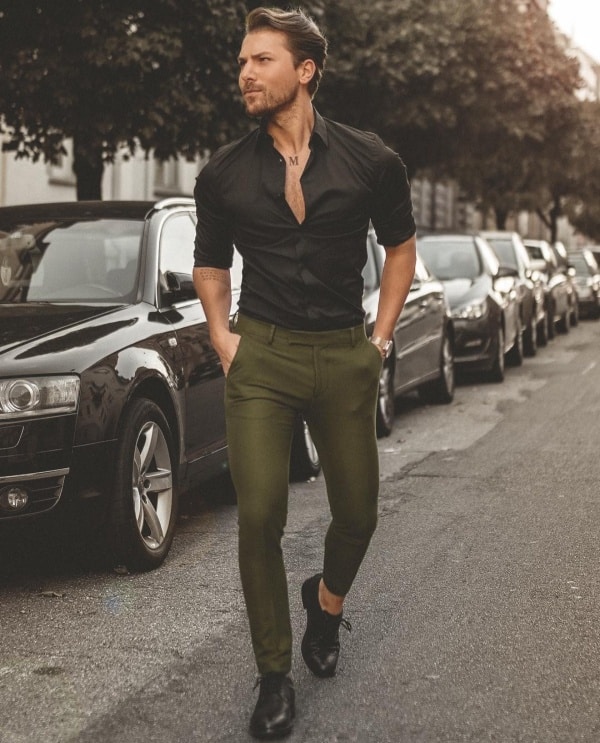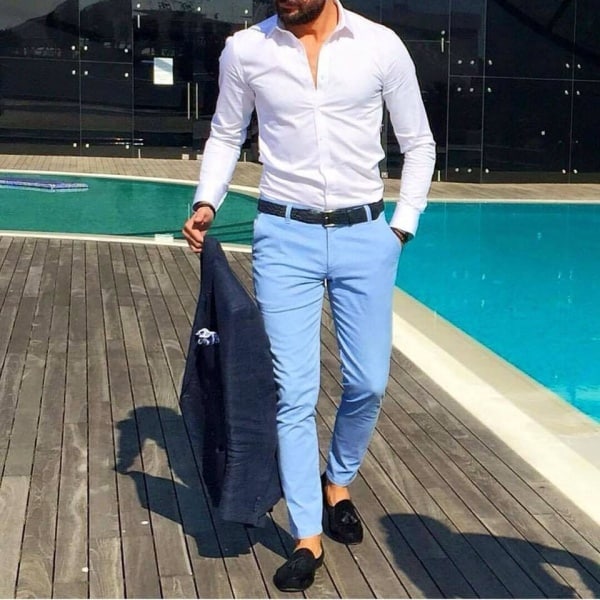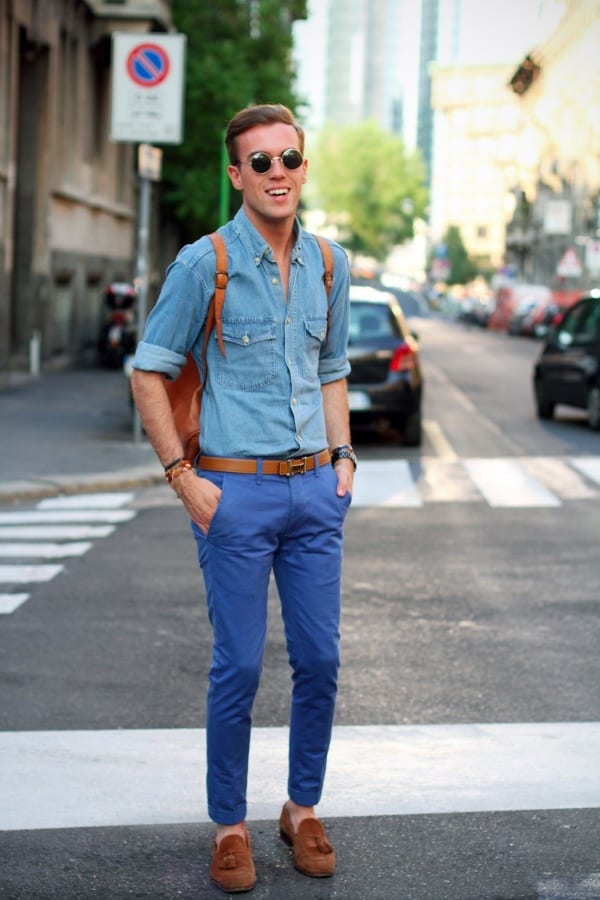 Winding Up
Hopefully, we have listed the best chinos and shirt combinations that can help you look drop-dead handsome!
Adorn the classic shirt and pants concept for a casual hangout or the official meet as you wish.
Be style studded this season with so many enticing designs, patterns and combos that perfectly match your taste.
Try out with a few shortlisted ideas to switch to the best combinations of your choice. The fashion and style game keeps on changing, but comfort is eternal!
So, we highly recommend trying out style statements that up your styling with a unique charm. All of this can impart a perfect touch to rock the outfit trends!
F.A.Q
Are Chinos Formal Or Casual?
Chinos are neither pure formal attire nor completely casual ones. These are stylish trousers that include some wool and give a balanced look. When teamed up with the right style of shirts, the chinos can be a perfect casual or formal outfit suited for the occasion. Try being innovative, and you can learn to look amazing with chinos.
Do You Have To Tuck Shirts Into Chinos?
Well, it depends on what occasion you are willing to wear it! For wearing on a party occasion, tucked-in shirts give a look of finesse and elegance. On the other hand, you can allow it untucked for a casual gathering or an event. Especially when pairing up with blazers or waistcoats, tucked-in shirts impart the best look.
Are T-shirts and Chinos a Good Combination?
Chinos and T-shirts can also work as stylish outfits when teamed up correctly. If you want to pair up a t-shirt and chinos, be wise with the choice of its colours. Picking subtle coloured dress shoes with this combination sounds like a great idea. Dress up in this casual look with good footwear, and you are ready to rock!